New Age Islam News Bureau
25 Aug 2014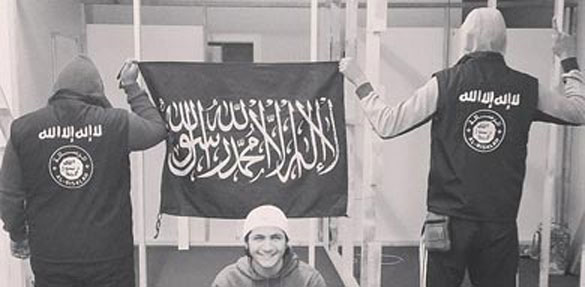 Members standing in front of the Shahada flag / Picture: Supplied
-------------
Europe
• British Youths Are Lured By a Psychotic Death Cult, Says Bradford Imam
• Italians Kick Muslim Imam Out of Country for Preaching Islamic Nonsense
• Police bid to identify Scots jihadists in Iraq and Syria
• Great Britain Appeals to Anti-Extremist Imams in Effort to Uproot Seeds of Radicalization
Arab World
• Islamic Authority, Revered By Many Muslims Worldwide: Extremists No 'Islamic State'
• Hundreds dead as Islamic State seizes Syrian air base: monitor
• Militants Suffer Heavy Losses across Syria
• 14 militants killed in North Sinai
• Iraqi Kurds advance on jihadist militants
• Syria 'ready' to work with world against terror
• Key Jeddah talks add weight to anti-IS push
• In Syria, freelancers like James Foley cover a dangerous war zone with no front lines
• OIC, GCC condemn Iraq mosque massacre
• Video shows young boy pledging allegiance to ISIS
India
• Seeking Safety in Numbers, Riot Victims Re-Draw Map of Districts, Build New Colonies
• Choose between government and separatists: Def. Min. to Pakistan
Pakistan
• Revenge For Model Town Martyrs Tops PAT's Agenda Of Talks: Dr Tahirul Qadri
• Religious Parties Call for Protection of Democracy, Extend Support to PAT
• Imran Khan seeking a 'Naya Pak' quickly as he wants to marry
• Those driving Imran, Qadri want to send PM home: Asma Jehangir
• Day 11: Pak politics still deadlocked, PM Sharif says protests unjustified
• ANP siding with Parliament, not Nawaz: ANP chairman
• Hand grenade blast kills one, injures 15 in Quetta
• TTP commander killed in Tirah blast
• Expat Australian Pakistani wants to set a clean example for countrymen
South Asia
• 35 Taliban Militants Killed, 32 Others Injured In Afghan Operations
• Attack on NATO supply convoy leaves 2 dead in Khyber tribal region
• 4 Afghan army soldiers martyred in roadside bomb explosion
• War crimes: Evidence found against Siraj Kosai, 2 others
Africa
• Boko Haram says seized town is part of 'caliphate'
• Gambia: 'War Crime Screening' for British Citizenship Applicants
• Kenya: 20 feared dead in Mandera violence
• Somalia: CED Trains 100 Members of Women Organizations
• Unidentified war planes attack Libyan capital
Mideast
• Iran Stresses Need for Political Unity, Islamic Thinking to Fight Terrorism in Iraq
• Iran 'will arm Palestinians' after Israeli drone downed
• Israeli PM Netanyahu tries to link Hamas, Iraq extremists
• Abbas says planning to announce 'unconventional solution' to Israeli-Arab conflict
• Four killed in Gaza as Egypt raises new truce proposal
• Turkey adds ISIL spokesman and five others to al-Qaeda sanctions list
• Xenophobia against Syrian refugees on rise: Turkish government
• 'Palestinians willing to accept new Egyptian truce proposal, but awaiting Israeli response'
North America
• Republicans pressure Obama to step up action against ISIS
• Dempsey: 'We will act if ISIS directly threatens us'
• Kidnappers free U.S. journalist missing in Syria since 2012: John Kerry
Southeast Asia
• M'sia views ISIS as terrorist group - Wisma Putra
• Democratic Party Leaders 'Not Allowed to Join Jokowi Cabinet'
• 'Politically not tenable' for PAS to send separate MB proposal to Sultan - Anwar warns
Australia
• 'My flag is the flag of Allah', says Sydney-based head of the Al Risalah Islamic Centre he denounces Australian flag
• Teen "soldier of Hezbollah", stabbed at party
Compiled by New Age Islam News Bureau
URL: https://www.newageislam.com/islamic-world-news/new-age-islam-news-bureau/british-youths-are-lured-by-a-psychotic-death-cult,-says-bradford-imam/d/98727
----------
Europe
British youths are lured by a psychotic death cult, says Bradford imam
Aug 25, 2014
Britain is losing young people to the lure of "a psychotic death cult", while Islamic State (IS) is winning the war for hearts and minds, warned one of the country's most respected Muslim imams last night.
In an interview with The Independent on Sunday, Alyas Karmani, who preaches in Bradford, said: "What the recent events in Syria show is the abject failure of a counter-messaging and counter-narrative strategy – it just isn't there.
"We've been talking about this de-radicalisation strategy for many years and yet there's nothing in place."
There are mounting concerns over the flow of hundreds of fighters from Britain to Syria, with many joining the ranks of IS, which Mr Karmani condemned as "a psychotic death cult" with "no legitimacy whatever". He added: "They are murderers and killers. They have got to where they are through nothing but intimidation and murder."
Full report at:
http://www.independent.co.uk/news/uk/home-news/british-youths-are-lured-by-a-psychotic-death-cult-says-bradford-imam-9687897.html
----------
Italians Kick Muslim Imam Out of Country for Preaching Islamic Nonsense
Aug 25, 2014
An imam in Italy named Abd al-Barr al-Rawdhi, made a speech inciting violence against Jews, and the Italian government determined that he was a danger to society and that he will be deported. The imam said:
"What is happening in Gaza indicates that it is a delusion to think that Palestine can contain the Jews as well as its people. Palestine cannot contain the Muslims and the Jews…The Jews should not be in Palestine and they will not remain there. Any Jew living in Palestine is an illegitimate occupier… He is a target of Jihad, and will end up in the garbage bin of history. … The Jews will not thrive and will not live in safety because they are the slayers of the prophets…Wherever the Jews thrive, corruption abounds."
Full report at:
http://freedomoutpost.com/2014/08/italians-kick-muslim-imam-country-inciting-islamic-nonsense/
----------
Police bid to identify Scots jihadists in Iraq and Syria
Aug 25, 2014
Police have said they are working to identify people with links to Scotland fighting in Syria and Iraq.
Counter-terrorism officers said it would be "foolish" to discount the fact that some of those travelling to the countries have connections to Scotland.
It follows reports of Scots jihadists posting on social media sites.
Earlier this year, Abdul Rakib Amin, from Aberdeen, appeared in a recruitment video for Islamic militant group Isis.
In an interview with the Sunday Mail newspaper, Magnus Ranstorp, former director of the centre for the study of terrorism and political violence at the University of St Andrews, said: "The exact numbers are obviously impossible to quantify. I would estimate there are around 30 Scots over there."
Full report at:
http://www.bbc.co.uk/news/uk-scotland-28918007
----------
Great Britain Appeals to Anti-Extremist Imams in Effort to Uproot Seeds of Radicalization
By KIMIKO DE FREYTAS-TAMURA
25 Aug, 2014
The beheading of American journalist James Foley, apparently by a British jihadist, has drawn renewed attention to the dangers posed by radicalized young British Muslims.
The government estimates that 500 or more British men and women have gone to fight for militant groups in Iraq and Syria, some of whom have already returned.
Britain monitors its citizens on social media sites as part of its counterterrorism strategy. But the government has also turned to anti-extremist imams for help to prevent British Muslims from adopting radical views and to persuade those who have returned from the battlefields to moderate their beliefs.
After the killing of Mr. Foley, Qari Asim, the imam of the Makkah mosque in Leeds, urged Muslims "to work with the intelligence services and the government to make sure that this poison doesn't reach our borders." Speaking to the BBC, he said that the risk of British Muslims joining the extremist group known as the Islamic State in Iraq and Syria was increasing because of Britain's involvement in Iraq.
Full report at:
http://www.nytimes.com/2014/08/25/world/europe/nation-appeals-to-anti-extremist-imams-in-effort-to-uproot-seeds-of-radicalization.html?_r=0
------
Arab World
Islamic Authority, Revered By Many Muslims Worldwide: Extremists No 'Islamic State'
The Associated Press, Cairo
Aug 25, 2014
The top Islamic authority in Egypt, revered by many Muslims worldwide, launched an Internet-based campaign Sunday challenging an extremist group in Syria and Iraq by saying it should not be called an "Islamic State."
The campaign by the Dar el-Ifta, the top authority that advises Muslims on spiritual and life issues, adds to the war of words by Muslim leaders across the world targeting the Islamic State of Iraq and Syria (ISIS) group, which controls wide swaths of Iraq and Syria. Its violent attacks, including mass shootings, destroying Shiite shrines, targeting minorities and beheadings including American journalist James Foley, have shocked Muslims and non-Muslims alike.
The Grand Mufti of Egypt, Shawki Allam, previously said the extremists violate all Islamic principles and laws and described the group as a danger to Islam as a whole. Now, the Dar el-Ifta authority he oversees will suggest foreign media drop using "Islamic State" in favor of the "al-Qaida Separatists in Iraq and Syria," or the acronym "QSIS," said Ibrahim Negm, an adviser to the mufti.
Tolerate principles
This is part of a campaign that "primarily aims to correct the image of Islam that has been tarnished in the West because of these criminal acts, and to exonerate humanity from such crimes that defy natural instincts and spreads hate between people," Negm was quoted as saying by Egypt's state news agency MENA. "We also want to reaffirm that all Muslims are against these practices which violate the tolerate principles of Islam."
Negm said the Internet and social media campaign will include opinions by Islamic scholars from around the world about the group and its claims to represent Islam. It also will include a hashtag campaign on Twitter and videos from Muslims denouncing the group and its methods.
The campaign comes as the Grand Mufti of Saudi Arabia, Sheik Abdul-Aziz Al-Sheik, also has called the group Islam's No. 1 enemy.
War of words
Muslims around the world have battled against the backlash that followed the rise of al-Qaida and the Sept. 11, 2001, terror attacks in the U.S. Scholars and activists groups have sought for years to disassociate themselves from militants touting their own extremist versions of Islam.
They say the ISIS group is another, one that appears more ambitious and aggressive than al-Qaida. ISIS renamed itself on June 29 when it unilaterally declared the territory it held in Iraq and Syria a caliphate, effectively erasing the two countries' borders and setting up a proto-state governed by its own strict interpretation of Shariah law. It previously referred to itself as the Islamic State of Iraq and the Levant while fighting in Syria against the rule of President Bashar Assad.
Since June 29, The Associated Press has referred to the extremists' organization as the Islamic State group or its combatants as Islamic State fighters. Many other media organizations did the same, while some refer to it by its previous name.
The ISIS group has a sophisticated media and Internet-based campaign that has drawn in foreign fighters, which may explain why Islamic scholars chose to adopt a similar approach. But it's unclear how successful this latest push against the group will be.
Dar el-Ifta is famed among scholars of Islamic jurisprudence and has offered training to many Muslims from around the world since the late 1800s. But its opinions are advisory and are often viewed as too close to official Egyptian government positions.
http://english.alarabiya.net/en/News/middle-east/2014/08/24/Islamic-authority-Extremists-no-Islamic-State-.html
----------
Hundreds dead as Islamic State seizes Syrian air base: monitor
August 25, 2014
Islamic State militants stormed an air base in northeast Syria on Sunday, capturing it from government forces after days of fighting that cost more than 500 lives, a monitoring group said.
The Syrian Observatory for Human Rights said at least 346 Islamic State fighters were killed and more than 170 members of government forces had died since Tuesday in the fight over Tabqa base, making it one of the deadliest confrontations between the two groups since the start of Syria's war.
The Observatory, which monitors violence in Syria through sources on the ground, said fighting raged inside the air base on Sunday. It was the Syrian army's last foothold in an area otherwise controlled by Islamic State, which has seized large areas of Syria and Iraq.
In nearby Raqqa city, an Islamic State stronghold, there was celebratory gunfire and several mosques announced through their loudspeakers that the base had fallen to the Islamists and cheered "God is greatest", a witness told Reuters.
IS fighters displayed the severed heads of Syrian army soldiers in the city square, the witness said, adding that Syrian warplanes were heard over Raqqa following the air base attack. Earlier on Sunday the Syrian air force had bombed areas around the base.
Syrian state television said that after fierce battles, the military was "regrouping".
Citing a military source, it said there was a "successful evacuation of the airport" and that the army was continuing strikes on "terrorist groups" in the area, which it said had suffered heavy losses.
Syrian state media gave no figure for the number of people killed in the clashes.
Islamic State had also trapped around 150 retreating Syrian soldiers in an area near the base and was believed to be holding them captive, the Observatory said.
The Syrian army sent reinforcements to the base overnight on Friday to fight Islamic State, which controls roughly a third of northern and eastern Syria.
Syrian television had shown footage of army forces defending the base on Saturday who had said it was safe from Islamic State's advances. Many of the Islamic State fighters died after Syrian warplanes bombarded the area, the Observatory said.
Military bases
Islamic State, a radical offshoot of al Qaeda, has taken three Syrian military bases in the area in recent weeks, boosted by arms seized in Iraq.
Syria is calculating that the IS push to reshape the Middle East will eventually force the West to deal with President Bashar al-Assad as the only way to tackle the threat, sources familiar with Syrian government thinking have said.
Elsewhere in Syria, the group withdrew from northern areas it controlled outside the city of Homs on Sunday and retreated east after coming under attack from rival Islamist fighters, the Observatory said.
Fighters from the group withdrew from a headquarters north of Homs on the orders of their leader Abu Bakr al-Baghdadi, the Observatory said, citing sources in the area.
They said IS gave up the territory to Nusra Front, al Qaeda's official wing in Syria.
As well as Nusra Front, Western-backed rebels have also been fighting IS in Syria but have regularly been defeated by the group, which in June declared an "Islamic caliphate" in the territory it controls.
Activists have accused the Syrian army of avoiding confrontations with IS because it has weakened rival rebel groups also battling Assad.
http://www.hindustantimes.com/world-news/hundreds-dead-as-islamic-state-seizes-syrian-air-base-monitor/article1-1256104.aspx#sthash.jyKZrTbA.dpuf
----------
Militants Suffer Heavy Losses across Syria
Aug 25, 2014
The Syrian army on Monday continued its mop-up operations against the foreign-backed militants in many areas across the country, and inflicted heavy losses upon them.
The army foiled an attempt by al-Nusra Front linked terrorist group to infiltrate into a post near al-Shalah checkpoint in al-Zabadani Area in Damascus Countryside, killing and injuring all its members.
Army troops killed several militants and wounded others in the neighborhoods of al-Rashidiyeh, al-Howaika and the old airport in Deir Ezzur .
Meanwhile, the Syrian troops targeted militants' concentration centers in Muhassan town and al-Mrei'yeh village in the province, killing a number of them and destroying their weapons, ammunition and vehicles.
Army troops also killed a number of militants near Dwair al-Akrad village, and foiled militants' attempt to infiltrate into a military post surrounding Ariha in Idlib countryside, killing and injuring a number of them and destroying their weaponry.
http://english.farsnews.com/newstext.aspx?nn=13930603001042
----------
14 militants killed in North Sinai
Aug 25, 2014
Egyptian armed forces killed 14 militants and destroyed 32 structures during raids in North Sinai over the past two days, an army spokesperson announced via Facebook on Monday.
Brigadier General Mohamed Samir stated that on Saturday the armed forces arrested four wanted militants in Sheikh Zuweid and Rafah. He added that the security forces also destroyed a tunnel between Rafah and Gaza.
He said that on Sunday 14 militants were killed in clashes with the security forces in North Sinai. He also announced that a dangerous wanted militant called Suleiman Mohamed Sallem Salama was arrested.
A field hospital and bomb workshop allegedly used by the militants were destroyed on Sunday.
Militant attacks in the Sinai Peninsula have soared since the ouster of Islamist president Mohamed Morsi in July 2013, killing hundreds of soldiers and police.
http://english.ahram.org.eg/NewsContent/1/64/109159/Egypt/Politics-/-militants-killed-in-North-Sinai-.aspx
---------
Iraqi Kurds advance on jihadist militants
Aug 25, 2014
Iraqi Kurdish forces backed by air power retook three villages from jihadist militants northeast of Baghdad on Monday and also held off two assaults elsewhere, officials said.
Militants led by the Islamic State (IS) group overran large chunks of Iraq in a lightning June offensive that swept security forces aside.
But Iraqi federal forces and the autonomous Kurdish region's peshmerga fighters are now fighting to regain ground from the militants on multiple fronts.
On Monday, Kurdish forces backed by Iraqi air support retook three villages in the Jalawla area in Diyala province, as well as a main road used by jihadists to transport fighters and supplies, a peshmerga brigadier general said.
He added that Kurdish troops are close to sealing off all entrances to the town of Jalawla itself, which they have sought to recapture for weeks.
Full report at:
http://english.ahram.org.eg/NewsContent/2/8/109165/World/Region/Iraqi-Kurds-advance-on-jihadist-militants.aspx
---------
Syria 'ready' to work with world against terror
25 August 2014
Syria is ready to work with the international community, including the United States, to combat "terrorism" within the framework of a U.N. resolution on extremists, Syria's foreign minister said Monday.
"Syria is ready for cooperation and coordination at the regional and international level to fight terrorism and implement U.N. Security Council resolution 2170," Walid Muallem said.
He confirmed, in response to a question, that the country's willingness to do so would extend to cooperating with the United States and Britain.
"They are welcome," he said.
Muallem added that Syria was willing to participate in such efforts as part of a regional or international coalition, or on the basis of bilateral cooperation.
But, he said, "we must feel that the cooperation is serious and not double standards".
"Any violation of Syria's sovereignty would be an act of aggression."
Full report at:
http://english.alarabiya.net/en/News/2014/08/25/Syria-ready-to-work-with-world-against-terror.html
----------
Key Jeddah talks add weight to anti-IS push
Aug 25, 2014
Foreign ministers from the Arab Contact Group have pledged to adopt a unified stance against extremist ideology in the Arab world.
Foreign Affairs Minister Prince Saud Al-Faisal presided over the crucial meeting in Jeddah on Sunday.
Five Arab countries took part in the talks that focused on pressing regional developments.
Foreign ministers Sameh Shoukry from Egypt, Sheikh Abdullah bin Zayed Al-Nahyan from the UAE, Khalid Al-Attiyah from Qatar and Ambassador Nawaf Al-Tell, adviser to the Foreign Affairs minister in Jordan attended the meeting.
Delegates expressed concern over extremist ideologies promoted by groups such as Islamic State (IS) that threaten regional stability and security.
They discussed the Syrian conflict and "challenges including the rise of terrorist extremist ideology".
Full report at:
http://www.arabnews.com/news/620501
--------
OIC, GCC condemn Iraq mosque massacre
Aug 25, 2014
RIYADH: The Organization of Islamic Cooperation (OIC) and Gulf Cooperation Council (GCC) have condemned the heinous crime perpetrated by armed militiamen who stormed Mos'ab ibn Omayr Mosque in Diyala Province, Iraq on Friday. The attack caused the death of 73 innocent worshippers; scores of others were severely injured.
The secretary general of the Organization of Islamic Cooperation, Iyad Ameen Madani, offered his condolences to the bereaved families of the victims and prayed for the swift recovery of the wounded.
Madani denounced this and similar criminal acts that feed on sectarian strife.
He pointed out that these senseless acts seek to inflame tensions and sow discord among the different components of Iraqi society.
They also threaten the country's already fragile social peace and harmony at a highly delicate juncture as Iraq scrambles to form a government which the OIC hopes to be all-inclusive, he added.
Full report at:
http://www.arabnews.com/news/middle-east/620376
----------
Video shows young boy pledging allegiance to ISIS
25 August 2014
A video of a young boy pledging allegiance to its self-proclaimed "Islamic State" is circulating on social media.
The boy is seen in the video reciting a pledge of allegiance to ISIS.
The boy seemed to utter the statements with difficulty, forcing the man who dictated the allegiance to repeat himself more than once.
As soon as the boy finishes the pledge, a voice heard from behind the camera asks the boy how he feels about joining ISIS.
The video ends as the camera holder tells the boy: "Are you now ready to die in the way of Allah?"
The boy replies: "Yes, God willing."
Al Arabiya News cannot independently verify the location of the video shoot.
http://english.alarabiya.net/en/webtv/reports/2014/08/25/Video-shows-young-boy-pledging-allegiance-to-ISIS.html
----------
India
Seeking Safety in Numbers, Riot Victims Re-Draw Map of Districts, Build New Colonies
Written by Pritha Chatterjee | Muzaffarnagar | August 25, 2014
A year after the Muzaffarnagar-Shamli riots, with political visits dwindling after the Lok Sabha elections and no success in efforts to rehabilitate riot victims back to their home villages, there has been a slow and steady change in the maps of the two districts. Muslim riot victims have purchased land around villages with a significant Muslim population, finding security in their numbers.
These areas are being christened by their new inhabitants, with most still not recognised by the administration, and no water, electricity or basic sanitation measures yet — identified officially only by the neighbouring villages.
About five kilometres from what used to be the Idgah relief camp of Kandhla after the riots, three of the six women who filed FIRs alleging gang rape are among the 100-odd families who have bought plots of land, 100-200 Gaz in size, from the Rs 5 lakh compensation they received from the state government. This includes 30 families from Fugana village, where the highest number of riot-related FIRs were filed, and others from Lakh, Lisadh, Bawdi and Hasanpur. The land was purchased from two Pathan families, traditional land owners in the village.
A 28-year-old rape complainant, who was pregnant when she was allegedly raped, nurses her newborn under the open sky, on a plot filled with bricks. Her family invested all its money on the land, and till her labourer husband saves enough, they cannot start building their home. "This is about 30 kilometres from our village where the accused are still at large. We were afraid all the time at the relief camps… we were often threatened by their relatives. Everyone at the relief camp knew about my case, there were so many questions… how long can you live like that under a shelter… we had to move on and get a place to make our home again," she says.
Full report at:
http://indianexpress.com/article/india/india-others/seeking-safety-in-numbers-riot-victims-re-draw-map-of-dists-build-new-colonies/
----------
Choose between government and separatists: Def. Min. to Pakistan
Aug 25, 2014
In a stern message to Pakistan, Defence Minister Arun Jaitley on Sunday said it was for the neighbouring country to decide whether it wants to talk to the Indian government or the separatists.
"After coming to power, we took a decision to call all our neighbours to the swearing-in ceremony. We also decidedthat there will be Foreign Secretary-level talks. But as we had stated earlier terrorism and talks can't go hand in hand,"Jaitley said at a gathering of BJP leaders and intellectuals here.
"When Pakistan started showing its true colours. We had shown the guts to take a hard decision. You have to decide whether you want to talk to the separatists or with the Indian government. What kind of relation do you want? If you want to talk to separatists, then you can do that first. In order to take such a decision you ought to have the strength," Jaitley said.
Full report at:
http://indianexpress.com/article/india/india-others/choose-between-government-and-separatists-jaitley-to-pakistan/
----------
Pakistan
Revenge For Model Town Martyrs Tops PAT's Agenda Of Talks: Dr Tahirul Qadri
Aug 25, 2014
ISLAMABAD: Pakistan Awami Tehreek chief Dr Tahirul Qadri has said that his first demand was to seek revenge for the 'martyrs' of Model Town tragedy.
Addressing participants of the sit-in on Sunday, he said told that he had informed Khawaja Saaed Rafique during talks that justice for the Model Town tragedy was his key demand.
He said that the issue was discussed for hours, adding that he told the minister his 10-point agenda will only be discussed only after Model Town incident.
Qadri said that Rafique met him in a bid to end a deadlock in talks and he was even ready to listen to Nawaz Sharif and Shahbaz Sharif if they were willing to meet him. "Door to talks is open and will remain open," he announced.
He warned that the Parliament will become the martyrs' graveyard if he was killed.
http://www.thenews.com.pk/article-157723-Revenge-for-Model-Town-martyrs-tops-PATs-agenda-of-talks:-Qadri
----------
Religious Parties Call for Protection of Democracy, Extend Support to PAT
Aug 25, 2014
ISLAMABAD: The Milli Yakjehti Council (MYC) – an umbrella of six religious parties – on Sunday vowed to protect the democratic system in the country and extended support to the ten-point agenda of Pakistan Awami Tehreek (PAT). After a meeting at a local hotel and then another meeting with the leadership of the PAT, MYC leaders separately talked to media. They expressed support for democracy and Tahirul Qadri-led PAT, which is staging a sit-in against the PML-N government in Islamabad. Sahibzad Abul Khair, a leader of MYC, said that the meeting decided to make efforts for mediation between the PAT and government to steer the country out of current political impasse which, he said, had put in jeopardy the future of democracy. Liaqat Baloch, secretary general of the Jamaat-e-Islami (JI), which is part of MYC, said all the parties are united on one platform that the democratic system should be allowed to function in the country.
Full report at:
http://www.dailytimes.com.pk/national/25-Aug-2014/religious-parties-call-for-protection-of-democracy
--------
Imran Khan seeking a 'Naya Pak' quickly as he wants to marry
Aug 25, 2014
Guess why Pakistan Tehrik-e-Insaf chief Imran Khan is in such a hurry to build a "new Pakistan"? It's only because he wants to remarry!
"I want "Naya (new) Pakistan" formed quickly so that I can get married again", Mr Khan told supporters who had staged a massive sit-in here for several days to pressure Prime Minister Nawaz Sharif to step down.
The 62-year-old cricket legend who later joined politics said he wanted to build a new Pakistan sooner rather than later so that he could get married immediately after it became a reality. Imran had earlier married British heiress Jemima Goldsmith, with whom he has two sons, in 1995. He divorced Jemima in 2004.
Media reports claim Imran's sisters, in particular, are keen that he marry soon to avoid personal vilification. It was reported the family has already chosen a girl, and were awaiting a good time to announce the engagement. PTI workers say they look forward to welcoming their new "bhabhi".
http://www.asianage.com/international/imran-khan-seeking-naya-pak-quickly-he-wants-marry-973
----------
Those driving Imran, Qadri want to send PM home: Asma Jehangir
Aug 25, 2014
KARACHI: Well-known legal expert Asma Jehangir has said that those driving the Pakistan Tehreek-e-Insaf (PTI) chief Imran Khan and Pakistan Awami Tehreek (PAT) leader Tahirul Qadri are hell bent on sending the Prime Minister home.
Talking to Geo News, She said it seems as if the law is of no value in the country as any individual can hurl any kind of allegations by pulling together a crowd of 10 people.
Reacting to the allegations levelled by the former additional secretary Election Commission of Pakistan, Asma Jehangir said she had opposed his appointment in the ECP.
She said had the former chief justice Iftikhar Muhammad Chaudhry been involved in rigging, then Imran Khan could also have played a role in it. "All this is part of a conspiracy to dislodge the Prime Minister," she maintained.
Full report at:
http://www.thenews.com.pk/article-157751-Those-driving-Imran,-Qadri-want-to-send-PM-home:-Asma-Jehangir
----------
Day 11: Pak politics still deadlocked, PM Sharif says protests unjustified
Press Trust of India | Islamabad | August 25, 2014
Pakistan Prime Minister Nawaz Sharif on Sunday said there was no justification for the protests as he has accepted all constitutional demands of protesters after opposition leader Imran Khan asked him to quit for 30 days to allow a probe into alleged rigging in the 2013 polls.
"Instead of wasting their energies in protests, the demonstrators should play their role for the progress and development of the country," Sharif said in his first public comments after Imran Khan had sought his resignation.
There is no justification for continuing the protest after the government acceded to all the constitutional demands of the participants of the sit-ins, he said during a meeting with Punjab Chief Minister Shahbaz Sharif and Member of National Assembly Hamza Shahbaz.
In his latest demand after the government rejected the proposal outright, to end the crippling political deadlock, Khan asked Sharif to quit for 30 days to allow an independent probe into alleged rigging in last year's polls, hours
Full report at:
http://indianexpress.com/article/world/asia/day-11-pak-politics-still-deadlocked-pm-sharif-says-protests-unjustified/
----------
ANP siding with Parliament, not Nawaz: ANP chairman
Aug 25, 2014
PESHAWAR: Awami National Party (ANP) chairman Asfandyar Wali Khan on Monday said he and his party were siding with Parliament and not with Nawaz Sharif.
Speaking at a press conference, Wali said a drama was under way in Islamabad in the name of 'revolution' and 'change'.
The ANP chairman said conditions had become such that no country wanted to deal with Pakistan, adding that the fact that two heads of states had cancelled their visits to the country should be a cause for concern.
Wali's statements come as the protests led by Pakistan Tehreek-i-Insaf (PTI) and Pakistan Awami Tehreek (PAT) entered their 12th day today.
Full report at:
http://www.dawn.com/news/1127659/anp-siding-with-parliament-not-nawaz-asfandyar
----------
Hand grenade blast kills one, injures 15 in Quetta
Aug 25, 2014
QUETTA: At least one person was killed and 15 others were injured in a hand grenade explosion in Quetta, the capital of volatile Balochistan province, on Monday morning, police said.
Razaq Cheema, the Capital City Police Officer (CCPO) Quetta, told Dawn that armed militants hurled a hand grenade at a hotel in Prince Road area of Quetta.
"The hand grenade exploded with a big bang inside the hotel," he said. Subsequently, one person was killed and 15 others were injured in and outside the hotel.
Cheema stated that the assailants managed to escape unhurt from the spot.
Frontier Corps and police reached the spot and cordoned off the area as a probe into the incident went under way.
Full report at:
http://www.dawn.com/news/1127632/hand-grenade-blast-kills-one-injures-15-in-quetta
----------
TTP commander killed in Tirah blast
Aug 25, 2014
PESHAWAR: A commander of the outlawed Tehreek-i-Taliban (TTP) was killed and two others were injured in a remote-controlled Improvised Explosive Device (IED) blast in the Tirah valley of Khyber Agency.
Official sources said the blast that took place in the Mehrban Kalley area of Tirah killed the TTP commander who was popularly known as Khabare.
Sources said the TTP commander was the target.
No one has claimed responsibility for the attack.
http://www.dawn.com/news/1127631/ttp-commander-killed-in-tirah-blast
----------
Expat Australian Pakistani wants to set a clean example for countrymen
Aug 25, 2014
ISLAMABAD: Among the sloganeering to make a new Pakistan, an Australian national of Pakistani origin wants to make the country healthy, neat and clean.
For the last five days, Sydney-based Tariq Khan has been collecting garbage from the venues of the ongoing sit-ins in the federal capital.
"Someone is talking about old Pakistan, someone is trying to break and remake it, but I want to make it a healthy neat and clean country."
Sydney-based IT expert is collecting garbage from the venues of sit-ins
An Information Technology (IT) consultant by profession, Mr Khan recently moved to Pakistan to do something for the country.
Talking to Dawn, he said every day he collected 40 bags of garbage from the venues of the sit-ins. But he was annoyed with the educated workers of the PTI for 'cheating' him. Mr Khan said he had no affiliation with any political or religious party.
Full report at:
http://www.dawn.com/news/1127592/expat-pakistani-wants-to-set-a-clean-example-for-countrymen
----------
South Asia
35 Taliban militants killed, 32 others injured in Afghan operations
Aug 25 2014
At least 35 Taliban militants were killed during joint military operations conducted by Afghan national security forces in the past 24 hours.
The interior ministry of Afghanistan following a statement said the operations were conducted by Afghan police forces in cooperation with the Afghan national army and Afghan intelligence – national directorate of security (NDS) operatives.
The statement further added that the operation were conducted in Nangarhar, Faryab, Uruzgan, maidan Wardak, Herat, Logar, Nimroz and Helmand provinces.
The statement also added that the Afghan national security forces arrested 22 Taliban militants and confiscated various types of weapons, ammunition and explosives during the operations.
Afghan security forces also discovered and seized two rounds improvised explosive device (IED) during the operations in Uruzgan and Nangarhar provinces.
The Taliban militants group has not commented regarding the report so far.
http://www.khaama.com/35-taliban-militants-killed-32-others-injured-in-afghan-operations-8494
----------
Attack on NATO supply convoy leaves 2 dead in Khyber tribal region
Aug 25 2014
At least two people were killed following an attack on NATO supply convoy in Khyber tribal region of Pakistan on Monday.
According to the local government officials, the incident took place in the Jamrud area of Khyber tribal region on the main highway linking the provincial capital Peshawar to Torkham border.
Irshad Khan, a senior local administration official, said the convoy comprised of six oil tankers which was heading towards Afghanistan.
Khan further added that the attack was carried out by four gunmen riding motorcycles, and the assailants managed to flee the area following the attack.
He said security forces have launched a search opeation to detain those involved behind the attack.
Full report at:
http://www.khaama.com/attack-on-nato-supply-convoy-leaves-2-dead-in-khyber-tribal-region-8498
----------
4 Afghan army soldiers martyred in roadside bomb explosion
Aug 25 2014
At least four Afghan National Army (ANA) soldiers were martyred following roadside bomb explosion, defense officials said Monday.
Gen. Zahir Azimi, spokesman for the Ministry of Defense (MoD), said the four Afghan soldiers were martyred following improvised explosive device (IED) attack in the past 24 hours.
He did not disclose further information regarding the exact location of the incident.
The anti-government armed militant groups frequently use improvised explosive device (IED) to target Afghan and coalition security forces.
According to security officials, the Afghan army deaths stands at 4 service members daily on average which is mainly caused due to improvised explosive device (IED) attacks.
In the meantime, Azimi said at least 18 militants were also killed, 20 militants were injured and 2 others were detained during the operations by Afghan army soldiers.
Gen. Azimi said Afghan armed forces are currently engaged in 15 military operations conducted in 13 different provinces.
http://www.khaama.com/4-afghan-army-soldiers-martyred-in-roadside-bomb-explosion-8495
----------
War crimes: Evidence found against Siraj Kosai, 2 others
Aug 25, 2014
The investigators have found evidence of crimes against humanity committed by three detained war crimes suspects including Sirajul Islam alias Siraj Mastar alias Siraj Kosai.
The investigation agency of the International Crimes Tribunal disclosed the matter while unveiling the probe report against Sirajul Islam, Abdul Latif Talukder and Akram Hossain Khan on Monday afternoon.
Out of the total eight charges, four charges were individually proven against Sirajul Islam, the deputy commander of Bagerhat unit razakar force, during the 1971 Liberation War.
Investigation Officer Helal Uddin began the probe into the allegations against them on May 19 last year. He said he had found the involvement of this three accused in at least eight crimes including genocide, murder, conversion, looting and arson.
Kosai Siraj had "played a key role" in executing the plans of razakar force and "led the force" in committing crimes in Bagerhat Sadar, Rampal, Morelganj and Kochua. He was involved in the killing of over 800 unarmed pro-liberation people in these areas.
Full report at:
http://www.dhakatribune.com/bangladesh/2014/aug/25/war-crimes-evidence-found-against-siraj-kosai-2-others#sthash.AvBu9QNh.dpuf
----------
Africa
Boko Haram says seized town is part of 'caliphate'
Aug 25, 2014
KANO (Nigeria): Boko Haram's leader said a northeast town seized by the militants earlier this month had been placed under an 'Islamic caliphate', in a video obtained on Sunday.
"Thanks be to Allah who gave victory to our brethren in (the town of) Gwoza and made it part of the Islamic caliphate," Abubakar Shekau said in the 52-minute video.
In a July video, Shekau voiced support for leader of the Islamic State in Iraq and Al Sham (ISIS) Abu Bakr al-Baghdadi, who in late June declared himself "the caliph" and "leader of Muslims everywhere".
But there was no indication from Shekau in the latest video that he was associating himself with Baghdadi, whose Sunni fighters have seized parts of Iraq and Syria.
As such, it was not clear if Shekau was declaring himself to be a part of Baghdadi's call or he was referring to a separate Nigerian caliphate.
Shekau — who has been designated a global terrorist by the United States and sanctioned by the UN Security Council — is shown in the video wearing military fatigues, with a Kalashnikov rifle strapped to his body.
Full report at:
http://www.dawn.com/news/1127539/boko-haram-says-seized-town-is-part-of-caliphate
----------
Gambia: 'War Crime Screening' for British Citizenship Applicants
Aug 25, 2014
Human rights lawyers and activists are rejoicing following the UK government's decision to have 'war crime screening' of certain people who wish to apply for British citizenship.
Even though it is already mandatory to complete sections of application forms asking whether an applicant had 'criminal convictions; civil judgments or civil penalties' made against them, the government has now decided to include the issue of 'war crime'.
A Written Statement in the House of Commons by the Minister for Immigration and Security, James Brokenshire MP, and in the House of Lords by Lord Taylor of Holbeach, noted among others: 'Applications from certain nationalities for British citizenship to more rigorous scrutiny than others for the purposes of determining whether the applicant has committed, been complicit in the commission of, or otherwise been associated with, the commission of war crimes, crimes against humanity or genocide'.
Full report at:
http://allafrica.com/stories/201408250807.html?aa_source=sptlgt-grid
----------
Kenya: 20 feared dead in Mandera violence
Aug 25, 2014
AT least 20 people are feared dead after inter-clan fighting broke out in Mandera North's Rhamu area on Sunday morning.
Heavily armed militiamen from the Degodia and Garre clans engaged in massive gun battles for seven hours before breaking off for lunch at about 1pm, according to residents and politicians.
The fighting is reported to have began as early as 5am, when gunfire broke out in the area after heavily armed men suspected to be from the Degodia militia attacked Rhamu in renewed clan fighting in Mandera County.
There were also reports of more casualties as security personnel were unable to access the town, which borders Ethiopia.
Full report at:
http://www.the-star.co.ke/news/article-186106/20-feared-dead-mandera-violence#sthash.s2L7pnow.dpuf
----------
Somalia: CED Trains 100 Members of Women Organizations
Aug 25, 2014
Centre for Education and Development (CED) trained 100 women from 20 women organizations in Mogadishu this week. The training was on capacity building, women empowerment on politics and women rights so that they cannot be left behind in this new era which the country is in regarding administration and the rule of law. The director of CED Mr. Abdullahi Ali Hassan said the training was funded by UNDEF and organized by CED.
The Minister for Women and Human Rights Hon. Khadija Mohamed Diiriye and the Deputy Minister for Endowment Hon. Yussuf Hayle also elaborated the importance of the training for the enhancement of education among women and the empowerment they need to aspire. "To empower women is a wide program we need to do so that women can try to take part in politics, economic and social initiatives".
Full report at:
http://allafrica.com/stories/201408251254.html
----------
Unidentified war planes attack Libyan capital
Aug 25, 2014
As fire destroyed the terminal at Tripoli's main airport on Sunday, unidentified war planes also attacked targets in the capital, Reuters reported residents as saying.
Tripoli residents heard jets followed by explosions at dawn but more details were not immediately available.
On Sunday, Egyptian President Abdel Fattah al-Sisi denied that his country's air force was involved in striking Islamist militias in Libya, in an interview with a local newspaper.
"There were no Egyptian war planes in Libya, and no Egyptian plane has executed any military operation inside Libya," he said.
Who burned the airport?
It was unclear who had burned the terminal and supporters of the rival factions took to social media to accused each other.
The main building was completely torched, witnesses said. All planes in front of it were damaged, as well as many houses and office buildings on airport road.
Full report at:
http://english.alarabiya.net/en/News/middle-east/2014/08/24/-Terrorist-Islamist-militias-seize-Libya-Tripoli-airport-.html
--------
Mideast
Iran Stresses Need for Political Unity, Islamic Thinking to Fight Terrorism in Iraq
Aug 25, 2014
Iranian Foreign Minister Mohammad Javad Zarif in a meeting with Head of the Iraqi National Alliance Ibrahim Jafari underlined the necessity for the establishment of political unity and practice of Islam's ideology in Iraq to fight the terrorist groups.
"Terrorism in Iraq is threatening all the world people from all the different religions, sects and tribes," Zarif said during the meeting on Sunday night, also participated by representatives of different Iraqi political groups.
"Fighting terrorism in Iraq is not limited to military confrontation, but we also need political unity, increasing security and Islamic thinking to confront perverted thoughts of the Daesh (the Islamic State of Iraq and the Levant- ISIL)," he added.
Jafari, for his part, underscored the need for unity in Iraq to confront common threats and the terrorist groups, and called on the UN, the Arab League and all countries to stand beside Iraq in its fight against terrorism.
Full report at:
http://english.farsnews.com/newstext.aspx?nn=13930603001001
---------
Iran 'will arm Palestinians' after Israeli drone downed
Aug 25, 2014
Tehran will "accelerate" arming Palestinians in retaliation for Israel deploying a spy drone over Iran, which was shot down, a military commander said on Aug. 25.
"We will accelerate the arming of the West Bank and we reserve the right to give any response," said General Amir-Ali Hajizadeh, commander of aerial forces of Iran's elite Revolutionary Guards, in a statement on their official website sepahnews.com.
Iran, which does not recognise the existence of Israel, has confirmed it supplied Palestinian fighters from Hamas and the Islamic Jihad with the technology for the rockets being fired relentlessly into Israel from Gaza since July 8.
Full report at:
http://www.hurriyetdailynews.com/iran-will-arm-palestinians-after-israeli-drone-downed.aspx?pageID=238&nID=70877&NewsCatID=352
----------
Israeli PM Netanyahu tries to link Hamas, Iraq extremists
Aug 25, 2014
Israel's prime minister is trying to capitalize on the gruesome video of an American journalist's beheading by the Islamic State extremist group, saying Hamas is an equally vicious foe as he tries to rally international support in Israel's war in the Gaza Strip. But the comparisons between Hamas and Islamic State are being met with reservations by Israel's allies and enemies alike.
Prime Minister Benjamin Netanyahu always has prided himself on his ability to attract media attention. Netanyahu, who grew up in the U.S. and speaks fluent English, often uses catchy quips, props or visual aids in public speeches or briefings to journalists.
A day after the Islamic State group, also known as ISIL or ISIS, posted the video of journalist James Foley's killing, Netanyahu debuted his latest catchphrase: "Hamas is ISIS. ISIS is Hamas." He voiced the slogan at a news conference, on Twitter and even at his weekly Cabinet meeting Aug. 24.
Full report at:
http://www.hurriyetdailynews.com/israeli-pm-netanyahu-tries-to-link-hamas-iraq-extremists.aspx?pageID=238&nID=70861&NewsCatID=352
----------
Abbas says planning to announce 'unconventional solution' to Israeli-Arab conflict
Aug 25, 2014
Palestinian Authority President Mahmoud Abbas is expected to announce an "unconventional solution" to the Israeli-Palestinian conflict in the coming weeks.
He spoke of his diplomatic initiative on Saturday in Cairo during an interview with the Egyptian TV station Balad, but did not provide details about the proposed solution.
Abbas said he would discuss it, however, with Palestinian leaders in Ramallah this week before presenting it to US Secretary of State John Kerry.
"It will be an unconventional solution, but I'm not going to declare war on Israel," Abbas said. "I have diplomatic and political solutions."
He said he did not expect the US to accept his new initiative.
"I don't think they will comply, but we are going to go forward and tell them this is our position," Abbas said, referring to the US administration.
Full report at:
http://www.jpost.com/Arab-Israeli-Conflict/Abbas-says-planning-to-announce-unconventional-solution-to-Gaza-conflict-372146
----------
Four killed in Gaza as Egypt raises new truce proposal
Aug 25, 2014
Violence reverberated across Gaza on Monday with four Palestinians killed in Israeli air strikes as Egypt proposed a new ceasefire that would open key crossings into the blockaded territory.
Since an earlier ceasefire arrangement collapsed on August 19, the death toll in Gaza has risen steadily with 106 Palestinians killed in more than 350 Israeli air strikes across the territory.
Over the same period, more than 650 rockets have struck Israeli territory, one of which killed a four-year-old boy over the weekend, army figures show. Around 100 rockets were shot down.
Since midnight, Israeli air strikes on northern Gaza have killed four Palestinians, including two women and a three-year-old boy, medics said, raising the Palestinian death toll to 2,124 in seven weeks of violence.
On the Israeli side, 68 people have been killed, four of them civilians and the rest soldiers. Another 38 rockets fired from Gaza struck the Israeli south on Sunday, while another was shot down, army statistics showed.
Full report at:
http://www.hurriyetdailynews.com/four-killed-in-gaza-as-egypt-raises-new-truce-proposal.aspx?pageID=238&nID=70871&NewsCatID=352
----------
Turkey adds ISIL spokesman and five others to al-Qaeda sanctions list
Aug 25, 2014
The Turkish government has added six individuals to its blacklist, including the spokesperson of the Islamic State in Iraq and the Levant (ISIL) in line with a U.N. decision updating the al-Qaeda Sanctions Committee's list of individuals and entities subject to sanctions.
The related decision by the Cabinet went into force after being published in the Aug. 24 edition of the Official Gazette. Accordingly, a decision dated Sept. 30, 2013, concerning the seizure of assets of persons and legal entities that have been listed by the U.N. Security Council resolutions was updated, with the six individuals being added.
In line with the U.N. Security Council's decision made on Aug. 15, the six people will be subject to an international travel ban, asset freeze and arms embargo. They include ISIL spokesman Abu Muhammad al-Adnani, an Iraqi described by U.N. experts as one of the group's "most influential emirs" and close to its leader, Abu Bakr al-Baghdadi.
Full report at:
http://www.hurriyetdailynews.com/turkey-adds-isil-spokesman-and-five-others-to-al-qaeda-sanctions-list.aspx?pageID=238&nID=70865&NewsCatID=510
----------
Xenophobia against Syrian refugees on rise: Turkish government
Aug 25, 2014
Turkish officials have finally decided to take measures against growing xenophobia against Syrian refugees, issuing a joint statement that acknowledged the hostility toward the newcomers and vowing to fight discrimination.
Turkey's disaster agency AFAD, under Deputy Prime Minister Beşir Atalay, held a meeting on Aug. 22 with relevant ministers, governors and mayors in order to discuss ways to handle increasingly challenging problems in cities between Syrians and local people.
The issues of health, education, the economy, the workforce, women, the family, public safety, legal arrangements, smuggling, border security and others were assessed in the meeting, according to a joint statement by the participating institutions.
The joint statement indicated that Turkish officials acknowledged that Syrian refugees were likely to remain permanently in Turkey, as it noted how efforts at the schooling of Syrian children would be intensified.
Full report at:
http://www.hurriyetdailynews.com/xenophobia-against-syrian-refugees-on-rise-turkish-government-.aspx?pageID=238&nID=70857&NewsCatID=341
----------
'Palestinians willing to accept new Egyptian truce proposal, but awaiting Israeli response'
Aug 25, 2014
Palestinians would be willing to accept a new Egyptian cease-fire proposal, but are awaiting an Israeli response, AFP quoted a Palestinian official as saying on Monday.
"There is an idea for a temporary cease-fire that opens the crossings, allows aid and reconstruction material, and the disputed points will be discussed in a month," the senior Palestinian official told AFP in Cairo.
"We would be willing to accept this, but are waiting for the Israeli response to this proposal," he said.
AFP quoted an additional Palestinian offcial as saying that Egypt could invite the sides to return to Cairo within the next 48 hours.
Israel has maintained that it will not hold negotiations of any kind while under fire. Dozens of rockets rained down on the Jewish state on Monday, mainly hitting the communities closest to the Gaza border.
Full report at:
http://www.jpost.com/Arab-Israeli-Conflict/Palestinians-willing-to-accept-new-Egyptian-truce-proposal-but-awaiting-Israeli-response-372228
----------
North America
Republicans pressure Obama to step up action against ISIS
Aug 25, 2014
Republicans called for more aggressive U.S. action to defeat Islamic State militants in Syria and Iraq, accusing President Barack Obama of policies that have failed to thwart potential new threats on U.S. soil.
Representative Mike Rogers, Republican chairman of the House of Representative Intelligence Committee, urged the administration to work with Arab partners on robust steps to disrupt the operations of the Islamic State in Iraq and Syria (ISIS).
He said the group is drawing support from Europeans and Americans who could travel undetected to Western countries to carry out attacks.
"They are one plane ticket away from U.S. shores," Rogers said on NBC's "Meet the Press" program.
"We have the capability to defeat (ISIS). We now have to have the political will and we have to have the policy to do it. We have the first. We don't have the second two."
Rogers and other Republicans including Senator John McCain have been relentlessly critical of Obama's security policy, including accusations that the president has shown a lack of leadership against terrorism since ordering the military operation that killed al Qaeda leader Osama bin Laden in 2011.
Full report at:
http://english.alarabiya.net/en/News/2014/08/24/Republicans-pressure-Obama-to-step-up-action-against-ISIS.html
----------
Dempsey: 'We will act if ISIS directly threatens us'
By The Associated Press
25 August 2014
Gen. Martin Dempsey says that once he determines that the Islamic State militants in Iraq have become a direct threat to the U.S. homeland, he will recommend the U.S. military move directly against the group in Syria.
But the chairman of the Joint Chiefs of Staff said Sunday that right now, he still believes the insurgent group is still more a regional threat and is not plotting or planning attacks against either the U.S. or Europe.
Speaking on a military plane en route to Afghanistan, Dempsey provided more detail into his thinking about the Islamic militants who have stormed across Iraq, operating out of safe havens in Syria.
So far, the Obama administration has restricted its military action against the militants to specific operations within Iraq, but concerns have increased as the Islamic State group extended its reach, taking control of a swath of land stretching from Syria across the border and deep into western and northern Iraq.
Full report at:
http://english.alarabiya.net/en/News/2014/08/25/Dempsey-We-will-act-if-ISIS-directly-threatens-U-S-.html
----------
Kidnappers free U.S. journalist missing in Syria since 2012: John Kerry
Aug 25, 2014
A young American who has been held hostage for two years by an Islamist rebel group in Syria has been freed, U.S. Secretary of State John Kerry said Sunday.
"Finally he is returning home," Kerry said in a statement, confirming the release of Theo Curtis, an American researcher, Agence France-Presse reported.
News of Curtis's release emerged just days after Islamic State of Iraq and Syria (ISIS) militants this week killed American journalist James Foley, who was kidnapped in Syria in 2012.
That video, together with a threat to kill another American journalist being held hostage, Steven Sotloff, inspired widespread revulsion in the West and a desire to hunt down the killer.
The U.S.-based Committee to Protect Journalists estimates that about 20 journalists are missing in Syria. Many of them are believed to be held by ISIS.
http://english.alarabiya.net/en/News/middle-east/2014/08/24/Kidnappers-free-U-S-journalist-missing-in-Syria-since-2012.html
---------
Southeast Asia
M'sia views ISIS as terrorist group - Wisma Putra
Aug 25, 2014
Putrajaya considers the Islamic State of Iraq and Syria (Isis) to be a terrorist organisation and does not condone any of its activities, said Wisma Putra, adding that police have been weeding out members of the group as well as sympathisers.
"It has been revealed that some Malaysians have been influenced to support Isis, joining this group of extremists to wage jihad," Wisma Putra said in a statement released yesterday.
"Since the beginning of the year, authorities have conducted operations to arrest Malaysians or foreigners living here who have been involved in alleged terrorism activities."
Wisma Putra said that Isis had caused injuries and loss of lives to innocent civilians in Iraq, and as such, Putrajaya strongly condemned the group's actions.
"Malaysia has called for the formation of a Global Movement of Moderates and continues to advocate moderation and tolerance."
Full report at:
http://www.malaysia-chronicle.com/index.php?option=com_k2&view=item&id=346541:but-najib-wants-umno-to-emulate-msia-views-isis-as-terrorist-group-wisma-putra&Itemid=2#ixzz3BM2fdBg4
----------
Democratic Party Leaders 'Not Allowed to Join Jokowi Cabinet'
Aug 25, 2014
Jakarta. Reaffirming its position outside the camp of President-elect Joko Widodo and his No. 2 Jusuf Kalla, the Democratic Party will not allow its senior members to become ministers in the new government, a top official said on Monday.
"If there is a Democratic Party leader who wants to be a minister, they must get permission from the chairman. And I'm sure the chairman [President Susilo Bambang Yudhoyono] won't give this permission, because we are not part of the Jokowi-Kalla coalition," the party's acting chairman, Syarief Hasan, said on Monday.
Syarief, who is the minister for cooperatives and small and medium enterprises, stressed that the party would like to assume a balancing role in the House of Representatives during Joko's presidency.
Full report at:
http://www.thejakartaglobe.com/news/democratic-party-leaders-allowed-join-jokowi-cabinet/
----------
'Politically not tenable' for PAS to send separate MB proposal to Sultan - Anwar warns
Aug 25, 2014
SHAH ALAM - Opposition Leader and PKR adviser Anwar Ibrahim warned it would be foolish for PAS to try and submit a separate proposal containing two names for the post of Mentri Besar or chief minister to the Selangor Sultan to consider.
"They have a problem how do they submit a name who has publicly informed them and in a meeting that he is not prepared to be nominated," Anwar told Malaysia Chronicle on the sidelines of the PKR 10th annual congress on Sunday.
"If that happens which I hope it does not happen then we will have 43 for Azizah and 13 for Azmin which is not good for Azmin, which is why Azmin said no, he does not want."
Not good for Azmin
Pakatan Rakyat, the federal opposition coalition, is divided over who should head Selangor, the country's richest state.
As a coalition, the three parties DAP, PKR and PAS have agreed on Azizah, who is Anwar's wife and the PKR president. They have submitted only her name to the Palace after a meeting held last week, along with letters of support from 30 state assemblymen, 2 of whom are from PAS.
Full report at:
http://www.malaysia-chronicle.com/index.php?option=com_k2&view=item&id=346062:politically-untenable-for-pas-to-send-sultan-2-names-when-its-43-azizah-13-azmin-anwar&Itemid=2#ixzz3BM2S9za0
----------
Australia
'My flag is the flag of Allah', says Sydney-based head of the Al Risalah Islamic Centre he denounces Australian flag
Aug 25, 2014
An Islamic leader has denounced the Australian flag, saying it does not represent him as a Muslim following a call from Prime Minister Tony Abbott to 'put this country first'.
Wissam Haddad, head of the Al Risalah Islamic Centre in Sydney, has said he follows the black and white Shahada flag, the same as the one used by extremist group Islamic State, rather than the national flag.
His comments came after Mr Abbott called on Muslims in the country to stand up to extremists and 'be on Team Australia' as he attempts to bring in new laws aimed at stopping Australian militants fighting overseas.
Asked about reports that shops in Sydney's southwest were flying black and white Islamic State flags, the Prime Minister had said: 'I don't know what the legal position is, but frankly, the only flag that should be flying is the Australian national flag.'
However, following Mr Abbott's comments, Mr Haddad, a friend of convicted terrorist Khaled Sharrouf, said he favoured the Shahada, and that his group is entitled to fly the symbol.
'I'm not comfortable personally holding the flag because this flag does not represent me as a Muslim. My flag is the flag of Allah. That's my flag,' Mr Haddad told the Daily Telegraph.
'For me to have the Shahada flag, as it's called, that's a flag that I stand and live and die for and I don't stand and live and die for the Australian flag.'
Full report at:
http://www.dailymail.co.uk/news/article-2728074/My-flag-flag-Allah-Head-Sydney-Islamic-group-Al-Risalah-denounces-Australian-flag-call-Prime-Minister-Muslims-country-first.html#ixzz3BNKrOdUK
----------
Teen "soldier of Hezbollah", stabbed at party
Aug 25, 2014
A MEMBER of a self-styled radical Islamic street gang is recovering in hospital after he was stabbed at a Western Sydney birthday party.
The 17-year-old, who labels himself a "soldier of Hezbollah", was in a serious condition last night while his attacker remains at large.
Friends of the teenager, who also self-identifies as being part of the "Fourtwozero (420)" gang sent messages of support to the injured "shiaa soulija" (sic) on Saturday.
"Soljah on brother hope u get better," one close friend posted on Saturday.
One of the hosts of the Merrylands Oval 18th birthday party, Daniel Coombes, warned those who gate crashed his birthday of retribution.
On Saturday a post on his Facebook page read: "Shots to all the people who came to celebrate mine and Canzo's birthday appreciate it loves use all and to the dickheads that wanted to start drama don't worry I'll see you around."
Full report at:
http://www.dailytelegraph.com.au/news/nsw/teen-shiaa-soulija-stabbed-at-party-was-islam-street-gang-member/story-fni0cx12-1227035152744
----------
URL: https://www.newageislam.com/islamic-world-news/new-age-islam-news-bureau/british-youths-are-lured-by-a-psychotic-death-cult,-says-bradford-imam/d/98727