New Age Islam News Bureau
28 May 2019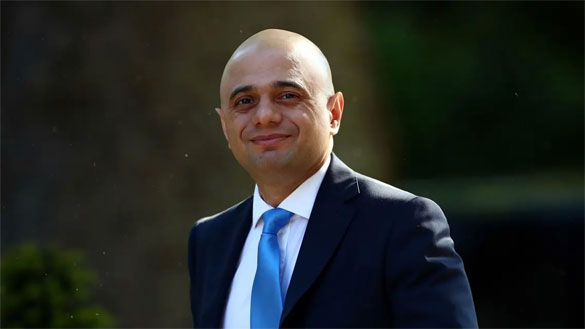 Javid outside the Downing Street in London on May 21, 2019. (Reuters)
------
• British Politicians Taking Donation from ISIS Funder
• UK Interior Minister Sajid Javid Enters Leadership Race
• Pakistani Clerics Declare Fatwa against 'Sinful' Dollar Buying
• Hindu Doctor Held on Blasphemy Charges In Pakistan
• DAP Bars Members from Using Mosques, Surau for Political Programmes
• Filipino Muslims: 'We Lost Everything In The Fighting — But Not Our Faith'
• Makkah Summits Confirm Saudi Role in Serving Islam, Muslims
• Pakistan Downplays India's Decision Not to Invite Imran Khan for Modi's Swearing-In
Europe
• British Politicians Taking Donation from ISIS Funder
• UK Interior Minister Sajid Javid Enters Leadership Race
• German Court Orders Fines for 'Sharia Police' Group
• Russia invites Taliban and Afghan politicians to Moscow meeting
• France opposed in principle to execution in Iraq of three French ISIS members
• Surge in US military presence in Mideast creates new risks: Russia FM
• UN chief urges more caution against hate, extremism
--------
Pakistan
• Pakistani Clerics Declare Fatwa against 'Sinful' Dollar Buying
• Hindu Doctor Held on Blasphemy Charges In Pakistan
• Soldier martyred as terrorists raid North Waziristan checkpost: ISPR
• Mufti Popalzai rejects lunar calendar
• I made Pakistan a nuclear state, says Nawaz
• Zarif seeks help from Pakistan
• PM to launch Qarz-i-Hasna, asset transfer schemes next month
• Two arrested as CTD foils terror plan on Youm-i-Ali
• Call to build more prisons, equip inmates with life skills
• Police find 'suicide vest' along route of procession
• Qureshi leaves for Saudi Arabia to attend OIC's Council of Foreign Ministers
• Terror bid on Samungli air force base foiled, two suspected militants killed
--------
Southeast Asia
• DAP Bars Members from Using Mosques, Surau for Political Programmes
• Filipino Muslims: 'We Lost Everything In The Fighting — But Not Our Faith'
• Chinese Muslims thriving in Dubai, official says
• Better To Teach Non-Muslims about Islam - PAS Lawmaker
• Muslim Lawyers' Group Wants AGC's Explanation on Why Lawyer Quit Adib Inquest
• National Police Uncover Assassination Plot in Latest Arrest
• Six Men Arrested on Suspicion of Burning Down a Police Station in East Java
• Three killed in Ramadan violence in restive Thai south
--------
Arab World
• Makkah Summits Confirm Saudi Role in Serving Islam, Muslims
• Top Bahraini Cleric Slams US 'Deal Of Humiliation' On Israeli-Palestinian Conflict
• Regime bombardment kills 18 civilians in Syria's Idlib
• Iraq condemns fourth French ISIS member to death
• China, Russia boycott US-led 'deal of century' promo event in Bahrain
• Syrian army finds German equipment in White Helmets' field hospital
• Lebanese MP warns of West's 'deep plan' for Syrian refugees
• King Salman tells moderate Islam conference that Saudi Arabia has fought 'extremism, violence and terrorism'
• Egyptian security forces commit war crimes in Sinai: rights monitor
--------
North America
• Who Are The Muslim Community Patrols Protecting US Mosques?
• Trump Says Iran Nuclear Deal Is Achievable As Sanctions Sting
• Trump could reduce tensions with Iran by firing Bolton, Pompeo: Analyst
• Trump says US not after regime change in Iran as war threats lose momentum
--------
India
• Pakistan Downplays India's Decision Not to Invite Imran Khan for Modi's Swearing-In
• Balakot Strike Will Compel Pakistan to Change Its Behaviour: Navy Chief
• After Intel On IS Jihadis, Kerala Steps Up Security
• Muslim Shopkeeper in Bihar Says Told To Go To Pakistan, Shot At
• India, Pak Teams Discuss Kartarpur Modalities
• UP ATS nabs six Bangladeshis for getting passports using fake documents
--------
South Asia
• Growing Anti-Islam Hatred and Terror In Sri Lanka
• 3 Injured in Powerful Blast Claimed by Islamic State in Bangladesh
• Airstrikes kill 4 Taliban fighters in Nangarhar province
• Afghan forces retake, fully clear Deh Yak district of Ghazni from Taliban after two years
• U.S. airstrikes kill 4 Pakistani members of ISIS terrorist group in Nangarhar
• 15 Taliban militants killed in Special Forces raid, airstrikes in Helmand
--------
Mideast
• Israel Faces Possible Second Election as Netanyahu Struggles To Form Government
• Israel says strikes Syria, Damascus says soldier killed
• US sanctions policy threatens Middle East security: Iran Deputy FM
• Israel open to US-mediated talks with Lebanon on maritime border
• Houthi: Saudi-led siege of Yemen's al-Durayhimi 'obvious crime'
• Israeli military: Off-duty soldier set fire to Palestinian fields
• Turkish military launches operation against militants in northern Iraq
• Iran foreign ministry shuns Trump's mediation offer
--------
Africa
• Sudan Opposition Pushes Ahead With Two-Day Strike
• Somali leader urges nation to unite against tribalism
• Somalia: Al-Shabaab Claims Victory Over Battle
• Scores of Boko Haram insurgents killed at Sambisa meeting
Compiled by New Age Islam News Bureau
URL: https://www.newageislam.com/islamic-world-news/british-politicians-taking-donation-isis/d/118729
--------
British politicians taking donation from ISIS funder
May 27, 2019
Muzaffar Ahmad Noori Bajwa
An ex-military officer from Bangladesh invested £12 million in the United Kingdom and the authorities didn't even ask how the money was brought into that country, because the man is patronizing and funding the British politicians and political parties. Most alarming fact is, this ex-military officer is using British soil in continuing his activities as a funder of Islamic State and other militancy groups.
A report published in the Sunday Times, titled 'Tory donor charged with arms dealing and funding terrorism' by its correspondent Tom Harper, an ex-colonel of Bangladesh Army immigrated to the UK along with his family in 2009 with luggage filled with dirty money. This man also is a business associate of Dawood Ibrahim's D-Company, where he has invested millions of dollars. According to Asian Tribune, he has been operating businesses in Dubai under the patronization of Pakistani intelligence agency ISI.
In the recent report, The Sunday Times states "Khan, who lives in Wimbledon, Southwest London, with his family after buying a multimillion-pound "golden visa" to the UK in 2009, has donated £20,000 to the constituency party of his MP Stephen Hammond, a health minister."
According to reports published in the international media, Shahid Uddin Khan is a funder of Islamic State (ISIS) and he is facing charges of terrorism and dealing in arms in Bangladesh. He also is accused of being a part of Dawood Ibrahim's infamous D-Company in its transnational narco-trade.
It may mentioned here that Islamist militancy groups are encouraging Afghanistan-based heroin producers as well as drugs traffickers in sending consignments of drugs to the Western nations, as according to media reports, members of Taliban, Al Qaeda, Islamic State and other militancy groups consider sending drugs to the West is a part of their sacred obligation. They call it 'narcotic jihad'.
While ISIS is spreading wings in the Western world for past few years, it is truly worrying that individuals like sacked Col Shahid Uddin Khan are finding Britain as the safe haven of investing dirty money and continue their militancy activities by using the British soil.
According to media reports, sacked Colonel Khan is reportedly involved in the recent Sri Lanka terror attacks. There are apprehensions that this man may plot terror attacks in India too as he has links with Dawood Ibrahim and Pakistani spy agency ISI.
According to information obtained by the counter-militancy sources, Zumana Fiza Khan, daughter of ISIS-funder Md. Shahid Uddin Khan has been romancing with a Pakistani youth nick-named BaitPaki. BaikPaki's maternal uncle is an influential leader of Jaish-e-Mohammed and the family is already under the radar of the counter-militancy organizations.
Khan is reported to be involved in many terror activities in Asia and Europe too. The Eastern Herald in an exclusive report stated "According to a credible source, Shahid Uddin Khan has hands behind a number of recent terrorist attacks in Britain. Moreover, he has been enthusiastically funding anti-Semitism in the UK as well as the conversion of non-Muslims into Islam".
Shahid Uddin Khan plotted an attack backed by Pakistani ISI on religious Muslim minority Ahmadiyya in Bangladesh. In this attack more than 50 Ahmadis were injured, their properties and businesses were destroyed by the radical Islamic terrorists.
If this is the real face of Britain and its so-called ethics and one of the oldest democracies in the world, what the world can expect from them, especially when we are facing threats posed by radical Islam and militancy? The way British politicians and the entire system are being sold to individuals like sacked Col Shahid Uddin Khan, possibly it can even not be seen in Nicolas Maduro's Venezuela or any other autocratic nations. Though many people in the European Union were shocked seeing the Brexit winning popular mandate in Britain, getting evidences of how the United Kingdom has already turned into the epicenter of dirty money and terror-funders, exit of UK from the European Union now seems to be rather essential, as in near future, a Britain dominated by black-money holders and militancy-funders would pose huge security threat to Europe and beyond.
https://www.weeklyblitz.net/news/british-politicians-taking-donation-from-isis-funder/
--------
UK interior minister Sajid Javid enters leadership race
27 May 2019
UK interior minister Sajid Javid became the ninth candidate Monday to enter the race to replace Theresa May as premier, promising to "deliver Brexit" after repeated delays.
Referring to the drubbing May's Conservatives received in European Parliament elections, Javid said the new party leader had to restore voters' trust.
"As last night's results made all too clear, we must get on and deliver Brexit to make sure there is renewed trust in our democracy," Javid said in a video message posted on Twitter.
"We must bridge divides to heal communities, reminding us of our shared values as a United Kingdom," said Javid, whose father emigrated from Pakistan and worked as a bus driver.
Javid did not join several other leadership hopefuls in saying that he would pull Britain out of the EU with or without a deal when the new deadline arrives on October 31.
TeamSaj
@TeamSaj
"I'm standing to be the next leader of the @Conservatives & Prime Minister of our great country. We need to restore trust, bring unity and create new opportunities across the UK. First and foremost, we must deliver Brexit" - @sajidjavid
Join @TeamSaj to help us do just that.
397
7:29 PM - May 27, 2019
409 people are talking about this
Twitter Ads info and privacy
Conservative Party leadership frontrunners, including former foreign minister Boris Johnson, have said they were ready for a so-called "no-deal Brexit," despite warnings that this may put Britain in economic peril.
May's party is being pushed further to the right by the strong European election performance of the Brexit Party of anti-European populist Nigel Farage.
His success reflected Conservative voters' anger at May's inability to finish Brexit by its original March 28 deadline, with her deal with Brussels getting rejected by parliament three times.
The Conservatives picked up just nine percent of the vote, their worst election result since 1832. Farage's new party won almost 32 percent and is now demanding a seat at the negotiating table with Brussels.
Javid, 49, became the first candidate to declare his candidacy over social media. He is viewed as a relative long-shot in a field that is expected to grow further in the days to come.
https://english.alarabiya.net/en/News/world/2019/05/27/UK-interior-minister-Sajid-Javid-enters-leadership-race.html
--------
Pakistani clerics declare fatwa against 'sinful' dollar buying
May 28, 2019
Religious scholars in Pakistan have declared that hoarding dollars is a "grave sin", following an increase in speculative buying of the US currency as the government of Prime Minister Imran Khan struggles to contain a balance of payments crisis.
Pakistanis worried about a further devaluation of the rupee after Islamabad's announcement earlier this month that the country would go ahead with a $6bn IMF bailout have rushed to buy dollars while money traders have seized on the volatility to turn a profit.
"We have issued a fatwa [religious order] which says that people must not hoard dollars as hoarding creates chaos," said Maulana Tahir Ashrafi, the head of the Pakistan Ulema Council, a network of Sunni Muslim clerics.
"Unnecessary purchases of dollars must be avoided till such time as Pakistan comes out of the prevailing crisis that we face today," Mr Ashrafi told the Financial Times.
A cricket star-turned-politician, Mr Khan inherited depleted foreign exchange reserves, a ballooning trade deficit and a mountain of foreign debt when he came to power last year.
But his government has been criticised for taking too long to secure an IMF bailout to restore confidence, having first turned to potential bilateral donors such as China and Saudi Arabia and even floating a bond to bring in money from the country's diaspora.
Pakistan's gross domestic product is expected to grow just 2.9 per cent this year compared with 5.2 per cent a year earlier, according to the IMF, while its $8.9bn worth of reserves are barely enough to cover two months of imports.
The rupee hit a record low of Rs153 to the dollar last Monday and has fallen more than 20 per cent against the dollar in the past year, alarming Pakistanis who are facing inflation of more than 7 per cent and rising fuel and power bills.
Muhammad Taqi Usmani, a prominent cleric with a nationwide following, tweeted that "purchasing dollars to hoard and earn profit by the increase in its price is a grave sin and disloyalty to the country in the present economic situation".
The cleric, who served as a judge at the federal sharia court, advises banks on Islamic banking.
A moral suasion campaign on dollars "is in full swing," said an equity trader in Karachi. "But it's not having much effect; just look at the price of dollars."
Finance official Abdul Hafeez Shaikh said Pakistan would early next month announce an "austerity" budget for the next fiscal year ending in June.
"The government's expenditures will be put at a minimum level," said Mr Shaikh at a press conference on Saturday. "We are standing together in it, whether civilians or our military."
Saad Hashemy, an economist at Topline Securities in Karachi, said the government needed to act quickly.
"The economy is probably at its worst point in the last seven years," said Mr Hashemy. "The key issue is the external account and the high imports. Unless we get some relief on that front, the IMF programme will help control the bleeding but it will not heal the wound."
The crisis has heaped pressure on Pakistan to curb illicit financial outflows that enable corruption and help militant groups operate on its soil. Islamabad is battling to avoid being blacklisted by the Financial Action Task Force, an inter-governmental body that combats money laundering and funding of terrorism, which would deter investment further.
"Our member countries need to create and improve the enabling environment in terms of security, governance, and transparency in order to encourage the private sector to invest," said Bandar Hajjar, the head of the Jeddah-based Islamic Development Bank (IDB), the largest development organisation in the Muslim world, during a trip to Pakistan in early May.
Mr Hajjar added that the IDB's 57 members should focus on reforms to the banking sector and taxation structures if they wished to improve their prospects.
https://www.ft.com/content/66ff9e08-8055-11e9-b592-5fe435b57a3b
--------
Hindu doctor held on blasphemy charges in Pakistan
May 28, 2019
KARACHI: A Hindu veterinary doctor was arrested on Monday after a local cleric filed a police complaint accusing him of committing blasphemy in Pakistan's Sindh province.
The doctor, identified as Ramesh Kumar, was taken into custody while protestors set fire to shops owned by Hindus, reports said. The head cleric of the local mosque, Maulvi Ishaq Nohri, filed the complaint with police alleging that Kumar had torn pages of a holy book and wrapped medicines in them.
Zahid Hussain Leghari, the station house officer of the local police station, said a case had been registered. He added Kumar had been taken to a safe location after the unrest.
https://timesofindia.indiatimes.com/world/pakistan/hindu-doctor-held-on-blasphemy-charges-in-pakistan/articleshow/69530464.cms
--------
DAP bars members from using mosques, surau for political programmes
28 May 2019
IPOH, May 28 — Perak DAP will direct its members in more than 300 branches throughout the state to abide by the Sultan of Perak, Sultan Nazrin Shah's order prohibiting the holding of political programmes in mosques and surau.
Its chairman Nga Kor Ming said the party agreed that mosques and surau are places of worship and not for conducting political activities.
"We also appeal to the Perak Islamic Religious Department (JAIPk) to take firm action against any mosque committee who violates the tuanku's order, including suspending them from their duty.
"Such things should not happen not only during Ramadan but at all times," he told reporters at a Perak DAP buka puasa event here yesterday.
Nga, who is Dewan Rakyat Deputy Speaker, said although DAP had been labelled as anti-Islam and anti-Malays, the party had always taken measures that are Islam friendly. — Bernama
https://www.malaymail.com/news/malaysia/2019/05/28/dap-bars-members-from-using-mosques-suraus-for-political-programmes/1756916
--------
Filipino Muslims: 'We Lost Everything In The Fighting — But Not Our Faith'
May 27, 2019
MARAWI CITY: Thousands of Filipino Muslims who lost their homes in a bitter five-month battle between security forces and terrorists in 2017 welcomed Ramadan this year in evacuation centres and a "tent city."
The country's only Muslim city fell to the Daesh-inspired Maute Group, forcing 44,000 families to flee, according to official figures. Up to 18,000 of these families are still living in makeshift shelters awaiting a return home.
In Sarimanok, one of Marawi City's evacuation sites, Imam Omar Tindugan Shariff, 65, who serves as spiritual leader in the community, told Arab News that "life is hard, but we're OK somehow because we get to receive help from well-meaning people, especially fellow Muslims."
Holding his three-year-old grandson as he stood outside his tent, Shariff said the community also received help from the government and different aid organizations.
Most of the help came in the form of food and other items, but sometimes cash assistance was also offered.
"It's not enough, but it helps us survive and so we are still thankful for that," he said.
Shariff and his family moved to the tent city in April last year after spending several months with relatives who took them in after the conflict forced them to to flee their home. Eleven members of the Shariff family, including his grandson Abdul Ryan, share the small tent.
"This is the second year we are spending Ramadan here (at the tent city). Before the siege, we always had a beautiful celebration for Ramadan. Now we only have an improvised mosque, it's a tent with tarpaulins," Shariff said, adding that food for iftar is also donated by various organizations.
"On days when when there are no food donations, we prepare on our own, usually just rice and sardines," he said.
Shariff admits there are times when he asks God: "Why did this happen to us?"
"But I know this is just a test of faith for us. If you're a true Muslim, Allah will sometimes let you face challenges. At first, you will face hurdles and if you are able to overcome them, Allah will reward you."
Shariff said he still hopes that through the grace of Allah, a better life awaits the evacuees.
"It never crossed my mind to turn my back on my faith, even if those who did this to us claim to do it in the name of Islam," he said.
"We lost our house. It was burned down at the height of the fighting. And right now I don't have enough money to send my daughter to school. So she has stopped attending school for two years now. She is in her second year in college."
Amid their hardships, Shariff said his faith "is what helps me survive."
Asked about his thoughts on the terrorists who attacked their city, he replied: "Those who did this to us, the Maute group, what they did is un-Islamic. Muslims are for peace, there's no rich or poor, we are all equal — that's the real Muslim. I don't believe in what Daesh say they are fighting for."
During the holy month, Shariff said his prayers are for the government to allow the Marawi City evacuees to return home.
Mansawi Hadinonamen and his family were also displaced during the siege. But unlike Shariff, they have already moved to temporary shelters in Sabonsongan, where living conditions are better than in the tent cities.
Hadinonamen's family lost everything in the war. But still he is grateful they are alive. He also looks forward to rebuilding their house when the government allows them to return.
Asked what Ramadan means to his family in their current situation, he replied that it is a time to reflect and show that they remain strong in their faith.
"The war has taken everything from us — our house, our belongings — but not our faith," he said.
Another resident, Khalid, said fasting has become a daily recourse for many evacuees. Food donations are not enough.
"There are no regular food donations and we don't have enough money to buy food. Some areas also lack water, so people are forced to use rainwater that is not safe for drinking," he said.
Meanwhile, Marawi Mayor Majul Gandamra declared that the city is now "on its way to being well."
However, the rehabilitation process has yet to be completed, and Gandamra urged people to put more emphasis on social healing.
"Peace starts with us. Peace must be realized," he said during the culmination of the Week of Peace Festival to commemorate the Marawi siege.
http://www.arabnews.com/node/1502931/world
--------
Makkah summits confirm Saudi role in serving Islam, Muslims
May 27, 2019
Riyadh — The convening of Islamic, Arab and Gulf summits in the vicinity of the Grand Mosque in Makkah in the last 10 blessed days of the holy month of Ramadan make it special, the General Secretariat of the Council of Senior Scholars said on Monday.
Custodian of the Two Holy Mosques King Salman has called emergency summits of Gulf and Arab leaders in Makkah on Ramadan 25 (May 30) to discuss ways to enhance regional security and stability in the wake of the attacks on commercial vessels in UAE territorial waters and on two Saudi pumping stations by Iranian-backed terrorist Houthi militias.
The Holy City will also play host to the 14th summit of the Organization of Islamic Cooperation (OIC) on May 31.
The OIC summit, which is titled "Makkah Summit: Together for the Future", aims at developing a unified stance on events in the Islamic world.
The General Secretariat of the Council of Senior Scholars said the convening of these summits confirms the historic pioneering roles of the Kingdom, which will not hesitate in the service of the issues of Arabs and Muslims and unifying their ranks.
http://saudigazette.com.sa/article/567375/SAUDI-ARABIA/Makkah-summits-confirm-Saudi-role-in-serving-Islam-Muslims
--------
Pakistan downplays India's decision not to invite Imran Khan for Modi's swearing-in
May 28, 2019
A day after leaders of BIMSTEC (Bay of Bengal Initiative for Multi-Sectoral Technical and Economic Cooperation) nations were invited for Prime Minister Narendra Modi's swearing-in on Thursday, Pakistan tried to downplay India's decision not to invite Prime Minister Imran Khan for the ceremony.
Pakistan Foreign Minister Shah Mehmood Qureshi told Dawn news, ""His (Prime Minister Modi's) entire focus (during the election campaign) was on Pakistan-bashing. It was unwise to expect that he can get rid of this narrative (soon)."
He said a dialogue over the Kashmir issue and other disputes like Siachen and Sir Creek would represent a significant improvement in ties instead of an invitation to the swearing-in ceremony.
The BIMSTEC comprises Bangladesh, India, Myanmar, Sri Lanka, Thailand, Bhutan, and Nepal.
By inviting the leaders from BIMSTEC, instead of SAARC, Delhi has decided to keep Pakistan out of its engagement with the region. In May 2014, Pakistan Prime Minister Nawaz Sharif raised hopes for a new beginning in the bilateral relationship when he had attended Modi's swearing-in ceremony. , but that did not go as planned. And SAARC was the casualty since the strain in India-Pakistan ties cast a shadow on the regional grouping.
On Imran Khan's gesture to congratulate his Indian counterpart Modi for winning the elections and expressing his desire to work together, Qureshi said, "Relations between the countries were based on reciprocity and PM Khan had congratulated Mr Modi as a goodwill gesture."
"Finding a new way (to resume dialogue) is also essential for them (India). If he (Modi) wants development of this region… the only way is to sit with Pakistan to find a solution.
"It is in the interest of Pakistan to defuse tensions… Pakistan did not create tension," Qureshi added.
Tensions flared up between India and Pakistan after a suicide bomber of Pakistan-based Jaish-e-Muhammed (JeM) killed 40 CRPF personnel in Kashmir's Pulwama district on February 14.
Amid mounting outrage, the Indian Air Force (IAF) carried out a counter-terror operation, hitting the biggest JeM training camp in Balakot, deep inside Pakistan on February 26. The next day, Pakistan Air Force (PAF) retaliated and downed a MiG-21 in aerial combat and captured IAF wing commander Abhinandan Varthaman, who was handed over to India. The PAF also lost a F-16 jet which was shot down by commander Vathaman.
https://indianexpress.com/article/india/pakistan-downplays-indias-decision-not-to-invite-imran-khan-for-modis-inauguration-pitches-for-dialogue-5752079/
--------
Europe
German court orders fines for 'sharia police' group
27 May 2019
A German court on Monday ordered seven fundamentalists to pay fines over a so-called "sharia police" patrol they launched in 2014 to mass media and political outrage.
The men aged between 27 and 37 must pay between 300 and 1,800 euros ($336-$2015) for infringing laws against wearing uniforms, the Wuppertal tribunal found.
Germany's laws against wearing uniforms originally aimed to prevent neo-Nazis staging rallies and parades. Judges said the group's actions were aimed at achieving an "intimidating effect suggestive of militancy" by aping the sharia police as violent organizations.
In September 2014, the seven patrolled the streets of Wuppertal, a west German industrial town with a sizeable Muslim population, wearing orange high-visibility vests marked "Sharia Police".
When they encountered young Muslims, they told them not to drink alcohol or visit cafes, betting shops or brothels. Monday's verdict comes at the end of a second trial for the group after the constitutional court last year overturned their 2016 acquittal. At the time of the "sharia police" patrol, the men were led by one of Germany's prominent fundamentalist preachers, Sven Lau, a 38-year-old convert to Islam.
He was himself sentenced in 2017 to a five-year jail term in a separate case, after being found guilty of "supporting a terrorist organization" by recruiting potential militants to travel to Syria.
https://english.alarabiya.net/en/News/world/2019/05/27/German-court-orders-fines-for-sharia-police-group.html
--------
Russia invites Taliban and Afghan politicians to Moscow meeting
27 May 2019
Afghan politicians are set to attend a two-day meeting with the Taliban in Moscow this week, officials confirmed on Monday, as fighting continues to rage in Afghanistan amid ongoing peace talks between the US and the militants.
The meeting – set to run from the 27th and 28th of May – will mark the 100th anniversary of diplomatic relations between Russia and Afghanistan.
Taliban spokesman Suhail Shaheen told AFP the insurgents were planning to send a delegation to attend the ceremony but provided no further details.
A spokesman for Afghanistan's high peace council – which is charged with helping facilitate peace talks between Kabul and the Taliban – said Karim Khalili, who heads the body, will also be in attendance.
Former president Hamid Karzai is also set to make an appearance, with his spokesman Yousof Saha suggesting the Afghan and Taliban delegations might meet on the sidelines of the ceremony for informal talks but noted that nothing was guaranteed.
The potential talks would mark the second time leaders from the militant movement have met with opposition leaders in Russia, following a rare sit down between the two sides in February that saw members of the Taliban and Afghan politicians praying together and chatting over meals.
However, no representatives from the current administration of President Ashraf Ghani were present at those informal talks, spurring fears the administration was being further sidelined in the ongoing peace process.
The latest meeting in Moscow comes weeks after a sixth round of talks between the US and Taliban wrapped in Doha with no tangible progress cited by the negotiating teams as Washington continues to push for a settlement with the militants aimed at ending its 18-year fight in Afghanistan.
Full report at:
https://english.alarabiya.net/en/News/world/2019/05/27/Russia-invites-Taliban-and-Afghan-politicians-to-Moscow-meeting.html
--------
France opposed in principle to execution in Iraq of three French ISIS members
27 May 2019
The French foreign ministry said on Monday it was opposed in principle to the death penalty, but also said it accepted Iraqi sovereignty as Iraq's justice ministry sentenced three French citizens to death for their membership of ISIS.
"The French embassy in Iraq, in its role as provider of consular protection, is taking the necessary steps to convey its position (against the death penalty) to the Iraq authorities," the foreign ministry said in a statement.
"France is opposed in principle to the death penalty at all times and in all places," the foreign ministry said in a statement after the three ISIS members were sentenced on Sunday. They have 30 days to appeal the ruling.
Full report at:
https://english.alarabiya.net/en/News/world/2019/05/27/France-opposed-in-principle-to-execution-in-Iraq-of-three-French-ISIS-members.html
--------
Surge in US military presence in Mideast creates new risks: Russia FM
May 27, 2019
Russian Foreign Minister Sergei Lavrov has warned that any increase in the US military presence in the Middle East would result in new risks.
"As for [US] President [Donald] Trump's decision to send 1,500 troops in addition to those deployed in the Middle East and North Africa region, well, you know, always when the military potential grows, the risks increases," Lavrov told reporters in Moscow on Monday after a meeting with his Cuban counterpart Bruno Rodriguez Parrilla.
"I very much hope that the sensible voices that are heard from Washington, including the respected former military leaders, politicians, diplomats about the recklessness of the idea of war against Iran, will be heard," he added.
The United States remarkably stoked tensions with Iran in May 2018 when the US president pulled his country out of a nuclear accord between Iran and six world powers, officially known as the Joint Comprehensive Plan of Action (JCPOA), and re-imposed harsh sanctions against the Islamic Republic in defiance of global criticisms.
The tensions saw a sharp rise on the first anniversary of Washington's exit from the deal, reached between Iran and the P5+1 group of countries -- the United States, the UK, France, Russia, and China plus Germany -- in 2015, as the US moved to ratchet up the pressure on Iran by tightening its oil sanctions and building up its military presence in the region.
Washington has sent military reinforcements, including the USS Abraham Lincoln aircraft carrier strike group, a squadron of B-52 bombers, and a battery of patriot missiles, to the Middle East.
On Friday, the Pentagon announced that 1,500 additional troops would be sent to the Middle East, in what officials described as a "force protection" measure against alleged Iranian threats. Trump also claimed the deployment is "mostly protective."
Iranian Foreign Minister Mohammad Javad Zarif on Saturday dismissed the US claims against Iran as "fabricated allegations to justify beefed up US military presence in the region, " saying Washington's decision to deploy additional troops to the Middle East is "extremely dangerous" and threatens international peace and security.
Tehran has repeatedly announced that it would not be the initiator of any war, but reserves the right to self-defense and will give a crushing response to any act of aggression.
A senior commander of Iran's Islamic Revolution Guards Corps (IRGC) said on Sunday that the US presence in the Middle East is at its "weakest in history", amid spiraling tensions between the two countries.
"The Americans have been present in the region since 1833 and they are currently at the weakest state throughout the history of their presence in West Asia, and have the minimum number of warships in the Persian Gulf," Rear Admiral Ali Fadavi, the second-in-command of the IRGC, said.
Russia welcomes Iran non-aggression initiative with Persian Gulf states
Elsewhere in his remarks, the top Russian diplomat hailed a proposal by the Iranian foreign minister to conclude a non-aggression pact with the Persian Gulf countries as the first step to reduce regional tensions.
"Perhaps, agreeing not to attack each other is the first step to defuse the tensions. We would consider such an agreement to be beneficial," Lavrov said.
Zarif said in Baghdad on Sunday that Iran has offered to sign non-aggression agreements with all countries in the Persian Gulf region and those offers are still on the table.
At a press conference alongside his Iraqi counterpart, Mohamed Ali Alhakim, Zarif also said that Iran sought the best of relations with the Persian Gulf littoral countries and would welcome any proposals for dialog and de-escalation toward that end.
Lavrov also said that his Iranian counterpart's suggestion was in line with a "well-known and old" Russian initiative to create a "security concept" for the Persian Gulf, noting, however, that "no common position" had been formulated among the Arabs about this initiative so far.
"I believe that any way we should move on toward creating such a concept, such a security system, and we should start with easy steps, such as being transparent about military matters, inviting each other to take part in drills and elaborating other measures aimed at boosting trust," Lavrov said.
He added that Russia would like to see the Arab League, the European Union, the United Nations and the five permanent members of the UN Security Council as the guarantors of this security system.
In an exclusive interview with the CNN broadcast on Tuesday, Zarif warned that the United States is "playing a very, very dangerous game" by beefing up its military presence in the region.
Full report at:
https://www.presstv.com/Detail/2019/05/27/597070/Lavrov-Moscow-risks-US-military-Persian-Gulf-nonaggression-Zarif
--------
UN chief urges more caution against hate, extremism
Askin Kiyagan
27.05.2019
The UN secretary-general on Monday called for "more vigilant" stance against corrosive hate and violent extremism, referring to recent deadly attacks on mosques and churches.
"We must be more vigilant than ever in the face of corrosive hate and violent extremism, online and offline," Antonio Guterres told the event marking the 40th anniversary of the Vienna International Centre.
"Two weeks ago, I visited Christchurch, New Zealand, where I expressed my solidarity with the Muslim community after the horrific attacks on two mosques," he said.
On March 15, at least 51 Muslim worshippers were massacred and as many injured in a white supremacist terror attack on two mosques in Christchurch.
Guterres also recalled the deadly attacks on Sri Lanka and Burkina Faso churches and a California synagogue.
In April, at least 250 people were killed in Sri Lanka on Easter when tens of hundreds of Christians were attending special prayers.
Earlier in May, seven people were also killed in an armed attack at a Catholic church in Burkina Faso.
Full report at:
https://www.aa.com.tr/en/europe/un-chief-urges-more-caution-against-hate-extremism/1490612
--------
Pakistan
Soldier martyred as terrorists raid North Waziristan checkpost: ISPR
May 27, 2019
A Pakistan Army soldier was martyred in an exchange of fire with terrorists who raided a checkpost in North Waziristan on Monday, the Inter-Services Public Relations said in a press release issued early this morning.
"Terrorists raided Makki Garh Post, Shawal Valley, North Waziristan," the ISPR said, adding that "troops effectively repulsed" the attempt.
"In exchange of fire, a soldier of the Pak Army embraced shahadat," the statement added.
The ISPR said five bullet-riddled bodies were recovered from a nullah in North Waziristan's Boya area, approximately 1.5 kilometres away from the Kharqamar checkpost, where an exchange of fire on Sunday killed three people and injured 15, including five soldiers.
"During patrolling in Boya area, where yesterday an Army post was attacked by a group, five bodies with bullet wounds have been found from a nullah, approximately 1.5 kilometres away from Kharqamar post. Identification of dead bodies in process," the statement said.
A day earlier, Special Assistant to the Prime Minister on Information Dr Firdous Ashiq Awan had termed the attack on the check post unfortunate and stressed that nobody in any way would be allowed to undermine the country's image, dignity, national identity and national interest.
Speaking to different television channels, she said the government would take action against the attackers as per law and the Constitution.
https://www.dawn.com/news/1484896/soldier-martyred-as-terrorists-raid-north-waziristan-checkpost-ispr
--------
Mufti Popalzai rejects lunar calendar
May 28, 2019
PESHAWAR: Religious scholar and head of the unofficial Ruet-e-Hilal Committee of Qasim Ali Khan Mosque, Mufti Shahabuddin Popalzai has said that he has no objection to the launching of Islamic calendar but it should not be applied for observing Ramzan and Eidul Fitr.
"I have not been consulted by anyone regarding Islamic calendar, but I must say that Ramzan and Eidul Fitr must be observed after moon-sighting as per Sharia and Islamic injunctions," he said.
Popalzai said the local unofficial Ruet-Hilal Committee would hold its meeting on 29th Ramzan at Qasim Ali Khan Mosque, Peshawar and if it received solid witnesses about moon-sighting it would announce Eidul Fitr.
"We welcome the launching of Islamic calendar. It should be displayed in government offices, public places and homes to know about Islamic (lunar) months and its importance in daily life," he said.
He remarked that Federal Minister for Science Fawad Chaudhry seemed to be more interested in finding space in the press rather than being serious about Islamic calendar.
"The committee for moon-sighting at Masjid Qasim Ali Khan has been holding its regular meetings since 1825. It never announced Ramzan or Eidul Fitr without solid and Sharia evidence regarding moon-sighting," he said.
He pointed out that there was no proper head or permanent members of the Ruet Hilal Committee based at Qasim Ali Khan Mosque but the local religious scholars regularly assembled at the mosque and received evidence and witnesses from the faithful across the province.
He said he had been under pressure not to hold separate meetings of the unofficial Ruet-e-Hilal Committee for Ramzan and Eidul Fitr moon-sighting.
Full report at:
https://www.pakistantoday.com.pk/2019/05/27/mufti-popalzai-rejects-lunar-calendar/
--------
I made Pakistan a nuclear state, says Nawaz
May 28, 2019
LAHORE: Former prime minister Nawaz Sharif said on Monday that he was punished for making Pakistan's defence insurmountable. In a statement issued in connection with Yaum-e-Takbir anniversary (May 28 when Pakistan conducted nuclear tests), Mr Sharif said it was a day of integrity and national character for which he faced prison and exile which he wore as a pride for this service for national pride and insurmountable defence. Mr Sharif is currently in the Kot Lakhpat jail serving a seven-year term in the Al Azizia Steel Mills corruption reference.
Mr Sharif said on May 28 Pakistan emerged on the world map as a nuclear power, a day that celebrated the valour and matchless resilience of Pakistanis and that of alarm and annihilation of the enemies of Pakistan who dare dream of aggression against the motherland.
Read: Test results: Have nuclear weapons secured Pakistan?
He said that 21 years ago this decision was made amidst threats of crippling economic sanctions and billions of dollars in return for not going ahead with the tests. However, he said, the power of God Almighty and the unanimous support of the people enabled him to take this crucial decision which time has proven to be the best step in the right direction in national interest.
Mr Sharif said that international powers wary of Pakistan's insurmountable defence, progress and stability rose up yet again when he decided to take the second most momentous decision of bringing CPEC to Pakistan which would make Pakistan truly an economically sovereign country. The same interest group, in order to destroy this economic progress led a witch-hunt against him to sabotage this programme as a result of which he was being held accountable for crimes he had never even thought of committing.
Mr Sharif said he did not fear this persecution 21 years back and he would not let up against them even now because he was willing to pay any price to uphold Pakistan's physical or economic sovereignty.He said that from the dungeon of the persecution that he was currently confined to, he wanted to assure his nation that he did not kneel to those who conspired against the country back then and would compromise on it now.
Full report at:
https://www.dawn.com/news/1485011/i-made-pakistan-a-nuclear-state-says-nawaz
--------
Zarif seeks help from Pakistan
Sabena Siddiqui
May 27, 2019
As the situation escalates in the Persian Gulf, Iranian Foreign Minister Mohammad Javad Zarif has been visiting various countries to hold consultations and find a way to end the deadlock between Washington and Tehran. Bilateral ties with the United States have progressively unraveled ever since the Trump administration walked out of the Joint Comprehensive Plan of Action (JCPOA) nuclear deal and reimposed stringent sanctions on Tehran, bringing Iran's economy to a standstill.
Ending the impasse has become quite critical as the United States has sent an aircraft carrier group and B-52 bombers to the region after perceiving some unspecified threat from Iran. Just days ago, the White House confirmed that it will be sending more troops to the Middle East to reinforce security in the region.
Having completed his visits to India, China, Japan and Turkmenistan, Zarif reached Pakistan this week to hold meetings with the political and army leadership. Conveying the urgent nature of his visit on arrival in Islamabad, Zarif said, "I have come to Pakistan for consultations as dangerous steps have been taken in the region."
Zarif held separate meetings with Prime Minister Imran Khan, army chief Qamar Bajwa and Foreign Minister Shah Mahmood Qureshi. Though the details of these meetings have not been made public, it is apparent that Iran has requested help in de-escalating the situation.
Both the Organization of Islamic Cooperation and the Arab League are about to hold summits where Saudi Arabia might push for resolutions against Iran. Ostensibly, the Iranian foreign minister would want Islamabad to convince Riyadh to adopt a less strident approach. It appears that Iran, seeing that Pakistan's close ties with Saudi Arabia and Islamabad's long alliance with the United States could help reduce tensions, is not interested in any conflict.
De-escalation should be the immediate target, followed by dialogue and a new nuclear deal. Renegotiating the JCPOA is the best option for establishing peace in the region under the circumstances. Traditionally, Oman has been an intermediary between Iran and the United States, but Pakistan is facilitating Washington in the Afghan peace process nowadays and it could be an effective mediator in this crisis as well. Matters have reached a critical turning point since Iranian President Hassan Rouhani rejected talks with the United States after the recent escalation.
Assuring Zarif of Pakistan's support, Qureshi said his country wanted "resolution of all outstanding issues through diplomatic engagement," as regional tension was in no one's interest. However, in announcing that sides would not be taken in the ongoing confrontation just before Zarif's arrival, the Pakistan Foreign Ministry kept its neutral stance and the official statement urged all sides to "show restraint, as any miscalculated move can transmute into a large-scale conflict."
Balancing the interests of Tehran, Riyadh and Washington at the same time is an uphill task, so Islamabad will stick to neutrality. Pakistan cannot afford the risk of any confrontation between Riyadh and Tehran as frictions between them can have a sectarian spillover effect in Pakistan. In recent months, Pakistani-Iranian relations have not been at their best due to various complications.
One of the ongoing issues is Pakistan's inability to complete its side of the $7 billion Iran-Pakistan gas pipeline due to US sanctions on Iran. The matter is now being taken to court by Tehran. Making matters worse, there has been a spate of cross-border terror attacks in recent months and both governments accused each other of giving sanctuary to militants. While Iran suspects anti-state Sunni militants, Pakistan complains that Baluch insurgents are escaping to Iran.
In fact, a terror attack took place on Pakistani personnel in Ormara, Pakistan, just before Khan's visit to Iran in April. Condemning the attack, Zarif tweeted, "Terrorists, extremists & their sponsors are terrified by close relations between Muslim states." Insufficient border security is the reason rebels and other proxies find the opportunity to destabilize both the provinces of Baluchistan in Pakistan and Sistan-Baluchistan province in Iran.
Tackling the problem together, a joint Pakistan-Iran Rapid Action anti-terrorism force is to be deployed soon and fencing of certain areas along the Pakistan-Iran border is being carried out by the Pakistani army. Qureshi said, "The work has already started from the points that are frequently misused. We intend to gradually seal this whole 950-kilometer [590-mile] border."
Pakistan's Baluchistan province is the largest but least-populated region in the country; it is a massive, desolate and arid expanse. Iran's province of Sistan-Baluchistan shares similar characteristics; these factors make the region an ideal shelter and intensive patrolling and frequent checking is required. Most terror incidents in Pakistan take place near border areas with either Iran or Afghanistan.
The most recent terror attack took place at the Pearl Continental Hotel in Pakistan's port city of Gwadar. Carried out by a Baluch insurgent group that came from across the border, this attack may have larger dimensions than a simple insurgency. Nowadays, this region also represents China's economic interests as it has invested heavily in Gwadar.
The success of the China-Pakistan Economic Corridor, which has become a political flashpoint, has come to depend on Gwadar. In the larger picture, attacks on Chinese personnel or in areas with Chinese investment could have a negative impact on China's Belt and Road Initiative as the China-Pakistan corridor is the first one nearing completion and it is Beijing's bridge to the Middle East.
Full report at:
https://www.al-monitor.com/pulse/originals/2019/05/zarif-visits-pakistan-khan-qureshi-chahbahar-gwadar.html
--------
PM to launch Qarz-i-Hasna, asset transfer schemes next month
Syed Irfan Raza
May 28, 2019
ISLAMABAD: The government will start next month the process of distributing over 80,000 loans and moveable/immovable assets every month to the deserving families under Qarz-i-Hasna and assets transfer schemes.
Both schemes will be launched by Prime Minister Imran Khan under the ambitious Ehsaas programme.
According to the Prime Minister Office, under the Ehsaas Qarz-i-Hasna scheme, over 80,000 loans will be disbursed every month among youth and women, enabling them to undertake their own business ventures and help their families extricate from poverty trap. These loans would be prioritised in the underdeveloped districts.
Under the asset transfer scheme, people will be given livestock (goats and chickens), agriculture tools and supplies, sewing machines or material to support local crafts, small shops or cash to help them start small businesses. "Assets" under this scheme will be given as one-time support and are not expected to be returned.
Appreciating the efficacy of the existing programme, Prime Minister Khan approved injection of an additional amount of Rs5 billion into the existing fund so that the programme could be launched in collaboration with the existing partners of the Pakistan Poverty Alleviation Fund. "We aim to turn Pakistan into a welfare state based on the model of Riyasat-i-Madina that takes full ownership of the needs of its poor and vulnerable," said the prime minister.
The decision was taken on Monday during a briefing by Dr Sania Nishtar, Special Assistant to the Prime Minister on Social Safety Nets and Poverty Alleviation (PASS), on the status of implementation of the Ehsaas programme.
Ehsaas is a comprehensive and multifaceted programme with 115 policies under four pillars — addressing elitism and making the government system work to create equality; safety nets for the disadvantaged segments of population; jobs and livelihoods; and human capital development. It is an inter-sectoral programme to be implemented by 26 federal agencies, four provinces and special areas.
Dr Sania briefed the prime minister on timelines to implement projects under the Ehsaas Programme and policies related to poverty alleviation and social safety and its attached departments. The timeline was also set for implementation of the Kifalat programme and inclusion of women in it.
She also briefed the prime minister on the safety net Tahaffuz (protection) programme. Details and deadlines for graduation and interest-free loans programme and the new solutions challenge policy for the underdeveloped districts were also discussed. The prime minister was also briefed on a nutrition initiative to address malnutrition in all its forms, the new socio-economic registry which is being executed by the Benazir Income Support Programme (BISP), the Ehsaas undergraduate student scholarship initiative and plans to extend education conditional cash transfers for such districts.
Dr Sania informed the prime minister that in order to protect and ensure social security net to workers in the informal sector, several weekly meetings of the labour expert working group had been held. Briefing was given on the timeline of policy formulation. Details were also shared about plans to revitalise the trust for voluntary organisations and to make its governance effective and transparent so that the organisation could be used to upscale successful models in the non-governmental sector.
A number of other projects also came under discussion, including a plan to open 20 centres for the special people, opening of National Centre for Human Nutrition, setting up a forum for non-governmental stakeholders and diaspora.
The prime minister was also briefed on governance reforms in safety nets institutions, including the BISP, to ensure maximum transparency and efficiency.
Dr Sania said the policies concerning various components of the Ehsaas programme would be presented before the cabinet after June for its approval.
The prime minister appreciated the progress being made by Dr Sania and her team.
He also approved creation of the Ehsaas Steering Committee which would be headed by the prime minister himself.
Full report at:
https://www.dawn.com/news/1485003/pm-to-launch-qarz-i-hasna-asset-transfer-schemes-next-month
--------
Two arrested as CTD foils terror plan on Youm-i-Ali
May 28, 2019
SIALKOT: The Counter Terrorism Department (CTD) has arrested two suspected terrorists who were planning to hit Shia community on Youm-i-Ali and seized explosives from them.
The suspects were arrested from a graveyard of Sialkot city's Imam Sahib locality.
According to the CTD officials, it was an intelligence-based operation as the CTD team arrested two suspected terrorists, identified as Muhammad Abu Bakar and Muhammad Yousaf.
They said the suspects belonged to the banned Sipah-i-Sahaba Pakistan (SSP).
The officials added the terrorists were planning to target the local Shia people in Sialkot on the eve of Youm-i-Ali.
The CTD also recovered explosive material with safety fuse and detonator from them. The suspects made important disclosures regarding their subversive activities and plans of their organisation in Sialkot region, the officials added.
Full report at:
https://www.dawn.com/news/1484992/two-arrested-as-ctd-foils-terror-plan-on-youm-i-ali
--------
Call to build more prisons, equip inmates with life skills
Faiza Ilyas
May 28, 2019
KARACHI: There is a dire need to build more prisons in the city given the growing number of inmates in these facilities. They should serve as rehabilitation centres with enough means to equip prisoners with basic educational and vocational skills so they could stand on their own feet once they return to normal life.
These views were shared by speakers at an iftar dinner organised at the District Jail Malir on Monday. The event organised by Justice Helpline, a non-governmental organisation providing legal aid to jail inmates, was attended by a large number of prisoners, police officials, members of civil society and media personnel.
"Prison overcrowding is a major problem in the city. For instance, the Malir jail, which currently houses a population of 4,600, is meant for 1,600 to 1,800 inmates," said Advocate Nadeem Sheikh representing the Justice Helpline, adding that the problem of overcrowding in jails was the root cause of many other issues at prisons.
He also briefed the audience on efforts the Supreme Court's oversight committee for Malir jail had taken in collaboration with jail officials and his NGO.
These efforts included the release of around 200 prisoners, who were arrested for petty crimes and had been languishing in the Malir jail only because they were unable to pay minor fines ranging between Rs3,000 and Rs15,000.
"This couldn't have been possible without the support of philanthropists. We have also managed to get air tickets for three foreign prisoners who have overstayed for a year or so after completing their sentence as they didn't have enough money to return home. All legal formalities have been completed in this regard," he said.
In his speech, Dr Farhan Essa Abdullah of Essa Laboratory, convener of the oversight committee, recalled initial visits of the committee and how it came up with solutions to various challenges identified at the prison.
"It wasn't possible to fix issues single-handedly, so we collaborated with a number of organisations, including the Pakistan Medical Association, Pakistan Red Crescent Society, Citizen-Police Liaison Committee, Anti-Narcotics Force, Transformational International and Rotary International for various initiatives," he said.
One of the first steps the committee took was to turn the facility into a double-storey prison to create more space for inmates who were screened for hepatitis B, hepatitis C and HIV/Aids with the support of the Indus Hospital and Sindh AIDS Control Programme, he added.
The other initiatives at the prison included installation of a reverse osmosis plant, construction of water tanks, release of Indian fishermen, periodic holding of health camps and vocational programmes, he said.
Full report at:
https://www.dawn.com/news/1484963/call-to-build-more-prisons-equip-inmates-with-life-skills
--------
Police find 'suicide vest' along route of procession
May 28, 2019
KARACHI: Police on Monday claimed to have recovered a suicide jacket and said that it might be made for carrying out an explosion in the main Yaum-i-Ali procession in the city.
DIG-East Amir Farooqi told Dawn that police got reports that terrorists might target the Yaum-i-Ali procession and for the past three-four days the law enforcers had been carrying out combing operations in different areas from where the procession would pass.
On Monday morning, the law enforcers searched the narrow streets in Lines Area and found a suicide jacket behind the Shahabudin Market around 300 meters away from the route of the procession.
"There was a ring attached to a string," the DIG said, adding that the jacket might have exploded like a hand-grenade if someone pulled the string or the pin.
"It [suicide jacket] was ready to use," he said and added that it was left abandoned outside a house in an isolated corner of a street due to the daily combing operations in the area by law enforcers.
"Had it not been recovered, they (terrorists) would have used it today," the DIG said.
Quoting a Bomb Disposal Squad's report, the senior officer said that the suicide jacket weighed around six kilograms and packed with explosives and steel nuts/bolts to create maximum impact.
He said that the police detained 20 persons from the area for questioning.
Meanwhile, Inspector General of Police Dr Syed Kaleem Imam while talking to media during a visit of the mourning procession routes appreciated the performance of police and opined that it was because of 'proactive policing' that the suicide jacket was recovered.
He also appreciated the coordination between all law enforcement agencies for maintaining law and order.
Full report at:
https://www.dawn.com/news/1484958/police-find-suicide-vest-along-route-of-procession
--------
Qureshi leaves for Saudi Arabia to attend OIC's Council of Foreign Ministers
May 28, 2019
ISLAMABAD: Foreign Minister Shah Mahmood Qureshi has departed for Saudi Arabia to attend the meeting of Foreign Ministers' Council of Organisation of Islamic Cooperation (OIC).
Talking to media before his departure on Tuesday morning, Qureshi said the meeting will finalize agenda of the OIC summit scheduled to be held on May 31 in Makkah. He further disclosed that the meeting will also discuss the tensed security situation in the Middle East.
Embedded video
PTI
✔
@PTIofficial
Minister of Foreign Affairs Shah Mahmood Qureshi Exclusive Message before leaving for visit to Saudi Arabia to attend OIC Summit in Mecca (28.05.19)#PTI #Pakistan 🇵🇰 #SaudiArabia 🇸🇦 #OIC #OICMakkahSummit @SMQureshiPTI
502
15:16 - 28 May 2019
66 people are talking about this
Twitter Ads information and privacy
Qureshi said he will also hold talks with his MENA counterparts as well as the OIC's Secretary General, Yusuf Bin Ahmed Al Uthaymeen, on the sidelines of the meeting.
A session of OIC's Contact Group on Jammu and Kashmir is also expected to be held where its members will discuss Indian atrocities in held Kashmir.
The PTI stalwart said Prime Minister Imran Khan, who will land in Jeddah on Thursday, will represent Pakistan in the Islamic summit the following day. He will also call upon Saudi King Salman bin Abdulaziz Al Saud and Crown Prince Muhammad Bin Salman (MbS), in addition to other senior officials, on the sidelines of the event. Qureshi said.
The 14th OIC summit, which is titled "Makkah Summit: Together for the Future" is aimed at developing a unified stance on events in the Islamic world. Host Saudi Arabia, earlier, had extended the invitation to 57 members countries.
Full report at:
https://www.pakistantoday.com.pk/2019/05/28/qureshi-leaves-for-saudi-arabia-to-attend-oics-council-of-foreign-ministers/
--------
Terror bid on Samungli air force base foiled, two suspected militants killed
May 28, 2019
QUETTA: Security forces on Sunday night foiled a terror bid at an airbase in the southwestern province of Balochistan.
According to reports, at least four suspected terrorists opened fire at a police checkpost near Samungli air force base in Quetta. As a result of crossfire, two suspects were killed while two managed to flee.
Security sources said that the area has been cordoned off and a search operation launched to search for the terrorists. The dead bodies of the suspects have been shifted to Civil Hospital, Quetta.
The airbase along with another had come under attack in 2014, wherein 11 militants were killed as they tried to storm the facility.
Balochistan —long been plagued by an insurgency and targetted killings – is reeling under a fresh wave of terrorism, as Baloch insurgents and other religious outfits have ratcheted up attacks in the restive province, targetting LEAs and minority Shias, respectively.
In May alone, the province faced at least six terror attacks, including an attack on non-native labourers working in Dera Murad Jamali.
On May 24, at least three people were killed and over a dozen injured when a mosque was targetted in Quetta's Pashtoonabad area.
On May 14, three labourers, reportedly from Sindh province, were killed in a targeted attack. No one claimed responsibility for the attacked.
On May 13, at least four policemen were killed and several others wounded after a bomb attack targeted their vehicles while they stood guard outside a mosque in Quetta.
On May 11, militants belonging to the Balochistan Liberation Army (BLA) stormed a five-star hotel in Gwadar, leaving five people, including a navy soldier, dead. The operation to clear the hotel took one day. The attack was targeted at Chinese investors allegedly present at the hotel.
On May 10, two miners and three Frontier Corps personnel were killed in an attack and a subsequent landmine blast in the Khost area of Harnai district.
On May 9 –the same day a blast had rocked Lahore— three people, including a tribal elder, were killed in Qila Abdullah blast.
In April, the province fared no better either, with two major blasts targeting law enforcers and minority Hazara community separately.
On April 12, at least 20 people were killed and 48 wounded by a powerful suicide blast apparently targeting the Hazara community at a crowded fruit market in Quetta.
A faction of the Taliban claimed the attack. The group said it collaborated with Lashkar-e-Jhangvi (LeJ), which has been behind numerous bloody attacks in Pakistan. There was no immediate confirmation from LeJ.
On the same day, two civilians were killed and 10 injured in the evening as an improvised explosive device (IED) had gone off when FC vehicle was passing through a market.
On April 18, at least 14 people were killed in an ambush on several buses travelling between Karachi and Gwadar in the remote Ormara area of Balochistan province on Thursday.
Full report at:
https://www.pakistantoday.com.pk/2019/05/27/two-terrorists-killed-as-security-forces-foil-terror-bid-near-quetta-airbase/
--------
Southeast Asia
Chinese Muslims thriving in Dubai, official says
May 27, 2019
Dubai: Chinese Muslims are thriving in Dubai and are finding the city a good place to practice their faith, an official said on Sunday.
Around 30 members of the Chinese Muslim community living in International City gathered and joined around 1,200 of their Muslim brothers in ending their fast in an iftar hosted by the Chinese Business Council, supported by the Chinese Consulate-General and Emirates Red Crescent on Sunday.
Currently, there are more than 200,000 Chinese expatriates living in the UAE and some 95 per cent of them are based in Dubai and the numbers continue to increase, Tan Li, Acting Consul-General of the People's Republic of China in Dubai, said. Aside from this, Li believes that the number of Chinese Muslims in Dubai is also on the rise.
"I don't have the exact number but Chinese Muslims like to live here [Dubai] because they share similar Islamic culture. So Dubai is the best choice for them to do business and it's easier for them when it comes to fasting and observing Islamic activities," Li told Gulf News.
"The number of Chinese Muslims in Dubai is also increasing because Dubai is a very international city. It's openness to other cultures is [a good thing]. Everybody can find his or her place here. Everybody is happy to be here. Chinese Muslims like to visit here, find a job here and live here," she added.
The number of Chinese tourists visiting Dubai increased by 12 per cent in 2018 at 875,000 compared to 2017, making China the fourth biggest source of tourists for Dubai.
Among those who considers Dubai as a preferred place to live is restaurateur Yun Shan Ma, a Chinese expatriate who was born into a Muslim family back home.
"That is true. I like it here in Dubai although my family is in China," he said. "And I know two Chinese friends who have moved here and recently converted to Islam."
Sporting a kandoura as he joined his brothers for iftar, Mohammad Wang said: "Dubai has a good and welcoming environment to foreign workers, including us Chinese. It is true that it is easier to spend Ramadan here in Dubai because the whole city celebrates Ramadan and are considerate to people who are fasting. There are also many mosques so it's easier for us to go for prayers every day."
Li said the consulate is hosting a separate iftar at the end of the month exclusively for Chinese Muslims as part of the consulate's efforts to celebrate the Year of Tolerance with them.
Meanwhile, Zhou Guangyao, Secretary-General of the Chinese Business Council (CBC) in the UAE, said around 100 volunteers from 13 major Chinese companies based in the region contributed to the iftar.
"All Chinese companies in the UAE are more than willing to contribute to the local community. Ramadan is a good opportunity for loving, sharing, caring for each other," Guangyao said.
"It is heart-warming to witness the gratefulness expressed by our brothers towards our initiative. This is the second year we have conducted this charitable Iftar as a token of appreciation by developing Chinese companies based in the region and we aim to continue doing so annually."
https://gulfnews.com/lifestyle/community/chinese-muslims-thriving-in-dubai-official-says-1.64219346
--------
Better to teach non-Muslims about Islam - PAS lawmaker
27 May 2019
PAS central committee member Khairuddin Aman Razali has welcomed the Education Ministry's move to reject a proposal to teach non-Islamic religions in schools and universities.
He said the proposal was well-intentioned, but inappropriate and unworkable.
The Kuala Nerus MP said it would be better to teach Islam to non-Muslim students instead of promoting interfaith understanding.
"To achieve that objective (of promoting interfaith understanding), it would be better to ensure non-Muslim pupils learn about Islam in national-type schools and national-type secondary schools so that they better understand Islam and the customs of Muslims in this country.
"I believe this subject would be more effective in strengthening unity and harmony in the country's multiracial society that has placed Islam as the religion of the federation.
"This is because Islam is a religion that promotes peace for all humanity. History has also shown that people of all faiths are free to practice their religion in Islamic countries," Khairuddin said in a statement published in the party mouthpiece Harakah today.
He was responding to Malaysia Youth Council president Jufitri Joha's proposal for non-Islamic religions to be taught in schools and universities to foster interfaith harmony.
Jufitri argued that while the existing Islamic Studies subject is good, it neglects the understanding of other religions.
Education Minister Maszlee Malik shot down the proposal in favour of promoting students' cross-cultural exposure at schools and universities.
Khairuddin, meanwhile, argued that teaching other religions to Muslims could run afoul with Article 11(4) of the Federal Constitution.
The provision allows state law to control or restrict the propagation of religious doctrine amongst Muslims.
Full report at:
https://www.malaysiakini.com/news/477611
--------
Muslim lawyers' group wants AGC's explanation on why lawyer quit Adib inquest
28 May 2019
BY SYED JAYMAL ZAHIID
KUALA LUMPUR, May 28 -- A Muslim lawyers' group urged the Attorney General's Chambers (AGC) today to explain the withdrawal of a lawyer representing a ministry from Muhammad Adib Mohd Kassim's inquest.
The Muslim Lawyers Association (PPMM) said today there were too many contradictions in the government's official explanation of the withdrawal of private lawyer Syazlin Mansor, who represented the Ministry of Housing and Local Government, from the inquest into the death of the firefighter.
It noted news reports indicated Syazlin withdrew because the AGC deemed her service redundant, but asked why was this done only after 36 days, with only two days left to the inquest.
"PPMM found it dubious that this was the reason given, because why withdraw only after the 36th day of the proceeding," the group said in a statement.
Syazlin shocked observers when she announced her withdrawal from the inquest yesterday morning.
She told reporters that the decision was "my own" and denied that she acted under instruction, although Housing and Local Government Minister Zuraida Kamaruddin later told a news portal that Syazlin was "instructed to revoke."
PPMM said Syazlin's withdrawal has raised eyebrows and fuelled rumours that the AGC was trying to conceal information crucial to the proceeding.
"The testimonies by witnesses produced by the ministry differs so much from those presented by the AGC," its president Datuk Zainul Rijal Abu Bakar claimed.
"From our observation Syazlin had presented very important information and facts that the AGC had not touched on. This was actually the role KPKT wanted of her," he added, using the initials for the Housing and Local Government Ministry.
Syazlin's aggressive cross examination of forensic officials who suggested plausibility that Adib had died from injuries sustained from assault had endeared her to family members and groups who believe the firefighter was beaten to death.
Her withdrawal automatically nullifies independent forensic specialist Shahrom Abdul Wahid's appointment as an expert witness, which PPMM again said raised suspicion.
Attorney General Tommy Thomas has so far refused to comment, news portal Malaysiakini reported yesterday.
PPMM also asked if Syazlin's withdrawal meant her submission and the testimonies from witnesses she cross-examined would be nullified.
"We must bear in mind that an inquest is not like a normal proceeding where there are two opponents or there will be victors and losers, the point is to assist the Coroner," it said.
"Therefore, if all facts and views failed to be expressed fully, can the inquest achieve its objective?"
Syahredzan Johan, a lawyer who is also Iskandar Puteri MP Lim Kit Siang's political secretary, said Syazlin's withdrawal did not invalidate the previous testimony of her expert witness, Shahrom, who had testified that Adib was assaulted.
Full report at:
https://www.malaymail.com/news/malaysia/2019/05/28/muslim-lawyers-group-wants-agcs-explanation-on-why-lawyer-quit-adib-inquest/1757035
--------
National Police Uncover Assassination Plot in Latest Arrest
MAY 27, 2019
Jakarta. In the wake of the May 21-22 riots in Jakarta, the National Police announced the arrest of six new suspects and uncovered a plot to assassinate four national figures and a pollster chief.
The six suspects, comprised of five men and one woman, were arrested between May 21-24 in several places in Jakarta, Bogor in West Java and Tangerang in Banten, National Police spokesman Insp. Gen. Muhammad Iqbal said on Monday.
The police also seized two vests with "Polisi" written on them, imitating official police gear.
A .22 caliber rifle modified to hold a scope, along with illegal handguns similar to those issued by the Indonesian military were also found, Muhammad said during a press conference at the Coordinating Ministry for Political, Legal and Security affairs in Jakarta.
The police spokesman added that the six new suspects were from a different group than the suspects arrested the week before.
"This [group] is different with [the group] that was mentioned by the Chief Security Minister and the National Police Chief last week," Muhammad explained.
"Different facts, different suspects and different evidence. So there are two groups that were identified. It's also possible they're from the terrorist group that we arrested a few days before May 21-22 … There were three groups heading to the rally," he added.
It is also likely there is another terrorist group involved with last week's riots that managed to elude arrest, Muhammad said.
Earlier this month, police anti-terrorism unit Detachment 88, arrested more than 30 suspected terrorists from Jamaah Ansharut Daulah (JAD), an Indonesian extremist group affiliated with the Islamic State.
The inspector general was only able to disclose the initials of the six suspects: HK, HZ, IF, TJ, AD, and AF.
Among the six, HK was the field operator, tasked with acquiring weapons and finding hitmen. Muhammad said police officers have identified the suspect prior, but gathered further intelligence before making a move.
HK placed an order on Oct 1 and Oct 13 last year for a .38 caliber revolver from fellow suspect AF for Rp 50 million ($3,473).
HK then purchased a .22 caliber rifle from AD for Rp 5.5 million, and handed the gun to suspect HZ on March 5. On the same day, HK also gave a weapon to TJ.
HK reportedly received a payment of Rp 150 million from his benefactor, while TJ received Rp 25 million.
"TJ was tasked to kill two national figures whose names I cannot disclose to the public," said the police spokesman.
"On April 12, HK was ordered to kill two other national figures, so the group had four targets," he added.
Muhammad Iqbal said President Joko "Jokowi" Widodo and Vice President Jusuf Kalla were not on the list of the four.
Suspect HZ was ordered to kill a pollster leader in April and he reportedly surveyed the target's home several times. HZ received a payment of Rp 5 million for his task.
HK participated in the May 21 rally-cum-riot in front of Bawaslu offices before the police arrested him in a hotel in Cikini, Central Jakarta in the afternoon, Muhammad explained.
On the same day, police also arrested HZ at Soekarno-Hatta International Airport. IF, who was hired as a hitman, was arrested in Kebon Jeruk, West Jakarta.
Last Friday, police arrested TJ in Sentul, Bogor, in a convenience store parking lot while in possession of a revolver and a rifle.
Suspects AD and AF were arrested in North Jakarta and Central Jakarta respectively on the same day.
TJ and AD were tested positive for drugs; amphetamine, methamphetamine as well as benzphetamine.
Full report at:
https://jakartaglobe.id/context/national-police-uncover-assassination-plot-in-latest-arrest
--------
Six Men Arrested on Suspicion of Burning Down a Police Station in East Java
MAY 27, 2019
Jakarta. Police in East Java have arrested six men suspected of setting fire to a police station in Tambelangan in Sampang district, Madura, on Wednesday night.
"After interrogating them on Sunday afternoon, we've now charged them with the crime [of arson]," East Java Police Chief Insp. Gen. Luki Hermawan told Antaranews.com at his residence in Surabaya on Sunday night.
"The mastermind is a cleric, A.K. He planned and prepared the whole thing," Luki said at the East Java Police headquarters in Surabaya on Monday.
The two-starred officer said A.K. commanded 70 people to march to the police station on Wednesday.
After the fire was started, another cleric reportedly blocked firefighters from putting it out.
The police are still hunting another six clerics who allegedly also took part in the burning down of the police station.
Evidence seized by the police so far includes 30 Molotov cocktails found at the crime scene.
The arsonists reportedly were upset that the police prevented them from traveling to Jakarta to take part in the May 21-22 demonstrations against Jokowi's re-election win.
They got more infuriated when they received a video from their friends in Jakarta who told them they were attacked by police during the riots.
Luki said the police expect to arrest more suspects in the case.
Sampang's Indonesian Ulema Council has supported the police's effort to crack down on the arsonists.
"There are still more suspects out there. We have ordered a team to arrest them," Luki said.
The police suspect that some of the arsonists are hiding in pesantren (Islamic boarding schools) in Sampang, a heavily Muslim area.
Luki called on the arsonists to surrender themselves to the local police station.
The Tambelangan police station was burned down by a mob on Wednesday night at around 10 p.m.
Another trigger to the incident was a hoax that a Madurese cleric in Jakarta had been arrested while attending the demonstrations on May 22.
The mob got even angrier and set fire to the police station by throwing Molotov cocktails.
The mob demanded that the Sampang police chief contact the police in Jakarta to release the cleric and also members of the mob who were arrested that same night.
"The Madurese cleric in Jakarta was contacted at 1 a.m. on Thursday, and he said he was fine," Luki said.
The mob, realizing they were fooled by a hoax, decided to break up and scatter.
Since then, the police have been trying to cool off the situation by visiting a number of prominent clerics in Tambelangan to tell them that the news of the Madurese cleric being arrested in Jakarta was a hoax.
The fire at the Tambelangan police station also destroyed two police cars, a private car, two police motorbikes and 10 other bikes belonging to the public.
Full report at:
https://jakartaglobe.id/context/six-men-arrested-on-suspicion-of-burning-down-a-police-station-in-east-java
--------
Three killed in Ramadan violence in restive Thai south
May 28, 2019
PATTANI: Two people, including a 14-year-old boy, were killed in a market place bombing in Thailand's Muslim-majority south, a military spokesman said Tuesday — an apparent retaliatory attack for the killing of a wanted rebel leader.
Thailand's three southernmost provinces, Yala, Pattani and Narathiwat, have since 2004 been plagued with conflict between ethnic Malay-Muslim rebels and the Buddhist-majority Thai state, which annexed the region around a century ago.
Around 7,000 people, mostly civilians, have been killed in violence that rarely makes international headlines despite taking place a few hours south of some of Thailand's tourist hotspots.
On Monday afternoon, the insurgents detonated a motorcycle bomb at a crowded market place in Nong Chik, Pattani province, killing two civilians.
"A 14-year-old boy and a 38-year-old woman died," Col. Thanawee Suwannathat, spokesman for the southern army, told AFP.
Four military rangers were wounded in the blast.
The bombing appeared to be in "retaliation" for the death of a fugitive suspected rebel leader in neighboring Yala province earlier in the day, who was shot dead as authorities surrounded his house, Thanawee told AFP.
The 37-year-old suspect, named as Abdulloh Lateh, was "head of operations" in the Yaha district.
The highly secretive rebels, who are pushing for autonomy from Thailand, operate in small village cells, with their senior leaders based overseas far from the reach of Thai authorities.
The grinding conflict is characterised by tit-for-tat attacks that usually target symbols of the Thai state and its security forces but civilians from both Muslim and Buddhist communities often get caught in the crossfire.
The region usually sees an uptick in violence during the Muslim holy month of Ramadan, which ends next week.
Monday's violence came a day after another bomb attack in Songkhla province killed a police officer at a checkpoint, wounding three others.
Video footage of Sunday's attack showed a plume of thick smoke as the blast went off, leaving a police officer's body lying in the middle of the road.
Thailand's junta leader Prayut Chan-O-Cha — who is expected to return as a civilian prime minister in the coming days — condemned the latest attacks as "inhuman."
Full report at:
http://www.arabnews.com/node/1503086/world
--------
Arab World
Top Bahraini cleric slams US 'deal of humiliation' on Israeli-Palestinian conflict
May 28, 2019
Bahrain's top Shia cleric Sheikh Isa Qassim has denounced Washington's upcoming proposal on the Israeli-Palestinian conflict as a "deal of humiliation," saying the actual parties to the deal are the United States and Israel, rather than Palestinians.
In a statement carried by Arabic-language Lua Lua TV network on Monday, Sheikh Qassim stressed the Palestinians' outright rejection of the so-called "deal of the century."
He also slammed the American deal as "a crime" against Palestinians as well as "an unjust liquidation of the Palestinian cause and a serious conspiracy on earth."
The US-made plan is "a transaction of humiliation and disgrace" because it attempts to exchange the Palestinian "nation, land, sanctity, religion, unity, and even its presence with...a handful of money," he added.
The Bahraini cleric further called on the Palestinian people to exercise vigilance and resistance against the plan, which he said would only bring shame for its supporters.
The so-called "deal of the century," drawn up by the administration of US President Donald Trump, is said to hugely favor Israel. Palestinians have already rejected the initiative as "the slap of the century."
The US is set to unveil the "economic component" of the deal during a conference in Bahrain on June 25-26, a forum already boycotted by all Palestinian factions.
US plan 'will go to hell'
Speaking in Ramallah on Monday, Palestinian President Mahmoud Abbas emphasized that Trump's proposal would "go to hell."
"The Palestinian Authority does not recognize this conference," he said. "Trump's 'deal of the century' will go to hell, as will the economic workshop in Bahrain that the Americans intend to hold and present illusions."
Abbas also noted that the Palestinian cause is developing step by step to establish an independent Palestinian state with Jerusalem al-Quds as its capital.
"Whoever is interested in proposing a solution to the Palestinian issue should begin with a diplomatic solution," he added.
The so-called Middle East peace process was dealt a major blow in December 2017, when Trump recognized Jerusalem al-Quds as the "capital" of Israel and later transferred the American embassy from Tel Aviv to the Israeli-occupied city.
Angered by Trump's contentious move, Abbas said Palestine would no longer recognize the US as a mediator in the conflict.
Hamas welcomes offer for Lebanese-Palestinian talks
On Sunday, Palestinian resistance movement Hamas — which governs Gaza — welcomed an initiative by Hezbollah for Lebanese-Palestinian dialog on the threat posed by the so-called "deal of the century."
Hezbollah Secretary General Sayyed Hassan Nasrallah warned on Saturday that the upcoming Manama conference may pave the way for the resettlement of Palestinian refugees in Lebanon and other countries.
"Nasrallah's call came at the right time and the Lebanese-Palestinian dialogue is the best and most powerful way to handle 'the deal of the century' and confront its repercussions, especially the ongoing attempts to impose the resettlement of Palestinians and cancel the right of return," Hamas spokesperson Raafat Maraa said.
https://www.presstv.com/Detail/2019/05/28/597104/Bahrain-Sheikh-Isa-Qassim-Palestine-Israel
--------
Regime bombardment kills 18 civilians in Syria's Idlib
28 May 2019
At least 18 civilians were killed on Monday as Syria's regime intensified its bombardment of Idlib province, the last militant stronghold in the country's northwest, a monitor said.
Eighteen civilians, including six children, were killed on Monday in air strikes and missile attacks on Idlib province, said Rami Abdel Rahman, director of the Syrian Observatory for Human Rights.
Ten of them, including four children, died in the town of Ariha, he told AFP, adding that at least 47 people were wounded across the province. The deaths come a day after regime air strikes killed 12 civilians in the same province, according to the Britain-based Observatory.
An AFP correspondent in Ariha said White Helmet first responders were seen searching for survivors in the rubble of a building hit in Monday's bombardment. "It was indescribable. Wounded women and children lying on the ground, destruction everywhere, shops damaged," Mohamad Said, a resident at the site of the raid, told AFP.
The first responders were lifted to an upper floor of the badly damaged building in the bucket of an excavator machine in an attempt to rescue a child who had been buried under blocks of concrete.
But the child was among those who died, the AFP correspondent said. The Observatory says more than 250 civilians have been killed in the spike in violence since the end of April. More than 200,000 civilians have already been displaced by this upsurge of violence, the United Nations has said.
Idlib is supposed to be protected from a massive government offensive by a September buffer zone deal, but the militant bastion has come under increasing bombardment by the regime and its Russian ally since late April.
The pro-government forces have since recaptured several towns in the south of Idlib province and the north of Hama. The UN has warned an all-out offensive on the northwestern region would lead to a humanitarian catastrophe for its nearly three million residents.
Full report at:
https://english.alarabiya.net/en/News/middle-east/2019/05/28/Regime-bombardment-kills-18-civilians-in-Syria-s-Idlib.html
--------
Iraq condemns fourth French ISIS member to death
27 May 2019
An Iraqi court on Monday condemned a fourth French citizen to death for joining ISIS, a day after handing capital punishments to three other Frenchmen.
Mustapha Merzoughi, 37, was sentenced to death by hanging, according to an AFP journalist at the court.
"The evidence and the confession show that you joined ISIS, that you worked in its military branch," the judge told Merzoughi before handing down his sentence.
In recent months Iraq has taken custody of thousands of extremists including foreigners captured in neighboring Syria by the US-backed Syrian Democratic Forces (SDF) during the battle to destroy the ISIS "caliphate".
The Iraqi judiciary said earlier in May that it had tried and sentenced more than 500 suspected foreign members of ISIS since the start of 2018.
"I'm not guilty of crimes and killings. I'm guilty of going (to Syria)," Merzoughi, wearing a yellow prison uniform, told the judge.
"I ask for forgiveness from the people of Iraq, Syria, France and the families of the victims."
Merzoughi told investigators he had served in the French army from 2000 to 2010, including a tour in Afghanistan in 2009.
In France, he lived in the southwestern city of Toulouse, the hometown of extremist brothers Fabien and Jean-Michel Clain who claimed the deadly 2015 attacks in Paris and were killed fighting in Syria.
Passing through Belgium and then Morocco, the French citizen of Tunisian origin underwent "religious and military training in Aleppo", in northern Syria.
Fellow French extremist Fodhil Tahar Aouidate also appeared before the court on Monday, but his trial was postponed until June 2 to allow for a medical examination after he alleged he had been beaten in custody.
Aouidate, 32, made a first trip to Syria in 2013 and returned in 2014 to join ISIS, according to the French judiciary.
After 130 people were killed in ISIS's 2015 Paris attacks, Aouidate appeared in a video saying it was his "great pleasure and joy to see these unbelievers suffer as we suffer here."
Their trial came a day after an Iraqi court sentenced three French citizens to death for joining ISIS, making them the first French jihadists to be handed capital punishment.
Full report at:
https://english.alarabiya.net/en/News/middle-east/2019/05/27/Iraq-condemns-fourth-French-ISIS-member-to-death-.html
--------
China, Russia boycott US-led 'deal of century' promo event in Bahrain
May 27, 2019
China and Russia will not be participating in a US-led economic conference set to take place in Bahrain next month to promote a controversial so-called plan devised by Washington for the Israeli-Palestinian conflict.
China's Ambassador to Palestine Guo Wei informed Nabil Shaath, the foreign policy adviser to the Palestinian Authority's President Mahmoud Abbas, that Beijing and Moscow had made an agreement to boycott the event, the Palestine Chronicle non-profit news and information organization reported on Monday. The meeting reportedly took place in the city of Ramallah in Israel-occupied West Bank.
"Boycotting the Bahrain conference comes within the framework of a bilateral Russian-Chinese agreement not to participate in it," the Palestinian Wafa news agency quoted Wei as saying.
Wei stressed Beijing's position "in support of the Palestinian cause and people, including their right to self-determination and the establishment of an independent state of Palestine within the 1967 borders with East Jerusalem (al-Quds) as its capital," the agency added.
Israel claimed existence following a Western-backed war against Arab states in 1948. In 1967, it occupied the West Bank and other chunks of Arab land during fresh warfare.
Washington has kept the plan, which President Donald Trump has hailed as "the deal of century," under wraps. Leaked information, however, indicate that it features serious violations of the Palestinian's age-old demands.
Full report at:
https://www.presstv.com/Detail/2019/05/27/597086/Palestine-China-Russia-boycott-United-States-conference-Bahrain-deal-of-century
--------
Syrian army finds German equipment in White Helmets' field hospital
May 27, 2019
Syrian army soldiers have uncovered a considerable amount of medical supplies, some of them German-made, in a field hospital belonging to members of the so-called civil defense group White Helmets in the country's western-central province of Hama.
Local sources, speaking on condition of anonymity, told Syria's official news agency SANA that army soldiers made the discovery in the town of Qal'at al-Madiq on Monday as they were combing the area for hidden ordinance and improvised explosive devices, which Takfiri militants had planted there.
The report added that medical equipment, gas masks and their filters, chemical protective clothing and equipment, automated external defibrillators as well as surgical instruments, some of which were made in Germany, were recovered from the field hospital of the Western-backed group, which has been repeatedly accused of cooperating with Takfiri terrorists and staging false-flag gas attacks.
Back in September 2018, Syrian government forces also found a large amount of Israeli-made medicine and medical supplies in a field hospital belonging to foreign-sponsored Takfiri militants in the country's strategic southwestern province of Quneitra.
SANA then reported that army soldiers made the discovery in the village of Bariqa.
The report added that the hospital had modern CT scan, X-ray medical imaging machines, laboratory equipment and a pharmacy containing various types of antibiotics, vaccines and painkillers.
A brand-new and modern British ambulance in addition to a number of cars was also parked in the hospital courtyard, which militants apparently used to transfer their injured fellows to the site.
Separately on Monday, Syrian government forces also discovered a long tunnel once used by Takfiri terrorists during a clean-up operation in Qal'at al-Madiq town.
The 20-meter deep and 50-meter long tunnel incorporated a detention facility with several rooms, where extremists apparently used to hold civilians and torment them. Command centers for high-ranking militants were found inside the tunnel as well.
Syrian government forces managed to recover various kinds of munitions in addition to improvised cannon from the site.
Full report at:
https://www.presstv.com/Detail/2019/05/27/597054/Syrian-army-forces-find-Germanmade-medicine-in-White-Helmets-field-hospital
--------
Lebanese MP warns of West's 'deep plan' for Syrian refugees
May 27, 2019
The West's opposition to the return of Syrian refugees to their home country now that Daesh and other terrorist groups have been defeated shows that "a deep plan" is in the works about Syria's upcoming presidential election, says deputy speaker of Lebanon's parliament.
Speaking to the Al Mayadeen TV, Elie Ferzli said Monday that "some parties" had floated the idea of giving Syrian refugees an alternative homeland in Lebanon because they were waiting for new developments in the region.
The United Nations High Commissioner for Refugees (UNHCR) says it has registered over 950,000 Syrians who have crossed the border to Lebanon after fleeing war in their country. Unofficial reports put the number at well above 1 million.
'Weapons in exchange for opposing return of refugees'
Ferzli said some parties in Lebanon had agreed to resist any proposal to send back the refugees in exchange for weapons and equipment.
He noted that there have been proposals on returning the Syrian refugees and keeping Palestinians who are residing in the country instead, while the UN has been doing its utmost to keep the Syrian nationals in Lebanon.
He noted that Lebanon's security agencies together with Hezbollah and other resistance groups were working to foil all plots that revolved around the Syrian refugees.
Ferzli's remarks came days after Hezbollah Secretary General Sayyed Hassan Nasrallah reiterated his stance that Syrian refugees should return to their home country.
"The Lebanese are united on helping the Syrian refugees return," he said.
The issue of Syrian refugees has greatly divided Lebanese politicians.
While Hezbollah, President Michel Aoun's Free Patriotic Movement and their allies have been calling for their immediate return, Prime Minister Saad Hariri's Future Movement and his allies say they should only return once a political solution is found to the crisis in Syria.
Nasrallah said that "the real reason for the differences ... is linked to the upcoming Syrian presidential elections," noting that the issue had been marred by sectarianism.
In early 2018, Russia, which together with Iran and Hezbollah has helped fight terror in Syria, announced an initiative to facilitate the large-scale return of the refugees in Lebanon. However, several Lebanese officials questioned Russia's intentions.
Full report at:
https://www.presstv.com/Detail/2019/05/27/597034/lebanon-Ferzli-Syrian-refugees-return-Nasrallah
--------
King Salman tells moderate Islam conference that Saudi Arabia has fought 'extremism, violence and terrorism'
May 27, 2019
MAKKAH: Saudi Arabia has fought against extremism with "determination and decisiveness," King Salman told a Muslim World League (MWL) conference on Monday.
In an address to the MWL's conference in Makkah on moderate Islam, the king called for an end to racist and xenophobic speech.
"The Kingdom of Saudi Arabia has strongly condemned and fought all forms of extremism, violence and terrorism, with ideology, determination and decisiveness, and has opposed any identification with them," the king said in a speech delivered on his behalf by Makkah Gov. Prince Khalid Al-Faisal.
Saudi Arabia is committed to "spreading peace and coexistence and has established international intellectual platforms and centers to promote these principles," the king said.
"We reiterate our invitation to stop the racist and xenophobic speech from whatever source and under any pretext whatsoever," he added.
The king said the world today is in serious need of a role model and that Muslims can help spread the good values in the world.
The MWL, an international nongovernmental Islamic organization, based in Makkah, is holding the "Moderation and Indications" conference for four days. The event is being attended by dignitaries, scholars, senior officials and leading thinkers from the Muslim world.
The conference marks the start of several major regional summits in the Kingdom this week. They include emergency meetings of the Gulf Cooperation Council and the Arab League convened by Saudi Arabia to discuss the heightened tensions in the region with Iran.
The event will discuss topics including "Moderation in Islamic History and Jurisprudence Heritage" and "Neutral Speeches and the Contemporary Age" under the theme of "Moderation Between Authenticity and Modernity.
Other topics will include "Differences and the Culture of Moderation" and "Practical Programs to Promote Moderation Among Youth."
Full report at:
http://www.arabnews.com/node/1502811/saudi-arabia
--------
Egyptian security forces commit war crimes in Sinai: rights monitor
May 28, 2019
CAIRO: Egyptian security forces have committed widespread abuses against civilians in restive northern Sinai peninsula, some of which amount to war crimes, Human Rights Watch (HRW) said on Tuesday, urging other nations to halt military assistance.
Egypt's ground and air forces have been fighting Islamist insurgents in Sinai for years, in a conflict fueled by wider Middle East dynamics and a history of state neglect and oppression of the poor and isolated region.
The report accused security forces of arbitrary arrests including children, disappearances, torture, extrajudicial killings, collective punishment and forced evictions.
While there was no immediate reaction from the Egyptian government, it has in the past responded to accusations of rights abuses by saying strong security measures were needed to curb Daesh and other militants on its soil.
New York-based HRW said its 134-page report was researched from 2016-2018 and based on interviews with 54 North Sinai residents and former government and military officials, as well as official statements and satellite images.
The watchdog documented what it said were 50 arbitrary arrests of residents, including 39 cases where the detainee was held incommunicado at an undisclosed location.
Some died in custody because of ill-treatment and lack of medical care, HRW said, citing former detainees.
Reuters was unable to independently confirm its findings.
The report also documented 14 cases of extrajudicial killing of detainees, using methods that match similar cases reported in a Reuters investigation published in April.
Spokesmen for the military and for Egypt's State Information Service, which liaises with foreign media, said they would not respond before seeing the report. A spokesman for the Interior Ministry had no immediate comment.
Conflict in the Sinai escalated after President Mohamed Morsi of the Muslim Brotherhood was toppled by the military in 2013.
Tens of thousands of North Sinai's estimated 500,000 population have been forcibly evicted or fled, while thousands have been arrested and hundreds secretly detained, HRW said.
In February 2018, security forces launched a highly-publicized operation in North Sinai against militants loyal to Islamic State, razing property and farmland along the border with the Gaza Strip and around the town of Al-Arish.
Egypt's military has denied mass demolitions in North Sinai and said armed forces were working within a legal framework to create buffer zones to enhance security, adding that displaced residents had been compensated.
The HRW report called on the United States, which gives $1.5 billion annually in aid, and all Egypt's other international partners to halt military and security assistance.
HRW also documented abuses by Sinai Province, the local branch of Islamic State, which it said has attacked civilians, kidnapping, torturing and beheading perceived opponents.
Full report at:
http://www.arabnews.com/node/1503031/middle-east
--------
North America
Trump says Iran nuclear deal is achievable as sanctions sting
May 28, 2019
US President Donald Trump said on Monday a deal with Iran on its nuclear programme was possible, saying his administration's economic sanctions were curbing Tehran's activities, despite recent attacks in the Middle East.
"I really believe that Iran would like to make a deal and I think that's very smart of them, and I think that's a possibility to happen," Mr Trump said, while standing alongside Japanese Prime Minister Shinzo Abe in Tokyo.
"It has a chance to be a great country with the same leadership. We aren't looking for regime change, I just want to make that clear. We are looking for no nuclear weapons."
Iranian Foreign Minister Javad Zarif said Iran was not seeking nuclear weapons, adding on Twitter that US policies were hurting the Iranian people and causing regional tension.
"Actions, not words, will show whether or not that's Donald Trump's intent," Mr Zarif said on Twitter.
President Hassan Rouhani said in October that the US was seeking regime change in Iran, and that Mr Trump's administration was the most hostile Tehran had faced in its four decades.
Tension increased after this month's attack on oil tankers off the UAE coast, and another on Saudi oil pumping stations and a pipeline.
Washington, a firm backer of Saudi Arabia, blamed the attacks on Iran.
The US has sent a carrier strike group and bombers to the Gulf and has announced plans to ship 1,500 troops to the Middle East, prompting fears of a conflict.
US National Security Adviser John Bolton said on Saturday that the White House had "deep and serious" intelligence on threats posed by Iran, without providing details.
Mr Trump, on a four-day visit to Japan, welcomed Mr Abe's help in dealing with Iran after broadcaster NHK said Japan's leader was considering a trip to Tehran as early as mid-June.
Iran said a visit was unlikely in the near future.
"I know for a fact that the prime minister is very close with the leadership of Iran and we'll see what happens," Mr Trump said.
Mr Abe said Japan would do what it could on the Iran issue.
Mr Trump last year withdrew the US from a 2015 international nuclear deal with Tehran, and is increasing sanctions seeking to end Iran's international sales of crude oil and strangle its economy.
Japan was a major buyer of Iranian oil for decades before US sanctions.
"They were fighting in many locations," Mr Trump said of Iran. "Now they are pulling back because they have serious economic problems."
Mr Bolton, who has led an increasingly agressive US policy on Iran, described the recent attacks off the UAE and in Saudi Arabia, and a rocket attack near the American embassy in Baghdad's Green Zone, as "manifestations of concern" about Iran.
Iran has distanced itself from the bombings and on Sunday, Mr Zarif said his country would defend itself against any military or economic aggression.
https://www.thenational.ae/world/the-americas/trump-says-iran-nuclear-deal-is-achievable-as-sanctions-sting-1.866884
--------
Trump could reduce tensions with Iran by firing Bolton, Pompeo: Analyst
May 27, 2019
US President Donald Trump could reduce tensions with Iran by replacing his hawkish foreign policy advisers such as National Security Adviser John Bolton and Secretary of State Mike Pompeo, a former US Senate candidate says.
"Mr. Trump can solve that problem by merely by firing both of these people," said Mark Dankof, who is also a broadcaster and pastor in San Antonio, Texas.
"He needs not only to pull back from this ridiculous talk of war with Iran, but he needs to get rid of the Boltons and Pompeos and all of these other people that in fact are doing Israel's bidding in trying to get the United States into this mess for no legitimate reason at all," Dankof told Press TV on Tuesday.
"Trump needs to get as far away from these war mongers as he can and again institute a policy that is best for the American people, it's best for Iran, it's best for the world and it may be lousy for Israel but that's just fine," he added.
Trump said Monday his administration is not looking for regime change in Iran and would rather sit down for talks, signaling a change of tone after a period of saber-rattling that saw him and other US officials threaten the Islamic Republic with war in hope of getting concessions.
"We're not looking for regime change, we're looking for no nuclear weapons," Trump said at a press conference with Japanese Prime Minister Shinzo Abe in Tokyo. "I really believe that Iran would like to make a deal, and I think that's very smart of them, and I think that's a possibility to happen."
Ever since quitting the Joint Comprehensive Plan of Action (JCPOA) in May 2018, Trump has used sanctions and political pressure to force Iran into the negotiating table for a new agreement, but to no avail.
The Trump administration has been stepping up pressure against Iranians in the wake of Trump's withdrawal from the Iran nuclear deal.
The American president, who is on a visit to address trade differences with Tokyo, tried to use Shinzo's good relations with Iran to find a way out of his self-made crisis.
Full report at:
https://www.presstv.com/Detail/2019/05/27/597081/US-war-Iran-Trump-regime-change-Pompeo-Bolton
--------
Trump says US not after regime change in Iran as war threats lose momentum
May 27, 2019
US President Donald Trump says his administration is not looking for regime change in Iran and would rather sit down for talks, signaling a change of tone after a period of saber-rattling that saw him and other US officials threaten the Islamic Republic with war in hope of getting concessions.
"We're not looking for regime change, we're looking for no nuclear weapons," Trump said at a press conference with Japanese Prime Minister Shinzo Abe in Tokyo Monday, adding that he thinks "we'll make a deal" with Tehran.
"I really believe that Iran would like to make a deal, and I think that's very smart of them, and I think that's a possibility to happen," he said.
Ever since quitting the Joint Comprehensive Plan of Action (JCPOA) in May 2018, Trump has used sanctions and political pressure to force Iran into the negotiating table for a new agreement, but to no avail.
The American president, who is on a visit to address trade differences with Tokyo, tried to use Shinzo's good relations with Iran to find a way out of his self-made crisis.
He suggested earlier in the day that the Japanese premier could act as a mediator.
"I know that the prime minister and Japan have a very good relationship with Iran so we'll see what happens," Trump said.
"The prime minister's already spoken to me about that and I do believe that Iran would like to talk. And if they'd like to talk, we'd like to talk also," the US president added. "We'll see what happens ... nobody wants to see terrible things happen, especially me."
Trump's call for talks came only days after he threatened "the official end of Iran" in a tweet, as tensions rose following the US deployment of an aircraft carrier and B-52 bombers to the Persian Gulf to purportedly confront an alleged "Iranian threat."
However, the war talk has lost much of its steam thanks to a measured response from Iranian officials, who have indicated that they are not looking for war but would not hesitate to defend themselves against one either.
Iran has also ruled out the possibility of talks with the US under the current circumstances, when Washington is openly seeking to cripple Iran's economy and pressure its people by targeting the its oil exports.
'Negotiations with US poisonous'
Leader of the Islamic Revolution Ayatollah Seyyed Ali Khamenei said in a recent address that negotiation with the US was "poison."
"Negotiations are like a poison as long as the US remains the same way it is and with the current US government, they are additionally poisonous," he said.
"The Iranian nation's definite option will be resistance in the face of the US, and in this confrontation, the US would be forced into a retreat," Ayatollah Khamenei said.
Trump's latest remarks further highlight Washington's desperation to show the world that it is not looking for war with Iran, after facing international backlash over its "maximum pressure" campaign against Tehran.
Save for Israel and a few Arab regimes, the campaign even failed to resonate with America's main allies who unanimously warned Trump against taking any military action as it would only lead to more chaos.
Full report at:
https://www.presstv.com/Detail/2019/05/27/597019/US-Trump-Iran-regime-change-Abe-japan
--------
India
Balakot strike will compel Pakistan to change its behaviour: Navy chief
May 28, 2019
NEW DELHI: Even as India keeps a hawk-eyed scrutiny on China's expanding footprint in the Indian Ocean Region (IOR), the country's top military officer says the February 26 air strikes on the Jaish-e-Muhammed facility at Balakot constituted a paradigm shift that will compel Pakistan to change its behaviour on fueling cross-border terrorism.
"India's pro-active action (the air strikes) has changed the discourse and dialogue viz-a-viz Pakistan. A new norm (retaliation to a terror attack) has been established. I am quite sure it will lead to behavioural changes in our adversary," said Navy chief Admiral Sunil Lanba, who is also the chairman of the chiefs of staff committee, on Monday.
With the pre-dawn air strikes sending an unequivocal warning to Pakistan that India was willing to breach its self-imposed redlines despite the risk of escalation, the Navy also "forward deployed" its warships and submarines in the north Arabian Sea to deter and defeat any "misadventure" by Pakistan at that time. "It successfully worked," said Admiral Lanba, in an interview to TOI.
An expansionist China, backed by its rapidly rising military and economic muscle, of course, presents a much bigger challenge for India. After establishing its first overseas base at Djibouti in the Horn of Africa and naval turnaround facilities at Karachi, China now has six to eight warships deployed in the IOR at any given time.
The Indian Navy, however, is quite confident of its dominance in its strategic backyard for now. "The Chinese Navy is here to stay. But they face the tyranny of logistics in the IOR. We have adequate force-levels at present to look after our maritime interests," said the Navy chief.
But Admiral Lanba acknowledged that China is "investing heavily" in building a "blue-water Navy", having commissioned 80 warships and submarines at a stunning pace in the last five years, which could upset the balance of power in the future. With an aircraft carrier (two more are being built), 33 destroyers, 54 frigates, 42 corvettes, 50 diesel-electric and 10 nuclear submarines, among other warships, China is now posing a stiff challenge to even the high-tech US Navy.
The Indian Navy, which currently has 140 warships and 220 aircraft, also has 49 warships under construction in domestic shipyards and two frigates in Russia. "We are not trying to match China. But naturally, we would also like to commission more ships every year," he said. The Navy, despite budgetary constraints, hopes to become a 212-warship and 458-aircraft force by around 2030. This will include 18 diesel-electric submarines, six SSNs (nuclear-powered attack subs) and four SSBNs (nuclear-powered subs with nuclear ballistic missiles).
India, of course, is also stitching up military logistics pacts to expand its strategic reach on the high seas. If the one with the US now allows Indian warships refueling facilities as well as access to American bases in Djibouti, Diego Garcia, Guam and Subic Bay, the one with France will extend "our reach in south-western IOR" due to French bases in the Reunion Islands and Djibouti.
"The MoU for the logistics pact with Russia has also been inked," said Admiral Lanba.
The Navy chief also said military force-levels and infrastructure in the country's only theatre command in the strategicallylocated Andaman and Nicobar archipelago were being steadily upgraded. With an eye firmly on China, the government has virtually finalized a 10-year Rs 5,650 crore military infrastructure development plan for the ANC, which will allow stationing of additional warships, aircraft, drones, missile batteries and infantry soldiers there, as was first reported by TOI.
https://timesofindia.indiatimes.com/india/balakot-strike-will-compel-pakistan-to-change-its-behaviour-navy-chief/articleshow/69530536.cms
--------
After intel on IS jihadis, Kerala steps up security
May 28, 2019
KOCHI: In the wake of the Islamic State (IS) threat alert along the Kerala coast, state police chief Loknath Behera convened a meeting of various coastal security stakeholders on Monday to discuss the surveillance and security measures taken. Inspector general (security) G Lakshman has been entrusted with the responsibility of coordinating all activities related to fighting the alleged IS presence in the state.
Behera held discussions with senior officials of the Coast Guard, coastal police, fisheries and marine enforcement departments.
Strict guidelines regarding patrolling and surveillance have been given to all zonal police heads, district police chiefs and coastal police stations in the state.
On May 23, the coastal police received a message from intelligence agencies saying that around 15 IS terrorists had set off from the Lankan coast in a fishing vessel and were reportedly heading for Lakshadweep. A high-alert was issued by security agencies along the coast and sea.
Tight vigil in Pathankot over ISI attack fears
Full report at:
https://timesofindia.indiatimes.com/india/after-intel-on-is-jihadis-kerala-steps-up-security/articleshow/69529666.cms
--------
Muslim shopkeeper in Bihar says told to go to Pakistan, shot at
May 28, 2019
Avinash Kumar
In a suspected hate crime case, a street vendor was shot at in Begusarai's Kumbhi village under Cheria Bariarpur police station area on Sunday.
Victim Mohammed Qasim, a resident of Khajhanpur panchayat, is hospitalised.
According to reports, a man, in an inebriated condition asked the vendor his name and later shot at him. The man, identified as Raju Yadav, fled from the spot. Police have registered a case against Yadav and a search has intensified for him, said station house officer Neeraj Kumar Singh.
A video of Qasim has also gone viral on social media, in which he says that Yadav shot at him as soon as he disclosed his identity.
"You are a Muslim. What are you doing here? You should go to Pakistan," he is shown in the video as saying about Yadav. "Later, Yadav took out his pistol and opened fire, hitting me on my back. I somehow saved my life," he added.
CPI leader Kanhaiya Kumar said leaders who spread hate for political gains were to be blamed for the incident. "For such incidents, leaders and their cronies who spread hate for their political gains are responsible. We will not rest until the guilty are punished," he tweeted.
Full report at:
https://www.hindustantimes.com/india-news/street-vendor-shot-at-in-suspected-hate-crime-in-bihar/story-XZIGm7RrR8t2MfdMgBVA1L.html
--------
India, Pak teams discuss Kartarpur modalities
May 27, 2019
Officials from Pakistan and India on Monday held a meeting to discuss the modalities for a corridor linking Dera Baba Nanak shrine in Punjab's Gurdaspur district to Gurdwara Darbar Sahib in Kartarpur across the border.
The meeting lasted for about two hours and a host of issues pertaining to the building of the corridor were discussed, an official said.
An IANS report stated that the two sides discussed the road alignment of around 5-km-long Kartarpur Corridor. Out of this, nearly 4.5 km will fall in Pakistan's territory.
The meeting took place at the Kartarpur Zero Point.
The group from the Indian side had officials from the Ministry of External Affairs, Ministry of Home Affairs, Land Ports Authority of India, National Highways Authority of India, among others, the official said.
Earlier in April, technical experts and foreign office officials from both the sides had participated in the talks held at the same venue.
News agency IANS quoted officials as saying that security is important in the corridor as it is expected to cater to the daily movement of hundreds of pilgrims from India who will be visiting the Sikh shrine inside Pakistan under a visa-free arrangement.
In a major initiative last November, both India and Pakistan had agreed to set up the Kartarpur corridor to link the historic Gurdwara Darbar Sahib — the final resting place of Guru Nanak Dev — to Dera Baba Nanak in Gurdaspur.
Kartarpur Sahib is located in Pakistan's Narowal district across the Ravi river, about four kilometres from the Dera Baba Nanak shrine.
India and Pakistan had on March 19 held a meeting of technical experts on the Kartarpur corridor during which its alignment, coordinates and other engineering aspects of the proposed crossing points were discussed.
The technical meeting at the level of experts, including engineers and surveyors, was held at "proposed zero points" in the follow-up to the decision reached on the March 14 meeting.
During the previous meeting, both the sides jointly surveyed the coordinates of the Zero Point and discussed the technical details, including finished road level, high flood level, etc.
Pakistan will build the corridor from the Indian border to the Gurdwara Darbar Sahib in Kartarpur, while the other part from Dera Baba Nanak in Gurdaspur up to the border will be constructed by India.
Full report at:
https://www.hindustantimes.com/india-news/india-pak-teams-discuss-kartarpur-modalities/story-5myY66LEJ8QlmD3RPDg8mM.html
--------
UP ATS nabs six Bangladeshis for getting passports using fake documents
May 27, 2019
The Uttar Pradesh Anti-Terror Squad (ATS) has arrested six Bangladeshi nationals from Agra for allegedly preparing fake identity documents for other illegal immigrants to help them get passports, an official said on Monday.
"The UP ATS was getting information that some Bangladeshis, living illegally in Uttar Pradesh, used to call other Bangladeshis and make fake documents (used for identity) such as Aadhaar cards and ration cards. They used to get their passports made," Asim Arun, UP ATS Additional Director General of Police, said in a statement.
He added that the six Bangladeshi nationals were picked up from the Agra railway station on Sunday.
"During interrogation, it was revealed that all of them were residents of Bangladesh, who were living in India on the basis of fake documents. A case has been registered against them and they have been arrested," Arun said.
He added that the data retrieved from the accused revealed that they had also visited Punjab and Rajasthan.
"During interrogation, they said they had unsuccessfully tried to go to Pakistan by crossing the barbed-wire fence. Their Pakistan-based accomplices had told them to sneak into Pakistan with the help of an electric tester to find out whether current was flowing through the fence. Four testers were seized from their possession," the officer said.
Those arrested were identified as -- Habibur Rehman of Madaripur district (in Bangladesh), Zakir Hussain of Narayanganj district, Mohammad Kabil of Khansama district, Kamaluddin of Sylhet district, Taizul Islam of Mymensingh district and Liton Miya of Ghazipur district.
Seven mobile phones, nine SIM cards, six Aadhaar cards, memory cards, besides cash, were seized from their possession, Arun said.
Last year, the ATS had picked up three persons, including a Bangladeshi national, for their alleged involvement in preparing fake passports, Aadhaar cards and other documents for illegal immigrants.
The Bangladeshi national, identified as Yusuf Ali alias Nazrul, was arrested from Muradnagar in Ghaziabad and two locals -- Ahsan Ahmad and Wasim Ahmad -- were nabbed from Deoband in Saharanpur, the police said.
In September 2017, three illegal Bangladeshi immigrants -- Mohammad Imran, Rajidudeen and Mohammad Firdaus -- were arrested from the Charbagh railway station in Lucknow. The three brothers were staying in western Uttar Pradesh for years.
The police said they were originally residents of Jessore district in Bangladesh, but had got their Aadhaar cards made on the basis of fake addresses.
They stayed in Deoband, where Imran was employed as a teacher in a madrassa.
In 2017, the Uttar Pradesh Special Task Force (STF) had arrested another illegal Bangladeshi immigrant -- Abu Hannan alias Abu Hana -- who was staying in India for 15 years. He had married an Indian woman and got his Indian passport and Aadhaar card made. Abdullah-Al-Mammon, an alleged key operative of the Ansarullah Bangla Team (ABT) -- an al Qaeda-inspired Islamic extremist group in Bangladesh -- was arrested from Muzaffarnagar in a separate case. The names of Imran, Rajidudeen and Firdaus came to light during his interrogation.
Another illegal Bangladeshi immigrant, Abdullah, was arrested from Kuteshara in Muzaffarnagar district on August 5, 2017.
Abdullah was arrested from a place of worship, where he worked as a preacher. He was originally a resident of Momin Shahi district in Bangladesh but told the locals that he belonged to Assam and got a fake Aadhaar card and a passport made for himself.
During interrogation, it has come to light that the accused used to get Aadhaar cards, voter ID cards and other documents made on the basis of false documents.
The documents were then used to get passports made, the ATS statement said.
The gang used to charge a huge sum of money in return for the work, it added.
Full report at:
https://www.business-standard.com/article/pti-stories/up-ats-nabs-six-bangladeshis-for-getting-passports-using-fake-documents-119052701223_1.html
--------
South Asia
Growing anti-Islam hatred and terror in Sri Lanka
FAZZUR RAHMAN SIDDIQUI
28.05.2019
Easter Sunday was a grim reminder of the Liberation Tigers of Tamil Eelam (LTTE) inspired civil war on the island nation of Sri Lanka. More than 300 people were killed, including 38 foreigners, and 500 were left injured in one of the most horrendous suicide bombings in recent history. All this happened within a span of 20-odd minutes on the morning of April 21 in an act of large-scale, seemingly coordinated, carnage. Three churches in the capital city Colombo's suburbs and four big hotels in the center of the city were hit by suicide bombers, and two other bombs were detonated a few hours later while a bomb squad was trying to defuse them. Nine suicide bombers, including one woman, have been identified through the CCTV footage, and one of the bombers was reportedly educated in the U.K. They blew themselves up in three overcrowded churches and targeted hotels. In a nationwide hunt, explosive devices are still being uncovered and in the biggest haul 83 explosive devices were unearthed near a bus station in Colombo.
Some Indian intelligence reports suggest that the Indian high commission was also one of the targets and that there was a plan to strike Colombo International Airport, as well.
It is worth recalling here that Sri Lanka has a horrible history of suicide bombings and the LTTE is known to introduce the suicide bombing tactic to guerilla warfare. Throughout the three decades of civil war, this tactic was always carried out by ethnic Tamil groups, and Muslims were never reported to have been a part of it. Instead Muslims had always enjoyed a good relationship with the ruling governments, and many were forced to flee the LTTE-dominated zone of Jaffna fearing for their lives.
The scale and intensity of the act was earth shattering because even in the heyday of the civil war, this level of coordinated and simultaneous attacks at so many places was unprecedented. The government in Sri Lanka has declared a nationwide emergency and constituted a three-member committee to investigate the attack. Under a new emergency law, police and military forces have been given absolute power to interrogate and arrest any suspect without prior approval from the judiciary; 59 have been arrested so far, but their identities have been kept secret. Based on anonymous sources, many of those arrested are Muslim, and most of the attacks were carried out only by suicide bombers.
The government in Sri Lanka took ample time to identify the culprits and at last pinned the blame on a little-known local Islamist group, the National Tawheed Jamaat (NTJ). Government sources have not denied the possibility of the involvement of transnational terror groups and two days after the incident, Daesh claimed responsibility for the attacks, although the claim could also be false, as many of its previous statements relating to other similar events have been.
Now both the global and national media are laden with speculative reports and opinionated pieces about the perpetrators of the brutality. Immediately after the incident, Daesh was declared by these sources to be the sole factor behind the crime before state authorities could make statements. Some declared it to be a vendetta against the Christchurch mosques massacre, while others interpreted it as a sign of Daesh expansion toward South Asia.
The core question that remains unanswered is the motivation of the perpetrators. It is very difficult to say anything with precision because both Christians and Muslims are a small minority with around 7 percent each of the total 22 million Sri Lankans. There is no such history of acrimonious relations between the two minority communities, and they often join hands for common causes.
The Islamist group in Sri Lanka is the NTJ and in recent months, they may have developed a transnational ideological or technical association with a global entity like Daesh or al-Qaida. After end of the civil war, there have been sporadic incidents of attacks on the island against minority communities in general and Muslims in particular by the majority Sinhalese. The NTJ itself is a breakaway group of an older Muslim organization, the Tawheed Jamaat, whose general secretary Abdul Razik was once arrested in 2016 for instigating hatred against Buddhist monks.
The NTJ has occasionally amplified its religious stance against the cultural resurgence of the Sinhalese and their public displays of anger against the Muslims have become quite common in recent years. The rise of Sinhalese identity politics and the demonization of minority Muslims have led to the social alienation of Muslims in the public sphere and multiplied discriminatory acts against them. The last few years have witnessed communal tension between the two groups and in one such incident, members of the NTJ disfigured the sacred statue of Buddha last December.
The creation of the Bodu Bala Sena, or the Buddhist Power Force, in 2012 has created additional fractures between the majority Buddhist and minority Muslim populations. This Sinhalese puritanical religious group considers both Muslims and Christians as threats to their culture and identity. The members of the Buddhist Power Force very often engage in hate speech against Muslims and reportedly work in tandem with many radical Buddhist groups of Myanmar whose atrocities against Muslims are well-known. One cannot deny the fact that the growing vulnerability of Muslims in Sri Lanka and their exclusion by the majority of the community might provide an opportunity for these global actors to radicalize them and sway them toward their puritanical and radical ideology, as witnessed in other parts of the world. There are possibilities of a growing proximity between the global actors and local groups who might have some ideological and political convergence in their global outlook too.
The current offensive also needs to be seen against the backdrop of security lapses, which in itself is an outcome of ongoing discord between Prime Minister Ranil Wickremesinghe and President Maithripala Sirisena. It was not long ago when Sirisena tried to unseat Wickremesinghe and the latter was reinstated only after judicial intervention. There were already security alerts from many sources, and some sources had given the whole list of probable perpetrators; however, they were not taken seriously and reportedly these security briefings did not even reach Wickremesinghe and his Cabinet. The government itself has acknowledged these security lapses and has not repudiated receiving advance intelligence about the impending attacks.
To prevent a repeat of such horrendous crimes, Sri Lanka needs to adopt a holistic approach and not allow the puritanical religious and exclusive culturist bodies to dominate the political landscape and destroy the religious and social cohesion of society. Both the people and the government should learn lessons from what is happening in other parts of world not far from their territory. In the era of digital warfare, distance does not matter.
* Ph.D. in Middle Eastern studies from Jawaharlal Nehru University, researcher at the Indian Council of World Affairs (ICWA), a foreign policy think tank based in New Delhi
https://www.dailysabah.com/op-ed/2019/05/28/growing-anti-islam-hatred-and-terror-in-sri-lanka
--------
3 Injured in Powerful Blast Claimed by Islamic State in Bangladesh
May 27, 2019
Dhaka: A police officer and two others were injured in a powerful blast claimed by the Islamic State in Bangladesh's capital.
The explosives that lead to the blast in a police pick-up van in Dhaka's Malibagh on Sunday night might have been planted, Dhaka Metropolitan Police (DMP) Commissioner Asaduzzaman Mia said on Monday.
"We think it (the explosive) was kept in the car and not hurled at the police," he said while talking to reporters after visiting the injured at Dhaka Medical College Hospital.
"Based on primary investigation, we think it was an improvised bomb, but it was more powerful than the usual ones used here," he said.
An assistant sub-inspector and two others were injured in the explosion.
He said police have yet to identify the culprits. Meanwhile, US-based SITE Intelligence Group said that IS has claimed responsibility for the blast targeting the police van in Dhaka.
Terming the incident as an act to spread fear, the DMP chief said: "If they (the attackers) wanted, they could have killed our police officials."
"Attacking a police vehicle or checkpost is a move to break down the police's morale and its initiative to oust terrorism from Bangladesh, he said.
The government has consistently ruled out the presence of the dreaded terror group in the Muslim-majority nation though experts have been maintaining that series of brutal attacks on minorities and secular activists had the hallmarks of ISIS group.
Full report at:
https://www.news18.com/news/world/3-injured-in-powerful-blast-claimed-by-islamic-state-in-bangladesh-2161577.html
--------
Airstrikes kill 4 Taliban fighters in Nangarhar province
27 May 2019
The security forces carried out separate airstrikes in two districts of Nangarhar province killing at least four Taliban fighters.
"A strike in Deh Bala district killed 1 Taliban fighter," the military officials said earlier on Sunday.
The officials further added that the security forces carried out a similar airstrike in Achin district of Nangarhar and killed 3 Taliban fighters.
The anti-government armed militants including Taliban have not commented regarding the airstrikes so far.
Nangarhar is among the relatively calm provinces in East of Afghanistan but the anti-government armed elements are active in some of the remote districts of the province.
Full report at:
https://www.khaama.com/airstrikes-kill-4-taliban-fighters-in-nangarhar-province-03497/
--------
Afghan forces retake, fully clear Deh Yak district of Ghazni from Taliban after two years
27 May 2019
The Afghan armed forces have retaken and fully cleared Deh Yak district of Ghazni province from militants' presence after almost two years.
The Ministry of Defense (MoD) in a statement said the Taliban militants were in control of Deh Yak district for the past two years and were consistently using civilians as shields to prevent the Afghan forces' advance.
The statement further added that the Afghan forces will continue to their operations to storm the remaining hideouts of the enemies.
The Ministry of Defense says the remaining parts of the country where militants have presence will be cleared in the near future.
Ghazni is among the relatively volatile provinces in South-east of Afghanistan. Taliban militants are active in some of the restive districts of the province where they often attempt to carry out terrorist related activities against the government and security institutions.
Full report at:
https://www.khaama.com/afghan-forces-retake-fully-clear-deh-yak-district-of-ghazni-from-taliban-after-two-years-03503/
--------
U.S. airstrikes kill 4 Pakistani members of ISIS terrorist group in Nangarhar
27 May 2019
The U.S. Air Force carried out separate airstrikes in eastern Nangarhar province of Afghanistan on Sunday killing at least four Pakistani members of ISIS terrorist group.
The Nangarhar governor's office in a statement said Monday that the U.S. unmanned aerial vehicles carried out separate airstrikes in Abdul Khel and Shande areas of Haska Mina districts on Sunday.
The statement further added that the airstrikes killed four Pakistani members of ISIS terrorist group in two separate areas.
The anti-government armed militants including ISIS sympathizers have not commented regarding the airstrikes so far.
Nangarhar is among the relatively calm provinces in East of Afghanistan. However, the security situation in some remote districts of the province has deteriorated during the recent years.
Full report at:
https://www.khaama.com/u-s-airstrikes-kill-4-pakistani-members-of-isis-terrorist-group-in-nangarhar-03504/
--------
15 Taliban militants killed in Special Forces raid, airstrikes in Helmand
27 May 2019
The Afghan Special Forces and Air Forces carried out a series of operations in southern Helmand province killing at least 15 Taliban militants.
The informed military sources said Monday "In an Afghan special forces operation to disrupt Taliban IED facilitation and illegal narcotic financing in Nahr-e-Saraj district of Helmand, 4 Taliban fighters were detained and 1 tunnel was destroyed."
The sources further added that an airstrike in Musa Qalah district of Helmand killed 5 Taliban fighters.
"In Kajaki district, a strike killed 2 Taliban fighters," the sources said, adding that a similar airstrike in Nahr-e-Saraj district killed 4 Taliban fighters.
Full report at:
https://www.khaama.com/15-taliban-militants-killed-in-special-forces-raid-airstrikes-in-helmand-03500/
--------
Mideast
Israel faces possible second election as Netanyahu struggles to form government
28 May 2019
Israel's parliament on Monday passed a preliminary motion to dissolve itself. The move further pushed the country toward an unprecedented political impasse, less than two months after elections seemed to promise Prime Minister Benjamin Netanyahu a new mandate.
If the bill receives final passage in a vote scheduled Wednesday, Israel would be forced to hold new elections - sending the political system into disarray.
Netanyahu appeared to have a clear path to victory, and a fourth consecutive term, after the April 9 elections. His Likud party emerged tied as the largest party in the 120-seat parliament, and with his traditional allies, he appeared to control a solid 65-55 majority.
But he has struggled to form a government ahead of a looming deadline to do so. His prospective coalition has been thrown into crisis in recent days by former Defense Minister Avigdor Lieberman, an ally and sometimes rival of Netanyahu's.
Netanyahu delivered a primetime statement on Monday calling on his potential partners to put "the good of the nation above every other interest" in order to avoid sending the country once again to "expensive, wasteful" elections. He placed the blame on Lieberman for creating the crisis, but said he was hopeful his efforts to salvage a compromise in the next 48 hours would succeed.
Lieberman has insisted on passing a new law mandating that young ultra-Orthodox men be drafted into the military, like most other Jewish males. Netanyahu's ultra-Orthodox allies demand that the draft exemptions remain in place.
Without the five seats of Lieberman's Yisrael Beiteinu party, Netanyahu cannot muster a majority.
"The draft law has become a symbol and we will not capitulate on our symbols," Lieberman defiantly said, vowing to press for new elections if his demands are not met.
Netanyahu and Lieberman met Monday evening in a last-ditch effort to find a compromise. Israeli media said the meeting ended without any progress, and quoted Likud officials as saying Netanyahu would soon order new elections.
Netanyahu's ruling Likud has traditionally had an alliance with ultra-Orthodox and nationalist parties. But Lieberman, a former top Netanyahu aide, is a wild card. Though stanchly nationalist, he also champions a secular agenda aimed toward his political base of immigrants from the former Soviet Union.
Likud insists Lieberman is motivated by his personal spite for Netanyahu and has launched a vicious campaign against him in recent days. But Lieberman says he is driven by ideology and will not be a hand to religious coercion.
"I will not be a partner to a Halachic state," he said, using the word for Jewish law.
Ultra-Orthodox parties consider conscription a taboo, fearing that military service will lead to immersion in secularism. But years of exemptions have generated widespread resentment among the rest of Jewish Israelis.
A stalemate on the issue was one of the factors that shortened the term of the previous coalition government, which Lieberman resigned from months before elections were called because he disagreed with its policy toward the Gaza Strip.
Dissolving parliament would be a shocking turn of events for Netanyahu, who has led the country for the past decade. "We invite Lieberman to join us today and not contribute to the toppling of a right-wing government," a statement by Likud read.
President Donald Trump waded into Israeli politics and tweeted support for Netanyahu, saying he was "hoping things will work out with Israel's coalition formation and Bibi and I can continue to make the alliance between America and Israel stronger than ever."
With the 42-day timeline allotted to Netanyahu to sign agreements with his partners and present his new government set to expire late Wednesday, his Likud party presented the paperwork to dissolve the parliament.
The Knesset passed the bill on Monday with 65 members of parliament voting in favor. But the motion could still be pulled at any moment before Wednesday's vote if a compromise is found.
The main opposition party, Blue and White, which also controls 35 seats, appealed for a chance to form a coalition. But a parliamentary vote for dissolution would automatically trigger new elections. Blue and White has ruled out any alliance with Netanyahu.
If Wednesday's final vote passes, it would mark the first time the scenario had played out in Israel and set the stage for an unprecedented second election in the same calendar year.
Polls indicate the results of a new election would not be much different from the last one.
https://english.alarabiya.net/en/News/middle-east/2019/05/28/Israel-faces-possible-second-election-as-Netanyahu-struggles-to-form-government.html
--------
Israel says strikes Syria, Damascus says soldier killed
27 May 2019
Israel's military said it attacked a Syrian anti-aircraft position that fired on one of its warplanes on Monday, and Syrian state media reported that a soldier had been killed in what it called "Israeli aggression".
"Syrian anti-aircraft systems fired at an IDF fighter jet during a routine flight in northern Israel," an Israeli military statement said, adding that the plane was not hit but that the Syrian projectile landed in Israeli territory.
A Syrian military source was cited by state news agency SANA as saying "the Israeli enemy targeted one of our military positions" in Quneitra province, which is adjacent to the Israeli-occupied Golan Heights.
It said one soldier was killed, another injured and a military vehicle damaged.
Last year, an anti-aircraft fire brought down an Israeli jet returning from an air raid in Syria, prompting a wave of Israeli strikes against other targets there.
Israel has acknowledged carrying out hundreds of strikes in recent years to curtail the influence of its arch-foe Iran and Tehran's Lebanese ally Hezbollah, which is fighting on the side of President Bashar al-Assad in Syria's war.
Full report at:
https://english.alarabiya.net/en/News/middle-east/2019/05/27/Syria-state-media-says-Israeli-missile-hits-Quneitra-province-causes-casualties.html
--------
US sanctions policy threatens Middle East security: Iran Deputy FM
27 May 2019
Washington's sanctions policy threatens the security of the Middle East, Iranian Deputy Foreign Minister Abbas Araghchi said on Monday, according to a statement on the ministry's website.
Araghchi, while on a visit to Kuwait, also said Iran was ready for dialogue with other countries in the region.
The Iranian Deputy Foreign Minister visited Oman on Sunday and is expected to head to Qatar next.
https://english.alarabiya.net/en/News/middle-east/2019/05/27/Deputy-FM-Iran-ready-for-dialogue-with-other-countries-in-the-region.html
--------
Israel open to US-mediated talks with Lebanon on maritime border
27 May 2019
Israel voiced openness on Monday to US-mediated talks with Lebanon on resolving a dispute over the neighbours' maritime border that has dogged Mediterranean oil and gas exploration.
Such talks, Israeli Energy Minister Yuval Steinitz's office said in a statement after he met US envoy David Satterfield, could be "for the good of both countries' interests in developing natural gas reserves and oil" by agreeing a border.
https://english.alarabiya.net/en/News/middle-east/2019/05/27/Israel-open-to-US-mediated-talks-on-resolving-Lebanon-maritime-border-dispute-.html
--------
Houthi: Saudi-led siege of Yemen's al-Durayhimi 'obvious crime'
May 27, 2019
Yemen's Houthi Ansarullah movement has lambasted as an "obvious crime" the tight siege that has been placed on the Yemeni city of al-Durayhimi by the Saudi-led military coalition and its ally, the militia loyal to former president, Abd Rabbuh Mansur Hadi. Mohammed Ali al-Houthi, the chairman of the Supreme Revolutionary Committee of Yemen and the movement's spokesman, made the comment on Monday, Yemen's Arabic-language al-Masirah television network reported.
He also said that the United Nation was making yet another crime by witnessing the brutal siege but doing nothing.
However, al-Houthi described as a "positive act" the importing of humanitarian aid, particularly food, by the UN agencies to the besieged city, adding that the food "was not enough" for the desperate and trapped people of al-Durayhimi, which is located in the volatile province of Hudaydah.
He also stressed that what was needed to be done "is to lift" the siege and put an end to the years-long deadly aggression on Yemeni people.
Leading a coalition of its allies, Saudi Arabia invaded Yemen in March 2015 in an attempt to reinstall Hadi, who had resigned amid popular discontent and fled to Riyadh, and to crush the Houthis, who have been significantly helping the Yemeni army against a Saudi-led aggression for the past four years.
The imposed war initially consisted of an aerial campaign, but was later coupled with a naval blockade and the deployment of ground mercenaries to Yemen. Furthermore, armed militia forces loyal to Hadi, in line with invaders, launch frequent attacks against Yemeni people in regions held by Houthis.
The aggression is estimated to have left 56,000 Yemenis dead.
The Saudi-led war has also taken a heavy toll on the country's infrastructure, destroying hospitals, schools, and factories. The UN has said that a record 22.2 million Yemenis are in dire need of food, including 8.4 million threatened by severe hunger. According to the world body, Yemen is suffering from the most severe famine in more than 100 years.
Full report at:
https://www.presstv.com/Detail/2019/05/27/597073/Yemen-Houthi-siege-Saudi
--------
Israeli military: Off-duty soldier set fire to Palestinian fields
May 27, 2019
The Israeli military has admitted that one of the two extremist Jewish settlers recently caught on video setting fire to Palestinian farming fields in the occupied West Bank is an Israeli soldier who was on leave at the time.
The military announced in a statement on Sunday that the settler seen setting fire to the fields was an off-duty soldier from an Israeli combat unit.
"The incident happened when the soldier was on leave, and so the matter was passed on to the Israel police," the statement read. "At the same time, the soldier has been suspended from his duties."
The Israeli military had previously blamed the arson on Palestinians, saying that it had extinguished "a fire set by Palestinians near Asirah al-Qibliyah" after clashes broke out on May 17 between Israeli settlers from the nearby settlement of Yitzhar and Palestinians from the surrounding villages of Burin, Urif, and Asirah al-Qibliyah.
The army then corrected the statement after Israeli rights NGO B'Tselem published a video showing Israeli settlers walking through Palestinian fields and igniting fires.
In another video from the clashes, Israeli troops could be seen standing by and watching as settlers throw rocks at Palestinians.
According to B'Tselem, the Israeli military had granted "almost total immunity" to the settlers involved in the attacks with neither of them being interrogated or arrested.
The Israeli military refused to comment on why no settlers had been arrested.
Yitzhar settlers are notorious in the West Bank for extremist violence, and are frequently involved in violent attacks against Palestinians.
Full report at:
https://www.presstv.com/Detail/2019/05/27/597041/Settler-filmed-starting-fire-in-West-Bank-Palestinian-fields-is-Israeli-soldier
--------
Turkish military launches operation against militants in northern Iraq
May 28, 2019
ISTANBUL: Turkey's military launched an operation with commandos, backed by artillery and air strikes, against Kurdish militants in northern Iraq, the defense ministry said on Tuesday.
The military action began with artillery and air strikes on Monday afternoon and the operation by commando brigades began at 8 p.m. to "neutralize terrorists and destroy their shelters" in an area across the border from Turkey's most southeastern region, the ministry said in a statement.
http://www.arabnews.com/node/1503096/middle-east
--------
Iran foreign ministry shuns Trump's mediation offer
28 May 2019
Iran's foreign minister appears unimpressed with Japan's offer to mediate in a crisis between Tehran and Washington, and says President Donald Trump should make his intentions clear about any talks with Iran through actions, not words.
Mohammad Javad Zarif said in a late Monday tweet: "Actions—not words—will show whether or not that's Donald Trump's intent."
Trump said Monday in Japan that he'd back Prime Minister Shinzo Abe's efforts to open a communication with Iran. Trump said: "I do believe Iran would like to talk and if they'd like to talk, we'll talk also."
Zarif in his tweet also blamed Trump's economic pressure on Iran for the regional tensions.
Iran has said it has no interest in negotiations with Washington following Trump's pullout from the nuclear deal and re-imposing sanctions on Iran.
No prospect for negotiations
Iran sees no prospect of negotiations with the United States, a foreign ministry spokesman said on Tuesday, a day after US President Donald Trump said a deal with Tehran on its nuclear program was possible.
Washington withdrew last year from a 2015 international nuclear deal with Tehran, and is ratcheting up sanctions in efforts to strangle Iran's economy by ending its international sales of crude oil.
Trump said on Monday: "I really believe that Iran would like to make a deal, and I think that's very smart of them, and I think that's a possibility to happen."
Asked about Trump's comments in a news conference in Tehran, Iranian Foreign Ministry spokesman Abbas Mousavi was quoted as saying by the semi-official Fars news agency: "We currently see no prospect of negotiations with America."
"Iran pays no attention to words; what matters to us is a change of approach and behavior."
Trump also said that United States was not looking for regime change in Iran, adding that "we are looking for no nuclear weapons."
Iranian Vice President Eshaq Jahangiri said on Tuesday the country was not allowed to pursue the development of nuclear weapon as this was banned by Supreme Leader Ayatollah Ali Khamenei, Iran's highest authority.
Full report at:
https://english.alarabiya.net/en/News/middle-east/2019/05/28/Iran-foreign-ministry-shuns-Trump-s-mediation-offer.html
--------
Africa
Sudan opposition pushes ahead with two-day strike
28 May 2019
Sudan's alliance of opposition and protest groups said on Monday that it will push ahead with a general two-day strike starting on Tuesday after talks with the ruling military council collapsed.
Wagdy Saleh, speaking for the Declaration of Freedom and Change Forces (DFCF) alliance, said the Transitional Military Council (TMC) demanded a two-thirds majority, of eight to three, on a sovereign council that would lead the country after the ouster of long-time president Omar al-Bashir last month.
The deputy head of the TMC, Lieutenant General Mohamed Hamdan Dagalo, said earlier on Monday that the council was ready to hand over power swiftly, but said the opposition was not serious about sharing power.
"These people do not want to partner with us," said Dagalo, who is known as Hemedti and heads the paramilitary Rapid Support Forces, adding they wanted to confine the military to a ceremonial role.
"By God, their slogans cheated us. I swear we were honest with them 100 percent," Hemedti said at a dinner with police and diplomats. "That's why, by God Almighty, we will not hand this country except to safe hands."
https://english.alarabiya.net/en/News/north-africa/2019/05/28/Sudan-opposition-pushes-ahead-with-two-day-strike.html
--------
Somali leader urges nation to unite against tribalism
Hassan İsilow
27.05.2019
Somali President Mohamed Abdullahi Mohamed has called on Somalis to unite and avoid tribalism, which previous fueled the civil war in the horn of Africa country.
Addressing hundreds of Somalis living in South Africa on Sunday night, Mohamed said Somalis were fortunate because of their homogeneous nature, and should use this to unite.
"We speak one language, have one religion (Islam) and have a similar facial look. But we are divided along tribes," He said in a speech delivered in Somali language.
The president urged fellow countrymen to follow other nations that are not homogeneous but have found reason to unite and live peacefully.
Mohamed also urged Somalis in the Diaspora to invest and rebuild their country which has faced two decades of conflict.
He said his government, with the help of citizens, has started rebuilding destroyed historical and national sites such as the national theatre.
Mohamed, a dual U.S.-Somali citizen, previously served as Prime Minister before he was elected by parliament as president in 2017.
Amir Sheikh, chairman of the Somali Community Board which organized the event, thanked the president for honoring their invitation.
Full report at:
https://www.aa.com.tr/en/africa/somali-leader-urges-nation-to-unite-against-tribalism/1490458
--------
Somalia: Al-Shabaab Claims Victory Over Battle
26 MAY 2019
Armd Al-Shabaab fighters attacked a military base in Bilis Qoqani area located in the outskirts of Afmadow town in Lower Jubba region, residents said.
The ambush attack has led to a heavy battle between the attackers and Jubbaland state forces backed by the African Union troops serving under AMISOM.
The fighting caused casualties on both side, however, the number of figures has not been verified so far.
However, Al-Shabab has claimed victory over the battle against the regional and AU forces in the region.
Full report at:
https://allafrica.com/stories/201905270225.html
--------
Scores of Boko Haram insurgents killed at Sambisa meeting
May 27, 2019
An attack aircraft of the Nigerian Air Force has bombed Bula Korege area of Borno State on the fringes of Sambisa Forest, where Boko Haram terrorists were holding a meeting.
The strikes, which were coordinated by the Air Task Force of Operation Lafiya Dole, reportedly killed scores of the terrorists.
The Airforce said on Monday that the insurgents were attacked on Saturday, following "successive days of Intelligence, Surveillance and Reconnaissance missions, coupled with human intelligence reports."
The military surveillance found some buildings within the settlement used as logistics base from where the insurgents launched attacks against troops of the Nigerian Army and civilians.
The NAF Director of Public Relations and Information, Air Commodore Ibikunle Daramola, who confirmed the air strikes in a release, said the NAF, operating in concert with surface forces, would sustain its operations against the Boko Haram terrorists in the North-East.
He said, "The ATF has decimated a location at Bula Korege on the fringes of Sambisa Forest being used by the Boko Haram as a meeting venue. The attack was conducted on Saturday following successive days of Intelligence, Surveillance and Reconnaissance missions, coupled with human intelligence reports.
Full report at:
https://punchng.com/scores-of-boko-haram-insurgents-killed-at-sambisa-meeting/
--------
URL: https://www.newageislam.com/islamic-world-news/british-politicians-taking-donation-isis/d/118729
New Age Islam, Islam Online, Islamic Website, African Muslim News, Arab World News, South Asia News, Indian Muslim News, World Muslim News, Women in Islam, Islamic Feminism, Arab Women, Women In Arab, Islamophobia in America, Muslim Women in West, Islam Women and Feminism