New Age Islam News Bureau
4 Feb 2019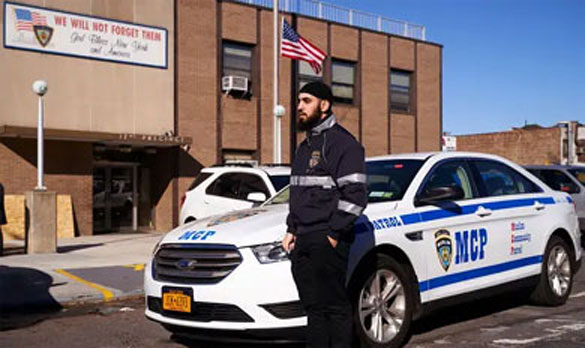 Noor Rabah, vice president of Muslim Community Patrol & Services, outside the Police Department's 72nd Precinct, with a car the group intends to use to patrol neighborhoods in Brooklyn.
------
• British MPs Say Highest Saudi Authorities May Be Responsible For Activists' Torture
• UK Muslims Form Community Patrol, Some Neighbours Say No Thanks
• Pope Visit to Gulf Can Help Us Defeat Murderous Extremists, Top Emirati Diplomat Says
• Pope Francis Condemns Yemen Plight, Urges Respect for 'Fragile' Truce
• Trump Wants US Military in Iraq to 'Watch Iran'
• AMU Students Urge Muslim Leaders to Form New Political Front to Fight Lok Sabha Polls
Europe
• British MPs Say Highest Saudi Authorities May Be Responsible For Activists' Torture
• UK Muslims Form Community Patrol, Some Neighbours Say No Thanks
• One in four Londoners have witnessed extremism according to poll
• Jihadi Bride Asks to Return to Europe as Islamic State Caliphate Crumbles
• Many People in Mostly Christian Countries Believe Values Clash With Islam – Poll
• Pope Francis in UAE to bolster Christian-Muslim relations
• 'Taliban to meet Afghan opposition leaders in Moscow'
--------
Arab World
• Pope Visit to Gulf Can Help Us Defeat Murderous Extremists, Top Emirati Diplomat Says
• In Mosul Exhibition, Iraqi Artists Process Brutal Rule of Daesh
• UAE's Tolerance Embraces Faiths, Runs Up Against Politics
• Trapped in shrinking Syria holdout, Daesh turns to human shields
• US Dispatches Massive Military Convoy to Largest Base in Northern Syria
• Syrian Army Heavily Pounds Terrorists' Military Positions in Hama, Idlib
• ISIL, US Warplanes Attack Syrian Army Positions in Deir Ezzur
• Egypt to consider longer presidential term: lawmaker
--------
Mideast
• Pope Francis Condemns Yemen Plight, Urges Respect for 'Fragile' Truce
• Egypt hosts Palestinian groups, urges calm with Israel
• Israel begins construction of new Gaza border barrier
• Palestinian man shot by Israeli forces during Gaza protest dies of wounds
• Bus carrying Iranian pilgrims in Iraq comes under terrorist attack, nine injured
• Organization of Islamic Cooperation urges world to ensure safety of Palestinians
• Palestinian wounded by Israeli fire during protests dies
--------
North America
• Trump Wants US Military in Iraq to 'Watch Iran'
• Turkey says can't understand US silence over Khashoggi case
• Turkey warns against foreign meddling in Venezuela's affairs
• Trump says he would return troops to Syria if needed
--------
India
• AMU Students Urge Muslim Leaders to Form New Political Front to Fight Lok Sabha Polls
• Despite India's protest, Pakistan foreign minister calls up Syed Ali Shah Geelani
• 26/11 Case: NBW Issued Against 2 Pakistan Army Officials
• Du-Ba-Du Program Held: Concern Expressed On Increasing 'Dowry' Demands
• As US Eyes Afghan Exit, India Talks To Key Players
• US talks with Taliban should not impact president's poll in Afghanistan, says India
--------
Pakistan
• Members of Gulf royal families given permits to hunt protected bird
• Imran Khan should not fear Shehbaz Sharif and summon Parliament session: Marriyum
• Taliban talking to US from position of strength
• Tareen pitches Lodhran as new contender for south secretariat
• PM orders speedy justice in Sahiwal shooting case
--------
South Asia
• Aid Workers Race To Batten Down Rohingya Refugee Camp With No Sign Of Crisis Ending
• Taliban to meet anti-govt leaders in Moscow
• Moscow summit to strengthen peace efforts in Afghanistan: Noor
• Local Taliban leader Qari Janan killed with his 7 comrades in Helmand
• Atmar vows to defend constitutional values and safety of institutions in Moscow summit
--------
Southeast Asia
• Terengganu Cops Uncover 'Love Scam' Syndicate Misusing Islam To Fleece Victims
• Demonstrators Worldwide Protest China's Uyghurs Policy
• Canisius College alumni declare support for Jokowi-Ma'ruf pair
• What's at stake for Malaysia Baharu in the Semenyih by-election?
• Five Abu Sayyaf members surrender over Philippine church bombing
--------
Africa
• Soomal: Dispatches from A Nomad: Kenya Falls Victim To ISIS-Al Shabaab Supremacy Wars
• ISIS Terror reaches Nigeria
• Sudan PM says protesters' economic demands are legitimate
• Central Africa peace deal to be initialed Tuesday: Sudan
• 13 al-Shabaab fighters killed in Somalia - US army
Compiled by New Age Islam News Bureau
URL: https://www.newageislam.com/islamic-world-news/british-mps-say-highest-saudi/d/117644
--------
British MPs say highest Saudi authorities may be responsible for activists' torture
FEBRUARY 4, 2019
LONDON (Reuters) - Three British lawmakers on Monday endorsed reports that women activists detained in Saudi Arabia have been tortured, and said responsibility for what is likely a violation of international law could lie with "Saudi authorities at the highest level".
The conclusions of the panel indicate growing uneasiness among Western allies with alleged rights abuses under Crown Prince Mohammed bin Salman, the kingdom's de facto leader who already facing opprobrium over last year's murder of journalist Jamal Khashoggi.
A United Nations investigator is now leading an international inquiry into the murder, which has tarnished the crown prince's standing in the West after he won accolades for seeking to ease social restrictions and end the country's dependence on oil revenues.
Those reforms have been accompanied by a crackdown on dissent, including the arrest of over a dozen women's rights campaigners starting last May, most of whom had advocated for the right to drive and an end to the male guardianship system.
Amnesty International said last month it had documented 10 cases of torture and abuse - including sexual harassment, electrocution, flogging and death threats - while the activists were held at an undisclosed location last summer.
Reuters reported earlier that an aide to Prince Mohammed who was fired for his role in the Khashoggi murder personally oversaw the torture of at least one of the women months earlier.
Saudi Arabia, an absolute monarchy where public protests and political parties are banned, says it does not have political prisoners and denies torture allegations. Officials have said monitoring of activists is needed to ensure social stability.
Yet British lawmakers Crispin Blunt, Layla Moran and Paul Williams said they found reports by international rights groups and news media to be credible, describing the detainees' treatment as "cruel, inhuman and degrading".
The lawmakers, who formed a review panel with prominent lawyers, said the Saudi authorities had also violated international law by holding the detainees incommunicado and denying them access to legal advice.
Culpability rests not only with direct perpetrators but also those who are responsible for or acquiesce to it, they added.
"The Saudi authorities at the highest levels could, in principle, be responsible for the crime of torture," their final report said.
The Saudi government communications office did not reply to a request for comment on the report.
Some of the detained women's rights activists have been accused in Saudi media of belonging to the outlawed Muslim Brotherhood and supporting Qatar, which is locked in a dispute with Riyadh.
The British lawmakers called on the Saudi authorities to immediately release them and review the allegations against them, and to prosecute those responsible for their mistreatment.
They said requests to visit the detainees in Saudi Arabia have gone unanswered.
"The Saudi women activist detainees have been treated so badly as to sustain an international investigation for torture," said Blunt, a lawmaker in Prime Minister Theresa May's Conservative Party.
"Saudi Arabia stands on the brink. It is not too late to alter course and avert the spiral downwards to catastrophe that the detention of these activists represents," he said.
https://uk.reuters.com/article/uk-saudi-rights-britain/british-mps-say-highest-saudi-authorities-may-be-responsible-for-activists-torture-idUKKCN1PT0JT
--------
UK Muslims Form Community Patrol, Some Neighbours Say No Thanks
By Alexandra E. Petri
Feb. 3, 2019
Maeen Ali remembers the worry he felt when he first spotted the "Punish a Muslim Day" screed online.
The letter, mailed last spring throughout England, encouraged violence that ranged from pulling off a woman's head scarf to bombing mosques. Each attack, the letter instructed, would be rewarded with points. The hate campaign prompted the police in New York and other big cities to expand patrols around mosques and Islamic centers on the specified day.
Mr. Ali, who lives in Downtown Brooklyn, said he was consumed by thoughts of his four children's safety.
"That just boiled inside of me," said Mr. Ali, 38, who moved to the United States from Yemen in 1990. "That's when I said to myself that it was really important to come out and protect Muslims in the community."
He added, "I have to stand up."
As it turns out, he will spend most of his time sitting — in a white Ford Taurus that is detailed to look like a police squad car with red and white emergency lights.
Mr. Ali is among the first 30 members of the all-volunteer Muslim Community Patrol & Services that is preparing to operate in neighborhoods in Brooklyn, with a goal of growing its fleet of two cars to five by the end of the month and eventually expanding citywide. The group recently held a training led by off-duty officers from the Police Department's 72nd Precinct.
"It's like a neighborhood watch but on steroids," said Noor Rabah, the group's 31-year-old vice president who lives in Sunset Park.
As word of the new patrol has begun to spread, the backlash has been swift, even among some members of the Muslim community who have criticized the lack of information, and even questioned the need for the patrol.
Like the Shomrim that patrols largely Hasidic neighborhoods in Brooklyn and the Brooklyn Asian Safety Patrol that operates mainly in Sunset Park, the new group — believed to be the first of its kind in the country — hopes to function as extra sets of eyes and ears for the police.
The unarmed civilian patrol will offer translation services — its members are fluent in any of seven languages — explain cultural nuances, report suspicious activity, respond to traffic accidents and even help in searches for the missing. The patrol has the support of Brooklyn's borough president, Eric L. Adams, and Assistant Chief Brian J. Conroy, the commanding officer of Patrol Borough Brooklyn South.
"More than buildings went down in 9/11. Trust between communities went down," Mr. Adams said. "We are building it back one brick at a time, and this patrol is one of those bricks."
Leaders said the group is self-funded and used donations to purchase the cars and navy blue uniforms for its members, many of whom are involved with the Muslim Community Center in Sunset Park.
Volunteers plan to work in shifts, watching over arrival and dismissal times at three Islamic schools in Brooklyn and conducting patrols from 5 p.m. to 11 p.m., mostly near mosques and bus and subway stops in Bay Ridge and Sunset Park, where there are large Muslim populations. It will also link residents to food pantries, mentorship programs and counseling services. It aims to serve anyone who needs help, Mr. Rabah said, not just Muslims.
"Presence is prevention," Mr. Rabah said. "Just us being around should deter the average criminal mind of doing something to harm another person."
But in a world where far-right conspiracy theories have inspired terror plots against an Islamic enclave in upstate New York, and a travel ban has blocked residents of predominantly Muslim countries from entering the United States, nothing, it seems, is that simple.
Organizers said they were prepared for skeptics.
But they did not expect the vitriol unleashed when a photo of their new, double-parked patrol cars on Fifth Avenue in Bay Ridge turned up Dec. 21 on Facebook, and later on Instagram. The hostility spread after a far-right Canadian website, Rebel Media, posted a snippet on YouTube. The ugly online comments included accusations that the group was a stalking horse for Shariah law, and worse.
"I expected some sort of, 'Wait, what is that?' but not, 'Wait, what the hell is that?' Mr. Rabah said. "There's a big difference."
Some in the Muslim community were equally startled, but for a different reason: The cars' resemblance to New York City police cruisers stoked anxieties rather than allayed them.
Somia Elrowmeim, the adult education and women's empowerment manager at the Arab American Association of New York, based in Bay Ridge, said a single misstep from the patrol could reflect poorly on the city's entire Muslim community. She said more outreach to community leaders was essential before patrols began operating.
Until then, Ms. Elrowmeim, 34, offered this message: "We don't want you near our community."
The 68th Precinct, serving Bay Ridge and Dyker Heights, fielded a flurry of calls from concerned residents after the social media posts, leading police officials to hold an introductory meeting with Muslim Community Patrol members to discuss parameters: Call 911 if they encounter something suspicious, and take no enforcement action on their own. "We expect them to follow the law in general," a Police Department spokesman said.
No date has been finalized for the start of patrols, Mr. Rabah said. Before the rollout, members will attend community board meetings to explain the patrol's mission and to answer questions from residents. On Friday, the group met with members of the influential Arab American Association of New York, whose vice president, Habib Joudeh, had said he was not told about the patrol group until after the backlash prompted by the photo of the car.
"You have to inform people of what's going on first," Mr. Joudeh said.
Unlike the Shomrim, which patrols in vehicles and on foot, the Muslim patrol will operate only from patrol cars, Mr. Rabah said.
"We know our place: We are not cops," he said. "We are simply patrollers for the community that also serve as the eyes and ears for the N.Y.P.D."
Community patrols work in concert with the police, but are not sanctioned or regulated by the Police Department. "Safety is a shared responsibility with the community, so this is an opportunity for the community to help out and work together with the police," Assistant Chief Conroy said in an interview.
Mr. Rabah, a funeral organizer for the Janazah Project, said the Muslim Community Patrol had been a long-held dream of his and others. A series of sensational 2016 attacks, including the murder of an imam and his assistant in Queens and an arson attack on a Muslim woman dressed in traditional garb in Manhattan, gave energy to their cause, he said.
New York City is home to an estimated 769,000 Muslims. They make up about 9 percent of the city's population, but represent 22 percent of all Muslims living in the United States, according to Muslims for American Progress.
In 2017 in the city, there were 14 reported anti-Muslim bias incidents, according to the Police Department's annual report. Last year, there were 14 bias-crime incidents recorded against Muslims during the first three quarters of the year, the most recent data available.
Afaf Nasher, executive director of the New York chapter of the Council on American Islamic Relations, said the actual number of hate crimes is likely much higher, since bias attacks often go unreported. Still, she said she saw the community patrol as more than just a response to discrimination and attacks against Muslims; it was also reflective of a desire to participate and engage with society in deep, meaningful ways.
"Muslims in general have had an awakening," Ms. Nasher said. "We see this movement across the board in which Muslims are thinking more conscientiously about how to give back."
In 1988, a group of men from a Brooklyn mosque conducted foot patrols in Bedford-Stuyvesant in an effort to rid the community of crime and drugs, specifically crack cocaine. But CAIR officials said they believed the new Muslim patrol is the only group of its kind in the nation.
Huda Quhshi, the owner of Le'Jemalik Salon & Boutique in Bay Ridge, said she felt a "spark of happiness" when she saw a video of the patrol car on Instagram. The extra protection is welcome, she said, especially for women who wear hijabs — "walking billboards of a Muslim" — and are particularly vulnerable to harassment.
Ms. Quhshi, a 39-year-old native of Brooklyn who now lives in Queens, said she has not had problems while wearing a hijab, but her teenage daughter has.
"With everything going on, you sort of feel like the whole world is against Muslims," she said. "So it feels good to know that there is someone there, watching out."
Mr. Ali, who helped found Mercy Bakery, a nonprofit that runs bakeries and provides free loaves of bread to families in need, stressed that the goal was to serve the entire community, not only Muslims.
"I hope people just give us a chance," he said.
https://www.nytimes.com/2019/02/03/nyregion/muslim-community-patrol-brooklyn.html
--------
Pope visit to Gulf can help us defeat murderous extremists, top Emirati diplomat says
Daniel Sanderson
February 3, 2019
Welcoming Pope Francis to the Middle East will help deliver a rebuke to "murderous fundamentalists" who promote a warped and violent interpretation of Islam, a senior Emirati diplomat has said.
Writing for Politico magazine, Yousef Al Otaiba, the UAE ambassador to the US, said that promoting a vision of tolerance and peaceful coexistence with people of other faiths could prove more effective than force in defeating the ideology of ISIS and its "crazed followers".
In an article headlined 'Why we invited the Pope to the Arabian Peninsula', Mr Al Otaiba wrote that populations across the Middle East are facing the "the menace of extremism" with the region becoming a "cauldron of conflict".
"Radical interpretations of Islam represent a tiny minority of those who practise the faith," said Mr Al Otaiba, who has been ambassador to the US for 10 years. "But often the shrillest voices shout the loudest — whether it is on TV, on the internet or in a mosque. They twist and obscure the fact that Islam is a religion of peace."
Mr Al Otaiba cited an extract from an article in Daqib, an ISIS magazine, which told secular readers that they hated them because they "reject the oneness of Allah — whether you realise it or not." He said it was an example of "extreme voices [that] seek to incite crazed followers to do their bidding".
He added: "They give rise to zealots like who carry out hateful, violent deeds against religious and ethnic minorities. Christian Coptic churches are attacked in Egypt. The Yazidi homeland is destroyed in Iraq. The Jewish Museum is bombed in Brussels. And fatefully, it is Muslims — Sunni and Shia — that suffer the heaviest price of all from the murderous fundamentalists.
"Ignoring the threat or being complacent is too dangerous and will only feed the cycle of sectarian violence that has gripped the region for more than a generation. Removing the extremists by force is also not the answer as long as the poisoned ideology and the conditions that nurture it endure."
The solution in breaking the cycle and encouraging people to accept people who are different, Mr Otaiba said, involves promoting an approach "close to the centre of the Muslim world", which is already found in the UAE.
He told his US audience about more than 40 churches in the UAE, and plans for a new Hindu temple. He described the country's Jewish community as "vibrant and growing".
Pope Francis is due to arrive into Abu Dhabi on Sunday evening, and will take part in interfaith meetings before delivering a public Mass on Tuesday. Although the audience will be mostly Catholic, Muslim leaders are also expected to attend.
"These ideas and principles of mutual respect and genuine tolerance should be universal," he said. "Faith and belief are instruments of good for noble goals — not the pretence for death and destruction. The voices of moderation and acceptance must be lifted over those of division and hatred.
"As the birthplace of the three Abrahamic religions, the Middle East today has become a cauldron of conflict among and within them. Religion today is a treacherous fault line that divides the region. But the true faith of Muslims, Christians and Jews has never been about hate or fanaticism. There is no clash of civilisations or ideas — only a rash of ignorance and a deficit of courage and moral leadership.
"Sixty years ago deep in the desert, missionary doctors and Bedouin villagers built a bridge between two faiths with acts of kindness and understanding. We can do it again. This weekend, Pope Francis and the Grand Imam will unite their voices in prayers and homilies to the billions of Catholics and Muslims across the world. It will come from the heart of the Arab world in a country that embraces and lives these ideals every day."
https://www.thenational.ae/uae/the-pope-in-the-uae/pope-visit-to-gulf-can-help-us-defeat-murderous-extremists-top-emirati-diplomat-says-1.821191
--------
Pope Francis condemns Yemen plight, urges respect for 'fragile' truce
Feb 3, 2019
Pope Francis, the head of the Roman Catholic Church, has in strongest terms ever condemned the Saudi-led coalition's war on Yemen, urging the warring sides to respect a "fragile" peace deal, shortly before starting his historic visits to the UAE and Saudi Arabia.
"The cry of these children and their parents rise up to God," the Pontiff told tens of thousands of people in Vatican City on Sunday, before traveling to the United Arab Emirates which is a part of the Saudi-led coalition fighting in Yemen since 2015.
"The people are exhausted by the long conflict and many children are hungry, but humanitarian aid isn't accessible."
"Let us pray strongly because they are children who are hungry, who are thirsty, they don't have medicine and they are in danger of death," he said.
The Pope said that he was following the urgent humanitarian crisis in Yemen with great concern during the first-ever papal visits to the Arabian Peninsula. He also urged all sides to implement a fragile peace deal and help deliver food, water, and medicine to millions of hungry people.
Also on Sunday, the United Nations mission in Yemen warned warring sides that the Hudaydah truce is fragile.
Retired Dutch General Patrick Cammaert, who also chairs Redeployment Coordination Committee (RCC) – a UN-appointed committee tasked with monitoring the Hudaydah ceasefire – made the comment during meetings with former government officials and Ansarullah forces aboard a ship anchored off the key port city.
He said the talks were cordial and constructive and urged both sides to observe the ceasefire. Cammaert said any violations would jeopardize the Stockholm Agreement and the Yemeni peace process.
The talks were held on a ship because the representatives of Ansarullah refused to enter areas controlled by Saudi-led aggressor forces.
According to a UN statement, Cammaert boarded the vessel on Saturday and picked up representatives of the former regime at a rendezvous in the Red Sea before returning to Hudaydah to await Houthi envoys, who arrived later on Sunday.
The RCC was formed on the back of an agreement reached under the auspices of the UN in Sweden last December.
The breakthrough deal calls for a ceasefire in Hudaydah — which has been under a Saudi-led siege — the withdrawal of both Saudi-backed forces and the Yemeni defense units from the city, and the deployment of UN observers there.
Saudi Arabia and some of its vassal states invaded Yemen four years ago to restore a Riyadh-aligned regime that had resigned and fled the country. The Houthis and their allies — who have since been running state affairs — have been defending the country against the Saudi-led invasion.
The onslaught has killed tens of thousands of people and driven the entire Yemen close to the edge of famine.
UAE violation of human rights
Pope Francis raised his criticism of the war in Yemen before boarding a flight to Abu Dhabi, where he was warmly greeted by its Crown Prince Sheikh Mohammed bin Zayed al-Nahyan.
Vatican officials have said it is not clear whether Pope Francis will address the sensitive subject in public or private during his visit to Abu Dhabi, which is aimed at promoting interfaith dialogue.
The Pontiff has also been urged to use the historic visit to raise human rights concerns with Arab officials.
The UAE faces criticism from human rights groups for jailing activists, including Ahmed Mansoor, an Emirati who is serving a ten-year sentence for criticizing the government on social media.
"We are calling on Pope Francis to raise the issue of their incarceration with his hosts, and urge their immediate and unconditional release," Amnesty International said in a statement on Saturday.
"The UAE authorities are trying to brand 2019 as the 'year of tolerance' and are now seeking to cast the Pope's visit as proof of their respect for diversity. Does this mean they are ready to reverse their policy of systematic repression of any form of dissent or criticism?" said Lynn Maalouf, Amnesty International's Middle East Research Director.
"Since 2011, the authorities have systematically cracked down on their critics, including activists, judges, lawyers, academics, students and journalists by way of arbitrary detentions, enforced disappearance, torture and other-ill-treatment".
Amnesty have said that the papal visit should not be used as an opportunity to mask over human rights violations taking place within the UAE.
"It will take more than symbolic meetings to gloss over the UAE's appalling human rights record. The fanfare around Pope Francis' visit will be missed by the many human rights defenders, including Ahmed Mansoor, Nasser bin Ghaith and Mohammed al-Roken, who are serving lengthy prison sentences simply for exercising their right to freedom of expression. We are calling on Pope Francis to raise the issue of their incarceration with his hosts, and urge their immediate and unconditional release," said Maalouf.
https://www.presstv.com/Detail/2019/02/03/587599/Pope-Francis-Yemen-talks-UAE-Saudi-Hudaydah-truce
--------
Trump wants US military in Iraq to 'watch Iran'
3 February 2019
US President Donald Trump said it was important to keep a US military presence in Iraq so that Washington can keep a close eye on Iran, according to a CBS interview to be broadcast on Sunday.
Trump said the United States spent a fortune on a base in Iraq. "We might as well keep it. One of the reasons I want to keep it is because I want to be looking a little bit at Iran because Iran is a real problem," he said in excerpts from a CBS "Face the Nation" interview.
Asked if that meant he wanted to be able to strike Iran, Trump said, "No, because I want to be able to watch Iran."
"All I want to do is be able to watch. We have an unbelievable and expensive military base built in Iraq. It's perfectly situated for looking at all over different parts of the troubled Middle East rather than pulling up."
Trump defended his decision to withdraw troops from Syria but refused to provide a timetable for the pullout, which was criticized by members of his own Republican Party and caused concern among some allies in the region.
He said some of the forces moving out of Syria will go to the base in Iraq and "ultimately some will be coming home."
https://english.alarabiya.net/en/News/middle-east/2019/02/03/Trump-wants-US-military-in-Iraq-to-watch-Iran-.html
--------
AMU students urge Muslim leaders to form new political front to fight Lok Sabha polls
Feb 4, 2019
AGRA: Students of Aligarh Muslim University (AMU) on Saturday urged all Muslim leaders across the country to join hands and form a new political front to fight the upcoming general elections.
While student leaders from the university organised a meeting with a few such political leaders on Saturday, another one has been scheduled for February 12. Presidents of Rashtriya Ulema Council, Peace Party, National Aman Party among others are slated to attend the meeting to decide the strategy and distribution of seats.
Speaking to TOI, Salman Imtiaz, president of AMU students union, said that the idea of a political front of Muslim leaders was mooted as secular parties and successive governments have failed to fulfil the aspirations of the community and uplift them from their marginalised status. He added that the union would mobilise AMU alumni across the state and hold meetings to sensitize them about various issues related to the community.
Vice-president of AMU students union Humza Sufyan said that not a single political party has made any effort to uplift Muslims even though it has been over 70 years since independence. "We are being marginalised and that is the reason behind the new political front," he added.
https://timesofindia.indiatimes.com/city/agra/amu-students-urge-muslim-leaders-to-form-new-political-front-to-fight-ls-polls/articleshow/67820872.cms
--------
Europe
One in four Londoners have witnessed extremism according to poll
February 3, 2019
One in four Londoners have witnessed views "promoting, endorsing or supporting extremism," a governmental survey has shown, amid warnings that radicalisation may be on the rise.
The research found that as many as 1,5 million adults in Britain's capital have witnessed support for extremism in the past year, suggesting that counter-radicalisation efforts may not be having a positive impact in all communities.
The survey also showed that almost two-thirds of Londoners would not know how to seek support over terror concerns, while less than a quarter of respondents said they could spot the signs of extremism.
The results of the governmental poll for the Mayor's Office for Policing and Crime come in the wake of four terror attacks by ISIS supporters and far-right terrorists in London.
The city's mayor, Sadiq Khan, said that "it's clear that our ability as a country to tackle radicalisation and violent extremism is simply not good enough, and this is putting our safety and security at risk."
"I don't think there are things such as hard to reach communities, there is hard to reach government and we need to do a far better job at making sure we engage with all Londoners," he added, according to British media.
Mr Khan said authorities needed to gain the trust of people exposed to extremism of all kinds and called for a "full and frank assessment" of existing government programmes to tackle low public engagement.
"Too many communities now feel distrustful and alienated by Prevent and this is a fundamental flaw that needs to be addressed."
Prevent, Britain's flagship counter-extremism programme, has been the object of years of controversy. It will now undergo an independent review, the government announced in January.
Eighteen terror plots have reportedly been foiled in Britain, marking an increased threat from both Islamic extremists and far-right extremists.
Mr Khan has expressed concern that Brexit would cause a spike in hate crime similar to the one that followed the 2016 EU referendum, and said police were contingency planning for potential civil unrest.
Mr Khan himself has often been the object of extremist attacks. Extremists frequently post doctored images of Mr Khan and racist memes on social media. Critics have also crowdfunded a balloon depicting the London mayor in a bikini, which emulates an anti-Donald Trump protest.
"The key thing is to not allow haters to succeed by letting it affect you. It's distressing for friends and family but there are more of those that are decent than are horrible and nasty," he said.
https://www.thenational.ae/world/europe/one-in-four-londoners-have-witnessed-extremism-according-to-poll-1.821273
--------
Jihadi Bride Asks to Return to Europe as Islamic State Caliphate Crumbles
3 Feb 2019
(AFP) — Four years after leaving Germany to live under the ISIS terrorist group, 19-year-old Leonora has fled the militants' last bastion in eastern Syria and says it's time to go home.
"I was a little bit naive," she says in English, wearing a long billowing black robe, and a beige headscarf with white spots.
US-backed forces are fighting the last ISIS militants in a final shred of territory in eastern Syria near the Iraqi border, causing thousands of people to flee.
Just beyond the frontline village of Baghouz, Leonora and her two small children are among the thousands of men, women and children to have scrambled out this week.
The young German woman says she first came to Syria aged 15, just two months after converting to Islam.
"After three days, I married my German husband," she tells AFP, at a screening centre for the displaced run by the US-backed Syrian Democratic Forces.
Leonora says she became the third wife of German radical Martin Lemke, after he travelled to Syria with his first two wives.
ISIS had the year before swept across large swathes of Syria and neighbouring Iraq, declaring a "caliphate" in areas it controlled.
Leonora first lived in the extremist group's de-facto Syrian capital of Raqqa, but says she was just a housewife.
"I was just at home, in (the) house cooking, cleaning — stuff like this," says the pale-faced German, clutching the youngest of her two children, an infant aged just two weeks.
Syria's Kurdish authorities hold hundreds of foreign alleged ISIS fighters in detention, as well as thousands of their wives and children in camps for the displaced.
The Kurds have repeatedly urged Western governments to take back their nationals, but these powers have been reluctant.
At first life in Raqqa was easy, Leonora says, but that changed when the SDF started advancing against the militants, with support from US-led coalition air strikes.
The Kurdish-led SDF overran Raqqa in 2017, after years of what residents described as ISIS brutal rule, which included public beheading and crucifixions.
"Then they lose Raqqa, and we started to change our house every week because they lost every week a city," she says.
When they came under attack by the Kurdish-led SDF, Leonora says the ISIS fighters left their families to fend for themselves.
"They left the women alone, no food, they don't care about you," she says. The enemy was advancing "and you were sitting alone in an empty city with your kids".
They ended up in a tiny patch on the eastern banks of the Euphrates in Deir Ezzor province.
The SDF have cornered ISIS into a patch of less than four square kilometres (around 1.5 square miles) in recent days.
Eventually, she says, she picked up her children, and fled with her husband, and his second wife into SDF-held territory.
US-backed forces detained Lemke on Thursday.
Leonora claims Lemke worked mostly as a technician for IS.
"He makes technical stuff, computer stuff, repairs computer, mobiles," she says.
But investigations published in German newspapers portray Lemke, who is now believed to be 28, as an influential figure among foreign radicals in Syria.
More than 36,000 people have fled the SDF assault on the so-called "Hajin pocket" since early December, according to the Syrian Observatory for Human Rights, a Britain-based war monitor that relies on a network of sources inside the country.
Among them, 3,200 have been detained as alleged militants.
On arid farmland near Baghouz, a group of men sit on the ground as SDF and coalition personnel stroll nearby.
Not far off, a group of women and their children — most from neighbouring Iraq — wait to be driven north to a Kurdish-held camp for the displaced.
Full report at:
https://www.breitbart.com/europe/2019/02/03/jihadi-bride-asks-to-return-to-europe-as-islamic-state-caliphate-crumbles/
--------
Many people in mostly Christian countries believe values clash with Islam – poll
3 Feb 2019
Large numbers of people in Christian-majority countries in the west see a fundamental clash between Islam and the values of their nation, according to a survey.
However, significantly fewer people in the Middle East and North Africa view Christianity in the same way.
Nearly half the people taking part in the poll in France and Germany, and nearly one-third in the US and the UK, thought there was a clash between Islam and the values of society in their country.
When asked the same question about Christianity, 25% of people in Saudi Arabia and 22% of Algerians said there was a clash with the values of their country, but the proportions fell to 13% in the United Arab Emirates and 7% in Egypt.
The poll on attitudes towards religion, carried out by YouGov, was commissioned by the Muslim Council of Elders to mark the first papal visit to the Arabian peninsula. Pope Francis is attending an interfaith conference in Abu Dhabi and will hold an open-air mass on Tuesday expected to be attended by 120,000 people.
Campaigners for religious freedom are highlighting the significance of the historic papal visit to the birthplace of Islam, and hope Francis's message of peaceful coexistence will be heard in other countries in the region, where many Christians are denied rights or face persecution and death.
The proportion of Christians in the Middle East has fallen to about 4% of the population from about 20% before the first world war, according to the Vatican.
Yousef Al Otaiba, the UAE's ambassador to the US, said: "The pope's visit will send a strong signal across the region and world: people with different beliefs can live, work and worship together.
"Not everyone will welcome or embrace the message. Across the Middle East, we face the menace of extremism … Ignoring the threat or being complacent is too dangerous and will only feed the cycle of sectarian violence that has gripped the region for more than a generation."
Meanwhile, human rights campaigners have urged the pope to use his landmark visit to address the war in Yemen. The UAE is part of the Saudi-led military coalition that has been accused of human rights violations in the country.
In a letter to the pope, Human Rights Watch said the coalition had, since March 2015, indiscriminately bombed homes, markets and schools, impeded the delivery of humanitarian aid and used widely banned cluster munitions.
In a pointed address in St Peter's Square shortly before boarding his plane to Abu Dhabi, Francis said he was following the situation in Yemen "with great concern".
He said Yemen's population was "exhausted by the lengthy conflict, and a great many children are suffering from hunger, without being able to access food supplies". He added: "The cry of these children and their parents rises up to God."
Human Rights Watch also urged the pope to put pressure on UAE leaders over domestic political repression, saying freedom of expression and association was under attack, and thousands of low-paid migrant workers in the country were vulnerable to forced labour.
Sarah Leah Whitson of Human Rights Watch said despite declaring 2019 "a year of tolerance", the UAE government had "demonstrated no real interest in improving its human rights record".
She added: "But the UAE has shown how sensitive it is to its image on the global stage, and Pope Francis should use his visit to press UAE leaders to meet their human rights obligations at home and abroad."
The YouGov poll on religious attitudes found in four western countries, respondents had less favourable views of Islam than other religions. In France, 49% said they felt fairly, or very, unfavourable towards Islam, compared with 19% who were unfavourable towards Judaism, 15% to Christianity, 13% towards Hinduism, 14% to Sikhism and 9% to Buddhism.
In Germany, 53% of respondents were unfavourable towards Islam, compared with 10% to 22% who were unfavourable to other religions. In the US and Britain, smaller proportions (37% and 32%) were unfavourable towards Islam, with a similar range viewing other religions negatively.
In north African countries and the Middle East, unfavourable views of Christianity ranged from 43% of respondents in Algeria and 42% in Saudi Arabia to 28% in Egypt and 13% in the UAE.
In Saudi Arabia, Algeria and Egypt, large majorities viewed Hinduism, Sikhism and Buddhism unfavourably. More than half of respondents in Saudi Arabia and Algeria, and 40% in Egypt, had negative views about Judaism.
Full report at:
https://www.theguardian.com/world/2019/feb/03/people-in-christian-majority-countries-values-clash-islam-poll
--------
Pope Francis in UAE to bolster Christian-Muslim relations
Feb 4, 2019
Pope Francis is seeking to turn a page in Christian-Muslim relations while also ministering to a unique, thriving island of Catholicism as he embarks on the first-ever papal trip to the Arabian Peninsula, the birthplace of Islam.
While Francis is building on two of his priorities with his Sunday-Tuesday visit to the United Arab Emirates – promoting interfaith dialogue and visiting the Catholic peripheries – diplomatic protocol is likely to dictate that he leaves other concerns behind.
The Emirates' support for Saudi Arabia's war in Yemen, which has caused the world's worst humanitarian crisis, and the UAE's problematic record on human rights and labour violations at home are likely to get a pass – at least in public.
Francis is travelling to Abu Dhabi to participate in a conference on inter-religious dialogue sponsored by the Emirates-based Muslim Council of Elders, an initiative that seeks to counter religious fanaticism by promoting a moderate brand of Islam.
It is the brainchild of Sheikh Ahmed el-Tayeb, the grand imam of Egypt's Al-Azhar, the revered 1,000-year-old seat of Sunni Islam learning that trains clerics and scholars from around the world.
It will be the fifth meeting between Francis and Sheikh el-Tayeb, evidence that Al-Azhar's freeze in relations with the Holy See sparked by Pope Benedict XVI's 2006 comments linking Islam to violence has thoroughly thawed.
'Deeply fraternal'
In a video message to the Emirates on the eve of his trip, Francis paid homage to his "friend and dear brother" Sheikh el-Tayeb and praised his courage in calling the meeting to assert that "God unites and doesn't divide".
"I am pleased with this meeting offered by the Lord to write, on your dear land, a new page in the history of relations among religions and confirm that we are brothers despite our differences," Francis said.
In a statement, Al-Azhar described the upcoming meeting as "historic" and praised the "deeply fraternal relationship" between its imam and the pope, which it said even includes birthday greetings.
Francis and Sheikh el-Tayeb are to address the Human Fraternity Meeting on Monday that has drawn not only Christian and Muslim representatives but hundreds of Jewish, Hindu, Buddhist and other Christian faith leaders.
It is all part of the Emirates' Year of Tolerance and its effort to show its openness to other faiths in a region otherwise known for severe restrictions on religions outside of Islam.
"It's something new for the Muslim world, that within the discussion of dialogue, they're talking about inter-religious dialogue across the board," beyond basic Christian-Muslim relations, said Marco Impagliazzo, president of the Sant'Egidio Community, a Rome-based Catholic organisation active in interfaith relations who will be attending the conference.
Francis's other main initiative in Abu Dhabi is a giant Mass on Tuesday in the city's main sports arena that is expected to draw some 135,000 people in what some have called the largest show of public Christian worship on the Arabian Peninsula.
There, Francis will see first-hand a Catholic community that is big, diverse and dynamic, at a time when the wider Middle East has seen an exodus of Christians fleeing persecution at the hands of Islamic State and others.
Human rights
Of the more than nine million people now living in the UAE, about one million are Emirati while the rest are foreigners drawn to the oil-rich federation to work in everything from white-collar finance to construction.
The Catholic Church believes there are some one million Catholics in the UAE.
Most are Filipino and Indian, many of whom have left behind families for work and can face precarious labour conditions, which human rights groups regularly denounce.
"The church has a unique role because it becomes home," said Brandon Vaidyanathan, chairman of the sociology department at Catholic University in Washington, who grew up in Dubai.
"It becomes a place of belonging" in a country where foreigners can live, work and practise their faith but will never gain citizenship.
Mr Vaidyanathan, who converted from Hinduism to Catholicism while living in Dubai, said the Emirates' religious tolerance is commendable given the trends of the region.
He noted the "unprecedented" nature of the government's invitation to Francis, its donation of lands for churches and even a recent decision to rename a mosque Mother Mary of Jesus.
Yet he pointed to the difference between freedom to worship and true religious freedom.
Crosses, for example, can only be displayed inside churches, proselytising for faiths other than Islam is banned and Muslims are forbidden from converting.
Francis is likely to focus on issues of religious freedom and fraternity in his public remarks.
Saudi-led war
Unlike on all his other foreign trips, he will not deliver a political speech.
Vatican spokesman Alessandro Gisotti said the reason was to give greater emphasis to his speech to the interfaith conference.
He dodged a question about whether Francis would raise Yemen's years-long war in his private talks with the sheikh.
The UAE is deeply involved in the Saudi-led war in the Arab world's poorest country, where tens of thousands have been killed and millions face food and medical shortages.
"I don't know if the Holy Father will confront it publicly or privately, but certainly on many occasions, even recently, he has underlined the need to search for peace in particular to guarantee the humanitarian rights of the population, especially children," Mr Gisotti said.
Aid groups working in Yemen hope Francis will not just rely on his past appeals, but will use his visit to bring his message to the Emirati leadership.
Cafod, the overseas aid group of the Catholic Church in England and Wales, recently joined a coalition of British humanitarian organisations in appealing for Yemen's limited ceasefire to hold so that humanitarian aid can reach the most vulnerable.
Full report at:
https://www.irishtimes.com/news/world/middle-east/pope-francis-in-uae-to-bolster-christian-muslim-relations-1.3780915
--------
'Taliban to meet Afghan opposition leaders in Moscow'
Feb 3, 2019
The Taliban will reportedly hold a meeting with some Afghan opposition leaders in Moscow, in a move likely to alienate the Afghan government, which is already excluded from talks between the militant group and the United States.
Media reports said on Sunday that the two-day meeting in the Russian capital would start on Tuesday and would be attended by some of Afghan President Ashraf Ghani's chief political rivals.
Speaking to AFP, a "senior Taliban official" described the meeting as non-political and "arranged by some organizations based in Moscow."
Late on Saturday, the Russian Embassy in Kabul issued a statement on behalf of the "Afghan Society of Russia," which said the group had invited "influential figures" to dialog in the President Hotel in Moscow.
"We are ready to play our role in bringing peace to Afghanistan," the statement read.
Among those who have confirmed their attendance is Haneef Atmar, who is running against Ghani in elections slated for July.
Former warlord Atta Muhammad Noor and former Afghan President Hamid Karzai will also be attending the talks, according to AFP.
Noor said the meeting was "a pathway toward strengthening the peace efforts led by the US" while Atmar described it as "an important step toward intra-Afghan peace talks."
A government-appointed council tasked to engage the Taliban said it was not invited to Moscow.
Amrullah Saleh, who is running as vice-president on Ghani's ticket in elections, voiced frustration in a post on his Facebook page.
"It shows the peak of depression, and begging to terrorists," Saleh said, adding, "A smile to the enemy is a blow to the national spirit."
Sebghat Ahmadi, a spokesman for the Afghan Foreign Ministry said, "At this moment, we do not see the need for such a meeting."
"We know it will not help Afghanistan toward reaching peace at all, so it's little more than a political drama," he added.
Ghani's government has already been frozen out of the talks between the US and the Taliban, including six days of discussions in Doha last month.
The Taliban are scheduled to hold another round of peace talks with the US in Doha on February 25.
The Taliban militant group said earlier that the administration of US President Donald Trump "appears" to be "serious" in its negotiations with the group on bringing an end to the war in the Asian country.
President Ghani said in Kabul on Sunday that he would not accept a "temporary peace deal."
Full report at:
https://www.presstv.com/Detail/2019/02/03/587593/Afghanistan-Taliban-Moscow-opposition-leaders
--------
Arab World
In Mosul exhibition, Iraqi artists process brutal rule of Daesh
February 03, 2019
MOSUL: A raven perched on the shoulder of a woman with flaming hair is Iraqi artist Marwan Fathi's symbol for the terrible events he and his home city Mosul have had to endure.
Three years under the oppressive and violent rule of Daesh and the military campaign which drove it out in 2017 left much of the northern city in ruins. Thousands were killed, rendered homeless or maimed. Those who survived are deeply traumatized.
"I still jump awake at night thinking an air strike is about to hit or that they are coming to take one of us," Fathi, 36, said. "Everyday is a struggle."
Fathi's work is on display in "Return to Mosul" — the city's first art exhibition since before it was seized by Daesh, whose ultra hard-line version of Sunni Islam prohibits most art forms.
Artists from across Iraq are taking part in the six-day show, including many who lived in Mosul when it was in the militants' grip.
Hawkar Riskin's haunting work 'destruction' depicts a giant skeleton standing on one leg, while Mohammad Al Kinani's series of paintings — 'Caliphate I', 'Caliphate II' and 'Caliphate III' represents the beginning and end of Daesh, and Mosul's rebirth.
Fathi said the artists who stayed in the city lived in constant fear and despair.
"There was a time when we considered killing ourselves. We reached that low. But then we thought, what would happen to the children?" Fathi, a professor of fine arts, said.
JONAH AND THE CITY
The show is in the newly re-opened Royal Hall of the Mosul Museum, which was looted and destroyed by Daesh and in the ensuing war to wrest control of the city.
Ahmed Mozahem, another Mosul-born artist, continued to work in secret while the city was under the militants'. Using a writing pad he kept hidden to avoid discovery, Mozahem produced 40 pencil drawings which are now among his most cherished possessions, an expression of what he and his family suffered.
For "City of the Whale," his painting in the exhibition, Mozahem drew on the story of the prophet Jonah and the whale, which features Nineveh, the ancient Assyrian city which stood roughly where Mosul is today.
Following their capture of the city in 2014, Daesh went on a rampage, destroying many of Mosul's ancient sites and artefacts, including a shrine believed by many to be Jonah's tomb.
The militants not only destroyed the city, Mozahem said. "They also killed something inside, our spirit."
But Matthew Vincent, an American archaeologist, says technology can help preserve some of what was lost. Vincent is a co-founder of a crowdsourced, digital preservation project called Rekrei, which collects photographs of damaged or lost monuments and artefacts to re-create these in 3D representations.
At the Mosul Museum, visitors are now able to catch virtual glimpse of ancient Assyrian treasures destroyed by Daesh. One of them, the Lion of Mosul, was a colossal Assyrian guardian lion from about 860 BCE, one of two which stood at the entrance of the Temple of Ishtar at Nimrud, Iraq.
"It is never going to replace the original but new technology is giving us a path we simply didn't have before," Vincent said.
http://www.arabnews.com/node/1446416/middle-east
--------
UAE's tolerance embraces faiths, runs up against politics
By Aya Batrawy 
February 2, 2019
DUBAI, United Arab Emirates — The United Arab Emirates has branded a bridge, a new ministry, a family day at the park and even the entire year of 2019 under the banner theme of "tolerance," an elaborate effort that's in overdrive as the country prepares to host Pope Francis starting Sunday in the first-ever papal visit to the Arabian Peninsula.
The state's tolerance-themed project, however, has hard limits. While allowing churches and other places of worship to exist, and marking holidays like Christmas, the Hindu Diwali and Chinese New Year with festivals and celebrations, the government has simultaneously stomped out critical political expression in the name of national security.
Human rights activists and Muslim Brotherhood sympathizers have been imprisoned, academic research deemed sensitive has been curtailed and human rights groups have been barred entry. Political parties are banned and local media are censored.
And while the law prohibits religious discrimination and guarantees the freedom to exercise religious worship, the state's official religion of Islam is tightly monitored and controlled.
A permit is required to hold a Quran memorization circle or lecture, collect donations or distribute books or audio in mosques. The law also prohibits mosque employees from preaching and teaching religious lessons outside of mosques.
Moreover, all imams receive their salaries from the government and — with the exception of the most senior imams — must follow an official weekly guidance on the content of Friday sermons.
The UAE's Minister of Tolerance, Sheikh Nahyan bin Mubarak Al Nahyan, said the government is simply doing what "we think is right for our people and for the world."
"We are trying to protect our religion," he told The Associated Press in an interview last week. "We want to restore our real religion, which stems from our holy book the Quran, which believes in living together. It believes in the dignity of a human being."
The UAE, a federation of seven constituent monarchies led by President Khalifa bin Zayed Al Nahyan, is known for its gleaming cities of Dubai and Abu Dhabi. Modern skylines draw tourists from around the world, bars exist next to mosques, men and women dressed in traditional garb brush past foreigners, and tight security and surveillance ensures high levels of safety.
Government bodies, public relations firms and even banks have been busy promoting the state's version of tolerance in preparation for the pope's visit, which includes a meeting on Monday with Sheikh Ahmed el-Tayeb, the grand imam of Al-Azhar, Sunni Islam's foremost religious institution, and a mass on Tuesday before 135,000 people in Abu Dhabi.
In a video message translated into English and Arabic ahead of his arrival, Pope Francis described the UAE as "a country which strives to be a model for coexistence and human fraternity, a meeting point of different civilizations and cultures. A place where people find a safe place to work, live freely and where differences are respected."
The UAE has a Hindu temple in Dubai and a large one being built in Abu Dhabi on land donated by the country's rulers to help accommodate the roughly 3.3 million Indians who live in the country. It is also home to around 1 million Catholics, including a sizeable Filipino community. In addition to several Catholic churches, there are numerous churches in the UAE of other Christian denominations, a Sikh temple and a space for Jewish worship.
Still, the U.S.-based Freedom House notes that more than 85 percent of the UAE's population consists of foreign residents who lack political rights and electoral opportunities, including tens of thousands of stateless residents— known as Bidoon.
Freedom House says that since 2011, when Arab Spring protests rocked countries throughout the Middle East, the UAE has aggressively cracked down on opposition activists, particularly if they are suspected of belonging to Al-Islah, an Islamist group perceived as an offshoot of the Muslim Brotherhood.
The UAE has branded the Muslim Brotherhood a terrorist organization, viewing it as a threat to the country's system of hereditary rule.
"They're certainly not tolerant of any form of political dissent," Devin Kenney, researcher on the UAE for Amnesty International, said.
"I mean OK, sure, like bars exist and people of multiple faiths are allowed to practice their faiths so it's not culturally totalitarian but it's clearly not a really tolerant place," he added. Kenney said the pope's visit "seems like a fairly straightforward PR gesture."
In recent years, the UAE named dozens of individuals and some 80 groups as "terrorist"— many for their alleged ties with the Brotherhood, which is not deemed a terrorist group in Europe or the U.S.
The list includes political dissenters and opposition voices, but also groups like the Council on American-Islamic Relations, a Muslim advocacy and civil rights group in the U.S., as well as Islamic Relief Worldwide, a UK-based humanitarian aid organization with operations around the world.
In a statement to the AP, Islamic Relief said it is not connected in any way to the Muslim Brotherhood and that the allegation has been "hugely damaging." The group said it was never provided with any evidence by Emirati authorities to substantiate the assertion and has tried to contest it in UAE courts.
"All our attempts to get an open hearing in front of a judge have been rejected on procedural technicalities," the group said.
The UAE is also one of four Arab countries that cut ties with Qatar in 2017, in part over its support of the Brotherhood throughout the region. The UAE banned the news operations of Al Jazeera inside the country, expelled Qatari residents, blocked websites affiliated with Qatar and warned residents that anyone who expressed sympathy for Qatar could face up to 15 years in prison.
Full report at:
https://www.washingtonpost.com/world/middle_east/uaes-tolerance-embraces-faiths-runs-up-against-politics/2019/02/02/245116e6-26c7-11e9-b5b4-1d18dfb7b084_story.html
--------
Trapped in shrinking Syria holdout, Daesh turns to human shields
February 03, 2019
BAGHOUZ: On a rooftop near the front line with the Daesh group's collapsing caliphate in eastern Syria, a US-backed fighter and his comrades sip tea as they await orders to restart the battle.
The Syrian Democratic Forces halted their ground assault on Daesh's final shreds of territory last week, saying the militants are increasingly using civilians as human shields to block the advance.
In the desert hamlet of Baghouz, held mostly by the SDF, 22-year-old Mohammed Ibrahim Mohammed points toward a dirt mound separating areas under their control and the militants.
"Since we arrived to this point almost six days ago we haven't moved forward," explained the young fatigue-clad man from the nearby town of Hajjin, who joined the SDF just five months ago.
"The fighting has stopped as we wait for the remaining civilians to leave," he said.
Just a few dozen meters away, on the other side of the dirt berm, trucks, motorcycles and cars driven by Daesh fighters zip along the front line and out toward white tents further away, surrounded by women wearing long black robes.
"These are all Daesh houses," said Mohammed, using an Arabic acronym for Daesh.
"Sometimes we see women coming to take wood" from nearby palm trees, he said.
The streets of Baghouz, which the SDF entered two weeks ago, are lined with the burnt-out skeletons of cars and bullet-pocked buildings, some of them completely destroyed.
SDF fighters group in clusters around some of the structures, tending small fires and exchanging small talk and cigarettes.
Others perch on balconies and roofs with a view over the other side.
On one terrace, a fighter uses binoculars to a get a closer look at militants just a stone's throw away.
As the SDF, with air support from the US-led coalition, ramped up its offensive in recent weeks, thousands of civilians have poured out of the beleaguered exremist-held pocket.
More than 36,000 people, mostly women and children from militant families, have fled since December via humanitarian corridors opened up by the SDF, according to the Britain-based Syrian Observatory for Human Rights.
That figure also includes some 3,100 extremists, the war monitor added.
But while hundreds of people a day reached SDF-held territory early last month, the flow has slowed to a trickle.
Recent arrivals say there are still many civilians and foreign fighters in the besieged pocket of territory.
With the final push paused, the eerie quiet is only broken by intermittent gunfire and the occasional roar of a coalition airstrike or artillery fire targeting extremist positions.
In the neighboring village of Al-Shaafa, the SDF's spokesman for the Deir Ezzor region said the assault has been put on hold to protect civilians.
"The jihadists are using the civilians as human shields to block our advance," Adnan Afrin told AFP.
That has forced women and children, including members of fighters' families, to remain close to the battle.
"They are putting the civilians on the front lines," he said, adding that airstrikes and artillery continued to target positions further back, "where the jihadists are concentrated."
IS has shown a pattern of trapping civilians among its fighters in order to slow offensives as its cross-border "caliphate," proclaimed in 2014, has withered under multiple offensives.
As the extremists withdraw, they leave minefields and booby traps to slow their attackers and prevent civilians from escaping.
To help protect those that remain cornered, the SDF is pushing to open new "safe corridors" to help civilians escape before the US-backed force delivers the final blow, said Afrin.
Full report at:
http://www.arabnews.com/node/1446451/middle-east
--------
US Dispatches Massive Military Convoy to Largest Base in Northern Syria
Feb 03, 2019
Field sources reported that a massive US military convoy has been sent to a US-controlled military base in Eastern Euphrates in Aleppo province.
The sources noted that the US military convoy crossed into Syria from Iraqi Kurdistan Region via al-Walid passage with the help of the US-backed Kurdish militants.
They said that the US troops have sent a sum of 70 trucks and oil tankers carrying logistical support, ammunition, military equipment and vehicles for a military base near Ain al-Arab in Northeastern Aleppo which is the largest US military base in Northern Syria.
The dispatch of new military convoys by the US comes while President Trump has declared a pullout of the US troops from Syria.
In a relevant development in late January, the US Army sent over 250 Military Trucks to Raqqa, Hasaka, Aleppo to Reinforce its Military Bases there.
The London-based Syrian Observatory of Human Rights (SOHR) reported that US military convoys comprising 250 military trucks have entered the provinces of Aleppo, Raqqa and Hasaka.
The SOHR noted that the trucks carried ammunition and logistical supplies for the US troops in Syria, and said that the trucks were unloaded in Ain al-Arab, Ain al-Arab Airport, Ain Issa, Raqqa and Tal Tamr as well as several other military bases in Raqqa, Hasaka and Aleppo provinces.
In a relevant development on January 14, the SOHR had reported that a US military convoy comprising tens of military vehicles had arrived in Deir Ezzur province via roads linking Eastern Euphrates in Syria to Iraq's Kurdistan Region.
Also on January 11, a US military convoy comprising 150 armored vehicles, military hardware and logistics supplies entered al-Jabalieh military base in Northern part of Raqqa city and Ain al-Arab in Aleppo countryside.
The analysts believe that even if the US decision for pullout would take place it would not mean end of Washington's presence in Syria.
They say that the US failure in Syria and Iraq has made Washington to face two options of whether to leave the region without any achievement or continue to maintain its political and military presence in Syria through its proxies.
The analysts said that the Americans have chosen the second option which is reviving and strengthening the ISIL terrorists group along Syria-Iraq borders.
Meantime, local sources said that several massive US military convoys have arrived in Hasaka province from Iraq's Northern regions via areas under the control of the Syrian Democratic Forces (SDF).
They noted that the US military convoys also contained military and logistics equipment sent to the US-led coalition bases in Eastern Euphrates region.
The sources reiterated that fortification of the US military bases in Eastern Syria is still underway even after Trump's decision to pull out forces from Syria.
In a relevant development earlier this month, the SOHR said the US had dispatched hundreds of military trucks comprising weapons and military equipment to Deir Ezzur province in Eastern Syria since President Donald Trump declared his decision to withdraw troops from the country.
The SOHR said that a military convoy comprising a sum of 150 trucks carrying cars and logistic military equipment has been dispatched to the regions under the control of the Syrian Democratic Forces specially on Eastern Euphrates from the Iraqi Kurdistan Region.
The SOHR noted that it was the third US military convoy sent to Syria after Trump's decision on exit of the American troops from Syria, and said that a total number of 500 trucks containing weapons and military equipment have been dispatched to Eastern Syria so far.
Meantime, the SOHR reported that withdrawal of the US heavy military vehicles from Eastern Euphrates towards Iraq has not yet been monitored officially.
The SOHR reported that the Turkish media reports sating that the US has withdrawn its forces from a base at the Syrian-Iraqi-Turkish border were related to the US forces' traffic between Syria and Iraq.
The SOHR had also reported that a long convoy of almost 200 US army trucks, carrying weapons, munitions and logistical equipment, left the US bases in Iraq on Saturday and arrived in coalition bases in Raqqa, Manbij and Ein Issa in Northeastern Syria.
In the meantime, the Kurdish militia reported that the trucks arrived in the town of Amouda and left then for the US-run bases in Northeastern Syria, adding that the arms and ammunition cargo is to be delivered to the SDF.
Full report at:
http://en.farsnews.com/newstext.aspx?nn=13971114000802
--------
Syrian Army Heavily Pounds Terrorists' Military Positions in Hama, Idlib
Feb 03, 2019
The Syrian Army attacks came in response to the Turkistani Islamic Party attacks on their positions in Northern Hama and Southern Idlib.
The Syrian Army heavily pounded the terrorists' movements and military positions in the villages of al-Sarmanieh, Havash, al-Hoveijeh to North and Northwest of Hama, inflicting heavy losses on them.
In Southern Idlib, the Syrian Army also fended off an attack by Tahrir al-Sham al-Hay'at (the Levant Liberation Board or the Al-Nusra Front) on their positions from al-Hobait and al-Kasik.
The terrorists sustained heavy losses in the failed attacks on the Syrian Army military positions.
The Syrian Army units also pounded the terrorists' military positions in the village of Safouhen in Jabal al-Zawiyeh in Southern Idlib, destroying one of their arms depot and military equipment.
The Syrian Army also destroyed the headquarters of the terrorists in Northern Hama and Southern Idlib as government troops continue to repel attacks by the militants in the same region.
In a relevant development on Saturday, the Syrian Army's missile and artillery units heavily pounded the military positions of Tahrir al-Sham al-Hay'at terrorists in the outskirts of al-Hobait town in Southern Idlib, destroying several positions as well as killing and injuring a number of militants.
In Northern Hama, the army's artillery and missile units hit the terrorists' positions near Qaleh al-Maziq town, killing several terrorists and destroying their military equipment and hardware.
The army troops also annihilated the military positions and movements of the terrorists in al-Jisat town in Northern Hama in response to the militants' attacks on the government troops' military positions there.
Full report at:
http://en.farsnews.com/newstext.aspx?nn=13971114000868
--------
ISIL, US Warplanes Attack Syrian Army Positions in Deir Ezzur
Feb 03, 2019
The Arabic-language service of the Russian Sputnik news agency reported that the US warplanes pounded the Syrian Army's artillery unit in al-Askariyeh region West of Al-Bu Kamal in Southeastern Deir Ezzur.
It noted that the Syrian Army's artillery canon was destroyed in the attack and two Syrian soldiers were also wounded.
The Syrian state news agency (SANA) also reported that the ISIL terrorists stationed in the town of Baghouz also attacked the Syrian Army positions concurrent with the US airstrikes on army positions in Southeastern Deir Ezzur.
The Syrian Army troops killed and wounded a large number of terrorists in fierce clashes with them and after warding off their attack.
In a relevant in early May 2018, the US-led coalition fighter jets bombed the Syrian Army positions in Eastern Deir Ezzur after the army's advances against the Washington-backed Syrian Democratic Forces (SDF) in the province.
The fighter jets bombed the army positions between the towns of al-Qouriyeh and Mahkan near the Euphrates River bank in Eastern Deir Ezzur.
Full report at:
http://en.farsnews.com/newstext.aspx?nn=13971114000720
--------
Egypt to consider longer presidential term: lawmaker
Feb 3, 2019
Egypt will consider extending the presidential term to six years from four, a senior lawmaker said on Sunday, which could allow President Abdel Fattah el-Sisi to stay in power beyond 2022, when his second term is due to end.
The speaker of Egypt's parliament, Ali Abdel-Aal, said he had received a motion from lawmakers proposing constitutional amendments which will be considered by parliament after the motion is discussed in committee. He gave no details on the proposed changes.
But Abdel-Hadi al-Qassabi, head of the Support Egypt parliamentary bloc that is sponsoring the amendments, said the proposed changes included extending the presidential term.
"Looking to maintain stability and to complete the development plans, there is a proposal to extend the presidential term to six years," Qassabi told journalists in parliament before the motion was conveyed to Abdel-Aal.
Speculation has been building that authorities would seek to change the current constitution, approved in a 2014 referendum, to allow Sisi to remain in office.
It was not immediately clear if the proposed amendments would scrap the two-term limit stipulated in the current constitution or if that limit would be retained to apply to the longer new six-year presidency.
Constitutional changes could take months because they require approval by two thirds of parliament's 596 members followed by a referendum.
Parliament, which Abdel-Aal said would be allowed to debate any proposed changes, overwhelmingly supports Sisi.
The current constitution, approved by a referendum in 2014, allows the president and a fifth of parliament members to propose an amendment to any of the constitution's articles, said Qassabi.
The proposed changes also include adding a second, upper parliamentary chamber known as the Council of Senators as well as the appointment of one or more deputy presidents, he said.
Egypt had a second upper chamber known as the Shura Council, but it was abolished in 2014.
Other proposals include a quota guaranteeing women at least 25 percent of seats in parliament, as well as "adequate representation" for youth, farmers, workers and the country's Christian minority.
Egyptian state news agency MENA said in December that an Egyptian court had scheduled hearings of a petition by a number of ordinary Egyptians demanding that the speaker of parliament take steps to introduce constitutional changes that would allow Sisi to seek re-election after his second term in office expires.
Full report at:
https://www.presstv.com/Detail/2019/02/03/587578/Egypt-Sisi-lawmaker-palriament-constitution-petition
--------
Mideast
Egypt hosts Palestinian groups, urges calm with Israel
3 February 2019
Egypt will hold talks with leaders of two major Palestinian factions to try to salvage faltering unity efforts and to restore calm with Israel, officials said on Sunday.
The head of Hamas, which runs the Gaza Strip, led a delegation to meet with Egyptian security officials in Cairo. The leader of a smaller Gaza-based faction, Islamic Jihad, also headed to Cairo, Palestinian officials said.
Hamas has been in a bitter rivalry with Palestinian President Mahmoud Abbas, who is based in the occupied West Bank, for more than a decade. Numerous reconciliation efforts have failed.
Egypt is also trying to prevent an escalation in violence between Hamas and Israel, after months of tension along the Israel-Gaza border. Cairo sent officials to Gaza in recent weeks to keep an eye on the situation.
"Cairo is driven by its interest to avoid a new war in Gaza and in improving the living conditions of Gaza residents," said one Palestinian official, who asked not to be named.
Relations between Hamas and Abbas' Palestinian Authority (PA) worsened last month when Abbas ordered his men to leave their posts at the Rafah border crossing with Egypt, the main corridor for Gazans.
This prompted Cairo, which had in the past year coordinated operations with the PA, to close the crossing.
Gaza officials now say that Egypt has quietly resumed operations at the Rafah crossing over the past week, this time working with Hamas. However, there was no immediate comment on the reopening of Rafah from Egyptian officials.
On Sunday, Hamas chief Ismail Haniyeh passed through the Rafah crossing, along with dozens of other Palestinians.
Two million Palestinians live in the Gaza Strip, where poverty is rampant and unemployment stands at 50 percent. Israel, together with Egypt, maintains a blockade of the enclave, citing security concerns.
Gaza's health ministry says more than 220 Palestinians have been killed in the past year by Israeli troops in weekly protests along the border, billed as pressing for an end to the blockade.
https://english.alarabiya.net/en/News/middle-east/2019/02/03/Egypt-hosts-Palestinian-groups-urges-calm-with-Israel.html
--------
Israel begins construction of new Gaza border barrier
3 February 2019
Israel said Sunday that work to strengthen its border with the Gaza Strip had entered a new phase, with construction starting on a massive new barrier along the frontier.
"Over the weekend we began building the above-ground barrier along the Gaza border," Prime Minister Benjamin Netanyahu told journalists before the weekly cabinet meeting.
The barrier, set to stand six meters (20 feet) off the ground, "will prevent terrorists from Gaza from penetrating into our territory on the ground", he said in Hebrew.
Netanyahu gave no further details but a defense ministry statement said that work on the structure began Thursday.
It is set to follow the 65-kilometre (40-mile) course of an underground barrier also under construction meant to neutralize the threat of cross-border tunnels built by Gaza militants.
At its western end, the statement said, the above-ground barrier would join a fortified sea wall jutting into the Mediterranean, aimed at blocking Palestinian attacks by water.
"It's massive and especially strong," the ministry said in an accompanying video clip.
In the last Gaza war in 2014, Israeli forces killed four Hamas militants who had managed to cross into Israel by water.
Some Israeli commentators have said that Netanyahu would be unwilling to see a new uptick in hostilities with Gaza's Hamas rulers in the run-up to general elections set for April 9.
But the premier, who is also defense minister, on Sunday pledged the upcoming polls would not affect security decisions.
"If the quiet is not maintained in Gaza, we will make the decisions even in the elections period and will not hesitate to act," he said.
Palestinians have for nearly a year gathered at least weekly along the Gaza border for often-violent protests.
They want to be able to return to the homes their families fled in the war surrounding Israel's creation in 1948, and are calling for an end to the Jewish state's blockade of Gaza.
At least 246 Palestinians have been killed by Israeli fire in Gaza since March 30, the majority during border protests but also by tank fire and airstrikes.
Two Israeli soldiers have been killed over the same period.
Israel says its actions are necessary to defend the border and stop mass incursions into its territory.
Full report at:
https://english.alarabiya.net/en/News/middle-east/2019/02/03/Israel-begins-construction-of-new-Gaza-border-barrier.html
--------
Palestinian man shot by Israeli forces during Gaza protest dies of wounds
Feb 3, 2019
A young Palestinian man has died less than a week after suffering Israeli-inflicted gunshot wounds during an anti-occupation protest along the border between the blockaded Gaza Strip and the occupied territories.
The spokesman for the Gaza Ministry of Health, Ashraf al-Qidra, said in a statement that 30-year-old Ahmed Ghazi Abu Jebel, a resident of Shuja'iyya neighborhood of Gaza City, succumbed to his wounds at Shifa Hospital on Sunday evening.
Abu Jebel was shot and wounded during a "Great March of Return" protest northwest of Beit Lahia city last Tuesday as hundreds of people staged a demonstration to protest the Tel Aviv regime's 12-year naval blockade against the Gaza Strip.
Nearly 250 Palestinians have been killed by Israeli forces ever since anti-occupation protest rallies began in Gaza on March 30. Over 26,000 Palestinians have also sustained injuries.
The Gaza clashes reached their peak on May 14 last year, on the eve of the 70th anniversary of Nakba Day (Day of Catastrophe), which coincided this year with the US embassy relocation from Tel Aviv to occupied East Jerusalem al-Quds.
On June 13, 2018, the United Nations General Assembly adopted a resolution, sponsored by Turkey and Algeria, condemning Israel for Palestinian civilian deaths in the Gaza Strip.
The resolution, which had been put forward on behalf of Arab and Muslim countries, garnered a strong majority of 120 votes in the 193-member assembly, with eight votes against and 45 abstentions.
The resolution called on UN Secretary General Antonio Guterres to make proposals within 60 days "on ways and means for ensuring the safety, protection, and well-being of the Palestinian civilian population under Israeli occupation," including "recommendations regarding an international protection mechanism."
Full report at:
https://www.presstv.com/Detail/2019/02/03/587581/Palestinian-Israeli-forces-Gaza-
--------
Bus carrying Iranian pilgrims in Iraq comes under terrorist attack, nine injured
Feb 4, 2019
At least nine Iranian pilgrims have been wounded after their bus came under a terrorist attack in Iraq's northern province of Salahuddin, according to Iraqi media.
The bus was targeted by unknown gunmen on a road south of the town of Balad, some 50 kilometers north of Baghdad, on its way to a Shia shrine on Sunday, reports said.
Morteza Aqaei, director general of Iran's Hajj and Pilgrimage Organization, confirmed the news, saying the pilgrims were targeted by terrorists who opened fire on the bus.
Seven people have been transferred to a local hospital in the city of Balad and the rest to Kadhimiya hospital, he said, adding three of the injured were in critical condition.
According to Aqaei, an Iraqi assistant driver was also among the wounded. The pilgrims, he said, hail from the city of Parsabad Moghan in northwestern Ardabil province.
Iraq's Arabic-language al-Sumeria reported that a road side bomb had hit the bus.
There were no immediate claims of responsibility for the attack, but such assaults bear the hallmark of the Daesh terrorist group.
Former Iraqi Prime Minister Haider al-Abadi declared the end of military operations against Daesh in the Arab country on December 9, 2017.
However, Daesh remnants have resorted to deserts and rugged mountains as safe havens, carrying out hit and run attacks from time to time against security forces and civilians.
Full report at:
https://www.presstv.com/Detail/2019/02/04/587615/Iran-pilgrims-Iraq-Salahuddin-Balad-terrorist-attach
--------
Organization of Islamic Cooperation urges world to ensure safety of Palestinians
February 04, 2019
JEDDAH: The Organization of Islamic Cooperation (OIC) on Saturday condemned Israeli decision to suspend operations of an international observer force in the city of Hebron, after 20 years.
The OIC declared the Israeli action a blatant violation of the Geneva Conventions and the international law.
The organization called on the international community to ensure the Temporary International Presence in Hebron (TIPH) stayed in the city to protect the Palestinian people.
The OIC also urged the world to take measures to put an end to the ongoing violations and abuses committed by Israeli settlers and the Israeli occupying forces.
TIPH has deployed unarmed civilian observers since 1997. Hundreds of hard-line Jewish settlers guarded by soldiers live in the heart of Hebron, which has over 200,000 Palestinians.
Following the Israeli decision, the Palestinians also urged the UN to deploy a permanent international force in the West Bank and East Jerusalem.
Palestinian official Saeb Erekat says the UN should "guarantee the safety and protection of the people of Palestine" until "the end of Israel's belligerent occupation."
Full report at:
http://www.arabnews.com/node/1446586/saudi-arabia
--------
Palestinian wounded by Israeli fire during protests dies
3 February 2019
A Palestinian died Sunday from gunshot wounds inflicted by Israeli soldiers during violent protests along the Gaza Strip's border, the enclave's health ministry said.
Ahmed Abu Jamal, 30, was wounded during clashes in Beit Lahiya in the north of Gaza on January 29, said ministry spokesman Ashraf al-Qudra.
Unrest has shaken the frontier between Gaza and Israel since March as residents of the blockaded enclave have staged mass protests.
More than 30 Palestinians were wounded by Israeli fire on Friday as the weekly demonstrations again turned violent.
At least 247 Palestinians have been killed by Israeli fire in Gaza since March 30, the majority during border protests but also by tank fire and air strikes.
Two Israeli soldiers have been killed during the same period.
Israel says its actions are necessary to defend the border and stop mass incursions into its territory.
Full report at:
https://english.alarabiya.net/en/News/middle-east/2019/02/03/Palestinian-wounded-by-Israeli-fire-during-protests-dies.html
--------
North America
Turkey says can't understand US silence over Khashoggi case
Feb 4, 2019
Turkish President Recep Tayyip Erdogan said Sunday that the US' silence toward the killing in Istanbul of Saudi dissident journalist Jamal Khashoggi by its allies in Riyadh is not acceptable, and Ankara wants everything to be clarified about the case.
"I cannot understand America's silence... We want everything to be clarified because there is an atrocity, there is a murder," Erdogan told an interview with state-run TRT television. "The Khashoggi murder is not an ordinary one."
An investigative team led by the United Nations (UN) believes Saudi Arabia's Crown Prince Mohammed bin Salman is the prime suspect in the state-sponsored assassination of Khashoggi in Turkey back in October 2018, an adviser to Erdogan said Friday.
Yasin Aktay made the remark on Friday following a meeting with the UN investigative team that is probing the brutal murder of Khashoggi inside Saudi Arabia's consulate in Istanbul last October.
The team, led by Agnes Callamard, the UN special rapporteur on extrajudicial, summary, or arbitrary executions, arrived in Turkey on Monday to probe Khashoggi's killing.
"The UN team considers the crown prince of Saudi Arabia the main person responsible for the killing of Khashoggi. The team held a number of meetings in Turkey, including with Khashoggi's fiancé, and she (Callamard) also intends to listen to the audio recordings related to the crime," Aktay told the Turkish NTV broadcaster.
Callamard has been barred from the Saudi consulate in Istanbul, where she had requested access to as part of the investigation.
Khashoggi, a Washington Post contributor and Saudi regime critic, was murdered at the Saudi consulate in Istanbul on Oct 2.
He visited the consulate to obtain paperwork for his upcoming marriage to a Turkish woman.
Turkey says Khashoggi was killed by a team of 15 Saudis who strangled him at the kingdom's diplomatic mission.
Turkey, which said it was in possession of audio evidence of Khashoggi's murder soon after he failed to exit the consulate, has indirectly suggested that Prince Mohammed ordered his killing. The Washington Post reported in November last year that the CIA had also concluded that Mohammed ordered his killing.
Ankara has demanded that Riyadh extradite the suspects in the case to stand trial in Turkey. Saudi Arabia has refused to do so.
Riyadh has not yet produced Khashoggi's body, either.
Callamard's findings and recommendations are expected to be reported to the UN Human Rights Council at a June 2019 session
https://www.presstv.com/Detail/2019/02/04/587600/Erdogan-Washington-silence-murder-Khashoggi-Salman
--------
Turkey warns against foreign meddling in Venezuela's affairs
Feb 3, 2019
Turkey says those countries that have recognized Venezuela's self-proclaimed "interim president" Juan Guaido are worsening the Latin American country's problems.
"There is a problem in a country. There is a spark that can turn into a fire at any moment. In this case, they should have contributed to the solution of the problem through dialog," said Turkish Foreign Minister Mevlut Cavusoglu at a press conference in Istanbul on Sunday, referring to the countries that have recognized Guaido.
"But is that how they handled things? No! On the contrary, the event was fueled from the outside. The people of Venezuela are being punished by such an approach," he added.
The top Turkish diplomat said Ankara had tried to initiate talks regarding Venezuela last year between Washington and Latin American nations. "But today, none of the countries that have taken these steps against Venezuela has sought dialog."
On Friday, Cavusoglu warned that if foreign interference continued in Venezuela, it could drag the country "into a civil war."
Venezuela has been in political turmoil in the past couple of months, with the opposition blaming Venezuelan President Nicolas Maduro over an ailing economy, hyperinflation, power cuts, and shortages of basic items.
Political crisis deepened in Venezuela on January 23, when opposition figure Guaido, a lawmaker who leads the defunct National Assembly, proclaimed himself the "interim president" of the country. United States President Donald Trump was quick in officially recognizing him as such.
Venezuela's National Assembly is not recognized by the Venezuelan state, which has given legislative powers to another body, the Constituent Assembly.
The White House has called on other countries to follow suit in recognizing Guaido. It has further placed tough sanctions against Venezuela's state-owned oil firm PDVSA and certified the authority of Guaido to control certain Venezuelan assets held by the Federal Reserve Bank of New York or any other US-insured banks.
Furthermore, the European Parliament on Thursday approved a resolution through which it recognized the 35-year-old Guaido as the "interim president" of his country, calling on the member states of the European Union (EU) to support the opposition figure until a "free, transparent and credible" presidential election can be held.
EU members Britain, Germany, France, and Spain had given an eight-day ultimatum to Caracas on January 26 to hold a new election or see Europe recognize Guaido. Caracas rejected the ultimatum, describing it as "childlike."
Canada and a number of right-leaning Latin American countries have also offered official recognition to Guaido.
However, other countries, including Russia, China, and Iran, have expressed support for the elected government in Venezuela and condemned outside interference in the country. Turkey, which has boosted economic and political ties with Venezuela, is also among the countries that has strongly supported the legitimate government in Caracas.
Last month, President Recep Tayyip Erdogan called Maduro to urge him to stand firm against "anti-democratic developments."
On Saturday, tens of thousands of Maduro's supporters and opponents staged rival rallies in Caracas. Pro-government demonstrators converged in the western side of the capital to mark the 20th anniversary of the Bolivarian revolution and the rise to power of the late President Hugo Chavez.
Addressing his supporters, Maduro, 56, agreed to hold parliamentary elections earlier than planned but reiterated the legitimacy of his presidency and his government amid mounting Western pressure for him to step down.
"They want to bring forward elections, let's have elections," Maduro said, adding that he was "very ashamed to see this group of opposition coup perpetrators" taking orders from Washington.
Maduro was sworn in for a second term on January 10, after a vote that faced an opposition boycott and allegations of vote-rigging, which the government has denied.
Full report at:
https://www.presstv.com/Detail/2019/02/03/587568/Turkey-Venezuela-foreign-meddling-worsen-Cavusoglu
--------
Trump says he would return troops to Syria if needed
03.02.2019
By Michael Hernandez
WASHINGTON
The U.S. would return its forces to Syria if Daesh makes a comeback in the war-torn country, President Donald Trump said Sunday.
Asked about a possible resurgence of the terror group, Trump told CBS News "we'll come back if we have to."
"We have very fast airplanes, we have very good cargo planes. We can come back very quickly," he said in remarks taped Friday, but aired ahead of Sunday's Super Bowl.
Trump pointed to a military installation in Iraq, which the U.S. could use to facilitate the operation if needed. Some U.S. troops currently stationed in Syria will be sent to that base, while others will return home, he said.
The remarks follow his announcement in December that the U.S. would be pulling out of northeastern Syria after claiming Daesh's defeat at the hands of the U.S.-led international coalition.
Amid pushback from within his administration and from key U.S. lawmakers, Trump later signaled a "slow & highly coordinated pullout" from the country but the Pentagon has continued to plan for the withdraw.
Full report at:
https://www.aa.com.tr/en/americas/trump-says-he-would-return-troops-to-syria-if-needed/1382626
--------
India
Despite India's protest, Pakistan foreign minister calls up Syed Ali Shah Geelani
Feb 4, 2019
ISLAMABAD/NEW DELHI: Despite the strong protest lodged by India against Pakistani foreign minister Shah Mahmood Qureshi's phone conversation with separatist leader Mirwaiz Umar Farooq, Qureshi spoke to hardline Hurriyat Conference chairman Syed Ali Shah Geelani and discussed the Kashmir issue.
The Pakistan foreign office said Qureshi and Geelani discussed an international conference to be held in London to "express solidarity with the Kashmiri people". India has alreadyasked the UK not to allow the event to take place.
"Foreign minister Qureshi spoke to the senior leadership of the All Parties Hurriyat Conference on telephone before his departure for London to attend international activities to be held there in connection with the Kashmir Day," the foreign office statement said.
Indian refrained from responding officially as, government sources said, it had already made its position clear on the issue. The government believes Qureshi, by taking an excessively hard line position on Kashmir, is trying to undercut Pakistani PM Imran Khan's peace overtures to India.
https://timesofindia.indiatimes.com/india/despite-indias-protest-pakistan-foreign-minister-calls-up-syed-ali-shah-geelani/articleshow/67825534.cms
--------
26/11 case: NBW issued against 2 Pakistan army officials
Feb 4, 2019
MUMBAI: A sessions court has issued non-bailable warrants against two Pakistan Army officials — Major Abdul Rehman Pasha and Major Iqbal — in connection with the 26/11 Mumbai terror attacks case.
While Major Pasha has retired, the prosecution believes Major Iqbal is still serving as an ISI official in Pakistan, as disclosed by US born Lashkar-e-Taiba terrorist David Coleman Headley, an approver in the case. Both Major Iqbal and Major Pasha are shown as accused in the chargesheet filed in the case.
Additional sessions judge S V Yarlagadda on January 21 allowed an application filed by special public prosecutor Ujjwal Nikam.
Full report at:
https://timesofindia.indiatimes.com/india/26/11-case-nbw-issued-against-2-pakistan-army-officials/articleshow/67825473.cms
--------
Du-ba-Du program held: Concern expressed on increasing 'Dowry' demands
Feb 04, 2019
Hyderabad: Dr. Shakeel Ahmed Samdani, Professor of Law of Aligarh Muslim University and Member, All India Muslim Personal Law Board while delivering a speech at Du-ba-Du program told that so far, it was thought that Siasat is only a daily newspaper but later, it came to be known that it is performing educational, social and welfare activities successfully. He also told that it is an honour for him to participate in such a program. He promised that he would publicize this campaign in the entire country. He expressed great concern that performing marriage is becoming a major issue despite it being a simpler task in Islam. This campaign is a model for those who have determined to work in the field of Muslim social welfare.
He was addressing Du-ba-Du program organized by Siasat Urdu Daily at SA Imperial Garden Tollichowki, Hyderabad. He applauded the efforts of Mr. Zahid Ali Khan, Editor of Siasat Urdu Daily and Mr. Zaheeruddin Ali Khan, Managing Editor of Siasat Urdu Daily and congratulated them. He also told that in certain states of the country, Muslims are living in a poor condition. They do not have sufficient food to eat and adequate house to live in. In such a situation, how can the parents of the girl find suitable matrimonial alliances and fulfill the dowry demands of the relatives of the boys.
If the campaign of Siasat and Millat Fund is spread in every nook and corner of the country, awareness could be created and planning could be formulated. He expressed the concern that in Bihar, Rajasthan, Chhattisgarh, UP and other states, there is a lot of poverty. In these areas, the Muslims perform their marriages in a simpler way following Islamic tenets.
Mr. Zaheeruddin Ali Khan who monitored the program, highlighted its details. He contacted many parents and guardians.
Dr. Shaikh Siyadat Ali impressed upon the parents to instruct their children to lead life in the light of Quran and Sunnah. Only those communities which followed the tenets of Islam, led successful life. He pointed out that while seeing the girl for finalizing matrimonial alliances, the mistakes committed by our community are creating a bad impression on others.
Mr. Mohammed Moinuddin, President, Federation of Tolichowki Colonies, Mr. Meer Anwaruddin, Dr. Mohammed Ayub Haideri, Dr. Nazim Ali and others were present in the function. The registration started at 11 a.m. In all, 150 girls and 100 boys registered their names for matrimonial alliances.
The viewers from various countries watched the program live on Siasat Facebook, Youtube and TV.
Full report at:
https://www.siasat.com/news/du-ba-du-program-held-concern-expressed-increasing-dowry-demands-1463512/
--------
As US eyes Afghan exit, India talks to key players
by Shubhajit Roy
February 4, 2019
FROM PASHTUNS to Hazaras and Tajiks, New Delhi has quietly opened channels of communication with top Afghan leaders cutting across communities and factions as uncertainty looms over Afghanistan amid signs of the US withdrawing from the strife-torn country, top sources told The Indian Express.
"We have independently started engaging with all major political actors and factions, since we have major economic assets in Afghanistan and need to secure those interests," sources said. Some of these players have visited India in the recent weeks and have met "those who matter in the Indian system", they said.
The Indian Express has learnt the government has been "working behind the scenes" over the last few months, as it became clear that Washington is negotiating with the Taliban to enable its exit from Afghanistan.
Last November, India made its intent clear about sharing the table with the Taliban, when it sent two of its most experienced former diplomats with expertise in the region — former Indian envoy to Pakistan T C A Raghavan and former Indian envoy to Afghanistan Amar Sinha — for the Russia-organised Moscow format talks.
Although it retained deniability by saying that its participation was at a "non-official" level, it was clear that Delhi could read the writing on the wall and wanted to be "in the room" when the Taliban was negotiating.
Among the principal actors with whom Delhi has engaged recently include former Afghanistan President Hamid Karzai, who is emerging to be a key player in the peace and reconciliation process.
Fifteen candidates, including Afghan President Ashraf Ghani, Chief Executive Officer Abdullah Abdullah, former National Security Advisor Hanif Atmar, former National Directorate of Security chief Rahmatullah Nabil, and Hizb-e-Islami leader Gulbuddin Hekmatyar have registered to stand for the presidency.
It is likely that some of these candidates have been sounded out by Delhi. "We may not have been visible, but we have been active," sources said.
Delhi has also engaged with key international stakeholders — the US, Russia, Iran and several Central Asian countries — in the recent weeks. Sources said it is now planning to have a structured dialogue with Chinese interlocutors as well, who have economic stakes in Afghanistan. "We are going to discuss the future of Afghanistan with China as well," sources said. However, Delhi has not yet approached Pakistan to discuss Afghanistan.
India is learnt to have impressed upon the international players that it will not favour any "interim arrangement" — as is being pushed by the US — and would want the Presidential elections to be held on July 20, as per the current schedule.
Sources said this was conveyed to Zalmay Khalilzad, the US interlocutor with the Taliban. "We have told him that existing political and constitutional structures also have to be safeguarded," the source said.
New Delhi is also planning to continue with developmental projects in Afghanistan, notwithstanding US President Donald Trump's jibe about India building libraries. "We have a commitment of $3 billion, and have spent more than $2 billion. We will continue to work on those projects," sources said.
Full report at:
https://indianexpress.com/article/india/as-us-eyes-afghan-exit-india-talks-to-key-players-5567457/
--------
US talks with Taliban should not impact president's poll in Afghanistan, says India
Feb 04, 2019
Rezaul H Laskar
India has conveyed to the US that its talks with the Taliban should not in any way jeopardise Afghanistan's political and constitutional structure or the presidential elections scheduled for July 20, according to people familiar with the developments.
India's position on the US-Taliban talks to end 17 years of conflict, and its concerns about the rapidly evolving situation in the war-torn country, were relayed to US special representative Zalmay Khalilzad when he visited India for the Raisina Dialogue last month. Khalilzad had met external affairs minister Sushma Swaraj and foreign secretary Vijay Gokhale during the trip.
At the same time, the Indian government has adopted a multipronged approach towards the situation in Afghanistan, including intensive consultations with a cross-section of Afghan leaders in Kabul and New Delhi and discussions with other key players such as Russia and Iran. As part of this approach, India plans to reach out to China for talks on the future of Afghanistan, the people cited above said.
Taking a cue from its handling of recent political crises in the Maldives and Sri Lanka, the Indian government will not act in haste despite pressure to spell out its position in response to the fast-paced developments in Khalilzad's talks with the Taliban, the people said. "The situation is being monitored regularly at the top level. Just because we haven't taken a public position, it doesn't mean we are not active in securing our interests," said a top official who asked not to be named.
Against the backdrop of reports that the US-Taliban talks could lead to an interim government that includes the militants, Khalilzad was told by his Indian interlocutors that New Delhi favoured retaining Afghanistan's political structure created with great difficulty over the years, and did not favour interim arrangements, the people said.
"The US special representative was told India favours an Afghan-led, Afghan-owned and Afghan-controlled process. While we understand the US compulsions to withdraw, Afghanistan's existing political and constitutional structure has to be safeguarded," added the top official.
As part of its engagement with regional players on Afghanistan, India plans to discuss the evolving situation soon with China, a country with which there had been no meetings since Khalilzad launched his initiative. The people quoted above said these talks will be at a high level.
India has also stepped up behind-the-scenes consultations with Afghan leaders such as former President Hamid Karzai in Kabul and New Delhi. Several Afghan leaders have quietly visited India for these talks. India was perceived as being closer to the Tajik-dominated Northern Alliance, and the government has ensured these consultations have included the Pashtun leadership, widely seen as being within Pakistan's sphere of influence, the people said.
Despite the widely reported comments of the Indian Army chief, Gen Bipin Rawat, that India should consider talking to the Taliban without preconditions, the people said there had been no change in India's policy on not engaging the militants. "Our history with the Taliban is a sensitive issue and talking to them would find no acceptability within the system or among the people," the top official said.
The people noted that Pakistan appeared to be the only country in the region that is taking comfort in the possible creation of a government in Kabul with the Taliban as a dominant player. "But even Pakistan's close ally China wouldn't want an unstable Afghanistan with the Taliban in a dominant role. China also has its concerns about the East Turkestan Islamic Movement, and they want to keep Xinjiang safe from such groups," the top official added.
Full report at:
https://www.hindustantimes.com/india-news/us-talks-with-taliban-should-not-impact-president-s-poll-in-afghanistan-says-india/story-p6Yajd8T87Hmbv89z0XveO.html
--------
Pakistan
Members of Gulf royal families given permits to hunt protected bird
February 04, 2019
KARACHI: The federal government has issued at least 13 special permits to members of the royal families of Gulf states to hunt internationally protected bird houbara bustard in Sindh during the 2018-19 hunting season, according to sources.
Those given the permits include a king and a president, besides crown princes, their uncles and cousins, and armed forces chiefs belonging to the ruling families of Saudi Arabia, the United Arab Emirates, Bahrain and Qatar.
At least one member of the elite group has a dubious distinction, as he is being pursued by a Pakistani investigation agency for his alleged role in a money laundering scam being investigated in the country.
The ruling Pakistan Tehreek-i-Insaf had criticised the-then federal government when it had issued hunting permits to members of the Arab royal families last year and announced that it would not allow them to hunt in Khyber Pakhtunkhwa, where the PTI had its own government.
So, although the hunting permits were issued for Khyber Pakhtunkhwa as well, hunting could not be carried out in the province owing to its government's tough stance on animal conservation. But this year the federal government, which is led by the PTI, has issued hunting permits for Sindh, according to the sources.
The sources said that Malik Amin Aslam — the president for South East Asia of the International Union for Conservation of Nature, who is also adviser to the federal government on climate change — looked the other way when the permits for hunting houbara bustard were being issued to members of the Gulf royal families.
An inhabitant of the colder Central Asian regions, the houbara bustard migrates southwards in winter to avoid the harsh weather conditions in its habitat.
Earlier, the bird used to migrate right up to the Arabian peninsula, but owing to ruthless hunting there over the years by Arab hunters, who considered it to be an aphrodisiac, it has stopped going there and rests in Pakistan instead during winter.
Owing to the bird's special status and its dwindling population, the houbara bustard is protected globally. But the Pakistan government, keeping in view the royal hunters' interest in it, issues special permits to hunt the bird, which is also protected under Pakistani laws. (Pakistanis are not allowed to hunt it.)
However, this is not the first time that such permits have been issued as previous governments have also issued these permits.
As per the permits signed by M. Adeel Pervaiz, the foreign ministry's deputy chief of protocol, the names of the permit holders and the areas allocated to them are as follows:
King of Bahrain Sheikh Hamad bin Issa bin Salman Al-Khalifa has been allocated Jamshoro district, including Thano Bula Khan, Kotri, Manjhand and Sehwan tehsils. President of the United Arab Emirates and Ruler of Abu Dhabi Sheikh Khalifa bin Zayed Al-Nahyan and Crown Prince of Abu Dhabi and Deputy Supreme Commander of the UAE Armed Forces Gen Sheikh Mohammad bin Zayed Al-Nahyan have been allocated Sukkur and Nawabshah districts. Prince Mansour bin Mohammad S. Abdul Rahman Al-Saud of Saudi Arabia has been given Kashmore district.
Uncle of Bahrain's king Sheikh Ebrahim bin Hamad bin Abdullah Al-Khalifa has been allocated Shah Bunder tehsil in Sujawal district. The king's defence adviser Sheikh Abdullah bin Salman Al-Khalifa has been granted Jati tehsil in Sujawal district. The king's first cousin and Bahrain's Interior Minister Lt Gen Sheikh Rashid bin Abdullah Al-Khalifa has been given Naushahro Feroz district.
Hyderabad and Malir districts, excluding Malir Cantonment and Dhabeji, have been reserved for Sheikh Ahmed bin Ali Al-Khalifa, who is a first cousin of Bahrain's king. The deputy prime minister of the UAE, Sheikh Sultan bin Zayed Al-Nahyan, has been given Khairpur district, excluding Kotdiji and not across Nara canal. A representative of Abu Dhabi's rulers, Sheikh Hamdan bin Zayed Al-Nahyan, has been allocated Khairpur Nathan Shah tehsil, Juhi tehsil and union council Fareedabad in Dadu district, Gaibi Dero in Larkana district, Shahdadkot district and Khairpur district (across Nara canal).
Deputy chief for police and general security of Dubai and a member of the ruling family Lt Gen Sheikh Ahmed bin Rashid Al-Maktoum has been allocated Tharparkar district, including Mithi and Nagarparkar (minus protected area), and Umerkot district. A member of the ruling family of Dubai, Shaikh Rashid bin Khalifa Al-Maktoum, has been allocated Badin district, Jungshahi in Thatta district and Dhabeji in Malir district. Mirpurkhas district has been reserved for a member of the Qatar's ruling family, Sheikh Abdul Rehman bin Hamad Al-Thani.
Nasir Abdullah Lootah, a UAE citizen and chief of the Summit Bank, has been given Thatta district, excluding Shah Bunder and Jungshahi. He is being pursued by the Federal Investigation Agency for his alleged role in a money laundering scam.
https://www.dawn.com/news/1461703/members-of-gulf-royal-families-given-permits-to-hunt-protected-bird
--------
Imran Khan should not fear Shehbaz Sharif and summon Parliament session: Marriyum
FEBRUARY 4, 2019
Pakistan Muslim League Nawaz (PML-N) spokesperson Marriyum Aurangzeb on Sunday demanded the Prime Minister Imran Khan to summon Parliament session to hold discussions over ongoing economic crisis. Aurangzeb took a jibe at PM Khan, saying that where was economic policy and vision [of government] She said that Imran Khan must tweet about atrocities of his government against nationals as foreign loans now stood at trillions. Criticising PM's tweet regarding rainfall and snowfall, she said that issues can never be resolved through tweets when economic crisis was prevailing in the country. She alleged that the current government was powerless to bring any betterment in current situation.
https://dailytimes.com.pk/351036/imran-khan-should-not-fear-shehbaz-sharif-and-summon-parliament-session-marriyum/
--------
Taliban talking to US from position of strength
Tooba Masood
February 04, 2019
KARACHI: While sharing his views about the ongoing negotiations between the United States and the Taliban, renowned foreign policy author Ahmed Rashid on Sunday said the Taliban were talking from a position of strength as they controlled more territory than the Afghan government.
"What I think is crucial is that the Taliban have now found an America that is willing to talk. Even the initiative taken by Richard Holbrooke and other American diplomats in the past – never had the full backing of the President or the US establishment. Now the Taliban are finding that Trump is determined to pull out and this was his promise to his own voter base in the US," said Mr Rashid on the concluding day of Adab Festival, which was held at Governor House.
At the session titled 'In conversation with Ahmed Rashid', being moderated by journalist Zahid Hussain, the author was asked about his take on Afghan peace negotiations.
"I want to know what has made the Trump administration take this more seriously? And as reports are coming in from Afghanistan that the Taliban are much more powerful than ever and more than 55 per cent of Afghan territory is supposed to be under their control. What has led the Taliban to negotiate, they have always talked about talking to the Americans and refused to have any interaction with the Kabul government, do you think now the Taliban are talking from a position of strength?" asked Mr Hussain.
Mr Rashid said: "Now the Taliban are finding that Trump is determined to pull out and this was his promise to his own voter base in the Untied States. He wants to fulfil this promise before the next election so he can point to them and say, 'look I promised you troops out of Afghanistan…' and this whole Trump philosophy is all about internalising economy, abandoning trade and international alliances while concentrating on strengthening the US.
"Of course, you can argue that this is ridiculous because you need interaction with your allies and trading partners. So I think the whole American ideology has shifted dramatically by Trump. I'm sure Zalmay Khalilzad (a US diplomat and special representative for Afghanistan) wakes up every morning fearing that Trump has tweeted something overnight saying that all American forces are coming out tomorrow morning. And Trump won't even wait for a settlement."
Having said that, Mr Rashid added there had however been remarkable progress in the past three to four months but it still needed time to change people's mind and negotiate.
"The next round [of talks] between the Taliban and Khalilzad is at the end of this month. And we don't know what is going to happen. Trump is facing huge threat from the Muller investigation and it is very unpredictable. But at the moment I think he is determined to take US troops out of Afghanistan.
"The other thing is that the Taliban are not going to have a ceasefire immediately until they probably gain more territory. They also realize that all these regional countries are wooing them. They've been to Japan, Indonesia, Russia…so all the regional countries are taking the Taliban very seriously and of course this is a big blow to President Ashraf Ghani."
Full report at:
https://www.dawn.com/news/1461695/taliban-talking-to-us-from-position-of-strength
--------
Tareen pitches Lodhran as new contender for south secretariat
Intikhab Hanif
February 04, 2019
LAHORE: As many as 18 departments will be housed in the planned south Punjab "mini secretariat" though the issue of selection of a city for setting it up has become more complicated for the provincial government because of the jumping in of Mr Jehangir Tareen who reportedly wants the establishment at Lodhran.
Earlier, Executive Council on Creation of South Punjab Province chairman Chaudhry Tahir Basheer Cheema wanted the mini secretariat in his hometown of Bahawalpur, and the chief minister and the bureaucracy believed it should be set up in Multan for a better liaison with the seat of the provincial government in Lahore.
Officials on Sunday said there was also the third option for establishing the secretariat at Lodhran.
Those wanting the secretariat in Multan argue that the expected opening of the Lahore-Multan motorway on February 15 would reduce the travelling time between the two cities by three hours. This would facilitate communication between Lahore and the mini-secretariat.
They say that initially the authorities had proposed the secretariat could be established in the Cotton Research Institute in Multan. But the idea was dropped and now the New Kutchery on the city periphery was being pointed out as the best possible location for it.
The buildings of the courts (kutchery) were constructed over 100 kanals in 2015-16, but the local lawyers and judges posted in Multan had found it unsuitable for the purpose and they returned to the old premises in the city. Since then, the New Kutchery had been lying vacant and could be used for setting up the mini-secretariat without any hassle, an official said.
"Selection of the city is very important but the issue has become complex because of the diverse opinion by those who matter now in Punjab. Every group has its own justifications. Let us see what happens," a senior official said.
Meanwhile, sources said the government has started planning how to attract officials to the south Punjab mini-secretariat from Lahore where they have official residences, proper conveyance and good educational institutions for their children.
In this connection, the sources said, several incentives for officials were being planned. One of them was to give the officials secretariat allowance like being given to those working in the provincial civil secretariat, besides additional pay, proper residence and good vehicles.
The sources said nearly 150 posts of the 18 departments to be housed in the mini-secretariat had been initially created. The secretariat would function under an additional chief secretary. Each department would be represented by a special secretary, having a team of two additional secretaries, four deputy secretaries and four section officers. Every team would have supporting staff.
The departments that would function there included planning and development, health, education, irrigation, communication and works, finance, local government, housing, women development , energy and agriculture.
Full report at:
https://www.dawn.com/news/1461745/tareen-pitches-lodhran-as-new-contender-for-south-secretariat
--------
PM orders speedy justice in Sahiwal shooting case
Mansoor Malik
February 04, 2019
LAHORE: Prime Minister Imran Khan in a one-on-one meeting with Punjab Chief Minister Usman Buzdar here on Sunday directed him to ensure speedy justice to the grieving family in the Sahiwal killings case.
The prime minister, who came to Lahore on a day-long visit, expressed complete solidarity with the bereaved family and hinted at constituting a judicial commission to investigate the Jan 19 shooting if the family would demand, sources said.
Four people, including a teenage girl and her parents, were shot dead on the highway near Sahiwal allegedly by Counter-Terrorism Department personnel in what the CTD immediately claimed was an exchange of fire with terrorists on Jan 19.
During his Lahore visit, Mr Khan chaired back-to-back meetings on issues of governance, police reforms, security situation and development projects besides one-on-one meetings with Governor Chaudhry Sarwar and CM Buzdar at chief minister's secretariat. Provincial ministers and bureaucracy attended the meetings.
Answering a question about a briefing on the Sahiwal case at one of the meetings, federal Information Minister Fawad Chaudhry told the media that the prime minister had expressed his complete solidarity with the bereaved family members and asked the chief minister to take all-out measures to dispense justice to the family.
He said considering the complaints being received from domestic consumers against inflated gas bills at citizens' portal, the prime minister ordered an investigation. The PM was also quoted as saying that it was unjustified to put extra burden of gas prices on the masses. "The prime minister has directed federal minister for petroleum and natural resources Ghulam Sarwar Khan to launch an investigation to find out why inflated gas bills have been sent to the domestic consumers," said Mr Chaudhry.
Seventy per cent domestic consumers across the country used minimum up to 300mmf natural gas and the government had hiked the tariff for such consumers by 10 per cent only, while the major tariff rise was for the wealthy people using higher units of gas, he elaborated while briefing the media about the meetings.
The PM was briefed about the use of technology, investment and judicious use of human resources at the meetings which were held to discuss Punjab's administrative and financial capacity as well as police reforms.
Following a briefing by economist Dr Salman Shah, measures to strengthen and promote agriculture, industry, energy, infrastructure and skilled human resources were also discussed at the meeting.
The sources said the prime minister discussed development plan for Punjab's 50 cities and 36 districts and agreed to declare at least 15 cities in the province economic hub.
The prime minister granted approval to launch Punjab Spatial Strategy, the sources said, adding that the federal government would extend its complete support to it. They said the spatial planning approach was used to assess and prioritise economic, social and environmental objectives besides offering a framework for rationalising and sequencing public investments.
Responding to a question about governance and police reforms, the information minister said that major administrative reforms would be introduced in the governance and police systems in Punjab. He said a follow-up meeting on the subjects had been called at PM Office on Monday (today) and added that further details would be shared later. "It was PTI's promise to the people of Pakistan that it will bring changes and reform age-old governance and police systems," he remarked.
Governor Sarwar in a separate one-on-one meeting with PM Khan briefed him about political issues, development projects in Punjab and the need to establish a water authority in the province. Mr Khan gave his nod for the establishment of an authority to ensure provision of clean drinking water to the people, the sources said.
They said the prime minister also pledged to expedite work on the legislation to form the water authority.
Mr Khan directed a media strategy committee to publicise and highlight development projects being initiated by the Punjab government besides promoting the ruling Pakistan Tehreek-i-Insaf-led government in an effective manner in the media. He asked the Punjab government to strengthen its relations with the media.
The federal information minister said the media strategy committee acknowledged the financial crisis being faced by journalists and media workers. He said the prime minister directed the committee to hold a "meeting with the owners of media organisations to understand the reality" behind the crisis. Mr Khan also ordered revival of the PTI's social media wing, he added.
With regard to the reservations of a ruling coalition partner with the PTI, the information minister said the Chaudhrys of Gujrat were still PTI's allies and there was nothing serious when certain differences surfaced. "We need to put differences on the backburner and work hand-in-hand in the best interest of the country," he said.
The minister also announced the launch of 'health card' on Monday, explaining that the card holders would be entitled to get annual medical treatment up to Rs0.9 million.
He said the meetings held to review Punjab ministers' performance was "an ongoing strategy to keep them on their toes".
The PM also chaired a meeting of task force on housing and was briefed about progress in the Naya Pakistan Housing Programme.
Earlier upon his arrival in Lahore, the affectees of Eden Housing society gathered outside Mr Khan's private residence in Zaman Park, blocked the Canal Road and chanted slogans demanding relief.
Fate of opposition party leaders About leaders of two major opposition parties, Mr Chaudhry said the only suspense left about their future was whether Nawaz Sharif and Asif Zardari would spend the last days of their life in jail or in London.
It should be a matter of shame for both the leaders that they ruled the country several times but were looking for options to get medical treatment abroad, the minister said.
Full report at:
https://www.dawn.com/news/1461691/pm-orders-speedy-justice-in-sahiwal-shooting-case
--------
South Asia
Aid workers race to batten down Rohingya refugee camp with no sign of crisis ending
FEBRUARY 4, 2019
COX'S BAZAR, Bangladesh (Thomson Reuters Foundation) - In hotels and restaurants near the beach at Cox's Bazar in southeast Bangladesh, international and local aid workers sent to help the Rohingya in the world's largest refugee settlement talk nervously of the major challenge ahead - the weather.
Cox's Bazar was mainly known as Bangladesh's top local tourism spot, famed for the world's longest natural sea beach, until the 2017 arrival of more than 730,000 Rohingya fleeing persecution in Myanmar in a human exodus of unprecedented scale.
Joining thousands of Rohingya Muslims already in Cox's Bazar, they cleared forests and built shelters from mud and bamboo to create a sprawling mass of camps that now house more than 900,000 people, of which 80 percent are women and children.
Over 18 months the Bangladesh government, with thousands of staff from about 145 non-government organizations (NGOs) and aid agencies, have brought order to the chaos, building more stable shelters, roads, sanitation and setting up community projects.
But while life in the settlement has started to stabilize, aid workers said they were rushing to secure the camps for the longer term with no sign of the crisis ending and one factor hanging over them - the monsoon in May then cyclone season.
"This is not an easy place to work because we are constantly worrying about things over which we have no control," said Nayana Bose, spokeswoman for the Inter Sector Coordination Group (ISCG) that coordinates the humanitarian agencies' work.
"It's challenging in terms of terrain, weather, and population," she said, adding this made it harder than other refugee crises and Bangladesh's biggest ever humanitarian task.
Aid workers recalled how the early months of the crisis were focused on life-saving work, such as building shelters and latrines, food supplies, and dealing with health emergencies.
They worked around the clock in the camps located about 40 km (25 miles) south of Cox's Bazar – a 1.5 hour drive that can take much longer depending on traffic on the pot-holed roads where aid agencies' four-wheel drives vie with auto rickshaws.
FLY IN, FLY OUT
Most international staff came for three month stints but as time went on were replaced by staff on six month and one year contracts, working eight week shifts before flying out for one week of rest and recreation and to visit their families.
Leisure activities are limited in Cox's Bazar, with alcohol in Muslim Bangladesh only available at some international hotels, so some aid staff set up yoga classes and book clubs.
Women must be dressed conservatively so swimming is not an option, although some aid workers value beach walks, and international workers are told not to leave hotels after 10 pm.
Firas Al-Khateeb, a spokesman for the U.N.'s refugee agency UNHCR, said he had worked with refugees in five other countries but the Rohingya crisis was more challenging.
First there was the sheer numbers involved, then language problems as most Rohingya are illiterate, complicating awareness campaigns about risks in the camps, and also the fact the Rohingya are not recognized by Myanmar and have nowhere to go.
Chances of the crisis ending soon are remote. Bangladesh's government has vowed not to repatriate anyone unwillingly, garnering global praise for Prime Minister Sheikh Hasina who just won a third term despite reports of poll irregularities.
U.N. special rapporteur on human rights in Myanmar, Yanghee Lee, said on Jan. 25 it was clear the Rohingya cannot return "in the near future" with the situation unchanged and Myanmar still denying all accusations of persecution.
"The Rohingya are stateless and had been suffering back home. Some talk about the freedom they have here," said Al-Khateeb, whose organization is frequently quoted saying the average length of stay in a refugee camp is around 15-20 years.
GETTING READY
But he added that the weather was a major problem, with efforts now underway to make the camps as secure as possible in case of a severe monsoon or cyclone season. Last year the Cox's Bazar area was not badly hit.
Anjum Nahed Chowdhury, a project manager with Christian Aid working on disaster risk reduction with BRAC, Bangladesh's largest NGO, is focused on strengthening bamboo for shelters, digging ditches, landslide protection, and building brick roads.
"We must be ready for the monsoon season and we are much better prepared this year. If the cyclones had been bad last year it would have been a disaster," she said.
While life in the camps is becoming normalized, the Rohingya are not allowed to formally work as this could impact local jobs, but they can earn about $5 a day on NGO projects in camps.
With this they can trade with each other at stalls that line the main roads winding through the camps that sell food, plastic toys and clothes as stray dogs and cows wander past.
Gemma Snowdon, a spokeswoman for the World Food Programme, said food in the camps was also changing to a longer-term plan.
At first they handed out rice, lentils and oil but now they are supplying people with cards with monthly amounts based on family size with which they can buy fresh food, dried fish and eggs from stores set up by local retailers in the camps.
Another program, run by the U.N.'s Food and Agricultural Organization (FAO), International Organization for Migrants (IOM) and WFP, is supplying all households with stoves and a monthly canister of LPG to reduce pollution and deforestation.
The loss of forest has been a key source of tension with some local people, who are now outnumbered two to one by the Rohingya, and lost some traditional income from the forest.
While other locals, like Theotonius Gomes who runs the Mag Darin restaurant, have welcomed the influx of aid workers which has boosted businesses and prompted the government to start work on an international airport terminal and extended runway.
But all the aid work comes at a cost.
Last year U.N. agencies and NGOs launched a $950.8 million appeal to provide essential humanitarian assistance, including to nearly 400,000 Bangladeshis in nearby communities, some of whom are as poor as the Rohingya, in a bid to diffuse tensions.
A new funding plan will be launched later this month, with initial drafts of the proposal, seen by the Thomson Reuters Foundation, showing the target will be about $920 million.
Aid groups are well aware raising funds could get harder as the crisis rolls on and new emergencies hit the headlines.
"But this emergency is not over yet. Still the Rohingyas need our help and support," said Al-Khateeb.
https://www.reuters.com/article/us-bangladesh-rohingya-aid/aid-workers-race-to-batten-down-rohingya-refugee-camp-with-no-sign-of-crisis-ending-idUSKCN1PT01A
--------
Taliban to meet anti-govt leaders in Moscow
February 04, 2019
KABUL: The Taliban said on Sunday they would send a delegation to Russia for a rare meeting with Afghan opposition leaders, just days after peace talks with the United States that excluded the Kabul government.
The two-day sit-down in Moscow, starting on Tuesday, will be attended by some of President Ashraf Ghani's chief political rivals, but none of the government envoys tasked with Taliban negotiations.
Ghani has appealed to the insurgents to talk after being frozen out of six days of discussions between the Taliban and the United States in Doha last month that sealed the outlines of a peace deal.
Instead the Taliban, who refuse to recognise Ghani's government, will sit down in Moscow with some of the president's main opponents to discuss the country's future — stirring frustrations in Kabul.
"It shows the peak of depression and begging to terrorists," said Amrullah Saleh, who is running as vice-president on Ghani's ticket in elections slated for July. "A smile to the enemy is a blow to the national spirit," he posted on his Facebook page on Sunday.
Among those who have confirmed their attendance in Moscow is Haneef Atmar, who is running against Ghani in the presidential elections, former warlord Atta Muhammad Noor and former Afghan president Hamid Karzai — both Ghani rivals — are also attending.
Noor on Sunday said the meeting was "a pathway towards strengthening the peace efforts led by the US" while Atmar described it as "an important step towards intra-Afghan peace talks". A government-appointed council tasked with Taliban engagement said on Sunday it was not invited to Moscow.
A senior Taliban official said they would send a delegation, but described the meeting as non-political and "arranged by some organisations based in Moscow".
The Russian Embassy in Kabul issued a statement late on Saturday on behalf of the "Afghan Society of Russia". The group said it had invited "influential figures" to the dialogue in the President Hotel in Moscow. "We are ready to play our role in bringing peace to Afghanistan," the statement read.
Full report at:
https://www.dawn.com/news/1461753/taliban-to-meet-anti-govt-leaders-in-moscow
--------
Moscow summit to strengthen peace efforts in Afghanistan: Noor
03 Feb 2019
The Chief Executive of Jamiat-e-Islami party Ata Mohammad Noor has said that the Moscow dialogue will strengthen peace efforts in Afghanistan.
Confirming his participation in the summit, Noor said in a statement "I alongside few prominent #Afghan leaders will be attending the intra-Afghan dialogue in Moscow which we firmly believe will be a pathway towards strengthening of the peace efforts led by the US and facilitated by other countries involved in the issue."
Noor further added "At the meeting in Moscow, we will be observing our national interests & the people's will towards an enduring peace. At the meeting, I will also support the peace efforts led by US & will discuss solutions to bolster the efforts underway that will serve interests of our people."
The Moscow Summit will be organized on 5th and 6th of February in the capital city of Russia.
Full report at:
https://www.khaama.com/moscow-summit-to-strengthen-peace-efforts-in-afghanistan-noor-03229/
--------
Local Taliban leader Qari Janan killed with his 7 comrades in Helmand
03 Feb 2019
A local leader of the Taliban group has been killed together with 7 other militants during the operations of the Afghan National Defense and Security Forces in southern Helmand province.
The Ministry of Interior (MoI) in a statement said the Taliban leader Qari Janan was killed in Highway 601 in Balochan area located in the outskirts of the provincial capital.
The statement further added that five militants also sustained injuries during the same operations.
At least eight hideouts were also destroyed and some improvised explosive devices which were planted by the militants in Balochan, Gul Agha, Asadullah and Kochian areas were discovered and defused, the statement by the Ministry of Interior added.
Full report at:
https://www.khaama.com/local-taliban-leader-qari-janan-killed-with-his-7-comrades-in-helmand-03230/
--------
Atmar vows to defend constitutional values and safety of institutions in Moscow summit
03 Feb 2019
The former National Security Adviser and presidential runner for July 20 elections Mohammad Haneef Atmar has confirmed that he is participating in Moscow summit together with a number of other political leaders.
In a statement posted via his official Twitter account, Atmar has said that he considers the summit an important step towards the revival of inclusive and intra-Afghan negotiations.
Atmar has also vowed that he will defend the joint achievements and legacies of the nation in the summit which include constitutional values, Islamic Republic system, and safety of institutions.
He also added that he will emphasize on an inclusive intra-Afghan peace negotiations to include the Afghan government as well.
In other parts of his statement Atmar urged the government not view the peace process from the perspective of the government only and to respect the role of political sect and the nation in reconciliation efforts.
The Moscow Summit will be organized on 5th and 6th of February in the capital city of Russia.
Full report at:
https://www.khaama.com/atmar-vows-to-defend-constitutional-values-and-safety-of-institutions-in-moscow-summit-03228/
--------
Southeast Asia
Terengganu cops uncover 'love scam' syndicate misusing Islam to fleece victims
3 Feb 2019
KUALA TERENGGANU (Bernama): Police here have detected a "love scam" syndicate in the state misusing Islam to fleece their victims.
State police chief Datuk Aidi Ismail said they had received several complaints from victims who claimed they had transferred money to syndicate members to help them to learn more about Islam.
"Syndicate members will persuade the victims to deposit a sum of money, sometimes up to hundreds of thousands of ringgit, even if they only know each other online," he told reporters here on Sunday (Feb 3).
Earlier, Comm Aidi witnessed the handover of duties between Terengganu Criminal Investigation Department (CID) chief ACP Fazlisyam Abdul Majid and CID deputy chief (Investigations/Legal) Supt Suffian Santong; Integrity and Standard Compliance Department chief DSP Amran Mohd Ghani and his deputy ASP Nurul Isma Khairuddin, and ACP Abdul Rahim Mat Din who will assume his new post as Kuala Terengganu district police chief.
Comm Aidi said 53 fraud cases involving "love scams" were reported in the state last year with losses amounting to RM12mil. – Bernama
https://www.thestar.com.my/news/nation/2019/02/03/terengganu-cops-uncover-love-scam-syndicate-misusing-islam-to-fleece-victims/
--------
Demonstrators worldwide protest China's Uyghurs policy
February 03, 2019
China's human rights violations against Turkic Uyghur minority in Xinjiang Uyghur Autonomous Region -- also referred to as East Turkestan --have been protested across the Chinese Consulates worldwide.
The Islamic Community National View (IGMG), one of Germany's largest Muslim-Turkish associations, gathered before the Chinese Consulate in Dusseldorf for protests.
The organization's head Kemal Ergun made a statement and slammed China for human rights violations, religious oppression and so-called training camps.
"Uyghur children and public servants are not allowed to go to mosques, or pray even at their homes. The public servants can't even fast in Ramadan," he said.
Ergun went on to say that the forced-training camps taught the ideology of the Chinese Communist Party, humiliated Islam. He alleged that those refusing the humiliation against Islam were tortured.
Emphasizing that there were thousands of Uyghurs who were arrested and never heard of again, he said that those looking for their arrested relatives could also be arrested and there wasn't a process in which these people could defend themselves through judicial methods.
"The security units systematically carry out tortures, any attempt to protest the unjust practices of the administration is regarded as uprising or riot. Those attending protests are executed," he said.
Ergun called on the UN to step into action and impose sanctions on the Chinese government during the organization, which was participated by some 500 people despite the rain.
The protests in Germany's capital Berlin were attended by several NGOs, and the crowd dispersed after reading a statement calling on China to put an end to the violations against Turkic Uyghurs.
The protest near the Chinese Consulate in Frankfurt city was attended by some 350 people.
The protest organized by Denmark Islamic Community in capital Copenhagen in front of the Chinese Embassy was attended by hundreds of people and representatives of the Turkish associations operating in the country.
Some 250 people were present at the protests held in the Netherland's Den Haag city near the Chinese Consulate.
The Islamic Community National's England branch also protested the Chinese policy on the Uyghurs.
Numerous demonstrators gathered in front of the Chinese Embassy in Austria's capital Vienna and protested the human rights violations in Xinjiang Uyghur Autonomous Region.
Demonstrators carried banners saying: "Freedom for Uyghur", "Stop cruelty against Uyghur", "End massacres in Uyghur!".
The protests will continue until February 5th and are held in Australia's Melbourne, the U.S.' New York, Germany's Berlin, Dusseldorf, Hamburg, Frankfurt, Munich; Belgium's Brussels, Bosnia and Herzegovina's Sarajevo, Denmark's Copenhagen, the Netherlands' Den Haag, Norway's Oslo, Austria's Vienna, England's London, France's Paris, Lyon, Marseille, Strasbourg; Switzerland's Zurich and Sweden's Stockholm cities.
In August, the UN Committee on the Elimination of Racial Discrimination, in a meeting held in Geneva, stated that the Uyghur individuals, who the local administrators accuse of having unfavorable political thought, in China's Xinjiang Uyghur Autonomous Region were held in political training centers.
The UN body's representatives stated that up to 3 million people have been detained without any judicial decisions.
Full report at:
https://www.yenisafak.com/en/news/demonstrators-worldwide-protest-chinas-uyghurs-policy-3473570
--------
Canisius College alumni declare support for Jokowi-Ma'ruf pair
February 3, 2019
Prominent alumni of Canisius College in Jakarta have declared support for the Joko "Jokowi" Widodo-Ma'ruf Amin pair and vowed to fight against the spread of hoaxes and fake news in campaigning for the incumbent president and his running mate.
Among the alumni are Ginandjar Kartasasmita, Airlangga Hartarto, Wimar Witoelar, Agus Gumiwang Kartasasmita, Prof. Harijono Djojodiharjo, Akbar Tanjung, Sofyan Wanandi and J. Wishenda.
The declaration event was held at Gedung Joeang 45 museum in Central Jakarta on Sunday. It was also attended by senior members of the Jokowi campaign such as Indonesian Democratic Party of Struggle (PDI-P) secretary-general Hasto Kristiyanto,
Alumni from other Jakarta schools, such as Pangudi Luhur, SMAN 7 high school, SMAN 3 high school, De Britto College and SMAN 6 high school, also attended the political event.
"Only leaders who can serve the people are able to advance Indonesia further. And Pak Jokowi has proven his ability to do that," said Irlan Suud, the head of the declaration committee.
"The reason [voters] should vote for Jokowi is that we are already experienced. Kanisius alumni like Agus Gumiwang and I participate in the control of the government, so it is only natural [for us to choose Jokowi]," said Airlangga, the current industry minister and Golkar party chairman.
To help Jokowi win the election in the capital, the group introduced the slogan #JokowikanJakarta (#MakeJakartaJokowi) and vowed to combat fake news targeting the sitting President.
"Elections are won in the ballot box, not with noise and fake news," said Kanisius College alumnus Wimar Witoelar.
Wimar is the founder of Intermatrix Communications and former spokesperson during the Abdurrahman "Gus Dur" Wahid era.
He said voters should maintain a "sane mind" and focus on the quality of the candidates instead of the hoaxes revolving around them.
President Jokowi claimed he had been a victim of hoaxes and smear campaigns targeting his faith, his background and policies after he was elected president in 2014.
Jokowi has often been portrayed as anti-Islam and being connected to the now-defunct Indonesian Communist Party (PKI). The President has repeatedly denied the accusations.
Earlier this year, the General Elections Commission (KPU) reported several people for spreading false online information that seven containers of ballots from China had been found in Tanjung Priok, North Jakarta. The ballots, they falsely claimed, had been pierced for Jokowi.
A 2018 study by IT news portal Daily Social indicated that 57 percent of Indonesian internet users received false information via messenger applications, prompting Facebook and WhatsApp to use encryptions and limit the forwarding of messages.
Full report at:
https://www.thejakartapost.com/news/2019/02/03/canisius-college-alumni-declare-support-for-jokowi-maruf-pair.html
--------
What's at stake for Malaysia Baharu in the Semenyih by-election?
04 February 2019
By Shazwan Mustafa Kamal
KUALA LUMPUR, Feb 4 — With Pakatan Harapan (PH) still reeling from its loss to Barisan Nasional (BN) in the Cameron Highlands by-election, eyes are turning to the March 2 Semenyih poll and what a victory would mean for either coalition.
Although the state seat was won in the 14th general election by the late Bakhtiar Mohd Nor from Parti Pribumi Bersatu Malaysia (PPBM), it had been held by Umno for two terms before that.
Buoyed by its Cameron Highlands win, Umno-BN will be looking to see if its alliance with PAS in the parliamentary by-election can be replicated in Semenyih. At the same time, PH is grappling with an increasingly impatient electorate demanding the ruling coalition fulfil all of their electoral pledges.
With 67.71 per cent Malay voters in Semenyih compared to 16.69 per cent Chinese and 13.73 per cent Indians there, Umno and PAS will no doubt be using a pro-Malay narrative to drive what it believes to be an increasing distrust towards PH parties (especially DAP) and win.
The Malay vote
Umno Youth chief Datuk Asyraf Wajdi Dusuki believes that many Malay voters are slowly becoming aware of the message that his party has been trying to convey: that the rights of the country's majority race are being undermined by a ruling coalition allegedly being "controlled" by the DAP.
"When we say we want to strengthen Islam, it does not mean we are mistreating other races. Malay-Muslims have been strong under BN since independence, but no single other race has been undermined or discriminated against.
"But now, with DAP in control, Malays are split," he told Malay Mail when contacted.
This, the Umno Youth chief said, is one of the messages his party hopes to get across to voters in during the course of the upcoming campaign for the Semenyih by-election.
"As long as DAP remains chauvinistic, upholding their so-called principals of wanting all races to be equal, it indirectly sends a message that they are undermining the country's social contract," Asyraf claimed.
The former deputy minister says that the Cameron Highlands by-election was a boost for Umno and BN, and that they have "admitted" their mistakes in the past and had been "punished" for it in GE14.
More importantly, Asyraf stressed that the Semenyih by-election will showcase a more "concrete" partnership between Umno and PAS, something which many Malay voters want.
"Umno, PAS is still the parties in which Malays look up to. In Cameron Highlands, PAS and Umno's machinery worked hand in hand, a formula which is close to the aspirations of the people. People are really hoping Umno and PAS can forge a strong cooperation "Let Pakatan have their grand ceramah circuits... we will have small focus programmes and door-to-door campaigns, with our leaders who each have their own strengths," he said.
Lessons for PH
PPBM strategist Datuk Rais Hussin conceded that the Semenyih by-election will be a sort of "vote by the Malays" due to the percentage of voters there, but added that the by-election will also be a chance for people to share their messages and demands.
"There are lessons which have been learnt in Cameron Highlands which have been spoken by many, maybe it was the choice of candidate, or how the campaign was approached, or perhaps the strategic communications team was not able to sufficiently deliver PH's message.
"But coming back to Semenyih...we need to address cost of living, job issues, and we need to show some very concrete items, actions, not just for Semenyih, but nationwide," he said.
He said that while BN will undoubtedly use the issue of race and religion to garner support, PH should focus on explaining to voters on a more pressing issue: the coalition's GE14 pledges and why some of them have yet to be fulfilled.
Rais pointed out that PH needs to stop making excuses on why some promises cannot be delivered, and instead work on a "recalibration" of their manifesto — an updated version on which promises have been delivered, which promises will be delivered, and which will be delayed.
"We need to explain why, and recalibrate the manifesto to reflect the current political landscape. Issues like food prices, and PTPTN... whoever is responsible for PTPTN must stop doing anything else and focus on that," he said.
PTPTN is the Malay abbreviation of the loans by the National Higher Education Fund Corporation, which has become a hot potato in recent years because of the government's ever-changing payback conditions on its graduate borrowers after entering the employment market on depressed wages.
DAP's Bangi MP Ong Kian Ming said that the current national narrative with regards to PH is a coalition which has somehow "lost" its direction since being in federal power.
"What is at stake is whether PH can turn the larger national narrative that we have someone 'lost' our direction in governing since GE14. With a victory in Semenyih, this narrative can be reversed," he said.
Ong cautioned that a loss in Semenyih for PH would be a "serious" blow in terms of an indicator for GE15.
"The stakes are much higher for PH in Semenyih compared to for BN given that Selangor is PH's stronghold," he said — even though Semenyih is a seat which was held by Umno in GE13 and GE12.
A crowded race
Those hoping for a straight fight between PPBM and Umno may be disappointed, as the Semenyih by-election is fast shaping up to be a possible multi-cornered race.
Parti Sosialis Malaysia (PSM) and Gerakan have both expressed interest in contesting the seat, with the former stating that a decision on the matter will be made soon.
PSM member S. Arutchelvan who contested the seat in GE14 said as a political party, PSM needs to make a decision to contest in by-elections from time to time.
"But PSM has some strict rules for standing in elections. A branch which has a service centre, and a candidate who has done work minimum two years and has units in 50 per cent of the constituency is allowed to propose a candidate.
"Now the Semenyih branch has endorsed that we stand in by-election as we fulfil these criteria. The neighbouring branches in Kajang, Bangi, Dengkil and Mantin have also have proposed that we stand. Now the matter is being discussed with the central committee," he told Malay Mail.
PSM garnered 1,293 votes in GE14 for Semenyih. PPBM won the seat with a 8,964-vote majority (23,428) against Umno's 14,464 votes. PAS had also contested, and managed to win 6,966 votes back then.
PPBM's Rais says an announcement on the Semenyih seat will likely be made just before Nomination Day on February 16.
Hulu Langat Umno chief and former two-term Semenyih assemblyman Datuk Johan Abdul Aziz told Malay Mail that the party division has already sent in who they would like to see representing the party in the state by-election.
"We may get a clearer picture next week, the national BN is looking at our proposal," he told Malay Mail.
Johan confirmed that he will not be contesting the seat, and that it was time for other "capable" people to take over.
But Oh Ei Sun, a senior fellow at the Singapore Institute of International Affairs predicts that PH will retain the seat in the by-election, despite an Umno-PAS alliance.
He said the concern would be "minor parties" like PSM splitting PH votes by throwing their hat in the Semenyih race.
"This would especially be so if other minor parties bow to political reality instead of narrowly throwing the seat to the increasingly regressive religio-racialist opposition pact by splitting PH votes," he told Malay Mail.
Full report at:
https://www.malaymail.com/news/malaysia/2019/02/04/whats-at-stake-for-malaysia-baharu-in-the-semenyih-by-election/1719593
--------
Five Abu Sayyaf members surrender over Philippine church bombing
February 04, 2019
MANILA: A senior Abu Sayyaf operative and four members of the militant group believed to be behind the deadly bombing of a church in the southern Philippines surrendered to authorities over the weekend, the national police chief said on Monday.
Kammah Pae, whom authorities believe to have aided an Indonesian couple in the January 27 suicide attack, gave himself up to government troops, Oscar Albayalde said.
"He was forced to surrender," Albayalde told a media briefing. "He probably didn't want to die during the military offensive."
Philippine troops killed three suspected Abu Sayyaf militants and suffered five fatalities in a firefight on Saturday in Patikul, a town in the province of Sulu as troops pursued those behind the church attack.
Albayalde said Kammah denied involvement in the twin bombings at the Jolo cathedral that killed 23 people, including civilians and soldiers, but eyewitnesses' accounts showed he escorted the Indonesian couple.
Security forces also retrieved an improvised explosive device and components from his home, Albayalde added.
The five suspects will face multiple murder charges, among others, Albayalde said.
However, the investigation into the church bombing in Sulu, a known stronghold of the Abu Sayyaf group, is "far from over," he added.
Abu Sayyaf is a militant organization notorious for kidnappings and extremist factions and has pledged allegiance to Daesh.
"There are more pieces of evidence that need to carefully examined," Albayalde said.
Before Philippine President Rodrigo Duterte suggested on Tuesday that the twin explosions may have been a suicide attack, military and police said the bombs within and outside the church appeared to have been detonated remotely.
A few days later, Duterte's interior minister, Eduardo Ano, said that suicide attack was carried out by an Indonesian couple with the help of Abu Sayyaf.
Full report at:
http://www.arabnews.com/node/1446671/world
--------
Africa
Soomal: Dispatches from a nomad: Kenya falls victim to ISIS-al Shabaab supremacy wars
Feb. 02, 2019
Security sources say a silent competition between Somalia's two rival militant groups, ISIS and al Shabaab, is believed to have prompted the recent terror attacks in Nairobi
A deep desire from the two groups to outwit the other and show their relevance has pushed them to export their terror outside Somalia to capture international attention.
"Kenya has unfortunately fallen victim to Daesh and al Shabaab competition to remain relevant in the region. Al Shabaab took advantage of its Kenyan Muslim reverts to attack their own country and people. There are so many Kenyans in al Shabaab, including very senior commanders," the source, who declined to be named, said.
MULTI-NATIONAL TERRORISTS
Al Shabaab, is the oldest gang of the two and was quick to claim the two Nairobi attacks. Its multi-national membership believed to include many Kenyans among its ranks proved vital in aiding al Shabaab to silently execute the attacks under the radar. The two sides are sworn enemies, who have fought each other before in what is shaping up into a supremacy war for control of millions of US Dollars up for grabs from extortion rackets, the control of the lucrative charcoal business for export to the Middle East, drug smuggling routes and local kingpin in Somalia for whoever outwits the other.
They compete on who is more ruthless and such competition keeps them on tabs to plan more attacks and kill more innocent people. Sadly, this is their main line of business just like contract killers. The more people they kill the more money they get.
DOT COM TERRORISTS
ISIS is comprised of mostly foreign and diaspora jihadists who export their terror campaigns by recruiting unsuspecting young Muslims through deep web social media, where they also train their agents of terror through online classes. They are the high-tech savvy terrorists using technology to advance their misplaced ideology. Talk of dot COM terrorists!
Al Shabaab, on the other hand, has set itself as a local player comprised of mostly regional members from Somalia, Kenya, Ethiopia, Sudan, Tanzania, Uganda, Comoros and Burundi. It has extensively recruited from those countries. Unlike their main competitors ISIS, al Shabaab physically trains its members inside Somalia in secret facilities.
It morphed out of the once powerful Islamic Courts Union, which controlled much of Somalia in 2006. It was originally the ICU military wing headed by Afghanistan trained Somali militants with direct link to al Qaeda. When the brains behind al Shabaab started recruiting Kenya youth back then, little did we know their rationale. Even in Somalia, the group mostly recruited from minority tribes and clans including Somali Bantu or Jereerweyne.
INTERGRATING WITH LOCALS
For your information, the Jareers are the genetic causins of Kenyan Bantu. This makes the Kenyan recruits feel at home because some of the Bajuni and Jareers in Southern Somalia bordering Kenya speak Swahili. For intergration purposes this is vital giving al Shabaab an edge over ISIS. Al Shabaab has a tendency of planning for an attack for years.
In 2007, the group confiscated white UN armoured vehicles from central Somalia. Two years later in November 2009, they used the same vehicles to access and attack Amisom peacekeepers in the main UN base in Mogadishu's airport using polished young militants speaking the Queen's language.
They hoodwinked Ugandan peacekeepers who saluted them and waved them into the UN compound without detecting the improvised bombs planted in the armoured UN marked cars. That particular attack killed at least nine AU peacekeepers, including former Amisom deputy commander from Burundi Major General Juvenal Niyoyunguruza.
ART OF DECEPTION
The group has mastered the art of deception and deep under cover operations by established governmental agencies such as the CIA, Mosad and KGB. Sometimes you'd assume they read and use the same guidebook or protocols. If you have ever seen those riveting and suspense filled Hollywood espionage thriller action movies depicting mass murders and full of angry terrorists who simply love to kill, then you probably know what am talking about.
Whoever is behind the al Shabaab and ISIS doctrine has a long term plan to simply terrorise us.
It is high time for Kenya, Somalia and other regional countries to unite and come up with their own locally thought and executed plan to deal with the murderous militants, who cut across nationalities and ethnicity as witnessed in the recent sad events in Nairobi.
https://www.the-star.co.ke/news/2019/02/02/soomal-dispatches-from-a-nomad-kenya-falls-victim-to-isis-al-shabaab_c1887791
--------
ISIS Terror reaches Nigeria
February 4, 2019
Despite the efforts of the global community to counter the menace of ISIS or the Islamic State, the terror group has expanded its footprints beyond the Middle Eastern countries of Iraq and Syria and spread its outreach to West Africa. This was once again highlighted when on January 15 2019, the Islamic State released a new video highlighting the growing strength and capability of its forces in West Africa.
After glorification of the territorial success of ISIS in Iraq and Syria, the video highlighted the 'challenges' faced by the group in West Africa, and stressed this factor as the need for an organised recruitment cell in the region. The half hour video was titled "Hijrah [migration] and qital [fighting]" and was narrated in Arabic. The video focussed on how ISIS fighters were gaining strength in Nigeria and successfully waging a war against the hostile Nigerian soldiers. In turn, these successes were used to try to persuade others, both inside and outside Africa, to join the fight.
The video opened by declaring the ideological motives of ISIS, which was "implementing the rule of the Lord of the two worlds," something that involved "establishing the religion" and "protecting against idolatry:"
Footages of Iraq and Syria shot in 2015 and 2016 showing the proto-state operations of ISIS – "idolatrous" monuments being destroyed, gay men being thrown off buildings, thieves having their hands cut off, children rushing into school classrooms, markets bustling with people, and patrols of the hisbah [the Islamic State's religious morality police]- were shown.
It may be mentioned here that these were previously unseen footages and whosoever made this video had privileged access to a centralised media archive. Then, the video showed how a global coalition had emerged against ISIS. The message was clear. Those opposing ISIS were the enemies of Islam.
The next part of the video consisted of a generalised recruitment call to Muslims all over the world. It called the Muslims to embody the jihadist doctrine of al-wala' wa-l-bara' (loyalty and disavowal) and abandon their lives in the "abode of disbelief". The video showed an Islamic State fighter in West Africa who was identified as Abu Hamzah al-Ifriqi. Addressing would-be recruits, he said: "Allah stated that it is upon us [the Muslim community] to commit to jihad and make hijrah [migrate] to the abode of Islam. The video then showcased the growing strength of ISIS in West Africa and intensively idealised the idea of fighting for it.
The video documented a series of attacks and ambushes by ISIS against the "coalition of enemies" in Nigeria. Using news reports from Western media that highlighted the threat of Jihadist in the region, the video intended to show that its strength was being acknowledged by the enemy as well. The remainder of this part of the video consisted of more footage of Islamic State incursions, backed by speeches from leaders and key ideologues. Again, the "soldiers of the caliphate" were shown engaging in fierce fighting, their enemies fleeing from the battlefield and leaving their wounded for dead.
The last sequence of "Hijrah and qital" consisted of a monologue by an Islamic State fighter Abu Malik al-Sukutawi. He started by saying that it was mandatory for Muslims to "improve your lives, fulfil what is required of you by your faith, and achieve the greatness you deserve".
The only way to do this, he said, was to migrate to the Islamic State in West Africa. He finished by issuing a warning to the enemies of the Islamic State. At this point, the video cut to stylised footage of a large column of Islamic State soldiers walking through the bush, and it came to a close.
The timing, as well as the content of the video, should not be undermined. At an ideological level. the concepts of "Hijrah and qital" are a significant addition to the Islamic State propaganda roster.
It elevated the caliphate's affiliate in West Africa to a hitherto unprecedented level, showing it to be fundamental to its global project and not some marginal ally located more than two and half thousand miles away from the caliphate heartlands – as has been the case for much of the past few years.
Full report at:
https://www.newdelhitimes.com/isis-terror-reaches-nigeria/
--------
Sudan PM says protesters' economic demands are legitimate
3 February 2019
Sudan's prime minister on Saturday appeared to soften the official stance on anti-government protests that have been ongoing for more than a month, describing demonstrators' calls for better living conditions as "legitimate."
Students, activists and other protesters have held almost daily demonstrations across Sudan since Dec. 19, calling for an end to economic hardships and mounting a sustained challenge to President Omar al-Bashir's three decades in power.
Rights groups say at least 45 people have been killed in the protests, while the government puts the death toll at 30, including two security personnel.
In the latest unrest-related death, a school teacher died in detention after being arrested in connection with protests in the east of the country, members of his family said on Saturday.
Bashir has shown no sign of being prepared to concede any power and has blamed the protests on foreign agents, challenging his rivals to seek power through the ballot box.
But Prime Minister Moataz Moussa took a softer tone, saying some of the demands of the protesters were legitimate and must be respected.
"There are problems and we are working on solving them," he told reporters, referring to Sudan's economic troubles and lack of services.
"There is a voice that must be heard and must be respected, despite the presence of political parties. There are legitimate demands and demands that must be expressed."
Sudan has been rapidly expanding its money supply in an attempt to finance its budget deficit. But that has caused spiraling inflation and a steep decline in the value of the country's currency on foreign exchange markets.
The information ministry said on Tuesday Sudan's intelligence and security chief had ordered the release of all those detained during the protests. However, the next day security forces detained the daughter of opposition leader Sadiq al-Mahdi, her family said.
Bashir is wanted by the International Criminal Court over charges, which he denies, of masterminding genocide in the Darfur region. He has been lobbying to have Sudan removed from a list of countries, along with Syria, Iran and North Korea, that Washington considers state sponsors of terrorism.
Full report at:
https://english.alarabiya.net/en/News/middle-east/2019/02/03/Sudan-PM-says-protesters-economic-demands-are-legitimate.html
--------
Central Africa peace deal to be initialed Tuesday: Sudan
Feb 3, 2019
A peace accord between the Central African Republic government and 14 armed groups will be initialed in Khartoum on Tuesday, and signed in full at a later date, the government in Sudan, which hosted the peace talks, announced.
Central African President Faustin Archange Touadera would attend the ceremony to initial the document, originally scheduled for Sunday, Sudanese foreign ministry spokesman Babikir al-Siddiq said in a statement on Sunday.
He did not specify where it would take place.
A breakthrough was announced on Saturday at the conclusion of talks in Khartoum, backed by the United Nations and the African Union, which started on January 24 in a bid to end years of fighting that has killed thousands of people.
No details of the agreement have been released. But one of the main points in dispute during the talks had been the question of an amnesty for the rebels.
Under Western pressure, Bangui has always refused pardons for warlords, several of whom are under UN sanctions or cited for human rights violations in UN reports.
On Saturday, African Union Commissioner for Peace and Security Smail Chergui said a deal had been struck though some details still had to be ironed out.
This agreement is the seventh since 2012 in a country that has suffered years of conflict. All the previous pacts broke down.
Central African Republic is rich in mineral resources but remains one of the world's poorest nations.
It has struggled to recover from a 2013 civil war that erupted when President Francois Bozize, a Christian, was overthrown by mainly Muslim Seleka rebels.
In response, Christians, who account for about 80 percent of the population, organized vigilante units dubbed "anti-Balaka" in reference to the Balaka machetes used by Seleka rebels.
Thousands of people have died in the violence, 700,000 have been internally displaced, and another 570,000 have fled abroad.
Full report at:
https://www.presstv.com/Detail/2019/02/03/587590/Central-African-Republic-Sudan-peace-talks-UN-African-Union-Seleka-MINUSCA
--------
13 al-Shabaab fighters killed in Somalia - US army
2019-02-03
At least 13 fighters, part of the armed al-Shabaab group, have been killed in an airstrike outside the Somali capital, Mogadishu, the US army said.
The airstrike happened in Gandarshe, 48km south of Mogadishu, on Friday, US Africom said in a statement on Saturday.
"To support the Federal Government of Somalia's continued efforts to degrade al-Shabaab, US Africa Command conducted an airstrike targeting al-Shabaab fighters in the vicinity of Gandarshe, Lower Shebelle Region, Somalia, on February 1, 2019," the statement said.
"US Africa Command currently assesses this airstrike killed thirteen (13) militants. At this time, it was assessed no civilians were injured or killed in this airstrike."
This is the 10th US airstrike this year in the Horn of Africa country. Last year, it carried out at least 48 strikes in Somalia, killing more than 330 fighters, according to The Bureau of Investigative Journalism.
Al-Shabaab is an al-Qaeda-linked armed group fighting to overthrow the country's western-backed government.
The group regularly stages attacks against the Somali military and against troops from the African Union-mandated peacekeeping force Amisom.
On Thursday, an airstrike by the US army killed 24 al-Shabaab fighters in neighbouring Hiran region.
Full report at:
https://www.news24.com/Africa/News/13-al-shabaab-fighters-killed-in-somalia-us-army-20190203
--------
URL: https://www.newageislam.com/islamic-world-news/british-mps-say-highest-saudi/d/117644
New Age Islam, Islam Online, Islamic Website, African Muslim News, Arab World News, South Asia News, Indian Muslim News, World Muslim News, Women in Islam, Islamic Feminism, Arab Women, Women In Arab, Islamophobia in America, Muslim Women in West, Islam Women and Feminism