New Age Islam News Bureau
12 July 2022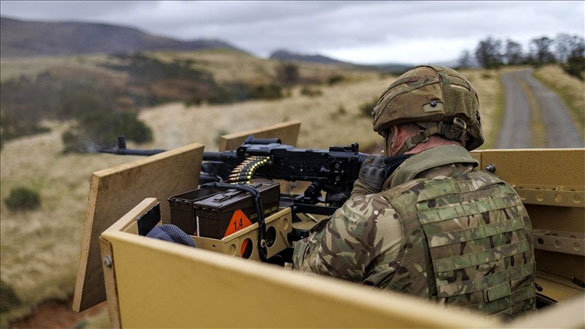 File Photo / Source: UK Army
----
• Israel Hopes Biden Visit May Lead To Common Mideast Market, With Saudi Arabia
• After Germany's Halal Meat Slaughter Ban, Muslims Head To Poland for Eid Feasts
• YPG/PKK Recruited 221 Child Soldiers in Syria: UN Report
• Jharkhand Schools Change Weekly Off To Friday in Muslim-Dominated Areas of Jamtara, Probe On
South Asia
• Kabul, Doha to Ink a Deal on Security Cooperation: Afghanistan acting Minister of Defence
• Nature's Fury; Flash Floods in Central Afghanistan Kills At Least 24
• Taliban throws wrench into Pakistan's plans for cheap coal power
--------
Mideast
• IRGC General Javani: Arab NATO Has No Other Result, But Failure
• Iran Scolds Biden for Sanctions Threat, One-Sided Views
• DM Cites Boosting Combat Capability as Iranian Army's Top Priority
• President Rayeesi: Iran Ready to Broaden Ties with Tunisia
• Israel to examine reports of mass burial of Egyptian soldiers in 1967
• Turkish forces 'neutralize' 3 PKK terrorists in northern Iraq
• Iran preparing to send armed drones to Russia to aid Ukraine war effort
--------
Europe
• 'We will not forget,' Turkish first lady says on 27th anniversary of Srebrenica genocide
--------
Arab World
• Tel Aviv Municipality Website Targeted in Latest Iraqi Cyber-attack Against Israeli Institutions
• One million copies of Qur'an as King's gifts for pilgrims
• Lebanon telecom price hikes threatens migrants' link to jobs, safety
• Saudi man stabbed to death in Beirut, Lebanon police arrest brothers for murder
• West bows to Russian call for 6-months aid to Syrian rebels
--------
India
• Jharkhand Schools Change Weekly Off To Friday in Muslim-Dominated Areas of Jamtara, Probe On
• Family Planning Among Muslims Has Increased Over the Years: SY Quraishi, Former CEC
• Last Muslim Lawmaker, Mukhtar Abbas Naqvi, Leaves India's Ruling Party
• Two militants, including Jaish 'commander', killed in south Kashmir's Awantipora
--------
Pakistan
• Imran Urges Supporters to Defeat 'Turncoats, Nexus of ECP and PML-N'
• Sharif 'thwarted Imran's conspiracy' to make Pakistan next Sri Lanka: minister
• Pakistan: 24 children among 62 killed in rain-related incidents
• After his visits to India in Congress regime, Pakistan columnist claims he passed info to ISI
• Eid-ul-Azha Celebrates With Religious Fervour In Larkana Division
• Pakistan, China maritime drill to conduct live-fire exercise
• Sharif, Erdogan exchange Eid greetings
--------
Southeast Asia
• Targeting the Messenger: Indonesian Islamic College Bans Magazine Reporting Sexual Abuse
• Civil Courts Have No Jurisdiction to Hear Renunciation Cases, Says Judge
• Pandemic turns property outlook analysis upside down
• Livewire sports minister rocks gala of athletics legends
• Expanding companies' presence in the global halal market
• Cops nab boyfriend of woman insulting Islam at comedy club
--------
North America
• Growing Israeli West Bank Settlements Test US Position Ahead Of Biden Visit
• Biden Will Push For Greater Oil Output on Mideast Trip: Adviser
• Iran preparing to provide Russia with drones to use in Ukraine: Senior US official
• Six things to watch during Biden's trip to the Middle East
--------
Africa
• Tinubu-Shettima: Act On APC's Muslim-Muslim Ticket through PVC – Buhari's Aide To Nigerians
• Jordan Says Never Regards Iran As 'National Threat'
Compiled by New Age Islam News Bureau
URL: https://newageislam.com/islamic-world-news/british-military-uk-afghanistan-bbc/d/127464
-------
British Military Killed Over 50 Detainees, Unarmed Men In Afghanistan, BBC Investigation Finds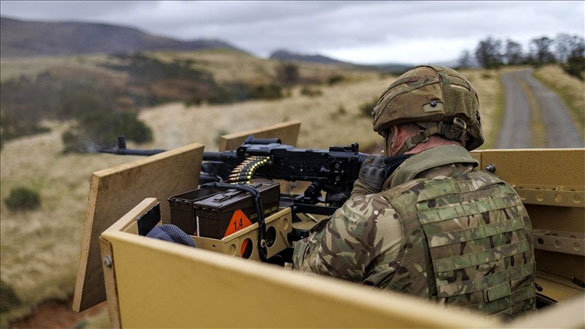 File Photo / Source: UK Army
----
Ahmet Gürhan Kartal
12.07.2022
LONDON
More than 50 detainees and unarmed men were killed by British troops in Afghanistan, according to newly obtained military reports and an investigation by the BBC.
BBC Panorama program, which is to be aired on Tuesday night, looked into documents of operations by the Special Air Service (SAS) – a British elite unit used in special operations – and found they include "reports covering more than a dozen 'kill or capture' raids carried out by one SAS squadron in Helmand in 2010/11."
Individuals who served with the SAS squadron on that deployment talked to the program and said they witnessed the SAS operatives "kill unarmed people during night raids," according to a BBC News report.
According to the former soldiers' account, an individual's murder was justified by planting an AK-47 assault rifle in the scene and some individuals within the force "were competing with each other to get the most kills."
The report also alleges that "internal emails show that officers at the highest levels of Special Forces were aware there was concern over possible unlawful killings, but failed to report the suspicions to military police despite a legal obligation to do so."
The investigation by the BBC suggests that "one unit may have unlawfully killed 54 people in one six-month tour."
General Sir Mark Carleton-Smith, the former head of UK Special Forces, was "briefed about the alleged unlawful killings but did not pass on the evidence to the Royal Military Police, even after the RMP began a murder investigation into the SAS squadron."
The Defense Ministry said the Panorama program "jumps to unjustified conclusions from allegations that have already been fully investigated," adding that the investigation into incidents alleged in the program did not find sufficient evidence to prosecute.
The ministry also said it "stands open to considering any new evidence, there would be no obstruction."
Source: Anadolu Agency
Please click the following URL to read the text of the original story:
https://www.aa.com.tr/en/europe/uk-military-killed-over-50-detainees-unarmed-men-in-afghanistan-investigation-finds/2635229
--------
Israel Hopes Biden Visit May Lead To Common Mideast Market, With Saudi Arabia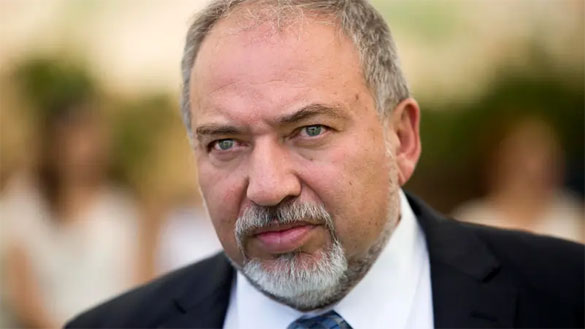 File photo of Avigdor Lieberman. (AP)
-----
11 July ,2022
Israeli Finance Minister Avigdor Lieberman said on Monday he hoped a regional visit by US President Joe Biden this week will lead to a common Middle East market that includes Saudi Arabia.
Biden arrives in Israel on Wednesday and continues to Saudi Arabia on Friday. The White House has said the visit's aims include "expanding regional economic and security cooperation."
Asked at an economic conference hosted by Calcalist newspaper what he expects to arise from Biden's visit, Lieberman said: "The creation of a new, common market in the Middle East. That's the big challenge."
"It will change the reality here from end to end, in both the fields of security and of economics. Therefore I hope the emphasis during Biden's visit will be on creating this new market in the Middle East."
Israel normalized relations with four Arab countries under a 2020 US diplomatic drive that received Riyadh's blessing. But Saudi Arabia has stopped short of formally recognizing Israel in the absence of a resolution to Palestinian statehood goals.
In separate remarks to the conference, Israeli National Security Adviser Eyal Hulata said that within the framework of Biden's visit "it is certainly possible to begin talking about the potential expansion of our markets in the region."
"It's no coincidence that Biden is coming here on Wednesday and continuing on Friday from here to Saudi Arabia by direct flight," Haluta added. "The ability to attend to these things carefully, step by step, can bring about breakthroughs."
Lieberman said his regional vision would include "a kind of trans-Middle East highway" and rail network linking up partner countries.
Turning to domestic matters, Lieberman said that despite the rising cost of living and an inflation rate that has topped four percent, inflation in Israel still remains well below Western peers, while data show a strong economy with consumers continuing to spend locally and travel heavily abroad.
Source: Al Arabiya
Please click the following URL to read the text of the original story:
https://english.alarabiya.net/News/gulf/2022/07/11/Israel-says-Biden-visit-may-lead-to-common-Mideast-market-with-Saudis
--------
After Germany's Halal Meat Slaughter Ban, Muslims Head To Poland For Eid Feasts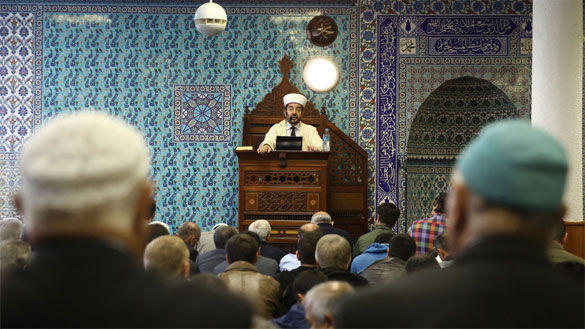 After France, Germany hosts the second largest Muslim population in Europe [Getty]
-----
11 July, 2022
German butchers have resorted to importing halal meat for Eid Al-Adha in Poland after authorities in Berlin banned an integral process of slaughtering meat in a way that makes it religiously permissible for Muslims to eat.
In Germany, slaughtering meat without electrocution is illegal, which effectively bans the domestic production of halal meat. German Muslims have resorted to neighbouring Poland to stock up on halal animal produce.
Butcher Batal Turkman told Anadolu Agency that he slaughtered 100 lambs on a farm in Poland for German Muslims who are not allowed to carry out the sacrifice themselves without either breaking local, or religious laws.
Transporting meat from Poland to Germany has been difficult, he said, but the joy of delivering meat to its owners makes up for it.
As with the vast majority of European countries, the German government does not recognise Eid Al-Adha as a formal holiday, leaving many Muslims to continue with work and school during the four days of Eid.
After France, Germany hosts the second-largest Muslim population in Europe with some 4.7 million Muslims in the country, the majority of which are of Turkish origin.
Source: The New Arab
Please click the following URL to read the text of the original story:
https://english.alaraby.co.uk/news/german-muslims-look-poland-halal-meat-eid-al-adha
--------
YPG/PKK Recruited 221 Child Soldiers In Syria: UN Report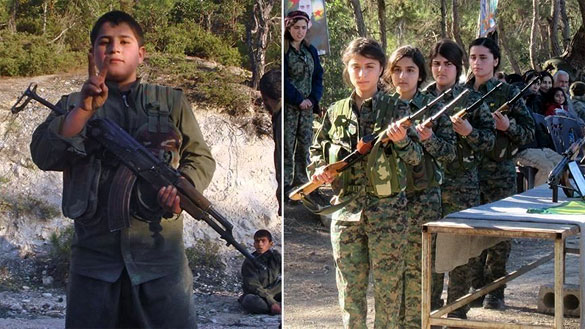 Photo aa.com/Child soldiers
----
Servet Günerigök
12.07.2022
The YPG/PKK terrorist group continued to recruit child soldiers last year in northern Syria, according to a UN report released Monday.
The group, which rebranded itself as the Syrian Democratic Forces (SDF), backed by the US and Western nations recruited 221 child soldiers, said the annual Children and Armed Conflict report by UN Secretary-General Antonio Guterres.
The report covers the period from January to December 2021 and lists parties that engage in the recruitment and use of children, the killing and maiming of children and sexual violence against children, among other things.
The report also said another branch of the YPG/PKK, the so-called "Internal Security Forces" recruited 24 children as soldiers in northern and eastern Syria. In addition, the "Afrin Liberation Forces," linked to the same terror group, recruited two children in 2021.
According to the report, the "Internal Security Forces" jailed 43 children, while the YPG/PKK imprisoned six children in regions they occupied.
"At the end of 2021, over 800 children, including foreigners, reportedly remained in detention for alleged association with Da'esh in the north-eastern Syrian Arab Republic," said the report, referring to YPG/PKK-run prisons.
The report also recorded that the YPG/PKK killed 55 children in 2021, while the "Internal Security Forces" and "Afrin Liberation Forces" killed 18 children last year.
It also reported attacks on 45 schools and hospitals in Syria, saying 26 of them were carried out by the Bashar al-Assad regime and pro-government forces while 12 of them were attributed to the YPG/PKK terror group.
The group also seized 12 schools and hospitals for military use. It also denied humanitarian access for children.
The report said the highest numbers of grave violations were verified in Afghanistan, the Democratic Republic of Congo, Israel and the Occupied Palestinian Territories, Somalia, Syria and Yemen.
"The number of cases of abduction increased by over 20 per cent and cases of sexual violence against children continued to increase, by over 20 per cent," said the report.
"The number of attacks on schools and hospitals increased by 5 per cent in a context of school closures, the military use of schools and disregard for children's right to education and health, and the situation was compounded by the coronavirus disease (COVID-19) pandemic," it added.
The report said non-state armed groups were responsible for 55% of violations and state forces for 25%.
"And the remainder of the violations resulted from crossfire, the use of improvised explosive devices, explosive remnants of war and landmines, or were committed by unidentified perpetrators," it said.
"Over 25 per cent of child casualties resulted from improvised explosive devices, explosive remnants of war and landmines, for a total of 2,257 child casualties," it added.
Source: Anadolu Agency
Please click the following URL to read the text of the original story:
https://www.aa.com.tr/en/europe/ypg-pkk-recruited-221-child-soldiers-in-syria-un-report/2635152
--------
Jharkhand Schools Change Weekly Off To Friday in Muslim-Dominated Areas of Jamtara, Probe On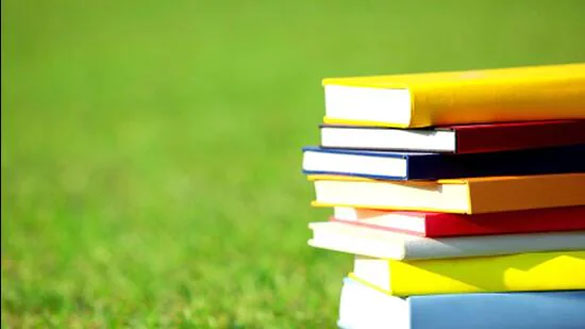 (Representative use)
----
Jul 12, 2022
The weekly off in several government-run primary schools in Muslim-dominated areas of Jharkhand's Jamtara district was changed from Sunday to Friday allegedly under pressure from local residents, prompting the state government to order a probe, officials said.
Besides the change in weekly off, word 'Urdu' was also allegedly added to the names of some of the schools, giving an impression that they were minority schools, officials of the state education department said.
"The concerned officers across the state have been directed to conduct a probe and submit their report in a week," Jagarnath Mahto, Jharkhand's education minister said on Monday. "Government schools will run as per the rules and not under any kind of local pressure."
The issue first came to light on Sunday after a section of local media reported the changes in the weekly off and name of schools in Jamtara. Over two dozen schools in Raghunathpur and Karmatand areas in the district have been reportedly operating with Friday as the weekly off, a senior education department official said, requesting anonymity.
Jamtara deputy commissioner Faiz Ahmed Mumtaz said action will be taken if any violation is ascertained. "I have asked the district education officer to seek exact situation across the district," said Mumtaz. "The government also runs dedicated Urdu schools. So, it's important to check if there has been any violation in regular schools as well. Direction has also been given to ascertain since when has the practice been in force."
Jamtara district has eight dedicated Urdu primary schools, said education department officials, adding that any change in a regular school, even in its name, can be done only by the state government.
"At best the school managing committee or local elected representatives can give suggestions in departmental meetings. Ultimately, it is the department that takes a call related to changes in the rules of the school. Any change beyond that is considered illegal," said an official.
Source: Hindustan Times
Please click the following URL to read the text of the original story:
https://www.hindustantimes.com/india-news/jharkhand-schools-change-weekly-off-to-friday-probe-on-101657564956597.html
--------
South Asia
Kabul, Doha to Ink a Deal on Security Cooperation: Afghanistan acting Minister of Defence
By Arif Ahmadi
12 Jul 2022
KABUL, Afghanistan – Kabul and Doha are expected to sign an agreement on security cooperation, said acting Minister of Defence Mawlawi Mohammad Yaqoob Mujahid, as he wrapped up a two-day official trip to the Qatari capital Doha.
But some sources said Taliban government expressed unwillingness to any kind of foreign support that would jeopardize their authority over the Afghan National Security Forces.
According to the acting minister, the agreement will be assessed by the officials of the Islamic Emirate to decide whether to close the deal, saying "I look at it as a good step and we will consult on this agreement."
"Qatar is interested in an agreement to be signed between the defense ministries of Qatar and Afghanistan," he told the RTA, as TOLOnews quoted. "There will be a security pact, based on which the two countries will cooperate with each other."
Addressing the reform of a new government – including the military forces – in Afghanistan, Mawlawi Mojahid said he requested Qatar to help provide the Islamic Emirate forces with adequate military gears and monthly compensation.
"We call for their cooperation in providing salaries for the army because Qatar is an Islamic country and it has helped Afghanistan in the past," he said. "And also to help us provide uniforms for the forces to secure the borders."
Meanwhile, political analyst and former diplomats in the country have mixed opinions, saying Qatari government is willing to sign a deal with Afghan authorities based on the "wants" of the international community.
"Qatar has offered an agreement based on consultation with Western countries to encourage the young Afghan leaders to bring reforms, the reforms which the international community wants," said Torek Farhadi, a political analyst, as local media quoted.
"The Qatari government as the strategic partner of the US is implementing the goals of the US in Afghanistan and it implements the instructions of the US toward the Taliban," said Aziz Maarij, a former diplomat.
Asadullah Nadim, another political analyst, said "the security pact regarding incentivizing the Air Force and National Defense Forces of Afghanistan with Qatar will allow the people of Afghanistan and the new rulers to stand against the ominous plans of Pakistan and Iran."
Last week, the acting Minister of Defense Mawlawi Mohammad Yaqoob Mujahid left for an official visit to Qatar, where he met the country's senior officials to discuss bilateral ties.
Acting Minister of Defense Mawlawi Mohammad Yaqoob Mujahid met with the Qatari Emir Tamim bin Hamad Al Thani and discussed biliteral ties, Islamic Emirate spokesman Zabiullah Mujahid tweeted.
In a two-day formal trip, the Taliban senior official is meeting with Qatari authorities, including the Qatari Minister of Defense, to tackle regional cooperation and bilateral ties.
Meanwhile, former Afghan diplomats expressed concern over the outcome of such meetings, which according to them are being held behind the closed doors and the details are not being shared with public.
"These negotiations have a status which unfortunately is not told by the Taliban officials and politicians to the Afghan nation but behind the curtains there is a plan and a vital change of a political aspect of Afghanistan will happen," said Azizi Maarij, a former diplomat, as local media quoted.
Source: Khaama Press
Please click the following URL to read the full text of the original story:
https://www.khaama.com/kabul-doha-to-ink-a-deal-on-security-cooperation/
--------
Nature's Fury; Flash Floods in Central Afghanistan Kills At Least 24
By Saqalain Eqbal
12 Jul 2022
The Taliban officials in Uruzgan, a central province in Afghanistan, say that turbulent and devastating flash floods in the province have resulted in the death of 24 and the injury of scores of people.
The situation appeared particularly terrible in Uruzgan province, where entire villages remained flooded on Monday, leaving people trapped in areas or forced to swim through knee-deep water on foot, navigating the floods.
According to the Taliban's spokesperson for the Uruzgan governor's office, Mawlawi Wali Jan Pohanyar, the floods have killed at least 24 and injured many people in Uruzgan's Chora, Khas Uruzgan, and Chinartoo districts.
Women and children, according to him, were no exceptions to nature's fury and the death toll included both.
At least 300 houses, in Chora district of Uruzgan province alone, were destroyed by the flash floods.
Severe flooding in Uruzgan province also inflicted financial harm, costing residents millions of Afghanis.
According to the Taliban officials, the flood-hit Uruzgan province is in dire need of humanitarian assistance, to at least meet their immediate needs.
Deluges and torrential rains have ravaged various regions in Afghanistan, killing hundreds, and injuring numerous people. Many people have also gone missing following the previous floods in Afghanistan.
Source: Khaama Press
Please click the following URL to read the full text of the original story:
https://www.khaama.com/natures-fury-flash-floods-in-central-afghanistan-kills-at-least-24-47332/
--------
Taliban throws wrench into Pakistan's plans for cheap coal power
ZIA UR REHMAN
July 12, 2022
PESHAWAR, Pakistan -- The Taliban has upset Pakistan's plans to ease its energy crisis by importing cheaper coal from Afghanistan, exposing the neighbors clashing interests.
Facing a severe energy shortage, partly due to a lack of foreign reserves to import coal or gas for its Chinese-built power plants, Islamabad recently announced its intention to import coal from Afghanistan in Pakistani rupees instead of dollars. This way, it hoped to reduce its dependence on more expensive South African coal.
But the Taliban rulers in Kabul more than doubled the price, quickly setting customs duties at 30%. Afghanistan has its own foreign funding crunch under Western sanctions and is keen to generate more revenue. The Taliban is also eager to show that it can assert itself and is no proxy, observers note.
Pakistan has been grappling with blackouts that disrupt life and business, and its woes have grown only worse this week due to severe weather and flooding.
The country imports about 70% of its coal from South Africa for its cement and textile industries, as well as some power plants. However, it has not been able to do so in the last few months as coal prices have remained close to record highs. In South Africa, elevated prices are linked not only to the Ukraine war but also to disruptions from domestic civil unrest, according to an S&P Global analysis in May.
In March, the coal price on the international market touched $425 per ton. While it has declined in recent weeks, the market is unpredictable due to global uncertainties, experts said.
Worried about high import bills due to sky-high international prices of petroleum products, Pakistani Prime Minister Shehbaz Sharif late last month approved imports of cheaper but good quality coal from Afghanistan in Pakistan's own currency.
Key power plants that use coal include the Huaneng Shandong Ruyi-Sahiwal Coal Power Plant and the China-Hub Coal Power Plant, both 1,320-megawatt facilities that supply the national grid. They were built and financed under the China-Pakistan Economic Corridor, the Pakistan component of the Belt and Road Initiative.
"The prime minister was informed that imports of coal from Afghanistan, initially required only for the Sahiwal and Hub power plants, would save more than $2.2 billion annually in the import bill," state-run Radio Pakistan reported.
But there was a glaring problem with the plan: Pakistan needed the other side to play ball. Almost as soon as Islamabad showed interest in Afghan coal, the Taliban announced it was imposing a 30% duty and taxes, increasing the price from $90 per ton to $200.
As no country has recognized the Taliban as Afghanistan's legitimate rulers, the millions of dollars in aid that helped prop up the previous government have vanished. Billions in state assets are frozen and economic sanctions have led to a near-collapse of the country's economy. In this situation, the Taliban are banking on the country's natural resources, particularly coal, to survive.
"The price of coal per ton in the global market is around $350 and the Islamic Emirate of Afghanistan will exploit its coal reserves by selling it at international rates, imposing duties on export of coal abroad," Mufti Esmatullah Burhan, a spokesperson for Afghanistan's Ministry of Petroleum and Minerals, told Nikkei Asia. He insisted that Kabul had not yet inked any agreements on shipping coal to foreign countries.
The ministry said that it had surveyed 80 coal fields across the country, and among them 17 were functional. "Local companies extract nearly 10,000 tons of coal from 17 functional fields," Burhan said.
Officials in Islamabad have avoided reacting publicly to the Taliban's stance, as they attempt to manage complicated relations with Kabul's new rulers. However, Miftah Ismail, Pakistani finance minister, recently told The News newspaper that Pakistan was interested in importing coal from Afghanistan only if it was available at affordable rates.
Shahid Hussain, a leader of the Sarhad Chamber of Commerce and Industry -- a body of industrialists and traders in Pakistan -- said that the increase in import duty on coal from Afghanistan will create problems for sectors such as cement and textiles, which use coal as fuel. "Due to the high cost of furnace oil, Pakistan industries shifted to using coal, but now coal is also becoming expensive," said Hussain.
The Taliban's move raised larger questions about relations between Islamabad and the administration in Kabul.
The Taliban has not met Islamabad's demands to flush out sanctuaries of the Tehreek-e-Taliban Pakistan, a Pakistani militant outfit. Instead, it brokered a cease-fire between Islamabad and the TTP.
Taliban troops recently also blocked an ongoing Pakistani project to erect fencing along the 2,570 km border with Afghanistan.
Some experts note that the Taliban has a domestic audience to consider.
"The Pakistani premier's announcement of importing cheaper Afghan coal in local currency has sparked severe criticism of Taliban rulers," Haji Mujtaba, a Nangarhar-based political analyst, told Nikkei Asia.
Source: Asia Nikkei
Please click the following URL to read the full text of the original story:
https://asia.nikkei.com/Politics/International-relations/Taliban-throws-wrench-into-Pakistan-s-plans-for-cheap-coal-power
--------
Mideast
IRGC General Javani: Arab NATO Has No Other Result, But Failure
2022-July-12
"When the United States and the Zionist regime and Saudi Arabia were at the peak of their power, the coalitions that they built to counter the resistance front and the Islamic Republic had no other result, but failure," Javani said on Monday.
"An example is the coalition that the United Arab Emirates and Saudi Arabia formed along with many other countries against the oppressed nation of Yemen. However, they got nothing, but humiliating defeat," the IRGC commander added.
General Javani made the remarks in reference to US President Joe Biden's forthcoming visit to Middle East and Washington's plan to build a regional security alliance to fight off what it calls the "threat from Iran".
Discussions on the plan are still at an early stage and have already met resistance from several Arab countries who refuse to do business with Israel.
Javani mentioned the alliance formed by the United States, Saudi Arabia and "about 100 European and regional countries" to bring down the government of Syria as another example, and said, "Despite spending trillions of dollars over these years ... everyone saw they were defeated and today, the resistance front is more powerful than ever before."
"Therefore, it is quite easy to predict the possible fate of the [so-called] Arab NATO. Compared to the past coalitions, the new alliance will be even weaker and lack effectiveness in the face of the resistance front and the Islamic Republic of Iran," the IRGC commander noted.
He added that the existing trends in Middle East prove that the US has to leave the region followed by the annihilation of the Zionist regime and their allies "and there is no factor to change these trends".
Iran has repeatedly made clear that its homegrown military capabilities remain defensive and deterrent in nature and are intended to keep foreign intruders from destabilizing the region. It has also urged the Persian Gulf states to quit relying on foreign powers for their security, reminding that regional security can only be achieved through collective efforts by the neighboring states.
Iran Cautions US Presence in Middle East to Increase Instabilityhttps://t.co/salhXt4w2i pic.twitter.com/Q0JIydaAj7
— Fars News Agency (@EnglishFars) July 10, 2022
Early on Monday, Iranian Defense Minister Brigadier General Mohammad Reza Ashtiani described improving the combat capability of the country's armed forces as the most important priority for his ministry.
Ashtiani said enhancing the Iranian armed forces' combat power is of utmost significance as the rivals and enemies are constantly flexing their military muscles.
"The most important priority for the ministry of defense is to strengthen the combat capability of the armed forces in the face of threats and upgrade the defense systems and innovations that will be needed in the future," he noted.
Source: Fars News Agency
Please click the following URL to read the full text of the original story:
https://www.farsnews.ir/en/news/14010421000115/IRGC-General-Arab-NATO-Fail
--------
Iran Scolds Biden for Sanctions Threat, One-Sided Views
2022-July-11
On the eve of his trip to the region, Biden once again used rhetoric against Iran and claimed that if Tehran does not return to the nuclear deal, the economic pressure will continue.
In response, Amir Abdollahian stated that Biden cannot impose "US one-sided views through accusation and sanction".
"Diplomacy is not a one-way street," the foreign minister wrote on Twitter on Monday.
"If window of diplomacy is still open, that's because of Iran's dynamic initiatives," he continued, adding, "Reaching final agreement needs US' acceptance of realities, flexibility and initiatives."
Iran and the five remaining parties to the nuclear deal, officially known as the Joint Comprehensive Plan of Action (JCPOA), have held several rounds of negotiations in the Austrian capital of Vienna since April last year to restore the agreement, which was unilaterally abandoned by former US President Donald Trump in May 2018.
In quitting the agreement, Trump restored sanctions on Iran as part of what he called the "maximum pressure" campaign against the country. Those sanctions are being enforced to this day by the Biden administration, even though it has repeatedly acknowledged that the policy has been a mistake and a failure.
EU Deputy Foreign Policy Chief Enrique Mora coordinated the indirect negotiations between Iran and the US in Qatar's Doha in late June aimed at resolving the differences hindering the revival of the 2015 agreement.
Iran has blasted the US for insisting on previous positions during the Doha talks, stressing that the path of diplomacy is still open.
In a joint press conference with his Qatari counterpart Mohammad bin Abdul Rahman Al Thani in Tehran in early July, Amir Abdollahian blamed Washington for failure in arriving at a deal in Doha talks, and refuted the US claim that Iran's negotiators have raised demand irrelevant to the nuclear deal in the negotiations.
Source: Fars News Agency
Please click the following URL to read the full text of the original story:
https://www.farsnews.ir/en/news/14010420000842/Iran-Sclds-Biden-fr-Sancins-Threa-One-Sided-Views
--------
DM Cites Boosting Combat Capability As Iranian Army's Top Priority
2022-July-11
Ashtiani said enhancing the Iranian armed forces' combat power is of utmost significance as the rivals and enemies are constantly flexing their military muscles.
Visiting the industries groups of the Ministry of Defense in northeastern Khorasan Razavi Province, he noted, "The most important priority for the ministry of defense is to strengthen the combat capability of the armed forces in the face of threats and upgrade the defense systems and innovations that will be needed in the future."
"The battle scene and the requirements of the armed forces units are constantly changing due to the type of threats, which makes progress in all-out defense, implementing the capacity of scientific and knowledge-based centers, as well as updating defense knowledge within the defense industry doubly significant," the minister added.
His remarks come as the United States and Israel plan to build a security alliance with some regional Arab states that would connect their air defense systems to allegedly fight off what they call "threat from Iran".
Iran has repeatedly warned that any mistake by the US and Israel will be met with Tehran's crushing response.
Source: Fars News Agency
Please click the following URL to read the full text of the original story:
https://www.farsnews.ir/en/news/14010420000562/DM-Cies-Bsing-Cmba-Capabiliy-As-Iranian-Army's-Tp-Pririy
--------
President Rayeesi: Iran Ready to Broaden Ties with Tunisia
2022-July-11
"Tehran is ready for expansion and strengthening of comprehensive cooperation with the brother and friendly country of Tunisia," President Rayeesi said during the phone talk.
President Saied, for his part, felicitated the Al-Adha Eid to President Raeisi and wished the best for the Iranian government and nation.
"Iran and Tunisia, based on their cultural and civilizational commonalities, as well as their fine historical relations, and the efforts made by President Raisi, can hope for a lot broader level of cooperation and bilateral interactions, for which the Tunisian president said he is very appreciative," he added.
In a relevant development in late March, Iranian First Vice-President Mohammad Mokhber felicitated Tunisia's independence day, and asked for the further expansion of relations and cooperation between the two friendly states.
In a message to Prime Minister of Tunisia, Mokhber congratulated him, the government and the people of Tunisia on the occasion of the African country's independence day.
Source: Fars News Agency
Please click the following URL to read the full text of the original story:
https://www.farsnews.ir/en/news/14010420000349/Presiden-Rayeesi-Iran-Ready-Braden-Ties-wih-Tnisia
--------
Israel to examine reports of mass burial of Egyptian soldiers in 1967
Ibrahim al-Khazen
11.07.2022
ISTANBUL
Egypt said Israel will examine reports of the mass burial of Egyptian soldiers during the 1967 Middle East war.
Last week, Israeli media published accounts of people involved in the burial of dozens of Egyptian soldiers during the 1967 war in an unmarked mass grave west of Jerusalem.
The Egyptian Presidency said President Abdel-Fattah al-Sisi received a phone call from caretaker Israeli Prime Minister Yair Lapid on Sunday during which they agreed that the Israeli authorities would conduct "a full and transparent probe" into Israeli press reports about the mass burial of soldiers in 1967.
According to the statement, Lapid stressed that the Israeli side would positively and transparently deal with this issue and would communicate and coordinate with the Egyptian authorities on developments in order to reach the truth.
Lapid's office, for his part, said that the prime minister directed his military secretary "to examine the issue in depth and to update Egyptian officials".
Source: Anadolu Agency
Please click the following URL to read the full text of the original story:
https://www.aa.com.tr/en/middle-east/israel-to-examine-reports-of-mass-burial-of-egyptian-soldiers-in-1967/2634850
--------
Turkish forces 'neutralize' 3 PKK terrorists in northern Iraq
Faruk Zorlu
11.07.2022
Turkish security forces "neutralized" three PKK terrorists near the Turkish border in northern Iraq, authorities said on Monday.
The terrorists were targeted in the Operation Claw-Lock zone, the Turkish National Defense Ministry said on Twitter.
Separately, two terrorists attempting to escape into a cave in the Qandil area in northern Iraq were neutralized in a drone strike, the ministry said.
Turkish authorities use the term "neutralize" to imply the terrorists in question surrendered or were killed or captured.
Türkiye launched Operation Claw-Lock in April to target the PKK terror organization's hideouts in Iraq's northern Metina, Zap, and Avasin-Basyan regions, near the Turkish border.
It was initiated after Operations Claw-Tiger and Claw-Eagle to root out terrorists hiding in northern Iraq and plotting cross-border attacks in Türkiye.
Source: Anadolu Agency
Please click the following URL to read the full text of the original story:
https://www.aa.com.tr/en/middle-east/turkish-forces-neutralize-3-pkk-terrorists-in-northern-iraq/2634698
--------
Iran preparing to send armed drones to Russia to aid Ukraine war effort
Michael Gabriel Hernandez
12.07.2022
Iran is moving rapidly to provide Russia with hundreds of its domestically-manufactured drones to bolster the Kremlin's war effort against Ukraine, a senior Biden administration official said Monday.
Jake Sullivan, President Joe Biden's national security adviser, said the US has information suggesting Tehran "is preparing to provide Russia with up to several hundred UAVs, including weapons-capable UAVs, on an expedited timeline." He was referring to unmanned aerial vehicles, or drones.
Iran, Sullivan said, is further preparing to train Russian forces on its drones as soon as this month as Moscow's forces continue to suffer battlefield losses amid its slowly grinding offensive in eastern Ukraine.
Sullivan did not specify the intelligence on which he was basing his claims.
The US and its Western allies have worked to implement sweeping sanctions on Russia, in part to prevent the country from replenishing its war stocks. That has included imposing export restrictions on key dual-use technologies, including drones.
DJI, a China-based leader in drone technologies, announced in April that it would suspend its operations in Russia due to Western sanctions that were imposed in retaliation for Russia's war.
Sullivan said Iran's decision to send drones to Russia is further proof that Moscow's war stocks have been badly depleted by its war in Ukraine and its gains in the country's east have come "at a cost to the sustainment of its own weapons."
Source: Anadolu Agency
Please click the following URL to read the full text of the original story:
https://www.aa.com.tr/en/middle-east/iran-preparing-to-send-armed-drones-to-russia-to-aid-ukraine-war-effort/2635135
--------
Europe
'We will not forget,' Turkish first lady says on 27th anniversary of Srebrenica genocide
Talha Ozturk
11.07.2022
BELGRADE, Serbia
It was humanity, conscience, and compassion that was buried in Srebrenica 27 years ago, Türkiye's first lady said on Monday, the 27th anniversary of the Srebrenica genocide.
"We will not forget either the cry of the Bosniak mothers nor the children who watched the murderous expulsion of their fathers. I commemorate our brothers and sisters who lost their lives in the genocide with mercy," Emine Erdogan said.
Bosnia and Herzegovina on Monday marked the anniversary of the genocide, Europe's worst atrocity since World War II, by bidding farewell to 50 newly identified victims of the massacre at a memorial service.
Every year on July 11, newly identified victims are laid to rest at a memorial cemetery in Potocari, eastern Bosnia.
After this year's funeral, the number of burials in the cemetery rose to 6,721.
The youngest of the victims buried this year was Salim Mustafic, who was 16 when killed, while Husejin Krdzic, 59, was the oldest.
Srebrenica genocide
More than 8,000 Bosnian Muslim men and boys were killed when Bosnian Serb forces attacked the eastern town of Srebrenica in July 1995, despite the presence of Dutch peacekeeping troops.
The Serb forces were trying to wrest territory from Bosnian Muslims and Croats to form a state.
The UN Security Council had declared Srebrenica a "safe area" in the spring of 1993. However, troops led by Gen. Ratko Mladic, who was later found guilty of war crimes, and crimes against humanity and genocide, overran the UN zone.
Dutch troops failed to act as Serb forces occupied the area, killing some 2,000 men and boys on July 11 alone.
Around 15,000 residents of Srebrenica fled to the surrounding mountains, but Serb troops hunted down and killed 6,000 more people.
The bodies of victims have been found from 570 places across the country.
In 2007, the International Court of Justice in The Hague ruled that genocide had been committed in Srebrenica.
Source: Anadolu Agency
Please click the following URL to read the full text of the original story:
https://www.aa.com.tr/en/europe/we-will-not-forget-turkish-first-lady-says-on-27th-anniversary-of-srebrenica-genocide/2634642
--------
Arab World
Tel Aviv Municipality Website Targeted in Latest Iraqi Cyber-attack Against Israeli Institutions
2022-July-12
Sabereen News, a Telegram news channel associated with Iraqi Popular Mobilization Units (PMU),was quoted by press tv as reporting that the group, known as Al-Tahera, carried out the operation on Monday.
"Do not work, it's suspended by order of General Qassem Soleimani," the message shown after the hack read on the Tel Aviv Municipality website.
Israel's NTA Metropolitan Mass Transit System Ltd, the company building the light rail network for the Tel Aviv area, said last week that its website was temporarily disrupted by a foreign cyberattack.
Sabereen News said a group based in the Arab country targeted the company last Monday, affecting its operating systems, control monitors, and servers.
Last April, the website of Israel's Airports Authority was also knocked offline due to a denial of service attack.
The targeting apparently came in the form of a Distributed Denial of Service (DDoS) attack, during which website servers are overwhelmed by near-simultaneous requests to connect.
The Airports Authority was one of several Israeli websites targeted in a cyberattack claimed by the Al-Tahera group in Iraq.
The group said it targeted the Israeli website in an act of revenge for the assassination of top Iranian anti-terror commander Lieutenant General Soleimani and his Iraqi trenchmate Abu Mahdi Al-Muhandis, deputy head of the PMU, near Baghdad airport in 2020.
Israel reportedly played a covert role in the assassination, even though the criminal act was directly ordered by then US President Donald Trump.
Source: Fars News Agency
Please click the following URL to read the full text of the original story:
https://www.farsnews.ir/en/news/14010421000268/Tel-Aviv-Mnicipaliy-Websie-Targeed-in-Laes-Irai-Cyberaack-Agains
--------
One million copies of Qur'an as King's gifts for pilgrims
July 11, 2022
MAKKAH — The Ministry of Islamic Affairs, Call and Guidance started on Monday distribution of a total of one million copies of the Holy Qur'an as a gift from Custodian of the Two Holy Mosques King Salman to the pilgrims who are departing via Jeddah's King Abdulaziz International Airport and Islamic Sea Port and other land and air outlets. The gifts will also be presented to the government personnel who participated in duty for this year's Hajj.
Source: Saudi Gazette
Please click the following URL to read the full text of the original story:
https://saudigazette.com.sa/article/622832/SAUDI-ARABIA/One-million-copies-of-Quran-as-Kings-gifts-for-pilgrims
--------
Lebanon telecom price hikes threatens migrants' link to jobs, safety
11 July ,2022
Kenyan cleaner Noel Musanga survived Lebanon's economic meltdown, waves of COVID-19 and Beirut's port blast. But when her internet provider announced rates would double, she feared her last lifeline to family and work would snap.
The freelance migrant worker already barely earned enough to survive. Now, the higher telecoms bill means she will have to ration her calls to relatives and potential employers.
For the latest headlines, follow our Google News channel online or via the app.
"It will be like (being) in a deep hole," Musanga said in her ground-floor apartment in the densely-populated Burj Hammoud neighborhood on the edge of Beirut.
Lebanon hosts an estimated 250,000 migrant workers primarily from sub-Saharan Africa and Southeast Asia, according to the United Nations.
Their residence is usually subject to "kafala," a sponsorship system that rights groups say gives employers excessive control over workers' lives.
Lebanon's three-year financial downturn has only added to their woes, with employers abandoning domestic migrant workers in the streets as their monthly wages – between $150 to $400 – became too expensive.
Some went freelance, living on their own and taking on cleaning or nannying work to pay the bills.
But that has become harder by the day. Lebanon's currency has lost 95 percent of its value while food and public transportation costs have risen roughly eleven-fold.
The internet is the next big challenge.
Until this month, Lebanon's telecoms sector had continued to use the government's old peg of 1,500 Lebanese pounds to the dollar to charge for phone calls, broadband and mobile internet.
With slim revenues, the state struggled to import enough fuel to run telecoms transmitter stations, leading to cuts in coverage throughout 2021.
To reverse that trend, Lebanon's cabinet said telecoms tariffs would be calculated based on the much weaker flexible currency rate set by the government's Sayrafa platform.
'Everything is expensive'
Using the government's formula, that would cause up to four-fold increases in customers' bills, according to digital rights group SMEX.
Musanga, who also volunteers as a migrant rights advocate, said that mark-up will be life-changing for vulnerable workers.
They would have to choose between paying for a home connection or a mobile one, which they would likely use less to conserve data packages.
It could also present a higher risk for workers seeking to escape abusive employers.
"All the time, I'm on the phone receiving complaints from the girls on contract who are in trouble ... So, I have to have the internet to reach them and solve all these problems," Musanga said.
The higher cost of living all-around also meant migrant workers had almost nothing left to send in remittances to their relatives back home.
"Now in Lebanon if you are here, you are wasting your time, wasting your energy ... Because everything is expensive, and you'll have nothing to save for yourself or send to your family. So it's better to go home," she said.
The price jumps could even have an impact on the mental health of migrant workers and their families back home.
With cases of domestic violence on the rise across Lebanon since 2019, workers' families back home would be in a constant state of worry if they didn't hear from them, Kareem Nofal, communications specialist at the Anti-Racism Movement, said.
Live-in workers had relied on their phones and Wi-Fi connections to stay connected, particularly throughout the coronavirus pandemic, Tsigereda Birhanu, a 27-year-old advocate for migrant workers in Lebanon, told Reuters.
"That's their therapy," Birhanu said.
Source: Al Arabiya
Please click the following URL to read the full text of the original story:
https://english.alarabiya.net/News/middle-east/2022/07/11/Lebanon-telecom-price-hikes-threatens-migrants-link-to-jobs-safety
--------
Saudi man stabbed to death in Beirut, Lebanon police arrest brothers for murder
12 July ,2022
Lebanese police arrested two Saudi citizens in al-Sfeir, south of the capital Beirut, for stabbing their brother to death, the National News Agency (NNA) reported on Sunday.
According to a statement issued by Lebanon's Internal Security Forces, the victim, born in 1980, was killed by his two brothers over family disputes on July 9.
Police detained the two on July 10 after investigations revealed that they were hiding in an apartment in al-Sfeir.
The knife used in the crime was seized during the raid, police said, adding that both men, identified by their initials, A. M. and H. M., confessed to killing their brother, M. M., over family disputes.
The perpetrators have been transferred to the relevant authorities to resume the investigation, the statement added.
Saudi Arabia's Ambassador to Lebanon Waleed Bukhari commended the police for arresting the perpetrators.
Source: Al Arabiya
Please click the following URL to read the full text of the original story:
https://english.alarabiya.net/News/middle-east/2022/07/12/Saudi-man-stabbed-to-death-in-Beirut-Lebanon-police-arrest-brothers-for-murder
--------
West bows to Russian call for 6-months aid to Syrian rebels
11 July ,2022
Supporters of a one-year extension of humanitarian aid deliveries from Turkey to 4.1 million Syrians in the rebel-held northwest, which Russia vetoed, are now calling for a Security Council vote on Moscow's proposal for a six-month extension.
Ireland and Norway, who sponsored the yearlong extension that Russia vetoed last Friday, circulated a new draft resolution on Monday for a six-month extension of deliveries through the Bab al-Hawa crossing until Jan. 10, 2023, with a new resolution required for a further six-month extension until July 10.
The draft, which diplomats said could be voted on possibly Monday evening, is almost identical to the Russian draft resolution that failed to get council support last Friday.
At the heart of the apparent backdown by supporters of a year-long extension is Russia's adamant refusal to consider any timetable beyond six months, and the fact that the Security Council's last mandate, for a year, ended Sunday.
In Friday's votes, the Ireland-Norway draft resolution for a one-year extension was supported by 13 countries, with China abstaining and Russia using its veto to defeat the measure.
Council members then voted on the rival Russian resolution for a six-month extension which got only 2 "yes" votes, with China the only country to join its ally Russia in supporting the resolution. The three other veto-wielding permanent council members — the United States, Britain and France — voted against it and 10 countries abstained. The vetoes were not needed, however, because the resolution failed to get the minimum nine "yes" votes required for approval.
US ambassador Linda Thomas-Greenfield warned after Friday's votes that "I have long said this is a life-and-death issue" and "people will die because of this vote."
Thomas-Greenfield, who visited Bab al-Hawa in June, said aid workers told her that a six-month renewal would be "a disaster" for their supply lines. They told her it "would mean lifesaving assistance would shut off in the dead of winter when needs are at their highest, which would be a nightmare scenario for a region where millions of people are still displaced."
But Russia's deputy ambassador Dmitry Polyansky told reporters there was "99 percent agreement" on a resolution and said Russia wouldn't support a nine-month extension, suggested as a compromise by Brazil and the United Arab Emirates.
Unless council members decide to go with the Russian six-month proposal, Polyansky said, he saw no possibility for an agreement. Asked whether that meant that Russia would veto any proposed resolution that didn't follow its draft with a six-month timeline, he replied: "Obviously."
That left the rest of the council with no alternative but a six-month extension if they want to see the continuation of cross-border deliveries that Secretary-General Antonio Guterres and more than 30 non-governmental organizations also consider crucial.
Northwest Idlib is the last rebel-held bastion in Syria and a region where an al-Qaida-linked militant group, Hayat Tahrir al-Sham, is the strongest.
The UN said recently that the first 10 years of the Syrian conflict, which started in 2011, killed more than 300,000 civilians, the highest official estimate of civilian casualties.
Russia, a close ally of Syria's government, has repeatedly called for stepped up humanitarian aid deliveries to the northwest from within Syria, across conflict lines. This would give Syrian President Bashar Assad's government more control.
In early July 2020, China and Russia vetoed a UN resolution that would have maintained two border crossing points from Turkey for humanitarian aid to Idlib. Days later, the council authorized the delivery of aid through just one of those crossings, Bab al-Hawa.
In a compromise with Russia, that one-year mandate was extended on July 9, 2021, for six months, with an additional six months subject to a "substantive report" from UN Secretary-General Antonio Guterres. This was effectively a year-long mandate because a second resolution wasn't needed.
Source: Al Arabiya
Please click the following URL to read the full text of the original story:
https://english.alarabiya.net/News/middle-east/2022/07/11/West-bows-to-Russian-call-for-6-months-aid-to-Syrian-rebels
--------
India
Family Planning Among Muslims Has Increased Over the Years: SY Quraishi, Former CEC
Jul 12, 2022
SY Quraishi, former Chief Election Commissioner of India, said that family planning among Muslim have increased over the years.
Delivering a lecture at Gokhale Institute of Politics and Economics (GIPE) on the occasion of World Population Day on Monday, Quraishi said, "Muslim families which do not practise family planning have reduced from 55 per cent to 45 per cent. Even 45 per cent Hindu families do not practise family planning. On various parameters, data suggests that Muslim population is not overtaking Hindu population."
"It is a myth that 'Islam is against family planning'. Nowhere in the religious scriptures is family planning prohibited. There are interpretations of religious scriptures both for and against family planning. Sterilisation is forbidden by interpretations, but birth spacing is not only allowed, but also encouraged," said Quraishi.
There was also a panel discussion on "Significance of Caste Census" during the programme.
PM Kulkarni, demographer and former Jawaharlal Nehru University (JNU) professor, said that to understand the larger issues, caste census is important.
"Caste-based census are important. Sample surveys can be done to identify backward classes. However, many sample surveys cannot cover small communities. Mandal Commission has recommended review of surveys to cover smaller communities. There are rural to urban migration that can be seen as a certain caste having affiliation to move from rural to urban areas for various reasons. Earlier, it was white collar migration. Now, there may be interstate migration which may be caste selective, but we don't know. Therefore, there is a need for including caste census as sample surveys cannot be completely helpful," said Kulkarni.
Another panellist, Rajashree Deshpande, professor, Department of Political Science at Savitribai Phule Pune University (SPPU), said that caste census will not help completely, but only to a certain extent to challenge the fossilised understanding of caste.
"Collecting caste data will make caste reality more transparent," said Deshpande.
RB Bhagat, head, Department of Migration and Urban Studies, International Institute for Population Sciences (IIPS), said that caste has become an identity.
Source: Hindustan Times
Please click the following URL to read the full text of the original story:
https://www.hindustantimes.com/cities/pune-news/family-planning-among-muslims-has-increased-over-the-years-sy-quraishi-101657566764728.html
--------
Last Muslim Lawmaker, Mukhtar Abbas Naqvi, Leaves India's Ruling Party
July 07, 2022
NEW DELHI — The last remaining Muslim lawmaker in India's ruling Bhartiya Janata Party has resigned, leaving the party without a single representative from the minority community among its 395 members of parliament.
Minister of Minority Affairs Mukhtar Abbas Naqvi resigned on Wednesday, one day before his term was expected to come to an end. The Indian parliament has nearly 800 lawmakers in total.
"My work in the Rajya Sabha (upper house of parliament) is over, but my political and social work will never be over," Naqvi told local news channel NDTV Thursday, without providing details over why he will not be seeking re-election.
Naqvi's resignation comes at a volatile time for India's Hindu and Muslim communities. Religious tensions have been flaring in recent weeks, following comments by the now suspended BJP spokesperson, Nupur Sharma, about the Prophet Muhammad (pbuh) widely condemned as Islamophobic.
Violent and deadly clashes have since broken out in parts of the country between Hindus and Muslims -- who respectively make up about 80% and 14% of the country's 1.3 billion population.
Tensions reached a boiling point last week following the brutal killing of a Hindu tailor, allegedly by two Muslim men.
With about 200 million Muslims in India, the country is home to the third-largest Muslim population in the world, following Indonesia and Pakistan.
Prime Minister Narendra Modi and his BJP swept to power in 2014 promising economic reform and development, but critics feared his rise could signal an ideological shift away from the nation's secular political underpinnings to those of a Hindu-nationalist state.
The BJP has its roots in the Rashtriya Swayamsevak Sangh, a right-wing Hindu group that counts Modi among its members, and adheres to Hindutva ideology which seeks to define Indian culture in accordance with Hindu values.
Since then, the ruling party has been repeatedly accused by rights groups, activists and opposition parties of stirring anti-Muslim sentiment.
Over the last eight years, several BJP-run states have imposed new laws that critics say are rooted in Hindutva ideology. At the same time, reports of violence and hate-speech against Muslims have made headlines across the country.
Some of the most controversial new laws are in the northern state of Uttar Pradesh, ruled by Hindu monk-turned-politician Yogi Adityanath. The state has introduced laws to protect cows, an animal considered sacred to Hindus, from slaughter, and made it increasingly difficult to transport cattle. It has also introduced an anti-conversion bill, which makes it harder for interfaith couples to marry or for people to convert to Islam or Christianity.
Earlier this year, the BJP-ruled southern state of Karnataka banned Muslim girls from wearing religious headscarves in classrooms, prompting several to challenge the decision in the state's top court -- a battle they ultimately lost.
Last month, India scrambled to contain the diplomatic fallout as at least 15 Muslim-majority countries condemned Sharma's remarks about the Prophet Mohammed. The incident sparked uproar among India's key Arab trading partners and calls from around the Gulf to boycott Indian goods.
Source: Saudi Gazette
Please click the following URL to read the full text of the original story:
https://saudigazette.com.sa/article/622708
--------
Two militants, including Jaish 'commander', killed in south Kashmir's Awantipora
July 11, 2022
A Jaish-e-Mohammad (JeM) 'commander' was among two militants killed in a gunfight with security forces in a village in Awantipora in South Kashmir's Pulwama district Monday, according to the Jammu and Kashmir police.
The J-K Police have identified one of the killed militants as Kaiser Koka of Jaish-e-Mohammad, saying he was active in South Kashmir for the last four years.
"#AwantiporaEncounterUpdate: #Terrorist Kaiser Koka #neutralised. Identification of 2nd terrorist being ascertained. #Incriminating materials, arms & ammunition including 01 USA made rifle (M-4 Carbine), 01 pistol and other materials have been recovered.
Officials said that a joint team of the J-K Police, Indian Army and paramilitary forces cordoned off the Wandakhpora village in Awantipora in the morning after inputs about the presence of militants in the village.
Source: Indian Express
Please click the following URL to read the full text of the original story:
https://indianexpress.com/article/india/jk-militants-jaish-commander-killed-awantipora-8022444/
--------
Pakistan
Imran Urges Supporters to Defeat 'Turncoats, Nexus of ECP and PML-N'
July 11, 2022
Former prime minister Imran Khan on Monday urged his workers and supporters to defeat the "turncoats" as well as the "nexus" of the Election Commission of Pakistan and the PML-N by voting for his party in the upcoming by-polls in Lodhran.
The PTI chairman made these while addressing a PTI power show in Lodhran.
Towards the start of the speech, Imran rued the situation in Karachi, where at least five people have been killed due to relentless rainfall that has submerged several areas of the city and left many without power.
He accused the Sindh government of being unprepared to deal with the monsoon rains, unlike the PTI's former government in Punjab under Usman Buzdar.
Imran said the Buzdar administration had installed underground water tanks to store rain water and prevent it from causing urban flash floods.
He said same could not be done in Sindh due to "corrupt" elements such as PPP leaders Asif Ali Zardari being in charge. "Sindh can't progress until he (Zardari) is there," Imran said.
The PTI chairman said that during his government there were corruption cases ready against Zardari and Sindh Chief Minister Murad Ali Shah. He said the duo were prevented from getting the punishment they deserved by "those who had [the real] power".
He branded PML-N leader Ahsan Iqbal the "lying Aristotle" and targeted his speech where he had suggested that "corruption doesn't impede economic development, but instability and policy reversals do."
He talked about the recent incident where Iqbal was heckled at a restaurant and slogans of "chor (thief)" were chanted against him. Imran said Iqbal's hecklers were not misbehaving but merely "telling the truth".
Imran slammed the incumbent government's narrative on inflation from the time when it was in the opposition and his party was in power. He made a comparison of food and energy prices during his government and now, claiming that it was proof that the narrative built against him was hollow.
He said the actual reason the PML-N and its allies wanted to cease power was to "amend accountability laws, give themselves an NRO and shut their corruption cases".
Addressing the farmer community of Lodhran, Imran said that his government had taken measures for their benefit and ensured that they received their due profits rather than mill owners and sugar barons.
Source: Dawn
Please click the following URL to read the full text of the original story:
https://www.dawn.com/news/1699198/in-lodhran-power-show-imran-urges-supporters-to-defeat-turncoats-nexus-of-ecp-and-pml-n
--------
Sharif 'thwarted Imran's conspiracy' to make Pakistan next Sri Lanka: minister
July 12, 2022
ISLAMABAD: Minister for Information Marriyum Aurangzeb Monday criticised Imran Khan for what she claimed were the poor economic indicators and said his successor, Shehbaz Sharif, "thwarted former prime minister's conspiracy to turn Pakistan into Sri Lanka".
Reacting to Pakistan Tehreek-i-Insaf (PTI) chairman's speech in Lodhran late Monday, Aurangzeb said: "Keep lying Imran sahib, while Shehbaz Sharif, his brother (Nawaz Sharif), and his (ruling) allies in the government will continue to strive for economic self-sufficiency and national development and resolve the problems of people."
The minister also lambasted Khan for striking a deal with the International Monetary Fund (IMF) on "tough conditions", adding that "Khan should be ashamed of himself for the agreement he signed with the IMF."
"Shame on you, Imran Khan […] it was you who had said I'd rather end my life than knock on IMF's door," she added.
Aurangzeb further declared Khan had used his time in office for corruption, adding if he had not done so, the economy of the country would have been in a much better condition today.
Source: Pakistan Today
Please click the following URL to read the full text of the original story:
https://www.pakistantoday.com.pk/2022/07/12/sharif-thwarted-imrans-conspiracy-to-make-pakistan-next-sri-lanka-minister/
--------
Pakistan: 24 children among 62 killed in rain-related incidents
Jul 12, 2022
ISLAMABAD: Rains continue to wreak havoc in Balochistan claiming 62 lives, including 24 children and impacting hundreds of people in the region, officials said.
Pakistan's Provincial Disaster Management Authority (PDMA) said that the deaths took place in Bolan, Quetta, Zhob, Dakki, Khuzdar, Kohlu, Ketch, Mastung, Harnai, Qila Saifullah and Sibi, ARY News reported.
Owing to the heavy rainfall, around 48 people were injured in various accidents in Balochistan province, while more than 670 houses collapsed.
Due to the recent monsoon rains, the water level in Hub Dam has risen to 334 feet, while the capacity is 339 feet, ARY News reported.
On Monday, Karachi received a heavy spell of rain in Korangi, Saddar, Nipa Chowrangi, People's Chowrangi, Superhighway, and other parts of the city.
Parts of the city submerged after heavy rainfall, further exposing the tall claims of the provincial authorities who imposed a rain emergency to deal with the situation.
Owing to the heavy rainfalls, three people were electrocuted including two in the Garden's Shoe Market area while another man died of electrocution in the Bilal Colony area of Korangi.
Several roads in the city were filled with water and closed for traffic. The police officials said the traffic has been severely affected due to the accumulation of water, while the flow of the water at Korangi Causeway Road has increased after overnight showers.
The accumulation of water also led to power outages in the South Asian Country as 500 feeders were shut due to the accumulation of water in those places and the metropolis was provided with electricity from 1,400 out of 1,900 power feeders. Frequent load-shedding across the country has left the people suffering in sweltering high temperatures.
According to the Met Office, the received at most rainfall-119.5 mm- at PAF Base Masroor during the last 24 hours, followed by 106.6 mm in Defence phase II, 56.2 mm in Orangi Town, 56 mm in Quaidabad, 49.8 mm at Old Airport, 46.5 mm in Gulshan-e-Hadeed, 31.8 mm in Nazimabad, 29.6mm at Jinnah Terminal, 14.4 mm at Surjani Town, and 14.8 mm at University Road.
The Pakistan Meteorological Department (PMD) has predicted widespread rains in Karachi and other parts of Sindh From July 14.
According to the PMD's advisory, a strong rain system will enter Pakistan from July 14, which is likely to gradually spread over central and upper Sindh, ARY News reported.
In a statement, Chief Meteorologist Sardar Sarfraz said that the strong rain system is currently present in Eastern India and will enter Pakistan on July 14 from Rajasthan. Karachi would receive widespread rain till July 18 or 19, the PMD chief said.
Source: Times Of India
Please click the following URL to read the full text of the original story:
https://timesofindia.indiatimes.com/world/pakistan/pakistan-24-children-among-62-killed-in-rain-related-incidents/articleshow/92816810.cms
--------
After his visits to India in Congress regime, Pakistan columnist claims he passed info to ISI
July 12, 2022
Islamabad: Nusrat Mirza, a Pakistani columnist who has visited India many times during the Congress' rule, has boasted on camera that he used to pass on information collected during his visits to Pakistan's Inter-Services Intelligence (ISI).
During a virtual interview with journalist and political analyst Shakil Chaudhary, Mirza said that he had received various privileges from the foreign affairs department of Pakistan during his visits to India.
He shared that "usually when you apply for a visa to India, they only allow you to visit three places. However, at that time, Khurshid Kasuri (Pakistani politician and writer who served as the Minister of Foreign Affairs of Pakistan between November 2002 till November 2007) was the foreign minister who helped me to get a visa for seven cities."
He claimed that he had visited India on several occasions. "I was invited to India at the time of Vice Presidentship of Mohammad Hamid Ansari."
Ansari is an Indian politician and retired diplomat who was the 12th vice president of India from 2007 to 2017.
"I have visited India five times. I have visited Delhi, Banglore, Chennai, Patna and Kolkata as well. In 2011, I also met with the Milli Gazette's publisher Zafarul Islam Khan."
Zafarul-Islam Khan is a former Chairman of the Delhi Minorities Commission and Founder-Editor of the Milli Gazette, Indian Muslims' leading news source.
Replying to a question about Pakistan lagging behind on Urdu intellectuals and strategists, Mirza responded in an affirmative.
However, he also registered his disappointment with the leadership in the Pakistan Army and said that they are not considerate of the situation and usually ignore the work of experts.
"Do you know what the problem in Pakistan is? When a new chief comes, he wipes out the work done by the previous chief and starts with a clean slate. Khurshid asked me to hand over the information I had brought to Kayani (General Ashfaq Parvez Kayani, Pakistan's former Army Chief). I said I would not hand over the information to him, but if you want, I am giving you the information. He handed it over to Kayani," he said.
"Later they called me and asked if I could get more information like this. I asked them to work on the information I provided. They have a research wing. They have information. They know about the weaknesses in the leadership in India. But they do not use it," he added.
Continuing Pakistan's 'lackadaisical' approach to handling the intelligence received by him from India, he said, "since FATF came, Pakistan has not done any activity. It has its hands tied up."
It is worth noting that Financial Action Task Force's (FATF) terror finance watchlist has been keeping a close eye on Pakistan for not fulfilling the parameters to counter terrorism in the country.
He continued the interview by bragging about how he "fully understands" India and its outlook. He said that though he handed down the information to the Pakistani leadership, however, no one seemed to pay any attention to it due to leadership issues.
"Though I agree I am not an expert, I understand their (India's) culture. I know about their weaknesses. But the problem is the experience I gathered about India is not being used due to lack of good leadership in Pakistan," he said.
"I think I understand how India functions. I have studied the circumstances in which Indian Muslims live. I am friends with all the editors of Urdu papers in India. Many news channel owners are good friends. Whenever I have visited India, I have given several interviews."
"I know where separatist movements are happening. But no one wants to exploit the information. The separatist movements are happening in all regions of India. There is no doubt about that. I used to say there were 26 movements ongoing, but someone said now there are 67 such movements."
Mirza has also worked as an advisor to the Chief Minister of Sindh. Speaking about former Pakistan Prime Minister Imran Khan he said that the former premier could not even establish himself as a leader within his own party.
Source: Firstpost
Please click the following URL to read the full text of the original story:
https://www.firstpost.com/world/after-his-visits-to-india-in-congress-regime-pakistan-columnist-claims-he-passed-information-to-isi-10898741.html
--------
Eid-ul-Azha Celebrates With Religious Fervor In Larkana Division
Faizan Hashmi
July 10, 2022
LARKANA, (UrduPoint / Pakistan Point News - 10th Jul, 2022 ) :To commemorate the supreme sacrifice offered by Hazrat Ibrahim (A.S.) and Hazrat Ismail (A.S.) Eid-ul-Azha was celebrated here on Sunday in all parts of Larkana, Kamber-Shahdadkot, Shikarpur, Jacobabad and Kandhkot-Kashmore districts with traditional religious festivity, enthusiasm and fervour.
Eid prayers were offered at Larkana, Warah, Ratodero, Sijawal Junejo, Qubo Saeed Khan, Dokri, Bakrani, Nasirabad, Naudero, Shikarpur, Garhi Yaseen, Kamber, Shahdadkot, Jacobabad, Thull, Kandhkot and Kashmore at more than 1550 mosques, Imam Bargahs, Open places, Parks, Eidgahs and grounds, where the faithful's turned in hundreds of thousands, in the morning Ulema and Khatibs in their Eid sermons highlighted the significance of the day and urged the people to follow the teachings of islam and Holy Quran.
They called upon the audience to adhere to the Islamic teachings, as was defined in his personal life by Holy Prophet Hazrat Muhammad (Peace Be upon Him).
They referred to the great spirit of sacrifices of Prophet Hazrat Ibrahim (A.S), which later became a glorious chapter for the entire history of mankind.
They underlined the need of complete unity of Muslim Ummah in their rank and file in order to counter the evil design of anti Islam forces.
These scholars also highlighted the last sermon of Prophet Hazrat Muhammad (PBUH) delivered by him (PBUH) while performing Hajjat-ul-Wida, and provide a guideline for the ummah as well as the entire humanity for all times to come.
Special prayers were offered for integrity, solidarity and prosperity of the country.
They also prayed God Almighty to put the nation on his path and emphasized the believers to make the Holy Qur'ran code of life, so as they could achieve their past glory.
After, Namaz-e-Eid, people visited the residences of their relatives and friends to exchange Eid greetings with them.
Later, the people sacrificed the animals to commemorate the supreme sacrifice of Hazrat Ibrahim (A.
S.).
In Larkana the main Eid congregations was held in the Municipal Stadium Larkana, Jamia Masjid Qasmia, Jamia Masjid Qaim Shah Bukhari, Police Lines Larkana, and Jinnah Bagh, Dargah Hussainabad Kamber, Dargah Mashori Sharif, and at Garhi Khuda Bux Bhutto where people had poured in a great number to offer Eid prayer.
Meanwhile, foolproof arrangements were made by the District administrations of Larkana, Kamber-Shahdadkot and municipal administrations of Larkana and Kamber-Shahdadkot districts for the cleanliness during the Three(3) days, of Eid-ul-Azha and special parties were inducted to dispose of the animals' refuse including offals, hides and skins.
Many people and children visited Jinnah Bagh Larkana, Shahnawaz Bhutto Children Park Larkana. People from various walks of life, PPP workers also visited the graves of the martyrs of Bhutto's family in Garhi Khuda Bakhsh Bhutto, some 32 kms off from here on Eid day and laid floral wreaths.
The local administrations in all the cities and towns of the five districts had undertaken extra security steps to guard the Eid gahs, mosques and Imam bargahs, where police and Ranger had performed their security duties.
According to reports from different parts of the five districts, complete calm and peace prevailed and no untoward incident was reported from any place.
Source: Urdu Point
Please click the following URL to read the full text of the original story:
https://www.urdupoint.com/en/pakistan/eid-ul-azha-celebrates-with-religious-fervor-1534808.html
--------
Pakistan, China maritime drill to conduct live-fire exercise
July 12, 2022
SHANGHAI: Navies of Pakistan and China commenced a live-fire drill Tuesday as part of a four-day joint maritime exercise codenamed Sea Guardians-2.
Fleets participating in the drill set off from a military port in Shanghai for the scheduled sea area.
The joint exercise aims to enhance defense cooperation, exchange expertise and experience, deepen the traditional friendship between the two countries and militaries, and promote the development of the China-Pakistan all-weather strategic cooperative partnership.
Source: Pakistan Today
Please click the following URL to read the full text of the original story:
https://www.pakistantoday.com.pk/2022/07/12/pakistan-china-maritime-drill-to-conduct-live-fire-exercise/
--------
Sharif, Erdogan exchange Eid greetings
July 12, 2022
ISLAMABAD/ANKARA: The prime minister and Turkish president exchanged greetings for the Muslim holiday of Eid ul-Adha on Saturday.
In a phone call, Shehbaz Sharif and Recep Tayyip Erdogan also discussed bilateral and regional issues, the former's office said in a statement.
Erdogan offered prayers for the victims of the devastating floods in Balochistan, while Sharif expressed Pakistan's firm resolve to further enhance its bilateral cooperation with Turkiye, recalling his recent visit to Ankara, the statement noted.
Source: Pakistan Today
Please click the following URL to read the full text of the original story:
https://www.pakistantoday.com.pk/2022/07/12/sharif-erdogan-exchange-eid-greetings/
--------
Southeast Asia
Targeting the Messenger: Indonesian Islamic College Bans Magazine Reporting Sexual Abuse
Andreas Harsono
One would hope that an educational institution that learned of sexual assaults on campus would focus on holding perpetrators accountable and preventing further incidents rather than targeting the messenger. Not so the State Islamic Institute in Ambon (Institut Agama Islam Negeri Ambon, IAIN Ambon) in Indonesia's Maluku province, which instead of recognizing and valuing a student magazine's ground-breaking and thorough investigation, ordered its shutdown.
On March 14, when Lintas magazine reported on dozens of incidents of sexual violence on campus taking place between 2015 and 2021, the story unsurprisingly created an uproar. Lintas had spent 5 years investigating the story, interviewing 32 sexual violence survivors (27 female and 5 male students) as well as campus officials, including Zainal Abidin Rahawarin, the IAIN Ambon rector. The magazine identified 14 alleged perpetrators. Some of the victims, who were not named, detailed sexual assaults that took place during field research trips, on campus, or in lecturers' offices and houses.
Five men who said they were relatives of one of the lecturers, whom Lintas alleged had asked a survivor to delete sexting messages, went to Lintas' newsroom and assaulted two staff members, reporter M. Nurdin Kaisupy and designer Muh. Pebrianto.
Three days later, Rahawarin closed the student magazine, ordering campus security to seal the newsroom and seize all equipment, accusing its reporters and editors of "defaming IAIN Ambon." He reported nine journalists to the police.
Asked to reveal the names of the victims and the alleged perpetrators, Yolanda Agne, Lintas' chief editor, instead suggested that the campus set up a task force on sexual violence similar to what the Ministry of Religious Affairs, which is in charge of all Islamic schools and universities, had mandated by regulation in 2019. IAIN Ambon has so far not done so.
The magazine's shutdown prompted more than two dozen journalists' groups and student media outlets to protest, including Indonesia's Alliance of Independent Journalists as well as local groups in Ambon.
Source: HRW
Please click the following URL to read the full text of the original story:
https://www.hrw.org/news/2022/07/12/indonesian-islamic-college-bans-magazine-reporting-sexual-abuse
--------
Civil courts have no jurisdiction to hear renunciation cases, says judge
July 12, 2022
KUALA LUMPUR: The High Court has dismissed a woman's bid to start a legal challenge to renounce her religion, saying civil courts did not have the jurisdiction to hear such cases.
Judge Ahmad Kamal Md Shahid said the Federal Constitution has given power under Article 121(1A) to the shariah courts to determine renunciation cases.
"To me, it does not matter what the decision (made by the shariah court) is, but the issue is that the civil courts have no jurisdiction to hear matters within shariah courts nor do they have power to review a shariah court's decision in cases involving the renunciation of Islam.
"The shariah courts have also done nothing wrong in determining her case as it was within their jurisdiction and have not acted ultra vires when they made the order," he said.
Last month, the judge turned down the 32-year-old woman's bid to start a legal challenge to be allowed to renounce Islam.
However, at the time, the court did not provide its grounds as to why it refused to entertain her attempt to initiate a legal challenge.
The woman, born a Muslim, claimed she never practised Islam and that her mother had allowed her to choose her religion.
She said she had gone to the Shariah High Court here in 2018 to seek an order to convert out of Islam as she wanted to practise Buddhism.
Shortly after she filed her application at the Shariah High Court seeking to renounce Islam, the court ordered her to attend 12 counselling sessions.
Subsequently, the court denied her application to leave Islam in 2020 and told her to go for more counselling. When she appealed, the Shariah Appeals Court upheld the ruling.
The woman then turned to the civil courts to nullify the decisions of the shariah courts. She claimed the decision to reject her "conversion out" application violated Article 11, which guaranteed a person's freedom of religion.
Source: Free Malaysia Today
Please click the following URL to read the full text of the original story:
https://www.freemalaysiatoday.com/category/nation/2022/07/12/civil-courts-have-no-jurisdiction-to-hear-renunciation-cases-says-judge/
--------
Pandemic turns property outlook analysis upside down
Jay Wong
July 12, 2022
PETALING JAYA: Covid-19 has left property market players clueless about the supply and demand situation.
The pandemic has totally disrupted market forces and distorted what should have been the norm, according to Real Estate and Housing Development Association (Rehda) acting president NK Tong.
"As a result, it has made it difficult for us to decide what the reality is right now," he told FMT Business.
Tong explained that the pandemic had made it difficult to determine how much of the changes had been caused by the two years of lockdown that had led to job losses and business closures.
"But it is clear that there has been a significant impact," he said.
He was commenting on a report that there has been a marginal decline in the residential property market overhang in the first quarter of 2022 (Q1 2022) from the end of 2021.
In its latest report, the National Property Information Centre (Napic) said there were 35,592 units of residential property worth RM22.45 billion that remained unsold in Q1 2022.
This was a marginal drop from the more than 37,000 units worth RM22.79 billion at the end of last year.
Of the property left unsold in Q1 2022, up to 20,680 or 58.1% of the total, were high-rise units. Apart from that, 7,407 units of linked landed property (20.8%) and 7,505 other properties (21.1%) were unsold in the same quarter.
Tong said it had been difficult to determine the factors that had caused the residential property overhang in the first place.
"If the supply of completed but unsold units is too high, or higher than normal under usual circumstances, particularly in the residential sector, we can attribute it to over-building or a drop in demand," he said.
He said that under normal circumstances, there will always be a certain percentage of completed but unsold units in a well-functioning market.
"But it has not been normal for more than two years already. This has also made it difficult to quantify and attribute the causes of the overhang to the pandemic entirely," he said.
Tong said it could take a year or more for the market to find a new equilibrium, taking into account the rise in inflation and the decision by Bank Negara Malaysia (BNM) to raise interest rates to help cool down the market.
At its monetary policy meeting last Wednesday, BNM raised the overnight policy rate (OPR) by another 25 basis points (bps) to 2.25%. This was the second increase in the OPR this year. At its previous meeting in May, it raised the OPR, also by 25 bps, from 1.75% to 2%.
According to data from the department of statistics Malaysia, the inflation rate has been rising steadily from 2.2% in January 2022 to 2.8% in May.
Tong said this is an opportune moment to purchase property to hedge against inflation and to protect the value of the investor's money in the medium to long term.
"Purchasing a property usually comes with the expectation that its price will rise over time and this helps to lower the loan-to-value of the debt," he said.
"Based on the assumption that property value appreciates faster than inflation, it will result in the equity of the property rising at a faster rate than loan repayments."
He also expressed optimism in the outlook for the rest of the year. "The property sector will likely see steady growth in demand this year even in a moderately rising interest rate environment," he said.
Source: Free Malaysia Today
Please click the following URL to read the full text of the original story:
https://www.freemalaysiatoday.com/category/highlight/2022/07/12/pandemic-turns-property-outlook-analysis-upside-down/
--------
Livewire sports minister rocks gala of athletics legends
Frankie D'Cruz
July 12, 2022
IPOH: It was an extraordinary arena bursting with some of the major names in athletics who made hundreds of headlines and held the nation spellbound with their might in the 1960s and 70s.
They had a magical knack of stimulating fans with their scintillating performances, and their presence on Saturday at "A Celebration of Perak's Track and Field Legends" made it a seminal moment.
All their gifts came together in breathless abundance and old friendships were excavated at the convivial gala.
It was organised by the Perak athletics family to recognise and lift the spirits of the 16 living heroes and the families of nine who had passed on.
Most of them are largely unknown to the younger generation of Malaysians.
Countless stories flowed about devoted athletes, coaches and officials, and sporting and academic excellence as the glorious past and capricious present raised mixed emotions.
While they appeared content with the way their lives have panned out, some of their recollections were hilarious and rose-tinted while others had sharp edges.
Most of the guests were state and national athletes themselves, who came together to resample their youth and slyly gauge the impact of time on one another.
Joining them in the good-natured, knockabout fun on a peerless evening at the Royal Ipoh Club was youth and sports minister Ahmad Faizal Azumu whose vibrancy was worthy of a gold medal.
Faizal is a true spark plug. By doing the unexpected, he rocked the house. By relating offbeat stories, he raised a chuckle, in some cases, lifting the heart as well.
He spontaneously surprised the audience by getting into a video call with US-based 400m Ipoh-born athlete, Shereen Vallabouy, and her coach, Mason Rebarchek, to wish them the best at the world athletics championships.
Faizal rallied the attendees to give Shereen and Rebarchek a big applause ahead of her race in Oregon on July 17 before leading some 300 people to sing 'happy birthday', like a chorus line, to Shereen, who was turning 24 the next day.
Earlier, Faizal received rousing cheers and a standing ovation as he revelled on the stage with a framed souvenir bearing the signatures of the athletics greats who attended the event and that of family members of those who had died.
In his speech, he said he wanted the event to be an annual affair involving all sports and hoped other states would do the same.
"The achievements of sports people are significant and their contributions and talent should be acknowledged deservedly.
"We are a country built on the bonds of family and community and a shared society is one that focuses on responsibilities we have to one another," he said.
The celebration of athletes, coaches and administrators from the glorious era of Malaysian athletics was joyful, emotional and history-making.
Olympian Karu Selvaratnam (400m and 400m hurdles, Tokyo and Mexico Olympics), who received a Perak Legend trophy, said: "This was a celebration of human relationship, one which pointedly showed we were made for each other."
"The event captured the intensity of friendships formed and individual and team achievements in our early sporting years," said Karu, a retired naval officer.
"It also displayed a high sense of caring by those who initiated the event, and the presence of the youth and sports minister reinforced the need to jealously guard such memories."
Leading the list of the delightful club of greats were 1960s track phenoms, M Jegathesan and M Rajamani, who are both Olympians and Malaysia's first sportsman and sportswoman of the year in 1967.
Two other Olympians – Nashatar Singh Sidhu (javelin, Tokyo and Mexico Olympics) and Junaidah Aman (400m, 1972 Munich Olympics) – were unable to attend the gathering while S Sivaraman, a reserve in the 4×400 relay at Munich, made a rare appearance.
Malaysia's oldest coaches, K Jayabalan and Tan Choo Mong, were in the spotlight, too, for their special blend of passion and persistence.
Two other Perak-born coaches, Papu Ignatius and C Ramanathan, who developed star athletes in Penang, were terribly missed by many.
The others who received the Perak Legend trophy were discus-throwing giant M Dattaya, Perak athletics chief Karim Ibrahim, 93-year-old sprinter and a former top official L Pushpanathan, and Ng Kar Liew, the 1961 Seap Games (now SEA Games) javelin gold medallist, who is now a fruit seller.
Those honoured posthumously were Asir Victor (400m) and Shamsuddin Jaafar (400m), both Olympians who also served as national athletics coach for the Asian Games in 1970, 1974 and in 1978.
The others were hammer champions Genda Singh and his son Semret, ex-national barefoot distance runner A Kandiah, sprinter V Vijiaretnam and coaches Sangaran Kutty Nayar, R Suppiah and Aloysius Ong Yoon Pheng.
You can tell a great deal about Perak from the quality of its sportsmen. Football genius M Karathu and hockey marvel R Yogeswaran, who were both speed aces, were also recognised for their lifelong contributions to their respective sports.
Shereen's father, Samson, and her mother, Josephine Mary, who themselves were elite athletes, were given surprise awards for making the country proud internationally.
The gala was hosted by Young Talent Track & Field (YTTF), a grassroots organisation dedicated to training children below the age of 12 and young disabled people, and was supported by the Perak Athletics Association, Paralympic Council of Malaysia and Malaysia Olympians Association.
YTTF CEO Danny Sritharan and the secretary-general of Paralympic Council of Malaysia, Subramaniam Raman Nair, inked their collaboration with a memorandum of understanding to jointly-develop para athletes.
Source: Free Malaysia Today
Please click the following URL to read the full text of the original story:
https://www.freemalaysiatoday.com/category/nation/2022/07/12/livewire-sports-minister-rocks-gala-of-athletics-legends/
--------
Expanding companies' presence in the global halal market
By ZAZALI MUSA
12 Jul 2022
JOHOR BARU: Malaysian companies should target a global market, instead of just focusing on Muslim countries when it comes to exporting halal products, said Standard Chartered Saadiq Malaysia executive director and Islamic corporate, commercial and institutional banking head Bilal Parvaiz (pic)during a recent panel discussion.
Entitled Halal Export Opportunities, the panel discussion was held during the Excellence Export Awards (EEA) Johor Roadshow, held in Johor Baru.
The companies including the small and medium enterprises (SMEs) need to work closely with the relevant agencies to expand their presence in the global halal market, he said.
"Malaysia has the right ecosystem to emerge as the world's leader in the halal market,'' Bilal said.
He said local companies should not miss the opportunity, as the growth prospects in the halal global market were huge, estimated at about US$2 trillion (RM8.86 trillion).
Bilal said Malaysia has done well in the halal market and the country should continue to put in more efforts to elevate its competitiveness in the global halal market.
"Local companies including SMEs and micro-enterprises should embark on the halal journey to further strengthen our country's position in the world's halal market,'' he said.
Bilal was one of the three panellists during the panel discussion. The others were Halal Development Corp (HDC) halal event management division senior manager Faridah Ali and Guan Chong Bhd quality assurance manager Amy Woong.
The session was moderated by Malaysia External Trade Development Corp customised section transformation and digital trade division deputy director Muhd Shahrulmiza Zakaria.
Faridah advised local businesses and companies to expand their presence in the halal market and not solely depend on the domestic market. She said apart from looking at Muslim countries, demand for halal products and services from non-Muslim countries are also growing over the years.
"China, Indonesia, Japan and Singapore offered good halal business opportunities for local halal exporters apart from the Middle Eastern countries,'' said Faridah.
She said exporters should not limit themselves to only food, as there are other products where halal requirements could be applied.
Faridah said among halal-certified products include cosmetics and personal care, pharmaceuticals, health supplements, as well as logistic and warehousing services where there is no mixture of halal and non-halal products.
"Many countries are looking at our halal success story and we should not rest on our laurels and have to be steps ahead against our rivals,'' she said.
Woong described the Malaysian Islamic Development Department (Jakim) halal certification as a gold standard in the Islamic world.
She said it was crucial for the company like Guan Chong to have halal certification from Jakim as most of its products were exported for clients in the cocoa industry.
"It is a bonus to be certified as a halal company and we like to correct the misconception that you should look at halal from a wider perspective,'' said Woong.
She said halal was not only about Islamic religious obligations but also covered hygiene and good manufacturing practices for universal consumers.
Woong said the global Covid-19 pandemic which happened in early 2020 has created awareness among consumers that food safety and security should not be compromised.
"The halal global market is growing as it caters not only for Muslim but also non-Muslim customers,'' she said.
Source: The Star
Please click the following URL to read the full text of the original story:
https://www.thestar.com.my/business/business-news/2022/07/12/expanding-companies-presence-in-the-global-halal-market
--------
Cops nab boyfriend of woman insulting Islam at comedy club
11 Jul 2022
KUALA LUMPUR, July 11 — Police have detained the boyfriend of a woman who allegedly insulted Islam while performing at a comedy club in Taman Tun Dr Ismail.
Royal Malaysia Police (PDRM) secretary, Datuk Noorsiah Mohd Saaduddin in a statement today said the boyfriend was arrested yesterday (July 10) for investigation.
The suspect is being remanded for three days until Wednesday for investigation.
Noorsiah said police would also apply to extend the remand order on the woman, who was arrested last Saturday, and whose remand would end tomorrow.
She added that the investigation papers would be referred to the Attorney-General's Chambers (AGC) with a proposed charge.
The case is being investigated under Section 298A of the Penal Code (for causing disharmony, disunity or enmity, hatred or ill will on grounds of religion), as well as under Section 233 of the Communications and Multimedia Act 1998 for improper use of network services.
Source: Malay Mail
Please click the following URL to read the full text of the original story:
https://www.malaymail.com/news/malaysia/2022/07/11/cops-nab-boyfriend-of-woman-insulting-islam-at-comedy-club/16887
--------
North America
Growing Israeli West Bank settlements test US position ahead of Biden visit
11 July ,2022
Steps away from a cluster of Palestinian tents and shacks in the northern Jordan Valley in the occupied West Bank, trucks were working in full force to prepare for the construction of a school for Israeli settlers.
The settlement of Mehola is trying to expand, as demand has become very high, Zohar Zror, 32, a resident, told Reuters.
Largely out of the public eye, Israeli settlements are expanding across the occupied West Bank, raising Palestinian fears of displacement and posing a test for US opposition to such building ahead of President Joe Biden's visit this week.
In a Washington Post op-ed published on Saturday, Biden said the United States has rebuilt ties with the Palestinians and is working with Congress to restore about $500 million in funding for the Palestinians. His administration has also pledged to reopen a consulate in Jerusalem closed by his predecessor Donald Trump.
But that has done little to satisfy Palestinian demands for US support for an end to Israel's decades-long occupation.
While the administration has expressed strong opposition to Israeli settlement expansion, which it said "deeply damages the prospect for a two-state solution," settlement construction has gone ahead apace.
Meanwhile, the search for a solution involving an independent Palestinian state alongside the State of Israel, which the United States and other countries see as the best basis for a lasting peace, has stalled.
"They don't want to leave any Palestinians here," said Salah Jameel, 53, a Palestinian farmer in the Jordan Valley. "They want to take the land."
Most countries regard settlements Israel has built on territory it captured in a 1967 Middle East war as illegal. Israel disputes this and has settled some 440,000 Israelis in the West Bank, citing biblical, historical and political ties to the area, where 3 million Palestinians live under military rule.
In May, the Israeli government approved 4,400 new homes for Jewish settlers. Plans for a further expansion of settlements, that will effectively cut through the area Palestinians hope will form the basis of a future state, are set to be discussed after Biden's visit.
The State Department did not immediately respond to a request seeking comment about the expansion of West Bank settlements.
The US Embassy's Palestinians Affairs unit referred questions to the White House.
David Elhayani, outgoing head of the Yesha Council, the settlers' main umbrella organization, said it is time the Palestinians accept that there will be no Palestinian state.
"The settlement enterprise has taken off, it cannot be stopped now," he told Reuters.
Noise
As Israel deepens its normalization with Arab countries in the region, it remains unclear what steps the United States is willing to take to discourage its ally from further entrenching the occupation.
Biden's upcoming visit "can impact the amount of noise Israel is making about settlement expansion but not on the construction itself," said Dror Etkes of Kerem Navot, an organization that monitors Israeli policy in the West Bank. "The entire political system (in Israel) is mobilized to protect the settlement enterprise," he said.
The first settlements in the Jordan Valley date from the immediate aftermath of the 1967 war. A fertile area of orchards and date plantations on the border with Jordan, it was seen by Israeli planners as key to creating a defensive buffer well to the east of Jerusalem.
Mehola, which was built in the late 1960s on Palestinian-owned land with Israeli government approval, is one example.
The military protection and the roads, water and power infrastructure underpinning settlements stand in stark contrast to conditions in nearby Palestinian villages.
But Israel strongly rejects accusations from international and local rights groups that the settlement enterprise has created a system of apartheid.
Data collected by Israeli authorities shows a trend of expanding Israeli presence.
In the area of the West Bank where Israel has full control and where most Jewish settlements are located - a zone referred to as Area C under the Oslo Peace accords agreed in the 1990s - only 33 building permits for Palestinians have been approved in the last five years, Israeli Deputy
Defense Minister Alon Schuster told the Knesset plenum in February.
During that time, more than 9,600 housing units were started for Israeli settlers in the West Bank, according to Israel's Central Bureau of Statistics.
Palestinian Mahmoud Bisharat, 40, has no expectations from Biden's visit. Still, he told Reuters he hopes the US administration will take stronger action to stop Israeli settlements and "the dispossession of Palestinians."
Source: Al Arabiya
Please click the following URL to read the full text of the original story:
https://english.alarabiya.net/News/middle-east/2022/07/11/Growing-Israeli-West-Bank-settlements-test-US-position-ahead-of-Biden-visit
--------
Biden Will Push For Greater Oil Output on Mideast Trip: Adviser
12 July ,2022
US President Joe Biden will make the case for greater oil production from OPEC nations to bring down gasoline prices when he meets Gulf leaders in Saudi Arabia this week, White House national security adviser Jake Sullivan said on Monday.
Biden leaves Tuesday night on his first visit to the Middle East as president, with stops in Israel, the occupied West Bank, and Saudi Arabia on his agenda.
The trip comes as Biden struggles at home to bring down gasoline prices that have contributed to a dip in his job approval ratings.
Sullivan said members of the Organization of the Petroleum Exporting Countries have the capacity to take "further steps" to increase oil production despite suggestions from Saudi Arabia and the United Arab Emirates that they can barely increase oil production.
"We will convey our general view…that we believe that there needs to be adequate supply in the global market to protect the global economy and to protect the American consumer at the pump," Sullivan added.
Experts say the White House understands Saudi Arabia is unlikely to move unilaterally and that Riyadh and other Gulf nations lack significant spare capacity.
"I think that a surge in Saudi production seems unlikely," said Ben Cahill, a senior fellow at the Center for Strategic and International Studies, adding that he expects "statements from Saudi Arabia about helping to balance the global oil market, meet global demand, support economic growth and stability among the import countries."
In a commentary published in the Washington Post late on Saturday, Biden said his aim was to reorient and not rupture relations with a country that has been a US strategic partner for 80 years.
Sullivan, briefing reporters at the White House, said Biden has not expressed regret about previously referring to Saudi Arabia as a "pariah" over Jamal Khashoggi's death.
But he said one of Biden's objectives on the trip will be "publicly and privately advocating for universal values including progress on human rights and political reform."
Iran is expected to be discussed on the trip in a region nervous about Tehran's influence. Sullivan said the United States believes Iran is preparing to provide Russia with up to several hundred drones, including some that are weapons capable, for use in its war against Ukraine.'
Source: Al Arabiya
Please click the following URL to read the full text of the original story:
https://english.alarabiya.net/News/gulf/2022/07/12/Biden-will-push-for-greater-oil-output-on-Mideast-trip-Adviser
--------
Iran preparing to provide Russia with drones to use in Ukraine: Senior US official
12 July ,2022
A senior US official said Monday that Iran was preparing to provide Russia with "several hundred" drones to use in its war on Ukraine, with training sessions set to begin as early as this month.
"Our information indicates that the Iranian government is preparing to provide Russia with up to several hundred UAVs, including weapons-capable UAVs on an expedited timeline," National Security Advisor Jake Sullivan said.
"Our information further indicates that Iran is preparing to train Russian forces to use these UAVs, with initial training sessions slated to begin as soon as early July," he added during a press briefing.
Sullivan said it was "unclear" whether Iran had delivered any of the drones to Russia yet. "But this is just one example of how Russia is looking to countries like Iran for capabilities that are also being used… to attack Saudi Arabia," he said.
Sullivan was responding to questions on whether or not the US believed Russia would continue to fail in its primary objective of capturing the Ukrainian capital of Kyiv. He said the US was confident that the "bravery of the Ukrainians and the support of the West to Ukraine" would enable the country to defend its capital.
The US official pointed out severe costs that Russia was enduring on the battlefield, precisely regarding the sustainment of its own weapons.
Source: Al Arabiya
Please click the following URL to read the full text of the original story:
https://english.alarabiya.net/News/middle-east/2022/07/12/Iran-preparing-to-provide-Russia-with-drones-training-Senior-US-official
--------
Six things to watch during Biden's trip to the Middle East
11 July ,2022
US President Joe Biden will confront a kaleidoscope of challenges when he travels to the Middle East this week, his first trip there since taking office. With the American wars in Iraq and Afghanistan in the rearview mirror, the United States is reassessing its role in the region at a time when its focus has shifted to Europe and Asia.
A look at some of the major issues that will be at play during Biden's travels.
Israeli-Arab cooperation
Biden will become the first US president to travel directly from Israel, his first destination, to Saudi Arabia, his last stop before returning to Washington. The itinerary is a reflection of friendlier relationships between Israel and its Arab neighbors, a tectonic shift that is reshaping the region's politics.
Under President Donald Trump, Israel normalized relations with countries such as the United Arab Emirates through the Abraham Accords.
Although no one expects Israel and Saudi Arabia to announce formal diplomatic ties during Biden's trip, more incremental steps could be taken, such as allowing Israeli commercial flights to cross over the Kingdom en route to other countries nearby. In addition, there's already a surge in security cooperation being presided over by the US military's Central Command, which oversees operations in the region. John Kirby, a national security spokesman for the White House, said the nascent military partnership is intended to foster a regional air defense system that could protect against Iranian ballistic missiles and drones.
Iran nuclear deal
The threat of Iran is one of the primary incentives for Israel and Arab countries to work more closely together, and the issue will likely be a top focus for Biden's meetings. Israel views Iran as its greatest threat, and Sunni Arab countries consider Shia Iran as a dangerous competitor for regional power.
A key question is finding the best way to prevent Iran from developing a nuclear weapon, which it's believed to be closer than ever to achieving.
Biden wants to rejuvenate the nuclear deal that was reached by President Barack Obama in 2015 and abandoned by Trump in 2018, but negotiations appear to have stalled.
Israel, which is widely believed to be the only nuclear-armed state in the region but does not acknowledge having such weapons, was opposed to the deal. It didn't like that the agreement limited Iran's nuclear enrichment for only a set period of time, nor did it address Iran's ballistic missile program or other military activities in the region. Now Israel is calling for increasing sanctions to pressure Tehran into agreeing to a more sweeping accord.
Biden is expected to visit one of Israel's missile defense installations as he tries to reassure Israelis that the US is committed to the country's protection.
Israeli-Palestinian conflict
Even though Israel is building closer ties to Arab countries, there's been no progress toward resolving its decades-long conflict with the Palestinians.
In fact, some Palestinians feel abandoned by Arab leaders who have reached their own deals with Israel through the Abraham Accords. That came without securing progress toward the Palestinians' goal of an independent state in Israeli-annexed east Jerusalem, the occupied West Bank and Gaza, lands Israel seized in the 1967 Mideast war.
And there are increasing doubts that a two-state solution is even possible at this point because Israel has spent decades expanding settlements that are now home to hundreds of thousands of Jewish settlers. Israel blames the continuing conflict on Palestinian violence and the refusal of Palestinian leaders to accept past proposals that it says would have given them a state.
Biden plans to visit with Mahmoud Abbas, the head of the Palestinian Authority, in Bethlehem during his trip. But it's unlikely that there will be an opportunity to prod either him or Israeli Prime Minister Yair Lapid to reopen talks. The Palestinian Authority, which administers parts of the occupied West Bank, has grown increasingly unpopular and autocratic in recent years. Lapid is a caretaker prime minister serving while Israel braces for another round of elections later this year.
Human rights
Biden will likely be confronted with more fallout over the death of Palestinian-American journalist Shireen Abu Akleh, who was killed two months ago. An analysis overseen by the United States suggested that she was shot by Israeli soldiers who were conducting a raid nearby, but it stopped short of drawing a definitive conclusion. The murky outcome led to more anger than clarity.
Biden has also been pressed by mainly progressive Democrats to raise the issue of Washington Post journalist, Jamal Khashoggi, who was murdered in Turkey.
But Saudi Arabia looks and feels starkly different than just five years ago, when religious police still roamed the streets chastising women for wearing bright nail polish in malls, enforcing gender segregation in public places and ordering restaurants to turn off background music. Women can now drive, travel abroad without the permission of a male relative and attend sporting events in stadiums once reserved solely for men. Movie theaters and concerts, including one with pop star Justin Bieber, have government backing, a major change after decades of ultraconservative Wahhabi influence.
Oil production
Biden will likely face pressure to temper his criticism of Saudi Arabia's human rights record to persuade the kingdom and its neighbors to pump more oil and alleviate months of sky-high prices at the gas pump.
Energy analysts say drivers shouldn't get their hopes up. "If the public is looking for lower gasoline prices after this trip, I think they're bound to be disappointed," said Samantha Gross, director of the energy security and climate initiative at the Brookings Institution.
The Saudis, among the biggest energy producers in the world, are already producing near their full capacity of 11 million barrels of oil per day. And members of OPEC+ nations, including the Saudis, are likely to be cautious when it comes to demands from the US.
In 2020, as the coronavirus pandemic severely scaled back travel, Trump urged OPEC+ to scale back production as the US oil industry wobbled.
Now, as the Russian invasion of Ukraine has driven up prices, Biden wants OPEC+ to produce more even though there are fears of a global recession around the corner.
Elevated oil prices are simply good business for the Saudis, the de facto leader of OPEC+. The kingdom reported that the value of its crude exports were about a $1 billion per day in March and April, a 123 percent increase compared to the same period in 2021.
India
Another partnership is also taking shape while Biden is traveling in the Middle East. He'll be convening a virtual summit with the leaders of Israel, India and the United Arab Emirates under a new moniker — the I2U2.
It might seem like an unlikely collection of countries, but there are hopes for productive collaboration. Navdeep Suri, a former Indian ambassador to the UAE, said the initiative is intended to bring together Israeli technology, UAE capital and Indian skills.
"We are seeing a churn in the region and for India, it is better to be on the table rather than off the table," he added.
Ned Price, a spokesman for the US State Department, said there's a lot of opportunity for deepening relationships.
"There are a number of areas where these countries can work together, whether it's technology, whether it's trade, whether it is climate, whether it's COVID, and potentially even security as well," he said.
Talmeez Ahmed, India's former ambassador to Saudi Arabia, suggested there would be limits to security cooperation, and he's skeptical about the new initiative.
Source: Al Arabiya
Please click the following URL to read the full text of the original story:
https://english.alarabiya.net/News/middle-east/2022/07/11/Six-things-to-watch-during-Biden-s-trip-to-the-Middle-East
--------
Africa
Tinubu-Shettima: Act on APC's Muslim-Muslim ticket through PVC – Buhari's aide to Nigerians
July 11, 2022
By Wale Odunsi
Tolu Ogunlesi, President Muhammadu Buhari's assistant on Digital and New Media, has spoken on reactions to the emergence of Senator Kashim Shettima as ex-Lagos governor Bola Tinubu's running mate.
The All Progressives Congress (APC) presidential candidate made the announcement on Sunday in Daura, Katsina State.
The decision has divided Nigerians, pitching supporters of other parties and candidates against the APC and its followers.
While some argue that competence should be considered ahead of religion, others insist religion must not be regulated.
On Monday, Ogunlesi advised opponents to wait for 2023.
He said instead of anger and tantrums, aggrieved Nigerians should express their position during the general election.
"Express your view about APC's Muslim-Muslim ticket through the ballot box. That's why you have a PVC (Permanent Voter's Card).
"And let's all work for the freest and fairest elections we can possibly have. Everything else is just talk.
"If you think a Muslim-Muslim ticket is absolutely unacceptable in Nigeria today, you have several other options to choose from.
Source: Daily Post Nigeria
Please click the following URL to read the full text of the original story:
https://dailypost.ng/2022/07/11/tinubu-shettima-act-on-apcs-muslim-muslim-ticket-through-pvc-buharis-aide-to-nigerians/
--------
Jordan says never regards Iran as 'national threat'
Laith al-Junaidi
11.07.2022
AMMAN, Jordan
Jordan said it has never considered Iran a threat to its national security.
"We have never looked at Iran as a source of threats to our national security," Jordanian Prime Minister Bisher al-Khasawneh told the BBC in an interview.
The premier said Amman is seeking to establish good relations with Tehran. "Jordan has substantial reservations about the way Iran is dealing with some regional files," he added.
"Jordan seeks to reach a formula of dialogue with Iran based on relations of neighborliness," al-Khasawneh said.
Jordan's relations with Iran were severely damaged after the Jordanian support to Iraq during its war with Tehran in the 1080s.
Source: Anadolu Agency
Please click the following URL to read the full text of the original story:
https://www.aa.com.tr/en/middle-east/jordan-says-never-regards-iran-as-national-threat-/2634765
--------
URL: https://newageislam.com/islamic-world-news/british-military-uk-afghanistan-bbc/d/127464
New Age Islam Islam Online, Islamic Website, African Muslim News, Arab World News, South Asia News, Indian Muslim News, World Muslim News, Women in Islam, Islamic Feminism, Arab Women, Women In Arab, Islamophobia in America, Muslim Women in West, Islam Women and Feminism