New Age Islam News Bureau
5 Jul 2014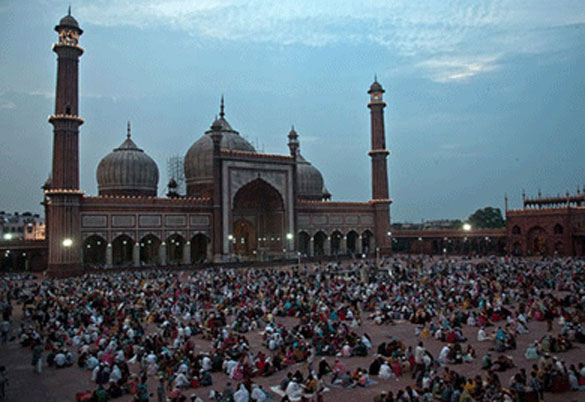 Ramadan as it's known outside India, is a major way to spread foods both due to its predictability, which helps traders plan stock movements, and the need for feeding large numbers when the fast is broken
-----------
Europe
• British Man Calls for 'Black Flag of Islam' Over Buckingham Palace
• More Than 100 UK Imams Urge British Muslims to Shun Syria and Iraq
• Britain is conned into thinking women are forced to wear Burqa: British Muslim cleric
• International players spring into action to end Afghan election impasse
• EU Sanctions Target Humanitarian Aid and Hinder Restoration of Global Heritage in Syria
Arab World
• Suicide Bomber Kills 15 in Attack on Iraq Forces
• Sunni religious scholar says Iraq caliphate violates Sharia
• Two Militants Blow Themselves Up In Southern Saudi Arabia: Al-Arabia TV
• ISIL Controls Area 'Five Times the Size of Lebanon'
• Nusra Front in Deir Ezzor Pledges Allegiance to ISIL
• Sunni tribes unite with enemies to fight Iraq's rulers
• Iraq army retakes Saddam's birthplace; Sistani laments political mess
• ISIS grab a blow for some Iraqis in Lebanon
• Iraqi PM Maliki: 'I will never give up my candidacy'
• Lebanese Army Discovers Explosive Belts in Fneideq, Detonators in Beirut
• Kingdom, first among Arab countries to set up monuments system
• Jihadist leader in Syria addresses militants with Hello Kitty notebook
Pakistan
• Terrorists in Army Uniform Storm Police Station in Diamer
• Zarb-e-Azb: Jets pound several militants' hideouts in Miranshah
• Zarb-i-Azb: Five suspected militants killed in NWA airstrikes
• TTP Mohmand demonstrates sophistication in social media use
• Karachi blast outside mosque kills two
South Asia
• 90 Taliban Rebels Killed In Separate Clashes in Helmand
• Islamic Minister advises Maldivians against participating in foreign wars
• Afghanistan says sheltering Fazalullah, other terrorists not govt policy
• Myanmar Buddhists threaten death to Muslims in Mandalay unrest
• Chinese curbs on Ramadan fasting spark huge protests
• Bigots are biggest threat to Uygur culture
• Over 400 oil tankers torched by Taliban in Kabul outskirts
• 3 Hizb-ut Tahrir members held in Dhaka
Africa
• Nigeria: Troops Arrest Three More Female B/Haram Members
• Suicide car bombing kills three near Somali parliament
• Al Shabaab's Foreign Operations Arm Is Busy Recruiting in Kenya
• Tripoli's Omar Mukhtar Street closed after kidnapping of Sufi imam
• Salafists targeted in Benghazi; militants blamed
North America
• United States troops follow Sharia in Gulf
• US Local Muslim Footballers Prefer Fasting
• Muslims say slaughterhouse proposal violates religious law
• Coming out: Growing up gay and Muslim in America
Mideast
• Only Putschist Want President above Politics: Turkish PM
• Militants attack Yemen-Saudi border post, five dead
• Syrian refugees in Turkey start to work in service sector
• Liberman: Not all terrorist targets can be destroyed from the air
• Egypt mediating Gaza cease-fire: Hamas
India
• Ramzan Food in India Seeing an Arab Spring
• Cheering crowd welcomes Indian nurses freed from Iraq
• Language of bygone era of no use: India to Pak on J&K
• Record number of Pakistanis visited India last year
• Desi flights' ladder checks irk Afghanistan
Southeast Asia
• Malaysian Ministry to raise youths' awareness on militant activities
• Proposal for unified worship venues not raised, faith panel members say
• Hudud penalties needed to safeguard Islam, Jais says in sermon
• Indonesia Risks Suharto-Era Return as Prabowo Rises
Compiled by New Age Islam News Bureau
URL: https://www.newageislam.com/islamic-world-news/new-age-islam-news-bureau/british-man-calls-for--black-flag-of-islam--over-buckingham-palace/d/97924
-------------
Europe
British Man Calls for 'Black Flag of Islam' Over Buckingham Palace
Jul 5, 2014
A British man who claims he has been fighting in Syria says he will not return until the "black flag of Islam" is flying over Buckingham Palace.
He said he had been fighting alongside the al-Nusra Front, which is linked to al-Qaeda and banned in the UK.
Security services estimate 500 Britons have gone to Syria to fight.
It comes as Islamic leaders urge British Muslims not to go to Syria or Iraq amid fears people are travelling there to take part in fighting.
Speaking to BBC Radio 5 live, the man - who spoke in a West Yorkshire accent and called himself Abu Osama - described Britain as "pure evil".
Sir Peter Fahy, who heads Association of Chief Police Officers' (Acpo) "prevent" strategy on counter-terrorism, told Radio 5 live that young Muslims - including girls - were being brainwashed at an "impressionable" age.
"We have got information about some young girls trying to get to Syria - indeed some we believe might have got out there - on the idea of being a jihad bride," he said.
'Good cause'
The man calling himself Abu Osama said he had been fighting in Syria for 12 months alongside groups such as the al-Nusra Front, although his claims cannot be officially verified.
"If and when I come back to Britain it will be when this Khilafah, the Islamic state, comes to conquer Britain, and I come to raise the black flag of Islam over Downing Street, over Buckingham Palace, over Tower Bridge and over Big Ben," he added.
The man said he initially faced opposition from his family over his decision to go to Syria.
"At first it was hard for them to accept, because no mother wants to lose her son," he said.
"But I send them photos and I speak to them about the situation and now they can understand that this is a good cause I am in.
"They are a bit scared but I tell them we will meet in the afterlife. This is just a temporary separation.
"They said, 'We understand now what you are doing,' and my mother said, 'I have sold you to Allah. I don't want to see you again in this world'."
He told the BBC he had been taking part in military training, making bombs and shooting enemies.
In April, the Metropolitan Police issued a plea for people to come forward with information about their family members if they were concerned about them joining terrorist training camps in Syria.
'Strong message'
More than 100 imams have signed an open letter urging Muslims to offer help "from the UK in a safe and responsible way".
In the open letter released to coincide with the holy month of Ramadan, they said: "As the crisis in Syria and Iraq deepens, we the under-signed have come together as a unified voice to urge the British Muslim communities not to fall prey to any form of sectarian divisions or social discord.
"Ramadan, the month of mercy, teaches us the value of unity and perseverance and we urge the British Muslim communities to continue the generous and tireless efforts to support all of those affected by the crisis in Syria and unfolding events in Iraq, but to do so from the UK in a safe and responsible way."
Speaking to BBC Radio 4's Today programme, Qari Mohammed Asim, an imam in Leeds, said the group had come together in a bid to send a "very strong message" to British Muslims thinking of travelling to Syria or Iraq.
"I think a lot of work needs to be done and it is not only the responsibility of the Muslim community or the imams.
"It is law enforcement, (and) intelligence services who all need to work together to make sure young British Muslims are not preyed upon by those who want to use them for their own political gains."
Meanwhile, BBC Newsnight has learned that the UK drew up plans to train and equip a 100,000-strong Syrian rebel army to defeat President Bashar al-Assad, but the initiative devised two years ago was considered too risky.
'Impressionable'
Concerns have been raised about home-grown involvement in terrorism, after Britons appeared in a propaganda video for insurgent group Islamic State in Iraq and the Levant (Isis).
In the video Reyaad Khan, who went to Cantonian High School and St David's Catholic College in Cardiff, is seen holding a gun and sitting next to his friend Nasser Muthana.
Nasser Muthana - who has been offered places to study medicine by four universities - appears in the footage, using the name Abu Muthanna al-Yemen and urging others to fight in Syria and Iraq. A third Briton in the video is from Aberdeen, where he has been named locally as Raqib.
http://www.bbc.co.uk/news/uk-28155683
-------------
More Than 100 UK Imams Urge British Muslims to Shun Syria and Iraq
Jul 5, 2014
(Reuters) - More than 100 Islamic prayer-leaders from various denominations of Sunni and Shi'ite Muslims have signed a letter calling on British Muslims not to travel to Iraq or Syria to fight.
"We urge the British Muslim communities to continue the generous and tireless efforts to support all of those affected by the crisis in Syria and unfolding events in Iraq, but to do so from the UK in a safe and responsible way," the open letter, released on Friday, says.
An estimated 500 British Muslims are believed to have taken up arms in Syria.
Security services say the influx of Western Muslims to Syria creates a threat to the West, when radicalised fighters return home from fighting in the region.
Britain has stepped up security at airports after U.S. officials said they were concerned that al Qaeda operatives in Syria and Yemen were developing bombs that could be smuggled onto planes.
Western officials are worried that the recent battlefield successes of the Islamic State in Iraq and the Levant (ISIL), an al Qaeda splinter group, have drawn a growing number of militants from America and Europe to the jihadist cause and they would have easy access to flights headed for U.S. cities.
"As we near the end of the first week of Ramadan our message is simple, we have come together to urge British Muslim communities not to fall prey to any form of sectarian divisions or social discord," said Qari Mohammed Asim, an Islamic prayer leader in the northern English city of Leeds. (Reporting by Tiger Brown Editing by Jeremy Gaunt)
http://www.trust.org/item/20140704133336-g5uyo/
-------------
Britain is conned into thinking women are forced to wear Burqa: British Muslim cleric
Jul 5, 2014
A BRITISH Muslim cleric hit out at the face veil worn by Islamic women today by branding it an "archaic tribal rag".
Moderate Imam Taj Hargey warned that Britain had been conned into believing that the Quran orders women to wear the Burqa and the Niqab.
He attacked the controversial face-cover as an "un-Muslim fad" imported from Saudi Arabia and championed by hardliners.
Just days after the European Court of Human Rights upheld a French ban on the veil, he called for Britain to follow France's lead.
Dr Hargey, Imam at the Oxford-based Muslim Educational Centre, said: "There is no Koranic mandate for female facial masks.
"It is not culturally common for Pakistani women to conceal their faces, and no one, including women, has an unqualified right to dress as one pleases in public."
He added: "For too long the British establishment has been hoodwinked by Muslim zealots that the Burqa/Niqab is intrinsic of Islam.
"It is nothing of the sort: it is pre-Islamic, non-Quranic and ipso facto un-Muslim.
"For this reason alone, all right-thinking people should reject this imported Saudi fad on compelling religious, social, sexist, security and health grounds.
"If Muslim women are banned from hiding their faces in Mecca or when they perform their daily prayers, why is this archaic tribal rag given any legitimacy in contemporary Britain."
Dr Hargey's comments, in a letter to The Times newspaper, were made just days after the European ruling on the French ban.
The court rejected a 24-year-old Muslim woman's claim that the ban introduced in 2010 had unlawfully breached her "religious freedom".
Under the prohibition, French courts have the power to fine offenders the equivalent of £130, while riots have been sparked attempts to enforce it.
The European ruling said Burqas threatened the right of ordinary people to "live together".
It added: "The court emphasised that respect for the conditions of 'living together' was a legitimate aim for the measure at issue."
Among those who welcomed the French ruling were Tory MP Philip Hollobone, who tried in vain to introduce a Parliamentary Bill banning all face coverings in public.
He said: "At last we have had a sensible decision from the European Court of Human Rights."
Dr Tarjey, the most senior Muslim leader to condemn the veil, added in his letter: "This Saudi-financed campaign is just another salvo in the battle for the hearts and minds of British Muslims.
"If Britain's liberal and human rights industry fails to recognize this, we will all live to regret it."
http://www.express.co.uk/news/uk/486850/Britain-is-conned-into-thinking-women-are-forced-to-wear-the-burqa
-------------
International players spring into action to end Afghan election impasse
July 5, 2014
ISLAMABAD: Concerned over increasing political tension in Afghanistan, several key international players have become actively involved in bringing an end to the impasse which emerged in the wake of the June 14 presidential run-off elections.
The announcement of the preliminary results scheduled for July 2 got postponed to Monday by the country's election authorities because presidential candidate Dr Abdullah Abdullah refused to accept the results.
As concerns about political uncertainty increased, senior officials and lawmakers of the United States (US), United Nations (UN) and European Union (EU) began hectic efforts to work out a solution.
In the latest development, senior US Senator John McCain met the two presidential candidates Dr Abdullah Abdullah and Dr Ashraf Ghani in Kabul on Thursday in an apparent move to encourage the two rivals to amicably resolve their differences.
Abdullah's spokesperson Fazalur Rehmam Orya described the meeting with the US senator as a successful one. "The talks were very effective as both sides agreed that measures should be taken against fraudulent votes," Orya told Radio Azadi.
Ghani's team also viewed the meeting with a "strategic partner as highly significant."
A senior member of Ghani's team, Abbas Nuyan told Radio Azadi that the meeting was important but Afghans should settle their own problems without any foreign intervention.
Afghan analysts believe McCain suggested a coalition government to the two candidates and that the idea could work.
Writer Nazar Mutmaeen said, following the meeting with McCain, Abdullah's supporters have removed protest camps in Kabul city, raising speculations for a possible deal.
"I think Abdullah had been exerting pressure on Ghani for sharing power and that is possible through mediation. Some foreign players and Afghans have already started mediation," Mutmaeen told The Express Tribune from Kabul on Friday.
The US seems very concerned over the current political chaos in Afghanistan as it is anxiously waiting for the new Afghan leader to sign the controversial security pact which will allow some American troops to stay behind beyond this year.
A day prior to Senator McCain's meetings with Ghani and Abdullah, representatives of the EU also met President Hamid Karzai, election officials and the presidential candidates to find a solution to the election deadlock.
The EU team also welcomed the Independent Election Commission's (IEC) decision to delay the announcement of the preliminary results, Tolo TV reported.
The UN mission in Kabul says Abdullah and Ghani along with their running mates for the vice-presidency, and several leading members of their teams, have separately met ambassadors and senior representatives of the international community in Kabul.
The foreign mediation has resulted in an understanding that the teams of Abdullah and Ghani will hold direct negotiations to resolve their disputes.
A section of the Afghan media also welcomed the UN's role in the crisis.
"If the United Nations can support the votes of the people of Afghanistan and the process of making the election transparent and thus disrupt the IEC's plan to engineer the election, it will assure the people of Afghanistan that democracy has been institutionalised in this country and that people's votes alone will determine the future of the country," stated a recent editorial of the Mandegar Daily.
However, tensions still persist as Abdullah's campaign's chief spokesman Nasrullah Baryali Arsalai on Thursday warned his team would reject any results announced before all their concerns are addressed.
Claiming "industrial-scale fraud" in the run-off elections, Abdullah had earlier announced the suspension of his campaign's involvement in the Afghan-managed elections and called for a halt to the process. He had raised the possibility of a commission to settle all poll-related disputes under the supervision of the UN.
Abdullah's rival Ghani disagreed with the proposal of UN mediation and insisted Afghans should sit with each other.
Abdullah's refusal to accept the results has caused some supporters to call for civil disobedience. This prompted appeals from the UN mission in Kabul to the candidates to take all steps necessary to control their supporters to prevent them from making any irresponsible statements and from taking steps that could lead to civil disorder and instability.
http://tribune.com.pk/story/731219/international-players-spring-into-action-to-end-afghan-election-impasse/
-------------
EU Sanctions Target Humanitarian Aid and Hinder Restoration of Global Heritage in Syria
Jul 5, 2014
Today, a civilization that used to lead the world and for centuries was the beacon of learning, tolerance and trade, and that still protects our global cultural heritage is damaged—and only the Syrian people can rebuild it for all of us. We need to help them.
Last month, half-heartedly and without unanimity among its 28 member states, the European Union levied yet more sanctions on Syrian officials. Passed under pressure from the usual suspects (the US, France, Britain, and the international Zionist lobby), the EU measure targets 12 government ministers, none of whom wields or holds police authority of any type. Not a single one of these individuals has any capacity or wherewithal—or even any interest—in committing "serious human rights violations," as the measure accuses them of having carried out.
It is a charge that amounts to defamation of character and which the EU made without offering a scintilla of evidence. Widely seen as EU frustration over failed western policy in Syria, the action is also thought to have been motivated by a sense that the EU ought to keep itself relevant by…well…doing something, given that there is a deep split within its ranks over military aid to Syrian rebels. Coming three weeks after the Syrian presidential election (generally viewed as a significant victory for the Assad government), the measure puts the officials under an EU travel ban and asset freeze, and it also raises to 191 the number of Syrian government employees, along with 53 companies, now being targeted by EU sanctions.
The impact of EU and western sanctions on the Syrian economy has been severe—this is well known. Heavy fighting has damaged or destroyed economic infrastructure, significantly impeding normal access to sources of income for average Syrians. In addition, internal distribution and supply networks have been disrupted if not destroyed; currency depreciation has devastated purchasing power; and the heavy US, EU and Arab League sanctions have hampered imports and exports. Even the import of items not subject to the sanctions has been restricted by the sanctions on financial transactions, while tourism revenue, for example, has all but disappeared.
Full report at:
http://www.almanar.com.lb/english/adetails.php?eid=159729&cid=41&fromval=1&frid=41&seccatid=101&s1=0
----------
Arab World
Suicide Bomber Kills 15 in Attack on Iraq Forces
5 July 2014
A suicide bomber detonated an explosives-rigged vehicle at a security forces position north of Baghdad on Friday, killing 15 people, police and a doctor said.
The attack south of the sensitive shrine city of Samarra in Salaheddin province, where militants have overrun the state capital and a swathe of other territory, also wounded 25 people.
Samarra, 15 kilometres (nine miles) north of where the attack took place, is home to the revered Shiite Al-Askari shrine, which was bombed in February 2006, sparking a bloody Sunni-Shiite sectarian war.
The position was occupied by a mix of Iraqi soldiers and civilians who have volunteered to fight a major jihadist-led militant offensive that has overrun chunks of five provinces.
Security forces folded under the weight of the initial onslaught, in some cases shedding uniforms and abandoning vehicles to flee, prompting the government to announce it would arm and equip people who volunteered.
While government forces have since performed better, they are still struggling to carry out effective offensive operations against the militants.
http://english.alarabiya.net/en/News/middle-east/2014/07/05/Suicide-bomber-kills-15-in-attack-on-Iraq-forces.html
----------
Sunni religious scholar says Iraq caliphate violates Sharia
05 July, 2014
DOHA: Sunni Muslim religious scholar Yusef al-Qaradawi said on Saturday that the declaration of an Islamic caliphate by militants fighting the governments in Syria and Iraq violates Sharia law.
Last Sunday, the militants declared an "Islamic caliphate" in areas they control in Iraq and Syria and ordered Muslims worldwide to pledge allegiance to their leader Abu Bakr al-Baghdadi.
Qatar-based Qaradawi, seen as a spiritual guide of the Muslim Brotherhood in his native Egypt, said in a statement that the declaration "is void under Sharia".
http://www.dawn.com/news/1117272/sunni-cleric-says-iraq-caliphate-violates-sharia
------------
Two Militants Blow Themselves Up In Southern Saudi Arabia: Al-Arabia TV
Jul 5, 2014
Two suspected al Qaeda militants blew themselves up early on Saturday after being surrounded inside a government building in southern Saudi Arabia, following an attack on a border post with Yemen, Saudi-owned al-Arabia television reported. The satellite channel, in a report on its website, quoted unnamed sources as saying the militants blew themselves up in the Sharurah area near the Wadia border post with Yemen.
The militants had put up "stiff resistance" to security forces surrounding them, firing automatic weapons and hurling grenades at security forces. There were no reports of casualties among Saudi security forces.
Saudi security forces had been searching buildings for militants who had fled after the attack, in which six people, including one suicide bomber and two security personnel, were killed.
Saudi Arabia, the world's biggest oil exporter, has long viewed its 1,800 km (1,100 mile) border with impoverished, conflict-ridden Yemen as a major security challenge and has been building a fence to deter militants and criminals.
Full report at:
http://english.ahram.org.eg/NewsContent/2/8/105488/World/Region/UpdatedTwo-militants-blow-themselves-up-in-souther.aspx
-------------
ISIL controls area 'five times the size of Lebanon'
World Bulletin / News Desk
Around 30 fighters from the self-declared Islamic State og Iraq and the Levant (ISIL) broke out of a makeshift jail where rival Syrian rebels had been holding them, a monitoring group said on Friday as it detailed the latest territorial gains by the al Qaeda offshoot.
The fighters demolished a wall to escape the building - a former school - after fellow ISIL fighters took control of al-Hawaaj village where al Qaeda loyalists had been holding them, the Syrian Observatory for Human Rights said.
In the same province on Thursday, the ISIL seized control of Syria's largest oil field from the Nusra Front, al Qaeda's official wing in Syria, consolidating its position in the eastern Deir al-Zor province bordering Iraq.
Full report at:
http://www.worldbulletin.net/world/140100/isil-controls-area-five-times-the-size-of-lebanon
----------
Nusra Front in Deir Ezzor Pledges Allegiance to ISIL
Jul 5, 2014
Nusra Front, along with other Takfiri militant factions fighting the Syrian government, pledged allegiance to the so-called Islamic State in Iraq and Levant, another Takfiri group which announced the "Islamic Caliphate" last week.Terrorists of Nusra Front
Media reports said that militants of the Nusra Front vacated all its sites in the city of al-Mayadeen, in the eastern countryside of Deir Ezzor. The militants also pledged allegiance for ISIL, reports said.
"All factions in this area, including "Free Syrian Army", "Ahrar al-Sham" and Nusra Front repent to Allah from fighting the "Islamic State", a militant from the Takfiri group said in a video posted on Internet, referring to ISIL.
Full report at:
http://www.almanar.com.lb/english/adetails.php?eid=159707&cid=23&fromval=1&frid=23&seccatid=20&s1=1
-------------
Sunni tribes unite with enemies to fight Iraq's rulers
Jul 5, 2014
Sydney Morning Herald
Baghdad: "In the end, for us in Fallujah, it was a question of 'to be or not to be'."
Trapped in a state-sponsored campaign of violence and harassment with no end in sight, 27-year-old Bashir al-Ani says he had no choice but to pick up a weapon and join his Sunni tribe in the fight against Iraq's Shiite-led government.
That was four months ago, well before the brutal forces of the Islamic State arrived in Mosul and took control of Iraq's second largest city as soldiers deserted in their thousands.
For many Sunni leaders there is not one but two separate battles being waged in Iraq: a Sunni tribal revolution against the oppressive government of Nouri al-Maliki and the Sunni militants fighting for an Islamic state that now stretches across the borders of Iraq and Syria.
That one storm front has, for the moment, joined the other is just another chapter in the shifting loyalties between groups and factions in a country that has been mired deep in conflict for more than a decade.
Full report at:
http://www.smh.com.au/world/sunni-tribes-unite-with-enemies-to-fight-iraqs-rulers-20140704-zsvh9.html#ixzz36ZsP9esR
-------------
Iraq army retakes Saddam's birthplace; Sistani laments political mess
Jul 5, 2014
The Iraqi army retook Saddam Hussein's home village overnight, a symbolic victory in its struggle to seize back swathes of the country from Sunni insurgents.
Backed by helicopter gunships and helped by Shi'ite Muslim volunteers, the army recaptured the village of Awja in an hour-long battle on Thursday night, according to state media, police and local inhabitants.
Awja lies 8 km (5 miles) south of Tikrit, a city that remains in rebel hands since Islamic State, formerly the Islamic State in Iraq and the Levant (ISIL), launched a lightning assault across northern Iraq last month.
The offensive to retake Tikrit began on June 28, but the army has still failed to retake the city which fell after the police and army imploded last month in the face of the militant onslaught that also captured Mosul and other major Sunni areas.
Full report at:
http://www.trust.org/item/20140704124500-oti0y/?source=jtOtherNews1
-------------
ISIS grab a blow for some Iraqis in Lebanon
Jul 5, 2014
BEIRUT: Sayyed Hani Fahs remembers the city of Najaf fondly as a place where atheists and believers engaged in regular, friendly debate and religious education was not considered an antidote to humor.
"Najaf is where I read Darwish, Dostoyevsky, Sartre and Simone de Beauvior," Fahs told a small audience at a recent Ramadan event held discreetly at the Iraqi Cultural Center in Beirut. The Nabatieh native thrilled his mostly Iraqi audience by slipping easily in and out of their dialect, evidence of the years he spent there as a young religious scholar.
Outside, about a dozen Lebanese security personnel kept watch over the entrance to the center, which, as a branch of the Iraqi Culture Ministry, is considered a potential target of militants linked to the Islamic State of Iraq and Greater Syria.
Full report at:
http://www.dailystar.com.lb/News/Lebanon-News/2014/Jul-05/262742-isis-grab-a-blow-for-some-iraqis-in-lebanon.ashx#ixzz36Zs1dDvd
-------------
Iraqi PM Maliki: 'I will never give up my candidacy'
Jul 5, 2014
Embattled Iraqi Prime Minister Nouri al-Maliki on Friday refused to drop his bid for a third term in power, defying growing demands from inside and outside the country for his replacement.
"I will never give up my candidacy for the post of prime minister," Maliki said in a statement read out on state TV by an announcer. "I will remain a soldier, defending the interests of Iraq and its people."
Maliki has come under mounting pressure since Sunni militants took control of major areas north of Baghdad.
Iraq's most powerful Shi'ite cleric, Grand Ayatollah Ali al-Sistani, earlier said the parliament's inability to agree on a new government in its first session was a "regrettable failure."
Sistani intervened a week ago in Iraq's political crisis by urging lawmakers at their opening session to put aside disputes and form a new government to tackle an insurgency spearheaded by an Al-Qaeda splinter group that could fracture the country.
Full report at:
http://english.alarabiya.net/en/News/middle-east/2014/07/04/Maliki-I-will-never-give-up-my-candidacy.html
-------------
Lebanese Army Discovers Explosive Belts in Fneideq, Detonators in Beirut
Jul 5, 2014
Lebanon security: Explosives discovered in FneideqThe Lebanese army raided for the third time on Thursday the north eastern Lebanese town of Fneideq as a result of the investigation with the terrorists arrested lately.
Thursday's raid comes in the light of confessions made by the terrorist Mahmoud Khaled, following the seizure of a large quantity of projectiles and ammunitions dumped in a piece of Land that he owns.
After discovering a bomb ready for detonation in a cave of Fneideq town, Khaled confessed to dumping a quantity of explosive materials that he used to manufacture bombs and explosive belts in a farm land called Al-Azar in Fneideq highlands.
Lebanon: arrested womanHowever, military investigating judge, Imad Al-Zein, sentenced the Syrian woman, Samia Shawali, to death for holding detonators used in bomb blasts.
Judicial sources told Al-Manar TV that an anti-drug patrol apprehended Shawali in North Lebanon around a month ago, seizing drugs and number of detonators in her car.
Full report at:
http://www.almanar.com.lb/english/adetails.php?eid=159718&cid=23&fromval=1&frid=23&seccatid=14&s1=1
-------------
Kingdom, first among Arab countries to set up monuments system
Jul 5, 2014
General Supervisor of King Abdullah Cultural Heritage Project and vice president of the Saudi Commission for Tourism and Antiquities (SCTA) Ali Al Ghabban said Saudi Arabia is one of the first Arab countries to set up a monuments system with the aim to protect the heritage sites in the Kingdom for their cultural significance and their value as an economic resource.
"Saudi Arabia is one of the first Arab countries to set up a system for monuments," Al Ghabban said in a press statement issued yesterday.
Applauding the issuance of the new system of monuments, museums and architectural heritage which was issued by the Council of Ministers recently, Al Ghabban asserted that the new system of monuments enhances the protection of national heritage sites as resources for economic benefit.
Full report at:
http://www.arabnews.com/news/596826
-------------
Jihadist leader in Syria addresses militants with Hello Kitty notebook
Jul 5, 2014
Footage showing a jihadist rebel leader fighting in Syria giving a fiery speech to militants while holding a pink notebook has gone viral on social media.
In the video, which was posted on YouTube on July 2, Zahran Alloush, the head of Jaysh al-Islam, is seen speaking against the Islamic State (IS), formally the Islamic State of Iraq and the Levant (ISIL). Jaysh al-Islam and the IS are fighting with each other for the control of Ghouta, near Damascus.
The pink cover of the notebook featuring Hello Kitty, the fictional character who was appointed as Japan's cultural ambassador in 2008, starkly resembles the jihadists' khaki combat uniforms.
"You gather your men, take a notebook from your bag and everything ends at that moment," Turkish Twitter user @muhsin_ayhan joked on July 4.
http://www.hurriyetdailynews.com/jihadist-leader-in-syria-addresses-militants-with-hello-kitty-notebook.aspx?pageID=238&nID=68693&NewsCatID=352
-------------
Pakistan
Terrorists in Army Uniform Storm Police Station in Diamer
Jul 5, 2014
GILGIT: Over three dozen suspected terrorists wearing Pak army uniform stormed a police station in Diamer district on Friday morning, tied the policemen with ropes and took away weapons, uniform, wireless sets, and other valuables from the cops.
The Dodishal police station is situated a kilometer from the Karakuram Highway at the border of Khyber Pakhtunkhwa and Gilgit-Baltistan regions.
Police sources told Dawn that 36 to 40 unidentified armed men wearing army uniform stormed the police station at about 1:30am on Friday. The sources said that only six police personnel were present at duty when the police station was attacked, adding that the assailants tied the personnel with ropes and thrashed some over resistance.
The attackers took away 10 guns, three pistols, thousands of rounds, wireless telephone sets, police uniforms and other belongings of the police personnel.
Full report at:
http://www.dawn.com/news/1117218/terrorists-in-army-uniform-storm-police-station-in-diamer
-------------
Zarb-e-Azb: Jets pound several militants' hideouts in Miranshah
Jul 5, 2014
MIRANSHAH: In the recent development in the on-going offensive against the militants in North Waziristan Agency, the Pakistan military jets pounded several militants' hideouts in the adjoining areas of Miranshah, Geo News reported on Saturday.
According to the sources, several militants' compounds were destroyed in the recent bombings in the surrounding areas of Miranshah while casualties are also feared.
Inter Services Public Relations (ISPR) told that a huge cache of improvised explosive devices was recovered from four houses in Miranshah.
Unfortunately, a soldier lost his life in a blast caused by an IED in Miranshah, ISPR added.
Earlier, a military official told BBC that 40 percent area had been cleared in Miranshah. However, he did not give any deadline for the completion of the ground operation in the area. The army is facing some firing incidents, rocket attacks and explosives, but so far it has not faced any major resistance during the operation.
Full report at:
http://www.thenews.com.pk/article-152853-Zarb-e-Azb:-Jets-pound-several-militants-hideouts-in-Miranshah-
------------
Zarb-i-Azb: Five suspected militants killed in NWA airstrikes
Jul 5, 2014
PESHAWAR/MIRAMSHAH: Five suspected militants were killed and five militant hideouts were destroyed early on Saturday as jet fighters pounded parts of the North Waziristan tribal region.
According to the Inter-Services Public Relations (ISPR),on facing fire and opposition from inside the Miramshah town and Boya village, air strikes were launched to eliminate militants.
Five militant hideouts, caves and a huge cache of arms and ammunition were also destroyed and scores of militants were killed in early morning air strikes.
Most of the militants killed in the strikes were reportedly Uzbeks.
Meanwhile, one soldier was also killed when an improvised explosive device (IED) exploded during a clearance operation in the morning.
Full report at:
http://www.dawn.com/news/1117254/zarb-i-azb-scores-of-suspected-militants-killed-in-nwa-airstrikes
-------------
TTP Mohmand demonstrates sophistication in social media use
July 05, 2014
ISLAMABAD - To advance their cause and intimidate their opponents, Tehrik-e-Taliban Pakistan's (TTP) Mohmand chapter has demonstrated modern sophistication in the use of social media, particularly Facebook and Twitter.
The TTP Mohmand chapter, led by Omar Khalid Khurasani, effectively uses Facebook and Twitter to release its policy statements and influence the youth or to terrify its rivals. The outfit also uploads videos, Jihadi poems and leaders' speeches on YouTube. Dozens of Facebook and Twitter accounts, with thousands of followers, actually work as media wing for the outfit. To easily identify them among countless social media users, almost all the accounts of Omar Khalid Khurasani's men have suffix of 'Khurasani' or 'Khorasani'. Another common feature of all these accounts is the cover photo showing Omar Khalid Khurasani, also known as Omar Khalifa, with a message "To combat international secular media and awaken Muslim youth for jihad, the TTP Mohmand Chapter has established a media wing. To know about the views of Taliban or convoy your messages to its leadership please use this forum. You will get answers to all of your questions."
Full report at:
http://www.nation.com.pk/national/05-Jul-2014/ttp-mohmand-demonstrates-sophistication-in-social-media-use
-------------
Karachi blast outside mosque kills two
July 05, 2014
KARACHI - A mysterious explosion outside a mosque at New Preedy Street on Friday claimed two lives and wounded three others.
According to details, the explosive device planted on a motorcycle blasted near a mosque in the Saddar area of Karachi. The blast took place near Mohajir Makki Masjid in front of Saddar Parking Plaza. The explosion damaged windowpanes of nearby buildings and damaged the vehicles parked in the vicinity.
On receiving information, the law enforcers, rescuers of various welfare organisations and experts of bomb disposal squad rushed to the spot. Police and rangers cordoned off the crime scene. The victims were shifted to Jinnah Postgraduate Medical Centre (JPMC) where doctors pronounced the death of two people and admitted rest of the injured for treatment. Police initially believed it was a motorbike-borne improvised explosive and exploded with the help of a remote control. Investigators revealed the terrorist carrying the explosive device was on his way to some other destination when it exploded because of mishandling.
Full report at:
http://www.nation.com.pk/national/05-Jul-2014/karachi-blast-outside-mosque-kills-two
-------------
South Asia
90 Taliban Rebels Killed In Separate Clashes in Helmand
Jul 5, 2014
At least 90 Taliban militants were killed and dozens more were injured in separate clashes in southern Helmand province of Afghanistan.
Local security officials said the militants were killed during clashes with the Afghan security forces in Khanshin district.
An official from the border police forces said the clashes broke out on Thursday in Khanshin district which left at least 70 Taliban militants dead and around 50 others injured.
In the meantime, a local police official said at least 20 Taliban militants were killed and 7 others were injured in a separate clash in Baba Je area.
Full report at:
http://www.khaama.com/90-taliban-rebels-killed-in-separate-clashes-in-helmand-6351?
-------------
Islamic Minister advises Maldivians against participating in foreign wars
Jul 5, 2014
Minister of Islamic Affairs Dr Mohamed Shaheem Ali Saeed has urged Maldivians to refrain from participating in foreign wars.
The appeal comes after reports of at least two Maldivian men being killed in the Syrian civil war during May.
According to an online media group called Bilad Al Sham Media, a 44-year-old Maldivian man died in a suicide attack on May 25 and another was killed two days later in a gun fight against soldiers loyal to Bashar Al Assad.
"[Islam] does not permit shedding another [Muslim] brother's blood," Shaheem said noting a high rate of civilian casualties in wars being fought in Muslim countries elsewhere.
Often, wars are being waged between different Muslim factions leading to the death of Muslim women, children, and elderly people and the destruction of mosques and homes, the Islamic Minister said at a press conference today.
Full report at:
http://minivannews.com/politics/islamic-minister-advises-maldivians-against-participating-in-foreign-wars-87961
-------------
Afghanistan says sheltering Fazalullah, other terrorists not govt policy
July 4, 2014
ISLAMABAD: Senior Afghan military officials have told their Pakistani counterparts that sheltering Tehreek-e-Taliban Pakistan (TTP) chief Mullah Fazlullah and other terrorists has never been the policy of the government, the Afghan foreign ministry said on Friday.
Pakistani officials in high-level security talks in Rawalpindi on Thursday reiterated that TTP chief Mullah Fazlullah, along with other Pakistani Taliban leaders, operate from Afghanistan's eastern Kunar province, the Afghan foreign ministry spokesperson said.
"However, Afghan officials, while responding to Pakistan's claims, said that giving sanctuaries to terrorist groups on Afghan soil is contrary to the anti-terrorism policies of the Afghan government. Such policy is beyond thinking. The Afghan side insisted that Afghanistan, being a major victim of terrorism, has always proved its sincerity in the war on terror," the foreign ministry spokesperson said in a statement. A version of the statement in Dari was also emailed to The Express Tribune.
Full report at:
http://tribune.com.pk/story/731163/afghanistan-says-sheltering-fazalullah-other-terrorists-not-govt-policy/
-------------
Myanmar Buddhists threaten death to Muslims in Mandalay unrest
Jul 5, 2014
MANDALAY, Myanmar, July 4 (Reuters) - Myanmar police cordoned off Mandalay's Muslim neighbourhood as hundreds of Buddhists wielding knives, swords and bamboo poles roamed the city on Friday, following communal riots that killed two people earlier in the week.
Inter-religious violence has flared throughout the country over the past two years, threatening to undermine political reforms initiated by the quasi-civilian government of President Thein Sein, which took office in 2011 following 49 years of repressive military rule.
At least 240 people have been killed and more than 140,000 displaced since June 2012. Most of the victims have been members of Myanmar's Muslim minority, estimated to be about 5 percent of the population.
Full report at:
http://www.trust.org/item/20140704102840-etpuv/?source=jtHeadlineStory
-------------
Chinese curbs on Ramadan fasting spark huge protests
Jul 5, 2014
Saudis and expatriates have slammed the Chinese government's ban on Muslims in the Xinjiang region from fasting in Ramadan and praying at mosques, as a violation of human rights.
They urged Saudi Arabia and other Muslim countries to take political and economic action against China for its oppressive policy. They also called for a boycott of Chinese products.
The 57-member Organization of Islamic Cooperation (OIC), meanwhile, said it has contacted the Chinese government to discuss the issue.
"We are waiting for a reply from China," an informed source told Arab News.
According to press reports, the Chinese authorities across the country's northwest region of Xinjiang have banned Muslim students and civil servants from taking part in all "religious activities" during Ramadan.
Full report at:
http://www.arabnews.com/news/596911
-------------
Bigots are biggest threat to Uygur culture
Jul 5, 2014
The concussions created by the deadly riots in 2009 that left nearly 200 people dead in Urumqi, capital of the Xinjiang Uygur autonomous region in northwestern China, have not fully healed even in five years.
But prejudiced Western critics have never stopped challenging the Chinese government's commitment to stabilizing and developing the country's western region. One of their persistent accusations against the government's Xinjiang policy is that the crackdown on terrorism and religious extremism is eradicating traditional Uygur culture in the autonomous region, largely inhabited by ethnic Uygurs.
That logic is fallacious to say the least. It is the terrorists and extremists who are forcing the time-honored Uygur culture toward extinction. For example, Uygurs in southern Xinjiang may have to give up singing, dancing and painting, all of which they have historically excelled in, because some extremists have branded these art forms "non-Islamic" and threatened to ban them.
Full report at:
http://usa.chinadaily.com.cn/opinion/2014-07/05/content_17649785.htm
-------------
Over 400 oil tankers torched by Taliban in Kabul outskirts
Jul 5, 2014
KABUL: Taliban militants set fire to over 400 oil tankers, which they claimed were supplying foreign troops in Afghanistan, in an attack on the outskirts of Kabul, officials said Saturday.
The fire triggered by a bomb set ablaze tankers waiting to enter the city in a parking lot west of the Afghan capital overnight.
"At around 10:30 pm last night, hundreds of fuel tankers belonging to private companies caught fire," Hashmat Stanikzai, Kabul police spokesman told AFP. "No one can come close to them since the fire is still raging at the scene," Stanikzai said.
No casualties were reported as fire fighters tried to control the fire in the morning, he added.
"I was sleeping in my truck, when I heard three big bangs. After that I saw the fuel trucks exploding one after the other. I fled the area immediately," Janat Gul, a truck driver told AFP.
Full report at:
http://www.thenews.com.pk/article-152861-Over-400-oil-tankers-torched-by-Taliban-in-Kabul-outskirts
-------------
3 Hizb-ut Tahrir members held in Dhaka
Jul 5, 2014
Three active members of the banned Islamist outfit Hizb-ut Tahrir, Bangladesh have been arrested in the capital's Badda area on Friday afternoon.
The detainees are Azizur Rahman Nayan, 29, Andalib Rahman Rajon, 25, and Nazmul Huda.
Inspector MA Jalil, officer-in-charge of Badda police station told the Dhaka Tribune: "Police held the Hizb-ut-Tahrir members from near Hajipara Jam-e-Mosque after the Jumm'a prayer while they were distributing leaflets of the banned organisation among the devotees."
The Bangladesh chapter of Hizb-ut-Tahrir was banned on October 22, 2010 for its anti-state subversive activities.
However, the banned outfit remains busy with circulating provocative leaflets continuously to "establish Khilafat".
Since the organisation has been banned, around 1000 activists have been arrested, however most of them are now out on bail.
Hizb-ut-Tahrir is an international Islamist political party founded in Jerusalem in 1953.
http://www.dhakatribune.com/bangladesh/2014/jul/04/3-hizb-ut-tahrir-members-held-capital#sthash.Guyc584e.dpuf
----------
Africa
Nigeria: Troops Arrest Three More Female B/Haram Members
5 JULY 2014
Nigerian troops have uncovered more suspected female members of the deadly Islamic Sect, Boko Haram, with three of them already taken into custody.
The Defence Headquarters said in Abuja, yesterday that those arrested were: Hafsat Usman Bako, Zainab Idris and Aisha Abubakar.
A statement by Col. Onyema Nwachukwu, on behalf of the Director of Defence Information, Major-General Chris Olukolade, said that the female suspects were intercepted on their way to Madagali from where they were to transit to the Sambisa forest to reunite with their cohorts.
The Defence Headquarters said that their arrests followed intensive investigation by security agents, in the aftermath of the failed suicide bombing attempt on a military facility by a female terrorist who blew herself up in Gombe recently.
It said that the suspects have been secretly recruiting ladies into the female wing of the terrorists group.
Full report at:
http://allafrica.com/stories/201407050023.html?aa_source=mf-hdlns
-----------
Suicide car bombing kills three near Somali parliament
Jul 5, 2014
At least three Somali soldiers were killed on Saturday in a suicide car bombing close to the parliament in Mogadishu, a security official said.
Some five people were wounded, Mr. Mohamed Hassan said.
http://www.thehindu.com/news/international/suicide-car-bombing-kills-three-near-somali-parliament/article6180376.ece
------------
Al Shabaab's Foreign Operations Arm Is Busy Recruiting in Kenya
5 JULY 2014
For months, the Kenyan security forces have been rounding up ethnic Somalis in Nairobi. This is part of a security operation (Operation Usalama Watch) which presumes that terrorists in Kenya are solely of Somali origin.
This presumption is wrong and is a clear manifestation of the decades-long discrimination of Somalis and other Muslims in the country. The discrimination plays into the hands of Al-Shabaab, which uses stories of Muslim oppression in Kenya to recruit members and justify attacks in the country.
Al-Shabaab's foreign operations arm is heavily populated by members of non-Somali ethnic background; this makes it operationally easier to insert these individuals into Al-Shabaab targets in neighbouring countries.
Full report at:
http://allafrica.com/stories/201407041187.html?viewall=1
----------
Tripoli's Omar Mukhtar Street closed after kidnapping of Sufi imam
05 July, 2014
Tripoli:The abduction of a Sufi imam in central Tripoli today sparked small but angry protests this afternoon as neighbours closed one of the capital's main streets with burnt tyres.
Imam Tarek Abbas was kidnapped in front of his home, close to the Abu Manjel mosque where he preached on Omar Mukhtar Street, this morning. Protestors on the street said they had been told by Abbas' son that the imam had been kidnapped while returning from Fajr prayers.
They said the CCTV cameras of a nearby hotel had caught some of the kidnapping and had shown a number of men bundling Abbas into a car. They accused men from Mitiga airbase of being behind the abduction.
Full report at:
http://www.libyaherald.com/2014/07/04/tripolis-omar-mukhtar-street-closed-after-kidnapping-of-sufi-imam/#axzz36ai88M00
----------
Salafists targeted in Benghazi; militants blamed
05 July, 2014
Benghazi: A campaign against Salafist preachers is taking place in Benghazi according to security observers there.
Three have now been murdered since the start of Ramadan. All were well known in Benghazi's Sidi Hussein area.
Sheikh Mohammed Farjani, the imam at the Al-Uzu Mosque in Benghazi's Leithi district, was murdered in Sidi Hussein on Wednesday evening. His body was taken to Benghazi Medical Centre (BMC), a source at the hospital has said.
His killing follows closely on that of Mabruk Mahmoudi, another Salafist imam, who was shot earlier the same day by unknown gunmen outside the mosque where he preached in Sidi Hussein. He later died at the BMC.
Full report at:
http://www.libyaherald.com/2014/07/04/salafists-targeted-in-benghazi-militants-blamed/#ixzz36amPVXWh
----------
North America
United States troops follow Sharia in Gulf
Agencies | July 05, 2014
Washington: In a strange revelation, a US website has repored that non-Muslim United States soldiers, who are stationed in the Muslim world, are being subjected to what some might call indoctrination.
A report in the freedompress.com said that cultural advisers have spent the weeks conducting briefings on Ramzan to educate Americans about the holy month. Ali Hassan briefed about 150 personnel on Tuesday about Islam, the lunar calendar and customs and traditions during Ramzan, the website reported. This can be interpreted as "proselytising" to non Muslims, it said.
American service men and women are expected to not do anything that may potentially rock the boat. They can't smoke or drink alcohol, drink coffee, or eat during regular daylight hours off base.
Full report at:
http://www.deccanchronicle.com/140705/world-middle-east/article/united-states-troops-follow-sharia-gulf
------------
US Local Muslim Footballers Prefer Fasting
July 05, 2014
DEARBORN – Amid increasing debates on Ramadan fasting and Muslim players in different international teams competing for their countries in the ongoing World Cup Brazil 2014, local Muslim players from Dearborn have asserted that fasting helps them to focus more on their games.
"It makes you more durable — you can play in any kind of condition," Kamal Saeed, a Dearborn-based footballer told CBS Detroit on Monday, June 30.
"You don't need water, you can get through stuff. It allows you to be clutch — you can do more stuff."
Muslims around the world started fasting this week the holy month of Ramadan.
In Ramadan, adult Muslims, save the sick and those traveling, abstain from food, drink, smoking and sex between dawn and sunset.
Full report at:
http://www.onislam.net/english/news/americas/474497-us-local-muslim-footballers-prefer-fasting.html
------------
Muslims say slaughterhouse proposal violates religious law
July 05, 2014
Muslim rights advocates in California are frustrated by a proposed state regulation on some slaughterhouses that would reportedly violate some people's religious beliefs.
The California Department of Food and Agriculture is considering increasing food safety regulations that would in part order custom slaughterhouses to first stun animals before a nonemployee can come in and cut the animal's throat.
"In general, Muslims aren't supposed to eat meat that was stunned because Halal requirements prohibit stunning," said Zahra Billoo, the Bay Area's executive director for the Council on American-Islamic Relations.
Many Muslims believe for an animal to be slaughtered in accordance with the Quran, it must be killed by cutting its throat with a long sharp blade, causing it to bleed to death. The animal cannot be rendered unconscious or killed beforehand, the council wrote in a letter to the Department of Food and Agriculture after notice was given about the proposed regulation.
Full report at:
http://www.sfgate.com/news/article/Muslims-say-slaughterhouse-proposal-violates-5599326.php
------------
Coming out: Growing up gay and Muslim in America
July 05, 2014
NEW YORK — Born in the suburbs of Seattle to a close-knit middle-class American family, Omar said he felt pressure to live up to his family's expectations, as a man and as a Muslim.
At UCLA, he attended prayers and participated in the Muslim Student Association. But in secret, he started dating men. Unable to reconcile being gay with his faith, he stepped away from Islam.
"I did try to divorce myself from Islam because I was gay," says Omar, who asked to be identified by only his first name. "Growing up, I was taught that being gay was not OK … You were completely excommunicated or lived on the fringes or had to come up with a lot of solutions that weren't honest."
Full report at:
http://america.aljazeera.com/watch/shows/america-tonight/articles/2014/7/3/coming-out-gay-andmusliminamerica.html
------------
Mideast
Only Putschist Want President above Politics: Turkish PM
Jul 5, 2014
There is nothing wrong with having a president involved in politics and those in favour of a "president above politics" simply want Turkey to be ruled by coup d'états, Prime Minister Recep Tayyip Erdoğan has said.
Erdoğan, the ruling Justice and Development Party's (AKP) presidential candidate, said opposition parties were actually seeking a president who will "represent the state, like they have always done in the past," rather than a president representing "the people."
"Saying, 'let the president be above politics' actually means, 'Let the president be above the people and above the people's choices, demands and will," he said, delivering a speech at a fast-breaking dinner hosted by the Anatolian Tiger Businessmen's Association (ASKON) at Istanbul's Haliç Congress Centre.
"What does having a president above politics or outside of politics mean? Until today, this has always been said by putschists. Today, it is only those who long for a coup who say this. My brothers and sisters, one should ask them, 'Is politics something to be embarrassed about?'" Erdoğan added.
Full report at:
http://www.hurriyetdailynews.com/only-putschists-want-president-above-politics--turkish-pm.aspx?pageID=238&nID=68705&NewsCatID=338
-------------
Militants attack Yemen-Saudi border post, five dead
Press Trust of India | Sanna | July 5, 2014
Officials say militants have targeted a border post between Yemen and Saudi Arabia in an attack that left two soldiers and three of the gunmen dead.
Yemen's official news agency says a suicide car bomber struck the Yemeni side of the border post in the al-Wadia area on Friday, killing one Yemeni soldier and wounding another.
SABA says other gunmen then fled in two cars toward Saudi Arabia after border guards opened fire.
Saudi Interior Ministry spokesman Maj Gen Mansour al-Turki says that Saudi guards exchanged fire with gunmen in the same area, killing three of them and arresting another. He says a Saudi border guard commander was killed.
SABA linked the attack to al-Qaida, but weapons smugglers and human traffickers also are active in the area.
http://indianexpress.com/article/world/middle-east-africa/militants-attack-yemen-saudi-border-post/
------------
Syrian refugees in Turkey start to work in service sector
Jul 5, 2014
As Turkey keeps receiving more Arab tourists, Syrian immigrants in the country, whose number have exceeded 1 million, have started to show up in the service sector, particularly tourism, thanks to their language abilities.
Small shops in Ortaköy, one of the main tourist attractions in Istanbul, for example, are employing Syrians to give a boost to trade. Shopkeepers at the landmark district by the Bosphorus estimate the number of Syrians employed in the small area to be around 250.
Many people who fled from the civil war in the neighboring country have spread across the country as the camps in Turkey's south fail to meet all of their needs.
Syrian immigrants were mostly employed at manufacturing industries, small producers and agriculture initially, mainly because they requested moderate salaries. Most are not registered and do not hold a residence permit.
Full report at:
http://www.hurriyetdailynews.com/syrian-refugees-in-turkey-start-to-work-in-service-sector.aspx?pageID=238&nID=68699&NewsCatID=347
-------------
Liberman: Not all terrorist targets can be destroyed from the air
Jul 5, 2014
Foreign Minister Avigdor Liberman visited Sderot on Friday where he made statements demanding action against Hamas and terror saying, "Not all terrorist targets can be destroyed from the air. Most of the rocket production sites are under schools, hospitals and mosques."
"We are only postponing a problem instead of dealing with it," he said and that Israel could not accept a reality in which Hamas controls what happens while Israel continues to respond after the fact.
Liberman said that the continued threat posed by hundreds of missiles in Gaza was unsustainable, not only for the residents of Sderot, but also Tel Aviv and the country's center.
Full report at:
http://www.jpost.com/Diplomacy-and-Politics/Liberman-Not-all-terrorist-targets-can-be-destroyed-from-the-air-361533
-------------
Egypt mediating Gaza cease-fire: Hamas
Jul 5, 2014
GAZA CITY, Palestine: Egypt was on Friday mediating a potential cease-fire between Israel and Hamas, which controls the Gaza Strip, after a flare-up of violence across the border.
"There are continuing Egyptian efforts to return calm to the Gaza Strip, but no agreement has been reached yet," a Hamas official told AFP, on condition of anonymity.
Hamas "told the Egyptian side they do not want an escalation," the official added, but gave no further details.
Bassem Naim, a senior Hamas official in Gaza, earlier told AFP: "Hamas is not interested in an escalation or war in Gaza, but at the same time it is not possible for it to remain silent on the continued aggression against Gaza and the West Bank."
Tensions have risen around the Palestinian territory in the past few weeks, with militant rocket fire repeatedly hitting southern Israel, and dozens of retaliatory air strikes against Gaza.
Full report at:
http://www.arabnews.com/news/596816
-------------
India
Ramzan Food In India Seeing An Arab Spring
Vikram Doctor, ET Bureau | Jul 5, 2014
Ramzan during the rainy season may not tempt many to leave home to have a street side Iftar meal. But if you do venture out — and even many non-Muslims have started going out at least once in the season to sample the food — then you might notice a relatively new trend among the food stalls. Among the usual sellers of Kebabs, Tandoori Chicken, Mutton Rolls, Khichada or Haleem and other specialties, a few now advertise themselves as "Arab" restaurants.
This is particularly evident in South India, in Kerala and Tamil Nadu, but you find them in Mumbai as well. How Arab these restaurants really are is debatable — many of them take on the name with just a Shawarma grill and a chicken rotisserie. At most, they might also add a vaguely hummus-like concoction of chickpeas and yoghurt Raita, renamed labneh sauce.
Most of them have been started by Indians with connections in the Gulf, whose travels back and forth have led to the idea that there is a market for mostly grilled meat dishes that are well priced and convenient to order.
Full report at:
http://timesofindia.indiatimes.com/india/Ramzan-food-in-India-seeing-an-Arab-Spring/articleshow/37828831.cms
-------------
Cheering crowd welcomes Indian nurses freed from Iraq as they walk out of Kochi airport
July 5, 2014
The 46 Indian nurses, who were kidnapped by Sunni militants in Iraq, were released in a "dramatic development" on Friday. The Special Air India flight carrying 46 Indian nurses have reached Kochi where Kerala Chief Minister Oommen Chandy with nurses' family members have reached to welcome them.
Here are the highlights:
# Medical ambulances on standby to administer any medical help to the nurses if required
# Ecstatic frenzy in Kochi as freed Indian nurses walk out of airport.
# Air India plane carrying 46 Indian nurses lands in Kochi, Kerala CM Ommen Chandy along with family members welcome freed nurses and others.
# Family members and relatives have been given special passes to receive the nurses.
# Special Air India flight carrying 46 Indian nurses and 137 others takes off from Mumabi for Kochi.
Full report at:
http://indianexpress.com/article/india/india-others/live-indian-nurses-freed-in-iraq-reach-kochi-oommen-chandy-family-welcome-them-at-airport/99/
-------------
Language of bygone era of no use: India to Pak on J&K
Jul 5, 2014
Making it clear that Jammu and Kashmir is and will be its integral part, India on Friday hit back at Pakistan's claim of it being a "disputed territory" and said the language of a bygone era does not help anyone.
India said Prime Minister Narendra Modi and his Pakistani counterpart Nawaz Sharif have adopted a "forward-looking approach".
"It does not pay to speak the language of the past. It does not pay to look into the rear-view mirror. Prime Minister (Modi) and Prime Minister Nawaz Sharif have adopted a forward-looking approach and it is on that approach that we are focused on. The language of a bygone era does not help anyone," External Affairs Ministry spokesperson told reporters.
He was replying to Pakistan needling India on Thursday ahead of Modi's first visit to Jammu and Kashmir as Prime Minister by harping that Kashmir was a "disputed territory".
Full report at:
http://indianexpress.com/article/india/india-others/language-of-bygone-era-of-no-use-india-to-pak-on-jk/
-------------
Record number of Pakistanis visited India last year
Himanshi Dhawan,TNN | Jul 5, 2014
NEW DELHI: In a year where India-Pak relations nose-dived because of frequent LoC skirmishes and the beheading of two Indian soldiers, tourists from Pakistan appeared undeterred. Travel from Pakistan rose to a six-year high, touching 1.11 lakh tourists in 2013. This is the highest since 2007 when India received 1.06 lakh tourists from Pakistan.
Latest data on foreign tourist arrivals from the tourism ministry reveals that arrivals from Pakistan registered a 86.80% growth since 2012, increasing from 59,846 to 1.11 lakh in 2013. This is the highest growth among the top 45 source countries for India. Incidentally, there has been no promotion or liberalization of visa norms with Pakistan. In fact, in 2012, the two countries had signed a liberalized visa agreement but it was not rolled out because of ceasefire violations across the LoC and killings on the border.
Full report at:
http://timesofindia.indiatimes.com/india/Record-number-of-Pakistanis-visited-India-last-year/articleshow/37801509.cms
-------------
Desi flights' ladder checks irk Afghanistan
Saurabh Sinha,TNN | Jul 5, 2014
NEW DELHI: Security concerns over flying in and out of Kabul have become a diplomatic issue between India and Afghanistan. Indian carriers, Air India and SpiceJet, conduct "ladder point" security checks on passengers boarding planes at Kabul — meaning flyers are frisked and checked with metal detectors just before they board aircraft even after clearing checks at the terminal building.
Afghanistan is learnt to have objected to this practice of desi carriers — which is happening at the insistence of Indian aviation security wing because of heightened fears in the strife-torn country. "Afghanistan sees this is as no confidence by India in their airport security and has conveyed this feeling to the latter. But we cannot and will not take any chances with the lives of our passengers and aircraft. The ladder point security has continued in Kabul for people flying Indian airlines," said a source.
Full report at:
http://timesofindia.indiatimes.com/india/Desi-flights-ladder-checks-irk-Afghanistan/articleshow/37809884.cms
-------------
Southeast Asia
Malaysian Ministry to raise youths' awareness on militant activities
Jul 5, 2014
PASIR MAS, July 5 ― The Ministry of Youth and Sports (KBS) will implement a programme specifically to create awareness among the youths in the country on the dangers of militant activities.
Its minister, Khairy Jamaluddin said the ministry would implement the programme by adopting a moderate approach on the youths so that they would not be easily influenced by undesired elements.
"We will always have the programme to remind the youths, and our method is a moderate one and not through going to the Middle East to fight because we feel this is not the right way," he told reporters after attending a ceremony to distribute 'zakat' or tithes and breaking of the fast at Sekolah Menengah Kebangsaan Jias, here last night.
Khairy, who is also the Umno Youth chief, said the youths were advised against being involved with militant activities, and should not emulate this group abroad.
The involvement of youths in such militant activities as carried out by the militant group known as the Islamic State of Iraq and the Levant (ISIL) should not be emulated, he added.
Khairy said the youths should also not emulate the action taken by several Malaysians who had gone to Iraq and Syria to fight alongside the ISIL.
Full report at:
http://www.themalaymailonline.com/malaysia/article/ministry-to-raise-youths-awareness-on-militant-activities-khairy-says#sthash.B3y3WXXI.dpuf
-------------
Proposal for unified worship venues not raised, faith panel members say
Jul 5, 2014
KUALA LUMPUR, July 5 ― Plans mooted by a minister to build common venues for believers of non-Islamic faiths were not discussed at the inaugural meeting of a key committee on non-Muslim houses of worship this week, members of the board said.
Responding to Federal Territories Minister Datuk Seri Tengku Adnan Tengku Mansor remark that the government may consider the policy for new property developments, the Council of Churches Malaysia said the topics was not even broached when the advisory committee met for the first time on Monday.
"These were all his (the minister's) ideas. It was not discussed by the committee at the meeting, but I guess now they will have to discuss it," CCM general secretary Rev Dr Hermen Shastri told The Malay Mail Online when contacted.
Full report at:
http://www.themalaymailonline.com/malaysia/article/proposal-for-unified-worship-venues-not-raised-faith-panel-members-say#sthash.5vFU86iy.dpuf
-------------
Hudud penalties needed to safeguard Islam, Jais says in sermon
Jul 5, 2014
KUALA LUMPUR — Criminal penalties prescribed by hudud law such as chopping off hands and stoning to death are needed to safeguard Islamic principles and way of life, the Selangor Islamic Religious Department (Jais) said today.
In its weekly Friday sermon, Jais listed down the five basic tenets of Islamic principles — guarding one's faith, life, mind, dignity/lineage and property, saying such forms of punishment were just in defence of Islam.
"Every thing that destroys our religion, faith or apostasy comes in many forms which have to be dealt with.
"There are many schools of thought which can deviate us from our faith such as secularism, pluralism, liberalism and many other deviant teachings which can destroy the Muslim faith," said the sermon, also available on the Jais website.
Full report at:
http://www.themalaymailonline.com/malaysia/article/hudud-penalties-needed-to-safeguard-islam-jais-says-in-sermon#sthash.P6vGmu5x.dpuf
-------------
Indonesia Risks Suharto-Era Return as Prabowo Rises
Jul 5, 2014
Sixteen years after the overthrow of the dictator Suharto, Indonesia is turning back toward that regime as his former son-in-law pulls level in the race to run the world's third-largest democracy.
Prabowo Subianto, one of Suharto's youngest generals, who was fired from his post in the army in 1998 for his role in the abduction and torture of pro-democracy activists, has overtaken Jakarta Governor Joko Widodo in opinion polls less than a week before the July 9 election.
Joko, known as Jokowi, has squandered a lead of more than 30 points with a disorganized campaign that raised Prabowo's appeal as a potential strong leader.
Full report at:
http://www.thejakartaglobe.com/news/indonesia-risks-suharto-era-rerun-prabowo-rises/
------------
URL: https://www.newageislam.com/islamic-world-news/new-age-islam-news-bureau/british-man-calls-for--black-flag-of-islam--over-buckingham-palace/d/97924