New Age Islam News Bureau
29 Jun 2018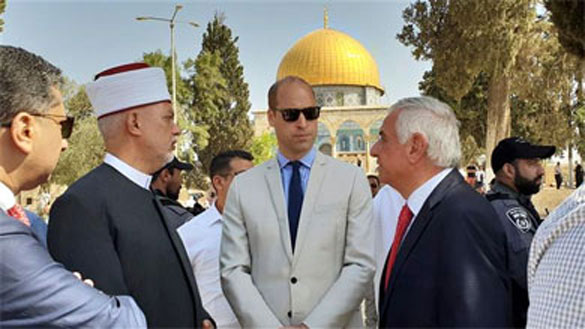 Prince William visits the al-Aqsa Mosque compound in Jerusalem al-Quds as he ends a landmark Middle East tour. William wandered through the al-Aqsa compound accompanied by a large Israeli security detail and members of the Jordanian-run religious trust that administers it.
(Source: AFP)
-----
• Britain's Prince William Tours Al-Aqsa Compound in Jerusalem Al-Quds
• Yogi Wears Saffron Turban, Just Like the Last Prophet of Islam: RSS Leader
• No Place for Mandsaur Rape Accused in Community Graveyards: Muslim Leaders
• Pakistan Lifts Ban on Extremist Group, Ahle Sunnat Wal Jamaat, Hours before Being Placed On 'Grey List' By FATF
• Muslim Locals Seek Tunis Synagogue Revival to Honour Once Vibrant Jewish Quarter
• US Won't Tolerate Pakistan Becoming Haven for Terrorists: Nikki Haley
Europe
• Britain's Prince William Tours Al-Aqsa Compound In Jerusalem Al-Quds
• Home Secretary Javid Hits Back At Those Questioning His Faith
• Far-Right Cell Plotted Attack on French Muslims, Authorities Say
• France charges 10 suspects over plot to attack Muslims
• Court charges French multinational with crimes in Syria
• 13 warplanes, 1,140 Russian troopers withdrawn from Syria over past few days: Putin
• EU agrees to allocate €3 billion for refugees in Turkey
--------
India
• Yogi Wears Saffron Turban, Just Like the Last Prophet of Islam: RSS Leader
• No Place for Mandsaur Rape Accused in Community Graveyards: Muslim Leaders
• 'For Sale' Sign Comes up on Houses of Muslims in UP Village after Alleged Police Harassment
• Education System Needs To Be Improved To Bring Muslims into Mainstream
• Jammu business group wants Rohingyas relocated
• Plot to kill Shujaat Bukhari hatched in Pakistan, Lashkar-e-Toiba behind it: J&K Police
• 26/11 Mumbai terror attack case: Pakistan court issues notice to interior ministry to produce Indian witnesses
--------
Pakistan
• Pakistan Lifts Ban on Extremist Group, Ahle Sunnat Wal Jamaat, Hours before • Being Placed On 'Grey List' By FATF
• Failure to Choke Terror Funds Lands Pakistan in Serious Trouble
• Pakistan put on FATF grey list despite anti-terror efforts
• Controversy erupts over Imran's visit to Pakpattan shrine
• Bilawal says 'censored democracy' not to be accepted
• Zainab case: Division bench to decide on public hanging
--------
Africa
• Muslim Locals Seek Tunis Synagogue Revival to Honour Once Vibrant Jewish Quarter
• Extremists Target African Converts To Islam for Recruitment
• Haftar's forces say they have captured Libyan city of Derna
• Nigerian army rescues 33 hostages from Boko Haram
--------
North America
• US Won't Tolerate Pakistan Becoming Haven For Terrorists: Nikki Haley
• Muslims Are Not Welcome In America, and That Is Exactly Who We Are
• Trump's Anti-Muslim Pick for IOM Head Could Be First American Rejected in Decades
• US, Turkey can have 'more productive' talk: Pompeo
--------
Southeast Asia
• Indonesia Plans Crackdown on Condemned Cleric's Militant Network
• Islamists Fail to Sway Regional Indonesian Elections
• Indonesia denies 'secret talks' with Israel after entry ban lifted
• Indonesia Commits $2m in Aid to Support Capacity Building in Palestine
• Malaysia withdrawing troops from Saudi-led military coalition: Defense minister
• Grandpa Mahathir Is In Town to Exchange Power Secrets with Jokowi
--------
Arab World
• Iraq's Abadi Orders Immediate Executions of ISIS Militants on Death Row
• Army Grants Amnesty to 1,000 Militants in Dara'a
• 22 civilians killed in air strikes on Southern Syria
• At The Hague, UAE demands that Qatar must stop supporting terror
• Syrian army takes key town amid new advances in southwest
• Ministry: 10 suspected Daesh members killed in Egypt
• Bloodiest day yet in south Syria offensive
• Civilians Rise against Terrorist Groups in Idlib
• Syrian Army Repels Terrorists' Attack in Quneitr
• Fresh Tensions Reported between US-Backed Militants, Civilians in Deir Ezzur
• 12-hour ceasefire in Syria's Dara agreed upon starting at midnight
--------
Mideast
• Tehran's Ties with Al-Qaeda, Extremist Salafist Groups Uncovered
• Top Houthi Leader Killed, While 70 Militias Killed In Fighting With Yemeni Army
• Arab States' Intel Heads, Mossad Chief Hold Secret Meeting: Report
• Pilgrims to Yemen non-violent radicals
• Iran says intelligence sharing key to war on terror
• Zarif to Pompeo: US, not Iran, squandering own people's resources
• Israel confident US won't ease nuclear limits on Saudi Arabia
• Israeli tank fire kills Palestinian teen near Gaza fence
• UN tests prove Houthi missiles fired at Saudi Arabia were Iranian manufactured
--------
South Asia
• Airstrikes Target Taliban Gathering In Faryab Province
• Deadly Blast Rips through the Gathering of Youths in Logar Province
• UN, Bangladesh start joint ID verification of Rohingya refugees
• Afghanistan's only non-Muslim candidate vows to fight for justice for all
• Suspect in Bangladeshi Publisher's Murder Shot Dead in 'Crossfire,' Police Say
• Afghan Air Force continues to add new capabilities, says Gen. Bunch
Compiled by New Age Islam News Bureau
URL: https://www.newageislam.com/islamic-world-news/britains-prince-william-tours-al/d/115682
--------
Britain's Prince William tours al-Aqsa compound in Jerusalem al-Quds
Jun 28, 2018
Prince William visits the al-Aqsa Mosque compound in Jerusalem al-Quds as he ends a landmark Middle East tour. William wandered through the al-Aqsa compound accompanied by a large Israeli security detail and members of the Jordanian-run religious trust that administers it.
http://www.presstv.com/Detail/2018/06/28/566373/Britain-Prince-William-alAqsa-Mosque-compound-Jerusalem
--------
Yogi Wears Saffron Turban, Just Like the Last Prophet of Islam: RSS Leader
Arshad Afzal Khan
Jun 28, 2018
AYODHYA: Senior RSS leader Indresh Kumar said here on Thursday that Uttar Pradesh chief minister Yogi Adityanath wears saffron turban, just like the last prophet of Islam. At an Eid Milan organised by the RSS affiliate Muslim Rashtriya Manch here, when he was asked about Yogi's refusal to wear a skull camp offered to him at Kabir's shrine in Maghar, convenor of Muslim Rashtriya Manch and senior RSS leader Indresh Kumar said "the last Prophet of Islam Hazrat Mohammad used to sport "Zaafrani"-coloured turban which we call "Kesariya" (saffron) and Yogi ji wears the same saffron turban."
"Yogi ji wears saffron turban and he is on the path of the 'Rasool' (Prophet) and the Maulanas and imams have left the path of Rasool, therefore, there is much misconception in the country about white skull caps," said Kumar, who is also the convener of Muslim Rashtriya Manch.
"According to Islam, there were one 1.24 Lakh Prophets and among them one was Lord Rama. Just like the holiest places of Mecca and Medina, there is only one birth place of Lord Rama also. Therefore, Muslim community should support the construction of Ram Temple in Ayodhya."
Talking about the Ram Temple issue, Kumar said that all stakeholders in Ayodhya Temple case should show restrain and patience, otherwise it could lead to communal riots.
https://timesofindia.indiatimes.com/city/lucknow/yogi-wears-saffron-turban-just-like-the-last-prophet-of-islam-rss-leader/articleshow/64785028.cms
--------
No place for Mandsaur rape accused in community graveyards: Muslim leaders
Salil Mekaad
Jun 28, 2018
INDORE: A day after the seven-year-old girl was brutally raped in Mandsaur, Muslim community leaders on Thursday disowned the accused and said his body will not be allowed to be buried in any of the community burial grounds in the district.
"There is no place for such demon in the community. He should be hanged for his actions," Waqf Anjuman Islam Committee Sadar Mohd Yunus Sheikh told reporters, after leading a delegation to submit a memorandum to Mandsaur SP Manoj Singh.
Various Muslim organisations demanded a death sentence to the accused, Irfan Mev alias Bhaiyyu through a speedy trial in a fast track court.
"Irfan's crime can't be pardoned. We have decided that we will not allow his body to be buried in any of the community burial grounds in the district," Sheikh said.
The Muslim leaders claimed that Irfan will not be offered Islamic prayers upon his death – Namaz-e-Janaja – and will be boycotted.
The move by Muslim leaders came close to the heels of Mandsaur lawyers deciding to refrain from representing Irfan in the court. The Mandsaur Bar Association took the decision to boycott Irfan and said that an army of 100 lawyers will appear on behalf of the victimized girl.
The girl was found brutally raped and with her throat slit in a secluded area in Mandsaur on Wednesday, a day after she went missing from the school. Police had arrested Irfan on basis of the CCTV grabs showing him escorting the girl away from the school. https://timesofindia.indiatimes.com/city/indore/no-place-for-mandsaur-rape-accused-in-kabristan-muslim-leaders/articleshow/64782655.cms
--------
Pakistan Lifts Ban on Extremist Group, Ahle Sunnat Wal Jamaat, Hours before Being Placed On 'Grey List' By FATF
Jun 28, 2018
ISLAMABAD: Pakistan has lifted a ban on a Sunni extremist outfit and unblocked assets of its chief, in a surprise decision hours before the country was placed on the 'grey list' by the Financial Action Task Force for failing to curb anti-terror financing. The National Counter-Terrorism Authority (NACTA) yesterday issued a notification to lift the ban on Ahle Sunnat Wal Jamaat (ASWJ) and unfreeze the assets of its chief Maulana Ahmed Ludhianvi, the Express Tribune reported.
The notification was issued on the recommendations of the Punjab province home department, the paper said.
Ludhianvi is the chief of ASWJ, a banned sectarian extremist group, formerly known as Sipah-e-Sahaba. He became the group's chief after the killing of his predecessor Ali Sher Haidri in a 2009 ambush.
In 1990s, the Sipah-e-Sahaba was actively involved in a number of high profile attacks on scholars, mosques and gatherings of the minority Shia community. The groups was banned by the military dictator General Pervez Musharraf in 2002. The group reemerged under the name of ASWJ.
The removal of the ban on the group comes as a surprise amid international pressure on Pakistan to dismantle terror sanctuaries on its soil.
Interestingly, the decision was made the same day Pakistan had committed to an ambitious 26-point action plan spanning a period of 15 months to avoid being blacklisted by the Financial Action Task Force, the paper said.
The plan envisages choking the financing of terrorist groups like ISIS, Haqqani network, Jamaat-ud Dawa and its affiliate FIF, LeT, JeM and persons affiliated with the Taliban.
Ludhianvi, who is also the joint secretary of Difa-e-Pakistan Council (DPC) whose central leadership includes Mumbai attack mastermind and JuD chief Hafiz Saeed, is now allowed to operate his bank accounts.
"He is also free to travel abroad as a ban on his movement has been lifted after this notification. He is also allowed to avail purchase and carry arms after securing licence from the competent authority," the paper said.
The computerised national identity card of Ludhianvi, who had been put on the Fourth Schedule, has also been unblocked and he is allowed to use it for sale and purchase of movable and immoveable properties, it added.
The Fourth Schedule is a section of the Anti-Terrorism Act under which someone who is suspected of terrorism is kept under observation and it is mandatory for him or her to register his or her attendance with the local police regularly.
A prominent ASWJ leader, Aurangzeb Farooqui, is contesting on a provincial as well as a National Assembly seat from Karachi in the July 25 elections.
https://timesofindia.indiatimes.com/world/pakistan/pakistan-lifts-ban-on-extremist-group-hours-before-being-placed-on-grey-list-by-fatf/articleshow/64780796.cms
--------
Muslim Locals Seek Tunis Synagogue Revival to Honour Once Vibrant Jewish Quarter
06/24/2018
Ben-Gacem estimates the cost of preserving the synagogue at about $60,000, including a library.
An unusual structure stands in the middle of the old town of Tunis: the Medina.The rounded top floor distinguishes it from the surrounding buildings. It is freshly painted, and a bright blue awning casts shade on a row of cafe tables outside.
Only the side entrance to the building – an old, faded teal-colored door with carvings of a Menorah (the golden six-branched ancient Hebrew lampstand) – hints to the structure's original purpose: a synagogue belonging to a long-forgotten Jewish neighborhood.28 synagogues once operated in the Medina of Tunis. Today, with no Jews longer living in the quarter, only two are left standing.The building housing the cafe in its basement has been vacant for 35 years, while the other was converted to a multipurpose training center operated by the Tunisian Women's Association.
But now locals are taking the initiative to restore the buildings to their former glory, turning them into a museum honoring the once-flourishing Jewish community.110,000 Jews lived in Tunisia prior to the country's independence from France in 1956. In the capital, one of five residents was Jewish. But hostile policies of the new government and later, backlash over Israel's military conflicts sparked waves of migration to Israel and France.Today some 1,500 Jews still live in Tunisia, roughly 300 of them in the capital city. The majority reside in Djerba, an island off the southern cost of Tunisia that is home to the oldest synagogue in Africa.The Jewish neighborhood in Tunis's Medina, El-Hara -- founded in the 13th century as a home for Jews from other Tunisian cities, Spain, Italy and the entire Mediterranean -- has become a faded memory.It was partially destroyed by the French colonial rule that said it required renovation, but push-back from the community and a lack of funds stalled the process before World War II left the neighborhood in shambles. With additional renovations post-independence and again in the 70's and 80's, El-Hara got swept up by a larger neighborhood, El-Hafsia.
But now locals are taking the initiative to restore the buildings to their former glory, turning them into a museum honoring the once-flourishing Jewish community.110,000 Jews lived in Tunisia prior to the country's independence from France in 1956. In the capital, one of five residents was Jewish. But hostile policies of the new government and later, backlash over Israel's military conflicts sparked waves of migration to Israel and France.Today some 1,500 Jews still live in Tunisia, roughly 300 of them in the capital city. The majority reside in Djerba, an island off the southern cost of Tunisia that is home to the oldest synagogue in Africa.The Jewish neighborhood in Tunis's Medina, El-Hara -- founded in the 13th century as a home for Jews from other Tunisian cities, Spain, Italy and the entire Mediterranean -- has become a faded memory.It was partially destroyed by the French colonial rule that said it required renovation, but push-back from the community and a lack of funds stalled the process before World War II left the neighborhood in shambles. With additional renovations post-independence and again in the 70's and 80's, El-Hara got swept up by a larger neighborhood, El-Hafsia.
"It was the first time I realized the richness of the Jewish community here and of course I was very sad that it's not there anymore," she recalled.A guesthouse owner in her daily vocation, Ben-Gacem decided to commemorate that heritage as an integral part of the Medina history. She aims to create within the synagogue a permanent exhibition of Jewish life in the old city and turn it into a cultural space to debate gentrification trends there."In my guesthouse I often got visitors who are Tunisian Jews from El-Hara -- they just come to visit the place where they grew up or to check on a relative still in Tunisia. So I tell them about the project and their reactions are always positive. I put myself in their place: it would be nice to honor the way you grew up, the lifestyle of your childhood -- you don't want it to just disappear like that."Ben-Gacem estimates the cost of preserving the synagogue at about $60,000, including the cost of restoring and digitalizing the books discovered there to create a small library. Currently, the main hurdle is the lack of response from the Jewish community leaders, whose approval is required for the works to begin."I wrote an official letter to the Grand Rabbi of Tunis, hoping that he would reply, but he never did," notes Ben-Gacem with disappointment."I tried a few more times through Tunisian Jewish friends, but I'm under the impression that the community officials prefer not to do anything with this space."Nevertheless, the locals remain hopeful. "This building represents a big history," Agrebi agrees. "We can't just be lazy and neglect this part of our community. The least we can do is to fix it, even if the Jewish community doesn't maintain it. It is in both of our communities' interests that this building be maintained. If this structure just decays, it would be a major loss."
https://www.i24news.tv/en/news/international/africa/177862-180623-synagogues-in-tunis-from-28-to-2
--------
US won't tolerate Pakistan becoming haven for terrorists: Nikki Haley
Jun 28, 2018
NEW DELHI: Pakistan becoming a haven for terror groups cannot be tolerated and the US has already delivered the message to Islamabad, US Ambassador to the UN Nikki Haley today said.
"We cannot turn a blind eye to those harbouring terrorists... Communicating to Pakistan that this cannot be tolerated," she said while delivering a lecture at a think tank here.
She also said that India and the US must be global leaders in the fight against terrorism adding "we can and must do more."
Touching upon a variety of issues, she said freedom of religion is very important and that a nation such as "ours can only be held together by tolerance."
On China, she said the country was important but noted that its expansion in the region has been a matter of concern for the US and many other countries as Beijing does not share democratic values.
Referring to Prime Minister Narendra Modi's recent remarks at the Shangri-la dialogue in Singapore to ensure freedom of navigation and stability in the Indo-Pacific, she said President Donald Trump also believes in this vision.
Haley said the US supports India's membership in Nuclear Suppliers Group as it is a nuclear state which is widely respected.
She was speaking at the Observer Research Foundation.
https://timesofindia.indiatimes.com/india/us-wont-tolerate-pakistan-becoming-haven-for-terrorists-nikki-haley/articleshow/64779984.cms
--------
Europe
Home Secretary Javid hits back at those questioning his faith
29th Jun 2018
Ahmed J Versi
Home Secretary, Sajid Javid, lashed out at those deriding him as "not Muslim enough" after he rejected claims by the Muslim Council of Britain that there was widespread Islamophobia in the Conservative Party.
Speaking at the Big Iftar Party in the House of Commons hosted by Speaker of the House of Commons, John Bercow, on June 5, Javid was furious that his faith was being challenged. He began his speech by reminding the audience that he was "the first Muslim Home Secretary to be invited" to the iftar.
He briefly talked about the significance of Ramadan. "Ramadan is much more than just fasting, it's about spiritual reflection, charity, good deeds, spending time with your loved ones, your family and friends."
Javid said his job is sometimes "not an easy place to be. Since becoming the Home Secretary I have been called a 'coconut', an 'Uncle Tom', and some much worse than that, and some people have even questioned whether I am really a Muslim, whether I am a Muslim or not. Some people say I'm too Muslim, others say I'm not Muslim enough. I just can't keep up."
"But there is one thing that I do know about being a Muslim in Great Britain, and that is, that I have the right to define myself, not Muslim extremists, not the far right. My relationship with God is my business as is yours," he continued.
He added that instead, "we should celebrate our different connections to such a generous and compassionate faith."
The self-described son of a bus driver from Bristol was born to Pakistani immigrants in Britain and was raised in a Muslim family. However, questions about his faith arose when he has said he does not practise Islam.
Addressing a church-hosted husting in his inaugural election campaign for Bromsgrove on April 22, 2010, Javid told the audience: "My own family's heritage is Muslim. Myself and my four brothers were brought up to believe in God, but I do not practise any religion. My wife is a practising Christian and the only religion practised in my house is Christianity."
http://muslimnews.co.uk/newspaper/home-news/home-secretary-javid-hits-back-questioning-faith/
--------
Far-Right Cell Plotted Attack on French Muslims, Authorities Say
By Adam Nossiter and Aurelien Breeden
June 28, 2018
They called themselves Operational Forces Action, a small, right-wing vigilante group from all over France that had planned to kill Muslim civilians, prosecutors say.
Police cracked the cell over the weekend, with prosecutors saying it had already begun testing explosives. The group was planning to kill veiled women, imams and recently released Islamist prisoners, and wanted to attack mosques and halal grocery stores, according to French news media.
Authorities charged the group — nine men and a woman — with terrorist conspiracy and pointed to its literature, which claimed that it was "fighting the Islamic peril." The group was led by a former police officer.
All 10 defendants were charged late Wednesday with terrorist conspiracy, while some of them were also charged with illegal possession of firearms and the manufacturing of explosives. Although it was unclear if an attack was imminent, prosecutors said they found 14 handguns, 22 rifles, thousands of cartridges, explosive materials and a guide called "homemade napalm" in their homes.
France suffered a series of devastating terrorist attacks in 2015 and 2016, and fears of Islamist terrorism still run strong. The news of the militant right-wing group was received in France with a mix of curiosity and some disbelief, and is sure to play into a long-running debate about the often-tense relations between Muslims and non-Muslims.
The French news media has resorted to identifying groups like the A.F.O as the "ultraright" to distinguish them from the political far-right, including the party of Marine Le Pen.
Ms. Le Pen, who was defeated in a runoff for the presidency last year, was quick to disavow the defendants. But Louis Aliot, a member of Parliament from Ms. Le Pen's party who is also her significant other, told the newspaper L'Opinion on Wednesday that "if groups are forming to defend themselves, it is first and foremost because the state is being soft on radical Islam."
A website that says it is associated with the vigilante group expressed a similar sentiment, mocking French security services for being "incapable of stopping the Islamic attacks."
The former police officer who led the group was once a poll watcher for Ms. Le Pen's party, but she said that did not mean it shared his ideas. His name, like those of the other defendants, was not released by the authorities.
Unlike in the United States, where the radical right regularly agitates and holds noisy and visible rallies, "in France they have very little visibility," said Jean-Yves Camus, a specialist of the far-right at the French Institute for International and Strategic Affairs, a think tank.
"It's very rare to have demonstrations by the ultraright," Mr. Camus said. "Everything is very much underground."
Six of the defendants remained in detention, while four had been released under judicial supervision.
The prosecutor's office said that the group had held meetings to define "objectives, and the actions that would allow them to attain these objectives." It was looking for weapons, had already tested some explosives, and was giving courses in "survivalism" and "combat."
The arrests were carried out in Corsica, the Paris suburbs, western France, and the South. Two of the suspects had minor traffic and drug offenses, prosecutors said, but otherwise they did not have arrest records.
French news media said that besides the retired police officer, the group included an ex-soldier, an ex-teacher, an artisan and a restaurant worker.
The website that says it is associated with Operational Forces Action, A.F.O. in French, is a farrago of threats and vague ideology. The home page calls the French internal security services "the haunt of Anti-France." It lists as adversaries "upholders of the Islamic system," as well as "sub-Saharan Africans," "humanists" and "Rights-of-Man types." Jews are listed as "targets if the War of France breaks out."
A specialist in right-wing groups, Stéphane François of the National Center for Scientific Research in France, said A.F.O. was "not at all" well known in the constellation of cells on the extreme edges of far-right politics. Nonetheless, all the groups share some characteristics.
"We're really in the domain of identity here," said Mr. François, "tied to white European identity, French or regional, which must be defended in the face of the supposed Arab-Muslim invasion." He added that the groups were persuaded that Muslims would slowly "substitute themselves for the white race and European civilization."
Like Mr. Camus, Mr. François suggested that the threat from such groups was, for the moment, minimal. "These people are fairly clumsy and disorganized," he said. "For the moment, they are at an amateur level. The risk is that they organize themselves more seriously."
Antoine Martinez, a leader of a right-wing group called Volunteers for France that aims to "defend France's identity," said that some of its members, including the retired police officer, broke off to form A.F.O. last year over disagreements about how exactly that should be done.
"They probably considered that we were working within legality, and that might not have corresponded to their vision, and that's the reason that led to their exclusion," he said in an interview Thursday.
But the difference was in strategy, not ideology.
Full report at:
https://www.nytimes.com/2018/06/28/world/europe/france-far-right-plots-muslims.html
--------
France charges 10 suspects over plot to attack Muslims
June 29, 2018
PARIS : French authorities have charged 10 suspected far-right extremists in connection with an alleged plot to attack Muslims, a judicial source said Thursday. The nine men and one woman aged 32 to 69 were arrested in raids across France on Saturday.
They appeared before a judge on Wednesday evening and were charged with "criminal terrorist conspiracy", the source said. Several were also charged with violations of firearms laws and the manufacture or possession of explosive devices.
Police have linked the ten to a little-known group called Action des Forces Operationnelles (Operational Forces Action), which urges French people to combat Muslims, or what it calls "the enemy within". The suspects had an "ill-defined plan to commit a violent act targeting people of the Muslim faith", a source close to the investigation told AFP on Monday. Rifles, handguns and homemade grenades were found during the raids in the Paris area, the Mediterranean island of Corsica and the western Charentes-Maritimes region.
Prosecutors said in a statement Wednesday that 36 firearms and thousands of rounds of ammunition were seized, as well as items in one suspect's home that could be used in the manufacture of TATP explosives.
The suspects include a retired police officer, identified only as Guy S., who was the alleged leader of the group, according to a source close to the investigation. The group also includes a former soldier.
France remains on high alert following a wave of militant attacks which have killed more than 240 people since 2015.
Officials have urged people not to confuse the actions of radicalised individuals with those of France's estimated six million Muslims - but anti-Islamic violence is on the rise.
The "Guerre de France" (War for France) website of the shadowy Operational Forces Action depicts an apocalyptic battle scene under the Eiffel Tower, and claims to prepare "French citizen-soldiers for combat on national territory".
Full report at:
https://nation.com.pk/29-Jun-2018/france-charges-10-suspects-over-plot-to-attack-muslims
--------
Court charges French multinational with crimes in Syria
Jun 29, 2018
The French cement giant Lafarge has been charged with complicity in crimes against humanity and funding terrorists in war-torn Syria.
A panel of three judges in a Paris court ordered Lafarge on Thursday to pay 30 million euros ($35 million) as security deposit before a trial can open on the company's alleged crimes in Syria.
Right campaigners welcome the very fact that courts are beginning to recognize the role of the French company in spreading chaos.
Lafarge faces an array of charges for its conduct in Syria, including crimes against humanity, financing terrorist groups, including Daesh, and endangering the lives of former employees to keep its factory open in Syria's Jalabiya region.
The cement company is accused of paying nearly 13 million euros to Daesh and other terrorist groups to keep the Jalabiya plant running, long after other French companies and multinationals had pulled out of Syria due to the spread of militancy.
Eight Lafarge executives, including former CEO Bruno Laffont, have already been charged.
Investigators suspect that Lafarge had viewed the payments by its Syria subsidiary as a "tax" in exchange for which militants allowed free movement of the company's staff and goods inside the warzone. A source close to the probe said that there was also a suspicion that Lafarge paid cash to buy fuel and other raw materials, including fuel from suppliers close to Daesh.
Right group welcomed the court decision to charge the French giant. Sherpa, a French right advocacy and a plaintiff in the case, described the allegations against Lafarge as one of the most serious against a French company in years, saying that it was the first time that a parent company anywhere in the world had been charged with complicity in crimes against humanity.
The European Center for Constitutional and Human Rights (ECCHR) also hailed the decision as a historic milestone in recognizing the scope and seriousness of allegation against multinationals.
"The activities of Lafarge in Syria, in a context where extremely violent crimes had been committed – even right outside the factory – are a perfect illustration of how multinationals can feed conflicts," said Miriam Saage-Maass who serves as ECCHR legal director.
Lafarge says it will appeal against some of the charges. The company, which was merged with Swiss rival Holcim in 2015, said it was not responsible as a whole.
Full report at:
http://www.presstv.com/Detail/2018/06/29/566415/Syria-Lafarge-cement-company-crimes
--------
13 warplanes, 1,140 Russian troopers withdrawn from Syria over past few days: Putin
Jun 28, 2018
Russian President Vladimir Putin says his country has pulled out 1,140 military personnel and 27 aircraft from war-ravaged Syria during the past few days.
"As you know, we started withdrawing our forces during my visit to Hmeimim base. This withdrawal continues now," Putin said at a ceremony for military college graduates in the Kremlin on Thursday.
"Over the past few days, 13 warplanes, 14 helicopters and 1,140 personnel have been withdrawn", Putin said, adding that Russia started withdrawing its forces during his visit to Hmeimim base in December last year.
Hmeimim air base in Syria's western province of Latakia serves as Russia's permanent air base inside the Arab country and is adjacent to Bassel al-Assad International Airport, with which it shares some airfield facilities.
"This withdrawal continues now," Putin further said, as the Syrian government troops, backed by Russia's air cover, have already liberated most of the once militant-held territories from the clutches of terror groups.
Russian jets have been carrying out air raids against targets belonging to the Daesh Takfiri terrorist group and those of other terror outfits inside Syria at the Damascus government's formal request since September 2015. The airstrikes have helped Syrian forces advance against anti-Damascus militants, who have been wreaking havoc in the Arab country since 2011.
Back in March 2016, Putin ordered the bulk of the Russian military forces in Syria to withdraw from the Arab country, saying that the withdrawal could serve as a stimulus for peace. The troops returned, however, after several rounds of UN-brokered peace talks involving anti-Damascus terrorists failed.
Daesh terrorists unleashed a campaign of bloodshed and destruction in Syria in 2014, overrunning considerable expanses of territory.
The same year saw the United States launch a so-called campaign against Daesh together with a coalition of its allies. The military alliance has done little in the fight against the terrorists, and has instead been repeatedly accused of targeting and killing civilians and hampering Syrian government operations against Takfiri terrorists.
Full report at:
http://www.presstv.com/Detail/2018/06/28/566362/Russia-Syria-troops-aircraft-withdrawal-Putin-Hmeimim-Daesh
--------
EU agrees to allocate €3 billion for refugees in Turkey
29 June 2018
The European Union leaders on Friday agreed to release the second €3 billion ($3.72 billion) tranche in assistance for Syrian refugees in Turkey.
"We have agreed to allocate the second tranche for Turkey," German Chancellor Angela Merkel told reporters when leaving the EU summit, which dragged into the early morning hours of Friday.
In March 2016, the EU and Turkey reached an agreement to stop irregular migration through the Aegean Sea, and improve the conditions of more than 3 million Syrian refugees in Turkey.
The EU had pledged €6 billion ($7.44 billion) in funding for the refugees, and promised to mobilize the second €3 billion ($3.72 billion) tranche by the end of 2018.
Merkel said Turkey has done a lot for more than 3 million Syrian refugees it has hosted since the beginning of the Syrian civil war.
On Thursday, Italy had raised objections to releasing the additional €3 billion aid.
The Italian government demanded stronger solidarity from its EU partners regarding migration.
"The European Council agrees on launching the second tranche of the Facility for Refugees in Turkey [...]," Thursday's summit conclusions said.
Full report at:
http://www.worldbulletin.net/europe/203533/eu-agrees-to-allocate-3-billion-for-refugees-in-turkey
--------
India
'For Sale' Sign Comes up on Houses of Muslims in UP Village After Alleged Police Harassment
Qazi Faraz Ahmad
June 28, 2018
Lucknow: Close to a hundred Muslims families in Lisadi village in Meerut district have announced an exodus due to alleged harassment and one-sided action by police after communal tension gripped the area over a clash between two groups.
The families have put up 'for sale' posters outside their houses, asking the police and other residents to purchase them so that they can relocate. The posters read, "This house is for sale. I am a Muslim. I am selling my hous
Both sides approached the police to file complaints against each other, but the Muslim side accused police of one-sided action, alleging that their complaint was not taken.
They further claimed that two individuals who arrested from their side, while people from the other side were let go.
Haneef, a family member of one of the arrested, said that the decision to leave was taken after discriminatory action by the police.
"There are some elements in the society who are trying to create a rift between communities. A small incident was given a communal colour and then action was taken only against us. Even our FIR was not registered," the relative said.
Another family member, Farzana, of the arrested, said, "We are not getting justice, so we are fleeing. They said that there was a dispute between the children, the matter could easily have been solved, but the dispute was made big and a communal colour was given to it. After that one-sided action was taken in the case. We are not secure here anymore, and also biased action was taken against our kids."
However, Meerut SSP, Rajesh Pandey dismissed the allegations.
"There was an issue between a shopkeeper and his neighbour, some people tried to give it a communal colour. However case was registered against those who were found involved in violence. There is nothing like exodus, this is just a tactic to build pressure on the police," Pandey said.
https://www.news18.com/news/india/for-sale-sign-comes-up-on-houses-of-muslims-in-up-village-after-alleged-police-harassment-1794271.html
--------
Education system needs to be improved to bring Muslims into mainstream
June 28, 2018
New Delhi: Addressing the students studying in various institutions of the country, former union minister K Rahman Khan said Muslim nation was kept backward with a conspiracy. He said our children are not able to reach till higher education. In order to bring our society into the mainstream and to make it self dependent and developed we need to improve our education, he said. He was participating in the panel discussion organised in Constitution Club of India.
Mr Khan told that primary education needs to be addressed. He opposed UP CM for his appeal to give reservation to Dalits in JMI and AMU and said we need not get scared with such remarks. Our constitution is our guard and we should fight for our constitutional rights, he asserted.
https://www.siasat.com/news/education-system-needs-be-improved-bring-muslims-mainstream-1374529/
--------
Jammu business group wants Rohingyas relocated
Jun 28, 2018
JAMMU: A traders' body in Jammu has sought the intervention of Governor N N Vohra to relocate the illegal Rohingya Muslim immigrants, claiming they posed a "big threat" to communal harmony and internal security.
The Jammu Chamber of Commerce and Industry (JCCI) made the demand in a letter it wrote to Vohra on Tuesday.
Deportation of Rohingya immigrants has been a long-pending demand of the chamber as it feels they are a big threat to the communal harmony and internal security, a press release quoted JCCI president Rakesh Gupta as saying.
Though the matter of deportation of Rohingya Muslims is sub-judice before the Supreme Court, the chamber requests they be concentrated in a camp before relocating them out of Jammu, he added.
In the "urgent communication" to Vohra, the JCCI also drew his attention to the pending tourism, industry and health projects in the region.
Listing various pending projects like Suchetgarh Border Tourism, artificial lake on river Tawi and Mubarak Mandi Heritage Complex, Gupta said these are vital to make the winter capital's economy self-reliant. The JCCI also sought the governor's intervention for early establishment of multi-modal logistics parks through foreign direct investment (FDI).
A memorandum of understanding (MoU) between the state government and Dubai Ports (DP) World in February has generated hope that it will create employment opportunities on a massive scale and allow hassle-free imports and exports for the local entrepreneurs, Gupta said.
Terming the healthcare services in Jammu "worst", Gupta urged the governor to take up the AIIMS project on priority and suggested outsourcing the work for Super Specialty Hospital in Maheshpura on the lines of an MoU between the Shri Mata Vaishno Devi Shrine Board and Narayana Hospital, the release said.
Gupta said it had been decades since the Sewage Treatment Plant (STP) project worth more than Rs 129 crores was sanctioned, but it never saw the light of the day.
Full report at:
https://timesofindia.indiatimes.com/city/jammu/jammu-business-group-wants-rohingyas-relocated/articleshow/64776449.cms
--------
Plot to kill Shujaat Bukhari hatched in Pakistan, Lashkar-e-Toiba behind it: J&K Police
by Naveed Iqbal
June 29, 2018
THE JAMMU and Kashmir Police on Thursday said it had "tangible evidence to establish" that the conspiracy to kill senior journalist Shujaat Bukhari was hatched by the Lashkar-e-Toiba in Pakistan, and executed by its operatives in the Valley.
Bukhari (51), editor of the daily Rising Kashmir, was gunned down outside his office in Srinagar on June 14. Two of his personal security officers were also killed in the attack. Police had earlier released CCTV footage of three attackers on a motorcycle. The police on Thursday identified the killers as Naveed Jatt alias Hanzullah, a Pakistani national who escaped from Srinagar's SMHS Hospital in February this year, and two local militants — Muzaffar Ahmad alias Talha from Qazigund, and Azad Ahmad Malik alias Dada, the LeT's district commander in Anantnag.
While Talha is reported to be "active" since January this year, Dada is said to have been "active" in South Kashmir since 2016, and reportedly escaped an encounter site two months back.
Inspector General of Police (Kashmir) S P Pani also named a fourth accused, Sajjad Gul, a resident of Srinagar who is suspected to be living in Pakistan now, as the person behind a "malicious" social media campaign against Bukhari. Police said the "hate campaign" against Bukhari was run on social media platforms like "kashmirfight.wordpress.com", Facebook account "kadwa sach Kashmir", Twitter handle Ahmadkhalid@313. The blogs, according to police, are still active.
"Investigation has established that there was a campaign on certain social media platforms against Shujaat Bukhari, spreading hate, malicious and intimidating content against him," said Pani. "During investigation, with the cooperation of service providers, tangible evidence has been collected to establish that individuals behind it belong to Lashkar-e-Toiba terrorist organisation and all the content on social media was posted from Pakistan," he said.
Police said Gul was "associated with Lashkar", and had been arrested twice in the past — by the Delhi Police in 2002 and by the Srinagar police in 2016 in terror-related cases. He "obtained a passport fraudulently and left the country, and is now based in Pakistan," said Pani.
While a lookout notice has been issued, Pani said they would approach the Interpol for a Red Corner Notice against Gul after obtaining a non-bailable warrant against him from the local court.
Asked about the involvement of another suspect, Zubair Qayoom, who was arrested two days after the incident, the IGP said his role was also being investigated. In a video clip released after Bukhari's killing, Qayoom was seen picking up a pistol from one of the dead PSOs.
Full report at:
https://indianexpress.com/article/india/shujaat-bukhari-let-pakistan-rising-kashmir-jk-police-5237332/
--------
26/11 Mumbai terror attack case: Pakistan court issues notice to interior ministry to produce Indian witnesses
June 28, 2018
A Pakistani court hearing the Mumbai terror attack case has issued a notice to the interior ministry asking it to file a reply about presenting 24 Indian witnesses in the case within a week, an official said today.
The 2008 Mumbai attack case has entered into the 10th year but none of its suspects in Pakistan is punished, indicating this case had never been in the priority list of the country that appears to be keen to put it under the carpet.
"The Anti-Terrorism Court Rawalpindi held hearing at Adiala Jail (Rawalpindi) yesterday and issued a notice to the interior ministry asking it to file a reply about presenting Indian witnesses by July 5," a court official told PTI.
He said a prosecution official told the court about India's reluctance to send its nationals to Pakistan. The court adjourned the hearing till July 5.
The weekly hearing in this case rarely takes place since the anti-terrorism court has completed the statement of all (70) prosecution witnesses.
According to the prosecution, case may not further proceed till the Indian government sends its 24 witnesses to Pakistan to record their statements. Pakistan has written to India in this regard.
India replied that Pakistan first put Mumbai attack mastermind Hafiz Saeed on trial based on evidence it had provided to it.
A number of Pakistani witnesses both official and private testified and provided evidence against the seven accused but the Pakistani authorities have been insisting on sending Indian witnesses to Pakistan for reaching a verdict in the case.
Pakistan-based Lashkar-e-Taiba (LeT) is responsible for carrying out the Mumbai attack that killed 166 people.
Seven LeT suspects Zakiur Rehman Lakhvi, Abdul Wajid, Mazhar Iqbal, Hamad Amin Sadiq, Shahid Jamil Riaz, Jamil Ahmed and Younis Anjum are facing charges of abetment to murder, attempted murder, planning and executing the attack since 2009.
Full report at:
https://indianexpress.com/article/india/26-11-mumbai-terror-attack-case-pakistan-court-indian-witness-5237478/
--------
Pakistan
Failure to choke terror funds lands Pakistan in serious trouble
Omer Farooq Khan
Jun 29, 2018
ISLAMABAD: Pakistan on Thursday was officially placed in the 'grey list' after it failed to convince the global anti-money laundering agency Financial Action Task Force that it has taken significant steps to curb terror financing on its soil. Apart from embarrassment at the global level, the move will have serious financial implications for Pakistan at a time when it is already in a serious economic crisis which will require an IMF bailout.
According to several economists, the grey listing of Pakistan means that the country's financial system will be designated as risky to the international markets because of "strategic deficiencies" in its ability to thwart terror financing and money laundering. The placement could also be a precursor to Pakistan's eventual addition onto FATF's 'black' list, which would mean more serious sanctions.
The decision was taken on Wednesday night at FATF's planery session in Paris. The action comes three years after removal of Pakistan from FATF's grey list. Earlier, media reports from Paris had indicated that Pakistan may get more time to take measures to implement the FATF's regulations. Pakistan now, experts believe, will be directly scrutinised by the FATF until it is satisfied.
alking to media, Pakistan's interim interior minister Muhammad Azam Khan said that the FATF was under immense pressure from the US and India. He said the US and India had also pressurized China and Saudi Arabia, Pakistan's closest allies, to withdraw their support. It was decided during the plenary meeting of the FATF in February this year that Pakistan would be placed on its grey list in June if it did not take sufficient measures to curb terror financing.
Weeks ahead of a 37-nation FATF's February meeting, Pakistan had changed the country's anti-terrorism law, allowing its law enforcement agencies to take action against groups on the UN Security Council list, including Jamaatud Dawa (JuD) and the Falah-i-Insaniyat Foundation (FIF), the fronts for banned terrorist organization Lashkar-e-Taiba, headed by Hafiz Saeed, the mastermind of the 2008 Mumbai terror attacks.
In a bid to build its case before the FATF members, the then government had taken some cosmetic measure like seizing offices, seminaries and ambulances belonging to Saeed's charities. Earlier this month, the National Security Committee, Pakistan's top civil-military tasked to makedecisions regarding security and foreign affairs matters, issued 'Anti Money Laundering and Countering Financing of Terrorism Regulations 2018', to meet FATF's recommendations.
However, the FATF was not satisfied with any of these measures.
https://timesofindia.indiatimes.com/world/pakistan/failure-to-choke-terror-funds-lands-pakistan-in-serious-trouble/articleshow/64786582.cms
--------
Pakistan put on FATF grey list despite anti-terror efforts
June 29, 2018
ISLAMABAD: The Financial Action Task Force (FATF) decided to re-put Pakistan on its grey list following a meeting in Paris on Wednesday, as Pakistan's Foreign Office warned that the country could face 'problems' if it fails to ensure the implementation of its 26-point action plan against terror financing and money laundering by Sept 2019.
The US motion, to have Pakistan added to the "grey list" of countries, was backed by Britain, France, Germany. Pakistan's closest allies — China, Turkey and Saudi Arabia did not oppose the move.
Presenting Pakistan's case at the FATF talks, Dr Shamshad Akhtar, the interim minister of finance and planning, apprised the global watchdog of the steps the country has taken to stem money laundering and terror financing, and put up a robust case for not placing its name on the grey list.
The Pakistani delegation also spoke about Islamabad's efforts against the banned outfits and various terrorist groups. It said that the nation was working to curb financial assistance to terrorists, made existing laws better, and ensured improved implementation of the current regulations.
In compliance with the FATF's recommendations, the Securities and Exchange Commission of Pakistan (SECP), on June 20, issued the Anti Money Laundering and Countering Financing of Terrorism Regulations, 2018. Prior to that, on June 8, the National Security Committee (NSC) had reaffirmed its commitment to cooperate with FATF and strive towards realising "shared objectives".
However, the FATF members remained unsatisfied with Pakistan's efforts.
Pakistan must now follow a 26-point action plan spanning a period of 15 months to avoid being blacklisted by the FATF.
The plan, prepared by the International Cooperation Review Group (ICRG) of Asia Pacific Group (APG), makes it mandatory on Pakistan to deliver on the first goal by January next year and complete all the 26 actions by September 2019.
In February 2018, the FATF approved the nomination of Pakistan for monitoring under its International Cooperation Review Group (ICRG) commonly known as Grey List.
The ICRG of the APG identified four key areas of concerns, including deficiencies in the supervision of Anti-Money Laundering (AML) and Counter-Terrorism Financing regimes, cross-border illicit movement of currency by terrorist groups, progress on terrorism financing investigation and prosecution and implementation of the United Nations Security Council resolutions 1267 and 1373, for curbing terror financing.
It was further reported that the number of conditions taken into account are the concerns of the UNSC resolutions.
This was followed by eight commitments to address the issues regarding terrorism financing prosecution, four about curbing currency movement across the border and five recommendations related to improvement in the supervision mechanisms of banks and companies.
'PAKISTAN MUST ENSURE COMPLIANCE':
Addressing the weekly briefing at the Ministry of Foreign Affairs, FO Spokesman Dr Muhammad Faisal said, "We will have to ensure the implementation of the action plan shared with FATF while we are on the grey list."
"If adequate measures are taken, we can be removed from the grey list," he emphasised, while warning that the country will be "facing problems" if action is not taken.
Faisal reminded reporters that the country was made aware of this development before its happening.
"We were told in February that we will be placed on the grey list," he said.
The FO spokesman said that Pakistan supports the Afghan peace process and will support all efforts for reconciliation led by the Afghan leadership.
Full report at:
https://www.pakistantoday.com.pk/2018/06/28/pakistan-put-on-fatf-grey-list-despite-anti-terror-efforts/
--------
Controversy erupts over Imran's visit to Pakpattan shrine
Tooba Masood | Shafiq ButtUpdated
June 29, 2018
A shaky video of Pakistan Tehreek-i-Insaf chief Imran Khan and his wife Bushra Maneka arriving at Pakpattan to pay their respects at Baba Fariduddin Ganjshakar's shrine went viral within hours of being made available on social media on Thursday.
The video shows Mr Khan, his wife and Zulfi Bukhari heading to Baba Farid's grave on Wednesday night where the PTI chief bowed in front of the door which appeared to be a sajda.
Take a look: Of pirs, goats and kaali daal: Pakistani leaders and their superstitious ways
The visit had reportedly been kept a secret as local party office-bearers had no idea about it. Muhammad Shah Khagga, the party's candidate for NA-145, and Dewan Azmat Chishti, their candidate for PP-192, were aware of the visit.
Mr Khan and his wife walked to the shrine's main entrance barefoot. Dressed in white with a black ribbon around her hand, the party chief's wife waved to the devotees who were surprised to see the celebrity couple.
As women are not allowed entry into the mausoleum itself, Ms Maneka went to the women's portion which is adjacent to the tomb. Mr Khan laid a wreath and chadar on the grave. After offering fateha, he went to the women's section and the couple distributed sweets among the devotees.
Mr Chishti, the custodian of the shrine, presented Mr Khan with a shawl from the shrine as a token of respect.
On hearing about the party chief's arrival, young supporters rushed to the shrine where the 13th century Sufi saint is buried. Many devotees took selfies with Mr Khan and his friend — who stayed at the shrine for about an hour before heading back to Lahore.
Nomination for PP-192
Earlier, the PTI had reportedly awarded the ticket for PP-192 to Mahar Moeenuddin Chishti, who recently joined the party with the support of the Pir of Golra Sharif, Rawalpindi. However, the party has now cancelled the ticket and given it to Dewan Azmat Chishti.
Sources close to the leadership claim that this was a decision influenced by his wife who spent more than 30 years of her life in Pakpattan before her marriage to the party chief.
Twitter
Controversy soon followed Mr Khan, as many people on social media disapproved of his visit. Several asked if he was visiting the shrine because of his wife's religious beliefs — something he has been grilled over before as well.
This disapproval was further ignited by Maryam Nawaz, who used her official Twitter account to retweet the video with an emoji (hand over mouth) — which was liked more than 1,000 times and shared as well.
Many Twitterati jumped to Mr Khan's defence, including Journalist Amber Rahim Shamsi who said: "How ImranKhanchooses to practice his faith is nobody's business but his own. All this outrage at how he paid respect at the Baba Farid shrine is part of the same continuum as fatwas over the Khatam-I-Nabuwwat issue and lynching."
Actor and singer Fakhr-i-Alam tweeted: "I love it how our collective intellect keeps regressing. As a nation we need to up our game and pose serious questions to our leadership. Why do we all make issues out of non issues? We are in a serious situation economically & other things."
Baji Please, a popular Twitter account, poked fun at the attention the PTI chief was receiving: "Guys, go easy on ImranKhan. There are things a husband has to do to please his wife. I have a husband and I know how to twist him around my little finger. Nice and caring husbands deserve sympathy, not scorn!"
Imran responds
Addressing the day's controversy, in an interview with a talk show host Mr Khan claimed that he was just paying his respects to a man of God. "Baba Farid is someone who helped spread Islam here," he said. He said he did not prostrate himself but merely kissed the doorsill.
In a tweet, PTI's official account reshared Mr Khan's statement and said: "Sufism speaks about removing the 'main' the ego in an individual, people see these things superficially and declare fatwas without knowing the religion."
Full report at:
https://www.dawn.com/news/1416795/controversy-erupts-over-imrans-visit-to-pakpattan-shrine
--------
Bilawal says 'censored democracy' not to be accepted
Amir Wasim
June 29, 2018
ISLAMABAD: Expressing concern over imposition of "censorship" on media, Pakistan Peoples Party chairman Bilawal Bhutto-Zardari on Thursday declared that his party would never accept "manipulated and censored democracy".
"It is a historic occasion that a second democratic transition is about to take place in the country. On one hand, this seems to be a big step in the right direction; at the same time, the conspiracies being hatched by enemies of democracy are at their peak," he alleged, adding that "an atmosphere of uncertainty and fear is being created".
The young PPP chairman was speaking at the launch of his party's election manifesto during an extremely disorganised ceremony at the National Press Club. Due to mismanagement and presence of a large number of party workers, the journalists could not put questions to the top PPP leadership, including former president Asif Zardari, Farhatullah Babar, Sherry Rehman, Aitzaz Ahsan, Murad Ali Shah and Qamar Zaman Kaira.
"Today, censorship is being imposed on freedom of expression. Such things do not happen in democracy. Today, curbs are being placed on freedom of association in an unprecedented manner," Mr Bhutto-Zardari regretted.
"I want to say it in categorical terms in front of the masses that the PPP will not accept this kind of censored or manipulated democracy," he said, asking the state institutions "to stay within the constitutional limits".
The PPP chairman urged the politicians to work for the strengthening of parliament "through their attitudes".
In an apparent reference to former prime minister Nawaz Sharif and Pakistan Tehreek-i-Insaf chief Imran Khan, Mr Bhutto-Zardari said that democracy could not be strengthened by staying away from parliament for years and by staging sit-ins and cursing the legislature.
"Benazir Bhutto made a promise to the people of Pakistan. It was the promise of a peaceful, prosperous and progressive Pakistan for all our people, and we are to fulfil her dream to save the country," he said while referring to his party's election slogan, BB ka waada nibhana hai, Pakistan bachana hai.
He lashed out at the policies of the PML-N government, terming the present economic situation "unstable, intolerable and unsustainable". "Short-sighted quick fixes directed at the welfare of tiny elite have compromised the lives of the poorest and most vulnerable, denied them economic justice, and at the same time compromised Pakistan's economic sovereignty," he said.
He alleged that many of the measures taken by the PPP government for ensuring devolution of power had been subverted, and the momentum for further reforms had been stalled.
"All institutions for accountability were subverted. The parliament was reduced to the position of a bystander, as major crises threaten the state and the economy. State institutions appear to be at loggerheads. This raises alarm bells for Pakistan," Mr Bhutto-Zardari warned.
"Now we pledge to free all our people from the fear of hunger, thirst and helplessness and to open opportunities for all our children and youth so that they may excel, become active citizens of Pakistan and confident members of the global community; to rebuild and build an economy that works for all our people, now and into the future; to deepen democracy by fostering harmony among our people, between our people and our state, and among the institutions of our state, and to make the government accountable and answerable to the people by strengthening the parliament and other institutional frameworks; to secure rights and peace for our state and for all our people and to reclaim Pakistan's rightful place in the world," the PPP chairman said while highlighting salient features of the manifesto.
He said the PPP would continue to struggle for the creation of South Punjab province, the merger of erstwhile Federally Administered Tribal Areas with Khyber Pakhtunkhwa and ending the "undemocratic steps taken by the PML-N government in Gilgit-Baltistan (GB)".
He announced that the PPP would ensure elections in Azad Kashmir and GB simultaneously with Pakistan. He also criticised the foreign policy of the PML-N government, saying "there is absolutely no recognition of the sacrifices rendered by our brave soldiers, police and innocent civilians; instead there is a serious trust deficit and a concentrated effort [is] underway to make Pakistan a scapegoat for others' failures".
"We realise that many 21st century challenges recognise no borders. Terrorism and climate change require regional and global solutions, so we must always seek to be in dialogue with our neighbours and all global powers," he said.
Mr Bhutto-Zardari stressed the need for internationalising the issue of "water terrorism" by India.
He said his party would announce massive agriculture reforms through registration of male and female farmers and by issuing the Benazir Kissan Cards. Through these cards, he said, the farmers would get direct subsidy on fertilisers and insurance of their crops in case of any natural calamity.
He said the PPP would fix the prices of DAP and urea fertilisers at Rs1,700 and Rs500, respectively.
Drawing attention towards growing unemployment, the PPP chairman said his party would launch a programme through which the youths would be guaranteed a one-year internship. He also announced setting up of an employment bureau for creation of job opportunities in the country.
He announced that the PPP after coming into power would overhaul the textile industry and make efforts to bring down the cost of doing business.
He promised lifting of ban from trade and student unions across the country. He also highlighted a number of achievements of the PPP government in Sindh in the health and education sectors and announced launching of family health cards under "Ilaj Programme" after coming into power.
Full report at:
https://www.dawn.com/news/1416781/bilawal-says-censored-democracy-not-to-be-accepted
--------
Zainab case: Division bench to decide on public hanging
June 29, 2018
LAHORE: A Lahore High Court single bench on Thursday referred a petition to a division bench to decide whether convict in Zainab's rape-cum-murder case should be hanged publicly.
Justice Muhammad Anwarul Haq was hearing a petition moved by father of Zainab demanding public hanging of Imran Ali, the convict.
The judge observed that a division bench should decide the matter since the convict had been sentenced under the Anti-Terrorism Act, 1997. Therefore, the judge referred the petition to the chief justice for its fixation before division bench.
Zainab's father Amin Ansari had contended through counsel that appeals of the convict stood dismissed by all legal forums including the high court and the Supreme Court. He said section 22 of the Anti-Terrorism Act 1997 empowered the government to hang a convict publicly.
The counsel requested the court to order the government to ensure that the convict was hanged publicly to satisfy the requirement of deterrence in society.
Full report at:
https://www.dawn.com/news/1416755/zainab-case-division-bench-to-decide-on-public-hanging
--------
Africa
Extremists target African converts to Islam for recruitment
JUNE 28, 2018
NAIROBI, Kenya (RNS)—Christians who convert to Islam in East African countries often become targets for recruitment by extremist groups such as the Islamic State and al-Shabab, the al-Qaida affiliate in East Africa.
Such is one finding in a June report from PeaceTech Lab, a Washington, D.C., nonprofit that works to reduce violent conflict using technology. The report comes at a time when governments and religious leaders in East Africa increasingly are concerned about Islamic radicalization in a region that includes Somalia and the Kenyan coast.
The finding is based on research conducted from May to July 2017 examining how violent extremist groups use hate speech on social media and online messaging to recruit youth. The 100 participants came from various backgrounds, including ranks of the unemployed, as well as students and mosque attendees. Survey questions probed participants' relationship to hate speech and social media habits.
"Efforts to counter violent extremist recruitment have to start with an understanding of the narratives and terminology driving radicalization," said Caleb Gichuhi, a senior specialist at PeaceTech Lab. "When we understand how recruitment unfolds, we can develop alternatives."
Research conducted in the coastal city of Mombasa focused on community and individual resilience to violent extremism. Mombasa has a history of extremist activity, including bombings by suspected al-Shabab militants, recruitment of thousands of Kenyan youth for battle in Somalia and radicalization under extremist teaching.
According to the report, family and friends cut ties with Christian converts to Islam when they learn of the conversion. As a result, converts become isolated and vulnerable to being manipulated by extremists disposed to using violent tactics.
The report, which looks at correlations between speech patterns and violent extremism, found that many Kenyans switch religions as they pursue employment opportunities in which religious affiliation makes a difference. They also switch for marriage and the desire to blend in with neighbors when they move to a new region.
Wilybard Lagho, vicar general of the Roman Catholic Archdiocese of Mombasa, said some former Christians do not want to convert to Islam but do so under duress.
"Where coercion has been used, the person's faith tends to be shallow," said Lagho.
Lambert Mbela, a pastor at Redeemed Gospel Church in Mombasa, said conversions from Christianity to Islam are rare in the coastal region except in extreme circumstances.
"We have heard that some have converted to receive food in periods of drought but have taken the food and failed to convert," said Mbela.
The report says al-Shabab is recruiting not only Somalis living in Kenya but also Kenyan Muslims. The recruitment process often begins with disseminating an extremist preacher's message via social media. Further indoctrination comes through CDs and mosque lectures.
Extremist groups have lured economically desperate youth through false offers of high-paying jobs, Mbela said. He's learned about the process from young Christian men who have been approached by recruiters.
"They come to discover they have been recruited later," said Mbela. "Coercion is widely employed, and the radicalized youth believe they have no other choice in life. This is very secretive, and those who have undergone it do not want to come out or give details."
Some coastal Muslim leaders are skeptical of the PeaceTech Lab findings. While recent converts might be recruited on occasion, they said, the numbers have been small.
"I think these are just perceptions," said Sheikh Ahmed Mundhar, a former chief religious judge in Mombasa's Islamic courts. "Some groups talk about it, but we have been challenging them to provide some statistics. I think the numbers are too few."
Ismael Okwany, a former Pentecostal bishop who converted to Islam and turned his Kenyan church into a mosque in 2017, said recruitment by extremist groups isn't about religious identity.
"Joining the extremist groups has nothing to do with true religion and God," said Okwany. "I believe those who join the groups have criminal minds. Both Christian and Muslims are being recruited."
https://www.baptiststandard.com/news/world/extremists-target-african-converts-to-islam-for-recruitment/
--------
Haftar's forces say they have captured Libyan city of Derna
29 June 2018
Libyan commander Khalifa Haftar declared victory on Thursday against rivals including local fighters and Islamists in the city of Derna, the last bastion of opposition against him in the east of the country.
Taking Derna, a city of 125,000 about 265 km (165 miles) west of Libya's border with Egypt, marks an important step for Haftar's Libyan National Army (LNA) as it tries to consolidate its power.
Based in eastern Libya, the LNA is one of the main factions that have vied for power since the 2011 Nato-backed uprising that ended more than four decades of rule by Muammar Gaddafi.
It was not possible to independently verify the extent of LNA control in central Derna, where the LNA's rivals had been holding out. The victory announcement followed clashes in the city on Thursday and heavy airstrikes against the LNA's opponents, military sources said.
"Thanks be to God, the armed forces control the entire city of Derna," said a statement posted on the LNA's Facebook page.
Haftar, who presents himself as the scourge of Islamist extremists, congratulated his supporters for what he said was a victory against "terrorists" in a televised speech.
"Today, the banner of terrorism is lowered by your victories, to be replaced by the banner of peace and tranquility despite the terrorists and those who support them," said the 75-year-old commander, dressed in a khaki military uniform and standing at a podium next to a large Libyan flag.
Seizing Derna
LNA brigades launched a ground offensive in Derna last month after encircling and largely blockading the city over the past two years.
Seizing Derna completes the takeover of Libya's east by Haftar, who built up the LNA during three-year campaign for Benghazi, Libya's second city.
But the Derna fighting could also undercut U.N.-led efforts to stabilize Libya by reconciling eastern-based factions aligned with Haftar and rival groups located in the country's more populous west.
Haftar's victory announcement came days after the LNA moved to take control oil exports and revenues from eastern ports following fighting in two terminals.
In Derna, the United Nations has warned of the devastating impact of the LNA encirclement and recent fighting on residents.
It also expressed alarm earlier this month at allegations of serious human rights abuses including pillage, destruction of property, arbitrary detention and a video of summary executions.
After Haftar declared victory in Benghazi in July last year, fighting continued for several months in parts of the city. In Derna, the LNA's progress has been much faster, aided by what their opponents said were precision air strikes carried out by drones.
Neighboring Egypt, one of several foreign powers that has provided support for Haftar, has in the past carried out air strikes in Derna against what it described as training camps sending militants into Egypt to carry out attacks.
Derna, known for its mixed social make-up and as a center of opposition to the Gaddafi regime, was the first Libyan city in which Islamic State established a foothold in 2014.
Full report at:
https://english.alarabiya.net/en/News/north-africa/2018/06/29/Haftar-s-forces-say-they-have-captured-Libyan-city-of-Derna-1771.html
--------
Nigerian army rescues 33 hostages from Boko Haram
28.06.2018
The military said Thursday it rescued 33 hostages from Boko Haram terror group in northeastern Nigeria.
In a written statement, Nigerian Army spokesman Texas Chukwu said an operation was carried out against Boko Haram in Damboa and Bama local government areas of Borno that resulted in the recovery of the hostages.
Chukwu said among the rescued hostages were 12 women and 13 children; six members of the Boko Haram were also neutralized.
Over 2 million people have been displaced and close to 20,000 killed in the violent campaign in the region that started in 2009.
https://www.aa.com.tr/en/africa/nigerian-army-rescues-33-hostages-from-boko-haram/1190215
--------
North America
Muslims are not welcome in America, and that is exactly who we are
June 29, 2018
America is now openly hostile to Muslim immigrants. Don't let anyone tell you otherwise.
Our country's stance has been rendered clear: If you're Muslim, you're not welcome here. Period.
I don't want that to be the case. I condemn that stance as fundamentally un-American.
But I'm no longer going to parrot the oft-tweeted line that has become ubiquitous in the Trump era: "This is not who we are!"
That line was everywhere this week after the U.S. Supreme Court ruled that President Donald Trump has the authority to block people from certain majority-Muslim countries from coming to America.
Twitter exploded with "This is not who we are" tweets, well-intentioned pleas that people around the world maintain a belief in the basic decency of Americans.
But let's be honest. That line isn't meant to reassure a wary world. It's meant to make the people who type or utter it feel better. It's as much a cop-out as it is false.
The travel ban may not be who you are. It's not who I am. But it is who we — as a country — are right now.
We are a country that doesn't want Muslims to come here. We are a country that doesn't want people from Mexico or South America or Central America or Africa to come here. We are a country that wants people who weren't born in America but have lived here and put down roots to leave, even if it means they'll return to countries plagued with violence and poverty. We are a country that will intentionally separate mothers from their children as a means to deter non-white people from coming here, even if they're facing certain death and seeking asylum.
That's who we are. It gets dressed up in "we're a nation of laws" rhetoric, but it is what it is, and the world can see it more clearly every day. No amount of denial will make that change.
Mehdi Ostadhassan, a petroleum engineering professor at the University of North Dakota who is an Iranian national with an American wife and son, told the Washington Post: "The message to Muslims is that you're not welcome here, we don't want you here, we want to ban you from traveling to the U.S. and picking the U.S. as your future home. The message is that they cannot really count on the United States as their home, and they should probably seek other places to live."
And so Ostadhassan, who doesn't have a green card, will likely leave America with his family.
And that's exactly what the people who support the travel ban, and support the man who created it, want. They want a whiter America. That's what they were promised, and the travel ban and the draconian immigration crackdowns and the thinly veiled white supremacy of the Trump administration aren't bugs, they're features.
You can be appalled by that and say, "Well, those people don't represent me." But that doesn't halt the deportations or the ICE raids or the banning of Muslims.
Anyone paying attention to Trump's rhetoric from the first moments of his presidential campaign could see this coming. If you voted for him, you're getting exactly what you wanted. Congratulations, and shame on you.
If you didn't vote for him but sat out the election or cast a protest vote, you can't act surprised now. Trump is doing what he said he would do — you were either too naive to believe it or too selfish to care.
And for all who opposed him and his white-nationalist agenda from the get-go, stop pretending that he, as president of the United States, doesn't represent America. He does. And we don't have any excuses to hide behind.
If I'm a Muslim born in any other country, I assume America wants nothing to do with me. If I'm a Muslim-American, I'm harboring serious concerns as well.
If I'm a foreign government or a foreign company, I'm looking at America in a different light, and no amount of "That's not who we are!" shouts coming from Americans will lessen my concerns. And that's as it should be. Foreign businesses, global organizations, tourists, politicians and academic institutions should all be wary of America right now. Because America right now is unfriendly, unkind and unconcerned with the plight of anyone who isn't wealthy, white, straight, American and Christian.
If you want to show the world we're not a country that goes out of its way to make people of a certain faith feel unwelcome, don't deny the fact that we are presently a country going out of its way to make people of a certain faith feel unwelcome.
Accept that fact. Direct your disgust into action. Call your lawmakers and let your voice be heard. Volunteer to help political candidates who share your revulsion. Help get people registered to vote.
Because that's all that's going to matter. Declaring that we, as a country, are not what we have clearly become is a fool's errand.
We have to fix this if the world is going to believe we aren't Trump's version of America. And the first step will come in November.
Until then, we are who we are.
http://www.chicagotribune.com/news/opinion/huppke/ct-met-travel-ban-trump-huppke-20180627-story.html
--------
Trump's anti-Muslim pick for IOM head could be first American rejected in decades
June 29, 2018
President Donald Trump's nomination of a Christian charity executive who has disparaged Islam to head the U.N. migration agency could see countries reject an American for the first time in nearly 50 years when they pick its new leader on Friday.
Since the body now known as the International Organization for Migration was founded to manage the vast movement of people in post-World War Two Europe, all nine of its leaders have been Americans apart from a Dutchman who ran it in the 1960s.
But Trump's choice of Ken Isaacs, a vice president of U.S. evangelical charity Samaritan's Purse, could end that streak.
Isaacs, whose only major government experience was a 2004-2005 stint under George W. Bush as a political appointee in charge of disaster relief at the U.S. overseas aid agency, is one of three candidates to succeed William Swing, a veteran U.S. and U.N. diplomat retiring after a decade as IOM chief.
The IOM is involved in politically-sensitive operations around the globe, from helping European countries manage the arrival of hundreds of thousands of asylum seekers to aiding Rohingya refugees in Bangladesh.
In February, shortly after the Trump administration nominated Isaacs to lead the IOM, the Washington Post dug up tweets and social media posts in which he disparaged Muslims.
Isaacs has since apologized for hurting anyone's feelings and said he had "never shown discrimination against anybody or anything, period." He said he had been retweeting and commenting on material to provoke debate.
In one post reported by the paper and since deleted, Isaacs wrote in a comment on a CNN story about a militant attack in London: "...if you read the Quran you will know that 'this' is exactly what the Muslim faith instructs the faithful to do."
In another, he wrote on Twitter: "If Islam is a religion of peace, let's see 2 million Muslims in National Mall marching against jihad & stand for America! I haven't seen it!"
The U.S. State Department said it was "proper" that Isaacs had apologized, but his "private" social media posts did not disqualify him for the IOM post.
"Mr. Isaacs is committed to helping refugees and has a long history of assisting those who are suffering. We believe that if chosen to lead IOM, he would treat people fairly and with the dignity and respect they deserve."
Isaacs says he will not represent the U.S. administration if he leads the IOM. But he has also made clear he would not challenge Trump policies widely viewed as hostile to immigrants, such as a ban on citizens of seven Muslim majority nations entering the United States and a drastic scaling back of the U.S. program to accept refugees.
"I'm not going to speak on any country's domestic policy," he said, when asked at the March briefing about Trump's plan for a wall on the Mexican border.
"States have a right to protect their borders the way that they deem necessary," he said. "If it's inhumane, then I'll come back and have private conversations. But I think states have a right to protect their borders the way that they want to."
At a press event in Geneva in March, Isaacs was introduced by Jennifer Arangio, senior director of the White House National Security Council: "He embodies what the United States believes."
Isaacs is up against Portuguese politician and ex-EU Justice Commissioner Antonio Vitorino, and Laura Thompson, a Costa Rican now serving as Swing's deputy. The vote will be held in secret.
The vote poses a dilemma for IOM states, Jeremy Konyndyk, who like Isaacs served as a head of U.S. foreign disaster assistance, told Reuters.
"Do they risk angering the Trump administration by rejecting its preferred candidate, or risk validating Trump's migration agenda by putting a Trump nominee in charge of IOM at the very moment his administration is attacking asylum in the U.S.?"
Konyndyk said Isaacs must disavow the views uncovered in his social media posts. "He has never fully repudiated his attacks on Muslims, descriptions of refugees as security threats, and mockery of climate science," Konyndyk wrote in an opinion piece for IRINnews.org, a news agency for humanitarian aid groups.
Eric Schwartz, president of Refugees International, wrote in the Washington Post on Monday that Isaacs' social media posts were "bigoted," "appalling" and must disqualify him.
More than 600 aid agencies that work in the migration field signed a letter to IOM member states last week which did not mention Isaacs by name but said the new IOM chief must demonstrate "a record of and commitment to respecting diversity and condemning xenophobia, discrimination and intolerance."
Privately, aid agency officials say their chief concern is that the real aim of the Trump administration -- which has already withdrawn from the Paris climate treaty, the U.N. human rights council, the U.N. cultural body UNESCO and U.N. negotiations on a "global compact" to manage migration -- is to undermine the IOM's role as a global body engaged in migration.
Full report at:
https://www.dailysabah.com/americas/2018/06/28/trumps-anti-muslim-pick-for-iom-head-could-be-first-american-rejected-in-decades
--------
US, Turkey can have 'more productive' talk: Pompeo
28 June 2018
Ankara and Washington can now begin a "more productive conversation" as presidential and parliamentary elections in Turkey is over, Secretary of State Mike Pompeo said Wednesday.
Pompeo said U.S. and Turkey have reached an agreement, Manbij Roadmap, about how their forces would work together to resolve very complicated issue between different ethnic groups in the northern Syrian city of Manbij.
" They will ultimately be part of political resolution there and an important part. And we need to recognize that and do our best of work alongside them," Pompeo noted.
The plan was announced after a June 4 meeting in Washington between Turkish Foreign Minister Mevlut Cavusoglu and Pompeo.
The deal focuses on the withdrawal of the PKK-affiliated YPG terror group from Manbij and on stability in the region.
The Turkish General Staff said in a statement Sunday that the two countries' forces conducted patrols separately in the area between the Operation Euphrates Shield region in northern Syria and Manbij.
The first patrols by Turkish and U.S. troops in the region began June 18.
Turkey on Sunday reelected President Recep Tayyip Erdogan with more than 52 percent of the vote, according to preliminary results. Final results will be announced July 5.
Tensions have existed between Ankara and Washington because of the U.S. support for the PYD and its military wing the YPG. Differences have also centered around the U.S. for not taking sufficient legal action against Fetullah Gulen, the U.S.-based leader of the Fetullah Terrorist Organization (FETO). Ankara accuses the group of being behind the 2016 defeated coup in Turkey.
Full report at:
http://www.worldbulletin.net/america-canada/203506/us-turkey-can-have-more-productive-talk-pompeo
--------
Southeast Asia
Indonesia Plans Crackdown on Condemned Cleric's Militant Network
28/06/2018
JAKARTA (Reuters) – Indonesia's counter-terrorism police plan to arrest more than 100 suspected militants in a bid to prevent retaliatory attacks after a radical cleric linked to Islamic State was sentenced to death, the country's police chief said on Thursday.
Aman Abdurrahman, regarded as the ideological leader of Jemaah Ansharut Daulah, a loose grouping of hundreds of Islamic State sympathisers, was convicted last month for masterminding four deadly attacks in Jakarta and elsewhere in Indonesia.
He has been in prison since 2009, but was accused of orchestrating the attacks from behind bars. No date has been set for Abdurrahman's execution, which is likely to be by firing squad, but in the meantime Indonesian security forces have been put on high alert.
"The price we have to pay is the possibility of his networks retaliating," General Tito Karnavian told Reuters in an interview at the national police headquarters.
"But the good news is we have detected most of his networks and cells…More than 100 of them will be arrested. We have to move before they move," said Karnavian, who previously headed Indonesia's elite counter-terrorism squad Detachment 88, known locally as Densus 88.
The Southeast Asian nation has faced a surge in homegrown militancy in recent years and around 30 people were killed in suicide bombings in Surabaya last month, marking the deadliest militant attack in over a decade in the Muslim-majority country.
The attacks on three churches and a police station in Surabaya were carried out by families, who took children as young as eight on their mission, marking the first time such a tactic had been used, according to terrorism experts.
Karnavian said authorities had been aware of the risk of female suicide bombers, but had no information that a whole family unit or children would be used to carry out bombings.
The families behind the attacks had been monitored by authorities for four months last year, but there had been no suspicious activity involving the children, he said.
Since the Surabaya attacks, the police have detained more than 120 suspects and killed 17.
One key suspect, Kholid Abu Bakar, who officials believe was the leader of the attackers' Islamic study group, remains at large.
Karnavian said Bakar and his family had attempted to travel to Syria last year to join Islamic State but were caught in Turkey and deported back to Indonesia.
Karnavian said surveillance teams in Indonesia had now been doubled and provincial police headquarters instructed to set up joint teams involving local-level military, intelligence, and paramilitary police.
In the wake of the attacks, Indonesia toughened up its anti-terrorism laws last month to allow police to arrest and detain suspected militants for longer periods, and without having to wait until they acquired weapons or carried out attacks.
"It gives us more room to manoeuvre. It is much, much easier because we don't need to watch and wait until they possess weapons," he said.
But expanded authority or firepower may not always be enough to foil attacks, Karnavian said, calling for deradicalisation programs to be strengthened.
"I believe Densus 88 is good enough in monitoring people, foiling plans and investigating attacks….But there is no use in this hard approach if we cannot change their mindset."
http://www.euronews.com/2018/06/28/indonesia-plans-crackdown-on-condemned-clerics-militant-network
--------
Islamists fail to sway regional Indonesian elections
29.06.2018
A resounding win by an Indonesian mayor targeted by some hardline Muslims over the construction of a church highlighted a broader failure by Islamists to influence regional and local elections in the world's biggest Muslim-majority country.
Rahmat Effendi, the mayor of Bekasi, a city of 2.7 million on the fringes of the capital Jakarta, is on course to be re-elected after winning about 68 percent of the vote in Wednesday's elections based on unofficial quick counts. Effendi, a Muslim, faced sustained criticism from hardliners for approving the building of the Santa Clara church in the staunchly Muslim city after 17 years of rebuffs by local authorities.
Tensions boiled over last year when riot police used tear gas to subdue protesters attacking the site where the church was being built. The mayor was also lambasted by prominent clerics and pilloried in social media posts falsely claiming he planned to allow hundreds more churches. His victory and exit polling of voters, showed that the religious and ethnic divisions that characterised last year's race for Jakarta governor were largely absent in elections for 171 city mayors, regents and provincial governors, said pollster Djayadi Hanan.
"There was an effort to use identity politics, especially Islamism, as an issue in this election. It didn't work," said Djayadi, executive director of Saiful Mujani Research and Consulting (SMRC).
Earlier this year, senior government officials warned of a "black campaign" to stoke sectarianism in Indonesia's most populous province, West Java, amid a spate of mysterious attacks on clerics, mosques and schools. The incidents were inflamed by a co-ordinated social media campaign depicting Islam as under attack and blaming the moderate President Joko Widodo and his political allies.
Ridwan Kamil, a moderate Muslim and U.S.-trained architect perceived as sympathetic to Widodo, said in a interview ahead of the polls that rivals had accused him of not being "Islamic enough". He still prevailed in the contest for West Java governor according to quick counts, albeit by a slender margin.
A common denominator of the unrest in Bekasi and West Java was the involvement of the Islamic Defenders Front (FPI), the Islamist group that spearheaded the ouster of former Jakarta governor Basuki Tjahaja Purnama last year. Known as 212, the movement led by the FPI mobilised hundreds of thousands on to the streets of Indonesia's capital amid accusations the ethnic Chinese, Christian Purnama had insulted Islam. Purnama, previously hugely popular, was defeated and later jailed.
FPI members participated in the riots in Bekasi, according to media reports. Journalists revealed in March that FPI cadres concocted a viral video falsely accusing a vagrant of attacking an Islamic boarding school in West Java.
"The FPI and 212 were not influential during the election campaign," said Deka Anwar, a researcher at the Jakarta-based Institute for Policy Analysis of Conflict.
Provisional analysis of exit polling by SMRC found more voters cast their ballots on policies, rather than religion or ethnicity. This favoured incumbents and candidates with policy achievements in previous posts, Djayadi said.
Religious affiliation appeared to have played a role in North Sumatra, though. SMRC exit polling suggested Purnama's former deputy, Djarot Saiful Hidayat, got only 15 per cent of the Muslim vote. Djarot is a Muslim but his running mate was a Christian.
Analysts cautioned about interpreting the regional elections as a predictor of the campaign for president in April.
Full report at:
https://www.reuters.com/article/us-indonesia-elections-islamists/islamists-fail-to-sway-regional-indonesian-elections-idUSKBN1JO1GI
--------
Indonesia denies 'secret talks' with Israel after entry ban lifted
June 28, 2018
The government has denied Israeli claims that it engaged in secret diplomatic talks with Israel that led to the latter's decision to lift its entry ban on Indonesian travelers.
The Israeli Foreign Ministry announced on Wednesday that the ban had been lifted after Indonesia agreed to lift its moratorium on granting visas to Israelis, the Times of Israel reported.
The news outlet quoted an Israeli Foreign Ministry spokesman saying through his Twitter account that after "silent" contact between the two countries, "visa restrictions on Indonesian tourism to Israel were lifted, in parallel to the lifting of restrictions by Indonesia on Israeli tourists. Good news."
"There were no diplomatic talks [between Indonesia and Israel] over visa issues," Indonesian Foreign Ministry spokesman Arrmanatha Nasir said on Thursday.
"[The foreign minister] has asserted that […] there were no secret talks about visas with Foreign Ministry officials in Jakarta."
Israel announced last month that it would ban Indonesian tourists from entering Israel in retaliation to Indonesia's decision to stop granting visas to Israeli tourists. Indonesia's move, Israel claims, was in response to the ongoing violence in Gaza.
The ban was supposed to take effect on June 9, but it was later extended to June 26 following protests from the Israeli tourist industry.
Indonesia confirmed it had denied issuing visas to dozens of Israelis but declined to disclose the reasons behind the move.
Israel's decision to lift the ban came only weeks after a top Indonesian Muslim cleric, who is also an adviser to President Joko "Jokowi" Widodo, made a controversial visit to Jerusalem on the invitation of the American Jewish Committee.
Full report at:
http://www.thejakartapost.com/news/2018/06/28/indonesia-denies-secret-talks-with-israel-after-entry-ban-lifted.html
--------
Indonesia Commits $2m in Aid to Support Capacity Building in Palestine
June 28, 2018
Jakarta. Indonesia will provide Palestine with $2 million in aid for capacity building programs as part of the country's longstanding commitment to support the Arab nation's struggle for independence.
Foreign Minister Retno Marsudi made the announcement during a ministerial meeting of the Conference on Cooperation among East Asian Countries for Palestinian Development (Ceapad) in Bangkok on Wednesday (27/06).
The capacity building program will cater to Palestinians' needs in agriculture, entrepreneurship, women's empowerment, education and communications and information technology.
According to the Ministry of Foreign Affairs, this week's Ceapad meeting resulted in a three-year work plan, which will commence in 2019.
The meeting in Bangkok was attended by officials from 11 countries, including Japan, South Korea, Singapore and Jordan, and five international organizations, including the World Bank and United Nations Relief and Works Agency for Palestine Refugees in the Near East (UNRWA).
Established in 2013, the Ceapad is a Japan-initiated forum for Asian countries and international organizations to coordinate and discuss effective ways to provide assistance to Palestine.
"The three-year Ceapad program specifically includes the proposed capacity building program, which will be in accordance with the needs of Palestinians and the resources or capacity of participating Ceapad countries," the statement said.
The financial aid from Indonesia will either be channeled through the Ceapad program, or other relevant programs, it added.
Indonesia has organized 169 capacity building programs for Palestine, involving almost 2,000 Palestinians. The government said it is currently preparing the provision of medicines and water desalination in Gaza.
The Southeast Asian country also offered what Minister Retno called the "3+1 Formula" for Palestinian independence.
That approach includes capacity building for the Palestine government across various sectors, creating a conducive environment for economic development, and cooperation on capacity building efforts by Ceapad and other organizations.
In addition, Retno said the international community must make a political commitment. Countries that have diplomatic relations with Israel should not move their embassies to Jerusalem and must formally recognize Palestine as an independent state.
"An independent Palestine cannot be set up in a short time; it will take a while. Indonesia's commitment to Palestinian independence will never fade; it will only expand," Retno was quoted as saying.
She added that Indonesia will prioritize the Palestinian issue during its two-year term as a non-permanent member of the United Nations Security Council, which will begin in 2019.
During the Ceapad meeting, Retno also highlighted key issues hampering the Palestinian struggle for independence, including weakening commitments, a halt in the peace process and violence committed by Israeli forces.
She met with Palestinian Foreign Minister Riad Maliki on the sidelines of the meeting to discuss ways to move the Palestinian-Israeli peace process forward.
Full report at:
http://jakartaglobe.id/news/indonesia-commits-2m-aid-support-capacity-building-palestine/
--------
Malaysia withdrawing troops from Saudi-led military coalition: Defense minister
Jun 28, 2018
Malaysia says it is pulling its troops out of the Saudi-led military coalition, which has been relentlessly pounding impoverished Yemen in an imposed war for the past three years.
"The Cabinet made the decision (to bring soldiers home) last week. We are waiting for the preparations carried out by the Armed Forces," Malaysia's Defense Minister Mohamad Sabu told journalists in a select media interview at the ministry in the capital Kuala Lumpur on Thursday.
"We are also waiting for the cooperation from the Foreign Affairs Ministry that will assist in the move," he added.
Saudi Arabia and some 20 of its allies, including the United Arab Emirates, Morocco and Sudan, launched a brutal war, code-named Operation Decisive Storm, against Yemen in March 2015 in an attempt to reinstall Abd Rabbuh Mansur Hadi, Yemen's former president and an staunch ally of Riyadh, and crush the popular Houthi Ansarullah movement.
The Houthi movement, which is a significant aid to the Yemeni army in defending the country against the invading forces, has been running state affairs in the absence of an effective administration during the past three years.
The military aggression against the impoverished nation was initially consisted of a bombing campaign but later coupled with a naval blockade and the deployment of ground forces into Yemen.
The Yemeni Ministry of Human Rights announced in a statement on March 25 that the war had left 600,000 civilians dead and injured until then. The war and the accompanying blockade have also caused famine across Yemen.
The Saudi-led aggression has also taken a heavy toll on the country's facilities and infrastructure, destroying many hospitals, schools, and factories. The United Nations has already said that a record 22.2 million Yemenis are in need of food aid, including 8.4 million threatened by severe hunger.
"Malaysia remains a friend of the countries as well as their neighbors. [However,] we don't want to be part of the conflict with Saudi Arabia's neighboring countries," Sabu added.
Separately, Malaysian National News Agency, Bernama, quoted the defense minister as saying that his country could be dragged indirectly into the Saudi-led war on Yemen by dint of its military troops being stationed there by the previous Barisan Nasional administration.
Unlike the incumbent defense minister, his predecessor, Datuk Seri Hishammuddin Hussein, had sought to assure Malaysians in March last year that the Southeast Asian country would not be affected by the Saudi-led war, claiming that the troops were there for humanitarian purposes.
Malaysian troops have been in Saudi Arabia since 2016, when the brutal war triggered a deadly cholera outbreak in Yemen, which has already killed thousands of people.
Full report at:
http://www.presstv.com/Detail/2018/06/28/566379/Malaysia-Saudi-Arabia-coalition-Yemen-troops-withdrawl
--------
Grandpa Mahathir Is In Town to Exchange Power Secrets With Jokowi
June 29, 2018
To express deep respect for 92-year old Malaysian Prime Minister Mahathir Mohamad, Indonesia's 57-year-old President Joko "Jokowi" Widodo intended to personally welcome the former at Halim Perdanakusuma International Airport on Thursday.
Jokowi is four years younger than Mahathir's eldest child, the dedicated columnist and activist Marina.
It is an ASEAN tradition that the new leader of a member state pays an introductory visit to fellow leaders of the region. Mahathir chose Indonesia as his first destination. Mahathir recently praised Jokowi's leadership, his achivements to make Indonesia more advanced — for the first time according to Mahathir — than Malaysia.
The two leaders are slated to hold bilateral talks and have a working luncheon at Bogor Palace on Friday. Mahathir and Jokowi will discuss bilateral relations, especially on economic and international affairs. But this time around, the two leaders need to sideline formalities.
Jokowi is likely more interested in hearing insights from his guest on what happened in Malaysia and how Mahathir made such a shocking comeback. His return to power is indeed inspiring many Indonesians, especially some elderly politicians who think they can emulate Mahathir.
Jokowi has hinted at his reelection bid next year. He may ask Mahathir to share his experience of uniting a nation, because his political opponents describe him as an enemy of Islam. Of course the problems of Malaysia and Indonesia are strikingly different even though Islam is the majority religion in both countries.
Jokowi also needs to learn about Mahathir's experience in dealing with ASEAN. The President should pay more attention to foreign policy affairs, including relations with neighbors. He can learn much from an experienced politician like Mahathir.
Likewise, Mahathir must be eager to know about Indonesia's political landscape, because he has to prepare his successor. Malaysia needs much younger leaders who are not part of the old system.
While serving as prime minister, Mahathir was known for his ambitious plan to prioritize Malays in the development of the country. Later, he realized that it did not work, and the Chinese and Indian minorities demanded equal treatment.
Mahathir's coalition surprisingly defeated former prime minister Najib Razak because Malaysian voters, including Malays, were angry about the rampant corruption that implicated Razak and his wife Rosmah.
Until Najib's fall from grace in May, Malaysian government officials, including diplomats and even the mainstream media, defended Najib and accused the foreign media of using the case for commercial gain.
"Little research on the internet will explain that none of the accusations leveled against Mr. Najib Razak are true," Malaysian Ambassador to Indonesia Zahrain Mohamed Hashim stated.
Mahathir openly said he would be a transitional leader. It is natural that the next Malaysian leader will be his former foe and "golden boy", Anwar Ibrahim, whose party won the May 9 election. His wife, Wan Azizah, is deputy prime minister, a position he once held under Mahathir.
But 70-year-old Anwar will also be a temporary leader, just to restore his dignity and honor. Malaysia needs a much younger leader with no links to the old, corrupt political system.
In this case, Mahathir can get advice from Jokowi.
It will become a nostalgic visit for Mahathir. In November 1994 he attended the Asia-Pacific Economic Cooperation summit hosted by then-president Soeharto. He seemed less enthusiastic, not just because he disliked the United States and Australia, but also because Soeharto sidelined his East Asia Economic Group (later the East East Asia Economic Caucus) idea. He insisted it would become a new regional grouping between ASEAN with Japan, China and South Korea.
During the Asian financial crisis Mahathir attacked the World Bank and the International Monetary Fund and refused to cooperate with them in overcoming the crisis. Mahathir took a fixed currency policy by pegging ringgit to the US dollar.
Malaysia recovered much speedier than Indonesia, but Indonesia insisted it could happen because Malaysia was much smaller. Mahathir demonstrated his solidarity to Soeharto who was struggling to restore the economy. People were outraged with Soeharto's cronies and children whom they accused of robbing the state coffers. Soeharto's 32-year rule collapsed in May 1998.
Mahathir remained in power until his resignation in 2003 after ruling the country practically like Soeharto: A dictatorship. Five years before, he jailed his deputy, Anwar Ibrahim, for sodomy. There was a joke at that time Mahathir fired and imprisoned Anwar for jealousy.
The two-day visit of the new prime minister — new but actfrom old stock — will atract wide-ranging public attention here for several reasons. For many Indonesians who experienced life under Soeharto, the medical doctor Mahathir will likely remember him as a leader who diligently acted as the "champion of developing countries" against Western countries.
Soeharto's ministers often joked that Mahathir often tried to steal the show on international stages from Soeharto, but often to no avail. His confrontational remarks against the industrialized countries often provoked outrageous such from the US presidents or Australian prime ministers.
Full report at:
http://www.thejakartapost.com/academia/2018/06/29/commentary-grandpa-mahathir-is-in-town-to-exchange-power-secrets-with-jokowi.html
--------
Arab World
Iraq's Abadi orders immediate executions of ISIS militants on death row
28 June 2018
Iraqi Prime Minister Haider al-Abadi on Thursday ordered the immediate execution of all convicted ISIS militants on death row, in a swift retaliation for the terrorist group execution of eight captives.
Abadi ordered "the immediate punishment of terrorists condemned to death whose sentences have passed the decisive stage", his office said, referring to convicts whose appeals have been exhausted.
More than 300 people, including around 100 foreign women, have been condemned to death in Iraq and hundreds of others to life imprisonment for membership of ISIS, a judicial source said in April.
Most of the convicted women are Turkish or from former Soviet republics, while a Russian man and a Belgian national are also on death row.
Abadi vowed on Thursday to avenge the deaths of the eight ISIS captives, a day after their bodies were found along a highway north of Baghdad.
"Our security and military forces will take forceful revenge against these terrorist cells," he told senior military officials and ministers.
"We promise that we will kill or arrest those who committed this crime," he said.
The corpses, found at Tel Sharaf in Salaheddin province, were decomposing and had been strapped with explosive vests, the army said.
They included six abductees who had appeared in an ISIS video with badly bruised faces. ISIS claimed they were Iraqi police officers or members of the Hashed al-Shaabi paramilitary force.
In the video posted on Saturday by the Amaq propaganda outlet of ISIS, the militants threatened to execute their captives unless Baghdad released Sunni Muslim women held in its prisons within three days.
But Abadi said that autopsies indicated the captives were already dead when the video was posted.
Iraq declared victory over ISIS in December after expelling the jihadists from all urban centers including second city Mosul in a vast military campaign.
But the Iraqi military has kept up operations targeting mostly desert areas along the porous border with Syria.
https://english.alarabiya.net/en/News/middle-east/2018/06/28/Iraq-s-Abadi-orders-immediate-executions-of-death-row-ISIS-militants.html
--------
Army Grants Amnesty to 1,000 Militants in Dara'a
Jun 28, 2018
Field sources reported on Thursday that 550 ex-militants in the towns of Southern Karim, Ayeb, Jadal and al-Rawisat as well as the village of al-Shara'eh in Northeastern Dara'a surrendered themselves and their weapons to the army on Wednesday.
They added that 450 more militants asked for government's amnesty in Northeastern Dara'a in the past 24 hours, increasing the number of ex-terrorists to 1,000.
Meantime, the army is still conducting military operations in Southeastern Dara'a from several fronts.
The Syrian army started the second phase of its large-scale anti-terrorism operation in Southeastern Dara'a after imposing control over the Northeastern part of the province on Wednesday.
The army men kicked off the second phase of their operation in Southeastern Dara'a by opening heavy fire at terrorists' positions in al-Sawameh region, Qaraz prison and East of Refugee Camp.
The army men intend to advance towards silos to cut off the roads from Eastern Dara'a to Dara'a al-Balad district and from Tariq al-Saad to Dara'a al-Balad that will end at the border with Jordan.
In the meantime, the army's artillery and missile units and aircraft pounded terrorists' movements and positions in Dara'a al-Balad and the small town of al-Qariyeh Sharqi in Dara'a countryside.
Full report at:
http://en.farsnews.com/newstext.aspx?nn=13970407000548
--------
22 civilians killed in air strikes on Southern Syria
28 June 2018
A barrage of Russian air strikes on rebel-held areas of southern Syria killed 22 civilians on Thursday, a monitoring group said, most of them in a single battered town.
"At least 35 Russian air strikes hit the town of Al-Mseifra," the Syrian Observatory for Human Rights said.
"One of them hit a basement where people were taking shelter, killing 17 civilians, including five children," the Britain-based monitor said.
The Observatory says it determines who carried out particular strikes based on the type of aircraft and munitions used, the locations and the flight patterns.
The hospital in Al-Mseifra had been put out of service by Russian strikes on Tuesday night, the Observatory said.
Another five civilians were killed in other rebel-controlled areas of Daraa, the main province in southern Syria.
"This is the highest toll since the escalation began on June 19," said Observatory head Rami Abdel Rahman.
Government forces have been ramping up their bombardment of rebel-held areas of the south since June 19, and allied Russian warplanes carried out their first raids on the region in a year on June 23.
In July last year, Russia, the United States and Jordan had agreed on a de-escalation zone for rebel-controlled parts of the south.
Full report at:
https://english.alarabiya.net/en/News/middle-east/2018/06/28/22-Civilians-killed-in-air-strikes-on-Southern-Syria-Monitor.html
--------
At the Hague, UAE demands that Qatar must stop supporting terror
28 June 2018
The United Arab Emirates demanded that Qatar stops supporting terrorists and terror groups, rejecting claims in front of the International Court of Justice (ICJ) in the Hague, that it violated the rights of the Qatari people.
The United Arab Emirates ambassador to Holland Saeed al-Nouwais said in front of the international court that his country has repeatedly asked Qatar to stop this behavior, adding that though Doha pledged to stop supporting terror more than once, it failed to meet its commitments.
Al-Nouwais said the United Arab Emirates cut all ties with Qatar because of Doha's support of terror and for meddling in neighboring countries' affairs and for its propaganda of hate.
https://english.alarabiya.net/en/News/gulf/2018/06/28/UAE-before-International-court-demands-Qatar-stops-supporting-terror.html
--------
Syrian army takes key town amid new advances in southwest
Jun 28, 2018
Syrian troops have regained control of al-Harak town in Dara'a Province from Takfiri terrorists as the government widens a major offensive against foreign-backed militants in the troubled southwest.
The military media unit of Lebanon's Hezbollah reported the recapture on Thursday. The so-called Syrian Observatory for Human Rights (SOHR) confirmed that government forces had advanced into the town's center but fierce fighting continued.
The Britain-based monitoring group, which is sympathetic to militants, also said Syrian aircraft bombed Takfiri hideouts in Busra al-Sham, Nawa, Rakham and other towns in the province.
According to the Syrian state television, government forces entered two villages further northeast. It also said hundred of militants in the Laja area, which the army seized earlier this week, handed themselves in with their weapons to "settle their affairs" with the government.
Syria's official news agency SANA also said units of the army restored control over the strategic Sukar hill and cemented their positions in the eastern countryside of Dara'a.
It said the terrorists' supply routes were cut off after new advances in the area between Um Walad and Jbeibib villages of the region.
Syria's southwest is strategically sensitive because of its proximity to the frontiers with both Jordan and the Israeli-occupied Golan Heights.
The recapture of Dara'a is highly important because it borders the occupied Golan Heights which Israel has used to treat wounded militants for years.
The territory's return to the Syrian government control would cut the much-reported collaboration between Israel and militants and deal a blow to Tel Aviv's plans to annex the Golan Heights.
Damascus says Israel and its Western and regional allies are aiding Takfiri terrorist groups operating inside the Arab country, while Tel Aviv carries out sporadic strikes against Syrian government forces.
Full report at:
http://www.presstv.com/Detail/2018/06/28/566390/Syria-SOHR-Takfiri-alHarak-usra-alSham-NawaRakham
--------
Ministry: 10 suspected Daesh members killed in Egypt
Jun 28, 2018
Egyptian police forces have launched raids across the country, killing and arresting suspected militants linked to the Daesh Takfiri organization hailing from Iraq and Syria.
Ten members of the Hasam outfit have been killed and two others arrested, Egypt's interior ministry said on Thursday, without specifying when the raids and arrests took place.
In one police raid, six militants were killed and a weapons cache was unearthed in Beheira province northwest of Cairo, the ministry said.
It said a suspect was arrested in a residential apartment in Alexandria where arms and explosives were also seized.
A shootout in Assiut province south of Cairo left four other suspects dead, the ministry said. A Hasam member who had allegedly acquired the car used in a March 24 car bombing in the Alexandria in northern Egypt was also arrested.
The suspected militants were allegedly all involved in the bombing on the eve of elections targeting a security chief for Alexandria that killed two policemen.
Police accuse Hasam of being an armed wing of the Muslim Brotherhood, which was banned after the army ousted Egypt's democratically-elected president Mohamed Morsi in 2013 following mass protests against his one-year rule.
Morsi was backed by the Muslim Brotherhood which denies any involvement with militant groups.
More than seven years ago, an uprising led to the ouster of long-time dictator Hosni Mubarak from power. Since then, Egypt is suffering from a tattered economy and militants affiliated with Daesh.
Full report at:
http://www.presstv.com/Detail/2018/06/28/566382/Egypt-Alexandria-Raid-Arrest
--------
Bloodiest day yet in south Syria offensive
June 29, 2018
BEIRUT - A barrage of Russian strikes on rebel-held towns in southern Syria killed 22 civilians on Thursday, the bloodiest day yet of the government's latest offensive in the strategic region.
With Russia's help, Syrian President Bashar al-Assad's army has battered the south for more than a week with air strikes, rocket fire and crude barrel bombs.
The bombardment has forced more than 45,000 people to flee in search of safety, according to the United Nations, while others huddle in their basements to wait out the raids.
On Thursday, dozens of air strikes identified as Russian killed 22 civilians, a monitor said, mostly in the town of Al-Mseifra. "One of them hit a basement where people were taking shelter, killing 17 civilians, including five children," said the Syrian Observatory for Human Rights.
Russian air raids struck near the hospital in Al-Mseifra on Tuesday night, causing damage that forced medics to close it down, the Observatory said.
The monitor determines who carried out strikes based on the type of aircraft and munitions used, locations and flight patterns.
Another five civilians were killed in other rebel-controlled areas of Daraa, the main province in southern Syria. "This is the highest toll since the escalation began on June 19," said Observatory head Rami Abdel Rahman, adding that it brought the overall civilian toll since then to 93.
A doctor in Daraa's western countryside said his staff were preparing for an influx of critically wounded from Al-Mseifra.
"Because there are no medical services in the eastern countryside and because of the security situation, most of the wounded will be brought to us in the west," said Baha Mahameed, who manages the Union of Medical Care and Relief Organizations (UOSSM)'s operations in the south.
UOSSM said one of its medical staff was killed late Wednesday in an air strike in Daraa province, the third killed there in less than a week.
The government offensive has already forced five hospitals to close in the past week, including three in the past 48 hours, the Observatory said.
Syria has become infamous for attacks on health workers, with more facilities hit so far this year than in all of 2017. Rebels hold a horseshoe-shaped band of territory in the south spanning most of Daraa and Quneitra province to west. They also control southern districts of the city of Daraa, known as the cradle of Syria's seven-year uprising.
The rest is held by government forces, who also control most of Sweida province to the east.
Despite an internationally brokered ceasefire in place since 2017, the regime began ramping up bombardment of rebel-held towns in Daraa on June 19. Russian warplanes began raids on Saturday and on Tuesday the two air forces launched bombing operations against rebel-held neighbourhoods of the provincial capital. At the UN Security Council on Wednesday, Britain, France and the United States condemned Russia's role in the offensive.
French ambassador Francois Delattre called on "everyone, starting with Russia, to uphold their commitments so that this offensive ceases immediately".
Adopting a divide-and-conquer strategy that served them well across Syria, troops have already lopped off the northeastern arm of the rebel horseshoe.
Thursday's strikes were focused on Daraa's east, with White Helmets rescuers saying dozens of raids hit the towns of Busra al-Sham and Herak and pushed waves of people to flee.
The Observatory said raids were increasingly targeting urban areas. "The shelling is aimed at cutting off all means of life and to push people out en masse," said analyst Ahmad Abazeid who hails from Daraa.
"The regime and Russians are focusing on areas packed with residents and refugees, to produce the highest number of victims and push these areas to surrender or reconcile," he said.
Rebel-held neighbourhoods of the provincial capital were practically drained of residents.
"All the residents and civilians left. There are no civilians here," said Ahmad Abu Hazem, 26, a rebel fighter inside the city.
Most of the 45,000-plus people who already fled have headed to the sealed Jordanian border.
Officials in Nawa, a rebel-held town heavily hit in strikes on Thursday, issued a statement asking Jordan to take in refugees. But Amman has said the border will remain closed. The kingdom already hosts more than 650,000 registered Syrian refugees and estimates the actual number is closer to 1.3 million.
Full report at:
https://nation.com.pk/29-Jun-2018/bloodiest-day-yet-in-south-syria-offensive
--------
Civilians Rise against Terrorist Groups in Idlib
Jun 28, 2018
Local sources in Idlib reported that over 500 civilians poured to the streets in Idlib city in Northern Syria on Thursday to protest at the terrorist groups' acts and severe insecurities in the region.
Meantime, sources reported that a field commander of Faylaq al-Sham terrorist group, affiliated to the Free Syrian Army (FSA), named Abdollah Batal, was killed after a bomb was detonated in his car between the villages of Arab Saeed and Mourin in Western Idlib.
Reports also said that heavy clashes have erupted between unknown assailants and security forces affiliated to Tahrir al-Sham Hay'at (the Levant Liberation Board or the Al-Nusra Front) in the Central hospital of Idlib.
Also, a bomb went off in the town of al-Dana in Northern Idlib. There has been no report on the number of casualties and no one has claimed responsibility for explosion yet.
In a relevant development on Tuesday, a notorious commander of Tahrir al-Sham was killed by unidentified attackers in Idlib province amid intensified infighting among rival militants in the region.
Unknown assailants opened fire at the vehicle of Abu Ja'afar al-Janoubi, a notorious Tahrir al-Sham commander, in the town of Saraqib, killing him.
In the meantime, Tahrir al-Sham militants engaged in fierce clashes with ISIL terrorists in the town of Kafr Nubl in Southern Idlib, inflicting several casualties on both sides.
Full report at:
http://en.farsnews.com/newstext.aspx?nn=13970407000663
--------
Syrian Army Repels Terrorists' Attack in Quneitr
Jun 28, 2018
The army units engaged in heavy clashes with the militants on Thursday morning after the latter attacked their positions in regions near the village of Joba in Eastern Quneitra through Joba-Um Batenah road.
The army's artillery and missile units also targeted the terrorists' positions in the village of Um Batenah in Quneitra with precise attacks, killing a number of terrorists.
Field sources also reported that the army forces warded off the terrorists' offensives after killing a large number of them and destroying their weapons and military equipment.
Meantime, the Syrian army troops forced other militants to flee to their positions in the village of al-Hamidiyeh in Queitra which is under occupation of Tahrir al-Sham Hay'at (the Levant Liberation Board or the Al-Nusra Front).
In a relevant development last Thursday, the Syrian army repulsed attacks by Tahrir al-Sham terrorist group on several military points in Northern Queitra.
The Syrian army forces engaged in fierce clashes with Tahrir al-Sham militants who had attacked a number of military bases in the town of al-Ba'ath in Northern Quneitra from the village of al-Hamidiyeh on Thursday.
The army units killed and wounded a large number of militants during the clashes, destroying their weapons and military equipment.
Other terrorists fled towards al-Hamidiyeh and adjacent areas after the heavy defeat.
The army troops also pounded the terrorists' moves in the road between the two towns of Masharah and Naba'a al-Sakhar in Quneitra, killing and wounding a number of militants.
Full report at:
http://en.farsnews.com/newstext.aspx?nn=13970407000515
--------
Fresh Tensions Reported between US-Backed Militants, Civilians in Deir Ezzur
Jun 28, 2018
The sources said on Thursday that residents of the town of al-Shahil have held protest rallies against the SDF and blocked the roads in Eastern Deir Ezzur.
They added that the SDF then detained nearly 70 local residents of the region, noting that several other people were also arrested in the town of Zabiyan and the village of al-Hawayej in Eastern Deir Ezzur.
Meantime, a number of SDF forces have been killed and wounded during repeated explosions and assassination attempts by unknown assailants in Eastern Deir Ezzur.
The SDF forwarded more gunmen and military hardware to Eastern Syria on Monday as attacks on the SDF is on rise in Deir Ezzur province.
An SDF gunman was killed after unknown assailants opened fire at the US-backed militia near Konico Gas Company in Eastern Deir Ezzur.
In the meantime, several SDF militias were killed or wounded in an attack by unidentified raiders near al-Amr oilfield in Eastern Deir Ezzur.
Meanwhile, a local source pointed to the assassination of several SDF members in Badiyeh (desert) of the town of Khusham in Eastern Deir Ezzur, adding that assassinations have been increasing in the region after recent tensions between civilians and the SDF in the regions held by US-backed militias.
Full report at:
http://en.farsnews.com/newstext.aspx?nn=13970407000457
--------
12-hour ceasefire in Syria's Dara agreed upon starting at midnight
28 June 2018
Sources revealed to Al Arabiya news channel that a 12-hour ceasefire in Daraa province in southern Syria has been reached between Russia and some armed factions, starting at midnight local time.
Meanwhile, the Syrian Observatory for Human Rights said on Thursday that air strikes on rebel-held areas of Daraa province led to the killings of 46 civilians, among them children.
Amid intensifying its military actions in southern Syria supported by Russia, the Syrian regime's military jets bombarded in the last few days many villages in the province.
The human rights observatory said that the Syrian regime's forces and allied militias have succeeded in advancing towards eastern Maliha and southern Maliha amid intense clashes in an attempt by the rebels to re-take the area.
Sham news agency also reported that the military central operation room in southern Syria warded off intrusion attempts by Bashar Assad's forces and allied Hezbollah militias towards a military air defense base in western Daraa.
Earlier, the UN Syria envoy Staffan de Mistura expressed his concerns towards the Syrian regime's attack on Daraa, warning of a repeated scenario similar to what happened in eastern Ghouta and Aleppo.
Full report at:
https://english.alarabiya.net/en/News/middle-east/2018/06/28/A-12-hour-ceasefire-in-Syria-s-Dara-starting-at-midnight.html
--------
Mideast
Tehran's ties with al-Qaeda, extremist Salafist groups uncovered
29 June 2018
New documents from Abbottabad, the Pakistani city where al-Qaeda leader Osama bin Laden was hiding out, uncovered details of deep ties between Iran's Khomeini regime and several armed "Salafists" groups.
The US Central Intelligence Agency had seized documents in 2011 from Abbottabad that revealed ties between al-Qaeda and the Iranian Revolutionary Guard Corps.
The "Salafist" groups identified in the newly-exposed document include the Armed Islamic Group of Algeria, which began its operations in 1992, and the Libyan Islamic Fighting Group, which started its operations in 1982 and reformed again in 1989 before joining al-Qaeda in 2007.
Among the groups are the Egyptian radical Islamist group, the al-Takfir wa al-Hijra, Hamas, and the Palestinian Islamic Jihad.
Bilateral alliances
The Khomeini regime has been working with members of "Salafist" groups since the Islamic Jihad group assassinated Anwar Sadat in October 6 of 1981.
Sadat's assassination and the success of the Iranian Revolution launched bilateral alliances between several political Islamist groups, with Lebanon's Hezbollah and its Sunni counterparts supporting them.
Calling it an "Islamic Awakening" or "Islamic Revolution," the allied groups devised a "pragmatic" political goal to overthrow the leaders of the Arab nations together.
Al-Qaeda's 'meager years'
There was no mention of who wrote the document, which Al Arabiya reviewed, but a highly-ranked al-Qaeda member is said to be responsible for the file.
The unidentified leader said the document was meant to clarify al-Qaeda's relationship with Tehran following an influx of information in the media that had left their supporters confused. It also outlined how al-Qaeda leaders first developed their political strategy and when the Khomeini regime began working with other extremist Salafist "jihadi" groups.
At the time of al-Qaeda's formation and its early years, which the document described as the "meagre years," the Armed Islamic Group of Algeria faced strong opposition, followed by the Libyan Islamic Fighting Group in 1995-1997.
The writer added, "Islamic jihadists grew more frustrated as more political groups faced opposition over the years. One of those instances was when the Sudanese government expelled members of the Muslim brotherhood, among them Sheikh Osama and his party, the Libyan Islamic Fighting Group, and several others."
According to the document, "Several groups traveled to other countries to find shelter for their leaders and members. The Egyptian Muslim Brotherhood intended to settle in Iran, where they could live freely and safely."
Taking advantage of their ongoing strife with Egypt, Iran agreed to shelter the Brotherhood. But Iran's support of the Brotherhood soon drove other Salafi extremist groups, like the Libyan Islamic Fighting Group, to try to form alliances with the country.
According to the document, "Abu Abdullah al-Sadiq" or Saif al-Islam Qaddafi, leader of the Libyan Fighter Group and son of Libyan leader Muammar Gaddafi, pushed to form an agreement with Iran.
However, the document continued, that the Sharia Council, headed by Sheikh Abu Mundhir and Sheikh Abu Yahya, two of the most high-ranking jihadi officials with strong ties to al-Qaeda, and others insisted that the state of the group was not critical enough for them to join forces with Iran.
But the Sharia Council's refusal to form ties with Iran did not stop the Libyan Islamic Fighting Group leaders from sending several members to Tehran, where they joined forces with other jihadists from Algeria, Tunisia, Egypt and Libya.
Al-Qaeda's deep ties with Iran
With the withdrawal of Taliban leader Mohammed Omar, "Mullah Omar," the seizing of Kandahar, and the American strikes that followed 9/11, al-Qaeda was forced to withdraw into the Afghan cities of Khost and Gardez.
The document also revealed that Hezbollah sent a representative to al-Qaeda leaders with advice to contact him and offered the group shelter.
The writer added, that "Abu Musab al-Suri," a Syrian al-Qaeda member, also suggested he contact some of the old dignitaries that he knew from Saddam Hussein's regime. The problem, the writer continued, was the ever-growing number of members that needed to be protected.
The first stage in Tehran
The al-Qaeda leader continued to detail how several groups began relocating to Iran after the fall of the "Islamic Emirate" in Afghanistan. "Most of the Jihadists went to Pakistan or settled in Tehran. I was one of the people who went to Waziristan and then to Karachi, where we stayed for about three months," he wrote.
He added: "We received orders from the Brotherhood to go to Tehran, and leaders from all the other groups, whether it was al-Qaeda or the Libyan Islamic Fighting Group, passed on the same orders. So a large number of members began traveling to Tehran, some of them received visas to enter the country while some went in without visas at all."
Members, which included junior officials from al-Qaeda were among the first to be stationed in Iran. They were also joined by other leaders from the Egyptian Brotherhood, Egyptian jihadists, and other jihadi groups from the Levant, like Zarqawi's group.
According to the document, Abu Hafs was put in charge of forming a deal with Iran to allow the "brothers" to come to the country for refuge. While the influx of Salafist jihadists was welcomed with open arms, they were asked to abide by a certain number of rules.
According to the document, the pre-arranged deal meant "the Brotherhood could not use mobile phones nor make any phone calls, because the American security services were tracking the calls. While they could rent houses, they were ordered to refrain from suspicious activities."
In Iran, al-Qaeda members and other Salafists were considered "heroes" who were going to take down America, wrote the operative. According to the document, they were respected and celebrated.
The second stage in Tehran
When operatives failed to keep up their end of the bargain, Iran set up residential complexes to prevent any information from leaking to the American authorities.
According to the document, Abu Hafs could not manage all the members, who "behaved erratically, bought mobile phones and cars, they went around Tehran whenever they pleased, and they even spoke to members in Chechnya on the phone," the operative wrote.
As a result, Abu Hafs and Iran agreed that members from the Gulf, Syria, and other countries, were to be sent back to their countries. However, the document explains, when many members did not follow the rules of their agreement, and Iran soon turned on the very people who they promised to protect.
Iranian forces began raids to capture al-Qaeda members, many of whom the file described as "ordinary members of al-Qaeda" as well as a few prominent members. Those who managed to escape went to the Iranian city of Zahedan.
Members of extremist groups were separated throughout Iran, and began renting out homes all over the country with the help of "trusted Sunni brothers" who rushed to their aid. According to the document, Iranian authorities helped members who had visas, and those who did not were shown where they could acquire the necessary papers.
Utmost respect
According to the uncovered document, officials from the Islamic Revolutionary Guard Corps treated captured members with the "utmost respect," and even offered apologies to the detainees. The guards disclosed that they were under "a lot of pressure" and were ordered to capture the brothers for their own protection.
The al-Qaeda leader revealed that detainees were "investigated" and only asked to divulge their names, age, and general information about themselves. The prisoners were "offered food, treated well, and some members were even put on house arrest in hotel rooms."
Ties between Iran and the Salafist jihadi groups have not come to an end, and extremists set up ground in multiple Arab and Islamic countries.
Part two of this article will outline Abu Musab al-Zarqawi's leadership in Iraq, al-Qaeda operations in Saudi Arabia, and details of Tehran's additions to "Sunni" militant groups.
https://english.alarabiya.net/en/features/2018/06/29/Tehran-s-ties-with-Jihadi-Salafist-groups-uncovered.html
--------
Top Houthi leader killed, while 70 militias killed in fighting with Yemeni Army
28 June 2018
The Houthi militias in Yemen have announced the death of a senior leader among its ranks, without giving any further details.
The so-called political bureau of the Houthis announced in an obituary that its leader Abdul Nasser al-Junaidi was killed. Junaidi was a member in the delegation in Kuwait negotiations back in 2016.
While the militia did not specify how and when he was killed, sources said that he may have been killed in an air strike by the Arab coalition and which targeted a meeting for senior Houthi leaders at the presidency office in Sanaa early May.
In another military development, around 70 Houthis have been killed recently in confrontations with the Yemeni legitimate forces, the popular resistance units and airstrikes backed by the coalition at fronts in al-Bayda, west coast, Taiz and north of Lahij, amid a field advancement by the legitimate forces.
Brig. Gen. Abdul Rab al-Subhi, commander of the 117th Infantry Brigade, said: "At least 25 militia members were killed and others wounded during battles in the eastern front of al-Bayda province."
He added that more than "30 militia members were killed in the West Coast Front by coalition air strikes targeting gatherings of the Houthi militias in the eastern districts of al-Tahita, a -Duraiham and Zubaid."
At the same time, fierce fighting continues in the north of Lahij province, where the national Yemeni army forces advanced towards al-Raheda area, southeast of Taiz, after regaining control of sites and highlands in the areas of Qubaytah and Hifan.
Full report at:
https://english.alarabiya.net/en/News/gulf/2018/06/28/Gargash-UAE-refutes-Qatar-s-allegations-in-front-the-UN-court.html
--------
Arab states' intel heads, Mossad chief hold secret meeting: Report
Jun 28, 2018
Spy chiefs of Israel and regional Arab countries have reportedly attended a secret summit hosted by the US president's senior advisor as Washington moves to conclude a controversial "peace" plan on the Israeli-Palestinian conflict without the consent of the Palestinian side.
French news outlet Intelligence Online reported Thursday that the intelligence heads of Jordan, Egypt, Saudi Arabia as well as Mossad chief, Yossi Cohen, took part in the clandestine conference initiated by US President Donald Trump's senior adviser and son-in-law, Jared Kushner, and US envoy to the Middle East, Jason Greenblatt, who were on a regional tour earlier this month.
The report said Palestinian intelligence chief, Majed Faraj, also joined the meeting. However, according to the Palestinian Ma'an news agency, the Palestinian Authority (PA) has denied having sent its representative to the meeting.
Intelligence Online claimed the US views Faraj as an option to replace Palestinian Authority's President Mahmoud Abbas.
The report did not say where or when the summit took place, but Israel's Arutz Sheva radio station said it had been held "ten days ago."
Faraj had reportedly met with US Secretary of State Mike Pompeo two months ago for a conversation that dealt mainly with the situation of the Palestinian Authority on the day after Abbas leaves office.
Egypt and Jordan are the only two Arab countries with official relations with Israel. Saudi Arabia does not officially recognize Israel and has no formal ties with the regime, but under Crown Prince Mohammed bin Salman, Riyadh has stepped up its public overtures towards Israel, which are viewed as an attempt to prepare public opinion at home and elsewhere for potential normal relations with Israel.
The Saudi regime has long been seeking to depict itself as an advocate of the Palestinian cause, but reports over the past months suggest that the kingdom is helping the US behind the scenes to impose the hugely pro-Israel "peace" plan on Palestinians.
On Monday, Israel's Hayom daily reported that Saudi Arabia, the United Arab Emirates, Egypt and Jordan had given the green light to the contentious US plan on the Palestine issue, which is said to have been devised based on Israeli interests at the cost of Palestinian rights.
The US is pushing to conclude the proposal despite the Palestinian Authority's rejection of its mediation role in the conflict with Israel.
The US-Palestine ties deteriorated last December, when Washington recognized Jerusalem al-Quds as the "capital" of Israel and announced plans to transfer the embassy from Tel Aviv to the holy city.
Israel lays claim to the whole Jerusalem al-Quds, but the international community views the city's eastern sector as an occupied territory and Palestinians consider it as the capital of their future state.
The contentious move led Abbas to formally declare that Palestinians would no longer accept the US as a mediator to resolve the conflict, because Washington was "completely biased" towards Tel Aviv.
Israeli Prime minister Benjamin Netanyahu recently described Israel's relations with the Arab world to be at their "best ever."
On June 22, Israel's Maariv newspaper reported that Saudi crown prince and Netanyahu had held secret meetings in Amman.
Full report at:
http://www.presstv.com/Detail/2018/06/28/566354/Israel-Mossad-chief-Arab-states-secret-summit-Jordan-Egypt-Saudi-Arabia
--------
Pilgrims to Yemen non-violent radicals
Prashanth M P
Jun 29, 2018
KOZHIKODE: The groups from Kerala that have gone to Yemen for religious studies are 'nonviolent radicals' who are against any form of violence, it is learnt.
Those who study Yemeni Salafism said that it was an error to equate Dammaj Salafis (Dammaj is a city in Yemen) with the terror outfit Islamic State (IS), though their views on certain issues are dangerously close to that of the IS.
The two families from Kasaragod who were missing since June 15 are believed to have landed in Hadramout in Yemen and are pursuing course on Hadees under Sheikh Abu Bilal Hadrami.
In the early 2000, a section among the Muslims in Kerala started showing keen interest in Darul Hadees (Hadees study centres) in Dammaj established Salafi scholar Sheikh Muqbil bin Hadi al-Wadi in 1980. The Dammaj Salafism is characterised by dislike for organizational set up and an intense yearning to keep a distance from kaffirs (non-believers) .Following the Dammaj Salafis, a group emerged in Kerala led by Salafi preacher Subair Mankada, who set up a commune in Athikkad near Nilambur. Internal strife led to the final disbanding of the commune.
Some groups of Yemeni Salafis exist even now who look towards Yemen as the fountain head of knowledge, though the city of Dammaj was destroyed in the attack by the Houthi rebels. Hadramout has emerged as the new destination of Malayalis.
Yemeni Salafism is now a fragmented phenomenon under different sheikhs, but most of them share some common traits. A Yemeni Salafi is taught to reject democracy, pluralism and secularism and are told that kaffirs are to be hated for their beliefs. And these are, incidentally, part of the ideology of the IS too.
The major point that distinguishes the Yemeni Salafis from the IS the issue of Jihad. The Dammajis firmly believe that to rebel against a ruler is against the tenets of Islam as it would invite anarchy in the country. The IS, on the other hand, has declared an open Jihad against kaffirs.
"The non-violent Yemeni Salafis are against the IS, but there is a chance of them straying to extremism," said Sufyan Abdul Sathar, who studied about Yemen Salafism.
"Their ideology is not suited to a pluralistic society. They go to Yemen to seek knowledge because they believe that there are no scholars in India. Most of them wanted live in true Islamic environment," he said.
Full report at:
https://timesofindia.indiatimes.com/city/kozhikode/pilgrims-to-yemen-non-violent-radicals/articleshow/64788986.cms
--------
Iran says intelligence sharing key to war on terror
Jun 29, 2018
Iran's Permanent Representative and Ambassador to the United Nations Gholamali Khoshroo has called for the creation of enhanced intelligence sharing mechanisms among nations as a necessary move that can help halt the spread of terrorist activities across the world.
In a Friday address to a subsidiary panel of the UN High-Level Conference on Counter-Terrorism in New York, Khoshroo said UN member states needed more sophisticated initiatives to coordinate their joint fight against terrorism.
"It is essential that the member states strengthen their cooperation at the international, regional, sub-regional and bilateral levels including through enhanced operational and timely information sharing," said Khoshroo.
The Iranian envoy said such cooperation could boost efforts by governments to prevent the entry of terrorists and enhance security at borders, stressing that it could also prevent the terrorists from using money laundering schemes through banks.
Khoshroo said Iran enjoyed strong working relations with Interpol in the area of exchanging information specifically over the movements of terrorists, adding that this intelligence sharing had already led to "intensified practical arrangements" to ensure security and safety in civil aviation, at borders and in the banking system.
The senior Iranian diplomat further highlighted Iran's efforts in the area of fighting terrorism, citing a national strategy adopted by the Supreme National Security Council of the Islamic Republic of Iran in 2013 as a clear example of this.
Khoshroo said all countries were in urgent need of cooperating on the issue of counter-terrorism strategies.
Full report at:
http://www.presstv.com/Detail/2018/06/29/566426/Iran-UN-envoy-terrorism-strategy
--------
Zarif to Pompeo: US, not Iran, squandering own people's resources
Jun 28, 2018
Iran's top diplomat says the US is squandering the resources of its own nation to push ahead with its policy of adventurism abroad and support "terror-sponsoring regimes," stressing that the American people have had enough of "corruption" and "injustice" at home.
Mohammad Javad Zarif posted a press statement on his Twitter page on Thursday to hit back at US Secretary of State Mike Pompeo over his latest interventionist comments about recent protests against economic issues in Tehran.
In the statement, Zarif mimicked Pompeo, who sought on Wednesday to take advantage of guild-related protests in Tehran and denounce the Iranian establishment's policies -- a usual practice of the Washington administration.
Drawing attention to the negative impacts of Washington's harmful foreign agenda on the lives of American people, Zarif said, "The US government is squandering its citizens' resources, whether its adventurism in Iraq and Afghanistan, its blind support for Israel and terror-sponsoring regimes, or its wasteful expansion of its nuclear arsenal: it will only add to the suffering of the people of America."
Zarif also touched on the latest wave of protests across the US over the past days against President Donald Trump's "zero tolerance" immigration policy, under which more than 2,000 migrant children who illegally crossed into the US with adult relatives were separated from them.
Many of those children ended up in concrete-floored cages in detention facilities or were placed with foster families.
The Iranian foreign minister further condemned the US government's "futile tactics of suppression, imprisonment of protesters, separation of immigrant families and caging of their babies, and the denial of Americans' frustrations."
The American people, he added, want their leaders "to share the country's wealth and respond to their legitimate needs," said his Twitter statement.
Zarif further emphasized, "The people of the United States are tired of corruption, injustice and incompetence from their leaders. The world hears their voice."
Earlier this week, a group of businesspeople in Tehran Grand Bazaar shut down their businesses in protest at the economic performance of the administration as well as foreign exchange problems -- which are mainly rooted in Washington's hostile policies toward Iran, particularly the re-imposition of economic sanctions on Iran after leaving the 2015 nuclear deal.
Full report at:
http://www.presstv.com/Detail/2018/06/28/566381/Iran-US-Zarif-Pompeo
--------
Israel confident US won't ease nuclear limits on Saudi Arabia
Jun 28, 2018
Israel's energy minister says the United States is not planning to ease nuclear non-proliferation limits on Saudi Arabia in case it strikes a nuclear power deal with the Arab kingdom.
In a Reuters interview published Wednesday Yuval Steinitz said Israel vehemently opposes any attempt by Saudi Arabia to clinch nuclear power deals with the US that relax the so-called "gold standard."
The standard bans Riyadh from enriching uranium or reprocessing spent nuclear fuel to extract plutonium.
"Once you allow one country to enrich uranium or reprocess fuel, it will be extremely difficult to tell other countries in this vicinity or elsewhere in the world not to do so," Steinitz said, after discussing the matter with US officials in Washington.
By relaxing the limits "you deteriorate the non-proliferation effort, so I am confident the Americans would listen to our concern," he added.
The US and Saudi Arabia had discussed possible cooperation on nuclear energy under former US President Barack Obama, but those talks were frozen after the Saudis refused to accept the "gold standard."
But US President Donald Trump, who has been willing to drop that requirement, has already authorized his Energy Secretary Rick Perry to work with Saudi Arabia on a civilian nuclear agreement.
Steinitz, who was in the US capital for the World Gas Conference, noted that Israel would support a Saudi deal for nuclear power only if the kingdom adhered to the gold standard protections and purchased uranium from the US.
The development comes as the Israeli regime is the sole possessor of nuclear weapons in the Middle East. Ironically, the regime has been accused by its own nuclear experts of selling Saudi Arabia information that would allow the kingdom to develop nuclear weapons.
Despite a lack of formal diplomatic relations, Israel and Saudi Arabia have become de-facto allies against Iran.
Saudi and Israeli officials were delighted when Trump pulled out of the 2015 Iran nuclear deal on May 8. The kingdom's Crown Prince Mohammad bin Salman and Foreign Minister Adel al-Jubeir even said they were ready to pursue making nuclear weapons in the wake of Washington's withdrawal from the agreement.
Full report at:
http://www.presstv.com/Detail/2018/06/28/566405/Israel-Saudi-Arabia-Steinitz--nuclear-gold-standard
--------
Israeli tank fire kills Palestinian teen near Gaza fence
Jun 28, 2018
A Palestinian teenager has been killed after being hit by Israeli tank fire at a fence along the besieged Gaza Strip and occupied territories, Gaza's Health Ministry says.
According to the ministry, Abdel Fattah Abu Azoum, 17, was hit in the head earlier on Thursday near Rafah in the southern part of the Palestinian enclave.
The Tel Aviv regime's army has confirmed the killing, claiming that he and a companion were seeking to breach the fence.
Palestinian medics said the other escaped with minor injuries.
Protests along the Gaza fence since March 30 have led to clashes with Israeli forces in which dozens of Palestinians have lost their lives and hundreds of others sustained injuries.
On May 14, Israeli troops opened fire on Palestinians who had gathered near the Gaza fence for the climax of a six-week demonstration coinciding with the inauguration of the US embassy in Jerusalem al-Quds. Over 60 Palestinians were shot dead and over 2,700 wounded by Israeli snipers who had been positioned along the fence.
Every year on May 15, Palestinians all over the world hold demonstrations to commemorate the day, which marks the anniversary of the forcible Israeli eviction of hundreds of thousands of Palestinians from their homeland in 1948.
At least 135 Palestinians, including 14 children, have been killed by Israeli forces during the Return rallies at the fence separating Gaza from the Israeli-occupied territories. Over 15,000 Palestinians also sustained injuries.
The death toll has drawn international criticism, but the United States which has angered Muslims with its embassy move, has supported Israel.
The United Nations Children's Fund (UNICEF) has said children in the besieged Gaza Strip are the main victims of the Israeli atrocities, where some 1.8 million people are living under a crippling blockade.
Gaza has been under the Israeli siege since June 2007, causing a decline in living standards as well as unprecedented unemployment and poverty.
Full report at:
http://www.presstv.com/Detail/2018/06/28/566370/Palestine-Israel-Gaza-West-Bank-US
--------
UN tests prove Houthi missiles fired at Saudi Arabia were Iranian manufactured
June 28, 2018
DUBAI: The United Nations Secretary-General for Political Affairs confirmed that the technical assessments conducted by the UN on the missile fragments fired at Saudi Arabia were Iranian manufactured, the UAE's press agency WAM reported on Thursday.
Rose Marie DiCarlo said that the five missile fragments that were found in the areas of Yanbu and Riyadh in July 2017 were similar to the Iranian missile type "Qiam-1," with the words "Made in Iran" written on some of the components of these missiles.
Saudi Arabia's air defense forces intercepted and destroyed several ballistic missiles launched by Iran-backed Houthi militia in Yemen over the past year.
In her testimony before a UN Security Council session on Wednesday evening, DiCarlo revealed UN tests on other weapons seized on a boat intercepted at sea by the UAE which contained Iranian explosives.
Full report at:
http://www.arabnews.com/node/1329606/saudi-arabia
--------
South Asia
Airstrikes target Taliban gathering in Faryab province
Jun 28 2018
The Taliban militants suffered casualties during the airstrikes targeting a gathering of the militants in northern Faryab province of Afghanistan.
The 209th Shaheen Corps of the Afghan Military in the North said the airstrikes were carried out in the vicinity of Khwaja Sabs Posh district.
A statement by the Shaheen Corps stated that a large number of Taliban militants had gathered in Khwaja Qashri area, apparently planning attacks.
The statement further added that the Afghan forces carried out at least five airstrikes targeting the gathering which left at least 15 militants dead.
The airstrikes were carried out at around 1:30 pm local time and as a result at least eight militants also sustained injuries, the Shaheen Corps added.
At least two vehicles and three motorycles belonging to Taliban militants were also destroyed during the airstrikes, Shaheen Corps said.
The anti-government armed militant groups including Taliban militants have not commented regarding the report so far.
The latest airstrikes in Faryab have been carried out as the government is observing a ceasefire but the Afghan officials had earlier said any aggression by the militants would be responded accordingly.
https://www.khaama.com/airstrikes-target-taliban-gathering-in-faryab-province-05452/
--------
Deadly blast rips through the gathering of youths in Logar province
Jun 28 2018
A deadly blast ripped through a gathering of youths supporting peace process in central Maidan Wardak province of Afghanistan.
The 203rd Thunder Corps of the Afghan Military in the Southeast said the incident has taken place in the vicinity of Charkh district.
A statement by the Thunder Corps stated that a number of youths had gathered in Ismail Khel village in support of peace process when an explosion took place among them.
The statement further added that the blast has left at least eight people dead while at least four others were wounded.
A woman and child were among those killed, the Thunder Corps said, adding that the Afghan armed forces strongly condemn the attack on ordinary and innocent civilians, calling it a move against the humanity and Islamic values.
The anti-government armed militant groups including Taliban militants have not commented regarding the report so far.
Logar is among the relatively calm provinces in Central parts of Afghanistan where fewer security related incidents have taken place since the fall of the Taliban regime.
Full report at:
https://www.khaama.com/deadly-blast-rips-through-the-gathering-of-youths-in-logar-province-05451/
--------
UN, Bangladesh start joint ID verification of Rohingya refugees
June 28, 2018
DHAKA: Bangladesh's government and the UN High Commissioner for Refugees (UNHCR) have jointly launched an identity verification process for Rohingya refugees living in camps in Cox's Bazar.
The process is expected to last six months and use biometric data, including iris scans and fingerprints, to confirm people's identities, said the UNHCR.
"This exercise is a major step forward to establish the legal identity of Rohingya refugees from Myanmar," said Kevin Allen, head of operations for the UNHCR in Cox's Bazar.
"It makes clear that the Rohingya exist, that their rights must be respected, and that we are committed to laying the foundations for solutions."
All refugees older than 12 years will get ID cards after their identities are verified, said Bangladeshi officials.
Some 150 UN and Bangladeshi government field workers are engaged in the verification process.
"We'll use this database for better planning of aid management, and it'll help aid agencies and Bangladesh's government," Refugee, Relief and Repatriation Commissioner (RRRC) Mohammad Abul Kalam told Arab News.
"It'll help in avoiding service duplication, and ensure that every registered family and all verified people receive necessary aid."
In November 2017, Bangladesh and Myanmar signed a deal to start repatriating Rohingya refugees by Jan. 22, but Myanmar officials made identity verification a precondition.
"After this UN database, Myanmar's government won't get the chance to delay repatriation in the name of verification," said Rashid Khan, a refugee in Balukhali camp.
More than 1.1 million Rohingya refugees live in makeshift camps in Cox's Bazar, Bangladesh.
"Verification is an important milestone in contributing to securing the identity of persons who have fled from Myanmar and are now being generously hosted in Bangladesh," the UNHCR said.
Full report at:
http://www.arabnews.com/node/1329891/world
--------
Afghanistan's only non-Muslim candidate vows to fight for justice for all
June 28, 2018
KABUL: When Avtar Singh Khalsa tried to fill up the only slot for a non-Muslim minority in the last round of parliamentary elections in Afghanistan years back there was an outcry from many Muslim candidates.
The seat was abolished by a majority vote of the lawmakers until the current government, in a decree, ordered its return for the shrinking Hindu and Sikh community who lived in Afghanistan long before the arrival of Islam, and dominated the country's economy and trade.
With a large number of incumbent MPs under fire for enriching themselves rather than addressing the needs and grievances of supporters, this time Khalsa has not only received the backing of Hindu and Sikh minority, but also the support of Muslims he does not know.
"If I succeed, my first job will be to try to help the widows and the impoverished people from any part of the country. I will try to work for the unity of all Afghans who live under the flag of Islam here," Khalsa told Arab News in an interview in his office in Kabul's main joint temple.
"God has created us all. We are like a garden: there are pomegranate trees, apricot, peach…trees, God has created us like these trees, He could have created us all Muslims, Hindus," he said speaking of religion and tribes as more of an identity than a societal status.
The country is like a mother and a mother wants her elder child to be the servant of all of her children, he added. "I will serve all, my focus will not be the Sikhs and Hindus (alone)," he said.
The 53-year-old has been the chief custodian of Hindu and Sikh temples, as well as their leader for years.
His second priority will be to get the government to allocate plots for Hindus and Sikhs to build clinics, hospitals and small businesses to create jobs.
The projects will be funded by rich Afghan Hindus and Sikhs who — like millions of other Afghans — have been living overseas as refugees for decades, he said.
"They are fed up living abroad and are proud to be called Afghans. Even in India (the birthplace of Hindusism) they are called Afghans. They desperately want to come, but need assurances and means to invest and work," he said.
Wearing a dark blue turban and with the long beard characteristic of many Sikhs, Khalsa said that after more than four decades of war and foreign interventions, Afghans need unity more than anything else.
He proudly recalled serving as an officer in the Soviet-backed communist government of Afghanistan and how his Muslim neighbors took care of his family members who were wounded and killed in a rocket attack on a fateful day in southeastern Paktia province.
"I lost eight family members of mine that day while some were wounded. But the help and care I got from my neighbors then was unique and even my fellow Sikhs would not have been more helpful than my Muslim neighbors," he said.
For Khalsa, as for many Sikhs and Hindus, the Moscow-backed government led by the late president Mohammad Najibullah, was a champion of their rights and freedom.
They started to flee Afghanistan during the civil war that erupted in the 1990s, when there were around 200,000 Hindus and Sikhs in Afghanistan compared to around just a few thousand in recent years.
When warring factions fought over Kabul, razing neighborhoods in deadly rocket barrages, the two communities became targets, partly because of their religion, but also because they did not have a militia of their own for protection.
Many escaped when armed men stormed their temples in various parts of the country, and tore their religious book to avenge the destruction of a mosque by Hindu fanatics in India.
After complaining of extortion, intimidation, kidnappings, theft and even rape, those with the means, fled to India where they live as aliens requiring visas, like other foreigners.
Khalsa has deep nostalgia for the Taliban government who, like rest of his fellow community men, view the Islamists as helping their communities to regain their usurped properties, enforce rule of law and security.
"For days and nights, we were not locking our house doors, no one dared to enter or steal our house. The Taliban did not harass or suppress us," he said.
He complained that corruption and injustice have been on the rise both in the current government and the administration that took over when the US ousted the Taliban in 2001.
He laments how billions of dollars in foreign aid since the fall of the Taliban was wasted and squandered both by donors and the powerful Afghans.
Like many of his countrymen, he believes that the US is protecting its vested interests in Afghanistan, so wants to manage a controlled chaos in the country.
Full report at:
http://www.arabnews.com/node/1329871/world
--------
Suspect in Bangladeshi Publisher's Murder Shot Dead in 'Crossfire,' Police Say
2018-06-28
A suspect in the June 11 murder of a secular publisher was killed in a "crossfire" incident in Dhaka on Thursday, four days after being taken into custody, police said Thursday.
Abdur Rahman was arrested Sunday as a suspect in the killing of writer and publisher Shahzahan Bachchu, according to Mohammad Zayedul Alam, the police superintendent of Munshiganj district.
On Thursday, Rahman was accompanying security forces who were preparing to raid a suspected militant hideout when militants opened fire, prompting authorities to fire back, Alam said.
"Rahman's collaborators attacked us and tried to snatch him from us. Then police also opened fire," Alam told BenarNews. "During the gunfight between police and militants, Abdur Rahman was shot dead."
Three officers were injured in the gunfight, district intelligence officer Nazrul Islam told reporters.
Alam described Rahman as the Dhaka regional military commander of local militant group Jamaat-ul-Mujahideen Bangladesh (JMB). Rahman had confessed to shooting Bachchu, he said.
Bachchu, 57, was at a pharmacy in his village in Munshiganj when four suspects on two motorcycles gunned him down 17 days ago, police said.
Police said the suspects set off Molotov cocktails before shooting Bachchu, a former secretary general of the Munshiganj branch of the Communist Party of Bangladesh. The gunmen shot Bachchu after dragging him out of the pharmacy, a witness told BenarNews at the time.
Investigators linked JMB to Bachchu's killing after Rahman and his 28-year-old wife were arrested on Sunday following a raid on a militant hideout in Gazipur district, near the capital Dhaka, police told BenarNews.
The pro-Islamic State JMB claimed responsibility for synchronized nationwide bomb attacks in August 2005, in which the group set off almost 600 bombs within 30 minutes across the country. The bombs, mostly detonators or without explosive charges, killed two people, forcing the government to admit the presence of militants in Bangladesh.
The government shattered JMB's organizational network in 2007 by executing its founder, Shaikh Abdur Rahman, and his military wing chief, Suddiqul Islam, after convicting them in the killings of two assistant judges.
Suspected militants have targeted secularist bloggers, publishers and writers in recent years, killing at least 10 of them between February 2013 and April 2016 in machete attacks, police said. Dozens of suspects have been arrested and imprisoned in connection with the killings.
In July last year, the New York-based Human Rights Watch called on the Bangladeshi government to investigate allegations of summary executions of people caught in so-called "crossfire" incidents, a common term for alleged shootouts between police and suspects in the custody of authorities.
Rights activists in Bangladesh have suggested that that many of these incidents are staged.
Human rights activist Nur Khan Liton, in a phone interview with BenarNews, questioned the circumstances that led to Rahman's death.
Full report at:
https://www.benarnews.org/english/news/bengali/bangladesh-killings-06282018165314.html
--------
Afghan Air Force continues to add new capabilities, says Gen. Bunch
Jun 28 2018
A top US General in Afghanistan has said that the Afghan Air Force continues to add new capabilities as efforts are underway to boost the fighting the capabilities of the Afghan national defense and security forces.
Brigadier General Lance Bunch, assistant deputy commanding general for Air, U.S. Forces-Afghanistan, and vice commander of the 9th Air and Space Expeditionary Task Force-Afghanistan, U.S. Forces Central Command, made the remarks during a video teleconference with the reporters in Pentagon on Wednesday.
"Part of our mission is training, advising and assisting the Afghan Air Forces as they build — both build their — and train their air force, while simultaneously fighting this war," Gen. Bunch said.
Gen. Bunch further added " Building on our last conversation back in December, we are witness to the growth of the Afghan Air Force in capacity and proficiency as they continue to target the Taliban across this country."
According to Gen. Bunch, the Afghan Air Force continues to add new capability, from dropping laser-guided bombs, to combat air drops, to integrating the UH-60 into their operations. This is an air force that gets better every day.
"In March of '18, this year, they dropped their first laser-guided bomb, a significant increase in their capability and their precision as they go after the Taliban targets wherever they are in the country," he said in response a question, adding that they've dropped up to 75 of those now.
Full report at:
https://www.khaama.com/afghan-air-force-continues-to-add-new-capabilities-says-gen-bunch-05453/
--------
URL: https://www.newageislam.com/islamic-world-news/britains-prince-william-tours-al/d/115682
New Age Islam, Islam Online, Islamic Website, African Muslim News, Arab World News, South Asia News, Indian Muslim News, World Muslim News, Women in Islam, Islamic Feminism, Arab Women, Women In Arab, Islamophobia in America, Muslim Women in West, Islam Women and Feminism