New Age Islam News Bureau
5 Jun 2018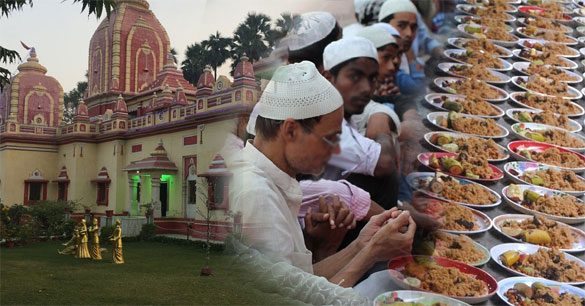 The temple - Saryu Kunj - is approximately 500 years old and is situated next to the Ramjanmabhoomi-Babri Masjid site. BCCL/REPRESENTATIONAL IMAGE
----
• 'Brain Drain' Warning Over Indian Muslim Migration
• Malaysia's Monarch Agrees To Government's Choice of Non-Muslim Attorney-General
• Trump to Host Iftar After He Declined Last Year, Breaking With Tradition
• Sajid Javid Speech: Home Secretary Says Islamist Terrorists Are Twisting Muslim Faith
• Kabul: Suicide Bomber Kills 14 near Gathering of Afghan Clerics Calling for Peace
• Syrian Tribes Announce 'Resistance' Against Foreign Troops, Support Assad
India
• 'Brain Drain' Warning Over Indian Muslim Migration
• Another Example of Communal Harmony: Ayodhya Temple Hosts Iftar for City Muslims
• Muslim organisations too promoted cause of Telangana
• Jammu and Kashmir: India, Pakistan hold flag meet at border outpost
• J&K: Four policemen, 12 civilians injured in grenade explosion in Shopian
• At Annual Brics Summit, India Will Push Members To Define Terrorism
--------
Southeast Asia
• Malaysia's Monarch Agrees To Government's Choice of Non-Muslim Attorney-General
• Greenpeace Indonesia Holds 'Eco-Iftar' In Pondok Indah
• Christians, Muslims unite to support Surabaya bomb victims
• Agong's oath to safeguard Islam needs A-G who can help achieve it, say Muslim lawyers
• Indonesia universities intensify student monitoring following terror raids
--------
North America
• Trump to Host Iftar After He Declined Last Year, Breaking With Tradition
• Trump's 'Muslim Ban' Left Canadian Government Stunned, U.S Documents Reveal
• National Security Council official has denounced Muslim-Americans
• US Treasury implements sanctions on Iranian airlines
• US coalition actions in Syria's Raqqah broke international law: Amnesty International
-----
Europe
• Sajid Javid Speech: Home Secretary Says Islamist Terrorists Are Twisting Muslim Faith
• Nationalists in Bulgaria Drop Muslim Street Names
• Stopped From Joining Islamic State Fiance in Syria, Teen Planned London Attack
• UK's revamped counterterror strategy shifts focus to far-right
• To isolate, or not, Kosovo's returning jihadists
--------
South Asia
• Kabul: Suicide Bomber Kills 14 near Gathering of Afghan Clerics Calling for Peace
• NATO Reaffirm Support to Afghan Government, Security Forces, Ulema Fatwa
• Rohingya Say Myanmar Targeted the Educated In Genocide
• Muavia sending terrorists to Afghanistan and Kashmir: Nabil
• Taliban ambush Batur Dostum's convoy in Jawzjan province
• Afghan President Backs Suicide Bomb Fatwa After 14 Killed
--------
Arab World
• Syrian Tribes Announce 'Resistance' Against Foreign Troops, Support Assad
• Coalition Attacks on Syria's Raqqa May Have Broken Law - Amnesty
• People in Northern Syria Protest against Turkey-Backed Militants
• Syrian Army Targets Heavily Terrorists' Positions in Western Aleppo
• Syria: Turkish Medical Equipment Discovered in Terrorists' Positions in Hama Province
• Zahran Aloush's Most Trusted Adviser Turns out as Syrian Army Spy
• Syrian Army, Kurdish Militia Moving Head to Head in Hasaka
• Concern raised over European right-wing body launching refugee aid NGO in Lebanon
• Saudi Crown Prince meets with Libyan PM Fayez Al-Sarraj
--------
Pakistan
• NISP Report Highlights Challenges in Fight against Religious Terrorism
• Dialogue Offer to India Always On Table: ISPR Chief
• Pak military concedes that Haqqani Network residuals still remain in Pakistan
• Pakistani Pashtun activists killed in Taliban attack, ensuing police operation
• PUC conference slates Israeli aggression against Muslims
• Weeks before Pakistan elections, controversial book by Imran Khan's ex-wife threatens to take centre stage
--------
Mideast
• Turkey's Jewish Community Hosts Interfaith Iftar Dinner for Muslim Neighbours in Edirne
• Muslims in Ukraine Keep Faith despite Challenges
• Iran will not tolerate both sanctions and nuclear restrictions: Khamenei
• Turkey says troops closing in on Kurd stronghold in Iraq
• UN envoy to Yemen advises Houthis to hand over Hodeidah
• Turkish security forces 'neutralize' 30 PKK terrorists in one week
--------
Africa
• Niger Islamic State Hostage: 'They Want To Kill Foreign Soldiers'
• Libya Strongman Haftar Says Victory Near Against Derna Extremists
• US airstrike in Somalia kills 27 al-Shabaab militants
• Jordan's king set to ask PM to quit amid angry protests
• U.S. Report on Religious Freedom Critical of Sudan
• Somalia: Somali Troops Retake Moqokori Town From Al-Shabaab
• Minna Jail Break: Attackers not Boko Haram members – Gov. Bello
Compiled by New Age Islam News Bureau
URL: https://www.newageislam.com/islamic-world-news/brain-drain-warning-indian-muslim/d/115457
--------
'Brain Drain' Warning Over Indian Muslim Migration
June 04, 2018
DUBAI: For decades political and financial pressures have forced generations of educated Indian Muslims to leave their homes and travel as economic migrants in search of a better future overseas.
But while continuous migration has helped to bring financial stability, the trend has also exacted a heavy toll on the community at home, according to an Indian politician and member of All India Muslim Personal Law Board.
Speaking exclusively to Arab News during a visit to the UAE, Mohammed Adeeb said that economic migration had led to a "brain drain," and the loss of "leaders and torchbearers" in India's Muslim community.
"Be it partition, when the most of the educated and qualified Muslims crossed the border, and then economic migration to Gulf and now to the US and Canada, Muslims back home have been left without leaders and torchbearers. As a result they have become more vulnerable to political, economic and social challenges," he said.
However, Adeeb said while migration outside India may be creating a "vacuum," it was also providing thousands of Muslim households with financial stability because of money earned in the Gulf region.
"If on the one hand, it was a brain drain, then on the other it was a money gain as well. The financial situation of thousands of Muslim households in the country has improved because of money earned in the Gulf. Because of Gulf income, a middle and upper middle class have emerged in the Indian Muslim community. However, we need to ask whether it was a good bargain," he said.
Adeeb is a former member of Rajya Sabha (the upper house of Indian Parliament), a member of All India Muslim Personal Law Board and alumni of Aligarh Muslim University.
He urged Indian Muslim graduates living around the world, including the Gulf, to "come forward and share responsibilities.
"There is a lack of leadership in the community. University alumni have to take the lead and become the voice of the Indian Muslim community," he said.
According to Adeeb, Muslims in the country have their own challenges and are scared.
"Those who live outside India have to talk about the challenges of Indian Muslims in their adopted countries, such as the UAE and Saudi Arabia. They are educated and privileged people, and must raise their voice in a way that the corridors of power listen to them."
Last month, violent clashes took place between university students in Aligarh and local BJP workers over a portrait of Pakistan's founder Mohammed Ali Jinnah in the university campus.
India has the world's third-largest Muslim population and largest Muslim-minority population. The country is home to about 172 million Muslims, according to a 2011 census. A 2017 census showed Pakistan's population at 207.8 million.
http://www.arabnews.com/node/1315476/world
--------
Malaysia's monarch agrees to government's choice of non-Muslim attorney-general
JUNE 5, 2018
KUALA LUMPUR (Reuters) - Malaysia's royal rulers have agreed to the government's plan to appoint a non-Muslim attorney-general, the palace said, after a near two-week impasse that stoked racial tensions in the Muslim-majority Southeast Asian country.
Groups representing the ethnic Malay majority rejected the plan to appoint top lawyer Tommy Thomas in what amounted to probably the first resistance faced by new Prime Minister Mahathir Mohamad since he won a stunning election victory last month on promises to fight corruption and reform institutions.
Malaysia's palace said King Muhammad V had decided to end the tenure of Attorney-General Mohamed Apandi Ali and appoint Thomas as his replacement on Mahathir's advice and after consulting with the heads of the other eight royal households.
"The appointment will preserve the special rights of the Malays and Bumiputera and the status of Islam as the religion of the federation," palace official Wan Ahmad Dahlan Abdul Aziz said in a statement on behalf of the king late on Monday.
Bumiputera means "sons of the soil".
Thomas is the first non-Malay to take the post of attorney-general since Malaysia was formed in 1963.
Malaysia's council of rulers, which is formed by the heads of the country's nine sultanates, was initially scheduled to meet on Tuesday to discuss the government's plan to appoint Thomas.
Its decision is likely to quell dissent in the Muslim Malay community, which makes up about 60 percent of Malaysia's population of roughly 32 million.
An ethnic Indian Christian, Thomas' key task will be to prosecute those involved in graft at heavily indebted state fund 1Malaysia Development Berhad (1MDB). The 1MDB scandal was one of the main reasons behind the downfall of former prime minister Najib Razak.
Mahathir proposed Thomas for the job nearly two weeks ago, domestic media have reported, after ordering Mohamed Apandi to go on leave.
Mohamed Apandi cleared Najib of any wrongdoing in the multi-billion dollar 1MDB scandal.
Najib denies any wrongdoing but has been barred from leaving the country since his election defeat and enforcement agencies have relaunched a probe into how 1MDB funds went missing.
https://www.reuters.com/article/us-malaysia-politics-attorneygeneral/malaysias-monarch-agrees-to-governments-choice-of-non-muslim-attorney-general-idUSKCN1J10C4
--------
Trump To Host Iftar After He Declined Last Year, Breaking With Tradition
June 05, 2018
The White House has quietly acknowledged that it will host an Iftar dinner in celebration of the Muslim holy month of Ramadan, after declining to host one last year in a break with a tradition that spanned the three prior administrations.
"I can confirm the President will host a dinner on Wednesday," White House spokeswoman Lindsay Walters said of the Iftar, first reported over the weekend by Politico.
The White House declined to say who would be invited to the dinner, or explain why the president had decided to host one; a move that is likely to draw criticism from some loyalists who have supported Trump's past condemnations of Muslims and Islam, including his call on the campaign trail for a Muslim ban, and his implementation in office of a broad immigration ban on the citizens of five Muslim-majority countries, a policy now pending before the Supreme Court.
"Donald Trump has called for a Muslim Ban. He has hired ppl who've made careers out of Islamophobia. He has emboldened hatred against Muslims - resulting in many cases of attack/bullying/discrimination. He has enacted policies that have actively hurt Muslims domestically/abroad," wrote Ziad Ahmed, a student activist at Yale, who attended a White House Iftar when President Barack Obama was in office.
"He's hosting this Iftar as a defense - so when we call him out for Islamophobia, he can quip back w 'I love the Muslims - I had them over for dinner!" Ahmed added. "His pundits will echo that defense - asserting that bc he engaged w us ONCE that's enough/proof he isn't an Islamophobe."
Ramadan is the holiest month in the Islamic calendar. Islam teaches God first began to reveal the holy Koran to the prophet Muhammad during the lunar month of Ramadan. The revelations continued over the course of Muhammad's lifetime.
Muslims are required to fast during daylight hours of Ramadan, starting each day's fast with the predawn Suhoor meal, and breaking the fast with the Iftar at sundown. For many Muslims, Ramadan is a month of prayer, reflection and charitable giving -- as well as a period of big meals and socializing with large gatherings of friends and family.
In Washington, Iftars have become a part of the networking political culture, with embassies, think tanks, government offices and other organizations hosting formal dinners for both Muslim and non-Muslim colleagues. At least one member of Congress, Rep. Dan Kildee, D-Mich., hosts an annual daylong fast and Iftar for his Capitol Hill staff in solidarity with a Muslim staffer.
"Especially with the Trump Administration's actions, including the Muslim ban before the Supreme Court, the Congressman believes it is important, now more than ever, to promote our country's values of inclusivity and diversity," the congressman's spokesperson Robyn Bryan wrote in an email.
Several Washington-area Muslim leaders and activists who have attended past White House Iftars said Monday they had not received invitations.
https://www.ndtv.com/world-news/the-white-house-will-host-an-Iftar-this-year-report-1862459
--------
Sajid Javid speech: Home secretary says Islamist terrorists are twisting Muslim faith
Jun 5, 2018
Home Secretary Sajid Javid said today that Islamist terrorists were falsely invoking the religion of his parents and grandparents.
Mr Javid, who is Britain's first Muslim-heritage Home Secretary, said those who commit terror attacks and self-identify as Muslims are "twisting their faith".
In a highly personal speech in which he outlined his new anti-terror strategy, Contest, he praised British Muslims leading the fight against extremists by "throwing them out of their mosques and countering their poison online".
His new counter-terrorism Contest strategy could see MI5 intelligence on individuals of concern shared more widely across government, local authorities and police.
It could lead to swifter alerts to police when large quantities of chemicals are bought online by those known to authorities. There will also be an increase in maximum sentences for some offences. The strategy will outline a new approach to managing the rising threat from extreme Right-wing violence.
Mr Javid said that after the attack on French satirical newspaper Charlie Hebdo in Paris in 2015, he had a heart-breaking conversation with his 11-year-old daughter trying to explain what had happened.
"I had to explain that these murderers called themselves Muslims. That they were invoking the religion of my parents, and my grandparents, and countless generations of Javids before them.
"Of course, I know they are not true Muslims, but there's no avoiding the face that these people self-identify as Muslims."
Mr Javid's family came to the UK from Pakistan in the Sixties. He does not practise Islam personally but acknowledges his family's heritage.
"I want to say to all those who stand up against all forms of extremism that this Government stands with you. I stand with you," he said.
Today's speech was his first on terrorism since taking over the role from Amber Rudd in April.
https://www.standard.co.uk/news/uk/islamist-terrorists-are-twisting-their-faith-says-sajid-javid-in-speech-a3854656.html
--------
Kabul: Suicide Bomber Kills 14 near Gathering of Afghan Clerics Calling for Peace
June 4, 2018
A suicide bomber on Monday killed at least eight people near Muslim clerics leaving a giant tent in the Afghan capital of Kabul where they had gathered to denounce terrorism and call for peace, security officials said. No group immediately claimed responsibility for the attack, which underlines a worsening security situation ahead of parliamentary and district council elections set for October 20.
A series of bombings in Kabul has killed dozens of people in recent months and shown no sign of easing during the Muslim holy month of Ramadan. On Wednesday, gunmen armed with assault rifles and grenade launchers stormed the heavily fortified headquarters of the interior ministry, battling security forces for more than two hours.
In April, two explosions in Kabul killed at least 26 people, including nine journalists who had arrived to report on an initial blast and were targeted by a suicide bomber. A week earlier, 60 people were killed and more than 100 wounded when a suicide bomber blew himself up outside a voter registration centre in the city.
Militant group Islamic State has claimed many attacks in Kabul but security officials say several are much more likely to be the work of the Haqqani network, a group affiliated with the Taliban, who are seeking to re-impose strict Islamic rule after their 2001 ouster by U.S.-backed forces.
Provincial cities have also been hit as the Taliban, seeking to reimpose hardline Islamic rule, have stepped up fighting across the country since they announced the beginning of their annual spring offensive in April.
http://indianexpress.com/article/world/suicide-bomber-targets-afghan-clerics-gathered-calling-for-peace-5203182/
--------

Syrian tribes announce 'resistance' against foreign troops, support Assad
Jun 4, 2018
More than 70 tribes in Syria have reiterated support for President Bashar al-Assad and announced the creation of a "resistance" front against the American, French, and Turkish presence on Syrian soil.
The heads of the tribes gathered in Dayr Hafer near Aleppo on Saturday for what they called "Syrian tribes against foreign intervention and the American presence on Syrian soil," Agence France-Presse reported.
They mostly hailed from the Syrian provinces of Hasakah, Aleppo, and Raqqah, reasserting their commitment to the Syrian state, territorial integrity, and flag and pledging to form a joint force to expel foreign troops and militants.
"The tribal leaders announced the formation of a popular resistance unit that will fight alongside the Syrian Arab Army in a bid to liberate all Syrian lands and expel all foreign forces in Syria," pan-Arab online newspaper Al-Masdar News reported.
The new force, it said, will "make a direct move against" the so-called Syrian Democratic Forces (SDF) and US troops in eastern Syria.
"Given the size of these tribes, they could present a serious problem for the US-backed Syrian Democratic Forces (SDF) in northern Syria if they receive military assistance from the Syrian Arab Army," the newspaper wrote.
The US-backed SDF is mainly comprised of Kurdish militants who are assisting more than 2,000 American troops in Syria.
Assad said last week that Washington had started using the "SDF card now" after other US-backed militant groups lost ground on the battlefield. The Syrian president told Russia's RT television network that Damascus had two options in dealing with the SDF problem.
"The first one: we started now opening doors for negotiations. Because the majority of them are Syrians, supposedly they like their country, they don't like to be puppets to any foreigners," he said in English.
"If not, we're going to resort... to liberating those areas by force. We don't have any other option," he said.
Militants from the Kurdish People's Protection Units (YPG), regarded by Turkey as the Syrian branch of the outlawed Kurdistan Workers' Party (PKK), form the backbone of the SDF.
The rise of the group under US and French tutelage has given Turkey a pretext to deploy troops to Syria, aimed at creating what it calls a safe zone along its borders with the Arab country.
France has also expanded its military presence in Syria in the areas controlled by SDF militants, Turkey's state-run Anadolu Agency reported last month.
Around 250 French troops are reportedly active in SDF-held regions in the eastern side of the Euphrates river in Syria, Anadolu said.
Russian Foreign Minister Sergei Lavrov said last month that US and French military buildup in Syria was actually aimed at partitioning the country.
http://www.presstv.com/Detail/2018/06/04/563843/Syria-tribes-resistance-front-United-States-France-Turkey-Assad-Iran-Russia
--------
India
Another Example Of Communal Harmony: Ayodhya Temple Hosts Iftar for City Muslims
Arshad Afzal Khan
Jun 5, 2018
AYODHYA: Strengthening the age-old tradition of communal harmony in Ayodhya, a temple hosted a Roza Iftar for the members of Muslim community on Monday evening. The temple - Saryu Kunj - is approximately 500 years old and is situated next to the Ramjanmabhoomi-Babri Masjid site.
The invitees consisted only common people and there was no political figure or VIPs on the guest list. "We want to give a message that there is no political motive behind the move; we just want to spread a message of peace from Ayodhya to the world," said Saryu Kunj Mahant, Jugal Kishore Sharan Shastry.
'Efforts must be made to bridge gaps'
The temple has idols of Ram, Sita and also Lord Brahma. During the Iftar, Sadhus of different temples of Ayodhya were seen distributing dates Laddoos from Ayodhya's famous Hanumangarhi temple to the guests. After Iftar, 'Maghrib namaz' (evening prayer) was offered in the premises of the temple.
Just before it, a seminar against communalism was organised in the temple. It was attended by students and teachers of local colleges. On this occasion, a pledge was taken to counter any possibility of communal tension.
This was for the first time an Iftar was held this temple. Mahant Gyan Das, a priest at famous temple Hanuman Garhi, hosted them on a couple of occasions in the past, but discontinued after internal resistance.
Reacting to the move of Saryu Kunj mahant's move, Mahant Raghusharan Das, a priest, said, "We are of the opinion that efforts must be made to bridge the gaps between the two communities. Hosting Iftar for Muslim brothers is a good opportunity to bring both the communities closer, so we decided to give a message of peace through this roza Iftar."
"Being a minority in Ayodhya, we have never felt unsafe, thanks to our Hindu brothers who never made us feel that have to worry about any danger here," said Muzammil, a Urdu poet and a resident of Ayodhya who took part in the Saryu Junj Iftar.
https://timesofindia.indiatimes.com/city/lucknow/ayodhya-temple-hosts-Iftar-for-city-muslims/articleshow/64457068.cms
--------
Muslim organisations too promoted cause of Telangana
JUNE 04, 2018
Syed Mohammed
Many participated actively in the agitation for Statehood
At a time when the Telangana sentiment was at its peak, several Muslims and Muslim organisations jumped into the movement. Be it the 1969 agitation or, for that matter, more recently, in 2008 and 2009. And with the anniversary of the formation of the State on Saturday, some of those involved in the movement share their experiences.
Jamaat-e-Islami Hind Telangana and Odisha president Hamid Mohammed Khan says that it was in 2008 that the socio-religious organisation jumped in to the fray.
Backward region
The Jamaat, he says, was aware of the region's backwardness and its causes which is why the decision was taken to join the movement.
"We formed an advisory committee to study these injustices. We analysed a lot of government released data, Planning Commission reports and the distribution of resources to Telangana region. We analysed government employment patterns too. In 2008 we decided to wholeheartedly support the movement," Mr. Khan says.
Organised garjanas
The Jamaat, he says, was a part of the Telangana Joint Action Committee, and its organs supported the cause. "We organised Telangana garjanas in all districts and used our established units to further the cause of Telangana," he says. While the Jamaat formally took part movement in 2008, the All India Majlis-e-Tameer-e-Millat (AIMTM), another socio-religious organisation was active during the 1960s.
According to its vice-president Ziauddin Nayyar, it was in 1969 that the then general secretary Laiq Ali Khan was actively associated with the Telangana Praja Samithi, co-founded by the then chief minister of erstwhile Andhra Pradesh M. Chenna Reddy.
Leaders jailed
"Several of the Tameer-e-Millat's leaders were even jailed for being a part of the agitation. Our ties were so close with the movement. Another member, Tahir Osmani, was well known for his renditions of poetry and slogans for Telangana statehood," Mr. Nayyar recalled.
Full report at:
http://www.thehindu.com/todays-paper/tp-national/tp-telangana/many-muslims-favoured-telangana-state/article24075206.ece
--------
Jammu and Kashmir: India, Pakistan hold flag meet at border outpost
June 5, 2018
With a focus on maintaining peace along the international border, India and Pakistan on Monday held a flag meeting at Octroi border outpost in Jammu and Kashmir's R S Pura sector.
Significantly, the sector commander-level meeting between the two sides came a day after BSF and Pakistani Rangers exchanged fire in Pargwal and Kanachak sectors. Two BSF personnel were killed and 11 civilians injured on the Indian side, sources said, adding that heavy damage, including loss of life, had taken place on the Pakistan side too.
A BSF statement said the meeting was conducted in a "conducive atmosphere with prime focus to maintain peace and tranquillity on the border". Both sides decided to hold the next sector commander-level meeting on June 21, the statement said.
"Today's meeting is likely to bring firing-free environment, particularly for border area villagers on both sides," the statement said, adding that "commanders on both sides agreed to continue talks at every level to develop confidence between two border guarding forces".
Full report at:
http://indianexpress.com/article/india/jammu-and-kashmir-india-pakistan-hold-flag-meet-at-border-outpost-5204185/
--------
J&K: Four policemen, 12 civilians injured in grenade explosion in Shopian
June 5, 2018
Twelve civilians and four policemen were injured on Monday in a grenade attack by suspected militants in south Kashmir's Shopian. The grenade attack is the eighth such attack this month.
The grenade was hurled at a police vehicle at Batpora chowk, but it missed its target and exploded on the roadside amid civilians.
"Militants lobbed a grenade in Shopian inflicting injuries. A young girl is among the injured and has received critical injuries," a police spokesman said.
The injured civilians and policemen were immediately rushed to a hospital. The Kashmir Valley has witnessed a series of grenade attacks in the last four days.
On June 1, suspected militants hurled grenades at four places across the Valley, resulting in injuries to five police and paramilitary personnel and two civilians.
This was followed by two grenade attacks on police and paramilitary personnel in Srinagar on Saturday, resulting in injury to four CRPF men and two civilians. Suspected militants hurled a grenade in Tral on Sunday.
Full report at:
http://indianexpress.com/article/india/jk-four-civilians-injured-in-grenade-explosion-in-shopian-5203178/
--------
At annual Brics summit, India will push members to define terrorism
Jun 05, 2018
India will push fellow Brics members to define terrorism and reflect its concerns over cross-border terror when their leaders, including Prime Minister Narendra Modi, gather for their annual summit in Johannesburg in July, officials familiar with the matter said on Monday.
If India manages to achieve the twin objectives at the Brazil, Russia, India, China and South Africa grouping, it will be a major victory for the country after the United Nations and United States designated the Pakistan-based Lashkar-e-Taiba and Jaish-e-Mohammad as terrorist outfits.
Indian officials had already taken up the matter with their counterparts in the other Brics nations. India's demand had led to "intense discussion which remains inconclusive", diplomats of two member nations said.
The talks will continue as terrorism, Brics vision for UN reforms and de-radicalisation are on the agenda when National Security Advisers (NSAs) of the five nations meet in South Africa from June 21, an official said. NSA Ajit Doval will represent India at the meeting.
Delhi wants the grouping to come out with a definition of terrorism, an Indian official said on condition of anonymity. A mention of cross-border terrorism, which refers to terrorist activities launched against India from Pakistani soil, would be a diplomatic achievement for India.
But getting India's demand reflected in its entirety in a joint statement would not be easy. "The definition of terrorism is not an easy issue. The UN itself is yet to define it. We need to wait and see which way the discussion will progress what we come up with at the end," one of the Brics diplomats mentioned above said, requesting anonymity.
The Brics leaders have asked for discussions on the UN convention on counter-terrorism, which includes defining terrorism, to complete soon, a second Indian official said.
"We call for expeditious finalisation and adoption of the Comprehensive Convention on International Terrorism (CCIT) by the United Nations General Assembly," Brics leaders said in a joint communiqué last year, without getting into defining terrorism, as sought in the convention.
The group deplored all terrorist attacks worldwide, including those on Brics members, and condemned terrorism in all its forms, the statement said. Those responsible for committing, organising, or supporting terrorist acts must be held accountable, said the statement, reflecting the Brics line on terrorism.
Proposed by India, CCIT intends to define terrorism, criminalise all forms of terrorism and deny funds to terror groups.
The closest Brics came to mentioning cross-border terrorism was again in the 2017 communiqué , saying it was the responsibility of states to counter terrorism. "...we stress the necessity to develop international cooperation, in accordance with the principles of international law, including that of sovereign equality of states and non-interference in their internal affairs."
Full report at:
https://www.hindustantimes.com/india-news/at-annual-brics-summit-india-will-push-members-to-define-terrorism/story-4Nt1RzlutTHO59ZnERLfIJ.html
--------
Southeast Asia
Greenpeace Indonesia holds 'eco-Iftar' in Pondok Indah
June 5, 2018
Environmental group Greenpeace Indonesia launched its #PantangPlastik (#AntiPlastic) campaign on Monday by holding a breaking-of-the-fast gathering, dubbed "eco-Iftar", in Pondok Indah mosque in South Jakarta.
In the eco-Iftar, food and beverages were served with glass plates and cups.
Greenpeace Indonesia urban campaigner Muharram Atha Rasyadi expected that the eco-Iftar event would inspire Muslims to use less single-use plastic in their daily activities.
"Ramadhan is the moment when Muslims frequently gather during Iftar, from which abundant plastic waste is produced, such as plastic straws, cups, plates and bottles," said Atha.
"The #PantangPlastik campaign is aimed at changing urbanites' behavior toward plastic they usually consume throughout their daily activities," he added.
Atha added that Indonesia is the second-biggest plastic polluting country after China. Every person in the country produces approximately 17 kilograms of plastic waste per year.
"Aside from calling on the government to issue stricter regulation to better control plastic waste production, we should also work hand in hand to limit our plastic consumption," Atha added.
The Indonesian Ulema Council's (MUI) head of environment and natural resources division Hayu S. Prabowo said Greenpeace Indonesia had the MUI's full support in the program.
"While the government is in charge of the regulation, the MUI focuses on changing the people's mindset and behavior through a religious approach," Hayu said.
"Besides, the holy book of Quran also states that we, humans, have the responsibility to preserve the Earth and everything on it," he added.(iwa)
http://www.thejakartapost.com/news/2018/06/05/greenpeace-indonesia-holds-eco-Iftar-in-pondok-indah.html
--------
Christians, Muslims unite to support Surabaya bomb victims
June 4, 2018
A Catholic church in Jakarta held a fast-breaking meal on June 1 with local Muslims to show solidarity in the wake of rising extremism and support the victims of church bombings in Surabaya, East Java in May.
About 200 Muslims from different communities, including the Gusdurian Network of activists that promotes interfaith dialogue, packed the cathedral hall at Our Lady of the Assumption Cathedral Church in the capital during the three-hour program that marked the middle of the holy month of Ramadan, when Muslims fast from dawn till dusk.
Ramadan began on May 16 this year in Indonesia with the sighting of the full moon and is due to wrap up on June 14.
The schedule included a church tour inside led by Jesuit Father Albertus Hani Rudi Hartoko.
"This year, the cathedral church of Jakarta Archdiocese wants to materialize the spirit of 'Kita Bhinneka, Kita Indonesia' [We are diverse, we are Indonesia]," the parish priest told ucanews.com on the sidelines of the program.
"We really want to respect that diversity. With this spirit, we want to work together with others," he said.
"The cathedral church is open to everyone. It can become an oasis for all people," he said, adding that "we are called to spread love and solidarity everywhere."
According to Alissa Wahid, a coordinator at the network, the program aims to push an agenda of national unity as more groups promote an ideology of exclusivity that is threatening this sense of cohesion.
On May 13, a family of six carried out a wave of suicide bombings at three churches in Surabaya, killing at least 19 people.
"The situation in Indonesia remains deeply concerning because many groups want to divide people," said Wahid
"They may have a small voice but their 'sound system' is big enough to make that heard as they exploit religious sentiment," she said.
"This drowns out those calls by other people with better intentions," she added.
Harijono Djojodihardjo, who joined the program, called it an "historic" occasion.
"We adhere to different religions but in each case that concerns our respective relationship with God," he said.
Full report at:
https://www.ucanews.com/news/christians-muslims-unite-to-support-surabaya-bomb-victims/82476
--------
Agong's oath to safeguard Islam needs A-G who can help achieve it, say Muslim lawyers
By Hidir Reduan
June 4, 2018
KUALA LUMPUR: The Yang di-Pertuan Agong had sworn to safeguard Islam at all times and this includes appointing an attorney-general (A-G) who can ensure that happens.
Muslim Lawyers Association of Malaysia president Datuk Zainul Rijal Abu Bakar said that this has become the Yang di-Pertuan Agong's constitutional obligation to take care of affairs involving Islam.
"Therefore, the (Agong) needs to appoint a person who is able to safeguard Islam at all times. In fact, the A-G's appointment by the (Agong) is at his pleasure, therefore nobody can force him to consent (to appointing a person on the advice of the prime minister)," he said.
Zainul Rijal said the association was of the view that the Agong would take into account the importance of Islam in the country as the A-G is expected to be someone capable of safeguarding Islam at all times.
"(The association) stands firm behind the King and the Malay Rulers in fulfilling His Majesty's constitutional obligation to appoint an A-G who can advise His Majesty on various issues, including His Majesty's position on matters related to Islam, (ensure) no conflict of interest and having firm identity besides undivided loyalty to the King," he said.
On behalf of the association, Zainul Rijal was responding to reports on veteran lawyer Tommy Thomas' proposed appointment as the new A-G to replace Tan Sri Mohamed Apandi Ali, who has been asked to go on a one-month leave.
However, it was reported that the Palace had rejected the proposal by the Tun Dr Mahathir Mohamad-led administration.
Zainul Rijal also pointed out that the Agong was not bound by the prime minister's advice over the appointment of A-G.
He said that it was important to note that the Agong still had discretion on several matters when it comes to whether he should act on the advice of the prime minister, notwithstanding Articles 40(1) and (1A) of the Federal Constitution.
Article 40(1) and (1A) state that the Yang di-Pertuan Agong shall act on the advice of the Cabinet or of a Minister "except as otherwise provided by this Constitution".
"Therefore, the word 'advice' is not binding on the Agong as it is more of a guide and not an order as evaluated by the King in accordance with His Majesty's views and wisdom," he said.
Zainul Rijal also pointed out that according to Section 376 of the Criminal Procedure Code, the A-G is also a prosecutor for the country and must therefore be someone with strong and firm experience in criminal cases in order to safeguard the country's interests.
He said this had also been firmly emphasised by then Federal Court judge Datuk Seri Gopal Sri Ram, who is now a lawyer.
He said the association sternly reminded all quarters to respect the powers of the Agong and give His Majesty room to make a decision to appoint an A-G "at the pleasure of the Yang di-Pertuan Agong" per Article 145(5) of the Federal Constitution.
He noted that this means that the A-G holds his post at the consent of the Agong and not only based on the advice of the prime minister.
Full report at:
https://www.nst.com.my/news/nation/2018/06/376642/agongs-oath-safeguard-islam-needs-g-who-can-help-achieve-it-say-muslim
--------
Indonesia universities intensify student monitoring following terror raids
Jun 5, 2018
JAKARTA/PEKANBARU (JAKARTA POST/ASIA NEWS NETWORK) - Indonesian universities are tightening supervision of student activities following the arrest of suspected terrorists at a state university in Sumatra last Saturday (June 2).
The National Police's counterterrorism unit, Densus 88, arrested three Riau University (Unri) alumni over an alleged plan to launch an attack on the House of Representatives building in Jakarta and the Riau Council building in Pekanbaru.
The arrests marked the first time law enforcement personnel arrested suspected terrorists inside a university. Police have in the past arrested university students and alumni allegedly connected to terrorist groups, but all of the arrests were made away from campus.
After the arrests in Riau, the Medan-based North Sumatra University (USU), located in Riau's neighbouring province of North Sumatra, instructed all university departments to stop activities on the institution's premises by 10pm.
"Every course taught at USU must end by 9:30pm. After that time, we prohibit [students and lecturers] from holding activities [inside the USU compound] to anticipate anything related to radicalism," said USU rector Runtung Sitepu on Monday (June 4).
Rundung said that even though USU had yet to discover any activity related to radicalism being conducted on the university premises, the university's central office had visited all departments to "convey moral messages" to lecturers and students about the danger of "being contaminated by radical teachings".
Of the three men arrested on Saturday, one has been declared a suspect by the police, while the other two were declared witnesses.
The police have said the suspect, identified as Muhammad Nur Zamzam, was connected to Jamaah Ansharut Daulah (JAD), a local pro-Islamic State in Iraq and Syria (ISIS) extremist group accused of launching the recent terror attacks in numerous areas in Indonesia, including in Riau province.
On Monday, scholars from Unri, located in Riau province's capital of Pekanbaru, endorsed a declaration to "strengthen its commitment to combating" terrorism, radicalism and intolerance, which they considered as "activities that violate the law and intend to divide the NKRI", referring to the Unitary State of the Republic of Indonesia.
Unri rector Aras Mulyadi said the university would take several measures to prevent radicalism from spreading within the institution, with one such measure being the intensive monitoring and controlling of student activities carried out at Unri.
"The recent event [THE ARREST]must be the first and the last to take place at Unri," Aras said.
Educational institutions like universities had long been seen as places where people could freely conduct any activity, including "negative activities", said Abdul Rasyid Jalil, deputy rector of Hasanuddin University (Unhas) in Makassar, the capital of South Sulawesi province.
"That is why we have intensified our monitoring of activities conducted in either departments or student extracurricular groups," Abdul said.
Unhas has begun the intensified monitoring because many alumni are still involved in student organizations held inside the university compound, said Abdul.
Abdul said Unhas also prohibited activities from being held inside the university after 10pm.
The police's initial investigation revealed that the suspected terrorists in Riau had stayed in the building for one month, during which time they allegedly constructed bombs and planned to blow up the Riau Legislative Council in Pekanbaru and the House of Representatives in Jakarta.
"There were explosive materials at the scene on campus. We deemed them to be dangerous, so the measures [to remove them] were taken when there was no academic activity going on inside the campus," said National Police spokesman Brig. Gen. Mohammad Iqbal.
The arrests on Saturday showed that members of terror groups are approaching and recruiting students or academics at educational institutions, said Ridwan Habib, a terrorism expert at the University of Indonesia (UI) in Depok, West Java.
"These groups often use a personal approach to recruit those with prior links to other Islamic groups that have values similar to those they offer," said Ridwan on Sunday.
Radicalism on campuses
Research, Technology and Higher Education Minister Mohamad Nasir told the Indonesian press recently that the government had information about universities whose students were exposed to radical ideas on campus. Since then, a list of seven top state universities has circulated, quoting the National Counterterrorism Agency (BNPT) as the source.
The seven are: University of Indonesia, Airlangga University, Brawijaya University, Sepuluh November Technology University, Bandung Institute of Technology, Bogor Agriculture Institute and Diponegoro University.
Last year, the ministry said it planned to issue a regulation to control the spread of radical views on campuses. A search of regulations on their website on Monday, using the keywords "radikalisme" and "radikal", did not reveal any results.
What the ministry and the BNPT meant about "exposure to radicalism" was radical teachings and persuasion by outside influences to join radical movements on campus.
However, terrorism expert Ridwan Habib said students and other members of academia exposed to extremist teachings were not necessarily part of a radical group or likely to become involved in terror acts.
Based on The Jakarta Post's interview with Zamzam's friend at Riau University, Zamzam was not a devout Muslim and was not known to have joined any Quran recital groups anywhere.
The friend, Syahrul Mubarak, who referred to Zamzam as Zega, said he knew Zamzam as they enrolled at the university in the same year and because both were members of the university's mountaineering club. Syahrul said Zamzam had not been a devout Muslim until a year ago, and described him as preman mau insaf, loosely translated as a "repentant delinquent".
Syahrul said Zamzam began to change when he read about Palestine's fight for its own country and about ISIS on the internet.
"All of a sudden, he started bragging that he wanted to carry out jihad, talking about bombs and going to Syria. We, the friends who usually hung out with him, of course laughed at him," Syahrul told the Post on Monday.
"Don't get us wrong, he is not a devout figure. He does not even pray five times a day. If there were people drinking together, he joined [THEM]," he said.
Full report at:
https://www.straitstimes.com/asia/se-asia/indonesia-universities-intensify-student-monitoring-following-terror-raids
--------
North America
Trump's 'Muslim Ban' Left Canadian Government Stunned, U.S Documents Reveal
06/04/2018
OTTAWA — Not only were Canadian officials scrambling to limit problems for travellers, they were simply trying to grasp what was going on when the Trump administration issued an executive order last year banning people from seven predominantly Muslim countries from entering the United States.
Newly released internal notes from the U.S. Department of Homeland Security reveal Canadian government officials fired off a list of 16 detailed questions with the aim of figuring out the order's impact on everything from refugee claims to biometric tracking.
The records were recently released to The Canadian Press in response to a February 2017 request under the U.S. Freedom of Information Act, asking for materials used to brief then-homeland secretary John Kelly in advance of phone calls with Canadian Public Safety Minister Ralph Goodale.
Some 400,000 people and more than $2 billion worth of goods and services cross the Canada-U.S. border every day.
The order — officially the Executive Order on Protecting the Nation from Foreign Terrorist Entry into the United States — applied to people from Iran, Iraq, Libya, Somalia, Sudan, Syria and Yemen. As soon as it was signed on Jan. 27, 2017, confusion erupted about who was allowed into the U.S., as did persistent headaches for some travellers from Canada.
The Nexus trusted-traveller cards of about 200 Canadian permanent residents were suddenly cancelled. There were several reports of minorities being turned away at the U.S. border. And a surge of would-be refugees coming north through remote border points continues to this day.
A week after the executive order, Goodale told the House of Commons the Liberal government was trying to ensure Canadian dual-nationals could still use their Nexus cards at the border.
The newly released notes, prepared in February 2017, said card holders "should not be impacted" by the executive order, though Homeland Security was open to hearing about specific examples of people having trouble.
The U.S. records say Canadian officials wanted to know how the order would apply to citizens of a restricted country who were also landed immigrants in Canada.
They appeared to wonder whether a biometric system for keeping track of people entering or leaving the U.S. would apply to Canadian citizens. "How can we work together to discuss alternatives that build on the existing collaboration we have at our shared land border?" Canadian officials asked.
Among the other questions from Ottawa:
— Do measures in the executive order related to U.S. privacy policies affect the "treatment of data" held about Canadians?
— Are there more details about planned standards to prevent "terrorist or criminal infiltration by foreign nationals?"
— What impact, if any, does the order have on the asylum determination system?
Under the Safe Third Country Agreement between Canada and the U.S., an asylum-seeker must claim refugee status in whichever of the two countries they arrive first.
As a result, Canadian officials asked whether a refugee claimant from one of the seven listed countries, turned away by Canada due to the binational agreement, would be permitted to re-enter the U.S.
Goodale spoke by phone with Kelly about the executive order on Jan. 30 and 31, 2017.
Whenever there is a significant policy change affecting cross-border travel, there are questions about the implications for Canadians, said Scott Bardsley, a spokesman for Goodale.
"We are grateful to the United States for their assistance to help us understand the effects of executive orders. Canadians now have a better understanding of these changes."
Beatrice Fenelon, a spokeswoman for Immigration, Refugees and Citizenship Canada, said her department was "very satisfied" with the response from Homeland Security.
A revised but largely similar version of the U.S. executive order was introduced about six weeks after the first one ran into judicial roadblocks.
In anticipation of its release, Goodale asked to speak with Kelly on Feb. 27, 2017.
Asylum issue considered at the time
Homeland security notes drafted for Kelly, who has since become Donald Trump's chief of staff, advised that Goodale might "express concerns regarding the increasing numbers of asylum seekers entering Canada between land ports of entry from the United States."
Media reporting linked the northward flow to the initial executive order, sparking calls in Canada to suspend or scrap the Safe Third Country Agreement, the notes mentioned. However, they added that the trend actually predated the order, and a majority of the asylum seekers had a valid visa that would have allowed them to remain in the United States.
The U.S. notes suggested Canada look within its own borders for the cause.
"Recent public statements by senior Canadian officials, and immediate access to Canadian benefits including health care, education, social services, and employment authorization may also be construed as encouraging to potential asylum seekers, as might higher approval rates for asylum seekers generally and specifically from countries of scrutiny such as Somalia, Iraq, Afghanistan, Chad and Eritrea."
https://www.huffingtonpost.ca/2018/06/04/trump-muslim-ban-canada_a_23450341/
--------
National Security Council official has denounced Muslim-Americans
June 4, 2018
DETROIT — The new chief of staff for the National Security Council is facing criticism from several civil rights groups and metro Detroit leaders for making what they say are negative remarks against Muslim-Americans.
The National Security Council announced last week that Fred Fleitz, a former CIA analyst and a senior vice president at the Center for Security Policy, is the Council's new chief of staff and executive secretary and also deputy assistant to President Donald Trump. A spokesman for the Council confirmed Fleitz's appointment to the Free Press on Friday.
Chaired by the president, the National Security Council is part of the White House and is the president's main forum for advising him on foreign affairs and security issues.
Fleitz said in an interview last year with Breitbart News that "there are some communities in the United States that have not assimilated. I'm not concerned about Amish or Jewish communities, but I will tell you that there are enclaves of Muslim communities in Michigan and Minnesota that concern me."
Fleitz added: "The problem with these Muslim communities is that it is making them susceptible to this radical worldview that wants to destroy modern society, create a global caliphate, and impose sharia law on everyone on Earth."
Fleitz also attacked what he said were "communities where British Muslims are deliberately not assimilating, are being taught to hate British society, and this is incubating radicalism. There's actually a parallel system of sharia law courts in the U.K. that operate."
His remarks have drawn concern now that he is in a powerful position in the U.S. government.
A range of groups, such as the Arab American Institute, Council on American-Islamic Relations, Southern Poverty Law Center, Muslim Advocates, and the Jewish civil rights group Anti-Defamation League released statements last week slamming his appointment, saying it's part of a pattern of officials with bigoted views being appointed in the Trump administration.
"This move is destructive," Rula Aoun, executive director of the Arab American Civil Rights League, in Dearborn, told the Free Press. "To have someone whose knowledge is grounded in nothing but conspiracy theories is detrimental to our foreign and domestic policies. It's scary to know that this individual is" a close adviser to the president.
Fleitz was appointed by National Security Advisor John Bolton, whom Fleitz has worked for before as Bolton's chief of staff in the State Department under President George W. Bush. Bolton and State Department Secretary Mike Pompeo have also drawn criticism for their views on Muslims.
Maya Berry, a native of Dearborn who is executive director of the Arab American Institute in Washington, D.C., said she is "tremendously concerned" about Fleitz being in an influential position.
"It's hate and it's bigotry and it has real consequences," Berry said. "These are people who are going to make decisions. ... We pay their salaries" as taxpayers.
She said Fleitz is ignorant of how Muslims and Arab-Americans have contributed to Michigan.
Michigan has the highest concentration of residents of Middle Eastern descent, according to the U.S. Census. Many of them are Muslim and have been in the state for several generations. Cities like Dearborn and Hamtramck have sizable Muslim populations, which have increasingly become targets of some right-wing commentators.
People like Fleitz used to be on the fringes, but are now in power, Berry said.
A spokesman for Michigan Gov. Rick Snyder, Ari Adler, said in response to Fleitz's remarks on Muslims in Michigan:
"We have a rich, multicultural fabric in Michigan, including a large population of Muslims. People from all religious and ethnic backgrounds provide a special diversity that is part of Michigan's heritage and our future. Gov. Snyder has worked consistently and successfully with Michigan's Arab-American and Chaldean populations for many years now. He remains committed to working with community partners to continue his efforts to make Michigan a welcome place for new American residents."
On his website, Fleitz said he "is not doing media interviews at this time."
Contacted by the Free Press, a spokesman for the National Security Council said: "The attacks on Fred Fleitz as an Islamophobe are another attempt by some to paint the Trump administration with a broad anti-Muslim brush."
The spokesman said "Fleitz supports the president's national security and foreign policies. He supervises a transparent, interagency process to present information and coordinate the presentation of policy options for the president and his National Security Council.
"The implication that he is in a position to promote a personal agenda is uninformed and scurrilous. The suggestion that Ambassador Bolton is convening an anti-Muslim cabal is untrue and despicable."
Scott Simpson, public advocacy director at Muslim Advocates, said: "The appointment of Fred Fleitz — a leader of the anti-Muslim and conspiracy-obsessed hate group Center for Security Policy — speaks volumes about the administration's prioritization of fear-mongering and racism over actual national security issues."
The Center for Security Policy is a conservative think tank that has been criticized for promoting hate against Muslims, a claim the group has denied.
The Anti-Defamation League's CEO Jonathan Greenblatt said in a statement that "Fleitz's senior leadership role with the Center for Security Policy, an Islamophobic, conspiracy-promoting organization, should automatically disqualify him from a position that deals with America's most essential foreign policy and national security interests."
Imam Mohammad Elahi, religious leader of the Islamic House of Wisdom in Dearborn Heights, echoed the concerns, saying it "looks like we still have a long way before we overcome the illness and ignorance related to Islamophobia."
The spokesman for the National Security Council said: "Fleitz does not believe Muslims are trying to take over the US or infiltrate the US government. He views prejudice and discrimination against any religion as deeply offensive."
At the same time, "Fleitz stands by his criticism of radical Islam as a global movement at war with modern society," said the spokesman for the National Security Council. "He notes that radical Islam is a greater threat to the vast majority of the world's Muslims who are peaceful."
The spokesman also said that Fleitz condemned the "Draw Mohammed" cartoon contest in 2015 in Texas that insulted Islam's prophet "because he does not support activities intended to insult members of a particular religion — Muslim or Christian."
He added that Fleitz "is a strong supporter" of Muslim-American leader Dr. Zuhdi Jasser of Arizona, who is the president of the American Islamic Forum for Democracy and co-founder of the Muslim Reform Movement.
Jasser has defended Fleitz, saying the groups are unfairly attacking him.
"These groups are conflating somebody who is anti-Islamist with ... being anti-Islam or bigoted against Muslims," Jasser told the Free Press. "I've known Fred for years. I've never gotten a sense from him" that he's prejudiced against Muslims.
"He makes a distinction between those who believe in Islamism, and those who believe in American constitutional law."
Full report at:
https://www.cbs19.tv/article/news/nation-now/national-security-council-official-has-denounced-muslim-americans/465-b4c2ec8b-0c71-4829-871c-b8085511325b
--------
US Treasury implements sanctions on Iranian airlines
4 June 2018
Following reports of Iranian airlines using their fleet to help transport arms and personnel to Syria, the US Treasury implemented sanctions, with more action to follow according to the Washington Institute.
The Treasury department's Office of Foreign Assets Control designated nine entities and individuals involved with providing services to six Iranian airlines supporting the regime's military activities around the world.
These airlines include Mahan Air, Caspian Airlines, Meraj Air, Dena Airways, Pouya Air, and Blue Airways, the institute reported.
Meraj Pouya and Caspian were previously labeled as airlines that directly support the Islamic Revolutionary Guard Corps operations in Syria. The newspaper stated that Pouya is the cargo wing of the IRGC and services Syria on a daily basis.
The Treasury has had a history of sanctioning Iranian airlines. In June 2011, Treasury sanctioned the country's flag carrier, Iran Air, and its subsidiary Iran Air Tours for supporting the IRGC and Iranian Defense Ministry "through the transport and/or transfer of goods for, or on behalf of, these entities." This included using commercial flights to transport "military-related equipment" and "potentially dangerous cargo" to Syria.
Iran has been known to rename airlines and create new front companies in order to receive wesetern planes for their fleets and services. The institute speculated that after the latest wave of sanctions, these airlines may resort to buying secondhand planes to use as spare parts. They will also resort to finding new ways to maintain the air bridge with Syria.
Full report at:
https://english.alarabiya.net/en/News/world/2018/06/04/US-Treasury-implements-sanctions-on-Iranian-airlines.html
--------
US coalition actions in Syria's Raqqah broke international law: Amnesty International
Jun 5, 2018
US-led coalition attacks against Daesh in Syria's Raqqah last broke international law by endangering the lives of civilians, says international rights group.
According to Amnesty International on Tuesday, the US did not take sufficient account of civilians or take the precautions measures to minimize casualties while attacking Raqqah in 2017.
Amnesty interviewed 112 civilian residents of Raqqah during field research there in February, while investigating the sites of 42 air, artillery and mortar strikes.
"Witnesses reported that there were no fighters in the vicinity at the time of the attacks. Such attacks could be either direct attacks on civilians or civilian objects or indiscriminate attacks," said Amnesty adding that such attacks amounted to war crimes.
The rights group further went on to call on the coalition to admit the scale of damage, pave the way for a public independent investigation and make reparations to victims of their actions
The US has been conducting airstrikes against what it says are Daesh targets inside Syria since September 2014 without any authorization from the Damascus government or a United Nations mandate.
The US and its allies have repeatedly been accused of targeting and killing civilians and drawn criticism over their failure to destroy Daesh which they claim to be fighting.
Full report at:
http://www.presstv.com/Detail/2018/06/05/563955/amnesty-raqqah-syria-us
--------
Europe
Nationalists in Bulgaria drop Muslim street names
June 4 2018
A province in central Bulgaria controlled by the hard right is to change all place names derived from Turkish or Arabic.
In Stara Zagora, whose city council is run by the United Patriots, 838 roads, villages and natural sites will be given "Bulgarianised" names chosen by a panel of academics.
"The change of names of areas in the Stara Zagora region is a great victory for patriotism and Bulgarianism," said UP member Alexander Sidi, a member of the United Patriots, adding that the move would put a stop to Turkey's "interference" in domestic politics.
The region was a part of the Ottoman empire for almost five centuries until the Bulgarian national revival led to an acrimonious split in the 1870s. A Turkish-speaking Muslim minority remained…
https://www.thetimes.co.uk/article/nationalists-in-bulgaria-drop-muslim-street-names-n87pvjpm3
--------
Stopped From Joining Islamic State Fiance in Syria, Teen Planned London Attack
June 4, 2018
LONDON (REUTERS) - A London teenager who wanted to attack the British Museum with grenades and firearms after she was prevented from traveling to Syria to marry an Islamic State militant was convicted on Monday of planning acts of terrorism.
Safaa Boular, now 18, had started chatting online to fighter Naweed Husain when she was 16. She had decided to join him in Syria so they could marry, then carry out a suicide attack there while holding hands.
Husain had sent Boular's older sister, Rizlaine Boular, 3,000 pounds ($4,000) to pay for Safaa's travel arrangements, but the sisters were arrested in August 2016. They were released on bail but had their passport confiscated.
Safaa Boular continued chatting to Husain, and the pair discussed plans for her to attack the British Museum, one of central London's top attractions for visitors, with what she called "pineapples" - grenades.
"Safaa Boular's intention was to cause serious injury and death," said Sue Hemming of the Crown Prosecution Service.
After Husain was killed in Syria on April 4, 2017, Boular wrote that she wanted to be granted "martyrdom".
"My heart yearns ... to be reunited with my dear husband for the very first time," she wrote.
Instead, she was arrested eight days later, but her sister Rizlaine took on the planning of an attack on targets in central London, supported by the young women's mother Mina Dich.
The mother and daughter went on a reconnaissance visit to major landmarks in Westminster on April 25, 2017, and the following day they bought knives from a supermarket. They were arrested a day later.
Full report at:
https://www.usnews.com/news/world/articles/2018-06-04/stopped-from-joining-islamic-state-fiance-in-syria-teen-planned-london-attack
--------
UK's revamped counterterror strategy shifts focus to far-right
4 June 2018
Britain on Monday was to unveil a new counter-terrorism strategy to boost intelligence sharing between government agencies and the private sector, while shifting focus to the growing threat of far-right terrorism.
The plan, dubbed Contest, will seek to ensure "that there are no safe spaces for terrorists, no safe spaces internationally, in the UK or online," Home Secretary Sajid Javid was expected to say in a keynote speech.
"The threats are evolving. We must evolve too," he will say to an audience of counter-terrorism experts, according to excerpts released by the Home Office.
Javid will also identify "extreme right-wing terrorism" as an increasing threat and note similarities to the Islamic State jihadist group.
"The biggest threat is from Islamist terrorism — including al-Qaeda — but particularly from [IS]. But the threat doesn't only come from [IS]," he is expected to say. "Extreme right-wing terrorism is also an increasing threat."
"[IS] and the extreme right wing are more similar than they might like to think," Javid will say. "They both exploit grievances, distort the truth, and undermine the values that hold us together."
Earlier this year, the outgoing head of the UK's counter-terror police said authorities foiled four far-right inspired attacks in 2017, and warned not to underestimate the threat they posed to the country.
"The right-wing terrorist threat is more significant and more challenging than perhaps the public debate gives it credit for," Mark Rowley said.
Britain has seen a number of right-wing inspired attacks in recent years. Days before the June 2016 Brexit referendum, a 52-year-old right-wing extremist shot and killed lawmaker Jo Cox over the vote.
A year later, a 48-year-old man rammed his truck into a group of Muslims outside of a London mosque, killing one person and injuring nine others. During his sentencing in February, the judge concluded that Darren Osborne had been "rapidly radicalized over the internet by those determined to spread hatred of Muslims."
'Lessons learned'
The new strategy set to be announced Sunday "incorporates the lessons learnt from the attacks in 2017 and our responses to them."
Under the new blueprint, the security services will be alerted to suspicious purchases more swiftly.
The British government want firms to raise the alarm as quickly as possible if they have evidence of unusual transactions — such as someone stockpiling large amounts of chemicals or acting suspiciously when hiring a vehicle.
It will be Javid's first major speech on security since becoming home secretary in April following the resignation of Amber Rudd over the Windrush immigration scandal.
The son of Pakistani parents who emigrated to Britain in the 1960s, he will touch on his own background to address the issue.
Full report at:
https://www.timesofisrael.com/uks-revamped-counterterror-strategy-shifts-focus-to-far-right/
--------
To isolate, or not, Kosovo's returning jihadists
Jun 5, 2018
PRISTINA: One of Europe's smallest countries, Kosovo has produced more than its fair share of battle-hardened jihadists whom it is now trying to rehabilitate after their return home from Syria and Iraq.
The fear is, however, that holding and isolating them in prison may only make the problem worse.
"Religious sects are better organised than the prison authorities," said Sami Lushtaku, a former Kosovo Liberation Army commander, who was jailed, then acquitted over crimes committed during the 1998-99 independence war.
Lushtaku's widely-reported remark during an interview with several TV channels followed his detention in two jails, including a high-security centre in Gerdoc, 25 kilometres (15 miles) from the capital, Pristina.
For the government of this small, mostly-Muslim Balkan nation, the returning jihadists are seen as a real threat.
"Kosovo is threatened by those returning from war zones who intend to attack the multi-ethnic and multi-religious character of Kosovo, its democratic government and its secular society," it said in a 2018-22 action plan.
Visar Duriqi, a Kosovo journalist specialising in religious affairs, said isolating the jailed jihadists can "prevent them from exerting any influence on people who have already broken the law and are more fragile."
But there is an ongoing debate over the strategy, with opponents arguing it only further alienates the jihadists and that, if they are to return to normal, they must be treated like any other prisoner.
According to official estimates, some 300 Kosovans fought with al-Qaida's Syrian ex-affiliate Al-Nusra Front or the Islamic State group since 2012.
More than 50 were killed but 130 have returned to Kosovo, with around 80 in all detained.
A 2015 law stipulates an up to 15-year jail term for returning jihadists and all others who fight in foreign conflicts.
"Relative to its population of 1.8 million, Kosovo is arguably the largest source of European jihadists in Syria and Iraq," according to estimates from 2015 by the US think tank, the Combating Terrorism Center.
For the vice-minister of security forces, Burim Ramadani, "the main challenge is to make these men patriots and not to reinforce their hostility."
The Islamic Community of Kosovo (BIK) plans to have 20 imams under its supervision visit the jihadists.
Radical Islamists should be engaged "in a reflection that will make them become normal citizens... they should not be left to their world," chief mufti of the BIK, Sabri Bajgora, told AFP.
"We do not know how they will react" to the imams, Bajgora conceded, however.
Kosovo media has reported on the case of former jihadist Fitim Lladrovci, 28, who resumed his propaganda activities on social networks as soon as he was released from Gerdoc.
The problem was further highlighted at the recent trial of a group of young men accused of plotting an attack against the Israeli football team in neighbouring Albania in November 2016.
Only one of them was a former jihadist fighter but all were "in permanent contact with the members of Islamic State in Syria," said prosecutor Merita Bina-Rugova.
One member of the cell, Kenan Plakaj, sentenced to 18 months imprisonment and released pending an appeal, told AFP he sought a normal life, "to have kids, continue (my) career as a chemist and find a job."
But the leader of the group, Visar Ibishi, was defiant, refusing to leave his cell at Gerdoc prison and go to the court, where he was sentenced to jail for 10 years.
"I only know the justice of Allah and I do not feel either guilty or (as) a terrorist," he said during the trial.
According to Skender Perteshi, analyst at the Kosovar Centre for Security Studies (KCSS), former jihadists "now belong to an international terrorist network, have learnt to use arms and explosives, (and) have been very close to killings and massacres."
This is the sort of experience "that they bring to Kosovo," he added.
Breaking with Kosovo's tradition of liberal Islam, these men have often fallen under the influence of radical imams.
The clerics "played a role in propagating Islamic extremism," the government's action plan says.
Six have been prosecuted, with one, Zeqeria Qazimi, sentenced to 10 years in jail in 2016 for inciting jihad.
Full report at:
https://timesofindia.indiatimes.com/world/europe/to-isolate-or-not-kosovos-returning-jihadists/articleshow/64458303.cms
--------
South Asia
NATO Reaffirm Support to Afghan Government, Security Forces, Ulema Fatwa
Jun 05 2018
The NATO-led Resolute Support Mission in Afghanistan reaffirmed support to the Afghan government and national security and defense forces while declaring support to the Fatwa issued by hundreds of religious scholars, Ulemas.
This comes as the Afghan Ulemas on Monday issued a joint Fatwa declaring the ongoing war and violence in Afghanistan as illegitimate.
The Ulemas also called on the Taliban group to respond positively to Afghan government's call and offers for peace process.
A suicide bomber targeted the participants of the gathering shortly after it ended and while the Ulemas were leaving the Loya Jirga camp where the gathering had taken place.
At least fourteen people were killed and nearly twenty others were wounded in the attack.
The NATO Resolute Support Mission in an online statement said "We condemn today's attack, a futile attempt by Afghanistan's enemies to silence the call of the Afghan people for peace. The NATO-led mission stands by the Afghan government and security forces, and supports the Afghan Ulema's fatwa."
https://www.khaama.com/nato-reaffirm-support-to-afghan-government-security-forces-ulemas-fatwa-05307/
--------
Rohingya say Myanmar targeted the educated in genocide
June 05, 2018
BALUKHALI REFUGEE CAMP, Bangladesh: The last time Mohammed Hashim saw his brother alive, he begged for his life, his arms bound behind his back as soldiers marched the 35-year-old teacher away.
It was Aug. 26, the day after Rohingya Muslim separatist attacks on military outposts in the Rohingya homeland in western Myanmar. In their wake, Myanmar's military and local Buddhists would respond with a campaign of rape, massacre and arson that has driven about 700,000 Rohingya into Bangladesh.
But more than a dozen Rohingya teachers, elders and religious leaders told The Associated Press that educated Rohingya — already subject to systematic and widespread harassment, arrests and torture — were singled out, part of Myanmar's operation to drive the Muslim Rohingya from majority Buddhist Myanmar.
Soldiers targeted the educated, they said, so there would be no community leaders left willing to speak up against the pervasive abuse.
It's an old tactic, according to those who study genocide — and often a precursor to killing.
"My brother apologized and pleaded with the military not to kill him; he showed them his ID card and said, 'I'm a teacher, I'm a teacher.' But the government had planned to kill our educated people, including my brother," Hashim said.
He was interviewed at one of the teeming Bangladesh refugee camps that have sprung up along the hilly border with Myanmar since the Rohingya began fleeing in August. Hashim, who is also a teacher, ran for the hills and hid after the military surrounded his hamlet in northern Rakhine state, where most of the Rohingya lived. Others told similar accounts.
After the Aug. 25 attacks, soldiers in Maung Nu village, the site of a massacre, asked villagers: "Where are the teachers?"
Rahim, a 26-year old high school science and math teacher who was known to many soldiers because he taught their children at the local battalion school, saw the military coming and fled.
"I knew I was dead if I got caught. They were hunting me," said Rahim, who, like some Rohingya, uses only one name. "They knew that I would always speak out for the people. They wanted to destroy us because they knew that without us they could do whatever they wanted to the rest of the Rohingya."
Researchers see comparisons between what is happening in Myanmar and other genocides, including the Holocaust.
"Listening to these stories, it sounds so similar. First you take out the religious or the political leaders, and then you start going down to the civilian population and you start tightening things more and more," said Karen Jungblut, research director at the USC Shoah Foundation, who has conducted interviews in the Bangladesh camps. "This was not just some random spurt of regional violence here and there because Myanmar felt it was being attacked by a 'terrorist group.' ... It felt way too organized."
Thomas MacManus, a specialist in international state crimes at Queen Mary University of London who has researched the Rohingya since 2012, said: "The objective appears to be to destroy the Rohingya, and one way to do that is to destroy their culture and remove their history. It's part of the genocide tactic."
Interviews with about 65 refugees in a September report by the UN Human Rights Office of the High Commissioner indicate that "the Myanmar security forces targeted teachers, the cultural and religious leadership, and other people of influence in the Rohingya community in an effort to diminish Rohingya history, culture and knowledge."
This targeting was "well-organized, coordinated, and systematic ... thereby challenging the assertion that it was merely collateral damage of the military" operations after the August insurgent attacks.
The Buddhist majority has long reviled the Rohingya as "Bengali interlopers" in northern Rakhine state and suppressed their ability to maintain their culture and go to school.
"Literacy is not high with the Rohingya; it is difficult to get an education in the first place, so targeting the teachers is a similar path that you've seen and heard in other places that ended up in genocide," said Jungblut.
An Amnesty International report from November documented a system of institutionalized discrimination and segregation of the Rohingya that was meant to erase their identity. Since an outbreak of Buddhist-Muslim violence in 2012, Rohingya children have been prevented from attending Buddhist schools, and official government teachers often refuse to come to Rohingya villages because of purported safety worries, the report said. That leaves the bulk of their education left to "local community schools staffed by untrained volunteer teachers."
Teachers interviewed by AP said they were paid only by community donations, were banned from teaching the Rohingya language, history and culture, and could only speak Burmese; many said they were prohibited from using the word "Rohingya."
"Teachers in school are their windows to the world," Arif Hossein, 31, a former elementary school teacher from Khular Bil in Maungdaw Township. "They teach them the meaning of the word Rohingya. Who tells them about our history and about how long we have lived there as a community? Teachers do."
In the months before Aug. 25, informers made it too dangerous to teach Rohingya language or culture, even in secret, according to a longtime headmaster at a middle school who spoke on condition of anonymity because of safety worries if he's ever allowed to return home.
"I couldn't speak out. Informers would follow me every day, every time I left the house. The government police would come at night and accuse me of giving the insurgents food, which was false, and my house was searched."
After the 2012 violence, he said soldiers put him and 18 other elders and teachers face down on the ground, with their hands bound, laid a tarp over them and began stomping and beating them. He spent four years in prison, for allegedly burning homes, a charge he denies, and was released in 2016.
Four days before the Aug. 25 violence, he says about 300 soldiers surrounded his home. He was handcuffed with his son and brought to the school, where they saw other teachers and five mullahs. Soldiers confiscated anything they thought might have been used to help the insurgents. His son was kicked and beaten.
The headmaster fled to Bangladesh soon after the August killing began.
"There are some educated people left in my village, but they will never raise their voices," he said, as another man wept silently, listening to him speak. "Things will get worse for the Rohingya because no one will speak out for them. They are too afraid. I think there will be no chance the Rohingya can stay in Myanmar. They all will come to Bangladesh."
The penalty for speaking out can be harsh.
Months before the August crackdown, the military called a meeting in the village of Chein Kar Li to demand more money from villagers who wanted to fish the local rivers. Kafait Ullah, a 26-year-old primary school teacher, took a breath, steadied his shaking hands and rose to ask a question.
"Why do we need to give you so much money?" he asked.
He knew, with certainty, that he would be punished. "I was so scared that I was shaking, but I thought it was my responsibility to speak out for my community because they didn't have money or education; they couldn't talk for themselves," Ullah recalled, in an interview at the refugee camp.
The retaliation began immediately.
He said he was fined and made to go every morning to a military camp and sign a piece of paper, so the soldiers could monitor his actions. They searched his home and threatened him with jail.
Others interviewed also described repression. They said the government monitored teachers, mullahs and other educated people, claiming they were working with outsiders to collect and send abroad information about human rights abuses meant to make Myanmar look bad.
"We are being targeted because people listen to us," said Maulana Rahmat Ullah, 53, a mullah from Koe Fan Kauk/Khular Bil (in Maungdaw) village.
After Buddhist-Muslim violence broke out in October 2016, Ullah said that about 500 soldiers came to his village and gathered everyone in a clearing. The soldiers, who lived nearby and knew the villagers well, separated the mullahs and teachers and those with education from the group. Soldiers beat him unconscious with a heavy wooden club and kept him for two days in a crowded room, with no food or water. Ullah said the attack was because villagers had dared to speak about their oppression to visiting UN officials.
Tears streamed down Ullah's face as he showed the torture scars on his arms and legs. "They knew I spoke up when others didn't, and that I represented the uneducated, the people with no power."
In the months before the Aug. 25 violence, the military again gathered the educated and ordered them not to talk with outsiders about what was happening to the Rohingya, Ullah said. Their homes were searched; their valuables were taken.
The rough treatment worked.
Full report at:
http://www.arabnews.com/node/1315861/world
--------
Muavia sending terrorists to Afghanistan and Kashmir: Nabil
Jun 04 2018
The former General Director of the Afghan Intelligence, National Directorate of Security (NDS), Rahmatullah Nabil, claims that the Ismatullah Mauvia, is sending terrorist to Afghanistan and Kashmir to wage war under the guise of Jihad besides hatching plots to assassinate the leaders of Pashtun Tahafuz Movement.
Nabil issued a statement on his official Twitter account, claiming that Muavia has returned to North Waziristan to resume his terrorist related operations.
"Ismatullah Muavia is leading a terrorist group, was based in NorthWaziristan & during the ZarbeAzab oper's has moved by MI/ISI to Vehari District Punjab. He is moved back to Waziristain& sending terrorist to AFG & Kashmir & planning assassination of PTM leaders & call it Jihad!," Nabil said.
This comes as Nabil released classified documents to confirm the allegation regarding the support of Pakistan to the Afghan militant groups, specifically the notorious Haqqani terrorist network.
The six documents released by Nabil in mid-July included formal letters by Pakistani military and the military intelligence of the country, Inter Services Intelligence (ISI).
Nabil had said the Haqqani network not only remained intact from Zarb-e-Azb operations but the Pakistani military shifted the network's fighters, families, weapons and other equipment to safe places.
He also added that the Afghan and American intelligence agencies were undoubtedly aware of the move and National Directorate of Security has hundreds of classified documents of the Pakistani military regarding its support to Afghan militants.
In the meantime, the Pakistani military officials admitted that some residuals of the notorious Haqqani terrorist network still remain in Pakistan as the Afghan and US officials emphasize that the terror group's leadership councils are based in the key cities of Pakistan, including Quetta city.
Full report at:
https://www.khaama.com/muavia-sending-terrorists-to-afghanistan-and-kashmir-nabil-05305/
--------
Taliban ambush Batur Dostum's convoy in Jawzjan province
Jun 04 2018
Several Taliban militants ambushed the convoy of General Abdul Rashid Dostum's Batur Dostum in northern Jawzjan province of Afghanistan.
Sources close to Batur Dostum confirmed that he has escaped unhurt from the ambush laid by the militants loyal to Taliban commander Mullah Jabar.
The sources further added that the Dostum was travelling on Aqcha highway when the incident took place and as a result two Taliban insurgents were killed.
The sources also added that the several Taliban insurgents were also wounded after the security guards of Dostum responded to the attack.
The deputy commander of Shebarghan Garrison Samad Rahmani confirmed the incident and the killing of two Taliban insurgents during the clashes.
He said the Afghan security forces also confiscated some weapons left behind the Taliban insurgents.
The anti-government armed militant groups including Taliban insurgents have not commented regarding the report so far.
Full report at:
https://www.khaama.com/taliban-ambush-batur-dostums-convoy-in-jawzjan-province-05313/
--------
Afghan president backs suicide bomb fatwa after 14 killed
JUNE 5, 2018
KABUL (Reuters) - Afghan President Ashraf Ghani condemned Monday's suicide bomb attack outside a peace tent gathering of Muslim clerics in Kabul and backed their fatwa against suicide attacks, saying they violated the tenets of Islam.
The bomb killed 14 people, including seven clerics, and was the latest in a series of attacks that have underlined the deteriorating security ahead of parliamentary and district council elections set for Oct. 20.
"The attack that targeted the large gathering of clerics and religious scholars from across the country was in fact an attack against the heirs of the prophet of Islam and the values of Islam," Ghani said in a video address, supporting the outlawing of suicide bombings.
"Unfortunately, the imposed war in Afghanistan every day takes lives of our innocent children."
Islamic State, without providing evidence, claimed responsibility for the attack.
The Taliban, seeking to reimpose strict Islamic rule after their 2001 ouster by U.S.-led forces, denied involvement, but blamed the "American process".
More than 2,000 religious scholars from across the country met on Sunday and Monday at the Loya Jirga (Grand Council) tent, denouncing years of conflict. They issued a fatwa, or religious ruling, outlawing suicide bombings and demanding that Taliban militants restore peace to allow foreign troops to leave.
A series of bombings in Kabul has killed dozens of people in recent months and shown no sign of easing during the Muslim holy month of Ramadan.
There was an explosion near a girls' school in the eastern province of Nangarhar early on Tuesday but no one was hurt, a provincial education official said. The school had announced two days off after receiving threats.
Spreading violence by Taliban and other militant groups has forced many schools to close, undermining fragile gains in education for girls in a country where millions have never set foot in a classroom.
Full report at:
https://www.reuters.com/article/us-afghanistan-blast/afghan-president-backs-suicide-bomb-fatwa-after-14-killed-idUSKCN1J10L2
--------
Arab World
Coalition attacks on Syria's Raqqa may have broken law - Amnesty
Jun 05, 2018
BEIRUT (Reuters) - Attacks by the U.S.-led coalition against Islamic State in the Syrian city of Raqqa last year may have broken international law by endangering the lives of civilians, rights group Amnesty International said on Tuesday.
During its campaign to recapture the group's Syrian capital, the coalition did not take enough account of civilians or take the precautions necessary to minimise harm to them, Amnesty said in a report.
It documented the cases of four families whose experiences it said were emblematic of wider patterns and provided "prima facie evidence that several coalition attacks which killed and injured civilians violated international humanitarian law".
The coalition has responded to previous accusations that it caused civilian casualties by saying it was careful to avoid them and investigated all reports that they had occurred.
The campaign to capture Raqqa was waged from June to October last year by the Syrian Democratic Forces (SDF), an alliance of Kurdish and Arab militias backed by coalition warplanes and special forces troops.
Reuters reporters in Raqqa during and after the campaign said that air strikes and fighting had caused massive destruction throughout the city, laying waste to entire districts.
The jihadist Islamic State had once used the city as the administrative centre of its self-declared caliphate, making it a planning centre for attacks by its followers around the world.
During the battle for Raqqa, IS fighters made it harder for the coalition offensive to avoid civilian deaths by operating among them and using them as human shields, Amnesty said.
Amnesty said it had interviewed 112 civilian residents of Raqqa during field research there in February, visiting the sites of 42 air, artillery and mortar strikes.
It said that in the four cases detailed in its report, air strikes using powerful munitions had hit buildings full of civilians who had been staying there for long periods.
It focused on the Aswad family, which it said lost eight members in a single air strike, the Hashish family, which it said lost 18 members, the Badran family which it said lost 39 members, and the Fayad family which it said lost 16 members.
"Witnesses reported that there were no fighters in the vicinity at the time of the attacks. Such attacks could be either direct attacks on civilians or civilian objects or indiscriminate attacks," the report said of the four cases studied, adding that such attacks amounted to war crimes.
Amnesty called on the coalition and member states to acknowledge the scale of devastation, make public necessary information for an independent investigation and make reparations to victims.
(Reporting by Angus McDowall; Editing by Mark Heinrich)
This story has not been edited by Firstpost staff and is generated by auto-feed.
https://www.firstpost.com/world/coalition-attacks-on-syrias-raqqa-may-have-broken-law-amnesty-4496047.html
--------
People in Northern Syria Protest against Turkey-Backed Militants
Jun 04, 2018
The sources said that protesters specifically called on the Ankara-backed Free Syrian Army (FSA) and their allies to leave Jarabulus, as recent violence inside the town has made it unsafe for the residents.
The sources went on to say that the protests reported took place shortly after the rebel infighting resulted in the death of a number of civilians in Jarabulus this past week.
In a similar development on Saturday, over 500 civilians in Jarabulus embarked on demonstrating against the Turkish troops and their militant allies after Friday Prayers and called for expulsion of gunmen of the Ankara-led Euphrates Shield from their region.
A number of protestors hoisted the Syrian government's flag in the town and called for reestablishment of Syria's legal institution.
In some areas the protestors embarked on closing off roads and main streets in the region.
The demonstration came after seven civilians were killed and wounded in a fresh infighting between Ahrar al-Sham terrorists and Liwa al-Shomal affiliated to FSA.
Full report at:
http://en.farsnews.com/newstext.aspx?nn=13970314000427
--------
Syrian Army Targets Heavily Terrorists' Positions in Western Aleppo
Jun 04, 2018
The source said that the Syrian Army began the assault by launching a large number of artillery shells and missiles on the terrorist-held regions in al-Mansoura and al-Rashedeen settlements in Western Aleppo.
For the last two weeks, the terrorists in Western Aleppo have taken advantage of the Turkish military's presence in the region by launching missiles and artillery shells from the latter's observation posts against residential areas in Aleppo city.
The Syrian Army finally responded to the attacks last night by launching an assault to deter ceasefire violations by the militants.
Field sources reported in late May that the army send a large number of soldiers and a large volume of military hardware from Lattakia to Kafr Hamra and al-Lairamoun regions in the Northwestern countryside of Aleppo city to take part in a possible operation against terrorists.
Full report at:
http://en.farsnews.com/newstext.aspx?nn=13970314000454
--------
Syria: Turkish Medical Equipment Discovered in Terrorists' Positions in Hama Province
Jun 04, 2018
The army's engineering units discovered a field hospital which terrorists had been using to treat their wounded members containing medicines, medical supplies and equipment.
The hospital is protected by 1-meter thick walls of basalt stone, equipped with 40 beds and medicine storage facility, mostly of Turkish origin, along with an operating room.
In a relevant development on Friday, the Russian Air Force carried out a fresh round of airstrikes on terrorists' positions and movements in Northern Hama and Southern Idlib, destroying several bases and depots on Thursday night.
The fighter jets repeatedly struck the terrorists' positions in the towns of Khan Sheikhoun, Kafr Zita, al-Latamina, Zakat and al-Salihiyah.
The airstrikes continued all night, despite the large presence of the Turkish troops in Northern Hama and Southern Idlib.
Full report at:
http://en.farsnews.com/newstext.aspx?nn=13970314000419
--------
Zahran Aloush's Most Trusted Adviser Turns out as Syrian Army Spy
Jun 04, 2018
The former director and founder of the Signal Battalion in Jeish al-Islam, Khalil Ebour, was recently photographed in a Syrian army uniform after spying on the militant group for years, the AMN reported.
For years, Ebour was reportedly Zahran 'Aloush's most trusted adviser.
Aloush, who was Jeish al-Islam chief commander, was killed during a Russian Air Force raid on Christmas Day in 2015.
Ebour allegedly played an important role in the last battle for Douma, as he gave the Syrian army information about all of Jeish al-Islam's bases and their secrets.
Full report at:
http://en.farsnews.com/newstext.aspx?nn=13970314000389
--------
Syrian Army, Kurdish Militia Moving Head to Head in Hasaka
Jun 04, 2018
The Kurdish units have dispatched a large number of forces and equipment form al-Malekiyeh in Northeastern Hasaka to the town of Qamishli.
In the meantime, the army has detained Hamoud Hossein al-Keirat, a commander of the Kurdish-led People's Protection Units (YPG), along with seven of his fighters in Qamishli.
The Kurdish militia have, meanwhile, arrested three Syrian soldiers.
Military analysts believe that tensions between the Kurds and the army are unprecedented, adding that direct confrontation between the two sides is possible now.
Last week, civilians in the Northeastern province of Hasaka called on the Syrian Army to support them as tensions went high between the locals and the US-backed Kurdish militias in the region.
People Qariwan neighborhood in Hasaka city took to the streets and opposed the Kurdish militias' forced recruitment. Protesters cut off roads connecting Qariwan to al-Nashwa neighborhood to prevent the Kurds from entering their region.
Sources said that popular uprising has spread in several neighborhoods, including al-Nashwa al-Qarbiyeh next to Qariwan, adding that people have called on the army to interfere and support them against the Kurdish militias.
The Kurdish militias' measure, mainly forced recruiting of young men in Hasaka, has angered people.
Full report at:
http://en.farsnews.com/newstext.aspx?nn=13970314000316
--------
Concern raised over European right-wing body launching refugee aid NGO in Lebanon
4 June 2018
Activists and journalists have warned against an NGO that has been launched in Lebanon by extremist right-wing European and North-American white-nationalist movement, which is believed to have funded xenophobic agenda in the past.
People believe the Identitarian Movement launched Alternative Help Association (AHA) in their fight against open borders under the pretense of supporting refugees.
A German film producer, Emily Dische-Becker, said on her social media that the group is helping refugees in their countries to prevent them from going to Europe. Becker said the organization is established to cover-up for xenophobic activities in Europe.
Helping refugees
Syrian-Canadian writer Yazan al-Saadi said in a Facebook post the movement is helping refugees in an effort to prompt European countries to start sending them back home.
The organization's goal is to help them create a future within their homelands because they believe that migration to Europe is not a solution to the crisis, according to their official website.
Full report at:
https://english.alarabiya.net/en/News/middle-east/2018/06/04/Concern-raised-over-European-right-wing-body-launching-refugee-aid-NGO-in-Lebanon.html
--------
Saudi Crown Prince meets with Libyan PM Fayez Al-Sarraj
5 June 2018
Saudi Crown Prince Mohammed bin Salman met with the Chairman of the Presidential Council of the Government of National Accord of Libya, Fayez Al-Sarraj, in Jeddah on Monday.
During the meeting, they "reviewed the latest developments at the Libyan arena in addition to the exerted efforts towards achieving the security and stability in Libya," a Saudi Press Agency statement said.
"The meeting was attended by Dr. Musaed bin Mohammed Al-Aiban, Minister of the State and Member of the Cabinet; Adel bin Ahmad Al-Jubeir, Minister of Foreign Affairs; Khalid bin Ali Al-Humaidan, Chief of the General Intelligence; Dr.Bandar bin Obaid Al-Rasheed, Secretary to HRH the Crown Prince and a number of Libyan senior officials," the statement added.
https://english.alarabiya.net/en/News/gulf/2018/06/05/Saudi-Crown-Prince-meets-with-Libyan-PM-Fayez-Al-Sarraj.html
--------
Pakistan
NISP report highlights challenges in fight against religious terrorism
Jun 5, 2018
ISLAMABAD: The National Internal Security Policy (NISP) 2018-2023 report released by the Ministry of interior has allotted religious terrorism the top spot in the list of terrorism types, a local media outlet reported on Sunday.
The policy report, released on May 31, highlights sectarian terrorism, ethno-political terrorism and sub-national terrorism as the other three forms of terrorism.
The policy reports states that a number of active terrorist groups in the country had a clear intent on imposing their interpretation of religion in the country in addition to supporting a system of global caliphate.
Many of the groups originally developed in Pakistan and remain active, though many other have been either eliminated or proscribed. The groups frequently target religious festivals, prominent personalities and places of worship of minority communities or other sects.
A mix of ethnic identity and politics caused violence along racial lines for political-economic gains with Karachi being the prime example. The NISP report calculated a total loss of $123 billion over the past five years due to terrorism, with KP and Balochistan suffering heavily. Close to 12,000 casualties occurred due to terrorist activities in the country between 2005-2012, with Punjab being the least violent of the provinces. However, death toll per each attack also caused the heaviest casualties in Punjab.
Balochistan was ranked fourth in the list in terms of extremism and violence due to ethnic conflict in the region while Gilgit-Baltistan was the most peaceful. For Azad Kashmir, most incidents of violence were caused by cross-border firings across the Line of Control (LOC).
The NISP report said that criminal justice reform is necessary to improve security climate but that reforms were not passed during the PML-N government's tenure. In addition, the policy report recommended the formation of system for combating financing for terrorism.
Registration, regulation and legislation for madrassa reforms was another important element highlighted in the report.
https://www.pakistantoday.com.pk/2018/06/04/nisp-report-highlights-challenges-in-fight-against-religious-terrorism/
--------
Dialogue offer to India always on table: ISPR chief
Baqir Sajjad Syed
June 05, 2018
ISLAMABAD: The military spokesman on Monday said Pakistan's offer to India for dialogue always remained on the table and underscored that any progress towards normalisation was dependent on the attitude of the two sides to the process.
Director General of the Inter-Services Public Rela­tions Maj Gen Asif Ghafoor was speaking at a media briefing at which he dwelt upon the country's relations with India, the United States and Afghanistan and the improved border coordination mechanism with Iran. He also touched upon the political challenges at home and reserved a significant portion of his nearly hour-long media interaction for responding to the critics within political parties and social media activists who keep questioning military's policies.
"To normalise ties we would have to review many things, we would have to introspect, and for moving forward both sides would have to show positivity," Maj Gen Ghafoor said and added that there was no space for war between the two nuclear-armed neighbours. The military spokesman, who was speaking to the media for the first time since Pakistan and India renewed their 2003 ceasefire agreement last week, stressed the need for honouring the understanding announced after the hotline contact between the directors general military operations of the two countries. He said Pakistan "may not even respond to the first bullet as long as it does not cause any casualty, but the second one would not go unresponded".
There has at least been one reported incident of ceasefire violation by India in Azad Kashmir in which a young man got injured after being hit by a bullet in the foot.
"We expect India to take this (ceasefire renewal) forward in a positive manner instead of reverting to violations," the spokesman said.
Pak-US ties under stress
Maj Gen Ghafoor candidly admitted that Pakistan's relations with the US were under stress.
"The issues are being discussed at the diplomatic level and we are also discussing the matters pertaining to security assistance," he said.
In an interesting message directed towards the Trump administration, the military spokesman said: "We want to see peace in Afghanistan and would like to see US-led coalition forces go back after attaining success." Pakistan, he maintained, would extend any and every help for achieving that goal while keeping the national interest foremost.
He once again denied the presence of the Haqqani network in Pakistan, but added a caveat that there might be some residual existence of the group in the Afghan refugee camps. He, therefore, repeated the demand for expeditious repatriation of the refugees. Pak-Afghan action plan for peace
The ISPR chief shed light on a recent visit of an Afghan delegation led by National Security Adviser Hanif Atmar, which also met Army Chief Gen Qamar Bajwa. The talks, he said, focused on the new bilateral ties framework — Afghanistan-Pakistan Action Plan for Peace and Solidarity. Five working groups have to be set up under the new framework.
Maj Gen Ghafoor said that setting up of the groups on military and intelligence cooperation was being prioritised, which would improve coordination in the fight against terrorism.
Talking about the fencing of Pak-Afghan border and construction of border forts under a Pakistani initiative for controlling the unauthorised cross-border movement along the 2,600km-long porous border, he said there had been 186 cross-border attacks by militants from the Afghan side on the groups carrying out the construction work over the past three months.
Seven Pakistani soldiers have been martyred and 39 injured in these attacks.
Full report at:
https://www.dawn.com/news/1412084/dialogue-offer-to-india-always-on-table-ispr-chief
--------
Pak military concedes that Haqqani Network residuals still remain in Pakistan
Jun 04 2018
The Pakistani military officials admitted that some residuals of the notorious Haqqani terrorist network still remain in Pakistan as the Afghan and US officials emphasize that the terror group's leadership councils are based in the key cities of Pakistan, including Quetta city.
Addressing accusations of harbouring the Haqqani network on the Pakistan side, the Pakistani Military spokesman Maj Gen Asif Ghafoor conceded that some residual strength may still remain in Pakistan, according to Dawn News.
However, he claimed that no 'stable' network of the Haqqani terrorist network existed in Pakistan.
In the meantime, the Pakistani military spokesman emphasized on the repatriation of the Afghan refugees as a prerequisite to act against the terror group, a claim which the Pakistani officials have repeatedly made under the growing pressures regarding the presence of the Taliban and Haqqani network leadership councils in the country.
He reiterated that the military desires respectable repatriation of Afghan refugees from Pakistan, "after which the army can target all remaining terrorist networks".
This comes as the Afghan and US officials have long been insisting that the leadership councils of the Taliban and the notorious Haqqani terrorist network are based in Pakistan from where they plan and coordinate deadly attacks in Afghanistan.
In the meantime, reports emerged late on Saturday suggesting that the supreme of the Taliban group Mullah Hebatullah Akhundzada and his two deputies have visited the Karachi city of Pakistan during the recent days.
Sirajuddin Haqqani is the deputy of Mullah Hebatullah as well as the leader of the notorious Haqqani terrorist network while Mullah Yaqoob, the son of the former Taliban leader Mullah Mohammad, is operating as the military commission chief of the group.
Full report at:
https://www.khaama.com/pak-military-concedes-that-haqqani-network-residuals-still-remain-in-pakistan-05304/
--------
Pakistani Pashtun activists killed in Taliban attack, ensuing police operation
Jun 4, 2018
Several Pashtun ethnic activists have been killed in an attack by the Taliban and a following police operation in Pakistan's border region of South Waziristan.
Local sources in Wana, the main administrative center for South Waziristan, said two Pashtuns had been killed and 25 others injured on Sunday after the Taliban attacked their gathering and security forces opened fire on protesters during disturbances that followed.
However, a senior Pashtun figure in the region said at least 10 people had been killed and 30 others injured in the violence.
Manzoor Pashteen, the head of the Pashtun Tahaffuz Movement (PTM), said on his Twitter page that police and security forces fired indiscriminately at protesters after the Taliban attacked a PTM gathering.
Another PTM leader said the Sunday attack by the Taliban was meant to force the group to leave Wana and other areas in South Waziristan, one of the most volatile of the tribal lands on Pakistan's border with Afghanistan.
Ali Wazir, a PTM leader who was wounded in the attack, said the Taliban were "dictating an end to PTM activities in Wana."
Other PTM members said they suspected the gunmen who attacker their gathering were Taliban members with close links to Pakistan's military. The Pakistani military has repeatedly denied such allegations while it has launched talks with PTM members to address some of their grievances.
The PTM gained prominence after it held rallies across many towns and cities in January to protest the killing of a Pashtun youth by police in the southern city of Karachi.
The movement seeks compensation for the alleged state-organized killings of thousands of Pashtuns during the so-called US-led war on terror, which Pakistan joined in 2001, and also during a crackdown by the Pakistani military against militant positions in tribal areas between 2009 and 2014.
Pashteen urged followers and all Pashtuns to take to the streets to protest the latest outrage.
"Pashtuns wherever should protest now and those who cannot should do it tomorrow in front of the UN offices because this state doesn't listen to our voice," he said.
Full report at:
http://www.presstv.com/Detail/2018/06/04/563880/Pakistan-Taliban-Pahtuns-Waziristan
--------
PUC conference slates Israeli aggression against Muslims
June 5, 2018
ISLAMABAD: Clerics and representatives of different religious and political organisations while addressing "Tahafuz-e-Harmain Al Sharifain, Al-Aqsa" conference stressed that Islamic world specifically Arab countries have been victim of confrontation and aggression because of foreign intervention in affairs of Muslim countries.
They stated that Israeli aggression and continued missile attacks in different cities of Saudi Arabia left Muslim Ummah with no other option to get united.
The clerics also called upon political and religious leadership to devise effective mechanism to contain menace of terrorism and extremism.
Pakistan Ulema Council hosted "Tahafuz-e-Harmain Al Sharifain, Al-Aqsa Conference" in Islamabad here on Monday in which leadership of different political and religious organisations expressing their views asserted that Muslim world specifically Arab countries have been in a state of continued confrontation and chaos because of foreign interference in these countries.
The conference stated that Muslim world have to get united against Israeli aggression and for Tahafuz-e-Harmain Al Sharifain".
The conference also announced that "Ashra Tahafuz-e-Harmain Al Sharifain, Al-Aqsa" will be observed in Pakistan from 20th Ramazan to 30th Ramazan and special sermons will be held on Friday 8th June, 2018 on the topic of 'Tahafuz-e-Harmain Al Sharifain Al-Aqsa' in the mosques all over Pakistan.
Chairman Pakistan Ulema Council Hafiz Muhammad Tahir Mehmood Ashrafi chaired the conference while among notable clerics who addressed the conference include Qazi Matiullah Saeedi, Maulana Abdul Hameed Sabri, Maulana Nauman Hashir, Maulana Tahir Aqeel Awan, Qari Abdul Saboor and Qari Aseed ur Rehman.
Full report at:
https://www.thenews.com.pk/print/325967-puc-conference-slates-israeli-aggression-against-muslims
--------
Weeks before Pakistan elections, controversial book by Imran Khan's ex-wife threatens to take centre stage
June 04, 2018
ISLAMABAD: Twitter is ablaze with fiery exchanges between Hamza Ali Abbasi, an avid supporter of Imran Khan and his Pakistan Tehreek-e-Insaf (PTI) party, and the ex-wife of Imran Khan, Reham Khan.
It started on Friday when Abbasi tweeted a scathing review of Khan's yet-to-be-released book — which leaked last week — saying he had the "unfortunate experience" of reading it.
"Had a very unfortunate experience of reading a manuscript of Reham Khans book. Here is the summary: IK is the most evil man to walk the face of this planet. Reham is the most pious righteous (TaHajjud guzaar) woman ever and Shehbaz Sharif is an amazing guy! #RehamOnPMLNAgenda"
Khan, the ex-wife of Imran Khan who was married to him for nine months, wasted no time in responding. The British-Pakistani journalist accused Abbasi of threatening her for close to a year, saying the only way he could have gotten his hands on her manuscript was through fraud or theft. She also released screen shots of what she said were email exchanges between Abbasi and herself.
"Hamza has been emailing me threats since August 2017. Bullies trying to silence me," she tweeted.
Abbasi denied the emails Khan posted were from him, while Khan (and many of her Twitter followers) pointed out the ones he was posting had spelling errors in the email addresses, fostering claims the documents were doctored.
As the Twitter exchange between the two continued to heat up, neither side appeared to be willing to back down.
Khan accused Abbasi, an actor, of being upset because he was not cast in her film "Janaan."
Abbasi retaliated, mocking her show and threatening to start discussing parts of her book on SAMAA TV on Monday.
"Seriously? LOL hahahahahahaha Hero in Janaan? NA49? Anyhow, the debate you wanted to have right before elections will happen NOW & fizzle out in a few days till you & the pile of lies you call ur book become irrelevant! Will start discussing ur book content from Monday."
The escalating exchange of words has prompted PTI's Central Information Secretary Fawad Chaudhry to step in.
Chaudhry claimed his party had proof that Khan had met with Maryam Nawaz Sharif, a politician and daughter of former prime minister Nawaz Sharif, adding fuel to allegations that Khan's book was part of a smear campaign against Imran Khan, and that she was playing into the hands of the Pakistan Muslim League-Nawaz (PML-N) party.
"We now have solid evidence to prove Reham Khan was meeting @MaryamNSharif through Ahsan Iqbal @betterpakistan so the whole book is an exercise to demolish only real opposition i.e #PTI #RehamOnPMLNAgenda"
Ahsan Iqbal, a member of PML-N, did not take too kindly to being thrown into the discussion either. In a tweet, which was retweeted by Khan herself, he denied claims he was involved in facilitating a meeting between Khan and Nawaz.
"Most shameful PTI resorting to fabricated and distorted emails to defend itself. Neither I ever met Reham Khan except for an interview in Aaj Studio before her marriage with IK nor arranged her meeting with anyone. Pl don't drag me in matters between ex spouses."
With only a few weeks left before Pakistan's elections on July 25, the impact of the inside scoop about the life of PTI leader Imran Khan. through the eyes of his ex-wife in her new book, is undeniable.
While the Twitter exchange between Khan and Abbasi has slowed down, the latter's threat that he will be taking his thoughts and selected passages from the book to the airwaves on Monday is expected to garner more media attention on the book.
Full report at:
http://www.arabnews.com/node/1315206/world
--------
Mideast
Turkey's Jewish Community Hosts Interfaith Iftar Dinner for Muslim Neighbours in Edirne
Jun 5, 2018
Members of the Jewish Community of Turkey and the Chief Rabbi Foundation held an Iftar (Muslim fast-breaking) dinner in the northwestern province of Edirne on Monday.
Around 1,100 people attended the dinner, which was held near Edirne's landmark Selimiye Mosque.
Speaking at the dinner, Edirne Governor Günay Özdemir called the dinner a good example of how people from different faiths can live together in peace.
Ishak Ibrahimzadeh, the president of the Jewish Community of Turkey, said this is the fourth such interfaith Iftar dinner.
Ibrahimzadeh said he was happy to see that every year the people of Edirne show more interest in the special dinner.
Turkey, home to many members of faiths other than Islam, is enlivened with street Iftars every Ramadan, the sacred Muslim month where every Muslim is obliged to abstain from eating and drinking from anything from dawn to sunset. On tables set up all along the streets, locals in most neighborhoods break their fast with water, dates or pide, a local flat bread consumed the most in Ramadan. Regardless of their religion, dinners funded by local municipalities, are open to anyone.
Churches also occasionally organize Iftar dinners for Muslim neighbors. Panayia Greek Orthodox Church in Istanbul's Beşiktaş district made the headlines in 2016 when it hosted an Iftar dinner in the church's courtyard.
https://www.dailysabah.com/turkey/2018/06/05/turkeys-jewish-community-hosts-interfaith-Iftar-dinner-for-muslim-neighbors-in-edirne
--------
Muslims in Ukraine keep faith despite challenges
04.06.2018
Muslims in Ukraine lack places of worship, Ukraine's mufti of the Religious Administration of Muslims said.
In an exclusive interview to Anadolu Agency, the Muslim scholar Said Ismagilov said it was very hard to obtain land to build mosques, stating that the lack of places of worship was especially visible outside big cities.
"Muslims in smaller cities with smaller communities face more problems as they do not even have places of warship or access to halal food," he added.
The mufti added in his list of grievances that there are not enough cemeteries for Muslims and that Muslim women had to remove their hijab for their passport pictures.
Calling on international Muslim organizations for support in building mosques and Islamic centers in the country, Ismagilov said that it would be essential "for the future of Islam in Ukraine".
Ismagilov said that nearly a million Muslims live in Ukraine, the majority in Crimea and in big cities such as Kiev.
"During the Soviet Union [era], religions -- including Islam -- were forbidden in Ukraine, so when Ukraine became independent Muslims started from the beginning to learn about their religion," he said.
'Ukrainians are tolerant'
The mufti conceded that Muslims in Ukraine were not confronted with problems in their daily lives.
Deputy head of the Ukrainian Muslimahs League and chief editor in the Information Department of the Islamic Center of Ukraine, Olga Fryndak, who converted to Islam in 1998, describes Ukrainians as "tolerant".
"Islam I knew from my elder sister. At the time she was studying at the university in Kiev and had some Muslim friends. She was the first who gave me the basic information about Islam as a religion. At the time there weren't any Islamic books in Russian," she said.
Fryndak said she had not faced "big problems" in Ukraine as a Muslim.
"Ukrainian people are tolerant in general. We have mosques and Islamic cultural centers in big cities, we have halal meat and products, we can work and pray, we have Muslim organizations and volunteers," she said.
Fryndak said there are also Islamic grammar schools in Kiev and Kharkov, adding that Islamic literature can be published in Ukrainian and Russian.
She added that Ukrainian Muslims still needed more mosques and Islamic centers.
The mother of four added that kindergarten, recreational camps and sport clubs for Muslim children were also needed.
"We have some problems as a minority in the non-Muslim society, but insha'Allah [God willing] we can overcome them," she said.
Islamic Center open for everyone
Speaking about the activities of the Islamic Center in Kiev at which the Mufti works, Ismagilov said that many needs of Muslims -- including weddings, halal restaurants, Ramadan programs, Islamic education for children and adults and other facilities – were being covered.
"During the month of Ramadan we have around 800-1,000 people at the Islamic Center for Iftar [fast-breaking meal] and Tarawih [Ramadan prayers]," he added.
Ismagilov said the facilities of the Islamic Center offer various seminars, open lectures and festivals which show that Muslim culture and traditions were not only open for Muslims, but for everyone.
Full report at:
https://www.aa.com.tr/en/europe/muslims-in-ukraine-keep-faith-despite-challenges/1165401
--------
Iran will not tolerate both sanctions and nuclear restrictions: Khamenei
JUNE 5, 2018
Iran's supreme leader Ayatollah Ali Khamenei on Monday warned European leaders against their "dream" of Tehran continuing to curb its nuclear programme while finding itself under new economic sanctions.
"From some European countries we get the message that they expect the Iranian people to both tolerate the sanctions, deal with the sanctions, and go along with them and give up our nuclear energy activities and continue with the restrictions," he told an audience in a Tehran suburb.
"I would tell these countries that they should be aware that this is a dream that will never come true."
Khamenei was speaking nearly a month after President Donald Trump announced the United States was pulling out of the landmark Iran nuclear deal.
The remaining partners — Britain, China, France, Germany and Russia — have scrambled to save the 2015 accord as the US readies to reimpose sanctions on Tehran.
"The people of Iran and the government of Iran will never tolerate both suffering from sanctions and nuclear restrictions," said Khamenei.
"This will never happen," he said during a ceremony to mark the 29th anniversary of the death of revolutionary leader Ayatollah Ruhollah Khomeini.
The Iran deal paved the way for the partial lifting of international sanctions against the country, in exchange for Tehran curbing its nuclear programme for a number of years.
Khamenei and various Iranian political figures have already warned that Iran could leave the agreement if it no longer receives the economic benefits it signed up for.
Late last month the supreme leader outlined Iran's demands for it to stay in the nuclear deal.
But the remaining backers of the accord have limited power to protect Iran's economic interests in the face of US sanctions, with Trump showing little inclination to spare EU companies.
Shortly after Khamenei's speech, French automaker PSA announced it was pulling out of two joint ventures to sell its cars in Iran owing to the US sanctions.
Full report at:
https://dailytimes.com.pk/249319/iran-will-not-tolerate-both-sanctions-and-nuclear-restrictions-khamenei/
--------
Turkey says troops closing in on Kurd stronghold in Iraq
4 June 2018
Turkish troops are advancing on the mountainous Qandil region of northern Iraq where the leadership of the Kurdistan Workers' Party (PKK) is based, a senior minister said Monday, as military operations are stepped up.
Several Turkish troops have been killed in the region in recent months during clashes with the PKK, although the authorities remain vague over where the fighting is taking place.
Interior Minister Suleyman Soylu told the state-run Anadolu news agency the target was the Qandil mountains, the PKK's key military base."Qandil is not a distant target for us," Soylu said. "Right now several areas were taken under control, especially in the northern Iraqi region," he added.
Outlawed by Ankara and its Western allies, the PKK has waged a bloody insurgency against the Turkish state since 1984, and the army is battling the group's militants both inside Turkey and in northern Iraq.
Turkish warplanes often bomb PKK hideouts in northern Iraq while the security forces sporadically launch cross-border incursions in pursuit of rebel fighters.
Last week four Turkish soldiers were killed in clashes with PKK fighters in northern Iraq, the army said in a statement.
President Recep Tayyip Erdogan has repeatedly threatened a major cross-border operation to dislodge the group from its strongholds.
"To us, it is a question of timing now. It is not a question of operation," Soylu said. "Qandil will become a safe area for Turkey. Nobody should doubt it."
It is in this area that the PKK's military leadership such as Murat Karayilan and Cemil Bayik are believed to be based.
Top PKK leader Abdullah Ocalan is serving a life sentence on a prison island off Istanbul following his capture in 1999.
The operations inside northern Iraq come as Turkey prepares for June 24 parliamentary and presidential elections.
Full report at:
https://english.alarabiya.net/en/News/middle-east/2018/06/04/Turkey-says-troops-closing-in-on-Kurd-stronghold-in-Iraq.html
--------
UN envoy to Yemen advises Houthis to hand over Hodeidah
4 June 2018
The UN's envoy to Yemen, Martin Griffith, advised the Houthi militias to withdraw from Hodeidah so it can be placed under the UN's supervision.
According to political sources in Sanaa, the militias' leaders showed some willingness to accept Griffith's request.
Griffith told Houthi leaders that the first step towards reaching a political solution is for them to withdraw from Hodeidah and its strategic ports. Only then can they participate in negotiations, local sources said.
The Houthis now face a tough choice of either withdrawing from the city completely, or facing intensive military operations by the Yemeni government to push them out.
Parliament calls for political solution
They Yemeni parliament on Monday released a statement warning of Houthi plans to turn the Hodeidah port into a means of smuggling in weapons and artillery, and controlling entry of humanitarian aid through there.
"The militia has designated the Hodeidah port for its own benefit and what it calls the war effort that kills Yemenis," the statement said.
The parliament also warned of the repercussions of not working towards a political solution. They pointed out the Houthis' strategy of looking for "temporary improvements veering away from an actual solution" and that this will not serve "the peace that the Yemenis look forward to, and gives the rebels the opportunity to regroup their forces and continue to recruit new people including children and the poor, sending them to their death."
Parliament blocs called on the international community and Griffith to relieve the humanitarian crisis that Yemen is going through by forcing the Houthis to adhere to international laws.
The blocs also mentioned the Houthi blockade arounf the city of Taiz, stressing the need to remove it.
Air raid operations
Meanwhile, the Arab Coalition carried out a series of air raids on Monday morning targeting Houthi military groupings in Hodeidah.
Full report at:
https://english.alarabiya.net/en/News/gulf/2018/06/04/UN-envoy-to-Yemen-advises-Houthis-to-hand-over-Hodeidah.html
--------
Turkish security forces 'neutralize' 30 PKK terrorists in one week
Jun 4, 2018
Turkish security forces have "neutralized" at least 30 members of the Kurdistan Workers' Party (PKK) militant group, including three high-profile figures, during counter-terrorism operations across Turkey in the past one week.
The Turkish Interior Ministry, in a statement released on Monday, announced that Turkish troopers, supported by ground and air forces, carried out 1,419 counter-terrorism operations between May 28 and June 4.
The ministry said 14 terrorists were killed, five others were captured and another 11 surrendered themselves to authorities.
The Turkish military generally uses the term "neutralize" to signify that the militants were killed, captured or surrendered.
PKK rocket attack leaves three Turkish soldiers dead
Meanwhile, at least three Turkish soldiers were killed and another sustained injuries when PKK militants launched a rocket attack in Turkey's southeastern province of Hakkari.
Security sources, speaking on condition of anonymity, said the Kurdish terrorists mounted the assault from a mountainous area on the Iraqi side of the border.
The Turkish military has started an operation in the area to "neutralize" the militants.
On April 15, the Turkish military stated that a high-profile PKK militants had been killed as Turkish military aircraft struck Hakurk-Kani Rash region, killing Birdal Burhanli, better known by the nom de guerre Agiri Mazlum Pirdogan.
The governor's office of Turkey's eastern province of Tunceli announced last December that senior PKK terrorist Murat Dag, better known by the nom de guerre Ferhat Yilmaz, had been killed along with seven other terrorists during an offensive in the Pulumur district of the province, situated some 800 kilometers (497 miles) east of the capital Ankara.
PKK militants regularly clash with Turkish forces in the Kurdish-dominated southeast of Turkey attached to northern Iraq.
Turkey, along with the European Union and the United States, has declared the PKK a terrorist group and has banned it. The militant group has been seeking an autonomous Kurdish region since 1984.
A shaky ceasefire between the PKK and the Turkish government collapsed in July 2015. Attacks on Turkish security forces have soared ever since.
Over the past few months, Turkish ground and air forces have been carrying out operations against PKK positions in the country as well as in northern Iraq and neighboring Syria.
Full report at:
http://www.presstv.com/Detail/2018/06/04/563892/Turkish-security-forces-neutralize-30-PKK-terrorists-in-one-week
--------
Africa
Niger Islamic State hostage: 'They want to kill foreign soldiers'
Ruth Maclean in Niamey
Tue 5 Jun 2018
When a team of American special forces hunting Islamic State fighters in Niger was ambushed and four of its soldiers killed, the attack last October was described as "a total tactical surprise" by the commander of US Africa Command.
Their deaths became a political scandal in Washington – where there was little awareness of US military operations in the region – and became notorious when Donald Trump, in a condolence call, told the widow of one of the dead soldiers that he "knew what he signed up for".
"They had never seen anything in this magnitude – numbers, mobility and training," said US Gen Thomas Waldhauser last month, presenting the results of the Pentagon investigation into the attack, which found "individual, organisational and institutional failures" leading up to the ambush.
But the same group that attacked the US-Nigerien team near the village of Tongo Tongo, close to border with Mali, had staged many attacks, including one of similar magnitude on an outpost of Niger's national guard almost a year earlier.
In that attack, just like in Tongo Tongo, over 100 heavily-armed men suddenly appeared on motorbikes and in vehicles. They killed six Nigerien soldiers, and took two others hostage. Only one lived to tell the tale.
The Guardian has gained rare insight into the Isis-affiliated group through an interview with that soldier, who spent three months chained up as their hostage.
Abdoul Wahid, 28, talked to many of his kidnappers, who said they had no demands but just wanted to wage jihad, and spoke of wanting to kill foreign soldiers in particular. Wahid also witnessed them recruiting and training an army of children aged around 10.
After breaking the Ramadan fast in Niger's capital Niamey last week, Wahid, off duty in a crisp short-sleeved shirt, sat in his mother's room and described the chilly November morning in 2016 when the 17 soldiers at his post were attacked by a group of men. They were led by a skinny man called Aboubacar Chapori, also known as Petit Chapori, a key lieutenant of Abu Walid al-Sahraoui, leader of the Islamic State in the Greater Sahara (ISGS).
"We shot at them until we had no bullets left," Wahid said. "By the end, six of our men were dead, including our chief. He was shot in the head in front of all of us, and two of us were taken hostage."
Wahid was thrown into the back of a pickup, along with his 24-year-old friend Habib Isa, and the jihadist convoy sped off. Wahid and Isa had done their training together. "We were really close," he said.
They were driven across the dry scrub of eastern Niger. Wahid knew the region well and recognised where he was being taken. When they reached the Tongo Tongo area, they stopped and pulled Isa down from the pickup.
"They slit my friend's throat. They said he was a dog," Wahid said, maintaining his military bearing, but his voice giving way just a little. "Then they tied my hands and feet together and blindfolded me. They said: 'You see your friend? You're next.'"
But they kept Wahid alive. Sitting barefoot and crosslegged on his mother's mat, Wahid demonstrated how they strung him up in the back of the pickup, his back towards the cab, arms over his head. They drove like that for two days, crossing the Malian border to join their brothers. As they sped through hamlets en route, Wahid heard villagers cry "Allahu Akbar" – Allah is great. He was deep in enemy territory, he realised.
It is not known how many members ISGS has; some analysts say less than 100. But Wahid estimated that he saw up to 600 fighters, and said they told him he had only seen half their total number.
Since the Tongo Tongo attack, Niger's interior minister Mohamed Bazoum said the group had been significantly weakened, with only a few hundred survivors.
But according to Malian and Nigerien security sources who spoke to the Guardian on condition of anonymity, Tongo Tongo brought Sahraoui respect and money from Isis and its other affiliates, such as Boko Haram in neighbouring Nigeria.
"The Tongo Tongo attack gave Abu Walid a lot of importance and support from his superiors," one said.
Defence secretary Jim Mattis has ordered a review of US counterterrorism forces in Africa after the ambush, which could result in resources for such missions being halved over the next three years.
Little is known about ISGS. The Guardian pieced together their history by talking to intelligence, military, political and rebel sources across Niger.
Sahraoui, the leader and founder, may be a jihadist pledged to Islamic State, but his camel and motorbike-mounted militants are very different to ISIS fighters in Iraq and Syria.
Sahraoui is thought to be originally from the disputed territory of Western Sahara and spent time in Algeria before coming to Mali. After years at the Movement for Unity and Jihad in West Africa (MUJAO) and the al-Qaida-linked group al-Murabitoun, he split off to found ISGS, piggybacking on a conflict on the Niger-Mali border that had been rumbling on for decades and was ripe for exploitation.
The people he chose – nomadic Fulani herders in the regions of Tillabéri and Tahoua – had been feuding with the Daoussahak Tuareg of the Ménaka region in Mali for decades.
"The Tillabéri problem is an ethnic problem," said a Nigerien intelligence officer who had worked on the region for decades. "The Fulani have a problem with the Tuareg, and jihadists profited from the situation."
Records show that there has been fighting over access to water and pasture land since at least the 1950s, but according to several sources who witnessed the conflict evolve, it intensified in the 1990s.
An accord signed between the governments of Niger and Mali in the 90s allowed pastoralists in search of water for their animals to cross from dry Niger into Mali's less dry Ménaka region. However, this agreement was not explained properly to people on the ground, so when Nigerien Fulani arrived with hundreds of cows in Mali, the well-armed Daoussahak Tuareg population reacted by raiding their cattle.
Because they were Nigerien, the Fulani herders had no representation in Mali, and no friends in high places to support them. They started trading cows for Kalashnikovs to protect themselves and by 2010, Daoussahak and Fulani were regularly launching bloody attacks on each others' camps.
Then came the fall of Muammar Gaddafi in neighbouring Libya, which saw Malian Tuareg fighters from his armies return home. They brought with them arms and money, and the explosion of northern Mali as they joined forces with other rebels to create a separatist movement, the MNLA. Many Daoussahak joined them, and according to Niger's interior minister Mohammed Bazoum, this drove young Fulani to join MUJAO – not out of a desire to wage jihad, but to protect themselves against their old enemy.
Sahraoui took some of the Fulani from MUJAO and al-Mourabitoun, but also recruited Tuareg and Arab fighters into ISGS's ranks. To start with, they were a small group.
"Abu Walid didn't have many men. I knew him in early 2016, and he only had four pickups then," said the intelligence officer. In Niger's rural regions, power is often counted in numbers of Toyota Hiluxes.
But they steadily increased their firepower, mainly through attacks on Nigerien military.
When Bazoum took the interior minister job, he sent emissaries to ask what they wanted.
"I said 'listen, if you have political claims, or problems with the justice, the administration, the state, then tell me'," said the imposing Bazoum, sitting on the sofa in his Niamey office. "We are ready to discuss your problem with you and resolve it. Declare that you're a rebel front with specific claims on the Nigerien state."
He said he received a handwritten letter from Sahraoui himself, which said: "No, we have no problem with you; we are waging jihad against Mali."
According to Bazoum, the letter contained a list of Sahraoui's comrades in Nigerien jails, whom he wanted released. If they were freed, ISGS promised to shield Niger from attack.
"I freed some of them to show my good will, but I couldn't free all of them because some were on trial," Bazoum said.
After that, the communication channel broke down and attacks escalated. Some believe the group's militants could still be offered an olive branch to demobilise and be reintegrated into Nigerien society. But Bazoum is not among them.
"The young people working with Abu Walid al-Sahraoui aren't just there to oppose the Daoussahak, they're also there to wage jihad against our country, and they attack us," Bazoum said. "We have no solution to propose to them, all we have is war to weaken them."
Wahid was chained up, freed only occasionally to relieve himself, fed on nothing but flatbread and pond water, and ferried around with the militants, who he said were constantly on the move.
They were training an army of children, he said. Three to five new boys, aged around 10, would arrive every day – usually group members' brothers who had been sent for.
He said that foreign soldiers were a major ISGS target.
"I don't know whether they were American or French, but in Mali there were lots of white soldiers, and they [ISGS] particularly wanted to kill them. They knew the whites were after them," he said.
For one of his three months as a captive, Wahid was held by the group's head of recruitment, Petit Chapori, who would occasionally come and chat to his prisoner. Since the deaths of the American special forces soldiers, much attention has been focused on Doundou Cheffou, an ISGS member who had been a target of the joint US-Nigerien raid just before the Tongo Tongo attack. According to several sources with knowledge of the group, however, Cheffou is merely a "chef de poste", below Petit Chapori in the hierarchy.
"He asked me if, when I was a soldier, I drank alcohol. I said no. He asked if I smoked, and I said yes. Did I fuck women? I said yes. How many foam mattresses did I sleep on? I said two or three. He laughed and said: 'Look what life has done to you. Now you sleep on the ground, with no mattress at all.'"
He added: "Petit Chapori speaks of Islam, but he's not really a believer. He's just a thug."
None of the group practised Islam as Wahid knew it. He never saw anyone do the required ablutions before praying – and he was never allowed to wash himself. They said half the usual number of prayers, and when he asked them why, they said it was because they were travellers.
He asked them why they were fighting. "They always said: 'We want nothing. Our mission is to wage jihad.' Then they would tell me about army positions they wanted to attack."
Every day of his ordeal, Wahid thought the militants were going to slit his throat, as they had Isa's. But one day, his captors unlocked his chains. After negotiations with the government, they had agreed to free him. He was driven back the way he had come, three months earlier.
When he got back to his mother's house in Niamey, the pain in his shoulders from being chained up for three months stopped him sleeping. But he has recovered, and is about to get married.
Wahid was lucky to escape with his life. That is something his former captors cannot do, he said.
"Some want to leave, and stop fighting, but they can't. If you abandon the group, they'll kill you."
https://www.theguardian.com/world/2018/jun/05/hostage-niger-islamic-state-group-they-want-to-kill-foreign-soldiers
--------
Libya strongman Haftar says victory near against Derna extremists
5 June 2018
Libyan military strongman Khalifa Haftar said Monday that victory was near for his forces in Derna, the eastern city held by ISIS since the 2011 armed uprising.
Haftar's self-styled Libyan National Army launched an offensive on May 7 to "liberate" the coastal city, home to about 150,000 people and held by extremists since the uprising that ousted dictator Moamer Kadhafi.
"Victory is near," Haftar said in a video published on YouTube, adding that his forces had "cleaned up" suburbs of the city.
LNA forces have laid siege to Derna for nearly two years, making it difficult for residents to access humanitarian aid.
The city is the only part of eastern Libya out of the LNA's control. It is held by a ragtag coalition of ISIS militants, including groups close to Al-Qaeda.
Haftar said that after its "liberation" his forces would deploy across the city to take control of all areas and infrastructure. But he called on them to ensure the safety of residents and to put up defense barriers for additional security.
The strongman whose forces are backed by the United Arab Emirates and Egypt also prohibited his troops from taking "revenge", in particular against "terrorists" who surrender and give up their arms.
"It is necessary to respect legal procedures concerning prisoners and to deliver them to the competent organs," Haftar said.
Some members of Haftar's forces have been implicated in war crimes, including Mahmud al-Werfalli, a commander of the Al-Saiqa brigade based in Libya's second city of Benghazi.
On the humanitarian front, the situation in Derna is critical, according to the International Organization for Migration. Since fighting began in Derna more than three weeks ago, "continued shelling and clashes" have forced at least 425 families -- about 2,125 people -- to flee the city, the IOM's Displacement Tracking Matrix said on Monday.
On Friday, the UN mission in Libya said at least 17 civilians, including two children, have been killed and 22 others, including seven children, have been wounded in the fighting since May 16.
Full report at:
https://english.alarabiya.net/en/News/north-africa/2018/06/05/Libya-strongman-Haftar-says-victory-near-against-Derna-extremists.html
--------
US airstrike in Somalia kills 27 al-Shabaab militants
05.06.2018
U.S. forces in coordination with the Somali government conducted an airstrike in Somalia's northeastern Bari region over the weekend, killing 27 al-Shabaab militants, the U.S. Africa Command (Africom) said Monday.
The airstrike took place 41 kilometers (26 miles) southwest of the coastal town of Bosasso, the capital of Bari, on June 2, Africom said in a statement.
Africom said it currently assesses that no civilians were killed in the airstrike.
"U.S. forces will continue to use all authorized and appropriate measures to protect U.S. citizens and to disable terrorist threats" in Somalia, the statement said.
U.S. President Donald Trump authorized the conducting of airstrikes in Somalia soon after taking office.
Full report at:
https://www.aa.com.tr/en/africa/us-airstrike-in-somalia-kills-27-al-shabaab-militants/1165677
--------
Jordan's king set to ask PM to quit amid angry protests
Jun 4, 2018
Jordan's King Abdullah is expected Monday to ask Prime Minister Hani Mulki to quit after five days of unprecedented angry protests against the country's economic policies.
The dismissal of Mulki is one of the demands raised during the recent wave of protests against IMF-dictated tax increases and price hikes that have hit the kingdom.
The sources said King Abdullah has summoned Mulki for an audience in his palace later on Monday.
Thousands of people took to the streets in the capital, Amman, and main provincial towns for a fifth night Sunday to protest against proposed tax increases, in the biggest anti-government rallies since 2011.
Recent fuel price hikes and subsidy cuts have also stoked anger at the government.
Protesters criticize the government for resorting to price hikes and tax increases to raise funds instead of dealing with corruption.
"The government has been raising prices for everything, without improving any of the country's poor services in return," Ali Ibrahim, one of the protesters, said.
The demonstrations began last Wednesday when thousands of Jordanians staged a strike against an income tax bill that they say will worsen an erosion in living standards. The strike was called after the prime minister refused to scrap the bill which was rejected by many Jordanians.
According to witnesses, the protesters, who converged near the Cabinet office on Sunday, said they would disband only if the government revoked the bill it sent to the parliament last month.
"The government has made us penniless ... they have left us with no more money in our pockets," protesters chanted.
Police have been accused of using heavy-handed tactics against the protesters since the rallies began Wednesday, and many fear that they will become more violent as the numbers swell.
A Jordanian political analyst has warned that discontent could "snowball ... triggering a domestic crisis."
"The popular movement ... has surprised the government," Adel Mahmoud said, adding that he expects the demonstrations to continue until demands are met.
Jordan has a public debt of some $35 billion, equivalent to around 90 percent of its gross domestic product.
The price hike and steep tax increases, which the government of Mulki introduced earlier in the year as mandated by the International Monetary Fund (IMF), are meant to cut into the debt.
According to official estimates, 18.5 percent of Jordan's population of 9.5 million is unemployed, while 20 percent are on the brink of poverty.
Full report at:
http://www.presstv.com/Detail/2018/06/04/563833/Jordan-King-PM-resign
--------
U.S. Report on Religious Freedom Critical of Sudan
June 4, 2018
The case of Noura Hussein, a 19-year-old Sudanese woman facing the death penalty for killing her husband as he tried to rape her, has drawn recent international attention. Politicians and celebrities alike from the West, including Julia Gillard, the former prime minister of Australia, actress Emma Watson and model Naomi Campbell have joined in a campaign to get Hussein's sentence overturned.
Hussein's case has focused much media attention on the issue of forced marriage, particularly to underage females. It's a topic that many news outlets around the world have examined, including in the United States.
Hussein also is an example of the many females in Sudan who face potential punishment not only because of their gender but also because of violating appearance guidelines laid out by Sudan's Islamic law. Women and girls in the East African country frequently encounter arrests and penalties that can include the lash because their appearance is not in accordance with sharia law, the Islamic legal system. The law allows the marriage of girls as young as 10.
These and other forms of repression were recently singled out in the U.S. State Department's annual Religious Freedom report. The report noted U.S. allies and strategic partners such as Saudi Arabia, Pakistan and China for restricting religious practices, as well as other countries such as North Korea, Iran and Myanmar.
The report also singles out other countries, such as Sudan, where critics say the arbitrary application of sharia law is used to create a climate of fear that provides the government and security forces another lever of power. Among the areas of concern the State Department notes in Sudan:
Reports of "authorities arresting, intimidating, and detaining Christian clergy and church members on religious grounds" allowed the government to deny permits to build churches, shut down churches and church schools and censoring religious materials and leaders.
Women in the country faced frequent charges of "indecent dress" that led to numerous court convictions. Religious leaders and government officials confirmed that Muslim and Christian women were fined and lashed on a daily basis in Khartoum for wearing pants and other dress considered indecent by the Public Order Police, according to the report.
The State Department said it produced the report from its data collected by embassy staffs around the world that focused on religious freedom from government officials, religious groups, nongovernmental organizations, journalists, human rights monitors and academics.
Sudan's government has been on the U.S. list of state sponsors of terrorism since 1993, when the country hosted Osama Bin Laden, the former leader of al-Qaida. A group of Muslims were on death row three years ago in Sudan for practicing a different version of Islam from the official sharia code, but were released after international outcry.
Observers and human rights defenders believe that Sudan's government usually uses religion to silence those who criticize its policies.
Early last year, a Sudanese court sentenced a Czech missionary and film-maker to 20 years in prison on charges of espionage against Sudan. The man, Petr Jasek, came to Sudan to document abuses against Christian converters. Two Sudanese pastors were sentenced to 10 years for the same chargers. They each spent a year in prison before being released on a presidential pardon.
"This report is also a good reminder of how religion can also be used to silence critical voices. The case of the Czech and Sudanese priests who were detained well over a year is a good example of that" says Jehanne Henry who is in charge of Africa at the Human Rights Watch.
"In addition, we continue to see women being silenced and repressed in the name of religious, through the morality laws known as public order regime in Sudan, and through sharia laws on adultery and apostasy."
Last October, the U.S. lifted its long-standing sanctions against Sudan, citing progress made in fighting terrorism and easing humanitarian issues within the country. In April, the State Department resumed talks to normalize relations between the two countries. The talks will focus on religious freedom and human rights issues, according to the Sudan Tribune.
Full report at:
https://www.usnews.com/news/best-countries/articles/2018-06-04/us-report-on-religious-freedom-critical-of-sudan
--------
Somalia: Somali Troops Retake Moqokori Town From Al-Shabaab
2 JUNE 2018
Somali National Army (SNA) took over Muqokori town on Saturday after Al-Shabab fighters withdrew from the area, a resident confirmed.
Corresponding reports from the residents indicated that armed Al-Shabaab fighters who seized the town on Friday afternoon pulled out of the area without fighting.
A resident who asked for anonymity told Halbeeg News that Somali forces backed African Union Mission in Somalia (AMISOM) seized the town after the fighters vacated.
"The town is under the control of Somali forces now. The soldiers arrived in the town at midnight after Al-Shabab fighters left the town for unknown reasons," said the resident.
The allied forces have launched operations to the town and its surrounding areas.
The Somali government has not yet commented on Friday fighting between its forces and Al-Shabab fighters.
The town has been a battlefield since 2014 as it was falling under the control of both sides at interval times.
Somali forces with the support of AMISOM troops have been fighting Al-Shabab since 2007 when AU deployed its troops in Somalia to help the government in the fight against Al-Shabab.
Alshabab lost control of many towns including the capital city to allied forces.
Full report at:
http://allafrica.com/stories/201806040536.html
--------
Minna Jail Break: Attackers not Boko Haram members – Gov. Bello
June 4, 2018
Governor Abubakar Bello of Niger State on Monday refuted allegations that the Sunday night attack by some gunmen on Minna Medium Prison was as a result of activities of some condemned criminals.
One prison officer and a motorcyclist lost their lives when unknown gunmen attacked the prison and freed 210 prisoners.
Mr Bello also refuted claims that the attackers were suspected members of the Boko Haram or armed robbers who came to free some of their members in the prison.
He explained that since assumption of office in 2015, he has yet to see any paper on condemned criminals.
"I have not seen anything so far on condemn criminals or anybody that was condemned. Only when I see anything on condemned criminals that is when I will do something on it.
"Sometimes, people get desperate and do crazy things. Nobody is sure why the attack was carried out, saying the attackers were members of the Boko Haram is mere rumour," he said.
Mr Bello, who described the incident as unfortunate, said that the state would work with the federal government to address the challenges of infrastructures and shortage of manpower in the prison.
The governor appealed to the prison officers to discharge their duties diligently as investigation was ongoing to know the reason behind the attack.
"At the state level here, we will look at the issue of infrastructure, operations and shortage of manpower. But, again, people should take their jobs seriously.
"Even though investigation is ongoing, we need to do more in terms of taking care of our facilities especially prison."
Also, Ahmed Ja'afaru, Comptroller General of the Nigeria Prison Service, said there was no suspected Boko Haram members in the prison.
He said investigation would reveal the reason behind the attack and how the attackers gained access to the prison.
"Our men and facility were attacked. Investigation will tell us the number of the attackers and how they were able to gain access," he said.
Meanwhile, Mohammed Umaru, an eye witness told NAN that the gunmen came with four vehicles.
He said that the gunmen divided themselves into groups and directed residents of the area to go into their houses before attacking the prison.
"They told us to enter our houses that they don't want to see anyone outside. We had to start calling our loved ones that were in town not to return home yet until after the attackers had gone.
Full report at:
https://www.premiumtimesng.com/regional/north-central/271056-minna-jail-break-attackers-not-boko-haram-members-gov-bello.html
--------
URL: https://www.newageislam.com/islamic-world-news/brain-drain-warning-indian-muslim/d/115457
New Age Islam, Islam Online, Islamic Website, African Muslim News, Arab World News, South Asia News, Indian Muslim News, World Muslim News, Women in Islam, Islamic Feminism, Arab Women, Women In Arab, Islamophobia in America, Muslim Women in West, Islam Women and Feminism