New Age Islam News Bureau
16 Jan 2016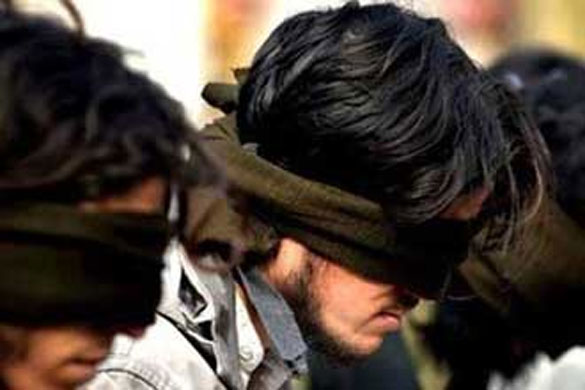 Photo: Two IS-inspired militants 'rehabilitated' in Karachi
----
Pakistan
• Boy cuts off own hand after blasphemy mistake: Police arrest cleric
• Two IS-Inspired Militants 'Rehabilitated' In Karachi
• Switzerland rejects Brahamdagh request for political asylum
• Registration of Fata madrasas in sight
• Pak defence minister cancels visit to Iran
• 160 Afghan nationals deported
-----------
Arab World
• ISIL Mufti, Ahmad Jassim Hamadi al-Bilawi, Slain in Iraq's Al-Anbar
• Syrian Fighter Jets Target Militant Positions North of Aleppo
• Yemen: Popular Forces Inflict More Casualties on Saudi Mercenaries, Marines
• Video shows US airstrikes obliterating Islamic State cash stockpile in Mosul
• Use of human shields by Islamic State in Ramadi slows progress
• Russia says West 'politicizing' humanitarian crisis in Syria
• Russian, Syrian Air Forces Start Joint Humanitarian Operations East of Syria
• Syria: Thousands of Fresh Recruits Joining Army in Aleppo
• Syrian Army, Hezbollah Capture More Lands in Damascus Province
• ISIL Militants Withdrawing from Northern Part of Aleppo Province
• Militant Groups Withdraw Fighters from More Lands in Syria's Lattakia Province
• ISIL, Nusra Militants Sustain Major Losses in Army Attacks in Syria's Homs Province
• Syrian Army Continues to Hunt Militants across Aleppo Neighbourhoods
• Gov't Forces Hit Militant Centres Hard in Syria's Southern City of Dara'a
-----------
Mideast
• Iran-S Arabia Tension a Conspiracy of Anti-Islam Elements: Iran Envoy
• Iranian Commander: No Regional State Able To Confront Iran
• Writers, filmmakers, lawyers join academics' call for peace
• Erdoğan continues to rail against academics, calls them 'despicable,' 'cruel'
• Zarif says sanctions on Iran will be lifted on Saturday
• Crystal Cruises cancels stops in Turkey over security issues
• UN report on Iran deal compliance likely today
• Chinese President Xi Jinping set to visit Saudi Arabia, Iran and Egypt
-----------
Southeast Asia
• Indonesia Blocks Radical Islamic Websites after Deadly Jakarta Attack
• Malaysia Arrests after Jakarta Attack Fuel Fears of Islamic State's Reach
-----------
South Asia
• Taliban Commander among 4 Killed In Failed Attack on Afghan's Kandahar Security Post
• 4 Afghan Policemen Martyred In Suspected Insider Attack in Kandahar
• Rocket Attack Foiled On Afghan's Kabul City with Discovery Of Four BM-1s
• Taliban says not a threat to America, decry coalition role in Helmand fight
• ISIS release photo of suicide bombers who attacked Pakistani consulate
• Gunmen attack micro finance bank in Afghan's Parwan province
• Pakistan strengthens security of Afghan diplomats following attack
• 40 Taliban militants surrender to security forces in Takhar
-----------
Africa
• Operation Ends at Burkina Faso Hotel Seized By Al-Qaida
-----------
North America
• Why Kerry Calls Terror Group 'Daesh,' not Islamic State
• Special Forces Soldier Turned UFC Fighter Gets 'Credible Threats' From Islamic State
-----------
India
• 'Cow Slaughter' Being Used To Target Us, Says Indian Pacer Shami's Dad
Compiled by New Age Islam News Bureau
URL: https://www.newageislam.com/islamic-world-news/new-age-islam-news-bureau/boy-cuts-off-own-hand-after-blasphemy-mistake--police-arrest-cleric/d/106017
-----------
Pakistan
Police arrest cleric for 'inciting' boy to cut off his hand
Jan 15, 2016
LAHORE: Okara police on Saturday arrested the imam of a mosque on terror charges in relation to the incident involving a 15-year-old boy who had cut off his own hand believing he had committed blasphemy.
On Friday night a first information report (FIR No. 36/16) was registered against the prayer leader Shabbir Ahmed on behalf of the state under Section 7 of the Anti-Terrorism Act (ATA) and Section 324 of the Pakistan Penal Code (PPC) against.
Police officials said the cleric was arrested under the National Action Plan (NAP) for inciting violence during a speech in which he asked a controversial question.
Around five days ago, the cleric, addressing a Mehfil-i-Milad at a village mosque in Chak 3D of Hujra Shah Muqeem town in Depalpur Tehsil of Okara District, said that "those who love the Prophet Muhammad (Peace be Upon Him) always say their prayers".
He then asked his audience "Who does not love the Prophet (PBUH)?" The cleric asked, "Raise your hand." The child misheard the question and raised his hand.
The imam then pointed to the youth and alleged he was a "blasphemer who was liable to be killed".
When asked, members of the crowd said they were aware the boy had not committed blasphemy as he was the victim of a misunderstanding.
However, police maintain that the allegations of the cleric led to the boy's heinous act, as he felt ashamed and dejected after being called a blasphemer.
The 15-year-old maintains that the imam is blameless while his act was reportedly celebrated by his parents and neighbours.
Blasphemy is a hugely sensitive issue in Pakistan, where even unproven allegations can stir mob violence and lynchings.
http://www.dawn.com/news/1233388/police-arrest-cleric-for-inciting-boy-to-cut-off-his-hand
----------
Two IS-inspired militants 'rehabilitated' in Karachi
January 16th, 2016
KARACHI: Caught in Iran while travelling illegally to Syria to join the militant Islamic State group before being repatriated to Pakistan, two youngsters have turned away from 'armed struggle' after being 'rehabilitated' with the support of their families and security administration, officials said on Friday.
Although still under surveillance, the men in their early 20s have no more militant tendencies according to the psychiatrists who evaluated their condition, said official in charge of the Counter-Terrorism Department (CTD) Raja Umer Khattab.
The two men belonging to the middle and upper middle class families of Karachi were handed over to the Federal Investigation Agency (FIA) by the Iranian authorities before being given into the custody of the Quetta police.
Also read: Police claim tracing 53 'IS-inspired' militants
The CTD officer, who had been handed over their custody in Karachi, said they had suffered so much hardship for over one month during their attempts to reach Syria that they were unable to repeat such an arduous job.
They had no Jehadi background until they came into contact with Abu Khalid aka Abu Uqba through separate Twitter accounts, he said.
This Middle East-based militant arranged their meeting in Karachi and asked them to reach the Turkey border from where they would be picked up to facilitate their recruitment in ISIS.
Each of the two youngsters, whose identities have been kept secret, gave Rs260,000 to human smugglers in Balochistan to arrange their travel to Iran.
Finally, they along with some 25 other people trussed up with a piece of rope were taken in a Vigo vehicle across the border through the hilly terrain.
Having little idea of directions, they roamed around for a month without success in reaching the Turkey border. It was during this time that the Iranian authorities arrested them and handed over them to the FIA, he said.
"Their case is the only authentic evidence indicating attempts of youngsters to join IS militants in Syria willingly," believed the CTD officer. So far, he added, no other evidence had emerged about people going to join IS militants.
As they had no previous militancy record, they were released after being 'rehabilitated' with the help of psychiatrists and their families, said Mr Khattab.
The police officer further said: "So far, no link has been established between IS-inspired militants held in Karachi after the Safoora carnage and the recent arrest of such elements in Sialkot, Punjab, and IS chief Abu Bakr Al-Baghdadi-nominated IS leaders Hafiz Saeed and Shahid Shahidullah in the country.
"These are small self-styled IS-inspired militant groups, operating separately. They had no single platform under which they could unite to carry out terror acts."
These IS-inspired militants were mostly splinter groups of religious organisations such as Tanzeem-i-Islami though "TI's direct link with terror has not yet been found," said the CTD official. But its splinter group comprising Hafiz Umer, Hafiz Nasir, Ali Rehman, Akhter Ishrat and Asad Rehman and others were found inspired by IS, he said.
Some of them were held for their alleged involvement in attack on the Ismaili community bus near Safoora Goth, Bohra community, Imambargahs and killing of policemen and social activist Sabeen Mahmud.
Mr Khattab admitted that the IS-inspired group after the arrest of their accomplices in the Safoora case killed the driver of Ms Mehmud and Sub-inspector Malik Ashfaq, who had collected evidence against Tahir Minhas, one of the suspects in the Safoora case.
But he said: "With these attacks, they just wanted to make their presence felt, as the killing of the driver and the officer will not harm the two cases."
http://www.dawn.com/news/1233265/two-is-inspired-militants-rehabilitated-in-karachi
----------
Switzerland rejects Brahamdagh request for political asylum
January 16th, 2016
KARACHI: Citing sources in Switzerland, a private local broadcaster said on Friday that a request by the self-exiled Baloch leader Brahamdagh Bugti for political asylum had been turned down by Swiss authorities, a claim which local sources did not corroborate.
Sources close to events relating to unrest in Balo­chistan confirmed that the leader of the banned Baloch Republican Army (BRA) had sought political asylum in Switzerland. However, they did not confirm its fate as yet.
The Geo News channel reported that Swiss immigration authorities had rejected his asylum application 'citing the Pakistan government's decision of declaring him a terrorist'.
It said Mr Bugti, however, had been given the right to file an appeal against the decision.
The report was not corroborated by local political experts with a keen interest in Baloch politics.
Mr Bugti left for Afghanistan shortly after his grandfather Nawab Akbar Bugti's death in a military raid nine years ago to lead guerilla resistance.
While fleeing to Afghanis­tan, Brahamdagh Bugti had accused the Musharraf regime of trying to kill him as well. He won refuge in Afghanistan despite Pakis­tan's request for his return and moved to Europe in 2010 along with his family.
He offered an olive branch in August last year when he announced for the first time his willingness to hold peace negotiations with the Pakis­tan government. Three months after his interview to the BBC, the then Balochistan chief minister, Dr Abdul Malik Baloch, and federal minister Abdul Qadir Baloch met him. He confirmed the meeting, but said in the same breath that the chief minister was powerless and those at the helm should meet him.
http://www.dawn.com/news/1233343/switzerland-rejects-brahamdagh-request-for-political-asylum
----------
Registration of Fata madrasas in sight
January 16th, 2016
PESHAWAR: Authorities will get legal powers to start registration of madrasas in the Federally Administered Tribal Areas after the extension of the Societies Registration Act 1860 to the region, say officials.
The officials said President Mamnoon Hussain had signed a notification in this regard and issued directions for the extension of the Societies Registration Act 1860, which was currently enforced in the Islamabad Capital Territory, to Fata to start registration of madrasas in the tribal borderlands.
They said the legal mechanism did not exist for the registration of madrasas in Fata and that the president under Clause (3) of Article 247 of the Constitution had ordered to extend the said act to the region to begin registration of madrasas.
Authorities will get powers to do so after extension of Societies Registration Act 1860 to tribal region
The notification said for the words 'provincial government', wherever occurring, the words 'federal government' in the act were substituted, while for the words 'civil courts', wherever occurring, the words 'courts of political agents and assistant political agents' were substituted.
Under the Constitution, the president has the powers to extend any law to Fata whenever necessary.
Following the extension of the said act to the tribal region last year, the Fata civil secretariat will frame rules for the registration of seminaries.
In the absence of legal cover to register madrasas, a wing has been established in the Fata directorate of education that had started enlistment of religious institutions.
Besides starting enlistment, the law and order department of the civil secretariat has also started geo-tagging of seminaries in seven Fata agencies and six Frontier Regions (FRs) to record precise location of every madressah in the region, where local authorities have no legal powers or tools to regularise religious educational institutions.
An official in the know told Dawn that the geo-tagging of madrasas was launched in the region in line with the guidelines of the National Action Plan, which was framed last year in the aftermath of the deadly terrorist attack on the Army Public School and College Peshawar.
He said the geo-tagging of madrasas had been completed in South Waziristan Agency, Khyber Agency, Orakzai Agency, Frontier Region Bannu and Frontier Region Dera Ismail Kahn.
The official said the process had been partially completed in Kurram and Bajaur agencies and Frontier Region Kohat.
"The general public will not get access to the data of madrasas," he said.
The industry department has been registering madrasas and nongovernmental organisations in the four provinces as well as the Islamabad Capital Territory under the Societies Registration Act.
"Presently, the directorate of education has started enlistment of madrasas functioning in tribal areas. When rules are framed, then madrasas will be registered properly," said another official.
Under the plan, a total of 567 madrasas have so far been enlisted across Fata, where 85,213 boys and girls are enrolled.
Some madrasas are providing boarding facilities to students.
South Waziristan Agency has the highest number of madrasas in the entire tribal region as 238 seminaries have been enlisted there.
The authorities have enlisted 156 madrasas in North Waziristan Agency, 62 in Khyber Agency, 24 in Bajaur Agency, 22 in Kurram Agency, 16 in Orakzai Agency, 16 in Mohmand Agency, 10 in FR Bannu, five in FR Lakki Marwat, six in FR Dera Ismail Khan, eight in FR Tank and four in FR Kohat.
The data of madrasas in FR Peshawar has not been compiled.
Officials said the government provided teaching staff to madrasas, where subjects of formal education were also taught.
They said additional rooms were also constructed in some madrasas.
http://www.dawn.com/news/1233315/registration-of-fata-madrasas-in-sight
----------
Pak defence minister cancels visit to Iran
PTI | Jan 16, 2016
ISLAMABAD: Defence minister Khawaja Asif has cancelled a planned trip to Tehran, apparently due to Iran's tension with Saudi Arabia - a key ally of Pakistan.
Asif was scheduled to travel to Tehran on a two-day visit from Monday for promoting defence ties between the two countries, the Dawn reported.
According to the paper, Prime Minister Nawaz Sharif directed the cancellation of the trip.
Citing a defence ministry official, it said that the trip had been cancelled. But the official did not assign any reason for the decision.
Another official, on the condition of anonymity, said that the decision could be related to tensions between Iran and Saudi Arabia.
Saudi foreign minister and defence minister made back-to-back trips to Pakistan last week to put pressure on Islamabad to join 34-nation alliance against terrorism and seek support over Kingdom's row with Iran.
Pakistan has promised to stand by Saudi Arabia if it faced threat of territorial instability but is reluctant to send troops abroad to fight as part of the new alliance or overtly support it in tension with Iran, as it also has close ties with Tehran.
http://timesofindia.indiatimes.com/world/pakistan/Pak-defence-minister-cancels-visit-to-Iran/articleshow/50602999.cms
----------
160 Afghan nationals deported
January 16th, 2016
LANDI KOTAL: The Khyber Agency political administration on Friday deported 160 Afghan nationals to their country via the Torkham border.
Officials said the deported Afghans were arrested in different cities of Khyber Pakhtunkhwa on separate occasions and were lodged at various lockups of the province for staying in Pakistan without proper travelling documents.
All the arrested Afghans were handed over to Khyber Agency political administration by the Peshawar police on Friday who were later transported to the Torkham border under Khasadar and Levies escort.
At Torkham, they were handed over to Afghan border authorities after completion of necessary documentation.
Meanwhile, Shahid Khan Shinwari and Engineer Saiful Islam were elected president and general secretary, respectively, of the Fata Olympics Association in its annual elections held here on Friday.
Other office-bearers included Haji Miraj senior vice-president, Dr Wazir Akar and Nawaz Orakzai vice-presidents (male) and Safeena Tabassum and Mehreen Afridi vice-presidents (female), while Khurshid Khan and Sajid Ali Kikikhel were elected as finance and press secretaries, respectively.
A rival group headed by Imtiaz Afridi, former hockey Olympian, boycotted the elections and alleged that 18 out of the total 32 sports organisations which polled their votes were bogus and not registered with Pakistan Olympics Association.
http://www.dawn.com/news/1233316/160-afghan-nationals-deported
-----------
Arab World
ISIL Mufti Slain in Iraq's Al-Anbar
Jan 16, 2016
TEHRAN (FNA)- Ahmad Jassim Hamadi al-Bilawi, a wanted terrorist and ISIL's Mufti (religious authority) in Iraq, was killed in the volatile province of al-Anbar.
The Mufti was killed on Saturday after the Iraqi air force received detailed intelligence on the whereabouts of the terrorist in al-Mohammadi region of al-Anbar province.
Soumeriya news reported that during the airstrikes, 8 other ISIL members, accompanying the Mufti, were also killed.
Also earlier this week, the Iraqi forces killed nearly a dozen ISIL militants, including the terrorist group's new governor for Baghdad in Western Iraq.
Abu Du'a al-Rawi (Baghdad governor) and 10 other ISIL terrorists were killed in successful joint intelligence and military operations in Al-Qa'em region of Anbar province on Wednesday.
The ISIL's senior member, nom de guerre Abu Walid al-Araq who was in charge of transportation and equipment in Fallujah, was also seriously wounded in the Iraqi army's operations in Anbar province.
Other senior ISIL members who were killed in the Iraqi army's operations included Abu Davoud al-Rawi, Abu Qatadeh al-Jazrawi and Abu Fatema.
Seven other ISIL terrorists were also wounded in the Iraqi army's operation.
On Monday, the Iraqi army and volunteer forces (Hashd al-Shaabi) continued their advances in Anbar province, and purged the terrorists from two newly-released strategic regions.
The Iraqi forces seized back al-Sokran and al-Sha'yee regions near the city of al-Haditha.
The Iraqi military sources confirmed that al-Sha'yee and al-Sokran regions are now under the control of the army and popular forces.
The Iraqi army and the volunteer forces (Hashd al-Shaabi) continued their advances in Anbar province, and seized back a highly-important region near the city of al-Haditha on Monday.
http://en.farsnews.com/newstext.aspx?nn=13941026000395
----------
Syrian Fighter Jets Target Militant Positions North of Aleppo
Jan 16, 2016
TEHRAN (FNA)- The Syrian warplanes, in several combat flights on Saturday, targeted the militant groups' centers heavily in the Northern battlefields of Aleppo province, the army announced.
"At least four members of the militant groups were killed and their military vehicles were destroyed as a result of the Syrian air force's attack in the Ma'arasta al-Khan region," the army said.
"In the meantime, the pro-government forces, who captured al-Ajouziyeh village in the Eastern part of the province on Friday, are carrying out mop-up operation in the region," the army further added.
Earlier reports said that the Syrian Army announced that its soldiers engaged in fierce clashes with the militant groups in at least six neighborhoods of the Northern city of Aleppo and inflicted major losses on the terrorists.
"The militant groups' strongholds in the neighborhoods of al-Ameriyeh, al-Rashidin, al-Khalediyeh, al-Lairamoun, al-Kastello and Bani Zeid came under attacks of the Syrian army, which not only left tens of the militants killed or wounded but destroyed their military hardware," the army said.
The Syrian army troops have intensified their attacks on the militant centers in different districts in Aleppo city in the recent weeks and have been successful to pin them down behind their defense lines.
The Syrian army and its allies have also won battles outside the Aleppo city.
http://en.farsnews.com/newstext.aspx?nn=13941026000943
----------
Yemen: Popular Forces Inflict More Casualties on Saudi Mercenaries, Marines
Jan 16, 2016
TEHRAN (FNA)- The Yemeni army and popular forces killed 4 mercenaries and 5 marines of the Saudi Arabia.
Yemen's Saba' news agency reported that the 4 Saudi mercenaries, including a UAE officer, were killed in al-Amri region of Taiz, Southwestern Yemen.
Also, five Saudi marines were killed in Najran province's al-Makhrouq military base in Southern Saudi Arabia.
Also earlier this week, military sources in Yemen declared killing of 25 Saudi mercenaries loyal to fugitive President Mansour Hadi.
"25 forces loyal to Mansour Hadi who sought to advance in al-Zahra region, al-Bayda province, were killed in clashes against the Yemeni army and popular committees' forces," a military source said on Tuesday.
Al-Bayda is a Southern province of Yemen.
Also on Wednesday, a Saudi military serviceman succumbed to injuries he sustained earlier during clashes with the Yemeni army and popular forces in Kingdom's Asir province.
http://en.farsnews.com/newstext.aspx?nn=13941026000320
----------
Video shows US airstrikes obliterating Islamic State cash stockpile in Mosul
January 16, 2016
The Defense Department Friday released a video of U.S. airstrikes blowing up an Islamic State cash stockpile in Mosul, Iraq earlier this week.
The 47-second, black-and-white, video begins with an overhead shot of the building in the hotly contested city, which is ISIS' main stronghold in Iraq.
The facility is then hit with two 2,000-pound bombs. The Pentagon said clouds of paper are seen floating above the bomb site.
U.S. officials said that millions of dollars were destroyed in the air assaults, but the exact amount is unknown.
It's at least the second time the U.S. has bombed the Islamic State's cash stockpiles. Combined with attacking the militants' oil resources, it is part of an effort to sap their financial strength.
ISIS has used a robust taxation system across territory it controls to ensure that oil isn't the only source of money flowing into terrorists' coffers, an investigation last month revealed.
Even if coalition airstrikes succeed in bringing down ISIS' production of oil -- which nets the terror group an estimated $450 million in revenues each year – a small army of tax collectors is raking in nearly as much, the Financial Times reported.
Western intelligence officials, former ISIS fighters and Syrians and Iraqis within ISIS-held territory say the group's zakat tax, which is a form of almsgiving in Islam, is keeping its economy churning.
Zakat, which dates back to the days of the Prophet Muhammed, requires Muslims to hand over portions of their income and can be given to those who are fighting for a holy cause, the Financial Times reported.
ISIS' interpretation of zakat takes 2.5 percent of capital from wealthy residents and businesses, 5 percent of irrigated crops and 10 percent of rain-fed crops from farmers, and days of service from doctors, who are forced to volunteer once a week at area hospitals. The result is hundreds of millions of dollars in revenue each year, the investigation found.
ISIS even collected $23 million in taxes on salaries the Iraqi government paid to officials in the city of Mosul for almost a year after it was taken over by the group.
Estimates based on statistics provided by Iraqi officials and Syrian farmers reveal that $20 million worth of zakat was collected on grain and cotton, while trucks traveling into ISIS territory were charged customs duties totaling up to about $140 million a year, the Financial Times reported.
The Associated Press contributed to this report.
http://www.foxnews.com/world/2016/01/16/video-shows-us-airstrike-obliterating-islamic-state-cash-stockpile-in-mosul.html
----------
Use of human shields by Islamic State in Ramadi slows progress
By SUSANNAH GEORGE
January 15, 2016
RAMADI, Iraq — Six times in the past harrowing month, Um Omar and her family got a knock on the door of whatever home they were occupying in the extremist-held city of Ramadi: It was an Islamic State militant, she said, ordering them to pick up and move with them as human shields because the Iraqi army was approaching.
"Every time the army would advance, Daesh would knock on our door and say, 'OK, time to go.' "
The knock came again Thursday morning in the Soufiya neighborhood of northeastern Ramadi, Um Omar said, and to her surprise it was the counterterrorism forces of the Iraqi military. She and about 60 other people had just been rescued.
It's still a little unclear to her what happened to the extremists.
Either all the Islamic State fighters were killed during clashes Wednesday night, or they fled further into the neighborhood and didn't have time to bring their captives along to another part of Ramadi.
The capital of sprawling Anbar province fell in May to the Islamic State. It was the biggest setback for Iraq's military since the city of Mosul fell to the group in the summer of 2014.
Iraqi troops, working with counterterrorism forces, retook the center of Ramadi last month with heavy air support from the U.S.-led coalition. Ramadi still cannot be considered fully liberated, with pockets of fighters still holed up in half to two-thirds of the city's neighborhoods in the east and north.
As Iraqi government forces have advanced from west to east from downtown Ramadi and expelled militants in December, extremists have pulled back with their civilian captives as shields, leaving behind houses booby-trapped with explosives.
Fighters with the elite counterterrorism forces that are leading operations in the Anbar provincial capital, 70 miles west of Baghdad, say the practice is slowing them down and complicating the already-messy challenge of house- to-house urban warfare.
Heavy airstrikes and the Islamic State's scorched-earth practices have left most of Ramadi in ruins. But as Iraqi forces continue to advance, evacuations such as the one that brought Um Omar and her family to safety are draining time and resources, according to troops and commanders.
"The main problem now are the civilians. That is what's slowing our progress," said Maj. Gen. Fadhil Barwari, commander of the counterterrorism unit in Ramadi.
"We thought it was going to be easier because we have airstrikes and air support," Barwari said, referring to the intense waves of coalition bombing that paved the way for his forces' initial advance in western Ramadi. "But now, when the pilot sees civilians, they don't strike."
Unlike other Iraqi cities, where troops have pushed out the militants, thousands of civilians remained in Ramadi under months of Islamic State rule.
http://www.columbian.com/news/2016/jan/15/use-of-human-shields-by-islamic-state-in-ramadi-slows-progress/
----------
Russia says West 'politicizing' humanitarian crisis in Syria
AP | Jan 16, 2016
A woman holds a baby at a refugee camp.A woman holds a baby at a refugee camp.
UNITED NATIONS: Russia is accusing three Western powers of politicizing the humanitarian crisis in Syria and warns the tactic risks derailing upcoming peace talks.
Russia's Deputy UN ambassador, Vladimir Safronkov, questioned the motives of Britain, France and the US in calling for a Security Council meeting Friday to address the military sieges that have caused starvation in Syrian towns.
He said it gives the impression that "attempts are being made to undermine the launch of the inter-Syrian dialogue scheduled for Jan. 25" in Geneva.
The three Western Security Council members called for the open debate to intensify the pressure on Syria's warring parties to lift sieges that have cut off 400,000 people from aid.
http://timesofindia.indiatimes.com/world/europe/Russia-says-West-politicizing-humanitarian-crisis-in-Syria/articleshow/50598893.cms
----------
Russian, Syrian Air Forces Start Joint Humanitarian Operations East of Syria
Jan 16, 2016
TEHRAN (FNA)- The Russian and Syrian air forces, in a joint operation, transferred a large volume of humanitarian aid to the Eastern city of Deir Ezzur, Head of the Russian General Staff's Main Operations Department Sergey Rudskoy said.
"The Russian army has started a humanitarian operation in Syria," Rudskoy said.
"The transport Ilyushin Il-76 of the Syrian Air Force with use of the Russian parachute platform delivered 22 tons of humanitarian cargo to the city of Deir Ezzur to be distributed among the civilians by the local authorities," he said.
According to the official, the Russian Defense Ministry has delivered the first humanitarian aid consignment to Syria's Deir Ezzur. "Presently, we sent the main assistance to the city of Deir Ezzur, which had been for a long time seized by the Islamic State terrorists," the general said.
The Syria armed forces have been heavily pounding the ISIL positions across the province in the recent weeks.
On Thursday, a new cargo of humanitarian aid and foodstuff was sent for the besieged people in the town of Madaya in Damascus province and villages of Fuaa and Kefraya in Idlib province.
The operations to send several trucks, loaded with humanitarian aid, to Fuaa, Kafraya and Madaya started on Thursday under the UN and Red Crescent Society's supervision.
Al-Arabiya reported that 50 trucks carrying aid left Damascus on Thursday morning for Madaya.
Also the Syrian and Lebanese sources said that 18 trucks departed for Fuaa and Kafraya concurrently.
A report said on Monday that the Syrian army and popular forces' failure to free the two towns of Fuaa and Kafraya in Idlib province from the terrorists' hands will lead to the freezing of tens of thousands of the people holed up in those mountainous regions in this cold winter weather.
Field sources reported that the Syrian army forces were stationed in a region 17km from Fuaa and Kafraya, adding that if they fail in their efforts to retake the two towns, there is a possibility that their besieged residents will freeze to death given their unpreparedness for the cold season.
Given the tight siege on the two towns, people in there are much likely to starve to death as the latest reports said many have already died of hunger, while many more are feeding on herbs, grass and tree leaves.
A similar situation is also seen in Nubl and al-Zahra towns in Aleppo.
This is while the Arab media, specially al-Arabiya and al-Jazeera, have kept their eyes closed to the situation of the Syrian people in the four towns and are making their utmost efforts to make the world hear the voice of 1,000 terrorists in the town of Madaya, Northwest of Damascus province.
The siege of Fuaa and Kafraya has entered its tenth month while the terrorists have killed 600 Shiites in these two towns and prevent delivery of food and medical aid to their residents.
Nubl and Al-Zahra in Northwest of Aleppo province have also been surrounded by terrorists for years now and people have been dying of hunger in there too.
After the terrorist groups besieged and prevailed over many regions in Idlib in Northwestern Syria in late March 2015, the two Shiite-populated Fuaa and Kafraya towns in the Northern parts of the province came under a tight siege by the terrorists.
The siege was accompanied by massive and continued missile and rocket attacks on the city which destroyed food and medical warehouses and the terrorist groups, specially Jeish al-Fatah, attempted to keep people in the two towns hungry deliberately and based on a plan.
The terrorist groups' pounding of the two towns destroyed their infrastructures and public centers, and the only water treatment plant of the region as well as the power grid and agricultural structures were also shelled.
The terrorists' extensive attacks have killed and wounded hundreds of women, children and the elderly. The injured ones in the two regions are still being treated without Anesthesia due to the lack of drugs and equipment; patients are in need of the most trivial forms of medication for, for example, their children's diarrhea problem.
The terrorist groups don't allow the residents of Fuaa and Kafraya to receive humanitarian aid and their ringleaders still provoke their forces to attack the Shiites and set fire to their houses. People in the region have been feeding on herbs, plants and tree leaves for months. But it's winter now and they can't find anything green to feed on.
The situation in Nubl and Al-Zahra in Aleppo province is much worse than this as they have been under siege by the terrorists for nearly four years now. Tens of people have died of hunger and lack of medicine in these two Shiite-populated towns.
But the Saudi and US media outlets have always kept mum about these towns, and they, instead, release fake images to claim that people in the town of Madaya in Damascus province are starving under the government's siege. And such lies come as the terrorists have seized the food and medical aid sent for the people of Madaya to rally international support to pressure the Syrian army to lift its siege of the terrorists.
http://en.farsnews.com/newstext.aspx?nn=13941026000669
----------
Syria: Thousands of Fresh Recruits Joining Army in Aleppo
Jan 16, 2016
TEHRAN (FNA)- A senior officer within the Syrian Army ranks announced on Saturday that thousands of well-trained new recruits from at least four provinces have moved to Aleppo province to join the pro-government forces' protection-combat missions in the Northern province.
"With the large territories the Syrian army and its allies have captured inside the Aleppo province's Eastern part in the last three months; it would require a substantial amount of military personnel to protect the roads and villages in order for the Syrian Arab Army to progress further along the ISIL frontier," the army officer said.
"The Syrian army troops and their allies are on the move in the Aleppo province's Eastern part, capturing several villages that were once under the control of the ISIL inside the al-Bab Plateau and the Deir Hafer Plains," the source said.
"A fresh batch of recruits that just graduated from training camp in the Qalamoun Mountains (al-Nabk and Deir al-Attiyah) have been deployed to this front in order to fulfill the army's recent manpower quota," the officer went on to say.
The source further added that the aggregated number of military personnel is in the thousands.
"Most of these conscripted soldiers are from the Syrian capital of Damascus, as well as the Syrian provinces of Quneitra, Sweida, and Homs," the officer pointed out.
"The arrival of these reinforcements should free up several soldiers from the Tiger Forces and Liwaa Suqour Al-Sahra (Desert Hawks Brigade) that are currently tasked with protecting the captured villages," he added.
On Friday, the Syrian army won control of a new strategic region from the ISIL in Aleppo as part of its continued advance in the Northern province.
The army units regained full control of Rasm al-Sirhan farms in fierce clashes with the ISIL Takfiri terrorists in the Eastern part of Aleppo province.
Battlefield reports said at least a dozen ISIL militants were killed and dozens more were injured in clashes over Rasm al-Sirhan farms.
http://en.farsnews.com/newstext.aspx?nn=13941026000880
----------
Syrian Army, Hezbollah Capture More Lands in Damascus Province
Jan 16, 2016
TEHRAN (FNA)- The Syrian Army, popular forces and the Lebanese Hezbollah fighters drove the ISIL back from more lands in Damascus province and regained control over several sites in the battlefields of Qalamoun mountains, the army said Saturday.
"On Friday night, the Syrian army, the National Defense Forces (NDF) and Hezbollah
surprised the ISIL terrorists in the Eastern Qalamoun with a powerful assault on the Damascus Train Tracks, the Petrol Pumping Station, the al-Thaniyah Walls, and the village of Al-Azzam, killing several militants in their large-scale attack on these sites in rural West Damascus," the army said.
"Following a bloody battle with the ISIL terrorists in the Eastern Qalamoun, the Syrian Armed Forces officially declared liberation of the Damascus Train Tracks, the Petrol Pumping Station, the al-Thaniyah Walls, and the village of Al-'Azzam," the army added.
As the Syrian army and its allies are advancing in various parts of Damascus province, hopelessness and fundamental differences among the militant groups have ended in escalation of more infightings.
On Friday, heavy battles erupted between Takfiri terrorists from Jeish al-Islam and Jeish Tahrir al-Sham groups in Eastern Qalamoun in Damascus province as militants continue to lose ground in Syria.
"Terrorists from Jeish al-Islam engaged in fierce clashes with Jeish Tahrir al-Sham terrorists in al-Damir city in Damascus countryside," the sources said.
Many militants have been killed in the recent weeks as a result of infighting between the rival groups.
http://en.farsnews.com/newstext.aspx?nn=13941026000733
----------
ISIL Militants Withdrawing from Northern Part of Aleppo Province
Jan 16, 2016
TEHRAN (FNA)- The Syrian government forces' recent advances in the Eastern and Northeastern parts of Aleppo province and the heavy bombardments carried out by the Syrian warplanes have forced the militant groups to start pulling back fighters to evade more casualties, provincial sources said Saturday.
"The ISIL militants, who have witnessed the heavy attacks of the Syrian army troops and the National Defense Forces (NDF), backed up by the country's fighter jets, and the collapse of their defense lines near the city of al-Bab and the village of Nadef, have started to withdraw from parts of the Southern battlefields of the mentioned city and village," the sources said.
The Syrian army and its allies have recently advanced against the militants in the Eastern and Northeastern parts of Aleppo province, not very far from al-Bab battlefield.
On Friday, the militant groups withdrew from more territories in the Eastern part of Aleppo province under the heavy offensive of the Syrian Army and its popular allies.
"The Syrian Army and the National Defense Forces (NDF) established full control over al-Aboudiyeh village, Southeast of Ein al-Beida village, and al-Ajouziyeh village in the Eastern countryside of Aleppo," the army said.
"Meanwhile, the government forces targeted hideouts and gatherings of the ISIL terrorists in al-Bab, Arran, Tal Beijan, Qiter, al-Mifilseh and Wadia in the Eastern countryside of Aleppo province," the army further added.
http://en.farsnews.com/newstext.aspx?nn=13941026000568
----------
Militant Groups Withdraw Fighters From More Lands in Syria's Lattakia Province
Jan 16, 2016
TEHRAN (FNA)- The Syrian Army announced on Saturday that its troops have pushed back the militant groups from more territories Northeast of Lattakia and imposed full control over two more villages.
"The army and the National Defense Forces (NDF) won back the villages of Duweirkeh and Ruweisat al-Nimr in the Northeastern part of the coastal province of Lattakia after hours of heavy battle," the army said, adding, "The pro-government forces killed or wounded many terrorists."
"In the meantime, the government forces retook a solar-powered satellite broadcasting station used by Takfiri terrorists, and a long tunnel extending from Ruweisat al-Nimr to al-Ruweisat al-Jadideh to transfer their weapons, ammunition and evacuating their injured members," the army added.
"Engineering units also combed the liberated territories in search of explosive devices and landmines," the army went on to say.
Artillery shelling and air attacks have played a significant role in the recent victories of the Syrian army in Lattakia.
On Friday, the Syrian army and Russian air force intensified their attacks on the Free Syrian Army's militants in the province of Lattakia.
The Russian air force and Syrian army's artillery units heavily pounded the FSA's military positions and strongholds in al-Rabiya and Jabal al-Turkmen in Lattakia province.
Battlefield reports said the FSA militants suffered heavy losses in both wave of attacks and lost a major part of their military grid.
The Syrian army and the popular forces have captured and imposed full control over more than 300 square kilometers of lands in the Northern parts of Lattakia province in the last three month.
http://en.farsnews.com/newstext.aspx?nn=13941026000370
----------
ISIL, Nusra Militants Sustain Major Losses in Army Attacks in Syria's Homs Province
Jan 16, 2016
TEHRAN (FNA)- Militants of the ISIL and al-Nusra Front suffered a heavy death toll in the joint offensives of the Syrian Army and its popular allies in the Northern and Eastern parts of Homs province, FNA dispatches said Saturday.
A reliable source within the Syrian army's ranks told FNA that the Syrian troops and the National Defense Forces (NDF) stormed the ISIL fortified positions in Salam al-Gharbi village in Jubb al-Jarrah East of Homs, in which several mortar launchers and machinegun-equipped cars of the militant groups were destroyed.
"The Northern battlefields of Homs province near the village of Keisin were also the scenes of the army's assaults, which not only claimed the lives of many terrorists but also damaged their military equipment, including their artillery and rocket launchers," the sources added.
The Syrian army and it allies have had good records of victories and advances against the militant groups across the Central province of Homs in the recent months.
On Friday, the Syrian army continued its advances in the province of Homs, and seized back more strategic regions along Mahasa-Quaryatayn road.
The Syrian troops won back all the hills overlooking Mahasa-Quaryatayn road in Homs province.
Meantime, the Russian air force pounded the military positions of the Takfiri terrorists in cities of Quaryatayn and Palmyra (Tadmur) as the Syrian army advanced into al-Dawa regions in the Western parts of Palmyra.
http://en.farsnews.com/newstext.aspx?nn=13941026000281
----------
Syrian Army Continues to Hunt Militants across Aleppo Neighborhoods
Jan 16, 2016
TEHRAN (FNA)- The Syrian Army announced on Saturday that its soldiers engaged in fierce clashes with the militant groups in at least six neighborhoods of the Northern city of Aleppo and inflicted major losses on the terrorists.
"The militant groups' strongholds in the neighborhoods of al-Ameriyeh, al-Rashidin, al-Khalediyeh, al-Lairamoun, al-Kastello and Bani Zaid came under attacks of the Syrian army, which not only left tens of the militants killed or wounded but destroyed their military hardware," the army said.
The Syrian army troops have intensified their attacks on the militant centers in different districts in Aleppo city in the recent weeks and have been successful to pin them down behind their defense lines.
The Syrian army and its allies have also won battles outside the Aleppo city.
On Friday, the Syrian army won control of a new strategic region from the ISIL in Aleppo as part of its continued advance in the Northern province.
The army units regained full control of Rasm al-Sirhan farms in fierce clashes with the ISIL Takfiri terrorists in the Eastern part of Aleppo province.
Battlefield reports said at least a dozen ISIL militants were killed and dozens more were injured in clashes over Rasm al-Sirhan farms.
http://en.farsnews.com/newstext.aspx?nn=13941026000211
----------
Gov't Forces Hit Militant Centers Hard in Syria's Southern City of Dara'a
Jan 16, 2016
TEHRAN (FNA)- The Syrian Army and the country's popular forces, in a fresh round of attacks on Saturday, inflicted major losses on the militant groups' gatherings and strongholds in the Southern districts of Dara'a, city sources said.
"The army troops and the National Defense Forces (NDF) attacked the terrorist groups' positions in Dara'a al-Balad," the sources said, adding, "Military vehicles of the terrorists loaded with weapons and ammunition were targeted by the army men on a road between the Meteorology Department Building and al-Sa'ad in Dara'a al-Balad."
"Southwest of Gharz Prison in the Southern part of Dara'a city was also the scene of fierce clashes between the Syrian government forces and the militant groups, which ended in the killing or wounding of several militants and destruction of 2 of their vehicles," the sources added.
In relevant developments on Friday, the Syrian army announced that its troops' offensive against the gatherings of the al-Qaeda-affiliated al-Nusra Front in Dara'a city has inflicted heavy damage on the terrorist group's military grid.
"Al-Nusra's concentration centers in the Western part of al-Bjabaja quarter in Dara'a al-Balad neighborhood came under the heavy fire of the Syrian army, which not only killed several terrorists but also destroyed a number of their military vehicles," the army said.
http://en.farsnews.com/newstext.aspx?nn=13941026000478
-----------
Mideast
Iran-S Arabia tension a conspiracy of anti-Islam elements: Iran envoy
January 16th, 2016
PESHAWAR: Director General of the Iranian Culture Centre in Peshawar, Ali Yousafi, said on Friday that a conspiracy was being hatched to create misconceptions and conflicts between Iran and Saudi Arabia to weaken these developed Islamic countries.
During his visit to Peshawar Press Club on Friday, the envoy told journalists that some anti-Islam elements were active to target Muslim countries and incite them against each other, adding that Iran had a great respect towards all the Arab countries, particularly Saudi Arabia due to the sacred Harmain Sharefain. He said that the anti-Islamic elements would be unable to succeed in their nefarious designs.
He said that Iran wanted to play its role for peaceful settlement of international and regional disputes through negotiations.
Ali Yousafi says Iran has great respect for all Arab countries
"Our enemies can easily target us if we have differences in our ranks," he said and asked all the Islamic countries to unite for facing the upcoming challenges, including terrorism and extremism.
Appreciating the role of Pakistan in the prevailing situation, he said that this country had always played a role of mediator in establishing peace in the region. He lauded the role of Pakistani government and political leaderships for defusing tension between Iran and Saudi Arabia.
He particularly mentioned the meeting of PTI chairman Imran Khan with Iranian Ambassador in Pakistan after the attack on Saudi embassy in Tehran. He said that the government of Iran had dismissed the security officials deployed for protection of Saudi embassy, and the names of responsible people would be made public and action taken against them according to the law.
He praised the role of OIC for de-escalating the ongoing tension between Iran and Saudi Arabia and hoped that everything would be settled soon.
Mr Yousafi said that his country always looked to strengthen bilateral relations, trade, tourism and people-to people contacts with Pakistan. About lifting of global sanctions on Iran, he said the removal of sanctions would give further boost to economic and trade relationship with other countries, particularly with Pakistan. He, especially mentioned the recent agreement between the government of Balochistan and the Iranian province of Sistan-Baluchestan to make Gwadar and Chabahar as 'sister port cities'.
Talking to about Tajikistan-Afghanistan-Pakistan-Iran (TAPI) gas pipeline project, he said that Iran had completed the construction work on its side. He said that the project would be accelerated following lifting of sanctions on Iran.
He said that a number of cultural events would be held in the centre during the first week of February in connection with Nauroz festival. He said that the culture centre would organise a pictorial exhibition from Feb 1 to 11, depicting the Iranian Revolution.
Earlier, Mr Yousafi congratulated the newly-elected cabinet of the press club, headed by its president Bukhar Shah Bacha.
http://www.dawn.com/news/1233308/iran-s-arabia-tension-a-conspiracy-of-anti-islam-elements-iran-envoy
----------
Iranian Commander: No Regional State Able to Confront Iran
Jan 16, 2016
TEHRAN (FNA)- Lieutenant Commander of the Iranian Navy Rear Admiral Gholam Reza Khadem Biqam downplayed certain countries' threats to the nation, and said no regional state is capable of conducting military confrontation against Tehran.
"Iran is an integrated country which enjoys a high deterrent power," Biqam told FNA on Saturday.
"The threatening words that certain countries utter sometimes are mostly their wishes that will never come true and you may rest assured that no country in the region is able to confront Iran," he underlined.
Biqam also referred to Iran's presence in the international waters, and said despite the fact that the Iranian Navy has limited voyage and operation of its warships in Northern Indian Ocean to the 10-degree latitude, the country's vessels have several times rushed outside the specified limits to help the cargo ships threatened by pirate attacks.
Yet, he said the Iranian Naval forces are present in regions beyond the Northern 10-degree latitude and in certain important waterways, including Malacca Strait, the Pacific Ocean and the equator.
In relevant remarks in November, Iranian Defense Minister Brigadier General Hossein Dehqan underlined the Armed Forces' capability to give a rapid and crushing response to any enemy threat.
"The Iranian Armed Forces are able to control and repel threats decisively and swiftly in accordance with their level and type," Dehqan said, addressing a gathering in Tehran.
He also underscored the country's huge progress in the past few years in building different weapons and military equipment to defend itself.
The General Staff of the Iranian Armed Forces in a statement in May underlined intelligence superiority over enemies' moves in the region, and warned that any hostile act against the country will face a crushing response.
Using the invaluable experiences of the 8-year Iraqi-imposed war against Iran (1980-1988) and the commandership of Supreme Leader of the Islamic Revolution Ayatollah Seyed Ali Khamenei, the Iranian Armed Forces "will give a proper and crushing response to any threat, given their intelligence superiority over the enemy front's situation and moves", the statement said on Saturday.
It also described developing capacity for the country's growing defensive production and development of Iran's deterrence power as the Armed Forces' main goal.
The statement said under such conditions that the country is facing a sensitive situation, there is no doubt that the key weapon of unity and sympathy between the government and the nation would yield valuable and decisive results
http://en.farsnews.com/newstext.aspx?nn=13941026000488
-----------
Writers, filmmakers, lawyers join academics' call for peace
January 15, 2016
A number of writers, filmmakers and lawyers have issued declarations to show their support for the Academics for Peace initiative after an investigation was launched into Turkish academics who signed a declaration calling for an end to the violence in Turkey's Southeast.
On Jan. 11, 1,128 academics from 89 universities both in Turkey and abroad issued a declaration in which they called for the government to restore peace in the country by halting the ongoing military operations in southeastern Turkey and restarting negotiations with the terrorist Kurdistan Workers' Party (PKK) to find a peaceful solution to the Kurdish issue. A number of the academics were later detained for signing the declaration.
On Thursday, 558 writers and poets launched an initiative called Writers for Peace, signing a declaration to show their support for the academics who have become victims of a smear campaign after they were strongly criticized by President Recep Tayyip Erdoğan. In the declaration, the writers said: "With all our hearts, we support the Academics for Peace initiative's call for the government to recognize the need for peace and negotiations. We refuse to let freedom of thought and expression be restricted. We support equality and peace. We support the right to life. We support freedom of thought. Without any reservations, we refuse to take part in this crime! We support the Academics for Peace initiative."
Poet and author Murathan Mungan, writer Ahmet Ümit and journalist and writer Pelin Batu are among those who signed the declaration.
Furthermore, a number of filmmakers including actor Nadir Sarıbacak, director Onur Ünlü and producer Ezel Akay launched an initiative called Filmmakers for Peace on Thursday, issuing a declaration in which they voiced their support for the academics. A total of 2,000 lawyers also issued a declaration on Friday, promising to stand by the academics both in courtrooms and on the streets.
"Yes, we say 'children are being killed, don't remain silent.' … We warn the Ministry of Justice not to use judicial mechanisms as a tool of political power and criminalize demands for peace, union activities and freedom of expression. We want to make it clear that we embrace the declaration of the academics who say 'We won't take part in this crime'; we will fight against the threats they face and be there as their lawyers," the lawyers said.
Speaking to Today's Zaman on Friday, Adana Bar Association head Mengücek Gazi Çıtırık strongly criticized the investigation into the academics. "Is it a crime to remind the government of its responsibilities to bring permanent peace and tranquility [to the country]?" Çıtırık said.
A number of LGBT organizations also issued a press statement on Friday to show their solidarity with the academics. Boğaziçi University LGBTI Studies Club made a statement on their social media accounts on Friday in which they said that the academics' declaration should be considered to be protected by the "freedom to explain and spread an ideology."
The Turkish Union of Engineers and Architects' Chambers (TMMOB) and the Turkish Doctors Union (TTB) also made a joint statement on Friday, saying that nobody should be targeted due to their lifestyle and ideology. The two organizations added that prosecutors should take action about recent statements by alleged crime boss Sedat Peker. In a declaration published on his website on Tuesday, Peker -- who is known for his controversial remarks -- labeled the academics "so-called intellectuals" and said, "We will spill your blood and we will take shower with your blood!!"
Socialist Youth Association (SGDF) members gathered in front of the main courthouse in İzmit in Kocaeli province on Friday to protest against the detention of the academics, holding placards that read "We won't be intimidated by oppression and detentions" and "The palace will lose, the youth will win." Kocaeli Labor and Democracy Platform also protested the detention in the city's Sabri Yalım Park on Friday.
In a related development, Assistant Professor Kerem Altıparmak, who is a member of the Scientific Advisory Board of the Center for Human Rights of the Turkish Bar Association (TBB), announced late on Thursday that he had resigned from his position over remarks by TBB President Metin Feyzioğlu, who on Thursday condemned the academics who signed the declaration.
http://www.todayszaman.com/national_writers-filmmakers-lawyers-join-academics-call-for-peace_409772.html
----------
Erdoğan continues to rail against academics, calls them 'despicable,' 'cruel'
January 15, 2016
Turkish President Recep Tayyip Erdoğan continued with his criticism of more than 1,000 academics who have been subject to prosecution and administrative penalties from their institutions after signing a statement criticizing the government's actions in the Southeast, calling them "despicable" and "cruel."
"They are cruel, they are despicable because those who are together with the cruel are themselves cruel. People who are [in solidarity] with those who commit massacres are guilty of the same crime," Erdoğan told reporters after Friday prayers at İstanbul's Sultanahmet Mosque, also known as the Blue Mosque, which was the site of a suicide attack that killed 10 German tourists on Tuesday.
At least 18 academics who signed the petition this Monday as part of the "Academics for Peace" initiative were detained on Friday after prosecutors launched an investigation on the grounds of "insulting the state" and spreading "propaganda for a terrorist organization." Dozens of them have also been suspended from their posts after Erdoğan railed against them in a speech on Tuesday.
"I strongly condemn once again those academics who put their signatures on this dark statement and [who approve] the massacres," Erdoğan said, referring to Kurdistan Workers' Party (PKK) attacks, in particular one that killed six people, including three children, in Diyarbakır earlier this week.
"The fact that they have a professor, associate professor or whatever title in front of their names do not make them enlightened. They are deeply dark people," he said.
"I have invited all judicial institutions and administrations of the universities to immediately take the required steps in the face of their violation of the Constitution and our laws," he said. "Those who want to do politics, they can do it in Parliament. If they can't, they can go and dig trenches or go to the mountains [to join the PKK]," Erdoğan said.
Erdoğan has accused the academics of using the same language used by the terrorists and not speaking out against the violence perpetrated by the PKK.
The government has ordered military operations and imposed extensive curfews in the predominantly Kurdish districts where militants affiliated with the PKK terrorist group dug trenches and set up explosives to keep the security forces away. The operations have resulted in more than 100 civilian casualties and displaced thousands, human rights groups say.
PKK militants launched a truck bomb attack on a police station in the southeastern province of Diyarbakır overnight on Thursday, killing six people and wounding more than 40 in one of the largest attacks since conflict flared in the region last July. The victims included a 5-month-old baby and two children aged one and four.
"How can these dark academics have an easy conscience by standing behind the killers of the 3-year-old Mevlüde?" Erdoğan asked, referring to one of the victims of the Diyarbakır attack.
http://www.todayszaman.com/national_erdogan-continues-to-rail-against-academics-calls-them-despicable-cruel_409732.html
----------
Zarif says sanctions on Iran will be lifted on Saturday
January 16, 2016
Iranian Foreign Minister Mohammad Javad Zarif waves after a plenary session at the United Nations building in Vienna in this July 2015 file photo. (Photo: Reuters)
International sanctions on Iran will be lifted on Saturday when the International Atomic Energy Agency (IAEA) issues its final report on Tehran's disputed nuclear program, Foreign Minister Mohammad Javad Zarif said.
Zarif arrived in Vienna earlier on Saturday, where the IAEA is expected to release a report confirming that Iran has completed its commitments under last year's nuclear deal, triggering "Implementation Day" and the lifting of sanctions.
"Today with the release of the IAEA chief's report the nuclear deal will be implemented, after which a joint statement will be made to announce the beginning of the deal," Zarif was quoted as saying by state news agency IRNA.
The report, if issued, would mark the consummation of the July 14, 2015 nuclear agreement. Under the deal, Iran agreed to shrink its atomic program in exchange for the lifting of some EU, US and UN sanctions, which would allow billions of dollars of investment to flow into the country.
"Today is a good day for the Iranian people as sanctions will be lifted today," the ISNA agency quoted Zarif as saying.
Zarif is due to meet his US counterpart John Kerry, the European Union's foreign policy chief Federica Mogherini, and IAEA chief Yukiya Amano later on Saturday.
http://www.todayszaman.com/latest-news_zarif-says-sanctions-on-iran-will-be-lifted-on-saturday_409790.html
----------
Crystal Cruises cancels stops in Turkey over security issues
January 16, 2016
Crystal Cruises announced on Friday that it was cancelling stops in Turkey for two upcoming voyages.
The company said in a statement that it was cancelling visits to İstanbul and Kuşadası, Turkey, which had been planned stops for one of its ships, Crystal Symphony.
The cruise line said it was rerouting the ship "in response to ongoing security concerns."
A suicide bombing in İstanbul killed 10 tourists Tuesday.
The itineraries for Crystal voyages that set sail April 24 and May 1 will include destinations in Greece instead of Turkey.
Turkish ports of call scheduled for April and November aboard Crystal's new luxury yacht, Crystal Esprit, will also be changed, the cruise line said.
In September, another cruise line, Celebrity Cruises, announced that it would replace all overnights to İstanbul in 2016 with additional ports of call.
Royal Caribbean International says it is "closely monitoring" the situation in Turkey but has not modified any upcoming sailings to İstanbul.
http://www.todayszaman.com/business_crystal-cruises-cancels-stops-in-turkey-over-security-issues_409788.html
----------
UN report on Iran deal compliance likely today
AFP | Jan 16, 2016
VIENNA: The UN atomic watchdog will likely say today that Iran has complied with last July's landmark deal with major powers aimed at putting a nuclear bomb out of Tehran's reach, diplomatic sources said.
The International Atomic Energy Agency report will allow US secretary of state John Kerry and his Iranian and EU counterparts, Mohammad Javad Zarif and Federica Mogherini, to announce in Vienna that the deal can enter into force, the sources said.
Under the July 14 deal, Iran agreed to scale down dramatically key areas of its nuclear activities in exchange for relief from painful sanctions, notably on Tehran's lifeblood oil exports.
These steps, combined with ultra-close IAEA inspections, extend to at least one year - from just a few months previously - how long Iran would need to make one nuclear bomb's worth of fissile material.
Iran has always denied wanting nuclear weapons, saying its activities are exclusively for peaceful purposes such as power generation.
The hard-fought agreement was sealed in Vienna by Kerry, Zarif, Mogherini and the foreign ministers of Russia, China, Britain, France and Germany after two years of rollercoaster negotiations following the June 2013 election of moderate Iranian President Hassan Rouhani.
The highly complex deal drew a line under a standoff dating back to 2002 marked by several failed diplomatic initiatives, ever-tighter sanctions, defiant nuclear expansion by Iran and threats of military action.
In addition it put the Iran and the US on the road to better relations some 35 years after the Islamic revolution that topped the US-backed Shah, and at a particularly explosive time in the Middle East.
The agreement, heralded as US President Barack Obama's biggest - and some might say only - major foreign policy triumph, has by no means been universally cheered, however.
Obama's Republican opponents charge that it fails to do enough to ensure Iran will never get the bomb, a complaint shared by Israel, Iran's arch foe widely assumed to have nuclear weapons itself.
Sunni Saudi Arabia, Iran's other great regional rival, is also alarmed at the prospect of warmer US-Iran ties and of predominantly Shiite Iran, newly flush with oil revenues, increasing its influence.
http://timesofindia.indiatimes.com/world/middle-east/UN-report-on-Iran-deal-compliance-likely-today/articleshow/50601462.cms
----------
Chinese President Xi Jinping set to visit Saudi Arabia, Iran and Egypt
PTI | Jan 15, 2016
BEIJING: Chinese President Xi Jinping will visit Saudi Arabia, Egypt and Iran next week, embarking on his first tour to the volatile Middle East since he took command of the world's second biggest economy in 2013.
The Chinese Foreign Ministry announced today that Xi will be visiting the three countries from January 19-23, on the invitations of the heads of the three countries.
Xi's visit comes at a sensitive time when Saudi Arabia and Iran are locked in a sectarian strife amid falling oil prices creating a disturbing situation in the Middle East.
As one of the major oil importers China wants to increase its diplomatic heft in the oil-rich region.
Xi is also the General Secretary of the ruling-Communist Party of China and heads the powerful People's Liberation Army (PLA).
Ahead of Xi's visit, China issued a policy paper on Arab countries expressing its willing to coordinate development strategies with Arab states and put into play each other's advantages and potentials.
"We encourage and support the expansion and optimisation of mutual investment by enterprises from the two sides," the paper said, adding, that China is ready to continue to provide foreign-aid loan on favourable terms to Arab countries, as well as export credits and overseas investment insurance."
The paper said, Arab countries as a whole have become China's biggest supplier of crude oil and the 7th biggest trading partner.
China's proposed initiatives of jointly building the "Silk Road Economic Belt" and the "21st Century Maritime Silk Road", establishing a "1+2+3" cooperation pattern and industrial capacity cooperation, are well received by Arab countries.
The "1+2+3" cooperation pattern refers to taking energy cooperation as the core, infrastructure construction and trade and investment facilitation as the two wings, and three high and new tech fields of nuclear energy, space satellite and new energy as the three breakthroughs.
http://timesofindia.indiatimes.com/world/china/Chinese-President-Xi-Jinping-set-to-visit-Saudi-Arabia-Iran-and-Egypt/articleshow/50593512.cms
-----------
Southeast Asia
Indonesia blocks radical Islamic websites after deadly Jakarta attack
Jan. 16, 2016
JAKARTA - Indonesia shut down at least 11 radical websites and several social media accounts on Saturday after a deadly gun and bomb attack claimed by Islamic State rocked the capital earlier in the week.
Authorities said several accounts had been found on social networking website Facebook expressing support for Thursday's attack in Jakarta's commercial district, which killed seven people including five militants, and injured around 30 others.
The brazenness of the assault, which lasted several hours, suggested a new brand of militancy in a country where low-level strikes on police are common.
"We are monitoring many websites and public complaints about this," said Ismail Cawidu, a public relations official at the communications ministry.
The government had also sent letters to social media companies such as Facebook, Twitter and Telegram requesting that radical material be immediately blocked or taken down, Cawidu said.
The alleged mastermind behind this week's attack, an Indonesian citizen fighting with IS in Syria, is believed to have used social media extensively to share his beliefs about Islamic State and communicate with contacts in Indonesia using blog posts and mobile messaging apps.
Police said late on Friday that two of the attackers had been identified as raids continued across the country to track down any other militants in the networks they belonged to.
Authorities believe there are up to 1,000 IS sympathizers in Indonesia.
http://www.jpost.com/Breaking-News/Indonesia-blocks-radical-Islamic-websites-after-deadly-Jakarta-attack-441685
----------
Malaysia Arrests After Jakarta Attack Fuel Fears of Islamic State's Reach
Jan. 16, 2016
KUALA LUMPUR, Malaysia—Concerns that Islamic State militants in the Middle East are taking a direct hand in organizing terrorist attacks in Asia escalated Saturday after Malaysian police said they had arrested four suspects, one of whom was planning a suicide attack in the country.
Inspector-General of Police Khalid Abu Bakar said in a statement its counterterrorism unit arrested the suspects, all Malaysians aged 23 to 28, between Jan. 11 and 15 in Kuala Lumpur and neighboring Selangor state.
Officials said they believed the perpetrators of Thursday's attacks were involved in a local Islamist group and funded by an Indonesian militant with ties to Islamic State. Photo: AFP/Getty
The arrests came as Malaysian security officials put the country on high alert after five Islamic State-aligned militants staged bomb and gun attacks in Indonesia on Thursday. All were killed, some by exploding bombs they were carrying, along with two passersby.
Indonesia police said Saturday it had arrested 12 suspected terrorists from Jan. 14-16 and that one suspect received "big" funding from Islamic State.
Hundreds of Indonesians and Malaysians have made their way to the Middle East to fight with Islamic State in recent years, often passing through Turkey. Some have formed their own division, which they call the Malay Archipelago Combat Unit.
While effective police work blunted the potential effects of the Jakarta attacks and appears to have thwarted another assault in Malaysia, security officials say they are alarmed by the influence these fighters might have if they return home to Southeast Asia, as well as the impact they might have on those still in Malaysia and Indonesia. Malaysian officials, for instance, have detained over 120 people under the country's antiterrorism laws since 2014.
Police said one of the four men arrested in the past few days admitted to planning an attack in Kuala Lumpur after receiving instructions from an Islamic State member in Syria. Arrested at a train station Friday, police said the 28-year-old man had raised the black Islamic State flag in several locations in Malaysia, in a warning to governments to stop arresting the group's supporters.
Islamic State's links to the deadly attacks in the Indonesian capital of Jakarta show the expanding reach of the extremist group in Asia, raising fears of a return of Islamist-inspired violence in the region. Photo: AP
The other three suspects were previously arrested by authorities in Turkey after they attempted to enter Syria to join Islamic State forces there. They were sent back to Malaysia on Jan. 11 and were arrested on arrival at Kuala Lumpur International Airport.
Police said the trio were recruited and lured to the Middle East by a Malaysian national called Muhammad Wanndy Mohamed Jedi via Facebook and the Telegram messaging application. Two of the suspects are a married couple from Perak state, while the other man and the man arrested on Jan. 15 are from Terengganu state, where they worked respectively as an engineer and an insurance agent.
"It's a game changer for police," said Ahmad El-Muhammady, a professor at the International Islamic University Malaysia, who works with Malaysian police to rehabilitate terrorist suspects. "The threat is actual, no longer potential, because it crossed the line from planning to executing."
News of the arrests in Malaysia came as Indonesian authorities stepped up their focus on an Indonesian militant whom police described as directing and financing the attacks in Jakarta from his base in Syria.
The alleged involvement of 32-year-old Bahrun Naim shows how Islamic State forces in the Middle East are beginning exert an influence over homegrown militants, security experts said. Tito Karnavian, Jakarta's police chief, said the attacks appeared to be an attempt by Mr. Naim to seize a leadership role in Southeast Asia with Islamic State.
Malaysia's police chief, Mr. Khalid, said he wouldn't comment when The Wall Street Journal asked whether the instruction to strike in Malaysia also came from Mr. Naim, except to say that "the order came from someone in Syria."
Security experts in the Philippines, meanwhile, say it was time to pay more attention to Islamic State's potential to become more deeply involved with terrorist groups operating in the country's south. Groups such as the Abu Sayyaf faction have long-standing ties to al Qaeda and other regional offshoots such as Indonesia-based Jemaah Islamiyah.
More recently, Abu Sayyaf leaders have sworn allegiance to Islamic State's guiding force, Abu Bakr al-Baghdadi.
Philippine military officials have denied that Islamic State has gained a foothold in the country. Yet Philippines-based groups are signaling at the very least their alignment with Islamic State's cause after a new video emerged earlier this month showing Filipino militants from Abu Sayyaf and other lesser-known groups training in front of an Islamic State flag.
http://www.wsj.com/articles/malaysia-arrests-suspected-islamic-state-militants-1452931418
-----------
South Asia
Taliban commander among 4 killed in failed attack on Afghan's Kandahar security post
Jan 16 2016
At least four Taliban militants including the group's regional commander was killed in a failed attack on a security post in southern Kandahar province of Afghanistan.
The militants were killed earlier today in Arghistan district after launching an attack on the security post in Sarchi area.
The provincial government media office said the Afghan security forces repelled the attack which was launched around 10:00 am this morning.
The Taliban commander killed in the attack has been identified as Mullah Izat who was in charge of the Taliban militants in Arghistan.
The Afghan security forces also seized numerous weapons and explosives belonging to the Taliban militants, the provincial government media office added.
The Taliban militants group has not commented regarding the report so far.
Kandahar is among the relatively volatile provinces in southern Afghanistan where anti-government armed militant groups are actively operating and often carry out insurgency activities.
This comes as at least four Afghan policemen were martyred in a suspected insider attack in Khakriz district earlier.
http://www.khaama.com/taliban-commander-among-4-killed-in-failed-attack-on-kandahar-security-post-0004
----------
4 Afghan policemen martyred in suspected insider attack in Kandahar
Jan 16 2016
At least four Afghan policemen have lost their lives in a suspected insider attack in southern Kandahar province of Afghanistan.
The incident has reportedly taken place in Khakriz district of Kandahar province in a check post of belonging to the police forces.
Provincial governor spokesman Samim Khpolwak confirmed that an incident has taken place in a police check post but there are no further details available regarding the exact circumstances surrounding the incident.
Meanwhile, a local security official, speaking on the condition of anonymity, confirmed that the attack was carried out by a group of individuals in police uniform.
The official further added that a commander of the police forces was also among those martyred in the attack and the assailants have managed to escape the area.
Kandahar is among the relatively volatile provinces in southern Afghanistan where anti-government armed militant groups are actively operating and frequently carry out insurgency activities.
This comes as the Taliban-led insurgency has been rampant during the recent weeks despite efforts to revive the Afghan peace talks in a bid to end the growing violence in the country.
http://www.khaama.com/4-afghan-policemen-martyred-in-suspected-insider-attack-in-kandahar-0002
----------
Rocket attack foiled on Afghan's kabul city with discovery of four BM-1s
Jan 16 2016, 1:18 pm
Kabul rocket attackThe Afghan national security forces thwarted a rocket attack plot on Kabul city by discovering four BM-1 rockets from the outskirts of the city.
The Ministry of Defense (MoD) said the rockets were discovered by the Afghan National Army (ANA) forces from the Musahi district of Kabul.
A statement by MoD said the rockets were planted in Qala-e-Abdul Rauf area of Musahi district and were ready to launched on Kabul city.
The anti-government armed militant groups have not commented regarding the attack plot so far which comes amid deteriorating security situation with the rampant Taliban-led insurgency.
The attack has been thwarted as Kabul witnessed a spate of deadly suicide attacks during the recent weeks.
The Taliban claimed responsibility for three separate suicide vehicle-borne improvised explosive devices (SVBIED) attacks in the Afghan capital between 1 and 4 January, killing five civilians and injuring at least 56.
"The use of highly explosive devices in civilian populated areas continues to cause extreme harm to Afghan women, children and men," said Mark Bowden, the Deputy Secretary-General's Special Representative for Afghanistan and acting head of UNAMA.
Bowden further added "Loss of life, maiming, destruction of homes, businesses and personal property and widespread fear – these are the real consequences of suicide attacks in urban areas."
http://www.khaama.com/rocket-attack-foiled-on-kabul-city-with-discovery-of-four-bm-1s-0003
----------
Taliban says not a threat to America, decry coalition role in Helmand fight
Jan 16 2016
In a series of back-to-back setbacks in their offensive in southern Helmand province of Afghanistan, the Taliban group on Saturday issued a statement decrying the coalition forces role in the ongoing fight in Helmand.
The statement by the Taliban group followed after the Afghan national security forces operations gained momentum in repulsing the Taliban offensive with the air support of the coalition forces.
The Taliban group warned that the interference of the coalition forces in Helmand fight could derail the peace, a statement contrary to the Taliban offensive which has been launched amid ongoing efforts to end ongoing violence which has been ongoing during the past 14 years.
Claiming victory in the ongoing war in Afghanistan, the Taliban group said they "are not a threat to anyone including America and have no intention of enmity and fighting with anyone rather our goal is to defend our soil."
The statement by the Taliban group further added "No other system is acceptable to the Afghans except for an Islamic system. In short the end of occupation and establishment of Islamic system is peace as well as the solution in itself. Similarly it embodies security, stability and aspirations of the Afghan nation."
Taliban-led insurgency being rampant amid efforts to revive peace talks has not been unprecedented with the Afghan officials saying the move by the Taliban group ahead of potential talks is to gain privilege for the negotiations.
The officials also believe that the group has stepped up efforts to take control of key areas of Helmand province in a bid to shift the group's council from Quetta city of Pakistan.
Meanwhile, the Taliban militants suffered heavy casualties in the latest wave of counter attacks launched by the Afghan security forces in Helmand province.
The Ministry of Defense (MoD) said at least 35 militants were killed after the Afghan forces repulsed an offensive in Greshk district on Friday night with the support of the coalition forces who were providing air support from the air.
http://www.khaama.com/taliban-says-not-a-threat-to-america-decry-coalition-role-in-helmand-fight-0001
----------
ISIS release photo of suicide bombers who attacked Pakistani consulate
Jan 16 2016
The loyalists of the Islamic State of Iraq and Syria (ISIS) terrorist group operating under the so-called Khurasan Province in Afghanistan have released a photo which purportedly shows two suicide bombers who attacked the Pakistani consulate in Jalalabad city of Pakistan.
The authenticity of the photograph could not be verified, however it carries Arabic scripts, introducing the two bombers.
The two men have been identified as Farooq al-Khurasani and Abu Obaid al-Khurasani.
The loyalists of the terror on Wednesday claimed responsibility behind the attack by issuing statements written in Arabic and English but a pamphlet has also emerged written in Urdu language.
The terror group claims that the attack was carried out in response to the Pakistani military operation in the tribal regions of Pakistan, calling it a 'crusade' war and demanding an immediate halt to such operations.
It also called on Pakistani military to stop censoring the facts regarding the destructions, murders and detentions of civilians, particularly the Sunni followers during the operations.
In its statement released on Wednesday, the loyalists of the terror group claimed that several consulate staff including a number of Pakistani intelligence – Inter Services Intelligence (ISI) operatives.
However, the Afghan officials said all assailants were shot dead by the security forces during the stand off which lasted for almost three hours.
The officials further added that the militants managed to enter a guesthouse belonging to a government official and started resisting the security forces.
Sediq Sediq, spokesman for the Ministry of Interior (MoI), said at least seven members of the Afghan security forces were martyred in the attack.
Meanwhile, another security official in Nangarhar said a number of civilians also lost during their lives in the attack while a number of others were wounded.
http://www.khaama.com/isis-release-photo-of-suicide-bombers-who-attacked-pakistani-consulate-1999
----------
Gunmen attack micro finance bank in Afghan's Parwan province
Jan 16 2016
A group of armed insurgents launched an attack on a micro finance bank in northern Parwan province of Afghanistan, local officials said Saturday.
The incident took place in Charikar city, the provincial capital of northern Parwan province late on Friday night.
Provincial police chief Mohammad Zaman Mamozai said the gunmen were armed with rocket launchers and small arms when they launched attack on the bank building.
Mamozai futher added that the branch belonged to First MicroFinance Bank Afghanistan which is part of the Aga Khan Development Network (ADKN).
He said the attack did not cause any casualties but the property of the bank sustained damages due to rocket and bullets impact.
No group including the Taliban militants has so far claimed responsibility behind the attack.
Parwan is among the relatively volatile provinces in northern Afghanistan where anti-government armed militant groups are actively operating in its remote districts and often carry out insurgency activities.
http://www.khaama.com/gunmen-attack-micro-finance-bank-in-parwan-province-0005
----------
Pakistan strengthens security of Afghan diplomats following attack
Jan 16 2016
Pakistan has taken additional measures to ensure security of Afghan diplomats after attack on the residence of an official of Afghan consulate in Peshawar, capital of Pakistan's Khyber Pakhtunkhwa province.
Sayed Mohammad Ibrahimkhil, the Afghan consul in Peshawar said Pakistan's security agencies have assured them for security.
This comes after a group of unknown gunmen attacked the residence of an official of the Afghan consulate in Peshawar which luckily did not cause harm to anyone.
The armed men were riding on motorcycle who started firing towards the residence of Humayoun Yousfuzai in Posh Town area around 2:00 am (local time) on Friday.
Kashif Khan, a police officer told local media that 29 bullet casings were found in the area with the preliminary investigation suggesting a sub-machine gun was used by the gunmen.
The assault took place days after Pakistan's consulate was attacked by the Islamic State or Daesh militants in the border province of Nangarhar
Following the attack, President Mohammad Ashraf Ghani called Pakistani Prime Minister Mohammad Nawaz Sharif and assured him about the security of his diplomats in Afghanistan.
http://www.khaama.com/pakistan-strengthens-security-of-afghan-diplomats-4496
----------
40 Taliban militants surrender to security forces in Takhar
Jan 16 2016
40 Taliban militants have surrendered to Afghan forces in Darqad District of northern Takhar province, the Ministry of Interior announced on Saturday.
"In an Afghan National Security Forces (ANSF) joint clearance operation, 40 armed militants surrendered to ANSF in Darqad district of northern Takhar province," states a statement released by the ministry.
"The operation started on 09 January 2016 and is still in progress to clear some of the areas of terrorists and enemies of peace and stability."
According to the press release, 20 militants were also killed in fresh clashes and 12 arrested.
So far, 52 villages have been cleared of armed militants, the press release adds.
Darqad a strategic district of Takhar was under Taliban control for about three months. Afghan National Security and Defense Forces retook control of it last week.
Takhar is among the relatively volatile provinces in northeastern Afghanistan where anti-government armed militants are actively operating in a number of its remote districts.
Takhar is surrounded by two relatively volatile provinces, Badakhshan in the east and Kunduz in the west where Taliban militants are actively operating and frequently carry out insurgency activities in their various districts.
http://www.khaama.com/40-militants-surrender-to-security-forces-in-takhar-4495
----------
-----------
Africa
Operation ends at Burkina Faso hotel seized by al-Qaida
AP | Jan 16, 2016
OUAGADOUGOU, Burkina Faso: Burkina Faso and French forces killed at least three extremists and freed 126 people as they took back control of a luxury hotel in the capital that had been seized by the attackers, the minister of security said Saturday.
The Islamic extremists stormed the hotel and a nearby cafe Friday night.
Gunfire ramped up early Saturday as gendarme and military forces fought to take back the fire-blackened building. They took control of the Splendid Hotel and were searching nearby hotels to be sure there were not extremists hiding there, said Minister of Security and Internal Affairs Simon Compaore.
About 33 people have been wounded, and officials are still determining the number of casualties, he said. At least 10 bodies had been found so far, another government minister said.
The harrowing attack was launched by the same extremists behind a similar siege at an upscale hotel in Bamako, Mali in November that left 20 dead. It was not immediately known how many people remained inside the hotel in Ouagadougou as the morning call to prayer signaled a new day in this West African nation.
Dozens of French forces arrived overnight from neighboring Mali to aid in the rescue. One U.S. military member was embedded with French forces at the scene, and the United States was working to help provide France with surveillance and reconnaissance help, according to a U.S. senior defense official who was not authorized to discuss the matter publicly and spoke on condition of anonymity.
An al-Qaida affiliate known as AQIM, or al-Qaida in the Islamic Maghreb, claimed responsibility online as the attack was ongoing in downtown Ouagadougou at the 147-room hotel, according to the SITE Intelligence Group.
In a message posted in Arabic on the militants' "Muslim Africa" Telegram account, it said fighters "broke into a restaurant of one of the biggest hotels in the capital of Burkina Faso, and are now entrenched and the clashes are continuing with the enemies of the religion." Fighters who spoke by phone later "asserted the fall of many dead Crusaders," AQIM said, according to SITE.
Internal affairs minister Simon Compaore said that already 10 bodies had been found inside the Cappuccino Cafe, a restaurant that is located next to the Splendid Hotel.
"We know that the gunmen won't get out of the hotel alive," said one witness, who gave only his first name, Gilbert. "Our country is not for jihadists or terrorists. They got it wrong."
Burkina Faso, a largely Muslim country, had for years been mostly spared from the violence carried out by Islamic extremist groups who were abducting foreigners for ransom in Mali and Niger. Then last April, a Romanian national was kidnapped in an attack that was the first of its kind in Burkina Faso.
The country also has been in growing political turmoil since its longtime president was ousted in a popular uprising in late 2014. Last September members of a presidential guard launched a coup that lasted only about a week. The transitional government returned to power until Burkina Faso's November election ushered in new leaders.
The hotel attack in Mali in November also was claimed by a leader of AQIM, who said it had been carried out as a declaration of unity with Algerian militant Moktar Belmoktar's extremist group Al-Mourabitoun, according to an audio speech that was distributed by SITE at the time. Belmoktar was a former leader in AQIM before starting his own group, which now has merged back with al-Qaida.
http://timesofindia.indiatimes.com/world/rest-of-world/Operation-ends-at-Burkina-Faso-hotel-seized-by-al-Qaida/articleshow/50602796.cms
-----------
North America
Why Kerry Calls Terror Group 'Daesh,' not Islamic State
January 15, 2016
STATE DEPARTMENT—The Islamic State terror group has gained worldwide infamy with its murderous exploits. It is called many different names by various people and organizations. ISIL, ISIS and IS are all commonly heard.
U.S. Secretary of State John Kerry used the Arabic term "Daesh" close to 20 times when referring to Islamic State extremists in a recent speech about 2016 foreign policy priorities.
"The terrorist group known as Daesh — ISIL, some people call it, but there's nothing Islamic about it and there's nothing that merits being called a state," Kerry said Wednesday at the National Defense University.
The term Daesh is considered an insult that translates loosely to "one who crushes something underfoot" or "one who sows discord." Islamic State militants hate the term and have vowed to kill anyone who uses it.
A U.S. official told VOA, "The State Department uses both Daesh and ISIL, an acronym of Islamic State of Iraq and the Levant, to refer to the terrorist organization," noting that the use of Daesh is common in the Mideast and in Arab countries.
A counterterrorism expert said that by using Daesh, a derogatory term, the U.S. denies this terrorist organization a respectful name.
Seth Jones, a former defense official and now an expert at the Rand Corporation global policy think tank, said that while most U.S. officials continue to use the term ISIL, a few have used Daesh for several reasons.
Denial of legitimacy
"First, it is more consistent with the terminology used by America's Middle East allies," he said. "Second, it is viewed pejoratively by many within the group itself. Third, using Daesh does not give legitimacy — even perceived legitimacy — to the organization's claim that it is a veritable 'Islamic State.' "
Australian Prime Minister Tony Abbott announced a year ago that he would begin referring to the terrorist group as Daesh.
"Daesh hates being referred to by this term, and what they don't like has an instinctive appeal to me," Abbott said.
In October 2014, Kerry was heard using the name Daesh after an international coalition was formed to degrade and destroy the militants.
"Not everybody will play a military role or a direct kinetic role. Some will help with respect to the delegitimization of Daesh's claims with respect to religion," said Kerry after meeting with Egyptian Foreign Minister Sameh Hassan Shoukry at that time.
The top U.S. diplomat strategically brandishes the term as a verbal insult, and its usage is becoming increasingly noticed and used by others.
http://www.voanews.com/content/why-kerry-calls-islamic-state-daesh/3148557.html
----------
Special Forces Soldier Turned UFC Fighter Gets 'Credible Threats' From Islamic State
Jan. 15, 2016
The Islamic State has reportedly made a number of "credible threats" against former Special Forces soldier and UFC fighter Tim Kennedy. He said FBI agents weren't "overly thrilled" with his response to the potential terrorists — but his fans likely will be.
"Just spoke with the FBI regarding some recent credible threats towards me by ‪[the Islamic State]They were not overly thrilled with my response… 'Let those cowards come,'" he wrote on Facebook.
Just spoke with the FBI regarding some recent credible threats towards me by #ISIS They were not overly thrilled with my response… "Let those cowards come"
Posted by Tim Kennedy on Wednesday, January 13, 2016
In another Facebook post, Kennedy said the Islamic State can "send whoever they want, as long as they don't want them back."
Kennedy's defiant attitude seemingly comes from a lifetime of training and living his live under a simple mantra:
"Every time you train, train with the motivation and purpose that you will be the hardest person someone ever tries to kill."
This isn't something new. This is how I live my life… Let those cowards come. "Every time you train, train with the…
Posted by Tim Kennedy on Thursday, January 14, 2016
Kennedy, a Green Beret, told Army Times that a "couple" of the threats he received on social media turned out to be "legitimate," though he receives multiple threats a day from various users.
"They said, 'Are you aware of this stuff?' I said, 'Yes.' They said, 'We think this is somewhat credible…Then I said, 'I'm kind of desensitized to this stuff, so maybe you should tell me what my level of alarm should be,'" he added.
http://www.theblaze.com/stories/2016/01/15/special-forces-soldier-turned-ufc-fighter-gets-credible-threats-from-islamic-state-the-fbi-wasnt-thrilled-with-his-response-but-his-fans-likely/
-----------
India
'Cow slaughter' being used to target us, says Indian pacer Shami's dad
Sandeep Rai | TNN | Jan 15, 2016
MEERUT: A day after Indian pacer Mohammad Shami's brother Mohammad Haseeb was booked — he was later released on bail — for allegedly assaulting a police officer and "pressuring cops" to release a few men arrested on charges of cow slaughter, Tauseef Ahmad, the cricketer's father, said his family was in "danger" and that the emotive issue of "gau hatya" was being used to target them.
"My son was not even present there at the time of the incident and had reached the site only much later," Ahmad told TOI on Friday. "He (Haseeb) was just an onlooker like so many others who had gathered there. He was unnecessarily dragged into the controversy. It is just that a few persons are nurturing enmity with our family because of the publicity we have got after Shami started playing for team India. I had reported the issue to the DM in this regard a month ago. This (the arrest) is the result of that. A term like 'cow slaughter' is being used to target us."
When TOI contacted Amroha district magistrate Ved Prakash, he confirmed that Ahmad had indeed met him a month ago. "It is true he had met me with a complaint that someone was threatening his family on phone. But he did not mention who his tormentors were."
On Thursday afternoon, station officer of Didoli police station, Praveen Kumar, got a tip-off regarding a person wanted in a case of cow slaughter. When the team led by Kumar went to arrest the man, Haseeb allegedly prevented the police from doing their job and even scuffled with sub-inspector Pradeep Bhardwaj, tearing the latter's uniform.
In the confusion, the accused fled the scene. Police then arrested Haseeb and filed charges against him.
Asked about the incident, Kumar said, "Haseeb stopped the police vehicle which was carrying the accused wanted in the cow slaughter case, a man named Rizwan Ahmad. When the sub-inspector and constables confronted him, Haseeb became violent. We filed an FIR against Haseeb under IPC sections 147 (rioting), 148 (rioting, armed with deadly weapon), 153 (promoting enmity between different groups), 332 (voluntarily causing hurt to deter public servant from his duty) and 224 (resistance or obstruction by a person to his lawful apprehension). However, on account of his ill-health, he was given bail."
http://timesofindia.indiatimes.com/city/meerut/Cow-slaughter-being-used-to-target-us-says-pacer-Shamis-dad/articleshow/50597072.cms
URL: https://www.newageislam.com/islamic-world-news/new-age-islam-news-bureau/boy-cuts-off-own-hand-after-blasphemy-mistake--police-arrest-cleric/d/106017
New Age Islam, Islam Online, Islamic Website, African Muslim News, Arab World News, South Asia News, Indian Muslim News, World Muslim News, Womens in Islam, Islamic Feminism, Arab Women, Womens In Arab, Islamphobia in America, Muslim Women in West, Islam Women and Feminism, Islamic World News, New Age Islam, Islam Online, Islamic Website, African Muslim News, Arab World News, South Asia News, Indian Muslim News, World Muslim News, Womens in Islam, Moderate Islam, Moderate Muslims, Progressive Islam, Progressive Muslims, Liberal Islam, Liberal Muslims