New Age Islam News Bureau
30 Apr 2013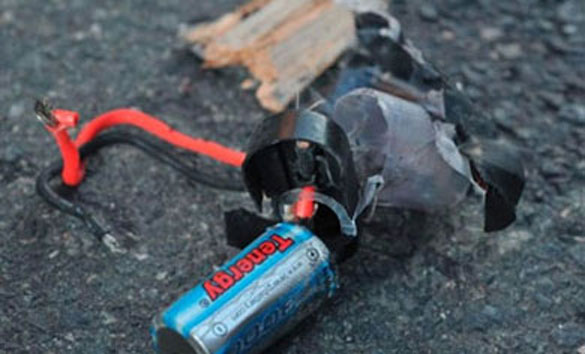 Photo: Female DNA found on Boston bomb fragment. (Reuters)
--------------
Mideast Asia
• Hamas 'modesty' crackdown stokes fears of Islamic militancy
• Iran says use of chemical arms by anyone in Syria is 'red line'
• Israeli President invites Pope Francis to Israel
• One dead in Israeli air strike on Gaza City: medics
• Yemenis languish in Gitmo with scant hope of release
• Palestinian Christians urge pope to oppose wall
South Asia
• "Posing as scholars, they sold out Islam to bring about a coup d'etat": Nasheed
• Maldives divided by "Islamic" and "anti-Islamic": Former President Gayoom
• Hefazat threatens to topple govt if demands not met
• China says detains 19, seizes weapons after Xinjiang unrest
• Xinjiang clash: Suspects held, cross-border Islamic movement blamed
• Hefazat might create anarchy in capital on May 5
• Seven killed in US cargo plane crash in Afghanistan
India
• Sectarianism is the result of religious intolerance: Tarique Abdullah
• AMU professor to attend SAARC conference
• Not just Boston, Azam had a problem in Delhi as well, accused IGI officials of being 'anti-Muslim'
• Ph.D. holder jobless after eight years in prison
• Attack inside jail highly condemnable, feel Pak nationals
• Family hopes for 'martyred' soldier's return from Pak jail
• VHP alleges conspiracy by Narendra Modi govt to 'terrorise' it
• Strike by even a midget nuke will invite massive response, India warns Pak
• Cabinet may okay $100 million investment in Iran's Chahbahar port
• 200 militants waiting to cross over to India: Army
• NIA finds Liyaqat crossed over with family, SSB verified his claim with J&K Police
Pakistan
• Musharraf banned from politics for life by Peshawar High Court
• I conquered my fear of dying before entering politics: Imran
• Musharraf sent to judicial custody for 14 days in Bhutto case
• '49,000 Pakistanis have been killed since the war on terror began in 2001'
• HRW urges govt to protect parties against Taliban attacks
• TTP focused on ending democracy, says Mehsud
• Musharraf's counsel says charge martial law abettors since 1956
• Sarbajit Singh's condition deteriorates, Pak doctors say
Africa
• U.S. tries to handle with care; Nigerian Islamists tied to al Qaeda
• Al-Qaeda chief's brother warns France of retaliation for Mali
• US extremist in Somalia battles ex-comrades
• Gaddafi family in Oman to stay out of politics
• French soldier killed by northern Mali roadside bomb
• Libyan ministry under siege
Europe
• Russian Security Services Offer Surprising Revelations about Boston Bombings
• Six admit planning to bomb English Defence League rally
• Italy hunts six militants suspected of planning attacks
• Report says two missiles target Russian passenger plane over Syria
• UN urges Syria to let in chemical weapons experts
• European mayors try to keep youths from going to Syria for jihad
• Converted Muslim Found Guilty in the Act of Terrorism
• International Intervention in Afghanistan Has Led to Heroin Resurgence
• Russia bans passenger flights over Syria
Arab World
• Blast in central Damascus kills 13: state media
• Armed clashes at Jordan University kill three, hurt 25
• A Saudi Serial Rapist Sentenced To Death
• Moussa says Brotherhood trying to exact revenge on judiciary
• Egyptian Islamist cleared over 1995 bid to murder Mubarak
• Expat dependents not exempt from Nitaqat
• Egypt pulls out of talks to protest Middle East nuclear arms
• 'Big Daad' with 93 children plans to marry again this month
• Seeking Corporate Accountability for Crimes at Abu Ghraib
Southeast Asia
• Jakarta Is Ready to Host Islamic Solidarity Games
• Magelang Deputy Mayor Slapped With Jail Sentence for Abusing His Wife
• Populist pledges weigh on Malaysia's wallet, reports WSJ
• Najib is first leader to use Second Penang Bridge
North America
• Boston Marathon investigators find woman's DNA on bomb fragment
• Benghazi, Boston bombings, girlfriend dump you? Blame Obama
• Man accused of radicalizing Boston bombers denies extremist links
• Obama's 'Muslim Socialist' Joke Draws Big Laughs
• Afghans need more religious freedom, says U.S. panel
• Tsarnaev widow's family home searched by FBI
• US remains committed to goal of sovereign Afghanistan: White House
• 'Tamerlan was linked to anti-Kremlin Jihadis'
• Boston suspect's defence team gets major boost
Compiled by New Age Islam News Bureau
URL: https://newageislam.com/islamic-world-news/new-age-islam-news-bureau/boston-marathon-investigators-find-woman's-dna-on-bomb-fragment/d/11363
-------------
Boston Marathon Investigators Find Woman's DNA on Bomb Fragment
PTI | Apr 30, 2013
BOSTON: A woman's DNA has been found on at least one of the explosive devices used in the Boston bombings, adding a new dimension to the probe into the terror attack that killed three people and wounded over 200 others.
The findings, reported by the US media, have raised the possibility of involvement of a woman in the Boston Marathon twin blasts, which is blamed on two Chechen-origin brothers.
The US authorities have arrested Dzhokhar Tsarnaev, 19, on charges of using weapons of mass destruction, while his elder brother Tamerlan, 19, was shot dead by police.
"Investigators have found female DNA on at least one of the bombs used in the Boston Marathon attacks, though they haven't determined whose DNA it is or whether its presence means a woman helped the two brothers suspected in the bombings," The Wall Street Journal said quoting US officials.
"No one should expect that the investigation is over," an investigator was quoted as saying by Fox News, according to which this raises the possibility of involvement of a woman.
Meanwhile, federal investigating authorities yesterday searched the Rhode Island home of parents of Katherine Russell, the widow of Tamerlan, and the nearby family of a man identified as his mysterious mentor.
Federal authorities took a sample of Russell's DNA on Monday in Rhode Island, where she has been staying with her parents, The New York Times reported.
Federal agents are looking into possible links between dead Tamerlan and a Canadian boxer-turned-jihadist killed by Russian troops in 2012, the CNN reported.
"William Plotnikov and six others died in a firefight with Russian forces in the southwestern republic of Dagestan in July 2012, while Tsarnaev was visiting the region," it said.
"23-year-old Plotnikov had been born in Russia, but his family moved to Canada when he was a teenager," CNN reported.
Plotnikov's body was prepared for burial by a local imam on July 14. Tamerlan flew out of Dagestan two days later, arriving in New York on July 17. Since 2000, Dagestan has witnessed clashes between Islamists and security forces that has claimed hundreds of lives. Investigators are looking into the possibility he left because of Plotnikov's death, CNN said quoting its unnamed source.
http://timesofindia.indiatimes.com/world/us/Boston-bomb-contained-traces-of-female-DNA/articleshow/19797241.cms
---------------
Mideast Asia
Hamas 'modesty' crackdown stokes fears of Islamic militancy
Telegraph, London
April 30, 2013
GAZA CITY: It is three weeks since his arrest, but Ismail Halou still has streaks of purple bruising on the soles of his feet. The 22-year-old was filling cars at his family's petrol station in Gaza City at 5pm on April 4 when a black jeep pulled into the forecourt and police stepped out to order him into the car. He was blindfolded and driven to the nearest police station.
"I could hear the screams of people being beaten in the rooms next to me," he recalled. "Two men held my legs down and tied them together on a wooden board then they beat the soles of my feet with a plastic rod. They beat me for at least five minutes. I was crying and screaming with agony. It was the worst pain I've ever felt."
After the beating, officers set to work shaving off the one-inch fin of gelled hair that was the cause of his arrest.
"At no point did they tell me why they had arrested me," Mr Halou said. "I found out from neighbours when I got home it was my haircut." He could not walk for three days after his release.
Police in Gaza, the Palestinian coastal enclave run by the Islamist faction Hamas since 2007, have arrested at least 41 men on charges of immodesty this month, some because their haircuts were deemed culturally inappropriate, others because their trousers were too low-slung or too fitted. Most were beaten; all had their heads forcibly shaved.
Rajou Hayek, 33, was arrested while pushing his father in a wheelchair to a health clinic in Gaza City. At the police station, where he suffered a beating before also having his head shaved, he saw what he describes as a hill of hair.
"It was humiliating. This policy is nothing to do with jeans or hairstyles. Hamas is just trying to make Gaza afraid of them," Mr Hayek said.
Ihab al-Ghusain, a spokesman for Hamas in Gaza, is critical of the police's violent methods but defends their message. "Young people should be concerned with their education and what Israel is doing to us, rather than concentrating on the outside world and pop star haircuts," he said.
Hamas security forces routinely use brutal tactics against political opponents in Gaza, but a violently enforced public modesty campaign is new. It has shocked a community hardened to conflict and poverty. Some Gazans are terrified that Hamas is driving them towards unapologetic, militant, Islamic fundamentalism.
In March, the United Nations issued a statement cancelling their annual Gaza marathon because Hamas had forbidden women from running alongside men, a practice it had allowed for the previous five years. This month a new law was introduced forbidding girls and boys over the age of nine from being educated alongside, or taught by anyone of, the opposite sex.
"There is no question that Gaza is more 'Islamicised' now than it has been at any point since Hamas took power and it is getting worse," said Samar Zakout, the deputy director of the Al Mezan human rights organisation in Gaza.
"To the international community, the Hamas leadership say they respect human rights. But at home they are struggling to convince their members they are protectors of traditional values."
The police's new tactics appear linked to challenges to the leadership of Hamas from more religiously conservative groups, and to divisions within the movement. On April 6, dozens of mothers protested in Rafah, demanding the release of their Salafist sons who were arrested by Hamas for firing rockets into Israel. Three days earlier, a supermarket in Jabalia refugee camp was the target of a Salafist bomb attack in protest at Western influence on Palestinian society.
Gaza's extremists and Hamas hardliners regard Khaled Meshaal, the recently re-elected leader of the Hamas politburo, as an Israeli collaborator.
In February last year, he enraged Hamas hardliners by signing the Doha Agreement – a deal under which Mahmoud Abbas, the Fatah leader and president of the Palestinian Authority, would head a reconciled Palestinian government. He has also agreed to a Palestinian state within 1967 borders and was instrumental in brokering a truce to resolve last November's conflict with Israel.
Until reconciliation is achieved, the exiled Mr Meshaal's rivals remain in day-to-day control in Gaza and can undermine his efforts towards moderacy on the world stage by embracing fundamentalism at home. A population already battered by conflict with Israel and a six-year blockade will be squeezed even further.
Ismail Halou fears this future: "Hamas is getting stricter and stricter. We are already under so much pressure, there are so many troubles, and now it's our jeans and our hairstyles? For me, this is too much."
http://www.smh.com.au/world/hamas-modesty-crackdown-stokes-fears-of-islamic-militancy-20130430-2ipze.html#ixzz2RvtcyuCe
-------------
Iran says use of chemical arms by anyone in Syria is 'red line'
Reuters | Apr 30, 2013
DUBAI: Iran said on Tuesday it regarded the alleged use of chemical weapons in Syria's civil war as a "red line", echoing major adversary the United States but saying Syrian rebels were the main culprit and not the Damascus government.
Last week Washington said it had "varying degrees of confidence" that Syrian government forces had likely used the nerve agent sarin on a small scale against rebels fighting to overthrow President Bashar al-Assad.
U.S. President Barack Obama has warned Damascus that deployment of chemical weapons could trigger consequences for Assad - language widely interpreted to include military intervention so far shunned by Washington. Obama has also called resort to chemical arms a "red line" Assad must not cross.
In calling chemical weapons use a "red line" for Iran, Foreign Minister Ali Akbar Salehi did not indicate what action Tehran - one of Assad's staunchest political and military allies - might take in the case that a poison gas attack by either side in the conflict were to be proven.
"We have always emphasised that the use of chemical weapons on the part of anyone is our red line," Salehi said, according to the ISNA news agency. "Iran is opposed to the use of any kind of weapon of mass destruction, and not just their use but their production, accumulation, and use."
Salehi also reiterated calls for the United Nations to investigate assertions by the Syrian government that Syrian insurgents had used chemical weapons.
"On Syria," he said, "we have also requested that in accordance with the Syrian government, which emphasizes that the opposition has used these weapons, the United Nations...identify the main culprit in this regard, which is the opposition."
The Syrian government and the opposition blame each other for alleged chemical attacks in Aleppo in March and Homs in December. Syria wants U.N. investigators to look into only the reported Aleppo attack, but U.N. Secretary General Ban Ki-moon wants the inquiry he has ordered to cover both incidents.
Ban said on Monday that investigators have been gathering and analyzing available information on alleged chemical attacks in Syria, but access to the war-torn country was essential for a "credible and comprehensive inquiry."
Iran counts itself as the biggest victim of chemical weapons attacks in recent history, saying up to 100,000 Iranians were exposed to the effects of Iraqi poison gas during the two neighbours' 1980-88 war. Other studies have estimated that around 60,000 were affected.
Tehran, however, is suspected by Western powers of seeking another form of mass-destruction weapons capability - nuclear - with its shadowy uranium enrichment programme. Iran denies this, saying it seeks nuclear energy only for peaceful purposes.
http://timesofindia.indiatimes.com/world/middle-east/Iran-says-use-of-chemical-arms-by-anyone-in-Syria-is-red-line/articleshow/19802092.cms
----------
Israeli President invites Pope Francis to Israel
Reuters | Apr 30, 2013
VATICAN CITY: Israeli President Shimon Peres invited Pope Francis on Tuesday to visit Israel, at his first meeting with the new pontiff who has appealed for peace in the Middle East.
"I am expecting you in Jerusalem, not just me but the whole country of Israel," Peres told the pope in the presence of reporters after 30 minutes of private talks in the Vatican's Apostolic Palace.
Francis, the former Cardinal Jorge Bergoglio of Argentina, made an appeal for peace between Israelis and Palestinians in his Easter address last month.
Both of Francis' two immediate predecessors, Benedict XVI and John Paul II, visited the Holy Land, including Palestinian territories, in 2000 and 2009 respectively.
Peres asked Francis "to pray for all of us" and told the pope that he would pray for him during a trip on Wednesday to the central Italian city of Assisi, where he will visit the tomb of St. Francis, whose name Bergoglio adopted when elected pope.
Francis will travel to Rio de Janeiro in July to preside at the Roman Catholic Church's World Day of Youth, a gathering of young people from around the world. He is expected to visit his native Argentina in early 2014.
http://timesofindia.indiatimes.com/world/europe/Peres-invites-Pope-Francis-to-Israel/articleshow/19802046.cms
------------
One dead in Israeli air strike on Gaza City: medics
April 30, 2013
GAZA — An Israeli air strike on Gaza City killed one person and wounded another on Tuesday, Gaza's Hamas-run health ministry said.
"A man in his 20s was martyred and another injured in an Israeli air strike... in Shati refugee camp in western Gaza City," health ministry spokesman Ashraf Al-Qudra told AFP.
It was the first deadly Israeli air strike since an Egyptian-brokered truce went into force on November 21.
The military confirmed it had carried out a raid but gave no further details.
Witnesses said the man who was killed was 23-year-old Haitham Al-Mishal.
Over the last two months, there has been an uptick in rocket fire on southern Israel after more than three months of complete quiet following a deadly confrontation in November which ended with the Egyptian-brokered truce deal.
The latest firing was on Monday when a mortar shell struck an open area in southern Israel, a day after an Israeli air strike on southern Gaza. Neither incident caused any injuries.
On Sunday morning, Prime Minister Benjamin Netanyahu warned that Israel would retaliate with great force against any rocket or missile fire on Israeli territory.
"I want to make it clear that we will respond in a very offensive way against any rockets or missiles. We will take all necessary measures to ensure the security of Israelis... on all fronts," his office quoted him as saying.
According to army statistics, since the start of this year, 16 Gaza rockets have struck Israel, most of them in March.
"Sixteen rockets landed in Israel since the beginning of 2013, 90 percent of them in March," a spokesman told AFP on Monday.
"This figure includes only rockets that landed in Israeli territory. A larger number of rockets were fired against Israel but missed their target," he said. — AFP
http://www.saudigazette.com.sa/index.cfm?method=home.regcon&contentid=20130430163694
-------------
Yemenis languish in Gitmo with scant hope of release
April 30, 2013
SANA'A – Awdah Al-Shabati has never seen her father Abdulrahman except via video link with a US military prison thousands of miles away from her native Yemen.
He is incarcerated at the US Navy base at Guantanamo Bay, Cuba. His daughter was born after he was picked up in Pakistan following the Sept. 11, 2001, attacks on the United States.
Now Abdulrahman is one of more than 90 inmates on hunger strike at the prison.
"The last time we spoke to him was eight days ago. He looked thinner, his health seems to have deteriorated since we last saw him," Mohammed Al-Shabati, a Yemeni Defense Ministry employee and Awdah's uncle, said last week.
Full report at:
http://www.saudigazette.com.sa/index.cfm?method=home.regcon&contentid=20130430163577
-------------
Palestinian Christians urge pope to oppose wall
30 April 2013
JERUSALEM: Palestinian Christians near Bethlehem yesterday urged Pope Francis to speak up against an Israeli decision to build its controversial separation barrier on a route they say would cut off their community.
"We cry to your Holiness with a feeling of despair and urgency in order to keep alive our hope that justice and peace is still possible," said an open letter from the Christians of Beit Jala, a town near the West Bank city of Bethlehem.
Full report at:
http://www.arabnews.com/news/449904
-------------
South Asia
"Posing as scholars, they sold out Islam to bring about a coup d'etat": Nasheed
By Mariyath Mohamed | April 29th, 2013
Maldivian Democratic Party (MDP) presidential candidate and former President Mohamed Nasheed has said February 7, 2012′s controversial transfer of power was by politicians posing as religious scholars "selling out on the religion of Islam."
Nasheed made the comments while addressing a rally held in the island of Bilehdhoo in Faafu Atoll on Sunday night, where a number of new members signed to the party including the island's council president.
Only aim of small parties is promoting self-interest
Addressing the crowds, Nasheed stated that the country was seeing the formation of a number of small political parties.
"These parties are not formed with any intention of promoting any specific ideology or philosophy. The objective of forming these parties is to increase the power of their private businesses through these parties," he stated.
"When they have a political party they sit down for business discussions, and the government is forced to relent. This is the reason why these people create political parties," Nasheed said.
Full report at:
http://minivannews.com/politics/%E2%80%9Cposing-as-scholars-they-sold-out-islam-to-bring-about-a-coup-d%E2%80%99etat%E2%80%9D-former-president-57174
-------------
Maldives divided by "Islamic" and "anti-Islamic": Former President Gayoom
By Mohamed Naahee | April 30th, 2013
President of the Progressive Party of the Maldives (PPM) and former president, Maumoon Abdul Gayoom, has claimed the Maldives now dominated by people belonging to the "Islamic" ideology and those belonging to the "anti-Islamic" ideology.
Gayoom's remarks come shortly after public outrage over former President Mohamed Nasheed's allegedly "laadheenee"(secular) remarks made during the speech he gave at the University of Copenhagen on the subject of the economics of climate change.
During his address, Nasheed stated the Maldivian population had largely rejected Islamic extremism, and, in a veiled reference to the Adhaalath Party, noted that "the Islamists were never a credible electoral threat."
Following the speech, the religious conservative Adhaalath Party (AP) and Gayoom's own party PPM issued statements condemning the remarks Nasheed had made.
Subsequently, a protest was launched by a group of hundreds – thought largely to represent supporters of the government-aligned AP – who in certain cases called to "hang Nasheed to death".
AP last month publicly pledged its support to President Waheed by announcing plans to form a coalition with his Gaumee Iththihaadh Party (GIP) ahead of elections scheduled for September this year.
Full report at:
http://minivannews.com/politics/maldives-dominated-ideologies-of-%E2%80%9Cislamic%E2%80%9D-and-%E2%80%9Canti-islamic%E2%80%9D-former-president-gayoom-57224
------------
Hefajat threatens to topple govt if demands not met
April 30, 2013
Hefajat-e Islam leaders yesterday threatened to topple the government if their 13-point demand was unmet and if their May 5 Dhaka blockade programme was resisted.
They, however, addressing its rally in Rajshahi city's Madrasa Maidan, assured that their movement was for the implementation of the demands, not to bring someone to power or topple the government.
Full report at:
http://www.thedailystar.net/beta2/news/hefajat-threatens-to-topple-govt-if-demands-not-met/
-------------
China says detains 19, seizes weapons after Xinjiang unrest
Reuters | Apr 30, 2013
BEIJING: Chinese Police have detained 19 people and seized homemade explosives and weapons following a bloody clash between residents and officials which killed 21 people last week in the restive region of Xinjiang, state media reported.
The violence, in the heavily ethnic Uighur part of Xinjiang near the old Silk Road city of Kashgar, was the deadliest in the far western region since July 2009, when nearly 200 people were killed in riots in the Xinjiang capital of Urumqi.
Full report at:
http://timesofindia.indiatimes.com/world/china/China-says-detains-19-seizes-weapons-after-Xinjiang-unrest/articleshow/19795229.cms
-------------
Xinjiang clash: Suspects held, cross-border Islamic movement blamed
Sutirtho Patranobis, Hindustan Times
April 29, 2013
More suspects have been arrested by the police over violence in China's northwestern frontier of Xinjiang which left 21 people dead last week. State media did not reveal the number of people arrested but claimed to have found considerable progress in the case. Police have tracked down a batch of homemade explosives, lethal weapons, and flags of "East Turkistan" terrorists, Vice Minister of Public Security Meng Hongwei told state media on Monday.
The Chinese government has earlier claimed links between violence in the Xinjiang Uyghur Autonomous Region (XUAR) and members of the East Turkistan Islamic Movement (ETIM).
Last April, the government published photos of six alleged "terrorists" – all ethnic Muslim Uyghurs from Xinjiang -- and said they were members of the ETIM.
Full report at:
http://www.hindustantimes.com/world-news/china/Xinjiang-clash-Suspects-held-cross-border-Islamic-movement-blamed/Article1-1052275.aspx
-------------
Hefajat might create anarchy in capital on May 5
Says another Islamist group quoting 'authentic source'
April 30, 2013
Imam Ulama Samannay Oikya Parishad leaders yesterday expressed concern over Hefajat-e Islam's Dhaka blockade programme on May 5, claiming that the Chittagong based Islamist organisation might explode bombs to create anarchy.
However, the leaders, addressing a press conference in the capital's Jatiya Press Club, could not give any satisfactory answer on the source of this information, stating only that the source was "authentic".
Full report at:
http://www.thedailystar.net/beta2/news/hefajat-might-create-anarchy-in-capital-on-may-5/
-------------
Seven killed in US cargo plane crash in Afghanistan
April 30, 2013
KABUL: Seven crew members of a US-run cargo plane were killed on Monday when their plane crashed shortly after take off from Bagram air base near the Afghan capital Kabul, the cargo operator told Reuters.
The Taliban in a statement claimed responsibility for the crash, but Nato's International Security Assistance Force (ISAF) said there were no reports of insurgent activity in or around the base, which is one of the largest in the country and located about 40 km (25 miles) north of Kabul.
Full report at:
http://dawn.com/2013/04/30/seven-killed-in-us-cargo-plane-crash-in-afghanistan/
----------
India
Sectarianism is the result of religious intolerance: Tarique Abdullah
New Age Islam News Bureau, April 30, 2013
Saharanpur: Renowned Islamic scholar Tarique Abdullah speaking in an assembly held by Ruhani Markaz said that the Quran was the only religious scripture in the world that spoke of rationality. He said that we should read the Quran and try to understand its true meaning. Sectarianism is the result of religious intolerance and we should not try to declare others wrong. We should keep the Quran, then Hadith and the Fiqh (jurisprudence) at the end. And when we change the priorities, sectarianism gets strength. He further said that our responsibility is to convey God's message to all mankind but instead we have divided us into groups like Shia, Sunni, Ahl-e-Hadith, Deobandi, Bareillvi, Ahl-e-Quran etc.
-------------
AMU professor to attend SAARC conference
New Age Islam News Bureau, April 30, 2013
Aligarh: Dr Waseem Raja, the professor of department of History, AMU has been nominated to attend the SAARC conference to be held in Sri Lanka. He will speak on 'Cultural expression and traditional knowledge in South Asia today'. More than 40 experts from India, Pakistan, Bangladesh, Afghanistan, Maldives and Bhutan will deliver their lectures on various aspects of traditional knowledge. Waseem Raja will deliver his research paper titled 'Migration of north eastern Indians during British imperialism.'
-------------
Not just Boston, Azam had a problem in Delhi as well, accused IGI officials of being 'anti-Muslim'
Apr 30, 2013
Before his run-in with the Boston airport authorities, UP's Urban Development Minister Azam Khan also reportedly accused the security staff at the Indira Gandhi International Airport in New Delhi of being "anti-Muslim".
The incident occurred on Wednesday evening, when Khan was on his way to Boston as part of the delegation accompanying Chief Minister Akhilesh Yadav. The Samajwadi Party's Rajya Sabha member, Chaudhary Munabbar Saleem, went to the airport to meet Khan, but was reportedly not allowed inside the VVIP lounge.
"The security staff stopped me from entering the VVIP lounge. Being an MP, I am entitled to use the VVIP lounge. I showed my identity card, but they uttered disgraceful things about Parliament," claimed Saleem.
Full report at:
http://www.indianexpress.com/news/not-just-boston-azam-had-a-problem-in-delhi-as-well-accused-igi-officials-of-being-antimuslim/1109541/
------------
Ph.D. holder jobless after eight years in prison
MEENA MENON
April 30, 2013
Dr. Khan secured bail only in February 2011, after eight bail applications that he drafted himself
There have been some famous prison memoirs, but Dr. Anwar Ali Javed Ali Khan's took an educational tack. His book "Learn Urdu in 30 days," now into its third edition, is quite popular and he gets requests from as far as the U.S. for this primer of sorts. If Dr. Khan didn't pour out grim reminiscences of his eight years in prison after his arrest on terror charges, that's because he's the man he is. He completed his PhD while in jail by getting a court order to give his viva at the University of Pune under police escort and helped fellow under-trials draft their bail and other applications.
Full report at:
http://www.thehindu.com/news/national/other-states/phd-holder-jobless-after-eight-years-in-prison/article4667397.ece
-------------
Attack inside jail highly condemnable, feel Pak nationals
Yudhvir Rana, TNN | Apr 30, 2013
AMRITSAR: Sarabjit Singh may be a villain for fundamentalists in Pakistan but for the common Pak nationals, Singh deserves sympathy, and his attackers, severest of punishment.
Though they don't want him to be handed over to India without completing his jail term, they certainly don't approve of the brutal attack on him inside the jail.
"He had committed a crime in Pakistan and was punished for the same, but Pak government should have provided him security and must punish those who attacked him, that too, in the most secured place," said Mohammad Asim, a Pak national, who arrived in India to meet his relatives on board Samjhauta Express on Monday.
Full report at:
http://timesofindia.indiatimes.com/india/Attack-inside-jail-highly-condemnable-feel-Pak-nationals/articleshow/19793686.cms
-------------
Family hopes for 'martyred' soldier's return from Pak jail
Neel Kamal, TNN | Apr 30, 2013
BATHINDA: The endless wait of 41 years has become more fervent for the family of a soldier from Jeeda village in Bathinda district after the Indian death-row prisoner in Pakistan Sarabjit Singh was attacked in Lahore's Kot Lakhpat jail.
The family of soldier Jugraj Singh is not ready to accept that he was martyred in the India-Pakistan war in December 1971. They harbour the hope that he is still alive and languishing in some Pakistan jail as a prisoner of war (PoW).
Full report at:
http://timesofindia.indiatimes.com/india/Family-hopes-for-martyred-soldiers-return-from-Pak-jail/articleshow/19793662.cms
-------------
VHP alleges conspiracy by Narendra Modi govt to 'terrorise' it
PTI | Apr 29, 2013
AHMEDABAD: Amid clear indications of growing divide between Vishwa Hindu Parishad (VHP) and Gujarat chief minister Narendra Modi, the Sangh Parivar outfit today accused the BJP government of trying to "terrorise" it by sending policemen to its now defunct office.
The saffron outfit made the allegation in a legal notice sent to the Police Commissioner of Ahmedabad through its advocate Deepak Shukla in which it has cited an incident of five police officers visiting VHP's office, which had not been used by the organisation in the past 20 years.
Full report at:
http://timesofindia.indiatimes.com/india/VHP-alleges-conspiracy-by-Narendra-Modi-govt-to-terrorise-it/articleshow/19788095.cms
-------------
Strike by even a midget nuke will invite massive response, India warns Pak
Indrani Bagchi, TNN | Apr 30, 2013
NEW DELHI: India will retaliate massively even if Pakistan uses tactical nuclear weapons against it. With Pakistan developing "tactical" nuclear warheads, that is, miniaturizing its weapons to be carried on short-range missiles, India will protect its security interests by retaliating to a "smaller" tactical attack in exactly the same manner as it would respond to a "big" strategic attack.
Full report at:
http://timesofindia.indiatimes.com/india/Strike-by-even-a-midget-nuke-will-invite-massive-response-India-warns-Pak/articleshow/19793847.cms
-------------
Cabinet may okay $100 million investment in Iran's Chahbahar port
TNN | Apr 30, 2013
NEW DELHI: The Union Cabinet is expected to clear an investment of $100 million in a crucial project to develop Iran's Chahbahar port this week. Foreign minister Salman Khurshid, who will be in Tehran on Friday, will work out the final details of the project with Iran. Khurshid will also work on a trilateral transit agreement with Iran and Afghanistan, since the latter is the most important beneficiary of the Chahbahar port.
Full report at:
http://timesofindia.indiatimes.com/india/Cabinet-may-okay-100-million-investment-in-Irans-Chahbahar-port/articleshow/19793823.cms
-------------
Pakistan
Musharraf banned from politics for life by Peshawar High Court
April 30, 2013
RAWALPINDI/PESHAWAR: The Peshawar High Court (PHC) on Monday banned former military ruler Pervez Musharraf from politics for life.
The ruling came in response to an appeal filed by the former army strongman over the rejection of his nomination papers for the National Assembly seat in Chitral.
A four-member larger bench, headed by PHC Chief Justice Dost Mohammad Khan and comprising of Justice Malik Manzoor, Justice Syed Afsar Shah and Justice Ikramullah ruled that since Musharraf had abrogated the Constitution twice, he could not be allowed to contest elections for either the National Assembly or the Senate.
Announcing the decision, Justice Khan said Musharraf had imposed an illegal emergency and targeted the judiciary, therefore the court was imposing a life-time ban on the retired general, barring him from contesting polls for the national and provincial assemblies as well as the Senate.
The bench also rejected the former president's appeal over the rejection of his nomination papers from NA-32 (Chitral).
Also today, an anti-terrorist court in Rawalpindi ordered a two-week-long judicial remand for the retired general in the Benazir Bhutto murder case and also granted permission to Balochistan police to question him in the Akbar Bugti killing case.
Full report at:
http://beta.dawn.com/news/794863/musharraf-on-judicial-remand-for-14-days-in-bb-murder-case
-------------
I conquered my fear of dying before entering politics: Imran
April 30, 2013
SARGODHA: You can't lead a revolution and hide behind bullet-proof glass – at least not according to Imran Khan, wildcard contender for power at the ballot box in Pakistan next week.
Visibly tired by 15-hour days, frenetic flying and driving round the country to address tens of thousands in a campaign dominated by threats and fear of attack, the Pakistan Tehreek-e-Insaf chairman and cricket legend is nothing if not focused.
"This is a revolution taking place," he told AFP after a couple of days of hard campaigning in Punjab.
"When I came to politics 17 years ago, I had already conquered my fear of dying because I knew I was going to challenge the status quo," the 60-year-old said. But security is clearly a major preoccupation.
Full report at:
http://tribune.com.pk/story/542494/challenging-status-quo-i-had-conquered-my-fear-of-dying-before-entering-politics-says-imran/
-------------
Musharraf sent to judicial custody for 14 days in Bhutto case
AFP | Apr 30, 2013
RAWALPINDI, Pakistan: Former military ruler Pervez Musharraf will spend Pakistan's general election day under lock and key after a court on Tuesday extended his house arrest over the murder of Benazir Bhutto.
An anti-terrorism court in the garrison city of Rawalpindi, next to Islamabad, put Musharraf on 14-day judicial remand over the death of the former prime minister, who was assassinated in a gun and bomb attack in 2007.
Musharraf returned to Pakistan last month to stand in the May 11 general election, vowing to "save" the country from militancy and economic collapse but he was barred from running and will now spend polling day in his Islamabad villa, which has been designated as a jail.
Full report at:
http://timesofindia.indiatimes.com/world/pakistan/Musharraf-sent-to-judicial-custody-for-14-days-in-Bhutto-case/articleshow/19796455.cms
---------
'49,000 Pakistanis have been killed since the war on terror began in 2001'
April 30, 2013
HYDERABAD: Around 49,000 Pakistanis, including 17,000 civilians, 5,000 soldiers and 27,000 militants, have been killed since the war against terror began in 2001.
Dr Daniel Pineu from the Portuguese Institute of International Relations and Security shared this information at a two-day international conference, 'Extremism and Terrorism in Pakistan: Challenges and Sustainable Solutions' which began at Indus Hotel, Hyderabad, on Monday. The conference was organised by Hanns Seidel Foundation and Sindh University.
Dr Pineu felt that Pakistan's civilian and academic community accepted the Western narrative on terrorism on its face value. "When you have a racket in hand, everything seems like a mosquito," he added, while criticising the approach used by Western governments to combat terrorism.
Full report at:
http://tribune.com.pk/story/542287/49000-pakistanis-have-been-killed-since-the-war-on-terror-began-in-2001/
-------------
HRW urges govt to protect parties against Taliban attacks
April 30, 2013
ISLAMABAD: Pakistan's interim government should take all necessary steps to ensure the safety of candidates and political party activists at risk of attack from the Taliban and other militant groups, Human Rights Watch said on Monday.
Nationwide parliamentary elections in the country are scheduled for May 11, 2013.
Since April 21, when election campaigning formally began, the Taliban and other armed groups have carried out more than 20 attacks on political parties, killing 46 people and wounding over 190. Earlier in April, another 24 people were killed and over 100 injured in election-related attacks. On March 18, a spokesperson for the Tehrik-i-Taliban Pakistan (the Pakistani Taliban, TTP) declared elections part of an "un-Islamic democratic system which only serves the interests of infidels and enemies of Islam," and warned voters to stay away from political rallies by the major coalition partners in the outgoing government.
Full report at:
http://beta.dawn.com/news/794757/hrw-urges-govt-to-protect-parties-against-taliban-attacks
-------------
TTP focused on ending democracy, says Mehsud
April 30, 2013
MIRANSHAH: In a letter to the media, leader of banned outfit Tehreek-e-Taliban Pakistan (TTP) has said that his group is focused on jeopardising democracy by hindering elections in the country.
"We have succeeded politically after we were asked to negotiate by the government," said Hakimullah Mehsud.
He added that the group was now solely 'focused' on the next elections.
As elections are nearing, TTP's aim would be to "end the democratic system," the letter further said. Mehsud also urged TTP militants to target senior politicians and party leaders, while continuing the battle against security forces.
Full report at:
http://tribune.com.pk/story/542440/warning-of-violence-ttp-focused-on-ending-democracy-says-mehsud/
-------------
Musharraf's counsel says charge martial law abettors since 1956
April 30, 2013
ISLAMABAD: The Supreme Court received a lesson in history on Monday when former president Pervez Musharraf's counsel argued before the apex court that condemning his client for the abrogation of the constitution would be discrimination since no other dictator had ever before been tried under the High Treason Act of 1973.
The argument came as Advocate Raja Muhammad Ibrahim Satti, member of a team of lawyers defending the former military ruler, told a three member bench of the apex court that treason trials against all former implementers, abettors and collaborators of martial laws since 1956 should be initiated simultaneously.
Full report at:
http://tribune.com.pk/story/542373/roping-in-others-musharrafs-counsel-says-charge-martial-law-abettors-since-1956/
-------------
Sarbajit Singh's condition deteriorates, Pak doctors say
PTI | Apr 30, 2013
LAHORE: Doctors treating Indian death row convict Sarbajit Singh, comatose in a hospital here in Pakistan after a brutal assault, on Tuesday said his condition has deteriorated though he had not been declared brain dead.
Allama Iqbal Medical College principal Mahmood Shaukat, the head of a four-member medical board that is supervising Sarabjit's treatment, confirmed that his condition had deteriorated.
"He continues to be serious but has not been declared brain dead," Shaukat told PTI.
"In our latest investigation, there was no sign of improvement (in Sarabjit's condition). Rather, his condition further deteriorated," he said.
Sarabjit is in a special intensive care unit of the state-run Jinnah Hospital.
Shaukat said top neurosurgeons and physicians are providing Sarabjit the best treatment to save his life.
Full report at:
http://timesofindia.indiatimes.com/india/Sarbajit-Singhs-condition-deteriorates-Pak-doctors-say/articleshow/19799801.cms
-----------
200 militants waiting to cross over to India: Army
PTI | Apr 30, 2013
KALAKOTE (J&K): Nearly 200 militants are waiting to cross over to Jammu and Kashmir from across the border but elaborate measures are in place to thwart any such attempt, Army said today.
"Almost 200 militants are waiting just across the LoC to cross over to this side," General Officer Commanding (GOC) 16 Corps, Lt Gen D S Hooda, said. Some 20-30 militant training camps are located close to the LoC but elaborate measures are already in place to foil any infiltration attempt, he said.
"There is a high-level of alertness along the LoC in the wake of threat of infiltration," Lt Gen Hooda told reporters here. Asked about reports on the presence of Chinese Army in PoK, he said "there is development work going on the other side. We do not have any information that there are people from the Chinese Army there".
On the impact of upcoming general elections in Pakistan on the Kashmir situation, the army officer said "we do not know what is going to happen, what type of dispensation is going to come? It is too early to say. But, from our side we have kept a high-level of alertness.
http://timesofindia.indiatimes.com/india/200-militants-waiting-to-cross-over-to-India-Army/articleshow/19803161.cms
------------
NIA finds Liyaqat crossed over with family, SSB verified his claim with J&K Police
Apr 30 2013
Lucknow : The National Investigation Agency, probing the arrest of alleged Hizbul Mujahideen operative Syed Liyaqat Ali Shah, is learnt to have found substantial evidence that contradicts the Delhi Police Special Cell's claim that they nabbed him from near Gorakhpur on March 20.
An NIA team accompanied Liyaqat to the India-Nepal border at Sunauli, in UP's Maharajganj district, on Sunday. Sources said the Sashastra Seema Bal at the Sunauli checkpost told NIA officials that 12 Kashmiris, including Liyaqat, his wife and step-daughter, had crossed over from Nepal on March 19. The group said they were on their way from PoK to Kashmir as part of the J&K government's rehabilitation scheme.
After reportedly verifying the group's claim with the J&K Police, the SSB arranged to send them to Jammu. But, sources said, the SSB received a communication from the Delhi Police asking them to hand over Liyaqat.
The NIA also examined video footage of CCTV cameras installed at Sunauli checkpost which captured images of Liyaqat and the others.
Announcing Liyaqat's arrest on March 22, the Delhi Police claimed to have foiled a plot to carry out terror strikes in the capital.
http://www.indianexpress.com/news/nia-finds-liyaqat-crossed-over-with-family-ssb-verified-his-claim-with-j-k-police/1109547/
-------------
Africa
U.S. tries to handle with care; Nigerian Islamists tied to al Qaeda
By Guy Taylor
April 28, 2013
Collusion between the shadowy northern Nigerian Islamist group Boko Haram and al Qaeda in the Islamic Maghreb is raising the spectre that internationally linked Islamic terrorism may be reaching deeper into the heart of Africa than the Obama administration is willing to acknowledge.
A clash between Boko Haram and Nigerian security forces killed nearly 200 people this month, and foreign policy insiders say the group has become increasingly sophisticated and is making more use of such military hardware as rocket-propelled grenades from jihadist smuggling networks tied to Mali and Libya.
The State Department has designated three Boko Haram leaders as "global terrorists" with "close links" to al Qaeda in the Islamic Maghreb. But the administration appears to be acquiescing to Nigeria's government, which is accused of committing human rights abuses while attempting to negotiate with Boko Haram.
Full report at:
http://www.washingtontimes.com/news/2013/apr/28/for-boko-haram-us-tries-to-handle-with-care-nigeri/?page=2#ixzz2RvjFnUt6
-------------
Al-Qaeda chief's brother warns France of retaliation for Mali
30 April 2013
France is "playing with fire" in Mali, the brother of Al-Qaeda's chief said in an interview published Monday, warning that Islamic fighters would retaliate in the African nation and "on French territory."
France launched a military offensive in Mali in January to help the army push back Islamic extremists who had taken hold of the north, and has now begun a phased withdrawal of its 4,500-strong force.
"France is playing with fire... By attacking Mali, France lit the fuse and will suffer the consequences," Mohammed al-Zawahiri, the brother of Al-Qaeda chief Ayman al-Zawahiri, told French weekly Le Point.
Full report at:
http://english.alarabiya.net/en/News/africa/2013/04/30/Qaeda-chief-s-brother-warns-France-of-retaliation-for-Mali-.html
-------------
US extremist in Somalia battles ex-comrades
April 30, 2013
NAIROBI — An American extremist in Somalia is fighting former comrades in the Al-Qaeda linked Shebab insurgent group, in what he says may be his final stand, he writes.
Alabama-born Omar Hamami — better known as Al-Amriki or "the American" — once fought alongside the hardline Shebab in Somalia, but last year fell out with the fighters who now want to kill him.
He is also wanted by the US government, who have placed a $5 million bounty on his head and is listed on the FBI's Most Wanted Terrorists list.
"We were forced to fight in self-defense and killed three and wounded others," he wrote in a message on Twitter, posted late Monday.
Full report at:
http://www.saudigazette.com.sa/index.cfm?method=home.regcon&contentid=20130430163696
-------------
Gaddafi family in Oman to stay out of politics
April 30, 2013
MUSCAT – Oman has reassured Libya that members of killed dictator Muammar Gaddafi's family who are staying in the sultanate will not interfere in Libyan politics, Foreign Minister Mohammed Abdelaziz told AFP on Sunday.
"The Sultanate of Oman has accepted to treat them as political refugees and this is its right. What we are concerned about is that they carry out no political activities against the February 17 revolt" that ended with Gaddafi's killing in 2011, Abdelaziz said.
Full report at:
http://www.saudigazette.com.sa/index.cfm?method=home.regcon&contentid=20130430163581
-------------
French soldier killed by northern Mali roadside bomb
April 30, 2013
A French paratrooper has been killed and two others were seriously injured in Mali, French officials say.
The defence ministry said the special forces soldier died in the far north of the West African nation after his vehicle hit a roadside bomb.
Six French soldiers have been killed since France launched an operation in Mali in January to drive Islamist rebels from the northern desert region.
France began withdrawing some of its 4,000 troops earlier this month.
But 1,000 will remain beyond the end of 2013 to pursue al-Qaeda-linked militants while other international forces concentrate on securing the main cities and roads.
Full report at:
http://www.bbc.co.uk/news/business-22346762
-------------
Libyan ministry under siege
April 30, 2013
Dozens of gunmen kept Libya's foreign ministry under siege for a second straight day on Monday demanding it sack officials from the previous regime of Moamer Kadhafi.
Around 30 vehicles, some mounted with anti-aircraft guns, and armed men have encircled the ministry since Sunday.
On Monday, placards calling for the adoption of a law aimed at political expulsions of Kadhafi-era officials hung on the gate of the ministry building.
"The ministry is closed," Aymen Mohamed Aboudeina, part of a group of protesters, told AFP, adding that "talks will be initiated in the coming hours with ministries concerned".
http://www.hindustantimes.com/world-news/restofasia/Libyan-ministry-under-siege/Article1-1052438.aspx
-----------
Europe
Russian Security Services Offer Surprising Revelations About Boston Bombings
Valery Dzutsev
April 30, 2013
On April 27, the Russian newspaper Novaya Gazeta published an article on the dead Boston bomber suspect, Tamerlan Tsarnaev, based on information it received from the Russian security services. It cited officers of the Dagestani Center for Combating Extremism who said they became aware of Tsarnaev's presence in the republic in April 2012 and registered his "repeated" meetings with 18-year-old Mahmud Mansur Nidal, who had previously been under surveillance for a year. The police considered Nidal to be a recruiter for the Dagestani insurgency, so the police scrutinized everyone who contacted him extensively (http://www.novayagazeta.ru/inquests/57925.html). The Novaya Gazeta report directly contradicts an earlier statement by Dagestani Interior Minister Abdurashid Magomedov, who stated that Tsarnaev indeed visited Dagestan in 2012, but stayed in the republic only for 3–4 days to receive his passport and left the republic before the passport was ready (http://top.rbc.ru/politics/24/04/2013/855465.shtml).
Full report at: Jamestown Foundation
-------------
Six admit planning to bomb English Defence League rally
April 30, 2013
Six men from the West Midlands have pleaded guilty to planning to bomb an English Defence League rally.
Omar Mohammed Khan, Mohammed Hasseen, Anzal Hussain, Mohammed Saud, Zohaib Ahmed and Jewel Uddin admitted preparing an act of terrorism. All six will be sentenced on 6 June.
Five of them took a homemade bomb to an EDL rally in Dewsbury, West Yorkshire, last June but arrived after it ended.
They were caught after their car was stopped for having no insurance.
Police and security services had no intelligence about the planned attack, although one of the would-be killers, Jewel Uddin, was under surveillance in relation to another terror plan.
Full report at:
http://www.bbc.co.uk/news/uk-22344054
-------------
Italy hunts six militants suspected of planning attacks
April 30, 2013
BARI - Italian police have issued arrest warrants for six Islamists they suspect are members of a militant cell, and judicial sources said the group was planning attacks in Italy and the United States.
The six are suspected of conspiracy to commit international terrorism and inciting racial hatred, the Carabinieri military police said.
Police believe the suspects are in Lombardy, Sicily and Puglia and at least one is in Belgium, the judicial sources said.
http://www.saudigazette.com.sa/index.cfm?method=home.regcon&contentid=20130430163695
-------------
Report says two missiles target Russian passenger plane over Syria
30 April 2013
Unidentified assailants fired two land-to-air missiles at a Russian passenger plane carrying over 150 people when it flew over Syria on Monday, the Interfax news agency reported, citing an informed source in Moscow.
"The Syrian side informed us that on Monday morning unidentified people had fired two land-to-air missiles which exploded in the immediate proximity of a civilian plane belonging to a Russian airline," the source was quoted as saying.
Full report at:
http://english.alarabiya.net/en/News/middle-east/2013/04/30/Report-says-two-missiles-target-Russian-passenger-plane-over-Syria.html
-------------
UN urges Syria to let in chemical weapons experts
29 April 2013
NEW YORK: Secretary-General Ban Ki-moon is again appealing to Syria to allow a team of experts into the country "without delay and without any conditions" to investigate allegations of chemical weapons use.
The UN chief told reporters Monday he takes seriously a recent US intelligence report which indicated Syria has twice used chemical weapons.
Syria wants any investigation limited to an incident near Aleppo in March but Ban wants a broader investigation, including a December incident in Homs.
Ban stood beside Swedish chemical weapons expert Ake Sellstrom, who heads the team, which he praised for its "integrity and independence and professionalism."
The team is already gathering and analyzing available evidence, but Ban said onsite activities are essential if the UN is to establish the facts and "clear all the doubts."
http://www.arabnews.com/news/449926
-------------
European mayors try to keep youths from going to Syria for jihad
By Raf Casert
April 30, 2013
ELEN, Belgium: From his city hall under Belgium's most imposing cathedral, Mayor Bart Somers is wracking his brains trying to figure out how to keep young Muslims from going to fight "holy war" in Syria against President Bashar Assad's regime.
Through much of Western Europe, scores of Islamic youths have heeded the call to take up arms for a cause that is only a few hours away by plane.
The phenomenon has alarmed authorities amid signs the insurgency is becoming increasingly radicalized, with strong infiltration by Al-Qaeda.
European authorities see a double danger, one that's summed up by Somers who describes the youths as "cannon fodder" in Syria – and potential "full-blown terrorists" if they make it back home alive.
Full report at:
http://www.dailystar.com.lb/News/Middle-East/2013/Apr-30/215507-european-mayors-try-to-keep-youths-from-going-to-syria-for-jihad.ashx#axzz2RsHnXj85
-------------
Converted Muslim Found Guilty in the Act of Terrorism
By: khaleelsarwar
April 29, 2013
Richard Dart a Muslim convert was jailed by the judge in England as he was found to be involved in preparation of acts of terrorism. Richard Dart and his collaborators Jahangir Alom and Imran Mehmood were declared "Committed Fundamentalist" by the judge.
All three men were sent to jail, one of which is a former community support officer . A teacher's son from Dorset Richard Dart and his allies Jahangir Alom and Imran Mehmood confessed their crime between July 2010 and July 2011, stating that they have been involved in activities that are directly related to terrorism. After the previous hearing last month all of three men were sentenced to jail by old bailey.
Full report at:
http://muslim-academy.com/converted-muslim-found-guilty-in-the-act-of-terrorism/
-------------
International Intervention in Afghanistan Has Led to Heroin Resurgence
Monday, 29 April 2013
By Julien Mercille, Truthout | Op-Ed
A new United Nations report on the state of opium cultivation in Afghanistan reveals a worsening situation, after more than a decade of US and NATO occupation. It confirms the failure of counternarcotics missions in the country.
In 2012, poppy cultivation rose for a third year in a row and now extends over 154,000 hectares, an 18% increase over 2011. The last time cultivation had spread to such a large area was in 2008. Production is concentrated in the south and west of the country, particularly in the provinces of Helmand, Kandahar and Farah. Jean-Luc Lemahieu, of the UN Office on Drugs and Crime representative in Afghanistan, said that "opium cultivation is heading toward record levels." The country is the global leader in heroin production, accounting for 75% to 90% of the raw materials needed to make the drug.
Full report at:
http://truth-out.org/opinion/item/16051-international-intervention-in-afghanistan-has-led-to-heroin-resurgence
----------
Russia bans passenger flights over Syria
AFP | Apr 30, 2013
MOSCOW: Russia's air transport agency today banned all Russian civilian planes from flying through Syrian air space after the crew of a Russian passenger jet reported coming under threat over the war-torn country.
The federal agency Rosaviation said the ban on flights over Syria went into force yesterday and will remain until further notice.
"The federal air transport agency believes that in this situation commercial interests cannot prevail over the safety of people who use the services of Russian airlines," it said in a statement.
Full report at:
http://timesofindia.indiatimes.com/world/rest-of-world/Russia-bans-passenger-flights-over-Syria/articleshow/19804442.cms
------------
Arab World
Blast in central Damascus kills 13: state media
30 April 2013
DAMASCUS: A blast in the central Damascus district of Marjeh on Tuesday killed at least 14 people, Syrian state television reported, a day after a Prime Minister Wael Al-Halqi survived a bomb attack elsewhere in the capital.
"The number of casualties in the cowardly terrorist blast targeting the commercial and historic center of Damascus in the Marjeh district rose to 13 martyrs and more than 70 injured," state television reported, citing the interior ministry.
The Syrian Observatory for Human Rights reported "14 dead, including nine civilians and five members of the security forces, in a car bomb attack near the old interior ministry headquarters."
The toll could rise further because a number of the wounded were in critical condition, the monitoring group said.
"Internationally-financed and -supported terrorism committed a terrible massacre against civilians in the commercial and historic center of Damascus," state television reported, citing an official source.
Full report at:
http://www.arabnews.com/news/449938
-------------
Armed clashes at Jordan university kill three, hurt 25
30 April 2013
Armed clashes between students killed three people and hurt 25 others at a university campus in the restive Jordanian city of Maan on Monday, the kingdom's interior minister said.
"Three people died and 25 were injured the fight at the King Hussein bin Talal University's campus in Maan," in southern Jordan, Hussein Majali told AFP.
"Police fired tear gas, made 22 arrests and seized four weapons, including two automatic ones. One of the injured was in a bad condition after he was shot in the stomach."
Majali said a "former convict who once shot at a police station" was involved in the clashes.
"Police, who are still searching for the suspect, threw a security cordon around the university after evacuating people. Security was restored after these criminal acts."
Full report at:
http://english.alarabiya.net/en/News/middle-east/2013/04/30/Armed-clashes-at-Jordan-university-kill-three-hurt-25.html
-------------
A Saudi Serial Rapist Sentenced To Death
By Staff
April 30, 2013
A Saudi court sentenced a local man to death after he was convicted of raping and torturing eight girls aged between eight and 12 years.
The court in the western Red Sea port of Jeddah found the man, in his 30s, guilty of stalking little girls, forcing them in his car and taking them to his house.
The defendant has denied he committed such crimes but witnesses and DNA tests proved he was the rapist.
Newspapers said the man, who is married with four children, had stalked little girls at shopping malls and lured them with sweets as they stepped away from parents.
Executions in Saudi Arabia, which strictly enforces Islamic law, are carried out by the sword but the Gulf Kingdom is planning to allow shooting by a firing squad.
http://www.emirates247.com/crime/region/crime-serial-rapist-sentenced-to-death-in-saudi-2013-04-30-1.504610
------------
Moussa says Brotherhood trying to exact revenge on judiciary
30 April 2013
CAIRO: Egypt's ruling Muslim Brotherhood is trying to exact revenge on the judiciary for years of imprisonment and political exclusion, but is attacking the wrong target, opposition leader Amr Moussa said yesterday.
The elder statesman told Reuters that Egypt faced an exceptional "to-be-or-not-to-be crisis" worse than after its 1967 defeat by Israel, and President Muhammad Mursi would do better to pursue national unity rather than division.
Full report at:
http://www.arabnews.com/news/449907
-------------
Egyptian Islamist cleared over 1995 bid to murder Mubarak
30 April 2013
An Egyptian court acquitted Monday a Al-Gamaa Al-Islamiya party leader who had been sentenced to death in absentia after a foiled bid in 1995 to assassinate ex-President Hosni Mubarak, a judicial source said.
Mustafa Hamza was a military commander of the fundamentalist group – an organization outlawed under Mubarak – which had been implicated in deadly attacks in the 1990s alongside another jihadist group, notably the Luxor massacre which killed about 70 people, mainly tourists, in 1997.
Full report at:
http://english.alarabiya.net/en/News/middle-east/2013/04/30/Egypt-Islamist-cleared-over-1995-bid-to-murder-Mubarak-.html
-------------
Expat dependents not exempt from Nitaqat
30 April 2013
The Labor Ministry has denied issuing any regulation that allows the private sector to employ expatriates' dependents. The ministry said they would not be automatically considered under the green category.
The ministry issued the statement following erroneous reports in a section of the media.
"The news report is incorrect as the ministry has not issued any such regulation," Labor Ministry spokesman Hatab Al-Anazi said in a statement reported by the SPA yesterday.
According to media reports, the decision to allow expatriate dependents work legally was taken after discussions between the Ministry of Labor and the Ministry of Interior.
Full report at:
http://www.arabnews.com/news/449931
-------------
Egypt pulls out of talks to protest Middle East nuclear arms
April 30, 2013
CAIRO - Egypt said on Monday it was withdrawing from a second week of Non-Proliferation Treaty (NPT) talks in Geneva in protest at what it called the failure to implement a 1995 resolution for a Middle East free of nuclear weapons.
That was an implicit reference to Israel which neither confirms nor denies having nuclear arms and is not a signatory to the NPT. Arab states and Iran say Israel's presumed nuclear arsenal poses a threat to Middle East peace and security.
Full report at:
http://www.saudigazette.com.sa/index.cfm?method=home.regcon&contentid=20130430163702
-------------
'Big Daad' with 93 children plans to marry again this month
Emirati expects new baby in another two months
April 30, 2013
An Emirati man says he has 93 children from wives he had married from almost half the world countries and expects to have a new baby and marry again soon.
Mohammed Daad Murad, better known as Abu Faisal or 'Bid Daad', said he had first married in 1969 and started to have more wives afterwards with the aim of having more children.
A resident of Sharjah, Abu Dhabi,67, Abu Faisal told the state-run television in the emirate that all his wives had not exceeded 20 years of age when he married them.
Full report at:
http://www.emirates247.com/news/emirates/big-daad-with-93-children-plans-to-marry-again-this-month-2013-04-30-1.504603
-------------
Seeking Corporate Accountability for Crimes at Abu Ghraib
29 April 2013
By Laura Raymond
Nine years ago today, photos from the notorious Abu Ghraib prison in Iraq were released to the public. The images are indelible: Groups of prisoners, naked except for hoods covering their heads are piled on top of one another; soldiers grin and give thumbs-up to the camera; one holds a naked prisoner on a leash. In the most infamous photo, a hooded man balances on a cardboard box, arms outstretched, electrical wires attached to his hands.
Full report at:
http://truth-out.org/news/item/16053-seeking-corporate-accountability-for-crimes-at-abu-ghraib
-------------
Southeast Asia
Jakarta Is Ready to Host Islamic Solidarity Games
April 30, 2013
Jakarta Governor Joko Widodo on Tuesday announced the capital's readiness to host the Islamic Solidarity Games in October.
"Jakarta has hosted similar events many times in the past, and the government is now trusting us to host the ISG," Joko told reporters after a meeting with Youth and Sports Minister Roy Suryo.
Riau's failure to pay the subcontractors in charge of building the Riau Main Stadium Rp 240 billion ($24.7 million) has hampered the province's ability to prepare for the games. The venue was meant to serve as the site for the opening and closing ceremonies of the Games.
"The decision [to change locations] was made to save the country's image. Up until now, the [Riau] local government has failed to settle their payments," Roy said.
Full report at:
http://www.thejakartaglobe.com/sports/jakarta-is-ready-to-host-isg-joko-widodo/
-------------
Magelang Deputy Mayor Slapped With Jail Sentence for Abusing His Wife
April 30, 2013
A district court in Central Java sentenced the deputy mayor of Magelang to 1.5 months in prison for domestic abuse.
Indonesian news portal Detik.com reported that judge Yulman told the court that Joko Prasetyo, the Magelang deputy mayor, was proven guilty for domestic abuse against his wife, Siti Rubaidah.
The prosecutors previously demanded a two-month jail sentence for Joko.
Joko and his lawyers said they would consider filing an appeal.
The case first came to public attention in December, when Rubaidah contacted local police to file charges of domestic violence against Joko.
Full report at:
http://www.thejakartaglobe.com/news/magelang-deputy-mayor-slapped-with-jail-sentece-for-abusing-his-wife/
-------------
Populist pledges weigh on Malaysia's wallet, reports WSJ
April 30, 2013
KUALA LUMPUR, April 30 — Promises of more goodies and giveaways by political parties hungry for votes are likely to bite into Malaysia's finances after the May 5 polls without a clear and immediate plan to raise the country's revenue forthcoming from the ruling Barisan Nasional (BN) or its Pakatan Rakyat (PR) challenger, analysts have said.
Both the BN and PR have offered similar election pledges of cheaper cars, fuel price cuts, building cheaper homes and more cash in the people's pockets — whether through savings by plugging wasteful government spending as touted by the opposition, or handouts as vowed by the ruling coalition — are estimated to cost RM20 billion.
Full report at:
http://www.themalaysianinsider.com/malaysia/article/populist-pledges-weigh-on-malaysias-wallet-reports-wsj/
-------------
Najib is first leader to use Second Penang Bridge
April 30, 2013
GEORGE TOWN, April 30 – Datuk Seri Najib Tun Razak today became the country's first leader to use the 24km Second Penang Bridge to cross from the island to the mainland to attend a function in Kepala Batas, Seberang Perai.
Najib (picture) was escorted by former prime minister Tun Abdullah Ahmad Badawi, state Barisan Nasional (BN) chairman Teng Chang Yeow, deputy state BN chairman Datuk Zainal Abidin Osman and Jambatan Kedua Sdn Bhd (JKSB) chairman Tan Sri Sulaiman Mahboob.
Full report at:
http://www.themalaysianinsider.com/malaysia/article/najib-is-first-leader-to-use-second-penang-bridge/
-------------
North America
Benghazi, Boston bombings, girlfriend dump you? Blame Obama
April 29, 2013
Catherine Poe
WASHINGTON, April 29, 2013 — President Obama decisively defeated the Republican candidate for president in 2012. Support for the Republican Party is shrinking fast. The GOP just performed an autopsy on its own Party to figure out what's wrong.
But still Republicans don't get it, despite all their public soul-searching, choosing instead to say the polls are skewed, their own candidates do a poor job of delivering the GOP's message or the media has bamboozled the public. All they know is that the devil incarnate is still in the White House and will be for the next four years.
Full report at:
http://communities.washingtontimes.com/neighborhood/ad-lib/2013/apr/29/benghazi-boston-bombings-girlfriend-dump-you-blame/
-------------
Man accused of radicalizing Boston bombers denies extremist links, says FBI has cleared him
By Shaun Waterman
April 29, 2013
The man that relatives blamed for radicalizing one of the two brothers accused of the Boston Marathon bombings has denied any link to the attack or to extremism, and says the FBI has cleared him.
Mikhail Allakhverdov, 39, an American of Armenian-Ukrainian descent, was exclusively interviewed by the New York Review of Books, which published extracts on its website Sunday night.
Full report at:
http://www.washingtontimes.com/news/2013/apr/29/man-accused-radicalizing-boston-bombers-denies-ext/
-------------
Obama's 'Muslim Socialist' Joke Draws Big Laughs
April 30, 2013
President Barack Obama slid in a shoutout during his 2013 White House Correspondents' Dinner speech to conspiracists who wonder about both his religion and economic preferences.
"These days, I look in the mirror and I have to admit," Obama said. "I'm not the strapping young Muslim socialist I used to be."
Past polls have seen large chunks of Americans incorrectly identify the Christian Obama as a Muslim. During the heat of the 2012 presidential campaign, a May PPP survey found that 52 percent of 656 likely GOP primary voters classified the president under that religion.
Full report at:
http://www.huffingtonpost.com/2013/04/27/obama-muslim-socialist_n_3171902.html
-------------
Afghans need more religious freedom, says U.S. panel
30 April 2013
Despite significant improvements since the hard-line Taliban ruled Afghanistan, religious freedom remains poor, especially for minorities, and Afghans still can't debate religion or question prevailing Islamic orthodoxies without fear of being punished, a U.S. commission said in a new report on Tuesday.
As the country braces for next year's presidential election and the planned withdrawal of most foreign combat troops by the end of 2014, the panel urges the U.S. government and its allies to work harder to promote religious rights in the war-torn nation.
The environment for exercising religious freedom remains "exceedingly poor" for dissenting members of Afghanistan's Sunni Muslim majority and for minorities, such as Shiite Muslims, Hindus, Sikhs and Christians, the U.S. Commission on International Religious Freedom said in its report.
Full report at:
http://english.alarabiya.net/en/perspective/features/2013/04/30/Afghans-need-more-religious-freedom-says-U-S-panel.html
-------------
Tsarnaev widow's family home searched by FBI
April 30, 2013
The FBI removed evidence including DNA samples from the house where the widow of suspected Boston Marathon bomber Tamerlan Tsarnaev has been living.
Katherine Russell, 24, has been staying at her parents' house in Rhode Island since her husband's death.
The search comes amid US media reports that investigators are analysing female DNA found on a piece of the pressure-cooker bombs used in the attacks.
Three people were killed and more than 260 injured in the 15 April blasts.
Meanwhile it was announced that high-profile death penalty lawyer Judy Clarke has joined the defence of Dzhokhar Tsarnaev, Tamerlan Tsarnaev's brother and suspected co-conspirator.
Full report at:
http://www.bbc.co.uk/news/world-us-canada-22347585
-------------
US remains committed to goal of sovereign Afghanistan: White House
PTI | Apr 30, 2013
WASHINGTON: The United States remains committed to the goal of a sovereign Afghanistan, which is not a safe haven for terrorists, the White House has said.
"We and our Afghan partners remain committed to our shared strategy and goals of a fully sovereign Afghanistan that is not a safe haven for al-Qaida and that is responsible for its own security," White House press secretary Jay Carney said.
Full report at:
http://timesofindia.indiatimes.com/world/us/US-remains-committed-to-goal-of-sovereign-Afghanistan-White-House/articleshow/19795779.cms
-------------
'Tamerlan was linked to anti-Kremlin jihadis'
AFP | Apr 30, 2013
MAKHACHKALA: One of the brothers suspected of carrying out the Boston bombings had made links with two figures in the Islamist anti-Kremlin insurgency in the Northern Caucasus, both of whom were killed by Russian security forces, a security source said on Monday.
Tamerlan Tsarnaev, 26, who was killed during his capture by US authorities, was known to have been in contact with a Dagestan militant named Makhmud Nidal and also a militant of Canadian origin named William Plotnikov, a Russian security source in the Northern Caucasus said.
Full report at:
http://timesofindia.indiatimes.com/world/europe/Tamerlan-was-linked-to-anti-Kremlin-jihadis/articleshow/19794206.cms
-------------
Boston suspect's defense team gets major boost
April 30, 2013
Prominent criminal defense lawyer Judy Clarke, who has represented defendants in some of the most high-profile death penalty cases in recent years, has joined the legal defense team for accused Boston bombing suspect Dzhokhar Tsarnaev, according to court documents.
San Diego-based Clarke defended Jared Loughner, who pleaded guilty last year to an Arizona shooting rampage that wounded then-US representative Gabrielle Giffords and was spared the death penalty.
Full report at:
http://www.hindustantimes.com/worldsectionpage/chunk-ht-ui-worldsectionpage-bostonblast/Boston-suspect-s-defense-team-gets-major-boost/Article1-1052502.aspx
-------------
URL: https://newageislam.com/islamic-world-news/new-age-islam-news-bureau/boston-marathon-investigators-find-woman's-dna-on-bomb-fragment/d/11363