New Age Islam News Bureau
21 March 2018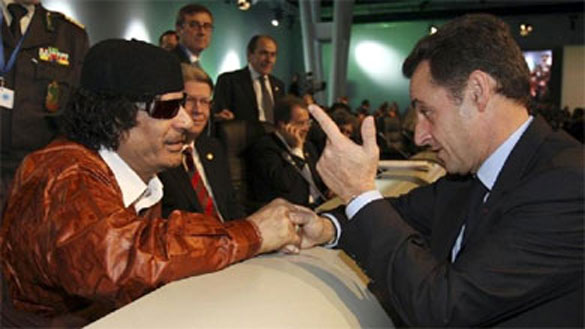 Muammar Gaddafi and Nicholas Sarkozy
-----
• Book of Jihad Written By 14th-Century Islamic Scholar Ibn Nuhaas Used To Inspire Keralites to Join Islamic State, Says NIA
• Saudi Education Minister: Muslim Brotherhood Ideology 'Invaded' Our System
• Gaddafi's Son, Saif Al Islam Welcomes Sarkozy Arrest, Offers Evidence
• Religious Ministry Approves 'Unified Timings of Azaan and Prayers Act 2018'
• America Must Stand Up For Persecuted Christians in Saudi Arabia, India and Around the World
India
• Book of Jihad Written By 14th-Century Islamic Scholar Ibn Nuhaas Used To Inspire Keralites to Join Islamic State, Says NIA
• Indian Muslims Welcome Move to Modernize Islamic Schools
• 'After Talaq Goes, Uniform Civil Code May Be In'
• Centre Opposes Jamia Millia Islamia's Minority Status in Delhi High Court
• UP: Police Stop Renovation Of Room 'Used As Mosque', 14 Muslims Held
--------
Arab World
• Saudi Education Minister: Muslim Brotherhood Ideology 'Invaded' Our System
• Rocket Attack Targeting Busy Damascus Market Kills 35
• Syria forces battle to secure Damascus
• US Sets Up New Base in Syria's Largest Oil Field in Deir Ezzur
• 18 More Regions in Dara'a Sign Peace Agreement with Damascus
• Large Cache of US-Made Weapons, Ammunition of Kurds Found in Afrin
• Three chemical attacks thwarted in Syria's Ghouta: Russia defence chief
• Israeli military confirms it hit Syrian nuclear site in 2007
--------
Africa
• Gaddafi's Son, Saif Al Islam Welcomes Sarkozy Arrest, Offers Evidence
• Al Shabaab Fears Lead Somali Teen to Reject Government Job
• Two alleged jihadists killed in Southern Tunisia
• Bubayi Isa Wanted Boko Haram Terrorist Suspect Arrested
--------
Pakistan
• Religious Ministry Approves 'Unified Timings of Azaan and Prayers Act 2018'
• 'Paigham-e-Pakistan Key to Counter Terrorism'
• Fazl Elected As MMA Chief, Liaquat Baloch General Secy
• Pakistan Protests As Pilgrims Denied Visas for Ajmer
• Pakistani clerics protest against 'fraudulent misrepresentation' by Ahmadi Student
• Pentagon rules out hot pursuit of terrorists into Pakistan: report
• All eyes on police as ATC issues arrest warrants for Khadim Rizvi, others
--------
North America
• America Must Stand Up For Persecuted Christians in Saudi Arabia, India and Around the World
• Saudi Crown Prince Seeks the Kingdom's Image Makeover in US Marathon Tour
• New tact: U.S. eyes 'religious pressure' to bring Taliban to peace talks
• Trump's Pick for UN Migrant Job Says He Is Not Anti-Islam
• Activists place 5,000 flowers for Yemeni children at US Capitol
• Federal government to consult Canadians on systemic racism
--------
Southeast Asia
• Maldives Former President Maumoon Abdul Gayoom, Judges Charged With Terrorism
• Philippine Jesuit Educators Back New Muslim Region
• A 'Millennials Party' Attempts to Break Indonesia's Political Mould
• Report: Muslims-only, Chinese-only show Malaysia's growing racism
• Without interpreter, uncertainty over charges against Uighur Muslims
--------
Europe
• Muslims Place Greater Importance on National Identity, Finds UK Study
• In France, Incidents of Islamophobic Scapegoating And Authoritarianism Continue To Rise
--------
South Asia
• 'We Have No Intention of Hiding Anything': Myanmar Rebuilding In Maungdaw, Rahkine State
• British lawyer appointed for assisting Khaleda's lawyers
• Myanmar Is Worst-Performing Country for Aid Access, As Rohingya Refugees Face Monsoon Threats
• Rohingya start businesses to survive refugee camps
• Noor informs of breakthrough in talks regarding Balkh leadership
• ISIS claims responsibility for Jalalabad city motorcycle bombing
--------
Mideast
• 51 Houthis Killed and Wounded In the Mukhabarat West of Taiz
• Israel PM Benjamin Netanyahu Says African Migrants Worse Threat Than Jihadists
• Turkey slams UAE's foreign minister for accusations about 'Operation Olive Branch'
• Houthis target medical ambulance in western Yemen
• Riyadh can't hide terror history by spreading anti-Iran lies: Foreign Ministry
• Turkish president says army to extend offensive in northwestern Syria
• US Senate to vote on ending Washington's role in Saudi war on Yemen
• Houthi militia bomb ambulance in Al-Khokha killing one medic
• Israeli army courts violate Palestinian minors' rights, says NGO
Compiled by New Age Islam News Bureau
URL: https://www.newageislam.com/islamic-world-news/book-jihad-written-14th-century/d/114670
--------
Book of Jihad Written By 14th-Century Islamic Scholar Ibn Nuhaas Used To Inspire Keralites to Join Islamic State, Says NIA
By Toby Antony
21st March 2018
KOCHI: A book written by the 14th-century Islamic scholar Ibn Nuhaas was used by Islamic State (IS) operatives to inspire Keralites to join the terrorist group. According to NIA, Abdul Rashid of Kasargod was giving lectures to people who migrated to Afghanistan based on 'Book of Jihad' written by the Egypt-based Ibn Nuhaas.
NIA had produced a copy of 'Book of Jihad' at the NIA court as part of the trial in the case related to the migration of people from Kasargod to Afghanistan to join IS.
The book was download from an online platform. Ibn Nuhaas is believed to have died fighting the Roman army. "The book promotes Islamic believers to carry out jihad," an NIA officer said.
"The IS operatives provided their own interpretations and convinced people to join IS for carrying out jihad in different parts of the world. The witnesses in the case clearly mentioned that Abdul Rashid was giving lectures based on this book to convince people that jihad is an obligation for the Islamic faithful."
Another major evidence produced by NIA was 35 audio clips sent by persons who had joined IS to their relatives in Kerala.
"There were around 50 audio clips sent to relatives in Kerala by those who had joined IS. Of this, we could recover around 35 audio clips. The relatives of the accused persons came to the court and identified correctly the persons who sent these clippings," the NIA officer said.
"This would help us prove the charges against the accused persons," the officer said. Similarly, the teachings of American and Yemeni imam Anwar al-Awlaki have inspired several Keralites involved in IS-related cases to join the terror outfit.Awlaki's teachings are mostly accessed online.
http://www.newindianexpress.com/states/kerala/2018/mar/21/book-of-jihad-used-to-inspire-keralites-to-join-islamic-state-says-nia-1790146.html
--------
Saudi education minister: Muslim Brotherhood ideology 'invaded' our system
21 March 2018
Saudi Education Minister Dr. Ahmed Al-Eissa confirmed Saudi Crown Prince Mohammed bin Salman's statement that the terrorist Muslim Brotherhood's ideology "invaded" the education system in the kingdom.
Eissa added that Saudi Arabia is fighting anyone who adopts this ideology or sympathizes with it.
According to Eissa, Brotherhood symbols who fled Egypt in the 1960's and 1970's went to Saudi Arabia where they got involved in teaching at public schools and universities thus influencing some officials, supervisors and teachers leading to the reformulating of religious curricula. They also organized students' activities according to the Brotherhood's "deviant" approach.
Eissa added that it wasn't until later that they realized the threat of the Brotherhood and this is when they launched their efforts to rid the educational system of the flaws resulting from the Brotherhood's approach.
Efforts to fight extremist ideology include reformulating educational curricula, developing school textbooks to make sure they do not include any of the Brotherhood's ideas, ban books that are affiliated with the Brotherhood in schools and universities, expel anyone who sympathizes with the Brotherhood, its ideas and symbols from supervising or teaching positions and holding activities to raise awareness about the Brotherhood's threats.
The minister noted that eradicating the Brotherhood's ideology requires continuous efforts and the ministry's vigilance, adding that the ministry's officials, university principals and education officials are aware that they must not be lenient when combating this ideology.
https://english.alarabiya.net/en/features/2018/03/21/Saudi-education-minister-Muslim-Brotherhood-ideology-invaded-our-system.html
--------
Gaddafi's son, Saif al Islam welcomes Sarkozy arrest, offers evidence
March 21, 2018
Saif al-Islam Gaddafi, the son of fallen Libyan leader Muammar Gaddafi has welcomed the detention of former French president Nicholas Sarkozy and reiterated his offer of evidence showing that Sarkozy's 2007 election campaign was funded by illicit funds.
Saif al-Islam alluded to the evidence he gave to European media channel, Euronews in Tripoli in 2011, and lamented that it had taken the French justice system seven years to act on the matter.
An official of the French Judiciary told journalists on Tuesday that Sarkozy was being held in police custody for questioning by magistrates looking into allegations of Libyan funding for his 2007 election campaign.
A judiciary inquiry into the matter had been opened by France in 2013, while in January this year, Britain arrested and charged a French businessman suspected by investigators of funneling money from Gaddafi to finance Sarkozy's campaign.
Speaking to Africanews, Saif al-Islam mentioned that there are several witnesses willing to testify against Sarkozy, including Abdallah Snoussi, the former director of the Libyan intelligence services and also Bashir Saleh Bashir, the former CEO of Libya Investment.
According to Saif al Islam, Snoussi has a recording of the first meeting between Sarkozy and Gaddafi held in Tripoli before his 2007 election campaign.
Saif al Islam adds that he too can testify, having witnessed the delivery of the first portion of the money to Sarkozy's former chief of staff, Claude Guant in Tripoli.
He goes on to accuse Sarkozy of being a war criminal who is responsible for the spread of terrorism and illegal immigration in Libya. He urges French president Emmanuel Macron to right the wrongs of his predecessor and prosecute Sarkozy for crimes committed against Libya.
Saif al Islam who has expressed interest in the Mlibyan presidency also told Africanews that he supports an expeditious organisation of presidential elections in the North African country.
He warned that there are parties in Libya and abroad that seek to maintain the current chaotic situation in Libya, saying an endless war is imminent if elections are not held quickly.
http://www.africanews.com/2018/03/20/gaddafi-s-son-saif-al-islam-welcomes-sarkozy-arrest-offers-evidence/
--------
Religious ministry approves 'Unified Timings of Azaan and Prayers Act 2018'
BY OBAID ABBASI
March 21, 2018
ISLAMABAD: In order to implement uniform prayer timings in the capital, ministry of religious affairs has approved a proposed draft "Unified Timing of Azaan and Prayers Act 2018", Pakistan Today has learnt.
The approval came during a meeting on Tuesday chaired by Minister of Religious Affairs Sardar Muhammad Yousaf.
In April 2015 the ministry took the initiative to implement uniform prayer timings aimed to promote sectarian harmony and to eradicate political differences among prayer leaders of the same sect. However, the ministry failed to implement unified prayer timings as there lacked a proper law.
The ministry on Tuesday gave a final approval of the draft which will be sent to the interior ministry for its input and then it will be sent to the cabinet division for the final approval, explained an official of the ministry. During the meeting, the clerics of the city also endorsed the proposed law and assured their full cooperation.
According to the draft of the act, available with Pakistan Today, the government will ensure the publication and distribution of Azaan calendars in all mosques of the city and in this regard a monitoring committee will be constituted for the implementation of the law after the approval from the National Assembly.
The monitoring committee will comprise of a convener, a secretary ex-officio members and not less than four members appointed by the government under the act.
Islamabad chief commissioner and Auqaf deputy administrator will be the convener and secretary of the monitoring committee respectively while the minister of religious affairs, chief commissioner and Islamabad metropolitan cooperation mayor will be the ex-officio members of the committee.
The government by a notification in the official gazette will appoint persons from all sects as other members of the monitoring committee for two years.
Similarly, the proposed draft says that one-third of total members will constitute the quorum and the meeting of the monitoring committee will be held quarterly to be chaired over by the convener or in his absence by any member nominated by the government.
According to the draft, whoever fail or refuse to comply with the provision of section 6 of the act will be guilty of an offence punishable with imprisonment for the term which may be extended to six months and with fine which may be extended to Rs5000 or with both. Similarly, if a person is guilty of an offence under subsection (1) fails to pay the amount of fine such amount shall be recovered from him as arrears of land revenue.
Moreover, the monitoring committee will undertake an inquiry and investigate into any violations of the act, either own its accord or upon a complaint from any person.
"No court under subsection (1) shall take cognisance of any offence under this act except on an application made by any member of the monitoring committee," said the proposed draft.
https://www.pakistantoday.com.pk/2018/03/20/religious-ministry-approves-unified-timings-of-azaan-and-prayers-act-2018/
--------
America must stand up for persecuted Christians in Saudi Arabia, India and around the world
By David Curry
March 21, 2018
Targeted attacks on Christians are increasing in parts of the world where they are the minority faith – including long-time U.S. allies India and Saudi Arabia, whose Crown Prince Mohammed bin Salman met with President Trump on Tuesday at the White House.
While most Americans are understandably focused on news about developments in our own country, it's critically important that we pay attention to this growing anti-Christian persecution abroad.
Just as he has met with the Saudi crown prince, President Trump met with Indian Prime Minister Narendra Modi during the Association of Southeast Asian Nations summit in Manila last November. The president's press secretary reported that their meeting discussed "the comprehensive strategic partnership between the United States and India, and their shared commitment to a free and open Indo-Pacific region."
We cooperate with Saudi Arabia and India, as well at others, despite the fact they are the places where Christians are being persecuted. Of the 50 countries where Christians are most persecuted today, as noted in the 2018 Open Doors World Watch List, India is No. 11 and Saudi Arabia is No. 12.
In India, for example, a variety of radical Hindu groups – including the Bharatiya Janata Party (BJP) and the Rashtriya Swayamsevak Sangh (RSS) – are responsible for persecuting Christians. Christians are seen as outsiders and traitors to the native culture. The BJP and RSS have announced their intent to cleanse the nation of both Islam and Christianity.
M.S. Golwalker, founder of the RSS, is seeking to unite India's population into one Hindu nation. Non-Hindu people, he announced, must be "wholly subordinated to the Hindu nation, claiming nothing, deserving no privileges, far less any preferential treatment – not even citizen's rights."
Persecution in Saudi Arabia is built on a rigid interpretation of Islam. The government maintains a tightly knit Islamic system that treats Christians as second-class citizens. Culturally, Christians are seen as infidels, and apostasy is punishable by penalties as severe as death.
So why aren't Christians speaking up? Why isn't there a movement of Christians rising up to defend their suffering brothers and sisters in other countries who risk their lives to follow Jesus?
It may come down to bad theology. Some pastors preach that persecution will always be present – an observation that can be supported by Scriptures like 1 Peter 4:12, which warn believers not to be surprised by trials that arise, but to rejoice in sharing in Christ's suffering. These sermons sometimes present a one-dimensional view of persecution, as if it is part of the unchangeable nature of the world.
But in packaging persecution this way, these theological positions often fail to emphasize how Christians are called to respond to the needs of our brothers and sisters.
Hebrews, for example, talks about the need to "care for those in chains for the name of Jesus." Galatians instructs Christians to "bear one another's burdens." 1 Thessalonians commands believers to "encourage on another."
Yet very few American Christians see it as part of their faith to challenge persecution.
Given the outrage Americans express over discrimination in our own country, our apathetic reaction to persecution abroad feels ironically weak. After all, our attention to human rights has dramatically increased in America since the civil rights movement. And thankfully, as a result, widespread efforts continue to confront and work against the sexism and racism that impact our society today.
In the U.S., government and watchdog agencies monitor the conditions in our workplaces, schools and communities to ensure everyone is granted the same rights. Religious discrimination is illegal – as it should be around the world.
Some days, our interest in rights absorbs nearly every interaction we have. In some places, it's even seen as a human rights violation for Christians to share their faith with others in their networks. Don't violate someone else's rights by forcing your beliefs on them.
Yet few speak up when Christians across oceans are being discriminated against, attacked, raped, imprisoned and even killed in rights violations far more severe than the verbal critiques mentioned above.
It's time for people of faith in this country to let their interest in human rights shine a light on Christians facing persecution in every part of the world. Yes, persecution will always exist, but the Bible calls us to support our brothers and sisters as they face these challenges.
Given the current circumstances, now is the time to write, email or call your members of the U.S. House and Senate and let them know the American people care more about human rights violations in India than lucrative trade deals. Insist that any future defence or business partnerships must include provisions that protect religious minorities in India.
And if India is not committed to protecting the rights of all its citizens, regardless of their worship practices, then demand our government representatives re-examine the close relationship between India and the United States.
Similarly, Americans can ask their government officials to hold Saudi Arabia's crown prince accountable for recent "shock reforms" in his country. Although the prince insists his actions are improving Saudi society, the severity of an anti-corruption crackdown – where he ousted his cousin from power at the end of 2017 – raises important questions.
There continues to be a need for political pressure to both address human rights concerns and limit executive powers in Saudi Arabia going forward. President Trump should withhold support from the Saudis unless standards are put into place to protect the rights of all that nation's residents, regardless of political or religious affiliation.
We can do better. Press for extended freedom of religion for the people of India and Saudi Arabia today.
http://www.foxnews.com/opinion/2018/03/20/america-must-stand-up-for-persecuted-christians-in-saudi-arabia-india-and-around-world.html
--------
India
Indian Muslims welcome move to modernize Islamic schools
March 21, 2018
Muslim groups in India have welcomed a federal government move to modernize traditional Islamic schools so they can do more than teach students Islam-centered subjects and languages.
Indian child rights groups recommend providing a broader curriculum at over 40,000 madrasas, the traditional Islamic schools that dot India's villages and towns. An estimated 3.5 million children study at these.
"Subjects like modern science, history and mathematics should be introduced. There is a strong need for such a measure," Mohammad Rajbalim, a Muslim leader in the northern Indian state of Himachal Pradesh, told ucanews.com.
The National Commission for the Protection of Child Rights (NCPCR) recommended in early March that traditional Muslim schools should fall under the Right to Education Act. This would make it mandatory to provide free and compulsory education to children until the age of 14.
"A large number of Muslim children are being deprived of their right to education" as they only receive religious instruction, the commission said.
It expressed concern over the poor quality of education being offered at madrasas and said the children coming out of them are as well qualified as those with no proper schooling.
Muslim leaders agree that a curriculum which focuses on teaching children how to read and memorize the Quran and learn Islamic jurisprudence is not comprehensive enough to set them up for modern life.
The typical madrasa curriculum offers interpretations of the Quran, Islamic Sharia law, the sayings and deeds of the Prophet Muhammad, and a subject known as mantic, or logic. They also offer Islamic history but tend to avoid any scandals and controversies.
Rajbalim said students who attend the madrasas live alien to mainstream society as they lack a modern education. He said they must learn about science, art and other subjects to survive in today's competitive job market.
Most of India's 172 million Muslims live as a "religious minority, backward in science education," Aabid Ahmad, a research scholar in Islamic Studies from the University of Kashmir, told ucanews.com.
"Their participation in the scientific activity of the country is woefully low," he added.
"This situation, if allowed to continue, would certainly hinder the progress of the community and the country. No community that is poorly educated can command respect."
Moulana Javaid Ahmad, an Islamic scholar who runs a madrasa in central Kashmir, said modern science, mathematics, the arts and basic computer education could be integrated into the curriculum with positive effects.
"Religious subjects should be given top priority but a modern education cannot be ignored," he said. "Muslim civil society must consider immediately reforming the curricula taught at most madrasas."
Ahmad said he has been striving to incorporate this into his Muslim school but has failed to attract government assistance.
"The government sees madrasas and modern schools as two different things completely. But that doesn't have to be the case. It's possible to combine a religious and secular education," he said.
Sayid Rasheed Ali, chairman of the Kerala Muslim Waqf Board, told ucanews.com the process of bringing madrasas into the modern age has already begun in the southern state. The general level of education in Kerala is considered among the best in India.
"There are various government-funded schemes through which modern subjects could be taught," he said. "The idea should be to impart education in all subjects at these schools so the kids won't get left behind."
Sana Asma, a research scholar at Aligarh Muslim University in Uttar Pradesh, said the madrasas must be upgraded to meet the challenges of the modern world.
"A strong emphasis will need to be laid on the quality of education and expanding the base of science, information and technology, because these are highly competitive areas nowadays," she said.
The madrasas have made an important contribution to society but the educational development of Muslims can't be strategized without taking into account their service to the community, she added.
According to a census taken in 2011, 47 percent of Indian Muslims have no formal education, while 36.4 percent of Hindus are unschooled.
Hindus make up 80 percent, or 966 million, of India's 1.2 billion people. This makes the 172-million strong Muslim community the largest religious minority in the country.
Indian Christians comprise 29 million people, or 2.3 percent of the population.
https://www.ucanews.com/news/indian-muslims-welcome-move-to-modernize-islamic-schools/81784
--------
'After talaq goes, uniform civil code may be in'
Shishir Arya
Mar 21, 2018
Nagpur: Continuing its series of protests against the bill banning triple talaq, All India Muslim Personal Law Board (AIMPLB) rallied together over 25,000 women at Nagpur. Dressed in the full hijab (veil), women carrying placards reading 'We are safe in Sharia law' blocked the road from Kasturchand Park till Zero Mile.
The speakers, an all women panel, exhorted the audience to rise against any 'conspiracy to impose uniform civil code'. Banning triple talaq was termed as the first step towards bringing in an uniform civil code. Threats were issued that the ruling party may have to bear the consequences of hurting Muslim sentiments. Banning triple talaq was dubbed as a means to curb women's freedom. Concern was also expressed about 'attempts to remove special status of J&K'. One speaker even warned that the government might even ban polygamy in future.
A majority of the women who were part of the rally preferred not to speak or comment, while a few gave a terse answer that they cannot tolerate any interference in religious matters.
Before Nagpur, a similar rally was held at Malegaon.
Monisha Bushra, executive member of AIPMLB, said, "BJP government is bent upon implementing its agenda of building Ram Temple, doing away with special status of Jammu and Kashmir (J&K), and introducing uniform civil code." Once Article 370, which grants special status is removed, J&K would become like any other state of the country, she stressed.
"Muslims ruled the country for a thousand years. That was the time when Islamic law governed the country. After the British came, the law was limited to governing our personal affairs, through the Sharia Application Act of 1937. Now, the government wants interfere in our personal laws in the name of bringing gender equality. It's unwarranted as Islam ensures the highest degree of priority to women," Bushra said.
Coming down on Prime Minister Narendra Modi, she said, "His concern towards Muslim women is a farce. How can we forget the 2002 riots, when our women were raped and murdered. Had there been an arrangement like triple talaq for Modi, then even he may not have simply abandoned his wife. Rather she could have got a divorce to start life afresh," she said.
She claimed that only 2,000 odd Muslim women have been divorced as against 24 lakh Hindu women abandoned by their husbands.
The speakers cited the Islamic law to stress how triple talaq benefited women rather than hampering their interests. There is a system of khula, which allows even the woman to terminate a marriage from her side, said the speakers. Bushra said once the uniform civil code is put in place, women will have to wait for years to get a court verdict for a divorce.
Arjumand Bano of Ahle Sunnat Jamat, a prominent sect, said Muslim women are bound by no other law but the Sharia.
Full report at:
https://timesofindia.indiatimes.com/city/nagpur/after-talaq-goes-uniform-civil-code-may-be-in/articleshow/63387913.cms
--------
Centre opposes Jamia Millia Islamia's minority status in Delhi High Court
by Ritika Chopra
March 21, 2018
Reversing the previous government's stand, the Centre has filed a revised affidavit in the Delhi High Court this month opposing the order of the National Commission for Minority Educational Institutions (NCMEI) that declared Jamia Millia Islamia (JMI) as a religious minority institution.
On August 29, 2011, the HRD Ministry, under then minister Kapil Sibal of the UPA-II government, had submitted an affidavit in court stating that the government "respects the declaration made by NCMEI".
The fresh affidavit, filed by the BJP-led government on March 5, cites the Supreme Court's decision in the Azeez Basha Vs Union of India case of 1968 to justify the change in stand. It states that the first affidavit did not take note of the Azeez Basha case, in which the apex court said that a university incorporated under an Act of Parliament cannot claim the status of a minority institution.
"In any event, the Board of Jamia Millia Islamia is elected and need not necessarily consist of majority belonging to Muslim religion. The question of it being a minority institution therefore does not arise," states the new affidavit that was taken on record by the Delhi High Court on March 13.
Read | JNU among 60 institutions to get UGC graded autonomy nod
"Treating a central university as a minority education institution is repugnant to law besides undermining its status and is against the basic tenet of a central university… By no stretch of imagination, Article 30(1) could be read to mean that even if an educational institution has been established by a Central Act, still the minority has the right to administer it," says the affidavit, accessed by The Indian Express.
The affidavit concludes that JMI "is not a minority institution, having been set up by an Act of Parliament and funded by central government, and also that it was not set up by a minority sect".
The government's intention to withdraw its support to the university's minority status was first reported by The Indian Express on January 15, 2016. The then Attorney General of India, Mukul Rohatgi, had advised the HRD Ministry, under Smriti Irani, that it was entitled to change its view in court and revert to the stand that JMI is not a minority institution, and that to respect the ruling of NCMEI was not in accordance with the law. The HRD Ministry had accepted the A-G's advice.
The shift in the government's view is in line with the stand of the NDA-II, which retracted its predecessor's stand on the minority status of Aligarh Muslim University (AMU) before the Supreme Court in January 2016.
In 2011, the NCMEI had held that "Jamia was founded by the Muslims for the benefit of Muslims and it never lost its identity as a Muslim minority educational institution", and was, therefore, "covered under Article 30(1), read with Section 2(g) of the National Commission for Minority Educational Institutions Act".
Article 30(1) of the Constitution gives all religious and linguistic minorities the right to set up and run educational institutions, including schools, colleges and universities.
It was in pursuance of the NCMEI order of 2011 that JMI discontinued reservation for SC, ST and OBC students and set aside half its seats in each course for Muslim candidates. Thirty per cent of the total seats in each course were earmarked for Muslim applicants, 10 per cent for Muslim women applicants and another 10 per cent for Muslim Other Backward Classes and Scheduled Tribes as notified under the central government list.
When the order was legally challenged through five different writ petitions, the HRD Ministry, under then minister Kapil Sibal of the UPA government, submitted an affidavit in Delhi High Court stating that the government "respects the declaration made by NCMEI".
Full report at:
http://indianexpress.com/article/education/centre-opposes-jamia-millia-islamias-minority-status-in-delhi-high-court-5105217/
--------
UP: Police stop renovation of room 'used as mosque', 14 Muslims held
March 21, 2018
Tension prevailed at Nehta village in Sambhal on Monday after police stopped the renovation of a room allegedly being used as a mosque and a madrasa. Claiming that it was being done without the permission of the district administration, police arrested 14 Muslims allegedly involved in the construction. Heavy police force was deployed at Nehta village, where Hindus form the majority of the population.
Chandausi police Circle Officer (CO) Omkar Yadav said that on Monday, they had received a complaint from a "member of the Hindu community" that a "mosque" was being renovated in Nehta without obtaining permission from the district administration. A team of police and district administration officials rushed to the spot and stopped the construction. The room is a single-storey structure.
Sub-Inspector Ramender Singh, in-charge of Narauli police outpost, said: "Following renovation of the structure, tension prevailed in the village. We arrested 14 local residents belonging to the Muslim community under CrPC Section 151 (preventive arrest). Those arrested were involved in the construction work. Later, they were produced in court, which sent them to judicial custody."
Full report at:
http://indianexpress.com/article/cities/lucknow/uttar-pradesh-police-renovation-mosque-muslims-held-5105057/
--------
Arab World
Rocket attack targeting busy Damascus market kills 35
21 March 2018
At least 35 people were killed on Tuesday when a rocket hit a busy market place in an eastern suburb of the Syrian capital Damascus, state media said, while rescuers said Syrian and Russian airstrikes killed dozens in nearby rebel-held areas.
This marks one of the highest death tolls in a single attack targeting the capital.
The rocket landed in the Kashkoul market close to rebel-held parts of eastern Ghouta, which has been under heavy bombardment by the Syrian army and its allies since last month.
The army says rebels in the besieged rebel-held enclave of eastern Ghouta have repeatedly targeted civilians in state- controlled districts of the capital. Rebels deny targeting civilians.
Separately, civil defense rescuers in the rebel-held town of Douma said more than 56 civilians had been killed during Syrian and Russian aerial strikes on residential areas in dozens of raids conducted over the last 24 hours.
Rescuers and residents say napalm and incendiary bombs were being dropped on civilian targets away from the frontlines in a campaign to drive civilians out of the enclave.
Douma, which is the largest urban center in eastern Ghouta, had become a haven for tens of thousands of families who have fled from the frontlines and other towns that have recently fallen to the army.
"The situation in the city is catastrophic," said Iyad Abdel Aziz, the head of Douma civil council, adding that the plight of more than 150,000 civilians mostly taking refuge in basements had worsened.
Food was getting scarce after an aerial strike on Sunday damaged warehouses where the last shipment of UN aid had been stored, he added.
The army assault on the last rebel bastion near the capital has been one of the heaviest of the war, which this week enters its eighth year.
https://english.alarabiya.net/en/News/middle-east/2018/03/21/Rocket-attack-targeting-busy-Damascus-market-kills-35.html
--------
Syria forces battle to secure Damascus
March 20, 2018
Syrian regime and allied forces battled to suppress the last pockets of resistance in and around Damascus Tuesday, while the beleaguered Kurds in the north braced for further Turkish advances.
The simultaneous assaults have sparked one of the worst humanitarian emergencies since the start of the Syrian conflict seven years ago, with aid groups struggling to gain access to the masses of displaced civilians.
Washington has voiced concern that the chaos in Syria could allow a revival of the Islamic State group, whose "caliphate" collapsed late last year after three years of international military operations.
The jihadists launched a surprise nighttime attack in a southern neighbourhood of Damascus, moving into the vacuum left by a deal that saw a rival armed group pull out exactly a week ago.
"IS took full control of Qadam, and 36 government troops and loyalist fighters have been killed," reported the Syrian Observatory for Human Rights.
There was no immediate comment from the regime, nor could the Britain-based monitoring group provide casualty figures for the jihadists.
Observatory chief Rami Abdel Rahman said the regime was sending reinforcements to retake Qadam, which was attacked from the adjacent IS-controlled neighbourhood of Hajar al-Aswad.
The jihadists also have a presence in the nearby Palestinian refugee camp of Yarmuk.
Hospital horrors
Syrian President Bashar al-Assad has brought swathes of territory back under his control, with help from Russia and allied forces, including Iran-backed Lebanese Hezbollah militia.
He has recently focused efforts on flushing out the last pockets that escape government control in and around the capital, the largest of them being Eastern Ghouta.
A month-long air and ground assault on the area, which was home to around 400,000 residents, has left more than 1,400 dead.
Regime and allied forces have retaken more than 80 percent of the enclave and splintered its rump into three pockets, each controlled by different rebel groups.
Clashes shook the various zones on Tuesday, with air strikes killing at least seven civilians, the Observatory said.
One area includes the largest town of Douma, where an AFP correspondent reported heavy bombardment through the night that left ambulances struggling to reach the wounded.
At the town's main hospital, exhausted staff worked on extracting a shard of wood from the head of a 10-year-old girl.
A man walked the facility's halls with a sack. Medics said it held the human remains of a loved one killed in raids.
A trickle of medical evacuations was expected to take place Tuesday for the seventh straight day.
Tens of thousands of civilians have fled both the intense bombardment of Ghouta and the deprivations of a siege that lasted five years.
'Pervasive war crimes'
The ramifications are catastrophic, the UN's High Commissioner for Human Rights Zeid Ra'ad Al-Hussein told the Security Council.
"The siege of Eastern Ghouta by the Syrian Government forces, half a decade long, has involved pervasive war crimes, the use of chemical weaponry, enforced starvation as a weapon of warfare, and the denial of essential and life-saving aid -- culminating in the current relentless, month-long bombardment of hundreds of thousands of terrified, trapped civilians," Hussein said Monday.
But he also warned of another humanitarian catastrophe unfolding hundreds of kilometres (miles) to the north in the Syrian border enclave of Afrin.
The Turkish army and its Syrian proxies -- a motley assortment of jihadists, former rebels and members of other armed groups -- seized Afrin from Kurdish forces on Sunday.
Turkish military police deployed across the city on Tuesday, as some civilians tried to return to homes and shops looted by Ankara's Syrian proxies.
The two-month offensive displaced around 100,000 people, most of them to the town of Tal Rifaat further east, the UN has said.
On Tuesday, a convoy carrying food, blankets, and other aid was being delivered to thousands of families seeking refuge in Tal Rifaat, according to the International Committee of the Red Cross.
The capture of Afrin, one the cantons in the self-proclaimed autonomous administration run by Syria's Kurds, has been a huge blow to the minority.
Resentment runs high among the Kurds over the lack of Western support for their fighters, who spearheaded the US-led coalition's efforts against IS for more than three years.
The People's Protection Units (YPG) Kurdish militia redeployed some of its units from desert areas in the east where they had been battling remnant jihadists to join the defence of Afrin.
Full report at:
https://nation.com.pk/20-Mar-2018/syria-forces-battle-to-secure-damascus
--------
US Sets Up New Base in Syria's Largest Oil Field in Deir Ezzur
Mar 20, 2018
The sources said on Tuesday that the US forces have built a new and advanced military base in al-Omar oilfield in Southeastern Deir Ezzur, adding that they have also transferred a large volume of arms and equipment, including missiles, military vehicles and bridge equipment to the regions of their deployment in Koniko oilfield, al-Omar oilfield and al-Jafreh.
Meantime, the Washington-backed Syrian Democratic Forces (SDF) sent a number of their forces to the regions near the Syrian army positions in the villages of Jiya, Salehiyeh and al-Tabiyeh.
Moscow had earlier warned the Syrian forces of a possible US assault on their positions.
Field sources said last month that the Syrian army had sent a large number of forces and military equipment to Eastern Deir Ezzur after the recent US attacks on its positions in the region, adding that tensions have raised the possibility of clashes between the army forces and Kurdish militants backed by Washington.
The sources reported that the Syrian army has dispatched a large number of forces and military equipment to Wadi al-Forat region in Deir Ezzur.
They added that the Syrian army soldiers have strengthened their positions in the region, patrolling the Western banks of the Euphrates river.
Full report at:
http://en.farsnews.com/newstext.aspx?nn=13961229000275
--------
18 More Regions in Dara'a Sign Peace Agreement with Damascus
Mar 20, 2018
Syrian sources reported on Monday that 18 cities and villages in Dara'a have endrosed the peace agreement after their representatives held meetings with the Syrian government and representatives of Russia's Reconciliation Center in Humeimim.
These regions include Sheikh Miskin, al-Sanamin, Atman, Um al-Mayazin, Bali, al-Soymerah, al-Shaqraniyeh, al-Masmiyeh, al-Jizeh, Nasib, Aqelin, Mankat al-Hatab, Kamouneh, Manshiyeh al-Sabil, Um Walad, Bawizan, Qaiteh and Boraq.
The peace agreement stresses support for the Syrian army's campaign against terrorism, prevention of terrorists' move to civilian-populated regions and revival of state service to these areas.
The Russian Defense Ministry announced in its latest report on Sunday that militants in more regions in Hama province handed over their weapons to relevant officials and ended fight with the Syrian Army.
The ministry said that militants in Qala al-Maziq settlement and in the village of al-Toweineh in Western Hama handed over their arms and joined the nationwide reconciliation plan.
Full report at:
http://en.farsnews.com/newstext.aspx?nn=13961229000488
--------
Large Cache of US-Made Weapons, Ammunition of Kurds Found in Afrin
Mar 20, 2018
Turkish sources reported on Tuesday that the Ankara-affiliated militants found the cache in the village of Jowik in Northwestern Afrin in 12 chambers which included thousands of US-made arms and ammunition.
They noted that the cache was in a 150-meter-long cement tunnel, adding that it included anti-aircraft and anti-armor missiles, tanks, TOW missiles, mortars and rockets.
The Turkish army and Ankara-backed militants continued Operation Olive Branch after they captured the town of Afrin on Sunday and managed to purge Kurdish militias from more villages and regions in Northwestern Aleppo.
The Ankara forces occupied the villages of Walad al-Arab, Khalil Oshaqi, Daq Oshaqi military camp in Ma'abatli region and the center of Ma'abatli region.
Also, the forces of Operation Olive Branch captured the villages of Jatal Qabo and Sheikh Obasi in Rajou region and the village of Kamrouk in Sheikh Khorzo region.
Full report at:
http://en.farsnews.com/newstext.aspx?nn=13961229000201
--------
Three chemical attacks thwarted in Syria's Ghouta: Russia defence chief
Mar 20, 2018
Russia's defense minister says three attempts at staging chemical attacks in the Eastern Ghouta suburb of the Syrian capital, Damascus, have been foiled over the past week.
Sergei Shoigu made the remarks at a Defense Ministry meeting, Russia Today reported on Tuesday, adding, "There is a possibility that terrorists will use poisonous substances in order to accuse the Syrian troops of using chemical weapons in future."
Last month, the so-called Syrian Observatory for Human Rights, which is sympathetic to anti-Damascus militants, claimed a suspected gas attack had taken place in Eastern Ghouta.
The US, France and Britain have been trying to put the blame for the suspected chemical incident on the Damascus government. They have warned they would strike Syria if those claims are proven.
The Syrian army, backed by the Russia air force, has cornered foreign-backed militants Eastern Ghouta as part of their campaign to liberate civilians holed up there and end militant attacks from the suburb on Damascus.
During their advances in the area, Syrian forces have uncovered workshops used to make chemical weapons.
He also said Russia and Syria had so far liberated 65 percent of Eastern Ghouta. The joint operation has been seeking to liberate trapped civilians there and stop militants from using the area to stage attacks against Damascus.
Moscow and Damascus have set up humanitarian corridors leading out of Eastern Ghouta to contribute to the implementation of a UN Security Council that has mandated a ceasefire in the Arab country since February 24.
"Currently, under the leadership of the Russian reconciliation center, an unprecedented humanitarian operation is being conducted in Eastern Ghouta. For the last five days, 79,655 people were evacuated via the humanitarian corridors," the Russian defense chief said.
He noted that some 427 tons of humanitarian aid had also been delivered to the countryside, including hot meals and drinking water.
"Despite attempts by militants to disrupt peace initiatives in Eastern Ghouta, we are negotiating with the leaders of the armed groups in order to stop fighting and prevent a humanitarian disaster," he added.
Full report at:
http://www.presstv.com/Detail/2018/03/20/556062/Syria-Russia-Eastern-Ghouta-chemical-United-States
--------
Israeli military confirms it hit Syrian nuclear site in 2007
21 March 2018
TEL AVIV, Israel: The Israeli military has confirmed it carried out the 2007 airstrike in Syria that destroyed what was believed to be a nuclear reactor, lifting the veil of secrecy over one of its most daring and mysterious operations in recent memory.
Although Israel was widely believed to have been behind the Sept. 6, 2007, airstrike, it has never before commented publicly on it.
In a lengthy release, the military revealed that eight F-15 fighter jets carried out the top-secret airstrikes against the facility in the Deir Ezzor region, destroying a site that had been in development for years and was scheduled to go into operation at the end of that year.
Full report at:
http://www.arabnews.com/node/1270511/middle-east
--------
Africa
Al Shabaab fears lead Somali teen to reject government job
Mar. 20, 2018
A 16-year-old boy has rejected an appointed role as the deputy commissioner of a regional state in Somalia because of security fears.
Faysal Abdullahi was to take up the role in Jowhar, the headquarters of the south-eastern state of Hirshabelle.
The high school student told the BBC that he feared the role would make him a target of militant group al Shabaab.
The militant group operates in the region.
Omar says he was not consulted about the appointment, which are made by Somali clan leaders, and he wants to instead focus on his studies.
"Now I am studying in my high school and I am going to finish in few months, I want to go to university and build my future", Omar told the BBC's Somali Service.
He said he has avoided school for days after receiving the offer letter.
Omar's parents also had reservations about the appointment. But others in the community told him that it would be an opportunity to be a "role model to the youngsters", he said.
"I met a lot of people who are pushing me to take this job," he said.
Jowhar lies north of the capital, Mogadishu, and is under the control of the Somali government. Al-Shabab control the surrounding localities.
A few weeks back, an MP and a regional minister were killed in the region by the militants.
https://www.the-star.co.ke/news/2018/03/20/al-shabaab-fears-lead-somali-teen-to-reject-government-job_c1733439
--------
Two alleged jihadists killed in Southern Tunisia
March 21, 2018
An alleged jihadist on Monday "blew himself up" and another was shot dead while being pursued by security forces in Tunisia.
The incident occurred in the Ben Guerdane region, very close to a desert area of Libya in southern Tunisia.
According to sources, they could be the two jihadists actively sought by the authorities in connection with the Jund al-Khilafa group, claiming the organization of the Islamic state.
A source said both men were planning to go to Libya,adding one of them may have activated his explosive belt.
Libyan currency , grenades and ammunition were found on the two alleged jihadists.
This incident comes at a time when Tunisia has just commemorated two years of the response to spectacular and coordinated jihadist attacks in Ben Guerdane.
http://www.africanews.com/2018/03/20/two-alleged-jihadists-killed-in-southern-tunisia/
--------
Bubayi Isa Wanted Boko Haram Terrorist Suspect Arrested
March 21, 2018
Texas Chukwu, Abuja: Troops of 23 Brigade on Operation LAFIYA DOLE on 20 March 2018 have arrested a wanted Boko Haram suspect, Bubayi Isa from Panama village, Gunda District, Biu Local Government Area of Borno State following a tip off.
Further investigation reveals that Bubayi is the 37 suspect on the list of Boko Haram Terrorists suspect published by Army Headquarters.
Others arrested with him are Muhammad Buba and Abdullahi Abubakar from the same area while Yakubu Abdullahi hails from Sabon Gari Gado in Bayo Local Government Area also of Borno State.
The suspects were arrested in Kalaa village in Hong Local Government Area of Adamawa State.
Full report at:
http://www.nta.ng/uncategorized/20180321-bubayi-isa-wanted-boko-haram-terrorist-suspect-arrested/
--------
Pakistan
'Paigham-E-Pakistan Key To Counter Terrorism'
March 21, 2018
KARACHI - Paigham-e-Pakistan initiative is a key to eliminate of all kinds of terrorism in the country and a way forward on the path of progress and prosperity for the country. It is a key to counter the extremist thinking on ideological grounds.
This was the resolve of the participants of an event held at Governor House to propagate the Paigham-e-Pakistan initiative of the government of Pakistan which comprises two parts - a fatwa against terrorism and joint declaration by heads of all major schools of thought against terrorism endorsed by 1829 clerics from all schools of thought. It is an initiative of Pakistan government in collaboration with International Islamic University Islamabad.
It is the continuation of a ceremony held at the President House on January 16, where Paigham-e-Pakistan initiative was launched.
Speaking on the occasion, Governor Sindh Muhammad Zubair said Islam preaches peace and harmony, adding that Islam gives very clear message of the respect of humanity and also stresses strict implementation of these principles.
The governor said there is no room for intolerance in a civilised society as it badly affects its social fabric. He said reasoning and debate is the right way to convince others as enforcement of beliefs on others through force or coercion has very serious consequences and it spreads intolerance in the society.
Muhammad Zubair said it is heartening to note that all the stakeholders, including religious scholars from all schools of thought are on the same page and immensely desire development and prosperity of the country.
Speaking on the occasion, Chief Minister Sindh Syed Murad Ali Shah said that joint national narrative as per the Islamic teachings and constitution of Pakistan is necessary to counter the terrorism and militancy in the country.
"It would be helpful in waging a jihad on ideological front for the stability of the country," he said. The chief minister said that Pakistan is passing through an important phase of history and important successes are waiting ahead but could only be achieved after facing these challenges.
He said that the terrorists are trying to propagate their mindset among the nation through sectarianism, militancy, intolerance and division among the nation. "Such an ideology could endanger the sovereignty and harmony among the Pakistani society," he said.
He said that a national narrative is the voice of the masses and the clerics, religious scholars, teachers, policymakers and civil society members have a key role in formulating it.
The chief minister applauded the efforts of the security intuitions and said that the armed forces and the intelligence agencies had taken concrete steps in eliminating safe heavens of terrorists across the country but the work still needs to be done on the ideological ground.
The national narrative issued today is a key to success in this way forward against terrorism and they would be able to inform the world that Pakistan is a stable country that runs as per its constitution.
International Islamic University Islamabad's Rector Dr Masoom Yaseen Zai highlighted the aims and objectives of Paigham-e-Pakistan.
The event was also attended and addressed by Deputy Speaker Sindh Assembly Shehla Raza, Higher Education Commission Chairman Dr Mukhtar Ahmed, Director General Pakistan Rangers Sindh Maj-Gen Muhammad Saeed, Mayor Karachi Waseem Akhtar, Maulana Taqi Usmani, Mufti Munib-ur-Rehman, Maulana Abdul Razzaq Sikandar, Dr Masoom Yaseen Zai, and other distinguished personalities.
https://nation.com.pk/21-Mar-2018/paigham-e-pakistan-key-to-counter-terrorism
--------
Fazl elected as MMA chief, Liaquat Baloch general secy
March 21, 2018
ISLAMABAD: Muttahida Majlis Amal (MMA)–an alliance of religio-political parties– on Tuesday decided to appoint Jamiat Ulema-e-Islam-Fazl (JUI-F) chief Maulana Fazlur Rehman and Jamaat-e-Islami (JI) leader Liaquat Baloch as its president and general secretary, respectively.
The alliance was revived in December 2017 after religious political parties, including Maulana Fazlur Rehman of the JUI-F, JI chief Senator Sirajul Haq, Sajid Mir of Jamiat Ahle Hadith (JAH), Allama Sajid Naqvi of Tehreek-e-Islami (TI), and Shah Ovais Noorani of Jamiat Ulema-i-Pakistan (JUP), decided to use the platform to contest the upcoming elections.
However, it took the alliance at least three months to appoint the president and general secretary of the MMA due to multiple reasons.
Addressing a press conference after the meeting, Maulana Fazlur Rehman said that "we are the harbingers of a new era" and added that the MMA hoped to come up to the expectations of the nation.
He further announced to contest the upcoming general elections from the joint platform, noting that the country needs peace and development.
Speaking on the occasion, JI chief Sirajul Haq said that the MMA had begun its journey with a new resolve and it will represent the citizens on all platforms.
"The MMA wants a strong and prosperous Pakistan, and also to steer and shake the status quo, he said, adding that the MMA wanted to open the doors of the premier institutions to the general public.
Siraj said that the MMA leadership was aware of the difficulties on its way as "conspiracies" against the religious alliance would be made both from within the country and abroad because the "forces presently controlling national politics" would not like the religious alliance to come forth.
He appealed to the nation and all the democratic-minded people to stand by the religious alliance in every field.
Full report at:
https://www.pakistantoday.com.pk/2018/03/20/maulana-fazlur-rehman-elected-as-mma-chief/
--------
Pakistan protests as pilgrims denied visas for Ajmer
Mar 20, 2018
ISLAMABAD/NEW DELHI: Diplomatic tensions between India and Pakistan intensified on Monday with Islamabad protesting against the denial of visas to over 500 pilgrims seeking to visit Ajmer Sharif and India saying "prevailing circumstances" and absence of security clearances were the reasons for its decision.
While not denying that visas had been withheld, an official source said, "Such visits are facilitated and promoted following due processes. However, from time to time, such visits cannot take place in view of prevailing circumstances and absence of security clearances. There have been instances in the past when such visits did not take place from both sides."
The Pakistan foreign office said, "Pakistan notes with deep disappointment the non-issuance of visas by India for the visit of 503 Pakistani zaireen (pilgrims) to participate in the urs of Hazrat Khwaja Moinuddin Chishti at Ajmer Sharif, India, from 19-29 March 2018."
India's move a fallout of Pakistan shelling, envoy harassment
The decision not to grant visas indicates India is ready to suspend travel, usually seen as part of "people-to-people" contact and a consideration extended to visits to places of religious significance, in view of allegations of harassment of diplomatic staff and shelling of civilian areas in Jammu & Kashmir by the Pakistani army.
In its statement, Pakistan said due to India's decision, Pakistani pilgrims have been deprived of the opportunity to participate in the urs, which is of special significance. Foreign office spokesperson Muhammad Faisal said 192 Pakistani pilgrims could not participate in the urs of Hazrat Khwaja Nizamuddin Aulia in Delhi in January this year due to non-issuance of visas.
Temperatures have been rising with India and Pakistan at loggerheads in the past month as both sides traded charges of diplomats and mission officials being harassed in each other's capitals. Pakistan brought the issue out in the open with its complaints last month and several notes verbale have been issued by India.
The ministry of external affairs summoned Pakistan deputy high commissioner Syed Haider Shah to lodge a protest "at the loss of lives of five innocent Indian civilians (a family comprising of husband, wife and three children) and grievous injuries to two other minor children in unprovoked ceasefire violations by Pakistani forces on 18 March in Bhimber Gali sector across the Line of Control in J&K".
Full report at:
https://timesofindia.indiatimes.com/world/pakistan/pakistan-protests-as-pilgrims-denied-visas-for-ajmer/articleshow/63372845.cms
--------
Pakistani clerics protest against 'fraudulent misrepresentation' by Ahmadi Student
March 20, 2018
Islamic clerics in Pakistan have lodged a protest against what they call 'Fraudulent misrepresentation' of faith by a student in Gojrah, a city 160 kilometers (100 miles) southwest of Lahore.
Speaking at the local press club the clerics demanded action against the 'fraudulent misrepresentation' of faith by Bilal Ahmed, a high school student from Chak-297GB. Clerics, Qari Noor Ahmad, Khalid Rizvi, Rana Tariq and others claimed that the teenager had falsely obtained permission to privately sit in high school level exams by misrepresenting his faith as Islam, even though he was Qadiani (Ahmadi).
The clerics added that they had formally lodged a complaint against the student with DSP & Assistant Commissioner Police Gojrah but they refused to take action and referred them to the anti-corruption department. The clerics requested DPO Police Usman Akram Gondal to take up their request and formally charge the student.
Full report at:
https://www.rabwah.net/pakistani-clerics-protest-against-fraudulent-misrepresentation-by-ahmadi-student/
--------
Pentagon rules out hot pursuit of terrorists into Pakistan: report
March 21, 2018
WASHINGTON: There are no plans for the United States (US) forces in Afghanistan to cross the international border in chasing the Taliban or other terrorist groups conducting attacks inside Afghanistan, the Pentagon said on Monday, as reported by Pajhwok Afghan News.
"To be clear, US military authorities are within the borders of Afghanistan only. We have no authority to go into Pakistan. If there is a way to get that authority, but that would certainly be the exception and not the norm," a spokesperson for the Department of Defense said.
Lt Col Mike Andrews said, "Say, for example, we have troops in contact and then the Taliban forces go across the border. They are clearly inside Pakistan then. There's no change with regards to respecting the territorial sovereignty of Pakistan."
He reiterated they would not be going into Pakistan — there could be exceptions to that. It was not going to be normal day-to-day operational rules of engagement that US commanders on the ground knew, the spokesperson added.
"If the Taliban reside in Pakistan and we are able to provide safety and support and to help secure districts and provinces within Afghanistan, I think that is a tradeoff that we're willing to make. Because it's not necessarily about these people over in Pakistan, it is about the Afghan people," Andrews said.
Full report at:
https://www.pakistantoday.com.pk/2018/03/21/pentagon-rules-out-hot-pursuit-of-terrorists-into-pakistan-report/
--------
All eyes on police as ATC issues arrest warrants for Khadim Rizvi, others
March 21, 2018
ISLAMABAD: A day after an anti-terrorism court (ATC) ordered the arrest of Tehreek-e-Labaik Ya Rasool Allah (TLYR) chief Khadim Hussain Rizvi and other absconding suspects in a case pertaining to Faizabad sit-in held last year, the ATC on Tuesday issued non-bailable arrest warrants for the fiery cleric in another case related to violence, including an attack on a police check post during the sit-in.
Workers of the religious party had protested against the government at Faizabad Interchange of Islamabad for around three weeks in November last year, bringing the capital to a standstill.
The religious party had protested against an amendment in the Elections Act, 2017, which was later reversed by the government, and ended its protest after an agreement was reached with the government, which included the resignation of Federal Law Minister Zahid Hamid.
The warrants were issued in relation to three cases registered against the religious party leaders at Khanna Pul Police Station.
The court ordered the police to arrest the accused and present them in court. Rizvi, Maulana Inayatullah, Ziaullah Khairi and Shaikh Azhar are wanted to the police.
The cases include charges of terrorism, attacking police and obstructing government officials.
On Monday, the ATC in another case ordered the arrest of Rizvi and Qadri, directing concerned authorities to present religious groups' leaders in court on April 4.
On March 5, the ATC had declared Rizvi, Qadri, Maulana Inayat and Sheikh Izhar as absconders in the case for failing to appear before the court after repeated summons.
Full report at:
https://www.pakistantoday.com.pk/2018/03/20/faizabad-sit-in-violence-case-atc-issues-warrants-for-khadim-hussain-rizvi-others/
--------
North America
Saudi crown prince seeks the Kingdom's image makeover in US marathon tour
March 20, 2018
Saudi Arabia's young crown prince has an ambitious list of to-dos: modernise his conservative kingdom, weaken Iran's hand across the Mideast and, this week, rehabilitate his country's image in the eyes of Americans.
Crown Prince Mohammed bin Salman, son of King Salman and heir to the throne, is opening a marathon tour of the United States with a stop in Washington, where he plans to meet President Donald Trump on Tuesday. He'll hold separate meetings with a long roster of influential US officials, including the secretaries of defense, treasury and commerce, the CIA chief and congressional leaders from both parties.
The visit comes as the United States and much of the West are still trying to figure out Crown Prince Mohammed, better known by his initials MBS, whose sweeping program of social changes at home and increased Saudi assertiveness abroad has upended decades of traditional rule in Saudi Arabia.
The 32-year-old crown prince also has big economic plans, and over three weeks in the US he will meet businessmen in New York, tech mavens from Google and Apple Inc. in San Francisco, and entertainment bigwigs in Los Angeles. Other stops include Boston and Houston.
"This is not the real Saudi Arabia," MBS said when asked by CBS News about the repressive version of Islam many outsiders associate with the Kingdom. He said he was restoring the more tolerant, egalitarian society that existed before Saudi Arabia's ultraconservatives were empowered in 1979. "We were victims, especially my generation that suffered from this a great deal."
It's a message that has earned MBS admirers in the United States, as he allowed women to drive and opened movie theaters shuttered since the 1980s. MBS is turning "Saudi Arabia into a normal country in which normal people lead normal lives", Saudi Foreign Minister Adel al-Jubeir told reporters Monday.
Yet, Democrats and Republicans have approached some of the crown prince's other bold steps with trepidation, particularly as they pertain to his anti-Iran efforts. One bill in Congress proposes scaling back US military assistance to a Saudi-led coalition fighting in Yemen.
Regional issues
MBS, in particular, has been closely identified with the three-year-old war in the Arab world's poorest country, which started while he was defense minister. The Saudis and their allies are fighting Iran-backed Houthi rebels, but international organisations have harshly criticized the coalition's airstrikes and blockading of Yemeni ports for contributing to thousands of civilian deaths and a humanitarian catastrophe.
It's not the only regional mess the Saudis are in.
In November, US officials voiced unease when Lebanon's prime minister unexpectedly resigned while in Riyadh. Saudi Arabia was accused of attempting to bring down Lebanon's government, which is strongly influenced by Iranian proxy Hezbollah. Prime Minister Saad Hariri later reversed his resignation.
The Saudis are working aggressively to change perceptions. They've cast themselves as essential partners against Islamist extremist groups and, especially since Trump's maiden overseas voyage last year, touted their lavish purchases of high-tech goods from job-creating American companies. In Yemen, the Kingdom says it is improving military targeting, opening up ports and pledging $1.5 billion in new aid.
"The concerns expressed there are reflective of deep concerns by the American public at large," said Lori Plotkin Boghardt, a Gulf scholar at the Washington Institute for Near East Policy. "The Saudis are very sensitive to this. They're certainly communicating with elite circles to discuss the measures they're taking to try to get humanitarian assistance in to Yemen."
Finding common ground with Trump
In MBS, Trump will find a sympathetic ear for his calls to crack down on Iran, Saudi Arabia's archenemy, and strengthen a 2015 nuclear deal with Tehran that former President Barack Obama and world powers brokered. Trump has threatened to pull out of the agreement unless there are changes by May. Last week, Trump fired Secretary of State Rex Tillerson, an advocate of staying in the accord, choosing Mike Pompeo, the current CIA director and nuclear deal critic, as a replacement.
MBS could dangle a huge carrot in front of Trump for his support. Stock exchanges in New York and elsewhere are vying for the international listing of Aramco, the Saudi oil behemoth expected to go public soon.
Saudi concerns with New York include a post-9/11 law that could jeopardize assets in the United States if victims' families claim Saudi Arabia helped the al-Qaida attackers and sue for compensation.
Although the US has welcomed MBS's determination to purge pervasive corruption in Saudi Arabia, including by royals, the Trump administration hasn't endorsed his tactics. Last year, more than 150 high-level princes, ministers, military officials and businessmen were abruptly rounded up and detained at the Ritz-Carlton hotel. They eventually paid settlements that Saudi Arabia says exceeded $106 billion.
Al-Jubeir, the foreign minister, said the tough tactics were needed after past anti-corruption campaigns failed.
"It didn't work," he said. "So now you do something dramatic."
https://nation.com.pk/20-Mar-2018/saudi-crown-prince-seeks-the-kingdom-s-image-makeover-in-us-marathon-tour
--------
New tact: U.S. eyes 'religious pressure' to bring Taliban to peace talks
March 20, 2018
The Pentagon is looking to senior leaders in the Islamic world to apply "religious pressure" to the Taliban, as part of a new strategy to bring the Afghan insurgents to the negotiation table, the top U.S. commander in the country said Tuesday.
"There will be religious pressure applied to the Taliban with the ulemas hosted in Indonesia and elsewhere to strip away the religious legitimacy for jihad in Afghanistan," said Gen. John Nicholson, referring to the cadre of scholars whose expertise in in interpretation of Islamic law is revered throughout the Muslim world.
Reaching out to top Islamist in a bid to get Taliban leaders to engage in a new round of peace talks goes hand in hand with Washington's battle plan to ramp up U.S. military operations against the group during this year's fighting season, Gen. Nicholson told reporters during a roundtable in Kabul, Voice of America reported Tuesday.
His comments come months after Jakarta proposed in January the establishment of a committee of ulemas from Indonesia, Pakistan and Afghanistan for the explicit purpose of bringing the 17-year Afghan war to an end, VOA reports.
U.S. and allied commanders anticipate such religious pressure could have a significant impact on the Taliban's decision to pursue peace talks, as demands to end the war grow louder in Washington, Kabul and Islamabad ahead of Afghan parliamentary elections later this year.
Earlier this month, Pakistani National Security Adviser and former Lt. Gen. Nasser Khan Janjua said the United States must abandon any hope of winning the Afghan war and focus on ending the conflict by engaging in bilateral peace talks with the Taliban.
"End the suffering of Afghanistan and of its people. Let us seek the closure of the conflict, instead of winning it," he said during an exclusive roundtable with reporters in in Islamabad.
Full report at:
https://www.washingtontimes.com/news/2018/mar/20/us-eyes-religious-pressure-bring-taliban-peace-tal/
--------
Trump's pick for UN migrant job says he is not anti-Islam
March 20, 2018
Last month the Washington Post said it had found tweets, social media posts and radio appearances by Isaacs which the newspaper said included disparaging remarks about Muslims
The United States' nominee to lead the United Nations migration agency denied on Monday that he was anti-Islam while acknowledging a controversy over some of his social media posts and retweets in the past.
"I have never shown discrimination against anybody or anything, period, other than if they need help. If they need help I always help them," said Ken Isaacs, currently vice-president of Samaritan's Purse, a Christian aid organisation.
Isaacs is one of three candidates bidding to head the International Organization for Migration, the UN body whose role includes coordinating aid for mainly Muslim Rohingya people fleeing Myanmar and tracking thousands of Africans trying to migrate to Europe.
Last month the Washington Post said it had found tweets, social media posts and radio appearances by Isaacs which the newspaper said included disparaging remarks about Muslims.
"First I would point out that the bio at the top says retweets are not endorsements. I have retweeted many things to stimulate conversation," Isaacs said at a briefing arranged by the US mission in Geneva.
"I can see that there's some controversy about that," he said.
He said he had worked in Sudan, Jordan, Iraq, Syria, Turkey and Bangladesh, and officials that he had met from UN member countries could tell immediately that he did not harbour any prejudice.
"They feel satisfied, after talking to me for a minute or two and hearing who I am, what I talk about, where my heart is, that question just goes to bits," he said.
The job is traditionally filled by an American, but the stakes have been raised by US President Donald Trump's policies, which have frequently caused diplomatic storms, and by IOM's induction into the United Nations in 2016, which has raised its profile and caused friction with the UN refugee agency UNHCR.
"He embodies what the United States believes," said Jennifer Arangio, senior director of the US National Security Council, sitting alongside Isaacs.
Isaacs declined to take a position on Trump's plan for a wall along the Mexican border or on the situation of Palestinian refugees. He also declined to say whether he believed that climate change, a major driver of migration, was caused by humans.
Full report at:
https://www.dhakatribune.com/world/north-america/2018/03/20/trumps-pick-un-migrant-job-says-not-anti-islam/
--------
Activists place 5,000 flowers for Yemeni children at US Capitol
Mar 20, 2018
Activists have laid 5,000 flowers outside the US Capitol in Washington, DC, to remember the children killed and injured in Saudi Arabia's brutal war against the people of Yemen and to protest the inaction of Congress and the administration of President Donald Trump to stop the deadly aggression.
The protest, organized by MoveOn and Avaaz activist groups, was held on Monday, a day ahead of talks between Trump and visiting Saudi Crown Prince Muhammad bin Salman.
"We've laid 5,000 flowers on the Capitol lawn to honor the children who have been killed or brutally maimed in Yemen," said Nick Kimbrell, an organizer from the Avaaz organization.
"As the Saudi crown prince meets with President Trump, we're here to show the cost of this war on children. Hundreds are dead, thousands are starving, and millions have no school to attend," he added.
"This is one of the worst humanitarian crises in the world right now and it is still ongoing when it can be stopped with just passing this legislation and allowing humanitarian aid," said Iram Ali, a MoveOn activist, referring to a bill sponsored by Vermont Senator Bernie Sanders that seeks to pull out US military forces from the conflict.
The Saudi-led military coalition has enjoyed logistic and intelligence support from the UK and the US.
The coalition has been pounding Yemeni towns since March 2015 in order to defeat the Houthi Ansarullah movement who took over after the country's former President Abd Rabbuh Mansur Hadi, who was aligned with Riyadh, fled the country.
The conflict has killed about 14,000 people, displaced more than 2 million and driven Yemen to the verge of widespread famine.
The Trump White House has warned the Saudis that concern in Congress over the humanitarian crisis and civilian casualties in Yemen could constrain US assistance.
Last week, US Defense Secretary Jim Mattis claimed that the American assistance, which includes intelligence support and refueling of coalition jets, was ultimately aimed at bringing the war toward a negotiated settlement.
Despite the US warning, Washington has continued to strike new weapons deals with the Riyadh regime amid outcry from the United Nations and other international organizations.
Full report at:
http://www.presstv.com/Detail/2018/03/20/556057/US-Trump-bin-salman-Yemen-Saudi-capitol-protest
--------
Federal government to consult Canadians on systemic racism
MARCH 20, 2018
Ottawa is set to launch pan-Canadian consultations on racism, a topic that has stirred controversy and divisions across the country in recent months.
The exact form and nature of the consultations is still being developed in the Department of Canadian Heritage and has yet to be unveiled to the public. Still, the government said it wants to create a new strategy to counter "systemic racism" and religious discrimination.
As the format for the new round of consultations is being debated, some federal officials are worried the forum could lead to acrimonious debates similar to last year's controversy over a motion (M-103) to condemn Islamophobia across Canada. The motion, which did not affect existing legislation, was nonetheless roundly criticized in right-wing circles and conservative media as preventing any legitimate criticism of Islam.
Similar consultations have proven controversial in Quebec, where the government scrapped planned consultations on "systemic racism" last year over an outcry among media commentators and talk-show hosts. Instead, the Quebec government rebranded the mandate of the exercise to "valuing diversity and fighting against discrimination."
According to last month's federal budget, the coming "cross-country consultations on a new national anti-racism approach" will be funded out of a new $23-million envelope that is geared toward new multiculturalism programs.
"Diversity is one of our greatest strengths and has contributed significantly to our country. We recognize the need to counter all forms of systemic racism and religious discrimination and we are taking action to address the ongoing challenges and discrimination that still exist in our society," said Simon Ross, a spokesman for Heritage Minister Mélanie Joly.
"We will also be consulting with Canadians to develop a national strategy to combat racism in Canada, and we look forward to speaking with experts, community organizations, citizens and interfaith leaders to find new ways to collaborate and combat discrimination as we develop this strategy," he said.
The new round of consultations will enact a key recommendation made earlier this year by the Heritage committee of the House, which called on the government to engage in consultations as part of efforts to create Canada's Action Plan Against Racism.
According to the Heritage committee's report, an action plan against racism would ensure that the government would consider the impact of all policies on visible minorities, similar to existing gender-based analysis.
"Systemic racism occurs when government actions fail to address the needs of certain racialized groups within the population, resulting in unfair, discriminatory practices and outcomes. To expose and prevent systemic racism, a number of witnesses suggested the development of a race equity lens as a key element of a national action plan," the report said.
Jasmin Zine, a professor of sociology and Muslim studies at Wilfrid Laurier University, said the government should learn lessons from the debate over M-103 that was "hijacked" by concerns over the definition of Islamophobia.
"They have to be handled better than the initial parliamentary hearings were," she said in an interview. "In the best-case scenario, the consultations could be a way to recuperate what was lost in the committee process. In the worst-case scenario, it will only reproduce the divisions and the political divides that were derailing this process from the beginning."
She added the government cannot ignore Islamophobia as part of its study of racism and must not be afraid of confronting the root causes of racism.
"We can't just wrap things up in nice, liberal, Kumbaya sentiments. We have to look at the issues that are critical for marginalized communities, such as questions of social inequality, power, privilege and the way racism is embedded in all institutions and levels of society," Ms. Zine said.
Tensions are running high among federal politicians over the issue of racism, with Conservative MP Maxime Bernier accusing the government of exploiting the debate to win support in various communities.
"I thought the ultimate goal of fighting discrimination was to create a colour-blind society where everyone is treated the same," Mr. Bernier said on Twitter earlier this month.
Liberal MP Celina Caesar-Chavannes shot back that research has shown that pretending not to see someone's skin colour "contributes to racism."
"Please check your privilege and be quiet," she responded to Mr. Bernier on Twitter, before apologizing for her language.
The Conservative Party said in a statement that the coming consultations on racism need to be established in a way that unites Canadians.
Full report at:
https://www.theglobeandmail.com/politics/article-federal-government-to-consult-canadians-on-systemic-racism/
--------
Southeast Asia
Maldives former president Maumoon Abdul Gayoom, judges charged with terrorism
March 21, 2018
Authorities charged the Maldives longtime former dictator and top judges and police officials with terrorism as the government deals with political turmoil that prompted a weeks-long state of emergency.
The nine people charged at the criminal court included Maumoon Abdul Gayoom, the 30-year ruler of the Indian Ocean archipelago state; Supreme Court Chief Justice Abdulla Saeed and Justice Ali Hameed; four lawmakers including Gayoom's son; and a former police commissioner.
Prosecutors did not specify the grounds on which they are charged with terrorism. If convicted, they could be jailed for 10 to 15 years. All three were also charged with obstruction of justice on suspicion of refusing to hand over their phones to investigators.
Saeed, Hameed and another judicial officer were charged with receiving bribes to help overthrow the government.
Gayoom and the judges were arrested last month following a Supreme Court order to release several of President Yameen Abdul Gayoom's political opponents who were jailed after trials that involved alleged due-process violations. After the government arrested the two judges, the three remaining judges annulled the order to release the opponents.
The president is a half-brother of the former dictator, who are now political enemies.
Among the prisoners named in the court order was Mohamed Nasheed, the country's first president elected in a free election. He was jailed for 13 years under the terror law for detaining a sitting judge when he was in power in 2012 but received asylum in Britain when he traveled there for medical treatment.
Had he been cleared, Nasheed could have been a strong rival to Yameen in the presidential election scheduled for later this year. However, Yameen is now poised to run for re-election virtually unopposed with all of his rivals are either jailed or in exile.
Gayoom ruled the Maldives between 1978 and 2008, before losing a free election to Nasheed, whom he had repeatedly jailed.
Nasheed resigned in 2012, four years into his presidency, amid public opposition to his order for the military to detain a judge. Nasheed lost to Yameen in the 2013 presidential election and then was jailed for ordering the judge's detention.
Since being elected, Yameen has rolled back much of the democratic gains and freedoms.
Apart from Nasheed, Yameen's former vice president and a defense minister are among the many who have been jailed since Yameen took office.
The country's traditional political alliances have been upended in recent years. Gayoom, who campaigned for Yameen in 2013, is now allied with Nasheed, who unseated him in the 2008 elections.
The state of emergency, which was criticized by several foreign governments, is due to expire Thursday, and a Maldives envoy has said the government had no plan to extend it.
Ambassador Mohamed Hussain Shareef told journalists in neighboring Sri Lanka the state of emergency had allowed time for the government to investigate corruption allegations against the judges who issued the order.
The Maldives is an archipelago of more than 1,000 islands. Tourism dominates the economy, with wealthy foreigners flown directly to hyper-expensive resort islands.
http://indianexpress.com/article/world/maldives-former-president-maumoon-abdul-gayoom-judges-charged-with-terrorism-5105466/
--------
Philippine Jesuit educators back new Muslim region
March 21, 2018
The presidents of the Philippines' five Jesuit-run universities have issued a joint statement expressing support for the creation of a new autonomous Muslim region in the southern part of the country.
The Jesuit educators said the creation of a new Muslim region would counter the spread of violent extremism in the Mindanao region.
"Our Catholic faith and Jesuit tradition call us to tread pathways taken by the Prince of Peace, daring us to embrace multi-cultural openness and inter-religious dialogue," said the priests.
The presidents of Ateneo de Davao University, Ateneo de Zamboanga, Xavier University-Ateneo de Cagayan, Ateneo de Manila University, and Ateneo de Naga University signed the statement, dated March 17.
They called on legislators to pass the proposed Bangsamoro Basic Law, drafted by a "transition commission" led by the rebel Moro Islamic Liberation Front.
The creation of a Bangsamoro region to replace the Autonomous Region in Muslim Mindanao is key component of the peace deal signed by the government and the rebel group in 2014.
"The law's passage would provide a real and meaningful foundation for countering violent extremism and addressing many other conflicts in Mindanao," the statement said
Cardinal Orlando Quevedo of Cotabato in Mindanao has also called for the passage of an "inclusive" law that will "promote peace and end religious prejudices."
"The passage [of the Bangsamoro Basic Law] would mean peace and co-existence in Mindanao," said the prelate.
Full report at:
https://www.ucanews.com/news/philippine-jesuit-educators-back-new-muslim-region/81839
--------
A 'Millennials Party' Attempts to Break Indonesia's Political Mould
March 21, 2018
JAKARTA, INDONESIA —
In the Jakarta headquarters of the Indonesian Solidarity Party (PSI), workers call each other "bro" and "sis," and their leader sets the sartorial standard with a pair of ripped jeans.
Dubbed the "millennials party," the PSI is an upstart on the political stage of this Southeast Asian nation that hopes to tap into young voters' contempt for the entrenched corruption and divisive identity politics of the ruling elite.
The downfall of long-serving autocrat Suharto in 1998, amid a crisis widely blamed on a culture of nepotism and graft, brought an end to a regime of repression. But two decades later, the 190 million voters of the world's third-largest democracy are still asked to choose from a crowd of candidates who began their political careers during that period.
The 2019 presidential election looks set to be a repeat of 2014, when current leader Joko Widodo narrowly defeated Prabowo Subianto, an ex-armed forces general who was formerly married to a daughter of Suharto.
The PSI is one of four new parties the General Election Commission is allowing to contest next year's legislative and presidential elections.
Two of the new parties are fronted by establishment figures.
The United Indonesia Party (Perindo) is headed by U.S. President Donald Trump's business partner in Indonesia, Hary Tanoeseodibjo, while the Berkaya Party is led by Suharto's youngest son, Tommy, who advocates a return to the "New Order" values of his late father.
PSI leader Grace Natalie, a former television journalist, believes the time has come for a new generation of politicians who would be genuinely accountable to the people.
Her party interviews members seeking nomination for a seat in parliament, and live-streams the discussions on social media platforms. Teachers, corporate lawyers, doctors and bankers are among those whose interviews have aired on Facebook and YouTube.
"No other party is offering what we are in terms of transparency," she told Reuters at PSI's headquarters — referred to by party staff as "base camp" — where a wall poster urges "Make Art, Not War."
Critical demographic
Natalie, a 35-year-old mother of two toddlers, set up PSI in 2014, determined to offer an alternative for young voters. It's a critical demographic with people between the ages of 17 and 25 accounting for about 30 percent of the electorate. Two-thirds of the party's roughly 400,000 members are younger than 35.
PSI relies on crowd-funding and donations to run operations across the vast archipelago of Indonesia, and to keep costs down it works from members' houses and uses donated vehicles.
"This way, no one person can claim that they own the party. Everyone is contributing something," said Natalie, who was educated in Jakarta and the Netherlands, and speaks proficient English.
So far, PSI has raised 2.6 billion rupiah ($180,000), a tiny sum compared to the coffers of mainstream parties that benefit from poor enforcement of laws limiting political donations.
It will also struggle to get traction with the youth it is targeting.
While the size of the youth vote bank has swelled from 18 percent of total voters in 2004 to 30 percent in 2014, the participation of young voters has dwindled.
Data from the elections commission showed less than half of voters between 17 and 29 years old cast a ballot in 2014 legislative elections compared with around 90 percent among those older than 30.
Ella Prihatini, a researcher at the University of Western Australia, in a survey of 253 young voters, found many of them were uninterested in politics.
"On parliament, the dominant answer from respondents was that their MPs are not actually representing them, so why bother voting?" Prihatini said.
Political Islam
Winning support is also likely to be particularly challenging for Natalie, an ethnic-Chinese Indonesian, in a climate of religious and ethnic tensions. Indonesia is a secular country but concerns are growing about the Islamization of politics in the world's largest Muslim-majority country.
Jakarta's former governor, an ethnic-Chinese Christian, was ousted last year after hard-line Muslim groups organized massive protests over allegations he insulted Islam. He was later jailed for blasphemy.
The 14 parties contesting next year's polls include the Indonesian Democratic Party of Struggle (PDI-P), which leads the ruling coalition, several other secular parties as well as rising Islamic-oriented parties.
Natalie, who plans to run for parliament next year, conceded she and PSI need a far bigger budget to win support in rural areas, home to nearly half of Indonesia's population. Her party will back Widodo, a popular moderate reformer, for re-election as president rather than try to field a candidate of its own.
Ibrahim Irsyad Hasibuan, a 20-year-old journalism student from Tangerang outside Jakarta, said young voters are apathetic because they have no faith in the political system, and so PSI could be a wake-up call for his generation.
"But I can't relate to PSI," he said. "It is a new political party and has no track record yet."
Achmad Sukarsono, a Singapore-based political analyst for Control Risks, was dismissive of the new party, arguing that an anti-corruption stance alone will not be enough to win over voters more interested in local and bread-and-butter issues.
Full report at:
https://www.voanews.com/a/indonesia-millennials-party/4308207.html
--------
Report: Muslims-only, Chinese-only show Malaysia's growing racism
Minderjeet Kaur
March 21, 2018
KUALA LUMPUR: Racism is rearing its ugly head even more now with Muslim-only or Chinese-only sentiments becoming more pronounced, according to a report by human rights group Pusat Komas.
The Malaysian Racial Discrimination Report 2017, released today, said the government had reneged on its promises to promote national unity.
"In fact, racism has become more pronounced and is being increasingly used as a tool to divide and rule."
It added that with the 14th general election (GE14) around the corner, politicians from both sides of the political divide had resorted to race-based politics to win support.
The 46-page report said the rise in racial and religious discrimination was not only worrying but also highlighted the inherent danger due to the overreach of bureaucratic Islamic institutions.
According to the report, 2017 saw an increase in incidence of racial discrimination.
Examples included a Muslims-only toilet at a highway, the seizure of paintbrushes made from pig bristles, separate drinking cups for schoolchildren from different religious backgrounds, a Muslims-only laundromat in Muar, Johor, and the no headscarf policy imposed by the hotel industry.
Other examples were job advertisements which stated "Wanted: Chinese only" and homeowners' refusal to lease properties to potential tenants based on their race.
However, the report praised several prominent individuals for coming forward to condemn these actions, such as the rulers of Perak, Johor and Selangor, and the Malaysian Armed Forces.
It said there was a need to immediately ratify the International Convention on the Elimination of Racial Discrimination under the United Nations to promote equality and unity among Malaysians.
Other recommendations included harsher punishment for individuals, especially politicians, groups and social media groups who were racist and discriminatory in their speech and actions.
Full report at:
http://www.freemalaysiatoday.com/category/nation/2018/03/21/report-muslims-only-chinese-only-show-malaysias-growing-racism/
--------
Without interpreter, uncertainty over charges against Uighur Muslims
Ho Kit Yen
March 21, 2018
KUALA LUMPUR: Eleven Uighur Muslims who escaped to Malaysia from a Thai prison last year were taken to the Magistrate's Court today for the second time to face charges of breaching immigration laws.
However, the charges could not be read to them as there was no Turkish interpreter present in court.
Lawyer Fahmi Moin, who represented the 11 men, told magistrate Zuhair Rosli that they could only understand Turkish.
The court then fixed April 24 for mention, with the Federal Court's registry office to provide a Turkish interpreter.
It is understood that the 11 Uighur Muslims are facing charges under Section 6(1)(c) of the Immigration Act for entering Malaysia without a valid permit.
The 11 men in the dock are Zakaria Arman, Salehudin Ali, Jaefar Amin, Osman Abbas, Alin Osman, Asen Ziyali, Taher Kasim, Ibrahim Rexiti, Nurudin Muhammad, Abdul Kader, and Yusuf Ahmed.
They are believed to be between 20 and 40 years old.
Speaking to reporters after the court proceedings, Fahmi said they were unsure of the exact story as they had not yet obtained the charges.
"We do not know what the charges against them are, and we are not at liberty to comment on the government's intention to hand them over to China," he said when asked about a statement by Deputy Prime Minister Ahmad Zahid Hamidi that the government would deport the 11 men.
Since the men entered Malaysia without permits, Fahmi added, they were also unsure of their nationalities.
Last month, Zahid said the government had received an official request from China to extradite the Uighur Muslims.
"Our principle is, if a country requests for their people be extradited, we will consider it based on the extradition agreement, which is also included in the Mutual Legal Assistance (MLA) treaty," he said.
It was reported in February that the 11 men, who escaped from a Thai prison last year by digging holes in the wall and using blankets to lower themselves down, had been arrested by the Malaysian authorities.
The men were part of a group of 200 Uighurs arrested in Thailand four years ago.
Members of the group identified themselves as Turkish citizens and asked to be sent to Turkey, but more than 100 were forcibly returned to China in July 2015.
The move sparked international condemnation, including from rights groups which feared they could face torture in China.
The US government has also raised concerns on the possible deportation of the 11 men.
Full report at:
http://www.freemalaysiatoday.com/category/nation/2018/03/21/without-interpreter-uncertainty-over-charges-against-uighur-muslims/
--------
Europe
Muslims place greater importance on national identity, finds UK study
21 Mar 2018
Muslims in the UK attach more importance to being British than the general population, according to a report.
They also place greater emphasis on education, and identify more strongly with their religious identity than their non-Muslim peers.
The 75-page report from Ipsos Mori analysed research and opinion polls conducted since 2010 to paint a comprehensive picture of British Muslims.
The UK's Muslim population was 3 million at the 2011 census, but was estimated last year to be 4.1 million, or 6.3% of the population. Almost half are under the age of 24 and one-third are under 15, making them the fastest-growing group among young Britons.
Eighty-five percent said they felt they belonged to Britain. More than half (55%) said their national identity was important, compared with 44% of the general population.
Religious identity is extremely or very important to 94%, and more than half pray at least five times a day or engage in worship of some kind.
Asif Aziz, the chairman of the Aziz Foundation, which commissioned the report with the Joseph Rowntree Charitable Trust, Barrow Cadbury Trust and Unbound Philanthropy, said: "While British Muslims identify strongly with their religious identity, they are also staunchly British."
Muslim children have high aspirations for their educational achievement, with 56% saying it was very likely they would go to university, compared with 38% of non-Muslim children. More Muslim girls than boys expected a university education.
More than 7% of Muslims are unemployed, compared with 4% of the UK population as a whole.
Almost two-thirds of Muslims said they think different religious and ethnic groups should mix more. A majority of Muslims of all ages wear a poppy on Remembrance Day and almost three-quarters said they always or sometimes send Christmas cards.
Forty-five percent of Muslims under 24 said at least half their friends are from outside their ethnic group. Those in London are more likely to have a diverse group of friends than Muslims in the rest of the country.
Muslims tend to have more conservative social attitudes than the general population, the report said. Half of Muslim men and one-third of women believe wives should obey their husbands, and 38% of men said it is acceptable for a British Muslim to have more than one wife. A majority said homosexuality should not be legal.
One in four Muslims are worried about being physically attacked because of their skin colour, ethnic origin or religion.
Kully Kaur-Ballagan, a research director at Ipsos Mori, said the report showed the vast majority of British Muslims "believe that being Muslim and being British is entirely compatible".
Younger Muslims were "more open in their views and have more diverse social networks", she added.
https://www.theguardian.com/world/2018/mar/21/muslims-british-national-identity-uk-report
--------
In France, incidents of Islamophobic scapegoating and authoritarianism continue to rise
March 20, 2018
A chance encounter after the murderous lorry attack on the seafront at Nice, which killed 86 people who had been enjoying a Bastille day fireworks display in 2016, remains fixed in the mind.
Amid the throng of emergency services personnel, grieving relatives, survivors, journalists and ordinary locals getting on with a semblance of normal life stood a sad, dignified Muslim figure.
Like the killer, Mohamed Lahouaiej-Bouhlel, this was a Tunisian who had made his home in the south of France. Unlike him, Ridha Louafi instantly gave the impression of being a man of decency and reason.
"I am ashamed as a Tunisian of this revolting, cowardly and intolerable act of barbarity," said Mr Louafi, introducing himself as president of the Cote d'Azur Tunisian Association. "Tunisians and other Maghrebins are among the victims, too, and they are casualties twice over because of the way people will now regard them, as if they were somehow responsible for the terrible actions of one individual."
His words will never leave me. And their theme, guilt by association, is an important feature of a new book, Republic of Islamophobia, in which a British academic, Jim Wolfreys, describes the rise of "respectable" anti-Muslim feeling in France.
It seems self-evident that demonising all followers of a religion that sub-human ISIL terrorists purport to honour can only be counter-productive, making all resentful and some rebellious. But if Wolfreys is correct, there are ways in which French officialdom aids and abets this process.
The author cites "unprecedented scrutiny of what Muslims wear, eat and say" and argues that excesses of zeal in upholding France's cherished secular principles have a tendency to "isolate and stigmatise".
What France desperately needs is a sense of shared community, along with a bold programme to tackle poverty, unemployment and inequality of opportunity for those, including huge numbers of Muslims with roots in North and sub-Saharan Africa, in the deprived banlieues (suburbs of major cities).
In one sense, it works both ways. French Muslims are entitled to expect respect for their faith and traditions. It is not unreasonable to demand, in return, an acceptance of values that include tolerance of unwelcome customs and views, if peacefully and lawfully expressed.
Wolfreys believes there is a danger of confusing understandable fear of terrorism with fear of Muslims. "There is a persistent assumption that Muslims' religion defines them above all else, and that this uniform 'community' bears a shared responsibility for what anyone claiming affiliation to Islam does."
It is hard to quarrel with that proposition and Wolfreys correctly agrees that hope can be drawn from one gratifying phenomenon: the success of one French institution, the judicial system, in countering the prejudice of sections of another, local government, when overturning the degrading bans imposed by some Mediterranean mayors on the wearing of burqinis.
If hatred or suspicion of Muslims were confined to the hard-of-thinking extreme right, it might not matter much as long as that strand of political allegiance remained a minority, albeit a sizeable one.
President Emmanuel Macron has promised a keynote speech on Islam and France. He might usefully bear in mind that a strong defence of secularism does not need to leave Europe's largest Muslim population feeling they are the "enemy within".
But Wolfreys is right to argue that the "dynamics of Islamophobic scapegoating and authoritarianism" can operate only when there is wider compliance and assent.
Full report at:
https://www.thenational.ae/opinion/comment/in-france-incidents-of-islamophobic-scapegoating-and-authoritarianism-continue-to-rise-1.714595
--------
South Asia
'We have no intention of hiding anything': Myanmar rebuilding in Maungdaw, Rahkine state
20 Mar 2018
MAUNGDAW, Myanmar: "We want to live peacefully like other communities in Myanmar. We don't need to be discriminated (against)," 51-year-old Dil Mohammed shouted from across barbed wire fencing in the "no man's land" area between Myanmar and Bangladesh.
However this is no simple task, especially in violence-stricken Maungdaw in Myanmar's nothern Rakhine state.
More than half a year after militant attacks in Rakhine state led to a government crackdown which saw more than 700,000 Rohingya Muslims fleeing to neighbouring Bangladesh, northern Rakhine remains under tight security, with only authorised personnel allowed to travel there.
The United Nations (UN) on Friday (Mar 16) launched an appeal for nearly US$1 billion to care for Rohingya refugees in Bangladesh, while also emphasising that efforts should continue to secure their safe return to Myanmar.
However during a media trip to the area, Maungdaw district deputy commissioner Ye Htut refuted UN accusations that the government had carried out "ethnic cleansing" in the region.
"We have no intention of hiding anything, and that's why we invited the media into the area," he said.
The media trip came days after Amnesty International said that Myanmar was building security structures on top of razed Rohingya villages, casting doubt on the country's plans to repatriate refugees.
When Channel NewsAsia visited the area, various parts of Maungdaw were turned into massive construction sites scattered with heavy machinery.
Bulldozers and excavators could be seen levelling the ground, while workers were seen paving newly constructed roads and erecting new structures.
One Rohingya who had not fled Maungdaw told Channel NewsAsia he suspected officials were covering up evidence of deaths.
He did not know the "intention of clearing out some villages", but said there were "no old structures left".
"It's just plain land now as they bulldozed the area. I think they are possibly clearing some of the (evidence of) deaths."
The remnants of razed villages with charred ground, burnt household belongings and blackened bamboo door frames could be seen in the area.
However others welcomed the construction.
Ethnic Rakhine farmer Thway Hlaing, 25, told Channel NewsAsia that militants had destroyed his house seven months ago, but that he would soon move into a brand new house made of aluminium, steel and wood built by the government.
The father of three said he had never lived in such a house before, and said he liked the look of the new homes.
However he added he did not want to live with the Rohingya again.
"I'm scared. I think such attacks will happen again but I don't want to see such incidents anymore," he said.
Ye Htut said there was no longer any trust between the different sides.
"Back then, there were Rohingyas working in the Rakhine people's farms but now there is no more trust between them," he said. "The Rakhine people do not hire them anymore and the Rohingya become unemployed."
Another Rakhine local, Khin Maung Kying, told Channel NewsAsia that previous attacks were "frightening".
"It is important to not repeat such attacks when the Muslims return because the previous incident was very frightening. I don't want to experience it anymore. I welcome them if the Muslims want to live with us peacefully."
"WE ARE NOT BENGALIS"
Dil Mohammad, a Rohingya who fled Myanmar and who now lives in a makeshift tent in no man's land between Myanmar and Bangladesh, said that the Rohingya had "no intention to enter Bangladesh."
"We are not Bengalis."
Myanmar does not recognise the Rohingya as citizens, calling them illegal Bengali immigrants. So far, it has approved the return of 374 individuals to Myanmar, constructing reception centres and transit camps to accommodate them.
However no refugee has taken up the offer to return.
Ye Htut blamed the Arakan Rohingya Salvation Army or ARSA militants for thwarting the process.
"Both Bengalis (Rohingya) and Hindus have concerns about the repatriation process," he said. "ARSA is interfering (with) the process. They are threatening to kill the returnees."
However Dil Mohammad said that in order for the Rohingya to return, Myanmar had to recognise them as "ethnic Rohingya Muslims".
"We are citizens. Citizens of Myanmar," he said.
"IT'S TOO LATE," SAY PEOPLE IN RAKHINE
In the village of Inn Din, south of Maungdaw, some locals said it was "too late" to live together with the Rohingya.
Tun Win, 29, told Channel NewsAsia that militants had killed his father last August.
"In my heart, I don't have an idea how to live together with the Muslim people because it's too late," he said. "It hurts me to think what happened to my father."
The village of Inn Din was where a mass grave of Rohingya victims was found. Authorities had confirmed the discovery in January, and said that those found guilty would be prosecuted.
https://www.channelnewsasia.com/news/asiapacific/myanmar-rebuilding-maungdaw-rakhine-rohingya-10059706
--------
British lawyer appointed for assisting Khaleda's lawyers
March 21, 2018
A British lawyer was appointed to assist BNP chairperson's lawyers and to help in fighting her cases, BNP Secretary General Mirza Fakhrul Islam Alamgir said today.
The lawyer, Lord Carlile, will be a member of all lawyers' panels of Khaleda, Fakhrul said at a press briefing at BNP's Nayapaltan central office.
He is a renowned lawyer in London and a member of the British Queen's Council and House of Lords, Fakhrul said.
The lawyer will also give his opinion on whether international human rights law is being violated during the case proceedings as well, he said.
"Hiring a foreign lawyer does not mean Bangladeshi lawyers are incapable," Fakhrul said in reply to a question.
"From now on, Lord Carlile will provide advice to our lawyers, and will work on all matters of the case proceedings. If needed, he will come to Bangladesh also," Fakhrul added.
Khaleda landed in prison on February 8 after she was handed a five-year jail sentence by a Dhaka court for misappropriating a donation fund of the Zia Orphanage Trust.
Full report at:
http://www.thedailystar.net/politics/assisting-bnp-chairperson-khaleda-zia-lawyers-british-lawyer-appointed-says-mirza-fakhrul-islam-alamgir-1550884
--------
Myanmar is worst-performing country for aid access, as Rohingya refugees face monsoon threats
2018-03-21
In examining 37 countries, ACAPS analysts considered nine indicators, including violence against humanitarian workers and restrictions preventing people from reaching aid.
"Myanmar is the country where humanitarian access has deteriorated the most, as access for the Rohingya population has become increasingly difficult," the group said in a statement.
The ACAPS report preceded another released Tuesday by a British parliamentary committee, which warned floods and disease could kill thousands of Rohingya refugees in camps in neighbouring Bangladesh.
The chair of the International Development Committee, Stephen Twigg, said in a statement that time was running out, adding that donors "must work with the Bangladesh government".
"Substantial numbers of refugees are about to face another crisis. With the weather about to turn, the fragile safety and sanctuary that the Rohingya have found in temporary camps provided by Bangladesh is in jeopardy," Twigg said.
United Nations' officials say nearly 700,000 Muslim Rohingya have fled Buddhist-majority Myanmar to Bangladesh.
That came after militant attacks in August sparked a crackdown, led by security forces, in Rakhine state that the U.N. and United States have said constitutes ethnic cleansing.
Myanmar has repeatedly denied reports implicating soldiers in widespread abuses of Rohingya civilians, particularly in Maungdaw, a border district in western Rakhine State.
Although the Myanmar government had allowed some groups to access the district, it was "in a short-term and unpredictable manner", said Pierre Peron, a spokesman for the U.N. Office for the Coordination of Humanitarian Affairs (OCHA) in Myanmar.
"Most humanitarian organizations that had been working in Maungdaw District for years have still not been able to resume life-saving programmes for some of the most vulnerable people in the world," he told the Thomson Reuters Foundation via email.
A Myanmar government spokesman was unavailable for comment.
The British parliamentary committee said the situation for Rohingya would likely worsen, with heavy rains expected to begin within days, followed by the cyclone season.
"Severe weather conditions and heavy rainfall could result in the deaths of thousands of Rohingya," the IDC said.
The committee warned that the camps in Bangladesh are ill-equipped to withstand the 2.5 metres of heaviest rains predicted to fall from June through August. The camps were built quickly, with shelters in places prone to landslides and flooding.
Poor sanitation, as well as a low vaccination rate among Rohingya who had limited access to healthcare in Myanmar, meant flooding would likely bring disease, the IDC said.
Full report at:
https://bdnews24.com/neighbours/2018/03/21/myanmar-is-worst-performing-country-for-aid-access-as-rohingya-refugees-face-monsoon-threats
--------
Rohingya start businesses to survive refugee camps
March 21, 2018
At a small market in Cox's Bazar, Bangladesh's most popular tourist destination that is now home to tens of thousands of Rohingya refugees living in camps, customers bargain for daily necessities like fish, vegetables and even cosmetics.
At this makeshift trading center in Balukhali, near the Bay of Bengal, about 200 shops on 30 acres of private land owned by a local Muslim man cater to customers from dawn to dusk.
The smell of freshly cooked food and tea hovers over the place as a handful of tea stalls and restaurants busily serve dozens of customers.
But this is no ordinary Bangladeshi village market.
Both the sellers and buyers here are refugees — from the Rohingya Muslim community that has settled in Balukhali following a brutal military crackdown on the ethnic minority in Myanmar's northern Rakhine State across the Naf River that separates the two countries.
Two phases of the crackdown, which started in October 2016 and got a second wind in August 2017, has seen over 770,000 Rohingya flee to Bangladesh for safety from what the United Nations has termed a "textbook example of ethnic cleansing."
Muhammad Rashid, 22, came to Balukhali last October with his family of nine after they fled Baguna village in the Maungdaw area of Rakhine State.
Two weeks ago, Rashid opened a cosmetics and toy store in the camp with the 7,000 taka (US$84) he brought with him.
"I sell about 500 taka (US$6) of goods a day and I can make 100-150 taka profit, which is not a huge sum but it is enough for my family to survive," he told ucanews.com.
"Various NGOs offer us aid — clothes and food including rice, lentils, oil and potatoes, but we also need to eat vegetables and fish, and we must buy other things. My income enables me to get my family the things we need that the aid groups can't provide," he said.
Rashid said he would love to return to his ancestral home one day but he doesn't want to live in a camp in Myanmar, as mapped out in a recent repatriation deal between the two countries.
He also believes he can make a better living in Balukhali — at least for the time being — and he doesn't have to worry about coming under attack from the military.
"We don't have any threat to our lives here. We also receive aid from NGOs like the World Food Program [WFP] and we can scratch out a basic living and earn an income," he said.
"So unless we have families depending on us back home, and we can get a guarantee that our basic human rights will be protected, there's no point going back there," he added.
Khorshed Alam, 27, who oversees the marketplace on behalf of the landowner, says there are about 1,000 small businesses run by Rohingya in 12 formal and informal refugee camps in the area.
"We collect a small fee from these businesses on a daily basis as rent. They also pay to keep the place clean, for example to cover drainage and garbage-disposal costs. Our intention is not to make a profit but to help them for as long as they are here," Alam told ucanews.com.
Starting a new life
Muhammad Mostaq, 46, runs a small business that sells solar panels and electronic goods in the market. A father of five from Rakhine's Buthidaung area, Mustaq was a businessman back home.
"We came here in late August last year and I had about 10,000 taka with me. I knew some Bengali businessmen in Teknaf [in Cox's Bazar] so I used a loan to buy some goods from them so we could start over here," Mustaq told ucanews.com.
Mustaq said he sells around 5,000 taka worth of goods a day on average and makes 1,500 taka in profit.
In addition to other items, he also sells aid supplies obtained from voluntary groups like the WFP including rice, lentils and oil.
"Every month, we get 60 kilograms of rice plus other food items, so we have some surplus and other refugees do the same. There are large refugee families who don't have enough aid so they can buy things from us at a cheap price, and I can buy other essentials with the money I earn," he said.
Mustaq said he also doesn't want to go back to Rakhine State without any concrete promise of a life better than the one he is building here.
"We are living in peace and nobody wants to kill us. We have good food, medical facilities, our children can get a basic education, and we have an income and security," he said.
"I know Bangladesh wants to send us back home, but I don't plan on going back unless Myanmar can provide us with the same kind of facilities. I may have to stay in this camp forever, but it's better to die in the camp than [to be killed] in Rakhine State," he added
Many refugees share similar sentiments as Rashid and Mustaq — they feel they have strong reasons to stay put in Bangladesh despite a life of hardship in overcrowded and unsanitary camps.
Many express concern that the repatriation deal Bangladesh has signed does not include any clear-cut promises guaranteeing their basic rights back home, including citizenship status.
James Gomes, who works for the Catholic charity Caritas, said most of these small businesses have sprung up out of necessity.
"The local administration didn't allow businesses in the camps and the aid groups didn't lend their support, but the refugees set them up on their own anyway. It's not permissible but no one can forbid them to do it as that would be a violation of their human rights," said Gomes, who serves as Caritas' regional director in Chittagong, a coastal city and financial center in southern Bangladesh.
"Some refugees may want to stay here because they think they have better prospects, but most want to go back as they know life won't get better for them here. After all, Myanmar is their homeland," he told ucanews.com.
Hindus hungry for home
Some 500 Hindus who also fled the violence in Myanmar have settled in Kutupalong, in the western part of Cox's Bazar, home to the largest camp with over 400,000 refugees.
Unlike the Rohingya, most can't wait to get back home.
"Muslims don't want to go back as they think life is better here in Bangladesh," Shishu Pal, a Hindu refugee, told ucanews.com.
"So they don't care much if they are repatriated. They are starting to settle here. But all of us Hindus want to go back, and most of us want to live separately from the Muslims," he added.
While many Rohingya suffered deadly bouts of violence from the Myanmar military and extremist Buddhists, the Hindus who fled were hounded by groups of masked men who massacred dozens of Hindu men, women and children in late August.
The Myanmar Hindus blamed the killings on Rohingya militants but many Rohingya vehemently deny the allegation and point their fingers at the military and at overzealous Buddhists.
Full report at:
https://www.ucanews.com/news/rohingya-start-businesses-to-survive-refugee-camps/81819
--------
Noor informs of breakthrough in talks regarding Balkh leadership
Mar 21 2018
The Chief Executive of Jamiat-e-Islami Ata Mohammad Noor has informed of breakthrough during the talks with the Afghan government regarding the Balkh political leadership.
In his speech during the ceremony to mark the start of the new Solar Year, Nowruz, Noor said certain agreements have been made during the talks with the government.
Noor further added that talks are underway and a final agreement will be made in coming days.
He said the details regarding the agreement will be shared with the people once the agreement concludes with the government.
This comes as sources in Balkh had earlier said that the government and Jamiat-e-Islami have reached to an agreement to end the stalemate over Balkh political administration.
Sources privy of the development have said that the government and Jamiat-e-Islami have reached to an agreement and the new governor for Balkh province will be introduced in the near future.
The Office of the President, ARG Palace, announced over three months ago that President Ghani has approved the resignation of the Balkh governor Ata Mohammad Noor.
Noor admits had submitted his resignation as a guarantee to the government that he will step down if the demands of Jamiat-e-Islami are met by the government.
Full report at:
https://www.khaama.com/noor-informs-of-breakthrough-in-talks-regarding-balkh-leadership-04694/
--------
ISIS claims responsibility for Jalalabad city motorcycle bombing
Mar 20 2018
The Islamic State of Iraq and Syria (ISIS) terrorist group has claimed responsibility for the motorcycle bomb explosion that left at least four dead in Jalalabad city.
The loyalists of the terror group released a statement on Monday claiming that the target of the attack was a pro-government gathering in the city.
However, another source (Amaq News) which publishes ISIS reports, claimed that the target of the attack was a vehicle carrying pro-government militia forces.
The incident took place at around 1 pm local time as a large gathering was underway in a stadium in the first police district of the city.
Provincial governor's spokesman Attaullah Khogyani confirmed that the explosion was triggered by a motorcycle.
He said at least four people lost their lives in the explosion and at least ten others were wounded.
Provincial public health director Dr. Najibullah Kamawal said the health condition of those wounded in the explosion has been reported as satisfactory.
Full report at:
https://www.khaama.com/isis-claims-responsibility-for-jalalabad-city-motorcycle-bombing-04692/
--------
Mideast
51 Houthis killed and wounded in the Mukhabarat west of Taiz
21 March 2018
DUBAI: Twenty-eight Iran-backed Houthi militants were killed while 23 were wounded in clashes with the Yemeni army west of Taiz, Saudi state-news channel Al-Ekhbariya reported.
The head of the front, Colonel Hamid al-Khalidi, said in a statement that "violent confrontations have taken place since the morning in Qabban - 28 Houthis were killed, and 23 others were wounded, and their bodies are still scattered in the fighting grounds."
http://www.arabnews.com/node/1270531/middle-east
--------
Israel PM Benjamin Netanyahu says African migrants worse threat than jihadists
20th March 2018
DIMONA: Prime Minister Benjamin Netanyahu said on Tuesday that an electronic fence along the Israel-Egypt border has saved the Jewish state from jihadist attacks or what he believes would be worse -- a tide of African migrants.
"Were it not for the fence, we would be faced with... severe attacks by Sinai terrorists, and something much worse, a flood of illegal migrants from Africa," Netanyahu's office quoted him as telling a development conference in the southern Israel desert town of Dimona.
The interior ministry says there are currently some 42,000 African migrants in Israel, mainly from Sudan and Eritrea, and the government has ordered that thousands of them must leave or face indefinite imprisonment.
They began slipping into Israel illegally in 2007 through what was then a porous border with Egypt's lawless Sinai region.
The frontier with Israel's Negev desert has since been given a 200-kilometre (124 mile) hi-tech fence and the influx has halted.
Netanyahu said a tide of non-Jewish immigration would threaten the very fabric of Israel.
"We are talking about a Jewish and democratic state, but how could we assure a Jewish and democratic state with 50,000 and then 100,000 and 150,000 migrants a year," Netanyahu said.
"After a million, 1.5 million, we might as well shut up shop," he added. "We did not close down, we built a fence."
Today the mountainous Sinai is a battleground between the Egyptian army and Islamic State (IS) group jihadists.
The army launched a campaign on February 9 after Egyptian President Abdel Fattah al-Sisi, who is standing in elections this month for a second term, gave it a three-month deadline to crush IS in the Sinai.
Full report at:
http://www.newindianexpress.com/world/2018/mar/20/israel-pm-benjamin-netanyahu-says-african-migrants-worse-threat-than-jihadists-1790051.html
--------
Turkey slams UAE's foreign minister for accusations about 'Operation Olive Branch'
March 21, 2018
The Turkish Foreign Ministry on March 20 criticized the United Arab Emirates Foreign Minister Abdullah bin Zayed al-Nahyan for his remarks that Turkey's military operation in Syria is "a threat to the Arab world."
Al-Nahyan's remarks "are impossible to understand and do not show good intention" Turkish Foreign Ministry spokesperson Hami Aksoy said in a written statement.
The Turkish army's ongoing "Operation Olive Branch" in the northwestern Afrin province was being conducted to eliminate terror threats against Turkey, he said.
Turkey's support for "the preservation of Syria's political unity and territorial integrity, efforts to ensure lasting peace and stability in this country" and "the responsibility taken for 3.5 million Syrian refugees" have been obvious to all, said the spokesperson.
Turkey cares about peace, security and stability in Arab countries, with which it maintains exceptional historical and humane ties, Turkey also gives its strong support to the common cause of the Islamic world, especially Jerusalem, Aksoy added.
"It has been well-known for a while to which circles [U.A.E. officials] are serving based on their remarks," he said.
Full report at:
http://www.hurriyetdailynews.com/turkey-slams-uaes-foreign-minister-for-accusations-about-operation-olive-branch-129019
--------
Houthis target medical ambulance in western Yemen
20 March 2018
Houthi militias targeted, on Tuesday, civilian ambulances in the western coast of Yemen, killing one paramedic and wounding three others, according to preliminary information.
The medical source confirmed that a civilian medical ambulance was carrying out its humanitarian tasks on Khokha-Al-Mukha road in the coastal province of Al-Hudeida west of Yemen before being targeted by Houthi missiles, describing the targeting as a major humanitarian crime that violates all ethical norms and international laws.
The source said that one of the paramedics died immediately after the car was targeted, while three others were transported to get treatment, some of them in serious condition.
This comes a few days after the Houthi militia targeted a car belonging to the Yemeni Red Crescent team, during his descent upon request, to recover the bodies of their dead in the Directorate of Nata in the province of Baidah in central Yemen, injuring three members of the team.
Full report at:
https://english.alarabiya.net/en/News/gulf/2018/03/20/Houthis-target-medical-ambulance-in-western-Yemen.html
--------
Riyadh can't hide terror history by spreading anti-Iran lies: Foreign Ministry
Mar 20, 2018
Tehran has sharply dismissed the Saudi crown prince's latest allegation that Iran shelters terrorist leaders, saying the regime in Riyadh cannot hide its history of creating and promoting terrorism by "spreading lies" about the Islamic Republic.
Bahram Qassemi, Iran's Foreign Ministry spokesman, made the remarks on Tuesday shortly after Mohammed bin Salman told the CBS News show "60 Minutes" that Iran is a destabilizing force in the region, and that is hosting and supporting al-Qaeda ringleaders. Salman made the comments in the run-up to his talks with US officials in Washington.
Qassemi called the claim about the presence of such characters in Iran "a big lie."
"By such instances of disseminating lies, he (bin Salman) cannot hide the role played by the Saudi government and rulers in creating the most dangerous terrorist groups in contemporary history and in notable terrorist incidents, such as [the attacks of] the September 11 [,2001]" in New York, he added.
The US used the 9/11 attacks as a pretext to launch a so-called war on terror in Asia, as part of which it invaded Afghanistan with its NATO allies later that year.
Qassemi further said in the early years of Washington's invasion, some al-Qaeda leaders fled Afghan soil and illegally entered the Islamic Republic's borders.
They were, however, arrested and handed over to their respective countries, including some members of al-Qaeda ringleader Osama bin Laden's family, Qassemi noted.
Given their Saudi nationalities, they were treated as per Riyadh's instruction, he said.
Qassemi said bin Salman, during his visit to the US, is brazenly using all means "to pave the way for his ascension to the throne."
Apparently, he said, pouring billions of dollars of the Saudi nation's wealth into the American arms industry has not sufficed to serve the crown prince's purpose, prompting him now to try to blot out Riyadh's already-proven background in supporting terrorism and extremism.
The Iranian official further said bin Salman was revealed in the recent interview to be a "clumsy liar" and "misconceiver" who does not even know about his own country's history and culture.
Qassemi said everyone knows well about how al-Qaeda was establishment by Saudi intelligence institutions and the kingdom's systematic contacts with the terrorists, he said.
Full report at:
http://www.presstv.com/Detail/2018/03/20/556051/Iran-Saudi-Arabia-Mohammed-bin-Salman-Qaeda
--------
Turkish president says army to extend offensive in northwestern Syria
Mar 20, 2018
Turkish President Recep Tayyip Erdogan has vowed to extend the military operation further east of Syria's northwestern region, prompting fears of confrontation with US-led forces stationed in the area.
"We will continue this process until we entirely eliminate this corridor, including in Manbij, Ayn al-Arab, Tal Abyad, Ras al-Ayn and Qamishli," Erdogan said on Monday.
US Army Colonel Rob Manning, the Pentagon spokesman, expressed Washington's criticism of Turkey's operation in Afrin region on Monday.
Observers say expansion of Turkey's campaign into other Kurdish-held territories in northwestern Syria would risk confrontation with the US-led troops deployed alongside the Kurdish fighters of the People's Protection Units (YPG) in the area.
"We are very concerned about the effect that fighting there [in Afrin] has had" on the fights against Daesh terrorists, Manning told a press conference.
The US State Department also expressed concern over the humanitarian ramifications of the Turkish operation in Afrin.
"This adds to the already concerning humanitarian situation in the area, with United Nations agencies reporting a displaced population in or from Afrin district in the hundreds of thousands, who now require immediate shelter and other assistance to meet basic needs," Bloomberg quoted State Department spokeswoman Heather Nauert as saying in an emailed statement on Monday.
"We have repeatedly expressed our serious concern to Turkish officials regarding the situation in Afrin," she added.
Meanwhile, Aljazeera cited Turkish presidential spokesperson Ibrahim Kalin as saying that Turkey and the US had reached a general agreement on Manbij, adding that Ankara is currently waiting for the US-led side to implement the deal.
Erdogan also warned that Turkey would launch an offensive against Kurdish fighters of the Kurdistan Workers' Party (PKK) on Mount Sinjar in northern Iraq if Baghdad did not clear the region of them.
"If you are going to handle this, you do it," Erdogan said in remarks directed at Iraq. "If you cannot handle it, then we may suddenly enter Sinjar one night and clear out the PKKs there."
The remarks were made a day after Turkish soldiers, backed by members of the so-called Free Syrian Army (FSA) militia, captured the city of Afrin, the main population center in the region, from Kurdish militants, particularly those of the YPG.
On Monday, the Syrian government sent two letters to the United Nations condemning the capture of Afrin by the Turkish military as "illegitimate." The letters called on Ankara to "immediately" pull out its troops from the northwestern Syrian city.
Damascus has on several occasions criticized Ankara for its military offensive on Syrian soil, accusing it of supporting "terrorist" groups.
Turkey launched the so-called Operation Olive Branch in Afrin on January 20 in a bid to eliminate the YPG, which Ankara views as a terror organization and the Syrian branch of the PKK.
Over 280 civilians have lost their lives since the offensive began, according to the so-called Syrian Observatory for Human Rights (SOHR).
In August 2016, Turkey began a unilateral military intervention in northern Syria, code-named Operation Euphrates Shield, sending tanks and warplanes across the border. Ankara claimed that its campaign was aimed at pushing the Daesh Takfiri terrorist group from Turkey's border with Syria and stopping the advance of Kurdish militants, who were themselves fighting Daesh.
Full report at:
http://www.presstv.com/Detail/2018/03/20/556071/Turkey-Syria-Afrin-Erdogan
--------
US Senate to vote on ending Washington's role in Saudi war on Yemen
Mar 20, 2018
The US Senate has teed up a vote on ending the US military involvement in the Saudi war on Yemen.
Spearheaded by Senators Bernie Sanders, Mike Lee and Chris Murphy, the resolution would not include the US alleged targeting of al-Qaeda elements in the impoverished country.
Once the Senate reconvenes on Tuesday, the lawmakers could have up to four hours of debate; therefore, a vote is expected at approximately 4:15 pm.
If passed, the measure would require all US forces to leave the war-ravaged country within 30 days.
"You know it's a new precedent. ... I think a lot of members on our side are trying to figure out what a yes vote means and what a no vote means," Texas Republican Senator John Cornyn told The Hill.
Lawmakers from both sides of the aisle have already voiced opposition for the US support for Riyadh, implicated in war crimes in the neighboring country, but it is still unclear whether the effort could garner enough votes.
Saudi Arabia has been incessantly pounding Yemen since March 2015 in an attempt to crush the popular Houthi Ansarullah movement and reinstate former president, Abd Rabbuh Mansur Hadi, who is a staunch ally of the Riyadh regime.
At least 13,600 people have been killed since the onset of Saudi Arabia's military campaign against Yemen. Much of the Arabian Peninsula country's infrastructure, including hospitals, schools and factories, has been reduced to rubble due to the war.
Full report at:
http://www.presstv.com/Detail/2018/03/20/556025/Senate-to-vote-on-ending-US-war-on-Yemen
--------
Houthi militia bomb ambulance in Al-Khokha killing one medic
21 March 2018
DUBAI: The Iran-backed Houthi militia bombed a civilian ambulance that was in a humanitarian mission in the Directorate of Khokha on the western coast of Yemen, killing one of its medical staff and wounding three others, UAE state-news agency WAM reported.
A medical source said that the Houthi militia targeted the ambulance, which was carrying casualties on the path of the Khokha Mukha. UAE forces that were operating within the Saudi-led Arab coalition transported the injured and cleared the area.
The source also said that Houthi targeting of civilian ambulances was a violation of all international norms.
http://www.arabnews.com/node/1270526/middle-east
--------
Israeli army courts violate Palestinian minors' rights, says NGO
21 March 2018
JERUSALEM: Reform of Israel's military court system in the occupied West Bank has failed to stop "systematic violation" of Palestinian minors' rights, an Israeli NGO said on Tuesday.
Human rights group B'Tselem said that the 2009 launch of a designated military juvenile court with the stated aim of "improving the protection of minors' rights" had failed to deliver.
It said that introduction of the juvenile court rather resulted in only "technical changes (which) have not improved the protection of minors' rights."
It gave as an example the goal of shortening the length of time that minors are held in custody while awaiting trial.
In practice, it says, this has generated a greater frequency of remand hearings but the military judges "almost always" grant prosecution requests to extend custody.
"The changes introduced to the military justice system ... are superficial, and affect nothing more than form," the report says, citing studies by UN children's agency UNICEF and Defense for Children International, among others.
"The reports all point to the same factual findings which demonstrate that minors' rights are regularly and systematically violated."
A UNICEF report last year cited affidavits taken from 165 West Bank children held by Israel in 2016, saying that all had been subjected to ill treatment or breaches of due process, including not being properly advised of their rights.
Many reported "verbal abuse and intimidation during arrest, transfer, interrogation and/or detention," UNICEF said.
The NGO said that figures provided by the Israel Prisons Service showed that as of Feb. 28, 2018 it held 356 Palestinian minors, nine of whom were serving sentences and 257 awaiting indictment or trial.
The report says that young suspects are frequently advised to plead guilty in exchange for a reduced prison sentence.
"The conviction rate in Israel's military courts verges on 100 percent," it says.
"This is not an indication of how effective the prosecution is in proving guilt, but rather a result of the fact that the overwhelming majority of the cases are closed in a plea bargain."
Israel's military said it had not yet received the report and could not comment.
A Palestinian teen arrested in December for slapping two Israeli soldiers who entered the yard of her West Bank home has become a vivid symbol of the Israeli-Palestinian conflict.
Ahed Tamimi, who was 16 at the time, is being held in an Israeli prison until the end of proceedings against her.
She is hailed as a hero by Palestinians who see her as bravely standing up to Israel's occupation.
Israelis accuse her family of using her as a pawn in staged provocations.
She has been charged on 12 counts including assault and could face a lengthy jail term if convicted.
Her trial opened on Feb. 21, behind closed doors, as is customary in the case of minors.
The UN Office of the High Commissioner for Human Rights has criticized the actions of Israeli authorities in the case.
Her December scuffle with the soldiers took place amid clashes and protests against US President Donald Trump's controversial recognition of Jerusalem as Israel's capital.
Full report at:
http://www.arabnews.com/node/1270476/middle-east
--------
URL: https://www.newageislam.com/islamic-world-news/book-jihad-written-14th-century/d/114670
New Age Islam, Islam Online, Islamic Website, African Muslim News, Arab World News, South Asia News, Indian Muslim News, World Muslim News, Women in Islam, Islamic Feminism, Arab Women, Women In Arab, Islamophobia in America, Muslim Women in West, Islam Women and Feminism