New Age Islam News Bureau
29 Jun 2013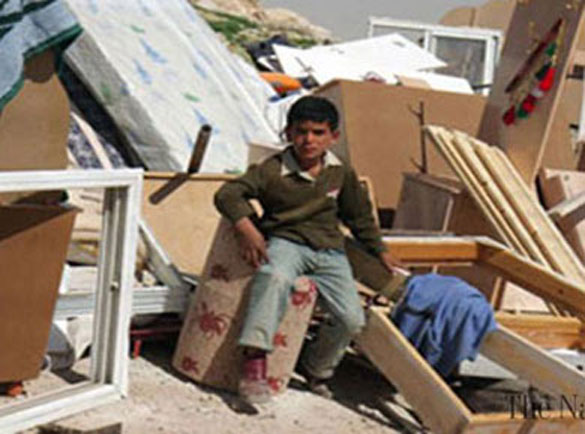 Photo: Palestinians facing 'abusive' Israeli detention
--------------
Arab World
• Bombs hit Iraq funeral and football stadium, killing 22
• 11 more die in Iraq bombings near a checkpoint
• Leadership Dispute Erupts In Syrian-Backed Militia Defending the Holy Shrine of Sayeda Zainab
• Saudi academic appreciates zeal and dedication of Indian community
• 3 Die in Egypt as Unrest Spreads Across Country
• Syrian Rebels Claim Big Gains in City Where Protests Began
• Iraq attacks kill six in Sunni Arab towns: officials
• 'Urdu News popularity soaring'
• Egypt's leading religious authority warns of 'civil war'
South Asia
• Violence Erupts Anew in Volatile Xinjiang Region on Friday
• Turbulent post-February 7 politics trigger 'artistic renaissance' in Maldives
• NATO Afghan convoy attacked by suicide car bomber
• Zia paved way for religion-based politics
• Karzai: Taliban Attack Won't Stop Peace Process
Mideast
• Slander Propagated By Islamists Refuted By Muezzin in Turkey
• Palestinians facing 'abusive' Israeli detention
• Rowhani envisages detente with world
• National dialogue in Yemen yet to find solution
India
• Top Gujarat cop acted like Rambo in Ishrat encounter, CBI says
• Kalam, Muslim clerics invited for Modi meet
• Indians with out-passes told to approach Jawazat for exit visas in Saudi Arabia
• Modi conspired to instigate Hindus post Godhra, Zakia's lawyer says
• AFSPA needed in Jammu and Kashmir, Salman Khurshid says
• 'Further probe' by NIA in 2006 Malegaon blast illegal: accused
• Stable Afghanistan, Iran critical to energy sector: Khurshid
Europe
• West should have talked to Taliban more than a decade ago: British general
• François Hollande cosies up to Qatar with his principles in his pocket
• David Cameron urged to raise human rights concerns on Kazakhstan trip
• Caucasus Emirate Reverses Position on Syrian Jihad
• International forces will provide advice to Afghan military until 2020
Pakistan
• Pakistan court denounces running of detention centres by ISI
• Former rulers committed grave crimes against country: Shahbaz
• Nawaz says will take steps to boost Pak-Indo relations
• Kabul meeting: Pakistan holds out assurance on refugees
• Balochistan to figure ahead of other issues under new security policy
• 'Sindh govt all bent to resolve crises despite federal hindrances'
• SHC seeks record of Afaq in alleged terror activities
• Three dead bodies recovered in Quetta
Africa
• Nigeria: 70 Persons, including some leaders of Boko Haram Killed in the last three days
• Mnla Leader Negotiates A Ceasefire With The Malian Government
• Somalia's al-Shabab leader Aweys 'not surrendering'
• Tanzania: Brain Drain Worries Zanzibar
North America
• CAIR Offers Guide to Help Muslims Share Ramadan with Neighbors
• Military Blackout: Army Blocks Access to NSA News Reports
• US warns countries that helped NSA leaker Snowden
• Snowden's father: My son is no traitor
Southeast Asia
• Ethics Councilor Faces Drug, Porn Charges in East Java
• 64 of the Iranians in Malaysian jails have death sentences
• Malaysian groups slam one-parent conversion law
• Hatta Rajasa Eyes Presidential Run, but is Indonesia behind Him?
• MCA slams "stealthy" new Islamic Bill in Malaysia
• Automatic voter registration promotes basic human right: HRC of Malaysia Chairman
Compiled by New Age Islam News Bureau
URL: https://newageislam.com/islamic-world-news/new-age-islam-news-bureau/bombs-hit-iraq-funeral-and-football-stadium,-killing-22/d/12360
-----------
Arab World
Bombs hit Iraq funeral and football stadium, killing 22
Reuters | Jun 29, 2013
RAMADI, Iraq: A series of bombs near a bakery, at a funeral, inside a senior police officer's car and at a football stadium killed at least 22 people across Iraq on Friday, police and medics said.
The violence is part of a trend of increasing militant attacks since the start of the year, which claimed more than 1,000 lives in May alone, making it the deadliest month since the sectarian bloodletting of 2006-07.
Twin blasts at a neighbourhood football stadium killed five players in Madaen, about 30 km (20 miles) southeast of Baghdad, and a roadside bomb near a bakery shop in the west of the capital left three people dead, police said.
A senior Iraqi police officer was killed when a bomb exploded inside his car and a second blast came five minutes later as police and bystanders gathered near the wreckage of the vehicle in the city of Ramadi in Anbar province.
Ten people died in those blasts. "We were on duty at a nearby checkpoint when the car exploded. We ran to work out what was going on, but before we reached the car it exploded again," said a policeman at the scene. "Many civilians and policemen were killed."
A suicide bomber attacked a funeral in the mainly Shia city of Dujail, killing at least four others, police and medics said.
Concerns that Iraq may lapse back into full-scale sectarian conflict have mounted in recent months amid tensions fuelled by the civil war in neighbouring Syria, where mainly Sunni rebels are fighting to overthrow a leader backed by Shi'ite Iran.
Sunni insurgents often target members of the security forces, heads of tribes and officials they see as supporters of the Shia-led government, as well as Shias.
Minority Sunnis have felt sidelined since the 2003 US-led invasion toppled Saddam Hussein and empowered majority Shias.
At the height of Iraq's insurgency in 2006-07, Anbar was in the grip of al-Qaida's local affiliate, the Islamic State of Iraq, which has been regaining strength in recent months.
No group immediately claimed responsibility for Friday's attacks. Suicide bombings are a trademark of al-Qaida's Iraqi wing.
The attacks followed bomb blasts in coffee shops and other targets that killed at least 22 on Thursday.
http://timesofindia.indiatimes.com/world/middle-east/Bombs-hit-Iraq-funeral-and-football-stadium-killing-22/articleshow/20824935.cms
-----------
11 more die in Iraq bombings near a checkpoint
29 June 2013
BAGHDAD: Two bombs exploded near a checkpoint run by government-allied militiamen in western Iraq yesterday, killing at least 11 people in the latest strike by militants seeking to destabilize the country. The twin blasts struck shortly before midday in the village of Zangoura, which is just south of the former insurgent stronghold of Ramadi, some 115 km west of Baghdad, according to police.
The checkpoint was manned by members of the Sahwa that joined forces with US troops to fight Al-Qaeda during the Iraq War. They remain on the central government's payroll for security forces.
One bomb, apparently planted by the side of the road, was the source of the initial blast. A second explosion struck as villagers rushed to help the victims of the first blast, police said.
There was no immediate claim of responsibility, but coordinated bombings and attacks on Sahwa members are frequently the work of Al-Qaeda in Iraq.
Police and hospital officials said 22 people also were wounded the attack. The officials spoke on condition of anonymity because they were not authorized to brief the media.
Iraq is in the midst of the deadliest and most sustained wave of violence to hit the country since 2008, raising fears the nation is returning to the widespread sectarian-charged bloodshed that pushed it to the brink of civil war in 2006 and 2007. More than 2,000 people have been killed in bombings and other violent attacks since the start of April.
Earlier yesterday, Iraqi officials raised the death toll from a series of bombings late Thursday that targeted soccer fans watching the Confederations Cup semifinal between Spain and Italy in cafes in and around Baghdad. They put the number of those killed at 36.
The deadliest attack, which killed 20 people, took place at a large cafe in the city of Baqouba, 60 km northeast of Baghdad. The assailants staggered the blasts, apparently so that the second one — a car bomb — would kill people rushing to help those hurt in the initial explosion.
http://www.arabnews.com/news/456494
-----------
Leadership Dispute Erupts In Syrian-Backed Militia Defending the Holy Shrine of Sayeda Zainab Nicholas A. Heras
June 29, 2013
Abu Ajeeb (a.k.a. Abu Ajeel) is the nom de guerre of the Syrian military commander and secretary general of the Shiite armed group known as the Abu al-Fadhal al-Abbas Brigade to Defend the Holy Shrine of Sayeda Zainab.
The Brigade was formed in the late summer of 2012 to protect the Shrine of Sayida Zainab from attack and potential desecration by militant Salafist opposition fighters (al-Hayat, March 3). Sayida Zeinab is a large, working-class, Shiite-majority area in southern Damascus that is a major pilgrimage site for Shiite Muslims from around the world and is home to a large number of nationalities, including Syrians, Iraqis, Iranians, Pakistanis, Afghanis, Lebanese and Sunni Palestinians. Sayida Zeinab is located near several areas of southern Damascus disputed by opposition and pro-government residents.
Shaykh Qasim al-Ta'i, an important Iraqi Shiite cleric from Najaf who was formerly a disciple of Grand Ayatollah Muhammad Sadeq al-Sadr and a part of the clerical leadership that supported his son Muqtada al-Sadr, is said to have helped encourage the formation of the Abu al-Fadhal al-Abbas Brigade from Iraqi Shiite volunteers (Ur News [Iraq], April 11). Shaykh al-Ta'I, who has several offices in the Sayeda Zainab area, stated that he would prefer that the Brigade remain a defensive force for the shrine and avoid engaging in the Syrian civil war (Najaf News [Iraq], April 10). Abu Ajeeb's leadership of the Abu al-Fadhal al-Abbas Brigade is sanctioned by Shaykh al-Ta'i (al-Sharq al-Awsat, April 17).
The Abu al-Fadhal al-Abbas Brigade is comprised of Shiite fighters from the Sayida Zeinab area and Shiite youth who are not aligned with any particular militia (Reuters, March 3). The group also includes fighters from a wide range of Shiite militant groups such as the Lebanese Hezbollah, the Iraqi Mahdi Army, the Iraqi Badr Brigades, Iraqi Asa'ib Ahl al-Haq (League of the Righteous Ones) and the Iraqi Hezbollah Battalion that have received training and support from the Iranian Revolutionary Guard Corps (IRGC). The fact that foreign Shiite fighters have come to protect the shrine indicates the possibility that Syria will become the major battleground between Shiites and Sunnis in the greater Middle East (al-Sharq [Damascus], May 4; Reuters, October 16, 2012).
Tension is growing between some Iraqi and Syrian fighters in the Abu al-Fadhal al-Abbas Brigade over the right of Abu Ajeeb to command, which has reportedly led to skirmishes within the group (Reuters, June 20). In spite of the large number of foreign fighters in the brigade, the uncertainty of Abu Ajeeb's origins makes him a figure of controversy. His opponents in the Syrian opposition have alleged that Abu Ajeeb was a vegetable seller from the northwestern governorate of Idlib near the Turkish border, who recently moved to the mixed ethnic and sectarian neighborhood of al-Zyabeyeh, due south of the Sayeda Zainab area. [1] The Idlib governorate consists of two major Shiite villages, Fu'aa and Kifarya, either of which may be the home town of Abu Ajeeb. Both of the villages are reputed to be staunchly pro-Assad and are situated in a region of Idlib where they are surrounded by pro-opposition Sunni villages. The sectarian and political tension between the Shiite villages and their Sunnis neighbors was demonstrated recently the kidnappings of approximately 235 people from both sides (al-Safir [Beirut], February 22).
Fighters from the al-Qaeda affiliated Jabhat al-Nusra Front asserted in early April that they had captured Abu Ajeeb while fighting for control of sections of Sayida Zainab (Aksalser, April 2). [2] This claim has been contradicted by a video released in late May of Abu Ajeeb participating in Shiite rituals during a funeral at the Shrine of Sayeda Zainab. [3] According to Syrian opposition reports, Abu Ajeeb and several of his fighters escaped capture from Jabhat al-Nusra by dressing as women when they fled the area (Oxygen [Zabadani], May 20).
In spite of the highly sectarian context in which he is fighting, Abu Ajeeb has attempted to downplay the sectarian motivations of the brigade in his interviews. Abu Ajeeb has asserted that the war and sectarianism was brought to Syria by foreign fighters, such as from Tunisia, Libya and Afghanistan who purposely target the Sayeda Zainab Shrine. He also stated that the Sayeda Zainab Shrine should not be thought of in sectarian terms and that it belongs to all of Islam because Zainab was the granddaughter of the Prophet Muhammad (Russia Today Arabic, March 24).
Notes
1. Free Syrian Army Forum, March 31, Available at: http://syrianarmyfree.com/vb/showthread.php?p=366221.
2. Jihadist Media Platform Forum, April 3, Available at: http://alplatformmedia.com/vb/showthread.php?t=22005.
3. "Abu al-Fadhal Brigade Commander Participates in a Funeral inside the Sanctuary of Sayyida Zainab," al-Koofi Channel, May 31, Available at: http://syriavideo.net/video/81230/.
http://www.jamestown.org/single/?tx_ttnews%5Btt_news%5D=41080&tx_ttnews%5BbackPid%5D=7
-----------
Saudi academic appreciates zeal and dedication of Indian community
29 June 2013
Dr. Adil Shaheen Al-Dossary of King Fahd University of Petroleum and Minerals (KFUPM) has appreciated the role of the Indian community in Saudi Arabia and for the dedication and zeal it has shown in all spheres of life.
He was speaking as chief guest at the inauguration of the special souvenir — Touchline — brought out by Alkhobar's United Football Club as part of its five-year celebrations at the Al-Nahda Football Stadium.
Full report at:
http://www.arabnews.com/news/456501
-----------
3 Die in Egypt as Unrest Spreads Across Country
By KAREEM FAHIM and DAVID D. KIRKPATRICK
June 29, 2013
CAIRO — At least three people were killed and hundreds were injured across Egypt on Friday, as antigovernment protesters ransacked Muslim Brotherhood offices and tens of thousands of supporters and opponents of President Mohamed Morsi held dueling rallies in the capital.
While the protests in Cairo remained peaceful, deadly clashes erupted in the port city of Alexandria, where protesters set fire to the Brotherhood's headquarters. Security officials said that among the victims was a United States citizen, a man who was stabbed to death near the headquarters.
Full report at:
http://www.nytimes.com/2013/06/29/world/middleeast/egypt-tensions.html
-----------
Syrian Rebels Claim Big Gains in City Where Protests Began
By HANIA MOURTADA and RICK GLADSTONE
June 29, 2013
BEIRUT, Lebanon — Rebel fighters in southern Syria claimed on Friday to be in control of most of the city of Dara'a, the cradle of the 2011 uprising against President Bashar al-Assad, after having battled his forces there for two weeks. The assertions, if confirmed, would represent a rare military victory for the insurgency, which has been struggling since it lost the stronghold city of Qusayr near the Lebanon border on June 5.
A dispatch by the Syrian Observatory for Human Rights, an anti-Assad activist group in Britain with a network of contacts inside Syria, said "Islamic rebel battalions" had seized the Binayat checkpoint, an important military gateway into Dara'a, which had enabled them to then assert a strategic advantage over much of the city.
Full report at:
http://www.nytimes.com/2013/06/29/world/middleeast/syrian-rebels-claim-to-control-most-of-city-where-protests-began.html
----------
Iraq attacks kill six in Sunni Arab towns: officials
June 29, 2013
BAGHDAD — Attacks in Sunni Arab towns surrounding Baghdad killed six people on Saturday, the latest in spiraling violence that has left more than 420 dead this month and sparked fears of renewed sectarian war.
The surge in unrest comes as Iraq grapples with a prolonged political deadlock and months of protests by the Sunni community alleging discrimination at the hands of the authorities.
Analysts warn that the political standoff may persist until general elections due next year.
In Abu Ghraib, just west of Baghdad, a bomb in a market killed three people and wounded at least 10 others.
Full report at:
http://www.saudigazette.com.sa/index.cfm?method=home.regcon&contentid=20130629171686
-----------
'Urdu News popularity soaring'
29 June 2013
Urdu News daily, a sister publication of Arab News, has been getting tremendous response from the Urdu-speaking community in the Gulf, and its popularity is expected to grow as the paper undergoes various planned changes, according to Tarek Mishkhas, editor-in-chief of Urdu News and Malayalam News.
He was speaking at a dinner hosted in his honor by Tariq Mumtaz Soomro, president of Pakistan Investors Forum. In attendance were Waseem Hayat Bajwa, commercial attache at the Pakistan Embassy and former member of National Assembly Chaudhary Nazeer Ahmad Jatt.
Full report at:
http://www.arabnews.com/news/456502
-----------
Egypt's leading religious authority warns of 'civil war'
June 29, 2013
CAIRO — Egypt's leading religious authority Friday warned of "civil war" and called for calm as political factions clashed ahead of major rallies the opposition hopes can force the President Mohamed Morsi to quit.
A member of the ruling Muslim Brotherhood was shot dead overnight. Dozens of people were wounded in Alexandria, many by shotgun pellets, when opposition marchers clashed with Islamists on Friday, two days before Morsi's critics hopes millions take to the streets to demand new elections.
Full report at:
http://www.saudigazette.com.sa/index.cfm?method=home.regcon&contentid=20130629171632
-----------
South Asia
Violence Erupts Anew in Volatile Xinjiang Region on Friday
By CHRIS BUCKLEY
June 30, 2013
HONG KONG — Violence erupted on Friday in China's volatile far western Xinjiang region, the second time in three days that tensions between the largely Muslim Uighur minority and Chinese security forces have brought bloodshed to the area.
The latest clash occurred in Hotan Prefecture, in the southern part of Xinjiang, whose population is predominantly Uighur. The Uighurs are a Turkic-speaking group sharing many affinities with people across Central Asia, and most follow relatively moderate forms of Sunni Islam. Many Uighurs resent the growing number of Han Chinese people, who have been attracted to Xinjiang by jobs in farming, energy production and mining.
A brief report issued by Tianshan Net, an official news Web site for Xinjiang, said that in Hanairike Township in Hotan, a crowd wielding weapons "assembled in a disturbance, and the public security authorities took emergency action and detained people taking part, rapidly quelling them."
The report said that "during the handling of the incident, no members of the public were killed or injured," leaving it unclear whether any police officers or officials were hurt or even killed.
Full report at:
http://www.nytimes.com/2013/06/29/world/asia/violence-erupts-anew-in-volatile-western-china-region.html?_r=0
-----------
Turbulent post-February 7 politics trigger 'artistic renaissance' in Maldives
By Donna Richardson | June 29th, 2013
A visual art event this Saturday will see the streets of Male' awash with colour as graffiti and street artists gather to host a live demonstration to encourage young people to vote for change in the upcoming elections.
Organised by the artist known as Feshun, the visual art event is open to anyone in the public and will take place from 4:00pm on Saturday at Raalhugandhu, and will continue up until 11:00pm in the evening.
The event will feature live graffiti painting by numerous artists across various locations around the capital city island along to live music performed by a DJ. It is all designed to inspire the disaffected younger generation to vote.
Full report at:
http://minivannews.com/politics/turbulent-post-february-7-politics-trigger-artistic-renaissance-60451
-----------
NATO Afghan convoy attacked by suicide car bomber
June 29, 2013
KABUL — Afghan authorities say a suicide car bomber has attacked a NATO convoy, killing two Afghan civilians.
The Farah provincial governor's spokesman Abdul Rahman Zhawandi said Saturday a man and woman on a motorcycle riding near the convoy were killed when the attacker struck Friday evening. Five civilians were wounded.
Coalition forces spokesman Capt. Luca Carniel says no NATO forces were hurt in the attack, but did provide medical assistance to the wounded civilians.
Elsewhere, in central Oruzgan province, police spokesman Fareed Ayal said 20 Taliban fighters and one police officer were killed in an operation late Friday.
Though the Taliban have indicated they are willing to start peace talks at a new office in Qatar, they have not renounced violence and attacks remain regular. — AP
http://www.saudigazette.com.sa/index.cfm?method=home.regcon&contentid=20130629171688
-----------
Zia paved way for religion-based politics
June 29, 2013
Urging people to resist fundamentalists, eminent war crimes researcher Shahriar Kabir yesterday said former president Ziaur Rahman paved the way for religion-based politics which Bangabandhu Sheikh Mujibur Rahman had banned.
Jamaat-e-Islami is a glaring example that the people do not like religion-based politics as the party could acquire only four percent of votes in the country, he said at a memorial discussion held at National Museum in the capital.
Full report at:
http://www.thedailystar.net/beta2/news/zia-paved-way-for-religion-based-politics/
-----------
Karzai: Taliban Attack Won't Stop Peace Process
June 29, 2013
KABUL, Afghanistan (AP) — The Taliban's daylight attack on Afghanistan's presidential palace earlier this week will not deter the government from forging ahead with the peace process, President Hamid Karzai said Saturday.
Though the Taliban have indicated they are willing to start peace talks at a new office in Qatar, their violent attacks haven't ceased.
Their ability to carry out well-planned and bold operations was driven home Tuesday when a SUV carrying four Taliban fighters managed to make it into a highly secured area by the gates of the palace. Four Taliban gunmen battled Afghan security forces for about an hour before being killed; a second vehicle involved in the attack blew up at a checkpoint on the way into the area.
Full report at:
http://www.nytimes.com/aponline/2013/06/29/world/asia/ap-as-afghanistan.html?ref=asia&gwh=32F605D22ECB5CBE29F2FE062E2EA95D
-----------
Mideast
Slander Propagated By Islamists Refuted By Muezzin in Turkey
28 June, 2013
The recent mass protests in Turkey have encountered slanders by Islamists as is done in other countries. But a muezzin in Turkey has exposed the Turkish slander.
The "No alcohol consumed in Istanbul mosque during Gezi protests, muezzin insists" headlined report* in Hurriyet Daily News said:
Fuat Yildirim, the muezzin of the mosque that had sheltered injured Gezi Park protesters, has repeated that he did not see alcoholic beverages being consumed in the mosque.
"I did not see anyone consume alcohol within the mosque or hold an alcoholic beverage bottle," said Yildirim in an interview with daily Yurt newspaper.
Full report at:
http://www.countercurrents.org/cc280613B.htm
-----------
Palestinians facing 'abusive' Israeli detention
June 29, 2013
UNITED NATIONS :?A UN committee Friday voiced concern at a wide range of practices that violate Israel's obligations as an occupying Power and infringe on the human rights of the Palestinians, and warned that popular discontent could result in another round of violence.The Israeli detention of an estimated 5,000 Palestinians, the "systematically abusive" detention of Palestinian children, the impact of the ongoing Israeli blockade of Gaza and the continued demolition of Palestinian homes were among the concerns cited by the UN Special Committee to investigate Israeli practices affecting the human rights of the Palestinian people and other Arabs of the occupied territories, as it concluded its latest fact-finding visit to Amman and Cairo.
Full report at:
http://www.nation.com.pk/pakistan-news-newspaper-daily-english-online/international/29-Jun-2013/palestinians-facing-abusive-israeli-detention
---------
Rowhani envisages detente with world
June 29, 2013
TEHRAN — Iran's moderate president-elect Hassan Rowhani vowed on Saturday to implement a policy of "constructive interaction" with world powers to build trust and diffuse tensions, exacerbated over Tehran's nuclear ambitions.
"Moderation in foreign policy means neither surrender nor confrontation but constructive and efficacious interaction with the world," Rowhani said in his first live televised remarks since his election on June 14.
Full report at:
http://www.saudigazette.com.sa/index.cfm?method=home.regcon&contentid=20130629171685
-----------
National dialogue in Yemen yet to find solution
June 29, 2013
SANA'A — Participants in Yemen's months-long National Dialogue Conference (NDC) have not yet reached agreement on a solution to decades-old conflict between the country's north and south, reports said.
Over the past three months, the conference sessions have been marked by a series of unprecedented events such as sit-ins by representatives from the south and their repeated demands for independence.
Full report at:
http://www.saudigazette.com.sa/index.cfm?method=home.regcon&contentid=20130629171620
-----------
India
Top Gujarat cop acted like Rambo in Ishrat encounter, CBI says
PTI | Jun 28, 2013
AHMEDABAD: Gujarat high court on Friday reserved till July 1 its order on a petition by top Gujarat police officer PP Pandey seeking quashing of an FIR filed against him in the IshratJahan encounter case even as the CBI described him as the "mastermind" of the 2004 episode.
According to CBI, which is probing the case, Pandey, additional DGP, acted like action hero Rambo in the entire operation. Ishrat, a 19-year-old Mumbai girl, and her three associates were gunned down by Ahmedabad crime branch, which had then claimed they were "terrorists".
Justice Harsha Devani, after hearing all sides in the case, fixed July 1 for giving her verdict on the plea.
Full report at:
http://timesofindia.indiatimes.com/india/Top-Gujarat-cop-acted-like-Rambo-in-Ishrat-encounter-CBI-says/articleshow/20819483.cms
-----------
Kalam, Muslim clerics invited for Modi meet
MOHAMMAD ALI
June 29, 2013
Officer on Special Duty with the Sachar Committee Zafar Mahmood, till now viewed as irreconcilably opposed to the Gujarat Chief Minister, is scheduled to speak on the topic 'Ek Bharat.'
The former President Abdul Kalam, a mufti from Madina, Officer on Special Duty with the Sachar Committee Zafar Mahmood and Chairman of HDFC Deepak Parekh are among the invitees to a "Young Indian Leaders Conclave" to be held in Gandhinagar on Saturday.
The meeting is being watched with a lot of interest not only because it is one of Narendra Modi's governance initiatives but also because the organisers, Citizens for Accountable Governance (CAG), have reached out to and sought the participation of prominent Muslim intellectuals and leaders.
Full report at:
http://www.thehindu.com/news/national/other-states/kalam-muslim-clerics-invited-for-modi-meet/article4860981.ece
---------
Indians with out-passes told to approach Jawazat for exit visas
29 June 2013
Indian expatriate workers who have received their emergency certificates (ECs) or out passes should approach the Passport Department (Jawazat) for getting their final exit visa, according to a press release issued by the embassy in Riyadh.
It said the embassy has issued ECs to all those who have verified their personal particulars with it. Those have not yet received EC may approach the embassy with a copy of passport on Saturday (June 29) or Sunday (June 30) for verification and collection of ECs.
Full report at:
http://www.arabnews.com/news/456499
-----------
Modi conspired to instigate Hindus post Godhra, Zakia's lawyer says
PTI | Jun 28, 2013
AHMEDABAD: ZakiaJafri's lawyer on Friday alleged before a court here that Gujarat chief minister NarendraModi had conspired to instigate Vishwa Hindu Parishad workers and other members of Hindu community after the Godhra train burning incident in 2002.
Ehsan Jafri, Zakia's husband and former Congress MP, was one of those who were slain during the riots across Gujarat after the Godhra incident.
Advocate Sanjay Parikh, Jafri's lawyer, made the allegation during the argument before metropolitan magistrate BJ Ganatra.
Full report at:
http://timesofindia.indiatimes.com/india/Modi-conspired-to-instigate-Hindus-post-Godhra-Zakias-lawyer-says/articleshow/20821938.cms
-----------
AFSPA needed in Jammu and Kashmir, Salman Khurshid says
June 29, 2013
SRINAGAR: External affairs minister Salman Khurshid on Friday said Armed Forces Special Powers Act (AFSPA) was needed in Jammu and Kashmir to protect the lives of armed forces as they are the ones who defend the country.
"You can argue that this (AFSPA) is not necessary and you can argue that we can now phase it out. You can argue that we can put more restrictions on it, but to say in black and white to take it off is not a reasonable or sensible thing to say," Khurshid told reporters here.
"This case is not to be decided by me. It is to be taken by the home minister, defence minister and, of course, the Prime Minister, who will finally take a call," he said.
Full report at:
http://timesofindia.indiatimes.com/india/AFSPA-needed-in-Jammu-and-Kashmir-Salman-Khurshid-says/articleshow/20819000.cms
-----------
'Further probe' by NIA in 2006 Malegaon blast illegal: accused
June 29, 2013
A month after NIA filed its supplementary chargesheet in connection with the 2006 Malegoan blasts, an accused on Saturday challenged its legality, saying that further investigation in the case by the probe agency was totally "illegal".
Blast accused Dhan Singh, who was arrested by the National Investigation Agency (NIA) along with three others, moved the Special MCOCA court saying that ATS had filed a chargesheet and the case was taken over by the CBI in 2007 which also filed a supplementary chargesheet.
"Whatever has been done by NIA, under the guise of further investigation is totally bad in law and hence the material collected by NIA has no legal sanctity," the application said.
Full report at:
http://www.hindustantimes.com/India-news/mumbai/Further-probe-by-NIA-in-2006-Malegaon-blast-illegal-accused/Article1-1084400.aspx
-------
Stable Afghanistan, Iran critical to energy sector: Khurshid
June 29, 2013
A stable Afghanistan and Iran are critical to India's energy security as these two countries can provide greater access to Central Asian region which has abundance of hydrocarbon wealth, the External Affairs Minister Salman Khurshid said on Saturday.
"We are looking at re-energising the national North-South Corridor to connect India with Central Asia and Russia through Iran, we are looking at trans-Afghan routes using Iranian port of Chahabar particularly to get access to Afghanistan, Uzbekistan and Tajikistan. We are looking at a rail link from Kazakhstan to Turkmenistan into Iran.
Full report at:
http://www.thehindu.com/business/Industry/stable-afghanistan-iran-critical-to-energy-sector-khurshid/article4863516.ece
---------
Europe
West should have talked to Taliban more than a decade ago: British general
June 29, 2013
KABUL — The West should have negotiated with the Taliban more than a decade ago, soon after they were toppled, Britain's senior general in Afghanistan said on Saturday after recent efforts to start peace talks collapsed in ignominy.
General Nick Carter told the London-based Guardian newspaper that an opportunity to bring peace to Afghanistan was missed when the Taliban were on the defensive in 2002 after they were ousted following the 9/11 attacks.
"The Taliban were on the run," he said. "At that stage, if we had been very prescient, we might have spotted that a final political solution... would have involved getting all Afghans to sit at the table and talk about their future."
Full report at:
http://www.saudigazette.com.sa/index.cfm?method=home.regcon&contentid=20130629171682
-----------
François Hollande cosies up to Qatar with his principles in his pocket
June 29, 2013
What price French socialism? That's the question President François Hollande is being asked as he tries to reconcile his "Mr Normal" image with his unashamed courting of the multibillionaires of Qatar.
Before coming to power last year, Hollande admitted: "I don't like the rich," and pledged a top income tax rate of 75%. That, like so many of his much-vaunted plans, hasn't quite worked (the legislation is still in the pipeline) but his antipathy towards the wealthy has already seen some flee the country, mainly to more liberal tax regimes including the UK and Russia.
Full report at:
http://www.guardian.co.uk/commentisfree/2013/jun/28/francois-hollande-qatar-principles
-----------
David Cameron urged to raise human rights concerns on Kazakhstan trip
June 29, 2013
David Cameron is facing a demand to raise concerns about "serious and deteriorating" abuses of human rights, including evidence of torture, during a visit to the former Soviet republic of Kazakhstan.
Cameron will become the first British prime minister to make an official visit to the oil-rich republic as part of his mission to refocus British foreign policy on boosting trade links around the world.
He will meet the president, Nursultan Nazarbayev, who was re-elected in controversial circumstances in 2011. During the trip a series of business deals covering energy and transport are expected to be signed.
Full report at:
http://www.guardian.co.uk/politics/2013/jun/28/david-cameron-human-rights-kazakhstan
-----------
Caucasus Emirate Reverses Position on Syrian Jihad
Mairbek Vatchagae
June 29, 2013
In less than a year, the Caucasus Emirate's leaders have reversed their position on whether or not to view the uprising in Syria as a sacred jihad. The leader of the North Caucasian jihadist movement, Doku Umarov, spoke rather ambiguously in a video address last November about the North Caucasians who are fighting in Syria (http://nohchipress.info/2012/11/6995). Umarov failed to conceal his disappointment with some of his fellow militants who ignored the North Caucasian rebel leadership and went to Syria. He said that he supported those who want to install sharia law in Syria, but he rebuked those from the North Caucasus who went there, thereby undermining the jihad in the North Caucasus. Thus the Caucasus Emirate leader reprimanded in particular those under his command who left for Syria and thereby rejected his authority. Moreover, Umarov emphasized that "the jihad in the Caucasus is more brutal and intense than on Syria's territory." The Caucasus Emirate leadership was, therefore, unequivocally against its fighters swapping the jihad in the North Caucasus for the jihad in Syria.
Full report at:
The Jamestown Foundation
-----------
International forces will provide advice to Afghan military until 2020
29 June 2013
International forces will provide logistical advice to the Afghan military up until 2020 after concluding that Afghanistan's national security forces will be unprepared for full operations when Nato combat troops withdraw from the country at the end of 2014.
As David Cameron paid a visit to British troops in Helmand province on Armed Forces Day, senior military sources indicated that Nato would need to play a major role in Afghanistan until the end of the decade.
The prime minister said British forces were reaching the final phase of the 12-year campaign. But senior British military sources said the Afghan forces would need advice on providing close air support, the distribution of food and fuel and on medevac facilities.
Full report at:
http://www.guardian.co.uk/world/2013/jun/29/international-forces-afghan-military-2020
-----------
Pakistan
Pakistan court denounces running of detention centres by ISI
IANS | Jun 29, 2013
ISLAMABAD: A court in Pakistan has strongly denounced the running of illegal detention centres by the Inter-Services Intelligence (ISI) and other intelligence and law-enforcing agencies of the country.
While hearing cases of 280 missing persons on Thursday, chief justice Dost Muhammad Khan of the Peshawar high court observed that the courts in the country would no longer tolerate running of such centres, The News International reported.
"It has come into my notice that there are secret detention centres in the no-go areas of the provincial metropolis but none of the law-enforcing agencies is taking action in this regard," the chief justice was quoted as saying.
Full report at:
http://timesofindia.indiatimes.com/world/pakistan/Pakistan-court-denounces-running-of-detention-centres-by-ISI/articleshow/20832190.cms
----------
Former rulers committed grave crimes against country: Shahbaz
June 29, 2013
LAHORE: Punjab Chief Minister, Shahbaz Sharif Saturday said that the former federal rulers committed grave crimes against the country, Geo News reported.
He said that his party without wasting any time would soon give final shape to talks with Turk companies for generating electricity from garbage.
Addressing a meeting on energy crisis at the CM House here, Shahbaz Sharif said that the government has to move fast in starting power generation projects and completing them in the minimum time as energy crisis has affected every segments of our life.
Punjab CM said that the government was working on war footing to reduce the duration of load shedding in the country. He said that the letter of interest of such projects, which had not be kicked off as yet, would be cancelled.
http://www.thenews.com.pk/article-107251-Former-rulers-committed-grave-crimes-against-country:-Shahbaz
-----------
Nawaz says will take steps to boost Pak-Indo relations
June 29, 2013
ISLAMABAD: Prime Minister Nawaz Sharif has said his government followed the policy of keeping close relations with New Delhi in the past and would adopt the same in the future.
According to a spokesman for the Prime Minister House, the premier stressed the need for harmony and enhancing people to people and government-to-government contacts between the two countries.
The prime minister presided over meeting of Pak-India Joint Business Council attended by representatives of big trade groups from both the countries.
The meeting discussed host of issues regarding exchanges of delegations and enhancing economic cooperation between both the countries.
Mr Sharif told the meeting that Pakistan wanted to boost relations with India and his government would take steps in this regard.
http://www.thenews.com.pk/article-107271-Nawaz-says-will-take-steps-to-boost-Pak-Indo-relations-
-----------
Kabul meeting: Pakistan holds out assurance on refugees
June 29, 2013
PESHAWAR: Afghanistan, Pakistan and the UN Refugee Agency (UNHCR) on Friday agreed to step up efforts to find solutions for Afghan refugees in Pakistan following June 30 when refugees' Proof of Registration (PoR) cards expire.
In an "Extraordinary Consultations Meeting" hosted by Afghanistan in Kabul, Pakistan's Minister of States and Frontier Regions (SAFRON), Lt Gen (retd) Abdul Qadir Baloch reiterated the country's commitment to continue adhering to its traditional hospitality when formulating a new policy for Afghan refugees.
Full report at:
http://tribune.com.pk/story/569931/kabul-meeting-pakistan-holds-out-assurance-on-refugees/
-----------
Balochistan to figure ahead of other issues under new security policy
June 28, 2013
ISLAMABAD: The federal government on Friday while issuing special directives to the military forces decided to put Balochistan on top of the "primacy" list of new national security policy which was announced by Nawaz Sharif, shortly after assuming office as Prime Minister.
The decision was taken in the wake of the incident where militants blew up the Quaid-e-Azam residency in Ziarat which had been declared a national heritage.
The spokesperson of the federal government stated that the government will do everything to ensure accountability across the board so that the Balochistan government is provided support and action is taken against those responsible for the incident in Ziarat.
Full report at:
http://tribune.com.pk/story/569666/balochistan-to-figure-ahead-of-other-issues-under-new-security-policy/
-----------
'Sindh govt all bent to resolve crises despite federal hindrances'
By Razzak Abro
June 29, 2013
KARACHI: Sindh Chief Minister Syed Qaim Ali Shah has sought support of all political parties in the province for maintaining law and order in Karachi, he said this while concluding general discussion on the Sindh Budget 2013-14.
Qaim vowed that PPP's provincial government will establish peace despite fact that the Federal government still enjoys administrative control of the province by appointing the Chief Secretary and Inspector General Police in Sindh. He said the provinces were granted provincial autonomy under 18th Constitutional Amendment but they are practically still deprived of financial and administrative autonomy.
Full report at:
http://www.dailytimes.com.pk/default.asp?page=2013\06\29\story_29-6-2013_pg7_9
-----------
SHC seeks record of Afaq in alleged terror activities
June 29, 2013
KARACHI: Sindh High Court (SHC) on Friday asked interior ministry to put details of Mohajir Qaumi Movement-Haqiqi (MQM-H) Chairman Afaq Ahmed's involvement in terrorist activates on record, in order to substantiate putting his name on Exit Control List (ECL). Headed by Justice Ahmed Ali M Sheikh the ministry has been given a last chance to substantiate its claim, while hearing the petition filed by Ahmed. In the petition, complainant said he applied for a passport on January 1, 2012 for performing Umrah, but FIA director for passport and immigration informed he cannot be issued a passport, since his name had been placed on ECL. Full report at:
http://www.dailytimes.com.pk/default.asp?page=2013\06\29\story_29-6-2013_pg12_8
-----------
Three dead bodies recovered in Quetta
SYED ALI SHAH
June 29, 2013
QUETTA: Police recovered three dead bodies in Quetta, the capital of Balochistan on Saturday morning.
Police sources told Dawn.com that dead bodies were found in Satellite Town graveyard area of Quetta.
All three dead bodies were brought to civil hospital Quetta for postmortum and identification. Police said all victims had received multiple bullets. Motive behind killing of three men could not be confirmed.
http://dawn.com/news/1021556/three-dead-bodies-recovered-in-quetta
-----------
Africa
Nigeria: 70 Persons, including some leaders of Boko Haram Killed in the last three days
BY NDAHI MARAMA, 29 JUNE 2013
No fewer than 70 persons including some leaders of Boko Haram were killed in both Borno and Plateau States during separate skirmishes in the last three days in the country.
Gunmen suspected to be Boko Haram, also had last night reportedly killed a soldier and abducted three others during an attack on the military in Potiskum, Yobe state, a military source revealed.
Sources confirmed the incident to newsmen in Damaturu, the Yobe State capital, saying that the corpse of the deceased soldier had been brought from Potiskum and deposited at a hospital morgue in Damaturu town.
"The attack was a bad one because a soldier was killed and the terrorists kidnapped three other soldiers to an unknown destination", he said.
Full report at:
http://allafrica.com/stories/201306290037.html?viewall=1
-----------
Mnla Leader Bilal Ag Acherif Negotiates A Ceasefire With The Malian Government
Nicholas A. Heras
June 29, 2013
Bilal ag Acherif was born into the powerful Tuareg Ifoghas tribe in 1977 in the Adrar de Ifoghas area of Mali's northeastern Kidal region. He attended college in Libya in 1993, returning to Mali in 2010. Ag Acherif was made the secretary-general of the Mouvement National de Libération de l'Azawad (MNLA - National Movement for the Liberation of Azawad) in October 2011 (Africa Report [Paris], July 5, 2012).
The Malian government agreed to preliminary terms of a ceasefire on June 18 with the MNLA and the Mouvement Arabe de l'Azawad (MAA – Arab Movement of Azawad) in northern Mali. Full report at:
http://www.jamestown.org/single/?tx_ttnews%5Btt_news%5D=41080&tx_ttnews%5BbackPid%5D=7
----------
Somalia's al-Shabab leader Aweys 'not surrendering'
June 29, 2013
A key al-Shabab leader in Somalia, Sheikh Hassan Dahir Aweys, has so far refused to surrender, elders from his clan have told the BBC Somali Service.
The UN has reported that Mr Aweys has handed himself over to a pro-government administration in central Somalia after falling out with al-Shabab's leader.
But Mr Aweys is in Galmudug region with his militia with the consent of the local authorities, the elders say.
They had flown there from the capital to see if he was willing to make peace.
Mr Aweys is seen as the elder statesman of Somali Islamists and has been on a US list of people "linked to terrorism" since shortly after the 9/11 attacks in 2001.
Full report at:
http://www.bbc.co.uk/news/world-africa-23095129
-----------
Tanzania: Brain Drain Worries Zanzibar
BY ISSA YUSSUF, 28 JUNE 2013
Zanzibar — IN a quest to minimise brain drain, Zanzibar is planning to impose strict conditions on graduates sponsored by the government, the House of Representatives were informed.
"It is unfortunate that the government spends a lot of money to sponsor students so they get the best academic education or skills and return to serve in the country, but many do not come back," Minister for Health, Mr Juma Duni Haji said.
He said that the health sector is badly hit by brain drain, prompting the government to come up with strict conditions.
Duni was responding to questions from Mr Jaku Hashim Ayoub (CCM- Muyuni) who wanted to know why the government has been training students and yet the shortage of skilled staff still persisted in most hospitals.
Full report at:
http://allafrica.com/stories/201306280008.html
-----------
North America
CAIR Offers Guide to Help Muslims Share Ramadan with Neighbors
Fast-breaking 'iftars' designed to enhance interfaith understanding
6/28/13
(WASHINGTON, D.C., 6/28/13) -- The nation's largest Muslim civil rights and advocacy organization today urged Muslim communities nationwide to reach out to their neighbors of all beliefs and backgrounds by inviting them to take part in an interfaith "iftar," or fast-breaking meal, during the upcoming month-long fast of Ramadan.
Ramadan is the month on the Islamic lunar calendar during which Muslims abstain from food, drink and other sensual pleasures from break of dawn to sunset. It is estimated to begin July 9 this year.
To assist local Muslim community leaders, the Washington-based Council on American-Islamic Relations (CAIR) has produced a "Sharing Ramadan Resource Guide 2013" that offers step-by-step advice on hosting an interfaith iftar.
The resource guide includes instructions on forming a "Sharing Ramadan" committee, a sample media advisory for an iftar, advice on reaching out to local media, an advertisement for the event, text for a "Welcome to Our Ramadan Fast-Breaking" brochure, frequently-asked questions about Ramadan, and a sample event program and newspaper advertisement.
"The Prophet Muhammad, peace be upon him, said Ramadan 'is the month of sharing with others,'" said CAIR National Communications Director Ibrahim Hooper. "All our research has shown that prejudice and stereotyping decrease when people of other faiths know more about Islam and interact with ordinary Muslims."
CAIR is America's largest Muslim civil liberties and advocacy organization. Its mission is to enhance the understanding of Islam, encourage dialogue, protect civil liberties, empower American Muslims, and build coalitions that promote justice and mutual understanding.
-----------
Military Blackout: Army Blocks Access to NSA News Reports
June 29, 2013
The U.S. Army is blocking all internet access to the Guardian's coverage of the NSA spying scandal to prevent service members and military employees from leaking information themselves, the Monterey Herald revealed Thursday.
The censorship at Army bases across the U.S. is in place to ward off further leaks and ensure 'network hygiene,' said Gordon Van Vleet, spokesman for the Army's NETCOM network. He told the Monterey Herald:
"We make every effort to balance the need to preserve information access with operational security, however, there are strict policies and directives in place regarding protecting and handling classified information."
Full report at:
http://www.commondreams.org/headline/2013/06/28-1
-----------
US warns countries that helped NSA leaker Snowden
June 29, 2013
Pressure is seen rising within the US administration and countries which are believed to be helping NSA whistleblower Edward Snowden for escaping US extradition over leaking highly sensitive data. US State Department has pointed that Ecuador may face 'grave consequences' if the government
decides in favour of Snowden's asylum claim in the country, Fox News reports.
State Department spokesman Patrick Ventrell slammed Hong Kong's claim that Snowden's misspelled name in the paperwork led to his escape from the territory to Moscow.
He rubbished Hong Kong's claim and said that they knew he was a fugitive and intentionally let him go.
Full report at:
http://www.hindustantimes.com/world-news/americas/US-warns-countries-that-helped-NSA-leaker-Snowden/Article1-1084213.aspx
-----------
Snowden's father: My son is no traitor
June 29, 2013
WASHINGTON — The father of fugitive US intelligence leaker Edward Snowden insisted Friday his son was not a traitor for revealing details of secret US surveillance programs, although admitted he did break the law.
In an interview with NBC News, Lonnie Snowden also said he had told US Attorney General Eric Holder through his lawyer that his son would probably be willing to return home so long as the Justice Department agrees not to detain him before trial or impose a gag order on him.
Snowden also said he wants his son to be able to choose where he goes on trial on espionage charges filed in the wake of the revelations made by the 30-year-old former National Security Agency contractor.
Full report at:
http://www.saudigazette.com.sa/index.cfm?method=home.regcon&contentid=20130629171609
-----------
Southeast Asia
Ethics Councilor Faces Drug, Porn Charges in East Java
June 29, 2013
A district councilor in Banyuwangi, East Java, arrested on Thursday for drug possession was found on Friday to also have two suitcases full of porn videos and sex toys as well as women's underwear in his car.
Totok Sugiarto, a member of the district legislature's ethics board, was arrested on Thursday afternoon after being found consuming methamphetamine in a rice silo in Banyuwangi's Grogol village.
Police seized 0.33 grams of the drug as well as various drug paraphernalia, according to the district police chief, Adj. Sr. Comr. Nanang Masbudi.
"Based on a test of his urine, he came up positive for meth consumption," Nanang said as quoted by Tempo.co.
Full report at:
http://www.thejakartaglobe.com/news/ethics-councilor-faces-drugs-porn-charges/
-----------
64 of the Iranians in Malaysian jails have death sentences
JUNE 29, 2013
Most of the hundreds of Iranians now jailed in Malaysia have been detained under the Dangerous Drugs Act 1952 (DDA 1952).
Home Minister Datuk Seri Dr Ahmad Zahid Hamidi said 341 have been detained under the DDA 1952, 64 of them convicted under Section 39B of the act, which carries the mandatory death penalty.
"Another eight are detained under the Special Preventive Measures (LLPK) and 13 under the Immigration Act," he said at a media conference after receiving a courtesy call from the Iranian Ambassador to Malaysia, Mohammad Jalal Firouznia, at the Home Ministry in Putrajaya on Friday.
Full report at:
http://www.themalaysianinsider.com/malaysia/article/4-of-the-iranians-in-malaysian-jails-have-death-sentences/
-----------
Malaysian groups slam one-parent conversion law
June 29, 2013
KUALA LUMPUR: Malaysian groups on Friday slammed an Islamic law enabling one parent to give consent for the religious conversion of a child, a contentious issue in the Muslim-majority country.
In 2009, the government said existing legislation would be amended so that children's conversion required the consent of both parents.
But amendments put forward in parliament this week retain a provision that a minor below 18 can convert to Islam if "his parent or guardian" consents. The Malay-language text of the new law says the consent of "mother or father or guardian" is required.
Full report at:
http://www.dailytimes.com.pk/default.asp?page=2013%5C06%5C29%5Cstory_29-6-2013_pg4_6
-----------
Hatta Rajasa Eyes Presidential Run, but is Indonesia Behind Him?
By Dessy Aswim
June 28, 2013
While many politicians would find a way to avoid announcing an unpopular policy, like the decision to increase fuel prices, in a televised news conference, Coordinating Minister for the Economy Hatta Rajasa confidently took the podium last week to make the announcement.
With only a year until the next presidential election, many feared Hatta, the chairman of the National Mandate Party (PAN) and one of the first to declare his presidential candidacy, would put his popularity at risk through being the public face of the fuel price increase.
Full report at:
http://www.thejakartaglobe.com/news/he-has-what-it-takes-except-popularity/
-----------
MCA slams "stealthy" new Islamic Bill in Malaysia
Gan Ping Sieu
June 29, 2013
I am shocked to learn that the Government is tabling the Administration of the Religion of Islam (Federal Territories) Bill as it contains controversial provisions that affects the constitutional and religious rights of the non-Muslim.
The introduction of the relevant provisions in the Bill has, among other things, vested the jurisdiction to determine whether a person is a Muslim convert / Muallaf in the Syariah High Court. It also empowers the Syariah Courts to rule on the unilateral conversion of infants, even if the conversion was done against the wishes of a non-converting spouse. The provision has run contrary to the collective Cabinet decision on 22 April 2009.
Full report at:
http://www.malaysia-chronicle.com/index.php?option=com_k2&view=item&id=121012:new-islamic-bill-is-lawmaking-by-stealth-even-mca-asks-what-national-reconciliation-is-this?&Itemid=2#.R3bo5Du-plA
-----------
Automatic voter registration promotes basic human right: HRC of Malaysia Chairman
June 29, 2013
Automatic voter registration should be hailed as part of promoting a basic human right, Human Rights Commission of Malaysia Chairman Tan Sri Hasmy Agam said yesterday.
"At this stage, Suhakam has not discussed the idea but offhand, I think it is a good proposal which should be welcomed by all as part of promoting a basic right.
"It is encouraging to learn that the Election Commission is conducting a feasibility study, which is important in order to ensure its smooth implementation," he told theSun yesterday.
On June 26, Prime Minister Datuk Seri Najib Abdul Razak had told Parliament the government was mulling the idea of automatic voter registration, but compulsory voting was not a feasible option.
Full report at:
http://www.malaysia-chronicle.com/index.php?option=com_k2&view=item&id=121162:automatic-voter-registration-promotes-basic-human-right-suhakam&Itemid=2#.R3bo8Du-plA
-----------
URL: https://newageislam.com/islamic-world-news/new-age-islam-news-bureau/bombs-hit-iraq-funeral-and-football-stadium,-killing-22/d/12360