New Age Islam News Bureau
23 August 2020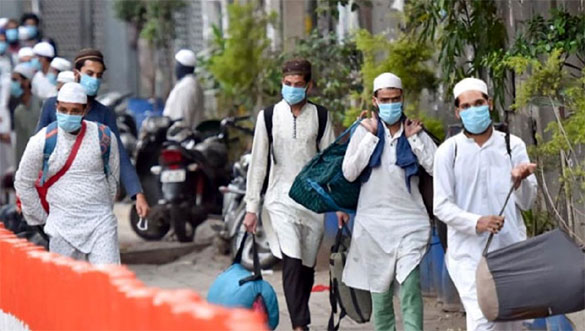 • Muslims Can't Be Singled Out for Prosecution, Says Bombay HC and Quashes FIRs Against Foreign Tablighi Jamaat Members
• Pakistan Imposes Sanctions on Over 80 Terrorists Including Haqqani, Taliban And TTP Members
• Tehran Municipality Under Fire for The Word "Islamic" Missing in Street Sign
• Christchurch Mosque Attacks: 'I'm Close To Forgiving, But Not There Yet'
• How China Uses Muslim Press Trips to Counter Claims Of Uighur Abuse
• Pompeo To Visit Israel, UAE To Discuss 'Peace', Iran, China
India
• Muslims Can't Be Singled Out for Prosecution, Says Bombay HC and Quashes FIRs Against Foreign Tablighi Jamaat Members
• Ganesh Chathurthi: Guess Which Muslim-Majority Country Has Lord Ganesha On Its Currency Note?
• Mosque Trust, Indo-Islamic Cultural Foundation, Releases Logo, Team Visits Ayodhya Village
• Melody of Muslim Singer, Sohil Baloch's Bhajan Got Sweeter In 'Indo-Pak Jugalbandi'
• India: Court drops case against 'scapegoated' Muslims
• Suspected Islamic State operative had left village two days ago to get relative treated in Lucknow, says UP cop
• Karnataka: Hindu youth prevents Muslim from drowning in Nethravathi River
• UP Police on high alert, UP ATS team reaches Delhi after Islamic State terrorist's arrest
-------
Pakistan
• Pakistan Imposes Sanctions on Over 80 Terrorists Including Haqqani, Taliban And TTP Members
• Lawyer denies facilitating killing of suspected blasphemer in Peshawar court
• Imran Khan declared Man of the Year by 'The Muslim 500'
• UK approached for extradition of Nawaz: PM aide
-------
Mideast
• Tehran Municipality Under Fire for The Word "Islamic" Missing in Street Sign
• Losing in Yemen, winning in Afghanistan, Islamic State Weighs in on Arab-Israeli Peace
• Holding Imam Hussein's (AS) Mourning Ceremony with Observing Health Protocols A Test For All
• How Iranian Mullahs Use COVID-19 To Prevent Major Iran Protests
• Agriculture Jihad Minister: Iran's anti-covid19 vaccine reaching near clinical trial phase
• Maduro says Venezuela buying Iranian missiles 'a good idea'
• War With Iran: Here's How the Islamic Republic Could Cut Off the World's Oil
------
New Zealand
• Christchurch Mosque Attacks: 'I'm Close To Forgiving, But Not There Yet'
• Survivors Will Face New Zealand Mosque Gunman At Sentencing
-------
South Asia
• How China Uses Muslim Press Trips to Counter Claims Of Uighur Abuse
• Key Taliban member arrested in a joint military operation in Kabul
• Kabul police arrest ex-commander sentenced to jail for murder and corruption charges
• Kabul magnetic bombs rattle the city
------
North America
• Pompeo To Visit Israel, UAE To Discuss 'Peace', Iran, China
• AP: Muslim and LGTQ Caucuses at Democratic Convention Left 'Under God' Out of Pledge of Allegiance
• Nine Reasons You Can Be Optimistic That A Vaccine For COVID-19 Will Be Widely Available In 2021
• Muslim Advocacy Group Pushes For Hate Crime Probe After Egyptian-American Teen Attacked In NY
• US-led coalition hands over Taji military base to Iraqi forces: State media
-------
Europe
• UK Muslim Charity Board to Resign as Director Calls Designated Terrorists 'Great Men', Media Says
• My years in the police tell me some Islamic terrorists are likely reaching our shores in those • rubber dinghies. I fear the worst
• MPs threaten Boris Johnson with legal action over Russian election interference probe
• Coronavirus: We will see 'real problems' with COVID-19 this winter, chief medical officer says
• Protests calling on Netanyahu to resign continue with momentum
-------
Africa
• Three People Martyred; Dozens Injured In Nigerian Police Attack On Imam Hussain Mourners
• El-Rufai: Muslim lawyers in Kaduna State boycotts NBA conference
• 13 killed as Islamist militias attack eastern Congo villages
• Boko Haram recruiting fresh members, IDPs may be forced to join, Zulum raises alarm
------
Southeast Asia
• Malaysia's Islamist Party PAS Officially Joins Ruling Coalition Perikatan Nasional: Source
• Muhyiddin proposes new chapter in Bersatu to accommodate non-Malay leaders
• MOH: Daily Covid-19 cases in Malaysia back to single digit despite recent emergence of new clusters
• Dr Afif: Decision to unite under Muhyiddin's leadership was a hard one
• Muhyiddin announced as Bersatu president, Ahmad Faizal deputy president
• UN, Indonesia honour victims of terrorism
-------
Arab world
• Riyadh Global Digital Health Summit Looks At Technology In Combating COVID-19
• Kuwait Parliament Drafts Plan To Limit Expat Numbers, Ban Certain Visas Transfers
• Saudi public sector staff return on Aug. 30, but health precautions enforced
• Top Saudi doctor defeats COVID-19 following 3-week treatment
Compiled by New Age Islam News Bureau
URL; https://www.newageislam.com/islamic-world-news/muslims-cant-be-singled-prosecution/d/122696
------
Muslims Can't Be Singled Out for Prosecution, Says Bombay HC and Quashes FIRs Against Foreign Tablighi Jamaat Members
Ajay Kumar
August 22, 2020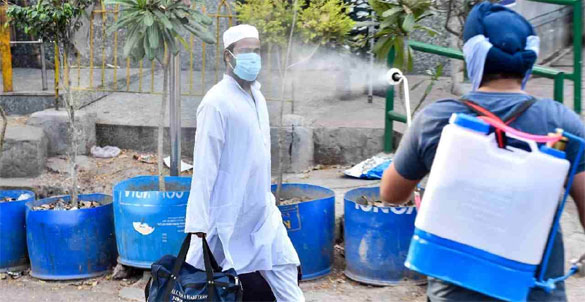 Today, in the English-speaking world, the phrase "reading the riot act" means a good dressing down. On 21 August, the Bombay High Court's Aurangabad Bench, did just that
-----
For the longest time, England had a law on the books called the Riot Act of 1714. The Act essentially provided that when the authorities found more than 12 people unlawfully assembled, they could read out a proclamation asking them to disperse. Those who did not disperse after the reading of the proclamation, would be guilty of a felony and any force could be used to disperse them.
Today, in the English-speaking world, the phrase "reading the riot act" means a good dressing down given to someone by a person in a position of authority. On 21 August, the Bombay High Court's Aurangabad Bench, did just that.
It gave the government, and quite frankly a lot of people in this country, a proper dressing down about the way certain sections of the community have been targeted.
The Bomay High Court was hearing an application by 29 foreign nationals, who had been charged with a variety of offences, including allegedly violating the visa conditions, by attending a Tablighi Jamaat congregation in Delhi's Nizamuddin Area. The court examined the nature of these offences and made some very pertinent observations. The government should do some serious introspection right now for the Bombay High Court has been scathing in the manner in which it has indicted its behaviour with regards to the Nizamuddin markaz incident.
It was the case of the prosecution that, while patrolling, they received inputs that some Indian and foreign nationals were offering prayers at the Kazi Masjid of Jamked. Upon visiting the site, they found some foreign nationals giving speeches on thoughts and the philosophy of the Muslim religion. The police also found a similar thing happening at the Mehraj Masjid of Ahmednagar and the Bhaldar Masjid of Newasa City. Consequently, FIRs were registered against 29 foreign nationals in total and some Indian nationals as well.
During the hearing, the State contented that the foreigners were in India on a tourist visa but were engaging in religious activites and accordingly were in contravention of the provisions of the Foreigners Act, 1948. Further, they had also breached the lockdown regulations and accordingly were in contravention of the Disaster Management Act, 2005, the Epidemic Diseases Act, 1897, and various sections of the Indian Penal Code of 1860.
The petitioners before the court contended that they were here to see India and experience Indian culture, hospitality and food. They were screened at the airport and only allowed in after they were found COVID-19 negative. Further they said, that when the lockdown was suddenly imposed, vehicular movement stopped and they weren't able to find accommodations so the mosque gave them refuge.
The court, agreed with the petitioners and held that even foreigners, who otherwise do not have the rights guaranteed under Article 19 of the Constitution (free speech, etc), while in India, still have rights under Articles 20 (protection in respect of conviction for offences), 21 (Right to Life) and 25 (freedom of religion) of the Constitution of India.
"There was big propaganda in print media and electronic media against the foreigners who had come to Markaz Delhi and an attempt was made to create a picture that these foreigners were responsible for spreading covid-19 virus in India. There was virtually persecution against these foreigners.
A political Government tries to find the scapegoat when there is pandemic or calamity and the circumstances show that there is probability that these foreigners were chosen to make them scapegoats. The aforesaid circumstances and the latest figures of infection in India show that such action against present petitioners should not have been taken. It is now high time for the concerned to repent about this action taken against the foreigners and to take some positive steps to repair the damage done by such action."
"In our culture, there is saying like 'Atithi devo bhava' which means that our guest is our God. The circumstances of the present matter create a question as to whether we are really acting as per our great tradition and culture. During the situation created by COVID-19 pandemic, we need to show more tolerance and we need to be more sensitive towards our guests particularly like the present petitioners. The allegations made show that instead of helping them we lodged them in jails by making allegations that they are responsible for violation of travel documents; they are responsible for spreading of virus, etc.
"The question arises as to what must have tempted the authority to issue such directions against the foreigners like the petitioners. The record of this matter and the submissions made show that (the) action of Central Government was taken mainly against Muslim persons who had come to Markaz Delhi for Tabligh Jamamat. Similar action was not taken against other foreigners belonging to other religions. Due to these circumstances, the background of the action and what is achieved needs to be considered by the Court.
"There were protests by taking processions, holding dharana at many places in India from at least from prior to January 2020. Most of the persons participated in protest were Muslims. It is their contention that Citizenship Amendment Act, 2019 is discriminatory against the Muslims. They believe that Indian citizenship will not be granted to Muslim refugees and migrants. They were protesting against National Registration of Citizenship (NRC). There were protests on large scale not only in Delhi, but in the most of the States in India. It can be said that due to the present action taken fear was created in the minds of those Muslims. This action indirectly gave warning to Indian Muslims that action in any form and for any thingcan be taken against Muslims. It was indicated that even for keeping contact with Muslims of other countries, action will be taken against them. Thus, there is smell of malice to the action taken against these foreigners and Muslim for their alleged activities. The circumstances like malice is important consideration when relief is claimed of quashing of FIR and the case itself.
"In Marathi, there is saying meaning of which is 'missing Fakir/begger can be found in Masjid'. In big religious places including Masjids there are arrangement of stay made for religious persons or the persons who are involved for maintaining of the Masjids. If they allow some persons like foreigners to stay with them, it cannot be said that they have committed the offence of breach of the aforesaid orders. In the present matters, even the trustees of the Masjids are made accused by making allegations against them that they had given shelter to foreigners and they had supplied meals to the foreigners. During lockdown period, all over India in many religious places arrangement was made for destitute persons, to give them shelter and to provide them meals. Such arrangements were made in gurdwaras, Masjids and other religious places. During lockdown period even beggars were not found on the road and some NGOs and such religious institution had made arrangements for them also. The migrant labourers were accommodated accordingly. Due to prohibition orders, hotels and restaurants were closed. Thus, giving shelter to such persons could not have been treated as offence, commission of the act of disobedience of aforesaid orders.
"It is already observed that the Muslim persons who had given shelter to the foreigners are made accused probably with some purpose. This action must have created pressure on Indian Muslims. The persons of this community may avoid to keep contact with Muslims of other country now due to such actions. The material in respect of possibility of spreading of infection by the petitioners is already discussed with relevant dates. This situation created by the present action is against the promotion of idea of universal brotherhood. So, this court holds that there is no material on record to make out prima facie case for the breach of aforesaid orders. No other order was produced on record and as already observed, the orders are not specifically mentioned in the charge sheet and copies of the orders are not shown to be supplied by showing them in the charge sheet.
"It is a fact that many foreigners of other countries are sent back by the Central Government without making any inquiry. Social and religious tolerance is practical necessity for unity and integrity in India and that is also made compulsory by our Constitution. By hard work over the past years after Independence we have reconciled religion and modernity to great extent. This approach helps (the) participation of most in (the) developing process. We have been respecting both religious and secular sensibilities since Independence and by this approach we have kept India as united.
"The aforesaid material and discussion of law shows that (the) Maharashtra Police acted mechanically. It appears that the state government acted under political compulsion and police also did not dare to exercise powers given to them under provisions of procedural law like CRPC and substantive laws. The record shows that there was no application of mind by (the) police and that is why even when no record was available to make out prima facie case, chargsheets are filed by police. The government cannot give different treatment to citizens of different religions of different countries. Article 14 of the Constitution of India shows that there needs to be 'law' as mentioned in this Article and for some object the classification can be made which needs to be reasonable. Such law can be subjected to the test of constitutional validity. The 'contents' of 'the law' can also be sufficient to rebut the presumption of reasonableness for the classification and the rebuttal of presumption of reasonableness is possible after consideration of even extraneous material. Further, whether such discrimination can be made without making such classification under law, whether such administrative or executive instructions can be issued, will be a question, but this Court is not going into that question. For the limited purpose, this Court is holding that the police action is based on such instructions probably of the executive and apparently there is discrimination as mentioned above. On this ground also, the malice is inferable and the cases needs to be quashed."
The Bombay High Court's observations are a scathing rebuke to what has now become a part of the policy of the government, which is to specifically single out Muslims for prosecution, which in turn, has turned into persecution. This policy has finally been called out in the open and rebuked for being antithetical to core constitutional values. One hopes that the powers that be will take note of this judgement and mend the errors in their ways. It's about time someone read the Riot Act to them.
https://www.firstpost.com/india/by-quashing-firs-against-foreign-tablighi-jamaat-members-bombay-hc-shows-govt-that-muslims-cant-be-singled-out-for-prosecution-8742191.html
--------
Pakistan Imposes Sanctions on Over 80 Terrorists Including Haqqani, Taliban And TTP Members
By Khaama Press
22 Aug 2020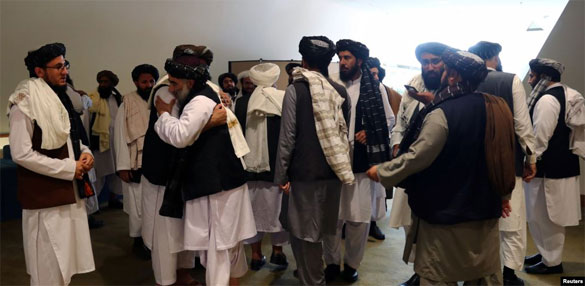 In a deal to refrain from demotion at Financial Action Task Force's grey list, Pakistan has imposed financial sanctions on 88 individuals linked to different terrorist groups.
-----
In a deal to refrain from demotion at Financial Action Task Force's grey list, Pakistan has imposed financial sanctions on 88 individuals linked to different terrorist groups.
Recently two stationary notifications were released on 18 August by the government of Pakistan.
Pakistan submitted its initial draft report to the joint group at FATF that shows compliance of the remaining 13 points out of 27 action points regarding terror funding.
The sanctions are imposed against 88 terrorist members whom are affiliated with Jamaat-ud-Dawa (JuD), JeM,Daesh, Alqaeda, Haqqani, Afghan Taliban and Tahreek Taliban Pakistan (TTP).
Pakistani government announced banning the insurgents' bank accounts and properties in their premises, terror outfits are also banned from traveling abroad.
Pakistan has offered full compliance with the UN security sanctions to remain in the grey record of FATF, sanctions were applied to terrorist masterminds such as Hafiz Saeed, Masood Azhar, Dawood Ibrahim, Zakiur Rehman Lakhvi and Afghan Taliban like Mullah Abdul Ghani Baradar.
Mullah Abdul Ghani Baradar is one of the terror outfits that signed the peace agreement with the United States on February, 29.
https://www.khaama.com/over-80-terrorist-group-members-are-sanctioned-by-pakistan-789798/
--------
Tehran Municipality Under Fire for The Word "Islamic" Missing In Street Sign
August 22, 2020
Radio Farda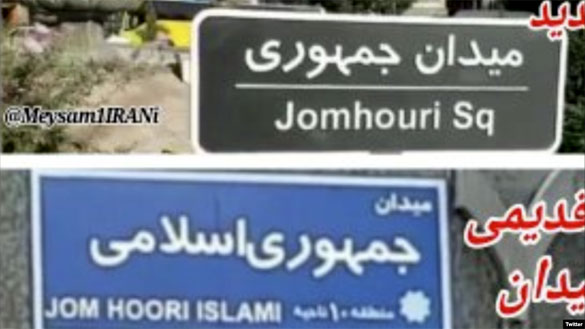 The old and new signs of Jomhuri Eslami (Islamic Republic) Square in central Tehran.
------
Iran's hardliners have blasted Tehran Municipality for the missing word "Islamic" in a street sign replaced recently. Pictures were posted on social media showing the name of a square in central Tehran as "Republic" instead of "Islamic Republic".
The attacks have forced the municipality authorities to apologize and pledge to punish "culprits" for dropping the word "Islamic".
"Let's not be oblivious to the sneaky move of the liberals," one hardliner critic tweeted adding that "The Municipality [of Tehran] is not committed to the Islamic aspect of the republic system" and called for the "inefficient authorities" to be put on trial.
"Islamic Republic, neither a word more nor a word less is the legacy of thousands of martyrs for us. What has happened is unforgivable," Gholam-Hossein Mohammadi, an adviser to the Mayor of Tehran and Head of the Municipality's Information Center, tweeted on Friday.
In 2009 protesters pulled down the sign of the "Islamic Republic Avenue" to show their disillusionment with the Islamic system.
"Islamic Republic, neither a word more nor a word less" is a quote from the founder of the Islamic Revolution Ayatollah Rouhollah Khomeini. When it came to decide the country's political system after the fall of the monarchy he insisted that "republic" or "democratic republic" were out of the question.
In an interview with Students News Network (SNN), Mohammadi claimed that dropping the word "Islamic" was a mistake and not a "systematic attempt". He also promised to reprimand those responsible for it even it had been done "unintentionally".
The Islamic Republic Square and a street of the same name, one of the oldest and longest in central Tehran, was known as "King Square" and "King Avenue" before the Islamic Revolution of 1979 after which they were re-named as "Islamic Republic Square" and "Islamic Republic Avenue". The name is only used on the street signs, official documents and maps, otherwise the square and avenue are simply referred to by the name "Republic".
https://en.radiofarda.com/a/tehran-municipality-under-fire-for-the-word-islamic-missing-in-street-sign-/30797441.html
------
Christchurch mosque attacks: 'I'm close to forgiving, but not there yet'
by Simon Atkinson
23-08-2020
Hamimah Tuyan's husband, Zekeriya, was one of 51 people killed by the attacks on two mosques in Christchurch in March 2019.
The Australian gunman has pleaded guilty to charges of murder, attempted murder, manslaughter and terrorism.
Hamimah has flown from Singapore to New Zealand to give a victim impact statement at his sentencing.
She spoke to the BBC from her quarantine hotel in New Zealand.
https://www.bbc.com/news/av/world-asia-53858369
-------
How China uses Muslim press trips to counter claims of Uighur abuse
Kate Wong
Sun 23 Aug 2020
Journalist Sherif Sonbol was taking pictures of ethnic dancers during an official tour of China's far western Xinjiang province when he noticed a room full of women being trained to use sewing machines. He realised he was in one of Beijing's network of political indoctrination camps, where – according to the United Nations – China is detaining up to one million members of the mostly Muslim Uighur minority.
Sonbol, an Egyptian photographer and editor, was one of at least 80 journalists taken to Xinjiang since 2015 on the "Silk Road Celebrity China Tour". He left convinced that accounts of mistreatment inside the re-education centres were untrue. "I keep hearing people saying the education centres were where they torture people," he said. But the enthusiasm of the dancers impressed him, "Look at their faces! You know these are very happy people."
Sonbol is just one beneficiary of a massive Chinese government outreach programme targeting non-English-speaking journalists in a concerted push to build its influence. In recent years, Beijing has reached out to the Muslim world, bringing more than 30 journalists from Islamic countries to Xinjiang in a bid to refute western headlines claiming human rights abuses.
The tours serve a dual purpose, with Chinese state media also featuring the visits on the main national evening news bulletin. In some cases, the journalists are quoted as giving their vocal support to Beijing's hardline strategy in Xinjiang.
Interviews with three Muslim journalists who took part in the tours have revealed they were provided with interpreters, given access to high-ranking officials and monitored during most of their interactions. Sonbol described interviewing a female inmate who said she'd been given three years in the re-education camp after assaulting other women who had failed to use the Islamic head-covering, the hijab. "She committed a crime!" he said. "She agreed to go to the re-education centre. What's wrong with that?"
For Sonbol and his group of 12, the political indoctrination camp was the last stop on a 10-day tour that started in Beijing and included a kindergarten, an Islamic college, a mosque, a market and cultural venues in Xinjiang. Beijing has been accused of attempting to eradicate Uighur culture, but Sonbol said what he saw convinced him of the opposite. "In this market for traditional Uighur dancing, they built a modern mosque, they built a place to pray, they have this place for dancing, they have everything," he said.
Murat Yilmaz, a reporter for Turkish newspaper Hürriyet, took part in a tour to Xinjiang in 2017. Yilmaz's output from the visit – two news stories praising Chinese growth – also argued for increased economic cooperation for countries along the belt and road initiative, echoing Chinese talking points. "I got to see China with my own eyes, and I got correct information," he wrote in an email.
But one journalist who had a very different reaction to an official tour was Albanian-Canadian freelance Olsi Jazexhi. In August 2019, he flew to Xinjiang for an eight-day tour with another 19 journalists from 16 countries.He had always vocally opposed the United States, and when he approached the Chinese embassy in Tirana, he only had one aim in mind. "I wanted to write a good piece on China," he admitted, "I wanted to prove to the world that the Americans, like they lied about us in the Balkans, they are lying about the Chinese as well."
Jazexhi's background is as a historian, and from the start he was suspicious of the narrative followed by Chinese experts who lectured the group. "Communist party officials were describing Xinjiang as historically being Chinese, while the Uighurs and other Turkic Muslims were shown as immigrants in Xinjiang, and Islam was depicted as a foreign religion which was imposed by foreigners on the Uighurs." It was, to his mind, closer to propaganda than history. He was also made uneasy by the portrayal of Muslims in state-run museums, where they were often depicted as primitive and dirty.
But the key moment for Jazexhi came during a visit to Wensu County Vocational Skills Training Centre, a re-education camp in Aksu prefecture. When the group arrived, they watched a series of song-and-dance routines. After around 15 minutes, Jazexhi asked if he could speak to some of the detainees. He was ushered into a classroom and was told he could conduct interviews under supervised conditions. He noticed that whenever he started speaking to the detainees in their own language, they responded in Mandarin Chinese. He realised that the inmates were afraid.
"We understood that these people were not even allowed to speak their own mother tongue," he said. Through conversations with handlers, he realised that the practice of Islam was prohibited in the camps, and that residents were not allowed access to phones or contact with their families.
He also learned some of the reasons why they had been detained, including wearing the hijab, praying in public and reading the Qur'an. "What we found out was that in Xinjiang, practising Islam was considered to be a crime," he said.
That night, Jazexhi posted video of his awkward interviews with nervous inmates surrounded by handlers and interpreter on YouTube. The move irritated the Chinese officials on the tour, who questioned why he was taking the videos.
In the following days, the group visited another re-education camp in Kashgar, where he noticed the inmates were wearing traditional Uighur costumes."In our trip, they had produced this Potemkin show," he said. "Almost all of us as journalists, we understood that the CCP had put on a show for us. They wanted us to sell the world a fake story."
Yet Jazexhi noted that, while the visits had made some of the other journalists weep, most took no action. One wrote a lengthy report that could not be published in their own country, but most of the others stayed silent.
China's ministry of foreign affairs(Mofa) said Jazexhi's statement had "no factual basis and is pure rumour and slander. I hope that the media will not be blinded by his remarks.""The center strictly implements the basic principles of respecting and protecting human rights in China's constitution and relating laws," a statement from Mofa said. "All use the national common language and minority language at the same time."
Such trips represent one prong in China's information warfare strategy, according to Michael Raska of Nanyang Technological University Singapore's S Rajaratnam School of International Studies.
"Information warfare is about trying to compel others to accept your interests," he said, "What is new now is a shift in Chinese information and political influence strategies. There is now a much more comprehensive and active push to control the narrative."
A Chinese police officer takes his position by the road near what is officially called a vocational education centre in Yining in Xinjiang
A Chinese police officer near what is officially called a vocational education centre in Yining, Xinjiang. Photograph: Thomas Peter/Reuters
The success of these tours is hard to gauge. Sonbol emerged convinced that Beijing's motives in Xinjiang were humane, and that the western press treated China unfairly. Jazexhi, even though he was not won over by his experience in Xinjiang, said: "China is doing what the British and Americans do. They're producing fake stories in the service of their imperialism."
Jazexhi's outspokenness has come at a cost, and he has been publicly attacked by China's state-run Global Times newspaper, which accused him of spreading fake news and violating journalistic ethics. He says he was also approached by the Chinese embassy in Albania, who hinted that staying silent would be beneficial for him. "They told me, please don't write, don't say anything, and if you be quiet, you will be the friend of China."
https://www.theguardian.com/world/2020/aug/23/how-china-uses-muslim-press-trips-to-counter-claims-of-uighur-abuse
---------
Pompeo to visit Israel, UAE to discuss 'peace', Iran, China
August 23, 2020
PressTV
US Secretary of State Mike Pompeo reportedly intends to visit the Israeli-occupied Palestine on Monday before traveling to the United Arab Emirates (UAE) to discuss the despotic Arab kingdom's normalization deal with the Tel Aviv regime.
The agenda of the hawkish top US diplomat will also include discussions with officials of the two regimes perceived "security challenges" posed by Iran and China in the region, Reuters reported Saturday citing two sources "briefed" on Pompeo's itinerary "who declined to be identified by name or nationality."
The development came shortly after the chief of Israel's infamous Mossad spy agency, Yossi Cohen, traveled to the UAE in the first high-profile visit by a senior Israeli official for what was described as "security talks."
During the visit, Cohen discussed cooperation "in the fields of security" with the UAE's National Security Advisor Sheikh Tahnoun bin Zayed Al Nahyan in Abu Dhabi, according to the country's official WAM news agency.
"The two sides discussed prospects for cooperation in the fields of security as well as exchanged points of view on regional developments and on issues of common interest, including efforts to contain COVID-19," the report said.
The tiny Persian Gulf state and the Tel Aviv regime reached a US-brokered normalization deal on August 13, designed to lead to full diplomatic ties amid angry condemnation of the move by all Palestinian leaders, who described the agreement as a "stab in the back" of the Palestinians by an Arab country.
The deal further drew strong reaction across the Middle East and most of the Muslim world, including the Islamic Republic of Iran, which deplored the accord as "treacherous."
Iran's Foreign Minister Mohammad Javad Zarif said in a telephone conversation with Secretary General of Palestinian Islamic Jihad resistance movement Ziad al-Nakhala a day after the agreement that the "treacherous" deal between the Zionist regime and the UAE does not hinder the Palestinian resistance against the occupying regime.
Zarif further underlined that the Washington-pushed deal would "certainly increase the hatred of the people of the region and Palestinians for such policies that are against the Palestinian cause."
Shortly after the announcement of the Israel-UAE deal, the Islamic Jihad lambasting the move, emphasizing that it was a sign of submission of Abu Dhabi to Tel Aviv without having any effect on reducing conflicts in the occupied Palestinian territories.
The Iranian foreign minister also spoke with the leader of the Gaza-based Hamas resistance movement, Ismail Haniyeh, who thanked Iran's leader and government for their persistent support of the Palestinian cause and said, "We will always continue the line of resistance and fight against the occupation, and we will not be affected by such treacherous acts, but we feel pain from this dagger that stabbed the Palestinian people from behind."
This is while the American president described the agreement as a "HUGE breakthrough" in a tweet and further referred to it as a "historic peace agreement between our two GREAT friends."
Pompeo at the time also described the normalization deal as an "enormous" step forward on the "right path" while the Israeli Prime Minister Benjamin Netanyahu boasted that deal marked "a historic day."
However, many observers believe that the Trump administration has pushed the UAE-Israel deal as a much-needed foreign policy achievement as the president's re-election campaign is struggling to gain in the local polls that show him far behind his Democratic presidential rival Joe Biden just more than two months ahead of the November 3 elections.
https://en.abna24.com/news//pompeo-to-visit-israel-uae-to-discuss-peace-iran-china_1064690.html
--------
India
Ganesh Chathurthi: Guess Which Muslim-Majority Country Has Lord Ganesha On Its Currency Note?
BY DNA Web Team
Aug 22, 2020
Amid the clouds of the COVID-19 pandemic, millions of people in India on Saturday warmly welcomed the popular elephant-headed God, Lord Ganesha, also known as Ganapati and Vinayaka. The atmosphere of the pandemic may have dialled down the celebrations a bit compared to other years, however, that doesn't make the day any less special because it is still about one of the best-known and most worshipped deities in the Hindu pantheon.
Today, we pose the question to our readers -- Which country has a picture of Lord Ganesha on its currency note? And before your mind defaults to the most obvious answer, you should jolt back into remembering that it is not India, since currency notes here carry the image of Mahatma Gandhi, as any elementary school lesson will tell you.
Then which country is it? Well, although it might not be as obvious as first, as a matter of fact -- the image of Lord Ganesha, the beloved remover of obstacles, the patron of arts and sciences, and the deva of intellect and wisdom, is found beyond India and even... Hinduism. Yes, his image is found in Nepal, Sri Lanka, Thailand, Bali (Indonesia) and Bangladesh and in countries with large ethnic Indian populations including Fiji, Mauritius and Trinidad and Tobago. Not just that, devotion to Lord Ganesha is widely diffused and extends to Jains and Buddhists as well.
He is honoured at the start of rites and ceremonies. Ganesha is also invoked as patron of letters and learning during writing sessions. Several texts relate mythological anecdotes associated with his birth and exploits.
Which brings us to our original question -- Which country has a picture of Lord Ganesha on its currency note? As a hint, let us say that it's a Muslim-majority country but it continues to be impacted and shaped by the rich history of Hinduism and its mythology.
Too difficult? Well, do not bother beating up your brain cells anymore -- the answer is Indonesia.
Yes, the country whose religious composition comprises 86.7% Islam and 1.74% Hinduism did carry the image of Lord Ganesha on its 20,000 rupiah note from 1998 to 2008, along with Ki Hadjar Dewantara, a leading Indonesian movement activist.
Don't get confused as we have the answer to this. Indonesia is a Muslim-majority, yes, but in most of the places, you'll see Hindu motifs so much so that, when L.K. Advani visited Jakarta in 2010 he was left awestruck by the healthy respect the Muslim majority has for Hindus and vice versa.
It is believed that Hinduism came to Indonesia in the 1st-century through traders, sailors, scholars and priests. and is still one of the six official religions of the republic. A syncretic fusion of pre-existing Javanese culture and Hindu ideas, that from the 6th-century synthesized Buddhist ideas as well, evolved as the Indonesian version of Hinduism. These ideas continued to develop during the Srivijaya and Majapahit empires.
The Bali island in Indonesia has a Hindu majority and in the Indonesian mainland, apart from the image of Lord Ganesha in the currency note, emblems and symbols of Hinduism are scattered across several motifs in the country. The National emblem of Indonesia is called Garuda Pancasila. Garuda, the vehicle carrier (vahana) of Lord Vishnu, also appears in many ancient Hindu temples of ancient Indonesia.
It is a fact that Ganesha is one of a number of Hindu deities who have reached foreign lands. Statues of Ganesha are found throughout Maritime Southeast Asia, often beside Shiva sanctuaries. The forms of Ganesha found in the Hindu art of the Philippines, Java, Bali, and Borneo show specific regional influences and modified forms of worship in other places Burma, Cambodia, and even Thailand.
https://www.dnaindia.com/india/report-ganesh-chathurthi-guess-which-muslim-majority-country-has-lord-ganesha-on-its-currency-note-2838887
--------
Mosque Trust, Indo-Islamic Cultural Foundation, Releases Logo, Team Visits Ayodhya Village
Aug 23, 2020
Arshad Afzaal Khan
Ayodhya: The Indo-Islamic Cultural Foundation, the Trust formed by Sunni Waqf Board for construction of an alternate mosque in Ayodhya in lieu of Babri masjid, on Saturday released its official logo, which is an octagram, represented by two overlapping squares.
Talking to TOI, secretary of mosque trust, Athar Hussain, said, the logo is an Islamic symbol — Rub el Hizb. "In Arabic, 'Rub' means one fourth, while Hizb means a group or party. It's system for memorising and facilitating recitation of the Quran, which is divided into 60 hizbs. The symbol is used as a marker for a chapter in Arabic calligraphy," said Hussain.
The secretary and members of the Trust visited Dhannipur on Saturday to inspect the topography of the five acres of land, which was handed over to the district administration in first week of August.
The delegation comprising secretary, Athar Hussain, and trustee Imran Ahmad Shibli met local clerics and members of Muslim community in Dhannipur and adjoining villages. Shadaab Khan, a villager, told TOI that villagers assured the delegation of support and cooperation in building the mosque and other public-utility facilities.
The Trust will be building a mosque along with a multi-speciality hospital, a community kitchen and a library on the land. The Trust has already announced that the mosque will not be in the name of Babar and other facilities will be open to people of all communities.
The delegation also visited an ancient Jain temple adjoining Dhannipur — Sri Jain Swetambara Mandir Raunahi Ratnapuri of the 15th Tirthankara. Temple priest Chandrashekhar Tiwari, who hosted the Trust members told TOI that the temple dates back 2,500 years of the Samprati period.
https://timesofindia.indiatimes.com/city/lucknow/mosque-trust-releases-logo-team-visits-ayodhya-village/articleshowprint/77698528.cms
--------
Melody of Muslim Singer, Sohil Baloch's Bhajan Got Sweeter In 'Indo-Pak Jugalbandi'
Aug 23, 2020
By Kiritsinh Zala
RAJKOT: His religion did not create an impediment when Rajkot-based Sohil Baloch decided to compose and sing a bhajan dedicated to Lord Shiva. Nor, did the acrimonious Indo-Pak relationship matter when his Pakistani friend, Wajid Ali Khan, accompanied the singer on the Tabla. The melodious rendition of the duo left listeners' hearts melting in devotion.
"Though born into a Muslim family, I have been brought up on bhajans as I lived in a Hindu area. During my childhood, I used to go to Swadhyay Parivar and sing bhajans," says Sohil (30), who lives in Bajarangvadi area of Rajkot.
Sohil has also written and composed a bhajan, "Mai To Jogi Banke Aya" (I have become a hermit), in which Khan has played tabla. "I came into contact with Wajidbhai, a resident of Lahore in Pakistan, on Facebook three months ago. I sent him the composition of the song, which he loved very much. He was so kind to me that he filled in the composition with his music and tabla and sent it back to me," says Sohil.
"Wajidbhai is the son of Tafu Ali Khan, a legendary a tabla player who used to play tabla for famous Pakistani ghazal singer Ghulam Ali," Sohil added.
Sohil's father Yusuf Baloch, also a music composer known as Kamalbhai, would send Sohil to Swadhyay Parivar where Pandurang Shastri Athavale would ask Sohil to sing bhajans. Sohil's elder sister Tasleem Baloch is the principal of Sanskar Deep High School in Jamnagar, and a ghazal singer.
"I was inspired by my father and elder sister to take up music as a career. I serve as a music teacher with SNK High School on University Road in Rajkot," says Sohil.
Sohil has done masters in music from Arjunlal Hirani Performing Arts College in Rajkot. So far, he has composed and released 20-odd albums consisting of bhajans and songs.
Ten years ago, Sohil had composed and sung a bhajan dedicated to Lord Ganapati along with famous folk singer Nidhi Dholakia. Five years ago, Sohil had recomposed Saint Narsinh Mehta's bhajan 'Vaishnav Janato Tene Re Kahiye', in which he made 21 folk singers including Kirtidan Gadhvi, Hemant Chauhan, Lalita Godadara and Osman Meer lend their voices. Two years ago during the holy month of Ramzan, Sohil had sung bhajans dedicated to Lord Swaminarayan at Bochasanwasi Akshar Purushottam Swaminarayan temple in the presence of Mahant Swami.
https://timesofindia.indiatimes.com/city/rajkot/melody-of-muslim-singers-bhajan-got-sweeter-in-this-indo-pak-jugalbandi/articleshowprint/77699847.cms
-------
India: Court drops case against 'scapegoated' Muslims
22.08.2020
Shuriah Niazi
A court in western India quashed criminal proceedings Saturday against foreign and Indian nationals accused of snubbing precautions against the novel coronavirus by attending a Muslim congregation in a mosque, saying they were made "scapegoats."
Judges in the city of Aurangabad in Maharashtra state heard three separate petitions filed by the petitioners.
Judges TV Nalawade and MG Sewlikar said in their statement that there had been much "propaganda" in the media against the "foreigners who had come to Markaz Delhi [mosque] and an attempt was made to create a picture that these foreigners were responsible for spreading COVID-19 virus in India."
"There was virtually persecution against these foreigners," they said, adding there was "probability that these foreigners were chosen to make them scapegoats."
"A political Government tries to find the scapegoat when there is pandemic or calamity and the circumstances," said the bench.
Citing current infection figures in India, they underlined that these circumstances showed that legal action against those that attended the congregation should not have been taken.
It is now high time for the concerned to take steps to repair the damage done by the lawsuit, they added.
A total of 29 foreigners from Ivory Coast, Ghana, Tanzania, Djibouti, Benin and Indonesia were booked by police for staying in a mosque and violating lockdown orders in the city of Ahmednagar, roughly 100 kilometers (62 miles) south of Aurangabad.
They said they came on a valid visa issued by the government and were screened and tested for the coronavirus at the airport.
Muslims in India were targeted in different parts of the country in April following reports that there one local outbreak of COVID-19 had occurred at a mid-March religious gathering in New Delhi organized, by Tablighi Jamaat, a Muslim religious group.
https://www.aa.com.tr/en/asia-pacific/india-court-drops-case-against-scapegoated-muslims/1950378
-------
Suspected Islamic State operative had left village two days ago to get relative treated in Lucknow, says UP cop
Press Trust of India
August 22, 2020
Balrampur: A Special Cell team of Delhi Police took alleged Islamic State operative Mustakeem Khan to his village Badhya Bhaksai in Balrampur district on Saturday evening for the scrutiny of his various claims, a top UP police officer said.
Mustakeem Khan alias Abu Yusuf, allegedly planning to carry out a lone wolf terror strike in the capital, was arrested in Delhi on Friday night after a brief exchange of fire with a Delhi police team.
Khan was taken to his village on Saturday evening by a Delhi Police team after he was remanded in police custody by a court there, a senior officer of the Anti-Terrorist Squad of UP police told PTI in Lucknow.
The accused was taken to his village to verify his various claims from his relatives and neighbours in his village, he said.
Following communication from the Delhi Police of its intention to take the accused to his village, a UP ATS team had swooped on the village earlier in the day and cordoned it off to restrict the entry of outsiders to prevent any trouble in the area, said the UP police officer.
During enquiries in the village, it transpired that Khan had left his village for Lucknow two days ago on the pretext of getting one of his relatives treated there, he added.
But it could not be ascertained how he reached the National Capital where he was arrested on Friday night from the central Delhi's Ridge Road area, he said.
Khan was found in possession with two pressure cooker IEDs which were fully ready and just needed to be activated with a timer, the Delhi Police had said earlier on the day after securing his police custody for eight days from a court there.
Khan's relatives in the village feigned ignorance on how he reached Delhi despite saying he was going to Lucknow, the ATS officer added.
He said the accused was taken to his village, besides some other places, and was intensively questioned.
The Delhi Police team also asked about Khan's antecedent from several of his relatives and neighbours in his village, the official said.
During the enquiries, it transpired that nearly eight years ago, he had left the village to work in Mumbai but he came back after he got injured there in an accident, the official said.
Around four years ago, he had opened a cosmetic shop here which he ran briefly, the official said.
A major terror strike was averted with the arrest of Khan from Central Delhi's Ridge Road area after a brief exchange of fire, Delhi Police officials said earlier on Saturday.
The Delhi Police said Khan was on police radar for over a year. He was planning to carry out a lone wolf strike at a high footfall area in the National Capital, it said.
Khan had planned to strike in the National Capital on 15 August, but could not do so due to heavy security arrangements, Delhi's Special Cell Deputy Commissioner of Police PS Kushwah had said.
Security was stepped up in the National Capital and neighbouring Uttar Pradesh following the arrest.
https://www.firstpost.com/india/suspected-islamic-state-operative-had-left-village-two-days-ago-to-get-relative-treated-in-lucknow-says-up-cop-8742531.html
--------
Karnataka: Hindu youth prevents Muslim from drowning in Nethravathi River
Aug 22, 2020
Jaideep Shenoy
MANGALURU: In an incident that will warm the cockles of the heart and typifying the communal amity in Dakshina Kannada district, a Hindu youth prevented a Muslim from drowning in the Nethravathi at Uppinangady on Friday. His timely presence of mind and action from the flood rescue unit stationed at Uppinangady, confluence of the Nethravathi and Kumaradhara rivers, meant that both youths went home richer by their experience.
Saleem Kalleri of Janata Colony, Kalleri who went to answer nature's call on the banks of the Nethravathi accidentally slipped and fell into the river. Even as he was struggling to come out of the muck that he was caught in and gradually sinking, Ravi Shetty, a bystander unmindful of the risk involved, waded into the water and caught hold of Saleem and ensured he did not drown. The muck made it difficult for both Ravi to drag Saleem ashore.
Flood rescue unit personnel unit headed by in-charge home guard unit officer Dinesh B, informed of the situation, rowed to the spot in their inflatable rubber boat. Dinesh told TOI that as the spot where Saleem was stuck was close to the shore, they could not deploy the outboard engine and had to paddle their way in. In the interim, home guards threw a rope to Ravi which he fastened around Saleem's waist and used the same rope to come ashore.
Dinesh and swimmer Chennappa on board the boat dragged Saleem onto the boat and brought him ashore. Bystanders helped fasten the rope to a tree on the riverbank, Dinesh said, adding the collective effort of all, including the presence of mind shown by Ravi helped salvage the situation. Incidentally, in May, Muslim youths too had risked their life to save Nishanth, a teenager from drowning in the Nethravathi at Bantwal, albeit unsuccessfully.
https://timesofindia.indiatimes.com/city/mangaluru/karnataka-hindu-youth-prevents-muslim-from-drowning-in-nethravathi-river/articleshowprint/77695735.cms
--------
UP Police on high alert, UP ATS team reaches Delhi after Islamic State terrorist's arrest
Arvind Ojha
August 22, 2020
Following the arrest of an Islamic State terrorist in Delhi on Friday night, Uttar Pradesh Police has been put on high alert. The terrorist, identified as Abu Yusuf, hailed from Balrampur in UP.
Prashant Kumar, ADG-Law and Order, Uttar Pradesh Police, said, "On DGP's instructions, all SSPs and security agencies of Uttar Pradesh have been instructed to remain on high alert after a person was arrested with IEDs from Delhi today by Delhi Police Special Cell."
Around 15 kg of Improvised Explosive Devices (IEDs) was recovered from the terrorist who was nabbed after a round of firing at Delhi's Dhaula Kuan area on Friday night.
Some weapons were also recovered from the terrorist who was carrying IEDs in two pressure cookers. The bomb squad, commandos from the National Security Guard (NSG) managed to defuse the explosives on Saturday morning.
Delhi Police Special Cell, central agencies and the UP Anti-Terror Squad (ATS) are now interrogating the arrested terrorist.
A team of Uttar Pradesh Anti-Terror Squad has also reached Delhi following the arrest of the Islamic State terrorist. The team has reached the office of Delhi Police Special Cell at Lodhi Road in Delhi.
Meanwhile, raids are being conducted in various places in Delhi and Uttar Pradesh to trace the associates of Abu Yusuf who had been helping him with logistical support.
Sources have said the Islamic State terrorist, Abu Yusuf, had a prominent personality in Delhi as his target and had a major attack planned. He had even done recce of a few places in the Capital.
https://www.indiatoday.in/india/story/islamic-state-terrorist-arrested-in-delhi-up-police-on-high-alert-1713903-2020-08-22
-------
Pakistan
Lawyer denies facilitating killing of suspected blasphemer in Peshawar court
Bureau Report
23 Aug 2020
PESHAWAR: A local court sent a junior lawyer to jail on 14-day remand here on Saturday after he rejected the charge of facilitating the killing of a blasphemy accused by providing a pistol to the suspected teenage killer.
A team of local police brought Tufail Zia to the Judicial Complex on the completion of his three-day physical remand and produced him before an anti-terrorism court for recording confessional statement in the case under Section 164 of the Code of Criminal Procedure.
The court referred the suspect to a judicial magistrate for the purpose.
He, however, rejected the charge and said he didn't want to record confessional statement.
The court sent him to the Peshawar Central Prison on judicial remand.
Shabbir Hussain Gigyani, Inamullah Yousafzai and other lawyers for the lawyer said the police had arrested their client to twist facts and spoil the case of the prime suspect.
Peshawar court sends him to jail on remand
The lawyer was arrested on Tuesday and was remanded by the court in police custody on Wednesday for three days.
Interestingly, initially when he was produced before the ATC on Aug 19 and police was seeking his physical custody, he had told the court that there was no need of his remand as he was willing to confess that her had facilitated the prime suspect. However, as the police officials had stated that they want to further interrogate him, therefore, his physical custody was granted by the court.
One of his counsels told Dawn that his initial statement might be under duress and coercion by the police.
Suspect Tufail Zia was also a junior counsel representing the complainant, Malik Owais, a resident of Nowshera studying in a seminary in Islamabad, in the trial against deceased Tahir Ahmad Nasim, who was also a US citizen.
The suspected teenage killer was apprehended soon after the killing of the blasphemy accused inside the courtroom on July 29. He has been kept at the Peshawar Central Prison on judicial remand.
The FIR of the incident was registered at the East Cantonment police station under Section 302 of Pakistan Penal Code, Section 7 of Anti-Terrorism Act and Section 15 of Arms Act.
The body of the suspected blasphemer was handed over to the US Consul General in Peshawar on Aug 14 and was repatriated to the US on Aug 15.
The family members of the deceased, including his daughters based in Illinois, USA, had issued a general power of attorney on July 30 in favour of the US Consul General in Peshawar for the repatriation of the remains of the deceased.
A case against the deceased was registered here at Sarband Police Station on Apr 25, 2018, under Pakistan Penal Code sections 153-A (promoting enmity between different groups), 295-A (acts intended to outrage religious feelings of any class), 295-B (defiling Holy Quran), 295-C (derogatory remarks in respect of Holy Prophet) and 298 (uttering words to wound religious feelings).
Complainant Malik Owais had charged the deceased of making false religious claims that he was a prophet and that he received Divine Revelations in dreams.
https://www.dawn.com/news/1575944/lawyer-denies-facilitating-killing-of-suspected-blasphemer-in-peshawar-court
-------
Imran Khan declared Man of the Year by 'The Muslim 500'
News Report
August 23, 2020
ISLAMABAD: The Muslim 500, a Jordan based publication, has declared Prime Minister Imran Khan 'Man of the Year', while US Congresswoman Rashida Talib has been declared 'Woman of the Year'.
For Imran Khan, the magazine wrote that iff The Muslim 500 was in print back in 1992 Imran Khan would have been nominated as Muslim Man of the Year because of his brilliant performance in cricket, which culminated in Pakistan winning the 1992 Cricket World Cup -- a sport I have always admired for its combination of elegance and intense competitive play.
"I also was touched when Khan launched a successful fund raising campaign to establish a hospital devoted to both the care of victims of cancer as well as research.
This was his magnificent response to the loss of his mother to cancer in 1985 and given Imran Khan's extraordinary popularity with Pakistanis both at home as well as among the large number of Pakistani expats along with his own, no doubt, generous personal contribution—he raised sufficient funds so that by 1994 the Shaukat Khanum Memorial Cancer Hospital opened its doors in Lahore. 75 percent of its patients receive free-care," wrote the editor.
Imran Khan became Prime Minister of Pakistan in 2018 after 22 years devoted to building an opposition political party committed to reform; confronting Pakistan's civilian political establishment over the issue of embedded corruption and mismanagement. This and his other accomplishments are detailed in the biography that accompanies his ranking (Number 16) in this, the latest edition of The Muslim 500.
But what is particularly to his credit is that upon taking office in August 2018 Imran Khan made it quite clear that one of his top priorities was to work for a lasting peace with India. He wanted to normalise relations through trade, and settling the Kashmir dispute, "the foremost impediment" in the prime minister's own words "to the normalisation of relations between us".
"This is Imran Khan's great dilemma—how do you make a much desired lasting peace with a nation governed by those who have neither interest nor need to make a lasting peace with Pakistan, and against whom any form of war would be hopeless. The answer it would seem that Imran Khan's efforts must now focus on mobilising global opinion, to turn a RSS-led India a global pariah. With his impressive column in the New York Times and the sudden burst of public activity by some of Imran Khan's touring ministers and ambassadors in America, Europe and perhaps in Asia, that appears to be now underway," wrote the editor.
Woman of the year Rashida Tlaib, American Congresswoman (Democrat, Michigan) is this year's Muslim 500 Woman of the Year. She is the first Palestinian-American woman and joint first Muslim woman (along with Ilhan Omar (Democrat, Minnesota) to be elected to the American Congress as member of the House of Representatives.
She took her individual oath of office with her hand on the Holy Quran. Although she is serving her first term in office she is certainly one of the most publicised members, largely because of President Trump who has publicly accused her and three other congresswomen of colour (collectively known as 'the squad') of hating America and saying that they should "go back to where they came from"— a trope that has been used by white American nativists (a polite way to refer to racists) since the 19th century responding to waves of immigrants—Irish, Italians, Jews (overwhelmingly from Russia and Poland), Latin Americans (popularly referred to as Hispanics) ignoring or oblivious to the fact that while Tlaib's parents are Palestinian immigrants, Tlaib was born in America, so the best she could do is go back to Detroit.
Although Trump has denounced all of 'The Squad' he seems particularly obsessed with the Muslim congresswomen. They represent all that he despises. Apart from their faith, gender, and ethnic background, both are professed socialists. Tlaib is a member of the Democratic Socialists of America and Omar, while not a member of the DSA, has expressed a sympathy for democratic socialism. Both support the various welfare state measures proposed by Senator Bernie Sanders.
Eminent religious scholars Mufti Taqi Usmani and Maulana Tariq Jameel have also been named among the most influential Muslims.
https://www.thenews.com.pk/print/704715-imran-khan-declared-man-of-the-year-by-the-muslim-500
--------
UK approached for extradition of Nawaz: PM aide
Dawn Report
23 Aug 2020
LAHORE/ISLAMABAD: Declaring former prime minister Nawaz Sharif an "absconder", Adviser to the Prime Minster on Accountability and Interior Shahzad Akbar has said that Mr Sharif's four-week bail on medical grounds expired in December last year and the government had already approached the UK government for his extradition.
"The government is treating him (Sharif) as an absconder and has already sent a request to the British government to extradite him," Mr Akbar said while addressing a press conference in Lahore on Saturday.
"His stroll on London roads is a slap in the face of the judiciary and the government cannot allow this. There is nothing personal in it: we are only trying to implement the law and fulfil its requirements," the adviser maintained.
Mr Akbar said that the government would request the National Accountability Bureau (NAB) to pursue Mr Sharif's extradition as well and it was also looking into legalities of guarantees of Shahbaz Sharif, who was supposed to escort his elder brother back to Pakistan after his medical treatment.
Special Assistant to the PM Shahbaz Gill and Punjab Minister for Information Fayyazul Hassan Chohan were present at the news conference.
The adviser said that on Oct 29 last year the court granted Mr Sharif eight-week bail for treatment within Pakistan and on Nov 16, he got a four-week permission to travel abroad for treatment. According to Mr Akbar, the former prime minister was supposed to keep the court and the Punjab government updated about his treatment by sharing the details of the process of his treatment and test reports which he didn't do.
He said that Mr Sharif applied to the Punjab government for bail extension on Feb 19.
A medical board was constituted which sought details of medical procedures being done and test reports of Mr Sharif, but nothing was shared.
He said that the law ministry, NAB and the prison department were informed about the bail expiry and rejection of its extension when the medical board got nothing as evidence document.
He said the UK government was also informed about the development on March 2 with a request for Mr Sharif's extradition.
Commenting on recent pictures of Mr Sharif, Mr Akbar said that the former premier looked perfectly fine in the pictures being shared by his sons.
As far as "NRO plus plus", a term coined by the government to describe the opposition's demand in negotiations with it on some legal issues, was concerned, "Imran Khan would not yield even N of the NRO plus plus", he insisted.
Mr Akbar said the opposition had a desire that money laundering should be taken out of NAB's purview. On the other hand, he said, the world took money laundering as a very serious crime and so did the PTI.
He said it was because of money laundering that Pakistan was put on the grey list of the FATF. He said that the opposition needed to understand the seriousness of the crime and the world's concerns on it.
Not to be left behind, Shahbaz Gill chimed in with allegation of "rigging of medical tests" by Nawaz Sharif." He claimed that if the quantity of ETDA — a chemical that functions by binding calcium in the blood and prevents blood clotting — was increased during sample collection, platelets count could be manipulated.
"This is precisely what the Sharif family did. It was allowed to take and submit blood samples of Nawaz Sharif and manipulated the samples," he alleged.
Mr Chohan criticised Maryam Nawaz and her "brand of politics" and said that she had only damaged herself by bringing workers carrying stones to attack NAB offices.
Talking to media persons after attending a journalists' training workshop in Islamabad, federal Minister for Science and Technology Fawad Chaudhry said Nawaz Sharif was roaming in the streets of London and enjoying coffee. He said that submission of fake medical reports amounted to committing fraud.
The minister said that the Punjab government would investigate Mr Sharifs medical reports to expose the people who had "rigged" them.
"I had said earlier also that Nawaz Sharif is not sick and should not be given any relaxation. Nawaz Sharif and his daughter Maryam Nawaz have the same problem. They just want all cases against them to be shut down," he added.
The minister alleged that Pakistan was placed in the Financial Action Task Force (FATF)'s grey list due to the Pakistan Peoples Party (PPP) and the Pakistan Muslim League-Nawaz (PML-N), alleging that the opposition parties created hurdles when the government was striving to remove the country from the grey list.
He said that PML-N president Shehbaz Sharif and PPP chairman Bilawal Bhutto-Zardari together could not gather enough people to fill a marriage hall. He also criticised Jamiat Ulema-i-Islam chief Maulana Fazlur Rehman.
Earlier, Mr Chaudhry said in a tweet that Nawaz Sharif's departure to London had damaged the PTI narrative and the process of accountability. He said that those involved in preparing fake medical reports of Mr Sharif should be given exemplary punishment.
https://www.dawn.com/news/1575969/uk-approached-for-extradition-of-nawaz-pm-aide
-------
Mideast
Losing in Yemen, Winning in Afghanistan, Islamic State Weighs in on Arab-Israeli Peace
By Kyle Orton
22 August 2020
The Islamic State (IS) produced the 248th edition of Al-Naba, its newsletter, on 20 August. The front page was devoted to recent events in Yemen, which had not gone well for IS—although one could easily miss that fact when reading a story that a focuses almost entirely on enemy casualties and the failures of others. IS is, of course, not pleased about the Israeli normalisation of relations with the United Arab Emirates, but Al-Naba makes clear that it is more perturbed that Muslims should believe Turkey or Qatar are any better than the U.A.E., despite their different approach to Islamists. Al-Naba 248 documents IS's continuing advances in Afghanistan—and, indeed, Iraq, Syria, Africa (the Sahel), and Egypt. There is also a report of insurgent activity in the Philippines.
Yemen
The front page of Al-Naba 248, continued on page four, is about IS in Yemen countering an attack in the Qayfa area of Bayda province by the Iran-backed Huthis, formally known as Ansarallah. Al-Naba claims that "the mujahideen" killed and wounded 130 "polytheists/idolaters" (mushrikeen), "despite the great difference in numbers and equipment". IS claims that recently it has been "alone in fronting the Huthi attacks", and its forces had persevered to the last despite being outnumbered and outgunned.
IS dates the Huthi attack to 12 August, saying it killed and wounded twenty-five Huthis on this day. IS claims to have launched a raid of its own against the Huthis the following day, which killed and wounded thirty. IS then ambushed a Huthi convoy with a roadside bomb on 14 August, according to Al-Naba, before launching two more IED attacks on Huthi vehicles and bombing a Huthi gathering on 15 August. An "epic" battle is reported with Huthi reinforcements on 16 August, and on 17 August it is claimed that IS killed sixty Huthi fighters and wounded others.
The outcome of this week of "sanguinary confrontations" was, by IS's count, 100 Huthis killed and thirty wounded, plus a the destruction of Huthi military hardware. It is conceded that IS made "great sacrifices"—the omission of a specific number of killed and wounded on the IS side by Al-Naba is glaring—but, says Al-Naba, this merely "proves [IS] is worthy of the trust placed upon their shoulders to carry the fight for the religion".
IS says that the "steadfastness" of its jihadists in Yemen should be recognised since they have been trapped in a "rugged area", i.e. Qayfa, under a "stifling/suffocating siege" (hisar khanaq) for two years, surrounded by the Huthis, Al-Qaeda in the Arabian Peninsula (AQAP) and its tribal allies, and the militias associated with the recognised government of president Abdrabbu Mansur Hadi. IS says its fighters in Yemen have suffered not only a lack of ammunition but even a scarcity of food.
Moving to page five, IS notes the "rapid advances" by the Huthis in Qayfa and the fact the Huthis now control large parts of the area, without really conceding it has much to do with them—indeed, while directly refusing responsibility and loading it onto the failure of the tribes to mobilise against the Huthis and the treachery of Al-Qaeda, which withdrew from all of its "contact points" against the Huthis. Any euphoria from the Huthis will be short-lived, Al-Naba concludes, since "the battle between truth and falsehood continues—it is not dependent on the fate of [an individual] city or region—and jihad will continue until the Hour [i.e. the end of time, Armageddon]".
The Emirati-Israeli Accord, Turkey, and Qatar
The main editorial in Al-Naba 248, on page three, is devoted to reminding readers that, for IS, the United Arab Emirates' open normalisation of diplomatic relations with Israel on 13 August is neither here nor there; this is a symptom of an impious regime and Turkey and Qatar are no better, despite their alliance with forms of Islamism and Islamists, namely the Muslim Brotherhood (al-Ikhwan al-Muslimeen).
Al-Naba pours scorn on the "comic scene" of the Turkish government led by Recep Tayyip Erdogan musing on cutting relations with the U.A.E. in retribution for the U.A.E. "announcing its relations with the state of the Jews", while there is an Israeli Embassy in Erdogan's capital. This is a "vivid example of the apostates' manipulation of religion, and its use as a political tool", says Al-Naba.
The Emiratis did not reveal their apostasy by this normalisation with Israel, nor by their stand against the Brotherhood throughout the region, says Al-Naba. Rather, this apostasy was revealed decades ago because they fail to rule by the law of God.
The "apostates belonging to parties falsely affiliated with Islam" (the Muslim Brethren) are no better than the U.A.E., Al-Naba continues, citing Erdogan—whose Justice and Development Party (AKP) developed from Ikhwani roots—and Muhammad Morsi, the Brotherhood operative who briefly served as Egypt's first elected president (2012-13), neither of whom ruled by (IS's interpretation of) the shari'a and both of whom "maintained their treaties with the Jewish state".
As for Qatar, says Al-Naba, it "preceded the Emirates in their public relations with [Israel]".
Any objections heard from the Qataris or Turks about what the U.A.E. has done are not out of concern for the Palestinians, says Al-Naba, but out of "envy for their relationship with the Jews, which might increase [the Emiratis'] favours from the Crusaders". The Saudi government was widely attacked in the Muslim world for hosting the U.S. and British jets that patrolled the no-fly zones in Iraq—"bombed the Muslims of Iraq", as Al-Naba has it—and Qatar joined in on this, but only, says Al-Naba, so the Americans would move away from the House of Saud and concentrate their regional presence at Al-Udeid Airbase in Doha, making the Qataris their main ally in fighting the jihadists.
Similarly, says Al-Naba, in Iraq there were many ostensibly militant Islamic formations in the mid-2000s, who had condemned the Shi'a parties as traitors to their country and Islam for working with the Americans—"but as soon as the Crusaders reached out to them" during the Surge and Awakening, these insurgent groups "rushed to subordinate themselves [to the Americans] and declared their loyalty to the fight against the Muslims [i.e. IS] under their flag".
IS concludes that as between the U.A.E., Qatar, Turkey, and the "apostate Brotherhood" there is little more than a jealous bidding war for Western affection ongoing: "We ask God Almighty to expose these apostates, reveal their crimes to the people, and make His punishment for them in this world a sign for everyone who manipulates or distorts His religion or the Holy Law".
Afghanistan
The largest item on page eight was from Afghanistan, where IS is clearly on the upswing. The title boasts that "the Presidential Palace and the Embassies are Within Range of Islamic State Missiles".
IS blew up an Afghan police checkpoint in Jalalabad on 14 August, wounding two people, and detonated an IED under a vehicle carrying security personnel in Bagram on 16 August, killing three and wounding one, says Al-Naba.
Later on 16 August, IS fired three Katyusha rockets at the Americans' Bagram Airbase.
Sixteen Katyusha rockets were then unleashed on 18 August against the Afghan "presidential palace, the Embassies of a number of Crusader countries, and the headquarters of the apostate Afghan government, located in the 'diplomatic area' in Kabul", says Al-Naba. This occurred during the Independence Day celebrations. At least three people were killed and that many wounded, and Al-Naba was especially pleased that international coverage showed smoke billowing over the city.
Al-Naba concluded by noting this was the second time in five months IS in "Khorasan" had attacked the Afghan presidential palace. The last time was on 14 Rajab 1441 (9 March 2020), during the swearing-in of president Ashraf Ghani—which was already contested by another candidate. The IS attacks "caused great embarrassment to him, [getting him off to] a bad start that is still getting worse".
Miscellaneous
The rest of page five highlights IS attacks in the Sinai in Egypt; attacks in the Philippines, including the 18 August assassination of a police officer in Lanao del Sur in the south of the country; and the assassination of a police officer in Tarmiya, near Baghdad, in Iraq by one of its "security detachments" (mafariz amniya) on 13 August.
Page six was a whole-page spread on a series of attacks in Nigeria that allegedly killed and wounded forty-five people, including members of the Red Cross. Africa has been central to IS's messaging for some time. Attacks in Nigeria were on the frontpage of Al-Naba last week, and the main editorial in Al-Naba 247 was devoted to justifying attacks on aid workers—leaping off from a defence of the recent murders in the Sahel. Al-Naba 247 said that humanitarian aid workers are spies for blasphemous governments, playing a part in the war against Islam by spreading the false religion of democracy and secularism. Al-Naba went on to attack the United Nations in general as a pillar of this conspiracy and in particular for having pumped "billions of dollars into the Nusayri system [i.e. Asad regime] to help it complete its war on the Muslims of Syria". What was called "'humanitarian' aid was converted into army supplies and salaries for [the regime's] fighters", says Al-Naba. Many "Crusader states" contributed to this fund, Al-Naba adds. As such, the West has little standing to be concerned about the Islamic State's atrocities, which are dwarfed many times over by what Asad has done. The fact that what IS says about the U.N. in Syria is effectively true is among the reasons Western policy in that country has been so disastrous: it has given the jihadists a legitimate grievance to weaponise for recruitment, not dissimilar to what happened with Bosnia a generation earlier.
Page seven of Al-Naba 248 purports to document the killing and wounding of thirteen PKK operatives in "Wilayat al-Khayr" (Deir Ezzor) in eastern Syria in four separate attacks; the assassination on 15 August in Al-Bab in Aleppo in northern Syria of Abdallah Shaykhani, a member of the "Awakening Police loyal to the apostate Turkish army" (i.e. the Syrian National Army or SNA, the Turkish proxy militias); and a targeted assassination the same day in Iraq, in the Nimrud area south of Mosul, of a member of the "Tribal Hashd" by IS's security detachments.
The rest of page eight, after the Afghanistan piece, is devoted to assassinations in Syria. IS claims two assassinations in southern Syria on 18 August: Hassan al-Ruwaydan, a pro-Asad militiaman, in the eastern countryside of Deraa, and another in the same area, Rami al-Khatib, solving what had been a mystery among activists who reported his murder. Al-Khatib is accused by Al-Naba of insulting the prophet and stealthily promoting atheism by criticising the implementation of the shari'a and advocating rationalism. Al-Naba then goes on to claim that IS killed two contractors working for the Russians in western Raqqa province, and abducted and murdered a member of the Ismaili community near Rusafa in southern Raqqa.
Page nine documented a rash of guerrilla attacks in Iraq: in Diyala, Kirkuk, and Anbar.
And page ten is an ideological essay, based on the example of Ahmad al-Khalayleh (Abu Musab al-Zarqawi), the founder of the IS movement, who, says Al-Naba, showed that the jihadists struggle was not solely—or even primarily—with the "occupiers". The real obstacles to an Islamic state were two-fold, Al-Naba says: the Sunnis who did not share IS's interpretation of their faith and were even prepared to collaborate in building a democratic order in Iraq, who had to be eliminated; and the Shi'a, who opened the doors to the Americans from without and corrupted the faith from within. Al-Naba reserves especial scorn for those who tried to affect Sunni-Shi'a reconciliation, which would mean bringing the true believers toward "blatant disbelief". The Naba article notes with approval Zarqawi's initiation of all-out war against the Shi'is of Iraq. "This blessed approach not only angered people of false religions, but angered even some of the elders of Al-Qaeda … who believed that fighting was only for the invaders … due to their perverted belief in the Islamization of the common people of the Rafida", says Al-Naba. This issue—whether lay Shi'is were to be targeted for murder, or "only" their leaders (and by extension how to treat Sunni Muslims who did not share a jihadist worldview)—would become one of the central theological disputes between IS and Al-Qaeda.
The news of the week section on page eleven had five items:
It led with the Israel-U.A.E. accord. Al-Naba presented it nearly without commentary, noting that some considered it historic, some thought it had prevented Israeli annexation on the West Bank, some saw it as a unification against Iran, and others saw more cynical motives in getting Israeli Prime Minister Benjamin Netanyahu out of some domestic legal trouble and/or assisting President Donald Trump's re-election campaign.
Next was the Russian bombing of Idlib and the downing of several drones in the province.
After that the "quiet coup" in Mali on 18 August.
Al-Naba documented the 18 August car-ramming attack in Berlin that injured six people, which Germany has confirmed was motivated by Islamist ideology, but IS did not claim this attack or even hint that it was theirs.
Al-Naba reported the comments of Iraq's prime minister Mustafa al-Kadhemi during his 17 August interview with The Associated Press that the Iraqi government would continue to need American help to be able to resist the challenge of the Islamic State, and IS's glee about this admission was doubled by Trump's reiteration of his desire to get American troops out of Iraq—something the jihadists understand, and are exploiting in their tactical planning and propaganda.
The downing of a third Western drone in Niger was celebrated as a victory for the jihad, albeit apparently from a mechanical failure rather than shoot-down (God does work in mysterious ways). Al-Naba was particularly encouraged about this because bases for "Christian aircraft" have been established and there is U.S. intelligence assistance to the French in the Sahel, none of which seems to be doing much to further "their war against Islam".
Finally, IS took note of the removal of Iraqi government officials in Basra after the assassination of several civilian activists.
https://kyleorton1991.wordpress.com/2020/08/22/losing-in-yemen-winning-in-afghanistan-islamic-state-weighs-in-on-arab-israeli-peace/
---------
Holding Imam Hussein's (AS) mourning ceremony with observing health protocols a test for all
August 23, 2020
Pres. Rouhani
Iran's President said that the chart of reduction in coronavirus in some provinces shows the great work and efforts of medical staff, health officials and people's support in strict observance of health protocols and stressed that holding a passionate mourning ceremony for Imam Hussein (AS) with following health protocols is a test for all of us that we must pass.
Speaking on Saturday at the meeting of the National Task Force for Fighting Coronavirus, Dr Hassan Rouhani said, "Islamic Iran can be a model in this area and it is a great test for all of us how we spend the month of Muharram passionately and we do not see a new peak of the disease".
Appreciating the efforts of all medical staff, especially doctors, the President said, "The medical staff, especially doctors as health defenders, have done a great job over the past six months on the front lines of the fight against coronavirus, with a loving effort to maintain public health".
The president went on to say that the dimensions of the second wave of coronavirus were much wider and heavier than the first wave, adding, "In the first wave, we were unfamiliar with the dangers of the virus and in the second wave, it was much more aggressive".
Dr Rouhani pointed out, "The efforts of the medical staff and all managers, officials, governor generals and medical universities and those who work in this field should be appreciated".
The President stated, "We must work together with the same spirit and empathy until we achieve ultimate success and victory".
In another part of his speech, Dr Rouhani pointed out that it was very difficult to decide whether or not to hold the national exam and said, "Some people suggested that it be postponed completely for a year, but without a doubt, this decision would waste a year of our young people's life".
The President added, "The national exam was held well because the great efforts of the country's officials, along with the participants and their families, and this is a great work that was done with cooperation and empathy".
In another part of his speech, Dr Rouhani stressed the need for people to pay attention to health protocols and the need to adopt a new lifestyle, given that not all aspects of coronavirus are obvious.
The President added, "Many efforts have been made to find a vaccine for this disease, but it is still not possible to speak with certainty about any vaccine, and research in this field has not reached any point, in a way that the World Health Organisation has announced in recent days that we are two years away from harnessing the virus".
Dr Rouhani said, "Of course, in our country, companies and various institutions are trying to find a vaccine for this virus, but until we get the vaccine, we must get used to a new lifestyle and continue to follow physical distance and health instructions for the coming months".
Dr Rouhani pointed out, "The heads of various departments, businesses and occupations should emphasise to their employees that following health protocols is not just for one month".
"Some are asking if there will be a third coronavirus wave," the president said, adding, "Undoubtedly, it is us who play a role in the formation of the third wave, and if health protocols are not followed, we will definitely have the third wave, so it is very important that we observe all the health protocols".
Dr Rouhani emphasised the importance of e-government and e-health and said, "It is very important that people do not leave their homes by taking advantage of e-government and solve their problems from inside the house and through cyberspace".
The President said, "In the field of e-health, efforts should be made to record people's health, and in this regard, its steps should be completed as soon as possible, and people should not need to go in person except in urgent cases".
https://en.abna24.com/news//holding-imam-hussein%e2%80%99s-as-mourning-ceremony-with-observing-health-protocols-a-test-for-all_1064685.html
-------
How Iranian Mullahs Use COVID-19 To Prevent Major Iran Protests
by Shamsi Saadati
22nd August 2020
Holding university exams, planning to hold mourning ceremonies in Muharram, forcing people back to work amid the COVID-19 outbreak, and systematic cover-up of this crisis, are the Iranian regime's plan to use the Coronavirus pandemic for thwarting an uprising, thus preventing its downfall.
The regime held the college entrance exams, without implementing the most basic preventive measures and health protocols. In this regard, Minoo Mohraz, member of the regime's National Coronavirus Combat Task Force, on August 19 told the state-run Hamshari daily: "We suggested that we postpone the entrance exams until the weather would be better, and it could be held outdoors. But the Health Ministry was forced to write a protocol. Who wants to implement it? The entrance exam is a gathering, and I, as an expert, say it should not be held indoors."
The regime held these exams while the COVID-19 death toll is rapidly rising, even according to the regime's statistics, which stands at over 20,000 deaths. Meanwhile, the People's Mojahedin Organization of Iran (PMOI/MEK) announced on Friday that the coronavirus death toll in 394 cities across Iran has surpassed 92,300.
The major Iran protests in November 2019 rattled the regime's foundation. According to Reuters, the regime's Supreme Leader ordered the Revolutionary Guards (IRGC) "to do whatever it takes" to prevent this uprising from overthrowing his regime. This order led to over 1500 people being slaughtered on the streets, according to the MEK.
Protests in January erupted following the regime reluctantly confessing to shooting down a Ukrainian passenger jet, targeting the regime's top officials, with chants of "death to the dictator." These protests, as well as the general boycott of the regime's sham parliamentary elections, made people's desire for regime change clear for the mullahs' regime and left the clerical regime in the constant nightmare of downfall.
So, the COVID-19 was the regime's savior. Khamenei called it a "blessing and test." It is important to understand how the regime used this deadly virus.
The mullahs held their sham parliamentary elections despite knowing it would be boycotted. This was partly to defy the international community and legitimize their rule. But mostly the Iranian regime intended to use the novel coronavirus as a lever of oppression to quell the restive Iranian society. The regime's handling of the coronavirus outbreak confirmed this reality that the mullahs intend to use mass casualties as a barrier to a new series of possible major protests.
Since the coronavirus outbreak, the mullahs' president, Hassan Rouhani, and other officials tried to downplay this crisis and cover up the true extent of this virus. While the mullahs said the virus was transmitted from China to Iran in February, documents published by the National Council of Resistance of Iran (NCRI), obtained by the People's Mojahedin Organization of Iran (PMOI/MEK) from the regime's National Emergency Organization, confirmed the virus had arrived in Iran in early January.
Yet, the regime continued its cover-up and ordered a quarantine when the virus had spread across Iran. This quarantine was also rapidly canceled since the regime feared starving people, who were at home without any governmental help, would rise up against the regime. So, they quickly forced people back to work.
These actions increased the death toll and the infection rate. The situation even forced some of the regime's officials to acknowledge the regime's strategy of killing people.
Mohammad Reza Mahboubfar, a member of the National Covid-19 Task Force, on August 10 told the state-run Jahan-e Sanat daily: "We witnessed the first patients suffering from Covid-19 exactly a month before the official announcement of this virus entering the country, meaning around mid-January. However, at the time the government concealed this due to political and security reservations."
Mahboubfar further described these security and political reservations. "The government to avoid the protests of 2018 and 2019 being repeated chose the herd immunity policy by vast reopening. Thus, leaving people alone facing coronavirus."
Not satisfied to merely deny public statements that contradict the official narrative, the regime responded to Mahboubfar's interview by closing Jahan-e Sanat.
Also, the state-run Setareh Sobh (Morning Star) daily, in its editorial published on August 4, while acknowledging to the regime's cover-up, had warned about holding the college entrance exams and the mourning ceremonies in the holy month of Muharram.
"Due to the flawed structure of health decision-making and government mismanagement, Iran is and will continue to be plagued by the disease. When the [regime's] president [Hassan Rouhani] says that Muharram mourning ceremonies could be held gloriously, regardless of the opinion of health experts and specialists, it means there is a serious disagreement between the government and the National Coronavirus Combating Task Force. Despite the fact, most people want to cancel the national entrance exams or to hold mourning ceremonies virtually," read the article.
The answer is no. The restive society that showed its desire for regime change by boycotting the mullahs' sham parliamentary elections, after sacrificing 1500 martyrs, will never forget how it was treated during these days.
In this regard, the state-run Mostaghel daily on July 13 wrote: "This nation will not forget how it was abandoned during these bitter days. This will affect the upcoming incidents. The Government did not contain and control the coronavirus to relevantly control the anger of defiant people. But I wish that the suffering and illness of the people were not used as a cure for obliviousness and a means of revenge for the events of November and December. Because soon, people will come to their table for eating, and their despair of an empty table will lead them to protest on busy streets."
https://www.ncr-iran.org/en/news/how-mullahs-use-covid-19-to-prevent-major-iran-protests/
------
Agriculture Jihad Minister: Iran's anti-covid19 vaccine reaching near clinical trial phase
Kazem Khavazi
Aug 22, 2020
Tehran, Aug 22, IRNA – Iranian Agriculture Jihad Minister Kazem Khavazi announced that the animal phase of the trial of Iran's anti-coronavirus vaccine has been ended in Razi Serology Institute and it is getting ready for the first phase of the clinical trial of the vaccine.
"We hope that we could witness the making of the coronavirus soon in our country," Khavazi said.
"Our colleagues have carried out extensive work under the direct auspices of the Iranian Ministry of Health in the field of research to gain access to vaccine and the vaccine has undergone all its animal-phase tests and we are preparing documents and rendering them to the Health Ministry," he added.
https://en.irna.ir/news/83918259/Agriculture-Jihad-Minister-Iran-s-anti-covid19-vaccine-reaching
-------
Maduro says Venezuela buying Iranian missiles 'a good idea'
August 23, 2020
Thomas Miles
CARACAS (Reuters) – Venezuelan President Nicolas Maduro on Saturday said it would be a "good idea" to look into buying missiles from Iran, a day after Colombia said Venezuela was considering such a plan amid growing ties between Caracas and Tehran.
Iran in May supplied gasoline to Venezuela to ease chronic shortages, triggering alarm bells in Washington as the two countries expand trade relations amid efforts to undermine aggressive U.S. sanctions programs.
"It had not occurred to me, it had not occurred to us," Maduro said during a televised broadcast with cabinet members, instructing Defense Minister Vladimir Padrino to follow up and jokingly telling his cabinet to keep the plan a secret.
"Padrino, what a good idea, to speak with Iran to see what short, medium and long range missiles they have, and if it is possible, given the great relations we have with Iran."
Colombian President Ivan Duque said on Thursday that Maduro is looking to buy Iranian missiles and is handing over weapons made in Russia and Belarus to Colombian armed groups, citing intelligence reports.
Weapons purchases appear relatively unlikely for Maduro, whose government is struggling to buy basic food and medicine or to provide fuel to the population due sanctions as well as chronic dysfunction of the country's refineries.
https://kyrnews.com/us-news/11925/maduro-says-venezuela-buying-iranian-missiles-a-good-idea/
--------
War With Iran: Here's How the Islamic Republic Could Cut Off the World's Oil
by Edward Chang
August 23, 2020
Iran threatening to close the Strait of Hormuz--and cutting off a huge percentage of the world's oil--is nothing new.
In fact, as recently as 2012, the Obama administration had its own confrontation with Iran over the latter's nuclear program. Iran threatened to close the Strait and carried out military exercises in the area, drawing a major United States, British, and French deployment in response. But a year later, both sides resorted to negotiations that led to the JCPOA.
In 2008, citing fears of a U.S. or Israeli attack, the commander of the IRGC, Mohammad Ali Jafari, threatened to close the Strait of Hormuz in retaliation. During the 1980–88 Iran-Iraq War, both sides targeted one another's shipping as part of a total war effort, raising fears that Iran might attempt to make the Strait of Hormuz unpassable. Iran used mines as part of its strategy, eliciting an operation to safeguard Kuwaiti shipping, codenamed Operation Earnest Will. Beginning in summer 1987, it lasted over a year-and-a-half and involved increasingly direct combat between the United States and Iran, culminating in Operation Praying Mantis in spring 1988. In the one-day air/naval battle, the United States scored a decisive victory, with Iran losing several warships during the exchange, while inflicting no losses in return.
Apart from the events that took place from 1987–88, none of these incidents resulted in open warfare. This is nothing short of remarkable, given the unrelenting level of hostility exhibited on both sides since the November 4, 1979, seizure of the U.S. embassy in Tehran. While the lack of actual fighting can be attributed to restraint and professional crisis management skills on the part of the United States, it can also be attributed to the fact that Iranian behavior and rhetoric regarding the Strait primarily serves as a means of crisis-management (albeit a dangerous one) and a political purpose.
https://nationalinterest.org/blog/reboot/war-iran-heres-how-islamic-republic-could-cut-worlds-oil-167560
--------
New Zealand
Survivors will face New Zealand mosque gunman at sentencing
By ASSOCIATED PRESS
23 August 2020
WELLINGTON, New Zealand (AP) - When Aya Al-Umari faces her brother's killer in the dock, she intends to tell him that his hatred stole away her best friend, her guardian, her hero. That she still wants to pick up the phone and tell her brother all about her day, because he's the only one who would understand.
Al-Umari is one of more than 60 survivors and family members who this week in court will confront the white supremacist who committed the worst atrocity in New Zealand´s modern history, when he slaughtered 51 worshippers at two Christchurch mosques in March 2019.
The gunman, 29-year-old Australian Brenton Harrison Tarrant, pleaded guilty in March to 51 counts of murder, 40 counts of attempted murder and one count of terrorism - the first terrorism conviction in the nation´s history.
Tarrant has dismissed his lawyers and intends to represent himself during the four-day sentencing starting Monday, raising fears he could try to use the occasion as a platform to promote his racist views. He can choose to speak once the victims have spoken, although the judge will likely shut down any attempts he makes to grandstand.
Tarrant could become the first person in New Zealand to be sentenced to life imprisonment without the possibility of parole. New Zealand abolished the death penalty for murder in 1961, and the longest sentence imposed since then has been life imprisonment with a minimum 30-year non-parole period.
The attacks targeting people praying at the Al Noor and Linwood mosques shocked the nation and prompted new laws banning the deadliest types of semi-automatic weapons. They also prompted global changes to social media protocols after the gunman livestreamed his attack on Facebook, where it was viewed by hundreds of thousands of people.
Some victims have traveled from abroad to attend the court hearing and have completed a mandatory 14-day quarantine imposed because of the coronavirus.
Virus distancing requirements mean the number of survivors in the main courtroom will be limited to 35 at any one time. But the hearing will also be streamed to seven adjacent courtrooms, which can hold another 200 or so people.
Judge Cameron Mander said he realized the court process had been "exhausting and frustrating" for many of the victims. "Finality and closure is considered by some as the best means of bringing relief to the Muslim community," he wrote in a court memo.
Mander is not allowing live reporting from the sentencing and has reserved the right to ban some things that are said in court from being broadcast or published. The victims also can choose to remain anonymous.
Prime Minister Jacinda Ardern, who was praised around the world for her empathy and leadership after the attacks, said she would be monitoring the hearing closely. She said the sentencing would be hard for the victims.
Andrew Geddis, a law professor at the University of Otago, said the case was unprecedented in New Zealand, both in the magnitude of the crime and the number of victims involved in the sentencing.
He said it was likely the judge would impose the first all-of-life sentence, with two possible mitigating factors being Tarrant's guilty plea and his young age. Geddis said if Tarrant shows any remorse during the hearing, it may factor in his favor, while any attempt he makes to promote his racist agenda will likely count against him.
Tarrant moved to New Zealand in 2017 and kept a low profile in the university city of Dunedin. He frequented a gym, practiced shooting at a rifle club range and built up an arsenal of weapons. He didn´t appear to be employed, and said in some online posts that he´d inherited a significant amount of money when his father died.
Tarrant appeared to have a fascination with religious conflicts in Europe and the Balkans, and visited a number of sites in Eastern Europe in the years before he committed the massacre. After his attack at the second mosque, Tarrant was driving, possibly to carry out a shooting at a third mosque, when two police officers rammed his car off the road, dragged him out and arrested him.
Al-Umari's 35-year-old brother Hussein was among those killed at the Al Noor mosque. In her victim impact statement, which she shared with The Associated Press ahead of the sentencing, she says that she mourns not only the loss of her brother, but also the loss of his hopes and goals, and that she will never have any nieces or nephews.
"There are no words that do justice to explain what it is like to go from having lunch with your brother on one day to burying him on another," she writes.
https://www.dailymail.co.uk/wires/ap/article-8655015/Survivors-face-New-Zealand-mosque-gunman-sentencing.html
--------
South Asia
Key Taliban member arrested in a joint military operation in Kabul
By Khaama Press
23 Aug 2020
Afghanistan Ministry of Defense said in a statement that in a joint military operation they have arrested a key Taliban member who used to lead an insurgency group in Shakardara district of Kabul city.
"The Afghanistan National Security Defense Forces in joint operation in Saleh Kheli and Boya Zar villages of Shakar Dara district in kabul, arrested Mullah Akhtar, a key Taliban member", Ministry of Defense said in a statement.
Mullah Akhtar was involved in recent terrorist and destructive activities in Shakardara district and extorted money from the residents of this district by force, the statement added.
This comes as, the Taliban and the Afghan government are in negotiations to soon start talks on peace deal to end the prolonged war.
https://www.khaama.com/key-taliban-member-arrested-in-a-joint-military-operation-in-kabul-978977/
-------
Kabul police arrest ex-commander sentenced to jail for murder and corruption charges
By Khaama Press
23 Aug 2020
A former police force commander who was sentenced to jail for corruption and murder charges was arrested by the Afghan security forces early Sunday morning, an official said.
Tariq Aryan, a spokesperson to the Ministry of Interior told Khaama Press that Zemarai Paikan a former commander of Afghanistan Public Protection Forces (APPF) was detained in an operation on Sunday morning.
Zemarai Paikan was sentenced to 8 years and six months jail sentence for murdering a police officer, misuse of authority and corruption charges and he was a fugitive for a while.
This comes as the Afghan government has been under public criticize for its weakness in fighting against corruption.
https://www.khaama.com/kabul-police-arrest-ex-commander-sentenced-to-jail-for-murder-and-corruption-charges-98787/
-------
Kabul magnetic bombs rattle the city
By Khaama Press
22 Aug 2020
Three magnetic bombs exploded in three different locations around Kabul city on Saturday early morning causing casualties, officials confirmed.
Initial explosion took place in Sarak-e-Naw area of Chehlsotoon at around 6:30, a magnetic mine was placed in a private Toyota vehicle that killed one civilian and injured two others.
The second bomb targeting a police vehicle exploded in Hangarha square of district 15, injuring two policemen, Ferdaus Faramarz, a spokesperson to Kabul police said.
Another magnetic bomb exploded in Company area of district 5, no casualties reported.
In another separate incident in Kart-e-Naw area of Kabul, two Afghan national army were killed by unknown gunmen, the Ministry of Defense confirmed.
The victims are a colonel who used to work for the logistics department of the Defense Ministry and his driver.
According to reports, the number of security incidents in Kabul city have increased.
https://www.khaama.com/kabul-magnetic-bombs-rattle-the-city-9878976/
-------
North America
AP: Muslim and LGTQ Caucuses at Democratic Convention Left 'Under God' Out of Pledge of Allegiance
August 22, 2020
By CNSNews.com Staff
The Muslim Delegates and Allies Assembly and the LGBTQ Caucus left out the words "under God" when they recited the Pledge of Allegiance at their caucus meetings at the Democratic National Convention on Tuesday, according to a "fact check" by the Associated Press.
"During two caucuses before the evening conventions started, the Muslim Delegates and Allies Assembly and the LGBTQ Caucus meeting, both Tuesday, left out 'under God,' from the pledge," reported the Associated Press.
"The party's series of caucus meetings was livestreamed but not part of the prime-time convention broadcast," said the Associated Press.
The words "under God" were included when the Pledge was reciting before the full convention on each of the four days of the assembly.
"The first night of the Democratic National Convention, Joe Biden's grandchildren said the pledge, followed by the convention's chorus of 'The Star Spangled Banner,'" reported AP. "On the second night, it's stated by a diverse group of Americans; same with the third night. On the fourth night, it's recited by Cedric Richmond Jr., the son of Rep. Cedric Richmond, R-La. "Under God" was in each rendering. The convention also devoted a segment to showcasing Biden's religious faith."
The Associated Press reported on this in response to a tweet President Donald Trump sent out on Saturday that said the "Democrats took the word GOD out of the Pledge of Allegiance."
"The Democrats took the word GOD out of the Pledge of Allegiance at the Democratic National Convention," Trump said in the tweet. "At first I thought they made a mistake, but it wasn't. It was done on purpose. Remember Evangelical Christians, and ALL, this is where they are coming from—it's done. Vote Nov. 3!"
"President Donald Trump is accusing the Democrats of taking God out of the Pledge of Allegiance at their national convention. He's distorting what happened," the AP said in its fact check.
The AP then pointed out that the "central programming" at the Democratic National Convention used the words "under God" in the Pledge.
"That's a misleading accusation," the AP said of Trump's tweet. "The central programming of the convention featured the entire pledge, complete with 'under God.'"
https://www.cnsnews.com/blog/cnsnewscom-staff/ap-muslim-and-lgtq-caucuses-democratic-convention-left-under-god-out-pledge
-------
Nine Reasons You Can Be Optimistic That A Vaccine For COVID-19 Will Be Widely Available In 2021
WILLIAM PETRI
August 23, 2020
As fall approaches rapidly, many are wondering if the race for a vaccine will bear fruit as early as January 2021.
I am a physician-scientist and infectious diseases specialist at the University of Virginia, where I care for patients and conduct research into COVID-19. I am occasionally asked how I can be sure that researchers will develop a successful vaccine to prevent COVID-19. After all, we still don't have one for HIV, the virus that causes AIDS.
Here is where the current research stands, where I think we will be in five months and why you can be optimistic about the delivery of a COVID-19 vaccine.
Human immune system cures COVID-19
In as many as 99% of all COVID-19 cases, the patient recovers from the infection, and the virus is cleared from the body.
Some of those who have had COVID-19 may have low levels of virus in the body for up to three months after infection. But in most cases these individuals can no longer transmit the virus to other people 10 days after first becoming sick.
It should therefore be much easier to make a vaccine for the new coronavirus than for infections such as HIV where the immune system fails to cure it naturally. SARS-CoV-2 doesn't mutate the way that HIV does, making it a much easier target for the immune system to subdue or for a vaccine to control.
Antibodies targeting spike protein prevent infection
A vaccine will protect, in part, by inducing the production of antibodies against the spike protein on the surface of SARS-CoV-2, the virus that causes COVID-19.
The virus needs the spike protein to attach to and enter human cells to reproduce. Researchers have shown that antibodies, like those made by the human immune system, bind to the spike protein, neutralize it and prevent the coronavirus from infecting cells in laboratory culture.
Vaccines in clinical trials have been shown to raise anti-spike antibodies that block virus infection in cells in the lab.
At least seven companies have developed monoclonal antibodies, laboratory-manufactured antibodies that recognize the spike protein. These antibodies are entering clinical trials to test their ability to prevent infection in those who are exposed, for example, through a household contact.
Monoclonal antibodies may also be effective for treatment. During an infection, a dose of these monoclonal antibodies could neutralize virus, giving the immune system a chance to catch up and manufacture its own antibodies to combat the pathogen.
Spike glycoprotein contains multiple targets
The spike protein has many locations where antibodies can bind to and neutralize the virus. That's good news because with so many vulnerable spots, it will be difficult for the virus to mutate to avoid a vaccine.
Multiple parts of the spike would need to mutate to evade neutralizing anti-spike antibodies. Too many mutations to the spike protein would change its structure and render it incapable of binding to ACE2, which is key to infecting human cells.
We know how to make a safe vaccine
Safety of a new COVID-19 vaccine is improved by researchers' understanding of potential vaccine side effects and how to avoid them.
One side effect seen in the past was antibody-dependent enhancement of infection. This occurs when antibodies don't neutralize the virus but instead allow it to enter into cells via a receptor intended for antibodies. Researchers have found that by immunizing with the spike protein, high levels of neutralizing antibodies can be produced. This lessens the risk of enhancement.
A second potential problem posed by some vaccines is an allergic reaction that causes inflammation in the lung, as was seen in individuals who received a respiratory syncytial virus vaccine in the 1960s. This is dangerous because inflammation in the lung air spaces can make it difficult to breathe. However, researchers have now learned how to design vaccines to avoid this allergic response.
Several different vaccines in development
The U.S. government is supporting the development of several different vaccines via Operation Warp Speed.
The goal of Operation Warp Speed is to deliver 300 million doses of a safe and effective vaccine by January 2021.
The U.S. government is making a major investment, committing US$8 billion to seven different COVID-19 vaccines.
By supporting multiple COVID-19 vaccines, the government is hedging its bets. Only one of these vaccines needs to prove safe and effective in clinical trials for a COVID-19 vaccine to be made available to Americans in 2021.
Vaccines passing through phase I and II trials
Phase I and phase II trials test if a vaccine is safe and induces an immune response. Already the results to date from three different vaccine trials are promising, triggering the production of anti-spike neutralizing antibodies levels that are two- to four-fold higher than those seen in people who have recovered from COVID-19.
Moderna, Oxford and Chinese company CanSino have all demonstrated the safety of their vaccines in phase I and phase II trials.
Phase III clinical trials are underway
During a phase III trial, the final step in vaccine development process, the vaccine is tested on tens of thousands of individuals to determine if it works to prevent infection with SARS-CoV-2, and that it is safe.
The vaccine produced by Moderna and NIH and the vaccine from Oxford-AstraZeneca began phase III trials in July. Other COVID-19 vaccines will be starting phase III within weeks.
Accelerating vaccine production and deployment
Operation Warp Speed is paying for the production of millions of doses of vaccines and supporting vaccine manufacturing at an industrial scale even before researchers have demonstrated vaccine efficacy and safety.
The advantage of this strategy is that once a vaccine is proven safe in phase III trials, a stockpile of it will already exist and it can be distributed immediately without compromising full assessment of safety and efficacy.
This is a more prudent approach than that of Russia, which is vaccinating the public with a vaccine before it has been shown to be safe and effective in phase III.
Vaccine distributors are being contracted now
McKesson Corp., the largest vaccine distributor in the U.S., has already been contracted by the CDC to distribute a COVID-19 vaccine to sites – including clinics and hospitals – where the vaccine will be administered.
I believe that it is realistic that we will know sometime in late 2020 whether some COVID-19 vaccines are safe, exactly how effective they are and which ones should be used to vaccinate the U.S. population in 2021.
https://www.thejakartapost.com/life/2020/08/23/nine-reasons-you-can-be-optimistic-that-a-vaccine-for-covid-19-will-be-widely-available-in-2021.html
---------
Muslim advocacy group pushes for hate crime probe after Egyptian-American teen attacked in NY
Amr Mohamed Kandil
22 Aug 2020
The Council on American-Islamic Relations, a Washington-based NGO, is calling on New York police and prosecutors to consider an attack against an Egyptian-American teen earlier in this month as "anti-immigrant, anti-Arab and racially charged."
In a press release on Wednesday, the New York chapter of the council, which defines itself as the nation's largest Muslim civil rights and advocacy organisation, said that a middle-aged man hit Egyptian-American Tarek El-Sayed, 18, with a baseball bat in the head and forearm after he puncturing the rear tire on Sayed's car.
The organisation added that the assailant threatened to kill Sayed and his friends and told them to "go back to your country." The assailant also used anti-Arab slurs, according to the council.
Sayed suffered injuries including a broken arm and a head wound, the council said.
"This brazen attack on a teenager is disturbing and has no place in our city," said Ahmed Mohamed, the legal director of the council's New York chapter in a statement on Wednesday. Mohamed said the assailant's motives were "very clear," and urged the New York City Police Department (NYPD) to open a hate crime probe.
"No one should be attacked or live in fear because of their race or ethnicity," Mohamed said.
Talking with CNN, Mohamed called on the NYPD and District Attorney to consider the "plethora of evidence" available to support a hate crime probe.
Sayed told CNN that he believes he informed police of the racial epithets the assailant allegedly used, but NYPD Detective Hubert Reyes told the American media platform that the police report did not include any mention of racial epithets.
The assailant, 41-year-old Emilio Lopez, has been arrested and is facing charges of harassment, assault in the second degree and criminal possession of a weapon in the fourth degree, CNN cited the NYPD as saying. Lopez is set to appear in Richmond Criminal Court on 16 November, according to court documents.
http://english.ahram.org.eg/NewsContent/1/64/378286/Egypt/Politics-/Muslim-advocacy-group-pushes-for-hate-crime-probe-.aspx
-------
US-led coalition hands over Taji military base to Iraqi forces: State media
Leen Alfaisal
23 August 2020
US-led international coalition in Iraq hands over Taji military base to Iraqi forces, Iraqi News Agency reported on Sunday, citing Iraq's joint operations' spokesperson.
"The base was being used to train, prepare, and rehabilitate the Iraqis by Australian, New Zealand, and American forces," the spokesperson for Iraq's joint operations, Major General Tahseen Al-Khafaji, told the Iraqi News Agency. "It will now be dedicated for the usage of the Iraqi security forces."
The withdrawal came days after President Donald Trump redoubled his promise to withdraw the few US troops still in the country. Iraq's parliament had voted earlier this year for the departure of foreign troops from Iraq, and US and other coalition troops have been leaving as part of a drawdown.
https://english.alarabiya.net/en/News/middle-east/2020/08/23/US-led-coalition-hands-over-Taji-military-base-to-Iraqi-forces-State-media.html
-------
Europe
UK Muslim Charity Board to Resign as Director Calls Designated Terrorists 'Great Men', Media Says
22.08.2020
Liam Duffy
The organisation bills itself as an international aid agency that provides humanitarian relief to over 40 countries in the world irrespective of gender, race, or religious belief. Former Foreign Secretary David Miliband once described the organisation as representing "the values that bind Britain together as a liberal democracy."
The full board of the UK's largest Muslim charity set to resign on Sunday following revelations that one of its directors praised terrorists and engaged in anti-Semitic slurs on social media, according to The Times.
Islamic Relief Worldwide (IRW), which is based in the city of Birmingham, has admitted that a number of Facebook posts by one of its directors, Almoutaz Tayara, were "inappropriate and unacceptable" and that its board of trustees would resign en masse today as a gesture of opposition.
According to The Times, in the Facebook posts, which were written in Arabic and discovered by "a leading academic on Islamism in the West," Mr Tayara described the leaders of the Palestinian militant group Hamas - which engaged in a number of suicide bombings in Israel in the early 2000s - as "great men" who were simply showing respect to "the divine and holy call of the Muslim Brotherhood."
In another, Mr Tayara posted a caricatured image of former US President Barrack Obama wearing a tie branded with the Star of David - the symbol of Judaism - with President Bashar Al-Assad and former Iranian Ayatollah Khomeini sitting on his lap. There are quote marks coming from Assad and Khomeini's mouths saying "death to America" and "death… death."
The posts were made in 2014 and 2015 when the United States was sending material support to armed Syrian groups fighting President Bashar al-Assad's forces in Syria but appears to suggest that the US, Assad and Israel are secretly in cahoots.
Islamic Relief Germany - a branch of IRW - where Dr Tayara is also a director, reportedly knew of the posts as far back as 2017 but gave him permission to remain in his senior position following an apology.
IRW have allegedly said that Mr Tayara's posts are a violation of their values. They added that he would be stepping down from his position and would "play no further part in the governance of IRW."
Mr Tayara had been brought in to replace another chairman - Heshmat Khalifa - who had been removed from his post, also for anti-Semitic comments.
The Times revealed back in July of this year that Mr Khalifa posted on social media that Israelis were "the grandchildren of monkeys and pigs" and called Egypt's President Abdel Fattah el-Sisi a "pimp son of the Jews."
After being approached by the media about those comments, IRW aid that it was "appalled by the hateful comments" and said that Mr Khalifa had resigned.
The charity released a statement soon after saying that it is "reviewing our processes for screening trustees' and senior executives' social media posts to ensure that this will not happen again."
https://sputniknews.com/uk/202008221080248639-Board-UK-Muslim-Charity-to-Resign-After-Director-Praises-Terrorists-on-Facebook-Report-Says/
--------
My years in the police tell me some Islamic terrorists are likely reaching our shores in those rubber dinghies. I fear the worst
22 Aug, 2020
Kevin Hurley
Kevin Hurley is a British politician and former police officer. He was the Surrey Police and Crime Commissioner between 2012 and 2016. He served in the Metropolitan Police, reaching the rank of Detective Chief Superintendent. He was also an officer of the Territorial Army, first in the Parachute Regiment and then the Royal Military Police.
Among all the economic migrants flocking to the UK, I worry that there will be some former ISIS fighters who are hell-bent on revenge. Combine that with around 1,000 terrorists being released this year, and there's trouble ahead.
Five years ago, I was the elected police and crime commissioner for Surrey, a county in the southeast of England. I almost immediately discovered that our county's police were being overwhelmed on an almost daily basis by illegal immigrants coming into the UK.
It turned out that the reason was simple. The first stopping place for lorry drivers bringing goods into the UK was at the Cobham motorway services on the M25 in Surrey. To put it simply, after a long drive from Dover ferry port, the drivers would stop at these services to use the toilet and maybe buy a coffee and a bite to eat.
While they did so, the illegal immigrants who had climbed into the backs of their lorries when they stopped in France and who had traversed the English Channel, would take their chance to jump out. Cobham was their first opportunity to do so and sometimes up to 30 from just one lorry would get out, requiring the local police to send many officers to try and catch them.
Seasonal rise in migrants crossing the Channel is nothing compared to surge that awaits the UK when it leaves EU for goodSeasonal rise in migrants crossing the Channel is nothing compared to surge that awaits the UK when it leaves EU for good
Normally they would only manage to round up a few, while the others disappeared. In Surrey alone, dozens would slip through the net every week. I'd sometimes be driving and see groups of them walking along the side of the A3, heading for London, and I'd call it in. I know from former colleagues that it was the same story at other motorway service stations all over the country, anywhere that the lorries which had been on the continent stopped.
The UK Border Force was then, as now, overwhelmed. In fact, so understaffed were they that they had to employ retired police officers at our airports on zero-hours contracts to check passports. At least Covid and the reduction in flights has stopped the need for that particular Band-Aid now. Nonetheless, these part-timers are being kept on retainers for when flights resume, so desperate are the border staff shortages.
Despite my protests to the government and articles in the national press at the time, little was done to stop this flow from freight lorries. I decided to up the ante. I was invited by a BBC camera team to go into the Calais 'Jungle,' the huge shanty town of tents and plastic tarpaulins that had grown up on the edges of an industrial estate close to this key ferry port in France.
What I saw there was very disturbing and frightening. There were literally thousands of young men and youths from all over Africa and the Middle East living as best they could in what had become a makeshift town of homes, cafes, restaurants and even hairdressers, all fashioned from packing cases.
The camp was split into segments, where the citizens of the Third World lived alongside each other, like some dystopian United Nations of Refugees: Somalis, Sudanese, Nigerians, Libyans, Afghans, Iraqis, Syrians and Kurds. It was utterly lawless – even the heavily-armed French CRS riot police would not enter except infrequently and in large numbers; one Sudanese man was stabbed to death the day I was there. Eventually, we were rumbled in the Somali quarter and had to literally run for our safety.
There were very few women and even fewer children at the camp. The inhabitants were for the most part male economic migrants in their teens and their 20s, seeking refuge from their impoverished, often war-torn, homelands. I did not blame them for seeking to find a better life for themselves, and in time, to help the families they had left behind.
What worried me, though, was that there was a good chance that among them were returning jihadist or ISIS fighters using this as a route to enter the UK without being recognized, and with revenge on their minds. After all, if so many thousands could do it, why shouldn't they do so by hiding in plain sight?
Since then, the French have broken up and moved these "transit" camps, but the streams of humans seeking to get to Britain have not gone away. They are still there in France in their thousands, awaiting their chance to find a way – any way and by any means – into the UK.
Instead of sneaking onto lorries, the method du jour of getting across the English Channel is to make the perilous journey in a rubber boat, at risk of freezing to death in one of the busiest and most dangerous shipping lanes in the world. Just this week, a 28-year-old Sudanese man drowned after the 3-foot dinghy he and a friend were in was punctured by the shovels they were using as oars.
Hundreds have been arriving in this way over the past weeks and months; so many that the county council in Kent, where most set foot ashore, has been overwhelmed and the government has been forced to ship out the arrivals to stay in three- and four-star hotels across the UK.
Britannia used to rule the waves, now it attacks defenceless people in tiny boats to deflect from its own sinking statusBritannia used to rule the waves, now it attacks defenceless people in tiny boats to deflect from its own sinking status
The UK government is talking a tough game, but what can they really do? Will the French really play their part and stop them coming? Why should they? If they make efforts to stop them leaving France for the UK, it is the French taxpayer, authorities and economy that must pick up this burden. Why would they want to do that if they can just turn a blind eye and let them cross to the UK?
Remember that we have left the EU; we are not part of their club and are effectively economic rivals. The French owe us no loyalty now, if they ever did.
It's obvious if you are a hard-pressed local politician, gendarme or public official in a French coastal town that you will just be glad to see the back of them. To be blunt, if among them there are some returning British jihadists, why on Earth would the French want to hang on to them?
As we know only too well, the French have their own terrorism problem, which is only likely to increase. There are an estimated 1,000 ISIS fighters who were imprisoned on their return to Europe prior to 2015 expected to be released this year, according to this study. One analysis from July this year found that 60 percent of those who left France to fight for jihad in Afghanistan, Bosnia, or Iraq between 1986 and 2011 went on to commit a fresh terrorist offense upon their return. While that recidivism rate may be abnormally high – other studies have put it at six percent or lower – even 60 new terrorist attacks across Europe would pose a significant problem, especially when put alongside first-time attacks.
The solution to this problem lies outside of a tactical agreement with the French to do more to stop migrants coming across the channel. Even if we pay the French to tackle the problem, it is going to be almost impossible to ensure that a couple of local gendarmes patrolling an isolated beach after dark can stop all the rubber boats from leaving. They will get no thanks from the bosses or politicians for doing so.
We could try and disrupt some of the organized criminal gangs making money out of this lucrative business, but 'how' is a big question – who will do it and who will pay?
But regardless of that, the illegal economic immigrants and genuine refugees will still try to come. It is partly our own fault, a self-inflicted wound: we played a big part in destroying the economies, livelihoods, and systems of government in Libya, Iraq, Syria and Afghanistan. Our military interventions in those countries have been devastating. Far from creating the solutions our politicians promised, they have left already fragile nations in a worse state, fracturing their economies and societies to the point where young men are left with little option but to flee elsewhere.
Our government can continue to talk tough while many hundreds, if not thousands, of former British ISIS fighters plot their escapes and return home from Turkish, Syrian and Kurdish refugee camps.
What they will do when they get back into the UK is unknown, but I doubt it will be nice. Their experiences are hardly likely to have reformed them or endeared them to our way of life. After all they have been through – mass air attacks, savage fighting, the destruction of their caliphate – a nice little four-hour boat ride across the Channel pretending to be a refugee will be child's play.
https://www.rt.com/op-ed/498677-police-isis-terrorists-uk/
-------
MPs threaten Boris Johnson with legal action over Russian election interference probe
John Johnston
23-08-2020
A cross-party group of MPs has threatened Boris Johnson with legal action over an independent investigation into Russian election interference.
The group, which includes Green Party MP Caroline Lucas and Labour's Chris Bryant, said the Prime Minister's "lack of action" in tackling Russian interference breached the right to free elections.
Their letter comes after a report from the Intelligence and Security Committee concluded in July that the UK had "badly underestimated" the threat posed by the Kremlin and accused ministers of failing to take steps to investigate whether foreign actors had meddled in elections.
But in a pre-action letter to Downing Street, the MPs said they would take Mr Johnson to court as a "last resort" if he failed to order an independent investigation into the issue.
And the group claimed the refusal to probe the issue could constitute a breach of the European convention of human rights, which enshrines the right to fair and free elections.
"Democratic processes are clearly at risk," she said. "It seems that the integrity of our elections is being deliberately undermined. Nothing could be more serious for our democracy.
"Ministers' behaviour to date has been shockingly complacent and negligent. The government cannot be allowed to shirk this because Tory party coffers are topped up with Russian money."
Meanwhile, Chris Bryant, Labour MP for Rhondda, added: "The government's refusal to investigate is a complete deriliction of their duty to keep us and our way of life safe."
Other signatories to the letter include SNP MP Alyn Smith, Labour MP Ben Bradshaw and Lib Dem peers Lord Strasburget and Baroness Wheatcroft.
But hitting back at the comments, a Cabinet Office spokesperson said protecting the electoral process from outside interference was an "absolute priority".
"Safeguarding our democracy will always be an absolutel priority and the UK has robust systems in place to protect our elections from interference," they said.
"To prevent any future threats we are bringing forward new legislation to provide the security services and law enforcement agencies with the tools they need to disrupt hostile state activity.
"And we have also published proposals for a digital imprint regime that will improve transparency in political campaigning online, and are developing an online media literacy strategy, to help empower the public to question the information they read online."
https://www.politicshome.com/news/article/mps-threaten-boris-johnson-with-legal-action-over-russian-election-interference
-------
Coronavirus: We will see 'real problems' with COVID-19 this winter, chief medical officer says
Sharon Marris
23 August 2020
England's chief medical officer has warned it is unlikely there will be an "effective and safe" coronavirus vaccine before the winter of 2021.
Professor Chris Whitty said this winter would see "real problems" with COVID-19, the illness caused by the coronavirus, and that the UK should assume no vaccine would be available.
Mr Whitty added: "I would obviously be delighted if it came earlier rather than later but I'd be quite surprised if we had a highly effective vaccine ready for mass use in a large percentage of the population before the end of winter, certainly before this side of Christmas.
"Now that may be wrong - a lot of people are doing a huge amount scientifically, logistically to make sure that's a pessimistic statement, to try and see if we can get a vaccine at extraordinarily fast speed but we have to check it works and we have to make sure it's safe and these things do take time.
"So I think if we look forward a year I think the chances are much greater than if we look forward six months and we need to have that sort of timescale in mind.
"So planning for the next winter, it would be foolish to plan on the basis we will have a vaccine.
He said he was "confident" in the ability of science "to get us out of this hole", but added: "I don't think we can expect it to happen in the next few weeks or even the next few months."
It comes as the UK records a further 1,288 positive tests for the virus as of 4pm on Saturday. Some 834 patients are in hospital, 97 of them admitted in the past 24 hours.
Seventy-two people are on ventilators and 18 deaths were recorded during those 24 hours of people who had tested positive within the previous 28 days.
There have been 41,423 deaths in the UK so far, according to government figures.
Earlier, Mr Whitty had joined the UK's other chief and deputy chief medical officers in a joint statement about schools reopening.
He warned that the risk of COVID-19 to children were dwarfed by the "certainty of long-term harm" caused by continued school closures.
https://news.sky.com/story/coronavirus-foolish-to-assume-covid-19-vaccine-will-be-here-for-winter-whitty-12054756
-------
Protests calling on Netanyahu to resign continue with momentum
REUTERS NEWS AGENCY
23-08-2020
Thousands of Israelis continued to protest outside the prime minister's official residence on Saturday as months-long demonstrations against Benjamin Netanyahu maintained their momentum.
The protesters want the embattled Netanyahu to give up his post while he is on trial for corruption charges. The government's mishaps in handling the coronavirus crisis after relative success in its early stages have also driven the demonstrations.
Saturday's protest comes in advance of Tuesday's deadline in which the coalition government must agree on a budget plan or trigger new elections that would be the fourth in slightly more than a year.
Ignoring police suggestions for alternative routes, the protesters marched from several parts of Jerusalem through key roads trying to reach Netanyahu's residence on Balfour Street.
Outside the residence, they hoisted giant balloons depicting smeared heads of Netanyahu and his rival-turned-coalition partner Benny Gantz of the centrist Blue and White party, waved Israeli flags and the black flag of one of the grassroots protest movements.
A sign read "Balfour is in our hands," referring to the residence address. Other signs called on Netanyahu to quit and a placard described him as "Crime Minister."
Israeli police said they arrested seven protesters "on suspicion of violating public order and assaulting police officers".
Last week, Netanyahu announced a US-brokered deal to normalise ties with the United Arab Emirates, making it the third Arab country to establish full relations with Israel. The historic breakthrough has not helped calm the demonstrations against him.
Netanyahu has rejected calls to step down while he is on trial and claimed the protests are the work of leftists and the media.
Israel appeared to contain the pandemic in its first phase, but the quick reopening of the economy led to a spike in cases.
More than 100,000 Israelis have tested positive for the virus. The country has also recorded 809 COVID-19 deaths among its population of nine million.
The pandemic has caused unemployment numbers to hover above 20 percent.
Netanyahu was charged last year with bribery, fraud and breach of trust in three long-running corruption investigations.
In January, the trial will move to a witness phase with three sessions a week.
https://www.aljazeera.com/news/2020/08/protests-calling-netanyahu-resign-continue-momentum-200823025608326.html
--------
Africa
Three people martyred, dozens injured in Nigerian police attack on Imam Hussain mourners
Source : IMN, ABNA
August 23, 2020
Security forces in Kaduna attacked Muharram Mourning gathering taking place Hayin Mallam Bello Area on the 3rd of Muharram 1442 (22/8/2020). The Policemen supported by hired thugs, fired canisters of teargas followoed by live ammunition on the mourners as the mourning session was on-going.
At least three person was feared killed by the rampaging forces. The Police also destroyed cars parked near the venue of the mourning session. The cars belong to people living in the area.
On Saturday evening, at Hayin Bello neighborhood, a team of policemen attacked a gathering of members of the Islamic Movement in Nigeria holding the annual Ashura mourning commemorating the brutal assassination of Imam Hussein (AS), the Grandson of Prophet Muhammad (S) and killed 3 persons instantly.
Those killed are: Abubakar Talle, Ali Rigasa, and Hasan Umar, with many people injured by gunshots. The police also vandalise the vehicles of those who attended the mourning session.
A police vehicle caught fire after it fell into a gutter, resulting in the burning of a house close to it.
This year's Ashura mourning was started in Nigeria on Thursday 20/08/2020 coinciding with the beginning of new Islamic calendar 1442 in two other neighborhoods peacefully and is scheduled to culminate on the tenth of Muharram next week.
https://en.abna24.com/news//three-people-martyred-dozens-injured-in-nigerian-police-attack-on-imam-hussain-mourners-photos_1064693.html
--------
El-Rufai: Muslim lawyers in Kaduna State boycotts NBA conference
August 22, 2020
By John Owen Nwachukwu
The Muslim Lawyers Association of Nigeria (MULAN) in Kaduna State has shunned participation in the forthcoming Nigeria Bar Association, NBA, Annual General Conference, AGC
The MULAN announced its decision to boycott the conference on Saturday while expressing disappointment over the decision of the NBA NEC to rescind the invitation extended to Governor Nasir El-Rufai of Kaduna State.
Recall that Muslim Rights Concern, MURIC had instructed all Muslim lawyers to shun the conference following the NBA's decision to withdraw its invitation to El-Rufai.
Chairman of MULAN in Kaduna State, Abbas Masanawa, in a statement on Saturday, titled Missive to the Monsignors of Nigerian Bar Association NEC, said "the MULAN Kaduna Branch is bewildered and disappointed at the unfortunate de-invitation of His Excellency, Mallam Nasir Ahmad El-Rufai, Executive Governor of Kaduna State to the Annual General Conference (AGC) of the Nigerian Bar Association, 2020.
"The said decision of the NBA NEC is deemed by MULAN Kaduna Branch as being parochial, sentimental, disuniting and tainted with favouritism and ethno religious considerations."
The group said it has watched with dismay, how the NBA kept mute in the face of genocide going on in the North East, Banditry and Kidnappings in Katsina, Zamfara, Niger, Kebbi States, and Giwa and Birnin Gwari in Kaduna State.
It also accused the NBA of giving surreptitious ethnic cover to the killings in Southern Kaduna as if lives matter more in some parts of the country over the others.
MULAN said it witnessed how Governor Nyesom Wike of Rivers State demolished a Mosque and came out openly to say 'I repeat once again without apologies, Rivers is a Christian State. That is why nobody can touch us'
According to MULAN, the NBA never uttered a word to condemn the governor's action but has invited Wike "to use our hallowed platform to propagate his governance inklings and de-invitation of Governor El-Rufai.
"MULAN Kaduna Branch is left with no option than to instruct it's members to withdraw their participation in the forthcoming NBA AGC and enjoins all Muslim Lawyers in Nigeria to join in the boycott.
"MULAN Kaduna Branch reaffirms its support to Governor Nasir Ahmad El-Rufai in his efforts to stem the tide of insecurity in Kaduna State generally and Southern Kaduna in particular," the lawyers said.
https://dailypost.ng/2020/08/22/el-rufai-muslim-lawyers-in-kaduna-state-boycotts-nba-conference/
-------
13 killed as Islamist militias attack eastern Congo villages
By Erikas Mwisi Kambale
23-08-2020
Beni, Democratic Republic of Congo - Suspected Islamist militants killed 13 people during raids on two villages in eastern Congo, the army and a village chief said, the latest in a spate of attacks the United Nations says may constitute war crimes.
The Allied Democratic Forces (ADF), a Ugandan armed group operating in North Kivu province in Democratic Republic of Congo, have killed more than 1 000 civilians since the start of 2019, according to UN figures.
Militiamen tied up the victims in the villages of Kinziki-Matiba and Wikeno, 10 km east of the city of Oicha, before killing them in the attack on Friday afternoon, said Chui Mukalangirwa, a local village chief.
"We beg the authorities to put an end to this bloodbath," he said.
The army helped civilians bury the bodies and is looking at deploying more units in the area, army spokesman Antony Mwalishayi said.
The ADF has operated in the dense forests near the Ugandan border for more than three decades. Late last year the Congo army launched a large-scale operation against them, sparking a violent backlash against civilians.
Several attacks attributed to the ADF have also been claimed by Islamic State, although researchers and analysts say there is a lack of hard evidence linking the two groups.
The insecurity has forced hundreds of thousands to flee their homes and complicated Congo's response to the COVID-19 pandemic as well as an Ebola epidemic that has killed more than 2,200 people. (Reporting by Erikas Mwisi Kambale Writing by Hereward Holland Editing by Mark Heinrich)
https://www.iol.co.za/news/africa/13-killed-as-islamist-militias-attack-eastern-congo-villages-86be1699-b022-4b89-9a03-d3b01894e95f
--------
Boko Haram recruiting fresh members, IDPs may be forced to join, Zulum raises alarm
AUGUST 22, 2020
By Ibrahim HassanWuyo
Governor of Borno state, Babagana Umara Zulum has raised the alarm that the dreaded Boko Haram sect was recruiting fresh members, mostly from the internally displaced persons, IDPs. According to the governor," truly, the Boko Haram sect is working on people to join them. This is frightening. If the IDPs living in camps could not get what they are looking for, especially the opportunity to go back to their various towns and return to the farm, they may be forced to join the Boko Haram sect," he said. Zulum spoke in an interview with the BBC Hausa Service, monitored by journalists in Kaduna. He explained that the IDPs were tired and bored of staying in the camps because they were not getting what they really wanted. "It is important that they go back to their various towns because no government can continue to be feeding them, continuously," he said. He said so far, his government was able to return displaced persons to Mafa and Kukawa, while plans were on to return people to Kawuri. He expressed hope that the military will intensify efforts and make it possible for people to return to Baga, Marte, Malam Fatori and Guzamala. READ ALSO: Allegation of Governor sponsoring Boko Haram: Police summon Mailafia to Abuja Professor Zulum told the BBC Hausa service that the security situation was improving in Borno state, but there was still danger as the Boko Haram elements were still in their hiding place. " The sect members are hiding at the lake Chad area and the Sambisa forest. There will still be problem unless they are traced to their hiding places. Chasing them away from their headquarters is one of the solutions towards ending the insurgency," he said. Zulum however, observed that chasing the Boko Haram elements from Sambisa needed support from Nigeria's neighbours However, the governor explained that to successfully go into the lake Chad basin and Sambisa forest, it required the cooperation of the countries that share border with Nigeria in the area. On whether the Insurgents still occupy some places in Nigeria, he said " truly, there is no place under the occupation of Boko Haram. But there are places with no people there, What I mean is that people are yet to return to their places of origin. " "I swear by Allah, before the coming of Buhari, the security situation in Borno had deteriorated. At that time, 20 local government areas where under Boko Haram. Now, it's not so." Asked when Boko Haram will end, he said there are thousands of people in different IDP camps in the state. "One surest way to end Boko Haram is ensuring a good relationship between the military and civilians ." " I keep on saying wherever you go, you will see the military and vigilante together. But what I'm saying is that the military should provide protection to the civilians to enable them return home and go back to their farms. He said surely, the military are doing their best. " But what is disturbing us is, when shall this war with Boko Haram come to an end?." Commenting on the Baga attack on his convoy, he reiterated that it was sabotage. READ ALSO: Where are Nigeria's allies in the war against Boko Haram? He said although he did not mentioned name, whatever is done to hinder the fight against Boko Haram is an act of sabotage including failure to use money and buy arms. He said the Baga attack was shameful. " I was not afraid because I rely on Allah. Nothing will happen to a Muslim unless by the will of Almighty Allah ." "I was attacked with bombs but Almighty Allah protected me. We must be brave, if we continue to fear, the war will not end," he said.
https://www.vanguardngr.com/2020/08/boko-haram-recruiting-fresh-members-idps-may-be-forced-to-join/
---------
Southeast Asia
Malaysia's Islamist party PAS officially joins ruling coalition Perikatan Nasional: Source
AUG 22, 2020
MUHYIDDIN YASSIN
PETALING JAYA (THE STAR/ASIA NEWS NETWORK) - Malaysia's Islamist party PAS has formally joined Perikatan Nasional, making it the ruling coalition's second component party after Prime Minister Muhyiddin Yassin's Parti Pribumi Bersatu Malaysia, according to a source.
A source confirmed that the coalition was registered with the Registrar of Societies (ROS) under the name Parti Perikatan Nasional two weeks ago and has a logo which will be used by the component parties and Perikatan-friendly parties during the next general election.
"There is an agreed pro-tem committee which will make the decisions for Perikatan on behalf of Bersatu and PAS, " said the source.
The pro-tem committee of Perikatan for now comprises PAS' Deputy President Ahmad Samsuri Mokhtar and Secretary-General Takiyuddin Hassan.
Bersatu is represented by its Secretary-General Hamzah Zainuddin and Perikatan government whip Azmin Ali, also the information chief of Parti Perikatan Nasional.
PAS Deputy President Tuan Ibrahim Tuan Man said the formal formation of Perikatan was akin to "an umbrella" to the ruling government.
"All parties supporting the Perikatan government are welcome to join it. The existence of Perikatan is not a threat to Muafakat Nasional as it is part of a grand coalition of all parties supporting the Perikatan government, " said Tuan Ibrahim.
He said a strong force of Umno, PAS and Bersatu would solve the problem of seat allocations, manifesto, campaigning and coordination in the next general election.
Although Umno has declined to join Perikatan as a component party, it is understood that PAS' Muafakat Nasional relationship with Umno has not been affected.
"Our relationship is strong and solid. Muafakat Nasional does not have any conditions which forbid any party from joining any coalition as long as the coalition is not with the opposition. Umno still supports the Perikatan government, " Mohamad said when contacted.
Another top Barisan leader, however, said the logo - which is a very simple one now - needed a bit of work if Barisan were to use it.
"We have decided all political decisions will be made by consensus. Our support for the Perikatan government is for the sake of the stability of the country, " he said.
MIC President A Vigneswaran said his party was committed to supporting Perikatan as long as Barisan and Umno were supporting the ruling coalition.
Gabungan Parti Sarawak (GPS) Parliamentary chief whip Fadillah Yusof said GPS would continue to support the "Perikatan plus GPS" government.
"Our support to Perikatan government is on the basis of forming a stable government to solve the issues of the people, namely health and economy. We are committed to a government comprising of Perikatan plus GPS and reiterate our support for the Prime Minister, " he said.
https://www.straitstimes.com/asia/se-asia/malaysias-islamist-party-pas-officially-joins-ruling-coalition-perikatan-nasional
--------
Muhyiddin proposes new chapter in Bersatu to accommodate non-Malay leaders
22 Aug 2020
BY RADZI RAZAK
KUALA LUMPUR, Aug 22 — Bersatu President Tan Sri Muhyiddin Yassin today proposed a new chapter in the Malay native party to accommodate and allow non-Malay leaders to contribute and hold positions in the party.
He said a committee has been formed under Bersatu Supreme Council member Tan Sri Rais Yatim to look into the matter.
"We propose a new chapter that could help affiliated members contribute ideas and hold leadership positions.
"The committee under Tan Sri Rais Yatim will look into it and bring up the matter to the Supreme Council.
"If this proposal is accepted, we will call for an Extraordinary General Meeting to amend our party's constitution," he said in his speech at the Kongres Negara 2020 held at the Malaysia International Trade and Exhibition Centre (Mitec) today.
Earlier, Muhyiddin accepted 11 former PKR MPs and other leaders aligned to Datuk Seri Mohamed Azmin Ali to join Bersatu and also offered to accept membership of all former PKR supporters who are now spread under four civil societies group.
Muhyiddin said that he was told that the Penggerak Komuniti Negara, Pemuda Negara, Nation of Women (NOW) and Wanita Muda Negara consist of more than 200,000 members from all 222 parliament constituencies in the country.
"I will see that all applications from Penggerak Komuniti Negara to become Bersatu members will be accepted," he said.
Other than Azmin, Ministers Zuraida Kamaruddin, Datuk Saifuddin Abdullah and Datuk Kamaruddin Jaafar; Deputy Parliamentary Speaker Datuk Mohd Rashid Hasnon, Deputy Minister Ali Biju, Puncak Borneo MP Willie Mongin, Ranau MP Jonathan Yassin, Nibong Tebal MP Datuk Mansor Othman as well as state assemblymen Hilman Idham, Dr Afif Bahruddin, Dr Daroyah Alwi and Haniza Talha had officially submitted to join Bersatu.
Another MP, deputy minister and Segamat MP Edmund Santhara as well as Lubok Antu MP has already applied to join Bersatu last month.
https://www.malaymail.com/news/malaysia/2020/08/22/muhyiddin-proposes-new-chapter-in-bersatu-to-accommodate-non-malay-leaders/1896214
-------
MOH: Daily Covid-19 cases in Malaysia back to single digit despite recent emergence of new clusters
22 Aug 2020
BY SYED JAYMAL ZAHIID
KUALA LUMPUR, Aug 22 — Ministry of Health (MOH) today reported eight new Covid-19 cases, back to a single-digit despite the recent emergence of new infection clusters nationwide.
The cases were all found in Kedah where three of the biggest active clusters are. Health Director General Tan Sri Dr Noor Hisham Abdullah said the cases were all from the Tawar cluster, currently among the biggest active clusters.
"There are five new cases from the Tawar cluster reported, bringing the number of positive Covid-19 cases in this cluster to 63 cases," Dr Noor Hisham said in a statement this evening.
Up until noon today, 2,942 individuals linked to the cluster had been screened. Almost 90 per cent of them were in Kedah, of which 52 were positive. There are 135 pending results while the rest are negative.
In Penang, 517 were screened and 11 came back positive and 63 pending results. Meanwhile all 11 persons screened in Perak came back negative with no new screening held today.
The cumulated number of positive cases in the country is now 9,257, with the emergence of new clusters increasing the rate of active cases back to triple digits at 183, MOH reported today.
Meanwhile the three imported cases reported today involved a Bangladeshi, Dutch and Philippine nationals. The first case was detected here while the second and third were in Sarawak and Sabah respectively.
No deaths were reported today while four patients had been discharged. The country's recovery rate, among the world's highest, is now 96.7 per cent.
https://www.malaymail.com/news/malaysia/2020/08/22/moh-daily-covid-19-cases-in-malaysia-back-to-single-digit-despite-recent-em/1896199
-------
Dr Afif: Decision to unite under Muhyiddin's leadership was a hard one
22 Aug 2020
BY RADZI RAZAK
KUALA LUMPUR, Aug 22 — The decision by former PKR members to join Bersatu and Perikatan Nasional (PN) under the leadership of Tan Sri Muhyiddin Yassin was a hard one, said former PKR Youth leader Dr Afif Bahardin today.
The Seberang Jaya state assemblyman said the decision was political for him personally, and that he made it with the betterment of the people and saving the country in mind.
Dr Afif resigned from his Penang exco position in March and now leads a civil society organisation linked to Datuk Seri Azmin Ali called Pemuda Negara.
"The decision to unite under the leadership of Tan Sri Muhyiddin Yassin was not an easy decision. The decision to join Perikatan Nasional was not an easy one.
"We had to not only take into account the sacrifices of many people, but also the country's future and its survival. We had to think about many things, reflect and discuss them. But in the end, we had to make a decision.
"The decision of Datuk Seri Azmin Ali and our leadership to move forward and join Tan Sri Muhyiddin and Perikatan Nasional is more about saving race and country," he said in his speech during the National Congress: Unite For Malaysia event at the Malaysia International Trade and Exhibition Centre (Mitec) here today.
The national congress of 4,000 participants from four NGOs aligned with the PN government is to announce that Azmin's PKR faction, who withdrew its support from PKR president Datuk Seri Anwar Ibrahim in February, is officially joining Muhyiddin's Bersatu.
Another MP, deputy minister and Segamat MP, Edmund Santhara, already applied to join Bersatu last month as did Lubok Antu MP Jugah Muyang.
Former PKR vice-president Baru Bian, who also left the party during the political turmoil, has joined the United Sarawak Party.
The supporters of the Azmin faction are spread across at least four NGOs: Nation of Women (NOW) led by former PKR Women's chief Haniza Talha; Penggerak Komuniti Negara which is presided over by Zuraida; Wanita Muda Negara helmed by Nurainie Haziqah Shafii; and Pemuda Negara that is led by Dr Afif and Azmin's political secretary Hilman Idham.
According to Dr Afif, Pemuda Negara now has 11,500 members in the country's 222 parliamentary constituencies.
https://www.malaymail.com/news/malaysia/2020/08/22/dr-afif-decision-to-unite-under-muhyiddins-leadership-was-a-hard-one/1896177
--------
Muhyiddin announced as Bersatu president, Ahmad Faizal deputy president
23 Aug 2020
by Shafwan Zaidon
KUALA LUMPUR, Aug 23 — Prime Minister Tan Sri Muhyiddin Yassin has been officially announced as the president of Parti Pribumi Bersatu Malaysia (Bersatu) today for 2019-2022 term.
Meanwhile, Perak Mentri Besar Datuk Seri Ahmad Faizal Azumu was announced as Bersatu deputy president for the same period.
Both were the sole candidates contesting for their posts while the party chairman post was not contested by any individual.
Party election committee chairman Tan Sri Syed Hamid Albar said the three elected vice-presidents are Agriculture and Food Industries Minister, Datuk Seri Ronald Kiandee, Senior Minister (Education) Radzi Jidin and Paya Rumput assemblyman, Datuk Mohd Rafiq Naizamohideen.
"A total of 23,438 delegates cast their votes in divisional meetings nationwide yesterday,' he said in a statement today.
He said from 179 divisions eligible to meet, 177 divisions held their meetings while two divisions failed to convene meetings due to the lack of quorum.
According to him, the election held for the first time also elected the permanent chairman, deputy permanent chairman, and 20 members of the Supreme Council.
Among the Supreme Council members are Minister in the Prime Minister's Department (Economy) Datuk Seri Mustapa Mohamed, Deputy Defence Minister Datuk Seri Ikmal Hisham Abdul Aziz, Deputy Works Minister Datuk Eddin Syazlee Shith and Deputy Minister in the Prime Minister's Department (Parliament and Law), Datuk Shabudin Yahaya.
https://www.malaymail.com/news/malaysia/2020/08/23/muhyiddin-announced-as-bersatu-president-ahmad-faizal-deputy-president/1896318
---------
UN, Indonesia honor victims of terrorism
Moch. Fiqih Prawira Adjie
August 22, 2020
The United Nations joined with Indonesia's Witness and Victim Protection Agency (LPSK) on Saturday in a peace initiative called the Guyub Project to honor victims of terrorism in the country as the world observed the International Day of Remembrance and Tribute to the Victims of Terrorism.
The UN and the LPSK held several online events where survivors of terrorist attacks shared their stories. The LPSK also instated a national moment of silence to be held every year in recognition of those who had been harmed or killed by terrorism.
"A fundamental component of any effective response to terrorism is upholding the rights and needs of victims and survivors," United Nations Office on Drugs and Crime (UNDOC) country manager for Indonesia Collie F. Brown said in a statement on Friday.
"This annual occasion provides the UN and our close partners an opportunity to stop and reflect on the experiences of victims and survivors, as well as to ask ourselves some hard questions. What can we do to better recognize their tremendous sacrifice?" he added.
LPSK head Hasto Atmojo Suroto said the recently issued Government Regulation No. 35/2020 had increased the government's support for victims of terrorism.
The regulation provides a path for victims and their families to seek state compensation through the LPSK without having to obtain a court order.
"With these more facilitative laws, the LPSK and other related agencies can directly take quick steps to provide a pathway towards optimizing the fulfillment of victims' rights," Hasto noted in the statement, adding that the regulation sought to address disparities in justice among victims of terrorism.
https://www.thejakartapost.com/news/2020/08/22/un-indonesia-honor-victims-of-terrorism.html
---------
Arab world
Riyadh Global Digital Health summit looks at technology in combating COVID-19
ARAB NEWS
August 12, 2020
RIYADH: As part of the programs of the Saudi Secretariat for the G20, a two-day virtual global summit for digital health was launched in Riyadh on Tuesday.
It aims to adopt new technological solutions, improve quality and accessibility, and reduce costs to counter the negative effects of the coronavirus disease (COVID-19) pandemic.
Dr. Bandar Al-Knawy, CEO Ministry of National Guard Health Affairs and summit president, highlighted the steps taken by the Kingdom in the wake of the pandemic and the successful organization of the annual Hajj pilgrimage amid the health crisis.
WHO Chief Information Officer Bernardo Mariano Jr. reviewed the role of his organization in combating epidemics. He said the coronavirus pandemic has not only affected public health but it has also affected economic and social aspects of human life.
Mariano Jr. gave a presentation on how to deal with epidemics in the era of digital technology. He deplored that the public health sector was not as digitally advanced as other sectors such as media, finance, and education.
He urged measures to ensure the rapid transformation of the health sector along modern lines.
Panel discussions were also held on the first day of the summit covering several health-related issues and on ways to deal with diseases using modern technology.
The summit brought together leaders of health care systems, public health, digital health, academic institutions, and businesses to discuss the vital role of digital health in the fight against current and future pandemics.
It has been organized by the Ministry of National Guard's Health Affairs Department and G20 Saudi Secretariat, in collaboration with the Saudi Center for International Strategic Partnerships.
https://www.arabnews.com/node/1717926/saudi-arabia
--------
Kuwait parliament drafts plan to limit expat numbers, ban certain visas transfers
Matthew Amlôt
23 August 2020
Kuwait's National Assembly has drafted a bill to limit the number of expatriate workers in the country and ban certain types of visa transfers, Kuwait-based newspaper Kuwait Times reported Saturday.
Within six months of the law being enacted, a decision will be made on the maximum number of expats allowed in Kuwait, the Times reported, by comparing the number of foreign workers compared to the local population.
The bill will exempt 10 different categories of workers from the quota system, including domestic helpers, medical staff, educators, and GCC nationals, the Times said.
For all the latest headlines follow our Google News channel online or via the app.
Certain visa types and current procedures would also be banned, including banning the transfer of visit visas into work visas, or the transfer of domestic helpers to work in the private or oil sectors, the Times added.
According to the law, a new committee, the National Committee for Regulating and Administering Kuwait's Demography, would also be formed.
Authorities have been working on various plans to reduce the number of expats in the country. Last week, Kuwait announced it would stop issuing work permits for expats aged over 60 without a university degree, and will not extend any residencies and visas beyond August 31.
The new rules were perceived as part of a government plan to cut the overall number of expats in the country by as much as 360,000 workers. According to this plan, 150,000 of these will be expats aged over 60.
https://english.alarabiya.net/en/News/gulf/2020/08/23/Kuwait-parliament-drafts-plan-to-limit-expat-numbers-ban-certain-visas-transfers.html
-------
Saudi public sector staff return on Aug. 30, but health precautions enforced
DEEMA AL KHUDAIR
August 23, 2020
JEDDAH: Saudi public sector employees will return to their workplaces on Sunday, Aug. 30, 2020, following an announcement by the Kingdom's Ministry of Human Resources and Social Development.
The ministry said it based its decision on health indicators in the cities and governorates of the Kingdom.
Employees have been working remotely as part of efforts to curb the spread of the coronavirus amid the global pandemic.
The ministry said employees would be required to follow strict rules imposed in the workplace to prevent the spread.
However, department heads will be able to approve remote work for employees if the number working remotely does not exceed 25 percent of the entity's workforce.
Those most at risk of infection, according to the classification of the National Center for Disease Prevention and Control, will still be able to work from home.
These include people over the age of 65, and those with chronic lung disease or severe asthma, chronic heart disease, inherited immunodeficiency, acquired immune deficiency, or obesity.
The fingerprint login system will remain suspended until further notice and employees will continue performing their duties according to the approved flexible hours system.
https://www.arabnews.com/node/1723201/saudi-arabia
------
Top Saudi doctor defeats COVID-19 following 3-week treatment
RAWAN RADWAN
August 23, 2020
JEDDAH: One of Saudi Arabia's top doctors has defeated COVID-19 and has left the hospital where he was treated for three weeks.
Dr. Nezar Bahabri is an infectious disease consultant who had a steady presence on TV screens and social media platforms even before the onset of the COVID-19 pandemic in early March.
During the outbreak he had been helping spread awareness about the importance of taking steps to battle the spread of the disease as well as fighting fake news about it.
The consultant addressed his discharge from hospital in a short social media post that also explained why he was admitted in the first place.
"I'm Nezar Bahabri and I was infected by coronavirus," was the short but straightforward start to the post.
The consultant confessed to making the mistake of taking it easy when it came to precautionary measures and wearing a mask, ignoring the warning signs before his health deteriorated.
"I, like hundreds and thousands of heroes before me, were performing our duties treating patients infected and got infected with the same infection that we were treating patients for."
With an oxygen tank by his side, he sent a message to "the white army" and urged them to wear a mask and not make the same mistakes he did.
His second piece of advice was to never ignore the signs. "Even my patients would tell me that I looked ill, I would ignore (that) and take pain killers," he said. "My advice is to calm down and learn."
Videos of his ICU discharge circulated on social media, with staff showering him with flowers in celebration of his release after three weeks in the unit.
But, in line with his usual style, Bahabri continued to advise his followers and specifically COVID-19 patients to never give up.
He described the three weeks as the hardest of his life, and reminded people that 80 percent of confirmed COVID-19 patients had mild symptoms.
"If you are from the 20 percent and your breathing is constricted, head to the hospital and don't wait," he said, adding that if the fever lasted more than five days then patients must head to the hospital.
"Remember, less than 5 percent of patients with breathing complications due to COVID-19 are admitted to the ICU."
He warned anyone with symptoms to stay vigilant and not to neglect their health. He expressed his gratitude for everyone's prayers and said he would continue with his rehabilitation at home until he was fully recovered.
His final advice to everyone was to be patient. "Life doesn't stop," he said.
https://www.arabnews.com/node/1723171/saudi-arabia
--------
URL: https://www.newageislam.com/islamic-world-news/muslims-cant-be-singled-prosecution/d/122696
New Age Islam, Islam Online, Islamic Website, African Muslim News, Arab World News, South Asia News, Indian Muslim News, World Muslim News, Women in Islam, Islamic Feminism, Arab Women, Women In Arab, Islamophobia in America, Muslim Women in West, Islam Women and Feminism