New Age Islam News Bureau
9 March 2015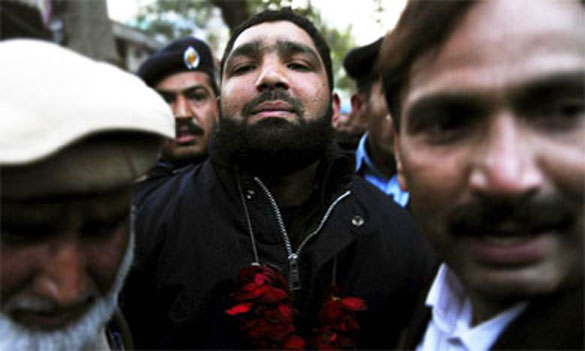 IHC upheld the death penalty against Mumtaz Qadri. — Reuters/File
-----------
Africa
• Boko Haram Pledges Allegiance to Islamic State in Audio Message
• Chad and Niger Launch Offensive against Boko Haram
• Nigerian Military Continue To Triumph Over Boko Haram
• Somalia: US delists Ex-Al Shabaab intelligence official
• Boko Haram crisis: The Nigerian truckers risking attack
-----------
Pakistan
• Islamabad High Court Upholds Death Sentence for Mumtaz Qadri
• 3 More Zones Set Up In KP against Terrorists
• Islamic Forum Confers Counter-Terrorism Award on COAS
• Chinese national arrested near Pak-Afghan border
• Wrangling persists in listing terror groups
• Modi will certainly visit Pakistan next year: Aziz
-----------
Arab World
• Egyptian Army Operations Kill 70 Militants in Sinai
• 40 Killed As Kurds Battle IS For Key Syria Town
• Syria Airstrike Kills 9 Al-Nusra Terrorists in Idlib
• UN Chief Calls on World to Stop Destruction of Iraqi Sites
• Kurdish forces attack ISIS west of Kirkuk
• Iraqi forces make advances near Tikrit
• Al-Qaeda attacks Yemen army base, four dead: residents
• 300-plus British ISIS jihadists have returned home: report
• Saudi Arabia World's Top Arms Importer
• Saudi Arabia to host Riyadh talks on Yemen crisis
• U.S. military chief in Baghdad amid Iraqi offensive
• UAE to try Kuwaiti ex-MP for 'inciting sedition'
• Berlin offers Riyadh full support to crush IS
-----------
India
• Muslim Body Objects to Making 'Surya Namaskar' Mandatory in Schools
• Release of J&K separatist leader Would Jeopardize India's Claim on Lakhvi: Muslim Cleric
• Hard-Line J&K Separatist's Release: Opposition Corners Govt, Demands PM's Statement
-----------
Southeast Asia
• Don't Learn About Jihad on Facebook, YouTube: Malaysian Cleric
• Position of Islam Should Not Be Questioned, Says Agong
• Adhaalath Party disbands from coalition government
---------
Mideast
• Al-Qaeda Members Kill 13 Hoiuthi Fighters in Al-Bayda
• US Will 'Walk Away' If Verifiable Iran N-Deal Not Reached: Obama
• Netanyahu denies backing off a two-state solution
• Israeli intelligence chief visits U.S. amid row over Iran
• After fleeing Sanaa, Yemen defence chief resumes duty
• Iran, US to resume nuclear talks in Switzerland
----------
Europe
• 'Britain's White Jihadi' Revealed As Teen from Australia
• Austria Defends New Law on Foreign Funding Of Mosques
• Wales County Reports Muslim Visit to Police
• Chelsea Garden Corrects Perceptions of Islam
• UK plans laws to stop Britons from joining IS
-----------
South Asia
• Hasan Ali implicated in killing of 2 more Hindus during the 1971 Liberation War
• Terror funding channels under scan in Bangladesh
• At least three dead in Afghan prison riot, hostage standoff
• IS takes Bangladeshi hostage in Libya
• Bombs, arms seized in Ctg
• 7 organisations of Bangladesh, India against GM crops
----------
Australia
• Push To De-Radicalise Muslim Inmates, Imams and Sheiks Should Be Sent Into Australian Jails
----------
North America
• Escalating Air War on ISIS Not the Answer, Says Top U.S. General
• Sister of Chapel Hill Victim Decries Islamophobia
• Zaytuna College: An academic address for Muslims in America
• Young Canadian's conversion to radical Islam leaves family devastated
Compiled by New Age Islam News Bureau
URL: https://www.newageislam.com/islamic-world-news/new-age-islam-news-bureau/boko-haram-pledges-allegiance-to-islamic-state-in-audio-message/d/101878
-----------
Africa
Boko Haram pledges allegiance to Islamic State in audio message
MARCH 09, 2015
BOKO Haram has pledged allegiance to Islamic State in an audio message, after three bombs wreaked havoc in northeast Nigeria, killing 58 and wounding scores.
"We announce our allegiance to the Caliph of the Muslims, Ibrahim ibn Awad ibn Ibrahim al-Husseini al-Qurashi," Boko Haram leader Abubakar Shekau said yesterday, referring to Islamic State leader Abu Bakr al-Baghdadi.
Shekau said the pledge was made because of religious duty to Islam and as it would "enrage the enemy of Allah".
The eight-minute speech, in which Shekau was not shown, was published on a Twitter account used by Boko Haram and subtitled in English, French and Arabic.
Shekau has previously mentioned Baghdadi in video messag­es yet stopped short of pledging formal allegiance.
But there have been increasing signs that the Nigerian militants, whose six-year insurgency has killed more than 13,000 people and left 1.5 million homeless, has been seeking a closer tie-up. Shek­au announced last year that the captured town of Gwoza in Borno state was part of a caliphate, and in recent weeks Boko Haram videos have increasingly resembled Islami­c State propaganda.
Nigeria's President Goodluck Jonathan, who has blamed the violenc­e on outside forces, claimed last month that the country had intelligence on Boko Haram links to Islamic State.
Sunni jihadist specialist Aaron Zelin, a senior fellow at the Washington Institute of Near East Policy, said it was difficult to assess the immediate effect of Shekau's statement. "Definitely it will put an even bigger target on their back," he said. "It's relevant because it highlights the resonance of the idea of the caliphate.
"For years there have been rumours­ of connections with AQIM (al-Qa'ida in the Islamic Maghreb) or al-Shabab but there was never anything definitive ... and now (Boko Haram) decides to do this overtly."
Max Abrahms, from Northeastern University in Boston, Massachusetts, said the pledge of allegiance "made sense", as both groups were currently "in a position of relative organisational weakness".
Islamic State, on the back foot in Iraq, has been looking to broaden its reach beyond the Middle East, particularly in places with power vacuums and existing milit­ant groups, such as Libya.
Boko Haram has apparently been pummelled out of captured territory by the Nigerian army and its regional allies and has returned to its previous campaign of urban guerilla warfare.
Militant fighters were this week reportedly amassing in Gwoza — considered to be the group's headquarters — possibly in preparation for a military offensive.
Nigeria's military announced another success over the weekend, ousting Boko Haram from Buni Yadi and Buni Gari in Yobe state, after claiming the recapture of Marte in Borno state.
Abrahms, a specialist in extrem­ist groups, said that with ­Islamic State and Boko Haram "uninhibited" in terms of violence, they were "a natural ally".
But the apparently more formal link could attract more global attention to the insurgency. "Shekau now has to be careful here as trad­itionally the international community has regarded the conflict as a civil war within Nigeria, perhaps an ­extended regional war in West ­Africa," he added.
With Boko Haram squeezed out of captured territory, security analysts had predicted a rise in bomb attacks in towns and cities, including to disrupt elections in three weeks. On Saturday, a woman with explosives strapped to her body blew herself up at Baga fish market in the Borno state capital, Maiduguri.
About an hour later a blast rocked the popular Monday market, causing chaos as locals voiced anger at security forces who struggled to control the scene.
A third blast hit a used car park, which is attached to the busy Borno Express bus terminal.
There were indications the second and third blasts were carried out by suicide bombers but details were not immediately clear.
Borno's police commissioner, Clement Adoda, gave a toll of 58 dead "for the three locations" in Maiduguri and 139 wounded.
http://www.theaustralian.com.au/news/world/boko-haram-pledges-allegiance-to-islamic-state-in-audio-message/story-e6frg6so-1227254053264
-----------
Chad and Niger launch offensive against Boko Haram
09 Mar 2015
Chad and Niger have launched a joint army operation against Boko Haram fighters in Nigeria, military sources say.
A source from the Niger government said the two countries had launched a "ground and air" operation against Boko Haram in northeastern Nigeria.
"We can confirm that Chadian and Nigerian forces launched an offensive this morning from Niger. The offensive is under way," Colonel Azem Bermandoa, spokesperson for Chad's army, said on Sunday.
The offensive marks Niger's first major push into Nigerian territory to combat Boko Haram. It had until now only defended itself against incursions in border areas.
Chad, backed by its air force, has already sent troops many kilometres inside northeastern Nigeria, winning back areas from the group near the Cameroon border.
So far more than 30 towns and villages have been retaken from Boko Haram since Chad and Niger joined efforts by Nigerian and Cameroonian troops to fight the group.
The fresh offensive comes after the African Union on Friday endorsed the creation of a regional force of up to 10,000 men to join the fight against the group which on Saturday pledged allegiance to the Islamic State of Iraq and the Levant (ISIL).
Trade damaged
"For Chad, Niger and Cameroon, defeating Boko Haram is crucial. Five years of violence has cut of much of trade between them and Africa's biggest economy, Nigeria," Al Jazeera's Ahmed Idris, reporting from Abuja, said.
"There is also the fear that the group, if left unchecked, will expand its area of control and become a bigger threat for the entire region."
The regional force, the idea for which was adopted at an AU summit in January, will be based in Chad's capital N'Djamena, the pan-African bloc's Peace and Security Council said.
It will be mandated "to prevent the spread of Boko Haram activities and other terrorist groups" and "eradicate their presence", the body agreed in a meeting earlier week.
Diplomats said Chad, Nigeria, Cameroon, Niger and Benin had committed to providing troops, who would "operate freely" in a still-undefined region.
On Saturday, at least 51 people were killed and more than 100 injured in three bombings at markets and a bus station in the northeastern Nigerian town of Maiduguri.
Aliyu Musa, a UK-based specialist on Boko Haram, said the group had found itself stuck between fire from Nigeria and multinational forces and were now looking for "soft targets".
"That is why they are attacking bus stations where they find civilians that are kind of unaware," he told Al Jazeera.
"It will continue like this until finally the forces are able to force them to succumb."
Saturday's triple blasts were the worst attack on the city since suspected Boko Haram fighters failed in their bid to seize it at the end of January.
http://www.aljazeera.com/news/2015/03/chad-niger-launch-offensive-boko-haram-150308130311251.html
-----------
Nigerian Military Continue To Triumph Over Boko Haram
March 9, 2015
However, some Nigerians have remained doubting Thomases, especially supporters of the opposition All Progressives' Congress (APC) who remain steadfast critics of the Nigerian military and the government which has thrown its backing behind the offensive against Boko Haram.
On Friday morning, Twitter user and Buhari apologist @remiteo tweeted pictures of troops in action in Maiduguri and described them as mercenaries from South Africa and slammed the government, describing it as liars.
His compatriots immediately reacted on social media and blogs online, with many calling him a killjoy. One of those who commented on the popular Linda Ikeji blog dismissed his rants saying the end justifies the means. "The opposition is funny…so what if they hired mercenaries Wipe BH from the face of the earth at all cost; GEJ work on."
One Nathaniel Shok stressed on the need for cooperation between African countries, in lieu of the multinational joint forces currently on the offensive against Boko Haram. In his words, "We need the cooperation. We just need to help ourselves and then forget the western world…"
Another Nigerian who spoke on the condition of anonymity lambasted the APC saying, "Asiwaju Private Company (APC) does not want this ugly menace of terrorism to end. They should applaud FG for convincing them to come."
His position was echoed by Musa Danjuma who said "If they will help genuinely, then they are welcome" and another anonymous commenter on the blog who said "The good news is that they are saving lives; let's all leave this politics we play when good deeds is done."
The APC has over time thrown jabs at the efforts of the military in attempting to reclaim Nigerian territory under the control of the Islamist sect, with certain observers noting that it seemed the party hierarchy was favourably disposed towards the increase of insurgency in the country.
http://www.naij.com/398482-nigerian-military-continue-to-triumph-over-boko-haram.html
-----------
Somalia: US delists Ex-Al Shabaab intelligence official
Mar 09, 2015
MOGADISHU, Somalia, March 8, 2015 (Garowe Online)-The United States of America on Sunday delisted former Al Shabaab intelligence official Sakariye Ismail Hirsi, prompting a welcoming statement by Somalia Federal government, Garowe Online reports. Hirsi surrendered to Somali government forces in Gedo on December 27, 2014, and announced that he renounced terror ideology during a press briefing in Mogadishu on January 27-exactly a month after he decided to hand himself in. The delisted defector had a falling out with former Al Shabaab Chief Ahmed Abdi Godane who ordered his death squad to kill a handful of ranks within the beleaguered group, including Hirsi. The man held key posts-notably East Africa intelligence boss, regional governor and mobilizer general. In 2012, US put USD 3 million bounties on the head of several Al Shabaab officials including Hirsi. On December 20, 2014 United Nations Security Council removed the commander of Al Shabaab fighters in Galgala, Mohamed Saed Atom from sanctions list on the grounds of peace embracing. Atom officially defected to Mogadishu-based central government on June 7, 2014. Somalia government called on Al Shabaab members to make more defections and join the on-going peace building efforts. For the first time in the history of the country's shattered military, UN-backed central government unveiled that it would use drones in the fight against Al Qaeda's largest franchise in the Horn of Africa.
http://www.garoweonline.com/page/show/post/1958/somalia-us-delists-exal-shabaab-intelligence-official
-----------
Boko Haram crisis: The Nigerian truckers risking attack
By Lucy Fleming
9 March 2015
Most of those in the group drive tankers of petrol, diesel or kerosene to and from Maiduguri - the city at the heart of the Islamist insurgency in the north-east and the capital of Borno state.
Gathered at the Ogbere Trailer Park, about 50km (30 miles) north of Lagos, they say they have all been affected by the six-year conflict.
"We are all concerned about the situation, we have all lost relatives, wives and children are kidnapped and houses have been burnt," says Atiku Abubakar.
Speaking in Hausa, he and his colleagues describe the perils of the route to and from Lagos.
It takes two and a half days when a tanker is empty and four and a half days when full.
They say it is dangerous enough without the militants to contend with as there are so many potholes.
"Ten of my colleagues who ply this route have been killed in the last three weeks," says Mr Abubakar.
"The militants stopped them and cut off their heads with an electric chainsaw and burned the trucks," he says.
"Boko Haram is usually only interested in commandeering smaller vehicles, sometimes the fighters will take the lorries, but most of the time they burn them."
Another truck driver chips in to say that if a driver looks "powerful" he may be kidnapped and conscripted as a fighter, but anyone looking "weak" will definitely "lose his head".
"If you reach Damaturu by five in the afternoon, you dare not continue on the final leg to Maiduguri," he says, explaining that a driver may not manage the last 130km before the sun sets, when they would be most vulnerable to attack.
'Too traumatised'
The drivers tend to work for an owner who has about 20 tankers - each vehicle also has about two assistants to help with loading and guarding the cargo, known as motor boys.
As the drivers and motor boys ease into the conversation they begin to open up about how the insurgency has directly affected them.
Driver Trap Bukar says he was in the town of Bama when it was captured by Boko Haram last September.
"It started early in the morning. Suddenly they came. There was shooting, in my presence I saw four people go down; the soldiers fled," he says.
He lifts up his shirt to show what look like bullet scars on his upper torso
"I could tell you many unhappy tales," he says, with tears in his eyes.
But he suddenly gets up and leaves the group and his colleagues say he is too traumatised by his memories to continue.
Kullima Ali, 18, who has been a motor boy for four years, says he is now his family's only bread winner.
He says it is very difficult to tell the militants from soldiers, as they dress in camouflage - with only their eyes visible.
"They stole some food, killed my two brothers and burned our house in Maiduguri in January 2013," he says.
"There's only my mother and my sister now."
He says he had wanted to go and study science, but he is unable to afford to continue his education.
'Scared'
"Many of the drivers have good qualifications," says Umar Hussaini, 18, a motor boy who helps his driver brother.
He introduces me to Ibrahim Abdullahi, 25, a former university student who had been studying civil engineering at the start of insurgency.
He has been working as a trucker for the last five years as there are few other employment opportunities for young men, especially in the areas affected by the conflict.
"Yes I am scared, if there was other work I would find another job," says Mr Abdullahi.
All the truckers express anger about the six-week postponement of the 14 February presidential election and are vocal in their criticism of President Goodluck Jonathan's handling of the conflict.
Some even refer to him as "the chairman of Boko Haram" - seeing him as complicit in the group's growth over the years.
Others say his complicity lies in his neglect of north-east.
"President Jonathan is just as guilty as those Boko Haram killers because he has chopped off all the money to repair the roads," Mr Abubakar says.
Life is now a constant financial struggle for them, he adds.
For each trip, a driver gets a 10,000 naira ($50, £33) living allowance but this might have to last for several weeks as he waits at Ogbere Trailer Park for clearance to go into Lagos port to collect cargo.
Most of the truckers get a monthly salary of between $100 and $200 and the motor boys receive $2.50 a day.
Saleh Mohamed, a driver who has just arrived back from Lagos port with his shipment of petrol, sits down with the group under the porch looking exhausted.
"I spent four days in the queue in the traffic to the port - I haven't slept for four nights because I had to watch out for thieves as they remove parts from the vehicle or steal the gas," he says.
But he is only taking a short break of a couple of hours as he is anxious to put the coming dangers behind him.
"The killings are too much and have been going on for too long," says his colleague Mr Abubakar.
"President Jonathan is not doing anything. We hope he will leave - we want change."
http://www.bbc.com/news/world-africa-31533391
-----------
Pakistan
Islamabad High Court Upholds Death Sentence for Mumtaz Qadri
March 9, 2015
ISLAMABAD: The Islamabad High Court (IHC) on Monday upheld the conviction of Mumtaz Qadri, the killer of former Punjab governor Salman Taseer, under Section 302 of the Pakistan Penal Code (PPC).
Judges Noor-ul-Haq Qureshi and Shaukat Aziz Siddiqui dismissed the appeal, an AFP reporter at court said.
The bench had reserved the judgment on Feb 11 after Advocate General of Islamabad, Mian Abdul Rauf, the prosecutor in the case, and Qadri's counsel, including Lahore High Court's former chief justice Khawaja Mohammad Sharif and retired Justice Mian Nazeer – concluded their arguments.
Death sentence remains, Anti-Terrorism Act section void
Qadri's counsels had challenged the Anti Terrorism Court's (ATC) decision in two applications on Oct 10, 2011.
The first petition demanded that his death sentence should be quashed. The second application asked for Section 7 of the Anti-Terrorism Act (ATA) to be declared void.
The IHC today accepted his application for Section 7 of the ATA to be declared void while the application against death penalty under PPC was rejected.
Qadri's counsels have planned to challenge IHC's decision to uphold his death penalty.
With the removal of Section 7 of the ATA, Mumtaz Qadri may face a death sentence, but will likely not be executed under the government's recent removal of the moratorium on capital punishment, which focuses on those convicted on terror charges only.
With the acceptance of the plea demanding the exclusion of anti-terror causes, the case will go for a retrial in a sessions court.
Full report at:
http://www.dawn.com/news/1168397/ihc-upholds-death-sentence-for-mumtaz-qadri
-----------
3 more zones set up in KP against terrorists
March 09, 2015
PESHAWAR - On the directives of Inspector General of Police Khyber Pakhtunkhwa Nasir Khan Durrani three more zones of Counter Terrorism Department (CTD) have been established throughout the province with immediate effect.
The decision to establish these zones was taken to further harness the activities of the CTD and bring conformity in its operations against the hard core outlaws.
Each zone will be headed by an officer of the rank of SSP or SP.
The zone 1, to be called Northern Zone, will consist of all districts of Hazara and Malakand Regions while Central Zone to be known as zone 2 will comprise Capital City Police Peshawar and all districts of Mardan Region.
Full report at:
http://nation.com.pk/national/09-Mar-2015/3-more-zones-set-up-in-kp-against-terrorists
-----------
Islamic forum confers counter-terrorism award on COAS
March 9, 2015
ISLAMABAD: The World Islamic Forum (WIF), a think tank of Muslim countries, has conferred a special award on Chief of Army Staff Gen Raheel Sharif for his counter-terrorism efforts.
The award was given during the two- day 6th conference of the WIF that concluded on Sunday. Scholars from various countries attended the conference.
According to the organisers, the army and its chief were given the `Istanbul Special Islamic Award' for demonstrating leadership in the struggle against terrorism with clarity, commitment and courage.
Also read: Army chief conferred US Legion of Merit medal
Under a National Action Plan recently adopted by the political leadership, Gen Sharif is supervising one of the biggest military operations against militants in tribal areas bordering Afghanistan without any discrimination and with a commitment to continuing the fight till the elimination of terrorists from the country.
The Islamic World Istanbul Awards were given this year for the first time to promote and honour the successful people and institutions that are showing excellence and professionalism in their fields.
President Mamnoon Hussain was the chief guest at the award ceremony.
The forum also issued an Islamabad Declaration, reiterating its resolve to institutionalise itself as the voice of Muslim intellectuals, opinion leaders and thinkers.
It will hold a Muslim Women's Summit in Kuala Lumpur in September, while the next WIF will be hosted by Iran.
A permanent steering committee, including Senator Mushahid Hussain Sayed and Turkish Asian Centre for Strategic Studies Chairman Suleyman Sensoy, was set up to prepare an action plan for the WIF.
Full report at:
http://www.dawn.com/news/1168355/islamic-forum-confers-counter-terrorism-award-on-coas
-----------
Chinese national arrested near Pak-Afghan border
ALI AKBAR
March 9, 2015
PESHAWAR: Security forces arrested a Chinese national on Monday in Khyber Agency near the Pak-Afghan border.
Sources told Dawn that Chinese national Liu Yongguang was arrested by security forces near Takhta Beg checkpost in Khyber tribal region.
The arrested person had no legal documents and was handed over to the Special Branch of police for further investigation.
Full report at:
http://www.dawn.com/news/1168387/chinese-national-arrested-near-pak-afghan-border
-----------
Wrangling persists in listing terror groups
KHURRAM HUSAIN
March 9, 2015
THE government appears to be caught in a wrangle in its attempts to create a list of proscribed terrorist outfits operating in Pakistan. The need to create such a list appears to stem from a combination of international pressure and the requirements of a coherent anti-terror campaign at home.
In late December, the National Counter-Terrorism Authority (Nacta) website carried a list of all proscribed groups in Pakistan, which was updated in early January before being removed from the site by the middle of the month, shortly after the visit by US Secretary of State John Kerry.
But internet is a tricky place, and both lists remain accessible even though by now the Nacta website has been taken down entirely. Some links on the site continue to function, and at least one snapshot of the site as it existed on Dec 27 is available from a web archiving service.
A glance at the contents of both lists, and the context surrounding them, is enough to reveal why they were uploaded only to be removed later.
Also read: Banning terror groups
The first list contained names of sixty organisations, including Ahle Sunnat Wal Jamaat (ASWJ), proscribed in 2012, formerly known as the Sipah-i-Sahaba Pakistan, which was proscribed in 2002. Individuals belonging to this group have run for elections from Karachi. This list also contained two names as "enlisted under UNSCR 1267", which included Al Rashid Trust and Al Akhtar Trust. The Jamaatud Dawa (JuD) is listed separately under a category "Enlisted under observation". It is not clear what "under observation" means in this matter.
By early January, a second and updated list had appeared on the Nacta website. The updated version named twelve organisations as "enlisted under UNSCR 1267". They were: Taliban, Harkat-ul-Mujahideen (HuM), Umma Tameer-e-Nau, Jamaatud Dawa (JuD), Al Akhtar Trust, Al Rashid Trust, Harkat-ul-Jihad Islami, Falah-i-Insaniyat Foundation (FiF), Haji Khairullah Haji Israr Money Exchange, Roshan Money Exchange and Rahat Ltd.
Full report at:
http://www.dawn.com/news/1168347/analysis-wrangling-persists-in-listing-terror-groups
-----------
Modi will certainly visit Pakistan next year: Aziz
March 9, 2015
ISLAMABAD - Adviser to Prime Minister on National Security and Foreign Affairs Sartaj Aziz on Sunday said that Indian Prime Minister Narendra Modi will 'certainly visit' Pakistan next year.
"We are fully hopeful that the Indian prime minister will come to Pakistan for the SAARC summit," Sartaj Aziz told reporters in Islamabad after a conference of the Muslim Think Tanks Forum of Islamic Countries.
He said foreign secretaries of Pakistan and India could meet again though there was no breakthrough during Indian Foreign Secretary S Jaishankar's talks here.
Sartaj Aziz said that his country wants to resolve all outstanding issues with India, including Kashmir, through dialogue. Aziz said despite no breakthrough there was headway for the next meeting between two foreign secretaries.
He said Pakistan Foreign Secretary will visit India when his counterpart invites him for resumption of dialogue. Aziz said there is a need for comprehensive dialogue process between the two countries to remove lack of trust and address all outstanding issues.
"Our foreign secretary would visit India whenever they invite us," he said and emphasised that there should be progress and both sides should explore ways to make progress on confidence building measures.
Full report at:
http://nation.com.pk/national/09-Mar-2015/modi-will-certainly-visit-pakistan-next-year-aziz
-----------
Arab World
Egyptian army operations kill 70 militants in Sinai
Mar 8, 2015
Egyptian government forces have killed 70 militants and arrested 118 others during separate aerial attacks and security raids in the volatile Sinai Peninsula over the past week.
Army spokesman, Brigadier General Mohamed Samir, said on Sunday that the militants were killed during operations in the city of el-Arish, situated 344 kilometers (214 miles) northeast of the capital, Cairo, and in the border town of Rafah as well as Sheikh Zuweid town, situated 334 kilometers (214 miles) northeast of Cairo.
He added that several members of Ansar Bait al-Maqdis Takfiri militant group were among the slain terrorists, while 23 of those arrested had already been wanted by Egyptian security authorities.
Full report at:
http://www.presstv.in/Detail/2015/03/08/400893/Egypt-army-kills-70-militants-in-Sinai
-----------
40 killed as Kurds battle IS for key Syria town
March 09, 2015
BEIRUT : At least 40 Kurdish fighters and Islamic State group jihadists have been killed in clashes for control of a strategic town in north Syria, a monitor said on Sunday.
The Syrian Observatory for Human Rights also reported that 11 civilians were killed in a government air raid on the rebel-held town of Irbin northeast of Damascus.
The clashes that erupted on Saturday as the IS launched an offensive aimed at seizing Tal Tamr in Hasakeh province from Kurdish forces have killed 40 fighters on both sides, it said.
'Fierce battles broke out during the past 24 hours around Tal Tamr that killed 40 fighters,' said Observatory director Rami Abdel Rahman.
He said the fighting erupted when IS advanced close to the town, but the Kurds called in reinforcements and were able to repel the jihadists.
IS has been trying to capture Tal Tamr because of its strategic location.
Full report at:
http://nation.com.pk/international/09-Mar-2015/40-killed-as-kurds-battle-is-for-key-syria-town
-----------
Syria airstrike kills 9 al-Nusra terrorists in Idlib
Mar 9, 2015
A Syrian airstrike has hit a military camp used by the al-Nusra Front Takfiri terror group in northwestern Idlib Province bordering Turkey, killing at least nine terrorists, including four foreign operatives.
The pounding of the terror camp on Sunday was the second major attack against the Takfiri militants in recent days, hitting al-Nusra positions near the town of Atme close to the Syrian border with Turkey, UK-based monitoring group the so-called Syrian Observatory for Human Rights reported.
The development came after al-Nusra announced last week that its top military commander along with several of the group's other leaders had been killed in another airstrike in Idlib.
The Syrian military, meanwhile, confirmed the aerial assault, saying its air force carried out the attack, though some foreign-backed opposition sources claimed the accurate airstrikes were conducted by US-led coalition forces.
Full report at:
http://www.presstv.in/Detail/2015/03/09/400975/9-Nusra-militants-killed-in-Syria-strike
-----------
UN chief calls on world to stop destruction of Iraqi sites
March 9, 2015
BAGHDAD: UN Secretary-General Ban Ki-moon called on the international community on Sunday to halt the destruction by Islamic State jihadists of Iraqi archaeological sites, branding the smashing of priceless and ancient artifacts a "war crime".
Ban's comments came hours after Iraq's tourism and antiquities minister called on the US-led coalition carrying out air strikes against the militants to try to protect the sites, stating: "We request aerial support."
The jihadists caused outrage around the world when they bulldozed the ancient Assyrian city of Nimrud and smashed artifacts in the Mosul museum.
They may now have turned their attention to the extremely well preserved fortress city Hatra, which is more than 2,000 years old and a UNESCO world heritage site, with the United Nations condemning its reported "destruction".
"The Secretary-General urgently calls on the international community to swiftly put a stop to such heinous terrorist activity and to counter the illicit traffic in cultural artifacts," Ban said in a statement from his spokesman.
"The deliberate destruction of our common cultural heritage constitutes a war crime."
He stressed that the perpetrators must be held to account, and said he was "outraged" by the destruction, citing the Hatra reports.
Earlier on Sunday, the UN chief echoed a call by Iraq's tourism and antiquities minister, Adel Fahad al-Shershab.
Full report at:
http://www.dawn.com/news/1168385/un-chief-calls-on-world-to-stop-destruction-of-iraqi-sites
-----------
Kurdish forces attack ISIS west of Kirkuk
9 March 2015
Kurdish forces attacked the Islamic State of Iraq and Syria (ISIS) positions around the oil-rich city of Kirkuk in northern Iraq at dawn on Monday, backed by heavy air strikes from a U.S.-led coalition.
Speaking to a local television channel near the frontline, Kirkuk governor Najmaldin Karim, who was wearing a helmet, said the purpose of the offensive was to drive militants away from the city.
Full report at:
http://english.alarabiya.net/en/News/middle-east/2015/03/09/Kurdish-forces-attack-ISIS-west-of-Kirkuk.html
-----------
Iraqi forces make advances near Tikrit
9 March 2015
BAGHDAD: Iraqi security forces and Shiite militia fighting the Islamic State took control of the center of a town on the southern outskirts of Saddam Hussein's home city Tikrit on Sunday, security officials said.
Sending in more troops and fighting fierce clashes, the army and militiamen were still struggling to drive out Islamic State militants entrenched in buildings in the western section of the town of Al-Dour, officials said.
Military commanders said the army and militia, known as Hashid Shaabi (Popular Mobilization) units, launched another offensive late on Saturday to break into the center of Al-Dour.
By Sunday they had succeeded in recapturing the central area where government headquarters are located, but Islamic State insurgents were still holding positions in the west.
"Daesh snipers are still targeting our troops from some of the high buildings. We should be able to take them out with helicopter attacks this evening," said Ahmed Al-Yasiri, a Hashid Shaabi leader fighting in Al-Dour. Daesh is the Arabic acronym for Islamic State.
Full report at:
-----------
Iraqi forces make advances near Tikrit
9 March 2015
BAGHDAD: Iraqi security forces and Shiite militia fighting the Islamic State took control of the center of a town on the southern outskirts of Saddam Hussein's home city Tikrit on Sunday, security officials said.
Sending in more troops and fighting fierce clashes, the army and militiamen were still struggling to drive out Islamic State militants entrenched in buildings in the western section of the town of Al-Dour, officials said.
Full report at:
http://www.arabnews.com/middle-east/news/715671
-----------
Al-Qaeda attacks Yemen army base, four dead: residents
9 March 2015
At least two militants and two soldiers died in an Al-Qaeda assault on an army base in southern Yemen early on Monday, officials and residents said, in another sign of unravelling security.
The assault on the base in Mahfad in Abyan province was a setback for the country's splintered military which, alongside local militiamen, had largely expelled Al Qaeda from the area's towns in 2013.
Local sources told Reuters the battle was ongoing and army reinforcements backed by dozens of the armed "popular committees" had come to the soldiers' aid.
Al-Qaeda in the Arabian Peninsula (AQAP), one of the most active arms of the global militant group, has grown more powerful since "Arab Spring" uprisings rocked Yemen in 2011 and led to splits in its military.
Full report at:
http://english.alarabiya.net/en/News/middle-east/2015/03/09/Al-Qaeda-attacks-Yemen-army-base-four-dead-residents-.html
-----------
300-plus British ISIS jihadists have returned home: report
8 March 2015
Around half the estimated 700 Britons who have gone to fight with Islamic State of Iraq and Syria (ISIS) in Syria have returned home, The Sunday Telegraph newspaper reported.
The weekly broadsheet's figures, in a story about a leaked draft of the Home Office interior ministry's new counter-extremism strategy, go further than previous estimates, of around 500 individuals leaving and 250 returning.
Full report at:
http://english.alarabiya.net/en/perspective/features/2015/03/08/300-plus-British-is-jihadists-have-returned-home-report-.html
-----------
Saudi Arabia world's top arms importer
March 09, 2015
LONDON - Saudi Arabia overtook India in 2014 as the world's biggest importer of defence equipment, fuelled by tensions in the Middle East, according to a study published Sunday by respected analysts IHS Jane's.
Global defence trade currently stands at $64.4 billion, said the report from the London-based defence specialists. The figure has been driven by "unparallelled demand from the emerging economies for military aircraft and an escalation of regional tensions in the Middle East and Asia Pacific," IHS expert Ben Moores said.
The report, which examines the defence market across 65 countries, found that Saudi Arabia spent more than $6.4 billion on defence kit in 2014, overtaking India on $5.57 billion. Saudi Arabian imports increased by 54 percent over the past year and the study predicts that one out of every seven dollars spent on defence exports in 2015 will be spent by the Middle East kingdom. Saudi Arabia and the United Arab Emirates (UAE) together imported $8.6 billion of defence equipment in 2014, more than the imports of Western Europe combined.
The United States maintained its position as the top exporter, shipping $23.7 billion of equipment, ahead of Russia on $10 billion. "The biggest beneficiary of the strong Middle Eastern market remains the US, with $8.4 billion worth of Middle Eastern exports in 2014, compared to $6 billion in 2013," said the report. Despite Russia's strong performance, boosted by $2.3 billion of sales to China, the study predicted tougher times ahead.
"A drop-off in exports is forecast for 2015 as major programmes draw to a close, a trend that could be accelerated by sanctions," it said. "Furthermore, falls in the oil price are set to have a devastating impact on some lead Russian clients who are vulnerable to low oil prices, such as Venezuela and Iran." France was the third biggest exporter ($4.9 billion) followed by Britain ($4.1 billion) and Germany ($3.5 billion).
Full report at:
http://nation.com.pk/national/09-Mar-2015/saudi-arabia-world-s-top-arms-importer
-----------
Saudi Arabia to host Riyadh talks on Yemen crisis
9 March 2015
Saudi Arabia said on Monday the Gulf Cooperation Council (GCC) had agreed to host talks in Riyadh to end the Yemen crisis, the state news agency SPA said, quoting a statement by the Saudi King's office, according to Reuters news agency.
The statement states that Saudi Arabia had asked the GCC countries, on the request of Yemen's President Abed Rabbo Mansour Hadi, to host the talks in Riyadh where the headquarters of the organization was, and that they had agreed.
"The security of Yemen is part and parcel of the security of the Gulf Cooperation Council countries," the statement said.
"The GCC countries have expressed their agreement to the request of Yemen's president to hold a conference under the umbrella of the GCC in Riyadh."
Full report at:
http://english.alarabiya.net/en/News/middle-east/2015/03/09/Saudi-Arabia-to-hold-talks-to-end-Yemen-crisis-in-Riyadh.html
-----------
U.S. military chief in Baghdad amid Iraqi offensive
9 March 2015
The U.S. military's top officer landed in Baghdad on Monday as Iraqi forces battle the Islamic State of Iraq and Syria (ISIS) in their largest operation to date against the militants, Agence France-Presse reported.
General Martin Dempsey, chairman of the U.S. Joint Chiefs of Staff, flew in on a C-17 military transport aircraft. He is due to hold talks with top Iraqi officials.
During a visit to the French aircraft carrier Charles de Gaulle in the Gulf on Sunday, Dempsey appealed for "strategic patience" in the fight against ISIS.
Full report at:
http://english.alarabiya.net/en/News/middle-east/2015/03/09/U-S-military-chief-in-Baghdad-amid-Iraqi-offensive.html
-----------
UAE to try Kuwaiti ex-MP for 'inciting sedition'
8 March 2015
The United Arab Emirates said on Sunday it would try a Kuwaiti Islamist ex-MP in absentia for allegedly "inciting sedition" in remarks he made about Abu Dhabi's powerful crown prince.
Mubarak al-Duwailah has been referred to the Federal Supreme Court, the UAE's top court, for "allegedly abusing religion to incite sedition, harm national unity, [and] disturb social peace," WAM news agency reported Attorney General Salim Saeed Kubaish as saying.
The former lawmaker was also charged with "intentionally" spreading "false news ... rumors ... provocative and malicious propaganda," Kubaish said.
Duwailah is a leading figure in the Islamic Constitutional Movement, an offshoot of the Muslim Brotherhood in Kuwait.
The UAE on Nov. 15 published a list of 83 "terrorist" groups, topped by the Muslim Brotherhood. The list was criticized by many Sunni Islamists for not including Lebanon's powerful Shiite Iran-backed Hezbollah militant group.
Full report at:
http://english.alarabiya.net/en/News/middle-east/2015/03/08/UAE-to-try-Kuwaiti-ex-MP-for-inciting-sedition-.html
-----------
Berlin offers Riyadh full support to crush IS
9 March 2015
Custodian of the Two Holy Mosques King Salman and the German Vice Chancellor Sigmar Gabriel have described the recent developments in the Middle East as a source of "concern" for the region and the world as a whole.
The talks held between the king and Gabriel at Al-Yamamah Palace focused on the Islamic State, Iraq and Yemen, as well as other key bilateral and regional issues.
Gabriel, who is also the minister for economy and energy, acknowledged the Kingdom's important role as an ally in the fight against the IS, and said the Kingdom would have Germany's full support when it came to defending itself. "The good relationship between Germany and Saudi Arabia as well as the regional situation were the center of my talks with the king," said the German official.
"What is happening in the south of Saudi Arabia, the IS threat, the situation in Iraq, and other issues are of concern for everyone in Europe," said Gabriel. Speaking to Arab News, Gabriel said the joint Saudi-German Business Forum, which concluded on Sunday, would yield positive results.
Full report at:
http://www.arabnews.com/featured/news/715856
-----------
India
Muslim Body Objects to Making 'Surya Namaskar' Mandatory In Schools
March 9, 2015
The All India Muslim Personal Law Board (AIMPLB) has claimed that the BJP-led NDA government in the Centre was preparing to make 'Surya Namaskar' mandatory in the schools which would be unacceptable to the Muslim community.
They will take up this issue in the meeting of the board to be held in Jaipur from March 20 to March 23. The board, which is the highest decision maker panel within the Muslim community, has also decided to discuss the issues related to the demand of the Rashtriya Swayamsewak Sangh (RSS) to ban religious conversion and allow the Hindu organisations to continue with their 'Ghar Wapsi' (home coming) programme.
Full report at:
http://indiatoday.intoday.in/story/surya-namaskar-schools-mandatory-muslim-bodies/1/422798.html
-----------
Release of J&K separatist leader Would Jeopardize India's Claim on Lakhvi: Muslim Cleric
MAR 08, 2015
India's claim over Pakistan based terrorist Zaki-ur-Rehman Lakhvi, the mastermind of 26/11 Mumbai terror attacks has been jeopardised with the release of separatist leader Masarat Alam, a Muslim cleric said today.
"Release of Masarat Alam, an anti-national would jeopardize India's claim over Zaki-ur-Rehman Lakhvi, mastermind of the 26/11 Mumbai terror attacks," Molana Sayeed Athar Hussain Dehlvi, chairman of the Anjuman Minhaz e Rasool told reporters here.
He said that more than 120 people lost their lives in the incidents of stone pelting that were masterminded by Alam.
Full report at:
http://www.outlookindia.com/news/article/Release-of-Alam-Would-Jeopardize-Indias-Claim-on-Lakhvi-Muslim-Cleric/884849
-----------
Hard-Line J&K Separatist's Release: Opposition Corners Govt, Demands PM's Statement
Mar 9, 2015
NEW DELHI: There was uproar in Parliament on Monday with the opposition demanding a statement from Prime Minister Modi on the release of hard-line J&K separatist Masarat Alam.
Cornering the government in both houses of Parliament, senior Congress leader Mallikarjun Kharge said the PM must clarify the government's stand. Other leaders - BSP's Mayawati, JD (U)'s SharadYadav and TMC's Derek O'Brien also wanted Modi to clear the government's stand on the controversial release.
Full report at:
http://timesofindia.indiatimes.com/india/Masarat-Alams-release-Opposition-corners-govt-demands-PMs-statement/articleshow/46499950.cms
-----------
Southeast Asia
Don't Learn About Jihad on Facebook, YouTube: Malaysian Cleric
March 9, 2015
ALOR SETAR: "Jihad" is not only about taking up arms as done by some Malaysians who joined the IS militant group in Syria.
Kedah mufti Syeikh Muhamad Baderudin Ahmad said the meaning of "jihad" in Islam is broad and covers many aspects of life, including morals.
"Muslims (in Malaysia) must study Islamic teachings from recognised sources and not just rely on YouTube or Facebook.
"Jihad taken in the wrong context can be bad. As such, 'jihad' must be done according to Islamic teachings," he told Bernama when met at a conference of imam, religious teachers and Kedah Mosque Committees, here recently.
A total of 61 Malaysians including 10 women are believed to be in Syria while 71 others have been arrested for joining IS.
Police recently revealed that some of the Malaysians who joined the IS in Syria hailed from Kedah.
Full report at:
http://www.freemalaysiatoday.com/category/nation/2015/03/09/dont-learn-about-jihad-on-facebook-youtube/
-----------
Position of Islam should not be questioned, says Agong
9 March 2015
The position of Islam as the federal religion should not be questioned, said Yang di-Pertuan Agong Tuanku Abdul Halim Mu'azam Shah.
In opening the third session of Parliament, the Agong also said everyone should understand that separation of powers between the three branches of government was in accordance with existing laws.
"We would like to reiterate the position of Islam as the religion of the federation which must be upheld and not to be questioned, while other religions may be practised freely.
"Differences of opinion on religious issues should be referred to the authorities and not polemicised," he said in his royal address this morning.
Tuanku Halim said Malaysia was premised on parliamentary democracy and constitutional monarchy where the supremacy of the Federal Constitution and sovereignty of the law were upheld.
"All parties should understand that the separation of powers between the executive, the legislative and the judiciary practised in the country is in accordance with exiting laws.
"There is nowhere a better place than this blessed land of ours. Thus, respect and accept one another for the sake of peace and stability."
He said a multiracial country like Malaysia thrived on peace and harmony among its citizens of various races, religions and culture and expressed his unhappiness that there were isolated parties that did not subscribe to such values.
"Therefore, we advise these groups to stop their irresponsible actions, and we hope the authorities continue to take appropriate measures," he said, adding that freedom of speech should be practised responsibly to avoid creating tension among the people.
Malaysia which subscribes to the wasatiyyah or moderation approach, is a small country, but stands tall among other nations, said Tuanku Halim, who pointed out Malaysians are very fortunate to live peacefully.
Full report at:
http://www.themalaysianinsider.com/malaysia/article/position-of-islam-should-not-be-questioned-says-agong
-----------
Adhaalath Party disbands from coalition government
Mar 09, 2015
The religiously conservative Adhaalth Party (AP) has on Sunday night decided to break away from the government coalition claiming that President Yamin Abdul Gayoom's actions are unjust and totalitarian.
In a statement, the Party said that they had helped President Yamin Abdul Gayoom get elected in the 2013 Presidential Elections but that the government has fallen short. According to the Party, the President's actions have been, in his short time in office, unjust and totalitarian.
The AP further said that the government has abused the trust placed in them by the people and have – against the 'spirit of the Constitution – restricted constitutional rights and freedom.
Full report at:
http://www.haveeru.com.mv/news/59559
-----------
Mideast
Al-Qaeda members kill 13 Hoiuthi fighters in al-Bayda
Mar 9, 2015
At least 13 members of Yemen's Houthi Ansarullah movement have been killed in clashes with al-Qaeda terrorists in the Yemeni province of al-Bayda, media reports say.
According to Yemen's Barakish.net, in one of the deadly incidents that took place in the district of De Na'am in the provincial capital of al-Bayda, the al-Qaeda terrorists targeted the positions of the Ansarullah fighters, killing six of them.
The report further noted that a number of Houthi fighters sustained injuries in the attack.
Local sources also reported that clashes erupted between the Houthi fighters and al-Qaeda terrorists in some other areas in the city.
According to Anadolu Agency, at least seven other Houthi fighters lost their lives in clashes with the al-Qaeda linked terrorists in the villages in the Rada' District of the al-Bayda' Province.
Full report at:
http://www.presstv.in/Detail/2015/03/09/400978/13-Hoiuthis-killed-in-central-Yemen
----------
US will 'walk away' if verifiable Iran N-deal not reached: Obama
March 9, 2015
WASHINGTON: Presi­dent Barack Obama assured in a taped television interview on Sunday that the United States was prepared to "walk away" from nuclear talks with Iran if a verifiable deal cannot be reached with Tehran.
Obama made the comments on Saturday as US Secretary of State John Kerry was in Paris to smooth over differences with France, which has pressed for greater guarantees that an agreement will stop Iran from gaining a nuclear weapon, and a bruising speech to Congress earlier in the week by Israel's Prime Minister Benjamin Netanyahu.
Full report at:
http://www.dawn.com/news/1168267/us-will-walk-away-if-verifiable-iran-n-deal-not-reached-obama
-----------
Netanyahu denies backing off a two-state solution
9 March 2015
Israeli Prime Minister Benjamin Netanyahu's office denied reports on Sunday he has backed away from a 2009 commitment to seek a two-state peaceful solution with the Palestinians.
A statement by Netanyahu's right-wing Likud party widely reported by Israeli media said he had said that a speech he gave six years ago agreeing for the first time to Palestinian statehood as a solution to decades of conflict was now "irrelevant."
Netanyahu "never said such a thing," his office said in a statement in reaction to the reports.
Likud had apparently issued the remarks to debunk earlier Israeli media reports suggesting Netanyahu had in a previous term of office negotiated a broad withdrawal from land Israel captured in a 1967 war.
The party's statement, apparently issued by hardliners, said Netanyahu had also suggested "there would be no withdrawals or concessions, that this is simply irrelevant," referring to swapping any occupied land for peace.
Full report at:
http://english.alarabiya.net/en/News/middle-east/2015/03/09/Netanyahu-denies-report-he-s-backed-off-two-state-solution-.html
-----------
Israeli intelligence chief visits U.S. amid row over Iran
8 March 2015
Israel's top intelligence officer will visit the United States this week, sources with knowledge of the itinerary said; a sign that security cooperation continues despite disputes between the countries' leaders over strategy over Iran.
Maj. Gen. Herzi Halevy, commander of Israeli military intelligence, is scheduled to meet U.S. defense officials and attend a pro-Israel fundraising event, the sources said. It is his first U.S. trip since being appointed in September.
Bilateral ties have been strained by Israeli Prime Minister Benjamin Netanyahu's speech in the U.S. Congress last week against President Barack Obama's negotiations with Iran over its nuclear program.
Full report at:
http://english.alarabiya.net/en/News/middle-east/2015/03/08/Israeli-intelligence-chief-visits-U-S-amid-row-over-Iran.html
-----------
After fleeing Sanaa, Yemen defense chief resumes duty
9 March 2015
ADEN: Yemen's defense minister has resumed his duties from second city Aden on Sunday after defecting from Shiite militia who control the capital, a source in the president's office said.
Gen. Mahmud Subaihi's escape from Sanaa follows that of Western-backed President Abed Rabbo Mansour Hadi, who has called on ministers to join him in the southern port city to reestablish the government if they can.
The minister made it safely to Aden but one of his guards was killed in a firefight with Houthi militiamen during the escape, an aide told AFP.
The militia had named Subaihi head of a new security committee when they completed their seizure of power in Sanaa in February.
The government in which he served tendered its resignation under militia pressure in January but it was never accepted by Hadi.
Prime minister Khalid Bahah and most other ministers remain under house arrest in the capital.
Full report at:
http://www.arabnews.com/middle-east/news/715666
-----------
Iran, US to resume nuclear talks in Switzerland
Mar 9, 2015
Iranian media reports say Iran and the United States will resume a new round of nuclear talks on Tehran's nuclear program in the Swiss city of Lausanne on March 15 to bridge their differences ahead of a July 1 deadline for reaching a comprehensive deal.
According to reports published by Fars News Agency and ISNA, the ministerial level talks will be headed by Iran's Foreign Minister Mohammad Javad Zarif and his American counterpart John Kerry.
Full report at:
http://www.presstv.in/Detail/2015/03/09/400954/Iran-US-to-resume-Ntalks-on-March-15
-----------
Europe
'Britain's white jihadi' revealed as teen from Australia
9 March 2015
A westerner pictured alongside Islamic State group fighters and dubbed "Britain's white jihadi" is in fact an Australian teenager who converted to Islam, a report said Monday.
A photo of the meek-looking youth, holding a rifle and sitting in between two jihadists with a black IS flag in the background, emerged on Twitter in late December.
At the time the militant group, which has run rampant through swathes of Iraq and Syria, hailed his recruitment as "a major coup" with the British media dubbing him "Britain's white jihadi".
Doubts about the authenticity of the picture subsequently emerged after a blogger claimed he had fabricated the image to hoax the British press.
But Australia's Fairfax Media said the photograph had now been positively identified by friends of the teenager and members of two mosques in Melbourne.
It identified him as a former high-achieving 18-year-old student called Jake, declining to reveal his full name at the request of a family member.
He was described as a maths whiz who attended the Craigieburn Secondary College in Melbourne but dropped out in the middle of last year after converting to Islam and buying a one-way ticket to Istanbul en route to Iraq and Syria.
His identification came after Australia stopped two teenage brothers at Sydney airport believed to be heading to the Middle East to fight, amid growing concern in Western countries over young people joining jihadist groups.
That case followed three British schoolgirls leaving their London homes to join IS in Syria in February.
Full report at:
http://english.alarabiya.net/en/News/middle-east/2015/03/09/-Britain-s-white-jihadi-revealed-as-teen-from-Australia.html
-----------
Austria Defends New Law on Foreign Funding Of Mosques
8 March 2015
Austria's foreign minister has rejected criticism of the country's new law on Islam aimed at cutting off foreign influence and funding, arguing that the legislation should become a model for the rest of Europe.
In an interview with the Guardian, Sebastian Kurz, whose role in the Austrian government also includes the portfolio for social integration, took particular aim at the Turkish president, Recep Tayyip Erdoğan, suggesting Erdogan's opposition to the law was motivated by fear of losing political influence on Austrian Muslims.
"I'm not surprised by the criticism from President Erdoğan. This was to be expected," Kurz said. "In our opinion, imams should be role models for young Muslims and must show that it is possible to be a proud Austrian and a believing Muslim at the same time and so there will be no need for Turkish imams in the future.
"And this is maybe the point why Erdoğan is so critical about our Islam law. At the moment we have more than 60 imams from Turkey and in the future we will have our own Austrian imams," Kurz said. "It will not be possible in the future to have imams employed by the Turkish government."
The new legislation, passed last month, is an update of a century-old law establishing the legal status of Islam under the Habsburg empire. The reform strengthens protections for Muslims, giving official status to their religious holidays, recognising the status of Islamic graveyards and the right to have Islamic pastoral care in public institutions like hospitals. Kurz said that Austrian right-wingers were also against the law for those reasons, "so it seems we have reached a good middle ground in my opinion".
The section of the law which has drawn the most ire from Muslims inside and outside Austria restricts foreign funding for Austrian mosques and Islamic communities. Critics point out that equivalent laws do not exist for the Orthodox Christian and Jewish communities who also have foreign links.
Full report at:
http://www.theguardian.com/world/2015/mar/08/austria-foreign-minister-islam-funding-law-restricting
-----------
Wales County Reports Muslim Visit to Police
08 March 2015
WALES – Reflecting growing Islamophobia in UK, a visit by a leading Welsh Muslim to a Ceredigion county in Mid Wales has been reported to police, leaving the leader shocked after the "unexpected" response.
"I was invited as a body from a different background to come and talk because we (Muslims) are so much in the media," Saleem Kidwai, secretary general of the Muslim Council For Wales, told Wales Online on Saturday, Mach 7.
"After my talk five people came to me and said, 'When we heard that a Muslim was coming to speak to us, I went to the police and reported it'.
"The police then went to the organizers to question why I was coming."
The Muslim leader, who was invited to speak to the community of Tregroes in Ceredigion, was told that his visit has been informed about his participation.
The group told him: "We were really frightened... the only thing they knew about Islam was what IS were showing (us)."
According to Kidwai, "They've never seen a Muslim and the only perception they have about a Muslim is that they are barbaric, it really frightened me.
"I don't blame them, they're not aware. I sincerely believe prejudice comes from ignorance.
"I'm very proud that after that meeting a lot of people have asked me for copies of the Qur'an. It's not that I'm trying to convert them, it's having more information about individuals."
Full report at:
http://www.onislam.net/english/news/europe/483697-wales-county-reports-muslim-visit-to-police.html
-----------
Chelsea Garden Corrects Perceptions of Islam
08 March 2015
CAIRO – Bringing peaceful and respectful qualities of Islam to London, a Muslim themed garden has been revealed as part of Chelsea Flower Show 2015 to clear misconceptions surrounding the faith.
"I hope that my garden will be something that resonates with the public and will have a positive effect on people's perception of Islam," Kamelia Bin Zaal, the designer of Islam Garden told The Daily Telegraph.
"It is the chance to show that Islam and Arabic culture really is as many other religions and cultures, a way of life and that we share the same values and morals as other religions and cultures."
Titled "The Beauty of Islam", the garden aims to bridge the Islamic and Western cultures through showcasing both modern and classic materials inspired by Arabs and Muslims.
It will be the first Emirati project to take part in the RHS Chelsea Flower Show 2015.
"In my family I have grown up seeing Islam as a religion of tolerance, peace, and love, with respect for humanity, and the world around us," Bin Zaal said.
"I am continuously inspired by our heritage and wanted to creatively translate my interpretation of our peaceful religion and culture into a beautiful garden design."
Showcasing orange, olive, fig, pomegranate trees and plants such as cardamom, pepper and jasmine, the garden aims to highlights the growth of spice trade in Emirates.
Full report at:
http://www.onislam.net/english/news/europe/483671-chelsea-garden-corrects-perceptions-of-islam.html
-----------
UK plans laws to stop Britons from joining IS
9 March 2015
LONDON: Britain will introduce a package of new laws next week to stop airlines carrying passengers who may be traveling to join Islamic State militants in Syria and Iraq, the Sunday Times newspaper reported.
Thousands of foreigners from more than 80 countries have joined the ranks of Islamic State (IS) and other radical groups in Syria and Iraq, including the Briton known as "Jihadi John," who has appeared in multiple IS beheading videos.
Britain's interior minister would be able to prevent airlines from carrying passengers, including children, believed to be traveling to take part in "terrorism-related activity" on known routes, such as those into Syria, the newspaper reported.
The Home Office (Britain's interior ministry) confirmed the accuracy of the reports.
The rules, due to be included in legislation being put before parliament this week, would require airlines to seek permission to carry such passengers. An automatic system based on passenger lists provided by airlines would flag high-risk travelers and stop them boarding aircraft, the report said.
Full report at:
http://www.arabnews.com/world/news/715631
-----------
South Asia
Hasan Ali implicated in killing of 2 more Hindus during the 1971 Liberation War
March 9, 2015
A martyr's son yesterday testified that Syed Hasan Ali shot dead his father and their neighbour before the latter's house, and Hasan's fellow Razakars forced the families with threats to bury the bodies instead of cremating those as per Hindu funeral rites and looted their house in Kishoreganj during the 1971 Liberation War.
Meanwhile, another prosecution witness testified that Mahidur Rahman and Afsar Hossain alias Chutu torched their house in Ebadat Biswaser Tola area of Binodpur village and others in neighbouring Kabirajtola village in Chapainawabganj during the Liberation War.
Narayan Chandra Chakrabarti, son of Jibon Krishna Chakrabarti of Chikni village of Kishoreganj's Tarail upazila, told International Crimes Tribunal-1 as the 19th prosecution witness that he and his cousins heard about the attack from a nearby market on October 8 around 4:00pm.
Once home, they found his mother Milon Rani Chakrabarti and aunt Gouri Rani Chakrabarti crying.
Full report at:
http://bd.thedailystar.net/city/hasan-ali-implicated-in-killing-of-2-more-hindus-68463
-----------
Terror funding channels under scan in Bangladesh
March 9, 2015
The government has decided to bring the existing mobile banking services in the country under close watch to identify the sources of finance of the countrywide arson and violence.
Law enforcement agencies, banks, financial institutions and mobile phone operators have been directed to bring the popular on-the-go service under strict surveillance so that suspicious transactions can be traced and legal actions can be taken.
Under the existing mechanism, people do not need to produce any identification for sending or receiving money using the mobile banking services. This means anyone can send and receive money through private agents of the service that some banks provide.
On February 5, the PM asked all commercial banks and financial institutions to try and identify the source of finance behind the arson and political violence that have been going on for more than two months and has claimed over 80 lives.
According to sources, intelligence agencies have found that large sums are being transferred – both at home and from abroad – through banking channels, Hundi (informal personal channels) and courier services to finance the arson and violence.
Intelligence sources said around 100,000 mobile banking accounts have been created using fake information over the last few months.
Following this information, the Bangladesh Bank has identified more than 98,000 mobile banking accounts who have been carrying out suspicious transactions.
The central bank has brought this matter to the attention of the Bangladesh Telecommunication Regulatory Commission (BTRC) and the mobile operators. The authorities have also been asked to put the activities of these accounts on hold.
"On February 10, we had a meeting with the chief executive officers and the heads of money laundering prevention departments of all the banks," Bangladesh Bank deputy Governor Abu Hena Md Razee Hassan told the Dhaka Tribune recently.
"The central bank has asked the banks to keep records of suspicious senders and receivers and file regular reports. The banks located in the risky areas will analyse past six months' financial records of their clients and report on any suspicious activities," said Hassan who is also the head the central bank's Financial Intelligence Unit.
Meanwhile, officials from several district administrations have recently held a meeting with regional bankers, law enforcement agencies and mobile phone operators with the same purpose.
Full report at:
http://www.dhakatribune.com/bangladesh/2015/mar/09/terror-funding-channels-under-scan
----------
At least three dead in Afghan prison riot, hostage standoff
March 9, 2015
KABUL: Inmates in northern Afghanistan killed two police officers they had taken hostage on Sunday during a prison riot in which an inmate was shot dead, an Afghan security official said.
The riot erupted during a search for cellphones, knives and other contraband, said Gen. Faqir Mohammad Jawzjani, the police chief of northern Jawzjan province.
Five officers and 10 inmates were wounded in the melee.
The inmates managed to take two police officers and a criminal investigator hostage.
They later killed the two officers and set the investigator on fire, thinking he was a prosecutor.
He survived but is in critical condition, Jawzjani said, adding that local officials were trying to negotiate an end to the standoff.
The prison complex, located in the provincial capital Shebirghan, holds some 800 inmates in separate male and female lockups.
Its prisoners are from both Jawzjan and neighboring Sari Pul province.
Around 300 inmates were transferred from Sari Pul two years ago after Taliban insurgents attacked the facility where they were being held. Jawzjani said those prisoners were responsible for the violence.
Full report at:
http://www.dawn.com/news/1168367/at-least-three-dead-in-afghan-prison-riot-hostage-standoff
-----------
IS takes Bangladeshi hostage in Libya
March 9, 2015
A Bangladeshi national along with eight other foreigners was taken hostage by Islamic State from Al-Ghani oil field, south of the city Sirte of Libya on Friday.
The Bangladesh Embassy in Tripoli has confirmed the abduction of Helal Uddin (Passport No. B0156553) hailing from Jamalpur district, according to a press release of Bangladesh foreign ministry.
Full report at:
http://www.thedailystar.net/is-takes-bangladeshi-hostage-in-libya-68530
-----------
Bombs, arms seized in Ctg
March 9, 2015
Chittagong police busted three "dens of Shibir", the pro-Jamaat students' platform, at a remote hilly area of Nunachhara under Sitakunda upazila in Chittagong early yesterday.
During the six-hour drive, they recovered 70 petrol bombs, 50 crude bombs, four light guns, three rocket flares, 24 cartridges, and 12 locally made weapons, police said.
Shibir has setup makeshift tents in the remote hilly areas, around four-kilometre off Nunachhara bus stand, to impart arms and bomb-making training to its members, police said.
They have been using the places in the deep forest since 2013 to carry out subversive acts on Dhaka-Chittagong highway and in Chittagong city, the law enforcers claimed.
Bottles of cooking oil, bags full of rice, and some utensils were also recovered from the tents during the drive that ended at 6:00am. No one was arrested.
Before conducting the raid, police had detained a BNP leader and two Shibir members in the adjoining areas for their alleged link with subversive acts.
Detainees Fakrul Islam, 50, religious affairs secretary of BNP's Sitakunda unit, and two Shibir members Majharul Islam, 25, and Abdul Aziz, 26, of Nunachhara, divulged information about the three spots.
Several Shibir cadres, who were earlier arrested in different raids in the upazila, also gave information about such hideouts in the hilly areas, said AKM Hafiz Akter, superintendent of police (SP) of Chittagong.
Full report at:
http://bd.thedailystar.net/frontpage/bombs-arms-seized-in-ctg-68454
-----------
7 organisations of Bangladesh, India against GM crops
March 9, 2015
Seven grassroots organisations from Bangladesh and India have expressed firm resolve to promote use of indigenous seeds, crops and foods to address malnutrition and health problems.
Full report at:
http://bd.thedailystar.net/city/7-organisations-of-bangladesh-india-against-gm-crops-68472
-----------
Australia
Push To De-Radicalise Muslim Inmates, Imams and Sheiks Should Be Sent Into Australian Jails
March 9, 2015
Islamic leaders believe imams and sheiks should be sent into Australian jails to neutralise any radicalisation among Muslim inmates.
Islamic Council of Queensland spokesman Ali Kadri said on Monday he would push for such a program to be introduced in jails across the country.
Mr Kadri said he'd received information from intelligence agencies that a number of Muslim inmates had become radicalised in jail.
He said this was happening because they were not receiving the proper religious guidance.
"It is my firm belief that proper Islamic education de-radicalises people, because the only reason young men radicalise is because they have some deviant version of Islam taught to them through the internet, through unreliable sources," he told Fairfax Radio.
He said there was no existing official program now to allow Muslim leaders to regularly visit jails to teach inmates.
"What they (should) do is go into the jail, teach them Islam in the context of what the religion is, a 1400-year-old religion, rather than in the context of what's happening in the Middle East at the moment," he said.
Full report at:
http://www.9news.com.au/national/2015/03/09/10/58/push-to-de-radicalise-muslim-inmates
-----------
URL: https://www.newageislam.com/islamic-world-news/new-age-islam-news-bureau/boko-haram-pledges-allegiance-to-islamic-state-in-audio-message/d/101878