New Age Islam News Bureau
12 May 2014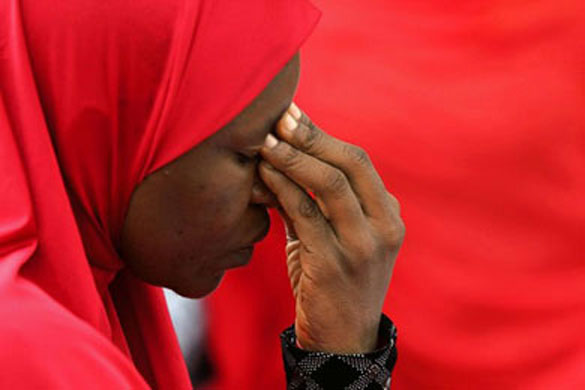 Extremist group's leader reportedly says the girls have been forced to convert to Islam while in captivity
----------
Africa
• Boko Haram Leader Says Missing Nigerian Schoolgirls Converted To Islam
• Somali clerics take up arms to fight al-Shabaab's ideology
• Nigeria offers $300, 000 reward for assistance in rescuing kidnapped girls
• Libya ex-spy boss in court with lawyers for first time
• Four Libyan soldiers killed in Benghazi attacks
• Mosques, churches torched in Nigeria communal clashes
• South Sudan ceasefire broken as rebels and army battle
South Asia
• Suicide bombers handed over to Afghan intelligence by their families
• 47 Taliban militants killed in counter-terrorism operations
• Five war crimes charges pressed against Jabbar
• Hefazat-e-Islam Mufti Izhar's trial begins
• 545 children killed in Afghan conflict last year
Mideast
• Jewish settlers spray racist graffiti, insults to Prophet Mohammed
• Drone raid kills 6 al-Qaida suspects in Yemen: Tribesmen
• Shocking testimonies by Palestinian minors in Israeli jails
• Hamas Tells Muslims Not to Visit Jerusalem
• Turkey 'upgrades' capacity of armed forces with A400M
• Israeli army raids Al-Quds University, Palestinians hurt
Southeast Asia
• 'Sultan of Brunei Himself in Violation of Every Single Rule'
• MCA should give Najib an ultimatum on Hudud, says DAP
India
• Madrasa Certificates Issued By 5 State Boards Equivalent to CBSE
• Pakistani spies use spoof calls to gather information, intelligence agencies say
• Terror tag in way of Muslim youth's engineering dream
Pakistan
• Diplomatic Passports Issued To Girlfriends, Friends and Property Dealers: Minister
• Jamaat-e-Islami to wage war on feudal lords: Siraj
• Present govt has lost its legitimacy: Allama Dr Tahirul Qadri
• Govt, ISI, political parties backed 'Aman ki Asha': Jang group MD
• Gunmen kill Pakistan Navy official in Karachi
• Ball tampering not allowed in politics, Shahbaz tells Imran
• Minorities join PTI activists en route to Islamabad
Arab World
• Iraqi Sunni cleric calls on Fallujah residents to resist army
• Arab spring a plot to divide countries: Egypt's Grand Imam
• Al-Qaida-breakaway group criticizes al-Zawahri
• Kuwait minister accused by U.S. of terrorism funding quits: report
• ISIL slams Qaeda chief, refuses to quit Syria
• Controversial cleric says Egypt's Sisi has added to country's 'catastrophe'
• Syria Regrets France's Objection to Allowing Syrians to Vote at Embassy
• Syria: Terrorists' Infighting Intensifies in Deir Ezzur
• OIC backs efforts to resolve Nigeria's kidnapping crisis
• Sharjah Museum of Islamic Civilisation: Trove of treasure
Europe
• It's easy to recruit extremists in prison, notorious convert claims
• Experts Warn More European Muslim Youth Are Radicalising
• Cypriot leading figure of Islam's Sufi branch dies
• International effort widens for missing Nigerian schoolgirls
• France's Hollande calls for African summit on Nigeria abductions
• Britain First fascists target Bradford mosques
• Muslim anger at militants as experts arrive to find girls
North America
• Americans in Yemen shooting were getting haircuts
• Americans still unaware they are victims of US gov't propaganda, manipulation - expert
Compiled by New Age Islam News Bureau
URL: https://newageislam.com/islamic-world-news/boko-haram-leader-says-missing/d/76983
-----------
Africa
Boko Haram leader says missing Nigerian schoolgirls converted to Islam
AFP | May 12, 2014
LAGOS: Boko Haram released a new video on Monday claiming to show the missing Nigerian schoolgirls, alleging they had converted to Islam and would not be released until all militant prisoners were freed.
The group's leader, Abubakar Shekau, speaks on the video obtained by AFP for 17 minutes before showing what he said were about 130 of the girls, wearing the full-length hijab and praying in an undisclosed rural location.
A total of 276 girls were abducted on April 14 from the northeastern town of Chibok, in Borno state, which has a sizeable Christian community. Some 223 are still missing.
http://timesofindia.indiatimes.com/world/rest-of-world/Boko-Haram-leader-says-missing-Nigerian-schoolgirls-converted-to-Islam/articleshow/35017454.cms
-----------
Somali clerics take up arms to fight al-Shabaab's ideology
12 May, 2014
Sheikh Abass Mohamud is not a typical imam who only lectures in mosques and leads prayers.
He also carries a firearm and fights al-Shabaab alongside the Somali National Army (SNA) and African Union Mission in Somalia (AMISOM) forces.
Mohamud, 55, an imam at a mosque in the town of Ras Kamboni in Lower Jubba region, said he has witnessed numerous groups thwart efforts to establish a peaceful and stable Somalia. But by far, he said, al-Shabaab is the greatest threat to rule of law the country has had to face.
"Al-Shabaab is different from other groups because it uses a distorted [religious] ideology to justify indiscriminate violence on Muslims and other innocent people," he told Sabahi.
Mohamud said he decided to join the allied forces in order to restore peace in Somalia and counter al-Shabaab's false doctrine.
Al-Shabaab's distorted ideology
"The distorted ideology that al-Shabaab is propagating threatens Islam, the Muslim faith, and has placed the peaceful religion of Islam on a collision path with other faiths," he said. "I have to balance leading prayers and conducting sermons on true Islamic principles with fighting those distorting [the religion] to achieve [their own] selfish interests."
Mohamud said he knows he has become a target for al-Shabaab for "siding with" so-called non-believers, but he does not allow that to deter his efforts.
"Death is God's destiny [for us]. Everyone in Somalia is a target of the group. If it is written that I will die in the battlefield, I cannot prevent it," he said. "But I want to defend the true teachings of Islam and the people."
Mohamud said his determination to fight al-Shabaab takes him beyond his home district of Badhaadhe.
"The group still controls some parts of Somalia and as long as I am alive and in good health, I will accompany the Somali army and the allied forces in the battlefield," he said, adding that he trained and served in the army for about four years before it was disbanded in 1991.
He said his involvement in the war was more than symbolic, as he is knowledgeable about the terrain and landmarks in the southern part of the region where allied forces are fighting the militants.
Mohamud, who took up arms soon after the Kenya Defence Forces (KDF) entered Somalia in 2011, is not the only religious leader involved in the battle.
"The clerics in the SNA play a part in talking to the public about accepting the SNA and AMISOM forces as allies in the war against al-Shabaab," he said, adding that because the sheikhs are so revered among the public, they use their contacts to get information on al-Shabaab hideouts, activities and plans.
Battling al-Shabaab a religious duty
obley-based Sheikh Hassan Salat, 45, says he believes that fighting al-Shabaab with the Somali army is a religious obligation he must undertake.
"Al-Shabaab members will not hesitate to kill innocent people," he told Sabahi. "So, in self-defence and in defending the general public, I am part of the Somali army that conducts covert raids on the group's hideouts, killing or capturing them in the process."
Salat said he joined the fight on the battlefield so that future generations of Somalis can finally enjoy the peace and tranquillity that has evaded the country for more than 20 years.
"When I take my firearm to fight al-Shabaab, I am also sending a message to the general public that the group is wrong," he said. "It is crucial that we unite against the people who are killing innocent people [based] on distorted ideologies."
Like Mohamud, Salat also said he had received threats from al-Shabaab but would not relent in the war against extremism.
"I know they are dangerous and that there have been numerous attempts on my life, but I am ready to sacrifice all I have, even my life, for the sake of civilians who have suffered all these years," he said.
"The group has killed many clerics who have spoken against their illegal activities but I am not concerned," he said.
Salat said he organises public gatherings in his hometown and also when on missions with the allied forces in order to connect with civilians and persuade them to stand against extremism.
"I take advantage of the gathering to preach against al-Shabaab while also [teaching] the general Islamic religion," he said.
Somalia's Ambassador to Kenya Mohammed Ali Nur said many Muslim clerics were fighting alongside the SNA and allied forces to root out the al-Qaeda-allied al-Shabaab militants. "Just like all other Somalis, the imams and sheikhs are motivated by the desire to have peace and stability, not only in Somalia but in the region and the world," Nur told Sabahi.
"It is the duty of all Somalis to be united -- either by physically fighting the group, volunteering information to Somalia's government that may help eradicate the group or undoing the distorted ideologies of the group," he said.
Strengthening soldiers' faith, tightening the noose on al-Shabaab
In addition to the Somali sheikhs and clerics contributing to the war efforts, the KDF has its own clerics fighting in the war, according to KDF spokesperson Colonel Willy Wesonga.
The KDF has both Christian and Muslim clerics on the battlefield who offer spiritual and emotional counsel to their fellow soldiers, he told Sabahi. The clerics are also career military personnel armed with weapons to fight the enemy, he said.
"The soldiers are on the warfront risking their lives for the best interest of Somalia, Kenya and the region," he said. "Like the rest of the soldiers, [clerics] are committed at the warfront to end the terror group's activities."
KDF Captain Mohammed Dek Sahid, who also serves as an imam at a mosque in an army camp in Kenya, said the clerics on the battlefield were committed to defending Somalia and Kenya.
"We care for both nations," said Sahid, who was a religious leader and earned a certificate in Islamic studies from Mbeere University before joining the army. "We not only strengthen the noose on al-Shabaab but also strengthen the faith of the soldiers."
"Al-Shabaab has a black flag and [stands for] violence, but we are duty-bound to protect Somalia's blue flag and teach the true religion of Islam, which means peace," he told Sabahi.
"Whenever a chance presents itself to interact with the public, we tell them that extremist ideologies do not hold a place in Islam," he said. "This is not only about physical war but also spiritual. [Teaching] the right Islamic principles is very important in fighting the ideological battles against al-Shabaab and winning the hearts and minds of citizens."
http://sabahionline.com/en_GB/articles/hoa/articles/features/2014/05/09/feature-01
-----------
Nigeria offers $300, 000 reward for assistance in rescuing kidnapped girls
May 12, 2014
Nigerian police has announced a reward of 50 million naira (about $ 300,000) for information that will help to find more than 200 girls who were abducted by terrorists from Boko Haram, Nigerian police press-service reported.
Boko Haram militants (Western education is a sin – translation from the language of Hausa) April 14 kidnapped 276 schoolgirls from the Lyceum in the village Chibok in the northeast of the country. According to police, 53 of them escaped, 223 remain captive.
Boko Haram explained the reason for attack that "Western education must be stopped and the girls have to leave the school and get married."
Nigerian President Goodluck Jonathan after a meeting with the heads of law enforcement agencies, the military and the authorities ordered the heads of law enforcement agencies to "do everything possible" to release all schoolgirls. US and France offered help in finding and freeing kidnapped schoolgirls.
There are mass protests in Nigeria. People demand the authorities to take decisive action to neutralize terrorists and release the hostages.
Israel offered Nigeria help on Sunday in locating schoolgirls abducted last month by Islamist rebel group Boko Haram in an attack that has drawn global condemnation and prompted some Western powers to provide assistance.
"Israel expresses deep shock at the crime against the girls," Prime Minister Benjamin Netanyahu's office quoted him as telling Nigerian President Goodluck Jonathan by phone, as quoted by Reuters. "We are ready to help in finding the girls and fighting the cruel terrorism inflicted on you."
The statement did not elaborate on how Israel might enlist in the search, with which British and US experts are also helping. A spokesman for Israel's Foreign Ministry said he knew of no cooperation efforts under way.
Israel has defense ties with Nigeria, and has provided it in the past with surveillance drones. Last September, Israel was among several countries that sent advisers to Kenya to assist in a stand-off with Islamist gunmen who attacked a mall in Nairobi.
http://voiceofrussia.com/news/2014_05_12/Nigeria-offers-300-000-reward-for-assistance-in-rescuing-kidnapped-girls-1825/
------------
Libya ex-spy boss in court with lawyers for first time
AFP | May 11, 2014
TRIPOLI: Libya's ex-intelligence chief Abdullah Senussi appeared in a Tripoli court with his lawyers for the first time on Sunday, accused of abuses during the 2011 uprising that toppled dictator Moamer Kadhafi.
It was the first hearing he has attended with the four lawyers picked by his family, just one of whom is Libyan. The other three are Tunisian.
The former spy chief had previously appeared without legal representation, but had been told to pick a defence team or the court would choose one for him.
Kadhafi's son and one-time heir-apparent Seif al-Islam also appeared by video link from the town of Zintan, where he has been held since his capture by rebels in November 2011.
His court-appointed lawyer was unable to attend Sunday's hearing, so the trial was adjourned to May 25 to allow him to help his client, lawyers said.
As with the previous session on April 27, just 22 of 37 former regime officials being tried for a raft of alleged abuses during the uprising that ended Kadhafi's 42-year rule were in court on Sunday.
Among those in the dock was Al-Baghdadi al-Mahmudi, Kadhafi's last prime minister. Another eight defendants appeared by video link from Misrata east of the capital.
All of the defendants are charged with murder, kidnapping, complicity in incitement to rape, plunder, sabotage, embezzlement of public funds and acts harmful to national unity.
Seif and Senussi are wanted by the International Criminal Court on charges of war crimes and crimes against humanity committed during the Nato-backed uprising.
In May last year, the ICC rejected Tripoli's request that Seif be tried in Libya because of doubts he would receive a fair trial.
Tripoli appealed the decision, and the ICC last October gave Libya the go-ahead to try Senussi inside the country.
http://timesofindia.indiatimes.com/world/middle-east/Libya-ex-spy-boss-in-court-with-lawyers-for-first-time/articleshow/34983549.cms
-----------
Four Libyan soldiers killed in Benghazi attacks
12 May, 2014
Four Libyan soldiers were shot dead on Sunday in separate incidents in the restive eastern city of Benghazi, cradle of the 2011 uprising, security and medical sources said.
"Unidentified gunmen killed four soldiers and wounded another in Benghazi, while another was wounded in an assassination attempt," a security official told AFP.
A spokeswoman at the city's Al-Jala hospital, Fadia al-Barghathi, confirmed the soldiers' deaths. The security official said they had been killed in separate attacks.
An officer died in a hail of bullets in the city centre district of Al-Hadaek. His son, who was with him in his car at the time, escaped unscathed.
The same source said three more soldiers were killed and one wounded in two attacks in the Assalem neighbourhood.
It was in Benghazi that the 2011 uprising which ended dictator Moamer Kadhafi's four-decade rule began.
The city has since been plagued by violence that has killed dozens of members of the security forces, judges and foreigners.
A suicide bombing targeting a security post near the city in December killed 13, and on May 2 five soldiers and a policeman died in clashes between jihadists and army special forces.
Libya's central authorities have struggled to assert their control over the vast, mostly desert country, which is effectively ruled by a patchwork of local militias and awash with heavy weapons.
In March, the authorities acknowledged for the first time the existence of "terrorist groups" in Libya, particularly in Benghazi and in Derna, an eastern city with a history of Islamist militancy.
http://english.ahram.org.eg/NewsContent/2/8/101012/World/Region/Four-Libyan-soldiers-killed-in-Benghazi-attacks.aspx
----------
Mosques, churches torched in Nigeria communal clashes
World Bulletin / News Desk
12 May, 2014
A number of mosques and churches have been reportedly burnt in Kachia town of Nigeria's northwest Kaduna State as sectarian clashes erupted between Muslim and Christian youths, local residents said.
The violence erupted when a fence of a Muslim praying ground was brought down by unknown persons, who Muslims suspected to be Christians in the area, the local residents said.
The violence left no casualties, according to police spokesman Aminu Lawal who spoke to newsmen in the state's capital city, Kaduna.
"A 24-hour curfew has been imposed on the town and normalcy has now returned. Our men are fully [deployed] on the ground there. No lives were lost but we do not have the exact figure of places of worships burnt," Lawal added.
An eyewitness told AA that the violence broke out when Muslim youths discovered that the fence earlier reconstructed after pervious damage had again been demolished.
"Two weeks ago, some Muslim youths went to fence a prayer-ground to prevent encroachment of people into the ground but they couldn't finish the work that day, and when they went back they discovered that a portion of the fence was demolished by unknown persons," said the local resident who asked not to be named.
"The youths alerted the local government chairman Peter Agaite and he promised to repair the damaged portion, but failed to do so.
"Today when the youth went back to continue the work, they saw another portion of the fence being damaged again. And out of suspicion, they demolished a nearby church."
In retaliation, a group of Christian youths demolished a local mosque. "There was tension and panic everywhere in Kachia and its environs," he said.
Another local resident Kura Mualimu told AA that "two mosques and churches were burnt while six people were injured in scuffles before the policemen arrived."
Kaduna is notorious for Muslim-Christian tensions largely on the background of political rivalry between the two communities.
http://www.worldbulletin.net/headlines/136103/mosques-churches-torched-in-nigeria-communal-clashes
-----------
South Sudan ceasefire broken as rebels and army battle
12 May, 2014
South Sudanese rebels and government troops battled on Monday, breaking a fresh ceasefire deal and dashing hopes to a swift end to five months of brutal civil war.
Fighting raged in the oil-producing state of Upper Nile, Defence Minister Kuol Manyang told AFP, adding that government troops had been ordered "not to go and attack, but only to fight in self defence."
Since President Salva Kiir and rebel leader Riek Machar signed a deal Friday to halt fighting, both sides have accused each other of launching ground attacks and artillery barrages against each other.
Full report at:
http://english.ahram.org.eg/NewsContent/2/8/101043/World/Region/South-Sudan-ceasefire-broken-as-rebels-and-army-ba.aspx
-----------
South Asia
Suicide bombers handed over to Afghan intelligence by their families
May 12 2014
At least two suicide bombers were handed over to Afghan intelligence by their families in eastern Paktika province of Afghanistan.
The Afghan intelligence – National Directorate of Security (NDS) following a statement said Monday that the two suicide bomber were handed over to Afghan intelligence by their families after they became aware of their plan to carry out a suicide attack.
The statement further added that the two suicide bombers were trained by terrorist groups in Miranshah and were sent to Paktika province for the attack.
The detained bombers were recognized as Rohani and Faisal who are originally the residents of Paktika province.
NDS said the two suicide bombers have confessed that they were appointed for the suicide attack by a Taliban group leader Azam and were sent to Miranshah city of Pakistan for suicide attack training.
The two bombers were arrested while they were visiting their families for the last time, the statement by NDS added.
http://www.khaama.com/suicide-bombers-handed-over-to-afghan-intelligence-by-their-families-8072
-----------
47 Taliban militants killed in counter-terrorism operations
May 12 2014
At least 47 Taliban militants were killed following military operations conducted by Afghan national security forces in the past 24 hours.
The interior ministry of Afghanistan following a statement said the operations were conducted by Afghan national police in cooperating with the Afghan national army and Afghan intelligence – national directorate of security (NDS) operatives.
The statement further added that the militants were killed in Kunar, Nangarhar, Laghman, Kunduz, Kandahar, Zabul, Uruzgan, Paktika, Farah, Helmand and Nimroz provinces.
Interior ministry said at least 14 Taliban militants were injured and 12 others were detained during the operations.
Afghan security forces also confiscated various types of weapons, ammunition and explosives during the operations, interior ministry said.
Afghan national police forces discovered and seized three improvised explosive devices (IEDs) during operations in Kunduz and Balkh provinces.
Interior ministry said the improvised explosive devices (IEDs) were planted by Taliban militants to carry out terrorist attacks.
http://www.khaama.com/47-taliban-militants-killed-in-counter-terrorism-operations-8069
-----------
Five war crimes charges pressed against Jabbar
12 May, 2014
The prosecution from the International Crimes Tribunal submitted formal charges against former Jatiya Party lawmaker engineer Mohammad Abdul Jabbar yesterday, for his alleged crimes against humanity committed during the 1971 Liberation War.
The charges include murder, genocide, forced conversion and looting which took place at Naligram, Tushkhali and Angulkata villages.
According to the charges, Jabbar had been involved in the killing of 36 people in Angulkata and Mothbaria, setting fire and looting of around 560 houses. He also forcefully converted around 200 people in Phuljhuri in May, 1971.
Full report at:
http://www.dhakatribune.com/law-rights/2014/may/12/five-war-crimes-charges-pressed-against-jabbar#sthash.A7vEx3ZK.dpuf
-----------
Hefazat-e-Islam Mufti Izhar's trial begins
12 May, 2014
A Chittagong court has started trial of Hefazat-e-Islam Nayeb-e-Ameer Mufti Izhar ul Islam Chowdhury in a case filed for not submitting his wealth statement.
Metropolitan Sessions Judge SM Mujibur Rahman began the trial through framing charges against Mufti Izhar on Monday afternoon.
Public Prosecutor of the Anti Corruption Commission Mesbah Uddin Chowdhury confirmed the Dhaka Tribune about the charge framing.
On April 21, the Anti-Corruption Commission pressed a charge sheet against Izhar.
On July 4, last year, ACC issued a notice asking Mufti Izhar to submit his wealth statement before it.
Full report at:
http://www.dhakatribune.com/bangladesh/2014/may/12/mufti-izhars-trial-begins-0#sthash.ltv4wlXV.dpuf
---------
545 children killed in Afghan conflict last year
May 12 2014,
According to United Nations Assistance Mission in Afghanistan (UNAMA) around 1,694 child casualties were documented in Afghan conflict in 2013.
UNAMA following a statement said Monday at least 545 children were killed and a furher 1,149 others were injured last year.
According to UNAMA, the leading cause of death and injury of children was improvised explosive devices, which do not distinguish between combatants and civilians and are the biggest killer of civilians in Afghanistan.
In the meantime, the Independent Human Rights Commission of Afghanistan (IHRC) Chief, Seema Samar said around 284 children have been killed as a result of surge in violence across the country this year.
Full report at:
http://www.khaama.com/545-children-killed-in-afghan-conflict-last-year-8071
-----------
Mideast
Jewish settlers spray racist graffiti, insults to Prophet Mohammed
12 May, 2014
OCCUPIED JERUSALEM, (PIC)-- Jewish fanatics sprayed racist slurs on the walls of a workshop in Petah Tikva, east of Tel Aviv, on Sunday reading "Death to Arabs".
Israeli police said that the incident was part of the Price Tag attacks, adding that an insult to Prophet Mohammed was also sprayed on the same walls.
It claimed that investigations were underway but no suspects were arrested.
In another incident, Jewish settlers desecrated Nabi Yunus mosque in Halhoul town, north of al-Khalil, at dawn Sunday.
An eyewitness, Mohammed Zamara, told the PIC that dozens of Jewish settlers, under Israeli army protection, stormed the town and performed Talmudic rituals in the mosque's yards.
He pointed out that this was not the first time that settlers desecrated the sanctity of the mosque.
http://www.palestine-info.co.uk/en/default.aspx?xyz=U6Qq7k%2bcOd87MDI46m9rUxJEpMO%2bi1s7%2b2LghXTlWg12
-----------
Drone raid kills 6 al-Qaida suspects in Yemen: Tribesmen
AFP | May 12, 2014
SANAA: A drone strike in eastern Yemen killed six al-Qaida suspects on Monday, tribal sources said, in the first such raid since the army launched an offencive against jihadists last month.
The pilotless aircraft targeted a vehicle carrying "al-Qaida members" near Al-Husun, a village in Marib province, one source said.
The United States is the only country operating drones over Yemen, but US officials rarely acknowledge the covert drone programme.
Yemen's army launched a major offencive on April 29 against strongholds of al-Qaida in the Arabian Peninsula, or AQAP, in three provinces in the south and east.
It says it has inflicted heavy losses on the jihadists. The offencive was preceded by a wave of US drone strikes that killed scores of suspected al-Qaida suspects last month in southern and central regions.
Full report at:
http://timesofindia.indiatimes.com/world/middle-east/Drone-raid-kills-6-al-Qaida-suspects-in-Yemen-Tribesmen/articleshow/35013854.cms
-----------
Shocking testimonies by Palestinian minors in Israeli jails
12 May, 2014
RAMALLAH, (PIC)-- The Israeli Occupation Authorities (IOA) have never ceased to take Palestinian children and minors away from their mothers' arms to detention centers where they have been subject to the most atrocious torture and interrogation procedures ever.
A group of children from Occupied Jerusalem and different West Bank areas on Saturday revealed shocking testimonies to the lawyer of the Ministry of Prisoners.
The ministry's lawyer quoted prisoner Ayman Samih Al-Abassi, 17, from Silwan and sentenced to 18 months and a 3-thousand-shekel-fine, as saying: "I was interrogated while being chained hand and foot and tied to a small iron chair, while my back was bent."
Abassi recalled being heavily beaten on September 18 after he protested being incarcerated in a solitary cell in freezing weather conditions. The soldiers forced him into a bathroom and stripped him off from head to toe.
Full report at:
http://www.palestine-info.co.uk/en/default.aspx?xyz=U6Qq7k%2bcOd87MDI46m9rUxJEpMO%2bi1s7xX7LRUzneosrkcx
---------
Hamas Tells Muslims Not to Visit Jerusalem
12 May, 2014
Hamas, the terrorist organization ruling Gaza, rejected the "fatwa" (religious edict) made two weeks ago by Muslim leaders in Jordan, which ended a ban on visits to Jerusalem's Al-Aqsa Mosque despite it being "under Israeli occupation."
Evidently the edict was too lenient for Hamas, in that it let "Palestinians...regardless of their nationalities" and "Muslims with passports from countries outside the Muslim World" visit Jerusalem, as long as they didn't financially aid the "occupation."
Hamas negated the ruling, saying it gives the appearance of recognizing the rule of the "occupation," and constitutes a de facto normalization with Israel.
Osama Hamdan, a senior Hamas official, completely rejected the idea of Muslims from around the world visiting Jerusalem, while speaking on a visit to Qatar's Doha in the name of Hamas leader Khaled Mashaal. Hamdan's comments came at an international conference of Muslim clerics.
Full report at:
http://www.israelnationalnews.com/News/News.aspx/180518#.U3FoIoFdU4U
-----------
Turkey 'upgrades' capacity of armed forces with A400M
12 May, 2014
Turkey is continuing its policy of strengthening its armed forces to meet the challenges of the country's difficult regional neighborhood, President Abdullah Gül said May 12 as military officials took possession of a new A400M aircraft from Airbus.
"Turkey is located in a thorny region. There is no doubt that Turkey's rulers have been determined to increase the deterrence of the TSK [Turkish Armed Forces] and meet all kinds of needs within the framework of threat perception," Gül said May 12 in a speech at an official handover ceremony at the 12th Air Transportation Main Base Command in Erkilet in the Central Anatolian province of Kayseri for Turkey's first A400M tactical transport aircraft from the Airbus consortium.
Full report at:
http://www.hurriyetdailynews.com/turkey-upgrades-capacity-of-armed-forces-with-a400m.aspx?pageID=238&nID=66337&NewsCatID=338
-----------
Israeli army raids Al-Quds University, Palestinians hurt
World Bulletin / News Desk
12 May, 2014
Scores of Palestinian students were injured in Monday clashes with the Israeli army near Al-Quds University in the town of Abu Dis east of Al-Quds (occupied East Jerusalem), local activists have said.
"Five Palestinians were injured by rubber bullets and dozens suffered teargas inhalation during clashes near Al-Quds University," spokesman for the Popular Resistance Committees in Abu Dis Hani Halabiyeh was quoted by the Wafa news agency as saying.
According to the news agency, Israeli forces stormed the vicinity of the university after students made a hole in a nearby separation barrier.
Full report at:
http://www.worldbulletin.net/headlines/136111/israeli-army-raids-al-quds-university-palestinians-hurt
-----------
Southeast Asia
'Sultan of Brunei Himself in Violation of Every Single Rule'
12 May, 2014
Last week, celebrities including Jay Leno, Ellen DeGeneres, Sharon Osbourne, Richard Branson and Clive Davis united for an unlikely cause: a boycott of the Beverly Hills Hotel, because its owner, the Sultan of Brunei, recently announced the implementation of Sharia law in his tiny South Asian nation.
"Theory states that Allah's law is cruel and unfair," said Sultan Hassanal Bolkiah, "but Allah himself has said that his law is indeed fair."
Under Sharia law, the following is considered criminal behaviour, punishable by fines, jail, amputation of limbs, public flogging or death by stoning: absence from Friday prayer services; becoming pregnant out of wedlock; wearing indecent clothing, and for women, refusal to wear a Hijab; employing a non-Muslim babysitter; the use of the word "Allah" by Christians and the discussion of faith by any non-Muslims; publicly eating or drinking during Ramadan; theft; homosexuality; and adultery.
The Sultan, now 67, has slowly been moving Brunei in this direction for decades, but this recent, drastic declaration has no clear motive. Brunei is so rich with oil it's fully independent; nor is it a target of Islamic extremists.
Full report at:
http://www.malaysia-chronicle.com/index.php?option=com_k2&view=item&id=280252:the-sex-obsessed-world-of-brunei-sultan-himself-is-in-violation-of-every-single-
-----------
MCA should give Najib an ultimatum on hudud, says DAP
12 May, 2014
MCA leaders should give Prime Minister Datuk Seri Najib Razak an ultimatum to reject hudud or the Chinese party will reject all Cabinet positions, a DAP lawmaker said.
Gelang Patah MP Lim Kit Siang (pic) told a press conference in Batu Pahat today that MCA has plummeted to new depths since its humiliating performance in the 13th general election.
"First, MCA said it would not contest in the Bukit Gelugor by-election because the party wanted to focus on the hudud issue," he said.
"Today, PAS announced that it will postpone the tabling of a special member's bill in Parliament on the implementation of hudud in Kelantan.
"Since MCA's sole excuse for not contesting in Bukit Gelugor has been removed so fast, what is the Chinese party's next move?" Lim asked.
He said if MCA was intent on defending the Federal Constitution, and not just looking to mislead the public, the party leaders should have a pow-wow with Najib.
Full report at:
http://www.themalaysianinsider.com/malaysia/article/mca-should-give-najib-an-ultimatum-on-hudud-says-dap
-----------
India
Madrasa Certificates Issued By 5 State Boards Equivalent to CBSE
Press Trust of India | New Delhi | May 12, 2014
Certificates issued to madrasa students by the Bihar, West Bengal, Chhattisgarh, Madhya Pradesh Board and Uttar Pradesh education boards are equivalent to those issued by schools under the CBSE, information accessed through an RTI query has clarified. With an aim to ease higher education across the country, the HRD Ministry has clarified that such madrasa certificates were equivalent to Central Board of Secondary Education, Council of Boards of School Education and any other school boards, the RTI query sought by Muradabad-based activist Saleem Baig said.
The Council of Boards of School Education in India is a voluntary association of all the boards of school education in the country.
Under the Bihar State Education Board, three examinations — for Classes VIII (Vastania), X (Foquania), and XII (Maulvi) are held. In the other four states, examinations are conducted only for classes X and XII. According to information obtained from the HRD Ministry, as many as 374 districts in the country have been identified as backward; among which 54 have a sizeable Muslim population.
http://indianexpress.com/article/india/india-others/madrasa-certificates-issued-by-5-state-boards-equivalent-to-cbse/
----------
Pakistani spies use spoof calls to gather information, intelligence agencies say
Neeraj Chauhan,TNN | May 12, 2014
NEW DELHI: Pakistan seems to have stepped up its activities in India. According to reports by intelligence agencies, Pakistani operatives are making 'spoofed calls' to the offices of senior police, intelligence and Army officers besides bureaucrats under the assumed identities of mid-rung defence officers and are seeking information regarding government departments and officials. The alert was recently shared with police agencies.
To make sure that classified/secret information pertaining to government departments, intelligence agencies, police, defence and home ministry is not procured by Pakistani spies, office staff has been asked to be cautious while attending to calls where the caller identifies himself to be from the Army or an intelligence agency.
A "spoofed call" is where the origin of the call is masked and is shown as the place where the call is received. Usually, in cases of intelligence operatives seeking information from enemy countries, the calls are made from numbers located abroad.
Full report at:
http://timesofindia.indiatimes.com/india/Pakistani-spies-use-spoof-calls-to-gather-information-intelligence-agencies-say/articleshow/34989540.cms
-----------
Terror tag in way of Muslim youth's engineering dream
Written by Muzamil Jaleel | New Delhi | May 12, 2014
Every time there is a knock at the door, fear strikes his heart. The 22-year-old spends sleepless nights. Mehrajuddin isn't studying for his final year Mechanical Engineering examination either as he cannot appear for it because the college has suspended based on reports branding him a terrorist. If the college calls him back, he will still be haunted.
Last month, Rajasthan police picked him up along with a roommate in Jaipur, questioned him to unearth alleged Indian Mujahideen links and drove him to Delhi Police Special Cell for further interrogation. Nothing was found against him.
"I knew I am innocent and thought they knew that too that's why they released me. I didn't know this clean chit didn't matter,'' Mehrajuddin says. "I wasn't even arrested."
He says his family in Gangapur is facing social boycott after the media called him "aatankwadi (terrorist)". "My father Niyazuddin is a driver in the railways. His colleagues stopped speaking to him.''
Full report at:
http://indianexpress.com/article/india/india-others/terror-tag-in-way-of-muslim-youths-engineering-dream/
-----------
Pakistan
Diplomatic Passports Issued To Girlfriends, Friends and Property Dealers: Minister
May 12, 2014
ISLAMABAD: Information Minister Pervaiz Rashid has revealed that in the past blue passports were issued to girlfriends, friends and property dealers.
Rashid revealed this during the meeting of the Senate Standing Committee on Interior which was chaired by Senator Talha Mehmood. The committee summoned a list of those individuals holding diplomatic passports within one week.
During the meeting, Senator Shahi Syed from the ANP asked why a passport had not been issued to MQM chief Altaf Hussain. In reply officials from the passport office said that a request had not been made.
MQM Senator Tahir Mashadi said Altaf Hussain was a Pakistan citizen and a passport should be issued to him regardless of if he returns or not.
Information Minister Pervaiz Rashid revealed that in the past unnecessary offices were formed on political basis and a list of these should be presented before the committee.
http://www.thenews.com.pk/article-147453-Blue-passports-issued-to-girlfriends,-friends-and-property-dealers:-Rashid-
----------
Jamaat-e-Islami to wage war on feudal lords: Siraj
May 12, 2014
LAHORE - Jamaat-e-Islami chief Sirajul Haq said Sunday that masses were facing economic and political terrorism and he had decided to launch struggle against it.
"I have decided to wage a war against the ruling feudal lords and capitalists and to take them to task. I appealed the nation to support my party in this struggle," he said addressing a reception hosted in his honour here at Wahdat Road Cricket Ground.
Siraj said he had come to Lahore for consultation with the masses that what to do for future. He said Lahore which was a city of patriots and hosts, was awakened. He said Lahore was a historic city from where Pakistan Movement started. The JI ameer said the time was coming soon when a day of judgment would be set either in Islamabad or at the Minar-e-Pakistan ground in Lahore and the ruling elite would have to be accountable for its corruption and plundering of the public wealth.
Full report at:
http://www.nation.com.pk/lahore/12-May-2014/ji-to-wage-war-on-feudal-lords-siraj
-----------
Present govt has lost its legitimacy: Allama Dr Tahirul Qadri
May 12, 2014
Rawalpindi—Pakistan Awami Tehreek (PAT) has initiated a countrywide movement for change and soon people will be called upon to rise up against the present corrupt set-up. This was said by Allama Dr Tahirul Qadri, Chairman of the Pakistan Awami Tehreek on Sunday. He was addressing a massive rally of his party workers here in Rawalpindi.
Addressing through a video link from Canada, Allama Tahirul Qadri said the present setup has lost the legitimacy to continue as the rulers of the country.
At present neither any government exists in the country nor any Parliament nor both have lost the right to function.
Chairman of Pakistan Awami Tehreek said there wasn't any Parliament because it was constituted after the violation of Article 213 and 218.
Full report at:
http://pakobserver.net/detailnews.asp?id=241266
-----------
Govt, ISI, political parties backed 'Aman ki Asha': Jang group MD
May 12, 2014
KARACHI: Replying to the allegations leveled by Imran Khan, Jang Group Managing Director (MD) Shahrukh Hassan has said that the Pakistan Tehreek e Insaf (PTI) Chairman himself remained in favour of "Aman ki Asha" project.
Hassan said that the government officials were given briefing over the programme while Inter Services Intelligence (ISI) former chief Lt. General (retd) Ahmed Shuja Pasha, civil society and political parties also supported the Jang group's initiative.
The Jang Group's MD further said that leaders of PTI Asad Umar and Shafqat Mehmood are part of the Aman ki Asha committee.
Terming the allegations leveled by Imran Khan as "baseless", Shahrukh Hassan said that Imran has made personal attacks at D-Chowk today and so they would move Supreme Court against the PTI chief.
The Jang Group MD said that industrialists and traders also backed Aman ki Asha project and that improved relationship with the India would bring economic growth in the region.
http://www.thenews.com.pk/article-147406-Govt,-ISI,-political-parties-backed-Aman-ki-Asha:-Jang-group-MD
----------
Gunmen kill Pakistan Navy official in Karachi
May 12, 2014
KARACHI: Unknown gunmen attacked a Pakistan Navy official near Karasaz area on Karachi's Shahrea Faisal on Monday, DawnNews reported.
Security and rescue teams reached the attack site situated on the port city's main artery.
The targeted Navy official was rushed to a hospital for treatment where he succumbed to his wounds during treatment.
Police sources said that the incident appeared to be sectarian motivated, although reports in the media indicated the killing could have been the result of a failed robbery.
Earlier this month, a security guard of the Pakistan Navy was shot dead by robbers in an attack on the car of a senior navy officer in Defence Phase II.
Another Pakistan navy officer was shot dead and his Swedish wife wounded in a similar attack in September last year.
Full report at:
http://www.dawn.com/news/1105811/gunmen-kill-pakistan-navy-official-in-karachi
----------
Ball tampering not allowed in politics, Shahbaz tells Imran
May 12, 2014
LAHORE - Punjab Chief Minister Shahbaz Sharif said that those people who are hindering the process of national development could not be sincere to the nation.
"It is not politics or justice for anyone to bring sons, mothers, infants, students and teachers on the streets in Pakistan while enjoying the cool air in Canada oneself", he remarked addressing a seminar on the role of journalism in Pakistan's stability. The seminar was organised by Pakistan Federal Union of Journalists at Alhamra Hall, here on Sunday.
The CM said that he had always taken guidance from the news and analysis of various newspapers and constructive criticism based on truth is the best source for this purpose. He said that media has struggled for freedom of expression and won its rights through sacrifices. He said that journalists have shed their blood and also faced economic sanctions in their struggle. He said that no one could deprive media of its freedom nor should put restrictions on the press.
Full report at:
http://www.nation.com.pk/national/12-May-2014/ball-tampering-not-allowed-in-politics-shahbaz-tells-imran
-----------
Minorities join PTI activists en route to Islamabad
May 12, 2014
PESHAWAR: Sikhs, Hindus, Christians and Kalashas accompanied the tens of thousands of Pakistan Tehreek-e-Insaf (PTI) activists who made their way to the federal capital from different parts of the province on Sunday.
Led by adviser to the chief minister and All Pakistan Minorities Central General Secretary Soran Singh, a convoy of over 250 vehicles carrying minority groups headed for D-Chowk in Islamabad to take part in PTI's protest rally against rigging in the 2013 general elections. These vehicles were occupied by people from Dir, Chitral and parts of Malakand besides other areas.
"This is not about Sikhs, Hindus, Christians and the Kalash people, it is all about Pakistan. Pakistanis from K-P, Sindh, Balochistan and Punjab are in close contact with me and everyone has left for the federal capital to express their feelings against rigging in the general polls last year," Singh told The Express Tribune late Sunday morning, adding while some had already reached, others were on their way to the venue.
Full report at:
http://tribune.com.pk/story/707160/rallying-for-their-rights-minorities-join-pti-activists-en-route-to-islamabad/
-----------
Arab World
Iraqi Sunni cleric calls on Fallujah residents to resist army
12 May, 2014
Baghdad, Asharq Al-Awsat—Prominent Iraqi Sunni cleric Abdel Malik Al-Saadi called on Saturday for Iraqis to resist Baghdad's attempts to retake the city of Fallujah, branding the government's efforts "sectarian genocide."
In a statement, Saadi said: "What Prime Minister Nuri Al-Maliki is doing now is genocide, destruction and pillaging in Fallujah and Ramadi, and what the militias are doing in Diyala and Jarf Al-Sakhr is evidence that it is sectarian genocide, directed by Iran, and agreed on and supported by America."
He added: "The aim is not to fight terrorism or what they call the Islamic State if Iraq and Syria (ISIS), because their presence does not require this level of violence and comprehensive genocide."
Saadi is one of the most prominent Sunni clerics in Iraq, and a major backer of the anti-government protests that gripped Anbar at the end of 2013. He is also a noted critic of Iraqi Prime Minister Nuri Al-Maliki, though in the early stages of the Anbar protests he also led calls for dialogue with Baghdad.
Full report at:
http://www.aawsat.net/2014/05/article55332156
-----------
Arab spring a plot to divide countries: Egypt's Grand Imam
12 May, 2014
Some Arab spring revolutions were launched to divide the countries of the region, Al-Azhar Grand Imam Ahmed El-Tayib has asserted.
"Some Arab spring revolutions brought benefits but others were planned to destroy and divide countries," he said in an interview on Al-Hayat TV channel on Sunday.
The West invented "corrupted" theories in order to steal the wealth of the East, El-Tayib added.
"The East has not met the level of West, the gap is widening between them," he said, adding that there was a conspiracy to keep the East weak.
"The West presented the clash of civilizations theory in order to provoke a clash with Islamic civilization."
"There are non-Western nations with old civilizations that are capable of leading the world in a more reasonable way than the West," El-Tayib said.
Full report at:
http://english.ahram.org.eg/NewsContent/1/64/101044/Egypt/Politics-/Arab-spring-a-plot-to-divide-countries-Egypts-Gran.aspx
-----------
Al-Qaida-breakaway group criticizes al-Zawahri
May 12, 2014
CAIRO (AP) — The official spokesman of an al-Qaida-breakaway group has strongly criticized its parent organization's head, Ayman al-Zawahri, for siding with a rival jihadi group in Syria.
In an audio message posted on militant websites late Sunday, Abu Mohammed al-Adnani, spokesman of the Islamic State in Iraq and the Levant, accused al-Zawahri of being responsible "for shedding Muslim blood" and urged him to step down for the election of another leader. The tone and level of criticism against al-Zawahri by a fellow jihadi were rare.
The crisis escalated after al-Zawahri recognized the Nusra Front as al-Qaida's official branch in Syria and urged the Islamic State's leader, Abu Bakr al-Baghdadi, to withdraw his men from there. He also ordered the establishment of an independent Islamic court to settle the issue, a move rejected by al-Baghdadi.
Full report at:
http://www.dailymail.co.uk/wires/ap/article-2626242/Al-Qaida-breakaway-group-criticizes-al-Zawahri.html#ixzz31YcV4gbs
----------
Kuwait minister accused by U.S. of terrorism funding quits: report
May 12, 2014
(Reuters) - Kuwait's justice and Islamic affairs minister has resigned, the local news service al-Rai said on Monday, after a senior U.S. official said he had called for jihad in Syria and promoted the funding of terrorism.
Last month Nayef al-Ajmi rejected the comments made in March by U.S. Treasury Undersecretary David Cohen as "groundless and baseless", and was backed by the cabinet.
But on Monday, Ajmi said the Gulf state's ruler had accepted his resignation, al-Rai said. Kuwaiti media reported last month that he had already offered to resign once, citing health reasons.
"I thank His Highness the Emir for accepting my resignation and for understanding my reasons," Ajmi said according to an SMS alert from al-Rai, which gave no further details.
Attempts to reach Ajmi were unsuccessful. He has given statements to the private news group on the topic before.
Full report at:
http://www.reuters.com/article/2014/05/12/us-syria-crisis-kuwait-idUSBREA4B0AX20140512
-----------
ISIL slams Qaeda chief, refuses to quit Syria
12 May, 2014
A powerful jihadist group battling Al-Qaeda's affiliate in Syria has sharply criticised the global terror network's leader in a statement, rejecting his call for them to leave the war-ravaged country.
The audio recording, purportedly made by Islamic State of Iraq and the Levant spokesman Abu Mohammed al-Adnani, also urged Ayman al-Zawahiri to remove the leader of Al-Nusra Front, Al-Qaeda's affiliate in Syria.
"Sheikh Osama gathered all the mujahedeen (holy warriors) with one word, but you divided them and tore them apart," Adnani said in the audio statement posted on jihadist forums on Sunday, referring to Zawahiri's predecessor Osama bin Laden.
The authenticity of the recording could not be immediately verified.
Adnani called on Zawahiri to replace Al-Nusra leader Abu Mohammed al-Jolani, warning: "Either you continue with your mistake and remain stubborn, and the division and fighting among the mujahedeen will continue, or you confess to your mistake and correct it."
"You make the mujahedeen sad, and make the enemy of the mujahedeen gloat because you support the traitor (Jolani), and you make the heart bleed -- you are the one who instigated the strife, and you have to extinguish it.
Full report at:
http://english.ahram.org.eg/NewsContent/2/8/101053/World/Region/ISIL-slams-Qaeda-chief,-refuses-to-quit-Syria.aspx
----------
Controversial cleric says Egypt's Sisi has added to country's 'catastrophe'
Reuters | May 12, 2014
DOHA: An influential Qatar-based Islamist whose fiery sermons have caused tension between Gulf states said on Sunday that Egyptian presidential front runner Abdel Fattah al-Sisi will only bring downfall to the country.
Sheikh Youssef al-Qaradawi, an Egyptian-born cleric with links to the Muslim Brotherhood, has always been critical of Egypt's military rule and Sisi, who as army chief was behind the ousting of Islamist Mohamed Morsi from the presidency last July after a popular uprising.
Qaradawi said that Israeli leaders supported having Sisi win the upcoming presidential elections, saying that Sisi protects Israel's interests and will not go into confrontation with them over the Palestinian issue.
"You have people like Ehud Barak (Israel's defense minister) saying, Vote for Sisi, Sisi is our man, he is our Sisi not your Sisi," Qaradawi said late on Sunday at a conference that was organized by an association of Muslim scholars in Doha.
Sisi is expected to easily win the May 26-27 presidential election. The only other candidate is leftist politician Hamdeen Sabahi, who came third in the 2012 election won by Morsi.
The Brotherhood, which says it is committed to peaceful activism, has accused Sisi of staging a coup and masterminding the removal of Morsi, Egypt's first freely elected president.
Full report at:
http://timesofindia.indiatimes.com/world/middle-east/Influential-cleric-says-Egypts-Sisi-has-added-to-countrys-catastrophe/articleshow/34994384.cms
-----------
Syria Regrets France's Objection to Allowing Syrians to Vote at Embassy
12 May, 2014
Foreign and Expatriates Ministry expressed regret that Syrians living in France will be denied their right to participate in the upcoming presidential vote due to French government's objection.
The Ministry noted in a statement that the French government has officially informed Syrian Embassy in Paris its objection over such a vote on the entire French land and not just at the embassy, SANA reported Sunday.
It highlighted that France, among a group of other countries involved in supporting terrorists and bloodshed in Syria, has got engaged in a hostile propaganda against the presidential elections.
Full report at:
http://english.farsnews.com/newstext.aspx?nn=13930222000355
-----------
Syria: Terrorists' Infighting Intensifies in Deir Ezzur
12 May, 2014
An Al-Qaeda splinter group wrested control of parts of the Eastern Syrian province of Deir Ezzur from other terrorist groups, worsening the infighting that has handicapped the insurgency in Syria.
Civilians in Deir Ezzur lived through more than two years of fighting between the foreign-backed insurgents and the Syrian army. Now they are dealing with a second wave of war that has devastated parts of the country, Al-Alam reported.
The Islamic State in Iraq and the Levant (ISIL) - which started as an offshoot of Al-Qaeda in Iraq but has since been disowned - took neighborhoods of Deir Ezzur city from the al-Nusra Front, Syria's official Al-Qaeda affiliate, this weekend, according to an observatory group.
Some 230 terrorists have been killed over the past 10 days by the infighting, it added. Although ISIL made headway in the fight for Deir Ezzur, armed groups rarely hold territory for long before clashes resume.
Full report at:
http://english.farsnews.com/newstext.aspx?nn=13930222000906
-----------
OIC backs efforts to resolve Nigeria's kidnapping crisis
12 May, 2014
The growing phenomenon of dangerous extremist groups is on the high agenda of issues to be discussed during the upcoming meeting of the Council of Foreign Ministers of member states in Jeddah, asserted Ambassador Tariq Bakhit, director of the Organization of Islamic Cooperation's (OIC) political department.
Bakhit announced in a statement that the General Secretariat of the OIC is mobilizing its agencies and departments to address the threat posed by extremist groups who have hijacked Islam and are committing crimes in the name of religion.
The current crisis of female students abducted by Boko Haram in Nigeria has brought the peril of extremist groups to the forefront of international concern in the past days.
Full report at:
http://www.arabnews.com/news/569471
-----------
Sharjah Museum of Islamic Civilisation: Trove of treasure
12 May, 2014
Sharjah: When chapter 103 (Al-Asr/Age of Time) was revealed, the Prophet (PBUH) made a statement to the effect that if mankind had got only this message from Allah, it could have been sufficient. Similarly, it would have sufficed for the organisers of the Islamic Culture Capital Programme to consider only Sharjah Museum of Islamic Civilization (SMIC) to bestow this status on the emirate.
Just like chapter 103, with only three verses but with far thoughtful message, the contents of the SMIC are greater than this rather elegant building.
With over 5,000 artifacts that illustrate the scientific, cultural and scholarly works of Islamic civilisation across time, the zenith period being between 7th to 13th centuries which is known as the Golden Age of Islamic Civilisation, "each object opens a number of stories that we would have lost," contends the museum's Strategic Adviser of Islamic and Middle Eastern Arts, Dr Ulrike Al-Khamis.
Full report at:
http://gulftoday.ae/portal/e1d01b61-f2f7-4c50-ba67-d4b77e3cf929.aspx
-----------
Europe
It's easy to recruit extremists in prison, notorious convert claims
12 May, 2014
A white Muslim extremist jailed for trying to bring Sharia law to the streets of London has boasted of the ease with which he has been able to convert dangerous criminals to radical Islam inside prison.
Jordan Horner, himself a convert, who has taken the name Jamaal Uddin, claimed the prison authorities had been forced to transfer him four times after he began persuading fellow inmates to follow his extreme version of Islam.
He was jailed for terrorising locals in east London as part of the so called Muslim Patrol, which claimed it was forcing the imposition of Sharia Law in the area.
In December 2012, at a protest outside St Paul's cathedral Horner was filmed alongside Michael Adebowale who five months later murdered soldier Lee Rigby in Woolwich.
Since his release in February this year, Horner has also became the first person to be placed on a five year, landmark anti-social behaviour order, intended to stop him promoting extreme versions of Islam.
Full report at:
http://www.telegraph.co.uk/news/uknews/terrorism-in-the-uk/10823517/Its-easy-to-recruit-extremists-in-prison-notorious-convert-claims.html
-----------
Experts Warn More European Muslim Youth Are Radicalising
12 May, 2014
So violent, so bloodthirsty, is the Islamic State of Iraq and the Levant (ISIL), a Syria-based jihadist group, that even al-Qaida will have nothing to do with them.
But young European Muslims will – and do.
Earlier this month, German authorities arrested two men, one Turkish and one German, on suspicion that they were connected to ISIL, also known as ISIS. A woman with German-Polish dual-nationality was also arrested for allegedly paying €4,800 to ISIL to facilitate their work. According to Die Welte, police also searched the homes of several other Germans believed to have joined or be planning to join the terrorist group.
On Wednesday, Dutch authorities reported that two men with Netherlands passports had committed suicide attacks in recent weeks – one in Iraq, the other in Syria. A third Dutch Muslim was caught by the Syrian Secret Service reportedly carrying Sarin gas.
Full report at:
http://jewishvoiceny.com/index.php?option=com_content&view=article&id=7356:experts-warn-more-european-muslim-youth-are-radicalizing&catid=118:war-on-terror&Itemid=301
-----------
Cypriot leading figure of Islam's Sufi branch dies
Associated Press
12 May, 2014
NICOSIA, Cyprus - Sheikh Muhammad Nazim Adil al-Qubrusi al-Haqqani, a leading figure of Sufism, the mystical branch of the Islamic faith, died Wednesday at the age of 92 in the north of ethnically divided Cyprus.
Imam Shakir Alemdar, the vice grand mufti of Cyprus, confirmed the death. The imam hailed the Cypriot-born Sheikh Nazim as one of the world's great Islamic scholars and a spiritual leader to followers of Sufism, which traces its origins to the roots of Islam itself about 1,500 years ago.
Full report at:
http://www.postandcourier.com/article/20140511/PC1204/140519978/1002/cypriot-leading-figure-of-islams-sufi-branch-dies
-----------
International effort widens for missing Nigerian schoolgirls
Press Trust of India | Lagos | May 12, 2014
Israel joined the international effort to trace more than 200 schoolgirls kidnapped by Islamist militants in Nigeria but Washington said US troops would stay out of any rescue mission.
Nigeria's President Goodluck Jonathan spoke to Israeli Prime Minister Benjamin Netanyahu on Sunday over telephone and accepted an offer for assistance in finding the girls, who were kidnapped by Boko Haram fighters nearly a month ago.
Britain, the United States and France have already sent specialist teams and equipment to help Nigeria's military in the search, which is concentrated in the remote northeast riven by five years of deadly violence.
Full report at:
http://indianexpress.com/article/world/middle-east-africa/international-effort-widens-for-missing-nigerian-schoolgirls/
-----------
France's Hollande calls for African summit on Nigeria abductions
12 May, 2014
French President Francois Hollande called Sunday for African leaders to hold a summit in Paris on security in west Africa focusing on the Islamist sect Boko Haram who have abducted more than 200 schoolgirls in Nigeria.
"I suggested, with Nigerian President Goodluck Jonathan, a meeting of Nigeria's neighbouring countries," he said during a visit to the Azerbaijan capital Baku.
The meeting will take place Saturday "if the countries agree," he added.
The leaders of at least five African countries -- Nigeria, Chad, Cameroon, Niger and Benin may take part, a source close to the president said.
The kidnap of 276 schoolgirls on April 14 by Boko Haram in the northeastern Nigerian town of Chibok has sparked a wave of international outrage.
A team of French experts in "human and technical" intelligence arrived in Nigeria on Saturday to help in the search for the teenagers.
http://english.ahram.org.eg/NewsContent/2/9/101019/World/International/Frances-Hollande-calls-for-African-summit-on-Niger.aspx
-----------
Britain First fascists target Bradford mosques
12 May, 2014
Far right activists have targeted mosques in Bradford attempting to hand out Bibles and distribute leaflets accusing community elders of failing to stop grooming gangs.
It is believed members of Britain First, some wearing uniforms, staged the protests at 10 places of worship in the city centre. The group posted images of themselves on Facebook confronting members of the Asian community.
They also visited the office of Labour councillor Nazam Azam. Mr Azam said: "They have come to Bradford to cause residents to fear for their safety. As far as I understand they have tried to access mosques. They tried to hand out leaflets but I don't know anyone who took anything."
Full report at:
http://www.independent.co.uk/news/uk/home-news/farright-activists-hand-out-bibles-outside-mosques-in-bradford-9352271.html
-----------
Muslim anger at militants as experts arrive to find girls
Associated Press
12 May, 2014
Islamic extremists blew up a bridge, killed an unknown number of people and abducted the wife and two children of a retired police officer in northeast Nigeria, amid mounting condemnation by Muslims of the Nigerian terrorist network that abducted more than 300 schoolgirls nearly a month ago.
Fleeing residents say the insurgents blew up the bridge that links the states of Adamawa and Borno, which are under a military state of emergency to halt the Islamic uprising.
That would cut off military vehicles attempting a hot pursuit. Last Tuesday, militants destroyed a bridge linking Nigeria to neighbouring Chad, where they have hideouts in mountain caves.
Full report at:
http://www.nzherald.co.nz/world/news/article.cfm?c_id=2&objectid=11253309
-----------
North America
Americans still unaware they are victims of US gov't propaganda, manipulation - expert
12 May 2014
Most Americans do not realize that they are victims of propaganda and manipulation, according to Lawrence Davidson, a professor of history at West Chester University in Pennsylvania. Americans are culturally conditioned to believe that their country is the foundation of freedom and truth and they have neither knowledge nor interest to fact-check what their leaders and media tell them, deems the professor.
"Perhaps the grossest ongoing censorship of all is the culturally conditioned, narrow range of opinion fed to the vast majority of Americans by their own media. The narrow range of views offered creates a uniform background noise hiding most of what is at variance with the standard message. In other words, media practices constitute de facto censorship," notes Lawrence Davidson in his article 'How the US Propaganda System Works.'
An exception, according to the author, is the popular "Daily Show with Jon Stewart" on the Comedy Central TV channel, which presents the only critique of US leadership, its domestic and foreign policy. However, the critical remarks may be expressed only in the form of comical political satire.
Full report at:
http://voiceofrussia.com/2014_05_12/Americans-still-unaware-they-are-victims-of-US-govt-propaganda-manipulation-expert-0903/
----------
Americans in Yemen shooting were getting haircuts
One of the two officers at the U.S. Embassy in Yemen who shot and killed a pair of suspected al-Qaida gunmen was getting a haircut at a barbershop when the attempted abduction took place, Yemeni security officials said Sunday.
The attempted kidnapping April 24 is the latest evidence of al-Qaida's expanding presence in the capital, a serious challenge to the authority of the already weak central government. It also could strain ties between Yemen and the U.S., which has launched an aggressive campaign of drone strikes against suspected al-Qaida fighters in the country.
The barbershop, owned by a long-time Indian resident, is on Heda Street, a commercial road in the southern part of the city where some of Sanaa's best restaurants, supermarkets and high-end boutiques are located.
The Yemeni officials said the armed militants arrived in a battered SUV and burst into the shop shouting: "Police! Police!" The officials said one of the two Americans was having his hair cut, while the second waited for his turn.
Full report at:
http://indianexpress.com/article/world/middle-east-africa/americans-in-yemen-shooting-were-getting-haircuts/2/
----------
URL: https://newageislam.com/islamic-world-news/boko-haram-leader-says-missing/d/76983