New Age Islam News Bureau
9 May 2014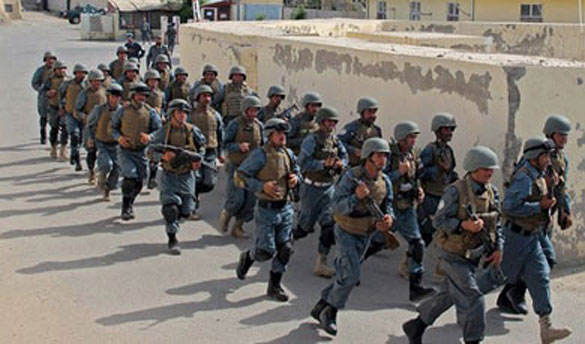 Afghan security forces performed antiterrorism exercises last week in preparation for the second round of the presidential election. European Pressphoto Agency
--------------
Africa
• Boko Haram Insurgents Are Not For Islam —Muslim Rights Concern
• 50 bodies discovered in Nigeria border town attacked by Islamic militants
• 'Boko Haram wants kidnapped girls exchanged for imprisoned members'
Benghazi spy chief slain
Arab World
• It's Haram to Travel to Non-Muslim Countries: Imam
• Egypt's Sisi Turns Islam on the Islamists
• Shelling, clashes in Iraq's Fallujah kill 8
• Saudis call for Arab League Syria talks to be put off
• Salafis and the Muslim Brotherhood: Egypt's Rival Islamist Groups
• Two Britons reported dead fighting in Syria
• Egypt's Rebel movement refuses to meet with the new US ambassador
• Egypt Islamists call for dialogue with revolutionaries in Brussels charter
• Lebanon's Army: Number of Surrendered Tripoli Militants Rises to 11
• Syrian Troops Attack Militant Groups in Idlib
• Syrian Army Storms Rebels' Dens in Damascus' Countryside
• Six sentenced to jail in Jeddah, lashes, and fines for abetting terrorism
• Saudi Valentines get 32 years in jail
• S. Arabia trying to get N-technology: expert
• Syrian rebel leader unlikely to get weapons wish list from US
South Asia
• Afghan Taliban to Launch Spring Offensive on Monday
• 19 Chinese groups to invest in Pakistan
• Afghan govt to hire KP manpower for reconstruction
• Afghan refugees enter fourth week of protests over asylum status in Turkey
• Taliban attack on Afghan police outpost wounds 11
Pakistan
• Fazlullah sacks Sajna as TTP chief of South Waziristan
• Altaf demands decisive action against terrorists
• All Madrasas to Be Brought Into Mainstream: Minister
• Two killed in Quetta bomb blast
• Despite Kashmir dispute, India-Pak trade must go on: Pakistan high commissioner
• Balochistan: Grass-cutting row in small village claims 11 lives
North America
• Nigerians in Boston rally to demand girls' safe return
• 'Hashtag Activists' Push Nigeria Kidnap up World Agenda
• US team arrives in Nigeria to help with hostage search: embassy
• U.S. faults both sides for collapse of Israeli-Palestinian talks
• US military worried as CIA plans to close its satellite bases in Afghanistan
• US congress slams Myanmar over abuses of Rohingya
India
• US-based Muslim body condemns Assam violence, demands probe by SC judge
• NIA picked up UAE man, detained him, and then 'made him say' he came on his own
• Visitors, trade show participants suggest visa-free India-Pak travel
• Pak builds memorial for 1921 Gurdwara massacre
Europe
• UN praises Algeria for appointing seven female ministers
• Tajik Policeman Detained For Propagating Extremist Form of Islam
• Kyrgyz foreign ministry condemns violence along Tajik-Kyrgyz border
• Azerbaijan: Sumgayit Becomes Font of Syria-Bound Jihadists
• Ukrainian Jews form defence force to combat anti-Semitic attacks
• Syria still has chemicals for 'many nerve gas attacks': Britain
• Russian arms may land into terrorist hands
Mideast
• Former PM Barak: US could destroy Iran's nuclear program in 'fraction of one night'
• Livni: Settlements delegitimize Israel on int'l stage
• Meeting Abbas, Rice outlines 'constructive' path forward for peace with Israel
• Turkish PM Erdoğan's steps 'not enough,' Greek Orthodox Patriarch says
• Turkey and Israel have substantially overcome problems, Turkish FM says
Southeast Asia
• Implement Hudud for all, not only Muslims, says Isma
• Malaysia investigates suspected Al-Qaeda activity after arrest of Somali
Compiled by New Age Islam News Bureau
URL: https://www.newageislam.com/islamic-world-news/new-age-islam-news-bureau/boko-haram-insurgents-are-not-for-islam-—muslim-rights-concern/d/76942
----------
Africa
Boko Haram insurgents are not for Islam —Muslim Rights Concern
May 9, 2014
THE Muslim Rights Concern (MURIC) has said that the case of Boko Haram has become an interesting study in religious perversity, given the manner in which the terrorist group is enshrouding its activities in the garb of Islam.
According to MURIC, in a statement by its director, Professor Ishaq Akintola, "Islam teaches peaceful coexistence, Boko Haram insists on killing and maiming innocent people in the name of religion."
In the light of a recent pronouncement by the violent group claiming responsibility for the kidnapping of about 273 schoolgirls, MURIC declared the action of the "renegades" as unacceptable.
It said: "This criminal, inhuman, sadistic, archaic and barbaric act stands in contradistinction to the tenets of Islam regarding the treatment of the girl-child, women in general as well as the conduct of war.
"Islam promises the girl-child life, not death; hope, not frustration; liberty, not captivity. It was Islam which forbade the ancient and pernicious policy of burying female children alive.
"The Holy Prophet (peace be upon him) called men who are kind to women the best among men. He said, "The most perfect Muslims are the best in conduct and the best of you are the best in conduct to women," MURIC said.
According to MURIC's statement, it was even "most cowardly" to focus attacks on women and little girls.
"It beats all rules of chivalry. Real men do not brutalise little girls. This is why the Prophet forbade the killing, hurting or harassment of women, little children and elderly people during wars," it added.
http://www.tribune.com.ng/islamic-news/item/4824-boko-haram-insurgents-are-not-for-islam-muric
----------
50 bodies discovered in Nigeria border town attacked by Islamic militants
May 9, 2014
BAUCHI, Nigeria – Residents of a Nigerian town faulted security forces for responding slowly to the presence of Boko Haram fighters who later attacked, killing many people.
At least 50 bodies have been recovered from the debris of burned shops after the town's main market was attacked Monday by the Islamic militants.
Gamboru resident Abuwar Masta said the bodies were found after the market reopened on Wednesday. Health workers, volunteers and traders searched for missing people. He said most of the bodies were burned beyond recognition.
Masta and other traders said the attack could have been averted if security forces had responded quickly to an alarm raised by villagers who said they had seen insurgents camping in the bushes near Gamboru.
Boko Haram last month kidnapped more than 300 girls from a school.
http://www.foxnews.com/world/2014/05/08/residents-say-50-bodies-discovered-in-nigeria-border-town-attacked-by-islamic/
----------
'Boko Haram wants kidnapped girls exchanged for imprisoned members'
May 9, 2014
FORMER Boko Haram negotiator, Shehu Sani, has said the group plans to exchange the 300 kidnapped schoolgirls for "comrades" imprisoned in Nigeria
Nearly 300 schoolgirls kidnapped in Nigeria by Islamist militants could be released in exchange for jailed comrades, he reportedly said.
The source told newsmen that he believed the video, where Boko Haram leader, Abubakar Shekau, threatened to sell the girls as slaves, showed he planned to use them as "bargaining chips" rather than kill them.
Sani said he believed the footage, released on Monday, was an attempt to persuade the Nigerian government into a prisoner trade.
"From my knowledge of the group, to have him saying that he will sell them is proof that this issue can be resolved.
"The group is most likely to want to attach some kind of conditions to the girls being released, such as the freeing of some of their own prisoners," he said.
http://www.tribune.com.ng/news/news-headlines/item/4863-boko-haram-wants-kidnapped-girls-exchanged-for-imprisoned-members
----------
Benghazi spy chief slain
May 9, 2014
TRIPOLI: Gunmen assassinated a top government intelligence official in Benghazi, a day after a political leader in the flashpoint city of eastern Libya rejected the election of a new prime minister.
Col. Ibrahim Al-Senussi Akila, head of general intelligence in Benghazi, was shot dead near the Medical Center in the center of the Mediterranean city, a security said.
"He was in his car when unknown assailants opened fire. He was hit twice, once in the neck," the source said. Officials say the attack happened in front of the Central Benghazi Medical Center.
Libya has seen a severe deterioration in security since the civil war that led to the ouster of longtime dictator Muammar Qaddafi.
Authorities have depended on unruly militias in the absence of a strong police force or a unified military.
http://www.arabnews.com/news/567776
---------
Arab World
It's Haram to Travel to Non-Muslim Countries: Imam
May 9, 2014
It was really sad to hear the imam of a mosque prohibiting Muslims from travelling to non-Muslim countries and saying that doing so is haram. The imam said that it was only under strict conditions that it was permissible for a Muslim to go to a non-Muslim country.
It breaks one's heart to hear him attacking students who travel to non-Muslim countries for educational purposes. Does he not know that there are thousands of Saudi students studying in such countries? The imam views the countries of the world from a very limited perspective and says that there are countries that want us to abandon our religion and want to distort our beliefs.
What is worse is that he has also prohibited any type of business with any non-Muslim country that might bring benefit to such a country. Does he not know that the Thobe he was wearing and the microphone he was using when he was delivering his speech were the products of bilateral business relations with non-Muslim countries? How could he have spoken to the hundreds of people sitting in the mosque if he did not have a microphone to use so that his voice could be heard?
Full report at:
http://www.saudigazette.com.sa/index.cfm?method=home.regcon&contentid=20140509204502
----------
Egypt's Sisi Turns Islam on the Islamists
May 9, 2014
(Reuters) - As the Egyptian state presses its crackdown on the Muslim Brotherhood, the man expected to become president has deployed a new weapon in the battle with the Islamists: his own vision of Islam.
Abdel Fattah al-Sisi, the former army chief who deposed the Brotherhood's Mohamed Mursi and is expected to be elected president later this month, has cast himself as a defender of religion and taken aim at the doctrinal foundations of Islamist groups the state is seeking to crush.
Striking a pious tone that sets him apart from former president Hosni Mubarak, Sisi also appears to be taking on the mantle of a religious reformer. He has blamed outdated "religious discourse" for holding back Egypt.
"I see that the religious discourse in the entire Islamic world has cost Islam its humanity," Sisi said in an interview televised on May 5. "This requires us, and for that matter all leaders, to review their positions."
Full report at:
http://www.reuters.com/article/2014/05/09/us-egypt-sisi-religion-idUSBREA480G820140509
------------
Shelling, clashes in Iraq's Fallujah kill 8
May 9, 2014
Early morning shelling and clashes in Fallujah, a town near Baghdad that has been held by anti-government fighters for more than four months, killed eight people Friday, a doctor said.
The violence erupted at about 3:00 am (0000 GMT) in and around the predominantly Sunni Arab town and continued for several hours, a tribal leader said, with nine other people wounded in the firefights and bombardment.
Among the dead were two children, according to Dr Ahmed Shami, the chief of Fallujah's main hospital. Another two children were wounded.
In a sign of both the reach of anti-government militants and the weakness of security forces, all of Fallujah and shifting parts of Anbar provincial capital Ramadi, farther west, have been out of government control since early January.
Full report at:
http://english.ahram.org.eg/NewsContent/2/8/100846/World/Region/Shelling,-clashes-in-Iraqs-Fallujah-kill-.aspx
----------
Saudis call for Arab League Syria talks to be put off
May 9, 2014
Saudi Arabia has urged the indefinite postponement of an Arab League meeting on Syria that Riyadh itself called, the group's deputy chief Ahmed Ben Helli said on Friday.
The meeting of foreign ministers was originally called for Monday by Riyadh, which backs rebels in the conflict, to discuss "steps that need to be taken to deal with the Syrian tragedy".
But the Saudis have now indefinitely postponed what was originally billed as an emergency gathering that they were going to host without saying why, and no new date has been set for it.
Western and Gulf nations opposed to the Syrian regime of President Bashar al-Assad are due to hold their latest meeting in London on May 15 to discuss boosting support for the rebels.
More than 150,000 people are estimated to have been killed in Syria since the start of the armed uprising against Assad's rule in 2011.
Full report at:
http://english.ahram.org.eg/NewsContent/2/8/100834/World/Region/Saudis-call-for-Arab-League-Syria-talks-to-be-put-.aspx
----------
Salafis And The Muslim Brotherhood: Egypt's Rival Islamist Groups
May 09, 2014
Salafis have supported Sisi against the Muslim Brotherhood. Daily Sabah attempts to reveal the reasons for Salafis' stance after the coup by delving into the two groups' history
A tide of change euphorically called the "Arab Spring" swept across the Middle East and North Africa, mobilizing political groups as well as members of apolitical movements to reveal people's dissatisfaction with their current governments. Following uprisings in a number of Arab countries, Islamist groups have found an opportunity to be involved in politics freely and legally.
In Egypt, the Justice and Freedom Party of the Muslim Brotherhood was successful in the elections, gaining a large portion in the assembly. However, it was not expected that Salafi groups would be politicized, establish the Al Nour Party in Egypt and go on to achieve considerable success in the elections.
Full report at:
http://www.dailysabah.com/features/2014/05/07/salafis-and-the-muslim-brotherhood-egypts-rival-islamist-groups
---------
Two Britons reported dead fighting in Syria
May 9, 2014
Britain was on Thursday investigating reports that two of its nationals have died while fighting in Syria.
The Britons are believed to have been fighting for the jihadist Islamic State of Iraq and the Levant against another rebel group.
A Foreign Office spokesman said: "We are aware of reports and are looking into them."
Shiraz Maher, senior fellow at the International Centre for the Study of Radicalisation (ICSR) at King's College London, said on Twitter: "It appears two British citizens have died in Syria while fighting for ISIS. They were fighting Jabhat al-Nusra at the time."
Full report at:
http://english.ahram.org.eg/NewsContent/2/8/100827/World/Region/Two-Britons-reported-dead-fighting-in-Syria.aspx
----------
Egypt's Rebel movement refuses to meet with the new US ambassador
May 9, 2014
A spokesman for the anti-Morsi Rebel (Tamarod) campaign said that the group had refused to meet with a delegation from the American embassy in Egypt.
Mahmoud Badr, one of the founders of the movement, said on Thursday on his official Twitter account that the newly appointed American ambassador to Egypt, Robert Stephen Beecroft, had asked to meet with the movement.
"We refused the ambassador`s request and asked him to improve US relations with Egypt, Syria and the Arab countries instead," Badr tweeted.
On Friday, MENA cited Rebel spokesman Mohamed Nabawy as confirming that the group had refused to meet with a delegation from the embassy.
Full report at:
http://english.ahram.org.eg/NewsContent/1/64/100839/Egypt/Politics-/Egypts-Rebel-movement-refuses-to-meet-with-the-new.aspx
----------
Egypt Islamists call for dialogue with revolutionaries in Brussels charter
May 9, 2014
Supporters of deposed president Mohamed Morsi have called for a pluralist climate in Egypt almost a year after the Islamist leader was toppled, urging for a dialogue and requesting the army to disengage from politics.
In a press conference in Brussels, Belgium's capital, Islamist parties of a major pro-Morsi grouping unveiled on Wednesday what they dubbed a "charter of principles" to reclaim the 25 January uprising which helped Morsi's Muslim Brotherhood rise to power.
"We urge free Egyptians to align behind us…so as to overcome this critical phase, support these principles and resume dialogue," Mohamed Mahsoub, who served as minister of legal affairs under Morsi, read out in a statement during the televised conference.
Full report at:
http://english.ahram.org.eg/NewsContent/1/64/100805/Egypt/Politics-/Egypt-Islamists-call-for-dialogue-with-revolutiona.aspx
----------
Lebanon's Army: Number of Surrendered Tripoli Militants Rises to 11
May 9, 2014
The Lebanon's army said on Friday that the number of fugitives linked to the deadly gun battles in the Northern city of Tripoli, who have handed themselves over to the military, has risen to 11.
An army communiqué released on Friday identity of seven of the suspects as Abdullah Abdul Qader Mansour, Abdullah Mohammed al-Hilweh, Hassan Mohammed Srour, Ali Ali Jarkas, Ahmed Khaled al-Abboud, Khaled Fadi Shalabi and Syrian Khaled Mahmoud Mustafa, Naharnet reported.
The other four were identified in a communiqué released on Thursday as Ziad Allouki, Saad al-Masri, Khaled Qawwas and Omar Mheish.
In Friday's statement, the army said it arrested Mustafa Ramadan Mustafa and Syrians Hilal Ali al-Sheikh and Ali Riyad Maarouf during raids it carried out in Tripoli's Jabal Mohsen neighborhood.
Full report at:
http://english.farsnews.com/newstext.aspx?nn=13930219000450
----------
Syrian Troops Attack Militant Groups in Idlib
May 9, 2014
The Syrian Army targeted insurgents' concentration centers and hideouts in several areas in Idlib countryside, killing and wounding too many rebels.
A military source told the State News Agency that the army soldiers targeted the militants' hideouts in Benin village in al-Zawiya Mount, killing and wounding a large number of them.
Terrorists Zidan Zineddin and Abdul Salam al-Santaly were identified among the killed anti-Syria fighters.
The source added that other army soldiers targeted militants' dens near the village of Daheriya in al-Rouge plain in Idlib countryside, killing and wounding a number of them.
Full report at:
http://english.farsnews.com/newstext.aspx?nn=13930219000414
----------
Syrian Army Storms Rebels' Dens in Damascus' Countryside
May 9, 2014
The Syrian Army targeted rebels' dens and gatherings in several towns and villages of Damascus Countryside, killing and wounding so many anti-government fighters in the battlefields.
A military source told the Syrian Arab News Agency that the army's operations in Deir al-Assafer farms and Zebdin in the Eastern Ghouta left so many militants killed and so many others injured.
Meantime, Syrian troops, in heaby clashes with insurgents in al-Mleiha farms, killed several foreign-backed fighters, including Bandar Mosleh al-M khref from Yemen, Lutfi al-Qala'a and Fawzi al-Bahri.
There was also a heavy clash between the Syrian soldiers and rebels in Joubar neighborhood where scores of rebels were killed and so many fled the battlefield.
Abdulrazzaq Saadeh and Abdullah al-Kilani , two rebel leader, were among the killed militants.
Full report at:
http://english.farsnews.com/newstext.aspx?nn=13930219000404
----------
Six sentenced to jail in Jeddah, lashes, fines for abetting terrorism
May 9, 2014
JEDDAH – A special criminal court in Jeddah sentenced six people to various prison terms and fines for engaging in or encouraging disruptive activities in the country, the Saudi Press Agency reported Thursday.
The first defendant was sentenced to five years in prison after he was found guilty of promoting articles and video clips of an individual who had been actively encouraging sedition and riots in the Al-Awamiya area of Qatif governorate on the Internet.
The second defendant was charged with participating in discussions on social networking websites persuading young men to stage anti-government protests. He also took part in the Al-Awamiya riots. He was sentenced to six years in prison and fined SR50,000.
Full report at:
http://www.saudigazette.com.sa/index.cfm?method=home.regcon&contentid=20140509204574
----------
Saudi Valentines get 32 years in jail
May 9, 2014
BURAIDAH — Five Saudi men were sentenced to a total of 32 years in prison and 4,500 lashes by a criminal court in Buraidah, Qassim province, for holding a Valentine Day party. They were arrested by members of the Commission for the Promotion of Virtue and Prevention of Vice (Haia) with the help of security patrols with six women on Feb. 14 at a rented rest house in Al-Farouq area of Buraidah. The men admitted to charges of illicit seclusion with unrelated women, dancing and drinking. Another judge will look into the charges against the six women.
http://www.saudigazette.com.sa/index.cfm?method=home.regcon&contentid=20140509204570
----------
S. Arabia trying to get N-technology: expert
May 9, 2014
ISLAMABAD: Mark Fitzpatrick, an expert on nuclear proliferation, renewed on Thursday fears of Saudi Arabia trying to get nuclear technology from Pakistan, saying retired Pakistani nuclear scientists could be recruited by the Saudis.
"It's pretty clear that Saudi Arabia may be looking for a nuclear neutraliser with Iran … so some Pakistani retired scientists could be asked for help," Mr Fitzpatrick, director of the non-proliferation and disarmament programme at the UK-based International Institute for Strategic Studies, said at the launching of his book 'Overcoming Pakistan nuclear dangers' at the Institute of Strategic Studies.
Full report at:
http://www.dawn.com/news/1105180/s-arabia-trying-to-get-n-technology-expert
---------
Syrian rebel leader unlikely to get weapons wish list from US
Reuters
May 9, 2014
The leader of the Western-backed opposition Syrian National Coalition, Ahmad Jarba, is in Washington seeking more advanced weapons, but US President Barack Obama is unlikely to fully comply with the wish list.
Israel, Jordan, and Iraq have probably let the US administration know they are opposed to a significant upgrading of opposition arms, worried they could fall into the hands of Islamist groups.
Obama is about as likely to arm the Syrian opposition as he is to embrace supply-side economics," Michael Rubin, a scholar at the American Enterprise Institute and a former Pentagon official, told The Jerusalem Post.
Full report at:
http://www.jpost.com/Middle-East/Syrian-rebel-leader-unlikely-to-get-weapons-wish-list-351762
----------
South Asia
Afghan Taliban to Launch Spring Offensive on Monday
May 9, 2014
KABUL- Taliban militants in Afghanistan today announced to launch their spring offensive within days.
"The spring operation code named, Khyber will be launched at 05:00 a.m. local time on Monday May 12, 2014 across Afghanistan against invading forces with the objective to get the country's freedom from infields," said a statement today posted on Taliban's website. Khyber is the name of one of the famous wars of Prophet Mohammad (PBUH) which happened in the seventh year of Prophet migration from Mecca to Medina that led to Muslims victory in the Arab peninsula.
A mountain pass linking Afghanistan and neighbor Pakistan also named Khyber. "All foreign invading forces, their spies, their interpreters, their civilian and military contractors and anyone supporting foreign invasion is legitimate targets and will be attacked," said the statement. "Ranking government officials, cabinet members, members of parliament, and security personnel, judges, prosecutors and members of security agency are legitimate targets," the statement said.
Full report at:
http://www.nation.com.pk/national/08-May-2014/taliban-to-launch-spring-offensive-on-monday
----------
19 Chinese groups to invest in Pakistan
May 9, 2014
KARACHI: The Industrial and Commercial Bank of China (ICBC) has assured its full support to Pakistan for economic development.
Nineteen major Chinese groups will serve in all various projects in energy, infrastructure development, trade and commerce, the ICBC said.
ICBC Group's Senior Executive Vice President Zheng Wanchun and other officials met State Bank's Deputy Governor Saeed Ahmad on Thursday.
The group has 17,245 branches in China and 329 institutions in 40 countries. It is conducting its business in Pakistan through its branches since August 2011 in Karachi and Islamabad. Its sales and service centre is located in Lahore.
Mr Zheng apprised the deputy governor that 19 major Chinese groups will be involved in the projects. "All these group companies are clients of ICBC in China," said Mr Zheng.
Full report at:
http://www.dawn.com/news/1105113/19-chinese-groups-to-invest-in-pakistan
----------
Afghan govt to hire KP manpower for reconstruction
May 09, 2014
Peshawar—Afghan Govt has decided to get benefit from services and experience of various social sectors of Khyber Pakhtunkhwa govt. Afghan govt has also decided to prefer manpower of KP, especially in reconstruction activities. Similarly it is decided to form a joint tripartite committee of the concerned authorities of Pakistan, Afghanistan and Khyber Pakhtunkhwa govts to meet regularly on monthly basis and sort out mutual issues and solve it accordingly as well as to explore ways and means to further cement friendship bonds on govts and peoples levels. Transit trade, control on Afghan illicit sims, security and maintenance of highways on both side of borders and others issues were also discussed and necessary decisions were taken.
Full report at:
http://pakobserver.net/detailnews.asp?id=240904
------
Afghan refugees enter fourth week of protests over asylum status in Turkey
May 9, 2014
Afghan refugees in Turkey entered their 25th day of protests outside the front of the headquarters of the U.N. Refugee Agency in Ankara on May 8, demanding their right to asylum and a fair application procedure.
Among the protesters were a group of 12 Afghans who launched a hunger strike by sewing their mouths together in order to denounce the inhumane conditions they have been put through.
Around 40 children are also living in makeshift tents alongside their families who are protesting against their conditions.
In a public statement, protesters stressed that the applications of some Afghan asylum-seekers had been suspended for one-and-a-half years.
"We do not accept such inattention and violations against the rights of Afghan refugees ... all over Turkey," the group said in a statement on May 6.
Full report at:
http://www.hurriyetdailynews.com/afghan-refugees-enter-fourth-week-of-protests-over-asylum-status-in-turkey.aspx?pageID=238&nID=66203&NewsCatID=341
----------
Taliban attack on Afghan police outpost wounds 11
May 9, 2014
KABUL: More than 100 Taliban fighters staged a large-scale attack Friday on a remote police checkpoint in western Afghanistan, wounding 11 police officers, authorities said.
The attack on the outpost in Bala Boluk district around 5 a.m. involved between 100 and 150 Taliban fighters, said Dilghan Khakrezwal, the deputy police chief in Farah province.
Militants captured a tank and a pickup truck after they forced around 25 police officers and army troops to briefly abandon the post. Some 70 police and army reinforcements were called in from provincial capital about 30 kilometers (20 miles) away to help repulse the attack.
Khakrezwal said 11 police officers were wounded in the fighting, while Taliban casualties included six killed and 18 wounded.
Full report at:
http://www.thenews.com.pk/article-147183-Taliban-attack-on-Afghan-police-outpost-wounds-11
----------
Pakistan
Fazlullah sacks Sajna as TTP chief of South Waziristan
May 09, 2014
Karachi- Banned Tehreek-e-Taliban Pakistan (TTP) Chief Mullah Fazlullah has sacked Khan Siad Sajna as Ameer of South Waziristan and Umar Khurasani would command the movement in both North and South Waziristan.
Hakeemullah Mehsud's group spokesman Daud Mehsud told Geo news from an unknown location that TTP's Vice Ameer Shaikh Khalid Haqqani has been made Ameer of South Waziristan Agency. Daud Mehsud said that they respect decisions taken by the proscibed TTP Chief Mullah Fazlullah.
http://www.nation.com.pk/national/09-May-2014/fazlullah-sacks-sajna-as-ttp-chief-of-south-waziristan
----------
Altaf demands decisive action against terrorists
May 9, 2014
LONDON- Muttahida Qaumi Movement (MQM) Chief Altaf Hussain said today that the government was busy negotiating with terrorists while terrorists were busy targeting the protectors of borders and ideology.
According to reports, the MQM chief in a statement offered condolences and expressed solidarity over the martyrdom of security personnel in an attack in Miranshah. He said that the government was busy negotiating terms with the terrorists on one hand; the ruthless terrorists are continuously targeting the protectors of the country on the other.
He said that the government should move towards a decisive action against terrorists, instead of the illusion of negotiation, if it wants nation's welfare and security. Altaf demanded president, prime minister, federal interior minister and chief minister Khyber Pakhtunkhwa to arrest the elements involved in the terrorist attacks. He demanded strict action against all the terrorists.
http://www.nation.com.pk/national/08-May-2014/altaf-demands-decisive-action-against-terrorists
----------
All Madrasas to Be Brought Into Mainstream: Minister
May 09, 2014
Islamabad—The Minister of State for Education, Trainings and Standards in Higher Education, Baleeghur Rehman has said that government is doing homework for introducing reforms in madrasas of the country.
Talking to VOA, Minister said that everyone has accepted the fact that worldly knowledge is also important along with religious education. He said that the Madrassa organizations have responded positively to the proposals of reform.
Madrasas belong to different schools of thoughts have been contracted and all of them expressed readiness to include modern subjects in the curriculum of religious education, said minister. The Minister added that all the madrasas will be brought into mainstream in two phases. He said that brining 1.5 crore children into the government schools is a challenge for the government.
Full report at:
http://pakobserver.net/detailnews.asp?id=240909
--------
Two killed in Quetta bomb blast
May 09, 2014
QUETTA - At least two people were killed and several others injured in a bomb explosion near Double Road here on Thursday.
According to police, at least five kilograms of explosives were planted in a motorcycle.
"One man killed on the spot and seven others including a woman sustained serious injuries in the explosion," police said, adding another injured succumbed to his injuries on the way to hospital.
The blast caused damage to five cars, three motorcycles and a rickshaw while windows of buildings in the area were shattered.
Following the blast the injured were shifted to Civil Hospital where three are said to be in a critical condition.
There was no immediate claim of responsibility for the attack.
http://www.nation.com.pk/national/09-May-2014/two-killed-in-quetta-bomb-blast
----------
Despite Kashmir dispute, India-Pak trade must go on: Pakistan high commissioner
Yudhvir Rana,TNN | May 9, 2014
AMRITSAR: While admitting that Kashmir was a major dispute between the neigbours, Pakistan high commissioner in India, Abdul Basit, opined that all contentious issues should be solved through a process of dialogue. Basit was here to inaugurate the "Pakistan Show" on Thursday.
"India and Pakistan agree that Jammu & Kashmir is an issue. Both want to resolve it through dialogue," he said. However, Basit feigned ignorance when asked about presence of India's one of the most wanted fugitives Dawood Ibrahim in Pakistan. "I think Dawood Ibrahim is an Indian citizen, why are you asking me this question? How can you say he is in Pakistan? We have no such information," he remarked when asked about Dawood.
Full report at:
http://timesofindia.indiatimes.com/india/Despite-Kashmir-dispute-India-Pak-trade-must-go-on-Abdul-Basit/articleshow/34854784.cms
----------
Balochistan: Grass-cutting row in small village claims 11 lives
May 9, 2014
QUETTA: At least 11 people were killed and five others injured in a tribal dispute over grass-cutting rights in a rural area of Balochistan, officials said on Friday.
The incident happened on Thursday evening in Jhal Magsi town, south of Quetta.
Disputes over water and grass for animal feed are not uncommon in arid, desolate Balochistan and as many people carry weapons, these disputes often turn violent.
"A member of the local Maachi tribe was shot dead over trespassing and cutting of grass by a member from Peecho tribe, which triggered a conflict," local administration official, Arbab Khan told AFP.
He said members of Maachi tribe entered a Peecho house and opened fire, killing eight people on the spot, while two more later died in hospital.
Another senior local administration official, Tariq Khan confirmed the incident.
http://tribune.com.pk/story/706258/balochistan-grass-cutting-row-in-small-village-claims-11-lives/
----------
North America
Nigerians in Boston rally to demand girls' safe return
May 9, 2014
Nigerians living in the Boston area rallied across from the State House Thursday to demand the safe return of more than 270 young girls who were kidnapped last month in their native country by the Islamic militant group Boko Haram.
More than two dozen demonstrators shouted chants including "Bring back our girls!" and "Destroy Boko Haram!" They also carried signs bearing slogans such as "Enough is Enough" and "Boko Haram is a Threat to the World."
Protesters read the names of several abducted children, who were kidnapped from a boarding school April 15 in the northeastern village of Chibok.
There were reports Tuesday of another 11 girls being taken from the villages of Warabe and Wala.
On Thursday, demonstrators in Boston shouted "Bring her back" each time the name of a kidnapped girl was read aloud. Fifty-three girls taken from the Chibok school have escaped, and 276 remain in captivity. At least two have died.
Full report at:
http://www.bostonglobe.com/metro/2014/05/08/nigerians-boston-condemn-boko-haram-kidnapping-more-than-young-girls/Gspa7KWsE34vdbUmUsvBYM/story.html
----------
'Hashtag Activists' Push Nigeria Kidnap Up World Agenda
May 9, 2014
Washington. Social media sites have exploded with urgent appeals to #bringbackourgirls, ramping up global awareness of the Nigerian schoolgirls kidnapped by Boko Haram extremists 24 days earlier.
The hashtag appeared 412,000 times on Twitter on Thursday alone, more than any other day since the April 14 mass abduction, keeping the topic firmly on Twitter's trending list throughout the day.
"Our prayers are with the missing Nigerian girls and their families. It's time to #BringBackOurGirls," wrote US First Lady Michelle Obama under a picture retweeted more than 48,000 times.
Full report at:
http://www.thejakartaglobe.com/international/hashtag-activists-push-nigeria-kidnap-world-agenda/
----------
US team arrives in Nigeria to help with hostage search: embassy
May 9, 2014
US experts have arrived in Nigeria to help rescue more than 200 schoolgirls being held hostage by Boko Haram Islamists, an embassy spokeswoman told AFP on Friday.
"They are here...the team is on the ground," Rhonda Ferguson-Augustus said, without specifying the precise make-up of the group.
US officials have previously said Washington would send military personnel as well as specialists from the Justice Department and the FBI.
Britain, France and China have also offered varying levels of assistance, including planning and coordination specialists as well intelligence and satellite imagery.
Speaking at the World Economic Forum in Nigeria's capital Abuja on Friday, President Goodluck Jonathan restated that his country was "totally committed to getting these girls back."
Full report at:
http://www.hurriyetdailynews.com/us-team-arrives-in-nigeria-to-help-with-hostage-search-embassy.aspx?pageID=238&nID=66232&NewsCatID=359
----------
U.S. faults both sides for collapse of Israeli-Palestinian talks
May 9, 2014
(Reuters) - Israeli and Palestinian leaders were unwilling to make the "gut-wrenching" compromises needed for peace, a top U.S. official said on Thursday, faulting both sides for the collapse of talks last month.
Offering his first public account of U.S. Secretary of State John Kerry's failed, nine-month effort to strike a peace deal by April 29, U.S. special envoy Martin Indyk made clear there was blame on both sides, citing Israeli settlement-building as well as the Palestinians' signing of 15 international conventions.
However, Indyk suggested talks may resume eventually, citing the start-and-stop example of former U.S. Secretary of State Henry Kissinger's ultimately successful 1975 effort to disengage Egyptian and Israeli forces in the Sinai.
Full report at:
http://uk.reuters.com/article/2014/05/09/uk-palestinian-israel-usa-idUKKBN0DP03X20140509
----------
US military worried as CIA plans to close its satellite bases in Afghanistan
May 09 2014
The US officials have said that the Central Intelligence Agency (CIA) is planning to close its satellite bases in Afghanistan and pull all its personnel back to Kabul by early summer.
The officials further added that the US military commanders were informed of the plan by CIA Director John Brennan in March.
"They are beginning their own retrograde and they kind of sprung it on the military, which is raising concern," a senior military official told The Los Angeles Times.
The US intelligence officials have said CIA would shutter operations outside Kabul due to the steady pullout of U.S. military forces that normally provide protection and logistical support for the network of intelligence-gathering outposts, which often are hidden inside U.S. military bases.
Full report at:
http://www.khaama.com/us-military-worried-as-cia-plans-to-close-its-satellite-bases-in-afghanistan-6082
----------
US congress slams Myanmar over abuses of Rohingya
May 9, 2014
WASHINGTON: The US House of Representatives has called on Myanmar to end persecution of Rohingya Muslims and other minorities, in the stiffest congressional criticism yet of the nation's reformist government.
The House approved the resolution late Wednesday after debating the plight of the 140,000 Rohingyas displaced during clashes with majority Buddhists in western Myanmar.
Lawmakers of both parties were strongly critical of the Myanmar government.
Republican Rep. Ed Royce accused Myanmar of systematically denying the Rohingya basic of human rights, while subjecting them to "unspeakable abuses."
Full report at:
http://www.arabnews.com/news/568066
-----------
India
US-based Muslim body condemns Assam violence, demands probe by SC judge
May 9, 2014
A US-based organisation of Indian Muslims has condemned the recent violence in Assam in which at least 32 people were killed and demanded an immediate enquiry headed by a Supreme Court judge.
Indian American Muslim Council (IAMC) claimed that the violence by NDFB(S) militants in two communally-sensitive districts of the state was directly related to the general election.
It said that divisive and hateful rhetoric demonising Assamese Muslims as "illegal immigrants" has been used to incite violence and advance a sectarian agenda.
"The mass killing of Assamese Muslims is the bitter harvest of the usual divisive politics espoused by Hindutva supremacists," said Ahsan Khan, IAMC president.
Full report at:
http://indianexpress.com/article/world/americas/us-based-muslim-body-condemns-assam-violence-demands-probe-by-sc-judge/
----------
NIA picked up UAE man, detained him, and then 'made him say' he came on his own
May 9, 2014
On May 4, Fahath Ahmed Azmi, son of UAE-based businessman Faizan Ahmed Sultan, was allowed to leave the NIA camp office in Chhawla, southwest Delhi, after he had signed an undertaking saying he had come to the office "at my own".
However, in a notice dated May 2, the NIA had informed Fahath that he was "required to attend" the office of the investigating officer the following day, as well as the day after, "for the purpose of answering certain questions".
The NIA claims that Fahath's father, Faizan Ahmed Sultan, is a "key logistics man" of the Indian Mujahideen (IM). According to the family, which originally belonged to Azamgarh in UP, both father and son were kept in custody for several weeks in Ajman, UAE, before being put on a plane to India.
Full report at:
http://indianexpress.com/article/india/india-others/nia-picked-up-uae-man-detained-him-then-made-him-say-he-came-on-his-own/
----------
Visitors, trade show participants suggest visa-free India-Pak travel
Yudhvir Rana,TNN | May 9, 2014
AMRITSAR: Indian and Pakistani nationals suggested doing away of the visa regime and heavy duties on import-export for the promotion of business and brotherhood between common citizens of both countries while speaking at opening of the trade exposition "Pakistan Show" in Amritsar.
Talking to TOI on Thursday, Pakistani businessman Hamid Akhtar said "Tizaarat jitni bhi ho kam hai, par mohabbat bahut honi chahyee (No matter how much you trade is less but there should be immense love)."
Hamid said with the efforts of both countries, a time had come when such shows were being held in respective countries. "But I dream of a time when Indians could simply drive their vehicles to Lahore and Pakistanis could also visit Amritsar," he said.
He suggested that to achieve that goal, Indian and Pakistani governments would have to do away with the visa regime. Akhtar also suggested that there should not be any duty on import-export of commodities among India and Pakistan. "You will see the huge quantum of trade if it is duty free," he remarked.
Full report at:
http://timesofindia.indiatimes.com/india/Visitors-trade-show-participants-suggest-visa-free-India-Pak-travel/articleshow/34854846.cms
----------
Pak builds memorial for 1921 gurdwara massacre
Yudhvir Rana,TNN | May 9, 2014
AMRITSAR: The Pakistan government has built a memorial for the victims of a massacre in 1921 inside the Nankana Sahib Gurdwara. First Sikh master Guru Nanak Dev was born in Nanakana Sahib and the memorial there is first of its kind in post-partition Pakistan.
Over a dozen people were killed during Gurdwara Reform Movement when Mahant Narayan Das and his mercenaries attacked 200 Sikh men, women and children on February 20, 1921 inside the Nankana Sahib Gurdwara. Mahant Das controlled the shrine's management and the Sikhs wanted to liberate it from him. Lachman Singh, who led the Sikhs, was later caught, tied to a tree and burnt alive along with other Sikhs.
Full report at:
http://timesofindia.indiatimes.com/india/Pak-builds-memorial-for-1921-gurdwara-massacre/articleshow/34844351.cms
---------
Europe
UN praises Algeria for appointing seven female ministers
May 9, 2014
A regional branch of the United Nations for Women praised Algeria's government for appointing seven female ministers to its cabinet, calling the move "historical" and a "role model" for neighbouring Arab countries.
The seven women were appointed after a cabinet reshuffle, following Algerian President Abdel-Aziz Bouteflika's re-election.
In a statement released on Thursday, Samira El-Tewegry, regional director for the Arab States of the United Nations for Women, expressed her "pride and gladness" regarding such an unprecedented step among all Arab governments.
"The decision is historical; Algeria has never appointed such an amount of females in its executive branch," she said.
The statement further stressed the UN's beliefs in equality and women's empowerment and argued that Algeria has established itself as "a role model for other Arab countries."
The high representation of women in Algeria's government – 20 percent of all ministerial positions – is even unprecedented on regional and international levels, the statement noted.
According to UN Women, most of the female ministers in the new cabinet signify "new faces" in the Algerian political arena.
Full report at:
http://english.ahram.org.eg/NewsContent/2/8/100803/World/Region/UN-praises-Algeria-for-appointing-seven-female-min.aspx
----------
Tajik Policeman Detained For Propagating Extremist Form Of Islam
May 09, 2014
A Tajik policeman from the northern region of Sughd has been arrested for propagating a strict Salafi form of Islam banned in Tajikistan.
Captain Sharif Mirov, 40, is facing a charge of inciting ethnic, racial, and religious hatred.
Mirov's lawyer, Rahmonali Rajabov, told RFE/RL that his client had been arrested in the southern city of Kulob on May 6.
It is believed to be the first time that a Tajik police officer has been arrested for propagating the ideas of Salafi Islam.
Last month, the chairman of Tajikistan's Islamic Scholar's Council, Saidmukarram Abdukodirzoda, publicly expressed concerns over the "increasing number of the followers of Salafi Islam and Shi'a Islam" among the country's officials.
Ninety-five percent of Tajikistan's population of 8 million are Sunni Muslims, while 3 percent are Shi'a Muslims.
http://www.rferl.org/content/tajik-policeman-detained-for-propagating-extremist-form-of-islam/25379002.html
---------
Kyrgyz foreign ministry condemns violence along Tajik-Kyrgyz border
May 09, 2014
Kyrgyz Foreign Ministry has condemned the violence which took place along the Tajik-Kyrgyz border on May 7.
Tajik Ambassador to Kyrgyzstan Olim Rahimov was recalled to the ministry and the note of the protest of Kyrgyzstan was handed over to him.
During the meeting, the Kyrgyz Foreign Minister called for taking relevant measures to identify and punish the perpetrators of the violence and compensate for the material damage to the Kyrgyz citizens.
On May 7 a clash occurred between the two countries' citizens on the Tajik-Kyrgyz border on a motor road running from the Isfara town to the municipality of Vorukh near the Kyrgyz village of Kuktosh.
Full report at:
http://www.azernews.az/region/66898.html
---------
Azerbaijan: Sumgayit Becomes Font of Syria-Bound Jihadists
May 09, 2014
There are few outward signs to indicate the Azerbaijani city of Sumgayit, a Soviet-era hub for the petro-chemical industry, is a seedbed of Islamic militancy. Shops and restaurants sell alcohol, and residents dress casually.
But, according to police, this smokestack city of 400,000, some 35 kilometers outside of the capital, Baku, is a major source of Azerbaijani Muslims who go to fight, and often die, in Syria's civil war.
Thirty-six-year-old Sumgayit resident Rasul (last name withheld at his request), knows firsthand the reality of Sumgayit's reputation. In 2013, his younger brother, Zaur, then 32, was killed along with five other people during a Syrian army attack on rebels near Aleppo. News of Zaur's death reached Rasul via an Azerbaijani TV report, which showed his ID card and identified him as the commander of a group of international mercenaries.
Full report at:
http://www.eurasianet.org/node/68341
------
Ukrainian Jews form defence force to combat anti-Semitic attacks
May 9, 2014
Ukrainian Jews with combat skills formed a rapid intervention force to stop anti-Semitic attacks.
The force, which was set up in recent weeks, currently is made up of eight men who served in the Ukrainian or Israeli armies or have martial arts skills, the team's founder, Tzvi Arieli, told JTA Thursday.
The defenders are armed with baseball bats that an American donor whose family hails from Kiev sent the team, he added. "We are trying to raise funds for bullet-proof vests which would greatly increase safety if the situation escalates," said Arieli, a Latvia-born former soldier of a Special Forces unit in the Israel Defense Forces who lives in Ukraine.
Arieli said he set up the task force — which now has its own Facebook page – at the request of Rabbi Yaakov Dov Bleich, a chief rabbi of Ukraine, following a series of anti-Semitic attacks that occurred in Kiev and beyond in the wake of a bloody revolution that erupted in November over former Ukrainian President Viktor Yanukovych's alleged corruption and perceived allegiance to Russia.
Full report at:
http://www.jpost.com/Jewish-World/Jewish-News/Ukrainian-Jews-form-defense-force-to-combat-anti-Semitic-attacks-351701
----------
Syria still has chemicals for 'many nerve gas attacks': Britain
May 9, 2014
Syria still has chemicals to make enough nerve agent to replicate last August's deadly attack outside Damascus "many times over", Britain warned the world's chemical watchdog on Thursday.
Britain's deputy delegate to the Organisation for the Prohibition of Chemical Weapons (OPCW), which is charged with destroying President Bashar al-Assad's chemical weapons, accused Syria of delaying the destruction of its chemical weapons.
Damascus has so far handed over more than 92 percent of its arsenal.
"Syria continues to possess approximately 100 metric tonnes of material" at one site, the delegate told a meeting of the OPCW's Executive Council, according to a copy of the briefing seen by AFP.
Full report at:
http://english.ahram.org.eg/NewsContent/2/8/100828/World/Region/Syria-still-has-chemicals-for-many-nerve-gas-attac.aspx
----------
Russian arms may land into terrorist hands
May 09, 2014
Islamabad—According to reports reaching here Indian intelligence officials in collaboration with some elements inside Afghanistan have began arming anti-Pakistan terrorists with Chinese machine guns and rockets.
Afghan sources have confirmed that militants in Nuristan and Kunar had received delivery of foreign arms but did not provide details how and when.
Area experts believe that the purpose of delivery of such arms to the militants was to prove that the militants had received such arms from Pakistan itself. However, one expert noted that the examination of two rockets fired at Peshawar Airport during last week of April 2014 confirmed that the short-range rockets were of Chinese origin.
Full report at:
http://pakobserver.net/detailnews.asp?id=240820
-----------
Mideast
Former PM Barak: US could destroy Iran's nuclear program in 'fraction of one night'
May 9, 2014
WASHINGTON – An American military attack against Iran's nuclear facilities would take a "fraction of one night" to complete should US President Barack Obama choose to order one, former prime minister Ehud Barak said in Washington on Thursday.
Speaking to the Washington Institute for Near East Policy, Barak said such an attack would be easier for the United States than last year's planned campaign against Syrian President Bashar Assad's chemical weapons infrastructure.
"It's a simpler operation to get rid of the [Iranian] arsenal," Barak said.
Nevertheless, he issued a harsh condemnation of the White House, charging that Obama had changed the goal posts on what he would find acceptable from Tehran.
"The American administration changed its objective from no nuclear military Iran to no nuclear military Iran during the term of this administration," Barak said, adding that the US "is perceived to have been weakened" over the last several years.
Full report at:
http://www.jpost.com/Iranian-Threat/News/Barak-US-could-destroy-Irans-nuclear-program-in-fraction-of-one-night-351740
----------
Livni: Settlements delegitimize Israel on int'l stage
May 9, 2014
Justice Minister and chief negotiator Tzipi Livni (Hatnua) condemned the settlements in undermining Israel and contributing to "the delegitimization of Israel in the eyes of the world" in an interview with Army Radio Friday morning.
"They want to prevent us from living here in a reasonable manner, and are opposed to the values of the State of Israel. Politically, they are the ones who will prevent us from reaching an agreement [in peace negotiations]," said Livni.
Her sentiments echoed those of US special envoy Martin Indyk's from his Thursday night speech.
"Rampant settlement activity– especially in the midst of negotiations— doesn't just undermine Palestinian trust in the purpose of the negotiations, it can undermine Israel's Jewish future," he said. "If this continues," he added, "it could mortally wound the idea of Israel as a Jewish state. And that would be a tragedy of historic proportions."
Full report at:
http://www.jpost.com/Diplomacy-and-Politics/Livni-Settlements-delegitimize-Israel-on-intl-stage-351776
----------
Meeting Abbas, Rice outlines 'constructive' path forward for peace with Israel
May 9, 2014
WASHINGTON -- Any power-sharing Palestinian government must recognize the state of Israel, renounce violence and adhere to previous agreements, whether it includes Hamas or not, US National Security Advisor Susan Rice told Palestinian President Mahmoud Abbas during their meeting in Ramallah on Thursday.
According to the White House, Rice made "clear... the principles that must guide a Palestinian government in order for it to play a constructive role in achieving peace and building an independent Palestinian state."
"She reiterated US policy that any Palestinian government must unambiguously and explicitly commit to nonviolence, recognition of the State of Israel, and acceptance of previous agreements and obligations between the parties," the White House said in a statement after the meeting.
Full report at:
http://www.jpost.com/Middle-East/Meeting-Abbas-Rice-outlines-constructive-path-forward-for-peace-with-Israel-351756
----------
Turkish PM Erdoğan's steps 'not enough,' Greek Orthodox Patriarch says
May 9, 2014
Bartholomew I, spiritual leader of 250 million Orthodox Christians, praised Turkish Prime Minister Recep Tayyip Erdoğan for improving rights for Christians, but added pointedly, "it is not enough."
In an interview with The Associated Press in his Istanbul office, Bartholomew expressed disappointment that Erdoğan had not re-opened the Theological School of Halki, the Orthodox Church's most important seminary.
Bartholomew had himself spent seven years as a student and another four more as an assistant to the dean at the grounds on an island in the sea of Marmara. The school, whose doors were closed in 1971 under a Turkish law that required private higher education to be controlled by the state, have been meticulously maintained since, in case students are allowed to return. Many expected that the seminary would be reopened last year as part of a package of reforms aimed at boosting minority rights in Turkey.
Full report at:
http://www.hurriyetdailynews.com/turkish-pm-erdogans-steps-not-enough-greek-orthodox-patriarch-says.aspx?pageID=238&nID=66215&NewsCatID=393
----------
Turkey and Israel have substantially overcome problems, Turkish FM says
May 9, 2014
Compensation talks between Turkey and Israel have reached "a certain level" and "problems have been substantially overcome," Turkish Foreign Minister Ahmet Davutoğlu said, referring to negotiations between the two countries over the Mavi Marmara incident in which Israeli soldiers killed nine Turks in 2010.
"Our colleagues are continuing the talks. I'd like to underline that we have seen positive developments," Davutoğlu said on May 8, speaking during a press conference with Tanzanian Foreign Minister Bernard Membe.
Citing Turkey's preconditions for normalization of relations with Israel, he mentioned "lifting restrictions on the whole of Palestine, including Gaza," an apology for the 2010 Mavi Marmara incident, and compensation for the victims of the incident.
Full report at:
http://www.hurriyetdailynews.com/turkey-and-israel-have-substantially-overcome-problems-turkish-fm-says-.aspx?pageID=238&nID=66183&NewsCatID=510
-----------
Southeast Asia
Implement hudud for all, not only Muslims, says Isma
May 9, 2014
A Muslim rights group today upped the ante against non-Muslims by saying that the Islamic penal code should apply to all Malaysians, not only Muslims.
Abdullah Zaik Abdul Rahman, president of Ikatan Muslimin Malaysia (Isma), said hudud should be carried out for the country's "well-being", adding that criminals would then be fearful of committing crimes.
"Yes, it should be for all. For Muslims, it is for the forgiveness of sins. And for the non-Muslims, it is in national interests and to safeguard the public," he told a press conference in Bangi.
Giving an example, he said if Malays stole from the Chinese, it would be the same as the Chinese stealing from the Malays.
"So with this, Chinese cannot steal from the Malays and vice versa. And it is not fair if only one race gets punished for stealing and the other doesn't."
Full report at:
http://www.themalaysianinsider.com/malaysia/article/implement-hudud-for-all-not-only-muslims-says-isma
------------
Malaysia investigates suspected Al-Qaeda activity after arrest of Somali
May 9, 2014
Malaysian police are investigating whether Al-Qaeda linked Somali rebels were seeking to set up a base in the Southeast Asian country after a suspected insurgent was arrested, a source with knowledge of the investigation said Friday.
Yesterday, police said they detained a 34-year-old Somali man in Kuala Lumpur who was wanted by Interpol for alleged links to Shebab rebels blamed for a string of violent attacks in East Africa.
Police have also been tracking five others, most of whom entered Malaysia on student visas, said the source who spoke on condition of anonymity.
Some of those five have since left the country, the source said, adding that an investigation was ongoing and more arrests could be announced.
Police deputy inspector-general Datuk Seri Bakri Zinin (pic) first announced the arrest of the Somali man late yesterday.
"The police are investigating the detainee's activity in Malaysia to find out if there are other Al-Shebab-linked terrorists who may be hiding or carrying out activities that can be etrimental to Malaysia's security," he said.
Full report at:
http://www.themalaysianinsider.com/malaysia/article/malaysia-investigates-suspected-al-qaeda-activity-after-arrest-of-somali
----------
URL: https://www.newageislam.com/islamic-world-news/new-age-islam-news-bureau/boko-haram-insurgents-are-not-for-islam-—muslim-rights-concern/d/76942