New Age Islam News Bureau
7 Oct 2014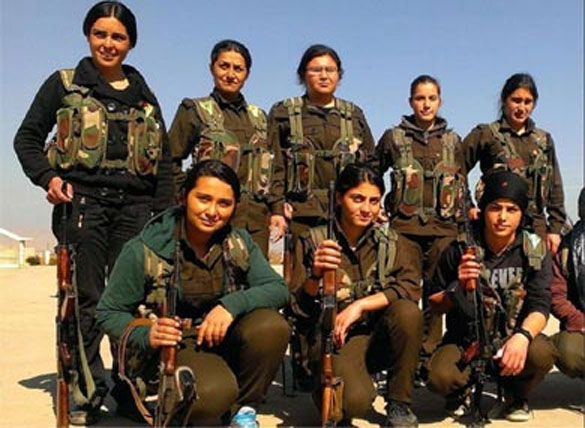 Female Kurdish fighters in Syria
----------
Africa
• Boko Haram Extremists Behead 7 Muslims on Eid Al-Adha
• Libya's Islamist Militants Parade with ISIS Flags
Arab World
• Syrian Kurds Give Women Grenades in Last-Ditch Defence against Islamic State
• Twin blasts kill 30 Kurdish fighters in Syria: Monitor
• Suicide car bomb attack kills 17 in Iraq
• Egyptian army kills 17 militants in Sinai
• Islamic State militants using some U.S.-made ammunition
• Ex-French agent is Syria jihadist, report says as Paris denies
• Crime and gangs: the path to battle for Australia's Islamist radicals
• Egypt's Sisi demands Turkish Cypriots removed from OIC
• Qaeda-linked rebels seize priest in Syria: Franciscan Order
• Syrians, Lebanese produce wine in ferment of war
Mideast
• ISIL raises flag in eastern Kobane; Kurds say town has not fallen
• Turkey cracks down on oil smuggling linked to ISIS
• Israel leaders say Jerusalem to remain 'state capital'
• Kobane is about to fall, says Erdoğan, calls for no-fly zone and safe havens
North America
• Haj: I Was With God Alone, Crowds Did Not Bother Me
• Ben Affleck Defends Muslims on US TV Talk Show
• FBI: Militants may be working on plan to strike U.S.
• Canada pledges Can$10 million for IS victims
• US concerned over Pakistan, India border skirmishes
Southeast Asia
• Datuk Zaid: Malaysia's Islam Just as Violent as IS Beheadings
• PAS MP says Muslims can't dictate what non-Muslims consume
• Isma says Jewish, Christian interests will lead 'new government' if Sedition Act goes
• Don't deport, international law protects Uighurs, lawyer group tells Putrajaya
India
• Boycott Chinese Products, Says Prominent Cleric in Eid Sermon
• Police Book Two Dozen People for Raising Anti-India and Pro-ISISI Slogans in J&K
• Ceasefire violation: Times have changed, Home Minister warns Pakistan
South Asia
• 19 Taliban militants killed during clearing operations, MoI says
• Japan student suspected of trying to join ISIS
• Taliban spokesman accidentally reveals his location on Twitter
• PM Sheikh Hasina: Ongoing peace brightens Bangladesh's image
Europe
• Uzbek Militants Declare Support For Islamic State
• Former French FM Criticizes West's Wrong Policies in Middle-East
• IS, Al-Qaeda Tarnishing Image Of Islam, Says Belgian Convert
• Germany Wants To End Borderless Travel in Europe to Stop Islamic Fighters
• Counter-terror police raid Islamic academy in London with links to extremists
• Kurds in Netherlands storm parliament in protest against fighters of IS attacking Kobane
Pakistan
• TTP says backs all Syria militants, not just Islamic State
• Seven suspected militants killed in North Waziristan drone attack
• Editor-in-Chief The Frontier Post Rehmat Shah Afridi Arrested
• Attacks on mosque, seminary leave two dead in Quetta
• '14,000 Fata men to join Pakistan Army'
• Negotiation with govt useless if Nawaz refuses to step down: Imran
• Pakistani Talban's support to ISIS spreads fear among religious minorities
Compiled by New Age Islam News Bureau
URL: https://www.newageislam.com/islamic-world-news/new-age-islam-news-bureau/boko-haram-extremists-behead-7-muslims-on-eid---al-adha/d/99413
----------
Africa
Boko Haram Extremists Behead 7 Muslims on Eid Al-Adha
07 Oct, 2014
Boko Haram extremists decapitated seven Muslims in the remote Northeast of Nigeria, media reports said.
The violence came as Nigerian Muslims marked the Eid al-Adha (the Feast of Sacrifice) festival, a public holiday in the country. Most Islamic holidays in recent years have been marred by the Takfiri group, AFP reported.
The overnight raid targeted the town of Ngamdu in troubled Borno state, the area hardest hit in the extremists'' five-year uprising.
In recent months, Boko Haram Takfiris have targeted reprisal attacks at locals who have fought alongside the military as vigilantes.
The terrorists are thought to be in control of more than two dozen towns and villages in the Northeast, but the military has vowed to retake all lost ground as part of a continuing offensive launched in May of last year.
Muslims traditionally celebrate Eid al-Adha, one of the most important religious feasts, with the sacrifice of animals like sheep, rams, goats and cattle.
The act commemorates Prophet Abraham's (PBUH) submission to divine order to sacrifice his son, Ismail (PBUH). However God provided Prophet Abraham with a ram to sacrifice instead after he successfully passed the divine test.
http://english.farsnews.com/newstext.aspx?nn=13930715000336
----------
Libya's Islamist Militants Parade with ISIS Flags
07 Oct, 2014
Libya's Islamist militant group Ansar al-Shariah has declared an "Islamic emirate" in the eastern city of Derna and pledged allegiance to Islamic State of Iraq and Syria (ISIS), according to media reports coming out from the North African Country.
A video posted on YouTube shows a military parade in Derna with militants holding ISIS flags and shouting pro-ISIS ISIS slogans.
Ansar al-Shariah, accused by Washington of killing U.S. Ambassador Christopher Stevens at the U.S. consulate in Benghazi in 2012, held a rally on Sunday the city's so-called "companions square" where it announced allegiance to ISIS, which declared an Islamic caliphate in parts of Syria and Iraq.
On Saturday, the Libyan national army bombed positions of the militant group in Deran, reportedly killing several.
Ansar al-Shariah is also active in the eastern city of Benghazi, the cradle of the uprising against former strongman Muammar Qaddafi.
Benghazi is now regularly the scene not only of fighting but also the murders of members of the security forces, political activists and journalists.
Libya has been sliding into chaos since Qaddafi's ouster three years ago, with interim authorities confronted by powerful militias that fought to oust him.
http://english.alarabiya.net/en/News/africa/2014/10/06/Video-Libya-s-Islamist-militants-parade-with-ISIS-flags.html
----------
Arab World
Syrian Kurds Give Women Grenades in Last-Ditch Defence against Islamic State
October 7, 2014
Islamic State forces are trying to oust the Kurdish defenders of Kobane, a Syrian town on the border with Turkey. News agencies have posted photographs showing the militants apparently raising their flag in the town, which Turkey had vowed to defend.
Fighting around Kobane is turning increasingly desperate, as the forces of the self-declared Islamic State threaten to overrun the Syrian border town's Kurdish defenders.
Syrian Kurdish official Idris Nahsen told Agence France-Presse that IS forces are within a kilometre of the town to the south, but their latest attempt to advance had been repulsed by Kurdish forces. Although airstrikes by US-led coalition forces had helped slow the IS advance on Saturday, Mr. Nahsen said airstrikes alone would not be enough to break the siege on Kobane.
NBC News reports that the situation is becoming desperate in Kobane, where civilians of all ages are being recruited to help with the town's defence.
"Everybody is fighting in Kobani. There are women my age who have been given hand grenades to throw," said 63-year-old Alife Ali, as she waited in the hospital, a small child in her arms. "Our people dug a [16 feet] deep and wide ditch around the town to protect it. We will fight to the last person." Hassan waited anxiously outside a room for a 20-year-old female relative, wounded in the fighting. "She took up arms," he said. "They gave her a gun though she had no experience." His mother, sitting next to him, said of ISIS: "God curse them. They are worse than monsters. Look at what they did to our people."
According to the London-based Syrian Observatory for Human Rights, a female suicide bomber was among those who engaged IS forces, killing herself at an IS post on Sunday. The Observatory told AFP that is was the first time that such a tactic has been used by Kurdish fighters against the Islamic militants. Nahsen confirmed to AFP that the bombing had taken place, though he did not say whether it would be repeated. "I don't know. It is related to the situation. We don't have this strategy," he said.
The BBC reports that the Kurds in Kobane are angry that they have yet to receive help from Turkey, which promised last week that it would prevent the town from falling to the IS advance. Turkey has yet to act beyond patrolling the border, however. Turkish forces did deploy tear gas Monday against crowds of observers and reporters who had gathered along the border. The BBC's Paul Adams reports that one of the gas canisters shattered their vehicle's rear windshield and set the van on fire briefly.
The Christian Science Monitor reported last week that Turkey's apparent reluctance to act may stem from fears of fuelling a resurgence of Kurdish separatism, which it has long tried to suppress. The Monitor notes that the Turkish government has been negotiating a peace deal with the Kurdistan Workers Party (PKK), an outlawed Kurdish militant group, but that deal is now in jeopardy.
In return for expanded freedoms, the government wants the PKK to lay down its arms. But the strife in Kobane could put those talks at risk. Last week Murat Karayilan, a high-ranking commander in the PKK, told a Kurdish TV station that peace negotiations with the Turkish government were "finished."
"The cease-fire and the peace process is in a very fragile situation," Ertugrul Kurkcu, a member of Parliament for the pro-Kurdish Peace and Democracy Party, the political affiliate of the PKK, tells The Christian Science Monitor.
"The state of the cease-fire is not only determined by the situation in Turkey, but the situation in the entire Kurdish nation," Mr. Kurkcu says, alluding to the Kurdish-populated region of Syria, referred to by Kurds as Rojava.
Cenk Sidar, CEO of Sidar Global Partners, a Turkey-focused political and strategic risk consultancy firm, told the Monitor that "The perception that the Turks weren't quickly willing to help the Kurds in Kobane has created a trauma in Kurdish minds and it will be very hard to restore trust." If Kobane falls to IS forces, Mr. Sidar said, "The peace process will be over."
http://news.yahoo.com/syrian-kurds-women-grenades-last-ditch-defense-against-130646455.html
----------
Twin blasts kill 30 Kurdish fighters in Syria: Monitor
07 Oct, 2014
Twin truck bombings by jihadists killed at least 30 Kurdish People's Protection Units (YPG) fighters and security officers on Monday in Syria's northeastern town of Hasakeh, a monitoring group said.
"At least 30 members of the YPG and asayesh were killed when two Islamic State suicide bombers detonated their trucks at the northern entrance to Hasakeh," Syrian Observatory for Human Rights chief Rami Abdel Rahman told AFP.
The IS bombers targeted two YPG and asayesh positions including a training camp in Hasakeh, capital of the Kurdish-majority province of the same name.
Control of the town is split between Kurdish forces and those loyal to Syrian President Bashar al-Assad.
Monday's twin bombings came as IS fighters press their assault on the embattled Kurdish town of Kobane on the border with Turkey.
The jihadists have been trying since September 16 to conquer the town, which would complete their control over a lengthy stretch of Syria's border with Turkey.
http://english.ahram.org.eg/NewsContent/2/8/112468/World/Region/Twin-blasts-kill--Kurdish-fighters-in-Syria-Monito.aspx
----------
Suicide car bomb attack kills 17 in Iraq
07 Oct, 2014
SA: A suicide bomber rammed an explosives-laden armoured vehicle into houses used by Shia militiamen north of the Iraqi city of Samarra, killing at least 17 people, police and medical sources said Tuesday.
The attack took place in Abbasiya, around 15 kilometres (nine miles) north of Samarra, on Monday evening and completely destroyed two houses, the sources said.
Thirteen people were also wounded.
"The destruction was huge. Those homes were by the (Tigris) river and had been requisitioned by the militiamen to use as an observation post," the police officer said.
He said the militiamen were monitoring the river to prevent Islamic State jihadist fighters coming from the east from crossing over to the west bank.
The main road leading from Baghdad to the north of the country runs through Samarra on the west bank of the Tigris.
Samarra is a mainly Sunni city that is home to one of the holiest Shia Muslim sites in Iraq which is guarded by large contingents of Shia militiamen.
http://www.dawn.com/news/1136598/suicide-car-bomb-attack-kills-17-in-iraq-police-doctor
----------
Egyptian army kills 17 militants in Sinai
7 October 2014
Egypt's armed forces killed 17 members of the al-Qaeda-inspired Ansar bait al-Maqdis during an anti-terror security operation in Sinai, the military said.
Four leading members of the group, which has claimed a wave of attacks against security forces, were arrested during the operations, which were still underway early Tuesday, The Associated Press reported.
The assault was carried out against militant hideouts in three villages south of the town of Sheikh Zuweyid and in the Mahdiya village near Rafah, which is on the border between Egypt and the Gaza Strip. The officials spoke on condition of anonymity because they are not authorized to brief the media.
Ansar Beit al-Maqdis has claimed most of the major militant attacks in Egypt since the 2013 ouster of Islamist President Mohammed Morsi. It has also recently beheaded several people it accused of spying for Israel.
http://english.alarabiya.net/en/News/middle-east/2014/10/07/Egyptian-army-kills-17-militants-in-Sinai.html
----------
Islamic State militants using some U.S.-made ammunition
October 7, 2014
Islamic State fighters in Iraq and Syria have been using bullets manufactured in the United States and 20 other countries, a new report from a weapons tracking research group says.
About 20 percent (323) of 1,730 cartridges recovered by Kurdish forces were made in the United States — and appear to have been taken from Iraq, according to a report published by the Conflict Armament Research group.
"IS forces appear to have acquired a large part of their current arsenal from stocks seized from, or abandoned by, Iraqi defense and security forces," the report said. The analysis represents a small sample of the ammunition used by the militant group's fighters — and is limited to bullets from self-loading pistols, machine guns and submachine guns, and assault rifles.
Full report at:
http://news.yahoo.com/isis-use-bullets-made-in-usa-140928571.html
----------
Ex-French agent is Syria jihadist, report says as Paris denies
October 7, 2014
Paris (AFP) - A former French intelligence officer who defected to Al-Qaeda was targeted by US air strikes in Syria last month, US media reported Monday, in an account promptly denied by Paris.
The alleged defector was associated with Al-Qaeda militants in Syria suspected of plotting to smuggle non-metallic bombs aboard passenger aircraft bound for Western countries, ABC television reported, citing two unnamed intelligence officials.
The targeting of the defector was first reported by the McClatchy news service.
According to the reports, European intelligence sources describe the former agent -- who allegedly defected from either French military intelligence services or the country's foreign spy agency the DGSE -- as the "highest ranking defector ever to go over to the terrorist group."
Full report at:
http://news.yahoo.com/ex-french-agent-syria-jihadist-report-says-paris-211850384.html
----------
Crime and gangs: the path to battle for Australia's Islamist radicals
October 7, 2014
SYDNEY (Reuters) - The children of refugees who fled Lebanon's civil war for peaceful Australia in the 1970s form a majority of Australian militants fighting in the Middle East, according to about a dozen counter-terrorism officials, security experts and Muslim community members.
Of the 160 or so Australian jihadists believed to be in Iraq or Syria, several are in senior leadership positions, they say.
But unlike fighters from Britain, France or Germany, who experts say are mostly jobless and alienated, a number of the Australian fighters grew up in a tight-knit criminal gang culture, dominated by men with family ties to the region around the Lebanese city of Tripoli, near the border with Syria.
Not every gang member becomes an Islamic radical and the vast majority of Lebanese Australians are not involved in crime or in radicalism of any sort. Australian Muslims say they are unfairly targeted by law enforcement, especially after the surge in fighting in Iraq and Syria, and that racial tensions are on the verge of spiralling out of control.
Still, there is a clear nexus between criminals and radicals within the immigrant Lebanese Muslim community, New South Wales Deputy Police Commissioner Nick Kaldas told Reuters.
"It is good training," said Kaldas, himself an immigrant from Egypt and a native Arabic speaker.
Full report at:
http://news.yahoo.com/crime-gangs-path-battle-australias-islamist-radicals-032523137.html
----------
Egypt's Sisi demands Turkish Cypriots removed from OIC
World Bulletin / News Desk
07 Oct, 2014
Egypt's post-coup president Abdal-Fattah al-Sisi has demaned that the Organization of Islamic Cooperation (OIC) remove the term 'Turkish Cypriot State' in reference to the unrecognized Turkish Republic of Northern Cyprus (TRNC), which has observer status within the organization.
Speaking at an OIC meeting in New York, al-Sisi insisted that any reference to the "Turkish Republic of Northern Cyprus or Turkish Cypriot State" was unacceptable and was ultimately the reason for not adopting any resolutions or conclusions.
His comments were supported by the United Arab Emirates and Iran, who along with Egypt were thanked by the Greek Cypriot Foreign Minister Ioannis Kasoulides for expressing their opposition to what the Greek Cypriot administration deems to be an illegal occupation of the northern half of the island.
However, Turkey and the Turkish Republic of Northern Cyprus wasted no time in rebuffing his argument, as Turkey's representative to the UN Yasar Halit Cevik said: "Any nation that has a problem with Turkey should resolve it with Turkey. An attack on the Turkish Cypriot people is not acceptable."
Full report at:
http://www.worldbulletin.net/headlines/145743/egypts-sisi-demands-turkish-cypriots-removed-from-oic
---------
Qaeda-linked rebels seize priest in Syria: Franciscan Order
07 Oct, 2014
A Franciscan priest and several Christians have been seized by Al-Qaeda affiliate Al-Nusra Front in a village in northwestern Syria, the Franciscan mission to the Holy Land said on Tuesday.
"On the night of October 5th, Father Hanna Jallouf of the Custody of the Holy Land, parish priest at Qunyeh, Syria, was taken by some brigades linked to Jabhat Al-Nusra," a statement from the Custody of the Holy Land said.
http://english.ahram.org.eg/NewsContent/2/8/112510/World/Region/Qaedalinked-rebels-seize-priest-in-Syria-Francisca.aspx
----------
Syrians, Lebanese produce wine in ferment of war
07 Oct, 2014
In his high-rise office in Beirut, Sandro Saade carefully chews a merlot grape from a vineyard hundreds of miles away in war-ravaged Syria, trying to determine if it is ripe enough to order the start of the harvest.
It's too dangerous for him to travel to the vineyards of Domaine de Bargylus, which is nestled in verdant hills where wine has been produced since ancient times. But despite the bloody conflict and the threat of Islamic extremists, he is determined to produce world-class wines, and to help preserve a Levantine cosmopolitanism imperiled by decades of war.
In Syria and Lebanon, boutique wineries mainly run by Christians have endured despite decades of unrest and the fact that Islam - the majority faith in the region - forbids both the production and consumption of alcohol. The challenges have mounted since the eruption of Syria's conflict in 2011 and the rise of the Islamic State extremist group and other jihadist organizations.
Full report at:
http://www.hurriyetdailynews.com/syrians-lebanese-produce-wine-in-ferment-of-war.aspx?pageID=238&nID=72591&NewsCatID=344
----------
Mideast
ISIL Raises Flag In Eastern Kobane; Kurds Say Town Has Not Fallen
Oct 07 2014
Militants of Islamic State of Iraq and the Levant (ISIL) raised their flag on a building on the eastern outskirts of the Syrian border town of Kobane on Oct. 6 after an assault of almost three weeks, but the town's Kurdish defenders said they had not reached the city centre.
A black flag belonging to ISIL was visible from across the Turkish border atop a four-storey building close to the scene of some of the most intense clashes in recent days.
Another flag was also seen being planted by a man on the crest of a hill on the eastern edge of the town.
http://www.hurriyetdailynews.com/isil-raises-flag-in-eastern-kobane-kurds-say-town-has-not-fallen.aspx?pageID=238&nID=72608&NewsCatID=352
------------
Turkey cracks down on oil smuggling linked to ISIS
07 Oct, 2014
Sevda, a 22-year-old waitress in a brown apron, recounts how she made a small fortune running smuggled diesel from a village on Turkey's wild and dangerous border with Syria. But the days when she could earn 20 times her salary waiting tables came to an abrupt end several months ago when police arrested her and slapped her employers with a massive fine.
The smuggled fuel came from oil wells in Iraq or Syria controlled by militants, including the Islamic State of Iraq and Syria (ISIS), and was sold to middlemen who smuggled it across the Turkish-Syrian border. Western intelligence officials have alleged that Turkey is turning a blind eye to a flourishing trade that strengthens ISIS, and Secretary of State John Kerry has called on Turkey to do more to stem the trade. Analysts estimate that ISIS gets up to $3 million a day in revenue from oil fields seized in Iraq and Syria.
But in about two dozen interviews, Turkish authorities, smugglers and vendors along Turkey's 900-kilometer border with Syria paint a remarkably similar picture: Oil smuggling was a booming business until about six months ago, when Turkish authorities ramped up a multi-layered crackdown that has significantly disrupted the illicit trade. Many of those interviewed, including Sevda, gave only their first name or asked for anonymity out of fear of reprisals by authorities or smugglers, who believe that reports in the Turkish news media led to the crackdown.
Full report at:
http://english.alarabiya.net/en/business/energy/2014/10/06/Turkey-cracks-down-on-oil-smuggling-linked-to-ISIS.html
------------
Israel leaders say Jerusalem to remain 'state capital'
World Bulletin / News Desk
Oct 07 2014
Israeli leaders have asserted that Jerusalem would remain as their state's capital, despite international criticism over recent plans to build more Jewish-only settlement units in the occupied holy city.
"One of the more significant elements of our national unity, is the general agreement on Jerusalem as the capital of Israel, and the world needs to understand that," Israeli President Reuven Rivlin said on Monday evening during a meeting with Prime Minister Benjamin Netanyahu.
"Jerusalem is our capital and as our capital, we need to allow the residents of the city to live and reside in it," Rivlin was quoted as saying by a statement from the premier's office.
According to the release, Netanyahu added: "When this [settlement building] happens in the capital of Israel, do we have to apologize? Or to cancel it? Not in my opinion, not in your opinion, and not in the opinion of any sensible Jew or indeed any reasoned and fair-minded person."
Full report at:
http://www.worldbulletin.net/headlines/145729/israel-leaders-say-jerusalem-to-remain-state-capital
-----------
Kobane is about to fall, says Erdoğan, calls for no-fly zone and safe havens
Oct 07 2014
Turkey's President Recep Tayyip Erdoğan has said the northern Syrian town of Kobane on the Turkish border, which has been under the siege of jihadists for three weeks, is about to fall and air strikes are not enough to fight off the attack.
"Kobane is about to fall," Erdoğan told Syrian refugees on Oct. 7 during a visit to a refugee camp in Gaziantep.
"The air strikes will not stop the terrorist Islamic State of Iraq and the Levant [ISIL]. We need a no-fly zone, safe havens and to train and equip the moderate opposition in Syria," Erdoğan said.
ISIL jihadists began advancing on Kobane three weeks ago, quickly capturing a string of villages surrounding the town and prompting some 186,000 Syrian Kurds to flee across the Turkish border.
Full report at:
http://www.hurriyetdailynews.com/kobane-is-about-to-fall-says-erdogan-calls-for-no-fly-zone-and-safe-havens.aspx?pageID=238&nID=72650&NewsCatID=510
------------
North America
Haj: I Was With God Alone, Crowds Did Not Bother Me
07 Oct, 2014
MINA — Maria Luiz Calfo Liva is one of the pilgrims who has performed Haj from Cuba. She is 50 years old and had become a Muslim only seven months ago.
"I represent the entire Cuban Haj mission. I am one of the pilgrims who have come from the Republic of Cuba for the pilgrimage this year," she told local daily Al-Watan on Monday.
Liva is accommodated at the camp number 27 in Mina, which belongs to the Tawafa Establishment of the Turkish, European and Australian pilgrims. She has maintained very close ties with her camp mates. She has become exceptionally close to the supervisor of the camp Hussam Al-Miski whom she calls "my son" and he calls her "my mother".
Liva, who is a schoolteacher, said it took her three days of flying to arrive at the Kingdom. "It took me 12 hours to arrive in Moscow from Havana and then more than seven hours to reach Dubai. The flight from Dubai to Jeddah was two and a half hours. This is in addition to the long hours I spent at the transit lounges," she said.
Full report at:
http://www.saudigazette.com.sa/index.cfm?method=home.regcon&contentid=20141007220471
----------
Ben Affleck Defends Muslims on US TV Talk Show
07 Oct, 2014
Hollywood Alister Ben Affleck has delivered a spirited defence of Muslims worldwide on a TV talk show hosted by a fellow liberal with little time for the Islamic faith.
Affleck, well known for his progressive views, was promoting his latest film "Gone Girl" on HBO's "Real Time with Bill Maher" when the conversation turned towards Islam.
"Islam at the moment is the mother lode of bad ideas," said fellow guest Sam Harris, a philosopher who claimed that 20 percent of the world's Muslims are either jihadists or Islamists, according to "a bunch of poll results."
Oscar-winner Affleck recoiled at the broad-brush portrayal of the world's second-biggest faith.
"So you're saying that Islamophobia is not a real thing," snapped the actor, who tackled the 1979-81 Iran hostage crisis in his 2012 political-thriller "Argo."
"But why are you so hostile about this?" said Maher, a left-wing comedian and atheist who shared Harris's contempt for Islam.
"It's gross, it's racist," a visibly frustrated Affleck said, likening it to calling someone "a shifty Jew."
Full report at:
http://english.ahram.org.eg/NewsContent/5/32/112485/Arts--Culture/Film/Ben-Affleck-defends-Muslims-on-US-TV-talk-show.aspx
----------
FBI: Militants may be working on plan to strike U.S.
07 Oct, 2014
An al-Qaeda cell in Syria that was targeted in American military airstrikes last month could still be working on a plan to attack the United States or its allies and is "looking to do it very, very soon," the head of the FBI says.
"Given our visibility we know they're serious people, bent on destruction," FBI Director James Comey said.
The Khorasan Group, a small but battle-hardened band of al-Qaida veterans from Afghanistan and Pakistan, was the target of U.S. strikes near Aleppo, Syria.
In an interview broadcast Sunday on CBS' "60 Minutes," Comey said the militants were "working and, you know, may still be working on an effort to attack the United States or our allies, and looking to do it very, very soon."
Full report at:
http://english.alarabiya.net/en/News/middle-east/2014/10/06/FBI-Militants-may-be-working-on-plan-to-strike-U-S-.html
----------
Canada pledges Can$10 million for IS victims
07 Oct, 2014
Ottawa (AFP) - Canada's foreign minister pledged Can$10 million (US$9 million) on Monday to help victims of sexual violence and human rights abuses that he said were perpetrated by the Islamic State (IS) group.
Minister John Baird told parliament the organization's "brutality is matched only by its depravity.
"In one case over the summer it herded up 150 women and girls, mostly Christians and Yazidis, and sent them to Syria to be given to (IS) fighters either as a reward or to be sold as sex slaves," he said.
"Iraqi forces capturing towns from (IS fighters) have reported finding naked women tied to trees."
Full report at:
http://news.yahoo.com/canada-pledges-10-million-victims-222413040.html
----------
US concerned over Pakistan, India border skirmishes
07 Oct, 2014
WASHINGTON: The United States on Monday expressed concerns over border skirmishes between Pakistan and India along the Line of Control.
A State Department Spokesperson told a press conference US is concerned over exchange of shelling between the armies of India and Pakistan.
She said that Washington's policy on Kashmir had not changed as it wanted a solution through talks between Pakistan and Indian.
http://www.thefrontierpost.com/us-concerned-over-pakistan-india-border-skirmishes/
----------
Southeast Asia
Datuk Zaid: Malaysia's Islam Just as Violent as IS Beheadings
07 Oct, 2014
KUALA LUMPUR, Oct 7 — Malaysia's brand of Islam is just as violent as that propagated by the Islamic State (IS) militant movement, Datuk Zaid Ibrahim said today, claiming that while the latter beheads dissenters, the authorities here punish unconventional Muslims.
In Malaysia, the former de facto law minister pointed out in his blog, so-called "deviant" Muslims are jailed, abandoned babies are automatically classified as Muslims if they remain unclaimed after several weeks, and Muslim children born out of wedlock are prohibited from using their father's names.
These policies, Zaid said, are just as violent, if not more so, than chopping someone's head off.
"Cutting someone's head off may be unacceptable but isn't it fair to ask how Malaysia is any different?" Zaid wrote in the blog post today titled "The story of Muslim leaders".
"IS leaders say those who don't accept their decisions violate religious tenets and commit the offence of insulting the religion, which means their position is no different from religious leaders in Malaysia," he added.
The outspoken former politician said prohibiting one from practising their religious beliefs is the "worst" kind of violence, citing the case of Kamariah Ali, the Ayah Pin sect follower who was sent to jail.
Full report at:
http://www.themalaymailonline.com/malaysia/article/zaid-malaysias-islam-just-as-violent-as-is-beheadings#sthash.BMv4YemL.dpuf
----------
PAS MP says Muslims can't dictate what non-Muslims consume
07 Oct, 2014
KUALA LUMPUR, Oct 7 — PAS lawmaker Khalid Samad today insisted that Muslims have no right to impose their religious restrictions on food and drink on non-Muslims, despite the flurry of criticism by party colleagues and religious conservatives over his defense of the month-long Oktoberfest beer festival in the country.
The Shah Alam MP said Muslims would be mistaken if they argue against the widespread advertising and promotion of the annual festival on grounds of Islamic supremacy in Malaysia, as the Islamic syariat, or code, clearly allows non-Muslims the freedom to practice their own norms.
"This freedom that is guaranteed by the Islamic code for non-Muslims living under its administration is proof of the truth and glory of Islam.It is also proof that Islam can rule a plural country," he said in a post on his blog, khalidsamad.com.
The vocal politician was recently slammed by party colleagues and religious groups over his stance in favour of Oktoberfest, with critics arguing that religious authorities are duty bound to shut down the event and that non-Muslims' right to their own festivals must be tempered with the fact that Malaysia is an "Islamic" country.
Full report at:
http://www.themalaymailonline.com/malaysia/article/defending-oktoberfest-pas-mp-says-muslims-cant-dictate-what-non-muslims-con#sthash.l0iWfKE0.dpuf
----------
Isma says Jewish, Christian interests will lead 'new government' if Sedition Act goes
07 Oct, 2014
Repealing laws like the edition Act "in a package" will give rise to liberalism and expose the nation to foreign intervention, allowing Jewish and Christian capitalists to determine and shape the country's policies, said Islamic non-governmental organisation Ikatan Muslimin Malaysia (Isma).
Its president Abdullah Zaik Abd Rahman (pic) said the repeal of certain laws could also lead to the downfall of the government and be replaced by a government that supports these capitalists.
He said the Sedition Act was a man-made law, which was not based on Islam, so it could be reviewed from time to time, changed or even abolished.
"For the context of this discussion, is it good to abolish or keep it?" he said in a statement on Isma's website today.
Abdullah Zaik said the repeal would allow certain quarters to debate core issues that cannot be challenged such as the position of Islam, the sovereignty of the Malay rulers, the privileges of the Malays and Bumiputeras, and matters concerning the Malay language.
Full report at:
http://www.themalaysianinsider.com/malaysia/article/isma-says-jewish-christian-interests-will-lead-new-government-if-sedition-a#sthash.DpJrX58Z.dpuf
----------
Don't deport, international law protects Uighurs, lawyer group tells Putrajaya
07 Oct, 2014
Putrajaya is bound by international law not to forcibly deport the 155 detained Uighurs back to China until it has more information on why the migrants left the country and whether they were eligible to seek international protection, said a human rights and law reform group said.
Lawyers for Liberty (LFL) in a statement today said the government should not act hastily in deporting the Uighurs as they could face severe persecution, including arrest, disappearance and torture.
"Even though Malaysia is not a signatory to the convention relating to the status of refugees, Malaysia is still bound by international law not to forcibly deport the Uighurs back to China, said LFL executive director Eric Paulsen.
"Further, as a signatory to the convention on the rights of the child and the convention on the elimination of all forms of dscrimination against women, there are added international obligations to ensure the safety and well-being of the women and children.
"By forcibly deporting them, Malaysia would certainly be in breach of both conventions," he said in a statement.
Full report at:
http://www.themalaysianinsider.com/malaysia/article/dont-deport-international-law-protects-uighurs-lawyer-group-tells-putrajaya#sthash.iIzKk3I5.dpuf
----------
India
Boycott Chinese Products, Says Prominent Cleric in Eid Sermon
Oct 7, 2014
People in India should boycott Chinese products to protest the border intrusion incidents and save the domestic cottage industries, prominent Muslim cleric Maulana Khalid Rasheed Farangi Mahali today said.
In his address before Eid-ul-Azha prayers, Mahali, who is the 'Shahr Qazi' and head cleric of Aishbagh Eidgah, said Muslims should work to remove misconceptions about Islam through social media.
He said that the manner in which China was "attacking" Indian borders, through intrusion, it was posing a serious threat to the national security.
He appealed to all the Indians, especially Muslims, to shun Chinese products. The Maulana said that Chinese products like toys were also posing a threat to small and cottage industries in the country, many of which had already closed.
"It is posing a threat to livelihood of many Indians engaged in small and cottage industries," he said.
Full report at:
http://www.dailypioneer.com/top-stories/boycott-chinese-products-says-prominent-cleric-in-eid-sermon.html
----------
Police book two dozen people for raising anti-India and pro-ISISI slogans in J&K
Oct 7, 2014
The Jammu and Kashmir police on Monday booked nearly two dozen people for raising anti-India slogans at Kishtwar.
Two of the people have been arrested, sources said, identifying them as Saqib Shah resident of Puhie and Muddasir of Baghwan area.
Giving details, sources said that trouble erupted in the town soon after the Eid prayers at Chowghan Maidan when some local Muslim youth tried to take out a procession. Some of the processionists raised anti-India and pro-ISISI slogans.
As provocative slogans had led to communal tension in the town leading to wide spread violence and arson on Eid last year, the police immediately swung into action and registered a case. While two people have been arrested, more are likely as police are looking for others raising provocative slogans during Eid procession.
http://indianexpress.com/article/india/india-others/police-book-two-dozen-people-for-raising-anti-india-slogans-in-jk/#sthash.nTjz56U2.dpuf
----------
Ceasefire violation: Times have changed, Rajnath warns Pakistan
TNN | Oct 7, 2014
NEW DELHI: In a grave ceasefire violation coinciding with Eid, Pakistani border forces early on Monday killed five Indian civilians and injured 34 others in firing from across the international border in Jammu sector. The violation drew strong reactions from India, with both defence minister Arun Jaitley and home minister Rajnath Singh condemning the "continuous" border provocations by Pakistan and warning it of a befitting reply by "fully-ready" Indian troops.
The heavy and unprovoked firing/shelling by Pakistani troops on border outposts (BoPs) and civilian areas in Arnia belt of Jammu district since 10pm on Sunday resulted in the highest civilian casualty along the Indo-Pakistan border since 2003. BSF troops are said to have retaliated effectively, leading to intermittent firing exchanges through Monday.
Meanwhile, Islamabad summoned India's deputy high commissioner JP Singh to lodge a strong protest against what it in turn called unprovoked firing by the Indian side. In a statement, the Pakistan foreign office said, "The Government of Pakistan has lodged strong protest with the Government of India through diplomatic channels and called for restraining its forces from constant violation of the ceasefire. This was the sixth violation, occurring on daily basis since 1st October. Indian Forces violated from Akhnur, Dawar, Gulmerg, Jammu, Dawar and lastly, from Charwah Sectors." According to the Pakistan government, four Pakistanis were killed and three injured in the firing.
Full report at:
http://timesofindia.indiatimes.com/india/Ceasefire-violation-Times-have-changed-Rajnath-warns-Pakistan/articleshow/44540834.cms
----------
South Asia
19 Taliban militants killed during clearing operations, MoI says
Oct 07 2014
At least 19 Taliban militants were killed and 3 others were injured following joint military operations led by Afghan national police, the Ministry of Interior (MoI) said Tuesday.
A statement released by MoI said, "In past 24 hours, Afghan National Police conducted several anti-terrorism joint operations with Afghan National Army and NDS to clean some of the areas from terrorists and enemies of peace and stability of Afghanistan."
The statement further added that the operations were conducted in Paktika, Paktiya and Kunar provinces, as a result 19 armed Taliban members were killed and three others were wounded.
"Also, during these operations, Afghan National Police discovered and confiscated light and heavy rounds ammunition," the statement added.
The statement also added that the duringthe same 24 hour period, Afghan National Police discovered and defused three different types of IEDs placed by enemies of Afghanistan for destructive activities in Kandahar and Uruzgan provinces.
The Taliban militants group has not commented regarding the report so far.
http://www.khaama.com/19-taliban-militants-killed-during-clearing-operations-moi-says-8766
----------
Japan student suspected of trying to join ISIS
7 October 2014
Tokyo police are investigating the possibility that a Japanese student tried to travel to Syria to join Islamic State, Chief Cabinet Secretary Yoshihide Suga said on Tuesday, as the United States carries out air strikes on militant targets.
Suga did not elaborate, but the Asahi Shimbun daily said police questioned a 26-year-old man, taking leave of absence from Hokkaido University in north Japan, about plans to go to Syria to join Islamic State as a fighter.
"I am aware police conducted a search based on the criminal law. But I would like to refrain from going into details because the matter is under investigation," Suga told a news conference.
"As a member of the international community, our country has a policy of actively taking steps to prevent terrorism."
Full report at:
http://english.alarabiya.net/en/News/asia/2014/10/07/Japan-student-suspected-of-trying-to-join-ISIS.html
----------
Taliban spokesman accidentally reveals his location on Twitter
7 October 2014
The Taliban's spokesman in Afghanistan earlier this week accidentally revealed his whereabouts on microblogging site Twitter, later claiming that the location leak was an "enemy plot."
On Friday, Zabihullah Mujahid, 42, was attempting to use Twitter to claim an attack by the group – whose Pakistani branch on Sunday declared allegiance to the Islamic State of Iraq and Syria (ISIS).
The location embedded in the tweet - a feature which allows Twitter users to opt-in to - showed that Mujahid was in the Sindh region in southwestern Pakistan - far from the Afghan border.
Twitter urges its users to be careful about sharing their locations. "There may be some updates where you want to keep your location private," according to company literature.
In late August, Mujahid claimed to have now have accounts on mobile texting applications: Viber, WhatsApp, and WeChat, and distributed the details - with a phone number - to a handful of journalists.
The group's transparency "is a one-off with regards to the Middle East," Eliot Higgins, a blogger who frequently analyzes photos and videos posted from conflict zones told the Washington Post.
http://english.alarabiya.net/en/media/digital/2014/10/07/Taliban-spokesman-accidentally-reveals-his-location-on-Twitter.html
----------
PM Sheikh Hasin: Ongoing peace brightens Bangladesh's image
07 Oct, 2014
Prime Minister Sheikh Hasina has said ongoing peace and progress during the tenure of the present government has brightened the image of Bangladesh and Bangalee nation in the global arena.
The premier made the statement after exchanging Eid greetings with party leaders and workers and a cross section of people at her official residence Gonobhabn on Monday morning.
"BNP-Jamaat labeled Bangladesh as a land of militancy and corruption. We have eased the bad name branding Bangladesh as a role model of development," she said.
Sheikh Hasina said people of Bangladesh are enjoying the benefit of good governance of present government under the leadership of Awami League.
"The important feature of this year's Eid was the tolerable price of commodities and sacrificial animals and other related items," she said.
The prime minister said a good market of sacrificial animals during this year's Eid-ul-Azha reflects economic prosperity of the people.
http://www.dhakatribune.com/bangladesh/2014/oct/06/pm-ongoing-peace-brightens-bangladeshs-image#sthash.SHZpGcEh.dpuf
--------
Europe
Uzbek militants declare support for Islamic State
07 Oct, 2014
MOSCOW: Uzbek fighters from an Al-Qaeda-linked militant organisation have thrown their support behind the militant Islamic State (IS) group controlling swathes of territory in Syria and Iraq.
A top leader for the Islamic Movement of Uzbekistan (IMU), an ally of the Taliban that has been mainly based in Pakistan's tribal belt since the US-led invasion of Afghanistan in 2001, announced its backing for IS.
"Hereby, on behalf of all members of our movement, in line with our sacred duties, I declare that we are in the same ranks with the Islamic State in this continued war between Islam and [non-Muslims]," Usman Gazi wrote in an online statement on Sept 26.
Gazi praised the Islamic State for its refusal to recognise state borders and said he hoped the group would soon take control of Palestine and the Muslim holy cities of Makkah and Madina.
"Islamic State is free from the patriotic or nationalist agenda ... you can see Arabs, Chechens, Uzbeks, Tajiks, Kyrgyz, Russians and many English-speaking Muslim mujahidin (fighters) in its ranks," Gazi said.
Full report at:
http://www.dawn.com/news/1136578/uzbek-militants-declare-support-for-islamic-state
----------
Former French FM Criticizes West's Wrong Policies in Middle-East
07 Oct, 2014
Former French Prime Minister and Foreign Minister Dominique De Villepin lashed out at certain western powers for their role in the creation and expansion of terrorist groups in the Middle-Eastern region, warning that the evil phenomenon will have dire repercussion for its creators.
Speaking in a meeting with Iranian Foreign Minister Mohammad Javad Zarif on Monday, the French veteran politician stressed that West has made many mistakes in expansion of radicalism in the Middle-East and now it is very worried about presence of the western youth in battlefields fighting for terrorist groups, specially for the ISIL.
The ISIL, an offshoot of Al-Qaeda terrorist group, has taken control over large areas in Western and Northwestern parts of Iraq and the Eastern regions in Syria in recent two months.
http://english.farsnews.com/newstext.aspx?nn=13930715000445
----------
IS, Al-Qaeda tarnishing image of Islam, says Belgian convert
07 Oct, 2014
A Belgian convert to Islam who performed Haj this year for the first time as a guest of the Makkah-based Muslim World League (MWL) said that it was the prohibition of alcohol that encouraged him to embrace the Islamic faith.
"When I saw the Holy Kaaba for the first time, it gave me an inexplicable happy feeling. My heart was beating fast, giving me a new spiritual enthusiasm and awakening," said Mario Cools, who is president of "4 New Muslims," an organization based in Wommelgem.
Cools said his organization promotes the true message of Islam of peace and tolerance. "If you learn about Islam, it is not about killing and violence. Rather, it is all about caring for and helping people. It is a message of peace," said Cools.
He said terrorist groups like IS and Al-Qaeda were tarnishing the image of Islam.
"Their criminal activities irritate me," he said, adding that his organization was producing a film to project the correct picture of Islam to non-Muslims in Belgium.
He said it was his visit to Egypt with his wife, Pascale, that changed his life forever.
"There, we met a Muslim family whose life and behavior impressed us and inspired us to learn more about Islam and Muslims."
Full report at:
http://www.arabnews.com/saudi-arabia/news/640716
---------
Germany Wants To End Borderless Travel in Europe to Stop Islamic Fighters
07 Oct, 2014
Germany calls for a relook at the current system of passport-free travel within European Union. This is helping terrorists and ISIS fighters to cross borders undetected. Germany's Interior Minister Thomas de Maiziere said in Berlin that an alarm must trigger, when someone is joining the extremist groups in Syria or Iraq should trigger an alarm as and when they travel in and out of the Schengen Area.
The area covers 26 countries and stretches from Arctic to the Mediterranean, reported Yahoo News. "Also the information to identify someone as a foreign fighter needs provided to the for border authorities," de Maiziere told in Berlin.
European Fighters
The Europe as a whole is concerned about the 2,000 plus natives including 450 Germans, who have joined the Islamic State and other extremists outfits, in recent years. The authorities are taking steps to crack down on them, but they are hampered by the lack of border controls throughout the continent.
Full report at:
http://au.ibtimes.com/articles/568696/20141007/germany-isis-eu-schengen-areas-travel-syria.htm#.VDOmBWddU4U
----------
Counter-terror police raid Islamic academy in London with links to extremists
07 Oct, 2014
An Islamic tuition centre in East London was raided by police as part of a counter-terrorism investigation after it was linked to a convicted extremist.
Mizanur Rahman, who was jailed for six years in 2007 after calling for British soldiers to be brought back from Iraq in body bags, manages the Siddeeq Academy in Tower Hamlets.
The 'Islamic education and tuition centre' was among a number of residential and business addresses raided in an operation targeting leadership of the proscribed group once known as Al-Muhajiroun.
Police moved against the organisation, banned under anti-terror laws, on the eve of the first British airstrikes against Islamic State militants waging war in Iraq and Syria.
Rahman was arrested alongside prominent radical Islamists including Anjem Choudary, Trevor Brooks - who goes by the Arabic name Abu Izzadeen - and Abdul Muhid.
Brooks was charged with two counts of breaching his notification requirement and the rest were released on police bail.
The private Siddeeq academy, one of around 18 premises searched, provides courses in Arabic, the Koran and Islamic law, as well as national curriculum subjects including English, maths and science.
Full report at:
http://www.dailymail.co.uk/news/article-2781232/Counter-terror-police-raid-Islam-academy-London-links-extremists-offers-lessons-home-schooled-Muslim-children.html#ixzz3FRmEB9C6
----------
Kurds in Netherlands storm parliament in protest against fighters of IS attacking Kobane
Oct 07 2014
Dozens of Kurds stormed the national parliament building in The Hague on Oct. 6 night in a protest against fighters of Islamic State in Iraq and the Levant (ISIL) who are attacking the Kurdish town of Kobane in northern Syria, Kurdish officials in the Netherlands said.
Riot squads and hundreds of officers were deployed and helicopters were flying overhead, said a demonstrator at the scene.
Around 100 protesters forced their way through to the main hall of the building and were sitting on the floor with banners, one of which read "Stop Kobane."
"The situation in Kobane is getting of control. ISIL has stormed the town and a lot of civilians are being killed. We want the West to do more to stop the situation in Syria," said the protester, who asked not to be named.
Full report at:
http://www.hurriyetdailynews.com/kurds-in-netherlands-storm-parliament-in-protest-against-isil.aspx?pageID=238&nID=72634&NewsCatID=351
------------
Pakistan
TTP says backs all Syria militants, not just Islamic State
07 Oct, 2014
DERA KHAN: The Pakistani Taliban on Monday denied reports that it had pledged allegiance to the Islamic State movement fighting in Syria and Iraq, saying that its statement to the media had been misinterpreted.
Tehreek-i-Taliban Pakistan (TTP) spokesman Shahid Shahidullah said that a statement on Saturday had been intended as an expression of support for all Islamist militants fighting in Syria and Iraq and struggling against Western interests.
"Some media did not publish our statement correctly," Shahidullah told Reuters by telephone from an undisclosed location. "We are not supporting any specific group in Syria or Iraq; all groups there are noble and they are our brothers."
On Saturday, Shahidullah said the Taliban would offer "every possible support" to Islamic State, a statement which several media outlets, including Reuters, reported as a declaration of allegiance to the group.
Full report at:
http://www.dawn.com/news/1136584/ttp-says-backs-all-syria-militants-not-just-islamic-state
----------
Seven suspected militants killed in North Waziristan drone attack
07 Oct, 2014
PESHAWAR: At least seven suspected militants were killed and five others injured on Tuesday in a US drone strike on a compound and a vehicle in the Shawal tehsil of North Waziristan tribal region.
Official sources said the US drone fired two missiles at the house and the car in Shawal tehsil's Kund Ghar area, killing at least seven suspected militants and injuring five others.
Sources added that the compound of militant commander Mustaqeem was targeted in the strike, adding that the identity of the deceased militants is yet to ascertained.
This the third consecutive strike in three days. Earlier on Monday, an unmanned drone killed eight persons and wounded six others in Shawal district of North Waziristan tribal region.
Intelligence sources said the drone targeted the residence of Taliban commander Habib.
Also read: Drone strike kills eight, wounds six in North Waziristan
Meanwhile, a US drone strike in South Waziristan tribal region's Shawal area on Sunday killed at least five persons.
Full report at:
http://www.dawn.com/news/1136601/seven-suspected-militants-killed-in-north-waziristan-drone-attack
----------
Editor-in-Chief The Frontier Post Rehmat Shah Afridi Arrested
October 7, 2014
President PFUJ Rana Azeem and Secretary General Amin Yousuf has condemned the killing of another journalist Yaqoob Shahid (correspondent of Daily Express) in Hafizabad and arrest of Chief Editor a national Daily "Frontier Post"on Sunday.
This seemed to be a new wave of target killing of journalists in Pakistan that resulted into second incident of target killing of correspondent in a week. Earlier, a correspondent of Dunya News Nadeem Hayder from a suburb area of Hafizabad was killed couple of days ago. Local police has registered case against unknown people but yet to find any clue.
The police has also registered a case against unknown killers of Yaqoob Shahid.
The PFUJ has shown its concerns over the the current wave of killings and demanded the government to provide protection to the working journalists.
"We have been demanding the government to provide security to the media men but no attention is being paid and the issue is getting more and more serious, the PFUJ officials said.
Furthermore, the Chief Editor of a national Daily "Frontier Post" Mr. Rehmat Shah Afridi has also been arrested in Lahore. The PFUJ is following him and a detailed statement would be released after having details.
----------
Attacks on mosque, seminary leave two dead in Quetta
07 Oct, 2014
QUETTA: Unidentified gunmen attacked a seminary and a mosque in the Multani Mohalla area of Quetta, killing at least two persons and wounding three others on Monday night.
Police sources told Dawn that unknown assailants opened fire at a seminary situated in Multani Mohalla area killing one person and wounding two others.
Shortly after the attack, gunmen opened fire on Bilal Masjid, situated in the vicinity. killing one and wounding another.
The attackers managed to escape unhurt from both attack sites.
Police and FC personnel reached the spot and cordoned off the area as a probe into the incident went underway.
Fear and panic gripped the area after the incident.
Quetta is the provincial capital city of Balochistan. Despite having large reserves of oil and gas, Balochistan remains one of Pakistan's most impoverished provinces, and bomb blasts and attacks are common in the region
In 2004 Baloch rebels rose up, demanding political autonomy and a greater share of profits from the region's mineral resources.
http://www.dawn.com/news/1136588/attacks-on-mosque-seminary-leave-two-dead-in-quetta
----------
'14,000 Fata men to join Pakistan Army'
07 Oct, 2014
RAWALPINDI: The military chief on Monday announced an uplift scheme for the residents of the volatile Federally Administered Tribal Areas (FATA), promising induction in army ranks as well as education and employment opportunities.
An Inter-Services Public Relations (ISPR) statement issued today quoted the Chief of Army Staff (COAS) General Raheel Sharif as saying that the policy titled 'Fata Youth Package' will induct into the army 14,000 men from the region over the course of next five years. The total strength of the military's active troops is over 500,000.
According to the ISPR, the package also entails free education to 1,500 Fata children through army public schools and colleges in all cantonments, with reserved seats for Fata students in military cadet colleges on a yearly basis.
The army will also work to enhance technical skills among the Fata youth through technical training institutes, adding that arrangements are already being worked upon for their overseas employment, the statement said.
Full report at:
http://www.dawn.com/news/1136577/14000-fata-men-to-join-pakistan-army
----------
Negotiation with govt useless if Nawaz refuses to step down: Imran
07 Oct, 2014
ISLAMABAD: In clear and strong words, Pakistan Tehreek-e-Insaf chief Imran Khan said negotiations with the government are meaningless if Prime Minister Nawaz Sharif refuses to step down.
Imran was speaking to Express News from Islamabad's D-Chowk where he – along with his supporters – is staging sit-ins against PM Nawaz.
"We don't believe there can be a fair investigation into rigging if Nawaz remains at the helm," he reiterated.
Imran said PTI does not accept last year's general elections and that their struggle will continue until the goal of true democracy is achieved. "PTI wants re-election, not mid-term elections," he said.
"Initially, I wanted Nawaz to resign immediately but now I want him to delay it further because our movement has awakened this nation and our message is spreading everywhere," Imran said, adding that no one can usurp the rights of a nation which is well aware.
http://tribune.com.pk/story/772085/negotiation-with-govt-useless-if-nawaz-refuses-to-step-down-imran/
---------
Pakistani Talban's support to ISIS spreads fear among religious minorities
07 Oct, 2014
LAHORE: October 6, 2014. (PCP) The Tehrik-E-Taliban Pakistan has vowed and declared its support to the Islamic State of Iraq and Syria and ordered its Islamists across the region to unite against the "Enemy" and to forget their own rivalries.
Recently reportedly the supporters of IS have wall-chalked with the praising slogan in the favour of this group and against the Founder of Pakistan-Qauid-E-Azam Mr. Muhammad Ali Jinnah and they also distributed the pamphlets with the same praising slogans in the favour of the group in the region of Northwestern Pakistani city Peshawar.
"It is very common slogan and wish of every Muslim that Islam should dominate the whole world and they wish to act and to support those who have same vision to act for fulfilling their this vision.It is considerable that this slogan is the worst and main cause of threat to religious liberty mission for which we, Human Rights Activists, are working tirelessly," said Advocate Sardar Mushtaq Gill,Human Rights Defender, who heads LEAD.
That's why they reportedly said in the statement that the Global Muslim Community would stand with the IS in these tough times and they help them with what they can, he further added.
Full report at:
http://www.pakistanchristianpost.com/headlinenewsd.php?hnewsid=4984
----------
URL: https://www.newageislam.com/islamic-world-news/new-age-islam-news-bureau/boko-haram-extremists-behead-7-muslims-on-eid---al-adha/d/99413