New Age Islam News Bureau
7 Dec 2014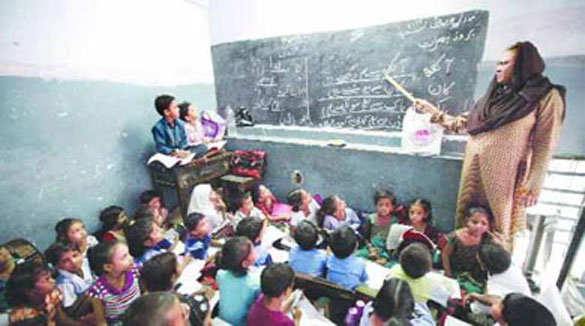 33 Urdu-Medium Teachers in Gujarat Declared 'Surplus' In One Month
--------------
Africa
• Boko Haram Enlists Female Suicide Bombers to Kill 100,000; Violence Now Akin To ISIS
• Gunmen Free 200+ Inmates in Nigeria Jailbreak
• New Massacre Leaves 14 Dead in Eastern DR Congo: Officials
• Sudan opposition says two leaders arrested after unity deal
India
• In Gujarat, Urdu-Medium Teachers Asked To Teach In Tamil, Marathi
• JMB Tried To Induct Boys from Assam Madrasa to Create Modules
• Border dwellers between India and Bangladesh: 'Now we can live and die with dignity'
• Candidates in Kashmir prefer Urdu newspapers for poll ads
Arab World
• Peshmerga Fighters Kill over 50 ISIL Militants in Iraq's Kirkuk
• Iraqi Air Strikes Claim Lives of over 26 ISIL Militants in Tikrit
• Syrian Forces 'Use Chlorine Gas' On ISIS: Monitor
• Egypt court refers 4 Brotherhood leaders to grand mufti to consider death penalty
• Syria army repels jihadist advance on key air base: Monitor
• Saudi Arabia opposes gender equality in climate change policy
• Rise of IS and fall in oil prices cast shadow over GCC summit
• Egypt court confirms death sentence for Sinai militant Habara, six others
Europe
• EU To Seek More Turkish Help in ISIS Fight
• Putin Aide: Mossad Training ISIL Terrorists
• Pope to Iraqi Christians: Your resistance is martyrdom
• Chechen warlord's brother in Turkey accused of being behind Grozny attack
• France vows 'national' fight against anti-Semitism after latest attack on Jews
• Signs That Attackers Came From Within Mitigate Alarm in Chechnya
• Wahhabi sentenced for deadly arson attack on Belgian Shiite mosque
Pakistan
• Al-Qaeda Suspect among Four Killed In US Drone Strike in Pakistan
• Afghan Army Handed Over Key Taliban Commander, Three Others to Pakistan
• With new JF-17, Pakistan aims for boost to defence exports
• Bajaur-Kunar Jirga decides to take joint steps for peace
• PPP can't afford to weaken political system in place in country: Zardari
• Zahid Hamid challenges special court verdict
South Asia
• US Drone Strike Kills 9 Taliban Fighters: Afghan Official
• 5 Police Martyred In Taliban Attack in Hilmand
• 4 civilians killed, 20 injured in hand grenade attack in northern Afghanistan
• Anti-liberation forces active to spoil Indo-Bangla relation
North America
• Biden: 'We will not let Iran acquire a nuclear weapon'
• US cautions against assumptions linking Pak to Kashmir violence
• Additional 1,000 American troops to stay in Afghanistan
• Washington Post reporter in Tehran charged after day in court
• Venezuelan leader says racism in U.S. worse under Obama
Mideast
• Mashaal: Israeli-Palestinian Tensions Could Lead To 'Open Conflict'
• One killed in south-eastern Turkey clashes
• Israel launches eight new probes into Gaza war
Southeast Asia
• Stop meddling in non-Muslim affairs, interfaith group tells Islamic authorities
• Police Pledge Hard Line against Religious Intolerance
• Christians cry foul after seized Bibles stamped with warning
• Apologise for defiling holy books, Bible Society tells Selangor religious authorities
Compiled by New Age Islam News Bureau
URL: https://www.newageislam.com/islamic-world-news/new-age-islam-news-bureau/boko-haram-enlists-female-suicide-bombers-to-kill-100,000;-violence-now-akin-to-isis/d/100365
------------
Africa
Boko Haram Enlists Female Suicide Bombers To Kill 100,000; Violence Now Akin To ISIS
Dec 7, 2014
The Islamist militant group Boko Haram has gained worldwide notoriety this year for intensifying carnage in Nigeria that has claimed more than 10,000 lives in just 12 months — a fatality rate that is comparable to the Islamic State, or ISIS, insurgency in Iraq, according to NBC News.
And Boko Haram looks to be ramping up its attacks. The terrorist group has reportedly deployed over 50 female suicide bombers in Maiduguri, the capital of Borno state, to kill 100,000 people before the end of the year, VICE News reports.
A suspected suicide bomber confessed the lethal plot to a vigilante group during her arrest outside the University of Maiduguri. A second female suicide bomber was arrested that same day, only a few miles away, near the Maiduguri post office, VICE News reported.
Boko Haram began enlisting women as suicide bombers in April, Jacob Zenn of the Jamestown Foundation told VICE on Friday. Since then, there have been 15 attacks or attempts by Boko Haram female suicide bombers, who have had an increasingly salient role in the violent insurgent movement, according to Zenn, an expert on extremism and African affairs at the conflict research firm.
Recruiting women as suicide bombers is an effective tactic that Boko Haram most likely learned from terrorist groups abroad, Zenn said. "Women traditionally are not expected to be in the role of a suicide bomber in Nigeria," Zenn told VICE News. "They are less likely to be suspected, inspected, or detected."
The Islamic State has recruited women into the Sunni millitant group as well. A wanted British woman known as the "White Widow" joined ISIS this year and is reportedly training an all-female brigade of suicide bombers for the group, according to the New York Post. The group has also established an all-female squad in the Syrian city of Raqqa that is charged with policing other women under ISIS's interpretation of Sharia law.
"Jihad is not a man-only duty. Women must do their part as well," Abu Ahmad, a spokesman for the Islamic State in Syria told Syria Deeply in July. Ahmad said the goal of the all-female squad is to "raise awareness among women, and arrest and punish women who do not follow the religion correctly."
Boko Haram militants have terrorized Nigeria since the group launched an insurgency there in 2009, with a goal to create an Islamic state in northeastern Nigeria. They have declared loyalty to the Islamic State group, which aims to establish an Islamic state cross Sunni areas of Iraq and in Syria, according to the BBC News.
"The violence has become so bad that people don't have lives anymore," Nigerian Sen. Ahmed Zanna of Borno told NBC News on Saturday. "They cannot go to their farms, they cannot go to their businesses. It dominates people's lives every single day. They have no help form the army, the people who are supposed to protect them. They are scared, and that fear is real."
Nigeria's President Goodluck Jonathan has pledged to defeat Boko Haram and the government's military claims to be making strides, but human rights groups say the Nigerian military have only added to the violence with its heavy-handed response. Nigerian forces have failed to curb the violence and protect civilians from the terrorist group that has killed thousands of civilians this year, according to an October report by Human Rights Watch.
http://www.ibtimes.com/boko-haram-enlists-female-suicide-bombers-kill-100000-violence-now-akin-isis-1738447
---------
Gunmen free 200+ inmates in Nigeria jailbreak
Dec 7, 2014
Police say gunmen have freed more than 200 prisoners in the latest jailbreak in Nigeria. Deputy Superintendent Ibrahim Gambari said police recaptured at least 10 escapees from the medium security prison in central Niger state by Sunday morning.
Saturday's attack was the third jailbreak in the past two months in the West African nation.
More than 300 inmates broke out of a prison bombed by gunmen in southwest Ekiti state on December 1; 144 escaped from south-central Kogi state on November 3 when gunmen bombed a prison wall.
The two earlier jailbreaks were blamed on the Boko Haram Islamic extremist group. It is not known how many hundreds of Boko Haram suspects are held in Nigerian jails.
Prison officials say 70 percent of inmates are awaiting trial, many for years.
http://indianexpress.com/article/world/middle-east-africa/gunmen-free-200-inmates-in-nigeria-jailbreak/#sthash.sP9Y87ZB.dpuf
-----------
New massacre leaves 14 dead in eastern DR Congo: Officials
Dec 7, 2014
An overnight attack by suspected Ugandan rebels in the area of Beni in the eastern Democratic Republic of Congo has left 14 people dead, authorities said Sunday.
The attack in North Kivu province was the latest massacre to hit the region. It was confirmed by a military spokesman and a local official.
http://english.ahram.org.eg/NewsContent/2/9/117355/World/International/New-massacre-leaves--dead-in-eastern-DR-Congo-Offi.aspx
----------
Sudan opposition says two leaders arrested after unity deal
7 December 2014
Sudanese security forces arrested two prominent opposition leaders late on Saturday, days after they signed an agreement aimed at unifying opposition to President Omar Hassan al-Bashir, a leading dissident said.
Seddik Youssef, an official of the National Consensus Forces (NCF), an umbrella group of Sudan's main opposition parties, told Reuters by telephone that NCF leader Farouk Abu Issa, 81, and human rights lawyer Amin Mekki, 75, had been detained.
A broad spectrum of Sudanese political opposition and armed rebel groups put aside differences to sign a unity agreement on Wednesday that they hope will strengthen their hand in peace talks with the government that are taking place in Addis Ababa.
Though he does not represent a political party, Mekki signed the unity agreement on behalf of a number of non-governmental organizations critical of Bashir's government, Youssef said.
Security officials were not immediately available for comment.
The opposition deal brings together a number of major groups including the Islamist Umma party and the NCF, an alliance of mostly secular parties. They were joined by a group representing the armed movements of three war-torn regions: Darfur, South Kordofan and Blue Nile.
A government spokesman said after the deal was signed that "there would be a price" to pay for cooperating with the rebels.
The government is currently negotiating to end a conflict with the Sudan People's Liberation Movement-North, which is active in South Kordofan and Blue Nile. Talks in Addis Ababa resumed on Friday after a four-day suspension.
http://english.alarabiya.net/en/News/middle-east/2014/12/07/Sudan-opposition-says-two-leaders-arrested-after-unity-deal.html
---------
India
In Gujarat, Urdu-Medium Teachers Asked To Teach In Tamil, Marathi
Dec 7, 2014
Shazia Bano has been a teacher for nearly 30 years in Urdu-medium municipal schools in Gujarat, but she has never felt so helpless in class. Forget teaching, she now finds it difficult to even communicate with her students and colleagues.
Labelled as a "surplus teacher" by the Ahmedabad Municipal Corporation (AMC) school board, Shazia (name changed) is now on duty at a Tamil-medium municipal school in the city.
And she is not alone.
In the last one month, 33 Urdu-medium municipal teachers, all Muslims and declared "surplus", were moved to schools where the medium of instruction is a different language. Four of them were posted to Tamil-medium schools, six to Marathi and two to English, while the "lucky ones" were moved to Gujarati (5) and Hindi-medium (16) institutions.
While the authorities claimed there was no other option due to lack of vacancies in the 59 Urdu-medium institutions among the 452 municipal schools in Ahmedabad, the teachers are upset at what they call "mismanagement" and a "lack of co-ordination" by the administration.
"Throughout my life I have studied and taught in Urdu-medium. At this point, if the authorities ask me to teach in Tamil or Marathi, how will I? Is there any sense in such adjustments?" said another Urdu-medium teacher posted at a Marathi-medium school.
"The school board cannot afford to have its teachers draw salaries (a maximum of Rs 40,000 per month) while sitting idle at home. With no vacancies in Urdu-medium schools, such an adjustment was inevitable," said L.D. Desai, Administrative Officer, AMC school board.
After repeated representations to authorities, a few of these teachers have been posted as 'Kaamchalau Badli' (temporary replacement) in Urdu-medium schools. While the salaries of these teachers would be drawn from schools that teach in other medium, there is no information yet on their tenure or future.
Some others have been asked to teach subjects that they have never done before. "A few days ago, I was posted as 'Kaamchalau badli' to a Gujarati-medium school and asked to teach Maths and Science while I am a language teacher and had never taught these subjects," said another teacher who has been teaching for five years and is a graduate in Arts with a PTC (Primary Teacher Certificate) course.
Another Urdu-medium teacher said she had been transferred seven times in the last three years to Urdu, English and Gujarati-medium schools. "It is difficult to find a Urdu-medium teacher with a BSc qualification," the teacher said. "With no job opportunities, no one, at least in Ahmedabad, prefers to graduate in Urdu-medium. Thus, vacancies for Maths and Science teachers in Urdu-medium schools go unfilled. That is the reason why the surplus Urdu-medium teachers have been asked to teach these subjects."
A question of surplus
* In 2012, with Class VIII (11,370 classes) being moved from secondary to primary schools in Gujarat, following the implementation of Right to Education (RTE) Act, as many as 12,482? Secondary teachers were declared "surplus".
* The State Education Department gave school principals the authority to transfer these surplus teachers as "Vidya Sahayaks" (teaching assistants) for other subjects based on vacancies in other government schools.
http://indianexpress.com/article/india/india-others/in-gujarat-urdu-medium-teachers-asked-to-teach-in-tamil-marathi/99/#sthash.Csb6alHL.dpuf
--------
JMB Tried To Induct Boys from Assam Madrasa to Create Modules
Dec 7, 2014
A day after Sahanur Alom (32), alias "doctor Ilias", a top Jamaat ul Mujahideen Bangladesh (JMB) operative was arrested in Nalbari district, the Assam Police on Saturday confirmed that several top JMB leaders from Bangladesh had visited at least one madrasa in the state and conducted some motivational training there.
"We have confirmed that some top JMB leaders had visited a madrasa in Larkuchi village in Nalbari and organized motivational training to induct boys from here in order to create JMB modules in Assam the way they did in West Bengal," Assam Police DG Khagen Sarma said.
Formally announcing the arrest of Alom – who was among the 12 "most wanted" by the NIA in the Burdwan blast case – the Assam DGP also said that the police was on the look-out for five or six more persons having close links with the JMB. Sahanur Alom was arrested from Larkuchi village under Mukalmua police station in Nalbari district, and remanded in 14 days police custody by the CJM's court here on Saturday.
Full report at:
http://indianexpress.com/article/india/india-others/burdwan-blast-probe-key-suspect-shahnoor-alam-arrested/99/#sthash.GOcq6Vgd.dpuf
------------
Border dwellers between India and Bangladesh: 'Now we can live and die with dignity'
Jaideep Mazumdar & Pinak Priya Bhattacharya,TNN | Dec 7, 2014
They live in no man's land, people without a country or government. But now the residents of border enclaves between Bangladesh and India have reason to hope for an identity Mohammad Mansoor Ali Mian's greatest regret in life has been his inability to undertake Haj.
The 74-year-old from Poanturkuti in north Bengal's Cooch Behar district bordering Bangladesh had the means to travel but he never possessed a passport. The reason: he was not a citizen of any country. "But soon, Inshallah, I shall be able to fulfill my dream," he says.
This hope springs from Prime Minister Narendra Modi's assurance of a Bill that would pave the way for exchange of enclaves between India and Bangladesh.
It is a hope that has been further boosted by chief minister Mamata Banerjee doing a U-turn and pledging to support the Bill after having opposed a similar move by then Prime Minister Manmohan Singh two years ago.
Full report at:
http://timesofindia.indiatimes.com/india/Border-dwellers-between-India-and-Bangladesh-Now-we-can-live-and-die-with-dignity/articleshow/45400301.cms
------------
Candidates in Kashmir prefer Urdu newspapers for poll ads
Dec 7, 2014
With Assembly elections in full swing, it is raining advertisements for vernacular dailies in Kashmir as candidates and political parties try to reach out to the maximum number of electorate in the remaining three phases of the polls.
A cursory look at the daily newspapers published from Srinagar shows that political parties are preferring Urdu language newspapers over English dailies for their advertisements in the print media.
A detailed analysis of the newspapers showed that the Urdu dailies are getting most of the election-related advertisements, which has helped some of these newspapers tide over the losses suffered during recent floods.
Full report at:
http://indianexpress.com/article/india/india-others/candidates-in-kashmir-prefer-urdu-newspapers-for-poll-ads/#sthash.huFk5wwv.dpuf
------------
Arab World
Peshmerga Fighters Kill over 50 ISIL Militants in Iraq's Kirkuk
Dec 7, 2014
Kurdish Peshmarga fighters launched deadly attacks against the hideouts of the ISIL Takfiri group in Kirkuk, and managed to kill more than 50 militants.
Wasta Rasool, a senior Peshmarga commander, said the forces staged a series of successful operations in Rashad and Maryam Beg areas, South of Kirkuk, leaving at least 50 ISIL militants dead.
A number of militants' vehicles were also destroyed during the operations.
The ISIL Takfiri terrorists currently control parts of Syria and Iraq. They have threatened all communities, including Shiites, Sunnis, Kurds, Christians, Ezadi Kurds and others, as they continue their atrocities in Iraq.
Senior Iraqi officials have blamed Saudi Arabia, Qatar, and some Persian Gulf Arab states for the growing terrorism in their country.
The ISIL has links with Saudi intelligence and is believed to be indirectly supported by the Israeli regime.
http://english.farsnews.com/newstext.aspx?nn=13930916001022
------------
Iraqi Air Strikes Claim Lives of over 26 ISIL Militants in Tikrit
Dec 7, 2014
Iraqi warplanes pounded the hideouts of the ISIL Takfiri group in Salahuddin province, leaving at least 26 militants dead.
Iraq's bombers launched massive strikes against the Takfiri militants in Yathrib district, South of Tikrit, and killed dozens of the militants.
The ISIL Takfiri terrorists currently control parts of Syria and Iraq. They have threatened all communities, including Shiites, Sunnis, Kurds, Christians, Ezadi Kurds and others, as they continue their atrocities in Iraq.
Senior Iraqi officials have blamed Saudi Arabia, Qatar, and some Persian Gulf Arab states for the growing terrorism in their country.
The ISIL has links with Saudi intelligence and is believed to be indirectly supported by the Israeli regime.
http://english.farsnews.com/newstext.aspx?nn=13930916000265
------------
Syrian forces 'use chlorine gas' on ISIS: monitor
7 December 2014
The Syrian regime used chlorine gas, a lethal chemical agent, against Islamic State of Iraq and Syria (ISIS) fighters to halt them from advancing towards its key air base in the eastern city of Deir Ezzor, a monitoring group reported on Saturday.
The Syrian Observatory for Human Rights said on its website that ISIS stopped advancing in the military air base after "heavy shelling and bombardment by the regime forces."
The Observatory added that it received "confirmed reports of suffocation cases in ISIS that the regime forces used the Chlorine gas during the bombardment."
"ISIS pulled back from areas in the mount of Deir Ezzor after it was exposed to regime's heavy bombardment," the London-based monitor said.
It also reported that 68 jihadists were killed during the past three days including two French citizens, one Tunisian and 33 Syrians.
Full report at:
http://english.alarabiya.net/en/News/middle-east/2014/12/07/Syrian-forces-use-chlorine-gas-against-ISIS-monitor-.html
------------
Egypt court refers 4 Brotherhood leaders to grand mufti to consider death penalty
Dec 7, 2014
Cairo Criminal Court referred four Muslim Brotherhood leaders Sunday, on trial for the killing of nine and injuring more than 90 in front of the Muslim Brotherhood headquarters in 2013, to Egypt's grand mufti to consider the death penalty.
The defendants in the case include 17 Brotherhood leaders, among which are former Parliament Speaker Saad El-Katatni, Brotherhood Supreme Guide Mohamed Badie, and his deputy Khairat El-Shater.
The top Brotherhood leaders involved in the case are not among those referred to the grand mufti.
The court has also set 28 February 2015 for a final verdict on the remaining defendants.
The defendants are accused of murder, inciting violence, and possession of live ammunition.
On 22 March 2013, fatal clashes erupted between Muslim Brotherhood members and anti-Mohamed Morsi protestors in front of the Muslim Brotherhood headquarters in the Moqatam district in Cairo.
Full report at:
http://english.ahram.org.eg/NewsContent/1/64/117365/Egypt/Politics-/Egypt-court-refers--Brotherhood-leaders-to-grand-m.aspx
------------
Syria army repels jihadist advance on key air base: Monitor
Dec 7, 2014
Syrian troops have repelled an attack by jihadists from the Islamic State group on a key military airport in the eastern Deir Ezzor province, a monitoring group said on Sunday.
"Troops and pro-regime militia stopped the attack that Islamic State launched on the Deir Ezzor military airport," the Syrian Observatory for Human Rights said, adding that both sides suffered heavy losses in the fighting.
The jihadists had withdrawn to the edges of the base, a day after managing to seize a southeastern part of the complex, it said.
The Observatory said more than 100 jihadists had been killed in fighting for the base since Wednesday, when they launched an operation to try to take the airport.
Pro-regime forces also suffered heavy casualties, with some 59 troops killed, it said.
State news agency SANA said Syrian army units had "repelled an attempt" by IS fighters to attack positions at the base, but provided no further details.
Full report at:
http://english.ahram.org.eg/NewsContent/2/8/117369/World/Region/Syria-army-repels-jihadist-advance-on-key-air-base.aspx
------------
Saudi Arabia opposes gender equality in climate change policy
Dec 7, 2014
The Saudi Arabia delegation made a strong pitch to exclude the recognition of gender equality in the recommendations for the draft agreement for Paris in 2015 which is under discussion in Lima. A delegate who was part of the meeting of the Subsidiary Body for Implementation (SBI), on Saturday said that it was only Mexico which fought till the end to retain gender as being paramount in the implementation of climate change policy.
The SBI is one of the two permanent subsidiary bodies to the United Nations Framework Convention on Climate Change (UNFCCC) and provides recommendations for the Conference of Parties through assessment and review of the effective implementation of the UNFCCC and the Kyoto Protocol.
The delegate said that earlier the gender aspect was woven into the entire text but now a compromised language has been formulated and gender is only in the preamble. One country has bullied the rest of the world and it even got support from the European Union (EU), the delegate pointed out. Saudi Arabia was against any language on gender equality and incorporating gender in climate change policies.
Full report at:
http://www.thehindu.com/sci-tech/energy-and-environment/lima-climate-talks-saudi-arabia-opposes-gender-equality-in-climate-change-policy/article6669688.ece
------------
Rise of IS and fall in oil prices cast shadow over GCC summit
Dec 7, 2014
The Gulf Cooperation Council meets Tuesday for an annual summit freshly reconciled but facing a growing threat from Islamic extremism and falling prices of its main source of revenue -- oil.
Gathering in Qatar, whose support for the Muslim Brotherhood caused months of acrimony with fellow members Saudi Arabia, Bahrain and the United Arab Emirates, leaders from the six-nation GCC will seek to boost their influence in the wake of the Arab Spring.
They are also expected to act to defend their share of the international oil market amid a shale oil boom.
Security issues and inter-Arab relations are likely to dominate the Doha summit, especially with Egypt where the short-lived year-long reign of the Brotherhood was the spark for the worst diplomatic crisis to hit the GCC since its inception in 1981.
Riyadh, Manama and Abu Dhabi have now returned their ambassadors to Doha after withdrawing them in March over perceived Qatari meddling in their internal affairs because of its backing for the Brotherhood.
Full report at:
http://english.ahram.org.eg/NewsContent/2/8/117364/World/Region/Rise-of-IS-and-fall-in-oil-prices-cast-shadow-over.aspx
------------
Egypt court confirms death sentence for Sinai militant Habara, six others
Dec 7, 2014
Cairo Criminal Court confirmed Saturday death sentences against Sinai militant Adel Habara and six others for carrying out an execution-style killing of policemen in an ambush in August 2013.
Some 25 soldiers were killed in the attack.
The court had referred the seven defendants to the grand mufti last October to review their sentence, a routine procedure in capital punishment cases.
The grand mufti approved of the sentences and the court issued its final verdict in Saturday's session.
The verdict can still be appealed.
Three other defendants in the case were sentenced to life in prison while 22 others were sentenced to 15 years in prison.
Full report at:
http://english.ahram.org.eg/NewsContent/1/64/117293/Egypt/Politics-/Egypt-court-confirms-death-sentence-for-Sinai-mili.aspx
------------
Europe
EU to seek more Turkish help in ISIS fight
7 December 2014
The European Union will press Turkey to cooperate more closely in the fight against Islamic State of Iraq and Syria (ISIS) and urge it not to undermine EU sanctions on Russia on a visit this week intended to give new impetus to often fraught EU-Turkish relations.
EU foreign policy chief Federica Mogherini, Enlargement Commissioner Johannes Hahn and Humanitarian Aid Commissioner Christos Stylianides will travel to Turkey on Monday and Tuesday in one of the highest-profile EU visits in years.
"The visit ... is a strong indication of the strategic importance of the EU-Turkey relationship and our desire to step up engagement," Mogherini said in a statement.
Turkey has been negotiating to join the EU since 2005, but political obstacles, notably over the divided island of Cyprus, and resistance to Turkish membership from some EU countries, have slowed progress and relations have often been difficult.
But now top EU officials hope a new president and prime minister in Turkey and a new European Commission in Brussels mark a fresh start that will pave the way for regular high-level talks to discuss common strategic interests.
Full report at:
http://english.alarabiya.net/en/News/middle-east/2014/12/07/EU-to-seek-more-Turkish-help-in-ISIS-fight.html
------------
Putin Aide: Mossad Training ISIL Terrorists
Dec 7, 2014
A senior aide to Russian President Vladimir Putin accused Israel's spy agency, Mossad, of training ISIL terrorists operating in Iraq and Syria.
Alexander Prokhanov told press tv that Mossad is also likely to have transferred some of its spying experiences to the ISIL leadership, adding that Israel's military advisors could be assisting the Takfiri terrorists.
Prokhanov said ISIL is a byproduct of US policies in the Middle East.
"ISIL is a tool at the hands of the United States. They tell the Europeans that if we (the Americans) do not intervene, ISIL will cause you harm," he said, adding that Iran and Russia are the prime targets of the ISIL.
"They launched their first terror attack against us just a few days back in Chechnya," he said, stressing that the ISIL ideology has got nothing to do with the Islam practiced in Iran and some other Muslim countries in the Middle East region.
Prokhanov said the United States and Israel are one and the same when it comes to supporting a terror organization like the ISIL.
Full report at:
http://english.farsnews.com/newstext.aspx?nn=13930916001019
----------
Pope to Iraqi Christians: Your resistance is martyrdom
Dec 7, 2014
As Iraqi Christians fight for survival in the face of the onslaught waged by Islamic State, Pope Francis lamented over the weekend the fact that "Christians are being driven from the Middle East in suffering," and called for change.
According to the Vatican News Agency, Francis delivered the message via video on Saturday to the Christians of the city of Erbil in Iraqi Kurdistan. The pontiff's remarks were relayed as part of the visit to the area by French Cardinal Philippe Barbarin.
"It would seem that there [Muslim extremists] do not want there to be any Christians, but you bear witness to Christ," Francis said. "I think of the wounds, of the pain of women with their children, the elderly and the displaced, the wounds of those who are victims of every type of violence."
Full report at:
http://www.jpost.com/Christian-News/Pope-to-Iraqi-Christians-your-resistance-is-martyrdom-383871
------------
Chechen warlord Umarov's brother in Turkey accused of being behind Grozny attack
Dec 7, 2014
Chechen leader Ramzan Kadyrov said that Akhmat Umarov, who is allegedly hiding in Turkey and is a brother of the late warlord Doku Umarov, was behind the fatal attack on a police checkpoint in Grozny on Dec. 4, ITAR-TASS News Agency has reported.
"There is evidence that Doku Umarov's brother financed, organized and therefore bears responsibility for the attack," Kadyrov told reporters on Dec 5. "Russia's law enforcement agencies must demand his extradition from Turkey."
Kadyrov said Umarov's brother deceived eleven militants who had infiltrated Grozny. They were told their goal was to reach Grozny and to open fire, as another 400 gunmen who were allegedly staying in the city would join them. Kadyrov said that all eleven militants were killed in the operation and later identified.
Kadyrov's relative killed Umar Kadyrov, a close relative of the Chechen head, was killed during the anti-terrorist operation in Grozny, Kadyrov wrote on one of his official social network pages on Dec. 5.
Full report at:
http://www.hurriyetdailynews.com/chechen-warlord-umarovs-brother-in-turkey-accused-of-being-behind-grozny-attack.aspx?pageID=238&nID=75287&NewsCatID=359
------------
France vows 'national' fight against anti-Semitism after latest attack on Jews
Dec 7, 2014
France's interior minister vowed Sunday to make the fight against anti-Semitism a "national cause" after the country was rocked by an attack on a couple apparently because the man was Jewish.
Speaking at a rally in the Paris suburb of Creteil, where the attack took place on Monday, Bernard Cazeneuve said: "We need to make the fight against racism and anti-Semitism a national cause by getting all bodies concerned involved.
"The Republic will defend you with all its force because, without you, it would no longer be the Republic," he added.
French police arrested two men in the city of Creteil last week following the assault of a young couple in a suspected anti-Semitic incident, according to the French newspaper Le Parisien.
The two suspects, both adults, are currently in police custody for questioning while a third suspect is still being sought.
Full report at:
http://www.i24news.tv/en/news/international/europe/53683-141207-france-vows-national-fight-against-anti-semitism-after-latest-attack-on-jews
--------
Signs That Attackers Came From Within Mitigate Alarm in Chechnya
Dec 7, 2014
GROZNY, Russia — In the midst of a terrorist assault on this city, one of the Islamic militants involved recorded a video explaining his motives that, strangely, left some here breathing a sigh of relief.
The brief clip shows a young man claiming that a local radical Islamic group, the Caucasus Emirate, was responsible for the attack and citing local grievances related to head scarves. That allayed concerns among analysts and residents of Chechnya alike that the Islamic State, the jihadist group that rampaged across Iraq from Syria this year, might have been involved.
Still, no one has ruled out an Islamic State role in Thursday's assault, in which 11 militants armed with explosives and automatic weapons seized a school and an office complex for media companies and killed 14 policemen and at least one civilian.
Full report at:
http://www.nytimes.com/2014/12/06/world/europe/signs-that-attackers-came-from-within-mitigate-alarm-in-chechnya.html?_r=0
--------
Wahhabi sentenced for deadly arson attack on Belgian Shiite mosque
Dec 7, 2014
Rachid El-Boukhari, 35, had denied intending to kill the preacher at the main Shiite mosque in the Belgian capital.
Boukhari, who describes himself as Sunni, had risked a life sentence for carrying out the attack on the Rida mosque just before evening prayers on March 12, 2012.
But earlier on Friday, he was cleared of a "terrorist offence" but found guilty of "arson causing death" under the "aggravating circumstances" that the attack was "based on religion."
Prosecutors had asked the court for a 30-year sentence.
"Yes, I knew that there was at least one or two people in the mosque when I set it on fire," the defendant had told the Brussels court during the trial.
"But I thought they would leave through the door. The problem is that one of these people shut the door and we all found ourselves shut inside the building," he said.
"I didn't think a man would die. I just wanted to wake up the Shiites," he said, denying he intended to kill.
Full report at:
http://www.abna.ir/english/service/europe/archive/2014/12/06/656233/story.html
--------
Pakistan
Al-Qaeda suspect among four killed in US drone strike in Pakistan
Dec 7, 2014
A senior member of al Qaeda and three other suspected militants were killed in Pakistan on Sunday when a U.S. drone attacked a house they were in, Pakistani military officials said.
The attack came a day after Pakistani forces killed a major al Qaeda leader, Adnan el-Shukrijumah. The U.S. Federal Bureau of Investigation had offered $5 million for his capture in connection with a plot to bomb the New York subway system.
Four Pakistani military officials said a senior member of al Qaeda was among the dead in the strike by a missile-firing drone on Sunday. They identified him as Omar Farooq and said he operated in Afghanistan and Pakistan.
One official said Farooq, also called Ustad Farooq, was in his early thirties and was head of al Qaeda's regional media department.
"He is the first Pakistani to be appointed to a senior-level position in al Qaeda," a military official told Reuters.
"He has been key in pushing al Qaeda to focus on South Asia and helped evolve al Qaeda's South Asia policy and specifically its anti-India activities. It was on his advice that al Qaeda officially declared the Pakistan army an apostate army."
The drone strike took place in Khar Tangi village in Datta Khel, North Waziristan, a mountainous region bordering Afghanistan. Khar Tangi is about 45 km (28 miles) west of Miranshah, North Waziristan's main town.
Full report at:
http://indianexpress.com/article/world/neighbours/al-qaeda-suspect-among-four-killed-in-us-drone-strike-in-pakistan/#sthash.6TBMEF4z.dpuf
------------
Afghan Army Handed Over Key Taliban Commander, Three Others to Pakistan
Dec 7, 2014
PESHAWAR: Latif Mehsud, a close aide of former Pakistani Taliban chief Hakeemullah Mehsud, has been handed over to Pakistani authorities along with his two guards and a broker, sources said on Saturday night.
High placed official sources told Dawn.com that Latif Mehsud, the then number-two of Tehreek-i-Taliban Pakistan (TTP) chief Hakimullah Mehsud, was arrested along with his guards and a tribesman, Shah Jehan on Pak-Afghan border by the Afghan National Army.
Latif was crossing the border allegedly to buy weapons at the time of the arrest. The militants were then snatched by the NATO troops from the Afghan National Army.
The former TTP commander was under the Afghan and NATO troops custody for some time and reportedly was handed over to Pakistani authorities after the recent visit of Afghan President Ashraf Ghani to Pakistan.
Pakistani authorities had been demanding the return of the arrested TTP commanders. The other two militants handed over to Pakistan have been identified as Jafar and Aziz.
http://www.dawn.com/news/1149254/key-taliban-commander-three-others-handed-over-to-pakistan-sources
------------
With new JF-17, Pakistan aims for boost to defence exports
Dec 7, 2014
KARACHI: A revamped version of Pakistan's JF-17 jet fighter took centre stage at a defence exhibition in Karachi this week as the state looked to boost its role as a military exporter on the world stage.
Pakistan's military has long been a major importer of defence equipment, particularly from key ally China.
But it is hoping the updated JF-17, conceived and initially developed with the help of China, along with Pakistani-made tanks and surveillance drones, will help grow military exports and bring in much-needed foreign exchange revenue.
Pakistan's forex reserves are slowly recovering after falling to just $3 billion in November 2013, from nearly $15 billion in 2011.
But the economy is still shackled by a long-running energy crisis and growth remains sluggish, predicted at 4.3 percent this financial year.
Full report at:
http://www.dawn.com/news/1149351/with-new-jf-17-pakistan-aims-for-boost-to-defence-exports
------------
Bajaur-Kunar jirga decides to take joint steps for peace
Dec 7, 2014
KHAR: A jirga of Mamond tribe of Bajaur Agency and Kunar province of Afghanistan has decided to take joint steps to curb free movement of militants across the border. The jirga, which was held in Tarkhu area of Bajaur Agency, also decided to work jointly for establishing peace in each other's areas. The purpose of organising the tribal meeting was to promote brotherly relations among the people living on both sides of the Pak-Afghan border. Local elders say such meetings used to be held in the past but the process was suspended 14 years ago owing to the law and order situation. However, after improvement in the security situation, the elders from both sides have now decided to continue this process. The local population has expressed pleasure over resumption of the jirga and hoped that this would further promote brotherly relations among the people from both the neighbourly countries. They also hoped that the jirga would prove to be helpful in improving the overall security situation in the region. The next jirga of the tribal elders from Bajaur and Kunar has been scheduled for next week in Afghanistan.
http://www.dailytimes.com.pk/national/07-Dec-2014/bajaur-kunar-jirga-decides-to-take-joint-steps-for-peace
------------
PPP can't afford to weaken political system in place in country: Zardari
Dec 7, 2014
LAHORE: The PPP cannot afford to weaken the political system in place in Pakistan because its vulnerability will be analogous to the weakness of the party and indeed of the people of the country, said former president Asif Ali Zardari while addressing current and former lawmakers, ticket holders, district presidents and office-bearers hailing from south Punjab at Bilawal House.
He said that he had been striving hard for the evolution of the political system because a developed system could ensure desirable political stability, economic prosperity and integrity of the federation where people would enjoy equal rights. He maintained that this was not the time for staging big rallies, and added that "Imran Niazi" had been using unreasonable language against other leaders while sitting in a container. "He should desist from this petty politics; otherwise they (political leaders) would be constrained to pay him the compliments in the same coin." The PPP co-chairman said that electoral setbacks were normal in a democratic dispensation. He said that history never forgave the usurpers and manipulators, and the Supreme Court's judgement in Asghar Khan's case proved the assertion of Benazir Bhutto that "our mandate has been stolen".
Full report at:
http://www.dailytimes.com.pk/punjab/07-Dec-2014/ppp-can-t-afford-to-weaken-political-system-in-place-in-country-zardari
------------
Zahid Hamid challenges special court verdict
Dec 7, 2014
ISLAMABAD: Former federal minister and Pakistan Muslim League-Nawaz (PML-N) leader Zahid Hamid has challenged the verdict of the special court hearing Musharraf treason case over inclusion of his name in the list of co-accused. The special court, headed by Justice Faisal Arab of the Sindh High Court (SHC), in its verdict on November 21 directed the federal government to include former prime minister Shaukat Aziz, former law minister Zahid Hamid and former chief justice Abdul Hameed Dogar as co-accused in the list of abettors.
http://www.dailytimes.com.pk/islamabad/07-Dec-2014/zahid-hamid-challenges-special-court-verdict
---------
South Asia
US drone strike kills 9 Taliban fighters: Afghan official
Dec 07 2014
An Afghan official says a suspected US drone strike has killed nine alleged Pakistani Taliban fighters in a rural village near the border.
Provincial police chief Gen Abdul Habib Sayedkhili said on Sunday that the strike happened on Saturday in Kunar province's Shigal District.
He says the strike on the village of Shiltan killed a senior Pakistani Taliban commander and wounded one.
The Taliban had no immediate comment about the strike. Taliban fighters from Pakistan and Afghanistan frequently cross the mountainous borders of the two countries to launch attacks on local troops and NATO forces.
In Laghman province, two suspected US drone strikes recently killed four Taliban fighters as well. NATO forces plan to wind down their combat mission in the country at the end of this month.
http://indianexpress.com/article/world/asia/us-drone-kills-9-taliban-fighters-afghan-official/#sthash.4806PJ9j.dpuf
------------
5 police martyred in Taliban attack in Hilmand
Dec 07 2014
Meher Dil, district police chief for Marja says 5 police were martyred and an insurgent was killed after unknown number of rebels attacked a police checkpoint in Trikh Nawar area of the district last night (06 DEC 2014).
Several insurgents were also wounded in the exchange of fire with police following the attack, Meher Dil added
Taliban yet to comment on the report.
http://www.khaama.com/5-police-martyred-in-taliban-attack-in-hilmand
------------
4 civilians killed, 20 injured in hand grenade attack in northern Afghanistan
Dec 07 2014
Col. Abdul Razaq Qaderi, police chief for northern Balkh province confirmed the incident in Chamtal district and said that an investigation was initiated to arrest the culprits.
According to the eyewitnesses people were gathered to watch the musical program at a wedding party when unidentified gunmen hurled a hand grenade into the crowd last night (06 DEC 2014). Most of the victims are teenagers, witnesses added.
No group has claimed the responsibility for the attack but Taliban militants are against the music.
http://www.khaama.com/4-civilians-killed-20-injured-in-a-hand-grenade-attack-in-northern-afghanistan
------------
Anti-liberation forces active to spoil Indo-Bangla relation
Dec 7, 2014
Speakers at a discussion meeting yesterday said some active fundamentalist and communal forces in the country often try to destroy the relationship between India and Bangladesh.
The forces were defeated during the country's liberation war in 1971. Their such attempts will also not be successful today, they said.
The speakers were addressing a programme titled 'Bangladesh-India Friendship and Regional Security' at the auditorium of Women's Voluntary Association in the capital.
Anti-war crimes platforms Ekattorer Ghatak Dalal Nirmul Committee [Committee for Eradicating the Killers and Collaborators of '71] and Forum for Secular Bangladesh and Trial of War Criminals of 1971 jointly organised the programme to mark the historic December 6.
The speakers also said the December 6 is a memorable day for the country as India and Bhutan gave diplomatic acknowledgment to the independent Bangladesh on the day.
Speaking on the occasion, Prof Muntasir Mamun said some 30 lakh people were killed regardless of nationality, religion, language, sex and wealth during the country's liberation war in 1971.
Full report at:
http://www.dhakatribune.com/bangladesh/2014/dec/07/anti-liberation-forces-active-spoil-indo-bangla-relation#sthash.v0UkDW6P.dpuf
------------
North America
Biden: 'We will not let Iran acquire a nuclear weapon'
7 December 2014
U.S. Vice President Joe Biden sought to nullify all doubts on the United States' commitment to Israeli security dismissing what he called the "malarkey" circulating about the nuclear deal with Iran.
"There's absolutely no daylight, none, between us and the Israelis on the question of Israel's security," Biden said while speaking at the pro-Israel Saban Forum in Washington, Agence France-Presse reported.
"There's been a lot of malarkey about our position on Iran. So let me state it absolutely clearly," he said.
"We will not let Iran acquire a nuclear weapon, period, period. End of discussion. It will not happen on our watch."
The global powers known as the P5+1 who are leading the efforts to stop Iran developing a nuclear weapon have extended their talks until June 30, after they failed to meet a November deadline for a deal.
"A diplomatic solution that puts significant and verifiable constraints on Iran's nuclear program represents the best and most sustainable chance to ensure that America, Israel, the entire Middle East will never be menaced by a nuclear-armed Iran," Biden insisted.
Full report at:
http://english.alarabiya.net/en/News/middle-east/2014/12/07/Biden-dismisses-malarkey-over-Iran-nuclear-talks.html
--------
US cautions against assumptions linking Pak to Kashmir violence
Dec 7, 2014
WASHINGTON: The United States has cautioned against making any assumptions linking Pakistan to the latest violence in the Indian occupied Kashmir (IoK), while also brushing aside the notion that last week's meeting between Army Chief General Raheel Sharif and Secretary of State John Kerry was somehow connected to the flare-up in Uri area.
A State Department spokesperson, while expressing concern over violence in the disputed Himalayan region divided between the two countries, also urged India and Pakistan to hold dialogue on Kashmir issue. "I think that you are conflating a couple of things. Obviously, we know the secretary and the army chief of staff had a very productive discussion on last Sunday on a range of security-related issues, and again, we are concerned about any violence in Kashmir, and I would not jump to conclusions here," Deputy Spokesperson Marie Harf told an Indian journalist in response to his questions at the daily briefing.
Full report at:
http://www.dailytimes.com.pk/national/07-Dec-2014/us-cautions-against-assumptions-linking-pak-to-kashmir-violence
------------
Additional 1,000 American troops to stay in Afghanistan
Dec 7, 2014
KABUL: US Defense Secretary Chuck Hagel said Saturday the United States will keep as many as 1,000 more troops in Afghanistan than planned for the first part of 2015.
At a joint news conference at the presidential palace with President Ashraf Ghani, Hagel said the original plan to cut US troop levels to 9,800 by the end of this year had been abandoned, but not because of a recent surge in Taleban attacks.
Hagel said the US will keep up to 10,800 troops for the first few months of next year and then restart the drawdown, which is scheduled to reach 5,500 troops by the end of 2015.
The US decided to keep additional forces in the country temporarily because planned troop commitments by US allies for a NATO train-and-assist mission starting in January have been slow to materialize.
Full report at:
http://www.arabnews.com/world/news/670886
------------
Washington Post reporter in Tehran charged after day in court
7 December 2014
A Washington Post reporter detained in Iran for more than four months was formally charged Saturday after a day-long proceeding in a Tehran courtroom, the newspaper reported.
Jason Rezaian, the newspaper's bureau chief in Tehran since 2012, appeared in court almost five months after he was arrested July 22. The charges were the first against him since the arrest, the Post said. He is an Iranian-American who holds dual citizenship.
The newspaper, quoting a source familiar with the case, said the nature of the charges against him were not immediately clear to those not present in the courtroom.
The State Department has repeatedly raised the subject of Rezaian and other Americans jailed in Iran during talks with the government about a deal to curb Iran's nuclear capacity and ease international sanctions.
Full report at:
http://english.alarabiya.net/en/media/print/2014/12/07/Washington-Post-reporter-in-Tehran-charged-after-day-in-court.html
------------
Venezuelan leader says racism in U.S. worse under Obama
Dec 7, 2014
CARACAS - Racism in the United States appears to have worsened during the administration of its first black leader, Venezuela's President Nicolas Maduro said on Saturday.
Maduro, who has come under fire from President Barack Obama's government in recent weeks for his treatment of domestic political foes, said he was appalled by recent cases of police killings of blacks in the United States.
"It's really dramatic," he told TV network Telesur, highlighting the death of Eric Garner, who was caught on video gasping for breath in a policeman's stranglehold, as particularly "brutal." "It's as if racism has been exacerbated in the United States with the arrival of Obama himself," said Maduro, the socialist leader who succeeded Hugo Chavez last year.
http://www.jpost.com/Breaking-News/Venezuelan-leader-says-racism-in-US-worse-under-Obama-383853
------------
Mideast
Mashaal: Israeli-Palestinian Tensions Could Lead To 'Open Conflict'
Dec 7, 2014
Exiled Hamas leader Khaled Mashaal on Friday blamed the recent wave of Palestinian terror attacks against Israelis on Prime Minister Benjamin Netanyahu, and warned that it could lead to "an open conflict - a bloodbath."
Speaking to Sky News from his base in Qatar, Mashaal said Netanyahu was "playing with fire" by granting right-wing activists entrance to the disputed Temple Mount compound.
Access to the contested holy site in Jerusalem has stood as a centrepiece in the rise of tensions following the summer's seven-week war between Israel and Hamas.
The Hamas leader attempted to validate the increase of violent attacks as the result of the loss of hope on the Palestinian side for a "just solution" to the decades-long Middle East conflict.
"The Israeli stubbornness, combined with the international impotence in solving the Palestinian issue with a just solution, which gives the Palestinian people their self-determination, and gets rid of occupation [Israel] … will lead to chaos in the region, not just in the Palestinian arena, but to an open conflict - a bloodbath," he told Sky News.
He added that Hamas would maintain its policy of "armed resistance" so long as an independent Palestinian state is established along the pre-1967 lines, which includes a capital in east Jerusalem.
Full report at:
http://www.jpost.com/Arab-Israeli-Conflict/Hamas-leader-Mashaal-Current-Israeli-Palestinian-tensions-could-lead-to-open-conflict-383768
---------
One killed in southeastern Turkey clashes
Dec 7, 2014
One person was shot dead Dec. 6 in clashes between protesters and the police in the southeastern province of Hakkari during demonstrations to commemorate two people killed last year.
Roşhat Özdel succumbed to his wounds at a hospital in the Yüksekova district.
Another civilian, İlker Arslan, was hospitalized after being hit by a tear gas canister.
The street unrest escalated in the afternoon as a crowd, some masked, gathered on the anniversary of the deaths of Veysel İşbilir, his nephew Mehmet Reşit İşbilir, and Bermal Tokçu. They were killed in clashes Dec. 6, 2013 during street violence that erupted after a local NGO said graves belonging to members of the outlawed Kurdistan Workers' Party (PKK) had been vandalized.
The unrest came at a time when the government is attempting to give a boost to ongoing talks to solve the Kurdish issue.
http://www.hurriyetdailynews.com/one-killed-in-southeastern-turkey-clashes.aspx?pageID=238&nID=75285&NewsCatID=509
--------
Israel launches eight new probes into Gaza war
Dec 7, 2014
Following claims made by Israeli and Palestinian rights groups, the Israeli army announced it will be pursuing eight new investigations into incidents that occurred during the Gaza war, a spokesperson tweeted.
In a statement posted on its blog, the military said the Military Advocate General's (MAG) decision adds to five separate criminal investigations that commenced earlier in September.
While more than 100 "exceptional incidents" have been reported, almost 85 are going through "various stages of review."
In a 19-page statement, Israel's Haaretz newspaper reported, Israeli forces provided details on the incidents where there is suspicion of violation of international law.
An airstrike allegedly targeting a Hamas official that killed 27 Palestinians, including two pregnant women, 19 minors and a four-months-old infant, is one of the incidents being investigated.
Full report at:
http://english.alarabiya.net/en/News/middle-east/2014/12/07/Israeli-launches-8-new-probes-into-Gaza-violations.html
--------
Southeast Asia
Stop meddling in non-Muslim affairs, interfaith group tells Islamic authorities
Dec 7, 2014
State Islamic authorities should stop regulating other faiths, including banning non-Muslims from using the word "Allah", as it goes against religious freedom, Malaysia's largest interfaith group said.
President of the Malaysian Consultative Council of Buddhism, Christianity, Hinduism, Sikhism and Taoism (MCCBCHST) Jagir Singh said the Arabic word could be used by non-Muslims in their own religious teachings and practices.
"Our stand has always been that non-Muslims can use the word Allah as long it is not used to proselytise those professing Islam," he told The Malaysian Insider today.
He made the comment in reference to a plea by the Sarawak-based Borneo Evangelical Mission or the Sidang Injil Borneo (SIB) to the prime minister for the right to use the word "Allah" in worship throughout Malaysia
Jagir said it was common knowledge that the Arabic word predated Islam and Muslims all over the world acknowledged that it was not the monopoly of that religion.
SIB president Reverend Dr Justin Wan said the state Islamic prohibitions had taken away "the most important thing in our lives".
Full report at:
http://www.themalaysianinsider.com/malaysia/article/stop-meddling-in-non-muslim-affairs-interfaith-group-tells-islamic-authorit#sthash.uxk7uxHX.dpuf
------------
Police Pledge Hard Line Against Religious Intolerance
Dec 7, 2014
Jakarta. Indonesia's National Police have pledged to crack down on violence against religious minorities.
Police spokesman Insp. Gen. Ronny. F. Sompie told the Jakarta Globe on Sunday that police would take a harder line against religious intolerance, an issue human rights groups say was neglected by the administration of former president Susilo Bambang Yudhoyono.
Ronny said National Police chief Gen. Sutarman spoke at the police academy in Semarang, Central Java, where he told officers on Friday that: "There can be no more evictions, violence and coercion towards any religious beliefs as stipulated in the 1945 constitution."
Police would not tolerate any groups who used religion as an excuse to act as vigilantes or attack houses of worship, Ronny said.
"The protection for minority groups, be it religious groups, tribes or races must be conducted optimally," he said.
Full report at:
http://thejakartaglobe.beritasatu.com/news/police-pledge-hard-line-religious-intolerance/
------------
Christians cry foul after seized Bibles stamped with warning
Dec 7, 2014
Christian leaders are furious that Bibles seized from The Bible Society of Malaysia (BSM) bookshop in Petaling Jaya earlier this year have been desecrated with a warning that they were not to be published or used anywhere in Selangor, before they were released to Sarawak Christians last month.
The stamping of the Bahasa Malaysia and Iban Bibles was only discovered after the Selangor Islamic Religious Department (Jais) handed over the holy books to the Association of Churches of Sarawak (ACS) in a ceremony witnessed by the Sultan of Selangor on November 14.
Sources who knew of the matter confirmed to The Malaysian Insider that BSM would be issuing a statement to protest against the stamping of the Bibles, and that it was highly upset over what it considered a repeat incident.
In March 2011, 5,000 copies of the Alkitab were stamped and serialised by the Home Ministry, which held the consignment worth RM70,000 for two years after seizing them at the Kuching Port on March 20, 2009.
Full report at:
http://www.themalaysianinsider.com/malaysia/article/christians-cry-foul-after-seized-bibles-stamped-with-warning#sthash.tIcNsDGZ.dpuf
------------
Apologise for defiling holy books, Bible Society tells Selangor religious authorities
Dec 7, 2014
The Bible Society of Malaysia (BSM) is demanding an apology from the Selangor religious authorities over the "desecration" of Bibles which were stamped following their seizure earlier this year.
The move comes as The Malaysian Insider reported this morning that Christian leaders were furious that the Bahasa Malaysia and Iban-language Bibles were stamped with a warning (pic below) that they were not to be published or used anywhere in Selangor, prior to the release of the books to Sarawak Christians last month.
BSM president Bishop Datuk Ng Moon Hing said the stamping of the Bibles was contrary to Putrajaya's assurance that such an incident would not recur, following a similar incident in 2011 in Sarawak.
"The incident has now recurred, this time perpetuated by the Selangor state religious officials. On both occasions, the Christian community has suffered the indignity of having its religious texts sullied and defiled," Ng said in a statement.
"It does not matter to us which level of government is responsible for this heinous and despicable action.
Full report at:
http://www.themalaysianinsider.com/malaysia/article/apologise-for-defiling-holy-books-bible-society-tells-selangor-religious-au#sthash.2jWBbIjE.dpuf
----------
URL: https://www.newageislam.com/islamic-world-news/new-age-islam-news-bureau/boko-haram-enlists-female-suicide-bombers-to-kill-100,000;-violence-now-akin-to-isis/d/100365