New Age Islam News Bureau
9 Sept 2014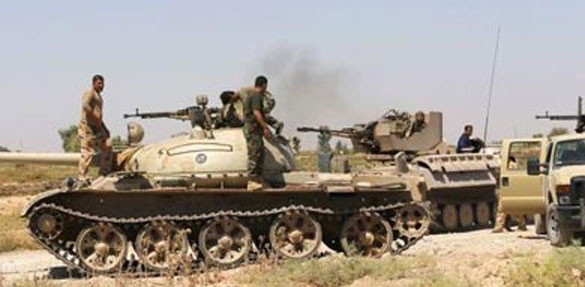 Kurdish Peshmerga fighters take their positions during clashes with the Islamic State at Buyuk Yeniga village, Iraq. File photo
------------
Africa
• Boko Haram Closes In On Its Dream of an African Caliphate – And ISIS Gives Its Blessing And Advice On Strategy
• Cameroon Army 'Kills More Than 100 Boko Haram Fighters'
• 25 killed in Mogadishu bomb attacks
• Haftar's army demands Libya militias surrender
• Somalia's Islamist al-Shabaab at risk of splintering
Arab World
• Western Media Attacks on Islam Swelled Terrorist Ranks: King Abdul Aziz Centre
• Iraq's Shi'ite Militia, Kurds Use U.S. Attacks to Further Own Agendas
• 'Islamic State Uses Children as Suicide Bombers'
• Syria Media Slams Arab 'Green Light' For US Attacks
• Egypt's Grand Mufti: ISIS not part of Islam
• Syrian Army Wins Back Control over 2 Strategic Towns in Hama
• Lebanon PM: Sunnis, Shiites can ward off strife
• Hezbollah: March 14 stop making excuses for Takfiris
• Saudi Arabia hosts talks with US, Turkey, regional allies
• Arab League urges support for new Iraq government
India
• India warns of al-Qaida terror plots against Israeli tourists during holiday season
• LeT Commander killed in gun battle in north Kashmir
• MoU to develop Waqf properties
South Asia
• Deal Inked For Teaching of Arabic to Chinese Muslims
• NATO drone strike leaves 3 militants dead in Nangarhar
• Japanese delegation expresses admiration for Saudi heritage
• Bangladesh Jamaat-e-Islami man held with bombs
• China says Turkey will decide in its 'own interests' on missile system
Europe
• French Imams to Use Pulpit against ISIS
• Israel provides intelligence on Islamic State: Western diplomat
• UN Security Council plans to suppress foreign extremist fighters
• French Defence chief urges global action in Libya
• Russian war planes practice 'nuclear strike' on US
Pakistan
• Tahir Ul Qadri Vows to Give New Life to 'Dead' Constitution
• Air strikes kill 10 militants in NWA
• Six suspected terrorists killed in North Waziristan operation
• Al Qaeda man killed in drone strike
• Karachi violence claims four lives
• Pakistani Sikhs threaten agitation against 'targeted killings'
• Taliban claim attack on Karachi navy dockyard
• Qadri to get Hollywood biopic, claims PAT leader
• Detained in Afghanistan: Tribal Jirga returns to Pakistan today
• Imran and Qadri Responsible For Sowing Seeds of Hatred: Minister
North America
• U.S.: More than 40 nations joined coalition against ISIS
• U.S. courts sceptical Arab allies in ISIL fight
• Obama to press Congress for action on ISIL
• Kerry to hold anti-Islamic State talks in Saudi Arabia
• Steven Sotloff Was Sold to ISIS by 'Moderate' Syrian Rebels
Mideast
• Israel urges global spies to pool resources on Islamic State jihadist group
• Yemeni soldiers kill four Shi'ites as protests rage
• Abbas wants UN to replace US as leading negotiator in peace talks, aide says
• Polygamist jailed for sex crimes by an Israeli Court, 'harem' of women give birth to dozens of his children
Southeast Asia
• Special camp for terror convicts nixed
• Stopping direct elections a threat to democracy, says Jokowi
• Philippine Congress urged to pass law on Muslim South
• Only God, not Sultan, has absolute power, says legal expert
• Failure to fulfil promise to repeal Sedition Act is unIslamic
• 'Ungrateful citizens' will send us back to 'Dark Ages', Muslim group claims
Constitution allows government to curb free speech, Muhyiddin says
Compiled by New Age Islam News Bureau
URL: https://www.newageislam.com/islamic-world-news/new-age-islam-news-bureau/boko-haram-closes-in-on-its-dream-of-an-african-caliphate-–-and-isis-gives-its-blessing-and-advice-on-strategy/d/98985
-----------
Africa
Boko Haram Closes In On Its Dream of An African Caliphate – And ISIS Gives Its Blessing And Advice On Strategy
09 Sep, 2014
The Boko Haram gunmen who swept into the township of Gulak brought with them a new message. Rather than sowing afresh the terror they have brought to swathes of north-east Nigeria by opening fire, the jihadists insisted they were here to stay and residents would not be harmed.
For Nigerians who have died in their thousands at the hands of Boko Haram's Islamist insurgents, such assurances were always going to be treated as hollow lies. Scores fled and today officials said the reality was that many in Gulak were killed in the weekend attack.
As Michael Kirshinga, a resident of the strategically important settlement put it: "They assured us that they will not attack us, but people began to run for their lives. Some of us have fled for fear that, after subduing the soldiers; the insurgents will turn their gun barrels on us."
The attack on Gulak may have ultimately conformed to Boko Haram's grimly familiar modus operandi of spreading panic and spilling blood with murderous raids, bombings and beheadings.
But the attempt to persuade its victims that it meant no harm and the raising of jihadist flags over the township was the latest evidence of a new – and yet more chilling – direction in Boko Haram's five-year campaign to bring havoc to Africa's most populous nation.
The group earlier this year succeeded in monopolising global attention – and outrage – when it kidnapped nearly 300 schoolgirls from the village of Chibok in April, 200 of whom remain missing.
But while the West has since concentrated its focus on the "caliphate" or religious fiefdom declared by the Islamic State in Iraq and Syria (Isis) in Iraq and Syria, a similar announcement by Boko Haram's leader Abu-Bakr Shekau – and a series of territorial gains – has passed largely unremarked outside Nigeria.
As the insurrection which began in 2009 this weekend seized yet more towns along Nigeria's border with Cameroon and tightened its grip on large parts of its native Borno state, experts said Boko Haram was metamorphosing from a guerrilla movement once confined to the bush and mountain caves into a force capable of holding onto its gains.
When his fighters last month took the town of Gwoza in Borno, murdering inhabitants and again raising its jihadist flags, Shekau released a video in which he declared the area was "now part of the Islamic Caliphate". He added that Gwoza now had "nothing to do with Nigeria".
Scholars warned last week that Boko Haram, whose name translates colloquially as "Western education is sin" and which began life in 2002 as a movement to reject concepts such as evolution and big bang theory, was on the verge of ending government control across almost the entire state of Borno and establishing its cherished aim of a caliphate.
Intelligence agencies are concerned that what were once symbolic links between Isis and Boko Haram have now developed into a practical relationship with the Islamic State offering advice on strategy and tactics.
Emboldened by the success of Isis and now seemingly armed with armoured vehicles and artillery, observers said Boko Haram was beginning to operate more like a conventional army in Borno and the neighbouring north-eastern states of Adamawa and Yobe.
The Nigeria Security Network, a coalition of security experts and academics, said: "Unless swift action is taken, Nigeria could be facing a rapid takeover of a large area of its territory reminiscent of Isis's lightning advances in Iraq."
The nature of the threat was further underlined on Monday when a senior politician in Borno admitted that civil life in the state, home to three million people, has all but ground to a halt.
Alhaji Baba Ahmad Jidda, secretary to the Borno state government, said: "At this very moment, most parts of Borno state are being occupied by Boko Haram insurgents. Government presence and administration is minimal or non-existent across many parts of the state, with economic, commercial and social services totally subdued. Schools and clinics remain closed. Most settlements in the affected areas in the state have either been deserted or access to them is practically impossible."
He added: "The threat to security of lives and property as a result of the criminal activities of the Boko Haram insurgents is everywhere."
The capture of the strategic Borno town of Bama – since disputed by the Nigerian authorities – has raised concern that the state capital, Maiduguri, where Boko Haram was founded and long one of its key targets, will be next to come under sustained attack.
Soldiers in Nigeria's beleaguered army this week fought off rebels outside the city and claimed to have secured a significant victory in a village just 25 miles from Maiduguri, where a raid killed dozens of insurgents and reportedly led to the capture of equipment including an armoured personnel carrier. But inside the city residents remain fearful that a fresh assault by Boko Haram, which has succeeded in cutting bridges around the area, is imminent.
Students at Maiduguri University, which sits on a dry river bed used by rebels to attack the city in the past, said they could not concentrate on end-of-term exams because of fear and sporadic gunfire.
Ibrahim Muhammad Idris told The Independent: "People are really scared. Prayers is the only thing we can do. We are writing the exams right now. At times if we go to class to read and we hear gunshots or any explosions we end it for the day."
Asked about insurgents' attempts to persuade civilians they will not be harmed, he added: "Them saying they won't attack is just a trick, they want to use people as human shields. They are liars."
The military successes of Boko Haram will deepen concern that Nigeria's army, despite the bravery of individual soldiers and units, is unable to stop the rebel force despite pledges of military aid from London and Washington.
Reports are rife of desertions, refusals to fight, malfunctioning equipment and low morale. According to one report, soldiers are sent into battle with just 60 rounds of ammunition against well-equipped Islamists.
The crucial question remains of whether Boko Haram, whose members have previously enforced their idea of Sharia law by beheading victims with chainsaws, has the longer-term capacity or will to administer its new gains.
Andrew Noakes, NSN coordinator, said: "At the moment we're only seeing crude forms of governance – the implementation of Sharia law and setting up of check points. They're not reported to be setting up government departments or running services. It's unclear whether they have the ability – or desire – to actually govern."
http://www.independent.co.uk/news/world/africa/boko-haram-closes-in-on-its-dream-of-an-african-caliphate--and-isis-gives-its-blessing-and-advice-on-strategy-9719519.html
---------
Cameroon army 'kills more than 100 Boko Haram fighters'
9 September 2014
Cameroon said its soldiers had killed "more than 100" Boko Haram fighters during an attempted incursion by the Nigeria-based Islamist insurgents, while across the border thousands continued to flee the group's advances.
The Cameroonian army dealt "a severe setback" to Boko Haram during clashes in the north of the country on Saturday, government spokesman Issa Tchiroma Bakary said in a statement read out on state radio.
The statement, which could not be immediately verified, said Boko Haram militants fired two shells on the town of Fotokol in Cameroon's northern tip, on the border with Nigeria.
"There were no casualties reported on the Cameroonian side," the statement said.
"Our defence forces responded vigorously with mortar fire aimed at the positions held by units of the Boko Haram terrorist group. The Cameroonian response resulted in over 100 deaths among the aggressors."
The Boko Haram militants were pushed back towards the Nigerian border town of Gamboru Ngala, separated only by a footbridge from Cameroon, which they seized over a week ago.
Meanwhile, panicked residents continued to flee their homes in northeast Nigeria on Monday in fear of Islamist attacks.
The exodus from Mubi, the commercial hub of Adamawa state, began on Sunday after the insurgents seized the town of Michika around 40 kilometres (25 miles) away the day before.
Boko Haram has seized control of a number of towns in Yobe, Borno and Adamawa states in recent weeks, prompting fears the government could soon lose control of the entire region.
"With the fall of Michika into the hands of Boko Haram, Mubi is seen as their next destination," Mubi resident Habu Bala told AFP.
The fear of attack grew on Monday after the families of police officers were ordered to evacuate, said resident Muhammad Maishanu.
The Nigerian military has appeared largely powerless to stop the militants' advance.
Residents in Michika said airforce jets were circling above the town but were unable to strike because the insurgents had taken cover in civilian houses.
In Mubi, where thousands have taken refuge in recent weeks, locals were thronging the main bus depot on Monday.
"The increasing large number of passengers far exceeds available vehicles, which has resulted in commotion as people jostle and struggle to secure seats on available buses and taxis. They just want to get out," said Samaila Ado, who works at the coach station.
The United States last week said it was alarmed by reports that Boko Haram had captured the Borno town of Bama and the possibility of an attack on the state capital, Maiduguri, 70 kilometres away.
The spokesman of the Roman Catholic Diocese of Maiduguri, Gideon Obasogie, said he fled the town on Sunday.
"Thousands of others have also left Mubi for Yola for fear of attack. The Boko Haram militants are just capturing everywhere," he told AFP.
"The Catholic church in Maiduguri diocese is gradually crumbling. A priest in Michika had to scale a fence yesterday to avoid being killed. He had to pass through some bush and mountains before he finally made it to Yola."
Security fears prompted the indefinite closure of the Adamawa State University in Mubi, according to a university statement.
In October 2012, Boko Haram fighters were blamed for shooting dead at least 40 polytechnic students at their off-campus hostels in the town.
The military has claimed it recaptured Bama in ground and air offensives, killing 50 insurgents in a battle near the town at the weekend.
Independent confirmation was not immediately available and in an audio message, a purported Boko Haram spokesman named Abu Zinnira refuted the claim.
The insurgents threatened to add to their territorial gains, he said.
It was not possible to verify the authenticity of the recording but AFP received the message from the same channels as previous Boko Haram videos.
http://english.ahram.org.eg/NewsContent/2/9/110288/World/International/Cameroon-army-kills-more-than--Boko-Haram-fighters.aspx
-----------
25 killed in Mogadishu bomb attacks
World Bulletin / News Desk
9 September 2014
At least 25 people were killed in a suicide bombing that targeted African peacekeepers in Somali capital Mogadishu on Monday, security sources and eyewitnesses said.
"A car laden with explosives rammed into two convoys of the African Union Mission in Somalia (AMISOM) in northwestern Mogadishu," a security source told Anadolu Agency.
It remains unclear whether those killed were civilians or African peacekeepers.
At least another 30 people were injured in the attack, for which the Qaeda-linked Al-Shabaab group has since claimed responsibility.
Wednesday's attack was the first of its kind since Al-Shabaab commander Ahmed Abdi Godane was killed last week in a U.S. drone strike.
In the wake of Godane's death, Al-Shabaab threatened to carry out retaliatory attacks on state institutions across the country.
Established in 2004, Al-Shabaab has battled the government for control of territory throughout Somalia.
The Somali government and African troops have launched a massive military operation against Al-Shabaab – dubbed "Operation Indian Ocean" – which has cost the militant group most of its strongholds, except for the port of Barawe.
The port is believed to be Al-Shabaab's main source of revenue, generating millions of dollars from the illegal sale of charcoal to the Middle East.
Somalia, a long-troubled country in the Horn of Africa, has remained in the grip of on-again, off-again violence since the outbreak of civil war in 1991.
Al-Shabaab claims attacks
Somalia's Al-Shabaab group claimed responsibility for two car bomb attacks on Monday targeting African peacekeepers and a government convoy, the first such strikes by the group since it vowed revenge for the killing of its leader last week.
Somalia's rebel group bombed African peacekeepers and government vehicles on Monday in twin attacks that left at least 12 civilians dead, marking Al-Shabaab's first major attack since promising revenge for the killing of its leader last week.
The blasts within an hour of each other on the same road southwest of Mogadishu targeted a convoy of African Union (AU) troops and a Somali government convoy of police and national security forces. Civilian buses near the first blast were hit.
"We are behind the two car bombs driven by mujahideen (fighters)," Sheikh Abdiasis Abu Musab, spokesman for Al-Shabaab's military operations, told Reuters.
Al-Shabaab appointed a new leader at the weekend after U.S. missiles killed his predecessor Ahmed Godane and said the group's enemies would reap "bitter fruits" of revenge.
Abdikadir Mohamed Sidi, governor of the Lower Shabelle region south of Mogadishu, told Reuters by telephone he was driving behind the AU convoy at the time of the first blast and saw three civilian vehicles in the same area.
He said more than 12 people were killed in one minibus. Two African Union soldiers were injured in that attack, about 20 km (13 miles) from the capital.
The rebels said four Americans and a South American were among those killed in the attack on the AU convoy. There was no official confirmation. Al-Shabaab's figures and details it gives of those killed often differ markedly from official accounts.
"It is a disaster. The flesh of the people was mixed up and stuck to the tarmac road and the debris of the vehicle," said Major Hussein Ahmed, a senior police officer, describing the scene near the African Union convoy where minibuses were hit.
More than two dozen others were wounded in that first blast, including two African soldiers, the governor said.
A Reuters witness saw an AU vehicle being towed and the burned remains of passengers inside one of the minibuses.
At least two people were injured in the second blast, said major Hussein Ahmed.
Following Godane's death last Monday, rebels pledged allegiance to their new leader, Sheikh Ahmed Umar Abu Ubaida.
http://www.worldbulletin.net/headlines/143978/25-killed-in-mogadishu-bomb-attacks
-----------
Haftar's army demands Libya militias surrender
9 September 2014
The Libyan National Army, led by renegade General Khalifa Haftar, has called on all armed militiamen in Benghazi to give up their weapons and respect the state, in a statement made on Tuesday.
Spokesperson Colonel Mohammad al-Hejazi said that the terrorists, takfirists and criminals had gathered in the city of Benghazi, after travelling from across the world.
Haftar's "Operation Dignity" is being exercised to liberate Libya from terrorism, the spokesman said as armed militias battle to take control of Benghazi's civilian and military airport from forces allied to Moammar Qaddafi-era General Haftar. Haftar declared Operation Dignity earlier this year in a push to clear the country of Islamist militias.
Also on Tuesday, French Defence Minister Jean-Yves Le Drian on Tuesday urged the international community to take decisive action in Libya, which he said was becoming a "hub for terrorist groups," Agence France-Presse reported.
In an interview with Le Figaro daily, Le Drian said: "We need to act in Libya and mobilize the international community."
"Today, I am sounding the alarm about the seriousness of the situation in Libya. The south is a sort of hub for terrorist groups where they come to resupply - including with weapons - and reorganize," added the minister.
"In the north, the political and economic centres of the country are now at risk from falling under jihadist control. And Libya is the gateway both to Europe and the Sahara," he warned.
Meanwhile, Human Rights Watch said on Monday that Libyan militia forces battling for control of Tripoli and surrounding areas have engaged in attacks on civilians and civilian property that in some cases amount to war crimes.
http://english.alarabiya.net/en/News/middle-east/2014/09/09/Haftar-s-army-calls-on-Benghazi-militias-to-surrender.html
-----------
Somalia's Islamist al-Shabaab at risk of splintering
9 September 2014
The killing of Somali Islamist group al-Shabaab's leader by a U.S. airstrike earlier this week could foment in the movement internal conflicts and eventual fragmentation, experts say.
But despite the White House hailing Ahmed Godane's killing as "a major symbolic and operational loss" for the al-Qaeda linked group, on Monday, just hours after the group pledged allegiance to its new leader, Ahmed Umar, at least 12 civilians were slain in two car bombings that targeted African Union troops and Somali security forces.
The attack was the first such strike by al-Shabaab after it had vowed revenge for the killing of its leader.
But with Godane's death, the main threat to the organization in now internal, U.S.-based intelligence firm Stratfor said on its website.
"The removal of Godane as the main decision-maker in al-Shabaab could result in another shift in tactics or strategic focus for the organization, but the exact direction this shift will take depends heavily on which al-Shabaab leaders are able to consolidate control over the group now," it said.
The acceptance of Umar as a leader is another key factor, said Stig Jarle Hansen, a Norwegian expert who has written a book on al-Shabaab.
"The biggest threat in al-Shabaab is whether there's any kind of internal disagreement. It look likes al-Shabaab has taken some positive steps in consolidating the organization after the change, but we'll still have to see if it's accepted," Hansen told Al Arabiya News.
The group might "morph" into a different structure, Hansen added, weakening its capabilities. "A more fragmented al-Shabaab with small cells inside Somalia is less of a threat."
Chris Chivvis, a political scientist at the U.S.-based RAND Corporation policy think-tank told Al Arabiya News that "some degree of power struggle" could be expected in the group, with "the possibility of splinter groups emerging from that struggle."
"This would surely pose a problem for al-Shabaab, but it by no means is the end of the group," Chivvis said.
Internal conflicts
Besides the risk of fragmentation and internal conflicts tearing al-Shabaab apart, the new leader may also not be able to step into the shoes of his former boss well, said J. Peter Pham, an expert on African security at the Atlantic Council, a Washington-based think tank.
"In extremist groups such as al-Shabaab the elimination of any one person is generally not dispositive; he will simply be replaced sooner or later," Pham told Al Arabiya News.
However, Godane's ruthless and "autocratic" six-year rule – according to the testimony of former Godane loyalist and presumed successor Ibrahim al-Afghani, who was then killed a month later by Godane's elite "Amniyat" internal security service – could prove an exception, said Pham.
Due to Godane's intolerance for dissent and his wiping out all rivals and internal opposition, the late leader's "modus operandi" left the group more susceptible than it need be, he said.
"The successor [Umar] his loyalists have scrambled to appoint has neither Godane's stature as a veteran militant nor some of his rivals' clan networks," Pham added.
However, Hansen said Umar should not immediately be dismissed as a potentially strong chief, having the credentials of being a former wali (or governer) of one of Somalia's many districts.
"[Umar] had the reputation for being efficient," said Hansen, adding that the new leader was also related to Godane by his mother's side.
"He has a name inside the organization. He is not an unknown figure," he added.
The face of the conflict
One factor that could bolster al-Shabaab's future is the fact that the U.S., despite targeting Godane personally as a designated terrorist, has not decided to strike the wider group, according to Ryan Goodman, the co-editor-in-chief of Just Security, an online forum that analyzes U.S. national security law and policy.
Consequentially, "other governments and institutions – such as Kenya and the African Union (backed up by the U.N. Security Council) – are more the face of the conflict with Al-Shabaab [than U.S. forces]," Goodman wrote.
The new change of leadership presents Somalia's government with an opportunity to act against the group, having already made overtures toward future actions including amnesty for fighters, Pham said.
However, "if the government fails to take advantage of the circumstances, there is a risk that the 'nationalists' [fighters who do not share the transnational ambitions of others in the group] may return to leadership with the movement and prove a more difficult foe than the hardline Godane," he added.
http://english.alarabiya.net/en/perspective/analysis/2014/09/09/Somalia-s-Islamist-al-Shabaab-at-risk-of-splintering.html
-----------
Arab World
Western Media Attacks on Islam Swelled Terrorist Ranks: King Abdul Aziz Centre
09 Sep, 2014
Secretary-General of King Abdul Aziz Centre for National Dialogue (KACND) Faisal Muammar has said that linking Islam to the events of Sept. 11, 2001 by some Western politicians and media was unfair and obviously aimed at projecting Muslims as terrorists and extremists.
"The goal of these critics was to fight Islam, not terrorism and this made them (terrorists) gain more supporters and sympathizers globally instead" he noted.
Muammar made his remarks recently while receiving US advisers and aides of the Congress members at KACND headquarters in Riyadh.
He said those indulging in terrorism and extremism use the name of religion in conflicts with others, in many parts of the world, especially in the Middle East. "Those terrorists are not related to religion, they simply make use of religion to gain supporters and sympathizers and portray their actions as service to the religion," he said.
Full report at:
http://www.arabnews.com/featured/news/627041
--------
Iraq's Shi'ite militia, Kurds use U.S. attacks to further own agendas
World Bulletin/News Desk
9 September 2014
A small group of people pick through putrefying human remains laid out on plastic sheets by the side of a road in northern Iraq, searching for any trace of missing friends and relatives.
Some had brought spades to help dig up the mass grave near Suleiman Beg after the town was retaken from Sunni ISIL militants who held the area until last week.
"They (ISIL) slaughtered him simply because he was Shi'ite," said Jomaa Jabratollah, hauling the remnants of his friend, a truck driver, into a coffin, having identified him from the lighter in his breast pocket. "We must take revenge".
Helped by the United States and Iran, Kurdish forces and Shi'ite militia are finally beating back ISIL militants who overran most Sunni Arab areas in northern and central Iraq nearly three months ago.
But the aftermath illustrates the unintended consequences of the U.S. air campaign against ISIL.
Full report at:
http://www.worldbulletin.net/headlines/144001/iraqs-shiite-militia-kurds-use-us-attacks-to-further-own-agendas
-----------
'Islamic State Uses Children as Suicide Bombers'
9 September 2014
The militant group Islamic State has been using children as suicide bombers, a United Nations representative said.
Boys aged as young as 13 are used to carry weapons, guard strategic locations and arrest civilians, said Leila Zerrougui, the Secretary-General's special representative for children and armed conflict, at a meeting of the Security Council in New York.
"Other children are used as suicide bombers," she said.
Up to 700 children have been killed or maimed in Iraq since the start of the year, according to UN figures. The Islamic State group has proclaimed a caliphate across parts of northern Syria and Iraq.
http://www.thehindu.com/news/international/world/islamic-state-uses-children-as-suicide-bombers-united-nations-says/article6393716.ece
----------
Syria media slams Arab 'green light' for US attacks
9 September 2014
DAMASCUS: Syrian media accused Arab governments Tuesday of giving Washington prior agreement for military action against jihadists, with one daily calling for Damascus to form an alternative alliance with Moscow and Tehran.
The commentary comes ahead of talks in Saudi Arabia on Thursday between Secretary of State John Kerry and U.S. regional allies on joint action to tackle the threat posed by the ISIS group in both Syria and Iraq.
"Washington, which used the false pretext of weapons of mass destruction to enter the region militarily in 2003 and draw new geopolitical lines ... is returning today under a new false pretext, the fight against terrorism," said the Al-Baath newspaper, mouthpiece of Syria's ruling party.
Full report at:
http://www.dailystar.com.lb/News/Middle-East/2014/Sep-09/270079-syria-media-slams-arab-green-light-for-us-attacks.ashx#ixzz3Cp2OIIQF
-----------
Egypt's Grand Mufti: ISIS not part of Islam
9 September 2014
Egypt's Grand Mufti said on Monday condemned the Islamic State of Iraq and Syria (ISIS), saying its horrific actions fame it "far from Islam."
Last week leading Muslim institutions denounced ISIS's killing Steven Sotloff, the second U.S. journalist to be executed by the jihadist group.
Former Deputy Imam of al-Azhar Sheikh Mahmoud Ashour told Al Arabiya News that Sotloff's killing was not only against humanity but "there is no religion that accepts the killing of a human soul."
Full report at:
http://english.alarabiya.net/en/News/middle-east/2014/09/08/Egypt-s-Grand-Mufti-ISIS-not-part-of-Islam.html
-----------
Syrian Army Wins Back Control over 2 Strategic Towns in Hama
9 September 2014
Syrian army units liberated the towns of Arzeh and Bel-Hossein near Hama city in heavy clashes with Al-Nusra Front terrorists in the last 24 hours.
Tens of terrorists were killed and dozens more injured during the army attacks on the militants' positions in Arzeh and Bel-Hossein towns.
FNA dispatches said that the Syrian army is now advancing towards Kharbeh Al-Hajameh and have the militants' positions in Khattab town under fire.
Also in the past 24 hours, the army units conducted extensive military operations in different parts of Lattakia countryside, and killed hundreds of terrorists.
The army units also conducted extensive military operations in the town of Dourin where they destroyed the gathering centres of the foreign-backed militants.
Elsewhere, the Syrian army is still in control of Deir Ezzur international airport in the Eastern parts of the country, sources said, rejecting militants' claim that they have managed to win control over the airport.
The source told FNA on the condition of anonymity that the Syrian air force and artillery units have destroyed tens of gathering centres of the foreign-backed militants in two strategic regions of Al-Mariayeh and Al-Mouhsen before the terrorists could launch an attack on Deir Ezzur international airport.
Full report at:
http://english.farsnews.com/newstext.aspx?nn=13930618000371
-----------
Lebanon PM: Sunnis, Shiites can ward off strife
9 September 2014
BEIRUT: Lebanon's Sunnis and Shiites can ward off sectarian strife, former Prime Minister Saad Hariri said Tuesday, a day after tit-for-tat kidnappings swept the Bekaa Valley.
"Protecting our country from sliding into strife is in our hands and in the willpower of all of us; from all sects and regions. Primarily it is in the willpower of Muslims in Lebanon – Sunnis and Shiites – to decide to stop strife and reject a scenario similar to Iraq and Syria," Hariri said in a statement.
He urged Lebanese to rally behind security forces.
"These days should be in solidarity with the Lebanese Army and the legitimate security forces, and not days of lawlessness and the creation of private armies," Hariri said.
The head of the Future Movement also urged Lebanese in the Bekaa, Tripoli and Akkar to exercise patience and endure the suffering for the sake of Lebanon and the fraternal bonds between citizens.
Full report at:
http://www.dailystar.com.lb/News/Lebanon-News/2014/Sep-09/270059-hariri-sunnis-shiites-can-ward-off-strife.ashx#ixzz3Cp2nMtao
-----------
Hezbollah: March 14 stop making excuses for takfiris
9 September 2014
BEIRUT: March 14 must stop making excuses and agree with Hezbollah on an objective way to fight the growing threat of takfiri radicals from Syria, Hezbollah deputy leader Sheikh Naim Qassem said.
"March 14 forces must stop making excuses for takfiris. These people do not recognize anyone. They don't even have faith in those who provide cover for them," Qassem told the local daily As-Safir in remarks published Tuesday.
"ISIS and Nusra Front are a major threat to Lebanon, but that threat does not mean that extremist groups can achieve their goals, especially after they had been properly and effectively confronted."
"The right choice is to sit together and agree on an objective way to address all the issues."
He argued both the Hezbollah-led March 8 coalition and the Future Movement-led March 14 need to work hand-in-hand to resolve the situation in the northeastern border town of Arsal.
The Lebanese Army fought five days of deadly gunbattles with ISIS and Nusra Front militants in Arsal at the beginning of last month. While the gunmen retreated, they took more than two dozen Lebanese soldiers and policemen captive.
Full report at:
http://www.dailystar.com.lb/News/Lebanon-News/2014/Sep-09/270042-hezbollah-seeks-march-14-help-to-fight-takfirism.ashx#ixzz3Cp2SKxkF
-----------
Saudi Arabia hosts talks with US, Turkey, regional allies
World Bulletin/News Desk
9 September 2014
Saudi Arabia will hold talks about militant violence in the region on Thursday with the United States and Muslim allies, the kingdom announced on Tuesday, in an apparent attempt to support international efforts to tackle crises in Iraq and Syria.
The world's No. 1 oil exporter is unnerved by the rapid advance of ISIL -a militant group that has overrun swathes of Iraq and Syria- and fears it could radicalise some of its own citizens and lead to attacks on the U.S.-allied government.
"The meeting will tackle the issue of terrorism in the region and the extremist organisations that stand behind it and the means of addressing it," a statement carried on the official Saudi Press Agency said.
It said the participants would include Egypt, Turkey, Jordan and member states of the six-country Gulf Coopertion Council (GCC), which in addition to the kingdom comprises Bahrain, the United Arab Emirates, kuwait, Oman and Qatar.
Arab League foreign ministers agreed on Sunday to take all necessary measures to confront the ISIL.
Full report at:
http://www.worldbulletin.net/headlines/144017/saudi-arabia-hosts-talks-with-us-turkey-regional-allies-updated
-----------
Arab League urges support for new Iraq government
9 September 2014
Arab League chief Nabil al-Arabi called Tuesday for international backing of Iraq's new government in its fight against the Islamic State, as Washington drummed up support for a coalition to defeat the militants.
The Arab League has stopped short of explicitly backing ongoing US air strikes on the IS militants, but US Secretary of State John Kerry is expected to seek further support in a meeting with Arab foreign ministers in Saudi Arabia on Thursday.
Iraq's new Prime Minister Haidar al-Abadi formed a government on Monday that Washington said could unite the divided country and potentially undercut Sunni support for the Islamic State militants who oppose the Shiite-dominated government.
Arabi in a statement "expressed his support for the new government in Baghdad, and support for its efforts to counter terrorism by (IS)."
Full report at:
http://english.ahram.org.eg/NewsContent/2/8/110313/World/Region/Arab-League-urges-support-for-new-Iraq-government.aspx
-----------
India
India Warns Of Al-Qaida Terror Plots against Israeli Tourists
9 September 2014
Indian intelligence officials have learned that al-Qaida elements and other fanatic groups may be planning to commit terrorist attacks against Israeli and Jewish targets in advance of the anticipated influx of tourists during the upcoming holiday season, according to news reports.
India has traditionally been a popular destination for Israeli hikers and backpackers, particularly during the Jewish holiday season. Israelis are known to congregate in the dozens of Chabad-operated community centres in the country, where they celebrate the holidays and observe religious customs.
Last week, Indian authorities learned that al-Qaida operatives have established sleeper cells throughout the country. According to reports, intelligence services believe that the organization is planning attacks, with Israeli and Jewish institutions high on the list of at-risk targets.
Full report at:
http://www.jpost.com/Israel-News/India-warns-of-Al-Qaida-terror-plots-against-Israeli-tourists-during-holiday-season-374839
-----------
LeT Commander killed in gun battle in north Kashmir
9 September 2014
A top Lashkar-e-Taiba (LeT) foreign militant was on Tuesday killed in a gun battle with troops in Kupwara district of Jammu and Kashmir.
Based on specific intelligence input about presence of a terrorist in general area Laribag, a search operation was launched by the Rastriya Rifles (RR) unit located in Handwara area, a defence spokesman said.
The area was cordoned and the terrorist was effectively engaged, he said, adding that in the ensuing fire fight the militant was killed at about 0600 hours.
The terrorist has been identified as Umaar Bhatti, a LeT Commander operating in Kashmir Valley from past 20 months, the spokesman said. An AK-47, a grenade and other war like stores were recovered from near his body, he added.
http://www.thehindu.com/news/national/other-states/top-lashkeretaiba-commander-umaar-bhatti-killed-in-gun-battle-in-north-kashmirs-kupwara-district/article6394351.ece
---------
Mou to Develop Waqf Properties
ANITA JOSHUA
9 September 2014
The National Waqf Development Corporation (NAWADCO) and the National Building Construction Corporation signed a memorandum of understanding (MoU) on Monday to develop Waqf properties in Delhi, Rajasthan, Madhya Pradesh and Karnataka. Union Minority Affairs Minister Najma Heptullah said NAWADCO had identified two properties in Rajasthan, six in Madhya Pradesh and seven in Karnataka and one piece of land in Delhi for development as institutional and commercial projects.
The public-sector NAWADCO was established last December with an authorised share capital of Rs. 500 crore to mobilise resources for developing Waqf properties in a Shariah-compliant way. The resources generated by such development of Waqf properties will be used for the welfare of Muslims.
Full report at:
http://www.thehindu.com/news/national/memorandum-of-understanding-to-develop-waqf-properties/article6391959.ece
-----------
South Asia
Deal inked for teaching of Arabic to Chinese Muslims
09 Sep, 2014
The Chinese Islamic Relations Council have signed an agreement with a Saudi company specialized in distance education for teaching Arabic to Chinese Muslims to help them understand and enhance their knowledge of Islamic civilization, it was revealed recently.
Dr. Ding Hui, chairman of the Board of Chinese Islamic Relations Council said it is a ground-breaking agreement made to promote and disseminate the culture of the learning of the Arabic language in China, a country with a population of about 1.4 billion people of whom 50 million are Muslims.
"There are some Islamic schools teaching Arabic but it is not sufficient," he said, adding that language education needs specialists in the field to convey the message properly.
He maintained that donations for the building of mosques and Islamic schools are essential and this combined with the presence of specialized training in the Arabic language would benefit all.
He said the signing of the agreement would take the bilateral relations between the two countries to new heights and toward raising the level of Muslims in China in terms of understanding Islam, Islamic culture and civilization.
Full report at:
http://www.arabnews.com/saudi-arabia/news/627446
-----------
NATO drone strike leaves 3 militants dead in Nangarhar
Sep 09 2014
At least three militants were killed following a drone strike by NATO-led coalition security forces in eastern Nangarhar province of Afghanistan.
A local security official confirmed that the airstrike was carried out in Achin district on Tuesday.
In the meantime, provincial police spokesman, Hazrat Hussain Mashriqwal said at least three militants were killed following military operation in Haska Meena district.
Mashriqwal further added that three militants were also injured during the operations being conducted by Afghan security forces.
He said the operations were launched on Sunday to clear parts of the district from the militants activities.
However, Taliban group spokesman Zabiullah Mujahid has said at least four policemen have been killed and their tank has been destroyed during clashes with Taliban fighters.
Nangarhar is among the relatively volatile provinces in eastern Afghanistan where anti-government armed militant groups are actively operating in a number of its remote districts and often carry out insurgency activities.
http://www.khaama.com/nato-drone-strike-leaves-3-militants-dead-in-nangarhar-6655
-----------
Japanese delegation expresses admiration for Saudi heritage
09 Sep, 2014
A visiting 40-member Japanese trade delegation, which includes parliamentarians, investors and economists, toured the national museum here at the King Abdul Aziz Historical Centre to get a glimpse of the country's rich cultural heritage.
The delegation visited the museum at the invitation of the Saudi Commission for Tourism and Antiquities. Officials from the Saudi Arabian General Investment Authority were also present.
Abdullah Al-Hadlag, acting director-general of the museum, welcomed them, an official at the museum said on Monday.
Full report at:
http://www.arabnews.com/saudi-arabia/news/627436
----------
Bangladesh Jamaat-e-Islami man held with bombs
Sep 09 2014
Police arrested a local leader of Jamaat-e-Islami along with four crude bombs from Uzirpur area in Shibganj upazila of Chapainawabganj on Sunday afternoon.
The arrestee was identified as Abdul Awal, ameer of Chhatrajitpur union unit of Jamaat and son of Elias Uddin, a resident of Chandipur village of the upazila, reports UNB.
Ashiqur Rahman, officer in-charge of Shibganj Police Station, said on secret information, a team of police raided the area and arrested Abdul Awal at about 12:45 pm and recovered the bombs from his possession.
He was wanted in four cases, the OC added. A case was filed against Awal under the Explosive Substances Act.
In Meherpur, two courts yesterday sent 19 leaders and activists of Jamaat-e-Islami to jail in two separate cases filed on January this year, reports our Kushtia correspondent.
Full report at:
http://www.thedailystar.net/country/jamaat-man-held-with-bombs-40788
-----------
China says Turkey will decide in its 'own interests' on missile system
9 September 2014
China said on Sept. 9 that Turkey would decide in its "own interests" after Turkish President Recep Tayyip Erdoğan said the country was in talks with France on buying a missile defence system following disagreements with Beijing.
U.S. and NATO officials have said Turkish collaboration on the system with China, which was originally awarded the tender, could raise questions of compatibility of weaponry and of security.
The missile deal constituted normal trade cooperation, Chinese Foreign Ministry spokeswoman Hua Chunying told a daily news briefing.
"The relevant Chinese company's cooperation with Turkey is normal military trade cooperation. We believe that the Turkish side will make a decision that accords with its own interests," Hua said when asked whether the deal was still on.
Franco-Italian Eurosam, which is owned by Franco-Italian missile maker MBDA and France's Thales, came second in a tender last September, losing out to China Precision Machinery Import and Export Corp's (CPMIEC) $3.4 billion offer.
Full report at:
http://www.hurriyetdailynews.com/china-says-turkey-will-decide-in-its-own-interests-on-missile-system.aspx?pageID=238&nID=71492&NewsCatID=345
-----------
Europe
French Imams to use pulpit against ISIS
9 September 2014
PARIS: French Muslim leaders are calling on Imams to use their pulpit to weigh against ISIS and offer a message of support for Christians in the Middle East.
Christians there are fleeing the militant organization by the thousands as they face a choice between converting or death.
On Tuesday, moderate Muslim leaders called on French mosques nationwide to offer prayers for endangered Christians and send a message to young people that the ISIS group is neither Muslim nor a state.
Dalil Boubakeur, rector of Paris' principle mosque, said it was crucial to support Christians against barbarity: "We are all, no matter our religion, Christians of the Middle East."
French young people make up the largest number of European jihadis heading to fight in Syria and Iraq.
http://www.dailystar.com.lb/News/Middle-East/2014/Sep-09/270082-french-Imams-to-use-pulpit-against-isis.ashx#ixzz3Cp2J0W18
------------
Israel provides intelligence on Islamic State: Western diplomat
9 September 2014
Israel has provided satellite imagery and other intelligence in support of the U.S.-led aerial campaign against Islamic State in Iraq, a Western diplomat said on Monday.
Once "scrubbed" of evidence of its Israeli origin, the information has often been shared by Washington with Arab and Turkish allies, the diplomat said.
Israel's Defence Ministry neither confirmed nor denied involvement in any international efforts against the militant group.
"We don't comment on any assistance by us, or if there is such assistance, in the fight against ISIS," said Yaacov Havakook, spokesman for ministry, using one of Islamic State's former names.
The spread of Islamic State in Syria and Iraq, the insurgent group's foreign volunteer contingent and the execution of two U.S. journalists have jolted Western powers into military intervention.
Full report at:
http://english.ahram.org.eg/NewsContent/2/8/110263/World/Region/-Israel-provides-intelligence-on-Islamic-State-Wes.aspx
---------
UN Security Council plans to suppress foreign extremist fighters
9 September 2014
The U.N. Security Council plans to demand countries "prevent and suppress" the recruitment and travel of foreign fighters to join extremist militant groups like Islamic State in Iraq and the Levant (ISIL) by ensuring it is considered a serious criminal offence under domestic laws.
The United States circulated a draft resolution late on Sept. 8, obtained by Reuters, to the 15-member Security Council and hopes it can be unanimously adopted at a high-level meeting chaired by U.S. President Barack Obama on Sept. 24.
U.N. diplomats, speaking on condition of anonymity, said the council was likely to reach agreement on a resolution. A U.S. official said there appeared to be consensus among council members on how to tackle foreign extremist fighters.
The draft resolution is under Chapter 7 of the U.N. Charter, which makes it legally binding for the 193 U.N. member states and gives the Security Council authority to enforce decisions with economic sanctions or force. However, the draft text does not mandate military force to tackle the foreign fighter issue.
The draft "decides all States shall ensure their domestic laws and regulations establish serious criminal offenses sufficient to provide the ability to prosecute and to penalize in a manner duly reflecting the seriousness of the offense."
Full report at:
http://www.hurriyetdailynews.com/un-security-council-plans-to-suppress-foreign-extremist-fighters.aspx?pageID=238&nID=71481&NewsCatID=359
-----------
French Defence chief urges global action in Libya
9 September 2014
PARIS: France's Defence minister says he is seeking support from European counterparts for joint action in Libya to stem violence and uproot terrorists who have established a foothold there.
Islamist-allied militias have cemented their control over Libya's capital after the worst bout of violence since an international coalition championed by France helped rebels oust Libyan dictator Moammar Gadhafi in 2011.
French Defence Minister Jean-Yves Le Drian is quoted in an interview in Tuesday's Le Figaro as saying, "we must act in Libya and mobilize the international community."
He says France could move troops it has from nearby countries toward the Libyan border.
He said he would appeal to European Defence ministers meeting in Milan Tuesday for action, and suggested a similar push at the U.N. General Assembly later this month.
http://www.dailystar.com.lb/News/Middle-East/2014/Sep-09/270052-french-Defence-chief-urges-global-action-in-libya.ashx#ixzz3Cp3WtJIs
-------------
Russian war planes practice 'nuclear strike' on US
World Bulletin / News Desk
9 September 2014
Russian bomber jets have reportedly been involved in exercises which are believed to be practice for a possible cruise missile strike against the U.S.
Two Russian Tu-95 Bear bombers were involved in the exercises in the Labrador Sea between Iceland, Greenland and Canada last week, Bill Gertz stated in his article published in Washington Free Beacon on Monday.
The planes were said to have been tracked over northern Atlantic Ocean and were equipped with six AS-15 nuclear-armed cruise missiles that have a shooting range of 1,800 miles, Gertz wrote.
"Analysis of the flight indicated the aircraft were conducting practice runs to a pre-determined 'launch box' — an optimum point for firing nuclear-armed cruise missiles at US targets," he said.
Full report at:
http://www.worldbulletin.net/headlines/144022/russian-war-planes-practice-nuclear-strike-on-us
------------
Pakistan
Tahir ul Qadri vows to give new life to 'dead' constitution
9 September 2014
ISLAMABAD: Pakistan Awami Tehreek (PAT) chief Dr Tahir ul Qadri on Monday said the revolution march has been organised to give a new life to the 'dead' constitution.
"We are here to give life to the constitution and uphold supremacy of the constitution, which is dead and so far denied justice, basic rights to millions of poor, deprived and oppressed masses of Pakistan," Dr Qadri said.
He said oppression and injustice have become a routine in the country, as parliament was not meeting the constitutional requirements.
Qadri said, "I have given lessons to the nation about the constitution and laws of the country, not to mention the difference between oppressors and oppressed, which I have pointed out before them."
"Irony is that parliament for the last 24 days did not even talk about the demands of the revolution march, even no parliamentarian has tried to know why the people have come here for sit-in," he said.
Addressing his party workers after meeting with PML-Q President Chaudhry Shujaat Hussain, the PAT chief said that the judicial commission in its report had declared Shahbaz Sharif 'culprit' of the Model Town carnage. He recalled that police targeted unarmed people who were asleep in Model Town. "We want easy dispensation of justice to the people of Pakistan," Qadri said.
Full report at:
http://www.dailytimes.com.pk/national/09-Sep-2014/qadri-vows-to-give-new-life-to-dead-constitution
-----------
Air strikes kill 10 militants in NWA
September 09, 2014
PESHAWAR - Pakistan Army said Monday it had killed 10 militants and destroyed an explosives cache in fresh air strikes as part of a major offensive against the Taliban in the northwest.
Pakistan began the long-awaited push to clear insurgent bases from North Waziristan district, on the Afghan border, in June after a bloody attack on Karachi airport finally sank faltering peace talks with the rebels.
"Army aviation gunship helicopters struck in area ahead of Boya Degan in North Waziristan. In a precise strike on a terrorist hideout, gunship helicopters destroyed one explosive dump and five vehicles and killed 10 terrorists," the military said in a statement.
The conflict zone is off-limits to journalists, so there is no way to independently verify the number and identity of those killed.
Air strikes, artillery, mortars and ground troops have all been used to retake territory in North Waziristan, which had become a haven for fighters with the Tehreek-e-Taliban Pakistan (TTP) and other militant outfits.
Full report at:
http://www.nation.com.pk/national/09-Sep-2014/air-strikes-kill-10-militants-in-nwa
-----------
Six suspected terrorists killed in North Waziristan operation
9 September 2014
ISLAMABAD: Six suspected militants were killed in an encounter in North Waziristan, the military said on Tuesday. A civilian working for the armed forces was also killed in the operation. The claims, however, could not be independently verified as journalists have limited access to the restive tribal agency.
"The encounter took place this afternoon during clearance of the operation in the area ahead of Dattakhel," a spokesman for the Inter Services Public Relations (ISPR) said in a statement.
"A civilian logistic staff member was also killed in the same encounter when he was providing supplies to fighting forces," the statement said.
Dattakhel is considered a stronghold for terrorists and a clearance operation is under way in the area.
Full report at:
http://www.dawn.com/news/1130869/six-suspected-terrorists-killed-in-north-waziristan-operation
-----------
Al Qaeda man killed in drone strike
9 September 2014
PESHAWAR: An Al Qaeda leader, listed by Saudi Arabia among the most wanted suspected terrorists, is believed to have been killed in a drone strike in North Waziristan two months ago, private intelligence group SITE said.
The Search for Internatio­nal Terrorist Entities, a US-based terrorist tracking organisation, said militant sources had reported the death of an individual in a US air strike.
The suspect added voice to videos for Al Qaeda's Al-Sahab media foundation and interviewed leaders of Al Qaeda. In posts on Twitter on Sunday, militants mourned the death of Umer Talib and his family.
A Twitter user said the attack took place about two months ago.
Umer Talib was also known as Adil Salih Ahmad Al Qumayshi, listed by Saudi Arabia in 2011 among 47 most wanted terrorists. There have been seven drone strikes in North Waziristan since May and it is not clear which one killed Al Qumayshi.
http://www.dawn.com/news/1130765/al-qaeda-man-killed-in-drone-strike
-----------
Karachi violence claims four lives
9 September 2014
KARACHI: At least four people were killed on Tuesday in separate incidents of violence in Karachi.
Two people were shot dead on Lyari's Mewa Shah Road. The deceased persons — including a father and his four-year-old son — were killed when assailants opened fire while they were en route to school.
Separately, one person was gunned down in Orangi Town's L-Block area. The identity of the deceased person could not be ascertained.
Meanwhile, a body bearing torture marks was recovered from Sher Shah Town near Gulbai Mazar area. The victim was tortured before being shot dead.
Karachi, the largest metropolitan city of Pakistan, is riddled with targeted killings, gang wars, and kidnappings for ransom, extortion and terrorism.
Targeted operations led by Rangers' forces with the support of police are ongoing in the city under a directive issued by the federal government against criminals already identified by federal, military and civilian agencies.
http://www.dawn.com/news/1130857/karachi-violence-claims-four-lives
-----------
Pakistani Sikhs threaten agitation against 'targeted killings'
9 September 2014
Sikhs in Pakistan have held a protest march and threatened to launch a countrywide agitation if the government fails to provide security to them following targeted killings of members of the minority community in recent weeks.
The protest march was held on Sunday in the northwest Mardan city against the killings of several businessmen in the militancy-plagued Khyber-Pakhtunkhwa.
The protest was organised by All Pakistan Hindu Rights Movement whose chairman Haroon Sarb Diyal expressed concern over the targeted killings of members of Sikh community, Dawn reported.
Janmohan Singh, leader of the local Sikhs, lamented that one of their relatives identified as Amarjeet Singh was killed by unknown assailants inside his shop at Shaheedan Bazaar last Wednesday. He termed the case an incident of targeted killing, which had spread panic among Sikhs and other minority communities.
Full report at:
http://www.thehindu.com/news/international/south-asia/pakistani-sikhs-threaten-agitation-against-targeted-killings/article6391952.ece
-----------
Taliban claim attack on Karachi navy dockyard
9 September 2014
KARACHI: The Tehreek-i-Taliban Pakistan (TTP) on Tuesday claimed responsibility for the attack on a naval dockyard on the weekend, claiming they had inside help.
Taliban militants attacked a Karachi naval dockyard in a raid which left an officer and two insurgents dead, officials said Tuesday.
"We claim responsibility for the attack on the navy in Karachi," spokesman Shahidullah Shahid told AFP.
"We had support from inside the naval force for this attack. This operation was successful because of this support. We will continue targeting security forces like this in future also," he added.
The Navy said in a statement late on Monday night that "on Saturday a group of miscreants tried to penetrate Pakistan Navy Dockyard area defences at Karachi. Pakistan Navy security personnel responded valiantly and in the ensuing encoun­ter killed two while apprehending four miscreants alive".
Full report at:
http://www.dawn.com/news/1130863/taliban-claim-attack-on-karachi-navy-dockyard
-----------
Qadri to get Hollywood biopic, claims PAT leader
September 9, 2014
KARACHI: A movie on the life of Pakistan Awami Tehreek (PAT) chief Dr Tahirul Qadri is being filmed in Hollywood, Roznama Express reported on Tuesday.
PAT Karachi's media coordinator Rao Ishtiaq revealed this in a statement.
He said that after Father of the Nation, Quaid-e-Azam Muhammad Ali Jinnah, the PAT chief is the only Pakistani politician on whom a Hollywood movie is being made.
Ishtiaq also stated that theses were being written on Dr Qadri in many universities in the world.
Dr Qadri's PAT is one of the protesting political parties staging a sit-in in Islamabad against the federal government.
http://tribune.com.pk/story/759914/qadri-to-get-hollywood-biopic-claims-pat-leader/
-----------
Detained in Afghanistan: Tribal jirga returns to Pakistan today
September 9, 2014
ISLAMABAD: Twenty-nine members of a tribal jirga or council of elders who were arrested in Afghanistan on charges of terrorism will return to Pakistan today (Tuesday).
The jirga members were handed over to the Pakistan Embassy in Kabul on Sunday. They reportedly travelled from Balochistan's Zhob division to Afghanistan's Paktika province in order to resolve a land dispute but the Afghan authorities accused them of crossing the border with the intent of carrying out terrorist attacks, Afghan and Pakistani officials said.
Tribesmen say they routinely travel across the Pakistan-Afghan border and they do not need passports or visas to do so. The jirga members were held for 14 days and, after an investigation, the Afghan interior ministry said the men did not pose a threat to security.
A naib tehsildar, Abdul Salam, from the Musa Khel area in Zhob division was leading the jirga. He carried a letter from the deputy commissioner of the area and another local official accompanied the jirga. However, Afghan border force commander Amanullah Khan arrested the jirga members. Amanullah Khan had lived in Zhob district for nearly 30 years as a refugee, and his children studied in Pakistan.
Full report at:
http://tribune.com.pk/story/759833/detained-in-afghanistan-tribal-jirga-returns-to-pakistan-today/
-----------
Imran and Qadri Responsible For Sowing Seeds of Hatred: Minister
9 September 2014
LAHORE- Federal Minister for Railways Khawaja Saad Rafiq said that Chairman Pakistan Tehreek Insaf (PTI) Imran Khan and Pakistan Awami Tehreek (PAT) chief Dr. Tahirul Qadri were responsible for sowing seeds of hatred among the people.
Talking to journalists today he pleaded Imran Khan to have mercy on the nation in this time of acute floods and accused him of doing dirty politics using women and children.
Rafiq said that Khan had become the 'world champion' for lying publicly, which was seen openly during his public addresses based on hate-speech. He further said this is the time to serve not to polish one's politics and Imran Khan's agenda is not to bring reforms but Prime Minister Nawaz Sharif's resignation only.
Full report at:
http://www.nation.com.pk/national/08-Sep-2014/ik-and-tuq-responsible-for-sowing-seeds-of-hatred-saad-rafiq
--------
North America
U.S.: More than 40 nations joined coalition against ISIS
9 September 2014
More than 40 nations have agreed to join a coalition that will be led by the United States against the Islamic State of Iraq and Syria (ISIS), which has seized swath of Syria and northern Iraq, a State Department spokesman said on Monday.
Jen Psaki said the goal of the coalition is to coordinate on the threat that ISIS poses, adding that the allies would have differing roles and that not all would offer Iraq direct military support.
"There are obviously a range of capabilities or capacities that different countries have," she said, adding that the coalition would seek to cut off ISIS from funding, foreign reinforcements and ideological support.
The United States does not regard Iran as part of its coalition against the Islamic State, despite the support that Tehran is already providing to Iraq in its battle against the Sunni militants, Associated Press reported.
Kerry is to leave Washington on Tuesday and will visit Jordan and Saudi Arabia for talks with key the Arab allies. U.S. Defence Secretary Chuck Hagel was in Turkey on Monday.
He said that President Barack Obama needs to weigh all the consequences of what could be a lengthy campaign, and what could go wrong.
Full report at:
http://english.alarabiya.net/en/News/world/2014/09/08/US-More-than-40-nations-joined-coalition-against-ISIS.html
-----------
U.S. courts skeptical Arab allies in ISIL fight
World Bulletin/News Desk
After threatening to destroy and degrade ISIL militants, the United States will court skeptical Gulf Arab allies this week and consider expanding training and arming of moderate Syrian rebels to lead the fight.
As U.S. Secretary of State John Kerry heads to the region on Tuesday, a meeting between the White House and top lawmakers in Congress is expected to discuss a slow-moving $500 million initiative, announced in June, to strengthen a loosely organized group of rebels who have struggled in their fight against the Syrian government and ISIL.
Sources with direct knowledge of the matter said lawmakers have questions over how the money would be spent and whether the United States will end a ban on shipments of powerful weapons to the rebels, such as surface-to-air missiles, due to fears they could be captured or used against the U.S. and its allies.
The sources also said they expected the $500 million to be high on the agenda at Tuesday's talks.
Full report at:
http://www.worldbulletin.net/todays-news/144007/us-courts-skeptical-arab-allies-in-isil-fight
-------------
Obama to press Congress for action on ISIL
9 September 2014
Obama administration officials will hold briefings this week and next for members of the U.S. Congress as the president makes his case for an offensive against Islamic State in Iraq and the Levant (ISIL) militants, congressional aides said on Sept. 9.
Administration officials will hold a briefing for all 435 members of the U.S. House of Representatives on Sept. 12, a House aide said. Senate aides said a similar session for the 100 members of the Senate is planned as early as Sept. 11.
President Barack Obama will deliver a speech to Americans on Sept. 10 laying out his "game plan" to halt the Islamist group that has seized swathes of Syria and Iraq, as he tries to head off public concerns that the country could be moving toward another full-scale war.
On Sept. 9, Obama is meeting with the four leaders of Congress - Senate Majority Leader Harry Reid, Senate Minority Leader Mitch McConnell, Speaker of the House John Boehner and House Minority Leader Nancy Pelosi.
Full report at:
http://www.hurriyetdailynews.com/obama-to-press-congress-for-action-on-isil.aspx?pageID=238&nID=71470&NewsCatID=358
-----------
Kerry to hold anti-Islamic State talks in Saudi Arabia
9 September 2014
US Secretary of State John Kerry will meet Arab foreign ministers in Saudi Arabia Wednesday as he bids for a broad coalition against the Islamic State, a senior Egyptian foreign ministry official said.
The talks in the Saudi port city of Jeddah, which will continue into Thursday, will be attended by ministers from Egypt, Jordan and the six Gulf Arab states as well as Iraq, the official told AFP.
The ministers "are going to meet Kerry on Wednesday and Thursday in Jeddah as part of efforts to tackle terrorism," the official said, speaking on condition of anonymity.
Lebanese Foreign Minister Gebran Bassil will also take part in the talks, a government official in Beirut told AFP.
Full report at:
http://www.themalaysianinsider.com/world/article/kerry-to-hold-anti-islamic-state-talks-in-saudi#sthash.RM59kZUL.dpuf
-----------
Steven Sotloff Was Sold to ISIS by 'Moderate' Syrian Rebels
09 Sep, 2014
Murdered journalist Steven Sotloff was kidnapped and sold to the radical Islamic State terrorist group, or ISIS, by one of the "moderate" rebel groups to whom the US government has considered offering support, according to his family's spokesman.
Barak Barfi told CNN that Sotloff - who was Jewish and a joint US-Israeli citizen - was sold for a sum of money in the tens of thousands of dollars at the Syrian border. He said credible "sources on the ground" had provided the dramatic and tragic details of the abduction.
"For the first time, we can say Steven was sold at the border," Barfi said.
He described for the first time how Sotloff was set up to be kidnapped, as "activists" spread false rumors that he had participated in the bombing of a hospital - rumors which set him up to be kidnapped by a rebel group, and ultimately executed by IS.
"Steven's name was on a list that he had been responsible for the bombing of a hospital. This was false, activists spread his name around.
Full report at:
http://www.israelnationalnews.com/News/News.aspx/184912#.VA7XwsJdU4U
-----------
Mideast
Israel urges global spies to pool resources on Islamic State jihadist group
9 September 2014
Israeli Defence Minister Moshe Yaalon on Tuesday called for world intelligence agencies to work together against the Islamic State (IS) jihadist group.
"In order to stop and overcome the Islamic State, we have learnt since 9/11 that there must be cooperation between intelligence agencies from across the free world, a sharing of experience and operational cooperation," he told public radio.
The Islamic State (IS) jihadist group is at the forefront of a sweeping militant assault that has overrun swathes of Iraq and holds significant areas of territory in neighbouring Syria.
US President Barack Obama on Friday called for a broad coalition to defeat the IS jihadists and he is to chair a key UN Security Council session on the threat on September 24.
Asked about the proposed international coalition, former military intelligence chief Amos Yadlin indicated Israel would likely share its intelligence with its allies.
Full report at:
http://www.hurriyetdailynews.com/israel-urges-global-spies-to-pool-resources-on-islamic-state-jihadist-group.aspx?pageID=238&nID=71489&NewsCatID=359
-----------
Yemeni soldiers kill four Shi'ites as protests rage
World Bulletin / News Desk
9 September 2014
Yemeni soldiers opened fire on Shi'ite Muslim protesters trying to storm the cabinet building in the capital Sanaa on Tuesday, killing at least four, a Reuters photographer and medical sources said.
The anti-government activists loyal to the Houthi religious insurgent group said dozens were wounded in the bloodiest day of tense demonstrations that have gripped Sanaa for weeks and now threaten to descend into outright conflict.
A security source speaking on condition of anonymity said marchers "tried by force to storm the cabinet, so the forces guarding it undertook their legal duty to stop them."
Protesters have blocked the main road to Sanaa's airport and have held sit-ins for weeks at ministries in an attempt to oust the government and restore fuel subsidies.
The Houthis accuse the government of corruption, while the group's critics say it is trying to grab power and carve out a semi-independent state for itself in the north - something it denies.
Full report at:
http://www.worldbulletin.net/headlines/144008/yemeni-soldiers-kill-four-shiites-as-protests-rage
-------------
Abbas wants UN to replace US as leading negotiator in peace talks, aide says
9 September 2014
Palestinian Authority President Mahmoud Abbas wants the UN to replace the US as leading peace broker between Israel and the Palestinians, a senior official told Bloomberg in an interview published Tuesday.
Senior Fatah official Nabil Sha'ath said that if Israel does not agree to a West Bank pullout in the next round of talks, the Palestinians would challenge the Jewish state politically, "all over the universe." One thing on the future agenda, according to Sha'ath, is to urge the international community to handle Israel "as it did apartheid South Africa."
Sha'ath said their dream of statehood was not over and that they would turn to the UN Security Council to take over the peace process.
Full report at:
http://www.jpost.com/Arab-Israeli-Conflict/Abbas-wants-UN-to-replace-US-as-leading-negotiator-in-peace-talks-aide-says-374842
-----------
Polygamist jailed for sex crimes by an Israeli Court, 'harem' of women give birth to dozens of his children
9 September 2014
An Israeli court has convicted a polygamist cult leader of sex crimes after he kept a harem of women who bore him dozens of children in a state of near total obedience.
The Tel Aviv district court convicted Goel Ratzon of rape, incest and other offences, but acquitted him of an enslavement charge, sparking cries of outrage in the courtroom.
The case shocked Israelis when details of the cult emerged in 2010. Ratzon kept at least 21 "wives", some of whom tattooed his name on their bodies along with images of the short 64-year-old with long white hair and beard.
The children they bore him were named after variations of his first name Goel, or "saviour" in Hebrew.
Full report at:
http://www.independent.ie/world-news/middle-east/polygamist-cult-leader-64-jailed-for-sex-crimes-after-harem-of-women-give-birth-to-dozens-of-his-children-30570767.html#sthash.PpkVEw6O.dpuf
-----------
Southeast Asia
Special camp for terror convicts nixed
9 September 2014
President Susilo Bambang Yu-dhoyono has requested the National Counterterrorism Agency (BNPT) review its decision to transfer dozens of hard-core terrorism convicts to a special prison resembling the controversial US-operated Guantanamo Bay detention camp.
During a visit to the BNPT's counterterrorism training facilities at the International Peace and Security Centre (IPSC) in Sentul, West Java, on Monday, Yudhoyono was briefed by the agency's chairman, Ansyaad Mbai, regarding progress on the development of the detention camp.
However, to the surprise of many, Yudhoyono was uncomfortable with the agency's plan.
"It [the camp] should not be located here. We should discuss this issue again while I still have time," said Yudhoyono, who is due to leave office on Oct. 20.
Yudhoyono told Ansyaad that while he agreed in principle to the establishment of a special detention camp for terrorists, he felt the proposed location was unsuitable for a Guantanamo-style facility.
Full report at:
http://www.thejakartapost.com/news/2014/09/09/special-camp-terror-convicts-nixed.html
-----------
Stopping direct elections a threat to democracy, says Jokowi
9 September 2014
President-elect Joko "Jokowi" Widodo said on Monday that a proposal by the Red-and-White Coalition that regional heads be elected by regional legislative councils (DPRDs) was a threat to democracy.
He said he did not understand the coalition's reasoning that holding direct elections cost a large chunk of the state budget and increased the possibility of electoral fraud.
He argued that shortcomings in the direct election system should be resolved.
"Stopping direct elections would be a set-back for the country," he said in Jakarta on Monday as quoted bykompas.com.
He said, however, he would not intervene in the matter but let the House of Representatives discuss it.
Full report at:
http://www.thejakartapost.com/news/2014/09/08/stopping-direct-elections-a-threat-democracy-says-jokowi.html
-----------
Philippine Congress urged to pass law on Muslim South
World Bulletin / News Desk
9 September 2014
After the Philippines' president and one-time largest rebel group reached an agreement on a proposed law aimed at ending decades of fighting in the country's Muslim south, community leaders urged Congress Tuesday to fast-track its passage.
Five months after its initial drafting, presidential peace advisor Teresita Deles announced Monday that President Benigno Aquino III and Moro Islamic Liberation Front (MILF) leader Al Haj Murad Ebrahim had approved a draft of the Bangsamoro Basic Law (BBL) after a secret two-hour meeting last week.
The draft - delivered to the Presidential Office on August 20 - is expected to be submitted to Congress on Wednesday.
"I hope Congress will approve it immediately," Vincent T. Lao, chair of the regional Mindanao Business Council, told the Anadolu Agency.
Full report at:
http://www.worldbulletin.net/todays-news/144023/philippine-congress-urged-to-pass-law-on-muslim-south
----------
Only God, not Sultan, has absolute power, says legal expert
9 September 2014
The Sultan of Selangor was wrong to have decreed that Pakatan Rakyat (PR) submit more names to the palace for the menteri besar (MB) post, a constitutional expert said last night, adding that only God, and not humans, had absolute power.
Dr Abdul Aziz Bari told a forum organised by Persatuan Ummah Sejahtera Malaysia (PasMa) that the 30 statutory declarations (SD) in support of Datuk Seri Dr Wan Azizah should be enough for the sultan to consent to her appointment as the Selangor MB.
"(This is) the first time in Malaysian history where people declared their support through SD. What else does he want? When he issued a decree, asking for other names, to me, that is wrong constitutionally.
"The only ones who are infallible (mutlak)… are Allah and the Prophet Muhammad. Humans, whoever they are, can make mistakes. To me, requesting more names when Dr Wan Azizah has the majority support is wrong," he said yesterday at the Kuala Lumpur Selangor Chinese Assembly Hall.
Full report at:
http://www.themalaysianinsider.com/malaysia/article/only-god-not-sultan-has-absolute-power-says-constitutional-expert#sthash.2cI7JWpD.dpuf
-----------
Failure to fulfil promise to repeal Sedition Act is unIslamic
9 September 2014
I refer to the statement by Deputy Prime Minister, Tan Sri Muhyiddin Yassin on 7 September 2014 that the government has made no decision to repeal the Sedition Act 1948.
The whole nation is shocked and appalled by this statement which directly contradicts Prime Minister Datuk Seri Najib's repeated promises to repeal this draconian law. This is a clear admission that Datuk Seri Najib, the government and the Barisan Nasional (BN) have been blatantly lying to the Malaysian public.
Datuk Seri Najib first made the promise in July 2012 in the run-up to the 13th GE, in what was a clear ploy to persuade Malaysians to vote for BN by promising to do away with an unpopular and unjust law. Datuk Seri Najib then repeated the promise in July 2013 in a BBC interview. Then, as recently as 30th August 2014, the PM's department confirmed in a press release that the Act would be repealed. Again, just two days ago on 5th September, the PM confirmed that the Act would be repealed.
Full report at:
http://www.themalaymailonline.com/what-you-think/article/failure-to-fulfil-promise-to-repeal-sedition-act-is-unislamic-azmin-ali#sthash.XVaBhb3Z.dpuf
-----------
'Ungrateful citizens' will send us back to 'Dark Ages', Muslim group claims
SEPTEMBER 9, 2014
KUALA LUMPUR, Sept 9 — Ikatan Muslimin Malaysia (Isma) today accused proponents of moderation to be agents of the West who will send Malaysia back to the "Dark Ages" with their demands for equality and cries of discrimination.
In an opinion piece penned in pidgin English, the group's deputy president Aminuddin Yahaya also claimed that Malaysia was the only country in the world that allowed its constitution to be disputed by those he termed "dissenting, ungrateful citizens".
These include groups such as rights coalition Comango and the members of the "IFC".
Aminuddin did not specify what "IFC" stood for, but may possibly be referring to the Interfaith Commission that was never formed.
"They propagate that certain section of the community especially the non-Malay are being marginalise, discriminate, ignored and many other lies just create dissatisfaction among the rakyat," he wrote.
Full report at:
http://www.themalaymailonline.com/malaysia/article/ungrateful-citizens-will-send-us-back-to-dark-ages-muslim-group-claims#sthash.VUD298uM.dpuf
-----------
Constitution allows government to curb free speech, Muhyiddin says
BY SYED JAYMAL ZAHIID
SEPTEMBER 9, 2014
KUALA LUMPUR, Sept 9 — The Federal Constitution gives leeway to the government to place limitations on the right to free speech for the sake of protecting racial unity, Tan Sri Muhyiddin Yassin said today amid scepticism over Putrajaya's commitment to repeal the Sedition Act.
The deputy prime minister said Parliament has the power, under provisions of the Constitution, to block free speech from being abused to instigate racial strife.
Muhyiddin did not expressly state if the Sedition Act, a law the Najib administration had promised to repeal as part of its political reform two years ago, was here to stay, but said stricter laws were needed to crack down on the widespread use of social media to spread "seditious crimes".
"There are articles in the Federal Constitution that gives Parliament the power to enact laws to block free speech if it is used to question the rights of Malays, bumiputeras of Sabah and Sarawak and of other races," Muhyiddin told the government's "Making unity culture and celebrating diversity programme" here.
http://www.themalaymailonline.com/malaysia/article/constitution-allows-government-to-curb-free-speech-muhyiddin-says#sthash.SEoA5XSp.dpuf
-----------
URL: https://www.newageislam.com/islamic-world-news/new-age-islam-news-bureau/boko-haram-closes-in-on-its-dream-of-an-african-caliphate-–-and-isis-gives-its-blessing-and-advice-on-strategy/d/98985