New Age Islam News Bureau
10 Jul 2013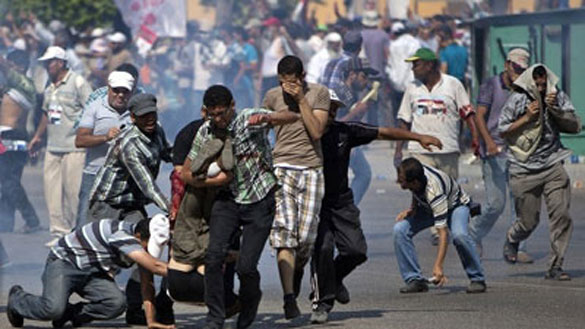 Egyptian prosecutors charges 200 people for taking part in fatal clashes. (File Photo: AFP)
---------
Africa
• Boko Haram Begs for Forgiveness, Signs Ceasefire Deal
• In Timbuktu, majority Muslims, minority Christians reject extremists
• Islamists' partners quit Morocco's government coalition
• Gambia: President Hosts Azaan, Zikr Quranic Recitation Competition
• Security of the Benghazi embassy was 'farmed out to an al-Qaida front group'
• Tunisia's General Consulate in Tripoli Stormed By Libyans
• Four Boko Haram Members Get Life Sentence
• Malawi Feeds 1.6 Million Primary School Children Everyday
• Elite troops deployed in Sudan's second-largest city: AFP
Europe
• Amnesty slams Egypt army's 'disproportionate' use of force
• Russia hands over chemical attack evidence to UN
• French Muslims split over start of Ramadan despite accord
• London: Tehmina, Pakistani writer calls for madrasa reforms
• UK troop levels in Afghanistan 'to fall to 6,000 by autumn'
• Syrian rebels used sarin: Russia
• Brazil beef ban sends prices of samosa, kebab soaring
Pakistan
• Report reveals Former ISI Chief's admission of Pak-US 'understanding' on drones
• In Swat, Pakistan Army adamant on fighting 'other Taliban'
• Pak doubts 'genuineness' of leaked Osama report
• 'Military, ISI incompetence led to Osama fiasco'
• China to have bigger space in revival of Pak economy: Pak Punjab CM
• Sharif, Manmohan Singh could meet on sidelines of UN annual summit
• Muslim search engine 'Halalgoogling' that blocks 'Haram' content launched
• Militant commander killed in Mastung
• TTP sacks spokesman in sign of growing divisions
• Abbottabad Commission report: Military faults local police
• Bomb 'kills Zardari security chief'
South Asia
• Afghan Taliban rejects Karzai, UN appeals for Ramazan ceasefire
• Majority people not empathetic towards minorities in Bangladesh
• Maldives celebrates Ramazan with food, festivities, fasting, and prayer
• Indonesia's Wanted Terrorist Reappears with Anti-Police YouTube Video
• At least 17 Afghan civilians killed in roadside bomb: officials
• Rise of Taliban: Senate panel chief raises doubts about role in Doha
Southeast Asia
• Indonesians Begin Ramadan, Hard-liners Target 'Sinful' Bars
• Former judge says laws on religion must be clearly explained to avoid disputes
• Ahmadis consider this year's Ramadhan another test of faith
North America
• US Encourages Muslim Brotherhood to Join Egyptian Political Transition
• Snowden Justifies Intelligence Leaks in New Video
• Barack Obama calls Qatar, UAE leaders to discuss crisis in Egypt
• US, Israeli Interests in the Balance as Egypt 'Coup' Label Lingers
• US Considering 'Zero Option' for Afghanistan in 2014
Arab World
• Lebanon Bomb Raises Fears of Further Sectarian Violence
• President Morsi, Muslim Brotherhood placed ideology ahead of economic needs
• Egypt charges 200 over bloodshed at army HQ, judicial source says
• New Haram annex opens for pilgrims
• Saudi Arabia rejects use of religion for personal interest
• Islamic body head says he warned Morsi in April
• Kingdom 'will not tolerate extremism'
• Syria activists protest rebel siege of Aleppo districts
• Iraqi Refugee to Boost Cricket in Multicultural Australia
• Egypt's military warns against political 'maneuvering'
• In solidarity with Egypt: Plea for campaign against Mursi ouster
• Egyptians Divided on Way Forward
• Egypt's new prime minister looks to form Cabinet
• Islamists, liberals blast Egypt's transition plan
• Egyptian PM to Offer Cabinet Posts to Islamists
India
• Muttahida Majlis-e-Ulema issues fatwa against fake dervish of Kashmir
• Mumbai Magistrate court acquits eight 'SIMI members'
• Militants attack security posts near Indian-Myanmar border, no casualty
• NIA seeks help of Twitter to verify Indian Mujahideen account
• Bihar to have anti-terror squad of 344 cops
• Rana said LeT had no plan to attack Modi, cop Bharat Patel tells CBI
• 'SIT report contains evidence on conspiracy to target minorities'
• Discourage rumours on Bodh Gaya blasts, urge religious leaders, activists
• Najeeb Jung took Re 1 as Jamia V-C salary, gave rest to fund EWS students
Mideast
• Death toll in Turkey protests rises to five: Report
• Man with machete could be regarded as 'terror victim'
• Google among tech brands to unveil Ramadan themed apps, services
• Beitar fan charged for hate crime attack on Arab employees at J'lem McDonalds
• Israel confirms it is holding missing Palestinian
• Humanitarian Nightmare in Gaza as Egypt's Unrest Spreads to Rafah Crossing
• Reformist Think in Islamic Thought in Israel Today
• Second 'Prisoner X' Held In Israel's Ayalon Prison, Report Says
• Palestinian Millionaire to Launch Arabic Online Encyclopedia
Compiled by New Age Islam News Bureau
URL: https://www.newageislam.com/islamic-world-news/new-age-islam-news-bureau/boko-haram-begs-for-forgiveness,-signs-ceasefire-deal/d/12540
-------------
Africa
Boko Haram Begs for Forgiveness, Signs Ceasefire Deal
July 10, 2013
Lagos — "WE are seeking forgiveness from the people over the number of people killed in the country.
I appeal to those who lost their loved ones to our activities to forgive us and on our side we have forgiven all those who committed atrocities against us. I want to state clearly that we have no hands in the unfortunate attack on the secondary school (Government Secondary School, Mamudo, Yobe State)."
With these words, Imam Muhammadu Marwana, an influential member of the Abubakar Shekau-led Boko Haram sect, yesterday, confirmed a ceasefire agreement with the Federal Government to end their deadly activities across most states of Northern Nigeria, which have claimed about 4,000 lives and destroyed properties worth billions of Naira since 2009.
The agreement came exactly 82 days after the Federal Government raised a 25-man committee to work out modalities for granting the amnesty to the sect.
Indeed, the Federal Government, yesterday, said that it had signed a ceasefire agreement with the militant group. Minister of Special Duties and Chairman of the Peace and Dialogue Committee in the North, Alhaji Tanimu Turaki announced the ceasefire agreement on the Hausa service of Radio France International monitored in Kano
The announcement came on the eve of the Muslim Holy month of Ramadan expected to commence today throughout the world and also coincided with a vehement denial by the insurgents that they had no hands in the murder of 30 boarding students of a secondary school in Yobe weekend.
Although details of the peace deal were scanty, Turaki who spoke in Hausa further said that the Boko Haram insurgents had agreed to lay down their arms.
"We have sat down and agreed that Jama'atu Ahlul Sunnah Lidda'awati wal Jihad, known as Boko Haram will lay down their arms as part of the agreement so as to end the insurgency. Government agreed with ceasefire and will look into ways to ensure that the troops relax their activities till the final take off of the ceasefire," Turaki told his interviewers.
Confirming the truce, Imam Muhammadu Marwana said: "This ceasefire, in sha'Allahu, from the time I am talking to you (Radio France Hausa Service) we have ceasefire because of the discussion held so as to have peace over this struggle."
The Boko Haram stalwart added that "we are seeking forgiveness from the people over the number of people killed in the country.
Sounding apologetic during the Radio news, Imam Marwana declared that "I appeal to those who lost their loved ones to our activities to forgive us and on our side we have forgiven all those who committed atrocities against us"
He added that "I want to state clearly that we have no hands in the unfortunate attack on the secondary school."
How the agreement was reached
A member of the presidential committee, which President Godluck Jonathan gave 90 days to hammer out a solution to the problem told Vanguard how the agreement was brokered. He said "Shekau's leadership came out through several fronts and set traps for us. The government gave them confidence, the confidence led to trust and they said they will call their men to cease-fire and they have done so."
Mixed reactions trail move
Meanwhile, Nigerians have received news of the truce with cautious optimism
A step in the right direction--Gani Adams
National Coordinator of the Oodua Peoples Congress, OPC, Otunba Gani Adams said it was a step in the right direction. Iin a telephone chat with Vanguard, he said: "It is a step in the right direction and I think from there, they will create room to dialogue with the Federal Government and state their position.
They cannot continue to waste lives just like that. I don't know what they stand for but no matter what they stand for, their approach is wrong and deadly. Nobody in the world will support their struggle. But calling for a ceasefire will afford Nigerians the opportunity to know exactly what they want."
Identity of the group should be ascertained -- Afenifere
Also, Pan-Yoruba socio-political organisation, Afenifere was of the view that the identity of the group calling for ceasefire should be ascertained. Speaking with Vanguard on phone, Afenifere's National Publicity Secretary, Mr Yinka Odumakin said "We should be sure which of the Boko Haram sect is calling for a ceasefire. Is it a strategy to rule or what is it all about?
The identity of the group should be ascertained and its genuineness should be known before the Federal Government is taken off guard. Since emergency was declared in those three states (Yobe, Adamawa and Borno), the incidence of bombings has gone down but killings continue here and there. So, we must know how genuine the call is and the identity of the group calling for the ceasefire. Was it not Boko Haram that said it was the Federal Government that needed amnesty?".
Govt should reciprocate --Balarabe Musa
In his reaction, former governor of Kaduna State, Alhaji Balarabe Musa expressed optimism that the ceasefire will resolve the insurgency.
"We hope that the Federal Government will respond favourably and effectively to the ceasefire," he said.
Committee should not concede unnecessarily--Frederick Fasehun
"Nigeria has been on the issue of amnesty for long and if they have agreed on a ceasefire, that is commendable. I see it as a roadmap to peace. I hope the committee does the follow-up to this very well. But the committee should go on with their negotiations and should not concede unnecessarily."
Committee should go on with its mandate--Abubakar Tsav
Former Lagos State Commissioner of Police, Alhaji Abubakar Tsav, on his part said: "The development is very encouraging. I am happy about it and I commend the committee for doing a good job. The committee should go on with its mandate in order to achieve a lasting peace. The committee should be encouraged the more at this stage to conclude its job."
FG must rise to the occasion--Arewa Youths
Commenting on the development, President, Arewa Youth Consultative Forum, Alhaji Yerima Shetima said in spite of the ceasefire, the Federal Government must address the issues that led to the insurgency.
Shetima said: "Whether they cease fire or not, the truth of the matter is that Nigerians must rise to the occasion. Last year, it was the same story we heard when they called for a ceasefire and still, they unleashed a lot of mayhem in Northern Nigeria.
Also, we must appreciate the fact that the whole of Northern Nigeria has been bastardised because everybody is now a member of Boko Haram. If they call for a ceasefire, what about the remaining factions? This does not mean that the Federal Government must go to sleep, the insurgency must be condemned totally."
How sect's activities assumed deadly dimension
THE Jama'atu Allus Sunnah Lilda wati Wal Jihad, also known as Boko Haram, (Western education is sin), came into existence in the 1960s but survived through the decades under various names.
However, it started drawing attention to itself in 2002, when Mohammed Yusuf became its leader. In 2004, it moved to Kanamma, Yobe State, where it set up a base called 'Afghanistan' from where it attacked nearby police stations, killing police officers.
In July 2009, the Nigeria Police started investigating Boko Haram, following reports that the group was arming itself. Yusuf, the leader and others, were arrested and on July 30, 2009 allegations were made that Yusuf was extra-judicially killed by Nigerian security forces after being taken into custody.
The development invigorated deadly clashes with Nigerian security forces and attacks on churches, public institutions and military facilities, among others, which have led to the death of about 3,500 people.
Litany of attacks Before the clashes, many Muslim leaders, and at least one military official, had warned the authorities about Boko Haram. Those warnings were reportedly ignored.
According to Human Rights Watch, between July and December 2010, at least 85 people were killed in some 35 separate attacks in four states in northern and central Nigeria, as well as in Abuja, the nation's capital. Attacks attributed to Boko Haram in 2011 left at least 550 people dead in 115 separate incidents.
Between January and December 2012, Boko Haram-related attacks occurred in 14 of the country's 36 states, including all the 12 states that have already adopted Sharia Islamic law, Plateau State and in the Federal Capital Territory, Abuja.
Violence blamed on Boko Haram, which said it wants to create an Islamic state in Nigeria, has killed more than 900 people in 2012, in about 290 separate attacks in 12 north-eastern and central states, and Abuja, making 2012 the deadliest year since the group began its attacks in 2009. And in 2013, about 250 people have been killed in Boko Haram-related attacks and incidents.
The litany of attacks include those of the United Nations Office, Abuja, Police Headquarters, Abuja, the building housing ThisDay Newspapers, Sun Newspapers and Daily Trust in Abuja, St. Theresa's Catholic Church, Madalla, Niger State, Deeper Life Bible Church, Okene; Military Cantonment, Jaji, Special Anti-Robbery Squad (SARS) office and other numerous security facilities, especially police stations.
The security agencies also went on counter-offensive arresting, detaining and in many instances, killing Boko Haram members and leaders.
Disturbed by the escalating violence many northern leaders and groups, including the Arewa Consultative Forum, ACF, urged government to dialogue with the group to end the killings.
A picture taken from a video distributed to journalists in recent days through intermediaries and obtained by AFP on March 5, 2013 reportedly shows Abubakar Shekau, the suspected leader of Nigerian Islamist extremist group Boko Haram, flanked by six armed and hooded fighters at an undisclosed place.
Last November, the group gave the government conditions for ending the hostilities. Acclaimed spokesman of the group, Abu Mohammed Ibn Abdulazeez, in a tele-conference with journalists in Maiduguri, stated that if the state and the Federal Government wanted the group to cease-fire completely, then former Borno State governor, Ali Modu Sheriff, must be arrested and prosecuted according to the laws of the land. He also said that the government should compensate the group and rebuild their places of worship which were destroyed during the 2009 uprising.
He pointed out that for dialogue to take place, it must be through the following elders: Dr. Shettima Ali Monguno; former Head of State, General Muhammadu Buhari; former Yobe State governor, Bukar Abba Ibrahim; Ambassador Gaji Galtimari and Barr Aisha Alkali Wakil and her husband, Barr Alkali Wakil, insisting that the dialogue must take place in Saudi Arabia.
Abu Abdulazeez also said that the group had mandated five members who are to mediate on their behalf; they include himself (Abu Mohammed Abdulazeez), Abu Abbas, Sheikh Ibrahim Yusuf, Sheikh Sani Kontagora and Mamman Nur.
Buhari later distanced himself from the group and the Federal Government said it could not negotiate with pre-conditions, thus the crisis festered. With the latest decision of the group to sheathe its swords, it is hoped that all stakeholders will play their required roles for normalcy to return to the country.
Porous ceasefire
However, a peace deal was brokered on January 28, 2013 after a marathon meeting between some leaders of the group, which has been terrorizing some states in the North, particularly Borno State, since July 2009, and the Borno State Government, led by Governor Kashim Shettima with other top government officials and religious leaders from the state in attendance.
The cease-fire came after a 42-month multi-pronged attack unleashed on the polity by the sect.
Briefing newsmen after the marathon meeting in Maiduguri, Sheikh Abu Mohammad Abdulazeez Ibn Idris, a commander of Boko Haram in-charge of North and Central Borno, said after due consultation with the leader of the sect, Shiekh Abubakar Shekau, as well as intervention and pleadings from respected individuals and groups in the state, we "have all come to terms and agreed to lay down our arms."
The Boko Haram Commander, however, insisted that government should immediately release all their members from custody unconditionally, re-build their places of worship and compensate them, among other demands.
Sheikh Abdulazeez said that, the sect observed that during the lingering insurgency, many Muslim women and children had suffered untold hardship, adding that, they also decided to lay down their arms for peace to reign in Borno State and the country at large.
"I am appealing and calling on all our members through this medium to lay down their arms henceforth, till further notice," Abdulazeez stated.
However, a few hours after the cease-fire, a faction of the sect distanced itself from the peace-deal and accelerated its deadly attacks, which have claimed about 250 lives since then.
The search for peace took President Goodluck Jonathan to Borno and Yobe states last month. The series of parleys during the two-day visit did not yield amnesty as President Jonathan insisted that the Federal Government could not grant amnesty to ghosts. He urged leaders of Boko Haram to come out of their hiding and dialogue with government as was done in the Niger Delta before amnesty could be granted.
The matter was on the front burner this week following the exchange of brick-bat between Buhari and the Presidency. While Buhari accused the Presidency of being responsible for 'political Boko Haram' and should take responsibility for the escalating mayhem, the Presidency countered that Buhari was responsible because he threatened to make the country ungovernable if he lost the 2011 polls.
The government asked Buhari to act like a patriot and get Boko Haram leaders to embrace dialogue. Buhari refused and advised the government to carry its cross.
http://allafrica.com/stories/201307090882.html?viewall=1
-------------
In Timbuktu, majority Muslims, minority Christians reject extremists
09 July 2013
TIMBUKTU, Mali - In this ancient city that has become synonymous with the ends of the earth, the recent terrorism of Islamist extremists belies long years of peaceful Muslim-Christian coexistence.
"This city is 99 percent Muslim, but all of us are tolerant. We preach tolerance. Islam teaches us to respect all religions," Abdrahamane Ben Essayouti, the chief imam of the fabled desert city, told Catholic News Service.
The Rev. Moha Ag Oyahitt agrees. He's a Baptist pastor who fled Timbuktu for Bamako, the nation's capital, when the al-Qaida-linked terrorists took over the town.
"There were no problems in Timbuktu between us and the Muslims. We lived as brothers and sisters. The only difference was Jesus Christ and Mohammed. Besides that, there was no problem. Whatever we do, we invite them, and they invite us when they have births or marriages. Whatever the activity, we invite each other. When we Christians have evangelical campaigns, they come. I cannot explain to you how it was wonderful to live together in peace," he said.
Troubles in Timbuktu began in April 2012 when the city was taken over by the National Movement for the Liberation of Azawad, or MNLA, a largely Tuareg group that wants a secular and independent state in northern Mali. Yet the group's Islamist allies soon turned against the MNLA and drove it out of the city. That left the jihadists in control of Timbuktu.
"We've had the separatists fighting for years in the north of Mali, and we never had problems until they united with the terrorists, then we started to have problems," Oyahitt said.
Essayouti said the Islamist groups -- including Ansar Dine and the Movement for Unity and Jihad in West Africa, which want a Mali governed by Islamic law -- are not what they claim.
"They aren't Muslims, they are terrorists. They came here just to destroy and to steal. In Timbuktu, we know Islam, and we teach Islam, and what they think is something completely different," the imam said.
Essayouti said the French were greeted as heroes by the entire population.
"When the French came to Timbuktu, it was like the second coming of Jesus Christ," the imam said.
Many Timbuktu residents consider the jihadists little more than an organized crime syndicate. They say when the Islamists arrived, they appropriated houses, vehicles, and refrigerators, often trucking the items off through the desert to sell elsewhere. Many fighters switched back and forth between the different jihadist groups, aligning themselves with whichever group offered the most lucrative reimbursement.
Maman Dedeou knows that all too well. When a jihadi asked him to store some items he had looted from government offices, Dedeou did so. Later, when times got tough and Dedeou thought the jihadi had left town, he sold part of the loot. Shortly after, the jihadi returned and Dedeou was arrested for being a thief. Over several weeks, the jihadists extorted the equivalent of several thousand dollars from his family, supposedly to buy his freedom. When his family could no longer pay anything, the jihadists cut off his right hand.
Dedeou went to Bamako for medical treatment and did not return to Timbuktu until after the French had intervened. He is staying with a friend and looking for work, but in the city's moribund economy, it's difficult, especially for a man without a hand.
Dedeou, a Muslim, said he remains angry about what the extremists did to his body and to his city. "If I saw a jihadi today, I'd cut his throat," he said.
http://www.catholicregister.org/news/international/item/16564-in-timbuktu-majority-muslims-minority-christians-reject-extremists
-------------
Islamists' partners quit Morocco's government coalition
10 July 2013
Ministers from the Istiqlal party quit Morocco's Islamist-led ruling coalition on Tuesday, a spokesman for the conservative party told AFP, threatening a government shakeup or snap elections.
"It's official, our ministers have just presented their resignation to the head of the government (Abdelilah Benkirane)," Istiqlal spokesman Adil Benhamza said.
Of the six ministers from the party, only one, Education Minister Mohammed El-Ouafa, had yet to present his resignation by Tuesday evening.
Benhamza said that if he failed to do so within 24 hours, "he will be excluded" from the party.
Istiqlal's national council first threatened in May to quit the government over its failure to shore up the economy and solve pressing social problems.
Istiqlal held several ministerial posts, including education and the economy, and its withdrawal will force the moderate Islamist Party of Justice and Development (PJD) to find a new coalition partner or face early elections.
The PJD has led the government since it emerged as the largest party after elections in late 2011.
http://english.alarabiya.net/en/News/middle-east/2013/07/10/Islamists-partners-quit-Morocco-s-government-coalition.html
----------
Gambia: President Hosts Azaan, Zikr Quranic Recitation Competition
BY MUSA NDOW
July 10, 2013
As Muslims across the globe prepare to embrace the Holy Month of Ramadan, which is characterised by fasting and worshipping, the Gambian leader Saturday evening organised a sponsored Zikir, Azaan Quranic Recitation Competition at State House grounds in Banjul.
Presided over by His Excellency Sheikh Professor Alhaji Dr. Yahya Jammeh himself, the second edition of this competition came some days after he ended his 2013 'Dialogue with the People Tour'. The academic showdown, which brought together 25 participants from various diara groups, was well contested with the young scholars showcasing their skills.
Introduced earlier this year, the initiative is meant, among other things, to instill strong Islamic values in young Muslims and give the Islamic Ummah the courage to face up to the challenges it continues to face. The competition saw a presentation of prizes to various winners in each category of the competition. Addressing the large crowd, the secretary general and head of the Civil Service, Momodou Sabally, who doubles as the Presidential Affairs minister, lauded the initiative and described the competition as a thanksgiving occasion. "You can have a steady mind through reciting Quran and having initiated such competition that would pave way for the recitation of the Holy Quran, I think that is very encouraging," he said.
While calling on people to pray for the Gambian leader for his continued health and long life, Sabally underscored the strides the Gambian leader has made in propagating Islam. The Emir of State House, Warrant Officer Alhaji Ba-Sainey Camara, who spoke on behalf of the commander of State Guards, thanked the Gambian leader for entirely sponsoring the program me.
The head imam of State House, Abdoulie Fatty and the Dean of Faculty of Law, University of The Gambia, Dr Abubacarr Senghore, who were the key resource persons for the occasion, took turns to laud the initiative.
They preached on various social topics such as homosexuality and Islam; Islam dress code for men and women; the history of Salafists, Wahhabism and Shiites and how they all came about; and what is expected of Muslims during the Holy Month of Ramadan.
Commenting on the topic "Islam as a religion of peace; the source being the prophet (PBUH)," Imam Fatty challenged Muslims to guard their religion against the enemies of Islam. He specifically urged them to be vigilant about those who hide behind the religion to commit heinous crimes of terrorism, citing the problems in a number of Middle-Eastern countries. While stressing that Islam is a religion of peace, the erudite imam enjoined Muslims to worship only the Almighty Allah and nobody else. Also speaking at the occasion, Dr. Abubacarr, who spoke extensively on how Shiites came about, used the opportunity to enjoin Muslims to inculcate discipline in their children. He also encouraged Muslims to speak with one voice and respect the decision of the country's Supreme Islamic Council, especially in matters relating to the sighting of the moon.
Veteran female Islamic scholar and proprietress of the Muhammed Yadalieu English and Arabic School, Aja Maimuna Savage, commented on issues of decent dress code, which she argued could protect children from abuse. Savage, an executive director of the Islamic Cultural Centre for Women and Girls, also challenged parents to take responsibility and inculcate in the minds of their children the teachings of Islam.
Quoting some verses in the Holy Scripture that strongly condemns the present mode of dressing by young Muslims, she enjoined young women to practice good moral behaviors that would earn them respect and dignity in life. The president of The Gambia Supreme Islamic Council, Momodou Lamin Touray, for his part, thanked the participants for responding and the Gambian leader for sponsoring the event. Touray dilated on the significance of unity, urging Muslims to respect those in authority. "Their decisions and pronouncements should be respected, especially when it comes to sighting the moon. Islam says when two or more Muslims confirm seeing the moon, the rest of the Muslim community should observe that," he advised.
It would be recalled that the Gambian leader first organised the competition in February this year.
Scholars condemn homosexuality
Meanwhile, the scholars also used the religious gathering to add their voice to the chorus of condemnation of homosexuality; a practice seen as "unnatural." They argued that such a practice does not conform to the teaching and practice of the Islamic religion and thus, should be stamped out of the society.
Scholars - Imam Abdoulie Fatty, Dr. Abubacarr Senghore, Aja Maimuna Savage and Momodou Lamin Touray spoke against the practice, describing it as "irreligious".
http://allafrica.com/stories/201307091380.html?viewall=1
-------------
Security of the Benghazi embassy was 'farmed out to an al-Qaida front group'
July 10, 2013
In an exclusive interview with the Daily Caller, anti-terror activist and founder of Act! for America Brigitte Gabriel calls out the Obama administration for its "shameful" actions in Benghazi and inability to take responsibility.
"Those who lay their life on the line and sign up to serve our country overseas, it doesn't matter what country they are serving in, they are depending on the United States government to provide them security," Gabriel says. "So for Ambassador Stevens to be killed, tortured, kidnapped, sodomized, which most people do not want to talk about, and dragged through the streets the way he did and here is somebody who is exemplary example of what it's like for someone to go into a country that's trying to establish its democracy."
Full report at:
http://dailycaller.com/2013/07/08/anti-terror-activist-security-of-the-benghazi-embassy-was-farmed-out-to-an-al-qaeda-front-group-video/#ixzz2YgXyv9ah
-------------
Tunisia's General Consulate in Tripoli Stormed By Libyans
July 10, 2013
Tunis — The seat of Tunisia's general consulate was stormed by a group of Libyans to claim the recovery of goods and an amount of money illegally channeled to Tunisian territories and seized by Tunisia's customs, a Prime Ministry press release announced on Monday.
Diplomatic contacts have been established to unblock the situation and inform Libyan authorities which dispatched competent teams on the spot to clear the building of the consulate without escalation, the same source added.
Full report at:
http://allafrica.com/stories/201307091165.html
-------------
Four Boko Haram Members Get Life Sentence
BY IORAKPEN ISHU-JOSEF, 10 JULY 2013
In perhaps the first Nigerian court verdict in a case of terrorism, a federal high court in Abuja led by Justice Bilikisu Aliyu yesterday sentenced four members of the Boko Haram sect to life imprisonment.
But the court handed 10 years' jail term to one of the accused persons, Umar Ibrahim, and freed another accused, Musa Adamu, for lack of evidence.
In her judgement yesterday, Justice Aliyu convicted the five accused persons for their involvement in the Suleja and Nasarawa bombings that led to the death of many people.
Those sentenced to life imprisonment are Shuaibu Abubakar, Salisu Ahmed, Umar Babagana-Umar and Mohamed Ali.
Full report at:
http://allafrica.com/stories/201307100752.html?viewall=1
-------------
Malawi Feeds 1.6 Million Primary School Children Everyday
BY GLADYS KAMAKANDA,July 10, 2013
The Ministry of Education, Science and Technology says it is feeding 1.6 million learners in 1,565 public schools everyday through the Health and Nutrition Programme across the country.
Principal Secretary in the ministry, Dr. MacPhail Magwira disclosed this to Malawi News Agency (Mana) in an interview.
Dr. Magwira said the programme has improved enrolment and retention rate of learners in primary schools country wide.
Full report at:
http://allafrica.com/stories/201307100269.html
---------
Elite troops deployed in Sudan's second-largest city: AFP
10 July 2013
Elite Sudanese troops have been deployed in Sudan's second-largest city after days of violence among members of the security forces, as residents begin the Muslim holy month of Ramadan in fear of new clashes.
An AFP correspondent was the first from a foreign news organisation to arrive in Nyala, the capital of South Darfur state, since the worst outbreak of urban warfare in Sudan's far-west region in recent memory.
Full report at:
http://english.ahram.org.eg/NewsContent/2/8/76157/World/Region/Elite-troops-deployed-in-Sudans-secondlargest-city.aspx
----------
Europe
Amnesty slams Egypt army's 'disproportionate' use of force
Jul 10 2013
CAIRO: Amnesty International said on Wednesday it had evidence pointing to the "disproportionate" use of lethal force by Egyptian security forces, and called for them to be reined in to avoid "disaster".
The claim by the human rights watchdog comes two days after at least 51 people, most of them supporters of the ousted Islamist president Mohamed Morsi, died in clashes outside the Cairo headquarters of the elite Republican Guard.
Morsi's Muslim Brotherhood claimed police and troops "massacred" their supporters as they performed dawn prayers, while the army said it came under attack by "terrorists.""Despite claims by the military that protesters attacked first during clashes on Monday and that no women and children were injured, first hand accounts collected by Amnesty International paint a very different picture,"the group's deputy regional director Hassiba Hadj Sahraoui said in a statement.
Full report at:
http://dawn.com/news/1024185/amnesty-slams-egypt-armys-disproportionate-use-of-force
-------------
Russia hands over chemical attack evidence to UN
Jul 10 2013
NEW YORK CITY: Russia on Tuesday handed over evidence to the United Nations indicating Syrian rebels used sarin gas in an attack in March, its UN envoy said.
Ambassador Vitaly Churkin said Russian experts had been to the scene of the attack at Khan al-Assal near Aleppo and gathered firsthand evidence.
The Russian action risks reigniting an international dispute over the use of chemical weapons in the 26-month-old war, in which the United Nations says up to 100,000 people have been killed.
Full report at:
http://dawn.com/news/1023973/russia-hands-over-chemical-attack-evidence-to-un
-------------
French Muslims split over start of Ramadan despite accord
Reuters | Jul 10, 2013
PARIS: An agreement in France to set the start of Ramadan according to scientific calculations fell apart on Tuesday when many mosques opted to wait as the new moon was not yet visible to the naked eye there or in the Middle East.
The Islamic lunar calendar is 10 to 11 days shorter than the solar Gregorian one developed in Europe, so the Muslim holy month starts a week and a half earlier each year, when a new crescent moon is seen.
Full report at:
http://timesofindia.indiatimes.com/world/europe/French-Muslims-split-over-start-of-Ramadan-despite-accord/articleshow/20999205.cms
--------
London: Tehmina, Pakistani writer calls for madrasa reforms
July 10, 2013
Emphasising that there should be an alternative system for religious education, famous writer Tehmina Durrani on Tuesday said madrasas were promoting sectarianism.
She was speaking at the International Human Rights seminar in London on the eradication of terrorism and sectarianism through video-conferencing.
She said the West's violation of the human rights charter on the children of war was the root of terrorist activities that had grown branches in all directions. She requested British parliamentarians to use their influence and appeal to the world leadership to ensure that the negligence towards the children of war following the end of the Soviet occupation is not repeated.
Full report at:
http://tribune.com.pk/story/575005/children-of-war-tehmina-calls-for-madrassa-reforms/
-------------
UK troop levels in Afghanistan 'to fall to 6,000 by autumn'
10 July 2013
The number of UK troops in Afghanistan will fall to about 6,000 by the autumn, the defence secretary has said.
In a written ministerial statement, Philip Hammond said the announcement was in line with the government's previously stated aim to cut troop levels to 5,200 by the end of 2013.
The UK currently has about 7,900 troops stationed in Afghanistan.
All Nato operations are due to finish by the end of 2014, with responsibility being transferred to Afghan forces.
Full report at:
http://www.bbc.co.uk/news/uk-23258789
----------
Syrian rebels used sarin: Russia
VLADIMIR RADYUHIN
10 July 2013
Russia has produced scientific proof of the Syrian rebels' use of chemical weapons that would reinforce claims that the attacks were staged to provide a pretext for Western intervention in Syria.
Laboratory tests of samples taken at Khan al-Assal, the site of an alleged nerve gas attack near the town of Aleppo on March 19, indicated that it was the rebels, not the Syrian army, who mounted the attack, the Itar-Tass news agency reported quoting Russia's United Nations envoy Vitaly Churkin.
Full report at:
http://www.thehindu.com/news/international/world/syrian-rebels-used-sarin-russia/article4901513.ece
----------
Brazil beef ban sends prices of samosa, kebab soaring
10 July 2013
Citizens and expatriates alike in the Kingdom are feeling the pinch of ban on beef imports from Brazil since last December, with prices shooting up by as much as 40 percent since the ban. Brazil was the largest supplier of beef to the Kingdom up until the ban was imposed.
The high price of beef is a cause of concern for everyone during Ramadan, when demand rises. Following the ban on Brazilian beef, India has emerged as the largest supplier of meat followed by Australia, but the combined supplies from these two countries still falls short of demand, leading to prices shooting up.
Full report at:
http://www.arabnews.com/news/457594
----------------
Pakistan
Report reveals Former ISI Chief's admission of Pak-US 'understanding' on drones
Jul 10 2013
ISLAMABAD: Pakistan reached an understanding with the United States on drone strikes targeting Islamist militants and the attacks can be useful, according to leaked remarks from a former intelligence chief.
Pakistan publicly condemns US missile attacks on Taliban and al Qaeda operatives as a violation of its sovereignty, but the new revelations are the latest sign of double-dealing in private.
They come in findings of a Pakistani investigation into how al Qaeda leader Osama bin Laden evaded detection for nearly a decade, which were published by the Al-Jazeera news network Monday.
Ahmed Shuja Pasha, who headed Pakistan's premier Inter-Services Intelligence (ISI) agency at the time of bin Laden's killing in 2011, told investigators that drone strikes had their uses.
"The DG (director general) said there were no written agreements. There was a political understanding," the report said.
Full report at:
http://dawn.com/news/1023972/report-reveals-pashas-admission-of-pak-us-understanding-on-drones
-------------
In Swat, Pakistan Army adamant on fighting 'other Taliban'
July 10, 2013
KALAM: In the past few years, Swat valley has been occupied by insurgents, undergone a bruising counter-offensive by the army and then flooded by waters that washed away acres of fruit orchards and steeply terraced fields.
In October last year, the valley which lies about 250 km north of Islamabad was again in the global spotlight when gunmen shot schoolgirl Malala Yousafzai.
Now, as villagers try to piece together shattered lives, the military is coming under pressure to talk peace with the Tehreek-e-Taliban Pakistan (TTP).
Full report at:
http://tribune.com.pk/story/575052/in-swat-pakistan-army-adamant-on-fighting-other-taliban/
-------------
Pak doubts 'genuineness' of leaked Osama report
July 10, 2013
Pakistan has said that it would investigate whether a leaked report of Abbottabad Commission was "really genuine", the local media quoted information minister Pervez Rashid as saying.
Rashid told reporters in Islamabad on Tuesday that it had to be first ascertained whether the report was genuine, who it was in possession of and who leaked it. "It is too early to ask this question," Rashid told reporters when asked about any punitive measures being contemplated by the authorities against those who failed to locate al-Qaeda chief's whereabouts in the country.
Full report at:
http://www.hindustantimes.com/world-news/pakistan/Pak-doubts-genuineness-of-leaked-Osama-report/Article1-1089999.aspx
-------------
'Military, ISI incompetence led to Osama fiasco'
PTI | Jul 10, 2013
ISLAMABAD: Pakistan's powerful military and its intelligence establishment have been hauled up by a panel that probed the presence of Osama bin Laden in the country saying the former al-Qaida chief was able to stay on its soil since mid-2002 due to "collective failure, culpable negligence and gross incompetence."
According to the Abbottabad Commission's investigations, Pakistan's intelligence establishment had "closed the book" on bin Laden by 2005, and was no longer actively pursuing intelligence that could lead to his capture.
Full report at:
http://timesofindia.indiatimes.com/world/pakistan/Military-ISI-incompetence-led-to-Osama-fiasco/articleshow/20997381.cms
---------
China to have bigger space in revival of Pak economy: Pak Punjab CM
Salim Ahmed
July 10, 2013
Lahore—Punjab Chief Minister Muhammad Shahbaz Sharif has said that the visit of Pakistani delegation to China under the leadership of Prime Minister Muhammad Nawaz Sharif will yield far-reaching results.
He was talking to media on his return from the visit to China and Qatar at Allama Iqbal Airport on Tuesday.
He said that the successful visit to China has once again proved that China is a trustworthy friend of Pakistan and the friendship between the two countries is everlasting. He said that China has assured that it will play an effective role in the revival of Pakistan's economy.
Full report at:
http://pakobserver.net/detailnews.asp?id=212120
-------------
Sharif, Manmohan Singh could meet on sidelines of UN annual summit
July 10, 2013
Prime Minister Nawaz Sharif and his Indian counterpart Manmohan Singh could meet in New York on the sidelines of the UN annual summit in September to discuss bilateral ties, regional situation and other issues, a top Pakistani official has said.
In an informal chat, Sharif's advisor on national security and foreign affairs Sartaj Aziz on Tuesday told reporters that the two leaders could have a meeting in New York on the sidelines of the UN annual summit in September.
Full report at:
http://www.hindustantimes.com/world-news/pakistan/Sharif-Manmohan-Singh-could-meet-on-sidelines-of-UN-annual-summit/Article1-1090242.aspx
-------------
Muslim search engine 'Halalgoogling' that blocks 'Haram' content launched
Jul 10 2013
A Muslim search engine that blocks forbidden content as per Islamic law has been launched.
The press release said that 'Halalgoogling' gives results from leading search engines such as Google and Bing.
It added that the search engine has a built-in advanced special filtering system that blocks Haram content according to the Law of Islam.
According to the Express Tribune, a special and unique filter system in the search engine excludes forbidden content from its search results such as pornography, nudity, gay, lesbian, bisexual, gambling, anti-Islamic content.
The system has been designed to respect Muslim culture, the report stated.
http://indiatoday.intoday.in/story/muslim-search-engine-halalgoogling/1/287465.html
-------------
Militant commander killed in Mastung
SYED ALI SHAH
Jul 10 2013
QUETTA: A militant commander of a proscribed sectarian organisation was killed in an operation conducted by security forces in Mastung district of Balochistan on Wednesday.
An intelligence official told Dawn.com on the condition of anonymity that security forces conducted an operation, which lasted for more than an hour, in Dasht area of Mastung district.
Full report at:
http://dawn.com/news/1024175/militant-commander-killed-in-mastung
-------------
TTP sacks spokesman in sign of growing divisions
Jul 10 2013
ISLAMABAD/DERA ISMAIL KHAN: Pakistan-based Taliban sacked their spokesman on Tuesday for making remarks that angered their Afghan allies, in a move highlighting efforts to patch up divisions within the increasingly fractured insurgency.
Tehreek-e-Taliban Pakistan (TTP), formed in 2007, is an umbrella group uniting various militant factions operating in Pakistan's volatile northwestern tribal areas along the porous border with Afghanistan. Any further divisions within the movement are likely to weaken the Afghan Taliban's fight against Western forces there, making it more difficult to recruit young fighters and disrupting safe havens in Pakistan used by Afghan militants.
Full report at:
http://www.dailytimes.com.pk/default.asp?page=2013\07\10\story_10-7-2013_pg7_3
-------------
Abbottabad Commission report: Military faults local police
July 10, 2013
ISLAMABAD: In their briefing to the Abbottabad Commission, Pakistan's military passed the buck to the local police for not spotting the house Osama Bin Laden and his family had been living in for years.
Army's board of inquiry, established under Lt-Gen Javed Iqbal, told the commission that the local Nawan Shehar police station was located close to Bin Laden's compound; but the police failed to observe anything unusual about the place and no report on anything suspicious was ever filed neither by the police nor special branch, which were responsible to maintain a close watch on the area. This is according to the Abbottabad Commission report leaked to Arab news network Al Jazeera, a copy of which is available on its website.
Full report at:
http://tribune.com.pk/story/574928/abbottabad-commission-report-military-faults-local-police/
-------------
Bomb 'kills Zardari security chief'
10 July 2013
The chief security officer of Pakistani President Asif Ali Zardari has been killed in a bomb attack in the port city of Karachi, reports say.
Bilal Shaikh and two other aides reportedly died in the blast, which happened near an office of Mr Zardari's ruling Pakistan People's Party.
Several more people are reported to have been wounded in the explosion.
An active member of the PPP, Mr Sheikh was responsible for the safety of Mr Zardari's son, Bilawal Bhutto-Zardari.
http://www.bbc.co.uk/news/world-asia-23259860
----------
South Asia
Afghan Taliban reject Karzai, UN appeals for Ramazan ceasefire
July 10, 2013
ISLAMABAD: The Afghan Taliban have rejected appeals made by Afghan President Hamid Karzai and a senior UN official for a ceasefire in Ramazan.
They also vowed to increase attacks, claiming the "reward of fighting is much higher in the holy month."
President Karzai in his Ramazan message had asked the Taliban to stop fighting.
"On the occasion of the holy month of Ramazan, I appeal to the Taliban to follow the path of peace and to stop killing people. I invite them to come and help the country and start an honourable life," Afghan state television quoted President Karzai.
Full report at:
http://tribune.com.pk/story/575079/afghan-taliban-reject-karzai-un-appeals-for-ramazan-ceasefire/
-------------
Majority people not empathetic towards minorities in Bangladesh
Jul 10 2013
The country's majority people are not empathetic towards the religious and ethnic minorities and do not acknowledge their plights, which is a big hindrance in building a humanitarian society, said speakers at a views-exchange meeting in Chittagong city yesterday.
The Parliamentary Caucus on Indigenous People organised the meeting on the Bangladesh Adivasi Odhikar Act 2012, a draft law, formulated by the caucus on indigenous people's rights, at Chittagong Press Club.
Full report at:
http://www.thedailystar.net/beta2/news/majority-people-not-empathetic-towards-minorities/
-------------
Maldives celebrates Ramazan with food, festivities, fasting, prayer
By Leah Malone | July 9th, 2013
The Maldives has seen a flurry of activities in the lead up to the holy month of Ramadan, which began today (July 9) in the tropical island nation, with festivities and devout worship to continue throughout the month.
Ramadan marks month in which the Quran was revealed to mankind, the ninth month of the Islamic calendar. It is a time of fasting, is one of the five pillars of Islam and represents a form of worship to Allah.
Full report at:
http://minivannews.com/society/maldives-celebrates-ramazan-with-food-festivities-fasting-prayer-60939
-------------
Indonesia's Wanted Terrorist Reappears with Anti-Police YouTube Video
July 10, 2013
After months of silence, Indonesia's most-wanted man, the fugitive terrorist Santoso, posted a six-minute-long tirade on YouTube in which he promised to wage a holy war against anti-terrorism police Densus 88 "until doomsday."
The fugitive leader of the East Indonesia Mujahideen brandished a pistol as he delivered a call-to-arms to Indonesian radicals in a video titled "Treaties to Muslims in Poso."
Santoso, flanked by two men dressed in fatigues and holding assault rifles, began the video saying "greetings to all of you who are in town to keep fighting Densus 88," before showing footage of a terrorist allegedly killed in a police raid.
Full report at:
http://www.thejakartaglobe.com/news/wanted-terrorist-santoso-reappears-with-anti-police-youtube-video/
-------------
At least 17 Afghan civilians killed in roadside bomb: officials
Jul 10 2013
KABUL: A bomb in western Afghanistan on Tuesday killed 12 women, four children and one man travelling in a three-wheel minivan, officials said, adding that at least seven other passengers were wounded.
"Unfortunately as a result of this blast, 12 women, four children and one man have been killed and five children, one man and one woman have been wounded," Herat province police spokesman Abdul Rauf Ahmadi told AFP.
Full report at:
http://dawn.com/news/1023969/at-least-17-afghan-civilians-killed-in-roadside-bomb-officials
-------------
Rise of Taliban: Senate panel chief raises doubts about role in Doha
July 10, 2013
ISLAMABAD: Senate Standing Committee on Foreign Affairs chairman Haji Muhammad Adeel on Tuesday expressed concern over Pakistan's role in Afghan peace talks in Doha, raising question as to what was in store for Pakistan if Taliban regained control of Afghanistan.
Convening a meeting of the committee, the senator said Pakistan could bring Afghan Taliban to talk with the US for peace and stability in Afghanistan but the rise of Taliban was not going to be helpful in restoring peace on the soil of Pakistan.
Full report at:
http://tribune.com.pk/story/574979/rise-of-taliban-senate-panel-chief-raises-doubts-about-role-in-doha/
-------------
Southeast Asia
Indonesians Begin Ramadan, Hard-liners Target 'Sinful' Bars
By Agence France-Press
July 10, 2013
Muslims across Indonesia began celebrating the holy month of Ramadan Wednesday, with hard-liners vowing to raid "sinful" bars and police steamrolling a mountain of alcohol and porn amid rising intolerance.
Islam's holiest month is used by hard-liners in Indonesia as an opportunity to attack nightclubs, bars and shops that openly sell alcohol, the consumption of which is against Islamic law.
There were fears the situation could be worse this year after a recent upsurge in attacks on religious minorities and non-mainstream Muslims.
Critics say hard-liners such as the notorious Islamic Defenders Front (FPI) have been emboldened by the government's failure to crack down on them and prevent such attacks.
In the days before Ramadan, there were already reports the FPI — who led protests that forced pop star Lady Gaga to cancel a concert in Jakarta last year — had started conducting such raids.
Full report at:
http://www.thejakartaglobe.com/news/indonesians-begin-ramadan-hard-liners-target-sinful-bars/
-------------
Former judge says laws on religion must be clearly explained to avoid disputes
JULY 10, 2013
The drafting of a law involving the multi-religious and multi-racial people in the country must be clearly explained to avert disputes and confusion.
While lauding the withdrawal of the tabling of the controversial Administration of Religion of Islam (Federal Territories) Bill 2013, former Court of Appeal judge Datuk Mohd Noor Abdullah said the explanation and clarification must be given by a law expert.
"The one giving the explanation should be a law expert or the minister who has been well-briefed by the officers from the Attorney-General's Chambers," he said.
Full report at:
http://www.themalaysianinsider.com/malaysia/article/former-judge-says-laws-on-religion-must-be-clearly-explained-to-avoid-disputes/
----------
Ahmadis consider this year's Ramadhan another test of faith
July 10 2013
While almost everybody else is welcoming Ramadhan with happiness and smiles, for 116 Ahmadis who are now living at the Transito house in Mataram, this year's Ramadhan is just another test of faith.
"Praise God that we are allowed to experience Ramadhan this year amidst our life's difficulties," Syahidin, the Ahmadis refugee coordinator, said on Wednesday.
He said since they were expelled from their village in Ketapang, WestLombok seven years ago, they had faced difficulties getting decent jobs to feed their families. The refugees have been denied access to ID cards. In the absence of ID cards, they could not get the temporary cash assistance that had been issued lately by the government as compensation for the fuel price hike.
Full report at:
http://www.thejakartapost.com/news/2013/07/10/ahmadis-consider-year-s-ramadhan-another-test-faith.html
-------------
North America
US Encourages Muslim Brotherhood to Join Egyptian Political Transition
Scott Stearns
July 09, 2013
STATE DEPARTMENT — The Obama administration says it is encouraging Egypt's Muslim Brotherhood to take part in a political transition following the ouster of the country's first democratically-elected president - himself a member of the Muslim Brotherhood.
As interim Egyptian President Adly Mansour fills out positions in the transitional authority, U.S. State Department spokeswoman Jen Psaki says the Obama administration is encouraged by plans for new legislative elections.
"We're encouraged that the interim government has laid out a plan for a path forward. And of course any process moving forward must be inclusive and take the consensus into account," said Psaki.
She says Washington is still reviewing events to determine whether the military's ouster of President Mohamed Morsi was a coup - an important legal distinction that would affect U.S. foreign aid to Egypt.
Full report at:
http://www.voanews.com/content/us-encourages-muslim-brotherhood-to-join-egyptian-political-transition/1698472.html
-------------
Snowden Justifies Intelligence Leaks in New Video
July 10, 2013
Former U.S. intelligence contractor Edward Snowden explained his disclosure of clandestine American surveillance programs in a newly released segment of a video recorded last month.
Britain's Guardian newspaper released the video Tuesday of a June 6 interview conducted in Hong Kong, where Snowden fled last month. Later he flew to Russia, where he has been in the transit zone of a Moscow airport while trying to find a country to grant him asylum.
http://www.voanews.com/content/snowden-justifies-intelligence-leaks-in-new-video/1698090.html
-------------
Barack Obama calls Qatar, UAE leaders to discuss crisis in Egypt
Jul 10 2013
Washington : US President Barack Obama made phone calls to the leaders of Qatar and the UAE to discuss the current volatile situation in Egypt, where democratically elected president Mohammed Morsi was overthrown by the powerful military, triggering a wave of violent protests.
In both the calls yesterday, the three leaders expressed concern over the ongoing violence in Egypt and agreed on the need for all Egyptian leaders to discourage violence. President Obama and Qatar Emir Tamim bin Hamad Al Thani discussed about recent developments in Egypt, noting the use of force and incitement to violence by any party is unacceptable, the White House said.
Full report at:
http://www.indianexpress.com/news/barack-obama-calls-qatar-uae-leaders-to-discuss-crisis-in-egypt/1140027/
-------------
US, Israeli Interests in the Balance as Egypt 'Coup' Label Lingers
Andrea Germanos
July 10, 2013
The strategic interests of the U.S. and Israel are on display as the U.S. continues to dodge calling the Egyptian military ousting of President Mohamed Morsi a coup, and Israeli officials mount pressure on the U.S. to not halt its $1.5 billion in annual aid to Egypt.
The White House has avoided using the word "coup," because, as Reuters explained, "calling the military intervention a 'coup'...would trigger legal obstacles to continuing aid payments."
The New York Times' Caucus blog adds that
Egypt has been the second-largest recipient of American aid, behind Israel, since 1979, as a reward and incentive for its peace with the Jewish nation, and the military continues to support that treaty.
Full report at:
http://www.commondreams.org/headline/2013/07/09-8
-------------
US Considering 'Zero Option' for Afghanistan in 2014
Kent Klein
July 09, 2013
WHITE HOUSE — White House officials say the United States is considering removing all its troops from Afghanistan by the end of 2014, but that they have many other options. Officials say the decision will not be made soon.
White House Press Secretary Jay Carney Tuesday played down reports that President Barack Obama may pull all U.S. troops out of Afghanistan when American combat troops leave at the end of next year.
He said the so-called "zero option" is one of many possible plans for postwar Afghanistan, and that the president is under no pressure to decide soon.
"I want to make clear, today's story notwithstanding, that this is not a decision that is imminent. And we are talking about a residual force, a potential residual force, in a year and a half. So these are ongoing conversations," said Carney.
Full report at:
http://www.voanews.com/content/washington-considers-no-troops-left-in-afghanistan/1697801.html
-------------
Arab World
Lebanon Bomb Raises Fears of Further Sectarian Violence
Jamie Dettmer
July 10, 2013
BEIRUT — The explosion that tore through a southern suburb of the Lebanese capital Tuesday is prompting yet more fears that Lebanon risks being dragged into the civil war raging in neighboring Syria.
The explosion was viewed here by many analysts as apparent retaliation by Sunni militants for the Shi'ite Hezbollah movement's military support of Syrian President Bashar al-Assad. The bomb exploded at mid-morning in the densely populated southern suburb of Dahyeh, where the bombers managed to breach heavy security and maneuver the car into Hezbollah's so-called "security square" where many of the movement's leadership work and live.
For some analysts the bombing doesn't come as a surprise.
Lebanese author Michael Young warns that Syria's sectarian-based civil war and Hezbollah's role in it is worsening divisions between Lebanese Sunni Muslims and Shi'ites.
"It doesn't like to be tagged just as a sectarian Shi'ite party. But the relations between Lebanon's Shi'ites and Sunnis have been tense for several years particularly after the 2006 war. So the fact that today they are intervening on the side of the Syrian regime has really only exacerbated a problem that has been there for several years," he said.
Full report at:
http://www.voanews.com/content/lebanon-bomb-raises-fears-further-sectarian-violence/1698206.html
-------------
President Morsi, Muslim Brotherhood placed ideology ahead of economic needs
By Yasser Soliman
July 09, 2013
It is with great sadness that I write this guest opinion column on the perilous situation in Egypt. This is not because of the coup d'état carried out by the Egyptian military, but because of the consequences of such an act. Whether you are for or against President Morsi and the Muslim Brotherhood, the action taken by the military backed by protesters on the streets undermines the very thing they are trying to achieve in this great civilization called Misr (Egypt).
Democracy is a very important and serious institution that governs a people by serving them. It is a hard lesson to learn, not only for the Muslim Brotherhood, but for the protesters and the military, as well.
Full report at:
http://www.nj.com/times-opinion/index.ssf/2013/07/opinion_president_morsi_muslim.html
-------------
Egypt charges 200 over bloodshed at army HQ, judicial source says
10 July 2013
Egyptian prosecutors charged on Wednesday 200 people for taking part in fatal clashes near the Republican Guard headquarters in Cairo, a judicial source told AFP.
The 200 people will be taken into custody for 15 days awaiting an investigation into allegations of murder, incitement to violence, carrying unlicensed weapons and disrupting public order, the source added.
At least 54 people were killed in clashes on Monday near Cairo's Republican Guard headquarters, where supporters of ousted Islamist President Mohammed Mursi were demanding that he be reinstated.
The army had ousted the president and dissolved the Islamist-drafted constitution following protests that saw millions taking to the streets calling for Mursi's resignation.
http://english.alarabiya.net/en/News/middle-east/2013/07/10/Egypt-charges-200-over-bloodshed-at-army-HQ-judicial-source-says.html
--------
New Haram annex opens for pilgrims
10 July 2013
Three floors of the newly constructed annex of the Grand Mosque have been opened to accommodate 400,000 more worshippers this Ramadan.
The opening comes upon directives of Custodian of the Two Holy Mosques King Abdullah, who initiated the new expansion project to increase the mosque's capacity to more than two million.
Apart from the basement, first and mezzanine floors, the mosque's northern, southern and western plazas have also been opened for worshippers.
Finance Minister Ibrahim Al-Assaf said his ministry implemented the project upon the king's directives to expand facilities for the millions of pilgrims who come from around the world for Umrah during the holy month.
Full report at: Arab news
-----------
Saudi Arabia rejects use of religion for personal interest
10 July 2013
Saudi Arabia's King Abdullah Bin Abdul Aziz and Crown Prince Salman bin Abdulaziz rejected on Tuesday any exploitation of religion for personal gains and any association with political parties that lead to conflict and failure.
The assertion was made in a joint statement read out on state television by Minister of Culture and Information Abdulaziz Khoja to congratulate the Muslim world for the coming of the holy month of Ramadan.
Full report at:
http://english.alarabiya.net/en/News/middle-east/2013/07/10/Saudi-Arabia-rejects-use-of-religion-for-personal-interest-.html
----------
Islamic body head says he warned Morsi in April
10 July 2013
The head of the Organization of Islamic Cooperation (OIC), Ekmeleddin Ihsanoglu, said he had warned ousted Egyptian President Mohamed Morsi over the country's problems and offered him solutions in a meeting in April.
"I told him the situations of countries in the world that struggle against economic difficulties, such as Greece, Portugal, Italy, Brazil and Spain. We discussed various political solutions that they have been applied to overcome their problems. I emphasized especially the need to form a coalition with the opposition forces," the OIC head told Turkish daily Milliyet in an interview.
Full report at:
http://www.hurriyetdailynews.com/islamic-body-head-says-he-warned-morsi-in-april.aspx?pageID=238&nID=50403&NewsCatID=352
----------
Kingdom 'will not tolerate extremism'
10 July 2013
Saudi Arabia yesterday urged the international community to play a decisive role to end the bloodbath in Syria, giving ethics priority over politics.
"If it fails to do so, then the history will record that it had participated in the killing of innocent people," said Custodian of the Two Holy Mosques King Abdullah and Crown Prince Salman, deputy premier and minister of defense, in a Ramadan message.
The message, which was delivered on Saudi Television by Culture and Information Minister Abdul Aziz Khoja, emphasized that Saudi Arabia would not tolerate extremism.
Full report at:
http://www.arabnews.com/news/457597
----------
Syria activists protest rebel siege of Aleppo districts
10 July 2013
Syrian activists in Aleppo have staged protests calling for the lifting of a rebel siege of regime-held districts that has created food shortages, an NGO said on Wednesday.
The Syrian Observatory for Human Rights said the first demonstration calling for the siege to be lifted came on Tuesday, adding that a demonstrator was shot dead during the protest.
The watchdog group said it was unclear who had shot the demonstrator, but added that protesters took to the streets in the northern Syrian city again on Wednesday.
A video of Tuesday's protest posted by the Observatory on Wednesday showed a small group of youths chanting "the people want to break the siege".
Full report at:
http://english.ahram.org.eg/NewsContent/2/8/76170/World/Region/Syria-activists-protest-rebel-siege-of-Aleppo-dist.aspx
----------
Iraqi Refugee to Boost Cricket in Multicultural Australia
Phil Mercer
July 10, 2013
SYDNEY — An Iraqi refugee has been chosen to help boost the profile of cricket in Australia. Sam Almaliki, who's 24, has been appointed to a senior community development role at Cricket Australia, the sports powerful governing body. He first encountered cricket watching fellow refugees play at Sydney's Villawood Detention Center where his family was held for eight months after fleeing Iraq.
Cricket is Australia's national game but lacks the diversity found in the other major sports, including rugby football.
Full report at:
http://www.voanews.com/content/iraqi-refugee-to-boost-cricket-in-multicultural-australia/1697025.html
-------------
Egypt's military warns against political 'maneuvering'
July 10, 2013
Egypt's army chief says the military will not accept political "maneuvering," in a thinly veiled warning to the only Islamist party that sided with the army's removal of president Mohammed Morsi, but has since had frictions with other factions over forming a new leadership.
Defense minister Abdel-Fattah el-Sissi said Tuesday in a statement carried by state TV that "the future of the nation is too important and sacred for maneuvers or hindrance, whatever the justifications."
Full report at:
http://www.hindustantimes.com/world-news/africa/Egypt-s-military-warns--against-political-maneuvering/Article1-1090022.aspx
-------------
In solidarity with Egypt: Plea for campaign against Mursi ouster
July 10, 2013
ISLAMABAD: Leaders of different religious parties and groups under the platform of Milli Yakjheti Council (MYC) appealed on Tuesday to religious scholars and clerics across the country to launch a protest campaign against the military coup in Egypt.
All religious scholars and mosque clerics will condemn the recent military coup against President Mohamed Mursi in Egypt during next Friday sermons followed by protest rallies in all major cities.
Full report at:
http://tribune.com.pk/story/575012/in-solidarity-with-egypt-plea-for-campaign-against-mursi-ouster/
-------------
Egyptians Divided on Way Forward
Sharon Behn
July 10, 2013
CAIRO — Egypt's interim president, Adly Mansour, has announced a timetable for parliamentary and presidential elections in a bid to move the country forward and away from a cycle of violence after the military overthrew President Mohamed Morsi.
But while most of those who backed the military's action last week welcomed the decision, Muslim Brotherhood supporters have vowed to continue their protests to reinstate the Islamist leader.
The Muslim Brotherhood and its supporters gathered in the thousands again on Tuesday for the funeral of those killed in clashes with the military on Monday.
Full report at:
http://www.voanews.com/content/egyptians-divided-on-way-forward/1698419.html
-------------
Egypt's new prime minister looks to form Cabinet
AP | Jul 10, 2013
CAIRO: Egypt's new prime minister was to begin forming a Cabinet on Wednesday that will face the difficult task of shepherding the deeply divided country through what promises to be a rocky transition period following the military's ouster of the nation's president.
Hazem el-Beblawi, a prominent economist and former finance minister who was appointed premier on Tuesday, received a significant boost in the form of $8 billion in promises of aid from wealthy Gulf Arab allies to help stabilize a country still reeling from the army's ouster of President Mohammed Morsi last week.
Full report at:
http://timesofindia.indiatimes.com/world/middle-east/Egypts-new-prime-minister-looks-to-form-Cabinet/articleshow/21002000.cms
-------------
Islamists, liberals blast Egypt's transition plan
AFP | Jul 10, 2013
CAIRO: Opponents and supporters of ousted president Mohamed Morsi blasted a new charter granting Egypt's interim president extensive powers, as talks for a new cabinet were to begin on Wednesday.
The military's ouster a week ago of Morsi, after massive protests calling for his resignation, has pushed the divided country into a vortex of violence that has already claimed dozens of lives.
In the worst incident since Morsi's overthrow on July 3, at least 51 people, most of them supporters of the ousted Islamist, died in clashes outside military barracks in Cairo on Monday.
Full report at:
http://timesofindia.indiatimes.com/world/middle-east/Islamists-liberals-blast-Egypts-transition-plan/articleshow/21000725.cms
-------------
Egyptian PM to Offer Cabinet Posts to Islamists
July 10, 2013
Egypt's newly appointed interim prime minister Hazem el-Biblawi begins work Wednesday forming his Cabinet, which state-run media say includes plans to offer posts to the Muslim Brotherhood and the Islamist Nour Party.
Interim leaders are moving ahead on a fast-track political transition for Egypt that includes steps to amend the country's constitution and hold new parliamentary and presidential elections.
The Muslim Brotherhood and the Nour Party are part of a broad set of groups criticizing the transition plan, which interim President Adly Mansour laid out days after the military ousted President Mohamed Morsi.
Full report at:
http://www.voanews.com/content/egyptian-pm-to-offer-cabinet-posts-to-islamists/1698520.html
-------------
India
Muttahida Majlis-e-Ulema issues fatwa against fake dervish of Kashmir
'Gulzar impostor, brought disrepute to Islam'
10 July 2013
Srinagar: Muttahida Majlis-e-Ulema (MMU) , an amalgamation of various Islamic scholars and clerics, has issued a fatwa(religious decree) against self-styled dervish and preacher Gulzar Bhat who is presently behind the bars for sexually exploiting minor girls at his shady seminary in Budgam district of central Kashmir.
In a statement here, 29 Islamic scholars and clerics termed Gulzar an "impostor, un-Islamic, swindler and fraud who has brought disrepute to Islam by distorting not only the verses of Holy Qur'an but also inventing his own religious edicts."
"Gulzar made fun of all major Islamic schools of thought , termed many Halal things as Haram and would refer to people who used to recite the Quran as illiterate and ignorant," the statement said.
Full report at:
http://www.kashmirreader.com/07102013-ND-clerics-issues-fatwa-against-fake-dervish-17965.aspx
-------------
Mumbai Magistrate court acquits eight 'SIMI members'
Jul 10 2013
Mumbai: Twelve years after Students Islamic Movement of India (SIMI) was declared a terror outfit and banned, a Vikhroli magistrate court Monday acquitted eight alleged members, including Abdul Wahid Din Shaikh, an under trial in the July 11, 2006, serial train blasts case.
Park Site Police claimed that the Vikhroli arm of the group decided to force a Bandh a day after the central government issued a notification banning SIMI on September 27, 2001.
Four police squads were sent to an alleged SIMI office on the first floor of a building in Park Site, Vikhroli. While the office door was shut, the police allegedly heard four men speak about the Bandh in a neighbouring room.
Full report at:
http://www.indianexpress.com/news/magistrate-court-acquits-eight--simi-members-/1139803/
--------
Militants attack security posts near Indian-Myanmar border, no casualty
PTI | Jul 10, 2013
IMPHAL: Militants attacked security posts near the Indian-Myanmar border and exchanged fire with the forces in Manipur, officials said today.
About 100 militants surrounded a post of 35th Assam Rifles at Aigejang hill area in interior Chandel district yesterday and fired at the personnel.
The paramilitary personnel returned the fire and an encounter ensued for about an hour, they said adding that the militants fled under forest cover.
Full report at:
http://timesofindia.indiatimes.com/india/Militants-attack-security-posts-near-Indian-Myanmar-border-no-casualty/articleshow/21001059.cms
-------------
NIA seeks help of Twitter to verify Indian Mujahideen account
Bharti Jain, TNN | Jul 10, 2013
NEW DELHI: The National Investigation Agency (NIA) is seeking the help of social networking giant Twitter to know the registration details of an alleged Indian Mujahideen handle that claimed responsibility for the Bodh Gaya blasts 12 hours after the explosions.
"We are trying to gather details relating to identity and IP address used to register the account. Though it could be a fake handle created by an impostor, we have to rule out any genuine link to IM, more so as as a tweet ahead of the blasts warns of an impending strike at Mumbai," a senior home ministry official told TOI.
Full report at:
http://timesofindia.indiatimes.com/india/NIA-seeks-help-of-Twitter-to-verify-Indian-Mujahideen-account/articleshow/21000174.cms
-------------
Bihar to have anti-terror squad of 344 cops
TNN | Jul 10, 2013
PATNA: Two days after serial blasts in and around Mahabodhi Temple at Bodh Gaya, the Bihar government on Tuesday decided to constitute a 344-member Anti-Terrorism Squad headed by an IG-rank police officer.
While approving the home department's proposal, the state cabinet at its meeting on Tuesday also cleared an annual budget of Rs 15.38 crore for the ATS. The squad will have one DIG, one SP, six deputy SPs, 16 inspectors and 38 sub-inspectors besides constables. The state government will send a proposal to the Bihar Public Service Commission and the Staff Selection Commission to recommend candidates for selection to the ATS. "The ATS's main task will be to control terrorist activities in Bihar," state cabinet secretary Brajesh Mehrotra said.
Full report at:
http://timesofindia.indiatimes.com/india/Bihar-to-have-anti-terror-squad-of-344-cops/articleshow/20995348.cms
-------------
Rana said LeT had no plan to attack Modi, cop Bharat Patel tells CBI
TNN | Jul 10, 2013
Singhal had got Rana to divulge his alleged target: Bharat Patel
If the deceased AmjadaliRana's confession before the then crime branch ACP, G L Singhal, is to be believed, he was asked to carry out terror strikes at crowded places in Gujarat but the Lashkar-e-Toiba had no plans to attack Modi.
Then crime branch PSI Bharat Patel, who was arrested in the case but later released on default bail, said in his statement before the CBI that Rana was picked up from Gota crossing and detained at Arham Farm on the outskirts of Ahmedabad.
Full report at:
http://timesofindia.indiatimes.com/india/Rana-said-LeT-had-no-plan-to-attack-Modi-cop-Bharat-Patel-tells-CBI/articleshow/20994860.cms
-------------
'SIT report contains evidence on conspiracy to target minorities'
Jul 10 2013
The political head of the State and the Home Ministry allowed violent mobilisation against the minority community even before Godhra happened, Zakia Jafri's counsels argue
Continuing arguments the whole of last week in the protest petition filed by Zakia Jafri — the wife of Congress leader Ehsan Jafri, who was killed during the 2002 communal riots in Gujarat — her advocates pointed out that there was enough evidence in the Special Investigation Team's own report regarding a conspiracy to generate mass reprisal attacks on minorities after the Godhra carnage.
Full report at:
http://www.thehindu.com/news/national/sit-report-contains-evidence-on-conspiracy-to-target-minorities/article4899065.ece
-------------
Discourage rumours on Bodh Gaya blasts, urge religious leaders, activists
Jul 10 2013
The attack could be used to target Muslims in the country in order to gain political polarisation before the coming general election, and unleash a new wave of violence against Muslims in Myanmar
Religious leaders and peace activists across the country have appealed to people to view the terror attack in Bodh Gaya as an act of misguided criminals and not to speculate — that it could have been a retaliation to attacks on Myanmar's Rohingya Muslims — until a proper probe is completed.
Full report at:
http://www.thehindu.com/news/national/discourage-rumours-on-bodh-gaya-blasts-urge-religious-leaders-activists/article4898913.ece
-------------
Najeeb Jung took Re 1 as Jamia V-C salary, gave rest to fund EWS students
Jul 10 2013
For the 46 months he served as the Vice-Chancellor of Jamia Millia Islamia (JMI), Najeeb Jung, who was sworn in as Delhi's 19th Lieutenant-Governor on Tuesday, collected only Rs 46 as salary.
Registrar and former finance officer of Jamia Shahid Ashraf said Vice-Chancellor Jung "only accepted a token amount of Re 1 per month as salary".
Jamia sources said the rest of his salary — subtracting provident fund and other deductions —was contributed to a fund called "Abba Endowment Fund" set up in the name of a father figure in his life.
Full report at:
http://www.indianexpress.com/news/najeeb-jung-took-re-1-as-jamia-vc-salary-gave-rest-to-fund-ews-students/1139767/
-------------
Mideast
Death toll in Turkey protests rises to five: Report
10 July 2013
A 19-year-old university student who was hurt during anti-government protests that rocked Turkey last month has died from his injuries, bringing the death toll in the unrest to five, local media reported on Wednesday.
Ali Ismail Korkmaz, who joined the demos on June 2 in the central Anatolian city of Eskisehir, suffered a brain hemorrhage when unidentified assailants attacked him while he was fleeing from tear gas, the Dogan News Agency reported.
http://english.ahram.org.eg/NewsContent/2/8/76153/World/Region/Death-toll-in-Turkey-protests-rises-to-five-Report.aspx
----------
Man with machete could be regarded as 'terror victim'
10 July 2013
The man who attacked Gezi Park protesters with a machete could be regarded as a "terror victim" and compensated for the losses his business suffered during the protests, daily Taraf reported today.
The business losses S.Ç., a shop owner in Taksim who attacked protesters with a machete on July 6, claimed to have suffered during the Gezi Park protests could be compensated by the state because he will be regarded as a "terror victim."
Full report at:
http://www.hurriyetdailynews.com/man-with-machete-could-be-regarded-as-terror-victim.aspx?pageID=238&nID=50416&NewsCatID=341
----------
Google among tech brands to unveil Ramadan themed apps, services
10 July 2013
Technology companies across the Middle East and North Africa have marked the start of Ramadan with the launch of a variety of themed services and applications.
Google is one of several brands to announce special services for the Holy Month, with the unveiling of a dedicated "hub," according to a statement by the internet giant issued today.
The website provides a wide variety of services to Muslims, including a YouTube section posting daily Ramadan videos, celebrity Google+ hangouts, chef-inspired Iftar ideas and a Ramadan events timeline, tracking the key moments throughout the month.
Full report at:
http://english.alarabiya.net/en/special-reports/ramadan-2013/2013/07/10/Google-among-tech-brands-to-unveil-Ramadan-themed-apps-services.html
----------
Beitar fan charged for hate crime attack on Arab employees at J'lem McDonalds
10 July 2013
The Jerusalem Magistrate's Court on Wednesday indicted a Beitar Jerusalem FC fan for carrying out a racially-motivated attack on three Arab Israeli employees of a McDonalds in the city 10 days ago.
According to the indictment, on July 1st Avi Alkaim, 24, joined a group of fellow Beitar FC fans at a McDonalds in the city's Ein Kerem neighborhood, where they gathered outside and began singing anti-Arab songs and chanting slogans including "death to Arabs", "Muhammad was a homo not a prophet", and "we don't want any Arabs in Israel".
Full report at:
http://www.jpost.com/National-News/Beitar-fan-charged-for-hate-crime-attack-on-Arab-employees-at-Jlem-McDonalds-319379
----------
Israel confirms it is holding missing Palestinian
10 July 2013
JERUSALEM: A Palestinian from the Gaza Strip who mysteriously disappeared in Egypt last month is being detained by Israel for "security crimes," an Israel court confirmed Wednesday, a month after his family charged he was abducted.
The court partially lifted a gag order on the case, identifying the man as Wael Abu Reda, but did not say how he was detained or how he ended up in Israel.
The man's brother, Mansour, said Abu Reda was in Cairo last month trying to obtain Egyptian citizenship as well as medical treatment for his son. He said that on June 20 he told his wife he was going out to meet someone he knows and would return to their rented apartment the next day. She says she has not heard from him since.
Full report at:
http://www.arabnews.com/news/457606
--------
Humanitarian Nightmare in Gaza as Egypt's Unrest Spreads to Rafah Crossing
July 10, 2013
The unrest gripping Egypt threatens humanitarian catastrophe in Palestine, with Egyptian authorities moving quickly to toughen the siege of Gaza as the densely populated area spirals into fuel and water crises.
The Egyptian military shut down the Rafah border crossing and tunnels connecting Egypt to Gaza on July 5, stranding thousands at the border and choking off one of the few openings that the 1.7 million people living in Gaza have with the rest of the world.
The closure "led to shut tunnels that are described as the only main lifeline to provide Gaza with fuel supplies, commodities, and goods that alleviate impacts of the Israeli siege," Euro-mid Observer warns.
Full report at:
http://www.commondreams.org/headline/2013/07/09-1
-------------
Reformist Think in Islamic Thought in Israel Today
July 10, 2013
The title of this blog post may surprise many people. Is it possible that Islam is being reformed? And in Israel!
The answer is yes, as I discovered when I attended a fascinating research seminar last week at Tel Aviv University on "Contemporary Islamic Thought in Israel". The seminar, which took place at Tel Aviv University, brought together Jewish and Arab scholars and practitioners (like me) as well as Jewish and Muslim clergy and educators. It was a groundbreaking program, which reinforced my own experience of many years that has taught me that there is a fascinating phenomenon in Israel which I call "Israeli Islam".
Full report at:
http://www.huffingtonpost.com/ron-kronish/reformist-think-in-islami_b_3550204.html?utm_hp_ref=religion
-------------
Second 'Prisoner X' Held in Israel's Ayalon Prison, Report Says
Agence France Presse
July 10, 2013
A second 'Prisoner X' was being held in top-secret conditions in the same jail where an Israeli-Australian spy took his his own life in 2010, a newspaper reported on Tuesday.
Court documents cited by Haaretz newspaper said the prisoner was being held in another wing of Ayalon prison at the same time as Ben Zygier, an alleged Mossad spy whose mysterious arrest and subsequent suicide shocked Israel and Australia when it hit the headlines in February.
Full report at:
http://www.huffingtonpost.com/2013/07/09/second-prisoner-x-israel_n_3565510.html?utm_hp_ref=world
-------------
Palestinian Millionaire to Launch Arabic Online Encyclopedia
July 10, 2013
DUBAI — A 75-year-old Palestinian businessman is on a $10 million mission to boost Arabic on the Internet, where it accounts for less than 1 percent of websites despite being spoken by one in 20 people worldwide.
If Talal Abu Ghazaleh, owner of the education and professional services firm Talal Abu-Ghazaleh Organization (TAG-Org), has his way, the end of this year will see the launch of Tagipedia, a free online Arabic encyclopedia with a million entries.
"I see it as a means of building an Arab knowledge society, which is my mission in life ... to contribute to the economic and social development of the Arab world," he said.
Full report at:
http://www.voanews.com/content/palestinian-millionaire-to-launch-tagipedia-online-arabic-encyclopedia/1698468.html
-------
URL: https://www.newageislam.com/islamic-world-news/new-age-islam-news-bureau/boko-haram-begs-for-forgiveness,-signs-ceasefire-deal/d/12540