New Age Islam News Bureau
20 March 2015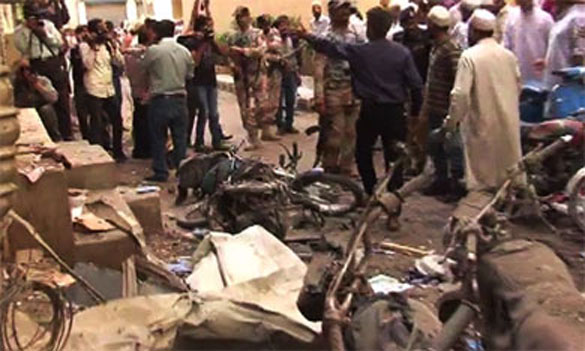 Blast took place outside the Saleh Mosque near Pakistan Chowk; injured rushed to private hospital - DawnNews screengrab
-----------
Pakistan
• Bohra Community Mosque Attacked In Karachi, 2 Dead
• Hafiz Muhammad Saeed Vows To Defend Ideology of Pakistan
• 20 Militants Killed, 10 Soldiers Injured in Tirah Valley on Thursday
• Muslim Law Does Not Vest Husbands with Right to Deny Paternity of Child, SC Rules
• Terrorists Trying To Drive Wedge Between Different Faiths: Punjab CM
• UN urges Pakistan to reinstate suspension of death penalty
• Ulema revive Rabita Council for peace
• MQM rejects Saulat Mirza's claim, calling it a 'mockery of law'
• Drone strike near Pak-Afghan border takes out Hakimullah's aide
• US drone kills top TTP commander
• Man behind defamatory banners had links with ISI, court told
• Video not recorded in jail: Balochistan minister
• Provide security to people or step down: JI chief tells govt
• Shafqat's family overjoyed on execution reprieve
-----------
Africa
• Boko Haram 'Slaughter Wives' In Nigeria
• Boko Haram Overruns North-Eastern Nigerian Town Kills 11
• US drone kills Somali militant linked to Kenya mall attack
• Clashes between rival militias kill nine in Libya
• Libya army chief warns of ISIL threat against Europe
• Boko Haram 'driven out' of north-eastern Nigerian town
----------
Southeast Asia
• In Friday Sermon, Jakim Calls for 'Jihad' Against Liberals, IS
• Indonesian Society Increasingly Islamized, Despite Diversity
• PAS lost non-Muslim vote with Hudud move, says Guan Eng
• ISIS not synonymous with Islam
------------
Arab World
• ISIL Demolishes Ancient Assyrian Monastery, Mar Behnam, in Mosul
• Swedish FM's Anti-Saudi Remarks Spark Backlash in Stockholm
• ISIL Decapitates Three Peshmerga Fighters: Video
• Saudi-French Ties Scale New Heights
• Kingdom Agrees To Open Embassy in Maldives
• Egyptian court acquits top Mubarak era official: sources
• Saudi Arabia condemns Tunis' deadly terror attacks
• U.N. urges ISIS trial for suspected genocide
• Al-Qaeda behind assassination of Houthi official
• Should Cell Phones Be Jammed Inside Haram?
------------
South Asia
• Bomber Kills Provincial Police Chief in Afghanistan
• 12 BNP-Jamaat activists detained for blockade violence in Ctg
• Sri Lanka: multi-racial, multi-cultural, multi-religious and multi-lingual democracy
-----------
Europe
• Muslim Immigration Is 'Trojan Horse' Invasion, Belgian MP Tells Ukip Audience
• Germany: Jewish and Muslim councils cooperate
• Brussels Muslims Call for Youth Chaplains
------------
India
• Academy Seeks District-level Officers for Muslims' Welfare
• National Meet of Top Muslim Panel Begins Today; Ghar Wapsi on Agenda
• Kathua Police Station Attack: 3 Security Personnel, 1 Terrorist Killed
• Indian IS recruit 'killed' in Syria was from Bhatkal
-----------
Mideast
• Yemeni President Abd-Rabbu Mansour Hadi Flees Palace
• Israel Bulldozers Conduct Incursion of Rafah in Gaza
• U.S. says to impose more sanctions if no Iran nuclear deal
• Palestine envoy: Netanyahu risks isolating Israel
• Yemen's political unrest hits Saudi investments hard
-----------
North America
• Muslims See Charlotte Shooting as Hate Crime
• U.S. Senate to vote on Iran bill after deadline
Compiled by New Age Islam News Bureau
URL: https://newageislam.com/islamic-world-news/bohra-community-mosque-attacked-karachi,/d/102035
------------
Pakistan
Bohra Community Mosque Attacked In Karachi, 2 Dead
DAWN.COM | REUTERS | ASIM KHAN | MOHAMMAD RAZA
KARACHI, 20 March, 2015: Two people were killed in an explosion that took place during Friday prayers outside the Saleh Mosque for Bohra community worshippers.
Deputy Inspector General (DIG) police Abdul Khaliq Shaikh confirmed that one person died in the blast that took place in the precincts of Arambagh. He added that four people were injured, of which two are in critical condition.
Later, one of the injured persons succumbed to his wounds, taking the death toll to two, police told DawnNews. The deceased persons were identified as Shabbir and Hasnain, respectively.
DIG Shaikh said a timed explosive device was planted on a motorcycle. He lauded the police's efforts to secure the mosque, and said heightened security prevented a high casualty attack.
Sources from Burhani Hospital near the blast site told Dawn.com that around three victims of the blast were brought to the hospital, but were later transferred to Civil Hospital as they appeared to be in critical condition.
Speaking to Dawn.com via telephone, senior MLO Dr Nisar Ali Shah at the Civil Hospital said, "We have one dead body and one is on its way here."
Eyewitnesses said it was a powerful blast that occurred during prayers.
The Pakistan Chowk area where the explosion occurred is usually congested owing to traffic. Medical teams at the spot say the narrow streets are making rescue operations difficult.
Police and rescue officials said they are investigating the nature or the reported explosion, but that security and rescue teams have been dispatched to the site. The Bomb Disposal Squad (BDS) has reached the site of the blast and is conducting a sweep of the area to determine the amount of explosive material used in the device.
Nearby shops and buildings shook and window panes shattered due to the intensity of the blast. Plumes of smoke were seen rising from the scene of the blast.
Police officials say that security was heightened as per routine on Friday, as mosques and imambargahs have been under attack in recent months.
Condemning the blast, Sindh Chief Minister Syed Qaim Ali Shah sought a report on the incident from DIG Sindh.
Friday's attack was the first on a Bohra mosque in Karachi since an incident three years ago, in which seven people were killed.
A large number of the Dawoodi Bohra community live in various areas of Pakistan, their density being in the metropolis of Karachi. The community is a sub-sect of Shia Islam.
Source: http://www.dawn.com/news/1170828/bohra-community-mosque-attacked-in-karachi-2-dead
-----
Hafiz Muhammad Saeed Vows To Defend Ideology of Pakistan
March 19, 2015
MULTAN
Jamat ud Dawa (JuD) Ameer Hafiz Muhammad Saeed has said that the JuD will hold Ideology of Pakistan March, public meetings, rallies and conferences on March 23 across the country and Azad Kashmir.
Addressing a gathering of workers at Jamia Muhammadia in Muzaffargarh on Wednesday, he added that preparations were underway for the March 23 programmes and millions of citizens including students, lawyers, teachers, traders and farmers were expected to join the proceedings. He said that the political and religious leadership was being sent invitations. He warned that a vicious conspiracy was hatched by some elements to drift young generation away from the ideology of Pakistan and to plunge entire nation into an intellectual chaos. He maintained that the conspiracy was meant to change the Islamic identity of Pakistan, but the JuD had identified the designs of the enemy and decided to launch revival of Ideology of Pakistan movement across the country.
Earlier, the JuD chief inaugurated a free ambulance service for the residents of Muzaffargarh by the Falah-e-Insaniyat Foundation (FIF). Talking to the media on this occasion, he said, "We could end chaos and sectarianism from our society by serving the humanity." He added that foreign NGOs were active in the country to achieve their vicious goals under the guise of welfare work. He added that the US and India could not bear even relief work launched by the JuD.
He declared that the gamut of free ambulance service and rescue centres would be spread to tehsil and district level across the country. He told the journalists that the network of ambulance service was being developed across the country to give quick response in case of any natural calamity. He said that the JuD had also launched a programme to train volunteers to cope with situations like earthquakes, floods and fire incidents. He said that the JuD had launched welfare programmes in Balochistan, Tharparkar and some other areas.
http://nation.com.pk/national/19-Mar-2015/jud-vows-to-defend-ideology-of-pakistan
------------
20 Militants Killed, 10 Soldiers Injured in Tirah Valley on Thursday
IBRAHIM SHINWARI
March 20, 2015
LANDI KOTAL: At least 20 suspected militants were killed and five others injured when helicopter gunships shelled militant hideouts in Tirah valley on Thursday.
Security officials said the air strikes were conducted in areas under the control of the banned Lashkar-i-Islam and Tehreek-i-Taliban Pakistan. The two groups have formed an alliance to fight security forces.
Meanwhile, 10 security personnel were injured when their convoy was targeted with a remote-controlled explosive device in Tirah valley, official sources said.
Know more: At least 34 suspected militants killed in Tirah air strikes
They said the convoy was moving to advance positions in Nangrosa area when a re­mote-controlled IED plan­ted on the roadside ripped through one of its vehicles.
Officials said 10 soldiers were critically injured and their vehicle was destroyed. Troops cordoned off the area after the blast and combed the area for suspects.
The injured were airlifted to the Combined Military Hospital in Peshawar, officials said.
The LI claimed responsibility for the attack.
The injured troops were identified as Hawaldars Sha­hzad, Ramzan and Abu Bak­kar, Sepoys Imran Mukhtar, Abdur Rehman, Altaf, Abdul Majeed, Fazal Rehman, Sad­dam and Muhammad Yasir.
http://www.dawn.com/news/1170794/20-militants-killed-10-soldiers-injured
------------
Muslim Law Does Not Vest Husbands with Right to Deny Paternity of Child, SC Rules
March 20, 2015
ISLAMABAD: The Supreme Court ruled on Thursday that the Muslim Personal Law did not vest husbands with the right to casually deny the paternity of a child bore to them by their wives.
"Children born during the subsistence of marriage are presumed to be legitimate," said a judgment issued by a two-judge bench while overturning a Lahore High Court verdict.
The bench comprises Justice Jawwad S. Khawaja and Justice Sarmad Jalal Osmany.
"Except under extremely limited circumstances and within a very limited period after birth, this presumption cannot be rebutted by any evidence, including DNA test," the verdict said.
The eight-page judgment narrates the story behind the case.
In 1997, Ms Ghazala Tehseen Zohra, the appellant, became the first wife of a local landowner, Mehr Ghulam Dastagir Khan, and subsequently bore him two children.
When the husband took a second wife, the first wife went to the court claiming a secure monthly maintenance for herself and the two children. But the husband divorced her, refused to own the children and sought a declaration to this effect from a local court.
Seven years later, just before the paternity trial was about to conclude, the husband sought permission from the court to introduce DNA evidence. When the court turned down the request, he took the matter to the high court which granted his request.
The woman moved the Supreme Court which accepted her appeal eight years later.
"While the presumption of legitimacy attached to children born during marriage is a long-standing rule of Muslim Personal Law, some confusion seems to have been created in this regard by Article 128(1 a) of the Qanun-i-Shahadat Order (QSO), 1984," the SC judgment said.
The provision suggests that no such presumption remains in a case where "the husband had refused, or refuses, to own the child".
Full report at:
http://www.dawn.com/news/1170785/muslim-law-does-not-vest-husbands-with-right-to-deny-paternity-of-child-sc-rules
------------
Terrorists Trying To Drive Wedge Between Different Faiths: Punjab CM
March 19, 2015
LAHORE: Punjab Chief Minister Shahbaz Sharif has said that the whole nation is grieved over the Yuhanabad tragedy.
He said that enemies of peace have made a futile attempt to divide the nation through the heinous act of terrorism. He said that Prime Minister Nawaz Sharif, government and the entire nation have deep sympathies with the Christian community over this worst incident of terrorism and fully share the grief of the Christian brethren. He said that terrorists have no religion and are enemies of Pakistan and it people and want to destroy its peace and harmony in the country. Shahbaz Sharif said that the Christian community played an active role during Pakistan Movement and is also making positive efforts for the progress and development of the country.
He said that the role of Christian community in education, health, defense and other sectors has been commendable. He said that Christian brethren are patriotic and peace-loving members of the society. He said that a heinous act of terrorism was committed through making a soft target of innocent worshippers at churches in Yuhanabad and this incident was highly deplorable. He said that no society can tolerate such brutality. The Chief Minister wished that had the damage to public and private property not been caused after the tragedy.
Full report at:
http://www.dailytimes.com.pk/punjab/19-Mar-2015/terrorists-trying-to-drive-wedge-between-different-faiths-cm
-----------
UN urges Pakistan to reinstate suspension of death penalty
March 20, 2015
UNITED NATIONS - The United Nations on Thursday expressed deep concern at the increasing number of executions in Pakistan since December 2014, and at the Government's recent announcement that it has now withdrawn its moratorium on the death penalty for all cases, not only those related to terrorism.
"It has also been reported that among those executed there are persons who were minors when the offence was committed, an obvious reference to Shafqat Hussain, who is on death row. According to some estimates, there are more than 8,000 prisoners on death row," said a statement from the UN office in Pakistan.
The UN expressed concern over cases where the death penalty was handed down to minors and welcomed reviews of these cases. The UN has consistently called for an unequivocal end to the execution of anyone, anywhere, who is convicted of committing a crime when they are under the age of 18," the statement said.
More than 160 UN Member States with a variety of legal systems and religious backgrounds have either abolished the death penalty or do not practice it.
Moreover, the UN High Commissioner for Human Rights Zeid Ra'ad Al Hussein has expressed deep regret at the resumption of executions in Pakistan, stressing that no judiciary – anywhere – can be infallible.
Full report at:
http://nation.com.pk/national/20-Mar-2015/un-urges-pakistan-to-reinstate-suspension-of-death-penalty
------------
Ulema revive Rabita Council for peace
March 20, 2015
RAWALPINDI - Terming the grand alliance of Ulema and Mashiakh belonging to Ahle Sunnat, Pir Hafiz Naqeebur Rehman stressed the need of reviving and activating Ittehad Ahle Sunnat Rabita Council for which written nominations and recommendations from Ulema and Mashiakh were sought.
Chairing the meeting of large number of Ulema and Mashiakh Pir Hafiz Naqeebur Rehman, custodian of Eidgah Sharif on Thursday, said that the peace-loving majority of the country has to play their collective role for establishing lasting peace in the country and to curb the menace of terrorism.
The meeting, which was attended by Haji Haneef Tayyab, Sahibzada Dr Noorul Haq Qadari, Pir Dr Sajidur Rehman, Sahibzada Mohammad Akram Shah, Pir Syed Sadat Ali Shah, Brig (retd) Mohammad Shabbir Shah, also deliberated upon the written recommendations given by various religious scholars.
Scion of Pir Naqeebur Rehman, Sahibzada Mohammad Hasaan Naqeebur Rehman also attended the meeting, which lasted for over five hours with the consensus view of revival of Ittehad Ahle Sunnat Rabita Council for activating the vast majority belonging to Ahle Sunnat and wanted to live in peace and tranquillity.
Full report at:
http://nation.com.pk/islamabad/20-Mar-2015/ulema-revive-rabita-council-for-peace
------------
MQM rejects Saulat Mirza's claim, calling it a 'mockery of law'
March 20, 2015
KARACHI: In an emergency press conference held Thursday night, the Muttahida Qaumi Movement (MQM) dismissed the allegations levelled by death-row inmate Saulat Mirza.
The party representative Senator Farogh Naseem said the decision to air Mirza's video statement has set a bad precedent and turned in illegal.
"We are setting a bad precedent of criminal jurisprudence in the country," said Senator Naseem, while calling the eleventh hour confession by the infamous killer a mockery of law. "Mirza should have given these statements 25 years back."
Flanked by Barrister Saif, Naseem said that even if the government does not like the MQM, it should operate under the law.
The MQM leader said "this is a serious offense against the country's legal procedure. All this doesn't hold any legal value". He went on to say that according to law, once a crime has been accepted before the court, it cannot be taken back.
Full report at:
http://www.dawn.com/news/1170642/mqm-rejects-saulat-mirzas-claim-calling-it-a-mockery-of-law
------------
Drone strike near Pak-Afghan border takes out Hakimullah's aide
ALI AKBAR
March 20, 2015
PESHAWAR: A close aide of former Tehreek-i-Taliban Pakistan (TTP) Chief Hakimullah Mehsud, Khawrey Mehsud, was killed in a drone strike near the Pak-Afghan border yesterday.
According to TTP spokesman Muhammad Khorasani, Khawrey Mehsud was killed in a drone attack in Kurram Agency near the Pak-Afghan border on March 18. Two other militants were also killed in the drone attack.
Khawrey Mehsud was a close aide of former TTP supremo Hakimullah and was said to have taken part in terrorist activities in Afghanistan and Pakistan.
Kurram is one of the most sensitive tribal areas as it borders three Afghan provinces and at one point was one of the key routes for militant movement across the border.
The region was claimed by the military to have been cleared of insurgents during an operation a couple of years ago, however, militants still carry out sectarian attacks and also target security forces occasionally.
Full report at:
http://www.dawn.com/news/1170624/drone-strike-near-pak-afghan-border-takes-out-hakimullahs-aide
------------
US drone kills top TTP commander
March 20, 2015
PESHAWAR - A US drone strike killed a Pakistani Taliban leader and two others on the Afghanistan-Pakistan border, the Taliban said on Thursday, in the latest attack by an unmanned aircraft targeting the Afghan bases of Pakistani Taliban leaders.
"Commander Khawray Mehsud embraced 'martyrdom' in a US drone strike, along with two others, in Afghan territory" near the Pakistani tribal district of Kurram on Wednesday, said Taliban spokesman Muhammad Khurasani.
Two Pakistani intelligence officials confirmed Thursday's strike on the border between Pakistan's Kurram Agency and Afghanistan.
The strike killed Pakistani Taliban commander Khawray Mehsud, who possessed "great militant skills," the Taliban said in a statement. "He was very close to martyred (Pakistani Taliban) chief Hakimullah Mehsud and was his personal bodyguard," it added.
Mehsud, who hailed from the South Waziristan tribal district, was among the founding members of the Pakistani Taliban when it was formed in 2007. He was a close associate of its first and second leaders, Baitullah Mehsud and Hakimullah Mehsud, who were both killed in separate US drone strikes, Khurasani said in a statement. "Khawery Mehsud was the key battle commander of Baitullah Mehsud and was a close associate and personal bodyguard of Hakimullah Mehsud," added the spokesman.
Full report at:
http://nation.com.pk/national/20-Mar-2015/us-drone-kills-top-ttp-commander
------------
Man behind defamatory banners had links with ISI, court told
NASIR IQBAL
March 20, 2015
ISLAMABAD: Inspector General Police Islamabad Tahir Alam claimed before the Supreme Court on Thursday that the main accused — behind the display of defamatory banners that contained slanderous allegations against an apex court judge — also had links with the country's premier intelligence agency.
"Though the majority of the contacts in the cellphone of the main accused and freelance journalist Mohammad Rashid are fellow journalists, one of the contacts is [of] an ISI office in Islamabad," the IGP explained before a three-judge bench, headed by Justice Ejaz Afzal.
The court had taken up the case of the banners that had popped up in the Red Zone area and different parts of the capital on the night of May 22, 2014.
Supreme Court censures CEO of television channel
Sponsored by an unknown organisation identified only as 'Farzand-i-Islam', the banners levelled serious allegations against Justice Jawwad S. Khawaja.
Take a look: SC decides to indict TV channel's chief executive, anchor
On Nov 24 last year, Aabpara Station House Officer (SHO) Khalid Awan had informed the Supreme Court that police had arrested Mohammad Rashid and investigated 28 contacts from his mobile phone. Rashid himself had confessed before the magistrate that he had the banners prepared, the officer had said.
On Thursday, the IGP told the court that police had asked the Inter-Services Intelligence, through the defence ministry, about the nature of its contacts with the accused. They have replied verbally, he said, adding that the police were not satisfied with the response and have sought further clarification in writing.
Justice Ijaz Ahmed Chaudhry, a member of the bench, wondered why intelligence agencies would affix defamatory banners against judges and why they would harbour ill-will towards Supreme Court judges. People often use the name of intelligence agencies to grind their own axes and many have alleged that certain television anchors are also working for them, he observed.
Full report at:
http://www.dawn.com/news/1170764/man-behind-defamatory-banners-had-links-with-isi-court-told
------------
Video not recorded in jail: Balochistan minister
SALEEM SHAHID
March 20, 2015
QUETTA: Balochistan Home Minister Mir Sarfaraz Ahmed Bugti has ordered an inquiry into the recording of a video statement of death row prisoner Saulat Mirza.
Talking to newsmen in the office of National Database and Registration Authority here on Thursday, he said: "How pictures and a video statement of a death-row prisoner can be taken in his cell without informing the jail superintendent."
The minister said he didn't think the video statement of Saulat Mirza was recorded in Mach Jail. "I have ordered an inquiry into the matter," he said.
Take a look: Killed KESC chief on Altaf Hussain's orders, Saulat Mirza claims
He endorsed the statement of Interior Minister Chaudhry Nisar Ali Khan that the execution of Saulat Mirza was postponed for 72 hours because he was not well.
Full report at:
http://www.dawn.com/news/1170769/video-not-recorded-in-jail-balochistan-minister
------------
Provide security to people or step down: JI chief tells govt
March 20, 2015
KARACHI: Jamaat-i-Islami (JI) chief Siraj-ul-Haq has pledged to raise the issues of Karachiites in the Senate, adding that those who aim to divide Sindh and Balochistan on the lines of language are not the friends of the nation.
The JI chief was addressing an 'awami jirga' organised by the party's Karachi chapter on Wednesday at Machhar Colony near Sohrab Goth, where residents shared their grievances with party officials.
Also read: Sirajul Haq links terrorism to poverty
Referring to the conspiracies being hatched to destabilise the country by igniting violence and terrorism on the basis of language, sect and religion, the JI chief said: "The government which is not able to provide security to the people has no right to rule the country."
In Karachi, he said, the media and business community, and even the judiciary are being held hostage and pledged that the JI, along with the support of the people, aims to get rid of these terrorists.
He also demanded the federal and provincial governments to stop violence against the oppressed people belonging to tribal areas and warned that if the down-trodden people of Karachi are not treated equally, then they, including the residents of Machar Colony, would stage a protest outside the Chief Minister House.
A large number of local residents including men, children and the elderly participated in the jirga.
Full report at:
http://www.dawn.com/news/1170644/provide-security-to-people-or-step-down-ji-chief-tells-govt
------------
Shafqat's family overjoyed on execution reprieve
March 20, 2015
KARACHI: The brother of Shafqat Hussain, condemned to death, spoke on Thursday of his relief after the president granted a stay of execution.
Shafqat, convicted of killing a seven-year-old boy in Karachi in 2004, was just hours away from the gallows when the delay order was given late on Wednesday.
The case has attracted international attention as Shafqat was apparently only 13 years old at the time of the killing and rights campaigners say he did not have a fair trial.
Know more: EU urges Pakistan to reinstate moratorium on death penalty
The United Nations highlighted the case on Thursday as it urged Pakistan to reinstate a moratorium on the death penalty which was lifted after six years in December after the Taliban massacre at a Peshawar school.
Shafqat's brother Gul Zaman said he was going to bid him farewell in jail in Karachi late on Wednesday, when he was told of the reprieve.
"Shafqat was looking worried. I could see the despair on his face, his tears were rolling down his face as he spoke to me in a very low voice," Gul told AFP by phone from Karachi.
"He said: 'Tell mother not to worry. Instead pray for me, tell her that I am innocent'."
Late on Wednesday the presidency ordered a 30-day stay of execution, but Interior Minister Chaudhry Nisar Ali Khan told parliament on Thursday the delay was only for 72 hours.
Sumaira Bibi, Shafqat 's elder sister, said the family were overcome with gratitude when news of the stay came through.
"We are thankful to all those people who helped in the postponement of the hanging of our brother," she told AFP in Kashmir, where the family live.
'He hugged me gently'
So far 48 convicts have been hanged in the country since executions resumed in December after Taliban militants murdered more than 150 people at a school, most of them children, angering rights activists and alarming some foreign countries.
Shafqat had been due to face the noose on Jan 14, but the government halted the execution in the face of protests and ordered an investigation.
But an antiterrorism court last week ordered the hanging to go ahead — until Wednesday's 11th-hour intervention.
Full report at:
http://www.dawn.com/news/1170662/shafqats-family-overjoyed-on-execution-reprieve
------------
Africa
Boko Haram 'Slaughter Wives' In Nigeria
March 20, 2015
MAIDUGURI - Dozens of Nigerian women who were forced to marry Boko Haram fighters were reportedly slaughtered by their "husbands" before a battle with troops in the northeast town of Bama, multiple witnesses said Thursday.
Five witnesses who recounted the massacres to AFP said the Islamist militants feared they would be killed by advancing soldiers or separated from their wives when they fled the town. They killed the women to prevent them from subsequently marrying soldiers or other so-called non-believers, they added.
"The terrorists said they will not allow their wives to be married to infidels," said Sharifatu Bakura, 39, a mother of three. Nigeria's military along with forces from neighbouring Cameroon, Chad and Niger have claimed huge victories over the insurgents in recent weeks but defenceless civilians still face serious threats.
According to Bakura's account, which was supported by others, Boko Haram fighters received word of a military assault on Bama, formerly an Islamist stronghold in Borno state.
The insurgents had decided to flee to the nearby town of Gwoza before the troops' arrival but first decided "to kill their wives so that nobody will remarry them", she said. Bukara's husband was killed by the insurgents four months ago but she was spared from a forced marriage because she was visibly pregnant.
Boko Haram forcibly married scores of women in Bama after seizing it in September. Nigeria's military announced the recapture of the town on Monday. Witnesses who were taken under military protection this week to Borno's capital Maiduguri, 73 kilometres (45 miles) away, said the killing of women began 10 days before Bama was liberated. The Islamists said "if they kill their wives, they would remain pious until both of them meet again in heaven, where they would re-unite", said Salma Mahmud, another witness.
A vigilante who fought alongside the military in the battle to retake Bama, Abba Kassim, said he saw "dozens of women corpses" in the town.
While other witnesses reportedly a similarly high casualty figure the numbers were impossible to verify. Fanna Aisami, 52, also in Maiduguri after escaping Bama this week, said the executions followed a warning from Boko Haram's top commander in the town. "He informed them of the situation and the consequence of the takeover of the town by the advancing troops.
Full report at:
http://nation.com.pk/international/20-Mar-2015/boko-haram-slaughter-wives-in-nigeria
------------
Boko Haram Overruns North-Eastern Nigerian Town Kills 11
Mar 19, 2015
The Takfiri Boko Haram militants have attacked a town in Nigeria's northeastern state of Borno near the border with Cameroon, killing nearly a dozen people.
The killings took place after hundreds of Boko Haram terrorists stormed the town of Gamboru, located some 700 kilometers (434 miles) north of the capital, Abuja, following the withdrawal of about 2,500 Chadian troops from the Nigerian territory last week. "Boko Haram gunmen returned on motorcycles to Gamboru yesterday (Wednesday)... and shot dead eight people," Mudi Dankaka, a local of the nearby Cameroonian town of Fotokol, said. He added that three more people were killed on Thursday.
Another Fotokol resident, Umar Ari, said Nigerian forces have not been spotted in Gamboru, leaving the area exposed and with no security presence since the Chadian troops' pullback.
Boko Haram Takfiris had earlier massacred dozens of women in Bama – a city of about 200,000 people located just 75 kilometers (45 miles) northwest of Borno state's capital, Maiduguri.
This file photo shows Takfiri Boko Haram militants at an undisclosed location in Nigeria.
Nigeria's states of Adamawa, Borno and Yobe have been the scene of six years of Boko Haram violence, which has claimed over 13,000 lives and displaced a further 1.5 million people since 2009.
Full report at:
http://www.presstv.in/Detail/2015/03/19/402617/11-killed-in-Boko-Haram-raid-on-Nigeria-town
------------
US drone kills Somali militant linked to Kenya mall attack
March 20, 2015
WASHINGTON - A drone strike in Somalia last week killed a senior al-Shebab figure linked to the notorious 2013 attack on the Westgate mall in Nairobi, the US military has said. The US drone raid on March 12 struck a vehicle carrying Adan Garar, who was "a key operative responsible for coordinating al-Shebab's external operations" and was "connected" to the Westgate massacre, the Pentagon said in a statement. The strike was carried out in the vicinity of Diinsoor in Somalia and "resulted in the death of Garar."
Full report at:
http://nation.com.pk/international/20-Mar-2015/us-drone-kills-somali-militant-linked-to-kenya-mall-attack
------------
Clashes between rival militias kill nine in Libya
Mar 20, 2015
At least nine people have been killed in fighting between rival militia groups in western Libya, as the security situation further deteriorates in the conflict-ridden North African country.
"A surprise attack was carried out by Zintan militias and tribal forces, specifically in the crossroads between the towns of Bir al-Ghanam and Zawiya, where our troops are stationed," a source from the Fajr Libya (Libya Dawn) said on condition of anonymity.
The source added, "More than 30 military vehicles backed by infantry fired heavily against our forces. And our troops responded strongly. Violent clashes took place for more than two hours, killing four of our troops and injuring six others."
A military source from the internationally recognized Libyan government's army also said five members of Zintan forces were killed in the clashes, while eight others were wounded.
Meanwhile, Libya's army chief has warned that ISIL Takfiri terrorists could infiltrate into Europe if the West fails to support his forces with munitions.
Libya's army chief General Khalifa Haftar
"We want weapons and ammunition only. We have the men. The army is increasing in number every day," General Khalifa Haftar said on Thursday.
Full report at:
http://www.presstv.in/Detail/2015/03/20/402621/Nine-dead-in-Libya-rival-militia-clashes
------------
Libya army chief warns of ISIL threat against Europe
20 Mar 2015
Fighters of the Islamic State of Iraq and the Levant (ISIL) in Libya will inflitrate Europe if the West fails to support Libyan forces with arms and ammunition, a top Libyan army officer has said.
General Khalifa Haftar, the army chief of Libya's internationally recognised government, said ISIL had seized control of at least two cities along Libya's long Mediterranean coastline and has a strong presence in several others, its first major expansion from its bases in Syria and Iraq.
In a sign of the group's expanding reach, ISIL claimed responsibility on Thursday for an attack a day earlier on a museum in neighbouring Tunisia that killed 23 people, mostly foreign tourists.
RELATED: What is not being discussed about Libya
Haftar told the Associated Press news agency in an interview that his forces need backing from the West against ISIL.
"We want weapons and ammunition only. We have the men. The army is increasing in number every day," he said.
He warned that ISIL will "spread in even the European countries if [the West] does not offer real help to the Libyan people, especially the Libyan army."
ISIL, he said, "will head with the illegal migrants to Europe, where corruption and destruction will spread just like Libya. But there it will be hard to confront them".
Haftar's comments came as Bernardino Leon, the UN envoy to Libya, was due to meet on Friday delegations from Tobruk and the Tripoli-based government in Rabat, the Moroccan capital.
Full report at:
http://www.aljazeera.com/news/2015/03/libya-army-chief-warns-isil-threat-europe-150320050634976.html
------------
Boko Haram 'driven out' of north-eastern Nigerian town
20 Mar 2015
Soldiers from Niger and Chad have taken the Nigerian town of Damasak from Boko Haram, another victory in a regional campaign to wrest back control of swaths of northeastern Nigeria from the armed group.
Damasak, a few kilometres over the border from Niger, was taken from Boko Haram's control over the weekend, a spokesman for Niger's army, Colonel Michel Ledru, said on Wednesday.
In heavy fighting, 228 rebel fighters were killed and one soldier from Niger died, Ledru said. Vehicles and motor cycles riddled with bullets littered the streets.
An Associated Press photographer in the northeastern town said it was largely deserted of civilians.
Full report at:
http://www.aljazeera.com/news/2015/03/niger-chad-troops-nigeria-town-boko-haram-150319015134021.html
------------
Southeast Asia
In Friday sermon, Jakim calls for 'jihad' against liberals, IS
March 20, 2015
KUALA LUMPUR, March 20 ― In its Friday sermon today, Malaysia's federal Islamic authorities warned that Muslims are now stuck between two extremes: the liberals, and militant jihadists Islamic State (IS).
Accusing liberals of questioning and provoking the position of Islam in the country, the Malaysian Islamic Development Department (Jakim) urged Muslims nationwide to initiate "jihad" by rejecting such ideologies, referring to the "holy struggle" that is mandated of Muslims.
"We should reject the two extremisms … We believe the effort to curb these two extremisms which are religious and liberalism extremists, is a major 'jihad'," the sermon said today.
"Especially when this involves the effort to preserve the position, upholding and exalting the position of Islam as the religion of the state."
The sermon accused liberals of being worried with the allegedly balanced and just implementation of Islamic teachings and codes in the country, causing them to attack religious institutions by sowing distrust and misperception against them.
"This manifested provocation, is no longer in the form of merely ideas and thoughts, but has directly touched on the authority, job scope and functions of religious agencies either in the state or federal level.
"Even more saddening, the function and role of kings as the head of religion has also been questioned," added the sermon.
Full report at:
http://www.themalaymailonline.com/malaysia/article/in-friday-sermon-jakim-calls-for-jihad-against-liberals-is
------------
Indonesian society increasingly Islamized, despite diversity
March 20, 2015
By NAOJI SHIBATA
Tokyo Camii, Japan's largest mosque, located in the capital's Yoyogi-Uehara district, has been seeing an incessant flow of visitors of late.
Media reporters and interviewers have thronged the mosque over the past month or two in regard to the Jan. 7 attack on the Paris offices of the French satirical newspaper Charlie Hebdo, subsequent controversies over the printing and reprinting of caricatures, and moves of the Islamic State extremist group in the Middle East.
Worshippers have increased over the past year or two as the numbers of foreign visitors to Japan have surged rapidly in line with Japan's easing of visa requirements and a weaker yen. An overwhelming majority are from Southeast Asian countries, including Malaysia and Indonesia.
In the minds of Japanese, the word Islam is often associated with the Middle East, the birthplace of the religion. News reports of bloody events have also had a major impact. But only 20 percent of the 1.6 billion followers of Islam live in the Middle East. Sixty percent of the world's Muslims are in Asia.
Islam is also the largest religion in Southeast Asia, which has close ties with Japan. Muslims are believed to account for 40 percent of the 600 million Southeast Asians, outnumbering Buddhists and followers of other religions.
I visited the capital of Indonesia, which has more Muslims than any other country in the world.
SATIRE SUBJECT TO PENAL CODE
Meidyatama Suryodiningrat, editor in chief of The Jakarta Post, showed me the front page of the Jan. 9 edition of the English-language newspaper at his company's head office.
"This front page was a way for The Jakarta Post to say, 'We are not afraid of the threat,' " he said. "We show our sense of solidarity with Charlie Hebdo."
The top headline on the page says, "Je suis Charlie," French for "I am Charlie," just beneath the logo of The Jakarta Post. The page carries a photo showing a rally in Europe, where participants hold up placards that together say "not afraid" in English, in protest of the terrorist attack on the Charlie Hebdo offices.
The solidarity is because The Jakarta Post is also in hot water over the publishing of a caricature that has to do with religion, Meidyatama said.
Meidyatama is a "suspect."
Full report at:
http://ajw.asahi.com/article/views/column/AJ201503200003
------------
PAS lost non-Muslim vote with hudud move, says Guan Eng
March 20, 2015
GEORGE TOWN, March 20 ― PAS has lost its non-Muslim support when it passed the amendments to the Hudud Bill in Kelantan, DAP's Lim Guan Eng said today.
The DAP secretary-general believed that any remaining support for PAS has disappeared when it tabled and passed the Bill yesterday, and that the Islamist party was delusional if it believed otherwise.
"Such acts of betrayal by PAS Kelantan and some PAS national leaders may have also sealed the fate of PR, and not just PAS in Kelantan," the Penang chief minister said in a statement.
He said PAS Kelantan may also have destroyed its electoral prospects in Kelantan in the next general election by pushing through amendments to the Shariah Criminal Code II Enactment.
"Despite knowing that passing the hudud laws again in Kelantan would jeopardise PR's existence, PAS had decided to throw its lot with Umno and trust Umno," he said.
Lim said PAS had promised to make only four amendments to the original 1993 hudud laws during the final PR Leadership Council meeting chaired by Datuk Seri Anwar Ibrahim on February 8 but had betrayed the alliance by tabling the entire hudud bill with the full 71 clauses.
Full report at:
http://www.themalaymailonline.com/malaysia/article/pas-lost-non-muslim-vote-with-hudud-move-says-guan-eng
------------
ISIS not synonymous with Islam
20 Maret 2015
Jakarta (ANTARA News) - The Islamic State of Iraq and Syria (ISIS) is purely a political movement that uses the terminologies and symbols of Islam to expand its power and network, but it is not synonymous with Islam whatsoever.
Chairman of the House of Representatives Commission-VIII Saleh Partaonan Daulay stated here on Wednesday that ISIS cannot be synonymous with Islam in Indonesia; therefore, the Indonesian Muslim community strongly rejects the concept and ideology of ISIS.
Daulay also asked the media to abstain from reporting on ISIS in ways that can offend peoples religious sentiments in Indonesia.
According to the National Mandate Party politician, some media illustrated that ISIS movement was synonymous with Islam, but in reality, it is a political movement.
"Some parties have objected to media reports that equated ISIS and Islam, and they have requested that reports on ISIS should not be associated with Islam or Muslims in Indonesia," Daulay noted.
Full report at:
http://www.antaranews.com/en/news/98200/isis-not-synonymous-with-islam
------------
Arab World
ISIL Demolishes Ancient Assyrian Monastery, Mar Behnam, in Mosul
Mar 19, 2015
The Takfiri ISIL group has reduced to piles of rubble a monastery built by Iraqi Assyrians in the Iraqi city of Mosul as many as 1,600 years ago in another gruesome act of vandalism.
The Takfiri militants used explosives to raze to the ground the Mar Behnam monastery, built by Assyrian King Sinharib in the fourth century and located in the Christian-dominated town of Bakhdida, 32 kilometres (20 miles) southeast of the northern city of Mosul.
The monks residing in the ancient building were forced to leave the site. The monks fled the town and took refuge in neighbouring Christian villages.
This photo posted by ISIL on the Internet on March 19, 2015, shows the moment the Takfiri militants blow up the Mar Behnam monastery, built by Assyrian King Sinharib 1,600 years ago, in the Christian-dominated town of Bakhdida near the northern city of Mosul.
The Takfiri group has destroyed numerous ancient sites belonging to Assyrians in Iraq.
On March 11, Iraq's Deputy Tourism and Antiquities Minister Qais Hussein Rashid said at a symposium called "ISIS: The Enemy of Humanity, History and Civilization," that the ISIL Takfiri militants have burned 1,500 historical manuscripts in the country and sold ancient Assyrian sculptures on the black market.
Full report at:
http://www.presstv.in/Detail/2015/03/19/402610/ISIL-destroys-ancient-Assyrian-monastery
------------
Swedish FM's anti-Saudi remarks spark backlash in Stockholm
19 March 2015
A diplomatic row between Sweden and Arab Gulf states caused by Foreign Minister Margot Wallstroem's statements against Saudi Arabia has sparked backlash in Stockholm, as a low in relations threatens business interests between the Nordic country and its Arab trading partners.
Many Swedish business leaders – including those in the country's large defense industry – are fearful that the rift with the Arab Gulf states, especially with Saudi Arabia, could have large economic implications.
Early this month, a group of 31 top Swedish business leaders - including Volvo's head, fashion chain H&M's chairman Stefan Persson and bank group SEB's CEO Annika Falkengren - petitioned Stockholm to negotiate a new defense-industrial agreement with Riyadh in order to safeguard Swedish exports and business interests with Arab nations.
Also read: Sweden's 'feminist foreign policy' sparks off quarrels
In a joint statement published by the DN Debatt newspaper, business leaders urged the government not to walk away from talks with Saudi Arabia.
"Without trade, Sweden will lose the opportunity to make its voice heard in a globalized world, and to achieve real change," read the petition.
Leif Johansson, chairman of Swedish telecoms giant Ericsson whose devices are widely sold in the Gulf region, told business daily Dagens Industri that "if you make an enemy of the Arab League it can cause very major damage."
Saudi Arabia and the UAE are regular buyers of military equipment from Sweden, according to U.S. arms industry journal Defense News.
In recent years, the Saudi Arabia bought two Saab aircraft and 200 anti-tank missile systems, while the UAE bought two aircraft, 16 light vessels, six radars and seven unmanned aerial vehicles, according to Defense News.
Full report at:
http://english.alarabiya.net/en/News/middle-east/2015/03/19/Swedish-FM-s-anti-Saudi-remarks-spark-backlash-in-Stockholm.html
------------
ISIL decapitates three Peshmerga fighters: Video
Mar 20, 2015
The Takfiri ISIL group has released a new video showing the purported beheading of three Iraqi Kurdish Peshmerga fighters.
The video, released by the Takfiri militants on Thursday, shows the purported beheading of the Peshmerga fighters identified as Rezkar Mohammad Saleh, Pishtiwan Osman Rasul, and Hisham Nabil Khorshid.
This still from a video posted by the ISIL on March 19, 2015, shows moments before the purported beheading of Pishtiwan Osman Rasul, a member of Peshmera forces, by the Takfiri ISIL terrorist group.
The three victims are dressed in orange outfits, and are beheaded in three different locations with masked knife-wielding Takfiri militants speaking Kurdish.
This still from a video posted by the ISIL on March 19, 2015, shows moments before the purported beheading of Hisham Nabil Khorshid, a member of Peshmera forces, by the Takfiri ISIL terrorist group.
Kurdish forces are fighting the Takfiri group in several areas across Iraq and Syria and have inflicted heavy losses on them.
In February, the Takfiri terrorists released a video that showed 21 Kurdish Peshmerga fighters in cages being paraded through packed streets in the Iraqi province of Kirkuk.
The nine-minute footage showed the orange jumpsuit-clad prisoners being interviewed by an ISIL militant holding a microphone with the group's insignia, before being seemingly taken to a location to be killed.
The prisoners were driven one by one on the back of pick-up trucks with ISIL militants accompanying each prisoner.
Full report at:
http://www.presstv.in/Detail/2015/03/20/402626/ISIL-beheads-three-Peshmerga-fighters
------------
Saudi-French ties scale new heights
20 March 2015
French companies, with about $15 billion in investments in Saudi Arabia, have the highest rate of Saudization in their work forces compared to other foreign firms, according to Mohammed Binladin, head of the Saudi-French Business Council (SFBC).
Addressing an SFBC meeting, he said there are more than 80 French companies operating in the Saudi market in various sectors and employing at least 27,000 Saudis.
This indicates the keen interest of France to support Kingdom's efforts in providing jobs, skills development, training and diversification of industries and building the national economy.
He said preparation is under way to hold the Second Saudi-French Business Opportunities Forum which is being organized by the Ministry of Commerce and Industry and expected to be held later this year in Riyadh.
Full report at:
http://www.arabnews.com/saudi-arabia/news/720686
------------
Kingdom agrees to open embassy in Maldives
20 March 2015
Saudi Arabia has agreed to open its embassy in Maldives as parts of efforts to strengthen relations between the two countries.
The agreement was reached during the official visit of Maldives President Abdulla Yameen to Riyadh, where he held talks with Custodian of the Two Holy Mosques King Salman and senior Cabinet members including Finance Minister Ibrahim Al-Assaf.
"The two sides have expressed their desire to strengthen cooperation in foreign affairs, defense, Islamic affairs, justice, economic, investment and trade sectors as well as education, health and social affairs to realize their common interests," said a joint statement issued at the conclusion of Yameen's visit to the Kingdom.
The two countries have agreed to expand trade and investment cooperation, the statement said while urging the private sector to make use of investment opportunities in both countries.
Full report at:
http://www.arabnews.com/saudi-arabia/news/720731
------------
Egyptian court acquits top Mubarak era official: sources
19 March 2015
An Egyptian court acquitted former Interior Minister Habib el-Adly of graft charges on Thursday, judicial sources said, the latest ruling to clear prominent figures from the era of President Hosni Mubarak, who was ousted in the 2011 revolt.
Full report at:
http://english.alarabiya.net/en/News/middle-east/2015/03/19/Egyptian-court-acquits-top-Mubarak-era-official-sources.html
------------
Saudi Arabia condemns Tunis' deadly terror attacks
19 March 2015
Saudi Arabia on Thursday condemned the deadly terrorist attacks that killed 20 tourists in the Tunisian capital, the state news agency SPA reported.
"An official source of the Ministry of Foreign Affairs has stated that the Kingdom of Saudi Arabia condemns strongly the armed terrorist attack targeted Bardo Museum in Tunisia and claimed a number of lives of innocent victims of Tunisians and foreign tourists," the SPA reported.
The source said: "the terrorist act reaffirms that this dangerous scourge requires close international cooperation to fight it and ridding the international community of its evils, that terrorism has no religion, and that the principles of the tolerant Islamic religion prohibit treachery and killing of innocent and safe persons unjustly."
The Kingdom of Saudi Arabia stresses its stand by Tunisian government and people, expressing its condolences to the families of the victims and wishing the injured persons a speedy recovery.
The Islamic State of Iraq and Syria (ISIS0 has claimed responsibility for the attack on Tunisia's national museum.
Full report at:
http://english.alarabiya.net/en/News/middle-east/2015/03/19/Saudi-Arabia-condemns-Tunis-deadly-terror-attacks-.html
------------
U.N. urges ISIS trial for suspected genocide
19 March 2015
A United Nations investigation has concluded that the Islamic State of Iraq and Syria (ISIS) may have committed genocide against the Yazidi minority in Iraq, urging the International Criminal Court to prosecute the militant group.
In a report based on interviews with more than 100 alleged victims and witnesses, the United Nations human rights office called on the Security Council to refer the situation to the ICC for prosecution of perpetrators.
The inquiry also found that the Iraqi government, along with militias affiliated with its forces, may have committed "some war crimes."
The U.N. Human Rights Council launched its inquiry in September after the Islamist militant group, seized large swathes of northern Iraq.
It found "information that points to genocide, crimes against humanity and war crimes," and that the Security Council should "consider referring the situation in Iraq to the International Criminal Court."
Full report at:
http://english.alarabiya.net/en/News/middle-east/2015/03/19/U-N-urges-prosecution-of-ISIS-for-suspected-genocide.html
------------
Al-Qaeda behind assassination of Houthi official
19 March 2015
Al-Qaeda in Yemen has claimed responsibility for the Wednesday assassination of the head of the Houthi militias' media department, according to Al Arabiya sources.
Abdul Karim al-Khiwani, who was a member of the Revolutionary Committee of the Houthis that control Sanaa, was shot by two gunmen on a motorbike close to his home.
Khiwani was a respected journalist and writer. He won the Amnesty International Special Award for Human Rights Journalism under Threat in 2009.
On Wednesday, Amnesty International urged a quick probe of the "despicable killing of a leading journalist and activist," saying Khiwani had a history of being harassed for his "outspoken journalism and peaceful activism."
"His despicable killing today smacks of a politically motivated assassination," said deputy regional director Said Boumedouha.
The London-based group said Khiwani had been jailed several times during the rule of former president Ali Abdullah Saleh.
He also represented the Houthis during the U.N.- sponsored national talks that ended a year of deadly protests against former president Ali Abdullah Saleh, who stepped down in February 2012.
Full report at:
http://english.alarabiya.net/en/News/middle-east/2015/03/19/Al-Qaeda-behind-assasination-of-Houthi-official-.html
------------
Should Cell Phones Be Jammed Inside Haram?
20 March 2015
The government should ban worshippers from using social networking sites or other applications on their smart phones at the country's holy sites so that they can concentrate on the prayers, a senior security officer proposed recently.
Col. Badr bin Saud Al-Saud, who works for the Grand Mosque's security force, said that people should only use the call functions on their phones. He said many worshippers think they are on a picnic, and get busy taking themselves photographed with well-known individuals.
Pilgrims taking their selfies in front the Holy Kaaba is a common sight.
Full report at:
http://www.arabnews.com/news/720756
------------
South Asia
Bomber Kills Provincial Police Chief in Afghanistan
Mar 19, 2015
A terrorist wearing a face-covering garment has detonated a bomb in Afghanistan's capital city of Kabul, killing himself and an influential provincial police chief, officials say.
The Wednesday attack led to the death of the police chief in central Uruzgan Province, Matiullah Khan, who had worked closely with NATO troops during their combat mission, Afghanistan's Ministry of the Interior said on Thursday.
Dost Mohammad, a spokesman for the governor of Uruzgan, announced that last night, Matiullah Khan was targeted by a bomb attack in Kabul and killed.
General Farid Afzali, head of the criminal police in Kabul, also confirmed the attack.
The Taliban terrorist group has claimed responsibility for the deadly attack.
According to Afghan officials, no civilian was harmed in the attack.
Meanwhile, at least seven people lost their lives and 41 others injured in a car bomb blast by Taliban militants in Afghanistan's southern province of Helmand on Wednesday.
Afghanistan continues to grapple with insecurity months after the US-led combat mission ended on December 31, 2014.
Full report at:
http://www.presstv.in/Detail/2015/03/19/402596/Bomber-kills-provincial-Afghan-chief
------------
Sri Lanka: multi-racial, multi-cultural, multi-religious and multi-lingual democracy
By Mangala Samaraweera
March 20, 2015
(March 20, 2015, Colombo, Sri Lanka Guardian) Presenting amendments to the United Nations Act giving effect in Sri Lanka to the UN Security Council Resolutions against money laundering and financing of terrorism, Foreign Minister Mangala Samaraweera made a Statement in the Parliament on March 18, 2015. In his speech, Minister Samaraweera in addition to presenting details of action against money laundering and combatting terrorism, also explained the efforts being taken by the Government in defending the sovereignty and territorial integrity of Sri Lanka as well as renewing engagement with international community and organizations for among other matters, expediting the reconciliation process in Sri Lanka.
In this regard, Minister Samaraweera stated that "the Sri Lankan diaspora whether it be Sinhala, Tamil or Muslim, has an extremely important role to play not only in taking the reconciliation process forward, but they have an important role to play in taking Sri Lanka forward as a nation. Some of the best world class doctors, scientists, lawyers and other professionals who our nation can be proud of as Sri Lankans make up this diaspora and we must enable them to take part in our journey to make Sri Lanka a truly multi-racial, multi-cultural, multi-religious and multi-lingual democracy."
Full Statement of the Minister:
I stand before you today to present amendments, in line with our international obligations, to United Nations Regulations 1 and 2 of 2012 promulgated under the United Nations Act number 45 of 1968.
Full report at:
http://www.slguardian.org/?p=27246
-----------
Europe
Muslim Immigration Is 'Trojan Horse' Invasion, Belgian MP Tells Ukip Audience
19 March 2015
A Belgian MP has told a Ukip conference that Muslims are staging a "Trojan horse"-style invasion of Europe.
Speaking to Ukip members in Blackpool on Saturday, Aldo Carcaci, an MP for the right-wing Belgian People's party, said that "Muslim immigration from across the Mediterranean is getting totally out of proportion".
In an audio recording obtained by the Guardian, Carcaci can be heard saying: "It is not immigration, it's invasion. Europe is totally inefficient in tackling it."
After his speech, he was heard telling people attending the Ukip North West conference: "It's an invasion, it's a Trojan horse … It is for us, we are in the end of civilisation. Because if we continue to accept the Muslim immigration, for us, it's a big problem".
A Ukip spokesman said: "Mr Carcaci is not a member of Ukip, and nor do we sanction his phraseology," but added: "It is true that migration is out of control".
Carcaci – who was described in the programme as a "Belgian MP, People's Party, EFDD, ADDE Representative" – was given a prime spot at the conference and took to the stage after Neil Hamilton, a former prominent Conservative MP, and before Paul Nuttall, the deputy party leader and a Ukip MEP.
Full report at:
http://www.theguardian.com/politics/2015/mar/19/muslim-immigration-trojan-horse-invasion-ukip-conference-aldo-carcaci
------------
Germany: Jewish and Muslim councils cooperate
20 March 2015
The former secretary general of the Central Council of Jews in Germany and the Berlin representative of the American Jewish Congress, Stephan J. Kramer, said on Thursday that Muslims and Jews in Germany work together in many fields.
During an event titled "Islamophobia and anti-Semitism in Germany," organized by the foreign press association in Berlin, Stephan J. Kramer and Ali Kizilkaya, head of the Central Council of Muslims in Germany, expressed their opinions about xenophobia in Germany.
Kramer said the Jewish Council cooperates with the Islam Council on issues such as circumcision, halal food and the hijab. "We are ahead of other European countries on cooperation in Germany. Others can learn a lot from us."
He said there is a future for Jews in Europe and that the Jewish Community, which has faced anti-Semitism in the past, should not retreat from society but on the contrary, be more visible.
Full report at:
http://www.worldbulletin.net/todays-news/156792/germany-jewish-and-muslim-councils-cooperate
------------
Brussels Muslims Call for Youth Chaplains
19 March 2015
BRUSSELS – Amid increasing security measures in the European Union countries, leaders of the Belgian Muslim community urged EU officials to recruit chaplains to educate youth about their religion, instead of leaving them in the dark.
"The Muslim youth in Belgium feels excluded from society, not only in terms of unemployment, but in terms of expressing their religion and culture," Kastit Mustafa, an imam at a local mosque in Brussels, was quoted by Anadolu Agency on Thursday, March 19
Mustafa was one of several other religion experts who spoke at an anti-radicalization conference in Brussels on Tuesday.
The conference was held as EU officials call for boosting security and anti-radicalization methods.
Full report at:
http://www.onislam.net/english/news/europe/484089-brussels-muslims-urge-youth-chaplains.html
------------
India
Academy Seeks District-level Officers for Muslims' Welfare
20th March 2015
VELLORE: The Pernambut Urdu Academy has appealed to the State government to establish district-level officers for the welfare of the Muslims similar to Welfare Officers for the Adi-Dravida community.
In a memorandum, president of the academy T Basheeruddin said that district level officers would be able to address various issues faced by Muslims in education and social development. The State government should also allocate adequate funds from the Tamil Nadu Minorities Economic Development fund for meeting educational scholarships for all Muslim students while financial and welfare assistance through the district Muslim Development Committee should be disbursed to Muslim women.
The Academy has also urged the Thiruvalluvar University to establish a dedicated department for the promotion of Urdu since many colleges in the district of Vellore were offering Urdu as first language to Muslim students.
The State government should also provide 'First Language Status' to Urdu by amending the Tamil Nadu Tamil Learning act. The insistence on learning Tamil for Urdu students should be postponed to 2020 while learning Science through Tamil could be made compulsory for these students.
Full report at:
http://www.newindianexpress.com/states/tamil_nadu/Academy-Seeks-District-level-Officers-for-Muslims-Welfare/2015/03/20/article2722302.ece
------------
National meet of top Muslim panel begins today; Ghar Wapsi on agenda
March 20, 2015
Jaipur: The 24th National Executive Meet of the All India Muslim Personal Law Board, an apex body of Muslims, will begin here on Friday to discuss challenges and issues pertaining to the Muslim personal laws.
The meet is scheduled to discuss the recent 'Ghar Wapsi' programme by Hindu organisations and Rajasthan government's order to make Surya Namaskar compulsory in schools.
Other issues like ban on beef by Maharashtra government would also be taken up by the participating delegates, a senior representative of the body said on Thursday.
"Several issues including Ghar Wapsi programme will be raised and discussed in the meeting. Besides, Rajasthan government's directive to make Surya Namaskar mandatory in schools will also be a part of the agenda," assistant general secretary Mohammad Abdul Rahim Qureshi told a news agency over phone from Hyderabad.
He said that the executive committee will also have deliberations on central laws which needed to be repealed.
Full report at:
http://zeenews.india.com/news/rajasthan/national-meet-of-top-muslim-panel-begins-today-ghar-wapsi-on-agenda_1564579.html
------------
Kathua police station attack: 3 security personnel, 1 terrorist killed
Mar 20, 2015
NEW DELHI: The latest reports suggest that three security personnel and one terrorist has been killed in the cross firing between the security forces and terrorists in Jammu & Kashmir's Kathua district.
Three militants had attacked Rajbagh police station in Jammu & Kashmir early on Friday morning. According to the reports, they used automatic weapons and hurled grenades at the police station.
Full report at:
http://timesofindia.indiatimes.com/india/Kathua-police-station-attack-3-security-personnel-1-terrorist-killed/articleshow/46629462.cms
-----------
Indian IS recruit 'killed' in Syria was from Bhatkal
March 20, 2015
The Indian jihadist reported killed while fighting for the Islamic State (IS) earlier this month has been identified as Sultan Abdul Kadir Armar, 39, from Bhatkal town in Karnataka, intelligence sources have told The Indian Express. In a statement released online on Thursday, Indian jihadist group Ansar al-Tauhid fi'Bilad al-Hind said Armar was killed during fighting at Kobane, on the Syria-Turkey border, on March 6.
Last year, The Indian Express had reported that Armar was suspected to be the masked jihadist who appeared in a series of propaganda videos produced by the hardline jihadist group, Ansar al-Tauhid, inviting Indian Muslims to train at jihad camps in Pakistan's North Waziristan.
Also Read: Indian IS recruit 'killed' in Syria
"His intense urge to establish Islam and the pathetic condition of the Muslim ummah (nation) forced him to leave behind his loved ones, seeking Allah's pleasure and eternal paradise," says the statement.
Family members said they had no information on Armar's death. "I have not heard from them for nearly six years. I don't know where they are. They don't send me any money or call me," his mother, Hajira Armar, told The Indian Express in Bhatkal last month. Armar is the second Indian jihadist confirmed to have died fighting overseas, after Anwar Husain, also a resident of Bhatkal. Husain, a one-time minivan driver, was killed in the summer of 2014, fighting alongside jihadists near Kandahar in Afghanistan. Police and intelligence services are also investigating unconfirmed reports that Shaheem Tanki, one of the four Thane youths who left to join the Islamic State (IS) last year, may have been killed in the battle for Kobane.
Born on December 7, 1975, Armar grew up in Bhatkal's Nawayath Colony. The son of Shabbir Husain Armar, a small businessman, he studied at the famous Nadwat-ul-Ullema seminary in Lucknow. In 2004, Armar and his brother Shafi Armar joined the Indian Mujahideen (IM), founded that year by one-time Mumbai gangster Riyaz Shahbandri and his cleric brother, Ismail Shahbandri.
Full report at:
http://indianexpress.com/article/india/india-others/karnataka-man-killed-in-kobane-a-key-figure-in-indian-jihadist-network/
------------
Mideast
Yemeni President Abd-Rabbu Mansour Hadi Flees Palace
March 20, 2015
ADEN - Yemeni President Abd-Rabbu Mansour Hadi described an attack on his palace in the southern port city of Aden on Thursday as an attempted coup backed by the previous regime.
The fighting on the ground and a subsequent air attack appeared to be part of a deepening power struggle between Hadi and the Shi'ite Muslim Houthi group, which controls the capital Sanaa and is allied with former president Ali Abdullah Saleh. "The failure of the military coup was backed by the former regime, which was one of the perpetrators of extermination, murder and displacement," Hadi said in a statement.
Earlier on Thursday, an warplane attacked the presidential palace in Aden where Hadi has been based since being pushed out of the capital Sanaa in the north by Houthi rebels. The statement made no reference to Saleh but said that "agents of Iran" had also backed the former regime's forces.
"What happened today is a clear message to the whole world that the coup and their supporters of traitors reject any solutions or sit at the dialogue table in order to exit the crisis of Yemen to safety," Hadi said. Thirteen people were killed on Thursday when forces loyal to Hadi fought their way into Aden's international airport and wrested an adjacent military base from a renegade officer. An unidentified warplane attacked the presidential palace in Aden on Thursday after rival forces fought the worst clashes in years in Yemen's second city, an official and residents said, in a sharp escalation of the country's months-long turmoil.
Hadi was forced to evacuate the palace in the country's major southern city, presidency sources said, after it was attacked by a fighter jet.
The same sources claimed that the attack was repelled by anti-aircraft guns stationed near the palace, where Hadi was at the time, forcing the plane to retreat.
"President Hadi has been evacuated to a safe place but he has not left the country," the source told AFP as the plane made a second pass over the palace.
Full report at:
http://nation.com.pk/international/20-Mar-2015/yemeni-president-flees-palace
------------
Israel bulldozers conduct incursion of Rafah in Gaza
Mar 19, 2015
Israeli bulldozers and military vehicles have reportedly intruded into the Palestinian border town of Rafah in the blockaded Gaza Strip, locals say.
Witnesses said four bulldozers and vehicles belonging to the Israeli military conducted an incursion into the southern town in Gaza, where Egyptian forces demolished over 1,000 homes earlier this week to create a so-called buffer zone.
Egyptian officials said Tuesday that the country's military had razed to the ground at least 1,020 homes in Rafah, near the border with southern Gaza Strip, in the second phase of an operation to create a buffer zone with the Israeli-besieged territory.
In a separate development on Thursday, Israeli naval forces also opened fire at Palestinian fishermen across the al-Sudaniya coastline off Gaza City, the Palestinian news agency cited witnesses and sources as saying.
Full report at:
http://www.presstv.in/Detail/2015/03/19/402587/Israel-bulldozers-enter-Rafah-in-Gaza
-----------
U.S. says to impose more sanctions if no Iran nuclear deal
19 March 2015
The Obama administration will work with Congress to impose further sanctions on Iran if a nuclear deal is not reached, a senior U.S. Treasury official said on Thursday, just weeks before a deadline for a political accord.
Iran and six world powers are seeking an agreement ahead of an end-March deadline to curb Iran's most sensitive nuclear activities for at least 10 years in exchange for a gradual end to sanctions on Tehran.
U.S. lawmakers have been concerned the White House would cut Congress out of any nuclear deal, and would treat Iran too lightly.
"Our team stands ready to raise the costs on Iran substantially should it make clear that it is unwilling to address the international community's concerns," said Adam Szubin, the acting head of Treasury Department's Office of Terrorism and Financial Intelligence.
Speaking before the House Committee on Foreign Affairs, Szubin also said the United States will remove sanctions on Iran only in stages as part of a nuclear deal, tied to Tehran's "verifiable" steps in curbing its nuclear activities.
Full report at:
http://english.alarabiya.net/en/News/world/2015/03/19/U-S-says-to-impose-more-sanctions-if-no-Iran-nuclear-deal.html
------------
Palestine envoy: Netanyahu risks isolating Israel
19 March 2015
Prime Minister Benjamin Netanyahu's policies have placed Israel on a collision course with the international community, the Palestinian Ambassador to the United Nations Riyad Mansour told the New York Times Wednesday.
Should the PM succeed in forming a new government following his reelection, Mansour said he would further isolate his country.
"He is putting himself and the Israeli government, if he succeeds in forming it, in a complete collision with the international community, including the United States and Europe," said Mansour.
In the days preceding the elections, Netanyahu - who had previously advocated a two-state solution in 2009 - had declared that a Palestinian state would not take form during his time in office.
"There's a global consensus on a two-state solution," Mansour said, adding that the Palestinians are considering how to deal with Netanyahu's remarks.
"We will be strategizing and planning things," he said.
"If Prime Minister Netanyahu is going to stick to fighting all of us, then all of us need to defend ourselves and fight back."
Full report at:
http://english.alarabiya.net/en/News/middle-east/2015/03/19/Palestine-U-N-Envoy-Netanyahu-risks-isolating-Israel-.html
------------
Yemen's political unrest hits Saudi investments hard
20 March 2015
Saudi-Yemeni Business Council President Abdullah Bugshan said the political turmoil in Yemen and the outbreak of unrest in the region has forced the council to halt its activities.
"Despite the fact that Saudi Arabia is still the leader in terms of investments in Yemen and has been the leading commercial venture partner over the past few years, the council's activities are still stalled," he said.
Bugshan said the council was previously responsible for organizing meetings, exhibitions and conferences, but since the outbreak of unrest and due to the current turmoil, no commercial or investment-related activities in the country have been initiated.
He said events in Yemen have cast a shadow over the Yemeni economy and the volume of transactions, trade, investments and exchanges between the two countries.
The Saudi-Yemeni Business Council was founded in 2001, and has since led to an increase in the trade value between both countries from SR1.06 billion in 2002, to SR6.34 billion in 2011. While the Kingdom ranked first in terms of investments in Yemen, it advanced its ranking among top exporting countries to Yemen, rising from 38th place in 2002 to 29th place in 2012, with the size of exports valued at SR5.37 billion.
Full report at:
http://www.arabnews.com/saudi-arabia/news/720706
------------
North America
Muslims See Charlotte Shooting as Hate Crime
19 March 2015
CHARLOTTE, N.Carolina – Leaders of the Charlotte Muslim community have asserted that the shooting of 18 bullets at the backyard of a Muslim family's home is more likely to be an intentional hate crime rather than a random act of violence.
"We strongly feel this was not a random shooting. Whose house gets shot at 18 times and it's random?" Jilbril Hough with the Charlotte Islamic Center told WCNC.com on Wednesday, March 18.
Hough was speaking about the attack carried out by an anonymous man who shot 18 bullets into a Muslim family's home fence in the eastern Mecklenburg County.
The attack occurred at about 1 am when shots struck the family's rear security fence and back of the house.
One bullet went through a second-floor window, striking the wife of the homeowner in the thigh as she was sleeping, the homeowner told news reporters and photographers.
Police, however, did not specify if the attack was a hate crime until they arrest someone in the case.
Hough was speaking during a meeting for local Muslim leaders at the Islamic center to draw more attention and need for answers in the shooting.
With the homeowner's wife shot in the leg, the Muslim community has been rallying behind the family, urging police authorities to investigate the shooting as a hate crime.
"Nobody does random shootings 18 times. Nobody does target practice in the middle of the night, right now, daytime, would be good time to do target practice," said Hough.
"We aren't saying we know what it is but we know by using common sense what doesn't add up," he added.
Full report at:
http://www.onislam.net/english/news/americas/484105-muslims-see-charlotte-shooting-as-hate-crime.html
------------
U.S. Senate to vote on Iran bill after deadline
20 March 2015
A U.S. Senate committee will vote April 14 on a bipartisan measure requiring President Barack Obama to submit any international nuclear deal with Iran for congressional review, the legislation's authors said Thursday.
Senate Foreign Relations Committee chairman Bob Corker and top panel Democrat Robert Menendez agreed to push back a vote on the controversial bill until two weeks beyond the March 31 deadline negotiators set for the outlines of an accord between Iran and world powers aimed at preventing the Islamic republic from developing nuclear weapons.
"We have been working together very closely to ensure we have the strongest vote possible on the Iran Nuclear Agreement Review Act, and to achieve that result we have agreed to a markup of the bill...as soon as we return on Tuesday, April 14," the senators said in a statement.
Full report at:
http://english.alarabiya.net/en/News/world/2015/03/20/U-S-Senate-Democrats-Republicans-agree-to-delay-Iran-bill-vote.html
------------
URL: https://newageislam.com/islamic-world-news/bohra-community-mosque-attacked-karachi,/d/102035