New Age Islam News Bureau
5 Dec 2018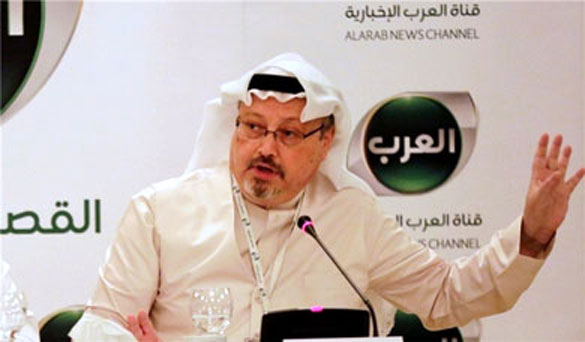 Saudi journalist Jamal Khashoggi
----
• Bogus and Impersonating Voting Is Forbidden In Islam, Fatwa Issued by Hyderabad-Based Seminary
• Saudi Dedicates Two Hours for Differently-Abled to Circumambulate Mecca's Kaaba
• Human Rights Official: Khashoggi Killed After Trump's Green Light
• Islam, Constitution of Pakistan Respect Other Religions: Fawad
• UK Home Secretary Says He Had Been Bullied, Like the Syrian Boy
India
• Bogus and Impersonating Voting Is Forbidden In Islam, Fatwa Issued by Hyderabad-Based Seminary
• Muslim Nations Must Learn About Religion from India: Dalai Lama
• Word 'Muslim' Will Not Be Removed From AMU: General Secretary JDU
• Muslims, Settlers to Play Key Role in Polls in Hyderabad Region: Experts
• Hindus deserve respect because they are natives invaded by Muslims: RSS leader
• Dialogue Best Solution to Ayodhya Issue: Sri Sri Ravi Shankar
--------
Arab World
• Saudi Dedicates Two Hours for Differently-Abled to Circumambulate Mecca's Kaaba
• Source: Washington Sheltering ISIL Commanders at Iraq-Syria Borders
• Tahrir Al-Sham Drives Rival Terrorists out of Several Regions in Northwestern Syria
• Syrian Army Fends off ISIL's Offensive in Homs Desert
• Kurdish Militias Intensify Attacks on Ankara Forces in Northern Syria
• Kurdish Militia's Senior Commanders Killed in Bomb Attack, Gun Fire in Northeastern Syria
• Tough Battle Reported Between two Main Terrorist Groups in Northwestern Syria
• Assad: Steadfastness of independent states can restore balance to international arena
• Saudi Cabinet welcomes creation of supreme council with Algeria
• OPEC to convene amid concerns over consensus and Qatar's looming exit
--------
North America
• Human Rights Official: Khashoggi Killed After Trump's Green Light
• GOP Senators Rip Saudi Crown Prince after CIA Chief's Briefing
• Trump's friends adopt tougher tone on Saudi prince amid Khashoggi fallout
• US aircraft carrier coming to Persian Gulf in show of force against Iran: Report
• Terror-related deaths decline worldwide for third straight year: report
• White House 'strongly' supports Israel action against Hezbollah tunnels
--------
Pakistan
• Islam, Constitution of Pakistan Respect Other Religions: Fawad
• Journalist Sees Imran as India's 'Best Bet' In Terms Of Bilateral Progress
• No progress in Maulana Samiul Haq murder investigation
• Pakistan assures US of support in settlement of Afghanistan
• Serving humanity vital lesson of Islam, says CM
• Peace only course for Pakistan, India: Fawad Ch
• President Trump compelled into reality check after PM Khan's response to offensive tweets: Pakistan minister
• War not a solution to Kashmir issue: Imran Khan
• Pakistan wants to see peace beyond borders: army
• Call to expose anti-Pakistan Baloch elements before world
--------
Europe
• UK Home Secretary Says He Had Been Bullied, Like the Syrian Boy
• Farage Resigns from UKIP over Party's Anti-Muslim Policies
• Russia receives 1,000 requests from Daesh widows for return: Official
• As A Survivor of the Rotherham Grooming Gang, I Am Scared By Racism And Hate Crime In Brexit Britain
• MHP chair slams German Islam Conference
--------
Africa
• South African-Indian Muslims Open First Prayer Facility in National Game Reserve
• Rwanda: Police in New Campaign against Radicalism
• US re-establish permanent diplomatic presence in Somalia
• Sudan lawmakers back amendment to let Bashir stand again
• Warning of possible Islamic State holiday terror attacks in SA carries little weight
• Nigeria confirms eight soldiers killed in Boko Haram attack
• Boko Haram: Buhari gives matching order over welfare of troops
--------
Mideast
• Europe's Non-Stop Appeasing Of Iran's Clerics
• Israel Predicts Win for UN Resolution Condemning Hamas
• Israel launches operation to destroy Hezbollah tunnels
• Houthi militias, UN envoy arrive in Sweden for peace talks
• US urges UN to condemn Iran missile test
• Yemen government delegation leaves for UN peace talks in Sweden
• Houthi Ansarullah delegation departs Yemen for peace talks in Sweden
• Turkish Police Detain Dozens of Suspects Over Affiliation To Gulen Movement
--------
South Asia
• Myanmar Religion Minister Says Rohingya 'Brainwashed' To 'March' On The Country
• Cardinal Tagle visits Rohingya refugees in Bangladesh
• Bangladesh: A secular icon seeks to bring down PM Hasina
• U.S. envoy for Afghan peace meets Pakistani officials in Islamabad
• District police chief killed in Taiban attack in Sari Pul
--------
Southeast Asia
• Watch Your Language, Muhyiddin Tells Anti-ICERD Demonstrators
• Rohingya migrant boat lands in Indonesia
• Dr Wan Azizah to deliver keynote address at WMLF
• Go ahead and sue me, Ibrahim Ali dares Waytha
• Indonesia rescues 20 Muslim Rohingya adrift off Aceh
Compiled by New Age Islam News Bureau
URL: https://www.newageislam.com/islamic-world-news/bogus-impersonating-voting-forbidden-islam/d/117073
--------
Bogus and Impersonating Voting Is Forbidden In Islam, Fatwa Issued by Hyderabad-Based Seminary
Dec 05, 2018
Hyderabad: The community, Muslims in particular, must refrain from casting bogus votes in the upcoming election. Bogus and impersonating voting is forbidden in Islam, according to a fatwa issued by centenary old Hyderabad-based seminary Jamia Nizamia. Fraud is forbidden in Islam, it stated.
Addressing the media during a press conference at Media plus Auditorium on Tuesday, Khairuddin Ali Sufi of All India Sufi Ulema Council said, "Muslim votes are important and can help in selecting the right candidate."
Muslims must also use their votes with precision and use it wisely to vote for the right candidate. Do not vote for candidates for their powerand charisma, he said. Vote on merit and do justice to your vote and rights, he added.
https://www.thehansindia.com/posts/index/Telangana/2018-12-05/Fatwa-issued-against-voter-fraud/452522
--------
Saudi Dedicates Two Hours for Differently-Abled to Circumambulate Mecca's Kaaba
4 December 2018
The Holy Mosque and Prophet's Mosque were dedicated to people with special abilities for two hours on Monday, as part of the International Day of Persons with Disabilities.
The deputy head of the Holy Mosque's affairs, Mashhour al-Minami said that "the initiative reassures our care for those people who are dear to all of our hearts, and it sheds light on their rights of equality with the rest of the society."
In the beginning, the visitors listened to an explanation of Umrah, and they also received some books and catalogs about it.
The presidency of the Holy Mosque's affairs, represented by the general administration for social services and the unit specialized in people with special abilities, also prepared a special prayer room for the deaf-mute equipped with sign language translators and teachers.
Visually impaired people have also been provided with white canes which lead them to their specialized prayer rooms, in addition to a special suit case that contains a Quran, books, and maps for the Holy site in the Braille writing system and a watch that notifies them with prayer times.
https://english.alarabiya.net/en/News/gulf/2018/12/04/Islam-s-most-holy-site-dedicated-to-people-with-special-abilities-for-two-hours.html
--------
Human Rights Official: Khashoggi Killed After Trump's Green Light
Dec 04, 2018
TEHRAN (FNA)- Secretary of Iran's Human Rights Council Mohammad Javad Larijani argued that prominent Saudi journalist Jamal Khashoggi was a victim of internal conflicts and feuds between the US democrats and was killed only after Saudi Crown Prince Mohammad bin Salman received a green light from President Donald Trump.
"Khashoggi had important information which was harmful to the US, including Trump and his family's economic relations with Mohammed bin Salman," Larijani said on Tuesday.
He noted that US President Donald Trump had felt danger from the side of Khashoggi as American Democrats had decided to use his information to their benefits in election campaigns; "hence, Trump told bin Salman that they should get rid of Khashoggi".
Larijani also said that the Saudis had been taught by the US security firms, including Blackwater, on how to kill Khashoggi, noting that Trump is now trying to whitewash the crime.
Khashoggi, a Washington Post columnist known for his criticism of Saudi policies, disappeared on October 2 after entering the Saudi consulate in Istanbul. Saudi Arabia's acknowledgement that the journalist had been killed in a fight inside the consulate came after two weeks of denials and growing pressure from Western allies to provide explanations.
On October 26, the Saudi prosecutor general acknowledged that the journalist's murder was premeditated. However, Riyadh maintains that the killing had nothing to do with the Saudi Royal family, describing it as a rogue operation.
http://en.farsnews.com/newstext.aspx?nn=13970913000996
--------
Islam, constitution of Pakistan respect other religions: Fawad
Imaduddin
December 5, 2018
ISLAMABAD: Minister for Information and Broadcasting Chaudhry Fawad Hussain Tuesday said Islam and constitution of Pakistan respected other religions and establishment of Kartarpur corridor brought the message of peace.
Talking to a delegation of an organization 'Sikh of America', the minister said peace was the only course for Pakistan and India, and they could get rid of poverty by treading on this path.
The arrival of Navjot Singh Sidhu in Pakistan to attend the swearing in ceremony of Prime Minister Imran Khan created history, he said, adding spilling of blood could only increase hate, not peace and the peace lovers across the border should play their role in this regard.
The members of the delegation thanked the government of Pakistan and Prime Minister Imran Khan for opening of Kartarpur corridor and provision of facilities at the religious site.
They said, "We have come with best wishes in response to the goodwill shown by Pakistan. No gift for a Sikh can be bigger than access to Darbar Sahib of Babaji Guru Nanak."
They expressed the wish that Kartarpur corridor should prove to be a corridor of peace and love.
The delegation included Chairman Sikh of America Jasdeep Singh and Chairman Pakistan Sikh Council Ramesh Singh.
Member Pakistan Bar Council Ahsan Bhon and leader Republican Party Sajid Tarar were present in the meeting.
https://www.brecorder.com/2018/12/05/456745/islam-constitution-of-pakistan-respect-other-religions-fawad/
--------
UK home secretary says he had been bullied, like the Syrian boy
4 December 2018
British home secretary Sajid Javid said he had been bullied and "punched to the ground" at the age of 11 because he was Asian on Monday to BBC Radio 4.
He said the attack on a 15-year-old Syrian boy, which widely spread on social media, "reminded" him of his time being bullied.
"Obviously I hated it and I thought how that young boy must feel," Javid told BBC Radio 4's Today program. "Those memories flooded back for me."
A shocking clip that went viral in the UK shows the victim with his arm in a cast, being squirted in the face with water after being dragged to the floor by his neck, as his attacker says "I'll drown you."
The video, filmed in a lunch break at Almondbury Community School, in Huddersfield, on 25 October, has been condemned by leading politicians, including Theresa May and Jeremy Corbyn.
"I saw the video like anyone else and part of me was clearly absolutely outraged and, to be frank, it reminded of an incident I had myself when I was 11 at school," said Javid.
He said his first reaction to the attack had been "How can this kind of thing still be going on in our country?" he said.
Javid, whose parents emigrated to the UK from Pakistan in the early 1960s, said he had been involved in a "very similar" incident shortly after he had started at a comprehensive school in Bristol, where he grew up.
A 16-year-old older boy is to be charged with assault in connection with the incident. The boy, who cannot be named for legal reasons, will appear at youth court "in due course".
https://english.alarabiya.net/en/News/world/2018/12/04/UK-home-secretary-says-he-had-been-bullied-like-the-Syrian-boy.html
--------
India
Muslim nations must learn about religion from India: Dalai Lama
December 4, 2018
Tibetan spiritual leader the Dalai Lama Tuesday said Muslim countries like Bangladesh, Pakistan and Syria should learn about religion from India so that there is peace in the world.
"There are various religions and traditions in India having a population of over 125 crores. Muslim countries should learn from India so that there is peace. There is coordination among all the religions here and due to non-violence principle, modern India is developing," the Dalai Lama told reporters during a brief interaction here.
Asked about Doklam dispute, the spiritual guru only said, "Both the countries should sit and resolve the issue. The slogan of 'Hindi-Chini bhai bhai' should be relevant."
https://indianexpress.com/article/india/muslim-nations-must-learn-about-religion-from-india-dalai-lama-5478444/
--------
Word 'Muslim' Will Not Be Removed From AMU: General Secretary JDU
Dec 04, 2018
New Delhi: Member of AMU Court and General Secretary Janata Dal United KC Tyagi after his visit to Aligarh Muslim University (AMU) said the proposal to remove the word 'Muslim' from Aligarh Muslim University and the word 'Hindu' from Banaras Hindu University (BHU) is uncalled for. He said the tradition by the founders of both AMU and BHU should be retained in the educational institutions. It must be noted that the Janata Dal (United) is the alliance partner of BJP-led NDA.
It must be recalled that a UGC panel last year had recommended that words such as 'Hindu' and 'Muslim' be dropped from the Banaras Hindu University and the Aligarh Muslim University respectively as they do not reflect their secular character. The proposal was strongly opposed by AMU registrar a few months ago. He had said that such type of thinking violates the purpose behind the establishment of the institutions.
https://www.siasat.com/news/word-muslim-will-not-be-removed-amu-kc-tyagi-1441284/
--------
Muslims, Settlers To Play Key Role In Polls In Hyderabad Region: Experts
December 04, 2018
HYDERABAD: Muslims and the "settlers" from the coastal and Rayalaseema regions of Andhra Pradesh are likely to play a crucial role in the electoral fortunes of the candidates in 24 constituencies falling under the Greater Hyderabad Municipal Corporation (GHMC).
In the 2014 Andhra Pradesh Assembly polls, the Telugu Desam Party (TDP) had won nine seats, Asaduddin Owaisi's All India Majlis-e-Ittehadul Muslimeen (AIMIM) seven, the Bharatiya Janata Party (BJP) five and Telangana's ruling party Telangana Rashtra Samithi (TRS) had won three seats.
The TDP and the BJP were in an alliance in 2014. For the upcoming Telangana Assembly polls, the N Chandrababu Naidu-led TDP has struck an electoral pact with the Congress.
In the December 7 election, all the nine MLAs of the TDP, who had left the party subsequently, are contesting on TRS tickets.
Mr Naidu has been campaigning vigorously in the region for the candidates of the Congress-led "Praja Kutami" or the grand alliance, also comprising the TDP, the Telangana Jana Samithi (TJS) and the Communist Party of India (CPI).
Mr Naidu has also addressed poll meetings along with Congress president Rahul Gandhi in the GHMC areas, which have over 40 lakh voters.
The AIMIM, which counts the old city as its stronghold, has fielded eight candidates in the region and is supporting the TRS in the remaining seats.
The K Chandrasekhar Rao-led TRS has described the AIMIM as a "friendly party" and said it would have "friendly contests" in the seats where the Owaisi-led party has fielded its nominees.
AIMIM MLC Syed Aminul Hasan Jafri said Muslims constituted 12.7 per cent of Telangana's population and in the 24 constituencies in the GHMC areas, it was 30 per cent.
"The Congress's tie-up with the TDP, which was a BJP ally until recently, may not gel well with the Muslim voters. Not only that, since the beginning, not many members of the minority community have voted for the TDP.
"Constituencies like Rajendranagar, Maheswaram, Serilingampalli, Kukatpally, Kutbullapur, Malkajgiri, Uppal and LB Nagar have large numbers of minority voters who certainly have a say," he told PTI.
Most of the constituencies located in the GHMC area have a large number of people from Andhra Pradesh, also called the "settlers", accounting for about 20 per cent of the total votes.
The TDP, which is being projected by the TRS as an "Andhra party", is contesting in some of the key constituencies in the area such as Serilingampalli, Kukatpally and Uppal.
Mr Naidu's party, which largely banks on the votes of the "settlers", has fielded party founder NT Rama Rao's granddaughter Nandamuri Suhasini from Kukatpally.
Political analyst and former MLC Nageswar said the "settlers" would certainly play a decisive role in the electoral outcome in these seats, but they might not vote en masse for any particular party, given the "diverse social structure".
He pointed out that the TRS had won 100 seats in the GHMC polls largely due to the votes of the "settlers".
"They (settlers) may not vote for the TRS now, unlike the way they had done in the GHMC polls. At the same time, they may also not vote for the TDP en masse. A particular community, which has got the backing of the TDP, may vote for it, but there are other influential communities which may desist it," Mr Nageswar said.
Full report at:
https://www.ndtv.com/india-news/telangana-assembly-election-2018-muslims-settlers-to-play-key-role-in-polls-in-hyderabad-region-says-1957787
--------
Hindus deserve respect because they are natives invaded by Muslims: RSS leader
Siraj Qureshi
December 5, 2018
Rashtriya Swayamsevak Sangh (RSS) leader Suresh Joshi stoked controversy on Tuesday saying the primary goal of the Hindu outfit is to keep the Indian culture alive at all costs and that Hindus should prevent marrying their girls into other communities.
Talking to India Today TV in Agra, Joshi alias Bhaiyya Ji said that the primary goal of the RSS is to keep the Indian culture alive and the BJP government at the Centre has been instrumental in doing so.
Talking about the workings of RSS, he said that the RSS transforms the mind, body and soul of the person who joins the organization. "Anyone who sincerely attends a few 'shakhas' will become a completely different person from what he was," said Joshi.
He added that to keep the Indian culture alive, the number of 'swayamsevaks' will have to be increased while more and more people will need to be involved with the social work that the RSS has been doing in the country since its inception.
He added that since the society has started becoming "free of corruption and the number of aspiring volunteers from the Dalit and backward communities has been increasing, the Sangh will also have to work on the upliftment of these communities".
"The RSS workers will have to work as 'karsevaks' at the houses of the poor, Dalits and backwards in order to bring them into the mainstream of the Indian society through mutual cooperation and sharing of resources," said Joshi.
He urged Sangh volunteers and office-bearers to ensure that if there are any house warming ceremonies at their new residences, the first meal should be offered to the labourers who helped build that house as social equality will only arrive in the country when the leaders go beyond getting their pictures clicked with statues of Dalit and backward leaders.
Later, Bhaiyya Ji Joshi advised young Hindus to prevent the marriages of Hindu girls with men from other communities, especially Muslims and said that care must be taken to ensure that the Hindus to not become a minority in their own country within a few decades.
He urged the Hindus to bear more children and grow their families as the growth rate of Hindu families had come down in the past decades.
Full report at:
https://www.indiatoday.in/india/story/hindus-deserve-respect-because-they-are-natives-invaded-by-muslims-rss-leader-1402654-2018-12-05
--------
Dialogue Best Solution To Ayodhya Issue: Sri Sri Ravi Shankar
December 04, 2018
GANDHINAGAR: Spiritual leader Sri Sri Ravi Shankar on Tuesday said that a constructive dialogue between the opposing parties was the best solution to the vexed Ram Mandir issue.
"I believe in dialogue," the spiritual guru told IANS on the sidelines of the first convocation ceremony of the Karnavati University on the outskirts of the Gujarat capital.
Ravi Shankar, who has been mediating between the All India Muslim Personal Law Board and the Hindu groups in the Ramjanmabhoomi-Babri Masjid issue, reiterated his view that "the best solution to the issue can come only by dialogue".
The spiritual guru has been maintaining that the grieving parties should go in for an out-of-court settlement, which could work out to a win-win situation for Hindus and Muslims.
"We believe in dialogue and we hope the issue will be sorted out peacefully," he said.
Earlier, the Art of Living mentor exhorted students of the Karnavati University to try and convert "stumbling blocks into stepping stones".
Just as the first class of the private university, set up in 2008, graduated, the spiritual guru advised the students: "Don't think your exams are over. Exams actually start after the university. This is just a preparation."
Full report at:
https://www.ndtv.com/india-news/dialogue-best-solution-to-ayodhya-issue-sri-sri-ravi-shankar-1957831
--------
Arab World
Source: Washington Sheltering ISIL Commanders at Iraq-Syria Borders
Dec 04, 2018
The Arabic-language al-Ma'aloumeh news website quoted Hashem al-Moussavi as saying on Tuesday that a number of ISIL leaders have been sheltered at Iraq's border with Syria to survive current attacks by the Iraqi security forces and Hashd al-Shaabi.
He added that Syria's al-Tanf base is the main stronghold of the terrorists and supplies the ISIL remnants with weapons, military equipment and intelligence, noting that Washington aims to use the ISIL commanders as a leverage to pressure Baghdad and Damascus.
Al-Moussavi said that the Iraqi security forces and Hashd al-Shaabi are at present trying to cleanse Wadi Houran region in al-Anbar (at the borders between Iraq and Syria) from terrorists, adding that the US fighter jets often provide a cover to the ISIL moves between Iraq and Syria.
The US-led coalition has long been suspected of colluding with the ISIL terrorist group in Eastern Syria for quite a few years now. Experts believe the US needs to keep a contained group of ISIL terrorists operating in the region in a bid to justify its buildup in Eastern Syria.
Relevant reports said late in November that the US-backed Syrian Democratic Forces (SDF) and ISIL had been in secret talks on the latter's withdrawal from Deir Ezzur to Iraq's desert.
Orient news reported that the talks were underway between the SDF and the ISIL to conclude an agreement similar to the one on Raqqa to relocate the terrorists from Deir Ezzur to Iraq's desert.
It further said that the US-led coalition air force, according to the talks, would provide a cover for the terrorists to move to Iraqi territories 60km from the border with Syria.
http://en.farsnews.com/newstext.aspx?nn=13970913000965
--------
Tahrir Al-Sham Drives Rival Terrorists out of Several Regions in Northwestern Syria
Dec 04, 2018
Tahrir al-Sham engaged in fierce clashes with rival terrorists of Ahrar al-Sham in al-Ghaab Plain in Northwestern Hama and al-Roj Plain in Southwestern Idlib, seizing control over the small towns of Zizoun, al-Sahan, al-Laj and most of regions in al-Roj Plain.
A tough battle is still underway between the rival groups in the village of Qastoun in Northwestern Hama.
The infighting has inflicted major casualties on both warring sides and also on civilians.
Informed sources said last week that Tahrir al-Sham Hayat and Ahrar al-Sham terrorist groups resumed and intensified their clashes over a strategic road in the Southern part of Idlib province.
Heavy clashes broke out between Tahrir al-Sham and Ahrar al-Sham militants on the outskirts of Ma'arat al-Nu'aman in Southern Idlib, field sources reported.
The sources noted that the infighting broke out after Tahrir al-Sham entered Heish region controlled by Ahrar al-Sham and set up an inspection post there. Ahrar al-Sham also targeted and pounded Tahrir al-Sham's post and put their forces on alert.
Tahrir al-Sham also hit the military posts of the National Liberation Front in Babolin area in Heish region, they added.
The sources also pointed to the preparations by Tahrir al-Sham Hayat to launch a large-scale military operation in the region, and said Tahrir al-Sham aims to seize control of the international highway passing through Ma'arat al-Nu'aman city.
Full report at:
http://en.farsnews.com/newstext.aspx?nn=13970913000814
--------
Syrian Army Fends off ISIL's Offensive in Homs Desert
Dec 04, 2018
The army men engaged in heavy fighting with ISIL in Humeimeh region in Eastern Homs and managed to repel their attack after inflicting major losses on the terrorists.
The remaining pockets of the terrorists retreated after their failed attack.
In the meantime, the army's air force bombed several times ISIL's movements in al-Sukhnah desert in Eastern Homs and near T2 Oil Pumping Station in Southwestern Deir Ezzur, killing and wounding a number of terrorists.
Last month, the army soldiers engaged in a tough battle with a group of ISIL terrorists that tried to attack the government forces in the Southeastern direction of Homs desert from the Northeastern direction of Aweiraz Dam, killing and wounding a number of terrorists and destroying their military equipment.
The army further warded off the attack and forced the remaining pockets of ISIL to retreat from the battlefield.
Full report at:
http://en.farsnews.com/newstext.aspx?nn=13970913000909
--------
Kurdish Militias Intensify Attacks on Ankara Forces in Northern Syria
Dec 04, 2018
The sources said that the Kurdish units fired a thermal missile on a group of Turkish soldiers and their allied militants in the village of Deir Mashmash in Afrin, killing over 10 of them and injuring several more.
A military vehicle of the Ankara forces was destroyed in the attack too.
In the meantime, the London-based Syrian Observatory for Human Rights (SOHR) reported that a commander of Ankara-backed militants was killed and two of his forces were injured in the Kurdish missile attack in Basalhaya region in Afrin.
It further said that the Kurdish forces' attack on a base of Ankara-backed Firqa al-Hamza in al-Mahmoudiyah district in the town of Afrin sparked fierce clashes between the two sides.
Hawar news reported on Wednesday that the Kurdish militia blasted a military vehicle of Ankara-backed Firqa al-Hamzah militants in Afrin on a road between the center of the town and the village of Basoutah in Shirawa, killing 4 terrorists and severely wounding 2 others.
They also targeted a vehicle of al-Shamiyah Front terrorist group in the village of Koubleh near Afrin, destroying the car and killing one militant inside.
Meantime, the Kurds' operations against Faylaq al-Sham terrorists on the road linking Borj Heidar in Shirawa region killed two militants.
Full report at:
http://en.farsnews.com/newstext.aspx?nn=13970913000706
--------
Kurdish Militia's Senior Commanders Killed in Bomb Attack, Gun Fire in Northeastern Syria
Dec 04, 2018
The sources said that Forat Hasaka, a senior SDF commander, was killed after unidentified raiders opened fire at his vehicle along a road between Hasaka and Tal Barak on Monday.
They further said that a bomb-laden vehicle went off in al-Masaref district in the border town of Qaishli in Northeastern Hasaka on Monday, killing a number of the SDF gunmen, including their Commander Houzan Abu Akeed.
The sources went on to say that a number of SDF gunmen were also killed in another blast near Bolqar camp East of the town of al-Shadadi in Southern Hasaka.
A militant-affiliated website reported last month that Arab tribes in Hasaka province in Northeastern Syria demanded the Syrian Army to deploy its guards at border with Turkey after the Ankara forces' threats to launch an imminent large-scale operation against the Kurds on the Eastern bank of the Euphrates River.
Zaman al-Wasl reported that the Kurdish militias try to hold different meetings with Arab tribes in Hasaka, Raqqa and Aleppo provinces to persuade them to join them in battle against the Turkish troops.
It further said that the Kurds had several meetings with Arab tribes in al-Safir region in the town of Ra'as al-Ein in Northwestern Hasaka, adding that all tribal elites called on the SDF to hand over border control to the Damascus force to deter a Turkish invasion.
In the meantime, local sources in Hasaka province pointed to the Kurdish concerns about the Turkish troops' operation, and said that the Kurds have transferred prisoners and detainees from their Alaya jail in the town of Qamishli in Northeastern Hasaka to their central jail in Hasaka city.
Full report at:
http://en.farsnews.com/newstext.aspx?nn=13970913000767
--------
Tough Battle Reported Between two Main Terrorist Groups in Northwestern Syria
Dec 04, 2018
Tahrir al-Sham and Ahrar al-Sham, affiliated to the Free Army, exchanged heavy fire in Jadraya and Anab in Southern Idlib and other fronts in Jozef and Mahmabal regions in al-Ghaab Plain in Southwestern Idlib.
In the meantime, Tahrir al-Sham recaptured the villages of Jadraya and Anab in the clashes.
The clashes inflicted a number of casualties on both warring side, as at least 10 Tahrir al-Sham members were killed.
Several more gunmen from both sides were wounded or captured.
A field sources said that both Tahrir al-Sham and Ahrar al-Sham have put their fighters on alert, and said that Ahrar al-Sham has forwarded a long military convoy to al-Ghaab Plain in Northwestern Hama that is connected to al-Roj Plain in Southwestern Idlib.
The sources said that the infighting came after differences over the shares from the railway lines looted by the terrorist groups from the small town of Harbanoush in Northern Idlib.
Informed sources said last week that Tahrir al-Sham Hayat and Ahrar al-Sham terrorist groups resumed and intensified their clashes over a strategic road in the Southern part of Idlib province.
Heavy clashes broke out between Tahrir al-Sham and Ahrar al-Sham militants on the outskirts of Ma'arat al-Nu'aman in Southern Idlib, field sources reported.
The sources noted that the infighting broke out after Tahrir al-Sham entered Heish region controlled by Ahrar al-Sham and set up an inspection post there. Ahrar al-Sham also targeted and pounded Tahrir al-Sham's post and put their forces on alert.
Tahrir al-Sham also hit the military posts of the National Liberation Front in Babolin area in Heish region, they added.
The sources also pointed to the preparations by Tahrir al-Sham Hayat to launch a large-scale military operation in the region, and said Tahrir al-Sham aims to seize control of the international highway passing through Ma'arat al-Nu'aman city.
Full report at:
http://en.farsnews.com/newstext.aspx?nn=13970913000506
--------
Assad: Steadfastness of independent states can restore balance to international arena
Dec 4, 2018
Syrian President Bashar al-Assad says independent countries are capable of changing the international arena and restoring balance to it by remaining steadfast in their battle against Western plots.
Speaking in a meeting with the visiting North Korean Foreign Minister Ri Yong-ho in Damascus on Tuesday, the Syrian leader said that despite the difference in the forms of wars and pressure to which Syria and North Korea have been exposed, their essence and purpose is the same: to weaken the countries that have an independent goal and stand in the face of Western projects.
President Assad further said such wars are not just about Syria and North Korea, but for redrawing the map of the world, adding that the US hostility towards all the independent states of the world, including Syria and the North, knows no geographical limits.
Ri, for his part, relayed to the Syrian president and people a verbal message from North Korean leader Kim Jong-un, expressing Pyongyang's firm support for Damascus and offering congratulations over the victories the Syrian army has so far achieved in its years-long fight against terrorists, including the Takfiri Daesh terrorist group.
The North Korean foreign minister also briefed the Syrian president about the North's foreign policy, noting that the enemy which North Korea, Syria, and all other independent and independence-seeking countries have in common is hegemony and foreign interference, which requires increasing coordination among those countries to confront foreign plots.
Full report at:
https://www.presstv.com/Detail/2018/12/04/581996/assad-Syria-north-Korea-
--------
Saudi Cabinet welcomes creation of supreme council with Algeria
December 04, 2018
JEDDAH: The Saudi Cabinet on Tuesday reviewed Crown Prince Mohammed bin Salman's tour of Arab countries and the Kingdom's participation at the G20 Summit in Argentina.
The Cabinet welcomed the Kingdom's decision to host the G20 summit in 2020. It also welcomed the agreement between Saudi Arabia and Algeria to establish a supreme council to enhance cooperation in politics, security, anti-terror activities, the economy and culture.
The ministers lauded the crown prince's meetings with world leaders at the G20 summit.
The Cabinet reviewed regional and global developments and approved a number of memorandums of understanding (MoUs) with several countries on various issues.
The ministers approved the extension of an agreement between Saudi Arabia and France to avoid double taxation on income and inheritance etc.
Full report at:
http://www.arabnews.com/node/1415801/saudi-arabia
--------
Opec to convene amid concerns over consensus and Qatar's looming exit
December 5, 2018
Opec and its allies led by Russia are set to convene in Vienna on Thursday amid a cloud of uncertainty over a decision to trim production and the future of the organisation.
The exporters' group and its allies, known as Opec+, see themselves at the same juncture they did in 2016. However, this time there is less certainty of a consensus to cut amid the exit of Qatar on January 1. Qatar was on board in 2016 when Opec
agreed to reduce inventories by slashing 1.2 million barrels per day out of its production. On top of that, allies cut 600,000 bpd.
"Our baseline scenario is that Opec+ is likely to favour supporting prices over market share and collectively act by cutting production between 1 to 1.4 million bpd to curb the current oversupply in the market," said Ehsan Khoman, Mena research head at Japan's MUFG Bank said.
Opec, led by Saudi Arabia, and the producers outside of the group headed by Russia were widely expected to institutionalise their two-year co-operation at this meeting.
But a decision to trim output seems less definitive than last month when Saudi energy minister Khalid Al Falih said the alliance could trim up to 1 million bpd next year if needed.
In an interview with Bloomberg on Tuesday, Mr Al Falih said Moscow backs output curbs "in principle," but it's "premature" to say what they will agree in Vienna this week.
Opec+ had earlier in May reversed the production cuts that have been in place since January last year to steady prices, which had rallied around three-year highs of $75 per barrel for Brent for much of the summer, eventually peaking at $86 in October. However, Brent soon crashed, losing 30 per cent of its value in a month as record-high US production and limited impact of US sanctions against Iran began to materialise.
Opec+ is also grappling with pressure from the US administration under President Donald Trump, who wants to see prices go even lower, tweeting last month that he saw the slip in prices as a "tax cut" for "America and the world".
MUFG anticipates the alliance to display "constructive ambiguity" through a "carefully drafted, worded declaration of characteristic Opec diplomacy" to manage external pressures, notably from President Trump.
"As such, this likely thinly veiled message will quietly inform markets that Opec+ will cut to raise oil prices on the front end, without explicitly drawing attention to risk President Trump's wrath," said Mr Khoman.
The upcoming meeting however would certainly test the current bond between Saudi Arabia and Russia, possibly revealing a divergence of interest. Moscow is seemingly aligned with the US, in its aspiration for a lower Brent than Saudi Arabia's preferred range of $75 per barrel, he added. Russian producers would much prefer Brent trending around $60 to $65 per barrel. However, many see Russia's alliance and the meeting between Saudi Crown Prince Mohammed bin Salman and President Vladimir Putin at the G20 meeting as an indication that the two may come to an agreement after all.
Another cloud over the Vienna event would be Qatar's exit after 57 years of Opec membership, a move that Olivier Jakob of Petromatrix said could allow small producing states to question the benefits of remaining within the group.
"The decision making is now concentrated in the hands of Saudi Arabia and Russia," said Mr Jakob.
"We think that it will be important to closely follow the developments in the US of the 'No Oil Producing and Exporting Cartels Act' (NOPEC). If momentum grows in the US for such legislation, then the smaller Opec countries might decide that the risks and costs of staying formally in Opec outweigh the benefits," he added.
Full report at:
https://www.thenational.ae/business/energy/opec-to-convene-amid-concerns-over-consensus-and-qatar-s-looming-exit-1.799095
--------
North America
GOP senators rip Saudi crown prince after CIA chief's briefing
Dec 4, 2018
US Central Intelligence Agency (CIA) Director Gina Haspel has briefed Senate leaders on the death of Saudi dissident journalist Jamal Khashoggi, who several Senators believe was killed at the order of Saudi Crown Prince Mohammed bin Salman (MBS).
Haspel briefed members of the Foreign Relations, Armed Services and Appropriations committees on Tuesday.
Following the briefing, two Republican senators said they were more certain than ever that bin Salman was culpable in the killing of Khashoggi.
"You have to be willfully blind not to come to the conclusion that this was orchestrated and organized by people under the command of MBS," Senator Lindsay Graham told reporters.
"He murdered him. ...No question in my mind," retiring Sen. Bob Corker (R-Tenn.) said of the Saudi crown prince. "I had almost no question before, I have no question whatsoever now."
US Defense Secretary James Mattis and Secretary of State Mike Pompeo last week briefed the whole Senate on US-Saudi relations in the wake of the murder of Khashoggi, who was killed after entering the Saudi consulate in the Turkish city of Istanbul on October 2.
The senators, however, found the presentation unconvincing and were also upset at the CIA chief's absence. The lawmakers wanted to directly hear from her the CIA's opinion on the Khashoggi death.
The CIA has reportedly concluded that bin Salman ordered the killing.
US President Donald Trump has so far resisted growing calls from both sides of the isle in Congress for a strong response to Khashoggi's murder, arguing that doing so would endanger deep financial and political ties between the two sides and push Riyadh towards Russia.
Trump's reluctance to go after bin Salman became clearer after he undermined the CIA assessment that the prince was indeed aware of the murder, despite Riyadh's denials.
But the biggest reason is perhaps the risk that losing Saudi Arabia's services would pose to Israel, Trump has admitted.
A top Democratic senator said on Sunday the United States should maintain its strategic partnership with Saudi Arabia while he held bin Salman responsible for the murder.
Senator Ben Cardin said he had no doubt that the Saudi crown prince, also known as MBS, was involved in the murder of Khashoggi.
But the Trump administration has publicly pushed back on those claims. Pompeo told reporters following the Senate briefing that there is no "direct reporting" connecting MBS to the killing.
https://www.presstv.com/Detail/2018/12/04/581942/CIA-chief-to-brief-US-Senate-leaders-on-Khashoggis-murder
--------
Trump's friends adopt tougher tone on Saudi prince amid Khashoggi fallout
Dec 5, 2018
Top Republicans in the United States are attacking Saudi Crown Prince Mohammed bin Salman for ordering the murder of dissident journalist Jamal Khashoggi at the Saudi consulate in the Turkish city of Istanbul in October.
"I think Prince Mohammed gave the order, or at least he knew about it, to butcher Khashoggi. Prince Mohammed ... he really was the original El Chapo, literally," said Louisiana Senator John Kennedy on Tuesday as US President Donald Trump was under pressure for maintaining support for the murderous prince.
Joaquín "El Chapo" Guzmán is the former Sinaloa Cartel leader facing trial in New York City.
Jamal Khashoggi was reportedly tortured, murdered and then dismembered via a bone saw by Saudi operatives at the Saudi consulate in Istanbul on October 2.
Other senators emerging from a briefing with CIA Director Gina Haspel also blame the Saudi de facto ruler for the murder despite Trump's unwavering support for the prince in the wake of his arms deal with Riyadh.
"There's not a smoking gun, there's a smoking saw," South Carolina Senator Lindsey Graham said, referencing Trump administration comments that there is no "smoking gun" showing bi Salman ordered the killing.
"You have to be willfully blind not to come to the conclusion that this was orchestrated and organized by people under the command of MBS and that he was intricately involved in the demise of Mr. Khashoggi," Graham added.
There was "zero question" that the young prince was behind the assassination, according to Senate Foreign Relations Committee Chairman Bob Corker, a Republican from Tennessee.
"I have zero question in my mind that the crown prince directed the murder and was kept apprised of the situation all the way through. I have zero question in my mind," said the lawmaker. "I think temperatures are up by all involved … so figuring out something that can pass overwhelmingly still is going to be difficult because some people want to tie the Yemen piece into the Khashoggi piece."
The Senate could take a vote on proceeding to the Yemen resolution next week.
Illinois Republican Senator Dick Durbin also predicted that after the briefing, "the sentiment to continue this effort is stronger now than ever."
There were also complains from some senators, wo were not allowed into the briefing.
"While I will not discuss the content of the Haspel briefing, it reinforced the need for a strong response to the murder of Jamal Khashoggi," Schumer said Senate Democratic leader Charles Schumer in a statement. "CIA Director Haspel should brief the full Senate without delay."
Haspel reportedly did not try to change the lawmakers' mind about the matter, yet the hearing led to a more outspoken stance from the senators.
"All evidence points to that all this leads back to the crown prince," said, Alaska Republican Senator Richard Shelby, calling the murder a "reprehensible conduct."
Senator Graham is also introducing a separate resolution to officially blame the Saudi crown prince for Khashoggi's death.
Saudi Arabia has acknowledged the murder, yet left many questions unanswered.
Turkish intelligence intercepts reportedly show that Khashoggi, who was last seen entering the Saudi mission in Istanbul on October 2, was murdered on a direct order from Saudi de facto ruler bin Salman
Full report at:
https://www.presstv.com/Detail/2018/12/04/582000/The-original-El-Chapo-Top-GOPers-rip-Saudi-prince-
--------
US aircraft carrier coming to Persian Gulf in show of force against Iran: Report
Dec 4, 2018
The United States is sending an aircraft carrier strike group to the Middle East in a show of force against Iran, US military officials have revealed.
The USS John C. Stennis and its accompanying ships, which are currently moving through the Indian Ocean, will arrive in the Persian Gulf by the end of this week, The Wall Street Journal reported Monday, citing unnamed military officials.
If true, this will be the first time in eight months that the US steps up its military presence in the region to such levels, the officials said. That's the longest period Washington has gone without an aircraft carrier in the Persian Gulf in the past two decades.
The naval deployment is a direct response to Iran's influence in the region, the officials noted.
US President Donald Trump pulled out of the 2015 Iran nuclear deal in May, saying he would subject Tehran to a series of tough economic sanctions unless the Islamic Republic agrees to stop supporting anti-terror groups in Syria, Iraq, Lebanon and Yemen.
He has also called on Iran to scrap its development and testing of ballistic missiles.
On Monday, the Trump administration asked Europe to impose new sanctions on Iran after US Secretary of State Mike Pompeo claimed Iran had test-fired a medium-range ballistic missile.
In order to persuade his European peers, Pompeo said the missile was considered capable of carrying nuclear warheads and could reach parts of the Europe.
Iran, however, said its missile program was "defensive" in nature and Tehran had every right to develop and test its missiles under the UN Security Council Resolution 2231, which endorse the nuclear deal.
USS Stennis would also provide support to the ongoing US military interventions in Iraq, Syria and Afghanistan.
The strike group is scheduled to spend most of its two-month deployment in the Persian Gulf, a presence that unnamed officials said "certainly provides a deterrence" against Tehran.
The arrival of the warship "provides a lot of great flexibility," another defense official said.
US aircraft carriers have long been patrolling the Persian Gulf, carrying thousands of personnel and dozens of fighter jets, missiles and other weapons.
But the deployments stopped in March after the USS Theodore Roosevelt left for the Pacific, as part of the Trump administration's shift of strategy to focus more on China and Russia.
As a result of the new approach, Washington also pulled a number of Patriot missile systems out of Persian Gulf countries Jordan, Kuwait and Bahrain.
Officials stressed that, despite escalating tensions, the carrier deployment had been previously scheduled.
Full report at:
https://www.presstv.com/Detail/2018/12/04/581959/US-Iran-Persian-Gulf-aircraft-carrier-USS-Stennis
--------
Terror-related deaths decline worldwide for third straight year: report
Dec. 5, 2018
WASHINGTON — Terror-related deaths have fallen for the third consecutive year around the globe, while far-right political terrorism is on the rise in North America and Western Europe, according to a report released Wednesday.
After peaking at about 34,000 deaths in 2014, terrorism-related deaths fell by 44 percent last year to 18,800, according to Steve Killelea, Executive Chairman of the London-based Institute of Economics & Peace, which publishes the annual Global Terrorism Index.
Military defeats of the Islamic State, or ISIS, in Iraq and Syria, and the Nigerian government "breaking the back" of Boko Haram are seen as the main reasons why there was a significant drop in deaths related to terrorism, Killelea said. Afghanistan recorded the highest number of terror-related deaths among all countries.
Iraq, the country where ISIS first emerged, saw a 56 percent decline in terror-related deaths from 7,368 to 3,554, marking the largest year-to-year reduction of a single country and the lowest number of deaths from terrorism the country has seen since 2012.
Overall, deaths at the hands of ISIS dropped by 52 percent in 2017, according to the report. Killelea predicts that the group will no longer rank as the deadliest terrorist organization in 2018.
"I think if there's one thing which I'd have people to take away from the study, it would be simply that the back of ISIL is broken," Killelea said, referring to ISIS by a common acronym that stands for the Islamic State in Iraq and the Levant. "And that doesn't mean that it's the end of terrorism. Because Al Qaeda is still highly active."
With ISIS collapsing in Iraq and Syria, say the report's authors, the group is moving to countries in the Maghreb and Sahel regions of Africa, such as Libya, Niger, and Mali, and to Southeast Asia.
Islamic terrorism is "incredibly fluid," Killelea said, noting that groups splinter, merge, and form new groups, based on differences in ideology or differences in strategy and tactics.
"And that's very, very difficult for intelligence agencies to really track and stay on top of it," Killelea said.
While more than 99 percent of all deaths from terrorism happened in countries mired in violent conflict or high levels of political terror, the report found that social alienation, lack of economic opportunity, and involvement in an external conflict are major factors behind terrorism in economically-developed areas like North America and Western Europe, which have witnessed a rise in far-right terrorism.
In the four years between 2013 and 2017, far-right groups and individuals were responsible for 66 deaths in Western Europe and North America. There were none in 2013 compared to last year, which saw 17. That same year, the United States had 30 attacks resulting in 16 deaths.
The report's authors found that lone actors with white nationalist, far-right, or anti-Muslim beliefs were responsible for the majority of attacks in North America and Western Europe.
"Part of it is a reaction to the immigration flows, which have been appearing in Europe, with the result of the wars in the Middle East," Killelea said. "And also it's a reaction against the terrorist attacks, which have occurred back in the U.S. and in Europe by violent jihadist or violent extremists, violent Muslim extremists."
Other key takeaways from the report:
Five countries—Afghanistan, Iraq, Nigeria, Somalia and Syria—saw more than 1,000 deaths from deaths from terrorism. And 19 countries saw more than 100 deaths.
67 countries suffered at least one death from terrorism in 2017.
46 countries saw lower scores and 96 countries improved—the highest number to report a year-to-year improvement since 2004.
The biggest jumps in deaths from terrorism were in Egypt and Somalia, which saw 123 percent and 93 percent increases, respectively.
Total year-to-year deaths fell by 75 percent in Europe, making for the biggest rate of improvement.
Full report at:
https://www.usatoday.com/story/news/2018/12/05/terrorism-deaths-islamic-state-boko-haram-terror-isis/2206299002/
--------
White House 'strongly' supports Israel action against Hezbollah tunnels
4 December 2018
The White House gave full backing Tuesday to an Israeli army operation to destroy tunnels built under the border with Lebanon by the Iran-backed group Hezbollah.
President Donald Trump's national security advisor John Bolton said that "the US strongly supports Israel's efforts to defend its sovereignty."
"More broadly, we call on Iran and all of its agents to stop their regional aggression and provocation, which pose an unacceptable threat to Israeli and regional security," Bolton said.
The surprise announcement came hours after Israeli Prime Minister Benjamin Netanyahu met with US Secretary of State Mike Pompeo in Brussels over regional dangers, with both having repeatedly warned about the activities of Iran.
Netanyahu said he discussed the operation with Pompeo and called the tunnels a violation of a UN resolution aimed at ending a 2006 war between Israel and Shiite militant group Hezbollah.
Full report at:
https://english.alarabiya.net/en/News/middle-east/2018/12/04/White-House-strongly-supports-Israel-action-against-Hezbollah-tunnels.html
--------
Pakistan
Journalist sees Imran as India's 'best bet' in terms of bilateral progress
December 05, 2018
KARACHI: If there is to be incremental progress between India and Pakistan that have fought four wars, Prime Minister Imran Khan is presently "India's best bet", according to a Washington Post opinion piece written by Indian journalist Barkha Dutt.
On completion of 100 days in office and inauguration of the Kartarpur corridor, the premier had met a group of visiting Indian journalists in Islamabad.
"Imran Khan, Pakistan's prime minister, seems transformed by the burden of his post. I met him in Islamabad on the day he completed his 100th day in office. He appeared so much more reserved, circumspect and formal than I remember him," wrote Ms Dutt, who was among the 22 Indian journalists who had been invited to Pakistan (at the invitation of Khan's government) to report on the opening of a visa-free corridor for Sikh pilgrims in the border village of Kartarpur.
"I came away with the impression that there is no chance for any immediate breakthrough for India and Pakistan," she said. "But if there is to be even incremental progress between the two nuclear-armed nations that have fought four wars, Khan is presently India's best bet," the journalist added.
Referring to the opening of the corridor, she termed it to be a "joyous celebration of anti-imperialism".
"A corridor for the free movement of pilgrims into Pakistan should have been a brief moment of reconciliation in a severely damaged relationship," the report added.
Unfortunately, she regretted, controversial statements on both sides of the border led to a downward spiral. "In Pakistan, the Indian ministers likened opening the pilgrimage route to the fall of the Berlin Wall, while in Delhi, the foreign minister ruled out any resumption of dialogue."
On Nov 28, Prime Minister Imran Khan performed the groundbreaking of 4km-long corridor which would connect Gurdwara Darbar Sahib at Kartarpur in Narowal with Dera Baba Nanak in India's Gurdaspur district. The government had announced that it aimed to open the visa-free corridor on Baba Guru Nanak's 550th birth anniversary next year.
https://www.dawn.com/news/1449497/journalist-sees-imran-as-indias-best-bet-in-terms-of-bilateral-progress
--------
No progress in Maulana Samiul Haq murder investigation
Mohammad Asghar
December 05, 2018
RAWALPINDI: One month on, the police have not made any progress in the investigation into the murder of Jamiat-i-Ulema Islam Sami (JUI-S) chief Maulana Samiul Haq.
However, an interim charge sheet of the case was submitted by the police in the court of an additional session judge on Monday.
The interim charge sheet contains the statements of the victim's son and a report on more than 12 individuals, the mobile phone data of the JUI-S chief, the preliminary statement given by the victim's secretary and a police investigation report.
However, it does not identify a prime accused. The police was to submit an interim charge sheet for the murder case within 14-days of the incident.
The police have been waiting for the DNA report of the samples taken from the victim's body and those taken from elsewhere at the crime scene.
The police have been reluctant to share details of their investigation with the deceased's family nor have they made the details public. No cash reward has been offered for information that could lead to the murderer.
"We cannot say anything at the moment because we are still investigating into the murder," a police official close to the investigation said.
The police's attempts to exhume Maulana Sami's body for a post-mortem have also been unproductive after the concerned court of law as well as the family refused permission for the exhumation.
The request was made to the additional session judge by the Rawalpindi police which was forwarded to the concerned court in Nowshera which rejected it.
JUI-S leader Maulana Samiul Haq was killed in a Safari Villa in Bahria Town on Nov 2 when his secretary, Syed Ahmed Shah had gone to get water from a nearby filtration plant.
Mr Shah, who is considered the prime witness, was allowed by the police to attend the funeral but he did not turn up and has been missing since.
Full report at:
https://www.dawn.com/news/1449527/no-progress-in-maulana-samiul-haq-murder-investigation
--------
Pakistan assures US of support in settlement of Afghanistan
Dec 05,2018
ISLAMABAD: Pakistan has assured the United States of its complete support in facilitating a negotiated settlement in war-torn Afghanistan.
The assurance was given during a meeting between Foreign Minister Shah Mahmood Qureshi and US Special Envoy for Afghanistan Zalmay Khalilzad who arrived in Islamabad on Tuesday to hold meetings with Pakistan's political and military leadership about bringing the Afghan Taliban to peace talks.
According to a statement issued by the Foreign Office spokesperson Dr Mohammad Faisal, Khalilzad called on Foreign Minister Shah Mahmood Qureshi and reiterated US President Donald Trump's desire to seek Pakistan's cooperation for peace and stability in Afghanistan.
Qureshi has assured the US side of Pakistan's steadfast support for a negotiated settlement in war-torn Afghanistan, the FO said.
The visit comes a day after Trump wrote a letter to Prime Minister Imran Khan, seeking Islamabad's "assistance and facilitation in achieving a negotiated settlement of the Afghan war".
In his first letter to PM Khan, President Trump sought "Pakistan's full support" for the US-led peace process in Afghanistan and for his special envoy's trip to the region.
Khalilzad will also travel to Afghanistan, Russia, Uzbekistan, Turkmenistan, Belgium, the United Arab Emirates and Qatar in a stepped-up effort to find a peaceful end to the Afghan war.
"He will meet with Afghan government officials and other interested parties to support and facilitate an inclusive peace process in Afghanistan, empowering the Afghan people to decide their nation's fate," read a press release by the US Department of State.
Meanwhile, Minister for Human Rights Dr Shireen Mazari, in reply to Khalilzad's tweet regarding his regional visit, asked the special envoy to "bring a less arrogant and hostile mindset when you visit Islamabad [this time]".
Dr Mazari is considered a hawk in the PTI government on relations with the US and has in the past called out Trump over his tirade against Pakistan.
Khalilzad has a prickly relationship with Pakistan, having often accused Islamabad of fomenting violence in Afghanistan by supporting the Taliban.
Full report at:
https://www.pakistantoday.com.pk/2018/12/04/us-envoy-zalmay-khalilzad-arrives-in-islamabad/
--------
Serving humanity vital lesson of Islam, says CM
December 5, 2018
LAHORE: Punjab Chief Minister Sardar Usman Buzdar has said volunteers perform their duties during natural calamities with commitment and in return have no expectations or financial interest which is a good thing.
In his message on Calamity Day issued here on Tuesday, the CM said volunteers rise above the geographical limitations and cultural and language barriers to serve the humanity with passion and commitment. The role of voluntary organisations and people is of exemplary importance in society and the damages of untoward incidents can be minimised by providing professional trainings to the volunteers. He said serving ailing humanity is high moral value and an important lesson of Islam.
Full report at:
https://www.thenews.com.pk/print/401919-serving-humanity-vital-lesson-of-islam-says-cm
--------
Peace only course for Pakistan, India: Fawad Ch
Dec 05,2018
ISLAMABAD: Minister for Information and Broadcasting Chaudhry Fawad Hussain on Tuesday, while talking to a delegation of an organisation 'Sikhs of America', said that peace was the only course for Pakistan and India, and that both countries could get rid of poverty by treading on this path.
He also said Islam respects other religions and the Constitution of Pakistan represents that in true sense. The info minister said that the establishment of Kartarpur corridor has brought a message of peace for the region.
The arrival of Navjot Singh Sidhu in Pakistan to attend the swearing in ceremony of Prime Minister Imran Khan created history, he said, adding that peace lovers across the border should play their role in this regard.
The members of the delegation thanked the government of Pakistan and Prime Minister Imran Khan for opening Kartarpur corridor and provision of facilities at the religious site.
They said, "We have come with best wishes in response to the goodwill shown by Pakistan. No gift for a Sikh can be bigger than access to Darbar Sahib of Babaji Guru Nanak."
They expressed the wish that Kartarpur corridor should prove to be a corridor of peace and love.
The delegation included Chairman Sikh of America Jasdeep Singh and Chairman Pakistan Sikh Council Ramesh Singh.
Full report at:
https://www.pakistantoday.com.pk/2018/12/04/islam-pakistan-respect-all-religions-fawad-ch/
--------
President Trump compelled into reality check after PM Khan's response to offensive tweets: Pakistan minister
Dec 4, 2018
ISLAMABAD: A senior Pakistani minister and top aide of Prime Minister Imran Khan Tuesday claimed that US President Donald Trump was "compelled" to do a "reality check", days after his offensive tweets against Islamabad for failing to help America in combating terrorism.
Taking to Twitter a day after Khan said the US president has written a letter to him, the Minister for Human Rights Shireen Mazari said Trump was compelled to seek help from Pakistan in bringing the Taliban to the negotiating table to end the brutal war in Afghanistan which has been going on for 17 years.
Last month Trump also said Pakistan does not do "a damn thing" for the US, saying Islamabad helped al-Qaeda chief Osama bin Laden hide near its garrison city of Abbottabad.
Mazari, known to be a hawk, in a series of tweets, said, "PM Imran Khan's response to Trump's offensive tweets against Pakistan compelled Trump to do a reality check and write to PM Khan asking for help in bringing peace to Afghanistan!"
"So much for those in Pakistan who were quivering after Imran Khan's tweets went out!" she added.
In response to Trump's anti-Pakistan comments, Khan had hit back, advising Washington to assess its efficiency in the war on terror instead of making Pakistan a scapegoat for its failure.
Meanwhile, Mazari also criticised US State Department's Special Representative for Afghanistan Reconciliation Zalmay Khalilzad for his approach towards Pakistan.
She advised tough-talking Khalilzad to bring a "less arrogant and hostile mindset" during his ongoing visit to Islamabad.
Khalilzad, the veteran US diplomat tasked with making efforts to end the bloody war in Afghanistan, is known as a blunt negotiator.
Although both the US and Pakistan now have a commonality of views on seeking a political solution to the Afghan problem, the trust deficit between the two is the real stumbling block. Relations between the two countries are tense despite recent efforts to reset the troubled ties, the Express Tribune reported.
At the heart of their stalemate is the US insistence on Pakistan to do more to bring the Afghan Taliban on to the negotiating table. Washington still believes that Islamabad holds a considerable sway over the insurgent group.
Full report at:
https://timesofindia.indiatimes.com/world/pakistan/president-trump-compelled-into-reality-check-after-pm-khans-response-to-offensive-tweets-pakistan-minister/articleshow/66938979.cms
--------
War not a solution to Kashmir issue: Imran Khan
Dec 4, 2018
ISLAMABAD: Pakistan Prime Minister Imran Khan on Monday said war is not a solution to the Kashmir issue, which can be resolved through talks.
In an interview to a group of television journalists here, Khan said unless there was a dialogue, various options on resolution of Kashmir cannot be discussed.
When asked about the formula to resolve the Kashmir issue, Khan said there were two or three solutions, which have been in discussions.
He, however, refused to share more details, saying it was "too early to talk about them".
Khan claimed he was informed by late prime minister Atal Bihari Vajpayee and former foreign minister Natwar Singh during a conference that Kashmir would have been resolved if the BJP had not lost the 2004 Lok Sabha elections.
"It shows that there is a solution of Kashmir and both countries were close to resolve it," the Pakistani prime minister insisted.
Ruling out the possibility of any war with India, he said two nuclear armed countries would not fight because "there are always unintended consequences".
Asserting that Pakistan was serious to develop peaceful ties with all its neighbours, Khan claimed India was not ready to hold talks with the country due to the upcoming general elections.
Replying to a query on his views on the military's role in shaping of foreign policy in every country, including the US, he said, "Advice from the establishment is taken in those issues where security situation is involved."
Full report at:
https://timesofindia.indiatimes.com/world/pakistan/war-not-a-solution-to-kashmir-issue-imran-khan/articleshow/66927739.cms
--------
Pakistan wants to see peace beyond borders: army
DECEMBER 5, 2018
Inter-Services Public Relations (ISPR) Director General (DG) Major General Asif Ghafoor Tuesday said that Pakistan wanted to see peace beyond its borders, especially in Afghanistan.
He was talking to a group of Pakistan-based foreign journalists wherein he briefed them about the security situation and ongoing stability operations in the country, an ISPR statement said. "Matters related to Pak-Afghan border and situation along Line of Control (LoC) were also discussed," said the statement.
The DG ISPR told the foreign correspondents that Pakistan's security situation had largely improved due to "successful clearance operations", adding that the country was now heading towards stability.
"Having restored peace [at home,] Pakistan wishes to see peace beyond borders especially [in] Afghanistan," the statement quoted the military media wing's director general as saying. BBC correspondent Secunder Kermani, who was among the journalists present at the meeting, shared other details from the interaction on Twitter. According to Kermani, when asked whether the Pakistan Army was in direct touch with the Afghan Taliban regarding the peace process, Maj Gen responded that it was the "intelligence services" of any country that maintained such contacts. However, Maj Gen Ghafoor added that Pakistan's influence [on the Afghan Taliban] was no longer "as effective as it was [in] 1979″, according to the BBC correspondent.
Kermani said the ISPR chief had stated that he [Ghafoor] was not aware if a delegation from the Taliban's political office in Qatar had arrived in Pakistan, as was reported by some foreign news outlets.
According to the ISPR press release, Maj Gen Ghafoor during the meeting said that the international community saw Pakistan through their reporters based in Pakistan and that he expected the foreign journalists to highlight improving peace and stability in Pakistan, which offers economic opportunities for foreign investors".
"Media has a very important role to project the true positivity of Pakistan," he said during the interaction. Kermani said that the ISPR DG was also asked about the notices reportedly sent to a number of critics of the military by Twitter, saying the microblogging site had received "official correspondence" that the critics' accounts violate Pakistan's laws.
In his response, Ghafoor said the military had made "no complaint to Twitter" regarding such accounts, according to Kermani.
Full report at:
https://dailytimes.com.pk/329920/pakistan-wants-to-see-peace-beyond-borders-army/
--------
Call to expose anti-Pakistan Baloch elements before world
DECEMBER 5, 2018
Balochistan Chief Minister Jam Kamal Khan and Overseas Pakistani Baloch Unity (OPBU) founder Dr Jumma Khan Marri have agreed to step up efforts to expose before the world the so-called Baloch leaders who are involved in various terrorist activities inside Pakistan on the behest of the enemies.
At a meeting in Moscow, the two leaders discussed important issues concerning Pakistan, especially the recent attack by Balochistan Liberation Army (BLA) on the Chinese consulate in Karachi.
Dr Marri suggested that Pakistan government should raise the issue with the United Kingdom demanding that it must stop providing a 'safe haven' to BLA commander Hyrbyair Marri. He also emphasised that steps should be taken to raise the issue at the platform of the United Nations (UN). He promised to voice his concerns regarding the issue in the European Union Parliament.
Jam Kamal and Dr Marri vowed to raise further awareness among Pakistani community residing in Europe about these so-called leaders who are actively involved in various terrorist activities inside Pakistan on the behest of the enemies.
On the occasion, Dr Marri invited the chief minister to the launching ceremony of Overseas Pakistani Baloch Unity's Europe chapter which is expected to be held in near future. During the upcoming ceremony, a few prominent Baloch personalities are expected to join the mainstream Pakistani politicians by declaring their disassociation with the anti-Pakistani forces. The chief minister applauded Dr Marri's efforts in this regard and promised complete support from the government.
Full report at:
https://dailytimes.com.pk/329885/call-to-expose-anti-pakistan-baloch-elements-before-world/
--------
Europe
Farage resigns from UKIP over party's anti-Muslim policies
Dec 5, 2018
Former UK Independence Party (UKIP) leader Nigel Farage has announced his resignation from the right-wing party after 25 years over its anti-Muslim positions.
Farage handed in his notice on Tuesday and said the party had become unrecognizable due to its "obsession" with the anti-Muslim policies under current leader, Gerard Batten.
"And I – with a very heavy heart, given how much I've cared for this party, the people within it – have reached, I think, a very sad decision, certainly very sad for me, that I simply can't go on with it," Farage said on a radio show.
"I don't recognize the party as being the one I helped to found and fought for all of those years," he added. "I believe the brand has been so damaged, so tarnished, that it's not able to pick up and won't be able to pick up the political opportunity that's there, staring it in the face. So with very great reluctance I have, as of now, resigned my membership with UKIP."
Farage played a key role in leading the successful "Brexit" push for the UK to leave the European Union, but he has become critical of UKIP since he stepped down from leadership.
The Brexit campaigner blasted Batten, saying that the current party leader was "obsessed with the issue of Islam," as well as far-right activist Tommy Robinson, who was recently appointed as an adviser.
"Things couldn't be better for UKIP, but unfortunately we've gone in this direction of street activism and turning a blind eye to extremist politics," he said, pointing to an anti-Brexit demonstration set for next Sunday in London at which Batten and Robinson will speak.
"The image that will give of what Brexit stands for is something that our enemies will use against us, for perhaps many years to come," he said. "Damaging UKIP is one thing, damaging the Brexit cause is even worse."
Batten had previously libeled Islam as a "death cult" and called for radical policies against its followers, including Muslim-only prisons.
Anti-Muslim hate crimes and incidents have been steadily rising across the United Kingdom in recent years, particularly since the Brexit vote in 2016.
In October, the British government officially admitted a significant rise in hate crimes against religious minorities, especially Muslims, saying that such attacks had increased in number by almost 40 percent over the past two years.
Britain's Home Office (interior ministry) attributed the spike in hate crimes against religious people to terrorist attacks in London and Manchester last year.
Terrorists linked to groups like Daesh, which used to wreak havoc in the Middle East with an alleged Islamic mission, claimed responsibility for attacks in Westminster and Manchester arena, which took place in March and May 2017 and killed dozens of people.
The ministry also said a referendum in June 2016 in which British voters decided for their country to leave the EU had a role to play while better police record keeping was also a factor.
https://www.presstv.com/Detail/2018/12/05/582012/UKIP-Nigel-Farage-resignation-antiMuslim-positions
--------
Russia receives 1,000 requests from Daesh widows for return: Official
Dec 4, 2018
Russian Human Rights Commissioner Tatyana Moskalkova says Moscow has received hundreds of requests from the widows of Daesh Takfiri terrorists, who were slain either in Iraq or Syria over the past few years, to return home.
Speaking at a conference in the Russian capital city of Moscow on Tuesday, Moskalkova said over 1,000 requests have been submitted to Russian authorities, adding that the women have "sustained an unimaginable violence."
She further noted that the repatriation of the Daesh widows is a difficult process, given the fact that they have been involved in acts of terror and their return could pose a threat to the safety of Russian citizens.
On April 29, the Central Criminal Court of Iraq, which is the country's flagship criminal justice institution, found 19 female Russian citizens guilty of "joining and supporting Daesh" and handed down life sentences to them.
The court issued the verdicts as women, all accompanied by small children, attended the hearing.
Ziyad Sabsabi, a Russian senator and Deputy Chairman of the Senate's Foreign Relations Committee, had earlier warned that the Russian women would face death penalty, noting that most of them had denied their charges.
He pointed out that there were children, less than three years of age, who were kept in jail along with their mothers.
Earlier this year, Iraqi authorities extradited four women and more than two dozen children from the families of Daesh militants to Russian officials.
"Iraq has handed over four women and 27 children from the families of those who have been brainwashed to join Daesh," Arabic-language al-Sumaria television network quoted Iraqi Foreign Ministry spokesman Ahmed Mahjoub as saying on February 22.
"There was no proof that those extradited had been involved in terrorist operations against Iraqi civilians or security forces," he said, adding, "They will be prosecuted in Russia for illegally entering Iraq."
According to a report published by Iraq's Arabic-language al-Mashriq newspaper, more than 1,500 women and children from the families of Daesh militants are currently being held in the conflict-stricken Arab country, and that the Baghdad government is coordinating with their respective countries to decide their fate.
Former Iraqi prime minister Haider al-Abadi declared the end of military operations against Daesh in the Arab country on December 9, 2017.
On July 10 that year, he had formally declared victory over Daesh in Mosul, which served as the terrorists' main urban stronghold in Iraq.
In the run-up to Mosul's liberation, Iraqi army soldiers and volunteer Hashd al-Sha'abi fighters had made sweeping gains against Daesh.
Iraqi forces took control of eastern Mosul in January 2017 after 100 days of fighting, and launched the battle in the west on February 19 last year.
Full report at:
https://www.presstv.com/Detail/2018/12/04/581962/Russia-receives-1000-requests-from-Daesh-widows-for-return-Official
--------
As a survivor of the Rotherham grooming gang, I am scared by racism and hate crime in Brexit Britain
December 5, 2018
As a Rotherham grooming gang survivor I've watched the events of the past few weeks with interest and rising concern. The public's response to the Brexit negotiations has focused on issues of immigration. At the same time, the All-Party Parliamentary Group (APPG) on British Muslims has announced a proposed definition of Islamophobia.
Since the news of the Rotherham child abuse scandal broke in 2014, there has been a flood of reports from victims with similar experiences to me. The list of prosecutions of Muslim Pakistani men in towns including Huddersfield, Oxford and Telford keeps getting longer. I've watched with alarm the public response to these revelations, with a rising anti-Muslim and anti-immigration sentiment, and the appearance of some far-right extremists and self-styled neo Nazis in the UK and Europe. Experiences like mine are being used to fuel this anger, and with the uncertainty posed by Brexit uncertainty and an increasing militancy on the far left of politics, emotions are running high on all sides.
The Brexit Betrayal march, planned for 9 December at Downing Street, could result in a dangerous clash between pro-Brexit protesters, who feel the deal does not go far enough to protect Britain from what is seen as a dangerous religious invasion of immigrants, and anti-Brexit campaigners who are angry at proposed limitations to freedom of movement after Britain's departure from the European Union, as well as the massive financial impact it will have on the UK economy. Some far-left counter-protesters are are agitating for violence towards a popular movement that they see as based in racism and anti-immigrant sentiment, and Islamophobia more specifically.
Social media is advising pro-Brexiteers to stock up on yellow jackets – emulating the recent riots in France, where cars were set on fire and the Arc de Triomphe was vandalised, resulting in more than a hundred people being injured.
As tensions boil in the run up to a parliamentary decision on Brexit, the APPG on British Muslims's report, titled 'Islamophobia Defined', states clearly: "Islamophobia is rooted in racism and is a type of racism that targets expressions of Muslimness or perceived Muslimness."
As a grooming gang survivor who has seen a lot of the backlash towards Muslims, I welcome this definition of Islamophobia. Although I prefer the term "anti-Muslim hate", the word Islamophobia exists and so it needs a working definition. Of course Islam is not a race, but it's understandable that victims of Islamophobic attacks feel exactly like victims of racism; their core identity has been attacked. Having been a victim of profoundly racist abuse myself, I understand how they feel.
Gang grooming isn't like any other type of sexual abuse, because there is a large element of racist and religious abuse involved too. Thankfully the APPG report acknowledges that it is absolutely not Islamophobic to condemn atrocities like the ones I, and other survivors, experienced – one of extremist-related sexual violence carried out in the name of religion.
But this does raise one question for me: in this environment, what do we call other types of religious and racial hatred not covered by these definitions? As grooming victims, my friends and I were called vile racist names such as "white trash" and "kaffir girl" as we were raped. Our Sikh and Hindu friends who were also targeted by Muslim Pakistani gangs were disparagingly called "kaffir slags" too. Muslim rape victims were called "coconuts" for acting "white" (which means brown on the outside, white on the inside – a term that is racist to both brown and white people at the same time).
There are also examples of racist attacks on Muslims carried out by other Muslims, such as the murder of 71-year-old Jalal Uddin in Rochdale in 2016, reportedly killed by Isis supporters who claimed he wasn't Muslim enough. And former Muslims are attacked daily for having left the faith.
People like these need to be able to report the hate crimes they suffer because of their perceived lack of Muslimness. Accurate information is important in developing government policy to tackle all kinds of hate crimes. In order to prevent racist and religious abuse, we need to teach that hatred towards non-Muslims is just as unacceptable as hatred towards Muslims. A healthy society needs to counteract fear, prejudice or hostility towards people who are perceived to lack sufficient Muslimness – especially when perceived to be a threat towards an ideology, way of life or a proscribed moralistic view.
Perhaps a working definition could read something like this: "Non-Muslim hate is rooted in racism, and is a fear, hatred or hostility towards non-Muslims or those with a perceived lack of Muslimness." As with the definition of Islamophobia, aligning non-Muslim hate with racism is likely to be helpful because people intuitively understand racism, and the majority deem it to be unacceptable in today's Britain. And although we don't necessarily self-identify as "non-Muslims", victims recognise that is how we are viewed by perpetrators of such hate crimes.
Full report at:
https://www.independent.co.uk/voices/brexit-deal-racism-hate-crime-rotherham-grooming-gang-child-sex-abuse-islamophobia-definition-a8666416.html
--------
MHP chair slams German Islam Conference
December 04 2018
The Nationalist Movement Party (MHP) leader on Dec. 4 called the German Islam Conference (DIK) held last week "a scandal."
Addressing his party's parliamentary group meeting, Devlet Bahçeli recalled that the conference was opened by German Interior Minister Horst Seehofer, "who said that Islam does not belong to Germany."
"The conference which convened with the slogan of 'Islam in Germany and for Germany' is a scandal, it is carelessness and an insult on our belief," said Bahçeli.
He also criticized the choice of food being served at the conference, namely sausage made of pork.
"What does 'Islam for Germany' mean? What does pork have to do in a conference on Islam?" he said, adding that Islam "does not belong to any country."
The 4th German Islam Conference was held on Nov. 28 in the capital Berlin.
In 2006, the German Islam Conference opened the first institutionalized dialogue between representatives of the German government and of Muslims in Germany.
According to the German government, roughly 4.5 million Muslims are living in Germany, accounting to about 5.5 percent of the total population.
'US is indifferent to code of alliance'
Bahçeli also criticized the U.S. plan to place observation posts in the east of the Euphrates River in northern Syria.
He said that the alliance between Turkey and the U.S. requires "reciprocally ethic and legal responsibility" of the parties.
"However, the U.S. is indifferent to the code of alliance. They are always side by side with terror organizations," said Bahçeli.
He described the U.S. action to set up observation posts in northeastern Syria -- along Turkey's southeastern border -- as "scandalous."
Full report at:
http://www.hurriyetdailynews.com/mhp-chair-slams-german-islam-conference-139444
--------
Africa
South African-Indian Muslims open first prayer facility in national game reserve
December 5, 2018
The first Muslim prayer facility in a national game reserve in South Africa has been officially opened after concerted efforts over several years by a local Indian group to convince the authorities of its necessity.
"This project was facilitated by the (Indian members of the) South African National Parks Honorary Rangers Johannesburg South (SHR), who within a very short space of time, raised the funds required for the development," Glenn Phillips, Managing Executive of the Kruger National Park, said.
The Kruger National Park is the largest national park in South Africa and is visited by more than a million local and international tourists each year.
Phillips recalled how in the apartheid era there were only a few small huts reserved for the Indian community in the world-renowned game reserve.
He also highlighted how, despite access to all facilities at the park for all communities since the advent of a democratic order under President Nelson Mandela in 1994, the Muslim community still had difficulty in fulfilling their five daily obligatory prayers.
Reacting to comments that other religious groups might also demand their own prayer facilities in the park, Phillips said a church had been in existence for a long time already and requests from any other religious communities would also be considered as his organisation continued its plans to transform its game reserves from its once whites-only status.
SHR chairman Yusuf Dockrat, recalled how as a young child he used to join his uncle, who bore the same names, on regular visits to the park after he became the first Indian Honorary Ranger in the country.
Thanking the donors who had reacted swiftly to a call for funding the 850,000 rand project, Dockrat made a plea to those who would be using the facility in the future to take care of it.
"Please utilise these facilities for the purpose that they have been built, which is to perform salaah (prayer) only. This is a place of worship and should be treated as such," he said.
Plans are already underway to construct similar facilities at a four other camps in the Kruger National Park.
https://www.business-standard.com/article/pti-stories/south-african-indian-muslims-open-first-prayer-facility-in-national-game-reserve-118120500089_1.html
--------
Rwanda: Police in New Campaign Against Radicalism
3 DECEMBER 2018
Rwanda National Police (RNP) on Sunday launched a nationwide campaign against radicalism and efforts to cement the community policing ideology against the transnational organised crime.
The campaign conducted simultaneously in the five districts of Nyarugenge, Gasabo, Kicukiro, Kamonyi and Gastibo, seeks to educate the young people particularly the Muslim faithful, against extremism.
The young people, especially of the Islamic faith, are mainly targeted by jihadist groups for radicalization.
Commissioner of Police (CP) Denis Basabose, the Commissioner for Counter-Terrorism in RNP, observed that the Islamic faith is very important, adding that it greatly contributes to the national values.
He was speaking to Muslim youth, teachers as well as Islamic leaders at Magengo Mosque in Nyarugenge, where he urged them to desist and condemn jihadism.
"Don't associate yourselves with such evil-minded people that use the Islamic name for their criminal ends," Basabose told the youth.
He observed that some unsuspecting Muslim youth were in the past misguided and radicalized by self-seeking charismatic Muslim into terror activities.
He, however, commended the role of Muslim leadership in Rwanda in educating Islamic community on the true meaning of their faith and mindset change.
"A careful interpretive analysis of the jihadi groups' literature reveals that their major concerns are not religious, but political but expressed in religious language," Basabose said.
"What makes people susceptible to the violent extremist ideology of the jihadi groups is lack of knowledge; don't fall for their propaganda," he added.
He was, however, happy to note that cases radicalism are rare and urged members of the Muslim faith never to drift from the cause of further making Rwanda free from extremists.
The Imam of Kigali, Sheikh Musa Sindayigaya reiterated the commitment of Muslim community to work with security organs to front the ideals of building a safer country.
Sheikh Sindayigaya urged the youth to join hands with other Rwandans to fight anything that can destabilize their country, and engage in income generating activities.
He noted that extremism is against the Islamic faith.
Sheikh Sindayigaya appealed to them to disassociate themselves from such criminal tendencies and instead report anyone that attempts to radicalise them.
About two years ago, security organs unearthed some terror oriented programmes among Muslims where some faithful were using religious gatherings and literature to persuade people into acts of terror.
The Muslim leadership has since been working with security organs to uproot such cells and this led to several prosecutions.
The accused include four juveniles who have since been tried under specialized chamber for juveniles at Gasabo Intermediate Court, which handed them varying sentences and have since appealed.
Full report at:
https://allafrica.com/stories/201812030588.html
--------
US re-establish permanent diplomatic presence in Somalia
December 04, 2018
WASHINGTON: The United States has reestablished a permanent diplomatic presence in Somalia nearly three decades after it closed its Mogadishu embassy in January 1991, the State Department said Tuesday.
"This historic event reflects Somalia's progress in recent years and is another step forward in formalizing US diplomatic engagement in Mogadishu since recognizing the Federal Government of Somalia in 2013," State Department spokeswoman Heather Nauert said in a statement.
"Our return demonstrates the United States's commitment to further advance stability, democracy, and economic development that are in the interest of both nations," Nauert added.
The US diplomatic mission for Somalia in recent years has been attached to the US Embassy in Nairobi, Kenya.
But a US ambassador to Somalia, career diplomat Donald Yamamoto, has just taken office.
"Ambassador Donald Yamamoto and his team look forward to working closely with the people of the Somali federal government to strengthen our already strong bilateral relationship," Nauert said.
The embassy was closed and American diplomats evacuated during the civil war in early January 1991 in the face of violence and the collapse of the Somali government.
Full report at:
http://www.arabnews.com/node/1415831/world
--------
Sudan lawmakers back amendment to let Bashir stand again
December 04, 2018
CAIRO: Sudan's long-serving President Omar Bashir came closer on Tuesday to another term in office after a majority of lawmakers backed a constitutional amendment to extend term limits that would have required him to step down in 2020.
Unless the constitution is changed, Bashir, in power since 1989, is not permitted to stand again when his present term ends, having won two elections since a 2005 constitutional amendment took effect imposing a two-term limit.
Parliament speaker Ibrahim Ahmed Omar said he had received a letter signed by a majority of lawmakers backing an amendment that would extend the limit.
"Today I received a memorandum from 33 parties representing 294 deputies to amend the constitution with regard to the number of times the president's candidacy is allowed," he told reporters. "I will abide by the constitutional and legal steps and the regulations necessary to discuss these amendments in parliament for it to take any decision on them."
Sudan's ruling National Congress Party announced earlier this year it was nominating Bashir for president in 2020.
"We agreed to amend the articles after we collected 294 deputies' signatures," said party head Abdurrahman Mohamed Ali.
"The parties saw that President Omar Al-Bashir is the protector of the people of Sudan in the coming period."
Bashir, a former army officer, came to power via a military coup. He won elections in 2010 and 2015 after the constitution was changed following a peace agreement with southern rebels, who later seceded forming South Sudan.
Bashir is wanted by the International Criminal Court for war crimes after being indicted in 2008 over killings and persecution in Sudan's Darfur province between 2003 and 2008.
The National Congress Party and its allies have an overwhelming majority in parliament. Prominent opposition parties and armed movements boycotted the presidential and legislative elections held in 2015.
The proposed constitutional changes would also give the president the power to sack elected governors. Last month, parliament passed a law that will see governors elected directly instead of being appointed by the president, as previously.
Under the Sudanese parliament's regulations, a proposal to amend the constitution should be submitted by the president or via a memorandum submitted by at least one-third of the members of the 581-seat parliament.
Full report at:
http://www.arabnews.com/node/1415806/middle-east
--------
Warning of possible Islamic State holiday terror attacks in SA carries little weight
By Jasmine Opperman
5 December 2018
The UK Foreign and Commonwealth Office issued global travel advice for several countries, including South Africa, on 3 December 2018 warning of terror attacks this holiday season. The travel advice identifies that the primary "security threat" emanates from South African Islamic State fighters who have returned from Syria, Iraq and Libya. The statement is at best vague and begs for accurate contextualisation.
IS changes the pattern of 'travelling for jihad'
The phenomenon of travelling for jihad, commonly referred to as Hijrah, completely changed with the Syrian and Iraq battlefield. First, it attracted more foreign fighters from a vast array of nations that hadn't participated in the calls to jihad for Afghanistan or Bosnia. Second, it attracted a "tourist jihadi" who went for the fun of fighting rather than because of a devotion to the cause. But, perhaps more uniquely, the battlefield of ash-Sham attracted entire families.
While previous jihads involved solo males — either single or having left their family behind — the Syrian and Iraq wars saw men bringing young children and wives to live in compounds with other foreign fighters. And while many of those who went to Syria and Iraq originally went to join various groups, many ended up pledging allegiance to Islamic State. Thus, Islamic State had more foreign nationals than any other group fighting in ash-Sham.
Top locations
Fast-forward to 2017/18. With the Caliphate collapsing, new patterns began to emerge. Similar to professional military personnel redeployed on a second tour, IS foreign fighters are choosing to travel to another Islamic State stronghold instead of returning home from ash-Sham.
To date, the Terrorism, Research & Analysis Consortium has pinpointed five locations where foreign nationals are travelling for a "second Hijrah". South Africa is not one of these destinations.
Originally, many thought that the back door from ash-Sham would be Libya because at one time it was Islamic State's largest secondary stronghold. For several reasons that was not the case and instead the top two destinations by far for IS foreign fighters to redeploy to are Afghanistan (ISK) and Philippines (ISEA).
Role of the Islamic State's external operations branch
The concept of a second deployment raises the question of how much organisational planning is coming directly from the Islamic State Central Command versus foreign fighters deciding for themselves that they would like to continue their jihad in another location.
The question also arises of how much the Islamic State's external operations branch — better known as the Emni, or Amn al-Kharji, who are known for their assembly, funding and dispatching of cells to attack soft targets — are involved in the second Hijrah for these foreign fighters.
After the collapse of Islamic State's Caliphate, the concern is what the foreign fighters will do. It is a categorical mistake to believe that these foreign nationals are in desperate need to find new hideouts. Concerns range from foreign fighters returning to their states of origin to execute attacks, to staying put in Iraq and Syria to continue insurgency warfare. But a second tour of duty hasn't been considered by many.
The continued presence of foreign fighters in Islamic State will provide a convenient feeding stream to Islamic State franchises. It really doesn't matter if these fighters moved willingly or were commanded to move by IS central leadership — their effect will be the same in their new locations.
They are battle-hardened fighters who not only serve as inspiration to local recruits, but offer training and tested techniques to their new location. Any foreign nationals killed during counterterrorism operations will provide inspiration to local fighters.
Significance for South Africa
About 128 South Africans have joined the Islamic State, of which 75 returned to South Africa from the Caliphate. But equating their presence with that of Afghanistan (ISK), Philippines (ISEA), Libya (ISL) and Somalia (Islamic State in Somalia) is a complete oversimplification.
The fighters, relentless in their allegiance to the Islamic State, prefer areas where the group is actively engaged in an insurgency or there are notions of an expanded presence in their countries of origin.
France.Info reported in August 2017 of the risk of returning foreign fighters, more specifically in the Sahel and Maghreb, with the purpose of establishing "new strongholds" in Africa. Yet these regions are known for deep-rooted extremist insurgency by groups such as the Islamic State in the Greater Sahara (ISGS) and al Qaeda-aligned Jama'a Nusrat ul-Islam wa al-Muslimin (JNIM).
In August 2018, a Somali Military court found Mahad Abdi "Abu Yassin" and Daud Warsame guilty of being members of ISIS, with each receiving a 15-year life sentence. Abu Yassin was working at a chemist in South Africa before settling in Somalia to join al-Shabaab and later the Islamic State. The preference to move to areas of conflict in support of fighting for an extremist ideology is noticeable.
On 28 November 2018, Al Battar Media Foundation released a propaganda poster titled: Strategy in Africa (Everywhere But Nigeria) Advocating Lone Wolf attacks and Complete Media Secrecy in the Region, referring to West Africa. Again South Africa is not mentioned in this specific poster:
Propaganda material remains geographical, confined to areas regarded as a main enemy (for example the US, EU and of late Australia), where pro-Islamic State groups are engaged in an insurgency, or where regional proximity could allow for expansion. One gets a sense of South Africa in propaganda material as "oh and you too, you're a target as well" — as a postscript.
South Africa is most likely to be confronted by returning supporters who acknowledged being Islamic State members, but who set out to distance themselves from the group, a trend noteworthy among families. That returning Islamic State supporters have indicated a willingness to be interviewed by the State Security Agency on their return to the country is indicative of such acknowledgement.
Caution must be applied to returning members' concealed intent to import a wider Islamic State jihadist support base. However, with the lack of substantive information on the existence of cells and groups willing to execute attacks, this remains a possibility confined to initiatives by individuals.
South Africa's vulnerability to terrorism requires factual and in-depth contextualisation. Terrorism threats accentuated by travel warnings relying on vague references contain a far greater risk of creating panic, incorrect prioritisation of national security priorities or a complete disregard of factual realities.
Full report at:
https://www.dailymaverick.co.za/article/2018-12-05-warning-of-possible-islamic-state-holiday-terror-attacks-in-sa-carries-little-weight/
--------
Nigeria confirms eight soldiers killed in Boko Haram attack
2018-12-05
The Nigerian army on Tuesday said eight soldiers have been confirmed dead in a Boko Haram attack on a military base over the weekend in the country's restive northeast.
Gunmen from the self-styled Islamic State West Africa Province (ISWAP) faction of Boko Haram attacked the base in Buni Gari village, in Yobe state, on Saturday.
Military sources initially said two soldiers and six insurgents were killed. Earlier on Tuesday, they told AFP the toll had risen to eight.
"Eight of our gallant troops paid the supreme price while over 10 Boko Haram terrorists were killed by the troops during the encounter," army spokesman Brigadier General Sani Usman told AFP by text message.
A senior officer, who asked not to be identified because he was not authorised to speak to the media, said six bodies had been taken to the Yobe state capital, Damaturu.
A civilian militia member assisting the military in the counter-insurgency confirmed the recovery.
"All the eight dead soldiers are now in the morgue at the State Specialist Hospital in Damaturu," he said, also on condition of anonymity for fear of sanction.
The insurgents destroyed an armoured vehicle and stole a truck during the attack.
Sources said air support and reinforcements from a military base in the nearby town of Buni Yadi helped push the militants out.
Buni Yadi district is a known ISWAP stronghold.
The faction has in recent months intensified attacks on military targets in Yobe and neighbouring Borno state, prompting questions about the military's grip on security.
Since July, AFP has reported at least 19 attacks on military bases and positions in Borno and Yobe. ISWAP had claimed responsibility for most of them.
The Nigerian miliary has hit out at media reporting of the attacks and even threatened legal action against organisations for publishing unofficial casualty figures.
Borno and Yobe, along with nearby Adamawa state, have borne the brunt of nine years of jihadist violence that has claimed 27 000 lives and devastated the remote region.
Full report at:
https://www.news24.com/Africa/News/nigeria-confirms-eight-soldiers-killed-in-boko-haram-attack-20181204
--------
Boko Haram: Buhari gives matching order over welfare of troops
December 4, 2018
By Seun Opejobi
President Muhammadu Buhari has ordered the enhancement of the welfare of troops fighting insurgencies and criminal agents across the country.
The Minister of Defence, Mansur Dan-Ali, made the disclosure yesterday in a statement signed by Tukur Gusau, the public relations officer to the Minister.
Dani-Ali also directed the Chief of Army Staff, Tukur Buratai to remain in the North-East until the security situation in the region improves.
The Minister also directed the General Officer Commanding 8 Division to relocate the tactical headquarters from Sokoto State to Zamfara, to oversee the conduct of Operation Sharan Daji.
Dani-Ali said, "The President, Commander-in-Chief of the Armed Forces has also directed the emergency procurement of critical equipment for the armed forces in line with the Federal Government policy of procuring equipment from Original Equipment Manufacturers through government to government basis.
Full report at:
http://dailypost.ng/2018/12/04/boko-haram-buhari-gives-matching-order-welfare-troops/
--------
Mideast
Europe's non-stop appeasing of Iran's clerics
5 December 2018
The distance Europe is going, aiming to preserve the 2015 Iran nuclear deal, can be described as shameless. While disturbing to admit, it is a stark reminder of how British Prime Minister Neville Chamberlain fell to Hitler's knees in the late 1930s, only to pave the path for World War II.
One would think the Green Continent would have learned its lesson, especially after the death of over 60 million people. Unfortunately, Europe's policy vis-à-vis the Iranian regime is mirroring the shame witnessed 80 years ago.
Appeasement and short-term economic interests are blinding Europe to the extent that senior officials are neglecting the very dangerous security terrorist threats posed by Iran's regime, being the number one state sponsor of terrorism.
Denying reality
While the United States re-imposed crippling oil/banking/shipping sanctions against Iran on November 5, and considering the exodus of international firms pulling out of Iran, the Europeans are relentlessly preserving a highly flawed nuclear deal crafted by the pro-appeasement Obama administration.
The main initiative floats around a so-called special purpose vehicle through which companies would avoid the US financial system and prolong business relations with Tehran. It has been weeks now that European governments are playing "hot potato," refusing to host the circumventing apparatus. Austria and Luxembourg – and Belgium, according to some reports – have rejected the burden.
After failing to convince any smaller European partner to do their dirty work, France and Germany feel compelled to take on the burden, mainly to save face and avoid humiliation in the case of complete failure. Keep in mind the threat of damning US penalties hangs over their heads.
Consequences
It actually remains unknown if the Europeans have seriously weighed the national security threats resulting from their ongoing efforts. The SPV would provide the Iranian regime another channel to garner revenue for the malign purposes of funding terrorists and militaristic objectives across the Middle East.
The cash Iran received under the 2015 nuclear deal can most certainly be presumed to have ended up in the pockets of the Assad regime in Syria, Houthi militias in Yemen, Shiite extremist groups in Iraq, the Lebanese Hezbollah, and Hamas and Islamic Jihad in Palestine, to name a few. Iran's notorious Revolutionary Guards (IRGC) plays a leading role in this campaign.
Furthermore, it is interesting how Europe is neglecting the threats on its own soil. Newly provided revenue, thanks to the hard efforts of EU foreign policy chief Federica Mogherini and company, will most likely fund Iran's future terror plots even in their own backyard.
In 2018 alone, European authorities have been busy foiling numerous plots. The first in March, targeting members of the Iranian opposition People's Mojahedin Organization of Iran (PMOI/MEK) in Albania; a highly dangerous bomb plot in June targeting an opposition rally near Paris; and an October assassination plot in Denmark.
All this was in parallel to similar schemes in Turkey and the Netherlands, as Iran's spies also sought "capture and kill" initiatives targeting Iranian opposition figures in the US.
Interesting is how the Europeans are falling over themselves to preserve economic benefits for a regime that continues such measures across the continent and has showed no sign of slowing down its malign activities. This was demonstrated vividly in the most recent ballistic missile test by Iran made known to the world by US Secretary of State Mike Pompeo.
Correct course
It has become quite embarrassing to witness European policymakers be so utterly determined to literally fund the clerics ruling Iran. All the while, the Iranian people are braving all odds in voicing their abhorrence of this regime.
The mentality of allowing the Iranian regime profit from international trade with the hope of turning it away from its menacing nature has proven to be wishful thinking.
In fact, the Obama-era showed how the Iranian regime took full advantage of this foolish fantasy and wreaked havoc across the region, never stopping their proliferation of menace after the Obama-blessed nuclear deal.
Europe must learn from the mid-20th century and modern history, and finally bring an end to its humiliating indulging of Iran's terror-fueling regime. Tehran's malign activities must not go ignored, including human rights violations, the proliferation of ballistic missiles and a very suspicious nuclear program while sitting on an ocean of crude oil and natural gas.
Iran's regime will soon be obligated to set aside its bellicosity or face dire consequences, especially as a restive nation continues to chip away at its foundation.
Europe should decide to stand on the right side of history and prevent a 21st century Chamberlain catastrophe.
https://english.alarabiya.net/en/features/2018/12/05/ANALYSIS-Europe-s-non-stop-appeasing-of-Iran-s-clerics.html
--------
Israel predicts win for UN resolution condemning Hamas
December 04, 2018
UNITED NATIONS: Israel's UN ambassador is predicting that a US-sponsored resolution condemning the militant Islamic group Hamas, which controls Gaza, for launching rockets into Israel will be approved by the General Assembly.
Danny Danon told reporters Tuesday that he believes "we will get a majority no matter what."
The 193-member General Assembly is scheduled to vote on the US draft resolution on Thursday afternoon.
It was amended to gain support of the 28-member European Union, adding a reference to "relevant UN resolutions," though not specific ones.
Kuwait's UN Ambassador Mansour Al-Otaibi said Arab nations will seek to have the resolution approved by a two-thirds majority rather than a simple majority.
Full report at:
http://www.arabnews.com/node/1415856/middle-east
--------
Israel launches operation to destroy Hezbollah tunnels
December 05, 2018
Jerusalem - Israel's army said Tuesday it has discovered Hezbollah tunnels infiltrating its territory from Lebanon and launched an operation to destroy them, a move likely to raise tensions with the Iran-backed group.
The surprise announcement came hours after Israeli Prime Minister Benjamin Netanyahu met with US Secretary of State Mike Pompeo in Brussels over regional dangers, with both having repeatedly warned about the activities of Iran, Israel's main enemy. Netanyahu said he discussed the operation with Pompeo and called the tunnels a violation of a UN resolution aimed at ending a 2006 war between Israel and Shiite militant group Hezbollah.
"Whoever tries to harm Israel's security will pay dearly," Netanyahu said in a statement.
"We will continue with further activities, covert and overt, to ensure Israel's security."
US President Donald Trump's White House gave its full backing to the operation, with National Security Adviser John Bolton saying "we call on Iran and all of its agents to stop their regional aggression and provocation."
Israeli army spokesman Lieutenant Colonel Jonathan Conricus said the "attack tunnels" were not yet operational. He declined to say how many were detected, when they reached Israeli territory and how they would be destroyed.
Later the military specified it had located one such tunnel dug from a home in the area of Kafr Kela in southern Lebanon that crossed into its territory and was working to "neutralise" it.
The tunnel stretched some 200 metres (660 feet), at a depth of around 25 metres, Conricus said.
The area around the Israeli town of Metula has been declared a closed military zone, with the army distributing images of heavy machinery digging into the ground.
Israel labelled the operation "Northern Shield" and said all activities would take place within Israeli territory, though they still raised the risk of a response from Hezbollah.
A UN peacekeeping force which monitors the border region said it had increased patrols but noted the area remained calm.
Lebanon's army also said it was monitoring the situation closely, while Hezbollah had not reacted.
According to Conricus, the tunnels were part of a Hezbollah plan from 2012 to "shift the battlefield to Israel" and "conquer the Galilee" in a future conflict by infiltrating its territory.
In 2013 the army acted on reports Hezbollah was digging tunnels, but failed to locate any, he said.
Following the 2014 war between Israel and Gaza, in which Islamist movement Hamas used cross-border attack tunnels, the army said it found "Hezbollah and Hamas share knowledge" and soon after began intensive work to prevent tunnels from Lebanon.
The military has used various means to collapse or fill in tunnels from the Gaza Strip.
No tunnels from Lebanon include exit points within Israel, the army said.
Conricus said that while the army has enhanced its presence in the north, it has not summoned reserve soldiers.
He said the military "holds the Lebanese government responsible for all activities perpetrated in Lebanon towards Israel."
Netanyahu has spoken of a sensitive security situation in recent days without providing details, particularly after defence minister Avigdor Lieberman quit over a controversial Gaza ceasefire last month.
Lieberman's resignation threatened to provoke early elections, but Netanyahu has held his coalition together and is clinging to a one-seat majority in parliament. The prime minister, who has since assumed the role of defence minister, said at the time that holding elections would be "irresponsible" due to the undefined security threats.
His comments were seen by some as an attempt to save his government, with polls showing wide disapproval among the Israeli public of his handling of the Gaza flare-up in November.
Netanyahu is also facing further political pressure after Israeli police on Sunday recommended he and his wife Sara be indicted for bribery, the third such recommendation against the premier in recent months.
Conricus rejected suggestions of politics influencing the announcement.
Netanyahu has pledged to stop Iran from entrenching itself militarily in Syria and to keep it from transferring advanced weapons to its ally Hezbollah in Lebanon.
There has been increased attention in Israel in recent days over Israeli officials' concerns regarding Iranian activity in Lebanon.
Israel has carried out hundreds of air strikes in Syria against what it says are Iranian military targets and deliveries of advanced arms to Hezbollah.
However, a friendly fire incident in Syria in September that led to the downing of a Russian plane by Syrian air defences during an Israeli strike has complicated Israeli operations there.
Full report at:
https://nation.com.pk/05-Dec-2018/israel-launches-operation-to-destroy-hezbollah-tunnels
--------
Houthi militias, UN envoy arrive in Sweden for peace talks
4 December 2018
A plane carrying a delegation of Houthi militias accompanied by UN peace envoy Martin Griffiths arrived in Sweden late Tuesday for high-stakes talks with the government aimed at ending the Yemeni conflict, the United Nations said.
Government officials are due to arrive on Wednesday, it said, for the first peace talks since 2016. Although no date has been announced for the start of the negotiations, Yemeni government sources say they could begin on Thursday.
The head of the so-called Houthi Supreme Political Council, Mahdi al-Mashat, had confirmed participation in Sweden's peace talks, while the leader of the militias Mohammed Ali al-Houthi announced that their delegation would arrive in Sweden on December 3, which makes their departure on the evening of the fourth, a late one.
But the head of the delegation of the Houthis and their spokesman Mohamed Abdel Salam doubted the ability of the UN's special envoy to Yemen to hold these talks.
For its part, the Yemeni legitimate government announced that its delegation will only travel to Sweden after the arrival of the Houthi delegation there.
Speaking to Al Arabiya, Yemeni writer and journalist Ezzat Mustapha describes Tuesday's efforts by Griffiths as a "bold step" at a crucial time.
Full report at:
https://english.alarabiya.net/en/News/gulf/2018/12/04/Houthis-delegation-and-the-UN-envoy-leave-Sanaa-for-Sweden-peace-talks.html
--------
US urges UN to condemn Iran missile test
5 December 2018
The United States on Tuesday urged the UN Security Council to condemn Iran's ballistic missile test, which it described as "dangerous and concerning" and a violation of a UN resolution.
The council met behind closed doors at the request of France and Britain which along with the United States have accused Iran of test-firing a ballistic missile on Saturday.
France and Britain maintain that missile launches are inconsistent with the UN resolution that endorsed the 2015 Iran nuclear deal while the United States has taken a harder stance and maintains it is an outright violation.
"Iran's recent ballistic missile test was dangerous and concerning, but not surprising," US Ambassador Nikki Haley said in a statement.
"The international community cannot keep turning a blind eye every time Iran blatantly ignores Security Council resolutions.
"If the Security Council is serious about holding Iran accountable and enforcing our resolutions, then at a minimum we should be able to deliver a unanimous condemnation of this provocative missile test," she said.
Iran has neither denied nor confirmed the launch that US Secretary of State Mike Pompeo said involved a missile of a medium range, capable of carrying multiple warheads and striking parts of Europe and the entire Middle East.
The UN resolution calls on Iran to refrain from testing missiles capable of carrying a nuclear weapon, but does not specifically bar Tehran from missile launches.
Iran has long maintained that its missile program is defensive in nature and not aimed at ensuring the delivery of a nuclear weapon, a stance supported by Russia at the Security Council.
"This is inconsistent behaviour with (resolution) 2231 and it concerns the council," British Ambassador Karen Pierce told reporters ahead of the meeting.
"We need to know exactly what happened and then we will reach a judgment about how we want to characterise it," she said.
The United States decided in May to withdraw from the 2015 nuclear deal and reimpose sanctions on Iran, to the dismay of its Europeans allies.
The nuclear deal provides for a lifting of sanctions against Iran in return for curbs on its nuclear activities.
Full report at:
https://english.alarabiya.net/en/News/middle-east/2018/12/05/US-urges-UN-to-condemn-Iran-missile-test.html
--------
Yemen government delegation leaves for UN peace talks in Sweden
5 December 2018
A delegation representing the legitimate Yemeni government is expected to arrive in Sweden on Wednesday, in preparation for the start of the UN peace consultations expected on Thursday.
Yemeni Minister of Sports, a member of the government delegation, Hamza al-Kamali, told Russian news agency RIA Novosti that they will leave early morning Wednesday for the Swedish capital, Stockholm.
Dr. Abdullah al-Alimi, heading the Yemeni presidential office and a member of the negotiating delegation, said that the delegation of the Yemeni government will carry the hopes of the Yemeni people to achieve sustainable peace based on ending the coup and eliminating all the reasons that led to it.
He added: "In implementation of the directives of the President of the Republic of Yemen, the government's delegation will put the concerns and aspirations of the Yemeni people at the top of its priorities and will make every effort to ensure the success of the consultations, which we consider a real opportunity for peace."
Al Arabiya news channel correspondent revealed on Monday that the Yemeni government delegation headed by Yemeni Minister of Foreign Affairs, Khaled al-Yamani will leave for Sweden on Wednesday (December 5) after confirming the arrival of the Houthis.
The correspondent said that the consultations (indirect as planned so far) will begin on Thursday, December 6, or maximum on Friday, December 7, and is expected to be confidence-building measures.
The release of prisoners and detainees which will be the first achievement of these consultations, as both the parties had earlier on Monday agreed on the prisoners' exchange deal, which was negotiated by UN special envoy to Yemen Martin Griffiths .
Tough talks
It was earlier repoorted that the delegation of the Houthis arrived Tuesday evening in Stockholm. UN Under-Secretary-General for Humanitarian Affairs, Marc Lokoc, has said that the talks are not likely to be easy or quick.
On Tuesday evening, the United States welcomed the upcoming Yemeni peace talks, calling it "a necessary and vital first step," calling on all parties to engage fully and "stop any hostile actions under way."
Full report at:
https://english.alarabiya.net/en/News/gulf/2018/12/05/Yemen-s-government-delegation-leaves-to-Sweden-for-UN-peace-talks.html
--------
Houthi Ansarullah delegation departs Yemen for peace talks in Sweden
Dec 4, 2018
Delegates from the Houthi Ansarullah movement, escorted by United Nations Envoy to Yemen Martin Griffiths, have flown from the Yemeni capital city of Sana'a to Sweden to attend UN-sponsored peace negotiations with representatives from the administration of former Yemeni president Abd Rabbuh Mansur Hadi.
The Houthis left aboard a Kuwaiti airliner on Tuesday, one day after 50 wounded fellow fighters were allowed to fly to neighboring Oman for treatment in a major boost to peace efforts.
An unnamed senior United Nations official said Griffiths offered to accompany the Ansarullah delegates after they voiced fears that the Saudi-led military coalition, which has imposed an aerial blockade on Yemen and is conducting a devastating aerial bombardment campaign against the impoverished Arab country, might intercept the flight.
Mohammed Abdul-Salam, the spokesman and chief negotiator for the Ansarullah movement, wrote on his official Twitter page that the Houthis "will spare no effort to make a success of the talks to restore peace and end the aggression."
Ansarullah officials said that preliminary consultations with Saudi-backed Hadi loyalists could begin as early as Wednesday.
Although no date has been announced for the start of the talks, there are reports they could begin on Thursday.
Britain has presented a draft UN Security Council resolution on Yemen, and called on parties involved in Yemen's crisis to restart peace negotiations.
"The conflict in Yemen can only be resolved though an inclusive political process," the draft resolution said.
The draft sets a two-week deadline for warring Yemeni parties to remove all barriers to humanitarian aid, halt attacks on civilian areas and allow unhindered access to the strategic port city of Hudaydah.
Also on Tuesday, tens of Saudi-backed militiamen after Yemeni army troopers, supported by allied fighters from Popular Committees, thwarted their offensive on al-Qatab area in the Nihm district of Yemen's province of Sana'a.
Moreover, a young girl lost her life after Saudi military forces and their mercenaries targeted residential buildings in the al-Durayhimi district of the western Yemeni province of Hudaydah with a barrage of artillery rounds and mortar shells.
Saudi Arabia and a number of its regional allies launched a devastating military campaign against Yemen in March 2015, with the aim of bringing the government of Hadi back to power and crushing Ansarullah movement.
According to a new report by the Armed Conflict Location and Event Data Project (ACLED), a nonprofit conflict-research organization, the Saudi-led war has so far claimed the lives of around 56,000 Yemenis.
The Saudi-led war has also taken a heavy toll on the country's infrastructure, destroying hospitals, schools, and factories. The UN has already said that a record 22.2 million Yemenis are in dire need of food, including 8.4 million threatened by severe hunger. According to the world body, Yemen is suffering from the most severe famine in more than 100 years.
Full report at:
https://www.presstv.com/Detail/2018/12/04/582003/Houthi-Ansarullah-delegation-departs-Yemen-for-peace-talks-in-Sweden
--------
Turkish police detain dozens of suspects over affiliation to Gulen movement
Dec 4, 2018
Turkish security forces have arrested more than a hundred people on suspicion of affiliation to a movement led by US-based opposition cleric Fethullah Gulen, whom the Ankara government accuses of having masterminded the July 2016 coup attempt against President Recep Tayyip Erdogan.
Turkey's official Anadolu news agency reported that 137 suspects were detained in 24 provinces across the country, including Izmir and Mugla on the Aegean coast in addition to Ordu and Zonguldak on the Black Sea.
The arrests came after prosecutors in the country's largest city of Istanbul as well as the capital Ankara issued 267 arrest warrants as part of different investigations into followers of the Gulen movement.
During the 2016 botched putsch, a faction of the Turkish military declared that it had seized control of the country and the government of Erdogan was no more in charge. The attempt was, however, suppressed a few hours later.
Ankara has since accused Gulen of having orchestrated the coup. The opposition figure is also accused of being behind a long-running campaign to topple the government via infiltrating the country's institutions, particularly the army, police and the judiciary.
Gulen has denounced the "despicable putsch" and reiterated that he had no role in it.
"Accusations against me related to the coup attempt are baseless and politically-motivated slanders," he said in a statement.
The 77-year-old cleric has also called on Ankara to end its "witch hunt" of his followers, a move he says is aimed at "weeding out anyone it deems disloyal to President Erdogan and his regime."
Turkish officials have frequently called on their US counterparts to extradite Gulen, but their demands have not been taken heed of.
Turkey, which remains in a state of emergency since the coup, has been engaged in suppressing the media and opposition groups suspected to have played a role in the failed coup.
Tens of thousands of people have been arrested in Turkey on suspicion of having links to Gulen and the failed coup. More than 110,000 others, including military staff, civil servants and journalists, have been sacked or suspended from work over the same accusations.
Full report at:
https://www.presstv.com/Detail/2018/12/04/581981/Turkish-police-detain-dozens-of-suspects-over-affiliation-to-Gulen-movement
--------
South Asia
Myanmar religion minister says Rohingya 'brainwashed' to 'march' on the country
04 Dec 2018
YANGON: Myanmar's Minister for Religion on Tuesday (Dec 4) said Rohingya Muslim refugees living in neighbouring Bangladesh are being "brainwashed" into "marching" on the Buddhist-majority nation, amid a diplomatic feud over the fate of the persecuted minority.
More than 730,000 Rohingya fled Myanmar's Rakhine state in the wake of a brutal army crackdown last August, UN agencies say, and are now living in crowded Bangladeshi refugee camps. UN investigators have accused Myanmar soldiers of carrying out mass killings, rapes and burning hundreds of villages with "genocidal intent". Myanmar denies most of the allegations.
Thura Aung Ko said Bangladesh was "not letting them return", referring to the Rohingya as "Bengalis", a term commonly used in Myanmar to imply that they are recent interlopers from Bangladesh. Rohingya say they are native to Rakhine state.
"If release them, the population will drop," he said in a video shared by NewsWatch, a news website. "And then, they, at the camps, also feed and brainwash Bengali youths to truly march. They will march on Myanmar. The future goal of those over populated Bengalis is to march on Myanmar."
Plans to repatriate an initial group of 2,260 Rohingya from the camps last month were scuppered after none of the refugees agreed to go back, saying they wanted guarantees of safety and citizenship.
Thura Aung Ko, a former general who was appointed to the cabinet by Myanmar leader Aung San Suu Kyi after she came to power in 2016, was expanding on comments he made at the funeral of a prominent monk last week. On Nov 27, he expounded on birth rates among members of an unnamed "extreme religion" and the threat it posed to Buddhism in Myanmar.
"While we Buddhists practise monogamy and have only one or two children, an extreme religion encourages to have three or four wives and give birth to 15 to 20 children," he said in a video published by Radio Free Asia. "After three, four, five decades in this Buddhist country, the Buddhist community will certainly become the minority."
On Tuesday, he clarified: "In fact, 'other religion' means Bengalis."
San Aung, the chairman of an Islamic society based in Yangon, said by phone the comments were "very sad".
"As a minister for religion he shouldn't speak irresponsibly," he said.
https://www.channelnewsasia.com/news/asia/myanmar-religion-minister-says-rohingya--brainwashed--to--march--on-the-country-10996604
--------
Cardinal Tagle visits Rohingya refugees in Bangladesh
December 4, 2018
Cardinal Luis Antonio Tagle, president of Caritas Internationalis, the global federation of the Catholic charity, visited a Rohingya refugee camp in Bangladesh and called on the international community to continue to help the beleaguered and displaced Muslim minority.
Cardinal Tagle, 61, the archbishop of Manila, kicked off his two-day visit to Bangladesh on Dec. 3 by visiting refugee families, aid workers including Caritas staff and government officials in Cox's Bazar district.
Cox's Bazar in southeast Bangladesh accommodates more than one million Rohingya Muslims, most of whom fled deadly persecution in Myanmar's Rakhine State in 2016 and 2017.
Cardinal Tagle spoke to several families at Kutupalong refugee camp, the largest of the 30 refugee shelters in Cox's Bazar. He visited aid distribution points, child-friendly spaces and model houses set up by Caritas.
He then talked to aid workers and volunteers including those from the United Nations Refugee Agency (UNHCR) and also made a courtesy call on Muhammad Abul Kalam, head of the Refugee Relief and Repatriation Commission (RRRC), the main government body that oversees refugee and relief operations.
The visit has brought both joy and sadness for Cardinal Tagle, who has "seen news and footage of the displacement of hundreds of thousands of people" and his heart "bled for their suffering."
"Now, coming to the camp, a part of me rejoices that they are given the attention, especially the dignity, they deserve. But at the same time a part of me continues to be sad because I wonder if this is a permanent of state of life for them or if this is temporary," Cardinal Tagle told ucanews.com.
"I cannot imagine how parents would respond if their children asked them what is their future. If I had a child here, I would not know how to give an answer."
Refugee couple Jahid Hossain, 35, and Rehena, 30, said they were glad to see Cardinal Tagle.
"We have told him that we are glad to see him. We shared with him our story of pain and suffering, and we asked for help so that we can return home one day as citizens of Myanmar," Hossain told ucanews.com.
Cardinal Tagle said he appreciated Caritas' support for the refugees.
"I am very happy to see the work of Caritas Bangladesh is excellent. It really embodies what Caritas is all about. But I am also happy to see that Caritas Bangladesh, which is very small, is able to do its mission because of the collaboration of many other Caritas members. This really gives me hope that if we come together we can make a difference," he said.
Caritas has operated in Kutupalong camp since the latest influx of Rohingya started arriving in August 2017.
It has so far spent about 750 million taka (US$8.92 million) in helping refugees from its emergency appeal fund created with donations from Caritas members across the globe. It has also received and spent 8 million taka from UNHCR.
The Joint Response Program of Caritas has focused on comprehensive support for the Rohingya, said James Gomes, regional director of Caritas Chittagong.
About 40,000 households or 240,000 refugees have benefited from Caritas food support, while 10,000 families have received non-food items and constructed more than 1,000 shelters, he said.
Caritas has also distributed gas cylinders and stoves to 20,000 families to reduce the need to cut trees for cooking, and it has given tree and vegetable saplings to more than 26,000 refugee families.
Full report at:
https://www.ucanews.com/news/cardinal-tagle-visits-rohingya-refugees-in-bangladesh/84025
--------
Bangladesh: A secular icon seeks to bring down PM Hasina
Dec 05,2018
A secular icon who drafted Bangladesh's constitution has emerged as the face of an embattled opposition seeking to end the decade-long rule of Prime Minister Sheikh Hasina, who has been accused of authoritarianism.
In a general election due at the end of this month, Hasina's ruling Awami League (AL) will be fighting to retain power against a new alliance led by Kamal Hossain, an Oxford-educated international jurist and a former foreign minister, whom Hasina grew up calling "kaka", or uncle.
The 82-year-old lawyer activist joined hands with the main opposition Bangladesh Nationalist Party (BNP) and two other parties to form the Jatiya Oikya Front (National Unity Front) in October.
The BNP is hoping the alliance will help boost its support and move on after a series of setbacks, including the jailing of its leader former Prime Minister of Bangladesh Khaleda Zia for corruption in February and the sentencing of exiled acting leader, her son, in October.
BNP Standing Committee member Barrister Moudud Ahmed said his party joined hands with Hossain for "strategic reasons".
"Our [of Jatyio Oikya Front] goal is the same, to free the country of tyranny," he told Al Jazeera.
The octogenarian - a former comrade of Hasina's father in the country's independence struggle - says his decision to forge an alliance with the BNP was critical to restoring democracy in the country.
Hasina, the daughter of independence hero Sheikh Mujibur Rahman, is the longest-serving leader in its short history.
'Joined hands with killers'
She began a second straight term in power in 2014 after an election boycotted by the BNP and shunned by international observers, with more than half the seats uncontested.
"What has happened in the last five years is unprecedented," Hossain told Reuters news agency. "We have never had a government for five years that was unelected."
Hasina and BNP chief Zia share a long and bitter rivalry and have alternated in power for most of the past three decades.
Siding with the BNP, though, sets Hossain up as a target for Hasina. The BNP has ties with the banned Islamist party Jamaat-e-Islami, which opposed independence from Pakistan in 1971 and several of whose members have been sentenced to death for committing war crimes.
Days after the new coalition was announced, Hasina declared that Hossain had "joined hands with killers".
Jamaat has since been banned from participating in the elections, but analysts say many of its cadres are likely to back the BNP candidates.
AL praesidium member Faruq Khan dubbed the Jatyio Oikya Front an "alliance of war criminals".
"The Oikya Front is not a political alliance, rather it is an alliance of war criminals and militants who don't believe in the democratisation of the country," Khan told Al Jazeera.
He said the people of the country haven't forgotten the last BNP-Jamaat government from 2001-2006.
"The country was a failed state back then."
Hossain admitted some of the mistakes committed by the BNP in the past.
"Yes, the BNP did a lot of things I never appreciate," said Hossain. "They injected a degree of communalism into politics, which is very regrettable."
But he said the coalition would be secular and have nothing to do with groups such as Jamaat.
Alliance contradictions
Analysts have raised doubts about the future of the coalition as its main constituents come from different ideological backgrounds. Also, there is no clarity on who will be the prime minister if the alliance wins the polls.
When asked who will be the "prime minister" if Oikya Front emerges victorious, BNP's Ahmed said: "It's a strategic decision which we, at this point, haven't decided yet."
"Hossain has already talked about the draft election manifesto of Oikya Front. All I can say that we don't believe in the centralisation of power any more," he said.
He also said if elected, they would ensure that "the same person could not be the prime minister for more than two terms consecutively."
The BNP's participation in the general election scheduled for December 30 was in doubt until last month, when it announced the formation of the new alliance, helmed by Hossain, who runs a group called Gano Forum, or People's Forum.
The AL said that the BNP was trying to use Hossain's reputation to get back to power, but added that "it will fail miserably".
AL Joint Secretary-General Mahbubul Alam Hanif said Hossain's party Gono Forum had never managed to secure a seat in the parliament. "It proves he is not a people's person and his party doesn't have the support of a large population."
Hossain walks with a stick and says he is not seeking to become prime minister as he is too old.
But some in the coalition, he said, privately compare him with Mahathir Mohamad, the Malaysian prime minister who took power at the age of 92 in May, after defeating a predecessor mired in corruption allegations.
"Maybe his health is better than mine," quipped Hossain.
Some political analysts predict a strong anti-incumbency sentiment in the election.
Media gagged?
Besides detaining scores of opposition members on charges the BNP terms politically motivated, Hasina's government has also gone after critics such as prominent photographer Shahidul Alam, who was arrested for comments he made on social media.
Hossain's daughter Sara is a well-known lawyer who helped secure Alam's bail last week.
Hasina has introduced laws that rights groups say give her sweeping powers to go after dissenters and gag the media.
The veteran leader called them a "preplanned effort" to create "not even a one-party state, but a one-person state."
"The real danger of having an authoritarian government like the present one is, God forbid if it survives the next election, many of us will not be able to remain in the country," said Hossain in reference to his fears that critics will be targeted by the government.
The AL has denied trying to curb free speech or media freedom and called cases filed against BNP members legitimate.
Hossain was born to a physician father under British rule in what is now Kolkata in eastern India. That was before the division into India and Pakistan, out of which Bangladesh was carved following a war in 1971.
He was jailed alongside Hasina's father and later served him as the country's first law minister.
He went on to work in various roles at the United Nationsafter quitting the AL in the early 1990s to form the rival People's Forum.
BNP insiders say his international standing and image as a freedom fighter were reasons behind bringing him into front the alliance.
But some question whether Hossain has the characteristics needed for the uglier side of Bangladeshi politics.
"He is not a rebellious leader, he is a classic constitutional lawyer," said Shahdeen Malik, a Supreme Court advocate and a professional acquaintance. "Intuitively, he would do things by the book, and in our politics that can be a disadvantage - that to me is his main weakness."
Political analyst Afsan Chowdhury told Al Jazeera that Hossain's association with the alliance will benefit the BNP. "I don't know how much it will improve BNP's vote bank but it certainly has uplifted BNP's image," he said.
Full report at:
https://www.aljazeera.com/news/2018/11/bangladesh-secular-icon-seeks-bring-pm-hasina-181128065451050.html
--------
U.S. envoy for Afghan peace meets Pakistani officials in Islamabad
Dec 05 2018
The U.S. Special envoy for Afghanistan reconciliation Ambassador Zalmay Khalilzad met with the Pakistani officials in Islamabad to discuss reconciliation efforts in Afghanistan.
A spokesman for the Ministry of Foreign Affairs of Pakistan Dr. Mohammad Faizal said the U.S. Special Representative Ambassador Zalmay Khalilzad called on the Foreign Minister Shah Mahmood Qureshi during his visit to Islamabad.
Dr. Faisal further added that Ambassador Khalizad reiterated President Trump's desire to seek Pakistan's cooperation for peace and stability in Afghanistan.
In his turn, foreign minister Qureshi assured the US side of Pakistan's steadfast support for a negotiated settlement, he added.
Dr. Faisal also added that Ambassador also held a meeting with Foreign Secretary Tehmina Janjua.
Full report at:
https://www.khaama.com/u-s-envoy-for-afghan-peace-meets-pakistani-officials-in-islamabad-02879/
--------
District police chief killed in Taiban attack in Sari Pul
Dec 04 2018
The district police chief of Sayad was killed in an attack by Taliban militants in northern Sari Pul province of Afghanistan, the local officials said Tuesday.
Provincial governor's spokesman Zabiullah Amani said the district police chief of Sayad Abdul Malik Nezami was killed in a coordinated attack by Taliban on Monday night.
Amani further added that two of the security guards of Nezami were also killed in the attack.
The anti-government armed militant groups including Taliban have not commented regrding the killing of Sayad police chief so far.
Sari Pul has been among the relatively calm provinces in North of Afghanistan but the security situation in some of its districts has started to deteriorated during the recent years.
Full report at:
https://www.khaama.com/district-police-chief-killed-in-taiban-attack-in-sari-pul-02875/
--------
Southeast Asia
Watch your language, Muhyiddin tells anti-ICERD demonstrators
04 December 2018
KUALA LUMPUR, Dec 4 — Home Minister Tan Sri Muhyiddin Yassin today warned those planning to join a demonstration this Saturday against the United Nations treaty ICERD to be careful with their language.
The Pagoh MP pointed that the situation in the country was relatively tense after riots at a Hindu temple in Subang that left some in fear.
"We have given various views and advice. Most importantly, if they want to go with it, they must mind their language. The language used, so as to not provoke anger, or invoke more tension," Muhyiddin said in a joint press conference with Inspector-General of Police (IGP) Tan Sri Mohamad Fuzi Harun that was broadcast live on Facebook.
"Especially when we know, we are still not done settling the temple issue, and issues are still cropping up and in places where people are worried about the trend.
"So if the ICERD gathering does not take into concern the current situation, and (demonstrators) do what they wish, by spitting words which can provoke feelings, racial and religious sentiment, I find that that is very irresponsible, and must be avoided, rightfully."
ICERD refers to the International Convention on the Elimination of All Forms of Racial Discrimination (ICERD), a United Nations treaty, which Malaysia planned to sign, but has since backtracked after uproar from right-wing Malay-Muslim groups, who feared that the treaty would result in loss of Malay special privileges and rights.
In the press conference, Muhyiddin also cautioned parents against bringing children and exposing them to such events.
He said that the police have beefed up their on-duty personnel for the December 8 rally.
The rally was initially planned as a protest against Putrajaya's bid to ratify ICERD, but has morphed into a "thanksgiving" rally after the government decided against the ratification.
Authorities have repeatedly urged organisers not to go ahead with the event, saying it was now moot.
Yesterday, the Kuala Lumpur City Hall (DBKL) gave its approval for the organisers to use Jalan Raja for the event, with the police following suit.
https://www.malaymail.com/s/1700006/watch-your-language-muhyiddin-tells-anti-icerd-demonstrators
--------
Rohingya migrant boat lands in Indonesia
Dec 05,2018
A boat carrying 20 men believed to be Rohingya migrants landed in Indonesia yesterday, the authorities said, the latest group of the Myanmar minority to reach the world's biggest Muslim-majority nation.
The men arrived in Aceh province on Sumatra island in a rickety wooden boat, according to a local official who said he thought the men were the persecuted Muslim Rohingya.
"We can't communicate with them because they don't speak Bahasa Indonesia, Acehnese or English. So we don't know much about them," said the head of Idi Rayeuk district, Mr Iswanti who, like many Indonesians, goes by one name.
It is not known where the group, aged around 20 to 40, set off from. However, in recent weeks, the authorities in both Myanmar and Bangladesh, where around a million of the Muslim refugees are living in camps, have stopped boats of fleeing Rohingya migrants headed mainly for Malaysia.
It has been rare for Rohingya migrants to attempt the sea routes south since the Thai authorities clamped down on regional trafficking networks in 2015, sparking a crisis across South-east Asia as large numbers were abandoned at sea.
That year, hundreds of Rohingya came ashore in Aceh, where they were welcomed in the staunchly conservative Islamic province.
But there have been concerns that the desperate community might start taking to the high seas again after mainly Buddhist Myanmar launched a new military crackdown last year that forced about 700,000 members of the Muslim minority to flee to Bangladesh.
In April, about 80 Rohingya in a wooden boat landed in Aceh, just weeks after dozens had arrived in neighbouring Malaysia.
Full report at:
https://www.straitstimes.com/asia/se-asia/rohingya-migrant-boat-lands-in-indonesia
--------
Dr Wan Azizah to deliver keynote address at WMLF
December 5, 2018
LONDON: Malaysian Deputy Prime Minister Datuk Seri Dr Wan Azizah Wan Ismail will be delivering the keynote speech at the World Muslim Leadership Forum (WMLF) 2018 during her three-day official visit to United Kingdom.
Dr Wan Azizah, who is also Women, Family and Community Development Minister begins her visit to UK today, which is her maiden official visit to the country after being appointed to the Malaysian cabinet on May 21 following Pakatan Harapan's victory in the country's 14th general election.
Being the first Malaysian woman leader to give a speech at the prestigious biennial forum on Thursday, her presence is expected to greatly enhance the forum as Malaysia's number two leader and the country's role in empowering women in all sectors, social, economic, administrative and political.
Malaysian High Commission Charge d'Affaires ad interim Mohd Suhaimi Jaafar said the forum, among others, aims to gather Muslim leaders from different corners of the globe to explore key issues, address challenges, and provide innovative solutions in delinking associations made to terrorism and Islam.
Briefing the Malaysian media covering her visit here, he said Dr Wan Azizah's keynote speech at the fourth WMLF entitled "The Role of Women and Girls in Achieving the UN Sustainable Development Goals by 2030".
Mohd Suhaimi said the deputy prime minister's keynote address will among others highlight on ensuring healthy life, ending poverty, closing gaps on gender and disability, recognising the role of women, promoting of rights of women and girls as well as to optimise their contributions while balancing their responsibilities.
To be held at the Lambeth Palace and at the House of Commons, Westminster, the two-day forum carries the theme 'The Role of Muslim Leadership in Rebuilding Islam's Global Image', which will focus on four critical aspects, namely creating a new narrative about Islam; strengthening Muslim leadership at all levels of socio-economic and political landscapes; women empowerment and the role of women in re-shaping the new Islamic narrative.
The forum also aims at creating platforms for Muslim leaders to offer solutions to current problems such as youth education, entrepreneurship and advocacy for sustainable development.
Mohd Suhaimi said Dr Wan Azizah is also scheduled to visit Oxford Centre for Islamic Studies (OCIS), which is about a two-hour drive from metropolitan London, and participate in a discussion with scholars.
In Oxford, the deputy prime minister will visit Worcester College, University of Oxford and the Sultan Nazrin Shah Centre, a world-class venue for conferences and event facility at the college.
Having a tight schedule, Dr Wan Azizah will also be meeting with Malaysians residing in UK at a dinner to be held at the Malaysian High Commission here.
On Friday, the deputy prime minister is scheduled to meet Lord Ahmad of Wimbledon, who is also the Minister of State for the Commonwealth and the United Nations and the Prime Minister's Special Envoy on Freedom of Religion or Belief.
Dr Wan Azizah will also participate in a roundtable discussion session with prominent investors and British companies, which will be organised by Asia House.
Other programmes scheduled for the deputy prime minister include visiting the East London Mosque and meeting with local Muslim scholars.
"The visit is expected to further strengthen the bond of friendship and reflect our keenness to work with the UK to increase cooperation in new areas between the two countries," said Mohd Suhaimi.
Full report at:
https://www.nst.com.my/news/nation/2018/12/437331/dr-wan-azizah-deliver-keynote-address-wmlf
--------
Go ahead and sue me, Ibrahim Ali dares Waytha
December 4, 2018
KUALA LUMPUR: A defiant Ibrahim Ali has refused to retract allegations he made against a minister who has since threatened to haul the Perkasa president and an Umno MP to court for defamation.
"I am not going to apologise. If he wants to sue, go ahead. I won't retract my statement," he said, referring to Minister in the Prime Minister's Department P Waytha Moorthy.
Earlier today, Waytha, who is in charge of national unity and social well-being, gave Ibrahim and Pasir Salak MP Tajuddin Abdul Rahman 24 hours to retract their "various false and defamatory" statements which insinuated that he had insulted the Malay and Muslim community.
If they fail to do so, he said he will sue them for defamation.
"These wild allegations and hate speeches by these two leaders are to rile up the people to attend the PAS-Umno-organised anti-ICERD rally scheduled for this Sunday," he said in a statement, referring to the United Nations' International Convention on the Elimination of All Forms of Racial Discrimination.
Waytha said the statements by Ibrahim and Tajuddin were not appropriate in a multiracial, multi-religious and multi-cultural nation like Malaysia.
Today, Ibrahim demanded Waytha retract his claim that police had arrived late at the scene of the riots on Nov 26.
"He never apologised to the police for this although he had subsequently praised them and that's why I say he is irresponsible."
Full report at:
https://www.freemalaysiatoday.com/category/nation/2018/12/04/go-ahead-and-sue-me-ibrahim-ali-dares-waytha/
--------
Indonesia rescues 20 Muslim Rohingya adrift off Aceh
December 4, 2018
KUALA IDI, Indonesia — Indonesian fishermen rescued a wooden boat carrying 20 hungry, weak Rohingya Muslims on Tuesday after it was found adrift off Indonesia's northernmost province of Aceh, an official said.
The group of men and boys was discovered on the rickety boat about 3 kilometres (1.8 miles) off the coast, said Syahrial, the head of East Aceh's local disaster mitigation office.
Syahrial, who goes by a single name, said it wasn't clear where the group had travelled from or where they were heading.
An outbreak of violence that began in 2012 prompted thousands of Rohingya to flee Myanmar by sea to Thailand, Malaysia and Indonesia. A fresh crisis last year sent hundreds of thousands of Rohingya fleeing by land to Bangladesh.
The people who were found Tuesday were brought ashore and placed in a navy shelter house in the Kuala Idi fishing port of East Aceh district while awaiting identification by Indonesian immigration officials.
The group, ranging in age from 14 to 28, were weak from hunger and dehydration after a 15-day voyage, Syahrial said, adding that villagers donated clothes, food and drinking water.
"We could not yet communicate much with them as none of them speak English or Malay," Syahrial said.
Full report at:
https://nationalpost.com/pmn/news-pmn/indonesia-rescues-20-muslim-rohingya-adrift-off-aceh
--------
URL: https://www.newageislam.com/islamic-world-news/bogus-impersonating-voting-forbidden-islam/d/117073
New Age Islam, Islam Online, Islamic Website, African Muslim News, Arab World News, South Asia News, Indian Muslim News, World Muslim News, Women in Islam, Islamic Feminism, Arab Women, Women In Arab, Islamophobia in America, Muslim Women in West, Islam Women and Feminism