New Age Islam News Bureau
10 Jun 2012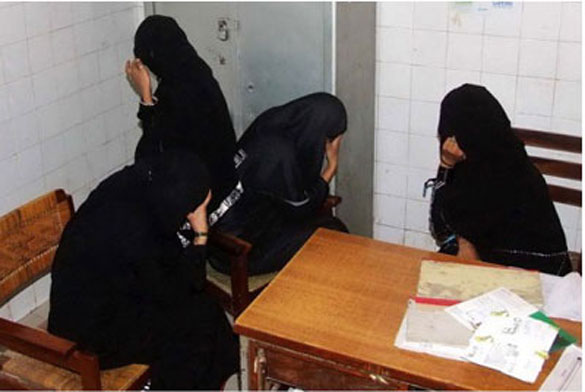 Pakistan
• BMP Officials 'Rape' Five Girls in Fort Munro, Pakistan
• Pakistan to follow its own timeline to eradicate extremism and terrorism: FO
• Panetta's remarks on militant safe havens misplaced: Pak
• 'Pakistan, US working on draft of apology'
• Drone strikes in Pakistan to be stepped up: Report
• Militant clash kills one security personnel in S Waziristan
• Iftikhar case a conspiracy against judiciary: Imran
• Zardari optimistic over relationship with US
• Four policemen shot dead in Quetta
• Bullet-riddled body found in Quetta
• 5 more killed in clashes between the Levies Force and terrorists
• CID arrests Tehreek-e-Taliban Pakistan terrorist
• Pakistan food festival to showcase authentic cuisine in Riyadh
Southeast Asia
• Malaysian Moms top list as child abusers
• Lack of documentation makes it hard for poor parents to enrol kids
Arab World
• Egypt Islamist MP caught in 'indecent' act with woman
• Saudi folk dancers perform in British Consulate event
• Jeddah: Strategy for a secure border to be drawn
• Riyadh: New law on house rents in the offing
• 83 more civilians killed in Syria: watchdog
• Women among 17 killed in Syria shelling
• Syria conflict becomes 'more alarming'
• Saudi prince's aide jailed for New York rape
• Syria army shells towns; Russia lobbies conference
• UAE Govt.'s Price control for Ramadan
• A batch of 150 New Muslims complete Holy Quran courses
• Now the Hama carnage, Syria is slipping into the abyss of chaos and anarchy
• Saudi Arabia may import soft wheat to meet demand
• Spanish visit fruitful: Prince Salman
• Prince Khaled Chair to promote respect for law
• Egypt tries again to set up constituent assembly
• EU sends 23 m Euros aid to Syria
• Russia says it's is not against Assad's departure if...
• Saudi prince keen to invest in power
India
• Thousands of crores belonging to Muslims lying unaccounted because of Islamic tenet
• Day later, Sikh pilgrims cross over to Pakistan on foot
• '13/7 bomber changed look for fear of being caught'
• Qateel Siddiqui's cousin in Pune, demands CBI probe
• Need to prevent return of Taliban post-2014: India
• US-India meet to debate Afghan strategy, review anti-terror steps
• India invites Pakistan for investors' meet on Afghanistan
South Asia
• Dhaka protests Economist reports
• Bangladeshi scribes' dam mission fails to take off, TOI report
• Taliban bomber kills 4 NATO Troops in Afghanistan
• France to begin Afghan pullout next month
• Karzai says NATO to end air strikes on residential areas
• Hearing on BNP official, others production warrants Thursday
North America
• Suicides outpace war deaths for US troops: Pentagon
• Obama, Clinton worth only chickens, camels: Al Qaeda group
• US fighting its own war in tribal areas of the Pak-Afghan border region: Panetta
Arica
• ICC lawyer arrested after meeting Qaddafi's son
• Libya tribe clashes with armed forces in south
• Nigeria based Sahara pumps first oil, expands trade to east
Compiled by New Age Islam News Bureau
Photo: BMP Officials Rape Five Girls in Fort Munro, Pakistan
URL: https://www.newageislam.com/islamic-world-news/new-age-islam-news-bureau/bmp-officials--rape--five-girls-in-fort-munro,-pakistan/d/7585
-------------
Pakistan
BMP Officials 'Rape' Five Girls in Fort Munro, Pakistan
DERA GHAZI KHAN, Sunday, June 10, 201: The Border Military Police (BMP) allegedly raped five women of a family at Fort Munro on Friday night. According to details, one Asif had reached Fort Munro, a hill station over 80 kilometres away from DG Khan, along with female members of his family by a car. As soon as they reached the hill station on the midnight of June 8 and 9, three BMP police officials stopped their car and took them to the BMP police station. They then forced Asif to go out of the police station. The accused BMP police officials, accompanying two accomplices, allegedly raped the women and held them hostage for the whole night. Upon receiving the information, Political Assistant Tariq Ali Basra rushed to the police station on Saturday and ordered action against the three accused BMP officials and their two accomplices. The police arrested three officials and registered an FIR against them and two of their accomplices on charge of raping five women. The whole staff of the BMP police station, including SHO Nawaz Khan, had been suspended. The women were produced before a local magistrate on Saturday and then were sent to DHQ Hospital for a medical examination. The accused BMP police officials, including Muhammad Zafar, Amjad Ali and Naveed, would be produced before the magistrate today (Sunday). There was no report of arrest of the remaining two accused. app
http://www.dailytimes.com.pk/default.asp?page=2012\06\10\story_10-6-2012_pg7_6
--------
Pakistan to follow its own timeline to eradicate the menace of extremism and terrorism: FO
Staff Report
ISLAMABAD, June 10, 2012: Pakistan is following a well-thought-out strategy to eradicate the menace of extremism and terrorism, and will follow its own timeline, said a Foreign Ministry spokesman.
"We strongly believe that such statements [like the one Panetta made] are misplaced and unhelpful in bringing about peace and stability in the region." The spokesman said that Pakistan had strongly rejected US Secretary of Defence Leon Panetta's allegations that Pakistan was allowing terrorists' "safe havens" to operate on its border along Afghanistan, causing attacks on the US and coalition forces. Leon Panetta, who was on a visit to Kabul, said on Thursday that Washington was reaching the limits of its patience with Islamabad because of the safe havens the country offered to insurgents in neighbouring Afghanistan.
"We feel that the secretary of defence is oversimplifying some of the very complex issues we are all dealing with in our efforts against extremism and terrorism," the spokesman said. "These issues need to be seen in the context of overall peace and stability in Afghanistan and the broader region."
The spokesman said that Pakistan had repeatedly said that it would not allow its territory to be used against any country, nor would it allow any safe heavens on its territory. "We are fighting terrorism and extremism in our own national interest and nobody should doubt our resolve and determination in this regard. Our sacrifices remain unparallel and our resolve unshakable." Last month, Chinese Foreign Minister Yang Jiechi, while on a visit to Islamabad, called upon the international community to realise sacrifices rendered by Pakistan in the war on terror and the role it played against terrorists and for peace in the region. Turkey and UK, two important NATO countries, also praised Pakistan's role against terrorism. British Prime Minister David Cameron, on the occasion of the first annual summit of UK-Pakistan enhanced strategic dialogue, said that his country recognised the sacrifices Pakistan made in the face of terror.
Pakistan launched a series of operations in the Tribal Areas, including South Waziristan, along Afghan border and other parts of the country but the US was insisting on full-fledged operation in North Waziristan, allegedly home to the Haqqani network and other al Qaeda-linked outfits. Panetta urged Pakistan to go after the Haqqani network. Strategists in Pakistan think that the army is stretched and the county's situation does not allow Pakistan to open a new front in North Waziristan, the biggest tribal agency out of the seven tribal divisions.
http://www.dailytimes.com.pk/default.asp?page=2012\06\10\story_10-6-2012_pg1_1
--------
Panetta's remarks on militant safe havens misplaced: Pak
Agencies Posted online: Sat Jun 09 2012, 17:43 hrs
Islamabad: Pakistan today rejected US Defence Secretary Leon Panetta's remarks about the presence of militant "safe havens" in the country, saying such statements were "misplaced" and "unhelpful" in bringing about peace and stability in the region.
"Pakistan strongly rejects the assertions made recently by US Secretary of Defence Leon Panetta regarding 'safe havens' in Pakistan," Foreign Office spokesman Moazzam Khan said in a statement.
"We strongly believe that such statements are misplaced and unhelpful in bringing about peace and stability in the region," he added.
Khan's statement came a day after Pakistan's envoy to the US Sherry Rehman said Panetta's remarks had further reduced the space for narrowing bilateral differences. "It adds an unhelpful twist to the process and leaves little oxygen for those of us seeking to break a stalemate," she had said.
During recent visits to India and Afghanistan, Panetta had criticised Pakistan for not doing enough to tackle militants in its tribal areas responsible for cross-border attacks in Afghanistan.
Speaking in Kabul on Thursday, Panetta said the US was losing patience with Pakistan on the issue of militant safe havens on the Pakistani side of the border. While in Delhi, he said the US would continue drone strikes against militants in Pakistan's tribal belt despite protests from Islamabad that the attacks violate its sovereignty.
Responding to these remarks, Foreign Office spokesman Khan said, "We feel that the Secretary of Defence is oversimplifying some of the very complex issues we are all dealing with in our efforts against extremism and terrorism.
"These issues need to be seen in the context of overall peace and stability in Afghanistan and the broader region."
http://www.indianexpress.com/story-print/959979/
--------
'Pakistan, US working on draft of apology'
Anwar Iqbal
WASHINGTON: The United States and Pakistan are working on the language of a possible US apology to end their stalemate and reopen Nato's supply routes to Afghanistan, diplomatic sources told Dawn.
Pakistan wants the United States to apologise over a Nov 26 air raid that killed 24 Pakistani soldiers at the Salala military post. The United States had initially agreed to apologise but changed its mind after aides warned President Barack Obama the move could harm his re-election campaign.
Pakistan closed Nato's supply routes to Afghanistan after the raid and is refusing to reopen them unless the Americans apologise.
The sources who spoke to Dawn said they "now see a stronger desire on both sides" to resolve this dispute.
They said the two sides had already exchanged several drafts of the expected apology and might soon agree "on a draft that meets everybody's requirements".
The sources rejected recent reports in the US media that Pakistan was refusing to reopen the routes because it wanted higher tariffs from the United States for using its highways.
A team of US experts has been based in Islamabad for the past six weeks, trying to end the dispute and reopen the supply routes. On Friday, another senior US official, Assistant Secretary of Defence Peter Levoy, also joined the team.
Meanwhile, Pakistan's ambassador in Washington, Sherry Rehman, urged US officials to avoid making remarks that could further deteriorate an already tense relationship between the two countries. Commenting on Secretary Panetta's recent statement that the United States was losing patience with Pakistan, Ambassador Rehman said: "This kind of public messaging from a senior member of the US administration is taken very seriously in Pakistan, and reduces the space for narrowing our bilateral differences at a critical time in the negotiations."
Such statements, she noted, "adds an unhelpful twist to the process and leaves little oxygen for those of us seeking to break a stalemate".
http://dawn.com/2012/06/09/pakistan-us-working-on-draft-of-apology/
--------
Drone strikes in Pakistan to be stepped up: Report
DAWN.COM
WASHINGTON: Pakistan's decision to suspend Nato supply routes has earned it the ire of the United States as US President Barack Obama approved an increase in CIA drone strikes in Pakistan's territory on the same pretext, according to a report published in the LA Times, DawnNews reported.
The US has been mounting pressure on Pakistan to take effective action against the Haqqani network and militants in the South Waziristan region.
A US-based newspaper claimed that the Obama administration frustrated with Pakistan, over its hesitance to take action against the Haqqani network, suspension of Nato supply routes and refusal to conduct an operation against militants in the South Waziristan region, has decided to direct the CIA to step up the drone strikes in Pakistan's territory.
The CIA has launched eight Predator drone attacks since the May 20-21 Nato summit in Chicago.
It is noteworthy that the US has yet to declare the Haqqani network as a terrorist organisation, itself.
http://dawn.com/2012/06/10/drone-strikes-in-pakistan-to-be-stepped-up-report/
--------
Militant clash kills one security personnel in S Waziristan
DAWN.COM
A security checkpost was attacked by heavily armed militans in South Waziristan ersulting in a two-hou-long unbattle which resulted in the killing of one security personnel and injuring another. — File Photo
SOUTH WAZIRISTAN: An ambush by heavily armed militants on a security checkpost in South Waziristan killed one security personnel whereas another was injured, DawnNews reported on Sunday.
The exchange of gunfire reportedly lasted for two hours, according to security sources and local residents had been ordered out of the area in order to conduct an operation against militants.
http://dawn.com/2012/06/10/militant-clash-kills-one-security-personnel-in-s-waziristan/
--------
Iftikhar case a conspiracy against judiciary: Imran
DAWN.COM
ISLAMABAD: Chairman Tehrik-i-Insaaf Imran Khan has said that the revelations coming out in Arsalan Iftikhar case clearly show a deliberate attempt to undermine the Supreme Court.
In a statement, the PTI chief said that the sequence of events clearly shows that the target of the entire conspiracy was the Chief Justice of Pakistan, Iftikhar Muhammad Chaudhry.
"Unnerved by the courageous decisions of the Supreme Court, the ruling mafia decided to damage his image. Since the CJ himself is incorruptible and a man of high integrity," he said. Khan stated that those wanting to weaken him chose to target his son.
"While much of the evidence is yet to come out, said the PTI chairman, it has been admitted by Riaz Malik according to newspaper reports that he paid for vacations and shopping sprees of Arsalan Iftikhar.
Why did he do this, asked Khan? CJ's son was not working for Riaz Malik and had no business relations with him. The only reason this was done was to entrap him and then blackmail or undermine the integrity of the Chief Justice, said Imran Khan.
"This is further established by the fact that all the receipts of the transactions and reportedly some video clips were carefully retained. If there was no ulterior motive," said Chairman PTI, "then why was this incriminating evidence against the CJ's son being collected?"
He said that there is little doubt that this was a well thought out conspiracy to defame the Chief Justice and the Supreme Court and Malik Riaz played a central role in it.
"Arsalan Iftikhar also has much to explain," said Imran Khan, and that if evidence establishes that he accepted favours by making promises of influencing his father, then he must bear the consequences.
"The Chief Justice has done the right thing by deciding not to hear the case himself. The truth will surely come out. But, facts reported in the media clearly show that Riaz Malik's intent was not to buy influence but only to compromise the Chief Justice's son and use this later to defame the judiciary," said the statement by the PTI chief.
"We know who are the real instigators behind Riaz Malik's conspiracy. He is just a pawn in the hands of the corrupt Zardari/Gilani cabal ruling the country that is threatened by an independent judiciary. It has long been seeking to undermine it in whatever way possible," he said.
"Pakistan Tehrik-i-Insaaf will stand with the independent judiciary," said Imran khan.
http://dawn.com/2012/06/10/arsalan-iftikhar-case-a-conspiracy-against-judiciary-imran/
--------
Zardari optimistic over relationship with US
Sunday, June 10, 2012
* President says nobody understands effects of war on Pakistan
* Terms Panetta's remarks on terrorists' safe havens a political statement
BEIJING: President Asif Ali Zardari expressed confidence over the country's relationship with the United States despite recent complaints from Washington.
"I think the US is an important country in the world and so is Pakistan. We have mutual interests," Zardari said in an exclusive interview with China Daily.
"Slowly but surely, we will get back to normal relations," he said. The remarks come as US Defence Secretary Leon Panetta said in Kabul that Washington is "reaching the limits of patience" with Pakistan on the issue of terrorists safe havens on the Pakistani side of the border.
Earlier, Panetta said in New Delhi that the US would continue to battle terrorists in Pakistan's tribal regions despite complaints from Islamabad that the drone strikes violate its sovereignty and create a sense of anti-Americanism.
Analysts say Panetta's statement shows the mistrust between the two close allies in their war on terror.
Asked about his opinion on Panetta's remarks, Zardari said, "I think sometimes politicians speak for political reasons. It is an election year in the US. Most of the comments coming from the US are based on their internal political condition."
Pakistan has been blamed by some Western countries, including the US, for "not doing enough" to counter terrorism.
"Nobody understands the effects of the war on Pakistan. We have lost 40,000 people and economic growth from terrorist attacks and activities," Zardari said.
"We are victims of terror ... It seems like Pakistan is abetting terrorists, but it is the wrong perception."
Zardari attended the annual leaders' summit of the Shanghai Cooperation Organisation (SCO) in Beijing, of which Pakistan is an observer - along with India, Iran, Afghanistan and Mongolia.
The bloc reached several landmark agreements on political, economic and security cooperation during the SCO Beijing summit, which also set the blueprint for the bloc's future.
The SCO is going to be the region's economic engine in the future, Zardari said, adding that he has "high expectations" for the organisation.
"The SCO is very young, and obviously it is taking its own time to grow. But it shows the world that this is the path we're taking," Zardari said.
"Today, the economic and financial stability of nations is the way forward. In this way, the region can benefit from each others' strengths and come to the aid of each others' weaknesses," he said.
"I expect all of us to come to a common understanding over political views and the challenges that face our nations."
Pakistan has been in close cooperation with the SCO and China in recent years over security and economic cooperation. online
http://www.dailytimes.com.pk/default.asp?page=2012\06\10\story_10-6-2012_pg7_2
--------
Four policemen shot dead in Quetta
QUETTA: Four policemen were shot dead near Sardar Musa Colony area in Badni intersection on Sariab Road on Saturday. "The four policemen were on two motorcycles on a routine patrol along the railway track when unidentified armed men opened fire on them," Deputy Inspector General (Operations) Qazi Wahid said. All the four policemen died on the spot. "The slain police officials were deputed there following a request of the railway officials," another police official said. The assailants escaped on a car. The Frontier Corps and police personnel rushed to the spot and cordoned off the area. Security across the provincial capital has been beefed up following the deadly incident. The victims were identified as constables Razar Muhammad, Hafeezur Rehman, Sarfaraz and Abdul Kareem. Security forces and police have launched a manhunt in the area. The funeral prayers of the policemen were offered at Police Line and bodies were handed over to their relatives for burial. Earlier, a powerful bomb detonated outside the gates of a seminary near Bank Chowk on Sariab Link Road as a ceremony for students, who had memorised the holy Quran, was being held inside, killing 16 people and injuring 48 others. staff report
http://www.dailytimes.com.pk/default.asp?page=2012\06\10\story_10-6-2012_pg7_3
--------
Bullet-riddled body found in Quetta
QUETTA, Sunday, June 10, 2012: Police recovered a bullet-riddled body of a man in the Sakuran area of the industrial town Hub on Saturday. According to details, the patrolling police spotted the body in Sakuran area of Hub. The body was shifted to a nearby hospital for an autopsy. The deceased was identified as Meharullah. According to an official, the victim had recently gone missing. The body was handed over to the heirs for burial after completing medico-legal formalities. staff report
http://www.dailytimes.com.pk/default.asp?page=2012\06\10\story_10-6-2012_pg7_7
--------
5 more killed in clashes between the Levies Force and terrorists
CHAGHAI Sunday, June 10, 2012: At least five more persons were killed in the ongoing clashes between the Levies Force and terrorists after which the death toll reached to 20 on the second day. According to details, some armed men fled towards mountains after killing a tribal elder's son and Levies Force, helped by the local tribesmen, chased the assailants and a clash between them occurred in the mountains of Chaghai. During exchange of fire, at least 20 persons, including 17 miscreants and three tribesmen who helped Levies Forces, have been killed in the two-day fighting. Quetta Commissioner Qambar Dashti told journalists that total 20 persons from both sides had been killed as five persons were killed on the second day of clashes while at least 15 persons were killed on the first day. inp
http://www.dailytimes.com.pk/default.asp?page=2012\06\10\story_10-6-2012_pg7_9
--------
CID arrests Tehreek-e-Taliban Pakistan terrorist
KARACHI, Sunday, June 10, 2012: The Crime Investigation Department (CID) of Sindh Police on Saturday claimed to have arrested a notorious criminal of outlawed Tehreek-e-Taliban Pakistan (TTP) after a brief encounter here on Super Highway.
According to SSP Fayyaz Khan, the CID team on a tip-off raided a place near Nadir Hospital, Super Highway and detained Jahangir Khan Aka Khel along with his weapon. The accused, during initial course of investigation, confessed to have been involved in several heinous crimes, including murders, attempt to murders, kidnapping for ransom, extortion and police encounters.
SSP Khan said the detained person, belonging to the TTP Sher Zaman group, also admitted to have murdered three men, including Sardar Muhammad, Lal Khan and Shamboo Khan besides snatching two kalashnikovs from the guards of a petrol pump situated at the Super Highway. Further investigation was underway.
Needless to mention, former SHO Sohrab Goth Azam Mehsud and his brother Sher Zaman Mehsud were nominated in the suicide attack on SSP Malir Rao Anwar's convoy at Malir Halt. Four persons were killed while 14 others injured in the said attack. Subsequently, a case (48/12) was registered against Azam Mehsud, his brother Zaman Mehsud and the militants of TTP on the complaint of SSP Malir. The case was registered under sections 302/34, 324/34, 120, 427, ¾ Explosive Act and 7 Anti-Terrorism Act. Zaman Mehsud is nominated for serious offences, including extortion, drug peddling, kidnapping, attack on policemen, especially in Sohrab Goth area with no fear of apprehension. staff report
http://www.dailytimes.com.pk/default.asp?page=2012\06\10\story_10-6-2012_pg7_19
--------
Pakistan food festival to showcase authentic cuisine in Riyadh
RIYADH: GHAZANFAR ALI KHAN
Saturday 9 June 2012
A major Pakistani food festival, the first of its kind in Saudi Arabia, will be opened on Monday to showcase a range of authentic Pakistani cuisine and to reinforce the existing bonds of friendship and brotherhood between Riyadh and Islamabad. Saudi businessman and the President of the Riyadh Chamber of Commerce & Industry (RCCI) Abdulrahman Al-Jaraisy will inaugurate the five-day event.
The festival will be held from June 11 to 15. A high-profile chef from a five-star hotel of Pakistan, Muhammad Farooq, has been especially flown to the Saudi capital to prepare for the event.
"The interior design of the venue focuses on the true Pakistani culture with pottery designs, motifs taken from traditional cloth designs, Pakistani landmarks and traditional carpets," said Khulood R. Rahman, a young Pakistani engineer and interior designer, who is working on this project.
Rahman said the stalls and the dining area had been designed in a traditional format with cots and hookahs laid out in a pastoral setting near the pool side. "The focus was to create a real setting with all traditional paraphernalia and regalia for this first event," she added. The inaugural ceremony will be attended by a large number of Saudi officials, diplomats and businessmen. On the final day of the event, a raffle draw will be held for the participants.
A number of prizes like iPhones, iPads, Black Berry sets, return air tickets to/from Pakistan and Umrah trips are on offer. The envoy hoped that the event would be great success because of the popularity of Pakistani cuisine in Saudi Arabia. Ambassador Khan called on the Pakistani expatriates to make this first food festival a highly successful one by inviting their non-Pakistani friends to taste Pakistani dishes and enjoy the evening.
http://www.arabnews.com/pakistan-food-festival-showcase-authentic-cuisine-riyadh
--------
Southeast Asia
Malaysian Moms top list as child abusers
The Star, Kuala Lumpur, 06/10/2012
In a surprising finding, the highest number of child abusers turns out to be the hand that rocks the cradle the victim's mother.
Malaysian Deputy Women, Family and Community Development Minister Datuk Heng Seai Kie said statistics from the past three years had revealed that most child abusers were parents themselves and in particular, mothers.
'Mothers make up 25.4 per cent of perpetrators in child abuse cases while 18.9 per cent are fathers.
'Together, parents comprise 44.3 per cent of child abusers in incidents recorded nationwide last year,' she said in her speech at the third national conference of the Association of Registered Child Care Providers Malaysia.
http://www.thejakartapost.com/news/2012/06/10/malaysian-mums-top-list-child-abusers.html
--------
Lack of documentation makes it hard for poor parents to enrol kids
The Jakarta Post, Jakarta | Fri, 06/08/2012
Impoverished residents tend to have citizenship documentation issues that make it difficult to enrol their children in school.
Parents are required to provide three documents to register their children for school: a birth certificate, a citizen identification card and a family card. Most low-income parents are only able to show one of these three required documents.
Some parents, like 42-year-old Santani from Koja, North Jakarta, had to seek assistance from the National Commission for Child Protection (Komnas PA) in order to be able to enrol their children.
"All I want is for my kids to be able to go to school so they can be smart, not like me," Santani said, as quoted by kompas.com.
Komnas PA said it had reported this problem to the government as the Jakarta city administration was not doing anything about it. (png/iwa)
http://www.thejakartapost.com/news/2012/06/08/lack-documentation-makes-it-hard-poor-parents-enroll-kids.html
-----------
Arab World
Egypt Islamist MP caught in 'indecent' act with woman
AFP
CAIRO: Egyptian prosecutors asked parliament on Saturday for permission to investigate an Islamist MP, Police say was caught performing an "indecent" act with a woman in public, official media reported.
The official MENA news agency quoted a police report saying that Ali Wanis, a cleric and MP for the ultra-conservative Al-Nur party, was found engaged in an "indecent" act with a 22-year-old woman in a car parked on a highway on Thursday.
Wanis has issued a public statement denying the allegation and said in a video posted in his website that he had parked along the side of the road because his passenger "became sick."
Judicial sources told AFP that the prosecution's request in such cases, when someone is caught in the act, is a formality and the prosecution has summoned Shafiq for questioning.
Al-Nur party, which represents the more conservative brand of Salafi Islam, won the second largest number of seats in parliamentary elections last winter.
It was hit with a scandal in March when another lawmaker was forced to resign from parliament and from his party after claiming that he was injured in a carjacking, to explain bandages on his face, when in fact he had had a nose job.
http://dawn.com/2012/06/09/egypt-mp-caught-in-indecent-act-with-woman/
--------
Saudi folk dancers perform in British Consulate event
JEDDAH: FOUZIA KHAN
Saturday 9 June 2012
Saudi folk singers and dancers from the group Bahara performed at the British consulate premises on Friday to pay tribute to Queen Elizabeth II. British Consul General Mohammed Shokat was present.
A family fun day with different stalls, food items, games, BBQ and screenings of the Jubilee celebrations in London, a play "Roses and Crown" by "Run way players" and other fun activities was organized by the British Consulate in Jeddah to celebrate the queen's diamond jubilee.
The group presented a memorable song "My best wishes and regards to the Queen Elizabeth" in Hijazi style. The group's dancers performed to this number and the consul general and other British community members too joined in with zeal.
"We are very grateful that the Bahara group was part of Queen Elizabeth's diamond jubilee celebrations in Jeddah, and we are happy that the group to congratulate the queen had prepared special songs and folk dances.
"It is a proud moment for us that the British consul general and community members are dancing and enjoying Saudi folklore today on this special occasion," said Ibrahim Awad Aljilani the Saudi organizer of folk dances.
Shokat welcomed and thanked all visitors and participants. He said Queen Elizabeth is a source of sustainability and unity for the nation and the Commonwealth for the last 60-years.
"The dignity with which she undertakes all the responsibilities, have been evident for the last 60 years," he said.
He also praised the reign of the queen, which included 12 prime ministers, provided royal assent to more than 3,500 acts of Parliament, conferred over 400,000 honors, answered 3.5 million items of correspondence.
He also said that he is immensely grateful to the Saudi folklore group for participating in the event, as Saudi Arabia is a brotherly kingdom. The relations between the two countries remain strong in the areas of economic cooperation, trade investment, energy, security, defense, education and culture. Over the past years Jeddah hosted a number of trade missions and introduced many United Kingdom companies to here.
http://www.arabnews.com/saudi-folk-dancers-perform-british-consulate-event
--------
Jeddah: Strategy for a secure border to be drawn
JEDDAH: ARAB NEWS
Saturday 9 June 2012
An international conference on border security, which was held in Riyadh recently to mark the Border Guards' centenary, decided to set out a national strategy in cooperation with local and global experts.
It also called for increased efforts to achieve sustainable development of the Kingdom's border regions. "Such efforts would encourage people to live in these areas and make our borders safer."
Marine border guards must be provided with advanced technologies to carry out their mission, the conference said, adding that it would boost their capabilities to combat piracy, intrusion and smuggling.
"Topics related to border security should be included in school and university curricula, which should highlight King Abdul Aziz's efforts to tackle border disputes," the final communiqué said.
It stressed the need to improve border guards' capabilities by providing them with intensive training, developing training programs of border guard institutes and setting up a research center.
http://www.arabnews.com/strategy-secure-border-be-drawn
--------
Riyadh: New law on house rents in the offing
RIYADH: ARAB NEWS
Saturday 9 June 2012
Those who default on their rent payments may soon find themselves in court, forced to make the monthly payments, under a new law that is being drafted. The law, which aims to protect the interests of both landlords and tenants, would address most of the issues both parties face. The law is expected to put an end to the growing cases of rent default by tenants, Arabic business daily, Al-Eqtisadiah, reported yesterday.
Under the new law, defaulting tenants will be ordered to honor their contract with their landlord and make payments regularly. If the tenants, be they individuals or businesses, default on their rent, a notation will be made in the defaulter's credit file making it difficult for them to obtain other rental properties. If they continue to fail to meet their obligations toward their landlords, they could, subsequently, be put on a blacklist, and their wages could be garnished.
According to Al-Eqtisadiah, the property rental sector is disorganized, with a majority of property owners handing control of their properties to real estate agents who entrust agents to chase rent defaulters.
"There is also no effective mechanism to protect the rights of tenants, and therefore, they are forced to meet even the expenses for maintenance works at their residential apartments," the paper cited a source as saying. "There were complaints from many tenants that they are victims due to the violation of the provisions in the rent contract by landlords. Many tenants are accusing landlords of unjustifiably increasing their rents, taking advantage of the absence of a clear law regulating real estate owners. The new law seeks to address all such problems."
Sources also pointed out that taking action against rent defaulters will reduce the number of cases and thus help reduce pressure on the courts, governorates and police stations.
"Apart from this, the move would have a positive impact on all other tenants in making prompt payment of rent," the daily said. "Once the law and monitoring system is put into effect, property owners can register their properties with the relevant authority. After joining the system, owners of villas, furnished apartments as well as residential, commercial and office buildings should supply the relevant authority with a complete list of tenants and their rental payment terms and history.
http://www.arabnews.com/new-law-house-rents-offing
--------
83 more civilians killed in Syria: watchdog
AFP
Beirut, June 10, 2012
Pro-regime forces killed 83 civilians throughout Syria on Saturday, including women and children among 20 dead in the flashpoint town of Daraa, a watchdog group said. Nine women and three children were among those killed in a pre-dawn bombardment of a residential neighbourhood in the southern city of Daraa, the Syrian Observatory for Human Rights said.
Dozens more were wounded, some of them seriously, in the city which was the birthplace of the uprising against Syrian President Bashar al-Assad's regime, the watchdog said.
In the restive central city of Homs, 29 people died in a bombardment by government troops, the British-based observatory said.
The toll comes among growing international anger over the Syrian crackdown on a revolt in which more than 13,500 people, mostly civilians, have been killed since March 2011.
On Saturday Russia pushed its idea of an international conference including Iran to end the bloodshed in Syria.
However Russian Foreign Minister Sergei Lavrov also stressed that Moscow would "not sanction the use of force at the United Nations Security Council."
http://www.hindustantimes.com/world-news/Africa/83-more-civilians-killed-in-Syria-watchdog/Article1-868759.aspx
--------
Women among 17 killed in Syria shelling
New York Times Posted online: Sun Jun 10 2012, 01:51 hrs
New York : NEIL MacFARQUHAR and RICK GLADSTONE
Activists reported new violence in southwest Syria on Saturday, saying shelling by troops and clashes between soldiers and rebel fighters in Dara'a city had claimed 17 lives, including women and children.
The Syrian Observatory for Human Rights, an opposition group based in London, said the victims from the violence early on Saturday included 10 women, a 10-year-old girl and two teenage boys. Telephone services, including mobile phone networks, had been cut off, the organization said.
Dara'a, located near the border with Jordan, is where the uprising against President Bashar al-Assad's regime began in March last year.
Saturday's reports of violence came a day after United Nations monitors in Syria collected evidence of a mass atrocity in the desolate hamlet of Qubeir.
The monitoring team's journey to Qubeir presented the outside world with the first visual proof that a horrific crime had occurred there.
No corpses were found, and the team's officials said many facts behind the killings, which occurred on Wednesday, had yet to be determined. But it seemed clear that the perpetrators had hastily sought to conceal what had happened, reinforcing suspicions that the government, by thwarting the monitors' efforts to reach the site on Thursday, had bought time for a cover-up.
Full Report at:
Reuters
http://www.indianexpress.com/story-print/960110/
--------
Syria conflict becomes 'more alarming'
AP | Jun 9, 2012, 09.46PM IST
MOSCOW: Russia has growing concerns about the conflict in Syria, but it will continue to oppose the outside use of force, foreign minister Sergey Lavrov said Saturday.
"The situation in Syria is becoming more alarming," Lavrov told a news conference, during which he pushed Russia's proposal for an international conference on the crisis. "An impression is being created that Syria is on the verge of a full-scale civil conflict."
He said two recent attacks had put Russians in the capital, Damascus, in danger: a bus carrying Russian specialists came under fire Saturday, and a grenade attack took place Friday on a building where Russians live. There were no injuries, he said.
Despite growing concerns that the situation may be spinning out of control, Russia, as a member of the United Nations Security Council, "will not sanction the use of force," he said. Russia has previously blocked proposed UN resolutions to impose sanctions on President Bashar Assad's regime.
Lavrov said Russia's resistance to intervention is "not because we are protecting Assad and his regime, but because we know that Syria is a complicated multi-confessional state, and because we know that some of those calling for military intervention want to ruin this and turn Syria into a battleground for domination in the Islamic world."
Russia has been a strong supporter of the mission of UN and Arab League special envoy Kofi Annan, who has put forth a plan for ending the violence between Assad's forces and opposition fighters.
But the plan is severely stumbling amid the rise in violence, and Lavrov said an international conference should convene to galvanize international commitment to the plan.
He said participants should include the permanent members of the Security Council, the European Union and influential countries in the region. He said American objections to Iran's possible participation were "shallow."
The Interfax news agency on Saturday quoted Deputy Foreign Minister Gennady Gatilov as saying "Iran has the full right to be represented at this conference because on account of Iran's regional role and the specific character of its relations with Syria we consider that the participation of Iran could play a constructive role."
The UN said several weeks ago that at least 9,000 people have been killed since the crisis began in March last year, while Syrian activists say the violence has claimed the lives of more than 13,000.
http://timesofindia.indiatimes.com/world/middle-east/Syria-conflict-becomes-more-alarming/articleshow/13973867.cms
--------
Saudi prince's aide jailed for New York rape
IANS | Jun 9, 2012, 10.12PM IST
LONDON: A member of a Saudi prince's travelling entourage has been sentenced to 10 years in prison for raping a woman in a New York hotel two years ago, it was reported here.
Mustapha Ouanes, an Algerian construction executive, said the sex was consensual when he invited the 26-year-old woman and a friend to his Plaza Hotel room in January 2010 after a night of bar hopping, promising them a lavish breakfast.
Both women testified to eating, drinking and smoking hashish with him before passing out, one of them on Ouanes' bed, Daily Mail reported Friday.
When she woke up, he was raping her, they said.
Ouanes, who is married for 40 years, said the women offered sex for money and invented the rape allegations after he declined to pay.
He spent half of his time assisting Prince Abdul Aziz bin Fahd, son of late King Fahd, who had been residing in the Plaza at the time. His wife appeared in court during the trial in January, the Mail said quoting the New York Times.
http://timesofindia.indiatimes.com/world/uk/Saudi-princes-aide-jailed-for-New-York-rape/articleshow/13974385.cms
--------
Syria army shells towns; Russia lobbies conference
DAMASCUS, June 10, 2012: Army shelling and gunfire killed at least 28 civilians in protest towns on Saturday, a watchdog said, as Russia pushed its idea of an international conference, including Iran to end the bloodshed in Syria.
Russian Foreign Minister Sergei Lavrov also stressed that Moscow would "not sanction the use of force at the United Nations Security Council (UNSC)".
His proposal came as worldwide anger grows over the crackdown by Syrian President Bashar al-Assad's regime on a revolt in which more than 13,500 people, mostly civilians, have been killed since March 2011.
Nine women and three children were among 17 people killed in a pre-dawn bombardment of a residential neighbourhood in the southern city of Daraa, the Syrian Observatory for Human Rights said.
Dozens more were wounded, some of them seriously, in the city which was the birthplace of the uprising against Assad's rule, the Britain-based watchdog said.
In nearby Jordan, hundreds of Syrian refugees demonstrated in the border town of Ramtha to protest against the deaths in Daraa, Jordan's official Petra news agency reported.
The Al-Kubeir incident prompted Western governments to launch a push for tough new sanctions against Damascus. But Russia, along with China, has already vetoed two UNSC resolutions against Assad. In central Syria, government forces on Saturday pounded several rebel neighbourhoods of Homs city with artillery and mortar fire, killing six civilians, the observatory said.
It said the army killed at least 28 civilians nationwide, while three soldiers died in clashes in northern Syria.
Diplomats in New York said Britain, France and the US would quickly draw up a UNSC resolution proposing sanctions against Syria following a grim report from the monitors on their visit to Al-Kubeir.
"We will move fast to press for a resolution," one UN diplomat told AFP.
More than 20 unarmed UN observers were allowed into Al-Kubeir on Friday, a day after monitors were shot at and prevented from entering the village.
"Inside some of the houses, blood was visible across the walls and floors. Fire was still burning outside houses and there was a strong stench of burnt flesh," UN spokesman Martin Nesirky said in New York.
UN officials have made clear they believe government forces and their allies were behind the attack on the mainly Sunni village surrounded by an Alawite population loyal to Assad.
Full Report at:
http://www.dailytimes.com.pk/default.asp?page=2012\06\10\story_10-6-2012_pg7_10
--------
UAE Govt.'s Price control for Ramadan
(Wam) / 10 June 2012
The UAE Ministry of Economy is planning to fix the prices of 1,600 consumer products at 340 outlets nationwide during the holy month of Ramadan, according to Minister of Economy Sultan bin Saeed Al Mansouri.
The integrated plan includes a Ramadan basket of 15 commodities with prices ranging between Dh70-170, the minister said. Outlets and retailers will have the choice to customise their own Ramadan basket and specify its 15 commodities. Protecting consumers is a national priority, Mansouri said, adding that an initiative by the President, His Highness Shaikh Khalifa bin Zayed Al Nahyan, to give the Ramadan Ration project a permanent status subsidising food items throughout the year will back the stability of prices year-round.
http://www.khaleejtimes.com/nation/inside.asp?section=nationgeneral&xfile=/data/nationgeneral/2012/June/nationgeneral_June92.xml
--------
A batch of 150 New Muslims complete Holy Quran courses
Ahmed Shaaban / 10 June 2012
A batch of 150 new Muslims cleared a series of intensive courses on the recitation, memorisation and explanation of the Holy Quran at the Islamic Information Centre of the government-run Dar Al Ber Society.
Khalid Sultan Al Ulama, director of the centre, said this was in addition to some courses on the authentic teachings and Hadith (sayings) of Prophet Muhammad (peace be upon him), as well as Arabic language lessons.
Fatima Drab, a preacher at the centre, said the new Muslims were very punctual and keen to learn and properly understand the teachings.
Over 750 people converted to Islam this year at the centre.
"We are expecting more converts this year compared to the 1,059 converts in 2009, 1,500 in 2010 and 1,380 in 2011," said Al Ulama.
Of the new Muslims hailing from 16 different nationalities, the Philippines topped the list with some annual 80 per cent, followed by Indians and Chinese. The list of other nationalities spans Britain, America, Germany, France, Italy, Romania, Russia and Holland.
ahmedshaaban@khaleejtimes.com
http://www.khaleejtimes.com/nation/inside.asp?xfile=/data/nationgeneral/2012/June/nationgeneral_June102.xml&section=nationgeneral
--------
Now the Hama carnage, Syria is slipping into the abyss of chaos and anarchy
/ 9 June 2012
THE MASSACRE in Hama is another grim reminder of the fact that Syria is slipping into the abyss of chaos and anarchy.
The daredevil manner in which more than 80 civilians were massacred in the sleepy towns, with many of them being stabbed to death and later their corpses burnt, vindicates the assumptions that carnage has a stint of personalised vendetta. It would not be out of proportion to read ethnic, sectarian and power politics inclinations behind the mayhem that Syria is experiencing. The undeniable fact, however, is that there are groups apart from the ruling Baath Party-driven security forces who have their own vested objectives to achieve, and the crises-ridden Arab country is merely on the receiving end.
The Hama slaughter has come close on the heels of bloodshed in Houla, which also saw around 100 people being crushed to death. The fact that international condemnation, and even Russia's annoyance against President Bashar Al Assad's regime, hasn't come to dither the trend of violence is quite worrisome. This hints at the marginalisation that this mess has reached and the scary shadows under which the traumatised nation is being made to live. Syria is surely on the brink, and one cannot rule out many more such mass killings given to understand that the society is deeply split, and law and order and writ of the government have ceased to exist. This equation is surely compounded with the volume of foreign interference that the country is witnessing in the form of arming the host of militant groups that call them part of political opposition. One cannot rule out the possibility of many such small and big groups working for their own interests rather than furthering the aims of dislodging Assad's government under the umbrella of a united opposition alliance. The situation is no different from what Afghanistan experienced, or is experiencing, in the absence of governmental writ and undue foreign meddling.
The point is that the world community cannot just sit back to lament on repeat of such massacres. Something serious and substantial has to be done. The political-cum-diplomatic format is in a state of limbo, as upsets in the form of Houla and Hama only come to further the blame game tendency and deflect attention from consistently implementing the United Nations-Arab League sponsored Six-Point peace plan. This trend of exigency and apathy has to go. Syrians cannot be left to count dead bodies anymore.
http://www.khaleejtimes.com/kt-article-display-1.asp?xfile=/data/editorial/2012/June/editorial_June18.xml&section=editorial
--------
Saudi Arabia may import soft wheat to meet demand
Gus Trompiz (Reuters) / 10 June 2012
LONDON - Saudi Arabia may import soft wheat, in addition to the hard wheat it currently imports, to meet local food demand, opening it up to a wider range of wheat exporters, the kingdom's Grain Silos & Flour Mills Organisation, or GSFMO, said.
The country has increased imports sharply since abandoning plans for self-sufficiency in wheat in 2008 and now aims to be completely reliant on imports by 2016 in order to save water.
The kingdom is studying local consumer demand to assess potential needs for soft wheat, which is suited for products such as biscuits, Waleed El Khereiji, director-general of the GSFMO, said on the sidelines of the International Grains Council's annual conference.
"Some of the industries in Saudi Arabia need soft wheat," he told reporters. "We are doing a study of the demand for soft wheat in Saudi Arabia, and according to that we will gradually import soft wheat."
"That will open up [imports] to other origins."
Saudi Arabia, which traditionally uses high-protein hard wheat for flour, expects to import about two million tonnes of wheat in 2012, in line with last year's level, he said.
For Full Report:
http://www.khaleejtimes.com/biz/inside.asp?xfile=/data/internationbusiness/2012/June/internationbusiness_June40.xml&section=internationbusiness
--------
Spanish visit fruitful: Prince Salman
MADRID: ARAB NEWS
Saturday 9 June 2012
Defense Minister Prince Salman yesterday emphasized Saudi Arabia's desire to strengthen its relations with Spain. He thanked the Spanish government for according a warm welcome to him and his delegation during his official visit to the country.
In a cable sent to his Spanish counterpart Pedro Morenes at the conclusion of his official visit, Prince Salman highlighted the deep-rooted relations between the two countries. Prince Salman began his private vacation yesterday.
Speaking to the Saudi Press Agency, Prince Salman said his visit to Spain was fruitful, adding that both countries would benefit from it. "I have conveyed the greetings of Custodian of the Two Holy Mosques King Abdullah to King Juan Carlos of Spain," he said.
The defense minister said Saudi Arabia and Spain have identical views on all issues discussed during his meetings with King Carlos, Prime Minister Mariano Rajoy, Defense Minister Morenes and Foreign Minister José Manuel.
"What makes our ties with Spain important is the close relationship between the two leaderships and peoples and we desire to strengthen these relations in all fields, especially defense, through visits and meetings of officials," the minister said.
He said he was happy to visit Spain and wished greater progress and prosperity for Spanish people.
Earlier, he was seen off at the airport in Madrid by Prince Mansour bin Khaled, Saudi ambassador to Spain, Prince Faisal bin Salman, chairman of Saudi Research & Marketing Group, and Brig. Abdullah Al-Shammari, military attaché.
Prince Salman was accompanied by Prince Muhammad bin Salman, special adviser, as well as Prince Turki bin Salman, Prince Khaled bin Salman, Prince Naif bin Salman and Prince Bandar bin Salman.
Prince Salman arrived here Wednesday at the head of a high-level delegation. Morenes welcomed Prince Salman and his accompanying delegation and wished them a happy stay in Spain. "The visit of Prince Salman reflects the strong relations between Saudi Arabia and Spain," the Spanish minister said.
http://www.arabnews.com/spanish-visit-fruitful-prince-salman
--------
Prince Khaled Chair to promote respect for law
JEDDAH: MD AL-SULAMI | ARAB NEWS STAFF
Saturday 9 June 2012
Makkah Gov. Prince Khaled Al-Faisal yesterday launched a research chair, which is named after him, at Taif University to conduct studies on promoting people's commitment to and respect for the law.
Addressing a ceremony at the university, Prince Khaled emphasized the importance of following the country's rules and regulations.
"The civilization of a country is determined considering how its people follow the rules and regulations," the governor said.
"Respect for the law cannot be achieved by forcing people to follow rules and applying tough punishment; rather it should be done by creating awareness and promoting ethics and morals," he said.
Prince Khaled said the Prophet Muhammad (peace be upon him) was a good example for morals as God commended him by telling: "Truly you possess great morals."
The governor said laws are closely linked with morals of people. "It is the sign of cultured people and we deserve to be among them, being Muslims."
The governor urged Taif University to conduct programs for the benefit of society. "I hope that the university's activities are not limited to its four walls and people benefit from them. The university should also encourage the youth to participate in its various projects to make use of their capabilities," he added.
Abdul Elah Banaja, president of the university, announced that Prince Khaled Chair would conduct studies on the Kingdom's laws and the citizens' approach to them. "We'll also work for improving the rules and regulations in cooperation with various ministries and government departments," the president said.
Banaja said the chair would conduct its first studies on the problems related to the sponsorship, Saher and education laws. "The chair will work to find solutions to problems in a scientific manner."
Businessman Misaad bin Samar Al-Otaibi has agreed to finance the chair, which will conduct seminars and conferences and make proposals on how to encourage the public to follow the law.
The chair will have a committee comprising experts from within the Kingdom and abroad to supervise its programs and activities.
Prince Khaled earlier chaired a convocation ceremony at the university to mark the graduation of 5,700 male and female students, including the first batch of the Faculty of Engineering. The governor distributed degrees to outstanding graduates.
http://www.arabnews.com/prince-khaled-chair-promote-respect-law
--------
Egypt tries again to set up constituent assembly
Saturday 9 June 2012
CAIRO: Egypt will try again on Tuesday to set up an assembly to write a new constitution, the Parliament speaker said yesterday, after the previous such body was dissolved for failing to represent all interests following the fall of Hosni Mubarak's government.
The make-up of the constitutional committee has been in deadlock since April after a court ordered a previous body dissolved for being dominated by Islamists and failing to fairly represent Egypt's diverse society. Islamists control around 70 percent of Parliament.
"We have invited the elected parliament members to a joint meeting at 11 a.m. on Tuesday...to elect a 100-member assembly to prepare a new constitution for the state," Parliamentary Speaker Saad Al-Katatni said. "All the political parties and powers have agreed that a full balance and representation of all powers and interests will be taken into consideration while forming the assembly," he added.
Katatni, who heads the parliamentary committee in charge of choosing the assembly's members and belongs to the Muslim Brotherhood's Freedom and Justice Party, the biggest parliamentary party, had asked public institutes, courts, syndicates and religious bodies on Friday for their nominations for the new assembly.
The new constitution is expected to define the president's powers and citizen rights. The delay in picking the panel has left Egypt in a constitutional vacuum one week before a final stage of a presidential vote on June 16-17.
The military council that took over after Mubarak was toppled last year has promised to hand over to a newly elected president by July 1, but it is unclear what authority the new head of state will have. The military council on Tuesday gave political parties a 48-hour deadline to agree on the make-up of the new constitution-drafting assembly.
Parties indicated during a meeting with the military council on Thursday that the assembly would be made up of 39 members of political parties and 61 public figures including union members, lawyers, judges and religious leaders.
Separately, a group of men attacked a women's march against sexual harassment in Cairo's Tahrir Square Friday and sexually assaulted several of the protesters, witnesses said.
The assailants overwhelmed the march by dozens of women and male supporters and assaulted some of the women, the witnesses said.
http://www.arabnews.com/egypt-tries-again-set-constituent-assembly
--------
EU sends 23 m Euros aid to Syria
AGENCIES
Saturday 9 June 2012
BRUSSELS: The EU executive announced a new 23-million-euro aid package to help meet the needs of the Syrian population and refugees reeling from the country's 15-month-old civil unrest.
The aid, from delivering education and health services to training NGOs and media activities, is intended to help people face the crisis in Syria itself as well as help refugees in Lebanon, Jordan and Turkey.
In Syria itself, $12.6 million will be made immediately available to assist people in coping with the unrest.
"Life for the population has become ever more difficult, with no obvious solution in sight," a European Commission statement said.
"Basic commodities are expensive and access to fundamental services such as education and health is becoming increasingly challenging. Everyday life has become unpredictable and isolated, systemic acts of violence have spread almost over the entire Syrian territory."
More than 70,000 Syrians have registered as refugees from the country and the EU's humanitarian aid commissioner Kristalina Georgieva said over a million Syrians were vulnerable and many tens of thousands internally displaced.
EU aid would be channeled to NGOs with a good track record, she said. Because of the presence of 600,000 Iraqi and Palestinian refugees in Syria, there were many reliable and efficient NGOs at work there.
Speaking on a separate theme, Georgieva said that despite Europe's festering economic crisis, its citizens increasingly favor humanitarian aid.
According to an EU survey, nine out of 10 people, or 88 percent, believed it was important for the EU to continue funding humanitarian aid — a nine percent rise in comparison to a similar survey in 2010.
http://www.arabnews.com/eu-sends-23-m-euros-aid-syria
--------
Russia says it's is not against Assad's departure if...
REUTERS
Saturday 9 June 2012
MOSCOW: Russia will not oppose the departure of Syria's President Bashar Assad if that is the result of a dialogue among Syrians themselves and is not imposed from outside, Foreign Minister Sergei Lavrov said on Saturday.
Lavrov spoke one day after his deputies held consultations with US special envoy Fred Hof, in Moscow to push for a political transition in Syria that would see Assad leave power.
"If the Syrians agree (about Assad's departure) between each other, we will only be happy to support such a solution," Lavrov told reporters. "But we believe it is unacceptable to impose the conditions for such a dialogue from outside."
Eager to maintain its firmest Middle East foothold and stop the West pushing governments from power, Russia has used its UN Security Council veto and other tools to protect Assad from coordinated condemnation and sanctions.
Moscow insists there must be no "preconditions" in any discussion of Syria's future, including the departure of Assad, an outcome which would suit many countries in the West as well as the many Sunni Muslim Arab states that dislike the Syiran government and its ally Iran.
Lavrov cited the power transition in Yemen, where President Ali Abdullah Saleh was eventually pushed out, saying that was a result of an internal process without any conditions being set by external parties.
Lavrov reiterated his call for an international conference in support of the envoy Kofi Annan's failing peace plan and said "there was no outright rejection" of this initiative from the United States expressed during the Moscow talks, despite Russia's recommendation that Iran take part.
ONE SUCH COUNTRY
"We want this event to be effective. In order to be effective all the sides with any influence on the sides in the Syrian conflicts should be represented there. Iran is one such country," Lavrov said.
For Full Report:
http://www.arabnews.com/russia-says-its-not-against-assad%E2%80%99s-departure-if
--------
Saudi prince keen to invest in power
Star Online Report
Saudi Prince Al Waleed bin Talal on Sunday expressed his keen interest to invest in sectors such as power and tourism in Bangladesh.
"We are hoping for a big investment in Bangladesh," Foreign Minister Dipu Moni said, quoting the Saudi prince.
"A team from Bangladesh will visit Saudi Arabia soon to discuss some specific projects," she said after emerging from a meeting held between the Saudi prince and Prime Minister Sheikh Hasina at Pan Pacific Sonargaon Hotel.
Finance Minister AMA Muhith, Deputy Leader of the House Syeda Sajeda Chowdhury, LGRD Minister Syed Ashraf and prime minister's International Affairs Adviser Gowher Rizvi were also present at the meeting.
During his four-hour trip, the Saudi prince will also call on President Zillur Rahman at Bangabhaban.
Earlier around 10:45am, a special aircraft carrying the Saudi prince landed at Hazrat Shahjalal International Airport.
http://www.thedailystar.net/newDesign/latest_news.php?nid=38313
--------
India
Thousands of crores belonging to Muslims lying unaccounted because of Islamic tenet
By Maneesh Pandey in New Delhi
Thousands of crores lying unaccounted in banks across the country and belonging to Muslims could be used for the uplift of the poor section of the community, provided the Reserve Bank of India (RBI) gives the go- ahead.
A move to such an effect has been put forward to the Union finance ministry by the National Commission for Minorities (NCM) chairman Wajahat Habibullah.
Habibullah's idea is based on the Islamic tenet which considers giving and receiving interest against the cause of the religion.
This has resulted in a huge amount of money lying unaccounted in banks, which the NCM hopes could be somehow made use of for the benefit of Muslims in India. And one of them is opening the doors to 'interest- free' banking in India for the community.
Talking to MAIL TODAY, Habibullah said: "We're just exploring if the interest- free banking option could be included in the country's financial system… In case interest- free banking cannot be introduced, can the ministry determine the quantum of money lying idle in banks so that concurrence could be sought from depositors for utilising such amount for the benefit of economically disadvantaged Muslims?" The NCM chief clarified that the proposal also includes the option of granting interest- free loans to the Muslim community under the Islamic banking system. But if that is not possible due to the existing banking regulations, the NCM intends to ask the ministry for a way out to utilise the unaccounted money lying in the banks and on which the interest is piling up.
So far, the RBI has been wary of the consequences of Islamic banking and had kept the issue under wraps. Senior banking officials had maintained that it is not feasible in India as existing regulations do not permit interest- free transactions.
Moreover, the RBI's principal concern is how to protect the interest of the depositor in case the bank folds up.
The concept of Islamic banking is not alien to Indian financial institutions as the proposal to introduce it has been on the discussion table for over a decade.
It was only after fresh recommendations were given by the Anand Sinha committee, constituted by the RBI, and one by the Raghuram Rajan committee, set up by the finance ministry, that the issue has once again been brought into the limelight.
The NCM members recently met over the issue but were cautious against getting labelled as an ' alienated group'. Thousands of crores earned in interest is kept in suspended accounts as believers of Islam do not claim it. The assets controlled by Muslims are estimated to be $ 1.5 trillion and is growing at 15- 20 per cent.
In Kerala alone, it is pegged at above ` 40,000 crore ( according to a 2005 estimate). The money is lying idle, which if utilised judiciously, could have a major impact on the economy.
For Full Report:
http://epaper.mailtoday.in/epaperhome.aspx?issue=1062012
--------
Day later, Sikh pilgrims cross over to Pakistan on foot
Yudhvir Rana, TNN | Jun 10, 2012,
ATTARI: After spending the night at Attari, most Sikh pilgrims finally left for Pakistan on foot via Attari land border to observe the martyrdom anniversary of fifth Sikh master Guru Arjan Dev at Gurdwara Dera Sahib, Lahore. Upset over the treatment meted out to them at Attari International Railway Station on Friday, the devotees, who had been raising slogans against Punjab and central governments for not facilitating their visit, said the railway department had not allowed the pilgrim special train to enter India since they had been told that Shiromani Gurdwara Parbandhak Committee (SGPC) had already observed the martyrdom day on May 25 and no jatha from India would leave for Pakistan to observe the martyrdom day of Guru Arjan Dev on June 16.
A devotee, Harvinder Singh said, "It is injustice, I know there is controversy over Nanakshahi calendar, but that doesn't give anyone the right to hurt people's religious feelings." He said even if the railways department didn't have any information, state government should have stepped in to resolve the issue. Another devotee Ravinder Singh wanted a probe ordered into who had given this information to the railway department.
A few devotees, who returned to their native places, will board the Samjhauta Express on Monday, said sources.
Attari International Railway Station supervisor S K Madan maintained that they didn't have any information about the departure of Sikh jatha. Meanwhile, Delhi Sikh Gurdwara Management Committee (DSGMC) president Paramjit Singh Sarna said they had got permission for devotees to cross over to Pakistan on foot from Attari land border following the intervention of minister of state for foreign affairs Parneet Kaur.
http://timesofindia.indiatimes.com/india/Day-later-Sikh-pilgrims-cross-over-to-Pakistan-on-foot/articleshow/13984593.cms
--------
'13/7 bomber changed look for fear of being caught'
Mateen Hafeez, TNN | Jun 10, 2012
MUMBAI: Investigators probing last year's 13/7 triple bomb blast are of the opinion that one of the two suspected Pakistani bombers, Waqqas Saad Shaikh, was scared of being caught. This could be the reason he preferred to plant the bomb in a dustbin near Opera House instead of inside a bigger establishment.
Waqqas and the other suspected Pakistani co-bomber, Tabrez alias Danish, had stayed at Byculla's Habib Mansion before and after the blasts. Waqqas is accused of using fake SIM cards, conspiracy of a terror act and assembling as well as planting bombs. He also allegedly helped the two arrested accused, Naqi Ahmed and Nadeem Akhtar, steal two Activa scooters. One of the two scooters was used to plant a bomb at Zaveri Bazar.
According to sources, Waqqas had joined a gym in Byculla and went there regularly. "On the day of the blasts, Waqqas and Tabrez went to Opera House on one of the stolen scooters around 1.30pm and the former planted the bomb in a dustbin near a hawker. The bomb was not fitted on the scooter," said a source. Police suspect Waqqas, though dedicated to his terror mission, was scared of being caught or riding a bomb-fitted scooter. "While Tabrez alone planted the bomb at Zaveri Bazar, Waqqas took his help to go to Opera House," said police sources.
Three bombs had exploded on July 13 last year at Opera House, Zaveri Bazar and Dadar, killing 27 and injuring 127.
The ATS has so far arrested five persons in the case. During the investigation, the police found that Waqqas had visited a private clinic in Mazgaon for an eye laser surgery. "He wanted to change his look and get rid of his glasses so as to avoid being caught," said an officer, adding that the police have zeroed in on the clinic where Waqqas underwent the surgery. "We have recorded the doctor's statement and he is one of the witnesses in our case," the officer said.
http://timesofindia.indiatimes.com/india/13/7-bomber-changed-look-for-fear-of-being-caught/articleshow/13981676.cms
--------
Qateel Siddiqui's cousin in Pune, demands CBI probe
Asseem Shaikh, TNN | Jun 10, 2012, 03.40AM IST
PUNE: Mohammad Afroz Shaikh, a cousin of Indian Mujahideen operative Qateel Siddiqui, on Saturday demanded a CBI inquiry into Siddiqui's murder. Shaikh alleged that Siddiqui had been living in fear ever since he was lodged in Yerawada Central Jail. Siddiqui was strangled by gangster Sharad Mohol and his aide Alok Bhalerao on Friday.
Shaikh runs a bag-making shop in Mumbai. He arrived in Pune on Saturday morning to claim Siddiqui's body. He told reporters that the local administration was providing logistical support to take the body to Darbhanga.
Shaikh told TOI at Yerawada police station that a fortnight ago, Siddiqui's younger brother Shakeel had telephoned him in Yerawada jail. "Shakeel called me in Mumbai and said that Siddiqui is living in fear and asked me to go to Pune and meet him in jail. When I enquired if I could come to Pune for he visit, I was told that Siddiqui was taken to Mumbai for investigation. When I tried meeting ATS officials in Mumbai, I was told that he was taken to Pune for investigation and would be later taken to Delhi. So I decided to keep quiet," Shaikh said.
He said that Shakeel was in regular contact with Siddiqui at Yerawada and must have been told about the threat to his life. "Around June 1 or 2, Siddiqui's wife Fatima called the jail and requested the officials to let her speak to her husband. They refused at first but when she persisted, they allegedly told her that she would come to know whether he was alive or dead in five days. Siddiqui was killed after that," Shaikh claimed.
Shaikh said that on Friday his brother from Delhi telephoned him around 2.30 pm and told him about Siddiqui's murder inside the jail. "He asked me to watch the television. I saw the news about Siddiqui being strangled to death. Later, I received a call from Shakeel who asked me to go to Pune to bring his body back home," he said.
Shaikh said that Siddiqui's murder showed that jails are not secure, and hence there should be a CBI inquiry. "My cousin was falsely implicated in several cases, but there was no evidence to prove his involvement and that is why he has been killed," he said.
Civic activist Anjum Inamdar told TOI that a delegation of their community in Patna will hand over a memorandum to Bihar chief minister Nitish Kumar demanding a CBI probe into Siddiqui's murder.
Local activist M M Sayyed, who is helping Siddiqui's cousin, said his body will be taken by road to Mumbai from where it will be flown to Darbhanga in Bihar. V T Patil, police sub-inspector at Yerawada police station told Mohammad Afroz Shaikh, a cousin of Siddiqui, that the family should get confirmed air tickets from Mumbai and inform the police about the date and time of the flight. Police will make arrangements to take the body to Mumbai. They will ensure that the mortal remains are adequately preserved.
http://timesofindia.indiatimes.com/india/Qateel-Siddiquis-cousin-in-Pune-demands-CBI-probe/articleshow/13980507.cms
--------
Need to prevent return of Taliban post-2014: India
SATURDAY, 09 JUNE 2012 22:38
S RAJAGOPALAN | WASHINGTON
Ahead of the US-India meetings next week, Indian Ambassador Nirupama Rao on Friday placed upfront the concerns over securing the post-2014 Afghanistan to prevent an upsurge of terrorist violence and a possible Taliban resurgence.
With the US move to draw down forces in 2014, Afghanistan and the region as a whole have to deal with a new reality and "see what needs to be done in order to secure the situation and prevent any possibility of an upsurge of violence and terrorism and the reappearance of elements like the Taliban, who have caused so much grief and destruction for that country in years gone by", Rao noted.
During a joint appearance with her US counterpart Nancy Powell at the Washington-based Centre for American Progress, Rao said India and the US are in close touch on the issue.
"We consult with each other very regularly about the situation in Afghanistan and how we can work together, all of us in the region, to strengthen Afghanistan's capacity to deal with forces that are anti-progress and do not want peace or stability in Afghanistan," Rao said, stressing: "So we have to all work together to strengthen Afghanistan's capacity to deal with forces that threaten its progress and prosperity."
She also touched on India's own Strategic Partnership Agreement with Afghanistan, describing it as the best indicator of the level of cooperation that India already has and intends to have with that country in the coming years.
During the conversation, moderated by Indian American Richard Verma, a former senior official at the State Department, Ambassador Powell said a decision could be expected before the end of this month on the question of sanctions over several countries including India that import oil from Iran.
Declining to go into the issue of whether or not India might get a waiver on the basis of the cuts it has made on Iranian oil imports, Powell said: "We have very carefully documented in cooperation with the Government of India, using a variety of sources on what the statistics are. And so I think that that decision is pending."
The Centre for American Progress, in a report on the subject, said that although India was projected to have cut its Iranian crude imports to about 16 million tons from 22 million in 2009, Washington is wanting New Delhi to do more.
"India should also find a way to make more formal its commitment to reduce its imports of Iranian crude oil," the think tank's analysts noted, adding: "These steps would be a big confidence builder in both capitals."
On the state of India's current ties with the US, both Powell and Rao made light of reports that spoke of a "lull and dip" or that the relationship is "oversold".
http://www.dailypioneer.com/world/71825-need-to-prevent-return-of-taliban-post-2014-india.html
--------
US-India meet to debate Afghan strategy, review anti-terror steps
FRIDAY, 08 JUNE 2012 23:01 S RAJAGOPALAN | WASHINGTON
The overarching US-India Strategic Dialogue to be held here next week will deliberate on moves relating to Afghanistan in the run-up to the proposed withdrawal of US and NATO forces from the war-torn nation in 2014.
The high-profile annual dialogue will also take stock of the ongoing counter-terrorism cooperation and consider steps towards implementing the landmark civil nuclear deal that has remained stalled over American concerns on India's liability law.
A host of senior ministers, led by External Affairs Minister SM Krishna, and top officials will be attending the sessions that he will co-chair with US Secretary of State Hillary Clinton.
The meetings are being held against the backdrop of a looming American threat to slap sanctions on several countries including India that are deemed to be major importers of oil from Iran.
A senior US official, however, appeared to express satisfaction with the steps taken by India to curtail dependence on Iranian imports by tapping other sources. "We have made some good progress in our conversations with New Delhi on this," Assistant Secretary of State Robert Blake said at the Carnegie Endowment for International Peace, adding: "We are encouraged by the progress we have seen."
But Blake would not say if the Obama administration would be recommending a waiver for India in the light of New Delhi's moves cutting Iranian oil imports from 16 of the total to about 10 per cent.
Full Report at:
http://www.dailypioneer.com/world/71572-us-india-meet-to-debate-afghan-strategy-review-anti-terror-steps.html
--------
India invites Pakistan for investors' meet on Afghanistan
ISLAMABAD, June 10, 2012 : Pakistan and China are among the countries invited for the regional investors' meet on Afghanistan, to be held in New Delhi on June 28, to discuss ways to boost international-private-sector investment in the war-torn country.
Indian External Affairs Ministry spokesman Syed Akbaruddin said in New Delhi that though it was largely a private-sector meet, India would also invite government entities for the conference aimed at exploring and promoting investments in Afghanistan on a long-term basis, IRNA reported. This is the first international meet to be held by India involving the private sector. If Pakistan accepts, it would be the first time it would participate in an India-led initiative on Afghanistan. The investors' meet is primarily aimed at spurring private sector investment by roping in countries of the region, but India has also invited ministers and officials for the conference. agencies
http://www.dailytimes.com.pk/default.asp?page=2012\06\10\story_10-6-2012_pg7_4
--------
South Asia
Dhaka protests Economist reports
Bss,
Dhaka, June 10, 2012, Bangladesh yesterday protested against the two reports published in the London-based The Economist on May 26, insisting that Dhaka saw a gradual deterioration of quality and objectivity in the articles of the magazine over the past few years, particularly with respect to Bangladesh.
In a rejoinder, the foreign ministry said the two articles not only reflected the high level of ignorance of the reporter(s) about today's Bangladesh but also made Dhaka suspicious of the weekly's intention behind writing such malicious articles.
The magazine published the articles under the headlines, "Politics in Bangladesh: Banged about: The prime minister sets the country on a dangerous path" and "Bangladesh's toxic politics: Hello, Delhi: It is up to India to try to stop Sheikh Hasina ruining Bangladesh".
The articles, it said, were full of misinformation and inaccurate conclusions apparently based on hearsay against the government of Prime Minister Sheikh Hasina -- a government with the strongest-ever mandate in the history of the country.
"The Economist, in these articles, also showed utter disrespect towards the people of Bangladesh as far as their capability and ingenuity to address national issues is concerned, and nakedly invites foreign intervention!"
The rejoinder said the biased articles that accused Hasina of "setting" Bangladesh on a "dangerous path", totally ignored Bangladesh's achievements in the last three years. "It will be impossible to list all those successes here, but Dhaka would recommend that your reporters do some study and research before writing their articles, particularly on Bangladesh."
For a start, they may wish to be informed that the population of Bangladesh does not constitute "170 million poor Muslims". "We urge your reporters to study the demographics of Bangladesh for future reporting," it said.
"We feel very sad to see a gradual deterioration of quality and objectivity in the articles appearing in your well-reputed magazine over the past few years, particularly with respect to Bangladesh -- a country of 160 million people struggling to march forward towards inclusive development, democracy and the rule of law," reminded the rejoinder.
For Full ReportA:
http://www.thedailystar.net/newDesign/news-details.php?nid=237718
--------
Bangladeshi scribes' dam mission fails to take off
Diplomatic Correspondent, June 10, 2012
Ten Bangladeshi journalists, who went to visit the Tipaimukh dam site on the Barak river in India's north-eastern Manipur state on June 6, only got a bird's eye view as the helicopter carrying them could not land.
"The Indian Air Force (IAF) said that the helipad at Tipaimukh is not fit for landing of the chopper. Therefore, the team could not visit the site," said Ranjan Mandal, media liaison officer of the central ministry of external affairs to Times of India on June 7.
In July 2009, a Bangladeshi parliamentary delegation led by Abdur Razzak, on a fact-finding mission arranged by the Dhaka and Delhi governments, met a similar fate when heavy rains barred their landing.
The Times of India ran a report headlined "Bangladeshi scribes' dam mission fails to take off" in its Guwahati issue on June 8.
The report said the Indian government flew the journalists' to the site on an IAF helicopter from Silchar airport at Kumbhirgram, Assam on June 6.
But the copter could not land at Tipaimukh due to "technical reasons", said the report.
The next morning, the journalists once again expressed their keenness to visit Tipaimukh, situated at a distance of 78 kilometres from Silchar hotel and 100 kilometres from Manipur's capital Imphal.
But the IAF authorities failed to take them to the spot for the same reasons as the previous day, read the report.
However, the journalists had an opportunity to look at the congruence point of the Barak and Tuivai rivers and the Tipaimukh dam site from 1,200 feet above the ground for over 20 minutes during the 70-minute chopper ride, it said.
Sources told the Times of India that the journalists understood that India was yet to make any construction at the proposed site, added the report.
The journalists, led by Bangladesh Foreign Affairs Publicity Wing Deputy Director Md Zashimuddin, had reached Silchar hotel on June 6 and left via Kolkata on the afternoon of June 7. They arrived in Dhaka on June 8.
Earlier, they had met Union Water Resources Minister Pawan Kumar Bansal and Water Resources Secretary Dhruv Vijay Singh in New Delhi and were briefed about the project.
Meanwhile, Committee of People and Environment, a body of environment activists and some anti-dam organisations based in South Assam, staged a demonstration in front of Silchar hotel on the morning of June 7.
Earlier, four local non-government organisations, in a joint statement in Imphal on June 7, observed that it was not possible for the journalists to assess the environment and social impacts of such a huge project from aerial survey.
http://www.thedailystar.net/newDesign/news-details.php?nid=237696
--------
Taliban bomber kills 4 NATO Troops in Afghanistan
AP | Jun 10, 2012,
A Taliban suicide bomber disguised as a woman and wearing a burqa blew himself up in a market in eastern Afghanistan on Saturday, killing four Nato troops, officials said.
The troops were gathered in the main market of Nijrab district when the bomber detonated his explosives, said Sediq Sediqi, spokesman for the Afghan interior ministry.
http://timesofindia.indiatimes.com/world/rest-of-world/Taliban-bomber-kills-4-Nato-troops-in-Afghanistan/articleshow/13984332.cms
--------
France to begin Afghan pullout next month
TULLE: President Francois Hollande said Saturday France will begin its Afghanistan pullout next month and complete it by year-end, after four French troops were killed in a Taliban attack.
Hollande said France would pay a "national homage" to the men killed in a suicide bombing and that five wounded soldiers would be repatriated rapidly.
Defence Minister Jean-Yves Le Drian is due to reach Afghanistan on Sunday after he was told by the French president to head there, hours after the attack.
Hollande said the withdrawal of French troops from Afghanistan, one of his presidential campaign pledges, "will begin in the month of July, will be carried out and be completed at the end of 2012."
"In the meantime, everything must be done for our troops to meet their obligations but with the highest level of security and with the greatest vigilance for the lives of the soldiers."
"I am making this engagement here and I will be the guarantor for this operation," Hollande said in the central town of Tulle, where he was to attend a commemoration of the massacre of civilians by the Nazis on June 9, 1944.
He added that the attack "does not change anything, it neither accelerates nor delays" withdrawal plans.
While some have called for the pullout to be sped up, "it is not possible to go faster," he said.
The four killed on Saturday were the first French soldiers to be lost in Afghanistan since January 20, when an Afghan soldier shot dead four unarmed soldiers and wounded 15 others.
According to the French defence ministry, the soldiers taking part in a "control operation" in the eastern province of Kapisa bordering Pakistan where insurgents are very active.
Afghan interior ministry spokesman Sediq Sediqqi told AFP the attacker was disguised as a woman wearing a burqa.
Three of the five wounded were in critical condition.
Some 3,500 French soldiers are deployed in Afghanistan, mainly in Kabul and in Kapisa, the fifth largest contingent in Nato's 130,000-strong US-led force.
Since January's attack, France has begun accelerating the withdrawal of its troops, and French soldiers have been given instructions to minimise their exposure.
Allies have downplayed the impact of their early departure, saying Afghan troops are ready to take over.
Full Report at:
http://dawn.com/2012/06/10/france-to-begin-afghan-pullout-next-month-2/
--------
Karzai says NATO to end air strikes on residential areas
AFP
KABUL: Afghan President Hamid Karzai said Saturday that the US commander of Nato forces in Afghanistan had "promised" air strikes on residential areas would stop after apologising for recent civilian deaths.
Karzai met General John Allen, commander of Nato's International Security Assistance Force (Isaf), and US Ambassador Ryan Crocker days after a strike in Logar province, which Afghan officials say killed 18 civilians.
Allen "once again officially apologised for civilian casualties in Baraki Barak district" and "promised… not to carry out air strikes on public residential areas," a statement from Karzai's office read.
The statement added that "after agreeing with the demands of the president" Allen had said Nato forces "will completely stop such operations".
Karzai's comments came a day after Allen flew to Logar province, south of Kabul, to apologise over the deaths of civilians in an air strike on a home in the area in the early hours of Wednesday.
Isaf said multiple insurgents were killed in the strike, which was ordered after troops came under fire during an operation against a Taliban insurgent leader, but Karzai expressed outrage and cut short a visit to Beijing.
"Attacks by Nato that cause life and property losses to civilians under no circumstances could be justified and are not acceptable," Karzai said of the attack.
It was the second time within a month that Allen had to admit civilian deaths in Nato air strikes that have strained relations between Karzai and the US, which leads international forces in the fight against Taliban insurgents.
Responding to Saturday's statement from the Afghan presidential office an Isaf spokesman told AFP that they were "aware of the comments of the palace.
"We are currently reviewing our tactical directives and procedures and will continue to partner the government of Afghanistan to implement measures that effectively increase our efforts to minimise civilian casualties throughout all of our operations," the spokesman said.
http://dawn.com/2012/06/10/karzai-says-nato-to-end-air-strikes-on-residential-areas/
--------
Hearing on BNP official, others production warrants Thursday
Star Online Report
Sunday, June 10, 2012
A Dhaka court on Thursday will hear the petitions of 29 opposition leaders including BNP acting secretary general Mirza Fakhrul Islam Alamgir seeking withdrawal of production warrants against them in an explosive case.
In the petitions, the accused said they need the withdrawal in the explosive case to be freed on bail as they had already got bail in two cases -- one for torching a vehicle and another for exploding two 'bombs' at Bangladesh Secretariat-- Taherul Islam Touhid, a counsel of the accused, told The Daily Star.
Thirty-three leaders of the 18-party alliance including the 29 had secured bail from the High Court on June 7 in a case for torching a vehicle near Prime Minister's office during the April 29 hartal.
On the other hand, the opposition leaders accused of exploding 'bombs' at secretariat secured an anticipatory bail on May 14 from the HC till submission of charge sheet in the case.
According to law, the bail will be effective till acceptance of the charge sheet against the accused.
Detectives on May 31 charged the 29 leaders with blasting two 'bombs' at the secretariat.
Judge Mohammad Zahurul Haque of the Metropolitan Sessions Judges' Court fixed the date on Sunday as the counsels of the detained leaders filed several petitions before it for withdrawal of the warrants.
The case was filed with Shahbagh Police Station against 28 leaders of the 18-party alliance in connection with two bomb explosions at the Secretariat during hartal hours on April 29.
On June 6, the same court issued the warrants against the accused asking jail authorities to produce them before it on July 24.
http://www.thedailystar.net/newDesign/latest_news.php?nid=38308
--------
North America
Suicides outpace war deaths for US troops: Pentagon
Timothy Williams, NYT News Service | Jun 10, 2012, 05.56AM IST
The suicide rate among the US's active-duty military personnel has spiked this year, eclipsing the number of troops dying in battle and on pace to set a record annual high since the start of the wars in Iraq and Afghanistan more than a decade ago, the Pentagon said on Friday.
Suicides have increased even as the United States military has withdrawn from Iraq and stepped up efforts to provide mental health, drug and alcohol, and financial counseling services.
The military said on Friday that there had been 154 suicides among active-duty troops through Thursday, a rate of nearly one each day this year. That number represents an 18% increase over the 130 active-duty military suicides for the same period in 2011. There were 123 suicides from January to early June in 2010, and 133 in 2009. By contrast, there were 124 US fatalities in Afghanistan as of June 1 this year, said the Pentagon.
Suicide rates of military personnel and combat veterans have risen sharply since 2005, as the wars in Iraq and Afghanistan intensified. Recently , the Pentagon established a defense suicide prevention office.
On Friday, Cynthia Smith, a defense department spokeswoman , said the Pentagon had sought to remind commanders that those who seek counselling should not be stigmatized.
"This is a troubling issue, and we are committed to getting our service members the help they need," she said. "I want to emphasize that getting help is not a sign of weakness ; it is a sign of strength."
In a letter to military commanders last month, defense secretary Leon Panetta said "suicide prevention is a leadership responsibility," and added , "commanders and supervisors cannot tolerate any actions that belittle, haze, humiliate or ostracize any individual , especially those who require seeking professional services."
http://timesofindia.indiatimes.com/world/us/Suicides-outpace-war-deaths-for-US-troops-Pentagon/articleshow/13984337.cms
--------
Obama, Clinton worth only chickens, camels: Al Qaeda group
Reuters
Washington, June 10, 2012
A Somali Islamist militant group is offering rewards of chickens and camels for information on the whereabouts of US President Barack Obama and US secretary of state Hillary Clinton, mocking the millions of dollars the United States has offered for leaders of the al Qaeda affiliate. Fuad
Muhammad Khalaf of the Shabaab al-Mujahideen Movement in Somalia made the offer after Friday prayers, according to the SITE Intelligence Group, which monitors militant organizations.
"Whoever reveals the hideout of Obama will be rewarded with 10 camels, and whoever reveals the hideout of the old woman Hillary Clinton will be rewarded 10 chickens and 10 roosters," he said, according to SITE.
On Thursday, the US State Department offered a reward of $5 million each for the whereabouts of Khalaf and three associates, as well as $7 million for information about al Shabaab founder and commander Ahmed Abdi aw-Mohamed.
A bounty of $3 million was offered for the location of two other officials of the organization.
Al Qaeda said in February the al Shabaab group, which was branded a terrorist organization by the US government in 2008, had joined its ranks.
Al Shabaab, which has controlled large parts of Somalia, faces pressure from Kenyan troops in the south, Ethiopian troops in central Somalia and African Union forces near the capital, Mogadishu.
http://www.hindustantimes.com/world-news/NorthAmerica/Obama-Clinton-worth-only-chickens-camels-Al-Qaeda-group/Article1-868763.aspx
--------
US fighting its own war in tribal areas of the Pak-Afghan border region: Panetta
WASHINGTON: US Defence Secretary Leon Panetta while giving an interview to a US television channel on Saturday said that the United States(US) is fighting its own war in the tribal areas of the Pak-Afghan border region and that military safe havens in Pakistan would not be tolerated, DawnNews reported.
During the interview, the US defence secretary without specifying any further said that the US would take every possible step to protect its troops.
While reiterating the stance against military safe havens in Pakistan's tribal areas, he said that the US would continue to pressurise Pakistan to act effectively against the Haqqani network.
He warned that incidents of militants' cross-border movement between Pakistan and Afghanistan resulting in attacks that kill US troops stationed in Afghanistan would not be tolerated in any case.
Pakistan's Foreign Office spokesperson while rejecting Panetta's remarks said that certain complicated matters were being viewed lightly by the US and that the Nato supply route through Pakistan would not be restored without a US apology.
http://dawn.com/2012/06/10/us-fighting-its-own-war-in-tribal-areas-panetta/
--------
Africa
ICC lawyer arrested after meeting Qaddafi's son
Saturday 9 June 2012
TRIPOLI: A lawyer for the International Criminal Court has been detained in Libya after she was found to be carrying suspicious letters for Muammar Qaddafi's captured son Seif Al-Islam, a Libyan lawyer said yesterday.
The Australian lawyer, named as Melinda Taylor, was part of a four-member ICC delegation that had traveled to the small western mountain town of Zintan where Seif Al-Islam has been detained since his capture in the desert in November.
"During a visit (to Seif Al-Islam), the lawyer tried to deliver documents to him, letters that represent a danger to the security of Libya," said Ahmed Al-Jehani, the Libyan lawyer in charge of the Seif Al-Islam case on behalf of Libya, and who liaises between the government and the Hague-based ICC."She is not in jail. She is being detained in a guesthouse, her colleagues are with her," he told Reuters.
He did not say what was in the documents but said they were from several people including Seif Al-Islam's former right-hand man, Mohammed Ismail.
Jehani said the ICC team, which arrived in Libya this week and had received permission from Libya's prosecutor-general to visit Seif Al-Islam in the secret location where he has been kept, had been searched before the meeting.
Without giving details, he said a pen with a camera as well as a watch with a recorder were found during the search. Asked whether she would be released soon, Jehani said: "I hope today."
An ICC spokesman was not immediately reachable for comment.
Western-educated Seif Al-Islam, Qaddafi's one-time heir apparent, was captured by fighters from Zintan in Libya's southern desert in November, dressed as a Bedouin tribesman, and taken to their home town.
The ICC issued a warrant for him last year after prosecutors accused him of involvement in the killing of protesters during the revolt that toppled his father, who ruled Libya with an iron fist for 42 years.
Libya has resisted handing him over, saying he should be tried at home. In May, it filed a legal challenge, contesting the Hague-based court's right to try the case.
The ICC ruled this month that he could stay in detention in the North African country while the court decides if it has the jurisdiction to try him.
Separately, two people were killed and several injured in clashes between Libyan soldiers and tribesmen in the remote southeast, a local doctor and tribal representative said, underlining the unrest still raging seven months after Gaddafi's overthrow.
Violence erupted in the early hours yesterday in the city of Al-Kufra, near Libya's borders with Chad and Sudan, where armed forces were sent to in February to quell fighting in a long-standing rivalry between the Tibu and Zwai tribes.
Bouts of violence in the southern Sahara and in the mountainous west have shown how volatile Libya remains following the demise of Gaddafi, who had long played off one tribe or clan against the other to weaken their power.
"The Tibu launched an attack on the city, the army responded and fighting is continuing," Muftah Abukhalil, a member of the local council, said by phone, without giving details. He said two people were injured in the violence.
http://www.arabnews.com/icc-lawyer-arrested-after-meeting-qaddafis-son
--------
Libya tribe clashes with armed forces in south
AFP
Saturday 9 June 2012
TRIPOLI: New fighting broke out in southern Libya yesterday between members of the Toubou minority and government forces, the two sides said, with unconfirmed reports that at least five people were killed.
Tribal chief Issa Abdelmajid said the Toubou quarter of the town of Kufra came under shelling at 3:00 a.m. by the Libya Shield Brigade, former rebels under government control sent to quell previous ethnic fighting.
Abdelmajid said at least five of his people were killed and 10 wounded, and that a number of houses in the quarter had been burned.
Brigade commander Wissam Ben Hmid confirmed the fighting, saying his men had responded to a Toubou attack on one of their checkpoints.
He said three of his men had been wounded.
In February, clashes pitting the Toubou against the rival Zwei ethnic group in Kufra cost more than 100 lives and displaced half the population, according to UN figures.
Libya's nascent army intervened by sending the brigade from the eastern city of Benghazi to uphold a hard-won cease-fire.
Kufra, a town of about 40,000, is located in a triangle where the borders of Egypt, Chad and Sudan meet.
In April, fighting between the Toubou and the brigade killed 12 people.
FROM: AGENCE FRANCE PRESSE
http://www.arabnews.com/libya-tribe-clashes-armed-forces-south
--------
Nigeria based Sahara pumps first oil, expands trade to east
(Reuters) / 10 June 2012
GENEVA - Nigeria-based energy firm Sahara Group has started pumping its first crude oil and plans to expand trading activities in the Middle East and Asia, the chief executive of its trading division said, as the centre of world oil demand shifts east.
Privately-owned Sahara, which had a turnover of $8 billion in 2011, is along with Swiss-based traders Vitol, Trafigura and Glencore, one of the main independent exporters from Nigeria, Africa's top oil producer, via term contracts with state oil firm NNPC.
Already present in the African fuel distribution and power sector, Sahara this year started pumping its first oil.
"We are currently focused in fully developing one onshore block [OPL274], where we believe to get soon a peak production of mininum 25,000 barrels per day," said Fortunato Constantino in an interview.
The firm also has stakes in several offshore Nigerian oil blocks, including OL284 and OL286.
Sahara also expects to become a producer of liquefied natural gas, or LNG, in the next few years through Nigeria's long-delayed Brass LNG project, alongside shareholders Eni and Total.
"The plan of the shareholders is to take a final investment decision by the end of the year. We participate with a two per cent stake and are willing to market a significant part of the 10 million tonne per annum plant production," he said.
Sahara Group is known by rival traders for its "crude for product swaps" with Nigeria. It buys crude from the state oil firm, processes it at regional refineries such as in Ivory Coast and then sells the products back to Africa's most populous nation.
Constantino, who joined Sahara from OMV in 2010, told Reuters the next strategic step would be to source crude from beyond West Africa and gain better access to sour barrels, which are expected to account for a large portion of future Asian demand.
"The strategy is to balance our portfolio between West Africa and other regions to leverage our offer and possibly play the arbitrage. We want to be ready to benefit from more east/west arbitrage future windows," he said.
Tough environmental rules in Europe and growing competition from cleaner fuels such as natural gas have crushed European oil refining margins, driving investors towards new plants in emerging markets including India and China.
"We are looking at establishing new positions in North Africa, Middle East and the Far East, to redistribute our oil supply portfolio by offering a wider range of grades," Constantino said.
-----------
URL: https://www.newageislam.com/islamic-world-news/new-age-islam-news-bureau/bmp-officials--rape--five-girls-in-fort-munro,-pakistan/d/7585