New Age Islam News Bureau
14 Jul 2013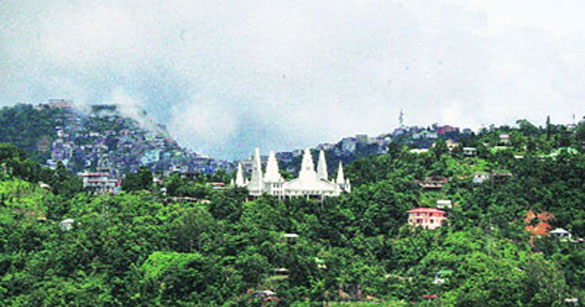 Photo: In 'Hidden Jerusalem' Of Aizawl, a Sect Builds 'Solomon's Temple'
----------
Arab World
• Blast at Sunni mosque in Baghdad kills 13
• Prominent liberal politician Elbaradei sworn in as Egypt VP
• In Egypt, the popularity of Islamism will endure
• Pakistan Taliban set up camps in Syria, join anti-Assad war
• 'All humans are brothers, sisters': Syrian scholar
• 200 civilians trapped in mosque in a suburb of the Syrian capital, as fighting rages
• Egypt announces criminal investigation of Morsi
• Syrian opposition fighters fear 'side war' as hostility escalates
Mideast
• In 'hidden Jerusalem' of Aizawl, a sect builds 'Solomon's Temple'
• Turkey parliament curtails army powers
• Iran agrees to take all oil payments from India in rupees
• Israel led air strike in Syria on July 5: Report
Europe
• UK soldier and veteran suicides 'outstrip Afghan deaths'
• Snowden chose not to release most damaging data: journalist
• UN chief Ban 'outraged' at Darfur peacekeeper deaths: Spokesman
• Two French journalists kidnapped in Syria 'alive'
Pakistan
• 'Militants are too powerful in Malala's Khyber Pakhtunkhwa'
• Desecration of Sri Guru Granth Sahib by Hindus, in Pakistan
• Kohat: Seven killed in raid of militants' hideouts
• NATO airstrike kills 5 Taliban militants
• Pak Christian man gets life term for sending blasphemous SMSs
• Preliminary work on Pak-China train link begins
• PML-N govt favours talks with Taliban
• Zardari may leave Pakistan after completing term as president
• Govt denies Abbottabad report went missing
• Attack on bus by Militants kills one, injures two passengers in Kalat
• Influential Hindus 'influencing' police
• Makeshift abode: Kutchi Jamaat Khana - from a wedding centre to a shelter home
Africa
• Boko Haram Denies Cease-Fire with Nigerian Government
• 7 peacekeepers killed in Sudan's Darfur
• S. Sudan fighting could spark 'ethnic conflict'
Southeast Asia
• Time the Christian politicians protected their flock in Malaysia
• Bishop calls for Najib to take stand against Perkasa, Jati
• MCMC to investigate insensitive post by sex blogger duo
• Mission website comes to the rescue of Filipino expats
• Philippine Army-rebel clash claims seven lives
• Four Terror Convicts Still at Large Following Medan Prison Break
North America
• US recede Abbottabad during flood relief ops for Osama hunt?
• Judge to mull if airlines owe World Trade Center owners over 9/11
• Countries seek to bring home Guantanamo detainees
South Asia
• Afghanistan's women wary as Taliban creeps back into political life
• Hefazat-e-Islam chief violated constitution: Minister
• Bangladesh's education needs basic changes
• Hasina slates Hefazat chief's comments
• HRCM investigating three cases of alleged torture in Male' custodial
• Fighting terror: President Karzai calls for Pak-Afghan unity
India
• Indian expats urged to invest in education
• Govt behind Parliament attack, 26/11: Ishrat probe officer
• Militants kill policeman in north Kashmir
Compiled by New Age Islam News Bureau
URL: https://www.newageislam.com/islamic-world-news/new-age-islam-news-bureau/blast-at-sunni-mosque-in-baghdad-kills-13/d/12594
-----------
Arab World
Blast at Sunni mosque in Baghdad kills 13
July 14, 2013
A bomb exploded outside a Sunni mosque in Baghdad killing at least 13 people leaving prayers and extending a daily wave of violence rippling across Iraq since the holy month of Ramadan began.
A separate attack at a funeral northeast of Baghdad killed another three people.
Police said the Baghdad blast went off around 10 pm on Saturday near the gate of the Khalid bin al-Walid mosque in the capital's southern Dora neighborhood, a largely Sunni Muslim area. It struck just after special late-evening prayers held during Ramadan ended.
At least 35 people were wounded in addition to those killed, police said. A hospital official confirmed the casualty toll.
Iraq is weathering its worst eruption of violence in half a decade, raising fears the country is heading back toward widespread sectarian fighting that peaked in 2006 and 2007. More than 2,600 people have been killed since the start of April.
The pace of the bloodshed has picked up since Ramadan began on Wednesday, including a suicide bombing at a coffee shop in the northern city of Kirkuk late Friday that killed dozens.
In another attack on Saturday, a suicide bomber blew himself up at a funeral in the town of al-Abbara, near the city of Baqouba, which is about 60 kilometers northeast of Baghdad. Police and hospital officials said that attack killed three and wounded 10.
All officials spoke on condition of anonymity because they weren't authorized to release the information to journalists. There has been no claim of responsibility for the recent wave of attacks.
Sunni extremists, including al Qaeda's Iraq branch, frequently target Shiites, security forces and civil servants in an effort to undermine the Shiite-led government in Baghdad.
They also could be behind Saturday's attack on the Sunni mosque, hoping that the bombing could spark a sectarian backlash against Shiites. But Shiite militias that have kept a low profile in recent years also could be to blame.
Attacks on Sunni places of worship have spiked in recent months as security has deteriorated and sectarian tensions grow.
Iraq's minority Sunnis have been protesting for months against the Shiite-led government, alleging they receive second-class treatment. Sunni militant groups have tried to tap into that anger by linking their cause to that of the demonstrators.
http://www.hindustantimes.com/world-news/restofasia/Iraq-Blast-at-Sunni-mosque-in-Baghdad-kills-13/Article1-1092194.aspx
-----------
Prominent liberal politician Elbaradei sworn in as Egypt VP
14 July 2013
Prominent liberal Egyptian leader Mohamed ElBaradei was sworn in on Sunday as Egypt's interim vice president for foreign relations, AFP reported the presidency as saying in a statement.
ElBaradei, a former head of the U.N. nuclear watchdog and a Nobel peace laureate, was initially tipped to lead the cabinet, but his nomination was rejected by the ultra-conservative Salafist party Al-Nour.
He is also the head of the National Salvation Front, a coalition of leftist and liberal groups, formed in the wake of a power grab by ousted President Mohammed Mursi in November.
Talks were held between Egypt's new Prime Minister Hazem el-Beblawi and candidates for ministerial posts on Sunday to form an interim government after the removal of Mursi earlier this month.
Meanwhile, Nabil Fahmy, a former Egyptian ambassador to the United States, accepted the post of foreign minister on Sunday in the interim government.
Beblawi is assembling a government expected to be made up mainly of technocrats and liberals to lead Egypt under an army-backed "road map" to restore full civilian rule.
New govt unveiled on Tuesday
The new government could be unveiled by Tuesday or Wednesday. Their top priorities would be to restore security, ensure the flow of goods and services and prepare for parliamentary and presidential elections, AFP reported.
Leftist politician Godah Abdel Khalek told Reuters on Sunday that he declined an offer to serve as minister of supply in Egypt's interim government because of personal reasons.
Previously, sources in the transitional administration had said Beblawi would ask Abdel Khalek to return to his post, which had had held for a few months in 2011.
"I was offered the post by Beblawi, but I declined for personal reasons," he told Reuters.
Talks over the new cabinet come as prosecutors looked at criminal complaints against Mursi and members of his Muslim Brotherhood, which he hails from.
Egypt's public prosecutor office said it had received complaints accusing Mursi and members of the Muslim Brotherhood of spying, inciting the killings of protesters and damaging the economy.
Al Arabiya's Cairo correspondent reported that the prosecutor's office said it was investigating the complaints to allow those accused to be questioned.
Egypt's legal system allows prosecutors to investigate complaints made by the police or by any member of the public. It can take days or months for formal charges to appear. Prosecutors rarely issue statements based on complaints before charges are filed.
http://english.alarabiya.net/en/News/middle-east/2013/07/14/Egypt-s-PM-closer-to-forming-cabinet-as-prosecution-probes-Mursi.html
----------
In Egypt, the popularity of Islamism will endure
Jul 14 2013
How will the Egyptian army's coup against the elected Muslim Brotherhood government affect Islamism, intellectually and politically the most consequential movement in the Middle East since the 1960s? Do the brethren see their fall as a rejection of their religious beliefs? Should they?
Historically, it's impossible to imagine Islamic militancy without the Brotherhood. Founded in 1928 against British imperialism and a rapidly Westernizing Egypt, the Brotherhood became the flagship for Sunni fundamentalism. Secretive but populist, contemptuous of state-paid clergy, intellectually syncretistic (socialism, fascism and European anti-Semitism blended into their "authentic" faith), the brethren became widely popular in Egypt as the army's experimentation with radical Arabism and crony capitalism failed.
The real strength of the Brotherhood movement, along the Nile and beyond, has always been its public faith and private virtue and its appealing historical narrative for Muslims who see the prophet Muhammad as a paragon SEmD a people's greatness flows from moral rectitude. The downfall of the general-turned-president Hosni Mubarak two years ago caught the brethren off guard. Thirty years ago, they opted for coexistence with the security state: Abjuring politics, they focused on missionary and social work. They became "neo-fundamentalists" who envisioned the collapse of the Egyptian police state one convert at a time. With the intense democratic debates among Arab intellectuals that followed the Sept. 11, 2001, attacks and the Iraq war, Islamic fundamentalist movements increasingly adopted a democratic lexicon and started, however tepidly, to struggle with the contradictions between popular sovereignty and the Holy Law.
The brethren's embrace of democratic politics always hinged on an old-fashioned Sunni assumption that the majority of Muslims couldn't be bad Muslims. The recent massive demonstrations in Egypt certainly show that many Egyptians who voted repeatedly for the Brotherhood SEmD in parliamentary elections in 2011 and 2012, in the presidential election last summer and to adopt the new constitution in December SEmD hit the streets against them. This has shocked some of the brethren and provoked Islamists elsewhere to reflect on the intersection of religion and politics.
Although religious tyranny secularizes society (see Christendom/the West), the Brotherhood's "rule" was probably too short, ineffectual (real power remained with Egypt's army and security services) and morally tepid. Women's social status when President Mohammed Morsi fell was about the same as when he was elected. Western "bikini tourism" and easy access to alcohol SEmD controversial issues for Islamic fundamentalists SEmD had not been touched. Tied up in the elemental problems of governing with little authority, the Brotherhood hadn't really formulated, let alone tested, its conception of the "good life."
For the secular opposition, this is a big, and probably lethal, problem. In the Islamic Republic of Iran, religious zeal among the common faithful has been burned out by the Iran-Iraq war of the 1980s and three decades of corrupt, oppressive clerical rule. One time Islamists have become trenchant critics of theocracy. Similarly, the appeal of secularism in Iran was widespread in the 1950s and '60s but died slowly under the shah, as a Westernizing dictatorship and the economics of a modern centralized state bulldozed traditional society and kindled a politicized religious awakening. The electoral triumph of Turkey's Islamist-friendly Justice and Development Party was also long in coming, partly because the Turkish military checked the democratic expression of the country's religious hinterland. It is inconceivable that the corrupt and cruel Egyptian army could stage-manage a better evolution to a non-Islamist democracy than had the Turkish army, which was, comparatively, neither corrupt nor cruel.
What the Arab Middle East has not seen since before World War I SEmD when Egypt experienced a brief efflorescence of secular liberalism SEmD is a real competition between Arab liberals and devout Muslims who see politics largely as an extension of their faith. The latter is, unquestionably, still a majority in Egypt. (The Holy Law is the law for most Egyptians, who have been living outside the country's calcified, ineffectual legal system of imported European codes.)
Many young secular Egyptians SEmD and their Western fans SEmD appear not to know this. They imagine having a liberal democracy in which advocates of sharia and the Islamic tradition cannot win an election, write the constitution or otherwise shape society except along secular lines. Westernization has been so successful in Egypt that perhaps a third of the population may no longer share basic cultural mores with the religious majority. Egyptian liberals, and the rest of the intellectually diverse opposition to the Brotherhood, turned to the street and the army SEmD Egypt's real ruler since 1952 SEmD to compete. It's an umbilical relationship that is now unlikely to be broken.
Morsi, an incompetent, boring and inarticulate demagogue, will not return. But Egypt's enormous systemic problems remain. The military may try to jury-rig elections in which the brethren could compete but not triumph. Mindful of recent Turkish history, senior officers will not allow vengeful Islamists to compete, win and neuter the army. Egypt's problems are now the responsibility of the military and Egyptian liberals. The odds are that they will fail abysmally, and in their failure, the Brotherhood and other Islamists will recapture the street.
Egypt's experiment with democracy is probably over. Egyptian secularists may win the next election, but many SEmD probably most - Egyptians will see the vote as illegitimate. Islamism grew strong in Egypt in opposition to unlawful power. Islamists may return to violence SEmD the holy-war arguments advanced by the Brotherhood theologian Sayyid Qutb are more readable now. More likely, the brethren will rally their followers in the streets and return to neo-fundamentalism, biding their time until the Egyptian army cracks. Contrary to what the Facebook liberals proudly boast on Tahrir Square, the game is far from over.
Reuel Marc Gerecht is a senior fellow at the Foundation for Defense of Democracies. He served in the CIA's Clandestine Service from 1985 to 1994, specializing in the Middle East.
http://www.heraldextra.com/news/opinion/in-egypt-the-popularity-of-islamism-will-endure/article_41e4d272-c4b7-5dc9-8d5b-d1f65bb6aeb5.html
-----------
Pakistan Taliban set up camps in Syria, join anti-Assad war
July 14, 2013
ISLAMABAD/PESHAWAR: The Pakistani Taliban have set up camps and sent hundreds of men to Syria to fight alongside rebels opposed to President Bashar al-Assad, militants said on Sunday, in a strategy aimed at cementing ties with al Qaeda's central leadership.
More than two years since the start of the anti-Assad rebellion, Syria has become a magnet for foreign Sunni fighters who have flocked to the Middle Eastern nation to join what they see as a holy war against Shia oppressors.
Operating alongside militant groups such as the al Nusra Front, described by the United States as a branch of al Qaeda, they mainly come from nearby countries such as Libya and Tunisia driven by similar conflict as a result of the Arab Spring.
Full report at:
http://dawn.com/news/1028982/pakistan-taliban-set-up-camps-in-syria-join-anti-assad-war
-----------
'All humans are brothers, sisters': Syrian scholar
Jul 14 2013
All humans are brothers and sisters and are equal in duties and rights regardless of race, religion, language and ethnic background, said a prominent scholar in his message.
Syrian scholar Dr Sheikh Mohamed Rateb Al Nabulsi upheld the humanitarian principles of Prophet Muhammad (peace be upon him) in his lecture 'Humanitarian aspects of Prophet Muhammad's character' on Thursday night.
The first in a rich cultural programme of 22 lectures, the lecture was part of the Dubai International Holy Quran Award, 17th session at the Dubai Chamber of Commerce and Industry.
Full report at:
http://www.khaleejtimes.com/nation/inside.asp?section=ramadannews&xfile=/data/ramadannews/2013/July/ramadannews_July61.xml
-----------
200 civilians trapped in mosque in a suburb of the Syrian capital, as fighting rages
July 14, 2013
Syria's main Western-backed opposition says 200 civilians are trapped in a mosque in a suburb of the Syrian capital as fighting rages outside between rebels and forces loyal to President Bashar Assad.
The Syrian Coalition called on the United Nations in a statement Sunday to send "a strong warning" to Assad that he "must immediately release" the civilians in the Damascus suburb of Qaboun.
Full report at:
http://www.thejakartapost.com/news/2013/07/14/syrian-opposition-200-civilians-trapped-mosque.html
-----------
Egypt announces criminal investigation of Morsi
July 14, 2013
CAIRO: Egypt announced a criminal investigation on Saturday against deposed Islamist President Mohamed Mursi, with prosecutors saying they were examining complaints of spying, inciting violence and ruining the economy.
Egypt's first freely elected leader has been held at an undisclosed location since the army removed him from power on July 3, but has not yet been charged with any crime. In recent days, Washington has called for him to be freed and for the authorities to stop arresting leaders of his Muslim Brotherhood.
Full report at:
http://dawn.com/news/1028981/egypt-announces-criminal-investigation-of-morsi
-----------
Syrian opposition fighters fear 'side war' as hostility escalates
14 July 2013
Syrian opposition fighters fear a "side war" with Islamist extremists, a Free Syrian Army official told The Washington Post on Saturday, as new attacks suggest a dangerous increase of infighting between rebel factions.
The assassination on Thursday of an FSA rebel commander by what the rebels are saying was an al-Qaeda gunman has heightened tension between the Western-backed FSA and the al-Qaeda-affiliated Islamic State of Iraq and the Levant, which has extended its influence in rebel-held areas of northern Syria, The Washington Post reported.
"They have a plan to kill the FSA leaders," Louay al-Mokdad, the FSA's political and media coordinator, told the newspaper. "We don't want a side war. We don't want any battle with them. But if they spill our people's blood, which is what they are doing, we will have to fight."
Full report at:
http://english.alarabiya.net/en/News/middle-east/2013/07/14/Syrian-rebels-fear-side-war-as-hostility-escalates.html
----------
Mideast
In 'Hidden Jerusalem' Of Aizawl, a Sect Builds 'Solomon's Temple'
Jul 14 2013
Afzal: On a ridge that forms Aizawl's western boundary, a marble structure rises above the lush green surroundings. Under development for the past two decades, it is spread over 3,025 sq m, has four towers topped with a crown each and four pillars emblazoned with seven Stars of David.
A Christian religious sect calling itself The Holy Church is building here what it calls the 'Solomon's Temple' — a successor to the original Solomon's Temple of Jerusalem mentioned in the Old Testament, believed to have been built by the son of ancient Israel's warrior-king David and destroyed by successive invaders. On the site now stands the Muslim shrine of the Dome of the Rock.
The sect believes Mizoram is the Biblical "city in the East", "the hidden Jerusalem" where, according to prophecy, the resurrected Jesus Christ will dwell before establishing an "eternal kingdom" in present-day Jerusalem.
Full report at:
http://www.indianexpress.com/news/in--hidden-jerusalem--of-aizawl-a-sect-builds--solomon-s-temple-/1141519/
-----------
Turkey parliament curtails army powers
Jul 14 2013
Turkey's parliament has amended the code governing the armed forces, curtailing their political influence.
The original rules gave the military responsibility of preserving the Republic of Turkey, a clause previously used as a justification for coups.
It now says the army's main duty is to protect the nation from foreign threat.
The military has long regarded itself as the protector of Turkey's secular tradition and has staged three coups between 1960 and 1980.
Full report at:
http://www.bbc.co.uk/news/world-europe-23302046
-----------
Iran agrees to take all oil payments from India in rupees
PTI | Jul 14, 2013
NEW DELHI: Iran has agreed to take payments for oil it sells to India entirely in rupees after US and western sanctions blocked all other payment routes.
India has been, since July 2011, paying in euros to clear 55 per cent of its purchases of Iranian oil through Ankara- based Halkbank. The remaining 45 per cent due amount was remitted in rupees in accounts Iranian oil company opened in Kolkata-based Uco Bank.
Payments in euro through Turkey ceased from February 6 this year but the rupee payments for 45 per cent of the purchases continued through Uco Bank, government sources said.
Iran explored taking 55 per cent payments in Russian Rouble and other currencies but the payment routes could not be finalised due sanctions against the Persian Gulf nation.
Sources said Iran has now agreed to take all of their payment in Indian rupees.
As the euro route was blocked and Iran did not indicate an alternate mode of taking payment for 55 per cent of the oil it sold to Indian refiners, over 1.5 billion dollars in dues got accumulated.
Full report at:
http://timesofindia.indiatimes.com/india/Iran-agrees-to-take-all-oil-payments-from-India-in-rupees/articleshow/21067897.cms
-----------
Israel led air strike in Syria on July 5: Report
AP | Jul 14, 2013
WASHINGTON: US officials say Israel targeted advanced anti-ship cruise missiles near Syria's principal port city in an air attack carried out earlier this month, The New York Times reported.
The officials say the attack on July 5 near the city of Latakia targeted a type of Russian-made missile called the Yakhont that Russia had sold to the Syrian government, the Times reported on its website yesterday night. Russia is a key political ally and arms supplier of Syrian President Bashar Assad's regime.
The officials didn't provide details on the strike, including the extent of the damage and how many missiles were used.
Full report at:
http://timesofindia.indiatimes.com/world/middle-east/Israel-led-air-strike-in-Syria-on-July-5-Report/articleshow/21066467.cms
-----------
Europe
UK soldier and veteran suicides 'outstrip Afghan deaths'
Jul 14 2013
More British soldiers and veterans took their own lives in 2012 than died fighting the Taliban in Afghanistan over the same period.
BBC Panorama learned that 21 serving soldiers killed themselves last year, along with 29 veterans.
The Afghanistan death toll was 44, of whom 40 died in action.
Some of the soldiers' families say the men did not get enough support. The Ministry of Defence (MoD) said every suicide was a "tragedy".
The Panorama programme obtained the figure of 21 through a Freedom of Information request to the MoD.
Full report at:
http://www.bbc.co.uk/news/uk-23259865
-----------
Snowden chose not to release most damaging data: journalist
Jul 14 2013
MOSCOW: Edward Snowden possesses data that could prove far more "damaging" to the US government but the fugitive leaker has chosen not to release them, said a journalist who first broke the story.
Glenn Greenwald told Argentina's La Nacion paper that Snowden, who is currently stranded in Moscow, had only sought to alert people that information they thought was private was being exploited by US intelligence agencies.
"Snowden has enough information to cause more damage to the US government in a minute alone than anyone else has ever had in the history of the United States," he told the paper in an interview published on Saturday.
Full report at:
http://dawn.com/news/1028962/snowden-chose-not-to-release-most-damaging-data-journalist
-----------
UN chief Ban 'outraged' at Darfur peacekeeper deaths: Spokesman
AFP | Jul 14, 2013
UNITED NATIONS: UN leader Ban Ki-moon is "outraged" at the killing of seven Tanzanian peacekeepers in an ambush in Darfur and called on the Sudanese government to take action, his spokesman said Saturday.
The seven were killed by unidentified attackers near Nyala in South Darfur. It was the latest of a series of attacks on UN troops in the western region this year. No perpetrators have yet been caught.
Full report at:
http://timesofindia.indiatimes.com/world/us/UN-chief-Ban-outraged-at-Darfur-peacekeeper-deaths-Spokesman/articleshow/21063978.cms
-----------
Two French journalists kidnapped in Syria 'alive'
14 July 2013
Two French journalists kidnapped shortly after arriving in Syria in June are alive and Paris is working for their release, the defense minister said on Sunday.
Didier Francois, 53, a seasoned reporter in trouble spots with Europe 1 radio, and 22-year-old photographer Edouard Elias were taken hostage after being stopped at a checkpoint on the road to Aleppo.
It was unclear who was holding them.
"Every effort is being made to ensure that the conditions for their release can be met very quickly," Defense Minister Jean-Yves Le Drian told journalists.
"We know they are alive and we are stepping up our efforts," he said. "In the interests of everyone, especially those two, I cannot say any more."
According to Reporters Without Borders, 24 journalists have been killed and 23 imprisoned since the outbreak of Syria's civil strife in March 2011.
http://english.alarabiya.net/en/News/middle-east/2013/07/14/Two-French-journalists-kidnapped-in-Syria-alive-.html
----------
Pakistan
'Militants are too powerful in Malala's Khyber Pakhtunkhwa'
Kim Arora, TNN | Jul 13, 2013
NEW DELHI: MalalaYousafzai's UN address on Friday on her 16th birthday was applauded by one and all. But a political leader from Pakistan says there is little hope for other thousands of girls like her in Khyber Pakhtoonkhwa, the area where extremists had shot her in the head.
Arbab Mohammad Tahir Khan Khalil, general secretary of the Awami National Party from Pakistan's Khyber Pakhtoonkhwa area, says that militant forces are still too powerful to be countered in the region.
Full report at:
http://timesofindia.indiatimes.com/india/Militants-are-too-powerful-in-Malalas-Khyber-Pakhtunkhwa/articleshow/21057910.cms
-----------
Desecration of Sri Guru Granth Sahib by Hindus, in Pakistan
Yudhvir Rana, TNN | Jul 13, 2013
AMRITSAR: Pakistan Hindu Sewa Welfare Trust has demanded from Pakistan government to take stern action against persons responsible for desecration of Sikh's holy book Sri Guru Granth Sahib. Trust president Sanjash Dhanja told TOI over phone from Karachi on Saturday that a group of Hindu's had torn the Sikh's holy scripture in the town of Pako Aquil in mid June following which there was outburst among Sikhs to book the culprits.
Full report at:
http://timesofindia.indiatimes.com/india/Desecration-of-Sri-Guru-Granth-Sahib-in-Pakistan/articleshow/21057395.cms
-----------
Kohat: Seven killed in raid of militants' hideouts
July 14, 2013
KOHAT: At least seven terrorists were killed, several injured and six hideouts destroyed, when the security forces raided militants' hideouts in the bordering areas of Darra Adamkhel and Orakzai Agency, Geo News reported on Sunday.
Security sources said that their jets pounding the terrorists' hideouts killed seven militants and wounded several of them, while six hideouts including two of their bunkers were also razed to the ground.
http://www.thenews.com.pk/article-109306-Kohat:-Seven-killed-in-raid-of-militants-hideouts
-----------
NATO airstrike kills 5 Taliban militants
Jul 14 2013
NATO-led coalition forces attacked a group of Taliban fighters in eastern Afghanistan, killing at least five militants, according to officials.
Coalition spokesman Capt. Luca Carniel said on Sunday that NATO forces had carried out a "precision strike" in Paktia province the night before, killing five militants.
According to an Afghan official, 12 Taliban were killed, including a sought-after regional leader, and there were no civilian casualties.
http://www.thehindu.com/news/international/south-asia/nato-airstrike-kills-5-taliban-militants/article4914714.ece
-----------
Pak Christian man gets life term for sending blasphemous SMSs
PTI | Jul 14, 2013
LAHORE: A Christian man in Pakistan's Punjab province has been sentenced to life imprisonment for sending blasphemous mobile phone text messages to some Muslim clerics.
Additional District and Sessions Judge Mian Shahzad Raza of Toba Tek Singh district slapped the sentence and a Rs 2 lakh fine on Sajjad Masih on Saturday.
Masih, a resident of Pakpattan district, was arrested in December 2011 for allegedly sending blasphemous mobile phone messages to Muslim clerics of Gojra in Toba Tek Singh, some 200 kilometres from Lahore.
The judge heard the case in the district jail and handed down the sentence to Masih after several ulemas (clerics) of Gojra testified against him.
A forensic record of the accused's mobile phone messages was also presented in the court.
The court was informed that Masih was engaged to his relative Ruma Masih of Gojra Christian Colony but she contracted marriage with a Christian man living in the UK.
Masih had with him a mobile phone SIM belonging to Ruma and he sent blasphemous messages to the clerics from it.
Police said Masih wanted to land Ruma in trouble to teach her a lesson for her 'betrayal'.
The police initially registered a case against Masih under Section 25-B of the Telegraph Act but then added the controversial blasphemy law to the FIR on the demand of the clerics.
Muslims and clerics of Gojra also pressured police to try Ruma under the blasphemy law.
The police finally succumbed to their pressure and registered a case against her under the law.
On the request of police, the federal interior ministry sought a red corner notice from Interpol for the arrest of Ruma in the UK but she is yet to be traced.
Pakistani police have declared her a 'proclaimed offender' or fugitive.
http://timesofindia.indiatimes.com/world/pakistan/Pak-Christian-man-gets-life-term-for-sending-blasphemous-SMSs/articleshow/21070922.cms
----------
Preliminary work on Pak-China train link begins
Jul 14 2013
BEIJING: Chinese officials have been asked to carry out research to identify a location for railway connectivity between Pakistan and China, a press report said, adding that people were enthusiastic on plans to build a train link to connect Kashgar in Xinjiang with Gwadar.
"We've already been asked to carry out research into the location of a station in Kashgar for the China-Pakistan railway, but a detailed plan and timetable have yet to be drafted," Wang Yongzhi, the deputy commissioner of Kashgar prefecture, was quoted as saying by an English-language newspaper.
Full report at:
http://dawn.com/news/1028938/preliminary-work-on-pak-china-train-link-begins
-----------
PML-N govt favours talks with Taliban
July 14, 2013
Ashraf Mumtaz
Lahore - The government still wants to hold talks with the Taliban for peace in the country and the region, Federal Information Minister Pervaiz Rashid said on Saturday.
"Guns can't solve problems. The use of force only adds to the problems and makes the situation more complicated," he said in an interview after a visit to the Nawa-i-Waqt Group offices.
"If talks can be held in Doha, why they can't be held in Islamabad," the minister said while defending the government's approach for peace with the Taliban.
Full report at:
http://www.nation.com.pk/pakistan-news-newspaper-daily-english-online/national/14-Jul-2013/pml-n-govt-favours-talks-with-taliban
-----------
Zardari may leave Pakistan after completing term as president
PTI | Jul 14, 2013
ISLAMABAD: Asif Ali Zardari is expected to leave Pakistan after completing his term as president on September 8 due to security threats and fears about the reopening of graft cases, according to a media report on Sunday.
Zardari's friends have advised him to leave Pakistan because of "serious threats to his life", the report on the website of the Dawn newspaper quoted sources close to the President as saying.
Another "core reason" that could force Zardari to leave the country is corruption cases pending against him, the sources said. The Supreme Court has already heard a case about reopening graft cases against Zardari in Switzerland.
Full report at:
http://timesofindia.indiatimes.com/world/pakistan/Zardari-may-leave-Pakistan-after-completing-term-as-president/articleshow/21069920.cms
-----------
Govt denies Abbottabad report went missing
Jul 14 2013
ISLAMABAD: Minister for Information and Broadcasting Pervez Rashid on Saturday night categorically denied media reports that Abbottabad Commission's report had gone missing from the prime minister's office.
The original report is in safe possession of the government and no unauthorised person can have access to the document, he told APP.
"The report has neither disappeared nor got leaked from PM office," the minister clarified. He said media reports and comments are based on unauthentic, incomplete and distorted version of the report.
Full report at:
http://dawn.com/news/1028793/govt-denies-abbottabad-report-went-missing
-----------
Attack on bus by Militants kills one, injures two passengers in Kalat
SYED ALI SHAH
July 14, 2013
QUETTA: At least one passenger was killed and another two injured when armed militants opened fire at a passenger bus in Kalat district of Balochistan late on Saturday night.
Levies sources told Dawn.com four armed militants on two motorcycles opened fire at a passenger bus near Mangochar area of Kalat district.
They said one passenger was killed on the spot and two were critically injured as result of firing. The injured were soon rushed to Kalat for medical treatment.
Full report at:
http://dawn.com/news/1028794/attack-on-bus-kills-one-injures-two-passengers-in-kalat
-----------
Influential Hindus 'influencing' police
By Amar Guriro
July 14, 2013
KARACHI: Influential Hindus of northern Sindh began threatening local Sikh community of dire consequences if they pursue the blasphemy case, in which a close relative of Hindu Panchayat chieftain had torn the Holy Guru Granth Sahib into pieces.
Some local extremist Hindus on June 18, 2013 tore the most sacred book of Sikh religion, in Pano Aqil town in Sukkur district and despite passage of more than two weeks, police have not registered the case due to the influence of a Hindu parliamentarian of ruling Pakistan People's Party (PPP). The incident happened at a local Hindu temple of Nanak (Guru Nanak) Panthi Hindus.
Full report at:
http://www.dailytimes.com.pk/default.asp?page=2013\07\14\story_14-7-2013_pg12_8
-----------
Makeshift abode: Kutchi Jamaat Khana - from a wedding centre to a shelter home
July 14, 2013
KARACHI: With worried expressions writ large on their faces, dishevelled women were huddled together reciting the Quran and praying on the rosary in the large halls of Kutchi Muslim Soomra Jamaat Khana in strife-hit Lyari.
Located on an uncharacteristically wide street in an area otherwise known for its maze of narrow lanes, the Jamaat Khana as a community centre has seen happier days when people clad in their best clothes would gather here to celebrate weddings and other festivals. The current spell of violence has, however, turned it into a shelter home for people displaced by the ongoing turf war between the defunct Peoples Amn Committee and the Kutchi community.
Full report at:
http://tribune.com.pk/story/576660/makeshift-abode-kutchi-jamaat-khana-from-a-wedding-centre-to-a-shelter-home/
--------
Africa
Boko Haram Denies Cease-Fire With Nigerian Government
By Ardo Hazzad & Chris Kay
Jul 14 2013
The leader of the Nigerian Islamist militant group Boko Haram denied that it entered into a cease-fire agreement with the government and endorsed an attack last week on a school in northeast Yobe state.
Abubakar Shekau, in a video message sent to reporters today, denied claims by Nigerian Minister of Special Duties Kabiru Turaki this week that a cease-fire was reached on July 8 after talks with the group's deputy leader, Mohammed Marwan.
"Let me assure you that we will not enter into any truce with these infidels," Shekau said. "We will not enter into any truce with the Nigerian government."
Boko Haram, whose name means "western education is a sin" in the Hausa language, has killed thousands of people in gun and bomb attacks since 2009 in the mainly Muslim north and Abuja in its campaign to establish an Islamic state in Africa's largest oil producer. Nigeria's more than 160 million people are roughly split between Christians, predominant in the south, and Muslims, mostly in the north.
Full report at:
http://www.bloomberg.com/news/2013-07-13/nigeria-s-boko-haram-denies-cease-fire.html
----------
7 peacekeepers killed in Sudan's Darfur
Jul 14 2013
KHARTOUM: Seven peacekeepers have been killed in Sudan's Darfur region, the African Union-UN Mission said on Saturday, the worst-ever losses in the five-year history of the operation.
UNAMID released few initial details of the incident, which it said happened near the peacekeepers' base at Manawashi, north of the South Darfur state capital Nyala.
"Seven peacekeepers were killed and 17 were injured," said UNAMID's acting spokesman Christopher Cycmanick.
Full report at:
http://www.dailytimes.com.pk/default.asp?page=2013\07\14\story_14-7-2013_pg4_10
-----------
S. Sudan fighting could spark 'ethnic conflict'
14 July 2013
JUBA: Fighting in South Sudan's Jonglei state, where tribal militia forces are reported to be marching on a rival group, risks spiralling into "outright ethnic conflict," European diplomats warned Saturday.
Local government officials report that Lou Nuer gunmen from northern Jonglei are heading south toward Pibor, an area of their rivals, the Murle.
Previous such attacks in the troubled eastern region have seen hundreds — if not thousands — of civilians killed.
The joint statement from European ambassadors in South Sudan said they were "extremely concerned about reports of Lou Nuer mobilization and initial clashes with armed Murle youth in Jonglei."
Full report at:
http://arabnews.com/news/457953
----------
Southeast Asia
Time the Christian politicians protected their flock in Malaysia
JULY 14, 2013
These names have several things in common: they are either ministers or deputy ministers in the Najib administration, represent constituencies in Sabah or Sarawak and are Christians.
Yes, they are Catholics, Protestants, Evangelical, and are members of Sidang Injil Borneo but do not expect any of them to lead the charge and defend the position of their faith in public.
Indeed, there is a better chance of there being four seasons in Malaysia than any Christian representative resigning from government on a matter of principle, say, because the administration going back on its word on the use of the word Allah by East Malaysians. Or even taking the fight to right-wing groups who in the past few years have threatened Christians.
Full report at:
http://www.themalaysianinsider.com/malaysia/article/time-the-christian-ministers-protect-their-flock/
-----------
Bishop calls for Najib to take stand against Perkasa, Jati
BY ELIZABETH ZACHARIAH
July 14, 2013
Najib, seen here at a Christmas party last year, must stand up to the extreme comments from groups like Perkasa and Jati, say local Christian leaders. The Malaysian Insider pic, July 13, 2013.
Christians have had enough of the bashing from the likes of Perkasa and other Malay rights groups. They expect Prime Minister Datuk Seri Najib Razak to intervene and "do the right thing" by rejecting such extremism.
This was the stand of the president of the Council of Churches Malaysia, Bishop Philip Lok. He was speaking to The Malaysian Insider in the wake of the demands by Perkasa and Jati that the Vatican's envoy Archbishop Joseph Marino withdraw his support for the local church's campaign to use the word Allah and that he must apologise within seven days.
The vocal rights groups have demanded that the government shut down the Vatican's embassy and banish Marino if he does not apologise.
Full report at:
http://www.themalaysianinsider.com/malaysia/article/bishop-calls-for-najib-to-take-stand-against-perkasa-jati
-----------
MCMC to investigate insensitive post by sex blogger duo
BY KIMBERLY YEO
JULY 14, 2013
The Malaysian Communications and Multimedia Commission (MCMC) will investigate the controversial Facebook post on breaking fast by a sex blogger couple.
Their post was attacked by remarks and complaints from netizens for their insensitivity towards religious customs which prompted the Facebook administrator to shut down their page.
Deputy Minister of Communication and Multimedia, Datuk Jailani Johari said the couple, Tan Jye Tee (Alvin), 25, and Vivian Lee, 24, will have to explain their post to MCMC.
"They will be asked to help with the investigation soon. As of now, we will leave it to MCMC to look into the case," said Jailani.
Full report at:
http://www.themalaysianinsider.com/malaysia/article/mcmc-to-investigate-insensitive-post-by-sex-blogger-duo/
---------
Mission website comes to the rescue of Filipino expats
14 July 2013
With the deadline extension announced by the government for the application of amnesty for the expatriates all over the Kingdom, the Filipino community leaders continue to provide necessary help to hasten the processing of the status of the Overseas Filipino Workers (OFWs) and to possibly provide them successful repatriation.
The Philippine Embassy, through official website philembassy-riyadh.org, continues to provide press releases, instructions and warnings regarding the deadline for the amnesty application and other issues that mainly involve OFWs.
The embassy website contains all the answers regarding the concerns and inquiries of OFWs such as how to renew iqama, how to avoid illegal recruitment, downloadable forms and more. The mobile numbers of the people in charge are also on the website. In addition, Filipino versions of the said instructions are also available.
Full report at:
http://arabnews.com/news/457962
-----------
Philippine Army-rebel clash claims seven lives
14 July 2013
MANILA: Members of a breakaway Muslim guerrilla faction attacked government troops yesterday, triggering a firefight that killed two soldiers and five guerrillas as negotiators from the government and the main rebel group were holding talks in Malaysia, the military said.
About 20 gunmen belonging to the Bangsamoro Islamic Freedom Fighters ambushed the soldiers on a military truck in southern Maguindanao province's Guindulungan township, about 900 kilometers (560 miles) south of Manila, said regional military spokesman Col. Dickson Hermoso.
Full report at:
http://arabnews.com/news/457934
-----------
Four Terror Convicts Still at Large Following Medan Prison Break
July 14, 2013
Police said on Sunday that they were still hunting down four terror convicts who along with hundreds of other prisoners broke out of the Tanjung Gusta Penitentiary in Medan, North Sumatra.
"We have captured 93 prisoners as of this afternoon. Seventy-three prisoners were captured by the police, while 20 others were caught by penitentiary officials," North Sumatra Police spokesman Sr. Cmr. Heru Prakoso told the Jakarta Globe.
"However, we have not been able to find the four terrorist convicts."
The four are Fadli Sadama, Agus Sunyoto, Nibras — who also goes by "Arab" — and Abdul Gani Siregar.
All four were convicted of robbing a branch of CIMB Niaga in Medan and for attacking a police compound in Deli Serdang, North Sumatra. Both crimes took place in 2010.
Full report at:
http://www.thejakartaglobe.com/news/four-terror-convicts-still-at-large-following-medan-prison-break/
-----------
North America
US recced Abbottabad during flood relief ops for Osama hunt?
Jul 14 2013
Islamabad : Did US pilots use flood relief operations in Pakistan in 2010 to obtain terrain information about Abbottabad that lead to the covert raid that killed Osama bin Laden?
The Pakistani Commission that probed the presence of the slain al-Qaeda chief in the country thinks it could be a distinct possibility.
In the report, leaked by Al Jazeera channel, the commission notes that there was no presence of the Pakistan army in the areas over which the US mission entered Pakistan's airspace and flew all the way to Abbottabad on May 2, 2011 where they killed the elusive terrorist mastermind.
Full report at:
http://www.indianexpress.com/news/us-recced-abbottabad-during-flood-relief-ops-for-osama-hunt-/1141692/
----------
Judge to mull if airlines owe World Trade Center owners over 9/11
AP | Jul 14, 2013
NEW YORK: A judge who has presided over most of the litigation stemming from the Sept. 11, 2001, terrorist attacks will decide whether the owners of the World Trade Center can try to make aviation companies pay billions of dollars in damages.
US district judge Alvin K. Hellerstein said he will announce his decision immediately after hearing several witnesses and listening to arguments in a nonjury trial starting Monday and expected to last three days.
The trial will decide whether World Trade Center Properties and its affiliates can receive more than the $4.9 billion in insurance proceeds they have already recovered since the Sept. 11 attacks by terrorists who hijacked commercial airliners and flew them into the 110-story twin towers. The attacks led to the destruction of the towers as well as a third trade center building.
Full report at:
http://timesofindia.indiatimes.com/world/us/Judge-to-mull-if-airlines-owe-World-Trade-Center-owners-over-9/11/articleshow/21063106.cms
-----------
Countries seek to bring home Guantanamo detainees
AP | Jul 13, 2013
WASHINGTON: President Barack Obama's renewed push to close the Guantanamo Bay prison for terrorism suspects has given a glimmer of hope to foreign governments that he will fulfill that promise and triggered diplomatic maneuvering from US allies eager to bring home long-held detainees.
Kuwait has hired lobbyists to help bring its two remaining prisoners home. British Prime Minister David Cameron personally pressed Obama at the Group of 8 summit last month to release the United Kingdom's final detainee. And the fate of Afghans being held at the US military prison in Cuba has been at the forefront of peace talks between the US, Taliban and Afghanistan.
Full report at:
http://timesofindia.indiatimes.com/world/us/Countries-seek-to-bring-home-Guantanamo-detainees/articleshow/21058874.cms
-----------
South Asia
Afghanistan's women wary as Taliban creeps back into political life
By Sohel Uddin, Producer, NBC News
Jul 14 2013
KABUL, Afghanistan -- As American and NATO forces prepare to withdraw from Afghanistan by the end of next year, some fear the Afghan government's efforts to bring the Taliban into the political fold may mean a step back in time for the country's women.
After the U.S.-led Operation Enduring Freedom toppled the militant Taliban regime 12 years ago, girls' schools reopened, burqas were no longer compulsory and many women went back to work. So when the Afghan government last week appointed a former Taliban official as a commissioner on the newly established independent human rights commission, many were shocked.
Abdul Rahman Hotak, nominated for the post by Afghan President Hamid Karzai, was the editor of Taliban newspaper "Afghan Sunrise" and worked for the group's education directorate during its rule – an alarming choice, some say, for someone tasked with championing the rights of women who were denied so many freedoms under the Taliban.
Full report at:
http://worldnews.nbcnews.com/_news/2013/07/13/19439164-afghanistans-women-wary-as-taliban-creeps-back-into-political-life
-----------
Hefazat-e-Islam chief violated constitution: Minister
July 14th, 2013
The state minister for women affairs says the government is considering legal action against the Hefazat boss
Hefazat-e-Islam chief Shah Ahmed Shafi violated the constitution – which promotes equal rights for men and women – by making derogatory comments about women, said State Minister for Women and Children's Affairs Meher Afroz Chumki.
"The government is thinking about taking legal action against Shafi, as he violated the constitution," said the state minister while talking to reporters in an urgent press briefing at the conference room of the ministry on Sunday.
Full report at:
http://www.dhakatribune.com/politics/2013/jul/14/shafi-violated-constitution-chumki
---------
Bangladesh's education needs basic changes
Says Nurul Islam Nahid
Jul 14 2013
With the kind of education currently being provided in the country, the majority of the youth of today cannot become effective nation builders, Education Minister Nurul Islam Nahid said yesterday.
"The current education needs to go through some fundamental changes to make it equivalent of the international standards," he told the launch of a website by "Bangla Bhasha Shikkhak Parshad, an association of Bangla teachers and researchers, at Dhaka College.
However, a change is underway, he observed, with the incorporation of creative thinking elements, computer training and multimedia usage in the curriculum.
Full report at:
http://www.thedailystar.net/beta2/news/countrys-education-needs-basic-changes/
-----------
Hasina slates Hefajat chief's comments
Jul 14 2013
Hasina slates Hefajat chief's commentsPrime Minister Sheikh Hasina yesterday blasted Hefajat-e Islam chief Shah Ahmed Shafi for his "derogatory" remarks about women.
"Recently, a religious leader has made some indecent remarks about women. I'm totally confused how a religious leader could utter such indecent words when Islam has showed highest respect for women," she told a function at Gono Bhaban.
The event was organised to inaugurate 88 air-conditioned buses bought under the $1 billion Indian line of credit.
Full report at:
http://www.thedailystar.net/beta2/news/hasina-slates-hefajat-chiefs-comments/
-----------
HRCM investigating three cases of alleged torture in Male' Jail
Jul 14 2013
HRCM investigating three cases of alleged torture in Male' custodial
The Human Rights Commission of the Maldives (HRCM) has confirmed it is investigating three recent cases of detainees being tortured by Department of Penitentiary and Rehabilitation Services (DPRS) officers while in the Male' jail.
The HRCM issued a recent press release stating they were "investigating complaints of brutality" towards detainees at the Custodial Reception and Diagnostic Centre (Male' Jail).
Officials from the HRCM visited Male' Jail June 2, 2013 after the family of a detainee informed the HRCM on May 31, 2013 that the victim had been beaten by DPRS officers.
"From the investigations that ensued, [the HRCM] found proof that there were two more detainees who sustained injuries while in custody," read the statement.
Full report at:
http://minivannews.com/politics/hrcm-investigating-three-cases-of-alleged-torture-in-male-custodial-61049
-----------
Fighting terror: President Karzai calls for Pak-Afghan unity
July 14, 2013
ISLAMABAD: Afghan President Hamid Karzai has called for cooperation between Pakistan and Afghanistan in the fight against terrorism and extremism.
"Using terrorism and extremism as a political tool is in no country's interest. Afghanistan and Pakistan must join hands to fight terrorism and extremism – or [else] our coming generations will face the consequences," Karzai said in a statement issued from the presidential palace on Saturday.
Full report at:
http://tribune.com.pk/story/576720/fighting-terror-president-karzai-calls-for-pak-afghan-unity/
-----------
India
Indian expats urged to invest in education
14 July 2013
An Indian educator has urged expatriates in the KIngdom, particularly businesspeople, to invest in education that will produce people who can help develop India's economy.
Professor Habib-ur-Rehman, the former vice-chancellor of Agra University and the dean of the faculty of commerce and management at Aligarh Muslim University (AMU), made the appeal at an installation ceremony of the Aligarh Muslim University Old Boys Association (AMUOBA) in Riyadh yesterday.
"There is a need to improve the quality of education in the country," he said. Indians need to have quality education on par with developed nations, he said.
He urged the Indian community, especially philanthropists and businesspeople, to ensure the country has top education combined with moral values as currently provided by the prestigious Aligarh Muslim University.
Full report at:
http://arabnews.com/news/457964
-----------
Govt behind Parliament attack, 26/11: Ishrat probe officer
TNN | Jul 14, 2013
NEW DELHI: In what is certain to escalate the already vicious fight between the CBI and the IB over the IshratJahan "fake encounter case", a former home ministry officer has alleged that a member of the CBI-SIT team had accused incumbent governments of "orchestrating" the terror attack on Parliament and the 26/11 carnage in Mumbai.
R V S Mani, who as home ministry under-secretary signed the affidavits submitted in court in the alleged encounter case, has said that Satish Verma, until recently a part of the CBI-SIT probe team, told him that both the terror attacks were set up "with the objective of strengthening the counter-terror legislation (sic)".
Full report at:
http://timesofindia.indiatimes.com/india/Govt-behind-Parliament-attack-26/11-Ishrat-probe-officer/articleshow/21062116.cms
-----------
Militants kill policeman in north Kashmir
July 13, 2013
Militants killed a policeman when he had gone with his wife to a nearby forest for collecting firewood in Handwara in Kupwara district on Saturday morning.
According to a police statement, head constable Sonaullah Zargar, son of Abdul Gani resident of Hardoona, Vilgam had gone to a nearby forest area of Hangalpora alongwith his wife for collection of firewood.
"Zargar was on leave. He had gone to the forest with his wife to collect firewood. The duo were intercepted by some unknown militants in the forest," said a police spokesman. Zargar was posted at the CID headquarters Srinagar.
Full report at:
http://www.hindustantimes.com/India-news/srinagar/Militants-kill-policeman-in-north-Kashmir/Article1-1091967.aspx
-----------
URL: https://www.newageislam.com/islamic-world-news/new-age-islam-news-bureau/blast-at-sunni-mosque-in-baghdad-kills-13/d/12594