New Age Islam News Bureau
30 Aug 2017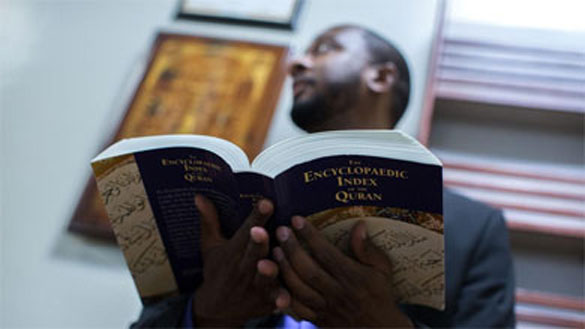 For many Black Muslims it is a reminder of the struggles that date back five decades still prove difficult to overcome today. (AP)
-----
• Black Muslims Say Hajj a Reflection of Their Five-Decade Struggle
• Academic: Orthodox Islamisation of National Schools Tearing Malaysians Apart
• RSS-backed Muslim Rashtriya Manch for Ban on Qurbani
• School Must Provide Non-Pork Lunches for Jewish and Muslim Students, French Court Rules
• Iraq's Kirkuk Votes to Take Part in Kurdish Independence Referendum
North America
• Black Muslims Say Hajj A Reflection Of Their Five-Decade Struggle
• New Yorker Accused of Trying to Join Islamic State Group
• US fighter pilots prepares for more air strikes in Afghanistan
• Tillerson's elimination of Syria and Muslim envoys reflects new US priorities
--------
Southeast Asia
• Academic: Orthodox Islamisation of National Schools Tearing Malaysians Apart
• Agency in India Seeks to Seize Zakir Naik's Local Properties
• Chinese entrepreneurs sensing opportunities in Pakistan
• Malaysia to Pick Top Young Imam As Talent Show Enters Finals
• Can Malaysia's opposition end UMNO's corrupt party-state?
• Indonesia Sells Rp 7 Trillion of Islamic Bonds, Above Target
--------
India
• RSS-backed Muslim Rashtriya Manch for Ban on Qurbani
• Sunni Ulema Council Seeks Jail Term for Those Giving, Validating Instant Talaq
• 300 Muslim Students to Get Scholarships on PM's Birthday
• Muslims perform last rites of Kashmiri Pandit lady in Tral
• UP Madrasas under Govt's Scanner, To Be Geo-Tagged Through GPS
• Muslims 'anxious' around Qurbani time, say clerics who met UP DGP for peace assurance
• Three SIMI members get life for bid to murder BJP youth wing activist
• Kerala Conversion, Marriage: Former SC Judge Turns Down Request to Oversee NIA Probe
• Delhi Court frames charges against IM's Yasin Bhatkal, 8 others
--------
Europe
• School Must Provide Non-Pork Lunches for Jewish and Muslim Students, French Court Rules
• Letters Threatening Acid Attacks Sent To Muslims in Bradford
• UK Caught Selling Used Military Aircraft to Bahrain: Report
• Pensioner Fined £1,100 for Muslims 'Monkeys' Online Hate Speech
• In first foreign policy speech, Macron vows to fight 'Islamist terror'
• Only job creation can quell social unrest: Moroccan PM
--------
Arab World
• Iraq's Kirkuk Votes to Take Part in Kurdish Independence Referendum
• Fresh US-Led Airstrikes Leave 18 Syrian Civilians Dead In Raqqah
• Hajj 2017: Two million Muslim pilgrims from all over the world head to Mecca
• More Terrorist Commanders Assassinated in Idlib
• Lebanese Daily: Hamas Turning to Tehran, Damascus
• Syrian Gov't Forces Tighten Noose on ISIL in Hama
• Syrian Army, Hezbollah Preparing for Special Operation on Deir Ezzur Border
• Al-Nusra Fails to Prevail over Syrian Army Positions in Hama Countryside
• Syria: Tens of Gunmen Receive Gov't Amnesty in Eastern Damascus
• Abadi rejects Hezbollah's deal to move ISIS to Iraqi borders
• UAE criticizes 'colonial' role of Iran, Turkey in Syria
--------
South Asia
• Hekmatyar Urges Pakistan Not To Turn Afghanistan into Its Regional Rivalry Hub
• Taliban Execute Two Important ISIS Leaders in Nangarhar Province
• Hezb-E-Islami Reacts At Ata Mohammad Noor's 'Butcher Of Kabul' Remarks
• Prominent Taliban leaders Tangna and Haji Gul killed in Laghman airstrikes
• 5 killed, 8 wounded in suicide attack in Kabul city
• Rohingya Muslim villages 'burned by Burmese army'
• Rohingya in Bangladesh face expulsion despite UN warning
• Thousands more Rohingya flee to border as Myanmar violence flares
--------
Pakistan
• Nacta Keeping an Eye on Pakistanis Who 'Fought Abroad'
• Fata population grows by 57pc
• ISI Asks CDA to Avoid Direct Interactions with Foreign Diplomats
• 19 terror suspects arrested in Orakzai
--------
Mideast
• Not Leaving Settlements Means Tel Aviv Not After Peace: Arab League
• Iran Rejects US Demand for UN Inspector Visit to Military Sites
• How Hezbollah has become an instrument of Iran's drive for regional supremacy
• Iran's Guardian Council to debate motion passed by Majlis in response to US bans
• Israeli Settlers Hurl Insult at Islam in Presence of Regime Forces: B'Tselem
• UNICEF urges end to 'grave violations' against Yemeni children
• Yemen's Houthi, Saleh forces agree to ease tensions
• Turkey calls for international action for Rohingya Muslims
--------
Africa
• Africa: Mugabe Bashes SA, Nigeria over Slain Gaddafi
• Libya Rescues about 500 Refugees off Western Coasts
Islamic fighters in Libya
• US urges Sudan to protect religious minorities
• Nigeria must investigate disappearance of Shiites, says Amnesty
Compiled by New Age Islam News Bureau
URL: https://www.newageislam.com/islamic-world-news/black-muslims-say-hajj-reflection/d/112385
--------
Black Muslims say Hajj a reflection of their five-decade struggle
29 August 2017
It was 54 years when Malcolm X took the sacred Muslim pilgrimage of Hajj from the United States to Mecca where images of him wearing the ihram clothing coupled with his famous black-rimmed glasses would set a precedence of the African-American Muslim's image.
But as 1.7 million Muslims descend onto to Mecca for this year's Hajj, for many Black Muslims it is a reminder of the struggles that date back five decades still prove difficult to overcome today.
"Uniting African-American (in the context of the Black Lives Matter movement) reminds black Muslims about the color of their skin. This often takes the real attention away from the main message of Islam, which is to submit one's self fully to the will of Allah Almighty and being a peaceful person. There is no subject of color in Islam as a religion," Imam Abdullah Dibba, who works for the Missionary of the Ahmadiyya Muslim Community in Baltimore city, told Al Arabiya English.
A Pew survey in 2014 showed 28 percent of Muslims counted in the survey were black and since 2007, the black proportion had shrunk, while the white and Asian proportions had grown, mainly due to immigration as most black Muslims were native US blacks brought to the Americas primarily from West Africa.
"It is also important to know that since the very discovery of the new World, Muslims had been coming to America either under servitude or for new financial opportunities. Since the very first ship sailed from Africa to America full of Muslims and others alike for the purpose of servitude, the concept of mosques and prayer areas (in temporary places) was existent in American history," Dibba said.
Image of the 'Black-Muslim'
Historically, there was a time – especially five decades ago during the civil rights movement – when "American-Muslims" tended to mean "Black-Muslims" who had joined the Nation of Islam, a Black Nationalist group that gained prominence at the time.
That image quickly faded as years passed and many immigrants from the Middle East started outnumbering the Black Muslims in many communities.
Hakeem Muhammad, a Muslim public intellectual and an Islamic thinker at Muslim Empowerment Institute, says the overall American media culture had a role in the changing of that image.
"When you look at how Muslim are portrayed in the media, it is mainly Asian and Arab, and there is a lack of strong black Muslim voices. Instead, you consistently see our Immigrant Muslim brothers and sisters on the defensive and being overly apologetic," Muhammad told Al Arabiya English.
"In order to give an alternative to this, we need strong, uncompromising, Black Muslim voices in the tradition of Malcolm X who are unafraid to speak truth to power and point out the wickedness of white supremacy," he said.
To an extent, there is some truth to that argument. The Washington Post's Abigail Hauslohner interviewed Samory Rashid, a political science professor at Indiana State University who said that the term "Black Muslim" was coined by a journalist who was neither black nor Muslim: CBS News reporter Mike Wallace. He used the term in a 1959 TV documentary "The Hate That Hate Produced" about the Nation of Islam.
But young Muslims like Muhammad told Al Arabiya English that they do not necessarily shun the term completely but have learned to make it as their own.
"I use the term "Black Muslim" to identify myself to make it clear that I am not a follower of the mainstream American Muslim establishment but part of the tradition of black liberating Islam that Malcolm X, Safiya Bukhari, and Dhoruba Bin Wahad sought hard to establish," he said.
But many scholars say that Black Supremacy that was preached by the older generation of the Nation of Islam, especially by its founder Elijah Muhammad, was at odds with the teachings of Islam – one of the first religions to have abolished slavery.
"What they have not realized is that Islam is universal and you can practice it as perfect as possible following any culture. Islam only requires us to follow the principle of the Holy Quran as taught by prophet Muhammad (peace be on him), who did not tell us to follow any specific race or culture," Dibba commented.
Internal racism
Putting the prevailing and worrisome issue of the rise of White supremacists aside, some Muslims confess they face another layer of racism, one that is internal among Muslims themselves.
"Unfortunately, there is a struggle because there is racism among the Muslim community as well. I regularly get calls from young Muslims who complain about the anti-Black racism they face within their own community. It is deeply troubling because Islam at its core is a religion of racial equality. At one hand there is a lot of frustration, because there are the Arab, South Asian and White Muslims marginalizing the Black Muslim community," Qasim Rashid, a Muslim author and educator, told Al Arabiya English. But he contends that it's not all bad news, especially for the youth.
"We're seeing a revival among the youth were you see Black Muslims taking the lead in many respects like recognizing the rich history of Islam in America through Black Muslims," he said.
As both Black and non-Black Muslims make their way onto the sacred lands of Mecca for the annual pilgrimage, Hajj becomes yet another reminder of what and how religion plays a huge part in self struggle for equal rights regardless of race or ethnicity.
"Other than it being a time of unity for all Muslims, it is a time to purge the cancers that have crept into our souls and our Umma and pushing past the disunity and the hatred and finding ways to move forward," Rashid told Al Arabiya English.
https://english.alarabiya.net/en/features/2017/08/29/Black-Muslims-say-Hajj-a-reflection-of-their-five-decade-struggle.html
--------
Academic: Orthodox Islamisation of national schools tearing Malaysians apart
BY AZRIL ANNUAR
August 29, 2017
KUALA LUMPUR, Aug 29 — The fear of perceived Salafist Islamisation in national schools by the non-Malay Muslim society, particularly the ethnic Chinese has the potential to split the country apart, political analyst and Muslim scholar Ahmad Fauzi Abdul Hamid said today.
Speaking as a guest lecturer at Sunway University today, Ahmad Fauzi said that isolating Malaysians by different ethnicities and religions as they grow up will create a pre-conceived and ignorant perception of "The Other", a term he used to describe persons who do not share the same faith.
He pointed out that once these youths are isolated and lack the opportunity to mingle with other races and gain greater understanding of one another in schools, they will begin to conceptualise "The Other" as antagonists or enemies who will attempt to subvert their beliefs.
"If these children are only taught by teachers who grew up being indoctrinated by Salafist ideals, then that will be the only thing that they will know. It becomes worse if the only literature they have available are extremist literatures.
"It will influence their subconscious mentality where they view 'The Other' as an antagonist and it might encourage them to start taking violent steps especially if they only understand those verses regarding Jihad and are not aware of other interpretations," Ahmad Fauzi told Malay Mail Online after giving his lecture titled "The Very Shades of Islam and Islamists in Malaysia".
Salafism, also called Wahhabism, is an orthodox and fundamental Islamic "reform movement" to restore what it sees as "pure" Islamic worship, and named after 18th century preacher and scholar Muhammad ibn Abd al-Wahhab.
The movement's dominance grew across the world starting from the 1970s as oil-rich Saudi Arabia pumped money into its spread through books, scholarships, and building Islamic education institutions.
The Universiti Sains Malaysia professor touched on the topic after a member of the public asked him to comment on the fact that many Chinese parents are reluctant to send their children to national schools and what can be done to mitigate the issue.
Ahmad Fauzi said it would be a daunting task to handle as he believed that many teachers, civil servants and industry captains in their 20s and 30s grew up after Salafist discourse crept into the Malaysian education system in the mid-1990s.
"Bear this in mind teachers are in their 20s and 30s and they have lived through a system which teaches Islam through a particular mould, especially when Salafi-based discourse emerged in our curriculum around 1995 and 1996," he said, adding that it would be very difficult to change the mindset of folks who refused to keep an open mind due to siege mentality.
Ahmad Fauzi also lambasted many Islamists who have hijacked the religion for their "secular political purposes" as they equate Islamism, which is a political ideal to create an Islamic state, to Islam as a religion.
He said that Islam, in its traditional spiritual form allows for its practitioners to commit sins and their recourse is to repent, whereas Islamism does not allow any Muslims to commit any sins and the result is being punished by the State.
"We will face pitfalls if Islamism is established. People are naturally tempted to commit sins. People are not angels and are not perfect. An Islamic state will force people to become pious and it becomes a question of compulsion rather than voluntary. This is the ISIS discourse," he said, referring to the terror group also called Islamic State.
One of the worse case scenarios that would erupt from this situation would be the abandonment of Islam as a religion by those with lax faith.
"For Muslims, it appears as if there is no choice. We know some Muslims who want to remain Muslims but have very lax lifestyle and children not educated with Islamic norms, the role of the state is the best to maintain their Islamicity.
"But once you enforce the Islamists' worldview on people, wanting them to behave in a certain manner, you are encouraging people to leave Islam. They won't do it here, but they will do it outside the country," he said.
http://www.themalaymailonline.com/malaysia/article/academic-orthodox-islamisation-of-national-schools-tearing-malaysians-apart#udJgh1bvUzfzrCh6.97
--------
RSS-backed Muslim Rashtriya Manch for Ban on Qurbani
Aug 30, 2017
LUCKNOW: Upbeat after Supreme Court stay on triple Talaq, RSS-backed Muslim Rashtriya Manch has demanded ban on animal slaughter on the occasion of Eid-ul-Azha. Joint coordinator of the Manch, Khursheed Agha said Qurbani (sacrifice) of the animal during Eid is a superstition. Raising question on the tradition, Agha said when Qurbani was not allowed in Islam why are animals sacrificed during Bakarid. With reference to the Ayodhya dispute, he said if one reads the Holy Qur'an, one will find it mentioned in clear terms that Muslims cannot offer Namaz (prayers) at a disputed place.
Citing Islamic verses, UP east coordinator of the Manch, Raja Raees said it is know that even prophet Ibrahim did not sacrifice any animal, so why do Muslims sacrifice. "This is not sacrifice but murder of animals," Raees added. Quoting from religious texts, he said, "Pedh Paudhe, Pashu Pakshi Allah Ki Rahmat Hain, Un Per Tum Raham Karo (plants, trees, animals and birds are all God's creation, be kind to them)."
Condemning cow slaughter, Hasan Kausar of the RSS outfit's Awadh Prant said Islamic verses are clear about purity of cow milk and that its flesh if eaten causes disease."Eating cow meat is, thus, is against the tenets of Islam," he said and added that in the 21st century, all bad practices should be removed from the society . "Like triple Talaq, Qurbani during Bakarid is also against the tenets of Islam," Kausar said.
http://timesofindia.indiatimes.com/city/lucknow/rss-muslim-wing-for-ban-on-qurbani/articleshow/60286688.cms
--------
School Must Provide Non-Pork Lunches for Jewish and Muslim Students, French Court Rules
BY TERESA WELSH
AUGUST 29, 2017
A French court has ruled that schools must provide non-pork lunches for Jewish and Muslim students who do not eat it.
The city of Chalon-sur-Saone decided in 2015 not to serve pork alternatives for students that don't consume the meat, according to the Guardian. Many don't do so because of religious reasons, but the ruling judge said that aspect of the case did not concern him. Instead, he said that the fact that many Muslim children were going without lunch was not "in the interests of the children."
The Muslim Legal Defense League in France challenged the absence of non-pork meals in 2015, calling the decision "illegal, discriminatory and a violation of the freedom of conscience and religion."
City officials said they plan to appeal the decision, and objected to the fact that it came just before the school year was set to start.
"The decision comes only a few days before the start of the term. It is materially impossible for the town of Chalon-sur-Saone to change the operation of a public service in such a short time without risking the continuity of that service," Chalon-sur-Saone Mayor Gilles Platret said in a statement.
The mayor argued that not serving pork was in keeping with the French tradition of secularism.
In Arizona earlier this year, a Muslim mother objected to her daughter's school serving her lunches that contain pork, according to Tuscon News Now. The school said that it was not obligated to cater to a particular student's religious observances, and the family could pack the girl a lunch to ensure she would not inadvertently consume pork. Because the daughter didn't "wear the traditional clothes" the school said it wasn't obvious the second-grader was Muslim and shouldn't be served pork.
http://www.miamiherald.com/news/nation-world/world/article170135262.html
--------
Iraq's Kirkuk votes to take part in Kurdish independence referendum
Aug 29, 2017
The provincial council in Iraq's ethnically mixed and oil-rich northern province of Kirkuk has voted to take part in late next month's Kurdish independence referendum irrespective of Baghdad government's strong opposition to the planned vote.
On Tuesday, 22 of the 24 present councilors in the 41-member Kirkuk council voted in favor of holding the referendum.
Speaking to journalists afterwards, Kirkuk governor Najm Eddine Karim described the vote as a "historic event."
Meanwhile, Iraqi Prime Minister Haider al-Abadi described the vote by Kirkuk provincial council as a wrong move, adding that the planned referendum is illegal and worthless.
Iraqi government spokesman Saad al-Hadithi also lambasted the vote as "illegal and unconstitutional."
"Provinces that don't belong to the semi-autonomous region (of Kurdistan) can't impose decisions without the federal government's approval, and Kirkuk is one of these regions," he pointed out.
Meanwhile, the Turkish Foreign Ministry has denounced Kirkuk provincial council's decision as "a serious violation of the Iraqi constitution."
The ministry said in a statement that the decision was made amid the boycott of local Arab and Turkmen blocs, describing the move as "a new episode in the series of mistakes."
It further highlighted that September 25 referendum is a mistake itself, explaining that persistence on treading a "dangerous path" will neither serve the Middle East region nor Iraq.
The result of the Kurdish independence vote will not be accepted by the international community, and will not contribute to the establishment of peace and stability at this critical juncture in the region, the Turkish Foreign Ministry pointed out.
Turkish Foreign Minister Mevlut Cavusoglu told the state-run TRT Haber television news network on August 16 that Iraq's Kurdistan region plans to hold an independence referendum next month will lead to "civil war" in Iraq.
Hoshyar Zebari, a close adviser to Kurdistan Regional Government (KRG) President Massoud Barzani, told Reuters on August 12 that Kurdish authorities were determined to hold the referendum on September 25 irrespective of all objections.
In June, Iraqi Prime Minister Haider al-Abadi described as untimely the decision by Barzani to hold the referendum.
"We have a constitution that we've voted on, we have a federal parliament and a federal government…The referendum at this time is not opportune," Abadi said on June 13.
Iran has also expressed opposition to the "unilateral" scheme, underlining the importance of maintaining the integrity and stability of Iraq and insisting that the Kurdistan region is part of the majority Arab state.
http://www.presstv.ir/Detail/2017/08/29/533368/Iraq-Kirkuk-votes-to-take-part-in-Kurdish-independence-referendum
--------
North America
New Yorker Accused of Trying to Join Islamic State Group
Aug. 29, 2017
NEW YORK (AP) — A New York City man faced terrorism charges Tuesday accusing him of trying to support the Islamic State group by travelling to the Middle East to fight with militants.
An unnamed country in the region detained Parveg Ahmed before he could carry out plans to enter territory in Syria controlled by the Islamic State, according to a criminal complaint that didn't name the country.
The 22-year-old Queens resident was returned Monday night to New York, where he was ordered held without bail on Tuesday in federal court in Brooklyn. His lawyer, Michael Schneider, declined to comment.
"As alleged, Ahmed sought to take up arms with violent terrorists who have killed numerous innocent victims, including Americans," Acting U.S. Attorney Bridget Rohde said in a statement.
According to the complaint, Ahmed first began posting pro-Islamic State messages on social media in 2014 and 2015. One read, "The side of Good is Islam & the Caliphate. If you're not with the Muslims, you're ignorantly, irrelevantly, & arrogantly on the side of Evil," the complaint said.
In June, Ahmed and a person referred to only as a confidential co-conspirator traveled to Saudi Arabia before they were captured, the court papers said. A cellphone carried by Ahmed contained an unsent message saying, "God willing, we will join the Jijad very soon" and a farewell to his family reading, "Please remember all that I tried to teach you."
Agents searching a laptop used by Ahmed also discovered Islamic State propaganda and sermons by fiery American-born cleric Anwar al-Awlaki, a leader of al-Qaida in Yemen who was killed in 2011, the papers said. The online videos of Al-Awlaki have been cited in several U.S. cases as being a dangerous influence on self-radicalized terrorists.
The computer contained other lectures by Sheikh Abdullah el-Faisal, a radical cleric arrested last week in Jamaica on a U.S. warrant accusing him of trying to recruit radicalized Americans for the Islamic State group. El-Faisal had been the target of a sting carried out by an undercover New York Police Department officer who communicated with him by email, text and video chat.
If convicted, Ahmed faces a maximum 20 years in prison.
Copyright 2017 The Associated Press. All rights reserved. This material may not be published, broadcast, rewritten or redistributed.
https://www.usnews.com/news/best-states/new-york/articles/2017-08-29/new-yorker-accused-of-trying-to-join-islamic-state-group
--------
US fighter pilots prepares for more air strikes in Afghanistan
Aug 30, 2017
Bagram Airfield: For the fighter pilots at the largest US military base in Afghanistan, President Donald Trump's new strategy for the war should mean escalating an already surging air campaign, and possibly including an unrestrained offensive against the Taliban.
The number of US air strikes in Afghanistan has already dramatically spiked since Trump took office in January, from 1,074 in all of last year to 2,244 as of August 20 this year.
After a months-long review of his Afghanistan policy, Trump committed the United States last week to an open-ended conflict in the country and promised a stepped-up campaign against the Taliban insurgents.
Few details have emerged, but the pilots in Bagram are preparing for the possibility they'll be taking the fight to the Taliban in a way they haven't since the US led "combat mission" in Afghanistan was called off at the end of 2014.
Among their targets since then have been Islamic State militants, who are also active in the country.
"Between the two groups, the Taliban are definitely smarter," F-16 pilot Maj. Daniel Lindsey told Reuters. "The Taliban are much harder to kill."
While Islamic State has launched a series of deadly attacks around the country, it has nowhere near the influence, reach, and community ties that the Taliban has.
It's those factors that pilots say make the Taliban a more challenging target, and one that has outlasted years of heavy bombardment.
"The Taliban is often embedded in the community, but nobody likes the Islamic State, so they are often separate," Lindsey said.
NEW PARAMETERS
In many ways, Trump's policy is less a new plan than the continuation of a slow slide back into combat for American troops, although officials are quick to say their mission will remain focused on training and advising Afghan forces.
On Thursday, the commander of US troops in Afghanistan, Gen. John Nicholson, confirmed that his forces would increase air support for Afghan troops.
"We know the enemy fears air power," he told reporters in Kabul.
White House officials have said that rolling back territorial gains by the Taliban will be one of the key objectives of the new strategy.
For a time after former president Barack Obama declared America's combat mission over in Afghanistan at the end of 2014, US forces were restricted from attacking the Taliban in most circumstances except self-defense.
As the group expanded its hold in Afghanistan, however, Obama began to loosen some of those rules and Trump has gone further in sending US troops back into battle with their old adversaries.
Asked about the recent effects of US air strikes, Taliban spokesman Zabihullah Mujahid said the group's fighters had become used to dodging American bombs.
"In 2010, 2011 and 2012 the US air strikes were successful and we lost many Mujahideen," he told Reuters. "But now we have enough experience to avoid casualties during their strikes by hiding in mountain holes and other places."
Still, forcing the Taliban to hide and preventing them from massing fighters has in some cases been credited with helping Afghan security forces hold on to some cities and blunt Taliban offensives.
EXPANDING STRIKES
Trump also announced that he would "lift restrictions and expand authorities in the field," but it remains unclear exactly what that would entail.
A US military spokesman in Kabul, Capt. William Salvin, said U.S. forces are still limited to conducting air strikes in three broad circumstances: self-defense, counter-terrorism strikes against specific groups, and helping Afghan troops achieve "strategic effects."
He declined to say whether those parameters might change.
The US military does not publicize its rules of engagement, but Lindsey said compared to when he was a fighter pilot at the height of the troop surge in Iraq in 2007, the so-called "ROE" in Afghanistan were less restrictive.
"Some guys can complain about it, but most I know don't seem to have any problem finding Islamic State or Taliban to kill," he said. "If you use the rules smartly, you'll get the bad guys."
The surge in air strikes has led the US Air Force units at Bagram to increase their maintenance and intelligence efforts, said F-16 pilot Maj. Abraham Lehman.
Officials say ramping up the number of strikes further would require the deployment of more support staff as well as additional specialized troops on the ground to coordinate the strikes.
Full report at:
http://nation.com.pk/international/29-Aug-2017/us-fighter-pilots-prepares-for-more-air-strikes-in-afghanistan
--------
Tillerson's elimination of Syria and Muslim envoys reflects new US priorities
Joyce Karam
August 30, 2017
The Donald Trump administration is moving in the direction of eliminating at least 30 special envoy positions from the State Department including those assigned to Syria, to the Muslim communities and to the Organisation of Islamic Cooperation (OIC).
This move is "not unusual" according to former officials and an envoy who spoke to The National. Nevertheless, it reflects new priorities and shifting areas of focus for the Trump team.
U.S. Secretary of State Rex Tillerson outlined the plans in a letter this week to Senator Bob Corker, who heads the foreign relations committee,
"Today, nearly 70 such [envoy] positions exist within the State Department, even after many of the underlying policy challenges these positions were created to address have been resolved," Mr Tillerson wrote to Congress.
"I believe that the Department will be able to better execute its mission by integrating certain envoys and special representative offices within the regional and functional bureaus, and eliminating those that have accomplished or outlived their original purpose."
Of the 66 positions, Mr Tillerson is planning to eliminate nine including the envoy for the six-party talks with North Korea and the U.S. special envoy to close Guantánamo Bay detention camp.
Instead of having an envoy to the OIC and a special representative to the Muslim communities, Mr Tillerson is opting to expand the duties of the ambassador at large for religious freedom.
The envoy to Syria (Syrian opposition) and those who deal climate change, implementing the Iran deal, global youth would be no more or integrated in other positions if the plan is approved by Congress.
Daniel Serwer, a scholar at the Middle East Institute and a former US Envoy himself to the Bosnian Federation (1993-1996), had no problem with Mr Tillerson's plan.
"Many administrations in the past have come in and attempted to reshape the envoys positions" Mr Serwer told The National. "There are too many of them, and both previous Presidents George W Bush and Barack Obama have reorganised these positions."
"It's not unusual to reshape which special envoys you want based on your policy priorities" he said.
But for lan Goldenberg, a senior fellow and director of the Middle East Security Program at the Center for a New American Security, the problem may not be the immediate act of reorganising or scrapping the envoys positions, rather what it means for the State Department.
"What Mr Tillerson is doing is eliminating envoy positions and claiming that this strengthens the bureaus, but if the Near East Affairs (NEA) bureau remains horribly understaffed than all he is doing is making the situation worse," Mr Goldenberg said.
The problem would become in "giving the bureau new responsibilities that it has no capacity to carry out" he warned.
According to the Atlanta Journal Constitution only 18 per cent of political appointments at the State Department have been filled as of mid-August. Mr Serwer said the lack of political appointees might be a blessing in disguise for the Department, "leaving power in the hands of the professionals and career service officials".
Abolishing the Muslim community and OIC representatives, however, is an indication that the Trump team "is tone deaf when it comes to engagement with the Muslim world" said Mr Goldenberg.
"Especially in light of all the damage the administration has already done in terms of the President's anti-Muslim rhetoric" added the expert, who worked in the last administration for the US special envoy for Israeli-Palestinian peace.
On Syria, abolishing the envoy is less of a concern for both Mr Serwer and Mr Goldenberg.
"If they eliminate the Syria envoy but keep Michael Ratney [current envoy] inside NEA as point on these issues it's the same thing" noted Mr Goldenberg. The plan is also to keep the U.S. envoy in the campaign against ISIL, Brett McGurk.
Mr Serwer said the approach is in line with the Trump administration's foreign policy outlook. There is less focus on Syria but more on countering ISIL, less on the Muslim world but more on the Gulf rift, he explained.
Full report at:
https://www.thenational.ae/world/the-americas/tillerson-s-elimination-of-syria-and-muslim-envoys-reflects-new-us-priorities-1.624140
--------
Southeast Asia
Agency in India seeks to seize Zakir Naik's local properties
August 30, 2017
PETALING JAYA: India's National Investigation Agency (NIA) has been asked to submit the ownership documents of properties belonging to Zakir Naik as part of efforts to seize all properties owned by the controversial preacher.
According to the Hindustan Times, this follows the NIA's request on July 28 to a special court in Mumbai for permission to seize Naik's five properties.
These are a flat in Jasmine Apartments in Mazagaon, two flats in Maria Heights in Mazagaon, a share in property at Crystal Apartments in Mazagaon, land at Pezari and a shop at Rukaiya Manzil in Dongri.
The NIA now has until the court hearing, scheduled for the first week of September, to submit the relevant documents.
The Enforcement Directorate (ED) of India has also applied to a special court in Mumbai for permission to lawfully seize some of Naik's properties in Malaysia.
Naik is wanted for questioning in India over money-laundering and terrorism-related crimes. He fled India in 2016, after a suspect in a terror attack on a Dhaka cafe in Bangladesh was reported to have been influenced by his speeches.
On April 20, the NIA obtained a non-bailable warrant against Naik, claiming that he had promoted enmity between religious groups in India and incited Muslim youths to commit unlawful activities and acts of terror.
In May, the agency wrote to Interpol, asking that a red notice be issued against Naik. This would mean that he would be officially declared an international fugitive and police in any country would be authorised to arrest him.
According to the Times of India, however, Naik has denied supporting Islamic jihad and has alleged he is being persecuted because he is a Muslim.
The report said he claimed that his speeches had only promoted peace and that he had never advocated terror or jihad. He added that he had been delivering speeches on Islam for the past 25 years across several countries and that he was respected and welcomed there.
Although local authorities have denied reports that Naik has been granted Malaysian citizenship, Deputy Prime Minister Ahmad Zahid Hamidi admitted in April that the controversial preacher had held permanent resident (PR) status for more than five years.
http://www.freemalaysiatoday.com/category/nation/2017/08/30/agency-in-india-seeks-to-seize-zakir-naiks-local-properties/
--------
Chinese entrepreneurs sensing opportunities in Pakistan
Aug 30, 2017
SHANGHAI / LAHORE: Zhang Yang, a businessman from Chongqing in southwest China, is searching online forums for fellow entrepreneurs willing to cast aside security concerns and join him on a scouting mission to Pakistan.
Zhang, 48, is one of a growing number of Chinese pioneers, sensing an opportunity across the Himalayas in Pakistan, where Beijing has pledged to spend $57 billion on infrastructure projects as part of its Belt and Road initiative.
Numbering in the thousands, this second wave of Chinese arrivals are following in the wake of workers on Belt and Road projects.
Chinese investors likely interested in taking majority stake in PSX
Some are opening restaurants and language schools, while others are working out what products they could sell to a market of 208 million people, or what goods they could make cheaply in Pakistan to sell around the world.
"A lot of industries are already saturated in China," said Zhang, who has worked in property, electrical appliances and household goods in China and says he wants to explore the potential for setting up factories or importing Chinese goods.
"Pakistan's development is behind China, so it will hold better opportunities compared to home."
But the new arrivals face dangers, creating a headache for Pakistani security officials.
The killing of two Chinese nationals in Balochistan in June highlighted the risks posed by extremists, who may see them as soft targets.
Islamabad does not release immigration data, but a source in the foreign ministry said about 71,000 Chinese nationals visited in 2016.
A senior immigration official added 27,596 visa extensions were granted to Chinese that year, a 41% increase on 2015, suggesting more are staying in the country for longer.
Beijing's infrastructure splurge has helped revive Pakistan's sputtering economy and deepening ties between the two nations have turned Pakistan into a key cog in China's grand plan to build a modern-day Silk Road of land and sea trade routes linking Asia with Europe and Africa.
While the first phase of the China-Pakistan Economic Corridor (CPEC), as the Pakistan leg of this new Silk Road is called, concentrated on infrastructure projects, the second part will focus on setting up special economic zones and integrating Chinese firms into the local economy to help Pakistan develop its industries ranging from mining to agriculture.
China has also surged to become by far the biggest source of foreign direct investment (FDI) for Pakistan, topping $1 billion in 2016-17.
"Pakistan really needs foreign investment and we are not going to miss out on this …," said Miftah Ismail, Special Adviser to Prime Minister Shahid Khaqan Abbasi. "We won't let them (militants) mess with the Chinese."
Security challenge
Pakistan receives friendly coverage in Chinese media and regularly features in state broadcaster CCTV's programmes on the Belt and Road initiative, which include promotion of CPEC and interviews with Chinese workers living in the country.
However, Derek Wang, Deputy Chief Executive of Infoshare, an Islamabad-based consultancy assisting Chinese entrepreneurs and businesses, said security was the number one concern of Chinese newcomers.
Pakistan is taking the threat seriously. Guards and police with automatic rifles shield Chinese-staffed offices and language schools.
Amid Chinese investment, technical education on a roll
Full report at:
http://nation.com.pk/international/29-Aug-2017/chinese-sensing-opportunities-in-pakistan
--------
Malaysia to pick top young Imam as talent show enters finals
30 JULY 2010
Kuala Lumpur - A hugely popular Malaysian TV search for young new Islamic leaders stages its finale on Friday, after gaining worldwide attention and igniting new enthusiasm for the religion among Muslim youth.
The Young Imam show has seen 10 finalists hit the prime-time stage to recite verses from Islam's holy book, wash corpses and slaughter sheep according to Muslim rules, and persuade youngsters away from sex and drugs.
Following the reality-TV formula made popular through shows such as American Idol in the US and The X Factor in Britain, the 10-week series has eliminated eight contestants.
Now, two young men will fight it out to win the Young Imam title.
"The final challenge consists of the Young Imam finalists presenting a religious sermon, reciting the Koran in rhythmic tones, singing religious hymns and answering questions related to Islamic law," Izelan Basar, channel manager with cable network Astro Oasis, told AFP.
Imams play a broad role in Malaysia - where more than 60 percent of the 28 million population are Muslim - including leading prayers at the mosque and counselling troubled individuals.
The shows' creators, who had a goal of making Islam more appealing to young people, have been thrilled by its success. The official Facebook page has nearly 52 500 fans and the discussion board is crowded with comments.
Over 1 000 guests, including the country's top clerics and religious affairs minister, have been invited to the finals of the show at a convention hall beside the National Mosque in the capital Kuala Lumpur.
The 90-minute programme will be aired live over the Astro Oasis network from 9pm (1300 GMT) and giant screens have been placed outside the hall to allow fans who could not enter to watch the show.
Since the series began in May, the 10 finalists, who were chosen from over 1 000 candidates, have been quarantined in a mosque dormitory and banned from using phones, the Internet and television.
The show - in which the contestants face written and practical tests on the religion each week - has become a major hit after it attracted worldwide interest and even the attention of young women and prospective mothers-in-law.
The two finalists, religious teacher Hizbur Rahman Omar Zuhd and religious scholar Muhammad Asyraf Mohamad Ridzuan - who are both married - said they were looking forward to the finals.
"Whether I win or lose, I am grateful that I have learned a lot of things through this programme," Hizbur, 27, a graduate of the prestigious religious school of Al-Azhar University in Cairo, told Malay daily Harian Metro.
"Praise to God, I will try my best (in the finals) and focus on my preaching work after this," 26-year-old Muhammad Asyraf, who like Hizbur was clad in a smart black suit and matching skullcap, told the same newspaper.
The winner will get a trip to Mecca to perform the hajj pilgrimage, a scholarship to al-Madinah University in Saudi Arabia, and a job at a mosque.
The sole judge who wields the weekly axe is a former grand imam of the national mosque, who said the young imams have a duty to safeguard Islam and teach Muslims to live harmoniously with other faiths.
"They are going to become good role models," Hasan Mahmood told AFP previously.
The rising popularity of the show comes against a background of concern among Malaysia's ethnic Chinese and Indian minorities over rising "Islamisation" of the multicultural country and fears that tolerance towards Christians, Hindus and others is diminishing.
A simmering row over the use of the word "Allah" by non-Muslims saw attacks on 11 churches and the dumping of severed pigs' heads at two mosques in January.
Full report at:
https://www.iol.co.za/entertainment/tv/malaysia-to-pick-top-young-imam-as-talent-show-enters-finals-985012
--------
Can Malaysia's opposition end UMNO's corrupt party-state?
29 August 2017
Malaysia's opposition coalition Pakatan Harapan (PH) is busy preparing its manifesto for the 14th General Election (GE14) to be held by August 2018 at the latest. PH cannot afford to repeat past mistakes and publish a strategically ambiguous election manifesto as a simple public relations exercise — it needs to produce a transition pact that clearly spells out what its victory would change and what it would not.
Malaysia's Prime Minister Najib Razak inspects the United Malays National Organisation (UMNO) youth during the annual assembly at the Putra World Trade Centre in Kuala Lumpur, Malaysia, 10, December, 2015 (Photo: Reuters/Olivia Harris)
Malaysia is a one-party state which has been ruled by the Malay-nationalist United Malays National Organisation (UMNO) and its coalition partners since independence from Britain in 1957. Malaysia is also a polarised society where the majority Malay-Muslims and the minority Chinese, Indian and Bornean non-Muslims have largely opposing views on Islamisation and pro Malay-Muslim preferential policies.
This fundamental contradiction has helped UMNO's party-state to survive previous challenges since the opposition has never been able to win favour with both blocs. In 1990, the opposition won the Chinese vote, but lost the Malays due to their fear of losing political and religious dominance. In 1999, the opposition won the Malay vote, but many Chinese feared an ethnic riot if UMNO performed badly. In 2013, the opposition coalition won 51 per cent of the total vote, but its Malay-Muslim support was only around 40 per cent. Thanks to partisan gerrymandering, the UNMO-led Barisan Nasional (BN) coalition held on to power by a margin of 44 seats.
Looking toward the coming election PH is aiming to win more Malay votes. The inclusion of Mahathir Mohamad (formerly of UMNO and prime minister between 1981 and 2003) as PH's new chairman is a game changer. He fills the void left by the Pan-Malaysia Islamic Party (PAS) which now collaborates with UMNO to pursue its agenda to expand Syariah law.
Many now hope for a tsunami of Malay voters to sweep UMNO away. But there is a catch to such optimism: communal incoordination risks foiling the opposition coalition once again.
Given UMNO's further shift to ultra-nationalism after 2013, Chinese votes appear unlikely to swing back to BN. But with Mahathir evading talk of concrete reforms, many Chinese who fear PH turning into a BN 2.0 may stay home on election day offsetting any potential Malay swing to PH.
Previous opposition coalitions have tried this sort of strategic ambiguity before. Instead of taking clear positions on Islamisation and the pro-Malaya New Economic Policy, they seized upon salient issues such as corruption and good governance. But ambiguity is neither strategic nor possible this time around. UMNO will continue — with the Pan-Malaysian Islamic Party's help — to warn Malays that both Islam and Muslims are under threat. If PH responds by leaning towards the Malays, more Chinese votes risk being lost.
Beyond populist and catch-all promises like repealing the Good and Sales Tax, a better strategy for PH would be to enter into a transition pact with citizenry on how it would manage regime change should it win. Such a pact should separate the pro-Malay/Muslim policies which UMNO holds its ethnic constituency at ransom with from the party-state, dismantle those features of the political system which prevent genuine electoral competition and enable corruption, and find better alternatives in inter-communal policies.
In terms of making politics competitive, both the authoritarian and majoritarian features of the party-state need to be eliminated.
To dismantle authoritarianism, three institutional reforms are indispensable. First, civil and political liberties must be reinforced to emphasise the freedoms of expression, assembly and association. PH must also commit to media freedom and to no detention without trial.
Second, there must be judicial and prosecutorial reforms regarding the appointment, promotion and retirement of judges as well as the establishment of an independent prosecution separate from the attorney general.
Third, political impartiality of the state apparatus — bureaucracy, police and the military — must be enforced. State agencies and officials must be checked by independent anti-corruption and ombudsman institutions with real regulatory teeth. Such reforms may produce a majoritarian democracy, but leaves the risk of democratic winner-takes-all politics which will likely further tear at Malaysia's bipolar social wounds. Hence, two more institutional reforms are needed to dismantle majoritarianism.
First, electoral, parliamentary and cabinet reforms must be enacted — this includes a more proportional electoral system and a term limit on prime ministership. Powers need to be devolved to the states, the senate should be directly elected and local elections restored. These reforms will end a concentration of power at the top of the leadership, the root cause of the 1MDB scandal.
At the same time, PH should also promise to avoid sweeping change without national consensus on divisive issues like the pro-Malay ethnic preferential policy, Islamisation as well as language and education. These issues should be deliberated by broad-based consultative bodies to produce new policy alternatives, which may be modified to become party manifestos in the 15th General Election (GE15).
Instead of repeating 'strategic ambiguity', PH should make clear that GE14 will only be a 'transition election' from the party-state while the 'founding election' for a new Malaysia will be GE15, when playing field is level.
Full report at:
http://www.eastasiaforum.org/2017/08/29/can-malaysias-opposition-end-umnos-corrupt-party-state/
--------
Indonesia Sells Rp 7 Trillion of Islamic Bonds, Above Target
Aug 30, 2017
Jakarta. The Ministry of Finance sold Rp 7 trillion ($524.82 million) of Islamic bonds at an auction, above the indicative target of Rp 5 trillion, its financing and risk management office said on Tuesday (29/08).
The weighted average yield for Islamic T-bills maturing in February 2018 was 5.37394 percent, lower than the 5.47094 percent yield at the last auction on Aug. 15.
The project-based sukuk maturing in May 2019 had a weighted average yield of 6.39480 percent, lower than the previous auction's 6.75994 percent.
The weighted average yield for the project-based sukuk maturing in May 2021 was 6.66883 percent, down from 7.01993 percent in the previous auction.
The weighted average yield for the project-based sukuk maturing in August 2023 was 7.04945 percent, compared with 7.21905 percent at the last auction.
The project-based sukuk maturing in November 2031 had a weighted average yield of 7.61844 percent, lower than the 7.84993 percent yield at the last auction.
Full report at:
http://jakartaglobe.id/business/indonesia-sells-rp-7-trillion-islamic-bonds-target/
--------
India
Sunni Ulema Council seeks jail term for those giving, validating instant talaq
Aug 29, 2017
The Sunni Ulema Council, a key Muslim body, has written to the union law ministry, demanding jail term for those giving or validating instant talaq, which the Supreme Court has declared unconstitutional.
The Council's position is at odds with the Jamiat-e-Ulema Hind's hardline view of the Supreme Court verdict. The Jamiat members dominate the All India Muslim Personal Law Board (AIMPLB).
Jamiat's regional president Matinul Haq Osama Qasimi has been on record that no interference will be tolerated in the shariyat (codified Islamic laws) and the body was studying the order before it goes for a review. The Jamiat is studying the apex court order before it seeks a review.
The Sunni Ulema Council's first demand is that if a man gives his wife instant talaq, he should be made liable to fork out 10 times the Mehr, an essential payment the groom agrees to make at the time of nikah (marriage) to the woman.
The amount is mentioned in the nikahnama (marriage contract). The two parties, along with their witnesses, sign it.
At the same time, the talaq giver should face two years' imprisonment and be liable to pay a fine of Rs 2 lakh.
Another demand is that any cleric who validates triple talaq should face imprisonment of a year and a fine of Rs 1 lakh, which should be paid to the divorced woman.
Haji Mohammad Salees, general secretary of the Ulema council, said:
"We have told the law minister that without tough laws, the decision of the Supreme Court will be lost and this practice (instant talaq) will continue."
"This practice has darkened the innumerable lives of women and children. It is time to weed it out through law and awareness within the Muslim community," he said.
In August 2015, the council and many other bodies representing Muslim women had taken up the issue of instant talaq with the All India Muslim Personal Law Board (AIMPLB), asking it to initiate proactive measures for its complete abolition.
"This form of talaq has no sanction from the Quran or the Hadith whatsoever. Sadly, the board didn't act nor did it care to respond to us," Salees said.
"The practice flourished because of the self-centred clergy which has ensnared people. The Supreme Court decision is heart-warming but still a lot has to be done," he said.
The council has suggested that the government should constitute a committee of Muslim clerics and intellectuals with a mandate for abolition of this practice and complete adoption of the process of divorce as explained in the Quran, the holy book of Muslims.
"If our demands are met, these will deter Muslim men from divorcing women.Even if they do go for divorce, the financial part at least will help them (the women)," he said.
http://www.hindustantimes.com/lucknow/sunni-ulema-council-seeks-jail-term-for-those-giving-validating-instant-talaq/story-Xng2rexXeYasI4skrwQ55N.html
--------
300 Muslim students to get scholarships on PM's birthday
AUGUST 29, 2017
The facility aimed at uplifting the economically backward
A total of 300 economically backward Muslim students would be awarded the Narendra Modi Scholarship on the Prime Minister's 67th birthday on September 17, the Forum for Muslim Studies and Analysis (FMSA) announced on Tuesday.
The scholarship was constituted by the FMSA, an Aligarh-based group of Muslim intellectuals, in May last year.
Empowerment
Jasim Mohammad, the director of the FMSA, said: "The Prime Minister is concerned about the problems of the minority community. I constituted the scholarship in his name because it will empower the minority community educationally. Once empowered, these students will make our country proud."
Last year, a total of 100 students were awarded the scholarship of ₹5,000. But, given the enthusiastic response it received, the FMSA decided to increase the number of beneficiaries to 300.
Forms available online
"Last year, more than 22,000 Muslim students had applied for the scholarship, 16,000 of whom were girls. It only showed the extent of desire among Muslims to study. So, we decided to modify the scholarship amount to ₹3,000 and increase the number of beneficiaries to 300," said Mr. Mohammad.
He added that the aim of the scholarship was to "carry forward the commitment of the Prime Minister to Sab Ka Saath, Sab Ka Vikas".
Last date
The form for the scholarship has been uploaded on www.jasim.org. Students of classes XI, XII, graduation and post-graduation are eligible to apply. The last date for submitting the form is September 10.
Full report at:
http://www.thehindu.com/news/national/other-states/scholarship-for-muslim-students/article19582516.ece
--------
Muslims perform last rites of Kashmiri Pandit lady in Tral
IRFAN AMIN MALIK
Aug 30 2017
When a Kashmiri Pandit lady, Neelam (32) died of heart attack here at Batnag area of Tral in Pulwama district on Tuesday, her Muslim neighbours immediately rushed towards her house to console her family.
They not only mourned at her demise, but also performed her last rites. According to the family of the deceased, Neelam by Tuesday morning complained of severe chest pain and within ten minutes expired. Her death evoked a hysterical reaction from her kids. The neighbors mostly Muslims thronged Neelam's house to console her family including her two little kids.
Neelam, according to her husband, Ashok Kumar died due to cardiac arrest. "Since yesterday evening she was not feeling well. I was planning to take her to Sub District Hospital Tral but she died within no time," Ashok said.
Ashok who clung to his roots and refused to leave the valley during 90s runs a bakery shop outside his house at Batnag market. Shedding tears Ashok was seen being consoled by his Muslim associates.
As the news of her death broke, locals were inconsolable. A tearful Mohammad Yousuf Naik said: "She was just like my mother and used to treat me like her own son."
People from adjoining villages Tral-I-Bala, Tral-I-Payeen reached her house to participate in her last rites.
At least three Muslim women in her neighborhood fainted when they saw Neelam lying dead. "It is a tragic loss for our colony as we lost a polite and a dear friend. We will always miss her, " said Lovely, Neelam's childhood friend.
Until their relatives from Jammu would reach Tral , the Muslims had kept all the arrangements ready for the last rites.
Ashok's next door neighbour Bashir Ahmed Bhat says: "This is our primary duty to help our neighbours irrespective of their religion. Ashok is our neighbour and Islam teaches us to fulfill the rights of neighbour."
Full report at:
http://www.greaterkashmir.com/news/kashmir/muslims-perform-last-rites-of-kashmiri-pandit-lady-in-tral/259030.html
--------
UP Madrasas under Govt's Scanner, To Be Geo-Tagged Through GPS
Aug, 30 2017
Just days after the Yogi Adityanath government launched a portal for the Uttar Pradesh madrasas, the state government has announced geo-tagging for the madrasas.
According to a report in The Times of India, all madrasas across the state will be geo-tagged through a GPS-based service in an attempt to weed out fake students and staff.
The report states that the order issued on 31 July by the Adityanath government also asked the madrasas to share maps of classrooms, photographs of the building and teachers' banking details.
The institutes have also been told to upload each employee's Aadhar details to the newly launched portal. The government made it mandatory for the madrasas to be registered on the portal, India Today reported.
Under this new system, 10,000 more accredited madrasas have to provide their information, including photographs of employees. At present, around 8,000 madrasas in Uttar Pradesh are recognised by the government body Uttar Pradesh Madrasa Shiksha Parishad. Among these, 560 are fully aided by the state.
The madrasas also have to keep records of all functions conducted in their institutions. Ahead of the Independence Day, the state government had directed the madrasas to hold celebrations and videograph the event.
Madrasas have repeatedly questioned the move. "If it is only in madrasas, does it mean that our patriotism is being suspected?" asked All India Muslim Personal Law Board member Maulana Khalid Rashid Farangi Mahli.
Full report at:
http://www.firstpost.com/india/uttar-pradesh-madrassas-come-under-yogi-adityanath-govts-scanner-to-be-geo-tagged-through-gps-service-3988981.html
--------
Muslims 'anxious' around Qurbani time, say clerics who met UP DGP for peace assurance
Yusra Husain
Aug 29, 2017
LUCKNOW: Ahead of Eid-ul-Azha, a section of Muslim clergy on Tuesday said the community is filled with anxiety over the matter of fulfilling their religious duty of qurbani (sacrifice) on the festival. The concern, said clerics, arose from the number incidents of cattle vigilantes taking law in their hands, primarily against the minority community, across the country in the recent past.
To be assured there is law and order around the festival, a delegation met DGP Sulkhan Singh in Lucknow on Tuesday. Led by Imam of Eidgah, Maulana Khalid Rasheed Farangi Mahali, the delegation demanded there neither be obstruction in the movement of sacrificial animals for the festival, nor any lapse of law and order.
Eid-ul-Azha will be celebrated on Saturday and the sacrifice ritual will continue to be observed for the next two days. "We met the DGP with a memorandum of demands for tight security around the festival because the community is worried in the light of incidents of lawlessness in the recent past," said Maulana Khalid, who is also chairperson of Islamic Centre of India. He added that sacrifice is every Muslim's religious duty and security must be ensured against any untoward incident.
The delegation also comprised president of Jamat-e-Islami eastern UP and its secretary Mohammad Naim and Shahid Ali, respectively, besides All India Sunni Board president Maulana Mohammad Mushtaq and Sajjadanasheen of Dargah Shahmina Shah, Sheikh Rashid Ali Minai.
Full report at:
http://timesofindia.indiatimes.com/city/lucknow/muslims-anxious-around-qurbani-time-say-clerics-who-meet-dgp-for-peace-assurance/articleshow/60281122.cms
--------
Three SIMI members get life for bid to murder BJP youth wing activist
August 30, 2017
Three SIMI members were on Tuesday sentenced to life imprisonment by a Bhopal special court for attempted murder of a Bharatiya Janata Yuva Morcha (BJYM) activist in Madhya Pradesh's Khandwa town in 2009. While BJYM president Pramod Tiwari had escaped unhurt, a BJYM activist was critically injured in the attack that took place on the night of January 2, 2009. There were seven accused in the murder case, but four of them were killed in an alleged encounter near Bhopal last year.
Like all other cases involving Madhya Pradesh's SIMI activists, this case was also shifted to Bhopal and the accused were produced in court through video conferencing. Besides Abu Faisal — who was the key conspirator in the attack and is facing trial in other terror-related cases — Abdullah Hussain and Raquib were sentenced to life imprisonment for attempt to murder Dubey. The trio were also sentenced to 10 years in jail for the attempt on Tiwari's life by Special Judge Girish Dixeet. Both the sentences will run concurrently.
Full report at:
http://indianexpress.com/article/india/three-simi-members-get-life-for-bid-to-murder-bjp-youth-wing-activist-4820074/
--------
Kerala conversion, marriage: Former SC judge turns down request to oversee NIA probe
August 30, 2017
Former Supreme Court (SC) judge R V Raveendran has turned down the request to supervise the National Investigation Agency (NIA) investigation into Kerala resident Hadiya's conversion to Islam and her marriage with a Muslim named Shefin Jahan. An SC bench comprising former Chief Justice J S Khehar and Justice D Y Chandrachud had asked Raveendran to oversee the probe on August 16.
"It is a matter between the court and myself,'' Raveendran said while confirming that he had turned down the request. Sources said that Raveendran has stated that he would not be in a position to oversee the probe. The NIA will now approach the court to appoint another judge.
The SC had initially considered appointing former judge K S Radhakrishnan to supervise the probe. But it reconsidered the choice after Jahan's lawyers suggested that someone from outside Kerala should be appointed to ensure a fair investigation.
Full report at:
http://indianexpress.com/article/india/kerala-conversion-marriage-former-sc-judge-turns-down-request-to-oversee-nia-probe-4820066/
--------
Delhi Court frames charges against IM's Yasin Bhatkal, 8 others
August 29, 2017
A Delhi court today put Indian Mujahideen (IM) operative Yasin Bhatkal and eight others on trial in two cases relating to the 2010 Jama Masjid blast. Additional Sessions Judge Sidharth Sharma said there was enough evidence against them and framed the charges.
The accused persons pleaded not guilty and claimed trial. The court issued production warrant against accused Azaz Saikh, who could not be produced from a Mumbai jail where he is lodged. Besides Bhatkal, those who were put on trial include Gauhar Aziz Khomani, Gayur Ahmad Jamali, Mohd Adil, Mohd Irshad Khan, Mohd Aftab Alam, Kamal, Assadullah Akhtar and Zia-ur-Rehman.
Another accused Modh Qateel Siddiqui died during the pendency of the case, advocate M S Khan, who appeared for the accused, said.
The police had earlier filed charge sheet against eleven suspected IM members in connection with the blast case, alleging that they had carried out the strike to deter foreign nations from participating in the 2010 Delhi Commonwealth Games.
A bomb fitted in a car had exploded near the historic Jama Masjid here on September 19, 2010, soon after two suspected IM operatives had opened fire at a bus from which foreign tourists were descending near a gate of the mosque.
Two Taiwanese tourists had sustained bullet injuries in the firing incident for which a separate case was lodged. Two seperate cases were filed in this regard. While the first was about the blast, the second one was on the firing incident. The police had earlier said that the IM operatives had planned that foreign tourists found near Jama Masjid would be randomly shot at and a bomb blast would be executed there for maximum casualty. It had alleged that Bhatkal had prepared a pressure cooker fitted with improvised explosive device, which was planted in the car parked outside the mosque.
http://indianexpress.com/article/india/delhi-court-frames-charges-against-ims-yasin-bhatkal-8-others-4819836/
--------
Europe
Letters threatening acid attacks sent to Muslims in Bradford
Josh Halliday
29 August 2017
Police have launched a hate crime investigation after anonymous letters threatening acid attacks on Muslims were posted in Bradford.
West Yorkshire police said they were taking the threats "extremely seriously" and had increased patrols in Hanover Square, a mainly Muslim inner-city area where at least two residents received the letters last week.
The literature shows an image of a sword and the St George's flag with the words: "Kill scum Muslims". It questions why Muslim women wear burqas then states: "We are now going to do acid attacks on anyone who wears the funny black masks around your square & Bradford & other places."
It alleges that "three of ur male pigs" were grooming four white girls, then states: "We know who the three male pigs are they are walking dead pigs."
Police carried out extra patrols over the bank holiday weekend on Hanover Square, in the Manningham area of Bradford near the city centre. Naz Shah, the Bradford West MP, said she had reported the letters to police on Saturday.
Mohammed Qayd, 27, one of the recipients of the letter, said his mother was afraid that she would be targeted and that the threats had come "completely out of the blue".
"I was shocked. My mum wears a burqa and she goes to town regularly so I was concerned for her. When I explained it to her she realised the severity of it and was afraid. You start wondering whether it's safe to go out on their own."
Qayd said the letter was delivered by second-class post and had a Lancashire postmark, but that he believed it had been sent by someone who knows Hanover Square and its residents.
Another recipient, who did not want to be identified beyond his first name, Shoab, said the letter could raise tensions before a planned English Defence League (EDL) march in Bradford on Saturday, which coincides with Eid celebrations.
He said: "The police mentioned the EDL will be marching. It can worry you if you really think about it – what if they're something to do with it? But the EDL have come and gone before, sometimes something tends to happen. It could erupt, you see.
"Eid could be Friday or Saturday – a lot of times we'll all be out to families, people go out to restaurants in the town centre. There's always that chance something could happen."
Outside the Masjid Nimrah mosque, which broadcast a call for prayer on Monday lunchtime, Masood Ahmad, 43, said the threats had concerned residents. "Everybody's shocked. There's a lot of women in the street wearing the burqa," he said. "I didn't know about the EDL [march] but if this spreads out it might create a problem. It might be chaos here."
The letters follow a sharp rise in Islamophobic hate crime after the terror attacks on Westminster, Manchester and London Bridge. The spike in anti-Muslim incidents is thought to have fallen to normal levels following a surge of 500% in Greater Manchester in the month after the arena bombing.
A West Yorkshire police spokeswoman said: "A thorough investigation has been launched and officers are working with the local community and partners to identify and prosecute those responsible for this despicable crime.
"We understand the impact hate crime and hate incidents can have on our communities and on individuals, and crimes of this nature will not be tolerated."
Nadeem Murtuja, the chair of advocacy group Just Yorkshire, which was set up to restore race relations after the Bradford riots in 2001, said he was extremely concerned that Muslims were having to shave their beards or remove hijabs as a result of Islamaphobic threats.
"This is a time for calm heads and people in positions of power, locally and nationally, need to become more visible in their stance towards protecting the human rights of all communities, including the Muslim community."
https://www.theguardian.com/uk-news/2017/aug/29/letters-threatening-acid-attack-threats-sent-to-muslims-in-bradford
--------
UK caught selling used military aircraft to Bahrain: Report
Aug 29, 2017
The government of UK Prime Minister Theresa May has been caught selling used military aircraft to Bahrain and other countries it officially categorizes as human rights violators.
The Ministry of Defence (MoD) has sold at least two former Royal Air Force (RAF) C-130J Hercules transport aircraft from under a government-to-government deal worth up to £30 million, the i News reported Monday.
The aircraft, capable of tactical operations, parachute insertions and the air dropping cargo, are likely to be dispatched to Saudi Arabia as part of Bahrain's contributions to the Riyadh regime's brutal military aggression against Yemen.
"Bahrain has sent F-16 fighter jets to Saudi Arabia to support Yemen operations, so I think that's how these C-130s will be used, as well as hunting safaris for the King," an aviation source with knowledge of the sale told the British news outlet.
The MoD retired the aircraft after a major military and security review in 2015. The ones purchased by Bahrain are currently undergoing refurbishment by Marshall Aerospace Group at Cambridge airport, where the aircraft have been seen sporting the Bahrain air force's camouflage.
'Intensifying human crises'
Andrew Smith, a spokesman for the Campaign Against Arms Trade, said the deal was an "unequivocal statement of political and military support for the Bahraini regime."
"If these aircraft are used to aid the Saudi-led bombardment of Yemen then it can only intensify the humanitarian crisis," he argued.
The UK has also been providing the Manama regime's security forces with training and intelligence in its heavy-handed crackdown on a years-long popular uprising against the ruling Al Khalifah family.
Besides Bahrain, May's government has inked major military deals with other repressive regimes in the Middle East, including Saudi Arabia itself.
As one of the biggest suppliers of weapons to Riyadh over the past 40 years, London has provided Tornado and Eurofighter Typhoon jets along with training to Saudi pilots participating in the Yemen war, which has killed over 12,000 people.
London has been heavily criticized for striking government-to-government deals as a bid to hide the real amount of its weapons exports to other countries.
Full report at:
http://www.presstv.ir/Detail/2017/08/29/533325/UK-Bahrain-arms-sales-human-rights
--------
Pensioner Fined £1,100 for Muslims 'Monkeys' Online Hate Speech
29 Aug 2017
A man in his 70's in Sweden has been given a fine of over £1,000 by a court after he made disparaging remarks about Muslims on social media.
The pensioner, who lives in the Swedish city of Gothenburg, was convicted by a court last week on charges of hate speech against Muslims online. The comments were made on a Swedish Facebook page which has around 4,000 members, and the man is alleged to have called Muslims "monkeys" and said: "The only good Muslim is a dead Muslim," SVT reports.
The court imposed a fine of 12,000 Swedish krona, or around £1,166, on the man after finding him guilty.
Hate speech crimes in Sweden have existed for many years but since the height of the migrant crisis in 2015, there have been more and more arrests and fines. Earlier this year, Sweden proposed to expand the definition of hate crimes to include "gender expression and identity".
Often the cases are speech that has been made online as was the case with a 70-year-old woman in Dalarna who "expressed a disparaging view of refugees" after she claimed that migrants "set fire to cars, and urinate and defecate on the streets".
The Swedish government has also publicly made it clear that it does not endorse critics of mass migration after earlier this year creating a "blacklist" of politicians, political commentators, internet celebrities, and others by blocking them from the official Swedish Twitter account.
Included on the blacklist was the Israeli ambassador to Sweden who commented on the move saying: "Now that Israel's MFA and ambassador are blocked – Sweden is much safer in reading Iran and others, that were not blocked."
Full report at:
http://www.breitbart.com/london/2017/08/29/swedish-pensioner-given-large-fine-calling-muslims-monkeys-online/
--------
In first foreign policy speech, Macron vows to fight 'Islamist terror'
August 30, 2017
PARIS: Fighting "Islam­ist terrorism" is France's top foreign policy priority, President Emmanuel Macron said on Tuesday, vowing to make his country a leading power in an unstable, increasingly polarised world.
"Providing security for our citizens means that the fight against Islamist terrorism is our first priority," Macron told some 200 French diplomats gathered in Paris. "There's no place for naivety, nor for fear of Islam that confuses Islamism and Islamic," he said, adding that guaranteeing the security of the French was the "raison d'etre" of the country's diplomacy. Since early 2015, France has suffered a series of terror attacks that have claimed more than 230 lives, making it the country worst affected in western Europe.
Its armed forces are in action as part of the US-led international coalition fighting IS in Syria and Iraq, while French soldiers are also fighting jihadists in west Africa.
Macron, who took power in May on a promise to boost France's international standing, said he would work with the various powerbrokers in the Middle East — including arch-rivals Iran and Saudi Arabia — to try eradicate the jihadist threat.
"Some have chosen [their camp]. It's a mistake. The strength of our diplomacy is to speak to all sides," he said in the first major foreign policy speech of his five-year term.The 39-year-old also insisted there was no alternative to the 2015 nuclear deal with Iran, which saw sanctions eased on the Islamic republic in exchange for curbs to its nuclear programme. It has been fiercely opposed by US President Donald Trump who has called it a "terrible" deal.
"There is no alternative to the non-proliferation agenda. It enables a constructive and demanding relationship with Iran," Macron said, underlining one of many policy disagreements between him and the US leader.
Faced with weak approval ratings, Macron was looking to burnish his foreign policy credentials with the speech, which is a fixture on France's political calendar.
He won kudos for making a bold start on the international stage, using frank and uncompromising language with both Trump and Russian President Vladimir Putin within his first weeks in office. He raised human rights with Putin and spoke out against Trump's decision to withdraw the United States from the Paris accord on fighting climate change before later rolling out the red carpet to the Republican leader.
France's youngest-ever president has also irked some European partners, notably Poland, which he accused of "going against European interests in many areas" last week.
Venezuela 'dictatorship'
On Tuesday, Macron singled out Venezuela for condemnation in far stronger terms than his European allies, accusing President Nicolas Maduro of creating a "dictatorship" in the crisis-hit South American country.
"A dictatorship is trying to survive at an unprecedented humanitarian cost," he said, echoing the tough US position on the country.
Last week the White House piled financial pressure on Caracas, restricting access to vital US capital markets.
Macron also fleshed out his plans for deepening the integration of the European Union, which he placed at the heart of his successful election campaign at the head of a new centrist political party. "We should imagine a Europe of several formats: going further with those who want to advance, while not being held back by states which want... to progress slower or not as far," he said.
Full report at:
https://www.dawn.com/news/1354815/in-first-foreign-policy-speech-macron-vows-to-fight-islamist-terror
--------
Only job creation can quell social unrest: Moroccan PM
29 August 2017
Moroccan Prime Minister Saadeddin al-Othmani said Monday that ongoing social unrest in the northern Al-Rif region would only subside when the nation's youth had adequate job opportunities.
He made the remarks while giving a speech at the first meeting of the government-run Ministerial Committee for Employment, which convened in capital Rabat on Monday to discuss means of developing the national employment sector.
"The government must create enough jobs to prevent vulnerability and marginalization," al-Othmani said, stressing that highly unemployment rates continued to pose a "real problem" for the country's young people.
The prime minister's comments come amid ongoing social unrest in Morocco's northern Al-Rif region, where for the last 10 months young demonstrators have demanded jobs and an end to perceived government corruption.
"The government is looking for solutions to the unemployment problem," al-Othmani said. "We want to facilitate the creation of jobs for young people."
"Despite the launch of several past initiatives, government efforts to reduce unemployment over the past decade have met with limited success," he conceded.
According to Morocco's state-run High Commission for Planning, the national unemployment rate stood at 9.3 percent for the second quarter of this year -- up from 9.1 percent in the same period last year.
For the last 10 months, Morocco's northern Al-Rif region -- especially the flashpoint city of Al-Hoceima -- has been rocked by protests by local youth demanding jobs and stepped-up regional development.
On several occasions, demonstrations have been forcibly dispersed by security forces, leading to injuries -- and at least one death -- among protesters.
The unrest first erupted last October when a local fisherman, Mohsen Fikri, was crushed to death by a garbage truck in Al-Hoceima while protesting attempts by police to confiscate his fish.
Full report at:
http://www.worldbulletin.net/africa/193472/only-job-creation-can-quell-social-unrest-moroccan-pm
--------
Arab World
Fresh US-led airstrikes leave 18 Syrian civilians dead in Raqqah
Aug 29, 2017
More than a dozen civilians have been killed after the US-led coalition purportedly fighting the Daesh Takfiri terrorist group carried out a series of aerial assaults in Syria's militant-held northern city of Raqqah.
The so-called Syrian Observatory for Human Rights reported that eight people were killed on Tuesday, when US-led warplanes pounded Hadiqa al-Baydha neighborhood in the city, located about 455 kilometers (283 miles) northeast of the capital Damascus.
The development came only a day after 10 civilians, including six men and four women, lost their lives in US-led aerial attacks against residential neighborhoods of Raqqah.
The Observatory said the victims were all members of an internally displaced family from the ancient city of Palmyra.
The Britain-based monitoring group noted that Monday's fatalities took to 816 the number of civilians, who have lost their lives in US-led airstrikes against Raqqah between June 5 and August 28. The figure included 204 children and 131 women.
The Syrian Ministry of Foreign Affairs and Expatriates, in two separate letters sent to UN Secretary General António Guterres and rotating President of the UN Security Council Amr Abdellatif Aboulatta on August 24, stated that the US-led coalition was perpetrating war crimes and crimes against humanity through aerial bombardment of residential neighborhoods.
The Syrian Foreign Ministry also stressed that the military alliance was using internationally-banned white phosphorus munitions in flagrant violation of international law and the Charter of the United Nations.
The US-led coalition has been conducting airstrikes against what are said to be Daesh targets inside Syria since September 2014 without any authorization from the Damascus government or a UN mandate.
The military alliance has repeatedly been accused of targeting and killing civilians. It has also been largely incapable of fulfilling its declared aim of destroying Daesh.
The city of Raqqah, which lies on the northern bank of the Euphrates River, was overrun by Daesh terrorists in March 2013, and was proclaimed the center for most of the Takfiris' administrative and control tasks the following year.
It is estimated that some 300,000 civilians are trapped inside Raqqah, including 80,000 displaced from other parts of Syria. Thousands have fled in recent months, and the United Nations Office for the Coordination of Humanitarian Affairs believes about 160,000 people remain in the city.
On June 6, the US-backed militiamen from the so-called Syrian Democratic Forces (SDF) said they had launched an operation aimed at pushing Daesh out of Raqqah.
http://www.presstv.ir/Detail/2017/08/29/533350/USled-airstrikes-kill-civilians-Syria-Raqqah-Daesh-Takfiri-militants
--------
Hajj 2017: Two million Muslim pilgrims from all over the world head to Mecca
Aug 30, 2017
Two million pilgrims have arrived at the holy city Mecca for the Islamic pilgrimage of Hajj - the largest of its kind in the world.
This year, the first day of the pilgrimage will be on 30 August and it will end on 4 September, Saudi Arabia's High Judicial Court confirmed.
To complete one of the pillars of Islam, all Muslims are required to make the pilgrimage at least once in their lifetimes if they have the means to do so.
Pilgrims from Iran will once again be allowed to attend this year after authorities lifted a ban on its citizens from travelling to its middle eastern rival.
Authorities had barred from making the journey last year, following a stampede in 2015 that killed more than 2,400 pilgrims, including 464 Iranians.
The disaster sparked bitter recriminations between the two nations over Saudi Arabia's custodianship of the holy sites of Mecca and Medina.
Tensions have risen as both states supported opposing sides in conflicts in Syria, Yemen and elsewhere,
Around 90,000 Iranians are expected to attend the pilgrimage this year, the director of the Hajj at Iran's Hajj and Pilgrimage Organisation told state media.
Saudi has also opened its borders to Qatari pilgrims.
The Salwa border had been shut after Saudi, Bahrain and the United Arab Emirates cut diplomatic ties with Qatar in June, after accusing the state of supporting extremist Islamist groups.
Health officials in Saudi Arabia have said they are ready to deal with another stampede or any outbreak of disease this year.
Full report at:
http://www.independent.co.uk/news/world/middle-east/hajj-2017-muslim-pilgrimage-mecca-islam-pilgrims-saudi-arabia-a7917851.html
--------
More Terrorist Commanders Assassinated in Idlib
Aug 29, 2017
According to the Arabic-language al-Watan newspaper, unknown assailants fired at an FSA-affiliated Jeish al-Izza terrorist group's field commander named Abdo Shokat and his assistant Yahya al-Kharboutli near the road leading to the village of Moqa near Khan Sheikhoun city in Southern Idlib.
Jeish al-Izza issued a statement, accusing the Syrian army and its allies of the assassination attempt, noting that Jeish al-Izza is not pursuing a hostile approach against other groups in Northern Syria.
But the sources affiliated to the terrorists in Idlib said that Jeish al-Izza has accused the Syrian army because it is afraid of al-Nusra Front (Tahrir al-Sham Hay'at or the Levant Liberation Board) - which is the main culprit behind such assassinations - and its annihilation by al-Nusra.
Recent reports said that the terrorist groups have intensified assassination operations in Idlib after Doha and Riyadh displayed their differences and darkened relations.
After differences between Saudi Arabia and Qatar surfaced, Abdullah Muhammad al-Muhaysini, the commander and Mufti (religious leader) of Tahrir al-Sham Hay'at (the Levant Liberation Board), called on other terrorist groups to merge with al-Nusra Front under this pretext that Riyadh wants to withdraw support for the militants and will surrender all of them to the US at the end.
He also asked Yasser Abdolrahim, one of the FSA commanders, to join al-Nusra but he didn't comply with the demand.
Abdolrahim escaped an assassination attempt after rejecting al-Muhaysini's proposal and threatened him of revenge.
Field sources also underlined that the terrorist groups in Idlib are facing a deplorable situation as assassinations have increased, adding that al-Nusra is using the darkened ties between Doha and Riyadh and wants to persuade other terrorist groups, including the FSA, to merge with al-Nusra by annihilation of opposition groups.
Full report at:
http://en.farsnews.com/newstext.aspx?nn=13960607001679
--------
Lebanese Daily: Hamas Turning to Tehran, Damascus
Aug 29, 2017
"After tensions in relations between Hamas and Tehran on the crisis in Syria, the Hamas leaders have decided to revive the ties that they had with Iran before 2011," the Arabic-language al-Akhbar wrote in an analysis on Tuesday.
"Meantime, there are signs showing that Hamas has no problem with the establishment of relations with Damascus," it added.
The Arab daily underlined that election of Hamas's former chief in the Gaza Strip, Ismail Haniya, as the head of the Palestinian resistance group and Sinwar, freed in a 2011 prisoner swap with Israel after more than 20 years in jail, as Hamas' new chief in the Gaza Strip following an internal election also caused certain changes in the group's strategies.
Sinwar said on Monday that it has restored relations with Iran and is gearing up for future hostilities with Israel.
He told reporters that Iran is now "the largest backer financially and militarily" of Hamas's armed wing. It was his first meeting with journalists since taking up his post in February.
Sinwar said that with Iran's help, Hamas is accumulating military power in preparation for a battle for "the liberation of Palestine".
Hamas is "developing our military strength in order to liberate Palestine," Sinwar said, but he also stressed that it does not seek war for now "and takes every effort to avoid a war… At the same time we are not afraid of a war and are ready for it."
Full report at:
http://en.farsnews.com/newstext.aspx?nn=13960607001642
--------
Syrian Gov't Forces Tighten Noose on ISIL in Hama
Aug 29, 2017
The army men clashed with ISIL and drove them out of the town of al-Tayebeh and several positions overlooking Abu Hakfah hill, East of Tal (hill) al-Albawi in Eastern Hama.
A military source said that ISIL lost a number of militants in the army attack, adding that the army has tightened noose on the terrorists in Eastern Hama.
Reports said earlier today that the Syrian Air Force bombed heavily the remaining positions of ISIL in Eastern Hama, inflicting heavy casualties on the terrorists.
The fighter jets targeted ISIL's defense lines in the town of Aqayrabat and the villages of Rasm al-Abd, Um Meil and in the depth of Badiyeh (desert) , killing and wounding a large number of terrorists and destroying their equipment.
Also, a military source said that ISIL has been trying to retreat towards Deir Ezzur after suffering heavy defeats in Aqayrabat region in recent days but they faced heavy bombardments of the warplanes.
In the meantime, the terrorist groups deployed in the outskirts of al-Latamina town in Northern Hama violated the ceasefire by targeting the army's positions in al-Zalaqiyet.
Full report at:
http://en.farsnews.com/newstext.aspx?nn=13960607001533
--------
Syrian Army, Hezbollah Preparing for Special Operation on Deir Ezzur Border
Aug 29, 2017
The source said that the pro-government troops are making final preparations to storm the strategic T-2 Pumping Station along the Western borders of Deir Ezzur province.
Another military source reported that ISIL is facing shortage of fighters in al-Sukhnah region in Eastern Homs while the Syrian pro-government forces have deployed a large number of troops in the same region.
Meantime, local sources reported that the army soldiers, backed up by Syrian and Russian warplanes, have recaptured several points along the al-Sukhnah-Deir Ezzur Highway, liberating over 30km of territory.
The sources further said that the army units has managed to advance to the outskirts of Haloubah following the liberation of Kasrat al-Faraj, Wadi Al-Buwayb, and Jadidat Al-Huwayz regions, reminding that Haloubah is an important town located along the Sukhnah-Deir Ezzur Highway.
A well-informed source said earlier today that the army soldiers carried out a night attack on ISIL's positions in Tal (hill) al-Qariya around Deir Ezzur's airbase, killing or wounding a number of terrorists and destroying their positions.
The source added that the army seized all the weapons of the ISIL in the attack.
Full report at:
http://en.farsnews.com/newstext.aspx?nn=13960607001491
--------
Al-Nusra Fails to Prevail over Syrian Army Positions in Hama Countryside
Aug 29, 2017
The army units engaged in fierce clashes with Al-Nusra terrorists after they launched simultaneous attacks on pro-government forces' positions in the villages of Tal Dareh, Qabah al-Kurdi, Zahrah al-Dibeh and al-Rabiyeh South-East of Hama city and managed to fend off their offensives.
The army soldiers further carried out a rapid counter-attack and took back all lost land in the village of Tal Dareh, killing and wounding a number of Al-Nusra terrorists.
In the meantime, the army's artillery units pounded Al-Nusra positions in al-Satahaiyat and al-Madajen regions near Tal Dareh, inflicting several casualties on the terrorists.
An Arab media outlet reported on Monday that the ISIL terrorists were trying hard to lift the Syrian Army troop's siege on their last stronghold in Badiyeh (desert) in Eastern Hama and flee towards terrorist-held regions in other provinces.
The Arabic-language al-Hadath news quoted a field source as saying that the ISIL terrorists stormed the army positions in the villages of Salba, al-Makiman and Jana al-Albawi in Eastern Hama to boost their defense lines to prevent further advances of the army men in Aqayrabat region.
Full report at:
http://en.farsnews.com/newstext.aspx?nn=13960607001394
--------
Syria: Tens of Gunmen Receive Gov't Amnesty in Eastern Damascus
Aug 29, 2017
The sources said that 500 gunmen that had handed over their weapons to the Syrian Army and applied for government pardoning in Tal Decoh, Ba'ar al-Qasab, Sis and Mak'houl regions in Eastern Ghouta and in the village of al-Hawayan in marginal part of Badiyeh (desert) East of Damascus province, received government's amnesty and returned to normal line.
The Russian Defense Ministry said in its latest report last week that militants in more regions handed over their weapons to relevant officials and joined the peace agreement with the Syrian Army.
The Russian ministry's statement said that militants in over 2,202 regions, town and villages have thus far laid down arms and joined reconciliation plan with the Syrian government and army.
Full report at:
http://en.farsnews.com/newstext.aspx?nn=13960607000899
--------
Abadi rejects Hezbollah's deal to move ISIS to Iraqi borders
29 August 2017
Iraqi Prime Minister Haidar al-Abadi rejected Hezbollah's deal to move ISIS elements from the Lebanese borders to the Syrian-Iraqi ones.
Hezbollah militias have allowed elements of ISIS to ride buses to get out of Jroud and go to Deir al-Zour under an agreement involving the Syrian regime amid controversial accusations that Hezbollah is making deals at the expense of the Lebanese army.
Hezbollah militias in Lebanon was lately accused of the obstruction of national political will and the undermining the efforts of Lebanese institutions. It was against negotiations with ISIS and Nusrah groups and eventually got involved in the move.
As for the abducted soldiers, Hezbollah launched a battle called clearing Jroud from terrorists, set the launching date, before retreating and making a deal with the so-called terrorists and opening a safe route for their retreat.
They pushed the state to hand three of the security prisoners in Roumieh prison in exchange for a number of its fighters who were received as heroes.
The Lebanese decision to eliminate ISIS in Jroud, came with regional and international blessing. It was met with many obstacles and criticisms by Hezbollah, who refused again to negotiate with ISIS, but then facilitated the exit of ISIS fighters and their families to Deir al-Zour in front of the whole world.
The most prominent scene was that ISIS fighters turned themselves in to Hezbollah instead of the Lebanese army.
While the army was on its way to eliminate ISIS in Lebanon and restore the authority of the state, a cease-fire agreement was imposed, abandoning its precondition to know the fate of its abducted soldiers; the agreement was made by Hezbollah and the Syrian regime.
The final battle scene looked as such; Hezbollah won by getting out its captured fighters from Al-Nusra, the latter moved to a secure area, while ISIS for the first time got out safe and strengthened its front in Deir al-Zour.
Full report at:
https://english.alarabiya.net/en/News/middle-east/2017/08/29/Abadi-rejects-Hezbollah-s-agreement-to-move-ISIS-to-the-Iraqi-s-borders.html
--------
UAE criticizes 'colonial' role of Iran, Turkey in Syria
29 August 2017
The United Arab Emirates urged Iran and Turkey on Monday to end what it called their "colonial" actions in Syria, signaling unease about diminishing Gulf Arab influence in the war.
Allied to regional powerhouse Saudi Arabia, the UAE opposes Syrian President Bashar al-Assad and his backer Iran, and is wary of Turkey, a friend of Islamist forces the UAE opposes throughout the Arab world.
UAE Foreign Minister Sheikh Abdullah bin Zayed Al Nahyan urged "the exit of those parties trying to reduce the sovereignty of the Syrian state, and I speak here frankly and clearly about Iran and Turkey."
He was speaking at a news conference with Russian counterpart Sergei Lavrov, whose country helps Assad militarily.
"If Iran and Turkey continue the same historical, colonial and competitive behavior and perspectives between them in Arab affairs, we will continue in this situation not just in Syria today but tomorrow in some other country," Sheikh Abdullah said.
The six-year-old war in Syria has dragged in regional and international players who have sought to advance their interests there: Iran has sent troops and military support to shore up Assad's rule as he has battled mostly rebels backed by Saudi Arabia and other Gulf Arab states.
The Syrian army and its allies have regained lost territory with the help of Russian air strikes since 2015. At the same time, ISIS is being pushed back from strongholds in Eastern Syria by the Syrian army and a rival offensive by Kurdish and Arab rebels backed by the United States.
Fearing expanded Kurdish influence along its border with Syria, US ally Turkey has grown increasingly uneasy about the rebels' armed thrust.
Turkey and Iran have discussed possible joint military action against Kurdish militant groups, President Tayyip Erdogan said on Monday.
Lavrov and Sheikh Abdullah said they agreed on a need for a negotiated end to the war. Russia is helping shepherd talks in the Kazakh capital Astana which has already produced "de-escalation" zones to reduce combat in three parts of Syria.
Lavrov said Russia hoped that efforts to unify the positions of Syria's disparate opposition would aid the peace process.
Full report at:
https://english.alarabiya.net/en/News/gulf/2017/08/29/UAE-criticizes-colonial-role-of-Iran-Turkey-in-Syria.html
--------
South Asia
Hekmatyar urges Pakistan not to turn Afghanistan into its regional rivalry hub
Aug 29 2017
The leader of Hezb-e-Islami Gulbuddin Hekmyat has urged the regional countries, specifically the neighboring Pakistan to refrain from efforts aimed at turning Afghanistan into its regional rivalry hub.
During a meeting with the Sikh and Hindu Afghan nationals, Hekmatyar said "We want peace in Afghanistan and the region and the neighboring countries should help Afghanistan in bring peace and stability."
Hekmatyar further added at a time only Afghanistan was burning in the flames of war but today the fire has further spread into the other countries.
The leader of Hezb-e-Islami warned that the fire and flames of war will further spread and will cover the whole region if peace does not return to Afghanistan.
He said "We want peace and friendly relations with all in the region and I have urged the Pakistani and Indian Ambassadors not to bring their rivalry into Afghanistan."
This comes as the Afghan officials have long been insisting that Pakistan harbors the anti-government armed militants, specifically the Taliban and Haqqani network leaders who are planning and coordinating attacks in Afghanistan.
Pakistan has long feared regarding the role of its arch rival India in Afghanistan and often blames the country for using the Afghan soil to plan attacks inside the Pakistani soil.
http://www.khaama.com/hekmatyar-urges-pakistan-not-to-turn-afghanistan-into-its-regional-rivalry-hub-03370
--------
Taliban execute two important ISIS leaders in Nangarhar province
Aug 29 2017
The Taliban insurgents have executed two important leaders of the Islamic State of Iraq and Syria Khorasan in Nangarhar province.
According to reports, the two local ISIS leaders were initially arrested by the Taliban insurgents and were executed on charges of killing civilians and Taliban fighters.
The provincial government in Nangarhar also confirmed the execution of the two ISIS leaders.
A statement by the media department of Nangarhar government said the two ISIS leaders were executed in the restive Bati Kot district.
The statement further added one of the slain ISIS leaders was identified as Qadir who was in charge of a group of fifty fighters and was arrested from Bati Kot district where he was executed shortly after his apprehension.
The other ISIS leader detained and executed by the Taliban insurgents has been identified as commander Nasir who was arrested from Momand Dara area.
According to Nangarhar government, the two ISIS leaders were involved in the killing of dozens of the local residents and Taliban insurgents.
Full report at:
https://www.khaama.com/taliban-execute-two-important-isis-leaders-in-nangarhar-province-03367
--------
Hezb-e-Islami reacts at Ata Mohammad Noor's 'Butcher of Kabul' remarks
Aug 29 2017
The Hezb-e-Islami led by Gulbuddin Hekmatyar harshly reacted at the remarks of Balkh governor Ata Mohammad Noor, calling the Chief Executive of Jamiat-e-Islami a 'Warlord' and slave of the outsiders.
The party published an article in response to the criticisms of Ata Mohammad Noor and questioned his accusations, specifically the slave of Iran accusation, calling Noor slave and defense attorney of Iran.
The party also added that the speech delivered by Noor on Sunday proves that he is a slave and works for the outsiders.
Hezb-e-Islami says its leader expects good relations with all the foreign countries and specifically with the regional States, warning that the party will stand against any moves that are against the interests of the country and its religion and the criticisms by Hekmatyar have always been directed to such conspiracies.
In regards to the question of Noor regarding the whereabouts of Hekmatyar during the war, the party said Hekmatyar was inside the country and has returned and lives with dignity among his people and supporters.
The party compared Noor to an empty Pepsi bottle who has been thrown away after used by the outsiders.
The latest exchange of heated criticisms among the two prominent parties are on the rise during the recent months and specifically after Hekmatyar used strong and hitting words against the Jamiat-e-Islami leaders and figures.
Noor on Sunday called Hekmatyar the 'Butcher of Kabul' as he renewed his stance against the latest upheavals, mainly involving the heated exchange of words between the two prominent political parties.
Full report at:
http://www.khaama.com/hezb-e-islami-reacts-at-ata-mohammad-noors-butcher-of-kabul-remarks-03372
--------
Prominent Taliban leaders Tangna and Haji Gul killed in Laghman airstrikes
Aug 29 2017
Two prominent local leaders of the Taliban group were among at least fourteen militants killed in airstrikes conducted in eastern Laghman province of Afghanistan.
Officials in the 201st Silab Corps of the army in the East are saying that the militants were targeted in the past 24 hours during the counter-terrorism clearance operations.
The officials further added that the insurgents were attempting to smuggle weapons and ammunitions when they were targeted.
At least four insurgents were also wounded and several weapons and ammunition were destroyed in the airstrikes, the officials said.
The anti-government armed militant groups including the Taliban insurgents have not commented regarding the reports so far.
Laghman is among the relatively calm provinces in East of Afghanistan but the anti-government armed militant groups have increased their insurgency activities in some parts of the province during the recent years.
At least eight Taliban insurgents including their key local commanders were killed in a drone strike conducted by the US forces in this province earlier this month.
Full report at:
http://www.khaama.com/prominent-taliban-leaders-tangna-and-haji-gul-killed-in-laghman-airstrikes-03371
--------
5 killed, 8 wounded in suicide attack in Kabul city
Aug 29 2017
At least five people were killed and eight others were wounded in the suicide attack in Kabul city this morning.
The Ministry of Interior spokesman Najib Danish confirmed the final toll hours after the incident took place close to Massoud Square.
Danish further added that a security guard of a private bank where the incident took place was also among those killed.
He said at least five people have been killed in total and eight others have sustained injuries.
No group or individual has so far claimed responsibility behind today's attack which followed four days after a deadly attack in the city left around thirty people dead.
The incident on Friday took place close to Khair Khana area o the city after a number of armed insurgents belonging to the ISIS terrorist group stormed a Shi'ite mosque.
Full report at:
http://www.khaama.com/5-killed-8-wounded-in-suicide-attack-in-kabul-city-03368
--------
Rohingya Muslim villages 'burned by Burmese army'
Samuel Osborne
Aug 30, 2017
Activist groups have accused the Burmese army of burning down villages and shooting Rohingya Muslim civilians as part of a crackdown on insurgents in Rakhine state.
Violence has driven thousands of Rohingya Muslims fleeing towards Bangladesh for safety, along with a smaller exodus of ethnic Rakhine Buddhists, where they face growing danger of sickness and attempts by the Bangladesh authorities to send them home.
The Burmese government has blamed Rohingya insurgents for the violence, including the arson.
Insurgents launched coordinated attacks last week against police patrols, with the government giving an official death toll of 96, although the actual number is likely to be higher.
Both the government, in official statements, and its critics, in posts on social media often accompanied by video clips, said there was widespread burning of buildings and even whole neighbourhoods in Maungdaw township in northern Rakhine.
"Extremist terrorists blew out improvised bombs, set fire the villages and attacked the police outposts in Region-2 of Maungtaw yesterday from the morning to afternoon," an English-language statement issued by the Information Ministry said.
Arakan Times, an online news website serving the Rohingya community, said Burmese troops and border guard police burned down 1,000 homes in actions beginning Saturday and continuing on Monday.
Both sides' claims are difficult to verify, because the government denies most journalists access to the area.
New York-based Human Rights Watch said satellite photos appear to show widespread burning in 10 areas of northern Rakhine.
While the causes of the fires could not be ascertained, it noted that it "compared the locations of these fires with witness statements it has collected and media reports, and found a correlation with some reported incidents where residences have allegedly been deliberately burned."
The group urged the government to "grant access to independent monitors to determine the sources of fires and assess allegations of human rights violations."
A Rohingya insurgent group, the Arakan Rohingya Salvation Army, or ARSA, took responsibility for Thursday night's attacks on more than 25 locations, saying they were in defence of Rohingya communities that had been brutalised by government forces. They vowed to continue to defend the communities.
The treatment of around 1.1 million Muslim Rohingya in Burma has become the biggest challenge for national leader Aung San Suu Kyi, who has been accused by Western critics of not speaking out on behalf of the long-persecuted minority.
The Rohingya have faced severe discrimination and were the targets of violence in 2012 that killed hundreds and drove about 140,000 people — predominantly Rohingya — from their homes to camps for the internally displaced, where most remain.
Full report at:
http://www.independent.co.uk/news/world/asia/rohingya-muslims-burma-army-burn-villages-perscute-minority-rakhine-state-a7917926.html
--------
Rohingya in Bangladesh face expulsion despite UN warning
AUGUST 30, 2017
Dhaka has sent 550 of them back since Monday
Rohingya Muslims fleeing to Bangladesh from escalating violence in Myanmar face the growing danger of sickness and attempts by the Bangladesh authorities to send them home, despite a United Nations plea that they be allowed to seek shelter.
A series of coordinated attacks by Rohingya insurgents on security forces in the north of Myanmar's Rakhine state on Friday has triggered a fresh exodus to Bangladesh of Muslim villagers trying to escape the violence.
109 killed
At least 109 people have been killed in the clashes in Myanmar, according to the government, most of them militants but including members of the security forces and civilians.
Bangladesh border guards told Reuters they had sent about 550 Rohingya back across the Naf river that separates the two countries since Monday, despite an appeal by U.N. Secretary-General Antonio Guterres for Dhaka to allow Rohingya to seek safety.
Border patrols were also trying to block people from crossing the frontier.
The top UN human rights official, Zeid Ra'ad al-Hussein, called on Myanmar on Tuesday to ensure its security forces refrained from using disproportionate force, adding that the political leadership had a duty to protect all civilians "without discrimination".
"This turn of events is deplorable. It was predicted and could have been prevented," he said.
Myanmar's National Security Adviser Thaung Tun said at a news conference that Myanmar had come under attack and had the full right to defend itself. He added that "security personnel have been instructed to make sure that innocent civilians are not harmed".
Bangladesh is already host to more than 4,00,000 Rohingya refugees who have fled Buddhist-majority Myanmar since the early 1990s. Dhaka has asked the U.N. to pressure Myanmar over its treatment of the Muslim minority, insisting it cannot accept any more. Still, more than 8,700 have registered in Bangladesh since Friday, the UN said.
Full report at:
http://www.thehindu.com/todays-paper/tp-international/rohingya-in-bangladesh-face-expulsion-despite-un-warning/article19584000.ece
--------
Thousands more Rohingya flee to border as Myanmar violence flares
AUGUST 30, 2017
COX'S BAZAR, Bangladesh (Reuters) - Nearly 9,000 Rohingya Muslims, many sick and fearing for their lives, have fled the worst violence to grip northwest Myanmar in at least five years, while thousands more are stuck at the Bangladesh border or preparing to reach it in coming days.
A series of coordinated attacks by Rohingya insurgents on security forces in the north of Myanmar's Rakhine state on Friday and ensuing clashes triggered the Rohingya exodus, while the government evacuated thousands of Rakhine Buddhists.
The United Nations, while condemning the attacks, pressured Myanmar to protect civilian lives without discrimination and appealed to Bangladesh to let those fleeing the military counteroffensive through.
"The situation is very terrifying, houses are burning, all the people ran away from their homes, parents and children were divided, some were lost, some are dead," Abdullah, 25, a Rohingya from Mee Chaung Zay village in Buthidaung region told Reuters by telephone, struggling to hold back his tears.
He said he was preparing to flee.
At least 109 people have been killed in the clashes with insurgents, according to the government, most of them militants but also members of the security forces and civilians.
The treatment of about 1.1 million Muslim Rohingya in Myanmar has become the biggest challenge for national leader Aung San Suu Kyi, who has been accused by Western critics of not speaking out on behalf of a minority who have long complained of persecution.
The Rohingya are denied citizenship in Myanmar and regarded as illegal immigrants, despite claiming roots there that go back centuries.
The violence marks a dramatic escalation of a conflict that has simmered since October, when a similar, but much smaller, series of Rohingya attacks on security posts prompted a fierce military response. The United Nations said security forces likely committed crimes against humanity in that offensive.
Abdullah, a Rohingya villager still in Myanmar, said four out of six hamlets in his village had been burned down by security forces, prompting all residents to flee toward Bangladesh.
He and thousands of terrified villagers gathered at the Kyee Hnoke Thee village at the foot of the Mayu mountain range.
Together with his wife and five-year-old daughter Abdullah they cooked sticky rice, fetched plastic sheets and empty water bottles, preparing for a 20 km (12 miles), days-long trek in the monsoon rain through the mountains to the border.
"I am waiting for all of my relatives to leave together with my family as soon as possible," said Abdullah.
EXPLOSIONS AND FIGHTING
Bangladesh is already host to more than 400,000 Rohingya refugees who have fled Buddhist-majority Myanmar since the early 1990s.
Dhaka has asked the United Nations to pressure Myanmar over its treatment of the Muslim minority, insisting it cannot accept any more. More than 8,700 Rohingya have registered in Bangladesh since Friday, the United Nations said.
Around another 4,000 people were stranded in no man's land between the two countries near Taung Bro village, where temporary shelters stretched for several hundred meters on a narrow strip between the Naf river and Myanmar's border fence.
Many Rohingya trying to enter Bangladesh were sick and at least six have died after making the crossing, an aid worker said, adding that fear of being caught and sent back meant some refused to seek help.
Dr. Shaheen Abdur Rahman, a doctor at the Cox's Bazar hospital in Bangladesh said 15 people have been admitted there since last week, all with gunshot wounds varying from grazes to one with bleeding in his lung. Four very serious cases were referred to the regional city of Chittagong.
Injuries also included fractures that could be from beatings or accidental falls while fleeing, he said.
"We don't discriminate. Everyone coming to this hospital, whether they're Bangladeshi or not from Bangladesh, we provide due service to them....we know there's unrest in the neighboring country so we are ready for this," said Rahman.
Myanmar officials have said the country had come under attack and it had the full right to defend itself, adding that "security personnel have been instructed to make sure that innocent civilians are not harmed".
Full report at:
http://www.reuters.com/article/us-mideast-crisis-iraq-talafar-idUSKCN1B92MB
--------
Pakistan
Nacta keeping an eye on Pakistanis who 'fought abroad'
August 30, 2017
ISLAMABAD: The National Counterterrorism Authority (Nacta) has begun the process of compiling data on Pakistan-based individuals that are suspected of involvement with terrorist organisations abroad, the National Assembly Standing Committee on Interior was told on Tuesday.
Nacta chief Ihsan Ghani said the authority had completed the task of data compilation on suspected militants who had fought in conflict zones such as Yemen, Iraq or Syria.
"We are in the process of having the data verified from federal and provincial departments," he told the committee during a briefing on the status of implementation on the National Action Plan (NAP) to counter terrorism and extremism.
The verification process would help sift those who went to these areas to earn a livelihood from those who posed an actual threat.
The point of the exercise was to minimise the blowback on Pakistan once these suspected fighters returned to the country after groups such as the so-called Islamic State (IS) began losing ground in Iraq.
The Nacta chief detailed measures to choke terrorists' financial networks, saying that a task force had been established under the authority to coordinate efforts in this regard.
Progress on updating the list of those individuals who were placed on the Fourth Schedule of the Anti-Terrorism Act (ATA) 1997 was also shared with the committee. The bank accounts of around 5,000 of the more than 8,000 individuals on the list had been frozen, he said, while they could no longer be issued passports or gun licences.
Mr Ghani revealed plans to develop a mobile phone app to assess hate speech, where local authorities could upload any suspected speech on the app, which would relay it to the authority for vetting. He also apprised the committee of a national policy to counter violent extremism, which had been approved by the government.
In addition, an official of the interior ministry told the participants about plans to re-validate all existing arms licences and confiscate all unlicensed weapons across the country. A committee, chaired by Prime Minister Shahid Khaqan Abbasi himself, would review the policy on prohibited bore weapons, the official said.
https://www.dawn.com/news/1354832/nacta-keeping-an-eye-on-pakistanis-who-fought-abroad
--------
Fata population grows by 57pc
Mubarak Zeb Khan
August 30, 2017
ISLAMABAD: The population of the seven Federally Administered Tribal Areas (Fata) has grown by 57 per cent over the past 19 years despite the fact that most residents have moved to settled areas because of military operations against militants in the region.
According to the provisional figures of the 2017 census compiled by the Pakistan Bureau of Statistics, the population of Fata stands at five million as compared to 3.2m of the 1998 census.
With slightly over 1m people, Bajaur Agency becomes the most populated tribal agency with an increase of 84pc from the 595,227 people who lived there in 1998.
Khyber Agency comes second with 986,973 residents with an increase of 80.5pc from 546,730 people in 1998.
Kurram Agency is third with 619,553 residents with more than 38pc increase in its population from 448,310 people in the last census.
South Waziristan ranks fourth with 679,185 residents with a growth of 58pc from 429,841 people in 1998.
North Waziristan comes fifth with a population of 543,254 with a 51pc increase from 361,246 people who lived there in 1998.
Orakzai Agency ranks last in the seven tribal agencies with 254,356 residents compared to 225,441 in 1998, registering an increase of 12.8pc. It is the only tribal agency which posted the least growth in its population perhaps because of the migration to the settled areas.
The Frontier Regions (FR) are a group of small administrative units lying immediately to the east of the tribal agencies. The overall administration of these regions is also controlled by the Fata secretariat.
Full report at:
https://www.dawn.com/news/1354818/fata-population-grows-by-57pc
--------
ISI Asks CDA to Avoid Direct Interactions With Foreign Diplomats
Kashif Abbasi
August 30, 2017
ISALMABAD: Inter-Services Intelligence (ISI) on Tuesday directed the Capital Development Authority (CDA) not to directly entertain foreign diplomats.
It said all communications and visits of diplomats to the CDA and the Metropolitan Corporation Islamabad (MCI) offices should take place through the Foreign Office.
A senior officer of the ISI met Mayor Sheikh Anser Aziz, who is also the acting chairman of the CDA, at the CDA headquarters.
The meeting was held a day after Iranian Ambassador Mehdi Honardoost visited the CDA headquarters and held a meeting with the mayor.
"Yes, today an ISI officer held a meeting with me. He discussed some security-related issues," the mayor told Dawn.
When asked about any instruction from the ISI, the mayor said: "The officer told me not to entertain diplomats directly and involve the Foreign Office in the process. We are already following this protocol."
Sources in the CDA said the Iranian ambassador visited the CDA headquarters to get a property issue of the embassy in F-6 sector resolved.
"I don't remember the exact issue but I think the Iranian embassy wants to renovate its building in F-6. I have already nominated my focal person who is dealing with the embassy staff," the mayor said.
However, a CDA officer on the condition of anonymity said the meeting between the ISI officer and the mayor was already planned and had nothing to do with the visit of the Iranian diplomat.
Another officer of the CDA added that there were chances that the ISI officer had also discussed the reconstruction of the US embassy building in violation of the bylaws as recently pointed out by auditors.
The CDA is the custodian of Diplomatic Enclave which houses embassies and foreign missions. The embassies often interact with the CDA for resolving their municipal issues.
The CDA also allocates land for the embassies and being regulatory body approves their building plans. Currently, the civic agency is in hot water for its failure to stop the violation of bylaws in the reconstruction of the US embassy building as highlighted by the Auditor General of Pakistan (AGP).
The AGP report said the CDA board in June 2012 had decided to increase the floor area of the building. It had also decided that the number of storeys would be ground-plus seven.
The report said it was decided that before the implementation of the decision the case would be forwarded to the Cabinet Division for the approval of the prime minister. The board had also decided to hold on the no-objection certificate (NOC) for the embassy building till a final decision by the prime minister.
The federal auditors said the building control directorate of the civic agency had approved the building plan of the US embassy in January 2012, covering 1,734,212.23 square feet for eight floors in contradiction of the bylaws. But the civic agency in June the same year decided that the revision of the building bylaws would be forwarded to the prime minister.
The auditors said though an approval by the prime minister was pending, the construction of the embassy building was started and was now near completion.
Full report at:
https://www.dawn.com/news/1354873/isi-asks-cda-to-avoid-direct-interactions-with-foreign-diplomats
--------
19 terror suspects arrested in Orakzai
August 30, 2017
PESHAWAR:- The Frontier Corps on Tuesday arrested at least 19 suspects and seized a huge cache of arms and ammunition from their possession. The arrests and recovery were made during an operation conducted under the Operation Raddul Fasaad in Orakzai Agency. The seized weapons are included RPG-7, rounds of mortars and rockets of different origins. The FC officials arrested six suspected terrorists and 13 facilitators and destroyed their seven hideouts in the agency. In addition, the Frontier Corps is also establishing new posts to deny any space to terrorists and their facilitators with the assistance of local population.–Bureau Report
http://nation.com.pk/national/30-Aug-2017/19-terror-suspects-arrested-in-orakzai
--------
Mideast
Not leaving settlements means Tel Aviv not after peace: Arab League
Aug 29, 2017
The Arab League has said that Israeli Prime Minister Benjamin Netanyahu's recent remarks about never leaving settlements show that the Tel Aviv regime does not seek peace.
Arab League chief Ahmed Abul Gheit made the remarks on Tuesday, and "strongly denounced" Netanyahu's remarks.
"Abul Gheit considers this stance, which is utterly rejected, as something that cannot come from a person who seeks peace," read a statement released by the league.
On Monday, Netanyahu vowed to never uproot any West Bank settlement, saying the Tel Aviv regime would never remove any of the more than 100 Jewish settlements in the territory that Israel captured in 1967.
"We have returned here for good," Netanyahu said at a Monday ceremony in Barkan, a settlement in the northern West Bank. "There will be no more uprooting of settlements in the Land of Israel. Settlements will not be uprooted."
Nabil Abu Rdeneh, a spokesman for Palestinian President Mahmoud Abbas, has also slammed Netanyahu's comments and urged Washington to intervene.
"We call upon the US administration to deal with these provocations," which he said hinder peace efforts by the United States and are "an attempt to return things to square one."
In early August, chief Palestinian negotiator Saeb Erekat denounced the Trump administration for silence on the expansion of settlements in the occupied territories as well as failure to prop up the two-state solution. Erekat said such a conduct had encouraged the Israeli regime to continue its "apartheid" policies.
About 600,000 Israelis live in over 230 illegal settlements built since the 1967 occupation of the Palestinian territories of the West Bank and East Jerusalem al-Quds.
http://www.presstv.ir/Detail/2017/08/29/533390/palestine-arab-league-israel-bibi
--------
Iran rejects US demand for UN inspector visit to military sites
29 August 2017
Iran has dismissed a US demand for UN nuclear inspectors to visit its military bases as "merely a dream" as Washington reviews a 2015 nuclear agreement between Tehran and six world powers, including the United States.
US President Donald Trump has called the nuclear pact - negotiated under his predecessor Barack Obama - "the worst deal ever". In April, he ordered a review of whether a suspension of nuclear sanctions on Iran was in the US interest.
The US ambassador to the United Nations, Nikki Haley, last week pressed the International Atomic Energy Agency (IAEA) to seek access to Iranian military bases to ensure that they were not concealing activities banned by the nuclear deal.
"Iran's military sites are off limits...All information about these sites are classified," Iranian government spokesman Mohammad Baqer Nobakht told a weekly news conference broadcast on state television. "Iran will never allow such visits. Don't pay attention to such remarks that are only a dream."
Deal compliance
Under US law, the State Department must notify Congress every 90 days of Iran's compliance with the nuclear deal. The next deadline is October, and Trump has said he thinks by then the United States will declare Iran to be non-compliant.
Under terms of the deal, the international nuclear watchdog can demand inspections of Iranian installations if it has concerns about nuclear materials or activities.
During its decade-long stand-off with world powers over its nuclear program, Iran repeatedly rejected visits by UN inspectors to its military sites, saying they had nothing to do with nuclear activity and so were beyond the IAEA's purview.
Full report at:
https://english.alarabiya.net/en/News/middle-east/2017/08/29/Iran-rejects-US-demand-for-UN-inspector-visit-to-military-sites.html
--------
How Hezbollah has become an instrument of Iran's drive for regional supremacy
29 August 2017
Lebanon has changed its priorities over the years and has turned its attention to other regional conflicts to achieve Iran's goals, a report in American newspaper The New York Times has claimed. According to the report, Hezbollah is not just a power unto itself, but is one of the most important instruments in the drive for regional supremacy by its sponsor: Iran.
The Times noted that Hezbollah, which grew under Iranian directives in the 1980s as a resistance force against the Israeli occupation of southern Lebanon, quickly changed its priorities to turn its attention to other regional conflicts to achieve Iran's goals and objectives.
For 30 years, Hezbollah has expanded its scope of operations and increased its training to become an expanding force and tool for Tehran, said the report.
Battles involving Iran
Hezbollah has been engaged in every battle involving Iran, sending hordes of its members to fight in Syria in support of the head of the Syrian regime, Bashar al-Assad, Iran's ally.
The group has also sent hundreds of fighters and trainers to Iraq, as well as provide support to the Houthi militias in Yemen.
Full report at:
https://english.alarabiya.net/en/features/2017/08/29/How-Hezbollah-has-become-an-instrument-of-Iran-s-drive-for-regional-supremacy.html
--------
Iran's Guardian Council to debate motion passed by Majlis in response to US bans
Aug 29, 2017
Iran's Guardian Council will discuss a motion approved by Iranian lawmakers in response to the terrorist and adventurous US measures in the region, the body's spokesman says.
Abbas Ali Kadkhodaei said on Tuesday that the Guardian Council plans to debate the motion during its session on Wednesday.
On August 13, Iranian legislators overwhelmingly approved the motion in response to US sanctions, voting to boost spending on Tehran's missile program and the Islamic Revolution Guards Corps' defense mechanism.
The plan would require Iran's government and Armed Forces to draw up a strategy to counter US violations of human rights around the world, and to support Iranian bodies and individuals affected by US sanctions.
The motion would also allocate over $260 million each to Iran's ballistic missile program and the Islamic Revolution Guards Corps' Quds Force, which has sent military advisers to Iraq and Syria to fight terrorists.
The measure came after US President Donald Trump signed into law a bill passed by the Congress to impose new sanctions on Iran over its missile program in early August.
Iran argues that Washington's new sanctions violate a 2015 nuclear deal, known as the Joint Comprehensive Plan of Action (JCPOA), both "in letter and spirit."
Tehran says its missile program does not breach the United Nations Resolution 2231 which endorsed the nuclear deal.
Iran and the five permanent members of the UN Security Council - the United States, Britain, France, China and Russia - plus Germany signed the JCPOA on July 14, 2015 and started implementing it on January 16, 2016.
Under the agreement, limits were put on Iran's nuclear activities in exchange for, among other things, the removal of all nuclear-related bans against the Islamic Republic.
The UN Security Council later unanimously endorsed a resolution that effectively turned the JCPOA into international law.
Iranian President Hassan Rouhani on August 15 warned that Tehran can go back to conditions before the conclusion of the JCPOA within hours if the US continues to violate the terms of the agreement and impose new sanctions against the country.
"The new US administration officials should know that the failed experience of threats and sanctions forced their predecessors to come to the negotiating table. If they prefer to return to those times, Iran will definitely return to a situation much more advanced than the start of the [nuclear] negotiations, not within months and weeks, but in a matter of hours and days," Rouhani said in a televised speech at the parliament's open session.
Full report at:
http://www.presstv.ir/Detail/2017/08/29/533374/Iran-US-Guardian-Council-Parliament-Abbas-Ali-Kadkhodaei-motion
--------
Israeli settlers hurl insult at Islam in presence of regime forces: B'Tselem
Aug 30, 2017
An Israeli human rights organization has captured a video showing Israeli settlers verbally abusing Palestinians and swearing at the holy religion of Islam as well as Prophet Muhammad (PBUH) in the presence of regime forces.
The B'Tselem video, released on Tuesday, shows the Israelis from the settlement of Kiryat Arba using obscene language through a loudspeaker against a Palestinian woman, who is a local volunteer for the group, and is filming the incident from her window.
It took place in the al-Hariqah neighborhood of the southern West Bank city of in al-Khalil (Hebron) on August 24.
A group of Israeli forces were present at the scene when the settlers threatened the Palestinian woman with violence for hours and insulted Islam, the video shows.
The woman said the settlers turned the music up during the evening prayer time and started mocking the prayer and hurling insults at Prophet Muhammad.
"The settlers began to use foul language and call out obscenities concerning me, Islam, and especially Prophet Muhammad. The Israeli soldiers and police did nothing to stop them," she said, adding that it was not the first time that such incident happened as she had documented similar behavior by Israeli settlers about a year ago.
"Life in al-Hariqah has become intolerable. The military repeatedly raids the neighborhood and the settlers assault and harass us. As a Muslim, I was extremely offended by the insults hurled at the Prophet Muhammad (PBUH). As a woman, I felt terrible hearing the foul language directed personally at me for filming them," she pointed out.
Full report at:
http://www.presstv.ir/Detail/2017/08/30/533419/Palestine-Israel-Hebron
--------
UNICEF urges end to 'grave violations' against Yemeni children
Aug 30, 2017
Saudi warplanes have reportedly bombed a checkpoint near Yemen's capital of Sana'a, killing at least seven people, mostly civilians.
Residents said the strike, which targeted the security checkpoint in the Bani Matar District in Sana'a Province.
The checkpoint was being manned by Yemen's popular Houthi Ansarullah movement, which has been running state affairs and defending the nation against the Saudi war.
Witnesses said the fatalities included five civilians in a taxi and two armed personnel manning the site.
The strike made the taxi careen into a nearby gas station, setting it alight and complicating rescue operations, they added.
Earlier reports said an oil tanker had been hit by the air raid.
In March 2015, the Saudi regime and its allies launched a military campaign against Yemen with the aim of reinstalling its former president, Abd Rabbuh Mansur Hadi, who had earlier resigned amid an internal political conflict and fled to Riyadh.
In its tallies released in February, Yemen's Legal Center for Rights and Development said the Saudi war had killed over 12,000 civilians, including 2,568 kids.
The latest Saudi air raid comes days after its warplanes bombed a hotel north of the capital, massacring 60 civilians.
'Grave violations against kids must end'
In another development on Tuesday, the United Nations children's fund urged an immediate halt to the "grave violations" against children in war-torn Yemen.
Speaking from Sana'a, UNICEF Representative for Yemen, Meritxel Relanom, said 1,721, children have been killed, while almost 3,000 others have been either maimed or seriously injured since early 2015.
"We really need to put a stop on the grave violations against children in the country," said the UNICEF official.
"The only way" to do this, she added, is to implement a peace agreement, negotiated between "all the parties in the conflict" and the "alliances of those parties in the conflict."
Several rounds of UN-backed peace talks on Yemen have yielded no result as the Saudi-led war continues to wreak havoc on the poorest Arab nation.
Earlier this week, dozens of rights groups from around the world, including Human Rights Watch, urged the UN Human Rights Council to launch an independent investigation into the rights violations committed in Yemen since the Saudi-led military coalition invaded the country.
Full report at:
http://www.presstv.ir/Detail/2017/08/30/533410/Yemen-UNICEF-Saudi-Arabia-Meritxel-Relano
--------
Yemen's Houthi, Saleh forces agree to ease tensions
Aug 29, 2017
Leaders of Yemen's Houthi Ansarullah movement and loyalists of former president Ali Abdullah Saleh say they have agreed to ease tensions following their recent clashes in the capital city of Sana'a.
On Monday, delegations headed by Aref al-Zouka, chairman of Saleh's General People's Congress (GPC) and the Houthi Ansarullah group's official spokesman Mohammed Abdulsalam held a meeting in Sana'a in an attempt to resolve their differences.
The two sides decided to "remove all causes of the tensions that occurred in the capital Sana'a and to return the security situation to what it was before the activities last week," the two groups said in a Tuesday statement.
The statement noted that both sides agreed to close ranks and to "unify efforts to confront the [Saudi-led] aggression."
Tensions mounted between the two allied forces following a Saturday armed conflict in Sana'a which led to the death of two Houthi fighters as well as a senior official from Saleh's GPC party.
The agreement comes against the backdrop of Saudi Arabia's efforts to create rift between the two political factions which have been allied against the continued Saudi-led war on the country.
On August 17, the Foreign Policy magazine said it had obtained a new confidential draft report by UN Secretary General Antonio Guterres, saying that Saudi airstrikes had killed 502 Yemeni children and injured 838 others since 2015.
The same report by the UN also revealed that the Saudi war, despite Riyadh's overwhelming military superiority, had failed since it was "no closer" to achieving its declared objective.
Since March 2015, Yemen has been under heavy airstrikes by Saudi warplanes as part of a brutal war against the Arabian Peninsula country in an attempt to crush the popular Houthi movement and reinstall the former president, Abd Rabbuh Mansur Hadi, a staunch ally of Riyadh.
More than 12,000 people have been killed since the onset of the campaign, and much of the country's infrastructure, including hospitals, schools and factories, has been ravaged. The Saudi war has also triggered a deadly cholera epidemic across Yemen, dragging the impoverished nation to the brink of a widespread famine.
The United States and Britain have been providing the bulk of the military ordnance used by Saudi Arabia in the war. London has licensed 3.3 billion pounds' worth of weapons since the beginning of the war.
Full report at:
http://www.presstv.ir/Detail/2017/08/29/533367/yemen-ansarullah-saleh
--------
Turkey calls for international action for Rohingya Muslims
August/29/2017
Ankara has demanded the international community take immediate action to help Rohingya Muslims in Myanmar, with top officials voicing their concern over the suffering of the minority community.
"We strongly condemn those attacks and oppression against Rohingya Muslims in Myanmar. The attack targeting Rohingya Muslims in Myanmar and civilians on Aug. 25 is really unacceptable," Foreign Minister Mevlüt Çavuşoğlu said at a press conference with his Maldivian counterpart Mohammed Asim on Aug. 29.
"We have been following the process from the very beginning, not just watching it. We are in contact with the whole world. Our President Recep Tayyip Erdoğan and Prime Minister Binali Yıldırım are following the process in person," Çavuşoğlu added, highlighting the need to find a "well-established" solution.
"Previously there were also serious attacks against Rohingya Muslims. The problem is systematic. Our Rohingyan brothers have been systematically under oppression and have been deported," he said.
"We must find an essential solution. It cannot continue this way. This oppression and inhumane treatment cannot continue like this. The whole world should be sensitive," he added.
Çavuşoğlu said Ankara was engaging in diplomatic efforts with the U.N., the U.S., and the Organization of Islamic Cooperation.
"All these international organizations should take concrete steps," he urged.
Separately, EU Minister Ömer Çelik called on the international community to take action.
"It is not acceptable that international organizations are just standing by and watching the massacres in the northern Rakhine state of Myanmar. The massacres are just being watched, as if international law and institutions do not exist. This crime against humanity has turned into genocide," Çelik tweeted on Aug. 29.
"International organizations should not be just standing by and watching the massacres, described as a slow-burning genocide. The U.N. and EU institutions should act immediately to stop this massacre by resorting to swift and effective means," he added.
President Recep Tayyip Erdoğan also strongly condemned the violence in Myanmar late on Aug. 28.
Speaking on state-run broadcaster TRT Haber, Erdoğan accused the world of being "blind and deaf" to the oppression of the Rohingya Muslims in Rakhine state, vowing that Ankara would raise the issue at all international organizations.
Full report at:
http://www.hurriyetdailynews.com/turkey-calls-for-international-action-for-rohingya-muslims.aspx?pageID=238&nID=117308&NewsCatID=510
--------
Africa
Africa: Mugabe Bashes SA, Nigeria Over Slain Gaddafi
29 AUGUST 2017
President Mugabe has expressed bitterness over African countries that voted in favour of a decision by western countries to invade Libya resulting in the killing of President Muammar Gaddafi.
Officially opening the 67th World Health Organisation (WHO) Regional Committee for Africa Summit in Victoria Falls Monday, President Mugabe who was the guest of honour, castigated the killing of "innocent" people by "greedy and envious" world leaders.
He also spoke at length about the killing of Iraqi leader Saddam Hussein adding that he (Mugabe) had no respect for former Britain and America leaders Tony Blair and George Bush after they connived to kill him (Hussein) on unfounded claims of Iraq having weapons of mass destruction.
"Because of envy that Iraq has huge deposits of oil underground with one man Saddam Hussein sitting on the massive wealth, they decided to attack him.
"But they said if we just go and attack him like that the world will be on us. Let's contrive something to attack him with, then they thought of saying we are destroying weapons of mass destruction, Saddam Hussein has weapons of mass destruction," said President Mugabe speaking off the cuff.
He said it was known that Hussein had no weapons of mass destruction, adding that Zimbabwe also had similar problems with the Blair government.
Mugabe said Hussein had managed to usher peace in his country after managing to unite the Suni and Shia muslim groups.
"The weakness of our world system is that when innocent countries are attacked, we fold our arms," he said.
"The man had managed to unite his country but he is killed. When they discovered that there were no weapons of mass destruction, tonnes of oil had been sucked.
"As if that lesson was not headed in Iraq, they came to Libya, to Gaddafi. Yes he may have been a dictator but he was a friend of his people, a lover of his people, one who desired that his people should develop and not live in poverty and had managed to draw water from underneath our world to create a huge massive dam for the benefit of his country which is semi desert.
"He became friends with us, he wanted to democratise the African Union to be better politically and economically united," lamented President Mugabe.
He was referring to the 2011 United Nations Security Council Resolution, which authorised the imposition of a no-fly zone on Libya in response to that country's civil war.
The UNSC had initially failed to garner the necessary two-thirds majority, but African countries were later persuaded to vote in favour of the resolution.
South Africa, Nigeria and Gabon were among the non-permanent members who voted in support of the resolution.
President Mugabe said Africa sought the support of Russia and China.
"Yes, the matter came to the UNSC. The whites said he must be attacked and China and Russia said no. The matter could not have proceeded any further because of the necessary two-thirds majority, with Russia and China abstaining.
"Then it came to us the poor Africans. The poor Africans, sometimes not thinking well about the consequences of those attacks. So, what did we have? Quite disgraceful and shameful thing," added the Africa's longest serving President.
He said African countries, including Zimbabwe, pleaded with China and Russia to exercise their veto, but the two said the best they could do was to abstain in light of the three African members and the Arab contingent's support of NATO.
President Mugabe, who is a former African Union chair, lamented lack of humanitarianism among some leaders who he said kill their own people for having different religious and political views.
He appealed to WHO's new director-general Dr Tedros Adhanom Ghebreyesus, who is Ethiopian, to represent Africa with African values.
"It's the pride that Africa has and we know he will not let us down but will try to make Africa meet giant steps in health because we are dying possibly the most.
"Mothers and children are dying because of us leaders sometimes, because of our ambition, because of certain concepts we have, maybe religious and because of selfishness, we have the drive to kill.
"I am a Catholic and Catholicism is not different form the other religions Methodist, Anglican, the beliefs are the same, commandments are the same. Where is that humanitarianism that we were taught in our religion to love one another?"
He said Africans should live in harmony and show love to each other.
He said he was worried that Nigeria, a great nation with grand status, failed to trace the 200 school children abducted by Boko Haram insurgents.
http://allafrica.com/stories/201708290667.html
--------
Libya rescues about 500 refugees off western coasts
Aug 29, 2017
The Libyan coast guard has carried out three separate rescue missions off the western coasts, saving about 500 refugees trying to cross the Mediterranean into Europe.
A Libyan naval forces spokesman said on Tuesday that about half of the refugees were rescued off the two coasts of Tripoli and Sabratha.
They were mainly from the sub-Saharan countries although people from Egypt, Morocco and Tunisia were also on board, the spokesman said.
"Coast guards rescued early morning today 140 illegal migrants west of Tripoli and another group of 164 migrants were rescued off Sabratha including seven women and six children," said the spokesman.
Officials said another 150 refugees were rescued later in the day off Tripoli.
The rescues, almost large is size, are the latest to come from a refugee crisis that continues to grip North Africa and Southern Europe.
Hundreds of thousands of people have dared the risky journey through the central Mediterranean to the north to the Italian coasts over the past years.
The flow was overshadowed by even a bigger exodus that began to hit Europe's eastern shores in 2015 as more than a million, mostly from war-torn countries of the Middle East, crossed into the continent from the Greek shores. A deal between Turkey and the European Union in March next year caused the Turkey-emanated flow to ebb but at the expense of a fresh surge in illegal travels in central Mediterranean.
Libya has been the main embarkation point for refugee trips across the route as many parts of the country still suffer from lawlessness, which came after the ouster in 2011 of long-time dictator Muammar Gaddafi.
Estimates by the UN-backed International Organization for Migration shows about 600,000 refugees have reached Italy by sea from North Africa since 2014, and more than 12,000 have drowned while trying.
Full report at:
http://www.presstv.ir/Detail/2017/08/29/533359/Libya-refugee-rescue
--------
Islamic fighters in Libya
August 30, 2017
The Muslim population in North Africa was always going to be fertile ground for the so-called Islamic State (or Daesh) as it sought to establish an alternative caliphate as a back-up to Iraq and Syria.
Tunisia, hailed as the democratic success story from the carnage of the 'Arab Spring', nonetheless became the source of the single largest group of foreign fighters to join Daesh in Iraq, Syria and, later, in Libya.
Libyans formed an important contingent within Daesh in Syria after defecting from Al Qaeda. Exploiting the chaos that followed Gaddafi's overthrow, many of those returned to Libya as part of a plan by Daesh to establish a North African "caliphate".
Daesh's North African contingents have been linked to several attacks on Westerners, including the mass shooting at a beach resort in Tunisia in 2015 in which 38 people died. And, just recently, the atrocity in Barcelona and the coastal resort of Cambrils, which was carried out by Moroccans.
Individuals with North African origins now pose the greatest threat in Europe.
Even if defeated on the battlefield in Iraq and Syria as seems likely, Daesh will attempt to reinvent itself and to re-group. Some Daesh fighters are already trying to exploit the lawless space in Libya. Others are looking for new bases in south-east Asia.
Recent attacks suggest that North African extremists are being recruited for action in Europe. Moroccans, Libyans and Algerians crop up frequently in intelligence watch lists of suspects. Several security service experts are rightly nervous about terrorist infiltration of the migrant exodus to Europe.
The recent bloody attacks in Barcelona (and in Turku in Finland) have shown that Islamist terrorism is likely to engage the West for another 20 or 30 years. It is, as the former head of MI5 in the United Kingdom has said, a generational threat.
The concern for Malta is that hundreds of retreating Daesh fighters from Iraq and Syria are regrouping in Libya, a lawless failed State. The jihadist group is now looking to North Africa to rebuild a "caliphate" that is shrinking in Syria and Iraq.
Daesh was driven from its Libyan stronghold of Sirte in December last year and the remaining fighters have retreated to desert camps in the south. There are now believed to be almost 1,000 Daesh members across the country. The majority are gathering south of Sirte, which was the de facto capital of their Mediterranean stronghold until nine months ago, having at its peak about 6,000 fighters, including women.
Daesh's presence in Libya is a matter of considerable concern to the West. But it is of course of especial worry to Malta as Europe's southern frontline State. Although Malta has been spared acts of terrorism, it would be foolhardy to assume that we are immune. The mass shooting at the beach resort of Sousse in Tunisia two years ago, aimed solely at slaughtering European tourists, could easily happen here.
It is for the Security Services and the Malta Police Force to track terror financing and monitor suspects and new arrivals to Malta from North Africa. Absolute vigilance at our sea and air borders to guard against any attempted infiltration by terrorists under guise of migrants, refugees or visitors from Libya, North Africa or the Middle East will be key. In the light of recent truck- and van-driven attacks in Barcelona, Berlin, Nice and London, they must also recommend how to plug weak spots in our national infrastructure.
The celebration of Valletta, City of European Culture, 2018 could be an attractive target for those who hate fanatically everything about Western culture. The types of attack which were perpetrated in Nice, Berlin, London and Barcelona, using low-tech weapons such as vans or trucks or knife attacks, could easily be repeated in Malta. It is not being alarmist to say we need to be prepared.
The knife-wielding van-killers of Daesh are desperate men who believe that they have found the soft underbelly of the West. The war against them must be waged through good intelligence. Dangers cannot be abolished. But mitigation is both possible and affordable. Mitigation is what we can aim for and realistically succeed at.
Society has to be vigilant, from front-desk employees at car rental companies to the immigration police at frontier control. Should we introduce special restrictions or checks on van hire or any high-powered vehicle for that matter? Certainly, drivers wanting to rent vehicles should face tougher checks than those applied today. More personal details could be required by rental companies and the information that is already collected (names, addresses, financial details) could be checked against criminal watch lists held by the police.
When it comes to taking effective mitigation measures against trucks or vans mowing down people in the street, the first point to note is that it is only famous places that offer the jihadist their infamous "victories". Terrorists know that to mow down a midday crowd outside, say, Downing Street guarantees worldwide coverage, whereas running down a bus queue in an unfamiliar northern town in England will be less of a media sensation.
Jihadists are doing this to shock. High-shock value targets are at a premium for terrorists. We should, first, identify the high-value targets in Malta, and then do more to protect them. We all know our famous places in Malta. They are those places where tourists gather in numbers: Mdina, Valletta, St Julian's, Sliema promenade, Paceville, Buġibba and any of our major exposed beach resorts, such as Mellieħa Bay.
But we can take simple mitigation measures to protect these vulnerable areas. With no more than the tasteful use of old-style iron bollards, plus a few gates with keys for emergency services, it will prove perfectly possible to terror-proof such areas. We can, and must, avoid the use of ugly concrete blocks. Except in emergencies, wrought iron, cast iron, or even wood (for example, concrete blocks encased in wooden seating or wooden plant holders) could be used.
In Italy, concrete barriers are being installed to stop terrorist trucks attacking its most popular landmarks. Barriers have appeared in central Milan, and busy tourist streets in Palermo are also due to receive new barriers. Large concrete flower pots will be guarding the entrance to Via del Corso, Rome's main shopping street, and Via dei Fiori Imperiale.
It would be foolhardy to think that what has happened elsewhere in Europe cannot happen here. Malta's geo-strategic position and its proximity to North Africa, within 200 or 300 miles of Libya and Tunisia and on the main route through the central Mediterranean, make us especially vulnerable.
Full report at:
https://www.timesofmalta.com/articles/view/20170830/opinion/Islamic-fighters-in-Libya.656804
--------
US urges Sudan to protect religious minorities
August 29, 2017
KHARTOUM, Sudan — After he met with Christian leaders and attorneys, the Trump administration's head of humanitarian aid on Tuesday urged Sudan's government to improve protections for religious minorities and human rights.
Mark Green, the administrator of the United States Agency for International Development, said he had received "assurances" on religious protections from the government in the overwhelmingly Sunni Muslim country, though he offered no details of his discussions on the issue with Prime Minister Bakri Hassan Saleh and Foreign Minister Ibrahim Ghandour.
"This is a conversation that will take place," he told reporters after meeting with Bakri and Ghandour, "...to prepare ourselves for a decision coming in early October."
But Green insisted that talks on religious freedoms and human rights are not linked to conditions the United States demands Sudan meet before an Oct. 12 deadline for deciding whether to permanently lift decades-old sanctions against the country. President Barack Obama outlined the conditions when he temporarily suspended sanctions in January. They include more humanitarian access, cooperation on counterterrorism and steps to address domestic conflicts peacefully.
Secretary of State Rex Tillerson would like to apply more pressure on Sudan to improve its record on human rights and religious freedoms, which he has singled out for criticism in the past. Leery of appearing to move the goalpost after Sudan has already started to make progress on the original set of conditions, U.S. officials are increasingly raising the issue in the context of future actions expected if Khartoum hopes to improve relations with Washington.
Christians in Sudan have long complained of unfair and discriminatory behavior toward them, both by the government and in society at large.
Most Christians in Sudan, except for the well-off and established Coptic community, are from tribes in southern Sudan. Generally they are poor and marginalized. When the separate nation of South Sudan became independent in 2011, the government forcibly pushed many Christians to go there. But as South Sudan has descended into war and chaos, many Christians have returned to Sudan.
Today, the government estimates that Sunni Muslims make up 97 percent of the population, while Christians insist that is an exaggeration. Christians are close to 20 percent of the population, they say.
Sudan's constitution promises freedom of religion, and the government denies that it discriminates or persecutes religious minorities. But many Christians say they have been ignored, disrespected and worse. According to the State Department's latest religious freedom report, churches in Sudan have been demolished over land disputes, permits for new churches have been denied and church leaders have been arrested. Proselytizing can be considered evidence of the crime of apostasy.
U.S. officials have consistently raised concerns over human rights and religious freedom whenever they talk with Sudanese officials.
The administration hopes the impending decision on sanctions against Sudan could eventually create more space for Christians to practice their faith as they see fit.
Full report at:
https://www.stripes.com/news/middle-east/2.1198/us-urges-sudan-to-protect-religious-minorities-1.485049#.WaZkk9QjGzc
--------
Nigeria must investigate disappearance of Shiites, says Amnesty
30 August 2017
Amnesty International on Wednesday called on Nigerian authorities to investigate unexplained disappearances, as the rights group highlighted a pro-Iranian Shiite religious movement that claims 600 of its members are missing.
"Amnesty International is calling on the Nigerian authorities to investigate all cases of enforced disappearances and bring all those suspected of criminal responsibility to justice," the group said in a statement.
"According to figures provided by the Islamic Movement of Nigeria (IMN), at least 600 of their members' whereabouts is not known."
More than 350 IMN followers, led by firebrand cleric Ibrahim Zakzaky, were killed in clashes with the military in the northern town of Zaria in December 2015.
Trouble started on December 12 of that year when Zakzaky's supporters refused to allow the chief of army staff's convoy to pass through the town, sparking violence.
Zakzaky, who was shot and injured leaving him partly paralysed and blind in one eye, remains in protective custody, according to the military.
He has repeatedly been imprisoned for alleged incitement and subversion.
IMN has been in conflict with the Nigerian government for years, seeking to foment an Iranian-style Islamic revolution in the country's Sunni Muslim-majority north.
Amnesty, marking the International Day of the Disappeared, also hit out at disappearances of young men "often seized by the military after being accused of affiliation to the armed group Boko Haram".
Amnesty said hundreds of other civilians had disappeared in the restive northeast during the jihadist group's brutal eight-year insurgency. Many more are being held illegally in "secret detention", it charged.
"The families of the victims of enforced disappearance have already waited too long for answers," Amnesty's statement said. "They deserve justice, truth and reparation now."
Full report at:
https://guardian.ng/news/nigeria-must-investigate-disappearance-of-shiites-says-amnesty/
--------
URL: https://www.newageislam.com/islamic-world-news/black-muslims-say-hajj-reflection/d/112385
New Age Islam, Islam Online, Islamic Website, African Muslim News, Arab World News, South Asia News, Indian Muslim News, World Muslim News, Women in Islam, Islamic Feminism, Arab Women, Women In Arab, Islamophobia in America, Muslim Women in West, Islam Women and Feminism