New Age Islam News Bureau
22 March 2016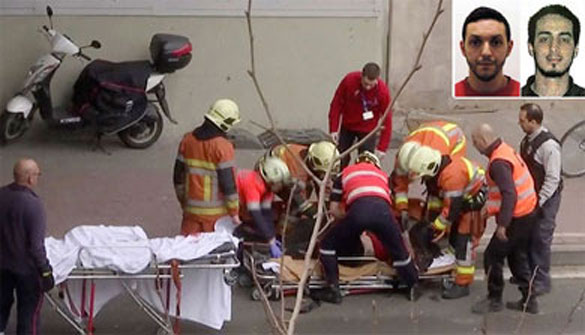 Belgian Cops Release First Photos Of Brussels Suicide Bombers
---------
• World Sufi Forum Clerics Call for Peace in South Asia
• 'Mentally Unstable' Man Shot Dead Over 'Blasphemy' In Charsadda
• Brussels Attacks 'Violate' Islamic Teachings: Top Muslim Body Al-Azhar
Europe
• Black Day for Brussels: 34 Dead in Terror Attacks at Airport and Metro Station
• Belgian Cops Release First Photos Of Brussels Suicide Bombers
• British Militant Abu Musa Al-Britani 'Launches Attack on Iraqi Army', Says Islamic State
• UN Urges Russia, US to Work Together to Support Syria Ceasefire
------
India
• World Sufi Forum Clerics Call for Peace in South Asia
• Hyderabad Islamic Seminary Issues Fatwa on Bharat Mata Slogan
• Pakistan probe team may get Pathankot base access
-----
Pakistan
• 'Mentally Unstable' Man Shot Dead Over 'Blasphemy' In Charsadda
• Peshawar High Court Stays Execution of Convicted Militant
• Paying clerics to back polio drive
• Rangers detain MQM leader for 90 days in renewed crackdown
-------
Arab World
• Brussels Attacks 'Violate' Islamic Teachings: Top Muslim Body Al-Azhar
• Int'l Advertising Group Helped Whitewash Saudi Crimes
• ISIS Targets Isolated Kaka'i Religious Minority in Iraq
• Amnesty Urges US, UK to Halt Arming Saudi in Yemen
• Kuwait Deports 14 People for Hezbollah Links
• Al-Nusra Front Terrorists Arrest Civilians in Hama for Reconciliation with Gov't
• Syrian Forces Encircle Quaryatayn While Battle for Palmyra Continues
• Oil Prices Increase in "Caliphate" after ISIL's Recent Losses
• UN Urges Russia, US to Work Together to Support Syria Ceasefire
• Nasrallah: Some Regional Countries Work for Sake of Israel
• Hezbollah, Syrian Army Continue Winning Back More Territory in Qalamoun
• Terrorists Violate Ceasefire in Syria Again
-------
Mideast
• Turkish Member of ISIS Carried Out Istanbul Bombing, Official Says
• Turkey, US to Discuss Syria, Anti-ISIL Fight
• One soldier killed seven wounded in PKK attack in Turkey's southeast
• Turkish businessman Zarrab arrested in US for evading Iran sanctions
------
South Asia
• Military Forces Kill 24 Militants in Southern Afghanistan
• Senior Taliban Leader Arrested, 50 Rockets Seized In North of Afghanistan
• Mysterious arrest of Taliban supreme leader's arch rival in Pakistan
• Drone strike kills eight militants in Nangarhar
• Over 80,000 Afghans face deportation from Europe under secret EU plan
• Removal of Dostum's photo sparks anger in Mazar as Noor warns against riots
• Ghani admits he fell short to fulfill promises he made to teachers
--------
Africa
• EU Military Mission Attacked in Mali Capital
• UK, US Fail to Act to Free Kidnapped Girls in Nigeria, Knowing Girls' Spot
-----
North America
• Donald Trump Rules out Troops to Fight IS, Wants NATO Scaled Down
• 4 US Senators meet Saudi King Salman ahead of Obama visit
-----
Southeast Asia
• How Did Islamic State Establish A Franchise In Southeast Asia?
----------
Compiled by New Age Islam News Bureau
URL: https://www.newageislam.com/islamic-world-news/new-age-islam-news-bureau/black-day-for-brussels--34-dead-in-terror-attacks-at-airport-and-metro-station/d/106732
-----
'Black Day' For Brussels: 34 Dead in Terror Attacks at Airport and Metro Station
Tuesday 22 March 2016
At least 34 people have been killed in explosions at Zaventem airport in Brussels and a metro station, Belgian public broadcaster RTBF has reported.
Two explosions at the airport killed 14 people, with dozens more reported to have been severely injured, the broadcaster said.
There were unconfirmed reports of shots being fired and shouting in Arabic at the airport before the blasts.
Pictures showed smoke rising from the airport terminal building through shattered windows and passengers running away down a slipway, some still hauling their bags.
Shortly afterwards, a blast struck Maalbeek metro station, close to European Union institutions, in the capital.
The public broadcaster said that 20 people have died in that explosion and dozens more were injured.
The explosion happened as the train arrived at the station during the morning rush hour.
Belgian Prime Minister Charles Michel said scores are dead and scores are injured on a "black day" for Belgium.
"We feared a terror attack and it happened", he said.
"Two attacks took place this morning in Zaventem Airport and Maalbeek metro station - blind, violent, cowardly attacks," he added.
Belgium's Foreign Minister Didier Reynders said authorities feared that suspects could still be at large.
Speaking in the Dáil, Acting Taoiseach Enda Kenny said the numbers caught up in the attacks in Brussels are substantial.
However, he said he understands that no Irish citizen has been killed in the blasts.
He tweeted: "Once again Europe is under attack. We stand with Belgium."
The Department of Foreign Affairs has said people with concerns for Irish citizens can call +353 01 418 0200.
It said that any Irish citizens in Brussels or Belgium should exercise caution and follow the instructions of local authorities.
Sky News television's Alex Rossi, who was at the airport at the time of the blasts, said he heard two "very, very loud explosions".
I could feel the building move. There was also dust and smoke as well ... I went towards where the explosion came from and there were people coming out looking very dazed and shocked."
"The thinking here is that it is some kind of terrorist attack - that hasn't been verified by any of the authorities here at the airport."
Video showed devastation inside the departure hall with ceiling tiles and glass scattered across the floor.
Flights cancelled and public transport system shut down
The blasts come days after the arrest in Brussels of Saleh Abdeslam, prime suspect in the Paris terror attacks that killed 130 people in November, after four months on the run.
Belgian police had been on alert for any reprisal action.
This morning the Belgian Crisis Centre, wary of a further incident, appealed to the population: "Stay where you are".
All metro stations in Brussels have been closed, and the transport authority has shut down all public transport in the area.
Brussels Airport said it had cancelled all flights and the complex had been evacuated and trains to the airport had been stopped.
Passengers were taken to coaches from the terminal that would remove them to a secure area.
American Airlines said none of its employees were reported injured in the explosions that hit Brussels Airport.
Unconfirmed reports on social media had said the blast took place near the American Airlines check-in counter at the airport in the Belgian capital.
The company would not comment on the reports, but said in a statement the airline was "taking care of our customers, employees and contractors."
An Aer Lingus flight, which was due to have landed at Brussels this morning, has been diverted to Amsterdam.
There has been a high state of alert across western Europe for fear of militant attacks backed by the so-called Islamic State, which claimed responsibility for the Paris attack.
Attacks mark 'another low by the terrorists'
Security has been stepped up across Europe in the wake of this morning's deadly attacks in Belgium.
French President Francois Hollande said the attacks struck at "the whole of Europe", and he urged the continent to take "vital steps in the face of the seriousness of the threat".
The French interior minister has decided to deploy 1,600 additional police officers at borders and on transport.
French Prime Minister Manuel Valls said: "We are at war. Over the past few months in Europe we have endured several acts of war."
European Union president Donald Tusk condemned the blasts as appalling "terrorist attacks".
"I am appalled by the bombings this morning at Zavantem airport and the European district in Brussels which have cost several innocent lives and injured many others," Mr Tusk said in a statement.
"These attacks mark another low by the terrorists in the service of hatred and violence."
UK police were stepping up their presence at key locations including transport hubs, as a precaution after the blasts in Brussels.
Police in Denmark, Sweden and Finland also stepped up security at airports and public places following the explosions in Brussels.
http://www.rte.ie/news/2016/0322/776553-brussels-airport/
----
World Sufi Forum Clerics Call for Peace in South Asia
Monday 21 March 2016
A group of Muslim clerics from India and Pakistan said terrorism in South Asia can be combated successfully if the two traditional rival neighbours respect each other and combat religious extremism. They were speaking during the four-day World Sufi Forum that ended in New Delhi March 20. The Sufi movement is a branch of Islamic mysticism based on a fusion of Hindu and Muslim spirituality that took root in South Asia. "India and Pakistan have fought four wars and have achieved nothing," said Pakistani cleric Tahir ul Qadri who addressed the gathering. "India's enemy is not Pakistan; Pakistan's enemy is not India. But the enemy for both countries is terrorism," he said. Both India and Pakistan should act to check terrorists using religion to spread extremist activities, he added. "Over the last few decades, there have been concerted efforts to weaken Sufism in India and replace it with an extremist and radical ideology," said cleric Hazrat Syed Muhammad Ashraf, a prominent Sufi leader in India.
The World Sufi Forum was inaugurated in New Delhi by Prime Minister Narendra Modi on 17 March 2016. More than 200 Indian and international delegates, including Sufi Mashaikh (Masters), spiritual leaders, scholars, academicians and masters of Sufism, participated in the event.
The major objectives of the forum are:
* Strengthening Global Peace, Rejecting Violence & Extremism
* Calling for Unity in Multiplicity, Unconditional Love, Tolerance & Acceptance
* Spreading Spiritual and Universal Messages of Islamic Faith
http://en.radiovaticana.va/news/2016/03/21/indian,_pakistan_muslim_religious_leaders_call_for_peace/1217042
------
'Mentally Unstable' Man Shot Dead Over 'Blasphemy' In Charsadda
Mar 22, 2016
PESHAWAR: A grocery-store owner in Charsadda's Shabqadar Tehsil was shot dead by unknown assailants in his shop on Monday night.
Malikabad area residents and police sources allege the man, who they claim was not of sound mind, called himself a prophet.
Shabqadar Station House Officer Murtaza Khan, however, denies the allegations, saying that the crime appears to be a case of personal enmity.
The man's family registered a First-Information Report against unknown assailants.
A Supreme Court judgment issued regarding the Salman Taseer murder case in October last year said that in many cases registered in respect of blasphemy offence, false allegations are levelled for extraneous purposes and in the absence of adequate safeguards against misapplication or misuse of such law by motivated persons, the persons falsely accused of that offence suffer beyond proportion or repair.
Earlier this year, a 15-year-old boy cut off his own hand after believing he had committed blasphemy, only to be celebrated by his parents and neighbours for the act. Following the incident, police arrested the imam of a mosque on terror charges for 'inciting' the boy to cut off his hand.
http://www.dawn.com/news/1247275/mentally-unstable-man-shot-dead-over-blasphemy-in-charsadda
-----
Brussels attacks 'violate' Islamic teachings: top Muslim body Al-Azhar
Mar. 22, 2016
Agence France Presse
CAIRO: Sunni Islam's leading seat of learning, Al-Azhar, said Tuesday's attacks in Brussels "violate the tolerant teachings of Islam," and urged the international community to confront the "epidemic" of terrorism.
"Al-Azhar strongly condemns these terrorist attacks. These heinous crimes violate the tolerant teachings of Islam," the Cairo-based Al-Azhar said in a statement.
"If the international community does not unite to confront this epidemic, the corrupt will not stop from committing heinous crimes against the innocent."
The Egyptian foreign ministry also condemned the attacks that left at least 26 people dead and dozens wounded in Brussels.
"The time has come for the world to make a final stand to deal with the phenomenon of international terrorism," ministry spokesman Ahmed Abu Zeid said in a statement issued in English.
He called for steps to tackle it at the "financing and ideological levels ... and to prevent the recruitment of more individuals by criminal terrorist groups".
http://www.dailystar.com.lb//News/World/2016/Mar-22/343468-brussels-attacks-violate-islamic-teachings-top-muslim-body-al-azhar.ashx
----
Europe
Belgian Cops Release First Photos Of Brussels Suicide Bombers
Tuesday, March 22, 2016
Zee Media Bureau
Brussels: The Belgian authorities on Tuesday released pictures of two suspected suicide bombers believed to be behind the deadly explosions at the Zaventem airport and the main metro station here this morning, which left at leasr 28 people dead and over dozens injured.
As per the Brussels Police, the two have been identified as Najim Laachraoui and Mohamed Abrini.
The two men in question are also believed to be involved in Paris terror attacks.
At least 28 people were killed as two deadly explosions rocked the Zaventem airport and another the main metro station here on Tuesday, four days after the arrest of the Paris terror attack suspect in the Belgian capital.
In what looked like a coordinated terror strike, a suicide bomber was apparently involved in the airport carnage where two quick explosions just after 8 a.m. left a part of the departure hall looking like a war zone. At least 13 people were killed and over 30 injured, Belgian media said initially.
Even as Belgium raised its terror alert to the maximum, a third equally powerful blast occurred - at the Maalbeek Metro station near the European Union building killing at least 10 people.
Belgian Prime Minister Charles Michel appealed to people to "avoid any movement". The airport was hurriedly evacuated and both the airport and Metro station were shut down.
Belgium terror attacks: PM Narendra Modi condoles, says news from Brussels is disturbing
Belga news agency reported that shots were fired and shouts in Arabic were heard before the two blasts, BBC said. People were seen coming out of the airport building with blood on their faces.
Condemning the attack, Prime Minister Narendra Modi said, "News from Brussels is disturbing. The attacks are condemnable. Condolences to the families of the deceased. May those injured recover quickly."
The incident came as the Belgian capital was on a state of high alert following the arrest of Paris terror attack suspect Salah Abdeslam in the city last week.
On Monday, Belgium's Interior Minister Jan Jambon said the country was braced for a possible revenge attack following the capture of the 26-year-old Abdeslam.
France is seeking Abdeslam's extradition so he can stand trial for his alleged role in the November 13 rampage of gunfire and suicide bombings which killed 130 people in Paris.
http://zeenews.india.com/news/world/belgian-cops-release-first-photos-of-brussels-suicide-bombers_1868438.html
-----
British Militant Abu Musa Al-Britani 'Launches Attack on Iraqi Army', Says Islamic State
21 Mar 2016
Abu Musa al-Britani killed nearly 30 people, the group claims, in an attack on a military convoy
A British jihadist has killed up to 30 people in a suicide attack in Iraq, Isil has claimed in what would be the most deadly attack by a UK fanatic.
The man was only identified by his nom de guerre Abu Musa al-Britani along with an apparent image of him smiling for the camera and holding an AK47 rifle.
The terror group claimed the Briton had driven a car bomb at a convoy of Iraqi soldiers and Sunni forces in Andar province on Monday.
Islamic State in Iraq and Levant (Isil) said he had targeted the convoy as it left the Ain al-Assad military airbase and was heading to Kubaysah in the north-west of the province.
It claimed the blast had killed "nearly 30" but the Iraqi military disputed the claim and insisted only the bomber had died.
Shiraz Maher, from the International Centre for the Study of Radicalisation, King's College London, which monitors British jihadists, said if the reports are true he would be the tenth British suicide bomber and the most deadly.
"This shows again that Britons have gone out there to be very much full participants I this war," he said.
The apparent image of the attacker included the caption: "Martyrdom brother Abu Musa al-Britani, Allah accepts him, the striker on the Rafdi army."
Last year it was reported that British A-level student Fatlum Shakalu, 20 was among six militants who had blown themselves up in Ramadi.
Shakalu had also used the name Abu Musa al-Britani.
The Isil claim followed separate reports that five foreign suicide bombers had launched an attack in western Al-Anbar.
It said the jihadists included a Frenchman, Turk and Jordanian in an attack that appeared to have killed three Iraqi soldiers and left four others wounded.
A statement from Isil claimed: "Martyrdom brother Abuo Musa al-Britani, Allah accepts him, went ahead with his car toward a convoy of the army and the Awakening of apostasy, starting from Ain Al Asad Airbase, heading toward Kabesa town.
"Our knight was able, thanks to Allah, of engaging and exploding his bombed car in the middle of the convoy, harvesting about 30 dead among them and destroying 11 military vehicles. Praise to Allah, Lord of the Worlds."
http://www.telegraph.co.uk/news/worldnews/middleeast/iraq/12200363/British-militant-Abu-Musa-al-Britani-launches-attack-on-Iraqi-army-says-Islamic-State.html
-------
UN Urges Russia, US to Work Together to Support Syria Ceasefire
Tue Mar 22, 2016
TEHRAN (FNA)- The United Nations calls on parties to the conflict in Syria and also Russia and the United States to work together to support the ceasefire, UN spokesman Farhan Haq said.
So we want to encourage everyone to work together, whether they are the parties on the ground, the guarantors or anyone else, to make sure that the cessation of the hostilities will continue and will last as long as we could possibly keep it going," Haq said, TASS reported.
The spokesman commented on Monday's statement of the head of the Main Operations Directorate of Russia's General Staff, Sergei Rudskoi, that Russia is ready to unilaterally use military force starting March 22 against the armed groups systematically violating Syria's ceasefire, if it gets no US response to its proposals on controlling the ceasefire regime.
The Russian-US consultations on March 18 in Jordan's capital Amman showed that Washington was not prepared to discuss in detail Moscow's proposals, he said.
The US Department of State said that the statements of the Russian side contradict the agreements on ceasefire in Syria reached by Russia and the US in February.
Spokesman John Kirby refused to speak about the proposals of the US side.
http://en.farsnews.com/newstext.aspx?nn=13950103000219
------
India
Hyderabad Islamic Seminary Issues Fatwa on Bharat Mata Slogan
Syed Mohammed | TNN | Mar 22, 2016, 01.56 AM IST
HYDERABAD: Islamic seminary Al Mahad al Aali al Islami on Monday issued a fatwa deeming it impermissible for Muslims to chant the expression, "Bharat Mata ki Jai."
The fatwa released from the Darul Ifta of the seminary in Pahadi Shareef, founded by Muslim Personal Law Board secretary Maulana Khalid Saifullah Rahmani, noted that the slogan seeks to "deify" the country. This follows a similar fatwa issued by another city-based influential seminary Jamia Nizamia, rejecting the slogan last week.
Explaining the rationale behind the fatwa, which is an Islamic jurisprudential opinion, Mufti Shahid Ali Qasmi said that expressions such as "motherland" signify immense love for the country. However, Muslims cannot worship a country as a Goddess.
An excerpt from the fatwa reads: "Therefore, for a Muslim chanting Bharat Mata ki jai is not permissible as the land of Hind (India) is not a goddess. Every Muslim loves the country and is also willing to sacrifice his or her life for it, but (the Muslim) prostrates only before Allah. (For the Muslims), only Allah should be worshipped."
Confirming that the fatwa was issued, Islamic scholar from the Mahad Omar Abideen on Monday reiterated that love for the country and worshipping it are two separate subjects which should not be confused with each other. "Without worshipping it, one can love the country as much as any other countryman. The person is like any other patriot," he said.
The United Muslim Forum (UMF), a body of religious figures too, on Monday issued a statement expressing outrage over the "environment being created in the country using the Bharat Mata" slogan. The panel sought to buttress its point by claiming that the Supreme Court in 1987 had ruled that singing the national song Vande Mataram is not mandatory. "When the apex court is clear it its ruling of the national song, then the "Bharat Mata" slogan is neither the national song, nor is it mentioned in the Constitution," an excerpt from the statement reads.
Speaking to TOI, UMF treasurer Syed Ahmedul Hussaini Sayeed Quadri said: "We can say "Bharat desh ki jai", "jai Hind" or "Hindustan Zindabad", but Bharat Mata symbolises a goddess which Muslims cannot worship. There Islamic scholars are unanimous on the issue."
http://timesofindia.indiatimes.com/india/Islamic-seminary-issues-fatwa-on-Bharat-Mata-slogan/articleshow/51503884.cms
-----
Pakistan probe team may get Pathankot base access
Mar 22, 2016
NEW DELHI: The Pakistan joint investigation team arriving in India on March 27 to probe the Pathankot attack is likely to be allowed to visit the airbase. Government sources indicated that the team will most probably divide its time between New Delhi — to hold detailed discussions with the National Investigation Agency (NIA) on the progress in the probe — and Pathankot, where it may be guided to the spot from where the terrorists infiltrated and engaged the Indian forces.
When contacted, NIA chief Sharad Kumar though declined to confirm whether the Pakistani team would be visiting the airbase. "This decision will be taken by the government at an appropriate time," he told TOI.
However, TOI has learnt that senior NIA officials may accompany the Pakistani investigators as it examines the encounter site, though the latter is unlikely to get access to the NSG brass.
The NIA may put up a set of questions to the visiting team on the findings of the preliminary inquiry which served as the basis for an FIR in Pakistan, details of those arrested, and the charges invoked against them as well as the status of its letters rogatory. The Pakistan team, too, is expected to quiz NIA investigators on their findings, and may seek to clear the confusion regarding the total number of attackers.
An interesting angle to be followed is whether the Pakistan probe team will "examine" NSA Ajit Doval, who is technically the complainant since the FIR in Gujaranwala, Pakistan, was based on information provided by him.
Pathankot attack: Pakistan investigation team to visit India on March 27
Meanwhile, NIA released images of the four terrorists who attacked the Pathankot base and were later killed. The notice also lists their built and height. One of the attackers, it says, had both toes missing.
-----
Pakistan
Peshawar High Court Stays Execution of Convicted Militant
Mar 22, 2016
PESHAWAR: The Peshawar High Court on Monday stayed the execution of a convicted militant and suspended the sentence of death awarded to him few days ago by a military court after he was found guilty of acts of terrorism.
A bench consisting of Justice Waqar Ahmad Seth and Justice Irshad Qaisar sought the records of the case and fixed April 5 for the next hearing into a petition filed by the mother of the convict, Fazale Ghaffar.
It also notices to the defence and interior secretaries, attorney general for Pakistan and Khyber Pakhtunkhwa advocate general asking them to explain their respective positions in the case.
The Inter-Services Public Relations (ISPR), media wing of the Pakistan Army, had on Mar 15 made public the convictions of 13 persons, including the convict in question, and the confirmation of their sentences by the army chief.
About Fazale Ghaffar, the ISPR had claimed: "The convict was an active member of Tehreek-e-Taliban Pakistan. He was involved in attacking Armed Forces which caused death and injuries to soldiers. He was also in possession of a suicide jacket."
The ISPR had also claimed that Fazale Ghaffar had admitted to his offences in front of the magistrate and the trial court and that he was tried on four charges.
However, the ISPR didn't point out where the trial was conducted and when Fazale Ghaffar was convicted.
Also, it was silent on when and where the occurrences had taken place for which he was charged and convicted.
The lawyer for the petitioner said Fazale Ghaffar was a resident of Swat and was handed over to the security forces by his family members in Dec 2009 as he was not involved in any offence.
He said the convict was later shifted to an internment centre in Swat, where he was kept for many years. The lawyer said during that period, family members used to visit the detainee.
He said the family members came to know through media that Fazale Ghaffar was convicted by a military court for unspecified offences.
The lawyer said in its detailed judgment, the Supreme Court, which had upheld the creation of military courts, had ruled that the judgments of the military court were subject to judicial review on two grounds i.e. jurisdictional error and mala fide of the law.
He requested the court to declare the proceeding of the military court void and without lawful authority and jurisdiction being the result of mala fide of the law.
The lawyer contended that Fazale Ghaffar was not extended the right to free trial and even he was not provided lawyer of own choice to plead his case.
The military courts set up after the Army Public School Peshawar carnage in Dec 204 have so far conceited 65 persons. Of them, 62 convicts have been awarded capital punishment and the rest life imprisonment.
The high court has dismissed several petitions of the military court convicts against their sentence.
Family members of some convicts, including a juvenile offender, Haider Ali, later filed appeals with the Supreme Court. Currently, these cases are pending with the apex court.
http://www.dawn.com/news/1247248/high-court-stays-execution-of-convicted-militant
-----
Paying Clerics to Back Polio Drive
Mar 22, 2016
KARACHI: On Monday morning, as Maulana Niaz waits for his motorbike to be fixed at a mechanic's shop in Mohammad Khan Colony, he narrates how clerics became a part of the ongoing polio drive which kicked off in his area the same day at 10am last year. An unassuming person, he is open to questions about the programme, and during the course of the conversation recalls how he had to convince some of his friends in the clergy to join the programme rather than oppose it.
"I convinced one friend from Zia-ul-Uloom Madressah last night," he says. "I showed him the fatwa by religious scholars from across the Muslim world and asked him to rethink his views. This morning he is not only convinced but also wants to campaign in his area of residence, Torri Chowk, Ittehad Town."
What he showed to his friend were the recently released booklets containing Fatwas (Islamic rulings) from Muslim scholars all over the world, and then drove home his point with a scientific explanation. "I also told him he wouldn't be able to take his family to either Dubai or Saudi Arabia if his children were not inoculated. Suggestions such as these work on people when they come from someone they know and can trust," he adds.
Bordering the Northern Bypass, Mohammad Khan Colony reports 700-800 polio refusals per month from residents who are predominantly Mehsuds, Waziris, Hazaras and Swatis. Maulana Niaz is among the four peshimams appointed by the Bill & Melinda Gates Foundation through the World Health Organisation on March 31 last year to oversee the inoculation process in the eight union councils of Baldia Town, from Gulshan-i-Ghazi to Rasheedabad, under its Religious Support Person (RSP) programme. The international body appointed the president of the JUI-F in Karachi's West district, Maulana Umar Sadiq, as its Provincial Support Person (PSP). Four areas were marked as trouble spots, which includes localities such as Mohammad Khan Colony, the area around Abu Huraira Madressah, Block-C, and Sector 19-A of Ittehad Town.
Until two years ago, a refusal from a family in any of Baldia Town's neighbourhoods was taken simply as a 'no'. But workers close to the programme say that they were eventually asked to inquire about the reasons for refusals and enter them into a form. The first reason many of them received related to 'religious' perceptions regarding the vaccine provided. The majority of the families said the vaccine "would cause infertility".
The second reason is marked 'demand' on the form, which the head of the Abu Huraira Madressah in Ittehad Town, Abdul Kareem Bukhari, explains as "suspicion over the maniacal polio drive specifically in Baldia Town". The basic argument given by families under the 'demand' category, as explained by polio worker, Umar Ahmad, is "the contradiction in provision of services; the lack of attention on infrastructure and apathy with regards to the Basic Health Units (BHUs) in Baldia Town make people question the sincerity behind attention given specifically to the polio drive, resulting in refusals."
Calling the area between Mohammad Khan Colony and Northern Bypass "the encounter spot of the security forces", which he believes is used to create a "negative perception about the area", Bukhari says the authorities understood the need to bring in the clerics to contain overwhelming refusals. Since the JUI-F has political and religious presence in parts of Baldia Town, especially in areas such as Mohammad Khan Colony amongst others, they were contacted first and asked to help.
The funds for the programme are paid directly by the WHO through a grant given by the Gates Foundation, one polio worker said. People such as Maulana Niaz and three others belonging to the trouble spots are paid between Rs7,000 and Rs10,000 depending on the number of days they work in the field. Maulana Umar Sadiq's salary as a PSP till last year was around Rs24,000 and was increased in the latter part of the year, which created quite a stir among the polio workers. Eventually, the details of the salary were tagged confidential; from this year, his pay cheque started going directly to him.
Former nazim of Ittehad Town Haroon Rashid Adil narrates another incident he considers to be an attempt by the authorities to involve them in the polio drive. "Two years ago, a delegation from the UAE came to visit Ittehad Town with an army commander. During a meeting with us they inquired about misconceptions with regards to polio. We, in turn, questioned the specific focus on polio and negligence in other areas. They seemed sincere and interested but we didn't quite get their sudden interest in the area," he explains. They didn't hear back from the delegates from the UAE, but from that time onwards they came across one or two foreigners tagging along with the polio team in Mohammad Khan Colony, Ittehad Town and Sector 19-A. He quickly adds, though, that they are not against "any inoculation programme and we wholeheartedly support our authorities".
"It works for us as well," adds Bukhari about the polio programme. "It helps us give out a message that not every mullah with a beard is a terrorist. And that we care about children as much as anyone else."
http://www.dawn.com/news/1247195/footprints-paying-clerics-to-back-polio-drive
-----
Rangers detain MQM leader for 90 days in renewed crackdown
Mar 22, 2016
KARACHI: Rangers on Monday informed the administrative judge of the antiterrorism courts about the 90-day preventive detention of a senior Muttahida Qaumi Movement leader for questioning — a move the party described as the continuity of the "anti-MQM policy of the establishment".
Deputy convener of the MQM's coordination committee Syed Shahid Pasha was picked up in a Rangers raid on his Gulistan-i-Jauhar apartment in the early hours of the day.
His arrest followed a strong reaction of the MQM, whose London-based convener Nadeem Nusrat called upon the army chief to investigate as to which elements were using "a law enforcement agency for their nefarious designs" against the MQM.
As the whereabouts of the MQM leader were not known, his family on Monday moved the Sindh High Court and a two-judge bench issued notices to the home secretary, provincial police chief and director general of the Rangers to file their respective comments till April 11 in a petition against Pasha's arrest.
Later in the day, personnel of Rangers along with their legal team produced the detainee Pasha before the administrative judge of the ATCs in Karachi along with an intimation application, detention order and a jail warrant.
They submitted that upon receiving credible information about Mr Pasha's involvement in offences related to targeted killing, kidnapping and extortion punishable under the Anti-Terrorism Act, 1997, he was put under three-month preventive detention as provided under Section 11-EEEE of the ATA for an inquiry.
They submitted that in order to comply with Section 11-EEEE (3) of the ATA, the detainee was produced along with relevant documents for the information of the court.
The administrative judge directed the provincial authorities to constitute a joint investigation team within 15 days to interrogate the detainee.
Meanwhile, the paramilitary force said in a statement that the suspect would be investigated about targeted killing and other offences.
MQM reaction
The MQM coordination committee strongly condemned the arrest and subsequent three-month detention of Mr Pasha and termed it the continuity of the anti-MQM policy of the establishment.
It said that the establishment did not want to accept the mandate of the people of urban Sindh. "Workers and leaders and elected representatives of the MQM are busy in their clean Karachi campaign, but the establishment is punishing them by arbitrary raids and arrests and false cases."
The committee appealed to the president, prime minister, army chief and the Chief Justice of Pakistan to take notice of the "use of state institutions" for dividing political parties and order release of Mr Pasha forthwith.
It also appealed to the authorities to stop the raids and arrests of MQM workers, leaders and elected representatives.
Meanwhile, MQM chief Altaf Hussain spoke against the double standard of the law enforcement agencies and said that senior office-bearers and leaders of the party who were not involved in any criminal activity were being arrested in the name of the Karachi operation, but those whose names were mentioned in joint investigation team (JIT) reports were given full protocol and patronage.
http://www.dawn.com/news/1247134/rangers-detain-mqm-leader-for-90-days-in-renewed-crackdown
----
Arab World
Int'l Advertising Group Helped Whitewash Saudi Crimes
March 22, 2016
One of the world's largest advertising firms has been accused of helping Saudi Arabia whitewash its terrible human rights record, according to an exclusive report by the UK newspaper The Independent.
Following the execution of 47 protesters in January, Saudi Foreign Minister Adel bin Ahmed Al-Jubeir took to U.S. media to defend Saudi Arabia's reputation. The Independent tracked the output of the Saudi-owned news outlet Arabia Now in pushing the Saudi regime's agenda.
In an op-ed was duly placed in Newsweek titled "The Saudis Are Fighting Terrorism, Don't Believe Otherwise" Al-Jubeir argued that the wealthy Gulf kingdom had "arrested extremists within its borders, tried them before specialised courts and imposed the ultimate penalties on those convicted."
The piece was distributed by Qorvis MSLGroup, a U.S.-based subsidiary of Publicis Groupe, the French conglomerate that owns brands which include Saatchi and Saatchi. The company has worked with Saudi Arabia for over a decade, helping them with "media relations, advertising, government relations, grass-roots action and online communications," according to a page about that relationship on the group's website.
After the UK based human rights group "Reprieve" challenged Publicis on its defense of Saudi human rights abuses, that page was removed.
"It is hard to square Publicis's claim that it is committed to human rights principles with its work for the Saudi Arabian government," Reprieve's director of communications Donald Campbell told The Independent.
"The Saudi authorities have a record of torturing and executing those that attend political protests – even children," Campbell added. Yet one of Publicis's subsidiary companies is helping to defend the country's supposed 'reforms' in the media, as well as the Saudi government's use of 'the ultimate penalty' against those convicted in its deeply unfair courts.
"Publicis's response to questions over this work seems to have been to bury its head in the sand," he added. "It is notable that nearly all mentions of their subsidiary Qorvis's work for the kingdom have disappeared from its website since these concerns were raised. Instead of trying to sweep all this under the carpet, Publicis must carry out a comprehensive review of whether its work for the Saudis is compatible with its publicly stated human rights principles."
Qorvis MSLGroup responded in a statement, "As a matter of policy, MSLGroup does not comment publicly on the specific work we do for our clients. We stand by our ethics and integrity and the work we do with all of our clients."
Saudi Arabia has one of the worst records on human rights in the world.
http://www.clarionproject.org/news/intl-advertising-group-helped-whitewash-saudi-crimes
-----
ISIS Targets Isolated Kaka'i Religious Minority in Iraq
March 21, 2016
Islamic State fighters have threatened to "pursue and kill" members of the Kaka'i/Yarsan religious minority, dubbing them "infidels who must be eliminated," according to local media outlet AraNews.
The Kaka'i minority is thought to number between 500,000 and 1,000,000 and is found mostly in western Iran and eastern Iraq. Many fled with the advance of the Islamic State from the Mosul area into Peshmerga-controlled areas of Iraq. It is a heterodox syncretic religion, which blends elements of Zoroastrianism and Islam. The faith was founded by Sultan Shahak in the 14th Century western Iran among the Guran Kurds.
Pointing out that "the Kaka'is had earlier suffered several massacres at the hands of jihadis in Iraq," Kaka'i activist Zaradasht al-Kaki told AraNews "We appeal to the Kurdish Peshmerga forces to protect the Kaka'is from these barbaric groups."
Fears of persecution led some religious leaders to declare that the group is Muslim in September 2014, creating division with and accusations from other Kaka'i leaders.
"It is a religion that believes in reincarnation, a doctrine that has nothing to do with Islam" Recep Assi of the Yarstan Institution told Al-Monitor. "Declaring Kakais Muslims would not protect them from persecution, as Muslim religious preachers still deemed Kakais heretics even after they announced they were Muslims."
In response to the rise of the Islamic State, a group of Kaka'i took up arms and formed a militia in September 2015. The militia is aligned with the Kurdish Peshmerga and fights under them, although divisions between rival Kurdish factions led to confusion over who would lead the Kaka'i militia.
The Kaka'i also face religious persecution in Iran where their religion is not recognized, instead being labelled a "false cult."
http://www.clarionproject.org/news/isis-targets-isolated-kakai-religious-minority-iraq
-----
Amnesty Urges US, UK to Halt Arming Saudi in Yemen
Monday 22 March 2016
TEHRAN (FNA)- Amnesty International on Tuesday urged Washington and London to halt arms deliveries to Saudi Arabia, which is leading a brutal war on Yemen.
In a statement released one year into the Saudi-led intervention and titled "Reckless arms flows decimate civilian lives," the rights watchdog urged the two Western powers and other states to "halt all transfers of arms for use in the Yemen conflict", AL-Manar reported.
"Saudi Arabia's international partners have added fuel to the fire, flooding the region with arms despite the mounting evidence that such weaponry has facilitated appalling crimes and the clear risk that new supplies could be used for serious violations," said James Lynch, Amnesty International's regional deputy director.
Amnesty said that Washington and London, the largest arms suppliers to Saudi Arabia, "have continued to allow transfers of the type of arms that have been used to commit and facilitate serious abuses, generating a humanitarian crisis on an unprecedented scale."
The group said it has documented since the beginning of the conflict at least 32 air strikes by the Saudi-led coalition "that appear to have violated international humanitarian law".
The strikes had killed "almost 361 civilians, including at least 127 children", it said.
Amnesty also accused the coalition of having "repeatedly used cluster munitions, inherently indiscriminate weapons whose use is prohibited, in attacks that have killed and maimed civilians."
UN Security Council Resolution 2216, adopted in April last year, imposed an arms embargo only on the Yemeni army and Popular Committees that are resisting the Saudi-US aggression.
On February 25, the European Parliament called for an EU-wide arms embargo against Saudi Arabia, Amnesty said.
"In the absence of a Security Council embargo, Amnesty International is calling on all states to ensure that no party to the conflict in Yemen is supplied - either directly or indirectly - with weapons, munitions, military equipment or technology that would be used in the conflict."
The World Health Organization says Saudi war on Yemen has killed almost 6,300 people since March 2015, and the United Nations has warned of an unfolding humanitarian catastrophe.
http://en.farsnews.com/newstext.aspx?nn=13950103000268
----
Kuwait Deports 14 People for Hezbollah Links
Monday 22 March 2016
TEHRAN (FNA)- Kuwaiti authorities have deported 11 Lebanese and three Iraqis for alleged links with Hezbollah, a local newspaper said.
The 14 were recently expelled at the request of Kuwaiti security services after they were found to belong to Hezbollah, without providing further details, Kuwait Times reported.
Local newspapers quoted a security official saying that a list had been prepared of Lebanese and Iraqi citizens, some in top corporate positions, "who are unwelcome and should be deported" from Kuwait.
The deportations came amid an increasing crackdown by [Persian] Gulf states on foreign citizens with alleged links to Hezbollah.
Security sources as saying the 14 people had been expelled at the request of the state security service. The Interior Ministry was not immediately available for comment.
Saudi Arabia last month halted a $3 billion program for military aid to Beirut in protest against Hezbollah, which is a key political force in Lebanon and has lawmakers in its parliament.
Kuwait's state security body had prepared a list of "unwanted" Lebanese and Iraqis, including advisers to major companies, for deportation "in the public interest".
http://en.farsnews.com/newstext.aspx?nn=13950103000312
-----
Al-Nusra Front Terrorists Arrest Civilians in Hama for Reconciliation with Gov't
Tue Mar 22, 2016
TEHRAN (FNA)- The al-Qaeda-linked al-Nusra Front terrorist group arrested several civilians in the Northern province of Hama for reconciling with the Syrian government.
The militants entered the rebel-controlled villages of Abu Ajawah, Surouj, and Tal Hallawah in the Eastern parts of Hama to arrest several civilians on charges of reconciliation with the Syrian government.
According to local reports, the so-called Free Syrian Army (FSA) called on its allies in al-Nusra Front and Jund Al-Aqsa terrorist group to arrest civilians in the aforementioned villages for making peace without their consent.
Over 80 villages in the Northern and Eastern parts of Hama agreed to reconcile with the Syrian government after 5 years of hostility.
But several militant groups have expressed anger at these villagers and arrested scores of them whose fate is not known.
Hundreds of Syrian families have returned home in villages in Northern and Eastern Hama province after laying down their arms and signing the national reconciliation deal with the government.
http://en.farsnews.com/newstext.aspx?nn=13950103000147
-------
Syrian Forces Encircle Quaryatayn While Battle for Palmyra Continues
Tue Mar 22, 2016
TEHRAN (FNA)- The Syrian army's 11th and 3rd divisions secured all hills around al-Quaryatayn in Homs province, surrounded the city and paved the ground for its full liberation.
"However, with the ISIL still in control of the city, their fighters now face the option of fight and die or retreat," reports said.
Reports also suggested that the Syrian government prefers the latter as they do not wish to suffer the casualties which will naturally be sustained by attacking a large town filled with improvised ISIL traps and potential suicide bombers. "Therefore, they have left a line of retreat open for the ISIL."
The army has seized back these hills from the terrorists in the Northern, Western and Southern parts of al-Quaryatayn in the past 2 weeks: Jabal Sharifah, Jabal Muntar Rumayli, Tall Dakari, Jabal ar-Rumayli, Tulul as-Sud, Rujm al-Qa'dah, Hazm al-Abyad, Tall Ibn' Uthman, Jabal Muzaybilah, Tall Wadi al-Ayn.
Meanwhile, in Palmyra, the Syrian government troops captured several hilltops; nevertheless, they have failed to enter the historic city due to extensive minefields and stubborn resistance by hostile ISIL terrorists.
However, they do enjoy support from several highly experienced units – the Tiger Forces, the Syrian Marines, the Desert Hawk Brigade and Hezbollah (the Lebanese movement).
In total, some 5,000 to 5,500 soldiers are stationed on the Palmyra frontline and with the Russian Air Force aiding their every move, they will likely capture Palmyra within weeks.
http://en.farsnews.com/newstext.aspx?nn=13950103000121
------
Oil Prices Increase in "Caliphate" after ISIL's Recent Losses
Tue Mar 22, 2016
TEHRAN (FNA)- The ISIL's recent military losses in Syria and Iraq have now taken a toll on the economic climate in the self-proclaimed "Caliphate", hiking the price of an oil barrel by $4 respectively.
The ISIL has suffered several devastating defeats across Syria and Iraq this year, making 2016 one of the worst years in the terrorist group's history.
According to social media activists from the Syrian opposition, the recent hike in the ISIL's oil prices is a direct result of their military defeats.
The recent offensives by the Syrian and Iraqi armies have resulted in the ISIL losing several important roadways that were used to transport their oil to cities like Mosul and Raqqa.
Making matters worse for the terrorist group, the Syrian army has just cut off the ISIL's most important oil transport routes in the Deir Ezzur and Homs provinces.
The ISIL's oil trade will likely take a much large hit if the Syrian army captures the key city of Palmyra (Tadmur), which has been under their control for almost one year.
The Syrian Army and its allies pushed their way further into militant-held areas in Homs province and came closer in different directions to the key city of Palmyra (Tadmur) in the Eastern part of the province, imposing heavy casualties on the terrorists in the region on Monday.
Military sources said pro-government forces took dozens of hilltops, from the hill 900 up to hill 700, in heavy clashes with ISIL terrorists.
They also managed to advance further from al-Bayarat to Palmyra Triangle and from Tal al-Matar to al-Dowah and al-Tar Mountain.
The Syrian army also made several advances in rugged areas overlooking the city of Palmyra and liberated areas just across Palmyra's ancient Citadel, Northeast of the city.
http://en.farsnews.com/newstext.aspx?nn=13950103000086
------
Nasrallah: Some Regional Countries Work for Sake of Israel
Tue Mar 22
TEHRAN (FNA)- Lebanon's Islamic Resistance Movement Secretary General, Seyed Hassan Nasrallah said in a televised interview that "while some Arab countries work for the sake of the Israelis", Israel is not going to respond to the Arab regimes' demands.
"According to the Israeli confessions, some Arab regimes clearly supported the Israeli war against Lebanon in 2006," Nasrallah added in his interview with the Al-Mayadeen TV channel.
Seyed Hassan Nasrallah, speaking to the TV channel on the occasion of Mother's Day on Tuesday, pointed out that martyrs' mothers contributed to the Resistance's victories by raising the sons as freedom fighters.
He said that Israeli regime can never launch a war without gaining the American approval and added 'Israel does not respond to the Arab regimes' demands, but some Arab countries work for the sake of the Israelis.'
Nasrallah said Hezbollah has managed to develop its ability to inflict heavy losses on the Israeli army during any war which has delayed the occurrence of any imminent confrontation.
'The Israelis know that Hezbollah possesses rockets that can strike any position in the occupied Palestinian territories,' he said adding, 'Hezbollah does not want to launch a war, but the Resistance will employ all means to defend Lebanon in case of any Israeli aggression.'
He also said Hezbollah will strike all the Israeli targets during any upcoming war without any limit.
'If the Israeli army escalates its aggression against Lebanon, Hezbollah will strike all the strategic targets in the occupied Palestinian territories, including, the nuclear facilities.'
Saying that Hezbollah possesses all the details about the positions of the petrochemical, biological and nuclear facilities across Palestine, Nasrallah added, 'Hezbollah does not grant Israel any security guarantees.'
The Lebanese resistance leader said that Israel has been preparing itself since 2006 to launch a war against Lebanon, but added, 'This does not mean that the war is imminent.'
'Hezbollah won't let the Zionist entity launch any aggression, even if it is not a major war, without a suitable response. The Israelis must expect any kind of response from Hezbollah if they launch an aggression against Lebanon.'
He also said that the Israeli drones violate the Lebanese sovereignty on a daily basis and gather detail data of the cities and towns in preparation from any upcoming war.
'If the Lebanese government does not deter the Israeli aerial violations, Hezbollah will search for a solution for the Zionist aggression. Hezbollah is not concerned with the Israeli reassurances or threats.'
On Syria, he said that Russian military intervention in Syria was mulled between Moscow, Tehran and Damascus for six months before taking the related decision.
'Hezbollah, Syria, Iran and Russia form one coalition in tackling the Syrian crisis,' he added.
Nasrallah said that Russian military achievements against the terrorists in Syria were major and that Moscow's decision to withdraw is partial.
'Russia intensified its military deployment in Syria in preparation for any Russian-Turkish confrontation after Turkey downed a Russian warplane.
Hezbollah was notified about the partial withdrawal of the Russian troops from Syria before it occurred.'
He said that the Americans realized that their mission in Syria was impossible, which pushed them to accept the political solution. 'The Americans realized that ISIL and al-Nusra Front will replace of the Syrian government if it falls.'
'Syria's allies will never accept an agreement that deprives the Syrians' from their right to determine the destiny of their president,' he stressed.
'The Turkish losses due to Syria developments are huge, which imposes on the Turks to be more realistic than Saudi Arabia which is blocking all the political solutions.'
'Saudi Arabia delays the political solution in Syria, betting on any possible change in the American policy in the Middle East. I have information about the Saudi scheme to crush the resistance but I will not talk about because of local considerations.'
'Saudi Arabia's problem is Iran and it's not related to Sunnis or Shia,' he added, 'Saudi regime wanted to hold Hezbollah accountable for its failure in several fronts.'
Hezbollah secretary general also said that the resistance group still has popularity in Arab and Islamic worlds, and noted, 'The Saudi regime fears any kind of opposition even if it was by word.'
He said that Hezbollah has never armed or trained any cell against the regime in Bahrain. 'Hezbollah has never interfered in Bahrain, any such accusation is false.'
He said the Saudi regime is the side who is refusing dialogue with Iran.
'If Arab League decision to blacklist Hezbollah was based on reports about Hezbollah interference in Bahrain then it is based on false reports. We call upon all sides in the Arab world to sit to dialogue.
'The problem today, he added, is that the Saudi regime is stressed to the extent that it is launching a war against a party. 'Our alliance in the Arab world was not based on religious basis, the only consideration was the resistance against Israel.'
Referring to domestic developments in Lebanon, Nasrallah said, 'Saad Hariri is criticizing Hezbollah since the first day of his return to Lebanon and this was under the orders of Saudi Arabia.'
'The only positive point in Hariri's stances is the continuation of dialogue between al-Mustaqbal party and Hezbollah. The electoral law is one of the issues disagreed upon between Hezbollah and al-Mustaqbal party.'
He said that the only fair electoral law is the one based on proportional representation and that Lebanon can't be built but on the concept of partnership.
'Our alliance with Amal movement is firm and based on mutual respect,' he said. Some seek discord between Hezbollah and Amal and this will never happen,' he added.
'General Michel Aoun is Hezbollah's presidential nominee as long as he is a candidate.
We want a strong president who doesn't fear some regional states.'
'When we support candidacy of General Aoun this doesn't mean that we don't believe MP Sleiman Frangieh has the characteristics of a president,' he said.
Nasrallah reiterated that his party's relations with Iran have been always good regardless of the party which wins in the elections
http://en.farsnews.com/newstext.aspx?nn=13950103000173
-----
Hezbollah, Syrian Army Continue Winning Back More Territory in Qalamoun
Tue Mar 22
TEHRAN (FNA)- Fighters of the Lebanese resistance movement, Hezbollah, along with the Syrian troops pressed ahead with their military campaign against the ISIL in Qalamoun region, and seized much of the territories around the Eastern slopes of Qalamoun Mountains.
The Syrian army's 81st and 120th brigades of the 2nd Division – in close coordination with the Syrian Social National Party (SSNP), Dara'a Qalamoun (Qalamoun Shield), and Liwaa Suqour Al-Sahra (Desert Hawks Brigade) – liberated several sites from the ISIL near the strategic city of Quaryatayn in Homs province's Southeastern countryside.
The Syrian Armed Forces began their assault by imposing full control over the Thaniyah Wall (northern wall) and Thaniyah Rashid near Jabal Mahsaa after a short battle with ISIL this morning. Following the recapture of these sites, the Syrian forces liberated the small mountaintop of Jabal Al-Rawassi Al-Tawaal in the Homs Desert, killing several ISIL terrorists.
Sources said the Syrian forces continued attacks to capture Jabal Jabeel Al-Sharif (mountaintop), Tal Kurdi (hilltop), and Al-Rawabi Al-Taheen (point) from exhausted ISIL terrorists.
The ISIL terrorist group sustained many casualties and significant damage on its hardware during the clashes Southwest of Homs province on Saturday, as Syrian soldiers have been intensifying their offensive against the militants in a battle over strategic regions close to the city of Maheen, military sources said.
"Fierce clashes have been underway in al-Taheen and al-Mahasa hills, South of Maheen, leading to huge damage on terrorists, including an ISIL tank blown up by Syrian soldiers along with all its crew," the sources said.
http://en.farsnews.com/newstext.aspx?nn=13950103000064
----
Terrorists Violate Ceasefire in Syria Again
Tue Mar 22
TEHRAN (FNA)- Militants violated the ceasefire in Syria six more times by firing at residential areas in different parts of three provinces.
The Russian Defense Ministry released a document that said six ceasefire violations were recorded in Aleppo, Lattakia and Hama on Monday.
"Over the past day, six episodes of violation of the regime of cessation of hostilities were reported. Three violations were registered in the province of Lattakia, two – in the province of Hama, and one – in the province of Aleppo," the document said.
"In the vicinity of the settlement of Kabtan Al Jabal, unidentified armed groups opened fire from multiple launch missile systems at positions of Kurdish self-defense forces in Aleppo's Bashimr district," it added.
"No air strikes have been delivered by the Russian air group and the Syrian air force at armed opposition group which have declared cessation of hostilities and referred their coordinates to the Russian or US reconciliation centers," the bulletin said.
Moscow has threatened to use force if ceasefire violations continue.
This is not the first time that the terrorist groups are violating the ceasefire brokered by the US and Russia came into effect on February 27.
Russia and the United States reached an agreement on the ceasefire in Syria on February 22. The ceasefire took effect at midnight on February 27, Damascus time (22:00 GMT on February 26). The UN Security Council unanimously adopted a resolution endorsing the Russia-US agreement on the cessation of hostilities in Syria on February 26, shortly before the ceasefire came into force.
The cessation of hostilities does not apply to designated terrorist groups operating in Syria, including ISIL (also known as Daesh) and Jabhat al-Nusra (Nusra Front), a group affiliated with al-Qaeda.
http://en.farsnews.com/newstext.aspx?nn=13950103000074
-----
Mideast
Turkish Member of ISIS Carried Out Istanbul Bombing, Official Says
MARCH 20, 2016
ISTANBUL — A Turkish member of the Islamic State was the perpetrator of a suicide bombing that killed four foreigners in Istanbul over the weekend, the Turkish interior minister said on Sunday.
The attacker, who struck in Istanbul's central Istiklal Avenue on Saturday morning, has been identified as Mehmet Ozturk, a Turkish citizen born in 1992 in the southern city of Gaziantep, Efkan Ala, the interior minister, said in a televised news conference.
Three Israeli citizens and an Iranian were killed in the attack. Dozens more were injured.
An Israeli military plane flew the bodies of the Israeli victims home on Sunday for burial. They were identified as Simha Damri, 60, a grandmother from the southern town of Dimona; Avraham Goldman, 69, a tour guide from Herzliya; and Yonathan Shor, 40, a Tel Aviv resident who worked in the technology industry. Mr. Goldman and Mr. Shor, who was also identified as Yonathan Suher by the State Department, held dual Israeli-American citizenship.
Israel's deputy foreign minister, Tzipi Hotovely, told Army Radio on Sunday that there was no information to suggest the suicide bombing was specifically directed at Israelis.
The bombing was the fourth such attack in Turkey this year, and it underscores the country's growing vulnerability as it fights in conflicts on two fronts — one against the Islamic State in Syria, the other against Kurdish insurgents at home.
Get news and analysis from Europe and around the world delivered to your inbox every day in the European morning.
The Islamic State has not claimed responsibility for any attacks in Turkey, but officials said the group was responsible for a suicide bombing in Istanbul's historic tourist district in January that killed 10 people, most of them Germans. Officials also linked the group to the worst terrorist attack in Turkey's modern history, in which 103 people were killed during a peace rally in Ankara, the capital, in October.
Turkish officials say the Islamic State has started to target Turkey because of its increased cooperation with the United States-led coalition that is fighting the group in Syria. As a part of that effort, Turkey has also cracked down on thousands of foreign fighters trying to cross its border into Syria.
When the bomber struck on Istanbul's busiest thoroughfare on Saturday, the country was still reeling from a car bombing in central Ankara last week that killed 37 people. A splinter group of the Kurdistan Workers' Party, or P.K.K., claimed responsibility for that attack.
Kurdish militants have waged a three-decade insurgency against the Turkish state for autonomy, and the violence has increased in Turkey since the breakdown of a fragile peace process in July, followed by a major counterinsurgency campaign.
On Sunday, many roads in Istanbul were cordoned off for security reasons, and television footage showed the usually bustling Istiklal Avenue virtually abandoned. Photographs showed several people placing red carnations at the scene of the attack.
A soccer game between two major teams on Sunday was postponed after a serious security threat, the Istanbul governor's office said in a statement.
The United States Embassy warned Americans to avoid crowded places ahead of Sunday's Kurdish spring festival, Nevroz. The Turkish government banned Nevroz events in major cities because of security concerns.
http://www.nytimes.com/2016/03/21/world/middleeast/istanbul-suicide-bombing-turkey-isis.html
----
Turkey, US to discuss Syria, anti-ISIL fight
MARCH 20, 2016
Turkish and American diplomats are set to come together around the table in Ankara to discuss recent developments in Syria and the ongoing fight against the Islamic State of Iraq and the Levant (ISIL), the Turkish Foreign Ministry has said in a statement.
U.S. Deputy Secretary of State Antony Blinken will pay a working visit to Turkey on March 22-23, the Foreign Ministry said in a written statement on March 22. Blinken will meet with Feridun Sinirlioğlu, the undersecretary of the Foreign Ministry, to hold consultations regarding bilateral and regional issues. The deputy secretary is also expected to be received by Foreign Minister Mevlüt Çavuşoğlu, read the statement.
The two diplomats are expected to review the ongoing fight against ISIL and recent developments in Turkey's southern neighbor, Syria. Blinken's visit comes as President Recep Tayyip Erdoğan is readying to join a nuclear security summit to be held in Washington in late March.
http://www.hurriyetdailynews.com/turkey-us-to-discuss-syria-anti-isil-fight-.aspx?pageID=238&nID=96760&NewsCatID=510
-----
One soldier killed seven wounded in PKK attack in Turkey's southeast
March/22/2016
One soldier was killed and seven others were wounded on March 22 in an outlawed Kurdistan Workers' Party (PKK) attack in the Nusaybin district of the southeastern province of Mardin.
PKK militants detonated a bomb placed on the road during the passing of an armored vehicle carrying soldiers in the district's Dicle neighborhood. One soldier was killed and seven soldiers were wounded in the attack. The wounded soldiers were taken to Nusaybin State Hospital for treatment.
Meanwhile, security forces have been conducting an operation in the region following the attack.
http://www.hurriyetdailynews.com/one-soldier-killed-seven-wounded-in-pkk-attack-in-turkeys-southeast.aspx?pageID=238&nID=96757&NewsCatID=341
----
Turkish businessman Zarrab arrested in US for evading Iran sanctions
March 22 2016
An Iranian-born Turkish businessman has been arrested in Florida on charges that he and others conspired to conduct hundreds of millions of dollars in financial transactions for the Iranian government or other entities to evade U.S. sanctions.
Reza Zarrab, 33, was charged in an indictment filed in federal court in Manhattan along with one of his employees, Kamelia Jamshidy, and Hossein Najafzadeh, a senior officer at a unit of Bank Mellat in Iran, U.S. prosecutors said on March 21.
Zarrab was arrested on March 19 in Miami and appeared in federal court there on March 21, where a federal magistrate judge ordered him detained. Both Jamshidy and Najafzadeh, who are both Iranian nationals, remained at large.
The arrest came two months after Iran emerged from years of economic isolation when world powers led by the United States and the European Union lifted crippling sanctions against the country in return for curbs on Tehran's nuclear ambitions.
Zarrab previously attracted attention when he was detained for two months in Turkey. He was the prime suspect in a corruption and bribery scandal involving the government that went public on Dec. 17, 2013.
The businessman was accused of being the ringleader of a money laundering and gold smuggling ring in Turkey that circumnavigated sanctions against Iran. The charges were dismissed after the prosecutors investigating case were accused by the ruling party and then-Prime Minister Recep Tayyip Erdoğan of plotting against the government and removed from their posts.
According to the U.S. indictment, Zarrab, a dual citizen of Turkey and Iran, owned and operated a network of companies in Turkey and in the United Arab Emirates, including Royal Holding A.Ş., which employed Jamshidy.
The indictment said Zarrab, Jamshidy and Najafzadeh, a senior officer at Bank Mellat's Mellat Exchange, conspired to thwart economic sanctions against Iran by concealing transactions benefiting Iran's government and Iranian entities.
Prosecutors said that from 2010 to 2015, the trio helped Iranian individuals and entities, including Bank Mellat, one of the largest banks in Iran, evade U.S. sanctions by conducting financial transactions through Turkish and Emirati companies.
The indictment charges Zarrab, Jamshidy, 29, and Najafzadeh, 65, with engaging in conspiracies to defraud the United States, to violate the International Emergency Economic Powers Act, to commit bank fraud and to commit money laundering.
http://www.hurriyetdailynews.com/turkish-businessman-zarrab-arrested-in-us-for-evading-iran-sanctions.aspx?pageID=238&nID=96753&NewsCatID=338
-----
South Asia
Military Forces Kill 24 Militants in Southern Afghanistan
Tue Mar 22 2016
Military forces have killed 24 militants in newest raids in southern Afghanistan, the military said on Tuesday.
According to a statement released by the media office of 201st Military Corps which is based in Kandahar, the raids were carried out in Urozgan and Zabul provinces in past 48 hours during which 17 insurgents also sustained injuries.
The statement adds that a number of weapons and explosive materials were also seized by the military during these operations.
This comes as insurgents have once again enhanced activities in southern part of the country and government forces have been trying to counter their insurgency.
On Sunday night, military personnel raided a Taliban run prison and released 16 prisoners in Urozgan's neighboring Helmand province.
Officials said 17 militants including six suicide bombers were killed in the shootout in Shoraki area of Nahr-e-Siraj district.
http://www.khaama.com/security-forces-kill-24-militants-in-southern-afghanistan-4646
-----
Senior Taliban Leader Arrested, 50 Rockets Seized In North of Afghanistan
Tue Mar 22 2016
A senior Taliban leader was arrested during an operation in northern Kunduz province of Afghanistan amid ongoing clearance operations, the Ministry of Defense (MoD) said.
A statement by MoD said the operations are being conducted by 209th Corps of the Afghan National Army (ANA) forces in certain northern provinces.
The statement further added a militant was killed in a separate operation by the Afghan armed forces in Bagh-e-Sherkat area located in the central parts of Kunduz province.
The senior Taliban leader was arrested during a special military operation conducted by the Afghan armed forces Khanabad district of Kunduz, MoD added.
According to MoD, the Afghan armed forces discovered and defused an Improvised Explosive Device (IED) planted near the security commandment of Baharak district in northeastern Badakhshan province.
The Afghan soldiers serving with the 209th Shaheen Corps also seized 50 rounds of SPG9 rockets from Baharak district during an operation, MoD said.
MoD said another Taliban group member was arrested in a separate operation from Khwajah Bahauddin district of northeastern Takhar province.
The anti-government armed militant groups including the Taliban militants have not commented regarding the reports so far.
http://www.khaama.com/senior-taliban-leader-arrested-50-rockets-seized-in-north-of-afghanistan-0406
----
Mysterious arrest of Taliban supreme leader's arch rival in Pakistan
Tue Mar 22 2016
A top dissident Taliban leader and arch rival to Taliban supreme leader has been arrested in Pakistan, days after he favored talks with the Afghan government, provided that Mullah Akhtar is not available in the talks.
According to the local media reports, the top Taliban leader, Mullah Rasool was arrested shortly after entering Pakistan following fierce infighting earlier this month that left almost 200 Taliban insurgents dead.
Mullah Rasool appeared to have a moderate thinking towards the reconciliation process but was strongly opposing with Mullah Mansoor's appointment as Taliban supreme leader and his participation in peace talks under Mansoor's leadership.
In an interview around a week ago, Mullah Rasool called the efforts to revive talks between Afghan government and Taliban group 'Pakistani dictated'.
"Earlier we were thinking that the Afghan Government wanted peace talks with all Taliban, but when we saw that it is interested only in making peace with Mullah Mansur because of the dictates of the Pakistani Government, we decided we cannot start peace talks with the Afghan Government," Rasool told the UK-based Royal United Services Institute (RUSI).
Insisting on exclusion of Mansoor from reconciliation process, Rasool said he considers Mansoor's claim to leadership spurious.
Rasool had also favored the inclusion of neighboring Iran in the Afghan reconciliation process, saying the quadrilateral approach (involving US, Chinese, Pakistani and Afghan diplomats working together to re-launch negotiations with the Taliban) does not sufficiently represent the variety of regional interests.
http://www.khaama.com/mysterious-arrest-of-taliban-supreme-leaders-arch-rival-in-pakistan-0405
------
Drone strike kills eight militants in Nangarhar
Tue Mar 22 2016
DroneEight militants have been killed in a drone strike in Kot district of eastern Nangarhar province, states a statement released by the provincial police headquarters this morning.
According to the statement, the insurgents were traveling in a 'Saracha' model vehicle when they came under attack in Khwargi area at 02:30 pm on Monday.
Everyone inside, including foreign national, were killed and the vehicle completely destroyed, the statement adds.
Although, the press release does not specifically say the attack was carried out by Unmanned Aerial Vehicle (UAV) but when Nangarhar Police Headquarters issues a statement and it only says militants were killed in air strike it usually means drone strike.
If the attack is conducted by Afghan forces, it would then specify it.
Today's press release further states that another militant was killed when security forces responded to a militant attack in Pandola area of Achin district.
The insurgent killed is identified as Rafiq–a foreign national.
http://www.khaama.com/drone-strike-kills-eight-militants-in-nangarhar-4756
----
Over 80,000 Afghans face deportation from Europe under secret EU plan
Tue Mar 22 2016
stranded-afghan-migrantsAmid steep rise in the number of Afghan asylum seekers in the European countries, over 80,000 Afghan migrants will face being deported in the near future under a secret EU plan, it has been reported.
The mass repatriation under a secret EU plan is being mulled amid warnings of a new influx as the country descends into chaos and members of the Afghan government appearing reluctant to cooperate with the repatriation of the migrants.
According to the The Daily Telegraph, citing the secret EU plan, the European Commission will threaten to reduce aid to Afghanistan that represents 40 per cent of the country's GDP unless the "difficult" Kabul government agrees to the mass repatriation of tens of thousands of failed asylum seekers.
Admitting the collapse of the fragile state with the delivery of the financial threat, the Afghan elite in return for Kabul's cooperation would be rewarded with university places in Europe.
The potential offer is part of an explicit EU strategy to use aid and trade as "incentives" for foreign governments to take back migrants.
Sent to national ambassadors on 3rd March, the plan warns there is a "high risk of further migratory flows to Europe, noting record levels of terrorist violence in Afghanistan, which resulted in 11,000 civilian casualties last year, and a failing economy.
It also adds "There are 1.1 million internally displaced Afghans and 5.4 million sheltering in Pakistan and Iran, whose situation is "precarious, without reliable long-term perspectives."
According to reports, around 176,000 Afghans claimed asylum in the EU last year, with around six in 10 eligible for refugee status.
http://www.khaama.com/over-80000-afghans-face-deportation-from-europe-under-secret-eu-plan-0404
-----
Removal of Dostum's photo sparks anger in Mazar as Noor warns against riots
Mon Mar 21 2016
removal of Dostum photo in MazarThe removal of General Abdul Rashid Dostum's photo in Mazar-e-Sharif city in northern Balkh province has sparked furor among the supporters of the First Vice President as the acting provincial governor of the province Ata Mohammad Noor has warned strict actions against the possible riots.
In an online statement Noor said the photo has been removed by individuals who are looking to disrupt the stability of northern Balkh province.
Noor further added that the removal of the picture has sparked furor among certain people who are sending curse and are insulting the leadership of the province for the affront act.
He also ruled out that the party or the provincial leadership was involved in the act, apparently gesturing towards Jamiat-e-Islami party which is operating under his leadership.
Noor said several political and civil movements are operating in northern Balkh province and scores of pictures of Junish-e-Mili party can be seen in different parts of the city, including on the highway towards his residence.
He urged the people to refrain from chaos and moves that lead to disorders in the city and prevent destabilizing the stability of the local residents by repeating the bitter memories of the early 90s and 2000s.
The acting provincial governor warned of strict repercussions if his pleas for calmness were ignored, insisting that the leadership believes and respects tolerance.
http://www.khaama.com/removal-of-dostums-photo-sparks-anger-in-mazar-as-noor-warns-against-riots-0401
-----
Ghani admits he fell short to fulfill promises he made to teachers
Tue Mar 22 2016
President Mohammad Ashraf Ghani admitted of falling short to fulfill promises he made to bring changes in the education sector of the country, particularly towards his commitments for the teachers.
In his speech during an event to mark the start of the new educational year, President Ghani said he is hopeful to take practical steps in implementing his commitments towards the education sector in the country.
President Ghani further added that the education sector needs more improvements, insisting on the vital role of education to which the country is largely dependent.
As part of his commitments to curb corruption in the governmental institutions, President Ghani said transparency was critical within the Ministry of Educaation, emphasizing on the role of the ministry, teachers, ulemas in this regard.
He also added that the government of national unity is working on plans to develope housing projects for the teachers and called on the nation to help the government in building more schools across the country.
President Ghani also instructed the Ministry of Telecommunication and Information Technology to pave the way in connecting the Afghan schools with fiber optic technology.
http://www.khaama.com/ghani-admits-he-fell-short-to-fulfill-promises-he-made-to-teachers-0407
----
Africa
EU Military Mission Attacked in Mali Capital
March 22, 2016
TEHRAN (FNA)- Unidentified gunmen attacked a European Union Training Mission (EUTM) headquarters in Bamako, the capital of Mali, while one of the suspects was shot dead during the attack, two others were arrested and are now being questioned.
"One of the assailants was killed. We are examining the sack he was carrying, which could contain explosives," state television quoted Interior Security Minister Colonel Salif Traoré as saying, RT reported.
Two suspects of the attack on the mission which is stationed at the Azalai Hotel Nord Sud, were arrested and are being interrogated."
"The attackers tried to force through the entry and the guards posed in front of the entrance opened fire. One attacker was killed. The gunfire continued for several minutes," a witness near the hotel said.
Defense Ministry spokesman confirmed the shooting.
The US Embassy in Bamako said it is "aware of small arms fire" in the vicinity of the hotel, and has advised its citizens to avoid the area and "shelter in place" until further notice. The diplomatic compound "is in duck and cover status," it said.
One assailant has been killed at the hotel, while another is still entrenched on the premises, French news website L'Express reported, saying there are no victims among the French contingent.
The EUTM in Mali confirmed the attack on its headquarters, but said that no mission personnel had been hurt or injured.
No one has immediately claimed responsibility for the attack.
As part of the mission, some 600 EU military personnel are currently deployed in Mali to train its security forces, according to Reuters.
Nineteen people were killed in Bamako in November of last year when terrorists attacked a luxury 190-room Radisson hotel, which is a major local hub for expats and tourists there.
In that attack, two terrorists from the Al-Mourabitoun Islamist group held 170 people hostage for hours. Later in December, French troops in the region conducted a raid that killed a number of the fighters from that cell.
http://en.farsnews.com/newstext.aspx?nn=13950103000197
-----
UK, US Fail to Act to Free Kidnapped Girls in Nigeria, Knowing Girls' Spot
March 22, 2016
TEHRAN (FNA)- Britain and the US reportedly knew where militant group Boko Haram had taken at least 80 kidnapped Nigerian schoolgirls, but felt the risk was too great to launch a rescue operation, a former British diplomat revealed.
In 2014, Boko Haram insurgents kidnapped 274 schoolgirls from a boarding school in Chibok, northeastern Nigeria, though 57 of the girls managed to escape, the remaining 217 have not been seen since a video was released showing them a month after the abduction, RT reported.
Former British High Commissioner to Nigeria, Dr. Andrew Pocock has revealed that although British and American surveillance operations spotted a large group of girls, a rescue attempt would have been too risky.
"A couple of months after the kidnapping, fly-bys and an American 'Eye In The Sky' spotted a group of up to 80 girls in a particular spot in the Sambisa forest, around a very large tree, called locally the Tree of Life, along with evidence of vehicular movement and a large encampment," Pocock told the Sunday Times.
"You might have rescued a few [girls] but many would have been killed. My personal fear was always about the girls not in that encampment — 80 were there, but 250 were taken, so the bulk was not there. What would have happened to them? You were damned if you do and damned if you don't.
"An air-based rescue, such as flying in helicopters or Hercules, would have required large numbers and meant a significant risk to the rescuers and even more so to the girls."
The kidnapping thrust the militant group into the spotlight and sparked an international outcry against what campaigners saw as the Nigerian government's slow response, triggering the #BringBackOurGirls movement.
Campaigners believe the girls have been separated into small groups and taken to areas held by the militant group.
The group, which has pledged allegiance to terrorist group of ISIL, launched military operations in 2009, since which time the insurgency has left some 20,000 people dead and forced 2.5 million to leave their homes.
http://en.farsnews.com/newstext.aspx?nn=13950103000127
-------
North America
Donald Trump rules out troops to fight IS, wants Nato scaled down
Mar 22, 2016
WASHINGTON: Leading Republican presidential contender Donald Trump has ruled out sending thousands of US ground troops to fight IS but has supported use of air power to defeat the terror outfit even as he said America needs to rethink its involvement in Nato.
"The military tells me, we need 20,000 or 30,000 troops. I wouldn't deploy 20,000. I'd get people from that part of the world to put up the troops, and I'd certainly give them air power and air support and some military support. But I would never ever put up 20,000 or 30,000," Trump told CNN.
"We've spent USD 2 trillion, at least, in Iraq. We're spending trillions of dollars in the Middle East. You know where we are now? We're further back than we were 15 years ago. We are in such bad shape. The Middle East is a disaster for us," Trump said.
"In the meantime, our country is crumbling, we have a country, the roads are no good. The hospitals are no good. The airports are third world airports," he argued.
"Our country is under siege. We're under attack. We're under attack in virtually every way. Our economy is falling apart. Our trade deals are no good. Our health care is no good. Look what happens in our country. Our security is no good. People that are convicted criminals are pouring across the border. We have to be vigilant, we have to be smart or we're not going to have a country any longer," he said.
He said the US needs to rethink its involvement in NATO arguing that the military alliance is a big financial strain on the nation as its allies are not contributing much.
"We're paying disproportionately, it's too much, and frankly, it's a different world than it was when we originally conceived of the idea and everybody got together. So I think we have to reconsider -- keep NATO but maybe we have to pay a lot less toward NATO itself," he argued.
Acknowledging that NATO allies "might not be happy" with his policy, Trump said they have to help the US, which is in a USD 19 trillion debt.
Trump said he would not decrease the US' role in NATO "but certainly decrease the kind of spending. We are spending a tremendous amount in NATO, and others proportionately less - no good," he said.
Confident of gaining 1,237 delegates to win the Republican presidential nomination, Trump said that the GOP leadership needs to respect the will of the people as he has the largest support compared to others in the race, on the eve of the crucial two-state GOP primary in Utah and Arizona.
"I think I'll do it anyway. I think I'll do it. I may do it easily," Trump said.
------
4 US Senators meet Saudi King Salman ahead of Obama visit
Mar 21, 2016
RIYADH, Saudi Arabia: Saudi Arabia's official news agency says King Salman has met with a US Congressional delegation ahead of President Barack Obama's scheduled visit next month.
The Saudi Press Agency says the delegation was led by ranking Senate Foreign Relations Committee member Ben Cardin, D-M.D., and included Democratic Sen. Ed Markey of Maryland, Republican Sen. Cory Gardner of Colorado and Republican Sen. Jeff Merkley of Oregon.
SPA says Saudi Crown Prince and interior minister Mohammed bin Nayef and foreign minister Adel al-Jubeir also attended Monday's meeting.
On Sunday, the senators met in Doha with Qatar's ruler, Sheikh Tamim bin Hamad al-Thani.
Obama is due to visit Saudi Arabia on April 21 and attend a Gulf Cooperation Council summit. The GCC includes Saudi Arabia, Qatar, Kuwait, the United Arab Emirates, Bahrain and Oman.
http://timesofindia.indiatimes.com/world/middle-east/4-US-Senators-meet-Saudi-King-Salman-ahead-of-Obama-visit/articleshow/51497669.cms
------
Southeast Asia
How did Islamic State establish a franchise in Southeast Asia?
21 Jan 2016
Islamic State terrorists now pose a threat – not only in Indonesia, the largest Muslim democracy in the world, but also across Southeast Asia more generally and even Australia
The bomb attack on 14 January in Jakarta, which killed 7 people – modelled on the Paris attack in November 2015, but without the same impact in terms of creating fear, panic and death – demonstrated the threat that Islamic State of Iraq and the Levant (Isil) now poses not only in Indonesia, the largest Muslim democracy in the world, but also to southeast Asia more generally and even Australia.
How has Isil evolved a presence in Southeast Asia and can it be dismantled?
The attack on the Sarinah shopping centre in the upmarket district of Menteng last week was the first in the Indonesian capital since July 2009 when the surviving remnant of the violent wing of Jemaah Islamiyah (JI), al-Qaeda's south-east Asian franchise, bombed the Marriott and Ritz Carlton hotels a few blocks away from the latest incident.
Islamic state in southeast Asia
Islamic State has now replaced JI as the source of regional violent Islamism. More importantly, Isil has inherited its regional structure, its ideology, and its strategy from JI. Significantly, Abu Bakr Bashir, the 'emir' of JI, currently serving a sentence for treason in Cipijang jail, pledged allegiance to Isil in 2014. Yet until last week it had seemed that the former al-Qaeda linked franchises in southeast Asia, which included not only JI, but Abu Sayyaf in the Philippines and the Kumpulan Mujahideen Malaysia, had been decapitated and the curtain closed on this particular theatre of global salafist jihadism.
However, although the first generation leadership of JI, which had coordinated the Bali bombings in 2002, had either been eliminated or imprisoned by 2009, its ideology and its networks remained in place. It now appears that this previously dormant structure has reawakened.
Indonesian radical Muslim cleric Abu Bakar Bashir greets supporters inside a courtroom following the first day of an appeal hearing in Cilacap, Central Java province, January 12, 2016
The evolution of a Southeast Asian terror network
Historically, JI evolved as an al-Qaeda linked grouping in southeast Asia in the course of the 1990s. Founded by Indonesian salafists Bashir and Abu Sangkar in Johor, Malaysia, after they fled the authoritarian but nationalist Indonesian New Order regime, JI, like Isil, drew together former Mujahideen who had fought in Afghanistan from across the region.
The evolving jihadist network linked Indonesian Islamists alienated from the New Order, like Riduan Isamuddin (aka Hambali) with Malaysian salafists disillusioned with both the Malaysia's Islamic party, Parti Islam Se-Malaysia, and the ruling United Malay Nationalist Organisation's (UMNO) failure to impose sharia law in the multiethnic state, and with Abu Sayyaf founded by returning Moro fighters in Muslim majority southern Philippines.
After the collapse of the New Order, in 1998, JI's core leadership returned to Solo in Central Java whence it continued both recruitment and consciousness raising activities. The Bali bomber Imam Samudra was a graduate of this programme as is the current coordinator of Islamic State in southeast Asia, Bahrun Naim. By 2000, the network had direct links to al-Qaeda and the September 2001 Trade Center bombings through Khalid Sheikh Mohammed.
• Jakarta attacks: How to defeat Islamic terrorism in the Far East
JI's ambition like that of Isil was to coordinate the various Islamist struggles in southeast Asia into a coherent movement to create a Southeast Asian caliphate or Darul Islam Nusantara. The strategy draws essentially localised, separatist struggles in southeast Asia into an evolving, but loose network of transnational jihadism. Jemaah Islamiyah evolved as a regional network constituted through kin groups, marital alliances, cliques and radical pesantren (religious schools) between 1985 and 2000.
Isil takes over the network
Isil has evidently inherited both the structure and the salafist theo-political vision strategically conceived in terms of regional and transnational networks.
Southeast Asian recruits to Isil and returning fighters reinforce the linkages. In its Southeast Asian manifestation, we can trace this ideal, if not the strategy, back to the Darul Islam movement in Indonesia that dates from the struggle against the Dutch colonial power in the 1940s and subsequently adumbrated by the influence of Muslim Brotherhood ideologists like Sayeed Qutb.
In fact long before the end of the Soviet occupation of Afghanistan, which is often seen as the first intimation of an Islamist internationale, pan-Islamist thinkers in southeast Asia 'like those in the Middle East' conceived resistance to jahiliyya (the state of ignorance) as a single, unified global struggle that transcended local, state and regional concerns.
The story of al-Qaeda, and now Isil, is essentially how a transnational movement aligns itself with local militant groups with country-specific grievances to increase their global reach and influence. Jemaah Islamiyah – and now Isil – provide a case study of how regional groupings come to share an ideology and a strategy whilst at the same time sustaining their own distinctive character, structure and practice.
ASEAN's ambiguity
After 9/11 and especially after Bali, Indonesian, Malaysian Singaporean and Australian governments that had previously dismissed a coordinated Islamist threat in southeast Asia took the JI and Abu Sayyaf threat seriously. In particular collaboration with Australian Federal Police and US intelligence enabled the new Indonesian counter-terrorist police, Densus 88, to kill or imprison the core leadership of JI. Elsewhere, the Malaysian and Singaporean authorities undermined JI's structures in their respective countries.
The wreckage of the Sari nightclub following the 2002 Bali bombings
This notwithstanding, one common factor is that the countries where JI and now Isil have proliferated, all belong to the Association of Southeast Asian Nations (ASEAN). ASEAN has consistently failed to develop a coordinated counter terror policing response to the regional protagonists of transnational Islamism. As a consequence, with the rise of Islamic State and the development of its recruitment and grooming strategies online, it is calculated that IS has recruited close to 1000 fighters from southeast Asia, many of whom have evidently returned to open a new front in the region.
Thus, whilst JIs structure in the 1990s consisted of an 'emir' presiding over a governing council (Markaz), which oversaw four regional spheres of operation or Mantiqi, Isil has, by contrast, expanded its outreach activities across Southeast Asia and formed a Katibah Nusantara (Malay fighting force), which operates both across Iraq and Syria and in southeast Asia.
Consequently, in January 2016, two Malaysian suicide bombers killed 30 people in Syria. Meanwhile, over the past year Malaysian authorities have foiled at least four attempts to bomb public buildings and kidnap politicians and Malay Chinese businessmen in a country where ethno-religious politics have become increasingly vitriolic since the 2014 election, which the UMNO ruling party won in a campaign riddled by corruption and electoral fraud. At the same time, in the southern Philippines a revived Abu Sayyaf has reopened training camps for regional jihadists and pledged allegiance to Islamic State.
Whilst Jakarta was the site of the most recent regional manifestation of global salafist jihadism, other capitals in the region are by no means immune.
Singapore's Lee Hsien Loong observed in 2015 that southeast Asia had become a 'key recruitment centre for Islamic state' and the terror threat was 'no longer over there it is here'. Somewhat problematically, from Lee's perspective, ASEAN, which Singapore, Thailand Indonesia, Malaysia and the Philippines jointly founded in 1967 to promote regional stability, lacks both a shared understanding of regional security and a coordinated approach to dismantling transnational terrorism. Meanwhile, Isil exploits the idea of an integrated Islamic region to promote its version of a 'far caliphate' in Southeast Asia.
http://www.telegraph.co.uk/news/worldnews/islamic-state/12114073/How-did-Islamic-State-establish-a-franchise-in-southeast-Asia.html
-----
URL: https://www.newageislam.com/islamic-world-news/new-age-islam-news-bureau/black-day-for-brussels--34-dead-in-terror-attacks-at-airport-and-metro-station/d/106732