New Age Islam News Bureau
19 March 2020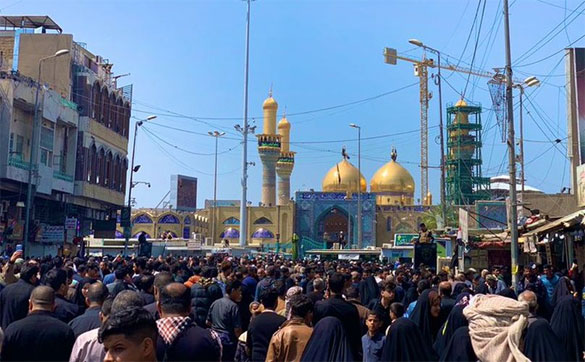 Iraqi pilgrims at the shrine of Imam Musa al-Kadhim. (Twitter pic/aalmawlawi)
-------
• Report: Saudi Crown Prince Kidnapped His Cousin, Princess Basmah Bint Saud
• Amid Coronavirus Outbreak, Delhi's Shaheen Bagh Protesters Say they're Taking All Precautions At Protest Site
• 'More Afraid Of God': Thousands of Muslim Pilgrims Ignore Coronavirus Warning To Gather In Indonesia
• Coronavirus 'Test from God': Rouhani
• Influential British Muslim Scholars Urge Mosques to Remain Open
• Massive Bangladesh Coronavirus Prayer Gathering Sparks Outcry
• A Muslim Candidate Responded To A Man's Islamophobic Tweet by Donating To His Medical Fund - And Spurred A Friendship
• Biggest East Africa Mosque Closes over Coronavirus
Arab World
• Black-Clad Shiite Pilgrims in Baghdad Defied Curfews and Coronavirus Threat To Visit Muslim Shrine
• Report: Saudi Crown Prince Kidnapped His Cousin, Princess Basmah Bint Saud
• Iraq's PM-designate vows to prepare free, fair elections within a year
• Proactive Approach Slowed Down Spread of COVID-19 In Saudi Arabia, Says Eastern Province Governor
• Coronavirus: UAE Fatwa Council Lays Out Regulations for Muslims amid Covid-19 Outbreak
• US-linked arms firms pressing Baghdad not to conclude weapons contracts with other states: Iraqi MP
• Saudi Arabia to cut 5% of 2020 budget to fight effects of coronavirus pandemic
--------
India
• Amid Coronavirus Outbreak, Delhi's Shaheen Bagh Protesters Say they're Taking All Precautions At Protest Site
• Hafiz Saeed's 'Fatwa' Pamphlet In Aligarh, FIR Filed
• Coimbatore: Protect Our Leaders, Urges Muslim Outfit
• 255 Indians tested positive for coronavirus in Iran
--------
Southeast Asia
• 'More Afraid Of God': Thousands of Muslim Pilgrims Ignore Coronavirus Warning To Gather In Indonesia
• Indonesia Halts Islamic Assembly, Quarantining 9,000 People
• Coronavirus: New measures at mosques in Singapore when they reopen
• Istiqlal Mosque To Hold Friday Mass Prayer Despite COVID-19 Warning
--------
Mideast
• Coronavirus 'Test from God': Rouhani
• Iran urges world states to disregard US sanctions amid pandemic
• Yemeni Rebels Say They've Seized Province on Saudi Border
• Heavy fighting in central Yemen leaves at least 38 dead
• Coronavirus hits terrorists hardest from ISIS to Iran – analysis
• Iranian Student in US Initiates Campaign to Help Elderly against Coronavirus
• Coronavirus death toll in Iran reaches 1,135, with 17,361 infections
• Coronavirus cases jump 40 percent in 24 hours in Israel
--------
Europe
• Influential British Muslim Scholars Urge Mosques to Remain Open
• Teacher Banned From Schools after Describing Islam As A 'Vile Religion'
• Brother of Manchester Bomber Is Found Guilty in Murder of 22 People
• Germany 'must do more' to fight racism: Council of Europe
• Muslim Students Less Likely To Be Awarded Top Class Degrees
• Germany halts refugee program with Turkey to combat coronavirus
--------
South Asia
• Massive Bangladesh Coronavirus Prayer Gathering Sparks Outcry
• Sporadic attacks in 3 provinces of Afghanistan kill, wound 7 including security personnel
• Abdullah thanks Imran Khan for opening the Chaman-Spin Boldak gate
• Roadside bomb explosion kills Taliban commander and his security guard in Nangarhar
• Coronavirus poses mortal threat amid political crisis in Afghanistan, warns Khalilzad
• Bangladesh reports first coronavirus death: Officials
--------
North America
• A Muslim Candidate Responded To A Man's Islamophobic Tweet by Donating To His Medical Fund - And Spurred A Friendship
• Coronavirus Confirmed in All 50 US States as Critical Supplies Shortage Hampers Hospitals
• US to Designate New Islamic State Leader as Global Terrorist
• Once Ardent Trump Supporters, White Nationalists Splinter Ahead of Presidential Vote      • US calls for 'urgent' Afghan prisoner swap amid coronavirus
• US sanctions Iran, seeks release of Americans amid coronavirus outbreak
• US issues new Iran-linked petrochemical sanctions on seven entities
• US announced illegal sanctions amid Iran's fight with coronavirus
• US sanctions S African, Chinese entities over Iran
--------
Africa
• Biggest East Africa Mosque Closes over Coronavirus
• The Libyan Connection: ISIS-Linked Terror Group Inspired Abedi Brothers
• Libya: 4 killed in rocket attacks by Haftar militias
• Somalia: Al-Shabaab attacks UN compound in capital
• Libyan capital sees renewed clashes
• Libya: Haftar spokesman quarantined over virus fears
--------
Pakistan
• Nawaz's Pro-India Policies Harmed Pakistan, Alleges Ex-Envoy
• Alvi, Others Test Negative for COVID-19 On Return From China
• IHC issues notices to ministry, Pemra on petition over Geo's cable placement
• SC restores Arshad Malik as PIA chief
• Coronavirus kills first two victims in Pakistan
• 1,652 returning from Iran sent to home provinces
• Firdous accuses PML-N of politicising 'sensitive' coronavirus issue
• Alvi, Xi discuss coronavirus outbreak in Pakistan
Compiled By New Age Islam News Bureau
URL: https://www.newageislam.com/islamic-world-news/black-clad-shiite-pilgrims-baghdad/d/121347
--------
Black-Clad Shiite Pilgrims in Baghdad Defied Curfews and Coronavirus Threat To Visit Muslim Shrine
March 18, 2020
BAGHDAD: Stealing around barbed-wire barriers through fields and side streets, dozens of black-clad Shiite pilgrims in Baghdad defied curfews and coronavirus this week to visit the shrine of a Revered imam.
Seeking to stem an outbreak of the Covid-19 pandemic, more than half of Iraq's 18 provinces have declared curfews of several days.
Baghdad, the Arab world's second-most populous capital with 10 million inhabitants, imposed a curfew from Tuesday evening for six days.
But the government's social distancing efforts are facing a hurdle, as pilgrims defy restrictions to commemorate the anniversary of the death of revered Shiite Imam Musa al-Kadhim.
The anniversary, which will be marked on Saturday, typically draws millions of pilgrims from around the world each year to Baghdad, to visit and kiss the gold-domed shrine housing the imam's resting place on the banks of the Tigris River.
Traditionally, pilgrims converge on foot on the imposing complex to pray and take part in mourning ceremonies that last several days.
Top cleric Grand Ayatollah Ali Sistani has urged Iraqis not to gather in large numbers for prayers, where risk of infection could be high, and declared the fight against the novel coronavirus a "sacred duty".
Iraq has imposed travel restrictions and shuttered shrines across the country, including that of Imam Kadhim.
On Wednesday, Iraqi troops stationed around the site tried to persuade fervent pilgrims to return home.
"It's for your own health that we're doing this," one soldier told an elderly woman in the street.
"No one can prevent us from visiting our imams! Not terrorism, not war, not a virus!" she shot back.
Musa al-Kadhim, the seventh of 12 imams venerated by Shiite Muslims, died in 799 while in detention by Abbasid caliph Harun al-Rashid.
At another checkpoint, a group of around 20 men waved flags bearing yellow and green religious emblems as they tried to make their way past soldiers blocking the street.
In contrast, the holy Shiite shrine city of Najaf, south of Baghdad, was markedly quiet.
The mausoleum of the Prophet Mohammad's son-in-law Ali was shut and its usually busy esplanade empty, an AFP photographer said.
Health authorities have reported 13 deaths and 164 infections in Iraq from the novel coronavirus.
However, many suspect the number of cases could be higher, as fewer than 2,000 people have been tested in a country of 40 million.
Iraqis have expressed fear over the impact of a large outbreak in the country, as years of conflict and poor investment have ravaged the country's health system.
https://www.freemalaysiatoday.com/category/world/2020/03/18/iraqis-defy-curfews-covid-19-threat-to-visit-muslim-shrine/
--------
Report: Saudi Crown Prince Kidnapped His Cousin, Princess Basmah Bint Saud
March 16, 2020
Saudi Crown Prince Mohammed Bin Salman is said to have arrested his cousin, Princess Basmah Bint Saud Bin Abdulaziz, who has been missing for a year, Spanish ABC newspaper reported.
According to the paper, a group of eight men appeared in the princess' home in Jeddah on 28 February 2019 as she was preparing to leave with her family to Switzerland for treatment.
The paper said the princess, who is known for advocating for women's rights and political reform in the kingdom, has been detained in Al-Hayer prison for the past year.
The newspaper quoted a source close to the princess as saying that "since then, she has been held in cell 108 of Wing B where she is allowed to contact her family once a week", adding that the family does not know when she will be released.
In 2016, Princess Basmah returned to Saudi Arabia after then-Crown Prince Muhammad Bin Nayef intervened with the king securing her return.
The princess was demanding King Salman return vast lands owned by her father, the late King Saud Bin Abdulaziz in Taif, and $2 billion held in Swiss bank accounts.
The newspaper added that a source close to Bin Nayef said the princess may remain in prison until she gives up the claim for her father's property, noting that she is the only woman being held in this maximum security prison.
Source said Princess Basmah was held on suspicion of trying to flee the country with her adult daughter, after she was due to travel to Switzerland for medical treatment. Since then, sources say, Saudi authorities did not respond to their requests for information.
Germany's DW newspaper reported in December that documents it had seen "show Princess Basmah had clearances to fly out of Jeddah on December 18 last year, accompanied by her daughter, for urgent medical attention as requested by her Swiss doctor." The princess' plane was, however, "kept on the ground and she was not allowed to leave".
https://www.middleeastmonitor.com/20200316-report-saudis-mbs-kidnapped-his-cousin-princess-basma-bint-saud/
--------
Amid Coronavirus Outbreak, Delhi's Shaheen Bagh Protesters Say they're Taking All Precautions At Protest Site
Mar 19, 2020
NEW DELHI: Agitators at the Shaheen Bagh protest site say they are following all guidelines and are taking all precautions amid the coronavirus outbreak.
Coronavirus in India live updates
On Wednesday the National Commission for Protection of Child Rights (NCPCR) sought a report from the District Magistrate of southeast Delhi regarding the assembly of people at the Shaheen Bagh protest site amid the Covid-19 outbreak.
In a letter, the NCPCR has asked for a report on the continued assembly of people at the protest site despite an advisory by state and central government on Covid-19 safety and prevention.
Shaheen Kausar, one of the protesters told ANI, "The women here at Shaheen Bagh are aware of the threat posed by coronavirus. They have all donned masks and are carrying sanitisers in their bag. We are even maintaining the required distance in the gathering and are also ensuring that more than 50 persons are not present at the site as per state government's guidelines."
"We will, however, continue with the protest. It is high time that the Centre pays heed to our constitutionally valid demands for which we have have been protesting on the streets for upwards of three months," Kausar added.
The protesters at Shaheen Bagh in Delhi have been agitating since December 15 last year over the amended Citizenship Act, NRC and NPR.
On Tuesday, the Resident Welfare Association (RWA) members and Delhi Police had also talked to the Shaheen Bagh protests, urging them to call off their protest in wake of coronavirus outbreak, which has claimed three lives in the country so far.
Earlier this week, taking precautionary measures Delhi Chief Minister Arvind Kejriwal had announced that gatherings with more than 50 persons excluding weddings will not be allowed in the national capital, along with asking gyms, night clubs and spas to remain closed till March 31.
On the other hand, keeping in mind the infection outbreak the anti-CAA, NPR and NRC protesters at Chennai's Washermanpet had temporarily called off their strike, being held for similar demands, on March 18.
A total of 151 positive cases of coronavirus have been reported in India so far, the Union Ministry of Health and Family Welfare said on Wednesday. Three people have so far died of the infection in the country.
The World Health Organisation (WHO) has declared the coronavirus outbreak a pandemic. The virus had first emerged in China's Wuhan city in December last year.
https://timesofindia.indiatimes.com/city/delhi/amid-coronavirus-outbreak-delhis-shaheen-bagh-protesters-say-theyre-taking-all-precautions-at-protest-site/articleshow/74703801.cms
--------
'More Afraid Of God': Thousands Of Muslim Pilgrims Ignore Coronavirus Warning To Gather In Indonesia
Mar 19 2020
Ignoring the risk of coronavirus, thousands of Muslim pilgrims from across Asia gathered in Indonesia, the world's fourth most populous nation, on Wednesday (18 March) for an event organised by a Muslim evangelical group.
A similar event in Malaysia, held two weeks ago, led to more than 500 infections from coronavirus, reports Associated Press.
The organisers were asked to postpone the event but it was rejected. As per reports, over 8,000 people have already assembled in Gowa, near the provincial city of Makassar.
"We are more afraid of God," one of the organisers, Mustari Bahranuddin, was quoted by Reuters as saying when asked about the risk of participating in the event.
One promotional material read, "The pleasure of living in this world is only a little, compared to the afterlife."
Muslim pilgrims are coming from all over South East Asia and from the Middle East and the event has been organised by members of Tablighi Jama'at, a global evangelical movement for Muslims.
The event in Malaysia which saw the participation of over 16,000 followers is linked to about two-thirds of Malaysia's 790 infections, as per authorities.
Additionally, Brunei has confirmed 50 infections linked to it, while Cambodia, the Philippines, Singapore, Thailand and Vietnam have also said citizens were infected there.
https://swarajyamag.com/insta/more-afraid-of-god-thousands-of-muslim-pilgrims-ignore-coronavirus-warning-to-gather-in-indonesia
--------
Coronavirus 'test from God': Rouhani
18 March 2020
Iran had no delays in announcing the spread of coronavirus to the country, President Hassan Rouhani stressed on Wednesday, calling the virus a "test from God."
As of Wednesday, 1,135 in Iran have died from coronavirus, and there are 17,361 confirmed cases.
Read more: Coronavirus 'not that big of deal': Iran Supreme Leader Ali Khamenei
"Coronavirus is a test from God. We have been honest with people regarding the virus. Do not pay attention to what some media outlets and individuals say," Rouhani said.
"We realized coronavirus was in Iran on February 19, and the people were informed of that on the same day," he added.
"We had an election on February 21, and we could have waited until after the election to inform the public, but we did not," said the Iranian president. "We were honest with people."
Deputy health minister Reza Malekzadeh said last week that the government had "some delay in informing the public" about the spread of coronavirus to Iran. Malekzadeh did not say exactly how many days Iran delayed announcing the spread of the virus to the country.
Read more: Iranian state TV presenter begs people to stay home due to coronavirus
Rouhani compared Iran's transparency on the spread of coronavirus with its transparency on the downing of a Ukrainian airliner back in January.
"The armed forces were also honest with people regarding the Ukrainian plane," said Rouhani. "The false propaganda that has been launched against us on various issues, including coronavirus, is untrue and we had no delay."
Iran's Islamic Revolutionary Guard Corps (IRGC) shot down a Ukraine International Airlines jet on January 8, killing all 176 onboard.
Iran claimed for days the plane crashed due to a "technical failure," before admitting to shooting down the plane.
https://english.alarabiya.net/en/News/middle-east/2020/03/18/Coronavirus-test-from-God-Rouhani.html
--------
Influential British Muslim scholars urge mosques to remain open
Mar 19, 2020
Scholars from some of the most influential Islamic seminaries in the UK have said that mosques should remain open for congregational prayers until the government issues orders to close them because of the coronavirus outbreak.
The fatwa by Deobandi scholars Yusuf Shabbir and Mufti Shabbir Ahmad of Darul Uloom Blackburn and Mufti Muhammad Tahir of Darul Uloom Bury comes as many, if not most, mosques across the country remain open.
This is despite advice from the Muslim Council of Britain and the British Board of Scholars and Imams for mosques to close to prevent the spread of the infection.
So far the government has only issued advice against mass gatherings but has not prohibited them.
The Bury and Blackburn scholars said: "It is recognised that there are mixed views in relation to Masjids remaining open. These decisions are not taken lightly, and everyone recognises the severity of the pandemic. Those who wish to attend the Masjids should not be belittled or prevented from doing so.
"The advice to keep Masjids open for congregational Ṣalāh takes into account the following:
The importance of Masjid's and congregational Ṣalāh, as reflected from congregational Ṣalāh during war (Ṣalāt al-Khawf) and other ḥadīths.
The protection of faith supersedes the protection of one's self.
The Prophet's ﷺ practice of rushing to the Masjid during calamities.
A significant portion of the Ummah abandoning Ṣalāh particularly congregational Ṣalāh and other sins causing such epidemics. The Masjid and congregational Ṣalāh is part of the solution and not the problem.
Masjids remaining open when epidemics occurred during the era of the companions and thereafter.
Ḥadīths advising precautions during epidemics do not mention closing Masjids or stopping congregational Ṣalāh.
The differentiation between an individual decision not to attend a Masjid and a collective decision to close a Masjid for congregational Ṣalāh.
The continued running of schools notwithstanding the huge risks and the duration of time (6-8 hours) spent therein.
The limited 5-10 minutes duration of congregational Ṣalāh.
The ground reality of Muslims continuing to attend weddings, functions, shopping centres, and other public and private places and spending much more time than the time spent in congregational Ṣalāh.
The scholars concluded: "Therefore, Masjids should remain open for congregational Ṣalāh, and should adopt the necessary precautions in a proportionate manner to manage the risks. The benefits of keeping Masjids open significantly outweigh the risks at this stage. This will be reviewed continuously as the situation evolves and in light of the government's guidance."
Lancashire Council of Mosques also said mosques should remain open:
However, British mosques have not formed a united front when it comes to closures. A few leading mosques around the country have taken the decision to close – Ghamkolvia and Green Lane Mosque in Birmingham, Cambridge Central Mosque, Al-Rahma Mosque in Liverpool, Manchester Central Mosque and Didsbury Mosque, but precious few others.
Major mosques in London, such as East London Mosque, remain open with restrictions.
But Muslim medical professionals are still pressing for closures on the grounds that mosques and madrassas are environments that could spread infections and that the Muslim community is especially vulnerable.
The British Islamic Medical Association issued the following open letter to the Muslim community on Monday.
https://5pillarsuk.com/2020/03/18/influential-british-muslim-scholars-urge-mosques-to-remain-open/
--------
Massive Bangladesh coronavirus prayer gathering sparks outcry
March 19, 2020
A massive coronavirus prayer session with tens of thousands of devotees sparked an outcry in Bangladesh Wednesday as the South Asian nation reported its first death from the global pandemic.
Local police chief Tota Miah said some 10,000 Muslims gathered in an open field in Raipur town in southern Bangladesh to pray "healing verses" from the Koran to rid the country of the deadly virus.
"They held the Khatme Shifa prayers after dawn to free the country from the coronavirus," Miah told AFP.
Organizers claimed the number of worshippers was 25,000.
He said organizers did not get permission from authorities to hold the session.
Photos of the gathering was widely shared on social media, with commenters slamming the massive rally.
Authorities have already shut schools and asked locals to avoid large gatherings in an effort to halt the spread of the disease.
"Unbelievable how they even have done it without notifying the police? They will be held responsible if anything happens to the people in the region," Abdur Rahman wrote on Facebook.
Despite the appeal from authorities to avoid crowded public areas, many took the opportunity to head to tourism sites.
Police said they had to close two beaches, including one at Cox's Bazar, the main resort district of the country, and which is home to nearly one million Rohingya refugees from Myanmar.
A senior leader from the ruling Awami League, Obaidul Quader, said a lockdown might be required to contain the virus.
"If necessary, Bangladesh will be shut down. It'll be enforced where necessary. People must be saved first. We'll do everything for that," he told reporters.
The number of positive cases in the country of 168 million people stands at 14, although some medical experts fear not enough tests were being conducted.
https://www.thejakartapost.com/seasia/2020/03/19/massive-bangladesh-coronavirus-prayer-gathering-sparks-outcry.html
--------
A Muslim candidate responded to a man's Islamophobic tweet by donating to his medical fund - and spurred a friendship
March 18, 2020
(CNN)Qasim Rashid has spent much of his life fighting for and defending human rights, first as a lawyer, then as a spokesman for the the Ahmadiyya Muslim Community USA.
Oscar "Oz" Dillon held anti-Muslim views and often targeted his ire at Rashid, who's running for Congress in Dillon's district.
The two were never supposed to find common ground, let alone form a friendship.
But a small act of kindness led the two to meet -- and forced Dillon to examine his bias.
"He has opened my eyes to a whole new world about Islam," Dillon told CNN.
Rashid combats Islamophobia
Rashid is running for Virginia's District 1 seat in Congress as a Democrat, a public position that's opened him up to heaps of Islamophobia.
At times, the comments have been dangerous: In December, a man was convicted for threatening to lynch Rashid when he was a candidate for state senate.
But he's still active on social media, defending his policy positions and engaging with hundreds of thousands of followers. He criticizes President Donald Trump and his conservative opponents.
It's where he met Dillon. Dillon had tweeted critical, often offensive comments at Rashid since his first campaign for state senate.
In response to a recent tweet from Rashid about education funding, the 66-year-old sent a tweet with an offensive meme about Islam.
Rashid told CNN the meme was "highly offensive, deeply hurtful and frankly dangerous."
He doesn't usually indulge offensive comments on Twitter, but Dillon's tweet stung. He was about to reply with links to teach Dillon why his misconceptions about Islam were incorrect.
But when he clicked on Dillon's profile and saw a GoFundMe link in his bio, he took a different approach.
"Idk who [Dillon] is but he tweeted a deeply hurtful & false attack on me for my faith," Rashid tweeted. "My faith instead teaches me to serve all humanity—so Ive [sic] donated $55 to his GoFundMe to help him & his family cover crushing medical debt."
He asked his 290,000 followers to do the same.
Dillon examines his bias
Dillon told CNN that he's held anti-Muslim views since the 9/11 attacks, so he was shocked that the Muslim candidate had treated him with such kindness.
"The vitriol I put against him during his campaign last year ... that he would research me and reach out to me, it absolutely flabbergasted me," he said.
Dillon started the GoFundMe to cover his wife's medical bills. She had a double pulmonary embolism in 2018, and while he said she's improved, she still uses a walker to get around the house and isn't a candidate for surgery because of her condition.
Dillon sent the GoFundMe link to his conservative delegates and none of them donated.
"Not a one came back to me," he said. "But Qasim, who I derided, poked fun at and was horribly humiliated and humbled by, is reaching out. He took the time to look into why I was doing this and who I am."
Their meeting
After Rashid shared Dillon's GoFundMe page, hundreds of his supporters poured donations into relieving Dillon's medical debt.
It stunned him.
He immediately emailed Rashid apologizing for his comments and thanking the candidate for his donation. He asked if Rashid would meet him at his home so he could plant a campaign sign in his yard.
Qasim Rashid for Congress
✔
@QasimRashid
Last week a Conservative constituent sent me deeply hurtful anti-Muslim tweets😓
I replied by donating to his GoFundMe to help cover his crushing medical debt
He wrote me a thoughtful & compassionate apology & asked me to visit him
Today I met my new friend Oz😊#WinTheHearts
View image on Twitter
78.2K
8:10 AM - Mar 9, 2020
Twitter Ads info and privacy
12.3K people are talking about this
So they met, first at Dillon's home, then over coffee. Dillon admitted how little he understood about Islam and how much of what he believed was incorrect.
"We've come to understand each other, speaking with a sense of stability," Rashid said. "He wanted to be supportive however he could."
How things have changed
With Rashid's help, Dillon raised over $22,000 on GoFundMe, more than his goal. He'll use the funds for a new wheelchair for his wife and donate the rest to St. Jude and the American Heart Association.
Dillon still tweets his political opinions loudly. But he's stopped sending anti-Muslim tweets. He's considering voting for Rashid, something unthinkable just last month.
"I think of Qasim as a patriot," Dillon said. "What is a patriot? Someone who does for the good of the community."
Rashid said Dillon is committed to improving and learning more about his biases. He never expected his digital act of good would lead them to meet and discuss their differences.
"You can't expect marginalized communities or people of color to educate all the time," he said. "It's exhausting. But I don't see it as additional work. I see it as the work I signed up to do."
https://edition.cnn.com/2020/03/18/us/muslim-candidate-offensive-tweets-friendship-trnd/index.html
--------
Biggest East Africa mosque closes over coronavirus
Andrew Wasike
18.03.2020
NAIROBI, Kenya
The biggest mosque in East Africa on Wednesday closed its doors for worshippers amid the coronavirus outbreak.
The Jamia Mosque in Nairobi, Kenya's bustling capital, will remain closed for an indefinite period.
"After a series of consultations with the Majilis Ulamaa [council of scholars] of Jamia Mosque and upon further consultation and advice from the Kenya Muslim Medical Professionals (KAMMP), the Jamia Mosque committee has with effect from today Wednesday, March 18 suspended the conduct of all congregational prayers at Jamia Mosque until further notice," it said in a statement.
The announcement came in the wake of seven deaths in Kenya due to COVID-19, the official name of the virus.
Kenya also on Wednesday came up with new measures to mitigate the adverse economic effects on bank borrowers from the coronavirus pandemic.
"To facilitate increased use of mobile digital platforms, banks will waive all charges for balance inquiry [and] all charges for transfers between mobile money wallets and bank accounts will be eliminated," Central Bank of Kenya Governor Patrick Ngugi Njoroge said.
All loan borrowers in Kenya will be given relief for up to one year by the Central Bank.
The East African economy has taken a hit due to preventive measures against coronavirus, which include staying at home and closing schools, restaurants and shops.
https://www.aa.com.tr/en/africa/biggest-east-africa-mosque-closes-over-coronavirus/1770991
--------
Arab World
Iraq's PM-designate vows to prepare free, fair elections within a year
18 March 2020
Adnan al-Zurfi, who has been designated by President Barham Salih as Iraq's prime minister, says his top priority is to set the stage for the holding of free and untainted parliamentary elections within a year from forming the next government.
The Iraqi prime minister-designate said in a statement released on state media following his meeting with Parliament Speaker Mohammed al-Halbusi that he would make sure free and transparent elections would take place within that time span — a key demand of Iraqi protesters.
Iraqis have been staging street protests in several cities over corruption, unemployment, and shortage of basic services, calling for early polls.
Zurfi also promised protection for public protesters and activists, and said those targeting protesters would face prosecution.
'Iraq First' foreign policy
Under him as prime minister, Baghdad will be pursuing an "Iraq First" foreign policy, which also highlights openness towards neighboring states.
The foreign policy agenda will also require Baghdad to stay away from regional and international conflicts that could turn Iraq into an arena for score settling.
In early January, the US launched a drone strike against the Iraqi capital, assassinating Iran's top anti-terror commander Lieutenant General Qassem Soleimani, Abu-Mahdi al-Muhandis, a fellow Iraqi commander, and a number of others. General Soleimani was on an official visit to Baghdad when the attack took place.
The Iraqi parliament voted overwhelmingly in favor of a bill afterwards, outlawing all sorts of US-led foreign presence on the Arab country's soil.
Arms will be limited to state
The PM-designate also insisted that the possession of all arms would have to be confined to the government.
He said his administration would be confronting any acts of armed aggression.
Zurfi also vowed to do his utmost to help battle the new coronavirus' outbreak based on global scientific mechanisms. The virus has so far claimed nine lives and infected 124 others in Iraq.
He has now 30 days to pull together a government and needs to win the confidence of Iraq's parliament for his new cabinet, a task which is expected to face difficulty as several Iraqi political groups have already objected to Zurfi's nomination due to his background.
Zurfi — a former regional governor with little national political profile — is widely seen as a pro-West figure. He is a dual Iraqi-US national and will have to renounce his American citizenship to become prime minister.
Former prime minister Adel Abdul Mahdi resigned in November last year following mass protests in Iraq. Zurfi is the second candidate to succeed him, after Mohammed Allawi, who also quit in early March.
https://www.presstv.com/Detail/2020/03/18/621117/Iraq-prime-minister-designate-Zurfi-elections
--------
Proactive approach slowed down spread of COVID-19 in Saudi Arabia, says Eastern Province governor
March 19, 2020
Eastern Province Gov. Prince Saud bin Naif on Wednesday praised the Kingdom's approach to combating the deadly coronavirus which had helped to slow its spread and reduce pressure on health services.
He said the proactive plans and preventive measures adopted by the country were swiftly activated before the first case of COVID-19 infection had been confirmed in Saudi Arabia.
Addressing a meeting of the Eastern Province Crises and Disaster Management Center (EMARA), the prince added: "The preventive efforts of the concerned authorities in the Kingdom were effective and proactive."
He pointed out the importance of maintaining efforts to control and contain the virus, in addition to dealing with existing cases efficiently and effectively.
The meeting was attended by Eastern Province Deputy Gov. Prince Ahmad bin Fahd bin Salman and Saudi Minister of Health Dr. Tawfiq Al-Rabiah.
Prince Saud noted that the country's citizens had a key role to play in supporting plans to combat the killer virus. "The government has commissioned a committee that comprises the Ministry of Health and a number of sectors for monitoring and evaluation, and it is making vigorous efforts to take the necessary measures and keep things under control.
"It is everyone's duty to follow and implement the health directives or preventive instructions issued by this committee, take information from the official spokespersons for the Ministry of Health or other sectors, and avoid spreading rumors and panic.
"The government has adopted transparency in declaring cases and treating them while observing all religious and humanitarian rules."
The governor added that health services and advice could be accessed by contacting the 24-hour 937 call center.
Al-Rabiah said: "The Kingdom started taking preventive measures before any case emerged, and for this, it must be globally commended. It managed with the wisdom of its leadership to address the issue through firm and precise measures. There are continuous efforts day and night to implement these precautions with the generous support of King Salman and Crown Prince Mohammed bin Salman."
The minister pointed out that Saudi Arabia had taken unprecedented steps to tackle the pandemic, which included suspending Umrah, education, and government work.
Full report at:
https://www.arabnews.com/node/1643591/saudi-arabia
--------
Coronavirus: UAE Fatwa Council Lays Out Regulations for Muslims amid Covid-19 Outbreak
March 17, 2020
The UAE Fatwa Council issued a fatwa on Tuesday that prohibits congregational worship and calls for all Muslims in the country to comply with government rules to limit the spread of coronavirus.
The new fatwa bans Muslims who feel unwell from going to public places or attending any prayers, including those typically held on Friday, Eid and Ramadan.
On Monday, the National Crisis and Emergency Management Authority, along with the General Authority of Islamic Affairs and Endowments (Awqaf), banned public prayers in all places of worship across the UAE, in an effort to limit Covid-19 infections among worshippers.
Tuesday's fatwa goes further and bans rumour-mongering, calls for Muslims to help others and follow instructions issued by Saudi Arabia in relation to Umrah and Hajj.
The fatwa covered six points that must be followed by "all groups and segments of society". They include "abiding by all health and regulatory instructions issued by UAE authorities to prevent the transmission and spread of the virus."
The fatwa said those infected or who were feeling unwell should avoid public places, take all necessary precautions to quarantine themselves and "commit to treatment set out by health authorities."
The fatwa exempted elderly or immunocompromised people, children and people with disabilities from attending congregational prayers – though all UAE residents have already been banned from attending prayers at places of worship. The rule extends to Friday prayers, Eid prayers, and Tarawih, held in Ramadan. Instead,
people can pray at home. The fatwa said the Dhuhr prayer could be performed in place of the Friday prayer, which has been suspended across the country for a month.
"As for the Hajj and Umrah, all Muslims should follow instructions issued by Saudi Arabia, out of its sovereign and legal responsibility to take care of pilgrims," the fatwa said.
It called on everyone to co-operate with authorities and support efforts to eliminate the disease and prevent the spread of rumours.
"Official information must be obtained from official sources and those who mess with the security and stability of the country and spread rumours must be inhibited," the fatwa said.
Full report at:
https://www.thenational.ae/uae/government/coronavirus-uae-fatwa-council-lays-out-regulations-for-muslims-amid-covid-19-outbreak-1.993974
--------
US-linked arms firms pressing Baghdad not to conclude weapons contracts with other states: Iraqi MP
18 March 2020
A member of the security and defense committee in the Iraqi parliament says US and Israeli arms firms are putting pressure on the Baghdad government not to discuss the procurement of sophisticated military equipment with other states, and sign arms contracts with them.
"There are companies and traders pushing to prevent Iraq from concluding contracts to purchase weapons from developed countries," Badr al-Ziyadi told Arabic-language al-Maalomah news agency in an exclusive interview on Wednesday.
He added, "These companies are directly linked to the United States of America and Israel, and control the arms markets. They are trying to sell scrap arms to Iraq instead of inking contracts with solid companies."
Ziyadi noted, "The US refuses to provide Iraq with weapons and ammunition, except with the approval of some companies."
Back on January 20, Ziyadi said the Baghdad government was planning to send delegations to Russia, China and Ukraine to hold negotiations over the acquisition of advanced air defense missile systems to protect its territory from any possible act of aggression.
"The delegations intend to visit countries like Russia, China and Ukraine to negotiate the purchase of modern systems to protect Iraq's airspace," he told Arabic-language al-Sabaah newspaper at the time.
The Iraqi lawmaker added, "The Iraqi parliament is right now forming a joint executive and legislative delegation to visit developed countries and sign contracts on procuring advanced weapons."
Ziyadi further noted that Iraqi lawmakers are looking into obtaining weapons in exchange for Iraqi oil shipments, similar to the "oil for reconstruction" agreement signed with China recently.
"Many nations have indicated [their] readiness to ship modern weapons to Iraq in exchange for oil. This is the best way to ensure the shipment of good weapons to Iraq without corruption and bribery," the lawmaker said.
Ziyadi went on to say that the delegations would also hold talks over completing the installation of modern thermal imaging devices at the border, which will help detect and prevent any terrorist infiltration.
"The inadequate arming of border forces with modern weapons was the result of a mistake in relying on an agreement with the United States which spent enormous sums of money and never fully finished [the project]," the legislator highlighted.
Full report at:
https://www.presstv.com/Detail/2020/03/18/621161/US-linked-arms-firms-pressing-Baghdad-not-to-conclude-weapons-contracts-with-other-states:-Iraqi-MP
--------
Saudi Arabia to cut 5% of 2020 budget to fight effects of coronavirus pandemic
March 19, 2020
RIYADH: Saudi Arabia is to cut SAR50 billion ($13.32 billion) from this year's budget in light of the negative impact of the coronavirus pandemic on public finances in the Kingdom.
The cut is worth less than 5 percent of the 2020 budget and will be in areas that have the least social and economic impact, Finance Minister Mohammed Al-Jadaan said on Wednesday.
"The government took measures to curb the impact of the oil price drop and will take additional measures to deal with the expected price decrease," he said.
The finance minister said the Kingdom has huge financial reserves and assets that will enable it to deal with the challenges resulting from the coronavirus outbreak and maintain sustainability and stability in the medium and long run.
Full report at:
https://www.arabnews.com/node/1643481/saudi-arabia
--------
India
Hafiz Saeed's 'Fatwa' Pamphlet In Aligarh, FIR Filed
POSTED BY QAYAM
MARCH 19, 2020
Aligarh: The Uttar Pradesh Police in Aligarh have registered an FIR against an unidentified person who allegedly circulated pamphlets of a "fatwa" issued by the Mumbai attack mastermind and Jamat-ud-Dawa chief Hafiz Saeed in the city.
The FIR has been registered under section 505 (1) (b) (with intent to cause fear or alarm to the public) and 188 (disobedience to order duly promulgated by public servant) of IPC at Kotwali police station.
Hafiz Saeed is a UN-designated terrorist. The US has announced 10-million-dollar bounty on him.
Superintendent of Police (crime) Arvind Kumar said that the matter is being probed in detail.
He disclosed that the content of the four-page pamphlet was objectionable and could have created communal tension.
According to the FIR, the pamphlets were found in large numbers and it seems that there was an attempt to vitiate the atmosphere in the city.
Get the latest updates in Technology, Entertainment, Sports, Politics and Top Stories on WhatsApp & Telegram by subscribing to our channels. You can also download our app for Android and iOS.
https://www.siasat.com/hafiz-saeeds-fatwa-pamphlet-aligarh-fir-filed-1861044/
--------
Coimbatore: Protect Our Leaders, Urges Muslim Outfit
Mar 19, 2020
COIMBATORE: The city police should act against those who pose a threat to the lives of Muslim leaders, members of the Federation of Coimbatore District All Jamath and Islamic Organisations said on Wednesday.
None of the Muslim leaders have police protection like their counterparts in the Hindu outfits, coordinator of the federation K Raja Hussein told reporters. "Functionaries of Muslim outfits were attacked and autos belonging to Muslims were vandalized in the last few days. Though three complaints were filed, the police department has not taken any action," he said.
"We had organized over 75 functions to register protest against the Citizenship Amendment Act in a democratic manner. But we suspended the protests after the police department and the district administration requested us to maintain peace in the city. It is not due to lack of effective measures taken by the police department, communal tension continues to prevail in the city," Hussein said.TNN
https://timesofindia.indiatimes.com/city/coimbatore/protect-our-leaders-urges-muslim-outfit/articleshow/74700234.cms
--------
255 Indians tested positive for coronavirus in Iran
Rezaul H Laskar and Mir Ehsan
Mar 18, 2020
The government on Wednesday acknowledged that 255 Indians had been infected by the Coronavirus in Iran even as a flight from Tehran brought back 201 people, most of them pilgrims and students.
A list of more than 250 Indians, most of them Shia pilgrims from Kargil and Leh, who tested positive for COVID-19 in Iran was widely circulated in Kashmir since Sunday, but authorities had initially said there were "some cases" of infections given the widespread prevalence of the virus in that country.
In a written reply to a question on COVID-19-related issues in Lok Sabha, minister of state for external affairs V Muraleedharan said a total of 255 Indian citizens had been infected by the Coronavirusin Iran.
Giving details of infected Indian citizens abroad, he said one case each had been reported from Hong Kong, Kuwait, Rwanda and Sri Lanka, five cases from Italy, and 12 from the United Arab Emirates.
A special flight operated by Iran's Mahan Air brought back 201 Indians on Wednesday, a majority of them pilgrims and students from Kashmir and Ladakh. People familiar with developments said Mahan Air was expected to operate another evacuation flight on Saturday.
The people cited above, who spoke on condition of anonymity, said arrangements were being made to treat those who had tested positive in Tehran and the holy city of Qom, where more than 170 infected people had been detected so far.
They acknowledged problems being faced in Iran, especially Qom, where medical facilities were struggling with a large number of patients.
There were also reports of more Indians in Iran, including students and factory workers, facing problems in getting tested or evacuated from the country that has reported nearly 15,000 infections and more than 850 deaths.
A group of 32 Kashmiri students at Kish Island, enrolled at Tehran Medical University, said they had received no response from the Indian embassy to repeated pleas to be evacuated. Their problems have been compounded as their funds are almost exhausted.
So far, all the students are in good health, members of the group said. They said there had been 21 infections and three deaths in the island, where people have gone into quarantine and all the markets have been closed.
"We are living a painful life away from our families and we are looking at very bad things happening around us," said Husaib Shah, a second year medical student and resident of Baramulla town in north Kashmir.
"The government in Kish Island has reported 21 cases and three deaths, which is the highest in this province, given the population of the island. The most worrying part is that there is only one hospital. On Monday, the Indian embassy asked us to come to Tehran, from where they will be able to evacuate us but there are no flights from Kish to Tehran and this is a very big problem," he said.
Abrar ul Ahad Rather, another second year medical student, said: "There are specific timings for the opening of markets and only for buying essentials."
Another student blamed the Indian embassy for doing nothing for them. "Are we not Indians? The students are getting depressed and our families back home are in a lot of stress," he said, asking not to be named. "We don't dare call our parents as we don't want to get them perturbed."
Another student named Aqib Rashid said, "Our university was closed on February 20 after some positive cases were found. Lunch is provided to us by the university to us, and for dinner, we buy food one week in advance."
Shah said the lack of international banking facilities in Iran was also a problem. "We had to bring money for the entire year. But we are facing problems in buying daily necessities as everyone in Kish accepts only ATM cards and the money we had in our cards has been exhausted. Due to the closure of banks, nothing can be done.
Nitesh Singh, a resident of Varanasi in Uttar Pradesh who works at the Kavir Steel Cooperative Company at Kashan Road in Ardestan, said some 60 Indians working at the plant were yet to be tested or helped with evacuation.
"We are from Uttar Pradesh, Maharashtra and Bihar and we are worried as there as reports of the virus spreading in the area around the factory. We want to go back home and we don't know what to do," he told HT on a WhatsAPP call.
Full report at:
https://www.hindustantimes.com/india-news/255-indians-tested-positive-for-coronavirus-in-iran/story-GdzNzaMJ54swDCobS5bSsM.html
--------
Southeast Asia
Indonesia halts Islamic assembly, quarantining 9,000 people
March 19, 2020
MAKASSAR, Indonesia: Indonesia halted a mass congregation of nearly 9,000 Muslim pilgrims and began quarantining and checking their health Thursday to prevent the spread of the new coronavirus.
The four-day gathering that was to open later Thursday at a boarding school in a rural area in south Sulawesi island wasn't approved by authorities and drew fears it could widely spread the virus in the world's fourth most populous nation.
It was organized by Jamaat Tabligh, a Muslim missionary movement that held a similar mass event in Malaysia just three weeks ago that has been linked to nearly two-thirds of that country's 790 infections as well as dozens of cases in several other nations.
South Sulawesi Governor Nurdin Abdullah said medical teams screening more than 8,600 participants found a local man with fever who was taken to a hospital.
"We've worked hard in dealing with this issue, involving religious leaders and security forces. We have told the pilgrims that we are in an emergency state of coronavirus and only common discipline can break the COVID-19 widespread," Abdullah said.
Indonesia, with a population of more than 267 million, has so far reported 227 cases with 19 deaths, the most fatalities in Southeast Asia.
Pictures and videos posted by some participants on social media showed multiple long rows of blue makeshift tents at a field on the school ground. Devotees in long white robes and skullcaps sat close to each other or slept on mats laid on the ground.
Sentot Abu Thoriq, a member of the organizing committee, said he regretted the government's decision to nix the event that has been planned more than a year ago.
He said those who are ill have been told to stay away, and noted that those who arrived would have passed stringent health checks at the country's airports and sea ports.
"The decision and the treatment is clearly against our faith and hurt us," Thoriq said. "Health, illness or death is God's destiny, we believe that God will bless and protect those who are devout."
Abdullah said 411 foreigners from nine countries including Malaysia, Singapore and Saudi Arabia will be isolated at a hotel while pilgrims from other regions of Indonesia will be quarantined at a government dormitory. He said they will be allowed to leave later based on their ticket dates.
Local participants from Sulawesi will be escorted back to their villages. Abdullah said all Indonesians will have to face compulsory quarantine for 14 days once they reach home.
https://www.arabnews.com/node/1643641/world
--------
Coronavirus: New measures at mosques in Singapore when they reopen
MAR 16, 2020
Hariz Baharudin
SINGAPORE - The Muslim community in Singapore supports the decision to close all mosques in the country in a move to stop the spread of the coronavirus, said Minister-in-Charge of Muslim Affairs Masagos Zulkifli on Monday (Mar 16), when elaborating on the additional preventive steps that are being taken.
He announced at a press conference that when the mosques reopen, there will be changes to the religious practices during this period of the virus outbreak.
Two sessions, not one, of Friday prayers will be held and the change will be tried out at four mosques.
They are: Maarof mosque in Jurong West, Mujahidin mosque in Queenstown, Muhajirin mosque in Bishan and An-Nur mosque in Woodlands.
"We want to practice this in four mosques first. As we learn how to operationalise this, we will do it in more mosques," said Mr Masagos, who is also the Minister for the Environment and Water Resources.
He also said all congregational prayers and other mosque activities will be limited to 30 minutes, and congregants will be spaced out further from one another.
Contact-tracing will also be instituted in mosques to track congregants who visit them, he added. Muis is exploring technological solutions on how to do it.
All 70 mosques will stay closed until March 26, beyond the initial five-day closure implemented last Friday to clean them after an infected group had visited them.
Several Singaporeans had got the bug after they attended a mass religious gathering at a mosque in Malaysia.
At the press conference, Mr Masago noted the Muslim community has been supportive of the mosque closure.
He said: "Last week, when we closed the mosques, the support from our community has been quite overwhelming. They understand why we had to do this, and they know why we're doing this."
Many Muslims, however, are concerned about the lack of the azan, or call to prayer, that would usually play from mosques five times a day, he noted.
Hence, mosques will resume the azan from Tuesday (March 17), he said, adding that it will be adapted with a call to the community to do their prayers at home.
The azan over the radio will be similarly adjusted, he said.
Mr Masagos said from feedback, Muslims had found "the silence in the mosque unbearable, even though they are not praying in a mosque".
"Therefore we will be allowing the mosque to do the azan calls five times a day, although during this azan call there is a modification to call them to do their prayers at home."
Full report at:
https://www.straitstimes.com/singapore/new-measures-at-mosques-in-singapore-when-they-re-open
--------
Istiqlal Mosque to hold Friday mass prayer despite COVID-19 warning
March 19, 2020
Istiqlal Mosque in Jakarta will still hold Friday prayers despite warnings to restrict public gatherings to contain the novel coronavirus disease (COVID-19). The mosque's management says it is following a decision made by the Indonesian Ulema Council (MUI).
"The mosque's grand imam Nasaruddin Umar has instructed that the Friday mass prayer for this week will be held as usual following the MUI's decision," the mosque's spokesperson, Abu Hurairah Abdul Salam, said on Wednesday, as quoted by Antara.
However, he added that the decision could be altered if the grand imam and MUI issued new instructions.
The management of Istiqlal will not provide the usual prayer mats. This is to prevent the spread of COVID-19 in the mosque. Authorities have sprayed disinfectant in the building's interior.
Among the places sprayed with disinfectants were "the place for wudhu [ablutions], the bathroom and the Quran mushaf [manuscript] storage area," Abu said.
Istiqlal Mosque, the largest mosque in Southeast Asia, will remain open for Muslims who want to worship. However, they will be asked to leave the mosque after completing their prayers.
Tourists and pilgrims have also been temporarily barred from entering the mosque. This policy has been in place since Monday.
Full report at:
https://www.thejakartapost.com/news/2020/03/18/istiqlal-mosque-to-hold-friday-mass-prayer-despite-covid-19-warning.html
--------
Mideast
Iran urges world states to disregard US sanctions amid pandemic
18 March 2020
Ghanbar Naderi
Iran has urged the world to disregard Washington's sanctions on the country to help the Iranian people in their fight against the novel coronavirus pandemic.
In a post on his Twitter account on Tuesday, Foreign Minister Mohammad Javad Zarif said the sanctions are "literally" taking lives and have "drained the country's economic resources", impairing its ability to fight the outbreak.
Iranian officials say the continued imposition of sanctions on Iran is contrary to the spirit of humanitarianism.
Hundreds of thousands of trained foot soldiers, volunteers, public health workers and specialists have been dispatched to affected regions up and down the country to identify people with this new infectious disease.
The International Court of Justice (ICJ) has ordered the US to lift the sanctions it has illegally re-imposed on humanitarian supplies to Iran.
The US claims it does not get in the way of food and medicine exports to Iran, but Tehran says Washington has been creating problems for a Swiss humanitarian channel launched to enable the transfer of commodities to Iran.
The virus first emerged in China and later reached other countries across the continents, prompting the World Health Organization to declare the disease as a pandemic.
Over the past weeks, calls have been growing on the world stage for the US to lift its illegal sanctions amid the coronavirus pandemic. Many governments say the sanctions regime had severely affected Iran's healthcare system at a time when all countries need to join forces against the pandemic.
https://www.presstv.com/Detail/2020/03/18/621131/Iran-World-Leaders-US-Sanctions-Pandemic
--------
Yemeni Rebels Say They've Seized Province on Saudi Border
By Mohammed Hatem
March 17, 2020
Yemen's Houthi rebels said they've seized control of a strategic province bordering Saudi Arabia, freeing them to concentrate on capturing an energy-rich area nearby.
A spokesman for the rebels, Yahya Saree, said Tuesday that they've overtaken almost all of Al-Jawf province. The Houthis' next objective is to wrest control of Marib, home to oil and natural gas deposits. Fighting there escalated Tuesday amid airstrikes by the Saudi-led coalition trying to restore Yemen's internationally recognized government.
There was no immediate comment from the coalition.
The five-year war in Yemen shows little sign of abating despite efforts last year to build momentum toward a peace deal. Since the Saudi-led coalition began its bombing campaign in 2015 tens of thousands of people have been killed and the country has descended into one of the worst humanitarian crises in the world.
https://www.bloomberg.com/news/articles/2020-03-18/oil-price-war-s-crossfire-turns-bystander-canada-into-a-casualty
--------
Heavy fighting in central Yemen leaves at least 38 dead
17 March 2020
SANAA, Yemen -- Heavy fighting in Yemen between pro-government forces and Shiite rebels killed more than three dozen people in the previous 24 hours, Yemeni officials and tribal leaders said Tuesday.
The rebels, known as Houthis, have been attacking forces of the internationally recognized government in the district of Sorouh in central Marib province. Fierce clashes left at least 38 fighters from both sides dead and wounded dozens more, the officials said.
The military of the internationally recognized government reported the clashes saying its forces, backed by airstrikes from the Saudi-led coalition, killed at least 20 Houthi rebels. It did not report deaths from its side.
The officials and tribal leaders said the rebels advanced deep into the district before government forces pushed them back and captured at least 30 Houthi fighters.
Houthi officials said the Saudi-led coalition carried out at least 15 airstrikes against their fighters.
The officials spoke on condition of anonymity because they were not authorized to brief the media, while the tribal leaders did so for fear of reprisals.
The new bout of fighting came three weeks after the Houthis dealt a major blow to the Saudi-backed government when they took the strategic northern city of Hazm, the capital of Jawf province, which borders Marib.
The rebels earlier this year also seized a key supply line linking Marib and Jawf provinces, located along the border with Saudi Arabia. They also took control of the strategic district of Nehm, some 60 kilometers (37 miles) northeast of the rebel-held capital Sanaa.
Yemen, the Arab world's poorest nation, has been convulsed by civil war since 2014. That's when the Iran-backed Houthis took control of the country's north, including the capital Sanaa. A Saudi-led military coalition intervened against the Houthis the following year. Despite relentless Saudi airstrikes and a blockade of Yemen, the war has ground to a stalemate.
Full report at:
https://abcnews.go.com/International/wireStory/heavy-fighting-central-yemen-leaves-38-dead-69642510
--------
Coronavirus hits terrorists hardest from ISIS to Iran – analysis
By YONAH JEREMY BOB
MARCH 17, 2020
Amid all the chaos caused by the coronavirus tidal wave, it may also rid the world of many of its worst terrorists or at least freeze their activity.
There are no statistics for how it is impacting ISIS supporters and will be none as the group would never report negative data and has no connections to international groups like the WHO or the civilized world.
But ISIS's stunning recent order to its followers to stay away from Europe means not only that it is afraid of future infection if its agents go there, but that its network of followers there is likely already being hit.
This would make lots of sense since ISIS members tend to be disconnected from the Western world and could have gone longer ignoring the dangers of infection than average people.
Furthermore, ISIS members would be wary of accepting medical assistance from the authorities in their host countries as their faces may already be on the wanted list.
Iran is the paradigm case of a regime sponsoring terrorism which is known to be getting hit harder than any other countries besides China and Italy.
The Islamic Republic is notoriously dishonest about numbers which can hurt its public relations.
So when on Tuesday its official count of dead reached close to 1,000 and over 14,000 persons infected, the real numbers are likely to be far higher.
Most significantly, top Iranian leaders, including an ayatollah, ministers and senior Islamic Revolutionary Guard Corps officials have been killed and infected by the coronavirus.
In that vein, much of Iran's top leadership, including Supreme leader Ayatollah Ali Khamenei (who incidentally has not been seen during the crisis), are in the more endangered "elderly" category.
Some commentators have speculated that even after the coronavirus wave passes, Tehran may change some of its policies and colors because some of its key elderly old guard members may be dead.
Can Iran continue to enrich uranium at the same rate as scientists undoubtedly get infected and quarantines waylay others?
After sanctions and military threats, the coronavirus may be the first factor which can slow the regime's march toward a nuclear weapon.
Israeli officials have also said that both the spread of the virus in parts of Syria, and Tehran generally being distracted by the internal crisis, have at least temporarily halted efforts to export its war machine against Israel into Syrian territory.
Iran is also having a much harder time fighting the coronavirus because years of sanctions caught the country at its weakest and most undersupplied point economically and medically.
Of course, the flip side of a country where there are many backwards attitudes toward science and medicine (one reason for the spread was Qom religious leaders urging followers to visit to receive blessings right as Qom became greatly infected) is that the regime may be more ready to suffer.
Israeli intelligence officials have noted that even if much larger numbers of people die in Iran, China or another country with strong regime control, the governments may be more impervious to public discontent.
Outbreaks of coronavirus have started to surface in Somalia where large portions of the country are under control of the al-Qaeda-linked al-Shabab armed group.
Once again, this terror group's' control and quantity of forces to maintain its reign of terror may be hit harder than other areas because of the lack of assistance and connections with the WHO and other Western countries who could help.
The same will likely be true for al-Qaeda in general in any country where it is trying to control territory and mixed in with the wider population.
The only wings of al-Qaeda which may fair better than Western societies could be wings where they were not infected during the initial stage and their extreme isolation from wider circles renders them more impervious to infection.
Coronavirus has not yet had a major impact on Gaza, but Hamas's fear of it getting out of control has largely halted attempts to provoke Israel.
There was one recent small attack from Gaza and a minor Israeli response.
Top Hezbollah officials have reportedly been infected with the coronavirus during a visit by their Iranian sponsors. Hezbollah leader Hassan Nasrallah may be among them.
Like Hamas, Hezbollah is working to fight the virus and maintain order within Lebanon, leaving little time to fight Israel.
Terror groups worldwide without a state apparatus to fall back on will probably be hit hardest, potentially giving the world some time period of reprieve.
Full report at:
https://www.jpost.com/Middle-East/Coronavirus-hits-terrorists-hardest-from-ISIS-to-Iran-analysis-621336
--------
Iranian Student in US Initiates Campaign to Help Elderly against Coronavirus
Mar 18, 2020
Zahra Rahmati said, "Let me remind the people at these difficult days that some people, the elderly in particular, may not be able to go out of their homes and need some others to go out and buy their basic needs such as medicine."
There may be some people who have difficulty shopping their essential needs from the supermarkets, Rahmati added.
She said that she and her friends are enrolling volunteer people who are ready to go out and do shopping for the people at risk. They can be reached when necessary.
Reports say hospitals around the US are wrestling with shortages of PPE, beds, and ventilators amid mounting numbers of infected patients. But the shortage is particularly troubling at cancer hospitals, including Sloan Kettering, the country's oldest and largest private cancer hospital, because cancer treatments like chemotherapy and radiation therapy can leave patients with compromised immune systems.
"Cancer patients, by nature of the fact that they're receiving chemotherapy, are naturally at increased risk of infection," said Andrew Chapman, chief of cancer services of the Sidney Kimmel Cancer Center at Thomas Jefferson University Hospital in Philadelphia.
A Sloan Kettering hospital spokesperson acknowledged the shortage of personal protective equipment, saying that officials are working to find sufficient supplies from other sources as production and distribution delays continue in China, where the coronavirus outbreak was believed to be first detected in December.
Kreg Kolford, Sloan Kettering hospital's senior vice president of supply chain and sustaining care said that many US hospitals "are in much worse condition".
The scarcity of protective masks, eye shields, gowns, and other supplies for the caregivers on the front lines of the fight against the coronavirus has raised concerns in the federal government and at the state and local level.
Last week, the US Centers for Disease Control and Prevention (CDC) revised its recommendations for PPE, saying that more protective equipment including N95 respirator masks were not necessary for most healthcare workers other than those directly caring for infected people or individuals suspected of carrying the virus.
In response, the American Nurses Association sent a letter to congressional leaders asking for more transparency from the CDC about the transmission of COVID-19 in order to assess whether face masks were sufficient protection for health care workers.
US nurses unions have sounded the alarm over the shortage of protective equipment, with the New York State Nurses Association, saying, "We're prepared to go forward, but at some point, we will run low on and perhaps run out of a critical care implement — the N95 respirator. You really can't care for patients without proper equipment."
New York Governor Andrew Cuomo said ICU beds in the state are currently at 80% capacity. On Monday, the governor said that the health care system was facing "an avalanche" if between 40 and 70% of the state — or about 8-12 million New Yorkers — becomes infected.
US cases of the coronavirus have passed 4,400, with at least 86 fatalities as of early morning Tuesday. The White House has advised people not to gather in groups of more than 10 as the outbreak spreads across the US.
Full report at:
https://en.farsnews.ir/newstext.aspx?nn=13981228000304
--------
Coronavirus death toll in Iran reaches 1,135, with 17,361 infections
18 March 2020
Iran reported its single biggest jump in deaths from the new coronavirus, saying Wednesday another 147 had died in a nearly 15 percent spike that raises the death toll to 1,135 people nationwide.
The rise in deaths comes as the number of infections continues to grow each day, with some 17,361 people infected, according to Iran's deputy health minister, Alireza Raisi.
Meanwhile, Friday will mark the Persian New Year, Nowruz, raising fears of people traveling and further spreading the virus.
That is the biggest 24-hour rise in deaths yet recorded by Iran's Health Ministry since the virus first appeared in Iran in mid-February. Iran's deputy health minister, Alireza Raisi, announced the new tolls at a televised press conference on Wednesday.
The outbreak has cast a shadow over the Persian New Year, Nowruz, a normally joyous holiday that begins on Friday. Health officials have urged the public to avoid travel and crowded places.
But many seem to be ignoring the warnings, raising the risk of further outbreaks.
Check out our dedicated page for the latest coronavirus updates.
Some food markets in the capital, Tehran, were still packed on Wednesday, and highways were crowded with traffic as families traveled between cities.
Iran also announced it would close mosques for communal Friday prayers for a third consecutive week. Other Muslim countries, including Saudi Arabia, Kuwait, and the United Arab Emirates have also cancelled Friday prayers in mosques.
Iran's President Hassan Rouhani on Wednesday defended his government's response to the coronavirus outbreak in the face of widespread criticism that officials acted too slowly and may have even covered up initial cases before infections rapidly spread across the country.
In a speech to his Cabinet, Rouhani said the government was "straightforward" with the nation, saying it announced the outbreak as soon as it learned about it on February 19.
The government has come under heavy criticism for what has been seen as a slow and inadequate response. For weeks, government officials implored clerics to shut down crowded holy shrines to stymie the spread of the virus. The government finally closed the shrines this week.
The new coronavirus has spread to more than 100 countries, infected more than 195,000 people worldwide and killed more than 7,800.
Full report at:
https://english.alarabiya.net/en/News/middle-east/2020/03/18/Coronavirus-death-toll-in-Iran-reaches-1-135-with-17-361-infections.html
--------
Coronavirus cases jump 40 percent in 24 hours in Israel
18 March 2020
Confirmed coronavirus cases in Israel have jumped by 40 percent to 427 in the past 24 hours, the Health Ministry said on Wednesday, predicting a steeper rise as mass-testing is implemented.
Having urged Israelis to stay home and approved cyber-monitoring of their movements to reduce infection risks, Prime Minister Benjamin Netanyahu said at least 3,000 coronavirus tests would be conducted daily, including at new drive-through stations.
"We will reach a situation in which there are many hundreds of new patients each day, and possibly more," Moshe Bar Siman-Tov, director-general of the Health Ministry, told Israel's Army Radio.
Up from the 304 confirmed cases reported on Tuesday morning, five of the 427 patients were in a critical condition, the ministry said.
There have been no reports of coronavirus fatalities in Israel or the Palestinian territories.
Visit our dedicated site for all the latest coronavirus updates.
Flourish logoA Flourish data visualisation
Israel uses spies to track coronavirus patients
On Thursday, Israel announced that it would deploy its internal security service to target coronavirus.
Nadav Argaman, the head of Israel's shadowy Shin Bet internal security service, said that the agency had approval from the government to use counter-terrorism measures to try and halt the spread of coronavirus.
According to The Associated Press, Argaman vowed there would be stringent oversight to maintain individual privacy and that operatives would only use their findings to warn those that may be exposed to the virus - rather than enforcing any government-mandated quarantine.
"The other state bodies don't have the necessary technological means to aid this effort," Argaman said in a statement. "I am well aware of the sensitivity of this matter and therefore have instructed that only a very limited number of agents will be handling this and the information will not be saved in the Shin Bet database."
The move was announced by Prime Minister Benjamin Netanyahu as part of a series of sweeping measures to step the outbreak and immediately raised concerns from civil-liberties advocates that the practice would raise serious privacy issues.
Flourish logoA Flourish chart
Israeli company reportedly developing vaccine
An Israeli research institute is one of the forerunners in the race to develop a vaccine for the coronavirus, according to Israeli media.
The Israeli website Grapevine reported that the Migal Research Institute, based in northern Israel, held a press conference on Thursday, February 28, in which they claimed to have developed a vaccine.
According to the report, the findings were a culmination of four years of multi-disciplinary research funded by Israel's Ministry of Science and Technology in cooperation with Israel's Ministry of Agriculture.
However, the claims have not been picked up by the international scientific community, which continues to state there is no vaccine for COVID-19.
Last month, the orld Health Organization's director-general said that more than 20 potential vaccines aimed at preventing coronavirus disease were in development around the world. Doctors have been trying a combination of HIV and flu drugs.
Potentials include the vaccine remdesivir from an American biotech firm Gilead. "There is only one drug right now that we think may have real efficacy and that's remdesivir," said Bruce Aylward, a WHO assistant director-general, at a press conference in Beijing last month.
Full report at:
https://english.alarabiya.net/en/News/middle-east/2020/03/18/Coronavirus-cases-jump-40-percent-in-24-hours-in-Israel-.html
--------
Europe
Teacher Banned From Schools after Describing Islam As A 'Vile Religion'
18 March 2020
A primary school teacher has been banned for life from the profession after he told pupils "all Mexicans were criminals", a tribunal heard.
Philip Turner, 52, was found to have made a series of inappropriate remarks during lessons at Mary Elton Primary School in Clevedon, Somerset.
The disciplinary tribunal heard Turner told children that people of an ethnic minority should "leave the country" if they are unhappy with domestic policies, while he also posted anti-Islamic comments on Facebook.
In another classroom incident, Turner said "all Mexicans were criminals or bad", a Teaching Regulation Agency panel was told.
Turner was given a life ban after he was found guilty of unacceptable professional conduct at the hearing in Coventry.
The panel said there was a "risk of such extreme views being presented to impressionable pupil"' and there was evidence of his "unacceptable views had been presented to pupils in the classroom setting".
Mr Turner took up his post at the school in 2010 as a newly qualified teacher.
However, posts, some shared and others his own comments, appeared on his Facebook page and were reported by parents in September 2018.
They included references to British girls being "raped by men who have no right to be in this country…" Another one referred to Islam as a "vile vile vile religion" and a third to Islam being "the cancer of the world."
Turner was dismissed from the school following a disciplinary hearing last year.
He had appealed against that but his appeal was turned down.
He has now been struck off for life following the TRA ruling. The panel took the view that, on the balance of probabilities, Mr Turner "was responsible for posting all the material and/or failing to remove material which demonstrated a lack of tolerance and/or respect for persons of other faiths or nationalities."
Panel chairman John Armstrong said: "Turner failed to show any insight whatsoever into his actions or the impact that his views could have on pupils. He showed no remorse throughout the process."
https://www.telegraph.co.uk/news/2020/03/18/teacher-banned-schools-describing-islam-vile-religion/
--------
Brother of Manchester Bomber Is Found Guilty in Murder of 22 People
By Iliana Magra
March 17, 2020
LONDON — A jury in Britain on Tuesday convicted the brother of a suicide bomber who killed 22 people at an Ariana Grande concert in Manchester in 2017, finding him guilty on all 22 counts of murder for his role in planning and executing the attack.
The man, Hashem Abedi, was the brother of Salman Abedi, the man who detonated a vest laden with explosives, killing children, teenagers, and parents waiting to pick them up after Ms. Grande's concert at Manchester Arena in northwestern England. More than 235 people were injured in the bombing, one of Britain's worst recent terrorist attacks, and hundreds of others suffered psychological damage.
The jury took four and a half hours to find Hashem Abedi guilty on all of the murder charges, along with one count of attempted murder and one count of conspiracy to cause an explosion. A murder conviction carries an automatic life sentence, prosecutors said.
"Hashem Abedi encouraged and helped his brother knowing that Salman Abedi planned to commit an atrocity," Max Hill, director of public prosecutions, said in a statement. "He has blood on his hands even if he didn't detonate the bomb."
Mr. Hill said he hoped Mr. Abedi's conviction would give the victims' families "a sense that some justice has been done."
Mr. Abedi had pleaded not guilty to all 24 counts, but he offered no evidence or testimony during six weeks of proceedings, stopped participating in the trial and, ultimately, stopped attending.
The brothers used three addresses in Manchester to prepare for the attack, the Manchester police said: one as a delivery address for the chemicals, a second to manufacture the explosives and a third to build the final version of the bomb.
Hashem Abedi, 22, was born in Britain to Libyan parents. He was extradited from Libya to Britain in July.
Mr. Abedi and his older brother had left Britain for Libya about a month before the May 22, 2017, attack. Salman Abedi, three years older than his brother Hashem, flew back to Britain four days before the Manchester attack.
Although Hashem Abedi remained in Libya at the time of the attack, he knew of his brother's plans and helped him carry them out, prosecutors told the jury.
Jurors also heard that Hashem Abedi had used some household items to make early prototypes of the bomb, and that the brothers had bought a car, which they then used to store bomb-making equipment, two days before flying to Libya.
Soon after the attack, the Islamic State claimed responsibility. Intelligence officials said later that Salman Abedi, while in Libya, had met with members of an Islamic State unit linked to the 2015 Paris terrorist attack.
"Salman Abedi exploded the bomb which caused this devastation, but people now know that this horrific attack was planned with his brother, Hashem Abedi," Russ Jackson, assistant chief constable of the Manchester police, said in a statement, adding that Mr. Abedi was "every bit as guilty" as his brother.
"He was his brother's driver, the quartermaster sourcing deadly material and the munitions technician in those months running up to the attack," he added.
Figen Murray, the mother of Martyn Hett, a young public relations manager from Stockport who died in the attack, said that though the verdict brought her "comfort to know the British justice system has played its role," it did not give her closure, the BBC reported on Tuesday.
Full report at:
https://www.nytimes.com/2020/03/17/world/europe/manchester-bombing-hashem-abedi.html
--------
Germany 'must do more' to fight racism: Council of Europe
17.03.2020
Melissa Sou-Jie Van
Germany must step up efforts to prevent and counter extremism and neo-Nazism, the Council of Europe's European Commission against Racism and Intolerance (ECRI) said in a report published on Monday.
The report also stated there is strong evidence for extensive racial profiling by German police.
The ECRI recommended Germany should take action to:
Ensure that evidence of online hate speech is shared with the police;
Eliminate existing and prevent future racial profiling;
Establish a system of organizations that provide victims of discrimination with effective support;
Accelerate the National Action Plan on Integration, as children with migrant backgrounds are twice as likely to leave school without qualifications.
'Blatant' racism
The report commended Germany's efforts to fight racism and discrimination, noting that "Germany warmly welcomed an extraordinarily large number of asylum seekers in 2015" and "invested many resources" in their inclusive integration.
However, the report said public discourse in the country has become increasingly xenophobic, noting "high levels of Islamophobia."
According to the ECRI, racism is "particularly blatant" in two sub organisations of a "new political party." The report found that the constant racist and xenophobic discourse from the extreme right has impacted mainstream political discourse.
Read more: German gun clubs fending off the far-right AfD
The body also detected rising numbers of right-wing extremists "ready to use violence," with both right-wing and Islamist terrorists carrying-out racist attacks.
German Sinti and Roma are in need of special assistance with migrant Roma often being victims of exclusion and exploitation.
Hate speech
The survey found a large number of unreported hate crimes and said evidence of online hate speech that could lead to violence is "not systematically transmitted to the police."
The report praised German officials including Chancellor Angela Merkel for having publicly spoken out against hate speech but urged social networks to enforce their guidelines on omitting hate speech.
Full report at:
https://www.dw.com/en/germany-must-do-more-to-fight-racism-council-of-europe/a-52803181
--------
Muslim students less likely to be awarded top class degrees
18 Mar 2020
Students from Muslim families are less likely to be awarded top class degrees than students from other religions or beliefs, according to research examining UK higher education attainment for people of different faith backgrounds.
The research, based on official statistics gathered from more than two million students attending British universities, found that just 65% of students identifying as Muslim gained firsts and upper second class degrees as undergraduates, compared with more than 76% of all other students.
The attainment gap was particularly wide among those gaining first class honours: only 18% of Muslims were awarded the top classification – a lower proportion than in all other other religious groups and than the nearly 30% of students with no religion who gained firsts. Sikh and Hindu students were also less likely to be awarded first class degrees.
"Reasons for differences in degree award by student's religion during their time in [higher education] are complex and difficult to disentangle from other characteristics associated with religion," the report by Advance HE noted.
It suggested that differences in students' backgrounds and experiences, differences in treatment from staff and other students, and "barriers specifically associated with religious observation" could all play a part in explaining the attainment gap.
The researchers found that the gap between Muslims and others got wider as the proportion of Muslims studying at an institution fell. Universities with Muslims making up just 3% of students saw the worst outcomes compared with their peers, including those in leading Russell Group universities.
The researchers also noted that the performance of Muslim students was inversely related to the proportion of Muslim staff at an institution: for every additional percentage point of Muslim staff, the attainment gap between Muslims and non-Muslims shrank by more than by two percentage points.
Previous research has found that the perceptions of other students and staff – including outright Islamophobia – and a lack of acknowledgement of students' religion contribute to the negative experiences of Muslim students.
The Advance HE study is the first of its kind to examine how students' experiences at university can differ according to their religion and beliefs, using responses recorded by the Higher Education Statistics Agency.
The responses from young people enrolled as students in 2017-18 found that nearly half declared they had no religious beliefs, while a third said they were Christian. Some 9% were Muslim, 2% Hindu, 1.7% Buddhist, while just 0.9% were Sikh and 0.4% were Jewish.
But the study also found that a higher proportion of university staff described themselves as Christian compared to students, while the reverse was true for Muslims: only 3% of staff said they were Muslim.
Jewish students were the most academically successful among all groups: nearly nine out of 10 graduated with a first or 2.1 degree. And eight out of 10 students with no religion also achieved a first or 2.1.
Full report at:
https://www.theguardian.com/education/2020/mar/18/muslim-students-less-likely-to-be-awarded-top-class-degrees
--------
Germany halts refugee program with Turkey to combat coronavirus
18 March 2020
Germany has suspended refugee intake programs including a deal with Turkey, an interior ministry spokesman said Wednesday, as the EU shut its borders to stem the spread of the coronavirus.
For more coronavirus news, visit our dedicated page.
The interior ministry has halted the programs on refugee resettlement "due to the restrictions on travel," said the spokesman, adding that they would resume "when possible."
Since 2012, Germany has taken in refugees from camps in countries such as Turkey and Lebanon under a so-called "resettlement program," with a target of helping about 5,000 every year.
Full report at:
https://english.alarabiya.net/en/News/world/2020/03/18/Germany-halts-refugee-program-with-Turkey-to-combat-coronavirus-.html
--------
South Asia
Sporadic attacks in 3 provinces of Afghanistan kill, wound 7 including security personnel
18 Mar 2020
Sporadic attacks in three provinces of Afghanistan claimed the lives of 5 people including police and army personnel and wounded two others.
The security officials in Balkh province said a civilian and an army soldier lost their lives in an attack by Taliban militants in Chahar Bolak district.
Meanwhile, the officials in Helmand Police Headquarters said unknown gunmen killed a policeman and wounded another one in attack in Bolan area of Lashkargah city.
Shaqaiq Shoresh, a spokesperson for Kapisa Police Headquarters said a roadside bomb explosion killed two policemen and wounded another policeman in this province.
The latest attacks take place amid ongoing efforts to end the ongoing violence in Afghanistan.
The U.S. and Taliban signed a peace deal in Qatari capital of Doha late last month after almost 18 months of negotiations aimed at finding a political solution to end the conflict in Afghanistan.
On the other hand, there are concerns that the ongoing violence in certain parts of the country could derail the peace process as the Taliban militants sporadically continue to their attacks in remote parts of the country.
The U.S. military and government officials have also expressed concerns regarding the sporadic attacks in remote parts of Afghanistan, warning that such could undermine the peace process.
https://www.khaama.com/sporadic-attacks-in-3-provinces-of-afghanistan-kill-wound-7-including-security-personnel-04527/
--------
Abdullah thanks Imran Khan for opening the Chaman-Spin Boldak gate
19 Mar 2020
Abdullah Abdullah has thanked Imran Khan, the Prime Minister of Pakistan for opening the Chaman-Spin Boldak crossing which the authorities in Pakistan had shut to prevent the outbreak of coronavirus.
"Dr. Abdullah Abdullah, the President of the Inclusive Government of Afghanistan, thanked the Prime Minister of Pakistan for opening the Chaman-Spin Boldak gate for the transit of trade commodities," Abdullah's Office said in a statement.
The statement further added that 1854 trucks, 3200 containers and 6000 containers were left were left stranded in along Chaman-Spin Boldak crossing and Karachi for the past two weeks.
The Pakistani Embassy in Kabul informed that the government of Pakistan has reopened the Chaman-Spin Boldak crossing after Abdullah urged the Pakistani Ambassador to relay his message to Prime Minister Imran Khan, the statement said.
This comes as Pakistan closed the border crossings with Afghanistan in a bid to prevent the further spread of coronavirus.
Full report at:
https://www.khaama.com/abdullah-thanks-imran-khan-for-opening-the-chaman-spin-boldak-gate-04530/
--------
Roadside bomb explosion kills Taliban commander and his security guard in Nangarhar
19 Mar 2020
A roadside bomb explosion killed a Taliban commander and his security guard in eastern Nangarhar province of Afghanistan.
The provincial government in a statement said an explosion triggered by a roadside bomb, ripped through the vehicle of Mawlavi Zakir alias Mutmaeen, one of the commanders of Taliban.
The statement further added that the incident took place on Wednesday morning in Marki Khel area of Sherzad district.
The explosion killed the Taliban commander and his security guard but did not hurt anyone else, the statement added.
The Taliban group has not commented regarding the incident so far.
The anti-government armed militants including Taliban militants frequently use improvised explosive devices to target the security forces and government personnel.
Full report at:
https://www.khaama.com/roadside-bomb-explosion-kills-taliban-commander-and-his-security-guard-in-nangarhar-04529/
--------
Coronavirus poses mortal threat amid political crisis in Afghanistan, warns Khalilzad
19 Mar 2020
The U.S. special envoy for Afghan peace Zalmay Khalilzad has warned that coronavirus poses a mortal threat amid political crisis in Afghanistan.
"This crisis undermines security. Coronavirus poses a mortal threat and requires Afghans to put their country, and its people, first. It is a matter of life and death," he said in a Twitter post.
Khalilzad further added "It is time for Afghans to compromise and put their differences aside to resolve the political crisis resulting from elections and dual inaugurations."
He also added " Coronavirus makes prisoner releases urgent; time is of the essence. We are committed to do our part and after consultation with all relevant sides, the United States understands."
"The United States would like to see prisoner releases begin as soon as possible in line with the U.S.-Taliban agreement. No prisoners have been released to date despite the commitment to do so expressed by both sides," Khalilzad added.
The U.S. and Taliban signed a peace deal late last month after almost 18 months of negotiations in Qatari capital of Doha.
Counter-terrorism assurances, intra-Afghan talks, ceasefire and troop withdrawal were among the key topics the sides held in-depth discussions before signing the peace deal.
The Taliban group is awaiting the release of at least 5,000 prisoners from Afghan jails before launching the intra-Afghan talks.
The Afghan government however opposed the release of all 5,000 prisoners and President Mohammad Ashraf Ghani issued a decree earlier last week stating that the government would conditionally release the prisoners in three stages with the first batch of 1,500 prisoners to be released on 14th March.
Coronavirus outbreak in Afghanistan
The authorities in Afghanistan have so far recorded at least 22 positive cases of coronavirus across the country.
The local officials in Ghor province on Wednesday said three Afghan nationals died due to an illness after returning to the province from the neighboring Iran.
The officials in Ministry of Public Health are saying that all coronavirus cases in Afghanistan have links with the travel of the passengers to Iran.
Full report at:
https://www.khaama.com/coronavirus-poses-mortal-threat-amid-political-crisis-in-afghanistan-warns-khalilzad-04528/
--------
Bangladesh reports first coronavirus death: Officials
18 March 2020
A patient who was suffering from COVID-19 died in Bangladesh on Wednesday, said healthcare officials, marking the first fatality from the disease in the South Asian country.
The patient, aged 70, was also suffering from diabetes, kidney ailments and hypertension, Meerjady Sabrina, director of the Institute of Epidemiology, Disease Control and Research,
told a press briefing on Wednesday.
Bangladesh also confirmed four more confirmed COVID-19 cases on Wednesday, taking the total tally in the country to 14.
https://english.alarabiya.net/en/News/world/2020/03/18/Bangladesh-reports-first-coronavirus-death-Officials.html
--------
North America
Coronavirus Confirmed in All 50 US States as Critical Supplies Shortage Hampers Hospitals
Mar 18, 2020
Covid-19 has infected more than 900 people in New York City, killing 10 patients in one of the country's largest coronavirus hotspots, while city officials consider a 'shelter in place' order, and as fatalities and infections in the US have sharply risen.
"It's unbelievable how rapidly this crisis is growing right now," New York City Mayor Bill de Blasio said on MSNBC Tuesday evening.
The told CNN he is strongly considering issuing a "shelter in place" order for all city residents as the coronavirus outbreak continues to grow.
New York Gov. Andrew Cuomo has also warned Tuesday at a press conference that the number of coronavirus cases in the state might not peak for another 45 days.
Speaking to members of the press, Cuomo noted that health experts had predicted that the state would need to devote as many as 55,000-110,000 hospital beds to the crisis, including tens of thousands in intensive care units.
The wrangling over New York's containment measures comes as fatalities nationwide soared to 115, with more than 6,500 cases across the country, largely clustered near coastal cities in New York, California, and Washington State.
Several states have implemented statewide closures on schools, bars, restaurants and entertainment venues in efforts to limit the spread of the outbreak that has shaken the country.
Hospitals and health care providers don't have enough of the critical supplies needed to protect doctors and nurses from the coronavirus, and governors say the administration of President Donald Trump isn't doing enough to help, according to a report by The Hill.
Lawmakers in New Jersey, Washington State and Maryland say they have only received a fraction of the protective equipment they requested from a national stockpile of medical supplies managed by the federal government.
Meanwhile, nurses, doctors and other health care workers all around the country are being told to ration the gear that protects them from the virus, raising questions about the risk posed to those on the front lines of the pandemic.
The shortage of so-called personal protective equipment (PPE) could endanger health workers and weaken the coronavirus response in the US, as top concern is the shortage of N95 respirators, which are viewed as more effective at blocking viruses than the looser-fitting surgical masks.
Fars News Agency
@EnglishFars
Widespread Outrage Intensifies in US over Acute Shortage of Coronavirus Testing Kitshttp://fna.ir/dfjufg
View image on Twitter
9
11:27 AM - Mar 10, 2020
Twitter Ads info and privacy
See Fars News Agency's other Tweets
Dr. Anthony Fauci, Director of the National Institute of Allergy and Infectious Diseases, stated on Tuesday it will likely take at least several weeks for restrictions put in place to mitigate the spread of the coronavirus to have a measurable effect on the pandemic.
"It probably would be several weeks and maybe longer before we know whether they are having an effect," Fauci said at a White House press briefing, adding that the number of cases could be going up while the measures are lessening the overall peak number of cases.
Another problem is people who are homeless and face a huge risk of exposure to the coronavirus sweeping the nation, and city officials worry that their homeless populations could become vectors from which the virus spreads even more broadly than it has already.
The number of people experiencing homelessness across the country has grown in recent years after falling in the wake of the recession, as housing stocks diminish and prices rise. In many cities like Seattle, San Francisco, Los Angeles and Washington, entire homeless camps have sprouted.
Fauci had warned that the US could face a similar crisis as Italy if citizens do not fully embrace self-isolation and social distancing, which are designed to flatten the curve of infections.
Asked whether hundreds of thousands of Americans could die, Fauci stated on CNN's "State of the Union", "It could happen, and it could be worse."
Fars News Agency
@EnglishFars
Johns Hopkins Prof.: White House Lying about Coronavirus Numbers, 50,000-500,000 Patients Walking Around in UShttp://fna.ir/dflcoh
View image on Twitter
9
10:00 PM - Mar 15, 2020
Twitter Ads info and privacy
See Fars News Agency's other Tweets
Citing the Centers for Disease Control and Prevention (CDC), The New York Times has reported that as many as 1.7 million people across the US could die as a result of the coronavirus.
An article in the newspaper suggested on Friday that between 160 million and 214 million people in the US could be infected from the epidemic and as many as 200,000 to 1.7 million people could die in a worst-case scenario.
At a time when US fatalities from the sickness have risen, there remain limited numbers of tests and the capacity of laboratories is under strain. The furor has been growing, as US public health experts, politicians — and anxious people seeking tests — have grown increasingly alarmed about the lack of testing across the country.
Many Americans who are sick and seeking a coronavirus test continue to be turned away, creating a vexing problem for patients and health officials as the virus spreads, according to a report by The Washington Post.
The number of medical professionals and patients who are denied access to tests is not tracked nationally. But in interviews, people from several states stated that their doctors sought but were unable to get testing approval from local or state health officials.
Amid criticism about the availability of coronavirus test kits in the US, compared to other countries, like China and South Korea, the nation's leading expert on infectious diseases admitted the country is "failing".
"The system is not really geared to what we need right now, what you are asking for," Fauci had said at a House Oversight and Reform Committee hearing on Thursday, adding, "That is a failing. It is a failing. Let's admit it."
Last Wednesday, Fauci, a member of the US president's task force on coronavirus, testified in front of the House Oversight and Reform Committee in Washington DC about the current state of the outbreak in the United States, warning that the coronavirus situation in the United States is "going to get worse".
Globally, nearly 8,000 people have died from the coronavirus and in excess of 200,000 cases have been confirmed in more than 155 countries, as the World Health Organization (WHO) has declared the virus a "pandemic", while Europe has become the epicenter of the outbreak.
https://en.farsnews.ir/newstext.aspx?nn=13981228000354
--------
US to Designate New Islamic State Leader as Global Terrorist
By Jeff Seldin
March 17, 2020
WASHINGTON - The United States is preparing to label the Islamic State terror group's new leader, introduced to the world as Abu Ibrahim al-Hashimi al-Qurashi, as a "specially designated global terrorist."
U.S. Secretary of State Mike Pompeo made the announcement Tuesday during a briefing with reporters, referring to al-Qurashi as Amir Muhammad Sa'id Abdal-Rahman al-Mawla, one of the IS leaders many aliases.
The move comes more than a month after U.S. defense and intelligence officials first unmasked al-Qurashi's true identity, which IS had tried to keep hidden by assigning him a nom-de-guerre.
A religious scholar, al-Qurashi was imprisoned in the now infamous U.S.-run Camp Bucca in Iraq, starting in 2004, where he met former IS leader Abu Bakr al-Baghdadi.
Intelligence officials say he was active in IS' predecessor organization, al-Qaida in Iraq, and eventually became one of Baghdadi's most trusted deputies.
Al-Quashi is also seen as the architect behind IS' slaughter of the Yazidi religious minority and oversaw some of the terror group's global operations.
Intelligence officials credit him with keeping IS, also known as ISIS or Daesh, from falling apart following Baghdadi's death in a U.S. operation in October 2019. Instead, they say he has helped make sure the terror group has continued its resurgence in both Iraq and Syria, while at the same time maintaining the allure of the global IS brand.
"ISIS supporters worldwide have rallied around the new caliph," a senior counterterrorism official told VOA in January.
The move to designate al-Qurashi as a global terrorist is, in some ways, a formality, but will help the U.S. to cut off al-Qurashi from some financing and other resources.
"We've destroyed the caliphate," Pompeo said Tuesday. "And we remain committed to ISIS's enduring defeat no matter who they designate as their leader."
The U.S. is currently offering a $5 million reward for information that leads to al-Qurashi's capture.
Full report at:
https://www.voanews.com/middle-east/us-designate-new-islamic-state-leader-global-terrorist
--------
Once Ardent Trump Supporters, White Nationalists Splinter Ahead of Presidential Vote       
By Masood Farivar
March 17, 2020
WASHINGTON - Once a cohesive and menacing threat closely in tune with Trump administration policies, America's white nationalists have grown deeply divided and marginalized in recent years – thanks largely to a massive public backlash and social media crackdown.
Broken and rudderless, they're now bickering among themselves over the 2020 U.S. presidential campaign.  While some white nationalists remain among President Donald Trump's staunchest loyalists, others, disappointed with the president's record on immigration and a host of other issues, are casting about for other candidates to support in the November election – going even so far as to praise some of the views of democratic socialist Senator Bernie Sanders of Vermont, a fierce Trump critic.
"The extreme right is fractured right now in terms of their support for President Trump," said Joshua Fisher Birch, a researcher at the Counter Extremism Project.  "Many who originally supported him are disappointed with how the last few years have gone."
Trump's vow to build a "big, beautiful" wall along the southern border with Mexico is a work in progress that may never be completed. His promise to impose a total ban on Muslims entering the U.S. and to deport millions of others has fallen well short of the president's pledge.
"They're upset that that continues at all," Birch said, referring to non-white immigration.
Four years ago, American white nationalists were a more united federation. Inspired by Trump's populist message – on immigration, trade and political correctness – they embraced his candidacy with a fervor not seen since Republican firebrand Pat Buchanan galvanized many on the right with his anti-immigration, nativist presidential run in 1988.
"Hail Trump! Hail our people! Hail victory!" white nationalist leader Richard Spencer famously chanted as he led his followers in a toast and raised stiff-armed salute to the new chief after Trump's election over Democrat Hillary Clinton in 2016.
Emboldened by Trump's victory, dozens of white supremacist groups held their largest rally in decades when they converged on the college town of Charlottesville, Virginia, in August 2017 ostensibly to protest the removal of a Civil War general's statute from a public park.  Things came to a head when a neo-Nazi drove his truck into a group of counter-protesters, killing a woman and injuring dozens of other people. 
Trump denounced the violence but not before insisting there had been "very fine people on both sides," a comment that drew wide condemnation for suggesting moral equivalence between violent white supremacists and counter-protesters.
For the white nationalist movement, the fallout was immediate and ruinous. Many were kicked off major social media platforms and other sites.  Lawsuits seeking damages escalated pressure on them pushing groups such as the white supremacist Traditionalist Workers Party and the National Policy Institute further to the fringes.  The movement became increasingly splintered.
Their enthusiasm for Trump soon gave way to antipathy and even anger as Trump failed to deliver on key campaign promises: build a border wall paid for by Mexico, deport millions of illegal immigrants, ban Muslims from entering the country, end birthright citizenship.  Trump's pro-Israel policies have furthered angered the virulently anti-Semitic white nationalists. 
"Pretty much across the board for white nationalists Trump isn't turning out to be what they thought he was," said Cassie Miller, a senior researcher at the Southern Poverty Law Center. 
Trump supporters say this is evidence that Trump was never seeking to curry favor with white nationalists – as many Democrats contend – even if they bought into his rhetoric. 
"We denounce white nationalism, bigotry, and racism in all forms," said Tim Murtaugh, director of communications for Trump's re-election campaign, when asked to comment on white nationalists' disappointment with Trump's record.
Not all white nationalists have soured on Trump, however.  Far-right provocateur Milo Yiannopoulos, white supremacist leader Patrick Casey and right-wing podcaster Nick Fuentes continue to back Trump.
"You will find people who will still say that the president is their best hope for what their positions are," said Brian Levin, executive director of the center for the Study of Hate and Extremism at California State University.
But others have long since turned their backs on Trump.  Last year, Democratic Rep. Tulsi Gabbard of Hawaii received the endorsement of several prominent white nationalists such as Spencer and former KKK leader David Duke.  She disavowed the endorsement.
Now some white nationalists are taking a close look at Sanders' candidacy.
"I could definitely see myself either supporting or even voting for a candidate who I thought was authentic to himself or herself," Spencer said in an online video last week. "I could see myself voting for Tulsi. I could see myself voting for Bernie in the sense that he is what he is: he's an authentic person."
At first glance, Sanders would appear as an improbable presidential choice for the far right.  A self-described democratic socialist of Jewish faith, Sanders vowed last year that he would "go to war" against white nationalism if he is elected in November.   Last week, Sanders expressed revulsion after a protester waved a Nazi flag at one of his campaign rallies.
But Sanders' boosters among white nationalists have seized on his past tough-on-immigration statements to argue that the independent senator from Vermont deserves a close look. 
In a recent online video, Jared Taylor, considered the "intellectual godfather" of white nationalism, argued that Sanders is not "the worst of the Democrats," noting that Sanders had in the 1970s opposed allowing foreign guest workers into the country and as recently as 2016 called open borders "a Koch brothers proposal."
"Donald Trump has been a disappointment in a lot of ways," Taylor said in the video titled What Bernie Would Mean for Us. "But which man would be better?" Taylor said.
The commentary led white nationalist blogger Hunter Wallace to dismiss suggestions by others in the movement that Trump is the "lesser of two evils."
"We took everything that Donald Trump said at face value," Wallace wrote, recounting a litany of unfulfilled promises by Trump and claiming that "on most issues" Trump has continued the Obama Administration's policies.
Wallace wrote that while Sanders is far from "pro-White," some of his proposed socialist policies could potentially help white people.
"What is more likely to help young White people? Ending the burden of student loan debt OR four more years or Donald Trump's inept immigration policies?" he wrote.
For white nationalists, Sanders' criticism of Israeli policies is another draw. 
"Bernie Sanders will be far less pro-Israel and pro-Wall Street than Donald Trump," Wallace wrote.  "He will be less willing to start a war with Iran."
On the white nationalist website Stormfront, a discussion thread titled "A reason to vote for Bernie Sanders" unleashed a deluge of anti-Semitic comments. One poster gushed at the "potential benefit" of prison reform pushed by Sanders leading to the release of incarcerated neo-Nazis.
Megan Squire, a computer scientist at Elon University who tracks online extremism, says far-right support for Sanders may be little more than "a thought experiment."
Full report at:
https://www.voanews.com/usa/us-politics/once-ardent-trump-supporters-white-nationalists-splinter-ahead-presidential-vote
--------
US calls for 'urgent' Afghan prisoner swap amid coronavirus
March 19, 2020
WASHINGTON: US Special Representative Zalmay Khalilzad said on Wednesday the coronavirus pandemic adds urgency to prisoner releases agreed by Afghan President Ashraf Ghani's government and the Taliban and that they should begin "as soon as possible."
"No prisoners have been released to date despite the commitment to do so expressed by both sides," Khalilzad said on Twitter.
Khalilzad's comments illustrated how the coronavirus pandemic is affecting one of US President Donald Trump's top foreign policy priorities.
The prisoner releases were slated to have started last week as part of a US-led effort to end America's longest war and bring peace to Afghanistan after decades of strife. But the releases were stalled by disagreements over the numbers of detainees to be freed and guarantees they would not return to fighting.
"The United States would like to see prisoner releases begin as soon as possible in line with the US-Taliban agreement," Khalilzad wrote in a Twitter thread, referring to a Feb 29 deal he signed with the insurgents for a phased US troop withdrawal.
Read: US and Afghan Taliban sign historic troop withdrawal deal in Doha
"Coronavirus makes prisoner releases urgent; time is of the essence," he continued, adding that the United States understood from consultations with both sides that they could "work together and focus on technical steps" for freeing detainees.
While face-to-face are meetings are preferable, "Coronavirus and the resulting travel restrictions likely requires virtual engagement now," he said, and urged both sides "to avoid provocative media statements." The US-Taliban deal committed Kabul to releasing up to 5,000 Taliban prisoners by March 10, when intra-Afghan peace talks were to have begun. The Taliban were to free up to 1,000 detainees.
Kabul, however, was not a party to the deal and initially balked. Ghani then agreed to free 1,500 prisoners last weekend with plans to release the rest after peace talks began and violence subsided. Kabul also demanded guarantees that the prisoners would not return to fighting.
The Taliban said the deal with Washington required Ghani to free all 5,000 prisoners without pre-conditions.
Full report at:
https://www.dawn.com/news/1542059/us-calls-for-urgent-afghan-prisoner-swap-amid-coronavirus
--------
US sanctions Iran, seeks release of Americans amid coronavirus outbreak
March 19, 2020
The United States imposed fresh sanctions on Iran on Tuesday, keeping up its economic pressure campaign even as it offered to help Tehran cope with the coronavirus pandemic and called on the Islamic Republic to release detained Americans.
Iran is considering freeing some US citizens, Secretary of State Mike Pompeo said at a news conference where he made clear Washington will maintain its maximum-pressure campaign to choke off Tehran's ability to export its oil.
The campaign, instituted after President Donald Trump in 2018 unilaterally withdrew from the 2015 nuclear deal Iran struck with six major powers, aims to force Iran to limit its nuclear, missile and regional activities.
Pompeo on Tuesday said the State Department is blacklisting nine entities based in South Africa, Hong Kong and China, as well as three Iranian individuals, for engaging in "significant transactions" to trade in Iranian petrochemicals.
While he did not name them, Pompeo said the step included blacklisting Iran's armed forces social security investment company and its director for investing in sanctioned entities.
Separately, the Commerce Department said it will add six people - including five Iranian nuclear scientists - and 18 corporations to the US "Entity List" for aiding Iran's nuclear program, Pakistan's unsafeguarded nuclear and missile programs, and Russian military modernisation efforts.
Without naming them, the Commerce Department said the move covers one company in Iran, two entities in China, nine in Pakistan, and five in the United Arab Emirates and will constrict the export of certain items to them.
The Entity List names foreign parties that are barred from receiving some or all items subject to US export regulations unless the exporter secures a license, according to the department.
On Monday, sources familiar with the matter who spoke on condition of anonymity because of the sensitivity of the issue said the United States was unlikely to ease sanctions on Iran despite an appeal from China that it do so because of the pandemic.
Pompeo urged Iran to free US citizens it has detained as a humanitarian gesture because of coronavirus. Iran has reported 16,169 coronavirus cases and 988 deaths in one of the worst national outbreaks outside of China, where the pandemic originated.
"We are aware that they are thinking about whether to release them or not," Pompeo told reporters. "We are urging them ... to release every American that is being wrongfully held there as a humanitarian gesture, given the risk that is posed."
Full report at:
https://www.dawn.com/news/1542120/us-sanctions-iran-seeks-release-of-americans-amid-coronavirus-outbreak
--------
US issues new Iran-linked petrochemical sanctions on seven entities
18 March 2020
The United States on Wednesday named seven companies that it has blacklisted for trade in Iranian petrochemicals, three based in mainland China, three in Hong Kong and one in South Africa, the State Department said in a statement.
US Secretary of State Mike Pompeo had said on Tuesday the agency was targeting such entities but did not name them.
His announcement appeared designed to signal that Washington would not ease its campaign of choking off Tehran's ability to export its oil, despite appeals from China and others that it do so on humanitarian grounds because of the coronavirus outbreak.
The campaign, instituted after President Donald Trump in 2018 unilaterally withdrew from the 2015 nuclear deal Iran struck with six major world powers, aims to force Iran to limit its nuclear, missile and regional activities.
The State Department identified the firms targeted as Hong Kong-based Mcfly Plastic Hk Ltd, Saturn Oasis Co, Sea Charming Shipping Company Ltd; Chinese companies Dalian Golden Sun Import & Export Co. Ltd., Tianyi International (Dalian) Co. Ltd. and Aoxing Ship Management (Shanghai) Ltd. and South Africa's SPI International Proprietary Ltd.
It also said it had targeted two entities which own or control SPI International and had knowledge of its sanctionable activities: South African company Main Street 1095 and Iranian entity Armed Forces Social Security Investment Company.
Full report at:
https://english.alarabiya.net/en/News/world/2020/03/18/US-issues-new-Iran-linked-petrochemical-sanctions-on-seven-entities.html
--------
US announced illegal sanctions amid Iran's fight with coronavirus
18 March 2020
The United States has imposed anti-Iran sanctions against some Iranian, Chinese, Hong Kong and South African firms.
The illegal sanctions were announced Wednesday amid Tehran's call on world states to defy US sanctions in the midst of Iran's fight with the coronavirus pandemic.
The US State Department claimed in a statement that the sanctions were meant to deprive Iran of "critical income from its petrochemical industry and further Iran's economic and diplomatic isolation."
Those targeted include Iran's Armed Forces Social Security Investment Company Hong Kong-based Mcfly Plastic Hk Ltd, Saturn Oasis Co, Sea Charming Shipping Company Ltd; South Africa's SPI International Proprietary Ltd And Main Street 1095; and Chinese companies Dalian Golden Sun Import & Export Co. Ltd., Tianyi International (Dalian) Co. Ltd. and Aoxing Ship Management (Shanghai) Ltd.
Washington has been urged by China and Russia, along with others, not to impede Iran's efforts to contain the covid-19 outbreak in the country.
US President Donald Trump's administration, however, insists on keeping up with its "maximum pressure" campaign as the country itself struggles with the fast growing coronavirus pandemic.
Mike Pompeo, the hawkish secretary of state and former CIA chief, said the sanctions are supposed to target nine entities and three individuals, accusing Tehran of "violent behavior."
President Donald Trump reinstated US sanctions on Iran in May 2018 after he unilaterally left the 2015 nuclear deal, known as the Joint Comprehensive Plan of Action (JCPOA), signed between Iran and major world powers.
Full report at:
https://www.presstv.com/Detail/2020/03/18/621155/US-imposes-new-anti-Iran-sanctions
--------
US sanctions S African, Chinese entities over Iran
Beyza Binnur Dönmez
18.03.2020
The U.S. imposed on Wednesday fresh sanctions on nine entities in South Africa, China and Hong Kong for trading Iranian petrochemical products.
The entities are blacklisted "for knowingly engaging in a significant transaction for the purchase, acquisition, sale, transport, or marketing of petrochemical products from Iran," State Department said in a statement.
The economic penalties hit South African company SPI International Proprietary Limited; Hong Kong-based companies McFly Plastic HK Limited, Saturn Oasis Co., Limited, and Sea Charming Shipping Company Limited; and Chinese companies Dalian Golden Sun Import & Export Co., Ltd., Tianyi International (Dalian) Co. Ltd., and Aoxing Ship Management (Shanghai) Ltd.
The department also sanctioned South African company Main Street 1095 and Iranian entity Armed Forces Social Security Investment Company, as they "had knowledge of its sanctionable activities."
As well, three individuals, each of which the department said is an executive officer of one of the above entities, were blacklisted by Washington for violating the U.S. sanctions on Iran.
Full report at:
https://www.aa.com.tr/en/americas/us-sanctions-s-african-chinese-entities-over-iran-/1770950
--------
Africa
The Libyan connection: ISIS-linked terror group inspired Abedi brothers
Jamie Prentis and Paul Peachey
March 17, 2020
The murderous Abedi brothers were inspired by an ISIS-linked group of extremists as they prepared to attack a pop concert in the city where they were born. Hashem Abedi is believed to have created and used an email address - bedab7jeanagmail.com - that was inspired by the Arabic slogan "through slaughter we have come". The email account was used to purchase chemical components for the bomb.
The slogan was chosen by the Syrian-based armed group Katibat Al Battar Al Libi when it formed in 2012 and was well-known among militants in North Africa. Handwritten scraps of paper bearing the email address were found in a bin at the Manchester home of the brothers following the attack on the Manchester Arena where 22 people were killed by a bomb detonated by Salman Abedi.
Katibat Al Battar Al Libi was an extremist group with a predominantly Libyan membership but also comprised of other North Africans and Europeans who headed to Syria in the wake of the Arab uprisings.
The email address hinted at the source of influence on the brothers but a limited amount of phone and communications data has been available to the investigators, meaning it was impossible to trace potential key figures in Libya behind their radicalisation. Both brothers are known to have travelled to Libya to join the uprising against Col Muammar Qaddafi. Decades earlier their father was a member of the Libyan Islamic Fighting Group (LIFG) that was proscribed by the British government as a terrorist group until last year.
"They spent a great deal of time in Libya," said Detective Chief Superintendent Simon Barraclough, the senior officer in charge of the investigation. "Since before Qaddafi fell, there's a great deal of radicalism out there and a great deal of support for ISIS ideology.
"It would not be unreasonable to make at least some assumption that they have contacts out there and had some people who influenced them in Libya."
Police assess that Salman Abedi had shown some expertise in avoiding identification after he returned to Manchester to detonate the bomb: "Whoever has radicalised this man, or been instrumental in that instruction, has clearly imparted some trade craft as well," Chief Supt Barraclough said.
Large groups of fighters from the eastern Libyan city of Derna, a place with a history of militancy, were among the first foreigners to arrive in Syria in 2012 to form Katibat Al Battar Al Libi, according to the Small Arms Survey, a specialist monitoring group. The group would eventually side with ISIS. Members were reportedly divided into three roles: guarding senior ISIS leaders, assassinating rivals, and mass casualty attacks.
Salman once met with figures from the brigade in the capital Tripoli, a city dominated by armed factions, and the migrant smuggling town of Sabratha to the west, where ISIS once had a presence, according to The New York Times which cited US security sources.
ISIS's Libya branch in 2015 seized the central coastal city of Sirte, the former hometown of deceased leader Muammar Qaddafi, and controlled a swathe of territory second only in size to its footprint in Syria and Iraq.
Hundreds of Libyan members of Katibat Al Battar Al Libi - "an elite unit of shock troops and trainers" - returned home in late 2015 as ISIS began to claim territory during civil war in the oil-rich North African country, said terrorism researcher Kyle Orton.
The group also helped direct attacks abroad. Its alumni included some of Europe's most infamous terrorists, including Abdelhamid Abaaoud, the Belgian who was reputed to be the ringleader in the 2015 attacks in Paris that killed 130 people.
https://www.thenational.ae/world/europe/the-libyan-connection-isis-linked-terror-group-inspired-abedi-brothers-1.993973
--------
Libya: 4 killed in rocket attacks by Haftar militias
Aydogan Kalabalik
19.03.2020
TRIPOLI, Libya
Militias loyal to East Libya-based commander Khalifa Haftar launched rocket attacks Wednesday on the capital, killing four civilians.
Three children from the same family were killed in the first attack in southern Tripoli's Ain Zara suburb, according to the Health Ministry under the UN-recognized Government of National Accord (GNA).
One woman was killed later the same day in the capital's Bab Bin Ghashir district when a rocket struck her car, also wounding her daughter and niece, according to a statement by the GNA's Volcano of Rage Operation.
Heavy fighting between GNA forces and Haftar militias has been ongoing since early Wednesday.
Since the ouster of late ruler Muammar Gaddafi in 2011, two seats of power have emerged in Libya: Haftar in eastern Libya, supported mainly by Egypt and the United Arab Emirates, and the GNA in Tripoli, which enjoys UN and international recognition.
Full report at:
https://www.aa.com.tr/en/africa/libya-4-killed-in-rocket-attacks-by-haftar-militias/1771192
--------
Somalia: Al-Shabaab attacks UN compound in capital
Mohammed Dhaysane
19.03.2020
Mogadishu, SOMALIA
A heavily fortified compound in Somalia's capital Mogadishu was attacked by al-Shabaab militants on Wednesday, local media reported.
Local broadcaster Dalsan Radio said mortar shells were fired at the Halane compound, which houses UN, EU, and African Union facilities, as well as embassies of countries including the U.S. and U.K.
Bashir Ahmed Ali, a police officer in Mogadishu, confirmed the attack to Anadolu Agency but did not provide details on any casualties.
The UN Assistance Mission in Somalia (UNSOM) also tweeted a confirmation later, but said the "mortar rounds landed in the vicinity" of the compound.
"Following standard procedures, security personnel are in the process of assessing any potential damage or injuries. We will communicate more details as they become available," UNSOM said in the tweet.
In a statement online, al-Shabaab took responsibility for the attack, claiming it fired five mortar shells at the compound and there were several casualties.
The Somalia-based al-Shabaab, which is affiliated with al-Qaeda, also attacked the Halane compound in February.
Full report at:
https://www.aa.com.tr/en/africa/somalia-al-shabaab-attacks-un-compound-in-capital/1771163
--------
Libyan capital sees renewed clashes
Waleed Abdullah
18.03.2020
TRIPOLI
Clashes renewed in Libyan capital Tripoli on Wednesday between UN-recognized government forces and militias of renegade commander Khalifa Haftar.
The violence erupted in Ramla axis in southern Tripoli when the Government of National Accord (GNA) began to reinforce their forces in the area, a spokesman for the GNA forces said.
He said clashes were still raging on in the area.
No information was yet available about casualties.
Since the ouster of late ruler Muammar Gaddafi in 2011, two seats of power have emerged in Libya: Haftar in eastern Libya, supported mainly by Egypt and the United Arab Emirates, and the GNA in Tripoli, which enjoys UN and international recognition.
On Tuesday, the EU and several Arab countries called on both sides in the Libyan conflict to declare an immediate humanitarian cease-fire to curb the threat of the coronavirus.
Worldwide, out of over 199,000 confirmed cases, the death toll now exceeds 7,900, while more than 82,500 patients have recovered, according to Worldometer, a website that compiles new case numbers.
Full report at:
https://www.aa.com.tr/en/africa/libyan-capital-sees-renewed-clashes/1770307
--------
Libya: Haftar spokesman quarantined over virus fears
Aydogan Kalabalik
18.03.2020
TRIPOLI
The spokesperson for Libyan warlord Khalifa Haftar was put under quarantine on suspicion of coronavirus, a Dubai-based TV station reported on Wednesday.
According to Al-Arabiya, Ahmed Al-Mismari's quarantine came after he visited Egypt, which has supported the renegade warlord.
Mismari confirmed this on social media, saying he would be under quarantine for two weeks along with an accompanying delegation.
Since the ouster of late ruler Muammar Gaddafi in 2011, two seats of power have emerged in Libya: Haftar in eastern Libya, supported mainly by Egypt and the United Arab Emirates, and the Government of National Accord in Tripoli, which enjoys UN and international recognition.
Worldwide, out of over 197,000 confirmed cases, the death toll now exceeds 7,900, while more than 81,000 patients have recovered, according to Worldometer, a website that compiles new case numbers.
The number of active cases is more than 107,000 – 93% mild and 7% in critical condition, according to the website.
Full report at:
https://www.aa.com.tr/en/africa/libya-haftar-spokesman-quarantined-over-virus-fears/1769983
--------
Pakistan
Nawaz's pro-India policies harmed Pakistan, alleges ex-envoy
BY MIAN ABRAR
Mar 19, 2020
ISLAMABAD: In line with the accusations made by former Foreign Office spokesperson Tasnim Aslam, another senior diplomat and former High Commissioner to India, Abdul Basit has alleged that former prime minister Nawaz Sharif's business interests had led to some actions which were against the national and state interests of Pakistan.
Ratifying the allegations made by Aslam, Basit said that Nawaz Sharif wanted to develop a good relationship with India by striking a 'private equation' with Indian premier Narendra Modi but this approach, according to him, was flawed.
As far as the issue of Jammu and Kashmir was concerned, Basit said that he had openly expressed his reservations on Nawaz Sharif's Kashmir policy. He said it was a stated policy of Pakistan to remain in contact with the Hurriyat leadership and as High Commissioner to India, Basit said he had pursued the same policy.
"Though I was conveyed verbal directions many a time, I had always insisted on written directions from the prime minister," he asserted. Commenting on the business interests of Nawaz Sharif with India, Abdul Basit said that the Sharif family had sugar mills in Pakistan.
"I remember that Nawaz Sharif's nephew, Salman Shehbaz, used to call me on phone at least once a month for issuance of visas to certain Indian nationals. I used to ask Salman Shehbaz to follow the SoPs (Standard Operating Procedures) for the issuance of visas to foreigners. But there were occasions that some visas were issued on verbal instructions due to emergency situations," he said.
Commenting over Sharif's connections with Indian steel magnet Sajan Jandal, Abdul Basit said that Jandal was very close to Sharif and Nawaz Sharif wanted him to invest in coal mines in Pakistan. He said that Nawaz Sharif did take some measures which were against the interests of the state of Pakistan.
Referring to the Pathankot incident occurred on January 2, 2016, Abdul Basit said Nawaz government also got registered FIRs against some Pakistani individuals which were not in the interest of Pakistan.
Commenting over the issue of Indian saboteur Kulbhushan Jadhav, Abdul Basit said that the top officers of those times in the ministry of foreign affairs of Pakistan had played the same role as was the case with Nawaz Sharif.
https://www.pakistantoday.com.pk/2020/03/18/nawazs-pro-india-policies-harmed-pakistan-alleges-ex-envoy/
--------
Alvi, others test negative for COVID-19 on return from China
March 19, 2020
ISLAMABAD: President Arif Alvi and members of his delegation, who visited China earlier this week, have tested negative for COVID-19.
"Chinese authorities have formally informed the Foreign Office that President Arif Alvi, Foreign Minister Shah Mehmood Qureshi, Planning Minister Asad Umar and other members have cleared the corona test," the FO said on Wednesday.
President Dr Arif Alvi visited China from March 16-17 for expressing Pakistan's solidarity with the Chinese government in its efforts to contain and deal with the spread of COVID-19. He was accompanied on the trip by Foreign Minister Qureshi, Planning Minister Asad Umar and senior officials.
President Alvi and his delegation had embarked on the visit after clearing the COVID-19 test and again underwent tests after completing the tour. "Their blood samples and swabs were taken at the end of the visit and today they have been cleared after the tests," the FO said.
Earlier, FM Qureshi had self-quarantined himself for five days after the trip.
He had told a televised press conference that he was self-quarantining himself on experts' advice for the sake of all those around him. "If I have voluntarily decided to go into self-isolation, it is just to send a message. I'm healthy, I haven't been affected, but a message has to be given that we need to follow the guidance of the experts. I'm acting responsibly not for myself, but those around me," he said.
Mr Qureshi emphasised the benefits of social distancing and the need for coordinated efforts to curb the spread of coronavirus. He said the guidance of the health experts and the World Health Organisation would have to be followed.
The foreign minister called for a unified national response to the spread of virus. He said that political considerations would have to be set aside for putting up a unified response. Criticism, he maintained was easy, but would not achieve anything.
Full report at:
https://www.dawn.com/news/1542068/alvi-others-test-negative-for-covid-19-on-return-from-china
--------
IHC issues notices to ministry, Pemra on petition over Geo's cable placement
March 19, 2020
ISLAMABAD: The Islamabad High Court (IHC) issued notices to the ministry of information and the Pakistan Electronic Media Regulatory Authority (Pemra) on Wednesday in petitions filed against a move by cable operators to either remove Geo TV from their lists of channels or to relegate it.
Chief Justice Athar Minallah, who heard identical petitions filed by Pakistan Muslim League-Nawaz (PML-N) lawmakers Shahid Khaqan Abbasi and Ahsan Iqbal as well as legislators from the JUI-F and Jamaat-i-Islami, directed their counsel Barrister Zafarullah Khan to remove the name of the National Accountability Bureau (NAB) chairman from the list of respondents since he had nothing to do with the placement of a television channel on cable.
Barrister Jahangir Khan Jadoon had earlier stressed that fundamental rights guaranteed under Articles 19 and 19-A of the Constitution were being violated.
He had further argued that since the federal government was now dictating terms to Pemra, the regulator's independence stood compromised. "It is the case of the petitioners that Pemra has failed to discharge its statutory obligations and to protect freedom of expression."
Justice Minallah directed the Pemra chairman "to nominate an authorised officer to appear before this court on the next date of hearing. Moreover, as a regulator the authority shall ensure that any complaint regarding interference with the transmission of its licensee shall be removed before the date fixed.
"The authorised officer shall satisfy this court on the date fixed that the authority is fulfilling its statutory obligations as an independent regulator by safeguarding the constitutional rights of the licensee as well as the general public."
The hearing was adjourned to March 24.
The petitioner argued before the court that the government, in an attempt to victimise Geo channel, had arrested its chief executive officer, Mir Shakilur Rehman, through NAB and then used Pemra to silence the news network.
He requested the court to order Pemra to restore the channel to the number where it was before the arrest of Shakilur Rehman.
The petition said Mir Shakilur Rehman was arrested on orders of the NAB chairman, who "abused the statutory powers of arrest granted to the bureau under the National Account­ability Ordinance (NAO) 1999". The petitioners also referred to an order given by the IHC on March 8 in which the court had set parameters and guidelines for NAB regarding arrest of the accused.
The petition alleged that before Mir Shakil's arrest, the authorities had warned the channel's management against airing programmes critical of the government.
"There is no legal basis for issuing the arrest warrant as the accused (Mir Shakil) is not a fugitive nor a terrorist nor a wanted criminal," the petition added.
"He is the head of the biggest and a well-reputed media house in Pakistan who was fully cooperating with NAB and furthermore, it was merely a second call-up notice for complaint verification as the proceedings had not been converted into Enquiry or Investigation stage.
Full report at:
https://www.dawn.com/news/1542076/ihc-issues-notices-to-ministry-pemra-on-petition-over-geos-cable-placement
--------
SC restores Arshad Malik as PIA chief
Nasir Iqbal
March 19, 2020
ISLAMABAD: The Supreme Court allowed Air Marshal Arshad Malik to function as Chief Executive Officer (CEO) of the Pakistan International Airlines Corporation with full authority.
He was restrained from functioning as CEO of the national flag carrier by the Sindh High Court on Dec 23 last year.
A three-judge SC bench headed by Chief Justice Gulzar Ahmed on Wednesday asked the PIA management to furnish a thorough business plan and different business contracts the airline had entered into with international organisations as well as the liabilities it was burdened with.
The apex court asked the Pakistan Airline Pilots Association (PALPA) and the Collective Bargaining Agents (CBA) Union to appear before it at the next hearing on April 20.
The SC bench was seized with an appeal moved by PIA CEO Arshad Malik against the SHC order.
The petitioner had before the high court argued that Arshad Malik was a senior serving officer of the Pakistan Air Force (PAF) and his appointment as the PIA chief was made in utter disregard of the law laid down by the apex court in its Aug 3, 2018 judgement against the appointment of the then CEO.
Arshad Malik was allowed to continue performing as the head of the national flag carrier when Attorney General Khalid Jawed Khan assured the apex court that he was ready to submit in writing regarding the continuity of the present CEO, adding that he would not be recalled by the PAF any time soon.
The AG said he was extending the desire on behalf of Prime Minister Imran Khan that Arshad Malik should be allowed to continue since the organisation virtually was on the ventilator and he represented the best possible team that could turn around the financial health from the current dismal situation of PIA — an airline once a pride of the nation.
He said this was the last arrangement since the financial situation in the national carrier was like a bottomless pit and, if not arrested, it would soon turn into the Pakistan Steel Mills and the one to suffer the most would only be the people of this country.
The AG assured the court that the present CEO would soon deliver given the experience he possessed and emphasised that the biggest malaise the airline was suffering from was overstaffing since the ratio of employees per aircraft was the highest and highly disproportionate compared to other airlines of the world.
Regarding justification for appointing an officer in uniform as the PIA CEO, the AG explained that it was not for the love of any individual but the federal government was not happy with the state of affairs in the airline as during the last nine years, 12 CEOs had been appointed and one of them was even locked by the union members in a washroom. "But there are many hardworking employees in the airline who are carrying out their responsibilities honestly and justly," AG said.
During the hearing, the chief justice regretted and said the country's airports as well as the PIA were responsible for the spread of novel coronavirus. But the government did nothing to contain the spread rather courts were asked to close and suspend the functioning of judicial work in the country, the chief justice regretted.
"If this is the state of affairs of security in the country then no one could block the entry of diseases inside the country," he feared.
The chief justice asked the attorney general to name one thing which could be described as best in the PIA and said aircraft could be seen parked at the Karachi airport in dilapidated condition. "Who will be responsible in case of any incident," the chief justice said and asked who gave the former prime minister the authority to take the PIA aircraft with him to his visit to London which remained parked there until he returned.
Full report at:
https://www.dawn.com/news/1542066/sc-restores-arshad-malik-as-pia-chief
--------
Coronavirus kills first two victims in Pakistan
Ikram Junaidi | Manzoor Ali
March 19, 2020
ISLAMABAD / PESHAWAR: The inevitable finally happened on Wednesday when Pakistan joined the rapidly growing list of countries with coronavirus fatalities after Khyber Pakhtunkhwa recorded the country's first two deaths from the pandemic.
The deceased were identified as Saadat Khan, 50, and Abdul Fatah, 36. Saadat Khan, who belonged to Mardan, had returned from Saudi Arabia after performing Umra while Abdul Fatah, who hailed from Hangu, had returned from Dubai.
KP Adviser on Information Ajmal Wazir confirmed the deaths.
Earlier in the day, as the novel coronavirus (COVID-19) Control and Command Centre (CCC) announced that overall 247 cases have been confirmed across the country, Prime Minister Imran Khan paid a visit to a quarantine centre established at the agriculture campus of Ghazi University Dera Ghazi, adjacent to Dera Ghazi Khan airport.
The data issued by the CCC, being run with the support of Inter-Services Public Relations and Ministry of National Health Services, showed that 183 cases were confirmed in Sindh, 19 in KP, 15 in Balo­ch­istan, 13 in Gilgit-Baltistan, nine in Punjab, seven in Islamabad and one in AJK. However, with two patients of KP having passed away after the CCC had issued its data, the total number of cases ought to be at 245.
More than 800 pilgrims, who came from Taftan border on March 14, have been put in the quarantine centre at Ghazi University under medical supervision for 14 days.
PM Khan, accompanied by Punjab Chief Minister Usman Buzdar, spoke to the pilgrims and asked about their problems.
The premier also discussed the matter of upcoming arrival of another 2,400 pilgrims from Taftan, including the 1,400 who would be housed in Punjab.
According to a statement issued by PM Office, Mr Khan issued directive for sharing information regarding COVID-19 with the nation on a daily basis.
He said that those who worked on a daily wages, may come to the Panahgahs [shelter homes] where they would be accommodated after screening.
During a visit to Multan, Mr Buzdar said that 189 suspected coronavirus patients were admitted to various hospitals in the province and the number of confirmed patients of coronavirus in the province was 28.
Talking to media during his visit to a quarantine centre established at Industrial Estate, the chief minister said the government had started taking initiatives in the province against the spread of the virus from Jan 3.
"A ban has been imposed for going to tourist places including Murree while a decision has been taken to establish a fund of Rs5 billion in this regard and initially Rs236 million have been allocated. The health department will be provided an additional Rs1bn. The entry of people has been restricted in civil secretariat and government offices. It has also been decided that shopping halls and restaurants will be closed at 10pm across the province; however medical stores, general stores, factories and markets will remain open," he said.
He said facilities in quarantine centers would be improved while assistance would also be provided to the Balochistan government to improve facilities at the quarantine centers in that province.
He said the provincial government would set up a field hospital of 1,000 beds and 41 high dependency units had been established while three hospital one each in Lahore, Rawalpindi and Muzaffargarh have been selected for the treatment of coronavirus patients.
"Health emergency has been declared in the province and Section 144 has been imposed to avert the gathering of the people," he said.
Chinese help
Meanwhile, Foreign Minister Shah Mehmood Qureshi, who recently visited Beijing, said China would provide testing kits, ventilators and other medical equipment to deal with the coronavirus outbreak.
While speaking to media, he said China would also provide cash in grants to Pakistan to be used to set up a state-of-the-art isolation centre to combat the infectious disease.
He said China would also share its medical expertise to combat the coronavirus.
Mr Qureshi said the government had learned from the Chinese experience and was trying to emulate it to counter the challenge in Pakistan.
While there are concerns about China's economy when the pandemic was over, Mr Qureshi said the fundamentals were very strong and solid.
GB Chief Minister Hafeez-ur-Rehman told a press conference in Gilgit that all domestic tourists had been barred to enter GB for three weeks while international tourists will be allowed after medical certification.
Home Secretary Muhammad Ali Randhawa denied reports that one person had died from coronavirus in the region.
Full report at:
https://www.dawn.com/news/1542070/coronavirus-kills-first-two-victims-in-pakistan
--------
1,652 returning from Iran sent to home provinces
Saleem Shahid
March 19, 2020
QUETTA: The Balochistan government has sent 1,652 people, who had returned from Iran, to their respective provinces after their stay in quarantine for 14 days at Taftan, officials of the provincial home department said on Wednesday.
The immigration officials returned passports and other travel documents to them.
"The convoys of pilgrims, students and other people left Taftan in 50 buses amid strict security," a senior official told Dawn.
Of them 1,230 belonged to Punjab, 232 to Khyber Pakhtunkhwa (KP) and 190 to Gilgit-Baltistan (GB) and Azad Jammu and Kashmir (AJK).
Over 700 pilgrims belonging to Sindh had already left on Tuesday in 18 buses.
The official said more than 2,000 Pakistani were still stranded in Iran and they were waiting at MirJawah for permission to cross into Taftan.
The federal government had closed the Taftan border on Monday last.
Sources said the returning pilgrims will go directly to their provinces and they will not be allowed to stop over anywhere during their journey.
They said 413 people belonging to Balochistan were still in quarantine at Taftan and a decision to take them to their hometowns would be taken in a couple of days.
https://www.dawn.com/news/1542071/1652-returning-from-iran-sent-to-home-provinces
--------
Firdous accuses PML-N of politicising 'sensitive' coronavirus issue
Mar 19, 2020
ISLAMABAD: Special Assistant to the Prime Minister on Information and Broadcasting Dr. Firdous Ashiq Awan on Wednesday accused the Pakistan Muslim League-Nawaz (PML-N) of doing politics over an issue as sensitive as coronavirus.
In a series of tweets, the SAPM said that PML-N has hurt the sentiments of patriotic overseas Pakistanis who have sent their money to Pakistan [in the form of remmitances]. "Ex-pats have confidence in the leadership of [Prime Minister] Imran Khan," she said.
Dr. Firdous Ashiq Awan
@Dr_FirdousPTI
(ن) لیگ نے ہمیشہ بیرون ملک مقیم محب وطن پاکستانیوں پہ وار کیا جو پاکستان اپنا پیسہ بھجواتے ہیں۔اوورسیز پاکستانیوں کا عمران خان کی قیادت پر اعتماد ہے۔
258
10:58 - 18 Mar 2020
Twitter Ads information and privacy
46 people are talking about this
Maintaining that "unity and harmony is the need of the hour", she said the "coronavirus outbreak is a national issue and together we have to defeat this virus".
Dr. Firdous Ashiq Awan
@Dr_FirdousPTI
اتحاد اور یکجہتی وقت کا اہم تقاضہ ہے۔سیاسی پوائنٹ سکورنگ کی بجائے اپوزیشن کرونا کے بین الاقوامی چیلنجز سے نمٹنے کے لیے قومی کاوشوں کو تقویت دے۔یہ قومی مسئلہ ہے،ایک ہوکر اس وائرس کو شکست دینی ہے۔#COVID2019
158
10:59 - 18 Mar 2020
Twitter Ads information and privacy
46 people are talking about this
"The world is recognising Prime Minister Imran's timely steps for the protection and security of his people as the same is evident from the statement issued by the [country representative of] World Health Organization (WHO)."
The SAPM further advised the opposition against resorting to political point-scoring at this crucial period of time.
https://www.pakistantoday.com.pk/2020/03/18/firdous-accuses-pml-n-of-politicising-sensitive-coronavirus-issue/
--------
Alvi, Xi discuss coronavirus outbreak in Pakistan
Mar 19, 2020
BEIJING: President Dr Arif Alvi and his Chinese counterpart Xi Jinping on Wednesday discussed in detail the Pakistan government's fight against the novel coronavirus on the last day of his first official visit to China.
Dr. Arif Alvi
✔
@ArifAlvi
My visit to China on invitation of President Xi Jinping was to show solidarity with China in stressful times, appreciate their outstanding effort to contain Coronavirus & for taking good care of students in Wuhan. How to #iFightCorona War in Pakistan was discussed in great detail https://twitter.com/PresOfPakistan/status/1239916595037732866 …
The President of Pakistan
@PresOfPakistan
Given the depth & breadth of Pakistan-China ties & the finest traditions of both countries to always stand by each other particularly in challenging times, President Dr. Arif Alvi's first visit to Beijing was a singular expression of Pakistan's solidarity with its "iron brother."
Embedded video
3,271
09:36 - 18 Mar 2020
Twitter Ads information and privacy
663 people are talking about this
In a series of Twitter posts, the president said his visit was aimed at showing solidarity with China in stressful times.
He lauded China as "Pakistan's iron brother" for her efforts to control the virus as new cases in the Hubei province have been in single digits for the past seven days, as compared to several thousand a day in early February.
He also appreciated China's efforts to take care of the 1,300 Pakistani students stranded in China's Wuhan city, the epicenter of the COVID-19.
Separately, while addressing a press conference, Foreign Minister Shah Mahmood Qureshi seconded President Alvi on the purpose of the visit.
"The world is blaming China [for the outbreak]," Qureshi said. "Pakistan had expressed confidence in China by not repatriating students from Wuhan. These students did not face any mishap either," he said.
The foreign minister said that the decision to repatriate pilgrims returning from Iran was a difficult one, but "they had to return as [quarantine] facilities were inadequate at the [Taftan] border."
"No one can fight the virus alone," Qureshi stressed. "We have to come together as one nation to curb its spread. Only one case has been reported from Wuhan. We have to make the right decisions as we have to face this situation for some time."
Qureshi announced that Prime Minister Imran Khan has made a National Coordination Committee to calculate the economic outfall of the situation. "We have to analyze the effect on the economy if there is a complete lockdown," he said.
He also urged media to play a unified role in this time of crisis as it did against Indian atrocities. Qureshi added that now is not the time to hold rallies.
During the visit, both sides also signed a number of memorandums of understanding (MoUs) and handing-over certificates of donated vaccine refrigeration equipment, emergency humanitarian materials for epidemic response and emergency materials of epidemic control.
Full report at:
https://www.pakistantoday.com.pk/2020/03/18/alvi-xi-discuss-coronavirus-outbreak-in-pakistan/
--------
URL: https://www.newageislam.com/islamic-world-news/black-clad-shiite-pilgrims-baghdad/d/121347
New Age Islam, Islam Online, Islamic Website, African Muslim News, Arab World News, South Asia News, Indian Muslim News, World Muslim News, Women in Islam, Islamic Feminism, Arab Women, Women In Arab, Islamophobia in America, Muslim Women in West, Islam Women and Feminism