New Age Islam News Bureau
30 September 2020
• Political Responses to the Babri Masjid Demolition Verdict
• Chairman of the Pakistan Ulema Council, Tahir Ashrafi Made Special Representative to the Prime Minister on Religious Harmony
• Turkish Imam Demands Invasion of Cyprus For The Sake Of Islam and Mohammed's Aunty, Umm Haram
• Biden on Trump Releasing His Taxes: 'When? Inshallah?'
• Johor Religious Department Vows Crackdown on Islamic Hard-line Movement Hizbut Tahrir's Ideology
• Saudi Artist's A-Mazing Creation Tells Story of Terrorism — In Concrete
• No Winner in War, No Looser in Peace: Abdullah
India
• BJP Leader L K Advani Welcomes the CBI Court's Verdict Saying That the Court's Ruling Has Vindicated His Belief and Commitment to the Cause of Ram Janmabhoomi
• Political Responses to the Babri Masjid Demolition Verdict
• India lodges protest with Pakistan over announcement of polls in Gilgit-Baltistan
• NIA detains BSF Jawan on NCB deputation in Jammu
• Foreign ministers of India, Bangladesh meet; review bilateral ties
• Indonesians booked after Tablighi event discharged from case
--------
Pakistan
• Chairman of the Pakistan Ulema Council, Tahir Ashrafi Made Special Representative to the Prime Minister on Religious Harmony
• WHO Chief Lauds Pakistan for Suppressing Covid-19 While Keeping Economy Afloat
• Pakistan court issues non-bailable arrest warrants for Shahbaz Sharif's wife, daughter
• PM wants Nawaz brought back from UK at the earliest
• Islamabad, Kabul look forward to new era in ties
• ATC in Karachi seeks copy of SC order for disposing of Perween killing case within month
• Opposition to hold first 'historic' rally under PDM banner on Oct 11 in Quetta
--------
Mideast
• Turkish Imam Demands Invasion of Cyprus For The Sake Of Islam and Mohammed's Aunty, Umm Haram
• Israel's Netanyahu Alleges Hezbollah Has 'Secret Arms Depot' In Beirut
• IRGC Commander: US Incapacitated, Withdrawing from Region
• Spokesman: Iran, Russia, Turkey Able to Help Azerbaijan, Armenia End Dispute
• Israel approves law to curb protests during virus lockdown
--------
North America
• Biden on Trump Releasing His Taxes: 'When? Inshallah?'
• US Urges Iran to Respect Human Rights After Christians Flee Country to Escape Prison
• US Senators request temporary sanctions waivers for Lebanon
• US State Department says 'outraged' by rocket attack in Baghdad
• US judge mostly rejects Haftar's move to dismiss suits
--------
Southeast Asia
• Johor Religious Department Vows Crackdown on Islamic Hard-line Movement Hizbut Tahrir's Ideology
• Sharia Court will continue to be strengthened: Muhy
--------
Arab world
• Saudi Artist's A-Mazing Creation Tells Story of Terrorism — In Concrete
• Kuwait's new emir Sheikh Nawaf brings decades of ministerial experience
• Leaders of Arab world and beyond mourn Sheikh Sabah
• Iraqis Decry Insecurity at Funerals of Seven Killed In Anti-US Attack in Baghdad
• Lebanon's Amal Movement 'Surprised' By France's Macron Accusations
• At least 5 civilians killed in rocket fire near Baghdad airport: Army
• Russian envoy seeks to break 'suffocating' Beirut deadlock
• Saudi Cabinet congratulates security forces for thwarting terror cell
--------
South Asia
• No Winner in War, No Looser in Peace: Abdullah
• Bomb kills 14 civilians, including women and children, in Afghanistan
• 3 Killed after Rocket Hit Residence in Ghazni
• Badakhshan: Taliban Attack Claims District's Security Chief
--------
Europe
• Italy Repatriates Female ISIS Fighter and Her Four Children from Kurdish Territory
• Turkey sent 700 to 1,000 Syrian mercenaries to Azerbaijan: Reports
• Armenia not ready for Russia-mediated peace talks with Azerbaijan: PM
• Manchester bomber's brother 'known to counterterrorism officers,' inquiry told
• Turkish Claims of PKK Fighters In Armenia Absolute Nonsense: Armen Sarkissian
• Britain warned of rising religious terrorism threat with no-deal Brexit
--------
Africa
• Efforts to Unify Soldiers in South Sudan 'Stuck': UN Envoy
• Hundreds of schools in Jordan return to online classes as COVID-19 cases rise
Compiled by New Age Islam News Bureau
URL: https://www.newageislam.com/islamic-world-news/bjp-leader-l-k-advani/d/122997
--------
BJP Leader L K Advani Welcomes the CBI Court's Verdict Saying That the Court's Ruling Has Vindicated His Belief and Commitment To The Cause Of Ram Janmabhoomi
September 30, 2020
Reported by Alok Pandey, Edited by Deepshikha GhoshUpdated: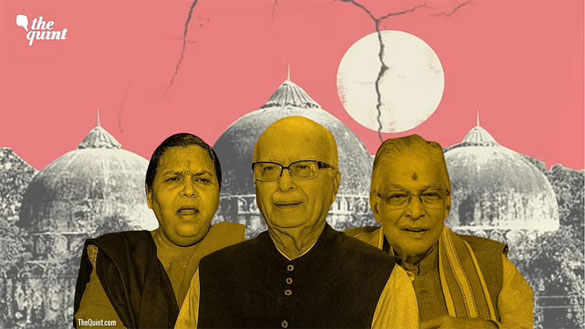 The 1992 demolition was preceded by a series of rath yatras by the BJP's LK Advani.
-----
Lucknow: The demolition of the Babri mosque in Ayodhya on December 6, 1992, was not planned and involved "anti-social elements" who got agitated and climbed the domes, a court in Uttar Pradesh said today, acquitting all 32 accused including BJP leaders LK Advani, Murli Manohar Joshi and Uma Bharti of conspiracy charges in a landmark verdict. "The accused tried to stop the demolition," said special judge Surendra Kumar Yadav, adding that merely giving a provocative speech was not enough to prove guilt.
Here's your 10-point cheat sheet on this big story:
LK Advani, 92, MM Joshi, 87, and Uma Bharti, 61, were not present in court and watched via video link when the verdict was announced. They had all been accused of criminal conspiracy, promoting enmity and inciting activists with incendiary speeches from a dais next to the site. Mr Advani said he celebrated the "moment of joy" by chanting "Jai Shri Ram".
"Anti-social elements brought down the structure. The accused leaders tried to stop these people," said the special judge, whose term had been extended for this verdict. The judge also said the audio and video evidence produced by the CBI did not establish conspiracy charges. "The audio of the speeches was also not clear," he said.
"There is no evidence that the accused got together in common cause with anti-social Kar Sewaks to bring down the disputed structure. The leaders seated on stage and those near the Ram Chabutara - VHP leader Ashok Singhal and BJP's Vijaya Raje Scindia -- did not suspect that a section of the Kar Sewaks will get agitated and climb the disputed structure," the judge said.
The mosque demolition was preceded by a series of Rath Yatras by LK Advani, whose campaign for a Ram temple at the site catapulted the BJP to the national spotlight. Mr Advani, Mr Joshi, Uma Bharti and Kalyan Singh, who are among the 32 surviving accused, were allegedly present near the mosque. Investigating agencies said they delivered speeches that instigated the crowds who had gathered for a temple.
Kalyan Singh was the Chief Minister of Uttar Pradesh at the time. Former Union minister Uma Bharti, who is admitted in hospital for COVID-19, had declared she would not seek bail if she was convicted and she would accept any punishment with pride. Mr Advani recorded his statement before the special CBI court through video conference on July 24 and was asked 100 questions.
The 16th century mosque was razed by thousands of "Kar Sevaks" who believed it was built on the ruins of an ancient temple that marked the birthplace of Lord Ram in Ayodhya. The incident led to riots that left 3,000 dead and changed India's political landscape forever.
Over the last 28 years, the case has seen many turns. Two cases were filed in 1992, which eventually grew to 49. The second case, FIR no 198, had named Mr Advani, Mr Joshi and Uma Bharti for promoting religious enmity and provoking rioting. Later, the Supreme Court asked that criminal conspiracy charges be restored against them.
In a historic ruling in November, the Supreme Court handed over the site claimed by both Hindus and Muslims for the building of a Ram temple. The groundbreaking ceremony took place earlier this year, with Prime Minister Narendra Modi performing the main rituals.
The Supreme Court also called it "unlawful destruction" and said Muslims had been wrongly deprived of a mosque that was constructed well over 400 years ago. "It is necessary to provide restitution to the Muslim community for the unlawful destruction of their place of worship," the top court said, ordering an alternative site in Ayodhya for a mosque.
In an interview to NDTV in 2000, Mr Advani had called the Babri mosque razing a "terrible mistake" and said: "Till today, frankly, I do not know whether it was mob fury, a mob going out of control or a small determined group which did not agree with the leadership of the movement who thought that this should be done, I'm not clear in my mind." Former Prime Minister Atal Bihari Vajpayee had said a section of Kar Sevaks went out of control. "What happened in Ayodhya was very unfortunate. It should not have happened. We tried, to prevent it, but we did not succeed. We are sorry for that," he told NDTV.
https://www.ndtv.com/india-news/babri-masjid-demolition-case-verdict-lk-advani-all-other-accused-acquitted-by-special-court-2303130
--------
Political Responses to the Babri Masjid Demolition Verdict
30 September 2020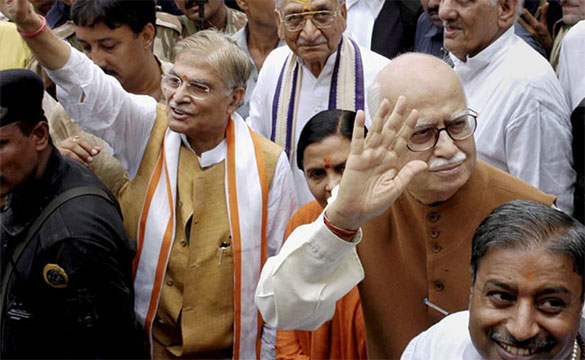 Court acquitted all 32 accused including BJP leaders LK Advani, Murli Manohar Joshi and Uma Bharti of conspiracy charges in a landmark verdict
-----
TMC comes out with a guarded response on Babri verdict
Trinamool Congress on Wednesday was guarded in its response on the acquittal of all the accused in the Babri Masjid demolition case by a special CBI court in Lucknow and said that "those who are not happy with the judgement will get relief in higher courts". "It is a court judgement, so we cannot just say we oppose or support it. The verdict has come after 28 years, few people are unhappy with it. We have come to know from the media that some outfits have expressed their displeasure," senior TMC leader and party spokesman Sougata Roy said.
16:49 (IST), SEP 30
Verdict in Babri demolition case amounts to 'travesty of justice': CPM
"The acquittals amount to a travesty of justice. It took 28 long years for this verdict but not justice to be delivered. All the top leaders of the BJP-VHP-RSS who were present at the scene guiding the criminal act have been found to be innocent of the charge of conspiracy to demolish the mosque," the CPM politburo said in a statement.
16:31 (IST), SEP 30
Gujarat BJP, VHP, Togadia's AHP welcome Babri verdict
The ruling BJP in Gujarat alongiwth the Vishwa Hindu Parishad (VHP) and Pravin Togadia's Antarrashtriya Hindu Parishad (AHP) on Wednesday welcomed the CBI court's verdict acquitting all the accused in the Babri mosque demolition case. State BJP chief C R Paatil hailed the ruling as a "victory of truth"."Once again, truth emerged victorious. My sincere regards to the Indian judiciary. Jay Shree Ram," Paatil tweeted. "We are happy as the court has acquitted national leaders like L K Advani, Murali Manohar Joshi and Uma Bharti, from this case," said Gujarat Deputy Chief Minister Nitin Patel. "The verdict has now put a full-stop to the entire issue. Work for Ram Mandir has also started in Ayodhya," Patel told reporters in Gandhinagar.
16:29 (IST), SEP 30
Historic verdict, should bring an end to issue: Murli Manohar Joshi
"I will say only one thing 'Jai Jai Shri Ram, Sab ko sanmatti de bhagwan (May Lord, bestow wisdom on all)," he said, expressing happiness over the judgement. "The court had delivered a historic verdict," Joshi told reporters here in his first reaction to the verdict in the 28-year-old case. He thanked the lawyers who appeared for him in the matter and said they presented all the aspects and facts before the court.
16:09 (IST), SEP 30
Owaisi outrages over court ruling in Babri mosque demolition case
Owaisi on Wednesday he called the special court's verdict "obnoxious" and said the central agency should appeal against it. Speaking to reporters, Owaisi in his reaction to the judgement said, "This judgement satisfies the collective consciousness of hindutva and its followers and ideology." He wondered how the court could state that there was no conspiracy in the matter. "Was it a some sort of magic that on December 6 the masjid was demolished? Who called for the assembling of the people over there? Who made sure that they entered over there?" he asked.
15:50 (IST), SEP 30
Muslim bodies to collectively decide on challenging Babri case verdict: Firangi Mahali
All-India Muslim Personal Law Board senior member Maulana Khalid Rasheed Firangi Mahali on Wednesday said organisations representing the community will together decide whether they need to challenge or not the CBI court verdict in the Babri mosque demolition case. Refusing to comment on their acquittal, Mahali said, "I don't have anything to say on the verdict. Everybody knows how the Babri mosque was sacrificed on December 6, 1992 in Ayodhya and how all rules were flouted."
15:48 (IST), SEP 30
Babri case lost its relevance after 2019 SC verdict: Shiv Sena
Shiv Sena MP Sanjay Raut on Wednesday said the Babri masjid demolition case lost its relevance after the supreme court settled the Ram Janmabhoomi title suit in 2019 even as he welcomed the special court's verdict acquitting all the 32 accused in the case. "This verdict was expected. I, on behalf of Shiv Sena and party president Uddhav Thackeray, welcome this decision of the court," he added. Raut also said that had Babri (mosque) not been razed, the 'bhoomi pujan' of Ram temple in Ayodhya wouldn't have been possible. "...We have to forget that episode now," he added.
15:24 (IST), SEP 30
Truth has won again: MP CM Chouhan
"Truth can be troubled but it cannot be defeated. Today, truth has won again. I hail the Indian judicial system," Chouhan tweeted in Hindi. Chouhan also released a video statement, saying the then Congress government was prejudiced and levelled false allegations against saints and senior leaders.
15:23 (IST), SEP 30
Satyamev Jayate: Adityanath on verdict in Babri demolition case
Uttar Pradesh Chief Minister Yogi Adityanath on Wednesday welcomed the court verdict in the Babri mosque demolition case, terming it as the victory of truth. Satyamev Jayate, the chief minister said while welcoming the decision of the special court, a statement issued by his advisor Mritunjay Kumar said. The chief minister also accused the then Congress government of framing saints, BJP leaders, VHP office bearers and others to defame them for vote bank politics.
15:19 (IST), SEP 30
Special court verdict in Babri case runs counter to SC judgement, constitutional spirit: Cong
Congress' chief spokesperson Randeep Surjewala said every Indian who has innate faith in the Constitution and in the spirit of communal amity and brotherhood expects and urges the central and state governments to file an appeal against the decision of the special court. "The decision of the Special Court to acquit all the accused in Babri Masjid demolition case runs counter to Supreme Court judgement as also the constitutional spirit," Surjewala said. The Supreme Court in its judgement on November 9 last year, pronounced by five judges, had clearly held that the demolition of Babri Masjid was a clear illegality and "egregious violation of the rule of law", Surjewala told reporters.
https://timesofindia.indiatimes.com/india/babri-demolition-case-live-updates/liveblog/78396591.cms
-----
Chairman of the Pakistan Ulema Council, Tahir Ashrafi Made Special Representative to the Prime Minister on Religious Harmony
Kalbe Ali
30 Sep 2020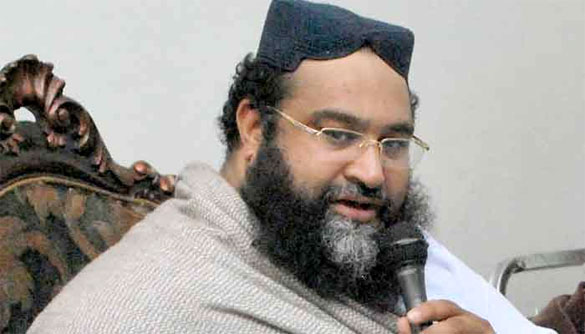 Maulana Tahir Ashrafi speaking at an event. Photo: APP
-----
ISLAMABAD: Hafiz Tahir Mehmood Ashrafi was appointed as special representative to the prime minister on religious harmony.
A notification issued by the PM Secretariat said: "The prime minister has been pleased to appoint Maulana Tahir Mehmood Ashrafi as Special Representative of the Prime Minister on Religious Harmony, with immediate effect. The appointment of Maulana Tahir Mehmood Ashrafi shall be in honorary capacity."
Maulana Ashrafi, who is also chairman of the Pakistan Ulema Council (PUC) and president of Muttahida Ulema Board, is known for speaking out against social injustice and advocating for ending discord based on faith in the country.
The Muttahida Ulema Board is the only religious institution of the country to issue guidelines declaring administration of polio drops "not" against the teachings of Islam whereas the PUC has been at the forefront in supporting the national narrative and referencing reasoning from religious texts over several ideologically conflicting topics.
Both institutions were the first to call Daesh a "terror outfit" and termed suicide bombing and killing in the name of honour haraam, and have spoken out against the disregard for legal procedure and use of violence in cases against those accused of blasphemy.
Talking to Dawn, Maulana Ashrafi said extremist thought based on any ideology with regard to religion or nationalism only leads to self-destruction of that society.
"Pakistan has been suffering from religious extremism, and that was one of the areas where several foreign hands too were involved ... we need interfaith and inter-sect harmony," he said.
Maulana Ashrafi has also supported the construction of a Hindu temple in Islamabad and was among the first religious scholars to call for resolving sectarian tensions in the month of Muharram.
He was a member of the Council of Islamic Ideology from 2012 till 2015 and an honorary adviser to the home department of the Punjab government over religious and sectarian harmony from 2000 to 2007.
https://www.dawn.com/news/1582347/tahir-ashrafi-made-special-representative-for-religious-harmony
--------
Turkish Imam Demands Invasion of Cyprus For The Sake Of Islam and Mohammed's Aunty, Umm Haram
September 30, 2020
İhsan Şenocak, one of the leading Turkish imams, promotes the aggressive foreign policy agenda of President Recep Tayyip Erdoğan, urging Turkey to occupy the rest of Cyprus as it is the burial site of Islam's founder, Mohammed.
"The Ottoman navy greeted the Prophet Muhammad's aunt, Umm Haram (known as Hala Sultan), with gunfire as they passed near Cyprus.
The tomb of Hala Sultan, who participated in the first Muslim expedition to the sea, is under Greek occupation," said Şenocak.
"Let us greet Hala Sultan again and tell her we will be coming soon," the imam wrote on Twitter, showing a video of Turkish sailors forming the words "Mavi Vatan" (Blue Homeland) on a Turkish frigate.
The tomb of Umm Haram is located in southern Cypriot city of Larnaca.
Şenocak, a radical pro-Erdoğan imam, is the founder of the so-called Center for Scientific and Intellectual Research (İlmi ve Fikri Araştırmalar Merkezi, or İFAM) and is close to prominent Turkish personalities and groups.
In recent years he has been a speaker at conferences and lectures funded by pro-government groups and institutions.
İFAM organized a series of conferences entitled "Diriliş" (Resurrection) across the country in collaboration with the controversial Foundation for Human Rights, Freedoms and Humanitarian Aid (IHH) and the Sokyal Doku Foundation, led by the preacher Yıldız, who has repeatedly called for armed jihad.
Speaking at one of the Diriliş conferences held in November 2016, Şenocak said that a Muslim army would be sent from Constantinople (Κωνσταντινούπολη, Turkish: İstanbul) to conquer Jerusalem and that the Jews could not prevent it.
Also, Şenocak, who served as an imam in Turkey's Directorate of Religious Affairs (Diyanet), came very close to resigning in 2017, saying that women who wear pants and go to university are destined for hell.
Northern Cyprus has been occupied by Turkey since its invasion in 1974 and the latter makes continual threats to invade the rest of the island.
https://greekcitytimes.com/2020/09/29/turkish-imam-demands-invasion-of-cyprus-because-of-mohammeds-aunty/
--------
Biden on Trump releasing his taxes: 'When? Inshallah?'
Michael Gabriel Hernandez
30.09.2020
WASHINGTON
Democratic presidential nominee Joe Biden cast doubt during Tuesday night's debate on whether US President Donald Trump would ever release his tax returns.
"You'll get to see it," Trump said repeatedly as moderator Chris Wallace pressed him to commit to a firm timeline. Biden retorted, "When? Inshallah?"
While the Arabic language phrase literally means "God Willing," it also has colloquial connotations of ambiguous commitment.
Biden earlier released his personal income taxes, which show the former vice president and his wife Jill Biden paid about 30% of their $985,000 gross personal income.
Trump has refused to voluntarily release his income taxes, which had been a presidential custom stretching back decades.
The New York Times reported Monday that Trump did not pay any federal income taxes in 10 of the last 15 years. It said the former businessman paid just $750 in federal income tax in 2016 and another $750 in 2017, the year he took office.
Trump disputed the report during Tuesday night's debate, saying he has "paid millions of dollars in taxes, millions of dollars of income tax."
https://www.aa.com.tr/en/americas/biden-on-trump-releasing-his-taxes-when-inshallah/1990201
--------
Johor Religious Department Vows Crackdown on Islamic Hard-line Movement Hizbut Tahrir's Ideology
30 Sep 2020
BY BEN TAN
JOHOR BARU, Sept 30 — The Johor state government has taken serious efforts to fight the ideology brought by hardline Islamist group Hizbut Tahrir as the latter is seen as going against the teachings of the Sunni denomination and trying to divide Muslim unity in the state.
Johor Islamic Religious Affairs Committee chairman Tosrin Jarvanthi said the state government, through its Islamic Affairs Department (JAINJ), has declared the movement's Malaysian chapter, Hizbut Tahrir Malaysia (HTM), as promoting an ideology that contradicts the beliefs and teachings of Ahli Wal Sunnah Wal Jamaah (Sunni denomination).
"This prohibition on Hizbut Tahrir has been implemented by the Johor State Fatwa Committee and has been gazetted by the Johor government on October 10 last year.
"At present, we have received reports that show Hizbut Tahrir's ideology can threaten the unity of Muslims and cause confusion in Johor," said Tosrin during a press conference held at the Iskandar Islamic Centre here today.
Present was JAINJ director Datuk Md Rofiki A. Shamsudin and other senior religious officials.
On the claim by HTM that it is being maligned by the Johor Islamic religious authorities, Tosrin explained that a memorandum by the movement's representatives sent to the Johor mufti's office here last Sunday was rejected.
He said the Johor mufti's office took the stand not to accept the memorandum that sought to clear the air on HTM's activities as the movement is not officially registered and went against the teachings of the Sunni denomination, which is the only officially recognised denomination in Malaysia.
"At the same time, JAINJ or the Johor mufti's office will not seek an explanation from HTM or any of its representatives.
"At present, we will leave it to JAINJ's Dakwah division to continue to monitor the movement," said Tosrin, who is also the Bukit Permai assemblyman.
Last Sunday, a group claiming to represent HTM sent a memorandum of protest against the fatwa on the position of the ideology but it was not accepted by the Johor mufti's office.
After failing to submit the memorandum, the group then held a live press conference on the HTM's Facebook page which claimed that the fatwa issued on the ideology was full of slander, lies, distortion of facts and confusion.
Based on this, Tosrin reminded HTM or any other party to be careful when making statements to avoid confusion and division within the community.
Malay Mail understands HTM is against claims by JAINJ that it was deviant and extremist.
Hizbut Tahrir is a global Islamic group seeking to recreate a caliphate worldwide. The Malaysian chapter, popularly known as HTM, is outlawed and considered "deviant" in Selangor and Sabah, with Johor prohibiting the movement's activities.
Despite the fatwas and strong sentiment against it by Malaysia's religious authorities, the movement is still holding out for a peaceful resolution.
https://www.malaymail.com/news/malaysia/2020/09/30/johor-religious-department-vows-crackdown-on-islamic-hardline-movement-hizb/1908078
--------
Saudi artist's a-mazing creation tells story of terrorism — in concrete
September 29, 2020
RIYADH: A Saudi artist has created a maze out of concrete barriers to recount the history of terrorism in the Kingdom — after winning royal approval for his project.
Hammoud Al-Atawi used more than 800 blocks in his work titled, "The Labyrinth of Delusion."
The idea for his piece came from his ruminations about life and all its difficulties.
"Every path that is closed needs the strength to find a way to exit it. I sent the concept to the Ministry of Culture and received the full support needed to execute my work from Minister of Culture Prince Badr bin Abdullah bin Farhan Al-Saud," he said.
The artwork was symbolic of the battle waged against terrorism in Riyadh at the beginning of the last decade, Hammoud added.
Although the Kingdom was able to combat a number of attacks by Al-Qaeda in the country, terrorist groups subsequently targeted security and military institutions, diplomatic representatives, and civilian housing complexes, including those occupied by members of the international community, he said.
These terror threats prompted authorities to surround potential targets with concrete barriers in a bid to disrupt any terrorist attacks, he added.
However, the blockades have now been removed from streets and buildings as part of a project in the capital to improve the urban scene.
Hammoud said the Ministry of Culture coordinated with Riyadh Municipality to provide a site at the King Salman Science Oasis museum, north of Riyadh, where he could construct his artwork. The authorities also provided the concrete barriers and all necessary funding for his labyrinth project, which took two weeks to complete.
"I was provided with the actual concrete barriers that were used and was given access to their storage and took them as they were without any restoration done to them, which was how I envisioned my work," he added.
https://www.arabnews.com/node/1741991/saudi-arabia
--------
No Winner in War, No Looser in Peace: Abdullah
By Mohammad Arif Sheva
29 Sep 2020
ISLAMABAD, Pakistan – Chairman of the High Council for National Reconciliation Abdullah Abdullah said Tuesday there is no winner in war and there is no looser in peace, as he encourage all parties to join together for peace and stability in Afghanistan.
Speaking at the Institute of Strategic Studies in Islamabad, Abdullah said, "Pakistan played a critical role in facilitating this [intra-Afghan] talks, and has even a more important role to play hereon not only supporting the process through a successful end, but also in standing with the people and government of Afghanistan in building a peaceful and prosperous neighborhood."
According to a statement released by HCNR Tuesday, Abdullah sighed learning the country has remained behind in many areas despite "today's highly competitive and technologically inter-connected world," as he addressed ongoing "challenges that include various shades of terrorism, extremism and intolerance, and more recently the covid-19 pandemic that has not spared any country."
"I believe that there is huge untapped security, political and economic potential for cooperation and considering the current geopolitical context of the region, many new windows of opportunities have opened up," he said.
Meanwhile, Abdullah further said the Afghan government do not want a terrorist footprint in the country or allow any entity to pose a threat to any other nation, adding "the current intra-Afghan talks offer the best hope to put the war behind and using patience, dialogue and compromise to agree to unite the country."
"We have both [Afghanistan and Pakistan] paid a high price by facing various terror groups that are still acting as spoilers," he said. "We need to cooperate with other like-minded countries against such elements."
Addressing ongoing war and civilian casualties in Afghanistan, Abdullah called on all sides to agree to seriously reduce violence and "protect civilians from further harm as we aim for a comprehensive and permanent ceasefire."
"Peace is not only an Islamic tenant and duty, but it is also that unique historical opportunity that should not be squandered," he concluded. "Now that the ice has been broken, we all have a role and a responsibility to help it move toward fruition and prevent a relapse."
On September 12, Afghan representative and the Taliban delegation, including international allies for Unites States and Europe, came together in Qatari capital Doha, launching the long-awaited intra-Afghan talks in an opening ceremony.
https://www.khaama.com/no-winner-in-war-no-looser-in-peace-abdullah-8765/
--------
India
India lodges protest with Pakistan over announcement of polls in Gilgit-Baltistan
Sep 30, 2020
NEW DELHI: India has lodged a strong protest with Pakistan over announcement of elections in Gilgit-Baltistan saying Pakistan has no locus standi on territories illegally and forcibly occupied by it. The government said Pakistan was carrying out cosmetic exercises intended to camouflage its illegal occupation.
Pakistan media had earlier reported that the, as the Indian government described it, so-called Gilgit-Baltistan legislative assembly will go to polls on November 15.
"The Government of India has conveyed its strong protest to the Government of Pakistan and reiterated that the entire Union Territories of Jammu and Kashmir and Ladakh, including the areas of so-called Gilgit and Baltistan are an integral part of India by virtue of its accession in 1947," said the government in a statement.
The MEA said India had also completely rejected the recent actions such as the so-called "Gilgit-Baltistan (for elections and caretaker government) Amendment Order 2020" and continued attempts by the Pakistan establishment to bring material changes in areas under its illegal and forcible occupation.
Calling upon Pakistan to immediately vacate all areas under its illegal occupation, India said such actions can neither hide the illegal occupation of parts of Union Territories of Jammu & Kashmir and Ladakh by Pakistan nor the grave human rights violations, exploitation and denial of freedom to the people residing in Pakistan occupied territories for the past seven decades.
In a ruling earlier this year, Pakistan Supreme Court allowed Islamabad to amend a 2018 administrative order to conduct general elections in the region. The Gilgit-Baltistan Order of 2018 provided for administrative changes, including authorising the Prime Minister of Pakistan to legislate on an array of subjects.
Following the verdict, India issued a demarche to a senior Pakistani diplomat here and lodged a strong protest over the court ruling.
https://timesofindia.indiatimes.com/india/india-lodges-protest-with-pakistan-over-announcement-of-polls-in-gilgit-baltistan/articleshow/78396559.cms
--------
NIA detains BSF jawan on NCB deputation in Jammu
Sep 29, 2020
JAMMU: National Investigation Agency (NIA) on Monday detained a Border Security Force (BSF) jawan, who currently was on deputation with the Narcotics Control Bureau (NCB), for his suspected involvement in narcotics smuggling.
Accompanied by a group of Jammu NCB officers, the NIA team — which is investigating the Pulwama terror attack — detained the NCB employee identified as Ramesh Kumar after a raid on his residence at Gurwal Ramgarh village in Samba district in Jammu division.
The teams simultaneously conducted raids on his house at Vijaypur, sources said. "Some incriminating documents have been seized from his residence and the investigation is in progress," a source added. No details of Kumar's link with narcotics smuggling has been revealed yet.
This is the second arrest of a BSF jawan this year for involvement in heinous crimes. In July, the Punjab Police had arrested a BSF jawan with arms and ammunition from Samba district of Jammu and Kashmir. A pistol, 80 live rounds of .9 mm caliber weapon, two rounds of ammunition for 12 bore weapon, two magazines No 5, three mobile phones (a Samsung instrument without SIM card, an iPhone 6-S and one iTell Mobile with Airtel and Spice SIM cards) were recovered from the possession of Sumit Kumar of Gurdaspur.
https://timesofindia.indiatimes.com/india/nia-detains-bsf-jawan-on-ncb-deputation-in-jammu/articleshow/78392406.cms
--------
Foreign ministers of India, Bangladesh meet; review bilateral ties
Rezaul H Laskar
Sep 29, 2020
India and Bangladesh on Tuesday created a high-level mechanism to monitor development projects funded by New Delhi even as Dhaka sought removal of non-tariff barriers and greater trade facilitation to enhance the export of its products.
Bangladesh's long-standing demand for early resolution of the sharing of waters of the Teesta river and agreements on sharing of all common rivers also figured in the virtual meeting of the Joint Consultative Commission (JCC) co-chaired by external affairs minister S Jaishankar and his Bangladeshi counterpart AK Abdul Momen.
Momen also expressed the hope that India, as a non-permanent member of the UN Security Council during 2021-22, would play a "more meaningful role for a lasting solution to the Rohingya crisis, including their early repatriation to Myanmar in a safe and sustainable manner", according to a statement from Bangladesh's foreign ministry.
The two sides decided to form a "high level monitoring committee" headed by the secretary of Bangladesh's Economic Relations Division and the Indian envoy in Dhaka to regularly review the implementation of projects under three lines of credit (LoC) agreements, a joint statement said.
Momen raised non-tariff barriers and lack of trade facilitation that he said were impeding the flow of Bangladeshi goods to India, particularly the northeastern states. The Bangladeshi side asked India to address issues related to accreditation, certification, standardisation, port restrictions and developing port infrastructure to enable further exports.
Momen also requested Jaishankar to look into export of essential commodities, such as onions, by India since it impacts the domestic market of Bangladesh. India's recent ban on onion exports had a huge impact on prices in Bangladesh, and New Delhi subsequently allowed the movement of onion supplies already contracted for by Bangladeshi importers.
Tuesday's JCC meeting was part of efforts by the two sides to set ties, hit by a string of irritants since last year, on an even keel. Foreign secretary Harsh Shringla had visited Dhaka in August, when he delivered a message from Prime Minister Narendra Modi to his Bangladeshi counterpart Sheikh Hasina.
The two ministers also agreed more steps can be taken to enhance trade and investment between India and Bangladesh, the top two economies in South Asia, such as removal of all types of barriers. The Bangladeshi side appreciated India's decision for duty-free access of Bangladeshi products to the Indian market under the South Asian Free Trade Area (SAFTA) pact, due to which Bangladeshi exports crossed the $1-billion mark in 2018-19 though the balance of trade remains in India's favour.
However, the sharing of waters of the Teesta river, held up by objections from the West Bengal government, continues to be an issue that Dhaka wants New Delhi to address speedily. Jaishankar noted the two sides share 54 rivers and said: "We remain committed to Teesta water-sharing and, in the meanwhile, are equally committed to move forward on other seven rivers on which data has been already shared with [the Bangladeshi] side".
The two sides agreed to consider convening the ministerial-level meeting of the Joint Rivers Commission (JRC), which has not met since 2010.
Jaishankar thanked Bangladesh for supporting India in its election to the UN Security Council, and the joint statement said the two ministers "reiterated the importance of the safe, speedy and sustainable return to Myanmar of the forcibly displaced persons from the Rakhine state of Myanmar, currently being sheltered by Bangladesh".
Momen emphasised that "unless the problem is resolved quickly, there are possibilities of pockets of radicalism disrupting economic growth, peace and stability in the region and requested India's leverage to address the crisis", the joint statement added.
Both sides also agreed to expedite work on energy projects such as the Friendship Pipeline and Maitree Super Thermal Power Project and Momen said tripartite power and energy cooperation with Nepal and Bhutan was also discussed.
The two sides also discussed defence cooperation, including training and exchanges, and called for the early implementation of a defence line of credit.
https://www.hindustantimes.com/india-news/foreign-ministers-of-india-bangladesh-meet-review-bilateral-ties/story-JUFsyvJyt677jloiIuciKK.html
--------
Indonesians booked after Tablighi event discharged from case
By Sameer
29th September 2020
Mumbai: A court here on Tuesday discharged 12 Indonesian nationals, accused of not disclosing that they had participated in the Tablighi Jamaat gathering in Delhi in March, from the criminal case they were facing.
Event at Nizamuddin
The event at Nizamuddin in the national capital was later found to be a coronavirus hotspot, and the police in various states had rounded up its participants.
Metropolitan Magistrate G Y Ghule on Tuesday discharged 12 Indonesians who had traveled to Mumbai after the event and were arrested, their lawyer Ishrat Khan said.
A detailed order of the court was yet to be received, he said.
Police had booked them
The police had booked them under IPC sections 188 (Disobedience to order duly promulgated by a public servant), 269 (Negligent act likely to spread infection of disease that is dangerous to life) and the Epidemic Diseases Act for not informing local authorities about their arrival.
As per the police, the Indonesians arrived in India in two batches, on February 29 and March 3, and headed for Delhi for the congregation after which they came to Mumbai and stayed in a flat in suburban Bandra and roamed around.
Two persons from the12-member group tested positive for coronavirus, following which others were placed under quarantine and later arrested on April 22. A court subsequently granted them bail.
https://www.siasat.com/indonesians-booked-after-tablighi-event-discharged-from-case-1986821/
--------
Pakistan
WHO Chief Lauds Pakistan For Suppressing Covid-19 While Keeping Economy Afloat
30 Sep 2020
World Health Organisation (WHO) Chief Tedros Adhanom Ghebreyesus has once again praised Pakistan's response to the coronavirus, saying the country managed to fight the pandemic while allowing its economy to pick up as the country stabilises.
In an op-ed in the British online newspaper The Independent, Tedros noted that Pakistan had deployed the infrastructure built over many years for polio to combat Covid-19.
"Community health workers who have been trained to go door-to-door vaccinating children against polio have been redeployed and utilised for surveillance, contact tracing and care," he wrote.
He said this strategy had "suppressed the virus so that, as the country stabilises, the economy is also now picking up once again".
Pakistan's response reinforces "the lesson that the choice is not between controlling the virus or saving the economy; the two go hand-in-hand", the WHO chief added.
Besides Pakistan, Tedros picked out certain other countries for praise, notably Thailand, Italy and Uruguay, for their handling of the pandemic.
He said the grim milestone of one million Covid-19 deaths should spur the planet into fighting back against the disease, insisting that it was "never too late to turn things around".
Tedros said there were encouraging signs of hope, citing vaccine candidates in final-stage trials.
And he said that while the world awaited scientific breakthroughs, the new coronavirus could be effectively contained through proven public health measures.
"One million people have now been lost to Covid-19 and many more are suffering because of the pandemic," he wrote.
"This milestone is a difficult moment for the world but there are glimmers of hope that encourage us now and in the near future.
"No matter where a country is in an outbreak, it is never too late to turn things around."
'Seize the opportunity'
Tedros outlined four essential steps to get the pandemic under control, starting with preventing amplifying events and protecting vulnerable groups.
He stressed the need for individual responsibility in washing hands, wearing masks and keeping a distance; and for governments to find, isolate, test and care for cases, then trace and quarantine their contacts.
"While today's milestone gives us pause for reflection, this is a moment for us all to come together, in solidarity, to fight back against this virus," Tedros said.
"History will judge us on the decisions we do and don't make in the months ahead. Let's seize the opportunity and bridge national boundaries to save lives and livelihoods."
'One million tragedies'
The WHO chief reiterated his call for funding for the WHO-led ACT-Accelerator, a globally pooled hunt for Covid-19 vaccines, diagnostics and treatments.
The programme has just $3 billion of the $38 billion needed to meet the goal of producing and delivering two billion vaccine doses, 245 million treatments and 500 million diagnostic tests over the next year.
Meanwhile the Red Cross, also based in Geneva, said the death toll was one more tragic milestone in the rolling humanitarian catastrophe.
"Today, we stand in grim solidarity with the hundreds of thousands of families that have lost loved ones," said Jagan Chapagain, secretary general of the International Federation of Red Cross and Red Crescent Societies.
"A million deaths represent one million individual tragedies and countless heartbreaks."
He added that while fighting the pandemic, "we need to be planning for the support that millions of people will need to rebuild their lives even once this illness is finally defeated".
https://www.dawn.com/news/1582311/who-chief-lauds-pakistan-for-suppressing-covid-19-while-keeping-economy-afloat
--------
Pakistan court issues non-bailable arrest warrants for Shahbaz Sharif's wife, daughter
Sep 29, 2020
Omer Farooq Khan
ISLAMABAD: A Lahore-based accountability court on Tuesday granted Pakistan's anti-graft watchdog, the National Accountability Bureau (NAB), a 14-day physical remand of Pakistan Muslim League-Nawaz (PML-N) president and leader of the opposition in the National Assembly Shahbaz Sharif and issued non-bailable arrest warrants for his wife and daughter in a money laundering case.
The arrest warrants were issued after Sharif's wife Nusrat Shahbaz and daughter Rabia Imran failed to appear for the hearing of the case. Meanwhile, the court accepted Sharif's other daughter Javeria Ali's petition for permanent exemption from court hearings.
Sharif, who was arrested by the anti-corruption body a day earlier, argued his case himself in the court. He denied any wrongdoing and alleged that a mockery was being made of the law. "This is the NAB-Niazi (PM Imran Khan) nexus in play," he said.
Following the arguments, the court accepted NAB's request to grant the accountability body two-week physical remand of Sharif. The judge ordered to present the PML-N president in the court again on October 13.
The case against Sharif is related to NAB's December 2019 reference under which it had frozen 23 properties owned by him and his sons Hamza and Suleman over claims that they had acquired assets beyond their known sources of income and committed money-laundering.
According to NAB, an investigation had found that the PML-N president had acquired properties in the name of his wives Nusrat and Tehmina Durrani. PML-N denies the allegations, claiming that the anti-corruption body was merely trying to harass the opposition at the government's behest.
Condemning Sharif's arrest and arrest warrants for his wife and daughter, PML-N spokesperson Marriyum Aurangzeb said that the "selected government has crossed all limits... in political revenge".
"Fascist and dictatorial tactics against political opponents will remain as a black stain on Mr Imran's forehead," she posted on Twitter.
https://timesofindia.indiatimes.com/world/pakistan/pakistan-court-issues-non-bailable-arrest-warrants-for-shahbaz-sharifs-wife-daughter/articleshow/78392674.cms
--------
PM wants Nawaz brought back from UK at the earliest
Syed Irfan Raza
30 Sep 2020
ISLAMABAD: Prime Minister Imran Khan on Tuesday tasked relevant authorities with bringing back Pakistan Muslim League-Nawaz (PML-N) supreme leader Nawaz Sharif from London, where he has been staying since November 2019 on medical grounds, at the earliest.
The decision was taken at a cabinet meeting where the prime minister also issued the directive to relevant authorities to pursue the matter vigorously, just a day before the Islamabad High Court (IHC) is expected to ask the government about measures it had taken to bring Nawaz Sharif back, a cabinet member told Dawn.
He said the government had already sent a request to the British government for the PML-N leader's repatriation but it would now send a fresh application.
He said besides a normal application, a formal request for his extradition would also be made. "Although we have no extradition treaty with the United Kingdom, wanted people can be repatriated under special arrangements as we had also handed over some people to the UK," the cabinet member said.
Fresh application for repatriation to be filed; committee formed to deal with protesting opposition
On Sept 15, the IHC had ordered that Nawaz Sharif be arrested and presented before the court.
In response to the court ruling, the PML-N had announced that it honoured the court decisions, but the supreme leader of the party would return once his health permitted him.
The IHC will resume proceedings from Wednesday to examine issuance of proclamation of Nawaz Sharif as the court is expected to ask about measures taken to bring him back.
On Nov 8, Nawaz Sharif, who was convicted in a corruption case, was allowed to travel abroad for his treatment while his daughter Maryam Nawaz had to stay behind "till further orders".
While Prime Minister Imran Khan stuck to his stance for many months that no National Reconciliation Ordinance-like relief would be given to ex-PM Sharif, the former gave a go-ahead to his travel, raising many eyebrows.
Committee formed to deal with opposition
The prime minister also formed a committee of some cabinet members to deal with the opposition, which had announced a protest campaign against the government.
The cabinet meeting gave approval to a visa policy for Afghanistan following the visit of High Council for National Reconciliation Chairman Dr Abdullah Abdullah to Pakistan.
Besides, it permitted a one-time pre-shipment inspection of ships coming to Pakistan with stocks of wheat imported by the Trading Corporation of Pakistan.
Under a recent agreement between the UK and Pakistan on airline operations, the cabinet permitted Virgin Atlantic to operate between the two countries.
An inquiry report was presented before the cabinet regarding irregularities in the installation of telemetry system for 'fair' distribution of water under the Indus River System Authority (Irsa).
The meeting consented to the removal of Irsa members, as those from Khyber Pakhtunkhwa, Sindh and Balochistan had completed their term, while Punjab was asked to reassess the capability of its member.
The cabinet also gave a go-ahead to audit of Irsa affairs and allowed amendments to be made to its laws.
Under the Pakistan Medical Commission Act 2020, recently passed by the parliament in a joint sitting, the cabinet approved the appointment of Dr Arshad Taqi and Ali Raza as president and vice president of the Medical and Dental Council, respectively.
Appointment of Syed Hussain Abdi as chairman of the Pakistan Council of Scientific and Industrial Research, Islamabad, was also approved.
https://www.dawn.com/news/1582412/pm-wants-nawaz-brought-back-from-uk-at-the-earliest
--------
Islamabad, Kabul look forward to new era in ties
Baqir Sajjad Syed
30 Sep 2020
ISLAMABAD: Top Afghan peace official Abdullah Abdullah on Tuesday emphasised the centrality of Pakistan's role for peace in his country as both sides agreed on turning over a leaf in their ties marred by mutual mistrust and acrimony.
Remarks by Chairman of Afghanistan's High Council for National Reconciliation Abdullah Abdullah and Foreign Minister Shah Mahmood Qureshi at the Institute of Strategic Studies Islamabad (ISSI) and Prime Minister Imran Khan's conversation with the visiting Afghan official unmistakably pointed to an impending paradigm shift in the way the two countries have so far conducted their bilateral ties.
Dr Abdullah arrived in Islamabad on Monday on a three-day trip accompanied by a high-level delegation for talks on the peace process and bilateral relations.
"Pakistan played a critical role in facilitating the talks, and has even a more important role to play here on not only supporting the process through a successful end, but also in standing with the people and government of Afghanistan in building a peaceful and prosperous neighbourhood," he said at ISSI.
Abdullah sees Pakistan's key role in Afghan peace
Pakistan is being credited for the start of intra-Afghan dialogue, currently under way in Doha. Islamabad had also facilitated US-Taliban agreement that paved the way for the talks between the Afghan groups.
But, frayed ties have impeded cooperation between the two neighbours.
Dr Abdullah said: "After many troubling years, we now need to go beyond the usual stale rhetoric and shadowy conspiracy theories that have held us back."
"We then need to draw the necessary lessons about our gains and losses, threats and opportunities, especially where we could have been today if we had aimed for stronger win-win solutions, reduced tensions, promoted moderation, increased regional connectivity, trade, transit, economic integration, Business to Business (B2B) and importantly People to People (P2P) interactions," he further said.
Foreign Minister Qureshi too called for "recognition of the mistakes of past" and "adding a new chapter to bilateral ties".
He reassured Dr Abdullah and his accompanying delegation that Pakistan had "no favourites in Afghanistan", did not want to "meddle in Afghanistan's internal affairs" and respected its sovereignty, independence and territorial integrity.
The foreign minister said Pakistan would support whatever consensus emerges during Doha peace talks and accept "will of the people of Afghanistan". Pakistan has over the past few weeks repeatedly called on all Afghan sides to lower violence, but at ISSI, Mr Qureshi put greater emphasis on reduction in violence, saying it was a "pre-requisite for peace".
A sharp spike in violence in Afghanistan has been witnessed during the three weeks of talks in Doha. Kabul wants Taliban to agree to ceasefire, but the insurgents are linking it to progress towards a political settlement.
Mr Qureshi underscored that a relationship between the two neighbours based on "cooperation and understanding" was the only way forward.
He asserted that Pakistan would like to be "friends not masters" of Afghanistan.
Prime minister
Later in the evening, Dr Abdullah called on Prime Minister Imran Khan.
Mr Khan hoped that Dr Abdullah's visit will help open a new chapter in the bilateral relationship between Pakistan and Afghanistan.
He reiterated that Pakistan would support whatever Afghans agree upon about the future of Afghanistan. He also reaffirmed full support for the post-conflict Afghanistan on its path to reconstruction and economic development.
https://www.dawn.com/news/1582413/islamabad-kabul-look-forward-to-new-era-in-ties
--------
ATC in Karachi seeks copy of SC order for disposing of Perween killing case within month
30 Sep 2020
KARACHI: An antiterrorism court (ATC) on Tuesday sought a copy of the order purportedly passed by the Supreme Court (SC) for disposal of the case pertaining to murder of renowned rights activist Perween Rahman within one month time.
Five accused — Abdul Raheem Swati, his son Mohammad Imran Swati and three co-accused: Ayaz Shamzai aka Swati, Amjad Hussain Khan and Ahmed Khan aka Ahmed Ali aka Pappu Kashmiri — have been charged with her murder.
Ms Rahman, head of the Orangi Pilot Project (OPP), who devoted her life to the development of the impoverished neighbourhoods across the country, was gunned down near her office in Orangi Town on March 13, 2013.
On Tuesday, the matter came up before the ATC-XIII judge, who is conducting trial in the judicial complex inside the central prison.
The judge was informed that while hearing an application of complainant Aquila Ismail seeking re-investigation of the case by the Federal Investigation Agency instead of the Sindh police, the SC on Sept 25 directed the trial court to conclude the trial within a month.
The judge asked the complainant's counsel to submit a copy of the apex court's order on the next date of hearing and fixed the matter for Oct 16.
The trial in the high-profile case remained stalled for around one-and-half-year following a restraining order passed by the Sindh High Court against passing of the judgement without recording evidence of the heads of three joint investigation teams (JITs) constituted to investigate the killing of Ms Rahman.
Complainant Aquila, who is the sister of the slain activist, had approached the higher court to seek recording of evidence of the heads of the three JITs and also moved a separate application before the apex court to seek fresh investigation into the murder by the FIA.
According to the prosecution, some of the detained accused during interrogation had confessed to their involvement in the crime and disclosed that local leaders of the Awami National Party (ANP) had allegedly hired Taliban militants to kill the activist.
The judge of the ATC-XIII has already recorded statements of the accused persons under the Section 342 of the Criminal Procedure Code (CrPC).
On Dec 22, 2018, the trial court dismissed Ms Ismail's application filed under the Section 540 of the Criminal Procedure Code (CrPC) for summoning the investigators (of JITs) and had fixed the matter for recording final arguments from the state prosecutor, the defence counsel for the accused persons and counsel for the complainant.
But the complainant filed a revised application against the trial court's order in the Sindh High Court (SHC), pleading to direct the trial court to summon the heads of the JITs for recording their statements, arguing that the testimonies of the investigators, who had interrogated the accused persons, were an importance piece of evidence to build up the trial.
According to complainant's counsel Salahuddin Panhwar, the SHC had issued an interim stay order, restraining the trial court from passing its judgement in the murder case without recording evidence of the heads of the JITs.
Since then the trial has been stalled at the crucial stage of recording final arguments from the parties.
Evidence recorded so far
"The prosecution had listed around 35 witnesses in the case. Of them, the trial court has recorded the statements of some 20 to 21 witnesses of the prosecution." the counsel for the parties had recently told Dawn.
Among the witnesses were police officials, including the then SSP (Investigation) Akhtar Farooq who had recorded the confessional statement of accused Raheem aka Swati.
Under the Section 21 of the Anti-Terrorism Act 1997, a confessional statement of an accused recorded before a police officer of the rank of senior superintendent would be entertained as confessional statement recorded under the Section 164 of the Criminal Procedure Code (CrPC) before a judicial magistrate, advocate Panhwar claimed.
In his alleged statement before Akhtar Farooq, accused Raheem had confessed that he had planned and executed the murder of Perween Rahman due to 'the dispute over plots', the counsel claimed.
On the other hand, defence counsel Shah Imroze Khan for three accused persons complained that the complainant's side was employing different tactics to unnecessarily delay the trial proceedings, which amounted to violating the rights of the accused persons who had been incarcerated in the jail for a long time.
He also said that the new JIT had purportedly submitted its final report to the SC. Comprising over around 600 pages, the report contained interrogation from real estate tycoon Malik Riaz and some politicians, he added.
The defence counsel contended that while recording the alleged confessional statement of Raheem, the then SSP had committed glaring mistakes, thus it was not an admissible piece of evidence.
In October 2019, the federal government had constituted a fourth joint investigation on the directives of the apex court to re-investigate the matter afresh.
According to the prosecution, some of the detained accused during interrogation had confessed to their involvement in the crime and disclosed that local leaders of the Awami National Party (ANP) had allegedly hired Taliban militants to kill miss Rahman.
It added that Ayaz and Raheem, who were said to be local leaders of the ANP, were living near the OPP office and allegedly tried to obtain a designated area to build a karate centre, but Rahman refused to allow it.
The prosecution also said that all the accused persons were present in a meeting held in January 2013 at Raheem's residence in which they planned Rahman's assassination, adding that they hired a local commander of the Tehreek-i-Taliban Pakistan (TTP), Moosa, and Mehfoozullah aka Bhaloo for the murder.
Initially, a case was registered under sections 302 (premeditated murder) and 34 (common intention) of the Pakistan Penal Code at the Pirabad police station.
Section 7 of the Anti-Terrorism Act 1997 was subsequently incorporated in the case on the basis of a judicial inquiry conducted by then district and sessions judge (west) Ghulam Mustafa Memon on the orders of the SC.
https://www.dawn.com/news/1582314/atc-in-karachi-seeks-copy-of-sc-order-for-disposing-of-perween-killing-case-within-month
--------
Opposition to hold first 'historic' rally under PDM banner on Oct 11 in Quetta
30 Sep 2020
The first public meeting of the Pakistan Democratic Movement (PDM) — an alliance of almost all major opposition parties that seeks the government's ouster — will be held on October 11 in Quetta, opposition leaders announced on Tuesday.
Addressing a press conference after PDM's first formal meeting in Islamabad, PML-N leader and former prime minister Shahid Khaqan Abbasi said the anti-government movement will be launched across the country after the "historic" rally in Quetta.
"This movement will keep growing and will be successful in ridding Pakistan of this undemocratic process," said Abbasi, accompanied by other opposition leaders. PML-N's Maryam Nawaz and PPP chairperson Bilawal Bhutto-Zardari did not attend the meeting.
Analyse: Pitfalls after the MPC
Abbasi said the meeting strongly condemned the "shrinking" space for democracy in the country and discussed rising inflation, unemployement, "historic corruption", the state of the economy and people's issues.
The meeting also gave approval to PDM's steering committee, which Abbasi said will play its role "in taking the PDM movement forward".
He said the steering committee, which will comprise two members from each party, held its first meeting today as well and an "organisational structure" will be sent to the opposition parties' leaders following which the movement will be presented before the people.
"You will see that this movement will give rise to a true political change in Pakistan's political history," Abbasi said, adding that all opposition parties had consensus on the decisions taken today.
He said the movement's future strategy will be decided in the second meeting of the steering committee next Monday.
The steering committee's convenership will be changed on a rotational basis, with PML-N's Ahsan Iqbal to serve as its convener for the first month.
The PDM huddle comes a day after PML-N president and Leader of the Opposition in the National Assembly Shehbaz Sharif was arrested by the National Accountability Bureau (NAB) in an assets beyond means and money laundering case.
Referring to the arrest, former premier and PPP leader Raja Pervez Ashraf said the meeting resolved that "such tactics will weaken democracy and the anger and grievances of Pakistanis will rise."
Questioning the need to arrest Shehbaz after a reference against him had been filed, Pervez said the "government-NAB nexus" became apparent after government ministers predicted on television the arrests of various opposition leaders.
Ashraf said the Oct 11 rally will be followed by "a series of public meetings" in all provinces.
The meeting was expected to review the situation after Shehbaz's detention and possible arrest of other leaders, the PTI government's alleged plan to rig Gilgit-Baltistan and local bodies polls and give a final shape to the decisions taken at the opposition's September 20 multi-party conference (MPC).
The PDM was formed at the MPC, where opposition parties had announced launching of a three-phased anti-government movement under an "action plan" starting from next month with countrywide public meetings, protest demonstrations and rallies in December and a "decisive long march" towards Islamabad in January 2021.
https://www.dawn.com/news/1582300/opposition-to-hold-first-historic-rally-under-pdm-banner-on-oct-11-in-quetta
--------
Mideast
Israel's Netanyahu alleges Hezbollah has 'secret arms depot' in Beirut
29 September 2020
Israeli Prime Minister Benjamin Netanyahu on Tuesday accused Iran-backed Hezbollah of maintaining a "secret arms depot" in a residential neighborhood of Beirut, warning it could cause another tragic explosion in the Lebanese capital.
In an address to the UN General Assembly, Netanyahu pointed to maps purportedly showing the missile depot's location next to a gas company and residential housing. He also showed what he said was a picture of the entrance to the depot.
For all the latest headlines, follow our Google News channel online or via the app.
"Here's where the next explosion will take place, right here," he said.
"You've got to act now, you've got to protest this, because if this thing explodes, it's another tragedy," he said, addressing the Lebanese people. "You should tell them, 'Tear these depots down.'"
Last month, a warehouse filled with nearly 3,000 tons of ammonium nitrate exploded in Beirut's port, killing nearly 200 people, wounding thousands and causing widespread destruction in the capital.
The ammonium nitrate had been stored there for several years after being removed from an impounded cargo ship. No one has yet been held accountable for the blast, which appears to have been triggered by an accidental fire.
Israel has long accused Hezbollah of storing weapons and maintaining military posts in civilian areas, especially in the southern suburbs of Beirut and southern Lebanon, both strongholds of support for the Iran-backed militant group.
The Israeli military later released maps and videos showing the site that Netanyahu had referenced as well as two other alleged missile depots it said were under residential apartment blocks. It described all three as precision-guided missile manufacturing sites.
The military provided precise locations of the alleged weapons sites, but gave no other evidence and did not say how advanced the manufacturing program is.
Netanyahu said another depot had exploded just a few days ago in the southern Lebanese village of Ain Qana, near the port city of Sidon. It is not clear what caused that explosion, which sent smoke billowing into the sky but did not cause any casualties.
https://english.alarabiya.net/en/News/middle-east/2020/09/29/Israel-s-Netanyahu-alleges-Hezbollah-has-secret-arms-depot-in-Beirut
--------
IRGC Commander: US Incapacitated, Withdrawing from Region
Sep 29, 2020
"Today the US, which has been exerting pressures to isolate Iran, has itself been isolated. The US has gradually lost its political influence in the region and the world and has been marginalized in the political developments and failed to score any victory in the battlefield," General Salami said, addressing Iranian lawmakers in Tehran on Tuesday.
He referred to the US role in the formation of ISIL terrorist group, and said Iran defused Washington's plots in this grand battlefield and prevented materialization of its political wishes to restructure the Middle-East politically.
"The US is now withdrawing while it is tired, worn-out and debilitated," General Salami said.
In relevant remarks in June, General Salami referred to the protest rallies across the US, saying that Washington's power is decreasing earlier than expected.
"Today, we are witnessing the early and rapid decline of our big enemies, specially the US," General Salami said.
He added that while the US was able to conceal its real face before the public opinion in recent years, today its crimes have been disclosed in a way that the American people, themselves, set fire at the US flag.
"All symbols used by the US to introduce itself and display an unreal face to the world are now collapsing and the US is tearing apart the image that it had created for itself," General Salami said.
https://en.farsnews.ir/newstext.aspx?nn=13990708000260
--------
Spokesman: Iran, Russia, Turkey Able to Help Azerbaijan, Armenia End Dispute
Sep 29, 2020
"We follow on the recent conflicts in the occupied regions of the Republic of Azerbaijan thoroughly and with concern," Rabiyee told reporters at a press conference in Tehran on Tuesday.
"The position of the Islamic Republic on the need to respect and recognize the territorial integrity of the Republic of Azerbaijan is very clear, and the Government of the Islamic Republic of Iran has repeatedly emphasized this legitimate right within the framework of international laws and UN resolutions," he added.
"We also believe that the dispute between the two neighboring countries of the Republic of Azerbaijan and the Republic of Armenia has a peaceful solution, and that Iran, Turkey and Russia can assist the two neighbors with implementing the UN resolutions in order to resolve their differences peacefully," Rabiyee said.
Iran has invited the neighboring countries of Azerbaijan Republic and Armenia to avoid tensions and adhere to self-restraint to resolve Nagorno-Karabakh conflict, stressing the need for regional peace.
Iranian Foreign Minister Mohammad Javad Zarif called on his Azeri and Armenian counterparts to refrain from military ways as tensions have risen between the two countries over Nagorno-Karabakh region.
During phone conversations with Armenian Foreign Minister Zohrab Mnatsakanyan and Azeri Foreign Minister Jeyhoun Bayramov, Zarif voiced concern over the situation and called on both sides to declare ceasefire and end hostilities.
He called for negotiations according to the international law and expressed Iran's readiness to use all its capacities to help settle disputes.
Battles between Armenian and Azerbaijan forces over the disputed region of Nagorno-Karabakh continued, as international calls for calm after the heaviest fighting between the two sides in years grew.
https://en.farsnews.ir/newstext.aspx?nn=13990708000773
--------
Israel approves law to curb protests during virus lockdown
September 30, 2020
JERUSALEM: Israel's parliament on Wednesday passed a law that would allow the government to curtail public protests during the country's nationwide coronavirus lockdown, a measure that drew fierce opposition a day earlier.
The law allows the government to declare a special week-long state of emergency if the coronavirus spreads out of control. If such a state is declared, the government would be able to limit participation in assemblies, including protests, to 1 kilometer (0.6 miles) from a person's home, effectively putting a halt to large weekly demonstrations outside Prime Minister Benjamin Netanyahu's residence.
The Knesset approved the bill 46-38 during a late-night session that stretched into the morning hours.
That measure is widely seen as a bid to squelch protests against Netanyahu, which have drawn thousands each week outside his official residence for the past several months.
They are the largest sustained demonstrations against Netanyahu in nearly a decade, and call on the longtime prime minister to resign while on trial for corruption charges and accuse him of bungling his management of the coronavirus crisis
Netanyahu has said the protests must end due to public health concerns. But protesters say he is using the crisis as a pretext to muzzle them.
Netanyahu is on trial for fraud, breach of trust and accepting bribes in three separate cases. He has denied any wrongdoing, accusing the media and law enforcement of an orchestrated "witch hunt" against him.
Earlier this month, Israel declared its second countrywide lockdown, and tightened restrictions further last week in a bid to rein in one of the world's most severe coronavirus outbreaks. Schools, malls, restaurants and hundreds of businesses are shut.
The lockdown went into effect on Sept. 18, just before the Jewish New Year, and was initially slated to be lifted on Oct. 11. But Israeli officials are now saying the lockdown is expected to run longer as new COVID-19 cases continue to climb.
Israel, a country of around 9 million people, has recorded over 235,000 cases of the novel coronavirus and more than 1,500 deaths, according to Health Ministry figures. The ministry said Tuesday the country has for the first time surpassed the US, one of the world's worst-hit countries, in per capita daily coronavirus deaths.
https://www.arabnews.com/node/1742226/middle-east
--------
North America
US urges Iran to respect human rights after Christians flee country to escape prison
Emily Judd
29 September 2020
The US is calling on Iran to respect basic human rights after a Christian pastor and his wife fled the country to escape prison.
Pastor Victor Bet-Tamraz, a longtime leader of the Assyrian Pentecostal Church of Iran, escaped the country with his wife Shamiram on August 15. He had been sentenced to 10 years in prison, and his wife five years, both for Christian activities. Christians in Iran are often persecuted from their religious practice.
US State Department Spokesperson Morgan Ortagus told Al Arabiya English Tuesday that Washington is "deeply saddened" Victor and Shamiram Bet-Tamraz were forced to flee Iran "after authorities upheld harsh prison sentences against them due to their faith."
"Nobody should face abuse because of their religious beliefs or activities. Unfortunately, this is all too common in Iran, where many members of religious minority groups experience discrimination, harassment, and unjust imprisonment," Ortagus told Al Arabiya English.
"We commend the Bet Tamraz family for courageously advocating for religious freedom in Iran and call on the Iranian government to respect this human right," Ortagus added.
Shia Islam is the official religion of Iran and while the government purports to protect religious minorities like Christians, Sunni Muslims, Jews, Baha'i's, and others – they are frequently subject to harassment, detention, flogging, and even execution.
Pastor Bet-Tamraz's story
Pastor Bet-Tamraz and his wife fled Iran where they, alongside an estimated 300,000 Christians in the country, are unable to freely worship, observe, practice, or teach their faith.
Now safe in an undisclosed location, Bet-Tamraz spoke out last week to nonprofit Christian watchdog Article 18, saying Iranian authorities "really just don't want active Christians to be [in the country]."
"The pain is that you are persecuted for your beliefs," said Bet-Tamraz whose alleged crime was offering Christian worship services in Persian – the official language of Iran - in addition to Assyrian.
The Christian pastor previously spent 65 days in solitary confinement in Iran's Evin prison, notorious for its human rights abuse, after being arrested in 2014.
Iran shut down Bet-Tamraz's Tehran church in 2009 and later charged him with "conducting evangelism" and "illegal house church activities" – acts that the Iranian regime considers threats to national security.
"We were told not to use the Persian language … for years I resisted this very much … this caused them to raid the church and close it," Bet-Tamraz said, adding that he continued to hold services in his home until his arrest in 2014.
According to Bet-Tamraz, the government sees the religion of Christianity as "fundamentally political."
"It seems Christianity, or at least Protestantism, is considered fundamentally political," Bet-Tamraz said.
The 65-year-old pastor said leaving his homeland was the "most painful" trip of his life, but that he was left with no choice after being sentenced to 10 years in prison last month.
"You can't easily leave your homeland, where you grew up…I didn't want to leave Iran at all. If they gave me two years, three years in prison, I would have endured it," he said.
https://english.alarabiya.net/en/News/middle-east/2020/09/29/US-urges-Iran-to-respect-human-rights-after-Christians-flee-country-to-escape-prison
--------
US Senators request temporary sanctions waivers for Lebanon
29 September 2020
A group of US Senators has asked the Trump administration to grant sanctions waivers to Lebanon in order to continue importing electricity from Syria, according to a letter obtained by Al Arabiya English on Tuesday.
The three senators - Jeanne Shaheen, Tim Kaine and Chris Murphy - signed the letter that called for Lebanon to be exempt from sanctions under the Caesar Syria Civilian Protection Act, also referred to as the Caesar Act.
"While we understand the controversial aspects of this proposal, we urge you to consider Lebanon's geography and the regional difficulties facing the small country in reviewing this request. Lebanon's power grid is connected only to Syria, and electricity imports from other regional states must occur through Syria," the letter said.
The senators added that Lebanon previously attempted to purchase electricity through other states, like Egypt and Jordan, "however the Syrian government has not allowed these agreements to come to fruition."
Despite being a strong advocate of sanctions against Lebanon over the role of Iran-backed Hezbollah, Shaheen is pushing ahead with calls to shield Lebanon from unintended repercussions of the Caesar Act.
The legislation, which went into effect in June, looks to cut off all forms of revenue from reaching Syrian President Bashar al-Assad's regime and its allies. It also threatens to impose sanctions on anyone who does business with the Assad regime.
Lebanon's power stations use expensive heavy fuel, and state utility Electricite du Liban (EDL) cannot afford to provide 24-hour power, leaving consumers to rely on costly private generators.
However, Lebanon imports up to 276 megawatts of power from Syria under an agreement between Beirut and Damascus that was initially signed in 1995.
Without that potential supply, Lebanon would have to rely more heavily on the diesel generators that provide power for most of the country when state-provided electricity is cut, Marc Ayoub of the American University of Beirut previously told Al Arabiya English.
During the summer, when demand usually spikes, Ayoub said, the country might see an additional 100- to 150-megawatt power deficit if the option to import from Syria is not there. As of now, there is no option to fill that gap apart from relying on costly generators.
In June, then-Prime Minister Hassan Diab called on the United Nations, the European Union, and "friendly nations to shield Lebanon from the negative repercussions of any sanctions that may be imposed on Syrians, particularly in the context of the Caesar Act."
Lebanon's Ambassador to the US Gabriel Issa previously put forth several requests to the US administration for sanctions waivers in several sectors.
"We need these waivers granted to alleviate the economic pressure on Lebanon," a senior Lebanese diplomat told Al Arabiya English.
The request submitted by the US Senators also called on the State Department to help Lebanon rehabilitate its ramshackle electricity sector, which would eventually see Beirut ease of its dependence on Syria for its power grid.
Earlier this year Shaheen threatened to slap Lebanese officials with sanctions over the detention of Lebanese-American citizen Amer Fakhoury for his role with an Israeli-backed militia in south Lebanon.
But Shaheen cited the multiple waivers extensions given by the US to Iraq for continuing importing electricity from Iran.
"Should an institution of similar confidence exist in Lebanon, we urge you to consider a comparable framework to allow for Lebanon's energy purchases as the country rebuilds," the letter said.
https://english.alarabiya.net/en/business/energy/2020/09/29/US-Senators-request-temporary-sanctions-waivers-to-Lebanon
--------
US State Department says 'outraged' by rocket attack in Baghdad
29 September 2020
The United States is "outraged" by Monday's rocket attack in the Iraqi capital Baghdad that killed five civilians, US State Department said on Tuesday, urging Iraqi authorities to take immediate action to hold the perpetrators accountable.
"We have made the point before that the actions of lawless Iran-backed militias remains the single biggest deterrent tostability in Iraq," Department spokeswoman Morgan Ortagus said in a statement.
For all the latest headlines follow our Google News channel online or via the app.
On Monday, the Iraqi army said that three Iraqi children and two women from the same family were killed when a rocket targeting Baghdad airport, where US troops are stationed, fell instead on their home.
The Trump administration has warned Iraq that it will close its embassy in Baghdad if the government does not take swift and decisive action to end persistent rocket and other attacks by Iranian-backed militias and rogue armed elements on American and allied interests in the country, US, Iraqi and other officials said Monday.
https://english.alarabiya.net/en/News/middle-east/2020/09/29/US-State-Department-says-outraged-by-rocket-attack-in-Baghdad
--------
US judge mostly rejects Haftar's move to dismiss suits
Michael Gabriel Hernandez
30.09.2020
WASHINGTON
A US District Court judge on Tuesday largely rejected renegade Libyan General Khalifa Haftar's effort to dismiss a pair of lawsuits against him brought by plaintiffs who say he is responsible for the deaths of their family members.
Haftar has argued that the cases against him should be dismissed because he is immune from legal action under his claim of being Libya's head of state.
He is the head of eastern Libya's Libyan National Army (LNA), which is locked in a power struggle with the internationally-recognized Government of National Accord (GNA) based in the capital, Tripoli.
Faisal Gill, a lawyer representing the families, said in an interview with Anadolu Agency following Tuesday's virtual hearing that Judge Leonie Brinkema has largely rejected the state immunity claim but allowed 60 days for the State Department to formally weigh in on the matter. It is unclear if it will.
Should the State Department not respond, the case will proceed to what is known as discovery, when each side can request documents and ask questions from the other.
Asked in August whether the Trump administration views Haftar in any way as Libya's head of state, a State Department spokeswoman who spoke on condition of anonymity told Anadolu Agency "there has been no change to the U.S. position with regard to recognition of the Libyan Government of National Accord."
"The Libyan Political Agreement and its associated institutions, including the GNA, are the sole internationally recognized framework for Libya's governance and political transition, as affirmed by the UN Security Council," she said.
Haftar's legal team additionally argues that the plaintiffs are presenting a "political question" ill-suited to be resolved by the courts and that their clients -- Haftar and his two sons -- were not properly served notice of the lawsuit.
That argument was also rejected by Brinkema, the presiding judge, Gill said.
Two lawsuits that have been filed in a US court in the state of Virginia by victims' families accuse Haftar of being responsible for gross human rights abuses, including extrajudicial killings and torture committed by his forces during the course of Libya's civil war.
They seek millions of dollars in compensation that can be accrued from property owned by Haftar, a dual US-Libyan national who had lived with his sons Khalid and Saddam for years in Virginia after a falling out with Libya's deceased former strongman Muammar Gaddafi.
While the judge heard Haftar's motion to dismiss both cases during a single session, they are currently being considered separate cases.
https://www.aa.com.tr/en/americas/us-judge-mostly-rejects-haftars-move-to-dismiss-suits/1990154
--------
Southeast Asia
Sharia Court will continue to be strengthened: Muhy
September 30, 2020
SEPANG: The Sharia Court, which is a Sharia judicial and legal institution that upholds Islamic teachings, will continue to be strengthened and empowered from time to time, said Prime Minister Tan Sri Muhyiddin Yassin.
He said the government was constantly making improvements to the jurisdiction of Sharia courts, the appointment of Sharia judges and professionalism of court officials.
Speaking at the opening of the 2020 Nusantara Sharia Judicial and Legal Conference (PKPSN 2020) here today, Muhyiddin said the Perikatan Nasional (PN) government was always committed in supporting efforts that could contribute towards raising the status of the Sharia judicial and legal institutions in Malaysia.
"These continuous improvements will be able to boost the image of the Sharia judiciary and law in dealing with the increasingly complex and challenging cases,, as well as meet the needs of the Muslim community as a whole," he added.
Muhyiddin said the use of new technology must be given priority by the administration of the Sharia court because without technology, the administration of the Islamic judicial system could be hampered and thus, obstruct implementation of justice, which is demanded in Islam.
He said the implementation of the Movement Control Order (PKP) to curb the spread of the Covid-19 pandemic had a significant impact on the lives of the people and the country's administration, including that of the Sharia court.
"This included the closure of courts, requiring the judicial system to function under the new normal circumstances, such conducting court proceedings online," he added.
The prime minister expressed his hope that the Malaysian Sharia Judiciary Department (JKSM) could take the initiative to create a forum to serve as a medium for exchange of information and best practices for Sharia judicial institutions that can be shared with countries in the region,such as Brunei, Singapore and Indonesia.
Through the forum, he said, academic discussions on the function of Maqasid Sharia among countries in the region could be held continuously in helping the government and state religious authorities to seek clarification on Islamic issues.
PKPSN 2020 involved 580 participants, including Sharia judges, court registrars, prosecution officers and Sharia officers from Brunei, Indonesia and Singapore.
The conference themed "Application of Maqasid Al-Syariyyah: Towards Cultivating New Norms in the Sharia Judicial and Legal System", was also attended by the Minister in the Prime Minister's Department (Religious Affairs) Datuk Dr Zulkifli Mohamad Al-Bakri.
http://www.dailyexpress.com.my/news/159113/Sharia-court-will-continue-to-be-strengthened-muhy/
--------
Arab world
Kuwait's new emir Sheikh Nawaf brings decades of ministerial experience
September 29, 2020
RIYADH: Kuwait's Crown Prince Sheikh Nawaf Al-Ahmad Al-Sabah will be sworn in as the nation's new emir on Wednesday.
Sheikh Nawaf, 83, served as the crown prince since 2006 and is the brother of the late emir Sheikh Sabah Al-Ahmad Al-Sabah, whose death was announced on Tuesday.
Born June 25, 1937, Sheikh Nawaf became governor of Kuwait's Hawalli region at the age of 25.In 1978 he became the country's interior minister, a position he held for nearly a decade.
Sheikh Nawaf's moved to become Kuwait's defense minister in 1988 and was in the role in 1990, when Saddam Hussein ordered his forces to invade Kuwait from Iraq.
"Our citizens inside Kuwait are disobeying orders and not following instructions and they are being mistreated," Sheikh Nawaf said at the time of the seven-month occupation.
He also served as the deputy National Guard commander from 1994 to 2003.As interior minister, Sheikh Nawaf negotiated in 1980 an end to the hijacking of a Boeing 727 heading from Beirut to Kuwait City. The hijackers ultimately gave up the plane without harming any passengers on board.
He briefly served as social affairs and labor minister after the Iraq war and again as interior minister.Sheikh Nawaf is married, with four sons and one daughter.
https://www.arabnews.com/node/1741971/middle-east
--------
Leaders of Arab world and beyond mourn Sheikh Sabah
September 29, 2020
CAIRO: Leaders across the world have offered tributes to Kuwaiti emir Sheikh Sabah Al-Ahmad Al-Sabah following his death earlier on Tuesday.
Sheikh Sabah was widely respected for his leadership and as a seasoned diplomat who could mediate across the region's divides.
Condolence messages streamed in from across the region and from Western countries soon after news of his death broke on state television.
Sheikh Sabah "was an extraordinary symbol of wisdom and generosity, a messenger of peace, a bridge-builder," said UN Secretary-General Antonio Guterres.
The UAE's Abu Dhabi Crown Prince Sheikh Mohammed bin Zayed, described the late emir as "a great pioneer in Gulf cooperation." The UAE also announced a three-day mourning period.
In Saudi Arabia, the royal court said the emir died after a journey full of achievement and generous service to his country and humanity. The Kuwaiti emir left behind "a procession full of achievements and endeavors exerted to best serve his country, the Arab as well as the Islamic nations and the entire humanity," the statement said.
The US Ambassador to Kuwait Alina Romanowski called Sheikh Sabah a "popular leader and special friend of the US." The embassy said he "devoted his life to peace and regional stability."
British Prime Minister Boris Johnson also said Sheikh Sabah "made a personal contribution to regional stability and humanitarian assistance which will long be remembered."
British Foreign Secretary Dominic Raab said described Al Sabah as "a great humanitarian leader and a true friend of the United Kingdom."
"He served Kuwait for many years with dedication, and as a founding father of the GCC he contributed over many decades to maintaining peace and stability in the region."
In Egypt, President Abdel Fattah El-Sisi expressed "great sadness" over Sheikh Sabah's death, recalling the long-standing "fraternal stance" of the emir toward Egypt.
Egypt also announced three days of mourning over the emir's passing.
In Lebanon, where the late Kuwaiti leader played a key role in trying to end the country's ruinous 1975-90 civil war and later helped with its reconstruction, politicians offered their condolences.
"With the death of Sheikh Sabah, Lebanon has lost a great brother who stood by the Lebanese during the difficult circumstances over the past years," said a statement from Lebanese President Michel Aoun.
https://www.arabnews.com/node/1741966/middle-east
--------
Iraqis decry insecurity at funerals of seven killed in anti-US attack in Baghdad
29 September 2020
Mourners hit out at Iraq's government over insecurity Tuesday, during the funerals of five children and two women killed by a wayward rocket targeting US troops stationed at Baghdad airport.
Several among the hundreds of mourners in the village of Al-Bouchaabane, a few kilometers from Baghdad airport, told AFP that some of the children were killed by the rocket as they played in front of their home late on Monday.
"This village is like a microcosm of Iraq," one mourner said. "If the government isn't capable of protecting us, how can it ensure the security of Iraq as a whole?"
The latest attack targeting American interests – one of around 40 since early August, and many others stretching back months – comes after Washington threatened to close its embassy and withdraw its remaining 3,000 troops from Iraq, unless the attacks cease.
The fatalities represent a new stage in the standoff between Prime Minister Mustafa al-Kadhimi, a head of the country's intelligence service long seen as close to Washington, and pro-Iran armed groups that are demanding US troops leave the country.
The death toll – up from an initial five, after two children died of their wounds in hospital – place these armed factions in an uncomfortable position.
The public has become increasingly worn down by years of violence and armed groups holding the country to ransom.
Possibly anticipating a backlash, pro-Iran social media accounts that usually laud such rocket strikes were silent in the wake of this attack.
Several high-ranking officials attended the funerals in a bid to provide reassurance, but several among the hundreds of Iraqis surrounding the coffins told AFP that they feel permanently unsafe.
In front of the victims' small home, dozens of tribal chiefs received condolences close to the crater left by the rocket.
Shrapnel holes were visible in walls and blood on the ground.
https://english.alarabiya.net/en/News/middle-east/2020/09/29/Iraqis-decry-insecurity-at-funerals-of-seven-killed-in-anti-US-attack-in-Baghdad-
--------
Lebanon's Amal movement 'surprised' by France's Macron accusations
29 September 2020
Lebanon's Amal movement expressed surprise on Tuesday over accusations by French President Emmanuel Macron that the Shia party triggered the collapse of talks to form a new government.
Prime minister-designate Mustapha Adib quit on Saturday after failing to line up a non-partisan cabinet, dealing a blow to a French plan aimed at rallying Lebanese leaders to tackle the country's financial meltdown.
Macron admonished Lebanon's leaders for serving their own interests ahead of their country's, saying he was "ashamed" of their behavior. He also questioned the role Lebanon's two main Shia groups, Amal and Hezbollah, played in obstructing the formation of government.
"The movement, while it respects the role French President Macron has played, is surprised by comments he made that included accusations and holding (the Amal Movement and Hezbollah) especially responsible," for stalling the process, Amal said in its statement.
Under a French roadmap to lift Lebanon from its crisis, the new government would take steps to tackle corruption and implement reforms needed to unlock billions of dollars of foreign aid to fix an economy crushed by a huge debt.
But there was deadlock over a demand by Amal and Iran-backed Hezbollah that they get to name several ministers, including the finance post.
https://english.alarabiya.net/en/News/middle-east/2020/09/29/Lebanon-s-Amal-movement-surprised-by-France-s-Macron-accusations
--------
At least 5 civilians killed in rocket fire near Baghdad airport: Army
29 September 2020
Three Iraqi children and two women from the same family were killed Monday when a rocket targeting Baghdad airport, where US troops are stationed, fell instead on their home, the army said.
The latest in a string of incidents targeting American interests in Iraq came after Washington threatened to close its embassy and withdraw its 3,000 troops from the country unless the rocket attacks stop.
For all the latest headlines follow our Google News channel online or via the app.
The attacks, which started around a year ago, have caused few casualties.
Monday's incident was the first to claim so many civilian lives. The army said it also wounded two other children.
Twitter accounts supporting US arch-enemy Iran regularly praise the attacks, but that was not the case Monday, and no group immediately claimed responsibility.
Previous attacks of the same nature have been claimed by murky groups saying they are acting against the "American occupier".
Experts say they include former members of pro-Iranian factions of the Hashed al-Shaabi paramilitary alliance.
The Iraqi army, in its statement Monday, accused "criminal gangs and groups of outlaws" of seeking to "create chaos and terrorize people".
Between October and July, at least 39 rocket attacks targeted US interests in Iraq. Almost the same number again have taken place since.
Iraqi intelligence sources have blamed the attacks on a small group of hardline Iran-backed paramilitary factions.
https://english.alarabiya.net/en/News/middle-east/2020/09/29/At-least-5-civilians-killed-in-rocket-fire-near-Baghdad-airport-Army
--------
Russian envoy seeks to break 'suffocating' Beirut deadlock
NAJIA HOUSSARI
September 30, 2020
BEIRUT: Russian Deputy Foreign Minister Mikhail Bogdanov will visit Lebanon to discuss support for the crisis-hit country following the failure of French efforts to form an independent Lebanese government.
Bogdanov, the Russian president's special envoy for the Middle East and North Africa, told Lebanese Democratic Party (LDP) leader Talal Arslan on Tuesday that "efforts and dialogue are needed to reach a solution that gets Lebanon out of the suffocating crisis it is going through."
In a meeting in Moscow on Monday, Bogdanov told Lebanese Ambassador Shawki Bou Nassar that he will visit Beirut in late October for talks with senior officials.
It will be the first visit by a Russian official since the Beirut port blast on Aug. 4 devastated large areas of the capital and plunged the country into political turmoil.
The Russian move follows the failure of French President Emmanuel Macron's efforts to form an independent Lebanese government and introduce reforms demanded by the International Monetary Fund (IMF) to help the country avoid a financial and economic meltdown.
Last Sunday, Macron gave Lebanese officials a six-week deadline to form a new government, accusing Lebanese leaders of betraying their pledges to him during a high-profile visit to Beirut in early September.
The accusations were directed at the Iran-backed Hezbollah and Amal Movement factions over obstruction of Prime Minister-designate Mustapha Adib's plans for a new government.
Both factions were widely criticized in the wake of Adib's resignation on Saturday and accused of sabotaging the French initiative.
On Monday, an Iranian foreign ministry spokesman said that Tehran rejected claims of "external interference in Lebanon's affairs."
Amal Movement said that Macron's accusations, as well as attempts to blame Amal Movement and Hezbollah, "are far from the facts and the realities of discussions with the prime Minister-designate."
The political faction said that its leader, Lebanese Parliament Speaker Nabih Berri, "is at the forefront of those keen to preserve Lebanon's stability and the unity of its people."
Berri's political aide, former minister Ali Hassan Khalil, has been been hit by US sanctions on a string of charges, including corruption.
Zafer Nasser, secretary-general of the Progressive Socialist Party, told Arab News that the objectives of Bogdanov's visit remain unclear and Lebanon must continue to support Macron's efforts.
"The French initiative is our last chance and we must hold on to it," he said.
With Lebanon's central bank expected to begin reducing subsidies for the import of hydrocarbons in coming weeks, gas stations around the country experienced shortages on Tuesday due to delays in imports.
According to a representative of the Gas Station Owners Syndicate, George Brax, a partial reduction of subsidies will raise the price of a can of gasoline to between 37,000 and 40,000 Lebanese pounds, while with a total reduction, it will reach between 65,000 and 70,000 Lebanese pounds.
"If the dollar exchange rate continues to rise, the price of a can of gasoline may reach 85,000 Lebanese pounds," he said.
https://www.arabnews.com/node/1742161/middle-east
--------
Saudi Cabinet congratulates security forces for thwarting terror cell
September 30, 2020
RIYADH: The Saudi Cabinet on Tuesday congratulated the Presidency of State Security for its work in identifying and apprehending the suspected members of a terror cell in the Kingdom.
Some of those who were arrested allegedly trained at sites in Iran run by the country's Revolutionary Guards. A cache of weapons and explosives was also seized.
Ministers expressed their appreciation for the efforts of the presidency's employees in tracking down those who threaten the security and stability of the Kingdom and the safety of those who live there.
Majid Al-Qasabi, the acting minister of media, said that while reviewing the latest regional and international developments, cabinet members reiterated the Kingdom's call during the recent International Atomic Energy Agency General Conference for the international community to adopt a firm stance on Iran, and take steps to address its violations of international agreements relating to its nuclear-research program. They also reaffirmed Saudi support for efforts, in partnership with the international community, to make the Middle East a nuclear weapon-free zone.
The virtual meeting was chaired by King Salman, who began by passing on his condolences and sympathy to the people of Kuwait and the family of its Emir, Sheikh Sabah Al-Ahmad Al-Jaber Al-Sabah, who died on Tuesday. He also congratulated the emir's successor, Sheikh Nawaf Al-Ahmad Al-Sabah.
King Salman thanked international leaders and officials for their messages of congratulations to the Kingdom and its people on the occasion of its 90th National Day. He also briefed ministers on his recent telephone conversation with Indian Prime Minister Narendra Modi, during which the two leaders reviewed bilateral relations and discussed opportunities to further develop them.
The cabinet commended the king for his speech during the UN's 75th General Assembly in New York, during which he emphasized the his country's continued commitment to assisting the international community in efforts to deal with the effects of the COVID-19 pandemic and address its humanitarian and economic implications.
Ministers also noted that his speech reflected the Kingdom's dedication to security, stability and prosperity as a strategic choice, its call for peaceful coexistence, moderation and solidarity among all countries and peoples to address humanitarian challenges, its support for political solutions to conflicts, and its efforts to combat extremism in all its forms.
Al-Qasabi said that the Cabinet welcomed the announcement by the Kingdom that the G20 Leaders' Summit will take place as planned as scheduled on Nov. 21 and 22, albeit virtually as a result of the pandemic. Saudi Arabia hold the presidency of the G20 this year.
Ministers also expressed their appreciation for international efforts, led by G20 countries, that have resulted in the provision of more than $21 billion to support the production of diagnostic and therapeutic tools during the pandemic, and the development and distribution of vaccines. In addition, more than $11 trillion has been allocated to protect the global economy, and more than $14 billion to mitigate the debt burdens of less-developed countries and help fund their health services and social programs. The Cabinet also reviewed the latest local and international developments in the pandemic, along with preparations for the safe resumption of Umrah.
Ministers reiterated the Saudi call, during an emergency meeting of the Council of Arab Ministers Responsible for Environmental Affairs, for urgent action to avoid an environmental catastrophe in the Red Sea as a result of the deteriorating condition of the oil tanker Safer, which has been anchored off the coast of Yemen, near Ras Issa port, since 2015.
The Cabinet also expressed its concern over developments in the dispute between Armenia and Azerbaijan, and urged both sides to agree a ceasefire and resolve the conflict peacefully in accordance with UN Security Council resolutions.
https://www.arabnews.com/node/1742156/saudi-arabia
--------
South Asia
Bomb kills 14 civilians, including women and children, in Afghanistan
29 September 2020
At least 14 civilians, including women and children, were killed Tuesday by a roadside bomb in central Afghanistan, officials said, as violence continues despite peace talks between the Taliban and Afghan government.
Seven women, five children and two men died when their vehicle detonated an explosive device in Daikundi province, interior ministry spokesman Tareq Arian said in a statement.
Three children were also wounded, he added, blaming the Taliban for the blast.
Nasrullah Ghori -- the spokesman for the governor of Daikundi -- told AFP the victims were traveling to a shrine when their minibus struck the bomb.
No group has claimed responsibility for the blast, but roadside bombs have been a weapon of choice for the Taliban.
"Deliberate attacks" targeting civilians killed or wounded more than 800 civilians in Afghanistan during the first half of 2020, according to a UN report released in July.
The violence comes as Taliban and Afghan government negotiators are meeting in Doha, where they are trying to find a way to end 19 years of war.
Despite calls for a ceasefire, the Taliban have refused to halt their violence, seeing it as key to leverage at the negotiating table.
The blast came as the head of the Afghan peace process, Abdullah Abdullah, kicked off the second day of a three-day visit to neighboring Pakistan.
Speaking at an event in Islamabad, he proclaimed that the "ice has been broken" at peace talks, which started September 12.
Afghanistan has long accused Islamabad of providing vital support and safe havens to the Taliban.
Islamabad denies it supports the Taliban, but its influence with the militants is seen as pivotal to paving the way for any potential deal.
https://english.alarabiya.net/en/News/world/2020/09/29/Bomb-kills-14-civilians-including-women-and-children-in-Afghanistan
--------
3 Killed after Rocket Hit Residence in Ghazni
By Mohammad Haroon Alim
29 Sep 2020
The Ministry of Defense said in a statement that three people were killed when a rocket hit a residential house in Ghazni city.
According to a press release by the Ministry, the incident took place at around 8:00pm Monday night in the Nawabad area of Ghazni city.
The rocket was reportedly fired by the Taliban insurgents that hit a residential area.
The ministry added Taliban activities and the movement have caused civilians to suffer, and be part of the battle casualties.
This comes at a time Human Rights groups and organizations have repeatedly accused the Taliban of violating laws of war.
https://www.khaama.com/3-killed-when-a-rocket-hit-a-residential-house-ghazni-7876561/
--------
Badakhshan: Taliban Attack Claims District's Security Chief
By Mohammad Haroon Alim
30 Sep 2020
Security officials in Badakhshan province say the police chief of Kohistan district of the province has been killed in an Afghan-Taliban skirmish.
Badakhshan's police spokesman Sanaullah Rohani told Khaama Press, that the Taliban has attacked Kohistan district at around 9:00 am yesterday.
He descended; Heavy clashes broke out between security forces and the militant group's fighters following the Taliban offensive attack and continued until 12:00 p.m last night.
According to him, Abdul Zahir, the police chief of Kohistan district, and two other policemen were killed in the battle.
He also added, that four Taliban fighters were also killed during the clashes and other five militants are wounded.
Badakhshan is counted as one of the most insecure provinces in the country and the Taliban has a large presence in some parts of the province.
The Taliban have not yet commented on the incident.
https://www.khaama.com/badakhshan-taliban-attack-claims-districts-security-chief-98987/
--------
Europe
Italy repatriates female ISIS fighter and her four children from Kurdish territory
29 September 2020
Italian carabinieri arrested a female foreign fighter on Tuesday after returning her and her four young children to Italy from a displaced person's camp in Kurdish-controlled territory.
The woman, Alice Brignoli, traveled in 2015 with her Moroccan-born husband, Mohamed Koraichi, and their three young children by car from their home north of Milan to ISIS-controlled territory. Another child was born in Syria.
For all the latest headlines follow our Google News channel online or via the app
The children, now 11, 8, 6 and 4, were in foster care pending a decision by an Italian juvenile court. Authorities say Brignoli will face trial on terror-related charges.
Brignoli contributed to the radicalization of the children, turning them against the West and ''thereby embracing the cause of global extremism,'' Italian Carabinieri said in a statement.
Read more: UK repatriates British child from Syria despite ISIS policy
Authorities say the children have family members in Italy and that their experience with other children returning from ISIS territory -- notably an 11-year-old Albanian boy Alvin Berisha who was brought back to Italy last November -- has showed that indoctrinations can be reversed.
''There was a minimal amount of indoctrination -- but no military training -- enough to make them understand and agree with the choices that the parents had made. But as we have experienced with Alvin, they are small children and they can easily turn back,'' Carabinieri Lt. Col. Andrea Leo told The Associated Press.
Brignoli came back to Italy willingly, "convinced it was the best choice after the conditions she had lived in over the last 5 years,'' Leo said.
Authorities are hoping she will help them locate other Italian families they believe are still in former ISIS territory.
After ISIS lost its territorial foothold, Brignoli and her children were captured by Kurdish forces and brought to a camp for displaced people in Al-Hol.
Koraichi was also in the camp as a prisoner. Authorities said he died this month from an intestinal infection.
After the family's arrival in Syria, Korachi had received training, participated in fighting and was prepared to carry out suicide attacks, authorities said.
Koraichi, who also held Italian citizenship, helped others receive authorization to travel to ISIS territory, aiding in the recruitment and radicalization of at least two suspects who were arrested in April 2016 before they could leave Italy.
https://english.alarabiya.net/en/News/world/2020/09/29/Italy-repatriates-female-ISIS-fighter-and-her-four-children-from-Kurdish-territory
--------
Turkey sent 700 to 1,000 Syrian mercenaries to Azerbaijan: Reports
29 September 2020
Turkey has reportedly sent between 700 and 1,000 Syrian mercenaries to Azerbaijan to fight in the ongoing clashes with Armenia over the territory of Nagorno-Karabakh, Reuters cited sources from the Syrian National Army as saying.
A private Turkish security firm was reportedly paying the fighters $1,500 a month and moving them across the border into Turkey before putting them on a flight to Azerbaijan, the sources said.
For all the latest headlines follow our Google News channel online or via the app.
On Monday, Armenia's ambassador said that Turkey had sent around 4,000 fighters from northern Syria to Azerbaijan and that they were fighting there, an assertion denied by an aide to Azerbaijan's President Ilham Aliyev.
Armenia also said Turkish military experts were fighting alongside Azerbaijan in Nagorno-Karabakh, a mountainous breakaway region of Azerbaijan run by ethnic Armenians, and that Turkey had provided drones and warplanes.
The clashes over the territory of Nagorno-Karabakh are the heaviest since 2016, with reports of dozens of deaths and hundreds wounded.
https://english.alarabiya.net/en/News/world/2020/09/29/Turkey-sent-700-to-1-000-Syrian-mercenaries-to-Azerbaijan-Reports
--------
Armenia not ready for Russia-mediated peace talks with Azerbaijan: PM
September 30, 2020
YEREVAN: Armenian Prime Minister Nikol Pashinyan on Wednesday said peace talks with Azerbaijan under Russian mediation would be inappropriate, as fighting over the breakaway Nagorny Karabakh region entered a fourth day.
"It isn't very appropriate to speak of a summit between Armenia, Azerbaijan and Russia at a time of intensive hostilities," Pashinyan told Russia's Interfax news agency. "A suitable atmosphere and conditions are needed for negotiations."
https://www.arabnews.com/node/1742231/world
--------
Manchester bomber's brother 'known to counterterrorism officers,' inquiry told
September 29, 2020
LONDON: The brother of Manchester Arena bomber Salman Abedi had previously been questioned by British counterterrorism authorities and had Daesh content saved on his phone, an inquiry into the 2017 attack has heard.
Counterterrorism officers found recruitment videos for the terrorist group on Ismail Abedi's mobile phone, as well as photos on Facebook of him holding weapons in 2015, one of which showed him holding a machine gun with a Daesh logo.
Salman Abedi, 22, killed 22 people and injured hundreds more in the attack after an Ariana Grande concert at the Manchester Arena on May 22, 2017.
Families of the victims, who made statements at the inquiry on Monday, criticized the British intelligence agency MI5 for what they called "grave misgivings" and a failure to spot the risk Ismail posed, The Times newspaper reported.
John Cooper, a judge acting for the families of 12 victims, told the inquiry that Ismail's Facebook account had been "viewed and assessed in July 2015, inferentially by MI5." He had been stopped by police during a "port stop" in September 2015.
Counsel to the inquiry Paul Greaney said that while most of MI5's evidence would be heard behind closed doors, the inquiry would investigate if Abedi's family members had a radicalizing influence on Salman and his younger brother Hashem, 23, who helped in the attack and was jailed for murder for at least 55 years.
Cooper said families were urging the inquiry to "rigorously question" MI5 over its decisions regarding Salman and the Abedi family, citing the authorities' knowledge that Salman had "significant contact" with suspected terrorist recruiter Abdalraouf Abdallah.
Sir John Saunders, the inquiry's chairman, said that "centrally important material" pertinent to questions over whether MI5 was in a position to stop the attack could not be made public.
"I will ensure that the least possible amount of evidence is heard in private. Claims for the need for national security will be robustly tested," he told the inquiry.
"Insofar as is possible, and to the extent that is possible without damaging national security, where I identify failings or things that could have been done better in closed hearings, I will make them public as part of my report," he added.
Ismail, the eldest of the Abedi siblings, has not appeared before the inquiry on the grounds of legal privilege, saying that he could incriminate himself. Earlier this month in a Sky News interview, he apologized for his family and the "pain Hashem and Salman caused."
https://www.arabnews.com/node/1741901/world
--------
Turkish claims of PKK fighters in Armenia absolute nonsense: Armen Sarkissian
Ismaeel Naar
30 September 2020
Turkish claims that there are Kurdish PKK fighters present in Armenia are absolute nonsense, according to Armenian President Armen Sarkissian.
Turkey can invent or pretend that there are issues with Armenia. This is absolute nonsense that there are PKK fighters in Armenia. Absolute nonsense. They are also saying that Armenians are targeting the international oil and gas pipelines in Azerbaijan. Again, a nonsense," Sarkissian told Al Arabiya during an exclusive interview.
For all the latest headlines follow our Google News channel online or via the app.
Armenia and Azerbaijan accused one another on Tuesday of firing directly into each other's territory and rejected pressure to hold peace talks as their conflict over the enclave of Nagorno-Karabakh threatened to mushroom into all-out war.
Nagorno-Karabakh is a breakaway region inside Azerbaijan but run by ethnic Armenians and backed by Armenia. It broke away from Azerbaijan in a 1990s war but is not recognized by any country as an independent republic.
"First of all, when Azerbaijan is speaking about occupied territories, they are speaking about republic of Nagorno-Karabakh. This is an area of historic Armenia that Armenians were living for centuries and thousands of years," Sarkissian said.
|It is only for less than 70 years, Joseph Stalin, the Soviet leader gave that land to Azerbaijan, it became a part of Soviet Azerbaijan. Then with the end of Soviet Union, people of Nagorno-Karabakh in that Soviet Republic, there were more than 85 percent, 90 percent Armenians living always," the Armenian president added.
Dozens of people have been reported killed and hundreds wounded since clashes between Azerbaijan and ethnic Armenian forces broke out on Sunday, threatening to draw in neighbors including Azerbaijan's close ally Turkey.
Armenian President Sarkissian further accused Turkey on Tuesday of sending mercenaries and generals to Azerbaijan, adding that all Turkish claims were mere excuses.
"Turkey can pretend or declare there are PKK fighters, Armenians who want to hit the pipeline. These are all excuses to have their strong presence in Azerbaijan and I think that strong presence of Turkish military in Azerbaijan is another increasing threat to Armenia," Sarkissian said.
https://english.alarabiya.net/en/features/2020/09/30/Turkish-claims-of-PKK-fighters-in-Armenia-absolute-nonsense-Armen-Sarkissian
--------
Britain warned of rising religious terrorism threat with no-deal Brexit
Thomas Harding
Sep 29, 2020
The threat of terrorism would increase significantly if there were no Brexit agreement between Britain and the EU, the former head of MI6 said.
"The simple answer is yes," Sir John Scarlett, former head of Britain's foreign intelligence service, told The National.
Mr Scarlett was joined by Britain's last top EU diplomat, Sir Julian King, in an online seminar to highlight what could be a serious loss of intelligence caused by Brexit.
Britain's intelligence services, including MI6, MI5 and police counter-terrorism units, will lose access to European databases on criminals and terrorists if there were no formal agreement by December 31.
They will be denied access to the crime database Schengen Information System II, which British intelligence services used 570 million times last year, making the country the third biggest user in the EU.
Britain will also be blocked from the European Criminal Records Information Service, which allows quick sharing of records, and Prum, a DNA database used 12,000 times in the past year by UK investigators.
Without such combined resources, UK intelligence agencies will struggle to battle terrorism effectively, Mr Scarlett said.
"If there is a weakening of data exchange capability then the investigative capability on the part of the EU or the UK potentially weakens our ability to respond" to religious extremist threats.
"And in terms of our overall security environment the [religious] extremist threat is absolutely still there."
There are also considerable concerns that the security services will struggle to trail suspects across Europe, especially religious extremists intent on carrying out attacks.
Mr Scarlett gave as an example the ISIS-inspired 2017 London Bridge attackers, who killed eight people, and the Manchester Arena bomber, Salman Abedi.
He said the ability to track suspects across European borders, particularly in the Schengen travel area, would be impeded by a no-deal Brexit.
And the tracking of people, finances, ports and analysis of terrorist capabilities was "fundamental to effective counter-terrorism work", Mr Scarlett said.
Britain is now entering crucial weeks of trade-deal talks with the EU. looking to formalise an agreement before an automatic "no-deal" happens at the end of the year.
Doubts remain that a deal will be achieved.
The Royal United Services Institute seminar heard that if there were no agreement, Britain "almost certainly" will not have access to the high-level databases.
"You're looking at the situation in Iraq and Syria, for example, and the spreading of ISIS into the Sahel and Central Africa," Mr Scarlett said.
"These are very important areas, clearly of relevance to EU and UK security, which maybe don't get as much attention as they should."
A paper written by Mr Scarlett and Mr King, the former EU Security Commissioner, said: "We have yet to talk to anyone involved who does not anticipate some loss of capability.
https://www.thenational.ae/world/europe/britain-warned-of-rising-religious-terrorism-threat-with-no-deal-brexit-1.1085708
--------
Africa
Efforts to unify soldiers in South Sudan 'stuck': UN envoy
30 September 2020
The UN's special envoy to South Sudan on Tuesday said almost no progress had been made in unifying the country's warring forces under one army, as promised under a hard-fought peace deal.
The pledge to bring government and rebel soldiers under a national banner was a cornerstone of a September 2018 peace agreement that paused five years of bloodshed in which 380,000 people died.
But troops brought together at joint training sites across the troubled country were deserting due to a lack of food and other essentials, said United Nations Mission in South Sudan (UNMISS) special representative David Shearer.
For all the latest headlines follow our Google News channel online or via the app.
"There has been almost no movement on the critical areas of security sector reform," Shearer told a press conference in Juba.
"At the moment, the process is stuck. It hasn't even moved past the first stage, where forces are trained and graduated. Urgent action is needed to move the process forward."
There was a risk of renewed violence as soldiers disillusioned with the promise of peace return to their villages hungry and frustrated, he said.
"Disillusion is not a good thing - it could lead to frustration and anger and possibly violence," he said.
"A number of people who are there with a promise of joining the armed forces are now going back to the villages... and could cause further instability on the ground."
Shearer also criticized South Sudan's government army for interfering with peacekeeping missions by UN troops tasked with protecting civilians and aid workers in hotspots plagued by armed unrest.
Last month, he said 92 blue helmets were prevented from taking up positions at a new UN base in Lobonok, some 110 kilometers (68 miles) from Juba, by government troops who have been fighting the National Salvation Front (NAS), a holdout rebel group.
The September 2018 agreement, to which NAS is not a signatory, paved the way for the creation of a power-sharing government in Juba which took control in February 2020, formally ending the war.
But the young country, born in 2011 from an independence struggle with Sudan, is still fragile, wracked by armed violence at a local level and crisis levels of food security.
https://english.alarabiya.net/en/News/middle-east/2020/09/30/Efforts-to-unify-soldiers-in-South-Sudan-stuck-UN-envoy-
--------
Hundreds of schools in Jordan return to online classes as COVID-19 cases rise
September 30, 2020
DUBAI: Around 407 schools have switched to a distance education system in Jordan since the start of the academic year, the Ministry of Education said, as reported by state news agency Petra.
The move comes as a total of 370 students and teachers, as well as 12 school staff have tested positive with the coronavirus.
Some schools have only temporarily suspended in-person classes for a period of 14 days after recording COVID-19 infections, and are expected to return to normal operations afterwards.
The ministry has urged teachers, students, and school administrators to follow health precautionary measures to prevent the spread of the virus.
https://www.arabnews.com/node/1742241/middle-east
--------
URL: https://www.newageislam.com/islamic-world-news/bjp-leader-l-k-advani/d/122997
New Age Islam, Islam Online, Islamic Website, African Muslim News, Arab World News, South Asia News, Indian Muslim News, World Muslim News, Women in Islam, Islamic Feminism, Arab Women, Women In Arab, Islamophobia in America, Muslim Women in West, Islam Women and Feminism