New Age Islam News Bureau
17 Jun 2018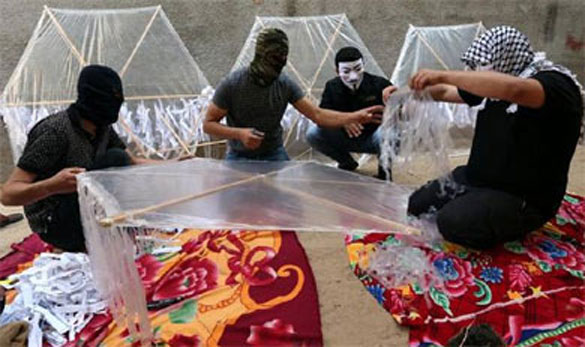 Palestinians prepare kites loaded with flammable material to be thrown at the Israeli side, near the Israel-Gaza border in the central Gaza Strip on June 4, 2018. | Photo Credit: REUTERS
----
South Asia
• Big hugs and selfies as Afghan soldiers, Taliban celebrate Eid ceasefire
• Taliban orders restrictions on fighters after deadly explosion in Nangarhar
• Death toll from suicide bombing in Afghanistan climbs to 36 while Taliban & Afghan forces were celebrating Eid
• Explosion likely triggered by suicide attack rocks Jalalabad city
• Taliban says cease-fire will not be extended, fighting to resume
• Eid brings no joy to Rohingya refugees in Bangladesh
----
Mideast
• Israel strikes launchers of burning kites from Gaza
• Yemeni forces intensify efforts to retake port city from Houthi control
• Israeli settlers clash with police during outpost eviction
-----
India
• 'BSF, Pak. Rangers did not exchange sweets'
• Terrorist threat to Army camps
• Government not to extend 'cease-ops' in Kashmir
• Hindu-Muslim amity sits high on this hillock in Rajula
• Humanity triumphs as Muslims perform last rites of abandoned Hindu woman
----
Arab World
• Toy guns banished as Iraqis celebrate peaceful Eid in Mosul
• Jewish artifacts disappear from Damascus in fog of Syria war
• An oil giant is taking big steps; Saudi Arabia can't afford for it to slip
-----
Europe
• Far-right terror threat on the rise in Britain
• Paris suburb defies efforts to loosen radical grip
----
Pakistan
• Gunmen kill 3 Pakistani troops in Quetta city
• Chief justice takes notice of non-issuance of CNICs to transgender community
• NAB launches fresh inquiry into 'money laundering by Nawaz'
----
Africa
• Suicide blasts in NE Nigeria kill at least 31: official, local militia
---
Compiled by New Age Islam News Bureau
URL: https://www.newageislam.com/islamic-world-news/big-hugs-selfies-afghan-soldiers/d/115560
-----
Big Hugs and Selfies as Afghan Soldiers, Taliban Celebrate Eid Ceasefire
Reuters | Jun 16, 2018
KABUL: Afghan soldiers and Taliban militants celebrated an unprecedented ceasefire marking the end of the Ramadan fasting season with Eid greetings, handshakes, big hugs and selfies.
The Taliban announced a surprise three-day ceasefire over the Eid holiday, which began on Friday, except against foreign forces. It overlaps with an Afghan government ceasefire which lasts until Wednesday.
Video and pictures on social media showed cheerful soldiers and Taliban hugging one another and exchanging Eid greetings in Logar province, south of Kabul, and Zabul in the south and central Maidan Wardak.
Afghan Deputy Interior Minister Masood Azizi said the ceasefire was being monitored throughout the country.
"Luckily there have been no attacks," he told Reuters.
Governors in Helmand, Kandahar and Zabul said both sides had adhered to the ceasefire and that there had been no reports of violence for 24 hours.
Members of rights groups organised a brief meeting between Afghan forces and Taliban insurgents in Helmand's capital city. Laskargah, where the Taliban have delivered a series of blows to government forces this year.
Men and women gathered around the soldiers and Taliban fighters and urged them to keep their weapons holstered before they hugged each other.
"It was the most peaceful Eid. For the first time we felt safe. It is hard to describe the joy," said Qais Liwal, a student in Zabul.
The main square of Kunduz city, capital of the province of the same name which has witnessed series of bloody clashes, became a friendly meeting ground.
Resident Mohammad Amir said his younger brother had told him the Taliban were casually entering the city.
"I could not believe my eyes," he told Reuters. "I saw Taliban and police standing side by side and taking selfies."
Photos circulating on social media show armed Afghan police forces standing in line at the corner of the street hugging Taliban fighters one by one.
A video showed huge crowd of people screaming and whistling as they welcomed the Taliban.
Reuters could not verify these videos.
The Taliban are fighting US-led NATO forces, combined under the Resolute Support mission, and the US-backed government to restore sharia, or Islamic law, after their ouster by US-led forces in 2001.
Resolute Support said it was hopeful that the Taliban stick to their ceasefire "and we hope that pause leads to dialogue and progress on reconciliation".
Source: https://timesofindia.indiatimes.com/world/south-asia/big-hugs-and-selfies-as-afghan-soldiers-taliban-celebrate-eid-ceasefire/articleshow/64611838.cms
-----
Israel Strikes Launchers of Burning Kites from Gaza
AP JERUSALEM, JUNE 17, 2018
Gazans began flying kites with burning rags attached to them during mass protests against the crippling Israeli and Egyptian blockade of the territory.
The Israeli military says its aircraft have struck a vehicle belonging to someone who sends burning kites into Israel from Gaza.
No one was wounded in the June 17 strike but it marked an escalation in Israel's response to a phenomenon that has wreaked havoc on agriculture in southern Israel in recent weeks. Fields were once again set ablaze on a hot, windy, dry on June 16.
An Israeli Army drone intercepts a kite launched by Palestinians from Gaza, at the Israel and Gaza Strip border on June 8, 2018.
An Israeli Army drone intercepts a kite launched by Palestinians from Gaza, at the Israel and Gaza Strip border on June 8, 2018. | Photo Credit: AP
Gazans began flying kites with burning rags attached to them during mass protests against the crippling Israeli and Egyptian blockade of the territory. Israeli troops have fired on the protesters, killing more than 100 since the weekly demonstrations began in March.
The Islamic militant group Hamas, which rules Gaza, has led the protests. Israel says it holds Hamas responsible for the fires.
Source: thehindu.com/news/international/israel-strikes-launchers-of-burning-kites-from-gaza/article24185099.ece
-----
'BSF, Pak. Rangers Did Not Exchange Sweets'
PRESS TRUST OF INDIA AMRITSAR, JUNE 16, 2018
There was no exchange of sweets between the Border Security Force (BSF) and the Pakistan Rangers at Attari-Wagah border on the occasion of Id on Saturday, an official said.
This comes in the wake of heightened tension between the two countries, especially after the repeated ceasefire violations by Pakistani forces in Jammu and Kashmir.
In a departure from the past, sweets were not exchanged, a BSF official said.
On June 13, four BSF personnel, including an assistant commandant-rank officer, were killed and three others were injured when Pakistan Rangers opened fire along the International Border (IB) in Samba district of J&K in "betrayal" of a truce announced recently, according to officials.
The "unprovoked" firing in the Ramgarh sector came after the two border guarding forces, at a sector commander-level meeting on June 4, agreed to maintain peace and tranquillity along the IB.
The BSF and Pakistan Rangers have usually exchanged sweets on major religious festivals such as Id and Diwali, and even on national days like Independence Day and Republic Day.
Source: thehindu.com/news/national/bsf-pak-rangers-did-not-exchange-sweets/article24182562.ece
-----
Toy Guns Banished As Iraqis Celebrate Peaceful Eid In Mosul
17 June 2018
AFP
MOSUL: It has long been a tradition in Iraq's Mosul for young boys to celebrate the Eid Al-Fitr by running riot with firecrackers or toy guns — scaring their sisters and grandparents.
But nearly a year after security forces reclaimed a devastated city at the end of a brutal battle to dislodge Daesh, there is little tolerance even for pretend warfare.
During the three-year rule by the militants, primary school mathematics often consisted of counting bullets and grenades, while youngsters were trained for front-line combat.
So for the first time, 50-year-old widow Umm Berqis refused to buy plastic guns for her four boys, as she geared up to celebrate the end of the month-long dawn to dusk Ramadan fast.
"Weapons have destroyed our city and wounded our children," she said.
"This year, there's no question of buying toy guns. We hate everything that reminds us of the violence."
Her desire to reclaim innocence on behalf of her children is shared by many others, including 35-year-old father Ali Moayed.
Toy weapons and firecrackers are still for sale in the historic Nabi Younes market.
But one concerned local is determined to remove all traces — by buying up entire stocks of the offending items, ahead of parents and children.
"I try to send a message to the vendors, so they stop putting them on their stalls," he told AFP, preferring to remain anonymous.
"I even hope to obtain an official ban due to the enormous harm guns inflict on children and society in general," he said.
It is a moral stand that has struck a chord with Mosul's imams.
During the Eid prayer early on Friday morning, sermons across the city urged traders to spread "joy" and "optimism" by selling alternative gifts.
This year, not even celebratory firecrackers were heard in some of Mosul's districts, so keen were people to avoid triggering memories of incessant shelling and machine gun fire.
Source: arabnews.com/node/1322771/middle-east
-----
South Asia
Taliban Orders Restrictions On Fighters After Deadly Explosion In Nangarhar
By KHAAMA PRESS - Sun Jun 17 2018
The Taliban group leadership has ordered the fighters of the group to refrain from movements in the areas under the control of government and major cities after a deadly explosion ripped through a gathering of Taliban, civilians, and security forces in Nangarhar late on Saturday.
Taliban spokesman Zabiullah Mujahid in a statement said the decision has been taken in a bid to prevent civilian casualties.
Mujahid went on to claim that the enemies are attempting to misuse from the ceasefire opportunity and there are chances that more such incidents would occur.
He said the Taliban militants have been ordered not to participate in such gatherings and those violating the orders would be dealt with strictly.
The provincial government media office in Nangarhar said a suicide blast ripped through a gathering celebrating ceasefire and Eid in Rodat district at around 5:30 pm local time, leaving at least 25 dead, and at least 54 wounded.
In the meantime, the government sources in Nangarhar are saying that the blast has left at least 35 dead while more than 60 others have sustained injuries.
Source: khaama.com/taliban-orders-restrictions-on-fighters-after-deadly-explosion-in-nangarhar-05384/?utm
-----
Death toll from suicide bombing in Afghanistan climbs to 36 while Taliban & Afghan forces were celebrating Eid
AP | Jun 17, 2018
KABUL: An Afghan official says the death toll from a suicide bombing against a gathering of Taliban fighters celebrating a holiday cease-fire has risen to 36.
Najibullah Kamawal, director of the health department in the eastern Nangarhar province, says another 65 people were wounded in Saturday's attack.
The bomber targeted a gathering of fighters who were celebrating a three-day truce coinciding with the Eid al-Fitr holiday. No one immediately claimed the attack, but it was likely carried out by the Islamic State group, which was not included in the cease-fire and has clashed with the Taliban in the past.
After the attack, Afghan President Ashraf Ghani announced a nine-day extension of the cease-fire. There was no immediate word from the Taliban on whether they would observe the extension.
Source: timesofindia.indiatimes.com/world/south-asia/death-toll-from-suicide-bombing-in-afghanistan-climbs-to-36/articleshow/64620901.cms
-----
Explosion likely triggered by suicide attack rocks Jalalabad city
By KHAAMA PRESS - Sun Jun 17 2018
The sound of a heavy explosion was heard in Jalalabad city, the provincial capital of eastern Nangarhar province of Afghanistan.
The type of the explosion has not been ascertained so far but the eyewitnesses in the area are saying that a suicide bomber has detonated his explosives among the Taliban, security forces, and the ordinary civilians who had gathered near the governor's office to celebrate Eid and ceasefire.
Provincial governor's spokesman Ataullah Khogyani confirmed the incident and said a number of people have been killed or wounded in the explosion.
Source: khaama.com/explosion-likely-triggered-by-suicide-attack-rocks-jalalabad-city-05385/?utm
-----
Taliban says cease-fire will not be extended, fighting to resume
AFP
June 17, 2018
KABUL: The Taliban said Sunday they would not extend their three-day cease-fire with Afghan security forces and fighting would resume, dashing hopes for the recent peace to continue.
The comments by Taliban spokesman Zabihullah Mujahid come after Afghan President Ashraf Ghani announced Saturday a government truce with the militants would be extended. He asked the group to reciprocate.
"The cease-fire ends tonight and our operations will begin, inshallah. We have no intention to extend the cease-fire," Mujahid told AFP in a WhatsApp message.
The first formal, nationwide cease-fire in the country since the 2001 US invasion had been met with jubilation across the country as Afghans — Taliban, security forces and civilians — celebrated Eid, the holiday that caps the fasting month of Ramadan.
Source: arabnews.com/node/1322891/world
-----
Eid brings no joy to Rohingya refugees in Bangladesh
SHEHAB SUMON
June 16, 2018
DHAKA: More than 1 million Rohingya refugees in Cox's Bazar, Bangladesh, observed Eid Al-Fitr on Saturday.
They performed Eid prayers in more than 500 small mosques in squalid camps, offering a special prayer for an end to their plight.
"It's a very sunny Eid day in Cox's Bazar, but we can't enjoy this moment," said Iman Ali, a refugee in Kutupalang camp.
"Last Eid (in Myanmar's Rakhine state), I gave new clothes to all my family members and close relatives, but this year it became very tough to get new clothes for my three children."
Morium Begum, a refugee in Balukhali camp, could not hold back her tears as this Eid reminded her of happier times in Rakhine.
Her husband Joinal Abedin, who was a businessman, was shot dead last September, allegedly by the Myanmar army, prompting her to flee to Bangladesh with her five children.
"This year, my life is fully dependent on relief and aid," said Begum. "I don't want the next Eid in a camp. I wish to go back home with my full rights and dignity."
Eid is supposed to be a happy occasion, but the malnourished children in the camps look gloomy.
"My father managed only three pieces of new clothes for my three brothers and sister. He couldn't buy anything for himself or my mother," said Ekhlas Miah, a child in Balukhali.
"Last Eid was a happy moment for our family. My maternal uncles and grandparents visited us. I got precious gifts from my uncles."
Shahana Akhter, another child in Balukhali, said she feels no joy this Eid, which would normally mean lots of new clothes and delicious food.
She lost her father in Rakhine last October, and fled with her mother and younger brother to Bangladesh.
"Last night, I noticed my mother weeping because she couldn't buy new clothes for me or my brother this Eid," said Akhter. "We want to go back home. This isn't a life in a refugee camp."
Source: arabnews.com/node/1322721/world
-----
Mideast
Yemeni Forces Intensify Efforts to Retake Port City from Houthi Control
17 June 2018
AP
SANAA: Yemeni forces backed by the Arab coalition have intensified their efforts to retake Yemen's port city of Hodeidah from the Iranian-backed Houthi militias, Yemeni officials and witnesses said on Saturday.
Hodeidah is an important port city as it serves as the nation's main gateway for food shipments.
With battles raging at the southern side of Al-Hodeidah International Airport, the Yemeni military said it had entirely seized the facility, and that engineers were working to clear mines from nearby areas just south of the city of some 600,000 people on the Red Sea.
"The armed forces which are supported by the Arab coalition have freed the Al-Hodeidah International Airport from the Houthi militias and the engineering teams have started to clean the airport and its surroundings from mines and bombs," the military said on its official Twitter account.
Sadek Dawad, a spokesman for the Republican Guards force allied with the coalition, said the government forces had battled onto the airport grounds.
Dawad also said the southern gate of Hodeidah city was captured by pro-coalition forces.
"The military operations to liberate the city of Hodeidah will not be stopped until we secure the city and its strategic port and that won't last too long," he told The Associated Press.
Houthi militias, who hold the country's capital of Sanaa, did not immediately acknowledge losing the airport.
The Houthi-run Al Masirah satellite news channel aired footage it described as being from near Hodeidah showing a burned-out truck, corpses of irregular fighters and a damaged Emirati armored vehicle. The Iranian-aligned fighters rifled through a military ledger from the vehicle before chanting their slogan: "Death to America, death to Israel, damn the Jews, victory to Islam!"
Yemeni officials and witnesses said forces from the UAE-backed Amaleqa brigades, backed by air cover from the coalition forces, were heading to eastern Hodeidah province to attempt to cut off the main road that links it with the capital, Sanaa.
The officials said if government forces capture the Kilo 16 Road they would trap the Houthi militias in Hodeidah and the western coast and prevent them from receiving supplies from the capital. The Houthis are then expected to have no choice but to head to the northern province of Hajjah.
The officials spoke on condition of anonymity because they were not authorized to brief media and the witnesses for fear of reprisals.
The Norwegian Refugee Council said humanitarian agencies could not reach the southern part of Hodeidah as fighting escalated.
UN Special Envoy Martin Griffiths, meanwhile, arrived in Sanaa in an effort to broker a cease-fire.
The Arab military coalition began its assault Wednesday on Hodeidah. Emirati forces are leading ground forces mixed with their own troops, irregular militiamen and soldiers backing Yemen's government. Saudi Arabia has provided air support, with targeting guidance and refueling coming from the US.
Some 70 percent of Yemen's food enters via the port, as well as the bulk of humanitarian aid and fuel supplies. Around two-thirds of the country's population of 27 million relies on aid.
The coalition said it had no choice but to launch the assault as the port provided millions of dollars for the Houthis through customs controls. They also accuse the Houthis of using the port to smuggle weapons through, something a UN panels of experts described in January as "unlikely" as incoming ships require UN permission and are subject to random searches.
The UN and Western nations say Iran has supplied the Houthis with weapons, from assault rifles to the ballistic missiles they have fired deep into Saudi Arabia, including at the capital, Riyadh.
Aid agencies and the UN evacuated international staff from the city ahead of the offensive. Some of the wounded able to flee are driving onto Aden, some 315 kilometers (195 miles) away, after being stabilized at a hospital in Mocha on the way, the aid group Doctors Without Borders said. The local hospital in Hodeidah already is struggling to help the wounded, the group said.
Thousands remain besieged in the city and around the airport due to the fighting.
The Houthis seized control of Sanaa in September 2014, later pushing south toward the port city of Aden.
The Arab military coalition entered the conflict in March 2015. The Houthis, meanwhile, have laid landmines killing and wounding civilians, targeted religious minorities and imprisoned opponents.
French forces
French special forces are present on the ground in Yemen with forces from the UAE, French newspaper Le Figaro reported on Saturday, citing two military sources.
The newspaper gave no further information about their activities. The Defense Ministry was not immediately available for comment, but its usual policy is not to comment on special forces' operations, according to Reuters.
A French parliamentary source recently told Reuters French special forces were in Yemen.
The French Defense Ministry said on Friday that France was studying the possibility of carrying out a minesweeping operation to provide access to the port of Hodeidah once the coalition had wrapped up its military operations.
The ministry stressed that France at this stage had no military operations in the Hodeidah region and was not part of the Arab coalition.
France, along with the US and Britain, backs the Arab coalition in the Yemen conflict.
Source: http://www.arabnews.com/node/1322766/middle-east
-----
Israeli Settlers Clash with Police during Outpost Eviction
AFPJune 17, 2018
Nearly a dozen Israeli police officers were injured in clashes on Sunday as they began evicting Jewish settlers from an outpost in the occupied West Bank, police said.
Police spokesman Micky Rosenfeld said that 11 officers were "injured lightly" during the eviction of 10 buildings in the Tapuah West outpost in the northern West Bank.
Israel's supreme court had in February 2017 ruled that part of the settlement outpost must be removed since it was built on private Palestinian land.
According to Rosenfeld, six protesters were arrested.
Honenu, a pro-settler legal advocacy group, said 40 youths were removed from the area by police. One was said to be lightly injured.
Rosenfeld said the eviction was expected to last the entire day.
On Tuesday, police evicted settlers from 15 homes in a separate outpost north of the West Bank city of Hebron that was deemed illegal.
All Israeli settlements are viewed as illegal under international law, but Israel differentiates between those it has approved and those it has not.
Israel occupied the West Bank in the 1967 Six-Day War. Settlements there are seen as major stumbling blocks to a peace deal since they are built on land the Palestinian wants for their future state.
Some 600,000 Israeli settlers live among nearly three million Palestinians in the West Bank and east Jerusalem.
Source:
-----
India
Terrorist Threat to Army Camps
SPECIAL CORRESPONDENT NEW DELHI, JUNE 16, 2018
Intelligence inputs have warned of specific terrorist threats to military installations in Jammu and Kashmir, even as Army officers said they had conveyed to the government difficulties involved in ensuring security for the Amarnath Yatra, beginning later this month, if the ceasefire is extended.
According to one report, at least two different groups of terrorists are waiting in Pakistan-occupied Kashmir to infiltrate and target two different military installations — one of them on the Poonch side and the other in the Valley.
This input says there are 35 militants who are on this specific mission.
Infiltration at a peak
Intelligence inputs also speak of an unusual spike in the number of militants ready to infiltrate.
A senior Army officer said they had not "seen such massing of militants in launch pads in PoK. Almost all the pads are now active, and we have been witnessing infiltration attempts almost every night in the last one month."
Estimates put the number of militants in launch pads at almost 250.
Reluctant about going further ahead with the government-announced Non-initiation of Combat Operations (NICO) or 'cease-ops', the Army has told the Centre that it would only hamper their efforts to secure the Amarnath Yatra routes. "We will ultimately go with whatever the government decides," sources said. Terrorists attacks have almost tripled during NICO in the Ramzan period, compared with the number in the previous month, officers point out.
Grenade attacks have at least gone up by almost four times in the same period, from a mere five attacks to more than 20.
From a single weapon-snatching incident during May, it has gone up to eight in June, according to the officials. The killing of rifleman Aurangzeb and senior editor Shujaat Bukhari further challenges the logic to extend NICO, Army sources said.
Source: thehindu.com/news/national/terrorist-threat-to-army-camps/article24182576.ece
----
Government not to extend 'cease-ops' in Kashmir
Vijaita Singh NEW DELHI, JUNE 17, 2018
A statement from home ministry said "Operations against terrorists to resume."
Union home minister Rajnath Singh said on Sunday that Government has decided not to extend the suspension of operations in J&K announced on May 16, when the month of Ramzan commenced.
"Operations against terrorists to resume. Government commends the security forces for having shown exemplary restraint during Ramzan despite grave provocations," a statement by home ministry said.
The statement further said that Government was committed to working for creating an environment free of terror and violence in Jammu and Kashmir.
"It is important that all those who have interests of people of Jammu and Kashmir, and especially the youth, in mind to isolate the terrorists and work towards bringing back misguided youth to the right path.. on the other hand terrorists indulged in wanton killing of innocent civilians and attacks on security forces," the statement said.
Mr. Singh had said on Saturday that he will make a formal announcement on Sunday on government's decision on Suspension of Operations (SoO) or cease-ops in the Kashmir Valley and the reasoning behind it.
Decision on extending 'cease-ops' in Jammu and Kashmir today
The Cease-ops was announced on May 16, following successive reports given by Special Representative Dineshwar Sharma to the government that killings and encounters were not yielding the desired results and the emotional upsurge at funerals of militants killed in encounters was aiding recruitment by terror outfits.
On May 16, Mr. Singh had while announcing the SoO had asked "security forces not to launch operations" in Jammu and Kashmir during the month of Ramzan. He had said that "security forces reserve the right to retaliate if attacked or if essential to protect the lives of innocent people."
Government decided to halt operations in the month of Ramzan to provide relief to the people.
As many as 64 terrorists were killed till May 6 this year in various operations in South Kashmir — the highest in a decade for the period. More than 40 men had joined the terrorist ranks during this period. For whole of 2017, recruitment to various terror groups stood at 147. There has been a surge in local Kashmiri youth joining terror groups after the killing of Hizbul Mujahideen commander Burhan Wani in an encounter with security forces on July 8, 2016.
Source: thehindu.com/news/national/government-not-to-extend-cease-ops-in-kashmir/article24184934.ece
-----
Hindu-Muslim Amity Sits High on This Hillock In Rajula
Nimesh Khakhariya | TNN | Updated: Jun 16, 2018
RAJKOT: A hillock with a Dargah on the top is an unmissable sight as you enter the coastal town Rajula. Pause for a few seconds and you see a temple built next to this Muslim shrine.
The story of Tajanshah Pir dargah and Khodiyar Mata temple unfolds as one starts climbing the 127 steps to Piriya Hill, which has become a symbol of communal harmony in this little town. Hindus are often seen praying at the dargah and Muslims participate in the Satyanarayan kathas organized in the temple.
Co-incidentally, this is the dargah of Muslim saint Tajanshah Pir, who, locals say saved Rajula from communal violence around 700 years ago. While the shrine exists for several years now, the decision to build a temple on the same premises was a conscious one taken by the Rajula Kaumi Eka Committee after the 2002 post-Godhra riots.
"We spent about Rs 13 lakh. We never went to people asking for funds but when they got to know that this would enhance the communal amity, they started coming to my shop with funds," said Vora. The committee has seven Hindu and as many Muslim members.
As per the advice of some Hindu priest, the committee decided to install the trident of Khodiyar Mata and the temple finally took shape in 2010. Manubhai Jakhda, the committee's president said, "Now, we will be renovating the dargah and will install a dome on the top by spending of Rs 5 lakh."
Source: timesofindia.indiatimes.com/city/rajkot/hindu-muslim-amity-sits-high-on-this-hillock-in-rajula/articleshow/64608403.cms
-----
Humanity Triumphs As Muslims Perform Last Rites of Abandoned Hindu Woman
Jun 17, 2018
Humanity triumphs as Muslims perform last rites of abandoned Hindu woman-1Puttur: In recent times Dakshina Kannada has become notorious due to the increasing menace of communal clashes instigated by some mischief mongers. But, people of the district want peace and harmony.
A shining example of the peaceful co-existence and camaraderie among the people was witnessed in Kabaka in Puttur. Muslim women and youth performed the last rites of Bhavani, a resident of Vidyapur Colony here.
As per reports, Bhavani passed away on the morning of June 16. She and her brother Krishna lived in abject poverty. Sources said that none of the locals came forward to help cremate the deceased woman.
However, the Muslim brethren came to the aid of Krishna. Not only did they pool in money but also performed the last rites of Bhavani as per Hindu tradition.
This humane act of compassion, on the eve of Eid, has received wide appreciation from all quarters.
Source: .newskarnataka.com/bangalore/humanity-triumphs-as-muslims-perform-last-rites-of-abandoned-hindu-woman
-------
Arab World
Jewish Artifacts Disappear From Damascus in Fog of Syria War
AP
June 17, 2018
BEIRUT: Jewish artifacts, including ancient parchment torahs from one of the world's oldest synagogues, have gone missing from the Syrian capital amid the tumult of ongoing civil war, with some precious items reportedly surfacing abroad.
Activists say the artifacts, moved from the now-destroyed Jobar Synagogue in Damascus' eastern Ghouta suburb when it was taken by rebels, were allegedly put into safe keeping to avoid theft and damage in 2013, but twice since then local officials have discovered some are missing.
The main missing cache, they say, contained torahs written on gazelle leather as well as tapestries and chandeliers, and was given to a militia by a local council for safekeeping when rebels surrendered the neighborhood to government forces earlier this year. The armed group says it doesn't have the items.
Source: .arabnews.com/node/1322866/middle-east
-----
An Oil Giant Is Taking Big Steps; Saudi Arabia Can't Afford For It To Slip
Stanley Reed | NYT News Service | Jun 17, 2018
RAS TANURA (Saudi Arabia): This port, on the calm blue waters of the Persian Gulf, operates with military-like precision. Black and red-hulled super oil tankers must ask for permission to load months in advance. Detailed records go back 30 years to trace any vessels that have broken the rules by dumping oil or using substandard equipment. High-tech radar constantly scan for potential troublemakers, like boats sent from Iran.
At the top of the hexagonal control tower, staff dressed in neat white uniforms with officers' epaulets keep watch, looking over the sweep of countless storage tanks and ships. "If a target tries to hide behind a ship, we can see him," said Salah al-Ghamdi, the chief pilot at the facility.
Thousands of ships depart these waters annually, transporting the wealth of crude beneath the Saudi Arabian desert to gas-guzzling nations. The kingdom accounts for almost one-sixth of world oil exports, and even a minor disruption here could send shudders through global markets.
As the kingdom prepares for its next evolution, Saudi Aramco is again central — in a role that leaves the company and the country at risk.
The Saudi crown prince, Mohammed bin Salman, has unveiled an ambitious effort called Vision 2030 to wean the country from its dependence on oil and overhaul the economy. As part of his plan, he wants to sell a piece of the state oil giant to the public, in part to raise money for other investments.
It is one of the mostly highly anticipated initial public offerings, which Salman estimates could value Saudi Aramco at $2 trillion. But a stock sale leaves the opaque company more exposed to outside forces, a compromising position for a political beast with a powerful hand over prices at the pump.
With global prices north of $70 a barrel, Saudi Arabia and its oil giant are under pressure to increase production. It could put them at odds with some other nations in the Organization of the Petroleum Exporting Countries (OPEC), which meets this week.
"Saudi Aramco has always carried the kingdom on its back," said Jim Krane, an energy and geopolitics fellow at Rice University's Baker Institute. "But to support the kingdom in the coming decades, it needs to transform itself."
In essence, Salman wants the kingdom and Saudi Aramco to plan for the day far in the future when the oil age draws to a close. The present is already making the crude business look less attractive. Countries around the world are shifting to renewable power, while technological advances like electric cars are eroding demand for oil.
To diversify, Aramco is building vast new facilities that will turn crude into more profitable petrochemicals, and it is increasingly drilling for gas. It is also working with Google to establish data centers in the kingdom to develop data-analytics and cloud-computing capacity.
But the IPO will draw scrutiny to a company whose inner workings have long been kept out of sight. Pressure from investors, combined with a prince in a hurry to transform his country, could jeopardize the long-term approach that has made Aramco a dominant force.
For two years, a special team has been working with an array of Western bankers and advisers, preparing for how to handle quarterly reporting of results and coordinate trading between stock exchanges. A local Saudi listing seems certain, but London, New York and bourses in Asia are still in the running for a piece.
Amin H Nasser, Aramco's chief executive, said in an interview that the company was preparing to list in all those locations. Speaking with a picture of Salman in the background, he added, "It makes us ready for any market the government decides."
The 'Golden Ghetto'
Othman al-Khowaiter was born in 1933, the same year that Standard Oil of California secured a sweeping oil concession from the founder of Saudi Arabia. The Khowaiter family was made up of poor farmers, and as a child, he worked as a houseboy. He would follow the same path as the country's nascent energy business.
The founder, King Abdulaziz ibn Saud, needed cash to run his country, created from a patchwork of tribes. The US company, the predecessor to what is now Chevron, paid him 50,000 British pounds' worth of gold for the contract. The company sent teams of US geologists to explore Saudi Arabia's deserts, accompanied by Bedouin guides and soldiers from the king to ward off raiders.
Lacking today's sophisticated tools to find oil and gas underground, they interpreted clues on the surface — fossils, domes and folds in the rock — that hinted oil may be trapped underneath. One geologist, Ernie Berg, noticed that a wadi, or ancient riverbed, took a mysterious turn. He surmised that the bend had been caused by a large uplift, indicating an underlying oil field.
It led to the 170-mile-long Ghawar field, which remains by far the world's largest oil discovery. Such finds altered Saudi Arabia's prospects. After a pause during World War II, money started coming in, and jobs were suddenly on offer for the new company, the Arabian American Oil Co., or Aramco.
Aramco soon became a magnet for men like al-Khowaiter. In a society that had long been defined by tribal connections, the company modeled itself as a meritocracy offering young hopefuls the chance for advancement. Al-Khowaiter spent several days in 1949 crossing the country, hitching rides with passing trucks from his home in central Saudi Arabia, to Dhahran on the eastern coast, where Aramco was ramping up its operations.
"I heard about people working for Aramco, that the door was open to getting an education," al-Khowaiter said, over tea and pecan pie.
Back then, Al Khobar — now a major port near Dhahran — was a medieval-looking walled town that lacked the facilities, roads or people needed for an international oil hub. Saudi employees there lived in palm-thatched huts and were plagued by diseases like malaria.
Al-Khowaiter, who was sent by the Saudi government to study petroleum engineering at the University of Texas, eventually spent 35 years at the company, rising to become vice president for drilling before retiring in 1996. He still lives in Dhahran, now Aramco's headquarters, in a gated community dotted with date palm trees known as the golden ghetto, a wealthy enclave with a Mexican theme restaurant and a golf course, among other entertainment.
Stories like al-Khowaiter's are common, the most famous being Ali al-Naimi's. Al-Naimi, the son of a pearl diver and his Bedouin wife, began studying at an Aramco-sponsored school, and was first hired by the company as an office boy at 12 years old. He embraced US culture, even learning to play shortstop in baseball, and pestered the company to send him abroad — first to Beirut and then to the United States, where he earned his undergraduate and master's degrees.
In 1988, al-Naimi became Aramco's chief executive, the first Saudi in the position. In 1995, he was named Saudi Arabia's oil minister.
"Without Aramco, I don't know what life would be," al-Khowaiter said. "We would not be at the level we are now."
A unique long view
Aramco's path has long been driven by politics. Riyadh's relationship with the United States frayed during the Arab-Israeli war in 1973. Washington supported Israel. In retaliation, Saudi Arabia and other Arab states imposed an oil embargo on the United States. That same year, the Saudis took a 25 percent stake in Aramco, eventually gaining full control by 1980.
The US influence is still apparent. Many expatriates stayed, and US companies kept buying and selling Saudi oil. Unlike the rest of Saudi Arabia, where recreation and entertainment are largely forbidden, Aramco compounds have baseball diamonds and movie theaters. Men and women work together and mingle in public. English is widely spoken.
Saudi Aramco's success, in many ways, is tied to its roots. It is run more like a private company than a state-run fief, with top executives typically chosen for competence rather than connections. Its employees are efficient, skilled and highly educated, making Aramco an outlier in a kingdom where state control has stifled innovation and limited the kinds of opportunities that should be available in such a wealthy country.
The company is widely praised for embracing technology and, unlike many government-controlled energy companies, finishing projects on time and on budget. While Aramco does not disclose its financial results, analysts say its large, long-running fields most likely mean that the costs of bringing the oil out of the ground are among the lowest in the industry. Rystad Energy, a Norwegian market research company, estimates Saudi Aramco's operating costs to be $4.88 for each barrel of oil. Last year, Exxon Mobil reported worldwide production costs of $10.12 a barrel.
Its Saudi parentage gives the company an advantage over the likes of Exxon and Royal Dutch Shell. Aramco doesn't face the relentless quarter-to-quarter pressure to produce profit. It can take a really, really long-term view, and over the years has persistently opted for the most advanced — and expensive — technology to ensure it will be able to pump vast quantities of oil for decades.
"Saudi Aramco has a much better business model than the international majors," said J. Robinson West, chairman of the BCG Center for Energy Impact, a consultancy.
When Aramco first drilled at the Shaybah oil field in the 1990s, it picked a then unusual and costly process known as horizontal drilling. Rather than exploring straight down into the ground, Aramco's wells lace through Shaybah. One has so many branches it is known as the fish bone.
They more than compensate for the cost, though. During the process, the wells have more contact with oil-bearing rocks to produce more crude, while expending less energy on pumping.
This approach is one reason giant fields like Ghawar continue to produce despite having been tapped for decades. Fields in areas like the North Sea in Europe, or in the Gulf of Mexico, have declined sharply.
"Saudi Aramco has the longest time horizon in the industry," said Daniel Yergin, an oil historian.
With oil reserves pegged at about 260 billion barrels — far more than any publicly listed competitor — Aramco has around 70 years' worth of resources at present production levels. It has the two largest oil fields ever discovered. And more are coming, with the recently developed Manifa capable of producing 900,000 barrels of oil a day. Western oil majors only rarely get access to such giant deposits.
"We are in a unique position where we have exclusive access to all of Saudi Arabia's fields," said Suha Kayum, an Aramco research scientist. "We basically develop our fields to last for centuries."
Change is coming
About an hour's drive from Dhahran, a gargantuan industrial complex dominates the desert landscape. Two square miles, it looks like a small city, except people are eerily absent and the streets are lined with pipes, storage tanks and smokestacks. Sadara, as this complex is called, represents what could be the new Aramco.
The ambitious project, which began operating last year, is the result of a $20 billion investment by the company and its partner, Dow Chemical. In all, 26 plants brew an array of petrochemicals from oil and gas for foam, insulation and plastics, as well as chemicals that will go into adhesives, coatings and cosmetics.
The idea is not only to feed expanding world markets for these products, but also to sow the seeds of a diversified Saudi economy. Officials hope Sadara will drive growth in industries like furniture and car parts, providing jobs to the country's young and fast-growing labor force.
"We see the world changing," said Abdulaziz al-Judaimi, Aramco's senior vice president for chemicals and refining. "It is very much for us to read the future, and engineer our future in a way that we keep our market share."
Aramco is separately trying to up its output of natural gas. Past policies and Saudi geology have left the kingdom surprisingly short of gas, which is increasingly used in electricity generation. The company is even on the hunt for international gas deals that could bring fuel back to Saudi Arabia, a role reversal for one of the world's most dominant exporters.
But whether politics and profits can peacefully coexist in this blend is a big uncertainty for Saudi Aramco.
Investors in a public Saudi Aramco may want to know why the company has research centers across the globe when others have been cutting back.
Source: timesofindia.indiatimes.com/world/middle-east/an-oil-giant-is-taking-big-steps-saudi-arabia-cant-afford-for-it-to-slip/articleshow/64620874.cms
-----
Europe
Far-Right Terror Threat on the Rise in Britain
AFP | Updated: Jun 17, 2018
LONDON: Stung by an attack on Muslims in London a year ago, Britain is facing a growing threat from far-right extremists fuelled by online hate speech, forcing the authorities to react.
In a country hit by five attacks in the space of six months in 2017 that killed 36 people, "the biggest threat is from Islamist terrorism", Home Secretary Sajid Javid said earlier this month.
But "extreme right-wing terrorism is also an increasing threat", the interior minister added as he unveiled a new counter-terror strategy.
A government report found that four attacks have been carried out in Britain over the past five years "by lone actors motivated to varying degrees by extreme right-wing ideologies".
Among them was Darren Osborne, a 48-year-old from Cardiff, who a year ago on Tuesday drove his rented van into a group of Muslim worshippers near Finsbury Park Mosque in north London, killing one man and injuring 12 others.
The father-of-four's radicalisation ramped up in a matter of weeks, fed by compulsive reading of hate material online.
In February, Mark Rowley, the then head of counter-terrorism policing, said that four extreme right-wing plots were foiled last year and described the trend as "worrying".
Matthew Henman, from the Jane's Terrorism and Insurgency Centre database, told AFP: "There is a clear increase in both the tempo of attacks conducted by right-wing extremists and in the seriousness, lethality, of such violence."
In recent decades, extreme right-wing activity in Britain had been confined to small, established groups with an older membership, which promoted anti-immigration and white supremacist views but presented a low risk to national security.
But the emergence of the neo-Nazi group National Action in 2014, and similar fringe outfits like Generation Identity, has helped forge a new, younger pool of extremists, according to the "2018 State of Hate" report by the anti-racism organisation Hope Not Hate.
The report's "online hate" section cited prominent British figures among those with the biggest reach on social media.
They included Stephen Lennon -- known as Tommy Robinson -- founder of the English Defence League, which he left in 2013.
They also included Paul Joseph Watson, whose videos have been viewed hundreds of thousands of times, and commentator Katie Hopkins, who in 2015 compared migrants to "cockroaches".
"The authorities are failing to appreciate or deal with this growing far-right online threat and anti-Muslim hatred in general," Hope Not Hate's report concluded.
The Muslim Council of Britain, a national representative umbrella body, has also denounced an Islamophobic climate, blaming elements of the governing Conservative Party.
However, Henman said he had seen "encouraging signals" from the government and security services, such as disrupting plots and banning National Action in December 2016 after the assassination of opposition Labour MP Jo Cox by a neo-Nazi sympathiser.
The killing, which shocked Britain, was carried out in the build-up to the June 2016 referendum on Brexit.
However, National Action continues to operate in the shadows.
On Tuesday, Jack Renshaw, 23, one of its alleged members, pleaded guilty in court in London to planning to assassinate another Labour lawmaker, Rosie Cooper.
"As with the fight against militant Islamism, these policies treat the symptoms of right-wing extremism and not the cause," said Henman, calling for a more "comprehensive approach".
He added the spike in far-right activity was "not occurring in a bubble".
As Javid noted in his speech, the two camps are "more similar than they might like to think".
"They both exploit grievances, distort the truth, and undermine the values that hold us together," he said.
Source: timesofindia.indiatimes.com/world/uk/far-right-terror-threat-on-the-rise-in-britain/articleshow/64619330.cms
------
Paris Suburb Defies Efforts to Loosen Radical Grip
17 June 2018
AFP
TRAPPES: Just a short drive from the opulence of Versailles Palace, a closed-off community of strictly conservative Muslims is posing the most visible challenge to French authorities hoping to stem the rise of homegrown extremists.
At first glance the town of Trappes, where urban renovation projects have replaced dozens of grim tower blocks, does not match the stereotype of poverty-stricken enclaves offering fertile ground to militant recruiters.
While never quite shaking off its rough reputation for drugs and violence, the town southwest of Paris has produced international football star Nicolas Anelka and popular French-Moroccan comedian Jamel Debbouze.
These days every butcher shop in the town center is halal and most women at the market wear headscarves, and increasing numbers of local Muslims adhere to a strictly conservative lifestyle.
While most French Muslims disdain violence in following the traditions of "pious ancestors," many of the militants who have struck France in the past three years have been associated with the extremist movement.
And a security source told AFP that around 50 people from Trappes — which has a population of 30,000 — have gone to fight in Iraq or Syria.
"It's a tragedy," said Ibrahim Ayres, owner of an Islamic bookstore who says he himself managed to dissuade five young people from joining the Daesh group.
Authorities and locals also see the influence as behind the sharp drop in the town's crime levels.
"In the 1970s and 80s, the delinquency rates were much higher. Mothers were relieved when they saw their children start practicing their religion again," said Ayres, who has a white beard and a long traditional robe.
"Muslims didn't see what was behind it."
The radicalization of what has been called the "French Molenbeek" — a reference to the Brussels district which was home to several of the militants involved in the 2015 Paris attacks — has mirrored the rise of extremism across France.
While still a minority among the country's estimated 6 million Muslims, security forces say their numbers have soared from 5,000 in 2004 to between 30,000 and 50,000 today.
Back in the 1990s, Trappes had been a source of militants for the Armed Islamic Group of Algeria (GIA), which staged a series of attacks in France throughout the decade.
The town developed quickly in the 1960s with the arrival of North African migrants seeking work in nearby auto factories, but today unemployment is around 20 percent — double the national average.
Tensions burst into the open in 2013 after a man was arrested for allegedly attacking a police officer who stopped his wife for wearing a full-face veil in public.
"There is a clear intention to mark religious adherence in social life," says Trappes' Socialist Mayor Guy Malandain.
A group of 200 women recently came to his office asking for women-only hours at a local swimming pool, which he refused in the name of France's strict secular principles.
He also stopped calls to prayer blaring from a loudspeaker at one of the town's five mosques, run by a group thought to be linked to the Muslim Brotherhood — which refused to speak to AFP.
In 2016, a confidential report by justice officials found nearly 80 families in Trappes were home-schooling their children instead of putting them in local schools.
All of which has caused unease in a country where politicians tend to emphasize shared values and often express concern over communities "shutting themselves off" from mainstream French society.
Allal, who runs a cafe near the market, says he does not know any Muslim fundamentalists. "They don't come here, they don't speak to me," he says.
Yet since he stopped serving alcohol in 2015, his business "has quadrupled" and during a recent sweep by police "they didn't find a gram" of drugs, he says.
But such claims do little to ease fears in France which has been on high alert since early 2015 when the wave of jihadist attacks began that have so far killed more than 240 people.
"What worries me are the growing calls for an isolated cultural identity," said Othman Nasrou, a local lawmaker.
Some officials want an outright ban on Salafism, a move dismissed as unrealistic by legal experts but which echoes a widespread view that recent laws aimed at curbing extremism have not done enough.
"How can you outlaw an idea?" said Rachid Benzine, an Islamic expert who was born in Trappes.
Yet he acknowledged that Salafism "encourages a split with one's environment which can at times open the door toward jihad."
"It has the wind in its sails, and will continue to develop so long as there is nothing to counter it," he said.
France does not produce official statistics on religion but Trappes' mayor estimates 25 to 30 percent of its residents are Muslim — though a local legal source suggested the number was more than double, at between 60 and 70 percent.
Malandain hopes President Emmanuel Macron will clarify the state's response in a coming plan for bolstering ties with France's Muslims.
"If we don't emphasize the role of advocates of a moderate Islam, a European version, we're going to have serious problems," he said.
Source:arabnews.com/node/1322756/world
----
Pakistan
Gunmen Kill 3 Pakistani Troops in Quetta City
AP | Jun 16, 2018
QUETTA, PAKISTAN: A senior Pakistani police official says gunmen riding on motorcycles have opened fire on a vehicle carrying paramilitary soldiers in the country's southwestern city of Quetta, killing three troops before fleeing.
Officer Naseeb Ullah says Saturday's attack took place in the city's Saryab Road neighborhood when residents were celebrating the three-day Eid- ul-Fitr holiday. No one claimed responsibility for the attack and Ullah says police transported the bodies to a nearby hospital.
Quetta is the capital of Baluchistan and has been the scene of a low-level insurgency by Baluch separatist groups, who demand a greater share of the province's resources.
Islamic militant groups also operate there and often target security forces.
Also late Friday, militants killed three Pakistani soldiers in a cross-border attack in the North Waziristan region bordering Afghanistan.
Source: timesofindia.indiatimes.com/world/pakistan/gunmen-kill-3-pakistani-troops-in-quetta-city/articleshow/64612689.cms
------
Chief justice takes notice of non-issuance of CNICs to transgender community
Rana BilalUpdated June 17, 2018
Chief Justice of Pakistan Mian Saqib Nisar on Sunday took suo motu notice over complaints that the transgender community is not being issued their computerised national identity cards (CNICs), and ordered Punjab chief secretary and other members of the concerned provincial administration to appear before the court on Monday.
According to a press release issued by the apex court, Justice Nisar, during his visit to Fountain House Lahore on Saturday, was told of the problems face by the transgender community, whose primary complaint was the non-issuance of CNICs.
The chief justice, in the light of their complaints, took notice of the matter and issued the aforesaid personnel to appear before the court at 11am on Monday.
The court also instructed Akhuwat Foundation's Amjad Saqib to attend the hearing, which will take place at the Supreme Court's Lahore registry.
In 2009, Pakistan became one of the first countries in the world to legally recognise a third sex, allowing transgenders to obtain identity cards. However, the jury is out on the legislation's on-ground implementation.
Source: dawn.com/news/1414529/chief-justice-takes-notice-of-non-issuance-of-cnics-to-transgender-community
-----
NAB Launches Fresh Inquiry into 'Money Laundering By Nawaz'
Syed Irfan Raza, June 16, 2018
ISLAMABAD: The National Accountability Bureau (NAB) has launched another inquiry against former prime minister Nawaz Sharif over money laundering allegations.
The inquiry has been launched on the complaint of a journalist/columnist, Asad Kharal, the spokesperson for NAB told Dawn on Friday. The journalist has also recorded his statement before the bureau and submitted relevant record to NAB investigators.
According to the spokesperson, the complainant provided details how Mr Sharif and his family members allegedly sent money to foreign countries in an illegal way.
Mr Sharif and his family members have been facing similar charges in the references made under the Panama Papers case and being tried in the Accoun­tability Court in Islamabad.
Probe has been initiated on complaint of a journalist
The fresh complaint said Khaista Khan and Jamshed Khan, Hawala/Hundi dealers from Peshawar, were engaged by the Sharif family to siphon off large amounts of funds through their bank accounts.
It said according to the testimony Khaista Khan and Jamshed Khan before NAB, the Sharif family illegally sent funds converted into foreign currencies abroad regularly.
The complaint said Khalid Siraj, a first cousin and business partner of Mr Sharif, had disclosed in a statement recorded before the Federal Investigation Agency in the Panama Papers case, the Sharif family's misdeeds, including transfer of funds aboard and purchase of assets in foreign countries.
"Between 1988 and 1991, Rs56.896 million was sent out of the country," the complaint said.
NAB was informed that in 1988, $758,000 were remitted from the Bank of Oman in Sharjah to the bank's Lahore branch and then this money was converted into Foreign Exchange Bearer Certificates worth Rs145.06m and was distributed among close relatives of Mr Sharif and partners of his family members.
According to the complaint, Mr Siraj said initially Rs140m was transferred to the Bank of Oman in Sharjah from Pakistan through Hawala/Hundi. Later, the amount was credited to the Shamrock Consulting Corporation through the Allied Bank's London Stock Exchange branch. The amount was used allegedly in the purchase of the Park Lane apartment during 1993-96.
According to another allegation, the Ramzan Sugar Mill owned by the Sharif family obtained $30m from Faysal Bank in 1990 during Mr Sharif's first tenure as prime minister and by misusing his official power.
The complainant claimed that secret funds were issued by former finance minister Ishaq Dar through issuing supplementary grants and subsequently the then director general of the Intelligence Bureau, on the instructions of Mr Shairf and Dar, entrusted these funds to Saif-ur-Rehamn for its onward distribution among a foreign firm and individuals to materialise cases against political opponents of Mr Sharif.
On the directives of Mr Shairf, Mr Dar and Saif-ur-Rehamn, the civilian spy agency was misused to such an extent that illegal modes of money transfer such as Hawala/Hundi were used to send more than Rs100m abroad after converting it into foreign currency, it alleged.
The complaint said the World Bank and the United Nations Office of Drugs and Crime had jointly initiated a report for stolen asset recovery, implicating Mr Sharif vide case no. 147, and found him liable under Article 17 and 23 of the United Nations Convention Against Corruption, of which Pakistan was also signatory.
Source: dawn.com/news/1414424/nab-launches-fresh-inquiry-into-money-laundering-by-nawaz
-----
Africa
Suicide Blasts in NE Nigeria Kill At Least 31: Official, Local Militia
AFP
June 17, 2018
KANO, Nigeria: Suspected Boko Haram extremists killed at least 31 people in a twin suicide bomb attack on a town in northeast Nigeria, a local official and militia leader told AFP on Sunday.
Two blasts ripped through the town of Damboa in Borno state on Saturday evening targeting people returning from celebrating the Eid Al-Fitr holiday, in an attack bearing all the hallmarks of Boko Haram.
Following the suicide bombings, the extremists fired rocket-propelled grenades into the crowds that had gathered at the scene of the attacks, driving the number of casualties higher.
"There were two suicide attacks and rocket-propelled grenade explosions in Damboa last night which killed 31 people and left several others injured," said militia leader Babakura Kolo.
Two suicide bombers detonated their explosives in Shuwari and nearby Abachari neighbourhoods in the town around 10:45 p.m. (2145GMT), killing six residents, said Kolo, speaking from the state capital Maiduguri, which is 88 kilometers from the town.
"No one needs to be told this is the work of Boko Haram," Kolo said.
A local government official, who spoke on the condition of anonymity, confirmed the death toll.
"The latest death toll is now 31 but it may increase because many among the injured may not survive," said the official.
"Most of the casualties were from the rocket projectiles fired from outside the town minutes after two suicide bomber attacked," he said.
The extremist group has deployed suicide bombers, many of them young girls, in mosques, markets and camps housing people displaced by the nine-year insurgency which has devastated Nigeria's northeast.
On May 1 at least 86 people were killed in twin suicide blasts targeting a mosque and a nearby market in the town of Mubi in neighboring Adamawa state.
Nigerian President Muhammadu Buhari came into power in 2015 vowing to stamp out Boko Haram but the extremists continue to stage frequent attacks, targeting both civilians and security forces.
The militants stormed the Government Girls Technical College in Dapchi on February 19, seizing over 100 schoolgirls in a carbon copy of the abduction in Chibok in 2014 that caused global outrage.
Source: .arabnews.com/node/1322901/world
-----
URL: https://www.newageislam.com/islamic-world-news/big-hugs-selfies-afghan-soldiers/d/115560
New Age Islam, Islam Online, Islamic Website, African Muslim News, Arab World News, South Asia News, Indian Muslim News, World Muslim News, Women in Islam, Islamic Feminism, Arab Women, Women In Arab, Islamophobia in America, Muslim Women in West, Islam Women and Feminism