New Age Islam News Bureau
11 Aug 2020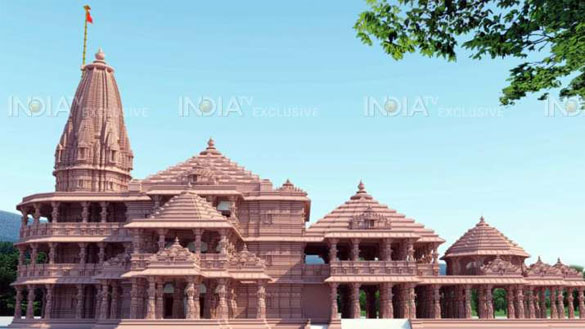 Image Source: INDIA TV
-----
• US Court Summons Saudi Crown Prince Over Alleged Assassination Attempt
• Widely Seen as Warning Shot, Russia Court Sentences Young Activists for Extremism
• Resolution in Punjab Assembly for Including Minority Heroes in School Curriculum
• Beirut Explosion: PM And President Knew About 2,750 Tonnes Of Chemicals Last Month
• Tunisia's Prime Minister-Designate to Form Technocratic Govt Without Parties
• Afghan President Signs Decree to Release 'Hardcore' Taliban Prisoners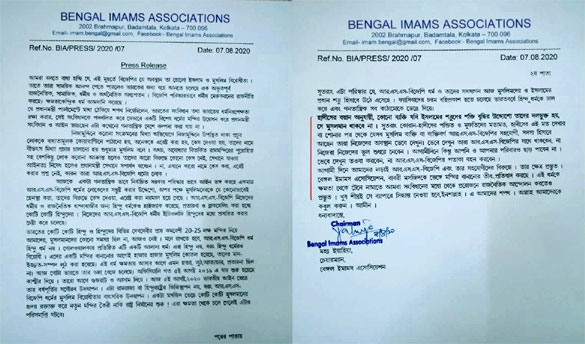 This letter, purportedly from the Bengal Imams Association, issues an open threat to Muslims working for or associated with BJP-RSS.
-----
India
• Bengal Imams' Association Terms Supporting Bhoomi Pujan As Anti-Islam
• Renowned Urdu Poet Munawwar Rana Writes to PM Modi, Offers His Five Acre Land For 'Babri Mosque'
• Officials Inspect Tank Works at Mecca Masjid, Hyderabad
• India must heed growing China-Pakistan intel-sharing. It may have aided Galwan clash
• Covid pandemic gives birth to new mobile app to make donations to Masjids, Madrasas contactless
• 3 suspects apprehended in Jammu and Kashmir's Kupwara, arms and ammunition recovered: Army
------
North America
• US Court Summons Saudi Crown Prince Over Alleged Assassination Attempt
• US At Risk of Beirut-Style Explosion as Regulations Remain Weak
• Trump's plan of troop reduction in Afghanistan part of his election campaign: Commentator
• Trump Vows To 'Have A Deal' With Iran 4 Weeks After 2020 Re-Election
--------
Europe
• Widely Seen as Warning Shot, Russia Court Sentences Young Activists for Extremism
• Ankara blasts Armenia for 'sneaky goals' against Turkey
• France calls for 'rapid formation' of new Lebanon govt after PM steps down
--------
Pakistan
• Resolution in Punjab Assembly for Including Minority Heroes in School Curriculum
• Pakistan Establishing Diplomatic Missions in African Countries Amid Rising Radical Islamic Terrorism in Africa
• PM underlines need for stronger ties with Maldives
• PML-Q 'ready' to mend fences with PTI
--------
Arab world
• Beirut Explosion: PM And President Knew About 2,750 Tonnes Of Chemicals Last Month
• UN Chief Calls for Independent Inquiry into Beirut Explosion
• NASA radar data maps out extent of Beirut explosion damage
• Explosion hits near Iraq-Kuwait border crossing: Iraqi security source
• Beirut firefighters were not given keys, location of burning hanger: The Independent
• Lebanese protesters clash again with security forces in central Beirut
• Hezbollah softens stance on Israel maritime border dispute after Lebanese rage
• Lebanon PM Hassan Diab resigns less than a week after deadly Beirut explosion
• Lebanese cabinet refers Beirut explosion investigation to judicial council: Reports
• Lebanon justice, finance ministers submit resignation after Beirut explosions
• Egyptians start voting for revived upper house of parliament
--------
Africa
• Tunisia's Prime Minister-Designate to Form Technocratic Govt Without Parties
• Nigerian Singer Sentenced to Death for Blasphemy In Kano State
• ISIL will bounce back if Libya civil war doesn't end, study warns
• Chad says Boko Haram wreaking havoc despite offensive
--------
South Asia
• Afghan President Signs Decree to Release 'Hardcore' Taliban Prisoners
• Taliban attack repulsed in Sar-e Pul; at least 21 militants killed, wounded
• 180 Afghan Sikhs and Hindus to leave for India on Wednesday
• Explosion in Kabul city leaves at least 3 dead or wounded
--------
Southeast Asia
• Maal Hijrah Celebration at Final Stage of Discussion, Says Malay Religious Minister
• 'Is this what Syed Naquib taught?' Johor DAP's Sheikh Umar slams Wan Fayhsal over support letter offer
• Religious affairs minister: I hope RUU355 happens before I die
• Sunni radicals attack Shias during wedding vigil in Central Java
--------
Mideast
• IRGC Deputy Commander: US Democrats, Republicans No Different to Iran
• Spokesman: US Extension of Arms Embargos against Iran Threatens UNSC
• Iran: External Agitators Seeking Vested Interests in Lebanon
• US-Iran won't make deals as President Trump has suggested: Iranian spokesman
• Turkey will conduct seismic survey in eastern Mediterranean: Turkish navy
• Iran slams Persian Gulf Cooperation Council's call for extension of arms embargo
Compiled by New Age Islam News Bureau
URL: https://www.newageislam.com/islamic-world-news/bengal-imams-association-terms-supporting/d/122596
--------
Bengal Imams' Association Terms Supporting Bhoomi Pujan As Anti-Islam
Manogya Loiwal
Kolkata
August 11, 2020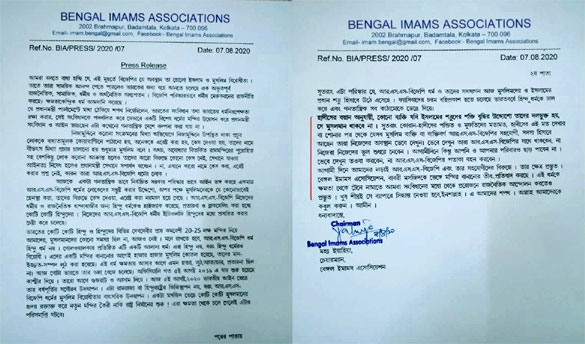 This letter, purportedly from the Bengal Imams Association, issues an open threat to Muslims working for or associated with BJP-RSS.
-----
The Bengal Imams' Association has issued a new diktat stating that supporting Ram temple bhoomi pujan is "anti -Islam".
Imams' Association has released a statement lashing out at the right wing for threatening of dire consequences too.
Highlighting the Nizamuddin incident, the association took a dig at the RSS and BJP claiming their actions to be a propaganda against Islam.
Imams' Association added on to distinguish the RSS-BJP from Hinduism.
Slamming the parties, it stated," It is not the foundation of Ram Rajya or Hirashtra but the annual celebration of anti-Muslim sentiment is the religion of RSS-BJP."
The Association further asked the Muslim allies of BJP-RSS to reflect upon their choices and "correct" themselves as it will otherwise erase their identity as a Muslim.
Bengal Imams' Association stands against the demolition of Babri Mosque and construction of a temple. The association threatened the right wing and reiterated that their "fight" with RSS-BJP will continue.
Md. Yahiya, President stated, "It is to warn those Muslims who are supporting RSS- BJP that they should decide now who they want to support in days to come. This is not any fatwa but they need to understand that they are helping who want to harm Muslims."
The letter also hits out at Prime Minister Narendra Modi on his gesture of bowing down before constitution while entering Parliament and then sitting in bhoomi pujan, thereby 'mocking at everything that is written in the same constitution'. 'He has also broken all possible laws which is unimaginable in any democratic country.'
The RSS, however, has reverted on the same terming these letters to be provocations by vested interest for vested interest.
Jisnu Basu, Secretary of West Bengal unit of RSS said, "If you think the Muslim community in Bengal a fool you are going to make the biggest mistake. Political parties have been cheating this community for the last few decades. The Left front pretended to be the best friend of the Muslim community but according to the shutter committee report the socio-economic condition of the community in Bengal was shown to be worse than any other states."
He added, "For last 10 years, the Jihadi activities have been pampered by the political forces. The Khagragarh blast incident, in Kaliyachak the Jihadi's attacked a police station. In Simulia Madrasa the anti-nationals were supported by political parties. But the common Muslims in West Bengal didn't like this. They would like to get proper education for their children, jobs for their youth and overall prosperity of the community which these political forces failed to provide. So I think this time the Muslim community will understand the conspiracy and take actions accordingly."
https://www.indiatoday.in/india/story/imam-association-terms-supporting-bhoomi-pujan-as-anti-islam-1709876-2020-08-11
--------
US Court Summons Saudi Crown Prince Over Alleged Assassination Attempt
10 August 2020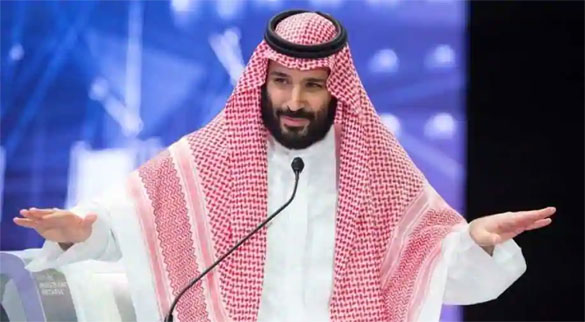 Prince Mohammed bin Salman Photograph:( Reuters )
-----
A court in the United States has summoned Saudi Crown Prince Mohammed bin Salman (MBS) based on a lawsuit initiated by a former senior Saudi intelligence official accusing the kingdom's de facto ruler of an assassination attempt against him.
The District of Columbia court on Friday issued the summons, just a day after Saad Aljabri filed a lawsuit against MBS, accusing the top royal of sending a hit squad to trap and kill him in the United States and Canada, Qatar's Al Jazeera broadcaster reported on Sunday.
The ex-official, who functioned as a top aide in the Saudi Interior Ministry for years, now lives in Canada and is reportedly under increased protection by police and private security guards.
The summons, which mentioned 12 other people by name in addition to the crown prince, said, "If you fail to respond, judgment by default will be entered against you for the relief demanded in the complaint."
The lawsuit alleges that a team of Saudi agents carrying forensic gear and including forensic experts arrived at an airport in Ontario in October 2018. They tried to enter on Canadian tourist visas but were turned away by Canadian border officials.
Aljabri claimed that his close ties with the US intelligence community and deep knowledge of the prince's activities had turned him into one of the key targets of bin Salman.
"Few places hold more sensitive, humiliating and damning information about defendant bin-Salman than the mind and memory of Dr. Saad - except perhaps the recordings Dr. Saad made in anticipation of his killing," the lawsuit read.
Riyadh has already issued Interpol red notices, the highest-level notice, seeking Aljabri's extradition, accusing the former senior intelligence officer of corruption. The international organization, however, has dismissed the notices as political.
Nevertheless, the Saudi regime has urged other countries to send Aljabri back to the Arab kingdom.
According to the lawsuit, the Saudi crown prince had purportedly ordered the detention of two of Aljabri's children, who went missing from their home in Riyadh in mid-March, in a bid to force Aljabri to return to Saudi Arabia.
It also asserts that other relatives of the ex-official have been arrested and allegedly tortured "all in an effort to bait Dr. Saad back to Saudi Arabia to be killed."
Attempts by the Saudi regime to forcibly return certain citizens living abroad began attracting global attention after the gruesome assassination of Saudi critic Jamal Khashoggi two years ago.
The ill-fated dissident, an MBS critic and Washington Post journalist, was executed and dismembered after entering the Saudi Consulate in Istanbul in 2018. The journalist is widely believed to have been murdered on bin Salman's direct orders.
https://www.presstv.com/Detail/2020/08/10/631488/Saudi-bin-Salman-US-court
--------
Widely Seen as Warning Shot, Russia Court Sentences Young Activists for Extremism
By Charles Maynes
August 07, 2020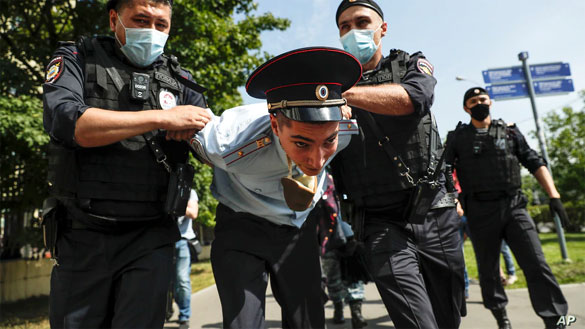 Police officers detains a protester, center, dressed as a Russian police officer before a court hearing of the New Greatness group who are charged with the organization of an extremist association in Moscow, Russia, Aug. 6, 2020.
MOS
-----
MOSCOW - A Moscow court convicted 7 young Russians on extremism charges Thursday — sentencing several of the group to lengthy prison sentences in a closely watched case that seemed to encapsulate the limits of political youth activism in today's Russia.
Prosecutors argued that the defendants — most in their teens and 20's — had organized an illegal online extremist chat group called "The New Greatness" with the intent of overthrowing the government in 2018.
The accused all denied the charges and said evidence was fabricated.
Indeed, to critics, the case was the latest example of the government's abuse of Russia's vague anti-extremism laws — and subservient court system — to crush perceived political rivals through any means necessary.
The state's case was marred by credible accusations of torture and entrapment by Russia's Federal Security Services, or FSB.
The government's key witness was an undercover FSB agent named "Ruslan D" who prosecutors say infiltrated the group to learn of their plans. Throughout the trial, the accused countered that the agent himself concocted "The New Greatness" label and pushed a radical political agenda to the other participants in an otherwise largely apolitical group chat.
Supporting government evidence came from an additional suspect in the case — Pavel Rebrovsky, who later cut a plea deal with investigators and was given a two-and-a-half-year prison sentence in April 2019. Rebrovsky has since rescinded his testimony — saying it was given under pressure from state investigators.
The judge cited Rebrovsky's initial confession as proof of the group's guilt, nonetheless.
Authorities also promoted the group's guilt by releasing a video confession from another defendant, Ruslan Kostylenkov.
Kostylenkov, 27, later retracted the statement explaining he had been coerced through torture and rape while in custody.
He was given the harshest sentence — a 7-year prison term. Two others were given 6.5- and 6-year prison terms. The remaining accused were handed suspended sentences, including Anna Pavlikova, who was a 17-year old high school student when the case began.
Lawyers for all said they would appeal the ruling.
Acquittals are exceedingly rare in Russia, with conviction rates hovering at over 99% in criminal trials.
FSB Unbound
Outside the courthouse, several hundred supporters — most of them younger Russians — gathered and shouted chants of "Not guilty!" and "Let them go!" While inside the courtroom, the defendants were forced to stand for 4 hours as the judge read his verdict in a hushed whisper.
The case was widely seen as the latest legal warning shot against youth dabbling in politics — particularly as the Kremlin has increasingly struggled to gain support among a generation that has essentially known one leader, Vladimir Putin, for their entire lives.
In February, a court sentenced a group of young leftist activists to lengthy prison terms for running an "anarchist terrorist" cell called "The Network." The case was similarly tainted by allegations of fabricated evidence and torture at the hands of the federal security services.
And, like in The New Greatness trial, the group's goal was allegedly ending President Vladimir Putin's rule.
The initial arrests in The New Greatness occurred in March 2018, just days before Putin was elected to a new 6-year term.
"It was a gift to the president from the FSB," said Alina Danilina, whose boyfriend, 22-year old law student Vyachaslav Kryukov, was sentenced to six years.
"It's a catastrophe," she added about Thursday's ruling. "The worst happened."
"There is no evidence, no objective reason for my involvement in this case," wrote Kryukov in a statement provided to VOA ahead of the verdict.
"It feels extremely strange that they accused me of things I've always opposed. Extremism stands for hatred and violence — I've never been like that."
Indeed, the case seemed to point to a security apparatus untethered — with many voicing suspicion agents were inventing threats simply to justify their continued existence and generous state funding.
"These people have to do something to prove their effectiveness. So they forge these fake cases to show there is extremism and they are doing an important job," said Alexey Minyaylo, 35, a political activist who himself was arrested and faced charges of "inciting riots" against the government during a charged election season in 2019.
"They know how to beat out a confession," he tells VOA in an interview. "What they don't know is how to gather evidence. And this is especially true when there is nothing to find."
"It's a security service out of control," said Nikolai Svanidze, a veteran journalist who sits on Russia's Presidential Human Rights Council, in an interview outside the courthouse.
"It means any provocateur can give false testimony and make an honest person guilty," added Svanidze, while noting similarities to the worst of Russia's Soviet-era repressions.
"The scale is different, but the principles are the same."
Torture Allegations
The grim nature of the torture allegations were front and center throughout the trial — even if judge refused to acknowledge them or investigate the charges.
In October of last year, Kostylenkov and Kryukov slit their wrists during a courtroom hearing — the two of them yelling "This is an unfair trial" and "Freedom for political prisoners" before being rushed to hospital.
"Their nerves couldn't handle it anymore," said Kostylenkov's lawyer, Svetlana Sidorkina at the time. "All the evidence proves that they didn't commit a crime."
Kostylenkov later detailed horror at the hands of FSB agents. In a letter written to a friend last March but only released to the media during the final phase of the trial, he said he had been beaten and sexually assaulted with a kitchen mallet to gain his confession.
ndeed, the violence hovering over the case was captured in a stunt before the day's final verdict: Activists dressed as police slit the throat of a mannequin dressed as Christ — spraying red paint on supporters before being detained by security officers.
Meanwhile, Kira Yegorova, an actress, showed up to give a more low-key performance — she was holding a teddy bear.
"The state is destroying our children," she tells VOA.
And yet — for some — the trial has meant there was also fast growing up to do.
Kryukov's girlfriend, Alina Danilina 23, announced the verdict meant that she and Vyachaslav Kryukov were getting married. "It's the only way I can visit him in prison," she tells VOA.
"We've lost for now," she added. "But I will fight until the end."
https://www.voanews.com/europe/widely-seen-warning-shot-russia-court-sentences-young-activists-extremism?utm_source=iterable&utm_medium=email&utm_campaign=1426864_
--------
Resolution in Punjab Assembly for including minority heroes in school curriculum
11 Aug 2020
LAHORE: PML-N MPA Hina Pervaiz Butt has submitted a resolution in the Punjab Assembly demanding inclusion of minority heroes in the curriculum.
"According to the Constitution of Pakistan, all citizens have equal rights. In Pakistan even today the people of the minority community are performing the most important services in various fields. Pakistan has made history all over the world by giving this right to the Sikh community. Therefore, this House demands that the hero of minorities be included in the curriculum. Encourage Pakistan's minority community by including minority heroes in the curriculum," the resolution said.
RAIN: Punjab PML-N information secretary Azma Bokhari said here on Monday Chief Minister Usman Buzdar remained in his office while many areas of Lahore were inundated by Monday's rain.
"The sinking of the first project of the Buzdar administration – Firdous Market underpass – was completely exposed by Monday's rain. Buzdar and his team remained in offices while the Lahorities suffered because of rainwater that inundated their areas. Now those seeking resignation from Sindh CM Murad Ali Shah on rainwater issue should also ask Punjab CM Buzdar to step down on this matter," she said in a statement.
She said the 50-member cabinet of Punjab was in fact a crowd of incompetent and inept people making the lives of the people of Punjab miserable. "Not a single meeting before monsoon was chaired by Buzdar showing his seriousness to address the problems faced by it," she said and added Mr Bbuzdar had no control over any department as he was a remote-controlled chief executive of the province.
PML-Q: Honorary Consul General of Belarus Waleed Mushtaq called on Speaker Punjab Assembly Chaudhry Pervaiz Elahi at his residence here on Monday.
They exchanged bilateral political situations and matters of mutual interest. Mr Elahi said cooperation with Belarus in trade, education, health and agriculture sectors would have a positive impact on the economies of both the countries.
He said the pandemic of Corona had adversely affected the economic situation internationally, thanks to Almighty Allah circumstances were improving in Pakistan but still the people would have to follow SOPs.
https://www.dawn.com/news/1573713/resolution-in-punjab-assembly-for-including-minority-heroes-in-school-curriculum
--------
Beirut explosion: PM and president knew about 2,750 tonnes of chemicals last month
10 August 2020
Lebanese security officials warned the prime minister and president last month that 2,750 tonnes of ammonium nitrate stored in Beirut's port posed a security risk and could destroy the capital if it exploded, according to documents seen by Reuters and senior security sources.
Just over two weeks later, the industrial chemicals exploded in a massive blast that obliterated most of the port, killed at least 163 people, injured 6,000 more and destroyed some 6,000 buildings, according to municipal authorities.
For all the latest headlines, follow our Google News channel online or via the app.
A report by the General Directorate of State Security about events leading up to the explosion included a reference to a private letter sent to President Michel Aoun and Prime Minister Hassan Diab on July 20.
While the content of the letter was not in the report seen by Reuters, a senior security official said it summed up the findings of a judicial investigation launched in January, which concluded the chemicals needed to be secured immediately.
The state security report, which confirmed the correspondence to the president and the prime minister, has not previously been reported.
"There was a danger that this material if stolen, could be used in a terrorist attack," the official told Reuters.
"At the end of the investigation, Prosecutor General (Ghassan) Oweidat prepared a final report which was sent to the authorities," he said, referring to the letter sent to the prime minister and president by the General Directorate of State Security, which oversees port security.
"I warned them that this could destroy Beirut if it exploded," said the official, who was involved in writing the letter and declined to be named.
Reuters could not independently confirm his description of the letter.
The prime minister's office and the presidency did not respond to requests for comment about the July 20 letter.
The prosecutor general did not respond to requests for comment.
'DO WHAT IS NECESSARY'
The correspondence could fuel further criticism and public fury that the blast is just the latest, if not most dramatic, example of the government negligence and corruption that has already pushed Lebanon to economic collapse.
As protests over the blast raged in Lebanon on Monday, Diab's government resigned, though it will remain as a caretaker administration until a new cabinet is formed.
The rebuilding of Beirut alone is expected to cost up to $15 billion, in a country already effectively bankrupt with total banking system losses exceeding $100 billion.
Aoun confirmed last week that he had been informed about the material. He told reporters he had directed the secretary-general of the supreme defense council, an umbrella group of Lebanon's security and military agencies chaired by the president, to "do what is necessary."
"(The state security service) said it is dangerous. I am not responsible! I don't know where it was put and I didn't know how dangerous it was. I have no authority to deal with the port directly. There is a hierarchy and all those who knew should have known their duties to do the necessary," Aoun said.
Many questions remain over why the shipment of ammonium nitrate docked in Beirut in late 2013. Even more baffling is why such a huge stash of dangerous material, used in bombs and fertilizers, was allowed to remain there for so long.
The letter sent to Lebanon's president and prime minister followed a string of memos and letters sent to the country's courts over the previous six years by port, custom and security officials, repeatedly urging judges to order the removal of the ammonium nitrate from its position so close to the city center.
The General Directorate of State Security's report seen by Reuters said many requests had been submitted, without giving an exact number. It said the port's manifest department sent several written requests to the customs directorate up until 2016, asking them to call on a judge to order the material be re-exported immediately.
"But until now, no decision has been issued over this matter. After consulting one of our chemical specialists, the expert confirmed that this material is dangerous and is used to produce explosives," the General Directorate of State Security report said.
HAZARDOUS MATERIAL
The road to last week's tragedy began seven years ago, when the Rhosus, a Russian-chartered, Moldovan-flagged vessel carrying ammonium nitrate from Georgia to Mozambique, docked in Beirut to try to take on extra cargo to raise the fees for passage through the Suez Canal, according to the ship's captain.
Port authorities impounded the Rhosus in December 2013 by judicial order 2013/1031 due to outstanding debts owed to two companies that filed claims in Beirut courts, the state security report showed.
In May 2014, the ship was deemed unseaworthy and its cargo was unloaded in October 2014 and warehoused in what was known as Hangar 12. The ship sank near the port's breakwater on Feb. 18, 2018, the security report showed.
Moldova lists the owner of the ship as Panama-based Briarwood Corp. Briarwood could not immediately be reached for comment.
In February 2015, Nadim Zwain, a judge from the Summary Affairs Court, which deals with urgent issues, appointed an expert to inspect the cargo, according to the security report.
The report said the expert concluded that the material was hazardous and, through the port authorities, requested it be transferred to the army.
Reuters could not independently confirm the expert's account.
Lebanese army command rejected the request and recommended the chemicals be transferred or sold to the privately-owned Lebanese Explosives Company, the state security report said.
The report did not say why the army had refused to accept the cargo. A security official told Reuters it was because they didn't need it. The army declined to comment.
The explosive company's management told Reuters it had not been interested in purchasing confiscated material and that the firm had its own suppliers and government import licenses.
From then on, customs and security officials wrote to judges roughly every six months asking for the removal of the material, according to the requests seen by Reuters.
Judges and customs officials contacted by Reuters declined to comment.
Several customs and port officials have since been detained as part of the investigation into the blast.
'BAD STORAGE AND BAD JUDGMENT'
In January 2020, a judge launched an official investigation after it was discovered that Hangar 12 was unguarded, had a hole in its southern wall and one of its doors dislodged, meaning the hazardous material was at risk of being stolen.
In his final report following the investigation, Prosecutor General Oweidat "gave orders immediately" to ensure hangar doors and holes were repaired and security provided, a second high-ranking security official who also requested anonymity said.
On June 4, based on those orders, state security instructed port authorities to provide guards at Hangar 12, appoint a director for the warehouse and secure all the doors and repair the hole in the southern wall, according to the state security report and security officials.
The port authorities did not immediately respond to requests for comment.
"The maintenance started and (port authorities) sent a team of Syrian workers (but) there was no one supervising them when they entered to fix the holes," the security official said.
During the work, sparks from the welding took hold and fire started to spread, the official said.
"Given that there were fireworks stored in the same hangar, after an hour a big fire was set off by the fireworks and that spread to the material that exploded when the temperature exceeded 210 degrees," the high-ranking security official said.
The official blamed the port authorities for not supervising the repair crew and for storing fireworks alongside a vast deposit of high explosives.
Reuters could not determine what happened to the workers repairing the hangar.
"Only because the hangar faces the sea, the impact of the explosion was reduced. Otherwise, all of Beirut would have been destroyed," he said. "The issue is all about negligence, irresponsibility, bad storage and bad judgment."
https://english.alarabiya.net/en/2020/08/11/Beirut-explosion-PM-and-president-knew-about-2-750-tonnes-of-chemicals-last-month.html
--------
Tunisia's prime minister-designate to form technocratic govt without parties
10 August 2020
Tunisia's prime minister-designate said on Monday he would form a purely technocratic government following wrangling among political parties over the formation of the country's next administration.
The decision by Hichem Mechichi will likely put him in confrontation with the moderate Islamist Ennahda Party, the largest political group in parliament, which announced it would oppose the formation of a non-political government.
However, the proposal for a government of independent technocrats without political parties will win support from the powerful UGTT trade union and some other parties, including Tahya Tounes and Dustoury el Hor.
For all the latest headlines follow our Google News channel online or via the app.
Mechichi said that the government's focus would mainly be on social hardship and the weak economy, explaining that "while the political dispute continues, some Tunisians have not found drinking water."
Protests have erupted in the country's interior this year over widespread unemployment, lack of development and poor public services in health, electricity and water.
Mechichi, who was proposed by President Kais Saied last month to succeed Elyes Fakhfakh, said his priority would also be to rescue the struggling public finances. Fakhfakh resigned over allegations of a conflict of interest.
Tunisia is struggling to revive its collapsed economy since a 2011 revolution that ended the rule of former president Zine El Abidine Ben Ali and sparked the Arab Spring.
The government said last month it had asked four creditor countries to delay debt repayments, as it announced more pessimistic economic and budget forecasts for 2020 because of the coronavirus pandemic.
The request on debt repayments underscores the dire condition of the public finances, already a source of concern before the coronavirus crisis pummeled the global economy.
Mechichi, 46, an independent, needs this month to form a government capable of winning a confidence vote in parliament by a simple majority, or the president will dissolve parliament and call for another election.
https://english.alarabiya.net/en/News/north-africa/2020/08/11/Tunisia-s-prime-minister-designate-to-form-technocratic-govt-without-parties.html
--------
Afghan president signs decree to release 'hardcore' Taliban prisoners
10 August 2020
Afghanistan's President Ashraf Ghani has signed a decree to release a final batch of 'hardcore' Taliban prisoners, raising hopes for long-awaited peace talks to restart.
Late on Monday, the president ordered the release of the 400 prisoners, his office said.
"It is signed," a presidential palace source said.
National Security Council spokesman Javid Faisal said, "The Afghan government will start releasing the 400 Taliban prisoners within two days."
In Doha, a spokesman for the Taliban's political office welcomed Kabul's decision to release the last batch of 5,000 prisoners to be freed as a condition for starting intra-Afghan negotiations.
"We are ready to sit for talks within a week from when we see our prisoners released. We are ready," Suhail Shaheen said.
A government source said, "The original plan is to travel to Doha on Wednesday and the talks will begin on Sunday."
Loya Jirga, a grand assembly of Afghan elders, approved the release of the 400 Taliban prisoners, whom Kabul was wary of freeing given their background of involvement in deadly attacks and kidnappings.
In a resolution it issued on Sunday to make the announcement, the Loya Jirga also called for an immediate and long-lasting ceasefire, which would pave the way for an end to the war in Afghanistan.
The Taliban had demanded the release of the remaining prisoners as a condition for joining the peace talks.
Both President Ghani and the Taliban had already signaled that protracted peace negotiations could begin once the Eid-al Adha was over.
In February, the Taliban and Washington signed a deal that slated Afghan peace talks to begin in March, but discussions were delayed by disagreements over the terms of a prisoner swap.
The deal, which sets the stage for the withdrawal of all US-led foreign forces from Afghanistan, required Kabul to free some 5,000 Taliban prisoners in exchange for 1,000 Afghan security personnel held by the Taliban. The Taliban said they have already fulfilled their side of the exchange.
Authorities, however, had refused to free hundreds of inmates accused of serious crimes that the militant group had requested for release.
Official data shows that bombings and other assaults by the Taliban have surged 70 percent since the militant group signed the deal with the United States. Last month, Ghani said more than 3,500 Afghan troops and nearly 800 civilians had been killed since the deal was signed in Doha.
https://www.presstv.com/Detail/2020/08/10/631505/Afghanistan-Taliban-prisoners
--------
India
Renowned Urdu Poet Munawwar Rana Writes to PM Modi, Offers His Five Acre Land For 'Babri Mosque'
Aug 11, 2020
LUCKNOW: Renowned Urdu poet Munawwar Rana has sent a letter to PM Modi expressing willingness to donate his ancestral 5.5-acre land next to river Sai in Rae Bareli, for construction of a grand Babri Masjid.
The poet has also said that the five-acre land in Dhannipur village sanctioned by the government in lieu of Babri Masjid, should be used for building a hospital in the name of King Dashrath, the father of Lord Ram.
TOI is in possession of the two-page letter sent to the PM by speed post. The 69-year-old poet who received the Sahitya Akademi award for Urdu but returned it in 2015 over the "intolerance" issue, has also asked the PM for a new Muslim waqf Board for protection of waqf properties.
Speaking to TOI over phone, the poet reiterated that, "Land for the mosque was thrown away in a far off area in Dhannipur. It is better then that instead of igniting more hate between Hindus and Muslims, Raja Dashrath hospital be built on the said land. People should see what Muslims did."
"In any case mosques are not built on government lands or those usurped by force," he added.
In the letter, Rana has said that Rae Bareli is a city of historical, cultural and religious importance.
"It is desirable then that the land in my son Tabrez Rana's name be given for construction of a grand Babri Masjid," the letter states.
https://timesofindia.indiatimes.com/city/lucknow/poet-writes-to-pm-offers-his-5-acre-land-for-babri-mosque/articleshow/77473122.cms
--------
Officials Inspect Tank Works At Mecca Masjid, Hyderabad
Aug 11, 2020
Hyderabad: After protests from activists over the construction of a brick platform in the water tank used for ablution at Mecca Masjid, a team of government officials visited the mosque to inspect the construction of the tank on Monday.
Advisor to the state government, AK Khan, along with other officials inspected the work.
The contractor was constructing a platform using brick and cement inside the water storage tank to prevent leakage of water from the sump.
Activists had raised concerns over the ongoing work stating that the use of bricks and cement will affect the beauty of the water tank which is of historical importance.
After inspection, the team decided not to use bricks and cement for restoration of the wazu gah and recommended the contractor to remove the bricks and replace it with the cement and iron rods.
https://timesofindia.indiatimes.com/city/hyderabad/officials-inspect-tank-works-at-mecca-masjid/articleshow/77472269.cms
--------
India must heed growing China-Pakistan intel-sharing. It may have aided Galwan clash
TARA KARTHA
11 August, 2020
As China attempted to raise the Kashmir issue at the United Nations Security Council, a recent report on its enhanced cooperation with Pakistan brought out an interesting aspect that could be of concern to India. As per US intelligence, China had a much better understanding of Indian troop positions and movements ahead of the 15 June Galwan clash in Ladakh. The assumption is that Pakistan had shared its intelligence on Indian Army with China, thereby making a considerable value addition to Chinese operations.
While intelligence cooperation between the two is not unknown, in the past Islamabad was a little more cautious, providing intel in return for some specific favour. At other times, it behaved evasively for fear of compromising its deep sources to a foreign power. But it now seems that Beijing has been able to overcome these reservations, as it gains a steady ingress into the Pakistani establishment at the highest levels, as well as on the ground. This Pakistan-China intelligence cooperation poses a challenge for India, because it marks an alarming accretion in a relationship in which Pakistan is beginning to resemble nothing more than a colony.
A budding relationship
Signs of the evolving 'intel chumminess' has been apparent for the last few years, as the Pakistan Army began to virtually govern through its 'selected' Prime Minister Imran Khan. The role of Pakistan Army chief General Qamar Javed Bajwa is central to this, with his extension hailed by Beijing. The Chinese Foreign Ministry spokesman Geng Shuang said: "Gen Bajwa is an extraordinary leader of the Pakistani army. He is also an old friend of Chinese government and the army."
China is usually careful of commenting on such internal appointments in another country, which makes this lavish praise noteworthy. Moreover, Beijing was earlier distinctly unhappy with Pakistan's handling of sensitive issues, including frequent attacks on its nationals by Baloch separatists in the Chinese-operated port of Gwadar, the ingress of religious preachers into Xinjiang, and other such issues. In fact, in a first, China even 'named and shamed' Pakistan at the National People's Congress, with official media also proclaiming the threat of radical Islam from Pakistan. In 2017, it went so far as to close its borders.
All that seems to be in the past now, as Islamabad pulls up intel cooperation with Beijing by its bootstraps.
Evidence of intelligence sharing
When Baloch insurgents attacked the Chinese consulate in Karachi, the perpetrators were killed in just a month in Kandahar. Whoever launched the strike had precise intelligence, since almost an entire rung of leadership of the Balochistan Liberation Army (BLA) was wiped out. When the same group tried to attack the Karachi Stock Exchange – where China has a 40 per cent stake – all four members were killed, with the whole operation wound up in "eight minutes" by the Sindh Rangers. Clearly, security forces were literally waiting for the insurgents to show up, indicating advance intelligence of no small degree.
Pakistan's Inter-Services Intelligence (ISI) seems to have thrown all its resources into protecting Chinese interests, with sources indicating that Chinese ambassador himself has sometimes sat in on high-level meetings of security agencies on the issue. China is now going a step further in pushing Pakistan to allow the designation of the BLA as a terrorist entity at the UN. This is embarrassing for Islamabad, which doesn't want the situation to be 'internationalised' at a time when it is liquidating Baloch's youth by the dozens.
Uighur contention
Then there is the sensitive Uighur Muslim issue, which is now prime time news. Many Uighurs have settled down in Pakistan or married Pakistanis, leading to a considerable exchange of persons across the border. Uighur youth have used Pakistan's border regions for training to prepare themselves to fight Beijing. This was probably part of the usual 'terrorist barter system' that the ISI has used in the past, where it obligingly deports a few 'terrorists' in return for cash or kind. In 2018, religious affairs minister Noor-ul-Haq Qadri was even 'counselling' the Chinese on its Uighur policy.
That has all changed. As China turned on the pressure, Uighurs in Rawalpindi for instance, have come under more restrictions. Guest houses for Uighurs have been closed, and Hajj permits denied. In January this year, PM Imran Khan refused to discuss the Uighur issue in a media interview, quickly shifting to 'atrocities' in Kashmir.
But local sympathy for fellow Muslims has been growing, with reports of Pakistani wives and children disappearing in China, and media covering large scale detention camps and surveillance in Xinjiang. Beijing is aware of this, and in an unusual demand, asked the Pakistanis for an internal assessment of the situation. A sovereign country would have refused. Pakistan did not.
The intelligence assessment indicated that major Islamic journals were highlighting the Uighur issue, and lamenting the state of Muslims in China. Beijing expects Pakistan to 'manage' this perception, with the warning that it could impact bilateral relations. Meanwhile, Pakistan has been quietly deporting Uighurs on its soil, and also often eliminating those operating in Afghanistan, using its links with diverse groups including the Taliban. Such an intel relationship is without equal.
Additionally, Pakistan has also assisted Chinese ingress into Afghanistan, which included getting the Taliban to meetings in Beijing several times, even while it assists China in intel operations in non-Islamic states such as Nepal, most apparent in the recent attempts to keep the K.P. Sharma Oli government afloat. A recent quadrilateral meeting between China, Afghanistan, Nepal and Pakistan is a triumph of no small order.
India's cause for concern
Obviously, it is the intel sharing in India that is worrying. China has a far superior technical intelligence capability than Pakistan, and it needs no assistance in this. It also has some human intelligence capability among the Tibetans spread out in regions of India such as Dharamshala, Tawang and parts of Himachal Pradesh, as well as southern cities like Bengaluru.
But Pakistan has had intel operations into India for decades, particularly on movement of troops that were acquired using low-level assets. Sources also point to increased Pakistani intel activity during the Galwan stand-off, indicating that the human intelligence capability is being outsourced to Islamabad. This also ties in with the recent report regarding the posting of ISI officers to China Military Commission's Joint Staff Department, as well as the consistent emphasis on intelligence sharing in Pakistan–China military exercises.
What is even more worrying is that Pakistan is now willing, or has been forced, to go the extra mile in intelligence sharing — an area that is traditionally regarded as central to national security. With China projected to pay up $62 billion for China–Pakistan Economic Corridor (CPEC), that's probably one way to pay the bills.
https://theprint.in/opinion/india-must-heed-growing-china-pakistan-intel-sharing-it-may-have-aided-galwan-clash/478761/
--------
Covid pandemic gives birth to new mobile app to make donations to Masjids, Madrasas contactless
10 Aug 2020
A Delhi-based startup felt the need to make collection of sadaqah, zakat donation easier during the COVID pandemic. Almspay is a Mobile App that connects donors to verified institutions. Almspay intents to eliminate need for donation collection agents to tour around the country. The digital platform will also eliminate the commission model and hence make more Zakat fund available for the poor.
"Muslims in India are the second largest group comprising around 14 percent of the population of the country. A large section of Muslims society in India are in a poor financial condition. According, to the 55th round of the NSS report, nearly 35% of urban Muslims and 31% of rural Muslims live below the poverty line" says advocate turned entrepreneur Syed Asif who is the founder of almspay mobile app. He further said that it is, therefore, believed that effective management of zakat is essential not only to the community but to the country as well. An improved system of donation, collect and distribution can improve the conditions of Muslims said Mohd Owais, another co-founder, who has an experience of working with zakat collecting bodies.
Rough estimates put yearly zakat collection in India at around INR 10000 Crore. Many believe ineffective collection and distribution of Zakat is the reason that the average living standard of Muslims has not shown any significant improvement.
The most important factor for this failure is the lack of technological upgradation in zakat collection and disbursement. Till now, zakat & sadaqah have mostly been collected offline and also through some old school digital platforms.
There are three different categories of Muslim donation collectors: Firstly, Madarsa & Maktabs. A major chunk of Zakat collection goes to these Maktabs and Madarsas. Apart from the state aid, these institutions use the Zakat fund for the education of poor students. Secondly, social NGO working for the upliftment of the society. They use Zakat for social good providing education, medical and financial assistance to the poor. Thirdly, religious organisation like Masjids, dargahs, khanqahs, Imam badas etc.
This year COVID has catastrophically affected Zakat/imdad collection and distribution. Ramadan, the month of the year when most people usually calculate and donate their zakat, were witnessed during the lockdown. People who wanted to donate zakat looked online for institutions that collect zakat. On the other institution that exists only for collection and disbursement felt frustrated as they could not collect zakat. These institutions lack digital presence, digital payment systems, digital record keeping, and transparency.
"In the age of digital transformation and digital payments, there still exists a huge gap that disconnects donors from verified Zakat collecting institutions" said Umair who is the tech head of almspay
This Delhi Based venture almspay realised this gap much earlier and they launched almspay which is a digital platform where institutions can list themselves after verification to collect Zakat. Zakat donors can donate Zakat to their known or any other verified institution.
Donors can now set their charity goals, track their zakat also get online acknowledgment for their Zakat Donation. Institutions are provided with a dashboard to record and track all their Zakat collections. This improves digital payment support, digital presence, and digital record-keeping for the institutions.
In the last three months, around 5000 users have used the almspay app and website to donate zakat and sadaqah. There are around 40+ institutions that have stood the screening criterion of almspay and are now listed on almspay. Most donors are picked causes like Education, food and hunger, poor girl's marriages, and setting livelihood for economically downtrodden to donate.
The revenue model of this company is charging a monthly fee from the registered mosque, school or NGO and also small transaction fees which is normal is digital payments.
The founders believe that through almspay not only zakat collection will be more transparent and effective but at the same time its impact will also be visible. Zakat has the potential of assuring social security to many.
https://www.milligazette.com/news/4-national/33656-covid-pandemic-gives-birth-new-mobile-app-make-donations-masjids-madrasas-contactless/
--------
3 suspects apprehended in Jammu and Kashmir's Kupwara, arms and ammunition recovered: Army
Aug 11, 2020
The Army apprehended three suspects and recovered arms and ammunition from their possession in Jammu and Kashmir's Kupwara on Monday.
An Indian Army spokesperson said that a joint search operation was launched along with Jammu and Kashmir Police late on Monday night in which one AK rifle and two pistols with magazines were recovered from the three suspects.
The joint operation is in progress, the spokesperson further said.
Jammu and Kashmir's Director General of Police Dilbag Singh had said last week that Pakistan has adopted a new technique of sending arms and ammunition to the union territory by using unmanned aerial vehicles (UAVs).
He had further said that such incidents of Pakistani UAVs carrying weapons were detected in Kupwara, Heera Nagar, Kathua and Rajouri.
Another modus operandi of Pakistan to dispatch weapons through trucks to Jammu and Kashmir was unearthed in Punjab in the past, he said.
The top cop had further said that due to sustained anti-militancy operations, the security forces have been able to curtail the number of active militants in Jammu and Kashmir to less than 200 now from 300 to 350 terrorists a few years ago.
Singh said that there were 76 casualties and 107 injuries in the security forces in first seven months of 2019 in Jammu and Kashmir, while there were just 36 casualties and 102 injuries in the security forces in the same period in 2020.
Terror incidents were also down by 70 per cent - from 198 in first seven months of 2019 to 124 in the same period in 2020, the DGP had said.
https://www.hindustantimes.com/india-news/3-suspects-apprehended-in-jammu-and-kashmir-s-kupwara-arms-and-ammunition-recovered-army/story-MnfZQunvQSwL5hsblnoW9I.html
--------
North America
US at risk of Beirut-style explosion as regulations remain weak
10 August 2020
The US Environmental Protection Agency's decision to weaken standards governing how companies store dangerous chemicals last year leaves US potentially at risk of Beirut-style explosions.
In 2013, an explosion in the city of West in Texas left 15 dead and injured 260 others after the ignition of 80,000 to 100,000 pounds of unsafely stored fertilizer-grade ammonium nitrate – the same chemical responsible for the deadly explosion in the Port of Beirut last week.
For all the latest headlines follow our Google News channel online or via the app.
Following the explosion in Texas, new legislation was adopted by the EPA under the Obama Administration. Serious reforms that chemical manufacturers had pushed for as to how companies store dangerous, flammable chemicals and how they develop risk-management plans were set to come into effect in June 2017.
But in November 2019, the EPA, with Scott Pruitt at the helm, suspended the Obama-era guidance in his first month on the job, the Washington Post reported. He said that the 2017 regulations put too much burden on chemical companies, and the Post reported that some chemical companies and refineries had complained about them.
Since March 2019, six major chemical explosions have hit the Houston area in Texas.
But the Texas storehouse paled in comparison to the 2,750 metric tons of the substance that were responsible for the Beirut blasts that left 158 dead, over 6,000 injured and 300,000 homeless.
Ammonium nitrate is commonly used in fertilizers, but can also be used in explosives.
The explosion decimated the port and left in entire swaths of Lebanon's capital in ruin, and estimated damages stand between $10 and 15 billion.
In Beirut, the ammonium nitrate at the port arrived in 2013, and had been stored there since. While subsequent governments knew of it and were advised to move it, no action was taken.
Speaking to AP, West city mayor Tommy Muska said "I don't know what people were thinking about storing that stuff."
Muska was a volunteer firefighter at the time of the West explosion.
"We don't seem to learn that chemical is deadly," Muska told AP. "I feel for those people in Beirut, I surely do. It brought back a lot of memories."
The EPA's Administrator Andrew Wheeler at the time said that the revised Risk Management Program ruling addressed concerns that releasing the location of the country's chemical stores could provide a road map for terrorists. Wheeler said that rolling back the regulations would save $88 million a year in compliance costs.
https://english.alarabiya.net/en/News/world/2020/08/10/US-at-risk-of-Beirut-style-explosion-as-regulations-remain-weak.html
--------
Trump's plan of troop reduction in Afghanistan part of his election campaign: Commentator
11 August 2020
US President Donald Trump's announcement of a plan to reduce American troops in Afghanistan in November shows he's clearing gearing up for the election, an American writer and political commentator has said.
Walt Peretto, who's based in Washington, DC, made the remarks in an interview with Press TV after Trump last week announced Washington's major troop drawdown plan, saying he would like to have "probably anywhere from 4,000 to 5,000" troops in Afghanistan by the time of the election on November 3.
US Defense Secretary Mark Esper said on Saturday that the United States would lower the number of its forces currently deployed in Afghanistan from about 8,600 to below 5,000 troops by the end of November.
"We are going down to a number less than 5,000 before the end of November," Esper said in an interview with Fox News.
The figure would be the lowest since the United States invaded Afghanistan in 2001.
Peretto said that "Trump also signed executive orders yesterday trying to fasttrack an additional $400 US dollars a week to the unemployed in America. He is clearing gearing up for the election. But the focus should be on - why are American troops in Afghanistan at all? The pretense for the 2001 US invasion was the fictional story of Osama bin Laden leading a pack of Muslim fundamentalists that supposedly hijacked 4 planes and flew 3 of them into exact locations that thwarted investigations of government corruption---taking down three skyscrapers in New York totaling 267 stories of thick steel framing in just a few hours with only two planes."
"The fact that NIST (National Institute of Standards and Technology) created the fantasy physics necessary to justify the official narrative, is testimony that American institutions are merely prostitutes when called upon," he added.
"Meanwhile, the Zionist controlled Trump is making gestures in exchange for votes by reducing troop numbers in a country invaded in the name of pure fantasy and pseudoscience," he stated.
"People need to wake up to reality before they start lining up for their COVID injections that will likely have sterilization components since they are obsessed with depopulation and other nefarious ingredients designed to control the bewildered herd. Their social-engineers get away with this because they start people off with incessant propaganda and disinformation through school and entertainment---then the corrupt mass media---intertwined with emotional false flag, and contrived events like 9/11 and the current global COVID operation," he noted.
"This is not all about the United States---or even Israel---this is a global phenomenon tied to cooperation between people and families with concentrated cases of clinical psychopathy. These people innately lack the neuropsychological ability to feel the otherwise normal emotions of empathy, guilt, and remorse. To these people killing innocent Afghanis or thousands of Americans in office buildings is just another day at the office. The only way out of the impending global dystopia is awareness of these provable facts and damming up the flow of incessant lies and disinformation by turning off their mainstream media whose only purpose is to fool you," the analyst concluded.
https://www.presstv.com/Detail/2020/08/11/631531/%E2%80%98Trump%E2%80%99s-plan-of-Afghanistan-troop-reduction-part-of-election-campaign%E2%80%99
--------
Trump Vows To 'Have A Deal' With Iran 4 Weeks After 2020 Re-Election
10 August 2020
US President Donald Trump says he will "have a deal" with Iran a month after possible victory in the 2020 presidential election.
While Tehran has maintained that it would not negotiate under pressure, Trump made the comment as his country was about to introduce a resolution at the United Nations to extend an arms embargo against Iran.
The Republican nominee, who is set to face former Vice President Joe Biden in November, made the claim at a campaign fundraiser in the state of New Jersey on Sunday.
"When we win, we will have a deal within four weeks," Trump was cited as saying by several media outlets.
His remarks were reportedly cheered by the crowd at the home of the late Stanley Chera, a real estate mogul, in Long Branch.
The president has also launched a so-called "maximum pressure" campaign against Iran spearheaded by war hawks such as Secretary of State Mike Pompeo.
In January, the US president also ordered assassination of Iran's General Qassem Soleimani.
Trump unilaterally withdrew from the Iran nuclear deal – clinched under his predecessor in 2018 -- despite opposition from its allies as well as Russia and China.
https://www.presstv.com/Detail/2020/08/10/631512/Trump-vows-new-Iran-deal-a-month-after-2020-reelection
--------
Europe
Ankara blasts Armenia for 'sneaky goals' against Turkey
Faruk Zorlu
11.08.2020
Turkey criticized Armenia on Monday for bringing up the Treaty of Sevres 100 years later, which the Turkish nation overturned.
"Today, it is absurd that a government, which is unable to feed its own people, dare to bring up the Treaty of Sevres which the Turkish nation overturned 100 years ago," the Foreign Ministry said in a statement.
Those who have the idea of achieving "sneaky goals" should know that they will fail against Turkey's determination to maintain its survival and national existence, it said.
"It is not surprising that those who draw animosity from history instead of taking lessons seek help from this document after 100 years.
"The lesson given by the noble Turkish nation to those who dare to invade Anatolia and the heavy blow it dealt on imperialism is taught as lessons in history books. This glorious struggle has set an example for other oppressed nations," it underlined.
The Treaty of Lausanne -- signed by Turkey on one side and Britain, France, Italy, Greece and their allies on the other -- recognized the modern Turkish state and replaced the 1920 Treaty of Sevres, an unfair pact imposed on the Ottoman Empire after World War I.
Also, Armenia, which has been continuing an illegal occupation of Azerbaijani territory for years, is the main obstacle to the establishment of regional peace and stability.
Upper Karabakh, or Nagorno-Karabakh, an internationally recognized territory of Azerbaijan, has been under illegal Armenian occupation since 1991.
International organizations, including the UN, have demanded the withdrawal of the occupational forces.
The Organization for Security and Cooperation in Europe's Minsk Group -- co-chaired by France, Russia and the US -- was formed in 1992 to find a peaceful solution to the conflict, but to no avail.
https://www.aa.com.tr/en/europe/ankara-blasts-armenia-for-sneaky-goals-against-turkey/1937805
--------
France calls for 'rapid formation' of new Lebanon govt after PM steps down
10 August 2020
France on Monday urged the "rapid formation" of a new government in Lebanon shortly after premier Hassan Diab stepped down over the deadly Beirut port blast.
"The aspirations expressed by the Lebanese in terms of reforms and governance must be heard," French Foreign Minister Jean-Yves Le Drian said in a statement, adding that a new government would have to "prove itself" to the people.
For all the latest headlines, follow our Google News channel online or via the app.
Prime Minister Hassan Diab resigned on Monday after the Beirut explosions killed over 150 people and wounded more than 6,000. Dozens are still missing.
Diab alleged that "some" sides did not let his government work and placed the blame on unnamed parties for the failure to implement badly needed ecomomic reforms.
https://english.alarabiya.net/en/News/middle-east/2020/08/10/France-calls-for-rapid-formation-of-new-Lebanon-govt-after-PM-steps-down.html
--------
Pakistan
Pakistan establishing diplomatic missions in African countries amid rising radical Islamic terrorism in Africa
11 August, 2020
Pakistan, a country that is known for being the epicentre of international terrorism is now involved in establishing diplomatic relations and setting up its diplomatic missions in the African countries amid rising radical Islamic terrorism in the continent.
As per the Indian security officials who are aware of the developments, Pakistan has been establishing its diplomatic relations and missions in the African continent at an accelerated pace since 2019.
The officials stated that this factor, when seen with Pakistan's association with radical Islamic terror groups, can be a cause of concern for India and by covertly supporting the terror groups and overtly strengthening diplomatic relations with these countries, Pakistan can place itself in a powerful position.issues
The instability in Africa is going to impact the whole world and the rise of radical Islamic terrorism in the continent will result in New Delhi having to reconfigure its positions on Africa-related issues.
India has been contributing to the United Nations (UN) peacekeeping missions in African countries for a long time and has also either set-up or run military academies in countries like Ethiopia, Nigeria, and Ghana.
With an increase in the number of terror-related activities in these African regions, India's role in counter-terrorism building capacity in Africa will grow further.
The objective of most of these radical Islamic outfits is to establish Islamic regimes across the world. India might become a centre of the transaction of workforce and resources for these outfits.
In countries going through sheer anarchy and growing terrorism, like Somalia and those located in the Sahel region, it is very likely that the terrorist outfits might gain a significant amount of control on governance — if not neutralized.
These countries might become similar to Afghanistan of the 1990s, ruled by the Taliban.
https://zeenews.india.com/world/pakistan-establishing-diplomatic-missions-in-african-countries-amid-rising-radical-islamic-terrorism-in-africa-2301719.html
--------
PM underlines need for stronger ties with Maldives
11 Aug 2020
ISLAMABAD: Prime Minister Imran Khan in a phone call to Maldivian President Ibrahim Mohamed Solih on Monday emphasised the need for stronger ties between the two countries.
"The prime minister reaffirmed Pakis­tan's desire to work with the Maldives to strengthen mutually beneficial cooperation, bilaterally and in the region," the Prime Minister Office (PMO) said in a statement.
Mr Solih tweeted: "Had a very engaging phone conversation with Pakistan's PM Imran Khan this afternoon in which we updated each other on COVID 19 measures in our respective countries and also, how we could further enhance the already warm and fraternal relations between Maldives and Pakistan."
The call comes months after the Maldives surprised Pakistan by thwarting its bid for constituting an informal group of the Organisation of Islamic Cooperation envoys at the United Nations on Islamophobia on the pretext that India was being singled out, which could, therefore, be "detrimental to religious harmony in South Asia".
President Solih in phone call with Imran discusses coronavirus, other issues
This is the second fence-mending call by the prime minister to countries in South Asia in weeks. On July 22, Mr Khan called Bangladesh Prime Minister Hasina Wajed to express his desire for "closer and fraternal" relations. Ties between Islamabad and Dhaka had been tense for years.
During his conversation with President Solih, "the prime minister shared Pakistan's perspective on peace and security situation in South Asia, underlining that the region needed peace and cooperation so that the South Asian nations could realise their true economic potential".
Mr Khan renewed his invitation to President Solih to visit Pakistan.
"Pakistan accords high importance to its fraternal ties with the Maldives, a fellow Saarc member state, and is committed to further strengthening them in all fields," the PMO said.
The two leaders exchanged views on the challenges posed by Covid-19. Mr Khan appreciated the Maldivian government's efforts to contain the spread of the disease and shared his own experiences in the fight against the pandemic.
Pakistan is being described as a successful example in the fight against Covid-19. The coronavirus cases and deaths due to the disease have consistently been on the decline. However, experts warn that the threat may still not be over.
Mr Khan briefed Mr Solih on his "Global Initiative on Debt Relief" for developing countries to mitigate the severe socio-economic impacts of the pandemic.
"The prime minister underscored that developing countries were particularly vulnerable due to limited fiscal space and health sector infrastructure constraints and, therefore, required special measures," the PMO said.
https://www.dawn.com/news/1573778/pm-underlines-need-for-stronger-ties-with-maldives
--------
PML-Q 'ready' to mend fences with PTI
Waseem Ashraf Butt
11 Aug 2020
GUJRAT: The PML-Q is ready to mend fences with the PTI, its senior partner in the coalition governments at federal and provincial level; however, it has not yet received any positive response from the party.
A source in the Chaudhrys' party has revealed that Prime Minister Imran Khan is giving a cold shoulder to the PML-Q leaders and he was not willing to meet them during his visit to the provincial capital last Friday.
Another source says that there is a proposal for law minister Raja Basharat replacing Chief Minister Usman Buzdar in Punjab, which may help melt the ice between both the coalition parties.
Talking to Dawn on condition of anonymity, a PML-Q lawmaker says that most of his party's former and incumbent lawmakers in national and Punjab assemblies as well as the party officials have advised the senior leadership to review the current tense relationship with the PTI.
Sources say efforts were made for a meeting with PM on Friday last
"During the consultation with the party president Chaudhry Shujaat Hussain and Punjab Assembly Speaker Chaudhry Pervaiz Elahi, some party lawmakers and officials have been of the opinion that if the PML-Q wants to continue the coalition government, it should come out of the current situation through negotiations with the PTI," he says and adds that the party is already in the mood of mending fences with the PTI but Prime Minister Imran Khan is not paying any heed towards the genuine concerns of the PML-Q.
A PTI lawmaker says efforts have been made by some senior functionaries in the Punjab government to arrange a meeting between PM Khan and the PML-Q leaders during the former's visit to Lahore on Friday last but it could not happen due to his unwillingness.
He says the PM is reportedly annoyed with Punjab Assembly Speaker Chaudhry Pervaiz Elahi for issuing the production orders of some opposition lawmakers in the custody of the National Accountability Bureau (NAB) on corruption charges and absence of PML-Q lawmakers from the dinner hosted by the PM himself during the budget session of the parliament in June.
On the other hand, some video recordings and media statements issued by the Pervaiz Elahi are also said to be against the policies of the PTI government, which also offended some senior members of the ruling party, says the lawmaker.
Another source thinks that the PML-Q is also considered as a major hurdle to the possible change of Punjab Chief Minister Usman Buzdar as the PTI leadership is seriously considering various options to replace the CM. He claims that ice has started melting between the coalition partners over the matter of change of the CM and the name of Punjab Law Minister Raja Basharat has been proposed by some relevant quarters.
Mr Basharat, a PTI MPA from Rawalpindi, has close relations with the Chaudhrys of Gujrat as he was in their party before joining the PTI.
The source says Basharat's name has been proposed to both the coalition partners as possible replacement in Punjab and the PML-Q reportedly has not shown any reservations about his name but its senior partner is yet to decide on it.
However, when approached by this scribe, a PML-Q leader denies being consulted on the possible replacement for the CM by any quarter yet and says that speaking on the topic has already damaged his party interests. But he has confirmed the reports of the party's wish to mend fences with the PTI despite the moves by NAB against its senior leaders.
Responding to another question, he says now the Chaudhrys feel that NAB has become a part of their life and politics as whether they were in opposition or in the government, the bureau continues to haunt them without having any proof or evidence against them.
As far as the matter of expressing opinion different from the PTI policies, he says the PML-Q is a separate political entity having its own views on various issues of national importance.
The PTI and PML-Q have a history of troubled relations and frequent statements by the latter's leaders have hinted at the fissures between both the parties. In November last year, Pervaiz Elahi had alleged that a former head of a security agency had forced some prominent leaders of his party, including Jahangir Tareen and Aleem Khan, to quit the PML-Q and join the PTI in 2010.
Last month, before the Lahore High Court, NAB accused the PML-Q leaders, Chaudhry Shujaat Hussain and Pervaiz Elahi, of money laundering and accumulating illegal assets while the Chaudhrys have moved the court against NAB inquiries.
https://www.dawn.com/news/1573707/pml-q-ready-to-mend-fences-with-pti
--------
Arab world
UN chief calls for independent inquiry into Beirut explosion
August 10, 2020
NEW YORK: UN Secretary-General Antonio Guterres has called for a "credible and transparent" investigation into the causes of the explosion at Beirut's port last week that killed dozens of people and left thousands injured.
His comments echoed the demands of protesters who took to the streets throughout the weekend and on Monday. They blame years of government corruption and incompetence for the blast.
Amal Mudallali, Lebanon's ambassador to the UN, likened the blast to "15 years of war in 15 seconds, the darkest 15 seconds we have ever seen."
In an emotional keynote speech during a UN virtual briefing on the humanitarian situation in Lebanon, she added: "People are demanding, and deserve, justice — and rightly so."
As he opened the international gathering on Monday, Guterres saluted the spirit of the Lebanese people in the aftermath of the massive explosion, giving the example of "neighbors helping neighbors, people clearing their streets of broken glass and opening their homes to those who have lost theirs."
He urged international donors to provide aid "speedily and generously" to help the devastated country, but also stressed the importance of implementing longer-term political and economic reforms in the country that address the needs of the Lebanese people.
The UN has sent search-and-rescue experts to assist first responders in Beirut, along with desperately needed medical supplies to treat the injured. In addition, the organization has provided $15 million to help fund urgent needs such as temporary shelters for families whose homes were damaged, and the import of wheat flour and grain for bakeries to help address food shortages across the country after grain silos at the port were destroyed.
Guterres urged world leaders to build on the efforts of French President Emmanuel Macron, who on Thursday was the first world leader to visit Beirut after the explosion.
Mudallali evoked the words of former French President Charles de Gaulle as she said of the visit: "The Lebanese hearts were truly beating to the rhythm of France's heart as we saw Macron and the French come to the rescue of Lebanon."
On Sunday, Macron co-convened a virtual donors' conference to solicit international assistance for Lebanon, during which world leaders and international organizations pledged $300 million.
Donors said the humanitarian aid will be coordinated by the UN and delivered directly to the Lebanese people, a clear indication of their concerns that any money delivered to the government will not be used properly. They also warned that investment in rebuilding the city will be contingent on the full commitment of the authorities in the country to "timely measures and reforms expected by the Lebanese people."
Macron has insisted on reforms, in co-ordination with the International Monetary Fund (IMF), to tackle deep-seated corruption and restore order to Lebanon's crippled economy and the banking system. The IMF has criticized the ruling elite in the country for a "shortage of political will to adopt and implement meaningful reforms."
More than 50 countries participated in Monday's UN briefing. They unanimously expressed solidarity with the Lebanese people and promised a prompt response to their urgent needs.
David Beasley, the executive director of the World Food Program, warned that Lebanon is facing bread shortages within two weeks, and said efforts are being made to import grains to avoid this. He said he met Lebanese President Michel Aoun and cabinet ministers and asked them for "absolute cooperation. No obstacles. People on the streets have been asking us to please make sure the aid goes directly to the people."
Mudallali highlighted the priorities in Beirut: medicine, food, construction materials, and the rebuilding the city's port. She urged the international community to "remain with us for the whole journey, and not only help with the emergency stage of the catastrophe. I appeal to you to stay with us for the second, most important stage: the rebuilding and rehabilitation stage."
Despite the tragedy and the challenges facing Beirut as it recovers and rebuilds, the envoy concluded her speech on an upbeat, optimistic note.
"Lebanon, one of the countries that met in San Francisco 75 Years ago and founded the UN, promises you that it will rise again," she said. "We will rebuild better. We will continue to offer a message of coexistence and tolerance, and we will continue to uphold the principles and values enshrined in the UN charter.
"But we have to do it together."
https://www.arabnews.com/node/1717601/middle-east
--------
NASA radar data maps out extent of Beirut explosion damage
10 August 2020
A heat map released by NASA using satellite-derived synthetic aperture radar data shows the likely extent of damage from the devastating Tuesday explosion in port Beirut.
The map collated and analyzed by NASA's Advanced Rapid Imaging and Analysis (ARIA) team in collaboration with the Earth Observatory of Singapore used data from space to show ground surface changes from before and after the major explosion.
"On the map, dark red pixels - like those present at and around the Port of Beirut - represent the most severe damage. Areas in orange are moderately damaged and areas in yellow are likely to have sustained somewhat less damage. Each colored pixel represents an area of 30 meters (33 yards)," according to NASA's report.
"Maps like this one can help identify badly damaged areas where people may need assistance. The explosion occurred near the city's port. It claimed more than 150 lives and is estimated to have caused billions of dollars' worth of damage," NASA added.
The deadly explosion at Beirut port on Tuesday killed at least 158 people and injured more than 6,000. Hundreds of thousands of Beirut residents were also left without homes when many were already struggling to pay the rent.
https://english.alarabiya.net/en/News/middle-east/2020/08/10/NASA-radar-data-maps-out-extent-of-Beirut-explosion-damage.html
--------
Explosion hits near Iraq-Kuwait border crossing: Iraqi security source
11 August 2020
An explosion near the Jraischan border crossing at the Iraqi-Kuwaiti border on Monday evening targeted a convoy carrying equipment for US forces, three Iraqi security forces told Reuters.
It was not immediately clear if there were any US troops in the convoy or if anyone had been injured in the explosion, which went off just before 9 pm Baghdad time (1800 GMT).
Vehicles are regularly loaded with military equipment at the crossing, the sources said, and the cargo is usually loaded or unloaded before entering or exiting Iraq.
Foreign companies are contracted by US forces to provide security in the area, the Iraqi security sources said.
A security source had earlier said that the explosion was caused by an Iraqi Shia militia targeting a US military base near the crossing by smuggling in an explosive device, and that some staff on the base had been injured, but this was later contradicted by other security sources who said a convoy was attacked, not a base.
"We are currently looking into this matter," said a spokesperson for the US Embassy in Kuwait.
A little known Iraqi Shi'ite militia group by the name of Ashab al-Kahf claimed responsibility for the attack and published a video showing an explosion at a distance. It said it was able to destroy US military equipment and large parts of the crossing.
https://english.alarabiya.net/en/News/middle-east/2020/08/11/Explosion-hits-near-Iraq-Kuwait-border-crossing-Iraqi-security-source.html
--------
Beirut firefighters were not given keys, location of burning hanger: The Independent
10 August 2020
Firefighters who responded to the fire at the port in Beirut last Tuesday were not given the location or the keys to the burning warehouse holding 2,700 tonnes of ammonium nitrate, according to sources from the Lebanese capital's fire department who spoke to The Independent.
Beirut's fire department officials told the Independent's Bel Trew that the 10 fire crew members, including one female firefighter, who arrived on the scene were not given much information, delaying their response to contain the initial fire prior to the stockpile of ammonium nitrate exploding in a second larger blast.
"If they had the hangar door open already, if they knew where they were going, they might have had moments to control the fire. So you would not have had the first initial explosion that triggered the larger blast," Fadi Mazboudi, a fire department chief, told the Independent.
Over 150 people were killed and more than 6,000 others were injured in the capital last Tuesday when a warehouse storing 2,750 tonnes of ammonium nitrate exploded after catching on fire.
Lebanese Prime Minister Hassan Diab announced his resignation Monday after thousands of protesters took to the streets of Beirut in the days after the deadly explosion.
Since the explosion, 300,000 people in Beirut have been left homeless after the shockwave from the larger second blast destroyed and damaged homes in the capital.
https://english.alarabiya.net/en/News/middle-east/2020/08/10/Beirut-firefighters-were-not-given-keys-location-of-burning-hanger-The-Independent.html
--------
Lebanese protesters clash again with security forces in central Beirut
10 August 2020
Lebanese protesters have clashed with security forces in central Beirut for the third consecutive day of protests following the deadly blast in the Lebanese capital's port last Tuesday.
Demonstrators were seen throwing rocks at the security forces who initially threw tear gas canisters at them, according to eyewitness accounts.
The clashes erupted shortly before Lebanon's Prime Minister Hassan Diab is set to give a televised address to the nation.
Diab has reportedly informed President Michel Aoun that he is planning to resign shortly, according to local media reported on Sunday.
https://english.alarabiya.net/en/News/middle-east/2020/08/10/Lebanese-protesters-clash-again-with-security-forces-in-central-Beirut.html
--------
Hezbollah softens stance on Israel maritime border dispute after Lebanese rage
10 August 2020
The main Lebanese sides blocking a solution to the maritime border dispute with Israel have agreed to American mediation efforts after the deadly Beirut explosions drew the wrath and anger of protesters across Beirut, senior Lebanese officials and multiple diplomats said.
Washington has attempted for years to help reach an understanding over disputed waters between Beirut and Tel Aviv, but Lebanese sides have seen the negotiations as biased toward Israel.
For all the latest headlines, follow our Google News channel online or via the app.
Iran-backed Hezbollah, via its Shia ally, the Amal Movement, has long determined Lebanon's position and remained steadfast in their demands.
But after the Beirut explosions and nationwide rage against the ruling elite, Lebanon's president and parliament speaker were quick to publicize their willingness to reach an agreement on the maritime border.
There are two separate border disputes: the land border and the maritime border.
The UN peacekeeping force in Lebanon (UNIFIL) continues to work to reach an agreement on the land border, which is currently separated by a UN-demarcated Blue Line. Lebanon disputes 13 of the 200 points along its southern border.
Parliament speaker Nabih Berri told a local newspaper last week that talks "with the Americans are almost finished." A senior Lebanese political source confirmed this to Al Arabiya English.
Berri is a close ally of Hezbollah and also heads the Amal Movement. Together, the two parties have all government and parliament seats allocated to the Shia sect.
During a phone call on Thursday between US President Donald Trump and his Lebanese counterpart Michel Aoun, the latter voiced his hopes that the US would help solve the border dispute.
The US State Department said it had "no comment" when asked about recent progress and US efforts over the maritime border.
However, the number three State Department official is expected to visit Beirut this week, and the maritime border is set to be a high priority for Under Secretary of State for Political Affairs David Hale, according to diplomatic sources.
Lebanon and Israel are technically in a state of war and both sides have been at loggerheads over 860 sq. km of waters, which contain potential natural gas reserves.
At least three different US envoys have exerted significant diplomatic efforts to help resolve the dispute. In 2012, Frederic Hof, most notably, proposed dividing the disputed waters along what became the "Hof Line." This would see Lebanon take 500 sq. km. out of the 842. This fell through.
Amos Hochstein succeeded Hof but made little progress.
Before taking up his current role as US ambassador to Turkey, David Satterfield shuttled back and forth between Lebanon and Israel for more than a year. According to Lebanese officials, the most progress was made during Satterfield's period and the main framework for how talks between the sides, with US and UN mediation, would take place.
Assistant Secretary of Near Eastern Affairs David Schenker has since succeeded Satterfield and previously voiced his hope that the two sides would agree. Schenker said that progress was waiting for the green light from Beirut.
Hezbollah, the primary opponent of reaching a deal, publicly acknowledged entrusting Berri with deciding Lebanon's stance. The group's Secretary-General Hassan Nasrallah previously alleged that the US was using the border talks to try to end Hezbollah's precision-guided missile arsenal.
Reports surfaced in recent months that Aoun wanted to be the main point of contact for negotiations with the Americans; Berri did not reportedly accept.
Throwing in the towel
But with the growing frustration of Lebanese citizens who are demanding an end to years of corruption from the ruling elite, which has been in power since the end of the 1975-90 civil war, the tide seems to be turning.
A senior Arab diplomat based in Beirut said that "Hezbollah has thrown in the towel," and softened its hardline stance on refusing an agreement.
Western diplomats have also noticed a significant change in regional geopolitics in recent days, especially following French President Emmanuel Macron's Beirut visit.
Macron rapped the heads of the main political parties in the country and sat them on one table. Lebanon's president has been unsuccessful in trying to hold all-party talks under his auspices.
Macron also spoke of a "new political pact," when he was touring decimated parts of Beirut's Gemayzeh neighborhood.
Some saw this as implying a new ruling class in Lebanon, while other analysts and diplomats said he was referring to a shift in regional geopolitics.
One Western diplomat said they detected a changing political landscape.
"That is going to be bad for Hezbollah," the diplomat said.
Aram Nerguizian, a senior associate at the Center for Strategic & International Studies (CSIS), said Hezbollah and Amal have time and again sought to stall efforts US mediation efforts in the pursuit of their own discreet interests.
"Such maneuvers are happening now yet again, except that this time, in the wake of the August 4 Port of Beirut explosion, they are offering to move forward with major concessions in an attempt to placate future US sanctions or worse – to try and slow US calls for drastic political reform in Lebanon by offering a geopolitical carrot to Washington and its allies in Israel," Nerguizian told Al Arabiya English.
https://english.alarabiya.net/en/News/middle-east/2020/08/10/Hezbollah-softens-stance-on-Israel-maritime-border-dispute-after-Lebanese-rage.html
--------
Lebanon PM Hassan Diab resigns less than a week after deadly Beirut explosion
10 August 2020
Lebanese Prime Minister Hassan Diab announced his resignation Monday after thousands of protesters took to the streets of Beirut in the days after the deadly Beirut explosion.
Diab announced his resignation after four ministers had already stepped down from their posts. In a televised speech, Diab said that "corruption is bigger than the state."
For all the latest headlines, follow our Google News channel online or via the app.
Diab said his government "fought fiercely and honorably," and he accused unnamed opponents of preventing the government from carrying out any reforms or progress. "We were alone, and they were all against us."
Over 150 people were killed and more than 6,000 others were injured in the capital last Tuesday when a warehouse storing 2,750 tonnes of ammonium nitrate exploded after catching on fire.
The explosion destroyed entire buildings and shattered windows, leaving an estimated 300,000 people in Beirut homeless.
Diab said the port explosions "occurred as a result of chronic corruption in politics, administration and the State."
A large part of Diab's speech was directed at "some" who he said sought "to score political points, deliver populist electoral discourse, and demolish the lingering State's presence."
Diab's resignation was later accepted by President Michel Aoun, who asked the current government to stay on in a caretaker capacity until a new one is formed. This is the third government under Aoun since he was elected in 2016.
https://english.alarabiya.net/en/News/middle-east/2020/08/10/Lebanese-PM-Hassan-Diab-s-cabinet-resigns-after-Beirut-explosion-Reports.html
--------
Lebanese cabinet refers Beirut explosion investigation to judicial council: Reports
10 August 2020
Lebanon's cabinet has referred the investigation into the deadly Beirut explosion to the judicial council, according to media reports.
Local media reported earlier that Prime Minister Hassan Diab had informed President Michel Aoun that he was planning to resign shortly.
For all the latest headlines follow our Google News channel online or via the app.
The news comes as multiple MPs and ministers resigned in the past few days, including the finance, justice, information, and environment ministers.
At least 158 people were killed and more than 6,000 others were injured in the capital on Tuesday when a warehouse storing 2,750 tonnes of ammonium nitrate exploded after catching on fire.
The explosion had destroyed entire buildings and shattered windows, leaving around 300,000 people in Beirut homeless.
https://english.alarabiya.net/en/News/middle-east/2020/08/10/Lebanese-cabinet-refers-Beirut-explosion-investigation-to-judicial-council-Reports.html
--------
Lebanon justice, finance ministers submit resignation after Beirut explosions
10 August 2020
Lebanon's Finance Minister Ghazi Wazni resigns from Prime Minister Hassan Diab's government, making him the fourth minister to resign almost a week after the August 4 Beirut explosion that killed at least 158 people.
The Justice Minister Marie-Claude Najm had submitted her resignation earlier on Monday.
In submitting her resignation letter, Najm cited the Beirut explosion and protests as reasons for stepping down, Reuters reported.
Several Members of Parliament, two Cabinet members, and one ambassador have already resigned following the blast that left portions of Beirut in rubble and around 300,000 homeless. Minister of Information Manal Abdel Samad and Minister of Environment Demianos Kattar have also resigned.
If seven of the 20 ministers in the Hassan Diab government resign, the Cabinet would effectively become a caretaker government, AP reported.
An official investigation is yet to determine the cause of the blast, but initial reports suggest that 2,750 tonnes of ammonium nitrate stored at the port since 2014 caught fire and caused the explosion. Authorities knew the chemicals were present and for years failed to act to remove them. Losses from the blast are estimated to be between $10 billion to $15 billion.
Before assuming the position as justice minister, Najm previously advocated for independence of the judiciary and was vocal in civil society as a founding member of the 2007 "Khalas!" campaign that sought a peaceful solution to the sectarian conflict going on at the time.
The country is facing an unprecedented financial and economic crisis and is also grappling with the ongoing coronavirus pandemic. The economic situation has seen salaries slashed and food prices rise as inflation takes hold. Around half of the population is now said to be below the poverty line.
As government negligence emerged as the cause of the explosion that could be felt in Cyprus some 200 kilometers away, protests broke out again following widespread protests against government corruption in October 2019.
Similar to the Octover revolution, Lebanese have once again called for the downfall of the ruling elite – but this time with more anger. Protesters in Downtown Beirut have held nooses and called for the current government to be hanged.
Lebanese and watchdog groups, including Human Rights Watch, have called for an independent investigation into the blasts, which Lebanese President Michel Aoun has said would be a "waste of time."
"The goal of calls for an international investigation in the port case is to waste time," the President's media office cited him as saying. US President Donald Trump has called for the country to conduct a "full and transparent investigation."
https://english.alarabiya.net/en/News/middle-east/2020/08/10/Lebanon-Justice-Minister-Najm-resigns-after-Beirut-explosions.html
--------
Egyptians start voting for revived upper house of parliament
August 11, 2020
CAIRO: Egyptians started voting on Tuesday for the Senate, the upper chamber of parliament that was revived as part of constitutional amendments approved in a referendum last year — an election that comes as the country faces an uptick in daily numbers of new coronavirus cases.
Authorities have said face masks would be handed out to voters for free and polling stations were disinfected ahead of the balloting to ease concerns amid the pandemic.
The vote is mostly a symbolic exercise as the Senate — unlike the House of Representatives, the lower chamber — has no legislative powers and will have mainly in an advisory role. It replaces the Shoura Council, which was dissolved in 2014.
The balloting will extend for two days to allow for a maximum turnout as some 63 million voters are eligible to cast ballots. They will choose two thirds of the 300-member Senate, with 787 candidates running for those 200 Senate seats. Egyptian expats abroad voted on Sunday and Monday.
The first 100 seats in the running are reserved for individual candidates, the second for those running on a list dominated by pro-government parties. Egyptian President Abdel-Fattah El-Sisi will choose the remaining 100 members.
The results were expected within a week and the runoff will take place in September. Under the constitutional amendments approved in April last year, women will have a 25 percent quota in the chamber.
Lasheen Ibrahim, chairman of the National Election Authority, called voting "a national duty" and warned in televised comments Saturday that those who boycott the election could be fined up to 500 Egyptian pounds ($32), under an Egyptian law that has existed for years but was never really implemented.
For the past two weeks, Cairo and other cities and towns across the country have been awash with posters and banners of candidates, mostly pro-government businessmen and politicians.
The election comes despite an uptick in coronavirus cases this week, after the daily reported numbers dropped from around 1,500 to 112 on Aug. 4. However, the actual numbers of COVID-19 cases, like elsewhere in the world, are thought to be far higher, in part due to limited testing.
The Health Ministry on Monday reported 174 new cases of the virus and 26 deaths. Overall, the country of more than 100 million people has reported more than 95,600 confirmed cases, including 5,035 deaths — the highest number of fatalities in the Arab World, and the third in the Middle East, tailing Iran and Turkey, according to a tally by The Associated Press.
Egypt's latest constitutional amendments extended a president's term in office from four to six years, allowing for a maximum of two terms. But they also included a specific article extending El-Sisi's current second four-year term to six years and allowing him to run for another six-year term in 2024 — potentially extending his rule until 2030.
El-Sisi in 2013 led the military overthrow of an elected but divisive Islamist president, Muhammad Mursi, amid mass protests against his rule. El-Sisi has since presided over an unprecedented crackdown on dissent.
Opposition voices have largely been shut out, and thousands of people, including many pro-democracy activists, have been arrested. Freedoms won in 2011, when mass protests ended President Hosni Mubarak's nearly three-decade rule, have largely been rolled back.
https://www.arabnews.com/node/1717821/middle-east
--------
Africa
Nigerian singer sentenced to death for blasphemy in Kano state
10 August 2020
A musician in Nigeria's northern state of Kano has been sentenced to death by hanging for blaspheming against the Prophet Muhammad.
An upper Sharia court in the Hausawa Filin Hockey area of the state said Yahaya Sharif-Aminu, 22, was guilty of committing blasphemy for a song he circulated via WhatsApp in March.
Mr Sharif-Aminu did not deny the charges.
Judge Khadi Aliyu Muhammad Kani said he could appeal against the verdict.
States across Muslim-majority northern Nigeria use both secular law and Sharia law, which does not apply to non-Muslims.
Only one of the death sentences passed by Nigeria's Sharia courts has been carried out since they were reintroduced in 1999.
The singer who is currently in detention, had gone into hiding after he composed the song.
Protesters had burnt down his family home and gathered outside the headquarters of the Islamic police, known as the Hisbah, demanding action against him.
Critics said the song was blasphemous as it praised an imam from the Tijaniya Muslim brotherhood to the extent it elevated him above the Prophet Muhammad.
'Judgement will serve as deterrent to others'
The leader of the protesters that called for the musician's arrest in March, Idris Ibrahim, told the BBC that the judgement will serve as a warning to others "contemplating toeing Yahaya's path"."When I heard about the judgment I was so happy because it showed our protest wasn't in vain.
"This [judgement] will serve as a deterrent to others who feel they could insult our religion or prophet and go scot-free," he said.
Who is Yahaya Sharif-Aminu?
Few people had heard of him before his arrest in March.
An Islamic gospel musician, he is not well-known in northern Nigeria and his songs were not popular outside his Tjjaniya sect, who have many such musicians within their ranks.
How common are death sentences in Sharia courts?
Several sentences have been passed, including for women convicted of having extramarital sex - cases which have caused widespread condemnation.
But only one has been carried out - a man convicted of killing a woman and her two children who was hanged in 2002.
The last time a Nigerian Sharia court passed a death sentence was in 2016 when Abdulazeez Inyass, was sentenced to death for blaspheming against Islam during after a secret trial in Kano.
He was alleged to have said that Sheikh Ibrahim Niasse, the Senegalese founder of the Tijaniya sect, which has a large following across West Africa, "was bigger than Prophet Muhammad".
The sentence has not been carried out as a death penalty in Nigeria requires the sign-off of the state governor.
Mr Inyass is still in detention.
How Nigeria's Sharia courts work
By Mansur Abubakar, BBC News, Kano
Twelve states in Nigeria's Muslim-dominated north operate the Sharia system of justice, but only Muslims can be tried in its courts.
The Sharia system, which also has its own Court of Appeal, handles both civil and criminal matters involving Muslims and its judgements can also be challenged in Nigeria's secular Courts of Appeal and the Supreme Court.
The Sharia judges, known as alkalis, are learned in both Islamic and secular laws.
If a case involves a Muslim and a non-Muslim, the non-Muslim has the option of choosing where they want the case to be tried. The Sharia court can only hear the case if the non-Muslim gives written consent.
Sentences handed down by the courts include floggings, amputations and the death penalty.
https://www.bbc.com/news/world-africa-53726256
--------
ISIL will bounce back if Libya civil war doesn't end, study warns
9 Aug 2020
The Islamic State of Iraq and the Levant (ISIL or ISIS) remains a "persistent threat" in Libya and could rise again unless the country's long-running conflict is brought to an end, a new study has warned.
The study, conducted by the Strategic Studies Institute at the United States Army War College, says ISIL is "regrouping, quietly expanding capacity ... until [it] might once again be strong enough to be a challenger in Libya".
It said the armed group retained its capacity to launch "small-scale" attacks in Libya, which was a deviation from its earlier strategy of high-profile "shock and awe" raids.
"They engage in small-scale attacks and skirmishes necessary to establish themselves in the criminal smuggling network that link sub-Saharan Africa to the Libyan coast in the north," according to the study conducted by Azeem Ibrahim.
Oil-rich Libya was plunged into chaos when a NATO-backed uprising in 2011 overthrew longtime ruler Muammar Gaddafi, who was later killed.
The country has since split between the internationally recognised Government of National Accord (GNA) in the west and renegade military commander Khalifa Haftar's self-styled Libyan National Army (LNA) in the east.
Each faction is backed by militias and foreign governments. While the GNA is supported by Turkey, the LNA is backed by Egypt, the United Arab Emirates and Russia.
In April last year, Haftar launched an offensive to seize the Libyan capital, Tripoli, from the GNA. But the 14-month campaign collapsed in June this year when the GNA gained the upper hand, driving his forces from the outskirts of Tripoli and other western towns.
After a months-long campaign by GNA forces, ISIL was expelled in May 2016 from the coastal city of Sirte, the biggest territory controlled by the armed group outside its then heartland in Syria and Iraq.
According to the study, after ISIL's removal from Sirte, most of its activity moved to Fezzan in the southern Libyan desert, "where the group has increasingly embedded themselves in the local human and illicit goods trafficking, particularly along the refugee migration routes through Libya".
"ISIS [ISIL] in Libya is overwhelmingly composed of non-Libyan foreign fighters, further diminishing their capacity to embed themselves in the local political landscape," it said.
However, Ibrahim warned the situation could change if the Libyan civil war is prolonged, and called on the international community to ensure stability in the country.
"[The] longer the instability persists, the longer we go without a central government that does not need to fight everyone else and can keep a closer eye on what ISIS and other groups like it are doing in the hinterlands, the higher the chance that ISIS [or someone similar] will stage a large-scale resurgence."
https://www.aljazeera.com/news/2020/08/isil-bounce-libya-civil-war-doesn-study-warns-200809142820086.html?utm_source=iterable&utm_medium=email&utm_campaign=1426864_
--------
Chad says Boko Haram wreaking havoc despite offensive
August 9, 2020
Chad's President Idriss Deby said Saturday that Boko Haram jihadists would continue to wreak havoc in the Lake Chad region despite a huge military offensive against the group earlier this year.
Lake Chad -- a marshy region dotted with islands near the border of Niger, Nigeria and Cameroon -- has been battered by attacks from jihadists crossing from Nigeria.
"We will have this Boko Haram phenomenon for a long time yet," Deby told Radio France Internationale in an interview.
"The incursions will continue," he said, adding that the group "will continue to cause great damage," in the Lake Chad area.
Boko Haram's insurgency, launched in northeast Nigeria in 2009, has killed more than 36,000 people and displaced more than two million from their homes.
The violence has since spread to Niger, Chad and Cameroon.
In March, Chad's armed forces suffered their biggest single-day loss, when 98 soldiers were massacred in their base at Bohoma, on the banks of Lake Chad.
In response, Deby launched an offensive from March 31 to April 3, declaring at its end that there was "not a single jihadist left" in the Lake Chad region.
But sporadic violence has continued, with an attack attributed to Boko Haram on an army vehicle earlier last month killing eight Chadian soldiers.
Deby on Saturday insisted that there were no Boko Haram fighters left on Chadian territory but that cross-border raids from Nigeria and Niger were continuing at night.
https://news.yahoo.com/chad-says-boko-haram-wreaking-221358968.html?utm_source=iterable&utm_medium=email&utm_campaign=1426864_
--------
South Asia
Taliban attack repulsed in Sar-e Pul; at least 21 militants killed, wounded
11 Aug 2020
The Afghan forces repulsed a Taliban attack in northern Sar-e Pul province of Afghanistan, killing or wounding at least 21 militants of the group.
The Ministry of Defense (MoD) in a statement said a large group of Taliban militants attacked the security posts in Masjid-e Sabz area of Sancharak district.
The statement further added that the security forces repulsed the attack, killing at least 11 militants of the group including Mullah Noor Mohammad, one of the local commanders of the group.
The security forces also wounded at least 10 other militants during the clash, the statement added.
The Taliban group has not commented regarding the incident so far.
Meanwhile, the Ministry of Defense said a roadside bomb planted by Taliban militants wounded a civilian in the area.
https://www.khaama.com/taliban-attack-repulsed-in-sar-e-pul-at-least-21-militants-killed-wounded-09018/
--------
180 Afghan Sikhs and Hindus to leave for India on Wednesday
11 Aug 2020
A group of 180 Afghan Sikhs and Hindus are expected to leave for India on Wednesday as part of mass migration of the members of the two minority communities following deadly attacks.
Sources privy of the development told Times of India "As many as 180 Sikhs and Hindus are likely to leave Kabul on Wednesday."
The sources further added that the 180 members of the two minority communities are leaving the country amid panics following the recent attacks on them which left dozens dead or wounded.
They also added that the Sikhs and Hindus have been victims of discrimination, terror, violence and persecution at the hands of extremists and it has now triggered mass exodus.
According to the sources, the number of the Sikhs and Hindus has reduced to just around 700 from earlier number which was more than 100,000.
This comes as the most recent attack targeted the Sikh community in capital Kabul which left at least 25 members of the community dead and several others wounded.
https://www.khaama.com/180-afghan-sikhs-and-hindus-to-leave-for-india-on-wednesday-09017/
--------
Explosion in Kabul city leaves at least 3 dead or wounded
11 Aug 2020
An explosion in Kabul city left at least three people dead or wounded, hours after a similar blast left at least two people wounded.
Sources in Kabul Police Headquarters confirmed that the explosion took place in the vicinity of Prozha-e Jadid, located in Khair Khana area of the city in 11th district.
The sources further added that the explosives planted in a vehicle went off at around 7 am local time, leaving one person dead and at least two others wounded.
This comes as a similar explosion wounded at least two people in 9th district of the city on Monday morning.
Earlier, an explosion killed 2 people and wounded at least 5 others in Company Bazaar area of Kabul city at around 3:40 pm local time on Sunday.
No individual or group including Taliban has so far claimed responsibility for the incident.
https://www.khaama.com/explosion-in-kabul-city-leaves-at-least-3-dead-or-wounded-09016/
--------
Southeast Asia
Maal Hijrah Celebration at Final Stage of Discussion, Says Malay Religious Minister
11 Aug 2020
NILAI, Aug 11 — The government has reached the final stage of discussion to decide whether or not this year's Maal Hijrah celebration should proceed as scheduled on August 20.
Religious Affairs Minister in the Prime Minister's Department Datuk Seri Zulkifli Mohamad Al-Bakri said the matter would be finalised and announced soon.
"We are looking into organising a Maal Hijrah celebration that complies with the standard operating procedures (SOP) set by the Ministry of Health and the National Security Council to curb the spread of Covid-19.
"So, we may set a limit to the time and number of participants. We want to promote that even if it is being organised on a small scale, it will still be very meaningful to the Muslim community," he told reporters here today.
The minister had earlier officiated the National Seminar on Malaysian Islamic Affairs Management Research at Universiti Sains Islam Malaysia (USIM), which was also attended by USIM vice-chancellor Prof Dr Mohamed Ridza Wahiddin.
On the seminar, Zulkifli said it was aimed at gathering information and research findings to empower, improve and transform Islamic affairs management to meet current demands and cope with contemporary challenges. — Bernama
https://www.malaymail.com/news/malaysia/2020/08/11/maal-hijrah-celebration-at-final-stage-of-discussion-says-zulkifli/1892866
--------
'Is this what Syed Naquib taught?' Johor DAP's Sheikh Umar slams Wan Fayhsal over support letter offer
10 Aug 2020
JOHOR BARU, Aug 10 — Johor DAP publicity secretary Sheikh Umar Bagharib Ali described Deputy Youth and Sports Minister Wan Ahmad Fayhsal Wan Ahmad Kamal as someone that has "lost his dignity" for offering support letters.
He said he had lost respect for Wan Ahmad Fayhsal, which he knew from his university days, after his video went viral about how he would use his position as a deputy minister for political gain.
"For me he had stepped on his own dignity. Where is the slogan 'Bersatu, Beramanah and Bermaruah'?" questioned Shaikh Umar in a statement, referring to Parti Pribumi Bersatu Malaysia's slogan in Malay calling for members to be united, trustworthy, and being dignified.
Sheikh Umar, who is also the Paloh assemblyman and former Johor state exco, explained that he used to know Wan Ahmad Fayhsal as a blog writer who looked up to Malaysian Muslim philosopher Syed Muhammad Naquib al-Attas.
He was good with knowledge, Islamic worldview, Islamisation and so on.
"When Wan Ahmad Fayhsal was with the group that turned their backs on the people's mandate after the Sheraton Move, I saw that he was gone.
"This is not the Wan Ahmad Fayhsal that I knew in the past," said Sheikh Umar, who is also the Johor DAP Youth chief.
Sheikh Umar questioned if this is what Wan Ahmad Fayhsal understood from his journey of knowledge over the past 10 years.
"Is this what Syed Naquib had taught?" He asked.
Earlier, DAP' MP Anthony Loke Siew Fook and PKR' MP Akmal Nasrullah Nasir also slammed Wan Ahmad Fayhsal for alleged power abuse by offering endorsement letter to gain support in party election.
In a video that was circulated on social media, Wan Ahmad Fayshal can allegedly be heard saying that he will issue endorsement letters in his capacity as deputy minister to help Bersatu Youth members in return for their support.
He is one of the candidates for the post of Bersatu Youth chief in the upcoming party election scheduled for September 27.
In the 53-second-long video clip, Ahmad Fayhsal was also allegedly caught on camera saying that as Bersatu Youth chief, he will be able to make copies and present the endorsement letters to Prime Minister Tan Sri Muhyiddin Yassin, who is also Bersatu president.
https://www.malaymail.com/news/malaysia/2020/08/10/is-this-what-syed-naquib-taught-johor-daps-sheikh-umar-slams-wan-fayhsal-ov/1892678
--------
Religious affairs minister: I hope RUU355 happens before I die
10 Aug 2020
BY SOO WERN JUN
KUALA LUMPUR, Aug 10 — Religious Affairs Minister Datuk Zulkifli Mohamad has expressed his hope today for the controversial amendments that would allow harsher punishments for Shariah criminal offences to be realised before his death.
Speaking in the Parliament, the minister in the Prime Minister's Department said proposals on the Bill to amend the Shariah Courts (Criminal Jurisdiction) Act 1965 or Act 355 — known as RUU355 in Malay — need to be presented to state Islamic authorities before tabling.
"Once these processes have been completed, then only the amendment can be proposed, when the time is right.
"I hope, God-willing, it can be realised before I die," he told the Parliament today during his winding up speech for the debate on the King's address.
Zulkifli was responding to PKR's Kulim Bandar Bharu MP Datuk Seri Saifuddin Nasution Ismail's supplementary question, who expressed gratitude before he asked if there is a timeline of when the amendment Bill can be tabled.
Islamist party PAS had previously starting from 2015 planned to table the Bill to amend the Shariah Courts (Criminal Jurisdiction) Act 1965, also known as Act 355, but was halted by then Barisan Nasional government.
The Bill seeks to raise the Shariah courts' maximum sentencing limits to 30 years' jail, RM100,000 fine and 100 strokes of the cane. The current limits are three years' jail, RM5,000 fine and six strokes.
The Bill was allowed by the Barisan Nasional government to be tabled and read out in Parliament, though it was never passed.
However with PAS now part of the government, it had instead downplayed the return of the Bill, with vice-president Datuk Mohd Amar Nik Abdullah saying there are other issues that need to be prioritised, including a possible no-confidence vote against the prime minister.
"The amendments to the Act 355 will be tabled in accordance with the order and framework of the Federal Constitution.
"Some important processes need to be scrutinised and implemented first, before the Bill to amend the Act 355 is brought to Parliament," Zulkifli said today.
He also explained that it covers discussions at the level of the Islamic and Civil Law technical committee of the established by National Council for Islamic Religious Affairs.
"These discussions are held to evaluate and standardise all amendments as well as the enactment of laws involving Islamic affairs.
"Therefore, the government needs to allow room and time for the technical committee to study the amendment proposals, apart from formulating and negotiating with the States.
"It is appropriate and organised if the proposals to amend this Act is first negotiated at state level so that the laws are holistic and represent each states' aspirations.
"This is because the State Islamic Religious Council, State Islamic Religious Department, state mufti office and state advisory and law offices will be directly affected by the amendment to this Act," he said.
https://www.malaymail.com/news/malaysia/2020/08/10/religious-affairs-minister-i-hope-ruu355-amendment-happens-before-i-die/1892652
--------
Sunni radicals attack Shias during wedding vigil in Central Java
by Mathias Hariyadi
08/10/2020
Solo (AsiaNews) – Sunni extremists attacked the home of a family hosting a group of Shias taking part in "Midodareni" prayers. The latter are held on the eve of a wedding, and are attended by neighbours and relatives of the bridge and groom. The guests receive some small gifts.
In this particular case, the ceremony was held at the home of Assegaf bin Jufri, a Sunni, in Metrodana, a village on the outskirts of Surakarta (Solo), in Central Java.
A mob of about 100 people attacked the ceremony yesterday resulting in minor injuries for two adults and a 15-year-old boy.
Despite "negotiations" between the host family, the police and the attackers, the attack went ahead.
The vandals interrupted the vigil shouting the Shiism is not "authentic Islam" and damaged the house and some vehicles.
According to one eyewitness, the Islamic radicals carried out their attack after rumours spread in the village that a Shia ritual was taking place in the house, not the Midodareni.
Central Java Gerakan Pemuda Ansor (GP-Ansor), a youth group linked to Nahdlatul Ulama, Indonesia's largest Islamic organisation, strongly condemned the act of intolerance.
"Nobody can take the law into their own hands", said GP-Ansor chief Sholahudin Aly.
Indonesia is the world's most populous Islamic nation. About one million (0.5 per cent) out of 267 million are Shia. Sunnis represent 90 per cent of the total.
http://www.asianews.it/news-en/Sunni-radicals-attack-Shias-during-wedding-vigil-in-Central-Java-50762.html
--------
Mideast
IRGC Deputy Commander: US Democrats, Republicans No Different to Iran
Aug 10, 2020
The idea to pin some hope on a democrat administration is a waste "since the Democrats and Republicans both believe that Iran's move should be stopped through pressure and negotiations," General Javani told FNA on Monday.
He referred to the US attempts to approve a resolution at the UN Security Council to extend arms embargos against Iran are most likely destined to failure, saying that the US has slim chances.
Meantime, General Javani underlined that Iran has gained self-sufficiency in production of different weapons and military equipment despite being sanctioned for over 40 years, adding that embargoes cannot prevent the country's military progress and access to state-of-the-art equipment.
Asked about Washington's harassment of an Iranian passenger plane over Syria's airspace last month, he said that it was a reaction to the recent important military agreement between Tehran and Damascus.
"The Americans adopted the measure to display that they are present there (in Syria) and inspire us with the notion that we cannot even have security in the air (in Syria)," General Javani said.
Late month, two US fighter jets approached a Mahan Air Tehran-Beirut flight over the Syrian sky in a highly risky move and the captain of the Iranian passenger plane was forced to make a sudden change of direction and altitude, causing several injuries.
The captain of Mahan Air Flight No. 1152 later said the pilots of the two hostile planes have identified themselves as US army pilots during a radio contact.
A video posted by a reporter of Iran's state-run TV who was aboard the plane showed an F-15 fighter jet from the window of the plane and comments from a passenger who had blood on his face.
In a later interview from Beirut, the reporter said three passengers have been wounded during "the US planes' intentional move".
https://en.farsnews.ir/newstext.aspx?nn=13990520000737
--------
Spokesman: US Extension of Arms Embargos against Iran Threatens UNSC
Aug 10, 2020
"The arms embargos are rather a threat to the UNSC and its legal mechanism than a threat against the Iranian nation and against us," Mousavi told reporters in a press conference in Tehran on Monday.
"The Americans want to weaken or annihilate the UNSC by using it instrumentally or take control of it," he warned.
Mousavi called on the UNSC's permanent and non-permanent members to keep vigilant in this sensitive period of time, expressing the hope that the independent states' wisdom and Iran's consultations with them would create another failure for Washington.
The arms embargo on Iran restricts Iran's ability to obtain and transfer weapons and expires in October. The expiration is part of the 2015 Iran nuclear deal that the United States walked away from in 2018.
US Ambassador to the United Nations Kelly Craft and the former US envoy for Iran, Brian Hook, briefed the UN Security Council on a proposal to extend the embargo in June.
In relevant remarks last month, Iranian President Hassan Rouhani warned the Group 4+1 (France, Britain, China and Russia plus Germany) that the US-desired extension of arms embargos against Tehran will deal a heavy blow to international laws and multilateralism.
"The G4+1 should know that today Iran's interests or Iran's relations with them or Iran's relations with the regional states are not the only important issues," Rouhani said, addressing a cabinet meeting in Tehran.
"If the G4+1 does not act precisely today and be influenced by the US, they will deal an essential blow to the international laws and rules and multilateralism, and this will harm everyone," he added.
President Rouhani, meantime, said that the US has so far been defeated in its political and legal moves, expressing the hope that Washington's failures would continue as a result of the G4+1 and other countries' vigilance, and the damages inflicted on the nuclear deal would be repaired by the European states.
Also in July, Iranian Defense Minister Brigadier General Amir Hatami expressed confidence about Washington's failure in extending the arms embargos against his country.
"The US administration's demand for extending the arms embargos is an excessive and biased demand and the world states do not accept this demand and will not accompany the US," General Hatami said.
"In such conditions the US statesmen will not succeed in extending the arms embargos against the Islamic Republic of Iran at the UN Security Council," he added.
General Hatami, meantime, underlined that the sanctions have left no impact on Iran's progress in the defensive field.
Meantime, Commander of the Islamic Revolution Guards Corps (IRGC) Major General Hossein Salami underlined in June that arms embargos would leave no impact on Iran's defense power but rather persuade Iranian experts to produce home-made military equipment and weapons.
"We are under a global arms embargo; arms embargo on one hand and threats by the US and its allies on the other hand. The arms sanctions have created an opportunity for our scientists to build and manufacture defensive needs by reliance on domestic power," General Salami told reporters.
He stressed that extension of the arms embargo against Iran "will not affect our defense power and we will witness the unveiling of surprising systems (by the IRGC) in the near future".
General Salami also said that the IRGC Ground Force does not need imports of any military systems from foreign states.
https://en.farsnews.ir/newstext.aspx?nn=13990520000313
--------
Iran: External Agitators Seeking Vested Interests in Lebanon
Aug 10, 2020
"The Beirut blast was a huge catastrophe and it is normal that people are shocked by the incident; yet, it is not acceptable that certain individuals, groups or countries are misusing the situation to gain their political wishes," Foreign Ministry Spokesman Seyed Abbas Mousavi said on Monday.
The spokesman went on to say that Lebanon urgently needs solidarity and assistance, not foreign intervention, and stressed the need for letting the Lebanese government handle the crisis and alleviate the people's sufferings.
Mousavi added that a high-ranking Iranian official will visit Lebanon in the coming days.
"The Islamic Republic of Iran has been standing by the Lebanese people and government since the early hours of the incident," he further said.
Several aid cargoes have so far been sent to Beirut and more will be on the way, the spokesman noted.
The US Embassy expressed its solidarity with anti-government demonstrators in Lebanon, after angry mobs of people stormed several government buildings and clashed violently with police in the streets of Beirut.
Thousands of people gathered at Martyrs' Square in Central Beirut on Saturday, demanding the government to resign after the horrific explosion on Tuesday that killed and wounded thousands. Amid clashing with riot police, violent protesters stormed several government buildings in the city, breaching the Foreign Ministry, the Economy Ministry and the Ministry of Water and Energy premises.
Demonstrators threw rocks and projectiles at the officers, who responded by employing tear gas. The Lebanese Army was also deployed in Beirut later to help police restore order.
The number of injuries climbed to at least 500, according to the emergency medical services cited by Al-Manar TV. Authorities announced that 70 security officers were injured and at least one them died in clashes.
Even though, rallies and violence continue in several US cities over the police killing of George Floyd, and the US police and federal agents brutality against peacefull demonstrations has gone to the extreme in recent months, the US embassy in Beirut wade into the crisis in Lebanon on Saturday, voicing its support for the citizens' "right to peaceful protest".
"The Lebanese people have suffered too much and deserve to have leaders who listen to them and change course to respond to popular demands for transparency and accountability," the embassy said, and added, "We support them in their right to peaceful protest, and encourage all involved to refrain from violence."
The violent protests came as a large part of the city lies in ruins, with many victims still feared trapped under the rubble, Lebanese Prime Minister Hassan Diab noted that he was going to request an early parliamentary election as the only way to resolve the crisis.
While rallies over the dire economic conditions in Lebanon were underway before the incident, the Beirut tragedy came to be a ploy for the anti-government camp.
A mega explosion rocked the Lebanese capital on Tuesday. Terrifying footage showed a huge mushroom cloud of fire and smoke covering much of Beirut's port area, blowing out windows and destroying buildings in the neighborhood, as a warehouse at the Beirut docks caught fire on Tuesday afternoon. Photos on social media showed many buildings in the area damaged or destroyed, leaving residents covered in glass and blood.
Several smaller explosions were heard before the bigger one occurred and turned the city's streets into a debris-strewn wasteland.
Lebanon's Ministry of Health announced that 158 people have been killed in the blast at Beirut's port on Tuesday, while at least 6,000 others have been injured. The explosion left 300,000 homeless, as vast part of the city has been fallen into ruin. Red Cross volunteers at the scene of the explosion declared they expect the death toll to rise.
Lebanese rescue workers and army soldiers are struggling to remove huge items of debris in search for possible survivors at Beirut's port. The Lebanese Red Cross believes there are still tens of people missing.
Health Minister Hamad Hassan blamed the explosion on a fireworks accident, ordering all hospitals in Beirut to prepare for the victims of the incident.
Lebanese General Security Director Abbas Ibrahim has also dismissed rumors of Israeli involvement, noting that a large cache of highly explosive sodium nitrate was stored at the site, after being confiscated off a ship several months ago. He did not explain how the fire has started.
https://en.farsnews.ir/newstext.aspx?nn=13990520000432
--------
US-Iran won't make deals as President Trump has suggested: Iranian spokesman
11 August 2020
The US will not reach any deals with Iran if President Donald Trump continues his "maximum pressure" policy against Tehran, Iranian government spokesman Ali Rabiei said on Tuesday.
For all the latest headlines follow our Google News channel online or via the app.
Rabiei's remarks came in response to comments made by Trump on Monday that he would reach a deal with Iran "within four weeks" if re-elected in November.
"If Trump is serious about making up for past mistakes, we would welcome it, but his recent claim does not seem to have a purpose beyond winning votes," the official IRNA news agency quoted Rabiei as saying.
Tensions between Tehran and Washington have escalated since Trump pulled out of the 2015 nuclear deal and reimposed sanctions on Iran.
"Trump had four years to begin successful diplomacy with Iran … not only did he not do it, he made the worst mistakes America has made in decades," Rabiei said.
"Even if Trump is re-elected, he will not succeed in reaching an agreement as long as he continues to pursue a policy of pressure on Iran," the government spokesman added.
Tehran will continue its "maximum resistance" for as long as necessary, according to Rabiei.
US efforts to extend arms embargo on Iran will fail
Rabiei also said that US efforts to extend the UN Security Council arms embargo on Iran "will turn into another catastrophic and isolating failure."
Washington has been pushing to extend the arms embargo on Tehran before it expires in October. The US argues that a failure to extend the embargo on Iran would further destabilize the Middle East.
The embargo is due to expire on October 18 under the 2015 nuclear deal.
"Iran is ready to prove that it will not show the slightest leniency in providing a proportionate and decisive response to any provocative and illegal action," Rabiei warned.
Other Iranian officials have also warned against the extension of the embargo in recent weeks, saying it would have severe consequences for Washington and its allies.
https://english.alarabiya.net/en/News/middle-east/2020/08/11/US-Iran-won-t-make-deals-as-President-Trump-has-suggested-Iranian-spokesman.html
--------
Turkey will conduct seismic survey in eastern Mediterranean: Turkish navy
10 August 2020
Turkey's navy has issued an advisory saying that the Turkish ship Oruc Reis will carry out a seismic survey in the eastern Mediterranean over the next two weeks, a step likely to revive tensions with NATO ally Greece.
The two countries are at odds over overlapping claims for hydrocarbon resources in the region. A similar advisory, or Navtex, last month caused a row which was calmed after the intervention of German Chancellor Angela Merkel.
For all the latest headlines follow our Google News channel online or via the app.
However, President Tayyip Erdogan said on Friday Turkey had resumed energy exploration work in the region as Greece had not kept its promises on the issue.
"We have started drilling work again," said Erdogan, adding "I don't think we are obligated to talk to those who do not have rights in the areas of maritime powers."
Seismic surveys are part of preparatory work for potential hydrocarbon exploration. Turkey and Greece are also at odds over issues such as overflights in the Aegean Sea and ethnically divided Cyprus.
https://english.alarabiya.net/en/News/middle-east/2020/08/10/Turkey-will-conduct-seismic-survey-in-eastern-Mediterranean-Turkish-navy.html
--------
Iran slams Persian Gulf Cooperation Council's call for extension of arms embargo
10 August 2020
Iran has categorically rejected a recent statement by the Persian Gulf Cooperation Council (GCC) Secretariat, which called for the extension of a UN arms embargo against the Islamic Republic.
Iran's Foreign Ministry spokesman Abbas Mousavi on Sunday expressed regret over the destructive approach adopted by certain members of the Persian Gulf Cooperation Council against Iran.
He said the so-called Persian Gulf Cooperation Council seems to have turned into a mouthpiece for some "narrow-minded people" both inside the council and outside the region.
"The council's secretariat, swayed by the wrong and destructive policies and behavior of certain member states, has turned into a mouthpiece for anti-Iran elements," the spokesman said.
He said the GCC is currently at the "apex of its incompetence", and its "unrealistic" policies have rendered it ineffective.
His comments came after the secretariat of the GCC, made up of Bahrain, Kuwait, Oman, Qatar, the United Arab Emirates and Saudi Arabia, said in a statement that Iran's alleged "interference" in neighboring countries made an extension of the UN arms embargo necessary.
The arms embargo on Iran is currently set to end on October 18 under Tehran's 2015 nuclear deal with world powers, which Washington quit in 2018.
"It is inappropriate to lift restrictions on the supply of weapons from and to Iran," a statement from GCC Secretary General Nayef Falah Mubarak al-Hajraf said.
In his Sunday comments, Iran's Foreign Ministry spokesman described the secretary general's remarks as "irresponsible ones dictated and issued unilaterally at a time when some members of the council have not stopped purchasing and stockpiling weapons even at a time of economic problems, and are among the biggest buyers of arms in the region and in the world."
The spokesman said the United States' interests are undoubtedly contingent upon further sales of weapons to these countries with such approaches and empty claims.
"The killing of defenseless people and children in Yemen is a textbook example of wrong policies adopted by certain GCC members, which have resulted in Yemeni people being killed every day before the eyes of the world by different Western weapons by leaders of this very council," Mousavi went on to say.
Saudi Arabia waged a devastating military aggression against its southern neighbor Yemen in March 2015 in collaboration with a number of its allied states, and with arms support from certain Western countries.
The purported aim was to return to power a Riyadh-backed former regime and defeat the Houthi Ansarullah movement that took control of state matters after the resignation of the then president and his government.
The UN refers to the situation in Yemen as the world's worst humanitarian crisis, with more than half of hospitals and clinics destroyed or closed.
https://www.presstv.com/Detail/2020/08/10/631445/Tehran-says-GCC-turning-into-mouthpiece-for-Iranophobes
--------
URL: https://www.newageislam.com/islamic-world-news/bengal-imams-association-terms-supporting/d/122596
New Age Islam, Islam Online, Islamic Website, African Muslim News, Arab World News, South Asia News, Indian Muslim News, World Muslim News, Women in Islam, Islamic Feminism, Arab Women, Women In Arab, Islamophobia in America, Muslim Women in West, Islam Women and Feminism