New Age Islam News Bureau
10 Feb 2014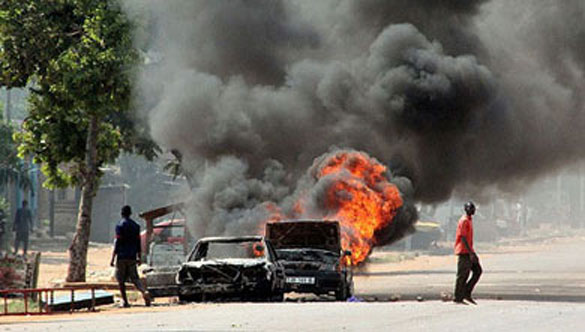 Photo: Peacekeepers fire on Christian mob in CAR as Muslims lynched, File Photo
-----------
India
• Bengal Government Helping Fundamentalists, Jamaat-e-Islami in Bangladesh
• BJP woos OBCs by attacking 'Muslim Quota'
Pakistan
• Islamic jihadists throw grenades and open fire at Sufi gathering, murdering eight people
• Shrine of Sufi poet set on fire in Pakistan
• 16 Killed, Gas Pipelines Blown As Violence Surges in Pakistan
• Suicide blast kills four women in Peshawar
• Meeting with Taliban Shura yielded positive results: Maulana Sami ul Haq
• No foreign pressure for Taliban talks: Pakistan
• Govt may consider release of Taliban prisoners
• Taliban comes up with 15 demands for peace talks
Arab World
• Rebel attack on Syrian Alawite village kills 40
• Saudi Arabia calls for urgent UN meeting on Syria, points out at 'crimes against humanity'
• Islamist rebels oust ISIL from Syria's Deir Ezzor: Monitor
• Ceasefire in Syrian city falters, aid halted
• Bahrain's Salafist society says dialogue vision based on statute
• Kiwis fighting in Syria, Key confirms
• Kuwaiti legislator proposes Saudi-style anti-terrorism law
• Wide Military Operations against Militants around Syria
South Asia
• 17 Taliban militants killed, 16 detained in Afghan operations
• Hifazat-e Islam has done nothing for the religion: Bangladesh FM
• Mufti Izharul, son charged for Ctg madrasa blast
• Bangladesh: Top Barisal AL terror dead in 'gunfight'
• Taliban airs Kabul CIA office attack video
North America
• Prophet Muhammad's (pbuh) Intrafaith-Interfaith Poetry Session in Richardson
• American Muslim filmmaker warns against discrimination in Islam
• Tennessee judge who ordered name change for baby Messiah fired
• US droning to fuel Yemenis' sympathy for Al-Qaeda
• Obama easing immigration rule for terrorist supporters
Africa
• Peacekeepers fire on Christian mob in CAR as Muslims lynched
• Mali says MUJWA Islamist group responsible for killing 31 Tuaregs
• Somalia PM: "Education is the only solution to rid our country of FGM
• New round of South Sudan peace talks to get under way
• Central Bank of Libya to phase out one dinar notes with Qaddafi picture
Southeast Asia
• Filipino marines kill 6 Muslim extremists in clash
• Taib's departure to Open the Door for Umno to further plunder, racialise, Islamise Sarawak?
• Prove anti-Malay, anti-Islam claim and I'll ask Teresa Kok to apologise, says Kit Siang
Mideast
• Yemen: Justice for Past Abuses, Women's Equality Should Not Wait for New Constitution
• Iran will not discuss its missile programme, say Iranian authorities
• Attacks on Gaza jihadists signal quiet Israeli revival of targeted killings
• Palestinians propose NATO presence as peaceful solution with Israel
Europe
• Violence could force out CAR's Muslim population – HRW
• Iran to address western suspicion over design of nuclear weapon
• No plans for West to send troops to southern Libya
• British pilots fired at least 39 missiles in Afghanistan using US drones – MoD
• Drone victim set to testify before European Parliamentarians disappears
Compiled by New Age Islam News Bureau
URL: https://www.newageislam.com/islamic-world-news/new-age-islam-news-bureau/bengal-government-helping-fundamentalists,-jamaat-e-islami-in-bangladesh/d/35677
-------------
India
Bengal Government Helping Fundamentalists, Jamaat-e-Islami in Bangladesh
Feb 10, 2014
KOLKATA: Accusing the Trinamool Congress government of helping fundamentalist forces in Bangladesh, the Left Front Sunday said its stand has resulted in fanatics belonging to both the majority and minority communities becoming more active in West Bengal.
Calling it a conspiracy, Left Front chairman Biman Bose said some people have also been forced to cross over to West Bengal from the neighbouring country as the Teesta river water sharing and enclave exchange issues still remained unresolved.
"The Trinamool is trying to create a communal atmosphere in the state. It is patronising fundamentalist forces. It is helping Jamaat-e-Islami, a fundamentalist force in Bangladesh.
"With such forces becoming very active in Bangladesh, fanatic elements belonging to both the majority and minority communities have become active in our state," Bose said at a Left Front rally at the Brigade Parade grounds here.
Bose, the Communist Party of India-Marxist's state secretary, said Dhaka had tried to ink an agreement with New Delhi on sharing of the Teesta river water and exchange of enclaves.
"Everything had been finalised after detailed deliberations. And (West Bengal) Chief Minister Mamata Banerjee was scheduled to accompany Prime Minister Manmohan Singh to Dhaka. But she suddenly opted out," he said, alleging that Banerjee refused to go to Dhaka at the prompting of the US.
Referring to then US secretary of state Hillary Clinton's meeting with Banerjee in May 2012, Bose claimed that Washington had earlier sent an emissary with a "directive" to Banerjee not to accompany the prime minister to Dhaka in September 2011.
"They sent an emissary with a directive to Mamata Banerjee that she should not go to Dhaka as otherwise the Sheikh Hasina government would stand to gain while the interests of the fundamentalists would be hit," he said.
Banerjee had opted out arguing that the interests of northern West Bengal would be hampered as the proposed agreement envisaged giving a greater share of Teesta water to Bangladesh than had been agreed upon by the central and state governments. She had also claimed that the final draft was not shown to her.
The decision embarrassed the Indian government, as the water sharing agreement could not be clinched during the prime minister's trip.
The Banerjee government has also opposed any move to hand over to the neighbouring nation 111 Indian enclaves in Bangladesh in exchange for 51 Bangladeshi enclaves in India, arguing that West Bengal would lose more land than it would get from Bangladesh.
"As the enclave and Teesta water issues have not been resolved, some people are again being forced to cross over afresh from Bangladesh. This is also a conspiracy," added Bose.
http://economictimes.indiatimes.com/articleshow/30117488.cms?utm_source=contentofinterest&utm_medium=text&utm_campaign=cppst
-------------
BJP woos OBCs by attacking 'Muslim Quota'
TNN | Feb 10, 2014
NEW DELHI: BJP has stepped up its efforts to woo "other backward castes" in politically crucial Uttar Pradesh with an aggressive campaign against its "secular" rivals on Muslim quota.
Party general secretary and, more important, Narendra Modi's trusted associate Amit Shah spelt out the party's stand on the controversial issue by saying the support of SP, BSP and Congress for "Muslim quota" was unconstitutional.
Talking to TOI, he said the proposed 18% quota for Muslims could be promulgated only at the cost of "backwards" because of the Supreme Court order capping the quantum of quotas in jobs and educational institutions at 50%.
Shah's statement comes amid reports from Uttar Pradesh about "apolitical" campaigns against Muslim quota, seeking to organize resistance to what they call a "serious threat to OBC quota".
OBCs make up about 35% of the population in UP which with 80 Lok Sabha seats is vital for BJP's plan to retake the reins at the Centre.
Of these, Yadavs, who account for 12% of the population, are staunchly aligned with Samajwadi Party.
BJP hopes to corner the bulk of the rest of the bloc by upping the ante over Muslim quota. Though the plan did not work during the assembly polls, party strategists don't seem to be fazed.
They feel the plan failed last time because of the overwhelming resentment against the Mayawati government and the realization that Akhilesh Yadav-led SP was the most effective vehicle for achieving the objective. They are optimistic that the resentment against the advocacy for Muslim quota will result into votes for BJP because of the popular ire against UPA at the Centre and the preference for the Modi-led BJP as the alternative.
Shah, however, denied that BJP was opposing minority quota because of its alleged hostility to Muslims. He said the Constitution did not recognize religion as a basis for reservations, and emphasized that BJP was not opposed to the quota that "backwards" among Muslims enjoy under the overall OBC quota.
http://timesofindia.indiatimes.com/india/BJP-woos-OBCs-by-attacking-Muslim-Quota/articleshow/30129229.cms
-------------
Pakistan
Islamic jihadists throw grenades and open fire at Sufi gathering, murdering eight people
Feb 10, 2014
KARACHI, Pakistan (AP) — Gunmen threw grenades at a Sufi Islamic religious gathering Sunday in the port city of Karachi and then opened fire on the people assembled to offer prayers, killing eight, officials said.
Eight more people were wounded in the attack, said Aftab Chanur, an official at the hospital who gave the death toll.
The four gunmen on motorcycles first lobbed grenades at the building where a Sufi cleric was receiving his followers, then raked it with automatic fire, said police official Javed Odho. He said women and children were among the dead and wounded.
Pakistan is 95 percent Muslim, and the majority practice Sufi-influenced Islam.
But their shrines and followers have come under attack in Pakistan by Sunni Muslim militants who don't consider them to be true Muslims.
No one claimed responsibility for the attack. But suspicion is likely to fall on militants such as the Pakistani Taliban or their affiliated sectarian groups who follow a strict interpretation of Islam that considers many other Muslims such as Sufis or minority Shiites to be heretics. In recent years militants have often targeted shrines, which they consider to be sacrilegious.
In January, militants killed six people at the shrine of a Sufi saint in Karachi. After that attack, militants also threatened the cleric who was targeted Sunday, telling him he should close down the house of worship where he would receive his followers, said Odho, the police official.
Karachi is a fast-growing city in southern Pakistan with an estimated 18 million residents that has often been plagued by political, religious and sectarian violence.
http://news.yahoo.com/pakistan-gunmen-kill-8-religious-gathering-182812228.html
-------------
Shrine of sufi poet set on fire in Pakistan
Feb 10, 2014
The shrine of Pakistani Sufi poet Mast Twakali, revered across the subcontinent, has been set afire by unknown persons in the restive Balochistan province.
The shrine, visit by hundreds of devotees each day, has been partially damaged in the fire, authorities in Kohlu district said.
Kohlu Deputy Commissioner Ejaz Haider said some unknown persons had entered the shrine on Saturday and set it afire.
"But because people of the area gathered quickly and put out the fire the shrine was saved but a big portion has been damaged," Haider said.
Five suspects have been arrested in connection with the case, he added.
Towaq Ali Mast — popularly known as Mast Twakali — was born in 1828. He spread the message of love for the humanity through his poetry.
The Tehreek—e—Taliban Pakistan and other militant groups, which consider going to shrines as un—islamic, have in the past targeted them. PTI COR DDC AKJ DDC 02101516
http://www.thehindu.com/news/international/south-asia/shrine-of-sufi-poet-set-on-fire-in-pakistan/article5673379.ece
---------
16 killed, gas pipelines blown as violence surges in Pakistan
2014-02-10
At least four women were killed in Peshawar city when a suicide bomber blew himself up inside their house, police said.
Sixteen people were killed and major gas pipelines were blown up in a new wave of attacks across Pakistan as the government and Islamist militants prepared to hold another round of peace talks.
At least four women were killed in Peshawar city in the north west when a suicide bomber blew himself up inside their house, police official Ihsan Shah said.
The attacker was reportedly aiming to detonate the explosives at a funeral service but entered the house after he was spotted and challenged by the police.
Also in the north—west, three school teachers were shot dead Monday by gunmen in Hangu district, an area plagued by years of sectarian violence between Sunni and Shiite Muslims, local police chief Iftikhar Ahmed said.
Full report at:
http://www.thehindu.com/news/16-killed-gas-pipelines-blown-as-violence-surges-in-pakistan/article5673020.ece
------------
Suicide blast kills four women in Peshawar
2014-02-10
PESHAWAR: A suicide blast near a house in Peshawar's Essa Khel Garhi area on Monday killed four women and wounded three others, police said.
SSP Najeeb, who oversees police operations in Peshawar, said that a raid was conducted in Essa Khel area near Chamkani upon receiving information regarding the presence of suspicious persons.
During the operation a suicide bomber detonated his explosives near the house, he said.
Area residents said a few women were present at the house where a Quran khwani was being held at the time of the explosion.
Full report at:
http://www.dawn.com/news/1086115/four-women-killed-in-peshawar-suicide-blast
-------------
Meeting with Taliban Shura yielded positive results: Maulana Sami ul Haq
February 10, 2014
The two-day meeting between two members of the Tehreek-e-Taliban Pakistan (TTP) appointed committee and the Taliban shura yielded positive results, JUI-S chief Maulana Samiul Haq told the media on Monday.
He stated that the shura answered all of the government committee's demands, adding that more details will be revealed in a subsequent meeting with the government committee on Tuesday or Wednesday.
Jamaat-e-Islami's Professor Mohammad Ibrahim and JUI-S spokesperson Maulana Yousaf Shah had gone to Miramshah on February 8 to discuss peace talks with the Taliban shura.
Shah said today that the TTP had given very positive answers but more details cannot be revealed to the media at this time. "We are very optimistic," he stated.
Maulana Samiul Haq said that the meeting with Taliban shura lasted till Monday morning, adding that it was decided that Shah was also a formal member of the Taliban committee.
The committees
Full report at:
http://tribune.com.pk/story/669837/meeting-with-taliban-shura-yielded-positive-results-maulana-samiul-haq/
-------------
No foreign pressure for Taliban talks: Pakistan
IANS | Feb 10, 2014
ISLAMABAD: Pakistan's national security adviser Sartaj Aziz has said there is no foreign pressure on the country regarding talks with the Taliban militants.
"There is no foreign pressure on Pakistan. However there is internal pressure on us to restore peace," Xinhua quoted Aziz as telling reporters Sunday in Islamabad.
Asked about the impression that there had been foreign pressure in the past that Pakistan should not opt for talks with the Taliban, he said: "There is no such pressure. We have held peace talks on several occasions."
Full report at:
http://timesofindia.indiatimes.com/world/pakistan/No-foreign-pressure-for-Taliban-talks-Pakistan/articleshow/30134569.cms
-------------
Govt may consider release of Taliban prisoners
February 10, 2014
ISLAMABAD - The federal government may consider releasing a bunch of prisoners associated with TTP, currently languishing in jails, to facilitate the reconciliation process.
Sources disclosed to the scribe on Sunday that Pakistani authorities may have known it at front that chief commander of Tehreek Taliban Pakistan may demand release of its hardcore militants, languishing in jails established across the country. Thus, concerned authorities were tasked to compile the data of Taliban prisoners.
A top government official also endorsed the same information when contacted in this regard.
It was not clear, how would the government react if the chief commander of TTP demands, among other conditions, release of prisoners. However, the official sources believe the government may go ahead to any extant to make the 'peace deal' possible with TTP, a militant organization consisting of diehard militants, which has waged war against security forces since Pakistan stepped up in the war against terrorism as a frontline state in 2001 following the twin tower attacks in USA.
Full report at:
http://www.nation.com.pk/islamabad/10-Feb-2014/govt-may-consider-release-of-taliban-prisoners
-------------
Taliban comes up with 15 demands for peace talks
Feb 10, 2014
PESHAWAR: The Tehreek-e-Taliban Pakistan's "political shura" and negotiations committee met at an undisclosed location in North Waziristan Agency for the second consecutive day on Sunday and produced as many as fifteen demands to be put forward to the government's negotiation committee.
Media reports said the Taliban shura had been meeting since Saturday under its deputy ameer, Sheikh Khalid Haqqani. Professor Ibrahim Khan and Maulana Yousuf Shah who are in Waziristan for a meeting with the Taliban shura are likely to convey these points to the committee formed by the government for mediation. The points are as follows: Stop drone attacks; introduce sharia law in courts; introduce Islamic system of education in both public and private educational institutions; free Pakistani and foreign Taliban held in jails; restoration and remuneration for damage to property during drone attacks; hand over control of tribal areas to local forces; withdrawal of army from tribal areas and close down check posts; all criminal allegations against the Taliban be dropped; prisoners from both sides be released; equal rights for all, poor and rich; families of drone attack victims be offered jobs; end interest-based system; stop supporting the US on the war on terror; replace the democratic system of governance with the Islamic system; end all relations with the US.
Full report at:
http://www.dailytimes.com.pk/national/10-Feb-2014/taliban-comes-up-with-15-demands-for-peace-talks
-------------
Arab World
Rebel attack on Syrian Alawite village kills 40
Feb 10, 2014
Extremist Islamic rebels who overran a village in central Syria populated by the Alawite minority have killed at least 40 people, activists said Monday.
Syrian state media described the attack as a "massacre" perpetrated by terrorists, a term the government uses to describe rebels fighting to topple President Bashar Assad. Extremist Sunni Islamic fighters have come to dominate the armed uprising against Mr Assad, who is a member of the Alawite sect, an offshoot of Shiite Islam.
The raid on Maan is likely to bolster efforts by the government delegation to convey their narrative at the Geneva peace talks that the three-year uprising to overthrow Mr Assad is dominated by al-Qaeda extremists. The extremists see Alawites as apostates who should be killed.
http://www.thehindu.com/news/international/world/rebel-attack-on-syrian-alawite-village-kills-40/article5673453.ece
-------------
Saudi Arabia calls for urgent UN meeting on Syria, points out at 'crimes against humanity'
Feb 10, 2014
Saudi Arabia has called for an "emergency" meeting over what is happening in Syria, citing "growing evidence pointing to war crimes," and the lack of implementation of previous agreements regarding the conflict, a letter sent to the UN General Assembly dated February 7 showed, Al Arabiya news channel reports.
"UN officials have been repeatedly expressing their frustration and disappointment at the lack of progress in addressing the grave humanitarian situation and growing body of evidence pointing to war crimes and crimes against humanity," it said.
It also went on to say that there was a "lack of full implementation of the Security Council presidential statement date October 2, 2013," which is "unacceptable."
In a 2013 statement, the Security Council repeated its calls for the immediate humanitarian assistance to Syrians, especially those who live across the conflict lines.
Full report at:
http://voiceofrussia.com/news/2014_02_10/Saudi-Arabia-calls-for-urgent-UN-meeting-on-Syria-points-out-at-crimes-against-humanity-3752/
------------
Islamist rebels oust ISIL from Syria's Deir Ezzor: Monitor
Feb 10, 2014
The jihadist Islamic State of Iraq and the Levant withdrew from the eastern Syrian province of Deir Ezzor on Monday after a three-day battle with Islamist rebels, a monitor said.
The Syrian Observatory for Human Rights said ISIL withdrew from the province, which borders Iraq, after fighting a coalition of opposition brigades including Al-Qaeda's Syria affiliate Al-Nusra Front.
ISIL is facing a widespread backlash from an array of rebel brigades angered by its abuses against civilians and rival opposition fighters.
Though it grew from Al-Qaeda's onetime Iraqi affiliate, Al-Qaeda chief Ayman al-Zawahiri has distanced his organisation from ISIL and ordered it to return to Iraq.
ISIL's chief has ignored the admonition and continued to engage in clashes with rebels across opposition-held areas of Syria.
Full report at:
http://english.ahram.org.eg/NewsContent/2/8/93885/World/Region/Islamist-rebels-oust-ISIL-from-Syrias-Deir-Ezzor-M.aspx
-------------
Bahrain's Salafist society says dialogue vision based on statute
Feb 10, 2014
Manama: An Islamist society taking part in the national dialogue in Bahrain has reiterated its opposition to any call to have an elected government.
"Our views regarding the national dialogue stress commitment to the National Action Charter and to the constitution," Ali Al Zayed, a leader in Al Asala society, the expressions of Salafism in Bahrain, and a sitting lawmaker, said.
"We do not for instance support having an elected government as there is nothing that points to it in the charter or in the constitution. The formation of the government remains an essential element within the prerogatives of HM the king and he is the one who nominates the prime minister and the ministers," he said.
Full report at:
http://gulfnews.com/news/gulf/bahrain/bahrain-s-salafist-society-says-dialogue-vision-based-on-statute-1.1288557
-------------
Ceasefire in Syrian city falters, aid halted
2014-02-10
Two trucks carrying food and medical supplies into rebel-held neighbourhoods in the central Syrian city of Homs turned back under heavy fire on Saturday, leaving four paramedics wounded as a cease-fire faltered, Syrian officials said.
Talal Barrazi, the Governor of Homs province, told the Lebanon-based Al-Mayadeen TV that the attack occurred late in the afternoon and that the trucks were targeted by two roadside bombs and a mortar shell from the rebel side.
Mr. Barrazi later told Syrian state TV that two trucks were able to reach opposition-held neighbourhoods earlier in the day. Al-Mayadeen also reported that two trucks, carrying 250 food parcels, were able to cross into rebel-held areas on Saturday.
The state TV said four members of the Syrian Arab Red Crescent were wounded by rebel fire in the area, but gave no further details.
Full report at:
http://www.thehindu.com/news/international/world/ceasefire-in-syrian-city-falters-aid-halted/article5670428.ece
-----------
Kiwis fighting in Syria, Key confirms
Feb 10, 2014
Some New Zealanders are fighting in Syria and the passports of others who wanted to have been cancelled, Prime Minister John Key says.
He wouldn't give details at his post-cabinet press conference on Monday, saying only that "a small group" were in Syria fighting against government forces.
The passports of fewer than 10 people had been cancelled, he said.
Mr Key said the government knew about those who had left, and those who had intended leaving, through information gained by the spy agencies.
Full report at:
http://nz.news.yahoo.com/a/-/top-stories/21379437/kiwis-fighting-in-syria-key-confirms/
-----------
Kuwaiti legislator proposes Saudi-style anti-terrorism law
Feb 10, 2014
KUWAIT CITY – A Kuwaiti MP on Sunday proposed a draft law that would impose jail terms of up to 30 years on Kuwaiti nationals fighting abroad, nearly a week after Saudi Arabia introduced similar penalties.
The bill, submitted by pro-government legislator Nabeel Al-Fadhl, stipulates jail terms of between five and 20 years for Kuwaitis who travel abroad to fight, as well as those who encourage or support such activities in any way.
The same penalty would apply to members of religious and extremist groups that have been classified as "terrorist" locally, regionally or by Arab countries, the draft legislation says.
Fadhl said in his proposal the penalty will become between 10 and 30 years in jail if the convicts are members of the army, national guard or police. The proposal must be passed by parliament, and then accepted by the government to become law. Local media reported a number of Kuwaitis have traveled to Syria to fight in the uprising against President Bashar Al-Assad's government.
Full report at:
http://www.saudigazette.com.sa/index.cfm?method=home.regcon&contentid=20140210195238
-------------
Wide Military Operations against Militants around Syria
Feb 10, 2014
Syrian army units on Monday directed smashing blows to militants in several areas around the country, killing many and injuring others.
Attempts of terrorist acts foiled in Homs
Army units foiled a militants' attempt of detonating two explosives on Abu al-Alaya-al-Massoudiyeh road, killing big numbers of militants, some of whom are Lebanese, Saudis and Chechens in towns and villages of Homs.
A military source said that militants' dens were destroyed in the villages of al-Dar al-Kabira and al-Khalediyeh with all weapons and ammunition inside, while army units killed militants infiltrating into al-Arshouna and al-Salam al-Gharbi in the Eastern countryside.
Full report at:
http://english.farsnews.com/newstext.aspx?nn=13921121001280
----------
South Asia
17 Taliban militants killed, 16 detained in Afghan operations
Feb 10 2014
At least 17 Taliban militants were killed were killed and 16 others were detained during joint military operations conducted by Afghan national security forces.
The interior ministry of Afghanistan following a statement, said the militants were killed or detained during coordinated operations conducted by Afghan police, Afghan army, and Afghan intelligence – National Directorate of Security during the past 24 hours.
The statement furhter added that the operations were conducted in Nangarhar, Laghman, Zabul, Maidan Wardak, Khost, Paktika and Helmand provinces of Afghanistan.
Interior ministry confirmed that 17 Taliban militants were killed and 16 others were detained during the operations.
Full report at:
http://www.khaama.com/17-taliban-militants-killed-16-detained-in-afghan-operations-3419
-------------
Hifazat-e Islam has done nothing for the religion: Bangladesh FM
Feb 10, 2014
Hifazat-e Islam has done nothing for the religion and its 'ringleader' is now lying low, Finance Minister AMA Muhith has said.
"The year 2013 is significant in the history of Bangladesh due to the war crimes trial," he said at a discussion on late national professor Kabir Chowdhury on Sunday.
"The Hifazatees entered the scene this year upon the 'ringleader's' instigations," said the minister, apparently referring to the BNP Chairperson as the 'ringleader'.
"These fellows have done nothing for the religion. The people have safeguarded Islam."
Muhith said the government was not fully prepared to confront Hifazat. "The BNP, Jamaat and Hifazat have united to resist the war crimes trial."
Full report at:
http://bdnews24.com/politics/2014/02/09/hifazat-has-done-nothing-for-the-religion-muhith
-------------
Mufti Izharul, son charged for Ctg madrasa blast
Feb 10, 2014
Police today pressed charges against Hefajat-e Islam nayeb-e-ameer Mufti Izharul Islam Chowdhury and eight other people in a case filed in connection with a bomb blast at his madrasa in Chittagong last October.
Izharul, the founder and principal of the madrasa, and his son were named as the prime accused, reports our Chittagong correspondent quoting the police official.
Izharul is now hiding.
Three people including two students were killed and several others injured in the explosion at four-storey dormitory of Jamiatul Ulum Al Islamia Madrasa in Lalkhan Bazar of Chittagong on October 7, 2013.
Full report at:
http://www.thedailystar.net/mufti-izharul-son-charged-for-ctg-madrasa-blast-10726
-------------
Bangladesh: Top Barisal AL terror dead in 'gunfight'
Feb 10, 2014
A Jubo League cadre who was listed as a top-terror in the area died in what law enforcers said gunfight with elite force RAB in Barisal city on Monday morning.
Dead Faruk Ahmed, 35, alias Panama Faruk, is widely known for an attack on Barisal Press Club during the 1996 government of Awami League, police said.
Faruk arrived in Barisal (from Dhaka) on a launch with accomplices around 6:30am, Rapid Action Battalion 8 Captain Bashar told the Dhaka Tribune.
A patrolling RAB team challenged them in the city's Chwakbazar area, he said. "They opened gunfire suddenly. The law enforcers were compelled to fire back."
"Four others fled and Faruk was found lying at the spot, dead. RAB Deputy Assistant Director Faruk has been slightly injured during the gunfight."
Full report at:
http://www.dhakatribune.com/bangladesh/2014/feb/10/top-terror-barisal-bnp-man-dead-gunfight#sthash.1PJSXUng.dpuf
-------------
Taliban airs Kabul CIA office attack video
Feb 10, 2014
The Taliban has released a video, which appears to show the planning and execution of an attack on the CIA compound in Afghanistan last June.
The video, which Al Jazeera obtained and aired on Sunday, showed the attack during a visit by US diplomat James Dobbins, who was in Afghanistan at that time to revive talks between the Taliban and the Afghan government.
The fighters used fake US identification cards and wearing equipment, making them appear like foreign soldiers with official looking vehicles.
Experts said that the video was a form of propaganda, but also indicated the evolution of Taliban fighters, who are now launching complex attacks against US forces in Afghanistan.
"I think they are effective, they have belief in themselves and they are organised," Masood Akhtar, a national security analyst from Pakistan, told Al Jazeera.
Full report at:
http://www.aljazeera.com/news/asia/2014/02/taliban-airs-kabul-cia-office-attack-video-20142918320571183.html
-------------
North America
Prophet Muhammad's (pbuh) Intrafaith-Interfaith Poetry Session in Richardson
February 8, 2014
Dallas, Texas: The World Muslim Congress, a think tank of Muslims in Dallas announces a poetry session honoring Prophet Muhammad (pbuh), known as Naatia Mushaera.
"This is a purposeful event with three clear goals; to share Prophet's work with fellow Americans, to focus on how Muslims can adopt his teachings to benefit the society at large, and to bring Muslims of different denominations together for the common purpose– celebrate Prophet Muhammad's birthday"- said Mike Ghouse, president of the organization.
The program is set to start at 8:00 PM and end at mid night on Friday, February 21, 2014 at Richardson Civic Center in Richardson, Texas. (Link).
The evening is divided into two sessions. The first segment will highlight the Intrafaith and interfaith aspects of the program. Muslims of different denominations including Ahmadiyya, Bohra, Ismaili, Shia, Sunni, WD Muhammad others will share a Naat (poetry singing) each from their community. Then our friends from other faiths will also share their Poetry about the Prophet.
Full report at:
http://worldmuslimcongress.blogspot.in/2014/02/prophet-muhammads-pbuh-intrafaith_9.html
-------------
American Muslim filmmaker warns against discrimination in Islam
Feb 10, 2014
Amid a crackdown on Shiah Muslims in Malaysia, American film producer and poet Michael Wolfe warned yesterday against elevating one school of Islam over another.
Wolfe, who embraced Islam over 20 years ago while travelling between North and West Africa, claimed that it is only natural for a global religion such as Islam to have different expressions.
"Islam has been compared many times to clear water running over different coloured rocks in a stream," Wolfe told The Malay Mail Online in an exclusive interview here.
"Sometimes it looks red, sometimes it looks green, sometimes it looks yellow. But it is all water. It is all Islam."
But Wolfe conceded to subscribing to religious pluralism, a result of coming from a country where people of different colours, languages, and beliefs can find ways to co-exist with each other.
Full report at:
http://www.themalaymailonline.com/malaysia/article/american-muslim-filmmaker-warns-against-discrimination-in-islam#sthash.334G4aMz.dpuf
-------------
Tennessee judge who ordered name change for baby Messiah fired
February 10, 2014
NASHVILLE: A Tennessee judge who ordered a baby's name changed from Messiah to Martin, saying the former was reserved for Jesus Christ, has been fired, court officials said on Tuesday.
Child Support Magistrate Lu Ann Ballew of Cocke County in eastern Tennessee last August ordered a boy's first name changed over the objections of his parents when they appeared before her seeking to settle other issues.
O Duane Slone, presiding judge of the state's fourth judicial district, terminated Ballew's appointment, effective last Friday, according to court documents.
Slone did not give a reason in his order, but Ballew had previously been cited by the Tennessee Board of Judicial Conduct for an inappropriate religious bias. A hearing is scheduled for March 3.
Full report at:
http://tribune.com.pk/story/669832/tennessee-judge-who-ordered-name-change-for-baby-messiah-fired/
-------------
US droning to fuel Yemenis' sympathy for Al-Qaeda
Feb 10, 2014
SANAA: A drone-fired US missile struck a car southeast of here on a winter night last year, killing two alleged Al-Qaeda operatives who lived openly in their community. But it also killed two cousins who were giving the men a ride and who the Yemeni government later said were innocents in the wrong place at the wrong time.
That incident, and other strikes that have followed, helped fuel anger here over civilian casualties from US drone attacks and what critics say is an even less scrutinized problem: The targeting of suspects who are within the reach of the law.
As the strikes continue, public outrage is rising in Yemen, where many people, including government officials, argue that the attacks increase sympathy for Al-Qaeda. In December, after a drone attack killed more than a dozen people in a rural wedding convoy, Yemen's Parliament passed a non-binding motion to ban the strikes.
Full report at:
http://www.arabnews.com/news/523486
-------------
Obama easing immigration rule for terrorist supporters
AP | Feb 9, 2014
WASHINGTON: The Obama administration has eased the rules for would-be asylum-seekers, refugees and others who hope to come to the US or stay here and who gave "limited" support to terrorists or terrorist groups.
The change is one of President Barack Obama's first actions on immigration since he pledged during his state of the Union address last month to use more executive directives.
The department of homeland security and the state department now say that people considered to have provided "limited material support" to terrorists or terrorist groups are no longer automatically barred from the United States.
A post-Sept. 11 provision in immigrant law, known as terrorism related inadmissibility grounds, had affected anyone considered to have given support. With little exception, the provision has been applied rigidly to those trying to enter the US and those already here but wanting to change their immigration status.
Full report at:
http://timesofindia.indiatimes.com/world/us/Obama-easing-immigration-rule-for-terrorist-supporters/articleshow/30119220.cms
-------------
Africa
Peacekeepers fire on Christian mob in CAR as Muslims lynched
Feb 10, 2014
Two Muslims were lynched by a mob of angry Christians in Bangui, the capital of the Central African Republic (CAR), late on Sunday, in what Christians described as retaliation for an earlier attack on their neighborhood.
Colonel Karangwa Jean Paul, the commander of the Rwandan contingent serving as part of the African peacekeeping force, MISCA, said they had opened fire after the Christian mobs attacked Muslim civilians.
"It's true our troops had opened fire to disperse the crowds, but unfortunately one Christian in the mob was killed," he told Anadolu Agency.
Colonel Paul insisted that his troops could not just stand and watch as the Christian mobs killed innocent Muslims.
Full report at:
http://www.worldbulletin.net/headlines/128579/peacekeepers-fire-on-christian-mob-in-car-as-muslims-lynched
-------------
Mali says MUJWA Islamist group responsible for killing 31 Tuaregs
Feb 10, 2014
The Movement for Unity and Jihad in West Africa (MUJWA) was responsible for killing 31 Tuaregs in an attack on Friday near the town of Tamkoutat in northern Mali, the minister for interior security said on Sunday.
General Sada Samaka, who visited the site of the attack accompanied by Malian army officers, told Malian national television that the killings took place around 2:00 p.m. local time (1400 GMT) on Friday some 12 km (7.5 miles) outside Tamkoutat.
"The travellers aboard two vehicles fell into an ambush laid by the terrorists of the MUJWA," said the minister. He said a young girl and a woman were amongst those killed.
Initial reports had attributed the killings to the settling of scores between Peul and Tuareg ethnic groups. The MUJWA has not claimed the attack.
Full report at:
http://english.ahram.org.eg/NewsContent/2/9/93861/World/International/Mali-says-MUJWA-Islamist-group-responsible-for-kil.aspx
-------------
Somalia PM: "Education is the only solution to rid our country of FGM
07 Feb, 2014
Today is the eleventh anniversary of the International Day of Zero Tolerance for Female Genital Mutilation (FGM). This important Day was first declared by four African first ladies on February 6, 2003, aimed at bringing people around the world together to put an end to female genital mutilation/cutting (FGM/C).
FGM affects millions of women across Africa with the practice often performed by untrained practitioners, without anesthesia, using unsterilized and crude instruments. The barbaric act causes intense physical and mental harm, the procedure poses severe short- and long-term health risks.
His Excellency Prime Minister Abdiweli Sheikh Ahmed, said:
"FGM is not a religious practice it is a horrific act that is simply an abuse of a young girl's human rights. Let's be clear it is an absolutely unacceptable practice and an act that will soon be illegal under Somali law, is against the provisional constitution and will be incorporated into our final constitution.
Full report at:
http://www.midnimo.com/2014/02/06/somalia-pm-education-solution-rid-country-fgm/
-------------
New round of South Sudan peace talks to get under way
Feb 10, 2014
South Sudan's warring parties were set to resume peace negotiations Monday in Ethiopia's capital, Addis Ababa, after talks had stalled for two weeks. A power struggle between President Salva Kiir and his former deputy Riek Machar turned violent in mid-December when clashes erupted between their respective ethnic groups, the Dinka and the Nuer.
No firm agenda has been set for the second round of talks between the government and Machar's supporters, which are scheduled to begin at 5 pm (1400 GMT).
The talks will focus "on political dialogue and national reconciliation," the Intergovernmental Authority on Development (IGAD), an East African trading bloc that is facilitating the negotiations, said in a statement.
Full report at:
http://voiceofrussia.com/news/2014_02_10/New-round-of-South-Sudan-peace-talks-to-get-under-way-4562/
-------------
Central Bank of Libya to phase out one dinar notes with Qaddafi picture
Feb 10, 2014
The Central Bank of Libya (CBL) is to begin withdrawing one-dinar notes bearing the picture of Muammar Qaddafi, phasing them out completely in one year's time.
The CBL has said that the two blue and purple versions of the one dinar note bearing the image of Qadhafi are being removed as of 6 February 2014.
It has asked all citizens to take the notes to banks as soon as possible.
The notes have been replaced by a slightly smaller lilac note depicting revolutionary youth and the independence flag introduced into circulation in February last year.
http://www.libyaherald.com/2014/02/10/cbl-to-phase-out-one-dinar-notes-with-qaddafi-picture/#ixzz2suXjyv8V
---------
Southeast Asia
Filipino marines kill 6 Muslim extremists in clash
Feb 10, 2014
Philippine marines killed at least six Muslim extremists and captured one of their jungle lairs in a clash in the south, military officials said on Monday. Backed by village militias, the marines launched an assault over the weekend after several Abu Sayyaf militants were monitored in their jungle lair near Talipao town on Jolo Island, marine brigade commander Col. Jose Cenabre said.
Marine officers involved in the fighting said three militants were killed in a clash and three more died later in military shelling. Six village militias on the side of the marines were wounded. Marines were clearing the captured Abu Sayyaf encampment of booby traps and searching for homemade bombs and rebel documents.
Full report at:
http://www.thehindu.com/news/international/world/filipino-marines-kill-6-muslim-extremists-in-clash/article5672697.ece
-------------
Taib's Departure To Open The Door For Umno To Further Plunder, Racialize, Islamize Sarawak?
Feb 10, 2014
KUCHING - Although speculation has been rife over the retirement of Sarawak chief minister Tan Sri Taib Mahmud, no word has yet to come out from his mouth on when he will retire and who will take his place. As such, Taib's successor has become not only the focus of attention in the state but also the whole country.
Possible successors
In addition to the state housing minister Datuk Amar Abang Johari Tun Openg and second resource planning and environment minister Datuk Amar Awang Tengah Ali Hassan as dark horses to the office of chief minister, minister in chief minister's office & minister of special functions Tan Sri Datuk Amar Adenan Satem and former federal minister of agriculture Datuk Seri Mohd Effendi Norwawi have also been named as possible candidates.
Abang Johari, who is also PBB deputy president, is seen as the favorite. A notable leader with vast influences within the Malay society, Abang Johari enjoys the support of a solid grassroots base and many Malays and non-Malays alike see him as a truly amicable and competent leader.
Full report at:
http://www.malaysia-chronicle.com/index.php?option=com_k2&view=item&id=224891:taibs-departure-to-open-the-door-for-umno-to-further-plunder-racialize-islamize-sarawak?&Itemid=2#ixzz2syAo9uHA
---------
Prove anti-Malay, anti-Islam claim and I'll ask Teresa Kok to apologise, says Kit Siang
Feb 10, 2014
Lim Kit Siang has promised today said he would ask Teresa Kok to apologise and withdraw her "Onderful Malaysia" video if anyone can show that the video is anti-Malay or anti-Islam .
The DAP adviser said he watched the 11-minute video closely several times but could not find anything that is remotely un-Islamic.
Instead, Lim said the video was a "stinging critique" on the alleged failures of the Najib administration to resolve pressing national concerns.
"We can agree or disagree as to whether Teresa's video was good, bad or even atrocious... but what is completely unacceptable is resort to lies and falsehoods to accuse Teresa's video as anti-Malay and anti-Islam," he said in a statement today.
Full report at:
http://www.themalaysianinsider.com/malaysia/article/prove-anti-malay-anti-islam-claim-and-ill-make-theresa-kok-apologise-says-k
-------------
Mideast
Yemen: Justice for Past Abuses, Women's Equality Should Not Wait for New Constitution
FEBRUARY 10, 2014
(Sanaa) – Yemeni lawmakers should act on recommendations by the National Dialogue Conference on Yemen's future constitution. In particular, the lawmakers should address recommendations that promote justice for abuses during the 2011 uprising, defend women's equality, and promote other basic rights.
The 565-member National Dialogue Conference began in March 2013 to bring together all segments of Yemeni society to set the country's future direction, including the framework and principles for a new constitution, restructured government and national elections. Some lawmakers may seek to use contradictory language in the final conference report, issued on January 21, 2014, to delay or ignore recommendations on rights, Human Rights Watch said.
"The national dialogue process ended with excitement and congratulations, but political leaders might take advantage of conflicting recommendations on key rights issues to stymie reform," said Sarah Leah Whitson, Middle East director at Human Rights Watch. "The best course is for the politicians to resolve any disagreements in accordance with Yemen's international human rights obligations."
Full report at:
http://www.hrw.org/news/2014/02/09/yemen-start-moving-national-dialogue-proposals
-------------
Iran will not discuss its missile programme, say Iranian authorities
Express News Service | February 10, 2014
Iran's ballistic missile programme will not be discussed in nuclear negotiations with world powers, the deputy foreign minister said in statements published on Monday. The remarks by Abbas Araqchi, who is also Iran's lead negotiator with world powers, came a week before negotiations were to resume on a comprehensive accord over Tehran's nuclear ambitions. "Iran's defence-related issues are not up for negotiations," Araqchi said, according to media reports. "We will not discuss any issue other than the nuclear dossier in the negotiations," he added.
US lead negotiator Wendy Sherman told a Senate hearing last week that Iran's ballistic missile programme would be addressed in the comprehensive deal. "The defence-related issues are a red line for Iran. We will not allow such issues to be discussed in future talks," said Araqchi. Western nations and Israel have long suspected Iran of covertly pursuing nuclear weapons alongside its civilian programme, allegations that Tehran denies repeatedly. Tehran insists its programme – boasting long-range missiles with a maximum range of 2,000 kilometres, enough to reach Israel – is an integral part of its defence doctrine.
Full report at:
http://indianexpress.com/article/world/middle-east-africa/iran-will-not-discuss-its-missile-programme-say-iranian-authorities/2/
-------------
Attacks on Gaza jihadists signal quiet Israeli revival of targeted killings
Feb 10, 2014
Three attacks in recent weeks have all targeted 'rebel' Gazan terrorists working independently of Hamas, following increased tensions on Gaza border region.
The attempt to assassinate jihadi terrorist Abdallah Kharti in Gaza on Sunday morning indicates that the Israeli policy of targeted killings is being quietly revived. Israel never said it would stop trying to kill terror operatives, but since it launched Operation Pillar of Defense in November 2012, there has been a...
Full report at:
http://www.haaretz.com/news/diplomacy-defense/.premium-1.573284
-------------
Palestinine proposes NATO presence as peaceful solution with Israel
Feb 10, 2014
Palestinian authority president, Mahmoud Abbas, is proposing a solution to break the stalemate between his people and Israel. Speaking exclusively to The New York Times, Abbas threw out the idea of having NATO forces stationed indefinitely in the West Bank.
Abbas says it will be a good compromise--the Israelis will feel like they have an ally, and Palestine will feel safe.
Could such a solution work?
Jeff Aronson, editor of the report Israeli Settlements in the Occupied Territories, published by the Foundation for Middle East Peace, says a version of that idea has been thrown out before, only to be rejected by Israel.
"Israel has a problem in principle with what it views as subcontracting its own national security to a third party, even one as reliable and monostanding as NATO or the U.S. itself. That's a fundamental, conceptual principle problem."
Full report at:
http://voiceofrussia.com/us/2014_02_08/Palestinine-proposes-NATO-presence-as-peaceful-solution-with-Israel-6737/
-------------
Europe
Violence could force out CAR's Muslim population - HRW
Feb 10, 2014
Religious violence in the Central African Republic could force its entire Muslim population to flee, a senior human rights worker has told BBC News.
Human Rights Watch emergency director Peter Bouckaert said this could affect the economy, as Muslims control the livestock market and other businesses.
Violence between the Christian majority and Muslims has torn the country apart since a coup last year.
Mr Bouckaert said at least ten people died this weekend in the capital city.
He said he had personally witnessed a Muslim being hacked to death in Bangui, in retaliation for the reported killing of six people by Muslim fighters.
The French news agency AFP said there was some dispute over the religion of the victim.
Tens of thousands of Muslims have already fled the to neighbouring Cameroon and Chad.
The CAR, one of Africa's poorest nations, has been in chaos for more than a year since Muslim Seleka rebels seized power.
Full report at:
http://www.bbc.co.uk/news/world-africa-26109987
------------
Iran to address western suspicion over design of nuclear weapon
By REUTERS
02/10/2014
VIENNA - Tero Varjoranta, the UN nuclear agency's chief inspector, spoke to reporters on Monday, after Iran agreed to start addressing suspicions that it may have worked on designing an atomic weapon, a potential breakthrough in a long-stalled investigation into Tehran's atomic activities.
Iran and the UN nuclear agency have made progress in talks on the country's disputed nuclear program but there are still many outstanding issues, the watchdog's chief inspector. Varjoranta said progress had been "good" but added: "There are still a lot of outstanding issues."
The UN nuclear agency said on Sunday that Iran had agreed to start addressing suspicions that it may have worked on designing an atomic weapon. The development - although limited for now - marked a step forward in an international push to settle a decade-old dispute over Iran's nuclear program. Tehran says this is peaceful, while the West fears that Iran wants to develop atomic arms.
Full report at:
http://www.jpost.com/Iranian-Threat/News/Iran-admits-May-have-worked-on-designing-nuclear-weapon-340918
-------------
No plans for West to send troops to southern Libya
Feb 10, 2014
There are no plans to send Western troops to southern Libya where Islamist fighters have established bases, France said Monday, after Niger urged such a mission.
Foreign Minister Laurent Fabius, asked about Niger's appeal on RTL radio, said: "No. A deployment, no."
He added that an international meeting would take place in Rome early next month aimed at "giving more help to Libya, because it's true that there are terrorist gatherings in the south".
http://voiceofrussia.com/news/2014_02_10/No-plans-for-West-to-send-troops-to-southern-Libya-5509/
-------------
British pilots fired at least 39 missiles in Afghanistan using US drones – MoD
Feb 10, 2014
The British Ministry of Defence reveals for the first time how British crews using unmanned US aircraft launched missiles in conflict zones. According to new figures, British pilots have launched at least 39 missile strikes against suspected Taliban insurgents from US drones based in Afghanistan. The details have emerged from the Ministry of Defence.
The MoD states that British drone pilots always operate under UK rules of engagement, whatever asset they are flying. However, campaigners have called for an investigation of the use of the aircraft and criticized a lack of transparency about programmes run by US and British armed forces.
Full report at:
http://voiceofrussia.com/news/2014_02_10/British-pilots-fired-at-least-39-missiles-in-Afghanistan-using-US-drones-MoD-1524/
------------
Drone victim set to testify before European Parliamentarians disappears
MEENA MENON
2014-02-10
Karim Khan, who lost his son and brother in a US drone attack some years ago had mustered courage to file a case against the CIA station director. He was due to travel to Europe this Saturday when he was picked up on February 5 by unidentified men dressed in police uniforms, according to his lawyer Shahzad Akbar, Director of the Foundation for Fundamental Rights.
Khan was to give evidence to Parliamentarians but he has not been seen since, according to his family. On Monday the Foundation for Fundamental Rights filed habeas corpus proceedings on behalf of the family before the Lahore High Court, Rawalpindi Bench. Mr. Akbar said the court admitted the petition and issued notices to the police to present Khan on February 12.
In a press statement the legal charity Reprieve which is partnering the Foundation, said Khan who is also involved in legal proceedings against the Pakistan government on the failure to investigate the deaths of his son and brother in a drone strike, was seized in the early hours at his home in Rawalpindi by 15-20 men in police uniform and plain clothes, say witnesses.
Full report at:
http://www.thehindu.com/news/international/south-asia/drone-victim-set-to-testifybefore-european-parliamentarians-disappears/article5673865.ece
-----------
URL: https://www.newageislam.com/islamic-world-news/new-age-islam-news-bureau/bengal-government-helping-fundamentalists,-jamaat-e-islami-in-bangladesh/d/35677