New Age Islam News Bureau
14 April 2022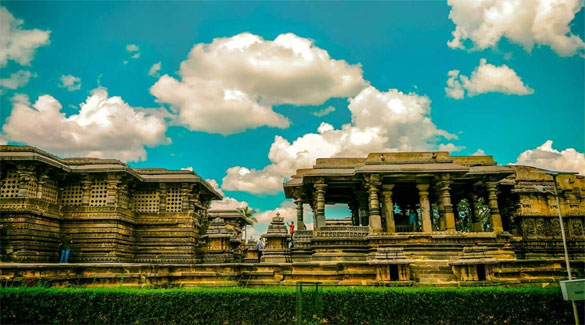 Chennakeshava temple in Belur. (Photo: Karnataka Tourism Department)
-----
• Anjuman-e-Islam Members Offer Pooja At Hanumantha Temple in Karnataka
• Painting Depicting MPs As Apes, Frogs Against Islamic Teachings, Says Ex-Minister
• Afghan Taliban Smuggling Weapons To Pak For Skirmishes Along India Border: Report
• French MPs Ask for Further Imposition Of Sanctions On Taliban
India
• Jamaat-e-Islami Hind Demands Govts To Curb Anti-Muslim 'Mischief'; Appeals Political Parties, To Play Their Roles In Preventing 'Cycle Of Hatred, Poisonous Speech, And Violence'
• Message Of Amity In Karnataka: Muslims Of Koppal Village Join Hanuman Puja
• Hyderabad: Hindutva groups spreading anti-Muslim hate through music
• Stop unlawful demolitions of Muslim properties: Amnesty India
• No Anti-Muslim Hate Speech Was Made At Delhi Hindu Yuva Vahini Event In December, Police Tells SC
• Good move, Madhya Pradesh home minister Narottam Mishra on CCTVs in mosques
• Muslim Clerics Meet State Home Minister, DGP of Madhya Prasesh To Voice Their Concern Over Khargone's Communal Violence
• 'Rape threat' to Muslim women: Seer Bajrang Muni Das held for Sitapur hate speech
• Terrorists gun down civilian in J&K, 6th targeted attack in 11 days
--------
Southeast Asia
• Puad Offers To Buy Sultan's Painting Depicting Mps As Apes And Frogs
• Rights Groups Slam Harassment Of Thai Muslim Activist
• Rohingya Militant Group Targeting Malaysia-Based Refugees with Online Campaign
• Zahid tells court charity work could not continue as Yayasan Akalbudi funds frozen
• Putrajaya ups special grant for Sabah by more than 4 times
--------
South Asia
• Religious Scholars in Paktika Province Urges Taliban to Reopen Girls' Schools
• Ramadan unites Muslims and Christians in Bangladesh
• Taliban Tries Seven Kidnappers and Others in Military Court
• Afghanistan's Central Bank Lifts Limitations on Salary Withdrawal
--------
Europe
• Paris attacks suspect says he changed his mind at last moment
• Iranian embassy in London denies Guardian's report
• UK has 'abandoned' US-Briton held in Iran: Daughter
--------
North America
• Muslim Association Of Canada Says Canada Tax Agency Guilty Of Systemic Bias And Islamophobia
• US: Minnesota Muslims Ask For Clemency For Mosque Bombers
• US apologized to UAE for delayed response to Houthi attacks: Report
• 2 Illinois men get 30 years in Minnesota mosque bombing
• US Navy says new task force to patrol Red Sea amid Yemen war
--------
Pakistan
• US Congratulates Sharif On Becoming Pakistani Prime Minister, Reaffirms 'Value' Of Their Relationship
• Imran Khan Asks Judiciary To Explain Why Courts Opened Their Doors At Midnight Prior To His Ouster
• Imran Khan 'forcing' PTI lawmakers to resign from Pakistan's National Assembly: PML-N leader
• Pakistan: JUI-F activists protest against kidnapping of prayer leader in Sukkur mosque
• Retired generals term audio clips against army attributed to them 'fake'
--------
Africa
• Osinachi's Death: How Pastors, Imams Play Key Role In Domestic Violence Revealed
• Tanzania's Kizimkazi Mosque, a reminder of Iranian culture in East Africa
• Libya's rival governments start UN-backed talks in Egypt
• 154 people killed in gun attack in Nigeria
--------
Arab World
• Iraq's Mosul Revives Shattered Cultural Scene With Traditional Music Festival
• Swiss prosecutors drop 11-year Arab Spring probe of Egyptians
• Syrian immigrant Zack Tahhan helps capture New York subway shooting suspect
• Terror group PKK's presence in N. Iraq prevents mine clearance: Official
• Iraq thwarts rocket attacks against vital facilities
• Saudi Arabia reiterates support to cash-strapped Lebanon
--------
Mideast
• Supreme Leader Asks Gov't to Advance Plans Irrespective of Vienna Talks' Results
• Afghan People Call for Unity with Iranians after Recent Bitter Incidents
• Iran Urges Taliban Gov't to Account for Attacks on Diplomatic Missions
• Spokesman: Iran, Afghanistan Able to Resist Conspiracies
• Two Palestinians killed in Israeli West Bank raid: Palestinian health ministry
• Iran says preliminary deal reached on frozen funds abroad
• War in Yemen is 'model' for success or failure of UNSC: Expert
Compiled by New Age Islam News Bureau
URL: https://www.newageislam.com/islamic-world-news/belur-temple-rathotsava-quran-recitation/d/126794
--------
Belur Temple Continues Tradition Of Kicking Off Rathotsava Festival With Quran Recitation Despite Opposition From Right-Wing Activists in Karnataka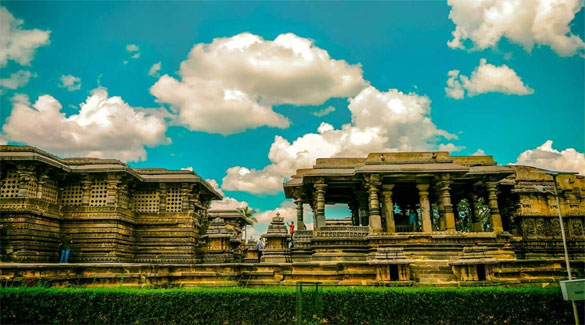 Chennakeshava temple in Belur. (Photo: Karnataka Tourism Department)
-----
by Darshan Devaiah BP
April 14, 2022
The historic Chennakeshava temple in Belur continued with its age-told tradition of kicking off the Rathotsava (car festival) after reciting passages from the Quran, despite opposition from right-wing activists.
The state's endowment department allowed the temple authorities to go ahead with the practice on Wednesday. The annual celebration started on Wednesday under strict vigil of the district police. Hundreds of people from across the state thronged the Chennakeshava temple to witness the two-day car festival.
"Since a long time, reading excerpts from the Quran has been the tradition that is followed. However, this year, there was confusion as the temple authorities had initially issued a notice barring Muslim traders from setting up stalls. However, the endowment department took the suggestion from various priests and decided to go ahead with the tradition," an official said..
According to the tradition, a Maulvi reads out excerpts from the Quran to mark the beginning of the celebrations at the Chennakeshava temple. Recently, as the spectre of communal tension loomed large over Karnataka, right-wing activists had urged the district administration and temple authorities to bar Muslim traders from taking part in the festival.
However, the state endowment department had directed the temple administration not to bar any non-Hindu traders and allowed them to set up stalls and participate in the celebrations, according to senior officials from the endowment department.
"Earlier, the temple administration had issued a notice to Muslim shopkeepers and urged them to close their shops. However, the government allowed them to take part in the festival and directed the temple administration to allow non-Hindus to set up stalls. Accordingly, around 15 Muslim traders had set up their shops," a senior official told The Indian Express.
Source: Indian Express
Please click the following URL to read the text of the original story:
https://indianexpress.com/article/cities/bangalore/karnataka-belur-temple-rathotsava-festival-quran-recitation-7868540/
--------
Anjuman-e-Islam Members Offer Pooja At Hanumantha Temple in Karnataka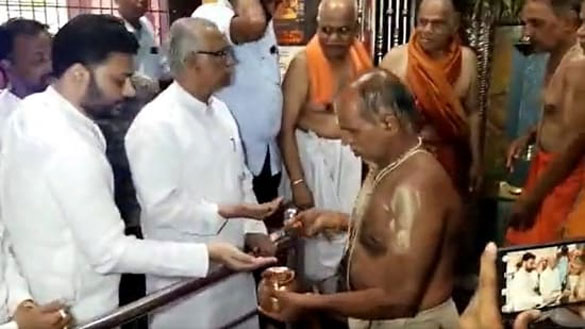 Members of Anjuman-E-Islam from Dharwad offered a special pooja at the Sri Nuggikeri Hanumantha temple
-----
Apr 13, 2022
By Yamini C S
Members of the Anjuman-E-Islam, an educational and social organization, from Dharwad, offered a special Pooja at the Sri Nuggikeri Hanumantha temple on Monday where a Muslim vendor's fruit cart was vandalised, The New Indian Express reported.
Four Sri Ram Sene activists were held by police for the vandalism, making it one of the first arrests on the matter of economic boycott of Muslim vendors around temple premises.
The vandalism had reportedly occurred on Saturday when members of the Sri Ram Sene, donning saffron shawls, allegedly broke and damaged at least four fruit carts carrying watermelon near the Sri Nuggikeri Hanumantha temple in the Dharwad district.
Similar incidents have been reported across the country on the occasion of Rama Navami as several communal clashes broke out between communities, including stone pelting during processions, arson, and damage to shops and vehicles at multiple places.
The arrests of Sri Ram Sene members were made by Karnataka Police on Sunday.
Superintendent of police P Krishnakant has reportedly told The Indian Express that the accused have been identified as Mailarappa Guddappanavar, Mahaling Aigali, Chidanand Kalal and Kumar Kattimani. According to the report, eight people have been named in the first information report (FIR) and police are on the lookout for the others.
Former CM and Janata Dal (Secular) leader H D Kumaraswamy, condemned the incident and demanded that the activists be booked for their activities.
The vandalism incident comes after Muslim vendors were banned from trading their products at several temple fairs and annual festivals in many parts of Karnataka in retaliation after Muslims called for a state wide bandh to protest the High Court verdict which upheld the ban on wearing of hijab (headscarves) in educational institutions.
When asked by opposition Congress leaders to take action against activists for banning the Muslim vendors, the ruling BJP government cited a 2002 rule in the Assembly, issued under the Karnataka Hindu Religious Institutions and Charitable Endowments Act, 1997, under which non-Hindus are not permitted to trade on temple premises.
Source: Hindustan Times
Please click the following URL to read the text of the original story:
https://www.hindustantimes.com/cities/bengaluru-news/anjumaneislam-members-offer-pooja-at-hanumantha-temple-101649761007143.html
--------
Painting Depicting MPs As Apes, Frogs Against Islamic Teachings, Says Ex-Minister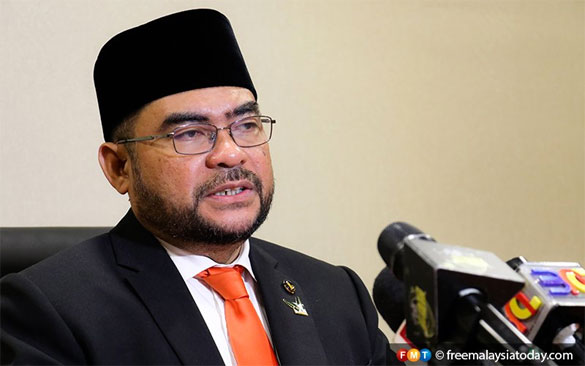 Mujahid Yusof Rawa says the artist went overboard by depicting MPs as apes.
-----
April 13, 2022
PETALING JAYA: A painting depicting MPs in the Dewan Rakyat as apes and frogs is against Islamic teachings, according to former religious affairs minister Mujahid Yusof Rawa.
He said, as a Muslim, he was against such political satire as the Quran had prohibited name-calling and looking down on people.
The Parit Buntar MP said Allah would brand those who did not end such practices as cruel.
"Satire in any form must respect Islamic ethics," he said in a Facebook post.
Mujahid said this in response to reports that the sultan of Selangor, Sultan Sharafuddin Idris Shah, had purchased this painting and that he intended to auction it and donate the proceeds to charity.
Mujahid, who is also Amanah vice-president, claimed the artist had gone overboard by depicting all MPs as apes, even though it was meant to be a satirical piece.
"Respect the choice of the constituents who do not want to be portrayed as voters who backed apes."
Source: Free Malaysia Today
Please click the following URL to read the text of the original story:
https://www.freemalaysiatoday.com/category/nation/2022/04/13/painting-depicting-mps-as-apes-frogs-against-islamic-teachings-says-ex-minister/
--------
Afghan Taliban Smuggling Weapons To Pak For Skirmishes Along India Border: Report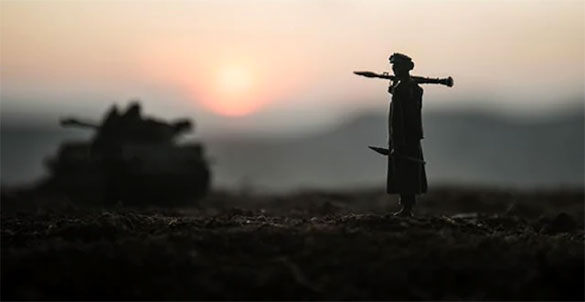 Representative Image
----
April 14, 2022
Contrary to its claim that the Taliban will not allow Afghanistan or the weapons to be used for terrorism, the group has been reportedly accused of smuggling weapons to Pakistan, which eventually may be used in cross-border skirmishes against India.
"Taliban has been insisting that there are proper security checks to prevent any weapons smuggling because they are an improved Taliban. But the weapons market is thriving and the weapons that are being smuggled into Pakistan will eventually be used in cross-border skirmishes against India and make their way into India," according to a Canada-based think tank, International Forum for Rights and Security (IFFRAS) said.
But before that Pakistan will have to pay a huge price if it does not control illicit arms trafficking. Ultimately it is going to suffer first when the separatist and terrorist organisations operating from its land get a hand on these weapons on a large scale, it warned.
In August 2021, the US left much of the military equipment and weapons at the disposal of the Afghan forces which eventually fell into the hands of the Taliban.
After capturing Kabul, Taliban not only took political control of Afghanistan but had also gained control of all the US-made weapons and military equipment that were left behind by the fleeing Afghan forces.
The US-made arms and military accessories are openly traded in shops by Afghan gun dealers. The traffickers are collecting the weapons from the abandoned Afghan army bases, and procuring them from the Afghan government soldiers and Taliban fighters. These weapons are then mostly sold in weapons markets or arms bazaar in tribal areas of the Afghan-Pakistan border, it added.
The arms smugglers in Pakistan's borders are having a field day. The weapons from Afghanistan are smuggled into Pakistan in trucks carrying fruits and vegetables. The main points of entry through which the arms are smuggled are Torkham border crossing Torkham (Khyber Pakhtunkhwa), Chaman (Baluchistan), Ghulam Khan (North Waziristan) and Nawa Pass (Bajaur), it said.
Meanwhile, Afghanistan is the prime source of opium supply to the world drug markets and Pakistan is the transport hub with drug networks operating from the country using its drug routes to reach international markets, according to an article in Islam Khabar.
The article said the geographical location of Pakistan makes it one of the prominent drug transit points along the Southern route. It said Pakistan is also depending on the narcotic trade for sponsoring terror in India.
Pakistan shares 2400 kilometres of border with Afghanistan, which is largely porous. And this has served a transit corridor for drug traffickers. Forty per cent of Afghan drugs transit Pakistan before they reach the international markets.
Tonnes of opiates and meth are trafficked from Afghanistan to the Torkham border crossing, Ghulam Khan in Khyber Pakhtunkhwa province, from where they are sent to Lahore and Faisalabad, reassembled into huge consignments, the article said.
Then they are transported to Karachi and Gwadar, and fishing vessels in Makran coast are used for drugs transport to the South Asian markets. Balochistan has also been an important drug transit route in Pakistan.
Islam Khabar said around 60 alternative drug routes are working through the Balochistan province alone, with major areas being Chaman, Noshki, Chagaghi, Dalbandeen, Panjgor, Turbat, Gawadar and Jeewani.
Source: Business Standard
Please click the following URL to read the text of the original story:
https://www.business-standard.com/article/international/taliban-smuggling-weapons-to-pak-for-skirmishes-along-india-border-report-122041400148_1.html
--------
French MPs Ask for further Imposition of Sanctions on Taliban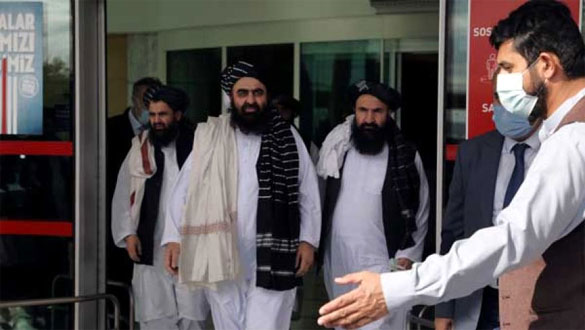 Representative Image
----
13 Apr 2022
Over 50 French Parliament Members asked the country's president Emanual Macron to impose further sanctions on the Taliban and prevent their free movement.
The MPs in a letter concentrated on the violation of women's rights in Afghanistan, preventing girls from getting an education, a travel ban on women, and depriving women of working.
The letter that was signed by the MPs was sent both to President Macron and the parliament of the European Union.
The letter further reads that the limitations on women traveling are inhumane.
Mahdi Obaid, a coordinator of the letter told the media that the MPs focused much on the closure of schools for girls and the overall situation of Afghanistan.
In the letter, the MPs asked that process of normalization of relations with the Taliban should stop and their free traveling should be prevented.
This comes after the Taliban closed schools for teenage girls in the country and women have reportedly been arrested in central Bamyan province.
Source: Khaama Press
Please click the following URL to read the text of the original story:
https://www.khaama.com/french-mps-ask-for-further-imposition-of-sanctions-on-taliban-347457345/
--------
India
Jamaat-E-Islami Hind Demands Govts To Curb Anti-Muslim 'Mischief'; Appeals Political Parties, To Play Their Roles In Preventing 'Cycle Of Hatred, Poisonous Speech, And Violence'
April 13, 2022
After the recent communal violence witnessed in some parts of the country over Ram Navami processions, the Jamaat-e-Islami Hind (JIH) on Wednesday demanded the Centre and the state governments curb such acts immediately.
Calling the incidents 'anti-Muslim mischiefs', JIH Vice President Salim Engineer said, "The same pattern was seen in all these places where processions were first taken out on the occasion of a festival, special flags were waved, weapons, especially swords and knives, were openly brandished and provocative and disparaging slogans were raised against Muslims and Islam.
"Attempts were also made to damage some mosques. In some places, property and shops owned by Muslims were also damaged. Incidents of arson and looting were also noted. All these incidents reflect the growing atmosphere of unrest and hatred in the country."
The engineer said that it is a matter of great concern that some state governments through their actions are now inculcating a feeling in the people that they are the governments of a particular people of the country, while governments should treat all citizens fairly.
"This attitude of some state governments has emboldened the miscreants. Reports are being received from many places that the police are targeting the victims instead of taking action against the culprits. Large number of innocent Muslim youth are being arrested and false charges are being framed against them. In Madhya Pradesh, there are cases of extreme cruelty where people's houses are being demolished by bulldozers," he said.
Condemning these incidents, Engineer said, "JIH believes that these incidents are the product of the hatred that is being spread across the country. Some political leaders known for their vitriolic speeches are also responsible for the violence. They should be arrested immediately. These ongoing incidents are undermining public confidence in the government and the administration.
"It is also the responsibility of the Central government to take notice of the situation and call upon the state governments to take timely and stern action against the elements responsible for the violence as well as the forces inciting sectarian hatred. Action should also be taken against the police officers who are biased and guilty of dereliction of duty."
The engineer went on to say: "JIH has been working for the establishment of law and order in all these areas since day one. JIH leaders are trying to liaise with state officials and the police and press for effective action. A central delegation is also reaching Madhya Pradesh where the situation is quite grave.
"Efforts are being made to establish law and order in these areas in collaboration with civil society groups and leaders of different religions. Efforts are also being made to take legal action against the oppressors and provide legal assistance to the oppressed."
On Tuesday, the President of Jamaat-e-Islami Hind held a meeting with the JIH state leadership of all the affected areas, reviewed the situation and gave necessary instructions to the state leadership and to the departments concerned.
According to its state leadership, various efforts are being made to provide immediate assistance to the distressed victims, including legal action against the oppressors and rioters.
The JIH appealed to the Muslim community to continue building the country and society while adhering to the highest values of prudence, patience and justice in the current situation.
Engineer said, "Don't be instigated by any kind of provocation or fear. Fight the situation within the law without any psychological pressure and keep trying to improve the situation in coordination with just people. Fight hatred by sharing love.
"These are the Islamic teachings and this is also the way of the Prophet Muhammad (peace be upon him) who was a mercy to the worlds. In this blessed month of Ramadan, let us also take special care to offer prayers for the betterment of the situation and peace and order in the country."
Source: The Statesman
Please click the following URL to read the full text of the original story:
https://www.thestatesman.com/india/jamaat-e-islami-hind-demands-govts-curb-anti-muslim-mischief-1503060163.html
--------
Message Of Amity In Karnataka: Muslims Of Koppal Village Join Hanuman Puja
Apr 14, 2022
KOPPAL: Young Muslim residents of a village in Koppal district spontaneously participated in a community Hanuman puja this week and chanted 'Jai Shri Ram' along with the Hindu faithful. They sought to send out a message of amity amid strife in the state over the hijab row, the halal debate and attempts to shunt out Muslim-owned businesses from temple sites.
The villagers' decision to be part of the event at the 'Devi Camp' in Karatagi taluk was voluntary and didn't require prodding from anyone, said Rajjabali Bevingidad, one of the participants.
Former Congress minister Shivaraj Tangadagi said he organised the five-day ceremony, ending Saturday, as a purely religious event untouched by politics. "I was pleasantly surprised to find youngsters from the Muslim community voluntarily participating in the puja. We hadn't invited them to the event; so I appreciate their coming to the puja even more."
Khadar Basha, one of the Muslim participants, said he felt enriched by the experience. "When we learnt that former minister Tangadagi was conducting the Hanuman Mala at Devi Camp on Tuesday evening, we decided to join in. We offered puja to Lord Hanuman and sat through all the rituals, which went on for hours.''
Basha insisted that talk of a rift between Hindu and Muslim communities over some issues didn't reflect the relationship they have shared over decades. "A few elements are trying to sow the seeds of discord between us. We are all members of the same family, and we must live like that, respecting each other's faith. In our village and taluk, people, regardless of their religion, are living in harmony." he added.
Earlier this month, TOI reported on how a decades-old culture of shared traditions in a Karnataka village cut through the cacophony of the halal row as Hindu and Muslim residents got together for Ugadi rituals by the banks of the Krishna before feasting on a festive spread that included halal meat.
Source: Times Of India
Please click the following URL to read the full text of the original story:
https://timesofindia.indiatimes.com/city/mysuru/karnataka-muslims-of-koppal-village-join-hanuman-puja/articleshow/90833018.cms
--------
Hyderabad: Hindutva groups spreading anti-Muslim hate through music
13th April 2022
Shaista Khan
Hyderabad: It was in the year 2007 when a little-known singer Tarun Sagar sang 'Banayenge Mandir, Kasam Tumhari Ram', a so-called bhajan, which gained popularity across not only in India, but also in other parts of the world where many Hindus live. Millions of CD's and audio cassettes of the album were sold across the globe.
Initially, intelligence agencies did not see any specific threat to law and order or the social fabric of the country through such albums. A year later however, the Maharashtra police found the content was responsible for spreading riots in the state. In 2009, the police had banned the VCD of the album 'provocative' songs of Tarun Sagar and another singer Saju Sharma, both produced by Ambe Series Company.
Many in the intelligence circles across the country then itself knew that hate speeches will no longer be heard at public gatherings, instead, the 'venom spreading' will be done through songs with provocative and instigative words to promote and spread hatred.
Around 15 years later, during the Shri Ram Navami procession in Telangana's capital Hyderabad, songs with provocative phrases targeting Muslims were sung by none other than Bhartiya Janata Party (BJP) legislator T Raja Singh himself. He was singing songs set to the tune of Hindi movie numbers, in which he indirectly warned minorities "to leave the country".
He sang, "Jo ram ka naam na le unko Bharat se bhagana hai," [those who don't take the name of Lord Ram will have to be chased out of India]. He also said that after Ayodhya, now in Mathura and Kashi, Uttar Pradesh chief minister Yogi Adityanath (Ajay Singh Bisht) will make India a "Hindu Rashtra" very soon.
This is not the first time Raja Singh song went viral on social media platforms at a religious event, or for indulging such a hateful act. Earlier, he sang another song 'Baap Bolteh' and it too created records albeit in saffron circles.
Intelligence officials monitoring communal hatred predicted that more such songs and albums in the future will come. "It is a tested trend. In the last 15 years, Hindutva groups have found that such songs are sending a strong message to large audiences and showing good impact. Hence they will be making more albums," said an official, who did not want to be named.
In the market, many such CD's of local singers who are termed "Hindutva pop artists" are available at a throwaway prices right under the nose of the police. Thanks to the remuneration received with each hit, artists and production companies are posting it on YouTube as well.
Law enforcers on the other hand point out that no action can be initiated unless complaints are received from someone. "It being a religious matter we cannot book suo-motu cases and seize the CDs even if found provocative. It will lead to unnecessary conflict," explained a police official.
The fact that the law enforcement agencies are ignoring the point that such songs are recorded at full-fledged recording studios and music companies in cities are spending a fortune to make the hate music albums hit and they are not able to impose a clamp down is a worrying point, said Amjedullah Khan, MBT leader .
Source: Siasat Daily
Please click the following URL to read the full text of the original story:
https://www.siasat.com/hyderabad-hindutva-groups-spreading-anti-muslim-hate-through-music-2307498/
--------
Stop unlawful demolitions of Muslim properties: Amnesty India
14th April 2022
Amnesty International India on Friday demanded Indian authorities to stop "apparent unlawful demolitions" of largely Muslim owned properties in Khargone, Madhya Pradesh.
The human rights group was responding to reports of demolitions of largely Muslim owned shops and houses following incidents of communal violence during Sri Ramnavami celebrations in Madhya Pradesh Khargone district. Amnesty India termed the coercive action as a "collective punishment" and "violation of human rights laws".
Aakar Patel, chair of Amnesty International India's board said in a statement, "Over the last few days, the country has witnessed some deeply disturbing events related to unlawful action of demolishing private property of people suspected of rioting, allegedly without notice or other due process requirements is a major blow to the rule of law. The majority of the demolished properties are owned by the Muslims. Such punitive demolition of family homes of suspects could also amount to collective punishment, violation of International Human Rights Laws".
He added that the authorities must "urgently" carry out a thorough, impartial and transparent investigation into the demolitions and ensure that those responsible for fanning violence and vandalism are brought to justice through fair trials. "Victims must be provided with effective remedy. It is the duty of the State to protect all the people within its jurisdiction, including minority communities," the chair of Amnesty International India stated.
Source: Siasat Daily
Please click the following URL to read the full text of the original story:
https://www.siasat.com/stop-unlawful-demolitions-of-muslim-properties-amnesty-india-2308294/'
--------
No Anti-Muslim Hate Speech Was Made At Delhi Hindu Yuva Vahini Event In December, Police Tells SC
14th April 2022
The Delhi Police has told the Supreme Court that no anti-Muslim hate speech was made by journalist Suresh Chavhanke at a religious conclave organised in Delhi in December by the Hindutva organisation, Hindu Yuva Vahini, Live Law reported on Thursday.
The police made the submission in an affidavit filed in response to a public interest litigation filed by former judge of Patna High Court Anjana Prakash and journalist Qurban Ali. The petition stated that between December 17 and 19, hate speeches were made at two separate events – the one in Delhi and another in Haridwar.
In one of the videos of the Delhi event, Chavhanke, the editor-in-chief of television channel Sudarshan News, could be seen administering an oath to a group of people to "die for and kill" to make India a "Hindu Rashtra", or a Hindu nation.
However, in the affidavit, the police submitted that an investigation into the videos of the speeches made at the event showed that the words used did not target any particular community.
"None of the words spoken during the event described overtly or explicitly Indian Muslims as usurpers of territory and nothing was said which could create an environment of paranoia against any religion," the police told the court, Live Law reported.
The Delhi Police also alleged that the petitioners have approached the Supreme Court against the events with "unclean hands", Live Law reported. The police questioned why the petitioners had moved the court before approaching the police.
"The allegations made by the petitioners against the police authorities that police authorities are hand in glove with perpetrators of communal hate are baseless and imaginary," the police contended. "The case is based on videotape evidence. There is hardly any scope on the part of investigation agencies to tamper with the evidence or hamper the investigation in any manner."
Source: Scroll
Please click the following URL to read the full text of the original story:
https://scroll.in/latest/1021818/no-anti-muslim-hate-speech-was-made-at-delhi-hindu-yuva-vahini-event-in-december-police-tells-sc
--------
Good Move, Madhya Pradesh Home Minister Narottam Mishra On Cctvs In Mosques
Apr 14, 2022
BHOPAL: Madhya Pradesh home minister Narottam Mishra on Wednesday welcomed the initiative to install CCTV cameras in mosques.
"The initiative of the Bhopal city qazi to impose CCTVs at mosques is good. If it removes confusion and builds mutual trust, it should be welcomed," Mishra said after a delegation of Muslim leaders, led by Bhopal Shehr Qazi Syed Mustaq Ali Nadvi, met him on Wednesday.
The Shehr Qazi has asked all members to install CCTV cameras around all mosques.
Mishra said: "I met them and tried to resolve all their apprehensions. I made it very clear that the innocent will not be harassed but the guilty will not be spared." He also urged Muslim leaders to cooperate in identifying those who disturb communal harmony.
Mishra denied reports that many people were putting their houses on sale and migrating.
Ahead of festivals, all districts of MP in alert mode, says Narottam Mishra
Mishra denied reports that many people were putting their houses on sale and migrating. "It's baseless information," he told mediapersons.
On the Khargone violence, Mishra said the local administration will take its call on relaxation in curfew after reviewing the situation. There is peace and order in the district now, he said.
Source: Times Of India
Please click the following URL to read the full text of the original story:
https://timesofindia.indiatimes.com/city/bhopal/good-move-narottam-on-cctvs-in-mosques/articleshow/90831370.cms
--------
Muslim Clerics Meet State Home Minister, DGP of Madhya Prasesh To Voice Their Concern Over Khargone's Communal Violence
April 14, 2022
A delegation of Muslim clerics led by Bhopal Qazi Syed Mushtaq Ali Nadwi met Director General of Police (DGP) Sudhir Saxena and the state Home Minister Narottam Mishra to express its concern over Khargone's communal violence incident.
The delegation also voiced its concern over Bajrang Dal and other Hindu religious groups' announcement of taking out a procession in Muslim dominated areas on Hanuman Jayanti(April 16).
They urged the home minister and DGP to ensure tight security in Muslim dominated areas to avoid any untoward incident in the state capital.
"Bajrang Dal has announced to take out a procession on Hanuman Jayanti in Muslim dominated areas, which are highly sensitive with narrow lanes. They are repeatedly warning on social media to carry out a procession in Itwara and Budhwara localities. During this ongoing Ramzan festival, people of Muslim community in these areas are worried," the delegation stated in a letter handed over to the state home minister.
The Muslim clerics also informed that CCTV cameras would be installed in all the mosques across the state. Bhopal Qazi – Syed Mushtaq Ali Nadwi said the state home minister and the DGP have assured heavy police force to be deployed to maintain a peaceful situation during Ramzan.
Meanwhile, the delegation voiced its concern over state government's action against Muslim community in Khargone. It accused the police and the state government of baised action.
"This is nothing less than oppression of Muslims. Those who are guilty should be punished but without probing the veracity of accusations houses and business establishments of Muslims are being razed," said Syed Mushtaq Ali.
Source: The Statesman
Please click the following URL to read the full text of the original story:
https://www.thestatesman.com/india/mp-muslim-clerics-meet-hm-dgp-voice-concern-khargones-communal-violence-1503060218.html
--------
'Rape threat' to Muslim women: Seer Bajrang Muni Das held for Sitapur hate speech
14th April 2022
LUCKNOW: The Uttar Pradesh Police on Wednesday arrested Bajrang Muni Das of Maharishi Shri Laxman Das Udasi Ashram, days after he allegedly made a hate speech and issued a "rape threat" in Sitapur.
Additional Director General of Police (Law and Order) Prashant Kumar told PTI that police arrested him in Sitapur.
Bajrang Muni Das, the mahant of Maharshi Shri Lakshman Das Udaseen Ashram in Khairabad town of Sitapur, had allegedly made a hate speech against Muslims on April 2.
A video of it later surfaced on social media platforms.
In the two-minute video of the speech made outside a mosque, he could be heard using the term "jehadi" to refer to a community and threatening them if any Hindu girl is harassed by any man of that community, he would himself rape their women.
A video of him apologising for his statement surfaced on Friday evening, hours after police lodged an FIR against him.
Questioning the delay in the arrest of the seer, the Samajwadi Party had on Wednesday called the ruling BJP the "biggest enemy of brotherhood".
"Why are police still empty handed? The government should answer.
When will the bulldozer run on the accused? The CM should tell," the party asked in a tweet.
The post was followed by another tweet by SP president Akhilesh Yadav in which he asked CM Yogi Adityanath to act against the criminals hiding behind a saint's robe.
Meanwhile, Chief Minister Yogi Adityanath has said there is no place for riots in Uttar Pradesh, stressing that the Ram Navami celebrations coinciding with Ramzan went off without any incident of violence -- not even an altercation or "tu-tu, main-main".
His remark at an event Tuesday came against the backdrop of recent cases of communal violence in Rajasthan, Madhya Pradesh, West Bengal and Gujarat.
Adityanath said the situation during Ram Navami reflected the "new thinking of development" in UP.
He said Ram Navami-related processions were taken out at 800 places in the state that has a population of 25 crore.
It is also the month of Ramzan and "roza-iftar" programmes are also being held, he added.
"Nowhere has there been any 'tu-tu, main-main' (altercation), leave alone rioting."
"There is no place for 'danga-phasad' (rioting)," he said, adding that the state also has no room for anarchy, goodaism and rumour-mongering.
"Uttar Pradesh has proved this on the occasion of Ram Navami, the pious 'jayanti' of 'Maryada Purshottam Shri Ram'," he said.
No communal riot was reported during Ram Navami in the state.
However, the opposition Samajwadi Party had targeted the BJP government after a hate speech against Muslims by a seer, demanding his arrest.
Bajrang Muni Das, who had allegedly made the provocative remarks in Sitapur on the first day of Navratras, was arrested on Wednesday.
In the run-up to the assembly polls that brought Adityanath to power for a second consecutive term recently, law and order was projected as one of the main agenda of the Bharatiya Janata Party.
Source: New Indian Express
Please click the following URL to read the full text of the original story:
https://www.newindianexpress.com/nation/2022/apr/14/rape-threat-to-muslim-women-seer-bajrang-muni-das-held-for-sitapur-hate-speech-2441958.html
--------
Terrorists gun down civilian in J&K, 6th targeted attack in 11 days
Apr 14, 2022
SRINAGAR: Terrorists shot dead a 55-year-old driver from the Rajput community in south Kashmir's Kulgam district late Wednesday, taking the number of attacks targeting mostly migrants and Kashmiri Pandits in the Valley to six in 11 days.
The police identified the victim as Satish Kumar Singh, a resident of Kulgam's Kakran area. He was attacked around 7.30pm and took bullets in the head and chest, an officer said. Police suspect the involvement of a new Lashkar-e-Taiba recruit in the attack.
The rash of targeted terror strikes started on April 2, when two migrant labourers from Bihar suffered bullet injuries in Pulwama. The next day, another two non-Kashmiris were wounded by terrorists in the same district, coinciding with an attack in Srinagar targeting two CRPF personnel, one of whom was killed. A Kashmiri Pandit pharmacy owner was shot and injured in Shopian the same day. On April 7, another migrant labourer from Punjab, Sonu Sharma, was injured in a terror attack in Pulwama's Yadur village.
On Wednesday, two police personnel deployed near Satish's house heard gunfire and, on looking around, found him lying in a pool of blood, said officials. The 55-year-old was rushed to a Srinagar hospital, where he died while being treated.
The area was cordoned off immediately after the attack to trace the perpetrators. "Terrorists involved in this gruesome terror crime will be neutralised soon. Search to track the involved terrorists in progress," Kashmir Zone Police tweeted.
Source: Times Of India
Please click the following URL to read the full text of the original story:
https://timesofindia.indiatimes.com/india/terrorists-gun-down-civilian-in-jk-6th-targeted-attack-in-11-days/articleshow/90831167.cms
--------
Southeast Asia
Puad offers to buy sultan's painting depicting MPs as apes and frogs
April 14, 2022
PETALING JAYA: Umno Supreme Council member Puad Zarkashi has offered to buy the painting that depicts MPs in the Dewan Rakyat as apes and frogs bought by the Sultan of Selangor, Sultan Sharafuddin Idris Shah.
Puad said he would buy the painting from Sultan Sahrafuddin, which currently hangs in the sultan's private study room, if the ruler planned to auction it off one day.
"If the painting is mine, it will not be sold any more. I will give it as a gift to Muzium Negara to put it up for public viewing," said the Rengit assemblyman in a Facebook post.
The sultan's purchase of the painting generated a lot of buzz after the Selangor palace posted several photos of it.
The palace said the painting had attracted the sultan's attention and that he planned to auction it one day and donate the proceeds to charity.
While the painting drew a positive response from many social media users, former religious affairs minister Mujahid Yusof Rawa said it went against Islamic teachings.
Source: Free Malaysia Today
Please click the following URL to read the full text of the original story:
https://www.freemalaysiatoday.com/category/nation/2022/04/14/puad-offers-to-buy-sultans-painting-depicting-mps-as-apes-and-frogs/
--------
Rights groups slam harassment of Thai Muslim activist
April 14, 2022
The harassment of a prominent Thai rights advocate has drawn condemnation from rights groups that have called on authorities to investigate.
An unidentified woman wearing a mask threw a pair of large scissors at Angkhana Neelapaijit's house in Bangkok before running away on April 12, according to CCTV camera footage.
The scissors made a hole in the front door of the outspoken rights advocate, who once served as a commissioner of the National Human Rights Commission and is now a member of the United Nations Working Group on Enforced or Involuntary Disappearances.
Following the incident, Angkhana, 66, said she and her family are feeling vulnerable because the Justice Ministry canceled her personal protection under the government's witness protection program on April 1 with the authorities saying she was no longer in danger of being harmed.
The Muslim woman rose to prominence in Thailand as a rights defender after her husband, Somchai Neelapaijit, a lawyer in southern Thailand who represented Muslim men accused of participating in an armed insurgency against the state, disappeared in 2004.
Somchai, who accused the authorities of torturing and abusing Muslim detainees, was forced into a car in Bangkok and has not been seen since in what rights group say was a clear case of enforced disappearance.
Rights groups say the attack on Angkhana's house was a troubling development.
"Violent acts intended to intimidate a well-known figure like Angkhana not only pose a threat to her and her family but send a spine-chilling message to the entire Thai human rights community," Elaine Pearson, acting Asia director at Human Rights Watch, said in a statement.
"The Thai government should respond immediately by undertaking a serious investigation to ensure that everyone responsible for this incident is held accountable."
Angkhana has long been a thorn in the side of Thai authorities with her outspoken stance on cases of enforced disappearances in the Southeast Asian nation.
Over the years scores of rights activists, environmental campaigners and political dissidents have disappeared under suspicious circumstances. Investigations into these disappearances have stalled or been quietly been dropped.
"[Thai] citizens might fall victim to torture or enforced disappearance, but the state is not ready to hold perpetrators accountable," warned Piyanut Kotsan, director of Amnesty International Thailand.
Source: UCA News
Please click the following URL to read the full text of the original story:
https://www.ucanews.com/news/rights-groups-slam-harassment-of-thai-muslim-activist/96900
--------
Rohingya Militant Group Targeting Malaysia-Based Refugees with Online Campaign
By Jasminder Singh and Rueben Dass
April 13, 2022
Myanmar has been in a state of constant internal turmoil since the late 1940s, and one of the deadliest conflicts has been between the majority Buddhist population and the country's Muslim minorities, especially in Rakhine State. There has been a long history of contention between the two communities in the region.
As a result, more than a million Rohingyas have become refugees today, primarily in neighbouring Bangladesh, with others finding their way to Muslim-majority states like Pakistan, Indonesia, and Malaysia. Today, there are more Rohingyas outside Myanmar than remain inside the country.
Rohingyas in Malaysia
There are more than 100,000 Rohingyas in Malaysia, mostly living as refugees, and generally they are well-treated. A major plank of Malaysian policy has been to extend a humanitarian hand to the Rohingyas fleeing persecution in Myanmar. The Malaysian government, especially under the leadership of Prime Minister Najib Razak from 2009 to 2018, was welcoming to the Rohingyas and was one of the nations most critical of Myanmar's hardline policy toward the community. Najib's successor, Mahathir Mohamad, continued Malaysia's critical policy towards Naypyidaw over its policies in Rakhine State. In July 2019, Mahathir said that Myanmar should either treat the Rohingyas as its nationals or give them a separate state.
Over the years, the Malaysian security landscape has had to deal with some extremist Islamist groups operating in the country, such as the pro-Al-Qaeda Jemaah Islamiyah and elements that supported the self-proclaimed Islamic State (IS). There have been concerns raised about the possibility of segments of the Rohingya community in Malaysia coming under radical influence.
Armed Rohingya Groups in Myanmar
An issue that has plagued Rohingya refugee communities is the possible infiltration of radical or terrorist groups (or individuals). Given the fierce inter-communal conflict in Myanmar, some Rohingyas have advocated violence against the government, either to prevent the Myanmar state and its proxies from harming them or to seek independent statehood.
While many members of the Rohingya diaspora remain in denial about this reality, a number of Rohingya groups have taken up arms, even though they remain largely weak and in no position to challenge the security apparatus in Myanmar. Some of these groups include the Arakan Rohingya National Organisation (ARNO), Arakan Rohingya Islamic Front (ARIF), Rohingya Solidarity Organisaton (RSO-Dr. Yunus faction), the Katiba al-Mahdi fi Bilad al-Arakan, the Rohingya Solidarity Organisation (RSO-Mohammad Zakaria faction) and its armed wing, the Rohingya National Army (RNA). Many of these groups operate in the Rohingya refugee camps in Bangladesh or along the Myanmar-Bangladesh border. Since 2017, one group has emerged as a key security concern for Myanmar, namely, the Arakan Rohingya Salvation Army (ARSA).
There have been rising concerns that some of these armed groups may have penetrated the Rohingya refugee community in Malaysia. While one does not see the mass radicalization of refugees in Malaysia, there is apparently some level of ongoing radicalization. This can be largely attributed to ARSA's penetration in the Rohingya community even though this is publicly denied both by the group and the Rohingyas in Malaysia.
Publicly, ARSA and its supporters have denounced the use of violence in achieving its political goal, which is to be the voice and sole representative of the Rohingyas. Despite that, ARSA has been blamed by the Myanmar security forces for several violent attacks on them along the Bangladesh-Myanmar border. ARSA has also denied that it is linked to any transnational jihadist terrorist group such as Al-Qaida or IS and remains largely ethno-nationalist in its ideology.
ARSA's Penetration of Malaysia's Rohingya Community
Evidence is emerging that ARSA and its supporters have been targeting Rohingyas in Malaysia for recruitment. The view that ARSA is weak and ineffective in Malaysia in its outreach to Rohingyas can be partly debunked by the online penetration ARSA has been making in Malaysia. This has taken place largely through YouTube channels and Facebook pages.
The first example is a YouTube Channel called Rohingya Malay Kelas (Rohingya Malay Class) that was set up on December 23, 2019 and was recently renamed Rohingya Reality TV. Ostensibly, it is an instructional platform, aimed at teaching Malay and English language to the Rohingya refugees. Yet, when one analyses the more than 4,000 videos uploaded since 2019, there are several that propagate ARSA's goals even if many others do not. On the whole, the channel's videos have garnered more than 10 million views.
On Facebook, the page RO Malay Kelas was created on May 8, 2020. Before the page was shut down recently by Facebook, it had garnered 1,817 followers. Its associated YouTube channel, Rohingya ARSA Supporters, was established on April 22 of the same year and 396 videos had been uploaded as of February 2021. The channel has since been shut down. Many of the videos uploaded on the channel were songs which are related to Rohingya culture, but mostly depicting the sad and tragic lives of the Rohingya community. The Rohingya ARSA Supporters channel clocked up 2,909,829 views during the time of its operation.
YouTube and Facebook platforms are important means of ARSA outreach in Malaysia. This is evident from the fact that there are a number of video messages from the ARSA leader, Atta Ullah. The ARSA commander's messages are mostly aimed at gaining support and legitimacy from the Rohingya refugees in Malaysia, and seeking financial, political, and even personnel support to challenge the Myanmar authorities.
In addition to conveying messages of support and assistance from the Rohingyas for ARSA, an important aim of these platforms is to undermine the policies of the Myanmar government and even to criticize Rohingyas who are prepared to collaborate with the Myanmar authorities. In the same vein, Rohingya leaders residing in Malaysia who are seen as an obstacle to the ARSA's cause have also been criticized. One particular video targeted Zafar Ahmad Abdul Ghani, the president of the Myanmar Ethnic Rohingya Human Rights Organisation in Malaysia. In the video, it was mentioned that Zafar Ahmad should refrain from referring to himself as a Rohingya community leader as he had no knowledge of the problems faced by the Rohingyas in Malaysia.
Implications for Malaysia and the Wider Region
Clearly, ARSA is active in Malaysia within the country's Rohingya refugee community, and has been able to penetrate it through digital means. This suggests that ARSA is simply not an organization that operates in Bangladesh, Pakistan, or Saudi Arabia. Under the leadership of Atta Ullah, the group has carried out sporadic and violent attacks on Myanmar security forces along the Myanmar-Bangladesh border.
The ability of ARSA to spread its message through online platforms such as YouTube and Facebook shows its adaptability and the success of its outreach, not just in Malaysia but also probably elsewhere in Southeast Asia where Rohingya refugees are found, such as in Indonesia and Thailand. The use of online platforms has become even more important since the onset of the COVID-19 pandemic, a time when more and more people are spending larger amounts of time in online spaces.
The fact that videos continue to be produced on a weekly basis demonstrates the activism of ARSA and its intent to spread its influence in Malaysia. The full impact of this will only be known after COVID-19 wanes, when ARSA renews its attacks on Myanmar security forces within the country or Myanmar's vital interests overseas, including in Southeast Asia.
Source: The Diplomat
Please click the following URL to read the full text of the original story:
https://thediplomat.com/2022/04/rohingya-militant-group-targeting-malaysia-based-refugees-with-online-campaign/
--------
Zahid tells court charity work could not continue as Yayasan Akalbudi funds frozen
13 Apr 2022
KUALA LUMPUR, April 13 — Former deputy prime minister Datuk Seri Ahmad Zahid Hamidi told the High Court here today that he could not continue with his charity work after the Yayasan Akalbudi funds were frozen.
Ahmad Zahid, 69, disclosed this when questioned by his counsel, Datuk Ahmad Zaidi Zainal in his defence against 47 charges involving criminal breach of trust (CBT), corruption and money laundering.
"Since I was charged in court (in 2018), the (Yayasan Akalbudi) bank account was frozen and I could no longer provide welfare aid," he said when testifying from the witness stand during the first day of his defence proceeding.
The Member of Parliament for Bagan Datuk said the foundation's funds were not only channelled for welfare work in the constituency, but also for the construction of a mosque in Yunnan, China which cost RM3.8 million and renovation work for a 400-year-old mosque in a Malay village in Cape Town, South Africa which cost US$1 million (RM4.2 million).
"Besides that, Yayasan Akalbudi bore the cost of renovating an old church building that was bought by the Muslim community in Perth, Australia to be turned into a mosque.
"Yayasan Akalbudi also provided millions of ringgit in funds for printing the Quran to be distributed to a number of countries with Muslim minorities such as Cambodia, China and Korea," he added.
Ahmad Zahid said the foundation also contributed RM8 million for the building of dataran Masjid Tuminah Hamidi (which is still under construction), besides channelling aid to Chinese and Indian families in conjunction with the Chinese New Year and Deepavali celebrations.
Ahmad Zaidi: The objectives of Yayasan Akalbudi were towards contributing to Islam, so why were its funds channelled to other religions?
Ahmad Zahid: I'm a true Malaysian and Islam is my religion. I'm being fair to others religion as it is my responsibility to provide facilities for people of other religions to enable them to carry out their religious activities.
He said the foundation also bore the expenses for tickets, hotel accommodation, and food and drinks of police and other security personnel involved in operations related to the MH17 tragedy (July 17, 2014).
Questioned by Ahmad Zaidi why the Malaysian government did not bear the cost but the foundation did it instead, Ahmad Zahid said the incident happened suddenly while the advance had not come yet from the government.
"Therefore, the foundation bore the expenditure of the forensic and Royal Malaysia Police teams and members of the other security forces to be sent there (Ukraine) to identify the bodies of the MH17 crash victims. The Inspector-General of Police and I also went to Ukraine," he added.
Ahmad Zahid is facing 47 charges with 12 of these involving CBT, eight for corruption and 27 for money laundering involving tens of millions of ringgit of Yayasan Akalbudi funds.
Source: Malay Mail
Please click the following URL to read the full text of the original story:
https://www.malaymail.com/news/malaysia/2022/04/13/zahid-tells-court-charity-work-could-not-continue-as-yayasan-akalbudi-funds/2053354
--------
Putrajaya ups special grant for Sabah by more than 4 times
April 14, 2022
PETALING JAYA: Putrajaya will be increasing its annual payment to Sabah to RM125.6 million this year, more than quadruple the RM26.7 million paid to the state previously.
Prime Minister Ismail Sabri Yaakob also said this amount will increase every year for the 2023 to 2026 period, according to a rate jointly agreed by Putrajaya and the Sabah government.
Ismail said this decision came after the federal and state governments reached a consensus on reviewing the special grant to Sabah under Article 112D of the Federal Constitution.
"At the same time, the federal and Sabah governments will continue negotiating Sabah's demand for 40% of revenue from Sabah and reviewing the special grant under Article 112D.
"This is to agree on a new special grant amount that can balance Sabah's needs without affecting the federal government's financial position," the prime minister said.
If both sides could agree on the new figure before 2026, he said the amount would replace that of the special grants paid to Sabah from 2022.
Source: Free Malaysia Today
Please click the following URL to read the full text of the original story:
https://www.freemalaysiatoday.com/category/nation/2022/04/14/putrajaya-ups-special-grant-for-sabah-by-more-than-4-times/
--------
South Asia
Religious Scholars in Paktika Province Urges Taliban to Reopen Girls' Schools
13 Apr 2022
A group of religious scholars gathered from different districts of the province and urged the Islamic Emirate of Afghanistan to reopen secondary schools for girls in the country.
The scholars urged that education is compulsory for both males and females and that women should avail the same rights to education as men do in Afghanistan.
"Female education is necessary because women form half of the society on the one hand and Islam has clarified everything for dignified, religious, and modern studies on the other." Said the scholars.
They asked for strengthening Afghanistan's educational sector where girls are allowed to get an education so that Afghanistan better competes with other countries.
The scholars applauded measures taken in terms of women's rights but asked for more work in reducing the level of violation against Afghan women.
Source: Khaama Press
Please click the following URL to read the full text of the original story:
https://www.khaama.com/religious-scholars-in-paktika-province-urges-taliban-to-reopen-girls-schools-7658756/
--------
Ramadan unites Muslims and Christians in Bangladesh
By Stephan Uttom
April 14, 2022
Shofiq Ahmed wished to buy a rich array of food items for his family of four for iftar (fast-breaking evening meal) during the Islamic holy month of Ramadan that started in early April.
Spiraling prices of daily commodities thanks to high inflation, impacts of war in Ukraine and market manipulation by unscrupulous business syndicates dashed his hopes.
"I wanted to buy eggs, fish and meat for the family like previous Ramadans, but I cannot. Due to price hikes, I can only afford eggs, not fish or meat anymore," Ahmed, 45, a father of two, told UCA News.
The Muslim man runs a small tea stall in Manikganj town of central Bangladesh, about 60 kilometers north of capital Dhaka. He is the only breadwinner for the family and the stall is his only source of livelihood.
From morning to midnight, Ahmed keeps the stall open, selling tea and snacks including cookies to customers, mostly Muslims and some Hindus. He can earn about 300 taka (US$3.50) per day.
Due to the month of fasting, his customers have dropped in a town where Muslims comprise 90 percent of the population. Despite religious restrictions, he has kept his stall open during Ramadan as he has no other income.
In fact, Ahmed had hard times during Covid-19 and lengthy lockdowns in the past two years, forcing him to close the stall. He had to spend all his savings amid the loss of income.
"Before the pandemic I could earn 500 taka each day, but it has dropped to 300 taka today. Moreover, the cost of living has increased. Every day I have to spend 90 taka for rice alone and nothing is left after daily expenses," he lamented.
As of now, beef sells for 650-700 taka per kilogram, chicken for 200 taka per kg, most fish for 200 taka and one dozen eggs for 110 taka.
"Eggs are our last resort but we have managed to have eggs on only two days since Ramadan started," Ahmed said, adding that he gets upset every time he goes to the market to buy daily essentials.
Despite these sorry circumstances, Ahmed says he will save some money and buy new clothes for his two children to cheer them during the Eid-al-Fitr festival.
Poor villagers like Ahmed have had some relief as the government has expanded Open Market Sales (OMS), a state-run subsidized food security scheme, in urban and rural areas in recent weeks. Over the past week, Ahmed has been buying daily essentials like rice, lentils, flour and oil from an OMS point in his town.
Moreover, a local voluntary organization has been arranging iftar packets for dozens of poor people, so he also collects an iftar packet, though paltry, for his children every evening.
Like millions of Muslims around the globe, those in Bangladesh began fasting from April 3, the first day of Ramadan.
To adjust to Ramadan, the government has rescheduled working times for government, semi-government, autonomous and semi-autonomous offices from 9am to 3.30pm instead of the usual 10am to 6pm, with a 15-minute prayer break. Non-government organizations have also adjusted their schedules.
Efforts are made to make Ramadan and iftar occasions for promoting harmony and expressing concerns for the poor in the Muslim-majority country.
Catholic banker Pradeep Murmu said his colleagues have been inviting him to iftar meals every day even though he is not fasting.
"I'm a Catholic but my Muslim colleagues always invite me to participate in their iftar party and I try to join them. It promotes friendship and brotherhood and eliminates divisions," Murmu, an ethnic Santal, told UCA News.
This year he has joined with his Muslim friends and contributed money for a community iftar.
Though Murmu is happy to share the Ramadan spirit with Muslims, he also feels uneasy to eat in front of Muslims when he is hungry. "We feel uncomfortable to eat in front of Muslim friends because this may break their fast," said Murmu, who is based in capital Dhaka.
Christians make up less than half a percent of more than 160 million people in Bangladesh. Most of the estimated 600,000 Christians are Catholics.
"I know the Caritas NGO is working in Manikganj. I received some money and daily essentials from Caritas when I was struggling during the Covid-19 pandemic," Muslim man Ahmed said.
Apart from attending and hosting iftar parties, Christians take up various activities during Ramadan to express their respect for followers of Islam and to promote religious harmony, Catholic officials say.
Christian education institutes maintain a Ramadan schedule for the convenience of Muslim students, said Father Patrick Gomes, secretary of the Catholic bishops' Commission for Christian Unity and Interreligious Dialogue.
He said the commission has publicized Ramadan messages from Pope Francis' and commission president Archbishop Bejoy N. D'Cruze of Dhaka. Similarly, Eid messages from the pope and the local Church will be delivered before the festival.
Eight Catholic dioceses arrange one-day iftar parties attended by Islamic clerics and social and political leaders, the priest said.
However, Father Gomes said, there has been no custom of Sunday and weekday collections to provide iftar for poor Muslims like Ahmed, but individuals and groups arrange iftar meals for Muslims in their areas.
"Ramadan and iftar gatherings are great opportunities to promote interfaith dialogue," Father Gomes, based in Rajshahi Diocese, told UCA News.
Ahead of the Eid festival, churches will send Eid greetings cards to government institutions and Islamic clerics, while the diocese will install banners in streets to greet Muslims during Eid, the priest added.
Source: UCA News
Please click the following URL to read the full text of the original story:
https://www.ucanews.com/news/ramadan-unites-muslims-and-christians-in-bangladesh/96898
--------
Taliban Tries Seven Kidnappers and Others in Military Court
13 Apr 2022
Islamic Emirate of Afghanistan has announced that they have tried seven kidnappers, an assassin, a forger, and other criminals in their military court.
Chief spokesperson of the IEA Zabiullah Mujahid in a press release on Wednesday, April 13, 2022, said that the criminals were sentenced to different periods of jail and other punishments.
Zabiullah Mujahid said that the military court tries only those who pretend to be members of the IEA and then commit different crimes.
This is the first time that the Taliban tries criminals in their military court since the takeover of the IEA.
Source: Khaama Press
Please click the following URL to read the full text of the original story:
https://www.khaama.com/taliban-tries-seven-kidnappers-and-others-in-military-court-76897687/
--------
Afghanistan's Central Bank Lifts Limitations on Salary Withdrawal
13 Apr 2022
Afghanistan's Central Bank-Da Afghanistan Bank- announced that limitations on salary withdrawal of government and private employees have been lifted.
On Wednesday, April 13, 2022, the spokesperson of DAB Sabir Momand in a video clip said that all government and private employees can withdraw their stipends without any limitations.
In Afghanistan, the limitation for money withdrawal was $200 or Afs 30,000 per week which is now lifted in terms of salaries.
"Da Afghanistan Bank decided to lift limitations on salaries of government and private employees for the sake of rebuilding the country's banking and financial sectors. Hence, all private banks should pay the salaries of government and private employees based on the demand of employees." Said Momand.
It comes days after the Deputy Prime Minister and head of the economic commission of the Islamic Emirate of Afghanistan Mullah Abdul Ghani Baradar asked for establishing a mechanism for reducing limitations.
Source: Khaama Press
Please click the following URL to read the full text of the original story:
https://www.khaama.com/afghanistans-central-bank-lifts-limitations-on-salary-withdrawal-74756465/
--------
Europe
Paris attacks suspect says he changed his mind at last moment
April 13, 2022
PARIS: The last surviving suspected assailant in the deadly 2015 Paris attacks told a court Wednesday that he changed his mind about going through with the killings at the last moment.
"The objective I was given was to go to a cafe in the 18th" district in northern Paris, Salah Abdeslam told the special Paris court hearing the case.
"I'm going into the cafe, I'm ordering a drink, I'm looking at the people around me — and I said to myself: 'No, I'm not going to do it'," he added.
For the plaintiffs in the case, including the loved ones of victims of the November 2015 attacks that killed 130 people, this was testimony they had been waiting months to hear.
Abdeslam, 32, said he was told about plans for the attack in Paris on November 11, two days before they were carried out.
That happened at a meeting in Charleroi, in Belgium, with Abdelhamid Abaaoud, who is accused of having masterminded the attacks.
Until then, said Abdeslam, he thought he was going to be sent to Syria. Instead, he was told he had been chosen to carry out an attack using an explosive belt.
"It was a shock for me, but he ended up by convincing me," he added.
"I ended up accepting and saying, 'Okay, I'll go ahead with it'."
But at that meeting, he was given no details about the targets for the attack.
When he ultimately did not go through with the attack, he told the court how he took his car and drove around Paris at random until it broke down.
Then he got out and walked, he said, saying his memories of that period were "confused."
Pressed by the president of the court Jean-Louis Peries, he said only that he knew what he had been supposed to do.
"My brother, he had a belt, a Kalashnikov, I know he's going to open fire, I know he's going to blow himself up, but I didn't know the targets."
The attackers killed 130 people in suicide bombings and shootings at the Stade de France stadium, the Bataclan concert hall and on street terraces of bars and restaurants on November 13, 2015, in France's worst peacetime atrocity.
Abdeslam's older brother Brahim opened fire on a cafe terrace before blowing himself up.
Earlier in court another defendant, Mohamed Abrini, said Abdeslam simply had not had the nerve to go through with the attack.
Abrini, who is accused of having provided weapons and logistical support to the attackers, said he had seen Abdeslam when he turned up at a safe house a day after the attacks.
"He was exhausted, tired, he looked pale," said Abrini.
One of the organizers of the attacks had yelled at him for not having blown himself up.
"I think he told them that his belt hadn't worked," said Abrini.
Abdeslam told the court last month that in fact he had been lying about the malfunction.
After surviving the attack, Abdeslam fled to the Molenbeek district of Brussels where he grew up. He was captured in March 2016.
Source: Arab News
Please click the following URL to read the full text of the original story:
https://www.arabnews.com/node/2062706/world
--------
Iranian embassy in London denies Guardian's report
April 14, 2022
The Iranian embassy in London denied a report by the British Guardian newspaper on 'Russia is receiving munitions and military hardware sourced from Iraq for its war effort in Ukraine with the help of Iranian weapons smuggling networks.'
The Iranian embassy in London tweeted, that Today's (Tuesday, April 12th) article in the Guardian titled "Russia using weapons smuggling by Iran from Iraq against Ukraine" is unrealistic and baseless storytelling.
"Trying to link the recent developments in Ukraine to the developments in the Middle East and mentioning the name of the Islamic Republic of Iran is an unprofessional and unacceptable act and a kind of disrespect to the readers of the newspaper," the embassy added.
"The Iranian embassy in London wrote in another tweet, that The Guardian is expected to publish the truth, but today's article contradicts this approach. We express our protest against this matter and demand the necessary action in this regard," the tweet reads.
On February 21, Russian President Vladimir Putin signed a decree recognizing two Russia-backed regions in eastern Ukraine, the Donetsk and Luhansk People's Republics in the Donbas region, as independent criticizing the West for ignoring Moscow's security concerns.
On February 24, Russian President Vladimir Putin said in an early morning televised address that he had launched a special military operation in Ukraine in response to a request for help from the leaders of the Donbas republics.
Source: ABNA24
Please click the following URL to read the full text of the original story:
https://en.abna24.com/news//iranian-embassy-in-london-denies-guardians-report_1247795.html
--------
UK has 'abandoned' US-Briton held in Iran: Daughter
13 April ,2022
The UK government has "abandoned" Morad Tahbaz, an environmental campaigner held in Iran, his daughter said on Wednesday, a month after two other UK-Iranians were freed and returned.
Tahbaz, 69, who holds British, US and Iranian citizenship, remains in prison in Tehran while Nazanin Zaghari-Ratcliffe and Anoosheh Ashoori flew home in March after the UK government repaid a historic debt to Tehran.
For the latest headlines, follow our Google News channel online or via the app.
The British government "led us to believe all this time that he was to be a part of any deal they were making for the other hostages," Roxanne Tahbaz told AFP as she protested outside Britain's foreign office in London.
"Yet he's still there. He's been abandoned by his government. And we have still yet to have any answers for that and a plan forward," she said, holding a poster reading "Bring My Dad Home."
Britain's foreign ministry told Tahbaz's family that when the other hostages were released, Iran had agreed to free Tahbaz on unrestricted curfew.
But Roxanne said that her father, who has been treated for cancer, was returned to Tehran's Evrin prison within 24 hours of his partial release.
Officials from Foreign Secretary Liz Truss's ministry have said that Tahbaz's London-born father's case was different because of his US nationality.
"The foreign office said that his situation was more complicated because the Iranians saw him as an American citizen," Roxanne said.
"But we felt strongly that it wasn't up to them actually, the UK should have stood their ground, he's a British citizen. He was born here and that should have protected him."
"We've been patient for four years, and quiet, just as advised, but we can't wait any more," she said.
Campaigners are also calling for British-Iranian labour rights activist Mehran Raoof, who was detained in October 2020, to be freed.
Amnesty International's Sacha Deshmukh said he was at the protest outside Truss's office "to send a message to the British government and to the foreign secretary that no one should be left behind."
"The important thing for us to remember, whether it's Mehran or Morad, or indeed Nazanin or Anoosheh when they were in prison before, is that we're talking about ordinary people," Amnesty UK's CEO Deshmukh told AFP.
Source: Al Arabiya
Please click the following URL to read the full text of the original story:
https://english.alarabiya.net/News/world/2022/04/13/UK-has-abandoned-US-Briton-held-in-Iran-Daughter
--------
North America
Muslim Association Of Canada Says Canada Tax Agency Guilty Of Systemic Bias And Islamophobia
April 14, 2022
Canada's largest Muslim charitable organization launched a court challenge Wednesday that alleges the Canada Revenue Agency (CRA) probe into its affairs is rife with Islamophobia.
The Muslim Association of Canada (MAC) wants the CRA audit stopped because it is unfairly "tainted by systemic bias and Islamophobia," according to a statement by MAC.
The CRA is Canada's income tax department.
"The Audit would never have been approached in the way it has been had the organization in question been Christian, Jewish or Hindu," said Geoff Hall, lawyer at McCarthy Tetrault LLP, in the statement. "Facts which are innocuous, and that would be regarded as such for a faith-based organization of a religion other than Islam, have been taken as a basis for suspicion of MAC and its activities."
While the conclusion of the audit, which originated in 2015, has not been announced, the Muslim registered charity fears that a "prejudiced" report will be issued and "extreme sanctions" will be enacted that could result in MAC losing its charitable tax status.
Donors would not then be issued a tax receipt and contributions to the charity would be impaired.
"This audit is a textbook example of prejudice and discrimination," said Hall.
Among the findings the association said are egregious: "The CRA claims that MAC activities, such (as) Eid celebrations, are not religious but rather social."
As well, the CRA contends that the association's sports, social and recreational activities for youths "do not provide a charitable benefit."
MAC's court application seeks an order stopping the audit and confirming that MAC's rights have been infringed under sections 2(a) (freedom of religion), 2(b) (freedom of expression), 2(d) (freedom of association) and 15 (equality) of the Charter of Rights and Freedoms.
Source: Yenisafak
Please click the following URL to read the full text of the original story:
https://www.yenisafak.com/en/world/muslim-group-says-canada-tax-agency-guilty-of-islamophobia-3593707
--------
US: Minnesota Muslims ask for clemency for mosque bombers
By Zainab Iqbal
13 April 2022
Muslims in the US state of Minnesota have successfully appealed for two people involved in bombing a mosque to be granted reduced prison sentences after they voiced remorse for their crime.
Leaders from the Dar al-Farooq Islamic Center in Bloomington wrote to Judge Donovan W Frank ahead of Tuesday's sentencing, appealing for the court to exercise compassion and grant reduced jail terms to Michael McWhorter and Joe Morri.
McWhorter, Morri and Emily Claire Hari - formally known as Michael Hari - bombed the Dar al-Farooq Islamic Center in 2017 in an attack which caused significant damage to the mosque but did not harm worshippers.
On Tuesday, McWhorter and Morri were sentenced to 16 and 14 years in prison respectively. In September, Hari was sentenced to 53 years.
The trio were part of a white supremacist terrorist militia named The White Rabbits, established in Clarence, Illinois.
"Our community continues to digest and recover from this instance of hate, but we will not let it change our outlook for the future," the letter read.
"The harm that was done is real, the crime that was committed is real, the horror of what happened is real, but what's also real is our opportunity to offer real forgiveness, and lead by example. We believe that only through forgiveness can we have any real chance to heal and move forward."
What happened?
On 5 August 2017, at around 5:00 am, Hari, Morris and McWhorter used a sledgehammer to break the window at the Islamic centre.
According to the Justice Department, they threw a plastic container containing a mixture of diesel fuel and gasoline into the Dar al-Farooq office, and then lit the fuse on a 20-pound (9kg) black powder pipe bomb. They threw the bomb through the broken window and escaped.
At the time, the mosque's executive director, Mohamed Omar, was taking a nap in the office next door. He told Middle East Eye he had been working all night and fell asleep on a sofa. He woke up to a loud bang and assumed he was hallucinating. He soon found himself confused and on the ground when a mosque worker came inside and pulled him out.
Board member Abulahi Farah recalled how he was unable to make it to the mosque for fajr (dawn prayers), as he was getting his children ready for weekend school.
He received a text message at the time saying: "Come quick, we got bombed." He thought it must have been mistakenly autocorrected, and called Omar, who didn't pick up. Another congregant eventually told him the mosque was on fire .
"I saw Mohamed sitting on the pavement on the side of the gymnasium. I told him 'don't call anyone'. Because at that moment, we were afraid. We had gotten so used to hiding. When anything bad happened, all we did was hide because we didn't want any media attention. Because all attention was bad," Farah told MEE. "But Mohamed looked at me and said 'What are you talking about? I almost died', and he walked away with disgust."
According to the Justice Department, the blast caused extensive damage to the office and caused extensive fire and smoke damage. At the time of the bombing, there were several worshippers already inside for fajr prayers. But no one was hurt.
Where it all began
Farah says the local Muslim community had been living in fear long before the mosque opened in 2011. They had felt a huge pushback from the mostly white suburban community when they purchased the former elementary school in the hopes of building a mosque.
Farah said, however, that those who opposed the mosque were also against a Walmart moving into the neighbourhood.
"They felt that low-income people would move in with a Walmart and with our mosque. The majority of the people they were afraid of moving in were immigrants, Black immigrants. We matched their fight, and they continued to drive that wrench," he said.
Immediately after the mosque was established, several people from the neighbourhood created a blog comparing the neighbourhood "before Black people and Muslims and after", Omar explained. They'd frequently accuse the mosque congregants of being jihadists, he said.
Every Friday, neighbours would stand outside the mosque, Omar added, and take videos and photos, harassing congregants as they would enter the mosque for prayers.
Local media site Sahan Journal reported that a Confederate flag was raised on a tree near the mosque.
Following the bombing, the administration of President Donald Trump stayed silent, with Sebastian Gorka, who served as a deputy assistant to the president, saying the White House would "wait and see" in case the attack turned out to be a hoax.
"It was everything you don't want to hear at that point in your life. It made everyone suspect us. We were sitting in fear and we were hopeless," Omar said.
While he believes retribution is important, he said it was important that the perpetrators were rehabilitated and reintegrated into society.
"This closed another chapter of our lives. We can not live this way. We forgave so that we can heal together. This is what you call restorative justice," Omar said.
Source: Middle East Eye
Please click the following URL to read the full text of the original story:
https://www.middleeasteye.net/news/us-minnesota-muslim-community-mosque-bombers-forgiveness
--------
US apologized to UAE for delayed response to Houthi attacks: Report
Michael Gabriel Hernandez
13.04.2022
WASHINGTON
Secretary of State Antony Blinken apologized to the United Arab Emirates (UAE) last month for the US response to attacks on the emirates from Yemen's Houthi rebels, according to a report published Wednesday.
Blinken issued the mea culpa to Crown Prince Mohamed bin Zayed al-Nahyan during a meeting last month in Morocco, the Axios news website reported.
The UAE had been frustrated about the US response to Houthi attacks just as Washington has been vexed by Abu Dhabi's response to Russia's war against Ukraine.
Washington has been pushing allies, including long-standing partners in the Gulf, to adopt a hard line against Russia's aggression. But the emirates and other Gulf Arab allies, including Saudi Arabia, have maintained a neutral if not pro-Russian policy.
The Emirates abstained from a Security Council vote in February condemning Russia's assault. It also abstained from last week's UN General Assembly vote that booted Russia from the Human Rights Council.
Blinken told bin Zayed that the Biden administration took too long to respond to the Houthi attacks on the emirates, and apologized, Axios reported.
A senior State Department official who spoke to Axios on condition of anonymity did not deny that Blinken conveyed the US apology but did not comment on the private diplomatic discussions.
"The Secretary made clear that we deeply value our partnership with the UAE and that we will continue to stand by our partners in the face of common threats," the official said.
But the response to the Houthi attacks was just one of several significant strains on the bilateral relationship.
In addition to Abu Dhabi's displeasure with the US response to the attacks, the UAE has also been frustrated with the Biden administration's refusal to reimpose a terrorist designation on the Houthis.
Source: Anadolu Agency
Please click the following URL to read the full text of the original story:
https://www.aa.com.tr/en/middle-east/us-apologized-to-uae-for-delayed-response-to-houthi-attacks-report/2562936
--------
2 Illinois men get 30 years in Minnesota mosque bombing
April 14, 2022
Two Illinois men who helped bomb a Minnesota mosque in 2017 on Tuesday received prison sentences far below the 35-year mandatory minimum that they had faced, after victims and prosecutors asked for leniency because the men cooperated and testified against the mastermind of the attack.
Michael McWhorter, 33, was sentenced to just under 16 years in prison and Joe Morris, 26, was sentenced to about 14 years. Both testified in the 2020 trial against Emily Claire Hari, the leader of a small Illinois militia group called the "White Rabbits."
Hari was convicted in late 2020 and sentenced last year to 53 years in prison for the attack on Dar Al-Farooq Islamic Center, a mosque in the Minneapolis suburb of Bloomington.
U.S. District Judge Donovan Frank said Tuesday that the men's "substantial assistance" allowed him to issue penalties below the statutory minimums, the Star Tribune reported.
Frank acknowledged the men were under Hari's influence, but rejected their attorneys' requests for 10-year sentences, saying their seven-month crime spree was "contrary to everything America stands for."
"When all is said and done," Frank said, anything less would not "promote respect for the law."
No one was hurt in the Aug. 5, 2017, explosion after a pipe bomb exploded in the imam's office as worshippers gathered for early morning prayers, but community members were shaken by the incident and the mosque's executive director testified at Hari's trial that it led to fear and diminished attendance.
Assistant U.S. Attorney Allison Ethen asked Frank for a 50% reduction from the mandatory minimum sentences for McWhorter and Morris — a request that she and Frank both said was rare. But Ethan asked Frank to cap the sentence no lower than 15 years, saying a light sentence would send the wrong message.
Imam Mohamed Omar, executive director of Dar Al-Farooq Center, asked fellow clergy and faith leaders to sign an open letter urging forgiveness. Omar called McWhorter and Morris two young men who "temporarily were plunged downwards into the darkness of Emily Hari's world."
"The harm that was done is real, the crime that was committed is real, the horror of what happened that day is real, but what's also real is our opportunity to offer real forgiveness, and lead by example," the letter said. "We believe that only through forgiveness can we have any real chance to heal and move forward."
McWhorter and Morris both pleaded guilty to multiple counts in 2019.
At Hari's trial, their testimony showed that Hari told them to throw the pipe bomb into the center while Hari waited in a rented truck. Morris testified that Hari told him the mosque was training ISIS fighters — something the mosque has denied and prosecutors have never alleged.
Hari was the leader of a group called the "White Rabbits 3 Percent Illinois Patriot Freedom Fighters." In addition to the mosque bombing, the group also robbed a Wal-Mart with airsoft guns, tried to extort the Canadian railroad, invaded homes and attempted to firebomb a women's health clinic in Champaign, Illinois.
McWhorter said Tuesday that he feared Hari and Morris may kill him if he didn't go through with the plan.
"I bombed a mosque. But it was not by choice," he said. "I feared for my life when I bombed the mosque. I didn't do it out of just pure hatred. I don't have any hate" for Muslims.
McWhorter said that in the four years he's been in jail since his arrest, he's been studying toward his GED and reading books about Islam. He has made several Muslim friends in jail, he said, some of whom wrote letters on his behalf to Frank.
Morris apologized to those he harmed, saying he was ashamed that he believed the things Hari told him.
"What I did was very, very wrong," he continued. "But I ask for your mercy."
He said he planned to return to the Amish community, where he once lived, after finishing his prison term, saying "that's the only time in my life" I was shown "support and love." Several members of that community were in court.
Chris Madel, McWhorter's attorney, said in court filings that McWhorter committed the crimes "at the invitation, direction and plan" of Hari. Madel said his client was manipulated by Hari's lies about Muslims.
Morris' attorney, Robert Richman, said his client suffered from undiagnosed mental illness, including schizophrenia and depression. Richman wrote in court documents that Hari took advantage of Morris' illness, telling him to follow the "angels" speaking to him.
Source: ABNA24
Please click the following URL to read the full text of the original story:
https://en.abna24.com/news//2-illinois-men-get-30-years-in-minnesota-mosque-bombing_1247817.html
--------
US Navy says new task force to patrol Red Sea amid Yemen war
13 April ,2022
The US Navy said Wednesday it will begin a new task force with allied countries to patrol the Red Sea after a series of attacks attributed to Yemen's Iran-backed Houthi militia in a waterway that's essential to global trade.
Vice Adm. Brad Cooper, who oversees the Navy's Mideast-based 5th Fleet, declined four times to directly name the Houthis in his remarks to journalists announcing the task force.
However, the Houthis have launched explosive-laden drone boats and mines into the waters of the Red Sea, which runs from Egypt's Suez Canal down through the narrow Bab el-Mandeb Strait that separates Africa from the Arabian Peninsula.
For the latest headlines, follow our Google News channel online or via the app.
"In a macro sense, this region literally and figuratively fuels the world," Cooper said. "The area is so vast that we just can't do it alone so we're going to be at our best when we partner."
The Combined Maritime Forces command, a 34-nation organization which Cooper oversees from a base in Bahrain, already has three task forces that handle piracy and security issues both inside and outside of the Arabian Gulf.
The new task force will be commissioned Sunday and will see the USS Mount Whitney, a Blue Ridge class amphibious command ship previously part of the Navy's African and European 6th Fleet, join it.
Cooper said he hoped the task force of two to eight ships at a time would target those smuggling coal, drugs, weapons and people in the waterway. Coal smuggling has been used by Somalia's al-Qaeda-linked al-Shabab to fund their attacks.
Weapons linked by the Navy and analysts to Iran have been intercepted in the region as well, likely on their way to the Houthis. Yemen also sees migrants from Africa try to cross its war-torn nation to reach jobs in Saudi Arabia and elsewhere.
The Red Sea is a vital shipping lane for both cargo and the global energy supplies, making any mining of the area a danger not only to Saudi Arabia but to the rest of the world.
Mines can enter the water and then be carried away by the currents, which change by the season in the Red Sea.
Source: Al Arabiya
Please click the following URL to read the full text of the original story:
https://english.alarabiya.net/News/gulf/2022/04/13/US-Navy-says-new-task-force-to-patrol-Red-Sea-amid-Yemen-war
--------
Pakistan
US congratulates Sharif on becoming Pakistani prime minister, reaffirms 'value' of their relationship
Apr 14, 2022
WASHINGTON: The United States on Wednesday congratulated Shehbaz Sharif on becoming Pakistan's new prime minister following the ouster of his predecessor in a parliamentary no-confidence vote, with the top U.S. diplomat reaffirming the "value" of the relationship between the two nations.
The warm tone of U.S. Secretary of State Antony Blinken's statement appeared to signal a desire to repair ties damaged by former Prime Minister Imran Khan's harsh anti-U.S. rhetoric and his unproven charges that Washington engineered his dismissal.
"Pakistan has been an important partner on wide-ranging mutual interests for nearly 75 years and we value our relationship," Blinken said. "The United States congratulates newly elected Pakistani Prime Minister Shehbaz Sharif and we look forward to continuing our long-standing cooperation."
"The United States views a strong, prosperous, and democratic Pakistan as essential for the interests of both our countries," he added.
Blinken's statement came two days after the Western-friendly Sharif, 70, took the oath of office following days of political turmoil leading to Khan's dismissal in Pakistan's first no-confidence vote since gaining independence from Britain in 1947.
Khan, a former cricket star-turned politician, sought to derail the vote by dissolving Parliament and calling early elections after claiming that Washington was colluding with his opponents to oust him.
Khan, 69, provided no proof of his allegations, which the United States denied.
Pakistan's highest court declared Khan's actions unconstitutional and ordered the vote to proceed. A majority of Parliament's lower house supported his ouster on Sunday.
Despite Blinken's warm tone, analysts said they do not expect Washington to seek a significant broadening of ties, but to remain mostly focused on security cooperation, especially on counterterrorism and Afghanistan.
Source: Times Of India
Please click the following URL to read the full text of the original story:
https://timesofindia.indiatimes.com/world/pakistan/us-congratulates-sharif-on-becoming-pakistani-prime-minister-reaffirms-value-of-their-relationship/articleshow/90832879.cms
--------
Imran Khan asks judiciary to explain why courts opened their doors at midnight prior to his ouster
April 13, 2022
Pakistan Tehreek-i-Insaaf Chairman Imran Khan on Wednesday asked the judiciary to explain why it felt the need to open its doors at midnight on Saturday, hours before he was ousted from the prime minister's office via a successful no-confidence motion against him in the National Assembly.
With the deadline set by the Supreme Court to hold voting on no-trust move fast approaching after a marathon NA session last Saturday, the apex court and the Islamabad High Court (IHC) had opened their doors beyond their notified timings. The vote was eventually held and saw Khan voted out from the top office.
The IHC has since explained that "as a constitutional court, it ensures that cases relating to extreme urgency are presented at any time after the notified timings."
The high court's decision to resume court activity at the unusual hour came after a pre-emptive petition was filed asking the court to restrain Khan from de-notifying Gen Qamar Javed Bajwa as chief of the army staff. The then government had denied having any such plans.
Khan today, in what was his first public address since losing his government, directly addressed the judiciary, and asked: "My dear judges, my judiciary, I have spent time in jail because of your freedom because I dream that one day the judiciary would stand with the weak people of the society, and not the powerful.
"I ask the judiciary that when you opened the court in the dead of night ... this nation has known me for 45 years. Have I ever broken the law? When I played cricket, did anyone every accuse me of match fixing?
"During my 25 years of politics, I have never provoked the public against state institutions or the judiciary because my life and death is in Pakistan. I ask you, what crime had I exactly committed that you opened up the courts at midnight?"
Khan addressed his successor and newly appointed prime minister Shehbaz Sharif and told him to stop the harassment of PTI supporters. "This crackdown that you're doing against our youth over social media ... listen to this clearly ... the day we give the call, you would not find a place to hide."
The former prime minister asked security institutions if the country's nuclear assets would be safe under the leadership of the Sharifs-led government.
Earlier, in his opening remarks, Khan said: "Whenever a prime minister of Pakistan was removed, people used to distribute sweets. But I am thankful to God that I was removed and you all came and gave me such respect.
"Pakistan has now become a nation. Whoever thought that an imported government of the US would be accepted by this nation ... on Sunday, the entire nation gave their answer that the imported government stands rejected.
Khan said that the "decisive moment" has arrived and the nation needs to choose if it wants slavery or liberty. "Do we want to be the slaves of the US' slaves or do we want real freedom?"
He said that the 'imported government' currently in charge was full of individuals out on bail. "Shehbaz Sharif is out on bail, his son is out on bail, Nawaz Sharif is a convict, and his son is an absconder in London and the same is the case with his sons, daughter and son-in-law."
Khan said that the Americans have "disrespected" Pakistan by "imposing outlaws" on this nation. "I will go to every city of the country ... and I challenge to them that they would have never seen the kind of mobility of the public the way I would do."
The PTI chairman accused newly appointed Prime Minister Shehbaz Sharif of being involved in corruption to the tune of Rs40billion.
"Everyone should know that this is not the Pakistan of the 1970s when the US conspired to remove Zulfikar Ali Bhutto ... this is not the same Pakistan. The Pakistan of today is of social media. The country has 60 million mobile phones. All our youth now have a voice and no one can zip their mouths."
He told his audience of supporters that he would be in Karachi on Saturday and urged them to take the streets in the entire country.
"My youth, get ready, I will be out on the streets with you in every city until we do not force them to hold elections," he said.
"Today marks the beginning of the struggle to find actual freedom," he added.
Footage shared by the PTI showed a throng of people at the rally's site.
Prior to Khan taking the stage, his fellow party leaders, including Ali Amin Gandapur, KP Chief Minister Mahmood Khan, Vice Chairman Shah Mahmood Qureshi, former defence minister Parvez Khattak, Awami Muslim League chief Sheikh Rashid and National Assembly Deputy Speaker Qasim Suri addressed the gathering.
PTI leader Shibli Faraz, earlier today, said that Khan would make important announcements at the rally and take the nation into confidence on the party's future roadmap.
Meanwhile, PTI leader Shireen Mazari alleged that coverage of the rally was being blocked on the orders of Prime Minister Shehbaz Sharif's new coalition government.
According to the PTI, the Peshawar rally is expected to kick off a new series of demonstrations with one scheduled on Saturday for Karachi as well.
Sunday's countrywide protests
The PTI took out massive rallies in several cities on Sunday to protest against Khan's ouster. Karachi, Peshawar, Malakand, Multan, Khanewal, Khyber, Jhang, Quetta, Okara, Islamabad, Lahore and Abbottabad were among the cities where large demonstrations were held.
Protests were also staged in Bajaur, Lower Dir, Shangla, Kohistan, Mansehra, Swat, Gujrat, Faisalabad, Nowshera, Dera Ghazi Khan and Mandi Bahauddin.
Source: Dawn
Please click the following URL to read the full text of the original story:
https://www.dawn.com/news/1684835/imran-khan-asks-judiciary-to-explain-why-courts-opened-their-doors-at-midnight-prior-to-his-ouster
--------
Imran Khan 'forcing' PTI lawmakers to resign from Pakistan's National Assembly: PML-N leader
Apr 13, 2022
ISLAMABAD: Ousted prime minister Imran Khan was forcing Pakistan Tehreek-e-Insaf (PTI) lawmakers to resign from the country's National Assembly, senior PML-N leader Ayaz Sadiq alleged on Wednesday.
After losing the no-confidence motion against the PTI supremo and the election of Pakistan Muslim League-Nawaz (PML-N) leader Shehbaz Sharif as the prime minister, Khan's party had boycotted the National Assembly session and announced en mass resignation from the lower house of Parliament.
Sadiq, a former Speaker of the National Assembly, at a press-conference said that Khan was forcefully asking lawmakers to resign and was submitting their resignations to Deputy Speaker Qasim Suri, GEO TV reported.
"In line with the law, every member should appear in person and submit their resignation to the speaker [...] there are some conditions and questions that are noted before the acceptance of the resignation," Sadiq said, claiming that the PTI lawmakers were pressured into signing cyclostyled documents, which included their names and constituency.
"It is clearly stated in the rules that a lawmaker's resignation should be handwritten," he said.
Pakistan Peoples Party lawmaker Sherry Rehman also asserted that the deputy speaker Suri was pressurising the National Assembly Secretariat on the issue of resignations.
"The deputy speaker is violating the laws [...] Suri had said that he identified the members based on their signatures, but according to the rules, every member should be present in person for submitting their resignations," Rehman said.
According to Rehman, several PTI lawmakers have been contacting the opposition parties to express their reservations over Khan's policy of taking resignations forcefully.
Source: Times Of India
Please click the following URL to read the full text of the original story:
https://timesofindia.indiatimes.com/world/pakistan/imran-khan-forcing-pti-lawmakers-to-resign-from-pakistans-national-assembly-pml-n-leader/articleshow/90827730.cms
--------
Pakistan: JUI-F activists protest against kidnapping of prayer leader in Sukkur mosque
13 April, 2022
Islamabad [Pakistan], April 13 (ANI): Leaders of the Jamiat Ulema-i-Islam-Fazl(JUI-F) in Sukkur protested on Wednesday against the kidnapping of Maulana Abdul Hameed Mahar, a prayer leader in a mosque in Kandowan locality.
Maulana Mahar has been missing since Tuesday morning, reported Dawn.
Leaders of the Jamiat Ulema-i-Islam-Fazl(JUI-F), as well as the local public, started a protest in lieu of their Imam, who was also a worker of the JUI-F worker, reported Dawn.
The angry protesters claimed the prayer leader was last seen leaving his home before sunrise but no one saw him returning home afterwards.
After Maulana Mahar's sleepers were found in the fields located close to the mosque, the police said he might have been kidnapped after a scuffle with the kidnappers, the newspaper reported.
Source: The Print
Please click the following URL to read the full text of the original story:
https://theprint.in/world/pakistan-jui-f-activists-protest-against-kidnapping-of-prayer-leader-in-sukkur-mosque/914959/
--------
Retired generals term audio clips against army attributed to them 'fake'
April 14, 2022
Former chief of army staff (COAS) Gen (r) Mirza Aslam Beg, Lieutenant General (r) Mohammad Haroon Aslam and Major General (r) Ijaz Hussain Awan have termed audio clips attributed to them, in which statements have been given against the Pakistan Army and its leadership, "fake" and a "conspiracy against the Pakistan Army".
In an audio message, Gen (r) Beg referred to the audio clips circulating on social media and said: "I condemn and reject the nefarious and preposterous statements against the army and its top leadership that are attributed to me and have surfaced on free media."
"Army is my identity and honour. Each one of its soldiers and officers is respectable for me," he said, adding that he considered speaking against them a misdeed.
The former COAS went on to say he would "continue to speak the truth in army's honour" till he was alive.
Beg said the campaign against the army was a "conspiracy of our enemies".
"Don't become a part of this conspiracy against the army," he added. "Don't tarnish your character and acts. Allah does not like it."
Major General (r) Ijaz Hussain Awan and Lieutenant General (r) Mohammad Haroon Aslam also issued similar messages, denouncing audio clips against the army on social media attributed to them.
While Gen Haroon Aslam said in his video message that the act of "defaming" a retired official through such audio clips was "highly reprehensible", Awan claimed that the clip attributed to him had originated from Indian television.
These clarifications from retired army officials come two days after the country's military leadership took notice of an ongoing "propaganda campaign" against the army on social media and endorsed the position taken by the army's leadership on the political crisis in the country that climaxed with ex-premier Imran Khan's ouster.
In a statement on the 79th Formation Commanders' Conference, a semi-annual event at the General Headquarters where the field commanders deliberate on operational and training matters, the Inter-Services Public Relations (ISPR) said: "The forum took note of the recent propaganda campaign by some quarters to malign [the] Pakistan Army and create division between the institution and society.
"National security of Pakistan is sacrosanct. Pakistan Army has always stood by the state institutions to guard it and always will, without any compromise," the ISPR statement said, adding that the forum "expressed complete confidence in leadership's well considered stance to uphold the Constitution and law at all cost".
The military has come under criticism this week, especially in the wake of former prime minister Imran Khan's ouster through a successful vote of no-confidence. Trends against the armed forces and its leadership have seen intense activity on social media platforms such as Twitter.
According to a Dawn report published on Thursday, the 'Imported Hukoomat Namanzur' (imported government unacceptable) hashtag in Urdu alone generated a volume of 17 million tweets, while one anti-army hashtag generated over 69,000 tweets and a similar one over 410,000 tweets in the past few days.
Source: Dawn
Please click the following URL to read the full text of the original story:
https://www.dawn.com/news/1684973/retired-generals-term-audio-clips-against-army-attributed-to-them-fake
--------
Africa
Osinachi's death: How Pastors, Imams play key role in domestic violence revealed
April 14, 2022
By Seun Opejobi
As popular gospel singer Osinachi Nwachukwu's death continues to draw controversies, religious leaders like Pastors and Imams have been blamed for domestic violence.
An Abuja-based human rights activist, Deji Adeyanju said the teachings of religious leaders play key role in encouraging domestic violence in Nigeria.
Adeyanju lamented that some messages of pastors and Imams make men to be domineering in relationships.
Speaking with DAILY POST, the activist said religious leaders, through their messages, have turned some women into second fiddle to men.
Following Osinachi's death, a lot of religious leaders have been airing their views on domestic violence, with a lot of them urging victims to exit such relationships.
However, Adeyanju said: "It's a religious thing, and both religions preach submission to the man.
"And it's more cultural than religion sometimes because parents preach the stigma of leaving home, but it's better for you to divorce ten men, than for you to die.
"It's important for this sensitization because many people don't believe in this religious thing because they have seen the worst things happen within the confines of religious homes. You see sexual abuse of so-called religious men against members of their faith, so the more we emphasize this fault line, the better for our society.
"This idea of tolerating your abuser, you must stay in the marriage, and societal stigma attached to divorce makes people willing to put up with their abusers. You see people online posting pictures of happy marriages, but when you hear behind the scene, you wonder, so this is what people have been tolerating.
"I think in our society, we need more sensitization on why people should divorce, what should be the irreducible minimum in marriage, and why you should leave when certain things are done badly to you. It is not as if we are saying divorce is good, but we are saying that you can't tolerate a situation where your life is in danger.
Source: Daily Post
Please click the following URL to read the full text of the original story:
https://dailypost.ng/2022/04/14/osinachis-death-how-pastors-imams-play-key-role-in-domestic-violence-revealed/
--------
Tanzania's Kizimkazi Mosque, a reminder of Iranian culture in East Africa
April 14, 2022
The Kizimkazi Mosque is situated on the southern tip of the island of Zanzibar in Tanzania and is one of the oldest Islamic buildings on the East African coast.
it was built in 1107 AD by settlers from the city of Shiraz, located in southern Iran. The 900-year-old mosque is still used for prayers, and it is visited every year by many tourists.
According to historians, immigrants from the Shiraz region in southwestern Iran directly settled various mainland ports and islands in East Africa, beginning in the tenth century.
The Shirazi are notable for helping spread Islam on the Swahili Coast.
Among the relics and monuments on the East African coast that prove that Iranians once lived there, Kizimkazi Mosque is the second oldest mosque in Zanzibar, Tanzania.
According to an inscription installed at the mosque's mihrab, the Kizimkazi Mosque was built over 940 years ago.
The mihrab is a semicircular niche in the wall of a mosque that points out the qibla, the direction of the Kaba in Mecca, the direction that Muslims should face when praying.
While the inscription and some coral-carved decorations date from the time of construction, the majority of the present structure was rebuilt in the 18th century.
A similar design for the mosque's mihrab can also be found in mosques in Tanzania and Kenya, built by Shirazi, Baluchi, Shushtari, Kazerouni, and Omani people.
The British archaeologist David Whitehouse (1941-2013), who studied in Iran and Africa, believed that the inscription in Kizimkazi Mosque is similar to the one in Siraf Port in southern Iran.
Mazunduchi Village residents, which is located near the mosque, introduce themselves as Shirazi and celebrate Noruz, the Iranian New Year.
Shiraz and the southwestern coastal region of Iran are linked to the Shirazi people that inhabit the Swahili coasts of Eastern Africa.
Source: ABNA24
Please click the following URL to read the full text of the original story:
https://en.abna24.com/news//tanzania%e2%80%99s-kizimkazi-mosque-a-reminder-of-iranian-culture-in-east-africa_1247811.html
--------
Libya's rival governments start UN-backed talks in Egypt
13 April ,2022
Representatives of Libya's two rival governments began talks in Egypt on Wednesday aimed at reaching agreement on holding national elections, the United Nations Mission in Libya said.
Libya has had two competing governments since March when the eastern-based parliament appointed Fathi Bashagha to replace the Tripoli-based prime minister Abdulhamid al-Dbeibah, renewing a standoff between the east and west of the country.
Dbeibah, who was chosen as interim prime minister a year ago in UN-backed talks, has refused to cede power to Bashagha.
For the latest headlines, follow our Google News channel online or via the app.
"The ultimate solution to the issues that continue to plague Libya is through elections, held on a solid constitutional basis and electoral framework that provides the guard rails for an electoral process," UN Libya adviser Stephanie Williams told the opening session of the talks in Cairo.
Williams, supported by Western countries, has been seeking to resolve a political impasse since a scheduled election collapsed days before the vote was due to take place in December, amid arguments over the rules.
Delegates from the eastern-based parliament and the Tripoli-based High State Council named 12 members of each chamber to participate in the talks, which parliament spokesman Abdullah Belhaiq said will continue until April 20.
The parliament, elected in 2014, is recognized internationally through a 2015 political agreement that also recognized the High State Council as a legislative chamber formed from members of a previous parliament elected in 2012.
The planned election is part of a UN-endorsed peace process aimed at ending a decade of chaos since the 2011 NATO-backed uprising that ousted Muammar Gaddafi and reunifying the country.
Source: Al Arabiya
Please click the following URL to read the full text of the original story:
https://english.alarabiya.net/News/north-africa/2022/04/13/Libya-s-rival-governments-start-UN-backed-talks-in-Egypt
--------
154 people killed in gun attack in Nigeria
Adam Abu-bashal
14.04.2022
ABUJA, Nigeria
At least 154 people were killed and many houses were torched in an attack in Nigeria's northern Plateau state carried out by bandits related to Boko Haram, according to officials.
Gunmen on motorbikes opened indiscriminate fire on shops and houses in Kanem region on Sunday, Ya'u Abubakar, a senior councilor of the local government, told reporters on Wednesday.
Confirming the fatalities, he said approximately 4,800 people have fled their houses fearing for their lives.
President Muhammadu Buhari condemned the attack in a statement saying the perpetrators should not be "spared and forgiven."
Information Minister Lai Mohammed said in a statement that armed gangs in cahoots with Boko Haram were responsible for the attacks.
"What is happening now is that there is a kind of an unholy handshake between bandits and Boko Haram insurgents," Mohammed said.
Sadiya Umar Farouq, the minister of humanitarian affairs, said aid such as food, water and blankets have been delivered to the displaced people.
Boko Haram launched a bloody insurgency in northeastern Nigeria in 2009 before expanding to neighboring Niger, Chad and Cameroon, prompting a military response.
The terror group has killed more than 30,000 people and displaced nearly 3 million in Nigeria, according to the UN.
Source: Anadolu Agency
Please click the following URL to read the full text of the original story:
https://www.aa.com.tr/en/africa/154-people-killed-in-gun-attack-in-nigeria/2563380
--------
Arab World
Iraq's Mosul revives shattered cultural scene with traditional music festival
KAREEM BOTANE
April 13, 2022
MOSUL, Iraq: Five years since the battle to dislodge Daesh from Iraq's northern city of Mosul, a four-day festival of traditional music has taken place with the aim of salvaging the region's shattered arts scene and promoting cultural coexistence.
The festival, which ran from March 24 to 27 with the support of UNESCO, featured musicians from Mosul and the surrounding province of Nineveh, together with several visiting performers from Europe and further afield.
"It was a dream to have a festival like this," Khalid Alrawi, an oud player from Mosul, told Arab News. "I hope this kind of festival continues in future. We look forward to it becoming an annual festival, expanded with more activities."
Besides seeking to revive the city's once flourishing music scene, ruined by war and the flight of artists abroad, organizers wanted to reflect the region's true cultural vibrancy and diversity, unbowed by Daesh extremism.
"A new culture of music is here," Harth Yasin, the festival's coordinator, told Arab News. "This event will open the door to tourists and let others know more about the city of Mosul, and it will create opportunities for our young talented musicians and artists."
Seventeen acts took part in the festival, together reflecting the region's broad ethnic and religious makeup, including Arabs, Kurds, Turkman, Assyrians, and others. The festival also featured performances by musicians from France, Germany, Italy, Spain and Nepal.
"We hope there are more events like this with more support in the future in the places that represent the culture and history of Mosul," Yasin said.
Daesh seized control of Mosul and large swathes of Nineveh in June 2014, imposing its extreme interpretation of Islam on the population, which stamped out cultural activities that did not fall in line with the group's rigid ideology.
In July 2017, after nine months of ferocious urban warfare, the government in Baghdad formally declared Mosul had been liberated, depriving Daesh of its last major stronghold in Iraq.
Victory, however, came at a great cost to the city's infrastructure and proud identity. Since then, governments and aid agencies have funded projects to help rebuild the precious architecture of the historic old city and its surrounding districts.
Recovering from this period of darkness will take many years, as displaced communities try to salvage their homes and restart the local economy. But, thanks to festivals like this one, color is slowly returning to daily life.
"Mosul was closed to the world. No one knew anything about it. Now, they will know it better," Talal Al-Shimali, president of the Musical Association's Nineveh branch, told Arab News.
"It is a very important event here in Mosul. It will strengthen the music scene, and encourage musicians and artists in Mosul to develop and engage with other cultures and music. It is a good initiative, it will benefit the city and its people. The festival represents all voices and the music of all ethnicities and minorities in Mosul.
"My message to all is to support music in Mosul. Mosul city is tired and needs more support. We ask all international organizations to support and help Mosul. Music in Mosul has been dying day by day over the last couple of years. We can still save it with the help of international and local organizations in Mosul."
For those trying to salvage Mosul's artistic scene, the festival marked an important milestone in the city's healing process.
Source: Arab News
Please click the following URL to read the full text of the original story:
https://www.arabnews.com/node/2062741/middle-east
--------
Swiss prosecutors drop 11-year Arab Spring probe of Egyptians
13 April ,2022
Swiss federal prosecutors have dropped an 11-year investigation of suspected money-laundering by Egyptians related to the Arab Spring uprisings, they said on Wednesday.
"Despite the numerous enquiries and having transferred 32 million Swiss francs to Egypt in 2018, the Office of the Attorney General (OAG) must now accept that the investigation has been unable to substantiate suspicions that would justify the indictment of anyone in Switzerland or any forfeiture of assets," the OAG said in a statement.
It said it would release the remaining 400 million Swiss francs ($429 million) that had been frozen.
The Swiss inquiry began in 2011 following events related to the protests which led to the downfall of long-time Egyptian leader Hosni Mubarak.
The "complex and extensive" criminal case initially involved 14 suspects, including Mubarak's two sons, as well as 28 persons and 45 legal entities whose assets were seized. Five suspects had remained under investigation, the OAG said.
Source: Al Arabiya
Please click the following URL to read the full text of the original story:
https://english.alarabiya.net/News/middle-east/2022/04/13/Swiss-prosecutors-drop-11-year-Arab-Spring-probe-of-Egyptians
--------
Syrian immigrant Zack Tahhan helps capture New York subway shooting suspect
14 April ,2022
A 21-year-old man from Syria says he helped with the apprehension of Frank James, the man New York City law enforcement officials arrested in connection with Tuesday's shooting at a Brooklyn subway station.
Zack Tahhan was working security for a shop near St. Marks Place and First Avenue in Manhattan's East Village when he saw a figure walk by on the cameras who matched the photos of James, then a suspect.
"I thought, 'Oh my God, this is the guy, we need to get him, Tahhan said, surrounded by a drove of reporters who flocked to the scene after reports of James surfaced.
"He was walking down the street, I see the car of the police, I said, 'Yo, this is the guy!' We catch him, thank God."
James was arrested on Wednesday on suspicion of setting off smoke bombs and spraying gunfire inside a New York City subway car, injuring 23 people on Tuesday.
James' arrest came 30 hours after an attack that erupted during the morning commuter rush as the Manhattan-bound N line train was pulling into an underground station in Brooklyn's Sunset Park community, renewing fears of violence in the city's subway system.
James' arrest came 30 hours after an attack that erupted during the morning commuter rush as the Manhattan-bound N line train was pulling into an underground station in Brooklyn's Sunset Park community, renewing fears of violence in the city's subway system.
"My fellow New Yorkers, we got him. We got him," Mayor Eric Adams told a press conference announcing the arrest. "We're going to protect the people of this city and apprehend those who believe they can bring terror to everyday New Yorkers."
Source: Al Arabiya
Please click the following URL to read the full text of the original story:
https://english.alarabiya.net/News/middle-east/2022/04/14/Syrian-immigrant-Zack-Tahhan-helps-capture-New-York-subway-shooting-suspect
--------
Terror group PKK's presence in N. Iraq prevents mine clearance: Official
13.04.2022
DUHOK, Iraq
Efforts to clear mines placed along the borders of northern Iraq's Duhok province cannot go forward due to the presence of the PKK terrorists in the region, according to an Iraqi official.
Speaking to Anadolu Agency on efforts to clear mines that were placed during the Ba'ath regime era, Shilan Samir, head of the mine clearance department in Duhok, said that the presence of PKK members is hindering needed activities.
There are 775 minefields on the border of Duhok, but they are only able to clear 370 of them, he said.
"PKK activity is very intense in regions close to the Turkish border. So mines can't be cleared from places where the PKK is present," he said.
PKK terrorists often hide out in northern Iraq, across Turkiye's southern border, to plan terrorist attacks in Turkiye.
Samir went on to say that locals are not sure that the PKK will not lay mines here again.
"In some villages, animal grazing areas are (also) areas where the PKK moves around. Since PKK members are active there, we can't reassure the villagers and clear the mines," he added.
There are currently 13,500 minefields in the area of northern Iraq's Kurdish Regional Government (KRG).
Between 2008 and 2022, at least 111 people lost their lives or were injured as a result of 28 incidents during search operations on the Duhok border.
Source: Anadolu Agency
Please click the following URL to read the full text of the original story:
https://www.aa.com.tr/en/middle-east/terror-group-pkks-presence-in-niraq-prevents-mine-clearance-official/2562873
--------
Iraq thwarts rocket attacks against vital facilities
Ali Jawad
13.04.2022
BAGHDAD
The Iraqi military has thwarted rocket attacks targeting vital facilities in northern areas of the capital Baghdad.
The Iraqi army's Baghdad Operations Command said on Wednesday that its forces "arrested three suspects after monitoring their movements on the Karkh and Rusafa areas in Baghdad."
"According to information about the enemy's intention to target vital installations in the Tarmiyah district, north of Baghdad, two Katyusha rockets and detonators were seized," the command said.
It pointed out that "the weapons and detainees were handed over to the concerned authorities."
Daesh/ISIS has been active in the provinces of Salahuddin, Anbar, Kirkuk, and Diyala, at a time when the federal government is struggling to contain the attacks of the terrorist group by launching security and military operations in the northern, western and eastern regions of the country.
In 2017, Iraq declared victory over Daesh/ISIS by reclaiming all territories the terrorist group controlled since the summer of 2014 which was estimated to be about a third of the country's territory.
Source: Anadolu Agency
Please click the following URL to read the full text of the original story:
https://www.aa.com.tr/en/middle-east/iraq-thwarts-rocket-attacks-against-vital-facilities/2562747
--------
Saudi Arabia reiterates support to cash-strapped Lebanon
Wassim Seifuddin
13.04.2022
BEIRUT, Lebanon
Saudi Arabia on Wednesday vowed support to cash-strapped Lebanon amid a crippling economic crisis in the country.
Saudi Ambassador Walid Bukhari met with Lebanese President Michel Aoun at the presidential palace in Beirut.
Aoun was briefed by the Saudi envoy on the working mechanism of the Saudi-French joint fund "dedicated to humanitarian support, stabilization and development in Lebanon," the Lebanese Presidency said in a statement.
According to the statement, the Saudi diplomat underlined the need to develop the Saudi-Lebanese relations in all fields.
On Dec. 4, 2021, French President Emmanuel Macron announced a fund dedicated to humanitarian support, stabilization and development in Lebanon.
Lebanon has been grappling with a severe economic crisis since late 2019, including a massive currency depreciation as well as fuel and medical shortages.
Source: Anadolu Agency
Please click the following URL to read the full text of the original story:
https://www.aa.com.tr/en/middle-east/saudi-arabia-reiterates-support-to-cash-strapped-lebanon/2562741
--------
Mideast
Supreme Leader Asks Gov't to Advance Plans Irrespective of Vienna Talks' Results
2022-April-13
Addressing a meeting with heads of the three branches of government and a number of Iranian officials on Tuesday evening, Ayatollah Khamenei said that the country's diplomacy is moving on a good direction, stressing that Iran has resisted and will continue to resist against excessive demands.
He urged the Iranian officials not to be held back by the negotiations at all and to base their plans on the country's realities instead in order to tackle the problems.
The results of the negotiations, either positive or negative, should never hinder the country's affairs, the Leader said.
The Leader said the country's diplomacy is moving on a good direction while the Iranian negotiating team will continue to inform the president, the Supreme National Security Council and other officials on the process of Vienna talks, make relevant decisions, and move forward.
"So far, our negotiating team has been resisting the other side's excessive demands, and this [trend] will continue, God willing", Ayatollah Khamenei said.
The Leader said it was the opposite side of the talks in Vienna that failed to remain committed to its obligations.
"The other side broke its promise and left the JCPOA. It now feels desperate and [has found itself] in a stalemate," the Leader said, adding that the Islamic Republic has managed to overcome many difficulties through reliance on the people and will pass through this stage as well.
Ayatollah Khamenei stated that there is nothing wrong with criticizing the officials' performance, but such criticism should be based on an optimistic view and free from suspicion.
"Criticism should be optimistic and should not disappoint people," the Leader said.
Elsewhere, Ayatollah Khamenei praised the Yemeni people's bravery in facing the Saudi-led aggression against their country.
The Leader advised Saudi Arabia not to keep up the war that the kingdom knows would not bring any victory for it.
"Why do you go ahead with the war that you already know there is no possibility [for you] to win? Find a solution and get yourselves out of this arena," he told the Saudis.
Ayatollah Khamenei hailed the UN-brokered ceasefire recently announced in Yemen as "very good".
If the truce deal is truly implemented, it can live on and the Yemeni people will be victorious thanks to their own bravery and the initiatives they and their leaders have come up with, the Leader added.
"God will also help these oppressed people," he said.
The Leader also touched on the developments unfolding in the 1948 Palestinian territories, praising the Palestinian youths' awakening, dynamism and hard work in their confrontation with Israeli occupation.
The recent activities, he added, "showed that Palestine is alive despite the attempts of the United States and its stooges [to bring about the opposite] and it will never be driven into oblivion."
"With a continuation of the ongoing activities, the Palestinian people will achieve a final victory with God's blessing," Ayatollah Khamenei said.
Former US president Donald Trump unilaterally left the JCPOA in May 2018 and re-imposed the anti-Iran sanctions that the deal had lifted. He also placed additional sanctions on Iran under other pretexts not related to the nuclear case as part of his "maximum pressure" campaign.
In May 2019, following a year of strategic patience, Iran decided to let go of some of the restrictions on its nuclear energy program, resorting to its legal rights under the JCPOA, which grants a party the right to suspend its contractual commitments in case of non-compliance by the other side.
The Biden administration says it is willing to compensate for Trump's mistake and rejoin the deal, but it has retained the sanctions as leverage.
Last month, the talks in Vienna, aimed at resurrecting the JCPOA, were paused for an undetermined period of time but later reports suggested that they were in final stages.
In relevant remarks last week, Iranian Foreign Minister Hossein Amir Abdollahian criticized Washington for raising excessive demands from Tehran and blocking efforts to reach an agreement in Vienna talks.
"The American side has raised excessive demands in the last two or three weeks. Although much of the text has been agreed upon, the US makes suggestions that contradict some parts of the text. They are sometimes interested in unilaterally raising and imposing new conditions outside the framework of the negotiations that have taken place in the field of lifting sanctions," Amir Abdollahian said.
Iran will not cross its red lines, he said, adding that if Iran's red lines are observed, a good agreement will be reached. "We will continue to pursue a dignified, good, strong and lasting diplomatic path to reach an agreement that lifts sanctions," Amir Abdollahian underlined.
He also said that Iran and Russia agreed that Moscow will not hinder reaching an agreement in Vienna talks.
"West told us that since the start of the Ukraine war, the situation is that even if we reach an agreement [in Vienna], Russia will not go along with the agreement. During the telephone conversation we had with Mr. Lavrov and during my visit to Moscow, we had very clear and transparent talks. Our agreement with the Russian side was that if our red lines were fully observed and we reached an agreement in the Vienna talks on lifting the sanctions at any time, Russia would not be an obstacle in the way of reaching an agreement."
"We certainly want the sanctions to be lifted, but with dignity and stability," Amir Abdollahian said, adding that however, President Rayeesi has always emphasized to all cabinet members in meetings that the focus should not be on Vienna, but that all institutions should act to neutralize sanctions and to promote the sustainable development of the economy and trade in the country.
Source: Fars News Agency
Please click the following URL to read the full text of the original story:
https://www.farsnews.ir/en/news/14010124000159/Spreme-Leader-Asks-Gv%E2%80%99-Advance-Plans-Irrespecive-f-Vienna-Talks%E2%80%99
--------
Afghan People Call for Unity with Iranians after Recent Bitter Incidents
2022-April-13
The Afghans denounced actions aimed at driving a wedge between the Iranian and Afghan people, calling for unity between the two nations in the face of conspiracies to poison their friendly relationship.
They shouted "no to seditionists" and "unity! unity!" while hailing the brotherly relationship between the Iranians and Afghans.
A statement was also read out in condemnation of the recent attacks on Iran's embassy in Kabul and the country's consulate in the Western Afghan city of Herat.
No one was hurt during the attacks, which came amid resurfaced allegations of systemic mistreatment of Afghan refugees in Iran.
Reacting to the incidents, Tehran called on Tuesday for legal action against the attackers, stating that Afghanistan's acting Taliban government is responsible for protecting foreign diplomatic missions.
On Monday, Iranian Foreign Ministry Spokesman Saeed Khatibzadeh had warned against plots by "certain ill-wishers of Iran and Afghanistan" to sow discord between the two countries.
The Taliban, for their part, explained that the protests were "arbitrary" and "not authorized", adding that the Afghan security forces rushed to the Iranian consulate in Herat and took full control of the situation immediately.
Source: Fars News Agency
Please click the following URL to read the full text of the original story:
https://www.farsnews.ir/en/news/14010124000768/Afghan-Peple-Call-fr-Uniy-wih-Iranians-afer-Recen-Bier-Incidens
--------
Iran Urges Taliban Gov't to Account for Attacks on Diplomatic Missions
2022-April-13
Afghanistan's acting Taliban government is responsible for maintaining the security of Tehran's diplomatic missions in the country and should thus provide explanations for the attacks on the Iranian embassy in Kabul and its consulate in the eastern city of Herat, Amir Abdollahian said in separate phone talks with the Iran's Ambassador to Kabul Bahador Amininan and consulate general to Herat on Tuesday after videos surfaced online of the attacks on the two diplomatic missions.
The attackers, who were described in media reports as extremist elements, only managed to damage the mission's surveillance cameras by throwing stones at them.
Amir Abdollahian criticized Afghanistan's rulers for failing to make the necessary arrangements to ensure the security of the diplomatic missions, which is a responsibility of the host country.
He warned of plots being pursued by enemies to sow discord between the two countries.
In a relevant development on Tuesday, the Iranian foreign ministry summoned the Afghan charge d'affaires to Tehran to strongly protest at the attacks.
It also called for legal proceedings to be launched against those behind the attacks.
Meanwhile, Iran's Interior Minister Ahmad Vahidi warned on Tuesday that that attacks had been planned by enemies with the purpose of fomenting discord between the two neighbors.
Speaking to reporters, Vahidi said the Iranian and Afghan nations enjoy deep-rooted and very good relations, adding, "Iran has always been a good host for Afghan refugees."
Source: Fars News Agency
Please click the following URL to read the full text of the original story:
https://www.farsnews.ir/en/news/14010124000283/Iran-Urges-Taliban-Gv%E2%80%99-Accn-fr-Aacks-n-Diplmaic-Missins
--------
Spokesman: Iran, Afghanistan Able to Resist Conspiracies
2022-April-13
The common civilizational and cultural history of Iran and Afghanistan, the two nations' common sacrifice against aggression and occupation in such fields as the eight-year Iran-Iraq war and in Syria, and years of peaceful coexistence of Iranians and Afghan immigrants have constituted a strong fortress against dividing conspiracy against the two states, Bahadori Jahromi wrote on his twitter page after videos circulated online of the attacks against the Iranian missions in Afghanistan.
The attackers only managed to damage the surveillance cameras by throwing stones at them.
Iranian Foreign Ministry Spokesman Saeed Khatibzadeh had warned on Monday against plots by "certain ill-wishers of Iran and Afghanistan" to draw a wedge between people of the two countries.
He emphasized that Afghanistan's acting Taliban government is definitely responsible for safeguarding and protecting the security of foreign diplomatic missions.
The Iranian government and people have been hospitable to the Afghan people for decades, hosting some 3.6 million documented and undocumented Afghan refugees who left their country due to war and harsh living conditions.
300,000 more refugees have entered Iran since the Taliban took over Afghanistan in mid-August last year. This is at a time when the Iranian nation is facing unilateral US sanctions and the international humanitarian bodies are keeping silent on such inhumane bans.
Source: Fars News Agency
Please click the following URL to read the full text of the original story:
https://www.farsnews.ir/en/news/14010124000638/Spkesman-Iran-Afghanisan-Able-Resis-Cnspiracies
--------
Two Palestinians killed in Israeli West Bank raid: Palestinian health ministry
14 April ,2022
Two Palestinians were killed early Thursday as Israeli forces raided the West Bank district of Jenin on the sixth straight day of operations in the occupied territory, the Palestinian health ministry said.
"Two youths died of injuries sustained in an Israeli attack in the Jenin district," the ministry said in a statement, while the Israeli army said it had been "continuing recent counterterrorism activities" a week after a Jenin man killed three people in Tel Aviv.
Source: Al Arabiya
Please click the following URL to read the full text of the original story:
https://english.alarabiya.net/News/middle-east/2022/04/14/Two-Palestinians-killed-in-Israeli-West-Bank-raid-Palestinian-health-ministry
--------
Iran says preliminary deal reached on frozen funds abroad
13 April ,2022
Iran's foreign minister said Wednesday that a preliminary deal had been reached with a foreign bank over frozen funds belonging to Iran.
"An accord was concluded with a foreign bank to release a part of our financial claims," Hossein Amirabdollahian said at a news conference.
"This is a preliminary agreement on when and how to release the funds," he added.
For the latest headlines, follow our Google News channel online or via the app.
Tens of billions of dollars in Iranian money were blocked in a number of countries, including China, South Korea and Japan, after the United States reimposed sanctions on Iran in 2018.
A 2015 nuclear deal had granted Tehran much-needed sanctions relief but the US unilaterally pulled out and reimposed punishing sanctions under then-president Donald Trump.
Until then, Iran had been one of South Korea's main suppliers of crude.
According to Tasnim news agency, the deal announced on Wednesday aims to find a solution for frozen Iranian assets valued at more than $7 billion.
Last year, Tehran threatened legal action unless Seoul released frozen funds for oil shipments, worth that same amount.
In early January, Iran had urged South Korea to unlock the funds and not to await the outcome of Vienna talks aiming to revive the nuclear agreement.
Amirabdollahian said a delegation from the concerned country, which he did not identify, had visited Tehran on Tuesday to follow up on the implementation of the deal with the foreign bank.
The delegation met officials from the Iranian central bank and the foreign ministry, he added.
Iran has been engaged for a year in talks with France, Germany, Britain, Russia and China directly, and the United States indirectly, to revive the nuclear deal, known formally as the Joint Comprehensive Plan of Action (JCPOA).
Source: Al Arabiya
Please click the following URL to read the full text of the original story:
https://english.alarabiya.net/News/middle-east/2022/04/13/Iran-says-preliminary-deal-reached-on-frozen-funds-abroad
--------
War in Yemen is 'model' for success or failure of UNSC: Expert
Mohammed Alragawi
14.04.2022
ISTANBUL
The United Nations Security Council (UNSC) on Wednesday welcomed the announcement of the peaceful transfer of power of the legitimate Yemeni government by President Abd-Rabbu Mansour Hadi to the Presidential Leadership Council.
In a press release, the UNSC expressed hope that this would constitute an important step towards stability and a comprehensive Yemeni-led political settlement under the auspices of the UN after the start of the truce on April 2.
Speaking to Anadolu Agency, Ali al-Dahab, a Yemeni researcher and military affairs analyst, assessed the UNSC resolutions on Yemen during the last few years and their effectiveness in bringing peace to the country.
Seven years ago, in resolution 2216 (2015), the UNSC reiterated its support for the efforts of the Gulf Cooperation Council (GCC) in assisting the political transition in Yemen and commended its engagement in this regard.
Al-Dahab praised the resolution, saying the UNSC was "not mistaken" to make such a decision as the situation in Yemen in 2014 was "threatening regional and international peace and security."
He noted that the resolution included sanctions against the Houthi rebels, an arms embargo, and called on all Yemeni parties to start a peace process, all of which were in the interest of stabilizing security in Yemen, the region, and the world.
Since 2011, the UNSC has issued many resolutions on Yemen, including resolutions 2014 (2011), 2051 (2012), 2140 (2014), 2201 (2015), 2204 (2015), 2216 (2015), and 2624 (2022).
Resolution 2216 condemned "any attempt by the Houthis to take actions that are exclusively within the authority of the legitimate Government of Yemen, and noting that such actions are unacceptable."
However, al-Dahab said the resolution was "not very effective" in preventing arms smuggling, given the improving ability of the Houthis to develop weapons since its issuance.
"The resolution has only an honorable impact of endorsing the legitimate government and supporting the regional intervention in Yemen," he said.
Al-Dahab also claimed that the imposed sanctions on Houthi figures did not have any impact on the security of Yemen because those sanctioned figures have no interests outside Yemen but they support the war from their financial activities inside the country.
In September 2014, Houthi forces captured the capital Sanaa, and in January 2015, they attempted to unilaterally replace the legitimate government of Yemen with an illegitimate governing authority that the Houthis dominated.
'Operation Decisive Storm'
In order to reinstate the Yemeni government, the Saudi-led coalition started a vast military operation in Yemen named "Operation Decisive Storm."
At the beginning, the operation represented a "source of hope for those who rejected the Houthis' coup, Mutahhar al-Sufari, a Yemeni researcher, told Anadolu Agency.
"In its first few months, the operation was able to recapture many areas from Houthis rebels, most notably the interim capital Aden," he said.
Al-Sufari believes that the intervention of the Arab coalition led by Saudi Arabia succeeded in preserving the international support of the legitimate government and stopped the country from falling into the hands of militias.
But he also argues that many problems arose quickly as the main actors in the coalition started to interfere with the government's work.
"The Saudis and the UAE started establishing and supporting armed groups that are not under the authority of the internationally recognized government, such as the UAE-backed Giants Brigades and the separatist Southern Transitional Council (STC)," he said.
"Weakening the government in the liberated areas and keeping President Abd-Rabbu Mansour Hadi in exile in Riyadh for the last 10 years are the main mistakes of the Saudi-led coalition in Yemen."
The United Nations says the military conflict has caused one of the world's worst man-made humanitarian crises, with 24.1 million people, or 80% of the population, requiring humanitarian assistance and protection. More than 13 million people are in danger of starvation, according to UN estimates.
Call for changes in UNSC
Both al-Dahab and al-Sufari agreed that there is a "need for some changes" in the structure and work mechanism of the UNSC.
Al-Dahab said even if it seems difficult to make some changes in the UNSC, it is "still possible with the emergence of a group of international powers to impose changes in the future."
"The Security Council resolutions are subject to interests, not principles," he said.
He said talking about international peace and security is limited to the national and strategic interests of major members of the UNSC and to the extent of their willingness in dealing with hotbeds of tension in the world.
"We noticed the different responses of the Security Council to Ukraine and Yemen, which came according to the extent of the threat to the security of Europe and the West," he said.
Al-Sufari sees the war in Yemen as a "model" for the success or failure of the UNSC.
"If the UNSC succeeds in Yemen, this will contribute to restoring the societies' trust in the UN institutions, and in the case of failure, armed groups around the world will get encouraged to use violence to achieve their political ambitions," he said.
He also thinks that the UNSC should continuously evaluate the performance of the UN envoys to Yemen and the regional actors in Yemen to ensure their compliance with its resolutions and international law.
Source: Anadolu Agency
Please click the following URL to read the full text of the original story:
https://www.aa.com.tr/en/middle-east/war-in-yemen-is-model-for-success-or-failure-of-unsc-expert/2563215
--------
URL: https://www.newageislam.com/islamic-world-news/belur-temple-rathotsava-quran-recitation/d/126794
New Age Islam Islam Online, Islamic Website, African Muslim News, Arab World News, South Asia News, Indian Muslim News, World Muslim News, Women in Islam, Islamic Feminism, Arab Women, Women In Arab, Islamophobia in America, Muslim Women in West, Islam Women and Feminism