New Age Islam News Bureau
9 Feb 2017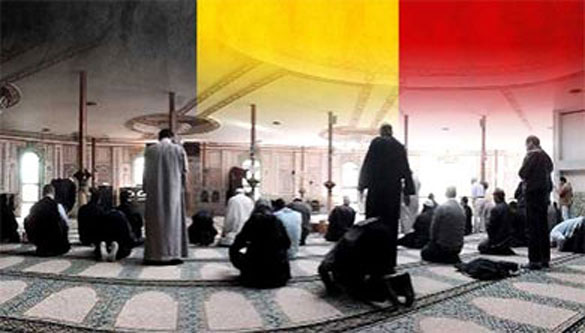 Belgium's terror monitoring centre has expressed concerns about the spread of Saudi- and Gulf-backed fundamentalist Islam in the country's mosques
-----
• Belgian Alarm over Spread of Saudi-Backed Hardline Islam
• A Hungary Mayor Bans Muslim Face Veil, Islamic Prayers
• Term "Muslim Terrorist" Is Wrong, Says Buddhist Spiritual Leader Dalai Lama
• IS Pamphlets in Pakistan Border Areas Try to Create Panic
Europe
• Belgian Alarm over Spread of Saudi-Backed Hardline Islam
• CNBC Shocked Europeans Oppose Mass Muslim Migration
• CIA rules out placing Ennahda on terrorist list
• Egyptian Louvre attack suspect 'acted alone'
• Why A German-Born Soccer Star Of Muslim Descent Had To Choose Between His Faith And His Career
• Louvre attack suspect 'did not act on orders from IS group
• Meet me before you judge me: Muslim's invitiation to his neighbours
--------
Africa
• A Hungary Mayor Bans Muslim Face Veil, Islamic Prayers
• Christian, Muslim Clerics Preaches Tolerance, Patriotism as Way out In Nigeria
• CIA Memo: Designating Muslim Brotherhood Could 'Fuel Extremism'
• Somalia's al Shabaab kill four in hotel attack in Puntland region: official
• Central African Republic Violence Leaves at Least 5 Dead
• Africa: Immigration Ban a New Hurdle for Anti-Terrorism Campaign
• Youths call for religious tolerance among Nigerians
--------
India
• Term "Muslim Terrorist" Is Wrong, Says Buddhist Spiritual Leader Dalai Lama
• Over 81,000 Muslims Lodged In Jails in 2015 across the Country: NCRB Data
• Madhya Pradesh ATS busts ISI's simbox gang spying on army units, four held
• No lessons learnt from Pathankot attack: Panel
• NIA probes Islamic State 'kill-list' of I-T engineers who tracked group online, 70 from Mumbai
• A village that has its own Partition museum — a monument of harmony
--------
Pakistan
• IS Pamphlets in Pakistan Border Areas Try to Create Panic
• Sunni Ittehad Council for Military Alliance of 57 Muslim Countries
• Milli Yakjehti Council to Launch Agitation for Release of Hafiz Saeed
• Quran's education compulsory for Muslims till higher secondary level in Punjab
• Party that initiates project should get to inaugurate it: PM
• Pakistan, Afghanistan need to be cautious of malicious elements: Mamnoon
--------
Arab World
• Trump To Approve Weapons Packages to Saudi Arabia
• U.S. Forces Killed 11 Al Qaeda Operatives in Two Air Strikes in Syria -Pentagon
• Syrian Army Inches Closer to ISIL-Held Al-Bab in Eastern Aleppo
• Northern Syria Turned into Graveyard for Turkish Army Soldiers
• Syria: Infighting Intensifying amongst Nusra, Rival Terrorists in Idlib
• ISIL's Top Commanders Killed in Syrian Airstrikes in Deir Ezzur
• Syrian Army Repels Terrorists' Attacks in Eastern Damascus
• Syrian Army Preempts ISIL's Attack on Airbase South of Deir Ezzur
• Syria: Gov't Troops Inch Closer to Lifting Deir Ezzur Airbase Siege
• Syria: ISIL Withdraws from More Strategic Positions in Eastern Homs
--------
North America
• White House Weighs Terrorist Designation for Muslim Brotherhood
• Court Questions Whether US Travel Ban Is a Shut-Out for Muslims
• US Muslim Jewish Council Praises Trump on Civil Rights
• Muslim Canadian Denied Entry To U.S. After Questions about Religion
• Visa changes could stunt budding US-India ties under Trump
• Muslim groups push Canada to fight Islamophobia
--------
Mideast
• Don't Move US Embassy to Jerusalem, Bishops Ask Secretary Of State
• Rights Groups Challenge Israel's New Settlements Law in Court
• Erdogan, Trump agree joint action against IS in Syria
• Turkish army, Syrian rebels escalate assault on ISIS-held city
• Dozens killed in Saudi push to take Yemeni port
• Two Palestinians killed, 5 injured in Israeli airstrike in Gaza
• 2 Saudi servicemen killed in Yemeni retaliatory attack
--------
South Asia
• Over 1,000 Rohingyas 'Killed' In Myanmar: UN Officials
• Govt grants scholarships to 3,000 Afghan students
• Six Red Cross staff killed in Afghanistan
• Repatriation and displacement overwhelms Afghanistan
• 6 Red Cross workers killed, 2 missing in northern Afghanistan
--------
Southeast Asia
• PAS Says Penang Promoting 'Liberal Islam'
• Top Malaysian Court Agrees To Hear Bid by Three Muslim Converts Seeking Return to Christianity
• Protests greet Malaysia aid ship for Myanmar's Rohingya
• Insulting to say Muslims 'not that smart', group says in paintbrush row
Compiled by New Age Islam News Bureau
URL: https://www.newageislam.com/islamic-world-news/new-age-islam-news-bureau/belgian-alarm-over-spread-of-saudi-backed-hardline-islam/d/110018
--------
Belgian alarm over spread of Saudi-backed hardline Islam
February 9, 2017
BRUSSELS: Belgium's terror monitoring centre has expressed concerns about the spread of Saudi- and Gulf-backed fundamentalist Islam in the country's mosques, according to an official report published in local media Wednesday.
The OCAM national crisis centre said the austere Sunni doctrine of Wahhabism preached in an increasing number of Belgian mosques was getting financial support from Saudi Arabia and the Gulf states, according to the report quoted in Flemish-language daily De Standaard.
Belgium has been on high alert since three suicide bombers attacked Zaventem Airport and the Brussels metro system in March 2016, killing 32 people.
"We believe that a growing number of mosques and Islamic centres in Belgium, like the rest of Europe, are under the influence of Wahhabism, the Salafist missionary apparatus," the centre said.
"We also note that the imams of these mosques are regularly being 'salafised' or are already 'salafised'," it added.
Saudi Arabia is the cradle of Wahhabism, which has been accused of inspiring extremist ideologies across the Muslim world.
The Belgian official report said Saudi authorities had set up a "generous" bursary scheme for Muslim students from other countries.
"They are strongly encouraged to become imams in their Belgian mosques or be active in proselytising in Belgium or more widely in French-speaking or Dutch-speaking areas," it said, as cited by De Standaard daily.
"The Saudi authorities and the Wahhabist establishment have clearly settled on this method to reinforce the influence of the doctrine and practice of Wahhabism in Muslim communities in Europe," it said.
Belgium has a long-running problem with radicalisation, producing what officials say is the highest number of jihadists going to fight in Syria and Iraq in proportion to its population of any EU country.
Police arrested 11 people in house raids in Brussels on Wednesday in connection with jihadists returning from Syria, prosecutors said.
http://www.freemalaysiatoday.com/category/world/2017/02/09/belgian-alarm-over-spread-of-saudi-backed-hardline-islam/
--------
A Hungary Mayor Bans Muslim Face Veil, Islamic Prayers
Web Report
February 8, 2017
With migrant crisis at its peak, the mayor had last year warned migrants from entering Hungary illegally
A mayor in Hungary has banned Muslims from covering their face with hijab (veil) and the Islamic call to prayer in what he describes as a 'war against Muslim culture'.
In an interview with the BBC, Laszlo Toroczkai was quoted saying, "We primarily welcome people from Western Europe - people who wouldn't like to live in a multicultural society. We wouldn't like to attract Muslims to the village."
With his move, he hopes to attract Christian Europeans who object to multiculturalism in their own countries to migrate to Ásotthalo, a remote village in the Hungarian plains, situated around two hours from Budapest.
"It's very important for the village to preserve its traditions. If large numbers of Muslims arrived here, they would not be able to integrate into the Christian community. We can see large Muslim communities in Western Europe that haven't been able to integrate - and we don't want to have the same experience here," he further said in his BBC interview.
He bluntly adds, "I'd like Europe to belong to Europeans, Asia to belong to Asians and Africa to belong to Africans. Simple as that."
With migrant crisis at its peak, as many as 10,000 people crossed the border to move from Serbia into Hungary. The Hungarian mayor has expressed his concerns and introduced the strict measures.
This is what the Mayor had to say last year about illegal border crossings -
http://www.khaleejtimes.com/international/mayor-bans-muslim-face-veil-islamic-prayers
--------
Term "Muslim terrorist" is wrong, says Buddhist spiritual leader Dalai Lama
February 8, 2017
Hitting out at the "totalitarian" government in China for "immoral" curbs on free speech and the press, the Dalai Lama today said people of the Communist nation will be able to tell right from wrong once they are aware of the "reality".
The Tibetan Buddhist spiritual leader, however, batted for closer Sino-India ties at the people-to-people level and went on to invoke the spirit of "Hindi-Cheeni, Bhai-bhai".
Asked about the perception of growing intolerance in India, he said a few individuals and politicians do not represent the entire population of the country and that India was the "most stable" country in the region.
He also advised against associating Islam with terrorism and stressed on the need to reach out even to the hardline elements.
Speaking at an event organised by the Vivekananda International Foundation here, he reaffirmed that Tibet was not seeking independence from China but freedom mainly in the sphere of culture and language.
"The (Chinese) government is unfortunately totalitarian …no freedom of speech, freedom of religion. Once Chinese people know the reality they will able to judge what is wrong and what is right. Censorship is immoral," he said.
Acknowledging that things were "changing" in China, he said the country should must open up in its own interest.
Power of truth was stronger than the power of gun, he said, alluding to allegations of Chinese repression in Tibet.
"India should invite (from China) people from areas such as medicine and education…in areas where it has an advantage," the Dalai Lama said, stressing on the need for enhanced people to people contact.
Responding to a question on radical Islam, he said the very term "Muslim terrorist" was wrong and anyone practising Islam and indulging in terror ceases to be a genuine Muslim.
"Some Muslim countries are isolated, without any contact with the outside world. There comes the concept of one religion and one truth," he said, stressing on the need to reach out to even hardline elements of Islam.
He said the use of force by the United States post September 11, 2001 attacks "hardened" many. Reaching out to Osama Bin Laden would have made the west safer, he said.
The Dalai Lama said secularism and non-violence, the highlights of the ancient Indian tradition, were "very relevant" in contemporary times, and lauded the country's religious harmony.
"Occasional trouble are understandabale. But India is the only country in the world where all the major religious traditions are present," he said.
The Dalai Lama, who has made India his home after fleeing Tibet in 1959, also praised India's tradition of respecting all religions as well as non-believers as part of its secular values.
http://www.jantakareporter.com/india/muslim-terrorist-dalai-lama/99579/
--------
IS Pamphlets in Pakistan Border Areas Try to Create Panic
February 08, 2017
DERA ISMAIL KHAN, PAKISTAN —
Militant group Islamic State has threatened to target Shi'ites living in certain northern areas of Pakistan.
Hundreds of pamphlets containing threats have allegedly been distributed by IS in the Kurram agency on the Pakistani side of the Durand Line with Afghanistan, threatening attacks in specific tribal areas.
"We have achieved our goals in Afghanistan and are now ready to confront Shia renouncers in Pakistani's tribal areas," the IS pamphlet said in the local language, Pashto.
Although distributed in Sunni majority areas too, the pamphlet threatens to target Shi'ites in the semi-autonomous Federally Administered Tribal Areas (FATA), as well as in Dera Ismail Khan and Hangu cities in the northwestern Khyber Pakhtunkhwa province. The areas mentioned in the pamphlet are home to a considerable Shi'ite population.
VOA could not independently confirm the authenticity of the pamphlet.
A local government official acknowledged, on the condition of anonymity, that pamphlets were distributed, but said the government is investigating whether these came from IS or others. He said the areas mentioned in the pamphlets are under government control.
"We are on the front line of the war against militancy and, therefore, our security is tight," the official added.
Pakistan's military has been carrying out an operation to clear out militants in the region since 2014. The government is demanding local tribes in the region surrender their weapons to decrease militancy. The weapons surrender is part of Operation Zarb-e-Azb.
Faqir Hussain, an elder of a Shi'ite tribe called Tori, expressed concern that the government is demanding Shi'ites in the region surrender their weapons while facing such threats.
"We would not have bought these weapons if we had no threat," Hussain told VOA's Deewa service. "I have told my tribe living on the border that they have to defend themselves."
The Tori tribe recently faced a suicide attack claimed by a splinter group of the Pakistani Taliban, which reportedly is supporting IS. Islamic State reportedly is attempting to establish a footprint in the Kurram agency and has been recruiting local men into its ranks.
Government action
The Pakistani government says it will take action against those involved in distributing the pamphlets.
"The government is going to take strict measures if IS has distributed pamphlets in Kurram agency and other parts of Khyber Pakhtunkhwa," lawmaker Tahir Iqbal, who is a member of the ruling Muslim League party, told VOA. "The government will not spare anyone involved in printing or spreading hate material or pamphlets."
The terror group has also been active in parts of neighboring Afghanistan for the past two years. Kabul has said many of the IS fighters in Afghanistan belong to the Orokzai tribe in Pakistan.
Analysts say the military operation in the tribal areas of Pakistan has cleared out the top layer of militancy, but the sleeper cells and sympathizers still exist and have the capacity to plan and attack.
"It is almost impossible to fully prevent the spread of the group in the current circumstances," security analyst Said Nazir Mohmand, who is associated with the Islamabad-based Institute of Policy Studies, told VOA. "Such groups can easily be eliminated if there is peace in Afghanistan."
Top foreign ministry officials from Russia, China and Pakistan met in Moscow in December to discuss what they said was a "gradually growing" threat to their frontiers posed by Islamic State extremists in Afghanistan.
http://www.voanews.com/a/islamic-state-pamphlets-pakistan-border-areas-create-panic/3714962.html
--------
Europe
CNBC Shocked Europeans Oppose Mass Muslim Migration
8 Feb 2017
On Wednesday morning, CNBC reported with utter shock the results of a European survey which revealed strong, Europe-wide opposition to Muslim migration.
"Not everyone in Europe is welcoming Muslim migrants with open arms," a narrator says on a video embedded in the online article about the survey. "A surprising number of Europeans are in favor of a Muslim immigration ban," states CNBC's Facebook post containing the report.
It should be of little surprise that a majority of Europeans are unhappy with the massive influx of unassimilated Muslim migrants that has brought with it a marked increase in violent and sexual crimes, social disunity, welfare obligations, and radical Islamic terrorist attacks
The survey of 10 European countries, carried out by the Royal Institute of International Affairs (also known as Chatham House), asked if "all further migration from mainly Muslim countries should be stopped."
An average of 55 percent of respondents across the 10 countries agreed. Only one in five respondents said they wanted Muslim migration to continue.
If the globalist activists posing as journalists in the mainstream media ever bothered to cover the Muslim migrant crisis in Europe honestly, these survey results wouldn't come as a shock.
Only on Sunday, five German girls between the ages of 12 and 14 were molested by two Muslim asylum seekers, aged 23 and 34, in the town of Bad Oldesloe. The police report on the incident, released Monday, said that the victims were "touched under water."
Sex crimes committed by Muslim migrants in swimming pools have become so widespread in countries like Germany and Sweden that it can accurately described as an epidemic, and have led some pools to institute extra security and even sex-segregation in some instances.
In March, 2016, Gatestone Institute researcher Ingrid Carlqvist identified at least 28 instances of rape or sexual assault at Swedish public swimming pools in 2015 and the first two months of 2016.
Sunday's attack at a public pool in Germany is the third such attack in Germany this year, and follows attacks in pools at Düsseldorf and Krefeld. In 2016, there were over 200 reported sexual assaults or rapes at public pools perpetrated by Muslim migrants in Germany and Austria.
This is to say nothing of the hundreds of sexual assaults and rapes carried out by unassimilated migrants in Europe outside of public pools.
But the average American who relies on the mainstream media to report on these crimes doesn't know about these shocking details, because the mainstream media dare not report them.
In the last 12 months, CNBC has published only 17 articles focusing on the Muslim migrant crisis. Not a single one of those articles details the shockingly high number of violent and sexual crimes committed by Muslim migrants in Europe.
A brief search was unable to find a single article on CNN or MSNBC detailing the shocking extent of Muslim migrant crime in Europe. Dedication to the multicultural dream is so strong among the globalist elite and media that these crimes are vastly underreported even in the countries in which they take place.
This suffocating culture of silence about the true nature of unfettered, mass Muslim migration is practically paralyzing police forces. A minor national row occurred in Sweden over the weekend after a police officer could no longer take the culture of denial and took to Facebook to vent.
"Here we go; this is what I've handled from Monday-Friday this week: rape, rape, robbery, aggravated assault, rape-assault and rape, extortion, blackmail, assault, violence against police, threats to police, drug crime, drugs, crime, felony, attempted murder, rape again, extortion again and ill-treatment," wrote Peter Springare.
"Suspected perpetrators; Ali Mohammed, Mahmod, Mohammed, Mohammed Ali, again, again, again. Christopher … what, is it true? Yes, a Swedish name snuck in on the edges of a drug crime. Mohammed, Mahmod Ali, again and again," Springare added.
"If you can't discuss the problem of crime among immigrants without somebody attributing it to racist propaganda, we are in deep trouble," Springare wrote. "The problem is that nobody wants to talk about this."
http://www.lifezette.com/polizette/cnbc-shocked-europeans-oppose-mass-muslim-migration/
--------
CIA rules out placing Ennahda on terrorist list
February 8, 2017
No one yet knows what specific measures the Trump administration will take to designate the Muslim Brotherhood as a terrorist group in what is believed to be a wider crackdown on Islamic organisations. The political elite in Washington is deeply divided over the classification of the movement as a "terrorist" organisation and the disastrous consequences that this could have for Washington. Recent reports by intelligence agencies have called for its offshoots in Tunisia and Morocco to be excluded from whatever action is decided upon.
Since Donald Trump's inauguration as president, US intelligence services have been analysing the situation in Arab countries, particularly those parties and organisations considered to be an extension of the Muslim Brotherhood. The focus has been on Egypt, Jordan, Syria, Lebanon, Qatar and Libya, as well as Sudan, Mauritania and Algeria.
Observers believe that if Washington goes ahead with this designation, it may end up losing most of its allies in the region, as Islamic political parties linked to the Brotherhood exist in Indonesia, Pakistan, Morocco, Tunisia, Jordan, Iraq, Kuwait, Yemen and even Turkey. They stress that the decision might result in serious damage, with negative consequences detrimental to US interests.
Islamist parties in Tunisia and Morocco regard Trump's bigoted and crude statements — which seek to tackle Islam under the guise of fighting terrorism — as inapplicable to them, given their growing role in combatting terrorist ideology. The Ennahda Movement in Tunisia, for example, always stresses that it is the biggest victim of terrorism and, in the words of its president, that democratic Islam is the best solution for combatting the terrorists.
Morocco has become a key player for the US in the fight against terrorism in North Africa, particularly in the aftermath of the Arab revolutions that swept through the Middle EastandNorth Africa (MENA) region, leaving behind many collapsed states and the emergence of jihadi groups. Foremost among these is the "Islamic State", which represents a real threat to world peace.
According to the Morocco's Al-Masaa newspaper, US intelligence has excluded both Tunisia and Morocco from the possible designation because of the role played by Islamic parties – namely the Justice and Development Party (PJD) in Morocco and Ennahda in Tunisia — in the democratic transition in both countries and their participation in government. CIA reports reveal that the reason for their non-inclusion on the terrorist list is the fear that doing so would push religious youth towards violence and extremism, targeting the West in general and the US in particular.
Ammar Fayed, an Egyptian researcher on Islamic groups, has pointed out that Ennahda and the PJD are not the only parties which condemn terrorism; all Islamic parties, he explained, have condemned terrorism and deny any affiliation with any organisation outside their country. Fayed suggests that a move to designate the Muslim Brotherhood as a terrorist group would have no effect on most other Islamic parties. In Morocco and Tunisia and elsewhere, these are official parties that do not carry the "Muslim Brotherhood" label and are engaged fully in mainstream political life; he cited Libya, Jordan, Kuwait and Algeria as examples.
"It seems that the positions of Islamic parties in condemning terrorism, as well as their Full report at:
https://www.middleeastmonitor.com/20170208-cia-rules-out-placing-ennahda-on-terrorist-list/
--------
Egyptian Louvre attack suspect 'acted alone'
9 February 2017
A 29-year-old Egyptian arrested after a machete attack at the Louvre in Paris last week has said he acted on his own and was not under orders from ISIS, a source close to the probe said Wednesday.
Police have confirmed him as Abdallah El-Hamahmy, a sales manager resident in Dubai, who has denied being guided by the extremist group during interrogations.
He said that he "acted on his own will" and planned only to damage artworks as a symbolic assault on France, the source said, asking not to be named.
Although his backpack contained spray paint which could have been used to deface artwork, investigators believe he appears to have "a certain sympathy for the ideas of IS," the source said, referring to ISIS using a different acronym.
In Friday's attack at the world's busiest museum, Hamahmy was shot after lunging at four soldiers with machetes in the underground ticketing area while shouting "Allahu Akbar" (God is Greatest).
Hamahmy, who is recovering in hospital, is likely be charged once medical staff say he is well enough to appear before a judge.
The son of a retired policeman entered France legally on January 26 on a flight from Dubai and was staying in an apartment rented by the week in an expensive Paris district near the Champs-Elysees, sources say.
Investigators are examining a Twitter account thought to his which sent out a dozen messages in Arabic between 9:27 am and 9:34 am, just minutes before the attack.
"In the name of Allah... for our brothers in Syria and fighters across the world," one said.
Another post asked: "Why are they afraid of the creation of a state for Islam? Because the state of Islam defends its resources and the honor of Muslims."
Hamahmy's father Reda El-Hamahmy, a retired police officer, had previously given media interviews – including with Al Arabiya – saying his son was innocent.
But speaking in Cairo he told AFP that his son had shown no sign of having been radicalized.
Full report at:
https://english.alarabiya.net/en/News/world/2017/02/09/Egyptian-Louvre-attack-suspect-acted-alone-.html
--------
Why A German-Born Soccer Star Of Muslim Descent Had To Choose Between His Faith And His Career
February 09, 2017
BELEK, TURKEY: He broke out of his tough Berlin neighborhood in a pair of cleats, reaching the top tier of professional soccer. The German army held a photo op when the famous son of Tunisian immigrants signed up for his military service. At an award event in his honor, he hobnobbed with members of Chancellor Angela Merkel's cabinet.
"I was their role model for Muslim integration," said Anis Ben-Hatira, 28, who, until last month, was signed to the German pro team Darmstadt.
Yet in a Western world fast embracing a darker view of Islam, Germany's onetime sports hero has suddenly fallen from heights it took a lifetime to achieve. His story about being pushed off his team and driven to self-imposed exile poses a question being asked on both sides of the Atlantic. In fast-changing times, what makes a Muslim "radical?"
Following the election of President Donald Trump and a spat of terrorist attacks in Europe, Islam - particularly conservative Islam - is under a new microscope. The genuine risk of terrorism is partly fueling such scrutiny. But the search for extremism behind every Koran also is testing once high bars of religious freedom.
That is true even in Germany - a country that took in more than 1 million mostly Muslim asylum seekers and that Trump has called naive about the risk of radical Islam. Facing a potentially tougher-than-expected reelection bid and a public backlash over security, Merkel is calling for a new ban on full Muslim face coverings and has begun more openly wielding the term "Islamist terrorism."
In the current climate, the taint of extremismextremist can spread to even the most vaulted of idols.
"They're chasing us out," Ben-Hatira said in his first extensive interview since the showdown with his team.
"Muslims are the new Jews."
During a friendly match against a Belorussian club with his new Turkish team, Gaziantepspor, Ben-Hatira sprinted down the field. A rival stepped on his cleats, and his shoe came off.
"Are you seeing this?" he yelled in German at a noncomprehending referee. A few minutes later, he got a call - this one a foul against him.
"Was habe ich jetzt getan?" he yelled. What did I do now?
This has not been a good year for Anis Ben-Hatira.
The son of a Tunisian cook who landed a job in the old French sector of West Berlin in the 1970s, Ben-Hatira is used to being "the other." He grew up hearing kids, and even their parents, call him "kanake" - a German slur generally hurled against ethnic Turks and Arabs.
"You develop a thick skin," he said.
He fought back with soccer, becoming a teenage star. He hopped between pro clubs in Berlin, Hamburg and the Frankfurt area. He signed with Darmstadt last year, as the team propelled itself to the top levels of professional soccer - the German Bundesliga.
His good works with poor kids in Berlin earned him national awards and heightened celebrity. At hospitals, he visited pediatric cancer wards. He became one face in a video celebrating national diversity titled, "I am also Germany."
For Ben-Hatira - who still describes himself as being "not really a big Muslim" - money and fame nevertheless triggered a return to faith. He also dipped his toes in the waters of controversy, getting public blowback after speaking out against Israeli treatment of Palestinians during the 2014 conflict in the Gaza Strip.
Deciding he wanted to do more charitable work, he reached out to Ansaar International, a conservative Muslim organization founded by the German rapper-turned-convert Joel Kayser. The group is deeply religious. Women who work there are mostly veiled. Men tend to have religious beards.
What lured him to the group, Ben-Hatira said, was its "transparency" and the fact that it operates with a small staff so that more of its donations can be spent on charity. Most important, it labors in places where other charities fear to tread. Somalia. Syria. Last summer, Ben-Hatira helped finance Ansaar's effort to build a water treatment plant in the Gaza Strip. In December, he made a publicity trip with the group to Ghana.
What he did not know was that his involvement would cost him his job.
Maybe his career.
Ben-Hatira was not shy about his work with the charity, posting his support for Ansaar on social media. Criticism quickly followed.
National and local politicians questioned how a Muslim role model could align himself with such a conservative group. German media began quoting intelligence sources who said the charity had funded militants. Following lawsuits filed by the charity for libel, the outlets that printed those allegations had to retract them. There was no evidence that Ansaar had ever financed terrorism.
But it had done other things. More than two years ago, the organization held fundraising events where a cast of Salafists - an ultraconservative brand of Islam - had preached. They included Pierre Vogel, a polemic German convert who called for a public funeral prayer service for al-Qaida leader Osama bin Laden after he was killed in Pakistan.
"Were they 'hate preachers'?" Ben-Hatira said. "That depends on how you define hate. But anyway, they stopped it. They didn't hold events with them anymore."
After conversations with German security services, Ansaar voluntarily ceased those fundraisers. But to many Germans - including the intelligence services - the group had shown its true face.
Senior German intelligence officials who spoke on the condition of anonymity to discuss classified information say they have no evidence that Ansaar has ever promoted violence. But they nevertheless describe the charity as "extremist," citing its relatively strict brand of Islam. Furthermore, officials say they are deeply suspicious of its "contacts" in the war zones where it operates.
Yet the extent of the evidence against it remains unclear, and Ansaar is a legal charity in Germany. No charges against it are pending, officials say.
Security services say that one of the most damning claims against the group - that it maintains a health clinic in Idlib, Syria, where al-Qaida affiliates hold sway - was based on information they found "on the Internet" and could not independently corroborate. Ansaar denies that it operates a clinic there. It also insists that it does not cooperate with militants.
In Africa, it has built orphanages for both Muslim and Christian victims of Boko Haram and it funds a hospital in devastated Aleppo, where they have cooperated with the White Helmets, said Kayser, Ansaar's director. It has brought fresh water and food distribution networks to hard-hit zones. In Somalia, it says, it has worked with U.S.-backed groups to distribute aid.
"The radicals hate us," Kayser said. A recent German intelligence report on the group from the domestic intelligence service in the state of North Rhine-Westphalia noted that Ansaar helps build mosques in some of the communities it aids. The charity decries that as a double standard.
"So if Christians help build a church, then no one says a word. But if Muslims do it, it ends up in an intelligence report?" Kayser said.
Yet critics call Ben-Hatira's connection to the charity morally wrong, given his status as a role model. As the controversy built, his Facebook page buzzed with supporters and haters. In one exchange, a critic called a young Muslim who backed Ben-Hatira "a jihadist." The young man responded by calling the critic "a Zionist pig."
One of Ben-Hatira's Facebook administrators "liked" the retort - something the player calls "an accident." It was quickly unliked. But the offended user captured an image and circulated it online, calling Ben-Hatira an anti-Semite.
The incident fanned the controversy over his work with Ansaar. Politicians - including the mayor of Darmstadt - spoke out against him. Three weeks ago, anonymous critics began distributing fliers at Darmstadt games decrying Ben-Hatira's links to the "extremist" charity.
The club's sponsors, according to an official with direct knowledge of the situation, called up its management, demanding explanations. The club reacted by publicly criticizing Ansaar and suggesting that Ben-Hatira work with a different charity, while also suggesting that it was "a private matter." But during a final meeting on Jan. 24, team officials gave him an ultimatum: He should break with the charity or walk.
So he walked, citing his right to religious freedom and the lack of evidence against Ansaar.
The club declined a request for comment, but German politicians praised its swift response.
"One cannot let a professional footballer such as Ben Hatira get away with associating with extremist organizations that are being monitored by the intelligence services," Peter Beuth, interior minister of the German state of Hessen, said in a statement. Beuth added that "top athletes carry a particular responsibility. They are role models, especially to young people, who often identify with their hero."
The cancellation of Ben-Hatira's contract rippled through the Muslim community in Germany. For the most part, mainstream Muslim bodies stayed silent, apparently lacking an appetite to dive into a debate over fundamentalism at a sticky time. But famous rappers, mainly of Arab and Turkish descent, publicly backed him. For many of Ben-Hatira's young Muslim fans, it provided further evidence of what they saw as discrimination.
Full report at:
http://www.ndtv.com/world-news/why-a-german-born-soccer-star-of-muslim-descent-had-to-choose-between-his-faith-and-his-career-1657546
--------
Louvre attack suspect 'did not act on orders from IS group
2017-02-09
The main suspect in last week's machete attack on four soldiers at the Louvre Museum in Paris told authorities he had acted alone, sources close to the investigation said on Wednesday.
The man, a 29-year-old Egyptian national identified as Abdallah El-Hamahmy, broke his silence over the incident earlier this week after initially refusing to speak to investigators.
El-Hamahmy said that he went to the Louvre last Friday morning with the intention of committing a symbolic attack against France by defacing one of the museum's masterpieces with spray paint found in his backpack, and did not mean to assault the four soldiers, sources close to the investigation told AFP. He said that he acted alone, denying he was under orders from the Islamic State (IS) group.
El-Hamahmy's account differs sharply from the official version given by police, who say he was armed with a machete in each hand when he charged at the four soldiers, shouting "Allahu Akbar" (or "God is Greatest"). After a brief struggle, one of the troops opened fire, shooting El-Hamahmy four times.
He is currently in critical condition at the Georges-Pompidou hospital in Paris.
El-Hamahmy legally entered France on January 26 from Dubai, where he was a resident. He is believed to have stayed in an apartment near the famed Champs-Elysées in Paris's 8th arrondissement (or district), where police found €900 in cash, an iPad and several pre-paid cards in a search last week.
In the days after his arrival, El-Hamahmy is thought to have rented a vehicle before buying two machetes at a store in the French capital's eastern 12th arrondissement.
Investigators combing for clues have focused their attention on a Twitter account that El-Hamahmy is suspected to have used to post dozens of messages in Arabic just minutes before the attack.
Full report at:
http://www.france24.com/en/20170208-france-louvre-attack-suspect-did-not-act-orders-islamic-state-group
--------
Meet me before you judge me: Muslim's invitiation to his neighbours
February 9 2017
Sometimes a cup of coffee can make the difference between ignorance and knowledge.
Muslim imam and missionary Mustenser Qamar has extended an invitation to his Lower Hutt community: come over for a cuppa and a chat.
The idea behind it is for people to get to know a Muslim.
"I was encouraged to do it by what is going on in the world – the proposed Muslim ban [in the United States]. I thought it was really important that I reach out to my neighbours," he said.
He originally made a post on Neighbourly.co.nz inviting people to meet up with him, and said he was surprised by the reaction.
"I don't think I'd seen that sort of response on a post before. I actually encouraged a few of my friends in Auckland and New Plymouth to do the same thing."
Since making the post more than a week ago, he has met about six people face-to-face, and is busy organising times to meet more.
He has talked to atheists about his belief, and what it means to him, but he has also had more casual chats with young families, bonding over childraising. Qamar's first child, Bashir, was born on January 27.
His newborn son was another motivator for him to reach out.
"My child is going to grow up [in New Zealand]. I don't want him to grow up where he will be judged on the actions of a few."
Qamar has been in New Zealand for 18 months, after moving from Britain. He spent seven years studying Islam and comparative religion, and is open to frank discussions about his beliefs.
Full report at:
http://www.stuff.co.nz/life-style/well-good/teach-me/89186990/meet-me-before-you-judge-me-muslims-invitiation-to-his-neighbours
--------
Africa
Christian, Muslim Clerics Preaches Tolerance, Patriotism as Way Out In Nigeria
February 8, 2017
Clerics from the two dominant religions in the country, Christianity and Islam on Wednesday, called for religious tolerance among the various religious groups in Nigeria, while also urging Nigerians to pray for the country and her leaders.
This was the resolution reached by participants at the end of a joint session of Christian/Muslim Intellectual Forum (CMIF) organized by the Centre for Social Justice, Equity and Transparency (CESJECT) in Abuja.
In a Communiqué issued at the end of the conference, the participants agreed to hold an inter faith praise concert to celebrate the achievements of President Muhammadu Buhari over some of the hydra headed monsters such as terrorism and corruption which confronted the nation before his ascension to power.
They also agreed to hold a prayer session for the quick recoveries of Mr. President to enable him continue his good works of rebuilding the nation.
The Communiqué was jointly signed by Rev. Steven Onwun Chairman, Communiqué Drafting Committee and Alhaji Garba Shehu Secretary and Patriot Dan Enyi
Member, Communiqué Drafting Committee.
The seminar witnessed participants and guest speakers painstakingly dissecting the concept of religion and its applicability in the context of Nigeria and resolved on a series of actions and measures to douse the unnecessary tensions and conflicts the practice of religion often impose in the country.
The CMIF said patriotism should instead become the new religion, emphasizing that henceforth; state interests and goals should be placed above religious inclinations of individuals.
According to the communiqué, the forum recognized the Constitutional freedom of Nigerians to the right of conscience and to subscribe to any religion of their choice and worship.
However, the participants bemoaned the frequent abuse of this liberty by some clerics and adherents and sued for restraint.
The communiqué reads in part, "The forum also reviewed and described as unhealthy the sustained frosty relationship between followers of different faiths and the need for internal soul-searching by adherents of the various faiths to evolve positive measures that would stimulate cordial and friendly inter-faith interface for peace, unity and harmonious co-existence in Nigeria.
"The young intellectuals of both faiths accepted and elected upon themselves to become vanguards and crusaders of mutual inter-faith relations in their respective communities and places of worship through enlightenment campaigns and conduct opposed to the exacerbation of religious issues/tensions throughout the country.
"The youths of Christianity and Islam in Nigeria agreed to start action to begin a joint annual national religious feast/carnival where worshippers of both faiths would intermingle to collectively beseech God Almighty in prayers, songs and dances for the peace and development of Nigeria.
"The gathering will also offer a platform for interactions, dialogues and discussions of issues/problems afflicting the practice of both religions and proffer solutions. With time, the scope could be expanded to include quarterly joint conferences and seminars to discuss emerging religious issues, affairs or trends.
"The Muslim and Christian youths reached a consensus that henceforth matters of religion shall not reflect in our social interactions, workplace, homes and anywhere Nigerians converge. And that the practice of religion shall be perceived more as something very personal to the believer or worshipper and shall never be reason for strained relationships, unnecessary politicization and incitement to anarchy.
"The forum also condemned in strong terms the penchant of some clerics for hate speeches; inflammatory or inciting sermons and resolved from now onwards not to tolerate preachments. Instead, preachers who undermine the essence of love, peace and unity, which are the cardinal values of all religions shall be deserted."
The seminar drew participants and discussants from various Faith Based Organizations (FBOs), NGOs and CSOs. It also had six guest speakers invited from various Nigerian Universities who extensively discussed the negative effects of hate speeches and religious intolerance.
http://tribuneonlineng.com/christian-muslim-clerics-preaches-tolerance-patriotism-way/
--------
CIA Memo: Designating Muslim Brotherhood Could 'Fuel Extremism'
Feb 9, 2017
Trump administration officials pushing to designate the Muslim Brotherhood as a foreign terrorist organization face at least one significant obstacle: analysts at the Central Intelligence Agency.
CIA experts have warned that so labeling the decades-old Islamist group "may fuel extremism" and damage relations with America's allies, according to a summary of a finished intelligence report for the intelligence community and policymakers that was shared with POLITICO by a U.S. official.
The document, published internally on Jan. 31, notes that the Brotherhood—which boasts millions of followers around the Arab world—has "rejected violence as a matter of official policy and opposed al-Qa'ida and ISIS."
It acknowledges that "a minority of MB [Muslim Brotherhood] members have engaged in violence, most often in response to harsh regime repression, perceived foreign occupation, or civil conflicts." Noting that there are branches of the group in countries such as Jordan, Kuwait, Morocco and Tunisia, it cautions that some of America's allies in the region "probably worry that such a step could destabilize their internal politics, feed extremist narratives, and anger Muslims worldwide."
"MB groups enjoy widespread support across the Near East-North Africa region and many Arabs and Muslims worldwide would view an MB designation as an affront to their core religious and societal values," the document continues. "Moreover, a US designation would probably weaken MB leaders' arguments against violence and provide ISIS and al-Qa'ida additional grist for propaganda to win followers and support, particularly for attacks against US interests."
The CIA declined to comment, and the White House did not respond to a request for comment. But the document threatens to pit the agency against a president who has dismissed its intelligence assessments and angered many in the intelligence community when he appeared before the agency's Memorial Wall and exaggerated the size of the crowd at his inaugural address.
And it would seem to put the agency's analysts at odds with its new director, Mike Pompeo, who as a member of Congress co-sponsored a bill to ban the Brotherhood and once warned in a radio appearance that Islamist groups were infiltrating the United States. "There are organizations and networks here in the United States tied to radical Islam in deep and fundamental ways," Pompeo told host Frank Gaffney, who heads the Center for Security Policy and often promotes a conspiratorial view of Muslims. "They're not just in places like Libya and Syria and Iraq, but in places like Coldwater, Kansas, and small towns all throughout America."
Even before President Donald Trump took office, outside groups like Gaffney's and some members of Congress had been pressuring his team to make the designation, a process that usually takes months and requires teams of analysts sifting through reams of intelligence reports to determine whether an organization fits the legal definition of a terrorist organization.
In January, Sen. Ted Cruz (R-Texas) and Rep. Mario Diaz-Balart (R-Fla.) re-introduced twin bills that would require the State Department to inform Congress "whether the Muslim Brotherhood meets the criteria for designation as a foreign terrorist organization" and, if not, explain why not. Days before Trump's inauguration, an anti-Islamist coalition called Faith Leaders for America held a news event in which speakers repeatedly urged the incoming president to make the designation.
Since then, news outlets have tracked a growing debate within the administration over whether Trump should pull the trigger, possibly in the form of an executive order directing the State Department to evaluate whether the Brotherhood meets the necessary legal standard. A State Department source said the White House had contacted the department's legal officials, as well as multiple bureaus, about what would be involved. But momentum seems to have stalled in recent days.
"Basically, they wanted to know if an executive order would be enough or if there was a process that had to be followed," the source said. "It received a great deal of pushback, and it looks like the White House team actually looked at the legal requirements to designate a foreign terrorist organization. It's still lurking, but I haven't heard it's on the front burner again."
Former U.S. officials and experts on the Muslim Brotherhood are highly skeptical that the Trump administration could meet that bar, and scoff at the basic wisdom of the idea.
"I think it would be an incredibly stupid thing to do," said Daniel Benjamin, who served as the State Department's coordinator for counterterrorism under Secretary of State Hillary Clinton. "The top reason being that it's not a terrorist group."
Designating the group would also pose serious complications for U.S. diplomacy throughout the Middle East. The Muslim Brotherhood has loosely affiliated branches throughout the Arab world, and some of them even hold positions of power in certain countries. The head of the government of Morocco, for instance, is a member of a party aligned with the Brotherhood. Ennahdha, a popular Islamist party affiliated with the Brotherhood, is part of the ruling coalition in Tunisia. Depending on how a designation was structured, "We could not meet with the Tunisian government going forward," said Tom Malinowski, who recently stepped down as assistant secretary of state for democracy, human rights, and labor in the Obama administration. Malinowski also noted that many of the local councils the United States works with in Syria have ties to the Brotherhood, long one of the only sources of organized opposition to the rule of President Bashar Assad. And a designation could damage relations with Turkey, a NATO ally whose volatile Islamist president, Recep Tayyip Erdogan, is an avid backer of Brotherhood offshoots around the region.
"It's not well thought through," said Will McCants, a former State Department senior adviser for countering violent extremism, who called designating the Brotherhood a "fringe idea that I guess has now made its way into the mainstream."
Trump, despite otherwise evincing little interest in foreign affairs before launching his presidential bid, has been critical of the Brotherhood in the past, blasting then-President Barack Obama repeatedly in 2012 for hosting Egyptian President and Brotherhood member Mohamed Morsi, who was elected after mass protests ousted longtime strongman Hosni Mubarak.
"@BarackObama's budget funds the 'Arab Spring' with $800B and the Muslim Brotherhood in Egypt $1.3B in military aid. He loves radical Islam," Trump tweeted in February 2012. "Obama now wants to give another $450M to the Muslim Brotherhood. Money we don't have going to people that hate us. Moronic," he wrote later in October, one of two dozen tweets on the subject over the course of 2012 and 2013.
Morsi was ousted amid a fresh wave of demonstrations backed by the Egyptian military, which helped installed one of its own, Gen. Abdel Fattah el-Sisi, as the country's new president. Trump and Sisi have hit it off: The Egyptian strongman was the first foreign leader to congratulate Trump on his election, which came weeks after the two men met in New York on the sidelines of the U.N. General Assembly. "There was good chemistry there," Trump said after their encounter. "He's a fantastic guy." Trump also hailed Sisi, who presided over a brutal crackdown on the Brotherhood that killed or injured thousands, for consolidating power after Morsi's tumultuous short tenure. "He took control of Egypt," Trump gushed. "And he really took control of it."
Egypt outlawed the Brotherhood in December 2013, labeling it a terrorist organization, as did other U.S. allies in the region, including Saudi Arabia and the United Arab Emirates. Those governments have been pressing the United States for years to make a similar designation, but found little traction until Trump's victory ushered into office a group of advisers who see Islamist groups like the Brotherhood as a threat to Western civilization itself, and make little distinction between mere ideologues and violent extremists.
National security adviser Michael Flynn, for instance, has described Islam itself as a "cancer" and a "political ideology" rather than a religion. "Fear of Muslims is RATIONAL," he once wrote on Twitter (his account has since been deleted).
Steve Bannon, the president's chief strategist and the former head of Breitbart News, has often promoted anti-Muslim activists such as Gaffney, who has accused former President Barack Obama of being a secret Muslim and is one of the leading advocates for cracking down on alleged Brotherhood front groups inside the United States. According to the Washington Post, a 2007 summary of one of Bannon's film projects described the Brotherhood as "the foundation of modern terrorism."
Even Secretary of State Rex Tillerson, in his confirmation hearing, associated the Brotherhood with more radical groups like Al Qaeda and "certain elements within Iran," likely an allusion to the Iranian Revolutionary Guard Corps.
Some former officials fear that autocratic Arab states like Egypt could use a terrorist designation to lure the United States into endorsing violent crackdowns on their internal critics. "If there's no pushback from leadership, I worry that we could be manipulated by countries that are just trying to enlist us in their campaigns against their political opponents," Malinowski said.
Benjamin thinks there's little chance that career officials inside the Treasury and State Departments would find that the Brotherhood, whose leadership in Egypt renounced violence in the 1970s, is a terrorist group. "Professionals will look at it and say this doesn't meet our criteria," Benjamin said. "With the system as it is currently configured, this would not pass muster."
One problem is that it's hard to define what the Brotherhood is, given its loose structure and culture of secrecy. "What you have is a disparate network of groups that may or may not meet criteria," said Jonathan Schanzer, a former Treasury Department analyst now with the Foundation for Defense of Democracies. Schanzer thinks the Muslim Brotherhood's "mothership" in Egypt wouldn't qualify, but other parts of the movement, such as the Islah party in Yemen, might if the Trump administration took a more targeted approach. Otherwise, "it's trying to hit a grand slam and it's probably going to lead to a strikeout," he said.
"Ideologically, I'd say it's closest to being a hate group," said Eric Trager, an analyst at the Washington Institute for Near East Policy who believes the Trump administration is right to be concerned about the Brotherhood. "These are not good guys. These are not moderate politicians. They support, on an ideological level, terrorism. They cooperate with terrorists. They give a platform for terrorists. But there is not sufficient evidence to show they send their own members to commit terrorism, and that is the standard for a designation."
Full report at:
http://www.politico.com/magazine/story/2017/02/cia-memo-designating-muslim-brotherhood-could-fuel-extremism-214757
--------
Somalia's al Shabaab kill four in hotel attack in Puntland region: official
Feb 9, 2017
Somalia's al Shabaab militants stormed a hotel in the capital of the semi-autonomous Puntland region, Bosasso, on Wednesday, killing four guards, while two of the attackers also died, a senior official said.
"Three al Shabaab fighters stormed the International Village Hotel this morning. Four guards and two of the attackers died in the fighting," Yusuf Mohamed, the governor of Bari region, told Reuters.
The hotel in the port city of Bosasso, which is also the capital of Bari region, is popular with foreigners.
"Fortunately, the attackers did not enter the rooms. The fighting took place inside the compound. A third fighter escaped and we are pursuing him. All the people in the hotel are safe," Mohamed said.
Until 2011, the al Qaeda-linked al Shabaab controlled most of Somalia including the capital, Mogadishu.
In the past two years, African Union and Somali government forces have forced al Shabaab out of important urban strongholds but it remains active from bases in rural areas.
Full report at:
http://nation.com.pk/international/08-Feb-2017/somalia-s-al-shabaab-kill-four-in-hotel-attack-in-puntland-region-official
--------
Central African Republic Violence Leaves at Least 5 Dead
February 08, 2017
BANGUI, CENTRAL AFRICAN REPUBLIC —
Militia members stormed a health center in the Central African Republic's capital seeking to kill the wounded after renewed violence left at least five people dead, including a pastor, authorities said Wednesday.
The fighting centered Tuesday on Bangui's PK5 neighborhood, long a flashpoint for tensions between Muslim and Christian fighters, even as security has improved in recent months.
More than two dozen wounded were brought to a local health facility, according to Dr. Michel Yao, acting U.N. humanitarian coordinator in the country and the World Health Organization representative.
"Armed elements forcefully entered into the facility with the intention to kill some of the injured," he said Wednesday.
The violence was sparked by a military operation in which U.N. and Central African forces sought to interrogate local militia leader Youssouf Sy, also known as Big Man. Security forces said they were fired upon and returned fire, killing Sy and one of his associates.
At least two churches were set ablaze in retaliation by Sy's followers. Among the victims was a pastor, Jean Paul Sankagui, according to Awadal Karim Mahamat, imam of the Ali Babolo mosque in PK5.
Full report at:
http://www.voanews.com/a/central-african-republic-violence-five-dead/3715692.html
--------
Africa: Immigration Ban a New Hurdle for Anti-Terrorism Campaign
8 FEBRUARY 2017
By Allan Olingo
US President Donald Trump's executive order temporarily barring citizens of Somalia, Sudan and five other Muslim-majority countries from entering the US has left the region in limbo, complicating counter-terrorism efforts while also putting in doubt the resettlement of refugees.
The order did not escape the attention of State Department officials who circulated a draft memo criticising President Trump's executive order on immigration.
"The policy would be counterproductive especially on the gains we have made in the fight against terror. The arrangements that these countries set up to provide information on individual applicants is farfetched as in some cases, these countries may not have the ability or capacity, or be wholly incapable of providing such," said the dissent memo, through which dissenting views are sent by US diplomats from across the world to the Secretary of State and other top department officials.
The biggest concern for regional countries, especially Kenya will be Somalia, where the US move is deemed counterproductive, as it seeks to help the Somali military fight Al Shabaab.
Kenya is already playing host to more than 350,000 refugees some of whom are awaiting relocation to the US, having met the strict vetting process that spans over eight years.
Data from the UN Population Division shows that at least 150,000 Somali nationals have been resettled in the US under the programme since 1991, with 11,000 of them in 2015, mostly drawn from the Dadaab Refugee camp in Kenya. Of this, only 272 permanent residency cards and 299 non-immigrant visas were awarded, US State Department data shows.
At the International Organisation of Migration (IOM) centre, hundreds of Somali nationals on transit to the US under the resettlement programme, are now stuck after Mr Trump signed the executive order on immigration that effectively bars citizens of seven Muslim-majority countries, from entering the US for the next 90 days, and a ban on the admission of all refugees for 120 days.
In a joint statement, IOM and the United Nations High Commissioner for Refugees agency (UNHCR) said that the resettlement places provided by every country were vital and they remained committed to working with the US Administration to ensure safe and secure resettlement and immigration programmes.
"We hope that the US will continue its strong leadership role and long tradition of protecting those who are fleeing conflict and persecution. We strongly believe that refugees should receive equal treatment for protection and assistance, and opportunities for resettlement, regardless of their religion, nationality or race," the two agencies said.
"These travel restriction will complicate US security co-operation in the region. They will be a big boon for al-Shabaab recruiting efforts," Rashid Abdi, regional director for the International Crisis Group said.
His sentiments confirms the US diplomats' fears that the ban will "increase an anti-American sentiment' in the Muslim world, further complicating the goodwill the US has gained in fighting terrorism.
"Instead of building bridges in these countries, we are sending a message that we consider all nationals of these countries to be a security risk. Almost one-third of the combined population of these countries are children. There isn't any question that their perception of the US will be coloured by this ban," the diplomats protested.
Countries like Sudan, which was fresh from trade sanctions that were lifted barely a fortnight ago summoned the US top diplomat in Khartoum in protest to the move, terming it ill timed.
On January 13, Washington through former president Barack Obama lifted a Khartoum trade embargo, unfroze assets, and removed financial sanctions citing the latter's progress to confront terrorism.
"The ban marred recent progress in relations between the two countries and it is a negative signal on the bilateral relations between the two countries," Sudan Foreign Ministry Undersecretary, Abdel-Ghani al-Na'im told US diplomat Steven Koutsis.
A leaked cable from the US embassy in Khartoum showed the worry from Sudanese businessmen community over their ability to attract US business to Sudan in the wake of the lifting of US sanctions.
Outgoing African Union Commission chief Nkosazana Dlamini-Zuma told African leaders at the start of the AU summit in Addis Ababa that the continent was now entering into 'very turbulent times'.
Full report at:
http://allafrica.com/stories/201702090081.html
--------
Youths call for religious tolerance among Nigerians
08.02.2017
Youths from the two dominant religions in the country, Christianity and Islam have called for tolerance among the various religious groups in Nigeria.
The resolution was reached by participants at the end of a joint session of Christian/Muslim Intellectual Forum (CMIF) organised by the Centre for Social Justice, Equity and Transparency (CESJECT) in Abuja on Wednesday, February 8, 2017.
In a Communiqué issued at the end of the conference, the participants agreed to hold an interfaith praise concert to celebrate the achievements of President Muhammadu Buhari over some of the "hydra-headed monsters" such as terrorism and corruption which confronted the nation before his ascension to power.
ALSO READ: Group urges T.B Joshua, Father Mbaka to avoid hate sermons
The communiqué which was jointly signed by Rev Steven Onwun, Alhaji Garba Shehu and Dan Enyi reads in part:
"The forum also reviewed and described as unhealthy the sustained frosty relationship between followers of different faiths and the need for internal soul-searching by adherents of the various faiths to evolve positive measures that would stimulate cordial and friendly inter-faith interface for peace, unity and harmonious co-existence in Nigeria.
"The young intellectuals of both faiths accepted and elected upon themselves to become vanguards and crusaders of mutual inter-faith relations in their respective communities and places of worship through enlightenment campaigns and conduct opposed to the exacerbation of religious issues/tensions throughout the country.
"The youths of Christianity and Islam in Nigeria agreed to start action to begin a joint annual national religious feast/carnival where worshippers of both faiths would intermingle to collectively beseech God Almighty in prayers, songs and dances for the peace and development of Nigeria.
Full report at:
http://pulse.ng/religion/in-abuja-youths-call-for-religious-tolerance-among-nigerians-id6191446.html
--------
India
Over 81,000 Muslims lodged in jails in 2015 across the country: NCRB data
February 9, 2017
Over 81,000 Muslims were lodged in jails across the country, as per the latest data presented by the government in Rajya Sabha today.
Responding to a question about the details of "innocent" Muslims languishing in various jails, Minister of State for Home Affairs Hansraj Gangaram Ahir said, "Only convicts, undertrials and detenues are lodged in jails. The National Crime Records Bureau data shows that 81,306 Muslim inmates were lodged in jails at the end of 2015."
On a query over mechanism being worked out to avoid "harassment" of Muslims, he said the question of "harassment" does not arise in view of "in the view of above".
http://indianexpress.com/article/india/over-81000-muslims-lodged-in-jails-in-2015-across-the-country-ncrb-data-rajya-sabha-4514836/
--------
Madhya Pradesh ATS busts ISI's simbox gang spying on army units, four held
Feb 9, 2017
BHOPAL: In a major breakthrough Madhya Pradesh Anti-Terrorist Squad (ATS) have busted an international call racket that allegedly helped Pakistan-ISI agents to spy on India's military operations.
Four people, including a BJP leader's brother, have been arrested from Bhopal, Gwalior and Satna so far. Officials say more people would be arrested soon.
"All accused have been charged under various sections of the Indian Telegraph Act and for waging war against the country," said sources. MPATS chief Sanjeev Shami led the operation.
"They were running a parallel telecom exchange enabling ISI spies to call up military personnel posted in Jammu and Kashmir posing as senior Army officers and dig out details of operations, deployment and installations in the region", said an officer privy to the information.
MPATS officials have seized several Chinese equipments and SIM-boxes (machine that houses sim cards) mobile phones, prepaid SIM cards of different telecom companies, laptops and data cards.
Calls made via internet are sent to SIM-boxes which redirect this illegal VoIP traffic onto mobile networks.
Those involved, were bypassing the interconnect toll charging points to exploit the difference between the high interconnect rates and the low retail price for on-network calls, therefore avoiding payment of the official call termination fee of an Operator.
ATS had been helped by the TERM (Telecom Enforcement Resource and Monitoring) cell of the union telecom ministry in understanding technicalities such as call spoofing and SIM box-aided call transfers that these accused employed.
These "exchanges" were earning lakhs by routing international calls bypassing legal gateways. They used to help callers based in Afghanistan, Pakistan, Nepal, and Bangladesh eavesdrops on military operations using 'interconnect bypass fraud.'
In January UPATS had arrested 11 people who were running a similar exchange. Those arrested from MP are closely associated with those arrested by UP, said sources. Gulshan Sen a resident of Delhi's Mehrauli who was arrested by UPATS last month is said to be a common link between gangs of the two states. Modus operandi was same.
According to our Lucknow bureau, UPATS had acted on an input provided by the Jammu and Kashmir Military Intelligence unit two months back, and was asked to probe two dozen internet call logs.
Full report at:
http://timesofindia.indiatimes.com/india/madhya-pradesh-ats-busts-isis-simbox-gang-spying-on-army-units-four-held/articleshow/57051474.cms
--------
No lessons learnt from Pathankot attack: Panel
Feb 9, 2017
NEW DELHI: A Parliamentary committee has come down heavily on the government for its alleged failure to prevent terror attacks on security installations, saying lessons have not been learnt from Pathankot attack and that there was something "seriously wrong" with the counter-terror establishment.
The Parliamentary Standing Committee on Home in its report, which was tabled in the Rajya Sabha on Wednesday, took stock of overall performance of Ministry of Home Affairs.
Despite several steps reportedly taken by the government to strengthen security measures, it has "comprehensively failed" to prevent recurrence of such subsequent attacks in Jammu and Kashmir's Pampore, Uri, Baramula, Handwara and Nagrota, it said.
Full report at:
http://timesofindia.indiatimes.com/india/no-lessons-learnt-from-pathankot-attack-panel/articleshow/57049294.cms
--------
NIA probes Islamic State 'kill-list' of I-T engineers who tracked group online, 70 from Mumbai
by Rashmi Rajput
February 9, 2017
The National Investigation Agency (NIA) has obtained what it calls a "kill list" prepared by handlers of the Islamic State targeting "ethical hackers, software managers" — computer professionals, some of whom are said to have helped security agencies track down ISIS members and potential recruits.
The list has names from across the world and details of over 150 such professionals across Maharashtra, nearly 70 from Mumbai.
Lashkar-e-Taiba Operates Bank Accounts In Pakistan Under Fictitious Names
While security agencies are analysing the list and have even contacted some of those named, they also suspect it could be a "red herring" floated by the outfit to divert attention of investigators from the "real targets."
The list was found on a laptop belonging to alleged IS recruit Nasir Bin Yafi Chaus, a youth from Parbhani in Maharashtra, who has been arrested. This list was shared by his handler identified as Syria-based Shafi Armar alias Yusuf alias Farooque. The "kill list," sources said, specifies names, designations, companies and email addresses of the "targets."
Read | IS suspect Areeb Majeed won't be charged for being member of terror outfit
"Investigation has revealed that this list was shared by Yusuf who wanted the module to target these professionals who they see as threat to their ideology. Many of these professionals are ethical hackers and some of them are also associated with various security agencies in curbing the IS menace," a senior security official aware of the case told The Indian Express. "We have visited a few of them and found nothing that they do or have done which could be constituted as anti-IS. However, the list, clearly, has been diligently prepared," said the official.
This isn't the such first kill-list. In June, last year the pro-ISIS United Cyber Caliphate hacker group released a list of 8,318 people, including their addresses and email details, on a Telegram. Those listed are mostly military or government workers or people in the public eye, like royalty or celebrities.
"The pro-ISIS hacker group has been sharing such lists on app-based messenger services like Telegram which are difficult to track by counter-terrorism agencies. The US list also had details such as insurance types of targets, their home phone, work phone and cell numbers," said an official. "The list is shared with the sympathizer and if the target is someone in his neighbourhood, he is egged to carry out an attack to prove his allegiance towards IS," explained the official. "However, there have been no reported incidents in which an IS recruit has carried out an attack on any individual appearing on these lists," said the official.
Full report at:
http://indianexpress.com/article/india/nia-probes-islamic-state-kill-list-of-i-t-engineers-who-tracked-group-online-hacking-arrest-4514904/
--------
A village that has its own Partition museum — a monument of harmony
Feb 09, 2017
Sunni is a small village spread over 91 hectares in the sub-mountainous Kandi area in Hoshiarpur district and has a population of less than a thousand. Like all other villages and towns of Punjab, it too was witness to the tragedies of communal strife at the time of Partition. What sets this hamlet apart is that it has taken a lead in building a memorial gate and restoring monuments that were sites for the discord.
Hoshiarpur has a long tradition of building gates to commemorate events and heroes. There are several gates named after the patriots of the Ghadar movement and others. Going past the village, one may just take it to be another of those gates but it is the name that strikes a bell among the minds of those who are in touch with Punjabi literature. It is called 'Darwaza Amar Katha' and 'Amar Katha' is the name of a Partition story by writer Gulzar Singh Sandhu, which along with his story 'Shaheed', are accounts of the killings and loss of 1947 as seen through the eyes of a 12-year-old.
Punjabi writer Gulzar Singh Sandhu at his ancestral village Sunni in Hoshiarpur district. (HT Photo)
A celebrated writer, Gulzar is best known for these two stories that touched the heart with their brutal honesty. The collection of his stories named 'Amar Katha' was given the Sahitya Akademi award in 1982.
Ask Brahmdeep Singh Sandhu, 48, who worked for years as a prison officer in England and has been living at his farm in Sunni for the past four years, what does he feel about this memorial to the Partition and his reply is: "These memories are undoubtedly very sad but are nevertheless a part of the village history and heritage. They also remind us of times when different faiths lived in harmony and give a message to the village to keep up its tradition."
Former sarpanch Ramandeep Singh Sandhu, who is nephew of the writer, says: "The maseet (mosque) in the village was renovated as well as the memorials of our forefathers (Sandhus) who established this village. This sends a message of co-existence and peace to the region."
Gulzar (82), who penned the pain of the village, says "I was a just a 12-year-old and those incidents left a terrible impression on me. I saw my best friend Noora being killed in front of me and his sister with whom I was infatuated being abducted by marauders from outside.
Full report at:
http://www.hindustantimes.com/punjab/a-village-that-has-its-own-partition-museum-a-monument-of-harmony/story-CA7j8Hmga0q4BVrwfyjDQK.html
--------
Pakistan
Sunni Ittehad Council for military alliance of 57 Muslim countries
11 January,2017
ISLAMABAD (Daily Dunya) - Sunni Ittehad Council (SIC) Chairman Hamid Raza on Monday said appointment of former Pakistan Army chief General Raheel Sharif (Retd) as head of 39-member Islamic Military Alliance (IMA) without formal consent of parliament is going to bring harm to the Pakistan's policy of strict neutrality.
While terming it as 'alliance based on sectarianism', Raza said IMA lacks supports of all Muslim countries and he stressed on an alliance comprising all 57 Muslim states after inclusion Iraq, Syria and Iran.
Earlier Gen (R ) Raheel Sharif had also set three conditions before Saudi Defence Minister which includes inclusion of Iran in IMA.
Saudi Arabia has accepted all three conditions.
According to Lt Gen (r) Amjad Shoaib, Saudi Defence Minister had visited Prime Minister (PM) Nawaz Sharif to express Saudi government's desire to have General (r) Raheel Sharif as the head of the 39-country coalition led by Saudi Arabia.
Amjad Shoaib said that he had talked to Raheel Sharif and discussed in detail the conditions he had laid down before the Saudi government to join the coalition. According to Amjad Shoaib, the conditions were as follows:
- Raheel Sharif would be the commander or in-charge of such a force and there would be no command above him.
- Iran must be invited and added into the coalition.
- Raheel Sharif will have the authority to mediate between any two member countries in case of some disagreement or confusion.
Amjad Shoaib said that the conditions were accepted by Saudi government and he joined it only afterwards.
"Mr Raheel Sharif told me that Saudi Defence Minister had shared the proposal with PM Nawaz Sharif and PM had conveyed it to him. He told PM that it would be an honour for him but possible only if his demands were accepted".
The formal proposal in this regard will be sent to Pakistan in the coming March.
http://dunyanews.tv/en/Pakistan/369855-Sunni-Ittehad-Council-for-military-alliance-of-57-
--------
Milli Yakjehti Council to launch agitation for release of Hafiz Saeed
Feb 9, 2017
LAHORE: Around 25 religious parties and groups that form Milli Yakjehti Council on Wednesday decided to launch a protest movement for release of Jamaatud Dawa chief Hafiz Saeed and protection of Islamic laws in the country.
The decision was taken in a meeting of the alliance's central executive council. It also decided to observe a week of protest, starting from Friday (tomorrow) during which country-wide rallies would be taken out for the both causes.
They also announced a rally on Sunday, from Nasser Bagh to the Punjab Assembly.
The council demanded Hafiz Saeed should be set free, without delay and the government must apologise for detaining him. It also demanded release of all JuD workers, besides withdrawing cases against them.
The council also warned against making any changes to blasphemy law and vowed to protect it in its present form at "every cost". By letting blasphemy suspects "off the hook", the government was itself fanning sectarianism, it said.
The council decided to convene a media conference on the issue and protection of blasphemy law.
Full report at:
http://www.dawn.com/news/1313700/milli-yakjehti-council-to-launch-agitation-for-release-of-hafiz-saeed
--------
Quran's education compulsory for Muslims till higher secondary level in Punjab
09 February,2017
LAHORE (Daily Dunya) – Punjab government has decided to make education of Quran-e-Pak with Urdu translation for the Muslim students mendatory from first class to 12th class.
According to details, the education would be given in phase starting from Nazra Quran at primary level, comprehensive details of Islamic incidents at secondary level whereas Quranic verses with Urdu translations would be studied at higher secondary level. While chairing a session at Lahore's Children Library, provincial leader Rana Mashhood Ahmed Khan directed the authorities to mull the syllabus accordingly.
Full report at:
http://dunyanews.tv/en/Pakistan/374362-Qurans-education-compulsory-for-Muslims-till-high
--------
Party that initiates project should get to inaugurate it: PM
AMJAD MAHMOOD
Feb 9, 2017
LAHORE: Responding to a jibe political rival Imran Khan had made about how the prime minister had inaugurated the incomplete Karachi-Hyderabad motorway, Prime Minister Nawaz Sharif said on Wednesday that the political party that initiated a project had the right to inaugurate it.
"I'm glad to see that [our] hard work is bearing fruit. If we don't cut the ribbon now, when will we?" the prime minister said during his visit to the Bhikki thermal power plant, some 40km north west from here.
He advised his political opponents to join hands with the government to develop the country instead of hatching conspiracies, and counselled them, "to patiently endure the inauguration of various development projects".
Speaking about the completion of several power generation and infrastructure development projects, the prime minister said it was time to reap the rewards of hard work.
Political opponents advised to join hands with the government to develop the country instead of hatching conspiracies
The world had accepted that Pakistan would soon become a global economic power, the prime minister said, adding that this would benefit everyone regardless of whether they were in the opposition or the government.
Mr Sharif claimed that his government was better than previous ones which were only interested in getting kickbacks or launching expensive projects.
"The people need to see the difference in our approach...and decide who is actually serving them."
The premier said his government was also working hard to turn around the national economy. He said when he took the oath of office in 2013 he was aware of the challenges ahead and knew he would have to take difficult decisions to turn back the downward spiral.
"Pakistan was about to be declared a failed state in 2013 when its economy was on the verge of collapse. In a short span of three years, the entire situation has changed."
He said he had never lied to the nation, nor had he ever made false promises.
The people of Pakistan would bear witness that his promises of ending loadshedding and completing road networks had been fulfilled.
"Our government's work isn't limited to building motorways. Instead, we've built airports...the Orange Train is being constructed, while work on the Green Line Project is under way in Karachi," he said.
Full report at:
http://www.dawn.com/news/1313675/party-that-initiates-project-should-get-to-inaugurate-it-pm
--------
Pakistan, Afghanistan need to be cautious of malicious elements: Mamnoon
09-Feb-17
ISLAMABAD: President Mamnoon Hussain on Wednesday said Pakistan and Afghanistan should keep a close eye on negative elements that fuel tension and spread misunderstandings with malicious intent towards achieving ulterior motives.
He said this while addressing a ceremony for Afghan national students under HEC's project "Award of 3000 Scholarships for Afghanistan" at Pak-China Friendships Centre in Islamabad.
The President said Pakistan had complete confidence in the wisdom of the Afghan leadership and the people with a belief that they would play an important role in the journey towards progress and prosperity in the region, particularly in both countries, by thwarting internal and external conspiracies. He said Pakistan was keen to include Afghanistan in all opportunities for progress and prosperity with an open heart and expressed confidence that Afghan leadership, people and particularly the youth would play a historic role in sync with the changed circumstances.
The President said Pakistan and Afghanistan were not only linked by geographical proximity but the two nations were bound by mutual ties of blood, culture, history and belief. He mentioned that the ancestors of two countries enjoyed close and warm relations standing on this common bedrock.
Full report at:
http://dailytimes.com.pk/pakistan/09-Feb-17/pakistan-afghanistan-need-to-be-cautious-of-malicious-elements-mamnoon
--------
Arab World
Trump to approve weapons packages to Saudi Arabia
8 February 2017
US President Donald Trump's administration is set to green-light a major weapons packages for Saudi Arabia, US officials and congressional sources told the Washington Times on Tuesday.
"A $300 million precision-guided missile technology package for Riyadh and a multibillion-dollar F-16 deal for Bahrain are now in the pipeline ready for clearance from the new administration," the news site reported.
An official who spoke on condition of anonymity said that "these are significant sales for key allies in the Gulf who are facing the threat from Iran and who can contribute to the fight against the Islamic State," in a reference to ISIS.
"Whereas the Obama administration held back on these, they're now in the new administration's court for a decision — and I would anticipate the decision will be to move forward," the official added.
https://english.alarabiya.net/en/News/gulf/2017/02/08/Trump-to-approve-weapons-packages-to-Saudi-Arabia.html
--------
U.S. forces killed 11 al Qaeda operatives in two air strikes in Syria -Pentagon
Feb 9, 2017
U.S. forces killed 11 al Qaeda operatives in two air strikes near Idlib, Syria, this month, including a member with links to the late Osama bin Laden and other top leaders of the group, the Pentagon said on Wednesday.
It said a Feb. 4 strike killed Abu Hani al-Masri, who it said oversaw the creation and operation of many al Qaeda training camps in Afghanistan in the 1980s and 1990s, where he "recruited, indoctrinated, trained and equipped thousands of terrorists."
Al-Masri had ties to bin Laden and al Qaeda's current leader, Ayman al-Zawahri, the Pentagon said in a statement.
Full report at:
http://nation.com.pk/international/09-Feb-2017/u-s-forces-killed-11-al-qaeda-operatives-in-two-air-strikes-in-syria-pentagon
--------
Syrian Army Inches Closer to ISIL-Held Al-Bab in Eastern Aleppo
Feb 08, 2017
The army men engaged in fierce clashes with ISIL in the village of Ma'eizileh and managed to take control over the village.
The army soldiers had seized control over al-Hawareh hill and al-Majbal region earlier.
In the meantime, the army troops targeted ISIL's positions in Southeastern Aleppo, and also engaged in fierce clashes with ISIL in Jabal (mount) al-Shabith East of the town of Khanasser.
On Tuesday, the army soldiers clashed with ISIL to the South of al-Bab, pushing them back from the region of al-Majbal and al-Hawareh hills West of the newly-liberated al-Oweishiyeh hills.
The army men also fended off ISIL's attack with bomb-laden suicide vehicles on the government forces' positions in the village of al-Oweishiyeh.
According to army reports, ISIL suffered heavy casualties in al-Bab battlefields.
The army soldiers engaged in fierce clashes with ISIL after liberating the town of al-Oweishiyeh and managed to take control of the al-Oweishiyeh hill Southeast of al-Bab, deploying forces in the nearest positions to the terrorist-held town.
Full report at:
http://en.farsnews.com/newstext.aspx?nn=13951120001033
--------
Northern Syria Turned into Graveyard for Turkish Army Soldiers
Feb 08, 2017
The sources said that the Syrian army soldiers killed over 30 ISIL terrorists in their Tuesday operation and took control over several strategic positions, while the Turkish soldiers and their allied militants have been faced with serious problems after ISIL carried out a counterattack against them and seized control of the town of al-Baza'ah Northeast of al-Bab.
A military expert said that al-Baza'ah has been turned into scarecrow for the Turks that are not able to penetrate it two weeks after ISIL captured it.
The expert added that events in al-Baza'ah prove that the Turkish army has not enough experience in street-battle against ISIL to maintain its control over al-Baza'ah and prevent its fall to ISIL.
The expert underlined that the Turkish army's artillery units and aircraft targeted heavily al-Baza'ah and al-Bab and killed a large number of civilians without making remarkable achievements.
On Sunday, the Euphrates Shield Operation forces withdrew from a key town near al-Bab in Northern Aleppo after their positions came under heavy attack by ISIL.
ISIL engaged in several-hour-long clashes with the Turkish army in the town of al-Baza'ah and managed to capture the town, inflicting heavy casualties on the Turkish soldiers and their allied militants.
Full report at:
http://en.farsnews.com/newstext.aspx?nn=13951120001202
--------
Syria: Infighting Intensifying amongst Nusra, Rival Terrorists in Idlib
Feb 08, 2017
A group of terrorists affiliated to the newly-formed Ahrar al-Sham Hay'at (the Levant Liberation Board) entered a government hospital in the town of Ma'arat al-Nu'aman in Idlib province, using force, and took several guards of the medical center that were members of Ahrar al-Sham hostages.
Media sources affiliated to terrorist groups said that fighters of Ahrar al-Sham Hay'at arrested Ahrar's guards of the hospital on charges of assassinating the board's forces.
Later, al-Nusra and Faylaq al-Sham agreed to exclude the hospital in Ma'arat al-Nu'aman from their differences and set up their military centers far away from the medical center, allowing Nusra forces to guard the hospital.
Meantime, after Jeish al-Sonah joined the al-Nusra, Ahrar al-Sham and Soqour al-Sham battalions launched heavy attacks on Jeish al-Sonah's positions in the village of Tarmla in the Southeastern countryside of Idlib and seized most of their positions and arms depots, forcing them to leave the village .
In late January, al-Nusra Front and several militant groups declared that they decided to form a new coalition named Tahrir Al-Sham Hay'at to narrow down widening rifts amongst their commanders and members.
The Al-Nusra Front, Nouralddeen al-Zinki Movement, Jeish al-Sonah, Jabhat Ansaraldeen and Liwa al-Haq announced that they would act under a united coalition named the Tahrir al-Sham Hay'at.
Full report at:
http://en.farsnews.com/newstext.aspx?nn=13951120001001
--------
ISIL's Top Commanders Killed in Syrian Airstrikes in Deir Ezzur
Feb 08, 2017
The Syrian General said that at least 15 members of the ISIL, including Field Commander Abu Mohammad al-Adnani and Libyan Commander Abu Walid Terablosi, were killed in the air assault near Deir Ezzur city.
Zahralddeen said the army has launched fresh attacks on ISIL's defense lines in Deir Ezzur's cemetery in the Southern outskirts of the city in recent days and managed to advance 3km deep into the ISIL occupied territories.
Reports said earlier today that the army troops in a preemptive move targeted the gatherings and movements of the ISIL terrorists in the Southern countryside of Deir Ezzur, preventing their move towards the city's military airport.
Full report at:
http://en.farsnews.com/newstext.aspx?nn=13951120000839
--------
Syrian Army Repels Terrorists' Attacks in Eastern Damascus
Feb 08, 2017
The source said that terrorist groups had planned to prevail over the government forces' positions in a surprise attack and through a tunnel that runs to the governor's building Northwest of the town of Arbin, but the army men led them into a trap and engaged in fierce clashes with them.
The army aircraft bombed terrorists' movements several times simultaneous with the army clashes with the terrorists in Arbin, destroying their positions.
A large number of terrorists were killed and the rest of them fled the battlefield in the failed operation.
In the meantime, terrorists failed to break through the army's positions in a region between al-Meida'ani and Harazma and lost a number of forces in clashes with the army soldiers.
Syrian National Reconciliation Minister Mohammad al-Omri declared on Tuesday that the Syrian government established a new corridor in Eastern Damascus to pave the way for the militants and civilians to leave the region.
Al-Omri said that the government set up new humanitarian corridor in Douma region to help civilians arrested by the terrorists to leave the region.
He further added that any amnesty to the militants should be granted after captives are set free.
Full report at:
http://en.farsnews.com/newstext.aspx?nn=13951120000632
--------
Syrian Army Preempts ISIL's Attack on Airbase South of Deir Ezzur
Feb 08, 2017
The army soldiers stormed ISIL's concentration centers and movements near Deir Ezzur airbase and foiled the terrorists' plans for an imminent offensive, killing at least nine terrorists, including several non-Syrians.
The ISIL pulled the remaining pockets of its forces back from the battlefield to evade more casualties.
In relevant developments in the province on Tuesday, ISIL suffered a heavy death toll and its military hardware sustained major damage after the Syrian Army troops and Air Force intensified attacks on their gatherings and concentration centers near and inside the Eastern city of Deir Ezzur.
The army's artillery units opened heavy fire at ISIL's movement near Deir Ezzur city, killing and wounding a number of militants.
Full report at:
http://en.farsnews.com/newstext.aspx?nn=13951120000415
--------
Syria: Gov't Troops Inch Closer to Lifting Deir Ezzur Airbase Siege
Feb 08, 2017
"Russian long-range aircraft played an important role in undermining the combat capability and demoralization of Daesh [ISIL] troops in the area of the city of Deir Ezzur. Tu-22M3 aircraft conducted 36 sorties, during which 34 terrorist facilities were destroyed," Lt. Gen. Sergei Rudskoi, chief of the Russian General Staff Main Operational Directorate, said, adding that "with the active support of the Russian Aerospace Forces, the garrison of government troops in the besieged city of Deir Ezzur has significantly improved its position".
The ISIL terrorists drove a wedge along the government-controlled regions mid-January after capturing Deir Ezzur's cemetery and the road connecting the city to the airbase. 14,000 ISIL terrorists launched a massive attack on army positions South of Deir Ezzur city, cutting off the strategic road connecting the city to a military airport.
After several rounds of heavy offensives against the Syrian Army positions that all failed, 14,000 ISIL militants and tens of suicide attackers and bomb-laden vehicles, managed to advance against government forces on the road connecting Deir Ezzur airbase to the city, dividing army-controlled regions in Deir Ezzur into two parts.
Military sources disclosed that the ISIL's current round of attacks is the heaviest and largest operation the terrorist group has ever conducted in Deir Ezzur city and its military airport.
According to reports, the ISIL has gathered a large number of its forces from Raqqa, Deir Ezzur countryside and even from Mosul in Iraq to take part in the offensive. The ISIL also has a large number of suicide attackers and bomb-laden vehicles involved in the offensive in Deir Ezzur.
Full report at:
http://en.farsnews.com/newstext.aspx?nn=13951120000209
--------
Syria: ISIL Withdraws from More Strategic Positions in Eastern Homs
Feb 08, 2017
The army soldiers stormed ISIL's defense lines along the road to al-Maher oilfield and seized a strategic hill in the region after hours of clashes and inflicting a number of casualties on the militants.
The army men also engaged in heavy fighting with ISIL and took back mountains to the West of Jahar station.
The army's artillery and missile units and warplanes pounded ISIL's positions in al-Bayarat region, Jahar and Jazal as well.
The army troops could also advance against ISIL to the South of the village of al-Beidheh al-Sharqi in al-Bayarat.
The fighter jets also bombed ISIL's concentration centers several time in Eastern Homs, destroying one of their main bases in the village of al-Msheirefeh al-Shamaliyeh.
The army troops and Air Force also hit the positions of ISIL and Al-Nusra Front (recently renamed to Fatah al-Sham Front) in Eastern and Northern Homs on Tuesday, killing and wounding a number of terrorists.
The army units targeted the concentration centers of al-Nusra in the villages of Tir Ma'ala and Ezzeddeen in Northern Homs, Killing at least six terrorists and wounding 12 more.
Full report at:
http://en.farsnews.com/newstext.aspx?nn=13951120000361
--------
North America
White House weighs Terrorist designation for Muslim Brotherhood
Feb 9, 2017
WASHINGTON : President Trump's advisers are debating an order intended to designate the Muslim Brotherhood as a foreign terrorist organization, targeting the oldest and perhaps most influential Islamist group in the Middle East, The New York Times reported Wednesday.
A political and social organization with millions of followers, the Brotherhood officially renounced violence decades ago and won elections in Egypt after the fall of President Hosni Mubarak in 2011. Affiliated groups have joined the political systems in places like Tunisia and Turkey, and President Barack Obama long resisted pressure to declare it a terrorist organization.
Officially designating the Brotherhood as a terrorist organization would roil American relations in the Middle East. The leaders of some American allies — like Egypt, where the military forced the Brotherhood from power in 2013, and the United Arab Emirates — have pressed Mr. Trump to do so to quash internal enemies, but the group remains a pillar of society in parts of the region.
The proposal to declare it a terrorist organization has been paired with a plan to similarly designate Iran's Islamic Revolutionary Guards Corps, according to current and former officials briefed on the deliberations. Leaders of the corps and its Quds Force unit have already been put on a government terrorist list, but Republicans have advocated adding the corps itself to send a message to Iran.
The Iran part of the plan has strong support within the White House, but momentum behind the Muslim Brotherhood proposal seems to have slowed in recent days amid objections from career officials at the State Department and the National Security Council, who argue that there is no legal basis for it and that it could alienate allies in the region. Former officials said that they had been told the order would be signed on Monday, but that it had now been put off at least until next week.
The delay may reflect a broader desire by the White House to take more time with executive actions after the chaos associated with hastily issued orders, like the temporary ban on visitors from seven predominantly Muslim countries. But it also underscored the complex dynamics involving the Muslim Brotherhood, whose chapters have only loose relationships across national lines.
http://nation.com.pk/international/08-Feb-2017/white-house-weighs-terrorist-designation-for-muslim-brotherhood
--------
Court questions whether US travel ban is a shut-out for Muslims
Feb 9, 2017
SAN FRANCISCO : An appeals court has questioned whether President Donald Trump's travel ban discriminates against Muslims.
The executive order temporarily banned entry for all refugees and visitors from seven mainly Muslim countries, until it was halted last week.
Judge Richard Clifton asked whether it could be discriminatory if it affected only 15% of the world's Muslims.He is one of three judges on the appeals court in San Francisco, which will make its ruling later this week.
There was an hour of oral arguments from both sides on Tuesday. Whatever the 9th US Circuit Court of Appeals decides, the case will probably end up in the Supreme Court.
The Justice Department was first to make its case, urging the appeal judges to reinstate the banning order. Lawyer August Flentje said Congress had authorised the president to control who can enter the country.
When asked to point to evidence that the seven countries affected - Iran, Iraq, Libya, Somalia, Sudan, Syria and Yemen - present a risk to the US, he said a number of Somalis in the US had been connected to the al-Shabab group.
Then a lawyer representing Washington state told the court that halting the executive order had not harmed the US government.
Solicitor General Noah Purcell said the ban had affected thousands of residents of the state, with students delayed as they tried to come to Washington and others prevented from visiting family abroad.
Full report at:
http://nation.com.pk/international/08-Feb-2017/court-questions-whether-us-travel-ban-is-a-shut-out-for-muslims
--------
US Muslim Jewish Council Praises Trump on Civil Rights
February 08, 2017
WASHINGTON —
A member of a new U.S. coalition of prominent American Jews and Muslims says President Donald Trump's administration has expressed a strong commitment to fight hate crimes against religious minorities, a pledge that earned the president rare praise from leaders of the two minority groups.
Muslim-Jewish Advisory Council (MJAC) member Robert Silverman, who is Jewish, told VOA Persian's NewsHour show that his group received assurances of the civil rights commitment from a "very senior" member of the new U.S. administration at a meeting in Washington February 1.
The 38-member MJAC, formed last November, aims to coordinate a strategy to fight anti-Muslim bigotry and anti-Semitism in the United States and to protect the rights of the country's other religious minorities. The body comprises 19 American Muslim and 19 American Jewish community and religious leaders, business executives and former U.S. lawmakers.
The council members held their closed-door meeting with the Trump administration official as part of their first Washington advocacy day, which also included talks with current members of Congress from both the Republican and Democratic parties. The council's main priority was to seek federal action to reverse an increase in U.S. hate crimes against Jews and Muslims — action that it says should include federal prosecutions of such crimes.
FBI measures rise in hate crimes
The latest Federal Bureau of Investigation data on U.S. hate crimes, released in November, showed that anti-Muslim crimes rose 67 percent, to 257 incidents, from 2014 to 2015; anti-Jewish crimes rose 9 percent to 664 incidents during the same period.
In a follow-up telephone interview with VOA Persian, Silverman, who also serves as director of Muslim-Jewish Relations for the American Jewish Committee, said he was "extremely reassured" by the council's recent meeting with the Trump appointee.
"It was an important signal by the new administration of a commitment to work with religious minority groups like MJAC, and a commitment to enforce U.S. civil rights laws," he said. "We welcomed it, and [the official] got a complete round of applause from the Muslim and Jewish council members."
The council's Muslim co-chair Farooq Kathwari, CEO of American furniture manufacturer and retailer Ethan Allen, echoed that sentiment in remarks to The Jerusalem Post.
"It went very well," Kathwari said of the talks with the Trump administration. "They said that their objective is to make sure people are treated fairly, and that they wouldn't do anything based on religion. So it was promising."
Muslim-Jewish group stands apart
The MJAC members' praise for the new U.S. administration contrasts with major Jewish and Muslim-American organizations' criticism and condemnation of the White House in recent weeks, in particular for the president's January 27 executive order to suspend the entry of refugees into America and pause immigration from seven Muslim-majority nations considered sources of terrorism. A U.S. federal judge lifted the travel ban temporarily February 3, in response to legal challenges from critics, who called it unconstitutional. An appellate court is reviewing the issue.
Those critics include the Council on American-Islamic Relations (CAIR), which has denounced Trump's executive order as a "Muslim ban." Leaders of the Reform and Conservative American Jewish movements have issued similar denunciations of the presidential order. The White House has denied targeting Muslims and pointed to dozens of Muslim-majority nations whose citizens were not affected by the measure.
MJAC has expressed support for Trump's critics, saying in an open letter to Congress that it shares their concern "with any bar on refugee or other immigration to the United States based on one's religion." However, the council has declined to publicly express opposition to the travel ban.
'We work together, Americans of good will'
"We are not a protest group," said Silverman, whose fellow council members include Republicans and Democrats. "We have concerns [with the Trump administration], but we have ways to address them without standing on our heads and turning purple." He also said MJAC is not operating on an assumption that its relations with the new U.S. administration will go badly. "I think that's a partisan approach. Rather, we are going to work together, Americans of good will, to live up to our common ideals."
MJAC's outreach drew criticism from the Center for Islamic Pluralism (CIP), a U.S.-based research group that challenges Islamist interpretations of Islam.
In an interview with VOA Persian, CIP executive director Stephen Suleyman Schwartz said MJAC has to take a clear position on the travel ban, which he opposes.
Full report at:
http://www.voanews.com/a/us-muslim-jewish-council-praises-trump-on-civil-rights/3715700.html
--------
Muslim Canadian Denied Entry To U.S. After Questions About Religion
02/08/2017
A Muslim Canadian woman says she was turned away at the United States border after a lengthy interrogation on her religion and thoughts on President Donald Trump.
"I felt humiliated, treated as if I was less than nothing," Fadwa Alaoui told CBC News on Wednesday.
Alaoui was travelling to Burlington, Vt. to do some shopping with her cousin and two children. The Canadian citizen was born in Morocco and has been in Quebec for 20 years, according to La Presse.
Border agents took Alaoui and her cousin's cellphones and asked for the passwords. She was asked questions almost exclusively about her Islamic practice, as well as whether she knew any victims killed in the deadly shooting spree at a Quebec City mosque.
There has been some confusion in recent weeks about which Canadians are allowed to travel to the U.S. An executive order signed by President Trump banned travellers from seven majority-Muslim countries from entering the country at all.
Initially, it was reported that the ban would apply to Canadian dual citizens, but the Canadian government later clarified that it would not.
Alaoui is not from any of the countries on the list.
Last week, a Seattle federal judge issued a temporary restraining order to block the president's controversial travel ban.
Four-hour ordeal
When border agents asked what she thought of Trump, Alaoui said she responded that he can do what he wants in his own country.
The group was fingerprinted and sent on their way after four hours.
It's not the first time Canadians have been turned away from the border after being questioned about their beliefs.
Full report at:
http://www.huffingtonpost.ca/2017/02/08/canadian-denied-entry-us_n_14644168.html
--------
Visa changes could stunt budding US-India ties under Trump
February 8, 2017
The US and India seem like a natural fit in the Trump era: rambunctious democracies, led by populists, focused on economic growth and fighting radical Islam. It's a budding partnership that could be set back by a nuts-and-bolts dispute over employment visas. As President Donald Trump looks to help American workers, his administration is considering a broad review of a visa programme used heavily by India's massive technology and outsourcing industries to send programmers and other computer specialists to the United States.
Speculation about tougher rules on so-called H-1B visas sent tech stocks tumbling in India last week, and compounded concerns about the protectionist direction of US policy after Trump temporarily suspended immigration from seven Muslim-majority countries.
The technology sector is vital for India's economy and creating jobs for a fast-growing, young workforce, a top priority for Prime Minister Narendra Modi.
America is the main customer: It accounted for more than 60 per cent of India's USD 108 billion in foreign tech and outsourcing sales last year, according to the National Association of Software and Service Companies, an Indian industry lobby group.
"There is a general sense of anxiety in the industry," said Dipen Shah, an IT analyst at Kotak Securities in India. He said it seemed likely that the cost of hiring people on H-1B visas would increase, hurting tech companies' bottom lines.
A draft executive order prepared by Trump's team is short on specifics. It calls for a report within nine months on the injury caused to US workers by several working visa categories, including H-1B, and a re-consideration of how to allocate the visas to ensure they go to "the best and the brightest."
The US government grants up to 85,000 of these visas each year. They're open to a broad range of occupations and recipients who can stay in the country for up to six years.
First Lady Melania Trump, who comes from Slovenia, had one as a fashion model in the 1990s.
Full report at:
http://indianexpress.com/article/world/visa-changes-could-stunt-budding-us-india-ties-under-trump-4514647/
--------
Muslim groups push Canada to fight Islamophobia
9 February 2017
TORONTO, Canada – Muslim community groups across Canada have joined forces to encourage the government to take steps to combat Islamophobia in the aftermath of a deadly attack at a Quebec mosque.
The organisations called on the Canadian parliament to designate 29 January the National Day of Remembrance and Action on Islamophobia, in honour of the six men who were killed late last month at the Centre Culturel Islamique de Québec.
Aboubaker Thabti, Abdelkrim Hassane, Khaled Belkacemi, Mamadou Tanou Barry, Ibrahima Barry and Azzedine Soufiane were killed as they prayed on 29 January in Quebec City.
"How do we move on from this heartbreaking event and ensure that we learn lessons from this tragedy? How can we work harder to stamp out hate – against anyone, for any reason – in our communities?" the organisations said in an open letter released on Wednesday.
The National Council of Canadian Muslims, Quebec Muslims Association, the Canadian Council of Imams, the Canadian Council of Muslim Women, and the mosque where the attack took place are among the signatories.
"Now is the time to take meaningful steps forward in order to combat Islamophobia collectively," they wrote.
Demands at all levels of government
Among several demands, they want municipalities across Canada to receive training on hate crimes and "bias-neutral" policing, and release an annual report on hate crimes in their area.
At the provincial level, the groups want education ministries to create a mandatory high school course on systemic racism, including Islamophobia, anti-Semitism, xenophobia and anti-black racism.
They also want each province to implement an Anti-Racism Directorate to evaluate systemic racism at the government level, and promote anti-racism public awareness campaigns.
Parliament members have also been urged to support a motion in the House of Commons that would push the federal government to study how to stem systemic racism and religious discrimination.
"We've seen recently that Quebecers went out into the streets… to say enough is enough," said Haroun Bouazzi, of Montreal human rights group AMAL-Québec, one of the letter's signatories.
"We think it's the time to work together," he said during a news conference in Ottawa on Wednesday.
Bouazzi said that while Islamophobia is not more of a problem in Quebec than elsewhere in Canada, it manifests itself differently in the French-speaking province, largely because of Quebec's unique history.
"We absolutely have to give our students the tools to understand what is essential – what racism is, what decolonisation is, what sexism is – what all these very important concepts are, in order to create good citizens," Bouazzi said.
Attack targeted Muslims
Last week, Alexandre Bissonnette, 27, was charged with six counts of murder, and five counts of attempted murder, in the shooting at the Centre Culturel Islamique, also known as the Grand Mosque of Quebec.
Rallies in solidarity with the victims were organised across Canada to mourn the men who were killed, and public funerals drew thousands to Montreal and Quebec City to pay their respects.
Meanwhile, a march condemning Islamophobia drew thousands of protesters to downtown Toronto on Saturday, and interfaith and other community groups joined hands to form "rings of peace" around mosques in the city last Friday in a show of support for local Muslim communities.
Canada's Prime Minister Justin Trudeau described the shooting as "a terrorist attack" in which "a group of innocents [were] targeted for practising their faith".
But no formal terrorism or hate crime charges have been added to Bissonnette's list of alleged crimes to date.
That is something that Amira Elghawaby, spokesperson for the National Council of Canadian Muslims, said is critically important if concrete solutions to Islamophobia are to be found.
"All we've seen are murder charges, so I think everyone is waiting to hear from the investigators as to what it is. At the bare minimum, it's a hate crime," Elghawaby told Middle East Eye late last week.
"It's critically important to name the acts of violence and to make it very clear as to what we're dealing with here because if we don't name the problem, then we're not going to be able to solve it."
A debate on accommodation
But communities in Quebec are also bracing for an upcoming debate on a proposed law, Bill 62, which officially aims "to foster adherence to State religious neutrality".
In practise, the law would force public sector employees to have their faces uncovered at work, and it would apply to anyone working in government agencies, school boards, and public institutions that provide health and social services.
But really, it would affect only a very small minority of Muslim women who choose to cover their faces.
Quebec Premier Philippe Couillard, whose Liberal Party put forward the bill, said this week that the tragedy in Quebec City should not take away from the secularism debate in the province.
Indeed, "it will take more than a tragedy to recast the accommodation debate along lines more respectful of minority rights," Quebec political affairs columnist Chantal Hébert wrote in The Toronto Star last week.
Bill 62 "is the latest legislative proposal designed to bring closure to the religious accommodation debate," Hébert wrote, but "it will do anything but that".
The question of state secularism has bubbled to the surface many times in more than a decade in Quebec, as has the extent to which the province should provide "reasonable accommodation" for religious minorities and new immigrants.
Incendiary radio hosts, whose shows are referred to as "trash radio," or radio poubelle, and alarmist newspaper columnists have been accused of promoting hate that targets Muslim communities.
Politicians have also been guilty of stoking the flames, with Parti Québécois leader Jean-Francois Lisée proposing in September for Quebec to ban the burqa and the niqab in public places.
The Coalition Avenir Québec, meanwhile, has advocated for values testing for new immigrants, and to join some cities in France in banning the "burkini," the full-body swimsuit worn by some Muslim women.
'Barbaric Cultural Practices'
"Quebec Muslims have long complained of being treated like second-class citizens, so there's definitely a climate in Quebec. And there is a climate in the rest of the country," Elghawaby said.
During the 2015 federal election, the Conservative Party staked its campaign on banning new Canadian citizens from being allowed to take their oath of citizenship while wearing a niqab, a full face covering.
Conservative MPs also proposed a "Barbaric Cultural Practices" tip line, a thinly veiled attempt to get Canadians to report on the activities of their Muslim neighbours.
In November 2015, about a month after the election, a mosque in Peterborough was set on fire in a suspected hate crime.
Between 2012 and 2014, anti-Muslim hate crimes doubled across Canada as a whole.
But those statistics only tell "part of the story," Elghawaby said, "because up to two-thirds of hate crimes are not reported".
Full report at:
http://www.middleeasteye.net/news/muslim-groups-push-canada-fight-islamophobia-1396547864
--------
Mideast
Don't move US embassy to Jerusalem, bishops ask Secretary of State
Feb 9, 2017
Washington D.C., Feb 7, 2017 / 06:23 am (CNA/EWTN News).- The Israeli-Palestinian conflict requires wise U.S. engagement to build a better future for both peoples, and this future could be endangered by an embassy relocation, the U.S. Catholic bishops told the new Secretary of State, Rex Tillerson.
Bishop Oscar Cantu, chair of the U.S. bishops' Committee on International Justice and Peace, said that resolving the conflict will require "critical, continued engagement" to overcome 50 years of conflict and its "egregious injustices and random acts of violence."
The U.S. bishops have long backed a two-state solution, as has Pope Francis. The bishops implored the Secretary of State to keep the U.S. Embassy to Israel in Tel-Aviv, rather than move it to Jerusalem as President Donald Trump has advocated.
"Relocating the embassy to Jerusalem is tantamount to recognizing Jerusalem as the undivided capital of Israel," Bishop Cantu wrote Feb. 1. He noted that the international community has determined that Jerusalem's status must be determined in mutual agreements between Israel and Palestine.
Moving the embassy would undermine U.S. commitment to a two-state solution, the bishop said.
He added that the U.S. has always provided "leadership and support" to the peace process.
"We continue to profess hope for a diplomatic solution that respects the human dignity of both Israelis and Palestinians and advances justice and peace for all," Bishop Cantu continued.
The year 2017 would be an important year, marking "the fiftieth anniversary of a crippling occupation of the West Bank, East Jerusalem and Gaza, crippling for both peoples," he said.
He cited Pope Francis' call to those in authority "to leave no stone unturned in the search for equitable solutions to complex problems, so that Israelis and Palestinians may live in peace."
"The path of dialogue, reconciliation and peace must constantly be taken up anew, courageously and tirelessly," the Pope said in his May 2014 visit to Israel.
Bishop Cantu said some Israeli actions undermine both peace and the Christian presence in the occupied Palestinian Territories. He pointed to the Bethlehem-area Cremisan Valley, where 58 Christian families live near a Salesian monastery, a convent and a school.
The bishop objected that the Israeli barrier wall in the valley constricts residents' movement and their access to their lands, splits them from Christian institutions, and encourages them to emigrate.
"The Cremisan Valley is emblematic of the alarming number of Palestinians who have lost their homes and livelihoods," he said. "Settlement expansion, confiscation of lands and the building of the Separation Wall on Palestinian lands violate international law and undermine a diplomatic solution."
http://www.catholicnewsagency.com/news/dont-move-us-embassy-to-jerusalem-bishops-ask-secretary-of-state-66375/?utm_source=newsletter&utm_medium=email&utm_campaign=email
--------
Rights groups challenge Israel's new settlements law in court
Feb 9, 2017
JERUSALEM - Rights groups petitioned Israel's Supreme Court on Wednesday to annul a heavily criticised law that retroactively legalised some 4,000 settler homes built on privately owned Palestinian land in the occupied West Bank.
The law, approved by parliament on Monday, has drawn condemnation from Europe and the United Nations and has been described by Israel's attorney general as unconstitutional.
Acting on behalf of 17 Palestinian villages and towns, The Legal Center for Arab Minority Rights in Israel (Adalah), and the Jerusalem Legal Aid and Human Rights Center also asked the court for an injunction in order to stop any registration of the plots as under settler ownership.The Supreme Court has in the past supported Palestinian property rights and annulled laws it deemed unconstitutional. The legal process in some of those cases took months, though the court usually rules on injunction requests within days. Palestinian President Mahmoud Abbas called the law an aggression against the Palestinian people and threatened to suspend security cooperation with Israel if its ramp-up of Israeli settlements continued. On Tuesday Federica Mogherini, the European Union's foreign policy chief, said that if implemented, the measure would cross a new and dangerous threshold. UN Secretary-General Antonio Guterres said the action went against international law, while French President Francois Hollande said it paved the way for the annexation of territory Palestinians want as part of a future state.
Full report at:
http://nation.com.pk/international/09-Feb-2017/rights-groups-challenge-israel-s-new-settlements-law-in-court
--------
Erdogan, Trump agree joint action against IS in Syria
Feb 9, 2017
ANKARA - Turkish President Tayyip Erdogan and US President Donald Trump agreed in an overnight phone call on joint action against Islamic State in the Syrian towns of Raqqa and al-Bab, both held by the militants, Turkish presidency sources said on Wednesday.
Meanwhile, Syria's justice ministry has dismissed as "completely false" an Amnesty International report alleging up to 13,000 people were hanged over five years in a Syrian government prison. The ministry said the Amnesty report was "completely untrue and intended to harm Syria's reputation in international forums," the official SANA news agency reported.
US-Turkish differences during former President Barack Obama's administration impeded the US-led campaign against Islamic State, and closer coordination could mean faster progress towards freeing swathes of northern Syria from IS.
Erdogan now hopes that relations with Washington, strained by the presence in the United States of a cleric he blames for an attempted military coup last year and by US support for Kurdish militia in Syria, can be reset under Trump.
Turkey has the second largest army in the NATO alliance and is key to any success in rolling back and eventually neutralising IS in Syria and Iraq where IS declared a cross-border caliphate after lightning advances in 2014. Turkey has presented a detailed plan to oust Islamic State from its Raqqa urban stronghold in northeastern Syria and strategy discussions with the Trump administration are under way, according to Erdogan's spokesman, Ibrahim Kalin.
"The operational details were not discussed on this call ... Now detailed planning will be conducted in coordination," he told Turkish broadcaster NTV in an interview. Ankara believes recent IS attacks in Turkey, including a New Year's Day shooting in an Istanbul nightclub that killed 39 people, have been steered from al-Bab and Raqqa, and regards a clear-out of the towns as a national security priority.
Turkish government and Syrian rebel sources said on Wednesday insurgents backed by Turkey's military had taken the outskirts of al-Bab, northeast of Aleppo. If al-Bab falls, Ankara would strengthen its sway over an area of northern Syria where it has created a de facto buffer zone. Syrian government forces have also advanced on al-Bab from the south, bringing them into close proximity with their Turkish and rebel enemies in one of the most complex battlefields of Syria's six-year-old civil war. But Turkey said international coordination was under way to prevent clashes with Syrian forces.
The White House said that in the phone call, Trump spoke about the two countries' "shared commitment to combating terrorism in all its forms" and welcomed Turkish contributions to the fight against Islamic State. But it gave few details.
Sources in Erdogan's office said the two leaders had touched on issues including a "safe zone", as well as the regional migrant crisis and the fight against terrorism. Turkey has long advocated a secure zone for displaced civilians in Syria threatened by the militants or forces fighting for Syrian President Bashar al-Assad.
They also said Erdogan had urged the United States not to support the Syrian Kurdish YPG militia and that new CIA Director Mike Pompeo would be in Turkey on Thursday to discuss that and other issues with Turkish counterparts.
There was no immediate confirmation from Washington of Pompeo's visit. But the offices of both leaders said Trump had reiterated US support for Turkey "as a strategic partner and NATO ally" during Tuesday's phone call.
Turkey has long urged world powers to help create a safe zone, which it also sees as a way to purge its border of Islamic State and Kurdish militia fighters, and stem a wave of migration that has caused tensions with Europe.
Obama and US allies balked at the idea, saying it would entail significant ground forces and planes to patrol a "no-fly zone", a dicey commitment in such a crowded and messy conflict.
The Syrian Democratic Forces (SDF), an alliance of US-backed militias, launched a new phase of its campaign against Islamic State in Raqqa on Saturday.
Turkey has repeatedly said it wants to be part of the US-led operation to retake Raqqa from the ultra-hardline Sunni militant Islamic State, but does not want the YPG, which is part of the SDF alliance, to be involved.
Relations between Erdogan and Obama soured over US support for the YPG, which Ankara regards as a terrorist group and an extension of Kurdish insurgents fighting inside Turkey.
The Turkish army and Syrian rebel groups it supports have been fighting IS in a separate campaign around al-Bab, northeast of the city of Aleppo. Ankara has complained in the past about a lack of US support for that campaign.
Full report at:
http://nation.com.pk/international/09-Feb-2017/erdogan-trump-agree-joint-action-against-is-in-syria
--------
Turkish army, Syrian rebels escalate assault on ISIS-held city
8 February 2017
Syrian rebel forces supported by Turkish armed forces have seized control of strategically important hills around the ISIS-controlled town of al-Bab, Turkey's military said on Wednesday.
It said in a statement that 58 ISIS militants were killed in air strikes, artillery fire and clashes. Two Turkish soldiers had been killed and 15 slightly wounded.
Turkish Foreign Minister Mevlut Cavusoglu said the operations had made important progress and the next target would be the Syrian city of Raqqa, the de facto capital of ISIS.
The battle for al-Bab has raised the prospect of confrontation between the Turkish military and the Syrian army, which has pushed to within a few kilometres of the city's southern outskirts.
A Syrian rebel official and a monitoring organization said the advancing forces had captured the western outskirts of al-Bab, some 30 km (20 miles) south of the Turkish border.
"With last night's assault, ISIS's defences have been broken through and the advance is now continuing," said the official, speaking from the Turkish city of Gaziantep. Turkish military reinforcements had been sent to the area about a week
ago, the rebel added.
Al-Bab has been a major target of a Turkish offensive launched in northern Syria last August to drive ISIS away from the border and prevent further gains by US-backed Kurdish militia that are also fighting the militantgroup.
Syrian government forces and allied militia have mounted their own rapid advance towards al-Bab in the last few weeks. The city was encircled earlier this week when Syrian government forces cut the last way into the city. The Syrian Observatory for Human Rights, a UK-based organization that reports on the war, said the Turkish forces and their Free Syrian Army rebel allies had captured a hill on the western periphery of the city.
"We don't know if Daesh (ISIS) will be able to recover it, or if it is in a state of collapse," Observatory Director Rami Abdulrahman said.
In a video sent by the rebel official, three Syrian rebel fighters with the Sultan Murad faction said they were speaking from inside al-Bab. It was not possible to confirm the authenticity of the footage.
"I am in Bab now but not at the centre. We are on the outskirts. Thank God, we have reached this place," said one of the rebels. Blasts were heard in the background.
The Observatory said at least six people had been killed and 12 more wounded in the latest shelling of al-Bab.
Full report at:
https://english.alarabiya.net/en/News/middle-east/2017/02/08/Turkish-army-Syrian-rebels-escalate-assault-on-IS-held-city-.html
--------
Dozens killed in Saudi push to take Yemeni port
Feb 9, 2017
Nearly three dozen people have been killed after Houthi fighters and militias loyal to resigned president Abd Rabbuh Mansur Hadi clashed for the control of a strategic coastal city in Ta'izz province.
The clashes took place in the Red Sea port city of Mokha on Wednesday in which at least eight Saudi mercenaries were killed, medical sources said.
Pro-Hadi militia forces backed by the Saudi air force began a major offensive on January 7 to recapture Mokha which overlooks the strategic Bab el-Mandeb Strait that connects the Red Sea to the Gulf of Aden from Ansarullah fighters.
Yemeni troops on Wednesday also shot down a Saudi unmanned aerial vehicle in the northwestern province of Sa'ada.
This photo provided by the media bureau of Yemen's Joint Operations Command shows a targeted Saudi reconnaissance drone in the Baqim district of Yemen's northwestern province of Sa'ada on February 8, 2017.
A military source said the reconnaissance drone was struck while collecting information on the positions and movements of Yemeni forces and their allies in the Baqim district of the province.
Two high-ranking Saudi officers and several soldiers were killed when a powerful explosion ripped through their vehicle northeast of the al-Hathera district in Saudi Arabia's southwestern border region of Jizan.
Saudi military sources said Major Abdullah Bin Shaiban Hassan Hamdi was among those killed.
Full report at:
http://www.presstv.ir/Detail/2017/02/09/509763/Yemen-clashes-Houthi-Ansarullah-fighters-Hadi-militiamen-Mokha-Taizz
--------
Two Palestinians killed, 5 injured in Israeli airstrike in Gaza
Feb 9, 2017
At least two Palestinians have lost their lives when the Israeli military carried out an airstrike against an area on the border between Egypt's troubled Sinai Peninsula and the besieged Gaza Strip.
Palestinian sources said the attack targeted a tunnel which Gazans use to bring basic needs into the coastal enclave in the border town of Rafah early on Thursday, leaving two Palestinians dead and five others injured.
The sources identified the deceased as 24-year-old Hessam Hamid al-Soufi and 38-year-old Mohammad Anwar al-Aqra', both residents of Gaza City. Two of the injured are in critical condition.
The victims have reportedly been taken to the Youssef al-Najjar hospital in Rafah to receive treatment, Arabic-language Palestine al-Yawm news agency reported.
The airstrike came shortly after the Israeli military claimed that it had intercepted several rockets fired from Egypt's Sinai Peninsula at the southern resort town of Eilat. The projectiles did not cause any casualties.
On Monday, two Palestinians were injured when Israeli warplanes struck a farming land in the center of Khan Yunis city, located about 25 kilometers south of Gaza City.
A Palestinian fisherman was also injured after two Israeli airstrikes struck an open area and a Hamas position west of the city of Beit Lahia, located about five kilometers north of Gaza City.
Full report at:
http://www.presstv.ir/Detail/2017/02/09/509741/Israel-airstrike-Palestinians-killed-injured-Rafah-Gaza-Strip
--------
2 Saudi servicemen killed in Yemeni retaliatory attack
Feb 8, 2017
Fighters of Yemen's Houthi Ansarullah movement and allied army units have carried out an attack on military positions in the south of Saudi Arabia, killing two high-ranking Saudi officers.
Houthis said in a Wednesday report on their website that the two officers were killed in an ambush by Yemeni forces in al-Hathirah region of Jizan province.
The report said the vehicle carrying the two officers, one of them a colonel and the other a lieutenant, was targeted by a rocket attack by the Yemeni forces.
Al-Masirah News, a website advocating the Houthis, confirmed that one of the slain Saudi military officials was identified as Abdullha Bin Sheiban Hassan Hamdi. An image of the officer's identity card was also published in the report.
For nearly two years, Yemenis have carried out attacks against Saudi military positions to compensate the kingdom's relentless bombardment of residential areas across Yemen. The Saudi campaign, which is meant to reinstall ousted President Abd Rabbuh Mansour Hadi, has claimed the lives of more than 11,400 people, most of them civilians.
Earlier reports by al-Masirah had said at least 20 Saudi soldiers and officers had been killed in retaliatory attacks by Yemenis since the start of 2017. Estimates show that hundreds more, including servicemen from Arab states of the Persian Gulf region, have been killed since the start of the Saudi aggression in March 2015.
Full report at:
http://www.presstv.ir/Detail/2017/02/08/509713/Yemen-Saudi-soldiers
--------
South Asia
Over 1,000 Rohingyas 'killed' in Myanmar: UN officials
Feb 9, 2017
COX'S BAZAR, Bangladesh - More than 1,000 Rohingya Muslims may have been killed in a Myanmar army crackdown, according to two senior United Nations officials dealing with refugees fleeing the violence, suggesting the death toll has been a far greater than previously reported.
The officials, from two separate UN agencies working in Bangladesh, where nearly 70,000 Rohingya have fled in recent months, said they were concerned the outside world had not fully grasped the severity of the crisis unfolding in Myanmar's Rakhine State.
"The talk until now has been of hundreds of deaths. This is probably an underestimation - we could be looking at thousands," said one of the officials, speaking on condition of anonymity. Both officials, in separate interviews, cited the weight of testimony gathered by their agencies from refugees over the past four months for concluding the death toll likely exceeded 1,000.Myanmar's presidential spokesman, Zaw Htay, said the latest reports from military commanders were that fewer than 100 people have been killed in a counterinsurgency operation against Rohingya militants who attacked police border posts in October.
Asked about the UN officials' comments that the dead could number more than 1,000, he said: "Their number is much greater than our figure. We have to check on the ground."
About 1.1 million Rohingya Muslims live in apartheid-like conditions in northwestern Myanmar, where they are denied citizenship. Many in Buddhist-majority Myanmar regard them as illegal immigrants from Bangladesh.
In addition to the information the two UN officials gave Reuters, a report released by the UN Office of the High Commissioner for Human Rights (OHCHR) on Friday gave accounts of mass killings and gang rapes by troops in northwestern Myanmar in recent months, which it said probably constituted crimes against humanity. Bangladesh on Wednesday rebuked Myanmar for opening fire on a boat in the Naf river that marks their border and killing one fisherman, describing it as an "act of unprovoked aggression".
It was the second time that Myanmar forces had fired on Bangladeshi fishermen.
Bangladesh's foreign ministry expressed "deep concern" at the latest shooting on Monday, which also seriously injured another crewman aboard the trawler.
"The ministry urges the government of Myanmar to ensure that Myanmar desist from repeating such an act of aggression," a statement said.
The government led by Aung San Suu Kyi said last week it would investigate the allegations in the report. It has previously denied almost all accusations of killings, rapes and arson.
But mounting evidence of atrocities by the army puts Suu Kyi, who has no control over the armed forces under a constitution written by the previous military government, in a difficult position, Myanmar-based diplomats say.
The Nobel peace prize winner has been criticised in the West for her silence on the issue, undermining the goodwill she built up as a democracy champion under years of junta rule and threatening international support. Challenging the generals, however, could put Myanmar's democratic transition at risk.
Independent verification of what has been happening in Myanmar is extremely difficult as the military has cut off access to northwestern Rakhine.
The OHCHR report cited supporting evidence including bullet and knife wounds sustained by refugees and satellite imagery showing destruction of villages.
A second senior UN official, from a different agency in Bangladesh, told Reuters that the report only described "the tip of the iceberg".
The OHCHR report was based on interviews with 220 people, the majority of whom said they knew of people who had been killed or disappeared.
Reuters also has reviewed a separate, internal UN analysis using a much larger sample size.
In this unpublished report, based on interviews with families comprising more than 1,750 refugees, there were 182 reports of killings of people just in the interviewee's home village, and 186 reports of people from their village disappearing, more than 10 percent in both cases.
The document acknowledges the actual number in both categories was likely lower as interviewees from the same village may have separately described the same incidents.
The UN says 69,000 people have crossed the border since October, so if the proportion reporting people killed or missing among all the refugees was consistent with those in the report the total number would run into the thousands.
According to refugees' accounts provided to Reuters in camps in Bangladesh over the past two weeks, the army intensified its offensive in northern Rakhine in mid-November, unleashing what the OHCHR report described as a "calculated policy of terror" after an incident in which several hundred Rohingya attacked an outnumbered group of soldiers, killing an officer.
The OHCHR report details deaths in random firings, including from helicopters and grenades; targeted killings of imams and teachers, slitting of throats with knives and locking people inside burning houses.
Reuters reporters have heard similar accounts from refugees in the camps in Bangladesh.
Khatun Hazera, a 35-year-old woman from the village of Kya Guang Taung, told Reuters that soldiers shot her husband, a teacher at the village madrassa, as he was returning from school with his students.
"They shot him and then turned the body upside down, dragged it, put a sword inside it and took pictures," she said. Her elderly parents-in-law, interviewed separately, gave similar accounts.
Reuters could not independently confirm these accounts.
Presidential spokesman Zaw Htay said the authorities "will try to verify" such reports, adding: "If it's true we need to find out the reason and the background data about the incident."
The OHCHR report says that the vast majority of the new Rohingya refugees were women and children, raising questions about the fate of the men left behind, UN officials said.
"Boys and men between the age of 17 and 45 were particularly targeted, as they are considered to be strong and seen as a potential threat to the army and authorities," it said, adding that many accounts describe men of that age being rounded up and taken away with their hands tied behind their backs or heads.
Zaw Htay said the police and army were doing their jobs in making arrests.
Myanmar authorities have given little information about how many may have been detained, although prison officials told a UN human rights envoy last month that they were holding about 450 people.
"If you look at the new arrivals - the majority are women - so many of them talk about a killed husband, a slaughtered uncle or a missing brother. Where are all the men?" said the first UN official.
http://nation.com.pk/international/09-Feb-2017/over-1-000-rohingyas-killed-in-myanmar-un-officials
--------
Govt grants scholarships to 3,000 Afghan students
SYED IRFAN RAZA
Feb 9, 2017
ISLAMABAD: The government has launched a programme for capacity building of universities in war-torn Afghanistan and awarded 3,000 scholarships to Afghan students studying in Pakistan.
Under the programme, another 3,000 scholarships for graduation to PhD level studies will be awarded to Afghans soon.
President Mamnoon Hussain granted documents of scholarships to the Afghan students under a project of the Higher Education Commission (HEC) at a ceremony held at the Pak-China Centre here on Wednesday.
He said the purpose of the programme was to provide Afghan students with the same educational opportunities as enjoyed by Pakistani students. He expressed the hope that the Afghan students would play a role in enhancing goodwill between the two countries. He urged Muslim countries to shun differences, resolve issues amicably, extend cooperation to each other, exchange expertise in different fields, focus on science and technology and collectively address issues being confronted by Muslim Ummat.
Afghan Minister for Higher Education Farida Mohmand, HEC Chairman Dr Mukhtar Ahmed and Ms Samina and Syed Abdullah Qasmi, two Afghan students, also addressed the ceremony.
Talking to Dawn after the function, the HEC chairman said Afghanistan had asked Pakistan for capacity building of universities. The Prime Min­is­ter's Adviser on Foreign Affairs Sartaj Aziz, during a recent visit to Kabul, announced a $500 million sup­­port package for Afghanistan, including funds for scholarships and upgrade of Afghan universities. He said at present 156 universities were being run in Afghanistan — 36 in the public sector and 120 in the private sector.
Dr Ahmed said 3,000 Afghan students had been awarded scholarships for graduation level studies in different disciplines, including biology, agriculture, business administration, information technology, chemistry and economics.
After the function, a document of understanding (DoU) was signed between the HEC and the government of Afghanistan with an aim to devise a legal framework for collaboration in the higher education sector.
The HEC chairman and the Afghan minister signed the DoU under which the two sides will devise a future line of action to expand collaboration in higher education sector.
The Afghan minister was accompanied by Omar Zakhilwal, Afghan ambassador to Pakistan, and some professors from her country.
Earlier speaking at the ceremony, President Hussain said Pakistan and Afghanistan should keep an eye on negative elements that fuelled tension and spread misunderstandings with malicious intentions.
"Pakistan has confidence in the wisdom of the Afghan leadership and people and believes that they will play an important role in the journey to progress and prosperity in the region, particularly in the two countries, by thwarting internal and external conspiracies," he said.
Mr Hussain said Pakistan was keen to include Afghanistan in all opportunities for progress and prosperity with an open heart. He expressed confidence that the Afghan leadership and people, particularly youth, would play a historic role in sync with changed circumstances.
Full report at:
http://www.dawn.com/news/1313661/govt-grants-scholarships-to-3000-afghan-students
--------
Six Red Cross staff killed in Afghanistan
February 09, 2017
KABUL - Six Red Cross workers have been killed and two others are missing in northern Afghanistan, the international charity said Wednesday, underscoring the growing dangers faced by aid workers in the war-battered country.
They were killed in the volatile province of Jowzjan, the charity added, without revealing their nationalities or who was behind the incident.
"We can confirm that six of our colleagues were killed and two are unaccounted for in Jowjzan province," a spokesman for the International Committee of the Red Cross told AFP, adding that a statement would be released later Wednesday. "We are shocked and devastated," he added.
The killings come after a Spanish employee of the ICRC was abducted on December 19 when workers from the charity were travelling between the northern city of Mazar-e-Sharif and the neighbouring volatile Taliban hotbed of Kunduz.
He was released nearly a month later, but ICRC and local officials did not say how he was freed or who was behind the abduction. "Devastated by this news out of #Afghanistan," ICRC president Peter Maurer said on Twitter about the latest incident. "My deepest condolences to the families of those killed - and those still unaccounted for."
Aid workers in Afghanistan have increasingly become casualties of a surge in militant violence in recent years.
In April 2015 the bullet-riddled bodies of five Afghan workers for Save the Children were found after they were abducted in the strife-torn
Government officials said the Red Cross workers were carrying supplies to the north of the country to areas hit by deadly snow storms.
The aid workers were in a convoy carrying supplies to areas hit by avalanches when they were attacked by suspected Islamic State gunmen, Lotfullah Azizi, the Jowzjan provincial governor, told Reuters.
"Daesh is very active in that area," he said, using an alternate name for Islamic State, which has made limited inroads in Afghanistan but has carried out increasingly deadly attacks.
Jawzjan police chief Rahmatullah Turkistani said the workers' bodies had been brought to the provincial capital and a search operation launched to find the two missing ICRC employees.
Taliban spokesman Zabiullah Mujahid said his group was not involved in the attack and promised that Taliban members would "put all their efforts into finding the perpetrators".
Last month, a Spanish ICRC employee was released less than a month after he was kidnapped by unidentified gunmen in northern Afghanistan.
That staff member was travelling with three Afghan colleagues between Mazar-i-Sharif and Kunduz on Dec 19 when gunmen stopped the vehicles. The other Afghan ICRC staff were immediately released. In a recent summary of its work in Afghanistan last year, the ICRC said increasing insecurity had made it difficult to provide aid to many parts of the country.
"Despite it all, the ICRC has remained true to its commitment to the people of Afghanistan, as it has throughout the last 30 years of its continuous presence in the country," the statement said.
Full report at:
http://nation.com.pk/national/09-Feb-2017/six-red-cross-staff-killed-in-afghanistan
--------
Repatriation and displacement overwhelms Afghanistan
Feb 9, 2017
Anuj CHOPRA - Marooned in a tent billowing in the winter wind, Gul Pari's family is among thousands of war-displaced Afghans crammed into settlements alongside a flood of returning refugees, in a double-pronged humanitarian crisis engulfing the country.
Conflict-torn Afghanistan is struggling to reabsorb large masses of refugees and failed asylum seekers being sent back from Pakistan, Europe and Iran, joining more than half a million others uprooted by war.
Clutching meagre household possessions, often with small children in tow, unprecedented numbers like Gul Pari seek refuge in crowded cities such as eastern Jalalabad, straining public resources that are already near breaking point.
"We are praying our tent does not fall down in the winter rain," the mother-of-four said, as her children huddled around a kettle inside the fragile shelter cobbled together from rags.
Gul Pari's family was forced to flee the badlands of Pachiragram district in Nangarhar, bordering Pakistan, where the Islamic State group has ushered in a new age of barbarity with beheadings, arson attacks, and by blowing up some enemies with explosives buried beneath them.
More horrifying, Gul Pari said, was their diktat in some areas to families with unmarried daughters or widows to raise white flags over their houses, marking the women as wives for new IS recruits. "It is better to live in misery like this than to become a victim of Daesh," Gul Pari said, using the Arabic acronym for IS which is common in the area. Officials say IS is on the retreat owing to a sustained campaign of US airstrikes, but the UN has documented an alarming increase in attacks by the groups on civilians, perhaps evident in the steady number of people fleeing areas with their presence.
'Returnees becoming IDPs'
As violence spiked last year across Afghanistan, about 1,700 people were displaced every day from their homes, hitting a record annual figure of more than 600,000, according to the United Nations.
Hundreds of thousands of refugees separately have returned from Iran and, particularly, Pakistan, a regional nemesis cracking down on undocumented Afghan refugees. Many of them are stuck in limbo as their home districts are torn by insecurity.
In a perfect storm, the European Union last year signed an agreement with Kabul to return Afghans whose asylum appeals are rejected, which could result in tens of thousands of repatriations.
"2016 was a record year for both displacement and returns, and together these challenges are having a serious impact on the humanitarian situation in Afghanistan," said Matt Graydon, spokesman of the International Organization for Migration (IOM).
"In addition, there is the compounded challenge of returnees becoming IDPs (internally displaced persons) because they are unable to go back to their area of origin due to fighting."
The numbers are expected to rise this year, forcing the UN to appeal for $550 million in emergency aid, though after decades of war and the competing crisis in Syria, donor fatigue has set in.
A staggering 9.3 million people, or a third of the population, will need humanitarian assistance this year, a 13 percent increase from 2016.
The Afghan government, heavily reliant on foreign aid, has promised refugees parcels of land and cash grants, but is struggling to deliver.
'No dignity'
The growing influx of people has sent living costs soaring and daily wages falling in many areas.
Full report at:
http://nation.com.pk/international/09-Feb-2017/repatriation-and-displacement-overwhelms-afghanistan
--------
6 Red Cross workers killed, 2 missing in northern Afghanistan
Feb 9, 2017
Six Red Cross workers were killed and two others were missing in northern Afghanistan, the international charity said Wednesday, underscoring the growing dangers faced by aid workers in the war-battered country.
Full report at:
http://nation.com.pk/international/08-Feb-2017/6-red-cross-workers-killed-2-missing-in-northern-afghanistan
--------
Southeast Asia
PAS says Penang promoting 'liberal Islam'
Predeep Nambiar
January 30, 2017
BUTTERWORTH: PAS today said the DAP-led Penang government is using the Penang Institute to spread what it called "liberal Islam".
Penang PAS chief Muhammad Fauzi Yusof said the state-owned think tank was promoting teachings contrary to Sunni Islam, adding that a state fatwa had declared such teachings as haram.
Fauzi singled out Penang Institute executive director Zairil Khir Johari, saying the DAP MP was promoting "liberalism" in the state government publication, Buletin Mutiara, published twice monthly.
"He has undermined the institution of the mufti and the authority of the Fatwa Committee by his failure to present an explanation for his statements (in Buletin Mutiara) before the committee, despite repeated summonses by the state mufti," he told reporters at the PAS centre in Pongsu Seribu, Kepala Batas, today.
Fauzi said Buletin Mutiara was propagating liberal Islam while religious authorities were trying to curb its spread.
He said he was worried because the publication is also read by students in religious schools.
"Mosque committees and suraus throughout the state are trying to stop the spread of liberal Islam but it appears that the state government is not bothered."
He said this proved that the state did not care about Malays and Muslims.
He said DAP and PKR were only focusing on the material needs of Muslims while ignoring spiritual development.
"It is the same method employed by BN – and a shortsighted one – to win the election and retain power," he added.
Meanwhile, Zairil told FMT that his writings in Buletin Mutiara were objective and based on facts.
"Differing points of view are part and parcel of discourse and debate. Most importantly, they have to have substance.
"I have quoted Islamic scholars and it is up to the people to believe it or not. In fact, they may write back and rebut my points," he said.
The Bukit Bendera MP said he could not appear before the state Fatwa Committee as he had to attend to the Kampung Mutiara eviction issue in Batu Ferringhi.
"It was last minute. Despite explaining to them, they chose to ridicule me," Zairil said.
http://www.freemalaysiatoday.com/category/nation/2017/01/30/pas-says-penang-promoting-liberal-islam/
--------
Top Malaysian Court Agrees To Hear Bid by Three Muslim Converts Seeking Return to Christianity
BY SULOK TAWIE
February 9, 2017
KUCHING, February 9 ― The Federal Court agreed today to a full hearing for three Sarawakian Muslim converts who face state-level challenges in their wish to revert to their original religion.
Jenry Peter alias Nur Mudzdhalifah Abdullah, Mohd Syafiq Abdullah alias Tiong Choo Ting and Selina Jau Abdullah had asked if the Sarawak Shariah Court has jurisdiction over apostasy matters or conversion out Islam when the Sarawak Syariah Court Ordinance 2001 has no provision concerning conversion into Islam.
Federal Court judge Tan Sri Suriyadi Halim Omar, who chaired a three-men panel, said the question of law posed by the three applicants required an answer as there have been similar cases nationwide.
"The Sarawak Syariah Court Ordinance is a serious matter and if the legislation does nothing, what about the ordinary people?" the judge said.
Sitting with Suriyadi were Federal Court judges Tan Sri Belia Yusof Wahi and Tan Sri Jeffrey Tan Kok Wha.
The three applicants, represented by lawyer Baru Bian, are suing the Sarawak Islamic Religious Department, the Islamic Affairs Council, the National Registration Department (NRD) and the state government to be allowed to revert to Christianity.
They also asked the court for an order to compel the NRD director-general to change their Muslim names to their original names and their religion from Islam to Christianity in their official records.
The High Court, in 2015, had ruled that it had no jurisdiction to hear apostasy cases.
Last August, the Court of Appeal rejected their application for a judicial review to compel the four respondents to issue a letter of release to them as they are no longer practising Muslims.
The four respondents were represented by state Deputy Attorney-General Saferi Ali and Shamsul Bolhassan.
Full report at:
http://www.themalaymailonline.com/malaysia/article/top-court-agrees-to-hear-bid-by-three-muslim-converts-seeking-return-to-chr
--------
Protests greet Malaysia aid ship for Myanmar's Rohingya
February 9, 2017
YANGON, Feb 9 ― Anti-Rohingya protesters gathered at a Yangon port today to meet a Malaysian ship carrying aid for thousands of refugees from the persecuted Muslim minority fleeing a bloody military crackdown.
Dozens of Buddhist monks and demonstrators waving national flags and signs reading "No Rohingya" congregated at the Thilawa port waiting for the ship to dock.
Hundreds of Rohingya are thought to have been killed in a brutal four-month campaign by security forces that the UN says may amount to ethnic cleansing.
Tens of thousands have fled to neighbouring Bangladesh bringing harrowing tales of murder and rape.
"We want to let them know that we have no Rohingya here," a Buddhist monk named Thuseitta, from the Yangon chapter of the Patriotic Myanmar Monks Union, told AFP at the docks.
Myanmar denies citizenship to the million-strong Rohingya, despite many of them living on its soil for generations.
Buddhist nationalist groups are especially strong in their vitriol, portraying them as illegal immigrants from Bangladesh.
Myanmar's treatment of the Rohingya has sparked criticism from Muslim-majority Malaysia, in a rare spat between Southeast Asian neighbours.
The Nautical Aliya set off from Malaysia last week carrying 2,200 tonnes of rice, medical aid and clothing along with hundreds of health workers and activists.
Part of the aid will be unloaded in Yangon and transported overland to the north of Rakhine state, site of the military crackdown.
The rest will be taken to Teknaf port in southern Bangladesh, where almost 70,000 Rohingya have fled since October to escape the violence.
Myanmar initially refused to allow the ship into its waters and has barred it from sailing to Rakhine's state capital Sittwe.
The government has also demanded that the aid be distributed to both Rohingya and Buddhist ethnic Rakhines.
The delivery comes days after a blistering report from the UN accused Myanmar's security forces of carrying out a campaign of rape, torture and mass killings against the Rohingya.
Based on interviews with hundreds of escapees in Bangladesh, investigators said the military's "calculated policy of terror" very likely amounted to ethnic cleansing.
For months Myanmar has dismissed similar testimony gathered by foreign media and rights groups as "fake news" and curtailed access to the region.
The UN's top official on preventing genocide, Adama Dieng, said this week that a government commission tasked with investigating allegations of abuse was "not a credible option".
Full report at:
http://www.themalaymailonline.com/malaysia/article/protests-greet-malaysia-aid-ship-for-myanmars-rohingya
--------
Insulting to say Muslims 'not that smart', group says in paintbrush row
BY A. RUBAN
February 9, 2017
KUALA LUMPUR, Feb 9 — It is a disgrace to label Muslim consumers as "not that smart" in identifying goods made with pig derivatives, Islamic Renaissance Front (IRF) chairman Dr Ahmad Farouk Musa said today.
Farouk was asked to comment on Muslim Consumer Association of Malaysia (PPIM) chief activist Datuk Nadzim Johan's call for a logo to inform some Muslims who are "not that smart" in differentiating an item with pig-derived parts.
"That's an insult to the intelligence of the Muslims," he said when contacted.
According to the Malaysiakini news portal, Nadzim claimed that there were also food items, clothes, kitchen utensils and more that were made with pig derivatives that did not clearly indicate that they contain such parts considered haram to Muslims.
Nadzim further claimed that the introduction of such a logo would open businesses to government action when they knowingly sell items that contain pig parts without informing consumers.
His proposal was pursuant to the Domestic Trade, Cooperatives and Consumerism Ministry's (KPDNKK) seizures of paint brushes made with pig bristles.
Quoting a citation by scholar Ibnu Taimiyyah, Farouk said the most accurate view on the matter was that all kinds of hair are pure, including the hair of dogs and the bristles of pigs.
He also pointed that religious author A. Hassan Bandung had written that the only thing that is forbidden in the Quran was consuming the flesh of swine, and not the skin or bristles.
"It is really a sorry state of Malay Muslims that they became obsessed with such trivial issues but neglected some grand corruption scandal in front of their own eyes," Farouk said, without specifically stating any of such cases.
After drawing mixed reactions from the move, KPDNKK Minister Datuk Seri Hamzah Zainudin ordered enforcement officials to stop raiding premises to seize products made from pig parts.
Full report at:
http://www.themalaymailonline.com/malaysia/article/insulting-to-say-muslims-not-that-smart-group-says-in-paintbrush-row
--------
URL: https://www.newageislam.com/islamic-world-news/new-age-islam-news-bureau/belgian-alarm-over-spread-of-saudi-backed-hardline-islam/d/110018
New Age Islam, Islam Online, Islamic Website, African Muslim News, Arab World News, South Asia News, Indian Muslim News, World Muslim News, Womens in Islam, Islamic Feminism, Arab Women, Womens In Arab, Islamphobia in America, Muslim Women in West, Islam Women and Feminism, Moderate Islam, Moderate Muslims, Progressive Islam, Progressive Muslims, Liberal Islam