New Age Islam News Bureau
16 January 2023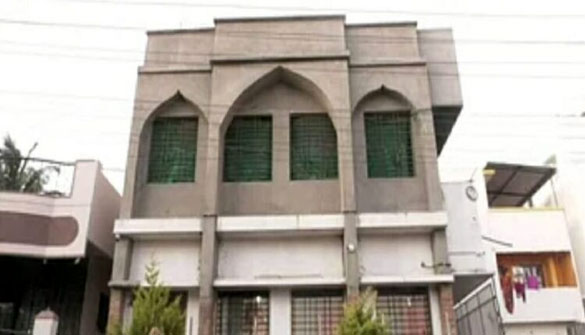 House converted into a mosque, 'Fatima Masjid'
-----
• Bomb Kills At Least 10, Wounds 39 At DR Congo Church, Islamists Suspected In The "Terrorist Act"
• Iranian American, Siamak Namazi, Imprisoned In Iran Appeals To Biden, Starts Hunger Strike
• Uyghur Rights Groups Condemn Visit To Xinjiang By Muslim Scholars And Clerics
• As Taliban Ban Education For Women In Afghanistan, Sayed Jamaluddin Afghan High School In New Delhi Fights Back
India
• Mukarram Jah, The Grandson Of The Last Nizam Of Hyderabad No More
• 'Boycott banner' on Muslim traders in Karnataka temple fair
• No 'love jihad' before, marriage alliances were to strengthen social bonding: Romila Thapar
• UP: Muslim trader brutally beaten, stripped naked for not chanting 'Jai Shri Ram' in Delhi-Moradabad express train
-------
Africa
• Tear Gas Fired In Bamako As Influential Malian Imam Returns
• At least one killed in blasts targeting troops in central Somalia
• Libyan 5+5 joint military committee convenes for first time in 7 months
• Tunisians on streets against President Saied, amid economic crisis
--------
North America
• Muslim Advocacy Groups In US Sound Alarm Over Islamophobic Congressman Mark Green
• Mossad spying on US presidents
• Republicans probe humiliating US retreat from Afghanistan in 2021
--------
Southeast Asia
• Light Penalties Reason Why Many Go To Thailand For Polygamy, Says Don
• Khairuddin defends PH-BN pact, says it's in line with Islam
• Search for Umrah pilgrim missing in Mecca since December continues, says family
• Emulate Jakarta's eco-preachers
• Safety health officer realises dream of being a mermaid
--------
South Asia
• Afghanistan Central Bank to Auction $14 Million to Strengthen Afghani
• Afghan Gravedigger Dies Inside a Grave he Was Digging for Someone Else
• Women's rights not a priority for Taliban, says Zabiullah Mujahid
• Kabul's mannequins, hooded and masked under Taliban rules
--------
Pakistan
• 'Shameful For Nuclear Power To Beg': Pak PM Shehbaz Sharif Amid Worsening Financial Crisis
• Imran Khan Urges Pak Army Chief To Ensure Transparent Elections
• Friendly Nations Fear Their Aid Will Go To Waste If Imran Returns To Power: Fazl
• JI will not allow anyone hijack its mandate: Rehman
• DSP among three cops martyred in Peshawar, one in Taunsa terror attacks
• Pakistan: Protests in Khyber Pakhtunkhwa's Swabi over flour shortage, inflation
• PTI will resist if it gets weak mandate in Punjab: Imran Khan
--------
Arab World
• In Egypt, Massive Funding For New Mosques Questioned Amid Economic Crisis
• Iraqi PM says in an interview he supports indefinite US troop presence in country
• No normal ties with Turkey without end to occupation: Syria's Foreign Minister Mekdad
• New Turkish ground offensive in Syria 'possible any time': Ankara
• US Occupation Forces Steal 53 Tankers of Oil from Syria to Iraqi Bases
• Lebanese protest arrest of Beirut blast victim's brother
• S. Korea President seeks to boost UAE energy, defence cooperation in first state visit
• Riyadh Season's Winter Music Festival Boulevard Mix Sets The Mood
• Islamic minister meets Tajik religious official in Riyadh
--------
Mideast
• Iran 'Testing Red Lines' By Executing Iranian-British Alireza Akbari
• Iran: Netanyahu's Hardline Gov't Unable to Ease Security, Social Crises
• Iran Strongly Condemns George Floyd-Like Murder of Black Man by US Police
• Syrian FM: Damascus Surly to Respond to Recurrent Israeli Assaults
• Iran Summons UK Envoy Over Meddling Remarks
• Israel's Herzog seeks to avert crisis over judicial shakeup plan
• Iran to get Russian Sukhoi Su-35 fighter jets, defence systems by March
• Israeli troops kill man in West Bank: Palestinian health ministry
--------
Europe
• UK Premier Condemns Iran's Execution Of British-Iranian National
• Vandals' attack on mosque triggers backlash from local Bosnians
• Belgium expels Moroccan imam for alleged 'extremism'
• Turkish student faces discrimination over Sweden's NATO bid, TRT World reveals
• Turkey's Erdogan keeps Sweden, Finland, and the world guessing on NATO expansion
• UK urged to expel Iranian diplomats over 'shocking' execution
• PKK/YPG terror group has active account in major Swedish bank: Local media
• France backs compromise between Libya's rival legislative chambers
Compiled by New Age Islam News Bureau
URL: https://newageislam.com/islamic-world-news/belagavi-fathima-mosque-sene/d/128888
--------
Belagavi Civic Body Issues Notice To Close Fathima Mosque Constructed In Residential Area After Sri Ram Sene Chief Threatened To Demolish It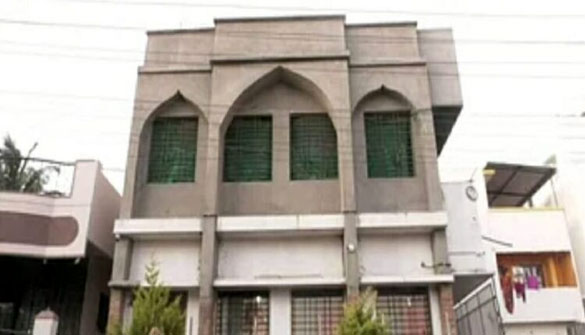 House converted into a mosque, 'Fatima Masjid'
-----
Sagay Raj
Jan 16, 2023
The Belagavi Municipal Corporation has issued a notice to close the controversial Fathima Mosque constructed in a residential area in Karnataka's Belagavi district.
The notice by the corporation was issued less than a week after the chief of the pro-Hindu organisation, Sri Ram Sene, Pramod Muthalik, threatened to barge into the mosque with the group's members and demolish it if action wasn't taken within seven days.
A notice with directions to shut down the mosque at Sarathi Nagar was issued by the Commissioner of Municipal Corporation of Belagavi District to the Waqf Board Officer.
Less than a week ago, on January 16, Pramod Muthalik, chief of Sri Ram Sene, alleged that the construction of the Mosque in a residential area in Beagavi was done in violation of the land norms.
He further gave the corporation a one-week deadline to demolish the mosque and said that he would go with his team to demolish the mosque if the municipal body failed to take action.
Pramod Muthalik said, "I'm telling this to the Belagavi Municipal Corporation. If you don't demolish the mosque within one week, we from Sri Rama Sene will raise the slogan 'Sarathi colony chalo' to demolish the mosque. Let us see which force will stop us."
"You keep telling us to follow the law. You're so low. Even though there are records, you do hooliganism. Municipal Corporation Commission, you are here for justice and law, not for Congress or Islam. If you're working, stay. Otherwise, you should resign and leave," added the chief of the Sri Ram Sene.
Source: India Today
Please click the following URL to read the text of the original story:
https://www.indiatoday.in/india/story/belagavi-civic-body-issues-notice-close-mosque-residential-area-2322084-2023-01-16
--------
Bomb Kills At Least 10, Wounds 39 At DR Congo Church, Islamists Suspected In The "Terrorist Act"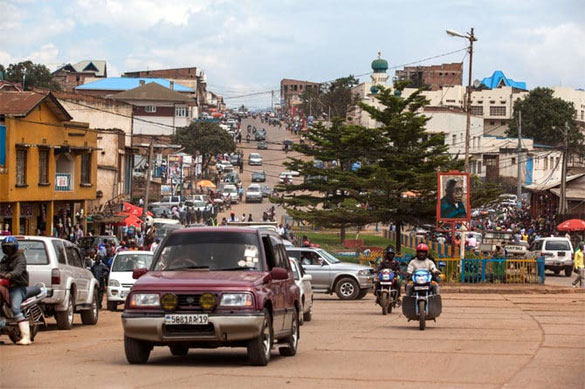 A suspected militant bomb attack took place at a Protestant church in the eastern Congolese city of Kasindi on the border with Uganda. (File/Shutterstock)
-----
15 January, 2023
A bomb killed at least 10 people and wounded 39 others as it ripped through a church in eastern Democratic Republic of Congo on Sunday, in an attack blamed on suspected Islamists.
A Congolese military spokesman, Antony Mualushayi, said the "terrorist act" happened in a Pentecostal church in North Kivu province's Kasindi, a town on the border with Uganda.
The explosion killed at least 10 people and wounded 39, he added, revising up an initial death toll of five. Both tolls were provisional, the spokesman said.
But the spokesman for Uganda's military operation in the DRC, Bilal Katamba, said on Sunday evening that 16 people had been killed in the blast, and 20 wounded.
"The attackers used an IED to carry out the attack and we suspect ADF is behind the attack," he added.
AFP was unable to independently confirm the death toll.
The DRC's communications ministry said on social media that the attack was apparently carried out by the Allied Democratic Forces (ADF) - which the Islamic State group claims as its affiliate in central Africa.
The ADF is one of the deadliest of the more than 120 armed groups in eastern DRC, many of them the legacy of regional wars that flared at the turn of the century.
It has been accused of slaughtering thousands of Congolese civilians and carrying out bomb attacks in Uganda. ADF operatives have also planted bombs in towns in North Kivu in the past.
On Sunday evening, the Islamic State group claimed responsibility for the attack and said that "nearly 20" people had been killed, according to the specialised monitoring group Site intelligence group.
Army spokesman Mualushayi said a Kenyan suspect was arrested in the wake of the attack.
'God saved me'
A deacon at the evangelical church in Kasindi, Esdras Kambale Mupanya, said that worshippers had gathered for a baptism ceremony before the bomb detonated.
"Several among us died on the spot, others had their feet cut in two," the 42-year-old told AFP. "God saved me and I came out in good health with my choir members. Today was not the day I should die".
Fellow survivor, Jean-Paul Syauswa, said the explosion happened just after a group of people had been baptised, while a blind pastor was commenting on Bible verses.
"The bomb threw me at least 100 meters (yards) away," he said.
Kiza Kivua, a 50-year-old farmer who lost his brother in the attack, said he was having trouble coming to terms with the loss of a "loved one who went to church to pray".
He added that he thought the government was neglecting its citizens.
"How can such a situation happen when Kasindi is full of soldiers?," Kivua said.
'More visible and more lethal'
In 2021, the United States labelled the ADF a "foreign terrorist organisation" with links to the Islamic State group. The militia is active mainly in North Kivu and neighbouring Ituri province.
The same year, a joint Congolese-Ugandan military operation began targeting the ADF inside the DRC.
But the attacks have continued.
A report by independent experts for the UN Security Council, released in December, said the ADF had "continued its geographic expansion" despite the Congolese-Ugandan military operation, killing at least 370 civilians since April 2022.
It also warned that the ADF was changing tactics: opting for "more visible and more lethal" bomb attacks in urban areas.
In April last year, for example, a woman detonated a suicide vest in a bar in North Kivu's capital Goma, according to the independent UN experts. Six people died in the attack and 16 more were wounded.
Congolese President Felix Tshisekedi placed North Kivu and Ituri under a so-called state of siege in 2021 in a bid to stem the violence, with military officials replacing civilian administrators.
The measure has also largely failed to stop attacks against civilians.
The DRC's presidency condemned Sunday's attack, as did the United Nations peacekeeping mission in the impoverished nation of over 90 million people.
Source: The New Arab
Please click the following URL to read the text of the original story:
https://www.newarab.com/news/bomb-kills-10-dr-congo-church-islamists-suspected
--------
Iranian American, Siamak Namazi, Imprisoned In Iran Appeals To Biden, Starts Hunger Strike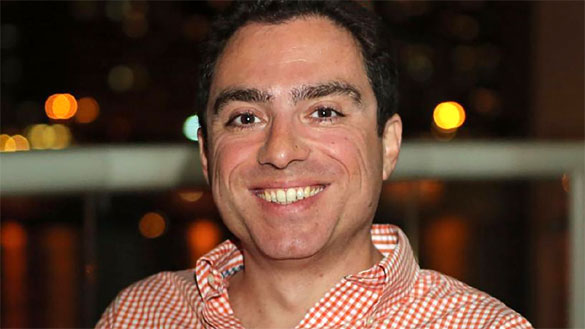 Siamak Namazi/CNN
----
16 January ,2023
An Iranian American imprisoned in Iran for more than seven years on spying charges that the United States rejects as baseless appealed to US President Joe Biden on Monday to bring him home and said he was starting a seven-day hunger strike.
Siamak Namazi made the plea in a letter to Biden seven years to the day that Iran released five other US citizens in a prisoner exchange choreographed to coincide with the implementation of the 2015 Iran nuclear deal.
"When the Obama Administration unconscionably left me in peril and freed the other American citizens Iran held hostage on January 16, 2016, the US Government promised my family to have me safely home within weeks," Namazi, 51, said in the letter to Biden released by his lawyer, Jared Genser.
"Yet seven years and two presidents later, I remain caged in Tehran's notorious Evin prison," he added.
Namazi asked Biden to spend one minute a day for the next week thinking about the suffering of US citizens detained in Iran, who include environmentalist Morad Tahbaz, 67, who also has British nationality, and businessman Emad Shargi, 58.
Namazi, whose father was allowed to leave Iran in October for medical treatment after being detained on espionage-related charges rejected by Washington, said he would be on a hunger strike for the same seven days.
"All I want sir, is one minute of your days' time for the next seven days devoted to thinking about the tribulations of the US hostages in Iran," he added. "Just a single minute of your time for each year of my life that I lost in Evin prison after the US Government could have saved me but didn't."
Asked for comment, a White House national security council spokesperson said the government was committed to securing Namazi's freedom.
"We are working tirelessly to bring him home along with all US citizens who are wrongfully detained in Iran," the spokesperson said. "Iran's wrongful detention of US citizens for use as political leverage is outrageous."
Source: Al Arabiya
Please click the following URL to read the text of the original story:
https://english.alarabiya.net/News/middle-east/2023/01/16/Iranian-American-imprisoned-in-Iran-appeals-to-Biden-starts-hunger-strike
--------
Uyghur Rights Groups Condemn Visit To Xinjiang By Muslim Scholars And Clerics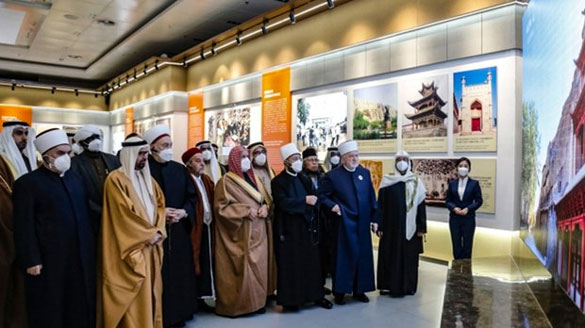 A delegation of more than 30 Islamic scholars and writers visits an exhibition in the Xinjiang International Convention and Exhibition Center in Urumqi, capital of northwest China's Xinjiang region, Jan. 8, 2023.
-----
14th January 2023
Washington: Rights groups and Uyghurs living abroad have strongly condemned a visit to Xinjiang this week by a delegation of Muslim scholars and clerics from developing nations who voiced support for China's policies in the far-western region, saying they turned a blind eye to the suffering of the persecuted community.
The group of more than 30 Islamic representatives from 14 countries — including the United Arab Emirates, Jordan, Serbia, South Sudan and Indonesia — arrived in Xinjiang on January 8 to visit the cities of Urumqi, Turpan, Altay and Kashgar and to meet with government officials Uyghurs, RFA reported.
Statements by the head of the delegation, Ali Rashid Al Nuaimi, sparked widespread anger from Uyghurs abroad and a strong reaction from US-based Muslim organisations, including the Council on American Islamic Relations and Justice for All.
Al Nuaimi, chairman of the UAE-based World Muslim Communities Council, and others met with Ma Xingrui, Communist Party secretary of the Xinjiang Uyghur Autonomous Region, and Erkin Tunuyaz, the region's chairman, who both thanked them for their support of China's Xinjiang policy.
Al Nuaimi was quoted by state media as praising efforts by Chinese authorities to eliminate terrorism and extremism in Xinjiang as the correct way to protect China's national interests and people.
"Here we look at all Muslims as Chinese. They should be proud of Chinese nationals," Al Nuaimi was quoted as saying in a report by China's CGTN on Wednesday.
China's Xinjiang policy has included intrusive surveillance, religious restrictions, the destruction of mosques, arbitrary arrests, and the detention of an estimated 1.8 million mostly Muslim Uyghurs and other Turkic peoples in a vast network of internment camps and prisons. Some have been subjected to sexual assaults, forced labour and forced sterilizations, RFA reported.
Though the US and other Western nations have denounced China's actions, major Muslim countries have defended the Xinjiang policy, as a result of Beijing's economic and diplomatic power and their increasing indebtedness to China, critics said.
"Unfortunately, due to the benefit they get from China, the Muslim world is ignoring China's atrocity toward Uyghurs and not seeing its ethnic genocidal crime, said Mustafa Akyol, a Turkish writer and journalist who is a senior fellow at the Cato Institute's Center for Global Liberty and Prosperity, RFA reported.
"They are willing to accept China's interpretation and trying to improve their relations with China," he said.
Maya Wang, associate director in the Asia division at Human Rights Watch, said the Chinese government has used Muslim governments and Islamic scholars to whitewash its abuses.
Source: Siasat Daily
Please click the following URL to read the text of the original story:
https://www.siasat.com/uyghurs-condemn-visit-to-xinjiang-by-muslim-delegation-2502646/
--------
As Taliban Ban Education For Women In Afghanistan, Sayed Jamaluddin Afghan High School In New Delhi Fights Back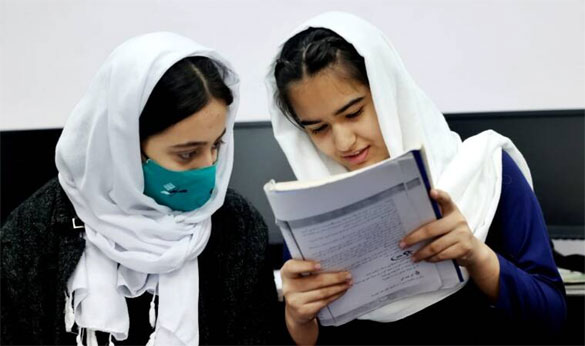 Zohra Azizi (16) (left), shifted to India with her mother. Her father died fighting the Taliban. (Express Photo)
------
by Divya Goyal
January 16, 2023
"Dear women, your identity is defined by your ability," reads one of the several hand-written messages posted by students on a notice board. "Every child is a different kind of flower and together they make this world a beautiful garden…," reads another post signed by "Rustam Walizada, Class-3".
It's 1 pm on a weekday at the Sayed Jamaluddin Afghan High School, the only such institution for children of Afghan refugees living in India. As children head to their classrooms, past the principal's room, where a vertical tricolour flag of pre-Taliban Afghanistan is placed on a stand, the lunch-break din soon settles down.
Running out of a rented building on the cramped Masjid Lane in southeast Delhi's residential colony of Bhogal, hundreds of kilometres from Afghanistan, where the ruling Taliban has suspended secondary and higher education for Afghanistan's girls, the school is a rare safe space for Afghan children, especially girls.
Starved of funds after the Taliban came to power in Afghanistan in August 2021, the school, with 278 students from classes 1 to 12, was on the verge of shutting down before the Embassy of Afghanistan in Delhi reached out to India's Ministry of External Affairs (MEA) for help.
India does not officially recognise the Afghanistan government though it engages with the Taliban through its embassy in Kabul. Afghanistan's diplomatic missions, including its embassy in India, do so independently of the Taliban regime.
Sayed Ziaullah Hashimi, first secretary, Embassy of Islamic Republic of Afghanistan and a member of school board, says, "After the fall of Afghanistan on August 15, 2021, the school faced many difficulties. The situation was so dire that we had to vacate our premises because we had no money to pay rent. We couldn't pay salaries to our teachers either. There was a possibility that school might have to be shut. That's when India's Ministry of External Affairs stepped in and promised to support us. Thanks to them, we have been able to continue to provide education to our students."
While the MEA and school authorities refused to reveal details of the funds, sources said the school runs on a monthly budget of Rs 5.5 lakh.
The school was set up by the Women's Federation of World Peace in 1994 as an educational centre for children of Afghan refugees in India. It grew into a primary school in 2008 and as a high school in 2017. It was then that the Afghan government led by president Ashraf Ghani, on a request from refugees in India, started funding the school.
"We are grateful for the support received from India to educate young Afghan boys and girls," said Afghanistan's Ambassador to India, Farid Mamundzay. "The fact that the school is still running has sent out two messages, loud and clear, to the Taliban. "One, nothing can stop the education of Afghan girls. Two, India has not left us alone in these hard times and has been a real friend by investing in the education of our children. In the past five years, we had to change school premises thrice but despite all the challenges, we haven't given up."
In October 2021, in the midst of the Covid-19 pandemic, the school was forced to vacate its premises in Bhogal, and shift to a small flat, with classes mostly being held online.
"We tried to find a suitable place for the school or get some classrooms on rent but private schools did not agree to share their premises. Finally, in August 2022, we found this building in Bhogal which accommodates six classrooms. Due to a shortage of rooms, we are using the building for two shifts," said Mamundzay.
Hashimi, the first secretary, proudly says that despite all these challenges, the school has reasons to cheer. For one, the Taliban's ban has only emboldened Afghan girls in India to study — of the 278 students, there are more girls (143) than boys (135). "Also, 17 of our students who graduated in 2022 have made it to universities, including 13 in Delhi University. Seven of them are girls. The majority of our 35 teachers are women," says Hashimi, walking through a corridor that has photos of "achievers" displayed on the walls.
With lessons imparted in Dari and mixed classrooms with no gender segregation, the school offers an idyllic version of Afghanistan in the heart of Delhi. Besides English, Pashto and other science and humanities subjects, the school offers a course in Non-Violence and Gandhian Studies, besides teaching music, poetry, art and craft. While the school was earlier affiliated to the Afghan school education board, since the Taliban takeover, the certificates of the school's Class 12 students are being stamped by the embassy in Delhi.
For the students –whose parents fled from Afghanistan in successive waves, some as recently as 2021, in the days before the Afghan takeover — their memories of "home" and Afghanistan are clouded by stories of repression.
Zohra Azizi, 16, from Panjshir province, came to Delhi with her mother in 2021, while her father stayed back to fight the Taliban. "I never met him after that. After the Taliban won, someone posted his photo on Facebook calling him a martyr and that's how we got to know that he is no more," says Zohra, breaking into tears. "My eight-year-old cousin, who studies in Class 3 in Afghanistan, told me that when she went to school to collect her report card, the Taliban told her not to come to school. All this has strengthened my resolve to study. This school and the education we are getting here means everything to me," she says in Dari.
Nilab, 17, who moved to Delhi in 2017 after her brother was allegedly kidnapped and tortured for 45 days, says, "When I was in Grade 2, our school in Ghazni was bombed by the Taliban. Grenades were thrown inside… that scene still haunts me. All the news that comes from there is so sad that no one wants to go back. Girls in Afghanistan cannot celebrate birthdays, watch films or listen to songs like we do here. Why are they being deprived of all this," she says.
The girls have the boys cheering them on. "In Afghanistan, girls are married off very young and they can't study. I cannot express how bad I feel for them. Why are they doing this to the girls," questions Ahmad, 16.
Nokhstin Ashrafi, 32, who teaches Dari in the school, says, "The Taliban is doing this to our women because they know that if a woman gets educated, an entire generation can't be tamed. This school is our only ray of hope for refugee children."
Kanishka Shahabi, the school principal, says, "Despite everything, we have tried to create a learning environment where the uncertainty of tomorrow's future is overshadowed by today's positivity. We hope India continues to support us and that we'll soon get a permanent roof," says
Talking of future plans, Hashmi says that they have set up a 'Gandhi-Badshah Khan Educational Society', named after Mahatma Gandhi and Abdul Ghaffar Khan, and they plan to get it registered soon. "We aim to make this a model school to be replicated in other countries where Afghan embassies are functional. We still have many issues to solve: our top priorities are finding a permanent building and getting registered with the CBSE," says Hashimi.
Source: Indian Express
Please click the following URL to read the text of the original story:
https://indianexpress.com/article/education/as-taliban-ban-education-for-girls-a-school-in-new-delhi-fights-back-8382310/
--------
India
Mukarram Jah, The Grandson Of The Last Nizam Of Hyderabad No More
Syed Ali Mujtaba
Hyderabad: Mir Mukkaram Jah, the grandson of the last Nizam Osman Ali Khan, died on Saturday night at 10:30 pm in Istanbul, Turkey. He was 90 and died peacefully in sleep due to an old age-related illness.
Mukkaram Jah who willed to be buried at his ancestral graveyard in Hyderabad will be laid to rest with his mortal remains on Tuesday, January 17. His large family that constitutes his children and grandchildren are scheduled to fly to Hyderabad in a charted plane for burial purposes, family sources confirmed.
The Namaz e Janaza of Mukarram Jah aka Asaf Jah VIII will be offered at the Mecca Masjid, Hyderabad. He will be laid to rest at the royal graves of the Nizams near Charminar, where all the seven Nizams are buried.
Reacting to the demise of the 8th Nizam of Hyderabad, Congress leader and former minister Shabbir Ali has demanded a state funeral and a declaration of January 17 as an official holiday in Telangana.
"Deeply saddened to learn about the demise of 8th Nizam Mir Mukkaram Jah Bahadur," Shabbir Ali tweeted through his Twitter handle on Sunday and demanded the Chief Minister of Telangana should declare January 17, an official holiday and conduct his last rites with State honors'
Nizam Mir Barkat Ali Khan aka Mukarram Jah aka Asaf Jah VIII was crowned as the titular 8th Nizam of Hyderabad after the death of his grandfather in 1967. He was born in Hilafet Palace, Nice, France to Azam Jah, the son and heir of Osman Ali Khan, the last reigning Nizam of Hyderabad state, by his wife Princess Durru Shehvar, daughter of the last Sultan of Turkey (Ottoman Empire) Sultan Abdul Mejid II on October 6, 1933.
After completing his initial studies at the Doon School in Dehradun, he studied at Harrow and Peterhouse, Cambridge. He also studied at the London School of Economics and at the Royal Military Academy Sandhurst.
Mukarram Jah's full title is; "His Exalted Highness (HEH) Prince Rustam-i-Dauran, Arustu-i-Zaman, Wal Mamaluk, Asaf Jah VIII, Muzaffar ul-Mamalik, Nizam ul-Mulk, Nizam ud-Daula, Nawab Mir Barakat 'Ali Khan Siddiqi Bahadur, Sipah Salar, Fath Jang, Nizam of Hyderabad and Berar. His Military title is 'Honorary Lieutenant-General.'
Mukarram Jah married five times. His first wife was a Turkish noblewoman, Esra Birgin who he married in 1959. Jah left his treasure trove in Hyderabad for a sheep station in the Australian outback and had to divorce his wife, as she did not want to move with him to Australia.
]In 1979, Jah married a former air hostess and employee of the BBC, Helen Simmons. She converted to Islam and changed her name to Aysha. After her death, Mukarram Jah married Manolya Onur, a former Miss Turkey in 1992. He divorced her after a five-year marriage in 1997. He married Jameela Boularous former Miss Morocco, in 1992. In 1994, he married Princess Ayesha Orchedi who is from Turkey.
Mukarram Jah has a big family from all these marriages. Esra Birgin had one son and one daughter. Helen Simmons had two sons. By Manolya Onur he had a daughter. By Jameela Boularous he had a daughter:
Until the 1980s, Mukkaram Jah was the richest person in India. However, in the 1990s he lost some assets to divorce settlements. His net worth right now is estimated to be at $US1 billion.
Mukkaram Jah still owns a huge fortune in Hyderabad. The palaces he owns are Chowmahalla Palace, Falaknuma Palace, Nazribagh Palace, (King Kothi), Chiraan Palace, Banjara Hills, Purani Haveli, and Naukhanda Palace in Aurangabad.
Currently, his two main palaces in Hyderabad, Chowmahalla and Falaknuma, have been restored and opened to the public, the former as a museum showcasing the era of the Nizams and the latter as a luxury hotel.
Mukarram Jah was the chairman of the H.E.H. Nizam's Charitable Trust and Mukarram Jah Trust for Education & Learning (MJTEL) which is situated at the Purani Haveli, Hyderabad.
Mukkaram Jah inherited the richest fortune in the world when his grandfather, the last Nizam of Hyderabad, died in 1967. But lavish palaces, stunning jewels, his craving for a dazzling blue-blooded European princess for a wife, and his lavish lifestyle cost him dear as he lacked the will to manage his inheritance.
In a little over thirty years, his huge fortune at one point estimated to be worth more than Rs 25,000 crore, all got evaporated. The inheritor of the fabled wealth of Nizams spent his last living days in a two-bedroom apartment at the Bosphorus in Istanbul, Turkey.
With the passing away of Mir Mukkaram Jah, the legacy of the Nizam of Hyderabad has come to an end.
--
Syed Ali Mujtaba is a journalist. He can be contacted at syedalimujtaba2007@gmail.com
--------
'Boycott banner' on Muslim traders in Karnataka temple fair
14th January 2023
Dakshina Kannada: Members of Vishwa Hindu Parishad (VHP) and Bajrang Dal have put up a 'boycott banner' against Muslim traders at a religious fair in Kavuru near Mangaluru city on Saturday.
The banner has been put up on the premises of Sri Mahalingeshwara temple which comes under the Religious Endowment department. The religious fair will be held from January 14 – 18.
"Earlier, majority of stalls were put up by Muslims. This time, the management of allocating contracts for stalls has been given to the Bajrang Dal activists," local said.
The Bajrang Dal activists said that the "boycott" decision had been taken in the meeting of the temple management committee.
The banner states that opportunity to carry out trade will only be given to Hindu traders who have belief in Hindu religion and traditions.
"There is no scope for anyone who believes that worshiping an idol is 'haram'," the banner said.
Source: Siasat Daily
Please click the following URL to read the full text of the original story:
https://www.siasat.com/boycott-banner-on-muslim-traders-in-karnataka-temple-fair-2502764/
--------
No 'love jihad' before, marriage alliances were to strengthen social bonding: Romila Thapar
15th January 2023
New Delhi: Historian Romila Thapar has stressed the need for a professional and evidence-based approach to history instead of one by untrained historians about victimization based on religion.
Delivering an annual lecture at the India International Centre on Saturday on the topic "Our History, Your History, Whose History?", she focused on the relationship of history with nationalism and cited various historical evidence to negate the victimization theory.
She contended that there was no "love jihad" in the earlier days and that besides politics, marriage alliances were intended to strengthen social bonding.
"Love jihad" is a term often used by right-wing activists to allege a ploy by Muslim men to lure Hindu women into religious conversion through marriage.
Thapar began her lecture by quoting eminent British historian Eric Hobsbawm that history is to nationalism what poppy is to a heroin addict. "What comes from the poppy and enters the mind of a heroin addict conjures fantasies about a magnificent past or otherwise about which fantasy sustains the present," she said.
According to her, nationalism aims for building a nation in line with the one dreamt of during the struggle for Independence where citizens are free of colonialism.
Contrary to this unitary form of nationalism which was evident during the national movement, divergent or segregated forms of nationalism identified by religion grew out of colonial rule, Thapar said.
She contended that the purpose of segregated nationalism is to give primary status to the group that counts the majority and it is legitimised by claiming links to ancient history. This causes confrontation between professional historians and untrained ones, she said.
British historian James Mill, who in 1817 wrote the first modern history of this country — The History of British India — maintained that Indian history was that of two nations, the Hindu and the Muslim, quite distinctly separate and constantly in conflict, she said,
"Indian history was periodised into the earliest Hindu period when Hinduism was powerful followed by the domination of Islamic rulers. This periodisation, which has been discarded now by professional historians, deeply coloured the interpretation of Indian history," Thapar asserted.
"Secular and democratic nationalism focussed on the singular movement for Independence while the two religious nationalisms Muslim and Hindu divided the nation between them. The Muslims culminated in Pakistan and the Hindus are edging towards a Hindu Rashtra. The colonial projection is succeeding," she claimed.
She said that the historical sources researched by professional historians read differently and do not rejuvenate the view of colonial historians.
"The Mughal economy was in the trusted hands of the Wazir Raja Todar Mal, while Raja Man Singh of Amber, a Rajput, commanded the Mughal army at the battle of Haldighati. He defeated another Rajput — Maharana Pratap — who was an opponent of the Mughals. Pratap's army with its large contingent of Afghan mercenaries has as commander Hakim Khan Suri, a descendent of Sher Shah Suri," Thapar said.
"One could ask whether the battle was strictly speaking essentially a Hindu-Muslim confrontation. Both religious identities had participants on each side in a complex political conflict," she added.
Going beyond the complexities of politics, she highlighted marriage alliances that were intended to strengthen social bonding.
"The Mughal royal family married into Rajput royal families of high status. Since Muslims as non-caste aliens were treated as 'mleccha' by upper caste Hindus, did the Rajput ruling families lose face marrying into a 'mleccha' family even if it was the imperial family?" she posed.
"Apparently not. Was it a matter of pride that they were marrying 'up' as it were? There was of course no 'love jihad' in those days. Memoirs and autobiographies do not suggest that these were forced marriages since sociability among them on both sides was applauded," Thapar added.
Holding that fake news is creating immense problems, she made a plea that the history taught in schools should be based on reliable evidence and preferably be the history of professional historians.
Source: Siasat Daily
Please click the following URL to read the full text of the original story:
https://www.siasat.com/no-love-jihad-before-marriage-alliances-were-intended-to-strengthen-social-bonding-romila-thapar-2503082/
--------
UP: Muslim trader brutally beaten, stripped naked for not chanting 'Jai Shri Ram' in Delhi-Moradabad express train
Jan 14, 2023
A brass trader stripped naked and brutally beaten up by two men allegedly for not chanting Jai Shri Ram slogans on Thursday, news agency ANI reported today.
The incident tool place when the trader, Asim Hussain, was returning from Delhi to Moradabad on the Padmavat Express train. The businessman identified as Asim Hussain is a resident of Moradabad.
Some people, who borded train at the Hapur station, started attacking him in the moving train. They asked him to chant 'Jai Shree Ram'. The victim said that the attackers grabbed his beard and started called him a thief 'for no reason'.
The video of the entire incident has now gone viral on social media.
The attackers asked him chant 'Jai Shri Ram'
Victim Asim Hussain said that the attackers wanted him to chant 'Jai Shri Ram', but when he refused to do so, they attacked him and started beating him with belt till he became unconscious. They even stripped him off his clothes. There were a lot of people in the train, however, no one came to his rescue and when the train reached near Moradabad station, someone threw him from the train even before the train reached the platform.
He somehow managed to reach home with the help of an acquaintance, however, out of fear, he did not file a complaint. But someone on the train made a video of the whole incident and made it viral. After the video went viral, the victim also came forward and complained about the incident that happened to him.
Two accused arrested from Bareilly
Source: Zee News
Please click the following URL to read the full text of the original story:
https://zeenews.india.com/india/up-muslim-trader-brutally-beaten-stripped-naked-for-not-chanting-jai-shri-ram-in-delhi-moradabad-express-train-2561614.html
--------
Africa
Tear gas fired in Bamako as influential Malian imam returns
16 January, 2023
Followers of an influential Malian imam on Sunday called for the country's ruling junta to explain the use of tear gas at a rally marking his return from abroad.
The clash has drawn interest over signs of possible tensions as the military moves to monopolise its power.
Supporters of imam Mahmoud Dicko turned up to welcome him on Saturday at Bamako airport as he returned from a trip to Saudi Arabia.
Tear gas was fired at the procession accompanying him home, footage shared on social media showed.
The supporters blamed security forces but no official explanation has so far been given.
Dicko played down the incident and said he "regretted" what had happened in a video released on Saturday.
But on Sunday Dicko's movement of followers CMAS condemned the "aggression".
"Nothing can justify this act by the security services against Muslim worshippers who had come out to glorify Islam", it said, calling for an investigation.
Source: The New Arab
Please click the following URL to read the full text of the original story:
https://www.newarab.com/news/tear-gas-fired-bamako-influential-malian-imam-returns
--------
At least one killed in blasts targeting troops in central Somalia
14 January ,2023
One person was killed and at least six others injured in a suicide car bombing at a checkpoint manned by Somali government troops in the central region of Hiran on Saturday, witnesses said, part of a twin suicide car attack.
The al-Shabaab extremist group claimed responsibility for the attacks, which went off almost simultaneously according to the witnesses, adding they targeted military bases in Jalalaqsi and Bulobarde towns in Hiran.
Federal government soldiers and allied clan militias launched a major offensive against al-Shabaab last August. The group has retaliated with a series of attacks after they were driven out of some of the territories.
"A suicide car bomb exploded at a government forces checkpoint near the bridge," said Seinab Abdullahi, a shopkeeper in Jalalaqsi, who counted one body and six injured victims.
Police and government officials were not immediately available for comment.
Government forces fired at the car that carried the second explosive, said Hussein Abdiasis, another resident of Jalalaqsi, in an attempt to stop the attackers.
"After the first blast, we heard gunfire and then another blast," he said.
Al-Shabaab has been waging an insurgency against Somalia's government since 2007, with the aim of enforcing its strict interpretation of Islamic law.
Source: Al Arabiya
Please click the following URL to read the full text of the original story:
https://english.alarabiya.net/News/middle-east/2023/01/14/At-least-one-killed-in-blasts-targeting-troops-in-central-Somalia
--------
Libyan 5+5 joint military committee convenes for first time in 7 months
Gülşen Topçu
16.01.2023
Libyan
Libya's 5+5 joint military committee on Sunday convened for the first time in seven months to discuss several issues, including the current cease-fire.
The committee includes five members from the Tripoli-based national unity government and five from Khalifa Haftar's forces.
Maj. Gen. Khaled Mahjub, a leader in the Libyan Eastern Forces led by Haftar, said in a statement that the committee held a meeting in the coastal city of Sirte with the participation of the UN Special Envoy for Libya, Abdoulaye Bathily.
During the meeting, they discussed the articles of the cease-fire agreement signed in Geneva in 2020, as well as the work of international and local observers on the agreement.
They also touched on the issues of unifying the military institutions in the country under one roof and the expulsion of foreign and mercenary soldiers from the country.
The committee last met in June 2022 in the Egyptian capital Cairo.
As a result of 5+5 Joint Military Committee meetings held in Geneva in October 2020, a permanent cease-fire agreement was signed between the Libyan government and delegations affiliated with Haftar.
Source: Anadolu Agency
Please click the following URL to read the full text of the original story:
https://www.aa.com.tr/en/africa/libyan-5-5-joint-military-committee-convenes-for-first-time-in-7-months/2788474
--------
Tunisians on streets against President Saied, amid economic crisis
14 January 2023
Thousands of Tunisians have taken to the streets of the capital in a public display of anger at President Kais Saied's seizure of near total power in the country.
Protesters pushed through police barricades in central Tunis on Saturday, against a backdrop of deepening political divisions on the 12th anniversary of the fall of dictator Zine El Abidine Ben Ali.
The protests were staged by two different opposition groups and were held far apart with a heavy police presence to prevent unrest.
Protesters, however, defied police instructions and pushed past barricades to reach the central Habib Bourguiba Avenue, where a large police presence was visible outside the Interior Ministry premises.
Saied shut down the elected parliament in 2021 and began to reshape the political system, but low turnout for the December elections of a new, mostly powerless, legislature revealed little public appetite for his changes.
The main political forces, including most parties and the labor union, now oppose Saied's project, with many of them calling it an anti-democratic coup.
Tunisia is currently embroiled with a severe economic crisis, with frequent shortages of basic goods from petrol to cooking oil.
Tunisians largely supported Saied's takeover in 2021, but they have now become increasingly fed up with the economic crisis.
"The coup has brought us famine and poverty," said Nouha, a woman who said she has to "feed my family of 13 people."
Source: Press TV
Please click the following URL to read the full text of the original story:
https://www.presstv.ir/Detail/2023/01/14/696308/Tunisians-Saied-economic-crisis
--------
North America
Muslim advocacy groups in US sound alarm over Islamophobic Congressman Mark Green
14 January 2023
Muslim advocacy groups in the United States have sounded the alarm over the appointment of Islamophobic Congressman Mark Green to the chair of the US House's Homeland Security Committee over his history of anti-Muslim rhetoric.
Earlier this week, House Republicans selected Green, who is a physician and retired US Army major who has served as the representative for Tennessee's 7th congressional district since 2019 and former GOP state senator in Tennessee, to lead the House Homeland Security Committee, Middle East Eye reported on Saturday.
Muslim organizations have condemned the appointment to the committee over his previous statements against Muslims and the Islamic faith.
"Rep. Green's well-documented history of hate speech against Muslims… and immigrants made him unfit to be Secretary of the Army, and that history makes him unfit to chair the House Homeland Security Committee," Sumayyah Waheed, senior policy counsel at Muslim Advocates, a national civil rights group based in Washington, told the Huffington Post.
"As chair of the House Homeland Security Committee, Mark Green is a threat to Muslims - especially to those that live at the intersections of the communities he has gleefully attacked for political gain," she added.
At a 2016 meeting of the Tea Party, Green opposed teaching about Islam at public school students in Tennessee. One audience member said that "we need to take a stand on the indoctrination of Islam in our public schools". To which Green responded, "I agree."
"We have to teach the history of the Ottoman Empire, Mecca, Medina, and all of the assault of Islam out into the Levant and North Africa, and Constantinople," he said, using the phrase "Muslim horde" to describe the spread of Islam.
"But, when you start teaching the pillars of Islam, when you start teaching how to pray as a Muslim, that is over the top and we will not tolerate that in this state," he declared.
Green also called for a ban on Syrian refugees entering Tennessee in 2015.
"If you hold stereotypes about communities, how can you effectively move on issues that are really nuanced and require a greater understanding of the issues?" Sabina Mohyuddin, the executive director of the American Muslim Advisory Council, a Tennessee-based civic engagement group, told the Huffington Post.
Rachel Del Guidice, Green's communications director, told Middle East Eye that some media outlets "cut and spliced his words about terrorism and ISIS, falsifying what Rep. Green said".
"Rep. Green has not, and will not ever, force his religion on anyone. He believes that every American has a right to defend their country," Del Guidice said. "Vilifying people of faith because they don't agree with progressive policies is against America's founding principles - the very principles he fought to protect," she added.
In addition to Green, House Speaker Kevin McCarthy has been accused of Islamophobia after he said that he was sticking to his promise about removing Congresswoman Ilhan Omar, a Muslim from Somalia, from her position on the foreign affairs committee.
"I do not actually think that he has a reason outside of me being Muslim and thinking I should not be," Omar told the Huffington Post on Wednesday. "If you look at the comments from Republicans, it's precisely for only that reason."
McCarthy has vowed to remove Omar from her House committee posts over her condemnation of Israel's war crimes after becoming the speaker of the House.
Omar has hit back, "From the moment I was elected, the Republican Party has made it their mission to use fear, xenophobia, Islamophobia and racism to target me on the House Floor and through millions of dollars of campaign ads."
"Whether it is Marjorie Taylor Greene holding a gun next to my head in campaign ads or Donald Trump threatening to 'send me back' to my country (despite the fact that I have been a proud citizen of the United States for more than 20 years), this constant stream of hate has led to hundreds of death threats and credible plots against me and my family," she added.
Journalist: 'Institutional racism inherent in US political system'
African American journalist and political analyst told Press TV that McCarthy's threats illustrate "the institutional racism inherent in the US political system."
"McCarthy's threat to ban Congresswoman Ilhan Omar from participating in the foreign relations committee is an outrage," Abayomi Azikiwe said.
"It should be illegal under Constitutional law since Congresswoman Omar has been elected three times by her constituents in the state of Minnesota," Azikiwe said. "She has not been charged or found guilty of breaking any United States laws or Congressional rules."
"This is an attempt to further criminalize African Americans and Muslim Americans in the US McCarthy's threats illustrate the institutional racism inherent in the US political system. During the late 1960s, militant African American Congressman Adam Clayton Powell, Jr. was illegally expelled from the House of Representatives leaving his district without representation for three years. Powell was eventually vindicated by the Courts. Omar should wage a struggle to maintain her full authority as a member of Congress," he added.
Omar has long been critical of the regime of Israel and its actions in the occupied Palestinian territories.
Along with US Congresswoman Rashida Tlaib, the two have triggered a widespread debate in the US about Israel's crimes against the Palestinians and American aid to the regime.
Tlaib and Omar, the first two Muslim women elected to Congress, are outspoken critics of Israel's policies toward the Palestinians and vocal supporters of the Boycott, Divest and Sanction (BDS) movement. The two called "Israel" an "apartheid state" guilty of war crimes.
The 37-year-old US lawmaker is originally from Somalia and represents Minneapolis, Minnesota, a district with a large Somali population.
Source: Press TV
Please click the following URL to read the full text of the original story:
https://www.presstv.ir/Detail/2023/01/14/696320/Muslim-advocacy-groups-in-US-sound-alarm-over-Islamophobic-Congressman-Mark-Green
--------
Mossad spying on US presidents
15 January 2023
It is often claimed that the United States and Israel are allies. But what is the reality of their relationship?
Then why, if that connection is as strong as appearances would suggest, is the Zionist regime involved in espionage against the US, espionage which even includes spying on the president of the United States of America?
How Israel steals secrets from the US
On the face of it Israel and the United States couldn't be closer. The Zionist colonization of Palestine could not have been maintained without the $10.4 million a day, $430,000 an hour, $7,229 a minute and $120 a second, that the United States government gives to the temporary entity.
However, there is an alternative history that more of us should know. Israel is considered by US intelligence officials to be one of the most aggressive states in launching surveillance operations on US soil, targeting even the very seat of power.
Here are some of the most prominent examples of nefarious Israeli information harvesting in the US.
US Naval Intelligence Analyst Jonathan Pollard began spying for Israel in 1984. He handed over the National Security Agency's 10 Volume manual, which lays out how the US obtains its signal intelligence. He also revealed to Israeli intelligence the names of thousands of US informants.
He also propositioned the Technical Director of the US Navy Ocean Surveillance Information Center, Richard Haver about giving a back channel to the apartheid regime in South Africa. He was caught by the US government and sentenced to life imprisonment for spying for Israel.
It is claimed that Israel attempted to use tapes of former US President Bill Clinton having a steamy conversations with intern Monica Lewinsky to leverage the release of Jonathan Pollard. In the year 2000 an article was published by Insight Magazine claiming that Israel was able to penetrate White House telephone lines and relay real time conversations on those lines from a remote site outside the White House directly to Israel for listening and recording.
It is believed that through the setup Israel obtained knowledge of Bill Clinton's scandalous affair with the White House staffer, Monica Lewinsky.
It is claimed that Netanyahu blackmailed Clinton with this information in an attempt to get the release of Jonathan Pollard. Clinton is said to have been impressed with the argument to free Pollard and to have approached CIA Director, George Tenet, with the issue, however, Tenet threatened to resign if the clemency was granted, with others, like Dick Cheney and Donald Rumsfeld, also standing firmly against the idea.
In 2018 figures within the US intelligence community accused Israel of planting cell phone surveillance devices around the White House, known as StingRays. They are believed to look very similar to cell towers and are able to trick cell phones into interacting with them and passing vital information.
In 2021, the Associated Press reported that at least 11 US State Department officials had iPhones that had been hacked by Israelis infamous Pegasus spyware.
This would have given the NSO group companies set up by alumni of Israel's military intelligence unit 8200 wide access to US government secrets. So as we see here, the United States is a key target for Israeli surveillance operations.
This Jonathan Pollard case seems quite extraordinary, doesn't it?
Well, it is an extraordinary case and his involvement in the US intelligence has quite a number of facets to it. He tried to get into the CIA first of all, they wouldn't have him after he failed a lie detector test. And then Naval Intelligence couldn't get access to the data from the CIA, several people inside Naval Intelligence tried to have him demoted or his security clearance removed but that didn't really work and eventually he goes on to give all this material to the Israelis and he claimed it was only stuff which the Americans should have been giving to the Israelis in the first place.
But yeah, he gave them all this stuff which was way beyond what was related to to Israel, and the names of thousands of assets, so, you know, there's (sic) thousands of people in the world you know, who are assets of US intelligence, including of course people in this country who are said in the WikiLeaks famous leaked cables to strictly protected assets.
So there's really no names and identities of all these people and of course, could then, you know, use that for their own advantage. So there's a huge sense in which there is a compromise of US intelligence, and the fact that people like Rumsfeld, Cheney, the head of the CIA, George Tenet, would say, absolutely do not let this guy go, is a real indication of the dividing line between people who would normally be instinctively supportive of Israel's foreign policy interests. In this case, they were absolutely not. This is a red line which we should not cross a very, very extraordinary case, but not the only one.
We've heard of other cases in the film there. But let's remember that the Israelis have got the bombs, the nuclear bombs because they stole all the secrets, and indeed, significant quantities of plutonium directly from the US and no one was ever held to account for that. So this is a pattern of hostile activity by a supposed ally inside the US.
David Miller, Academic
What has Jonathan Pollard been up to since the US released him from prison?
He was interviewed by the newspaper Israel Hayom which is this right wing tabloid in Israel, which is run funded by now Miriam Adelson used to be Sheldon Adelson, but he died and his wife inherited his pro Israel empire and, you know, she defended him in a column that she has.
Pollard has been trying to basically rewrite history, basically, because he, you know, he said in this interview that Miriam Adelson's newspaper gave him, this very sort of fawning interview like a really puff piece interview because they, I mean, they've been campaigning for his release. They've been calling for his release for a long time. And so they're not going to challenge him in this interview. And he said, you know, he claimed that he wasn't all about money. "I didn't want any gifts". But you know, the history of what he actually did was well known and he was very well compensated for this.
But you know, he was completely unrepentant in that interview. He said that if he was he was asked by the interviewer, what would you tell you know, young American intelligence officers today? Would you switch allegiance to Israel and his response was, I'd tell him, this hypothetical new US traitor for Israel, I tell him not doing anything is unacceptable.
And he said that just moving to Israel is not acceptable and that it was not enough. And he said, You have to make a decision whether your concern for Israel is more important than your life.
Asa Winstanley, Journalist
Pollard had access to some very, very sensitive information. How did that impact the balance of power in the region?
Well, the way in which the Mossad operates is to assume and to treat the US as a hostile power, though it's supposed to be an ally, but they are treated differently. There's no allegations, no information, that the Jordanians or the Saudis or other Western related intelligence agencies have done the same kind of thing. It's only the Israelis who are doing this.
The Mossad are regarded as being the most aggressive of the foreign intelligence agencies, and it's supposed to be an ally.
So this is partly about shifting the balance of power in favor of Israeli interests, even though the Americans are already extremely favorable towards the Israelis. And it helps to tip the balance against the possibility of any sensible activity in relation to the Palestinian issue, for example.
David Miller, Academic
How shocking was the news that Israel was tapping the phones of the White House under both Clinton and Trump?
I didn't find it very surprising at all. I mean, I wasn't surprised but that's only because I'm familiar with the history of all this. It's something that's always been there. A decade ago, when the Edward Snowden files came out, Edward Snowden, the former National Security Agency US intelligence contractor, was working on state secrets for the United States government.
And he became a very brave whistleblower, and he revealed a lot of NSA files about a decade ago to journalist Glenn Greenwald, he (Snowdon) is now still living in exile in Russia.
Those files showed us a tremendous amount of revelations and evidence of a great many things, you know, the mass surveillance by the US government on its own civilians, on its own citizens for no justifiable reason, just doing it because they want to have control over the population.
But one of the things I found really interesting there was that, I mean, and it wasn't entirely new, but it showed that it was confirmed up until the recent times is that those files, the Snowden files, showed that US counterintelligence considers Israel to be one of its top security threats.
Asa Winstanley, Journalist
The Pegasus software that was used to hack the phones of State Department employees is said to be rather sophisticated, how exactly does Pegasus operate?
Since 2011, over a decade and it's been a kind of cat and mouse game whereby it was discovered, I think, first of all in 2013. And then what happens is that the the software companies who've made the software which it penetrates, then put patches on software, for example, Apple, or the Android phones, or WhatsApp.
It uses what's called either one click or zero click installation, which means that sometimes you would click a link that you're sent by text message or through your photos or through your music app, or sometimes, in fact that you you'll be called, and you don't even have to answer the phone, the software can install itself. And then indeed, it can then cover its tracks and delete itself.
It can access everything on your phone, your passwords, your call history, your position, your text messages, etc. So it's extremely effective at entering your phone and using it to gather all the data that you've got, and you wouldn't even know and it can cover its tracks so that it's not traceable.
David Miller, Academic
Do you think there may have been elements in the US national security state that opposed what Israel has been doing, given that, as David has already said, Rumsfeld, Tennant and Cheney, were all apparently vehemently opposed to Pollard's release?
Yeah, I mean, I think that's absolutely true. I think these decisions are quite often made by politicians rather than intelligence operatives. In other words, the the pro Israel decisions, such as the decision to release Pollard, because even though he'd served 30 years in jail, rightfully so in my view, but there were still voices saying that he should, know.
And I'm not talking about activist voices, I'm talking about voices within the US intelligence community, they always quote the intelligence community, but mainstream American spies, high level spies who were saying this man shouldn't be released, there was even senior people saying that he should have been executed because he's, this is high treason what he did you know, there's (sic) crazy politicians who say that Julian Assange should have been executed and he wasn't even a US citizen.
And what he did was actually in the public interest, unlike what Jonathan Pollard did, you know, this was information on, this was military information. This wasn't trying to expose war crimes by the United States. It was quite the opposite. It was trying to allow Israel to carry out war crimes against the Palestinians and against its Arab neighbors.
Asa Winstanley, Journalist
How Mossad pressured Bill Clinton to pardon Israeli assets
It has been established that the Israeli blackmail of Bill Clinton over Monica Lewinsky was not enough to obtain the release of Israeli spy Jonathan Pollard. but the Israeli targeting aided in the official pardoning of two Israeli intelligence assets by Bill Clinton on his last day in office in 2001. Commodities trader, Marc Rich, and his partner, Pincus Green, fled the United States in 1983, before federal charges were filed against them for tax evasion and defrauding US taxpayers to the tune of $48 million.
Both of these Israeli intelligence assets were protected for 20 years by the Zionist entity while remaining on the FBI's most wanted list. The Israeli Prime Minister at the time, Ehud Barak, intervened several times to pressure Clinton for the pardon of rich citing his contributions to Israel's national security. Former Chief of Israel's external intelligence services Shabak (Shin Bet), also sent a letter to Clinton, arguing that Marc Rich had provided vital assistance to Mossad.
Overall more than 50 prominent Israeli figures sent letters lobbying Clinton to release Rich and his partner, Pinkus Green. These included key political and intelligence figures. An Israeli cabinet minister has remarked that Rich and Green had provided information vital in obtaining special strategic supplies during the war against Iraq in 1991 when the Zionist entity was faced with Iraqi rockets. Rich was also widely credited with personally acting as a frontman for Israeli intelligence non military operations, not only supplying the funds but also allowing the branches of his company in the Middle East to be used to gather intelligence and recruit agents for the Mossad. Rich was reported by the LA Times to have become a sign on for Israeli intelligence.
These point men form a security net which can be called on by Israel in emergencies to fulfill unusual assignments. It is known that Bill Clinton's White House phone lines were attacked by Israel at the time creating significant vulnerabilities. But what about his friendship with sex offender Jeffrey Epstein. Epstein has been described by his former mentor, Steven Hoffenberg, as boasting about selling Secrets of the rich and famous to Mossad.
Epstein was also found to have significant business interests with former head of Israeli military intelligence. Ehud Barak. Hoffenberg is quoted as saying that Epstein had to deal with the Israelis to gather intelligence and information from people. Was Bill Clinton also been spied on by Israel through his friendship with Jeffrey Epstein? And if so, was the information obtained used to pressure him to sign off on the pardon of Israeli intelligence assets Mark Rich and Pincus Green in 2001.
David, what do you know about Marc Rich and Pincus Green?
So these guys were arrested or there's an attempt to arrest them and charge them and they were spirited away in 1983 and the Israelis stopped them being extradited, stopped them come to justice (sic). And there's a long period of of not cooperating with the US authorities.
And the reason for this was because they were assets of Israeli intelligence, that they were using their companies to allow Mossad to spy and indeed, to recruit people and they were effectively acting as a cover, as a front group, for Mossad to operate in ways which wouldn't be detected.
So this is, you know, the kind of thing which Mossad does, the kind of thing which most intelligence agencies do, actually, but we know with Mossad that they have been doing this in, for example, in the US, which is supposed to be an ally, which you know, is where they're not supposed to be doing this kind of activity. So, both Green and Rich were assets. of Israeli intelligence. So there are many, many more of those in action all around the world.
David Miller, Academic
What was the reaction to Bill Clinton pardoning these two Israeli assets?
I think there was far more questioning of it on (sic) the time, from what I've seen, than there was recently of Pollard's release last year. Pollard's release last year was a really muted affair (which) was barely reported in the West, let alone his interview in the Israeli press, where he encouraged further treason by US intelligence officers for Israel.
You know, so that wasn't covered at all, but that, you know, people did question it, you know, it was regarded as something that, like, why is this happening? Should this really be happening and you know, people have questioned whether Bill Clinton was essentially blackmailed by the Israelis into releasing them and you know, it is certainly a possibility when we look at all the intelligence connections there.
Asa Winstanley, Journalist
Who are the so called little helpers of Mossad?
These are people who work for Mossad, who are not paid by Mossad, they might be given expenses and given infrastructure to work with for operations, but then effectively, Mossad's little helpers, and they operate all around the world.
According to the author, Gordon Thomas, I'm not sure what the basis of his evidence is, but he says there are thousands and thousands of these people, including thousands in this country, in the UK, as well as many more than that in the US. I don't know how accurate that is, but they certainly exist and certainly Mossad employs them to run errands for them. We have previously looked, for example, at the case in Morocco where the Mossad was involved in spiriting Jewish kids out and then getting them back to Israel intending to increase the numbers of settlers in occupied Palestine.
We know that this happens and that they they're used to to kind of magnify the ability of Mossad to operate in places where they don't have any personnel. These guys Rich and Greenberg wear them to the right of everyone. This is a different from the people who they send out as propaganda emissaries for what they call explanation or Hezbollah. In Hebrew, they're called sleeping right so there are literally 1000s of them around the world as well.
So they've got intelligence operatives all over the place, and they've also got people do propaganda and propagandizing for the occupation of Palestine as well.
David Miller, Academic
What did Jeffrey Epstein's mentor Steven Hoffenberg have to say about his activities?
Hoffenberg actually was part of an operation, he was working with Mossad that he did that through, for example, Robert Maxwell and his daughter Ghislaine Maxwell, and he's not the only person who's made these kind of allegations, it seems perfectly plain that she was used or was in contact with Mossad.
So the whole Maxwell family, it seems, are effectively assets of Israeli intelligence, Ghislaine's brothers and sister, so it's pretty clear now I think that what was going on here was that Epstein was using the knowledge that he got from his various abusive relationships, including trafficking of minors to celebrities, so that he could then pressure them.
He was in contact with Mossad clearly, Mossad were using this to pursue their own interests. We don't know the full extent of it, but it's pretty clear know that there was a Mossad rule here. And that's why there's such such a lot of intrigue in relation to this.
David Miller, Academic
Epstein's friendship with Clinton has been pretty significant in this whole affair, hasn't it?
Well, I mean, you don't want to overemphasize personal relationships and operations by intelligence agencies over the kind of broader interests of domestic and foreign policy, but certainly, we know that these kinds of networks, they are and can be influential.
Source: Press TV
Please click the following URL to read the full text of the original story:
https://www.presstv.ir/Detail/2023/01/15/696372/Mossad-spying-on-US-presidents-to-influence-US-policy
--------
Republicans probe humiliating US retreat from Afghanistan in 2021
14 January 2023
Republicans have launched an investigation into the humiliating US withdrawal from Afghanistan by the Biden administration in 2021 after 20 years of war and occupation of the impoverished country.
Michael McCaul, the chairman of the House Foreign Affairs Committee, said on Friday he had written to US Secretary of State Antony Blinken requesting an array of records, from intelligence assessments to communications with the Taliban, who are now ruling the country.
"It is absurd and disgraceful that the Biden administration has repeatedly denied our longstanding oversight requests and continues to withhold information related to the withdrawal," said McCaul, a longstanding opposition member on the panel who became its chairman after the House flipped to Republican control at the start of the year.
"In the event of continued noncompliance, the committee will use the authorities available to it to enforce these requests as necessary, including through a compulsory process."
The US invaded Afghanistan in October 2001 following the September 11, 2001 attacks on the United States, despite the fact that no Afghan national was involved in the attacks. Hundreds of thousands of Afghans died in the US war of aggression on the country.
American forces had occupied the country for about two decades on the pretext of fighting against the Taliban. But as the US forces left Afghanistan, the Taliban stormed into the capital Kabul in August 2021, weakened by continued foreign occupation.
Republicans seemed to be more concerned about 13 American troops who were killed on August 26, 2021 in a bombing outside Kabul's airport as the capital fell, rather than the two-decade-long occupation of the country.
The chaotic US military retreat from Afghanistan preceded a sharp drop in President Joe Biden's approval ratings, nine months after he was declared the winner of the disputed November 2020 presidential election, which former President Donald Trump said was rigged in favor of Biden.
Trump and his Republican Party have roundly criticized Biden's handling of the withdrawal and vowed hearings as part of a series of probes into his administration.
The US State Department responded that "it is committed to working with congressional committees with jurisdiction over US foreign policy" to help them "conduct oversight for their legitimate legislative purposes."
"As of November 2022, the Department has provided more than 150 briefings to bipartisan members and staff on Afghanistan policy since the withdrawal of US forces from Afghanistan," a State Department spokesperson said.
Trump has called the Biden administration's retreat from Afghanistan "the most embarrassing, incompetent, and humiliating event in the history of the United States."
The Taliban took over the capital Kabul on August 8, 2021, and declared that the war in Afghanistan was over.
The US was forced to close the embassy in Kabul and evacuate diplomats and staff by helicopters.
American journalist Don DeBar told Press TV that "the entire Afghan war, since Jimmy Carter started it (using George Bush, the first's CIA and Donald Rumsfeld's military intelligence) and George Bush II deployed regulars, through the Obama-Trump and now the Biden administration's time, has been a 'Saigon moment,'" referring to the 1975 hasty evacuation of remaining American troops from Vietnam when the city of Saigon fell two years after former President Richard Nixon withdrew American forces in the country.
"It's the decades-long war on the people of Afghanistan that the US began conducting during the Carter Administration, which brought the Taliban and other fundamentalists to power over the secularists who had come to power seeking peace with its neighbor, the USSR, looking to build a democratic modern economy using a socialist model. Carter and his NSA advisor, Zbigniew Brzezinski, lit a match intended to stop them and burn the fingers of Moscow. Instead, the fire has been consuming the people of Afghanistan ever since, including up to this day," the analyst said.
"It is reminiscent of the other national humiliation in what is now known as Ho Chi Minh city, then Saigon, where the US beat another hasty exit after a ridiculously long war that consumed millions of Vietnamese. There, again, what was done to the people of Vietnam is the US national shame, not the decision to finally leave," he noted.
US Senate Minority Leader Mitch McConnell (R-Ky.) had called Washington's retreat from Afghanistan "a lot worse than Saigon in 1975."
Source: Press TV
Please click the following URL to read the full text of the original story:
https://www.presstv.ir/Detail/2023/01/14/696336/US-Republicans-probe-humiliating-US-retreat-from-Afghanistan
--------
Southeast Asia
Light penalties reason why many go to Thailand for polygamy, says don
Anne Muhammad
January 16, 2023
PETALING JAYA: Couples who tie the knot in Thailand for polygamy do so because they want to be in right standing with the religion but take Malaysian laws lightly since the punishment is light, says an academic.
Noraini Hashim, a civil and Islamic family law expert at Universiti Islam Antarabangsa, said the rise in polygamous marriages in southern Thailand among Malaysians showed that they did not care about the legal way to do it here.
She cited the Federal Territories' Islamic law as an example, which sets a fine of not more than RM1,000 or a maximum jail sentence of six months, or both, if convicted of marrying abroad without registering with the state's religious council.
The punishment for the offence is the same in Kelantan.
"These couples have done their homework, so they know how to ensure that the marriage fulfills religious laws," Noraini told FMT.
"The solemnisation of the marriage will be conducted by someone recognised by the Islamic religious council of Narathiwat, Patani, Satun, Songkhla and Yala in Thailand.
The couple will then register their marriage again with the relevant authorities when they return to Malaysia."
It was recently reported that demand for marriages in Thailand had doubled in the past year. Meanwhile, the Narathiwat Islamic religious council said about half of Malaysians who travelled there to take another wife involved men with Datukships.
Following these reports, the Selangor Islamic Religious Council (Mais) said it did not recognise any marriage of local couples conducted abroad if they were not registered with the state Islamic religious department (Jais).
Noraini said applications for polygamy in Malaysia required a shariah court judge's permission, who will decide after considering the reason, income and dependents of the applicant, in determining his ability to have another wife.
The court also needs to ensure the applicant is capable of offering fair treatment to all his wives, to ensure the rights of each spouse.
"If the new wife or existing wives do not approve or are dissatisfied with the court's decision, they can appeal," she said.
She also said couples who want to marry in Malaysia have to fulfill certain conditions, such as going through marriage courses, HIV screenings and obtaining a marriage registrar's permission.
On top of that, marrying in Thailand allows couples to spend less on the engagement, marriage dowry and wedding feast, which Noraini said were deemed to be burdensome for these newlyweds.
Source: Free Malaysia Today
Please click the following URL to read the full text of the original story:
https://www.freemalaysiatoday.com/category/nation/2023/01/16/light-penalties-reason-why-many-go-to-thailand-for-polygamy-says-don/
--------
Khairuddin defends PH-BN pact, says it's in line with Islam
January 15, 2023
PETALING JAYA: The pact between Pakatan Harapan (PH) and Barisan Nasional (BN) is a platform for "peaceful politics" that the nation needs right now, says former PAS leader Khairuddin Aman Razali in defence of the alliance.
Describing this as a gentle approach that people who want cooperation hope for, Khairuddin, who is now with Umno, said that it was in line with Islam.
"I used to say when I was in government that we were worried about the damage brought by DAP, based on past experience.
"But after GE15, there was no single party that could form the government. So, there was a need to cooperate with DAP.
"We cannot deny that DAP as a party is made up of Malaysians, like Umno and its allies.
"So the need to work together definitely exists," he told Malaysiakini in an interview.
The former plantation industries and commodities minister added that the concept of Prime Minister Anwar Ibrahim's unity government not only strengthened unity but also rejected hostility.
The former PAS central committee member said Umno had stayed calm, particularly throughout GE15, until becoming a part of the government.
Khairuddin also lauded the Anwar-led administration's performance, praising it for giving priority to justice for the people, regardless of race and religion.
He also cautioned the new government not to repeat "old mistakes", in reference to the previous Dr Mahathir Mohamad-led PH administration.
"These old mistakes include DAP being too quick to demand for what they were fighting for to the point of unsettling a huge part of Malaysian society, especially the Malay-Muslims.
"We do not want any more clashes between the races and religions; this is not good for the rakyat," he said when asked to elaborate on what he meant by "old mistakes".
Although Umno was previously seen to be vocal in their criticism of DAP, the party has been taking a gentler approach since becoming a part of the unity government.
Source: Free Malaysia Today
Please click the following URL to read the full text of the original story:
https://www.freemalaysiatoday.com/category/nation/2023/01/15/khairuddin-defends-ph-bn-pact-says-its-in-line-with-islam/
--------
Search for umrah pilgrim missing in Mecca since December continues, says family
15 Jan 2023
BATU PAHAT, Jan 15 — Efforts to find a missing teacher Musthafa Kamal Abdullah, 49, who went missing while performing the umrah pilgrimage in Mecca, Saudi Arabia, more than a month ago, continue, said his eldest son, Muhammad Nabil Musthafa.
Muhammad Nabil, 26, said that he will be leaving for Mecca this Friday (January 20) and will be there for 14 days.
He will be accompanied by his younger brother, Muaz, 17, and several friends of his father, to continue searching for Musthafa, as his family, including their mother, Zurina Muhammad @ Shamsuddin, 49, are confident that their father is still alive.
"I personally will be distributing posters of our 'babah' (father) when I am in Mecca. I will be performing umrah too and I hope the efforts will lead us to him.
"I also hope that my family's efforts and hopes to find babah will continue to receive cooperation from the governments of both countries (Malaysia and Saudi Arabia)," he said when the family received a visit from Sri Gading Member of Parliament, Aminolhuda Hassan, at their residence in Sri Gading here today.
Meanwhile, Muaz, who was performing umrah with Musthafa when the latter went missing on December 12 last year, said that he only realised the incident after discovering his father was not in his hotel room after complaining of being unwell, and did not perform the tawaf ritual with him.
Source: Malay Mail
Please click the following URL to read the full text of the original story:
https://www.malaymail.com/news/malaysia/2023/01/15/search-for-umrah-pilgrim-missing-in-mecca-since-december-continues-says-family/50370
--------
Emulate Jakarta's eco-preachers
Joachim Ng
15-01- 2023
INDONESIA's highest-ranking Muslim clerics are leading the charge for a pace-setting and highly relevant form of Islamic expression, environmental activism.
Eco-religiosity, the best thing to happen in the realm of faith, may shortly edge out doctrinal conservatism with its excessive focus on ritual observance to the utter neglect of planetary ethics.
Preachers, academics and politicians met last year to establish the Muslim Congress for a Sustainable Indonesia, designating mosques as places to "green the mind and the heart" with the installation of solar panels and water recycling systems.
Imams are becoming "environmental preachers" delivering sermons aimed at mobilising support to help push Indonesia's transition to a clean economy.
The eco-Islam movement is also penetrating religious schools to enlist students in the climate change battle.
Indonesia has the foresight to stimulate climate activism by harnessing the power of religion and directing it towards the noblest purpose.
How this column wishes this progressive move can be taken in Malaysia.
We can strive to do better than Indonesia by establishing a National Interfaith Congress for a Sustainable Malaysia roping in every mosque, church, temple and gurdwara, and every religious school run by any religious group.
It is time for Malaysia to drop the old-school routine of doing only what is prescribed by our religious traditions while staring nonplussed at the environmental challenges facing humanity.
Top-ranking Indonesian Muslim clerics possess a far greater sense of climate urgency because they are fully aware that inadequate action means the destruction of society.
Jakarta is slowly sinking into the sea, a consequence of non-existent urban planning and unfettered development made worse by rising sea levels.
One week of heavy rains in several parts of Indonesia last October created more than 150,000 flood victims. Seventy disasters were recorded that week.
Malaysia too is facing a climate crisis with climate change inducing extreme rainfall events precipitating massive flooding and multiple landslides.
In just one month towards the end of last year, more than 120,000 flood victims had to be evacuated.
The low level of public concern over the deteriorating environment, exacerbated by a broad lack of religious attention to the climate emergency, belies the huge publicity given to environmental, social and governance practices.
Much of it could be greenwashing as has been exposed in many countries.
Malaysia's CO2 emissions ranking has worsened in comparison with Indonesia and Singapore.
Just watch the daily traffic logjams in Klang Valley and figure out the amount of petrol burnt.
The gradual sinking of Jakarta into the sea ought to ring alarm bells throughout Malaysia because we share the same ocean.
Penang is showing early signs of distress with Batu Ferringhi beach and other public beaches losing a titanic struggle against erosion, as giant protective sandbags are torn apart or washed away by strong waves. Coastlines in other states are also retreating.
When neighbours and even faraway friends are being hit by climate change, should we stay largely unconcerned because there are no volcanoes in our land burying cities in thick ash? Massive flooding during the Christmas season in the nearby Philippines forced the government to move nearly 600,000 people to safety.
Governor Henry Oaminal of Misamis Occidental Province told a news agency: "We've had floods before but these are the worst rainfall and water flow levels we have ever had."
Last May and June, unusually heavy monsoon rains inundated swathes of Bangladesh and India killing hundreds and displacing millions.
In August to September, one-third of Pakistan was submerged with 33 million people affected and more than 1,100 killed.
"It is water everywhere as far as you could see. It is just like a sea," a mournful Prime Minister Shehbaz Sharif commented.
Climate Minister Sherry Rehman said: "This is very far from a normal monsoon - it is climate dystopia at our doorstep."
A record deluge in March last year submerged entire towns as fast-moving floodwaters burst river banks and broke over levees across Queensland and New South Wales in Australia.
Queensland University of Technology environmental expert Hilary Bambrick declared: "Australia is at the forefront of severe climate change."
A brutal winter storm brought Christmas chaos to the US last year, leaving 49 dead in what the authorities called the "blizzard of the century" with a perfect storm of fierce snow squalls and sub-zero temperatures.
To understand how climate change will devastate the economy, take a flight to Kenya.
Continually rising waters over a decade in the lakes of Rift Valley have merged two lakes and halved the distance between others, destroying rural settlements and businesses. Every Kenyan is now talking about climate change.
Widow Evelyn Ajuang, who lost her farming income when her village and surrounding lands were inundated, told a news magazine: "Climate change is why I don't think I will ever return to my home."
The floods are gone in Malaysia, but are we ready for the return of its dreadful twin – the merciless drought and scorching heatwave?
Hot on the heels of the rains' departure a week ago came the rising temperatures.
Exactly starting at this time last year, the dry season turned up and water levels at dams plunged drastically with six states facing water shortages by February. Paddy farmers cried for rain.
Climate change, still in its early stages in Malaysia, is nature's gift to our people – a medicine to counteract the slow-killing twin poisons of racial polarisation and religious exclusivism.
Of the two poisons, the popular notion that racism is the worse is false: multi-ethnic workplaces are showrooms of diversity and office colleagues of many hues lunch together in halal restaurants.
It is religious exclusivism or communal religiosity that will drag Malaysia down the hellish road to Africa.
What is religious exclusivism or communal religiosity? It is the notion that your religion has exclusive possession of the vital truth of salvation and that it is the only way or the best way or the complete way of salvation.
This notion breeds contempt for other communities and serves as the backdrop for the ceaseless communal warfare embroiling most African nations.
The poison is destabilising six out of eight countries in South Asia and in Malaysia, the poison ensures that communities stay mentally distanced.
A window of transformation – in fact it is a window of real salvation – has been opened by climate change.
No global force can unite all the diverse religious communities in Malaysia except climate change.
If we do not unite and galvanise every person into action, the nation will eventually face a death blow.
And yet we can't unite because our priests, ustaz, bishops, monks and pastors have failed to inspire their congregations to appreciate the salvific value of all other religions in their midst. The people lack unity.
Use this window opened by nature to bring about a much-needed transformation of our religious orientation, steering all groups away from communalism towards universalism, away from ritual obsession towards planetary ethics, away from "only my religion can save humanity" towards a vision of universal salvation through compliance with nature as the face and hand of God.
Source: The Sun Daily
Please click the following URL to read the full text of the original story:
https://www.thesundaily.my/home/emulate-jakarta-s-eco-preachers-CN10480727
--------
Safety health officer realises dream of being a mermaid
January 15, 2023
KUALA LUMPUR: It's hard not to be enthralled when watching Nur Fathiyah Mahfuz in action.
Her agile moves, the way she swishes her tail while swimming and her other graceful water performances are very much like those of the animated character Ariel of 'The Little Mermaid'.
However, this 37-year-old mermaid does not swim with her long hair trailing behind her as she is garbed in Muslim women's wear.
Besides wearing the hijab, the Safety Health Officer of a private hospital, wears a rash guard and swimming suit of suitable thickness. These swimwear is not transparent or tight, and covers her whole body except for her face and palms.
"I want to change society's perception that anyone can realise the dream of becoming a mermaid and enjoy the beauty of the ocean," she told Bernama here.
Nur Fathiyah, who started swimming and diving in a mermaid costume more than two years ago, is understood to be the first Malay Muslim and hijab-wearing mermaid instructor in the Asia Pacific region, certified by the Professional Association of Diving Instructors (PADI) Mermaid.
In November last year, Nur Fathiyah participated in the 'Save The Ocean' event at The Shore Oceanarium in Melaka. The performance was held to create awareness about the preservation and conservation of the sea.
Nur Fathiyah, who can dive to a depth of about 10 metres in the sea without the use of a breathing apparatus and goggles, holds a bachelor's degree in Environment Biotechnology from the International Islamic University of Malaysia (IIUM).
She said she underwent training and a course run by a PADI Mermaid Instructor Trainer based in Shah Alam, Selangor.
"We also need to get qualification and recognition as a PADI Advanced Mermaid by undergoing diving training wearing a mermaid swimming suit for at least 15 diving sessions, including three or more dives in the sea at a depth of 10 metres," she said.
The Penang-born 'mermaid' has also undergone various courses, including Emergency First Response (EFR) Primary & Secondary Care, as well as water skills exercises, like swimming for 400 metres and floating for 10 minutes, in addition to acquiring underwater skills, such as proper breathing, Duck Dive and Dolphin Kick.
According to her, performing water activities dressed as a mermaid is challenging because of the risk of experiencing spasms in the water since swimming in a mermaid costume requires both legs to be together in the monofin and tail costume.
"Diving in the sea also exposes mermaids to challenges such as water density, pressure, temperature, visibility and underwater currents. The risk of drowning is also there," she added.
However, Nur Fathiyah, who often shares her water activities in the mermaid costume on social media, said that with sufficient training and diving, swimming as a mermaid was a fun activity.
Source: Free Malaysia Today
Please click the following URL to read the full text of the original story:
https://www.freemalaysiatoday.com/category/top-lifestyle/2023/01/15/safety-health-officer-realises-dream-of-being-a-mermaid/
--------
South Asia
Afghanistan Central Bank to Auction $14 Million to Strengthen Afghani
By Nizamuddin Rezahi
January 16, 2023
The Central Bank of Afghanistan (Da Afghanistan Bank) has announced that it will auction $14 million today (Monday) to stabilize the value of Afghan currency in the market.
In a fresh announcement, the Central Bank of Afghanistan has called on qualified private banks and exchange companies to participate in this auction, aimed at maintaining the value of the local currency against the United States Dollar.
As per the announcement of Da Afghanistan Bank, the winners of the auction are obliged to liquidate their accounts by the end of the day.
According to Afghanistan's Central Bank, $40 million part of the International Community's cash aid had arrived in the country.
After the declaration of Da Afghanistan Bank, the United Nations Assistance Mission in Afghanistan (UNAMA) stated that the announcements of non-UN entities about cash shipments in the country are misleading and unhelpful.
UNAMA has also reiterated that the amount of cash dispatched to Afghanistan directly depends on the humanitarian aid programs of this institution.
This comes as Afghanistan's Central Bank on Saturday announced that a $40 million fresh aid package had been shipped to the country. This cash aid arrived in Kabul after weeks of silence and rumors that the international community had intentionally ended the aid package in response to the latest restrictions by the Taliban authorities barring women from university education and employability at government and non-government aid organizations.
Source: Khaama Press
Please click the following URL to read the full text of the original story:
https://www.khaama.com/afghanistan-central-bank-to-auction-14-million-to-strengthen-afghani/
--------
Afghan Gravedigger Dies Inside a Grave he Was Digging for Someone Else
By Nizamuddin Rezahi
January 16, 2023
A 40-year-old Afghan gravedigger died while digging a grave for someone else who was gassed in the Garziwan district of Faryab province local officials said.
One source described the gravedigger's immediate death as a heart attack, as he was busy digging a grave on Sunday for someone else who was the victim of gassing.
The gassed person had died hours earlier inside his car before the second incident took place at a cemetery.
Over the past couple of days, the number of people affected by gas inhalation has increased all over the country due to the harsh cold weather hitting people the worst.
Recently, health officials in Zabul province announced that 20 people were poisoned by gas inhalation and one woman died in the past two days.
Abdul Hakim Hakimi, head of public health of the Islamic Emirate in Zabul, says that these people were gassed in the provincial capital and Shahjoy, Mizana, and Shinkai districts of this province while using gas heaters.
Earlier, fatal cases of gassing were reported from Faryab, Jawzjan, Kandahar, Khost, and Badakhshan provinces, respectively.
The dramatic drop in air temperature has forced many people to use gas heaters to warm up their houses in most provinces of the country in the recent past. It is likely that the cold weather will reach minus 35 degrees Celsius by the end of this week, according to weather forecasts.
Source: Khaama Press
Please click the following URL to read the full text of the original story:
https://www.khaama.com/afghan-gravedigger-dies-inside-a-grave-he-was-digging-for-someone-else/
--------
Women's rights not a priority for Taliban, says Zabiullah Mujahid
15 January, 2023
Kabul [Afghanistan], January 15 (ANI): Amid the ongoing violation of the rights of Afghan women under the Taliban regime – banned from universities, as well as, from working in non-governmental organizations (NGOs), Taliban spokesperson Zabiullah Mujahid said in a statement that overturning restrictions against women is not a priority for the group, reported Khaama Press.
The Taliban said on Saturday that it would not permit any acts that violate Islamic law, and the concerns regarding restrictions on women's rights will be dealt with according to the established rule of the group in the country.
Taliban chief spokesperson, Zabiullah Mujahid said in a statement that, "the Islamic Emirate tries to regulate all matters in accordance with the Islamic Sharia, and the ruling government cannot allow act against the Sharia in the country," reported Khaama Press.
The latest action by the Taliban to ban women from working in NGOs generated protests by female university students and women activists in several regions of the country, as well as brought condemnations, globally.
Some foreign governments, including those of the United States, the United Kingdom, Germany, the European Union (EU), United Nations (UN), OIC, and other international aid organizations, strongly condemned the action and urged the Taliban caretaker government to lift the ban and permit Afghan girls and women to pursue their educations and continue their work with NGOs, Khaama Press reported.
Since 15 August 2021, the de facto authorities have barred girls from attending secondary school, restricted women and girls' freedom of movement, excluded women from most areas of the workforce and banned women from using parks, gyms and public bath houses.
These restrictions culminate with the confinement of Afghan women and girls to the four walls of their homes.
According to a UNICEF report released in August, the fact that girls in Afghanistan are deprived of secondary education has cost the country's economy at least USD 500 million over the past 12 months, which amounts to 2.5 per cent of GDP.
Meanwhile, Mujahid also asked Afghanistan's partners and international aid organizations to understand the religious demands in Afghanistan and avoid tying humanitarian aid to politics, reported Khaama Press.
On January 13, 11 countries urged the Taliban administration of Afghanistan to remove all restrictions against women and girls, allowing them to return to public life – to get an education and return to work.
However, the Taliban authorities have shown no alteration in their rather strict policy regarding women's education, employment, and movement in the country.
Meanwhile, the Organization of Islamic Cooperation (OIC) an intergovernmental group consisting of all Muslim-majority countries, rejected the Taliban's claimed that its treatment of Afghan women and girls is in line with Islam's Sharia law, reported Khaama Press.
OIC has repeatedly called on the Taliban officials to remove the gender-based restrictions and allow Afghan women and girls to benefit from the inherent fundamental rights, to get an education, work and appear in the public environment.
Source: The Print
Please click the following URL to read the full text of the original story:
https://theprint.in/world/womens-rights-not-a-priority-for-taliban-says-zabiullah-mujahid/1315833/
--------
Kabul's mannequins, hooded and masked under Taliban rules
Jan 16, 2023
KABUL: Under the Taliban, the mannequins in women's dress shops across the Afghan capital of Kabul are a haunting sight, their heads cloaked in cloth sacks or wrapped in black plastic bags.
The hooded mannequins are one symbol of the Taliban's puritanical rule over Afghanistan. But in a way, they are also a small show of resistance and creativity by Kabul's dress merchants.
Initially, the Taliban wanted the mannequins to be outright beheaded.
Not long after they seized power in August 2021, the Taliban Ministry of Vice and Virtue decreed that all mannequins must be removed from shop windows or their heads taken off, according to local media. They based the order on a strict interpretation of Islamic law that forbids statues and images of the human form since they could be worshipped as idols — though it also meshes with the Taliban's campaign to force women out of the public eye.
Some clothes sellers complied. But others pushed back.
They complained they'd be unable to display their clothes properly or would have to damage valuable mannequins. The Taliban had to amend their order and allowed the shop owners to cover the mannequins' heads instead.
Shop owners then had to balance between obeying the Taliban and trying to attract customers. The variety of solutions they came up with are on display on Lycee Maryam Street, a middle-class commercial street lined with dress shops in a northern part of Kabul. The store windows and showrooms are lined with mannequins in evening gowns and dresses bursting with color and decoration — and all in various types of head coverings.
In one shop, the mannequins' heads were cloaked in tailored sacks made out of the same material as the traditional dresses they modeled. One, in a purple dress beaded with cowrie shells, had a matching purple hood. Another, in a red gown elaborately embroidered in gold, was almost elegant in a mask of red velvet with a gold crown on her head.
"I can't cover the mannequins' heads with plastic or ugly things because it would make my window and shop look ugly," said Bashir, the owner. Like other owners, he spoke to The Associated Press on condition he be identified only by his first name for fear of reprisals.
Shop owners need keep things attractive — the economy has collapsed since the Taliban takeover and the ensuing cutoff of international financing, throwing almost the entire population into poverty.
Elaborate dresses have always been popular in Afghanistan for weddings, which even before the Taliban were usually gender-segregated, giving women a chance to dress in their finest in the country's conservative society. Under the Taliban, weddings are one of the few remaining opportunities for social gatherings. But with incomes so strained, they have become less elaborate.
Bashir said his sales are half what they used to be.
"Buying wedding, evening and traditional dresses is no longer a priority for people," he said. "People think more about getting food and surviving."
Another shop owner, Hakim, shaped aluminum foil over his mannequins' heads. It adds a certain flash to his merchandise, he decided.
"I made an opportunity out of this threat and ban and did it so the mannequins are even more attractive than before," he said.
Not all can be so elaborate. In one shop, the mannequins in sleeveless gowns all had black plastic sacks over their heads. The owner said he couldn't afford more.
Another shop owner, Aziz, said agents of the Ministry of Vice and Virtue regularly patrol shops and malls to make sure the mannequins are beheaded or covered. He was dismissive of the Taliban's justification for the rules. "Everyone knows mannequins aren't idols, and no one's going to worship them. In all Muslim countries, mannequins are used to display clothes."
A small number of male mannequins can be seen in display windows, also with their heads covered, suggesting that the authorities are applying the ban uniformly.
The Taliban initially said they would not impose the same harsh rules over society as they did during their first rule in the late 1990s. But they have progressively imposed more restrictions, particularly on women. They have banned women and girls from schooling beyond the sixth grade, barred them from most jobs and demanded they cover their faces when outside.
On a recent day, a woman shopping on Lycee Maryam Street looked at the hooded mannequins.
Source: Times Of India
Please click the following URL to read the full text of the original story:
https://timesofindia.indiatimes.com/world/south-asia/kabuls-mannequins-hooded-and-masked-under-taliban-rules/articleshow/97022800.cms
--------
Pakistan
'Shameful For Nuclear Power To Beg': Pak PM Shehbaz Sharif Amid Worsening Financial Crisis
Jan 15, 2023
ISLAMABAD: Pakistan Prime Minister Shehbaz Sharif has said it is a matter of shame that a country, which is a nuclear power, has to beg amid its faltering economy, reported The News International.
Addressing the passing-out ceremony of probationary officers of Pakistan Administrative Service (PAS) on Saturday, Shehbaz said it really embarrassed him to ask for further loans, adding that seeking foreign loans was not the right solution to address Pakistan's economic challenges as loans would have to be returned.
He said that during his recent visit to the United Arab Emirates (UAE), President Sheikh Mohammed bin Zayed had announced a further $1billion loan to Pakistan.
Speaking on the occasion, PM Shehbaz also lauded Saudi Arabia for its financial support, reported The News International.
Meanwhile, Pakistan is mulling approaching friendly countries, especially Saudi Arabia, for additional deposits on an immediate basis in a bid to bridge financing until things are finalised with the International Monetary Fund (IMF), sources told The News International.
Government sources said that Saudi authorities are 'studying' the prospect of further deposits to Pakistan amid the foreign exchange reserves crunch. A senior official at the Finance Ministry said the uncertain political situation was impeding the decision-making process, making it difficult for policymakers to make hard choices needed for the revival of the IMF programme, according to the report.
Official sources told the publication that the government does not have much time to act as foreign exchange reserves held by the State Bank of Pakistan (SBP) are depleting at a rapid pace. As of January 6, the foreign exchange reserves held by the SBP stood at just $4.3 billion.
Commercial banks' foreign currency reserves stood at $5.8 billion, taking the country's cumulative reserves to around $10.18 billion. SBP's reserves have dropped by $12.3 billion in the last 12 months; from $16.6 billion on January 22, 2022, to $ 4.3 billion on January 6, 2023.
A few days back, Shehbaz hinted that the IMF review mission might visit Pakistan, but it is yet to happen, reported The News International.
Experts say there is a lack of understanding on moving ahead and the situation has reached a point and only action with a clear-cut vision can avert the crisis.
Moreover, the government's strategy to get dollar inflows from friendly countries and utilise them as bridge financing until the IMF programme is revived has so far failed.
Friendly countries like Saudi Arabia, have been studying the possibility of an additional $2 billion deposit, but it is not yet clear how much time they will take to make the decision, reported The News International.
The United Arab Emirates (UAE) also agreed to roll over $2 billion in existing deposits but nothing specific about the additional $1 billion deposit request was mentioned in a joint statement issued at the conclusion of the PM's visit to the country.
Notably, the IMF's review mission's visit is not yet confirmed due to the government's inability to take unpopular decisions, including hiking gas and electricity tariffs and taking additional taxation measures.
Source: Times Of India
Please click the following URL to read the full text of the original story:
https://timesofindia.indiatimes.com/world/pakistan/shameful-for-nuclear-power-to-beg-pak-pm-shehbaz-sharif-amid-worsening-financial-crisis/articleshow/97005368.cms
--------
Imran Khan urges Pak Army Chief to ensure transparent elections
16 January, 2023
Islamabad [Pakistan], January 16 (ANI): Former Prime Minister Imran Khan has urged the Pakistan Chief of Army Staff (COAS) General Asim Munir to ensure transparent elections in the country, the Geo News reported.
"I hope the serving army chief would ensure transparent general elections. The amount of power that the military has is not possessed by any other institution," Khan said.
The Pakistan Tehreek-e-Insaf (PTI) Chairman also said that no one can stop Pakistan from progressing if the Army plays a positive role.
"The establishment is a reality and it is above the law. The situation [of the country] will improve when it (Pak army) starts working for the rule of law," quoting Khan, the Pakistan-based TV Network reported.
Talking about his fears of political engineering ahead of the general elections due this year, the PTI chief said his party would resist if attempts to reduce their mandate are made in Punjab highlighting that his members were being provoked against him and asked to join Pakistan Peoples Party (PPP) and Pakistan Muslim League-Nawaz (PML-N).
"Political engineering is still underway, which is why the [different factions] of the MQM-P [Muttahida Qaumi Movement-Pakistan] has been merged," he said.
Notably, Khan on Sunday refused to meet estranged leaders of his party. He directed the PTI members to respond to the show cause notice served to them for not being present during voting in a vote of confidence of Punjab Chief Minister Chaudhry Parvez Elahi at the Central Secretariat.
The PTI chief also continues to stick to his rhetoric against the National Reconciliation Ordinance (NRO), insisting that he "is ready for every discussion" but against giving the NRO to his opponents. He also stands on his claim regarding Hussain Haqqani — the former ambassador to the United States.
Earlier this month, Imran Khan had accused General (retd) Qamar Javed Bajwa of hiring the services of Haqqani for lobbying in the US against the PTI's government in the summer of 2021.
He also underlined the need for approaching the International Monetary Fund (IMF) claiming fears of a "default".
Source: The Print
Please click the following URL to read the full text of the original story:
https://theprint.in/world/imran-khan-urges-pak-army-chief-to-ensure-transparent-elections/1317063/
--------
Friendly nations fear their aid will go to waste if Imran returns to power: Fazl
Umer Farooq
January 16, 2023
PESHAWAR: Jamiat Ulema-i-Islam-Fazl emir Maulana Fazlur Rehman on Sunday claimed that Pakistan's friendly nations were opposed to the return of Pakistan Tehreek-i-Insaf chairman Imran Khanto power fearing that the former prime minister would waste their financial assistance for the country.
"Our [Pakistan's] friends have expressed serious apprehensions about the possibility of Imran Khan's return to power. They told us [Prime Minister Shehbaz Sharif's administration] that if Imran regains power, then their money will go to waste," the JUI-F chief told a public meeting here.
On the occasion, PTI Member of the National Assembly Nasir Musazai announced the joining of the JUI-F.
The JUI-F chief, who also heads the Pakistan Democratic Alliance, which rules the centre, raised questions about the honesty of the former prime minister and insisted that friendly nations didn't help out Pakistan during the financial crisis when Imran was at the helm of affairs as the prime minister.
Tehreek-i-Insaf MNA Musazai joins JUI-F
He said that friendly countries came to Pakistan's help only after Imran's ouster.
"If only you [Imran] are honest and we all are corrupt, then tell us why friendly countries didn't trust you during your tenure as the PM [and offered financial assistance]," he said.
Mr Fazl said that the former prime minister had ruined the country "financially, culturally and morally."
He said as the prime minister, Imran failed to deliver on the agenda of his foreign masters, so he was currently doing all he could to return to power to pursue that agenda.
"We [Pakistan Democratic Movement] not only defeated him [Imran] but his foreign masters as well," he said.
On the occasion, Mr Musazai said that all those behind the current political uncertainty in the country were the nation's enemy.
"He [Imran] is bent upon dissolving the country and not assemblies," he said.
The lawmaker said that the PTI chief was a cowardly man, who feared imprisonment.
He criticised the PTI chief for "choosing his wife Bushra Bibi instead of senior leaders Shah Mehmood Qureshi, Asad Umar and Asad Qaiser to lead the party in case of his detention" and sought its justification.
Opposition leader in the Khyber Pakhtunkhwa Assembly Akram Khan Durrani, who was also in attendance, said that the province had been caught in a debt trap and was struggling to handle the serious financial crisis.
He said the Muttahida Majlis-i-Amal government in the province had left only Rs16 billion debts behind but the amount surged alarmingly during the last two PTI governments.
Mr Durrani also alleged that the Pakistan Tehreek-i-Insaf had destroyed Pakhtun culture during its nine-year rule in the province and almost four years in the centre.
Mr Musazai, who joined the JUI-F, had contested the National Assembly election many times with first being on a ticket awarded by the Pakistan Muslim League in 2013. He failed to make it to the National Assembly through that election.
He contested election on PML-N ticket in by-polls against the PTI after the death of PTI MNA Gulzar Khan but suffered defeat against. He was defeated by Arbab Amir of the PTI.
Source: Dawn
Please click the following URL to read the full text of the original story:
https://www.dawn.com/news/1731827/friendly-nations-fear-their-aid-will-go-to-waste-if-imran-returns-to-power-fazl
--------
JI will not allow anyone hijack its mandate: Rehman
January 16, 2023
KARACHI: Jamaat-e-Islami (JI) Karachi Emir Hafiz Naeemur Rehman warned against the "undue" delay in the announcement of results, saying the public will besiege the entire the city if the Jamaat mandate was stolen.
Addressing a presser at Idarah Noor-e-Haq, Hafiz Naeemur Rehman declared that the ECP was duty bound to provide results to the party in time, saying it was their constitutional, democratic, and legal right.
While congratulating successful candidates in the local body polls and encouraging those who lost, the JI city chief said the party won't allow hijacking people's mandate.
Commenting on his party's position in the elections during Geo News show Naya Pakistan, Hafiz Naeem said: "I am wary of making big claims about the polls, but according to what the numbers are showing our position is good in District Central, District East, and District Korangi. These districts have approximately 125 union committees."
He added that JI is also leading in several places across District East; in fact, it is also ahead in some areas in Keamari.
However, the JI's senior leader said Chief Election Commissioner Sikandar Sultan Raja and the secretary of the Election Commission of Pakistan (ECP) have issued clear orders to provide Forms 11 and 12, which are not being followed.
In response, Sindh government spokesperson Murtaza Wahab said JI and Rehman's politics revolves around protests and sit-ins — explaining the party's recent protests against the provincial administration.
"When the results started trickling in, the losers began their bid to escape," the Sindh government spokesperson told Geo News via telephone.
"Till yesterday, Jamaat-e-Islami was calling on [the ECP and the government] to hold elections, but now, when the results are coming in, the party's now talking about protests," he said.
"Some of the Sindh government's deputy commissioners are obstructing the release of results. If results are not announced within an hour, we will begin sit-ins across the city. People should start to encircle polling stations," he said.
The party, as per the JI Karachi chief, also has a lead in some parts of Malir. "Based on these numbers, I can say that the JI, in almost all areas, is at the number one position," the politician said.
The candidate for Karachi mayorship further stated that his party's team is preparing results; however, it will only announce the final results once all the results are accessible to them.
"Because it has been our country's tragedy that the government does some [political] engineering even after [the polls]," the JI chief said.
"I have asked everyone to celebrate later and first fetch results from the RO after which we will accept them. We are very cautious in this matter because a lot of games happen in this duration," he said alleging chances of rigging and engineering in the polls.
The JI Karachi emir, while commenting on the execution of today's polls, congratulated the Election Commission of Pakistan (ECP) for its role in conducting the polls.
"Attempts were made to not conduct elections, but the election commission held the polls according to the law. It was only JI that was 100% unanimous about conducting the elections, while the Sindh government and Muttahida Qaumi Movement-Pakistan insisted against it," Hafiz Rehman said, slamming the two parties for pushing the local body polls ahead.
Referring to the uncertainty looming over the local body elections until "4am today", the JI leader said that he would salute Karachiites if the voter turnout was recorded even at 10%. He, however, predicted that it was around 25%
Responding to a question about the MQM-P's boycott, Naeem said: "I wish if there was the MQM-P, they would know where they stand."
Source: Pakistan Today
Please click the following URL to read the full text of the original story:
https://www.pakistantoday.com.pk/2023/01/16/ji-will-not-allow-anyone-hijack-its-mandate-rehman/
--------
DSP among three cops martyred in Peshawar, one in Taunsa terror attacks
January 15, 2023
PESHAWAR/LAHORE/DERA GHAZI KHAN: Three policemen, including a senior officer, were killed in an attack on a station on the outskirts of Peshawar in the wee hours of Sunday while a head constable martyred and another sustained injuries during a gun attack on a Punjab Police post in border area of Taunsa area in DG Khan, the police confirmed both the incidents.
"A group of terrorists attacked Sarband police station at midnight from different sides," Kashif Aftab Abbasi, senior superintendent of police operations, told reporters.
He added that three policemen, including a deputy superintendent of police (DSP), were killed while chasing the terrorists after the attack.
"Terrorists used grenades, sniper rifles, and automatic weapons in the attack, and apparently the DSP was targeted by a sniper," he said.
The proscribed Tehreek-i-Taliban Pakistan group, or TTP, claimed responsibility for the police station attack a day earlier and for killing the officers.
Police launched a search operation in the area to arrest the terrorists.
The TTP has waged an insurgency in Pakistan over the past 15 years, fighting for stricter enforcement of religious laws in the country, the release of their members who are in government custody and a reduction of military presence in the former tribal regions.
They also claimed responsibility for an attack Friday at a police checkpoint in the Taunsa district of Punjab that killed two officers.
CENTRAL GOVT DEEPLY CONCERNED ABOUT DETERIORATING LAW AND ORDER IN KP
Interior Minister Rana Sanaullah Khan said the central government was deeply concerned about deteriorating law and order in Khyber Pakhtunkhwa.
He criticised provincial authorities for failing to learn from previous assaults, including a militant takeover and hostage situation at a counter-terror department in the Bannu district.
"Terrorists are attacking police stations, policemen and officers are being targeted," said Khan. "It seems that the provincial government has not learned any lesson even from Bannu CTD headquarters," he said, referring to the counter-terror department that was seized by militants.
He claimed the provincial chief minister's priority was politics not peace and, with even local police not safe from attacks, he asked what would happen to the safety of ordinary people.
During the last few months, Khyber Pakhtunkhwa bordering Afghanistan has again become a hotbed of militancy with increasing terrorist attacks launched by TTP. Last month, several policemen were killed in Afghanistan-based group-claimed attacks in Lakki Marwat, Dera Ismail Khan, and Bannu districts.
The recent attacks are the aftermath of rescinding a fragile cease-fire between security forces and the TTP, which could last only a few months. Both sides blame each other for the violation of the cease-fire.
ACCELERATE CRACKDOWN ON TERRORISTS AND CRIMINALS INVOLVED IN ATTACKS ON POLICE TEAMS
Inspector General Police Punjab Aamir Zulfiqar Khan directed to accelerate massive crackdown under zero tolerance against terrorists and criminals involved in attacks on police teams. He emphasized upon taking terrorists as well as their facilitators to their ultimate end. The IGP directed to increase the number of personnel at police check-posts in border area and expert snipers should also be deployed along with modern resources.
Punjab IG Police Aamir Zulfiqar issued the instructions while presiding over a high-level meeting at RPO office DG Khan. On the occasion, the IGP was informed about the preliminary investigation into terrorist attack on police-post in Taunsa Sharif. Additional IGs South Punjab, Special Branch, CTD, RPO DG Khan, DIG Operations Punjab, DPO DG Khan and other officers participated in the meeting.
The IGP ordered DIG Admin and Establishment South Punjab Muhammad Saleem to send detailed inquiry report of Taunsa Sharif incident to CPO within 24 hours. He said that there should be no delay in taking action against those responsible for negligence while conducting an inquiry from all aspects of the incident. He directed the Additional IG South Punjab should personally monitor the police operations in sensitive areas including Kacha area and reports of search and combing operations should be sent to the Central Police Office on a daily basis. The IG Police said that in order to further strengthen the rule of law in Kacha area, full-scale operations should be conducted against organized criminal gangs. Police teams should increase patrolling in sensitive areas while supervisory officers should monitor the operations themselves. Aamir Zulfiqar Khan directed that more resources, modern weapons and additional personnel will be provided to the police teams for the operation against the anti-social elements. He said that coordination and information sharing with Sindh and Balochistan police should be improved to end movement of criminals.
IGP, LARGE NUMBER OF PEOPLE ATTENDED FUNERAL
Earlier, IG Punjab attended funeral prayer of Shaheed Head Constable Mazhar Iqbal at Police Lines DG Khan. He floral wreathe on the conffin of the martyr and recited Fatiha for higher ranks of martyr. IG Punjab paid tribute to eternal sacrifice of the martyr and said that the officers and officials of the department who embraced martyrdom are real gems of department and heroes of nation. The IG Police vowed to ensure provision of best welfare to families of martyrs.
A large number of citizens including police officers and officials, media representatives, lawyers, political and social personalities participated in the funeral prayer. After the funeral prayer, the body of the martyr was sent to his native village where he will be buried with full official honors.
Yesterday, head constable Mazhar Iqbal was martyred by firing of criminals on the police picket located on border of Punjab-Khyber Pakhtunkhwa. Shaheed Head Constable Mazhar Iqbal was survived by parents, wife and two children among the mourners.
NISHTAR HOSPITAL VISIT
Furthermore, IG Police Aamir Zulfiqar Khan visited Nishtar Hospital Multan where he enquired after the health of police official Mohammad Ramzan who was injured in the attack on Taunsa Sharif police post. The IGP inquired from doctors about the health of the injured and directed the provision of best medical facilities for the speedy recovery of the injured officer.
CTD NEUTRALIZES TWO TERRORISTS IN PESHAWAR
Meanwhile, The Counter-Terrorism Department (CTD), in a joint operation with local police, gunned down two terrorists near Shinwari fort area in Peshawar on Saturday.
According to CTD spokesman, following the attack on Sarband police station, a joint operation was conducted by CTD and local police in Sarband Shinwari fort on an intelligence tip-off, wherein two alleged terrorists were killed.
The spokesperson noted that the accused terrorists started firing after spotting the raiding team. In heavy exchange of fire, two alleged terrorists were killed while three managed to escape.
Meanwhile, the raiding team also recovered arms and hand grenades from the possession of the deceased terrorists.
Source: Pakistan Today
Please click the following URL to read the full text of the original story:
https://www.pakistantoday.com.pk/2023/01/15/dsp-among-three-cops-martyred-in-peshawar-one-in-taunsa-terror-attacks/
--------
Pakistan: Protests in Khyber Pakhtunkhwa's Swabi over flour shortage, inflation
15 January, 2023
Islamabad [Pakistan], January 15 (ANI): Protests were staged in various cities of Swabi district in the Khyber Pakhtunkhwa region of Pakistan on Saturday against wheat flour shortage and skyrocketing inflation, Dawn reported.
Jamaat-i-Islami workers held demonstrations at Shewa Adda Chowk in Swabi against inflation, extortion, robbery incidents, electricity load shedding and closure of compressed natural gas stations.
Addressing the protesters, Jamaat-i-Islami (JI) leaders Mian Iftikhar Bacha, Mehmoodul Hasan, Mufti Naeem Haqqani and Imaduddin blamed Pakistan Tehreek-e-Insaf (PTI), Pakistan Democratic Movement governments in Khyber Pakhtunkhwa and Pakistan Muslim League – Nawaz (PML-N)-led government for people's misery, as per the Dawn report.
Jamaat-i-Islami leaders said that lawmakers were accusing each other of the country's difficult situation and not taking measures for people's welfare, as per the news report. They called for protection to people against rising inflation and lawlessness and an end to power outages. JI leaders also called for action against the traders who were hoarding wheat flour.
Meanwhile, PTI workers held a protest at Karnal Sher Khan Chowk of Khyber Pakhtunkhwa against skyrocketing inflation. People of Jalbai village staged a protest against the flour crisis and inflation. PTI workers held a rally against price rise in Bajaur. A large number of PTI workers and local residents participated in the rally held in Khar Bazaar.
Protests led by PTI Member of National Assembly Gul Dad Khan and his brother MPA Ajmal Khan chanted slogans against Shehbaz Sharif-led government for failure to control price rise. PTI leaders said that people were impacted by high inflation.
JUI-F workers led by district chief Sirajuddin carrying placards marched from Shaheed Chowk to Gorgorai Chowk and raised slogans against the Khyber Pakhtunkhwa government. Hundreds of PTI workers staged a rally at Gorgorai Chowk against inflation and shouted slogans against the federal government.
ANP workers held protests in Mardan against skyrocketing prices of essential food items. The ANP workers marched from Kalpani Pul to Pakistan Chowk, according to Dawn. The protesters were carrying banners and placards with slogans against the government's failure to ensure the availability of wheat flour to people.
On Friday, activists of Shia Ulema Council, Pakistan Peoples Party-Shaheed Bhutto, Sindh Taraqqi-pasand Party and Tehreek-i-Labbaik Pakistan held separate demonstrations against skyrocketing inflation and shortage of flour in Larkana region of Sindh province, Dawn reported.
Workers of Shia Ulema Council and Sindh Taraqqi Pasand Party took out processions and held demonstrations outside the press club. The leaders of the parties raised concerns over the ongoing shortage of flour in the district and stressed that a few outlets were not adequate for the supply of low-priced flour to address the huge demand.
The workers of the Shia Ulema Council and Sindh Taraqqi Pasand Party called on the government to take action against hoarders who were out to fleece people by selling flour at exorbitant rates, as per the Dawn report.
They called it the need of the hour to implement the decision ensuring the availability of flour at a controlled price of Rs 65 at all shops, as per the Dawn report. TLP Workers marched on the city's main roads before reaching the press club in Jinnahbagh where they held a demonstration, as per the news report.
Source: The Print
Please click the following URL to read the full text of the original story:
https://theprint.in/world/pakistan-protests-in-khyber-pakhtunkhwas-swabi-over-flour-shortage-inflation/1316181/
--------
Arab World
In Egypt, Massive Funding For New Mosques Questioned Amid Economic Crisis
January 15, 2023
CAIRO — From his balcony in al-Qubbah district of the capital Cairo, 20-year-old Mahmoud Abdo can hear the call to prayer from at least five different mosques.
Amid Egypt's dire economic conditions, Abdo is not sure that the excessive spending on all these religious centres is necessary.
"We used to hear people say in the past that money that is needed for [poor] households should not be spent on mosques," he told Al-Monitor. Instead, most mosques would have boxes to take donations for the development of the mosque or for other charitable work.
However, in November of last year, the Egyptian Ministry of Religious Endowments cancelled donation boxes, Sky News Arabia reported, stipulating instead that donations should be made directly to the mosques' accounts via bank transfer.
In September 2020, Egyptian Minister of Endowments Mohammad Mokhtar Gomaa revealed in a televised interview that the number of mosques across Egypt had surpassed 140,000, including 100,000 large mosques.
Mohammed Ali, 60, from the Maadi district of Cairo, is disappointed by the lack of mosque goers for the five daily prayers in his neighbourhood, despite the large number of mosques there.
"The mosques in my area are usually full only during Friday prayer and the month of Ramadan. But the rest of the time, there is only a small number of people attending prayer at the mosques," he told Al-Monitor.
Ali said he wishes mosques were filled with worshipers, especially given the high number of mosques in residential areas, and stressed the importance of building more mosques.
Last month, the Ministry of Religious Endowments announced that 9,600 mosques have been built or renovated since President Abdel Fattah al-Sisi assumed office in 2013, at a cost of 10.2 billion Egyptian pounds (around $404 million).
However, the push has raised concerns among Egyptian intellectuals and youth. Journalist and doctor Khaled Montaser criticized the spending on Twitter last month. He argued that prayers can be held anywhere, but educational services require schools and medical treatment requires hospitals.
US magazine Ceoworld placed Egypt in the last place among Arab countries on the average per capita salary, at $219 per month.
Meanwhile, Egypt is witnessing an unprecedented rise in commodity prices, in addition to the devaluation of the pound against the US dollar. Last month, the government-run Central Agency for Public Mobilization and Statistics reported that inflation rates in the country jumped from 6.2% in November 2021 to 19.2% in the same month of this year.
In response to the criticism, a source from the Egyptian Ministry of Religious Endowments told Al-Monitor on condition of anonymity that the building of mosques is not coming at the expense of other charitable work.
"The ministry fulfills its charitable and humanitarian duties toward society in addition to building and developing mosques."
"The construction money is from endowment funds in addition to the ministry's allocated budget. The spending on equipping and furnishing mosques comes from the donations of the people and charitable work," the source explained.
At a meeting with religious leaders in Matrouh governorate last month, Gomaa praised the mosque-building program, adding that this is an unprecedented number in the history of Egypt and any other country.
Source: Al Monitor
Please click the following URL to read the full text of the original story:
https://www.al-monitor.com/originals/2022/12/egypt-massive-funding-new-mosques-questioned-amid-economic-crisis
--------
Iraqi PM says in an interview he supports indefinite US troop presence in country
15 January ,2023
Iraqi Prime Minister Mohammed Shia al-Sudani defended the presence of US troops in his country and set no timetable for their withdrawal, in an interview with the Wall Street Journal published on Sunday.
Referring to the US and NATO troop contingents that train and assist Iraqi units in countering ISIS but largely stay out of combat, he told the newspaper in the interview that the foreign forces are still needed. "Elimination of ISIS needs some more time," he said.
Al-Sudani, who took office last October, told the Wall Street Journal that he planned to send a high-level delegation to Washington for talks with US officials next month, adding that Iraq would like similar relations with Washington to those enjoyed by Saudi Arabia and other Arabian Gulf oil and gas producers.
Source: Al Arabiya
Please click the following URL to read the full text of the original story:
https://english.alarabiya.net/News/middle-east/2023/01/15/Iraqi-PM-says-in-an-interview-he-supports-indefinite-US-troop-presence-in-country-
--------
No normal ties with Turkey without end to occupation: Syria's Foreign Minister Mekdad
14 January ,2023
Syrian Foreign Minister Faisal Mekdad said on Saturday that Turkey would have to end its military presence in his country to achieve a full rapprochement.
"We cannot talk about resuming normal ties with Turkey without removing the occupation," he said after meeting his Iranian counterpart in Damascus.
Turkey has been a major backer of the political and armed opposition to Syrian President Bashar al-Assad during the 12-year conflict in Syria, and has sent its own troops into swathes of the country's north.
Russia, a key ally of al-Assad, is supporting a rapprochement between Damascus and Ankara, hosting talks between their defense ministers last month and aiming for meetings between the foreign ministers and eventually presidents.
Mekdad said on Saturday "a meeting between Assad and the Turkish leadership depends on removing the reasons for the dispute," without providing more details or mentioning Turkish President Recep Tayyip Erdogan by name.
Mekdad was speaking after meeting in Damascus with Hossein Amirabdollahian, the foreign minister of al-Assad's other main ally, Iran.
Amirabdollahian, who also met al-Assad on Saturday, said on Friday that Iran was "happy with the dialogue taking place between Syria and Turkey."
Al-Assad said on Friday the results should be based on the principle of ending the occupation and support for terrorism, a term that Syrian authorities use to refer to all opposition armed groups.
A source with close knowledge of the negotiations said Syria wanted Turkey to pull its troops from swathes of the north and to halt support to three main opposition factions.
The source said Syria was keen to see progress on those demands through follow-up committees before agreeing to a foreign ministers' meeting.
Turkish Foreign Minister Mevlut Cavusoglu said on Thursday he could meet Mekdad early in February, rejecting reports the two could meet next week.
Source: Al Arabiya
Please click the following URL to read the full text of the original story:
https://english.alarabiya.net/News/middle-east/2023/01/14/No-normal-ties-with-Turkey-without-end-to-occupation-Syria-s-foreign-minister-Mekdad
--------
New Turkish ground offensive in Syria 'possible any time': Ankara
14 January ,2023
A new Turkish ground offensive in Syria is "possible any time," a top aide to President Recep Tayyip Erdogan said Saturday, despite a Moscow-brokered rapprochement between Damascus and Ankara.
The Kremlin is trying to end more than a decade of hostility between the neighbors that began when Turkey backed opposition efforts to topple President Bashar al-Assad at the start of the Syrian civil war.
Turkey has since also launched a series of incursions into northern Syria, most of them targeting Kurdish forces it views as "terrorists."
Erdogan's foreign policy adviser Ibrahim Kalin said the Russian push for peace did not mean Turkey was abandoning the option of launching a new campaign that Ankara has been warning might happen for months.
"A ground operation is possible any time, depending on the level of threats we receive," Kalin told reporters.
"Turkey never targets the Syrian state or Syrian civilians."
His comments came two days after al-Assad said future talks with Ankara should aim for "the end of occupation" by Turkey of parts of Syria.
Turkey has military bases in northern Syria and also backs some local militias fighting against the regime.
Erdogan, who called al-Assad a "terrorist" in 2017, has opened up to the idea of meeting the Syrian leader ahead of Turkey's general election, now expected in May.
Syrian and Turkish defense chiefs held their first meeting since 2011 in Moscow in late December.
Kalin said the two sides will hold a "series of meetings" in preparation for a possible presidential summit.
He said a proposed meeting between the foreign ministers, expected to be held in Moscow, could take place in mid-February.
Source: Al Arabiya
Please click the following URL to read the full text of the original story:
https://english.alarabiya.net/News/middle-east/2023/01/14/New-Turkish-ground-offensive-in-Syria-possible-any-time-Ankara
--------
US Occupation Forces Steal 53 Tankers of Oil from Syria to Iraqi Bases
2023-January-15
Syria's official news agency SANA, citing local sources in Al-Ya'rubiyah town, reported that a convoy of 53 tankers, laden with stolen oil from the energy-rich Jazira region, rumbled through the illegal Mahmoudiya border crossing on Saturday, and headed towards Iraqi territories.
SANA noted that the convoy was escorted by US-sponsored and Kurdish-led militants affiliated with the Syrian Democratic Forces (SDF).
On Friday, Syria's Minister of Petroleum and Mineral Resources Bassam Tou'ma held US military occupation of oil-rich Northern Syria, Washington's continued looting of natural reserves in the Arab country as well as cruel unilateral sanctions responsible for the immense suffering that the Syrian nation is enduring.
Tou'ma pointed to the challenges that Syrians are facing in the energy field, stating that the foreign-sponsored conflict has resulted in a steep decline in the production of oil, gas, and electricity.
He urged foreign companies to participate in Syria's development projects, whether in oil and gas exploration or investment in renewable energies.
The US military has for long stationed its forces and equipment in Northeastern Syria, with the Pentagon claiming that the deployment is aimed at preventing the oilfields in the area from falling into the hands of Daesh Takfiri terrorists.
Damascus, however, says the deployment is meant to plunder the Arab country's natural resources. Former US president Donald Trump admitted on several occasions that American forces were in the Arab country for its oil wealth.
In December 2022, a Chinese Foreign Ministry spokesperson lambasted the US military's deployment of troops in Syria and its smuggling of oil and grain as illegal.
"The US stationing of troops in Syria is illegal. The US smuggling of oil and grain from Syria is illegal. The US missile attack against Syria is also illegal," Zhao Lijian told a daily news briefing in the capital Beijing.
Source: Fars News Agency
Please click the following URL to read the full text of the original story:
https://www.farsnews.ir/en/news/14011025000417/US-Occpain-Frces-Seal-53-Tankers-f-Oil-frm-Syria-Irai-Bases
--------
Lebanese protest arrest of Beirut blast victim's brother
14 January ,2023
Activists gathered in front of a police station in the Lebanese capital Saturday to protest the arrest of the brother of a victim of a deadly 2020 blast, witnesses said.
William Noun – whose brother, a fireman, was killed in the August 2020 Beirut port blast – was arrested Friday over remarks made during a television program, a judiciary source told AFP.
The young man is a leading figure among families of the blast's victims who have been calling for the continuation of a probe into the tragic event, on hold for over a year.
Noun's arrest sparked protests Friday night, as his relatives and other victims' families, along with activists, cut off roads in the capital.
Known for his outspokenness, the young man had threatened during televised remarks Thursday to "blow up the palace of justice" to protest moves to replace the judge investigating the blast.
Embattled judge Tarek Bitar has faced an endless series of complaints against him, part of a campaign led by Shia group Hezbollah and its allies seeking to block his probe into the blast.
On Friday, relatives of the victims threw stones at the palace of justice in Beirut, breaking some windows, in a protest over Noun's arrest.
Demonstrations resumed again on Saturday in front of the police station where Noun was being held, according to witnesses.
"This is an attempt to intimidate but it won't work," Noun's lawyer, Ralph Tannous, told Lebanese television. "This is a political move, not a judicial one."
MP and lawyer Melhem Khalaf meanwhile told AFP, "I wish they would implement with the same enthusiasm all the warrants issued by the judicial investigator" over the port blast.
The 2020 disaster, one of history's biggest non-nuclear explosions, killed more than 200 people and decimated vast areas of the capital after a stockpile of haphazardly stored ammonium nitrate caught fire.
Source: Al Arabiya
Please click the following URL to read the full text of the original story:
https://english.alarabiya.net/News/middle-east/2023/01/14/Lebanese-protest-arrest-of-Beirut-blast-victim-s-brother
--------
S.Korea President seeks to boost UAE energy, defense cooperation in first state visit
15 January ,2023
South Korea's president Yoon Suk Yeol met with the United Arab Emirates' Sheikh Mohamed bin Zayed to boost bilateral relations and cooperation in the fields of energy, investment and defense, the official Emirates News Agency (WAM) reported on Sunday.
Yoon, accompanied by First Lady Kim Keon-hee, was welcomed by the UAE's President Sheikh Mohamed at the Qasr Al Watan in Abu Dhabi with an official reception which saw the attendance of sheikhs and several senior officials from both sides.
To kick off Yoon's first official visit to the UAE as president, the two leaders reviewed bilateral relations, discussed ways to enhance their cooperation in various fields, and exchanged views on a number of regional and international issues of mutual concern.
Yoon said that Korea-UAE cooperation in clean energy will help stabilize the global energy market.
"We will support the success of the UAE's hosting of COP 28 [the UN Climate Conference to be held in Dubai] at the end of this year and work together in that regard," he was quoted as saying in a statement published by UAE newspaper Al Ittihad.
Emphasizing that infrastructure cooperation in large-scale construction is the driving force behind economic development of Korea and the UAE, President Yoon revealed that "approximately 30 percent of the overseas orders our construction companies received in 2022 were from the Middle East."
Relations with the UAE and other Gulf countries are crucial for Korea's energy security with over 50 percent of its oil imports coming from the Gulf, he added and detailed the ongoing talks on Free Trade Agreement (FTA) with Gulf Cooperation Council (GCC).
The South Korean president highlighted that his multi-day state visit carries a special meaning as it is the first state visit since the UAE and the Republic of Korea established diplomatic relations in 1980.
The discussions during the summit focused on enhancing strategic cooperation in four key areas: nuclear power plants, energy, investment, and the defense industry.
The president also emphasized the potential for Korea-UAE cooperation in sectors such as climate change responses, science and technology, future new industries, and healthcare as well as cultural and people-to-people exchanges.
"The potential for Korea-UAE cooperation will be substantial, and doors for bilateral cooperation will be left wide open in all available areas," he said.
"Korea and the UAE have maintained a long-standing strategic partnership, and I intend to use my upcoming visit as an opportunity to expand our countries' friendly cooperation to encompass our efforts to achieve carbon neutrality and strengthen climate action among the world's nations."
"Recently, Gulf countries have been developing future industries in an active and enterprising manner to prepare for the post-oil era. Given Korea's world-class technological prowess, the experience and know-how that we accumulated carrying out projects around the Gulf and the common vision we share with Gulf countries, both sides are optimal partners for each other," he added.
"Starting with the construction of the Barakah Nuclear Power Plant, the UAE is a key partner in future industries, including space, healthcare and medical services, smart farms, and hydrogen."
"Korea and the GCC agreed in 2007 to push for an FTA. The negotiations are currently ongoing with a view to reaching an agreement."
"I am very pleased that I have finally met with President His Highness Sheikh Mohamed bin Zayed Al Nahyan in person during my visit. I look forward to the two of us building a solid friendship and trust," he added.
He added that the region and Korean Peninsula's peace and stability were "important factors for global peace and prosperity," adding that "there is great room for Korea and the UAE to expand our cooperation in the region and global community."
"The UAE has been actively working as a non-permanent member of the UN Security Council in 2022-23. Korea is also seeking a non-permanent member seat on the UN Security Council in 2024-25, and we will work together more closely on the international stage, including at the United Nations."
Source: Al Arabiya
Please click the following URL to read the full text of the original story:
https://english.alarabiya.net/News/gulf/2023/01/15/S-Korea-President-seeks-to-boost-UAE-energy-defense-cooperation-in-first-state-visit
--------
Riyadh Season's Winter Music Festival Boulevard Mix Sets The Mood
Rahaf Jambi
January 15, 2023
RIYADH: Boulevard Mix provided an impressive interlude for music lovers, taking place from Jan. 11-13 as part of the entertainment activities of Riyadh Season 2022.
With talented professional and amateur artists performing live in four designated corners of the arena, Boulevard Mix got everyone in the party mood and helped to create the perfect musical backdrop for fun.
The musical extravaganza gave the opportunity for artists and groups — including Eman Abdelghani, Ahmed Saad, Zina Emad, Big Sam, Mohamed Hasan, Sabreen Al Najili, Disco Misr, Massar Egbari, Sharmoofers, and others — to entertain the crowd and create the party mood.
Impressive vocals, dreamy melodies, and rhythmic beats set the scene at the four Boulevard Mix sites, which included the fountain, the square, and the studio, where Saad, the singer of the hit song "Wasa3 Wasa3," performed to the delight of all present.
The Egyptian band Disco Misr, whose latest single is "Ahla Wahda ft. Aziz Maraka," were delighted to be performing in front of a Saudi audience once again.
The band told Arab News: "We get excited about performing in Saudi Arabia every time, but this time it was different because it was our first time in Boulevard City, so thanks for having us.
"It's our fifth time in Saudi Arabia. We've been to AlUla, Jeddah, and Riyadh, and the audience was so friendly.
"They had fun, and were so open with us."
Massar Egbari were another Egyptian band happy to return to Saudi to perform. The group previously performed twice in Jeddah.
The band said: "Last week we were scheduled to have a concert, but the weather was stormy, so we had to postpone it to today.
Boulevard Mix is the latest event to represent the changing cultural and entertainment landscape of the Kingdom.
The event is designed to bring together devoted music lovers and audiences seeking fun in the same space to enjoy live performances.
Source: Arab News
Please click the following URL to read the full text of the original story:
https://www.arabnews.com/node/2232976/saudi-arabia
--------
Islamic minister meets Tajik religious official in Riyadh
January 16, 2023
RIYADH: Saudi Arabia's Minister of Islamic Affairs, Dawah and Guidance Sheikh Abdullatif Al-Asheikh met with the chairman of the Religious Affairs Committee of Tajikistan, Suleiman Berkhan Dolatzadeh, and his accompanying delegation, in Riyadh on Sunday.
Al-Asheikh reviewed efforts to build partnerships between the two countries in Islamic affairs, spreading moderation and confronting extremism and hate.
He also discussed the conditions of Muslims in Tajikistan.
Al-Asheikh noted the Kingdom's efforts in serving Muslims all over the world, taking care of the affairs of the Two Holy Mosques and of their visitors, pilgrims and Umrah performers.
In turn, Dolatzadeh affirmed his country's keenness to benefit from the Kingdom's pioneering experience in spreading the concepts of moderation in Islam, indicating that the meeting discussed important issues, including the memorandum of understanding between the two countries in the fields of Islamic affairs.
Dolatzadeh praised the great role played by King Salman and Crown Prince Mohammed bin Salman in serving Muslims, spreading moderation, and implementing major projects to serve the Two Holy Mosques and their visitors, in addition to the distinguished humanitarian role they play in addressing the needs of the world's poorest people.
Source: Arab News
Please click the following URL to read the full text of the original story:
https://www.arabnews.com/node/2233126/saudi-arabia
--------
Mideast
Iran 'Testing Red Lines' By Executing Iranian-British Alireza Akbari
14 January ,2023
Iran's execution of Alireza Akbari, a dual Iranian-British citizen, on charges of spying for Britain is a "significant escalation" that shows Tehran is "testing red lines," an analyst said.
Iran said on Saturday it had executed Akbari, a former defence ministry official, despite calls from Britain for his release.
Akbari was arrested in 2019 and the death sentence against him was announced on Wednesday.
British foreign minister James Cleverly condemned the execution as a "barbaric" act that "will not stand unchallenged."
"This is a significant escalation which has implications for the dual-nationals being held hostage in Tehran. (Iran) is testing red lines," Jason Brodsky, policy director at United Against Nuclear Iran (UANI), wrote on Twitter.
Several Westerners, including dual nationals, are currently imprisoned in Iran. Western governments and human rights groups have accused Iran of taking them as "hostages" in an effort to gain concessions from the West.
Brodsky noted that Akbari's case was different to other foreign and dual nationals held in Iran in that he was a former official, but added that his execution "must be met with a decisive response" from the West.
Infighting
Akbari was a close associate of Ali Shamkhani, who was the defense minister during the tenure of former president Mohammad Khatami (1997-2005) and currently holds a position as the secretary of the Supreme National Security Council (SNSC), a top decision-making body.
The relationship between Akbari and Shamkhani has led to speculation that rivals of Shamkhani within the regime may be behind the case against Akbari and that it may be an attempt to undermine Shamkhani's standing within the regime.
Source: Al Arabiya
Please click the following URL to read the full text of the original story:
https://english.alarabiya.net/News/middle-east/2023/01/14/Iran-testing-red-lines-by-executing-Iranian-British-Alireza-Akbari-Analyst
--------
Iran: Netanyahu's Hardline Gov't Unable to Ease Security, Social Crises
2023-January-15
Amir Abdollahian made the remarks during a meeting with a number of high-ranking officials and representatives from Palestinian resistance groups in Damascus on Saturday night.
"Palestine and Al-Quds City are the principal issues of the Muslim world. Palestine will remain the foremost issue of Muslims until a Palestinian state is formed within its historical boundaries, with Al-Quds as its capital," he stated.
"The United States and its allies have unveiled various plans one after another for many years, namely the Oslo Accords, the Greater Middle East, the [so-called] Deal of the Century, and the Abraham Accords. The Palestinian nation and resistance forces have, however, managed to thwart all those plots through exemplary unity, resilience and perseverance," the chief Iranian diplomat pointed out.
The foreign minister added that the 11-day Operation Sword of Al-Quds between the Gaza-based Palestinian resistance groups and the Israeli military in May 2021 proved that Axis of Resistance and Palestine are alive.
"Even the World Cup [in Qatar] showed that Palestine is alive, and the normalization of Arab-Israeli relations is worthless," the senior official continued.
The Iranian minister also pointed to Israel's newly formed far-right cabinet headed by Benjamin Netanyahu as prime minister, stating that the change of names and faces doesn't make any difference in the regime's policies as its officials are all radical in nature and responsible for the ongoing problems and boiling security and social crises across the occupied territories.
"Of course, we have witnessed greater cohesion between resistance forces and the Palestinian nation anytime that extremists ascended to power [in occupied territories]," Amir Abdollahian noted.
Netanyahu has stated an end to the "Arab-Israeli conflict" would be his top priority, as well as stopping Iran's nuclear programme and building up Israel's military capacity.
Iranian Foreign Ministry Spokesman Nasser Kana'ani has downplayed Netanyahu's rhetoric against Tehran, and advised the Zionist regime to note its own domestic problems in political and economic fields.
Referring to the Netanyahu's rhetoric, Kana'ani called on the authorities of the Tel Aviv regime to pay attention to the fragile state of their new government and their unstable economy.
"They know that Tehran will respond to any of their actions and threats, and they think seriously about its consequences. Iran's point of view is quite clear," the diplomat emphasized.
Back in 2020, the United Arab Emirates (UAE) and Bahrain signed United States-brokered agreements with Israel to normalize their ties with the TelAviv regime. Some other regional states, namely Sudan and Morocco, followed suit soon afterward.
Palestinian officials censured the deal between the Arab countries and Israel to establish normal diplomatic relations, describing the agreement as a "treacherous stab in the back of the Palestinian nation".
The international community has strongly condemned the latest Israeli brutal raids in the Gaza Strip, voicing its deep concern over the latest rounds of violence by the Tel Aviv regime against Palestinians in the besieged coastal enclave.
Source: Fars News Agency
Please click the following URL to read the full text of the original story:
https://www.farsnews.ir/en/news/14011025000690/Iran-Neanyah's-Hardline-Gv'-Unable-Ease-Secriy-Scial-Crises
--------
Iran Strongly Condemns George Floyd-Like Murder of Black Man by US Police
2023-January-15
A 31-year-old father and English teacher, Keenan Anderson who is the cousin of Black Lives Matter co-founder Patrisse Cullors, died from cardiac arrest last week after he was tased by US police, according to the Los Angeles Police Department.
In reaction to the tragic incident, Kana'ani stated on Saturday that "the US government must be held accountable for this inhumane crime" and its irresponsibility vis-à-vis the repetition of gross and systematic violations of human rights in the country, particularly the rights of minorities and people of color.
The spokesperson further lambasted the US' hypocritical policies on meddling with other countries' affairs.
"The American regime, which hypocritically interferes in the internal affairs of other countries and sheds crocodile tears in order to achieve political goals, remains silent regarding the extreme violence and discriminatory and hate-mongering actions of the country's police against people of color," he continued.
The Iranian diplomat added that the US police's brutal action in murdering Anderson, which was repetition of George Floyd's heinous killing, once again shocked the world.
In a 13-minute body-cam footage released by LAPD, Anderson is seen begging for help as multiple officers hold him to the ground and one officer presses his elbow along with his body weight onto his neck.
"They're trying to George Floyd me. They're trying to George Floyd me," Anderson can be heard saying in the footage, in reference to the US police killing of Floyd in May 2020 in Minneapolis that sparked racial justice protests around the world.
According to Mapping Police Violence, the police across the United States killed an average of more than three people a day, or nearly 100 people every month in 2022.
United States police have killed at least 1,176 people in 2022, making it the deadliest year on record for police violence since experts first started tracking the killings, a new data analysis reveals.
Source: Fars News Agency
Please click the following URL to read the full text of the original story:
https://www.farsnews.ir/en/news/14011025000274/Iran-Srngly-Cndemns-Gerge-Flyd-Like-Mrder-f-Black-Man-by-US-Plice
--------
Syrian FM: Damascus Surly to Respond to Recurrent Israeli Assaults
2023-January-15
Mekdad made the remarks in a joint press conference with his Iranian counterpart Hossein Amir Abdollahian in the capital Damascus on Saturday.
Referring to Israeli attacks on Syria, which have continued over the past several years despite repeated warnings by Damascus, Mekdad stated that Syria will not forget the military aggression.
"Syria will respond to these crimes at the proper time and will inflict heavy losses on the occupying forces of the Zionist regime, which they will never forget," he warned.
The top diplomat called Turkey's military presence in Northern Syria "a kind of occupation", noting that Syria's sovereignty and independence should be respected in any political talks between the two countries.
He also hailed Tehran's alliance with Damascus, stressing that the two sides should remove any obstacle in the way of boosting their relations.
The top Syrian diplomat said that his talks with Amir Abdollahian covered Palestine as well, adding that Iran and Syria stand by the Palestinian nation, and that the Israeli regime's aggression and hostile policies against the Palestinian people should come to an end.
Amir Abdollahian, for his part, said Iran and Syria enjoy the "best" level of bilateral relations and are resolute on further promotion of ties, particularly in the economic and trade fields.
"Various agreements have been signed between the two countries which are being implemented. In this trip, we agreed with the Syrian foreign minister on the extension of a document for long-term strategic cooperation between the two counties which will be signed in the near future," the senior diplomat added.
Pointing to his meeting with Syrian President Bashar Al-Assad earlier in the day, he noted that different mutual, strategic, regional and international issues were discussed, on which the two sides have common views.
The foreign minister added that the two countries' top officials are determined to bolster relations, stressing the importance of making efforts to improve economic cooperation to the same level as the political ties.
"National sovereignty and territorial integrity of the countries must be respected, and we will continue our diplomatic efforts to ... resolve the problems and differences between Syria and Turkey," Amir Abdollahian continued.
Since 2011, Syria has been gripped by foreign-backed militancy, as a result of which Daesh and other terrorist groups emerged in the country.
Israel frequently targets military positions inside Syria, especially those of the Lebanese resistance movement Hezbollah which has played a key role in helping the Syrian Army in its fight against foreign-backed terrorists.
The Tel Aviv regime rarely comments on its cowardly attacks on Syrian territories, which many see as a knee-jerk reaction to the Syrian government's success in confronting and decimating terrorism.
Source: Fars News Agency
Please click the following URL to read the full text of the original story:
https://www.farsnews.ir/en/news/14011025000188/Syrian-FM-Damascs-Srly-Respnd-Recrren-Israeli-Assals
--------
Iran Summons UK Envoy Over Meddling Remarks
2023-January-15
"In reaction to Britain's unconventional interventions, including in the national security field of the Islamic Republic of Iran, Simon Shercliffe, the country's ambassador to Tehran, was summoned to the Ministry of Foreign Affairs by the director general of Western Europe," the ministry said in a statement on Saturday.
The Iranian official conveyed to the British government the Islamic Republic's protest over London's destructive measures which run counter to Iran's national security.
The statement came on the same day that Alireza Akbari, a former Iranian official, was executed after he was sentenced to death on charges of spying for the British intelligence agency.
The convict, who had been sentenced to death on charges of "corruption on earth" and "extensive activities against the country's internal and external security" through espionage for the British government's spy agency, was hanged on Saturday.
The Iranian foreign ministry diplomat told Shercliff that Iran had obtained solid information about London's unconventional communication with Akbari, saying the UK government should be held accountable over the issue that violated the Islamic Republic's national security.
He emphasized that the "unjustified and mischievous support" for the spying agent is not compatible with the claim of relations based on mutual respect.
The diplomat said Iran would not need permission from other countries, including Britain, to take a firm action to protect its national security, and warned that the continuation of such "illegal" moves would not be acceptable at all.
The British government must accept the consequences of the continuation of such unconventional and interventionist approach, the Iranian diplomat added.
He noted that Iran's Civil Law does not recognize dual nationality and therefore London's destructive interference and remarks under such a pretext have no legal basis.
The Iranian official condemned any unorthodox move which threatens national security and called on the British diplomat to inform his respective country of Iran's protest.
On Saturday, British Foreign Secretary James Cleverly threatened Iran that Akbari's execution will not stand unchallenged.
"This barbaric act deserves condemnation in the strongest possible terms. This will not stand unchallenged," Cleverly said.
British Prime Minister Rishi Sunak also said he was "appalled" by the execution.
Later on Saturday, British foreign minister, James Cleverly, said London would "temporarily" withdraw its ambassador from Tehran following the execution of Akbari.
Source: Fars News Agency
Please click the following URL to read the full text of the original story:
https://www.farsnews.ir/en/news/14011025000200/Iran-Smmns-UK-Envy-Over-Meddling-Remarks
--------
Israel's Herzog seeks to avert crisis over judicial shakeup plan
15 January ,2023
Israel's president Isaac Herzog warned on Sunday that the country faced a constitutional crisis over a contested plan to rein in the judiciary and said he was mediating between parties.
Prime Minister Benjamin Netanyahu, now in his sixth term, wants to put controls on the Supreme Court, which members of his religious-nationalist coalition accuse of overreach and elitism.
Proposed legislation would limit High Court rulings against government moves or Knesset parliament laws, while increasing politicians' sway over the selection of judges.
Critics of the Supreme Court, particularly on the right, accuse judges of encroaching increasingly into the political sphere and overstepping their authority to pursue a left wing agenda.
Opponents, who held nationwide protests on Saturday, say it would cripple judicial independence, foster corruption, set back minority rights and deprive Israel's courts of credibility that helps fend off war-crimes charges abroad.
"We are in the grips of a profound disagreement that is tearing our nation apart. This conflict worries me deeply, as it worries many across Israel and the (Jewish) Diaspora," President Isaac Herzog said in a statement.
Herzog, whose post lacks executive powers and is designed to unify an often fractious Israeli society, said he was working non-stop with the relevant parties to promote dialog.
"I am now focused on ... two critical roles that I believe I bear as president at this hour: averting a historic constitutional crisis and stopping the continued rift within our nation."
Netanyahu defends plan
In televised remarks at his weekly cabinet meeting, Netanyahu made no mention of Herzog's overture.
Judicial reforms, he said, had been sought by previous governments of various political stripes "and no one then thought about talking about an end to democracy."
Promising a "delving discussion" in a parliamentary review committee where the opposition has representation, Netanyahu said: "We will complete the reform legislation that will fix what needs fixing, will fully protect individual rights and will restore the public's trust in the justice system."
A survey published by the Israel Democracy Institute on Sunday noted a decline in public trust in the Supreme Court.
The study revealed that 80 percent of left-wing Israelis, 62 percent of centrists, and only 29 percent of right-wingers trust the court.
It also found that most Israelis, (55.6 percent), support the court having the ability to strike down laws passed by the Knesset parliament if they contradict principles of democracy.
Yair Lapid, centrist head of the opposition contested Netanyahu's claim that the judicial reforms reflect the views of the general electorate but said he was open to a measure of reform that would allow change only with a parliamentary super majority.
Source: Fars News Agency
Please click the following URL to read the full text of the original story:
https://english.alarabiya.net/News/middle-east/2023/01/15/Israel-s-Herzog-seeks-to-avert-crisis-over-judicial-shakeup-plan
--------
Iran to get Russian Sukhoi Su-35 fighter jets, defense systems by March
Jnuary ,2023
Iran will receive a number of Russian Sukhoi Su-35 fighter jets by March as part of a military order that includes defense systems, missiles, and helicopters, the semi-official Tasnim news agency reported, citing an interview with a lawmaker.
Shahriar Heydari, who is a member of the Islamic Republic's parliamentary commission for national security and foreign policy, didn't specify the number of aircraft ordered.
"Most of these weapons will enter the country soon. For example, the Sukhoi 35 fighter jets will arrive in Iran at the beginning of next year," Heydari said, referring to the Persian calendar's year starting March 21.
Iran has developed closer ties to Russia since its invasion of Ukraine and has provided Moscow with military drones for its war, prompting tighter sanctions and heavy condemnation from the US and European Union.
Source: Fars News Agency
Please click the following URL to read the full text of the original story:
https://english.alarabiya.net/News/middle-east/2023/01/15/Iran-to-get-Russian-Sukhoi-Su-35-fighter-jets-defense-systems-by-March
--------
Israeli troops kill man in West Bank: Palestinian health ministry
15 January ,2023
Israeli troops shot and killed a Palestinian man in the occupied West Bank on Sunday, the Palestinian Health Ministry said, the latest death in a monthslong spiral of violence between Israelis and Palestinians.
The circumstances behind the death were not immediately clear. Israeli media reported the man was carrying a knife and attempted to stab the soldiers who were standing guard near a Jewish settlement.
The Palestinian Health Ministry identified the man as Ahmad Kahla, 45. The Israeli military had no immediate comment.
Tensions have been surging for months in the occupied territory, where the Israeli military has been staging nightly arrest raids since last spring.
The raids were prompted by a wave of Palestinian attacks against Israelis that killed 19 people, while another 10 Israelis were killed in a second string of attacks later last year.
Nearly 150 Palestinians were killed by Israeli fire in the West Bank and east Jerusalem in 2022, according to figures by the Israeli rights group B'Tselem, making it the deadliest year since 2004. Since the start of this year, 13 Palestinians have been killed, according to a tally by The Associated Press.
Israel says most of the dead were militants. But Palestinian stone-throwers, youths protesting the incursions and others not involved in confrontations also have been killed.
Israel says the raids are meant to dismantle militant networks and thwart future attacks. The Palestinians see them as further entrenchment of Israel's open-ended, 55-year occupation of lands they seek for their future independent state.
Israel captured the West Bank in the 1967 Mideast war, along with the Gaza Strip and east Jerusalem, territories the Palestinians want for their hoped-for state.
Source: Fars News Agency
Please click the following URL to read the full text of the original story:
https://english.alarabiya.net/News/middle-east/2023/01/15/Israeli-troops-kill-man-in-West-Bank-Palestinian-health-ministry
--------
Europe
UK premier condemns Iran's execution of British-Iranian national
Aysu Bicer and Beyza Binnur Donmez
14.01.2023
British Prime Minister Rishi Sunak on Saturday called Iran's execution of a British-Iranian national a "cowardly act," denouncing what he called a killing "by a barbaric regime with no respect for the human rights of their own people."
Earlier on Saturday, Iran announced the execution of Alireza Akbari, a former deputy defense minister, days after he was sentenced to death on charges of spying for Britain.
"I am appalled by the execution of British-Iranian citizen Alireza Akbari in Iran. My thoughts are with Alireza's friends and family," Sunak said on Twitter.
Foreign Secretary James Cleverly also issued a statement following the execution, saying it would not go "unchallenged."
"This barbaric act deserves condemnation in the strongest possible terms. Through this politically motivated act, the Iranian regime has once again shown its callous disregard for human life.
"We will be summoning the Iranian Charge d'Affaires to make clear our disgust at Iran's actions. Our thoughts are with Akbari's family," he said, shortly before the top Iranian diplomat in Britain was in fact summoned.
According to Iran's Mizan News Agency, Akbari was executed on charges of corruption and "extensive acts against the country's internal and external security."
Germany calls execution 'another inhumane act' by Iran
The German Foreign Office expressed solidarity with the UK, calling the execution "another inhumane act" by Tehran.
Source: Anadolu Agency
Please click the following URL to read the full text of the original story:
https://www.aa.com.tr/en/europe/uk-premier-condemns-irans-execution-of-british-iranian-national/2787526
--------
Vandals' attack on mosque triggers backlash from local Bosnians
15/01/2023
A vandals' attack Saturday on a mosque in Bosnia Herzegovina's northeast sparked a backlash and widespread criticism.
According to the local Islamic Union Assembly, the Dasnica Mosque in the city of Bijeljina had its walls urinated on by persons unknown.
The assembly strongly condemned the provocative act and urged the local police to find those responsible.
Emir Muslic, head of the assembly, also said that they will not remain silent.
Source: Yeni Safak
Please click the following URL to read the full text of the original story:
https://www.yenisafak.com/en/world/vandals-attack-on-mosque-triggers-backlash-from-local-bosnians-3658886
--------
Belgium expels Moroccan imam for alleged 'extremism'
15/01/2023
Accused of extremism, a Moroccan imam who fled to Belgium last year after France deported him was in turn expelled on Saturday by Brussels.
Hassan Iquioussen, accused of "inciting hatred and discrimination" by Belgium, was deported after taking refuge there when he was deported by France last summer.
Nicole de Moor, Belgium's secretary of state for asylum and migration, said in a statement that it is not possible for Brussels to allow extremists to stay in the country.
After leaving Brussels, Iquioussen shared images on social media of him being greeted by his family at Casablanca Airport and Moroccan authorities also welcoming him back.
Moroccan authorities have yet to comment on the deportation or the charges against Iquioussen.
"The Moroccan imam made statements that contradicted the values of France, secularism, and the principle of equality between women and men," French Interior Minister Gerald Darmanin said on Twitter last July.
France's Council of State gave the green light for the imam's deportation last August.
Source: Yeni Safak
Please click the following URL to read the full text of the original story:
https://www.yenisafak.com/en/world/belgium-expels-moroccan-imam-for-alleged-extremism-3658893
--------
Turkish student faces discrimination over Sweden's NATO bid, TRT World reveals
By Seda Sevencan
14.01.2023
A professor from Stockholm University barred a Turkish student from attending an internship program over Sweden's NATO bid, TRT World revealed.
TRT World, the English-language news channel of public broadcaster TRT, was granted access to the email sent by Per Carlbring, who leads a clinical psychology research group at the university.
Fatma Zehra S., a third-year undergraduate studying psychology at Istanbul's Ibn Haldun University, was accepted by an Erasmus+ fund for the summer 2023 internship at a university she would choose.
One of the internships she applied for was at Stockholm University in Sweden. On Nov. 23, Fatma sent an email to Carlbring, asking for participation in a research project led by him.
A few hours later, Carlbring replied: "I would love to host you. However, since Turkey does not allow Sweden to join NATO, I have to decline. Sorry!"
Speaking to TRT World, Fatma said, "After getting this answer, I was simply shocked. It took me a long time to process it."
"We receive many inquiries from students who are interested in visiting us as research interns. We are unable to receive them all, but expect that any request is responded to in a professional manner," Fredrik Jonsson, head of the psychology department at Stockholm University, told TRT World.
"In this case, as soon as we learnt about this issue we acted and have handled it according to our routines," he added.
Meanwhile, TRT World said Carlbring did not respond to its request for comment.
It could be 'tip of iceberg'
Fatma registered a formal complaint, believing this incident could just be the "tip of the iceberg."
"If he did this to me, he would do this to other students with different racial backgrounds who apply to the university," she said.
The Turkish student filed a discrimination complaint with the university on Dec. 5, describing the professor's response as being "based on political considerations" and "discriminatory if not completely racist."
"Mixing a simple citizen and student – who wishes to pursue her studies in the best conditions possible – with the political stance of the government of the country she's from is an infamous way of thinking and judging one's skills and character," Fatma wrote in her complaint.
On Dec. 6, she got an answer from Torun Lindholm Ojmyr, the deputy head of the psychology department, apologizing for what happened.
Ojmyr said Carlbring admitted that his behavior was inappropriate and wrong, adding "several active measures are planned at the department going forward," including "training on equal terms and the Swedish Discrimination Act."
Fatma feels it is not enough. "What I wanted them to do is to take active measures about his behavior."
'Childish, racist behavior'
Fatma said she has not yet received a formal apology from the professor himself.
"At this point, I am hoping that he would send me an apology, but he has not, and I am disappointed about it.
"I think this behavior is childish, racist, and really inappropriate. I am mentally strong, but other students who have insecurities about applying to different programs will not be able to recover from such an answer," she said.
Despite the incident, her application was accepted by another psychology professor at the same university, Fatma said, as she plans to go ahead with the internship this summer.
Sweden and Finland formally applied to join NATO in May, abandoning decades of military non-alignment, a decision spurred by Russia's war on Ukraine.
But Türkiye – a NATO member for more than 70 years – voiced objections, accusing the two countries of tolerating and even supporting terror groups, including the PKK and Fetullah Terrorist Organization (FETO).
Last June, Türkiye and the two Nordic countries signed a memorandum at a NATO summit in Madrid to address Ankara's legitimate security concerns, paving the way for their eventual membership in the alliance.
In its more than 35-year terror campaign against Türkiye, the PKK – listed as a terrorist organization by Türkiye, the US and EU – has been responsible for the deaths of over 40,000 people, including women, children and infants.
Source: Anadolu Agency
Please click the following URL to read the full text of the original story:
https://www.aa.com.tr/en/europe/turkish-student-faces-discrimination-over-sweden-s-nato-bid-trt-world-reveals/2787648
--------
Turkey's Erdogan keeps Sweden, Finland, and the world guessing on NATO expansion
16 January ,2023
Six months since Turkey agreed to NATO allies inviting Sweden and Finland to join the alliance, the expansion has stalled as Ankara holds out on ratifying the applications.
Fresh tensions flared last week after protesters in Stockholm affiliated with Kurdish movements hanged an effigy of President Recep Tayyip Erdogan, prompting Turkey to put yet more pressure on Sweden to crack down on outlawed groups.
Now, with a Turkish election due in June, and Erdogan hinting repeatedly that the vote could come in May to keep the opposition off-balance, the situation seems more in limbo — even if NATO diplomats are confident it will be resolved in the end, potentially in time for the alliance's summit in Vilnius in July.
By now, 28 of the North Atlantic Treaty Organization's 30 members have ratified the Nordic application, with Turkey and Hungary the lone holdouts.
The two put in their bids for accession in May following Russia's invasion of Ukraine. Turkey's opposition was a surprise, since it had raised no objections earlier.
An agreement hammered out at NATO's June summit in Madrid allowed the process to move forward, but Ankara's position is little changed.
Turkey says Sweden must do more to tackle terrorist support among a Kurdish population of about 100,000, and to extradite suspects. While Turkey has also made demands of Finland, it's said it is happy with Helsinki's level of cooperation.
Sweden has to "show through actions, and not just through words or statements, that the PKK will not be present, will not be allowed to collect money, or to recruit members," presidential spokesman Ibrahim Kalin said on Saturday. PKK, the Kurdistan Workers' Party, is banned across the European Union and has also been labeled a terrorist organization by the US.
Following last week's demonstration, Turkey summoned Sweden's ambassador, opened a probe, and canceled a planned visit to Ankara by Sweden's top lawmaker. Sweden's government condemned the protests, calling them "disgusting "and an attempt to "sabotage" its NATO bid.
Sweden's government has already tightened its anti-terrorism laws, but has acknowledged it won't be able to meet all of Turkey's demands. Although Sweden has deported at least one of the suspects sought by Erdogan, its government can't overrule courts in extradition cases where the judiciary has declined to send the accused to Ankara.
Erdogan's leverage
For Erdogan, the sway he now has over Finland and Sweden is potentially a once-in-a-lifetime political gift after years of feeling that his concerns over terrorism have been shrugged off by allies.
"He was very unhappy with a number of NATO countries and I'm sure that he wanted to advance his positions in the wider NATO sphere by leveraging the accession of Sweden and Finland," Finnish President Sauli Niinisto said of Erdogan in an interview with Sweden's Dagens Nyheter newspaper on Saturday.
Pushing the demands most notably allows Erdogan, 68, to appear strong to voters as he seeks to extend his rule for another five years.
"Erdogan will hold the Finnish and Swedish NATO memberships hostage for as long as he thinks it will benefit him," said Minna Alander, research fellow at the Finnish Institute for International Affairs. Turkey's leader is likely weighing up whether there's more benefit to him to ratify the bids before or after the election, she said.
NATO diplomats are cautiously optimistic the issues will be resolved in the end, most likely after Turkey's election. One noted that a stronger NATO ultimately works in Turkey's favor, especially in the Black Sea and the Middle East.
The alliance's chief Jens Stoltenberg last week repeated he was confident the Nordic countries' accessions would be ratified. For Finland and Sweden the process — which can take years — has already moved faster than any other in the alliance's modern history, he noted.
US strategy
While it's no surprise Erdogan is looking to use his leverage for as long as possible, there's still a catch: the US, the most powerful country in the military alliance, has put its weight behind the Nordic nations. It's also using a potential $20 billion sale of F-16 fighter aircraft as a lure to get Ankara to fall in line.
The US cautioned Turkey that Congress may not approve the jet sale unless Ankara ratifies Sweden and Finland's NATO bids, said a senior Turkish official speaking anonymously due to the sensitivity of the information. US officials are linking the issues, a person familiar said, but the Biden administration has stoppedshort of telling Ankara that getting the jets only comes with the NATO bids being passed.
That leaves Erdogan to decide whether or when to bend to Washington's pressure.
Should Turkey hold out past its elections, Finnish policy makers have said they're hoping for progress before the Vilnius summit that starts July 11. The Nordic countries hope to attend as members, but as formal invitees to join the alliance they'll be there in any event.
Article 5
The delay in accession means Sweden and Finland aren't yet covered by NATO's collective defense commitment, Article 5. But the security risk is mitigated by commitments made by the US, UK, and others to defend them if they come under attack before becoming full members. "It's inconceivable that Finland and Sweden will face any military threats without NATO reacting to that," Stoltenberg said.
There's also downside to stalling the Nordic bids indefinitely: the longer Erdogan waits, the more questions will be asked by other NATO members on how committed he is to the bloc and allies' security — or whether he's playing into Russia's hands.
Source: Al Arabiya
Please click the following URL to read the full text of the original story:
https://english.alarabiya.net/News/world/2023/01/16/Turkey-s-Erdogan-keeps-Sweden-Finland-and-the-world-guessing-on-NATO-expansion
--------
UK urged to expel Iranian diplomats over 'shocking' execution
January 15, 2023
LONDON: The UK must expel Iranian diplomats in response to the execution of a British-Iranian dual national, a relative of the deceased has told the Daily Telegraph.
Alireza Akbari, a former Iranian deputy defense minister, was charged with spying for Britain before his death.
He said he had endured 3,500 hours of brutal torture before confessing to the charges, leading to his hanging on Saturday.
The 61-year-old served in the reformist administration of former President Mohammad Khatami between 1997 and 2005.
Akbari left Iran for the UK in 2008 after facing harassment by the country's new hard-line regime led by Mahmoud Ahmadinejad. In 2009, Akbari was arrested while visiting Iran on charges of espionage.
His nephew Ramin Forghani told the Telegraph that his uncle's execution "could not go unanswered" and that the UK's minimum response should be the expulsion of Iranian diplomats. The British government urged Iran to abandon Akbari's planned execution but to no avail.
"I'd just woken up when I saw the news. I don't know what to say. It's terrible. It's shocking," said Forghani.
"It wasn't unexpected from this regime but I think we were all expecting them to change their minds like they did with Nazanin Zaghari-Ratcliffe, but it wasn't to be.
"On the diplomatic front, considering that a Briton has been executed despite the calls for his release by Whitehall, the least response would be to expel the staff and recall the British (diplomats).
"I appreciate what the British government did but they're dealing with an unsavory regime that has no regard for human life.
"I hope there will be consequences diplomatically from the British government and this does not remain unanswered."
The UK government on Saturday said it was placing sanctions on Iran's prosecutor general and temporarily recalling its Ambassador in Tehran Simon Shercliff. But British officials have yet to make a decision on the status of Iran's diplomats in London.
Forghani denied the charges leveled against Akbari, saying his uncle was a "patriot" who "did all he could to help the country," including playing a key role in bringing an end to the Iran-Iraq War.
It would be (unthinkable) for him to try to do anything in any shape or form to jeopardize the country or the regime," Forghani told Sky News.
"I can't think of his character being somebody that would try to do anything against the country. That's just not digestible.
"I do believe it is a political game. The regime does anything it can, unfortunately, to suppress the population, but also to distract the global perspective to what is happening to the people in the country."
Forghani told the Telegraph: "Akbari was a good man who was devoted to his family. Brutal regimes do this to good people and unfortunately this was one of those cases.
"I have fond memories of him visiting us pretty much every Iranian New Year regardless of his work schedule. He was kind to me when I was growing up. I remember his smiles.
"As I got older, he could see that I was not a supporter of the regime but regardless of that, because we were family members, he was always kind to me.
"He was always smiling. He would always try to help anybody as much as he could, family or friends, and that's the memory that I will continue to have of him."
Source: Arab News
Please click the following URL to read the full text of the original story:
https://www.arabnews.com/node/2232851/middle-east
--------
PKK/YPG terror group has active account in major Swedish bank: Local media
Atila Altuntas
15.01.2023
STOCKHOLM
Even as Sweden is under pressure to make terrorist groups unwelcome on its soil, the terrorist PKK/YPG has an active account in one of the country's largest banks, SEB, Swedish media reported.
Online outlet Fria Tider reported that pieces of cloth symbolizing the terrorist PKK/YPG were sold for money and the profits from this were deposited into an SEB account.
It added that this money was then transferred to the PKK/YPG – a terrorist group that has killed thousands of people in attacks on both security forces and the public.
The news comes as new anti-terrorist laws came into force in Sweden on Jan. 1, and the new government is being pressed to keep its promises under a memorandum signed last June to crack down on terrorists in order to gain NATO membership.
SEB spokesperson Niklas Magnusson said in a Jan. 5 statement that "the bank complies with legislation and is against illegal trade, which constitutes a crime."
But the outlet reported that the terrorist group's account at the bank and a cellphone collection number are both still active.
Pointing out that SEB has suspended numerous accounts over "financing terrorism and money laundering," Fria Tider described the bank's failure to close the accounts of the terrorist PKK/YPG as hypocrisy.
In its more than 35-year terror campaign against Türkiye, the PKK – listed as a terrorist organization by Türkiye, the US, and EU – has been responsible for the deaths of over 40,000 people, including women, children, and infants. The YPG is its Syrian branch.
Under the June memorandum between Türkiye, Sweden, and Finland, the two Nordic countries pledged to take steps against terrorists in order to gain membership in the NATO alliance, which they are seeking in light of the nearby Russian war on Ukraine.
Unanimous agreement from all NATO members – including Türkiye, a member for more than 70 years – is needed for any new members to be admitted to the alliance.
Source: Anadolu Agency
Please click the following URL to read the full text of the original story:
https://www.aa.com.tr/en/europe/pkk-ypg-terror-group-has-active-account-in-major-swedish-bank-local-media/2788315
--------
France backs compromise between Libya's rival legislative chambers
Walid Abdullah
14.01.2023
The French ambassador to Libya on Saturday reiterated support for a compromise between the country's two rival legislative chambers.
This came during a meeting in the capital Tripoli between Mustafa Maharaj and Khaled al-Mishri, head of the High Council of State (HCS).
According to a council statement, the French envoy reiterated his country's support for a compromise between the council and the Libyan parliament to reach consensus on electoral laws and legislation to achieve stability in Libya.
The two sides discussed current political issues in Libya, especially the recent meetings on the consensual constitutional basis with the two chambers.
Last week, the heads of the two rival chambers met in Egypt, where they agreed to draft a roadmap for long-awaited elections.
Oil-rich Libya has remained in turmoil since 2011 when longtime ruler Muammar Gaddafi was ousted after four decades in power.
Source: Anadolu Agency
Please click the following URL to read the full text of the original story:
https://www.aa.com.tr/en/europe/france-backs-compromise-between-libya-s-rival-legislative-chambers/2787795
--------
URL: https://newageislam.com/islamic-world-news/belagavi-fathima-mosque-sene/d/128888
New Age Islam, Islam Online, Islamic Website, African Muslim News, Arab World News, South Asia News, Indian Muslim News, World Muslim News, Women in Islam, Islamic Feminism, Arab Women, Women In Arab, Islamophobia in America, Muslim Women in West, Islam Women and Feminism