New Age Islam News Bureau
2 Aug 2020
• Erdogan: Eid More Joyous with Hagia Sophia Mosque
• Victorian Muslims Get Creative with Eid al-Adha by Distributing Eid Gifts to Every Household
• Delhi High Court Notice to Police on Petitions Seeking to Quash FIRs Against Foreign Tablighi Jamaat Members
• Support to FATF Bills Was Meant to Get Pakistan Out of Grey List: PML-N
• How One Business Is Modernizing the Islamic Wall Art Scene in Chicago
• By Introducing Local Lockdowns Three Hours Before Eid, The Government Unfairly Penalised Muslims in Northern England
--------
South Asia
• Beijing Mosques Host Eid Al-Adha Prayers
• Afghan troops kill senior Islamic state militant
• Eid-ul-Adha - Facilities for Muslims to engage in religious observance: Prez
--------
Mideast
• Erdogan: Eid More Joyous with Hagia Sophia Mosque
• Iran Says It Arrested U.S.-Based Terror Leader Linked to Mosque Bombing
• Erdoğan Extends Eid Greetings to Muslim Leaders
• Imam Khamenei: Time between Eid Al-Adha to Eid Al-Ghadir an epoch of Imamate
• Iran elected to chair Executive Board of United Nations Human Settlements Program despite US obstruction
-------
Australia
• Victorian Muslims Get Creative with Eid al-Adha by Distributing Eid Gifts to Every Household
------
India
• Delhi High Court Notice to Police on Petitions Seeking to Quash FIRs Against Foreign Tablighi Jamaat Members
• Mosques in Hyderabad Asked to Limit Visitors To 5-At-A-Time
• Hyderabad Shorn of Its Vibrant Eid-Al-Adha Celebrations Owing to Coronavirus Outbreak
• Muslims In Kashmir Valley Offer Eid Prayers While Maintaining Social Distancing
-------
Pakistan
• Support to FATF Bills Was Meant to Get Pakistan Out of Grey List: PML-N
• 'Observe Sops, Take Care of The Needy': Pakistani Leaders Wish Nation On Eidul Azha
• Call to observe Kashmir annexation day
• KP amends law to regularise those working for absentee Khasadars
------
North America
• How One Business Is Modernizing the Islamic Wall Art Scene in Chicago
• AHCEC Developed Reality Model of Second-holiest City in Islam
• WHO warns coronavirus pandemic will be lengthy
--------
Europe
• By Introducing Local Lockdowns Three Hours Before Eid, The Government Unfairly Penalised Muslims in Northern England
• Preston's Mosques Go 'Above and Beyond' To Keep Communities Safe During Eid Celebrations
• Ireland's Muslims Flock to Sporting Grounds to Celebrate Eid
• 'Iconic' Croker shows religious unity on Muslims' special day
---------
Africa
• Lagos Eases Coronavirus Lockdown, Reopening Churches, Mosques
• President Akufo-Addo joins Muslims to celebrate Eid in Kumasi
• Governor Yahaya, others observe Eid prayers at Gombe Juma'at mosque
• Bauchi Chief Imam appeals to govt to pay salaries
• Muslim leaders call for peace
----------
Arab world
• Muslims Worldwide Celebrate Eid Al-Adha
• Coronavirus amid Hajj: Mecca security use 6,250 cameras to monitor holy sites
• Nearly 2,400 liters of sanitizers used daily to clean Grand Mosque
• Custodian of the Two Holy Mosques Congratulates President of Niger on Independence Day
• Muslim World League inaugurates project to distribute meat in Pakistan
• Egyptian battalions arrive at Yemen western coast, Arab countries fears Turkey's control Bab el-Mandeb Strait
--------
Southeast Asia
• Islamic Finance Seen As Driver For FDI Inflow To Philippines, Say Govt Officials
• Bank Islam Offers Targeted Repayment Assistance for Customers
• Karak, East Coast highways operator pleads with Muslim motorists not to pray on emergency lanes
• IRF appoints new chief amid investigation into alleged sexual assault by director
Compiled by New Age Islam News Bureau
URL: https://www.newageislam.com/islamic-world-news/beijing-mosques-host-eid-al/d/122521
--------
Beijing mosques host Eid al-Adha prayers
August 1, 2020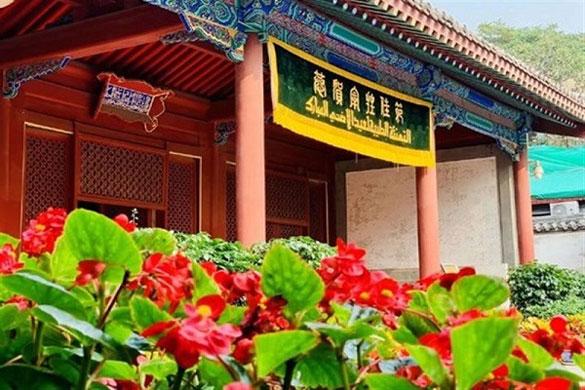 Mosques in the Chinese capital of Beijing hosted Eid al-Adha prayers on Friday.
------
Mosques in the Chinese capital of Beijing hosted Eid al-Adha prayers on Friday.
The mosques had been reopened a day earlier after the authorities' success in containing the coronavirus outbreak.
The ritual of sacrifice (slaughter of animals), however, was cancelled in order to prevent the spread of the disease.
The worshippers were all wearing masks and observing social distancing. Their body temperature was also measured before entering mosques.
The Islamic Association of China in a statement congratulated Muslims on Eid and called for solidarity and cooperation in the fight against the coronavirus.
Eid al-Adha is one of the greatest celebrations of Muslims all over the world and is celebrated from 1 to 4 days depending on different countries.
Also known as the sacrifice feast, it is celebrated to honor the dedication and willingness of Prophet Abraham (AS) to sacrifice his son as an act of submission on God's command.
Usually, on Eid people wear their best clothes and go to meet friends and relatives and have fun after saying special prayers.
This year, however, the celebrations were held in a limited manner in order to prevent further spread of COVID-19.
https://en.abna24.com/news//beijing-mosques-host-eid-al-adha-prayers_1059192.html
--------
Erdogan: Eid more joyous with Hagia Sophia Mosque
Merve Yildizalp Ozmen
01.08.2020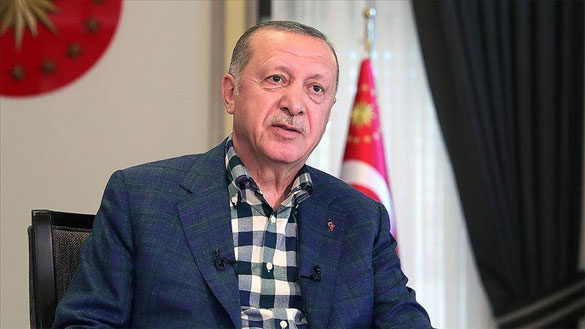 The president of Turkey on Aug. 1 said the reopening of the Hagia Sophia as a mosque made the Muslim festival of Eid al-Adha even more joyous.
-------
The president of Turkey on Saturday said the reopening of the Hagia Sophia as a mosque made the Muslim festival of Eid al-Adha even more joyous.
"The reopening of the Hagia Sophia grand Mosque -- an 86-year wound in the heart of our nation -- has added to the joy of our Eid," Recep Tayyip Erdogan said, greeting local officials of his ruling Justice and Development (AK) Party for the holiday via video-link.
Erdogan said he sought to hold an upcoming party congress as a "new resurrection, a new rising milestone."
The next AK Party congress is expected to be held towards the end of 2020 while observing health and safety measures against the novel coronavirus.
Erdogan said those who "see themselves above the nation" could not be a member of the AK Party.
"We'll increase our friends, we'll reduce our enemies," he said. "The reason for the existence of the AK Party, the reason why we take on these duties and the reason for people's hope in us are the same."
On July 24, Friday's prayers in the Hagia Sophia Grand Mosque marked the first acts of worship there in 86 years.
The Hagia Sophia served as a church for 916 years until the conquest of Istanbul, and a mosque from 1453 to 1934 -- nearly 500 years -- and most recently as a museum for 86 years.
In 1985, Hagia Sophia was added to the UNESCO World Heritage List.
Besides being a mosque, the Hagia Sophia is also among Turkey's top tourism destinations and will remain open for domestic and foreign visitors.
https://www.aa.com.tr/en/culture/erdogan-eid-more-joyous-with-hagia-sophia-mosque/1929024
-------
Victorian Muslims Get Creative with Eid al-Adha by Distributing Eid Gifts to Every Household
AUGUST 2 2020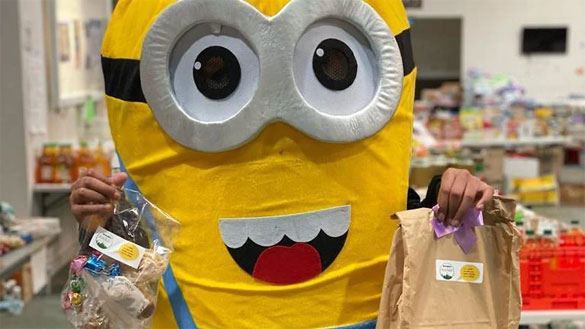 Eid al-Adha gift bags made by youth volunteers for public housing residents across nine Melbourne buildings. Source: AMSSA YOUTH CONNECT
------
Victorian Muslims have been creative this weekend as they celebrate the festival of Eid al-Adha.
Typically marked with mosque visits and family get-togethers, the annual 'Festival of Sacrifice' is the last of two annual holidays celebrated by Muslims everywhere.
Melbourne residents in the nine towers subject to strict lockdown orders in early July house many members of the Islamic faith.
On Saturday, there were 311 active cases across the North Melbourne and Flemington public housing buildings meaning many residents continue in isolation.
The Australian Muslim Social Services Agency, which has been tirelessly providing for residents since strict lockdowns were enforced, decided at the last minute to bring Eid gifts to every household.
Volunteers packed 1500 bags with traditional middle eastern sweets, arts, crafts and toys and delivered them on Friday to all nine towers, including to the non-Muslim residents.
AMSSA Youth Connect project manager Abdiqafar Ururshe said it was special to see the excitement on faces of the children.
"Their parents were just saying 'thank you so much for bringing Eid to our homes'," he told AAP.
In pre-pandemic times, up to 2000 of these residents would congregate downstairs from the Flemington towers for annual Eid al-Adha celebrations, so a quiet Eid had an element of sadness.
But Mr Ururshe said people's efforts to stay home at this time were an act of sacrifice for the greater good - a fitting parallel with the themes of the festival.
Muslims believe the Prophet Abraham was tested by God who commanded him to sacrifice his first-born son Ishmail. Abraham showed his commitment to God by being prepared to do as he was told. Instead, God told him to sacrifice a lamb.
Eid al-Adha also marks the culmination of the hajj - a spiritual pilgrimage - to Mecca in Saudi Arabia.
The Preston Mosque community in the city's north is embracing video conferencing for Eid family catch-ups, the chair of the mosque building Moustafa Fahour OAM said.
It was sad not to be able to attend the mosque, but more quality time with family was a plus, he said.
"It's part of our religion to abide by these lockdowns to protect our community and our country," Mr Fahour said.
The Islamic community in Bendigo in central Victoria is not yet subject to stage three restrictions but restrictions on gatherings mean limitations on celebrations are the same.
Community spokesman Heri Febriyanto said prayers and speeches were broadcast to members, many of whom are healthcare workers, via Zoom.
The Department of Health and Human Services on Saturday urged Victorians to protect their community during Eid al-Adha.
"We understand this is a sacrifice for Victorian Muslims, but while we may be physically apart, we can be spiritually connected," Chief Health Officer Brett Sutton said.
https://www.canberratimes.com.au/story/6860018/vic-muslims-get-creative-with-eid-al-adha/?cs=14231
-------
Delhi High Court Notice To Police On Petitions Seeking To Quash FIRs Against Foreign Tablighi Jamaat Members
August 01, 2020
New Delhi: The Delhi High Court on Friday issued a notice to Delhi Police on two petitions filed by some foreign Tablighi Jamaat members seeking to quash FIRs registered against them as they are unable to fly back due to it.
These foreign members have already entered plea bargaining in similar charges related to the congregation at Nizamuddin Markaz in the national capital.
A single-judge bench of Justice Anup Jairam Bhambhani asked the government and Delhi Police to file a reply on the two petitions filed by some foreign members of Tablighi Jamaat and listed the matter for August 10.
The High Court observed that the petitioners are unable to travel back to their countries due to these FIR.
The petitioners were represented by senior advocate Rebecca M John.
In the two petitions filed by advocates Ashima Mandla and Mandakini Singh, the petitioners told the court that the foreign nationals have been charged in these FIRs under the same sections as in FIR registered at police station crime branch in Markaj matter, for which majority of them entered plea bargaining and paid fines.
Now, when the time for their deportation has come, they are unable to fly back due to FIRs, the petitioners said.
The petitioners have sought quashing of two FIRs registered at police station Seelampur under various sections of the Indian Penal Code (IPC) and the Epidemic Diseases Act.
Petitions stated that the FIRs registered at Seelampur are untenable in law as they have already entered plea bargaining in the same charges registered by Crime Branch.
They have also sought directions to the respondents to close the LoC (lookout circular) issued qua foreign national petitioners.
In the case being probed by Crime Branch, the foreign national petitioners have duly entered plea bargaining and consequent deportation orders have been issued by the court.
PromotedListen to the latest songs, only on JioSaavn.com
They said that the FIRs before this court are similar to the FIR of Crime Branch, in which 911 of the 955 foreigner jamaatis have concluded plea bargaining.
"Under the law, second FIR is impermissible and there is an operational bar from prosecution of same offences arising out of the corresponding cause of action under Article 20(2) of the constitution of India (widely known as the doctrine of double jeopardy) as well as section 300 of the CrPC," the petitioner said.
https://www.ndtv.com/delhi-news/delhi-high-court-notice-to-police-on-petitions-seeking-to-quash-firs-against-foreign-islamic-sect-members-2272320
-------
Support to FATF bills was meant to get Pakistan out of grey list: PML-N
Zulqernain Tahir
02 Aug 2020
LAHORE: Giving reasons behind 'unconditional' support of the FATF-related bills in the Senate, a close aide to former premier Nawaz Sharif said the opposition did so to get Pakistan out of the grey list.
"Had we not supported the Financial Action Task Force (FATF) related bills (the Anti-Terrorism (Amendment) Bill, 2020, and the United Nations Security Council Amendment Bill, 2020) and if Pakistan was put in the black list subsequently, the opposition would have been blamed for it," PML-N Senator Pervaiz Rashid told Dawn on Friday.
Senator Rashid said it was not only this reason but also both laws existed here in some form and there was nothing objectionable in them. "The opposition voted for both the bills on merit. Now after the passage of these bills it is the test for the PTI government to pull the country out of the grey list," he said.
The government on Wednesday last got both the bills passed through a majority voice vote amid opposition protest as the amendments it had proposed were not accommodated. The opposition, mainly comprising PML-N and PPP, has majority in the Senate and however on Thursday it supported both bills after 'some' of its amendments were adopted.
The Jamiat Ulema-i-Islam (JUI-F), another opposition party, protested against the act of the PML-N and the PPP for helping the government in getting the FATF-related bills passed in parliament.
Pervaiz Rashid said the opposition had not supported both bills in the National Assembly because the government had not adopted a laid-down procedure.
"We supported it after the government adopted the procedure and sent the bills to the standing committee before its laying in the Senate," he said.
To a question about the future of the opposition alliance to oust the Imran Khan government as claimed by Opposition Leader in National Assembly and PML-N president Shahbaz Sharif after the JUI-F's annoyance, Mr Rashid said: "The JUI-F is not going anywhere. It had reservations for not being consulted by the PML-N and PPP over this matter. We have tendered an apology to it (JUI-F) and it will be with us in any movement against the PTI government," the PML-N Senator said.
According to sources, the establishment remained in contact with both the PML-N and PPP regarding the passage of the FATF-related bills.
"And this contact helped the passage of the two bills," they said and added that the JUI-F was not contacted by the establishment for the purpose.
Meanwhile, PML-N secretary general Ahsan Iqbal told a presser in Model Town that the government wanted to put Pakistanis in jail and target the opposition in the name of FATF which it did not allow.
"Ministers and advisers created confusion over this matter, even Prime Minister Imran Khan Niazi tried to give some other colour to the opposition's amendments," Mr Iqbal said, adding whenever the opposition exposed the government's corruption, incompetence and failures on all fronts Mr Niazi would start the rant that he would not give NRO to it.
"Who is seeking NRO from him," he asked and said the PML-N leadership would not budge from its principles and was not afraid of going to jail.
The former interior minister said the government was keen to frame new laws keeping in view Nawaz Sharif and Ishaq Dar.
https://www.dawn.com/news/1572290/support-to-fatf-bills-was-meant-to-get-pakistan-out-of-grey-list-pml-n
--------
How One Business Is Modernizing The Islamic Wall Art Scene in Chicago
Aug 1, 2020
Sakina Akbar empowers moms through her small business known as Khitati. A family-run business based out of the suburbs of Chicago, Khitati provides innovative yet elegant handcrafted Islamic art pieces to beautify homes. From designing sketches to moulding and painting, all their manufacturing is handmade. Sakina helps to oversee that each piece is created with care and perfection while maintaining high quality standards. The experience and knowledge of working with composite material comes from Khitati's parent company, US Railings, which has been producing construction material for North America for the past several years.
The true inspiration behind starting Khitati was through Sakina's father's vision. While a physician by profession, Shahzad Akbar is an inventor by heart. Khitati's products are made with resin. He used his expertise to make sculptural Islamic wall art as an experiment. The goal was to make souvenirs for retailers in Saudi Arabia to be sold to people who visited the area from all across the globe. Sakina loved how the experiment worked out and admired his craftsmanship. Having recently bought a new home, she knew that modern and high-quality Islamic wall art pieces that can complement contemporary interior styles come with a hefty price tag. Sakina and her father wanted to develop products that would unite faith and modern design in harmony. They wanted to feature art pieces that display verses from the Quran to serve as daily reminders for themselves and the next generation. Living in the United States, it was important for Sakina to highlight these elements of her religion to bring blessings to homes.
"Coming from a long line of business owners from both sides of the family, I have entrepreneurship in my blood. I started dipping my hands in business from a young age," Sakina says. She wanted to find a way for stay at home moms to earn. "I was familiar with the struggles and how important having a small source of income for yourself can be. We provide them with flexibility and a wholesome working environment where they know the time they are spending away from family and commitments is toward something meaningful."
With Sakina's interior design background along with her father's creativity, Khitati uses their collaborative knowledge to fall back on when it comes to design input. As a family-run business, Sakina's mother, Samira Shahzad also contributes by making exclusive canvas art that integrates Khitati pieces. She uses her natural talent for blending aesthetically pleasing colors together to make textured canvas art that compliments Khitati's products and adds to their product range.
Fervent about promoting God's name in homes, Sakina believes that there are miracles that happen and doors of opportunities open. Khitati does just that for its customers. "We started with next to no investment and by the grace of Allah (God) slowly and steadily, Khitati started standing on its own. If you have the drive and determination and work your hardest, Allah takes care of the rest," Sakina elaborates.
Sakina's brother, Abdullah Akbar, co-owner of US Railings, heads their newly operational unit in Pakistan where Khitati helps provide training and jobs to the underprivileged. Their Pakistani unit caters to the Middle Eastern and Asian market.
Khitati supports numerous charitable organizations run by Shahzad in Pakistan. A percentage of their sales goes a long way in helping educate and providing healthcare for the impoverished abroad. "As you support Khitati, your money is used to support numerous platforms," Sakina says. She is excited for what Khitati has to offer in the future for all. Keeping quality and craftsmanship at their forefront they work together towards a common goal of making Khitati a globally renowned brand.
https://www.forbes.com/sites/tasmihakhan/2020/08/01/how-one-business-is-modernizing-the-islamic-wall-art-scene/#33cc5a1860d9
--------
By Introducing Local Lockdowns Three Hours Before Eid, The Government Unfairly Penalised Muslims in Northern England
1 Aug 2020
Zoya Raza-Sheikh
Then, suddenly, an influx of messages come in asking if you've seen the new announcement. It all feels a bit off: a new lockdown announcement over Twitter? Surely not. Health Secretary Matt Hancock took to the social media site on July 30 to unveil new restrictions that impact Northern England. In his tweets, Hancock marked out Greater Manchester, East Lancashire and parts of West Yorkshire as areas covered by the new lockdown regulations, barely hours before these new guidelines would come into play at midnight. In a matter of minutes, the new announcement made my family and I reconsider all our Eid al-Adha plans, one of the holiest days in the Islamic calendar. ADVERTISEMENT Top articles by Metro Hundreds of protesters march through Brixton to mark Afrikan Emancipation Day READ MORE SKIP AD What would have been a small, socially distanced get-together in open space, sharing stories and food quickly fell apart. Instead, we had a chat full of questions and confusion. Visit our live blog for the latest updates: Coronavirus news live Even though I don't live in the North, so wasn't personally impacted by these new lockdowns, our family felt the pressure to reconsider our plans because of the rising infections across England. I watched as messages and voice notes were traded in an effort to figure out what the safest legal option was. In the end, our plans were called off and we chose to celebrate separately. Uncertainty around whether we would be allowed groups of up to six people from different households or groups of 30 became a fresh talking point and the lack of clarity around Government guidelines had never been so evident. We knew, in the end, it was safer to avoid socially distanced meet up at the risk of becoming used as an example by the public or worse. I can't help but think that if this were Christmas, we wouldn't be hearing about a surprise change on guidelines with three hours notice. Now, a day later, I'm still in shock and disbelief at the Government's strategy, but more than anything I'm angry. Don't get me wrong, I can understand the logic behind a local lockdown and with the BAME population being at a greater risk from coronavirus, I see sense in the need to focus efforts on specific areas, but the Government's impromptu strategy was not only outrageous, but grossly timed. Nazra, 30, lives in Leicester and explains how her plans for Eid were thwarted as the city was put under local lockdown in late June. 'We had made arrangements to have a small meet up and we were hoping restrictions would be loosely lifted to allow us to celebrate,' she says. 1/4 We're constantly looking at the latest data on the spread of coronavirus, and unfortunately we've seen an increasing rate of transmission in parts of Northern England.— Matt Hancock (@MattHancock) July 30, 2020 'In the end the whole process has been very confusing and so disheartening. My friends and I have felt neglected by the Government in that we weren't provided information soon enough or clearly enough, so we decided to postpone celebrations. I've been at home by myself, which hasn't been nice.' Iqra, 26, lives in Manchester and described the announcement as a 'farce' and continues to question why there was no press conference. As three of her family members are at risk, they decided to celebrate indoors as a single household, adding: 'Announcing three hours before Eid is bad planning at best and discriminatory at worst, considering that the Northern cities locking down have huge Muslim populations'. To hear my friends in Manchester and Leicester be forced to cancel plans or call off celebrations during such an emotionally difficult time was heartbreaking. While the Government aims to usher as much of the public as possible into busy bars or entice them with money off vouchers towards restaurants, we're left in a pool of guilt being lectured about Covid-19 transmissions due to the same socially distanced family and friend visits that help our community get by. Craig Whittaker, Tory MP of the West Yorkshire constituency, stated: 'It is the BAME community that are not taking this seriously enough.' To hear Whittaker's comments on the day the new restrictions were announced was like rubbing salt into the wound. It was an appalling remark by the MP and is one that feeds into the double standards existing around lockdown. It felt like an obvious attempt to stigmatise an entire community. To be called out specifically, ahead of Eid, while rules of social distancing are flagrantly ignored by many was painful. It's a double standard that continues to edge closer towards scapegoating a religious celebration as an opportunity to fault Muslims and ethnic minority households, as if they are responsible for the rising infections. If anything, I ask, where was this energy during the Veteran's Day street parties, during the Leeds United football open-top bus celebration (which drew in hundreds of fans), or during late May when the public flocked to beaches ignoring social distance regulations despite lockdown? What feels like blatant hypocrisy continues to make many of us feel like a targeted community. If, as the Government says, large gatherings of people are what led to a spike in transmissions, then why not close the spaces like bars, restaurants, or pubs that encourage large groups? Instead, we are left a ridiculous attempt to justify our history of safe social distancing during a unique holiday celebration. It's either this, or it means group meetings are fine as long as we cash out for our economy.
https://metro.co.uk/2020/08/01/introducing-local-lockdowns-three-hours-before-eid-government-unfairly-penalising-muslims-13068795/
-------
South Asia
Afghan troops kill senior Islamic state militant
2 August 2020
KABUL, Afghanistan (AP) - The Afghan intelligence service says it has killed a high ranking official with the Islamic State affiliate in an operation in eastern Afghanistan.
A statement released by the National Directorate of Security late Saturday said Assadullah Orakzai was an intelligence leader for the Islamic State and special forces killed him near Jalalabad.
Orakzai was suspected of being involved in several deadly attacks against both military and civilian targets in Afghanistan.
Last week, a United Nations report said Afghanistan saw a 13% drop in the number of civilians killed and wounded in violence across the country in the first six months of the year, compared to the same period last year.
The report credited the drop in casualties in part to the reduction of operations by international forces - which now only act when called upon and in support of the Afghan forces - and also to a decrease in the number of attacks by the Islamic State group.
The report said the U.N. had recorded 17 attacks by IS causing civilian casualties during the first six months of 2020, down from 97 attacks in the same period last year. Overall, the U.N. said 1,282 people were killed in violence in the first six months of 2020 in Afghanistan and 2,176 were wounded.
In March, a lone Islamic State gunman rampaged through a Sikh house of worship in the heart of the Afghan capital, killing 25 worshipers and wounding eight.
The gunman held many worshipers hostage for several hours while Afghan special forces, helped by international troops, tried to clear the building. At least one of the dead was a child.
Within hours, the Islamic State group claimed responsibility for the attack.
The Afghan special forces rescued at least 80 worshipers who had been trapped inside the Sikh house of worship, known as a Gurdwara, as the gunman lobbed grenades and fired his automatic rifle into the crowd.
https://www.dailymail.co.uk/wires/ap/article-8584883/Afghan-troops-kill-senior-Islamic-state-militant.html
--------
Eid-ul-Adha - Facilities for Muslims to engage in religious observance: Prez
1 August 2020
In his Hajj Message, President Gotabaya Rajapaksa said the Government has provided all necessary facilities to the Muslim community to engage in their religious observances.
In his message, he said, "It is with pleasure that I offer my felicitations to Sri Lankan Muslims and their fellow devotees the world over on this occasion of Eid-ul-Adha.
On this day of Hajj, Muslims commemorate the immense sacrifices made by Nabi Ibrahim and his family members in honour and respect of God.
During this season a large number of Muslims from around the world gather in Mecca for the Hajj pilgrimage considered as the fifth pillar of the Islamic faith.
Although the Muslim devotees are compelled to refrain from visiting Holy Mecca due to the COVID-19 pandemic which has enveloped the globe, I believe that the Hajj festival this year too will be an occasion for them to embrace the greatness of Allah and the spirit of peaceful coexistence.
The Government of Sri Lanka being aware of the significance of Hajj festival has provided all necessary facilities for the Muslim community to engage in their religious observances.
I am confident that the Muslim community in Sri Lanka which lived in peace and harmony with all the other communities throughout our history in accordance with the teachings of the Holy Quran and contributed to the prosperity of this nation would continue that tradition in future as well.
I wish every Muslim of Sri Lanka a happy Eid-ul-Adha festival."
http://www.dailymirror.lk/breaking_news/Eid-ul-Adha-Facilities-for-Muslims-to-engage-in-religious-observance-Prez/108-193036
------
Mideast
Iran says it arrested U.S.-based terror leader linked to mosque bombing
ByChristen McCurdy
AUG. 1, 2020
Aug. 1 (UPI) -- Iran's Intelligence Ministry said Saturday that it arrested the leader of what it describes as a terror group based in the United States.
In its announcement, the ministry said its forces have dealt a "heavy and serious blow" to the group known as Tondar, which translates as Thunder.
A statement read on Iran state television said Thunder's leader, Jamshid Sharmahd, is now "in the powerful hands" of Iran's security forces but did not offer detail as to how he was taken into custody.
Thunder, also known as the Kingdom Assembly of Iran, seeks to restore monarchy in the country.
Social media accounts for Sharmahd describe him as a broadcaster for the organization and say he lived in Los Angeles.
The group has been accused of bombing a mosque in 2008 that killed 14 people and injured more than 200 others in Shiraz, a city in the south of Iran.
Iran's government said Saturday that the group was planning other violent attacks.
Iran's monarchy ended when Shah Mohammad Reza Pahlavi fled the country in 1979 just before the Islamic revolution.
https://www.upi.com/Top_News/World-News/2020/08/01/Iran-says-it-arrested-US-based-terror-leader-linked-to-mosque-bombing/7611596310864/?ur3=1
-------
Erdoğan extends Eid greetings to Muslim leaders
August 02, 2020
Turkey's President Recep Tayyip Erdogan on Saturday held a phone talk with his counterparts from Kazakhstan and Tajikistan on the occasion of Eid al-Adha, one of the two most important Muslim holidays.
According to a statement by Turkey's Directorate of Communications, Erdogan extended Eid greetings to Kazakhstan's President Kassym-Jomart Tokayev, Kazakhstan's founding President Nursultan Nazarbayev and Tajikistan's Emomali Rahmon on the second day of the Eid al-Adha.
Most of the Muslim-majority countries around the world, including Turkey, are observing the four-day holiday that started on Friday.
https://www.yenisafak.com/en/news/erdogan-extends-eid-greetings-to-muslim-leaders-3535910
-------
Imam Khamenei: Time between Eid Al-Adha to Eid Al-Ghadir an epoch of Imamate
August 1, 2020
I would also like to congratulate the entire Iranian nation and all Muslims throughout the world on Eid al-Adha.
The next occasion is the Day of Arafat and Eid al-Adha. In fact, the period from Eid al-Adha to Eid al-Ghadir is associated with the issue of imamate [leadership]. Allah the Exalted says in the Holy Quran, "And when his Lord tried Ibrahim with certain commands he fulfilled them. He said: Surely I will make you a leader of men." [The Holy Quran, 2: 124] Ibrahim was selected by God to be an Imam [leader]. Why? Because he underwent difficult tests. We can think of the period between Eid al-Adha and Eid al-Ghadir - when Ali ibn Abi Talib (a.s.) became an Imam - as the beginning of this. Imam Ali was also appointed as leader after he went through difficult tests. The Commander of the Faithful underwent different tests throughout his life and managed to emerge victorious out of all these tests. From the age of 11 or 13 when he accepted prophethood to the time when the Holy Prophet (s.w.a.) immigrated to Medina, Imam Ali (a.s.) was a selfless young man who was prepared to lay down his life for the sake of the Holy Prophet - and he proved this on the night the Holy Prophet left Mecca for Medina. Afterwards, he went through those difficult tests in such battles as Badr, Uhud, and Khaibar. His high position was the result of those tests. Therefore, people feel in their hearts that there is a connection between Eid al-Adha and Eid al-Ghadir. Some people have appropriately named the period between these two occasions as "the imamate period".
If we pay attention to the philosophy inherent in Eid al-Adha, many paths will be opened up for us. A select Messenger of the Righteous One, Prophet Ibrahim (a.s.), made a sacrifice on Eid al-Adha. In some cases, sacrificing your loved ones is beyond sacrificing your life. Prophet Ibrahim was about to sacrifice a loved one in the way of God - a young child whom Allah the Exalted had bestowed on him at an old age after a lifetime of waiting. "Praise be to Allah, Who has given me in old age Ismail and Ishaq. Most surely my Lord is the Hearer of prayer." [The Holy Quran, 14: 39] Allah the Exalted had bestowed these two sons on him at an old age, probably after a lifetime of impatient waiting. He had no hope of getting another child at that age. The Master of the Martyrs of the entire world, Imam Hussein (a.s.), who is the symbol of sacrifice and martyrdom, remembers this event in the holy prayer of Arafah: "And Ibrahim decided to sacrifice his son at an old age after waiting a lifetime." This is part of a dua by Imam Hussein (a.s.) in Arafah, a dua that was recited by hajjis yesterday.
This sacrifice is a symbol for the faithful people who want to tread the path of truth, transcendence and perfection. This is impossible without a sacrifice. In fact, all the tests that we go through involve one essential element - all tests involve a sacrifice. Sometimes this involves sacrificing your life and wealth. Other times it involves forgiving somebody for a comment he makes and insists on stubbornly. Yet other times it involves sacrificing your dear ones - your children and your loved ones. Being tested means going through hardships. When a hardship is placed in the way of an individual or a people, going through this hardship is a test. If they go through this hardship, they will reach the desired destination. And if they fail - if they fail to utilize the talent within them, if they fail to overcome their passions - they will fall by the wayside. This is what a test is. God does not put us through divine tests in order to get to know us and see at what level we are. Divine tests are in fact a step towards one's destination. When we are tested and we manage to go through the hardships of tests, we enter a new situation, a new stage of life. A nation and an individual are not different from one another in this regard.
https://en.abna24.com/news//imam-khamenei-time-between-eid-al-adha-to-eid-al-ghadir-an-epoch-of-imamate_1059172.html
-------
Iran elected to chair Executive Board of United Nations Human Settlements Program despite US obstruction
02 August 2020
Iran has been elected to chair a council at the United Nations program for human settlements and sustainable urban development for one year despite opposition and obstruction from the United States.
According to a statement released by the Foreign Ministry on Saturday, Iran was voted by consensus and without any opposition as the chair of the Executive Council of the United Nations Human Settlement Program (UN-Habitat) from 2020 to 2021.
The statement said US representatives tried to challenge the consensus among members of the council, and disrupted the election process to stonewall Iran's presidency.
Washington even threatened to withdraw from UN-Habitat and cut all US funding for the United Nations program if Iran were elected to the council.
"Even though the United States used all available financial, political and organizational mechanisms, including pressure on the Secretariat and other countries, Iran pursued diplomatic and rational channels" to gather support for the chair, the statement said.
The US finally had no option but to retreat from its position and the Islamic Republic of Iran was selected as the chair of the Executive Council of UN-Habitat in a separate online meeting, it added.
UN-Habitat is mandated by the UN General Assembly to promote socially and environmentally sustainable towns and cities with the goal of providing adequate shelter for all.
The main documents outlining the mandate of the organization are the Vancouver Declaration on Human Settlements, Habitat Agenda, Istanbul Declaration on Human Settlements, the Declaration on Cities and Other Human Settlements in the New Millennium, and Resolution 56/206.
Tensions between Iran and the United States have been soaring after President Donald Trump on May 8, 2018 officially announced Washington's unilateral withdrawal from the landmark 2015 nuclear deal officially known as the Joint Comprehensive Plan of Action (JCPOA).
Following its withdrawal, the US unleashed the so-called maximum pressure campaign against Iran and targeted the Iranian nation with the "toughest ever" economic sanctions.
https://www.presstv.com/Detail/2020/08/02/630901/Iran-elected-to-chair-Executive-Board-of-United-Nations-Human-Settlements-Program-despite-US-obstruction
-------
India
Mosques in Hyderabad Asked to Limit Visitors To 5-At-A-Time
02nd August 2020
HYDERABAD: Keeping in mind the spread of Covid-19, the police have served notices to several mosques in the city to allow only five persons to offer prayers at a time.
Following the notices, some persons approached police officials to consider allowing 50 persons for offering prayers. Citing the order of Telangana State Waqf Board to allow 50 persons at a time to mosques, one Syed Ali Jaffry requested police officials to relax the restriction and allow more devotees to enter mosques.
Chikkadpally police have served a notice to a mosque management stating that it must take precautionary measures to maintain social distancing, and mandate visitors to wear masks while offering prayers. Police also requested members of several committees to co-operate with them to enforce rules during Bakrid.
https://www.newindianexpress.com/cities/hyderabad/2020/aug/02/mosques-asked-to-limit-visitors-to-5-at-a-time-2177928.html
--------
Hyderabad Shorn Of Its Vibrant Eid-Al-Adha Celebrations Owing To Coronavirus Outbreak
Aug 2, 2020
Hyderabad: The city was shorn of its vibrant Eid-al-Adha celebrations this year owing to social distancing norms in view of the coronavirus outbreak. Hyderabad had not seen such low-key Bakrid celebrations in recent decades as roads, idgahs and mosques remained empty across the city.
"Every year, there are at least 25,000 to 30,000 people offering prayers at Mecca Masjid alone," Mohammad Yousuf, a resident of Shalibanda. "The entire road from Shalibanda, Gulzar Houz and Mecca Masjid used to be filled with people every year. The number of people who visited the mosques for prayers was nothing compared to what it was earlier." A few mosques at Nampally, Red Hills and Lakdikapul organised multiple 'jamaats' (prayer congregations) to limit large gatherings at one place at the same time, and to observe social distancing. After offering prayers, some people symbolically sacrificed a goat or a sheep as an act of 'qurbani'. While traditionally the sacrificed meat is divided into three equal parts, out of which one portion is kept for the family, the second goes to friends and relatives, and rest is distributed among the poor, this year, in view of the Covid-19 situation, people donated the entire portion to the poor.
"Most confined the festivities to their homes, and donated the entire portion of meat to the poor," said Zubair Ahmed, a resident of Mehdipatnam. "People also avoided hugging each other, and extended Eid greetings orally."
https://timesofindia.indiatimes.com/city/hyderabad/covid-shadow-on-eid-mosques-streets-empty/articleshowprint/77309334.cms
-------
Muslims in Kashmir Valley offer Eid prayers while maintaining social distancing
Aug 1, 2020
SRINAGAR: Eid al-Adha celebrations in Kashmir on Saturday were a low-key affair as most of the faithful marked the festival of sacrifice by offering prayers in small groups and observing social distancing in view of the Covid-19 pandemic. No Eid prayers were offered in major mosques and shrines of Kashmir as police enforced the strict restrictions in most parts of the valley, including Srinagar city, officials said.
Concertina wires and barricades were placed at many intersections in the city to prevent free movement of people, they said.
People preferred to offer Eid prayers at home -- either individually or in small groups consisting of family members only, the officials said.
They said, however, reports of congregation Eid prayers being offered in the mosques located in the interior parts of cities and towns have been received.
Police personnel made announcements early in the morning on public address systems, appealing to people not to congregate for Eid prayers as the threat of coronavirus was still prevalent in the valley.
Thousands of sheep and goats were sacrificed by the Muslims across the valley to mark the tradition of Prophet Ibrahim, the officials said.
They said, however, the number of animals sacrificed this year was much lesser than usual in view of Covid threat.
While Eid al-Fitr prayers could not be offered in May this year due to the coronavirus lockdown, Eid al-Azha prayers could not be offered last year in Kashmir as authorities had imposed restrictions in the wake of abrogation of Article 370 and division of the erstwhile state of Jammu and Kashmir into two Union Territories.
https://timesofindia.indiatimes.com/india/muslims-in-kashmir-valley-offer-eid-prayers-while-maintaining-social-distancing/articleshowprint/77297810.cms
--------
Pakistan
'Observe SOPs, take care of the needy': Pakistani leaders wish nation on Eidul Azha
01 Aug 2020
As the country celebrates Eidul Azha amid declining coronavirus cases on Saturday, Pakistani leaders took to Twitter to wish the nation on the occasion and to remind them to follow standard operating procedures (SOPs) and to take care of people around them, especially those who were less well-off.
New coronavirus cases in Pakistan have continued to decline in the past weeks — a development the government of Prime Minister Imran Khan dubbed as the result of its "successful" anti-Covid-19 strategy.
However, experts have warned against declaring an early victory with many fearing another spike in cases after Eidul Azha, similar to what happened in June in the aftermath of Eidul Fitr.
People are seen offering Eidul Azha prayers, without observing precautionary measures, in Karachi on August 1, 2020. — AFP
Despite repeated warnings and requests to follow standard operating procedures set by authorities to avoid a second spike in cases, large gatherings, with little to no social distancing measures, were seen across the country.
Some mosques, like Lahore's Badshahi Mosque that sees huge gatherings, installed santiser gates for worshippers.
People walk through a sanitiser tunnel while entering the historical Badshahi Mosque to offer Eidul Azha prayers, in Lahore on August 1, 2020. — AP
In his message to the nation, Prime Minister Imran Khan said that the day was a reminder to reiterate resolve for facing all problems with strong determination and without evading greater sacrifices in its way.
He added that the country was passing through a critical phase due to the coronavirus pandemic, which he said had emerged as a great challenge to humanity. He appealed to the nation to observe all SOPs while sacrificing animals and to take special care of the needy and poor on the occasion.
While wishing the nation "Eid Mubarak", President Arif Alvi prayed for the well-being of the people and the country.
"I pray that you remain happy and far from worries, illnesses and difficulties ... May Allah make my country a centre of progress, prosperity and peace," he tweeted.
Meanwhile, Army Chief Gen Qamar Javed Bajwa visited troops deployed in the Khuiratta Sector along the Line of Control.
"Eidul Azha epitomises the essence of unconditional sacrifice. No one understands this spirit of sacrifice better than a soldier," Gen Bajwa was quoted as saying by the ISPR director general's official Twitter account.
PML-N chief and Leader of the Opposition in the National Assembly Shehbaz Sharif tweeted: "Eidul Azha Mubarak to you and your family!"
Foreign Minister Shah Mahmood Qureshi wished everyone a "peaceful Eid", adding that people must "exercise [their] collective responsibility to ensure a safe & healthy Eid, continuing to flatten Pakistan's Covid-19 curve".
Federal Minister for Planning and Development Asad Umar also took to Twitter to wish the nation on the occasion. "May Allah grant you all the opportunity to celebrate a happiness-filled Eid," he said.
Punjab Chief Minister Usman Buzdar wished "all Muslims a very happy and safe Eidul Azha".
Meanwhile, PPP Senator Sherry Rehman advised people to celebrate Eid with simplicity. "Help those who are in difficulty. Keep your mind, house and neighbourhoods clean. Don't forget to be careful. Take care of yourself and your family by staying at home," she said.
https://www.dawn.com/news/1572299/observe-sops-take-care-of-the-needy-pakistani-leaders-wish-nation-on-eidul-azha
--------
Call to observe Kashmir annexation day
01 Aug 2020
ISLAMABAD: Foreign Minister Shah Mehmood Qureshi on Friday called for observing the first anniversary of annexation of Kashmir on August 5 as Yaum-i-Istehsal (Day of Exploitation) with full enthusiasm as he rolled out a range of activities planned by the government for the occasion.
Mr Qureshi was speaking at a press conference alongside Information Minister Shibli Faraz and Special Assistant to the Prime Minister on National Security Moeed Yusuf.
India, he said, tried to break the resolve of the Kashmiris through its oppressive tactics, but it failed to achieve its goal.
"My Kashmiri brothers and sisters we can feel your difficulty, we realise the oppression that you have endured. But, remember you are not alone. Every Pakistani is standing by your side and is raising voice for your cause," the foreign minister said.
The highlight of the annexation anniversary observance would be Prime Minister Imran Khan's visit to Muzaffarabad and his speech at the AJK Assembly in which he will reiterate solidarity with the people of Kashmir and reaffirm Pakistan's support for their struggle for freedom from India.
He announced the renaming of Islamabad's Kashmir Highway as Srinagar Highway and said Pakistan's eyes were on Srinagar and the day was not far away when "we will offer prayers in the mosque of Srinagar with our Kashmiri brothers".
A commemorative postal stamp bearing the picture of Sopore toddler sitting on the bullet-ridden body of his grandfather is being issued. The picture had sparked outrage when it got published in international media.
A visit of a parliamentary delegation to villages along the Line of Control that have been suffering from ceasefire violations by India was being planned, Mr Qureshi said.
He said the one-minute silence would be observed throughout the country on Aug 5 as silence often sent a powerful message. Solidarity walks are also being held across the country.
The foreign minister said diplomatic outreach was being intensified. Letters would be written to world leaders and Op-Eds would be published in international publications highlighting the plight of Kashmiris during the past year. A social media campaign would also be launched in parallel.
He urged Pakistani diplomats abroad to plan engagements in host countries including media interviews and appearances at think-tanks.
Mr Qureshi said he realised difficulties in organising street protests for Kashmiris in other countries because of Covid-19 pandemic and asked overseas Pakistanis to plan activities while observing local restrictions.
The foreign minister also sought to address criticism at home that the government's strategy on Kashmir has been ineffective. He tried to reject this impression by recalling the communications and interactions with the international community, PM Khan's speech at UNGA, his own nine letters to the Security Council, and the issue being thrice taken up at the UNSC.
"Through this activity our position has become part of the UN record. It will contribute to attainment of our goal," he said, adding that the issue had been internationalised.
Information Minister Shibli Faraz said lack of determination in pursuing the issue in the past emboldened India to annex Kashmir. He said enthusiastic participation in the upcoming observance would convey to India that it would not be like before anymore.
https://www.dawn.com/news/1572236/call-to-observe-kashmir-annexation-day
--------
KP amends law to regularise those working for absentee Khasadars
Mohammad Ashfaq
01 Aug 2020
PESHAWAR: The Khyber Pakhtunkhwa Assembly on Friday amended the Khasadar Force Act, 2019, regularising those working illegally for absentee Khasadar personnel.
The law was enforced last year for the reconstitution of the Khasadar Force functioning in the merged tribal districts and their absorption in the regular police force.
After the legislation, the government faced problems as there were many, who worked as illegal proxies for the enrolled Khasadars, many of whom had already died or worked somewhere else.
The amendment was tabled in the house by social welfare minister Hisham Inamullah.
The session was chaired by Deputy Speaker Mahmud Jan.
The people illegally serving in Khasadar Force has been defined in a new clause inserted in the law's Section 2, after Clause (e), which states: "Iwazi" means a surrogate member of the Khasadar Force, who is actually performing duties in place of a member of the Khasadar Force and is getting full or split remuneration for the services rendered, whereas the salary is still drawn in name of the one in whose place he is performing such duties in the Khasadar Force."
Minister proposes powers for CM to fill finance commission vacancies
The legalisation of the "Iwazi" proxies would pave the way to their merger with the regular police force.
The provincial government has so far merged many Khasadar officials with KP police into in the seven tribal districts after the region's merger with KP, while the merger of the rest is in progress.
The house passed the amendment bill unanimously.
Mr Inamullah also proposed an amendment into the KP Local Government Act, 2013, to empower the KP chief minister to fill the vacancy in the Provincial Finance Commission in the absence of the tehsil local council's chairman.
Through the proposed amendment, a provision has been added in Clause (i) sub-section (1) of Section 52, which states: "Provided that if elections are not held to the office of Chairman Tehsil Local Government, then the vacancy in the Provincial Finance Commission shall be filled by the Chief Minister."
Besides other members in the PFC, there are also five chairmen of the tehsil local governments as members of the PFC.
The amendments were introduced to the law as elections for the tehsil local council were not in sight.
The provincial government is intending to hold local body elections in two phases.
In the first phase, it wants to hold elections for the village and neighbourhood councils to be held on a non-party basis, while in the second phase, elections will be held for the tehsil council on party basis.
Through a calling attention notice, MPA Ranjeet Singh drew the house's attention towards non-implementation of the five per cent quota for the religious minorities in the in the government jobs.
He said many government departments were even unaware of the five per cent quota fixed by the provincial government for the minorities and didn't mention it in the advertisement for jobs on the vacant posts.
Responding to the calling attention notice, labour minister Shaukat Yousafzai asked the mover to name departments not following government criteria so that the matter could be taken up with them.
He said all rights of religious minorities were protected and the minorities lived happily in the country.
"All problems of minorities would be resolved on priority basis," he said.
The lawmakers also criticised the Peshawar Electric Supply Company over unscheduled loadshedding saying the outages had made the lives of the people miserable in hot weather.
They asked the speaker to arrange a meeting of MPAs with federal power minister Umar Ayub to resolve the issue and warned if that didn't happen, they would launch extensive protests across the province.
The chair adjourned the session until next Monday due to incomplete quorum.
https://www.dawn.com/news/1572229/kp-amends-law-to-regularise-those-working-for-absentee-khasadars
-------
North America
AHCEC Developed Reality Model of Second-holiest City in Islam
August 1, 2020
Each year, a significant number of the world's 1.8 billion Muslims visit the city of Al-Madinah in Al-Munawwarah, Saudi Arabia. It is the second-holiest city for Muslims and was the first Islamic capital. Pilgrims come to visit the city's three prominent mosques and other areas of religious and historical significance.
Over the years, the number of pilgrims has increased exponentially. To accommodate the growing numbers, the Kingdom of Saudi Arabia wanted to increase the capacity of annual visitors from 8 million to 30 million by 2030. The kingdom planned a SAR 7 million project to build museums and plan routes to historical, culture, and tourist sites. With more than 55 years of experience, Ala Abdulhadi & Khalifa Hawas Consulting Engineering Company (AHCEC) was
tasked with designing the plan, which included expanding transportation systems and hospitality facilities while preserving historical sites.
AHCEC worked with the Madinah Development Authority to create strategic execution plans for the project. For example, the city wanted to implement reality modeling practices to help plan the development of the 55-square-kilometer historical area of the city, allowing the team to gather all the proper resources and streamline the project timeline. This model would be used to create a digital twin for the central part of the city.
AHCEC was also asked to help conduct mobile mapping for the 700-square-kilometer road network, which includes 7,900 kilometers of roads. The team needed to build a comprehensive application that contained 3D mobile mapping and reality mesh data to support the urban planning team. With this large area to cover and the deadline shortened from two years to one, AHCEC turned to an innovative and interoperable digital solution.
To begin, the project team captured LiDAR data to create a hybrid model that also included unmanned aerial vehicle (UAV) data. Other team members drove through the streets to capture data for the model. AHCEC divided the city into 2.25-hectare cells and used six UAVs in the field. The team established 1,038 control points around the city, which allowed them to ensure accuracy and finish data capture in 85 days with 7,033 UAV flights.
Using ContextCapture, the project team processed nearly 750,000 images, about 13.7 terapixels, to create a realistic 3D model of the city. AHCEC also used a 3D mapping solution to manage the large amounts of mobile mapping data. Orbit, Bentley's 3D mapping solution, helped effectively manage and feature extract content, as well as publish mobile mapping data. The application was able to manage and extract the large amounts of drone data and create panoramic images for the model. The interoperability of the applications also allowed the model to be exported in web-ready formats for easier approvals from the government and other stakeholders.
By using ContextCapture and Orbit, AHCEC was able to document each historical spot in the city using realistic and detailed models. These models were used to help develop new roads through the city, superimposing other models on the reality model so designers and engineers could see everything accurately and clearly laid out.
The model captured every feature of the highly congested area, including trees and the texture of the buildings. Even narrow, dark alleys were modeled in great detail with a combination of laser scanning and photogrammetry. The team also implemented data from existing point clouds.
The model provided a single location where the multidiscipline site planning and engineering teams could find information that they needed. It is now easy to share the models with other departments, as well as visualize and measure without having much experience in 2D or 3D modeling. Lastly, the team conducted a feasibility study for a 3-kilometer walkway between two important mosques, as well as conduct shading analyses to allow for maximum walking comfort between the mosques and surrounding facilities.
Reality modeling provided the team with a reliable survey technique that minimized modeling time and costs while streamlining decision-making and visualization. AHCEC's reality model helped the team complete the project 15 months ahead of schedule while still creating a design that facilitates pilgrim access to Al-Madinah. Using ContextCapture and Orbit, the project team completed the objective in nine months, saving over a year in surveying time and more than SAR 42 million. The team captured more than 750,000 images, modeled 41,672 buildings, and surveyed more than 7,000 kilometers of roads in high definition.
This project was the first of its scale in Saudi Arabia to use consumer UAVs in such a short timeframe. Moving forward, the team will use Bentley's iTwin® Services to create a digital twin. AHCEC plans to collect information from utilities, including environmental sensors, to add to the reality model. The team plans to implement AssetWise and ProjectWise, creating a single source for all project information that can be contained in the reality model.
Aude Camus is a senior solution marketer with Bentley Systems, responsible for ContextCapture, Orbit 3DM, OpenCities Planner, Descartes, and Pointools. She is part of Bentley's digital cities business unit and focuses on Bentley's reality modeling products. Graduated from SKEMA Business School in France, Camus has nearly 15 years of experience in selling and marketing engineering and geospatial software.
https://csengineermag.com/ahcec-developed-reality-model-of-second-holiest-city-in-islam/
--------
WHO warns coronavirus pandemic will be lengthy
02/08/20
The World Health Organization on Saturday warned the coronavirus pandemic was likely to be "lengthy" after its emergency committee met to evaluate the crisis six months after sounding the international alarm, AFP reported.
The committee "highlighted the anticipated lengthy duration of this COVID-19 pandemic", the WHO said in a statement, and warned of the risk of "response fatigue" given the socio-economic pressures on countries.
The panel gathered Friday for the fourth time over the coronavirus crisis, half a year on from its January 30 declaration of a public health emergency of international concern (PHEIC), the WHO's highest level of alarm.
"WHO continues to assess the global risk level of COVID-19 to be very high," said its latest statement.
"The committee highlighted the anticipated lengthy duration of this COVID-19 pandemic, noting the importance of sustained community, national, regional, and global response efforts."
The novel coronavirus has killed at least 680,000 people and infected at least 17.6 million since the outbreak emerged in China last December, according to a tally from official sources compiled by AFP.
The panel, comprising 18 members and 12 advisers, unanimously agreed that the pandemic still constituted a PHEIC.
The committee urged the WHO to provide nuanced, pragmatic guidance on COVID-19 reactions "to reduce the risk of response fatigue in the context of socio-economic pressures".
The panel urged the WHO to support countries in preparing for the rollout of proven therapeutics and vaccines.
It also urged the agency to accelerate research into the remaining "critical unknowns" of the virus, such as the animal source and potential animal reservoirs.
Going into the meeting, WHO chief Tedros Adhanom Ghebreyesus said the pandemic's effects would be long-lasting.
"It's sobering to think that six months ago, when you recommended I declare a PHEIC, there were less than 100 cases and no deaths outside China," he said Friday.
"The pandemic is a once-in-a-century health crisis, the effects of which will be felt for decades to come," he added.
http://www.israelnationalnews.com/News/News.aspx/284573
--------
Europe
Preston's mosques go 'above and beyond' to keep communities safe during Eid celebrations
1st August 2020
By Matthew Calderbank
There might be a new lockdown in parts of Lancashire, but community leaders say mosques across the county are going 'above and beyond' the Government guidance to keep communities safe.
Ismail Timol, from Preston Muslim Cultural Centre in Fishergate Hill, said he's never seen a "better example of social distancing".
"We are doing everything and more to keep people safe," said Ismail.
"But we are making the best of it whilst keeping everyone safe.
"We have mapped out our prayer rooms to make sure we have 2 metres between people, instead of the 1 metre that the Government recommends.
"We have a number of volunteers on duty at every prayer, who enforce social distancing and make sure everyone sanitises their hands before they enter.
"There is a one-way system in and out and everyone must bring their own prayer mats.
"We really are going above and beyond to make sure this Eid is safe for everyone."
But Ismail has questioned the timing of Lancashire's new lockdown measures on the eve of Eid.
He said there is a feeling among the county's Muslim communities that they have been unfairly singled out for criticism over the recent spike in coronavirus infections.
"We must question the Government's decision to impose the lockdown in Blackburn and other parts of Lancashire the night before Eid.
"It really didn't give people much notice and it feels a bit like they are indirectly aiming it at us.
"It's a shame because we are all in this together, but it feels like the timing of it suggests we're to blame.
"Even the text message from my local surgery singled out mosques, but didn't mention other places where people can meet."
Ismail was referring to a text message sent to hundreds of households from a Preston GP on Friday (July 31).
The message said: "'Preston has had a spike of coronavirus; please avoid visitors in your home, wear face coverings in enclosed public spaces/to mosque. Get tested if you have symptoms."
Ismail added: "This is something we are going to have to investigate and get to the bottom of, because why they thought it was acceptable to single out mosques without mentioning any other public and social spaces is troubling.
"I don't think that was an appropriate way to put the message across and it could lead to ill feeling against Lancashire's Muslim communities at a time when we should all be working together to fight this virus."
On Friday, Lancashire Resilience Forum - the organisation tasked with leading the county's response to coronavirus - urged Muslim communities to take "effective action" to prevent further outbreaks.
It said: "There has been an increase in coronavirus infections in parts of Lancashire, with a prevalence in some of our Muslim communities, for social and economic reasons.
"It's important that we all take effective action to protect all of our communities as we approach Eid Al-Adha.
"People are reminded to follow the coronavirus guidance to keep themselves safe this weekend."
But Angie Ridgwell, chief executive of Lancashire County Council and chair of the Lancashire Resilience Forum, followed this by praising Lancashire's Muslims for their "outstanding" efforts in tackling the spread of the virus.
She said: "Our Muslim communities in Lancashire have been outstanding throughout the coronavirus crisis, playing a huge role in helping us to control the virus in the county.
"We would like to pass on our heartfelt thanks for this and ask you to keep this up, not least this weekend.
"Eid Al-Adha will be different this year, but it will still be a time of joy and celebration. We wish you all a safe and happy time."
https://www.lep.co.uk/health/coronavirus/prestons-mosques-go-above-and-beyond-keep-communities-safe-during-eid-celebrations-2930577
--------
Ireland's Muslims flock to sporting grounds to celebrate Eid
by Shane Raymond
02-08-2020
Dublin, Ireland - On a crisp, bright morning in Dublin, worshippers sit on prayer mats spaced across a sport pitch, listening to a woman dressed head-to-toe in white recite the Quran.
From over the looming, concrete walls of the stadium, Catholic prayers barked into a microphone can be heard from the "rosary rally" protest outside.
Ireland's hallowed sporting grounds, Croke Park, opened its doors to Muslims this Eid al-Adha so that they could gather in large numbers for the first time since the country's coronavirus lockdown put strict limits on all indoor religious services.
Initially, the organisers had hoped 500 worshippers could attend Friday's event, but a surge in new COVID-19 cases delayed an expected easing of restrictions.
Instead, only 200 people were allowed on the field, suitably spaced apart, aside from some children who stayed close to their parents, running around the prayer mats in circles or waving miniature Irish flags.
For many of the worshippers, Friday's event was also a cherished opportunity to celebrate their dual identities - they are Muslim and Irish, and proud to be both.
"The Kaaba is the pulse and heart of the Muslim world," said Karen Kirwan, the ceremony's MC. "Well, Croke Park is the heartbeat of all the Irish people here in Ireland. It's where we are drawn to."
More than a stadium, Croke Park dominates a central position in Ireland's psyche.
"Croke Park has been a physical expression of a nationalist, cultural, sporting organisation. And it's freighted with history," historian Tim Carey said.
The stands are named for historical figures or insurrections, such as Hill 16, said - falsely - to be built on rubble from the 1916 Rising, a failed rebellion that reignited the Irish independence struggle (the stand was built the previous year).
The arena is also the site of the most notorious atrocity of the Irish War of Independence, the Bloody Sunday massacre, in which 14 people were shot dead by police who swarmed the field during a match.
"To have a sporting venue attacked in such a manner by the state really put Croke Park in a different league in terms of symbolism," Carey says.
After independence, the stadium was seen as a reflection of the new, often insular and deeply Catholic nation.
"The bishops threw the ball in at every major match in Croke Park until the 1970s," Carey says.
But on Friday, as protesters - some carrying prayer beads or anti-Islam signs - screamed through a line of police officers at an anti-racism counterprotest outside the stadium walls, the highest-ranking Catholic in Ireland, Diarmuid Martin, spoke along with Anglican and Jewish representatives to the hundreds of Muslims gathered on the field, expressing support for the Eid celebration.
Protesters, some carrying prayer beads or anti-Islam signs, scream through a line of police officers at an anti-racism counterprotest outside the stadium walls [Shane Raymond/Al Jazeera]
Aside from the few dozen protesters outside, an online petition to stop the event, described as an "attack" on Christian culture, accumulated more than 24,000 signatures, according to the anti-immigration activists who organised it.
When the event was first announced, an article from a fringe news site falsely reported that animals would be slaughtered in Croke Park during the Eid celebrations as part of a "large blood sacrifice". The claim was quickly debunked.
However, Carey said he reaction has been overwhelmingly positive inside the Gaelic Athletic Association community and the event's organisers say that, while Irish Muslims still face Islamophobia, Irish society has been largely accepting.
"Ireland is the country of cead mile failte - a hundred thousand welcomes - and Ireland is a country that, in many ways, leads in embracing diversity," said Umar al-Qadri, the Chair of the Irish Muslim Peace and Integration Council.
"Irish people have shown that, no matter the past, no matter what prejudices you have, you can reconcile and have peace.
"Having Eid in Croke Park is very historic. It's very symbolic. For Muslims, it's a sense of pride and the wider community have expressed their happiness."
Ireland's 2016 census says more than 63,000 Muslims lived in the country that year, up from less than 4,000 in 1991. However, al-Qadri estimates that the figure is now probably higher than 100,000.
Al-Qadri was born in the Netherlands but moved to Pakistan as a teenager. When he returned, he found that right-wing parties were on the rise in the Netherlands, as was rhetoric against foreigners, Jews and Muslims.
"As with most immigrant communities, they were too busy at building their own lives and looking after their families back home," al-Qadri said.
"That created fear that translated into anti-Muslim sentiments. And I wanted to avoid that in Ireland."
Al-Qadri set up the Irish Muslim Peace & Integration Council to build bridges with the wider society, as well as to tackle "extremism" within the Muslim community.
During the coronavirus lockdown, al-Qadri issued a fatwa, an order by a Muslim leader, allowing adherents to gather online to say Friday prayers on sites that facilitate video streaming such as Facebook. Then, while watching a video showing German Muslims praying in an Ikea car park, he was inspired - or rather, he thought: "We can do better than that."
Among the speeches at the Croke Park event - said in a mix of English, Arabic and Irish - was a talk by 21-year-old Abood Aljumaili, encouraging the attendees to try out the native Irish sport played at the stadium, like hurling.
Aljumaili, 21, more commonly called Bonnar O'Loingsigh, fled Iraq as a child with his family in 2008. He started learning to play hurling a few years later.
"I didn't even know how to hold the hurl properly," Aljumaili said of the long wooden sticks used by players.
It was his second time in Croke Park and, once the ceremony ended, he took advantage of it, smacking a ball a quarter of the way across the pitch and chasing after it towards the goalposts.
Omayma Madani, 17, was not able to get a ticket to the event. Speaking in the accent of the south Dublin area where she grew up, she talked about how she has been made to feel uncomfortable travelling in some European countries as a Muslim, but rarely in Ireland.
She spoke about having to buy a specially-made hijab to go with the uniform of the Catholic school she attended and not being able to eat with her community during Ramadan and how her mosque was still eerily quiet when she last visited.
Madani was born in Ireland to parents who had immigrated from Algeria but, when asked how she saw her own identity, she did not answer with nationality or religion.
Instead, she said: "I'm an artist. I'm a boxer. I teach Arabic. I enjoy teaching, but I wouldn't want to do it forever. I want to be a lawyer. And, one day, I want to be the prime minister of this country."
https://www.aljazeera.com/news/2020/08/ireland-muslims-flock-sporting-grounds-celebrate-eid-200801125724436.html
--------
'Iconic' Croker shows religious unity on Muslims' special day
Michael McHugh
August 01 2020
Holding Eid prayers at Dublin's "iconic" Croke Park is a powerful symbol of religious unity during the pandemic, an Islamic leader has said.
Two hundred worshippers - socially distanced and surrounded by empty terraces - rolled out their prayer mats at the 82,000-seater stadium synonymous with Irish identity.
Shaykh Dr Umar Al-Qadri, from the Irish Muslim Peace and Integration Council, delivered part of his speech in Irish and paid tribute to Ireland's tradition of welcome and inclusivity, with "cead mile failte".
At the manicured grass pitch normally used to host major matches, he said: "This pandemic has brought with it some blessings.
"If not for this pandemic, we probably would not have been here. If it was not for this pandemic our communities would not have been united. We understand as humans we are in this together and we are having the same challenges."
Croke Park was made available by the GAA to facilitate social distancing on a special religious day for Muslims.
Leaders of Catholic, Protestant and Jewish faiths in the city attended, as well as senior Government officials.
"We are all showing together a message of peace, a message of unity, a message of humanity," Dr Al-Qadri said.
He added that many people are putting their lives at risk working in the health service, and paid tribute to Dr Syed Waqqar Ali, the eighth healthcare worker in the State to die from Covid-19, earlier in July.
It commemorates the willingness of the prophet Ibrahim (Abraham) to sacrifice his son as an act of obedience to God.
The religious leader said Ireland had demonstrated it is an open and accepting society following his request to use Croke Park.
"This is a country that is proud of its diversity and embraces those who become part of the society. Which place is most iconic and symbolic? Of course it is Croke Park," he added.
He said the ceremony had sent out a strong message that Ireland is a country of cead mile failte - 100,000 welcomes.
"No matter your differences, no matter how different you are, once you come and live here and become part of the society, this island of Ireland has this unique ability to adopt you in a way that you become part of society," he said.
He referred to St Patrick, the Romano-British missionary who spread Christianity and has become synonymous with Irishness.
Dr Al-Qadri said Croke Park is part of Ireland's DNA, something every person has been brought up with.
He added that yesterday's event was the first complete broadcast on state television, RTE, of Eid in a non-Muslim majority country.
https://www.herald.ie/news/iconic-croker-shows-religious-unity-on-muslims-special-day-39414703.html
--------
Africa
Lagos eases coronavirus lockdown, reopening churches, mosques
02-08-2020
The governor of Nigeria's commercial capital Lagos said on Saturday churches and mosques would reopen next week as the authorities move to ease the lockdown over the coronavirus pandemic.
"Places of worship in Lagos will now be opened from Friday, the 7th of August for our Muslim worshippers, and on Sunday, the 9th of August for our Christian worshippers," Babajide Sanwo-Olu said in a statement.
But the numbers of worshippers will be limited as a measure to prevent further infections.
"We will only allow 50% of their maximum capacities, either at the church or at the mosque," he said.
"For the avoidance of doubt, there will be Friday worships for our Muslim followers and Sunday worships for our Christian followers," the governor said.
But night vigils and other services are still not allowed, he added.
Sanwo-Olu also advised elderly worshippers from 65 years to stay at home.
Lagos, the country's largest city, is the epicentre of the outbreak in Nigeria, with more than 15 000 confirmed cases and 192 deaths.
https://www.news24.com/news24/Africa/News/lagos-eases-coronavirus-lockdown-reopening-churches-mosques-20200802
-------
Governor Yahaya, others observe Eid prayers at Gombe Juma'at mosque
August 1, 2020
Gombe State Governor, Alhaji Muhammadu Inuwa Yahaya, on Friday joined other Muslims in the state to observe the Eid prayer with the strict adherence to Covid-19 safety protocol.
The Eid prayer, which took place at the central Jumma'at mosque, Emir's Palace, Gombe was led by the Deputy Chief Imam of Gombe, Ustaz Aliyu Hammari, and was also attended by the Emir of Gombe Alhaji Abubakar Shehu Abubakar lll, top government functionaries and faithful Muslems.
Governor Muhammadu Inuwa Yahaya had, earlier in a goodwill message, enjoined the people of the state to imbibe the lessons of Eid-el Kabir which connote sacrifice, love, unity and obedience and demonstrate same in their daily lives for the good of the society and humanity at large.
Fielding questions after the two raka'at prayers, Governor Yahaya said Eid-el Kabir is a period of sharing and caring and therefore enjoined the citizenry to continue to show love , compassion and support to those in need, especially at this trying period of Covid-19 pandemic.
He called on the diverse people of the state to continue to live in peace with one another regardless of the differences, just as he called for sustained prayers for peace, security and an end to the global pandemic of Covid-19.
https://thenationonlineng.net/governor-yahaya-others-observe-eid-prayers-at-gombe-jumaat-mosque/
--------
Bauchi Chief Imam appeals to govt to pay salaries
August 1, 2020
As Muslims celebrate Eid-el Kabir across the country, the Chief Imam of Bauchi Central Mosque, Malam Bala Baban Inna, has appealed to the state government to pay workers their July salaries in order to ease their burden.
The Nation gathered that many state workers were not paid July salary as at Friday.
The imam made the appeal yesterday while delivering his Sallah sermon.
He felicitated with the Emir of Bauchi, Alhaji Rilwanu Suleimanu Adamu, for marking his 10th anniversary on the eve of Eid-el Kabir .
https://thenationonlineng.net/bauchi-chief-imam-appeals-to-govt-to-pay-salaries/
--------
Muslim leaders call for peace
August 1, 2020
The call came as the Muslim community on Friday joined their counterparts across the world to observe the Eid-el Kabir prayers.
The prayers held in partial compliance with Covid 19 protocols.
Governor Seyi Makinde had on Thursday announced the reopening of praying grounds across the state, but with the warning that the prayers must held in compliance with Covid-19 protocols.
The Nation, which moved around some praying grounds in Ibadan, the Oyo State capital, observed that the worshippers complied with the washing of hands and wearing of face masks but social distancing was difficult to enforce.
Muslims, who started thronging the prayer grounds around Alakia and Agodi, mostly came with their face masks and sachets of water for ablution and washing of hands.
https://thenationonlineng.net/muslim-leaders-call-for-peace/
-------
Arab world
Muslims worldwide celebrate Eid al-Adha
01 Aug 2020
DUBAI : Muslims worldwide marked the start of the Eid al-Adha holiday amid a global pandemic that has impacted nearly every aspect of this year's pilgrimage and celebrations.
The last days of the annual pilgrimage to Mecca in Saudi Arabia coincide with the four-day Eid al-Adha, or "Feast of Sacrifice," in which Muslims slaughter livestock and distribute the meat to the poor.
The pandemic has pushed millions of people around the world closer to the brink of poverty, making it harder for many to fulfill the religious tradition of purchasing livestock.
In Somalia, the price of meat has slightly increased.
Abdishakur Dahir, a civil servant in Mogadishu, said that for the first time he won't be able to afford goat for Eid because of the impact of the virus on work.
"I could hardly buy food for my family," Dahir said. "We are just surviving for now. Life is getting tougher by the day." In some parts of West Africa, the price for a ram has doubled.
Livestock sellers, used to doing brisk business in the days before the holiday, say sales have dwindled.
"The situation is really complicated by the coronavirus, it's a tough market," Oumar Maiga, a livestock trader in Ivory Coast said. "We are in a situation we've never seen in other years."
The hajj pilgrimage has also been drastically impacted by the virus. Last year, some 2.5 million pilgrims took part, but this year it was limited to as few as 1,000 already residing in Saudi Arabia.
The Saudi Health Ministry said there have been no cases of the COVID-19 illness among this year's pilgrims.
Government precautions included testing pilgrims for the virus, monitoring their movement with electronic wristbands and requiring them to quarantine before and after.
Pilgrims were selected after applying through an online portal, and all had to be between 20 and 50 years of age.
Just after dawn Friday, small groups — masked and physically distancing — made their way toward the massive, multistory Jamarat Complex in the Saudi valley area of Mina.
There the pilgrims cast pebbles at three large columns. It is here where Muslims believe the devil tried to talk the Prophet Ibrahim, or Abraham, out of submitting to God's will.
Muslims commemorate Ibrahim's test of faith by slaughtering livestock and animals and distributing the meat to the poor.
During the last days of hajj, male pilgrims shave their heads and remove the terrycloth white garments worn during the pilgrimage. Women cut off a small lock of hair in a sign of spiritual rebirth and renewal.
The hajj, both physically and spiritually demanding, intends to bring about greater humility and unity and is required of all Muslims to perform once in a lifetime.
Sheikh Abdullah al-Manea, member of the Supreme Council of Senior Scholars of Saudi Arabia, used the hajj sermon Friday to praise the kingdom for limiting the number of pilgrims and protect human life.
"We thank the positive role of Muslims around the world that have complied with the regulations of the country to protect them from the spread of this virus, which leads to the protection of Mecca and Medina," the sheikh said.
Around the world, Muslims gathered with relatives or remained at home to mark the start of Eid.
In Baghdad, streets were largely empty due to a 10-day coronavirus lockdown imposed by authorities. Eid prayers in mosques were canceled.
"We had hoped that the curfew would be lifted during the Eid period. ... We were surprised that the lockdown period included the Eid holiday and more," cafe owner Marwan Madhat said. "This will cause losses." Kosovo and the United Arab Emirates have also closed mosques to limit the spread of the virus.
In Lebanon, worshippers prayed in mosques under tight security, despite a partial lockdown imposed Thursday that will continue through Aug. 10. Worshippers at the Mohammad al-Amin Mosque in Beirut, spilled outside onto the street to maintain social distancing.
In Indonesia, home to the world's largest population of Muslims, people attended Eid prayers in mosques under strict guidelines, including that they bring their own prayer mats and pray several feet apart from one another. Worshippers had to wear masks and were not allowed to shake hands or hug.
Authorities also ordered that meat be delivered door-to-door to the poor to avoid long lines.
"This outbreak has not only changed our tradition entirely, but has also made more and more people fall into poverty," said Agus Supriatna, an Indonesian factory worker laid off this year because of the pandemic.
In the United States, some attended prayers under similar distancing and safety rules, while others prayed at home.
At the Muslim Education Center in Morton Grove, Illinois, about 100 worshippers had their temperatures taken before entering and spacing themselves out on the floor. The imam's voice was slightly muffled as he preached through a mask about sacrifice and its relevance to the holiday.
And in Los Angeles, Arfa Faiz and a small group of friends were planning to take part in a socially distanced picnic at a park — a far cry from previous Eids when large groups would congregate on the beach or at a hall.
"Usually in L.A. the Eid things are really big. They are very social, there's a lot of stuff going on," Faiz said.
"Eid is a time to celebrate and be with the community," she continued. "It does feel a little sad." Ahead of the holiday, Alioune Ndong, a tailor in Mbour, Senegal, said he did not know how he'd afford an Eid feast and urged the government to help struggling families.
https://www.livemint.com/news/world/muslims-worldwide-celebrate-eid-al-adha-11596273575036.html
-------
Coronavirus amid Hajj: Mecca security use 6,250 cameras to monitor holy sites
02 August 2020
Ismaeel Naar
Over 6,250 CCTV cameras were used this year to monitor the holy sites in Mecca during the Hajj pilgrimage that has been held in a limited capacity due to the coronavirus pandemic, according to authorities.
The Hajj monitoring center is linked to about 772 of those cameras at any given time to ensure security forces are able to monitor and respond to the movements of all Hajj pilgrims, according to Brigadier Abdulrahman al-Qahtani, the commander in charge of monitoring the Jamaraat Bridge where pilgrims have been performing the symbolic stoning of the devil ritual as the Hajj draws to a close.
"These cameras are being used from the control center to assist with our security forces on the field to help them with the movement of pilgrims throughout their pilgrimage across the holy sites," al-Qahtani told Al Arabiya.
The control center is primarily concerned with providing a wider picture to the general field officers on what is happening on the sites, where officers at the headquarters are able to adjust and zoom in on footage using the CCTV cameras.
For all the latest headlines follow our Google News channel online or via the app.
Sunday marks the final day of Hajj and Eid al-Adha. Pilgrims will now perform the "stoning the devil" ritual one last time at the Jamaraat Bridge in Mecca during the day. They will then head back to the Grand Mosque for a final time to circle the Kaaba, known as the "farewell" tawaf, set to take place at 4 pm local time.
https://english.alarabiya.net/en/coronavirus/2020/08/02/Coronavirus-amid-Hajj-Mecca-security-use-6-250-cameras-to-monitor-holy-sites.html
-------
Nearly 2,400 liters of sanitizers used daily to clean Grand Mosque
August 1, 2020
MAKKAH — Approximately 2,400 liters of sanitizers are being used daily to clean and disinfect the Grand Mosque during this year's Hajj season as part of precautionary measures to curb the spread of coronavirus, the Saudi Press Agency reported on Saturday citing officials.
Out of the total 2,400 liters, around 1,500 liters of sanitizers are being used for surfaces and the remaining 900 liters as manual sterilizers, in addition to more than 1,050 liters of luxurious perfumes meant for the carpets and prayer rugs.
The extraordinary sanitization drive is being carried by the General Presidency for the Affairs of the Two Holy Mosques as it has intensified its efforts to ensure the utmost safety of the guests of God and its staff.
As part of the drive, the Grand Mosque and its premises were completely cleaned and sterilized, which included mataf (area for circumambulation around the Holy Kaaba), mas'a (area for the ritual of sai between Safa and Marwah), and outer courtyards after the pilgrims' performance of Tawaful Ifadah and sa'i, two of the four pillars of Hajj, on Friday.
The presidency, represented by the general department for technical and service affairs and the department of cleaning, has mobilized more than 3,500 male and female workers to clean and sterilize the entire premises of the holy mosque at least 10 times on a daily basis.
They use the best quality of environment-friendly cleaning, disinfection, and sterilization materials and air fresheners especially brought for the Grand Mosque. Approximately 54,000 liters of disinfectants were used by 95 modern cleaning and washing equipment.
https://saudigazette.com.sa/article/596188/SAUDI-ARABIA/Nearly-2400-liters-of-sanitizers-used-daily-to-clean-Grand-Mosque
------
Custodian of the Two Holy Mosques Congratulates President of Niger on Independence Day
2020/08/02
Riyadh, August 02, 2020, SPA -- The Custodian of the Two Holy Mosques King Salman bin Abdulaziz Al Saud has sent a cable of congratulations to President Mahamadou Issoufou of the Republic of Niger on the anniversary of his country's Independence Day.
In his cable, the King wished the President constant good health and happiness and the Government and people of Niger steady progress and prosperity.
https://www.spa.gov.sa/viewfullstory.php?lang=en&newsid=2116901
-------
Muslim World League inaugurates project to distribute meat in Pakistan
August 02, 2020
The Muslim World League (MWL) inaugurated a project in Pakistan on Eid Al-Adha aimed at slaughtering animals and distributing their meat to the poor and those in need, the Saudi Press Agency reported.
A ceremony to mark the launch was held at the MWL's regional office in Islamabad in the presence of Punjab minister of literacy and nonformal basic education, Raja Rashid Hafeez, the deputy head of mission at Saudi Arabia's embassy in Pakistan, Mohammed bin Khalaf Al-Enzy, and Pakistani officials.
Saad bin Massoud Al-Harthi, the MWL's regional director in Pakistan, said the project was part of the organization's humanitarian efforts provided each year in several countries in cooperation with local authorities.
Speaking on behalf of the government and the Pakistani people, Hafeez extended his thanks to King Salman and Crown Prince Mohammed bin Salman for the support provided for the needy in Pakistan.
He also praised the humanitarian efforts of the MWL and for caring for needy Pakistanis.
https://www.arabnews.com/node/1713336/saudi-arabia
-------
Egyptian battalions arrive at Yemen western coast, Arab countries fears Turkey's control Bab el-Mandeb Strait
August 1, 2020
A leader in ousted Hadi's government in Taiz revealed that a number of Egyptian battalions had arrived western coast of Yemen.
Mo'en Abdulmalik's, Prime Minister of fugitive Hadi's government, concluded his visit to Cairo, where he signed an agreement give Egypt the right to a military presence in Yemen.
Abdo Noman al-Zuraqi, a leader of the so-called "resistance" in the southwestern countryside of Taiz, said the Egyptian battalions were transported aboard Saudi aircraft to Aden to support Tariq forces (loyal to Hadi) in Taiz.
Al-Zuraqi confirmed on Twitter that the third batch arrived on Thursday and transferred to Macha district.
A few days ago, Egypt summoned the fugitive Hadi to sign a secret agreements give Cairo the right to build military bases at Bab el-Mandeb Strait.
On last Sunday, Turkey announced its preparation for sending a military frigate to support its forces off the Yemeni coast, in a sign of Turkish entrance in Yemen like Libya.
Turkey has a major base on Somali coast near Yemen. This announcement comes after increasing tension between the pro-Brotherhood factions loyal to it and other factions loyal to the Saudi-Emirati alliance in Taiz overlooking Bab el-Mandeb.
The Turkish move indicates that Istanbul, which was recently sent a message to the United Nations Security Council to condemn the UAE moves on Socotra island, is seeking a military intervention to support loyal factions on ground, especially in Shabwah, Taiz and Socotra.
The Turkish moves raised concerns of Arab countries, especially Egypt, which summoned ousted Prime Minister of Hadi's government. Egypt fears that Turkey will control Bab el-Mandeb Strait, because it has six ports on the Red Sea.
https://en.abna24.com/news//egyptian-battalions-arrive-at-yemen-western-coast-arab-countries-fears-turkeys-control-bab-el-mandeb-strait_1059175.html
--------
Southeast Asia
Islamic finance seen as driver for FDI inflow to Philippines, say govt officials
August 01 2020
The Philippines is looking at Islamic finance as a platform to attract and encourage partners in the Middle East, such as Qatar, to expand their footprint in the Southeast Asian nation, particularly in the field of Islamic banking, according to government officials during a recently-held webinar.
The virtual conference, organised by the Philippine Economic Zone Authority (Peza), in co-operation with the Banko Central ng Pilipinas (BSP), tackled the theme 'Islamic Finance as a Vehicle to Economic Recovery', and highlighted discussions on foreign investment opportunities in the Philippines via Islamic finance.
This is the third in a series of 'Business Continuity Forums' held by Peza, in collaboration with the Institute for Autonomy and Governance (IAG), and in co-operation with Peza's Investment Promotions Partners in the Middle East.
Peza director general Charito B Plaza underscored the importance of Republic Act (RA) 11439 or 'An Act Providing for the Regulation and Organisation of Islamic Banks' signed by President Rodrigo R Duterte on August 22, 2019, which will maximise the full potential of Islamic financing in promoting inclusive economic growth.
Plaza emphasised that the Philippines, being a multi-cultural and democratic country, "strongly cares for the inclusion of our Muslim brothers and sisters" in the large Islamic financial framework in the global market.
"Islamic banking will surely help Peza achieve its vision in promoting economic growth in the countryside," Plaza pointed out.
Plaza's remarks during the webinar reiterated the statements delivered by Abdulgani M Macatoman, the undersecretary of the Department of Trade and Industry (DTI) Trade Promotions Group (TPG), who was in Qatar earlier this year during the Doha leg of the DTI's 'Outbound Business Matching Mission (OBMM) to GCC 2020'.
Macatoman stressed that the Philippines is keen to partner with Qatar in the development of its Islamic banking system, and that the Southeast Asian country could benefit from Qatar's expertise in Islamic banking and Shariah-compliant policies.
Lawyer Arifa A Ala, managing director at the BSP, highlighted that RA 11439 was created as an expanded Islamic banking system that involves tax neutrality, stronger risk management, ethical financial stability, further establishment of Islamic banks, and other Islamic financial activities, as well as the imposition of principle-based rules and standards, in addition to strict Shariah law compliance.
"Philippine Islamic banking is an alternative product/service available in the market and is not exclusive to Muslims. As such, foreign Islamic banks and investors, especially from the Middle East, are welcome to expand their operations in the Philippines. Meanwhile, local commercial banks may also open an Islamic bank and/or Islamic banking units/windows," Ala stressed.
Peza also recently launched an online job expo titled 'Development Outreach for Labour, Livelihood, and Advancement of Resources' (Dollar), which offered 69,081 jobs and online skills training for displaced Overseas Filipino Workers (OFWS) and unemployed Filipinos. The jobs are available at www.workbank.com/dc/peza-online-job-fair.
The programme was held with the support of the Philippines' Department of Trade and Industry (DTI), Department of Labour and Employment (Dole), and the Office of Senator Bong Go.
DTI secretary Ramon Lopez said Peza's online job fair and skills training are very much aligned with DTI initiatives and other agencies to aid repatriated OFWs and locally-unemployed Filipinos.
Dole secretary Silvestre Bello III said, "The role of service providers and investment promoters of our economic zones cannot be over-emphasised…the active engagement of these key pillars is the fuel to rev up our workforce."
https://www.gulf-times.com/story/669686/Islamic-finance-seen-as-driver-for-FDI-inflow-to-P
-------
Bank Islam offers targeted repayment assistance for customers
02 Aug 2020
KUALA LUMPUR, Aug 2 — Bank Islam Malaysia Bhd has strongly urged vulnerable customers impacted by the Covid-19 pandemic to approach its officers and staff for the best repayment arrangement as the current moratorium period ends on Sept 30.
Customers may visit the bank's network of branches from Aug 7 onwards to discuss solutions that best fit their financial situation and complete the application form to enjoy this facility.
"With the moratorium period set to end on Sept 30, this additional assistance is meant to help customers alleviate financial constraints and stabilise their cash flow," its chief executive officer, Mohd Muazzam Mohamed said in a statement today.
He said the bank has initiated contact with all its customers via text messages and periodical updates across different communication platforms.
Under the targeted repayment assistance, Bank Islam offers three months moratorium extension from the end of the existing moratorium period to those who lost their jobs in 2020 and currently unemployed.
Individuals, who are still working but suffered a significant loss in income as a result of reduced working hours and pay cuts, will be offered reduce monthly instalment commensurate to salary reduction, depending on types of financing.
They will also be offered payment flexibility up to six months from the end of the existing moratorium period.
https://www.malaymail.com/news/money/2020/08/02/bank-islam-offers-targeted-repayment-assistance-for-customers/1890331
--------
Karak, East Coast highways operator pleads with Muslim motorists not to pray on emergency lanes
02 Aug 2020
BY YISWAREE PALANSAMY
KUALA LUMPUR, Aug 2 — Anih Bhd, the concessionaire for the Kuala Lumpur-Karak Expressway (KLK) and the East Coast Expressway 1 (LPT1), today pleaded with motorists against performing prayers on emergency lanes as they would risk traffic accidents.
"We truly appreciate the patience of KLK Highway users and also the obedience of the Muslims to perform their prayers while traveling to the East Coast, during every festive season and public holidays.
"However, we as the KLK Highway operators, also seek patience and reasonableness from road users so as not to perform their prayers on the roads; that is on the emergency lane, for safety factors," it said in a statement.
The company's response came following a viral photo on social media showing Muslim travellers performing the early "subuh" prayer on Km32 on the KLK, owing to the traffic congestion caused by the "balik kampung" exodus for Aidiladha celebrations.
The photo showed long lines of cars parked on an emergency lane with Muslims praying on the tarmac between the cars, while congested traffic continues on the KLK Highway.
"This may cause [accidents] involving motorists and vehicles that are not aware of the static presence of individuals who are on the emergency lanes," it added.
The concessionaire also advised road users to plan their journey and stop for prayers in designated places such as the rest and recreation (R&R) stops along LPT1 and the KLK Highway, while returning to the Klang Valley, taking into consideration another bout of traffic congestion.
Traffic is reported slow-moving on several major expressways this morning as more people are making their return trip home after being away for the Aidiladha celebrations.
https://www.malaymail.com/news/malaysia/2020/08/02/karak-east-coast-highways-operator-pleads-with-muslim-motorists-not-to-pray/1890316
-------
IRF appoints new chief amid investigation into alleged sexual assault by director
02 Aug 2020
BY ZURAIRI AR
KUALA LUMPUR, Aug 2 — The Islamic Renaissance Front (IRF) has announced the appointment of a new executive director, following a criminal investigation against one of its senior directors for alleged sexual assault.
In an email to its network of collaborators last night sighted by Malay Mail, the think tank's staff member announced Azrul Asmadi as its new leader, citing "unforeseen circumstances of two major surgeries on its founder and director" instead.
Its website has also been updated with the details of the new appointment.
It had previously listed three directors before being wiped clean following news reports of the alleged sexual assault and harassments involving one of the directors.
The website now only lists Azrul as its executive director, with no mention of other directors.
According to IRF, Azrul is a social researcher and a qualified green building consultant, with in-depth interest in "the difference between the East and West civilisation, values, social and economic impacts".
The email did not address the allegations, nor the police investigation against the director. Formed in 2009, IRF describes itself as a movement to empower youth and promote Muslim intellectual discourse, and has advanced local discourse involving Islam and the enforcement of Shariah laws in Malaysia through its events, talks and commentaries.
Last month, Malay Mail quoted three former members about the sexual harassment they allegedly faced from one of the think tank's directors, following a call by women's rights groups for an independent investigation into these allegations.
One of the accusers had lodged the abovementioned police report.
The director in question has since said he is a victim of a "concerted effort" to tarnish his name, and denied one of the two other allegations as malicious, baseless and fabrications. He did not address the third allegation.
This comes as the police said a 56-year-old activist and NGO leader had been apprehended for questioning in relation to a report lodged against him for alleged sexual harassment that happened in November last year.
The case is being investigated under Section 354 of the Penal Code for assault or use of criminal force to a person with intent to outrage modesty.
The Joint Action Group for Gender Equality had initially urged lRF to initiate an independent investigation into the allegations after four of IRF activists publicly dissociated themselves from the group as long as the director remains.
The coalition of 14 women's rights groups said appropriate steps must be taken to secure the confidentiality of the complainants and their protection against any intimidation.
Following news reports on the issue, more than 30 local civil society organisations said they are standing in solidarity with all sexual harassment survivors, expressed their concern about the allegations, and affirmed their zero tolerance of sexual harassment at the workplace.
https://www.malaymail.com/news/malaysia/2020/08/02/irf-appoints-new-chief-amid-investigation-into-alleged-sexual-assault-by-di/1890299
--------
URL: https://www.newageislam.com/islamic-world-news/beijing-mosques-host-eid-al/d/122521
New Age Islam, Islam Online, Islamic Website, African Muslim News, Arab World News, South Asia News, Indian Muslim News, World Muslim News, Women in Islam, Islamic Feminism, Arab Women, Women In Arab, Islamophobia in America, Muslim Women in West, Islam Women and Feminism