New Age Islam News Bureau
12 Oct 2017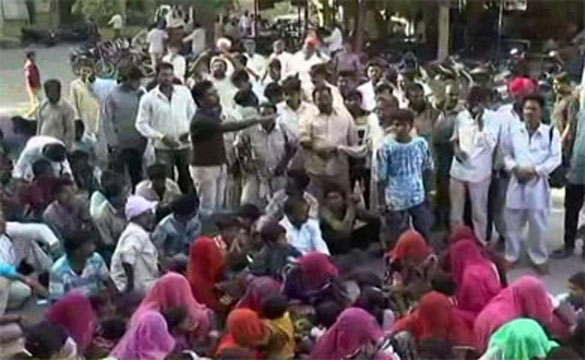 Ahmad Khan had been singing Hindu religious songs and spiritual verses in temples for generations
-----
• Barelvi Clerics May Challenge Court's Ruling Criminalising Sex with a Minor Wife
• Muslim Folk Singer Killed Over Performance; 200 Muslims Flee Village
• 'Un-Islamic': Senate Body Rejects Bill Seeking Ban on Child Marriage
• Hamas Reached Deal with Palestinian Rival Fatah
• Israel Reportedly Bans Muslim Call To Prayer in Occupied West Bank
India
• Barelvi Clerics May Challenge Court's Ruling Criminalising Sex with a Minor Wife
• Muslim Folk Singer Killed Over Performance; 200 Muslims Flee Village
• Muslim Bodies Welcome SC Ruling on Sex with Minor Wife
• Fight 'Islamic terrorism' in Kerala, says Union minister Giriraj Singh
• At Jaisalmer Shelter, No Food for Muslims Forced Out Of Village
• Muslim families flee after Hindu's murder near Haridwar
• Salafism promotes the true spirit of Islam, claims KNM
• Two cops arrested for selling arms to terrorists in south Kashmir
• Pakistan wants peaceful relations with 'belligerent' India: General Bajwa
• J-K: Two air force commandos, two Lashkar militants killed in Hajin encounter
--------
Pakistan
• 'Un-Islamic': Senate Body Rejects Bill Seeking Ban on Child Marriage
• Three Ahmadi Men Sentenced To Death on Blasphemy Charge
• No Entry for Hafiz Saeed in Mainstream Politics, Says Pakistan Election Commission
• Bajwa urges govt to expand tax base in order to break 'begging bowl'
• No Fata-KP merger without referendum, says Fazl
• Pakistan urges Kabul, Taliban to turn over a new leaf, again
• Religious parties meet today for election alliance
--------
Mideast
• Hamas Reached Deal with Palestinian Rival Fatah
• Turkish Doctors, Terrorists Engaged in Trafficking Organs of Syrian Patients
• Iran Asks US to Think Twice before Going Past Point of No Return
• Hamas reaches political reconciliation deal with Palestinian rival Fatah
• US provides logistic support to Daesh in Iraq, Syria: IRGC commander
--------
North America
• Israel Reportedly Bans Muslim Call To Prayer in Occupied West Bank
• Trump Seeks 'Permanent Occupation' Of Afghanistan
• Minnesota Leading the Way In Interfaith Alliances
• Muslim Western Communities Must Work Harder To Protect the Vulnerable
• Toronto School District Says Controversial Islamic Heritage Guide, Which Drew Complaints
• Iran's 'various scenarios' awaiting Trump's JCPOA move
• Key US lawmakers back enforcing Iran nuclear deal, not ending it
--------
Europe
• European Parliament Reaffirms Strong Ties with Saudi Arabia
• British Jihadi "White Widow" Killed By US Drone — Sun Report
• Danes arrest 18 men with Pakistani background in vast financial crimes probe
• Two arrested over deadly Marseille train station attack
• German journalist remanded in custody in Turkey
• UK backs Iran nuclear deal despite US objections
--------
South Asia
• Premature Explosion among the Taliban Leaves 13 Militants Dead, Wounded
• Myanmar Army Chief Says Rohingya Muslims Not Native, Refugee Numbers Exaggerated
• Two Bangladeshi nationals held with fake Indian passports at Mumbai airport
• 3 NGOs barred from relief works for Rohingyas
• Hekmatyar accuses supporters of federalism for attempting to spark ethnic violence
• Taliban suffer heavy casualties in Helmand operations, claims MoD
--------
Southeast Asia
• Rulers' Harmony Message A Boost For Muslim Moderates In Malaysia
• Malay sultans take swing at Najib's harnessing of political Islam
• Stand with me against 'radical' preachers, Siti Kasim tells Malaysians
--------
Arab World
• At Least 11 Killed, 15 Wound In Bombing In Iraq's Anbar Province
• Triple IS Suicide Attack near Damascus Police HQ
• Long Convoy of ISIL's Military Vehicles Hit in Syrian Army's Ambush Operation in Hama
• Iraqi Air Force Bombs Heavily ISIL's Strongholds in Western Anba
• Iraqi Forces' Operation to Purge Border with Syria of Terrorists Soon
• ISIL Gunmen Evacuating from Raqqa after Secret Agreement with SDF
• US continues efforts to demonize Hezbollah, says resistance movement official
--------
Africa
• Pentagon Blames Islamic State In Deadly Attack On US Forces In Niger
• Christians, Muslims Won't Win Religious War In Nigeria – Catholic Bishop
• Gambian leader welcomes Turkish business delegation
• Nigeria: Security Expert Urges Caution over Mass Release of Boko Haram Suspects
Compiled by New Age Islam News Bureau
URL: https://www.newageislam.com/islamic-world-news/barelvi-clerics-challenge-courts-ruling/d/112860
--------
Barelvi Clerics May Challenge Court's Ruling Criminalising Sex with a Minor Wife
Sandeep Rai
Oct 12, 2017
MEERUT: The landmark SC judgement on criminalising sex with a minor wife drew mixed reactions from Islamic clerics.
While the Barelvis are mulling a legal course to challenge the verdict, clerics in Deoband chose to adopt a soft approach. Maulana Shahbudin Razvi, national general secretary, Jamat Raza-e-Mustafa, a Sunni Barelvi organisation said, "Indian law says any girl below 18 years is a minor, but Sharia says a girl turns adult at the age of 13. If such a girl is married to a man... they have the right to consummate it". "If the law of the land is against Sharia, that does not render the latter invalid," said Maulana Abul Qasim Nomani, vice-chancellor, Darul Uloom Islamic Seminary, Deoband.
President of Deobandbased Jamiat Ulema-e-Hind, Maulana Arshad Madani said, " Any woman who begins her menstrual cycle is considered a major in Sharia.. But, that is in countries where Sharia is applicable. In India one must obey the law of the land"
https://timesofindia.indiatimes.com/india/barelvi-clerics-may-challenge-courts-ruling/articleshow/61044973.cms
--------
Muslim Folk Singer Killed Over Performance; 200 Muslims Flee Village
Oct 12, 2017
JAIPUR: After a Hindu priest and his friends allegedly killed a Muslim folk singer two weeks ago, at least 200 Muslims have fled their village in Rajasthan, the police said yesterday, and are living in a shelter for the homeless in Jaisalmer.
Trouble erupted in Dantal village near the border with Pakistan on September 27, when a local priest accused folk singer Ahmad Khan of making mistakes while reciting hymns to evoke a Hindu goddess.
Mr Khan, 45, was a member of the Langa Manganiyar community that has been singing Hindu religious songs and spiritual verses in temples and at festivals for generations. The priest, Ramesh Suthar, accused Mr Khan of not singing well enough, which meant that he was not able to harness supernatural powers of healing.
The police say the priest and his two brothers then killed Mr Khan. Mr Suthar has been arrested but his brothers are missing.
"The news of the murder triggered unrest between Hindus and Muslims who have been living together for generations," said Gaurav Yadav, a senior police officer investigating the case.
The 20 Muslim families who left the village have refused to return home- priests are powerful local entities who draw some of their influence from the accepted belief of their supernatural powers.
"We are being threatened. We fear for our lives we will not return to our village now," said Chugga Khan, the dead musician's brother.
District Collector KC Meena told NDTV, "We are trying to get the two communities to talk to each other so that the issue can be resolved.
https://www.ndtv.com/india-news/200-muslims-leave-village-after-a-folk-singer-killed-allegedly-by-priest-1761507
--------
'Un-Islamic': Senate body rejects bill seeking ban on child marriage
Oct 12, 2017
ISLAMABAD: Senate Standing Committee on Interior and Narcotics Control in its meeting on Wednesday rejected 'The Child Marriage Restraint (Amendment) Bill 2017 moved by Senator Sehar Kamran and referred the bill to Council of Islamic Ideology (CII) for any future review.
In a committee meeting held at Parliament House, Islamabad, Chairman Rehman Malik commented on the bill, saying no law shall be approved contrary to Islamic injunctions. "We cannot increase the age for marriage; the age which was allowed in Islam will be followed," he remarked.
Regarding the petition filed by Naziran, daughter of Fateh Muhammad Khoso, a resident of Madras Muhallah Khandhkot, requesting for recovery of her missing father was told by the Interior Ministry that four agencies have told that the person is not in their custody and response from others is awaited.
Senator Israrullah Zehri raised the issue of missing persons in Balochistan and asked the chairman to take up the matter in the committee.
Upon which, the chairman directed the Ministry of Interior to submit a comprehensive report on the issue of missing persons in an in-camera session of the committee. Rehman Malik further said that the foreign agencies are involved in the missing person case in order to defame Pakistan its intelligence agencies.
He also condemned the missing of youth from Shia community in Karachi during Muharram. The chairman directed the federal government and the Sindh government to brief the committee on the issue of missing of Shia youth in Karachi.
The committee also decided to take a report from the federal and provincial governments on the rising stabbing incidents in Karachi. In this regard, Sindh Police IG and Sindh home secretary were summoned to the next meeting for a briefing on the issue.
Meanwhile, Chairman Rehman Malik also appreciated the services of retired justice Javed Iqbal as head of the Missing Persons Commission and hoped that he will meet the expectations of people as the NAB chairman.
The meeting was attended by senators Shahi Syed, Mir Israrullah Khan Zehri, Tahir Hussin Mashhadi, Muhammad Javed Abbasi, Muhammad Ali Khan Saif, Shibli Faraz, Minister of State for Interior Talal Chaudhry, and others.
https://www.pakistantoday.com.pk/2017/10/11/un-islamic-senate-body-rejects-bill-seeking-ban-on-child-marriage/
--------
Hamas reached deal with Palestinian rival Fatah
Oct 12, 2017
Palestinian rival factions Hamas and Fatah have reached a deal over political reconciliation, Hamas chief Ismail Haniyeh said in a statement on Thursday without providing further details.
A Hamas official told Reuters that details are expected to be released at a noon news conference in Cairo, where unity talks between the rival factions began on Tuesday.
The Western-backed mainstream Fatah party lost control of Gaza to Hamas, considered a terrorist group by the West and Israel, in fighting in 2007. But last month Hamas agreed to cede powers in Gaza to President Mahmoud Abbas' Fatah-backed government in a deal mediated by Egypt.
"Fatah and Hamas reached an agreement at dawn today upon a generous Egyptian sponsorship," Haniyeh said in a statement.
Egypt has helped mediate several attempts to reconcile the two movements and form a power-sharing unity government in Gaza and the West Bank. Hamas and Fatah agreed in 2014 to form a national reconciliation government, but despite that deal, Hamas's shadow government continued to rule the Gaza Strip.
http://nation.com.pk/international/12-Oct-2017/hamas-reached-deal-with-palestinian-rival-fatah
--------
Israel reportedly bans Muslim call to prayer in occupied West Bank
Oct 12, 2017
Israel has reportedly banned the use of loudspeakers for adhan, the Islamic call to prayer, in a village south of the occupied West Bank on grounds that it "made Jewish settlers uncomfortable." According to Anadolu Agency, Israeli forces raided the village of At-Tuwani located south of the city of al-Khalil and banned the use of loudspeakers.
The village had earlier been subjected to provocations by Israeli citizens and troops due to its proximity to the Jewish settlement of Ma'on. Currently, there are over 400 Israeli settlements in the West Bank.
The international community, however, regards Jewish settlements in the occupied territories as illegal. Meanwhile, an Israeli official said Tuesday that the country was set to advance plans for nearly 4,000 new settler homes in the occupied West Bank as part of a push to greatly boost settlement growth.
The approvals include units in the flashpoint West Bank city of Hebron for the first time in years. The official, speaking on condition of anonymity, confirmed that "3,736 housing units will be approved at different stages of planning and construction."
Earlier, the Knesset approved in March a preliminary reading of a controversial bill that would ban the use of loudspeakers to amplify the Muslim call to prayer.
In his reaction at the time, Turkey's former top cleric Mehmet Görmez called the bill to ban adhan a denial of Islam and Muslim existence in the territory.
The noise bill would prohibit the use of loudspeakers between 11:00 p.m. and 7:00 a.m. and would officially apply to all religions. However, it is widely seen as targeting calls to prayer at mosques. Government watchdogs said the measure was an unnecessary provocation that threatens freedom of religion. Israeli President Reuven Rivlin was also among those against the bill.
Back in July, Israel barred thousands of Muslims and tourists from visiting and worshipping at the Al-Aqsa mosque compound for two days. The closure was among the most serious incidents in recent years in Jerusalem; further escalating Israeli-Palestinian tensions.
It took a highly unusual decision to close the Al-Aqsa mosque to Friday prayers, causing anger among Muslims and Jordan, the holy site's custodian. The mosque was closed and Friday prayers canceled for the first time since Israel occupied east Jerusalem in 1967 following a gunfight inside the compound killed two Israeli police officers and the three alleged Palestinian attackers. The Al-Aqsa mosque, known to Jews as Temple Mount, is central to the Israeli-Palestinian conflict, with Palestinians fearing Israel may one day seek to assert further control over it. It is located in east Jerusalem, occupied by Israel in 1967 and later annexed in a move never recognized by the international community. It is considered the third holiest site in Islam and the most sacred for Jews. Jews are allowed to visit but not pray there to avoid provoking tensions.
https://www.dailysabah.com/mideast/2017/10/12/israel-reportedly-bans-muslim-call-to-prayer-in-occupied-west-bank
--------
India
Muslim Bodies Welcome SC Ruling on Sex with Minor Wife
Oct 12, 2017
LUCKNOW: Welcoming the Supreme Court (SC) ruling that sex with minor wife will be considered rape and criminal offence, Muslim organisations in the city said it will benefit girls of all communities.
The problem, they said though, was more severe in the majority community than in Muslims. A few clerics, however, said that personal laws of the minority community should have been considered before delivering the judgement.
The president of All India Muslim Women Personal Law Board, Shaista Amber, applauded the judgement as a milestone for gender justice and said that marriage of minors and sex with a minor wife were an atrocity.
"It will be an encouragement for young girls and women who are caught in child marriage. Such girls see marriage and sex as an absolutely gory idea. The relationship between a husband and wife should be that of softness, love and emotion," she said. Amber added that at times, problems like poverty push parents to marry off their daughters at an early age.
Senior lawyer Zafaryab Jilani, convener of the Babri Masjid Action Committee and member of the All India Muslim Personal Law Board (AIMPLB), said by bringing clarity in calling out the offence criminal under the category of rape, the ruling has made the offence more serious.
"Sex with a minor and that without consent is anyway illegal. There is only a minuscule percentage that such marriages take place among Muslims. When sex with minor was already an offence, it comes under criminal law and not personal law," he added.
Maulana Khalid Rasheed Farangi Mahali, head of the Islamic Centre of India and a member of AIMPLB, also welcomed the judgment.
He said, "The SC should have, however, considered the personal laws of minority communities, given that the age for marriage is different in many religions and faiths. Though Islam allows marriage from the time of attaining puberty for both boys and girls, the number of marriages where boy and girl are below 18 years old is very low among Muslims."
General secretary of Majlis-e-Ulema-e-Hind, Maulana Kalbe Jawad, said, "In Indian law, marriage with a minor is illegal, but under the purview of Islam, both marriage and the relation formed thus is legitimate. The personal law board should keep its view in public domain on the same, addressing the clash between personal law and Indian law."
https://timesofindia.indiatimes.com/city/lucknow/muslim-bodies-welcome-sc-ruling-on-sex-with-minor-wife/articleshow/61044394.cms
--------
Fight 'Islamic terrorism' in Kerala, says Union minister Giriraj Singh
Oct 12, 2017
Kochi: The Union Government will extend full support to fight Islamic terrorism in Kerala, said Giriraj Singh, Union minister of state for micro, small and medium enterprises.
Speaking after inaugurating a reception to the Janaraksha Yatra led by BJP state president Kummanam Rajasekharan in Ernakulam on Wednesday, the minister said an attempt is being made by forces based in Malappuram district to convert Kerala into an Islamic state.
The minister also mentioned about a conspiracy regarding the the population growth in Malapuruam district. Referring to the threat posed by Love Jihad to Kerala, he said this is a strategy of the IS.
Repeating the series of rhetorical statements associated with the right wing Hindutva propaganda, the minister alleged that apart from Hindu women, 1,500 Christian women were also missing from the state. As per data, Hindu and Christian population in the state has been declining for the past 10 years, he added, though it was not clear which data he was referring to.
Equating the present ruling regime with the totalitarian North Korea, he said except for the CPM, it has become impossible for other parties to function in the state.
Full report at:
http://www.deccanchronicle.com/nation/politics/121017/fight-islamic-terrorism-in-kerala-says-union-minister-giriraj-singh.html
--------
At Jaisalmer shelter, no food for Muslims forced out of village
Oct 12, 2017
Forced to leave their village in western Rajasthan following alleged threats from upper caste Hindu villagers, about 20 Muslim families are now staring at another crisis.
The district administration, which arranged a temporary shelter for them in Jaisalmer, has failed to provide them food for last two days. Lack of facilities at the shelter has left them, especially women and children, in the lurch.
Around 150 members of these 20 families do not want to return to their homes in Dantal, around 700 kms from Jaipur. They have urged the district administration to shift them to another safer location.
The families left their village following a string of events that began with the killing of a Muslim folk singer, allegedly by a Hindu priest and his brothers. The priest, Ramesh Suthar, who is a traditional occultist, has been arrested on charges of while his brothers are absconding.
Suthar is accused of killing 45-year-old Aamad Khan for his "poor singing" during a Navratri function at the village temple on September 27. Khan's body was found outside his house the next day. The Rajputs allegedly threatened Khan's family against going to police to report the killing. Khan's family quietly buried the body.
However, after their relatives from nearby village came and assured them of help, Khan's family lodged a case against Suthar and his two brothers.
Meanwhile, 20 families of Muslim folk singers, including Khan's, left the village following alleged threat from the Rajputs and took shelter at nearby Balad village.
On Monday, some of them met Jaisalmer district collector (DC) KC Meena, who assured them of help and put them up in a temporary shelter run by the municipal council for the homeless people. The DC asked the civic body to arrange food for them.
"We are managing food for us through our local resources. The administration has made no arrangement," said Tareef Khan. "However, we cannot mop up resources for long," he said.
Jaisalmer municipal council commissioner Jabar Singh said they didn't have budget for providing food to the displaced families. "We gave them food on Monday but we cannot give them food everyday due to lack of funds," he added.
Meena wasn't aware about the condition of the families at the shelter. He said he will need to check if the families have returned to the village or not.
Full report at:
http://www.hindustantimes.com/jaipur/at-jaisalmer-shelter-no-food-for-muslims-forced-out-of-village-after-threats-from-hindus/story-m0uaywgtOCjj4t4CazUbfL.html
--------
Muslim families flee after Hindu's murder near Haridwar
by Kavita Upadhyay |
October 12, 2017
All 17 Muslim families have left the Murgi Farm area near Haridwar after the murder of a taxi driver, who reportedly had an affair with a Muslim girl.
The 19-year-old girl's father and brother have been arrested for the murder of Lakshman Singh Kalura (32), who was found dead with his legs crushed along railway tracks close to Railwala town, 13 km from Haridwar.
Tehri Farm, where Kalura lived, and Murgi Farm, where he went to meet the girl, are both in Raiwala town.
According to Raiwala SHO Ashish Gusain, Kalura went to Murgi Farm on the night of October 3 to meet the girl.
The girl's father, who had reportedly tried to end the affair earlier, dissuaded Kalura from meeting his daughter that day. There was allegedly an argument between the two and Kalura's body was found later that night, Gusain said.
Raiwala remains tense and Section 144 is in force for about a week now.
On October 6, after messages related to the killing circulated on social media, which Gusain said were fake and were spread to ignite communal discord, at least four shops owned by Muslims were vandalised by a mob in Kankhal, 15 km from Raiwala.
The same day, a makeshift shop and a wooden cart owned by Muslims were set ablaze in Rishikesh, 13 km from Raiwala, by unidentified persons.
The police officer said that following the incident, the girl and the rest of her family had left for a town around 60 km from Raiwala, reportedly for security.
To avoid backlash, other Muslims in Murgi Farm also started leaving the area on October 4. Police are guarding the area to avoid vandalism of their property by miscreants.
"Most of the Muslim families residing in the Murgi Farm locality were from Sikroda (60 km from Raiwala). They've returned to Sikroda after the incident," Gusain said.
Dehradun ASP Manjunath T C said, "Just after the incident, many Muslim families (other than the ones in the Murgi Farm locality) left Raiwala. After seeing that the situation is getting under control they are now slowly returning."
Kalura's wife Sangeeta (32), who is worried about the future of her three children, denied her husband had an affair . "People can say whatever they want. I want my husband's killers to get life imprisonment," she said.
Uttarakhand Pradesh Congress Committee president Pritam Singh said: "If such incidents are not stopped, they'll spread out across the state." He said he could not recall an incident in Uttarakhand where Muslims had left their homes out of fear.
Full report at:
http://indianexpress.com/article/india/muslim-families-flee-after-hindus-murder-near-haridwar-4885982/?utm_source=itrendsnow.com
--------
Salafism promotes the true spirit of Islam, claims KNM
Oct 12, 2017
Thiruvananthapuram: Responding to a report published in DC (League MP's Salafi remarks backfire, 10.10.2017), A.M. Sherief, of Salafi Centre, Kollam, has said that Kerala Naduvathul Mujahideen is committed to practice and propagate the true spirit of Islam in its original form.
Excerpts from his letter:
Kerala Naduvathul Mujahideen (KNM) is the central organisation of Salafis of Kerala. KNM which started functioning from 1950 is the successor of Muslim Aikya Sangham, founded in 1923 under the leadership of Vakkom Abdul Khader Moulavi.
Muslim Aikya Sangham and later KNM succeeded in stopping many of superstitious beliefs that prevailed in the Muslim Community and they are continuing that work vehemently as they have to counter the activities of some sects which are engaged in spreading superstitions and those who are leading people to graves of religious leaders for worship.
Salafis are the only sect to allow entry of women to masjid for prayers. Unlike other masjids one can see any number of Quran translations in English and Malayalam in a Salafi Masjid.
Also the Imams of Salafi Masjids give Friday speeches in regional language for enlightening the audience.
Hence it is no wonder that ET Mohammed Basheer, MP, praised the activities and the ideals of Kerala Madvathul Mujahideen.
This movement was led by progressive leaders like Vakkom Abdul Khader Moulavi, Freedom fighters Mohammed Abdurahiman sahib, E Moidu Moulavi, K M Seethi Sahib, K M Moulavi etc and supported by political leaders like C H Muhammad Koya. People from all quarters should come forward to support this genuine Islamic entity of Kerala.
The term radical salafism is a misnomer and is used by vested interests to tarnish this noble movement.
Full report at:
http://www.deccanchronicle.com/nation/current-affairs/121017/salafism-promotes-the-true-spirit-of-islam-claims-knm.html
--------
Two cops arrested for selling arms to terrorists in south Kashmir
Oct 11, 2017
Constables Shabir Ahmad Malik and Nazir Ahmed Najar supplied nearly 40 rounds of ammunition to terrorists in south and central Kashmir. They were arrested along with another HM militant, police sources said. Malik was posted at Ganderbal and Najar at district police lines of Shopian.
Director General of Police (DGP) S P Vaid complimented the cops for busting an "unholy nexus" between policemen and militants by arresting the accused.
"We have zero tolerance for such acts and we will ensure strict and a quick punishment for the guilty," Vaid said, adding that the strong in-house surveillance helped in tracking the accused.
Full report at:
https://timesofindia.indiatimes.com/india/two-cops-arrested-for-selling-arms-to-terrorists-in-south-kashmir/articleshow/61042079.cms
--------
Pakistan wants peaceful relations with 'belligerent' India: General Bajwa
Oct 11, 2017
KARACHI: Pakistan has shown "genuine desire" to have peaceful relations with its "belligerent" neighbour India but it takes two to tango, the country's army chief General Qamar Javed Bajwa said on Wednesday.
Speaking at a seminar here on 'Interplay of Economy and Security', Gen Bajwa also said that Pakistan needed a comprehensive effort to pursue the National Action Plan and remove vulnerabilities well before they turn into threats.
"Our external front which continues to remain in a flux. With a belligerent India on our East and an unstable Afghanistan on our West, the region remains captive due to historical baggage and negative competition," Bajwa said.
"But on our part, we are making a deliberate and concerted effort to pacify the western border through a multitude of diplomatic, military and economic initiative, not to mention the phenomenal boost to human security that we have provided in FATA and surrounding areas.
"We have also expressed and demonstrated our genuine desire to have normal and and peaceful relations with India, however, it takes two to tango," Bajwa said.
Bajwa also expressed concerns over the country's "sky high" debts, saying the abysmally low tax to GDP ratio must change if the country has to "break the begging bowl".
"Growth has picked up but the debts are sky high. Infrastructure and energy have improved considerably but the current account balance is not in our favour," he said.
According to figures released by the finance ministry, Pakistan's foreign debt and liabilities are around $58 billion.
"In order to secure our future, we have to increase our tax base, bring in fiscal discipline and ensure continuity of economic policies," he said, adding that economy remained one of the highest concerns during National Security Council meetings.
Bajwa also said when enemies of Pakistan wanted to damage it, they targeted financial hub Karachi and tried to destabilise it.
Full report at:
https://timesofindia.indiatimes.com/india/pakistan-wants-peaceful-relations-with-belligerent-india-general-bajwa/articleshow/61040959.cms
--------
J-K: Two air force commandos, two Lashkar militants killed in Hajin encounter
by Mir Ehsan
October 12, 2017
TWO GARUD commandos of the Indian Air Force (IAF), who were training with the local Rashtriya Rifles unit, and two Lashkar-e-Taiba militants were killed in an encounter in Bandipora district on Wednesday morning.
DIG, North Kashmir, Vidhi Kumar Birdi said the militants killed in today's operation were involved in the killing of BSF constable Mohammad Ramzan Parray, who was shot by militants inside his house in Hajin last month.
"In an intense operation this morning in Hajin, Bandipora, two terrorists were killed. Two Air Force Garud personnel were martyred in the action. The Garud personnel were operating with the Army for operational experience and training," said Defence spokesman Colonel Rajesh Kalia. "The mortal remains of the martyrs were flown for last rites to their native places, where they will be laid to rest with full military honours,'' he said.
The Garud commandos have been identified as Sergeant K Milind Kishor, 33, and Corporal Nilesh Kumar Nayan, 31. Kishor, a resident of Sakri town in Nashik, Maharashtra, had joined the IAF in 2002. Nayan, from Udhadih village of Bhagalpur district in Bihar, had joined the IAF in 2005. This is the first time that Garud commandos have been killed in an operation in the Valley.
According to officials, a joint cordon-and-search operation was launched by the Army, police and CRPF personnel in Paribal village, 3 kms from Hajin town, in Bandipora district, on Tuesday night. The two commandos were injured when two militants, who were hiding inside a house, opened fire on Wednesday morning. They later succumbed to their injuries.
Full report at:
http://indianexpress.com/article/india/two-militants-killed-by-security-forces-in-hajin-jammu-and-kashmir-encounter-live-updates-4884569/
--------
Pakistan
Three Ahmadi men sentenced to death on blasphemy charge
October 12, 2017
SHEIKHUPURA: A district and sessions court sentenced three men to death on Wednesday on charges of committing blasphemy.
The court also fined them Rs200,000 each, but if they are unable to pay the fine, they would have to undergo six months of rigorous punishment.
In his verdict, Additional District and Sessions Judge Mian Javed Akram ruled that the three members of the Ahmadi community of Bhoaywal village had committed blasphemy by displaying a poster and banners at their place of worship in a manner that was offending.
Riaz Hussain, a shopkeeper, had filed a complaint against the three men at the Sharqpur police station.
https://www.dawn.com/news/1363201/three-ahmadi-men-sentenced-to-death-on-blasphemy-charge
--------
No Entry For Hafiz Saeed In Mainstream Politics, Says Pakistan Election Commission
October 12, 2017
Islamabad, October 11: The Election Commission of Pakistan on Wednesday declined to register terrorist Hafiz Saeed-backed Milli Muslim League (MML) as a political party. The commission rejected its application citing objection of Ministry of Interior Affairs. Hafiz Saeed carries $10 million US bounty on his head for his alleged involvement in the 2008 terrorist attacks in India.
The ministry, in a letter to the commission, said the political outfit had ties with banned organisations like Lashkar-e-Taiba in Pakistan. The letter had stated, "The MML is linked with LeT, the JuD and Falah-e-Insaniat Foundation and ideologically is of the same hue."
It added, " given the clamour, philosophy, outreach and modus operandi to operate, it is difficult to believe that MML will tread its own path completely at variance with its mother organization. Therefore, they have recommended that since the registration of such groups would breed violence and extremism in politics, as such registration of such groups be avoided."
A panel headed by chief election commissioner Sardar Muhammad Raza Khan pointed out, "The interior ministry's letter mentions that the MML is backed by banned terrorist outfits." Khan added the party should get its name cleared by Interior Ministry.
However, the charges were rejected by League's counsel. He said, "Under which law the party should consult the interior ministry when it had fulfilled the set criteria of the ECP for any political party's registration."
Pakistan will be witnessing general elections next year and many banned organisations are bidding to enter the political scenario.
Full report at:
http://www.india.com/news/world/no-entry-for-hafiz-saeed-in-mainstream-politics-pakistan-election-commission-rejects-application-of-milli-muslim-league-2528179/
--------
Bajwa urges govt to expand tax base in order to break 'begging bowl'
October 11, 2017
Chief of Army Staff (COAS) Gen Qamar Javed Bajwa said Pakistan needs to expand its tax base, bring in financial discipline and ensure continuity of economic policies to be able to break the begging bowl, military's media wing reported.
"The economy is showing mixed indicators. Growth has picked up but the debts are sky high. Infrastructure and energy have improved considerably but the current account balance is not in our favour," the army chief reportedly said while addressing a seminar on the interplay of economy and security on Wednesday.
"Our tax to GDP ratio is abysmally low and this needs to change if we are to break the begging bowl," read the text of Bajwa's speech shared by Inter-Services Public Relations.
He also shared that economy remains a major concern during National Security Council meetings, also revealing that he reads the business and economy page of the newspaper right after the main page because of its importance.
"Pakistan is capable of creating sufficient fiscal space to address underlying structural problems through tax reforms, documenting economy, diversifying the export base, and encouraging savings to finance a level of investment that could sustain growth rate higher than the rise of population," but the benefits should also reach all parts of Pakistan including interior Sindh, Fata, Balochistan and Southern Punjab, he said.
Gen Bajwa said that after the end of cold war people were claiming that economic interests alone would dictate national security but the "reappearance of age-old fault lines and reassertion of ancient parochial passions of race, language, religion and identity" has led to security once again becoming "the foremost business and task of the state".
"We have to continuously ensure a viable balance between economy and security," the army chief said, focusing on the security-economy nexus. "Only then will we arrive at a future that ensures sustained peace and happiness for our people."
Many of the planned measures of the National Action Plan (NAP) will contribute directly to the economic and political stability of the country, he said, giving examples of police, judicial and madrassah reforms.
"We cannot afford to leave a large segment of our youth with limited options — madrassahs must enable their students to become useful members of the society who are not left behind in any field of life."
He cited the peaceful commencement of Muharram, Bohra community holding its annual gathering in Pakistan and sports and cultural events as examples of peace reiterating in the country.
The China-Pakistan Economic Corridor (CPEC) is "a complete development platform that has the potential to act as a powerful springboard for shared development in the entire Central Asia-South Asia region," Gen Bajwa said.
Full report at:
https://www.dawn.com/news/1363138/bajwa-urges-govt-to-expand-tax-base-in-order-to-break-begging-bowl
--------
No Fata-KP merger without referendum, says Fazl
Hassan Belal Zaidi
October 12, 2017
ISLAMABAD: Maulana Fazlur Rehman — who is widely blamed for stalling measures aimed at mainstreaming the Federally Administered Tribal Areas (Fata) — told the National Assem­bly on Wednesday that the government could not decide to merge the tribal areas with Khyber Pakhtunkwa without first holding a referendum to ascertain the will of people.
He said his party's stance had been the same since 2012, when the KP assembly passed a resolution seeking a merger with Fata, which caused some consternation.
He recalled that in the wake of the resolution, a jirga was convened in Pesha­war in July 2012, where it was agreed that there were a few options; the tribal areas could either be merged with KP, given the status of a province, or that existing rules should be amended to get rid of the draconian laws that prevail there.
He insisted that all three options had merit, adding that his party could not take a unilateral decision to back or oppose any of these options, especially at a time when military operations had uprooted a large chunk of the population.
He claimed that it was decided at the time that this jirga would decide the fate of the tribal areas.
"There is no dispute on the question of a merger," he declared, saying that whatever decision is taken should be taken in consultation with the tribal people.
He recalled that when the Rewaj Act was passed by the National Assembly, there was still no political agreement over it. He also contended that without extending the jurisdiction of the lower courts to the tribal areas, there was no use of extending the jurisdiction of superior courts to Fata.
He pointed out that exten­ding the Islamabad High Court's jurisdiction to Fata was logical, since both were federal areas. But extending the Peshawar High Court's jurisdiction there was tantamount to a merger. He also took exception to the fact that no one from the tribal areas was a part of the Fata Reforms Committee that had developed the reforms package.
He also announced that the youth of Fata would gather in Peshawar tomorrow (Friday), adding that then it would become clear what they wanted.
However, the JUI-F chief's measured remarks on the issue of the Khatm-i-Nabuwwat declaration for electoral candidates surprised many in the house.
Adopting a far more congenial tone on the matter than most other parliamentarians had, the JUI-F leader said: "The entire assembly has committed a collective sin."
He recalled the pandemonium in the house on the day that the controversial Elec­tions Act 2017 was first passed, and compared the changes in the Khatm-i-Nabuwwat declaration to the work of a pickpocket who would rob people in the midst of such confusion.
"We have to find out who committed this theft; we must find out who it was. But now, every side is trying to score points and put pressure on the other," he said, calling for the law ministry to be charged with fixing responsibility for the change.
Pakhtun­khwa Milli Awami Party chief Mehmood Khan Achakzai — who is considered the other major opponent of Fata reforms — tried to explain his point of view. However, he was shouted down by the opposition, particularly Pakistan Tehreek-i-Insaf members, who objected to the deputy speaker's decision of ceding the floor to Mr Achakzai, since Abdul Qahar Wahan of the same party had already spoken on the matter.
IB letter
Inter-Provincial Coordi­na­tion Minister Riaz Pirzada, who had publicly taken issue with his government over alleged directions to the Intelligence Bureau to probe 37 parliamentarians for links with banned outfits, on Wednesday announced that the "matter had been settled".
He said that after the prime minister's assurance on the floor of the house that the letter was fake and forged, the matter should be laid to rest once and for all.
Full report at:
https://www.dawn.com/news/1363180/no-fata-kp-merger-without-referendum-says-fazl
--------
Pakistan urges Kabul, Taliban to turn over a new leaf, again
12-Oct-17
SLAMABAD: Foreign Secretary Tehmina Janjua reiterated Pakistan's call for making serious efforts for negotiated settlement between the Afghan government and the Taliban for achieving lasting peace in the war-torn country, it was reported.
She expressed those views while participating in the meeting of Shanghai Cooperation Organisation (SCO) Contact Group on Afghanistan held at the deputy foreign minister-level in Moscow Wednesday, a statement issued by the Foreign Office said.
Russian Deputy Foreign Minister Igor Morgulov chaired the meeting while deputy foreign ministers of Afghanistan, China, India, Kazakhstan, Tajikistan, Uzbekistan, Turkmenistan and representatives of SCO and its relevant bodies attended the meeting.
Addressing the meeting, Janjua underlined challenges faced by Afghanistan including deteriorating security situation marked by increasing ungoverned spaces being used to provide sanctuary to the terrorist groups like Da'esh, Al-Qaeda, Tehreek-e-Taliban Pakistan (TTP) and Jamaat-ul-Ahrar (JuA) and increasing drug production which threatened Afghanistan's neighbours.
The foreign secretary also emphasised the importance of early return of Afghan refugees and combating drug production and human trafficking which continued to affect stability of Afghanistan and the region.
The members of SCO Contact Group exchanged views on ways and means to support peace and stability in Afghanistan through facilitating Afghan-led peace process, assisting the Afghan government in dealing with security and counter-terrorism challenges and promoting regional economic integration and connectivity.
They unanimously supported measures for strengthening interaction between Afghanistan and the SCO countries.
Full report at:
http://dailytimes.com.pk/pakistan/12-Oct-17/pakistan-urges-kabul-taliban-to-turn-over-a-new-leaf-again
--------
Religious parties meet today for election alliance
October 12, 2017
LAHORE - Heads of mainstream religious parties are meeting in Islamabad today to discuss possibilities of election alliance.
Maulana Fazlur Rehman's JUI-F has invited the JI chief Sirajul Haq, JUI-S head Maulana Samiul Haq, JUP president Pir Ijaz Hashmi, Islami Tehreek head Allama Sajid Naqvi and Markazi Jamiat Ahle Hadith chief Professor Sajid Mir in the federal capital for discussion.
All the parties were the part of Muttahida Majlise Amal which was formed during General Parvez Musharraf's tenure. The MMA, however, dissolved before 2008 general election due to differences between the JUI-F and Jamaat-e-Islami. It is likely that all heads of the six parties will participate in the meeting.
"We feel an urge of unity among the religious parties when we hold dialogue with their leaders on direction of Maulana Fazlur Rehman. The meeting is continuation of the deliberations among the leaders of the parties," JUI-F deputy secretary general Maulana Amjad Khan said.
http://nation.com.pk/national/12-Oct-2017/religious-parties-meet-today-for-election-alliance
--------
Mideast
Turkish Doctors, Terrorists Engaged in Trafficking Organs of Syrian Patients
Oct 11, 2017
The Kurdish-language Hawar news quoted local sources as disclosing that the ISIL terrorists took out Syrian patients' body organs in cooperation with the Turkish surgeons to trade them in other countries.
It said that ISIL had embarked on training female nurses in Raqqa's state hospital to cure its own members that were sick, adding that the ISIL, in cooperation with the Turkish doctors, was using the blood of the Syrian patients to save the injured terrorists' lives.
Hawar news further said that the ISIL and the Turkish doctors were cooperating to take out the patients' body organs to sell them.
Local sources told Hawar news that a large number of Syrian patients lost their lives in Raqqa hospital, while their bodies were not handed over to their family members.
Relevant reports said in December 2016 that terrorist groups in Idlib province abducted tens of Syrian children and trafficked their body organs.
The Arabic-language Al-Hadath news website quoted the sources as saying that some specific groups that trained medics kidnapped the children, mutilated their body organs and then left their corpses in remote areas or buried them.
According to them, an Israeli officer in Turkey was waiting for the children's organs to be transferred to the black market for transplantation.
The sources said that the medical teams of these groups anesthesiologists, surgeons and a number of armed forces who abduct children and transfer them to safe areas for surgery in brand-new and fully equipped ambulances.
http://en.farsnews.com/newstext.aspx?nn=13960719000980
--------
Iran Asks US to Think Twice before Going Past Point of No Return
Oct 11, 2017
"Denying the Islamic Republic's compliance with the nuclear deal, which has been endorsed by the International Atomic Energy Agency (IAEA) and other countries, will bear nothing for the US but more disrepute and isolation in the world and the US will be turned into an unreliable and unpredictable country which cannot have serious partners in major strategic issues," Foreign Ministry Spokesman Bahram Qassemi said in an interview with the Iranian media on Wednesday.
Noting that Iran expects all parties to the nuclear deal to remain committed to their undertakings, he said, "We want Europe to warn the US more seriously not to embark on this dangerous issue and not to move on this path of no return because the US should account for the consequences of this trend and method."
IAEA Director-General Yukiya Amano announced on Monday that Iran has remained committed to its undertakings based on the 2015 nuclear deal, stressing the ineffectiveness of political pressures on the world body's assessments.
Amano made the remarks in a meeting with Head of the Atomic Energy Organization of Iran (AEOI) Ali Akbar Salehi at the venue of Iran's embassy in Rome.
During the meeting, he discussed the latest political developments related to the nuclear deal and the US administration's recent positions, and said the IAEA has so far confirmed Iran's full compliance with its undertakings.
Full report at:
http://en.farsnews.com/newstext.aspx?nn=13960719001539
--------
Hamas reaches political reconciliation deal with Palestinian rival Fatah
12 October 2017
Palestinian rival factions Hamas and Fatah have reached a deal over political reconciliation and details will be released at a news conference later on Thursday, the pro-Hamas Palestinian Information Center reported.
Quoting a member of the Hamas media department, the website did not provide further details but said they would be announced at a noon news conference in Cairo, where unity talks between the rival factions began on Tuesday.
The Western-backed mainstream Fatah party lost control of Gaza to Hamas, considered a terrorist group by the West and Israel, in fighting in 2007. But last month Hamas agreed to cede powers in Gaza to President Mahmoud Abbas' Fatah-backed government in a deal mediated by Egypt.
https://english.alarabiya.net/en/News/middle-east/2017/10/12/Hamas-says-reached-deal-with-Palestinian-rival-Fatah-.html
--------
US provides logistic support to Daesh in Iraq, Syria: IRGC commander
Oct 11, 2017
A commander of Iran's Islamic Revolution Guards Corps (IRGC) says the United States has airdropped weapons and food supplies to Daesh in Iraq and Syria as the Takfiri terrorist group was facing defeat.
The second-in-command of the IRGC's Ground Force, Brigadier General Abdullah Araqi, said on Wednesday that the US had provided logistic support to Daesh in the Syrian province of Dayr al-Zawr and the Iraqi provinces of Diyala, Nineveh and Salahuddin.
"The Americans have been in Syria and Iraq under the pretext of opposing and fighting Daesh, but the reality contravenes the US claim," the Iranian commander said.
He added that the US, as the patron of Daesh, never hesitated to rush to help the terrorists in Iraq and Syria whenever they faced challenges.
"The Americans do whatever they have in their power to support Daesh, because they know very well that the Islamic Republic of Iran and the resistance front are the enemies of Daesh," he concluded.
On Sunday, Sayyed Hassan Nasrallah, the secretary general of the Lebanese Hezbollah resistance movement, lashed out at the US for providing Daesh with assistance through its bases in Syria.
The Hezbollah leader said the US was helping Daesh through its bases in the Syrian city of Raqqah and near Syria's border with Jordan where Daesh terrorists are trained.
Nasrallah noted that the United States prevented the total annihilation of Daesh by blocking the advance of the Syrian army and resistance groups toward the terrorist group's positions.
Full report at:
http://www.presstv.com/Detail/2017/10/11/538288/Iran-IRGC-United-States-Daesh-Nasrallah
--------
North America
Trump seeks 'permanent occupation' of Afghanistan
Oct 11, 2017
The Trump administration has intensified the US bombing campaign in Afghanistan and is changing the rules of engagement there, indicating a plan for a "permanent occupation" of the country, an analyst says.
Stephen Lendman, an author and radio host from Chicago, made the remarks in an interview when asked about new data which shows the United States military dropped a total of 751 bombs on Afghanistan in September, the highest monthly number in the past seven years.
The figure indicated a 50-percent increase from August (503 bombs), which the command attributed to President Donald Trump's so-called "strategy to more proactively target extremist groups" in the country.
"The Trump administration intends changing the rules on Afghanistan, the so-called rules of engagement which are never enforced anyway. Field commanders will have more latitude on how they want to handle the situation in Afghanistan," Lendman told Press TV on Tuesday.
"The US bombing of the country is more intensive than it has been in years," he noted. Over the past years, the US has been bombing the country "with no possibility of resolving the conflict."
Lendman also said the US presence in Afghanistan "has nothing whatsoever to do with combating terrorism and has everything to do with controlling the country, occupying it, using it as a land-based aircraft carrier as part of the plan to surround Russia and China with US military bases."
"The reason for all US wars is dominance, power, control of countries, and of course contesting independent ones, Russia, China, Iran and all the others," Lendman opined.
In a clear U-turn from his campaign pledge to end the now 16-year occupation of Afghanistan, Trump said in August that his views had changed since entering the White House and that he would continue the military intervention "as long as we see determination and progress" in the South Asian country.
http://www.presstv.com/Detail/2017/10/11/538228/US-Afghanistan-Donald-Trump-bombing
--------
Minnesota leading the way in interfaith alliances
OCTOBER 11, 2017
Rabbi Morris Allen celebrated the holiday of Sukkot last weekend at an unusual backyard gathering that hosted men wearing yarmulkes and Muslim women draped in headscarves.
A few weeks earlier, a new organization of Muslim and Jewish women delivered food shelf donations to a Minneapolis school. Another alliance, the Sisterhood of Shalaam Shalom, just launched a second Minnesota chapter in as many years.
Minnesota, long a leader in interfaith action, is emerging as a national leader in Jewish-Muslim relations. Thanks to groundwork laid by religious leaders over the years, and jolted by heightened anti-Muslim, anti-Semitic tensions, leaders of the two faiths are forging new alliances and bolstering existing ones.
"I talk to colleagues across the country and there is a lot going on in Muslim-Jewish relations," said Imam Makram El-Amin, whose Masjid An-Nur mosque shares a long partnership with Temple Israel. "But in terms of sheer volume of engagement, the Twin Cities is among the national leaders — if not the leader. It's so much so, that we have to pick and choose what we can be engaged in."
Minnesota reflects a trend unfolding in urban centers across the country, as well as the nation's capital. For example, the American Jewish Committee and the Islamic Society of North America — two of the nation's largest such advocacy groups — launched a new lobbying organization last November to promote hate crime legislation, civil rights legislation and other shared policy concerns.
Full report at:
http://www.startribune.com/minnesota-muslim-jew-alliances-multiply-in-new-political-climate/450519773/
--------
Muslim western communities must work harder to protect the vulnerable
October 11, 2017
Over the past few weeks, the English-speaking Muslim internet sphere has virtually exploded over allegations that a prominent American preacher, Nouman Ali Khan, has acted inappropriately with women. There was no suggestion of legal improprieties that would have indicated a crime had been committed. But the episode raises serious questions for the Muslim community of the United States in particular, but much wider issues around accountability, ethics, and community leadership. With the controversy continuing to raise conversations not simply among Muslim western communities, but also spreading far beyond into the mainstream press, the questions aren't going to be disappearing anytime soon. And the jury is still out on whether or not Muslim western communities will be able to effectively address them.
The controversy isn't simply about Khan, however. To reduce this episode to simply one religious figure would be to miss the point entirely. There is a much larger issue, one that transcends the accusations against Khan. There are a number of other preachers who have already been accused of improprieties, from different followings within the Muslim community. Moreover, most importantly of all, the issue of redressing abuses against victims will remain, irrespective of whether Khan has engaged in any indiscretions.
The nature of such indiscretions, however, is that they are usually not illegal and do not break fundamental human rights – if they did, then such individuals would simply be taken to court. But abuse still takes place – and abuse can be immoral, unethical and harmful, without necessarily being illegal. Victims of any ill-treatment have to be able to find recourse and hitherto, the ways in which this can happen are far and few in between.
If a preacher happens to be a chaplain, for example, there are codes of conduct he or she is obliged to adhere to at the university, hospital or prison they serve at. But what happens when the preacher or religious figure in question is not actually employed by an institution that imposes certain ethical rules – and when the law of the state is actually silent on the abuses that is the subject of the accusation?
Herein lies a critical issue. There is a rush to turn this episode into a media-driven affair, where there is trial and investigation – and sentence – by the jury of the (mostly internet) public. Or to put it as a friend did, "the Muslim community wants an OJ Simpson trial – and they don't need one." He was right – they need a set of tools to ensure accountability for this episode, and to ensure that it never happens again.
There may be some that argue that no recourse need exist in the first place – that if no law has been broken, then it suffices. It's a terribly reductionist argument which is in itself abusive. It's the argument of the powerful, which then implicitly silences those who have been abused. It's neither an ethical nor a moral argument and alas, much of the comments that have been bandied around in this case seem to fall into that utter obtuse attitude with regards to more vulnerable sections of the community.
There will be those who will demand a public spectacle, where those who have been abused are obliged to come out with details in the "court" of public opinion. Any counsellor knows that this is in itself an abuse. Indeed, even in criminal cases, partial anonymity is often provided to those who have been abused and that is in criminal cases, let alone non-criminal incidents of abuse.
In the Khan case, a group came together to fulfil that communal obligation, which was to act as mediator, when it seemed at least accusations of impropriety were made public. But that process broke down, which led to the public accusations and counter-statements being made. What happens, then, when the local community has been unable to find a way forward? Typically, one would assume, that a wider, regional body would step in – and if that broke down, then a national community leadership intervention is warranted.
And there, perhaps, is a root challenge for the Muslim western community. It has been weeks now since this episode broke. And while there are many figures of pre-eminent stature in the Muslim American community, including in the wider geographical area where this episode emerged, it is difficult to speak of a community wide leadership that took responsibility for addressing the issue. Instead of seeing a victim-centric community, where protecting the vulnerable are viewed as paramount, we do not even see the capacity for protecting them, except through the law.
The absence of a permanent, institutionalised body that can lay down an ethical code of conduct, that the community buys into and accepts for any religious figure, and which can adjudicate when such a code is broken or ignored, can have grave consequences. There are frameworks for these kinds of bodies – they already exist. Forming one specifically for Muslim western figures of religion is easy. The question is who would sign up, and what internal community penalties would exist for those who didn't.
Full report at:
https://www.thenational.ae/opinion/muslim-western-communities-must-work-harder-to-protect-the-vulnerable-1.666533
--------
Toronto School District Says Controversial Islamic Heritage Guide, Which Drew Complaints
by Shiri Moshe
Oct 12, 2017
A Toronto school district has announced that it won't further modify its Islamic Heritage Month guidebook, following complaints from prominent Canadian Jewish human rights groups.
The 181-page guidebook was issued this year to educators by the Toronto District School Board (TDSB) for use during Ontario's Islamic Heritage Month in October. The province also celebrates Sikh, Hindu, and Jewish heritage months.
The document includes writing assignments and other resources to help students gain a better understanding of the history and contributions of Muslims in Canada and beyond, but drew controversy by initially defining Islamophobia as "fear, prejudice, hatred or dislike directed against Islam or Muslims, or towards Islamic politics or culture."
B'nai Brith Canada raised concerns on October 2 that this "overly broad" definition "could lead to punishment for students or teachers who display 'dislike' toward the persecution of LGTBQ people in the Islamic Republic of Iran, harsh restrictions on women in Saudi Arabia, and Palestinian terrorism against Israelis, all of which are examples of 'Islamic politics'."
The TDSB responded within hours of the complaint, and subsequently revised its definition of Islamophobia to that adopted by the Ontario Human Rights Commission.
"We have been informed by the TDSB that the original version of the Guidebook with the problematic definition was not widely distributed, and that this updated version has been distributed instead," Aidan Fishman, interim national director of the League for Human Rights of B'nai Brith Canada, told The Algemeiner on Wednesday.
However, days following B'nai Brith Canada's objection, the Friends of Simon Wiesenthal Center for Holocaust Studies (FSWC) sent a letter to TDSB expressing its own dismay over the guide's reference to the Nation of Islam and one of its former adherents, the late civil rights activist Malcolm X.
"Nation of Islam officials have a documented history of antisemitic rhetoric including Holocaust denial, exaggerating the role of Jews in the slave trade and hateful conspiracy theories about Jewish control of the economy," FSWC argued.
Addressing the guide's suggestion that a brief biography of Malcolm X be read to students during morning announcements, FSWC noted, "Malcolm X was accused of making antisemitic remarks claiming that Jews controlled the media and befriended the Black community for their own ulterior motives. Such remarks have in fact been posted on white nationalist websites."
The group urged the TDSB to recall the guide pending further review.
Jim Spyropoulos, executive superintendent of equity and inclusive schools at TDSB, said in response that no further revisions of the guidebook would be made based on FSWC's complaints.
The reference to the Nation of Islam "is presented as historical fact only, and is in no way intended as an endorsement of that organization," Spyropoulos wrote in a letter to FSWC explaining the decision.
After recognizing that Malcolm X "was a polarizing historical figure," Spyropoulos pointed out that he also "played a central role in the U.S. civil rights movement, and this is taught about in schools across North America."
Full report at:
https://www.algemeiner.com/2017/10/11/toronto-school-district-says-controversial-islamic-heritage-guide-which-drew-complaints-from-jewish-groups-wont-be-further-modified/
--------
Iran's 'various scenarios' awaiting Trump's JCPOA move
Oct 12, 2017
Iran is considering "various scenarios" in response to US President Donald Trump's "probable withdrawal" from the international nuclear deal between Tehran and six world powers.
Head of the Atomic Energy Organization of Iran (AEOI) Ali Akbar Salehi made the remarks on Wednesday following a meeting with UK Foreign Secretary Boris Johnson in London.
Iran has "prepared itself for various scenarios," and will undoubtedly deliver a proper response, Salehi stated.
Trump's administration, which took over a year after the nuclear agreement had come into force, has repeatedly attacked the agreement and desperately sought a pretext to scrap or weaken the deal.
While the Trump administration has twice certified Iranian compliance with the deal in notifications to the US Congress under an American law, the White House has indicated that a third verification — due later this week — would not be offered.
Salehi went on to say that Iran hopes the nuclear agreement, known as the Joint Comprehensive Plan of Action (JCPOA), will remain as it has until today and "be rid of irrational games."
"The European Union has so far indicted that it is willing to preserve the JCPOA but whether or not it can resist the US is unpredictable," he added.
Salehi stressed that Iran seeks preservation of the JCPOA "but not at any price."
"There are only two cases: either all [parties] withdraw from the JCPOA or everyone stays [committed to] to it. There is no third alternative," he noted.
He further noted that the US appears to be suffering from "political confusion" and it does not know want it wants.
'Bad policy'
Several US politicians, including key lawmakers such as Ed Royce, the Republican chairman of the House of Representatives Foreign Affairs Committee, have voiced support for staying committed to the accord.
The reason for that is "simply because the agreement is totally verifiable," according to former US Senate candidate Mark Dankof.
"It is in the interest of everyone involved, including the United States, to be a party to this agreement," he told Press TV in an interview on Wednesday.
Dankof cited the US intelligence community's corroboration of Iran's compliance to the deal as well as the pursuit of a peaceful nuclear program, arguing that reneging on the deal is nothing but "bad policy."
The US president is expected to "decertify" the nuclear agreement during a speech on Thursday.
UK reaffirms commitment to JCPOA
Earlier in the Wednesday, the UK Foreign Office released a statement reiterating Britain's support for the JCPOA.
"The UK supports the deal and stresses the importance of all parties continuing to uphold their commitments," said Johnson in the statement.
"I remain steadfast in my view that the nuclear deal was an historic achievement… It was the culmination of 13 years of painstaking diplomacy and has increased security, both in the region and in the UK. It is these security implications that we continue to encourage the US to consider," he added.
While the International Atomic Energy Agency (IAEA) has on multiple occasions confirmed Iran's compliance with its commitments under the nuclear deal, the Trump administration itself has not been able to point to a single area in which Iran is in breach of the terms of the agreement.
Political observers have warned that any unilateral action by the United States based on unsupported claims of Iranian non-compliance would isolate Washington, impede future efforts for other nonproliferation agreements in the broader international community and increase the likelihood of a wider conflict in the Middle East.
After the leaders of the European signatories to the JCPOA -- the UK, France and Germany -- could not convince Trump of the dangers of killing Iran's nuclear deal during their one-on-one sessions with the US president at the UN General Assembly in mid-September, the countries are now focusing their lobbying efforts on the US Congress.
Full report at:
http://www.presstv.com/Detail/2017/10/12/538298/iran-us-uk-salehi-jcpoa-aeoi
--------
Key US lawmakers back enforcing Iran nuclear deal, not ending it
Oct 11, 2017
Two key US lawmakers in Congress say Washington should work with allies to strictly enforce the Iran nuclear deal rather than pull out of the international agreement.
"As flawed as the deal is, I believe we must now enforce the hell out of it," Ed Royce, the Republican chairman of the House of Representatives Foreign Affairs Committee, said at a House hearing on Wednesday.
The nuclear deal, known as the Joint Comprehensive Plan of Action (JCPOA), was reached in 2015 between Iran and the P5+1 (the five permanent members of the UN Security Council -- China, France, Russia, UK, US -- plus Germany).
Royce, like every other Republican in the US Congress, opposed the nuclear agreement reached during the administration of former President Barack Obama, a Democrat.
But several of Obama's fellow Democrats also opposed the deal, including Representative Eliot Engel, the second-most senior member of the House Foreign Affairs Committee.
Engel, however, said at the hearing that killing the deal would be a "grave mistake," since it is in place and backed by US allies and other powers.
"We need to work with allies and partners on a shared agenda that holds the regime in Iran accountable, not dividing America from our closest friends across the globe," he said.
Under a law passed by Congress in 2015, the president must certify the deal every 90 days. The next deadline is Sunday.
Trump has made the certification twice before but there is speculation that he will withhold certification this week.
The Trump administration, which took over a year after the JCPOA had come into force, has repeatedly attacked the agreement and desperately sought a pretext to scrap or weaken the deal.
Moreover, Trump plans to designate Iran's Islamic Revolution Guards Corps (IRGC) as a terrorist organization. On Tuesday, a key Iranian parliamentary body said the IRGC reserves the right to treat US military forces as terrorists if Washington blacklists the elite force.
In his remarks Wednesday, Royce said whatever decision Trump makes, he must fully explain his reasoning.
Full report at:
http://www.presstv.com/Detail/2017/10/11/538267/Ed-Royce-Iran-nuclear-deal-US-Trump-IRGC
--------
Europe
European Parliament reaffirms strong ties with Saudi Arabia
12 October 2017
RIYADH: A seven-member delegation from the Saudi Parliamentary Friendship Committee, led by Prince Khalid bin Abdullah bin Mishari, met in Brussels on Monday with members of the European Parliament, who reaffirmed the strong ties between the Kingdom and Europe.
The head of the Parliament's Delegation for relations with the Arabian Peninsula (DARP), Michele Alliot-Marie, said that the presence of the Saudi delegation was very significant and reflected the desire to strengthen the Kingdom's relations with the EU.
"The Gulf region is very important for the stability of the world," Alliot-Marie said. "Stability is a matter of interest to Europe, and relations with Saudi Arabia are strong in all areas: Economic, trade, security and energy."
"Everyone has witnessed the progress in the Kingdom and the achievements made," Prince Khalid said, adding that Saudi Arabia is determined to end the suffering of the Yemeni people by supporting the legitimacy and efforts of friendly countries to negotiate reconciliation.
He stressed that the Kingdom notes the efforts of the UN envoy to reach a political solution in accordance with the Security Council's resolution.
Alliot-Marie pointed out that the political crisis between Qatar and Saudi, the UAE, Bahrain and Egypt is of concern to the EU, which hopes a quick solution can be reached.
Prince Khalid expressed regret over the misguided stance of the Qatari government, pointing out that the decision taken by the four countries is part of their jurisdiction in the fight against terrorism.
http://www.arabnews.com/node/1176341/saudi-arabia
--------
British jihadi "White Widow" killed by US drone — Sun report
12 October 2017
LONDON: Sally Jones, a British terrorist who recruited online for the Daesh group, has been killed in Syria by a US drone along with her 12-year-old son, The Sun newspaper reported on Thursday.
A convert to Islam from southern England, Jones was nicknamed the "White Widow" by the British press after her husband Junaid Hussain, also an Daesh militant, was killed by a drone in 2015.
Quoting a British intelligence source who had been briefed by US counterparts, The Sun reported that Jones and her son had been killed in June close to Syria's border with Iraq, as she was attempting to flee the Daesh stronghold of Raqqa.
US intelligence chiefs were quoted as saying they could not be 100 percent certain that Jones had been killed as there was no way of recovering any DNA from the ground, but they were "confident" she was dead.
Her son JoJo was presumed to be dead too, although his presence with her was not known at the time of the drone strike and he was not an intended target, according to The Sun.
Other Daesh militants have been reported dead only to reappear.
Jones, who before her militant days was once a singer in a punk band, has been the subject of years of fascination by the British press.
She was believed to have left her home in Chatham, in the southern county of Kent, in 2013 to travel to Syria, where she married Hussain whom she had met online.
Full report at:
http://www.arabnews.com/node/1176426/middle-east
--------
Danes arrest 18 men with Pakistani background in vast financial crimes probe
Oct 12, 2017
Danish police say 18 men, including five foreign nationals, have been arrested on suspicion of fraud and other financial crimes worth 440 million kroner ($70 million).
Police say 11 million kroner was seized from bank accounts, as well as 1.5 million kroner in cash, eight vehicles — described as "luxury cars" — and a large quantity of "valuable jewelry."
Police say nearly 40 raids took place across Denmark and Germany following a lengthy investigation into an organized criminal network chiefly of people with a Pakistani background who are suspected of tax fraud. All the arrests were in Denmark.
No other details were immediately available.
Police said Wednesday in a statement the investigation is continuing and those arrested would face a pre-trial detention hearing later Wednesday.
http://nation.com.pk/international/11-Oct-2017/danes-arrest-18-men-with-pakistani-background-in-vast-financial-crimes-probe
--------
Two arrested over deadly Marseille train station attack
12 October 2017
French police investigating the fatal stabbing of two young women in the southern city of Marseille, an attack claimed by ISIS, have arrested two men, a judicial source said Wednesday.
The pair, aged 24 and 29, were arrested on Tuesday in Toulon, about 65 km east of Marseille.
Ahmed Hanachi, a 29-year-old Tunisian, fatally stabbed the two women at Marseille's Saint-Charles train station on October 1, before being shot dead by police.
ISIS claimed responsibility, but French investigators have not found any evidence linking the attack to the jihadists.
A judicial source said of the arrests: "The 24-year-old man may have hosted the killer Ahmed Hanachi during one of his visits to Toulon."
The source added the suspects were together when they were arrested.
Police have focused their investigation on Hanachi's family, arresting four of his siblings in the days following the attack. Two have been freed.
The other two siblings, brothers Anouar and Anis, await extradition after their arrests in Switzerland and Italy, respectively.
Full report at:
https://english.alarabiya.net/en/News/world/2017/10/12/Two-arrested-over-deadly-Marseille-train-station-attack.html
--------
German journalist remanded in custody in Turkey
Oct 11, 2017
A court in Turkey has remanded in custody a German journalist over terrorism charges in what could further escalate tensions between the country and the German government.
The court ordered Mesale Tolu on Wednesday to remain in jail pending trial over accusations of membership of the MLKP, a communist party with links to armed Kurdish groups.
Five other suspects were also remanded while eight people were released.
A total of 18 people face up to 20 years in jail over charges of being a member of a terrorist organization and publishing terrorist propaganda.
Tolu said during the Wednesday hearing in Silivri, near Istanbul, that she was innocent and demanded her immediate release.
"I have not committed any of the above mentioned crimes and have no connection with illegal organizations. I demand my release and my acquittal," said Tolu, who was arrested in April and has been living with her three-year-old son in jail over the past five months as her husband has also been detained.
Tolu is among 11 German nationals caught in the wheels of a sweeping crackdown that unfolded following an unsuccessful coup last summer. The arrests have badly hit already strained ties between Germany and Turkey.
German Foreign Minister Sigmar Gabriel reacted to the Turkish court's extension of Tolu's arrest, urging Turkish officials to immediately release her.
"We demand a fair trial, based on the rule of law. Above all, what matters now is speed so that Mesale Tolu can be released as soon as possible," Gabriel said in an interview on Wednesday.
Full report at:
http://www.presstv.com/Detail/2017/10/11/538292/Turkey-German-journalist-detention
--------
UK backs Iran nuclear deal despite US objections
11 October 2017
British Foreign Secretary Boris Johnson has urged all parties to uphold their commitments to the Iran nuclear deal, describing it "a historic achievement".
Johnson's remarks followed phone calls with U.S. Secretary of State Rex Tillerson and Iranian Foreign Minister Javad Zarif yesterday.
However, U.S. commitment to maintaining the deal struck under former President Barack Obama has been cast into doubt by current American leader Donald Trump who is opposed to the international compromise package.
His administration plans to announce its decision on the 2015 nuclear deal between Iran and six major world powers. Trump is expected to decertify the agreement.
However, British remains supportive of the deal, which took 13 years to hammer out. "The nuclear deal was a crucial agreement that neutralized Iran's nuclear threat," Johnson said on Wednesday.
"The U.K. supports the deal and stresses the importance of all parties continuing to uphold their commitments," he added. "It was the culmination of 13 years of painstaking diplomacy and has increased security, both in the region and in the U.K."
"We have made no bones about our deep concern at Iran's destabilizing regional activity, including its ballistic missile program, but I remain steadfast in my view that the nuclear deal was an historic achievement that has undoubtedly made the world a safer place," Johnson also said.
He will meet Iranian Vice President Ali Akhbar Salehi in London to press for Iran's continued compliance with the deal.
British Prime Minister Theresa May, who spoke by telephone to Trump about the agreement on Tuesday, also reaffirmed the U.K.'s "strong commitment to the deal alongside our European partners".
Full report at:
http://www.worldbulletin.net/europe/194868/uk-backs-iran-nuclear-deal-despite-us-objections
--------
South Asia
Premature Explosion among The Taliban Leaves 13 Militants Dead, Wounded
Oct 11 201
At least thirteen Taliban insurgents were killed or wounded after an Improvised Explosive Device went off prematurely among the several Taliban insurgents in eastern Laghman province of Afghanistan.
According to the officials of the 201st Silab Corps of the Afghan National Army (ANA) forces in the East, the incident took place in Alingar district as the militants were planting an improvised explosive device on a roadside.
The officials further added that five insurgents including a commander of the Taliban identified as Mawlavi Qasim were killed and eight others were wounded.
The militants were attempting to plant improvised explosive devices on a roadside in Dara-e-Sangar area, the officials added.
The anti-government armed militant groups including the Taliban insurgents have not commented regarding the report so far.
The anti-government armed militant groups frequently use explosives materials for the roadside bombings and car bombings to target the government staff and security personnel.
However, in majority of such incidents the ordinary civilians are targeted besides such bombings incur casualties to the security personnel and in some cases the Taliban militants themselves are killed or wounded.
The United Nations Assistance Mission in Afghanistan (UNAMA) in its latest reported highlighted that 40 per cent of all civilian casualties during the six-month period were killed or injured by anti-government forces using improvised explosive devices (IEDs), such as suicide bombs and pressure-plate devices, which were responsible for the deaths of 596 civilians and injured 1,483.
http://www.khaama.com/premature-explosion-among-the-taliban-leaves-13-militants-dead-wounded-03624
--------
Myanmar Army Chief Says Rohingya Muslims Not Native, Refugee Numbers Exaggerated
Oct 12, 2017
Yangon. Rohingya Muslims are not native to Myanmar, the country's army chief told the United States ambassador in a meeting in which he apparently did not address accusations of abuses by his men and said media was complicit in exaggerating the number of refugees fleeing.
Senior General Min Aung Hlaing gave his most extensive account of the Rohingya refugee crisis aimed at an international audience in the meeting with Ambassador Scot Marciel, according to a report posted on his Facebook page.
The general is the most powerful person in Buddhist-majority Myanmar and his apparently uncompromising stance would indicate little sensitivity about the military's image over a crisis that has drawn international condemnation and raised questions about a transition to democracy under Nobel laureate Aung San Suu Kyi.
The military campaign is popular in Myanmar, where there is little sympathy for the Rohingya, and where Buddhist nationalism has surged.
Min Aung Hlaing, referring to Rohingya by the term "Bengali," which they regard as derogatory, said British colonialists were responsible for the problem.
"The Bengalis were not taken into the country by Myanmar, but by the colonialists," he told Marciel, according to the account of the meeting posted on Thursday.
"They are not the natives, and the records prove that they were not even called Rohingya but just Bengalis during the colonial period."
The UN human rights office said on Wednesday Myanmar security forces had brutally driven out half a million Rohingya from northern Rakhine state to Bangladesh, torching their homes, crops and villages to prevent them from returning.
Coordinated Rohingya insurgent attacks on some 30 security posts on Aug. 25 sparked a ferocious military response.
The UN rights office said in its report, based on 65 interviews with Rohingya who had arrived in Bangladesh, that abuses had begun before the Aug. 25 attacks and included killings, torture and rape of children.
US Ambassador to the United Nations Nikki Haley last month denounced what she called a "brutal, sustained campaign to cleanse the country of an ethnic minority" and called on countries to suspend providing weapons to Myanmar until its military puts sufficient accountability measures in place.
The European Union and the United States are considering targeted sanctions against Myanmar's military leaders, officials familiar with the discussions said this week.
Suu Kyi is due make a speech on television later on Thursday.
She was swept into office last year after winning an election, but the military holds immense power, including exclusive say over security.
'Feel Insecure'
UN High Commissioner for Human Rights Zeid Ra'ad al-Hussein has described the government operations as "a textbook example of ethnic cleansing" and said the action appeared to be "a cynical ploy to forcibly transfer large numbers of people without possibility of return."
Min Aung Hlaing did not refer to such accusations, according to the published account, but said the insurgents had killed 90 Hindus and 30 Rohingya linked to the government.
Insurgents' opposition to a citizenship verification campaign, which used the term Bengali, was behind the attacks, he said.
"Local Bengalis were involved in the attacks under the leadership of ARSA. That is why they might have fled as they feel insecure," he said, referring to the Arakan Rohingya Salvation Army insurgents.
"The native place of Bengalis is really Bengal," he said. "They might have fled ... assuming that they would be safer there."
He said it was an exaggeration to say the number fleeing to Bangladesh was "very large" and there had been "instigation and propaganda by using the media from behind the scene."
He did not elaborate, or say how many people he thought had fled, but said the "real situation" had to be relayed to the international community.
United Nations political affairs chief Jeffrey Feltman is due to visit Myanmar on Friday.
Min Aung Hlaing repeated a promise from Suu Kyi that refugees would be accepted back under an agreement with Bangladesh in the early 1990s, adding that details were being worked out.
Full report at:
http://jakartaglobe.id/international/myanmar-army-chief-says-rohingya-muslims-not-native-refugee-numbers-exaggerated/
--------
Two Bangladeshi nationals held with fake Indian passports at Mumbai airport
Oct 12, 2017
Two Bangladeshi nationals, who managed to procure Indian passports through forged AADHAR and PAN cards, were nabbed by the immigration officials at the Chhatrapati Shivaji International Airport while trying to fly to Sharjah, United Arab Emirates (UAE).
They were handed over to police, who arrested them. The accused were identified as Arif-ul-Islam alias Ali Ahmad, 24, from Cox's Bazaar in Bangladesh, and Rashid-ul-Islam alias Tuffazal Hussain, 23, from Narayanganj in Bangladesh.
Both the accused were from poor families and were in dire need of money. They were put in touch with an Indian national based in Ahmedabad, Gujarat, who assured them a safe passage to Sharjah via India using fake Indian passports.
Both paid the agent Rs1.5 lakh each, after which they were illegally brought into India from the Dawki border in Meghalaya in August this year. Within a couple of months, their agent managed to get them AADHAR and PAN cards, and used them to procure Indian passports issued from the Indian Passport office in Ahmedabad.
Full report at:
http://www.hindustantimes.com/mumbai-news/two-bangladeshi-nationals-held-with-fake-indian-passports-at-mumbai-airport/story-73kKdxLJGILsFDpPWQdIQJ.html
--------
3 NGOs barred from relief works for Rohingyas
October 11, 2017
The government imposed ban on three non-government organizations (NGOs) from carrying out relief operation in refugee camps for their alleged involvement in misguiding Rohingyas during their works, a parliamentary body member has said.
"The foreign ministry officials informed us that the government imposed ban on Islamic Relief, Muslim Aid and Fazlullah Foundation as they were found involved in misguiding Rohingya refugees during their relief activities," Lawmaker Mahjabeen Khaled, a member of parliamentary standing committee on foreign affairs, told The Daily Star today.
The parliamentary body called upon the government to keep vigilance on different NGOs so that they cannot lure religious minded and poor Rohingya refugees into involving militancy or any subversive activities.
Awami League MP Mahjabeen said the committee was informed that without taking permission properly from the NGO Affairs Bureau, the three NGOs were involved in carrying out religious activities among the Rohingyas which they cannot do.
The Daily Star however could not independently verify about the claim.
"The Rohingya refugees have got shelter, food and accommodation in Bangladesh. Any vested quarter can provoke them to take revenge for their present miserable and distressed condition. That's why we have suggested to keep vigilance on everyone operating in Cox's Bazar," Faruk Khan, another AL MP and a member of the committee, said.
Full report at:
http://www.thedailystar.net/myanmar-rohingya-crisis/three-ngo-barred-relief-works-rohingyas-cox-bazar-bangladesh-1475002
--------
Hekmatyar accuses supporters of federalism for attempting to spark ethnic violence
Oct 11 2017
The leader of Hezb-e-Islami Gulbuddin Hekmatyar has accused the supporters and those demanding federal system for hatching conspiracies and attempting to spark ethnic violence in the country.
In his meeting with the local tribal elders of Paktia province, Hekmatyar once again expressed concerns regarding such attempts being made by certain circles.
However, this time he provided a bit more information regarding his claims, insisting that such circles have been hired by the foreigners to spark violence among different ethnic groups of the country.
According to a statement by the Cultural Department of Hezb-e-Islami, Hekmatyar has said those circles are comprised of the people who refrain to call themselves Afghans, do not properly take the name of Afghanistan.
He went to provide a bit more information regarding those circles by pointing towards the people that have been demanding to change the political system of the country to a federal system.
The leader of Hezb-e-Islami believes that the main motive behind such attempts are to divide the ethnic groups and decide regarding the fate of the elections by bringing some areas under their control.
Hekmatyar also proposed that the representatives should not be elected based on the administrative units because they have not been established based on the exact population of the area.
Full report at:
http://www.khaama.com/hekmatyar-accuses-supporters-of-federalism-for-attempting-to-spark-ethnic-violence-03627
--------
Taliban suffer heavy casualties in Helmand operations, claims MoD
Oct 11 2017
The Taliban insurgents have suffered heavy casualties during the operations of the Afghan security forces in southern Helmand province of Afghanistan, the Ministry of Defense (MoD) said Wednesday.
According to a statement by MoD, the Afghan security forces conducted various operations in the past 24 hours but the heavy casualties were inflicted on the militants in Helmand province.
The statement further added that a total of 65 insurgents were killed during the period out of which around 23 of them were killed in Helmand.
The operations in Helmand province were conducted in Nad-e-Ali and Bashran area in the provincial capital of Lashkargah city.
At least 19 Taliban insurgents were also wounded during the same operations, MoD said, adding that the remaining militants were killed in Nangarhar, Paktia, Paktika, Logar, Ghazni, Kandahar, Uruzgan, Ghohr, Badghis, Balkh, Jawzjan, Faryab, Kunduz, Badakhshan and Baghlan.
According to the ministry of defense, the Afghan national defense and security forces conducted a total of 14 clearance, 9 Special Operations, and 7 airstrikes.
Full report at:
http://www.khaama.com/taliban-suffer-heavy-casualties-in-helmand-operations-claims-mod-03626
--------
Southeast Asia
Rulers' harmony message a boost for Muslim moderates in Malaysia
Oct 12, 2017
Malaysia's monarchs have emboldened progressive Muslims after Tuesday's statement by the Conference of Rulers condemning "divisive" acts in the name of Islam, a religion they said should be "respectful, moderate and inclusive".
With Islamic conservatism on the rise, backed by an aggressive Islamic bureaucracy that outlaws anything it deems deviant, the statement by the conference - which includes nine rulers who are custodians of Islam in their states - is seen as representing those who feel social cohesion in multi-ethnic Malaysia is breaking apart.
"This injunction by the Malay rulers reaffirms the dignity of every Malaysian," said Human Rights Commission chairman Razali Ismail, who called for an end to acts "against the spirit of tolerance" that cause disunity.
Singling out operators of Muslim-only launderettes which made headlines in recent weeks, the rulers said their actions "have gone beyond all acceptable standards of decency, putting at risk the harmony that currently exists within our multi-religious and multi-ethnic society".
"The rulers are of the opinion that the damaging implications of such actions are more severe when they are erroneously associated with or committed in the name of Islam," Keeper of the Ruler's Seal Syed Danial Syed Ahmad said in a statement on behalf of the conference. "As a religion that encourages its followers to be respectful, moderate and inclusive, the reputation of Islam must not ever be tainted by the divisive actions of certain groups or individuals which may lead to rifts among the people."
Cultural expert Eddin Khoo told The Straits Times that the statement was "clearly not just about launderettes, but divisiveness".
"They are reasserting their role as a compass for our democracy and governance," he said of the statement by the rulers, who are widely influential among the Malay Muslim majority, especially in their own states. "They represent a wider consciousness, and so would only make a statement if it appeals to a large public, because these values are embedded among the people, even though these people may have so far been silent."
Aside from the launderette controversies, the past month has seen the authorities ban a slew of books by Muslim intellectuals and translations of the Quran. The Islamic authorities have also ignored civil court orders, while pressure from Muslim hardliners caused beer festivals in the Klang Valley to be cancelled.
ISEAS - Yusof Ishak Institute senior fellow Wan Saiful Wan Jan said the rulers were right to comment on national harmony, "but they left out the biggest elephant in the room, that is how Malay politicians are sowing distrust against Malaysian Chinese in order to attract votes from the Malays".
"When (ruling party) Umno and Parti Islam SeMalaysia keep suggesting the dangers of losing Malay political power, the implication is that non-Malays cannot be trusted," he said.
The two parties have pursued increasingly Malay Muslim-centric strategies of late, ahead of an election due in less than a year. After the rulers' statement, Malaysians on social media have questioned the government's silence when faced with intolerance by hardline Muslims.
But analysts say despite the monarchs not specifically chiding the government, their statement could spark a pushback from a previously silent Malay ground.
"It gives confidence to those in margins, who are not sure whether they can be critical. But now that the monarchs have come out, more moderate Malays can stand up and be counted instead of fearing action by the religious authorities," said Rajaratnam School of International Studies' senior fellow Johan Saravanamuttu.
He added that this was already evident within the Islamic bureaucracy, which has been silent in the face of the rulers' statement.
Full report at:
http://www.straitstimes.com/asia/se-asia/rulers-harmony-message-a-boost-for-muslim-moderates-0
--------
Malay sultans take swing at Najib's harnessing of political Islam
October 12, 2017
Malaysia's sultans have warned the country's stability is at risk from political Islam in a statement interpreted by some as a shot across the bows of Prime Minister Najib Razak's UMNO party, which has been accused of using Islam to divert attention from ­financial scandals.
The rare statement by the constitutional monarchy's council of rulers, representing nine sultans and four governors, singled out ­attempts by laundromat owners in two states to enforce a Muslims-only policy out of trumped-up concerns of cleanliness.
In both cases the states' royals overruled the policy, with the Sultan of Johor denouncing it as "totally unacceptable and extremist" and declaring his was "no Taliban state".
But the rulers' statement also suggested the incidences were ­examples of broader attempts to divide the multi-ethnic, multi-­religious country along religious lines, and abandon Malaysia's commitment to its Rukun Negara (national principles) of democracy and racial unity.
"In recent weeks the actions of certain individuals have gone ­beyond all acceptable standards of decency, putting at risk the ­harmony that currently exists," the rulers' said, adding the implications of such actions were more severe when "committed in the name of Islam".
"As a religion that encourages its followers to be respectful, moderate and inclusive, the reputation of Islam must not ever be tainted by the divisive actions of certain groups or individuals which may lead to rifts among the rakyat (people)."
Mr Najib's government faces potentially the most challenging election in his party's 60 years of unbroken rule, amid a financial scandal over the alleged misappropriation of more than $5.8 billion from the 1MDB state investment fund.
Policies and statements by party leaders recently clearly indicate they intend to ­emphasise UMNO's Islamic ­credentials — Muslims make up about 65 per cent of voters — to retain power. UMNO now supports the expansion of sharia law in Malaysia after years of resisting a push for the introduction of a broader and more draconian ­Islamic penal code by the country's Pan Malaysian Islamic Party (PAS).
Last month the government banned the Oktoberfest, following pressure from PAS which warned the event would turn the city into the "biggest centre of vice in Asia". Authorities in August vowed to "hunt down" atheists, just weeks after the PAS-dominated Kelantan government moved to make caning a public spectacle for sharia law offences.
Human rights lawyer Ambiga Sreenevasen said the rulers' statement highlighted the failure of political leaders to speak out against growing racial and ­religious intolerance. "There is growing alarm on the ground that the elements who are seeking to divide are getting their way without anyone trying to stop them," she said. "People now believe they can legitimately discriminate and nothing will be done."
Malaysia political analyst and University of Tasmania professor James Chin said while the rulers were clearly "worried about the rise of political Islam and groups trying to divide Malaysia between Muslim and non-Muslim camps" their comments would be unlikely to dissuade UMNO from using religion in the general election.
Full report at:
http://www.theaustralian.com.au/news/world/malay-sultans-take-swing-at-najibs-harnessing-of-political-islam/news-story/5d4865455e5fb679d31ea8a648838aa5
--------
Stand with me against 'radical' preachers, Siti Kasim tells Malaysians
October 12, 2017
KUALA LUMPUR, Oct 12 — Vocal human rights lawyer Siti Kasim has pleaded with Malaysians to stand with her and speak out against creeping extremism in the country's religious institutions.
In a 5.47-minute video posted on her Facebook page as well as uploaded on YouTube last night, Siti urged Muslim and non-Muslim citizens to "take a further step" to address the "clear and present danger to our society" after an Islamic preacher was caught criticising a royal decree against a Muslim-only laundry and denigrating ethnic Chinese as "impure".
"Is it only me or does anyone else feel this dread of extremism covering over our beloved Malaysia these days?" she asked at the start of the clip.
"It seems the extremists and radicals are everywhere these days stopping at nothing to have others bow to their demands and take the rights of others away," she continued, and listed as examples the recent successful objections for non-Muslims to hold events with alcohol, the past numerous arrests of Muslims from the Ahmadiyyah denomination and the ban against a book titled Islam Without Extremes.
To Siti, the preacher whom she addressed as an "ustad" represents a "radical" figure in a position of religious authority who is allowed to speak freely and is therefore a cause of real concern for society.
She later mentions "Zamihan" as the possible name of the preacher in the video, but only once, and noted that his position as an officer with the Malaysian Islamic Development Department (Jakim) was unclear.
"It's not surprising that this guy, this ustad, this Zamihan his name or whatever, he is actually, or he was or he claims he was in Jakim but no longer. But this is the type of people we have in Jakim ok. I'm not saying all, but if we have this type of people in our religious institution, we need to be worried about it, right?" she said.
In a separate posting on her Facebook account later, Siti named one "Zamihan Md Zin" as among several preachers who had accused her of being "murtad" or apostate.
"This is spreading hatred of the other and this is how extremists radicalise their followers; by making the other, those who are not like them, non-Muslims, even Muslims of different sects as people who are less than them.
"When people are less than you, impure, they are less human. So it allows you to hate them and do things to others a decent person won't. This is how you breed radicals, extremists and terrorists," she said in the video.
She expressed her gratitude to the Conference of Rulers for their statement yesterday denouncing extremists and extremism.
But she maintained that Malaysians must also demand their government take action and "weed out such extremists and radicals and their teachings from our society and especially from our religious institutions" to preserve the country's peace, harmony, moderation, inclusiveness, and respect among its peoples.
"This is not about Islam actually. This is about preserving the harmony, inclusiveness, and progressive nature and peacefulness of our society and nation," said Siti.
Muslim preacher Zamihan Mat Zin was arrested yesterday following controversy over his Sunday video lecture in which he complained about "a sultan" who criticised a Muslim-only laundry and made racist remarks against the Chinese whom he suggested as unclean as they allegedly did not wash after urinating and defecating.
He is being investigated under the Sedition Act 1948 and the Communications and Multimedia Act 1998.
Full report at:
http://www.themalaymailonline.com/malaysia/article/stand-with-me-against-radical-preachers-siti-kasim-tells-malaysians-video#QuZg7DYchyUYKBxb.97
--------
Arab World
At least 11 killed, 15 wound in bombing in Iraq's Anbar province
ct 12, 2017
At least 11 civilians have been killed in a bomb explosion in the western Iraqi city of Hit in Anbar province.
Local officials said another 15 people were injured in the blast that targeted a café on Wednesday night.
Following the attack, security services imposed a curfew in the region, the Iraqi News website reported.
According to the United Nations Assistance Mission in Iraq (UNAMI), 196 civilians were killed, while another 381 were injured due to violence and armed conflicts in September.
No group has claimed responsibility for the blast which has the hallmarks of the Daesh terrorist group.
Daesh unleashed a campaign of death and destruction in Iraq in 2014, seizing Mosul and declaring it as its so-called "capital" in the Middle Eastern state.
Iraqi army soldiers and allied fighters have been leading a major campaign to rid the country of the Takfiri elements.
The Iraqi forces fully liberated Mosul in July. They are now engaged in counter-terrorism operations elsewhere in the country.
http://www.presstv.com/Detail/2017/10/12/538305/iraq-blast-anbar-hit
--------
Triple IS suicide attack near Damascus police HQ
Oct 12, 2017
DAMASCUS - Three suicide bombers blew themselves up near the main police headquarters in Syria's capital Damascus on Wednesday, killing at least two people, the interior ministry said. The Islamic State group claimed responsibility for the attack in a statement released via the Telegram messaging app.
The assault was the second time in a month that suicide attackers have targeted the capital, which has been insulated from the worst of the violence in the war-torn country.
State news agency SANA quoted Interior Minister Mohammad Shaar saying both of those killed were police officers. Two of the suicide bombers detonated their explosives in front of the police HQ on Khaled Bin al-Walid street in central Damascus, his ministry said in a statement carried by state media. "The terrorist suicide attackers tried to storm the police command headquarters... The guards opened fire on them, forcing them to blow themselves up before they entered the building and achieved their goals," it added.
Police surrounded a third attacker behind the building who also blew himself up, the statement said.
The interior ministry said two people had been killed and six wounded in the attack, among them two children.
The Britain-based Syrian Observatory for Human Rights reported five dead, not including the three attackers.
IS in its statement on Telegram said two attackers "entered the headquarters building and fought with those inside... then detonated their explosive vests".
Damascus police chief Mohammed Khairu Ismail told reporters at the scene in the central neighbourhood of Qanawat that one of the dead was a policeman who tried to stop the bombers.
"One of our forces grabbed one of the suicide bombers and prevented him from entering the building, so he blew himself up, killing the sergeant," Ismail said.
It was the second time this month that suicide attackers have targeted police in the capital. At least 17 people were killed in an October 2 attack on a police station in the southern district of Midan.
That attack was also claimed by IS, which said three fighters armed with guns, grenades and explosives had targeted the station.
More than 330,000 people have been killed in Syria since the country's conflict began in March 2011 with anti-government protests.
Damascus has been shaken by several bomb attacks, despite being largely spared from the worst of the violence in the six-year war.
In this month's incident at Midan, one attacker was able to reach the first floor of the police station before blowing himself up.
The Midan police station itself had previously been targeted in December 2016, when a seven-year-old girl entered the building wearing an explosive belt that was remotely detonated.
Rebel groups have been gradually expelled from territory they once held in the capital, though they maintain a presence in a handful of positions, including the Jobar neighbourhood.
They also hold territory in the Eastern Ghouta region outside the capital, and have regularly launched rockets into the city.
A deal reached between rebel backer Turkey and regime allies Russia and Iran earlier this year has created so-called "de-escalation zones" in several parts of the country, including Eastern Ghouta, bringing a measure of calm.
Full report at:
http://nation.com.pk/international/12-Oct-2017/triple-is-suicide-attack-near-damascus-police-hq
--------
Long Convoy of ISIL's Military Vehicles Hit in Syrian Army's Ambush Operation in Hama
Oct 11, 2017
The army men carried out an ambush operation against a military column of ISIL terrorists after they tried to go through Wadi al-Azib region towards areas under the control of Al-Nusra Front (Tahrir al-Sham Hay'at or the Levant Liberation Board) in Northern Hama.
Six military vehicles were destroyed and at least fifteen terrorists were killed in the operation.
In relevant developments in the province on Monday two senior commanders of Al-Nusra Front were killed in clashes with the Syrian Army troops in Northeastern Hama.
The militant-affiliated websites reported that Al-Nusra Commander Abu Omar was killed in the army attack in Northeastern Hama.
They added that Khalid Shalal al-Ahmad, nom de guerre Abu Adam, another field commander of Al-Nusra was also killed in heavy fighting with the army soldiers in the town of Tal Aswad in Northeastern Hama.
http://en.farsnews.com/newstext.aspx?nn=13960719001515
--------
Iraqi Air Force Bombs Heavily ISIL's Strongholds in Western Anba
Oct 11, 2017
A sum of 14 terrorists were killed in Iraqi air attack on ISIL's booby-trapping workshop in al-Obaidi, in the town of al-Qa'em.
The Arabic-language Elam al-Harbi reported last month that the Iraqi pro-government forces liberated Akashat region in the Western part of Anbar province.
Elam al-Harbi said that the army soldiers, the volunteer forces of Hashd al-Shaabi, Hashd al-Ashayer (tribes) and a regiment of police of Akashat stormed ISIL's defense lines and liberated the region, reopening Akashat's road to Highway.
It added that the pro-government forces were carrying out mop-up operations in the newly-captured region.
http://en.farsnews.com/newstext.aspx?nn=13960719001491
--------
Iraqi Forces' Operation to Purge Border with Syria of Terrorists Soon
Oct 11, 2017
Major General Khmis al-Mahlawi said that a large number of forces and a large volume of military hardware have been forwarded to Western Iraq to take part in an imminent operation against ISIL in the towns of al-Qa'em and Rawa at the border with Syria.
In the meantime, the Iraqi Air Force has been bombing ISIL's strongholds and movements in al-Qa'em and Rawa to weaken their defense capabilities.
The Arabic-language Elam al-Harbi reported last month that the Iraqi pro-government forces liberated Akashat region in the Western part of Anbar province.
Elam al-Harbi said that the army soldiers, the volunteer forces of Hashd al-Shaabi, Hashd al-Ashayer (tribes) and a regiment of police of Akashat stormed ISIL's defense lines and liberated the region, reopening Akashat's road to Highway.
Full report at:
http://en.farsnews.com/newstext.aspx?nn=13960719000888
--------
ISIL Gunmen Evacuating from Raqqa after Secret Agreement with SDF
Oct 11, 2017
The Arabic-language al-Manar news network quoted militant-affiliated websites as saying that several buses have been dispatched to al-Asadiyeh region North of Raqqa city to take away the ISIL gunmen and their family members.
Some other sources, meantime, reported that the first group of ISIL gunmen retreated from Raqqa city based on a secret agreement with the SDF.
The sources said that the ISIL militants have possibly moved towards ISIL-held regions in Hama, Homs or Deir Ezzur provinces.
The spokesman for the Euphrates Rage Operation said on Sunday that the SDF drove ISIL out of 85 percent of Raqqa city.
Jeihan Sheikh Ahmad stated that the SDF seized control over 85 percent of the districts in the ISIL-held Raqqa city.
He further added that the SDF fighters would take full control over the city in the next coming days.
The SDF general command said in a statement last month that the SDF fighters stormed ISIL's positions from the Sugar Company North of Raqqa city and captured the 17th Brigade base and silos.
Full report at:
http://en.farsnews.com/newstext.aspx?nn=13960719000664
--------
US continues efforts to demonize Hezbollah, says resistance movement official
Oct 11, 2017
Washington's move to reward tips about two Hezbollah members goes in line with US "efforts to demonize" the Lebanese resistance movement, says a movement official.
The United States is "the last state" to designate people as terrorists, the unnamed Hezbollah official told the Associated Press in a report published on Wednesday.
On Tuesday, the US Department of State said it would pay up to $7 million for tips about Talal Hamiyah, the head of Hezbollah's foreign operations, and $5 million for Fu'ad Shukr, a top military officer of the movement. Nathan Sales, the State Department's coordinator for counterterrorism, told reporters that the reward, the first of its kind in a decade, was "another step to increase the pressure" on Hezbollah.
"It is part of the continuous efforts to demonize Hezbollah. They are false accusations that will not have any effect on the operational activities of Hezbollah," the unnamed Hezbollah official said.
Elsewhere in his remarks, the Hezbollah official accused the US of supporting terrorist organizations and backing states and regimes "that have a long history in financing and supporting terrorism."
He signaled that Washington would also press other countries into designating Hezbollah as a terrorist group.
Hezbollah fighters have been battling Daesh Takfiri terrorists both in Syria and along the Lebanese-Syrian border. The resistance movement, which has played a critical role in the Syrian military's counterterrorism operations over the past few years, says its mission is aimed at preventing the spillover of the Syria crisis into Lebanon.
Hezbollah Secretary General Sayyed Hassan Nasrallah recently said the United States was using its air force to protect Daesh terrorists from raids by Syrian government forces. The Hezbollah leader added that Syrian army soldiers and allied fighters from popular defense groups should mop up the country's territory of Takfiri terrorists; otherwise the militants would continue their attacks.
Full report at:
http://www.presstv.com/Detail/2017/10/11/538246/Hezbollah-US-demonize
--------
Africa
Pentagon Blames Islamic State in Deadly Attack on US Forces in Niger
October 11, 2017
PENTAGON —
The Pentagon said Wednesday that Islamic State fighters were responsible for an attack in southwestern Niger that killed four American soldiers, as new details suggested local villagers might have played a role in the ambush.
Army Lieutenant Colonel Michelle Baldanza, a Pentagon spokeswoman, told VOA that IS militants ambushed U.S. and Nigerien forces during the October 4 firefight that also killed four of Niger's security personnel.
U.S. Army Special Forces, also known as Green Berets, had just completed a meeting with local leaders and were walking back to their vehicles when they were attacked, according to a U.S. official, who spoke to VOA on the condition of anonymity because the investigation was ongoing.
The soldiers said the meeting ran late, and some suspected that the villagers were intentionally delaying their departure, the official said.
Niger's defense ministry has confirmed the firefight occurred near the village of Tongo Tongo in the Tillaberi region. Eight other Niger troops were wounded in the attack, and two American troops were wounded and airlifted to Germany for medical treatment.
Defense Secretary Jim Mattis told reporters Wednesday that the patrol had been "hit hard" in an area where enemy forces had not operated and that French planes with bombs attached were overhead within 30 minutes of the ambush.
"I completely reject the idea that that [the response] was slow," Mattis said.
Strategic ally
Niger is a key U.S. ally in the fight against terrorism and is situated in a dangerous region of the Sahel plagued by multiple extremist groups and traffickers, said Lisa Mueller, an assistant professor of political science at Macalester College in Minnesota and an expert on politics in the area.
Under President Barack Obama, the U.S. built drone bases in Niger's capital, Niamey, and in the northern town of Agadez. The U.S. has about 800 service members in Niger to provide support for the U.S. Embassy and counterterrorism training for government forces battling Islamist militant groups.
"The United States has provided support for the military of Niger, especially in the way of training forces to combat multiple terrorist groups that have encroached into Niger from several of the country's borders," Mueller said.
Niger faces threats from Nigeria-based Boko Haram along its southern border and Algeria-based al-Qaida in the Islamic Maghreb along its porous borders to the west and north. Pockets of Islamic State fighters operate in the west.
"Really, from almost all sides, Niger is facing attacks from armed extremist groups," Mueller said. "And, because the government of Niger has been a strong ally to the counterterrorism efforts, it's been natural for the United States to station its counterterrorism forces in that country."
Caught off guard
Army Colonel Mark Cheadle, U.S. Africa Command spokesman, said in a conference call last week that the military was "resolved and stalwart in our efforts to go after those who attacked us."
The Pentagon also said it was re-evaluating its force protection measures in the region.
"We will look at this and say: Was there something that we have to adapt to now? Should we have been in a better stance?" Mattis said. "We're not complacent. We're going to be better."
Mueller, who has traveled and conducted research in Niger, said radicalism in the country is mostly imported from surrounding countries, but that could change.
"Islam in Niger has, for generations, been very tolerant, been very resistant to radicalization, especially compared with societies elsewhere in the Sahel," she said.
"It's not guaranteed that that won't change, and there are some hints that especially youth in certain regions of Niger are more receptive to radical recruitment. But it's not the overwhelming trend as of now, and so I just want to underline that terrorism in Niger is largely a matter of foreign policy and not of domestic concerns."
https://www.voanews.com/a/villagers-role-questioned-in-ambush-of-us-forces-in-niger/4066229.html
--------
Christians, Muslims won't win religious war in Nigeria – Catholic Bishop
October 11, 2017
The Catholic Archbishop of Abuja, John Cardinal Onaiyekan has said there would be no victor between Christians and Muslims if religious war breaks in Nigeria.
Following alleged lopsidedness in political appointment in the country, the cleric has also advised leaders to ensure balance.
Onaiyekan also said the allegation to Ismalize Nigeria was hinged on the struggle for positions of authority and power by some people.
He disclosed this in Abuja on Wednesday at the annual conference of the Nigeria Anglican Roman Catholic Commission (NARCC) with the theme; "The Church as Communion, Local and Universal."
Commenting on the allegations that Nigeria would be Ismalize, he said: "As a Christian, we live in a country where at least so far, we have every right to practice our faith, not just practice it as an individuals privately but publicly and not only practice it but propagate it and that is the right that we have under the constitution.
"We are doing evangelization work and nobody can stop me or others from doing that and I must say no one has stopped me yet from doing that.
"The question of Islamization or no Islamization; in my own opinion depends on what you are talking about and the angle you are looking at. If every time a Muslim is appointed to a position, we say Ismalization, well, that is one way and in that case, therefore, anytime a Christian is appointed, we should also be prepared to hear people say Christianization."
Continuing, Bishop Onaiyekan said: "In my own opinion, I think this is a matter that is not basically religious, it is a matter of the struggle for positions and power which is not bad because everybody has right in this regard.
"Those who are Christians have right to fight for their right in the Nigerian setup and the right to fight for anybody you think is not properly treated."
Those who have made these allegations of Ismalization have listed out the reasons why they have made such allegations but I hope you are aware that on the other side too, they have listed out their own.
"This kind of game doesn't help us because as Christians are listing out allegations, there are Muslims who would come and list out allegations of Christianization, at the end of the day, it is not about Christian or Islam, it is about who gets what job.
"I would advise Christians to be good citizens and they should insist on their rights and there should be enough of always bending over for fear of losing your own selfish advantage.
"I don't think it would be good for any of us to declare a religious war of Christians against Muslims. I don't think it is a war that the Christians or the Islams would win, the only person who would win is troublemakers who fish in troubled waters but for the rest of us, all we want to live our lives in peace. They should allow us to live in peace."
On the lopsidedness in appointment to some key positions, he said: "Those who are our rulers should realize that whatever they do, they should make every effort to make it balanced and not give room for anybody to begin to input on them, intentions of a bias direction for our country.
"This is even dangerous for those concerned, if a group of people who are in government now happened to be Muslim and they are doing things simply to please and to promote Islam, they must get ready for when a Christian would be in power and he would also begin to do the same but is that the way for the country to move forward?
"Those ruling us should be aware that the way country is now, every single appointment, promotions and others are watched by the whole country and they should make sure that they do not give any group or person reasons to think or believe that they are being marginalized or badly treated.
"That is what the President and all those with him swore by whatever book they swore on, that they would run the affairs of this nation without fear or favour."
The Bishop also advised Christians to fight for their right wherever they find themselves.
"Christians should also fight for their own rights too. If you are in an office and things are not going well and appointments are made in an ill manner, fight for it but if you sit there and you are afraid to talk so that they would not target you and in order for you not to lose the little you have, then you have admitted to being a slave and I don't expect you to complain."
On the perceived division and differences in church, he said: "We should make sure that it does not lead us to take actions that are diametrically opposed to what the Christian faith is all about which includes love for one another, goodness and solidarity.
"Divisions amongst Christians would affect the progress of the country and even tie the hands of Christians and make them no longer as capable as they should be."
Speaking on the essence of the conference, the Bishop, Diocese of Kubwa Anglican Communion, Rt. Revd. Duke Akamisoko said: "The purpose of it is to discuss our differences and discuss how we can be more united in this country and with one voice.
"Despite our differences in churches, we can still work together because we are created by one God and make progress together not emphasizing our differences.
Full report at:
http://thenationonlineng.net/christians-muslims-religious-bishop/
--------
Gambian leader welcomes Turkish business delegation
12 October 2017
Gambian President Adama Barrow on Wednesday promised a conducive environment for Turkish businesses as he met a 10-member delegation from the Turkish-Gambia Business Council.
Barrow said his government would encourage investments from Turkish companies in areas such as fisheries and energy.
He added that his administration was committed to providing a democratic atmosphere, respect for rule of law, and a secure environment for business to thrive.
Aygun Karakas, head of the Turkish-Gambia Business Council, told reporters following their closed-door meeting with Barrow that they had held discussions on various fields including air transport and higher education.
"This year there will be nine students coming to Turkey on a scholarship to study at graduate, undergraduate and PhD levels," he said.
"More importantly, this year we are going to start bringing Turkish educators and professors to Gambia and also from Gambia to Turkey," he added.
Karakas also said they were ready to invest in a 40-50 megawatt solar project in Gambia, and contribute to healthcare services with a construction of a 150-bed pediatric and general hospital.
He also announced the launch of bi-weekly direct flights between Istanbul and Banjul in the first quarter of 2018.
President Barrow was informed that a team from Turkey was already in Gambia to carry out a feasibility study on the conditions for having regular direct flights.
Karakas also told reporters that Istanbul University of Commerce and the University of The Gambia had penned a collaboration agreement on visitor exchanges and scholarship.
Full report at:
http://www.worldbulletin.net/africa/194887/gambian-leader-welcomes-turkish-business-delegation
--------
Nigeria: Security Expert Urges Caution Over Mass Release of Boko Haram Suspects
11 OCTOBER 2017
By Tobi Awodipe
President of the Association of Industrial Security and Safety Operators of Nigeria (AISSON), Ona Ekhomu, has advised the Federal Government to exercise caution in the mass release of captured Boko Haram terrorists.
He said this was necessary so that society could be protected from incessant terrorist attacks by inadvertently recycling insurgents into the battlefield.
His words: "Releasing suspected terrorists should be based on concrete evidence of repentance and conversion to true Islam, which extols peace. There must be ample evidence of deradicalisation."
Ekhomu said the recent mass release of 760 Boko Haram suspects by the Joint Intelligence Center of Operation Lafiya Dole was rather hasty and ill advised, as it would tend to worsen the security situation of the Northeast and the country at large.
"The mass release of suspects without a rigorous investigation of each suspect would tend to worsen an already fragile security situation. "The Criminal Investigation Department of the Military Provost would have been better placed to conduct inquiries and make recommendations to government for a final decision" he said.
Ekhomu, who is the first chartered security professional in the country, said in 2017, a total of 2,603 Boko Haram suspects were released. "Prior to that, the activities of the previously released detainees should have been documented and analyzed to determine the success of the mass release programme. Without such a protocol, the programme would appear to be "opaque and arbitrary," he stated.
Full report at:
http://allafrica.com/stories/201710110310.html
--------
URL: https://www.newageislam.com/islamic-world-news/barelvi-clerics-challenge-courts-ruling/d/112860
New Age Islam, Islam Online, Islamic Website, African Muslim News, Arab World News, South Asia News, Indian Muslim News, World Muslim News, Women in Islam, Islamic Feminism, Arab Women, Women In Arab, Islamophobia in America, Muslim Women in West, Islam Women and Feminism