New Age Islam News Bureau
17 Jun 2019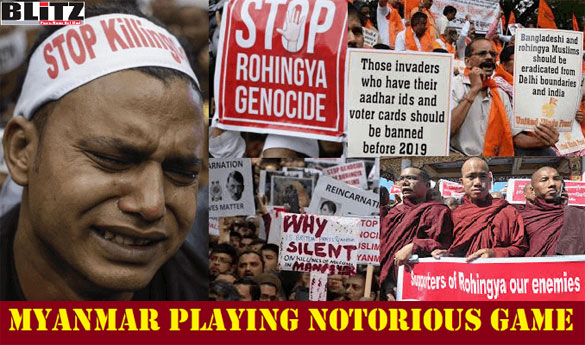 • Bangladeshi Militancy Outfit, Hizbut Towhid, Openly Preaching Jihad and Killing of Jews and Christians
• By Keeping Rohingya Issue Unresolved, Myanmar Is Inciting Jihad
• Fatwas Only 'Scholarly Opinion', Cannot Be Legally Challenged, Kuala Lumpur High Court Told
• No Request from India to Extradite Zakir Naik Yet, Says Wan Azizah
• 'ISIS Module' In Tamil Nadu: He Never Had Crime Record, Never Faced Social Media Trouble, Says Arrested Man's Kin
• 'Deep Concerns': US Objects To UN Counterterrorism Chief's Visit To Xinjiang
• Racist Far-Right Says Islam Has No Place in Norway, Desecrates Holy Quran
• Israel Moves to Name Golan Settlement after Trump
South Asia
• Bangladeshi Militancy Outfit, Hizbut Towhid, Openly Preaching Jihad and Killing of Jews and Christians
• By Keeping Rohingya Issue Unresolved, Myanmar Is Inciting Jihad
• Muslims 'Targeted With Arbitrary Arrests' After Easter Massacre
• Taliban militants suffer heavy casualties in Farah, Herat operations
• Taliban should respect the will of the Afghan people: NATO SCR in Afghanistan
• 9 Taliban militants killed, wounded in Afghan Air Force airstrikes in Takhar
• Afghan forces repulsed twin Taliban attacks in Kandahar, 8 killed: Gen. Tadin Khan
--------
Southeast Asia
• Fatwas Only 'Scholarly Opinion', Cannot Be Legally Challenged, Kuala Lumpur High Court Told
• No Request from India to Extradite Zakir Naik Yet, Says Wan Azizah
• Talk To Rulers about Uniform Shariah Law, Says Ex-MP
• SIS Slams Mujahid for Prioritising Shariah Crime Instead Of Banning Child Marriages
• Thailand ready to tap busy Muslim travel market
--------
India
• 'ISIS Module' In Tamil Nadu: He Never Had Crime Record, Never Faced Social Media Trouble, Says Arrested Man's Kin
• Kashmiri Separatist Leaders Received Funds From Abroad, Utilised Them For Personal Gains: NIA
• NIA search operation in Madurai for IS sympathisers
• Photo of gun wielding youth in Kashmir goes viral, police suspect terror link
• Muslim leaders to meet CM KCR on mosque issue
• Encounter under way between security forces, militants in Anantnag
• Encounter under way between security forces, terrorists in J&K's Anantnag
• High alert in Jammu & Kashmir after Pakistan inputs
--------
North America
• 'Deep Concerns': US Objects To UN Counterterrorism Chief's Visit To Xinjiang
• Washington Pressures Baghdad to Sign Agreements with US Electricity Firms
• Saudi crown prince, Pompeo sends a message to Iran: End hostility or pay the price
• US may reveal Mideast peace plan in November: envoy
--------
Europe
• Racist Far-Right Says Islam Has No Place in Norway, Desecrates Holy Quran
• Rivlin meets delegation of European Muslim leaders in Jerusalem
--------
Mideast
• Israel Moves to Name Golan Settlement after Trump
• US-Crafted 'Deal Of Century' Only Serves Zionists' Interests In Region
• Arab Analyst Reminds of Netanyahu's Complete Silence on US Tensions against Iran
• Israeli PM's wife sentenced for misusing state funds
• Turkish outpost in Syria shelled from Syrian government forces area
• Israel in possession of close to 100 nuclear warheads: SIPRI
• Yemen launches fresh retaliatory attack on Abha airport
• Palestinian prisoners stage new hunger strike in Israeli jail
--------
Pakistan
• Lt Gen Faiz Hameed Made ISI Chief In Military Shake-Up
• Pakistani Activist Known for Criticism Killed In Islamabad
• Parents refusing polio vaccination not to face police cases
• President approached to halt execution of mentally ill Ghulam Abbas
• Centre has given 31pc extra funds to Sindh govt: Naqvi
• Bilawal, Maryam met to hide their fathers' corruption: Firdous
• Comments sought from CS, ACS for declaring police as full-fledged dept
• Pakistan eyes new horizons with Russia
• Q-4 dialogue on Afghan refugees repatriation to start tomorrow
--------
Arab World
• US-Led Coalition Plans to Turn Raqqa Derelict Military Airport into Helicopter Base
• Terrorist Commanders in Northern Hama Blame Each Other for Failure in Attacks on Syrian Army
• Yemeni Missiles Hit Military Positions in Saudi Arabia
• US-Backed Kurds Collaborating with Mossad to Spy on Regional States
• Iraqi MP: US, Turkey Plotting to Dissolve Hashd Al-Shaabi
• Rocket fire kills 12 civilians in regime-held village in Syria: State media
• Saudi F-15C Eagles fly in formation with US Air Force counterparts
• UAE FM urges Arab solidarity in meeting with Egypt's Sisi
• Syrian forces launch retaliatory strikes in Idlib, Hama
• 12 civilians killed after mortar attack hits Syrian wedding party
• Saudi envoy attends launch of palm of peace initiative
--------
Africa
• Beyond Tough Resolve, Do More to Neutralise Shabaab Threat
• Junta General Vows to Send Perpetrators Of Khartoum Carnage To 'Gallows'
• Bandits kill 34 villagers in Nigeria: Police
• French, Malian forces kill 20 militants in operation: Mali army
• Libyan officials say Haftar's forces fighting Daesh in south
Compiled by New Age Islam News Bureau
URL: https://www.newageislam.com/islamic-world-news/bangladeshi-militancy-outfit-hizbut-towhid/d/118906
--------
Bangladeshi Militancy Outfit, Hizbut Towhid, Openly Preaching Jihad and Killing of Jews and Christians
June 16, 2019
After remaining underground for many years, notorious militancy outfit Hizbut Towhid (HT) has re-emerged and has started holding meetings in various cities and towns in Bangladesh. According to a video clip dated June 13, 2019, a leader of this notorious group is seen encouraging its members in continuing jihad and 'qital' [slaughter] of Jews and Christians. This group also has been running a channel on YouTube.
The YouTube channel named 'Hezbut Tawheed' has 17, 681 subscribers and thousands of people are watching these extremely disturbing videos. Website of this group is hezbuttawheed.org. Facebook page of this group is facebook.com/htiwot, facebook.com/systempaltai, etc. This group also runs a vernacular newspaper named Dainik Bojrshokti, while it also runs a news portal named JTV Online. Another daily newspaper named Dainik Desher Potro was banned by the government in 2014.
It may be mentioned here that, due to series of investigative reports and research-based articles published in Blitz, the government had blacklisted this notorious group a few years back. Ever since its emergence, HT had published lots of jihadist propaganda materials and books promoting religious hatred, jihad, and killing of non-Muslims. This group is clearly asking its followers to wage jihad and has been openly demonizing anti-jihadist forces.
Quoting Koran, leader of HT are seen asking people to wage jihad and confront those who are denouncing jihad and killing of innocent people in the name of jihad.
The leaders of HT even are claiming to have been cleared by the law enforcing and security agencies in Bangladesh for the continuation of their activities.
One of the notorious publications of HT is 'Dajjal', a book demonizing Jews and Christians and encouraging Muslims in waging jihad and killing Jews and Christians.
Leaders of this group are pronouncing jihad and killing of Jews and Christians as mandatory for the Muslims by quoting Koranic verses.
It is a matter of grave concern as to how Bangladesh authorities are allowing such open activities of this notorious group. Such activities of HT are continuing in a time when fighters of Islamic State are displaced from Iraq and Syria and are feared to have been spreading throughout the world. Notorious jihadist outfits like Al Qaeda and Islamic State would find Hizbut Towhid as their ideological allies.
It may be mentioned here that, Hizbut Towhid denounces democratic system and advocated Caliphate. It also denounces the empowerment of women.
As a counter-militancy expert, in my understanding, this re-emergence of Hizbut Towhid poses a grave threat to Bangladesh's internal security as well as regional and global securities, as under-cover members of this outfit are being spread throughout the world.
What is Hizbut Towhid?
According to Wikipedia, this is a Bangladesh based religious group, which is currently blacklisted by Bangladeshi law enforcing agencies for their connection with militancy. Muhammad Bayazeed Khan Panni, the family of the traditional Panni family of Tangail, founded Hezbut Tawheed on 16 February 1995. After the death of Panni in 2012, Hossain Mohammad Selim of Noakhali district took charge of the organization. According to its website, it has offices and organizational activities in all the districts of Bangladesh. Hizbut Towhid's current leader Salim's father is a union council member in Noakhali district.
Although the organization claims that they are working against militancy and communalism, the group was blacklisted by Bangladeshi law enforcing agencies in 2008. Bangladesh Bank also issued a warning to the banking sectors of Bangladesh against joining any program organized by the group or its associated bodies.
As part of their determination of waging jihad, Hizbut Towhid members carry tobacco powder and hammer, which are considered to be the most convenient weapon in killing "enemies of Islam". They spray tobacco powder on the eyes of their targets and his the target's head with hammer.
Hizbut Towhid wants to destroy 'Judeo-Christian' populace
According to information, leaders of notorious Hizbut Towhid give extreme jihadist indoctrination to its members and encourage them to destroy 'Judeo-Christian' populace as well as the Western nations and Israel. With this mission, members of HT have been entering various Western nations since the formation of this group. It is also learned that members of HT are gathering information on various five-star hotels, restaurants and key-point installations in Bangladesh under the disguise of an event management company. Owner of this event management company has been an active member of this group for many years.
Hizbut Towhid joined hands with JMB
Members of the Bangladeshi security agencies are completely unaware of a fact that since 2014, Hizbut Towhid has secretly formed an alliance with banned militancy outfit Jamaatul Mujahedin Bangladesh (JMB). It was already learned by the counter-militancy and counter-terrorism organizations that since 2015, JMB has been working as the franchise of Islamic State (ISIS) in Bangladesh. It is a matter of grave concern as to how the Bangladesh authorities are allowing a notorious group like Hizbut Towhid to operate openly in the country, recruit members and continue giving jihadist indoctrination to people.
Conclusion:
Bangladesh government needs to immediately ban Hizbut Towhid and bring the members of this notorious group into the book.
https://www.weeklyblitz.net/news/bangladeshi-militancy-outfit-openly-preaching-jihad-and-killing-of-jews-and-christians/
--------
By keeping Rohingya issue unresolved, Myanmar is inciting jihad
June 17, 2019
Anita Mathur
The international community should have applied massive pressure on Myanmar by imposing sanctions for Naypyitaw's dilly-dally in resolving the Rohingya crisis.
In 2017, due to massive violence and genocide committed by the Myanmar army with the help of radical Buddhist populace, hundreds and thousands of Rohingyas fled to Bangladesh thus creating a massive refugee crisis. Bangladeshi Prime Minister Sheikh Hasina, being sympathetic to the repressed and persecuted Rohingyas has ordered to open country's borders with neighbouring Myanmar. Later, under her leadership, Bangladesh made all-out efforts in getting international support in resolving the crisis. But, until now, there are no such actions initiated by the international community except mere lip-service.
On the Rohingya crisis, unfortunately, China and India are clearly standing behind Myanmar, which has possibly forced Bangladesh government is reaching into a controversial arrangement with Myanmar. Diplomatic analysts are seeing this written arrangement are suicidal, as the terms are ambiguous and impractical as Dhaka is insisting repatriation of the refugees within 24 months.
After playing dilly-dally with Bangladesh for over two years and fooling the international community with its false promise of taking back over one million Rohingya refugees from Bangladesh, Myanmar has now resorted to its nefarious agenda of making its Rakhine state totally Rohingya free – more precisely – Muslim free.
In January 2018, Myanmar agreed to take back 1,500 Rohingya each week adding that it aimed to return all of the over one million to Myanmar within two years. At that time, Bangladesh side said, it aimed to repatriate families together, as well as orphans and children born out of unwarranted incidence – meaning children conceived as a result of rape by the Myanmar military and Buddhists.
On January 16, 2018, Myanmar's foreign secretary U Myint Thu told BBC Burmese, "The repatriation process will commence on 23 January".
He said three more transit camps were "under construction", and there were plans to "build new villages".
Rakhine's state secretary, U Tin Maung Swe, told BBC Burmese: "The houses are not yet built. We plan to build them under a cash-for-work project. We will give them both money and jobs. The returnees will build their homes by themselves".
It may be mentioned here that, the Rohingya crisis has been described as ethnic cleansing by the United Nations and the United States. Despite widespread accusations of human rights violations, Myanmar has consistently denied persecuting its Rohingya minority.
Myanmar army's admission of committing crime against humanity
According to reports in the international media, in January 2018, Myanmar army had on document admitted saying its soldiers were involved in unlawfully killing Rohingya Muslims in the Rakhine state. However, it did not admit the cases of mass rape of Rohingya girls and women [even minor children] by the members of the Myanmar army.
International media saw this as a rare admission of crime against humanity committed by the Myanmar military. In November 2017, the military exonerated itself of blame in the violence and flat out denied unlawfully killing any Rohingya people, burning villages, raping girl and women and robbing-off possessions.
Shall Suu Kyi and Myanmar military officials face genocide charges?
In December 2017, United Nations high commission Zeid Ra'ad Al Hussein called for an international criminal investigation into the perpetrators of genocide in Myanmar, including Aung San Suu Kyi and the head of the armed forces Gen Aung Min Hlaing.
That said, genocide is one of those words that gets bandied about a lot. It sounds terrible – the so-called "crime of crimes". Very few people have ever been convicted of it.
The crime was defined after the Holocaust. Member countries of the newly founded United Nations signed a convention, defining genocide as acts committed with intent to destroy a particular group.
Human rights experts said, for the crime of being the abettors to the genocide on the Rohingyas, Aung San Suu Kyi and the head of the armed forces Gen Aung Min Hlaing should definitely be tried in the international criminal court.
They said, Bangladesh already has shown the highest level of tolerance on this issue and there is really no further scope for Dhaka to unnecessarily wait for any actions from Myanmar on the issue of taking back the Rohingya refugees.
India joins pro-Myanmar propaganda
In the recent months, members of ruling Bharatiya Janata Party (BJP) and its ideological allies such as Rashtriya Syamsevak Sangh (RSS) and Shiv Sena (SS) have started propaganda branding Rohingyas as "Bengalis from Bangladesh". In some international media, these groups even are denouncing the sovereignty of Bangladesh by demanding annexation of the country by India while others are indicating expulsion of over four million Bangla-speaking Indian Muslims into Bangladesh. One of the RSS sources claimed Indian Prime Minister may begin the process of "sending the illegal Bengali migrants" back to Bangladesh by the year-end.
On various groups in the social media, particularly Facebook, Indians are branding the Rohingyas as jihadists and are even going further by saying "those who will support the Rohingyas are also jihadist cohorts".
An intelligence source indicated saying Indian authorities are going to refrain from siding with Bangladesh on the Rohingya issue as it too is actively considering pushing over four million Bengali speaking Muslims into Bangladesh.
The source said, expelling those "illegal migrants" from India is a part of the electoral pledge of Prime Minister Narendra Modi and this time he may move ahead with it as his anti-Muslim notion has mainly played a key role behind BJP's landslide victory in the recent-past general election.
Is Modi going to show ungratefulness to Bangladesh?
It is well-documented that Bangladesh Prime Minister Sheikh Hasina and her government has wholeheartedly helped India in combat and dismantling separatist groups such as United Liberation Front of Assam (ULFA). Without Sheikh Hasina's help, India would not be able to resolve this massive crisis. Moreover, Bangladesh has helped India in various forms, including letting it use the Bangladeshi land, sea and river route in transporting goods into the northeastern states in India.
In return of such huge gesture and goodwill, Narendra Modi and his predecessors have not reciprocated anything saves mere lip service. According to political analysts, to Narendra Modi, his friendship with Bangladesh is of lesser importance than his and his party's political future. They know, by repressing Muslims they can get much bigger support from the majority Hindus. For this reason, Modi's party comrades have been preaching radical Hindutva in the country ever since BJP formed the government in 2014.
Narendra Modi clearly has betrayed with Bangladesh on the Rohingya issue and even did not feel repented for this. Now he is possibly going to repeat the same betrayal by pushing over four million Bengali-speaking Muslims into Bangladesh by falsely branding them as Bangladeshis.
Shall Beijing shift from its Rohingya policy?
Although there is not much hope of China siding Bangladesh or at least playing a neutral role in resolving the Rohingya crisis by putting some extent of pressure on Myanmar, political analysts are seeing a possibility of Beijing's real role this time, especially following Sheikh Hasina's China trip, which would resolve the crisis. Moreover, strategists in Beijing already are seeing the growing India-Myanmar relations as a bad sign as such romance would ultimately reduce China's influence on Myanmar.
https://www.weeklyblitz.net/news/by-keeping-rohingya-issue-unresolved-myanmar-is-inciting-jihad/
--------
Fatwas Only 'Scholarly Opinion', Cannot Be Legally Challenged, Kuala Lumpur High Court Told
Ho Kit Yen
June 17, 2019
Kuala Lumpur: The High Court hearing a challenge by women's rights group Sisters in Islam (SIS) against the Selangor Islamic Religious Council (Mais) was told today that a fatwa is merely a scholarly opinion and cannot be reviewed in court.
Lawyer Yusfarizal Yussoff, representing Mais, said fatwas do not fall under the jurisdiction of the state administration.
"A fatwa is merely an opinion by muftis on Islamic principles. It cannot be challenged through judicial review applications in civil courts," he said.
SIS had sought to quash a 2014 fatwa by Mais stating that the rights group subscribes to liberalism and religious pluralism and deviates from the teachings of Islam.
The Federal Court remitted the case to the High Court after receiving consent from the relevant parties, namely SIS, the state fatwa committee, Mais and the Selangor government.
The consent allowed the religious authorities to raise any issue, including whether the High Court has jurisdiction to hear case brought by SIS, the group's co-founder Zainah Mahfoozah Anwar and former federal minister Zaid Ibrahim.
Yusfarizal also told the court today that the state religious officials have authority over the group on grounds that it bears the word "Islam" in its name.
"The company constitution states that the directors must be Muslim," he added.
"Although the company itself cannot profess a religion, Islamic elements can be attached to it."
This argument was raised by SIS lawyer Surendra Ananth, who cited previous court rulings stating that a company cannot profess a religion.
"The fatwa committee acted beyond its powers in imposing the fatwa," he added.
He said the fatwa had also violated federal laws in ordering the seizure and ban of any items related to SIS and telling the Malaysian Communications and Multimedia Commission to block websites related to liberalism and religious pluralism.
"The home minister can only make orders to seize and ban items under the Printing Presses and Publication Act," he said.
High Court judge Nordin Hassan set Aug 20 for a decision.
He also ordered SIS, the state government and Islamic authorities named in the legal challenge to file further submissions on a state Islamic enactment provision allowing the shariah high courts in Selangor to hear judicial review cases against Islamic authorities.
The order comes after Selangor state legal adviser Masri Daud raised the the Section 66A amendment of the Administration of Islamic Law (Selangor) Enactment.
https://www.freemalaysiatoday.com/category/nation/2019/06/17/fatwas-only-scholarly-opinion-cannot-be-legally-challenged-court-told/
--------
No request from India to extradite Zakir Naik yet, says Wan Azizah
Adam Abu Bakar
June 16, 2019
KUALA LUMPUR: Malaysia has not received New Delhi's request to extradite controversial preacher Dr Zakir Naik until now, says Deputy Prime Minister Dr Wan Azizah Wan Ismail.
Wan Azizah said Putrajaya maintained Prime Minister Dr Mahathir Mohamad's stance to reject any request from New Delhi to deport the preacher.
"I did ask Dr Mahathir, but for now, the government of Malaysia will not accept any requests from India to extradite Naik.
"The prime minister has answered, so that is our answer," she told reporters when met at the Pandan parliamentary constituency open house today.
Previously, Mahathir had said that Putrajaya had the right to reject any request by India to deport Naik, who is facing charges of misappropriating RM115 million.
The prime minister reportedly said it was the same as Australia's refusal to send home Sirul Azhar Umar, who was found guilty of killing Mongolian woman, Altantuya Shaariibuu.
Following Mahathir's statement, India's external affairs ministry's official spokesperson Raveesh Kumar said India will continue pursuing its request for Naik's extradition.
Mahathir's decision was well-received by Perlis Mufti Mohd Asri Zainul Abidin who said vocal critics of the preacher were more loyal to India than to Malaysia.
Asri, one of Naik's vocal supporters, also urged the Muslim community to support Mahathir's stance which does not bow down to "the cruelty and discrimination in India".
https://www.freemalaysiatoday.com/category/nation/2019/06/16/no-request-from-india-to-extradite-zakir-naik-yet-says-wan-azizah/
--------
'ISIS Module' In Tamil Nadu: He Never Had Crime Record, Never Faced Social Media Trouble, Says Arrested Man's Kin
By Arun Janardhanan
June 17, 2019
Days after searches by the NIA at Ukkadam, a Muslim-dominated area on the outskirts of Coimbatore town in Tamil Nadu, the lane leading to the house of Mohammed Azarudeen (32) wore a deserted look Friday. Two elderly men sat on the portico of his double-storeyed house as his four-year-old son played with other children.
Azarudeen, who has been arrested by the NIA, is facing probe for a Facebook page he ran — "KhilafahGFX" — to allegedly propagate IS ideology. An NIA statement had alleged that he was the Facebook friend of Sri Lankan suicide bomber Zahran Hashim and other members of the module behind the Easter Sunday attack.
Besides Azarudeen, the NIA has arrested one of his associates and is questioning five others. The NIA is also examining items seized during the searches, including cellphones, pendrives, laptops, hard disks, a dagger, air gun pellets and pamphlets of Popular Front of India, an Islamic outfit with roots in Tamil Nadu and Kerala.
Investigators are yet to ascertain if Azarudeen was only a follower of Hashim or they were in touch. According to them, such information would emerge during examination of the seized devices.
The elderly man at Azarudeen's home is his father, a neighbour said. The man refused to identify himself and spoke from the other side of the gate, locked from inside. Stating that he is clueless about the case, he said, "He is married. He has a child. He never had a criminal record. He never faced any trouble for his behaviour in social media too. We do not know, let us not talk about the case."
A woman who lives in the house next to Azharudeen's said, "He is so silent. I never heard his voice." Another elderly woman said Azardueen "rarely speaks to anyone" unless there was something to convey. "I cannot believe that he can do anything problematic," she added.
"Every second Saturday, half-a-dozen children used to come to his home to learn to recite Quran. He (Azwarudeen) recites Quran beautifully," said a neighbour.
A kilometre from Azarudeen's home is the office of Qibla Tours and Travels, where he worked. The owner of the agency, Basheer, reportedly went to Kochi recently after a call from investigators. Basheer was not available for comment. "Basheer or Azardueen would sit at the agency. Some of their friends were regular visitors. All of them, including Basheer, are in late 20s. They were kind and helpful," said a tailor who has a shop nearby.
Meanwhile, the three youths picked up by Tamil Nadu police on Thursday for their alleged activities on social media have been placed under arrest and cases registered against them. The three had allegedly celebrated the Easter Sunday attack, but police said they were watching them from before that.
None of the three has any criminal record. One of the youths, A Shajahan, lives at Anbu Nagar in Ukkadam. His mother Tajunniza said that about six months ago, Shajahan was summoned by police to Chennai. "They said he had shared a friend's Facebook post. He was in Chennai for two days. We were told that it was a deradicalisation project and police explained to him, with the help of an Imam, to not engage in such social media posts. His phone was confiscated then," she said.
His sisters said that after returning from Chennai, he was scared to use social media or cellphone. "He rarely touched his phone. His laptop was mostly used by us to watch movies. The police team had brought his old phone on Thursday and were checking it with his new phone. After about five hours of search, the police team left with him," said one of his sisters.
https://indianexpress.com/article/india/is-module-in-tamil-nadu-he-never-had-crime-record-never-faced-social-media-trouble-says-arrested-mans-kin-5783623/
--------
'Deep concerns': US objects to UN counterterrorism chief's visit to Xinjiang
15 Jun 2019
The United States and other western countries have objected to a visit by the United Nations counterterrorism chief to China's remote Xinjiang, where UN experts say some 1 million ethnic Uighurs and other Muslims are held in detention centres.
Vladimir Voronkov, a veteran Russian diplomat who heads the UN Counterterrorism Office, is in China at the invitation of Beijing and is due to visit Xinjiang's capital Urumqi, according to an email sent by his office to countries that raised concerns.
US deputy secretary of state John Sullivan spoke with UN secretary-general António Guterres on Friday "to convey deep concerns" about Voronkov's trip because "Beijing continues to paint its repressive campaign against Uighurs and other Muslims as legitimate counterterrorism efforts when it is not".
"The deputy secretary expressed that such a visit is highly inappropriate in view of the unprecedented repression campaign underway in Xinjiang against Uighurs, ethnic Kazakhs, Kyrgyz, and other Muslims," the US State Department said in a statement.
"The UN's topmost counterterrorism official is putting at risk the UN's reputation and credibility on counterterrorism and human rights by lending credence to these false claims," the statement said.
China has been condemned internationally for setting up the detention complexes, which it describes as "education training centres" helping to stamp out extremism and give people new skills. Western states are worried Voronkov's visit will validate China's justification for the centres, diplomats said.
"China will, and is, actively saying that what they're doing in Xinjiang is good terrorism prevention," said a UN security council diplomat, speaking on condition of anonymity.
"The visit by Voronkov validates their narrative that this is a counterterrorism issue, when we would see it more as a human rights issue," said the diplomat, adding that if Voronkov did not speak out after visiting Xinjiang then "silence could be seen as implicit acceptance, at worst UN complicity".
The email from Voronkov's office, seen by Reuters, said China planned the itinerary for Voronkov, whose office helps states implement a global counterterrorism strategy adopted by the UN general assembly. The email said his office does "not expect any public statements" on his visit to Xinjiang.
He will be visiting Xinjiang before UN human rights chief Michelle Bachelet, who has repeatedly pushed China to grant the United Nations access to investigate reports of disappearances and arbitrary detentions, particularly of Muslims in Xinjiang.
"This mission is not connected in any manner to upcoming visits by other senior UN officials, including the high commissioner of human rights. We would like to assure you that [Voronkov's] visit is not intended to undermine or overshadow the visit of Ms Bachelet," the email said.
China's envoy in Geneva said on Thursday that he hoped Bachelet would visit China, including Xinjiang, and "we hope to define a time which is convenient to both sides". The last visit by a UN human rights chief to China was in 2005.
The email from Voronkov's office said he had already visited Russia, Britain, the United States and France which, along with China, make up the five permanent veto-wielding members of the UN Security Council.
Human Rights Watch UN director Louis Charbonneau said that instead of sending Voronkov to Xinjiang, Guterres should "be calling for the immediate closure of 'political education' camps" and pushing for unfettered access for Bachelet and other rights experts.
Guterres raised the plight of Muslims in China's Xinjiang region with the Chinese government's top diplomat, Wang Yi, during a visit to Beijing in April.
https://www.theguardian.com/world/2019/jun/15/deep-concerns-us-objects-to-un-counterterrorism-chiefs-visit-to-xinjiang
--------
Racist far-right says Islam has no place in Norway, desecrates holy Quran
June 16, 2019
Europe has once again shown its racist and Islamophobic colors, targeting Islam and Muslims in the country.
The leader of the far right Stop Islamization of Norway (SION) group Anna Braten insulted Muslims and their religion, saying that "Islam has no place in the country" and that the holy Quran should be destroyed en masse.
Throwing the holy book on the ground, in the largely Muslim-populated area of Drammen, which is 45 kilometers from the capital Oslo, demonstrators protested against Islam, claiming it should be banned.
Police intervened as Braten attempted to burn the sacred text while 30 Norwegian activists and Muslims demonstrated against the anti-Muslim protest.
https://www.yenisafak.com/en/world/racist-far-right-says-islam-has-no-place-in-norway-desecrates-holy-quran-3483361
--------
Israel moves to name Golan settlement after Trump
June 17, 2019
RAMAT: The Trump name graces apartment towers, hotels and golf courses. Now it is the namesake of a tiny Israeli settlement in the Israel-controlled Golan Heights.
Israeli Prime Minister Benjamin Netanyahu's cabinet convened in this hamlet on Sunday to inaugurate a new settlement named after President Donald Trump in a gesture of appreciation for the US leader's recognition of Israeli sovereignty over the territory. The settlement isn't exactly new. Currently known as Bruchim, it is over 30 years old and has a population of 10 people.
Israel is hoping the rebranded "Ramat Trump," Hebrew for "Trump Heights," will encourage a wave of residents to vastly expand it.
"It's absolutely beautiful," said US Ambassador David Friedman, who attended Sunday's ceremony. Noting that Trump celebrated his birthday on Friday, he said: "I can't think of a more appropriate and a more beautiful birthday present." Israel captured the Golan Heights from Syria in the 1967 Mideast war and annexed it in 1981. Most of the international community considers the move illegal under international law.
But during a visit to Washington by Netanyahu in March, just weeks before Israeli elections, Trump signed an executive order recognising the strategic mountainous plateau as Israeli territory. The decision, the latest in a series of diplomatic moves benefiting Israel, was widely applauded in Israel.
"Few things are more important to the security of the state of Israel than permanent sovereignty over the Golan Heights," Friedman said. "It is simply obvious, it is indisputable and beyond any reasonable debate." After the cabinet decision, Netanyahu and Friedman unveiled a sign trimmed in gold with the name "Trump Heights" and adorned with US and Israeli flags.
Addressing the ceremony, Netanyahu called Trump a "great friend" of Israel and described the Golan, which overlooks northern Israel, as an important strategic asset.
"The Golan Heights was and will always be an inseparable part of our country and homeland," he said.
Developing Ramat Trump will not be easy. Ringed by high yellow grass and landmines, it is roughly 20 kilometres (12 miles) from the Syrian border and a half hour drive from the nearest Israeli town, Kiryat Shmona, a community of about 20,000 people near the Lebanese border.
According to Israeli figures, almost 50,000 people live in the Golan, including about 22,000 Jewish Israelis and nearly 25,000 Arab Druze residents.
While Israel has encouraged and promoted settlement in the Golan, its remote location, several hours from the economic centre of Tel Aviv, has been an obstacle. The area is home to small agriculture and tourism sectors but otherwise has little industry.
The eight-year Syrian civil war, which at times has resulted in spillover fire into the Golan, also could present an obstacle to luring new residents.
https://www.dawn.com/news/1488690/israel-moves-to-name-golan-settlement-after-trump
--------
South Asia
Muslims 'targeted with arbitrary arrests' after Easter massacre
by Lisa Fuller & Rukshana Rizwie
June 17, 2019
Hasalaka, Sri Lanka - On May 17, police in central Sri Lanka arrested Abdul Raheem Mazahina, a soft-spoken 47-year-old grandmother, because of the pattern on her dress.
The dress's motifs look like ship wheels, but police told Mazahina, a Muslim, they were arresting her because the pattern resembled the dharmachakra, a Buddhist symbol.
Mazahina, who has asthma and hypertension, had worn the dress many times before and no one had taken notice.
"If it was a dharmachakra, someone would have pointed it out to me," she said.
Sri Lanka's Department of Buddhist Religious Affairs later told authorities that they were unable to determine whether the symbol on the dress was in fact a dharmachakra.
Police in Hasalaka - which lies 130km east of Sri Lanka's capital Colombo - charged Mazahina under a hate speech law, as well as another law that prohibits insulting religions with the "malicious intention of outraging religious feelings", said her lawyer Fathima Nushra Zarook.
Police spokesman Ruwan Gunasekara told Al Jazeera Mazahina is one of 2,289 people - including 1,820 Muslims - who were arrested "in connection to the Easter bombings or related incidents", though he confirmed that the charges against Mazahina only pertain to her dress.
Over 250 people died and 500 were wounded on April 21 in a coordinated series of bombings on churches and luxury hotels across the country. the Islamic State of Iraq and the Levant (ISIL or ISIS) has claimed responsibility for the attacks.
While 1,655 of those arrested have been released on bail, 634 are still in custody, either because they have been remanded or they are under investigation, Gunasekara said.
Of the 423 who have been remanded, 358 are Muslims.
"At the police station, the officer in charge made me remove my headscarf and put on the dress while other officers took photographs of me," Mazahina said, fighting back tears.
During the 17 days that she spent behind bars, guards repeatedly referred to Mazahina as a "terrorist", she said.
On June 3, a magistrate court released Mazahina on bail, but she has to return to court in November. If convicted, she could face up to two years in prison.
EU 'deeply concerned'
Three quarters of Sri Lanka's population is Buddhist, while less than 10 percent are Muslim. Hindus and Christians make up the remainder of the population.
Mazahina's blood pressure increased while she was in prison and she has been ill since returning home. Her husband, Munaf, took leave from his job as a day labourer to care for her. As a result, the family has no source of income.
The Human Rights Commission of Sri Lanka (HRCSL), a government body, has received several complaints regarding arbitrary arrests of Muslims, according to its chairperson Deepika Udugama.
"We are deeply concerned and will write to the acting inspector general of police ... with examples of such arrests and the recommendations," she said.
In a 2017 report, the United Nations Working Group on Arbitrary Detentions said it "identified systemic problems within [Sri Lanka's] criminal justice system which placed defendants at a high risk of arbitrary detention".
However, before the Easter attacks, arbitrary detentions targeted ethnic Tamils, who are Hindu and Christian.
Sri Lanka fought a 26-year-long civil war against the separatist Liberation Tigers of Tamil Eelam (LTTE), who fought for an independent Tamil homeland.
When asked if police had any concerns about arbitrary arrests of Muslims, police spokesperson Gunasekara said: "How can I say this? If anyone has an objection, they can complain to police headquarters or the HRCSL."
He claimed that the police headquarters had yet to receive any such complaints.
On Wednesday, the European Union issued a statement saying that they are "deeply concerned by the political and religious pressure being directed at Sri Lanka's Muslim community which is undermining peace and reconciliation in the country".
Jezima (not her real name), 58, told Al Jazeera that police in Badulla district refused to let her file a complaint after her husband went missing in police custody.
Police asked Jezima's husband to report to a police station to explain why he had two passports.
Jezima said she was not concerned because there was a simple reason for the passports: one was expired and one was current.
But her husband never came back from the police station and police refused to give Jezima his whereabouts.
After searching for 12 days, Jezima sought help from HRCSL, which tracked her husband to the Criminal Investigation Department (CID) in Colombo.
The CID assured Jezima it would release her husband by June 3. But over a week later, he was yet to come home.
Al Jazeera also spoke to 20-year-old Aslam Rizwi, who had been detained for possessing a damaged SD memory card, and his neighbour 19-year-old Abdul Arees, who was arrested for having footage of the Easter bombings on his phone which he had received on a WhatsApp group.
Sri Lanka Muslim Congress leader Rauff Hakeem, who resigned from his ministerial portfolio last week citing the government's failure to protect Muslims, said that they were being harassed and detained for trivial reasons.
"It is true that the perpetrators of the April 21 bombings were from our community, but from the first day onwards, the Muslim community have assisted the Tri-Forces in rooting out these individuals, yet we have also suffered immensely during this process," he said.
The crackdown has been particularly severe in Kattankudy, the east coast hometown of the alleged mastermind of the Easter attacks, Zaharan Hashim.
"Everyone is afraid. So many innocent people have been arrested," said a university lecturer in Kattankudy, who asked not to be named. "People call the police on us if they think we look suspicious," he said.
The All Ceylon Jammiathul Ulema, an organisation advocating for Muslims' civil rights in Sri Lanka, is testifying before the Parliament Select Committee, which is investigating the Easter attacks.
Mufti Rizvi, who leads the organisation, appealed to the committee to take immediate action on increasing reports of arbitrary detentions.
"An elderly man was arrested for having a Quranic verse, a poor woman was arrested for wearing a dress which had the pattern of a ship's wheel and a pregnant lady was arrested for wanting to vomit," he said. "How can you expect de-radicalisation to happen in the country if this continues?"
https://www.aljazeera.com/indepth/features/muslims-targeted-arbitrary-arrests-easter-massacre-190613123018003.html
--------
Taliban militants suffer heavy casualties in Farah, Herat operations
16 Jun 2019
The Afghan security forces backed by coalition air power conducted separate operations in Farah and Herat provinces inflicting heavy casualties on Taliban militants.
The 207th Zafar Corps in a statement said the Special Forces conducted an operation in Shinwan Village of Bala Bolok district.
The statement further added that the Special Forces killed 9 Taliban militants and detained two others.
The Special Forces also destroyed a captured Humvee vehicle during the same operation.
Meanwhile, the 207th Zafar Corps said the security forces conducted a similar operation in Pashtun Zarghoon district of Herat and killed 6 Taliban fighters.
Full report at:
https://www.khaama.com/taliban-militants-suffer-heavy-casualties-in-farah-herat-operations-03637/
--------
Taliban should respect the will of the Afghan people: NATO SCR in Afghanistan
15 Jun 2019
The NATO Senior Civilian Representative in Afghanistan Ambassador Nicholas Kay has called on Taliban to respect the will of the Afghan people, insisting that the Afghan people want peace and reduction in violence.
He made the remarks during a visit to NATO headquarters in Brussels.
Ambassador Kay further added "The Afghan National Defense and Security Forces that NATO trains, advises and assist are achieving on the battlefield what the Afghan people want, which is peace."
He also added "And we call upon the Taliban to sit in an intra-Afghan dialogue with fellow Afghans, the Government of Afghanistan as soon as possible and reach a negotiated end to this conflict."
"The Afghan people demand peace. The Afghan demand reduction in violence. And the Taliban should respect the will of the Afghan people," he added.
Meanwhile, Ambassador Kay said NATO Allies are working closely with the Government of Afghanistan and the people of Afghanistan to bring about the conditions for a lasting peace.
Full report at:
https://www.khaama.com/taliban-should-respect-the-will-of-the-afghan-people-nato-scr-in-afghanistan-03619/
--------
9 Taliban militants killed, wounded in Afghan Air Force airstrikes in Takhar
17 Jun 2019
The Afghan Air Force carried out multiple airstrikes in Takhar province killing at least 7 Taliban fighters.
The informed military sources said Monday that the airstrikes were carried out in Ishkamish district.
The sources further added that the airstrikes also wounded 2 Taliban fighters.
The Taliban militants have not commented regarding the airstrikes so far.
https://www.khaama.com/9-taliban-militants-killed-wounded-in-afghan-air-force-airstrikes-in-takhar-03642/
--------
Afghan forces repulsed twin Taliban attacks in Kandahar, 8 killed: Gen. Tadin Khan
16 Jun 2019
The Afghan security forces repulsed twin Taliban attacks in Kandahar province.
The Police Chief of Kandahar Gen. Tadin Khan Achakzai said a group of Taliban militants attacked a security check post in Takhta Pul district.
Gen. Tadin Khan further added that the security forces killed three Taliban militants during the clash.
The security forces also confiscated three motorycles following the clash, Gen. Tadin Khan added.
Meanwhile, the Taliban militants attacked police forces on Kandahar-Tarinkot highway which was also repelled by security forces.
According to Gen. Tadin, the security forces killed five Taliban militants during the same clash.
Full report at:
https://www.khaama.com/afghan-forces-repulsed-twin-taliban-attacks-in-kandahar-8-killed-gen-tadin-khan-03640/
--------
Southeast Asia
Talk to Rulers about uniform shariah law, says ex-MP
Robin Augustin
June 17, 2019
PETALING JAYA: A former MP has urged federal leaders to get the views of the Rulers on plans for a uniform code of shariah criminal laws for all states.
Tawfik Ismail, former MP for Sungai Benut, said it was the right thing to do, as the Rulers were heads of Islam in their states, and the Yang di-Pertuan Agong for other states.
Plans for a uniform code of shariah criminal laws were announced yesterday by the minister for Islamic affairs, Mujahid Yusof. The National Council of Islamic Religious Affairs said discussions would be held with all state religious leaders for a consensus on a uniform code. At present, each state has its own set of shariah laws and the punishments for certain offences vary from state to state.
Tawfik said that although the matter was only at a proposal stage, it was only proper that the government seek the Rulers' input.
He also raised his fear that the move for uniform shariah criminal laws was a step closer towards greater centralisation of power over religion by the Federal Government.
He also spoke of his fear that discussions on a uniform shariah criminal code could be used as a backdoor towards implementing harsh punishments for Islamic criminal offences some time in the future.
"The record has shown that PAS-controlled states lean towards harsher penalties," he said, citing the move by PAS president Abdul Hadi Awang to table a private members' bill to amend the Shariah Courts (Criminal Jurisdiction) Act with enhanced penalties.
The bill would have empowered the shariah courts to impose a higher level of fines and a greater amount of whipping on certain Islamic criminal offences. The proposed bill, known as RUU355 from its Malay short-form, created a storm of controversy, with some politicians alleging that it was a prelude towards implementing hudud punishments.
However Hadi's motion to obtain Dewan Rakyat approval to table the bill failed to be adopted and the proposed bill expired.
https://www.freemalaysiatoday.com/category/nation/2019/06/17/talk-to-rulers-about-uniform-shariah-law-says-ex-mp/
--------
SIS slams Mujahid for prioritising Shariah crime instead of banning child marriages
16 June 2019
BY AZRIL ANNUAR
KUALA LUMPUR, June 16 — A progressive Muslim women's group today criticised a minister and a government council for not prioritising the standardisation of Islamic family laws standardisation or raising the minimum marriage age across the country.
In a press statement today, Sisters in Islam (SIS) said that it only takes political will for the two reforms to take place, instead of standardising Shariah criminal laws in Malaysia as announced by Minister in the Prime Minister's Department Datuk Seri Mujahid Yusof Rawa.
"The current state of IFL (Islamic family law) in Malaysia is in shambles as it dangerously and unfairly exposes women to being victims of the system.
"For example, laws amended in 1994 has allowed illegal marriages without the court's permission to be registered upon payment of a small fee. This has resulted in new marriages being secretly solemnised in Thailand.
"The current provisions for polygamous marriages continue to cause devastating structural, emotional and economic consequences borne by all family members, including and especially onto children," said SIS in the statement.
SIS recalled that in its first incarnation in 1984, the IFL was lauded as among the most progressive marriage legislation in the world. However, several rounds of amendments had regressed the laws in its ability to protect women's interest and uphold justice and equality for them.
The group also claimed that the National Council for Islamic Religious Affairs Malaysia (MKI) and Mujahid had basically ignored instructions from Prime Minister Tun Dr Mahathir Mohamad last year to end child marriages by standardising the minimum marriageable age for children.
"Despite a directive from our Prime Minister Tun Dr Mahathir Mohamad last year, only literally a handful of states have committed towards ending child marriage with many other states refusing.
"A plan for standardisation which is led directly by Datuk Seri Mujahid Rawa's office as suggested by MKI will not only pave the way to push this important agenda forward, but also do so in a way which is consultative and therefore binding to all states.
"The priority of MKI should be the standardisation of IFL and child marriage for all states in Malaysia," the statement said.
Full report at:
https://www.malaymail.com/news/malaysia/2019/06/16/sis-slams-mujahid-for-prioritising-shariah-crime-instead-of-banning-child-m/1762695
--------
Thailand ready to tap busy Muslim travel market
17 JUN 2019
Halal tourism is one of the fastest-growing tourism sectors, with faith-based needs and behaviour from Islamic travellers gaining, according to the Global Muslim Travel Index (GMTI) 2019, an annual survey by Mastercard and CrescentRating.
In its fifth edition, the GMTI revealed robust growth in the market and named Thailand as a friendly country for Muslim travellers.
The Muslim travel market is expected to reach US$220 billion by 2020 with 160 million tourists, rising 36% to $300 billion with 230 million travellers in 2026.
The GMTI 2019 shows that Thailand ranked second among the top 10 preferred destinations for Muslim travel among countries outside of the Organisation of Islamic Cooperation (OIC) with a score of 57, behind Singapore with 65. Thailand also ranked 18th out of 130 destinations for Muslims worldwide.
The GMTI report uses criteria from the CrescentRating ACES model to consider four key measurements: services, environment, communications and access to evaluating each destination.
The report provides market insights for tourism operators to understand and prepare for the needs of Muslims tourists, such as prayer facilities, washroom facilities, gender-based recreational facilities and services with privacy, as well as halal food.
By the same token, halal travellers can ensure that the destination for their next trip is Muslim-friendly.
The top 10 non-OIC destinations also included Japan, Taiwan, South Africa and South Korea, which continued their upward movement, indicating that these destinations are becoming friendlier for Muslim tourists, the report said.
Growing market
In Thailand, an estimated 3.6-3.7 million Muslims visited Thailand last year, accounting for nearly 10% of total international arrivals.
As the market trend is promising, the Tourism and Sports Ministry has launched a project for the development of halal tourism and services.
The Tourism Department in March hired Sasin Graduate Institute of Business Administration at Chulalongkorn University to carry out a project, including in-depth research on the demands of Muslim travellers and their behaviour in order to design tourism products and services to fit their needs and meet halal criteria, said a source in the department.
The institute must introduce at least four travel routes and use them as pilot tracks for the department to develop other destinations. These future travel routes should be tested by tourism experts such as bloggers specialising in tourism.
A handy travel guidebook for the routes, containing other tourism destinations, hotels, food restaurants, mosques and products from Muslim communities, should be produced, the source said.
Sasin is set to hold training courses for Halal tourism for tourism operators and related government and private agencies for some 700 participants nationwide. The department expects the project to be completed by mid-September.
Proposed Halal routes
Sukre Sarem, a lecturer for the Institute of Asian Studies at Chulalongkorn University, has praised the halal travel route project because it would let Muslim visitors experience the culture, arts and communities of Thai Muslims.
"Travel routes should also provide tourism destinations and allow visitors to experience authentic Muslim cultures and learn about the communities here," he said.
Speaking at a seminar, Mr Sukre, also an expert on Muslim history in Thailand, pointed to several potential travel routes that could inspire Muslim travellers, especially relating to Islamic heritage in Thai history.
In the capital, paintings of Turkish soldiers are at Chakri Maha Prasat Throne Hall in the Temple of the Emerald Buddha. Ban Khrua, an old community that dates back to the reign of King Rama I, has conserved Islamic art, in particular the Ottoman Empire symbol on the pediment.
In addition, there are many picturesque mosques scattered around the capital.
Mr Sukre said the river route along the Chao Phraya River could be a perfect trail to see residents from different cultures and religions that live together in peace and harmony.
"Islamic heritage can also be traced along land roads such as along the Airport Rail Link route, which runs past many Muslim communities," he said.
Full report at:
https://www.bangkokpost.com/business/1696452/thailand-ready-to-tap-busy-muslim-travel-market
--------
India
Kashmiri separatist leaders received funds from abroad, utilised them for personal gains: NIA
June 16, 2019
The NIA has alleged that its probe into terror financing in Jammu and Kashmir has revealed that hardline separatist leaders received funds from abroad and utilised them for personal gains — from amassing properties to paying for foreign education of their kin.
The agency has interrogated several top leaders of Hurriyat Conference and other organisations and claimed that they had confessed to receiving funds from Pakistan to fuel separatist sentiments among the people of Kashmir Valley.
In a statement issued Sunday, the National Investigation Agency (NIA) said the firebrand leader of Duktaran-e-Milat, Asiya Andrabi, was grilled by it about the educational expenses of her son in Malaysia incurred by Zahoor Watali, who was arrested in a terror funding case.
"During interrogation, Asiya Andrabi admitted that she had been collecting funds and donations from foreign sources and Duktaran-e-Milat had been organising protests by Muslim women in the valley," it claimed.
The NIA has already approached the relevant authorities for providing evidence relating to certain bank accounts used by Asiya Andrabi's son Mohammad bin Qasim while he was in the university, it said.
Another hardline separatist leader, Shabir Shah, had to face some tough time when he was confronted about his businesses, including a hotel in Pahalgam which is allegedly funded through foreign funds received by him from Pakistan, the statement said.
"During the custodial interrogation, Shabir Shah was confronted with evidence relating to transfer of money by Pakistan-based agents and representatives of APHC (All Parties Hurriyat Conference) factions to parties affiliated to Hurriyat in J and K. He was also confronted about his investments in various hotels and businesses in Pahalgam, properties in Jammu, Srinagar and Anantnag," the NIA said.
The NIA had registered a case in May, 2017 against terrorists belonging to Jammat ud Dawah, Duktaran-e-Millat, Lashkar-e-Taiba, Hizb-ul-Mujahideen and other separatist leaders in the state for raising, receiving and collecting funds to fuel separatist and terrorist activities and entering into a larger conspiracy for causing disruption in Kashmir Valley and for waging war against India.
The agency has so far charge-sheeted 13 accused, including leader of Jammat-ud Dawah Hafiz Mohammad Saeed, head of proscribed organisation Hizb-ul-Mujahideen Syed Salahuddin, seven separatist leaders, two hawala conduits and some stone-pelters.
Watali is one of the main hawala conduits who used to generate and receive funds from Pakistan, ISI, UAE and had floated various shell companies to disguise foreign remittances for further transfer to separatist leaders and stone pelters in the valley, it said.
The agency said these funds were used to fuel unrest in the Kashmir valley and organise violent agitations and anti-India activities which resulted in large scale violence leading to numerous injuries and deaths of civilians and security forces.
Evidence relating to funding of these separatist elements through Pakistan and UAE-based businessman, ISI, High Commission of Pakistan in Delhi has been collected and presented to the NIA Special Court in the charge sheets, it said.
Watali's bail was rejected by the Supreme Court, on a plea by the NIA, as the apex court observed that the Delhi High Court has not appreciated the material which found favour with the designated court to record its opinion that there are reasonable grounds for believing that the accusations are prima facie true.
The agency has arrested Yasin Malik, leader of proscribed organisation JKLF, Asiya Andrabi leader of proscribed organisation Duktaran-e-Milat, separatist leader Shabir Shah of JKDFP and Masrat Alam of Muslim League.
Malik told the agency that he was instrumental in bringing together the factions of Hurriyat Conference and formed the Joint Resistance Leadership (JRL) which spear headed the violent agitations in 2016 in Kashmir Valley by issuing "Protest Calendars" leading to economic shut down for over four months and also caused death and injuries to civilians and security forces during the violent protests.
Malik admitted that the JRL and Hurriyat Conference Gilani Group collected funds from business community as well as certain other sources and ensured that economic shut down and violent protests continue to disrupt the daily life of common citizens in the valley, the agency said.
"Evidence regarding many of Shah's benami properties is being collected. He was confronted with some of his personal staff and associates who have provided vital information regarding the sources fund raising and investment details," it alleged.
Masarat Alam, "the poster boy of stone pelters and violent agitations in Kashmir valley" has told investigators that Pakistan based agents route the funds through hawala operators which were transferred to the separatist leaders including Syed Shah Gilani Chairman, the NIA said.
Alam has also revealed that there are rifts in the Hurriyat Conference regarding collection and use of fund, it said.
https://indianexpress.com/article/india/kashmiri-separatist-leaders-received-funds-from-abroad-utilised-them-for-personal-gains-nia-5783164/
--------
NIA search operation in Madurai for IS sympathisers
Jun 16, 2019
CHENNAI: A National Investigation Agency (NIA) team carried out searches in Tamil Nadu's Madurai on Sunday following information about suspected IS supporters, officials said.
The NIA officials searched three premises in Madurai on suspicion that the residents there have contacts with the global terror outfit via social media.
The search in Madurai, 470 km from here, follows the search operations carried out by the agency in Coimbatore a few days back, and the arrest of two people on June 12 and 14.
On June 12, the NIA had conducted searches at seven locations in Coimbatore and seized incriminating material including books and documents from the houses and work places of six accused persons.
The anti-terror agency had registered a case on May 30 against the six, who were allegedly propagating ideology of the IS/Daesh on social media with the intention of recruiting vulnerable youth into the organisation for for carrying out terrorist attacks in south India, especially in Kerala and Tamil Nadu.
The NIA also said some of the accused persons and their associates were in touch with Zahran Hashim - the mastermind of the Easter day bombings in Sri Lanka that killed around 250 people - and his associates over social media, with the intention of furthering the objectives of the IS in India.
The NIA questioned the accused regarding the incriminating materials recovered during searches and the content of their social media accounts and based on the facts revealed of their pro-IS activities, Shiek Hidayathullah Y. was arrested on June 14.
Scrutiny of documents seized from his house revealed that he was associated with proscribed terrorist organization, the Student Islamic Movement of India (SIMI) as well.
Full report at:
https://timesofindia.indiatimes.com/india/nia-search-operation-in-madurai-for-is-sympathisers/articleshow/69812808.cms
--------
Photo of gun wielding youth in Kashmir goes viral, police suspect terror link
Jun 16, 2019
Ashiq Hussain
A picture of a young man from north Kashmir's Kupwara district carrying a gun has gone viral on social media triggering fears that he may have signed up for militancy.
The police said that they were investigating the picture in which Imtiyaz Ahmad Mir, a resident of Gulgam village in Kupwara can be seen. Mir was missing since last week.
"His gun wielding picture has been circulated on social media. We are verifying," said senior superintendent of police, Kupwara, Ambarkar Shriram Dinkar.
Locals said that Mir, in his early twenties, ran a photocopy shop and went missing on June 11 after he left home for the Kupwara market. His family has issued an appeal requesting him to return.
The picture shows him wearing a military vest and holding a rifle pointing its barrel towards the ground while he is looking towards the camera. The date of joining is shown as June 12.
The photo is apparently stamped with Hizbul Mujahideen on its corner with the name of 'district commander' Anantnag and Kupwara Mohammad Ashraf Khan alias Mansoorul Haq' . It also reveals the educational qualifications of the youth saying he is a Hafiz-e-Quran and has done a diploma.
Youth joining militancy in Kashmir sometimes declare it publicly by releasing a gun wielding picture on social media.
The apparent joining of Mir would take the number of active local militants of the district to two.
"We will now have two militants including Mir. The other one is also a local from Kralpora area. He joined some 6 months ago," said Dinkar.
Last year in October, Manan Wani, a former PhD scholar of AMU and a resident of Kupwara, who had left research to join militancy in Kashmir, was killed in an encounter with security forces in his home district.
Earlier this week, police in neighbouring district of Baramulla had said that two youths joined militant ranks after a picture of a post-graduate student Junaid Farooq posing with an AK-47 rifle went viral on social media.
A resident of Hamray Pattan area, Junaid was the second youth who has joined militancy in Baramulla police district.
In April, a 19-year-old youth Adnan Ahmad Channa of Arampora went missing from his house and joined militant ranks. Though his pictures were never released, police suspect him of joining the militant ranks.
In January, after the killing of three local Lashkar militants—Shuiab Akhoon and his two associates Mohsin Mushtaq and Nisar Darzi—police had said they were the last listed militants in Baramulla police district.
Full report at:
https://www.hindustantimes.com/india-news/photo-of-gun-wielding-youth-in-kashmir-goes-viral-police-suspect-terror-link/story-vFCwSqlQqOEoshA36YR5oJ.html
--------
Muslim leaders to meet CM KCR on mosque issue
17 Jun 2019
Malakpet: Leaders representing different religious groups of Muslims have resolved to represent the matter of Ek Khana Masjid, which was allegedly demolished by the GHMC in Amberpet in April, by personally meeting Chief Minister K Chandrashekar Rao.
At the meeting organised by the Tehreek Muslim Shabban at its office in Azampura on Saturday, various organisations including Jamaat e Islami, Jamait-ul-Ulema, Sunni Ulema Board, Jamiat-e-Alhe-Hadees and Alame Jamiat-ul-Mashaiq resolved to demand that the State government grant permission to offer namaz at Masjid-e-Ek Khana in Amberpet, which was demolished by GHMC in April.
The Muslim religious heads and Islamic scholars also decided to meet Chief Secretary, Home Minister, GHMC Commissioner and MPs (Hyderabad and Secunderabad) and discuss about the issue.
Speaking to The Hans India, Mushtaq Malik, the president of Tehreek Muslim Shabban, said that though the Masjid-e-Ek Khana, which was demolished by GHMC, was already registered with the Telangana State Wakf Board, it was illegally demolished. The land on which Masjid was located did not have any title dispute either. "Therefore, there should be a permission for offering Namaz. If there is any law and order issue, the Telangana government should solve the issue," he pleaded.
Mushtaq Malik also said that in 2018 the TSWB gave a letter to the GHMC and also informed them if the road widening was an issue, the Wakf Board would discuss the issue with authorities. But without any notice and consultations ith Wakf Board, the GHMC suddenly demolished the Masjid in late night hours.
Full report at:
https://www.thehansindia.com/news/cities/hyderabad/muslim-leaders-to-meet-cm-kcr-on-mosque-issue-538427
--------
Encounter under way between security forces, militants in Anantnag
June 17, 2019
An encounter broke out between militants and security forces in Anantnag district of Jammu and Kashmir on Monday, a police official said.
Acting on credible inputs about the presence of militants in Achabal area of the south Kashmir district, security forces launched a cordon and search operation there this morning, the official said.
He said the search operation turned into an encounter after the militants fired on the forces, who retaliated.
The exchange of firing was going on when last reports came in, the official said.
Full report at:
https://indianexpress.com/article/india/encounter-under-way-between-security-forces-militants-in-anantnag-5783841/
--------
Encounter under way between security forces, terrorists in J&K's Anantnag
Jun 17, 2019
SRINAGAR: An encounter broke out between terrorists and security forces in Anantnag district of Jammu and Kashmir on Monday, a police official said.
Acting on credible inputs about the presence of terrorists in Achabal area of the south Kashmir district, security forces launched a cordon and search operation there this morning, the official said.
He said the search operation turned into an encounter after the terrorists fired on the forces, who retaliated.
The exchange of firing was going on when last reports came in, the official said.
Full report at:
https://timesofindia.indiatimes.com/india/encounter-under-way-between-security-forces-terrorists-in-jks-anantnag/articleshow/69819637.cms
--------
High alert in Jammu & Kashmir after Pakistan inputs
Jun 17, 2019
An intelligence input about a major terror strike in Kashmir, reportedly shared by Pakistan, has prompted a high alert in the Valley, a top security official said on Sunday. The input talks about Al Qaeda's plan to carry out the attack in Awantipora area of South Kashmir's Pulwama district, either before or during the Amarnath Yatra beginning on July 1, to avenge the killing of Ansar Ghazwatul Hind chief Zakir Musa, the official said.
Full report at:
https://timesofindia.indiatimes.com/india/high-alert-in-jammu-kashmir-after-pakistan-inputs/articleshow/69817906.cms
--------
North America
Washington Pressures Baghdad to Sign Agreements with US Electricity Firms
Jun 16, 2019
Ali al-Qanemi told the Arabic-language al-Ma'aloumeh news website on Sunday that despite the US firms' incapability to supply Iraq with necessary electricity and lack of progress in projects that they have been implementing, Washington is pressuring the Iraqi government again to accept endorsement of agreements with them.
He added that when the Iraqi government signed a contract with Germany's Siemens company to develop energy projects, the US pressured Baghdad to ink agreements with American firms.
"This shows that the US has started the war of companies," al-Qanemi said.
His remarks came after the US granted Iraq a 120-day waiver from sanctions to let the nation import electricity from Iran, the State Department said on Saturday.
The decision by the Trump administration to allow Iraq to continue buying power from neighboring Iran, which is under US economic sanctions, followed a phone call Friday between Secretary of State Michael Pompeo and Iraqi Prime Minister Adel Abdul Mahdi.
"While this waiver is intended to help Iraq mitigate energy shortages, we continue to discuss our Iran-related sanctions with our partners in Iraq,'' the State Department said in an emailed statement.
http://en.farsnews.com/newstext.aspx?nn=13980326000689
--------
Saudi crown prince, Pompeo sends a message to Iran: End hostility or pay the price
June 17, 2019
JEDDAH: The US will take all actions necessary — "diplomatic and otherwise" — to deter Iran from disrupting Gulf energy supplies, US Secretary of State Mike Pompeo warned on Sunday.
Pompeo spoke hours after Saudi Crown Prince Mohammed bin Salman said the Kingdom would "not hesitate in dealing with any threat against our people, sovereignty and vital interests."
The twin warnings to the regime in Tehran followed last week's attacks on two oil tankers in the Gulf of Oman, widely assumed to have been carried out by Iran.
"We don't want war. We've done what we can to deter it," Pompeo said in a TV interview. "But the Iranians should understand very clearly that we will continue to take actions that deter Iran from engaging in this kind of behavior.
"What you should assume is we are going to guarantee freedom of navigation throughout the Strait of Hormuz. This is an international challenge, important to the entire globe. The US is going to make sure that we take all the actions necessary, diplomatic and otherwise, that achieve that outcome."
Pompeo said the US was discussing a possible international response, and he had made a number of calls to foreign officials about the tanker attacks.
He said China, Japan, South Korea and Indonesia relied heavily on freedom of navigation through the strait. "I'm confident that when they see the risk, the risk to their own economies and their own people, and outrageous behavior of Iran, they will join us in this."
The Saudi crown prince, in an interview with the Arabic-language newspaper Asharq Al-Awsat, said the Kingdom had "supported the re-imposition of US sanctions on Iran out of our belief that the international community needed to take a decisive stance against Iran."
He hoped the Iranian regime "would opt to become a normal state and cease its hostile policy."
Crown Prince Mohammed said the Kingdom's hand was always extended for peace, but the Iranian regime had disrespected the Japanese Prime Minister Shinzo Abe during his visit to Tehran by attacking the two oil tankers in the Gulf, one of which was Japanese. "It also employed its militias to carry out a shameful attack against Abha International Airport. This is clear evidence of the Iranian regime's policy and intentions to target the security and stability of the region."
The crown prince said the attacks "underscore the importance of our demand before the international community to take a decisive stance against an expansionist regime that has supported terrorism and spread death and destruction over the past decades, not only in the region, but the whole world."
Prince Mohammed's interview was "a message to Tehran, and beyond Tehran, to the international community," the Saudi political analyst and international relations scholar Dr. Hamdan Al-Shehri told Arab News.
"He sent out the message that we do not want a war in the region. He was offering peace, as is our nature, and that is what we are doing now. But if it is going to affect our vital interests, our vital resources and our people, we will defend ourselves and take action to handle any threat.
Full report at:
http://www.arabnews.com/node/1511786
--------
US may reveal Mideast peace plan in November: envoy
Servet Günerigök
16.06.2019
WASHINGTON
The long awaited Middle East peace plan may now be revealed in November, according to U.S special envoy to the Middle East.
Speaking at the conference of Jerusalem Post in New York, Jason Greenblatt said the President Donald Trump administration "would have released the plan during the summer" had not Israel called for September elections.
"We haven't made a decision on whether to delay now, potentially until as late November 6th. I think the logic will dictate that if we wanted to wait until a new government is formed, we really do have to wait, until potentially as late as November 6th.
"But we'll decide that after Bahrain," he added, referring to a conference that where the Trump administration is expected to reveal economic aspects of its peace plan.
The workshop is scheduled for June 25 and 26 and will reportedly be headed by U.S. President Donald Trump's senior adviser and son-in-law Jared Kushner and Greenblatt.
In April, Kushner said the plan would be published after the Islamic holy month of Ramadan, however, an Israeli newspaper released a leaked document on May 7 detailing the elements of the plan known as the "Deal of the Century".
Based on the leaks in the media, the so-called "Deal of the Century" will call on the Palestinians to make major concessions to Israel regarding Jerusalem's status and the right of Palestinian refugees to return to their homes in historical Palestine.
Jerusalem remains at the heart of the decades-long Middle East dispute, with Palestinians hoping that East Jerusalem -- occupied by Israel since 1967 -- might one day serve as the capital of a Palestinian state.
Full report at:
https://www.aa.com.tr/en/americas/us-may-reveal-mideast-peace-plan-in-november-envoy/1505945
--------
Europe
Rivlin meets delegation of European Muslim leaders in Jerusalem
June 17, 2019
President Reuven Rivlin on Sunday met with a delegation of French imams and French and Belgian Muslim activists in Jerusalem.
The group was headed by Hassen Chalgoumi, an imam well-known in France for his involvement in interfaith initiatives. The delegation of 40 Muslim leaders was organized by the European Leadership Network (ELNET), an organization that seeks to strengthen Israeli-European ties.
Rivlin and the group discussed anti-Semitism and the value of interfaith dialogue, the president's office said.
"Judaism has never been at war with Islam. Judaism and Islam are sister religions, and we should relate to each other in this way. The Jewish people suffered for many years from racism and hatred. Moderation — religious, nationalist and cultural — are the true way to reach the hearts of people. That is the right way to live," Rivlin said.
Chalgoumi told Rivlin the group was praying for the president's wife, Nechama, who died earlier this month, and spoke out against Islamic extremist groups.
"Recently in Europe, people are being killed just because they are Jews. At Hyper-Cacher, at the museum in Brussels — innocent people were killed just because they are Jewish. This delegation represents the hope, the need and the possibility to build bridges of trust," Chalgoumi said.
"Religion itself is not the problem, rather political Islam that tries to create conflict between Jews and Muslims. States such as Iran, Qatar and Turkey who fund hatred through Hamas and Hezbollah. This is not religion, this is political Islam which we must fight against," he said.
The group toured the northern West Bank Thursday on the invitation of settler leaders.
Chalghoumi said on the tour that support of boycotts of Israel ran against Quranic law, and that he hopes to encourage dialogue between Israelis and Palestinians so "no mother — not Israeli nor Palestinian — will cry" in the future.
He also criticized Palestinian rejection of an upcoming US-led peace conference in Bahrain. "I don't think that's right. You should always go and talk, sit around the same table. Even if you don't agree — dialogue can save us."
Sheikh Abu-Khalil Tamimi of Ramallah also met the group, saying "any problem can be solved with negotiations, dialogue and good treatment of each other. Disseminating hate is not the way… With God's help the future will be better for us and for our children."
Samaria Regional Council head Yossi Dagan said he was glad of the opportunity to meet the religious leaders: "We do not believe in peace on paper and with out-of-touch politicians but by creating mutual respect and relationships from the ground up."
Chalghoumi is something of an outlier in Muslim religious discourse, and was notable for supporting France's ban on the burqa, or full face-covering.
https://www.timesofisrael.com/rivlin-meets-delegation-of-european-muslim-leaders-in-jerusalem/
--------
Mideast
US-crafted 'deal of century' only serves Zionists' interests in region
Jun 16, 2019
Iran and the Palestinian resistance movement, Hamas, say a plan devised by the administration of US President Donald Trump targeting the Palestinian nation, dubbed 'the deal of the century', only seeks to meet the interests of the Zionists in the Middle East and aims to establish Israel's occupationist policies.
The remarks were made in a meeting between Iran's Intelligence Minister Mahmoud Alavi and senior Hamas officials, including deputy head of its political bureau Saleh Al-Arouri, a member of Hamas Political Bureau Hessam Badran, its foreign relations chief Osama Hamdan and its representative in Lebanon Ahmed Abdulhadi, whose report was published on Hamas website on Sunday.
During the meeting, the two sides noted that the policies adopted by the United States leave no doubt that a series of pro-Israeli decisions made by the US president, which started with introducing the occupied East Jerusalem al-Quds as the capital city of Israel and moving Washington's embassy there, will continue with lending full support to Israel's settlement construction activities in the West Bank and the occupied part of the Golan Heights.
In December 2017, Trump officially declared the disputed city of Jerusalem al-Quds Israel's "capital," despite warnings from around the world that the measure would risk triggering a fresh wave of violence in the Middle East.
"I have determined that it is time to officially recognize Jerusalem as the capital of Israel," Trump said, adding, "While previous presidents have made this a major campaign promise, they failed to deliver. Today, I am delivering."
Later in May 2018, the United States officially announced the opening of its new embassy in Jerusalem al-Quds amid deadly Israeli crackdown on peaceful protests by Palestinians in the occupied territories.
"Today we open the United States embassy in Jerusalem [al-Quds], Israel," US Ambassador to Israel David Friedman said at the beginning of the inaugural ceremony, attended by a US delegation from Washington and officials of the Israeli regime.
Elsewhere in their meeting, the two sides exchanged views about ways to promote relations and emphasized that such meetings should continue to counter challenges and dangers emanating from the US insistence on "the deal of the century," which has been rejected by all Palestinians and regional nations.
The two sides also discussed ways of countering other American and Zionist plots in the region, especially when they pertain to the issue of Palestine.
Palestinian Presidential spokesman Nabil Abu Rudeineh on June 15 dismissed Trump's controversial proposal for "peace" between the Israeli regime and Palestinians, stressing that 'the deal of the century' is "stumbling and changing its course."
"The American conspiracy has stumbled and is changing course. It is due to the Palestinian rejection (of the deal) and the clear position of the president (Mahmoud Abbas) vis-à-vis al-Quds, refugees and the national constants. These issues form the cornerstone of the struggle that forced the conspiracy against the Palestinian people to falter. The Palestinian land is the cradle of history, heritage and religion. Al-Quds represents the spirit of this sacred existence," he said in a statement.
The Palestinian Ministry of Foreign Affairs and Expatriates in May strongly condemned Trump's controversial proposal for peace between the Israelis and Palestinians, saying it translates into Washington's recognition of the Israeli regime's apartheid in the occupied Palestinian territories.
"The climate and atmosphere, which Americans have created with their statements and positions vis-à-vis the so-called deal of the century will encourage Israel's ruling right-wing coalition and the majority of extremists and settlers to swallow up the rest of the Palestinian land," the ministry announced in a statement.
Back in July, Leader of the Islamic Revolution Ayatollah Seyyed Ali Khamenei called the US president's 'deal of the century' for the Palestinian territories a "satanic" plan, saying it is a non-starter.
"The Americans have named their satanic policy on Palestine 'the deal of the century' but they should know that, by divine grace, this 'deal of the century' will never materialize," Ayatollah Khamenei said.
The so-called deal, a backchannel plan to allegedly reach a peace settlement between Israel and the Palestinians, was proposed by the US administration late in 2017.
https://www.presstv.com/Detail/2019/06/16/598666/Iran-Hamas-Alavi-deal-century
--------
Arab Analyst Reminds of Netanyahu's Complete Silence on US Tensions against Iran
Jun 16, 2019
"Why has Netanyahu kept silent these days and has bitten his tongue, while he always pioneered in threats to annihilate Iran? Is it for the missiles fired at Israel from the North, South and East? What happened to the 'Iron Dome'? How was the myth of Patriot defense system shattered in confrontation against the Yemenis' cruise missiles fired from Sa'adah mountains?" Atwan wrote on Sunday.
"In light of heightened tensions between Iran and the US in the region, Benjamin Netanyahu's silence indicates the difficult situation that the regime has been entangled in, which has also decreased the regime's regional role as the supporter of certain Arab states; the silence also reflects the regime's fear as it is aware that it will be one of the main targets of any retaliatory military response by Iran or its allies, including Hezbollah, Hamas and Islamic Jihad," he added.
Atwan pointed to the recent missile attacks by Yemen against the Saudi airport, and wrote that it had a message to Israel that Tel Aviv airport will be targeted in any future attack by Hezbollah or Hamas.
"Netanyahu who is at present the caretaker of Israeli defense ministry too does not dare to open his mouth these days and raise threats - which is one of his skills - because he knows the type of retaliatory responses waiting for him," he underlined.
Yemen's armed forces carried out retaliatory drone attacks on an airport in Southwestern Saudi Arabia for the second time in a week.
Yemeni Qasif-2K drones targeted the airport in the Saudi province of Asir in the early hours of Friday morning, two days after a cruise missile attack by army troopers and allied fighters from Popular Committees at the strategic Saudi facility.
A Saudi-led coalition spokesman said in a statement released by the Saudi Press Agency that the country's air missile defense systems had intercepted five Yemeni drones over the Saudi airport on Friday morning.
On Wednesday, Brigadier General Yahya Saree, the spokesman for Yemeni Armed Forces, stated that US-built surface-to-air missile systems stationed at Abha airport could not intercept the cruise missile, which he said had hit the designated target with great precision.
He noted that the missile hit the observation tower in the airport, which is about 200 kilometers North of the border with Yemen and serves domestic and regional routes, causing significant disruption to air travel.
Saree pointed out that the missile attack on Abha airport was part of retaliatory measures by Yemeni soldiers and their allies in the face of the Saudi-led coalition's crimes against Yemeni people.
Full report at:
http://en.farsnews.com/newstext.aspx?nn=13980326000903
--------
Israeli PM's wife sentenced for misusing state funds
16 June 2019
The wife of Israel's prime minister has been sentenced to pay a fine of roughly $15,000 for misusing state funds.
A Jerusalem magistrate court on Sunday accepted the plea bargain Sara Netanyahu signed with prosecutors to settle the allegations she misused some $100,000 in state money on lavish meals.
The State Attorney's office said the wife of Prime Minister Benjamin Netanyahu will pay additional fines to close the case, which accused her of running up large tabs at luxury restaurants while the official residence employed a full-time chef.
Sara Netanyahu was indicted on charges of fraud and breach of trust last year. The settlement saw her admit to more minor charges and reduced the overspending charge to $50,000.
Full report at:
https://english.alarabiya.net/en/News/middle-east/2019/06/16/Israeli-PM-s-wife-sentenced-for-misusing-state-funds.html
--------
Turkish outpost in Syria shelled from Syrian government forces area
16 June 2019
A Turkish observation post in Syria's Idlib region was attacked with mortar fire and shelling from an area controlled by Syrian government forces, causing damage but no casualties, the Turkish Defence Ministry said on Sunday.
The ministry said its forces immediately retaliated with heavy weapons and it made representations to Moscow over the incident.
It did not specify when the shelling occurred, but said the attack was launched from what it named the Tall Bazan area and it was assessed to be deliberate.
Russia, which supports Syrian President Bashar al-Assad in his country's civil war, and Turkey, long a backer of rebels, co-sponsored a de-escalation agreement for the area that has been in place since last year.
But the deal has faltered in recent months, forcing hundreds of thousands of civilians to flee.
On Thursday Russia and Syria gave sharply conflicting accounts of a previous attack on a Turkish outpost.
Full report at:
https://english.alarabiya.net/en/News/middle-east/2019/06/16/Attack-launched-on-Turkish-observation-post-in-Syria-s-Idlib-.html
--------
Israel in possession of close to 100 nuclear warheads: SIPRI
Jun 17, 2019
A new report reveals that the Israeli regime is in possession of approximately 100 atomic warheads which it refuses to confirm or deny as part of its policy of nuclear ambiguity.
The Stockholm International Peace Research Institute (SIPRI) said Monday Tel Aviv has 30 gravity bombs which can be delivered by fighter jets – some of which are believed to be equipped for nuclear weapon delivery.
Israel also possesses close to 50 warheads that can be delivered by land-based ballistic missiles such as Jericho III, said to have a range of 5,500 km, the global security think tank said.
The institute said Israel has modified its fleet of German-built Dolphin-class submarines to carry nuclear-armed sea-launched cruise missiles, giving it a sea-based second-strike capability.
Israel is the only possessor of nuclear weapons in the Middle East, but its policy is to neither confirm nor deny having atomic bombs.
Last week, managers of the Israeli Dimona nuclear reactor admitted that there has been leakage of radioactive materials from the plant in recent years.
The leak was revealed after Freedi Tawil, a former employee in the plant, sued Dimona to get paid in recompense for getting cancer.
Back in April 2016, the Israeli daily Haaretz reported that the nearly 53 year-old aluminum core at the nuclear facility had more than 1,500 defects.
Syria's UN Ambassador Bashar al-Ja'afari in May lambasted Western states for helping Israel establish the Dimona nuclear center and offering it related substances, experience and technology.
Israel has never allowed any inspection of its nuclear facilities and continues to defy international calls to join the nuclear Non-Proliferation Treaty, whose aim is to prevent the spread of nuclear arms and weapons technology.
The regime has a long history of aggression, occupation, militarism and state terrorism among other international crimes and is in perennial wars with the regional countries.
In August 2018, Israeli Prime Minister Benjamin Netanyahu threatened Iran with "atomic annihilation" right from the regime's secretive atomic weapons facility.
Tel Aviv is also at the center of fabrications against Iran's nuclear energy program which is subject to round-the-clock monitoring by the UN.
Last July, Tehran laughed off Israel's "absurd" claims that its Mossad agents had barged into a nuclear site in southern Tehran and spirited away loads of "secret documents".
In September, Netanyahu sparked a wave of derision among Iranians after saying Israel had discovered a secret atomic warehouse in Tehran, which turned out to be a carpet cleaning factory.
In December 2013, the former speaker of the Knesset, Avraham Burg, broke the taboo to declare Israeli possession of both nuclear and chemical weapons and described the official non-disclosure policy as "outdated and childish".
Western governments have played along with the policy of "opacity" by avoiding all mention of the issue.
The list of nations that secretly sold Israel the material and expertise to make nuclear warheads, or who turned a blind eye to its theft, include today's staunchest campaigners against proliferation: the US, France, Germany, Britain and even Norway.
Experts, however, say Israel's nuclear-weapons project could never have got off the ground without an enormous contribution from France.
Paris that took the toughest line on counter-proliferation when it came to Iran's peaceful nuclear program helped lay the foundations of Israel's atomic weapons.
"In Dimona, French engineers poured in to help build Israel a nuclear reactor and a far more secret reprocessing plant capable of separating plutonium from spent reactor fuel," the Guardian wrote in 2014.
According to the British paper, there were 2,500 French citizens living in Dimona by the end of the 50s, transforming it from a village to a cosmopolitan town.
Full report at:
https://www.presstv.com/Detail/2019/06/17/598709/Israel-nuclear-warhead-SIPRI
--------
Yemen launches fresh retaliatory attack on Abha airport
Jun 17, 2019
Yemeni forces have launched a fresh drone attack on an airport in Abha, the capital city of the province of Asir in southern Saudi Arabia, in retaliation for Riyadh's bombardment of the innocent people of Yemen during the past four years.
The Ansarullah movement and its allied forces targeted the Abha airport with a Qasef K2 drone on Sunday, the group's Al-Masirah TV said on Monday.
Abha airport is located in the popular mountain resort of the same name in the southwest of Saudi Arabia.
The strike followed Yemeni forces' attacks on the same airport and another one in neighboring province of Jizan using the same type of drone on Saturday.
The Houthis have intensified their so-called retaliatory attacks on military positions in southern Saudi territories over the past few days. The main targets in those attacks have been installations in Jizan, Najran, Abha and Khamis Mushait.
In a major attack last month, Yemeni drones managed to hit key oil installations in the Saudi capital Riyadh.
The Houthi movement recently warned that the airports of the countries involved in the military aggression against Yemen will be targeted as long as the embargo imposed by the Saudi regime and its allies on the Sana'a International Airport remains in place.
The attacks come as Saudi Arabia continues to target crowded civilian locations across Yemen heedless of international criticism.
Full report at:
https://www.presstv.com/Detail/2019/06/17/598700/Ansarullah-drone-attack-Saudi-Abha-airport
--------
Palestinian prisoners stage new hunger strike in Israeli jail
Jun 16, 2019
Dozens of Palestinian prisoners have gone on an open-ended hunger strike at a prison in the occupied territories in protest at the harsh prison conditions.
The Palestinian Commission of Detainees and Ex-Detainees Affairs said on Sunday that at least 50 prisoners had refused to eat at a prison in the southern city of Ashkelon.
The commission held Israeli authorities fully responsible for any escalation of the situation in the jail.
"All measures are carried out at the behest of Yaakov Shalom, the prison warden, who makes threats against the prisoners in order to provoke and blackmail them," it said.
The Palestinian prisoners on strike are also demanding that Israeli officials reverse punitive measures introduced in the wake of the Muslim holy month of Ramadan nearly two months ago. Since then, the Israeli authorities have been frequently violating religious freedom by preventing the inmates from practicing in religious rituals and holding communal prayers.
The prisoners have also been subjected to forms degrading treatment and have repeatedly been assaulted over the past few months.
More than 7,000 Palestinians are reportedly held at Israeli jails. Hundreds of the inmates have apparently been incarcerated under the practice of administrative detention, a policy under which Palestinian inmates are kept in Israeli detention facilities without trial or charge. Some Palestinian prisoners have been held in administrative detention for up to 11 years.
Last month, a study revealed that Israel had arrested some 16,500 Palestinian children since the outbreak of the Second Intifada (uprising) in late-2000.
Full report at:
https://www.presstv.com/Detail/2019/06/16/598670/Palestine-Palestinian-prisoners-hunger-strike-Ashkelon-jail
--------
Pakistan
Lt Gen Faiz Hameed Made ISI Chief In Military Shake-Up
Baqir Sajjad Syed
June 17, 2019
ISLAMABAD: In a surprise reshuffle, the Pakistan Army on Sunday announced that Lt Gen Faiz Hameed had been appointed the director general of premier spy agency Inter-Services Intelligence (ISI).
Gen Hameed replaces Lt Gen Asim Munir, who had been posted as the spymaster in October.
Gen Munir's eight-month stint as the ISI chief was probably one of the shortest among those who had served this office.
Gen Hameed was on his promotion as lieutenant general in April appointed as Adjutant General at the General Head­quarters (GHQ). He previously served in the ISI as the head of internal security and is believed to be a close confidant of Army Chief Gen Qamar Bajwa.
Military spokesman Maj Gen Asif Ghafoor had at a press conference on July 10, 2018 profusely praised Gen Hameed for his role in fighting terrorism.
"People have started naming Gen Faiz. They probably don't even know his role. You can't even think of the role played by his department in the fight against terrorism. Even if what you are speculating is true, it is not even 5 per cent of what that institution and Gen Faiz's department are doing. All these terrorist incidents that I tell you have been averted are because of Gen Faiz's department," Gen Ghafoor had on that occasion said in reference to some allegations by PML-N.
Gen Hameed's name first caught public eye when he helped end Faizabad dharna by a religious group in November 2017 through an agreement. The group had then staged the sit-in against amendments to Elections Act 2017.
Gen Hameed is from the Army's Baloch Regiment.
His appointment comes at a very crucial time when both external and internal security challenges seem to be growing. It is believed that his vast experience at ISI may help him deal with those challenges.
The appointment of the ISI's DG is the prerogative of the prime minister. The spymaster's choice is, however, made by the prime minister in consultation with the army chief.
Gen Hameed's predecessor Gen Munir has, meanwhile, been named as the new corps commander Gujranwala.
Prior to his stint in ISI, Gen Munir headed Military Intelligence as its director general. There were very few examples of a Military Intelligence chief being posted as the head of ISI. Gen Bajwa had picked Gen Munir as the Military Intelligence chief months after assuming command of the Army in November 2016.
In other appointments, Lt Gen Sahir Shamshad Mirza would replace Gen Hameed as the adjutant general at GHQ. Gen Mirza had after his promotion as three star general last April remained at his earlier appointment as Vice Chief of General Staff-A. He has previously served as Director General Military Operations.
Lt Gen Amir Abbasi has been moved from Gujranwala Corps, where he was posted as commander, to GHQ as Quarter Master General. The incumbent QMG Lt Gen Moazzam Ejaz has, meanwhile, been appointed as Engineer-in-Chief.
https://www.dawn.com/news/1488673/faiz-made-isi-chief-in-military-shake-up
--------
Pakistani activist known for criticism killed in Islamabad
June 17, 2019
ISLAMABAD: Pakistani police say an activist known for his online criticism of the country's military and politicians has been killed by unknown assailants in a wooded area of the capital, Islamabad.
Local police official Ayaz Khan says Mohammad Bilal Khan was killed Sunday night, drawing condemnation from his friends on social media.
Police said Monday that an unknown person called the activist to come to the Karachi Company neighborhood, where he and his cousin were attacked with daggers.
The cousin was in critical condition.
In addition to his activism, Khan was a freelance journalist.
Full report at:
http://www.arabnews.com/node/1511806/world
--------
Parents refusing polio vaccination not to face police cases
Ikram Junaidi
June 17, 2019
ISLAMABAD: The National Polio Programme has decided not to register police cases against the parents refusing vaccination to their children — a move that may severely affect the polio eradication campaign starting in core areas on Monday.
"About 50,000 or 10 per cent refusals are expected in districts Bannu, Lakki Marwat and North Wazi­ris­tan due to this relaxation. We have deliberately deci­ded to relax the past practice, in three districts, as we want to know the exact number of refusals. However, there will be zero tolerance on misbehaving with the polio teams and strict action would be taken if anyone manhandles or insults team members," Prime Minister's Focal Person on Polio Babar bin Atta said while talking to Dawn.
He said that vaccination cannot be done forcibly rather it has to be done in agreement with parents.
"There are around 500,000 children, less than five years of age, in three districts. Polio teams have been directed to note down the refusals and don't insist on vaccination. However, after the polio campaign, a refusal catch-up campaign would be held to convince parents that the vaccination is in the best interest of their children," Mr Atta said.
"Unfortunately, parents have kept markers in their homes and they mark fingers of their children, on the first day of campaigns. We want to convince parents that the vaccination is in the best interest of their children," he said.
According to a statement issued by the National Emergency Operations Centre, the polio vaccination drive aims to protect more than 12.25 million children, in 45 districts, from virus of the crippling disease. During this special campaign, thousands of frontline workers will go door to door to ensure children receive two drops of the vaccine.
According to a target set for the campaign, 5.53m children would be vaccinated in Sindh, 4.31m in Punjab, 1.32m in Balochistan and 1.1m in Khyber Pakhtunkhwa. The campaign would be held in 16 districts of Sindh, 13 of Balochistan, 9 of KP and 7 districts of Punjab.
During the current year, 23 cases of wild poliovirus have been reported in the country, including seven from Bannu district, one each from Hangu, Dera Ismail Khan and Shangla in KP, three cases from Mir Ali, two from Miramshah, one each from Khyber and Bajaur, two from Karachi and one from Larkana and three from Lahore.
The statement said that despite significant achievements of the programme, the cunning poliovirus is still surviving and finds a way for its survival, therefore the special immunisation campaign has been planned in all the core reservoirs to kill the wild poliovirus forever.
"Bannu division is declared highly sensitive after reporting of 50pc of the total polio cases in the country, therefore it is utmost important to vaccinate each child under five years in each anti-polio campaign" said Mr Atta, adding that "considering the situation Bannu division is the top priority".
He said: "Parents are requested to avoid fake propaganda against polio vaccine and vaccinate their children to protect them from the poliovirus."
The government of Pakistan is striving to hit the virus hard through this special campaign. Its top priority is to focus on reaching still missed children in core reservoirs through continued improvement of operations and capacitating frontline polio workers to reach and protect every missed child with the vital polio vaccine.
Full report at:
https://www.dawn.com/news/1488676/parents-refusing-polio-vaccination-not-to-face-police-cases
--------
President approached to halt execution of mentally ill Ghulam Abbas
Ikram Junaidi
June 17, 2019
ISLAMABAD: Special Assistant to Prime Minister on National Health Services Dr Zafar Mirza on Sunday wrote a letter to President Dr Arif Alvi requesting him to halt the execution of a mentally ill patient planned on June 18.
He also spoke to Minister for Human Rights Dr Shireen Mazari and later got an assurance from President Alvi that appropriate action would be taken.
A human rights law firm, Justice Project Pakistan (JPP), on Saturday claimed that a sessions court in Rawalpindi had issued a death warrant for the execution of a mentally unwell prisoner on June 18. It urged the government to halt the execution of 36-year-old Ghulam Abbas, who has clear symptoms of mental illness, for further evaluation.
"Abbas' execution must be stayed and he should be transferred to a mental health facility to be comprehensively assessed," Sarah Belal of JPP said.
It was also claimed that the medical examination records showed that jail authorities had treated Mr Abbas with strong anti-psychotic drugs as he had a genetic predisposition to mental illness.
Imprisoned in 2004, Abbas was sentenced to death on May 31, 2006, by a district and sessions court for stabbing a neighbour.
He has spent more than 13 years on the death row and a fresh mercy petition has been filed requesting the president to grant him a reprieve.
According to the letter, on behalf of Ministry of Heath Dr Mirza has requested Dr Alvi to exercise his powers and halt the execution so that Abbas' proper psychiatric evaluation can be done and appropriate actions can be taken.
"Sir, this is a health issue apart from a human rights issue and there is a grave danger of miscarriage of justice. Also, there is a need to see the issue of mercy petitions from prisoners on death row especially for the mentally ill persons in a broader context and reform the system," he stated.
When contacted, Dr Mirza said that after learning the issue through media, he took an initiative and wrote to the president.
"We should not let this happen unless psychiatrists examine the patient and declare him mentally fit. I also spoke to Dr Shireen Mazari and she agreed that she would also play her role to halt the execution. Later, we contacted presidency and got assurance from Dr Alvi that he would take an appropriate action," he said.
Full report at:
https://www.dawn.com/news/1488622/president-approached-to-halt-execution-of-mentally-ill-ghulam-abbas
--------
Centre has given 31pc extra funds to Sindh govt: Naqvi
Hasan Mansoor
June 17, 2019
KARACHI: Rejecting a Chief Minister Murad Ali Shah's claim that the federal government had reduced Sindh's due funds, Leader of the Opposition in the Sindh Assembly Firdous Shamim Naqvi said on Sunday that the province got "31 per cent" extra funds from Islamabad.
"The Sindh government is receiving greater money than its share from the federal government," he said while addressing a press conference at the Pakistan Tehreek-i-Insaf office in the city.
He said the impression created by the Sindh government that the funds of the province had been slashed by the federal government had no truth.
"The federal government has allocated much funds for Sindh and other provinces and similar has been promised by the federation to all provinces," Mr Naqvi said.
He said the chief minister's post-budget press conference that lasted for around three hours had many things, which were either based on assumptions or on lies and sheer imagination.
Mr Naqvi, who is also a provincial leader of the PTI that leads the federal government, was against the chief minister's demand with the Centre about delegating collection of sales tax to the provinces.
The opposition leader claimed that Zulfikar Ali Bhutto, the founder of the Pakistan Peoples Party which rules Sindh, had himself decided that sales tax collection would remain a federal subject. "Have you got any answer to this?"
He used harsh words while speaking about the chief minister as he said he [the CM] was feeling the life hard after arrest of "two of his partners".
He said that the Sindh Assembly "will soon be declared a sub-jail as action against those involved in graft practices has intensified".
"May be," said the opposition leader, "the Sindh cabinet find a permanent abode there".
He was referring to an earlier development in which the provincial government had declared Sindh Assembly Speaker Agha Siraj Durrani's chamber in the assembly building a sub-jail.
He said more such rooms [like the speaker's chamber] were being prepared for the guests who would soon arrive.
"My prime minister has already warned that no one who has looted the country will be spared. So, for that matter, we will not compromise on the interest of the country and the nation," said the PTI leader.
He asked the chief minister "to be honest else, I will be targeting you like this".
He said the government had many tactics to mint ill-gotten money, which included delaying public interest projects.
PTI lawmaker Bilal Ghaffar said the government had failed to introduce reforms in police for more than a decade, which was why paramilitary Rangers had been performing in the province.
Similarly, he said, the provincial government's claims about giving thousands of buses to Karachi had failed to materialise.
Full report at:
https://www.dawn.com/news/1488614/centre-has-given-31pc-extra-funds-to-sindh-govt-naqvi
--------
Bilawal, Maryam met to hide their fathers' corruption: Firdous
Syed Irfan Raza
June 17, 2019
ISLAMABAD: Special Assistant to the Prime Minister (SAPM) on Information Dr Firdous Ashiq Awan on Sunday termed the Fathers' Day meeting between Pakistan Peoples Party (PPP) chairman Bilawal Bhutto-Zardari and Maryam Nawaz of Pakistan Muslim League-Nawaz (PML-N) at Raiwind a bid to conceal "corruption" of their fathers.
Speaking at a news conference at the National Press Club, she said: "Today, both [Bilawal and Maryam] exchanged tips on how to protect the 'illegitimate' assets of their fathers."
Ms Awan said she, federal Minister for Communications and Postal Services Murad Saeed and SAPM on Youth Affairs Usman Dar had prepared references against the PML-N and PPP leaders involved in corruption in their relevant ministries during the last decade so that they could be presented before the inquiry commission recently announced by Prime Minister Imran Khan in his late-night address to the nation.
"Usman Dar has collected evidences against former defence minister Khawaja Asif and Murad Saeed will expose corruption of Ahsan Iqbal while I will present before the commission what has happened in the information ministry in the past," she added.
Talking about federal budget 2019-20, she said the government presented the budget to provide ease to the people and make the country stand on its own feet, but the opposition was creating hurdles in the way of its smooth passage. "We will manage to pass the budget in parliament with the support of our [ruling PTI's] allies."
The SAPM said the meeting between Bilawal and Maryum endorsed the narrative of the prime minister that the country was going to become economically strong and "temporary" difficult economic phase would be over soon. "Meeting of nominated crown prince and princes at Raiwind endorse narrative of Imran Khan that he will fight the case of people at all fronts," she added.
Talking about the opposition's plan to take people to the streets, she said that "we have no political threats from sinking boats" and if they [opposition] misguided the people it would be the responsibility of the government to expose their lies and take them to task.
Meanwhile, Punjab Information Minister Sumsam Bukhari in a statement issued in Lahore said the getting together of PML-N and PPP explained the biggest contradiction of the century, alleging that during their meeting both were exploring "new tactics of corruption".
Commenting on the meeting between Maryam and Bilawal at Jati Umra, Mr Bukhari said both opposition parties were trying to finalise matters over "charter of protection of corruption". He said the PML-N and PPP leaders had registered cases of corruption against each other. Now they should tell whether they were wrong in the past or their point of view is baseless presently, he added.
Full report at:
https://www.dawn.com/news/1488652/bilawal-maryam-met-to-hide-their-fathers-corruption-firdous
--------
Comments sought from CS, ACS for declaring police as full-fledged dept
Asif Chaudhry
June 17, 2019
LAHORE: Chief Minister Usman Buzdar has sought comments from the chief secretary and the additional chief secretary (home) regarding amendments to the Rules of Business 2011 to declare the police as a department and provincial police officer (PPO) as its ex-officio secretary.
The move was being construed as a serious attempt of the Punjab government to end the decades-old rift between the Police Service of Pakistan (PSP) and the District Management Group -- now known as Pakistan Administrative Service (PAS) -- for administrative control of the police.
The amendments to the Punjab Government Rules of Business (PGRB) 2011 were proposed by Punjab Inspector General of Police (IGP) retired Capt Arif Nawaz through a summary sent to the chief minister last month.
The IGP had mentioned two demands in the summary: amendments to the Rules of Business and placement of Punjab Safe Cities Authority (PSCA) under the police department. A copy of the summary was available with Dawn.
In the first demand, Mr Nawaz recommended to the CM to declare Punjab police a department through an amendment to the first schedule under Rules 2&3 of PGRB 2011, allowing the provincial police officer (PPO) to exercise his administrative and financial powers as ex-officio secretary.
This is the first time that the head of Punjab police took up this issue with the government for curbing bureaucratic control over police and strengthening civilian institutions, an official said.
He said differences between the two groups will continue if duplicate control was not addressed as per the Police Order to improve the efficiency and effectiveness of large civil institutions like police.
Under the current arrangement, the home department had listed the police among six wings under its administrative control. The other wings were prisons, general, internal security, judicial and public safety.
The rift between the two sides deepened when the PSP claimed that the Police Order had categorically allowed the PPO to work as ex-officio secretary of the department, the official said, adding that there cannot be two secretaries of the same department. Under the colonial system, the control of local forces was essential, so the home department tried to justify their superintendence for various reasons.
The official said that a notification was also issued allowing the PPO to exercise his powers as ex-officio secretary under the Police Order. However, the amendments to Rules of Business had been deliberately delayed for long to avoid implementation of Police Order 2002 in letter and spirit.
Pointing out legal references in the summary, IGP Nawaz apprised the chief minister that the PPO of Punjab had been declared ex-officio secretary of the provincial government under a notification dated Feb 14, 2004.
"The definition of 'secretary' is provided in Section 2(y) of the PGRB 2011 that means the in-charge of a department having its functions in Rule 10 of the ibid Rules," reads the summary .
Moreover, he said, under Section 2(vii-b) of Police Order 2002, the PPO has been defined as an ex-officio secretary in order to exercise administrative and financial powers of the secretary to ensure modern and transparent policing system in the province. "The Punjab police may be placed as a department by an amendment to the first schedule under Rule 2&3 of PGRB-2011," he added.
He further said that a new entry of Punjab police as an administrative department may be added after Sr No 30 as Sr No 30A under Schedule-I of PGRB 2011.
"The Punjab Safe Cities Authority (PSCA) may be included as autonomous body in the third column of the ibidi Schedule against Punjab Police at Sr No 30A and remove the Punjab Police from Sr No 17 column No 2 of the said Schedule where it is shown as attached department of the Home Department," the IGP's summary reads further.
The scope of the PSCA is to change policing in Punjab and enhance the capacity building of police personnel. "This objective has currently been successfully achieved by the PPO/chairman management committee in an efficient manner in sprit of police reforms in Punjab," said IGP Nawaz.
The police as an administrative department and PSCA in the administrative control of the Punjab police will strengthen the implementation and execution on multidimensional projects, he added.
Chief Minister Usman Buzdar partially endorsed the stance of the IGP and approved one part of the summary related to the placement of PSCA under Punjab police. "The chief minister has seen and desired that the administrative control of the Punjab Safe Cities Authority shall remain intact with the Punjab police," reads an official letter. The CM further declared that an earlier approval granted for placement of PSCA under the administrative and operational control of the home department stood withdrawn.
About the second part of the summary regarding amendment to the Rules of Business, the letter reads, "The chief minister has further desired the chief secretary and the additional chief secretary (home) may add their views/comments on the proposal."
Full report at:
https://www.dawn.com/news/1488651/comments-sought-from-cs-acs-for-declaring-police-as-full-fledged-dept
--------
Pakistan eyes new horizons with Russia
June 17, 2019
ISLAMABAD: Pakistan's Prime Minister Imran Khan and Foreign Minister Shah Mahmood Qureshi had "high-level meetings" with Russia President Vladimir Putin and Foreign Minister Sergey Lavrov, respectively, on the sidelines of SCO summit in Bishkek.
According to a statement by the foreign minister on microblogging site, he said both sides had a frank exchange on issues of regional interest and concerns.
Shah Mehmood Qureshi said Pakistan conveyed that it was interested in building synergies with Russia and chart new frontiers of cooperation and engagement.
Meanwhile, Foreign Office in a press statement said the Prime Minister's engagement with world leaders, including President Xi Jinping and President Vladimir Putin, lent further momentum to Pakistan's all-weather strategic cooperative partnership with China and to the growth of Pakistan's multi-dimensional ties with Russia.
It said PM Imran's comprehensive statement at 19th Meeting of the Council of the Heads of State of Shanghai Cooperation Organization Member States underscored Pakistan's commitment to contribute substantially to the advancement of SCO's goals and objectives in the political, security and economic spheres.
On Friday, the Pakistani PM addressed the summit, where he talks about the need to boost regional trade as well as ending dependence on West.
She urged the member states of the Shanghai Cooperation Organisation (SCO) to finalise arrangements for trade in local currencies and set up SCO Fund and SCO Development Bank to catalyse the trans-regional development agenda.
He was presenting his eight-pronged course of action for SCO in the light chaotic international politics.
The prime minister had said the SCO should reinforce its vision of cooperation, that rejects confrontation, and advance the imperatives of peaceful co-existence at the regional and international levels.
Full report at:
https://www.pakistantoday.com.pk/2019/06/16/pakistan-eyes-new-horizons-with-russia/
--------
Q-4 dialogue on Afghan refugees repatriation to start tomorrow
June 17, 2019
ISLAMABAD: Pakistan is all set to host Quadripartite (Q4) Dialogue on the repatriation of the Afghan refugees and representatives from Iran, Afghanistan, United Nations High Commissioner for Refugees have arrived to take part in the talks commencing on Monday.
Minister for Safron Shehryar Khan Afridi would represent Pakistan while Iran's Deputy Interior Minister Mr Hossein Zolfaghari, Afghanistan Minister for Refugees Mohammad Hussain Alemi Balkhi and UNHCR Director for Asia & Pacific Indrika Ratwatte have arrived here to attend the meeting.
Shehryar Khan Afridi also received Iranian and Afghan ministers at the Islamabad airport. The dialogue could not be held in 2018 as Afghanistan and Iranian representatives were not available.
During his meeting with Iranian Deputy Minister Mr Hossein Zolfaghari, Afridi said that Prime Minister Imran Khan wants Muslim Ummah to stand united and Pakistan is ready to play a bridging role among leaders of Muslim countries.
Welcoming Iran's visiting minister, Afridi said that Iran and Pakistan were tied in decades-long relationship of friendship, and brotherhood and both countries would rise as robust economic powers.
He hoped that the visit of the Iranian minister will go a long way in further cementing the bilateral relationship.
"We are supporting and facilitating Afghan refugees who have been integrated with society as 68 percent refugees live out of camps and only 32 per cent are in camps.
Prime Minister Imran Khan has allowed 1.4 million Afghan refugees to open bank accounts and join the formal economy of Pakistan and this initiative is unprecedented in human history," said the minister.
He said Pakistan and Iran share the same religion, language, culture, norms and hence all Pakistanis opened their doors to Afghan refugees.
Expressing gratitude for the warm welcome, Iranian Deputy Minister for Interior said no third party or country can create misunderstandings between two brother countries.
"There are commonalities and shared history. We are working together with Pakistan in hosting the Afghan refugees to help resolve humanitarian issues of refugees," he said.
Hossein Zolfaghari said that both Pakistan and Iran are hosting more than three million Afghan refugees and both are spending extra funds in hosting these refugees.
Full report at:
https://www.pakistantoday.com.pk/2019/06/16/afridi-wants-better-ties-with-iran/
--------
Arab World
US-Led Coalition Plans to Turn Raqqa Derelict Military Airport into Helicopter Base
Jun 16, 2019
The Arabic-language Step news website affiliated to the militants reported on Saturday that the US forces intend to turn al-Tabaqah, which is one of the biggest military airports in Syria, into a base for their helicopters and transfer their base in Mahmiyeh al-Karim in al-Tabaqah city to this region.
It added that the US and its coalition allies, including Saudi Arabia, have plans to impose control over much extended areas and they plan to use the Tabaqa airport as a regional airbase.
Meantime, the Arabic-language al-Watan newspaper reported that tens of residents of al-Tabaqah city in Western Raqqa have staged protest rallies against the measures by the Syrian Democratic Forces (SDF) amid heightened popular uprisings against the occupier forces in Eastern Euphrates.
Saudi Arabia and the US have in recent days increased attempts to expand their influence in Syria.
In a relevant development on Friday, American and Saudi diplomatic delegations held a meeting with commanders of the US-backed Syrian Democratic Forces (SDF) and a number of tribal leaders in a Washington-occupied base in Deir Ezzur in a bid to coordinate a plan for the separation of Eastern Euphrates from Syria.
The Arabic-language Step news website affiliated to the militants reported that recently a meeting was held between the two sides in al-Omar oilfield region in Eastern Deir Ezzur.
It added that Deputy Assistant Secretary of State Joel Rayburn, former US Ambassador to Bahrain William V. Roebuck and Saudi Minister for Persian Gulf Affairs Thamer al-Sabhan participated in a meeting with Qassan al-Yousef and Leili al-Hassan, the co-chairs of Deir Ezzur civil administration, noting that the event was meant do coordination for supporting the SDF-occupied regions against any possible threat and political and economic support for the SDF in Northern and Northeastern Syria.
According to the report, another meeting was also held between the Arab and US delegations and a number of tribal leaders of Deir Ezzur in al-Omar base to remove differences between the tribes and the SDF and discuss financial and logistical support for the Eastern Euphrates region.
Meantime, the Arabic-language Xeber 24 news website reported that al-Sabhan conveyed a message from Saudi Crown Prince Mohammed bin Salman on his full support for militants in Northeastern Syria.
Full report at:
http://en.farsnews.com/newstext.aspx?nn=13980326000813
--------
Terrorist Commanders in Northern Hama Blame Each Other for Failure in Attacks on Syrian Army
Jun 16, 2019
The Arabic-language al-Ahd news website reported on Sunday that commanders of Tahrir al-Sham al-Hay'at (the Levant Liberation Board or the Al-Nusra Front), Horras al-Din and Ansar al-Tawhid which are acting under the supervision of 'Va Harrez al-Mo'emenin' operations room and other terrorist groups, including the so-called Free Syrian Army (FSA), headed by Jeish al-Izza, acting under the command of the joint operations room of all militant groups, blame each other for the failure of offensives on Syrian army positions in Northern Hama, Southern Idlib and Northern Lattakia.
It added that the terrorist groups accuse each other of dragging a feet in opening more fronts for clashes to decrease pressure in Hama and Idlib fronts or joining the joint operations room among all terrorist groups.
Meantime, Syria's Arabic-language al-Watan newspaper reported that the Syrian army forces on Saturday inflicted heavy defeat on Tahrir al-Sham and other terrorist groups in the strategic towns of Tal Malah and al-Jabin in Northern Hama with the aim of establishment of security in the strategic Mahradeh-al-Saqilbiyeh road.
The Syrian army forces also targeted the terrorists' supply lines and moves in the towns of al-Latamineh, Kafar Zita, Ahsam, Haish, Deir Sonbol and Tarmila in Northern Hama and Southern Idlib in response to their rocket attacks against the towns of Sheikh Hadid, al-Jamlah and al-Aziziyeh in Northern Hama, inflicting heavy damages and losses on the militants.Top of Form
The development came after the Syrian and Russian fighter jets attacked a meeting of commanders of Tahrir al-Sham and other terrorist groups in Idlib after a ceasefire proposed by Russia and Turkey failed in the province.
The Arabic-language website of the Russian Sputnik news agency quoted a Syrian military source as saying that the Russian and Syrian warplanes in a joint military operation launched several airstrikes on the terrorists' military positions in Khan Sheikhoun, Safhoun, Kafar Nubl, Hass and Taftnaz Airport in Southern Idlib.
It noted that a meeting held between Tahrir al-Sham and other terrorist groups in Taftnaz Airport as well as other gatherings and military equipment of terrorists that were going to be used for attacking the Syrian Army's military positions were destroyed.
The source noted that the Russian and Syrian air raids were conducted concurrent with the Syrian Army's artillery attacks and after the terrorists violated the ceasefire in Northern Syria by attacking the Syrian Army's military positions in al-Hamamiat, al-Qasabiyeh and Sheikh Hadid region in Northern Hama and Southern Idlib.
Full report at:
http://en.farsnews.com/newstext.aspx?nn=13980326000598
--------
Yemeni Missiles Hit Military Positions in Saudi Arabia
Jun 16, 2019
An hour after drone units of the Yemeni Army and Ansarullah Popular Forces bombarded two Saudi airports, a couple of ballistic missiles hit the Saudi military strongholds in the Saudi city of Najran near the Yemeni border and Saudi Arabia's Southwestern border region of Jizan.
Ansarullah news website reported that two Zelzal-1 missile hit Morab'ba al-Shorfeh, killing at least a couple of Saudi-hired militants.
The Yemeni Army announced that they fired another Zelzal-1 missile on Satuday, hitting al-Hamad military base owned by the Saudi-led coalition. The missile inflicted material and personnel casualties on the Saudi-led forces positioned in the base.
The same report accounts that another missile of the Yemeni forces precisely hit the target in Mozdowrat Manateq near Jabal Qeys in Saudi Arabia's Southwestern border region of Jizan.
Saudi Arabia and a number of its regional allies launched a devastating campaign against Yemen in March 2015, with the aim of bringing the government of former Yemeni President Abd Rabbuh Mansur Hadi back to power and crushing the Ansarullah movement.
Despite Riyadh's claims that it is bombing the positions of the Ansarullah fighters, Saudi bombers are flattening residential areas and civilian infrastructures. Weddings, funerals, schools and hospitals, as well as water and electricity plants, have been targeted, killing and wounding hundreds of thousands.
According to a December 2018 report by the Armed Conflict Location and Event Data Project (ACLED), a nonprofit conflict-research organization, the Saudi-led war has claimed the lives of over 60,000 Yemenis since January 2016.
Save the Children, a charity, has reported that more than 84,700 children under the age of five may have starved to death in Yemen since the Saudi regime and a coalition of its allies launched the brutal war on the already-impoverished nation.
France, the United States, the United Kingdom and some other Western countries have faced criticisms over arms sales to the Saudi Arabia and the UAE, whose aggression against Yemen has affected 28 million people and caused what the United Nations calls "one of the worst humanitarian crises in the world". According to the world body, Yemen is suffering from the most severe famine in more than 100 years.
Full report at:
http://en.farsnews.com/newstext.aspx?nn=13980326000691
--------
US-Backed Kurds Collaborating with Mossad to Spy on Regional States
Jun 16, 2019
The Arabic-language Khabour news website affiliated to the militants in Syria quoted a special source as saying on Sunday that nearly 20 members of the Democratic Union Party (PYD) have been sent from Qamishli in Hasaka province to the Israeli-occupied regions in Palestine to be trained by Mossad.
He added that these forces have been transferred to Erbil in Iraqi Kurdistan region to be later sent to occupied Palestine, noting that their training comes under a plan named 'Kurdistani Mossad' in Northeastern Syria.
The source said that their mission is focused on recruiting mercenaries for Mossad in the regional states to gather intelligence for Israel.
Ties between the Syrian Kurds and Israel in Syria surfaced the media earlier this year.
Sources said in April that the Syrian Democratic Forces (SDF) stationed in Deir Ezzur had exchanged Eastern Syria's oil in lieu of receiving American and Israeli arms and military equipment.
Full report at:
http://en.farsnews.com/newstext.aspx?nn=13980326000283
--------
Iraqi MP: US, Turkey Plotting to Dissolve Hashd Al-Shaabi
Jun 16, 2019
The Arabic-language al-Ma'aloumeh news website quoted Odai Awad as saying on Saturday that the US is pressuring Iraqi Prime Minister Adel Abdul Mahdi to force him act against Hashd al-Shaabi, adding that Turkey is also pursuing dissolution of Hashd al-Shaabi.
He referred to the US embassy's contacts with the ISIL commanders, and said certain regions in Iraq are showing allegiance to the ISIL again in a way that a number of Iraqi security commanders have compared the situation to the situation in 2014.
Awad said that the US pressures started after Hashd al-Shaabi forces retook control over the Iraqi-Syrian borders, adding that at present, some measures are being adopted against Hashd al-Shaabi on the political and international scene in a bid to disturb the public opinion in freed areas.
Full report at:
http://en.farsnews.com/newstext.aspx?nn=13980326000421
--------
Rocket fire kills 12 civilians in regime-held village in Syria: State media
17 June 2019
Rocket fire has killed 12 civilians in a regime-held village in northwestern Syria, state news agency SANA has said blaming former Al-Qaeda affiliate Hayat Tahrir al-Sham for the attack.
SANA said 15 people were also wounded late Sunday in the attack on Al-Wadihi village south of Aleppo city and said HTS, which controls parts of Aleppo's countryside as well as most of neighboring Idlib, was responsible.
It published graphic pictures purporting to show some of the victims in a hospital in the aftermath of the attack, including of bandaged men and children lying on stretchers, thick blankets covering their bodies.
The Syrian Observatory for Human Rights reported the same death toll -- saying five children were among those killed -- and also blamed extremists based in rural Aleppo for the attack.
But the Britain-based monitor did not specify whether HTS or other allied extremist groups were responsible.
The attack came as Syrian government forces have been locked in clashes with HTS fighters in nearby Hama province.
More than 35 combatants, mostly regime forces, were killed on Saturday in battles in Hama's countryside, according to the Observatory.
Parts of Aleppo, Hama and Idlib are supposed to be protected from a massive regime offensive by a buffer zone deal that Russia and Turkey signed in September.
But it was never fully implemented as extremists refused to withdraw from a planned demilitarized zone.
In January, HTS extended its administrative control over the region, which includes most of Idlib province as well as adjacent slivers of Latakia, Hama and Aleppo provinces.
The Syrian government and Russia have upped their bombardment of the region since late April, killing nearly 400 civilians, according to the Observatory.
Full report at:
https://english.alarabiya.net/en/News/middle-east/2019/06/17/Rocket-fire-kills-12-civilians-in-regime-held-village-in-Syria-State-media.html
--------
Saudi F-15C Eagles fly in formation with US Air Force counterparts
16 June 2019
The Royal Saudi Air Force has released images showing their F-15C Eagles fly in formation with US Air Force F-15C Eagle fighter jets in the US Central Command area of responsibility.
According to a statement on SPA, the exercise was conducted on June 2 "as part of a larger effort to continue building military-to-military relationships and interoperability."
Full report at:
https://english.alarabiya.net/en/News/gulf/2019/06/16/Saudi-F-15C-Eagles-fly-in-formation-with-US-Air-Force-counterparts.html
--------
UAE FM urges Arab solidarity in meeting with Egypt's Sisi
17 June 2019
In a meeting with the UAE Minister of Foreign Affairs and International Cooperation, Sheikh Abdullah bin Zayed Al Nahyan in Cairo, Egypt's President Abdel Fattah el-Sisi reaffirmed his country's support for the UAE during the critical stage the region is experiencing.
Sheikh Abdullah commended the role played by Egypt in ensuring regional stability, noting that the current circumstances the region is passing through entail "cementing pan-Arab solidarity and cooperation to confront the besetting challenges," the United Arab Emirates News Agency (WAM) reported.
"Egypt is avidly following up the ongoing developments in the Arabian Gulf region, particularly the latest incidents that posed a menacing threat to the safety of maritime navigation," said el-Sisi.
Full report at:
https://english.alarabiya.net/en/News/gulf/2019/06/17/UAE-FM-urges-strong-Arab-solidarity-in-meeting-with-Egypt-s-Sisi.html
--------
Syrian forces launch retaliatory strikes in Idlib, Hama
Jun 16, 2019
Syrian government forces have conducted retaliatory strikes against the positions of Jabhat al-Nusra terrorist group, formerly known as al-Nusra Front, in Hama and Idlib provinces.
SANA reported army units on Sunday conducted concentrated bombardments targeting terrorist positions in Hama's northern countryside in an area between al-Sayyad village and Kafr Zita town, killing a number of the terrorists.
The reporter added that the terrorists' vehicles and rocket launching pads were also targeted and destroyed in the strikes.
In a separate operation, Syrian forces conducted concentrated bombardments targeting a number of terrorists' positions in al-Fatira town in the surroundings of Kafr Nabl in Idlib's southern countryside, destroying an ammunition depot there.
Syrian forces launched the strikes after the terrorists refused to honor the ceasefire agreement aimed at halting clashes between Syrian forces and militants in the area.
On Saturday, the terrorists had breached the de-escalation zone agreement and fired rocket shells on the villages of al-Sheikh Hadid, al-Jalma and al-Azizyia destroying homes and properties, and causing fire to agricultural lands in Hama and Idleb countryside.
Syrian government forces have managed to liberate almost all the Syrian lands occupied by terrorist outfits.
A de-escalation agreement froze a Syrian offensive to liberate Idlib, where between 10,000 and 15,000 militants are said to be hiding.
Full report at:
https://www.presstv.com/Detail/2019/06/16/598663/Syria-Idlib-Hama-Jabhat-alNusra
--------
12 civilians killed after mortar attack hits Syrian wedding party
Jun 17, 2019
At least 12 Syrian civilians have been killed and more than a dozen injured after a wedding party was hit by a terrorist mortar attack in Aleppo's suburbs.
The wedding party was being held in the village of al-Wadihi late on Sunday, when it was shelled by the terrorists' mortars, according to the Syrian state broadcaster.
Earlier in the day, terrorists carried out two other mortar attacks in the west of Aleppo and inside the city.
The attacks came as government forces launched a major operation against foreign-backed terrorist groups in Hama and Idlib.
The army says the operation was in response to terrorists' breach of a de-escalation zone agreement there.
Under a deal reached following a meeting between Turkish President Recep Tayyip Erdogan and his Russian counterpart Vladimir Putin in the Black Sea resort city of Sochi on September 17, 2018, all militants in a demilitarized zone, which surrounds Idlib and also parts of the adjacent provinces of Aleppo and Hama, were supposed to pull out heavy arms by October 17, and Takfiri groups had to withdraw by October 15 last year.
The National Front for the Liberation of Syria is the main Turkish-backed militant alliance in the Idlib region, but the Takfiri Hayat Tahrir al-Sham (HTS) terrorist group, which is a coalition of different terror outfits, largely composed of the Jabhat Fateh al-Sham, holds a large part of the province and the zone.
The HTS, which is said to be in control of some 60 percent of Idlib province, has yet to announce its stance on the buffer zone deal.
It is estimated that between 10,000 and 15,000 members of different factions of armed groups, which Syria, Russia and Turkey consider terrorists, are active in the volatile province, which is home to around three million inhabitants.
Syrian forces are pressing ahead with the final phase of the anti-terror campaign after most foreign-backed terrorist groups were vanquished in the country last year.
Full report at:
https://www.presstv.com/Detail/2019/06/17/598699/Syria-aleppo-wedding-party-terror-mortar-attack
--------
Saudi envoy attends launch of palm of peace initiative
June 17, 2019
CAIRO: Osama Nuqali, the Saudi ambassador to Egypt and permanent representative of the Kingdom to the Arab League, attended the inauguration of the "Palm of Peace, from the Land of Peace" initiative in Cairo on Saturday.
The initiative was launched by Prince Faisal bin Mishaal bin Abdul Aziz, governor of the Qassim region, in the presence of Cairo's Gov. Maj. Gen. Khalid Abdulal.
To mark the initiative, a palm tree was planted during the ceremony in Al-Farouq Square, Cairo. The event saw the participation of Arab Organization for Peace and Development President Dr. Mashael bint Matar Al-Otaibi and Saudi and Egyptian officials, businesspeople and journalists.
"Just as Egypt was the first destination of King Abdul Aziz when he started drafting the Kingdom's foreign policies, Egypt today is the first stop for the Palm of Peace, which will continue its journey and roam the world," Nuqali said.
"The world today is in a dire need of peace, love, tolerance and brotherhood between the peoples of the planet. These are the noble principles upon which our Islamic faith and the human values and traditions were built," he added, stressing the Kingdom and Egypt's keenness to "preserve these principles through all means possible."
Full report at:
http://www.arabnews.com/node/1511646/saudi-arabia
--------
Africa
Beyond tough resolve, do more to neutralise Shabaab threat
17th Jun 2019
The deaths of ten police officers after their vehicle ran over an improvised explosive device (IED) in Wajir East on Saturday are unacceptable. And that is because the death toll among Kenyan Security agents trying to keep the country safe from the Al Shabaab menace is on the increase.
In 2017, at least 20 Administration Police officers were killed when their vehicles separately ran over IEDs. Several KDF solders lost their lives in Al Shabaab attacks on their camps at El Adde (2016) and Kulbiyow (2017).
These attacks are a constant reminder that terrorism is an ever present danger that we must remain alert to, and that when the hunter becomes the hunted, a change of tact is called for. This newspaper has argued before that our security agents cannot afford to relax their vigil, more so when the militia gives the impression of having lost its nerve.
The continued killing of our security personnel has the undesired effect of spreading despondency across the country, more so in areas along our common border with Somalia. There is urgent need for the government to ensure the space in which Al Shabaab operate is severely restricted. Security personnel should be properly kitted out.
In saying so, we are not just talking about hardware; the tendency to equip police officers with the new guns and Armored Personnel Carriers that have failed the test of efficacy. Since the Al Shabaab are fighting a guerilla warfare, only coming out when it is advantageous to them, the need for robust intelligence gathering cannot be overemphasised.
Al Shabaab gets its recruits from disillusioned local youth, particularly among the Muslim community. Serious and sustainable deradicalisation programmes by the government would go a long way in stopping youth indoctrination.
In the unfortunate event that we lose our gallant defenders as happened, counseling and compensation for colleagues, and especially families of the slain is critical. Survivors and family members should never be allowed to feel the sacrifices their kin made were in vain; they should feel cared for and loved.
Unfortunately, this has not always been the case as the Government comes across as uncaring and unappreciative by abandoning widows and widowers in their hour of need. Many widows and their children today languish in penury because their breadwinners were killed in the line of duty and compensation has not been paid to them.
https://www.standardmedia.co.ke/article/2001330166/beyond-tough-resolve-do-more-to-neutralise-shabaab-threat
--------
Junta general vows to send perpetrators of Khartoum carnage to 'gallows'
Jun 16, 2019
A top Sudanese general has vowed to send to the "gallows" those who carried out a deadly crackdown on protesters outside the military headquarters in Khartoum earlier this month.
Mohamed Hamdan Dagalo, the deputy chief of the ruling military council, said in a speech broadcast live on state television on Sunday that those responsible for the massacre would be brought to justice.
"We are working hard to take those who did this to the gallows," said Dagalo, who also heads the Rapid Support Forces (RSF), a notorious paramilitary group.
"Whoever committed any fault" will be held accountable, he added.
Thousands of Sudanese protesters demanding civilian rule were violently dispersed by armed men in military fatigues outside the military headquarters in the capital on June 3. According to doctors linked to the protest movement, more than 100 people were killed that day.
The assault outside the army complex was led by the RSF, which has its origins in the infamous Janjaweed militia, accused of abuses in the Darfur conflict between 2003 and 2004.
Sudan's ruling military council admitted only later that it had ordered the dispersal.
But the council then reversed its position, saying in a statement late on Saturday that it did not order the dispersal and that it had actually planned to purge an area near the protest camp where people were said to be selling drugs.
"The planning of the operation of Colombia (area) was done by military and security authorities," the statement read. "We assure you that the council is keen to investigate minute by minute facts through its investigation committee."
Brigadier Abderrahim Badreddine, spokesman for the investigative committee, recently told state television that initial findings showed "officers and soldiers of different ranks from regular forces entered the sit-in without any orders from their superiors."
"They were not part of the troops who were ordered to clean Colombia," he said
The crackdown has triggered global condemnation, with international organizations and several countries calling for an independent probe into the killings.
Meanwhile, members of the transitional council have failed to hand over power to a civilian-led authority despite regional and international pressure. The Khartoum sit-in was protesting that failure.
Bashir charged with corruption
In a separate development on Sunday, ousted ruler Omar al-Bashir appeared in public for the first time since he was overthrown in April. Witnesses said he walked briskly from the vehicle into the building, speaking with the guards escorting him. Minutes later, he walked out scowling after prosecutors read out the charges he faced.
Sudanese prosecutor Alaa al-Din Abdallah told reporters that Bashir had been charged with corruption-related offences.
"The prosecution... accused him of... possession of foreign currency, [and] accepting gifts in an unofficial manner," Abdallah said. He said Bashir had been given a chance to respond to the charges.
Full report at:
https://www.presstv.com/Detail/2019/06/16/598685/Sudan-general-Khartoum-massacre-gallows
--------
Bandits kill 34 villagers in Nigeria: Police
Jun 16, 2019
Gunmen have killed 34 people in Nigeria's northern Zamfara State, where criminal gangs have been terrorizing remote villages, police said Sunday.
Armed bandits on motorcycles stormed neighboring Tungar Kafau and Gidan Wawa villages in Shinkafi district late Friday and shot dead 34 people, state police spokesman Mohammed Shehu said in a statement.
"Normalcy has been restored in Tungar Kafau and Gidan Wawa... following [the] attack by armed bandits... where 34 people were killed," Shehu said.
He said the victims of the attacks were buried on Saturday, adding that police were on the trail of the assailants.
Local residents put the death toll higher, at 35.
The bandits were said to have opened fire on farmers on their fields outside the villages and also pursued those who fled.
"The bandits killed 35 people in the attacks," said Lawwali Madattai, a resident.
"We heard gunshots and saw people running for shelter, chased by men on motorbikes," said Shehu Shinkafi.
"We immediately took cover in a house nearby, and after the bandits were done with their killing spree, they moved to a nearby village," he said, adding that he counted 12 bodies in his village alone.
The gang left comfortably as there were no security agents in the area, and it was only hours after the massacre that police arrived, Shinkafi and two other witnesses said.
Hundreds of people have died in the northwestern region this year, adding to security problems in a country already struggling with extremist insurgencies in the northeast and a brutal conflict between farmers and herders in central states.
Rural communities in Zamfara State have for years been terrorized by criminal gangs, who raid villages, stealing cattle, kidnapping for ransom, and burning homes after looting food supplies.
Full report at:
https://www.presstv.com/Detail/2019/06/16/598669/Nigeria-villages-bandit-residents-massacre
--------
French, Malian forces kill 20 militants in operation: Mali army
Jun 16, 2019
Allied French and Malian forces killed 20 militants in an operation in a part of northern Mali where Daesh operates, a spokesman for the West African nation's military said on Sunday.
The operation in the district of Akabar, a remote part of a game reserve near the border with Niger and not far from the Malian city of Menaka, was continuing, army spokesman Colonel Diarran Kone said by telephone.
"But I can tell you that 20 terrorists have been neutralized," he said.
Mali has become increasingly engulfed in violence since a Tuareg uprising in 2012 was hijacked by extremist militants, prompting France to intervene to push them back the following year.
Several militant factions and allied criminal gangs have regrouped and set up operations in parts of Mali, from where they have launched attacks across the Sahel.
They also now have a significant presence in swathes of neighbor Burkina Faso, and in some remote parts of Niger.
Despite the deployment of 4,500 French troops meant to contain the violence in the Sahel, it has steadily worsened, and the extremists have succeeded in triggering an ethnic conflict.
Attackers believed to belong to the Fulani ethnic group raided the ethnic Dogon village of Sobane Da last Sunday and Monday, killing 35 people, according to the government, although a local authority maintains the real figure is 95 deaths. A bigger massacre by Dogon hunters in March left 150 dead.
Full report at:
https://www.presstv.com/Detail/2019/06/16/598664/Mali-militants-Daesh-alQaeda-violence-villages-Sahel
--------
Libyan officials say Haftar's forces fighting Daesh in south
June 16, 2019
CAIRO: Libyan officials say forces loyal to military commander Khalifa Haftar are pursuing Daesh militants in the country's south, killing more than a dozen militants over the past three days.
The officials said Sunday that the self-styled Libyan National Army began its attack on a militant hideout in the mountainous area of Haruj earlier this week. The officials spoke on condition of anonymity because they were not authorized to brief the media.
The LNA media center said Friday that the Daesh militants were responsible for recent attacks in southern areas.
Daesh acknowledged the ongoing LNA attack and claimed to have killed and wounded dozens of LNA troops.
Full report at:
http://www.arabnews.com/node/1511486/middle-east
--------
URL: https://www.newageislam.com/islamic-world-news/bangladeshi-militancy-outfit-hizbut-towhid/d/118906
New Age Islam, Islam Online, Islamic Website, African Muslim News, Arab World News, South Asia News, Indian Muslim News, World Muslim News, Women in Islam, Islamic Feminism, Arab Women, Women In Arab, Islamophobia in America, Muslim Women in West, Islam Women and Feminism