New Age Islam News Bureau
21 Feb 2020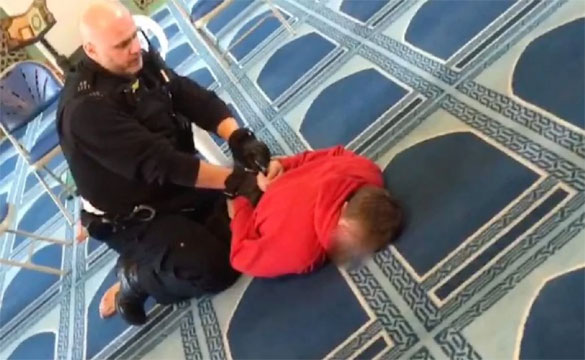 Man was arrested by London's Metropolitan Police after he stabbed Muslim worshipper in neck (Screengrab)
----------
• Muslim Worshipper Stabbed In Neck at London's Regent's Park Mosque
• Lal Masjid Standoff Persists As Maulana Aziz Refuses To Budge on Demands
• Shaheen Bagh: 'SC Will Listen More Keenly If Road Block Issue Resolved,' Mediators Say
• Saudi Arabia Sees No Obstacle To Granting Palestine To Jews: Yemen's Grand Mufti
• Calls Grow For Bloomberg to Apologise For Surveillance of Muslims
• Now, Muslim Teachers Group Sues to Have Vernacular Schools Declared Unconstitutional
• Ongoing Clashes In Syria's Idlib Province Leave 27 Fighters Dead: War Monitor
• South Sudan's Rival Leaders Kiir, Machar to Form Unity Government
South Asia
• Bangladeshi Imam Regrets Funeral for Sex Worker Following a Backlash from Local Muslims
• Ghani and Abdullah's victory were celebrated in parts of Afghanistan
• 19 ISIS militants killed in Afghan Special Forces raid, airstrikes in Kapisa and Kunar
• Prominent Taliban group leader killed in Afghan forces' ambush in Badakhshan
• Joint Iran-Afghan trade expo kicks off in Kabul
• Taliban's deputy chief says deal with US to be signed soon
--------
Europe
• Muslim Worshipper Stabbed In Neck at London's Regent's Park Mosque
• German attack shows Islamophobic poison: UK Muslims
• Anti-Muslim terror attacks in Germany were a long time in the making
• Germany shisha bar shooter published racist manifesto: Prosecutors
• UK police arrest man after stabbing at London Central Mosque
• Far-right extremist scouts in cafe before attack: Footage
• Far-right terrorist gun attack kills 9 in Germany
--------
Pakistan
• Lal Masjid Standoff Persists As Maulana Aziz Refuses To Budge on Demands
• Court orders FIA to attach Mullah Mansour's properties
• Pak stays on FATF grey list, sees June deadline on terror, could slip into black list after June
• Pakistan's attorney general quits after uproar over his controversial remarks
• I'll visit Maryam if invited, says Bilawal
• Corruption, 'devastated' economy cannot be blamed on others: Marriyum
• PM House be raided to nab smugglers, says Shahbaz
• Foreign Office keeps views on Afghan election result to itself
• In-house change among options under study: Bilawal
--------
India
• Shaheen Bagh: 'SC Will Listen More Keenly If Road Block Issue Resolved,' Mediators Say
• Muslims Should Have Been Sent To Pakistan In 1947, Says Union Minister
• Indian Muslims reject Waris Pathan's controversial remark
• PSA slapped on Mufti aide; mantris likely to visit J&K in April
• Teen activist charged with sedition for saying 'Pakistan zindabad'
• Right to dissent, freedom of speech discussed at Goa conference
• Fear of violence during Trump's visit may have pushed back J-K panchayat polls
--------
Mideast
• Saudi Arabia Sees No Obstacle To Granting Palestine To Jews: Yemen's Grand Mufti
• US sanctions five Iranian officials for obstructing 'free and fair' elections
• Iran's Khamenei tightens grip on parliamentary elections, low turnout expected
• 19 children among fatalities in recent Saudi-led airstrikes against Yemen, says UN
• Israeli PM plans to build thousands of settler units in East Jerusalem al-Quds
• Yemeni armed forces to showcase new indigenous air defense systems in days
• Israel ends ban on Palestinian farm exports, resolving trade spat
• Netanyahu announces thousands of new east Jerusalem settler homes
• Dhow raids reveal Iran's supply line of sophisticated missiles to Yemen's Houthis
--------
North America
• Calls Grow For Bloomberg to Apologise For Surveillance of Muslims
• Bernie Sanders Wins Endorsement from Top Muslim Political Group
• Ilhan Omar accuses Meghan McCain of trafficking in 'anti-Muslim smears and hate speech'
• Washington welcomes South Sudan deal on unity government
• New US acting director of national intelligence hard on Iran, Trump ally
• US: Sanders slams Israel, S. Arabia in Democratic debate
--------
Southeast Asia
• Now, Muslim Teachers Group Sues to Have Vernacular Schools Declared Unconstitutional
• Myanmar Arrests 49 Rohingya Muslims Attempting to Flee to Malaysia
• Malaysia Summons Palestinian Envoy over Comments on Donations for Al-Aqsa Mosque
• Supporters may hold street protest if Anwar Ibrahim is not Malaysian PM by May
• Stop defamation suits against average Joe, Malaysian Bar tells Putrajaya
• Indonesian Minister Suggests Fighting Poverty By Getting The Rich To Marry The Poor
--------
Arab World
• Ongoing Clashes In Syria's Idlib Province Leave 27 Fighters Dead: War Monitor
• Saudi Arabia Intercepts Houthi Ballistic Missiles Targeting Cities, Civilians
• Turkey won't abandon observation points in Syria
• Russia urges Turkey to halt support of 'terrorists' in Syria's flashpoint Idlib province
• IMF team arrives in Lebanon to give financial advice to govt.
• 'Social explosion' in Lebanese camps imminent, warn officials
--------
Africa
• South Sudan's Rival Leaders Kiir, Machar to Form Unity Government
• Tunisian Islamist Party Agrees To Grant Confidence to New Gov't
• Record breaking US airstrikes pushing al-Shabab fighters into urban areas
• Algeria's president asks for more time to implement 'radical changes'
• South Sudan forces, armed groups deliberately starved civilians: UN probe
• Nigerian forces kill 3 top ISWAP ringleaders
• Al-Shabaab attacks two military bases in Somalia
• Al-Shabab militant surrenders to Kenyan police in border region
• Nigerian Governor Demands 100,000 Troops to Quell Insurgency
• Boko Haram Raids Displace Thousands More in Cameroon
Compiled By New Age Islam News Bureau
URL: https://www.newageislam.com/islamic-world-news/bangladeshi-imam-regrets-funeral-sex/d/121121
--------
Bangladeshi Imam Regrets Funeral for Sex Worker Following a Backlash from Local Muslims
February 20, 2020
A Muslim cleric who made history by leading the first Islamic funeral for a sex worker in Bangladesh has vowed not to do it again following a backlash from local Muslims.
Golam Mostafa, an imam at Daulatdia Railway Station Mosque in Rajbari district, broke a social taboo to perform final rites for Hamida Begum, a sex worker from Daulatdia brothel, the largest in the country, on Feb. 6.
Although prostitution is legal in Bangladesh as a legacy from the British colonial era, it is considered an immoral profession and a cause for social ostracism in the largely conservative Muslim-majority country.
Mostafa performed the funeral rites after a request from a group of sex workers and the local police chief.
Rights activists and media hailed his action and saw it as a start to ending social ostracism and the ghetto-like miserable lives of sex workers. However, local villagers, mostly Muslims, heavily criticized the imam.
"I did it at the request of the police. Since then, villagers and shopkeepers have been discussing it and criticizing me. They are asking why I have done it as it has never happened before," BBC Bengali Service reported Mostafa as saying on Feb. 18.
"I have talked to some alems (Islamic clerics) and they forbade me from doing it again. Any villager or imam can do it, but I won't do it anymore."
Moalana Amzad Hossain, a cleric from southeastern Chittagong city, expressed frustration at the turn of events over the funeral.
"There is no connection between the work of a person and a janaza (funeral). A person with faith in Allah and Namaz (Islamic prayer) deserves a proper Islamic burial after death. There is no barrier for a proper funeral for a sex worker, and I will do it if anyone comes to me with such a request," Hossain told UCA News.
If a person commits a sin, only Allah can judge and punish on the final day, he noted.
"The state has legalized sex work, so it must either shut down the profession or take measures to break the social ostracism of sex workers and ensure their rights including funeral rites," he added.
Holy Cross Father Liton H. Gomes had similar sentiments.
"It does not matter what religion a person belongs to or what were his or her actions in their lifetime. Death frees all from worldly connections, and only the Supreme Being can judge and evaluate the actions of a person. We see convicted criminals get a proper burial after hanging, and a sex worker duly deserves a proper burial," Father Gomes told UCA News
"The state and society have allowed prostitution to exist, so they cannot escape the duties to ensure the rights of sex workers."
It is hypocritical of a society that created sex workers and sustained them for pleasure for decades to deny their basic human rights, said Khushi Kabir, a Muslim and human rights defender based in capital Dhaka.
"Nothing exists in society that has no demand. People, who go to sex workers for pleasure, and those who make business from brothels, enjoy all the benefits of life and rights, but poor and powerless sex workers are denied. This is hypocritical and ridiculous," Kabir told UCA News.
"From the top level of the state to grassroots levels of the society, we need to change our mindset about sex workers and treat them as equal human beings. If anti-socials like bloodsucker money lenders, corrupt businessmen and criminals can enjoy rights and funeral rites, sex workers are even more eligible."
https://www.ucanews.com/news/bangladeshi-imam-regrets-funeral-for-sex-worker/87268
--------

Muslim worshipper stabbed in neck at London's Regent's Park Mosque
By Areeb Ullah, Huthifa Fayyad
20 February 2020
A 29-year-old man was arrested on suspicion of murder after stabbing a Muslim worshipper in the neck during prayers at Regent's Park Mosque in central London.
The victim, in his 70s, was taken to hospital, where London's Metropolitan Police confirmed his injuries are "non-life threatening".
The police said they were not treating Thursday's incident as terror-related, with the attacker arrested at the scene on suspicion of attempted murder.
Images posted online showed police pinning down a man in the middle of the mosque's expansive prayer hall, with a knife lying near the suspected attacker under a plastic chair.
In a statement, the mosque said the injured man was the muazzin, the person who makes the call to prayer, and he had been stabbed shortly after 15:00 GMT during afternoon prayers.
Ahmad al-Dubyan, the director-general of Regent's Park Mosque, told Middle East Eye that the muazzin was stabbed "on the side of his neck".
"The muazzin is in hospital right now, and according to the information I have, he is in a stable condition.
"We don't know the background of this man [the attacker], but he was with us inside the mosque.
"We are shocked by this attack. We don't know the motivation behind it."
Middle East Eye
✔
@MiddleEastEye
A 70-year-old Muslim worshipper has been stabbed in London's Central Mosque.
The Imam of Regent's Park Mosque has said that the assailant was a young man that had frequented the mosque in recent years
Embedded video
42
2:08 AM - Feb 21, 2020
Twitter Ads info and privacy
56 people are talking about this
The Muslim Council of Britain condemned the incident and described the attack as "deeply distressing", adding it would be "reissuing" safety advice for mosques across the UK.
London Mayor Sadiq Khan also said he was "deeply concerned by the attack" and that police would be "providing extra resources in the area".
"Every Londoner is entitled to feel safe in their place of worship," he tweeted.
Meanwhile, UK Prime Minister Boris Johnson said he was "deeply saddened" by the incident and said his "thoughts are with the victims and those affected".
https://www.middleeasteye.net/news/muslim-worshipper-stabbed-neck-central-london-mosque
--------
Lal Masjid standoff persists as Maulana Aziz refuses to budge on demands
Kalbe Ali
February 21, 2020
ISLAMABAD: Like the previous attempt made by a group of Ulema, an effort made by Pakistan Ulema Council (PUC) Chairman Hafiz Tahir Ashrafi to end the Lal Masjid standoff on Thursday remained fruitless as Maulana Abdul Aziz refused to accept the legal points forwarded by the government related to his demands.
After meeting Interior Minister Ijaz Ahmad Shah on Wednesday, the PUC chief proceeded to Lal Masjid on Thursday morning and discussed the issue with Maulana Abdul Aziz, the deposed prayer leader of the mosque."I am hopeful that the matter will start moving in the right direction within 24 hours," Hafiz Ashrafi said, adding: "The main aim is to ensure that not a bullet is fired from either side and the blockade is lifted to ease hardships being faced by the local residents."
Talking to Dawn, Hafiz Ashrafi said the message and concerns of the government had been conveyed to Maulana Aziz.
He also forwarded a report to the interior ministry on Thursday noon stating there were only four armed men inside the mosque who were bodyguards of Maulana Aziz and possessed legally obtained weapons.
Sources in the interior ministry said Hafiz Ashrafi had also reported that there was no threat to peace as the number of people inside the mosque was not enough to pose any challenge to the law enforcement agencies posted outside.
His report was important as certain quarters in the government were suggesting posting Rangers or Frontier Constabulary (FC) outside Lal Masjid to thwart any aggressive posture from inside.
Hafiz Ashrafi was accompanied by a few clerics belonging to the PUC whereas Maulana Aziz was flanked by his nephew and son-in-law Haroon Rasheed.
Speaking on behalf of Maulana Aziz, Mr Rasheed denied that any deal or settlement had been made. The standoff continued with the area cordoned by police, he added.On the other hand, an official of the interior ministry termed the demands of Maulana Aziz unjustified and illegal.
The main demand of the cleric was that he should be recognised as the khateeb (prayer leader) of Lal Masjid and the government should pay Rs30 million in lieu of the construction cost of Jamia Hafsa in H-11 and allotment of a new plot in the CDA limits against the cancelled H-11 plot.
But a senior official of the interior ministry said the government had legal bindings and the law cannot be altered only to accommodate one person.
"It has been made clear that Maulana Aziz has retired and is not authorised to deliver Friday sermons and lead prayers at the state-owned Lal Masjid," the official said, adding: "Similarly, the H-11 plot was cancelled on the directives of the Supreme Court in April 2019."
CDA's Directorate of Building Control had issued a notice to Jamia Hafsa at H-11 that it would be sealed because the construction was raised without legal requirements and a non-objection certificate (NOC) from the authority.
"While they continued the construction without proper approval, how is the government responsible for expenses incurred on the building?" the official said.
A delegation of clerics met the interior minister on Tuesday but failed to convince both the parties to end the standoff. While the clerics stressed that the government should lift the blockades and clear the roads outside the mosque, officials of the interior ministry said Maulana Aziz should leave the mosque for good as it was not a private entity.
Meanwhile, the adamant attitude of Maulana Aziz has not only led to the failure of two reconciliation efforts but is also encouraging the prayer leaders of other mosques not to leave the posts even after their retirement.
https://www.dawn.com/news/1535677/lal-masjid-standoff-persists-as-maulana-aziz-refuses-to-budge-on-demands
--------
Shaheen Bagh: 'SC will listen more keenly if road block issue resolved,' mediators say
Feb 21, 2020
NEW DELHI: The Supreme Court-appointed mediators on Shaheen Bagh told the protesters on Thursday how the issue of the road blockade is resolved may have a bearing on how SC considers the "larger issue" (CAA), including how other such protests are seen.
Addressing the protesters, lawyer Sanjay Hegde said, "Bada masla aayega toh hamari baat aur achhe se sunegi SC. Ye waqt ki nazukta samjhiye (When the larger issue comes to court, SC will listen to us even more keenly. Understand the delicateness of the situation)."
At the end of the day, there was no breakthrough and the mediators will return to the site on Friday.
The two mediators — Hegde and Sadhana Ramachandran — kept stressing that the isssue on which they were asked to engage in a dialogue was about the inconvenience being caused to commuters due to the road blockade and not the citizenship law. When the mediators asked the crowd, "Who all trust SC?", the unanimous response was: "All of us." But when the senior lawyers suggested that they could move to an alternative site, the crowd cried, "Nahi ho sakta (It can't happen)."
graphic
The suggestion of an alternative site was countered by the women with the argument that when the JP movement or the Mandal or Anna protests took place, no one had expressed any outrage over inconvenience being caused. "It's been made to look like a Muslim andolan. This area is just 150 metres long. UP police and Delhi Police have shut the routes that could be opened," one of them said.
The protesters claimed they were not the ones blocking the road and that the alternative routes could ease the situation. Responding to this, the interlocutors took the help of some locals to inspect three alternative routes — Mahamaya, Supernova and Kalindi — that the protesters said had been blocked by the police.
The mediators told the crowd that "Shaheen Bagh barkarar rahega" (Shaheen Bagh will survive) but it was necessary to ensure that others were not inconvenienced. "Nobody should be troubled. We live in this country to help one another and not trouble each other. The movement will be an example for everyone. The protest should go on but its venue could be a place where people are not troubled," they said. "If people in Noida say that we'll sit on DND or elsewhere, then it's not good for anyone."
On the second day of the dialogue, the crowd swelled. At one point, Ramachandran observed that the chaos at the site had made the atmosphere "inconducive". She said, "We won't come tomorrow if this persists." An apology followed the remark and the dialogue continued. Half an hour into the interaction, the mediators objected to TV channels "meddling" with the dialogue process. On their suggestion, these mediapersons were asked to vacate the venue and the women applauded the move.
One of the protesting women agreed with the idea of a census but not CAA and NRC which, according to them, discriminated against a particular community. "We are ready for a census. It should happen. You know and we also know that we are Indians. Lal Qila, Jama Masjid and Qutub Minar are examples of our existence," said the woman.
The mediators stressed that the mothers and daughters of the country were actually "Bharat Mata...The nation progresses only when they're happy". A woman interjected with: "The problem is that you are saying it but our PM doesn't say it. We are ready to hug him. He's our PM. He should come."
Hegde observed that India had seen several prime ministers in the past 70 years. "Whoever assumes office is entrusted with responsibility. They're sometimes right, sometimes wrong. We can't say that a PM can never be wrong. If we feel there is an issue, we have the right to raise it. That's why the SC is there. Whenever SC speaks, everybody listens," said Hegde.
Some of the women expressed anxiety over the government taking up issues like triple talaq but not lending an ear though they had been on the road for so long. "The moment they take away the law, we'll leave," said one of the women.
The protesters pointed out that even during BJP veteran Lal Krishna Advani's rathyatra, there were traffic jams. "That happened during the Jat agitation too. We are protesting peacefully without trouble. Shaheen Bagh is our identity. If we move from here, we'll lose our identity. We are fighting for our existence. We are also citizens of this country," the mediators were told.
The lawyers tried to assure the protesters that the matter of citizenship law will be argued by taking into account people's rights. "When the hearing on this law takes place, lawyers from Hindu, Muslim, Sikh and Christian communities will argue with all their might. But before that happens, the stand that "we'll keep sitting here" needs to change. "It was very easy for SC to direct the government but the judge also considered the current situation...They've also reached out to you but there has to be some reciprocation," they said.
"On the day that some people threatened to vacate us, thousands of people turned up here to protect us. They had no religion. But we have been labelled as a Muslim crowd. We are more than that. We are fighting for our country," said Shaheen Kauser.
A single father, Imran, who had reached the site with his two daughters broke down, citing the fear of detention centres. "My youngest daughter is in Class I but she also knows what NRC means. The fear is extremely real for all of us," he said.
"Why is road closure a bigger issue than the future of thousands of citizens of this country?" asked another protester, Shabnam. "Shouldn't our judges listen to our concerns and ask the government to assure us that NRC and NPR won't be implemented?"
"Shaheen Bagh has become our identity now. It's the mother of all the protests. We can't just give up and leave," said another protester.
https://timesofindia.indiatimes.com/india/sc-will-listen-more-keenly-if-road-block-issue-resolved/articleshow/74233753.cms
--------
Saudi Arabia sees no obstacle to granting Palestine to Jews: Yemen's Grand Mufti
20 February 2020
The Grand Mufti of Yemen and head of Yemen Scholars Association says Saudi Arabia sees no obstacle to granting the entire Palestine to Jews, describing such an approach as the principled policy of the Riyadh regime.
"Saudi Arabia's fundamental position is that there is no obstacle to granting Palestine to the Jews," Sheikh Shams al-Din Sharaf al-Din said at a conference of Yemeni scholars entitled "Rejection of Trump's deal and prohibition of normalization with the Zionist enemy" in the capital Sana'a on Thursday.
He added that there will be no real change in the region unless Muslim countries free themselves from the yolk of the United States, Israel, Saudi Arabia and the United Arab Emirates.
"The House of Saud is opening amusement parks, where alcoholic beverages are drunk, and is misappropriating public assets for sowing the seeds of division within the Muslim world whilst forbidding Muslims from the Masjid al-Haram (the Great Mosque of Mecca)," he added.
Sheikh Sharaf al-Din noted, "Today the Muslim Ummah is required to form a united front against Israel. There is a crisis of trust in God amongst many of those who think that problems can be resolved through abandoning religion."
The Grand Mufti of Yemen then called upon all Muslims to rally around free and brave leaders and reject those who are linked to the US.
On January 28, President Donald Trump unveiled his so-called deal of the century, negotiated with Israel but without the Palestinians.
Palestinian leaders, who severed all ties with Washington in late 2017 after Trump controversially recognized Jerusalem al-Quds as the capital of the Israeli regime, immediately rejected the plan, with President Mahmoud Abbas saying it "belongs to the dustbin of history."
Palestinian leaders say the deal is a colonial plan to unilaterally control historic Palestine in its entirety and remove Palestinians from their homeland, adding that it heavily favors Israel and would deny them a viable independent state.
The Saudi foreign ministry said on January 29 it "appreciates" Trump's efforts and called for direct Israeli-Palestinian talks.
"The kingdom appreciates the efforts of President Trump's Administration to develop a comprehensive peace plan between the Palestinian and the Israeli sides," it said in a statement carried on the state-run SPA state news agency.
Speaking at a press conference on the sidelines of his visit to the Romanian capital Bucharest last Thursday, Saudi Minister of State for Foreign Affairs Adel al-Jubeir hailed Trump's plan as positive, saying the initiative can provide the basis for negotiations between the Palestinians and the Tel Aviv regime.
"The Palestinians must decide for themselves, and we must support them. I believe that things will become clear after the US elections (slated for November 3, 2020)," Jubeir said.
The top Saudi official went on to say that there are some positive elements in Trump's proposed deal, which could facilitate negotiations between Israeli and Palestinian officials.
Last month, senior Saudi cleric and former justice minister, Sheikh Muhammad bin Abdul Karim bin Abdulaziz al-Issa, paid an official visit to the former Nazi concentration camp, Auschwitz, in Poland. A delegation of American Jewish Committee (AJC) officials was in the company as well.
The CEO of the AJC, David Harris, described Issa's visit to the site as highly significant, claiming that the trip represented "the most senior delegation" of Muslim scholars to visit Auschwitz ever.
Last May, Lebanese daily Arabic-language newspaper al-Akhbar said the Saudi crown prince had offered Abbas 10 billion dollars in return for accepting Trump's controversial proposal.
Akhbar noted that Abbas had turned down the offer, saying supporting the deal would be "the end of his political life."
Earlier last year, delegates from Saudi Arabia, the United Arab Emirates and Egypt at a meeting of Arab states reportedly opposed bids condemning the normalization of relations with the Israeli regime.
Russia's RT Arabic television news network reported in March 2019 that Abdullah ibn Muhammad Al ash-Sheikh, the speaker of Saudi Arabia's Consultative Assembly, together with his Emirati and Egyptian counterparts had opposed a paragraph in the final communiqué of the 29th Conference of the Arab Inter-Parliamentary Union in the Jordanian capital city of Amman, which demanded an end to efforts aimed at normalizing ties with Israel and condemned all forms of rapprochement with the occupying regime.
https://www.presstv.com/Detail/2020/02/20/619129/Saudi-Arabia's-principled-stance-views-no-objection-to-granting-Palestine-to-Jews:--Yemen%E2%80%99s-Grand-Mufti
--------
Calls grow for Bloomberg to apologise for surveillance of Muslims
by Laurin-Whitney Gottbrath
February 21, 2020
When activist and organiser Sarah Pearson approached Michael Bloomberg last year, she knew she wanted to press him on the New York City Police Department's (NYPD) surveillance of Muslims during his tenure as mayor there.
What she did not expect, however, is that he would give her a "demonstrably false" answer when she asked how he was defending Muslims' rights when their communities were surveilled.
"The police only went in when the mosque, when the imam asked us to go in," Bloomberg told her at the opening of his 2020 presidential campaign offices in Milwaukee, Wisconsin, in December.
"Period. End of story," he can be heard saying on a video recording of the encounter.
"We went into mosques when they asked us to come in," he also said.
But a multipart, award-winning 2011 investigation by The Associated Press news agency found the NYPD mapped mosques and Islamic centres, eavesdropped on conversations, surveilled entire neighbourhoods and put informants, known as "mosque crawlers" or "rakers", in Islamic places of worship and gathering centres to monitor sermons in the decade after the September 11, 2001, attacks in the United States.
"I didn't expect a warm reception," Pearson told Al Jazeera by phone, referring to her December interaction with Bloomberg.
"But what he said was so demonstrably false. In my head, I expected him to try to end the conversation and move along," she added. "And I didn't think he would address it in a way and make a statement like that."
For Pearson, pressing Bloomberg on his record with the Muslim community stemmed from the US government's surveillance and internment of her Japanese-American community during World War II.
She decided to post the video of her interaction with Bloomberg on Wednesday after she saw #AskBloomberg trending before the ninth Democratic presidential debate.
Calls for apology
Since announcing his candidacy for the Democratic presidential nomination in November, Bloomberg has come under increased fire for past comments and policies he endorsed as the mayor of New York City from 2002-2013.
Criticism of his comments regarding the stop-and-frisk policing tactic, which he aggressively pursued after taking office in New York City, heightened last week when an audio recording from 2015 resurfaced of him saying to combat crime cities need to "put a lot of cops where the crime is, which means in minority neighbourhoods".
Bloomberg has since apologised for his role in the policy, recently saying it represented the one thing he is "really worried and embarrassed about". That apology has been slammed by some, who say it does not go far enough.
The former mayor has not, however, apologised for the surveillance of Muslims, despite repeated calls over recent years from rights groups and those within the community to do so.
"The American Muslim community, a target of the stop and frisk programme - many of our members being African American and of colour - find his apology about the programme lacking," said Robert McCaw, the Government Affairs Department director of the Council on American-Islamic Relations (CAIR).
"In that same vein, he has yet to fully account for his role in the NYPD spying on our community and for that he should apologise," McCaw told Al Jazeera.
The NYPD surveillance programme has had "deep psychological, long-standing impacts" on Muslim communities in New York and surrounding states, said Scott Simpson, public advocacy director for Muslim Advocates.
"The victims here were just everyday people," Simpson told Al Jazeera. "It really shakes people. It makes them choose to not participate in their own communities. It makes them choose not to exercise their First Amendment right to practise their religion."
Habiba Choudhury 🌹
@HabibaChoudhu
When Bloomberg was mayor, my Muslim father, a cab driver, was targeted nonstop.
Life changed for my family at that time. If there was an accident, the cops did not care for my father's statement.
My father did everything right. However, he was Muslim 😔#MyBloombergStory
12.9K
4:15 AM - Feb 15, 2020
Twitter Ads info and privacy
3,005 people are talking about this
A lawsuit filed by Muslim Advocates in 2012 on behalf of Muslim individuals, businesses and organisations that were targeted by NYPD surveillance in New Jersey resulted in a settlement that built on previous cases in which the NYPD agreed to ban investigations based on ethnicity, race, religion or national origin. A 2015 court opinion compared the surveillance of Muslims to the discrimination faced by "Jewish Americans during the Red Scare, African Americans during the civil rights movement and Japanese Americans during World War II".
"For any presidential candidate or for any administration official to endorse surveillance of Americans engaging in their First Amendment activities and to do so to the depth and degree and level of invasiveness that the NYPD subjected its own community members to is inexcusable and it's vitally important that those facts, which have been validated ... by courts not get whitewashed away," Simpson said.
The Bloomberg campaign had not replied to Al Jazeera's request for comment at the time of publication.
https://www.aljazeera.com/news/2020/02/calls-grow-bloomberg-apologise-surveillance-muslims-200220231819582.html
--------
Now, Muslim Teachers Group Sues to Have Vernacular Schools Declared Unconstitutional
20 Feb 2020
BY KENNETH TEE
KUALA LUMPUR, Feb 20 ― Ikatan Guru Guru Muslim Malaysia has filed a lawsuit at the High Court to challenge the existence of vernacular schools in Malaysia, the third such in the country.
Lawyer Datuk Shaharudin Ali who represented the group said the originating summons was filed at the High Court in Kota Baru, Kelantan, around 6pm.
"On behalf of our clients, we are pleased to inform that another constitutional challenge to Sections 17 and 28 of the Education Act has been duly filed by the plaintiff Ikatan Guru Guru Muslim Malaysia against the Minister of Education and Government of Malaysia," he said in a statement.
Two similar challenges have been mounted by different groups in recent months to seek clarity on Article 152 of the Federal Constitution in relation to the use of the national language as the main medium of instructions in schools and to determine if Sections 17 and 28 of the Education Act violated the constitution.
Last December, Putra vice-president Mohd Khairul Azam filed a similar lawsuit in his second attempt to have vernacular schools declared unconstitutional, after his first failed in November.
In his lawsuit against the education minister and Malaysian government, Mohd Khairul Azam claimed Sections 28 and 17 of the Education Act are invalid due to alleged inconsistencies with Act 152 of the Federal Constitution.
Earlier this month the High Court allowed 14 organisations, including political parties such as MCA, MIC, Gerakan and education and language groups, to become part of Mohd Khairul Azam 's constitutional challenge.
Mohd Khairul is also represented by Shaharudin. The High Court previously fixed May 5 for the hearing of the constitutional challenge.
Section 17 of the Education Act states that the national language shall be the main medium of instruction in all educational institutions in the National Education System, except for national-type schools created under Section 28 or others given exemption by the education minister.
The section also said that educational institutions that do not use the national language as the main medium of instruction must teach it as a compulsory subject.
Section 28 enables the education minister to establish both national schools and national-type schools.
National-type schools are defined in the Education Act as primary schools using Chinese or Tamil as the main medium of instruction, and where the national language and English are compulsory subjects.
Article 152(1)(a) states that the national language shall be the Malay language and that no person shall be prohibited or prevented from using (except for official purposes) or from teaching or learning any other language.
There is also a separate lawsuit filed on December 16, 2019 by Gabungan Pelajar Melayu Semenanjung (GPMS) and the Islam Education Development Council (Mappim) to challenge the constitutionality of vernacular school.
https://www.malaymail.com/news/malaysia/2020/02/20/now-muslim-teachers-group-sues-to-have-vernacular-schools-declared-unconsti/1839348
--------
Ongoing Clashes In Syria's Idlib Province Leave 27 Fighters Dead: War Monitor
20 February 2020
Clashes pitting Turkish forces and their Syrian opposition allies against pro-regime forces left 27 fighters dead Thursday including two Turkish soldiers in the northwestern Syrian province of Idlib, a war monitor reported.
The Syrian Observatory for Human Rights said at least 11 pro-regime fighters and 14 on the opposition's side were killed as well as the two Turkish soldiers.
Ankara's defense ministry likewise reported two Turkish soldiers killed in an airstrike in the Idlib region.
The Observatory said Syrian opposition fighters backed by Turkish artillery fire had seized the Nayrab area between provincial capital Idlib and the key regime-controlled town of Saraqib.
They withdrew following several hours of clashes and dozens of Russian and regime airstrikes, it said.
The Observatory added that jihadist group Hayat Tahrir al-Sham also targeted Syrian government forces in Nayrab.
Turkish forces also fired artillery at Saraqib, a regime-controlled town on a key highway from Damascus to Aleppo, it said.
Both the Turks and the Syrian government claimed the other side had been defeated.
Syrian government and allied forces have in recent weeks conducted a devastating offensive, with Russian backing, to flush out the last opposition enclave in the country.
The area hosts some three million people, many of them displaced by violence elsewhere.
The assault has allowed the regime to reclaim swathes of territory in the south of Idlib province and in neighboring Aleppo province.
The fighting has also caused an unprecedented wave of displacement, with around 900,000 people – more than half of them children – forced to flee their homes and shelters since December, according to UN figures.
https://english.alarabiya.net/en/News/middle-east/2020/02/20/Ongoing-clashes-in-Syria-s-Idlib-province-leaves-27-fighters-War-monitor.html
--------
South Sudan's Rival Leaders Kiir, Machar to Form Unity Government
20 February 2020
South Sudan President Salva Kiir and rebel leader Riek Machar agreed Thursday to form a unity government on Saturday, a long-delayed step towards ending six years of war.
"We have agreed to form the government in two days on 22nd February. We are still discussing on other things and I am hopeful we will resolve them all," Machar said after a meeting between the two men.
Kiir confirmed that they had agreed to join together for the third time in government – an experiment which has twice previously ended in disaster.
It was a dispute between the two men which pushed the young nation into war in December 2013, only two years after a hard-fought independence.
"As the president, I will be appointing the vice presidents, and I will start by appointing Riek tomorrow (Friday) in the morning and I will dissolve the government today and then form a new government on the 22nd," he said.
"These are changes which will bring peace."
The formation of a unity government was a linchpin of a September 2018 peace deal.
But it has been delayed twice by failure to move forward on crucial issues such as forming a unified army, carving out state borders and creating a protection force to assure Machar's security.
Read: South Sudan cuts number of states from 32 to 10, unlocking stalled peace deal
Kiir said his forces would be in charge of security in Juba as well as Machar's protection.
"I have taken responsibility of protection, as the unified forces are still under training," he said.
He urged some 190,000 people living under United Nations protection in tent cities in the capital and across the nation – many of whom have lived there for several years, "to come out, because the dawn of peace has come."
https://english.alarabiya.net/en/News/middle-east/2020/02/20/South-Sudan-s-rival-leaders-Kiir-Machar-to-form-unity-government.html
--------
South Asia
Ghani and Abdullah's victory were celebrated in parts of Afghanistan
20 Feb 2020
Residents in the south and eastern Afghanistan celebrated Mohammad Ashraf Ghani's win as an elected President, however, residents of northern Afghanistan celebrated Abdullah's victory on Thursday.
Mohammad Ashraf Ghani was announced as the winner of Afghanistan's 2019 Presidential election by the Independent Election Commission on Tuesday and received a certificate to the incumbent on Wednesday.
According to the IEC, Mohammad Ashraf Ghani secured 50.64% and Abdullah got 39.52% votes.
The final election results remained the same as the preliminary results after the Independent Election Complaints Commission assessed over 16,000 registered complaints.
Considering a large number of registered complaints and the 300,000 controversial votes, many had eyes for a 'runoff'. The reduction of at least 12,000 votes could drop Ghani's position under 50%.
Hours after IEC's official announcement, Abdullah Abdullah and his supporters appeared in a press conference, claimed victory and said he will establish an inclusive government of his own.
According to reports, the residents of southern Zabul, Pakita and eastern Nangarhar provinces celebrated the winning of Mohammad Ashraf Ghani on Wednesday.
On the other hand, thousands of residents in Panjshir, Faryab, and Takhar provinces celebrated the victory of Abdullah Abdullah, rejecting the results announced by the IEC.
The International Community has been quiet since the announcement of the final presidential election results, and Ghani did not get enough congratulation messages from the international partners as expected.
https://www.khaama.com/ghani-and-abdullahs-victory-were-celebrated-in-parts-of-afghanistan-6786868/
--------
19 ISIS militants killed in Afghan Special Forces raid, airstrikes in Kapisa and Kunar
21 Feb 2020
The Afghan Special Forces killed six militants of the Islamic State of Iraq and Syria Khurasan (ISIS-K) in North-eastern Kapisa province.
The informed military officials said Friday the Special Forces also destroyed a small cache of weapons of the terror group during the same operation which they conducted in Nejrab district.
The officials further added that an airstrike killed additional 6 ISIS Khurasan militants in the same district.
Meanwhile, the officials said an airstrike killed 7 militants of the terror group in Chawkai district of Kunar.
Full report at:
https://www.khaama.com/19-isis-militants-killed-in-afghan-special-raid-airstrikes-in-kapisa-and-kunar-04474/
--------
Prominent Taliban group leader killed in Afghan forces' ambush in Badakhshan
20 Feb 2020
The Afghan National Defense and Security Forces killed a prominent Taliban group during an operation in North-eastern Badakhshan province.
The Ministry of Defense (MoD) in a statement said the National Defense and Security Forces ambushed Ataulah, one of the prominent group leaders of Taliban in Baharak district.
The statement further added that the security forces laid the ambush late on Wednesday night in Sarpul Shahr Village of Baharak.
According to MoD, Ataullah was mainly involved in plotting, coordinating and implementing terrorist attacks in Bahrak district of Badakhshan province.
The Taliban group has not commented in this regard so far.
Badakhshan is among the relatively volatile provinces in North-east of Afghanistan.
Full report at:
https://www.khaama.com/prominent-taliban-group-leader-killed-in-afghan-forces-ambush-in-badakhshan-04471/
--------
Joint Iran-Afghan trade expo kicks off in Kabul
21 February 2020
Amin Alemi
Although fighting terrorism and confronting political instability are considered as the top priorities of the Afghan government, Kabul struggles to work with other states towards developing Afghanistan's economy as well.
For instance, the Afghan government has jointly organized an exhibition with Iran in Kabul for the eighth round over the last decade. Tens of Iranian and Afghan companies have participated in the exhibition to put their latest achievements on display.
Both Afghan and Iranian officials look to holding such exhibitions as a motive to boost joint cooperation between Kabul and Tehran.
Full report at:
https://www.presstv.com/Detail/2020/02/21/619150/Joint-Iran-Afghan-Trade-Expo-Kabul
--------
Taliban's deputy chief says deal with US to be signed soon
20 February 2020
The Taliban's deputy leader has said that despite mutual mistrust, the militant group is "fully committed" to upholding a peace deal it is about to sign with the United States to end a nearly two-decade war in Afghanistan.
In an opinion piece published in the New York Times on Tuesday, Sirajuddin Haqqani wrote that the group would soon sign a agreement with the United States to reduce attacks for seven days.
"That we today stand at the threshold of a peace agreement with the United States is no small milestone," wrote Sirajuddin.
"Achieving the potential of the agreement, ensuring its success and earning lasting peace will depend on an equally scrupulous observance by the United States of each of its commitments."
Haqqani wrote, "The long war has exacted a terrible cost from everyone. We thought it unwise to dismiss any potential opportunity for peace no matter how meager the prospects of its success."
He said the US-led Western alliance forced war upon Afghans and they had no choice but to defend themselves.
"We did not choose our war with the foreign coalition led by the United States. We were forced to defend ourselves," he said.
The Taliban commander highlighted the demands of his group, saying "withdrawal of foreign forces has been their first and foremost demand".
"The withdrawal of foreign forces has been our first and foremost demand. That we today stand at the threshold of a peace agreement with the United States is no small milestone."
This is the first significant public statement by a Taliban leader on the accord for a week-long reduction in clashes.
The Haqqani network operates on both the Pakistani and Afghan side of the border. It has been behind some deadly attacks against civilians, security forces and NATO forces in the Afghan capital over the past decade.
Sediq Sediqqi, a spokesman for Afghan presidential palace, reacted strongly to the article.
"It is sad that the (New York Times) has given their platform to an individual who is on a designated terrorist list. He and his network are behind ruthless attacks against Afghans and foreigners," the spokesman said.
Washington has for weeks been calling on the militants to reduce attacks on US forces, posing it as a condition for resuming formal negotiations on an agreement that would see US troops begin to leave the country after a near two-decade war.
Pentagon chief Mark Esper recently described the recent talks between American officials and representatives of the Afghan Taliban as "very promising". Esper said last week that the US and the Taliban had agreed on a seven-day reduction in attacks that could result in the exit of US troops from Afghanistan.
In recent weeks, US special envoy Zalmay Khalilzad, who is leading negotiations with the Taliban, has launched a new round of shuttle diplomacy by travelling to Pakistan and Afghanistan to brief officials on the status of the talks.
Islamabad has helped facilitate the talks between the Afghan Taliban and Washington in Qatar.
Pakistan was one of only three countries to recognize a Taliban regime that the US attacked Afghanistan to topple in 2001.
The Taliban and the US had been negotiating the deal for a year and were on the brink of an announcement in September 2019, when President Donald Trump abruptly declared the process "dead."
Talks restarted in Qatar later in December last year, but were suspended again following an attack near the Bagram military base in Afghanistan, which is run by the US.
Violent assaults in Afghanistan have meanwhile been raging, with the number of clashes jumping to record levels in the last quarter of last year.
Afghanistan's acting interior minister said on Tuesday that an agreement to cut violence would be enforced within five days.
There are now about 13,000 US troops as well as thousands of other NATO troops in Afghanistan.
Full report at:
https://www.presstv.com/Detail/2020/02/20/619133/Taliban-Sirajuddin-Haqqani-The-New-York-Times-Sediq-Sediqqi--Trump-US
--------
Europe
German attack shows Islamophobic poison: UK Muslims
Ahmet Gurhan Kartal
20.02.2020
LONDON
Last night's terrorist shooting in Germany, killing nine people, reportedly including several Turks, is a sign of the "poison" of Islamophobia spreading in the heart of Europe, said Britain's largest Muslim umbrella group on Thursday.
"This attack, which has come just days after 12 people were arrested in Germany for plotting large-scale attacks on mosques, shows the deep-seated Islamophobia poisoning large swathes of the far-right," Harun Khan, secretary general of the Muslim Council of Britain (MCB), said in a statement.
"Our thoughts are with the victims of the terror attacks last night in Hanau, Germany targeting migrants in a shisha bar," he added.
Khan urged governments in Europe to take the threat against Muslims seriously.
The "attacker had an entire manifesto dedicated to white supremacism and anti-migrant sentiment, and is reported to have a video and a letter where he expressed his political motivations," said Khan.
"As we wait for further details, we stand firm with communities across Europe against division, and hope that governments across Europe take the threat against Muslim and migrant communities with the seriousness it deserves," he said.
Five Turkish nationals were among the victims of the far-right terror attack, Turkish Ambassador to Germany Ali Kemal Aydin said Thursday.
The perpetrator was identified by security forces as Tobias R., 43, German daily Bild reported.
He and one other person were found dead in an apartment in Hanau following a German special operations raid.
Initial police findings showed that the perpetrator was acting with "xenophobic motives," Hesse's Interior Minister Peter Beuth told reporters on Thursday.
"The Federal Public Prosecutor has taken over the investigation. It is treating this as a suspected incident of a terrorist attack," he said.
Hanau is located around 20 kilometers (12 miles) east of Frankfurt and has a population of nearly 100,000.
https://www.aa.com.tr/en/europe/german-attack-shows-islamophobic-poison-uk-muslims/1739669
--------
Anti-Muslim terror attacks in Germany were a long time in the making
February 21, 2020
A far-right terrorist is suspected to have gone on a deadly shooting spree just three days after German Muslim groups called for state 'protection' from extremists.
A letter of confession found in the home of a suspect in a deadly shooting spree targeting Shisha bars in the western German city of Hanau appears to confirm a far-right motive for the killings.
At least nine people are confirmed dead in attacks on two separate locations in the city near the country's financial hub of Frankfurt.
The suspected killer and another individual, thought to be the attacker's mother, were also found dead at the residence after armed police launched a raid.
While the details of those killed are yet to filter through, German media reports suggest the victims included young members of the country's minority Turkish community.
The attack, is being investigated as a terrorist incident by German officials.
From the details that have emerged so far, the methodology resembles the tactics used in the Paris terror attacks - a hail of bullets in one location, followed by another round of shooting at a location somewhat far away.
It comes just days after the arrest of 12 far-right extremists, who were suspected of planning terrorist attacks on six mosques across the country.
Muslim groups have been demanding protection given the threats from the far-right for several years now.
In October, a similar shooting spree targeting Jews in the town of Halle killed two people - the suspect, in that case, was identified as a Neo-Nazi.
Resurgence
Neo-Nazis have long been a prominent presence on the fringes of German society despite the torrid legacy of Nazi rule.
Once considered a taboo, far-right ideas have steadily gained a foothold within the German political system and wider society.
The main targets of the resurgence of far-right hate have been the country's Muslim community, which is made up mainly of people of Turkish and Arab origin.
Germany's main far-right party, the Alternative for Germany (AfD), enjoys mass public support with 89 of the 709 seats available in the German parliament, known as the Bundestag.
While Germany's Chancellor Angela Merkel has ardently opposed the normalisation of the AfD, many within her party, the Christian Democrat Union (CDU), have lobbied to form coalitions with the far-right group at regional parliamentary level.
The AfD's activity includes regular baiting of Muslims and the circulation of racist caricatures of predominantly Muslim groups.
In 2019, it put up paintings across Berlin of Muslim men of various colours inspecting a naked slave girl with the caption 'Europeans vote AfD! So Europe doesn't become Eurabia!".
As recently as Wednesday it was condemned for distributing a colouring book which included racist depictions of the country's Turkish minority. In it, veiled women and gangsters were depicted waving Turkish flags and firing pistols.
Not just the fringes
The scale of racist hatred is not limited to just the fringes or even to just the AfD. Racial controversies have even affected Germany's greatest footballers, including Mesut Ozil.
Full report at:
https://www.trtworld.com/magazine/anti-muslim-terror-attacks-in-germany-were-a-long-time-in-the-making-33962
--------
Germany shisha bar shooter published racist manifesto: Prosecutors
21 February 2020
A man suspected of shooting dead nine people in shisha bars in a German town before killing himself and his mother had posted a manifesto online including conspiracy theories and deeply racist views, prosecutors said on Thursday.
The presumed attacker - a 43-year-old German man identified as Tobias R. - was found dead close to a gun soon after the shootings late on Wednesday in Hanau, near Frankfurt, authorities said.
At least five of the victims were Turkish nationals, Ankara's ambassador to Berlin told state broadcaster TRT Haber as his government demanded robust action.
Chancellor Angela Merkel condemned the "poison" of racism. Her deputy, Olaf Scholz, took to Twitter to say: "Politically, nobody can deny that 75 years after the Nazi dictatorship there is real terror again."
The gunman burst into a bar in downtown Hanau then drove to a second bar in town and opened fire again, police and witnesses said.
"First we heard five or six rounds of gunfire," a German-Turkish survivor who gave his name as Muhammed told Reuters from his hospital bed in Hanau.
"Then I saw the man entering. I was eating my meal at that time. We were all eating. We gave orders. The man entered," he said, sobbing.
"We were 10 to 12 people. Two, three or four people managed to survive. I am one of them."
Officers chased a car leaving the scene of the last shooting to another address, where they found the bodies of the suspect and his 72-year-old mother, both with gunshot wounds, police said.
"On the suspected perpetrator's home page, he had put up video messages and a kind of manifesto that, in addition to obscure thoughts and absurd conspiracy theories, pointed to deeply racist views," said Prosecutor General Peter Frank.
Full report at:
https://english.alarabiya.net/en/News/world/2020/02/21/Germany-shisha-bar-shooter-published-racist-manifesto-Prosecutors.html
--------
UK police arrest man after stabbing at London Central Mosque
February 20, 2020
LONDON: A man attacked the elderly muezzin at one of London's main mosques on Thursday, stabbing him in the neck before being arrested.
Metropolitan Police said they were called to London Central Mosque in Regent's Park after reports of a stabbing.
"The attacker was apprehended by the worshippers until the police arrived and arrested him," the London Central Mosque Trust said in a statement.
The attack targeted the muezzin, who performs the mosque's call to prayer, the Muslim hate crime monitor TellMAMA, said.
Ayaz Ahmad, an adviser to the mosque, told Arab News that the attacker stabbed the victim whilst standing behind him in the afternoon prayer. He added that the assailant was held down by worshippers after the attack.
"His injuries are not threatening but there is a wound to his neck, it wasn't very deep but enough to have a lot of blood loss. It was very traumatic for everyone," Ahmad added.
London Ambulance Service
✔
@Ldn_Ambulance
We sent an ambulance crew, a paramedic in a car and an advanced paramedic practitioner to this incident in #RegentsPark.
We treated a man at the scene and took him to a major trauma centre. https://twitter.com/metpoliceuk/status/1230526704973733888 …
Metropolitan Police
✔
@metpoliceuk
#INCIDENT Police were called to a mosque near Regents Park at 3.10pm to reports of a stabbing. A man, in his 70s, was found injured. His condition has been assessed as non life-threatening.
A man has been arrested on suspicion of attempted murder.http://news.met.police.uk/news/stabbing-at-mosque-near-regents-park-394955 …
40
9:54 PM - Feb 20, 2020
Twitter Ads info and privacy
28 people are talking about this
TellMAMAUK
✔
@TellMamaUK
We strongly condemn the non-life threatening attack on the Muezzin at Regent's Park Mosque.
Tell MAMA is liaising with the police and the mosque, an arrest has been made.
We are reissuing our safety tips for individuals and mosques as a precaution. Please observe them.
View image on TwitterView image on Twitter
133
9:41 PM - Feb 20, 2020
Twitter Ads info and privacy
146 people are talking about this
The victim, who is in his 70s, was treated by paramedics before being taken to hospital. Worshippers said that he has been a member of the congregation for "decades."
Police said a man was arrested at the scene on suspicion of attempted murder and a crime scene was put in place.
Video showed police subduing a man inside the mosque before leading him away in handcuffs. He was wearing a red hooded top and no shoes.
Director-general of the Islamic Cultural Centre, part of the mosque, Dr. Ahmad Al-Dubayan described the attack and the emergency services' response while confirming the victim was in a good condition.
He told Arab News: "We don't have any information about the motive for this incident, why he did this or who he is even.
"Of course, we are unhappy about what happened, but we all hope that it was an individual attack and nothing linked to anything further than this attack itself.
"But we are worried and sorry about what has happened."
A makeshift area for sunset prayers was set up in the mosque so that worshippers could still pray despite the incident.
London's Mayor Sadiq Khan said he was "deeply concerned" by the incident.
Full report at:
https://www.arabnews.com/node/1630806/world
--------
Far-right extremist scouts in cafe before attack: Footage
Cuneyt Karadag
20.02.2020
HANAU, Germany
Surveillance cameras revealed on Thursday that Tobias R., a far-right extremist who carried out the racist terrorist attack in Germany, scouted the cafe six days before the attack.
A photo taken from the security camera footage shows the terrorist wearing a green jacket and a gray cap as he was planning the deadly attack a few days ago on Feb. 15.
43-year-old Tobias R, who was identified by security forces as the gunman, killed at least nine people in the western town of Hanau, near Frankfurt.
Five Turkish citizens were among the victims, Turkish officials confirmed.
https://www.aa.com.tr/en/europe/far-right-extremist-scouts-in-cafe-before-attack-footage/1740199
--------
Far-right terrorist gun attack kills 9 in Germany
Ayhan Şimşek
20.02.2020
BERLIN
A far-right German extremist killed nine migrants in a shooting spree in the western town of Hanau, authorities confirmed.
Peter Frank, Germany's chief federal prosecutor, told reporters Thursday that the victims targeted late Wednesday by the gunman in two cafes had immigrant backgrounds.
Turkish officials confirmed five were Turkish nationals.
Frank said six others were injured with one in critical condition.
Gunman left behind a manifesto
Germany's Bild newspaper reported security forces identified the gunman as Tobias R., 43, from Hanau.
He posted a manifesto and several videos on the internet detailing his xenophobic views and plans for ethnic cleansing.
Frank said initial findings showed the suspect had deeply racist views and believed in various absurd conspiracy theories.
He did not have a criminal record, but authorities are investigating his possible contacts with far-right groups in Germany and abroad, Frank added.
Suspect and mother found shot dead
Tobias R. and his 72-year-old mother were found dead in their apartment in Hanau, following a raid by a special operations team early Thursday.
As Germany's chief federal prosecutor took over the investigation, authorities identified "xenophobic motives" behind the attack, saying they will treat the case as a terrorist act.
Hanau is located around 20 kilometers (12 miles) east of Frankfurt and has a population of nearly 100,000, including more than 15,000 with migrant backgrounds.
Turkish envoy visits wounded in hospital
Turkish Ambassador to Berlin Ali Kemal Aydin, along with Kazim Turkmen, chairman of the Turkish-Islamic Union for Religious Affairs, visited Muhammed Beyazkendir, who was wounded in the attack, in the hospital.
Beyazkendir recalled moments of the attack in tears, saying that "a man in yellow jacket" started shooting and killing people in cafe. One of Beyazkendir's friends died next to him.
Two friends from Afghanistan were also shot in the cafe.
Hanau holds vigil for victims
Various political groups and NGOs held a vigil in Hanau on Thursday evening for the victims killed in the far-right terrorist attack.
Addressing hundreds of people gathered in central Hanau, German President Frank-Walter Steinmeier strongly condemned the attack, describing it as a "brutal terrorist act" which aimed at spreading fear and dividing the society.
"Today is the day for us to demonstrate that as a society we stand together. We will not let ourselves be intimidated. We will not fall apart," he stressed.
Steinmeier called on all citizens to show strong solidarity with all those threatened by the far-right extremists.
Full report at:
https://www.aa.com.tr/en/europe/far-right-terrorist-gun-attack-kills-9-in-germany-/1740009
--------
Pakistan
Court orders FIA to attach Mullah Mansour's properties
Naeem Sahoutara
February 21, 2020
KARACHI: An anti-terrorism court (ATC) on Thursday directed an investigating officer (IO) to complete the process of attachment of five properties that the Federal Investigation Agency (FIA) claimed were purchased by Afghan Taliban leader Mullah Akhtar Mansour using his fake identities (before he was killed in a drone strike) and detected during the investigation of a terrorism financing and money laundering case in Karachi.
The FIA had booked Mullah Mansour alias Muhammad Wali alias Gul Muhammad, Akhtar Mohammad and Amaar in a case in 2019 under Section 11H (pertaining to fund raising and money laundering) of the Anti-Terrorism Act 1997, read with Sections 420 (cheating and dishonestly inducing delivery of property), 468 (forgery for purpose of cheating) and 471 (using as genuine a forged document) of the Pakistan Penal Code.
On Thursday, the matter came up before the ATC-II judge for submission of a compliance report on completion of the process of attachment of the properties as ordered by the court on Jan 24.
The judge directed IO Rehmatullah Domki to complete the attachment process and submit a compliance report during the next hearing on Feb 26, according to the state prosecutor Ali Raza Abbasi.
On July 25, 2019, IO Domki had filed a final charge-sheet before the administrative judge of the anti-terrorism courts, mentioning that Mullah Mansour, successor of Mullah Omar as Taliban chief, was killed in a drone strike at the Pak-Iran border on May 21, 2016.
The charge-sheet said: "During the course of enquiry/investigation it transpired that accused Mullah Akhtar Mansour purchased following properties in the name of his spy identities viz Muhammad Wali and Gul Muhammad."
It said a flat — B-16, Bismillah Terrace, Gulzar-i-Hijri, Scheme-33, Karachi — was purchased by Mullah Mansour against a payment of Rs1.4 million.
The charge-sheet said another flat — B-6-3, Ammar Tower, Shaeed-i-Millat Road, Karachi — was purchased by Mullah Mansour against the payment of Rs3,620,000 on July 19, 2011. Yet another flat — 801, Sumaya Residency, near Gulistan-i-Anees marriage hall, Shaheed-i-Millat Road, Karachi — was purchased by Mullah Mansour against a payment of Rs17,300,000 on Sept 15, 2014.
It said plot number B-65, measuring 441.67 square yards, Sector-W, Sub-sector-III, Gulshan-i-Maymar, KDA Scheme-45, Karachi, was purchased by Mullah Mansour on Dec 1, 2009, against a payment of Rs5.4 million. This property was registered in the name of Gul Mohammad.
"According to sale/purchase deed ... made between the seller Arshad Mazhar and purchaser Gul Mohammad the value of said open plot was shown as Rs486,500 instead of actual value of Rs5.4 million," the charge-sheet highlighted.
It further listed a house — A-56, Sector-Z, Sub-sector-V, Gulshan-i-Maymar, KDA Scheme-45, Karachi — which was purchased by Mullah Mansour against a payment of Rs4.7 million on Nov 29, 2007. This property was registered in the name of Gul Mohammad, who later transferred the ownership in the name of Akhtar Mohammad, another front-man of Mullah Mansour.
https://www.dawn.com/news/1535717/court-orders-fia-to-attach-mullah-mansours-properties
--------
Pak Stays On FATF Grey List, Sees June Deadline On Terror, Could Slip Into Black List After June
Feb 21, 2020
NEW DELHI: Pakistan has will stay on the FATF grey list until June 2020, after which it could slip into the blacklist, As the global body to fight terror financing wound up its plenary in Paris, Pakistan has been told it could go into the blacklist if it failed to complete its 27-point action plan, diplomatic sources told TOI.
Of particular concern to FATF is Pakistan's failure to make significant progress in prosecuting and penalising terrorist financing. If Pakistan fails to take credible action by June, the FATF has warned that it could call on its members and urging all jurisdiction to advise their financial institutions to give special attention to business relations and transactions with Pakistan. As in the October 2019 plenary, the language used is identical to that used on Iran, which is currently in the blacklist.
Pakistan and the Imran Khan-led government had promised to its people that they could get out of the greylist in February. Pakistan stayed out of the blacklist with three countries, China, Malaysia and Turkey, speaking out for it. But to get out of the greylist, Pakistan needed 13 countries to vouch for its efforts. Pakistan had lobbied hard, and many countries would have spoken in its favour. But on technical grounds at least, with evidence of money trail that put a lie to its claims, Pakistan could not claim clemency.
Pakistan had arrested hafiz Saeed of LET days before the FATF plenary to show commitment. ON Thursday, Pakistan was told that it had to convincingly prosecute and convict the top leaders of all terrorism groups as mentioned in the Action Plan, sources said.
This could put Imran Khan and Pakistan's ISI in a spot, with their credibility coming under serious question, even within the country.
Specifically, Pakistan has been asked to show action on eight following areas:
First, demonstrate that remedial actions and sanctions are applied in cases of anti-money-laundering/terror-financing violations, relating to terrorist financing (TF) risk management.
Second, Pakistan has to show that "competent authorities" are cooperating and taking action to identify and take enforcement action against illegal money or value transfer services (MVTS).
Third, It has to demonstrate implementation of cross-border currency and bearer-negotiatiable instruments (BNI) controls at all ports of entry, including imposing effective sanctions.
Fourth, Pakistan has to demonstrate that law enforcement agencies (LEAs) are identifying and investigating the widest range of TF (terror financing ) activity and that TF investigations and prosecutions target designated persons and entities, and those acting on behalf or at the direction of the designated persons or entities.
Fifth, it has to show that TF prosecutions result in effective, proportionate and dissuasive sanctions; sixth, implement targeted financial sanctions (supported by a comprehensive legal obligation) against all 1267 and 1373 designated terrorists and those acting for or on their behalf, including preventing the raising and moving of funds, identifying and freezing assets (movable and immovable), and prohibiting access to funds and financial services.
Seven, it has to demonstrate enforcement against TFS violations including administrative and criminal penalties and provincial and federal authorities cooperating on enforcement cases.
Full report at:
https://timesofindia.indiatimes.com/world/pakistan/pak-stays-on-fatf-grey-list-sees-june-deadline-on-terror-could-slip-into-black-list-after-june/articleshow/74234192.cms
--------
Pakistan's attorney general quits after uproar over his controversial remarks
Feb 20, 2020
ISLAMABAD: Pakistan's attorney general Anwar Mansoor Khan on Thursday resigned after an uproar by the legal fraternity at his controversial remarks against judges of the Supreme Court.
Khan reportedly used contemptuous words on Tuesday against some members of the full bench of the apex court which is hearing the case about proceeding to remove justice Qazi Faez Essa, another judge of the top court.
The court ordered to expunge Khan's remarks from the record. However, lawyers demanded his resignation.
The government on Thursday submitted a response to the apex court regarding Khan's remarks, saying that the statements by Khan were unauthorised and without the knowledge of the federal government.
Khan submitted his resignation to President Arif Alvi, saying he should be relieved of responsibilities immediately.
"I note with profound regret that the Pakistan Bar Council, of which I am the chairman, has demanded through its press release dated 19th of February 2020 that I resign forthwith from the office of the attorney general of Pakistan," he wrote in the resignation letter.
"Accordingly, I hereby resign from the position of the attorney general for Pakistan and request to accept it with immediate effect," he wrote.
Pakistan bar council vice-chairman Abid Saqi asked Khan to submit an unconditional written apology along with his resignation for his "unbecoming conduct" and announced to file contempt of court petition against the attorney general and the law minister.
Khan was appointed as attorney general on August 31, 2018. He also served in the army. He joined the Pakistan army in 1971 and fought against India in the 1971 war and was made a prisoner. He was set free along with other prisoners but resigned in 1973 on return.
Full report at:
https://timesofindia.indiatimes.com/world/pakistan/pakistans-attorney-general-quits-after-uproar-over-his-controversial-remarks/articleshow/74227499.cms
--------
I'll visit Maryam if invited, says Bilawal
February 21, 2020
LAHORE: Pakistan People's Party Chairman Bilawal Bhutto Zardari has said he will visit Pakistan Muslim League-N Vice President Maryam Nawaz if invited by her for a meeting. Talking to the media at the residence of central party leader Samina Khalid Ghurki after chairing a meeting of the PPP Women Wing Punjab, Bilawal said the PPP could adopt any democratic move to rid the country of the incumbent government. He said his sister Aseefa Bhutto Zardari would lead the party if he was arrested, saying all options were open for his party to topple the Pakistan Tehreek-e-Insaf (PTI) government. He said that like in the past, the PPP would bring change without the support of the establishment. Criticising the PTI government, Bilawal said it was responsible for price-hike in the country and stated that the PPP made Pakistan a wheat-exporting country. But an incapable and selected ruler made it a wheat-importing nation, he added.
Addressing the women workers, Bilawal Bhutto said no one could understand the troubles caused by price-hike in the country better than women. He said the PPP would be part of any anti-government movement in March. He said the country was sinking under the Tsunami of inflation and it had become highly difficult for women to even run the house kitchen.
Bilawal said the prime minister used to say that inflation in the country meant a corrupt ruler was ruling it and stated that all the statistics, indicators proved that price hike had increased manifold under Imran. He asked prime minister to clarify his position and tell nation in what kind of corrupt practices he was involved in. The PPP chairman said the deal with the IMF by the government had increased the burden on the poor population of the country and in their one-and-a-half years rule, the rulers had done nothing but hurled accusations, abuses against the political rivals.
The PPP chairman also urged the opposition leader in National Assembly Shahbaz Sharif to return to the county and play his role.
Meanwhile, Bilawal also visited the residence of former senior minister Punjab Malik Mushtaq Awan and expressed condolence over the death of his brother.
NNI adds: PPP Chairman Bilawal Bhutto Zardari Thursday said that if given a chance to govern, his party would protect the country's economy.
He said they could not support any undemocratic government and urged opposition leader in National Assembly Shahbaz Sharif to return to the country and play his role in the prevailing situation.
Earlier, the PPP chairman chaired a consultative meeting during which some party leaders expressed displeasure over Pakistan Muslim League-Nawaz's (PML-N) inactive role in the opposition.
Full report at:
https://www.thenews.com.pk/print/617362-i-ll-visit-maryam-if-invited-says-bilawal
--------
Corruption, 'devastated' economy cannot be blamed on others: Marriyum
February 21, 2020
ISLAMABAD: Pakistan Muslim League-Nawaz (PML-N) spokesperson Marriyum Aurangzeb on Thursday said that "mafia operating under Prime Minister Imran Khan" cannot put the blame of corruption and devastated economy on "others".
In a statement, the PML-N leader lashed out at the government of Pakistan Tehreek-e-Insaf (PTI) and said that the "deplorable condition" of the State Bank of Pakistan is a clear example of "PM's incompetence".
She further questioned the federation about the "historic loan" taken in 18 months.
Full report at:
https://www.pakistantoday.com.pk/2020/02/20/corruption-devastated-economy-cannot-be-blamed-on-others-marriyum/
--------
PM House be raided to nab smugglers, says Shahbaz
February 21, 2020
LAHORE: Pakistan Muslim League-Nawaz (PML-N) President Shahbaz Sharif said on Thursday that PM Imran Khan gave NRO-like concession to his 'friends' by hiding the investigation report of the ongoing wheat and sugar crisis. The opposition leader in the National Assembly, in a statement, said that the PTI government's silence over the crisis is tantamount to confessing to the crime.
"Niazi (PM Imran) has proved that he is an accomplice of the culprits by not making the report public," said the PML-N president.
Shahbaz Sharif said that to arrest the smugglers and hoarders of wheat and sugar "the PM House should be raided".
He further said that those behind hoarding and profiteering of edibles should be brought forth.
Last week, Prime Minister Imran Khan had admitted that the sugar and wheat crisis had originated as a result of his government's negligence, saying that an investigation was being conducted to find out who was responsible for it.
"This was our [government] negligence, I admit this," he said. "I am telling you this today, we are conducting an investigation into this [wheat and sugar crisis] and we are slowly getting to know who is involved. I promise you, whoever is involved in the crisis, we will not spare that person," he said.
Full report at:
https://www.thenews.com.pk/print/617376-pm-house-be-raided-to-nab-smugglers-says-shahbaz
--------
Foreign Office keeps views on Afghan election result to itself
February 21, 2020
ISLAMABAD: The Foreign Office (FO) on Thursday avoided commenting on result of the Afghan presidential election.
"We have noted the announcement made by the Independent Election Commission of Afghanistan. We are monitoring the developments and will respond at an appropriate time," said FO spokesperson Aisha Farooqui at the weekly media briefing.
While announcing results of the Sept 28 polls on Tuesday, Afghanistan's ele­c­tion commission declared President Ashraf Ghani as the winner, securing 50.64 per cent of the votes, and Abdullah Abdullah, with 39.52 per cent of the votes, as the runner up.
Mr Abdullah, who held the position of chief executive before the election, rejected the results as "unfair" and declared himself the winner.
This was the fourth Afghan presidential election since fall of the Taliban government in 2001.
It should be noted that several other countries — including the US, Britain, Russia and Iran — and the United Nations have avoided commenting on the results because of the controversy over the outcome.
This controversy has come ahead of the likely signing of a deal between the United States and the Taliban by the end of February, which is then expected to lead to intra-Afghan negotiations.
"Pakistan is keen to see the peace process move forward and lead towards intra-Afghan dialogue," the spokesperson said.
Replying to a question about President Donald Trump's visit to India from Feb 24 to Feb 25, Ms Farooqui said that Pakistan hopes the issues being faced by the people of India-held Jammu and Kashmir will be raised with the Indian government and the offer of mediation expressed by the US president is taken forward through some concrete practical step.
President Trump had last year, during Prime Minister Imran Khan's visit to Washington, offered to mediate in the Kashmir dispute. A few months later he repeated the offer, but Delhi is adamant on not accepting a third party's role.
India annexed occupied Kashmir last August by revoking Article 370 of its constitution, which gave the disputed region a special status. Since then India has imposed a lockdown in the region, which is now 200 days old, and launched a massive crackdown to prevent public reaction to its controversial move.
Full report at:
https://www.dawn.com/news/1535707/foreign-office-keeps-views-on-afghan-election-result-to-itself
--------
In-house change among options under study: Bilawal
Zulqernain Tahir
February 21, 2020
LAHORE: Pakistan Peoples Party (PPP) chairman Bilawal Bhutto-Zardari said on Thursday that the opposition was weighing different options, including an in-house change, to "rid" the country of "inefficient" Imran Khan-led government.
"All opposition parties are on the same page to get rid of the 'inept' and 'selected' Pakistan Tehreek-i-Insaf (PTI) government. Whichever way is adopted for this purpose, we have to send this 'illegal and unconstitutional' government home very soon. Options like an in-house change and mid-term polls are under consideration," he said while talking to reporters at the residence of PPP leader Samina Ghurki here.
At the same time, Mr Bhutto-Zardari drew the attention of the "selector" to the poor performance of Imran-led government, saying that enough time had been given to it to deliver.
Earlier, Shahbaz Sharif, president of the Pakistan Muslim League (PML-N), another major opposition party, had also supported the idea of in-house change, saying the sooner the nation got rid of PM Khan, the better it was for the country.
Mr Bhutto-Zardari said that Mr Sharif would return from London soon, indicating that on his return the joint opposition may show its cards regarding a joint strategy to launch anti-government protest. According to PML-N Punjab president Rana Sanaullah, the opposition leader in the National Assembly would return next month.
Asked whether the joint opposition would be in a position to bring an in-house change in the wake of what had happened in the Senate when a no-confidence motion was tabled against its chairman last year, the PPP chief said: "This will not happen in the National Assembly. If a no-confidence motion is tabled in the National Assembly against the prime minister, the opposition lawmakers under the law will have to vote in accordance with the party line. This [no-confidence move in the NA] should not be equated with the Senate episode."
In an indirect reference to the establishment, he said: "If we go for an in-house change, there will be a problem for it and it may not repeat what it had done in the Senate polls."
Mr Bhutto-Zardari recalled how some opposition senators had defied party policy and voted against a no-confidence motion against Senate Chairman Sadiq Sanjrani. "The way some votes of the opposition, which has a majority in the Senate, went missing shows that the PTI regime has been imposed on us forcibly," he said.
Interestingly, the opposition, particularly the PML-N and PPP leadership, had vowed to take action against such senators but later it changed its mind because of "political compulsions".
Mr Bhutto-Zardari said there were two reasons for immediately getting rid of this government — first, it was "unconstitutional" and had been installed through "massively rigged elections" and second, the poor could no longer face the brunt of the "fascist regime's" policies.
He said the PPP was the only party that had come to power without the blessing of the establishment in the past. "In the future too it will come to power with the people's mandate," he declared.
"Today people are asking the 'selector' [a reference to the establishment] to take notice of what its selected government has done. It has made their lives miserable," he said and added that during the one-and-a-half year of its tenure, the PTI government could not fulfil a single promise it had made to the people.
The PPP leader demanded scrapping of the PTI government's "anti-people" agreement with the International Monetary Fund and said that the government had made the country food-insecure. "The PTI government has taken more loans as compared to the previous government showing that PM Khan is corrupt, inept and incompetent."
Full report at:
https://www.dawn.com/news/1535723/in-house-change-among-options-under-study-bilawal
--------
India
Muslims Should Have Been Sent To Pakistan In 1947, Says Union Minister
February 21, 2020
Patna: Giriraj Singh, the member of Prime Minister Narendra Modi's cabinet who regularly delivers hate speeches with striking impunity, has said in his latest offering that all Muslims should have been sent to Pakistan in 1947.
"It is the time to commit ourselves to the nation. Before 1947, (Muhammad Ali) Jinnah pushed for an Islamic nation. It was a big lapse by our ancestors that we're paying the price for. If at that time Muslim brothers had been sent there and Hindus brought here, we wouldn't be in this situation. If Bharatvanshiyas don't get shelter here where will they go?" Mr Singh said, speaking in Bihar's Purnia on Wednesday.
The Animal Husbandry, Dairy and Fisheries minister's comment comes amid nationwide protests against the Citizenship Amendment Act (CAA) which promises citizenship to only non-Muslim refugees from Pakistan, Afghanistan and Bangladesh who came to India before 2015.
Critics say the law makes religion a test of Indian citizenship for the first time in violation of the constitution and, when used along with the planned National Register of Citizens, can be used to target Muslims who cannot prove their lineage.
The government, however, says the law is necessary to help those who have faced religious persecution in the neighbouring countries.
Giriraj Singh is a well-known member of the government who has openly voiced his strong dislike for Muslims many times and is rarely pulled up by the BJP.
Just four days ago, Mr Singh was reportedly summoned by BJP chief JP Nadda over his comment alleging that the Islamic seminary Deoband in Uttar Pradesh is an "aatankvaad ki Gangotri (fountainhead of terrorism)". The reprimand has appeared to have little effect.
Since the Citizenship Amendment Act was passed, there have been 65 instances of hate speeches by prominent political leaders in India out of which 61 have been from the BJP, an NDTV analysis shows.
These include Prime Minister Narendra Modi suggesting that violent anti-CAA protesters can be identified with their clothes, Union Home Minister Amit Shah asking Delhi voters to give an "electrical shock" to demonstrators in Shaheen Bagh with their vote and junior minister Anurag Thakur egging on his supporters to chant "shoot the traitors".
Responding to Giriraj Singh's latest comment, Left leader Kanhaiya Kumar said the minister was expending far too much time promoting Pakistan. "He should be made the visa minister and open a travel agency office in Lahore," Mr Kumar said.
https://www.ndtv.com/india-news/giriraj-singh-muslims-should-have-been-sent-to-pakistan-in-1947-2183396
--------
Indian Muslims reject Waris Pathan's controversial remark
BY SAMEER
FEBRUARY 20, 2020
Kalaburagi: Indian Muslims rejected the controversial remark made by Waris Pathan, former MLA and AIMIM leader.
It may be mentioned that while addressing an anti-CAA rally, Pathan said, "The time has now come for us to unite and achieve freedom. Remember we are 15 crore but can dominate over 100 crores".
ANI
✔
@ANI
#WATCH AIMIM leader Waris Pathan: ...They tell us that we've kept our women in the front - only the lionesses have come out&you're already sweating. You can understand what would happen if all of us come together. 15 cr hain magar 100 ke upar bhaari hain, ye yaad rakh lena.(15.2)
Embedded video
7,264
14:38 - 20 Feb 2020
Twitter Ads information and privacy
7,428 people are talking about this
"They tell us that we have kept our women in the front – only the lionesses have come out and you are already sweating. You can understand what would happen if all of us come together," he said.
MIM: B-Team of BJP
Reacting on the statement, one of the Indian Muslims, Asrar Ahmed wrote, "AIMIM Is The B Team Of BJP – When There Is A Election Such Statements Comes Up From AIMIM For Polarization – People Should Know And Think Why Only AIMIM And Its Leaders Are Pushed In Lime Light Or In National Media News – Is AIMIM Represents Muslim Community – There Are Far Much Better Muslim Leaders In India Than AIMIM – Until Akbaruddin Hate Speech – Nobody Out Of Hyderabad Knew AIMIM- Now AIMIM Will Go To Bihar And Divide The Votes Indirectly Helping BJP.".
Rejecting his remark, another person, Sayyid Asad Ali wrote, "Plz……don't say anything on behalf of all us muslim brethren. Its purely Ur statement n u alone endure it.".
Muslims reject hate politics
Rejecting hate politics, Amjad Syed Faheem wrote, "We are against mim and these speeches".
Mazhar Syed wrote, "Community should distance from such non sense leaders and file sedition cases against them".
Full report at:
https://www.siasat.com/indian-muslims-reject-waris-pathans-controversial-remark-1832185/
--------
PSA slapped on Mufti aide; mantris likely to visit J&K in April
Feb 21, 2020
SRINAGAR: The J&K administration on Thursday booked former PDP legislator Peerzada Mansoor Hussain under the Public Safety Act (PSA) after his period of detention came to an end. He is the ninth political functionary in the Valley to have his detention extended under the Act.
Sources said Hussain, one of former CM Mehbooba Mufti's closest aides, was handed a dossier late on Wednesday citing the grounds for his detention under PSA. He remains at Srinagar's MLA Hostel, where he was shifted from the Centaur Lake View Hotel along with 35 other political functionaries in November.
Bilal Sultan, another detainee at the MLA Hostel, might also be taken into custody under PSA, sources said.
Meanwhile, another batch of Central ministers is set to visit J&K to spread the message of development in the Union territory after the revocation of Article 370, reliable sources said on Thursday. The visit is expected in April, once the current session of Parliament ends. The second batch is likely to have 40 ministers, sources said.
Full report at:
https://timesofindia.indiatimes.com/india/psa-slapped-on-mufti-aide-mantris-likely-to-visit-jk-in-april/articleshow/74234205.cms
--------
Teen activist charged with sedition for saying 'Pakistan zindabad'
Feb 21, 2020
BENGALURU: A teenage student-activist was arrested and booked for sedition after she repeatedly raised 'Pakistan zindabad' slogans in her speech at an anti-CAA-NRC protest held in central Bengaluru on Thursday evening.
Hyderabad MP and chief of All India Majlis-e-Ittehadul Muslimeen, Asaduddin Owaisi, who was on the stage, immediately condemned the girl's statement and said, "Murdabad to all those who raise such slogans."
Additional commissioner of police (West) Soumendu Mukherjee said women police officers are questioning Amulya Leona Noronha, 19, who lives in KR Puram as a paying guest. Her father lives in Shivapura of Koppa in Chikkamagaluru district.
Incidentally, Amulya was part of a three-member team that heckled Postcard News co-founder Mahesh Vikram Hegde at Mangaluru Airport in January. She, Karnataka Congress spokesperson Kavita Reddy and another student had asked Hegde to "prove his Indian-ness by singing Vande Mataram".
Thursday's incident took place around 6.30pm at Freedom Park in the presence of Owaisi, who had come to address the gathering under the banner of 'Save Constitution'. The teen activist began her speech with 'awaaz do' calls thrice, with the crowds responding 'hum ek hain'. She suddenly broke into 'Pakistan zindabad' shouts thrice, and the crowd replied with 'murdabad', catching the organizers unawares.
Commotion reigned as the girl chanted the slogan a second time. Organisers on the stage sought to take the mike away from her. An undeterred Amulya asked the gathering to chant with her. Then, she said 'Hindustan zindabad' and attempted to explain something, but police whisked her away to the backstage and arrested her. She was soon taken out of the protest venue.
Owaisi took the mike even as Amulya was being whisked away and said, "I condemn the statement. I'm not associated with her. I'm disappointed that the organisers allowed such statements to be made at an event meant for the unity of our nation."
Full report at:
https://timesofindia.indiatimes.com/india/teen-activist-charged-with-sedition-for-saying-pakistan-zindabad/articleshow/74234051.cms
--------
Right to dissent, freedom of speech discussed at Goa conference
February 21, 2020
Conversations on dissent and the right to freedom of speech and expression took centre stage at the fifth edition of Difficult Dialogues — a three-day conference in Goa focussing on the state of law in the country.
Kerala Governor Arif Mohammad Khan, Justice Mahesh Sonak of the Goa bench of Bombay High Court, advocates Shyam Divan, Vrinda Grover and Geeta Luthra, and members of civil society spoke on legal issues at the event which concluded last Sunday.
Speaking on the right to protest, Governor Khan had said that the right to protest cannot mean causing disturbance. "You cannot occupy a corner and say you will not budge till you get what you want. That is not protest," he said.
Asked whether the need to bring a citizenship law has resonated with the citizens, he said that incidents in Pakistan where Hindus were forcibly converted have echoed with Indian citizens.
Justice Sonak, who is the youngest lawyer to be appointed as judge from the Goa Bar, had said that diversity of views is essential in a democracy. "The issues being discussed here show why it is important to protect free speech," he said.
Senior advocate Shyam Divan, who argued against the legality of Aadhaar, warned against a surveillance state. "Our understanding of privacy and what can be protected has only begun after the SC judgment," he had said, referring to the landmark 2017 ruling in which the top court recognised the right to privacy as a fundamental right.
Surina Narula, Founder and CEO of Difficult Dialogues, said that actionable ideas will be drawn from the conversations.
Full report at:
https://indianexpress.com/article/india/right-to-dissent-freedom-of-speech-discussed-at-goa-conference-6278686/
--------
Fear of violence during Trump's visit may have pushed back J-K panchayat polls
Harinder Baweja
Feb 21, 2020
The fear of violence during the visit of US President Donald Trump likely led to a sudden postponement of the Panchayat body elections in Jammu and Kashmir, several government officials told HT on condition of anonymity.
The sudden deferment was announced late on Tuesday night through a notification issued by the chief electoral officer (CEO), Shailendra Kumar. "Credible inputs from the law enforcement agencies" were cited as the reason for the postponement of the polls that had been announced on February 13.
The deferment also came after the CEO had issued notifications for the first two phases, scheduled to commence from March 5. The eight-phase election, the first since J&K became a Union Territory on October 31 after the nullification of Article 370, which gave the state its special status, was meant to elect local body representatives for the approximately 12,000 vacant seats.
"There was a fear that the targeted killing of a prospective candidate or the sheer lack of participation could be an embarrassing development at a time when Trump was on Indian soil," an official familiar with the development said.
As per the notification for phase one, candidates were expected to file their nominations by February 22, followed by scrutiny on February 24 and withdrawals by February 26. Trump will be in India on February 24 and 25.
A second government official said, "The dates coincided with the US President's visit and there were fears of violence." Another senior Election Commission official gave similar reasons, saying that previous visits by US Presidents had also been marked by violence. "There appears to be apprehension that the Kashmir issue would get highlighted if even one candidate got targeted," the official said.
The polls are being boycotted by all mainstream political parties other than the Bharatiya Janata Party. The National Conference, the Peoples Democratic Party and the Congress have consistently maintained that they will not participate in the elections whilst their leaders were in jail. Two former chief ministers, Omar Abdullah and Mehbooba Mufti, are currently in detention under the provisions of the stringent Public Safety Act, which allows authorities to detain a person for up to two years without a trial.
Officials in Jammu and Kashmir, however, said that there were also fears about the fading health of separatist leader, Syed Ali Shah Geelani.
The notification issued by the CEO said that a fresh notification would be issued in "two to three weeks".
Full report at:
https://www.hindustantimes.com/india-news/trump-visit-may-have-led-to-deferment-of-polls-in-j-k/story-jlC3I5hqzsFgVvZDTIvV3J.html
--------
Mideast
US sanctions five Iranian officials for obstructing 'free and fair' elections
20 February 2020
The US Department of the Treasury's Office of Foreign Assets Control (OFAC) sanctioned on Thursday five Iranian members of the Guardian Council, which oversees the parliamentary elections in the country, accusing them of abusing their power of vetting candidates' eligibility to run and depriving the Iranian nation of a "free and fair" elections.
"The Trump Administration will not tolerate the manipulation of elections to favor the regime's malign agenda, and this action exposes those senior regime officials responsible for preventing the Iranian people from freely choosing their leaders," said Treasury Secretary Steven Mnuchin on Thursday.
The Treasury sanctioned Ahmad Jannati, Abbas Ali Kadkhodaei, Siamak Rahpeyk, Mohammad Hasan Sadeghi Moghadam and Mohammad Yazdi.
The Guardian Council, which reports directly to Supreme Leader Ayatollah Ali Khamenei, allowed approximately 7,150 candidates to run out of more than 14,000, according to state TV. Nearly a third of sitting parliamentarians were banned from running again. Iranians go to the ballot boxes to cast their votes on Friday.
https://english.alarabiya.net/en/News/middle-east/2020/02/20/US-sanctions-five-Iranian-officials-for-obstructing-free-and-fair-elections.html
--------
Iran's Khamenei tightens grip on parliamentary elections, low turnout expected
20 February 2020
Supreme Leader Ayatollah Ali Khamenei's grip over Iran is expected to tighten with parliamentary elections on Friday as all the eligible candidates come with the ruler's stamp of approval and thousands of other hopefuls were disqualified.
Low voter turnout is expected as many people regard the elections as a meaningless exercise in political theatre.
"These elections are essentially meaningless because the Iranian system is set up in a way that you can only run for office if you have been approved by Ayatollah Khamenei and his people," Alex Vatanka, a senior fellow at the Washington-based Middle East Institute told Al Arabiya English.
Thousands of reformist and conservative candidates were disqualified by the Guardian Council, a body made up of 12 clerics and jurists, which determines the eligibility of candidates according to criteria such as their commitment to Islamic practices, their loyalty to Velayat-e Faqih, Iran's religious system of law, and the Islamic Republic.
The Guardian Council, which reports directly to Khamenei, allowed approximately 7,150 candidates to run out of more than 14,000, according to state TV. Nearly a third of sitting parliamentarians were banned from running again.
Khamenei urged Iranians to participate in the elections, saying on Tuesday it was a "religious, national, and revolutionary duty," according to semi-official news agency Tasnim.
Mostafa Tajzadeh, a former deputy minister under former President Mohammad Khatami, said in a Tweet he will boycott the elections because they had effectively become "appointments" by Khamenei, rather than impartial elections.
Analysts see that the mass disqualifications have a dual purpose for Khamenei. First, to weaken President Hassan Rouhani and his allies including the outgoing Speaker of Parliament Ali Larijani; and second, to secure a loyal parliament ahead of the presidential poll next year.
"This maneuver serves two purposes: In the short term, should Ali Larijani run for and win the presidential election in 2021, a parliament hostile to Larijani secures the overall checks and balances within the system," Ali Alfoneh, senior fellow at the Arab Gulf States Institute in Washington, told Al Arabiya English.
"In the longer term, a uniform parliament makes political succession after Khamenei easier for the regime," he added.
Voter turnout
In a country of 83 million people, there are about 58 million eligible voters who are over 18 years old. However, many analysts expect a low turnout, and caution that the Iranian regime will claim victory regardless of the actual results, especially after the widespread protests against rising living costs that broke out in November.
"Even before these protests, voter turnout was anticipated to be lower than normal. Participation in the July 2019 Tehran municipality election was at a nadir of nine percent," Sanam Vakil, Senior Research Fellow at Middle East and North Africa Program, Chatham House told Al Arabiya English.
"To prepare for this challenge, Iran's parliament has lowered the vote threshold for a valid result from 25 to 20 percent," she added.
There has been widespread discontent with the regime, especially as oil revenue has dried up as a result of economic sanctions imposed by the US.
Read: Iran falls to deep recession as sanctions pummel economy: IFF
The regime has also been under great pressure since last year when hundreds of protesters, upset with a hike in fuel prices, were killed in what was the bloodiest crackdown since the 1979 Islamic revolution.
"It is expected that the urban-based youth that are economically frustrated by the political and economic situation will not participate," Vakil said.
The killing of Iran's Islamic Revolutionary Guard Corps (IRGC) – Quds Force commander Qassem Soleimani by a US strike in Iraq briefly united Iranians in a sense of national solidarity.
However, that was quickly replaced by anger at the regime when the military shot down a civilian aircraft taking off from Tehran airport killing all 176 people abroad, and then tried to cover it up.
"I suspect it will be a historic low turnout, and the numbers that will be produced by the Iranian government will have to be taken with a big grain of salt because whatever happens, they will claim a win," Vatanka said.
Full report at:
https://english.alarabiya.net/en/News/middle-east/2020/02/20/Iran-s-Khamenei-tightens-grip-on-parliamentary-elections-low-turnout-expected.html
--------
19 children among fatalities in recent Saudi-led airstrikes against Yemen, says UN
20 February 2020
The United Nations Children's Fund (UNICEF) says nineteen children were among dozens of civilians killed in air raids carried out by Saudi-led military aircraft in Yemen's northern al-Jawf province, as the Riyadh regime presses ahead with its atrocious bombardment campaign against its crisis-hit southern neighbor.
"UNICEF is sad to confirm that the recent attack in al-Jawf, north of Yemen, on February 15, took the lives of 19 children (eight boys and 11 girls) and injured another 18 (nine boys and another nine girls)," the UN children's agency said in a statement released on Thursday.
UNICEF also urged Yemen's warring sides to put an end to the ongoing conflict.
The "worrying escalation of violence over the past few weeks is a harsh reminder that children in Yemen continue to carry the heaviest burden of the conflict," the statement read.
A destroyed vehicle is seen after a Saudi-led airstrike in al-Jawf province, Yemen, on February 15, 2020 in this still image taken from a video. (Photo by the media bureau of Yemen's Ansarullah movement)
On February 15, more than 30 civilians were killed and many more sustained injuries in Saudi-led airstrikes.
Yemen's Arabic-language al-Masirah television network reported at the time that Saudi-led fighter jets had carried out eight air raids against residential neighborhoods in the Maslub district of Jawf province.
The United Nations confirming the death toll as it deplored a "shocking" failure to protect unarmed population in the conflict-plagued country.
"Preliminary field reports indicate that ... as many as 31 civilians were killed and 12 others injured in attacks that hit al-Hayjah area of al-Maslub district in al-Jawf governorate," a statement from the office of the UN resident coordinator and humanitarian coordinator for Yemen said then.
The statement said "humanitarian partners" deployed rapid response teams to provide medical assistance to the wounded, many of whom were being transferred to hospitals in al-Jawf, as well as the capital, Sana'a.
Commenting on the killing of the civilians, Lise Grande, the UN's humanitarian coordinator for Yemen, said, "So many people are being killed in Yemen - it's a tragedy and it's unjustified. Under international humanitarian law parties which resort to force are obligated to protect civilians."
She added, "Five years into this conflict and belligerents are still failing to uphold this responsibility. It's shocking."
The Saudi-led aerial attacks in al-Jawf came hours after Yemeni air defense units managed to intercept and shoot down a Tornado multirole combat aircraft of the Royal Saudi Air Force in the same area with an advanced surface-to-air missile.
Saudi Arabia and a number of its regional allies launched a devastating campaign against Yemen in March 2015, with the goal of bringing the government of Hadi back to power and crushing the Ansarullah movement.
The US-based Armed Conflict Location and Event Data Project (ACLED), a nonprofit conflict-research organization, estimates that the war has claimed more than 100,000 lives over the past nearly five years.
Saudi Arabia and the United Arab Emirates have purchased billions of dollars' worth of weapons from the United States, France and the United Kingdom in the war on Yemen.
The Saudi-led coalition has been widely criticized for the high civilian death toll from its bombing campaign. The alliance has carried out nearly 20,500 air raids in Yemen, according to data collected by the Yemen Data Project.
Full report at:
https://www.presstv.com/Detail/2020/02/20/619144/19-children-among-fatalities-in-recent-Saudi-led-airstrikes-against-Yemen,-says-UN
--------
Israeli PM plans to build thousands of settler units in East Jerusalem al-Quds
20 February 2020
Israeli Prime Minister Benjamin Netanyahu has announced plans to construct thousands of new settler units in occupied East Jerusalem al-Quds, two weeks prior to a general election due to be held by the Israeli regime.
"I have huge news today -- we're adding another 2,200 units to Har Homa [settlement in southern East Jerusalem al-Quds]," the Israeli premier said in a video message posted by his office on Thursday.
The controversial Har Homa Jewish community was first set up in 1997, during a previous tenure of Netanyahu's premiership.
Netanyahu added in his message that he had approved the initial construction of the units "despite objections from the entire world" and that he had estimated that Har Homa's population would reach 50,000 from its current 40,000 when the new units were completed.
The Israeli prime minister also announced his approval to construct an entire new settlement with several thousand units in Givat Hamatos, a settlement, which hosts Ethiopian Jewish and Russian immigrants, and is situated next to the mainly Palestinian East Jerusalem al-Quds neighborhood of Beit Safafa.
Netanyahu added that the new settlement would include 3,000 units for Jewish settlers and 1,000 "for the Arab residents of Beit Safafa."
Peace Now, an Israeli anti-settlement group that monitors settlement activity in the occupied West Bank, has said the contentious Givat Hamatos project would interrupt "territorial continuity between Bethlehem and East Jerusalem [al-Quds]."
According to Peace Now, Netanyahu who is currently leading a caretaker cabinet after two elections failed to produce clear winner lacked the required mandate to approve the controversial projects.
Through using the settlement projects as a pre-election tactic, Netanyahu is apparently trying to secure his re-election at a third vote scheduled to take place on March 2.
'Netanyahu tries to win votes at expense of Palestinian rights'
In reaction to the Israeli prime minister's provocative settlement projects, the Palestinian Authority issued a statement, saying Netanyahu's new settlement projects would only bring more tension and violence to the already tense region.
"Netanyahu's attempts to win right-wing Israeli votes on the eve of the Israeli elections at the expense of Palestinian rights will not bring peace and stability to anyone, and will lead to more tension and violence in the region," said a statement from a spokesman for Palestinian President Mahmud Abbas.
Recent polls predict yet another close race between Netanyahu's right-wing Likud and the centrist Blue and White party led by Benny Gantz, with neither side expected to win an outright majority.
The occupying regime seized East Jerusalem al-Quds in the 1967 Six-Day War. It later annexed the territory in a move never recognized by the international community. Around 600,000 Israeli settlers now live in over 230 settlements built in the occupied Palestinian territories of the West Bank and East Jerusalem al-Quds.
The Palestinian Authority wants the West Bank as part of a future independent Palestinians state, with East Jerusalem al-Quds as its capital. The continued expansion of Israeli settlements is one of the major obstacles to the establishment of peace in the Middle East.
US President Donald Trump infuriated Palestinians last month, when he unveiled his much-delayed and self-proclaimed "deal of the century" during an event at the White House alongside Netanyahu.
Palestinian groups have unanimously rejected Trump's one-sided plan, which largely meets Israel's demands in the decades-old conflict with the Palestinians while envisioning a Palestinian state with limited control over its own security and borders.
The so-called "peace" plan enshrines Jerusalem al-Quds as "Israel's undivided capital" and allows the regime to annex settlements in the occupied West Bank and the Jordan Valley. The plan also denies the right of return of Palestinian refugees to their homeland, among other controversial terms.
Trump's plan has triggered waves of protest rallies both across the Palestinian occupied territories and around the globe.
President Abbas has already severed ties between the Palestinian Authority which he heads and the Israeli regime as well as the US in reaction to Trump's scheme.
Full report at:
https://www.presstv.com/Detail/2020/02/20/619108/Palestine-Isreal-Netanyahu-settler-units-Har-Homa-Givat-Hamatos-West-Bank--Jerusalem-al-Quds-Trump
--------
Yemeni armed forces to showcase new indigenous air defense systems in days
20 February 2020
A high-ranking Yemeni military official says the country's armed forces are to unveil new domestically-designed and -developed air defense systems in the near future.
The spokesman for Yemeni Armed Forces, Brigadier General Yahya Saree, said in a brief statement on Thursday that the achievements will be showcased within the next few days.
Saree pointed out that the air defense systems enjoy advanced and state-of-the-art technology, and have successfully managed to show down several reconnaissance aircraft and fighter jets operated by the Saudi-led military coalition waging a war on Yemen.
On Tuesday, the spokesman for Yemen's Air Force, Major General Abdullah al-Jafri, praised the recent interception and targeting of a Tornado multi-role combat aircraft of the Royal Saudi Air Force in the country's northern al-Jawf province, stressing that 2020 will be the year of Yemeni air defense systems that will change the course of battles against the Saudi-led coalition.
He told Arabic-language Mirat al-Jazeera news website in an exclusive interview that the downing of the Tornado jet confirms beyond any doubt that 2020 will be the year of modern and advanced air defense systems that can track, damage or shoot down enemy aircraft.
Jafri also echoed earlier remarks by Saree that Yemen's missile units have managed to reach high levels of advanced military capability to down hostile fighter jets.
"This is a qualitative and strategic development in the course of the battle, especially that Saree has underlined that 2020 will be the year of missile force and air defense systems under the motto 'Violating the Yemeni airspace will no more be a walk in the park"' the high-ranking Yemeni military official added.
Saudi mercenaries attack Yemeni civilians in Hydaydah
Also on Thursday, Saudi-sponsored militiamen loyal to Yemen's former president Abd Rabbuh Mansur Hadi and Saudi mercenaries launched a barrage of mortar shells at residential neighborhoods in the July 7 area of Yemen's western coastal province of Hudaydah. A woman lost her life as a result.
Saudi-led military aircraft also carried out ten airstrikes against various areas in the Nihm district of the capital Sana'a province. There were, however, no immediate reports about possible casualties or the extent of damage caused.
Elsewhere in the Sirwah district of the central Yemeni province of Ma'rib, Saudi-led warplanes mounted more than 10 air raids, though no reports about possible casualties or the extent of damage were quickly available.
Saudi-led fighter jets also pounded several neighborhoods in the Razih district of Yemen's northwestern province of Sa'ada with a number of cluster bombs despite a global outcry against the use of such internationally-banned weapons by Saudi Arabia and its allies in the war on Yemen.
Saudi Arabia and a number of its regional allies launched a devastating campaign against Yemen in March 2015, with the goal of bringing the government of Hadi back to power and crushing the Ansarullah movement.
The US-based Armed Conflict Location and Event Data Project (ACLED), a nonprofit conflict-research organization, estimates that the war has claimed more than 100,000 lives over the past nearly five years.
Full report at:
https://www.presstv.com/Detail/2020/02/20/619115/Yemeni-armed-forces-to-put-new-domestically-built-new-air-defense-systems-in-days:-Spox
--------
Israel ends ban on Palestinian farm exports, resolving trade spat
February 20, 2020
JERUSALEM: Israel has ended its ban on Palestinian agricultural exports after the Palestinian Authority lifted its curb on calf imports from Israeli livestock farmers, the defense ministry said Thursday, seemingly resolving a months-long trade dispute.
The Palestinian Authority had in September significantly reduced the number of calves imported from Israel, saying at the time it wanted to decrease dependence on Israeli producers.
After dialogue failed, Israel on February 2 cut Palestinian exports to the Jewish state.
The Palestinians retaliated by banning imports of Israeli produce, soft drinks and mineral water.
Israel then extended its ban on Palestinian exports to the Allenby Bridge border crossing with Jordan, the only route through which Palestinian goods in the West Bank can reach foreign markets.
The trade war had threatened to escalate as tensions in the West Bank surged after US President Donald Trump unveiled a controversial peace plan.
But on Thursday, Israeli Defense Minister Bennett announced he had removed all of the restrictions imposed on Palestinian exports, "after the ban on the Israeli farmers was removed," the ministry said in a statement.
The Palestinian agriculture ministry announced the immediate import of "livestock, including calves" as well as "all products and commercial goods from all countries of the world without obstacles."
Full report at:
https://www.arabnews.com/node/1630681/middle-east
--------
Netanyahu announces thousands of new east Jerusalem settler homes
February 20, 2020
JERUSALEM: Israeli Prime Minister Benjamin Netanyahu announced plans on Thursday to build thousands of new homes for Jewish settlers in annexed east Jerusalem, a project unveiled less than two weeks before a general election.
"I have huge news today — we're adding another 2,200 units to Har Homa," Netanyahu said in a video message, in which he also announced approval for a new settlement with several thousand homes in another, nearby part of east Jerusalem.
https://www.arabnews.com/node/1630731/middle-east
--------
Dhow raids reveal Iran's supply line of sophisticated missiles to Yemen's Houthis
February 21, 2020
LONDON: Iranian cruise missile parts seized from a boat in the Arabian Sea matched those used in the attack on Saudi Aramco facilities, US military officials said.
The equipment was part of a shipment of sophisticated weaponry seized from a dhow in November destined for Houthi militants in Yemen. Another dhow carrying similar weapons was raided by the US Navy this month.
During a briefing Wednesday, Capt. Bill Urban of US Central Command, which is responsible for US forces in the Middle East, detailed the various missiles and other materiel discovered on the two boats.
The findings are the latest in an extensive body of evidence showing Iran supplying the Houthis with increasingly sophisticated weapons in breach of a UN arms embargo. They also show the extent to which Iranian weapons are being used to attack Saudi Arabia and other countries across the region.
Among the weapons found on board the dhow in November were anti-tank missiles, advanced "358" surface-to-air missiles and components used for land and sea cruise missiles, and drones, Urban said.
"This includes components of a '351' land-attack cruise missile that matches the missiles used by Iran to attack the Aramco refineries in the Kingdom of Saudi Arabia last September," he added.
The US believes the attacks on the Abqaiq processing plant and Khurais oil field were launched from Iran rather than Yemen, contrary to a claim from the Houthis that they had mounted the attack.
The UN and Saudi Arabia have also dismissed that the drone and cruise missile raid came from Yemen in the south and instead hit the targets in the Kingdom from the north.
The attacks, which Iran denied carrying out, temporarily cut off more than five percent of global oil supplies.
The surface-to-air missiles seized in the November raid carried out by the USS Forrest Sherman also included links to the Aramco attacks. The weapons contained high-tech components that matched those in the drones used to attack the facilities.
The independent Conflict Armament Research made similar findings in a report published Wednesday that linked the drones used in the Aramco attack to Houthi drones in Yemen and Iranian drones recovered in Iraq and Afghanistan.
Urban said the second dhow intercepted on Feb. 9 by the USS Normandy found 150 "Dhelavieh," anti-tank guided missiles that are Iranian copies of the Russian Kornet. They also found three more of the "358" surface-to-air missiles, he said.
A US military official told the New York Times that the new weapon is designed to avoid US defensive systems and can shoot down military helicopters.
Iran has been smuggling weapons to the Houthis for at least five years since the Arab coalition, which includes Saudi Arabia, launched an operation to support Yemen's internationally recognized government after the militia seized the capital Sanaa.
The increasing sophistication of the weapons will add to concerns that Iran is stoking the conflict as the UN attempts to broker a political solution.
"There is no doubt as to where these weapons came from or where they were going," Urban said. "For the international community, the supply of Iranian weapons to the Houthis has often led to spillage of the Yemeni conflict beyond its borders.
Full report at:
https://www.arabnews.com/node/1630946/middle-east
--------
North America
Bernie Sanders wins endorsement from top Muslim political group
By Ali Harb
20 February 2020
The biggest Muslim political action committee in the US endorsed Bernie Sanders in the race for the White House, solidifying support that the Vermont senator is receiving from Muslim and Arab advocates across the country.
Wa'el Alzayat, the CEO of Emgage PAC told Middle East Eye that the group sees Sanders as "someone who has genuinely engaged Muslim-American voters and articulated a vision for America where everyone is treated equally under the law".
Thursday's endorsement comes ahead of a series of primaries where the Muslim vote may prove decisive in a crowded race for the Democratic nomination.
Alzayat added that Sanders has adopted "positive" policies on subjects that matter to Muslim Americans "ranging from domestic issues like health care, criminal justice reform and immigration to a progressive human rights agenda that focuses on upholding universal human rights values everywhere."
Founded in 2006, Emgage has three separate organisations that encourage Muslim-American political participation, advocate for the community's issues and back candidates for office at various levels.
Sanders was quick to welcome the group's endorsement, calling it an "honour".
"While Donald Trump has demonised our Muslim communities, our movement is working to bring Muslims and people of all backgrounds into the political system," Sanders said.
'The Muslim vote can make a difference'
While they remain a small minority, Arabs and Muslims across the United States can play an impactful role in the elections. In states that include Michigan, Florida, Virginia and Wisconsin, their sizable communities can end up deciding the election in a close race.
"In battleground states, the Muslim vote can make a difference," Alzayat told Middle East Eye on Thursday.
That's why Sanders and other candidates have been engaging in Muslim in targeted outreach efforts.
Alzayat said several candidates, including former Vice President Joe Biden and Senator Elizebeth Warren, have reached out to the Muslim community through Emgage and other groups.
"But Senator Sanders had just done a much more extensive outreach and more inclusion of Muslim Americans, and really a diverse set of Americans as part of his organising campaign," he added.
Earlier this year, Sanders received the backing of another Muslim-American advocacy group, the Muslim Caucus of America.
That endorsement came ahead of the Iowa caucuses last month, where the senator enjoyed overwhelming support from the Muslim-American community.
At two mosques serving as caucus sites in Des Moines, Sanders received almost all the votes.
"Right now, we need some change. We need a leader who can unite us, who can bring us all together, who can help us out," Shukran Sultan, a 30-year-old voter at the Muslim Community Organization in Iowa told MEE after caucusing for Sanders.
There has been an uptick in hate crimes, particularly against Muslims since Donald Trump took office early in 2017. The US president, who imposed a travel ban on some Muslim-majority countries, has been accused of fanning the flames of Islamophobia.
Alzayat said Muslim-Americans have been motivated – not discouraged – to become more politically active by the challenges of bigotry.
"Data will show that civic and political engagement has only increased since 2016, with more people running for office, working on campaigns and getting into civic work," he said. "The response has been clear."
https://www.middleeasteye.net/news/us-election-2020-muslim-american-group-endorses-bernie-sanders-president
--------
Ilhan Omar accuses Meghan McCain of trafficking in 'anti-Muslim smears and hate speech'
02/20/20
Freshman Rep. Ilhan Omar (D-Minn.) lashed out at "The View" co-host Meghan McCain on Thursday after McCain criticized supporters of Sen. Bernie Sanders (I-Vt.) and alleged that they are misogynistic, "abusive and inspired by [Sanders]" online.
"The same people who chastise the progressive movement regularly traffic in anti-Muslim smears and hate speech against me and those I represent," Omar tweeted Thursday, sharing two images of tweets from McCain.
"It's almost as if they don't genuinely care about online harassment," Omar continued.
The same people who chastise the progressive movement regularly traffic in anti-Muslim smears and hate speech against me and those I represent.
It's almost as if they don't genuinely care about online harassment.
pic.twitter.com/jZKgYvjDl6
— Ilhan Omar (@IlhanMN) February 20, 2020
McCain shared the first tweet Wednesday during the Nevada Democratic primary debate, writing: "Bernie - your army of Bernie bro's are the worst in all of the internet and every woman on both sides knows it. Mysoginistic (sic), abusive and inspired by you. There's no army of Pete bots or Biden bots abusing women! #DemDebate."
Bernie - your army of Bernie bro's are the worst in all of the internet and every woman on both sides knows it. Mysoginistic, abusive and inspired by you. There's no army of Pete bots or Biden bots abusing women! #DemDebate
— Meghan McCain (@MeghanMcCain) February 20, 2020
Sanders defended his online supporters during the debate, saying that he does not believe they are aggressive or critical of other Democratic candidates online. In a heated moment, former South Bend, Ind., Mayor Pete Buttigieg said the Vermont independent's supporters were "at war" with culinary union leaders in the state who had previously criticized Sanders's health care plan.
The second image is a screengrab of a tweet allegedly from McCain, in which she shared another tweet accusing Omar of marrying her brother. "The View" co-host appeared to add: "How is this not a bigger deal?"
The tweet is not shared to McCain's official Twitter account as of Thursday evening.
Omar has repeatedly denied the allegation that she married her brother. The lawmaker released a statement in 2016, before she was elected to Congress, saying "A number of baseless rumors have been made recently about my personal life and family. I will say it again here: they are absolutely false and ridiculous," The New York Times reported.
This is not the first time Omar and McCain have clashed.
Last year, McCain called for some of Omar's rhetoric that others have called anti-Semitic to be addressed following a deadly shooting at a California synagogue, although Omar had apologized for the statements.
Full report at:
https://thehill.com/blogs/blog-briefing-room/news/483948-ilhan-omar-accuses-meghan-mccain-of-trafficking-in-anti-muslim
--------
Washington welcomes South Sudan deal on unity government
21 February 2020
The United States, which has curbed relations with South Sudan over its political impasse, on Thursday welcomed a deal on reaching a long-awaited unity government.
Rebel leader Riek Machar said he would form a unity government with his arch-rival, President Salva Kiir, seeking to end a devastating war that has engulfed the impoverished nation since its independence in 2011.
"We welcome Dr. Machar's firm commitment to form an inclusive unity government by February 22," Tibor Nagy, the top US diplomat for Africa, wrote on Twitter.
He also saluted a key compromise that helped seal the deal - cutting the current 32 regional states down to 10.
Another US official said that Washington was eager to support the unity government once it is formed.
"We look forward to partnering with the new unity government in their pursuit of peace and supporting the parties to ensure a successful transition," the official said.
After the warring leaders missed a second deadline to form a unity government, the United States had said it would reassess its relationship with South Sudan, a largely Christian nation whose path to independence enjoyed strong US support.
The United States temporarily withdrew its ambassador and imposed sanctions on two sitting ministers, accusing them of obstructing peace efforts.
Full report at:
https://english.alarabiya.net/en/News/middle-east/2020/02/21/Washington-welcomes-South-Sudan-deal-on-unity-government-.html
--------
New US acting director of national intelligence hard on Iran, Trump ally
20 February 2020
Richard Grenell, a Trump ally and staunch Iran critic, has been named US Acting Director of National Intelligence.
The US Ambassador to Germany Grenell has little experience in intelligence, but has taken a hard line against the Iranian regime, urging German companies to cut business ties with Tehran, in line with the US "maximum pressure" campaign.
US President Donald Trump took to Twitter saying "Rick has represented our Country exceedingly well and I look forward to working with him."
Donald J. Trump
✔
@realDonaldTrump
I am pleased to announce that our highly respected Ambassador to Germany, @RichardGrenell, will become the Acting Director of National Intelligence. Rick has represented our Country exceedingly well and I look forward to working with him. I would like to thank Joe Maguire....
87.7K
5:55 AM - Feb 20, 2020
Twitter Ads info and privacy
29.1K people are talking about this
During the week-long internet blackout in Iran during November protests, Grenell tweeted, "We have the technical ability to turn on the internet for the people of Iran. And ensure it is free of government blockers. Europe and America should do it together."
US-Botschaft Berlin
✔
@usbotschaft
Today, Amb. Grenell accepted #thankyou notes and homemade signs of support from #Iranians grateful for U.S. actions.
View image on TwitterView image on TwitterView image on Twitter
2,299
8:39 PM - Jan 6, 2020
Twitter Ads info and privacy
1,371 people are talking about this
Following Iranian top general Qassem Soleimani's assassination in January, the US Embassy in Berlin received Iranian dissidents "grateful for US actions."
Grenell justified Soleimani's killing, saying the Iranian Islamic Revolutionary Guard Corps commander was "a man who was very comfortable with killing and terrorism" and noted he had been designated a terrorist by EU members, including Germany.
Heshmat Alavi, an Iranian who has a prominent Twitter following said "Amb. Grenell is a great American patriot for this post, is highly respected & has courageously stood alongside the Iranian people's struggle for freedom."
Heshmat Alavi
@HeshmatAlavi
President Trump has appointed Amb. Grenell as Acting Director of National Intelligence.
Amb. Grenell is a great American patriot for this post, is highly respected & has courageously stood alongside the Iranian people's struggle for freedom.https://twitter.com/RichardGrenell/status/1195957873613910018?s=20 …
Richard Grenell
✔
@RichardGrenell
We have the technical ability to turn the internet on for the people of Iran. And ensure it is free of government blockers. Europe and America should do it together. @realDonaldTrump @RegSprecher @SecPompeo @HeikoMaas https://twitter.com/maryaamhosseini/status/1195792439501414400 …
194
11:13 AM - Feb 20, 2020
Twitter Ads info and privacy
113 people are talking about this
In Germany, Grenell has pushed American policy in the country, but German politicians have been vocal against the US Ambassador, in what is seen as interference on German sovereignty.
"Any US diplomat who acts like a high commissioner of an occupying power must learn that our tolerance also knows its limits," said Wolfgang Kubicki, the deputy chairman of the opposition Free Democrats (FDP), reported German outlet DW News.
Grenell urged Berlin to increase its NATO contributions, which it did, and has warned Germans against participating in the Nord Stream 2 gas pipeline with Russia. He has also pushed Germany to ban Huawei products in the country.
At the end of July 2019, Germany rejected the US request to join a US-led naval security mission in the Strait of Hormuz.
Grenell pointed to the fact that Germany was the largest economic power in Europe, and said that "this success brings with it global responsibilities."
The US was joined by Britain and France on the mission meant to protect ships traveling through the strait from Iranian threats. This followed a series of tanker attacks in the strait that American officials blamed on Iran.
Full report at:
https://english.alarabiya.net/en/News/world/2020/02/20/New-US-acting-director-of-national-intelligence-hard-on-Iran-Trump-ally.html
--------
US: Sanders slams Israel, S. Arabia in Democratic debate
Vakkas Dogantekin
20.02.2020
Senator Bernie Sanders, the front-runner in the Democratic nomination to challenge U.S. President Donald Trump for the White House in November, lambasted Saudi Arabia and Israel late Wednesday.
During a Democratic debate on CNN in Las Vegas, Nevada, Sanders called Israeli "right-wing, racist," and the rulers of Saudi Arabia "murderous thugs."
"For years, we have loved Saudi Arabia - our wonderful ally. The only problem is, the people who run that country are murderous thugs," Sanders said.
The Vermont senator also said the U.S. should encourage diplomatic rapprochement between Saudi Arabia and Iran to ensure peace and stability in the Middle East, rather than cozying up with "billionaire dictator" Mohammad bin Salman, the crown prince and de facto ruler of the Gulf country.
Sanders have used harsh language to describe bin Salman since the CIA and UN reports held him responsible for the extrajudicial killing of Washington Post journalist Jamal Khashoggi, a Saudi citizen.
Khashoggi, critical bin Salman policies, was killed and dismembered by Saudi operatives in the Istanbul Consulate of the Kingdom in October 2018.
Turkey, the UN and the international community have inquired about the whereabouts of Khashoggi's body, with no satisfactory explanation from Saudi Arabia.
"We can bring the Saudis and the Iranians together, tell them that we're sick and tired as a nation [of] spending trillions of dollars on endless wars," Sanders said. "They're going to have to get their act together. And we have the resources to help bring that about."
Sanders, the only candidate to highlight the issue of Palestinian rights in debates, said his administration will not ignore Palestinian demands.
"To be for the Israeli people and to be for peace in the Middle East does not mean that we have to support right-wing, racist governments that currently exist in Israel," he said.
"What American foreign policy has got to be about in the Middle East is bringing the Israelis, bringing the Palestinians together under the banner of justice," he added.
Sanders leading Democratic nomination bid
Sanders won the New Hampshire primary last Tuesday, the second contest in the race for Democratic presidential candidates, with more than 26% of the vote.
He was followed by former South Bend, Indiana, Mayor Pete Buttigieg with 24% and Minnesota Senator Amy Klobuchar with 20%, according to ABC News.
"Let me say tonight that this victory here is the beginning of the end for Donald Trump," he said after winning New Hampshire. "The reason that we are going to win is that we are putting together an unprecedented multigenerational, multiracial political movement."
Warren and former U.S. Vice President Joe Biden trailed, getting less than 10% of the vote.
Full report at:
https://www.aa.com.tr/en/americas/us-sanders-slams-israel-s-arabia-in-democratic-debate/1739835
--------
Southeast Asia
Myanmar Arrests 49 Rohingya Muslims Attempting to Flee to Malaysia
By Miriam Jackson
February 20, 2020
Myanmar authorities on Wednesday jailed virtually 50 Rohingya Muslims in Yangon area as they tried to flee the nation for Malaysia, a legislator stated, while a different team of Rohingya detainees showed up in court in Ayeyarwady area to face costs on taking a trip without main authorization over their earlier effort to flee.
The 49 Rohingya got consisted of 28 lady, 18 males, and also 3 kids in a woody location in Hlegu territory, stated Myat Marlar Tun, a legislator in Yangon's local parliament.
"They were arrested last night," he informed RFA's MyanmarService "They are being interrogated. The authorities will transfer them this evening."
"I don't know if they will be sent to Insein Prison or someplace else," he included, referring to the apprehension facility on Yangon's borders.
Thazin Myint Myat Win, a lawyer standing for the Rohingya, informed RFA that the detainees will certainly show up in court on Friday.
"They are going through medical tests," he stated. "The authorities are preparing their case files and getting testimonies. They will go on trial tomorrow."
It was not instantly clear whether the 49 Rohingya would certainly be billed with taking a trip without main authorization, or with migration offenses.
The Rohingya were from Kyaukphyu, Sittwe, Minbya, and also Buthidaung towns in western Myanmar's Rakhine state, Thazin Myint Myat Win stated.
"The police think there could be more of them in the woods, and they are still searching," he stated.
Another team of 93 Rohingya that attempted to leave Myanmar for Malaysia by watercraft in November yet were captured by marine authorities and also jailed, showed up Thursday in a court house in Pathein territory for one more hearing in their test on costs of taking a trip without main authorization, RFA has actually found out.
They deal with up to one to 2 years behind bars with tough labor or a great if they are condemned.
The grownups are being apprehended in Pathein Prison, while a lot of the kids are being held at a police headquarters, while kids 4 years old and also more youthful have actually been permitted to stick with their moms behind bars.
'Target of traffickers'
Rights supporters state authorities are still not resolving the reasons that the Rohingya place themselves at the grace of traffickers to flee the nation.
"Whenever we observe human trafficking problems, we find the traffickers are targeting the people who want to leave their homeland due to instability and other reasons," stated Aung Myo Min, executive supervisor of Equality Myanmar, a Yangon- based company that promotes for the security and also promo of civils rights in the nation.
"So, people from Rakhine state become the target of traffickers," he stated. "They want to leave the country, but the authorities are not taking their actions seriously."
Only when they do will certainly they be able to avoid human trafficking gangs and also brokers from manipulating those that flee, Aung Myo Min stated.
He recommended that authorities start proactively keeping an eye on trafficking courses and also get ready for feasible circumstances to avoid individuals from being drawn from the nation, claiming that traffickers prefer unsteady locations where there is little or no regulation of legislation or security by citizens.
Nickey Diamond, a Myanmar civils rights expert with the Southeast Asia- based NGO Fortify Rights, emphasized that authorities have yet to deal with the underlying reasons pressing the Rohingya abroad unlawfully.
"The government needs to learn and address the root causes of the problem — why they are being trafficked, why is it that they are falling victim to traffickers, what does the government need to do to rehabilitate the victims?"
"They government needs to think about these questions," he stated. But currently they are providing jail sentences after they apprehend them and also send them back. This is not the solution."
Diamond formerly informed RFA that Myanmar authorities ought to release traveling papers for the Rohingya to make sure that they can go any place they desire instead of being compelled to return to Rakhine state.
Systematic discrimination
Myanmar watches the Rohingya as illegal aliens from Bangladesh and also methodically victimizes them by refuting them citizenship, liberty of activity, and also accessibility to tasks, healthcare, and also education and learning.
In current years, 10s of hundreds of Rohingya have actually run away or tried to flee oppression in Buddhist- bulk Myanmar on watercrafts arranged by human traffickers and also bound for various other Southeast Asian countries, particularly Muslim- bulkMalaysia Traffickers cost numerous bucks for every individual they transfer.
A military-led suppression on Rohingya neighborhoods in north Rakhine state in 2017 left thousands dead and also drove greater than 740,000 participants of the minority team throughout the boundary right into Bangladesh where they currently stay in stretching variation camps.
Others stay in variation camps inside Rakhine state where they were compelled to go complying with common physical violence in between Buddhists and also Muslims in 2012 that displaced greater than 120,000 Rohingya.
The Myanmar federal government has actually been closing down the camps individually and also transferring the Rohingya to various other negotiations based on referrals made in an August 2017 record by a consultatory payment led by previous U.N. principal Kofi Annan to aid deal with the spiritual and also ethnic departments in the unsteady area.
https://theunionjournal.com/myanmar-arrests-49-rohingya-muslims-attempting-to-flee-to-malaysia/
--------
Malaysia Summons Palestinian Envoy over Comments on Donations for Al-Aqsa Mosque
2020-02-20
Malaysia's foreign ministry summoned the Palestinian envoy Thursday to ask him to clarify comments in which he told a news outlet that the Palestinians had not received monetary donations from Malaysian NGOs for the Al-Aqsa Mosque in Jerusalem since 2018. After the meeting, the ministry responded to the statement by Ambassador Walid Abu Ali that donations collected by non-governmental groups in Malaysia – except for one group – had not reached the proper fund for the mosque through the government of Jordan, the custodian of Islamic and Christian holy sites in the Old City of Jerusalem.
"The Ministry of Foreign Affairs takes the issue raised seriously," the ministry said in a statement. "According to the Palestinian ambassador, his statement has been made based on records from the management of the Al-Aqsa Mosque since 2018. However, he has not been able to confirm whether a donation has been made specifically to the Al-Aqsa Mosque Waqf Department run by the Jordanian government."
Muslims worldwide see the mosque, which sits on Judaism's holiest site, the Temple Mount, as Islam's third-holiest site.
The foreign ministry also reported that Malaysian NGO leaders issued a joint statement Wednesday declaring that donations had been distributed to assist Palestinians through partners in the region, and not through the government-run account.
"We know that our projects are going well," Anas Abdul Wahab, media director of the NGO Aman Palestin-Malaysia, told BenarNews on Thursday.
"It was not through [Palestinian authorities], but through other bodies, our NGO friends, that assistance reached their people," he told BenarNews, adding that the funds were destined for Palestinians in Gaza and on the West Bank.
"With the government, there usually will be beauracracy," he said, adding, "we know all the rules and can simplify the programs we want to implement.
"There is no bureaucracy and it allows us to move faster," he said.
Aman Palestin sends between 10 million and 20 million ringgit (U.S. $2.39 million and $4.78 million) directly to its bank account in the region each year, depending on the programs it plans to fund, according to Anas.
On Tuesday, the Palestinian ambassador told the New Straits Times that only donations from the Selangor Islamic Religious Council (Mais) had been accounted for by the Al-Aqsa fund. He said citizens should ask what had happened to their donations.
"Some NGOs in Malaysia, they focused on supporting Palestinians, supporting people in Gaza by raising donations," Walid told the news organization. "I mean, you contribute. You raised the money, but did you ever ask who received the money? Who benefited from it? No one knows."
He added that officials who handled such donations could confirm that money donated by Malaysians was "missing," the newspaper quoted him as saying.
"There are so many NGOs in Malaysia and they have raised money for the Al Aqsa Mosque. But, the money was never received," Walid said, according to the NST.
"It is good (to donate), but make sure your money reaches the right beneficiaries and use the right channels, including via the embassy or the Jordanian and Palestinian Waqf Ministries that are in charge of funding the Al Aqsa Mosque," he said.
The foreign ministry, meanwhile, reiterated that it would continue to aid the Palestinian people. It highlighted efforts by NGOs to provide Palestinians with financial, food, medical and educational assistance.
Full report at:
https://www.benarnews.org/english/news/malaysian/donations-explained-02202020155204.html
--------
Supporters may hold street protest if Anwar Ibrahim is not Malaysian PM by May
FEB 20, 2020
KLANG (THE STAR/ASIA NEWS NETWORK) - Parti Keadilan Rakyat (PKR) president Anwar Ibrahim's supporters may consider taking to the streets if the veteran leader does not become Malaysian prime minister in May this year.
The pro-Anwar group called Otai Reformis 1998 said there should not be any more delays on the matter.
"The agreement was for Tun Dr Mahathir Mohamad to be prime minister for two years," said the group's secretary Abdul Razak Ismail.
"This agreement must be honoured," he said, adding that if there were more postponements, Dr Mahathir could reach a full term in office.
He said Otai Reformis 1998 was preparing a memorandum to be presented to Pakatan Harapan component parties during the presidential council meeting on Friday (Feb 21).
"The memorandum will ask for the earlier agreed time of May this year to be honoured. We will also ask them for a fixed date for the transition, which cannot be changed," he added.
According to Mr Abdul Razak, Otai Reformis 1998 also wants Dr Mahathir to sign a document saying when he will hand over the reins of leadership to Datuk Seri Anwar.
"We want something in black and white where he will clearly state the handover details," he said.
In a statement on Thursday, Selangor PKR's Youth wing also called for a concrete date set for the power transition.
Its communication director Mohd Khairool Ngadon said this was the decision made during a meeting on Wednesday chaired by Selangor PKR youth chief Mohd Najwan Halimi.
"The Pakatan presidential council which will meet on Feb 21 is urged to set a specific date for the transition of position between Dr Mahathir and Anwar," said Mr Mohd Khairool.
He added this was necessary, given that there were attempts - both internally and externally - to create an uncertain political situation.
Initially after the 2018 general election, it was agreed that Dr Mahathir would make way for Mr Anwar after two years.
However, Dr Mahathir has requested to remain until the Asia-Pacific Economic Cooperation (Apec) summit in November this year.
Opposition Parti Islam Se-Malaysia (PAS) has also said it will be tabling a motion of confidence in Parliament to push for Dr Mahathir to complete the full term until the next general election.
Full report at:
https://www.straitstimes.com/asia/se-asia/supporters-may-hold-street-protest-if-anwar-ibrahim-is-not-pm-by-may
--------
Stop defamation suits against average Joe, Malaysian Bar tells Putrajaya
21 Feb 2020
BY AZRIL ANNUAR
KUALA LUMPUR, Feb 21 ― The Malaysian Bar has called upon the government to form a policy forbidding authorities from filing defamation suits against individuals, and to begin the legislative work in the coming session of Parliament.
In a press statement today, its president Datuk Abdul Fareed Abdul Gafoor cited the case of Subang Jaya Municipal Council's (MPSJ) defamation suit against animal activist Koh Tat Meng.
"The decision to sue for defamation (against Koh) would appear to be acceptable in light of the Federal Court decision in Chong Chieng Jen v Government of State of Sarawak, where the apex court held that a public authority has the right to bring a civil suit against an individual for defamation.
"However, the Malaysian Bar has grave reservations about this ruling, which creates a chilling effect on public discourse by effectively enabling the government to repress views, curtail expression and news reporting, and restrict democratic space, through the threat of defamation suits.
"When the government is the subject of a suit, it should make all efforts to explain and be responsible for the decisions and actions of its officers," said Abdul Fareed.
It was reported that the suit was initiated against Koh pursuant to him filing a civil suit against MPSJ in December last year.
The 47-year-old print shop owner was also charged at the Magistrate's Court in Petaling Jaya under Section 186 of the Penal Code for obstructing public servants from discharging their duty.
A video of Koh attempting to persuade MPSJ officers not to use force while trying to catch a stray dog hiding under a car had recently gone viral.
In the video, one of the officers can be seen hurling the animal into their van, where it remained motionless.
Due to a verbal misunderstanding where Koh tried to tell the officers, all of whom were Muslims, that Islam does not condone violence towards animals, he was then pinned against a vehicle and angrily told not to speak any further on the religion.
In his statement, Abdul Fareed reminded the authorities that the role, responsibilities and vast powers held by the government necessitate continuous scrutiny and constant vigilance in order to maintain the scales of power.
"This is especially so in situations such as this, where there is an allegation of abuse of authority and force.
"The solution lies not in initiating a counter suit for defamation, but in replying to or rebutting such allegations, with appropriate evidence, during the trial. The Government, as a public body, cannot take offence in the same manner that a private individual may.
Full report at:
https://www.malaymail.com/news/malaysia/2020/02/21/stop-defamation-suits-against-average-joe-malaysian-bar-tells-putrajaya/1839549
--------
Indonesian Minister suggests fighting poverty by getting the rich to marry the poor
02/20/2020
The rich should marry people from low-income families in order to reduce the country's poverty rate, this according to Indonesia's Coordinating Human Development and Culture Minister Muhadjir Effendy.
The minister made such a controversial suggestion yesterday at a national health conference in the capital. This morning he explained that it would not entail any compulsion.
In his address, Muhadjir said that in Indonesia, the world's most populous Muslim country, religious teachings on equivalent marriage partners are often misinterpreted.
"What if the poor look for other poor people to marry? There will be more poor families. This is a problem in Indonesia," he said.
To tackle the issue, "The Religious Affairs Minister should issue a fatwa (religious edict) so that the poor look for the rich and vice versa" when contemplating marriage.
Citing government data, the minister said that the number of poor households in the archipelago stood at around 5 million, 9.4 per cent of the total (57.1 million).
However, a fatwa is not the responsibility of the Religious Affairs Minister in Indonesia. The task usually falls on Muslim clerical authorities such as the Islamic Council of Indonesian Ulemas (MUI), after extensive studies by the Fatwa Commission, or people with expertise in certain areas of law.
In addition to the fatwa, Muhadjir also proposed a premarital certification programme whereby couples that are not yet economically stable but intend to marry would receive a pre-employment card under a programme launched by President Joko "Jokowi" Widodo.
The minister's statements immediately sparked a heated debate among Indonesians.
This morning, Muhadjir met with reporters at his Ministry noting that his suggestion was but one element in an hour-long speech and that he was not serious when calling for a fatwa on marriage between the wealthy and the poor.
Whilst the minister said that people are free to follow his suggestion as a way to tackled the country's poverty, if Indonesia's top Islamic authorities consider the fatwa idea, they would be validating it.
Recently, the World Bank reported that around 115 million Indonesians, 45 per cent of the population, have not yet achieved economic security and middle-class status.
Full report at:
http://www.asianews.it/news-en/Indonesian-Minister-suggests-fighting-poverty-by-getting-the-rich-to-marry-the-poor-49350.html
--------
Arab World
Saudi Arabia intercepts Houthi ballistic missiles targeting cities, civilians
21 February 2020
Saudi Arabia's Royal Air Defense Forces have intercepted several ballistic missiles launched by the Iranian-backed Houthi militia from the Yemeni capital Sanaa targeting cities in the Kingdom, the Arab Coalition's spokesperson said in a statement.
Colonel Turki al-Maliki, the coalition's spokesperson, said the attack took place at 3 am local time on Friday morning.
The statement said these missiles were launched "in a deliberate and systematic manner" in order to target cities and civilians in Saudi Arabia, describing the attack as a "flagrant violation of international humanitarian law.
https://english.alarabiya.net/en/News/gulf/2020/02/21/Saudi-Arabia-intercepts-Houthi-ballistic-missiles-targeting-cities-civilians.html
--------
Turkey won't abandon observation points in Syria
21 February 2020
Rahshan Saglam
Turkey said that it will not leave observation points in Syria's northwestern Idlib province despite recent events asserting that it will target any entity that threatens Turkish soldiers and positions there.
Speaking at a UN Security Council session, Turkey's envoy to the UN Feridun Sinirlioglu denounced the Syrian army attacks on Turkish soldiers and stressed that the attacks will be met with similar actions from now on.
Meanwhile, Turkish President Recep Tayyip Erdogan has said that the military operation in Idlib is a matter of time. Erdogan also warned that Ankara will push the Syrian army and stop it from making advances.
Turkey says its forces in Idlib are mandated to stabilize the situation and preserve de-escalation, assuring that Ankara's military presence is in line with the Sochi memorandum, based on which, Turkey is a guarantor of a ceasefire in Idlib. This is while Russia accuses Turkey of breaching the 2018 ceasefire agreement.
Full report at:
https://www.presstv.com/Detail/2020/02/21/619153/Turkey-Observation-Points-Syria
--------
Russia urges Turkey to halt support of 'terrorists' in Syria's flashpoint Idlib province
20 February 2020
Russia has called on Turkey to stop "supporting terrorists" in northern Syria, as Russian warplanes conducted airstrikes against targets of Turkey-backed militants and Syrian army troops repelled an attack by terror outfits in flashpoint Idlib province.
"We urge the Turkish side, in order to avoid incidents, to cease support of the actions of terrorists and handing them arms," said a statement by the Russian Defense Ministry on Thursday, blaming Ankara for aiding terrorists by firing artillery as they carried out an attack.
The ministry said it had notified Ankara that it had spotted Turkish artillery firing on Syrian army units, wounding four soldiers, adding, "We note this is not the first case of support" for militants by Turkey.
On Wednesday, Moscow warned Ankara against launching attacks against Syrian army soldiers after Turkish President Recep Tayyip Erdogan threatened to commence a military operation in Idlib region.
Moscow's reaction comes as Ankara has just beefed up its military presence in Idlib, the last militant bastion in a nine-year war, where several anti-Damascus militant outfits receive Turkey's support in their persisting militancy against the Syrian government.
Syria and Russia have condemned Turkey's cross-border offensive into the Arab country to allegedly clear anti-Ankara Kurdish militants from a sliver of land bordering the Anatolian country.
Back in 2018, Moscow and Ankara reached an Iran-brokered deal, known as the Sochi agreement, to set up a de-militarization zone mainly situated in northern Idlib.
However, the Hayat Tahrir al-Sham Takfiri terrorist group, which is the dominant terror organization in the province, and other militant groups, along with those supported by Ankara, have been launching attacks on army and civilian targets from the buffer zone, where Turkish observation posts have been established to monitor the enforcement of the ceasefire there.
The increasing attacks prompted Damascus last August to begin liberating areas from the grip of terrorists in the province. It also started its full-scale offensive in December to flush all militant groups out of Idlib, prompting Ankara to increase its military presence there to keep supporting its militants groups against advancing Syrian government troops.
Turkey-backed militants' attack successfully repelled: Moscow
Elsewhere in the statement on Thursday, the Russian defense ministry said that Turkey's artillery support of militants helped them briefly broke through government defenses in Idlib.
However, Russia's air cover hit positions of the infiltrating pro-Turkish militants in the two areas of Qaminas and Nayrab of Idlib province, allowing the Syrian army troops to successfully repel the attack, it added.
"The Syrian troops destroyed one tank, six infantry fighting vehicles and five pickup trucks containing large-caliber weapons," said the Russian Reconciliation Center for Syria in a message.
Syria's official SANA news agency also confirmed the successful counterattack, adding that militants had launched their attack using mortar shells and rocket launchers.
Turkish forces killed 50 Syrian troopers, lost 2 soldiers: Ankara
In another development, Turkey's Defense Ministry said on its Twitter account on Thursday that two Turkish troopers had been killed, while five others sustained injuries in an air attack in Syria's Idlib.
According to different sources in the region, over 50 Syrian soldiers, five tanks, two armored personnel carriers, two armored pickups and one howitzer were destroyed, it claimed.
Turkish officials say of the 12 observation posts Ankara has established in Idlib four have been encircled by advancing Syrian army troops.
Moscow took issue with Ankara after the Turkish president threatened that his military would rain fire on Syrian forces by air or ground anywhere in the Arab country if another Turkish trooper was hurt.
Erdogan has given the Syrian government until the end of February to push back its forces outside the military locations.
Over the past four years, the Turkish military has staged at least two unauthorized invasions into northern Syria to push back against Kurdish militants, which Ankara accuses of harboring subversive intentions against the Turkish administration.
Syria has denounced the invasions, saying it would respond in kind if the need arose.
Bomb blast wounds two in Damascus
Meanwhile, Syria's official SANA news agency reported later on Thursday that a bomb blast had injured two people in capital Damascus.
"An explosive device planted on a pickup truck went off in the Marjeh area" in central Damascus, SANA said, adding that two civilians were wounded by the blast.
According to the so-called Syrian Observatory for Human Rights the device was a "sticky bomb" planted on a military vehicle. It was not immediately clear what the target of the blast was.
Full report at:
https://www.presstv.com/Detail/2020/02/20/619127/Syria-Russia-Turkey-Idlib-militants-zone
--------
IMF team arrives in Lebanon to give financial advice to govt.
20 February 2020
A team of experts from the International Monetary Fund (IMF) has traveled to Lebanon to provide the debt-ridden country with advice on how to alleviate a deepening economic crisis.
The team from the US-based organization met with new Lebanese Prime Minister Hassan Diab after arriving in Beirut on Thursday morning, Lebanese broadcasters LBC and Al Jadeed reported.
The IMF said in a statement that the team would be in Lebanon until Sunday and would provide broad technical advice to the newly-formed government. Beirut has not yet requested financial aid from the fund.
Lebanon has been facing a tough economic situation because of alleged mismanagement and corruption during the past several decades. Protests started in the country in October last year, when the government proposed imposing a tax on WhatsApp calls, along with other austerity measures.
On October 29, the then-Prime Minister Saad Hariri resigned under pressure from the unprecedented protests, creating a political void that lasted until January 21, when Diab assumed office as the country's new premier.
Diab faces one of the worst crises in his county's recent history and urgent decisions about the upcoming debt payments, particularly a 1.2-billion-dollar sovereign bond due early next month.
On Wednesday, Parliament Speaker Nabih Berri, an influential politician in the country, proposed the restructuring of Lebanon's debts as the best solution for looming maturities.
Beirut will on Friday review proposals from firms bidding to provide it with financial and legal advice on its options, Reuters quoted an unnamed source familiar with the matter as saying on Thursday. The source said the government was resolute to take a swift decision on what firm to take financial advice from. Beirut has so far issued requests for proposals to seven firms to give it advice.
Full report at:
https://www.presstv.com/Detail/2020/02/20/619098/Lebanon-IMF-economic-advice
--------
'Social explosion' in Lebanese camps imminent, warn officials
February 21, 2020
BEIRUT: Authorities are battling to prevent "a social explosion" among Palestinian refugees crammed into camps in Lebanon, a top official has revealed.
Fathi Abu Al-Ardat, secretary of Palestine Liberation Organization (PLO) factions in Lebanon, told Arab News that urgent measures were being put in place to try and stop the "crisis" situation getting out of control.
"Conditions in Palestinian refugee camps in Lebanon are very difficult due to the economic crisis facing the country, and we are trying to delay a social explosion in the camps and working on stopgap solutions," he said.
And Dr. Hassan Mneimneh, the head of the Lebanese-Palestinian Dialogue Committee (LPDC), said: "More Palestinian refugees from the camps in Lebanon are immigrating. Embassies are receiving immigration requests, and Canada is inundated with a wave of immigration because its embassy has opened doors to applications."
According to a population census conducted in 2017 by the Central Administration of Statistics in Lebanon, in coordination with the Palestinian Central Bureau of Statistics (PCBS), there are 174,422 Palestinian refugees in Lebanon spread across 12 camps and nearby compounds.
Mneimneh insisted the figure was accurate despite the UN Relief and Works Agency (UNRWA) estimating there to be 459,292 refugees in the country. He said: "The census we had conducted refers to the current reality in Lebanon."
He added that he feared "increased pressure on European donor countries over UNRWA in the coming days after the unilateral implementation of the 'Deal of the Century' (the US peace plan for the Middle East) by Israel.
"Israel's goal is to undermine UNRWA's mission as a prelude to ending the Palestinian cause and, thus, preventing the return of Palestinians."
Mneimneh held a meeting on Wednesday with two Lebanese and Palestinian action groups in Lebanon to discuss Palestinian asylum issues in light of the American peace plan. There were no representatives of Hezbollah or Hamas present at the talks.
He said: "This deal kick-starts an unusual stage that carries the most serious risks not only to the Palestinian people and cause, but also to the other countries and entities in the Arab region.
"The first of these is Lebanon, which senses the danger of this announcement in view of the clauses it contains to eliminate the Palestinian cause, including the refugee issue and the possibility of their settlement in the host countries."
Al-Ardat said: "Palestinian refugees have no choice but to withstand the pressures on them to implement the so-called 'Deal of the Century.' What is proposed is that we sell our country for promises, delusions, and $50 billion distributed to three countries. Palestine is not for sale."
He pointed out that "the camps in Lebanon resorted to family solidarity in coordination with the shops in the camps. Whoever does not have money can go to the shop after two (2 p.m.) in the afternoon and get vegetables for free.
"We have been securing 7,000 packs of bread to distribute in the camps and buying the same amount to sell the pack at 500 liras. But this does not solve the problem."
He added: "The PLO leadership continues to perform its duty toward the refugees and, until now, we have not been affected by the restrictions imposed by banks in Lebanon, and refugees are still receiving medical treatment.
"However, our concern now is that Palestinian refugees do not starve, taking into account all the indications that the situation in Lebanon will not improve soon.
"Twenty percent of the Palestinians in Lebanon receive wages either from UNRWA — as they work there — or from the PLO because they are affiliated with the factions, but 80 percent are unemployed and have no income."
The meeting hosted by Mneimneh agreed "the categorical rejection of the 'Deal of the Century' because it means further erasing the identity existence of the Palestinian people as well as their national rights, especially their right to return and establish their independent state.
"It also means assassinating the Palestinian peoples' legitimate rights and supporting Israel's usurpation of international justice and 72 years of Arab struggle.
"The deal includes ambiguous, illegal and immoral approaches that contradict all relevant UN and Security Council resolutions, especially with regard to the establishment of the Palestinian state on the Palestinian territories occupied in 1967 and the inalienable right of Palestinian refugees to return to their homeland and establish their state with Jerusalem as its capital," a statement on the meeting added.
"UNRWA must remain the living international witness to the ongoing suffering and tragedy of the Palestinian people, and UNRWA must continue to receive support."
Full report at:
https://www.arabnews.com/node/1631001/middle-east
--------
Africa
Tunisian Islamist party agrees to grant confidence to new gov't
2020-02-21
TUNIS, Feb. 20 (Xinhua) -- Tunisia's Islamist party Ennahdha announced on Thursday that it will grant confidence to the new government of Prime Minister-designate Elyes Fakhfakh.
The proposed composition of the new government is reasonable because it respects the voters' will and representatives in parliament, said Rached Ghannouchi, president of the parliament and president of Ennahdha.
At a press briefing, Ghannouchi said Ennahdha, which has a majority of 54 seats in parliament, approves the final lineup of the proposed government.
"This government is composed of prominent figures in political parties," he added.
After a meeting earlier in the day, the Tunisian parliament's office decided to hold a plenary session on Feb. 26 for the vote of confidence in the new government.
Fakhfakh announced on Wednesday evening the final lineup of his proposed government.
The new cabinet is composed of 30 ministers and two secretaries of state. Enditem
http://www.xinhuanet.com/english/2020-02/21/c_138803215.htm
--------
Record breaking US airstrikes pushing al-Shabab fighters into urban areas
February 21, 2020
A recent UN report said that record breaking airstrikes targeting al-Shabab militants in Somalia is forcing the group to move from rural areas to urban centers to mitigate American air power.
The report also detailed that improvised explosive attacks carried out by the al-Qaida-affiliated Islamic extremist group are up. From May 1, 2019 to Oct. 12, 3019, Shabab fighters carried out 99 IED attacks —which is an increase from the 83 carried out by the group during the same period in 2018, according to the UN.
The U.S. kicked off 2020 with a bang in Somalia launching nearly 14 airstrikes since the start of the new year putting the U.S. on pace for another record breaking year for airstrikes against militants in the country, according to figures provided by U.S. Africa Command.
In 2019, American warplanes launched 63 airstrikes. Air Force Maj. Karl Wiest, a spokesman for AFRICOM, told Military Times the airstrike totals in 2019 was a record for the command.
The punishing blows by American aircraft appear to have Shabab fighters attempting to alter tactics.
The urban environment will offer some degree of protection to the militant group, Michael Rubin, a resident scholar with the American Enterprise Institute, told Military Times.
However, "al-Shabab has always sought out control of the cities for financial reasons; they make money by taxing commerce, issuing licenses and seek ultimately to run the ports, as they did before," Rubin said.
Full report at:
https://www.militarytimes.com/flashpoints/2020/02/20/record-breaking-us-airstrikes-pushing-al-shabab-fighters-into-urban-areas/
--------
Algeria's president asks for more time to implement 'radical changes'
21 February 2020
Algerian President Abdelmadjid Tebboune, who succeeded longtime leader Abdelaziz Bouteflika in December, asked in the face of his country's insistent protest movement for time to implement "radical changes", in an interview published Thursday.
The interview with French daily Le Figaro was Tebboune's first since his election in December 12 polls that were rejected by the year-old "Hirak" protest movement that forced out Bouteflika and marked by a record 60-percent abstention rate.
"We cannot reform, repair and restore that which was destroyed over a decade in two months," Tebboune told Le Figaro.
Tebboune has been slammed by protesters as representing the ruling elite they want removed, having served several times as minister and once briefly as prime minister during Bouteflika's two-decade rule.
Tebboune, who after his election "extended a hand" to the Hirak movement to build a "new Algeria," said he has prioritized "political reforms."
"I am determined to go far in making radical changes to break with bad practices, clean up the political sphere and change the approach to governing."
Revising the constitution is the "priority of priorities", he said.
"The limits", he added, are those elements "relating in particular to national identity and national unity.
"Everything else is negotiable."
"The second area of work will be that of the electoral law", to give legitimacy to parliament, "which will have to play a larger role", he said, underscoring the need to "separate money from politics."
He said "things are starting to calm" in the streets and that "the Hirak got almost everything it wanted", including the departure of Bouteflika last April and figures from the "old regime" as well as the arrests of officials and businessmen suspected of corruption.
Full report at:
https://english.alarabiya.net/en/News/north-africa/2020/02/21/Algeria-s-president-asks-for-more-time-to-implement-radical-changes-.html
--------
South Sudan forces, armed groups deliberately starved civilians: UN probe
20 February 2020
A United Nations rights abuse investigation into the performance of South Sudan's authorities finds them liable for starving millions of civilians intentionally.
The report, which was devised by the UN-mandated Commission on Human Rights in South Sudan, was released on Thursday, bemoaning the practices of "predatory and unaccountable elites."
Under the authorities, government forces and other armed groups have "deliberately starved" civilians by denying aid access and displacing communities, the three-member commission noted.
Surprisingly, the abuses singled out by the panel came right after the country's President Salva Kiir and his rival Riek Machar signed a so-called peace deal to sew up their rifts and form a unity government.
During the period reviewed by the commission, which ran up to December 2019, some 6.35 million people -- 54 percent of the population -- were facing severe hunger.
"The denial of humanitarian access and displacement brought about by unlawful tactics have significantly exacerbated famine in different parts of the country, depriving hundreds of thousands of civilians of vital needs, including access to food," the panel pointed out.
"Political elites remained oblivious to the intense suffering of millions of civilians for whom they were ostensibly fighting," it added.
South Sudan's conflict broke out in December 2013 after a dispute between Kiir and his former deputy and longtime rival Machar.
The fighting has left some 380,000 dead and forced four million to flee their homes.
The commission, meanwhile, blamed the rivals for lacking the political will that could defuse the crisis, while they are only two days away from a deadline to form the unity government. The deadline has already been pushed back twice.
Graft, child soldiers, surveillance
According to the report, graft has robbed the state of precious resources, grossly enriching several officials at the expense of the starving people.
Both the state's forces and the rebels are, meanwhile, still engaged in recruiting child soldiers, it added.
Currently, the two sides are believed to have enlisted 19,000 children between them.
Full report at:
https://www.presstv.com/Detail/2020/02/20/619140/Sudan-United-Nations-abuse-starvation
--------
Nigerian forces kill 3 top ISWAP ringleaders
Olarewaju Kola
20.02.2020
MAIDUGURI, Nigeria
Nigerian military forces killed three senior figures of the 'Islamic State' in West Africa Province (ISWAP), a Boko Haram splinter group, in the country's volatile northeast region.
The ringleaders were killed on Wednesday during a joint air and land offensive on the terrorists' camps in Kirta and Wulga in the northeast Borno State, according to the Abuja-based PR News website.
Two senior military officers confirmed the killing to Anadolu Agency on condition of anonymity as they were not authorized to speak to the press.
The three figures were Abubakar Dangumal -- suspected to be in charge of the group's waterborne unit -- as well as Amir Malik and Malam Mohammad.
Neither the military nor ISWAP has reacted to the incident.
Full report at:
https://www.aa.com.tr/en/africa/nigerian-forces-kill-3-top-iswap-ringleaders/1739798
--------
Al-Shabaab attacks two military bases in Somalia
Mohammed Dhaysane
20.02.2020
MOGADISHU, Somalia
Al-Shabaab militants launched twin attacks Wednesday on military bases in Somalia's Lower Shabelle region, killing at least four soldiers, said officials.
The first attack took place at the el-Salini military base located 55 kilometers (34 miles) southwest of the capital Mogadishu.
The Somali National Army repulsed the attack, killing nine militants, Somali government spokesman Ismail Mukhtar told Anadolu Agency by phone.
"The terrorists wanted to disrupt the security of the military bases in order to justify their existence, but they suffered heavy losses and casualties, leaving their dead and weapons behind. Six terrorist were killed and three blew themselves up," Mukhtar said.
Hassan Mohamed Abukar, a military colonel on the frontline, confirmed that at least four soldiers were killed in the attack.
The second attack took place at a military base in the town of Qoryoley housing Somali and African Union peacekeeping forces. Qoryoley is an agricultural town located 120 kilometers (74 miles) from Mogadishu.
Lower Shabelle Governor Ibrahim Adan told journalists that three al-Shabaab fighters were killed while there were no losses among the soldiers.
The Somali military also said they had conducted a counteroffensive that liberated four villages from al-Shabaab.
Full report at:
https://www.aa.com.tr/en/africa/al-shabaab-attacks-two-military-bases-in-somalia/1739035
--------
Al-Shabaab militant surrenders in Mandera
FEBRUARY 20 2020
A suspected Al-Shabaab militant has surrendered to security agencies in Mandera, a day after three people were killed in a bus attack.
Salat Hajir Jimale, 23, surrendered to security agencies at Elwak town in Mandera South on Thursday.
According to a police report seen by Nation, the incident was reported under OB number 10/20/2/2020 at Elwak Police Station in Mandera Central Sub-County.
INTERROGATION
"It was reported by Assistant Chief, Bulla Afya, Muhammed Abdullahi that a suspected Al-Shaabab fighter was sighted within his area while making efforts to surrender," reads the police report.
Mandera County Commissioner Onesmus Kathya said the suspect is being held at Elwak Police Station for interrogation.
"Al-Shabaab member with an AK 47 rifle and three magazines fully loaded is in our custody," Mr Kathya said.
A source within the police said the suspect was sighted by a local chief before he was arrested.
SURRENDER
"It was reported by a chief that a suspected Al-Shabaab militant was sighted in his area while making efforts to surrender," said the source.
Full report at:
https://www.nation.co.ke/counties/mandera/Al-Shabaab-militant-surrenders-in-Mandera/1183298-5462718-9qtkf1z/index.html
--------
Nigerian Governor Demands 100,000 Troops to Quell Insurgency
February 20, 2020
Nigeria must recruit 100,000 additional soldiers to end the long-running insurgency by the Islamist Boko Haram group, the governor of a state at the epicenter of the violence said.
The militant group has inflicted "horrific and simultaneous attacks" in Borno state since March 2019, Governor Babagana Zulum said in a statement on Wednesday. "The military don't have the manpower, they don't have the equipment."
President Muhammadu Buhari won an in election in 2015 with pledges that included ending the insurgency that's estimated to have killed more than 30,000 people in 10 years. Initial efforts by his administration drove the militants away from towns and villages they occupied.
In recent months, some of those gains have been reversed as the fighters benefit from a steady flow of arms from Libya across the Sahara Desert and an alliance with Islamic State. Government troops, meanwhile, complain of poor equipment and low morale.
The Nigerian army is currently 200,000-strong, with troops deployed in at least 29 of the country's 36 states to contain various levels of unrest.
Thinly Stretched
Since the start of the year, Boko Haram has released videos of executions of more than two dozen people, including soldiers, aid workers and Christian captives. In January, 17 soldiers were killed on the highway between the towns of Bama and Gwoza, in two separate attacks that add to the tally of increased militant activities.
If Zulum's recommendation is implemented, half of the new recruits should come from Borno state, the birth place of the insurgency that started in 2009, the governor said.
Nigeria's Boko Haram, In Retreat, Is Deadly as Ever: QuickTake
The governor's expectations are unlikely to be met "because the Nigerian Army and security services are already stretched thin," Mathias Hindar, an analyst at London-based geopolitical risk consultancy Falanx Assynt, said in emailed comments on Thursday.
"Moreover, Nigeria spends up to 50% of its public revenue on debt repayments, which means that there are few resources left for large-scale recruitment or improving military equipment," Hindar said.
Full report at:
https://www.bloomberg.com/news/articles/2020-02-20/nigerian-state-asks-for-100-000-more-troops-to-beat-boko-haram
--------
Boko Haram Raids Displace Thousands More in Cameroon
By Moki Edwin Kindzeka
February 20, 2020
MORA - New Boko Haram attacks have displaced more than 3,000 people along Cameroon's northern border with Nigeria in the past three months. Authorities say the Nigerian Islamist militants torched houses, abducted, raped and looted, creating panic among villagers.
Twenty-seven-year-old Cameroonian Alidda Mannodi is getting help from the Association of Muslim Women in the northern town of Mora, on Nigeria's border, after escaping from Boko Haram.
Last week, she managed to flee the border village of Touski, where the Islamist militants were holding her captive as a sex slave.
She said at the first opportunity she fled a hut in the bush, where she was repeatedly raped by several men. Mannodi said she told one of the men that she was menstruating, but the man still raped her.
Mannodi said she trekked for three hours before getting help from a Nigerian fuel vendor, who brought her to Mora. She said she was among 12 people Boko Haram abducted from her village - some for a second time.
The Association of Muslim Women is treating her and 16 other women who escaped Boko Haram in recent months.
Cameroon's military said the Islamist militants have in the past three months stepped up raids on villages along the border.
Midjiyawa Bakari, the governor of Cameroon's far north region, said the terrorists cross over from Nigeria in groups of 10 to 20, torch houses, abduct civilians, and steal livestock and grain.
He asked villagers to help inform Cameroon security forces of attacks.
"We have to call upon the population to help to bring information, to work hand-in-hand with forces of law and civil authorities and, by that way, it is obvious that the results will be there," he said.
Bakari said the wave of attacks is a consequence of a porous border and the dry season, during which it is easier for militants to move around than it is during the wet season.
He denied the attacks were made worse by the military withdrawing from several border posts to fight rebels in the English-speaking northwest.
United Nations officials, including the U.N. coordinator in Cameroon, Allegra Baiocchi, have been visiting camps to which thousands of people were displaced by the Boko Haram attacks this month.
Baiocchi said they are in urgent need of humanitarian aid.
"We saw over 3,000 people in the area of Mora and Kourghi. So, we talked about the needs of these people, which are humanitarian needs. We talked about how we are trying to help them. But we also talked about the importance of making sure that we help these populations regain their livelihoods," said Baiocchi.
Neither the United Nations nor the government of Cameroon gave an estimate of the number of people killed or wounded in the attacks.
The local tabloid L'Oeil Du Sahel, which specializes in reporting on Boko Haram, estimates at least 90 people have been killed since mid-November.
Boko Haram terrorists have been fighting for the past 11 years to create an Islamic caliphate in Nigeria's northeast, but the attacks have spread to neighboring Cameroon, Chad, and Niger.
When the fighting reached Cameroon in 2014, President Paul Biya declared war on the militants.
Full report at:
https://www.voanews.com/africa/boko-haram-raids-displace-thousands-more-cameroon
--------
URL: https://www.newageislam.com/islamic-world-news/bangladeshi-imam-regrets-funeral-sex/d/121121
New Age Islam, Islam Online, Islamic Website, African Muslim News, Arab World News, South Asia News, Indian Muslim News, World Muslim News, Women in Islam, Islamic Feminism, Arab Women, Women In Arab, Islamophobia in America, Muslim Women in West, Islam Women and Feminism