New Age Islam News Bureau
14 Nov 2016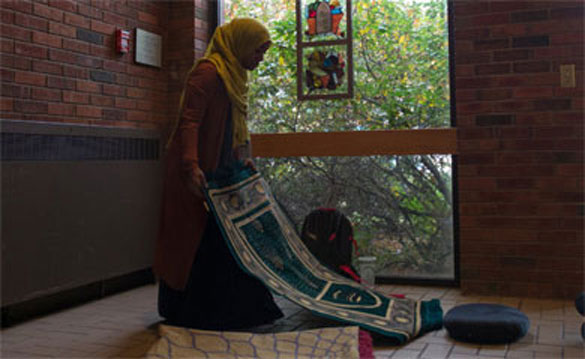 Aliya Sameru, a freshman at Augsburg College in Minneapolis, tidied up last month after a Friday Prayer service. Credit Bridget Bennett for The New York Times
-------
• Bangladesh to Drop Islam as State Religion 'When Time Comes'
• Two Islamic Sects, Deobandi and Sufi Muslims, Become 'One' In Ajmer
• Difa-e-Pakistan Council: A Pack of ISI Supported Radicals and Jihadis
• Seeking Halal Condoms and Other Contraceptives in Kenya's Muslim Northeast
• Daesh Uses Wooden Tanks and Bearded Mannequins in Decoy Attempts
South Asia
• Bangladesh to Drop Islam as State Religion 'When Time Comes'
• Dozens Killed In Weekend of Fresh Violence in Myanmar's Rakhine
• Plot to target Friday prayers with car bomb foiled in Ghazni city
• Deadly car bombing foiled in Lashkargah city in South of Afghanistan
• One of German consulate attackers arrested by Afghan forces
--------
India
• Two Islamic Sects, Deobandi and Sufi Muslims, Become 'One' In Ajmer
• Those Who Attempt Change In Personal Will Burn Their Hands – Muslim Shabban's Conference
• Shariat Protection Conference to Cooperate With AIMPLB
• Muslims disappointed with CMs of twin states
• Ceasefire agreement redundant: 286 violations by Pakistan post surgical strike
• Creating "Muslim as the enemy" is the RSS-BJP mantra: Jignesh Mevani
--------
Pakistan
• Difa-e-Pakistan Council: A Pack of ISI Supported Radicals and Jihadis
• As Battle in Mosul Unfolds, ISIS Looks To Pakistan for Fresh Recruits
• Islamic State's Pakistan Attack Highlights Changing Tactics
• Injured of Shah Noorani shrine blast narrate horror of attack
• At Pakistan mortuary, unclaimed bodies and frantic relatives
• Enemies of Islam, Pakistan are going for soft targets: CM
• 'Newsleak issue can't be swept under the carpet'
• Hazara varsity teacher arrested for defrauding colleagues
• QWP calls for boosting friendly relations with Afghanistan
• War on terror suffering due to govt's 'compromising approach': MWM
--------
Africa
• Seeking Halal Condoms and Other Contraceptives in Kenya's Muslim Northeast
• Somalia: Allied Forces Retake Town from Al Shabaab Militants
• Dozens of Boko Haram militants surrender to Chadian troops
• Muslim leaders demand 'apostasy' blogger's death sentence be upheld
• West African Leader Expects Trump to Moderate His Most Controversial Stands
• Minnesota men to be sentenced in plot to join Islamic State
--------
Arab World
• Daesh uses wooden tanks and bearded mannequins in decoy attempts
• Clashes in Aleppo after Syrian Army Tells Rebels to Leave City
• Iraqi Forces Recapture Ancient City of Nimrud
• Violence in Syria kills 23, including 11 children
• Syrian Army Scores More Victories against Terrorists in Aleppo
• ISIL's Notorious Tajik Commander Killed in Mosul
• Army, Air Force Inflict Heavy Losses on Terrorists in Western Damascus
• Syrian Army to Start Operation in Aleppo City, Outskirts in Coming Hours
• Iraq troops aim to tighten noose on Islamic State in Mosul
• Iraqi forces recapture ancient city of Nimrud
• OIC to discuss Houthi targeting of Makkah
--------
Europe
• British 'Sharia Courts' Under Scrutiny
• As many as 5,000 ISIS recruits to return to Europe – Belgian minister
• Suspects Plotted 'Paris-Style' Attacks In Russia: Reports
• Afghan attack won't change US policy: Kerry
• France marks one year since Paris attacks
--------
Mideast
• Turkey Sends 4 Trucks of Arms to Terrorists in Idlib, Aleppo
• Erdogan Hints At Referendum on Joining EU
• Israeli PM backs bill to limit Azan
• Israel PM backs bill to limit noise from mosques
• British ambassador to Yemen writes to Al Arabiya: 'Time for dialogue'
• EU must play more active role in regional, global issues: Zarif
• Iran seeks secure, stable Iraq: Parliament speaker
• Yemeni casualties of Saudi war revised up
--------
Southeast Asia
• Penang Mufti Slammed For Saying 'Damia' Name Means 'Blood'
• Parties fear backlash over Ahok's blasphemy case
• Samarinda Church Bomber Is a Former Terror Convict: Police
--------
North America
• Muslim College Chaplains Extend a Hand across Religious Divides
• Will strongly oppose Donald Trump's anti-Muslim rhetoric: Pramila Jayapal
• Will a Muslim lead the Democratic Party of the United States?
Compiled by New Age Islam News Bureau
URL: https://www.newageislam.com/islamic-world-news/new-age-islam-news-bureau/bangladesh-to-drop-islam-as-state-religion--when-time-comes-/d/109096
--------
Bangladesh to Drop Islam As State Religion 'When Time Comes'
November 14, 2016
Dhaka: Muslim-majority Bangladesh will drop Islam as the country's state religion "when the time comes", a media report on Monday quoted a senior ruling Awami Leage leader as saying.
"Islam has been kept as the state religion for strategic reasons," the party's Presidium Member and former minister Abdur Razzaq told a roundtable here on Sunday.
"I have said it abroad and now I am saying it again that Islam will be dropped (as state religion) from Bangladesh's Constitution when the time comes," the former food minister was quoted as saying by BDNews24.com.
The ruling party leader made the statement while speaking about Bangladesh's secular tradition at the roundtable organised by SAARC Cultural Society at the national Press Club.
Politicians and journalists from India also took part in the discussion titled 'Strong Unity of Masses of Bangladesh and India to Prevent Terrorism', held with the recent attacks on Hindus in Brahmanbarhia in the backdrop.
Indian participants included Congress leader Preetam Ghosh, social worker Ajoy Kumar Dutta and Bharatiya Janata Party leader Shiladitya Dev.
Highlighting secularism Mr Razzaq said: "The force of secularism is in the people of Bangladesh. There is nothing called 'minority' in our country."
Secularism was included in the Constitution as one of the four basic principles when it was written in 1972 as people from all religions joined the struggle for independence and snatched it from Pakistan.
After the assassination of Sheikh Mujibur Rahman in 1975, Bangladesh's course of direction was reversed, and Zia-ur- Rahman, capturing the power, replaced 'secularism' with 'Absolute trust and faith in the Almighty Allah'.
Another military dictator, HM Ershad, later included Islam as the state religion in the Constitution.
After Mr Ershad's ouster, the demand to drop Islam as state religion from the Constitution was raised several times, but even Awami League, the party that led the struggle for independence, has not made the change.
Through the 15th Amendment to the Constitution in 2011, the four basic principles of the 1972 Constitution - nationalism, socialism, democracy and secularism - were restored, but Islam remained the state religion.
The Awami League leader's comment came at a time when there are protests on the street against the attacks on Hindus and tribal Santal minorities in Bangladesh. Prime Minister Sheikh Hasina yesterday said as a Muslim majority country it is the moral responsibility of the Bangladeshi citizens to take care of minorities.
"Bangladesh is a country of communal harmony which should be maintained at any cost for development and brighten the country's image," Ms Hasina said at a video conference. "As a Muslim majority country it is the moral responsibility of all of us to take care of the minorities," she said.
The prime minister added: "You have to remain careful so that no such incidents, which are taking place sporadically in different parts of the country, take place anywhere in the country."
http://www.news18.com/news/world/bangladesh-to-drop-islam-as-state-religion-when-time-comes-1311738.html
--------
Two Islamic Sects, Deobandi and Sufi Muslims, Become 'One' In Ajmer
Nov 14, 2016
JAIPUR: Two Islamic sects with contrasting interpretations of the religion came together to share the stage in Ajmer on Sunday.
Jamiat Ulema- I- Hind (JUH), a social organ of Deobandi Muslims who don't believe in shrine worship visited the Dargah in Ajmer which represents Sufi Muslims. The implications of this 'union' might impact the followers of both schools in the Indian subcontinent--Pakistan, Bangladesh and Afghanistan, which are known for sectarian clashes.
"Let's keep our differences to ourselves so that our daily lives are not affected," said JUH general secretary Maulana Mahmood Madni, adding that Sufi values are antidote to the extremism and radicalization that has overtaken conservative Muslims.
The 'union' happened on the side-lines of the three-day 33 General Session of JUH meeting when JUH leaders, including general secretary Maulana Mahmood Madni visited the shrine of Khawaja Moinduddin Chishty in a bid to bridge the gap between the two opposing sects. Later Sufi Muslim leaders participated in the annual meet of JUH which was attended by over 50,000 people from across the country.
Explaining the effects of the union, Abdul Wahid Khatri, general secretary of the JUH Rajasthan chapter, said, "The headquarters of both sects are in India---Deoband and Ajmer. This union will pass the message of brotherhood across the globe."
Reacting on the development, Syed Wahid Angarahshah, secretary of Anjuman Syed Zadgan of Dargah Ajmer, said, "Burying the differences is a much needed step for the unification of Muslims of India. Now, we can have deliberations on issues, problems and solutions which are common to all of us."
http://timesofindia.indiatimes.com/city/jaipur/Two-Islamic-sects-become-one-in-Ajmer/articleshow/55408359.cms
--------
Difa-e-Pakistan Council: A Pack Of ISI Supported Radicals And Jihadis
S.C. Kohli
13 November, 2016
Pakistan's democratic system has strange ways of functioning. It is based on undemocratic and biased perceptions towards democratic elements and favorable to jihadists and anti-Indian Islamic groups like Difa-e-Pakistan Council (DPC) or the Defense of Pakistan Council.
While a national level democratic party, Pakistan Tehrik-e-Insaf (PTI) led by cricketer-turned-politician Imran Khan was not allowed to hold an anti-government protest rally (November 2, 2016) in Islamabad demanding resignation of Prime Minister Nawaz Sharif over corruption charges, on the same day DPC, an alliance of 40 various religious, political, banned and defunct terrorist groups was allowed to hold a large scale rally in Islamabad against alleged Indian atrocities in Kashmir, despite the imposition of Section 144 in the capital city.
On the same day, DPC held similar anti-Indian rallies on the Kashmir issue in other major cities of Pakistan and Pakistan Occupied Kashmir (POK). Chief of Jamaat-ud-Dawa and grand master of terrorism Hafiz Saeed who is most active member of the DPC was at the forefront accusing India of atrocities on Kashmiris and he called upon Pakistani nation to support Pakistan Army against Indian occupation of Kashmir. His most recent anti Indian slogan was "Kashmir: Now or Never."
Primarily, DPC is an alliance of some banned and defunct terrorist groups, right-wing political religious and pro-army political parties and Ulema (Islamic scholars) against USA and India, which is intensely involved in spreading hatred and spewing venom against USA for its presence in Afghanistan and against India for its alleged atrocities in Kashmir and denying the so-called right of self-determination to Kashmiris.
DPC was formed in October, 2011, a few days before 24 Pakistani soldiers were killed (November 26, 2011) in an air strike by USA led NATO forces at two Pakistani military check posts at Salala in the Baizel subdivision of Mohammad Agency along the Afghanistan–Pakistan border, about 2.5 km inside Pakistan. DPC encashed this anti-USA development in Pakistan and demanded that the Pakistan government close NATO supply routes to Afghanistan as well as not to give India the status of 'Most-Favored Nation'(MFN).
DPC, an alliance of Islamist groups, advocates for snapping Pakistan's ties with USA and against Pakistani government's any overture to improve relations with India ignoring the Kashmir issue. It is mainly consists of radical Islamic political parties like Jammat-e-Islami, Pakistan(JIP), Jamiat Ulema-e-Islam (F)(JUI-F), Jamiat Ulema-e-Pakistan(JUP), Majlis-e Ahrar-e-Islam, pro-Kashmiris the All Jammu and Kashmir Muslim Conference (AJKM), pro late Gen. Zia party the Muslim League- Zia, Pakistan Army supporter parties the Pakistan Muslim League-Q (PML-Q) and Awami Muslim League; terrorist groups like Hafeez Saeed-led Jamaat-ud-Dawa (JuD), and an anti-Shia terrorist group Sipah-e-Sahaba Pakistan, which now operates under the name of Ahl-e-Sunnat-Wal-Jamaat (ASWJ). Some Islamic clerics and legal scholars and religio-political parties are represented by the All Pakistan Ulema Council, Tanzeem-e-Islami and Jamiat Ahle Hadith in DPC. Minority groups of Pakistani Hindus, Sikh and Christians, led by Manohar Chand and Ramesh Lal, Sardar and Advocate Yousuf, respectively are also members of the DPC.
DPC is led by Maulana Sami ul Haq, Chief of Jamiat Ulema Islam(S). He is a religious scholar and Chancellor of Darul Uloom Haqqani, Pakistan's most prestigious Islamic religious seminary, located at Akora Khattak in the Khyber Pakhtunkhwa province of Pakistan. Many leading Taliban leaders, including former Taliban chief Mullah Omar had studied in Darul Uloom Haqqani. Maulana Sami ul Haq is known to be 'Father of Taliban' and has close ties with Taliban. He supports the re-take of Afghanistan by the Taliban. He had also twice served as member of the Pakistan Senate in 1985 and 2003. A staunch supporter of establishment of Sharia rule in Pakistan, Maulana Sami ul Haq along with Hafiz Saeed had played a major role in reviving DPC in May, 2016 as since late 2012, DPC had virtually remained inactive.
After killing of 24 Pakistani soldiers by NATO forces (November 26, 2011) inside Pakistan on Afghanistan border, DPC had held nationwide well attended and large scale anti-US rallies around the country's big and small cities and could successfully generate anti-US sentiments in Pakistan over the incident. Following which, the then Prime Minister Yousuf Raza Gilani ordered the suspension of NATO supply routes into Afghanistan.
Significantly, killings of Pakistani soldiers by US-led NATO troops not only put President Obama's administration in an embarrassing situation but it also gave a plausible reason to DPC to launch an aggressive agitation against USA in Pakistan. It is rare in international relations that a country had apologized for its "misdeeds" committed in a foreign country. However, it was Hillary Clinton, who had apologized (July 3, 2012) in her capacity as US Secretary of State to the Pakistan government over killing of 24 Pakistani soldiers in a NATO attack and finally on the same day Pakistan lifted the ban on NATO's supply routes from Pakistan to Afghanistan.
DPS is accused of being the brainchild of ISI. The former ISI late Chief Hamid Gul (29 March, 1987 – 4 October, 1989), who was also one of the brains behind the creation of Taliban and known to be an ardent supporter of anti-Indian Kashmiri radicals and terrorist groups, was also founder active member of the DPC after his retirement from the service. He had since died on August 15, 2015. In 1988, Gen. Gul, being chief of ISI, had facilitated formation of Islami Jamhuri Ittehad-Islamic democratic front (IJI), a similar group of religious organization against Pakistan Peoples Party as well as against USA when the latter had stopped funding ISI. Gen. Gul, known to be an architect of insurgency in Kashmir was removed from his position as ISI chief by Benazir Bhutto in the year 1989.
ISI, in the past had also supported formation of Islamist and right wing parties against USA. In 2002, ISI had supported the formation of Muttahida Majlis–e–Amal (MMA), the conglomeration of six distinct Islamist parties (2003), which opposed President Parvez Musharaff's pro-American policies on war in Afghanistan and MMA also successfully formed a government in Khyber Pakhtunkhwa after general elections of 2002. MMA was then led by Maulana Sami ul Haq, now chief of DPC.
General Zia-ul-Haq was the only ruler of Pakistan who had backed and supported Pakistani Islamic groups and radicals' agenda to rule the country according to Shariat (Islamic law). Pakistani radicals were supported by the army, particularly by the ISI to the extent that they had virtually become stakeholders in the nation's internal affairs and foreign affairs of the country. However, presence of Americans and NATO forces in Afghanistan remained a bone of contention between ruling governments and radicals of Pakistan after Gen. Zia's death. Gen. Parvez Musharrrf's support to the USA after September 11, 2001 terrorist attacks and his banning some indigenous leading terrorists groups further fueled Pakistani radical's anti-USA sentiments.
DPC is not only known to be an ISI-sponsored Jihadi-sectarian project, it is also accused of influencing the ruling Pakistan Muslim League (N) in the Punjab (Pakistan) province. DPC reportedly had support of Punjab (Pakistan) Chief Minister Shahbaz Sharif, brother of Prime Minister Nawaz Sharif, who is accused of providing full support to the DPC in organizing and holding conferences and meetings in the Punjab (Pakistan) province. Cricketer-turned-politician Irman Khan, chief of Pakistan Tehreek-e-Insaf (PTI) has also been criticized for supporting DPC's anti-USA stance and supporting the Pakistan Army's interference in the internal affairs of the country. Since two major jihadi groups, the JuD and SSP are integral parts of the DPC, this organization is also criticized for spearing sectarian haltered against other religious sects such as Shias, Christians, Ahemdis and Barelvis.
Meanwhile, the Pakistan Army and the ISI ,who are over dependent on country's Islamic and right wing radical parties to diminish and weaken Pakistan's secular political forces are criticized for allowing the re-emergence of DPC as well as against the active role being played by Jihadis like Hafiz Saeed in undermining General Sharif's anti-terrorism master plan.
However, DPC is used by the Pakistan Army to put pressure on USA for its role in Afghanistan and the civilian government of the country against its any effort for friendlier relations with India. Meanwhile, since ISI's support to the DPC is a part of its consistent policy of supporting country's Islamists, DPC would be invariably used by the Pakistan Army against USA and India in future also.
http://www.merinews.com/article/difa-e-pakistan-council-a-pack-of-isi-supported-radicals-and-jihadis/15920888.shtml
--------
Seeking halal condoms and other contraceptives in Kenya's Muslim northeast
Nov 14, 2016
Kenya: Swaddled in colourful hijabs the women exchange puzzled looks and suppress embarrassed giggles. "You're sure it's halal?" asks one, peering at a collection of birth control pills, condoms and IUDs.
Such everyday forms of contraception are little known and rarely seen in Kenya's arid and neglected northeast, an overwhelmingly poor, conservative and Muslim part of the country where most people are pastoralist ethnic Somalis.
A study of early marriage by the charity Save the Children found that just two percent of the population of Wajir county uses contraception -- compared with a national Kenyan average of 58 percent -- due to modern contraceptive methods being seen as a breach of Islamic principles.
But Deka Ibrahim, a female Islamic teacher, explains that contraception is halal, permissible, as she talks to a group of 40 newly-weds and mothers sitting on the dusty concrete floor of a dark room that is the village's tiny maternity centre.
One woman feeds her child while others absentmindedly fidget with the long sleeves of their austere outfits, revealing intricately painted henna tattoos and fake diamond bracelets.
"The Muslim religion allows the use of these methods in certain circumstances, especially if the health of the baby and mother are at the heart of the thought process," says Ibrahim.
She adds however that according to this interpretation of Islam there are conditions for using contraceptives: they must be temporary, spousal approval is required, and, she reminds them, abortion is illegal in Islam as well as in Kenyan law.
As a government nurse goes on to explain how to use the different devices, Halima, 16, the mother of a nine-month-old girl listens intently.
"I want to have more children, but not now. I want to wait until my child has grown up a bit and I'm sure she is healthy," Halima says.
Tradition vs health
Here, maternity and tradition are issues that burn as hot as the sun beating down on the sandy soil and dry thorn bushes outside, issues that sideline women and can endanger their lives and those of their children.
More than four in 10 women in northeast Kenya are married before their 18th birthday, their youth leading to increased problems in pregnancy, labour and birth.
Making the situation worse is that most deliveries are home births, unsanitary and without qualified midwives.
On top of that, the average woman has eight children, a large brood -- like a herd of livestock -- seen as a symbol of wealth in Somali culture.
"When an adolescent girl becomes pregnant or there is not enough space between pregnancies, the risk of complications is high," says Sulekha Mohamed of Save the Children, adding that 98 percent of women in northeast Kenya are circumcised, heaping further risk on giving birth.
"If you are pregnant four months after giving birth, your body has not had time to recover," she says.
Religion to the rescue
A 2014 demographic study showed perinatal deaths in Kenya's northeast were more than 50 percent higher than the national average. Since then religious leaders have been co-opted into battling the statistics.
"Historically, in our culture, men take many wives and women have many children, so family planning is seen as a foreign idea, a colonial Western idea to limit the population," says Mursal Abdiwahab, the khadi of Wajir in charge of the Muslim family court, who ruled that contraception is halal.
"Our role as religious leaders and learned people is to explain what Islam allows or not."
The message seems to be getting through. In the first three months of this year, 3,177 women joined the family planning programme, a major increase from the 1,382 participants in the same period the year before.
Safiya, a 28-year-old mother of four, says she wants "more children, because that is what my religion dictates," but after learning that contraception is permitted in Islam she is now spacing out her pregnancies.
"Before, I was very sick, very bad in the first months of pregnancy, but this is no longer the case."
Back at the maternity clinic, Fatuma, 25, lies on a bed. After several weeks of reflection, and with her husband's blessing, she readies herself for the insertion of a contraceptive device.
"Since my religion accepts family planning, I'll use it for the good of my health," she says, and with that the nurse slides a blue curtain in front of the bed.
She turns to the male journalist with a benevolent smile saying, "This, it stays among the women."
http://www.deccanchronicle.com/world/africa/141116/seeking-halal-condoms-and-other-contraceptives-in-kenyas-muslim-northeast.html
--------
Daesh uses wooden tanks and bearded mannequins in decoy attempts
14 November 2016
BAWIZA, Iraq: Daesh is using wooden replicas of tanks and Humvees in a bid to subvert an air campaign by the US-led military coalition supporting Iraqi forces in the Mosul operations, even using bearded mannequins to simulate jihadist fighters.
The Iraqi army captured a handful of the mockups last week at a training site it retook from the group north of Mosul, the last major stronghold of Daesh (Islamic State) in the country, which government forces have almost surrounded but only breached so far from one direction.
When seen close up, the models resemble toys but from a long distance they might be mistaken for real vehicles.
"As our troops advanced toward the areas we were charged with liberating, Daesh used tanks and vehicles made of wood to divert the military planes," Lt. Col. Abbas Al-Azaji said on Sunday.
It is not clear how effective the mockups have been at thwarting aerial bombardment, which has been essential to the Iraqi forces' ground campaign to roll back Daesh from large swathes of territory it seized in 2014.
Baghdad-based spokesman US Air Force Col. John Dorrian said the coalition had been tracking Daesh's use of such decoy vehicles for a while.
"We call it tactical deception. Daesh has been doing it and that's certainly a tactic that enemies like to use," he said.
"It is actually not as troubling as a lot of the other things we've seen," he said, like setting fire to a sulfur plant and igniting oil wells south of Mosul.
Also found at the training site were two large armored vehicles the militants had used for assaulting enemy positions, and the blown out remains of more than a dozen vehicle-borne explosive devices which Iraqi forces had disabled.
http://www.arabnews.com/node/1010276/middle-east
--------
South Asia
Dozens killed in weekend of fresh violence in Myanmar's Rakhine
November 14, 2016
YANGON - Myanmar's Rakhine state was hit by fresh waves of violence over the weekend with more than 30 insurgents killed over two-days of fighting, the military said, as fears soar for the strife-torn region.
Northern Rakhine, which is home to the Muslim Rohingya minority and borders Bangladesh, has been under military lockdown ever since surprise raids on border posts left nine police dead last month.
Soldiers have killed scores and arrested many more in their hunt for the attackers, who the government says are radicalised Rohingya militants with links to overseas Islamists. The crisis and reports of grave rights abuses being carried out in tandem with the security crackdown have piled international pressure on Myanmar's new civilian government and raised questions about its ability to control the military.
Days of apparent calm were shattered on Saturday when the army said six attackers and two soldiers were killed during a series of coordinated ambushes that were only beaten back with the help of helicopter gunships. The toll then jumped on Sunday following further clashes.
In a statement Myanmar's military said 22 attackers armed with swords were killed near Dar Gyi Zar village on Sunday morning after they charged at soldiers. Six other insurgents were killed during clashes elsewhere in the state on Sunday, the statement added. Authorities have heavily restricted access to the area, making it difficult to independently verify government reports or accusations of army abuse. On Saturday evening, Rohingya activists uploaded a graphic video showing the corpses of eight people dressed in civilian clothes, including a small baby. The video's shooter, speaking in Rohingya, said the victims died that day near Dar Gyi Zar village, with some showing bullet wounds.
It was not possible to verify the authenticity of the footage. The resurgence of violence in western Rakhine has deepened and complicated a crisis that already posed a critical challenge to the new administration led by democracy activist Aung San Suu Kyi.
The state has sizzled with religious tension ever since waves of violence between the majority Buddhist population and the Muslim Rohingya left more than 200 dead in 2012. More than 100,000 people, mostly Rohingya, were pushed into displacement camps by the bloodshed and have languished there ever since.
Rights groups say they face apartheid-like restrictions on movement and have repeatedly called on Suu Kyi to carve out a solution. But Buddhist nationalists at home viciously oppose any move to grant them citizenship, claiming the Rohingya are illegal immigrants from Bangladesh despite their long roots in the country.
The latest surge in fighting came as new satellite images released by Human Rights Watch on Sunday showed what the group said was evidence of mass arson attacks against Rohingya villages. Their analysis showed more than 400 buildings torched in three Rohingya villages where the fighting has been taking place.
The group said active fires and burn scars showed that most of the destruction was caused by arson. The latest images were taken on 10 November. Brad Adams, the group's Asia director, said the new photos showed "widespread destruction" that was "greater than we first thought".
"Burmese authorities should promptly establish a UN-assisted investigation as a first step toward ensuring justice and security for the victims," he said in a statement. The military and government have rejected allegations that troops have burned Rohingya villages, accusing insurgents of lighting the fires.
http://nation.com.pk/international/14-Nov-2016/dozens-killed-in-weekend-of-fresh-violence-in-myanmar-s-rakhine
--------
Plot to target Friday prayers with car bomb foiled in Ghazni city
By GHANIZADA
Nov 14 2016
The Afghan National Defense and Security Forces (ANDSF) foiled a plot by the Taliban group to target the Friday prayers with a car bomb in Ghazni city in Southeast of Afghanistan.
The Afghan Intelligence, National Directorate of Security (NDS), said the Taliban commander Mullah Agha was looking to detonate the Vehicle-borne Improvised Explosive Device (VBIED) in Mustafa mosque in Ghazni city.
NDS further added that the VBIED was confiscated before the militants manage to use for the attack and was defused and destroyed by the security forces.
Full report at:
http://www.khaama.com/plot-to-target-friday-prayers-with-car-bomb-foiled-in-ghazni-city-02273
--------
Deadly car bombing foiled in Lashkargah city in South of Afghanistan
Nov 14 2016
A deadly car bombing plot by the anti-government armed militant groups was foiled by the Afghan National Defense and Security Forces (ANDSF) in southern Helmand province of Afghanistan.
According to the local government officials, a Vehicle-borne Improvised Explosive Device (VBIED) was confiscated from the vicinity of Lashkargah city, the provincial capital of Helmand.
The officials further added that the militants had planted around 150 kg of explosives in the vehicle.
According to the officials, the VBIED was discovered and seized in the 2nd police district of the city.
Full report at:
http://www.khaama.com/deadly-car-bombing-foiled-in-lashkargah-city-in-south-of-afghanistan-02272
--------
One of German consulate attackers arrested by Afghan forces
By GHANIZADA - Mon Nov 14 2016
The Afghan National Defense and Security Forces (ANDSF) arrested one of the attackers of German consulate who was at large, the security officials said Sunday.
The officials further added that the arrested suspect was among the three suicide bombers who had launched a coordinated attack on German consulate in Mazar-e-Sharif city, the provincial capital of Balkh province.
A photograph of the attacker was released by the security forces but no further details have been given regarding the would-be suicide bomber.
Shortly before midnight on 10 November, a vehicle laden with heavy explosives detonated in the vicinity of the German Consulate in Mazar, killing four civilians and injuring 128, including 19 women and 38 children.
Full report at:
http://www.khaama.com/one-of-german-consulate-attackers-arrested-by-afghan-forces-02271
--------
India
Those who attempt change in Personal will burn their hands – Muslim Shabban's conference
November 14, 2016
Hyeraad: Even if changes take place in every religion of the world, Muslim Personal Law cannot be changed till Doom's Day since they are based on Quran and Hadith. Any attempt to change Muslim Personal Law will be in vain. Those who attempt this will burn their hands. These thoughts were expressed by Mr. Mohammed Mahmood Ali, Dy. CM of Telangana State while addressing Protection of Shariat Conference organized by Muslim Shabban of Hyderabad at Exhibition Ground yesterday. The confecence was held under the chairmanship of Mr. Mushtaq Malik, President of Muslim Shabban.
Mr. Mohammed Ali Shabbir, Opposition Leader of Congress in Telangana Legislative Council, Mr. Naveed Ahmed, President, Muslim Majlis-e-Mushawarath, Dr. Nazar Abbas, former President of AMU Students' Union, Mr. Danish Ali, General Secretary, Janata Dal (S), Mr. Syed Aziz Pasha, former CPI MP of Rajya Sabha, Mufti Sadiq Mohiudding, Maulana Hamid Mohammed Khan, Mr. B. Narayan Rao, Dalit leader of Karnataka and others attended the conference.
Maulana Syed Tariq Qadri presented a resolution for the cancellation of Article 44 of Constitution of India which was unanimously approved by the audience.
Mr. Mahmood Ali told that Mr. KCR has already clarified the stand taken by Govt. of Telangana and said that instead of eradication of poverty, Central Govt. has raised the issue of Uniform Civil Code which divides society. He made a reference to his meeting with Mr. Rajnath Singh in which he was advised to refrain from interference in Muslim Personal Law. He further said that Islam has given special status to women. The issue of Triple Talaq is meant eradicate evils. Mr. Mohammed Ali Shabbir slammed TRS Govt. that it is dancing to the tunes of RSS. Mr. Mushtaq Malik appealed to the Muslims to get unifted to oppose Uniform Civil Code. Mr. Syed Aziz Pasha told that after the defeat of Delhi and Bihar, Modi took the shelter of Uniform Civil Code. He further told that all the efforts to impose Uniform Civil Code will be foiled
http://www.siasat.com/news/attempt-change-personal-will-burn-hands-muslim-shabbans-conference-1064777/
--------
Shariat Protection Conference to Cooperate With AIMPLB
November 14, 2016
Tirunelveli (TN): A 'Shariat protection conference' held at a nearby town today decided to fully co-operate with All India Muslim Personal Law Board to 'safeguard' the Shariat act.
Various resolutions were passed, one among which said the constitutionally approved Shariat act for Muslims in matters like marriage, divorce, property rights and Wakf Board administration will be strictly followed and 'safeguarded'.
Another said it would oppose the Uniform Civil Code at all costs, a press release from the Shariat Protection conference, held at nearby Palyamkottai, said.
Full report at:
http://www.siasat.com/news/shariat-protection-conference-cooperate-aimplb-1064772/
--------
Muslims disappointed with CMs of twin states
November 12, 2016
Hyderabad: Chief Ministers of Telangana and Andhra Pradesh who made lofty claims of having sympathy with minorities have disappointed Minorities on Friday on the occasion of Minority Welfare Day, which marks the birth anniversary of first education Minister Maulana Abul Kalam Azad.
It was customary that the chief ministers attended the function in united Andhra but sadly after the bifurcation of the state both the chief minister kept themselves at bay from the celebrations. Interestingly both the chief ministers vie with each other to boast about minority welfare and development, but their absence in the Minority Welfare Day celebrations disappointed Muslims. Both the Chief Ministers remained absent in the function.
Full report at:
http://www.siasat.com/news/muslims-disappointed-cms-twin-states-1063826/
--------
Ceasefire agreement redundant: 286 violations by Pakistan post surgical strike
November 13, 2016
New Delhi :The 2003 India-Pakistan ceasefire agreement has virtually become redundant with a whopping 286 incidents of firing and shelling along LoC and IB in Jammu and Kashmir by Pakistani troops that resulted in death of 26 people, including 14 security personnel, since the surgical strike on terrorist launch pads in PoK.
There have been 186 ceasefire violations by Pakistani troops along the over 190 km International Border (IB) in Jammu frontier, while 104 violations of the agreement took place along the over 500 km Line of Control (LoC). "There has been 182 ceasefire violation by Pak Rangers along IB targeting civilian areas and BoPs in Kathua, Samba and Jammu districts since the surgical strike on the intervening night September 28 and 29," a senior BSF officer said on Sunday.
They also resorted to firing of 120 mortar bombs and from automatic weapons very heavily in which civilians and security personnel were killed and a large number of people including women and children suffered injuries, he said, adding that a large number of cattle perished in the shelling and huge damage was caused to houses.
A large population was forced out of their homes, harvesting of paddy crops halted and marriage season was badly affected in the border areas due to heavy shelling and firing. The officer said there have been 85 ceasefire violations by Pakistan along the LoC in Jammu region falling under 16 Corps area and 19 ceasefire violations have been recorded along the LoC in Kashmir region falling under 15 Corps area.
India and Pakistan entered into no-firing agreement along Indo-Pak border in Jammu and Kashmir in 2003. On November 25, 2003, the Director Generals of Military Operations of India and Pakistan agreed to observe a ceasefire along the International Border, Line of Control and Actual Ground Position Line in Jammu and Kashmir.
The worst-ever Pakistani shelling targeting civil population took place on November 1 when eight persons, including two children and four women, were killed and 22 others injured along the IB and the LoC in five sectors of J&K, forcing Indian troops to give befitting reply by destroying 14 Pakistani posts and killing two of their troopers.
A total of 26 people, including 12 civilians, were killed and more than 85 suffered injuries in Pakistani shelling and firing along IB and LoC in Jammu. The state government had closed over 400 schools along the border in Jammu region in the wake of the ongoing heavy cross-border firing.
Full report at:
http://www.siasat.com/news/ceasefire-agreement-redundant-286-violations-pakistan-post-surgical-strike-1064629/
--------
Creating "Muslim as the enemy" is the RSS-BJP mantra: Jignesh Mevani
November 13, 2016
New Delhi: Creating "Muslim as the enemy" to mobilize the Hindus and manufacture a conflict between the two, is the primary aim of the RSS-BJP government in the country, a meet organized by people's movement 'Satyagarh Abhiyan' here on Saturday.
It demanded a SC monitored probe into the October 31 Bhopal encounter in which one police constable and eight other under-trials were killed.
The meet was attended by Gujarat Dalit leader Jignesh Mewani and Shamshad Pathan, and expressed concern over politics of "fake encounter" in India.
"The politics of fake encounter propelled the prime ministership of Narendra Modi. We all know how Sadiq Jamal, Ishrat Jahan, Sohrabuddin Sheikh and Tulsi Prajapati were eliminated by police after terming them as Lashkar affiliates. This politics of fake encounter is now being replicated by Madhya Pradesh Chief Minister Shivraj Singh Chauhan," Pathan said, adding that he may throw his hat in the ring for the position of prime minister soon ahead of the next general elections.
The Satyagrah Abhiyan has stepped up effort for mobilization of people from November 13 at Jantar Mantar to spearhead the cause for justice for nine people, including the police constable killed in Madhya Pradesh. The police claim that alleged 'SIMI activists' had killed the constable, before escaping from jail.
Calling for a wider pan-India Dalit-Muslim OBC alliance, Jignesh Mewani said, that these communities need to come on one platform to fight the RSS led forces in the country.
Punching hole in the Gujarat model of development, Jignesh Mewani pointed out that Modi created fake aura of the Gujarat model by hosting vibrant Gujarat summits, while actual investments never came.
"The CAG kept on exposing scams after scams in the state. Modi was rattled by economic challenges and thus resorted to the politics of encounter killings to save his face. The Patidar and Dalit movements are shining example of failure of Gujarat model.
Political activist Comrade Ameeque Jamei termed the Bhopal encounter as an attack on the Constitution of India, in which eight under-trials allegedly affiliated with alleged SIMI activist were killed in cold blood while a constable was murdered. He demanded a Supreme Court monitored probe into the incident.
"There is no rule of Constitution in Madhya Pradesh, where police cannot register a case against RSS cadres, who are involved in criminal incidents," he said.
Jamia Nagar based Congress Political activist Parwez Alam Khan said that BJP-RSS government is playing the politics of perception, and attempting to create a conflict between both the communities.
Full report at:
http://www.siasat.com/news/creating-muslim-enemy-rss-bjp-mantra-jignesh-mevani-1064251/
--------
Pakistan
As battle in Mosul unfolds, ISIS looks to Pakistan for fresh recruits
13 November 2016
ISIS is increasing its presence in Pakistan, recruiting Uzbek militants, attracting disgruntled Taliban fighters and partnering with one of Pakistan's most violent sectarian groups, according to police officers, Taliban officials and analysts.
Its latest atrocity was an attack Saturday on a Sufi shrine in southwestern Pakistan that killed at least 50 people and wounded 100 others. The group said in a statement that a suicide bomber attacked the shrine with the intent of killing Shiite Muslims and issued a picture of the attacker.
When ISIS circulated a photograph of one of the attackers in last month's deadly assault on a police academy in southwestern Baluchistan province, two Taliban officials told The Associated Press that the attacker was an Uzbek, most likely a member of the Islamic Movement of Uzbekistan.
Full report at:
https://english.alarabiya.net/en/News/gulf/2016/11/14/WHO-warns-cholera-threatens-half-of-Yemen.html
--------
Islamic State's Pakistan attack highlights changing tactics
Nov 13, 2016
By Asad Hashim and Gul Yousafzai
The second deadly attack in Pakistan claimed by Islamic State's leadership in a month shows a swift rise of the movement by partnering with local sectarian groups, analysts say, even as an official on Sunday denied IS has a Pakistan presence.
Islamic State's Arabic-language news service in the Middle East claimed responsibility for the bombing of a Muslim shrine on Saturday, which killed 52 people and wounded scores more in the southwestern Pakistani province of Baluchistan.
The blast at Shah Noorani shrine, in a remote area about 100 km (62 miles) north of the port city of Karachi, happened while hundreds of people were inside. It followed an attack on a police academy on Oct 24 in the same province that was jointly claimed by IS and a Pakistani sectarian faction, Lashkar-e-Jhangvi Al Alami.
The Al Alami faction did not claim direct involvement in the latest attack, but a spokesman repeated that the group cooperates with IS's leadership and other jihadist movements.
"Right now, in Pakistan, and especially in the cities, wherever there are attacks taking place, Lashkar-e-Jhangvi Al Alami is cooperating with them either directly or indirectly," spokesman Ali bin Sufyan told Reuters via instant messaging.
The use of local proxies among established militants has been a singular aspect of Islamic State's entry into Pakistan.
In neighboring Afghanistan, by contrast, members of the Afghan and Pakistani Taliban have switched allegiances and rebranded themselves as IS fighters.
In Pakistan, however, Islamic State appears happy to let their local allies operate under their own identities in exchange for allowing IS to claim responsibility for high-profile attacks.
"IS may not have a formal structure in Pakistan, but certainly they have support among some of the banned militant groups, particularly Sunni sectarian groups" like Lashkar-e-Jhangvi Al Alami (LeJ-AA), said Zahid Hussain, a Pakistani security analyst.
"It's a kind of nexus that we are seeing between global jihadi groups and local sectarian groups."
OFFICIAL DENIAL
Pakistani officials, however, continue to deny Islamic State has developed any meaningful operations in the country, which is home to a host of other Islamist militants including the Taliban, LeJ, Lashkar-e-Taiba and al Qaeda.
"There is no presence of (Islamic State) in Baluchistan. The claim IS made is false," Baluchistan Home Minister Sarfaraz Bugti told Reuters on Sunday.
Bugti said that recent attacks claimed by IS were carried out by Lashkar-e-Jangvi Al Alami, but the group gave information to IS on the attackers in order to harm Pakistan's reputation.
"Claims through IS are a conspiracy to isolate Pakistan in the international community," he said.
He added that he believes the LeJ Al Alami faction was acting on orders of Pakistan's arch-foe and neighbor, India, though he did not explain how India would facilitate contact with Islamic State. Pakistan officials often say India is connected to militant attacks in Baluchistan.
The Baluchistan attacks came mere months after Pakistan's chief military spokesman told a press briefing that Islamic State's plans to expand into the country had been thwarted.
Analyst Hussain, however, said there are now clear signs that Pakistani militants are in direct contact with Islamic State's central leadership and with the movement's hundreds of loyalist fighters in eastern Afghanistan.
Full report at:
http://www.reuters.com/article/us-pakistan-attack-islamicstate-idUSKBN1380BU
--------
Injured of Shah Noorani shrine blast narrate horror of attack
SHAZIA HASAN
Nov 14, 2016
KARACHI: Desperate people ran helter-skelter with printed photographs or digital pictures of their loved ones as they tried to gather information about them at the Civil Hospital Karachi throughout the night following Saturday evening's suicide attack at the Shah Noorani shrine in Khuzdar. All the injured and dead were being brought to Karachi via road while their relatives here braced themselves for the worst.
The major hospitals of Karachi, including Civil, Jinnah Postgraduate Medical Centre and Abbasi Shaheed, had declared an emergency as they remained ready to receive the casualties. The number of dead rose to 54 with over 103 wounded. Most of them arrived at the Civil Hospital. Dr Abdul Qadir, additional medical superintendent general and coordinator for the SMBB Trauma Centre and Civil Hospital, said they had by Sunday afternoon discharged some 17 patients while 28 were still under treatment at the hospital.
"Six of them were operated upon and are recuperating now; one is on a ventilator in the ICU," he said, adding that soon after the attack they had appealed for O Negative, B Negative and A Negative blood types, and their appeals were answered promptly. About the type of injuries, he said that were orthopaedic mostly with some head and abdominal injuries due to penetration of the pellets and bearing balls.
Dr Qadir also said that his hospital received 34 bodies, three of which had not yet been identified.
It was a long and painful journey back during which many of the injured died.
Sameer Ahmed, a resident of Memon Goth here, said he was at the shrine with his cousin Ahsan. "We were watching the dhamal at the mela when there was this loud explosion and everything shook making me lose my balance, too. I think I was thrown a few feet away from the pressure of the blast," he recalled. "I called my cousin's name many times but he didn't answer. I felt I couldn't move much. I dragged myself trying to find him. I couldn't," Sameer, now being treated for his wounds at the SMBB Trauma Centre, Civil Hospital, shared with Dawn on Sunday.
"We learnt about the attack from television," said Sameer's maternal uncle, Allah Bachaya. "Sameer's is the son of one of my sisters and Ahsan the son of another, who lives in Khokhrapar. I joined both my sisters after watching the news. We were going out of our minds trying to reach the boys but it was no use because there is an issue with mobile phone signals where they were. We came to the Civil Hospital because it was being said that the injured were being brought here. It was many hours before they could reach here though. And then we only found Sameer," the uncle said. "Ahsan was identified later, among the dead," he added quietly.
"Our family members have always travelled to the shrine because we feel our prayers there are always answered. I ask the Almighty now, what did we do wrong this time," he said.
There were a couple of little children, too, in the ward. "Their injuries aren't life-threatening but their parents are not doing so well," said Dr Abdul Qadir. "We thought it better to keep children close to their parents."
The children's father, Mohammad Rashid Sabri, a qawwal, said he was at the shrine with his wife and three children, two of whom, eight-year-old Malaika and four-year-old Afzal, were with him in the ward. "My wife, Afroze, and two-year-old son Akbar are somewhere on the upper floors of this hospital. I am told my wife got bearing balls in her head and needs to be operated for that. My youngest is also somewhere with her," he said with his brother Qazi Abid Ali watching him as he stood next to his bed.
Full report at:
http://www.dawn.com/news/1296138/injured-of-shah-noorani-shrine-blast-narrate-horror-of-attack
--------
At Pakistan mortuary, unclaimed bodies and frantic relatives
November 13, 2016
KARACHI, Pakistan – In Karachi's largest mortuary, the body of an infant not more than nine months old sits waiting to be claimed.
He was the youngest victim of a suicide attack at a shrine in southwest Pakistan Saturday that killed 52 people. Mortuary worker Latafatullah Hassan said he fears the infant's parents were also among the dead.
The mortuary is cold. The child's body is uncovered. He looks as if he could be sleeping, with no visible wounds from the suicide bombing of a crowded Sufi shrine in the midst of a crowded religious celebration.
The Islamic State group's local affiliate, calling itself the Khorasan Province, claimed responsibility — saying that a suicide bomber had attacked "Shiites" at the Shah Noorani shrine in the remote Khuzdar district of Baluchistan province. The bomber struck amid diverse crowds full of women and children during the traditional Sufi dhammal dance. The shrine is frequented by both Pakistan's majority Sunni and minority Shiite Muslims.
Gulam Rasool arrived frantically at the mortuary, waving the identity card of his cousin — an elderly looking man with a long white beard. "I've been everywhere, to every hospital but I can't find him. They told me to come here."
An ambulance with a body inside screamed to the gate. Rasool shoved past people to reach the vehicle. But it wasn't his cousin.
Inside the ambulance was the corpse of 16-year-old Bilal, accompanied by his father, Sabir. The older man's brown shalwar kameez was soaked with sweat and tears covered his cheeks. Sabir, who didn't give his family name, said his only son had been on his first-ever visit to the shrine with a group of friends. Now he was bringing his body to be washed and wrapped in a white shroud in keeping with Islamic burial custom.
Senior police official Azad Khan said the area around the shrine is a known hotbed for sectarian militants. It is the home turf of Shafique Mengal, who was once a leader in the virulently anti-Shiite Muslim group, Lashkar-e-Jhangvi. Two years ago Mengal declared allegiance to the Islamic State group.
Khan said that Mengal and his followers have found safe havens across the border in Afghanistan. He also said that both local and foreign militants, including Uzbek nationals, have begun carrying out attacks on behalf of IS.
In Karachi, paramilitary rangers and police have raided dozens of madrassas, or Islamic religious schools, in recent days in search of militants aligned with militant sectarian groups. Meanwhile the frequent Sunni militant attacks on Shiites, who make up about 25 percent of Pakistan's 180 million people, have resulted in retaliatory attacks on Sunnis from a Shiite militant group known as the TNFJ.
Full report at:
http://www.foxnews.com/world/2016/11/13/at-pakistan-mortuary-unclaimed-bodies-and-frantic-relatives.html
--------
Enemies of Islam, Pakistan are going for soft targets: CM
November 14, 2016
The Sindh chief minister said on Sunday that terrorists were enemies of Pakistan and Islam, and their attacks on Muslims were evidence of their nefarious designs.
Murad Ali Shah was talking to reporters at the Civil Hospital Karachi's trauma centre where he went to inquire the health of the people injured in the bomb blast at Shah Noorani shrine on Saturday night.
He said shrines, mosques and such other such places were soft targets and that was why terrorists targeted them.
Conceding the fact that the Sindh government lacked the ample resources to deal with such incidents and disasters, he said steps were being taken to improve the capacity.
The chief minister said he would appoint 6,000 doctors to meet the shortage at the CHK trauma centre and the hospitals in the rural areas of the province.
New helicopter
The Sindh CM said he had ordered the purchase of a new helicopter for disaster management, but the Supreme Court had stayed the move.
Full report at:
https://www.thenews.com.pk/print/164632-Enemies-of-Islam-Pakistan-are-going-for-soft-targets-CM
--------
'Newsleak issue can't be swept under the carpet'
Nov 14, 2016
LAHORE: Jamaat-i-Islami (JI) emir Senator Sirajul Haq says the government has not taken the news leak issue seriously and warns that the matter cannot be swept under the carpet.
In a press release issued on Sunday, he said the interior minister's explanation had given the impression as if it was an insignificant matter that was being raised unnecessarily. He said had the government been sincere in this respect, it would have taken the parliament and the opposition into confidence and set up an independent inquiry commission. He said the institution of a controversial commission had further aggravated the situation.
Mr Haq said that after allegations of corruption, the prime minister should have stepped down till his position was cleared but he was trying to save himself, adding to the doubts.
Meanwhile, JI secretary general Liaqat Baloch condemned the terrorist attack at the shrine of Shah Noorani in Balochistan and termed it an attempt to plunge the county into a sectarian strife.
Full report at:
http://www.dawn.com/news/1296245/newsleak-issue-cant-be-swept-under-the-carpet
--------
Hazara varsity teacher arrested for defrauding colleagues
NISAR AHMAD KHAN
Nov 14, 2016
MANSEHRA: Police have arrested a professor of Hazara University for defrauding his colleagues in the name of allotment of plots at a non-existence colony.
Police said that Prof Fazal Akbar with the help of his accomplice Prof Khan Afsar deprived employees of Hazara University of Rs280 million.
"We arrested the suspect, who fraudulently received money from professors and teaching staff of Hazara University to allot them plots in a colony, which did not exist.
He had disappeared at time of allotments of plots earlier this year," DSP Zulfiqar Khan Jadoon told journalists here on Sunday.
Prof Arshad Siddique has lodged FIR against the suspects.
He told police that Prof Fazal Akbar, a resident of Mardan, and his accomplice Prof Khan Afsar received the amount from scores of their colleagues for establishment of a professors' colony at bypass road in Mansehra but both disappeared after receiving the money.
Prof Siddique said that he along with other colleagues made several attempts for recovery of their money but could not succeed.
He said that that they were told by land revenue department that nobody had acquired land for establishment of such colony in the district.
Police raided the residences of both the suspects and arrested Prof Fazal Akabr while Prof Khan Afsar managed to flee.
Full report at:
http://www.dawn.com/news/1296167/hazara-varsity-teacher-arrested-for-defrauding-colleagues
--------
QWP calls for boosting friendly relations with Afghanistan
14-Nov-16
PESHAWAR: The Qaumi Watan Party Chairman, Aftab Ahmed Khan Sherpao, has called for brotherly relations with neighbouring Afghanistan, adding that both the countries had religious, social and cultural affinities that could not be ignored.
While addressing a large gathering of party workers at a joining ceremony in Takhtbhai, Mardan, the chairman emphasised that brotherly relations with Afghanistan would ensure peace and stability in the entire region with enduring and sustainable prospects for development.
Aftab Sherpao clarified that certain enemies of Pakistan were trying to sabotage the relations between both the countries and that the federal government should take measures for ensuring the peaceful and dignified return of the Afghan refugees to their country.
"We have served our Afghan brothers for decades and now we are at the risk of turning decades of hospitality into enmity. We cannot allow the foes of Pakistan to succeed in their nefarious designs by isolating Pakistan in the region." he added
Aftab Sherpao also criticised the federal government for its indifference towards the rights and needs of the smaller federating units adding that such an attitude was promoting consternation among the people of Khyber Pakhtunkhwa. The chairman clarified that in order to ensure a strong and stable federation; the federal government should provide put an end to the exploitation of resources in the smaller provinces.
Full report at:
http://dailytimes.com.pk/khyber-pakhtunkhwa/14-Nov-16/qwp-calls-for-boosting-friendly-relations-with-afghanistan
--------
War on terror suffering due to govt's 'compromising approach': MWM
November 14, 2016
KARACHI - Majlis Wahdat-e-Muslimeen (MWM) leader Allama Raja Nasir Abbas has said the government has failed to take action against terrorists in the country and the war against terrorism is suffering due to government's "compromising approach".
Speaking at a condolence reference for the victims of a terrorist attack on the shrine of Hazrat Shah Noorani on Sunday, Allama Abbas said that terrorists had once again proved their brutal mindset by murdering peaceful and innocent people. He said that people who considered everyone a heathen except themselves were behind the attack on the shrine of Hazrat Shah Noorani.
He said the MWM condemned this barbarism and announced three-day mourning. He said that saints and their devotees had always spread the message of love, peace and tolerance. "We will not let this message of peace and tolerance die. Blood of the people who were martyred at the shrine of Hazrat Shah Noorani will not go waste; it will ultimately lead to elimination of the terrorist ideology from the country," he added.
He said that same people were responsible for the killing of innocent people in Sindh, Balochistan and Karachi. He said the plague of terrorism would not end unless abettors and political patrons of terrorists are not identified and taken to task.
Full report at:
http://nation.com.pk/karachi/14-Nov-2016/war-on-terror-suffering-due-to-govt-s-compromising-approach-mwm
--------
Africa
Somalia: Allied Forces Retake Town From Al Shabaab Militants
13 NOVEMBER 2016
South West state forces backed by AMISOM soldiers wrested control of a small town in Bakool region from the Al Qaeda-linked Al shabaab fighters on Sunday, residents said.
The forces recaptured El Garas village, near Tiyeglow town in Bakool region, without encountering a resistance from the militants who are reportedly fled the area upon the advance of the allied troops.
The militant group Al shabaab has regained El Garas and other key towns in the region, including Tiyeglow district in Bakool region from Somali troops, after Ethiopian troops surprise withdrawal.
Somali federal government said it will liberate all towns retaken by Al shabaab in recent weeks, after Ethiopian troops who are not serving with AMISOM began pulling out key areas in south of the country.
Al Shabaab has intensified its attacks in Somalia in the past few months, as the nation is holding crucial parliamentary and presidential election which kick started across the country early this month.
http://allafrica.com/stories/201611130017.html
--------
Dozens of Boko Haram militants surrender to Chadian troops
Nov 12, 2016
A large group of militants belonging to the Boko Haram Takfiri terrorist group along with their families have surrendered themselves to the army troops in Chad since September.
"They surrendered to our troops on the front line in Lake Chad," said Colonel Mohammad Dole, the Chief Military Public Information Officer for the Multinational Joint Task Force (MNJTF) headquartered in Chad's capital N'Djamena, on Saturday.
Dole further said all these militants, some 240, mostly Chadian nationals, had been held in two detention centers along with their families in the remote town of Baga Solo.
"The surrenders are taking place because of the firepower of our operations. The groups, many of them armed, have been arriving since September and their number keeps increasing," he added.
The MNJTF is a joint force consisting of troops from Nigeria, Niger, Cameroon, Chad and Benin, tasked with ending the Boko Haram militancy in the Lake Chad region. It launched a regional operation in July against the group, which has pledged allegiance to the Daesh Takfiri terrorist group.
Full report at:
http://www.presstv.ir/Detail/2016/11/12/493314/Chad-Boko-Haram-Nigeria-Niger-Daesh-MNJTF
--------
Muslim leaders demand 'apostasy' blogger's death sentence be upheld
14 November 2016
NOUAKCHOTT, Mauritania - Muslim leaders in deeply conservative Mauritania have demanded the government carries out the execution of a blogger originally sentenced to death for apostasy, his lawyer said on Sunday.
Cheikh Ould Mohamed Ould Mkheitir was initially sentenced to death for apostasy in 2014, although the crime was downgraded to being an "infidel", without the death sentence being lifted.
Mkheitir has been in custody since January 2, 2014 over an article he wrote, allegedly challenging decisions taken by Islam's prophet Mohammad and his companions during holy wars in the seventh century.
Defence lawyer Fatimata Mbaye told AFP on Sunday that the supreme court would re-examine the case on Tuesday as Mkheitir, a Muslim in his 30s who has also been named as Mohamed Cheikh Ould Mohamed, has repented.
But in a statement published on Sunday, the Forum of ulemas and imams for the defence of the prophet of Islam, called for the sentence to be upheld.
"With regard to the existing scriptures, we give our fatwa (religious opinion) that Ould Mkheitir should be killed for infidelity and apostasy, without accepting his repentance," the body of Islamic leaders created in 2014 said.
Mbaye told AFP the supreme court could pardon Mkheitir but must first "determine the sincerity of his repentance".
A criminal court in Nouadhibou in the north of the west African country -- an Islamic Republic that adheres to a strict interpretation of shariah, Islamic law -- had sentenced Mkheitir to death in December last year.
Jubilant scenes
The verdict was met with shouts of acclaim from the court's public gallery, while on the streets there were jubilant scenes as cars sounded their horns.
An appeal court in the same town downgraded the charge in April but maintained the death sentence.
Full report at:
https://www.enca.com/africa/muslim-leaders-demand-apostasy-bloggers-death-sentence-upheld
--------
West African Leader Expects Trump to Moderate His Most Controversial Stands
By FELICIA SCHWARTZ
Nov. 13, 2016
WASHINGTON—Senegalese President Macky Sall said on a visit to the U.S. that he does not believe President-elect Donald Trump will follow through on some of his most controversial campaign pledges, including a ban on Muslim immigrants, that raised alarm bells for world leaders.
"I do believe that what he said as a candidate will be very different than what he will do as president because president is president," Mr. Sall said in an interview with The Wall Street Journal.
Mr. Sall, elected in 2012, heads a Muslim-majority African country that is a key contributor to counterterror operations and a signatory to the landmark Paris climate agreement that caps emissions and aims to curb the global rise in temperatures.
One of the first foreign leaders to visit the U.S. in the aftermath of the election, Mr. Sall did not meet either Mr. Trump or President Barack Obama, but was attending meetings at the International Monetary Fund and the U.S. Agency for International Development.
Mr. Trump had called on the campaign trail last year for a temporary ban on Muslim immigration. He later shifted on that proposal, saying he would pause immigration from countries affected by terrorism. He has also pledged to pull the U.S. out of last year's international agreement reached in Paris that commits more than 190 countries to curtailing greenhouse gas emissions.
Mr. Sall said he and other leaders have no idea what the president-elect actually will do.
"We want to continue our cooperation with the United States and I think the U.S. needs not just Senegal but all of Africa," he said. "I'm sure that President Trump will see the reality of the relationship between the U.S. and the rest of the world."
The West African leader, who hosted a visit from Mr. Obama in 2013, struck a hopeful tone about his country's direction and its ability to work with Mr. Trump. He will next week head to Morocco where climate negotiators are discussing the next steps for the Paris agreement.
Mr. Sall dismissed concerns that the U.S. under Mr. Trump might not follow through on its commitments on the agreement, which could discourage Senegal and other "least developed countries" from abiding.
"America cannot go back after the Paris agreement because it is for our common interests in the entire world," Mr. Sall said. "If we continue on this way, definitely we will lose our planet."
Mr. Trump said almost nothing about Africa on the campaign trail, and it remains to be seen what priorities, if any, he has for the continent.
The U.S. currently spends billions in Africa on aid and investment and Mr. Trump's predecessors both launched personal projects there. Mr. Obama started the "Power Africa" project, which aims to double the number of people who have electricity on the continent, and also has encouraged businesses to invest there. President George W. Bush started the President's Emergency Plan for Aids Relief, which provided drugs for millions of HIV patients.
Senegal, a tolerant and cosmopolitan West African democracy, has been a long time supporter of the International Criminal Court. South Africa last month dealt a blow to the court when it said it had begun initiating steps to leave the tribunal.
Full report at:
http://www.wsj.com/articles/west-african-leader-expects-trump-to-moderate-his-most-controversial-stands-1479057126
--------
Minnesota men to be sentenced in plot to join Islamic State
November 13, 2016
Nine Minnesota men who have been convicted of plotting to join the Islamic State group in Syria are scheduled to be sentenced this week, capping a long court case that shined a light on terrorism recruitment. The men are expected to receive various sentences during separate hearings on Monday, Tuesday and Wednesday. Here are some key issues:
WHAT IS THIS ABOUT?
Prosecutors say that starting in the spring of 2014, a group of friends in Minnesota's large Somali community began inspiring and recruiting each other to travel to Syria to join IS. Some succeeded in making the trip, but others didn't.
Nine men were prosecuted. Six of them pleaded guilty to conspiring to provide material support to a foreign terrorist organization, which has a maximum sentence of 15 years in prison. The other three went to trial, where they were also convicted of conspiracy to commit murder outside the U.S., which carries a possible life sentence.
When the trial ended, U.S. Attorney Andy Luger called it "one of the most important" trials in Minnesota in years because it put a spotlight on ongoing terrorism recruitment in the state.
The FBI has said about a dozen people have left Minnesota to join militant groups in Syria in recent years. Since 2007, more than 22 men have joined al-Shabab in Somalia. The overall investigation into terror recruitment is ongoing.
HOW LONG WILL THE MEN GO TO PRISON?
That's up to the judge. Prosecutors are asking for lengthy sentences, citing the violence of the Islamic State group and some of the men's persistent attempts to join. But defense attorneys are seeking leniency, saying their clients were young men who felt alienated and caught between two worlds.
Prosecutors are recommending the stiffest sentence — 40 years in prison and supervision for life — for Guled Ali Omar, who was once considered a leader of the group. Omar's attorney, Glenn Bruder, is asking for 15 years or less, saying Omar and his co-defendants were the "Three-Stooges of international terrorism. Their efforts to abandon the United States were naive, ill-considered and bumbling."
Prosecutors are seeking 30 years in prison for Omar's co-defendants, and 15 years for four others who pleaded guilty. They are recommending four-and-a-half years and three-and-a-half years for two men who cooperated. Defense attorneys are seeking less time in each case.
FACTORS IN SENTENCING
In addition to standard presentence investigation reports, U.S. District Judge Michael Davis will consider evaluations done on some of the men to assess their risk for re-engaging in terroristic activities.
Full report at:
http://www.twincities.com/2016/11/13/minnesota-plot-isis-sentencing-somali-community-syria-terrorism-islamic-state/
--------
Arab World
Clashes in Aleppo after Syrian army tells rebels to leave city
Nov 14, 2016
ALEPPO: Syrian government forces clashed with rebels on the outskirts of eastern Aleppo city on Sunday, a monitor said, after residents received messages from the army giving opposition fighters 24 hours to leave.
The Syrian Observatory for Human Rights, a Britain-based monitor, reported clashes in the Karam al Turab neighbourhood and the village of Al Aziza, just outside the city.
The fighting could be heard in much of the rebel-held east, which is surrounded by government forces and has come under repeated assault since the army announced an operation to recapture it in September.
The fighting came as residents in east Aleppo received text messages warning rebels to leave within 24 hours.
"Gunmen in east Aleppo, you have 24 hours only to take the decision to leave," the message said.
"Those who want to save their lives must put down their weapons and their safety will be guaranteed. After the end of this period, the planned strategic offensive will begin," it added.
Syria's government and army have regularly sent rebels and residents in eastern Aleppo text messages warning them to leave the besieged sector.
Once Syria's economic powerhouse, the city has been divided into a government-held west and rebel-held east since mid-2012.
In September, the army announced an operation to recapture the east, unleashing a massive assault backed by Russian warplanes.
The initial phase of the assault killed hundreds of civilians and destroyed infrastructure including hospitals.
But in recent weeks, Russia has declared a series of brief truces, intended to encourage people to leave the east, although so far few have done so.
Rebels, meanwhile, have sought to break through government lines to end the siege on the east that began in July, so far without success.
They have fired barrages of rockets into western Aleppo, killing dozens of civilians, including four people in the Halab al-Jadida district on Sunday.
State news agency SANA said the dead included a child and two women.
Seven people were killed in regime rocket fire into Salhine district in east Aleppo, the Observatory said.
It said they died when a rocket hit the minibus they were in, and that the toll could rise because of the number of seriously wounded.
Another person was killed in artillery fire on Sukari district in the east.
More than 300,000 people have been killed in Syria since the conflict began with anti-government protests in March 2011.
Published in Dawn, November 14th, 2016
http://www.dawn.com/news/1296238/clashes-in-aleppo-after-syrian-army-tells-rebels-to-leave-city
--------
Iraqi Forces Recapture Ancient City of Nimrud
Nov 14, 2016
MOSUL: Iraqi forces said on Sunday they had recaptured the site of an ancient Assyrian city blown up by the militant Islamic State group, as they battled the jihadists south of Mosul.
The troops pushed towards Nimrud last week as they pressed an offensive begun on Oct 17 to recapture Iraq's second city, which the jihadists seized along with swathes of Iraq and Syria in mid-2014.
A Kurdish-Arab alliance is pursuing a twin offensive against the other major city still under IS control, Raqa in Syria, and a US-led coalition is backing both assaults with air strikes.
"The villages of Al-Nomaniyah and Al-Nimrud and the ruins of Nimrud were recaptured," Staff Brigadier General Saad Ibrahim of the 9th Armoured Division said.
Iraq's Joint Operations Command had announced earlier in the day that the entire Nimrud area was retaken, but later said that this was incorrect. The village of Nimrud and the archaeological site have however been recaptured, the JOC said.
Nimrud was the one of the great centres of the ancient Middle East. Founded in the 13th century BC, it became the capital of the Assyrian empire, whose rulers built vast palaces and monuments that have drawn archaeologists for more than 150 years.
In April last year, IS posted a video on the internet of its fighters smashing monuments before planting explosives around the site and blowing it up.
Full report at:
http://www.dawn.com/news/1296240/iraqi-forces-recapture-ancient-city-of-nimrud
--------
Violence in Syria kills 23, including 11 children
14 November 2016
At least 11 children were among 23 people killed Sunday in northern Syria as pro-government forces kept up their campaign against opposition areas in the country's north, while rebels shelled a government-held district in Aleppo city.
At least eight more people were killed in a suspected airstrike on a crossing point connecting Kurdish-held areas with rebel areas in northern Aleppo province, the Kurdish security force said.
The violence Sunday comes a day after government troops repelled a rebel offensive on western parts of Aleppo city launched in late October. State news agency SANA said the shelling of a western Aleppo district killed four people, including two women and a child.
Residents of eastern Aleppo said Sunday that for days they have received text messages urging them to leave in the next 24 hours. It was not possible to immediately verify the authenticity of the messages or who sent them. Government aircraft had previously dropped fliers on the eastern districts also urging residents to leave and make use of the Russian-declared passageways to evacuate the besieged district.
Three residents said they received the messages Friday and Sunday throughout the day, denouncing the opposition and threatening residents with an attack.
As of Sunday evening, Syrian Civil Defense's Ibrahim al-Haj said government artillery shelling in the al-Salheen neighborhood of besieged eastern Aleppo killed a mother, her four children and her husband traveling in a car. Other shelling killed a child, a woman and three men in two different neighborhoods of the besieged territory, al-Haj said.
Full report at:
https://english.alarabiya.net/en/News/middle-east/2016/11/14/Violence-in-northern-Syria-kills-dozens.html
--------
Syrian Army Scores More Victories against Terrorists in Aleppo
Nov 14, 2016
Following their advances in Southwestern Aleppo and cleansing Zahiyeh al-Assad and Menyan quarters from militants, pro-government forces expanded their rule over more lands in Southern Aleppo.
Army soldiers and popular forces, who captured the village of Khirbet al-Zawari in Southern Aleppo, engaged in more clashes with the militants and took control over lands stretching towards the strategic hills near the village.
In the meantime, a large number of terrorists were killed and tens of them fled the battlefield following an army offensive on militants' positions near the newly-captured village of Kafr Hadad.
Sources in Northern Syria revealed on Sunday that government troops were about to start a massive operation to hit Jeish al-Fatah's positions in the Southern, Western and Southwestern parts of Aleppo.
"As the army's ultimatum to the terrorists deployed in the Eastern parts of Aleppo city is nearing its end, pro-government troops are readying to launch the next phase of their operation in the Western part of the city," a field commander said.
"With the liberation of several strategic districts in the West and Southwest, the army now has the upper hand in the battlefield and intends to extend the security ring around the Western parts of the city," he said.
Full report at:
http://en.farsnews.com/newstext.aspx?nn=13950824000397
--------
ISIL's Notorious Tajik Commander Killed in Mosul
Nov 14, 2016
Radio Freedom quoted sources close to the ISIL as saying that Abu Abdullah was one of the Tajik militants who had fought for the terrorist group in Mosul.
Other sources also said that another Tajik fighter named Hamza Tajiki was among those killed in clashes with the Iraqi army in Mosul.
Tajik officials had earlier expressed deep concerns over the large number of the country's citizens who have joined the ISIL terrorist group in Syria.
They said that the Tajik youths' tendency towards extremism is concerning.
In September, former Tajikistan Special Forces colonel Gulmurod Halimov was appointed as the top ISIL battlefield commander in Iraq after defecting last year and joining the terrorist group.
Full report at:
http://en.farsnews.com/newstext.aspx?nn=13950824000461
--------
Syria in Last 24 Hours: Army, Air Force Inflict Heavy Losses on Terrorists in Western Damascus
Nov 14, 2016
The terrorists sustained heavy losses in the Syrian army's attacks and air raids by the country's warplanes.
The Syrian army also continued its advances in other key provinces across Syria.
Damascus
Syrian Army troops and Air Force started striking terrorist groups' positions in Western Ghouta after militants continued to attack government positions irrespective of the peace talks in the town of Khan al-Sheih.
Syrian fighter jets launched combat sorties over terrorists' positions in Khan al-Sheih, while the army soldiers, backed up by the artillery fire and military helicopters, engaged in fierce clashes with militants in Khan al-Sheih farms and advanced against them.
The artillery units of the army also opened fire at the terrorists' centers, including a command base, in the farms East of Khan al-Sheih.
Army soldiers also fended off terrorists' attack on their positions along a road connecting the town of Deir al-Khabiyeh to the village of Albuyizeh, killing or wounding ten of militants and capturing five.
Heisam Hasoun, a retired officer of the Syrian army, said that Syrian soldiers' operation in Khan al-Sheih was aimed at separating Quneitra from Southwestern Damascus. Separation of Damascus form Dara'a is also another objective of the operation against al-Nusra Front in Khan al-Sheikh.
He further added that terrorists only have the two options of "either facing a massive attack of the army or join the reconciliation talks as the army is resolved to continue the battle in Khan al-Sheih to the end.
Peace talks between the government and militants under siege in the town of Khan al-Sheih in Southwestern Damascus are ending up in failure after continued attacks by the terrorists on army positions, sources privy to the talks said on Sunday.
The terrorist groups' heavy attacks to lift the army siege in Khan al-Shieh are pushing the peace negotiations into failure while talks for relocation or surrendering of the militants in return for amnesty were in a last stage, according to the source.
The government offered the entrapped Nusra (Fatah al-Sham) terrorists a deal to relocate to Idlib or surrender to the army in return for amnesty after laying siege on the suburban Damascus town nearly two weeks ago. Talks have been underway between the two sides all throughout the last 12.
"While a number of militants sought to escape the region, the Nusra command center in expectation of reinforcements from comrades in other parts of Western Ghouta in Khan al-Sheih ordered intensifying attack on government troops to close escape paths and meantime win the upper hand in the talks," according to the source.
The terrorists initially requested relocation to Dara'a, but were forced to voice consent to a transition plan to Idlib in later stages of the talks.
The source said the militants sustained "a heavy death toll in their failed attacks as the town is still under the siege of the government forces".
"Following intensified attacks by the terrorists, the Syrian air force and artillery units pounded their positions in Khan al-Sheih in retaliation," he went on to say.
"Damascus is still insisting on ending clashes in Khan al-Sheih just like similar peace agreements in other towns of Western Ghouta, while the Nusra command center in Northern Syria that rejected hosting its units from Khan al-Sheih has ordered its units in the town to continue the fight as Khan al-Sheih is their last major stronghold in Western Ghouta," they added.
Khan al-Sheih is one of the most important bases of the terrorists that connect Damascus, Quneitra and Dara'a provinces to each other.
Full report at:
http://en.farsnews.com/newstext.aspx?nn=13950824000500
--------
Syrian Army to Start Operation in Aleppo City, Outskirts in Coming Hours
Nov 13, 2016
"As the army's ultimatum to the terrorists deployed in the Eastern parts of Aleppo city is nearing its end, pro-government troops are readying to launch the next phase of their operation in the Western part of the city," a field commander said.
"With the liberation of several strategic districts in the West and Southwest, the army now has the upper hand in the battlefield and intends to extend the security ring around the Western parts of the city," he said.
"Army soldiers also took control over the villages of Kafr Hadad and Khirbet al-Zawari in Southern Aleppo. This region is the entrance to the Southern countryside of Aleppo city and the last stronghold of the terrorists before al-Zerbeh, al-Eis and Khan Touman," he added.
"The Syrian army now has a number of choices for the rest of its anti-terrorism operation. It can further expand its rule towards Idlib province in order to lift the siege of the two towns of Fuaa and Kefraya or restore security to the old Sham road to Aleppo up to ICARDA and North of al-Zerbeh," the commander said.
"Another choice could be launching an operation towards the town of Khan al-Asal, the village of al-Mansoureh and the neighborhood of al-Rashedeen up to al-Zahra, Kafr Hamra, Abdrabeh and Yaqat al-Adas in the Northern countryside of Aleppo."
Full report at:
http://en.farsnews.com/newstext.aspx?nn=13950823001249
--------
Iraq troops aim to tighten noose on Islamic State in Mosul
November 14, 2016
BASHIQA, IRAQ : Iraqi soldiers fighting just north of Mosul, within sight of city neighborhoods, said on Sunday they were ready to tighten the noose around Islamic State militants waging a brutal defense of their Iraqi stronghold.
Four weeks into the campaign to crush Islamic State in Mosul, the city is almost surrounded but the jihadists' defenses have so far been breached only to the east, where they have battled elite troops for control of around a dozen districts.
The battle for Mosul, the biggest city held by the ultra-hardline Sunni Islamist group in Iraq and Syria, is the largest military operation in Iraq in a decade of turmoil unleashed by the 2003 U.S. invasion which toppled Saddam Hussein.
Iraq's Shi'ite-led government, which has assembled a 100,000-strong coalition of troops, security forces, Kurdish peshmerga fighters and mainly Shi'ite militias, backed by U.S. air power, says it will mark the end of Islamic State in Iraq.
But it says the fight will be a long one.
An army special forces officer on the northern front line said his men aimed to target Hadba, the first neighborhood ahead of them within city limits. The district was visible from his position in the village of Bawiza.
Brigadier Ali Abdulla said Islamic State fighters had been pushed out of Bawiza and another village, Saada, although progress had been slowed by the presence of civilians he said were being used by the militants as human shields.
"Our approach (to Hadba) will be very slow and cautious so that we can reach the families and free them from Daesh's (Islamic State's) grip," Abdulla said.
One man who escaped from Saada to Bawiza with his young son and daughter said they had to move from house to house and hide among sheep to avoid being caught by Islamic State fighters.
The timing of the decision to move on Hadba would depend on progress on other fronts, Abdulla said. Security forces are advancing to the south of Mosul, targeting the city's airport on the west bank of the Tigris river.
Abdulla said Islamic State was using suicide car bombs, roadside bombs, snipers and long range mortars to try to hold back the army advance in the north - all tactics it has used to lethal effect on the eastern front as well.
Another officer, Captain Oqba Nafaa, said the militants were still fighting in Saada, using a network of tunnels to carry out surprise strikes on the attacking forces.
The urban warfare tactics were similar to those they have deployed to lethal effect in the east of the city against elite Counter Terrorism Service (CTS) forces and an armored division.
In some districts, control has changed hands three or four times as the militants, using tunnels and exploiting the presence of civilians as cover, have launched night-time attacks and reversed military gains of the previous day.
One resident of al-Qadisiya al-Thaniya district, which the CTS entered on Friday, said the special forces later pulled back and Islamic State fighters returned.
"They came back to us again, and this is what we feared. At night there were fierce clashes and we heard powerful explosions," she told Reuters.
A military statement later said that CTS forces had cleared all militants from two districts of eastern Mosul, Arbajiya and Karkukli, and were still clearing three others.
TROOPS TAKE NIMRUD
About 30 km (20 miles) south of Mosul, troops recaptured the 3,000-year-old Assyrian city of Nimrud which was overrun by Islamic State militants two years ago, a military source said.
Nimrud, once the capital of an empire stretching across the ancient Middle East, is one of several historic sites looted and ransacked by the militants, who deem the country's pre-Islamic religious heritage idolatrous.
Full report at:
http://nation.com.pk/international/14-Nov-2016/iraq-troops-aim-to-tighten-noose-on-islamic-state-in-mosul
--------
Iraqi forces recapture ancient city of Nimrud
November 14, 2016
MOSUL - Iraqi forces said on Sunday they had recaptured the site of an ancient Assyrian city blown up by the Islamic State group, as they battled the jihadists south of Mosul.
The troops pushed towards Nimrud last week as they pressed an offensive begun on October 17 to recapture Iraq's second city, which the jihadists seized along with swathes of Iraq and Syria in mid-2014.
A Kurdish-Arab alliance is pursuing a twin offensive against the other major city still under IS control, Raqa in Syria, and a US-led coalition is backing both assaults with air strikes. "The villages of Al-Nomaniyah and Al-Nimrud and the ruins of Nimrud were recaptured," Staff Brigadier General Saad Ibrahim of the 9th Armoured Division told AFP.
Iraq's Joint Operations Command had announced earlier in the day that the entire Nimrud area was retaken, but later said that this was incorrect. The village of Nimrud and the archaeological site have however been recaptured, the JOC said.
Nimrud was the one of the great centres of the ancient Middle East. Founded in the 13th century BC, it became the capital of the Assyrian empire, whose rulers built vast palaces and monuments that have drawn archaeologists for more than 150 years.
In April last year, IS posted a video on the internet of its fighters smashing monuments before planting explosives around the site and blowing it up. It was part of a campaign of destruction against heritage sites under jihadist control that also took in Hatra in the desert south of Mosul and Palmyra in neighbouring Syria.
Displaced civilians
IS says the ancient monuments are idols that violate the teachings of its extreme form of Sunni Islam, but it has still sold artefacts to fund its operations. The United Nations Educational, Scientific and Cultural Organization welcomed the news of Nimrud's recapture.
"We welcome the news that Nimrod, a UNESCO world heritage site, is back under the control of the Iraqi government," said spokesman George Papagiannis. "We look forward to coordinating with the relevant authorities in Baghdad on providing support for any assessments that need to be done of the site, once the area has been stabilised."
The Iraqi offensive has seen federal forces and Kurdish peshmerga fighters advance on Mosul from the east, south and north. The elite Counter-Terrorism Services (CTS) force has pushed into the eastern outskirts of Mosul, with heavy fighting in recent days.
CTS Staff Lieutenant Colonel Muntadhar Salem told AFP on Sunday that its forces were looking to move into a new eastern neighbourhood. "Our goal today is to clear out IS from the western part of Karkukli," he said.
North of Karkukli in the neighbourhood of Arbajiyah, CTS forces were facing sniper fire as they moved street-to-street clearing houses.
On the edge of Mosul, dozens of civilians could be seen walking towards a gathering point from where they would be taken to a camp for the displaced. A dozen men swarmed around a barber shop for a shave.
Jihadist resistance
In neighbouring Syria, the US-backed Syrian Democratic Forces (SDF) militia alliance has moved to about 30 kilometres (20 miles) from Raqa since launching its offensive a week ago. Commanders have said the SDF is close to completing a first phase of the operation to surround and isolate Raqa before launching an assault on the city itself. The jihadists are putting up fierce resistance in both Mosul and Raqa, and military commanders have warned of long and difficult battles ahead. Turkey has launched its own operation against IS just south of its border in Syria, and a monitor said Sunday that Ankara-backed rebels had neared the IS stronghold of Al-Bab.
Full report at:
http://nation.com.pk/international/14-Nov-2016/iraqi-forces-recapture-ancient-city-of-nimrud
--------
OIC to discuss Houthi targeting of Makkah
14 November 2016
The Organization of Islamic Cooperation will hold a ministerial meeting Thursday to discuss Houthi militias' targeting of the holy city of Makkah with a ballistic missile last month.
The meeting of the foreign ministers of the OIC follows an emergency meeting held by the executive committee last week discussed any developments on the case, Al Arabiya.Net reported.
The OIC has condemned the failed attack on Makkah in Saudi Arabia after Houthi militias sent a ballistic missile across the border, shocking and angered both Saudis and Muslims worldwide late last month.
The previous meeting denounced the militias and those who provide them with arms including rockets and missiles to target Makkah.
Full report at:
https://english.alarabiya.net/en/News/middle-east/2016/11/14/OPINION-Trump-files-and-confronting-Russia.html
--------
Europe
British 'sharia courts' under scrutiny
November 14, 2016
Maureen Cofflard - For more than 30 years, sharia courts enforcing Islamic law have been operating quietly across Britain. But two official inquiries have put them in the spotlight amid accusations that they discriminate against women.
Very little is known about them, even their number, which one study by the University of Reading puts at 30, while the British think tank Civitas estimates there are 85. Sharia courts or councils, as they prefer to be called, mainly pronounce on Islamic divorces, which today constitute 90 percent of the cases they handle.
They range from groups of Muslim scholars attached to a mosque, to informal organisations or even a single imam. But while they are aimed at helping resolve family and sometimes commercial conflicts within the Muslim community, some stand accused of undermining women's rights.
Campaigners cite instances where courts have refused to grant religious divorces to women who are victims of domestic abuse, and accuse them of legitimising violence, including marital rape.
The government and MPs on parliament's home affairs committee both opened inquiries this year into whether the councils are actually compatible with British law. They are looking into the function and possible discriminatory practices of the courts.
'Rise of the Islamist movement'
The first sharia court appeared in London in 1982 under the government of Margaret Thatcher, who rolled back state intervention in many areas, including mediation in family conflicts, which was delegated to faith groups.
But religious courts have existed for hundreds of years in Britain, whether in the Catholic Church or in the Jewish community -- the Beth Din -- notes Amin Al-Astewani, lecturer in law at Lancaster University. As with sharia councils, the decisions of those bodies are not legally binding, but they represent a strong moral and social constraint for those who use them, he wrote in a submission to the parliamentary inquiry.
For Shaista Gohir, the chairwoman of Muslim Women's Network UK who gave evidence to the parliamentary inquiry, sharia councils are useful for Muslims but should be framed by a "strong code of conduct". She also urged the government to make civil marriage obligatory for couples marrying under Islamic law, to ensure women are legally protected, saying that 40 percent of women who contact her organisation only had religious marriages.
But for other Muslim feminists, the courts constitute a "parallel legal system" and should be banned altogether. An open letter to this effect was signed by more than 200 national and international women's organisations, while legislation which would limit the scope of sharia councils has been put forward by a member of the House of Lords.
"They are discriminatory, they are abusive, they endorse and legitimise violence," in particular marital rape, Maryam Namazie, spokeswoman for the One Law for All campaign, told AFP. She added: "These courts are linked to the rise of the Islamist movement. They are now saying that to be a good Muslim you have to go to these courts to get a divorce. It's not the case."
Full report at:
http://nation.com.pk/international/14-Nov-2016/british-sharia-courts-under-scrutiny
--------
As many as 5,000 ISIS recruits to return to Europe – Belgian minister
13 Nov, 2016
Belgian Interior Minister Jan Jambon estimates between 3,000 and 5,000 surviving Europeans among Islamic State's dwindling ranks, but admits that the continent's intelligence agencies can only watch and wait to see how many of them return.
"Islamic State [IS, formerly ISIS/ISIL] is under pressure in Mosul and Raqqa. Belgian fighters are helping defend the strongholds, but we must be aware that there are not only 200 of our countrymen there, but between 3,000 and 5,000 Europeans," Jambon told state broadcaster RTBF on Sunday.
"All the intelligence agencies are trying to monitor the situation and exchange information. If the wave comes, we must be ready."
With its previously under-powered security services, location in the heart of the EU, and a large contingent of Muslim immigrants concentrated in neighborhoods like Molenbeek in Brussels, Belgium is considered a hotbed of European Islamism.
"117 Islamic State recruits have returned to Belgium. About half are in prison, the others under surveillance. There are also several dozen who made failed attempts to get to Syria, and we are observing them," said the center-right Flemish politician.
Last year's Paris attacks, and the bombing of a train station and an airport in Brussels in March, were both plotted in Belgium, which the UN says has a higher number of Islamist militant recruits per capita than any other European country.
Over 30,000 people have travelled to the Middle East to help Islamic State and other Islamist militias over the past half-decade. With its dream of building a supranational Islamic Caliphate, IS purposefully cultivated an international appeal, attracting thousands of fighters from Tunisia, Saudi Arabia, Russia's Islamic regions, and the immigrant communities of Europe.
Full report at:
https://www.rt.com/news/366788-jambon-isis-european-militants/
--------
Suspects Plotted 'Paris-Style' Attacks In Russia: Reports
November 13, 2016
MOSCOW, RUSSIA: Suspects detained by Russian authorities were plotting simultaneous "Paris-style" attacks on Moscow and Saint Petersburg, local media reported on Sunday, the first anniversary of the massacre in the French capital.
The FSB security service, the KGB's successor, announced Saturday it had detained 10 citizens of Central Asian states who planned "high-profile acts of sabotage and terror" in the two Russian cities.
Saint Petersburg's Fontanka.ru news site reported Sunday that the seven people taken into custody in the city were suspected of planning attacks on two large shopping centres, citing official sources.
Government newspaper Rossiiskaya Gazeta reported late Saturday, citing security service sources, that the detainees "were planning terror attacks according to the Paris scenario" referring to ISIS group attacks a year ago that killed 130 people.
France was holding sombre commemorations Sunday for the victims of the November 13, 2015 assaults by gunmen and suicide bombers on night spots, the Bataclan concert hall and outside the national stadium.
"Several explosive devices were supposed to trigger simultaneously in busy places. At the same time in different parts of the cities some of the terrorists... were going to open fire with machine guns on crowds," the paper reported, referring to the Russian plot.
Rossiiskaya Gazeta called the attackers "a professional terrorist group."
The FSB said it confiscated four homemade bombs as well as trigger devices, guns, ammunition and communications equipment.
Authorities did not say when the attack plot was to take place.
Tip led to arrests
The security service released video footage of its black-clad officers in balaclavas holding two suspects facedown on the street.
Another video shows a stash of Kalashnikovs in a flat and detainees lying facedown on mattresses on the floor.
The FSB said the raids were carried out in cooperation with Kyrgyzstan and Tajikistan's law enforcement authorities.
Full report at:
http://www.ndtv.com/world-news/suspects-plotted-paris-style-attacks-in-russia-reports-1624905
--------
Afghan attack won't change US policy: Kerry
November 14, 2016
WELLINGTON - US Secretary of State John Kerry on Sunday condemned an "abhorrent and cowardly" suicide bombing which killed four Americans at a military base in Afghanistan. "Our mission in Afghanistan will not be deterred by these individual acts, it's that simple," he told reporters during a visit to New Zealand. "So the sooner people realise there's a better way to resolve differences, the sooner the world will be able to move more effectively in a better direction."
Full report at:
http://nation.com.pk/national/14-Nov-2016/afghan-attack-won-t-change-us-policy-kerry
--------
France marks one year since Paris attacks
November 14, 2016
PARIS - France on Sunday marked the first anniversary of the Paris attacks with sombre ceremonies and painful memories for the relatives of the 130 people killed. President Francois Hollande unveiled plaques at sites across the city that were attacked by the Islamic State jihadist group.
The first was at the Stade de France to commemorate Manuel Dias, 63, who was killed by a suicide bomber outside the national stadium as France were playing Germany in a football match, starting a series of coordinated attacks on the evening of November 13, 2015.
Hollande and Paris Mayor Anne Hidalgo then unveiled plaques outside bars and restaurants in the trendy neighbourhood where gunmen sprayed bullets at people enjoying a Friday evening out. The final ceremony took place outside the Bataclan, the concert hall where 90 people were killed by three attackers during a rock gig.
The names of those killed at the concert were read out as hundreds of people gathered under rainy skies watched in silence. Rock star Sting reopened the refurbished Bataclan with an emotionally charged show held amid tight security on Saturday.
"We will not forget them," the British singer told the crowd in French after a minute's silence for the victims.
Many in the crowd wept during the first song, "Fragile". The Bataclan management said they had prevented two members of the US group Eagles of Death Metal -- who were on stage when the bloodshed started -- from entering the Sting concert over controversial remarks by their lead singer Jesse Hughes.
"They came, I threw them out -- there are things you can't forgive," said the venue's co-director Jules Frutos. However the band's manager denied members of the group had tried to enter the concert hall at all. Hughes, who caused outrage in France by suggesting Muslim staff at the Bataclan might have cooperated with the attackers, was however in the crowd for Sunday's ceremony at the venue.
Olivier, 28, who was injured during the rampage, fought back the tears as he attended the unveiling of the plaque in front of the Carillon bar and the Petit Cambodge restaurant, where 13 people were killed. He was hit in the arm by a bullet while his friend was killed by the gunmen and on Sunday he accompanied his friend's mother to the ceremony. "I had to be here to support her," he told AFP. "But I won't come to any more commemorations."
He said he believed it was not enough to just remember the dead, "we must try to understand how this happened". Islamic State said it had struck at France because it was bombing its militants in Iraq and Syria. Hollande responded at the time that France was "at war" and French jets continue to launch air strikes on the group, which is fighting an Iraqi-led assault to take back the city of Mosul.
Prime Minister Manuel Valls said on Sunday the state of emergency declared after the attacks would likely be extended as France gears up for presidential elections in six months' time.
"This state of emergency device allows us to make arrests, administrative checks which are effective... So yes, we are probably going to live a few months more with this state of emergency," Valls told the BBC.
Full report at:
http://nation.com.pk/international/14-Nov-2016/france-marks-one-year-since-paris-attacks
--------
Mideast
Turkey Sends 4 Trucks of Arms to Terrorists in Idlib, Aleppo
Nov 13, 2016
"I have received information from the dissident media in Turkey, mostly internet websites, that 4 trucks full of arms supplies have entered Syria's Idlib province from Turkey to be sent to the terrorists in Aleppo," Sarkis Qasarjian said on Sunday.
The Turkish Army has supplied a large volume of arms and ammunition to Jeish al-Fatah terrorist coalition to use them in their Great Epic Operation to lift army's siege on militants in Eastern part of Aleppo city.
Hawar news quoted the sources as saying last week that the Turkish army opened a new border crossing in Northern Idlib to send fresh forces, army and munitions to the Ankara-backed terrorist groups.
The sources added that the Turkish army established the new border crossing near the village of Aqayrabat in Dana region in order to back up transfer of supplies through the Atmeh border crossing.
The Turkish army dispatched at least 20 tanks and ammunition trucks to Idlib via this border crossing.
The Turkish military forces sent these cargos of arms and ammunition simultaneous with preparation of Jeish al-Fatah terrorist to storm government positions in Aleppo.
In the meantime, four buses transferred tens of militants to Idlib via Atmeh border crossing last week. Fresh forces were dispatched to Aleppo battlefields.
Senior member of the Syrian Democratic Council Rizan Hado disclosed on Thursday that a Turkish helicopter landed near a check point at the bordering village of Atmeh in the Northern province of Idlib.
"The helicopter was carrying a number of Turkish officers and several boxes whose contents are not known, but sources said that they were full of advanced weapons which were unloaded," Hado said.
Also, Kurdish sources reported that the Turkish army fighter jets are flew over the villages near al-Qahtaniyeh town in the Northeastern parts of Hasaka and are firing flares over the entire region.
This is while the Turkish army forces on board military vehicles have been deployed at Syria-Turkey bordering areas.
Reports said late last month that Ankara has sent several trucks of ammunition to the Fatah al-Sham (formerly known as al-Nusra) Front and Ahrar al-Sham terrorists stationed at a base near Atme border region in the Northern province of Idlib.
According to al-Ahd news website, the Turkish army sent 20 trucks loaded with ammunition for the terrorist groups in Northern Syria in October.
The trucks entered Atme on October 23 through Bukulmez region which borders Deir Balut village in the Northwestern parts of Aleppo, al-Ahd reported two days later.
Relevant reports said in October that the terrorists of Fatah al-Sham Front had acknowledged that they recently received military training in camps in Turkish territories.
Syrian soldiers and popular in an ambush operation in Sheikh Saeed districts in the Southern part of Aleppo city captured a number of Fatah al-Sham terrorists recently.
The army said that the captured terrorists confessed that they had received advanced military training in a camp in Turkey.
Reports said in June that over 160 members of Fatah al-Sham terrorist group crossed the Turkish borders to join their comrades in Aleppo.
According to the Russian Center for Syrian reconciliation, at least 160 Fatah al-Sham Front militants crossed the border with Turkey in the North of Idlib province in June.
They were heading towards Aleppo to reinforce Takfiri terrorists fighting in the region, the Center added.
Since June, over 4,000 terrorists from various groups, including Fatah Al-Sham, have crossed the Turkish border into Syria, specially to help the militants entrapped in Aleppo.
http://en.farsnews.com/newstext.aspx?nn=13950823001327
--------
Erdogan hints at referendum on joining EU
November 14, 2016
ISTANBUL - Accusing Brussels of wanting Turkey to abandon its bid to join the EU, Turkish President Recep Tayyip Erdogan hinted in an interview published Sunday he might put the question to a referendum. "The European Union is trying to compel us to withdraw from this (accession) process. If they don't want us they should be clear about this, they should make a decision," Erdogan told the leading daily Hurriyet. "Our patience is not endless. If need be, later, we could also consult our people," he said, alluding to the UK's Brexit referendum in June. Turkey's bid to join the EU dates back to the 1960s with formal talks starting in 2005. But the process has been mired in problems, which current tensions have done nothing to help. Rocky relations between Ankara and the EU became even more strained in the wake of the failed coup in Turkey in July.
Full report at:
http://nation.com.pk/international/14-Nov-2016/erdogan-hints-at-referendum-on-joining-eu
--------
Israeli PM backs bill to limit Azan
Nov 14, 2016
JERUSALEM: Israeli Prime Minister Benjamin Netanyahu said on Sunday he backed a bill limiting the number of calls to prayer from mosques, a proposal government watchdogs have called a threat to religious freedom.
Netanyahu, who spoke as a ministerial committee was to discuss the draft bill, said he would support a move that some have labelled unnecessarily divisive.
Israeli media reported that the bill would stop the use of public address systems for calls to prayer.
"I cannot count the times — they are simply too numerous — that citizens have turned to me from all parts of Israeli society, from all religions, with complaints about the noise and suffering caused to them by the excessive noise coming to them from the public address systems of houses of prayer," Netanyahu said at the start of a cabinet meeting.
While the draft bill applies to all houses of worship, it is seen as specifically targeting mosques.
Full report at:
http://www.dawn.com/news/1296253/israeli-pm-backs-bill-to-limit-azan
--------
Israel PM backs bill to limit noise from mosques
November 14, 2016
JERUSALEM - Israeli Prime Minister Benjamin Netanyahu said Sunday he backed a bill limiting the volume of calls to prayer from mosques, a proposal government watchdogs have called a threat to religious freedom. Netanyahu, who spoke as a ministerial committee was to discuss the draft bill later in the day, said he would support such a move that some have labelled unnecessarily divisive. Israeli media reported that the bill would stop the use of public address systems for calls to prayer.
Full report at:
http://nation.com.pk/international/14-Nov-2016/israel-pm-backs-bill-to-limit-noise-from-mosques
--------
British ambassador to Yemen writes to Al Arabiya: 'Time for dialogue'
13 November 2016
Last week UN Special Envoy Ismail Ould Cheikh Ahmed handed over his roadmap for peace to the warring parties in Yemen. It is a product of months of negotiations between the Yemeni parties that have taken place under the eye of the UN during the past year. It is designed to reflect the concerns and aspirations of both sides and facilitate a lasting solution to a conflict which has raged for more than two years since the Houthis and forces loyal to former President Saleh took Sanaa by force from the legitimate authorities.
Of course, this roadmap is not intended to be a final version of the agreement. It is a tool designed to bridge the gap between the parties. Both sides will need to engage constructively with the UN Envoy to negotiate the details and reach a settlement. No conflict is resolved easily, and all parties will need to make some difficult compromises.
But they must do so for the sake of all Yemenis. The UN estimates that the conflict has resulted in up to 10,000 Yemeni deaths. There are over 21 million in need of humanitarian assistance with 7 million facing severe food shortages. Differences must be put aside to end this horror and guarantee a better future for the people of Yemen.
The roadmap is based on the UN Security Council Resolution 2216, the internationally agreed framework for a negotiated solution. The Resolution was never intended to relieve the Hadi government of its responsibility to negotiate, or to provide for the surrender of one side to the other.
The terms of the roadmap would see the Houthi militia and Saleh loyalists withdraw from areas they have occupied, including the capital Sana'a and the cities of Taiz and Hodeidah. They would also be required to hand over their heavy weaponry.
In return, a new Vice-President enjoying extensive national acceptability and credibility will be appointed who assumes full Presidential authority and oversees the formation of a new Government of National Unity. And it will be this Government which takes forward the political transition envisaged for Yemen back in 2012, leading to democratic elections and a new Constitution chosen by the Yemeni people. But this political transition can only occur if the Houthi militia and Saleh loyalists commit to the security measures mentioned above and show a willingness to negotiate credible and verifiable withdrawal and disarmament measures as part of an agreement. Efforts to impose a government at the barrel of a gun will lead to endless conflict.
Full report at:
https://english.alarabiya.net/en/News/middle-east/2016/11/13/Exclusive-British-ambassador-to-Yemen-tells-Al-Arabiya-time-for-dialogue-.html
--------
EU must play more active role in regional, global issues: Zarif
Nov 13, 2016
Iranian Foreign Minister Mohammad Javad Zarif says the European Union plays a crucial role in regional and international issues but can be more active in this regard.
In a meeting with the Speaker of the Hungarian National Assembly Laszlo Kover in Tehran on Sunday, Zarif stressed the importance of showing initiative on regional and international affairs.
"The policy of patience and wait and see will not provide an answer to global issues," he added.
He further expressed Iran's keenness to develop cooperation with the member states of the European Union, including Hungary, and stressed the importance of Budapest pursuing a balanced policy on regional and international issues.
The top Iranian diplomat further noted that Tehran and Budapest enjoy growing relations in various fields and called for banking transaction and visa facilitation in an effort to further strengthen cooperation.
Nothing should stop JCPOA implementation: Kover
The speaker of the Hungarian National Assembly, for his part, said his country believes that the nuclear agreement, known as the Joint Comprehensive Plan of Action (JCPOA), signed between Iran and the P5+1 group of countries in July 2015, is beneficial to all states and nothing must hinder its implementation.
As the Islamic Republic has remained committed to the nuclear deal, other sides must also fulfill their obligations under the JCPOA, he added.
Full report at:
http://www.presstv.ir/Detail/2016/11/13/493439/Iran-Hungary-EU-Mohammad-Javad-Zarif-National-Assembly-Laszlo-Kover
--------
Iran seeks secure, stable Iraq: Parliament speaker
Nov 13, 2016
Iranian Parliament Speaker Ali Larijani has stressed the importance of bolstering cordial relations among Muslim and Arab countries, saying the Islamic Republic seeks a stable and secure Iraq.
"The existence of a secure and stable Iraq with full prosperity for all the country's people…has always been sought by the authorities and nation of the Islamic Republic of Iran," Larijani said in a meeting with former Iraqi vice president, Khazir al-Khazaei, in Tehran on Sunday.
He added that Iran is prudently working toward reinforcing amicable relations among Muslim and Arab countries "but some countries in the region must behave constructively."
The top Iranian parliamentarian emphasized that unity among all Iraqi groups to counter the country's political, economic and security crises is a "fundamental necessity."
Larijani expressed hope that prosperity and peace would be established in Iraq through unity and consensus among various political groups and said Tehran is prepared to share its experience with Baghdad in this regard.
The Iraqi official, for his part, said the two countries have various religious, cultural and geographical commonalities and enjoy strong relations based on mutual respect and observance of common interests.
Khazaei further added that Iraqi army soldiers and pro-government fighters from the Popular Mobilization Units are engaged in a serious and all-out fight against Daesh terrorists inside the country, particularly in and around the strategic city of Mosul, and hoped terrorism would be eliminated in Iraq soon.
He also commended Iran's effective role in restoring stability and peace in Iraq.
After months of preparation, Iraqi army soldiers, backed by pro-government fighters from Popular Mobilization Units and Kurdish Peshmerga forces, launched an operation on October 17 to retake the strategic city of Mosul from the Daesh terrorists.
Iraqi Prime Minister Haider al-Abadi has vowed that Mosul, Iraq's second largest city, will be fully recaptured by year-end.
Full report at:
http://www.presstv.ir/Detail/2016/11/13/493421/Iran-Iraq-Ali-Larijani-Khazir-alKhazaei-Mohammad-Javad-Zarif
--------
Yemeni casualties of Saudi war revised up
Nov 14, 2016
At least eight civilians have been killed in Yemen in two new Saudi airstrikes that targeted the country's province of Ibb.
Yemen's al-Masirah news website said that nine civilians were also injured in the Saudi airstrikes, which targeted Ibb at dawn on Monday.
A local source said the airstrikes targeted two oil tankers in Ibb's Yarim district, adding that rescue and recovery operations were still ongoing and that casualties could rise.
Also in the early hours of Monday, Saudi warplanes targeted Nihm district, northwest of the capital, Sana'a, with internationally-banned cluster bombs. However, no immediate reports of possible casualties were made available.
Riyadh has been consistently using the banned weapons in its military aggression against Yemen.
In August, the United Nations (UN)'s human rights office called for an independent international investigation of cases of human rights violations in the Saudi war on Yemen, confirming the use of banned cluster bombs by Saudi Arabia against Yemen's residential areas.
Prominent human rights organizations have also denounced Saudi Arabia's allies, including the United States and the United Kingdom, for procuring such weapons for the regime.
Saudi Arabia has been engaged in the deadly war against Yemen since March 2015 in an attempt to forcefully bring back a former Yemeni government to power.
New casualty tolls released
Meanwhile, al-Masirah on Monday cited a report released by a Yemeni non-governmental monitoring group as saying that the civilian death toll from the Saudi war had now risen to 11,403 people.
Full report at:
http://www.presstv.ir/Detail/2016/11/14/493485/Saudi-airstikes-Yemen-Ibb
--------
Southeast Asia
Penang mufti slammed for saying 'Damia' name means 'blood'
November 14, 2016
KUALA LUMPUR, Nov 14 — Penang Mufti Datuk Wan Salim Wan Mohd Noor has been publicly criticised after warning Muslim parents against naming their children with words that purportedly have unpleasant meanings in Arabic.
Among the names Wan Salim had warned against was "Damia", which he claimed means "source of blood flow", but Perlis mufti Datuk Dr Mohd Asri Zainul Abidin was among those who suggested that the name might not even be Arabic.
"Damia's origin is not from an Arabic word. It might be from the Greek language," Asri wrote on his official Facebook page.
He explained that in Arabic, the root word "dam" that means "blood" is not usually made into a noun.
"Therefore, I conclude that the name 'Damia' used worldwide is not from the Arabic root word. Assuming 'Damia' means filthy blood is just inaccurate."
Asri explained that while parents should be aware of the meaning of names given to children, they should also refer to the original language used.
"Do not assume other people's name as bad in the language that we understand when they would probably be referring to other languages," he added.
Malay daily Sinar Harian also reported that Wan Salim was ridiculed by several parents after making his remark, with the backlash criticised by some Muslim scholars who defended the mufti.
"Religious institutions must be respected including those who helm them. Their role is to ensure that Islam is not defiled and polluted.
"In the same time, the pious are the inheritors of the Prophet. So respect their views," said Shahrul Azalan Mohamed Zamri, representing the Council on Unofficial Meetings of Religious Ministers of Brunei, Indonesia, Malaysia and Singapore.
Previously, a copy of a letter dated November 7, 2016 from Wan Salim's office became viral on social media after he advised the National Registration Department on a parent's request to change their daughter's name from "Nur Damiya Safiyya" to "Putri Nur Safiyya".
Wan Salim explained himself to Sinar Harian in an earlier report that many parents give names with unpleasant meanings to their children, such as "Bahimah" which allegedly means "animal", "Zani" (fornicator), and "Syarrul Bariyyah" (the most evil of creatures).
http://www.themalaymailonline.com/malaysia/article/penang-mufti-slammed-for-saying-damia-name-means-blood
--------
Parties fear backlash over Ahok's blasphemy case
Nurul Fitri Ramadhani
November 14, 2016
"Where is Pak Ahok? Please come again with Pak Ahok," said residents of Cakung in East Jakarta to the surprise of Djarot Saiful Hidayat, Jakarta's deputy governor and gubernatorial candidate, while he was campaigning in the densely-populated area on Sunday.
They were referring to Jakarta Governor Basuki "Ahok" Tjahaja Purnama.
"Oh, is Pak Ahok allowed to come?" asked the candidate. "Of course!" said the excited residents.
Both Ahok and Djarot have confronted animosity from people during their campaign stops in several areas due to the governor's controversial remarks in reference to a Quranic verse that Islamic hard-liners have deemed blasphemous.
As the electability of the Ahok-Djarot ticket continues to be threatened, their political backers have begun to worry. Two of four political parties supporting the ticket may distance themselves from the beleaguered incumbent should he be charged with blasphemy.
As pressure on the National Police to charge Ahok intensifies, party elites in the Golkar Party and the NasDem Party have voiced concerns over a possible electoral backlash if they keep supporting the governor, who has vowed to stay in the race despite his present legal quagmire.
Last Friday, NasDem chairman Surya Paloh, an influential figure within President Joko "Jokowi" Widodo's administration, said his party would evaluate its support for Ahok.
"If [Ahok] is named a suspect then we will carry out two kinds of evaluations, a legal and moral evaluation. [We need to consider] our morality as a party that supports [him]," Paloh told reporters.
A day earlier, Golkar patron Aburizal Bakrie warned his party's rank and file that the party could lose public support if it failed to address Ahok's blasphemy case accordingly.
"I know our party supports Ahok [in the Jakarta election] and that is its final decision. But we have to show firmly that the person we are supporting is also not allowed to insult religion — any religion, not only Islam. Religious blasphemy is a serious matter," he added.
Golkar and NasDem are not able to formally withdraw their support for Ahok though, as such a move would be considered illegal.
The 2016 Regional Election Law stipulates that leaders of political parties that withdraw their support for a candidate whose candidacy has been validated by the General Elections Commission (KPU) may be criminally charged. If found guilty, they could be sentenced to two years in prison and ordered to pay a fine of between Rp 25 billion (US$1.8 million) and Rp 50 billion.
"We still support Ahok because the Regional Election Law does not allow us to back out from our support," NasDem executive Irma Suryani Chaniago told The Jakarta Post.
Nevertheless, losing Golkar's and NasDem's political backing would still deal a blow to Ahok, who needs all the help he can get to weather the political storm he is now facing. The former Belitung regent, who claims to have been pressured by certain parties to drop out of the gubernatorial race, has said he would rather go to jail than quit.
Jokowi has ordered the National Police to follow up on the blasphemy allegations against Ahok, his former deputy when he served as Jakarta governor, and has promised Muslim leaders that he will not protect him.
Full report at:
http://www.thejakartapost.com/news/2016/11/14/parties-fear-backlash-over-ahoks-blasphemy-case.html
--------
Samarinda Church Bomber Is a Former Terror Convict: Police
Nov 14, 2016
Jakarta. The suspect in the Samarinda church bomb attack is a former terror convict who was released from jail in July 2014, police said on Sunday (13/11).
A Molotov cocktail exploded in front of the Ecumenical Christian Church, located in Jalan Cipto Mangunkkusumo in Loa Janan Ilir village in Samarinda Seberang subdistrict, Samarinda, East Kalimantan, at around 10.30 a.m. local time.
Police arrested the alleged attacker, only identified by the initial J., less than three hours after the incident.
National Police spokesman Brig. Gen. Agus Rianto said the 32-year-old suspect was also involved in bomb attack on a gas pipeline in Tangerang, Banten, in March 2011.
In the same period, he was also involved in a series of parcel bomb attacks in Jakarta, targeting several public figures – including Liberal Islam Network founder Ulil Abshar Abdalla; Pemuda Pancasila chairman Yapto Suryo Soemarno; former National Narcotics Agency (BNN) chief Comr. Gen. Gories Mere; and rock star Ahmad Dhani.
The suspect was sentenced to three years and six months' imprisonment in February 2012 for his involvement in the attacks.
Full report at:
http://www.jakartaglobe.beritasatu.com/news/samarinda-church-bomber-former-terror-convict-police/
--------
North America
Muslim College Chaplains Extend a Hand Across Religious Divides
By SAMUEL G. FREEDMAN
NOV. 13, 2016
MINNEAPOLIS — Emma Blom grew up in the Scandinavian heartland of rural Minnesota, reliably attending her small town's Lutheran church. She spent each childhood summer in vacation Bible school and played the piano for Sunday worship services. "Borning Cry" was her grandmother's favorite hymn.
Catholics were a scattered minority on the Minnesota prairie, Jews even rarer. As for Muslims, Ms. Blom had never met one. "I knew the women wore stuff on their head," she recalled. "I didn't even know it was called a hijab."
Then, as a sophomore at Augsburg College here in 2014, Ms. Blom felt her faith wavering. She had been shaken by her grandmother's death, and drew no solace from her church's rituals. One of her classes scrutinized the Bible for sexism and misogyny. Was she a Christian anymore? Was she even a believer? She didn't dare to ask any of her Lutheran friends, for fear of being judged and found wanting.
Still struggling this fall, Ms. Blom turned to perhaps the most unexpected counselor and confessor of all: Augsburg's Muslim chaplain, Fardosa Hassan. And from Ms. Hassan, 26, a Somali refugee who had never seen snow until arriving in Minnesota as a 9-year-old entering fifth grade, Ms. Blom heard words that sustained her.
Doubt was the necessary companion of belief, Ms. Hassan assured her, not its irreversible solvent. Divine texts can be interpreted by human hands and in modern ways. One devout person's truth is not necessarily another's.
Two months after the conversation, Ms. Blom is attending church again, feeling more settled in her soul.
In this encounter across chasms of difference, Ms. Hassan embodied the vital role that dozens of Muslim chaplains like her are playing at colleges and universities throughout the nation. These chaplains serve as doors that open two ways — welcoming and integrating Muslim students who fear hostility at a time of rising Islamophobia, and normalizing Islam to non-Muslim students who have absorbed a narrative of it as an oppressive and violent religion.
"My role is to help students negotiate this multifaith, diverse environment," said Ms. Hassan. "I'm going to give them a tool for when they go out of this institution, so they know how to be respectful of others. A lot of times, people are afraid even to ask the questions of people who are different. So I say, begin with friendship. Start by saying hello."
Across the United States, nearly 40 Muslim chaplains serve private universities, according to Abdullah Antepli, the chaplain at Duke University and a leader in the national association of Muslim chaplains, which also includes those serving in hospitals, the military, prisons and various community settings. (For reasons of church and state separation, public universities cannot pay for clergy of any kind, although a Muslim chaplain at the University of Michigan is supported by private donations.)
Virtually all these chaplains have been hired since the terrorist attacks of Sept. 11, 2001. In their polarizing aftermath, the chaplains both chose and were compelled to become cultural and religious interlocutors. For non-Muslims, each one of those chaplains provided a face, if not the face, of the "ummah," or global community of Islam.
"If you have a Muslim among the Jews and Christians and Buddhists and humanists, you get better integrated into the life of the school," said Heidi Hadsell, the president of Hartford Seminary in Connecticut, which has a program to train Muslim chaplains. "They act as advocates for Muslim students, but also a bridge to other communities. And that's critically important. It's a way of people on campus knowing a Muslim."
There is probably no college that stands more astride the religious divide than Augsburg. It is affiliated with the Evangelical Lutheran Church of America and has traditionally attracted the vast majority of its students from white Protestant denominations. Yet its campus directly abuts the Cedar-Riverside neighborhood that is the epicenter of Minnesota's population of 31,500 Somali Muslims. Perhaps nowhere else in the United States does a hockey rink sit so close to a halal meat market.
With the growth of Minnesota's Somali population over the past quarter-century, the most common national news from the area has concerned the dozens of young men who joined the Islamic State or the Shabab militant group — or were apprehended trying. In September, a Somali man shouting "Allahu akbar" stabbed 10 people at a shopping mall in St. Cloud, 65 miles from Minneapolis, heightening fears of homegrown terrorism.
Such explosive events, though, obscure the less dramatic assimilation of Somali immigrants here. One serves on the Minneapolis City Council. Another won a seat in the state legislature on Election Day. As of 2006, Somalis in Minnesota owned 600 businesses and had $164 million in buying power, according to a report by the American Immigration Council, and those numbers have certainly increased in the subsequent decade.
So when Paul C. Pribbenow became president of Augsburg in 2006, he looked to the Somali community for prospective students. Having written his doctoral dissertation about Hull House, Jane Addams's landmark settlement house in Chicago, Dr. Pribbenow conceived of Augsburg as the "21st-century equivalent." As he recently put it: "What does a settlement house do? It listens to neighbors and learns how to be a neighbor."
With a student body of about 2,500, Augsburg's Muslim enrollment increased to 101 in 2016 from 11 in 2007. Ms. Hassan, in the graduating class of 2012, was one of those students. Her family fled Somalia's civil war in 1991 and lived in Ethiopia and Kenya for several years before she came to Minneapolis in the care of her grandmother. Equipped with a bachelor's degree in sociology and international relations, Ms. Hassan went to work for an interfaith community-organizing group in St. Paul.
Augsburg, meanwhile, got a harrowing reminder of its lingering gaps in meeting the needs of Muslim students when one was shot and killed near campus in 2008. The college pastor, the Rev. Sonja Hagander, realized to her shame that there was no Muslim religious figure on campus to help students grieve. As a Lutheran, she felt almost an impostor in the role.
So when Augsburg created a position of Muslim student program associate, Ms. Hassan applied and was hired in August 2015. In the role, she addresses classes, organizes service projects, leads field trips to local mosques and started a service for Friday Prayers, known as jummah, on campus. She also makes sure there are plenty of Doritos when members of the Muslim Student Association turn up for their meetings.
For Ms. Hassan, such efforts are necessarily person-to-person. If a Christian student like Ms. Blom represented one vector of her outreach, then Mohamud Mohamed typifies the other. The son of Somali refugees, he memorized the Quran by age 13 and began teaching in a weekend madrasa a year later. His default position before he went to college was to assume that the most rigorous version of Islam was the most genuine.
At Augsburg, Ms. Hassan utilized Mr. Mohamed's religious training to have him, rather than an outside imam, lead Friday Prayer. She also nudged him to move the sermons away from fire and brimstone and toward issues of social justice, such as the Black Lives Matter movement. As a result, the prayer service has begun to attract some Christian and atheist students for its political message. And in at least one small way on one campus, Islam itself has been demystified and defanged.
"They feel like there's no more mystery about it," Mr. Mohamed, 19, said of non-Muslim students. "It's not some secret ritual. It's a way for us to be ambassadors for Muslims."
http://www.nytimes.com/2016/11/14/us/muslim-college-chaplains-extend-a-hand-across-religious-divides.html
--------
Will strongly oppose Donald Trump's anti-Muslim rhetoric: Pramila Jayapal
November 13, 2016
Pramila Jayapal, the first Indian-American woman to be elected to the US House of Representatives, has asserted she would strongly oppose any effort by President-elect Donald Trump to enforce his rhetoric against Muslims and threat to deport 11 million illegal immigrants. 51-year-old Jayapal said she is ready to stand up and fight for the rights of all Americans against attacks from the incoming Republican Congress and President.
"If any part of Trump's Presidency involves some of the things he talked about on his campaign, whether it's punishing women for exercising their right to make their own decisions or subjecting Muslims to additional scrutiny and discrimination, or deporting 11 million immigrants, we are going to have to stand up and defend these rights and values that are so important to this country," she said.
"We cannot step back, and I intend to fight for what I've been fighting for my whole life," she told People magazine in an interview. After her election, Jayapal, who ran her elections on a progressive agenda and was endorsed by Senator Bernie Sanders in the run up to her campaign, described the Trump's victory as shocking.
"We hold out the greatest hope for Donald Trump as the President, but we also prepare for what could well be a tax on some of the things that are so important and so dear to us," Jayapal. "I do think there are some interesting things that we can work on together that he has said that he's interested in. One of those things is an infrastructure package — he said that he's open to that — investing in real jobs and real and true economic gains for people working across the country of every colour and race is going to be a place of unity," she said.
Chennai-born Jayapal is the first person of colour elected to the Washington State Democratic Delegation, and the first South Asian woman ever elected to the US House of Representatives. She said her victory is a bitter sweet moment for her. She is one of the four Indian-Americans to have won the Congressional elections this year.
Others being Kamala Harris for US Senate, and Ro Khanna and Raja Krishnamoorthi for the US House of Representatives. They might be joined by Ami Bera who is currently engaged in recounting of votes.
Full report at:
http://indianexpress.com/article/world/world-news/will-strongly-oppose-donald-trumps-anti-muslim-rhetoric-pramila-jayapal-4372889/
--------
Will a Muslim lead the Democratic Party of the United States?
13 November 2016
Former 2016 presidential Democratic contender Bernie Sanders said he would be backing Keith Ellison – the first Muslim to be elected to the US Congress – for party's leadership position.
The Democratic Party has been reeling since its loss in the US elections last week that saw its candidate Hillary Clinton lose out to President-Elect Donald Trump.
"I don't think the political establishment and the billionaires would like Keith Ellison as the DNC chair. Good! Join me in supporting Keith," Sanders wrote.
According to the Washington Post, Ellison would represent a highly likely choice to be elected to the party's chair position given his broad appeal to both sides of the party.
"Ellison appeals to both of the party's grassroots wings: the economic progressives who supported Bernie Sanders (whom Ellison endorsed) and social minority groups (Ellison was the first Muslim in Congress)," the Washington post reported.
The Muslim congressman was also endorsed on Thursday by Sen. Elizabeth Warren, another strong progressive voice inside the party.
Full report at:
https://english.alarabiya.net/en/2016/11/13/Will-a-Muslim-lead-the-Democratic-Party-of-the-United-States-.html
--------
URL: https://www.newageislam.com/islamic-world-news/new-age-islam-news-bureau/bangladesh-to-drop-islam-as-state-religion--when-time-comes-/d/109096
New Age Islam, Islam Online, Islamic Website, African Muslim News, Arab World News, South Asia News, Indian Muslim News, World Muslim News, Womens in Islam, Islamic Feminism, Arab Women, Womens In Arab, Islamphobia in America, Muslim Women in West, Islam Women and Feminism, Moderate Islam, Moderate Muslims, Progressive Islam, Progressive Muslims, Liberal Islam