New Age Islam News Bureau
31 Jul 2013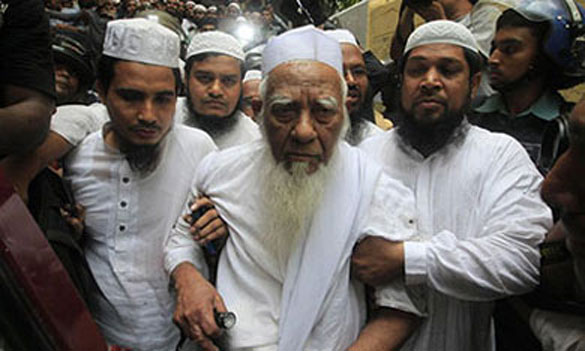 Bangladeshi police escort Hefazat-e-Islam leader Shah Ahmad Shafi from a madrasa in Dhaka on 6 May, a day after he instigated mass protests in the city. Photograph: Monirul Alam/Zuma Press/Corbis
-------------
South Asia
• Bangladesh's Radical Muslims Uniting Behind Hefazat-E-Islam
• Pres polls have 'titled' towards MDP, Nasheed says
• Success should be judged by how fast people rise after falling: Nasheed
• Elections Commission rejects PPM's calls for "lenient" voter registration
Pakistan
• Took a month to plan jail attack, spent Rs 1 crore: Pak Taliban
• Ahmedis banished from place of worship
• Eight militants, two soldiers killed in Darra Adamkhel clash
• A 'Barat' of 100 Taliban behind mass jailbreak in Pakistan
• At least 45 D I Khan fugitives rearrested
• Nawaz chairs high-level meeting, discusses Kerry's visit to Pakistan
• Munawar deplores silence of Muslim rulers over killings
• PTI's move exposed N-MQM romance: Imran
• Zardari hopes Mamnoon will strengthen democracy
Arab World
• Shiite Seminaries Divided On Fatwas for Syrian Jihad
• Saudi cleric urges support for Syria rebels
• Syria's moderate rebels wane as extremist forces dominate
• UAE gives Dh130m in humanitarian aid to Syrian people
• Mursi to reject Ashton's reconciliation offer, says Islamist group
• Syria's Kurdish militia calls on Kurds to fight jihadists
• Zawahri vows al-Qaida will free Guantanamo inmates
• Egypt allows EU envoy to see deposed Mohamed Morsi
• 229-year-old mosque shines in heart of downtown Jeddah
• Al Qaida front group claims Iraq attacks
North America
• Anti-Muslim slant by American media giants reaps criticism
• NY police closely monitor Muslims despite Islamophobia allegedly not existing
• Mideast mediator Indyk: 'Another in a long line of pro-Israeli American Jews'
• Choice of 'Pro-Israel' Ideologue as Mideast Envoy Slammed by Critics
• India, Pakistan fear 'surplus terrorism' after Afghan pullout: US
India
• 2 infiltration bids foiled at LoC, 6 killed
• India releases 28 Pak, Bangla prisoners ahead of Eid
• Hizbul Mujahideen killing out of 'sheer frustration': Official
• Rehabilitation plan for Gulf returnees
• Indians top foreign investors in Dubai realty
Africa
• Nigerian army arrests 42 Islamic militant suspects
• New Darfur fighting claims 134 lives, says tribal man
• In Mali, Communities Grapple With Post-Traumatic Stress
• Assassinations threaten fragile democracy in Tunisia
Europe
• 'Nearly 100 foreign war crimes suspects found in UK'
• UN gives rebels 48 hours to disarm around DR Congo city
• Civilian casualties up 23 per cent in Afghan war: UN
• Mass killer Breivik applies for university in Norway
Mideast
• Iran condemns West's silence on violent acts by extremists in Syria
• Turkey's agreements with Egypt not suspended, says MFA
• Islamic Jihad, PFLP Slam Renewed Peace Talks
• Palestinian Authority Labels 600,000 Israeli Jews as 'Terrorists'
• Israeli Terror Victims Oppose Releasing Terrorists for Negotiations
• Israelis, Palestinians seek peace deal in 9 months
Southeast Asia
• Religious leaders urge Muhyiddin to be DPM for all Malaysians, not only for Muslims
• Filipino Muslims to benefit from Abu Dhabi centre's Eid Zakat donations
• Philippines lifts 9-year ban on sending workers to Iraq
• Densus 88 accused of making wrongful terror arrests
• Muslim dog trainer did not intend to insult Islam in Raya video
Compiled by New Age Islam News Bureau
URL: https://newageislam.com/islamic-world-news/bangladesh-radical-muslims-uniting-behind/d/12833
------------
South Asia
Bangladesh's Radical Muslims Uniting Behind Hefazat-E-Islam
Julien Bouissou
31 July 2013
Passersby cast wary looks at a bunch of men lurking outside the entrance to the Hathazari madrasa. They stand out, having neither beards nor traditional dress. Indeed, one of them has had the bright idea of wearing a flowered shirt. For the past few weeks the madrasa in Chittagong, central Bangladesh, has been under police surveillance. It houses 12,000 Qur'anic students, guided by Shah Ahmad Shafi, who heads Hefazat-e-Islam, the country's largest radical Islamic movement.
At his instigation over 500,000 demonstrators clogged the streets of Dhaka on 5 May, demanding the application of 13 measures, including a ban on mixing of men and women in public places, the removal of sculptures and demands for the former wording of the constitution to be reinstated, affirming "absolute trust and faith in Almighty Allah". About 50 people were killed in clashes with police and several leaders were arrested. Since then Hefazat has avoided the media, for fear of reprisals. The government is extremely wary of a movement that has steadily gathered strength since its launch three years ago.
We had to climb into a car with smoked-glass windows to enter the madrasa, where a cadre took us to the guide's office. Shafi, 93, only sees visitors after a long early-afternoon nap. He rarely speaks in public, less still to journalists. One of his proteges actually spoke to us, under his supervision, with so much fervour and devotion he might have been saying a prayer. Only once did Shafi raise his bushy white eyebrows, saying: "Above all, do not imagine we are interested in politics. Our aims are noble and exclusively religious."
Hefazat was formed in January 2010, in opposition to plans to give women the same rights of inheritance as men. It gained new recruits in April this year, after secular demonstrations in the capital. Thousands of people flocked to Shabhag Square, demanding the death sentence for the perpetrators of crimes during the war of independence, when they sought to maintain links between Pakistan and Bangladesh, then known as east Pakistan, the better to defend Islam.
But radical Muslims publicised the allegedly blasphemous statements of various bloggers, discrediting the Shabhag movement and regaining the initiative. "We shall fight till all 13 of our demands have been satisfied," promises one of Hefazat's general-secretaries.
Hefazat had previously kept a low profile. "It represents poor people, with little education, mainly country folk, who have always been despised by the urban middle classes. There is nothing transnational or terrorist about the movement, but it may become more radical if it is sidelined," says Farhad Mazar, a political commentator. Hefazat enjoys the support of millions of believers, thanks to the control it exerts over the vast majority of Qur'anic schools in Bangladesh. "Our schools train the best imams. About a quarter of them then leave for the Gulf states, the United Kingdom or the United States, and they support us financially," says Habib Ullah, the movement's deputy-general-secretary.
Hefazat has taken advantage of favourable circumstances to pull together a series of long-established political groups and organisations that have never before displayed such unity. Jamaat-e-Islami, its main rival at the head of a political party, has been undermined by the arrest of several of its leaders, on charges of war crimes.
The rise of Hefazat mirrors the declining secular ideology dating back to independence. Secularism served as a basis for Bangladeshi identity in 1971, when the country united to break away from the Islamic Republic of Pakistan, becoming one of the four basic principles enshrined in the constitution of 1972. But it has been disputed ever since. In 1977 the constitution was revised to assert "absolute trust and faith in Almighty Allah [as] the basis of all actions". Then in June 1988 a further constitutional amendment made Islam the state religion.
Islamism fills a gap in the political and ideological spectrum left vacant by the parties that coalesced around the independence movement, worn out by subsequent quarrels and scandals. "It is too soon to say that secularism is dead," says Ali Riaz, professor of politics and government at Illinois State University. "But the rise of Islamism, in the past 30 years, has influenced the political discourse and agenda, and to a certain extent social behaviour."
If this trend persists, it may hold back women's emancipation and fuel a sense of insecurity among religious and ethnic minorities. "The government has failed so far to protect these minorities," Riaz adds. In March hundreds of Hindu shrines and homes were burned down. This particular minority now accounts for less than 10% of the population, compared with 15.5% in 1975.
Hefazat is determined to influence the outcome of the election scheduled for early 2014, though it shuns direct involvement in politics, perceived as "impure". The ruling Awami League is in a difficult position, trapped between the Islamists and the opposition, which accuses it of confiscating power by refusing to form an interim government capable of organising a transparent election.
"The fact that [the Awami League] will not hear of an interim government may mean that it thinks it is going to lose. You may win without the support of the Islamists, but you cannot win against them," warns a Dhaka academic. Safe behind the walls of his madrasa, Shafi could well act as the kingmaker in the next election.
This article appeared in Guardian Weekly, which incorporates material from Le Monde
http://www.theguardian.com/world/2013/jul/30/bangladesh-hefazat-e-islam-shah-ahmad-shafi
----------
Pres polls have 'titled' towards MDP, Nasheed says
Jul 31, 2013
Based on the support for opposition Maldivian Democratic Party (MDP) throughout the Maldives, the upcoming presidential elections has clearly "tilted" towards the party, MDP presidential candidate Mohamed Nasheed said Tuesday.
Speaking after inaugurating a new campaign outlet in Male, Nasheed expressed confidence that MDP would win the September 7 elections in the first round with over 70 percent of the votes.
The former president pointed out that MDP had the support of people from the constituencies represented by his rival candidates.
"Our party knows how to win. We will come out to win. God willing MDP will win," he said.
Nasheed also said MDP could not afford to slack off or move at snail pace during the 39 days remaining for the election. No other party can compete with MDP or catch up to the speed by which the party was carrying out campaign activities, he added.
"The Maldivian Democratic Party is well organised. No other party can compete with the organisation of our campaign, our slogan, colour, songs and voice," he said.
http://www.haveeru.com.mv/news/50310
------------
Success should be judged by how fast people rise after falling: Nasheed
Jul 31, 2013
A person or group's success can only be judged by how fast they rise after they fall, former President Mohamed Nasheed who lost power in February of last year in what he maintains a coup said Tuesday.
Speaking at the inauguration of an art exhibition named "two steps back" organised by opposition-aligned Raajje TV, the Maldivian Democratic Party (MDP) presidential candidate said the past two years since his downfall have been filled with despair for the people. However, the talents of artists have been his biggest encouragement, he added.
Nasheed noted the rise in work by talented artists in the past two years, which has been made possible by the freedom of expression granted under the new constitution.
"In the past two years we have seen that the people were not willing to give up that right. We're not here to relinquish that position. If we take two steps back we will take four steps forward more quickly," he said.
Nasheed stressed that every step back has to be tactically astute which is exactly what MDP has done in the last two years.
"The other night I thought of calling [former Egyptian president] Morsi and ask him to take a step back. To ask him to tell the generals that he would never engage in any political activity again. That he will never involve himself in such a thing again. To tell them quickly. The generals are armed. When they are armed, we must act with prudence. To escape, evade. But unfortunately I had the wrong number. The number of El-Baradai [Egypt's new vice president]," he said relating his fall from power to the coup in Egypt.
Nasheed also expressed hope in winning the upcoming presidential elections.
http://www.haveeru.com.mv/news/50305
------------
Elections Commission rejects PPM's calls for "lenient" voter registration
By Neil Merrett | July 30th, 2013
The Elections Commission (EC) has denied receiving any formal complaints over its capability to ensure a fair election in September this year, after rejecting requests by the Progressive Party of Maldives (PPM) to make voter registration more "lenient".
EC President Fuwad Thowfeek told Minivan News no "official complaints" had been filed with the commission over its ability to capably oversee the upcoming presidential election, despite the PPM alleging in local media that it was incapable of ensuring a fair vote.
Thowfeek said the PPM have previously requested the EC not to reject voter registration forms missing details such as the name of a voter's parents or a phone number, that could not be verified during random checks.
PPM Council member and Youth Minister Mohamed Hussain Shareef was quoted in newspaper Haveeru this week calling for "major reforms" to the commission, which he alleged lacked the capacity to oversee fair voting.
The government-aligned party reportedly alleged that concerns over the false registration of voters in previous elections and discrepancies between the previously gazetted registry and the documents used by the EC itself on polling day had not been addressed. The claims were dismissed by the EC today.
Shareef's concerns included fears about the false registration of voters, as well as allegations of discrepancies between the gazetted registry and the final document used by the EC on voting day. Unspecified issues were also raised about how national identity cards were being used.
Minister Shareef and PPM MP and Spokesperson Ahmed Nihan were not responding to calls at time of press, while the party's vice presidential candidate Dr Mohamed Jameel Ahmed was travelling and unable to answer queries on the allegations.
PPM meeting
While aware of Minister Shareef's allegation in local media, EC President Thowfeek said he held a meeting with PPM representatives on Sunday and that no formal complaints had been been raised by the party over the EC's competency.
He added that Shareef was among five PPM members who met with the EC during an hour and a half discussion over its work "safeguarding" the voter registry.
Thowfeek claimed that as with other parties fielding candidates for this year's voting, the EC discussed measures it had taken to improve prevention measures for voter registry fraud, while also trying to deal with key errors that had arisen since the country's first multi-party election in 2008.
"We have worked to rectify these mistakes and in the last council elections there were hardly any complaints raised with us by political parties," he said. "More than that, we have worked hard this year to get the registry up to date."
According to Thowfeek, the EC has also run campaigns on state media requesting the public update their details to ensure voters and their families were correctly registered ahead of voting.
"I can assure everyone that we are using the best system available right now," he said. " Even if someone is to die [in the lead up to voting], their name cannot now be changed from the list of registered voters that has [been published in the government gazette], but it will still be a very accurate voter registration."
Thowfeek said the PPM during the meeting had requested more "lenience" in voter registration.
He said that aside from requesting for an extension to the August 7 deadline for voters to re-register if they wished to cast their ballot somewhere other than their home island, the PPM had also requested that the EC accept applications that failed to include details such as the name of a voter's mother or father, or a phone number that could not be verified.
Thowfeek said the commission was unable to oblige the party's requests as random verification of phone numbers and names of parents were a central part of efforts to combat potential voter fraud.
"The phone number and the mother and father's name have to be correct on any application or we cannot accept it," he said. "The name of a voter's parents are not included on the ID card and are important to ensure that if an ID is stolen, it cannot be used to register a voter incorrectly."
With the PPM reportedly requesting an inquiry by parliament's Independent Institutions Oversight Committee, rival election candidates such as President Dr Mohamed Waheed's 'Forward with the nation coalition' today claimed the EC did have the capability and staff to oversee fair polling.
The president's coalition presently consists of his own Gaumee Iththihaadh Party (GIP) and the government-aligned Dhivehi Rayyithunge Party (DRP).
Coalition view
Coalition Spokesperson Abdul Rasheed Nafiz said despite having some concerns over the EC's ability to deal with complaints regarding campaigning and alleged bullying of candidates, the coalition had few issues with the commission's capability to ensure voting was fair.
"The only concern we have raised [with the EC], is that when complaints are registered concerning treatment of candidates while campaigning, we have not seen these complaints attended to," he said.
Nafiz told Minivan News that during several recent key votes such as the local council elections, he had been aware of formal complaints being sent to the EC about the behaviour of rival supporters when out campaigning.
In the build up to this year's election, he added that both President Waheed, his running mate DRP Leader Ahmed Thasmeen Ali and their spouses had been subject to "disturbing" behaviour from supporters of rival parties.
Nafiz said complaints had been officially registered with the EC over rival supporters heckling them with derogatory remarks as they tried to campaign.
"I was myself recently with the president as he went to get 1,500 signatures door-to-door in Male' [to support his successful attempt to register as an independent presidential candidate]," he said. "I personally witnessed people passing on vehicles and shouting abuse such has 'baaghee (traitor) Waheed' at the president. These concerns have been raised with the EC."
Nafiz said he had hoped that the EC would respond to this behaviour by making an announcement calling for the public and supporters of parties to refrain from such acts, or even reviewing legal options to prevent future incidents.
MDP MP and Spokesperson Hamid Abdul Ghafoor and Jumhoree Party (JP) Spokesperson Moosa Ramiz were not responding to calls at time of press.
http://minivannews.com/politics/elections-commission-rejects-ppms-calls-for-lenient-voter-registration-61764
------------
Pakistan
Took a month to plan jail attack, spent Rs 1 crore: Pak Taliban
PTI | Jul 31, 2013
PESHAWAR: A day after the Taliban freed over 250 prisoners from a high-security Pakistani prison, a top commander of the terror outfit has said they took a month to plan the assault and spent Rs one crore to execute it with military-like precision.
The Taliban gunmen launched their attack on Central Prison in Dera Ismail Khan of Khyber Pakhtunkhwa province bordering the restive South Waziristan agency on Tuesday around midnight with a series of heavy explosions before firing rocket propelled grenades and machine guns.
Adnan Rashid, a Taliban commander who was released by the militants in a jail break incident in Bannu few years back, said the operation was named "Marg-e-Nijat" and it was launched to set free six militants of Quetta and some others.
Full report at:
http://timesofindia.indiatimes.com/world/pakistan/Took-a-month-to-plan-jail-attack-spent-Rs-1-crore-Pak-Taliban/articleshow/21507545.cms
-------
Ahmedis banished from place of worship
By Rana Tanveer
July 31, 2013
LAHORE: Ahmedis in Fatehpur, Gujrat district, have been banished from their own place of worship in Ramazan and fear that they will be deprived of the property by the local government and clerics.
On July 11, the first day of Ramazan, a group of Sunnis beat up the Ahmedis and kicked them out of the place of worship, telling them not to return, according to members of the Ahmedi community.
The Ahmedis filed a complaint with the police for the registration of an FIR against the assailants. The police did not register a case, nor heeded their request for protection. Instead, they sealed the place of worship, which is located on a four-marla plot, "because of concerns of a clash," Dolatnagar SHO Riaz Qadir told The Express Tribune. He said that previously, both Sunnis and Ahmedis had prayed there.
Full report at:
http://tribune.com.pk/story/584181/dispossession-ahmedis-banished-from-place-of-worship-lahore-city/
------------
Eight militants, two soldiers killed in Darra Adamkhel clash
ZAHIR SHAH SHERAZI
July 31, 2013
DARRA ADAMKHEL: Eight militants have been killed while two security personnel died as militants launched an attack on a border post in Darra Adamkhel late on Tuesday night.
Military sources said that about 60 heavily armed militants attacked the checkpost in Sur Gar Range linking the Bara River-Patao Mela to Ublan Darra Adamkhel. Security forces repulsed the attack having already spotted the attackers.
Full report at:
http://dawn.com/news/1033010/eight-militants-two-soldiers-killed-in-darra-adamkhel-clash
------------
A 'barat' of 100 Taliban behind mass jailbreak in Pakistan
July 31, 2013
A "barat" of over 100 Taliban militants, using decorated vehicles, carried out the surprise assault on sleepy guards at Pakistan's third largest jail in the restive northwest region to walk away with 250 prisoners, including top commanders of the outlawed outfit.
"They came like a 'barat' (marriage procession), using decorated vehicles and nobody could judge whether they are going to bring a bride from the city or launch attack," said local police official Muhammad Nawaz Khan.
Full report at:
http://www.hindustantimes.com/world-news/pakistan/A-barat-of-100-Taliban-behind-mass-jailbreak-in-Pakistan/Article1-1101009.aspx
------------
At least 45 D I Khan fugitives rearrested
ZAHIR SHAH SHERAZI
July 31, 2013
PESHAWAR: Security forces claimed on Wednesday that 45 of the escaped convicts, from the jailbreak in DI Khan, were rearrested by law enforcement personnel whereas DPO D I Khan was made OSD and four other police officers were suspended by Inspector General of Khyber Pakhtunkhwa police over the incident.
Security officials said that the rearrested convicts had voluntarily surrendered themselves to police and that a search was still underway to apprehend as many escaped prisoners as possible.
Full report at:
http://dawn.com/news/1033181/at-least-45-d-i-khan-fugitives-rearrested
------------
Nawaz chairs high-level meeting, discusses Kerry's visit to Pakistan
July 31, 2013
ISLAMABAD: Prime Minister Nawaz Sharif on Wednesday presided over a high-level meeting, attended by Chief of Army Staff and DG Inter-Services Intelligence (ISI), Geo News reported.
Sources said the meeting held consultations over the visit of US Secretary of State John Kerry and finalized distinct points to discuss with the diplomat.
It was also decided that the civil and military leadership with take the similar stance in the meeting John Kerry, the sources said.
Full report at:
http://www.thenews.com.pk/article-111795-Nawaz-chairs-high-level-meeting,-discusses-Kerrys-visit-to-Pakistan
-------
Munawar deplores silence of Muslim rulers over killings
July 31, 2013
LAHORE - Jamaat e Islami Ameer Syed Munawar Hasan has said that the anti-Islam forces are targeting the Muslims all over the world and carrying out their vendetta while the Muslim rulers are silent and serving the enemy interests.
Addressing an Iftar dinner hosted by JI Deputy Secretary General Dr Farid Ahmed Piracha, he said that the blood of the Muslims was being shed in Kashmir, Palestine, Iraq, Afghanistan and now in Egypt. JI Secretary General Liaquat Baloch and JI Punjab chief Dr Syed Waseem Akhtar also spoke on the occasion.
Full report at:
http://www.nation.com.pk/pakistan-news-newspaper-daily-english-online/lahore/31-Jul-2013/munawar-deplores-silence-of-muslim-rulers-over-killings
-------
PTI's move exposed N-MQM romance: Imran
July 31, 2013
ISLAMABAD - Terming the presidential elections controversial, Pakistan Tehreek-I-Insaf Chairman Imran Khan has said that PTI has participated in the election, as it does not want to leave the field open for the ruling alliance.
Talking to media persons at Parliament House, PTI Chairman said that their participation in the presidential elections have exposed the 'political romance' between the PML-N and MQM and quickly added that it was consensus view of the participants in 2007 All Parties Conference that till the time MQM would not bring its militant wing to an end, no talks would be held with the party.
Full report at:
http://www.nation.com.pk/pakistan-news-newspaper-daily-english-online/islamabad/31-Jul-2013/ptis-move-exposed-n-mqm-romance-imran
-------
Zardari hopes Mamnoon will strengthen democracy
July 31, 2013
KARACHI: President Asif Ali Zardari has felicitated Mamnoon Hussain on his successful election to the office of president of Pakistan and hoped that he would strengthen democracy. Spokesperson of the president, Senator Farhatullah Babar said that in his message of congratulations, President Zardari wished the president-elect well for the discharge of his responsibilities as head of the federation. He added that the election of the new president is a step towards the "strengthening of democracy", and that all efforts should be geared towards enhanced civilian control and support of the federation. He said that with the election of the new president another big step had been taken towards smooth transfer of power in a democratic dispensation which was a good augury for democracy in the country. Full report at:
http://www.dailytimes.com.pk/default.asp?page=2013\07\31\story_31-7-2013_pg1_2
-------
Arab World
Shiite Seminaries Divided On Fatwas for Syrian Jihad
By: Ali Mamouri
Jul 31, 2013
The atmosphere of religious conflict in the region has created a hot market for jihad fatwas by religious institutions. Previously, a number of fatwas had been issued by several Sunni clergymen authorizing the act of traveling to Syria for the purpose of participating in jihad against the regime of President Bashar al-Assad. Presently, in response to the intensification of religious conflict in Syria, a fatwa has been issued by a clergyman from Qom, Iran that implicitly authorizes and legitimizes travel to Syria to take part in jihad against Salafist groups.
This fatwa has been published on the official Facebook page of Ayatollah Seyed Kazem Haeri in the form of a response to a request for permission to travel to Syria for the purpose of defending the burial site of Zainab, the daughter of the third Shiite Imam, without parental permission. Haeri found this action permissible and stated that parental permission for such matters is unnecessary. Previously, Ayatollah Seyed Mohammad Sadegh Rouhani, a prominent clergyman from the Qom seminary, had also legitimized jihad in Syria for the purpose of protecting Shiite holy sites. He labeled individuals killed for this deed as martyrs. These fatwas have led to the opening of official registration sites in Iran for the purpose of traveling to participate in jihad in Syria.
Full report at:
http://www.al-monitor.com/pulse/originals/2013/07/syria--jihad-fatwas-shiite-clergy-iran-iraq.html#ixzz2aePl3jIL
------------
Saudi cleric urges support for Syria rebels
Jul 31, 2013
Dubai: A senior cleric in Islam's holiest city Makkah exhorted followers on Friday to support Syrian rebels by "all means", the latest in a series of rhetorical attacks on President Bashar Al Assad reflecting rising sectarian tension across the Middle East.
His appeal came at a time when momentum on the battlefield has been shifting in Al Assad's favour, just a few months after analysts wrote him off, making the prospect of his swift removal and an end to Syria's civil war look remote in the near future.
The revolt against Iranian-backed Al Assad, whose Alawite minority is a branch of Shi'ite Islam, has taken on sectarian overtones since the open intervention last month of Lebanon's Shiite Hezbollah fighters on Al Assad's side.
Full report at:
http://gulfnews.com/news/gulf/saudi-arabia/saudi-cleric-urges-support-for-syria-rebels-1.1214908
------------
Syria's moderate rebels wane as extremist forces dominate
Charles Lister
Jul 31, 2013
The most notable trend in Syria in 2013 has been the increasing strategic supremacy of Islamist groups, particularly in the northern half of the country. Every major opposition military victory since September 2012 has been Islamist-led.
The success of Islamist groups has damaged the image of the uprising and undermined the West-backed Syrian Military Council (SMC). And the latest claims of clashes between the Free Syrian Army and Al Qaeda's Islamic State of Iraq and the Levant (ISIL) - which dominated the media headlines a little over two weeks ago, though rebel fighters denied the clashes took place - appeared related to this shift in power.
Full report at:
http://www.thenational.ae/thenationalconversation/comment/syrias-moderate-rebels-wane-as-extremist-forces-dominate#ixzz2af1Z58yG
------------
UAE gives Dh130m in humanitarian aid to Syrian people
Jennifer Bell
Jul 31, 2013
ABU DHABI // The UAE has given Dh130.2 million in humanitarian aid to help Syrians forced to flee their homes in the country's devastating civil war.
The chairwoman of the Supreme Council for Family Affairs has launched The Big Heart for Syrian Refugee Children campaign to get UAE residents involved in raising money.
"It is tragic that many refugee children are marking their second consecutive World Refugee Day without proper shelter, food and education," said Sheikha Jawaher, who is also the UN's Eminent Advocate for Refugee Children.
Full report at:
http://www.thenational.ae/news/uae-news/uaes-big-heart-beats-for-syrian-child-refugees#ixzz2af3JP83D
-------
Mursi to reject Ashton's reconciliation offer, says Islamist group
Jul 31, 2013
Ousted Egyptian President Mohammed Mursi is to reject the European Union foreign policy chief's offer of national reconciliation, an ultra-orthodox Islamist group was quoted as saying on Wednesday.
Al-Gamaa Al-Islamiya reportedly said that Mursi would refuse the offer of a "safe exit" by EU's Catherine Ashton, when the pair met in an undisclosed location late on Monday, according to Egyptian news site Ahram Online.
But on Tuesday, Ashton denied carrying an offer to Mursi of "safe exit" if he were to renounce his claim to the presidency.
Full report at:
http://english.alarabiya.net/en/News/middle-east/2013/07/31/Mursi-to-reject-Ashton-s-reconciliation-offer-says-Islamist-group.html
-----------
Syria's Kurdish militia calls on Kurds to fight jihadists
Jul 31, 2013
DAMASCUS // Syria's main Kurdish militia yesterday issued a call to arms to all Kurds to fight jihadists in the country, after the assassination of a Kurdish leader, a watchdog said.
The statement follows weeks of confrontations between rebel forces and Kurdish groups in Syria's north, and could set the stage for further clashes.
Kurds argue they support the revolt against president Bashar Al Assad but rebels accuse them of making deals with the government to ensure their security and autonomy during the conflict.
"The Committees for the Protection of the Kurdish People called on all those fit to carry weapons to join their ranks, to protect areas under their control from attacks by Islamic State of Iraq and the Levant fighters, Al Nusra Front and other battalions," the Syrian Observatory for Human Rights said.
Full report at:
http://www.thenational.ae/news/world/middle-east/syrias-kurdish-militia-calls-on-kurds-to-fight-jihadists#ixzz2af1ueNfg
------------
Zawahri vows al-Qaida will free Guantanamo inmates
Reuters | Jul 31, 2013
DUBAI: Al-Qaida leader Ayman al-Zawahri slammed US treatment of hunger striking inmates at Guantanamo Bay and said the group would spare no effort to free them, according to an audio recording posted on the Internet on Wednesday.
Zawahri also said Shia Hezbollah's intervention in the conflict in Syria was an attempt to promote Iranian hegemony over the country.
"The (hunger) strike by our brothers at Guantanamo unmasks the true ugly face of (the United States of) America," Zawahri said in an audio recording posted on an Islamist website and whose authenticity could not be verified.
Full report at:
http://timesofindia.indiatimes.com/world/middle-east/Zawahri-vows-al-Qaida-will-free-Guantanamo-inmates/articleshow/21506677.cms
---------
Egypt allows EU envoy to see deposed Mohamed Morsi
Jul 31 2013
Cairo: Egypt allowed Europe's top diplomat to meet deposed Islamist President Mohamed Morsi on Monday, flying her after dark to Morsi's secret detention facility but ruling out any role for him in ending the turmoil convulsing the country.
Catherine Ashton, the European Union's foreign policy chief, became the first outsider to see Morsi since he was deposed by the army on July 3, taken into detention and placed under investigation on charges including murder.
His fate - and a deadly crackdown by security forces on his supporters - has raised global anxiety about a possible bid to crush Mohamed Morsi's Muslim Brotherhood, a movement that emerged from decades in the shadows to win power in elections after the 2011 uprising against Hosni Mubarak.
Full report at:
http://www.indianexpress.com/news/egypt-allows-eu-envoy-to-see-deposed-mohamed-morsi/1149123/
------------
229-year-old mosque shines in heart of downtown Jeddah
31 July 2013
Mosques have a special place in the hearts of Muslims, especially in the holy month of Ramadan. They spend more time in them than at any other time during the year.
Ukash Mosque is well known not only in Saudi Arabia, but also in the Muslim world. It was built in 1784. It is the second oldest mosque in Jeddah's modern history. The oldest is the Uthman bin Affan mosque.
It is located downtown surrounded by two marketplaces.
Sheikh Ahmad Al-Shanqeeti is the 60-year-old imam of the mosque and has fulfilled the duties of this post for 35 years.
Full report at:
http://www.arabnews.com/news/459741
------------
Al Qaida front group claims Iraq attacks
Jul 31, 2013
Baghdad: Al Qaida front group the Islamic State of Iraq and the Levant claimed on Tuesday a wave of attacks that killed dozens of people a day earlier.
"Security and military detachments of the state of Baghdad and the south on Monday... simultaneously hit targets that were surveyed and chosen specifically," a statement posted on jihadist forums said.
The statement said the violence, which struck the Iraqi capital and areas to its south and killed about 60 people, was the beginning of a new campaign entitled "Harvesting the Soldiers."
Full report at:
http://gulfnews.com/in-focus/iraq-anniversary/al-qaida-front-group-claims-iraq-attacks-1.1215043
------------
North America
Anti-Muslim slant by American media giants reaps criticism
By Ben Brumfield and Leone Lakhani, CNN
July 30, 201
(CNN) -- A scholar of world religions writes a book about Jesus. A woman, whose politician husband is caught in a sex scandal twice, decides to stand by him.
Nothing out of the ordinary.
But two giants of American mainstream media -- one on the right, the other left-of-center -- have come under criticism this week for interpreting the actions of the two through glasses tainted with ethnic slant.
A FoxNews.com interview segment was widely derided online when the anchor kept asking author Reza Aslan how a Muslim can write a book about Jesus.
While Aslan patiently explains -- repeatedly -- that it's his scholastic expertise that qualifies him to do so, the anchor presses on with the same question.
On the other end, New York Times columnist Maureen Dowd posited in an editorial that Huma Abedin continues to stay by the side of her philandering husband, Anthony Weiner, because of her alleged harsh upbringing in Saudi Arabia.
Full report at:
http://edition.cnn.com/2013/07/30/us/rel-muslims-newsmakers/index.html
------------
NY police closely monitor Muslims despite Islamophobia allegedly not existing
Jul 31, 2013
Upon a question about Islamophobia, Kelly said there might be Islamophobia but it was hard to talk a certain situation about it in New York as everybody got on well with each other.
New York City Police Commissioner Raymond Kelly has said he would be in close watch of Muslims while he saw no sign of Islamophobia in New York.
Full report at:
http://www.worldbulletin.net/?aType=haber&ArticleID=114136
--------
Mideast mediator Indyk: 'Another in a long line of pro-Israeli American Jews'
Taimur Khan
Jul 31, 2013
NEW YORK // As Palestinian and Israeli officials begin peace negotiations, a familiar American mediator will be shepherding the two sides.
Martin Indyk, the former United States ambassador to Israel, has been a central figure in previous attempts by Washington to help forge a two-state solution to the Israel-Palestinian conflict, both during the Oslo process in the early 1990s as well as the Camp David talks in 2000 that preceded the second Intifada.
Full report at:
http://www.thenational.ae/news/world/middle-east/mideast-mediator-indyk-another-in-a-long-line-of-pro-israeli-american-jews#ixzz2af1h4F62
------------
Choice of 'Pro-Israel' Ideologue as Mideast Envoy Slammed by Critics
Jon Queally
Jul 31, 2013
The so-called "peace process" is being initiated afresh in Washington, DC on Tuesday with representatives from Israel, the Palestinian Authority, and the United States meeting to discuss a framework for a new round of negotiations over issues that have kept the parties out of direct talks for nearly five years.
So the issue of Israel/Palestine is back in the US news, but many critics of the beleaguered effort are saying that it is President Obama's choice for the US representative to the talks which represents the best evidence that new progress towards a meaningful settlement will not be reached.
Full report at:
http://www.commondreams.org/headline/2013/07/30-3
------------
India, Pakistan fear 'surplus terrorism' after Afghan pullout: US
PTI | Jul 31, 2013
WASHINGTON: India and Pakistan fear that any instability in the war-torn Afghanistan following the withdrawal of US troops could result in "surplus terrorism" in both the countries, a top US official has said.
At the same time he said that the US believes both India and Pakistan will play significant roles in Afghanistan in the coming years.
"I think both Pakistan and India will play and ought to play very important, significant roles going forward in Afghanistan" said Peter Lavoy, Acting Assistant Secretary of Defence for Asia Pacific Security Affairs.
Full report at:
http://timesofindia.indiatimes.com/world/us/India-Pakistan-fear-surplus-terrorism-after-Afghan-pullout-US/articleshow/21501895.cms
---------
India
2 infiltration bids foiled at LoC, 6 killed
Jul 31 2013
Srinagar : Six infiltrators were killed on the LoC in Machil and Keran sectors in Kupwara after the Army foiled two infiltration attempts in the past 24 hours.
The Army said that patrol parties noticed some movement in Machil and heavily armed militants opened fire on the troops when they were asked to stop. "We have killed four infiltrators close to the LoC in Machil. There is a possibility that the militant casuality will go up. The Army has sealed all the escape routes," a defence spokesman said.
On Monday, the Army foiled a similar infiltration bid in Keran when three infiltrators tried to sneak into the Valley through the Shalabato post. Two infiltrators were killed after a gunfight.
http://www.indianexpress.com/news/2-infiltration-bids-foiled-at-loc-6-killed/1148851/
------------
India releases 28 Pak, Bangla prisoners ahead of Eid
TNN | Jul 31, 2013
AMRITSAR: Ahead of the Eid festival, India repatriated 28 prisoners, including 22 Pakistani and six Bangladeshi nationals, on Tuesday. The Pakistani nationals, brought here from different jails, were handed over to Pakistan Rangers at Attari border while the Bangladeshis were released from Amritsar central jail and were transferred to Tarn Taran police, which would make arrangements to send them to their homeland.
Wearing a white "kurta-pajama" and a skull cap, Saddiq Umar, in his 60s, appeared confused, despite becoming free and heading to his country Pakistan after nearly 20 years. "I was a fisherman and don't know how I was implicated in a narcotics case. But now, freedom is like a gift from the Indian government, though after 20 years," he told TOI, before leaving for Pakistan. A resident of Thatta district, Umar said his family was waiting for him desperately and he wanted to spend the rest of his life with them.
Full report at:
http://timesofindia.indiatimes.com/india/India-releases-28-Pak-Bangla-prisoners-ahead-of-Eid/articleshow/21497170.cms
------------
Hizb ul Mujahideen killing out of 'sheer frustration': Official
Jul 31, 2013
SRINAGAR, India – North Kashmir Deputy Inspector General of Police J. P. Singh said Sunday (July 28th) the Hizb ul Mujahideen are killing "unarmed, innocent policemen and civilians out of sheer frustration". His comments came after the deadly shooting of a young Special Police Officer at his home in Sopore, local media reported.
"I appeal to the people of Sopore to expose these militants as they are responsible for the killing of innocent people," The Hindustan Times quoted Singh as saying.
Full report at:
http://khabarsouthasia.com/en_GB/articles/apwi/articles/newsbriefs/2013/07/30/newsbrief-02
------------
Rehabilitation plan for Gulf returnees
July 31, 2013
The Cabinet subcommittee, entrusted with the formulation of a rehabilitation plan for Keralites returning from Gulf countries, is considering plans to make available loans of up to Rs.20 lakh each for self-employment ventures to groups of five.
The committee, which met here on Tuesday, decided to collect information on the kind projects that the Gulf returnees preferred before finalising the scheme. Another round of discussions would be held after contacting applicants and eliciting their interests. Then the proposals would go to the Cabinet for approval. Finance Minister K.M. Mani and Minister for Non-resident Keralites Affairs K.C. Joseph told the media that more than 15,000 applications had already been received for assistance under the rehabilitation scheme. Their tastes were not fully known though many of them wanted to run taxis.
Full report at:
http://www.thehindu.com/news/national/kerala/rehabilitation-plan-for-gulf-returnees/article4973920.ece
---------
Indians top foreign investors in Dubai realty
PTI | Jul 31, 2013
DUBAI: Indians are top foreign investors in Dubai's real estate market, with transactions of over Rs 132.6 billion made by them during the first half of 2013, according to an official report.
Dubai's Land Department announced the statistics based on its semi-annual report that revealed a significant increase in funds invested in the market, reaching Rs 877.5 billion.
In the first six months of 2013, Indians bought properties worth over Rs 132 billion, compared to Rs 149 billion they invested in the entire 2012, the report said.
Total investment of UAE nationals in the realty sector was Rs 199 billion, which equalled the entire amount they spent last year.
Full report at:
http://timesofindia.indiatimes.com/business/international-business/Indians-top-foreign-investors-in-Dubai-realty/articleshow/21504494.cms
--------
Africa
Nigerian army arrests 42 Islamic militant suspects
Jul 31, 2013
LAGOS, Nigeria (AP) — Nigeria's army says soldiers have arrested 42 suspected Islamic extremists in the southwest states of Lagos and neighboring Ogun.
Maj. Gen. Obi Umahi told reporters Tuesday that some of those detained already have admitted to belonging to the Boko Haram terrorist network. Some said they had fled from strongholds in the northeast of the country that are under a state of emergency and massive military operations.
Boko Haram — the name means "Western education is forbidden" — wants Islamic Shariah law in Nigeria. It has not attacked targets in the southwest of the country that includes Nigeria's commercial capital, Lagos.
Umahi said suspects were arrested in Lagos on upscale Victoria Island's Bar Beach and in the Lekki neighborhood.
He said the arrests were made between July 12 and 23.
http://news.yahoo.com/nigerian-army-arrests-42-islamic-militant-suspects-160805876.html
------------
New Darfur fighting claims 134 lives, says tribal man
31 July 2013
KHARTOUM: Some 134 people have been killed in new clashes between two rival tribes in Sudan's strife-torn Darfur region, a tribal leader said on Tuesday.
Conflict has raged through the vast western region since 2003 when African tribes took up arms against the Arab government in Khartoum, accusing it of neglect.
Violence is down from a 2004-2005 peak, but fighting between rival tribes has risen sharply since January. Some of those involved in the fighting were armed by Khartoum in 2003 to suppress the rebellion. Arab Misseriya tribesmen and members of the rival Salamat tribe in Um Dukhun in South Darfur clashed again on Monday, said Ahmed Al-Kheiri, a Misseriya leader. They had fought already on Friday in the same area.
Full report at:
http://www.arabnews.com/news/459720
------------
In Mali, Communities Grapple With Post-Traumatic Stress
Ivan Broadhead
Jul 31, 2013
BAMAKO — Almost a million Malians remain displaced after ethnic and jihadist violence spread across the north following last year's coup d'état.
Despite fresh memories of conflict and atrocity, some of those displaced are seeking to return to their hometowns to vote in Sunday's presidential election.
In a country that was home to only six psychiatrists before the war, aid agencies are seeking to raise awareness of post-traumatic stress, particularly among vulnerable children.
In an enclave of Bamako, the capital, small Christian communities that hail from Gao and Timbuktu have sought refuge from the conflict that swept their region over a year ago.
This evening one of their number, Fatima Bagayoko, a mother of six children and guardian of five more, celebrates her 39th birthday.
Full report at:
http://www.voanews.com/content/malians-grapple-with-post-traumatic-stress-disorder/1711350.html
------------
Assassinations threaten fragile democracy in Tunisia
BY TRUDY RUBIN
Jul 31, 2013
When leftist opposition leader Mohammed Brahmi was gunned down in front of his family last week in Tunis, the impact rippled throughout the region. The assassination shook the only democracy born of the Arab Spring upheavals that is still fully functioning.
Given the military crackdown in Egypt, the civil war in Syria, and the instability in Libya and Yemen, the Tunis killing raised a question the 2011 revolts were supposed to have buried: Is democracy suited to the Arab world?
Tunisia was supposed to be the poster child for Arab democracy, the country where the self-immolation of a frustrated youth sparked the first (peaceful) Arab Spring revolution. With its strong European links, Tunisia was thought to be the place where a moderate Islamist party, Ennahda, could coexist with seculars.
Full report at:
http://www.kansascity.com/2013/07/30/4378518/assassinations-threaten-fragile.html#storylink=cpy
------
Europe
'Nearly 100 foreign war crimes suspects found in UK'
July 31, 2013
LONDON: Almost 100 foreign suspected war criminals were found to be living in Britain last year after applying for citizenship or asylum, the interior ministry said on Tuesday.
Their countries of origin included Afghanistan, Iran, Iraq, Libya, Rwanda, Serbia, Sri Lanka and the Democratic Republic of Congo, the result of a Freedom of Information request by the BBC showed.
The ministry made "adverse recommendations" in the 15 months since January 2012 against 99 people investigated in war crimes cases who were already in Britain, the ministry said.
Each of the 99 had applied for British citizenship, asylum or leave to remain in Britain, it said. A further 16 suspects had applied to enter the country.
Full report at:
http://www.dailytimes.com.pk/default.asp?page=2013\07\31\story_31-7-2013_pg7_24
---------
UN gives rebels 48 hours to disarm around DR Congo city
31 July 2013
KINSHASA: The United Nations on Tuesday threatened to use force against M23 rebel forces near Goma city, eastern Democratic Republic of Congo, if they do not disarm within 48 hours.
A new UN intervention brigade will be used for the first time to help the DR Congo army set up a "security zone" in the city, the international body said.
A statement by the UN mission in DR Congo, MONUSCO, gave M23 rebels around Goma until 4:00 p.m. local time (1400 GMT) on Thursday "to hand in their weapon to a MONUSCO base" and join a demobilization program.
Full report at:
http://www.arabnews.com/news/459749
------------
Civilian casualties up 23 per cent in Afghan war: UN
AFP
July 31, 2013
KABUL: Civilian casualties in the Afghan war rose 23 per cent in the first half of this year due to Taliban attacks and increased fighting between insurgents and government forces, the UN said Wednesday.
The increase reverses a decline in 2012 and raises questions about how Afghan government troops can protect civilians as US-led Nato troops withdraw from the 12-year war against the Taliban.
The UN Assistance Mission in Afghanistan (UNAMA) said 1,319 civilians died and 2,533 were injured as a result of the war from January 1 to June 30, up 23 per cent from the same period in 2012.
Full report at:
http://dawn.com/news/1033176/civilian-casualties-up-23-per-cent-in-afghan-war-un
------------
Mass killer Breivik applies for university in Norway
Jul 31, 2013
Norwegian mass killer Anders Behring Breivik has applied for a place at Oslo University - a move that is reportedly causing outrage among staff.
The head of the university's political science institute confirmed a request had been made by the man whose attacks two years ago traumatised Norway.
No decision has been made on whether to accept it, Ole Petter Ottersen added.
Breivik, who is serving a 21-year sentence in a prison near Oslo, killed 77 people, most of them adolescents.
On 22 July 2011, he set off a bomb in a car near government offices in the capital before travelling to a lake island, where he shot people attending a summer camp of the ruling Labour Party's youth wing.
Full report at:
http://www.bbc.co.uk/news/health-23506691
----------
Mideast
Iran condemns West's silence on violent acts by extremists in Syria
Jul 31, 2013
TEHRAN – In a statement issued on Monday, Iran's deputy ambassador to the United Nations criticized the West for shutting their eyes to the atrocities being committed by "terrorist" and "extremist" groups in Syria.
Ambassador Golam Hossein Dehghani read out the statement before an informal meeting of the General Assembly of the United Nations on the situation of human rights in Syria.
Following is the text of the statement:
Mr. President,
I would like to thank Mr. Paulo Sérgio Pinheiro, the Chair of the Independent International Commission of Inquiry on the situation of human rights in the Syrian Arab Republic, for his briefing.
The growth of extremism and violent acts by terrorist and extremist groups in Syria is gaining new dimensions. There is now a growing concern that the operations by extremist armed groups with its possible spill-over into other areas in the region would pose further threat and danger to the regional security and stability.
Full report at:
http://www.tehrantimes.com/politics/109672-iran-condemns-wests-silence-on-violent-acts-by-extremists-in-syria
------------
Turkey's agreements with Egypt not suspended, says MFA
Jul 31, 2013
The Turkish Foreign Ministry stated on Monday that the allegations over the agreements between Turkey and Egypt being suspended by Turkey were groundless.
Spokesperson of Turkish Foreign Ministry Levent Gumrukcu replied to a question in regards to the topic ny saying, "Some news reports were released by several Turkish media organs saying that Turkey suspended some of 27 agreements signed with Egypt."
Gumrukcu stressed that the mentioned allegations were groundless and noted, "The approval process of agreements which were signed recently between Turkey and Egypt goes as usual. Agreements which took effect continue with their application."
http://www.worldbulletin.net/?aType=haber&ArticleID=114217
------------
Islamic Jihad, PFLP Slam Renewed Peace Talks
Jul 31, 2013
After it had initially decided to postpone its decision to resume peace talks with Israel, the Ramallah-based Palestinian leadership has agreed to join direct peace talks with Israel, stalled since 2010. This comes following the Israeli cabinet's approval to release 104 Palestinian prisoners held since before the Oslo Accords.
The decision did not come without opposition, with Palestinian Authority (PA) security forces violently dispersing a protest in Ramallah led by the Popular Front for the Liberation of Palestine (PFLP) against the renewed talks. Hundreds of protesters chanted against the PA and the resumption of negotiations as they tried to reach the PA headquarters.
Full report at:
http://www.al-monitor.com/pulse/originals/2013/07/pflp-ramallah-peace-talks-israel-protest.html#ixzz2aeP4apHi
------------
Palestinian Authority Labels 600,000 Israeli Jews as 'Terrorists'
Tzvi Ben-Gedalyahu
Jul 31, 2013
The Palestinian Authority has labeled Jewish Home party chairman Naftali Bennett, other unnamed Israeli officials and 600,000 Israeli Jews as "terrorists" after he said that real terrorists "should be eliminated and not freed."
"The definition of terrorism completely applies to many Israeli politicians who defame Palestinian prisoners especially those jailed before the Oslo Accords," the PA foreign ministry said, according to the Bethlehem-based Ma'an News Agency.
Full report at:
http://www.jewishpress.com/news/palestinian-authority-labels-600000-israeli-jews-as-terrorists/2013/07/31/
------------
Israeli Terror Victims Oppose Releasing Terrorists for Negotiations
Jul 31, 2013
The majority of Israeli terror victims are opposed to releasing terrorists in order to jump start peace negotiations with the Palestinians. So says Mark Belzberg, Chairman of One Family, an Israeli organization which assists victims of Palestinian terrorism.
Belzberg issued his statement in response to a US suggestion that Israel release Palestinian terrorists from the pre-Oslo period as a goodwill gesture to encourage the Palestinian Authority to negotiate with Israel. Israel has agreed to release 82 Palestinian terrorists with blood on their hands in the course of four stages over the next eight months, yet has refused to set free Israeli Arab security prisoners.
Full report at:
http://www.jewishpress.com/blogs/united-with-israel/israeli-terror-victims-oppose-releasing-terrorists-for-negotiations/2013/07/28/?src=ataglance
------------
Israelis, Palestinians seek peace deal in 9 months
31 July 2013
WASHINGTON: Israeli and Palestinian negotiators set an ambitious goal to reach an elusive peace deal within nine months on Tuesday, despite warnings of obstacles and provocations lying in wait ahead.
Standing side-by-side with US Secretary of State John Kerry, who has dragged them back to the negotiating table, officials from both sides said it was time to end their decades-old conflict.
"I can assure you that in these negotiations, it's not our intention to argue about the past, but to create solutions and make decisions for the future," Israel's chief negotiator Tzipi Livni told her Palestinian counterpart Saeb Erakat.
Full report at:
http://www.arabnews.com/news/459728
------------
Southeast Asia
Religious leaders urge Muhyiddin to be DPM for all Malaysians, not only for Muslims
BY JENNIFER GOMEZ
JULY 31, 2013
Religious leaders ticked off Deputy Prime Minister Tan Sri Muhyiddin Yassin (pic) for his statement that non-Muslims were insulting Islam, insisting instead that the reverse was taking place in Malaysia.
They also called on Muhyiddin to be the deputy prime minister for all Malaysians and not for Muslims only.
Malaysia Hindu Sangam president Datuk R.S. Mohan Shan insisted that what he said was not true and pointed out cases of Muslims insulting Hinduism, their worship and practices.
"Even their civil servants are insulting our community and religion," he said, citing the example of Selangor Umno chief Datuk Seri Noh Omar calling for action to be taken against the complainant in the SK Seri Pristana school canteen issue.
"In fact action should be taken against the principal who asked her students to 'balik India and China'. Why is this not taken seriously?" he asked.
Full report at:
http://www.themalaysianinsider.com/malaysia/article/religious-leaders-urge-muhyiddin-to-be-dpm-for-all-malaysians-not-only-for
-------
Filipino Muslims to benefit from Abu Dhabi centre's Eid zakat donations
Ramona Ruiz
Jul 31, 2013
ABU DHABI // Needy Filipino Muslim families will benefit from this year's Eid zakat donations by the New Muslim Centre in Abu Dhabi.
Zakat Al Fitr is given to the poor before Eid, and is compulsory for anyone who possesses more food than he or his family need for a whole day and night.
The tithing is about two kilograms of dates, wheat or barley or the cash equivalent.
There are now more than 3,000 Muslim converts at the centre, which opened in June 2004 under the patronage of the late Ali bin Ghanem bin Hamoodah. About 70 to 80 per cent are Filipino.
Full report at:
http://www.thenational.ae/news/uae-news/filipino-muslims-to-benefit-from-abu-dhabi-centres-eid-zakat-donations#ixzz2af1EYiLy
------------
Philippines lifts 9-year ban on sending workers to Iraq
Agence France-Presse
Jul 31, 2013
MANILA // The Philippines is lifting a nine-year ban on sending workers to Iraq, declaring the country mostly safe despite its worst bout of violence in years.
Filipinos, except for household helpers who are mainly female, can now work in Iraq outside four "no-go" provinces still considered dangerous, said Hans Cacdac, head of the labour ministry's overseas employment administration.
He expects Filipinos to pour into the rebuilding of the country's oil and gas, construction, medical and hotel industries.
"According to the department of foreign affairs, the security situation is good enough to have overseas Filipino workers in Iraq," Mr Cacdac said.
Full report at:
http://www.thenational.ae/news/world/asia-pacific/philippines-lifts-9-year-ban-on-sending-workers-to-iraq#ixzz2af3Znonp
------------
Densus 88 accused of making wrongful terror arrests
Yuliasri Perdani
July 31 2013
The Indonesian Police Watch (IPW) has lambasted the National Police's Densus 88 counterterrorism unit for wrongfully arresting two men suspected of having links to the most-wanted terror fugitive Santoso.
"The case displays the weakness of the Densus 88 operation and the whole police intelligence. We cannot tolerate this. The House of Representatives and the National Commission on Human Rights [Komnas HAM] must summon the chiefs of the National Police and Densus 88," IPW chairman Neta S. Pane said on Tuesday.
Full report at:
http://www.thejakartapost.com/news/2013/07/31/densus-88-accused-making-wrongful-terror-arrests.html
------------
Muslim dog trainer did not intend to insult Islam in Raya video
JULY 31, 2013
A screenshot of the video which is posted on YouTube showing Maznah wishing Selamat Hari Raya. - July 31, 2013.
The Malaysian woman behind the Raya greeting video featuring dogs did not intend to insult Islam when she shot the clip three years ago.
Maznah Mohd Yusof, 38, landed in trouble after the Umno-owned Malay daily Utusan Malaysia highlighted a video showing how she celebrated Hari Raya by bathing her dogs on the first day.
Full report at:
http://www.themalaysianinsider.com/malaysia/article/muslim-dog-trainer-did-not-intend-to-insult-islam-in-raya-video
----------
URL: https://newageislam.com/islamic-world-news/bangladesh-radical-muslims-uniting-behind/d/12833