New Age Islam News Bureau
12 Jul 2020
• Bangladesh Muslim Fanatics 'Dig Up Three-Day-Old Ahmadi Muslim Girl's Body from Cemetery and Left It Dumped It by A Roadside
• US 'Disappointed' By Turkey Mosque Move on Hagia Sophia
• Hindu Groups Call for Ban on Assamese TV Serial, 'Begum Jaan', For 'Promoting Love Jihad'
• UAE Minister Calls for Cultural Landmarks to Be Preserved Amid Turkish Move to Turn Heritage Site into Mosque
• World Council of Churches Expresses Dismay Over Turkey's Decision to Declare Hagia Sophia a Mosque
• Senior Pakistani Shia Cleric Condemns Saudi Paper for Offensive Caricature of Ayatollah Sistani
• Ahead of Eid ul Azha, Pahang Bars Muslims From Holding 'Qurbani' Ritual At Home
• UK Sought to Exclude Muslim Nations from Conference on Srebrenica Response
--------
South Asia
• Bangladesh Muslim Fanatics 'Dig Up Three-Day-Old Ahmadi Muslim Girl's Body From Cemetery And Left It Dumped It By A Roadside
• Explosion reported close to a ministry compound in Kabul city
• Roadside bomb kills, wounds 5 children in South of Afghanistan
• Women, children among 14 killed, wounded as Taliban IED hits civilian vehicle in Ghazni
------
North America
• US 'Disappointed' By Turkey Mosque Move on Hagia Sophia
• Online Retailer Shein Apologized Twice This Week, Now It's Being Called Out Again For Selling A Necklace That Says "Allah
• Social Media Community 'Muslim' Looks to Attract Islamic Gen-Z
• US warns citizens of 'arbitrary detention' in China
------
India
• Hindu Groups Call for Ban on Assamese TV Serial, 'Begum Jaan', For 'Promoting Love Jihad'
• 75 Thai, Nepalese Nationals Who Attended Delhi Mosque Tablighi Jamaat congregation Get Bail from a Delhi Court
• Asaduddin Owaisi wants mosque at same spot
• Telangana Congress plans black flag protests against mosque, temple demolition
• Kashmir reports three more COVID19 deaths; J&K toll 174
• Tehreek-e-Hurriyat chairman Ashraf Sahrai arrested, booker under PSA
• Encounter between militants and security forces in north Kashmir's Sopore
-------
Arab world
• UAE Minister Calls for Cultural Landmarks to Be Preserved Amid Turkish Move to Turn Heritage Site into Mosque
• Egypt court upholds prison terms for Muslim Brotherhood members in 'Ittihadeya case'
• UAE sets dates to renew expired visas, ID cards after coronavirus restrictions eased
• Hunger rises for Syrian refugees in Lebanon
• Coronavirus: Saudi Arabia bans collective housing for more than 20 people
• Coronavirus in UAE: Emirates to operate repatriation flights to five Indian cities
------
Mideast
• World Council of Churches Expresses Dismay Over Turkey's Decision to Declare Hagia Sophia a Mosque
• Hamas, Hezbollah Seek to Unite 'Islamic Ummah' Against Israel - Iran Media
• Strategic goals of Erdogan behind Qatar visit
• Turkey May Use 'Special Technology' to Cover Hagia Sophia's Christian Shrines During Muslim Prayers
• Srebrenica genocide 25 years on: Iran slams Europe's failure to uphold duties
• Iran slams 'flurry of disinformation' about potential China deal
• FM Spokesman: Iranian Islamic Culture Characterized by Peace, Friendship
------
Pakistan
• Senior Pakistani Shia Cleric Condemns Saudi Paper for Offensive Caricature of Ayatollah Sistani
• Pakistani Daily Reveals Trump Claimed That Soleimani Was Planning an Imminent Attack
• Ex-judge Malik failed to prove he acted under duress: report
• Faraz says opposition pressuring PM to stop accountability process
------
Southeast Asia
• Ahead of Eid ul Azha, Pahang Bars Muslims From Holding 'Qurbani' Ritual At Home
• Health minister: Reopening borders will be final act by govt in war against Covid-19
• Aren't we allies to be included in state action council meeting? Selangor PAS chief asks Azmin
• W. Java military academy cluster detected after cadet visited doctor for boils: Army chief
------
Europe
• UK Sought to Exclude Muslim Nations from Conference on Srebrenica Response
• Medicine, Food and Social Distancing at the Raza Jamia Masjid, Accrington, Doing Everything Right
• Protest in Berlin condemns ongoing Saudi aggression, blockade on Yemen
• British student who fled to join Isis dies while in jail in Syria
• Italian court upholds 12-year sentence for Kurdish Islamist cleric
• Salman Rushdie survived an actual fatwa. Yet he still thinks the Twitter crowd has gone too far
------
Africa
• Mali PM Promises to Form An 'Open' Government Amid Mass Protests
• Time is against Mozambique and the SADC in war against Islamic State
• Churches, mosque opt to remain closed despite Uhuru directive
• Nigeria: Dozens killed in fresh Boko Haram attacks
• Mali unrest: President dissolves court, opposition leaders jailed
• Five killed in attack on South African church, hostages freed
Compiled by New Age Islam News Bureau
URL; https://www.newageislam.com/islamic-world-news/bangladesh-muslim-fanatics-dig-up/d/122349
------
Bangladesh Muslim Fanatics 'Dig Up Three-Day-Old Ahmadi Muslim Girl's Body From Cemetery And Left It Dumped It By A Roadside
11 July 2020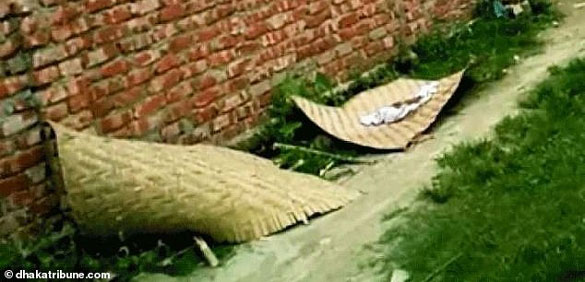 A photograph of her body laid on a straw mat on a road was widely shared on social media. 'Her crime is she was born to an Ahmadi Muslim family,' said Selim
----
Leaders of a minority Muslim group accused 'fanatics' of digging up a baby girl's body from her grave and dumping it by a roadside.
The three-day-old girl was an Ahmadi Muslim and had only been buried for a few hours in a cemetery in Ghatura in the eastern district of Brahmanbaria in Bangladesh before being dug up.
Police in the district said no complaint had been made however and one officer said the incident had been resolved 'peacefully'.
A local councillor, Azad Hazari, said he had intervened with police and the child was finally buried another graveyard some 10 miles (16 kilometres) away.
A local cleric Munir Hossain denied the body had been exhumed but said local Muslims prevented the parents from burying the baby at the cemetery.
'It is against the Sharia to let an infidel be buried in a Muslim graveyard,' he told AFP. 'The pious Muslims of the village would never let it happen.'
In recent months, hardline Muslims have threatened to hold protests demanding that the sect be declared 'non-Muslims' by the authorities.
The Persecution of Ahmadis organisation has written reports on the issues Ahmadis face when they try to bury loved one in Muslim graveyards.
They wrote on their website: 'Usually, authorities, even though unwilling, give in to pressure from the [religious leader] and join him in compelling Ahmadis to undertake the greatly painful and tormenting exercise of disinterment.
'Often the issue may be raised prior to the burial, and it becomes doubly distressing for the near and dear ones to find a new burial ground for the dead whose departure has already afflicted them.'
https://www.dailymail.co.uk/news/article-8513445/Muslim-fanatics-dig-three-day-old-girls-body-cemetery.html
------
US 'disappointed' by Turkey mosque move on Hagia Sophia
July 11, 2020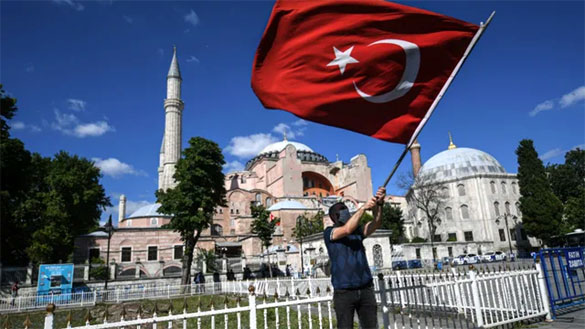 © Getty/ "We are disappointed by the decision by the Government of Turkey to change the status of the Hagia Sophia.
-----
The United States said Friday it was "disappointed" by Turkey's decision to turn the Byzantine-era monument Hagia Sophia back into a mosque and urged equal access for all visitors.
"We are disappointed by the decision by the government of Turkey to change the status of the Hagia Sophia," State Department spokeswoman Morgan Ortagus said.
"We understand the Turkish government remains committed to maintaining access to the Hagia Sophia for all visitors, and look forward to hearing its plans for continued stewardship of the Hagia Sophia to ensure it remains accessible without impediment for all," she said.
Turkish President Recep Tayyip Erdogan, who has chipped away at the Muslim-majority country's secularism, announced Muslim prayers on July 24 at the Unesco World Heritage Site.
A magnet for tourists worldwide, the Hagia Sophia was first constructed as a cathedral in the Christian Byzantine Empire but was converted into a mosque after the Ottoman conquest of Constantinople in 1453.
Mr Erdogan's announcement came after the cancellation of a decision under modern Turkey's secularising founder Mustafa Kemal Ataturk to preserve the church-turned-mosque as a museum.
Mr Erdogan went ahead despite an open appeal to the Nato ally by US Secretary of State Mike Pompeo, an evangelical Christian who frequently speaks about religious freedom.
In a statement last week, Mr Pompeo called the museum status an "exemplar" of Turkey's "commitment to respect the faith traditions and diverse history" of the country and said a change risked "diminishing the legacy of this remarkable building".
Mr Biden called on Erdogan to reverse it "and instead keep this treasured place in its current status as a museum, ensuring equal access for all".
https://www.thenational.ae/world/mena/us-disappointed-by-turkey-mosque-move-on-hagia-sophia-1.1047361
------
Hindu Groups Call for Ban on Assamese TV Serial, 'Begum Jaan', For 'Promoting Love Jihad'
Abdul Gani
12 July 2020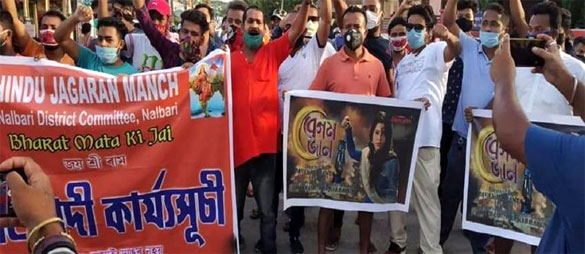 Members of Hindu Jagran Manch protesting against 'Begum Jan'.
----
An Assamese TV serial has landed in the eye of a storm after many Hindu individuals and organisations started calling for a ban on the show for allegedly promoting what is being termed as 'love jihad'.
The serial, which follows the journey of a Hindu girl who has to fight against the society, is being aired on Rengoni TV, a regional channel.
While some have taken to social media to express their angers over the TV serial, Hindu groups have reportedly taken to streets to protest against it.
"Such serials who promote love jihad and other anti-national programs should be banned as soon as possible ...!" said one Twitter user.
Few organisations have also called for boycotting the series claiming that it encourages 'love jihad'. Hindu Janajagruti Samiti has started an online signature campaign calling for the broadcast of the TV serial to be stopped.
Contradicting the official storyline of the show, many social media users alleged that it depicts a Hindu girl marrying a Muslim boy and eloping, which they call 'love jihad'.
However, PreetyKkongana, who plays the role of the protagonist, and the production house of the show say that 'Begum Jaan' has nothing to do with 'love jihad' and the actual story is completely different.
Kkongana said, in the serial, she plays the role of Hindu girl who is in a difficult situation and is helped by a Muslim man. "Then, in the village, someone spreads a rumour that Janmoni (her character) eloped with the Muslim man. But actually, she doesn't," Kkongana said.
"It's very painful when people react without watching the serial. There's nothing like Love-Jihad in the script. There's no communal angle in it. On the contrary, it wants to depict how humanity is much bigger than religion," she added.
The actors who worked in the series are being targeted online. Kkongana has also been threatened with rape and murder by few miscreants.
"Two persons namely – Bikram Nath and Kishor Das – have been threatening me and harassing me mentally for a long time. Bikram Nath has even threatened me with rape, acid attack and murder. Kishor has used abusive words against me on social media and spoke of rape and murder. This is extremely disturbing for me and I'm worried for myself and my family. They have also called me a prostitute," Kkongana told Outlook.
Kkongana, a well-known model and actor in the state, said she hopes that this kind of trend of attacking the artist comes to an end.
This allegation of promoting love jihad has been denied out rightly by the production house. AM Televisions, under which the serial is made. It said that there is nothing about the girl and boy falling in love or marrying in the serial.
"There is nothing in the serial Begum Jaan which goes against the Hindu Dharma. Without watching the serial some people have projected it as a love jihad and a serial where the Hindu sentiment is hurt. I request everyone to refrain from such comments, anyone wants to see, we are open to show the entire serial and if you all think anything or any scene which might hurt the sentiments of the Hindu religion is there we are ready to delete it," said SanjiveNarain, proprietor of AM Televisions, the production house.
https://www.outlookindia.com/website/story/india-news-hindu-groups-call-for-ban-on-assamese-tv-serial-for-promoting-love-jihad/356523
-----
UAE minister calls for cultural landmarks to be preserved amid Turkish move to turn heritage site into mosque
July 11, 2020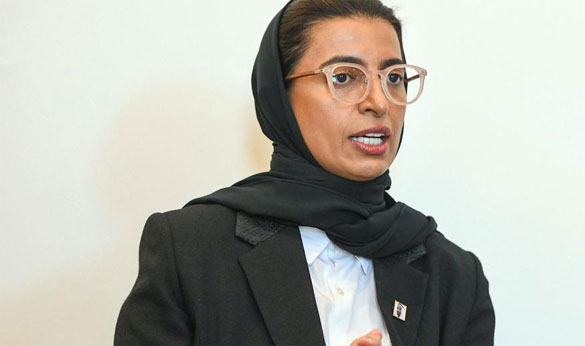 Noura Al Kaabi, Minister of Culture and Youth, said cultural heritage should be preserved for the good of society. Khushnum Bhandari for The National
-----
A UAE minister has said cultural landmarks should "neither be misused nor altered" in the wake of Turkey's move to revoke the Hagia Sophia's decades-long status as a museum and reopen it as a mosque.
The ruling from Turkey's highest administrative court on Friday was met with concern by US, French, Russian and Greek officials, as well as Christian church leaders.
The Unesco World Heritage site was built in the 6th century by the Byzantine emperor Justinian as a cathedral of the Greek Orthodox church before being converted to a mosque under the Ottoman empire nine centuries later.
It was declared a museum in 1934 after the secular modern Turkish republic was established in 1923 and is one of Turkey's most visited monuments.
"Especially for sites that are inscribed under World Heritage by Unesco. They have exceptional international value, and are the common heritage of all peoples and cultures."
The Minister said in a statement on Saturday that the change in the status Hagia Sophia in Istanbul was effected without any regard to its wider value.
"It has remained a global landmark with significant cultural legacy. It also served as a bridge connecting different peoples and cementing their bonds," she said.
"World heritage sites have become the platforms for knowledge exchange between diverse cultures and civilizations that evolved in history across time. Hagia Sophia is an important example of interaction and dialogue between Asia and Europe and should remain a witness to harmonious human history."
The Minister emphasized the importance of the statement issued by Unesco, which had stressed that Hagia Sophia was part of Istanbul's rich history.
"It is designated as a heritage museum by Unesco. It is an architectural marvel and is a unique witness to the interaction between Asia and Europe across centuries. It is a symbol of dialogue," she said.
Unesco said countries that are home to cultural heritage sites should not alter them in ways that harm their outstanding universal value.
https://www.thenational.ae/uae/heritage/uae-minister-calls-for-cultural-landmarks-to-be-preserved-amid-turkish-move-to-turn-heritage-site-into-mosque-1.1047642
-----
World Council of Churches expresses dismay over Turkey's decision to declare Hagia Sophia a mosque
July 12, 2020
The interim secretary-general of the World Council of Churches has written to Turkey's president expressing his "grief and dismay" over Turkey's decision to change the status of Istanbul's landmark Hagia Sophia from a museum to a mosque.
As a World Heritage museum, "Hagia Sophia has been a place of openness, encounter and inspiration for people from all nations," IoanSauca said in the letter released Saturday by the Geneva-based group.
The colossal Hagia Sophia was built 1,500 years ago as an Orthodox Christian cathedral and was converted into a mosque after the Ottomans conquered Constantinople, now Istanbul, in 1453. The secular Turkish government decided in 1934 to make it a museum.
Sauca said the museum status had been "a powerful expression" of Turkey's commitment to inclusion and secularism.
Turkish President Recep Tayyip Erdogan on Friday formally converted the building back into a mosque and declared it open for Muslim worship, hours after a high court annulled the 1934 decision turning it into a museum.
Erdogan, a devout Muslim, has frequently used the debate over Hagia Sophia to drum up support for his Islamic-rooted party. The decision has provoked deep dismay among Orthodox Christians.
https://www.indiatoday.in/world/story/world-council-churches-expresses-dismay-over-turkey-decision-declares-hagia-sophia-museum-mosque-1699645-2020-07-12
------
Senior Pakistani Shia cleric condemns Saudi paper for offensive caricature of Ayatollah Sistani
July 12, 2020
Pakistani Shi'ite scholar Agha Hamid Moosavi condemns offensive caricature of Grand Ayatollah Sistani which Saudi-funded daily Asharq al Awsat published.
Tehreek NifazFiqh-e-Jafaria (TNFJ) Pakistan leader Agha Hamid Ali Shah Moosavi defended Islamic jurisprudent Ayatollah Seyyed Ali Sistani.
He said Shia Islamic jurisprudents served humanity because they remain source of emulation whom people follow and revere.
AllamaMoosavi cited that Omnipotent God remains the original source to follow and God bestowed upon humanity with infallible Prophets and Apostles.
Similarly, people also follow infallible Imams and Quran and after then they follow completely and comprehensively qualified Islamic jurisprudents.
Logically, he explained, people follow expert opinion on everything and for example patients follow the advice of doctors.
He further argued that mistake of a doctor cannot be portrayed as the mistake of the entire medical science or medicines.
Therefore, opponents and enemies cannot blame Grand Ayatollah Sistani for mistake of anybody else.
On the other hand, Iraqi protesters staged a demonstration in the capital Baghdad to condemn Saudi daily Asharq al-Awsat newspaper over an offensive cartoon depicting Iraq's most prominent Shia cleric Grand Ayatollah Ali al-Sistani.
https://en.abna24.com/news//senior-pakistani-shia-cleric-condemns-saudi-paper-for-offensive-caricature-of-ayatollah-sistani_1054468.html
-----
Ahead of Eid ul Azha, Pahang Bars Muslims From Holding 'Qurbani' Ritual At Home
12 Jul 2020
BY YISWAREE PALANSAMY
KUALA LUMPUR, July 12 — Muslims are not allowed to hold the animal slaughter ritual to mark the Hari Raya Eid ul Azha celebration at home, according to the Pahang Islamic Affairs, Education and Health executive councillor's office.
SinarHarian reported the guidelines issued in accordance with that of the Pahang Islamic Religious Department (Jaip) on the execution of slaughter rituals during the recovery movement control order (RMCO).
"Slaughter rituals can only be carried out in the five abattoirs of the Department of Veterinary Services (DSV) in Kuantan, Temerloh, Bentong, Raub and Lipis.
Citing a notice, SinarHarian reported that mosques and suraus, as well as barns and other slaughter facilities with the necessary equipment, are also allowed to carry out the ritual, but must first obtain approval from the respective District Islamic Religious Departments.
The office said that each butcher must also hold accreditation from Pahang Islamic authorities, while the animals which are to be sacrificed must also receive approvals or a permit from the DSV.
"For the slaughter process in mosques, suraus and other slaughterhouses, the organisers need to provide a cage, should the sacrificial animal be sent earlier.
"The organisers also need to provide slaughterhouses with equipment and facilities in addition to an area for slaughter and packing purposes. They also need to have methods and provide a place to dispose of feces, blood and unnecessary animal parts," the report said.
It added that a waiting area must also be provided, should the meat distribution be carried out at mosques or suraus, by placing the one-metre social distancing markers in the slaughtering, cutting and distribution area.
"The organiser also needs to determine the number of livestock in accordance with the manpower and space available on days allowed, to avoid congestion. As a measure to control the spread of the coronavirus pandemic (Covid-19), the total attendance at one time of slaughter must not exceed 20 people, depending on available space," the report said, citing the notice.
All those present must also adhere to the guidelines and procedures provided, including wearing a face mask, using hand sanitiser, having their body temperature recorded and recording of attendance.
https://www.malaymail.com/news/malaysia/2020/07/12/ahead-of-Eid ul Azha-pahang-bars-muslims-from-holding-Qurbani-ritual-at-home/1883728
------
UK sought to exclude Muslim nations from conference on Srebrenica response
By Ian Cobain
11 July 2020
The British government attempted to exclude a number of Muslim countries from an international conference that was called following the capture of the Bosnian Muslim town of Srebrenica 25 years ago, recently declassified papers show.
Around 8,000 Bosnian Muslim men and boys were murdered over a period off 11 days, after Dutch UN peacekeepers abandoned the town on 11 July 1995, in the last act of genocide in Europe.
While the killings were in progress, the British government was deeply anxious that its peacekeeping forces in the country should not be drawn into an armed confrontation with the Bosnian Serb forces who were perpetrating it, the released documents show.
Attempts were made to prevent both Jordan and Turkey from attending a conference in London that was intended to find a solution, despite both countries having provided significant numbers of troops to the United Nations peacekeeping force in the region.
But London was also sensitive to accusations from Muslim countries that Western nations were standing by and taking no action to protect defenceless civilians.
On 16 July, around mid-way through the massacre, British Prime Minister John Major received a memo from Edward Oakden, his private secretary for foreign affairs, which included the warning: "We must not allow ourselves to be seen as responsible for 'the defeat of Bosnia' (implications for our trading position etc in the Arab world)."
An extract of a British government memo discussing how the country should respond in the aftermath of Srebrenica (National Archives)
The copy of this memo that has been made public at the UK National Archives shows that someone in Downing Street marked this point with two ticks of a pencil.
The same day, the British ambassador in Amman, Peter Hinchcliffe, sent a cable to the Foreign Office in London, reporting that King Hussein had the previous day summoned ambassadors from the five permanent members of the UN Security Council – Russia, China, France, the United Kingdom and the United States: the so-called P5.
Later that day, the British embassy in Riyadh warned that the Organisation of the Islamic Conference had said it was "horrified by recent events in Bosnia" and expected the UK to take decisive action to halt ethnic cleansing.
Saudi newspapers, meanwhile, were expressing suspicion that the international community was acquiescing in genocide, the embassy reported.
In a move apparently co-ordinated with Jordan, the Egyptian foreign minister, Amr Moussa, summoned the P5 ambassadors to Cairo that day to say that "the UN had been humiliated" and that "the international community could and should not stand and watch".
The Dutch troops were among 20,000 peacekeepers from more than three dozen nations who formed a United Nations protection force in Bosnia known as Unprofor.
However, the Dutch troops abandoned the town and neighbouring villages and retreated to their compound after 50 of their number were taken hostage by the Bosnian Serbs and threatened with execution.
Despite being aware that Bosnian Serb forces were executing Bosnian Muslims, some Dutch soldiers say they had helped to separate Muslim men from women.
On the evening of 15 July, Major telephoned Dutch Prime Minister Wim Kok to say he was outraged by comments made by French President Jacques Chirac, who had publicly described the Dutch troops as cowards.
The following day, Malcolm Rifkind, the British foreign secretary, wrote to Kok to say: "The United Kingdom considers that the Dutch peacekeepers in Srebrenica did their duty magnificently and with great courage. The Netherlands can be proud of them."
After capturing Srebrenica, the Bosnian Serb forces soon took another "safe haven" at Zepa and threatened to attack another at Gorazde.
The United Nations would later estimate that around 20,000 people were murdered in the areas around the "safe havens" that it had established.
The UK's Joint Intelligence Committee assessed that the Bosnian Serb forces could mount an attack on Gorazde within days and that the town would fall less than two weeks later.
During the week after the fall of Srebrenica, Michael Portillo, the UK's newly appointed defence secretary, sent a letter to Major giving details of a plan codenamed Operation Screwdriver to evacuate the Welsh soldiers.
The evacuation would be carried out at night, using 30 helicopters that would spend just 15 minutes on the ground. The evacuation would need to be agreed by UN commanders and would take place only once the British peacekeepers had started suffering casualties.
A few hours later, the head of the UK's armed forces, Peter Inge, wrote to Downing Street and the Ministry of Defence to report on a meeting he had attended the previous day with his opposite numbers from the US and French military, John Shalikashvili and Jacques Lanxade.
Inge advised that if the Bosnian Serbs attacked Gorazde, the best option would be to "seek a negotiated withdrawal with dignity as the Dutch have done". The UK would then need to decide whether to join with the French in the defence of the besieged Bosnian capital, Sarajevo.
With the conflict being widely reported in the world's media, the papers show Western leaders as being highly sensitive to public opinion.
Amid the flurry of telegrams, letters and telephone conversations between Washington, Paris and London, Anthony Lake, a senior adviser to US president Bill Clinton, was recorded as telling Major's private secretary, Roderic Lyne, that he would not want to intervene to save Gorazde.
"His preference would be to draw the line at Sarajevo, but he feared the way things were going, the line would really be drawn at Gorazde: CNN and public opinion would force this on us."
The declassified papers show that the British believed the French government to have been divided, with Chirac wanting more forceful action – in line with French public opinion - but his prime minister, Alain Juppe, wanting French peacekeeping troops to be withdrawn.
While the French military is also described as hawkish, the public statements of Chirac and Clinton are frequently denounced in the documents as "posturing".
The papers also show that the British – like the French – were anxious to avoid being blamed for the collapse of the safe havens and the massacre of their inhabitants.
After Rifkind decided to call a conference in London to agree an international response to the crisis, his ministry decided that while Bangladesh would be invited, having provided peacekeeping troops, Jordan and Turkey would not.
In a foreign office cable, Rifkind instructed ambassadors to "rebut strongly any allegation of anti-Muslim bias" if asked why other "Islamic troop contributors" had not been invited.
The British ambassador to Ankara, Kieran Prendergast, warned the foreign office against excluding the Turks from the talks. The Muslim world would believe they have been excluded because they are Muslims, he warned. "This is an occasion when it will be better to have them inside the tent."
From Amman, Peter Hinchcliffe pointed out that Jordan was the third-largest contributor of peacekeeping troops in Bosnia, after France and the UK – around 2,500 men.
Moreover, Jordan has "not succumbed to the temptation of seeing the conflict in an anti-Muslim context" and understands the West's problems, he wrote.
Nevertheless, the foreign office was adamant that it did not wish Turkey or Jordan to be present, in order to reduce the pressure to confront the Bosnian Serbs.
"We do not favour inviting the Turks to the international meeting on 21 July," the foreign office informed its ambassadors. "Turkey is by no means the only Bosnia troop contributor excluded from the international meeting in London.
As a result of the conference, the UN gave Unprofor commanders permission to call in Nato air strikes, and the following month Nato began large-scale bombing attacks, bringing Bosnian Serb forces to the negotiating table.
Sixteen years later, the Bosnian Serb military commander, Ratko Mladic, was arrested and sent to The Hague, where he was convicted of genocide and crimes against humanity, and jailed for life.
Radovan Karadzic, the president of the Bosnian Serb republic, was captured in 2008. He too was convicted of crimes against humanity and genocide at Srebrenica, and sentenced to life in prison.
Even after 25 years, some of the UK's official papers from the period are being withheld, on national security grounds.
https://www.middleeasteye.net/news/uk-srebrenica-anniversary-muslim-nations-conference
-------
South Asia
Explosion reported close to a ministry compound in Kabul city
11 Jul 2020
An explosion went off close to the Ministry of Public Works in Kabul city earlier today with the preliminary reports indicating the blast wounded at least two people.
A security source confirmed the explosion took place close to the Ministry of Public Works in Kabul city earlier today, wounding at least two people.
The source further added that a magnetic improvised explosive device went off close to the ministry compound.
The eyewitnesses earlier reported that the explosion took place close to Abdul Haq Square.
Photos published on social media indicate white plumes of white smoke rising from the site of the explosion.
No individual or group including Taliban has so far claimed responsibility for the incident.
https://www.khaama.com/explosion-reported-close-to-a-ministry-compound-in-kabul-city-08951/
------
Roadside bomb kills, wounds 5 children in South of Afghanistan
11 Jul 2020
An Improvised Explosive Device (IED) explosion killed or wounded at least five children in southern Zabul province of Afghanistan.
The 205th Atal Corps in a statement said the terrorists had planted an Improvised Explosive Device on a roadside in Qalat, the provincial capital of Zabul.
The statement further added that the terrorists had planted the roadside bomb to target the Afghan National Defense and Security Forces.
However, the 205th Atal Corps said the explosion killed three children and wounded two others who were later transported to health facilities by security forces.
The anti-government armed militants including Taliban have not commented regarding the incident so far.
Taliban and other armed militants frequently use improvised explosive devices to target the security forces but majority of such attacks inflict casualties on ordinary civilians.
https://www.khaama.com/roadside-bomb-kills-wounds-5-children-in-south-of-afghanistan-08950/
-----
Women, children among 14 killed, wounded as Taliban IED hits civilian vehicle in Ghazni
12 Jul 2020
An Improvised Explosive Device (IED) planted by Taliban ripped through a civilian vehicle in South-eastern Ghazni province, killing or wounding at least 14 civilians.
According to local government officials, the explosion killed at least 6 civilians and wounded at least 8 others including women and children.
Wahidullah Jumazada, provincial governor's spokesperson, confirmed the incident and said a roadside bomb planted by Taliban ripped through a civilian mini-van in Jaghatoo district.
Jumazada further added that that the explosion killed six civilians including women and children and wounded at least 8 others.
He also added that the local authorities shifted the wounded civilians to the nearby hospital where they receiving medical care.
No individual or group including Taliban has so far claimed responsibility for the incident.
https://www.khaama.com/women-children-among-14-killed-wounded-as-taliban-ied-hits-civilian-vehicle-in-ghazni-08953/
-----
North America
Online Retailer Shein Apologized Twice This Week, Now It's Being Called Out Again For Selling A Necklace That Says "Allah.
July 10, 2020
IkranDahir
Shein has come under scrutiny for the third time this week after people noticed that the company has been selling a necklace that reads "Allah" (God) in Arabic as part of a set of necklaces that say "Baby girl," "Scorpio," and "96."
Nowhere in the description of the necklaces did the company make clear that one of the necklaces had religious origins. Any religious necklaces that Muslims wear require extra care — for example, you cannot enter a bathroom with one.
The retailer had already apologized on Thursday after people criticized them for selling a "swastika pendant necklace." And earlier this week, Shein also released an apology addressing multiple Muslim prayer mats that it was selling as decorative carpets.
Khadija Rizvi, who previously posted about Shein selling prayer mats, called out the company over the necklaces in an Instagram post Thursday that ended up going viral.
"I am tired of this but we will continue to call out the religious abuse and appropriation," she wrote in her caption. "After the Swastika necklace yesterday, there will definitely be more that we find. We initially accepted your apology and looked to the future positively, however the commitment to change has not been upheld."
She also criticized Shein for issuing an "insincere apology" over the swastika necklace and suggested that retailer "pull down your site until you thoroughly check all your items, to avoid mocking cultures and religions further."
The necklace set was removed from Shein's website by Friday morning. The company also published an apology addressing the swastika necklace, saying it will no longer be selling any religious items on its site.
A Shein spokesperson told BuzzFeed News in a statement about the swastika necklace Thursday that it is "taking extreme measures to ensure that all items are cleared through a rigorous vetting process before we retail them."
https://www.buzzfeednews.com/article/ikrd/shein-selling-allah-necklace?ref=bfnsplash
-----
Social Media Community 'Muslim' Looks To Attract Islamic Gen-Z
John Scott Lewinski
Jul 11, 2020
A new social media platform looks to create a new, accepting community and outlet for Generation Z and millennial muslims to help them amplify their faith, share their views and enhance their lifestyles. Launching in early 2019, the platform is called "Muslim" and recently premiered a new, interconnected media publication.
The new publication, Muslim.co, premiered during Ramadan of 2020 and now adds its resources to the social media platform. According to "Muslim" founder Ameer Al-Khatahtbeh, the platform has more than 177,000 followers on social media. It's reportedly now gaining between 500 and 1,000 followers per day.
The new social media platform 'Muslim' looks to build an inclusive online community for Islamic ... [+] CORBIS VIA GETTY IMAGES
"Muslims currently do not have a media platform or online community of their own," Al-Khatahtbeh says. "Hence our goal is very minimal in creating a space for us to express our lifestyles and views to one another. Every muslim practices their faith differently, which makes our community very vast and amazing. Our publication and community allows all muslims to share their own lifestyle and views on their practices."
Like every other global faith, Islam is not monochromatic in its views, traditions and practices. Different groups within the religion engage in different levels of evolutionary reform and devout adherence. Young muslims making up those millennial and Generation Z classes take part in all of those interpretations.
Al-Khatahtbeh explains that the "Muslim" platform doesn't limit or restrict any expression of the faith. The media publication and the platform keep the door wide open to any member of the Islamic community.
"Our platform allows for all form of expression from muslim writers to share their perspectives. If there are opposition on views expressed in one article, the reader could find another that better suites their faith or if they're a writer, they can pitch a story with a different perspective. However, all in all — we are becoming a central news hub and community for all muslims regardless of their practice."
The online publication widens the scope of the Islamic experience. It offers coverage in various departments, including News, Culture, Lifestyle and Opinion.
https://www.forbes.com/sites/johnscottlewinski/2020/07/11/social-media-community-muslim-looks-to-attract-islamic-gen-z/#3f785f7f1685
------
US warns citizens of 'arbitrary detention' in China
12/07/2020
The United States has warned citizens of "heightened risk of arbitrary detention" in China as tensions between the two countries have been on the rise over issues including the coronavirus pandemic, Hong Kong, and allegations of human rights abuses of the minority Muslim population in Xinjiang and residents of Tibet.
The state department did not specifically say what prompted the new security alert, which was issued to US citizens in China on Saturday.
"Security personnel may detain and/or deport US citizens for sending private electronic messages critical of the Chinese government," it added, without citing specific examples.
The alert comes as bilateral tensions have intensified between Beijing and Washington over issues ranging from the COVID-19 pandemic, trade, and allegations of human rights violations against Uighurs in the Xinjiang region and communities in Tibet.
Adding to the enmity is a controversial security law pushed on the semi-autonomous region of Hong Kong by China's central government in June that has caused international concern. The law bans subversive acts and speech against the Chinese government made anywhere in the world.
The most recent move comes days after Washington imposed visa bans on Chinese officials it accused of restricting foreigners' access to Tibet. Beijing responded by saying it was banning "US individuals with egregious conduct related to Tibet issues".
China has also arrested two Canadians after Canada arrested a high-profile executive of Chinese telecommunications giant Huawei in late 2018.
Beijing has not commented on the US travel warning, but on Wednesday called Australia's alert about the risk of arbitrary detention in China "completely ridiculous and disinformation".
Turkish President Recep Tayyip Erdogan has rejected international condemnation over the decision to change the status of Istanbul's landmark Hagia Sophia from a museum to a mosque, saying it represented his country's will to use its "sovereign rights".
In the past, he has repeatedly called for the stunning building to be renamed as a mosque and in 2018, he recited a verse from the Quran at Hagia Sophia.
"Those who do not take a step against Islamophobia in their own countries ... attack Turkey's will to use its sovereign rights," Erdogan said at a ceremony he attended via video-conference on Saturday.
The colossal Hagia Sophia was built 1,500 years ago as an Orthodox Christian cathedral and was converted into a mosque after the Ottomans conquered Constantinople, now Istanbul, in 1453. The secular Turkish government decided in 1934 to make it a museum.
Erdogan on Friday formally converted the building back into a mosque and declared it open for Muslim worship, hours after a high court annulled the 1934 decision turning it into a museum. He said Muslim prayers would begin at the UNESCO World Heritage Site on July 24.
The president went ahead with the plan despite appeals from NATO ally the United States and from Russia, with which Ankara has forged close relations in recent years.
As a World Heritage museum, "Hagia Sophia has been a place of openness, encounter and inspiration for people from all nations," interim secretary-general IoanSauca said in the letter released on Saturday.
The influential bishop Hilarion, who heads the Russian Orthodox Church's department for external church relations, also expressed his sorrow.
"It is a blow to global Christianity ... For us [Hagia Sophia] remains a cathedral dedicated to the Saviour," he told state-controlled TV Rossiya24 late on Friday.
But OzgurUnluhisarcikli, Ankara director of the German Marshall Fund, told AFP the move would win hearts and minds at home as most Turks "would favour such a decision for religious or nationalist sentiments.
"This is a debate president Erdogan cannot lose and the opposition cannot win. As a matter of fact, this issue also has the potential to disunite the opposition parties."
Erdogan's nationalist ally DevletBahceli welcomed the decision, saying that reopening Hagia Sophia to Muslim worship "has long been our desire".
"We wanted to come and visit Istanbul and the Hagia Sophia museum but unfortunately we realised that from today it is closed," said Renato Daleo, a tourist from Italy.
KsenniaBessonova, a Russian living in Istanbul flanked by her 16-month-old daughter and her husband, said they had also wanted to visit. "It was our little dream because since our daughter was born we were not able to come and here we go," she said.
"From what our friends and family were telling us it was something special and we wanted to feel the same. At the moment I am not sure what to expect but I feel sad in a way."
"The Hagia Sophia's doors will remain open to visitors from all around the world," his press aide FahrettinAltun tweeted on Saturday.
"People of all religious denominations are welcome and encouraged to visit it - just as they have been able to visit other mosques, including the Blue Mosque."
https://www.aljazeera.com/news/2020/07/erdogan-rejects-global-criticism-hagia-sophia-decision-200711173640326.html
-------
India
75 Thai, Nepalese Nationals Who Attended Delhi Mosque Tablighi Jamaat congregation Get Bail from a Delhi Court
July 11, 2020
New Delhi: A Delhi court Saturday granted bail to 75 foreign nationals from Thailand and Nepal, who were charge-sheeted for attending a Tablighi Jamaat congregation here allegedly in violation of visa norms, indulging in missionary activities illegally and violating government guidelines issued in the wake of the COVID-19 outbreak.
Chief Metropolitan Magistrate Gurmohina Kaur granted the relief to the foreigners on furnishing a personal bond of Rs 10,000 each.
Till date, 445 foreign nationals from 33 different countries, who were charge-sheeted in the case have been granted bail by the court.
The police had in June filed 59 charge sheets, including supplementaries, against 956 foreigners belonging to 36 different countries in the case.
The accused who were granted bail Saturday will file their plea bargaining applications on Monday, said advocates Ashima Mandla, Mandakini Singh and Fahim Khan, appearing for them.
Under plea bargaining, the accused plead guilty to the offence, praying for a lesser punishment. The Criminal Procedure Code allows for plea bargaining in cases where the maximum punishment is a seven-year imprisonment; offences don't affect the socio-economic conditions of the society and the offence is not committed against a woman or a child below 14 years of age.
The court had granted bail to 122 Malaysians on Tuesday and 91 other foreigners from 21 countries on Wednesday, 76 foreign nationals from eight countries on Thursday and 82 Bangaldeshi nationals on Friday.
The investigating officer had earlier told the court that the investigation was completed against the 956 foreigners in the case and each has been allegedly found to have independently committed the offence for which he /she has been charge-sheeted.
These foreigners had attended the event in March, following which in April COVID-19 cases across the country spiked after hundreds of Tablighi Jamaat members, who had attended the religious congregation at Nizamuddin Markaz, tested positive.
According to the chargesheets, all the foreigners have been booked for violation of visa rules, guidelines issued in the wake of COVID-19 pandemic, Epidemic Diseases Act, Disaster Management Act and prohibitory orders under section 144 of Code of Criminal Procedure.
They have also been booked for offences under sections 188 (Disobedience to order duly issued by public servant), 269 (Negligent act likely to spread infection of disease dangerous to life), 270 (Malignant act likely to spread infection of disease dangerous to life) and 271 (Disobedience to quarantine rule) of the Indian Penal Code and relevant sections of the Foreigners Act.
The Centre has cancelled their visas and blacklisted them. The foreigners have not been arrested yet and are residing at various places approved by the Delhi High Court.
At least 9,000 people including the foreign nationals participated in the religious congregation of the Tablighi Jamaat at Nizamuddin Markaz. Later, many of the attendees travelled to various parts of the country.
An FIR was registered against Tablighi Jamaat leader Maulana Saad Kandhalvi and six others on March 31 on a complaint of the Station House Officer of Nizamuddin under sections of the Epidemic Diseases Act, Disaster Management Act (2005), Foreigners Act and other relevant sections of Indian Penal Code.
Kandhalvi was later booked for culpable homicide not amounting to murder after some of the attendees of the religious congregation died due to COVID-19, police said.
https://www.ndtv.com/delhi-news/75-thai-nepalese-nationals-who-attended-delhi-mosque-event-get-bail-2261114
-----
Asaduddin Owaisi wants mosque at same spot
12th July 2020
HYDERABAD: AIMIM chief Asaduddin Owaisi on Saturday termed the demolition of mosques and a temple inside the Secretariat complex as unfortunate and urged that criminal action should be taken against the contractors.
Earlier, Owaisi got tested for Covid-19 at the Nizamia General Hospital to "spread awareness, encourage public to get tested".
After getting tested, Owaisi said, "The Telangana CM's statement and promise were timely. I request him, on behalf of all ulemas and scholars, that the mosque should be constructed on the very same spot. We request the CM to grant us an audience.
But I want to make it clear that there will be no compromise on the fact that there has to be a mosque in the same place."
https://www.newindianexpress.com/cities/hyderabad/2020/jul/12/asaduddin-owaisi-wants-mosque-at-same-spot-2168554.html
-----
Telangana Congress plans black flag protests against mosque, temple demolition
12th July 2020
HYDERABAD: Congress senior leader Mohammed Ali Shabbir announced that the Congress would organise a State-wide protest against the demolition of two mosques and a temple in the Secretariat complex.
Addressing a press conference after participating in the Hyderabad City Congress Committee Minorities Wing meeting at Gandhi Bhavan on Saturday, he said that the demolition was illegal and hurt the sentiments of all communities. Shabbir Ali said that the Chief Minister K Chandrasekhar Rao, who believed that Telangana was his jagir (personal property), needed to be taught a lesson.
In the first phase of the protest, the party would ask its cadre and ordinary citizens to hoist black flags at their residences. They would also wear black masks and badges. People of all communities would be involved in the protest. The second phase of the agitation would be finalised soon.
Shabbir rejected the apology tendered by the CM over the demolition of places of worship. He described it as 'fake and deceptive'. "The CM's claim that he was ignorant about the demolition is a joke and a big lie," said Shabbir.
He also rejected KCR's offer to construct a new mosque and demanded that both the mosques, Masjid-e-Hashmi and Masjid-e-Mohammadi in the Secretariat complex, be re-constructed immediately. Later, Shabbir along with other Congress leaders, burnt KCR's effigy outside Gandhi Bhavan.
https://www.newindianexpress.com/cities/hyderabad/2020/jul/12/congress-plans-black-flag-protests-against-mosque-temple-demolition-2168555.html
-----
Tehreek-e-Hurriyat chairman Ashraf Sahrai arrested, booker under PSA
July 12, 2020
Tehreek-e-Hurriyat chairman, Mohd Ashraf Sehrai was on Sunday arrested by the police from his residence at BaghaatBarzulla in uptown Srinagar.
Quoting official sources, news agency GNS reported that a police party arrested the elderly separatist leader at around 5:30 am.
Sehrai was elected as the chairman of Tehreek-e-Hurriyat, a constituent of All Parties Hurriyat Conference, which was previously headed by Syed Ali Shah Geelani.
Sehrai's son, Junaid, who was the District commander of Hizbul Mujahdeen outfit for Srinagar, was killed in an encounter with the security forces in Nawakadal area.
https://www.greaterkashmir.com/news/latest-news/tehreek-e-hurriyat-chairman-ashraf-sahrai-arrested-booker-under-psa/
-----
Encounter between militants and security forces in north Kashmir's Sopore
July 12, 2020
An encounter broke out between militants and security forces in Sopore area of Jammu and Kashmir's Baramulla district on Sunday, police said.
Security personnel launched a cordon and search operation around midnight in the Reban area of Sopore town following information on presence of militants, a police official said.
He said the search operation turned into an encounter around 4.00 am on Sunday when the hiding militants opened firing on the security forces, who retaliated. No casualties have been reported so far, he said.
https://www.greaterkashmir.com/news/latest-news/encounter-between-militants-and-security-forces-in-north-kashmirs-sopore/
------
Through rain and floods, Assam's community workers battle pandemic
Tora Agarwala
July 12, 2020
GUWAHATI: It is the wind that has helped Pratima Barman plan her day as an accredited social health activist (ASHA) in Assam's Dibrugarh district for seven years now.
In the sapori (island) village where Barman lives, a strong gusty wind, coupled with the sight of a brimming Brahmaputra, signals the annual deluge. On such days, the 35-year-old will switch her crisp whilte-and-blue ASHA sari for an older, well-worn one. She will slip on her washed-out rubber chappals, carefully balance her bag on her head, and set out. And then, wading through waters, Barman will call on the pregnant and the sick, the old and the young, and—as she has done over the last three months—seek out those who might be showing signs of a fever, a cold, or a cough. In the evening, she will wash up, sanitising everything from her watch to her bicycle, before entering her house.
Floods might be as old as Assam, but fighting a pandemic in knee-deep water is a whole new challenge for even the most seasoned health worker.
Barman, and her colleagues, are the foundation of the 'Assam Community Surveillance Program' — coordinated by the National Health Mission (NHM) — which does door-to-door checks in rural Assam, to find those with symptoms of the novel coronavirus, as well as malaria and Japanese Encephalitis. It is an exercise that has covered more than 30,000 villages so far with a battalion of ASHAs, anganwadi workers (AWWs), auxiliary nurse midwives (ANMs), multi-purpose workers (MPWs), surveillance inspectors, lab technicians, and doctors, spread out across the state during a debilitating flood that, since May, has affected more than 26 lakh people in 29 districts, and claimed 42 lives. Twenty-four have died due to landslides triggered by heavy rain.
Floods might be as old as Assam, but fighting a pandemic in knee-deep water is a whole new challenge for even the most seasoned health worker. A health worker in Demaji.
"They have gone beyond the call of duty, I am at a loss of words to describe their loyalty," says Dr Lakshmanan S, director of NHM.
While it is only now that social media is filled with pictures of community health workers — mekhela chadors and saris hitched up to their knees, balancing themselves on makeshift bridges, or squatting precariously on rafts made of banana tree trunks — they say it is a sight that plays out like clockwork every year. "We are getting praised now because of Covid, but we have been wading through waters for years," says Minu Saikia, 40, an ASHA from Dibrugarh district, one of the severely affected districts this season. Just two weeks back, Saikia slipped in the waters, twisted her ankle, and thereafter, limped back home. "These kinds of things keep happening and we are used to it," she says, using the Assamese word obhyaax (habit) to describe her relationship with the floods.
While the waters had receded a week back, heavy rainfall has put the state on alert again — subsequent waves will follow in this month, and in particularly low-lying areas, island areas of chars and saporis, continue till October at least.
"They have gone beyond the call of duty, I am at a loss of words to describe their loyalty," says Dr Lakshmanan S, director of NHM.
Anita Medhi, an ANM from Sonitpur District's Balipara says the floods so far have been 'minuscule'. "It is just knee-deep till now," she says, recalling how in the 2019 floods, considered one of the worst in years, she had slipped from a makeshift bridge and fallen right into flood waters below.
Stories like this abound in Assam. "Sometimes floating branches will poke us, sometimes an insect will bite us, who knows what the waters hide," says Barman, adding that now the fear is of the virus too. Since the pandemic, masks and gloves are new additions to their attire.
In Goalpara district's Baladmari char, 31-year-old MPW SamsulAlom says they are toiling more this year. "We would do routine check ups earlier too, but this time we go to each and every house, covering a hundred per cent population," he says, adding that the sub-centre he works at caters to a population of 21,000 people. Hiren Deka, 50, MPW from Baksa district, says, "I have old people in my family, so it is scary but then again, this is a part of the job."
Barman agrees. "Bhiji-titiholeujaam. We might be soaked to the bone, but we will still go," she says. The resolve seems to have stuck through the pandemic — motivation which comes from a sense of responsibility one inculcates from years on the job, which pays ASHAs like Barman and Medhi an honorarium of Rs 3,000.
On June 27, Deka set out on door-to-door calls with his colleagues, amidst heavy rains in Baksa district. "We didn't expect it to but it started pouring," says ASHA Jayanti Boro, who was part of the team, "We considered stopping but then decided to get over with it, even if we knew it would be hard." To reach Katanipara village, where they had to carry out the surveillance, the team had to resort to a raft, tying trunks of four banana trees together. The picture of the two women, Boro and ANM AlariSwargiary — sitting on the raft, deep in conversation, seemingly oblivious of the waters around them — went viral afterwards.
Dr Syed Ariful Islam, the 40-year-old doctor, who had led the team, said the picture is representative of not just Baksa district, but every part of Assam. "They walk, they cycle, they step into neck deep water," he says, "With floods in Assam, you never know, one day you will be walking on solid ground and the next day you will be waist-deep in water." MPW Alom says while he knows how to swim, many of his co-workers feel scared balancing themselves on rickety wooden boats. Getting these, is also, a matter of luck. "Sometimes, an organisation will provide us with one, but on most days we have to find a willing boat to ferry us," says Rina Namashudra, a 45-year-old ASHA from Dibrugarh district.
Islam feels it would be a big boon if the State Disaster Response Fund (SDRF) could provide dedicated rafts to ferry workers, to make their jobs just a little easier. "There is always a risk of falling, arrangements like this would aid fearless, undeterred service," he says.
NHM's Lakshmanan describes these times as unprecedented and unimaginable. "This is a first for this kind of surveillance and floods. Earlier, weekly immunisation would happen during floods and there was an opportunity plan, make arrangements ahead, but now it is not practically possible for us to arrange boats in every district," he says.
While in the last week the waters had receded, the rains from yesterday have flooded the courtyard of Barman's home — where she lives with her husband and four children — in a sapori in Dibrugarh district yet again.
In March, the Central government provided insurance worth Rs 50 lakh for frontline health workers, including ASHAs, if they were diagnosed, or lost their lives, in the line of Covid duty. "But it would be nice if they decided to give us something during our lifetime too," says Barman.
https://indianexpress.com/article/facebook-stories-of-strength-2020/governing-the-crisis/assam-community-workers-battle-pandemic-floods-6501494/
------
Arab world
Egypt court upholds prison terms for Muslim Brotherhood members in 'Ittihadeya case'
11 Jul 2020
The Egyptian Court of Cassation turned down on Saturday an appeal by Muslim Brotherhood member Mahmoud Makawi Afifi, upholding a 20-year prison sentence by a criminal court over Afifi's involvement in violence that took place in the "Ittihadeya incidents" of 2012.
The case involved violence against protesters who were holding a sit-in in front of the presidential palace in Cairo, during which journalist El-Husseini Abu-Deif was killed.
The Court of Cassation also upheld the verdict against the late deposed President Mohamed Morsi and Brotherhood leaders including Mohamed El-Beltagy, Issam El-Erian, and six others in the same case. The Brotherhood leaders were sentenced to a maximum of 20 years in prison.
Affi was convicted by a criminal court in April 2014. He was sentenced in absentia to 20 years imprisonment, and was later arrested and convicted again in a retrial.
The criminal court convicted the defendants in the case of inciting violence and ordering the illegal detention and torture of protesters, as well as breaking up their peaceful sit-in in front of the presidential palace in 2012.
On 5 December 2012, under Morsi's regime, opposition forces rallied in front of the Ittihadiya Presidential Palace to peacefully protest a November 2012 presidential decree giving Morsi immunity from judicial oversight.
The following morning, hundreds of Morsi supporters stormed a small overnight sit-in. This prompted thousands of Morsi's opponents to demonstrate again at the palace, resulting in clashes with his followers.
At least 10 people were killed, including Abu-Deif, a 33-year-old journalist at the weekly El-Fagr newspaper, who was covering the protest.
http://english.ahram.org.eg/NewsContent/1/64/374222/Egypt/Politics-/Egypt-court-upholds-prison-terms-for-Muslim-Brothe.aspx
------
UAE sets dates to renew expired visas, ID cards after coronavirus restrictions eased
12 July 2020
The UAE's authorities set on Saturday dates to start receiving applications to renew expired residency visas and ID cards.
A day earlier the Cabinet announced that their decisions regarding extending the validity of expired documents such as visas, Emirates ID cards, and entry permits due to the coronavirus pandemic will no longer be in effect.
The Federal Authority for Identity and Citizenship (ICA) said on Friday that the decision was "in line with the return to normalcy in various fields and sectors and to support continuity of business activity."
During the early months of the coronavirus pandemic amid lockdowns and travel bans, the UAE had extended the validity of residency visas, entry and residency permits, and ID cards expired after March 1 until December 31.
ICA said on Saturday that it will resume its services and collect the relevant fees starting from Sunday, July 12, and urged all expat residents, UAE citizens, and GCC nationals residing in the country to renew their expired documents.
For residency visas and Emirates ID cards which expired in March, 2020, individuals can start applying to renew those documents starting from July 12.
For residency visas and Emirates ID cards which expired in April, 2020, individuals can start applying to renew those documents starting from July 12.
For residency visas and Emirates ID cards which expired in May, 2020, individuals can start applying to renew those documents starting from August 11.
For residency visas and Emirates ID cards which expired between July 1-11, 2020, individuals can start applying to renew those documents starting from September 10.
For residency visas and Emirates ID cars which expired after July 11, 2020, there are no date restrictions on when to apply to renew the documents.
The ICA urged everyone to adhere to the schedule above not only to maintain social distancing as a coronavirus precautionary measure, but also "to avoid paying administrative fines."
https://english.alarabiya.net/en/coronavirus/2020/07/12/UAE-sets-dates-to-renew-expired-visas-ID-cards-after-coronavirus-restrictions-eased.html
------
Hunger rises for Syrian refugees in Lebanon
12 July 2020
In Nabil al-Saeed's refrigerator – which is not working because there is no electricity – there is a plate of leftover zucchini and tomato stew his wife made for lunch, which the family will also eat for dinner if it doesn't go bad from the heat, some peaches from a nearby orchards, and a bag of bread.
The family – who live in a tent of wood and tarps in a small Syrian refugee camp in Lebanon's western Beqaa Valley – ran out of cooking oil the day before, Saeed said, and now he has to wait until next month's installment of aid from the UN Refugee Agency before they can get more. Meat and chicken have become a distant memory.
"If I want to get a kilo of meat for my kids, it's 70,000 (Lebanese lira)," said Saeed's neighbor, Osama Salameh, who comes from the same now-demolished town in Syria's Idlib region. That amount – about $46 at the official exchange rate or less than $10 at the black market rate – is equivalent to the entire month's per-person food aid allotment from UNHCR.
"We used to buy meat – we don't buy it anymore, or chicken either," she said. "We used to buy 4 or 5 kilos of tomatoes in a week, for instance. Now we buy 1 kilo."
Lebanon's ongoing currency crisis and the accompanying inflation have led to increased hunger among Lebanese and refugees alike. But with a majority of Syrian refugees already in extreme poverty before the economic meltdown, the effects on them have been particularly stark.
Mireille Girard, UNHCR's Representative in Lebanon, told Al Arabiya English that the percentage of refugees living in extreme poverty in the country has increased from 55 percent last year to around 75 percent.
As a result, she said, "Parents are depriving themselves of meals to let the children eat. They eat less nutritious food. You also see people going into more debt."
Syrians, who largely work in agriculture and construction, are suffering the trickle-down effects of the larger economic collapse. Construction work has nearly stopped, and many farmers reduced their planting this year because they were unable to afford the dollars needed to import supplies like seeds and fertilizer.
"The Lebanese farmer who used to bring, for instance, two workers once or twice a week to work, now maybe he'll bring them once or twice in the month," Salameh said. "Even the orchards, they abandoned them, because everything is expensive – the fertilizer is expensive, the water is expensive, the diesel fuel is expensive, everything is expensive."
And when there is work, the pay is astonishingly low. While the prices of basic goods have doubled or tripled, the amount a Syrian worker makes for a day's labor in the fields has not changed, at 10,000 to 20,000 lira a day.
While UNHCR has at least temporarily expanded the number of families receiving monthly payments to help with food costs – an additional 30,000 families were added to the rolls last month – Girard acknowledged that both the amount and the coverage are insufficient. Only about half of the families deemed severely vulnerable are getting aid.
While recipients used to get $27 per person, aid is now paid out in lira due to the country's dollar shortage, and though the amount has been adjusted for inflation, it has not kept up with the rapid depreciation of the lira.
"We have adjusted, but this is insufficient compared to what we should be doing, partly the scope of coverage," Girard said. "People are desperate, and we are far from covering all the people that should be receiving lifeline support."
Meanwhile, as the desperation in Lebanon – and in Syria, which is undergoing its own currency crisis – is growing, the resources available from the international community appear to be shrinking, with many donor countries preoccupied by their own economic crises and the COVID-19 pandemic.
Pledges at last month's fourth annual Brussels Conference on Syria totaled $7.7 billion – nearly $2 billion less than the $9.4 billion pledged at the previous year's conference.
Girard said that the amount of support for the Syrian crisis is still substantial but added that "we really need more attention on this region."
Meanwhile, for some smaller NGOs and grassroots initiatives providing aid to refugees, the same currency crisis that has made refugees' situation increasingly desperate has hindered fundraising efforts. Except for those who have a special "fresh money" bank account, money transferred into the country in dollars has to be withdrawn in lira at an exchange rate significantly lower than the street rate.
Serene Dardari, founder of Chams Network, one such local initiative, said the economic crisis had hurt their fundraising efforts in a number of ways.
"First, the medium-sized foreign organizations who funded us are hesitant about sending funds to Lebanon," she said. "Second, the 'corruption' reputation of Lebanon means the country's name is appearing less and less each day in international funding opportunities. Third, we are unable to set up online crowdsourcing campaigns due to the depreciation of the Lebanese lira."
On top of that, she said, Lebanese people in the country who used to donate cash "are worried and afraid of the future. They can't access their money and so their cash donations have definitely shrunk, and I can't blame them."
If the current situation is grim, many refugees are looking with dread to the winter months, when work usually dries up altogether. During the winter, many refugees rely on debt. Stores used to allow them to buy on credit, knowing that in the summer harvest season they would be able to pay it back, Salameh said.
But under the current economic circumstances, he said, "This year we're very afraid that in the winter no one will lend to us, the supermarket or the stores…I believe that 90 percent of them won't lend a single lira, especially since now the value of the dollar changes from day to day."
"We're certainly projecting a situation that is not going to get better in the future – three months, six months, one year," she said. "We're projecting a continued crisis, continued very high needs and a very high level of despair among people."
https://english.alarabiya.net/en/features/2020/07/12/Hunger-rises-for-Syrian-refugees-in-Lebanon.html
------
Coronavirus: Saudi Arabia bans collective housing for more than 20 people
12 July 2020
No more than 20 individuals may reside in collective housing in Saudi Arabia unless health regulations are strictly adhered to, officials have ruled as efforts to contain the coronavirus outbreak are ongoing, local media reported Saturday.
Saudi Arabia's Control and Anti-Corruption Authority (Nazaha) has said that 20 or more people cannot live under the same roof in or outside urban areas unless they abide by the health regulations issued by the labor committees, according to the reports.
The Ministry of Municipal and Rural Affairs has been asked to form committees in areas where collective housing is common to monitor and inspect these homes to ensure coronavirus-related measures are being implemented.
All violations must be reported to the minister or to the delegation, who will enforce the appropriate penalties, which may include closing the house permanently.
Anyone who violates the preventative measures may be imprisoned for up to 30 days or fined $266,600 for each violation, or both, according to media reports.
For repeated offenses, the penalties will be increased and may include jail time of up to 180 days or a $266,600 fine, or both.
https://english.alarabiya.net/en/coronavirus/2020/07/12/Coronavirus-Saudi-Arabia-bans-collective-housing-for-more-than-20-people-.html
-----
Coronavirus in UAE: Emirates to operate repatriation flights to five Indian cities
12 July 2020
UAE carrier Emirates will operate special repatriation flights to five cities in India from July 12 to 26 to help those who were stranded in the country due to the coronavirus pandemic, Emirates News Agency (WAM) reported on Saturday.
Emirates will be flying to Bengaluru, Delhi, Kochi, Mumbai, and Thiruvananthapuram, WAM said.
There will be two daily flights to Bengaluru, two to Delhi, two to Kochi, three to Mumbai, and one to Thiruvananthapuram.
Only Indian citizens stranded in the UAE will be allowed to fly from Dubai to one of the five destinations.
However, these flights will also be available for UAE nationals and residents with prior entry approval from the General Directorate of Residency and Foreign Affairs (GDFRA), WAM reported.
Passengers can book their flights on the Emirates' website, through travel agents, or through Emirates' sales offices and contact center.
https://english.alarabiya.net/en/coronavirus/2020/07/12/Coronavirus-in-UAE-Emirates-to-operate-repatriation-flights-to-five-Indian-cities-.html
-----
Mideast
Hamas, Hezbollah seek to unite 'Islamic ummah' against Israel - Iran media
By SETH J. FRANTZMAN
JULY 11, 2020
Tasnim News agency stressed on Saturday an alliance between Hamas and Hezbollah against Israel over recent annexation plans. While Hamas and Hezbollah have not apparently been in close contact about coordinating efforts, the Iranian media outlet, which is close to the Islamic Revolutionary Guard Corps, suggested that the two terror groups were both confronting Israel over recent policies.
The article is important because it hints at Iran's strategy in dealing with Israel in coming months. Iran has suffered setbacks to its missile and nuclear program due to recent mysterious explosions and the Iranian regime has been reticent to blame Israel directly or to respond. Iran is seeking a larger agreement with China in the meantime and the end to an arms embargo. A new crisis with Israel may not be in the regime's interests. But stoking tensions with Hezbollah and Hamas likely is in Tehran's interest.
Jordan's Princess Raiyah marries Roald Dahl's grandson
Russia says Turkey tested its S-400s on US F-16 jets
It is in this context that the relatively short article appeared on Saturday. "Hamas and Hezbollah stress the need for unity of the Islamic ummah [community] to counter the conspiracy," the headline reads. The "conspiracy" refers to Israel's annexation plans and "depriving rights to Palestinians."
https://www.jpost.com/middle-east/iran-media-hamas-hezbollah-seek-to-unite-islamic-ummah-against-israel-634743
-----
Strategic goals of Erdogan behind Qatar visit
July 12, 2020
In his first foreign trip since the outbreak of the coronavirus, Turkish President Recep Tayyip Erdogan paid an official visit to Qatar on July 2.
In the trip, which was important symbolically and also in terms of the regional developments, Erdogan met with Emir of Qatar Sheikh Tamim bin Hamad Al Thani.
What does the Turkish President seek behind this visit? What were the key topics of discussion between the two leaders? To answer these questions, three essential goals need to be taken into account?
Without any doubt, the key point in the Erdogan-Thani negotiations was the increase in the volume of economic ties and the Qatari investment in Turkey. After Qatar was sanctioned by the Saudi-led Arab block in June 2017, the Turkish-Qatari relations experienced a sharp increase, with the Turkish exports to Qatar witnessing 99 percent growth.
While Turkey was hit by an economic crisis due to its currency value loss in 2018, Qatar injected some $15 billion in the Turkish economy to help the country away from economic collapse. Over the past two years, the emir of Qatar invested heavily in the Turkish banking sector, real estate market, hotels, and other businesses in a move to return the favor to Erdogan.
Also, their cooperation and economic agreements in recent months are also eye-catching. Since earlier this year and as the pandemic crisis hit Turkey, the country's foreign currency reserve shrank $17 billion, decreasing to $89.2 billion. The national currency lira's value in late May and early June suffered severe losses.
This loss made Ankara in desperate need for Qatar's help. Shortly late, the two countries signed an agreement to boost banking and currency dealings, making them reach $15 billion.
According to economic observers, the tripling of dealing with Doha added some $10 billion to the Turkish hard currency reserves. Although Turkey's central bank stated that the agreement came to boost trade between the two partners, the main goal unquestionably was to give a hand to Turkey to weather the currency crisis it was living. Following the announcement of the agreement with Qatar, the lira gained 0.3 percent in value, with each lira dealing 6.79 for each US dollar.
Erdogan's first visit to Qatar after the pandemic crisis demonstrates how significant the economic and trade cooperation with Doha is for Ankara. In fact, Turkey is hopeful that Qatar remains a bankroller for the Turkish economy amid the fight against the coronavirus crisis. In return, Qatar expects Erdogan to continue his diplomatic and logistical support to Doha amid the ongoing crisis between Qatar and the Saudi-headed Arab bloc that includes the UAE, Egypt, and Bahrain.
The Erdogan's visit to Doha comes while in recent months, Saudi Arabia and the UAE sent signals to Qatar of willingness to de-escalate the tensions. The signals come while not only the anti-Qatari sanctions were not eased but also amid regional and even international crises and rivalry, the two sides increased their competition.
The increasing complication of the Libyan crisis, which brings Saudi Arabia, Egypt, and the UAE against Turkey, can be one of the factors motivating this visit. By their meeting, the Turkish and Qatari leaders want to make it clear to the opposite side in the Libyan crisis that Ankara and Doha are still allies and hold the same stances. Also, Erdogan sent a message to Riyadh and Abu Dhabi, telling them that Ankara is still a backer to Doha. He wants to tell the Saudis and Emiratis that despite their moves to end the crisis with the Qataris, Ankara remains Doha's strategic ally in the region's future political equations.
In addition to the above-mentioned goals, Erdogan wants to highlight the united views of the two states on regional cases like the Yemen war, Palestinian cause, and the Syrian conflict. They were also discussed during the meeting between Erdogan and Sheikh Tamim.
In the first place, the Qataris sent the international and regional actors involved in the Syrian crisis a message that in the Idlib case Doha still supports political and military policies adopted by Ankara and its militant loyalists.
Also, amid the Israeli plan to annex West Bank to the already-occupied Palestinian territories and the Trump administration push to implement the "deal of the century", which wants to recognize the Israeli occupation and scrap the Palestinian refugees' right to return home, the two leaders want to underscore their unity of stances against the Israeli occupation and Trump's plan to nix the Palestinian cause.
Furthermore, it seems that the two countries have reached the conclusion that they need to take a more transparent posture against Saudi aggression against Yemen.
In March 2015, Saudi Arabia along with the UAE and some other allied Arab states waged a war against neighboring Yemen. The war so far killed thousands of Yemeni civilians, wounded more, and displaced millions, as unceasing bombardment targets residential areas and infrastructure.
As Erdogan visited Qatar, Turkey's ambassador to the UN FeridunSinirlioğlu accused on Wednesday the UAE of embarking on a campaign to stifle democratic movements in the region, citing Abu Dhabi's "excessive ambition" to dominate the wider region "resulted in nothing but human suffering." He added that the UAE was accomplice to killing of Yemeni children.
https://en.abna24.com/news//analysis-strategic-goals-of-erdogan-behind-qatar-visit_1054466.html
------
Turkey May Use 'Special Technology' to Cover Hagia Sophia's Christian Shrines During Muslim Prayers
11.07.2020
This will apparently see visitors to the Hagia Sophia being asked to take off their shoes before entering the temple.
A woman takes a picture with mobile phone inside the Hagia Sophia museum in Istanbul, on July 2, 2020. - Turkey's top court considered whether Istanbul's emblematic landmark and former cathedral Hagia Sophia can be redesignated as a mosque, a ruling which could inflame tensions with the West.
The report comes after Turkish presidential spokesperson Ibrahim Kalin assured on Friday that "a loss from the world's heritage is not in question" as far as the Hagia Sophia is concerned.
Speaking to the Turkish news agency Anadolu, he stressed that "opening up Hagia Sophia to worship doesn't keep local or foreign tourists from visiting the site", and that Turkey would preserve the unique Christian icons and mosaic images of Jesus Christ in the building.
Kalin, however, did not elaborate on the matter, further, fuelling concerns about the future of these Christian shrines following the Turkish president's decree earlier on Friday to convert the Hagia Sophia into a mosque.
This was preceded by Metropolitan Hilarion of Volokolamsk from the Russian Orthodox Church warning last week that the temple's "miraculously spared" mosaics will most likely be damaged if Ankara makes the conversion decision.
In an interview with Russia's Rossiya 24 news outlet, he said that he would like to know about "the fate of these mosaics" and "how this building will function if it is turned into a mosque again".
He spoke after the EU's High Representative for Foreign Affairs and Security Policy Josep Borrell lamented Erdogan's "regrettable" move on changing the status of the Hagia Sophia.
The same tone was struck by Greek Prime Minister Kyriakos Mitsotakis, who said that Athens "categorically condemns Turkey's decision to convert Hagia Sophia to a mosque" and that "this decision, taken 85 years after Hagia Sophia was declared a museum, is an affront to its ecumenical character".
The US State Department, in turn, expressed disappointment over Ankara's decision on what it described as "an important part of the 'Historic Sites of Istanbul' UNESCO World Heritage Site".
On 10 July, Erdogan confirmed that he had signed a decree on the temple's new status, shortly after Turkey's highest administrative court annulled the 1934 decree converting the Hagia Sophia into a museum, meaning that it can now be used as a mosque.
https://sputniknews.com/middleeast/202007111079857879-turkey-may-use-special-technology-to-cover-hagia-sophias-christian-shrines-during-muslim-prayers/
------
Srebrenica genocide 25 years on: Iran slams Europe's failure to uphold duties
12 July 2020
On the 25th anniversary of the Srebrenica massacre, the only declared genocide in Europe since World War II, Iran's Foreign minister Mohammad Javad Zarif has blasted Europe for failing to meet its duties to prevent the tragedy.
In a post on his Twitter account on Saturday, Zarif paid tribute to the victims of the execution in July 1995 of thousands of Bosniaks (Bosnian Muslims) by posting the snapshot of an article titled, "Srebrenica massacre: Dutch peacekeepers party responsible, court rules".
"25 yrs ago today, #SrebrenicaGenocide began as Europe failed to uphold its basic duties. Quarter of a century later Europe is plagued by same ineptitude," he wrote.
The top Iranian diplomat also denounced the UN inaction regarding the slaughter, saying, "The failure of the @UN to take any action at the time—to forever haunt the world body—should remain a lesson for the present."
Bosnian Muslims commemorate the 25th anniversary of the Srebrenica massacre, where thousands of Muslims were killed by Serb forces.
Srebrenica's Muslim population fled the town, which had been declared a UN "safe haven" for civilians, and rushed to the UN compound where its peacekeepers were supposed to protect them.
The Dutch peacekeepers, however, handed over the base to Serbian troops, who separated out men and boys for execution and sent the women and girls elsewhere to a territory under their control.
In less than two weeks, the Serbian forces systematically murdered more than 8,000 Bosnian men and boys and dumped their bodies in numerous mass graves in an attempt to hide their crime.
The United Nations' war crimes tribunal for the former Yugoslavia in The Hague has established that the killings constituted genocide. It also convicted Mladic and his political mentor Radovan Karadzic of genocide and other war crimes in Srebrenica.
The massacre shamed the international community as it occurred while UN peacekeepers stood by fecklessly and NATO refused to intervene.
"Human conscience will never forget such a heinous crime that ought not to be repeated, but which, unfortunately, is being repeated over and over again in various parts of the world – the most recent being the frequent bouts of genocide of Rohingya Muslims in Rakhine by the Myanmar army and Buddhist militias," Tehran-based daily Kayhan International wrote on Sunday.
https://www.presstv.com/Detail/2020/07/12/629420/Srebrenica-genocide-Iran-Mohammad-Javad-Zarif
------
Iran slams 'flurry of disinformation' about potential China deal
11 July 2020
A senior Iranian foreign ministry official has slammed a "disinformation" campaign that seeks to stoke fears about the impacts of a potential agreement between Iran and China.
In remarks published on Saturday, Reza Zabib, a foreign minister aide for South Asia, dismissed "the hypothetical figures" reported in the media about Iran-China Comprehensive Strategic Partnership, saying nothing has yet been finalized about the deal.
"The objective of those who spread this disinformation is to destroy the (bilateral) relations, to prevent the signing of the deal and to pile accusations on the (Iranian) government and system," said Zabib in an interview with Persian daily Shargh.
The seasoned Iranian diplomat also said that scaremongering about the deal is an attempt by certain political elements inside Iran to extract information about the deal and to force the Iranian government to disclose more information about the ongoing talks with China.
He said that Iran and China are now in agreement about at least 75 percent of the terms of a draft deal that was proposed by Iran during a visit to Beijing last year by Iranian Foreign Minister Mohammad Javad Zarif.
Zabib said that the Iran-China Comprehensive Strategic Partnership will allow the two countries to expand ties in three main fields of politics, military and economy.
He said that the economic part of the agreement would cover a wide range of areas, including energy, technology and infrastructure.
Zabib's comments come against the backdrop of criticism suggesting that Iran has offered major discounts on its future sales of oil to China in return for Beijing's long-term and sizable investment in the country.
Iranian authorities have dismissed the claims while also insisting that the potential deal with China would not be attempt to offset the failure of a 2015 nuclear agreement involving major Western powers.
Zabib said China has always been a major economic partner for Iran, even at the times of normal relations between Tehran and some Western countries.
https://www.presstv.com/Detail/2020/07/11/629391/Iran-China-strategic-partnership-disinformation
-----
FM Spokesman: Iranian Islamic Culture Characterized by Peace, Friendship
Jul 11, 2020
TEHRAN (FNA)- Foreign Ministry Spokesman Seyed Abbas Mousavi said that the Iranian Islamic culture is famous for peace and friendship, adding that terrorism and genocide are the features of those who seek identity via denying others.
Throughout history, Iranians have always been known as a peaceful nation whose signs are evident in Iranian literature, including the works of renowned poets like Mowlana and Ferdowsi, Mousavi said.
Evil phenomena such as terrorism, expansionism, racism and genocide are the product of postmodern man who seeks his identity through the absence of others, he added.
Peace and security are among the most important requirements for human rights, without which other human rights will be endangered, the diplomat said.
In relevant remarks in early November 2019, Mousavi said that Tehran is following a diplomacy of peace and friendship, adding that Iranian cities have signed more than 140 twinning agreements with cities across the world in the past 40 years since the victory of the Islamic Revolution to contribute to this cause.
Addressing the Fourth Tehran Golden Adobe Award late on November 2, Mousavi described urban diplomacy as the most known popular communications, saying that after the victory of the Islamic Revolution, some 140 sisterhood agreements between the Iranian cities and those in five continents.
"The main aim of the Islamic Revolution is sending a message of peace, friendship, interaction and producing a discourse associated with justice and development with nondiscrimination and freedom with public rights," the foreign ministry spokesman said.
He added that today diplomacy does not focus on war and peace alone; rather it encompasses human interaction, trade, scientific and technological cooperation, removing poverty and countering global challenges, including terrorism and environment.
Unlike the past, today, a wide range of actors have entered the diplomatic arena and made use of various tools, including dialogue, compromise, and haggling, he said.
Noting that modern diplomacy has entered the international scene as complementary to traditional diplomacy, Mousavi said that given the huge challenges faced by the international community, traditional diplomacy cannot cope with the challenges on the ground.
The main player is public opinion both in the domestic and international scenes, he contended, adding that today people and public opinion play a crucial role in both society and politics.
Iran has signed over 140 sisterhood agreements over the past 40 years since the victory of the Islamic Revolution, the diplomat said, noting that all the issue reveals that Iran has mainly focused on public, general and urban diplomacy and forging a relationship with the other societies complying with the Islamic Revolution's principles.
Urban diplomacy can serve as a mechanism for transferring the message of peace and friendship, justice-seeking and freedom-seeking of the great Iranian nation, Mousavi said.
https://en.farsnews.ir/newstext.aspx?nn=13990421000230
------
Pakistan
Pakistani daily reveals Trump claimed that Soleimani was planning an imminent attack
July 12, 2020
Pakistani daily reveals US lies and illegality in murder of General Soleimani, citing that Even Trump appointees weren't willing to back him up.
In its editorial today, Express Tribune cited US President Trump claimed that Soleimani was planning an imminent attack against US interests but nobody could provide any evidence that this was the case.
Notably, the Department of Homeland Security stated this on the very day when U.S. military illegally assassinated Iranian general Qassem Soleimani in Baghdad.
The ET editorial discusses the new UN report that said the US drone strike that killed Iranian Revolutionary Guard Commander Qassem Soleimani in January was unlawful.
United Nations' report says the US attack on Gen. Soleimani constituted an arbitrary killing for which the UN holds US responsible under international human rights law.
It also noted that the attack violated the sovereignty of Iraq, which apparently had no prior knowledge.
United States military assassinated Iranian general Qassem Soleimani and a senior Iraqi commander and other of their comrades in the missiles attack in January 2020.
Although the UN's full report remains about drone strikes in general and ways to make state parties accountable for their use, but almost half of it focused on the Soleimani attack.
https://en.abna24.com/news//pakistani-daily-reveals-trump-claimed-that-soleimani-was-planning-an-imminent-attack_1054475.html
-----
Ex-judge Malik failed to prove he acted under duress: report
Wajih Ahmad Sheikh
Jul 12 2020
LAHORE: An inquiry report that led to removal of Judge Arshad Malik from service on charges of misconduct says the judicial officer failed to prove that he acted under "duress" because of sympathisers of former prime minister Nawaz Sharif whom he convicted in one of the two National Accountability Bureau (NAB) references.
The 13-page inquiry report, also available with Dawn, says: "There appears to have been no evidence that the accused officer went in fear of death or serious bodily injury, nor was any attempt made to show that the accused officer could not escape from the persons concerned."
Justice Sardar Ahmad Naeem of the Lahore High Court had held the inquiry assigned by the LHC's seven-member administration committee.
The judge had recommended imposition of a major penalty on (now former) district & sessions judge Arshad Malik, who during his posting as presiding judge of an Islamabad accountability court convicted Mr Sharif in Al-Azizia reference. He had acquitted the ex-premier in the Flagship reference filed by the NAB.
The report further says record established the acquaintance of the judge and his frequent meetings with individuals — Mehar Nasir, Nasir Janjua and Nasir Butt (the alleged sympathisers of Mr Sharif) — and that they always had certain demands concerning the accountability references. The record proved that the judge was always accessible to them, it says.
It is also a fact that the judge, even after the decisions in the references, visited "JatiUmra'' and met Nawaz Sharif as well as his son Hussain Nawaz when the former had gone to Saudi Arabia to perform Umrah.
As per the judge's written defence, Nasir Butt met him for the preparation of grounds of appeal against the sentence in Al-Azizia reference.
"The accused officer had gone with his family to perform Umrah but once again Nasir Butt established contact with the accused officer and the accused officer met Hussain Nawaz Sharif in Madina, which reflected that it was not a meeting by chance or by the way but was a pre-planned meeting," says the report.
It notes that the judge in his written defence said he was offered Rs500 million by Hussain Nawaz for tendering resignation. The accused officer also admitted that he had acquaintance with Mian Muhammad Tariq, maker of the fabricated video, during his posting in Multan until 2003.
The plea of duress is based upon "blackmailing" on account of an objectionable video film of the judge and serious threats extended by Nasir Butt etc as highlighted by his affidavit and the written defence but the judge never communicated to the authority about such blackmailing or intimidation either orally or in black & white, adds the report.
"The accused officer led no evidence in rebuttal that whatever done by him was a result of intimidation or duress," it holds, adding the judicial officer took inconsistent pleas as in his press statement he claimed to have been blackmailed but on the other hand he claimed that the decision of the references was free of any influence, coercion or threats.
It further observes, "The accused has not established through some evidence that he was so terrorised that he acted entirely against his will. It means he admits that he has committed the crime but prays to be excused from the punishment for the consequences of crime by the reason of duress."
The inquiry judge rules, "I am satisfied that the defence (of) duress has not been established and in circumstances, the charge of misconduct is proved."
On July 6, 2019 PML-N vice president Maryam Nawaz had presented the secretly recorded video clips of judge Malik at a press conference. She had claimed that in the video the judge admitted before Nasir Butt that he convicted Sharif unjustly as there was immense pressure on him.
Judge Malik was simply charge-sheeted for violating the judges' code of conduct and was removed from service under Rule 4 (b) of the Punjab Civil Servants (Efficiency & Discipline) Rules 1999.
The main charges of misconduct include issuing a press statement without permission of the authority concerned and privately communicating with parties in a pending case.
https://www.dawn.com/news/1568484/ex-judge-malik-failed-to-prove-he-acted-under-duress-report
------
Faraz says opposition pressuring PM to stop accountability process
Jul 12 2020
ISLAMABAD: Federal Minister for Information and Broadcasting Shibli Faraz has linked Friday's meeting between Jamiat Ulema-i-Islam (JUI-F) chief Maulana Fazlur Rehman and Pakistan Peoples Party (PPP) leaders Asif Zardari and Bilawal Bhutto-Zardari in Karachi to the recent order of the Supreme Court to establish 120 accountability courts.
Addressing a news conference on Saturday, the information minister lauded the Supreme Court for ordering the constitution of 120 more accountability courts in the country and said the opposition parties were feeling the heat so they were planning to organise the so-called all-party conferences (APCs).
The Supreme Court had recently ordered the law secretary to immediately seek instructions from the government for setting up at least 120 accountability courts to clear a huge backlog of cases.
The directives were issued by the apex court after expressing dismay over 1,226 pending references since the year 2000 as well as vacancies in five accountability courts out of a total of 25.
The information minister said the divided opposition parties would never get an opportunity to come to power again due to their alleged massive corruption. He said the opposition parties had differences on many issues and they came close to each other only when they feared the accountability process.
Mr Faraz alleged that the opposition parties were holding meetings only to put pressure on Prime Minister Imran Khan to stop the ongoing accountability process.
The information minister said the Pakistan Tehreek-i-Insaf (PTI) was the only party which expelled its members from Khyber Pakhtunkhwa Assembly when they violated the party policy in the Senate elections in 2018. He said the performance of all the ministers and officers was being monitored and action would be taken against those found involved in any wrongdoing.
https://www.dawn.com/news/1568495/faraz-says-opposition-pressuring-pm-to-stop-accountability-process
-----
Southeast Asia
Health minister: Reopening borders will be final act by govt in war against Covid-19
11 Jul 2020
PONTIAN, July 11 — Reopening the borders will be the last thing to be implemented by the government in its war against the Covid-19 pandemic and ensure imported cases in the country continue to decrease, said Health Minister Datuk Seri Dr Adham Baba.
"In our protocol to protect against or tackle the pandemic, among the things we must be very careful about is border control because our borders are not only at the Kuala Lumpur International Airport (KLIA), but also in Johor, the shared border with Thailand, as well as the borders in Sabah and Sarawak and other entrances," he told reporters after attending a townhall session organised by the TanjungPiaiUmno in Kukup today.
He said then when commenting on whether the ministry was ready to screen more people following plans to reopen the borders to countries categorised as a green zone, including Singapore.
https://www.malaymail.com/news/malaysia/2020/07/11/health-minister-reopening-borders-will-be-final-act-by-govt-in-war-against/1883627
-----
Aren't we allies to be included in state action council meeting? Selangor PAS chief asks Azmin
11 Jul 2020
BY JERRY CHOONG
KUALA LUMPUR, July 11 — Selangor PAS commissioner Datuk Ahmad YunusHairi today chided Senior Minister Datuk Seri Azmin Ali for calling a state action council meeting (MTPNg) without informing other Perikatan Nasional (PN) leaders.
Ahmad said Azmin's recent actions did not bode well for the future, pointing out that it has been more than 100 days since they become political allies in governing Malaysia and there was much work to be done at the state level, more so in Selangor which is led by their common nemesis, Pakatan Harapan (PH).
"The proposed names should be verified by the MTPNg chairman before being approved by the minister. Until today, there has yet to be a meeting of PN component party leaders at the state level to discuss such matters," Ahmad said in a statement.
He was referring to the appointment of members for the Federal Village Development and Security Committee, which is expected to be resolved in August for non-PN states.
"This will only strain relations within PN. Why is Selangor different from other non-PN states including Penang, Sabah, and Negri Sembilan?" Ahmad asked.
He reminded Azmin of his previous "harmonious" interaction with PAS and Umno state leaders and urged the minister not to hurt relations with his PN allies, saying voters were watching their every move.
Prior to Ahmad's rebuke, Selangor Umno chairman Tan Sri Noh Omar criticised Azmin for chairing the state MTPNg meeting last Wednesday without inviting representatives from his party and PAS.
Noh claimed the meeting, chaired by Azmin in his capacity as international trade and industry minister, should have included PN representatives as they were all in the same federal alliance now.
https://www.malaymail.com/news/malaysia/2020/07/11/arent-we-allies-to-be-included-in-state-action-council-meeting-selangor-pas/1883654
-----
W. Java military academy cluster detected after cadet visited doctor for boils: Army chief
RizkiFachriansyah
July 12, 2020
The first confirmed COVID-19 cases at the Army's Officer Candidate School (Secapa) cluster in Bandung, West Java, were detected after one of the cadets visited a doctor because he was suffering from boils, Army Chief of Staff Gen. Andika Perkasa said on Saturday.
Addressing an audience of army cadets during his visit to the military academy, Andika said the first two cadets who were diagnosed with the disease had sought medical attention for seemingly unrelated symptoms.
Their COVID-19 swab test results came back positive, however, triggering widespread testing at the school, which led to the discovery of hundreds of more cases.
"Two of our colleagues went to the hospital […]. They didn't complain about any breathing difficulties. One of them complained about boils, if I'm not mistaken, some sort of an infection. Whereas the other officer [complained] about back problems," Andika said during his address, which was streamed on the Indonesian Army's official YouTube channel.
"I instruct anyone who has interacted with the two cadets to take a rapid test. I have sent rapid test kits to everyone, which means that Indonesian Army leadership has continued to care for and support our fellow colleagues," Andika said.
West Java recorded the highest spike with 962 new cases on Thursday, accounting for most of Indonesia's latest all-time-high record of 2,657 new cases on a single day.
"The significant increase in West Java comes from the Secapa [the Army's Officer Candidate School] cluster," national COVID-19 task force spokesperson AchmadYurianto said during his daily press briefing on Thursday.
West Java COVID-19 task force spokesperson Berli Hamdani previously declared the military academy a new COVID-19 cluster in the province after hundreds of cadets tested positive during swab testing in the facility.
https://www.thejakartapost.com/news/2020/07/12/w-java-military-academy-cluster-detected-after-cadet-visited-doctor-for-boils-army-chief.html
-------
Europe
Medicine, Food and Social Distancing at the Raza Jamia Masjid, Accrington, Doing Everything Right
12 JUL 2020
With restrictions on places of worship now easing following the Covid-19 pandemic Raza Jamia Masjid, Accrington, has been identified nationally for their proactive response.
The Covid-19 pandemic forced the mosque to close for worship, gatherings and social activities, however they have remained open 24 hours a day for emergencies, for those who need food, medicine or urgent support.
They have offered online services, remained active on social media and, in some cases, had upwards of 5,000 people attending programmes 'virtually'.
Gatherings of more than 30 people are now permitted as of July 4 but only in certain public places as set out in law. This includes places of worship and their surrounding premises.
Jawid Hussain, founder and patron of Raza Jamia Masjid, said before lockdown the mosque was serving the whole Hyndburn community and beyond, being used for conferences, business meetings, educational workshops and everything from first aid training to functions.
He said: "On a usual day over 100 people would come to worship and we would often see over 1,000 people attend for special occasions.
"We quickly put many measures in place to ensure the safety of the community including signage, sanitising stations and very clear guidelines.
"Several mosques throughout the UK have called us and want help with their own safety measures after seeing our efforts on social media.
"We have had people visiting from Birmingham to have a look, I have been personally to Leeds to give assistance and many other cities and towns have been in touch with us."
County and borough councillor Munsif Dad BEM JP said the national recognition the mosque is receiving is testament to everyone involved and urged the wider community to support their local places of worship, donate when they can and help them on their steps to recovery.
"Working personally within the Hyndburn Hub I have seen the dedication of volunteers from all political parties, faiths and backgrounds working together for the good of all Hyndburn residents.
Hyndburn council leader Coun Miles Parkinson OBE said: "I would like to congratulate the Raza Jamia Masjid community, not only for their quick action at the start of this pandemic, by being one of the first places to close to gatherings, but for their ongoing response throughout.
"They have adapted, served the community and are now leading the way on the road to recovery by setting an excellent example on being Covid-secure."
lancs.live/news/lancashire-news/medicine-food-social-distancing-mosque-18582950
-----
Protest in Berlin condemns ongoing Saudi aggression, blockade on Yemen
July 12, 2020
Yemeni communities and activists rallied in front of Saudi embassy in Berlin on Saturday denouncing the ongoing unjust aggression and blockade on their country.
During the vigil, participants chanted slogans calling for the departure of Saudi Arabia and the UAE from Yemen, denouncing US participation in the aggression against Yemen.
They also called on those countries to stop their interference in Yemeni affairs.
Speeches were delivered during the vigil, reviewing to the extent of the victims who had been killed as a result of the aggression, and the severe crisis caused by the embargo, particularly in light of the insistence of the Saudi-led aggression to continue to prevent oil vessels from reaching the port of Hodeidah.
Many images of children killed in Yemen as a result of the Saudi raids have also been raised in the vigil.
https://en.abna24.com/news//protest-in-berlin-condemns-ongoing-saudi-aggression-blockade-on-yemen_1054461.html
-----
British student who fled to join Isis dies while in jail in Syria
11 Jul 2020
A British student who ran away to join the Islamic State group in Syria has died while being held in prison in the country, according to reports.
Ishak Mostefaoui, 27, who travelled to Syria in 2014 and had his British citizenship revoked, is said to have died either trying to escape custody or amid serious disorder in a jail in Hassakeh, which holds Isis prisoners from across the world.
After being captured last year, Mostefaoui was held in the prison in north-east Syria controlled by the Kurdish-led, US-backed Syrian Democratic Forces. He is the first British Isis supporter to die in their custody, according to the BBC. Sources said he was one of around 10 British men and 30 British women being held by the militia.
Mostefaoui was among up to nine University of Westminster students to fight for Isis. His father, Abderrahmane, said that his family came to London from Algeria when his son was five and that while they opposed extremism he had been radicalised by people at university.
He was said to have been a popular, football-loving young man before he announced in 2014 that he was going to Amsterdam for a few days. His family heard nothing for a month before he rang from Syria to tell them where he was. On hearing the news, his father collapsed.
The Foreign Office has advised against all travel to Syria. A government spokesperson told the BBC: "Those who chose to leave the UK and fight for, or support, Daesh [Isis] potentially pose a very serious national security risk."
Ministers have said that, of the estimated 900 people who have left the UK for Syria to join violent Islamist groups, 20% have died, 40% have returned to the UK, and 40% are still in the region.
https://www.theguardian.com/world/2020/jul/11/british-student-joined-isis-dies-in-jail-in-syria
------
Italian court upholds 12-year sentence for Kurdish Islamist cleric
11 Jul 2020
ERBIL (Kurdistan 24) – An Italian appeals court on Friday upheld all the convictions in the trial of suspected members of a so-called Jihadi cell, including its leader, Mullah Krekar, the Italian news agency Associated Press National Agency (ANSA) reported on Friday.
ANSA reported that the court upheld the Kurdish Islamist cleric's 12-year prison term and convicted him of being the "spiritual leader" of the RawtiShax ("toward the mountain" in Kurdish) terror cell, which was dismantled by Italian police in the autumn of 2015. Sentences for five other cell members were also reportedly upheld.
Dr. Francesco Marone, a Research Fellow for the Center on Radicalization and International Terrorism at the Italian Institute for International Political Studies (ISPI), described the group's operations in an interview with Kurdistan 24 on Saturday.
"Italian investigators have argued that 'Mullah Krekar' was the leader of extremist network RawtiShax, worthy of note because, among other things, it was a rather large transnational network and spread across different countries," Dr.Marone said.
The expert stated further that the group was "involved in the recruitment of radicals and foreign fighters who sought to travel to Syria and Iraq in order to fight."
"According to an original report on Italy's foreign fighters I co-authored based on exclusive government information, at least one foreign fighter (a Kosovar man, named EldinHodza) had close ties to the RawtiShax. Hodza (born 1988) left for Syria from eastern Italy in January 2014 with the financial help of the RawtiShax," Marone added.
According to a profile of the group by the Terrorism Research Analysis Consortium (TRAC), RawtiShax claimed it aimed "to overthrow the Iraqi Kurdish regional government and replace it with a caliphate ruled by Shariah law."
In November 2015, the Italian police dismantled a cell of 17 individuals (16 Kurds and 1 Kosovar) linked to the group spread between Norway, the UK, Finland, and Italy, with seven members arrested in the latter.
"The Internet helped their transnational contacts. They also set up online and offline jihadist educational activities in Italy. According to Italian investigators, they were reportedly ready to plot attacks, but not in Italy," Dr.Marone said.
Krekar is the former leader of the extremist Islamist Ansar al-Islam group that the US targeted during its liberation of Iraq in 2003. Both the United Nations and the US consider him a terrorist.
Krekar, 63, has lived in Norway since 1991. The Scandinavian nation has been unable to legally deport him to Iraq due to fears he might face the death penalty.
However, in March 2020, Mullah Krekar was extradited from Norway to Italy to face trial. A Bolzano court sentenced Mullah Krekar and his followers to prison in July 2019.
"This week the Court of Appeals in Bolzano upheld all the sentences. Generally speaking, this case confirms the tough position of Italian authorities on jihadism," Dr.Marone concluded.
https://www.kurdistan24.net/en/news/f2a7e985-f00c-4165-8912-2f98895696a5
-----
Salman Rushdie survived an actual fatwa. Yet he still thinks the Twitter crowd has gone too far
July 11, 2020
Salman Rushdie knows a thing or two about fatwas – on Valentine's Day in 1989, the Ayatollah Khomeini, Iran's spiritual leader, proclaimed one ordering the writer's execution over his 1988 book The Satanic Verses, which was considered blasphemous of Islam.
A bounty was put on Rushdie's head, there were riots and book-burnings around the world, the book was (and still is) banned in many countries, translators of the book were attacked and the Japanese translator was murdered at his home.
He still lives with the fatwa, which has never been revoked, but now he lives more openly. He has said this is due to a conscious decision on his part, not because he believes the threat is gone. You can still earn yourself over $3 million by killing him.
Of all the names that signed the open letter published this week in Harper's magazine, warning against a growing illiberalism of debate, Rushdie's was the most interesting.
The letter expressed anxiety that "the free exchange of information and ideas, the lifeblood of liberal society, is daily becoming more constricted" and that "while we have come to expect this on the radical right, censoriousness is also speaking more widely in our culture".
This was expressed through "an intolerance of opposing views, a vogue for public shaming and ostracism, and the tendency to dissolve complex policy issues in a blinding moral certainty", they said.
Some people made the valid point that one person's "cancel culture" is another person's critique; that the vigorous criticism, including ridicule, of a person's ideas or art, does not amount to a crushing of free speech. That freedom of speech is truly threatened when states silence dissent with force, not when people's feelings get hurt on the internet.
Look at Hong Kong right now, not Sydney or New York or the boundless plains of Twitter, if you want to see what real threats to free speech look like.
Yet he still thinks the social media-enabled phenomenon of public shamings and cancellations is pernicious and suffocating to artists like himself.
Journalists, writers and artists may not fear for their lives, but they might fear for their livelihoods and reputations. They may fear their work will be labelled "problematic" before its artistic worth is even considered.
Rushdie's support for the letter suggests that while there are obvious differences between a state-sponsored fatwa which inspires terrorist murders, and, to take one recent example, the vicious internet trolling of a food writer who tweeted something snobby about a popular celebrity – it is possible to condemn both things. To admit, even, some relationship between the two.
What happens on the internet is not what happens in society, and the pace of social change as expressed by Twitter and other platforms has not been matched by real change in the institutions which most affect people's lives.
Does it matter, really, if an artist takes a reputational hit for producing an incorrect work, when our society's most powerful institutions – parliament, the judiciary, and the boardroom – are still so unrepresentative, and so resistant to change?
It does matter, just as it is a mistake to set those two causes up in competition with each other. Actually, they are in deep and intense conversation with each other.
To their left, at the extreme, is a set of principles and orthodoxies that they could try to play along with, and may have some sympathy for, but which, they fear, they will eventually fall foul of themselves.
But they will fear ostracisation by their professional peers, public shame, social media intimidation, and real-world consequences like the loss of reputation, the inability to land an employment contract, or disinvitation from cultural festivals.
That is even leaving aside the question of personal vulnerability - some people can shake off an internet shaming or a newspaper campaign against them.
For others, it will send them into a spiral of anxiety they find difficult to recover from. You know who those people mostly are? Women. Another large chunk of them will be from the vulnerable groups whose voices social media has worked so beautifully to raise up.
Do we want to foster a society where it's only possible to be artistically or intellectually brave if you have wealth or privilege to fall back on?
And so this perverse obsession with calling out "problematic" individuals reaches its end point - a schoolyard game where the popular kids make the playground such a nasty place to play, that the more sensitive kids pack up and go home.
Others are turned off by the silliness of it all. Still more fail to engage in the first place, because they see nothing there that appeals to them.
https://www.watoday.com.au/politics/federal/salman-rushdie-survived-an-actual-fatwa-yet-he-still-thinks-the-twitter-crowd-has-gone-too-far-20200710-p55aze.html
-----
Africa
Mali PM promises to form an 'open' government amid mass protests
12-07-2020
Malian Prime Minister Boubou Cisse promised to rapidly form a government "open to facing the challenges of the day", adding that the death toll from the country's worst civil unrest in years had risen to four.
Violence broke out at mass protests in the capital Bamako on Friday demanding President Ibrahim Boubacar Keita resign over a long-running conflict, economic woes, and perceived government corruption.
"The president and I remain open to dialogue. I will very quickly set up an executive with the intention of being open to facing the challenges of the day," Cisse said while visiting a hospital.
Cisse has been prime minister since last year and Keita reappointed him on June 11 following parliamentary elections in March and April that sparked a movement calling for Keita to go.
Keita has increasingly tried to appease a newly formed opposition movement, opening the door to forming a national unity government.
Security forces on Saturday targeted the headquarters of CMAS, an opposition movement led by influential Muslim leader Imam Mahmoud Dicko that is part of the M5-RFP opposition coalition.
"While our activists were in a meeting, they came and attacked and ransacked our headquarters," M5-RFP spokesman Nouhoum Togo said.
Mali's neighbours and outside powers fear the impasse could further destabilise the country and jeopardise a joint military campaign against armed groups in the West African Sahel region.
The streets of Bamako appeared largely quiet following the protests. National television channel ORTM resumed broadcasting after going off air when its building was occupied.
Social media platforms Twitter and Facebook were restricted on Friday, internet blockage observatory NetBlocks said. Internet access remained patchy on Saturday.
"However, I would like to reassure our people once again of my desire to continue dialogue and reiterate my readiness to take all measures in my power with a view to calm the situation down," he said.
https://www.aljazeera.com/news/2020/07/mali-pm-promises-form-open-government-mass-protests-200711174204324.html
------
Time is against Mozambique and the SADC in war against Islamic State
By Shannon Ebrahim
12/07/2020
This type of offensive against the insurgents has backfired as the insurgents have regrouped into smaller cells, captured weaponry including mortars from Mozambican army bases, and staged increasingly sophisticated large-scale attacks. What has been significant is the amount of support the insurgents have received from locals, given the repressive tactics of the government forces and the mercenaries they have colluded with.
But this week the Islamic State threatened that if South Africa puts forces on the ground in Mozambique then it would open fighting fronts within the borders of South Africa. This makes military involvement by South Africa in the counter-insurgency campaign a huge risk.
There will be no quick-fix to this problem given that the conflict is complex, multilayered and asymmetrical. The region needs to devise a co-ordinated response and a common front. This necessitates that the leadership of Mozambique and Tanzania overcome their differences and work together on a common strategy.
Relations between the two countries have been frosty, and Tanzanian President John Magafuli did not attend President Filipe Nyusi's inauguration in January. The need for intelligence sharing has never been greater, as the jihadist networks extend deep into Tanzania and all the way up the East African coast. In the absence of the long-promised African Standby Force that was supposed to have the capacity to intervene in such situations, the SADC region will have little choice but to mobilise an intervention force, as this is not a war that will be won from the air.
In order to defeat the insurgency, the region will have to have a clear understanding of who they are fighting against and what is driving them. The insurgency has gained in strength and confidence since it pledged allegiance to Islamic State last year, which started taking responsibility for attacks.
While material deprivation, marginalisation and poverty remain root causes of the restiveness, religion has been a key factor. Muslims have been radicalised by extremist preachers from Kenya and Tanzania over many years. Kenyan Islamist militants had sought refuge in Tanzania, and when they were repressed there, they moved on and settled in Northern Mozambique.
The movement began in 2007 as a religious sect which locals called al-Shabaab, which rejected the secular state and wanted to impose Sharia rule. They tore down Christian crosses and statues of Mozambique's independence leaders Eduardo Mondlane and Samora Machel. The adherents wanted their children to go to religious schools, women had to wear the burka and were not allowed to work outside the home. Their interpretation of Islam differed from other Sunni Muslims in that they wore shoes in their mosques and prayed three times a day.
The early movement had attempted to withdraw from society, but shifted to a violent approach in 2015 in response to state repression against them. In 2016, many al-Shabaab members were jailed and their mosques destroyed, which is when they began attacking the state.
Now that the group has pledged allegiance to Islamic State and is formally part of the Islamic State of Central Africa Province, these outside forces will heavily influence the group's strategy, tactics and targeting. This has hugely complicated the trajectory of the conflict, and a regional force will have to carefully strategise on how best such a motivated fighting force can be defeated with Mozambique's porous borders and an unpatrolled coastline.
But time is against the SADC and Mozambique, as the longer the insurgents have to mobilise forces, from within the region and to attract foreign fighters, and the more finances and weaponry they are able to accrue, the harder it will be to defeat them.
https://www.iol.co.za/news/opinion/time-is-against-mozambique-and-the-sadc-in-war-against-islamic-state-50869653
-----
Churches, mosque opt to remain closed despite Uhuru directive
by SHARON MAOMBO
11 July 2020
• Addressing the nation on Monday from Harambee House, Uhuru said the country will commence with a maximum of 100 participants per service which he advised should last not more than an hour.
• Among those who have deferred reopening include Christ is the Answer Ministries (Citam), Parklands Baptist, Jubilee Christian Church and Jamia Mosque.
A number of places of worship have opted to defer resumption of physical services and have opted to continue with online streaming.
This comes after President Uhuru Kenyatta, in the first phase of reopening, on Monday announced that places of worship could resume allowing worshipers to attend service from July 14 following the protocols developed by the Inter Faith Council.
Addressing the nation on Monday from Harambee House, Uhuru said the country will commence with a maximum of 100 participants per service which he advised should last not more than an hour.
Among those who have deferred reopening include Christ is the Answer Ministries (Citam), Parklands Baptist and Jubilee Christian Church.
Outgoing Citam Bishop David Oginde in a statement on Friday said all Citam assemblies shall remain closed until further notice.
Oginde noted that the ministry will continue with its online services on the Citam Broadcast which airs on Hope TV, Hope FM and YouTube.
"This is especially in the interest of preserving lives in this period when the Covid-19 infections are rising sharply. We shall continue to monitor the situation and advise accordingly," he said.
PBC's Senior Pastor Rev Ambrose Nyangao said the limit of 100 congregants per service is not sufficient for the ministry and therefore also opted not to reopen next week.
Nyangao said with the suspension of Sunday school as a safeguard to children under 13 years, the wholesome family fellowship greatly valued in the church will be affected.
"We shall not have physical gatherings taking place and therefore wish to continue airing our online services. It is our earnest prayer and desire that we each take individual and collective responsibility to protect ourselves and our loved ones from the risk of infection," he said.
"This is because the guidelines to limit prayers to only 100 persons per session are not practical for Jamia Mosque Nairobi given its centrality in the Central Business District of the City," the committee said.
https://www.the-star.co.ke/news/2020-07-11-churches-mosque-opt-to-remain-closed-despite-uhuru-directive/
------
Nigeria: Dozens killed in fresh Boko Haram attacks
12-07-2020
By Vatican News
Alleged Boko Haram insurgents ambushed soldiers of the Nigerian Army Special Forces, killing many, and leaving others wounded.
The attack, which took place along the Maiduguri-Damboa highway occurred around 7 p.m. on Tuesday, when troops of a task force brigade were on clearance operations. The team came in contact with an unconfirmed number of Boko Haram insurgents who were lying in ambush and a gunfight ensued.
However, the Nigerian Army, confirming Tuesday's attack in a statement, said that only two soldiers died and four others were injured. It also claimed to have killed 17 Boko Haram members during the gunfire exchange.
The Nigerian Army encouraged the residents of the area to "remain calm, law-abiding and continue with their routine activities", as "all necessary measures" have been put in place to ensure that all the routes in the area are safe for commuting."
This latest ambush is one of many in the ongoing string of violent attacks by the Boko Haram terror group, especially in Northern Nigeria.
In January 2020, a regional leader of the Christian Association of Nigeria (CAN) was kidnapped and later killed by the terror group. Also, in February 2018, over 100 schoolgirls were kidnapped in Dapchi.
Boko Haram has killed more than 27,000 people in Nigeria and displaced approximately 2.3 million others. Many have left Nigeria and fled into Cameroon, Chad or Niger.
https://www.vaticannews.va/en/world/news/2020-07/nigeria-boko-haram-attack-leaves-many-dead.html
------
Mali unrest: President dissolves court, opposition leaders jailed
12-07-2020
Mali's embattled president has announced the dissolution of the constitutional court in a bid to calm the civil unrest gripping the vulnerable African country, as more opposition leaders have been arrested.
The court had been at the centre of controversy since it overturned provisional results for a parliamentary poll earlier this year, triggering protests in several cities that on Friday descended into violence.
Clashes raged again in the capital Bamako on Saturday as demonstrators - angered by long-running security issues, economic woes and perceived government corruption - demanded the resignation of President Ibrahim Boubacar Keita.
Authorities say four people have died in the unrest, while six opposition figures have been arrested in two days as the government cracks down on an alliance known as the June 5 Movement - Rally of Patriotic Forces (M5-RFP).
Keita said he had repealed the licenses of all remaining members of the constitutional court so that new judges could be appointed from next week.
"The reformed court can quickly help us find solutions to the disputes arising from the legislative elections," he said in a television address on Saturday evening.
Following a long-delayed parliamentary poll in March, which Keita's party won, the court overturned the provisional results for about 30 seats, a move that saw several members of Keita's party elected and is widely viewed as having ignited the latest crisis.
The 75-year-old president, in power since 2013, had already suggested last week that new constitutional court judges could revisit that decision.
Meanwhile, the opposition coalition said two of its senior figures, ChoguelKokalaMaiga and Mountaga Tall, were detained along with other activists on Saturday. Another protest leader, Issa KaouDjim, was arrested on Friday.
As flaming roadblocks appeared around Bamako on Saturday, the atmosphere was tense around the mosque where Dicko preaches, his supporters seemingly afraid that the scholar would be arrested.
Security forces used live ammunition as clashes broke out, seriously wounding several men, according to associates of Dicko who published photos of the injuries.
Keita warned on Saturday that security would be maintained "with no signs of weakness", while indicating his willingness "to do everything possible to calm the situation".
Meanwhile, the alliance called on the public "to maintain and step up this mobilisation until the aim is achieved, which is the resignation of the president".
Demonstrators attacked parliament and ransacked the national television station on Friday, only dispersing when security forces opened fire.
The country has struggled to contain an armed rebellion that first emerged in the north in 2012, before spreading to the centre of the country and to neighbouring Burkina Faso and Niger.
Thousands of soldiers and civilians have been killed, and hundreds of thousands of people have been forced from their homes.
https://www.aljazeera.com/news/2020/07/mali-unrest-president-dissolves-court-opposition-leaders-jailed-200712065708670.html
-----
Five killed in attack on South African church, hostages freed
12-07-2020
Five people have been killed in an attack on a church west of Johannesburg, South African police have said, with some of the attackers taking hostages who were later freed.
At least 40 people were arrested and 40 firearms, including rifles, shotguns and handguns related to the attack on the International Pentecost Holiness Church in Zuurbekom, were seized, police spokesman Vishnu Naidoo told the local eNCA television on Saturday.
Police said they rescued men, women and children who had been held hostage and appeared to have been living at the church. It was not clear how many were rescued.
The early morning attack by a group of armed people "may have been motivated by a feud" between church members, the police statement said.
Photos tweeted by the police showed more than a dozen men lying on the ground, subdued, along with rifles, pistols, a baseball bat and boxes of ammunition - including at least one marked "law enforcement".
The response by security forces "averted what could have been a more severe bloodbath", national police commissioner Khehla John Sitole said.
The church's Zuurbekom headquarters has been the scene of violence between factions more than once in recent years, with shots fired, rocks thrown and cars smashed, according to local news reports.
"Trouble has been brewing at the church following the death of its leader' GlaytonModise' in February 2016," The Sowetan newspaper reported in 2018.
https://www.aljazeera.com/news/2020/07/killed-attack-south-african-church-hostages-freed-200711151310977.html
-----
URL: https://www.newageislam.com/islamic-world-news/bangladesh-muslim-fanatics-dig-up/d/122349
New Age Islam, Islam Online, Islamic Website, African Muslim News, Arab World News, South Asia News, Indian Muslim News, World Muslim News, Women in Islam, Islamic Feminism, Arab Women, Women In Arab, Islamophobia in America, Muslim Women in West, Islam Women and Feminism