New Age Islam News Bureau
11 March 2016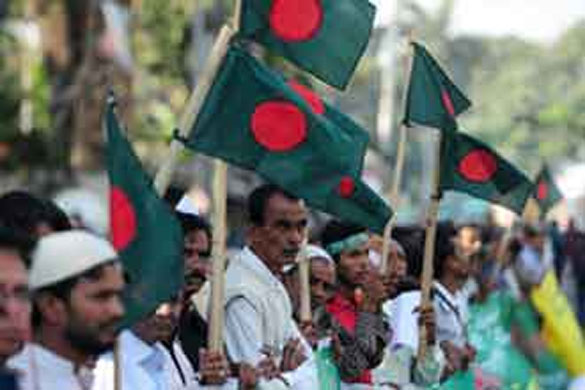 Photo: Bangladesh Islamists Threaten Violence Over State Religion Move
------------
South Asia
• 5 ISIS Loyalists Killed Before Attacking Afghan Army Posts in Nangarhar
• US adds Hezb-e-Islami Gulbuddin members to list of global terrorists
---------
Arab World
• ISIL Hunting for Equipment from 100 Dismantled European Refineries
• ISIL Executes Syrian National Poet in Deir Ezzur
• Syrian Army Recaptures More Territories in Homs
• Arab League postpones decision on closing office in Turkey
• EC Secretary Calls for Iran-India Cooperation to Fight Terrorism
• Syria: ISIL Militants Retreating towards Raqqa under Heavy Offensives of Gov't Forces
• Syrian Army, Allies Advancing Towards Aleppo-Raqqa Border
• Syria in Last 24 Hours: Army, Popular Forces Purge More Strategic Regions of Terrorists
• Russian Air Force Targets ISIL Centers in Syria's Central Province of Homs
• Militants Withdraw Forces from More Territories in Syria's Aleppo
• Syria talks to begin next week
---------
North America
• Muslims Sue over Denial of Bid to Build Mosque in New Jersey Suburb
• Trump's Islam Comments Draw Attacks As Republicans Discover Civility
• Religious Tolerance Encouraged At CSU
• US Senate rejects move to block F-16 sale
• This Is Our Islam: To Be Young, Devout and Muslim In America Today
--------
Pakistan
• Army Officer Gunned Down In Peshawar
• Saudi Arabia pledges $122m in grants and loan
• FO hails Kashmir inclusion in talks with US
---------
India
• Man Who Sent CV to ISIS Gets Job with ATS Help
-------------
Southeast Asia
• Indonesia Adamant Terror Mastermind Won't Return From Guantanamo
• Malaysia: ISIS Plot to Kidnap PM Foiled
• Indonesia rights body urges Obama to open secret US files
-------------
Mideast
• Turkish Poet Apologizes to Russians for Erdogan's Actions
• Turkey's Opposition Leader Blasts Migrant Deal, Proposes Giving 6 bln Euros to EU
• Turkish prosecutor drops negligence complaint in Oct. 10 Ankara attack
• EC Secretary Calls for Iran-India Cooperation to Fight Terrorism
----------
Africa
• With U.S. Aid, Senegal Readies to Repel Terrorists
• Boko Haram A Scourge, But Not Only Problem in Nigeria
• Africa's Battle with Somalia Islamists Falters as Funds Cut
------------
Europe
• Paris Shooting: Police Rule Out Terrorism After One Person Injured In Bastille Shootout
• Russia 'trying to destabilise' Germany by stoking unrest over migrants, warn spy chiefs
Compiled by New Age Islam News Bureau
URL: https://newageislam.com/islamic-world-news/new-age-islam-news-bureau/bangladesh-islamists-threaten-violence-over-state-religion-move/d/106619
---------
South Asia
Bangladesh Islamists Threaten Violence Over State Religion Move
AFP March 11th, 2016
DHAKA: Hardline Islamist groups in Bangladesh on Thursday threatened large-scale protests if a court moves to scrap Islam as the official state religion of the Muslim-majority nation.
Bangladesh is officially secular, but Islam has been the state religion for almost three decades. More than 90 per cent of the population is Muslim, with Hindus and Buddhists the main minorities.
The High Court is considering a petition by secularists who say Islam's status as the state religion conflicts with Bangladesh's secular charter and discriminates against non-Muslims.
Furious Islamist hardliners this week urged the court to dismiss the petition at a hearing on March 27, threatening large-scale protests if it moves to scrap Islam's special status.
"Any move to scrap Islam's status will undermine and defame the religion", Mufti Mohammad Faezullah, secretary general of Islamist political party Islamic Oikya Jote (IOJ) said.
dawn.com/news/1244873/bd-islamists-threaten-violence-over-state-religion-move
-------------
5 ISIS loyalists killed before attacking Afghan army posts in Nangarhar
By KHAAMA PRESS - Fri Mar 11 2016
ISIS loyalists killed in AfghanistanAt least five militants affiliated with the Islamic State of Iraq and Syria (ISIS) terrorist group were killed in eastern Nangarhar province of Afghanistan.
The Ministry of Defense (MoD) said the militants were killed before attacking army posts in Achin district which was a stronghold of the loyalists of the terror group.
A statement by MoD said the militants had gathered in Bandar Khor area and were about to launch an attack on the army posts but were identified and targeted by artillery unit of the army.This comes as the Afghan national security forces concluded a major operation in Achin district last week, leaving nearly 300 loyalists of the terror group dead or wounded.
The operations continued for 21 days, involving security personnel from all security institutions, including the Afghan Air Force.
The operations by the Afghan forces were launched amid concerns that the loyalists of the terror group were looking to expand foothold and turn the region into a regional operational base.The coalition officials estimated around 1,000 to 3,000 Islamic State fighters are stationed in in eastern Afghanistan and are trying to establish a base of operations in the rugged mountains of Nangahar Province.
khaama.com/5-isis-loyalists-killed-before-attacking-afghan-army-posts-in-nangarhar-0301
------------
US adds Hezb-e-Islami Gulbuddin members to list of global terrorists
By KHAAMA PRESS - Fri Mar 11 2016
Gulbudin HekmatyarTwo members of Hezb-e-Islami party led by notorious warlord Gulbuddin Hekmatyar have been added to the list of global terrorists by the United States.
"The Department of State has designated Abdullah Nowbahar and Abdul Saboor as Specially Designated Global Terrorists (SDGTs) under section 1(b) of Executive Order (E.O.) 13224, which imposes sanctions on foreign persons that have committed, or pose a serious risk of committing, acts of terrorism that threaten the security of U.S. nationals or the national security, foreign policy, or economy of the United States," according to an official statement.
The statement by the Department of State further added that the designations blocks all property subject to U.S. jurisdiction in which Abdullah Nowbahar and Abdul Saboor have any interest and prohibits U.S. persons from engaging in any transactions with Nowbahar and Saboor.
On February 26, 2015 the U.S. Department of State's Rewards for Justice (RFJ) Program announced rewards for information on both Nowbahar and Saboor, the Department of State said, adding that the Secretary of State authorized a reward of up to $3 million for information on Saboor and up to $2 million on Nowbahar.
According to Department of State, Abdullah Nowbahar and Abdul Saboor are explosive experts for Hezb-e-Islami Gulbuddin (HIG). Both Nowbahar and Saboor participated in the September 18, 2012 attack on a bus carrying foreign employees of Kabul International Airport that killed 12 people.
Saboor is also responsible for a May 2013 suicide attack in Kabul that destroyed a U.S. armored vehicle, killing two soldiers and four U.S. civilian contractors; eight Afghans – including two children – were also killed and another 37 were wounded.
khaama.com/us-adds-hezb-e-islami-gulbuddin-members-to-list-of-global-terrorists-0299
----------
Arab World
ISIL Hunting for Equipment from 100 Dismantled European Refineries
Mar 11, 2016
TEHRAN (FNA)- Equipment from over 100 European refineries currently being dismantled may fall into the hands of ISIL terrorists, Head of Russia's Federal Financial Monitoring Service Yury Chikhanchin said.
He cited data provided by expert of the Financial Action Task Force on Money Laundering (FATF), Sputnik reported.
"According to FATF information, it is feared that over 100 refineries which are being dismantled in Europe may be moved to areas controlled by the Daesh terrorist group. We're coordinating actions with our partners. All countries are working on the issue," Chikhanchin said during his meeting with President Vladimir Putin.
"Experts reported that after militants' refineries and pipelines were destroyed they are making attempts to find new equipment for their facilities," he added.
According to him, FATF countries and the US are "actively cooperating" on the problem and will soon make up a list of equipment needed by terrorists for their refineries.
"A list similar to the list of antiquities will be published on the official EU website. Companies and individuals will be aware what equipment Daesh may try to smuggle," Chikhanchin was quoted as saying by RIA Novosti.
He added that during the recent FATF meeting, Russia's proposals faced "mixed responses" but Russian representatives were defending their stance, including on countering international terrorist cells, particularly in Syria, and businesses funding terrorism.Daesh (also known as Islamic State/ISIL) is a brutal terrorist group controlling large oil-rich areas in Iraq, Syria and Libya, with the goal of becoming a "caliphate". Daesh has received a large part of its revenues from smuggling oil, in addition to antiquities, human organs trafficking, taxes and ransom payments.
Estimates say in 2014 Daesh was producing nearly 50,000 barrels per day, with a daily income of up to $1.6 million, according to the UN. The Russian aerial campaign alongside airstrikes by a US-led coalition have badly damaged Daesh's production, distribution and refining capabilities.
en.farsnews.com/newstext.aspx?nn=13941220000901
----------
ISIL Executes Syrian National Poet in Deir Ezzur
Mar 11, 2016
TEHRAN (FNA)- Local sources said that the ISIL terrorists killed a famous Syrian poet and his son in the Eastern city of Deir Ezzur on charges of supporting Syrian Army.
Mohammad Bashir al-Aani and his son Eyass, who had been kidnapped two months ago, were killed by the Takfiri terrorist.
Al-Aani and his son were held captive in an unknown place since their kidnap.
Al-Aani, who was born in 1960, is one of the prominent poets from the Eastern Deir Ezzur province and a member of Arab Writers Union in Syria. He wrote three books of poems.
en.farsnews.com/newstext.aspx?nn=13941221000244
----------
Syrian Army Recaptures More Territories in Homs
11, 2016
TEHRAN (FNA)- The Syrian Army continued to advance against the ISIL terrorists in the Southeastern part of Homs province and recaptured one more key hilltop in the region.
The ISIL left behind tens of dead or wounded members and pulled its forces back form their position near Hill 903 under the heavy offensives of the Syrian army and allies.
The Syrian government forces deployed forces only 1,500 meters from Western entrance of the ancient Assyrian town of Quaryatayn.
On Thursday, the Syrian army forces and their allies seized back control over several strategic points, including a strategic hilltop, in the Central Homs province following heavy clashes with the ISIL terrorists.
The Syrian Army alongside the popular forces kept on their advances against militant groups' positions in the Eastern parts of Homs province, and managed to seized back and establish control over key ar-Raqim hill, and 901 and 902 points in the region.
en.farsnews.com/newstext.aspx?nn=13941221000151
-----------
Arab League postpones decision on closing office in Turkey
Mar 11, 2016
In a bid to avert contested outcomes amid regional disputes, the Arab League has eventually decided to postpone its review of a sub-committee decision to close its office in the Turkish capital Ankara, along with seven other representative offices around the world.
The foreign ministers of Arab League states were originally set to review a committee-level decision made in Cairo on March 8 to close the offices for "financial and administrative purposes" and make a final decision on March 10.
The committee that made the decision on March 8 is composed of the permanent ambassadors of the 22-member Arab League at the headquarters in Cairo. The committee was designed by the Council of Foreign Ministers in September 2015 in order to review the performance of its missions abroad with a view to restructuring the Arab League.
However, the ministers delayed the review of the decision to March 11, citing the committee's "hectic agenda." During the March 10 session, the foreign ministers elected Ahmed Abul Gheit, who served as Egypt's last foreign minister under Hosni Mubarak until the longtime autocrat's overthrow in 2011, as the body's incoming secretary-general.
Eventually on March 11 the Council of Foreign Ministers decided to postpone the decision until their biannual meeting in September 2016, Ambassador Mohamed El Fatah Naciri, the head of the mission of the League of Arab States (AL) in Ankara, told the Hürriyet Daily News.
Naciri also said a new committee had been formed by the Council "in order to study this question" until September 2016.
Full report at: hurriyetdailynews.com/arab-league-postpones-decision-on-closing-office-in-turkey.aspx?pageID=238&nID=96311&NewsCatID=510
---------
EC Secretary Calls for Iran-India Cooperation to Fight Terrorism
Mar 11, 2016
TEHRAN (FNA)- Secretary of Iran's Expediency Council (EC) Mohsen Rezayee underlined that Tehran and New Delhi can play a crucial role in fighting terrorism.
"Both Iran and India are members of the non-aligned movement (NAM) and they should adopt a new outlook to broaden their bilateral ties and pave the way for boosting mutual cooperation," Rezayee said in a meeting with Indian Ambassador to Tehran Saurabh Kumar on Thursday.
He reiterated that the cooperation between Iran and India in fighting against terrorism is crucial.
Full report at: en.farsnews.com/newstext.aspx?nn=13941221000272
-----------
Syria: ISIL Militants Retreating towards Raqqa under Heavy Offensives of Gov't Forces
Mar 11, 2016
TEHRAN (FNA)- The recent victories of the Syrian Army and the popular forces in the Southeastern territories of Aleppo province have left no choice for the ISIL but to pull forces back from the battlefields to neighboring Raqqa province, battlefield sources said.
"Over the past few days, the ISIL defense lines in Southeastern Aleppo has completely collapsed as government troops keep pushing towards ISIL in Raqqah province," the sources said.
"Within days, government troops recaptured the Khanasser-Aleppo road; meanwhile, ISIL forces lost hundreds of their fighters. Subsequently, the ISIL now suffers from inadequate manpower in the region. Meanwhile, the 4th Mechanized Division has received reinforcements from elsewhere in the Aleppo governorate," the sources added.
Full report at: en.farsnews.com/newstext.aspx?nn=13941221000276
-----------
Syrian Army, Allies Advancing Towards Aleppo-Raqqa Border
Mar 11, 2016
TEHRAN (FNA)- Military sources said that the Syrian Army troops and their popular allies have significantly advanced against the ISIL terrorists in the Southeastern parts of Aleppo province and are moving towards the Euphrates and its nearby regions in Raqqa province.
"The Syrian army, Liwa al-Quds (Jerusalem Brigade), the National Defense Forces (NDF) and Kataebat al-Ba'ath (Al-Ba'ath Battalions have secured the Southern bank of Al-Hamourat Lake in Southeastern Aleppo, while also making a substantial advance towards al-Maskanah Plain," the sources said.
"Al-Maskanah Plain is located along the Western bank of the Euphrates River (Lake Assad part), near the Jirah Military Airport and the Tabaqa Dam and Military Airport," the sources added.
Full report at: en.farsnews.com/newstext.aspx?nn=13941221000264
-----------
Syria in Last 24 Hours: Army, Popular Forces Purge More Strategic Regions of Terrorists
Mar 11, 2016
TEHRAN (FNA)- The Syrian army backed by the air force and popular forces drove out Takfiri terrorists from more important territories in key provinces across the country.
The army regained control over further Key villages, towns and cities in Homs, Sweida, Aleppo, Deir Ezzur, Hama and Quneitra provinces pushing back militants from their military positions and strongholds.
Tens of terrorists were killed and dozens more were injured in heavy clashes with the Syrian army and aerial bombardments of Syria's fighter jets.
Homs
Full report at: en.farsnews.com/newstext.aspx?nn=13941221000248
-----------
Russian Air Force Targets ISIL Centers in Syria's Central Province of Homs
Mar 11, 2016
TEHRAN (FNA)- The Syrian fighter jets carried out several combat flights over the ISIL terrorists' concentration centers in the Eastern part of Homs province and inflicted major losses on the militants.
Over 20 ISIL terrorists were killed and fifty more were wounded after the group's positions in two regions of al-Duweh and Jabal Hayyan in the Western and Southwestern parts of the ancient city of Palmyra (Tadmur) came under the heavy airstrikes of the Russian warplanes.
The Russian air fleets' operation near Palmyra provided very good aerial support for the Syrian ground forces, who for their part, inflicted major casualties on the terrorists.
Full report at: en.farsnews.com/newstext.aspx?nn=13941221000233
----------
Militants Withdraw Forces from More Territories in Syria's Aleppo
Mar 11, 2016
TEHRAN (FNA)- The ISIL terrorists retreated from their positions Southeast of Aleppo province under the heavy assaults of the Syrian Army and popular forces.
The Syrian army and the National Defense Forces drove the Takfiri terrorists back from the villages of al-Qleah, Helleh, Hakeel, Kherbet al-Mous and the Hill Bohouth in the Eastern side of Khanaser-Sfeira road.
The ISIL suffered a heavy death toll and its military hardware sustained major damage on the attacks.
Full report at: en.farsnews.com/newstext.aspx?nn=13941221000185
-----------
Syria talks to begin next week
Mar 11, 2016
UNITED NATIONS: The United Nations Special Envoy for Syria, Mr Staffan de Mistura, has said that peace talks on Syria will begin in Geneva on Monday.
Talking to reporters on Tuesday, he said that participants had arrived in the Swiss city where he would hold "proximity talks" over the coming days as more of the parties arrive.
He said that it was expected that substantive discussions, known as the intra-Syrian talks, would start on March 14 and continue till March 24.
He said that humanitarian aid convoys continued to reach more people in besi­eged and hard-to-reach areas following a nationwide cess­ation of hostilities that began on Feb 27. "Quite an achievement," de Mistura said, referring to 238,485 people the UN and its partners have delivered aid via 536 trucks.
dawn.com/news/1244879/syria-talks-to-begin-next-week
-------------
North America
Muslims Sue Over Denial of Bid to Build Mosque in New Jersey Suburb
About New York
By JIM DWYER MARCH 10, 2016
In a prosperous New Jersey suburb about an hour west of Manhattan, a retired AT&T executive decided with some friends to open a mosque in the town where he has lived for nearly 40 years, been on the board of education, led a task force to create the town's community center and even served as mayor.
About 65 people attended the congregation's Friday prayer services, which were held in rented halls or sometimes in parks.
On the surface, the process seemed straightforward: In November 2011, the group, the Islamic Society of Basking Ridge, led by the former mayor, Mohammad Ali Chaudry, bought a four-acre plot in an area of Basking Ridge where zoning permitted houses of worship. The group's architects and engineers argued that the plan complied by a wide margin with every conceivable building requirement.
Full report at: nytimes.com/2016/03/11/nyregion/muslims-sue-over-denial-of-bid-to-build-mosque-in-new-jersey-suburb.html?emc=edit_tnt_20160310&nlid=71783194&tntemail0=y
---------
Trump's Islam comments draw attacks as Republicans discover civility
MARCH 11, 2016
MIAMI: United States Republican presidential front-runner Donald Trump came under fire from his rivals on Thursday for saying Muslims hate the US at a debate where the gut-punching attacks of earlier forums gave way to a suddenly civil tone with a serious focus on the issues.
Trump, who has voiced skepticism about US military involvement abroad in the past, for the first time said America's effort against the militant Islamic State (IS) might require between 20,000 and 30,000 US troops, a number similar to what some Republican hawks have proposed.
Full report at: dawn.com/news/1245013/trumps-islam-comments-draw-attacks-as-republicans-discover-civility
-----------
Religious tolerance encouraged at CSU
BY ALVA JAMES-JOHNSON
MARCH 11, 2016
Paulina Abaunza is a Mexican American who grew up in a Texas town that's predominantly Catholic.
Ariel Ennis is a Jewish American who grew up in a Jewish enclave in New Jersey.
Now both scholars are interfaith leaders at the Of Many Institute for Multifaith Leadership at New York University. They were in Columbus Thursday to promote religious literacy, tolerance and inclusion as part of a Diversity Conference held at Columbus State University.
About 150 people attended the day-long conference, which included workshops and a keynote address presented by Abaunza and Ennis. The event was followed in the evening by a Diversity Legacy Banquet, held at the Lumpkin Center. More than 375 tickets had been sold by Thursday afternoon, said Paula Adams, conference organizer.
The keynote speaker for the banquet was Eric Thomas, an internationally renowned author, educator, pastor and motivational speaker, known as the "Hip-Hop Preacher." The university recognized 10 award recipients in categories ranging from community outreach to women's leadership.
Full report at: ledger-enquirer.com/news/local/article65286492.html
-----------
US Senate rejects move to block F-16 sale
ANWAR IQBAL Mar 11, 2016
WASHINGTON: The US Senate on Thursday rejected by two-thirds vote a resolution to block the proposed sale of eight F-16 aircraft to Pakistan.
In a house of 100, 71 Senators voted to reject the resolution moved by Republican Senator Rand Paul who wants to prevent the Obama administration from making the proposed sale. Only 24 Senators backed Senator Paul's move. Others abstained.
"The vote on the procedural resolution was moved by Senate majority leader Mitch McConnell, also a Republican, to kill the resolution Senator Paul had moved," said an announcement released after the vote.
Full report at: dawn.com/news/1244955/us-senate-rejects-move-to-block-f-16-sale
-----------
Meet the Muslims, Sikhs and Hindus supporting Trump
By Brajesh Upadhyay
10 March 2016
Republican presidential front-runner Donald Trump's barbs against Muslims and immigrants may have offended many, but there are a few people within the same communities now rooting for the billionaire.
Right after his victory in the Nevada caucuses, Mr Trump was quick to flaunt the support he got from some Hispanic voters. Now he can add Hindus for Trump, American Sikhs for Trump and even American Muslims for Trump to his list.
While these groups in no way reflect the thinking of the wider Hindu, Sikh or Muslim community in the US, they are nevertheless making headlines in the diaspora media.
The Hindus for Trump Facebook page, which has 500 "likes", has gone so far as to place the business tycoon on the same pedestal as some of the most revered Hindu gods.
Jump media playerMedia player helpOut of media player. Press enter to return or tab to continue.
Full report at: bbc.com/news/election-us-2016-35758156
----------
This Is Our Islam: To Be Young, Devout And Muslim In America Today
March 10, 2016
TOM GJELTEN
For Muslim-Americans, there was a world before Sept. 11 and the wars in Afghanistan and Iraq, and one after. Now, their community faces the dual threats of extremism and growing atheism.
Young Muslim-Americans are angry and frustrated, but not necessarily for the reasons you might think. While bound by their religion and their community, they have opinions as diverse as their backgrounds.
NPR's Tom Gjelten met a group of young American Muslims to discuss the challenges they see ahead for their community. Below, meet the participants; be sure to click the audio link above to hear their spirited conversation.
Adam Sbita
Full report at: npr.org/2016/03/10/469521886/this-is-our-islam-to-be-young-devout-and-muslim-in-america-today
------------
Pakistan
Army officer gunned down in Peshawar
DAWN.COM | ALI AKBAR —11 o3 16
PESHAWAR: A Lieutenant Colonel of the Pakistan Army was shot dead when unknown assailants targeted him near Ring Road in Peshawar's Hayatabad area on Friday.
SP Peshawar Cantt Kashif Zulfiqar told DawnNews that Lt Col Tariq Ghafoor, resident of Hayatabad Phase VI area, was on his way to a nearby mosque to offer Friday prayers when he was targeted by unknown armed men.
SP Kashif further said that the attack might be result of some personal enmity.
Spokesperson for the outlawed Tehreek-i-Taliban Pakistan (TTP) militant group, Muhammad Khorasani, claimed responsibility for the attack in an email sent to journalists.
Lt Col Tariq Ghafoor was posted in Peshawar and was undergoing postgraduate studies at a government university, said a statement by the Inter-Services Public Relations (ISPR).
The deceased was the son of Maj-Gen (retd) Fazal Ghafoor, who also served as Inspector General Frontier Corps between 1994-1997 and later as a diplomat, after retiring from military service.
Hayatabad is a posh suburb of Khyber Pakhtunkhwa province's capital city Peshawar on the south-western fringe of the city.
dawn.com/news/1245019/army-officer-gunned-down-in-peshawar
---------
Saudi Arabia pledges $122m in grants and loan
March 11th, 2016
ISLAMABAD: Saudi Arabia announced on Thursday that it will provide $122 million in financial assistance to Pakistan for development projects in various fields.
The financing would comprise five grants of $67 million and a $55 million loan.
The agreements for the grants and loan were signed here on Thursday by the vice-chairman and managing director of the Saudi Fund for Development (SFD), Eng Yousaf Ibrahim Al-Bassam, and Secretary of the Economic Affairs Division Tariq Bajwa. Finance Minister Ishaq Dar was also present at the signing ceremony.
The five grants will be used for the construction of a Home Economics and Management Sciences College in Islamabad and houses and government buildings in Balochistan.
Grants to be used for construction of college in Islamabad and govt buildings in Balochistan
The loan of $55m will be used for construction of two tunnels at Chella Bandi-Patika Road near Muzaffarabad in Azad Kashmir.
Full report at: dawn.com/news/1244937/saudi-arabia-pledges-122m-in-grants-and-loan
--------
FO hails Kashmir inclusion in talks with US
Mar 11, 2016
ISLAMABAD: The Foreign Office welcomed on Thursday the inclusion of Kashmir issue in the Pak-US Strategic Dialogue statement as a major success.
"The Jammu and Kashmir dispute is one of the oldest outstanding issues on the UN agenda.… We welcome the Pakistan-US joint statement, which reiterates the recognised fact," Foreign Office spokesman Nafees Zakaria said at the weekly media briefing.
A statement issued at the conclusion of the Strategic Dialogue held last week in Washington, had said: "The United States and Pakistan emphasised the importance of meaningful dialogue in support of peaceful resolution of outstanding issues, including Kashmir."
Pakistan, according to a diplomatic source, had during the dialogue stressed on the inclusion of Kashmir issue in the statement and warned that it would not agree to a communiqué that does not mention the dispute. The United States had after some very intense negotiations agreed to mention the longstanding dispute and call for its peaceful resolution through dialogue.
Full report at: dawn.com/news/1244947/fo-hails-kashmir-inclusion-in-talks-with-us
---------
India
Man Who Sent CV to ISIS Gets Job with ATS Help
Nazia Sayed | Mumbai Mirror | Mar 9, 2016
MUMBAI: What a difference seven months can make. Zubair Khan, who was detained outside the Iraq embassy last year in August, has finally found a job as a salesman in a Navi Mumbai showroom. The Anti-Terrorism Squad (ATS) helped Khan after it realized that the 48-year-old blogger and former journalist was no threat to society, but just a regular man driven to frustration due to joblessness.
Ostracized by his community and shunned by his neighbours, Khan had gone through the trauma of disgrace and humiliation. He lives with his wife and two children in Kharghar and had been struggling to find a job for several months.
"I had no intentions of becoming a terrorist. I am a patriotic Muslim. I presumed perhaps Iraq will be divided into several regions and ISIS will rule one part of it. I thought they will have a legitimate government. I just felt that it would be a good job opportunity for me if I became their political spokesperson," he told Mumbai Mirror on Tuesday.
Khan had made headlines when he had submitted his CV to officials at the Iraq embassy and asked them to forward it to the terrorist group. He said he was the editor-in-chief of a newspaper called Journalist for International Peace and wanted to become the outfit's spokesperson. Days after he was detained by the police, he made a U-turn and said that Daesh did not respect humanity.
Full report at: timesofindia.indiatimes.com/city/mumbai/Man-who-sent-CV-to-ISIS-gets-job-with-ATS-help/articleshow/51322140.cms
---------
Southeast Asia
Indonesia adamant terror mastermind won't return from Guantanamo
Mar 11, 2016
Jakarta (AFP) - Indonesia does not want one of the country's most notorious terrorists, Hambali, returned home should the United States close the controversial Guantanamo Bay detention centre, a senior minister said Friday.
Riduan Isamuddin was captured in Thailand in 2003 and spent the next three years being flown between secret prisons until his transfer to Guantanamo, where he has been held without charge ever since.
At the time of his capture Isamuddin, better known as Hambali, was believed to be Al-Qaeda's top representative in Southeast Asia and operational chief of regional militant group Jemaah Islamiyah.
He was accused of masterminding the 2002 Bali bombings that left 202 people dead, and plotting other attacks on US airliners and foreigners.
Hambali is one of 91 inmates still detained in the military prison, set up after the September 11, 2001 attacks to deal with prisoners deemed "enemy combatants", and denied many US legal rights.
Full report at: news.yahoo.com/indonesia-adamant-terror-mastermind-wont-return-guantanamo-112556113.html
-------------
Malaysia: ISIS Plot to Kidnap PM Foiled
March 11, 2016
Malaysia foiled a plot by ISIS to kidnap the Prime Minister and some other government ministers.
Malaysian Deputy Prime Minister Ahmad Zahid Hamidi informed that jihadists attempted to abduct him and two other Malaysian officials including the Prime Minister Najib Razak and the Defense Minister, Hishammuddin Hussein, reported Independent. He further stated that the country's anti-terrorism unit had not only successfully stopped the plot but also managed to prevent attempts of terrorist attacks in Kedah, Kuala Lumpur and Putrajaya. Reportedly, the group had prepared and tested explosives.
The plans included stealing weapons from military camps, making bombs and explosives, stealing cash for funding attacks and kidnapping government ministers for ransom, as stated by The Indian Express.
Full report at: australianetworknews.com/malaysia-isis-plot-to-kidnap-pm-foiled/
-------------
Indonesia rights body urges Obama to open secret US files
March 11 2016
The Indonesia that Barack Obama lived in as a child bore fresh scars from the darkest period in country's modern history. Shortly before Obama's arrival in 1967, hundreds of thousands of people had been killed in a bloody anti-communist purge.
Now Indonesian human rights officials want Obama's help in addressing unanswered questions about the bloodshed 50 years ago. They are requesting the declassification of secret US files that could shed light on how the killings were planned and the extent that the United States collaborated with Indonesia's military.
Despite nearly two decades of civilian rule, the prevailing account in Indonesia of those events remains the one planted by the military regime that swept to power after the killings, led by the dictator Suharto who ruled for 30 years. Indonesian text books portray it as a national uprising against a communist threat, and gloss over the deaths.
Joko Widodo, the first directly elected Indonesian president without links to Suharto, ran as a reformer who would look into episodes of military impunity, but since taking office in 2014, he has not pressed the issue due to opposition within his own government and the still-powerful military.
Full report at: thejakartapost.com/news/2016/03/11/indonesia-rights-body-urges-obama-open-secret-us-files.html
-------------
Mideast
Turkish Poet Apologizes to Russians for Erdogan's Actions
Mar 11, 2016
TEHRAN (FNA)- Famous Turkish poet and winner of multiple national awards Hüseyin Haydar has recorded a video message in which he apologized to all 'the great Russian people' for Ankara's policies, including the downing of a Russian bomber over Syria in November 2015.
He also apologized before the mother of the Russian pilot Oleg Peshkov who was killed by rebel fire from the ground after ejecting from the Russian Su-24 bomber downed by the Turkish Air Force. In his poem Haydar calls himself a Turkish revolutionary, who was unable to save his country from shame, Sputnik reported.
Haydar posted his poem on YouTube. In it he remembered Russian poets and activists, as well as Soviet citizens who gave their lives in the struggle against Nazism.
At the end, Haydar appealed to the family of the deceased pilot of the Russian Su-24. He said, "Bowing my knees, I beg forgiveness from the mother of Oleg Peshkov."
The whole poem translated from Turkish is presented below.
"I, the Turkish poet Hüseyin Haydar,
I have witnessed dark and shameful acts,
However, I am sure that they will judge all of the damned villains.
It is unthinkable, but this crime
Happened in front of everyone, and my fault is,
I could have tried; I could try to stop him,
But, unfortunately, I realized it late.
I, the Turkish revolutionary Hüseyin Haydar,
To every Russian, to all the people: I'm sorry.
Courage of the Russian mountains, plains and steppes
Forgive me, the land of the great Lenin.
Before our eyes were torn fraternal bonds,
All this happened in front of me.
I might, I could have prevented it,
Reckless we were not, that is only our fault,
That we are not masters of our own country,
That the fatherland torch shines so little.
And so I turn to Eurasia and Turkey,
In songs and in prayers forgiveness I ask
From Mayakovsky and Gorky,
From Ivan soviet who protected
From Nazis his land.
I ask for Pardon from country heroes
Women, men, children and the elderly,
Of 23 million people who died
And Gagarin who accomplished his feat,
And the Soviet brother that gave us his hand
In our great national war.
Of Simona Aralova (authorized representative of the RSFSR in Turkey —RT) I ask forgiveness
And Russian women, who lasted through the war,
All those who have generosity of their soul
Showered blessings in a difficult moment.
I ask forgiveness of the Russian peasants,
Of the Russian revolutionary.
In the presence of all those who died in the war,
In the presence of thousands of rifles and shotguns
I state boldly:
I, the Turkish poet Hüseyin Haydar,
I admit I'm guilty, turning my head to the light.
I could not from shame save my country
Great Russian people, forgive me for it.
And bowing my knees, I beg forgiveness from the mother of Oleg Peshkov."
Hüseyin Haydar is a famous Turkish poet and laureate of national awards; his work is printed in a variety of literary magazines across the country.
In 1983, the publishing house "Yazko" published his second collection of poems "Black songs." In 1987, the publishing house "Jam" released a collection of "The Star eclipse" and a collection of poems, "The body of water" by the publishing house "Adam" which was published in 1992.
After he released his poem, students of Istanbul University and Istanbul Technical University organized a protest, during which they read aloud poems by the poet. The students of the two universities read verses by Haydar on Taksim Square in central Istanbul and around the Bosporus; they made a video and posted it on YouTube expressing their solidarity with the poet.
en.farsnews.com/newstext.aspx?nn=13941220000934
------------
Turkey's opposition leader blasts migrant deal, proposes giving 6 bln euros to EU
Rifat Başaran - ANKARA, Fri Mar 11 2016
Turkey's main opposition leader has said the country would be better off giving the European Union 6 billion euros to take away all the refugees it has been hosting than asking for more money and becoming a "buffer province" for the bloc, while calling the deal struck at a recent summit between the EU and Turkey "against human rights" and "the utmost disrespect to humanity."
"Let us give 6 billion euros to them [the EU] and let them take all Syrian, Afghan and Pakistani [refugees] themselves," main opposition Republican People's Party (CHP) leader Kemal Kılıçdaroğlu said, referring to a recent deal struck between Turkey and the EU in an effort to manage the migration crisis.
"Which Syrians will they take? University graduates and those with a profession. They say, 'It doesn't matter how you deal with the rest.' This is against human rights before everything else. Signing such a deal is the utmost disrespect to humanity. In my opinion, Europeans have not been moral either," Kılıçdaroğlu said on March 10.
Full report at: hurriyetdailynews.com/turkeys-opposition-leader-blasts-migrant-deal-proposes-giving-6-bln-euros-to-eu.aspx?pageID=238&nID=96296&NewsCatID=338
----------
Turkish prosecutor drops negligence complaint in Oct. 10 Ankara attack
ANKARA,Fri Mar 11 2016
A Turkish prosecutor has dropped a complaint filed against security officials on charges of failing to take sufficient measures both before and in the aftermath of the Oct. 10, 2015, Ankara suicide bomb attack, as the governor's office in the capital city refused to give permission for an investigation into the officials, arguing sufficient measures had been taken before the attack and the "use of force" after was part of the police's legal duties.
The Ankara Chief Prosecutor's Office had "rescinded the legal action process" in the complaint filed against former Ankara Police Chief Kadri Kartal and Deputy Police Chief Cemal Dalkılıç, as well as section chiefs, bureau chiefs, deputy inspectors and other police officers, the state-run Anadolu Agency said late on March 10.
Alleged Islamic State of Iraq and the Levant (ISIL) militants bombed a peace rally near the Ankara Railway Station in a major city thoroughfare and left at least 100 dead on Oct. 10, 2015.
Full report at: hurriyetdailynews.com/turkish-prosecutor-drops-negligence-complaint-in-oct-10-ankara-attack.aspx?pageID=238&nID=96310&NewsCatID=509
---------
EC Secretary Calls for Iran-India Cooperation to Fight Terrorism
Mar 11 2016
TEHRAN (FNA)- Secretary of Iran's Expediency Council (EC) Mohsen Rezayee underlined that Tehran and New Delhi can play a crucial role in fighting terrorism.
"Both Iran and India are members of the non-aligned movement (NAM) and they should adopt a new outlook to broaden their bilateral ties and pave the way for boosting mutual cooperation," Rezayee said in a meeting with Indian Ambassador to Tehran Saurabh Kumar on Thursday.
He reiterated that the cooperation between Iran and India in fighting against terrorism is crucial.
Full report at: en.farsnews.com/newstext.aspx?nn=13941221000272
---------
Africa
With U.S. Aid, Senegal Readies to Repel Terrorists
By YAROSLAV TROFIMOV
March 10, 2016
THIES, Senegal—As soon as the white van crossed the river, Senegalese troops sprang from their hideout along the road, pulling out the driver and passenger. Inside, they discovered suicide vests, an assault rifle and plans by an al Qaeda affiliate to attack the U.S. Embassy in the capital Dakar, the city's international airport and one of the West African country's main hotels.
The ambush, supervised by U.S. trainers, was an exercise, part of last month's Flintlock antiterrorism war games that U.S. Special Operations Command and its Western and regional partners conduct in Africa every year. But the scenario was down to the bone realistic: In recent months, Islamist militants have stormed international hotels in the capitals of nearby Mali and Burkina Faso, killing dozens of people in each attack.
This means that African countries untouched by international terrorism are increasingly worried that they, too, will be targeted soon.
Full report at: wsj.com/articles/fears-of-terrorism-grow-in-senegal-1457611561
-----
Boko Haram a scourge, but not only problem in Nigeria
March 11, 2016
Every so often we hear about Boko Haram, a terrorist group in northeastern Nigeria. The group's self-designations are "Group of the People of Sunna for Preaching and Jihad" (Sunna meaning Islamic tradition) and "Islamic State West Africa Province," the latter name since March 2015, when they announced allegiance to the Islamic state, an allegiance accepted by IS several days later.
The word Boko means literally "fake," and the Arabic word "haram" is the standard Arabic word in Islam for what is prohibited or forbidden. The word Boko refers to Western education or westernization in general and seems to have the connotations of "is a sin" or "is a sacrilege." The movement is influenced by the Wahhabi movement, which denounced visits to tombs of Muslim saints as idolatry. One of Boko Haram's leaders rejected the theory of evolution, said the earth is not a sphere, and claimed rain is not the result of the evaporation of water caused by the sun.
Full report at: goshennews.com/news/lifestyles/global-faiths-boko-haram-a-scourge-but-not-only-problem/article_1282aa87-a4c8-5e46-a5be-2df4535a42cb.html
----------
Africa's Battle With Somalia Islamists Falters as Funds Cut
March 11, 2016
As al-Qaeda-linked militants raid Somali hotels and strike multinational army bases with increasing frequency, an almost 10-year mission by African forces to quell the insurgency is being jeopardized by a funding cut.
With the European Union trimming its financial support by a fifth this year, ground operations could be the first casualty, according to analysts including Emma Gordon at Verisk Maplecroft. Such belt-tightening would come even as al-Shabaab insurgents are seen regaining their cross-border capabilities after a decline in attacks in neighboring Kenya in 2015 and two incidents in five weeks suggest civil aviation is being added to their targets.
Full report at: bloomberg.com/news/articles/2016-03-11/africa-s-battle-with-somalia-islamists-falters-as-funds-are-cut
------------
Europe
Paris Shooting: Police Rule Out Terrorism After One Person Injured In Bastille Shootout
By Henry Samuel, Paris and Raziye Akkoc
10 Mar 2016
A man was injured in a shoot out in central Paris on Thursday night just a few hundred yards where terrorists gunned down 90 people at the Bataclan, writes Henry Samuel in Paris.
While there was some confusion, police appeared to have ruled out terrorism, saying the shooting was likely the result of a "private dispute".
A man was shot in the stomach at 6.15pm local time in the Place de la Bastille in the 11th arrondissement - an area popular with tourists. Police said his condition was not life threatening.
A man "who could have fired the shots" has been arrested. A suspected accomplice is reportedly at large.
The shooting is understood to have taken place in front of the restaurant "Chez Papa" on the boulevard de la Bastille.
Police said they were searching for a weapon in the Bastille "Arsenal" - a canal by the Seine next to the famed square - the scene of many demonstrations.
Full report at: telegraph.co.uk/news/worldnews/europe/france/12190401/Paris-shooting-Two-gunmen-on-run-after-one-person-injured-in-Bastille-shootout-live.html
-------------
Russia 'trying to destabilise' Germany by stoking unrest over migrants, warn spy chiefs
10 March 2016
Alleged attempts by Russia to fuel worries in Germany over refugees suggest EU bids for Moscow to help in the migrant crisis may flounder
Russia is trying to destabilise Germany by fuelling tensions over migrants through its 'easily influenced' Russian-German population, the country's intelligence chiefs have warned.
In a secret meeting with German politicians, the head of Germany's internal intelligence agency Hans-Georg Maaßen and Guido Müller, deputy head of the country's foreign intelligence, warned that there was a particular danger that Moscow would exploit the "high mobilisation potential" of Germany's Russian community, of which there are around 2 million.
They said that this section of the population is easily influenced by Russia into demonstrating in Germany, citing protests by thousands of Germans of Russian descent in January over the alleged rape of a 13-year-old Russian-German girl, reported newspaper Bild.
The protesters demonstrated in front of German chancellor Angela Merkel's office, after Russian state media reported that migrants had kidnapped and raped the girl.
Russian President Vladimir Putin (R) speaks with German Chancellor Angela Merkel as they attend a wreath-laying ceremony at the Tomb of the Unknown Soldier by the Kremlin walls in Moscow, Russia, May 10, 2015
The relationship between Germany and Russia is deteriorating Photo: Reuters
Russian foreign minister Sergei Lavrov also waded into the argument by accusing German police of covering up the incident.
Full report at: telegraph.co.uk/news/worldnews/europe/germany/12190353/Russia-trying-to-destabilise-Germany-by-stoking-unrest-over-migrants-warn-spy-chiefs.html
URL: https://newageislam.com/islamic-world-news/new-age-islam-news-bureau/bangladesh-islamists-threaten-violence-over-state-religion-move/d/106619
New Age Islam, Islam Online, Islamic Website, African Muslim News, Arab World News, South Asia News, Indian Muslim News, World Muslim News, Womens in Islam, Islamic Feminism, Arab Women, Womens In Arab, Islamphobia in America, Muslim Women in West, Islam Women and Feminism, Moderate Islam, Moderate Muslims, Progressive Islam, Progressive Muslims, Liberal Islam, Liberal Muslims, Islamic World News