New Age Islam News Bureau
10 Dec 2013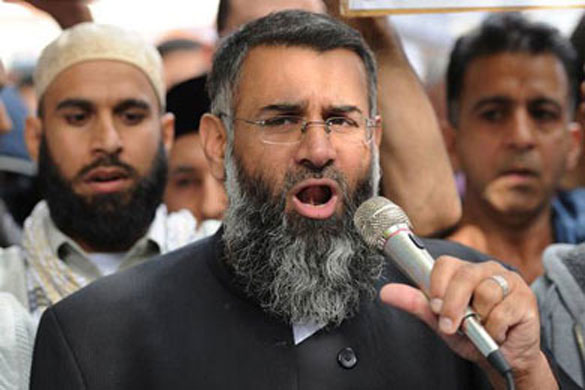 Commendation: Anjem Choudary backed the actions of the vigilantes
----------
South Asia
• Bangladesh Islamist Abdul Quader Molla to Be Hanged After Midnight
• Jamaat-e-Islami and Its Student Wing Planning Massive Destruction 'in favour of Quader Molla
• Transparency Maldives reveals growing perception of corruption
• Karzai reaches out to Rouhani to counter U.S. pressure on pact
• Molla to get 7 days for seeking mercy
Europe
• 'Atheists Face Death in 13 Muslim Countries'
• Anjem Choudary: Muslim vigilantes who terrorised non-believers 'deserve pat on back'
• UN inspectors to assess Libya's uranium stockpiles
• Cooperation with NATO on Afghanistan not essential for CSTO
• 'UN proposes formula keeping Hasina as PM'
• Abu Qatada pleads not guilty to terror charges
• UN to launch first airlift of aid to Syria via Iraq: UNHCR
• Malaysia among countries faring worst in faith-based discrimination, says global study
North America
• Nuclear war between India and Pakistan to 'end civilization' with famine: Study
• Kerry 'appeasing' Israel over Iran at Palestinian expense
• US senators prepare legislation to pressure Iran
• Hagel to PM: Lift NATO blockade or risk billions in aid
• Senate deal could lead to Guantanamo Bay closure
Pakistan
• MQM worker among seven slain in target killings
• Jamaat-e-Islami terms Mullah Qadir's execution grave 'injustice'
• Fatwa issued in favour of polio vaccination campaign
• Ashura violence: Another 19 suspects arrested
• Drone strikes 'hurting' war on terror, Nawaz tells Hagel
• Pakistan's economy can be restored with EU's support: Nawaz
Arab World
• Suicide bomber kills 11 in northern Iraq
• Jama'a Al-Islamiya: Salaf-Led Nour Party's Stance on Constitution Worse than That of Church
• Syria urges UN to stop 'Saudi support for extremists'
• Hamas official: Egypt categorizes Hamas as 'terrorist group'
• Fighters execute Syrian 'blasphemer'
• Saudi beheads man for incest
• Hundred thousand genomes to be mapped in Saudi Arabia
India
• India, Russia to revive arms maintenance factory in Afghanistan
• On India trip, Karzai to seek more defence aid
• Anyone found guilty of human rights violation in Jammu and Kashmir will face law: Army
• New Delhi miffed as Iran asks India Inc visitors for HIV, Hepatitis, TB tests
Southeast Asia
• No more sexist remarks, please: DAP women Parliamentarian
• No ambiguity in Constitution's definition of Islam, says minister
• Indonesian court jails ex-Islamic party head for graft
• Iban Christians to gather in Kuching to pray for religious freedom
Mideast
• Iran's Zarif says nuclear deal dead if US passes new sanctions
• Israel and Palestine reject US initiatives on settling on eve of Kerry's visit
• Israel says Iran embassies used as 'terror bases'
• Hamas says it has 'resumed' ties with Iran
• Drone strike kills three 'Qaeda' gunmen in Yemen
• Gay divorce approved for second time in Israel's history
Africa
• Egypt court acquits Gaddafi cousin
• Two French soldiers killed in Central African Republic
• Police Warn of Terrorist Plot to Strike Ugandan Capital
Compiled by New Age Islam News Bureau
URL: https://www.newageislam.com/islamic-world-news/new-age-islam-news-bureau/bangladesh-islamist-abdul-quader-molla-to-be-hanged-after-midnight/d/34796
----------
South Asia
Bangladesh Islamist Abdul Quader Molla to Be Hanged After Midnight
AFP
Dhaka, December 10, 2013
A Bangladeshi Islamist leader convicted of mass murder and rape during the country's 1971 independence war will be hanged just after midnight Tuesday, the prisons chief said. "Yes," Main Uddin Khandaker told AFP when asked whether Abdul Quader Molla, a senior leader of the Jamaat-e-Islami party, would be executed after midnight (1800 GMT Monday).
On Sunday, a tribunal signed an execution order for Abdul Quader Molla, a Jamaat-e-Islami party leader during a 1971 independence war against Pakistan, and sent it to the main jail in the capital Dhaka.
Molla's lawyer Tajul Islam told AFP that the family of the 65-year-old former journalist had been contacted by the jail, adding to speculation that an execution was imminent.
"We got a notice from the jail authorities asking Abdul Quader Molla's family to meet him at the Dhaka central jail at 8pm tonight," Islam said.
New York-based activist group Human Rights Watch and a UN Special Rapporteur on the independence of judges and lawyers have warned that the country could be breaking international law.
There are also worries the execution could trigger more violence in the restive nation, already reeling from its worst political unrest since independence ahead of a national election on January 5.
At least 224 people have died in battles between opposition protesters, police and government supporters since January this year.
"What logic do they have to stop the execution?" deputy law minister Quamrul Islam told AFP when asked about the criticism from rights experts.
"Did they stop the execution of Saddam Hussein?" he said referring to the former Iraqi dictator who was hanged in December 2006.
Molla was convicted of rape, murder and mass murder including the killing of over 350 unarmed Bengali civilians. Prosecutors described him as the "Butcher of Mirpur", a Dhaka suburb where he committed most of the atrocities.
A domestic war crime court had originally sentenced him to life imprisonment in February, but the sentence prompted protests by tens of thousands of secular demonstrators who viewed it as too lenient.
Under pressure, the government amended the war crime law retroactively to allow it to appeal the sentence and seek the death penalty, which the Supreme Court then handed down in September.
UN expert Gabriela Knaul argued that any death sentence had to be "reviewed by a higher tribunal, as laid down in the International Covenant on Civil and Political Rights to which Bangladesh is a party."
Defence lawyers and Knaul said the Supreme Court should review its own verdict, as enshrined in the country's constitution, which the government rejects.
Bangladeshi laws allow review of any death sentences in the Supreme Court, but prosecutors said there is no such provision in the special war crime laws, which were enacted to prosecute suspected war criminals.
New York-based Human Rights Watch said the execution order was "particularly reprehensible" because the laws to hang Molla "were retroactively passed" in order to enable the death penalty, and where the right to appeal is not allowed.
A prison spokesman said Molla had been asked twice whether he would seek presidential pardon, but he had not responded.
Bangladesh regularly carries out the death sentence but it would be the most high profile execution since January 2010 when five ex-army officers were put to death over the assassination of the country's founding leader Sheikh Mujibur Rahman.
http://www.hindustantimes.com/world-news/bangladesh-islamist-aq-molla-to-be-hanged-after-midnight/article1-1161202.aspx#sthash.Z3OkXVFP.dpuf
***
Family enters jail to meet Quader Molla
December 10, 2013
The family of war criminal Abdul Quader Molla entered Dhaka Central Jail to meet the convicted Jamaat-e-Islami leader, to be executed after midnight.
Sixteen family members, including wife Sarwar Jahan, son Hassan Jamil and daughter Parvin, arrived at Dhaka Central Jail premises at 7:52pm.
Dhaka Tribune correspondent Udisa Islam was posting live updates from the scene.
Earlier, a letter was said to have been issued asking the family to meet Quader Molla by 8pm Tuesday, what Hassan Jamil had said.
http://www.dhakatribune.com/bangladesh/2013/dec/10/molla%E2%80%99s-family-jail-gate#sthash.oTPrmD29.dpuf
---------
Jamaat-e-Islami and Its Student Wing Planning Massive Destruction 'in favour of Quader Molla
Dec 10, 2013
Bangladesh Jamaat-e-Islami and its students 'wing, Islami Chhatra Shibir, "are planning massive destruction" on December 12, surrounding the execution of International Crimes Tribunal's verdict against Jamaat Assistant Secretary General Abdul Quader Molla for his involvement in war crimes in 1971. The information was disclosed yesterday at a cabinet meeting, chaired by Prime Minister Sheikh Hasina at the Secretariat, as was confirmed by several ministers who attended the meeting. One of the ministers seeking anonymity said the cabinet discussed the information elaborately, following which, the prime minister ordered the state minister for home to take tough steps against any sabotage attempt and tighten security measures. Meanwhile, ministers and leaders of the 14-party alliance were asked to deploy their activists in the field until December 16, to participate in programmes to observe victory day, he said. He said according to the PM's instructions the allies will host programmes at thana and ward-level. Freedom fighters, pro-liberation organisations and activists will also be requested to stay on the field for the victory day celebrations. The prime minister also asked the alliance to go ahead with all its activists and participate in the upcoming general elections, as the government has no plans to defer the election date. The election will be held according to the existing schedule, the premier assured them. The political programmes of the opposition will be countered politically, the minister said. Regarding Quader Molla's death sentence, the premier has reportedly assured the ministries of home and law that they will be given all the facilities and the time to carry out the ICT verdict, and no one can question it. It could at best be subject for the president's consideration, if Quader Mollah wants a presidential pardon, he said. Speaking about the recent violence in Satkhira, the minister said the government had information that the superintendent of the district may be biased towards Jamaat-e-Islami. "He has given them the scope to commit destructive activities and violence. The ministry of home was asked to remove him from his post," he said. The cabinet hoped that the situation would change after his removal. Another minister said the prime minister has asked the home ministry to strengthen the security of the railways and other transport carrying commodities during the opposition blockades and hartals
http://www.dhakatribune.com/politics/2013/dec/10/%E2%80%98jamaat-shibir-planning-massive-destruction%E2%80%99#sthash.r4MD7z73.dpuf
----------
Transparency Maldives reveals growing perception of corruption
By Daniel Bosley | December 9th, 2013
Transparency Maldives' Global Corruption Barometer (GCB) survey has revealed that 83 percent of people surveyed felt corruption had increased or stayed the same during the past two years.
The survey of 1,002 people – randomly selected and interviewed by telephone – showed respondents to perceive the People's Majlis as the country's most corrupt organisation, with 60 percent feeling the legislature to be 'extremely corrupt'.
Religious organisations were perceived as the least corrupt organisation, with 37 percent of those asked stating definitively that these organisations were 'not corrupt'.
Speaking at today's launch event, President of the Anti-Corruption Commission Hussain Luthfy expressed concern at the indicators, noting a clear lack of trust in state institutions.
With local council elections fast approaching, Luthfy pointed out that a failure to reform local government could also be considered corruption.
"In the past five years, the governance system has been so expensive it has impacted the basic public services. Harbors and schools are falling into disrepair."
Luthy suggested that the current model "bleeds" MVR800 million from the state's expenditure each year – nearly five percent of the most recently proposed budget.
When submitting the 2014 budget – currently undergoing revisions – Finance Minister Abdulla Jihad urged the state to reduce the size of local level government.
The current model of more than 1,000 elected councillors established by the Decentralisation Act passed in 2010 by the then-opposition majority parliament was branded "economic sabotage" by the incumbent Maldivian Democratic Party (MDP) government, which had proposed limiting the number of councillors to "no more than 220."
Luthfy went on to urge more transparency within government companies in order to foster an atmosphere in which corruption can be addressed proactively. He suggested that government owned companies often pass resolutions to obstruct the ACC's investigations.
In a separate statement today, Luthfy argued said the biggest obstacle to the ACC's fight against corruption was the absence of an anti-corruption bill. He called upon the Majlis – currently considering such a bill – to take the initiative in fighting corruption.
Education
Today's GCB launch was accompanied by the introduction of a corruption education pack, including five booklets intended to spread awareness of corruption and its impacts on society.
Whilst the GCB figures showed a strong belief that ordinary people could make a difference in the campaign against corruption – with 84 percent agreeing to this statement – the results revealed a lack of will to take action.
Asked if they would be willing to sign a petition asking the government to do more to fight corruption, 86 percent of those surveyed said they wouldn't. 70 percent said they would not take part in demonstrations against corruption, whilst 61 percent refused to even to raise awareness of corruption through social media.
The most common area in which bribes were paid was said to be land services, with the most frequent reason for giving bribes being 'to speed things up'.
Earlier this week the ACC alleged corruption in the award of apartments to individuals as part of the Veshifahi Malé housing programme, ordering the invalidation of 139 of the 448 successful applications.
891 GCB respondents stated that they would report an incident of corruption, although only 3 percent admitted to having personally paid a bribe. 85 percent of those who admitted to being asked to pay a bribe said they had refused.
The sample of people interviewed were predomantly male (66 percent) and from urban settings (65 percent). One quarter of respondents worked in the public sector, with 63 percent described as earning a 'medium' scale income.
Transparency Maldives, the local chapter of Transparency International (TI)describes the GCB as one of the tools it uses to better understand corruption.
The group's most widely used indicator – the Corruption Perceptions Index - was released last week. For the second consecutive year the Maldives was not ranked after TI was unable to gather the necessary data.
http://minivannews.com/politics/transparency-maldives-reveals-growing-perception-of-corruption-73068
----------
Karzai reaches out to Rouhani to counter U.S. pressure on pact
ATUL ANEJA
Dec 10, 2013
During his visit to Tehran, Mr. Karzai and his Iranian counterpart Hassan Rouhani decided to sign a comprehensive "friendship" pact that would also cover "regional security" issues.
Afghanistan's President Hamid Karzai has reached out to Iran to counter attempts by the United States to push Kabul to sign a security pact that would keep thousands of U.S. troops on the ground beyond the official withdrawal deadline of 2014.
During his visit to Tehran, Mr. Karzai and his Iranian counterpart Hassan Rouhani decided to sign a comprehensive "friendship" pact that would also cover "regional security" issues.
"Afghanistan agreed on a long-term friendship and cooperation pact with Iran," Reuters quoted Aimal Faizi, Mr. Karzai's spokesman as saying. "The pact will be for long-term political, security, economic and cultural cooperation, and regional peace."
A joint communiqué issued after the talks on Sunday assigns the foreign ministers of the two countries to work out the details of the accord.
Full Report at:
http://www.thehindu.com/news/international/karzai-reaches-out-to-rouhani-to-counter-us-pressure-on-pact/article5441158.ece
----------
Molla to get 7 days for seeking mercy
Dec 10, 2013
Death row war criminal Quader Molla will get seven days for seeking mercy to the president, Senior Jail Super of Dhaka central jail Forman Ali said. However, Molla's lawyer Abdur Razzak claimed that Molla could seek mercy to the president within 15 days, from December 8 to December 23, as per the new jail code. He told this to reporters after meeting Quader Molla in Dhaka central jail on Tuesday morning.
Full Report at:
http://www.dhakatribune.com/law-amp-rights/2013/dec/10/molla%E2%80%99s-lawyers-meet-him-jail#sthash.N7cAzYmM.dpuf
-----------
Europe
'Atheists face death in 13 Muslim countries'
Reuters
Geneva, December 10, 2013
In 13 countries around the world, all of them Muslim, people who openly espouse atheism or reject the official state religion of Islam face execution under the law, according to a detailed study issued on Tuesday. And beyond the Islamic nations, even some of the West's apparently most democratic governments at best discriminate against citizens who have no belief in a god and at worst can jail them for offences dubbed blasphemy, it said.
The study, The Freethought Report 2013, was issued by the International Humanist and Ethical Union (IHEU), a global body uniting atheists, agnostics and other religious skeptics, to mark United Nations' Human Rights Day on Tuesday.
"This report shows that the overwhelming majority of countries fail to respect the rights of atheists and freethinkers although they have signed UN agreements to treat all citizens equally," said IHEU President Sonja Eggerickx.
The study covered all 192 member states in the world body and involved lawyers and human rights experts looking at statute books, court records and media accounts to establish the global situation.
Full Report at:
http://www.hindustantimes.com/world-news/atheists-face-death-in-13-muslim-countries/article1-1161005.aspx#sthash.uXQ2VoBa.dpuf
-----------
Anjem Choudary: Muslim vigilantes who terrorised non-believers 'deserve pat on back'
Dec 10, 2013
Hardline Islamic preacher Anjem Choudary today said two followers jailed for attacking non-Muslims "deserve a pat on the back".
Convert Jordan Horner, 19, and Ricardo MacFarlane, 26, admitted being part of a "Muslim Patrol", a group of vigilantes opposing Western culture on the streets of the East End.
They told one couple they could not hold hands because it was "a Muslim area" and said a young woman would face "hellfire" because of the way she dressed. Mr Choudary said the men regularly attended his lectures, adding: "Essentially, they didn't do anything wrong. They didn't harm anyone. What they did in essence, it's commendable. They are trying to address issues like drug abuse and prostitution."
He said they "could have done it differently" with "different styles and means", but added: "I did have a word with them afterwards and said there are certain things that can't be changed physically, but these guys should be patted on the back for some of the other work they have done.
"I don't condemn them at all. They are upstanding, upright members of the Muslim community. Their character is immaculate, they are fantastic individuals. People say much worse things on football terraces."
Full Report at:
http://www.standard.co.uk/news/crime/anjem-choudary-muslim-vigilantes-who-terrorised-nonbelievers-deserve-pat-on-back-8992944.html
--------
UN inspectors to assess Libya's uranium stockpiles
Dec 10, 2013
The United Nations says nuclear inspectors will visit Libya to assess its uranium stockpiles, amid concerns about fragile security in the country.
The UN envoy to Libya, Tarek Mitri, told the Security Council that the IAEA team would arrive later this month.
He said 6,400 barrels of concentrated uranium, or yellowcake, were stored at a former military base in southern Libya, guarded by an army battalion.
Yellowcake is used in the production of nuclear fuel and weapons.
Mr Mitri, the UN Secretary General's Special Representative to Libya, said an inspection team from the International Atomic Energy Agency would "visit this month to verify existing stockpiles and conditions of storage" at the former military facility near Sabha, in southern Libya.
Full Report at:
http://www.bbc.co.uk/news/world-africa-25309559
----------
Cooperation with NATO on Afghanistan not essential for CSTO
Dec 10, 2013
Cooperation with NATO on Afghanistan after the pullout of the Alliance-led troops from that country in 2014 is not essential for the Collective Security Treaty Organisation, CSTO Secretary-General, Nikolai Bordyuzha, told reporters on Tuesday.
"NATO has not yet demonstrated its intention to cooperate with us on this issue," he said. "We do not make attempts to reach an agreement with them. It is not interesting for us."
Along with this Bordyuzha said cooperation with the North Atlantic Alliance would help double potential of ensuring security in the region.
The tasks that had been set for international coalition forces ahead of their deployment in Afghanistan were not resolved, the situation was worsening and the forecast was negative, he said.
http://voiceofrussia.com/news/2013_12_10/Cooperation-with-NATO-on-Afghanistan-not-essential-for-CSTO-2275/
----------
'UN proposes formula keeping Hasina as PM'
Dec 10, 2013
To break the current political deadlock, visiting UN envoy Oscar Fernandez Taranco tried to convince BNP Chairperson Khaleda Zia with a formula keeping Prime Minister Sheikh Hasina in her position, reports BBC Bangla. Taranco, during his visit to Dhaka, met leaders of several political parties, high officials of the Election Commission and civil society members in the last couple of days. On Monday, he met the opposition chief for the second time, but no party revealed what exactly they had discussed in the meeting. Meanwhile, hours before Taranco's meeting with Khaleda, a BNP source seeking anonymity told the BBC Bangla that the UN was looking for a way out from within the framework of the current constitution which suggests that Hasina would remain the prime minister.
Full Report at:
http://www.dhakatribune.com/politics/2013/dec/10/un-proposes-formula-keeping-hasina-pm-0#sthash.ximt1bTq.dpuf
----------
Abu Qatada pleads not guilty to terror charges
Dec 10, 2013
Radical cleric Abu Qatada has pleaded not guilty to terrorism charges at a court in Jordan.
The Palestinian-Jordanian was convicted in his absence of involvement in bombings in 1998 and a foiled terrorist plot in 2000 but is now being retried.
His eight-year legal battle to stay in the UK ended in July.
He told the court Jordan had broken an agreement with the UK that he would be granted a fair trial because one of the three judges was a military appointee.
"The court has betrayed the conditions on which I came here," he said.
"I demand my rights - I don't recognise this court."
'Groundbreaking treaty'
When Abu Qatada was still fighting deportation from the UK, the Jordanians assured ministers his case would only be heard by civilian judges.
Full Report at:
http://www.bbc.co.uk/news/uk-25311471
----------
UN to launch first airlift of aid to Syria via Iraq: UNHCR
Dec 10, 2013
The United Nations is launching its first airlift of food and other aid supplies from Iraq to the Kurdistan region of northern Syria this week with permission from both governments, the UN refugee agency UNHCR said on Tuesday.
The airbridge using commercial cargo Ilyushin 76 planes to Hassakeh, Syria, from Erbil, Iraq, will begin on Thursday and up to 12 flights are scheduled through Sunday, Amin Awad, director of the Middle East and North Africa Bureau of the UNHCR said.
"This is the first time aid goes through Iraq," Awad told Reuters in Geneva. "The number of vulnerable in al Hassakeh is estimated at 50,000-60,000 but we are still doing assessments. Al Hassakeh has been out of reach for a long time."
http://english.ahram.org.eg/NewsContent/2/8/88757/World/Region/UN-to-launch-first-airlift-of-aid-to-Syria-via-Ira.aspx
----------
Malaysia among countries faring worst in faith-based discrimination, says global study
Dec 10, 2013
In 13 countries around the world, all of them Muslim, people who openly espouse atheism or reject the official state religion of Islam face execution under the law, according to a detailed study issued today.
And beyond the Islamic nations, even some of the West's apparently most democratic governments at best discriminate against citizens who have no belief in a god and at worst can jail them for offences dubbed blasphemy, it said.
The study, The Freethought Report 2013, was issued by the International Humanist and Ethical Union (IHEU), a global body uniting atheists, agnostics and other religious skeptics, to mark United Nations' Human Rights Day on Tuesday.
Full Report at:
http://www.themalaysianinsider.com/malaysia/article/malaysia-among-countries-faring-worst-in-faith-based-discrimination-says-gl
----------
North America
Nuclear war between India and Pakistan to 'end civilization' with famine: Study
AFP | Dec 10, 2013
WASHINGTON: A nuclear war between India and Pakistan would set off a global famine that could kill two billion people and effectively end human civilization, a study said on Tuesday.
Even if limited in scope, a conflict with nuclear weapons would wreak havoc in the atmosphere and devastate crop yields, with the effects multiplied as global food markets went into turmoil, the report said.
The Nobel Peace Prize-winning International Physicians for the Prevention of Nuclear War and Physicians for Social Responsibility released an initial peer-reviewed study in April 2012 that predicted a nuclear famine could kill more than a billion people.
In a second edition, the groups said they widely underestimated the impact in China and calculated that the world's most populous country would face severe food insecurity.
"A billion people dead in the developing world is obviously a catastrophe unparalleled in human history. But then if you add to that the possibility of another 1.3 billion people in China being at risk, we are entering something that is clearly the end of civilization," said Ira Helfand, the report's author.
Full Report at:
http://timesofindia.indiatimes.com/world/us/Nuclear-war-to-end-civilization-with-famine-Study/articleshow/27158038.cms
-----------
Kerry 'appeasing' Israel over Iran at Palestinian expense
Dec 10, 2013
ERUSALEM: A senior Palestinian official said the United States was asking Palestinians to make security concessions in peace talks with Israel in order to silence the Jewish state's criticism of world power diplomacy over Iran's nuclear program.
The accusations by Yasser Abed Rabbo, who joined Palestinian President Mahmoud Abbas in a meeting with US Secretary of State John Kerry last week, further clouded hopes of achieving a negotiated accord by an April target date.
Kerry, who is expected to return to the region late this week, presented both sides with suggestions on Thursday about how Israel might fend off future threats from a Palestinian state envisaged in West Bank land it now occupies.
Full Report at:
http://www.arabnews.com/news/490296
----------
US senators prepare legislation to pressure Iran
Reuters | Dec 10, 2013
WASHINGTON: Two US senators are preparing legislation to impose new sanctions on Iran in six months if an interim deal on the Islamic Republic's nuclear program goes nowhere, penalties that Iran's foreign minister has said would kill the agreement.
The Democratic chairman of the Senate Foreign Relations Committee, Robert Menendez, and Republican Senator Mark Kirk are close to agreeing on legislation that would target Iran's remaining oil exports, foreign exchange reserves and strategic industries, aides said on Monday.
Full Report at:
http://timesofindia.indiatimes.com/world/us/US-senators-prepare-legislation-to-pressure-Iran/articleshow/27147586.cms
-----------
Hagel to PM: Lift NATO blockade or risk billions in aid
December 10, 2013
ISLAMABAD: US Defence Secretary Chuck Hagel warned Pakistani leaders on Monday that if they did not resolve protests stalling some military shipments across the border into Afghanistan, it could be difficult to maintain political support in Washington for an aid programme that has sent billions of dollars to Islamabad, defence officials said.
In response, Hagel received assurances from Prime Minister Nawaz Sharif that his administration would take 'immediate action' to resolve the shipment problem, sources told The Express Tribune. He assured the visiting Pentagon chief that the situation would improve soon and Pakistan would ensure smooth exit of foreign forces from Afghanistan.
Full Report at:
http://tribune.com.pk/story/643533/blunt-exchange-hagel-to-pm-lift-nato-blockade-or-risk-billions-in-aid/
----------
Senate deal could lead to Guantanamo Bay closure
Dec 10, 2013
Two congressional committees have agreed to make it easier for the Pentagon to transfer Guantanamo Bay prisoners to their home countries, surpassing a major hurdle in the Obama administration's ability to close the facility.
The Senate and House Armed Services committees compromised to find common ground on the National Defense Authorization Act (NDAA) of 2014. While this iteration of the NDAA is still a mere proposal, it would greatly expand the power of the executive branch by authorizing the President to transfer Guantanamo inmates from the Cuban prison base, while maintaining the prohibition on bringing them into the United States.
Dozens of the 164 detainees still in custody have been cleared for transfer to Yemen, yet have been held at Gitmo because of the legal stipulation preventing their return home. The proposed version of the NDAA would grant this transfer, but then require the Obama administration to report on whether the Yemeni government prosecuted, detain, or freed the men in question.
Full Report at:
http://rt.com/usa/obama-ndaa-gitmo-genital-search-969/
----------
Pakistan
MQM worker among seven slain in target killings
Dec 10, 2013
KARACHI: At least seven people including a child and a political worker were killed in separate incidents of violence in different parts of the city on Monday.
Three people among a child were killed and three others wounded in a firing incident and cracker blast. Deceased were identified as one-year-old baby boy, Shahnawaz and two others, Iqbal Kareem, 30 and Nadeem Ghani, 32. The injured include Gulistan Mohammad, 50, 25-year-old Yasin Mohammad and 18-year-old Faiza, wife of Nawaz. They were taken to the Civil Hospital, Karachi for examination after death and medical treatment.
Police officials said members of a notorious gangster Ghaffar Zikri gang, in collaboration with members of the Baba Ladla gang arrived at the Jahanabad area of Pak Colony - the area under dominance of the outlawed Peoples Aman Committee chief Uzair Jan Baloch, and escaped after throwing cracker and resorted to indiscriminate firing in the area. It was an attempt to recapture the area according to the police. "They (gangsters) first shouted slogans against Uzair Baloch and in favour of Pappu and Zikri, and later hurled a cracker and resorted to indiscriminate firing," confirmed SHO Bilal Raza.
Full Report at:
http://www.dailytimes.com.pk/default.asp?page=2013\12\10\story_10-12-2013_pg12_4
----------
Jamaat-e-Islami terms Mullah Qadir's execution grave 'injustice'
Dec 10, 2013
KARACHI: Jamaat-e-Islami (JI) Sindh chief Dr Mairajul Huda Siddiqui has announced a protest march towards Bangladeshi Consulate against the "unjustified" execution of JI leaders in Bangladesh. He was addressing a protest demonstration of JI workers outside Karachi Press Club (KPC) against the death penalty awarded to JI Bangladesh leader, Mullah Qadir, on Monday. Protestors raised placards, banners and posters inscribed with "To save Pakistan in 1971 is no war crime", "We condemn execution orders of Mullah Qadir", "We condemn the 90-year imprisonment of Professor Ghulam Azam", etc. Dr Siddiqui regretted that Pakistan Foreign Office and other Federal government institutions remained silent on the matter. JI Karachi chief Hafiz Naeemur Rehman also spoke and demanded United Nations to declare the tribunals and execution of JI leaders in Bangladesh invalid. "We reject all such 'so-called tribunals', which gave verdicts against JI leaders, and do not accept violation of human rights in Bangladesh", he added. He said Hasina Wajid should recall that the JI had contested general elections in alliance with the Awami League in the past.
http://www.dailytimes.com.pk/default.asp?page=2013\12\10\story_10-12-2013_pg12_8
----------
Fatwa issued in favour of polio vaccination campaign
December 10, 2013
PESHAWAR: A fatwa (decree) in favour of polio, measles, hepatitis, diphtheria, tuberculosis, pertussis and meningitis vaccinations was issued by Maulana Samiul Haq of Jamia Darul Uloom Haqqania Akora Khattak on Monday.
The fatwa says vaccination against these deadly diseases is helpful in their prevention according to research conducted by renowned medical specialists. It adds that the vaccines used against these diseases are in no way harmful.
Samiul Haq emphasised in his fatwa that doubts raised about vaccination are false and ill-founded. He urged parents to vaccinate their children against polio and other deadly diseases.
Full Report at:
http://tribune.com.pk/story/643356/one-drop-at-a-time-fatwa-issued-in-favour-of-polio-vaccination-campaign/
----------
Ashura violence: Another 19 suspects arrested
December 10, 2013
RAWALPINDI: The police on Monday claimed to have arrested 19 more persons in connection with the violence in Rawalpindi on Ashura.
The accused were identified using TV footage and other video sources, and witnesses' statements.
They were then picked up from different localities of the city.
The arrested persons were produced in court and then sent to Adiala Jail for the identification parade.
Full Report at:
http://tribune.com.pk/story/643446/ashura-violence-another-19-suspects-arrested/
----------
Drone strikes 'hurting' war on terror, Nawaz tells Hagel
Dec 10, 2013
ISLAMABAD: Prime Minister Nawaz Sharif told Pentagon chief Chuck Hagel on Monday that US drone strikes were "counter-productive" as Washington pushed for supply routes to Afghanistan to be kept open.
In the first visit by a US defence secretary for nearly four years, Hagel flew from Kabul to Pakistan to meet the premier and the new army chief, General Raheel Sharif. Ties have been seriously strained over US drone strikes in Pakistan's tribal belt as well as over sanctuaries for Afghan Taliban insurgents inside Pakistan's borders. Nawaz "reaffirmed Pakistan's support for the Afghan peace and reconciliation process", a government statement said after the talks.
"The prime minister also conveyed Pakistan's deep concern over continuing US drone strikes, stressing that drone strikes were counter-productive to our efforts to combat terrorism." Full Report at:
http://www.dailytimes.com.pk/default.asp?page=2013\12\10\story_10-12-2013_pg1_1
----------
Pakistan's economy can be restored with EU's support: Nawaz
December 10, 2013
ISLAMABAD: Reiterating his earlier statement, Prime Minister Nawaz Sharif said that drone attacks are unacceptable, Express News reported on Tuesday.
Speaking at a luncheon for European Union's (EU) Ambassadors in Islamabad, Nawaz said that with the EU's collaboration and support, Pakistan's economy could be restored.
He added that the government is involved in anti-terrorism efforts and it is important that a solution to terrorism be found.
Full Report at:
http://tribune.com.pk/story/643655/pakistans-economy-can-be-restored-with-eus-support-nawaz/
----------
Arab World
Suicide bomber kills 11 in northern Iraq
December 10, 2013
World Bulletin / News Desk
A suicide bomber killed 11 people and wounded 20 at a funeral in northern Iraq on Tuesday, police said.
The attack took place in Baquba, 65 km (40 miles) northeast of the Iraqi capital Baghdad.
http://www.worldbulletin.net/?aType=haber&ArticleID=124690
-----------
Jama'a Al-Islamiya: Salaf-Led Nour Party's Stance on Constitution Worse than That of Church
Dec 10, 2013
Jama'a al-Islamiyah Spokesperson Mohamed Hassan said on Monday that the Salaf-led "Nour Party's stance is worse than that of the church" regarding its call to vote "yes" on the constitution.
Hassan told the London-based Al-Hayat newspaper that, "whoever reviews the Nour Party practices cannot find a clear situation, as they always take side of the rulers."
"During 25 January revolution, they took the wrong side. They still haven't changed their ways. They said they took part in the coup to preserve article no. 219 which interprets the Islamic Sharia in constitution. However, the article was dropped and Nour Party still supports the constitution," he added.
Full Report at:
http://www.egyptindependent.com/news/jama-al-islamiya-says-nour-party-constitution-worse-church
----------
Syria urges UN to stop 'Saudi support for extremists'
Dec 10, 2013
DAMASCUS: Syria's government has called on the United Nations to make efforts to stop what it says is Saudi Arabia's support for extremist groups fighting to topple the regime.
"We call on the UN Security Council to take the necessary measures to put an end to the unprecedented actions of the Saudi regime, which is supporting extremist terrorism tied to al Qaeda," Syria's foreign ministry said in a message.
The message was sent to UN chief Ban Ki-moon, state television reported, marking the first time the Syrian government has appealed to the international body to take action against Riyadh.
Full Report at:
http://www.dawn.com/news/1061503/syria-urges-un-to-stop-saudi-support-for-extremists
----------
Hamas official: Egypt categorizes Hamas as 'terrorist group'
World Bulletin / News Desk
December 10, 2013
Senior Hamas leader Mahmoud al-Zahar said Monday that Egypt designates the Palestinian movement a "terrorist" group.
"The Egyptian regime is not holding contacts with us because they designate us as terrorists," al-Zahar said during a meeting with Palestinian journalists.
The Egyptian government has not announced designating Hamas a "terrorist group".
Since the July 3 ouster of elected president Mohamed Morsi, a leader of Egypt's Muslim Brotherhood, relations between Hamas – an ideological offshoot of the Brotherhood – and Egypt's new military-backed rulers have deteriorated.
Full Report at:
http://www.worldbulletin.net/?aType=haber&ArticleID=124636
----------
Fighters execute Syrian 'blasphemer'
Dec 10, 2013
BEIRUT: Fighters from the Islamic State of Iraq and the Levant (ISIL) have executed a man in Syria's Idlib province after accusing him of blasphemy, a monitoring group said Monday.
"ISIL executed Ibrahim Qassum, a heating oil vendor, by shooting him in the head ... on allegations of blasphemy, two days after their forces arrested him," the Syrian Observatory for Human Rights said.
ISIL has its roots in the Islamic State of Iraq, Al-Qaeda's Iraqi affiliate, and has been involved in numerous controversies.
Full Report at:
http://www.arabnews.com/news/490291
----------
Saudi beheads man for incest
Dec 10, 2013
Saudi authorities on Tuesday beheaded a man convicted of incest in the south of the conservative Muslim kingdom, the interior ministry said.
Hasan Ghazwani, a Saudi national, was executed in the city of Jizan, the ministry said in a statement carried by SPA state news agency.
It said Ghazwani's affair had led to a pregnancy but did not disclose their family relationship or whether the woman had delivered.
It cited a saying attributed to Prophet Mohammed that stipulates death for whose who commit incest.
Full Report at:
http://english.ahram.org.eg/NewsContent/2/8/88749/World/Region/Saudi-beheads-man-for-incest.aspx
-----------
Hundred thousand genomes to be mapped in Saudi Arabia
Dec 10, 2013
Up to 100,000 people in Saudi Arabia are to have their genetic codes mapped in a new human genome project.
The research will look at genes linked with diseases, and pave the way for prenatal and premarital screening.
The project, funded by the Saudi Arabian national science agency, will create a DNA database to develop personalised medicine.
A similar UK scheme is under way to map the genomes of 100,000 NHS patients.
Genome studies are moving from analysing the personal DNA code of individuals for research purposes, to clinical applications, such as treatments tailored to the genetic makeup of cancers.
Full Report at:
http://www.bbc.co.uk/news/health-25216135
----------
India
India, Russia to revive arms maintenance factory in Afghanistan
Dec 10 2013
New Delhi : India and Russia have decided to collaborate in reviving an arms maintenance factory in Afghanistan, as the war-torn country gets ready for the security transition in 2014 in the wake of US-led coalition's troop withdrawal.
Ahead of Afghanistan President Hamid Karzai's visit from December 12 to 15, Afghan Ambassador to India Shaida M Abdali confirmed the development Monday. "India and Russia will jointly help revive the maintenance factory. Experts have already met and are discussing the details," he said.
This assumes importance since India's involvement in the security needs of Afghanistan is viewed with suspicion by Pakistan.
Abdali, who was deputy national security advisor in Hamid Karzai government, said Indians will also be needed for training officers in a new institute in Afghanistan.
Full Report at:
http://www.indianexpress.com/news/india-russia-to-revive-arms-maintenance-factory-in-afghanistan/1205584/
----------
On India trip, Karzai to seek more defence aid
TNN | Dec 9, 2013
NEW DELHI: Having thumbed his nose at the US by refusing to sign a bilateral security agreement (BSA), while simultaneously signing a comprehensive cooperation pact with Iran, Afghan president Hamid Karzai will be here on Friday to ask for more defence aid from India.
Briefing reporters, Afghan ambassador, Shaida M Abdali, said, "It is imperative for the two countries to cooperate in all areas, including in security and defence. It will definitely be part of discussion as to how we can expedite the process under the strategic partnership agreement, including our request for expansion of cooperation in equipments and so on."
On his last visit, Karzai had presented the Indian leadership with a weapons' wishlist. New Delhi has hesitated on the list, and indicated to the Afghan leader that most of such supplies may not be possible. India's reluctance stems from two factors: first, because New Delhi does not actually manufacture most of what he wants and there would be end-user or third party transfer issues and second, it's also about India's belief that its own security could be compromised if the Taliban do come to power in the foreseeable future and take control of Full Report at:
http://timesofindia.indiatimes.com/india/On-India-trip-Karzai-to-seek-more-defence-aid/articleshow/27143355.cms
----------
Anyone found guilty of human rights violation in Jammu and Kashmir will face law: Army
Dec 09 2013
Jammu : Over 120 army men including 41 officers have been awarded "exemplary" punishment for committing human rights violations in Jammu and Kashmir during the last 20 years.
Disclosing this in his message on the eve of Human Rights Day at Udhampur today, General Officer Commanding-in-Chief (GOC-in-C) of the Northern Command, Lt General Sanjiv Chachra, said that, "Of the 1,524 allegations of HR violations leveled during the past 20 years, 42 involving 124 army personnel were found true; following investigation into each of them by an independent and autonomous body."
Full Report at:
http://www.indianexpress.com/news/anyone-found-guilty-of-human-rights-violation-in-jammu-and-kashmir-will-face-law-army/1205429/
----------
New Delhi miffed as Iran asks India Inc visitors for HIV, Hepatitis, TB tests
Dec 10 2013
New Delhi : Iran wants a high-level business delegation from India to test for HIV before issuing visas, angering New Delhi as such a demand is seen as discriminatory and politically incorrect.
Most countries have done away with this requirement and India too ended mandatory HIV testing for visa applicants more than a decade ago.
The 97-member delegation has been put together by the Federation of Indian Chambers of Commerce and Industry (FICCI), and has 68 executive director-rank officials from firms such as Oswal, Metro Tyres, Luminous Power, Kohinoor Foods, and RP Goenka.
The group is scheduled to visit Tehran from December 15 to 17 to showcase Indian products and for a buyer-seller meet in Isfahan on December 19 on the invitation of the Tehran Chamber of Commerce and Iran Chamber of Commerce.
Full Report at:
http://www.indianexpress.com/news/new-delhi-miffed-as-iran-asks-india-inc-visitors-for-hiv-hepatitis-tb-tests/1205746/
----------
Southeast Asia
No more sexist remarks, please: DAP women Parliamentarian
Dec 10, 2013
More gender-sensitive politicians. That's what two DAP women backbenchers in the Penang legislative assembly want following Chief Minister Lim Guan Eng's "racist grandmother" remark.
Lydia Ong Kok Fooi (DAP-Berapit) said it was not proper for Lim to make such a comment, adding that she would like to see "gentlemanly politicians" debate issues in the august house.
Lim, said Lydia, could have just called Jahara a racist politician.
"There was no need to call her a grandmother. As a party member, I don't know what to say.
"We have seen vocal MPs like (Kinabatangan MP) Datuk Bung Mokhtar Radin making such sexist remarks in Parliament. I hope we will not have this in Penang".
Full Report at:
http://www.themalaysianinsider.com/malaysia/article/no-more-sexist-remarks-but-more-gentlemanly-politicians-please
----------
No ambiguity in Constitution's definition of Islam, says minister
Dec 10, 2013
Minister in the Prime Minister's Department Datuk Seri Jamil Khir Baharom (pic) believes that it is unnecessary to amend the Federal Constitution to specify the Sunni branch of Islam as the country's official religion.
According to Jamil Khir, there was no ambiguity in the constitution's definition and position of Islam, as Article 3 clearly stated that Islam is the official religion of the federation while other faiths can be practised freely.
Full Report at:
http://www.themalaysianinsider.com/malaysia/article/no-ambiguity-in-constitutions-definition-of-islam-says-minister
----------
Indonesian court jails ex-Islamic party head for graft
Dec 10, 2013
Jakarta: An Indonesian court has jailed the disgraced former head of the country's biggest Islamic party for 16 years over a scandal in which bribe money was laundered as gifts for dozens of women, including an adult magazine model.
The controversy, which erupted when an aide was discovered in a hotel room with a naked college student, has shattered the clean image of the Prosperous Justice Party (PKS), damaging its chances at polls next year.
Luthfi Hasan Ishaaq, who was president of the PKS when the scandal emerged, was found guilty late on Monday by the anti-corruption court in the capital Jakarta of accepting bribes from a meat import company.
Full Report at:
http://gulfnews.com/news/world/other-world/indonesian-court-jails-ex-islamic-party-head-for-graft-1.1265357
----------
Iban Christians to gather in Kuching to pray for religious freedom
Dec 10, 2013
More than 10,000 Iban Christians in Malaysia will gather in Kuching this week where they will remind Putrajaya to respect the Malaysia Agreement with Sabah and Sarawak, especially on the point of religious freedom.
The four-day annual gathering, called the Gempuru Besai Kristian Jaku Iban Malaysia (meeting of Iban-speaking Christians in Malaysia), will see more than double the number of faithful who attended last year's event in Bintulu.
One of the organisers of the event, Pastor James Ganie, from the Gospel Baptist Church in Kuching, said although the large gathering had nothing to do with the Allah case which is currently in court, the participants will be making a declaration linked to the issue.
"The large gathering has more to do with faith rather than the legal matter that is before the court, or even politics," Ganie told The Malaysian Insider in Sarawak capital city Kuching.
Full Report at:
http://www.themalaysianinsider.com/malaysia/article/iban-speaking-christians-to-gather-in-kuching-to-pray-for-religious-freedom
----------
Mideast
Iran's Zarif says nuclear deal dead if US passes new sanctions
Dec 10, 2013
WASHINGTON - Iranian Foreign Minister Javad Zarif said the Iranian nuclear deal would be dead if the US Congress imposes new sanctions, even if they do not take effect for six months, Time Magazine said on Monday.
In a transcript of the interview, which was conducted on Saturday and posted online on Monday, Time said it asked Zarif what happens if Congress imposes new sanctions, even if they do not go into effect for six months.
According to the magazine, he replied: "The entire deal is dead." Zarif was referring to a Nov. 24 agreement with six world powers under which Tehran would curb its nuclear program in exchange for limited relief from economic sanctions.
Full Report at:
http://www.jpost.com/Iranian-Threat/News/Irans-Zarif-says-nuclear-deal-dead-if-US-passes-new-sanctions-334479
----------
Israel and Palestine reject US initiatives on settling on eve of Kerry's visit
Dec 10, 2013
Leaders of Israel and Palestine rejected Washington's new initiatives on settlement that US Secretary of State John Kerry outlined last week. He will visit Jerusalem and Ramallah on December 11. As Israeli media reported on Tuesday, Prime Minister Benjamin Netanyahu on Monday criticized Kerry's plan at a meeting with ministers and MPs from the Likud Beiteinu faction led by him.
The plan envisages providing security of Israel after the declaration of Palestine's independence by introducing foreign troops in the Jordan Valley and creating robust technical security systems to prevent foreign terrorists from entering the territory.
Full Report at:
http://voiceofrussia.com/news/2013_12_10/Israel-and-Palestine-reject-US-initiatives-on-settling-on-eve-of-Kerry-s-visit-1378/
----------
Israel says Iran embassies used as 'terror bases'
Dec 10, 2013
Israel's defence minister on Monday accused Iran of using its embassies as terrorist bases and transferring guns and bombs through diplomatic pouches, without providing evidence for the claims.
The two regional foes are widely believed to be locked in a covert war over Iran's nuclear programme, with Tehran blaming Israel for the killing of its nuclear scientists and Israel accusing Iran and its Lebanese ally Hezbollah of terror attacks in third countries.
"Wherever there are Iranian embassies, they also serve as bases for espionage and terrorism," Israeli Defence Minister Moshe Yaalon said in a statement after meeting with visiting Guatemalan President Otto Perez.
Full Report at:
http://english.ahram.org.eg/NewsContent/2/8/88708/World/Region/Israel-says-Iran-embassies-used-as-terror-bases.aspx
----------
Hamas says it has 'resumed' ties with Iran
2013-12-10
GAZA CITY: The Palestinian Hamas movement has "resumed" relations with Iran after a temporary falling out over the Syrian conflict, a senior member of the movement said Monday.
"Relations between Hamas and Iran have resumed," Mahmud al-Zahar told reporters at a news conference in Gaza, the Palestinian enclave ruled by Hamas since 2007.
Ties had been "affected by the Syria situation, and Hamas has withdrawn from Syria so that it can't be identified with this or that side," he said.
"We've confirmed we are not interfering in the Syrian case, or in any other Arab country."
Shia Iran had long supported the Sunni Hamas against their shared enemy Israel.
But exiled Hamas chief Khaled Meshaal left his base in Damascus after the Syrian civil war broke out in 2011, criticising President Bashar al-Assad, a key ally of Iran, and moving to the Sunni Gulf state of Qatar.
Full Report at:
http://www.dawn.com/news/1061504/hamas-says-it-has-resumed-ties-with-iran
----------
Drone strike kills three 'Qaeda' gunmen in Yemen
Dec 10, 2013
ADEN: An unmanned drone struck a car Monday in southeastern Yemen, killing three suspected al Qaeda gunmen, a security official said. The drone targeted a vehicle in the village of Al-Qatan, in the province of Hadramawt, where al Qaeda in the Arabian Peninsula (AQAP) remains active despite Yemeni military operations and US drone strikes targeting its leaders. The US military operates all the unmanned drones flying over Yemen, but US officials rarely discuss the covert campaign.
http://www.dailytimes.com.pk/default.asp?page=2013\12\10\story_10-12-2013_pg7_6
----------
Gay divorce approved for second time in Israel's history
Dec 10, 2013
Tel Aviv Family Court Judge Naftali Shilo handed down the second court decision in the country's history approving the divorce of a homosexual couple, on Monday.
In December 2012, a three judge panel of Yehezkel Eliyahu, Amit Kama and Uzi Even, also of the Tel Aviv Family Court, handed down the first such decision.
Their decision set no binding precedent, and the issue had not been ruled on since.
"It is important because with no binding precedent, another decision in this spirit plus additional such decisions can start to create more of a clear trend," said Professor Ruth Halperin- Kaddari, head of the Rackman Center for the Advancement of the Status of Women.
Full Report at:
http://www.jpost.com/National-News/Gay-divorce-approved-for-second-time-in-Israels-history-334510
----------
Africa
Egypt court acquits Gaddafi cousin
Dec 10, 2013
A Cairo court has acquitted a cousin and former aide of ex-Libyan leader Muammar Gaddafi for the attempted murder of two Egyptian police officers, judicial sources reported on Monday.
Ahmed Gadhaf Al-Dam was detained in Cairo in March following a gunfight with Egyptian policemen in his apartment and was held despite Libyan demands for his extradition.
On Monday, the Cairo court also acquitted Gadhaf Al-Dam on charges of possessing unlicensed weapons and resisting arrest, sources said, but they did not elaborate about his current status.
Full Report at:
http://english.ahram.org.eg/NewsContent/1/64/88671/Egypt/Politics-/Egypt-court-acquits-Gaddafi-cousin.aspx
----------
Two French soldiers killed in Central African Republic
Dec 10, 2013
Two French soldiers have been killed in combat in the Central African Republic, the French presidency says.
A statement said President Francois Hollande "learned with deep sadness" that the two had been killed overnight in the capital Bangui.
They are the first French deaths since France deployed 1,600 soldiers to the CAR last week in a UN-backed operation.
The CAR has been in chaos since rebel leader Michel Djotodia ousted President Francois Bozize in March.
He installed himself as the first Muslim leader in the Christian-majority country sparking months of bloody clashes between rival Muslim and Christian fighters.
Full Report at:
http://www.bbc.co.uk/news/world-europe-25313817
----------
Police Warn of Terrorist Plot to Strike Ugandan Capital
10 DECEMBER 2013
Kampala — The Ugandan police on Monday issued a warning to the public, saying it had received information from "credible sources" that terrorists were planning to strike the capital, Kampala.
"Police last evening (Sunday) received information from credible sources of a plan by a group of people to unleash terror attacks in the city [on] Monday, 9 December", statement released by the spokesperson of the Ugandan police, Judith Nabakoba, said.
"The plan involves a group of thugs either on foot or boda-boda riders attacking and burning petrol stations and buildings in the city, especially business premises", the statement adds.
At the time of filing this report, no such terror attack had been reported in the Ugandan capital. The police said it was hunting the unnamed suspected terrorists and that it had put in place measures to stop possible attacks on petrol stations across the city.
Full Report at:
http://allafrica.com/stories/201312100255.html?aa_source=mf-hdlns
----------
URL: https://www.newageislam.com/islamic-world-news/new-age-islam-news-bureau/bangladesh-islamist-abdul-quader-molla-to-be-hanged-after-midnight/d/34796