New Age Islam News Bureau
25 Jul 2014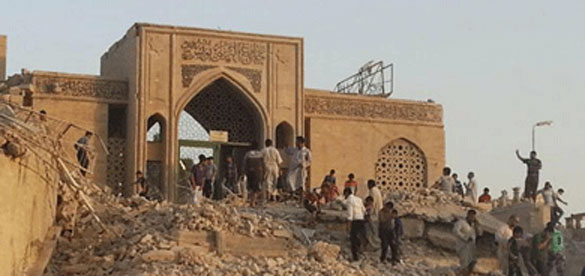 The radical Islamic State of Iraq and Syria (ISIS) group has destroyed shrines belonging to two prophets, highly revered by both Christians and Muslims, in the northern city of Mosul
-----------
Arab World
• Bahrain's Shia Muslims Tense as Politicians and Preachers Pledge Allegiance to ISIS
• Iraq jihadists blow up Muslim shrine in Mosul: official
• Al-Baghadadi's Sermon Shows Ignorance of Islam, Clerics Say
• Iraq's new president Masum: Thinker and fighter
• El-Sisi vows revenge for attacks on military
• Humans and pigeons in the Grand Mosque: A peaceful coexistence
• Iraqis protest treatment of minority Christians
• Muslim Professor Killed For Decrying Isis Persecution of Christians
• Muslim Brotherhood Terrorist Designation Bill To Be Introduced
Pakistan
• No Army Chief Can Dare Take Over Again: Jamaat-i-Islami Chief
• Key Taliban commander among five killed in Orakzai blast
• Targeting all terrorists: Foreign Secretary fends off Afghan, US criticism
• Two Pakistani soldiers martyred in landmine blast
• Qaeda trainer, not Taliban man, held: Pakistan
• Imran says his march will be a decisive battle
• Pakistan's largest private insurance group to launch Sharia-compliant products
Africa
• Eight killed and 19 injured as bombs and rockets fall across Benghazi
• Africa: Boko Haram Steps Up Cameroon Raids
• Morocco urges immediate cessation of cowardly Israeli assault's on Gaza
Europe
• Death threats to Palestinian mission in France
• Britain alarmed over civilian toll in Gaza
• ICC backs Libyan trial for Senussi but still wants Saif
• U.N. report marks improvement of human development in Arab countries
• First UN aid convoy enters Syria from Turkey
• Top peacekeeper says no role for UN blue helmets in Gaza
• Norway on alert over 'terrorist' attack
• France announces 11 million Euros in aid for Gaza
Mideast
• UN school bombed, 105 more Palestinians killed
• Israeli fire brings Gaza deaths to 808: Medics
• Iran gave Hamas its rocket know-how, official boasts
• Islamic leader in Israel watches Hamas' fate closely
• Hamas calls for intifada after Palestinians killed in W. Bank
• Peres steps down as Israeli president, sees peace 'one day'
• Abbas said he hopes for Gaza ceasefire
South Asia
• Gunmen kill 15 civilians travelling in central Afghanistan
• Maldives backs UN HRC probe into claims of Israeli violations in Gaza
• Human chain calls for independent Palestine
• ACHR: Bangladesh sending death squads for UN peacekeeping missions
• Kabul residents rally against Israel war in Gaza
North America
• Gaza truce talks 'very complicated': US
• Iraq's crisis of confidence, what can the U.S. does about it?
• US lawmakers reaffirm close Pakistan ties
Southeast Asia
• Malaysian cyclist faces action over 'Save Gaza' protest at Commonwealth Games
• Political Maneuvering in Ditching Prabowo for New President
India
• India summons Pakistan envoy over 26/11 trial delay
• Indian family abducted in Libya
• Slain Indians were recruited for Gulf but shifted to Kabul
Compiled by New Age Islam News Bureau
URL: https://www.newageislam.com/islamic-world-news/new-age-islam-news-bureau/bahrain-s-shia-muslims-tense-as-politicians-and-preachers-pledge-allegiance-to-isis/d/98295
-----------
Arab World
Bahrain's Shia Muslims Tense as Politicians and Preachers Pledge Allegiance to ISIS
Jul 25, 2014
For Bahrain's majority Shia-muslim population, five recent events in their small island country ruled by Sunni-muslim al-Khalifa monarchs, have them on edge.
These events involved powerful Sunni-Muslims openly making dangerous sectarian comments in public without consequence, and swearing allegiance to the anti-Shia extremist group ISIS, which recently declared a caliphate (Islamic state) in Iraq.
Back in 2011, Bahrainis, the majority of whom are Shia-Muslims, complained of political and economic marginalization in the country of 1.3 million people, but recent events suggest a growing trend towards complete marginalization.
The military cracked down on Shia-Muslim-led protests against the Sunni-Muslim government in 2011, since then Bahrain has been accused of human rights abuses targeting Shia-Muslims. Low-level protests have continued to simmer. According to Mark Lynch at Foreign Policy magazine in 2011, "the Bahraini regime responded not only with violent force, but also by encouraging a nasty sectarianism in order to divide the popular movement and to build domestic and regional support for a crackdown."
Among the tools used to sow the seeds of sectarianism that led to the following five incidents, empowering preachers from the country's small extremist Salafist population has been at the top of the list. Besides being anti-Shia, Salafi is a puritanical Sunni sect that has inspired extremist militant organisations like Al-Qaeda and ISIS.
1. Bahraini preacher pledges allegiance to ISIS
Earlier this month, in a YouTube video Turky Albinalim a Bahraini Sunni preacher, endorsed anti-Shia ISIS, which is accused by the Human Rights Watch of abducting, killing and expelling minorities, including Shia-muslims. Albinali appeared in video declaring his loyalty to ISIS's new khalifa (head of caliphate) Abubaker Albaghdadi [in Arabic]:
2. Bahrain's top Shia cleric is declared an infidel
Last week, at a press conference of a powerful former military officer, Adel Fulaifel, who has been accused of torture, announced that Bahrain's highest Shia cleric Isa Qassim is an infidel. He added that he "will be hunted like a rat." He was responding to Isa Qassim call to start a joint Shia-Sunni cleric council. Earlier this year, Bahrain closed the country's main Shia cleric council, a move that started a series of protests around the country.
BahrainMomo tweeted to her 21K followers saying:
Welcoming extremists clerics, Fulaifel threatens to kill Shia clerics and today the regime closes the clerics council! A policy of a Salafist state like ISIS.
3. US diplomat kicked out, radical Saudi preacher welcomed
Two days before Fulaifel made his threat, a US diplomat was kicked out of the small oil-rich kingdom, which the US navy has been used as a military base for years. A day later, the controversial sectarian and radical Saudi preacher Mohamed Alarefe was welcomed into Bahrain to give a series of sermons to young Bahrainis, despite the outcry made by netizens. The Saudi preacher has been classified as a threat to the UK.
4. Politician openly supports ISIS
Former member of parliament Nasser Alfadhala who will be contesting the next election from the Al-Menbar party, (which the UK suspects of links to terrorism) openly supported the ISIS, in this YouTube video last month:
We support this revolution [by ISIS] ]that has been initiated to kick out the injustice and malice supported by the land of Persia to humiliate the land of Rasheed (Historic caliphate) the land of glory and dignity.
Twitter user iProtester replied to that by publishing a picture of Alfadhala with flags of ISIS in the background, close to the American embassy:
An authorized gathering with the flags of a non terrorist organization (sarcasm) in front of the American embassy led by Nasser Alfadhala
Journalist and satirist Faisal Hayyat tweeted:
Khalil Almarzooq was taken to prosecution and court for raising the flag of the youth coalition will Nasser Alfadhala go through the same for raising the flag of ISIS?
Almarzooq is a leading member of the largest opposition group Alwefaq. He was arrested and put to trial for holding a flag of the Bahraini February 14 youth coalition, which led protests in 2011.
5. Bahraini soldier defects
Last week, Sunni-Muslim military officer Mohamed Albinali or Abu Isa Alsalmi as he was dubbed by his fellow soldiers, tweeted:
I Mohamed Isa Albinali, a lieutenant in Bahrain's ministry of interior declare my defection from this regime since over four months.
Bahrain's ministry of interior have been criticized for it's sectarian selection policy and it's use of systematic torture.
This month, even though the financial watchdog IMF warned Bahrain it might be unable to pay government employees by 2017, the tourism-dependent country banned three-star hotels from selling alcohol or hosting music bands. Bahrain hosted 2 million tourists every year.
In 2011, when popular New York Times columnist Nicholas Kristof visited Bahrain he described it as a quasi-apartheid state. But as supporters of ISIS and preachers of hate and militancy like Fulaifel, Alfadhala and Alarefe are given more free reign in Bahrain, it increasingly seems like a complete apartheid state, meant to economically, politically and socially marginalize the country's majority Shia-Muslims.
http://globalvoicesonline.org/2014/07/24/bahrians-shia-muslims-tense-as-politicians-and-preachers-pledge-allegiance-to-isis/
-----------
Iraq jihadists blow up Muslim shrine in Mosul: official
Jul 25, 2014
The new jihadist rulers of Iraq's northern city of Mosul on Thursday completely levelled one its most well-known shrines, an official and witnesses told AFP.
The Nabi Yunus shrine was built on the reputed burial site of a prophet known in the Koran as Yunus and in the Bible as Jonah.
"Islamic State completely destroyed the shrine of Nabi Yunus after telling local families to stay away and closing the roads to a distance of 500 metres from the shrine," said the official at the Sunni endowment, which manages Sunni religious affairs in Iraq.
The endowment official, who spoke on condition of anonymity, and Mosul residents told AFP it took the Sunni extremists an hour to rig the shrine with explosives.
"They first stopped people from praying in it, they fixed explosive charges around and inside it and then blew it up in front of a large gathering of people," said a witness who did not wish to give his name.
The endowment official said the Islamic State jihadist group that overran large swathes of northern and western Iraq last month have now destroyed or damaged 30 shrines, as well as 15 husseiniyas and mosques in and around Mosul.
Husseiniyas are Shiite places of worship that are also used as community centres.
The official listed the most notable losses to Muslim heritage as being the shrines of Imam Yahya Ibn al-Qassem, Aoun al-Din and Nabi Danial.
"But the worst destruction was of Nabi Yunus, which has been turned to dust," he said.
The Islamic State late last month proclaimed a "caliphate" spanning parts of Iraq and Syria.
The group aims to create an approximation of society as it was in the early days of Islam, which was founded in the 7th century, and considers Muslims who do not adhere to its puritanical version of the religion heretics.
http://www.hurriyetdailynews.com/iraq-jihadists-blow-up-muslim-shrine-in-mosul-official.aspx?pageID=238&nID=69596&NewsCatID=352
-----------
Al-Baghadadi's Sermon Shows Ignorance Of Islam, Clerics Say
Jul 25, 2014
Iraqi clerics rejected the sermon of Islamic State of Iraq and the Levant (ISIL) chief Abu Bakr al-Baghdadi as mistake-ridden and proof of his ignorance of Islam and Islamic jurisprudence.
According to an Iraqi who was forced to attend al-Baghdadi's July 4th speech in Mosul, much of the videotaped sermon was edited because it was riddled with mistakes and empty talk . The speech by al-Baghdadi, who has rarely been seen in public, came five days after ISIL announced it was establishing a caliphate in captured territory straddling Syria and Iraq and naming al-Baghdadi as caliph.
"Everyone has found mistakes in the sermon of the so-called al-Baghdadi such that not even a student of Sharia would make," said Sheikh Mahmoud al-Khalidi, a member of the Iraqi Iftaa Authority and a preacher at Abu Hanifa Mosque in Baghdad. "This can be expected from someone who has throughout his life given priority to blood over forgiveness and tolerance."
Sheikh Khaled al-Obaidi, a Sunni cleric in Baghdad, pointed out that al-Baghdadi's followers entered the mosque carrying guns, which is forbidden.
"His followers carried weapons and stood at the heads of worshippers, something which suggests the worshippers were forced to listen to his poorly worded sermon," he said.
Al-Baghdadi also was ridiculed for wearing a flashy wristwatch during the speech that could be worth more than $6,000, Britain's Telegraph reported.
"(He concluded) saying he does not promise us luxury," said Mohammed Abu Saad, who attended the sermon. "What is his role then? Does his caliphate mean killings, floggings, punishments and want for us while his followers eat the best foods and use luxury cars, and we live in great need and scarcity? I do not think that Islam promotes that."
Child recruitment
"Living under ISIL rule was impossible, especially in terms of the education for my two sons in schools controlled by these extremist groups," said Syrian merchant Mahmoud al-Idliby, who fled to Cairo with his family four months ago.
"A school, in ISIL's view, is a recruitment centre, no more and no less, where class hours are used to brainwash the students, especially the younger ones, and train them to take orders and carry them out without any objection, and to memorise the Qur'an robotically without comprehension, in addition to dozens of fatwas that incite murder and bloodshed."
ISIL has abolished science, biology, Islamic education, national education, history and geography, and replaced them with books explaining Salafi-jihadist ideology, Qur'an memorisation and extremist interpretations of Islam's holy book, said Mahmoud al-Amin, a retired teacher in al-Raqa.
"Educational institutions have become centres for brainwashing young children to turn them into mobile time bombs that could detonate anytime, anywhere."
Regional Centre for Strategic Studies researcher Wael al-Sharimi said it would get worse as more children became exposed to constant violence.
Extremist jihadist thought becomes the correct thought for them after they are subjected to the brainwashing process, and thus a new jihadist generation is created."
Forced into sex
Iraqis living in Lebanon expressed outrage that ISIL is forcing northern Iraq women and girls into "sexual jihad". These innocents are coerced into marrying ISIL fighters for brief periods in order to justify fighters' taking advantage of them before quickly divorcing them afterward.
"ISIL is foreign to us and has to be destroyed before it preys on the honour of women and girls," said Assil Flaih, a student at the American University of Science and Technology in Beirut. "We will not return our Iraq to laws that insult women and undermine their dignity, and we will not give up the modern civil life we have reached."
Islam honours women and acknowledges their right to education, work and having an opinion, said Dahlia al-Jaddouh, an Iraqi housewife and mother of two girls.
"ISIL is sanctioning what is forbidden and forbidding what is sanctioned," she said. "There is no place in our Iraqi society for the 'Islamic caliphate' that ISIL is preaching, and there is no place for the rulings it is imposing on Iraqi women who are clinging to their constitutionally enshrined civil rights."
Rashid Najm and Nohad Topalian in Beirut contributed to this report.
http://khabarsouthasia.com/en_GB/articles/apwi/articles/features/2014/07/25/feature-02
-----------
Iraq's new president Masum: Thinker and fighter
Jul 25, 2014
Quiet and bookish, Iraq's president-elect Fuad Masum is different from jocular incumbent Jalal Talabani, but sharp political skills forged in the long battle for Kurdish self-determination are common to both.
Masum, an ethnic Kurd, fought a rebel war alongside childhood friend Talabani for a separate Kurdish homeland, and in 1992 became the first prime minister of Iraq's autonomous Kurdish region.
Something of a political pioneer, Masum was also the speaker of the first Iraqi parliament to be formed after the US-led invasion of 2003.
Yet diminutive and bespectacled Masum is not an obvious fighter or risk-taker.
"He's quiet and a deep thinker, that's his personality. He thinks before he speaks," his brother Khodr Masum, head of Kurdistan's Koysinjaq University, told AFP.
"He's quiet during talks and negotiations. Courteous."
Born in 1938 to a religious family in a village near the Kurdish town of Halabja, Masum would go onto to study Islamic Sciences at Cairo's Al-Azhar university, one of the world's leading centres of Islamic learning.
Eventually gaining a doctorate, he came back to Iraq to teach at the University of Basra.
"He's always reading. All different types, history, politics. He likes Arabic literature a lot," Khodr Masum said.
Masum got his first taste of politics with the Iraqi Communist Party, before moving to join the Kurdistan Democratic Party (KDP) in 1964, then led by Mullah Mustafa Barzani, father of current Kurdistan president Massud Barzani.
Between 1973 and 1975 he was the party's representative in Cairo.
But eventually the KDP would split, after Masum's friend Talabani fell out with Barzani -- the start of a long and deadly internecine feud among Iraqi Kurds.
Talabani went on to form the Patriotic Union of Kurdistan, and in 1976 Masum joined him as a founding member.
The pair would wage an armed struggle in the northern mountains against Saddam Hussein's forces, an unlikely path for a soft spoken academic.
Yet his ability to fight and think has served the married father of five daughters well. His supporters' hope he can bring those skills to bear on Iraq's dangerously divided political arena.
"He listens to the opinion of others, and doesn't force his on you," Khodr Masum said.
"I think he'll be successful, because he has the ability and disposition."
http://english.ahram.org.eg/NewsContent/2/8/107020/World/Region/Iraqs-new-president-Masum-Thinker-and-fighter.aspx
-----------
El-Sisi vows revenge for attacks on military
Jul 25, 2014
Egyptian President Abdel-Fattah El-Sisi vowed on Thursday to avenge all recent attacks against the security forces, and stressed the importance of a balanced understanding of religion to avoid extremism.
In a televised speech, El-Sisi said the presidency would provide all necessary support to Al-Azhar Islamic Institute to spread balanced views of Islam.
"I speak as a saddened human by the assaults I see against (my) religion," El-Sisi said. "The practices we present to the outside world… have given them the chance to attack us."
The speech was commemorating the anniversary of Laylat Al-Kadr (Night of Destiny), when Muslims believe the first verses of the Quran were revealed to the Prophet Mohammed. The event was attended by cabinet members and public figures, as well as people honoured for memorising the Quran.
Full report at:
http://english.ahram.org.eg/NewsContent/1/64/107023/Egypt/Politics-/ElSisi-vows-revenge-for-attacks-on-military.aspx
-----------
Humans and pigeons in the Grand Mosque: A peaceful coexistence
Jul 25, 2014
Visitors to the Grand Mosque enjoy the safety and security the Kingdom is blessed with, but they are not alone, as pigeons that are spread out in practically all of Makkah's neighborhoods roam around the Grand Mosque's yards in complete tranquility, Al-Hayat daily reported.
Visitors to the Grand Mosque are welcomed by flocks of pigeons flying around the Kaaba, many of whom eventually land between worshippers without any fear. Pilgrims and visitors can be seen taking pictures of pigeons, which many upload to social networking websites and some photos are even exhibited in photography exhibitions.
Grand Mosque pigeons have become part of Makkah's life as they share streets, sidewalks and rooftops and many locals even carry small bags of seeds to feed the pigeons. Abdulrazzaq Mohammad, an 80-year-old who has spent his entire life in Makkah, said pigeons share residents' food and water. He said after Fajr prayer he usually goes to the roof of his house to feed pigeons and enjoy their presence.
Full report at:
http://www.saudigazette.com.sa/index.cfm?method=home.regcon&contentid=20140725212601
-----------
Iraqis protest treatment of minority Christians
Jul 25, 2014
Hundreds of people demonstrated Thursday in Arbil, capital of Iraq's autonomous Kurdistan region, to condemn the forced displacement of Iraqi Christians and call for their protection.
Muslims, Christians, displaced people and political parties took part in the protest outside UN offices in Arbil, some 350 kilometres (220 miles) north of Baghdad.
UN Secretary General Ban Ki-moon was to fly to the city later on Thursday having earlier held talks in Baghdad.
"We condemn the targeting of Christians in Mosul," read one banner.
Thousands of Christians and other minorities have fled the northern city of Mosul and other areas after a jihadist onslaught led by Islamic State insurgents swept swathes of Iraq's north and west last month.
Full report at:
http://www.yourmiddleeast.com/news/iraqis-protest-treatment-of-minority-christians_25417
-----------
Muslim Professor Killed For Decrying Isis Persecution of Christians
Jul 25, 2014
During the Tahrir Square uprising in Cairo, part of the the Arab Spring in 2011, archaeologists and scholars fretted about the fate of Egypt's ancient monuments and the artifacts housed in the Cairo Museum, worrying the treasures from Egypt's pagan past would be lost in the midst of the political turmoil.
Of less interest to many was the wanton persecution and slaughter of Coptic Christians--who have existed in Egypt since the 4th Century--during and after the upheaval, and the destruction of historic Christian churches, monasteries and other holy sites. Christianity was the dominant religion in Egypt until the the 10th century, continuing to be the majority faith for 200 years after Islam was founded in 7th Century Arabia.
It seemed that living people and a living faith were less precious to some than relics of a culture from millennia ago.
Full report at:
http://www.breitbart.com/Big-Peace/2014/07/23/Report-Muslim-Professor-Killed-for-Decrying-ISIS-Persecution-of-Christians
-----------
Muslim Brotherhood Terrorist Designation Bill To Be Introduced
Jul 25, 2014
Last night Rep. Michele Bachmann introduced a bill to designate the Muslim Brotherhood as a terrorist organization.
The bill, also known as the Muslim Brotherhood Terrorist Designation Act of 2014, will "impose sanctions against persons who knowingly provide material support or resources to the Muslim Brotherhood or its affiliates, associated groups, or agents, and for other purposes."
The Muslim Brotherhood was founded in 1928 by Hassan al-Banna. The Muslim Brotherhood main branch, based in Egypt, has financed terrorist attacks worldwide that have killed Americans and others. The Brotherhood attacks Christians, women, and other religious minorities, in the name of Allah to fulfill al-Banna's vision of "fighting the unbelievers…to dismantle the power of the enemies of Islam." The methods al-Banna suggested to advance jihad included "beating them, plundering their wealth, destroying their places of worship, and smashing their idols." Al-Banna also said "it is the nature of Islam to dominate, not to be dominated" and to "impose its law on nations and to extend its power to the entire planet."
Hamas, of recent Gaza fame, self identifies as "one of the wings of the Muslim Brotherhood in Palestine" and was designated as a terrorist organization in 1995 by President Clinton. The Kuwaiti branch of the Muslim Brotherhood was designated as a terrorist organization by President Bush shortly after the September 11, 2001 attacks.
Full report at:
http://townhall.com/columnists/larryprovost/2014/07/25/exclusive-muslim-brotherhood-terrorist-designation-bill-to-be-introduced-n1865266
-----------
Pakistan
No army chief can dare take over again: Jamaat-i-Islami chief
Jul 25, 2014
LAHORE: Jamaat-i-Islami chief Sirajul Haq said on Thursday the revelations about the notorious National Reconciliation Ordinance (NRO) adopted during the PPP rule has proved that the country's affairs were decided not at home but in Washington and New York.
Talking to the media at Mansoora, the JI emir termed the PPP and the PML as two sides of the same coin, competing with each other in the US slavery.
To a question about the Pakistan Tehreek-i-Insaf's rally on the Independence Day, he said he believed that Imran Khan did not want an end to democracy. "I am sure that there will be no martial law in the country again as no army chief will dare take over while the country is confronted with numerous problems," he said.
Sirajul Haq said it was the PTI's democratic right to stage a rally on the Independence Day. He said the JI and some other parties also supported Imran Khan's demand that the elections should be free and transparent and the election commission should be autonomous and impartial.
Full report at:
http://www.dawn.com/news/1121490/no-army-chief-can-dare-take-over-again-ji-emir
-----------
Key Taliban commander among five killed in Orakzai blast
Jul 25, 2014
PESHAWAR: A key commander of the banned Tehrik-i-Taliban Pakistan (TTP) was among five militants killed Thursday night in a blast at a compound in lower Orakzai tribal region.
Official sources said the explosion took place inside a house in Out Mela area of Orakzai agency, destroying the building and killing the five suspected militants inside.
Sources said that a key militant commander Amir Salam was among the dead.
Orakzai agency was known to be a stronghold of Taliban militants and a key abode of former TTP chief Hakimullah Mehsud before he was killed in a US drone strike in North Waziristan.
Two Pakistani soldiers killed in IED blast
Security forces have been battling militants in Orakzai for years, and claim to have dislodged their bases in upper and lower Orakzai during three years of military operations in the region.
http://www.dawn.com/news/1121447/key-taliban-commander-among-five-killed-in-orakzai-blast
-----------
Targeting all terrorists: Foreign Secretary fends off Afghan, US criticism
July 25, 2014
ISLAMABAD: Pakistan has dismissed American and Afghan concerns that its ongoing North Waziristan operation isn't achieving the desired results against the Haqqani network.
"Regarding fears that the Haqqani network is being let off the hook, I would like to reiterate that the operation is targeting all terrorists. This has been clarified on multiple levels," Foreign Secretary Aizaz Ahmed Chaudhry said.
The statement was a response to criticism by both Afghanistan and the United States regarding the effectiveness of Operation Zarb-e-Azb.
At this critical juncture, he said, Pakistan needs full cooperation from Afghanistan to ensure that the fleeing militants do not cross the border and eliminate the hideouts for anti-Pakistan elements.
Full report at:
http://tribune.com.pk/story/740637/targeting-all-terrorists-aizaz-fends-off-afghan-us-criticism/
---------
Two Pakistani soldiers martyred in landmine blast
Jul 25, 2014
WANNA: Two security men were martyred in landmine blast near Pak-Afghan border on Thursday, Geo News reported.
According to Inter-Service Public Relations (ISPR), the landmine blast took place in Ghulam Khan area. As a result, two soldiers were martyred.
http://www.thenews.com.pk/article-154926-Two-Pakistani-soldiers-martyred-in-landmine-blast-
-----------
Qaeda trainer, not Taliban man, held: Pakistan
July 25, 2014
ISLAMABAD - Pakistan security officials said on Thursday they had arrested a top militant near the Afghan border but not a Pakistani Taliban leader who colleagues had identified last week as a man who once tried to blow up former president Pervez Musharraf.
Security officials said on July 15 the military had captured Adnan Rashid, who was accused of trying to kill Musharraf in a 2003 bomb attack and who later escaped from jail, in the South Waziristan region near the Afghan border.
The officials hailed the arrest, which followed a shootout, as the first major catch since the army launched an offensive against al Qaeda-linked militants along the Afghan border last month.
Full report at:
http://www.nation.com.pk/islamabad/25-Jul-2014/qaeda-trainer-not-taliban-man-held-pakistan
------
Imran says his march will be a decisive battle
Jul 25, 2014
LAHORE: Pakistan Tehreek-i-Insaf Chairman Imran Khan stated here on Thursday that his party's 'Azadi March' would not be a 20-20 match but a series of Test matches.
"Nobody should misunderstand that the PTI is going to hold a simple protest public gathering in Islamabad," he warned.
Speaking after the inauguration of his party's Lahore office on Thursday, Mr Khan said the 'Naya Pakistan' would only be created after coming out on roads as was the case of winning the cause of independent judiciary. "The Azadi March (from Lahore) will be a final battle to root out the corrupt and bring in a fair system in the country," he said.
The PTI chief referred to PML-Q president Chaudhry Shujaat Hussain's reply to a media person's question whether the nuclear bombs could be used in trying times – "The nuclear bombs are not to be fired on Shab-i-Bara'at".
Full report at:
http://www.dawn.com/news/1121437/imran-says-his-march-will-be-a-decisive-battle
-----------
Pakistan's largest private insurance group to launch sharia-compliant products
Jul 25, 2014
Pakistan's largest private insurance group will offer sharia-compliant insurance products, or takaful, through its general and life units, adding further momentum to government efforts to expand the Islamic finance industry.
Both EFU Life Assurance and EFU General Insurance plan to open takaful windows, a practice which allows firms to offer Islamic and conventional products side by side, according to separate filings with the Karachi stock exchange.
An alternative to conventional insurance, takaful follows religious guidelines including bans on interest and pure monetary speculation and a prohibition on investing in industries such as alcohol and gambling.
Full report at:
http://www.dawn.com/news/1121525/efu-insurance-group-to-launch-sharia-compliant-products
-----------
Africa
Eight killed and 19 injured as bombs and rockets fall across Benghazi
Jul 25, 2014
Eight people have been killed and 19 injured, six of them critically, in missile and bomb attacks in Benghazi yesterday.
The fighting continued into the night with forces from Brega and Ajdabiya loyal to Ibrahrim Jadhran and the Al-Ahdaf Al-Hayawiya (الأهداف الحيوية) from both Tobruk and Beida joining the clashes on the side of Operation Dignity, head of Saiqa Special Forces Investigations Unit Fadel Al-Hassi told the Libya Herald.
Benghazi Medical Centre (BMC) asked all medical personnel to report for duty at the hospital as staff struggle to deal with the casualties. Meanwhile residents evacuated their homes in the city's Tabalino district as missiles fell on the nearby February 17 Brigade camp. The brigade is allied to Ansar Al-Sharia.
Hassi claimed that 17 February forces had begun firing grad missiles across the city, concentrating their fire on the Saiqa Special forces base in Buatni. Rockets have also been reported landing in the Laithi, Fuwayhat, Garyounis and Tabalino districts.
Full report at:
http://www.libyaherald.com/2014/07/24/eight-killed-and-19-injured-as-bombs-and-rockets-fall-across-benghazi/#ixzz38WfzoQbU
---------
Africa: Boko Haram Steps Up Cameroon Raids
Jul 25, 2014
Yaounde — Nigerian radical Islamist group Boko Haram's free-wheeling ruthlessness is increasingly troubling the remote Far North Region of Cameroon, which has seen several attacks in recent months, with foreigners also abducted for ransom.
This month, heavily armed men suspected to be Boko Haram fighters attacked Bonderi village 5km from the border with Nigeria and stole a military vehicle, four motorbikes and weapons from the gendarmerie base there, government officials told IRIN.
Another group of suspected Boko Haram gunmen also raided a gendarmerie border post in Zina town on 8 July, three days prior to the Bonderi attack, and stole guns and ammunition. In June, two teenage sons of a Muslim cleric were kidnapped in Limani border town.
The attacks, the latest of which claimed the life of a policeman and wounded another on 18 July, have occurred despite the deployment in June of 1,000 additional soldiers to the Far North.
Full report at:
http://allafrica.com/stories/201407250427.html?viewall=1
------------
Morocco urges immediate cessation of cowardly Israeli assault's on Gaza
July 25, 2014
New York—The Kingdom of Morocco closely follows the tragic situation in Gaza and calls for an immediate cessation of the cowardly Israeli assault which targets unarmed Palestinian civilians, said, at the UN headquarters in New York, Morocco's ambassador to the UN Omar Hilale.
Morocco, which condemns and deplores the Israeli military escalation targeting the Palestinian people in a blatant violation of international law, urges the international community to fully shoulder its responsibility and urgently intervene to stop immediately this cowardly assault against unarmed civilians, said the ambassador before the UNSC.
Hilale, who was speaking at a public session by the UN body on the situation in the Middle-East, added that it is up to the international community to protect the Palestinian people and secure their legitimate rights, calling Israel to observe international law.
Full report at:
http://pakobserver.net/detailnews.asp?id=248080
-----------
Europe
Death threats to Palestinian mission in France
Jul 25, 2014
The Palestinian mission in France said on Thursday that it had received death threats in a letter posted from Israel and claiming to carry a virus.
"We received this letter this morning threatening to kill members of the Palestinian mission in France and those who took part in recent demonstrations for Palestine," Noha Rashmawi, the chief of staff at the mission, told AFP.
The letter, written in English, places a death sentence on those who took part in pro-Palestinian demonstrations in France recently in which Jewish shops were looted and attempts made to storm synagogues.
It signs off with the words: "Participants in the said activities are convicted to death. The verdict will take place soon by infecting the convicts with the powerful virus Gurion-48."
David Ben-Gurion was Israel's first prime minister and the state founder in 1948.
Full report at:
http://english.ahram.org.eg/NewsContent/2/8/107005/World/Region/Death-threats-to-Palestinian-mission-in-France.aspx
-----------
Britain alarmed over civilian toll in Gaza
Jul 25, 2014
Britain is "gravely concerned" by the high number of civilian casualties resulting from Israel's military operation in Gaza, Foreign Secretary Philip Hammond said on Thursday.
Speaking on his first official visit to the region since taking over as Britain's top diplomat, Hammond said London would do everything it could to help broker a quick end to the hostilities which have so far claimed the lives of more than 740 Palestinians in Gaza, 34 Israelis, mainly soldiers, and a Thai worker.
At a news conference with Israeli Prime Minister Benjamin Netanyahu, Hammond expressed Britain's support for Israel's right to self-defence, acknowledging that the current fighting was caused by Hamas firing rockets "indiscriminately" at Israeli towns and cities.
"But we are gravely concerned by the ongoing heavy level of civilian causalities," he said as dozens more Palestinians were killed in ongoing fighting in Gaza, among them at least six children.
Full report at:
http://www.yourmiddleeast.com/news/britain-alarmed-over-civilian-toll-in-gaza_25408
-----------
ICC backs Libyan trial for Senussi but still wants Saif
Jul 25, 2014
The International Criminal Court has thrown out an appeal by Abdullah Senussi that he should be tried in the Hague rather than Libya, on the grounds that it believes that the Libyan courts are capable of holding a fair trial.
Lawyers for Qaddafi's security chief had been challenging a May ICC ruling that Senussi should be tried in Libya.
However, the decision is puzzling some observers because the ICC is still demanding that Muammar Qaddafi's son, Saif Al-Islam, be handed over to its jurisdiction. It wants to try him in the Hague for crimes committed before and during the revolutions, crimes which in many respects are little different than those with which Senussi has been charged.
Full report at:
http://www.libyaherald.com/2014/07/24/icc-backs-libyan-trial-for-senussi-but-still-wants-saif/#ixzz38WgBVLmD
------------
U.N. report marks improvement of human development in Arab countries
Jul 25, 2014
Despite lagging behind the global average, human development measures in the Arab world have improved, according to a recently-released U.N. report.
The report, which measures the human development index (HDI), a measure derived from life expectancy, education levels and incomes in countries around the world, concluded that Arab states are improving, albeit with "wide variations between countries," according to a U.N. Development Programme press release.
HDI is measured between 0 and 1, with higher numbers indicate better development. Qatar placed highest in the region, achieving an HDI of 0.851 while Sudan placed lowest with an HDI of 0.473.
In its assessment of the Arab region, the report accounted for conflict, youth unemployment and inequalities, which "if left unchecked can hamper human development now and in the future."
Full report at:
http://english.alarabiya.net/en/News/middle-east/2014/07/24/U-N-Human-development-in-Arab-countries-improved-.html
-----------
First UN aid convoy enters Syria from Turkey
Jul 25, 2014
A first convoy of humanitarian aid crossed into Syria from Turkey on July 24, under a new U.N.-authorized plan to send relief without Damascus' approval.
"Nine trucks crossed at Bab al-Salam into Syria this morning," said Amanda Pitt of the U.N. Office for the Coordination of Humanitarian Affairs (OCHA).
"They were carrying food, shelter, water and sanitation supplies," she told AFP.
The U.N. Security Council last week adopted a resolution authorizing the cross-border aid deliveries without the consent of the Damascus regime, to help more than one million civilians.
Full report at:
http://www.hurriyetdailynews.com/first-un-aid-convoy-enters-syria-from-turkey.aspx?pageID=238&nID=69597&NewsCatID=359
-----------
Top peacekeeper says no role for UN blue helmets in Gaza
Jul 25, 2014
A top UN official visiting Dhaka has said UN peacekeepers do not have a role to play in Gaza where more than 730 people have been killed and over 4,500 injured in seventeen days of land, aerial and naval operations by Israeli forces, including yesterday's shelling of a UN-run school in Beit Hanoun that reports say left 15 dead and 200 wounded.
"Clearly it is not a situation for United Nations Peacekeeping Operations" to intervene in Gaza, Harve Ladsous, Under-Secretary General for the United Nations Departm ent of Peacekeeping Operations, said at meeting with journalists at the Sonargaon Hotel on Thursday.
Ladsous was replying to a question from the Dhaka Tribune about the potential role of UN peacekeepers in the Gaza conflict.
Full report at:
http://www.dhakatribune.com/bangladesh/2014/jul/25/top-peacekeeper-says-no-role-un-blue-helmets-gaza#sthash.dZEIzlz7.dpuf
-----------
Norway on alert over 'terrorist' attack
Jul 25, 2014
OSLO — Norway has taken exceptional security measures after being informed of a possible imminent "terrorist attack" by militants who have fought in Syria, the country's intelligence chief said Thursday.
The move comes as concerns are mounting in Europe about the growing national security threat posed by jihadists returning from war-torn Syria. The domestic intelligence service (PST) "recently received information that a group of extremists from Syria may be planning a terrorist attack in Norway," said PST chief Benedicte Bjoernland, adding it could be a question of days. The threat is "non-specific" but "credible," said Bjoernland. Neither the eventual target, nor the timing of the attack, nor the identity of the militants, nor their location are known, she added.
http://www.saudigazette.com.sa/index.cfm?method=home.regcon&contentid=20140725212646
-----------
France announces 11 million euros in aid for Gaza
Jul 25, 2014
An advisor to Hollande said the humanitarian aid, eight million of which will be given to the Palestinian Authority and the remainder to UN bodies and NGOs working in Gaza, was approved after a meeting with non-governmental organisations working in the strife-torn region.
The NGOs "highlighted the gravity of the situation, the scale of the humanitarian needs of the civilian population and the difficulty of humanitarian workers in getting to the victims," Hollande's office said.
http://www.yourmiddleeast.com/news/france-announces-11-million-euros-in-aid-for-gaza_25409
-----------
Mideast
UN school bombed, 105 more Palestinians killed
Jul 25, 2014
GAZA CITY: At least 105 more Palestinians were killed on Thursday as Israel continued the slaughter of civilians in thickly-populated Gaza Strip.
Up to 15 people were killed when Israeli forces shelled a UN-run school sheltering Palestinian refugees in northern Gaza, said a spokesman for the Gaza health ministry, Ashraf al-Qidra.
The director of a local hospital said various medical centres around Beit Hanoun were receiving the wounded. "Such a massacre requires more than one hospital to deal with," said Ayman Hamdan, director of the Beit Hanoun hospital.
A Reuters photographer at the scene said pools of blood had collected on the ground and on student desks in the courtyard of the school near the apparent impact mark of the shell.
Scores of crying families who had been living in the school ran with their children to the hospital where the victims were being treated a few hundred meters away. Laila Al-Shinbari, a woman who was at school when it was shelled, told Reuters families had gathered in the courtyard expecting to be evacuated shortly in a Red Cross convoy. "All of us sat in one place when suddenly four shells landed on our heads ... Bodies were on the ground, (there was) blood and screams. My son is dead and all my relatives are wounded including my other kids," she wept.
Full report at:
http://www.thenews.com.pk/Todays-News-13-31824-UN-school-bombed-105-more-Palestinians-killed
-----------
Israeli fire brings Gaza deaths to 808: Medics
Jul 25, 2014
Israeli fire in Gaza on Friday killed a pregnant woman and a senior Islamic Jihad propagandist, taking the Palestinian death toll to 808, emergency services spokesman Ashraf al-Qudra said.
He said an air strike on a house in the central Gaza town of Deir al-Balah killed a woman of 26 and another aged 23 who was pregnant, as Israel pressed on with its 18-day campaign to stamp out Gaza rocket fire.
The baby was saved, he said.
Another strike killed a senior propagandist for Islamic Jihad, Salah Hasanein, and his 12- and 15-year-old sons in the southern city of Rafah, Qudra said.
Islamic Jihad confirmed the death, describing Hasanein as a "war media official".
Two other people wounded earlier in shelling of the southern city of Khan Yunis, died of their injuries, Qudra said, bringing the total number of Gazans killed in the Israeli campaign to 808.
He said nearly 100 Palestinians were killed on Thursday, one of the bloodiest days of the conflict.
Full report at:
http://english.ahram.org.eg/NewsContent/2/8/107029/World/Region/Israeli-fire-brings-Gaza-deaths-to--Medics.aspx
-----------
Iran gave Hamas its rocket know-how, official boasts
Jul 25, 2014
Iran provided Palestinian Islamist movement Hamas with the technology it has used to rain down rockets on Israel from Gaza, its parliament speaker said on Thursday.
Tehran frequently boasts of the financial and material support it gives to Palestinian militant groups Hamas and Islamic Jihad but more rarely talks of its military assistance.
"Today, the fighters in Gaza have good capabilities and can meet their own needs for weapons," speaker Ali Larijani told the Arabic service of state television.
"But once upon a time, they needed the arms manufacture know-how and we gave it to them," he said.
During the last major conflict in and around Gaza in November 2012, Larijani said Iran was "proud" to have provided "both financial and military support" to Hamas.
Israel accused Iran of supplying Gaza militants with its Fajr-5 missile, which has a range of 75 kilomtres (45 miles), for use during that conflict.
Full report at:
http://english.ahram.org.eg/NewsContent/2/8/107017/World/Region/Iran-gave-Hamas-its-rocket-knowhow,-official-boast.aspx
-------
Islamic leader in Israel watches Hamas' fate closely
Jul 25, 2014
UMM AL-FAHM - There are no wrecked houses, no crushed or blasted bodies in Umm al-Fahm. But Israel is waging a campaign against this town of 45,000 inhabitants closely related to its current assault on Gaza.
This is the home town of Sheikh Raed Salah, leader of the northern Islamic Movement, considered the more radical of its two branches in Israel and perceived as ideologically close to Hamas.
Though Salah rejects violent resistance as a strategy for his movement, it has done little to stop most Israeli Jews viewing him as public enemy no 1.
His refusal to engage with Israel as Jewish state, his rallying cry that the al-Aqsa mosque in Jerusalem needs protecting from Israel, and his frequent spells in Israeli jails have contributed to his reputation as a "convicted facilitator of terror and rabble-rouser", as a recent Israeli editorial described him.
Full report at:
http://www.middleeasteye.net/news/islamic-leader-israel-watches-hamas-fate-gaza-1682689837#sthash.peQr4sKo.dpuf
-----------
Hamas calls for intifada after Palestinians killed in W. Bank
World Bulletin / News Desk
Jul 25, 2014
Hamas officials in the Gaza Strip and abroad are calling on Palestinians in the West Bank to start a third intifada after two Palestinians were killed and dozens others injured late on Thursday by Israeli gunfire during clashes at Qalandia checkpoint between Ramallah and Jerusalem.
Mohamed al-Araj and Majad Sufian Awwad were killed after being shot in the head by Israeli troops during the ongoing clashes at Qalandia, spokesman for the Palestinian Red Crescent Mohammed Ayyad told Anadolu Agency.
More than 30 Palestinians were injured with live ammunition, including two in the head and two in the chest, eyewitnesses said.
Full report at:
http://www.worldbulletin.net/headlines/141324/hamas-calls-for-intifada-after-palestinians-killed-in-w-bank
-----------
Peres steps down as Israeli president, sees peace 'one day'
25 July 2014
Israel's elder statesman Shimon Peres bowed out of active political life on Thursday with an ardent defense of the war in Gaza against Hamas militants and a defiant prediction that peace will "one day" come to the Middle East.
At a ceremony overshadowed by the 17-day Gaza conflict in which nearly 800 people have died, Peres, 90, relinquished his largely ceremonial post as Israeli president to Reuven Rivlin, a member of Prime Minister Benjamin Netanyahu's Likud Party.
Israeli heads of state are not directly involved in political decision-making, but Peres, a Nobel Peace Laureate, has used the presidency over the last seven years as a pulpit for advocating peace with the Palestinians, often taking a more conciliatory stance than right-winger Netanyahu.
Full report at:
http://english.alarabiya.net/en/News/middle-east/2014/07/25/Peres-steps-down-as-Israeli-president-sees-peace-one-day-.html
-----------
Abbas said he hopes for Gaza ceasefire
Jul 25, 2014
President Mahmud Abbas said he hopes a ceasefire can be agreed in Gaza as the Palestinian death toll on day 17 of an Israeli offensive topped 770 people.
"So far, there is hope for a ceasefire," Abbas said after meeting Jordan's King Abdullah II in Amman, a palace statement said.
"We have to wait... and insist that ending the fighting is the only solution to ease the Palestinian suffering and end the bloodshed. Everybody should work on that," it quoted him as saying.
"It has already been approved. A ceasefire will be reached in line with the Egyptian initiative before launching negotiations about certain demands," he added.
"We have a lot of demands, after that we will discuss what would happen in the future."
US Secretary of State John Kerry sought on Thursday in Cairo to further regional efforts to broker an end to the bloodshed, reaching out to Turkey and Qatar, both allies of the Islamist Hamas.
Full report at:
http://www.yourmiddleeast.com/news/abbas-said-he-hopes-for-gaza-ceasefire_25418
-----------
South Asia
Gunmen kill 15 civilians travelling in central Afghanistan
(AFP) / 25 July 2014
The attack occurred the same day that two Finnish female aid workers were shot dead by unidentified gunmen while in a taxi in the western city of Herat.
Suspected Taleban gunmen stopped two vehicles in central Afghanistan and shot dead 15 passengers at the side of the road, officials said Friday, in the latest attack to highlight the growing civilian toll from violence.
Only one man escaped after the gunmen held up two vehicles on a road in Ghor province and shot dead 11 men, three women and one child.
"Armed gunmen stopped two vehicles and shot dead the passengers," Abdul Hai Khatibi, spokesman for the governor of Ghor province, told AFP.
"They ordered all passengers to stand in one line, and then they shot them dead one by one.
"One man managed to flee. All of the others were shot in the head and chest."
Fahim Qaiem, Ghor provincial police chief, confirmed the incident to AFP and blamed suspected Taleban militants for the killings late on Thursday.
Full report at:
http://www.khaleejtimes.com/kt-article-display-1.asp?xfile=data/international/2014/July/international_July513.xml&section=international
-----------
Maldives backs UN HRC probe into claims of Israeli violations in Gaza
By Ahmed Rilwan | July 24th, 2014
The Maldives has voted in favor of a UN Human Rights Council independent inquiry into Israel's violations of international humanitarian and human rights laws in Palestine, particularly in the Gaza strip
The council resolution passed on Wednesday with the support of 29 of the 46 member council. The US voted against the resolution, while seventeen countries, including many European states, abstained from the vote.
The inquiry's aim is to "establish the facts and circumstances of such violations and of the crimes perpetrated and to identify those responsible," as well as to find ways to protect civilians.
Full report at:
http://minivannews.com/politics/maldives-backs-un-hrc-probe-into-claims-of-israeli-violations-in-gaza-88910
-----------
Human chain calls for independent Palestine
Jul 25, 2014
Protesting Israeli attacks on the Gaza strip, hundreds of people belonging to different organisations formed human chains in front of the National Press Club yesterday.
Bangladesh Nationalist Front (BNF) and Save the Environment Movement formed two separate human chains.
Peace could not be achieved until the Palestinian state was independent, said BNF President S M Abul Kalam Azad in solidarity with the Palestinian people.
Describing the misery and sufferings of Gaza residents, he said BNF volunteers and doctors were ready to go to Gaza to help the victims.
The BNF leaders urged the Bangladeshi government to take proper steps and stop the military assult.
Full report at:
http://www.dhakatribune.com/bangladesh/2014/jul/25/human-chain-calls-independent-palestine#sthash.cPRmxIUv.dpuf
-----------
ACHR: Bangladesh sending death squads for UN peacekeeping missions
Jul 25, 2014
Bangladesh is sending its death squads for the United Nations' peacekeeping missions, according to a report by the Asian Centre for Human Rights (ACHR).
The human rights watchdog released the report, titled "Bangladesh: Sending Death Squad to Keep the UN's Peace" yesterday, at a time when Hervé Ladsous, the UN's under secretary general for Peacekeeping Operations, is visiting Bangladesh.
In a press release issued yesterday, Suhas Chakma, director of the ACHR, said: "The crossfire is a blatant cover up for extrajudicial executions by Rapid Action Battalion. Since its inception in 2004, numerous deaths were caused by these supposed crossfires with criminal gangs and terrorist groups."
Full report at:
http://www.dhakatribune.com/bangladesh/2014/jul/25/achr-bangladesh-sending-death-squads-un-peacekeeping-missions#sthash.JlqayuFq.dpuf
-----------
Kabul residents rally against Israel war in Gaza
Jul 25, 2014
Hundreds of Kabul residents participated in rally against Israel war in Gaza and called for an immediate end to civilian deaths.
The rally was organized in various parts of Kabul city on Friday where the demonstrators urged the international community to prevent the Israel offensive on Gaza.
This is the second time rallies have been organized in capital Kabul to protest against the Israeli war on Gaza.
According to the Palestinian health officials, the death toll in Gaza has topped 700 during the Israel offensive on Gaza which started nearly 17 days ago.
Full report at:
http://www.khaama.com/kabul-residents-rally-against-isreal-war-in-gaza-6475
-------
North America
Iraq's crisis of confidence, what can the U.S. do about it?
Jul 25, 2014
With the withdrawal of the Iraqi army from areas now under the control of the Islamic State of Iraq and Syria (ISIS), it seems the force is a mere shadow of what it was billed to be. As analysts weigh in on what can be done, the situation in Iraq is becoming more dire and government forces lose control of key areas.
Faced with the growing presence of ISIS, Iraq's response has been to approach Washington, repeatedly, with outstretched hands, asking for help. It seems that the Obama administration has been hesitant to supply additional tangible support to Iraq in an effort to not get dragged into the very war they vowed to end.
Iraqi leaders argue that if the United States does not act significantly now, Iraq could quickly be lost to militant Islamists, reversing all the gains the U.S. made in its 10-year engagement in the country. Yet, despite Iraq's seemingly alarmist mentality, and the stark reality on the ground, Iraqis may hold the answer to turning the tide on the violence that is plaguing the country.
Full report at:
http://english.alarabiya.net/en/perspective/analysis/2014/07/24/Iraq-s-crisis-of-confidence-what-can-the-U-S-do-about-it-.html
-----------
Gaza truce talks 'very complicated': US
Jul 25, 2014
Diplomatic talks to end the fighting in Gaza as civilian casualties mount are "very complicated," a US official admitted Thursday, refusing to predict how long they could take.
US Secretary of State John Kerry has been in Cairo since Monday trying to persuade Israel and Hamas to lay down their arms in the 17-day war in which some 788 Palestinians have been killed along with 35 Israelis, most of them soldiers.
The top US diplomat visited both Israel and West Bank on Wednesday to meet with Israeli and Palestinian leaders, but his efforts have so far failed to produce any concrete results.
Asked if it might be possible to agree a ceasefire before the end of the Muslim holy month of Ramadan due early next week, deputy State Department spokeswoman Marie Harf said it was "a tough issue."
Full report at:
http://english.ahram.org.eg/NewsContent/2/8/107021/World/Region/Gaza-truce-talks-very-complicated-US.aspx
--------
US lawmakers reaffirm close Pakistan ties
July 25, 2014
WASHINGTON - A group of American lawmakers reaffirmed their commitment to maintain close relationship with Pakistan, hoping that Islamabad's efforts to root out militancy would yield positive results.
Their reaffirmation came when Syed Tariq Fatemi, Special Assistant to the Prime Minister on Foreign Affairs, met with the leaders of the US House of Representatives Foreign Affairs Committee on Capitol Hill, according to the Pakistani Embassy here.
Welcoming Fatemi on the occasion, Chairman of the Foreign Affairs Committee Representative Ed Royce noted that Pakistan and US shared common objectives in peace and stability in the region.
Ranking Member of the Foreign Affairs Committee Congressman Eliot Engel expressed appreciation for the Pakistani Government's overtures made towards India and Afghanistan with a view to normalising relations with all the neighbours. He expressed high confidence in the strength and future growth of Pakistan-US bilateral relations.
Full report at:
http://www.nation.com.pk/national/25-Jul-2014/us-lawmakers-reaffirm-close-pakistan-ties
-----------
Southeast Asia
Malaysian cyclist faces action over 'Save Gaza' protest at Commonwealth Games
Jul 25, 2014
As Malaysia's Azizulhasni Awang made it to the quarterfinals of the men's cycling event at the Commonwealth Games in Glasgow yesterday, two words which appeared on his gloves did not sit well with the Games authorities.
As he reached the finishing line, his fists with the message "Save Gaza", a reference to the ongoing Israeli attacks in the Palestinian territories which have so far killed over 800, were shown to the cameras.
Commonwealth Games Federation said the incident could be in breach of a rule avoiding "politics" in the Games, and said it will "contact the Malaysian chef de mission to discuss the incident and take any action," reported the Associated Press.
On his Twitter and Facebook fan page, Azizulhasni, who has close to 40,000 Twitter followers and more than 200,000 likes, posted pictures of his plea for the Palestinians.
Full report at:
http://www.themalaysianinsider.com/malaysia/article/malaysian-cyclist-wins-first-round-at-commonwealth-games-but-faces-action-o#sthash.WLga6uVs.dpuf
-----------
Political Maneuvering in Ditching Prabowo for New President
Jul 25, 2014
Jakarta. Just a week before Jakarta Governor Joko Widodo was declared Indonesia's president-elect, seven political parties supporting his rival, Prabowo Subianto, declared a so-called permanent coalition, that would bind them politically to the former Army general for the next five years.
As observers skeptical of that "permanence" predicted, however, coalition members began voicing their intention to jump ship and head to Joko's side as soon as the General Elections Commission (KPU) announced him the winner of the 2014 presidential election on Tuesday, amid drama staged by Prabowo, who rejected the result.
The Democratic Party is among members of Prabowo's camp seen as likely to join the new government helmed by Joko and his running mate Jusuf Kalla. The party's chairman, President Susilo Bambang Yudhoyono, was the first official to congratulate Joko when he was declared the election winner on Tuesday night.
Yudhoyono has not said anything on the matter, but a senior Democrat, Justice Minister Amir Syamsuddin, has indicated that the party might seek to join the new government.
"The Democratic Party is always ready to offer good and useful ideas if asked to contribute by the government," Amir said on Wednesday.
Full report at:
http://www.thejakartaglobe.com/news/political-maneuvering-ditching-prabowo-new-president/
-----------
India
India summons Pakistan envoy over 26/11 trial delay
MAHIM PRATAP SINGH
Jul 25, 2014
India on Friday summoned the Deputy High Commissioner of Pakistan and lodged a strong protest against the delay in the ongoing 2008 Mumbai terror attacks trial in Pakistan.
The trial of the seven Pakistani accused, going on in a Pakistan anti-terrorism court, was adjourned for the seventh time on Wednesday, leading India to lodge a "strong diplomatic protest" with Islamabad.
"The Pakistani Deputy High Commissioner in New Delhi was summoned to the Foreign Office today. Also the Indian Deputy High Commissioner went to the Pakistani Foreign Office and has lodged a similar protest," official sources told The Hindu.
In the meetings — in New Delhi as well as in Islamabad — Indian officials sought regular briefings on the progress of the trial and the investigation being conducted by Pakistani authorities.
Full report at:
http://www.thehindu.com/news/national/india-summons-pakistan-envoy-over-2611-trial/article6248940.ece?homepage=true
-----------
Indian family abducted in Libya
Indrani Bagchi,TNN | Jul 25, 2014
NEW DELHI: Even as the government struggles to bring back over 40 Indian workers captured by ISIS in Iraq, an Indian family has been abducted in violence-ridden Libya.
There is little clarity about who kidnapped them, but initial reports said the Indian family was abducted while driving on the highway to Tripoli. It's still not clear who abducted them, making the government's job more difficult.
There have been fierce clashes between militias in Tripoli and Banghazi this week, sparking fears that Libya is fast slipping into lawlessness.
Libya has been a hotbed of violence between different militias for the past couple of years, but the situation has become worse since the June 25 presidential elections and past weeks have witnessed some of the worst clashes. This week, the UN Security Council issued another statement calling on all sides to engage in political dialogue and refrain from fighting, yet another sign of how helpless the global watchdog has become in stopping violence in some of the worst trouble-spots in the world. On Wednesday, the Council expressed support to the UN Support Mission in Libya (UNSMIL). The UN force was shelled and attacked by the militia to the extent that the UN first reduced its forces and then withdrew it altogether.
Full report at:
http://timesofindia.indiatimes.com/india/Indian-family-abducted-in-Libya/articleshow/38984907.cms
-----------
Slain Indians were recruited for Gulf but shifted to Kabul
Written by Shaju Philip | Thiruvanthapuram | July 25, 2014
The two Indians, who were among five killed in a Taliban suicide bomber attack in Kabul, went there as security guards after serving in Indian Army.
The Indians have been identified as V K Ponnappan, 52, a native of Kaduthuruthy in Kottayam, and K K Raveendran, 54, of Eramala in Kozhikode. Ponnappan served the Army Medical Core as a nursing assistant for 20 years, while Raveendran retired as a Naik in the Corps of Signal after nearly two decades.
Ponnappan had taken VRS and went to Kuwait to work as a security guard. "He was recruited by an American security firm. After two years, the same company offered the job in Afghanistan," said Ponnappan's relative Rajan.
He said the security guard job in Kabul fetched Rs 1 lakh per month for Ponnappan. He had been on a one month leave in Kerala and left for Kabul last week. Ponnappan's contract was slated to end in October.
Full report at:
http://indianexpress.com/article/india/india-others/slain-indians-were-recruited-for-gulf-but-shifted-to-kabul/
--------
URL: https://www.newageislam.com/islamic-world-news/new-age-islam-news-bureau/bahrain-s-shia-muslims-tense-as-politicians-and-preachers-pledge-allegiance-to-isis/d/98295