New Age Islam News Bureau
3 Apr 2019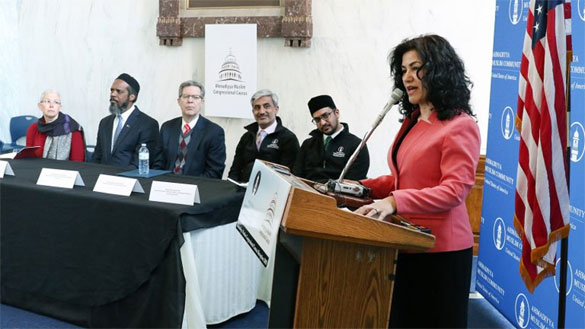 Rushan Abbas, founder of the Campaign for Uighurs, speaks at the Ahmadiyya Muslim Caucus' reception at Rayburn House Office Building in Washington, D.C., on April 1, 2019. Other speakers included, from left: Sophie Richardson, of Human Rights Watch; Imam Azhar Haneef, of the Ahmadiyya Muslim Community; Sam Brownback, ambassador-at-large for international religious freedom; Muhammad Chaudhry, of the Ahmadiyya Muslim Caucus; and Amjad Khan, of the Ahmadiyya Muslim Community. Photo courtesy of Ahmadiyya Muslim Community
---------
• Bad Time to Nuclearise Saudis: US Senators Warn Trump
• On Capitol Hill, Persecuted Muslims Unite To Protect Religious Minorities' Rights
• JUI-F Lawmaker Plans To Eliminate Women and Minorities Seat
• Iran Calls for Global Battle against Takfiri Ideology, Islamophobia
• Blasphemy Cases Rise Sharply In Indonesia
• Brunei Sultan Seeks Conservative Support with Hardline Sharia Laws
• UK: Right-Wing Extremists Learn Bomb-Making from Daesh
• Top Commander: Kurds Not Thinking of Separation from Syria
• After Hype, It's No Show for Waseem Rizvi's 'Ram Ki Janmabhoomi' In Lucknow
North America
• Bad Time to Nuclearise Saudis: US Senators Warn Trump
• On Capitol Hill, Persecuted Muslims Unite To Protect Religious Minorities' Rights
• US Says It Will Use All Available Resources to Blacklist Masood Azhar
• US envoy Brian Hook says three countries cut Iran oil imports to zero
• US expects Turkey to buy Patriot system instead of Russia's S-400: Pentagon
--------
Pakistan
• JUI-F Lawmaker Plans To Eliminate Women and Minorities Seat
• Govt, opposition at odds after ex-IB chief sworn in as minister
• UN adopts resolution as Pakistan warns of threat to global peace from Islamophobia
• Anti-terror law full of 'ambiguities', says CJP Khosa
• Will define what constitutes as terrorism: CJP
--------
Mideast
• Iran Calls for Global Battle Against Takfiri Ideology, Islamophobia
• Turkey's Top Cleric Marks Muslim Holy Night
• Arab Coalition intercepts two Houthi drones over Saudi Arabia
• Palestinian shot dead by Israeli settler in West Bank
--------
Southeast Asia
• Blasphemy Cases Rise Sharply In Indonesia
• Brunei Sultan Seeks Conservative Support with Hardline Sharia Laws
• Malaysia Police Likely Behind Religion-Linked Abductions: Enquiry
• Anwar: Non-Muslims' right to drink, MB's right to resign golf club presidency
• Brunei implements Islamic law: Facts about Shariah around the world
--------
Europe
• UK: Right-Wing Extremists Learn Bomb-Making from Daesh
• UN Chief Warns Against Rising Anti-Muslim Hatred
• Britain, France, Germany seek full UN report of Iran missile activity
• YouTube Tightens Restrictions on Top UK Islamophobe
• Far right now catching up with ISIS threat in Britain
--------
Arab World
• Top Commander: Kurds Not Thinking of Separation from Syria
• Over 200 Children Killed in US-Backed SDF's Camp in Hasaka
• 'Khashoggi Children Receive Luxury Homes, Monthly Payments From Riyadh'
• SDF Launches Forced Recruitment in Eastern Syria
• Syrian Army Launches Air, Ground Attacks on ISIL Strongholds near Palmyra
• US Sends New Military Equipment to SDF in Eastern Syria
• Egypt sentences dozens to prison on terror charges
• Top cleric Sheikh Qassim censures Bahrain's plan to host Israeli delegation
--------
India
• After Hype, It's No Show for Waseem Rizvi's 'Ram Ki Janmabhoomi' In Lucknow
• UAE deports Jaish terrorist Nisar Tantray wanted for 2017 CRPF camp attack in Kashmir: NIA
• India asks Pakistan to free 400 prisoners, seeks access to Kulbhushan Jadhav
• FATF Could Blacklist Pak Due To 'Lobbying By India': Qureshi
• Pope's UAE Trip Inspires India's Religions to Plot Peace
--------
South Asia
• Afghan Special Forces Kill 37 Militants during Their Latest Counter-Terrorism Operations
• 13 ISIS-K Militants Killed, 55 Taliban Fighters Surrender In Kunar Province: Silab Corps
• Bangladesh should stop expelling Rohingya students: HRW
• Trump calls ongoing war in Afghanistan as 'unfortunate and ridiculous'
--------
Africa
• Islamic State-Backed Boko Haram Faction Publishes 'Execution' Video
• Libya's Haftar anticipates 'unity' gov't within month
• Somali government vows to retake regions held by al-Shabab
• Somalia army foils 'major terror attack' on Mogadishu
• Nigeria arrests 2 cops after killing of youth
Compiled by New Age Islam News Bureau
URL: https://www.newageislam.com/islamic-world-news/bad-time-nuclearise-saudis-senators/d/118216
--------
Bad Time to Nuclearise Saudis: US Senators Warn Trump
Apr 3, 2019
A bipartisan group of American lawmakers have raised concerns about Washington's nuclear dealings with Saudi Arabia despite Crown Prince Mohammed bin Salman's "deeply troubling actions" and his not-so-secret penchant for acquiring nuclear weapons.
In a letter drafted to US Energy Secretary Rick Perry on Tuesday, Senators Robert Menendez, the senior Democrat on the Senate Foreign Relations Committee, and Republican committee member Marco Rubio questioned the recent approvals for American companies to share nuclear energy information with Saudi Arabia.
The senators specifically pointed to Riyadh's insistence on forgoing Washington's so-called 123 agreement, a set of nonproliferation standards required by Section 123 of the US Atomic Energy Act of 1954.
The 123 agreement, often referred to as Washington's "gold standard" for foreign civil nuclear cooperation, prevents the foreign entity from enriching uranium or reprocessing plutonium made in reactors - two routes to making nuclear weapons.
"As has been reported, Saudi Arabia has repeatedly asked during nuclear cooperation negotiations that no limitations in a 123 agreement be placed on its ability to enrich uranium and reprocess its spent nuclear fuel," the senators write.
"Many in Congress therefore worry that Saudi Arabia's interest in someday producing its own stocks of nuclear fuel—despite the fact the Kingdom could purchase fuel on the international market more cheaply—could lead to it to divert fuel to a covert nuclear weapons program."
Negotiations between the US and Saudi Arabia for nuclear cooperation came to a halt under the administration of former President Barack Obama, after Riyadh refused to accept Washington's proposed standards.
In its never ending quest for more money, the Trump administration resumed the talks and is reportedly considering a deal that would allow Riyadh to enrich and reprocess uranium and pave the way for American companies to build nuclear reactors in the kingdom.
Financially, the deal is assumed to be lucrative enough to match the money-driven politics of Trump, a businessman-turned-politician who is not afraid of overstepping boundaries for more dollars.
In 2017, Trump flew to Saudi Arabia and secured a $110 billion deal to provide the kingdom with advanced weapons. Last year, he famously said that the deal would help America keep "a million jobs."
Rubio and Menendez warned in their letter that it was not a good idea to provide Saudis with nuclear technology or know-how amid Congress' attempts to reevaluate ties with the kingdom in the wake of its "many deeply troubling actions."
"The Kingdom has engaged in many deeply troubling actions and statements that have provoked alarm in Congress and led lawmakers to begin the process of reevaluating the US-Saudi relationship and our long-term stability and interests in the region," read the letter.
"We therefore believe the United States should not be providing nuclear technology or information to them at this time," it added.
The senators also raised questions about the process that led to Washington's decision to push ahead with nuclear talks despite many tell-tale signs that provided a glimpse into Riyadh's real intentions.
"What are the nonproliferation risks associated with these authorizations? What negotiations has the department engaged in with Saudi Arabia? How did these negotiations lead to the development of the authorizations? What was the interagency process behind the authorizations? How were the approvals coordinated?" Rubio and Menendez asked Perry.
Trump, Kushner's possible gains from Saudi dealings
The Trump administration has so far ignored calls at home and abroad for it to confront bin Salman over the kingdom's murder of dissident journalist Jamal Khashoggi in October, which experts and members of both parties believe bin Salman had a hand in.
In fact, Trump has gone as far as suggesting that punishing Riyadh for a crime that it has openly admitted to would endanger Israel and hurt Washington's own interests.
"I don't want to lose all of that investment being made into our country. I don't want to lose a million jobs, I don't want to lose $110 billion dollars in terms of investment," Trump told reporters in late October. "But it's really $450 billion if you include other than military. So that's very important."
Trump went off-script, exposed Saudi-Israel alliance
Trump's critics associate his reluctance to come face to face with Riyadh to his possible financial interests in the kingdom, a hot topic that is set to undergo an investigation by the Democratic-controlled US House of Representatives later this year.
"There are a whole set of potential financial conflicts of interest and emoluments problems that Congress will need to get to the bottom of," Democratic California Representative Adam Schiff said in late November, before being elected as the head of the House intelligence committee. "If foreign investment in the Trump businesses is guiding US policy in a way that's antithetical to the country's interests, we need to find out."
There are also questions about the possible interests of Trump's son-in-law, Jared Kushner, who is believed to be the driving force behind many financial deals between the US administration and the Riyadh regime, including the $110 billion arms deal.
The Washington Post reported February last year that officials from at least three countries -- Mexico, China and the United Arab Emirates – and Israel had discussed ways they could use Kushner's complicated business arrangements, lack of experience and financial woes to manipulate him and affect US policies.
https://www.presstv.com/Detail/2019/04/03/592465/US-Saudi-nuclear-Rubio-Menendez-letter-Perry-Trump-Salman
--------
On Capitol Hill, persecuted Muslims unite to protect religious minorities' rights
April 2, 2019
Aysha Khan
(RNS) — More than 125 members of the minority Ahmadi Muslim sect spent Monday (April 1) on Capitol Hill advocating for international religious freedom causes — particularly lending their voices on behalf of beleaguered Uighur Muslims.
As part of its ninth annual Day on the Hill project, Ahmadi delegates from around the country met with more than 200 members of Congress or their staffers in Washington to encourage support for the Uyghur Human Rights Policy Act of 2019.
"Islam teaches absolute justice and human rights for all," said Amjad Mahmood Khan, national director of public affairs for the Ahmadiyya Muslim Community USA. "Our faith asks of us not to rest until the international community protects the rights of all people of faith, including the Uighur community, who have endured unspeakable cruelties."
Delegates also brought attention to the rights of Myanmar's Rohingya Muslims and Middle Eastern Christians, whose persecution has been the focus of Hill visits in previous years.
"As a community that is persecuted ourselves in some parts of the Muslim world, we are obligated to stand up for our brothers and sisters in faith who are suffering," said Khan.
Ahmadi Muslims, who belong to a sect that began in South Asia in the late 1800s, are subject to severe state-sanctioned persecution.
In Pakistan, the constitution forbids Ahmadis from calling themselves Muslim and the penal code imposes the death penalty for Ahmadis who practice their faith freely. Just last month, after years of advocacy from human rights advocates and U.S. political leaders, Pakistan released an 83-year-old Ahmadi bookseller partway through his eight-year prison sentence for propagating his faith.
"What we want for ourselves, we also want for everybody to have that," explained Mansura Minhas, an Ahmadi woman from Fort Lauderdale, Fla., who visited four congressional offices during her visit. "Hearing these personal accounts of Uighurs was simply harrowing. We also understand the repercussions of having religious freedom taken away, so we stand with all our brothers and sisters, regardless of their faith."
Reports suggest that China has systematically detained more than 1 million members of the largely Muslim Uighur ethnic minority in western parts of the country, confining them in a massive network of extralegal detention camps.
Authorities insist the camps are for vocational training, but eyewitnesses say detainees are subjected to psychological indoctrination, forced labor, sleep and food deprivation, beatings, waterboarding and other forms of torture, and have been forced to renounce their religion. China's rapidly expanding surveillance state has also been deployed as part of the brutal crackdown on Uighur and Islamic culture.
"Everything that makes the Uighurs unique has been treated as an abnormality and targeted: language, culture, history, religion and ethnic identity," said Rushan Abbas, founder and director of Campaign for Uyghurs. Abbas says her aunt and sister vanished in Xinjiang six days after she publicly spoke out about her in-laws' disappearance.
"Where is the outrage against such horrendous, repugnant catastrophe that is happening on our watch?" Abbas asked at a reception held Monday for the Ahmadiyya Muslim Caucus, a 5-year-old group made up of members of Congress from both sides of the aisle. "Isn't anyone seeing that Uighurs are facing cultural and physical genocide today because of their identity and religion?"
Abbas and other Uighurs — including a woman whose husband, scholar Yalqun Rozi, was sentenced to 15 years in prison for his Uighur-language writings — joined Ahmadi delegates at the reception, as did human rights leaders and several members of Congress.
"It's very unusual that a group that is under siege themselves takes the time to reach out on behalf of another community and realizes that religious freedom must be truly universal," said Rep. Pete King, co-chair of the 32-member caucus, which formed in 2014 to focus on global religious freedom and remains the only Muslim caucus in Congress.
In February, a coalition of more than 130 U.S. Muslim leaders and scholars signed an open letter calling for the release of Uighur detainees from internment camps in Xinjiang. But Muslim leaders and governments of Muslim-majority countries around the world have largely remained silent in the face of mass detention of Uighurs.
"The violation of human rights at this scale is a crime against humanity requiring immediate intervention," Harris Zafar, assistant director of public affairs for the Ahmadiyya Muslim Community USA, told Religion News Service. "Muslim countries have been surprisingly silent on the extreme treatment of Uighur Muslims. Some have even forcibly returned Uighurs to China."
In the U.S., bipartisan political leaders have been increasingly taking up the Uighur cause. Four U.S. representatives published an open letter last month calling on the White House to make good on its promise to explore sanctions on China for its human rights abuses.
Two bills in the House and Senate, which the Ahmadiyya Muslim Caucus is rallying support for, would direct federal resources to address China's human rights violations, including the intimidation and threats reported by U.S. Uighurs like Abbas.
"China seems to be at war with faith, and it's a war they will not win," noted Sam Brownback, U.S. ambassador-at-large for international religious freedom, at the reception. "Governments come and go, but faith stays."
Brownback, who attended an Ahmadi convention over the summer and met with the group's international faith leader in October, urged all Americans to bring the Uighur crisis to lawmakers' attention.
"We need to push this and we need to push this aggressively," he said. "Advocate, advocate, advocate. Push, push, push. And then also include these issues in your prayers. Put them up in front of God."
About 400 Muslims from the Council on American-Islamic Relations and the U.S. Council of Muslim Organizations were also on Capitol Hill on Monday, hosting their fifth annual National Muslim Advocacy Day to discuss domestic issues affecting Muslim communities.
https://religionnews.com/2019/04/02/on-capitol-hill-persecuted-muslims-unite-to-protect-religious-minorities-rights/
--------
JUI-F lawmaker plans to eliminate women and minorities seat
APRIL 3, 2019
Reserved seats for women and minorities to be eliminated in a proposal put forward by the Jamiat Ulema-i-Islam-Fazl (JUI-F) lawmaker on Tueday.
JUI-F lawmaker Aliya Kamran proposed to wipe away the reserved seats for women and minorities saying the reserved seats were weakening the minorities.
"Issues of minorities would not be addressed even if we increase the number of seats for them because they would not be able to address their issues. Moreover, Dr Vankwani was a part of the previous government and his similar bill could not sail through parliament then. Now he is also a part of the government but it is not for sure if his bill would sail through the parliament," she said.
https://dailytimes.com.pk/372743/jui-f-lawmaker-plans-to-eliminate-women-and-minorities-seat/
--------
Iran Calls For Global Battle Against Takfiri Ideology, Islamophobia
Apr 2, 2019
Iran's chargé d'affaires to the United Nations has called for the world's unified stance against Takfiri ideology and Islamophobia.
In his Tuesday address to a Security Council meeting on racism and xenophobia, Es'haq Al-e Habib (seen below) urged serious dialogue to find a new means of fighting Islamophobia, hate and discrimination.
Al-e Habib criticized the international community's failure to address the root causes of terror and racism, saying, "A global fight against such phenomena, with their abhorrent and evolving forms and manifestations, must be a matter of high priority at the national, regional and international levels."
Referring to the last month terror attacks in New Zealand, the Iranian diplomat said numerous people are falling victim to such assaults which are rooted in racism and supremacist ideology.
"These abhorrent incidents are illustrative of the fact that the international community is far behind in attaining the primary objectives to combat terrorism, racism, racial discrimination and related intolerance because, mainly, the root causes of these instances were not adequately addressed," he said.
"Over the last few decades, there has been an unsettling rise of a vast network of xenophobic propaganda outlets masquerading as news platforms, hate groups masquerading as think tanks and even civic groups promoting a hostile and abusive environment against Muslims and other minorities, such as migrants, in the West," he stated. "As a result, we are witnessing a political tolerance to hostility and discrimination as well as an incitement of hate have gained the ground against persons belonging to religious minorities in particular Muslims, in recent years."
"Such efforts to spread this propaganda are enabled by well financed institutions backed by affluent, government-tied tycoons," Al-e Habib noted, adding, "If unchecked, this wicked network of xenophobia, with its socially motivated feelings of hate, has the capacity to undermine the stability of many societies and strain the relationship between States and great religions, thereby jeopardizing international peace and security."
https://www.presstv.com/Detail/2019/04/02/592443/Iran-UN--battle-Takfirism-Islamophobia
--------
Blasphemy cases rise sharply in Indonesia
April 3, 2019
Blasphemy cases in Indonesia more than doubled last year, according to a human rights group.
There were 25 reported cases as opposed to only nine cases in 2017, said the Setara Institute for Democracy and Peace, which attributed the rise to a hate speech crackdown and an increase in using religion as a tool in politics.
Prior to that, Indonesia only saw a single-figure number of cases per year on average dating back to 1965 when the blasphemy law was introduced.
Probably the most prominent case was Meliana, a 44-year-old Buddhist woman who was sentenced to 18 months in prison by the Medan District Court in North Sumatra in August, Setara's research director Halili told ucanews.com.
The Chinese-Indonesian mother of four was accused of blasphemy after she complained to the daughter of the caretaker of a nearby mosque that the call to prayer on loudspeakers was too loud.
Muslims in her hometown of Tanjung Balai took her comments to mean she wanted the call to prayer stopped. Mobs attacked her home and ransacked more than a dozen Buddhist temples, said Halili, who like many Indonesians goes by one name.
Halili said misuse of the 1965 blasphemy law which recognizes only six religions — Buddhism, Catholicism, Confucianism, Hinduism, Islam and Protestantism — and bans others as well as prohibits alternative interpretations of recognized religions including Islam contributed to the increase.
The 2016 Electronic and Transactions Law, which outlaws the spread of so-called hate speech against ethnic groups, religions and races, had also played a significant role in bringing about blasphemy charges and also other acts that were considered acts against religious freedom.
"Both [laws] are often used to repress others," Halili said.
Setara's deputy chairman Bonar Tigor Naipospos also pointed to the politicization of religion as a main factor in the sharp rise in blasphemy cases.
"If polarization [along ethnic and religious lines] continues and the politicization of religion is used by competing political parties, we will see what we call 'the generation of the reporter' in which people will file blasphemy reports to overcome their political opponents," he said.
The defeat of Christian former governor Basuki Tjahaja Purnama in 2016 after being accused by hardline Muslims of blasphemy potentially opened the floodgates, he said.
https://www.ucanews.com/news/blasphemy-cases-rise-sharply-in-indonesia/84872
--------
Brunei sultan seeks conservative support with hardline sharia laws
April 2, 2019
Brunei's imposition of harsh sharia laws, including death by stoning for gay sex and adultery, is a bid by the country's ruler to boost support among conservatives and highlights a steady drift away from the West, observers say.
The tough punishments, which also include amputation of a hand and foot for theft, will come into force Wednesday when a new penal code is fully implemented after years of delays.
The decision to move ahead with the laws has sparked a global outcry, with the United Nations branding them "cruel and inhumane" and actor George Clooney leading calls for Brunei-owned hotels to be boycotted.
By making his country the first in East or Southeast Asia to introduce a sharia penal code on a national level, analysts believe all-powerful Sultan Hassanal Bolkiah is seeking to burnish his Islamic credentials among conservative supporters at a time the economy is weakening.
Brunei, a resource-rich former British protectorate on Borneo island with a population of about 400,000, was plunged into recession in recent years as oil prices plummeted and its crude reserves declined.
"Brunei is becoming Southeast Asia's Saudi Arabia," Bridget Welsh, a Southeast Asia expert from John Cabot University, told AFP.
"The regime has increasingly been relying on religious legitimacy, appealing to a conservative Islamic ideology. The weakening economy in Brunei as well as concerns about possible erosion of support underscore this increasing reliance on religion."
Shift to China
The Muslim-majority nation's implementation of punishments that may scare off Western businesses also signals a shift towards investment from China, which typically refrains from criticising trading partners on human rights, observers said.
As in many other parts of Asia, Chinese companies are investing huge sums in the absolute monarchy, part of an infrastructure drive aimed at extending Beijing's economic and geopolitical clout.
Initiatives include a multi-billion-dollar oil refinery -- Brunei's biggest ever foreign investment project -- a dam and a highway. Xi Jinping visited the country in November last year, the first trip by a Chinese president in 13 years.
Experts say it is hard to gauge the level of public backing for sharia law in Brunei, as most citizens would not publicly voice criticism of the sultan.
But it is believed to have substantial support among the country's Muslim ethnic Malays, who make up some 70 percent of the population. Those who speak publicly generally welcome it.
"I'm proud, because implementing the law feels like it solidifies the Islamic identity of Brunei," Muhammad Antoni, a 27-year-old oil and gas company worker, told AFP.
Others were irritated at the calls for a boycott of nine Brunei-owned hotels in Europe and the United States.
"Regarding celebrities calling for a boycott, it's not their place," said Haziah Zainal, a 36-year-old civil servant. "These actions seem ignorant as they have not even been here to experience what it's like."
There was some unease online, however, where people can comment more freely.
"This worries me so much for Brunei's economy," one user posted on social media platform Reddit, adding that it would mean "losing more business overseas".
Global alarm
In reality, it is not yet clear if the toughest punishment -- death by stoning -- will be implemented.
Brunei has long had capital punishment, and any execution should be carried out by hanging. But the last known instance of someone being put to death in the country was in 1957, according to Matthew Wolfe of human rights group The Brunei Project.
While condemning the new penal code, Amnesty International said the country was "abolitionist in practice" when it comes to the death penalty.
The burden of proof is high before someone can be sentenced to death by stoning. An accused person must either confess to the offence, or it must be witnessed by at least four people who have to then testify.
The sultan, the world's second-longest ruling monarch, has weathered controversies before -- the monarchy was deeply embarrassed over revelations the ruler's brother Jefri allegedly embezzled billions of dollars -- and is unlikely to back down.
In a weekend statement, the government defended its right to introduce the new penal code, saying that sharia law "aims to educate, respect and protect the legitimate rights of all individuals".
https://www.thejakartapost.com/seasia/2019/04/02/brunei-sultan-seeks-conservative-support-with-hardline-sharia-laws.html
--------
UK: Right-wing extremists learn bomb-making from Daesh
Muhammad Mussa
02.04.2019
LONDON
Far-right extremists in the U.K. are learning how to make explosives from online manuals by the terror group Daesh, a top British security official said on Tuesday.
Addressing parliament's Defense Committee, Securities Minister Ben Wallace warned of how certain individuals of the U.K. far-right pose significant dangers and risks.
"The methods that are bringing these people to our threshold is predominantly through the Internet," Wallace said of the U.K. far right.
"They communicate through the Internet, sometimes we find them actually looking at Isis [Daesh] terror manuals to learn how to make bombs," he added.
Wallace also addressed the role of the Internet in empowering the far-right, saying using the Web has brought the far right "better organization and better momentum."
He also warned of the risk posed by certain right-wing individuals to British society.
"It is a bubbling group of extremists, and we need to get in there using diversion, to prevent them becoming tomorrow's terrorist groups," he testified.
When asked if the U.K. far-right are a new phenomenon, Wallace said that neo-Nazis have always been "at large" in the U.K. but their recent rise has shown them to be more capable and organized, "which is also the same as Isis [or] Daesh."
According to research by Internet outlet The Independent, far-right extremism is growing in the U.K., and white British people are more likely to sympathize with extremism that those of Asian Muslim descent.
The government has been warned to not solely focus on Muslim-oriented extremism, as far-right extremism is a growing threat.
https://www.aa.com.tr/en/europe/uk-right-wing-extremists-learn-bomb-making-from-daesh/1440811
--------
Top Commander: Kurds Not Thinking of Separation from Syria
Apr 02, 2019
The Arabic-language Sky News quoted Kobani as saying that the SDF forces are a part of Syria and do not intend to be separated from the country.
He added that ties between the SDF and the US have darkened after Washington declared withdrawal from Syria, complaining that the White House decision has emboldened Turkey to threaten the Kurds with military operations in Eastern Euphrates region.
Kobani said that the SDF has established closer relations with Damascus after the US decision to backtrack its support for the Kurds, and stressed the need for resolving the differences between the SDF and the Syrian government through talks.
His remarks came after commander the so-called 'National Army' affiliated to Turkey in Northern Aleppo Mostafa Seijari underlined the immediate start of military operations against the Kurds in Eastern Euphrates, adding that they are waiting for the final order.
Also, the Turkish defense minister had earlier declared formation of a joint operations room at the borders with Syria to confront the US-backed SDF fighters.
Relevant reports said earlier today that the SDF had detained hundreds of young people in Eastern Syria amid increased threats by Turkey for military operations against the Kurds in Eastern Euphrates region.
Media activists in Eastern Syria reported that the SDF has arrested over 500 young civilians in Hasaka city and the nearby areas in the past two days.
They added that the so-called Asayesh forces affiliated to the SDF want to evacuate important bordering areas with Turkey, including Tal Abyadh, Ain Issa and Salouk in Raqqa province, Ra'as al-Ain and al-Darbasiyeh in Hasaka province from civilians for the fear of the Turkish army's attacks.
Also, the SDF has dispatched fresh forces and new military equipment to Tal Abyadh to dig tunnels and strengthen the bordering areas with Raqqa.
Field sources in Hasaka had also reported on Monday that the SDF had detained a number of civilians in different districts of Hasaka city, including Tal Hajar, Qawiran, al-Aziziyeh and al-Salehiyeh, with the aim of recruiting more fighters.
http://en.farsnews.com/newstext.aspx?nn=13980113000506
--------
After hype, it's no show for Waseem Rizvi's 'Ram ki Janmabhoomi' in Lucknow
Apr 03, 2019
Multiplexes and cinema hall owners in Lucknow have refused to screen the controversial movie 'Ram ki Janmabhoomi', written and produced by UP Shia Central Waqf Board chairman Waseem Rizvi.
The movie chronicling the history of events related to Ram Janmabhoomi and Babri Masjid issue in Ayodhya was set for release in a multiplex and cinema hall in Lucknow on April 1, but their owners cancelled the shows at the last moment.
"I had deposited money with the SRS multiplex in Gomti Nagar for the screening of the movie on Monday. Several viewers had made online bookings for the show and I was also going but at the last moment I got a call from the owner saying they had cancelled the show," said Waseem Rizvi.
Sudarshan cinema hall in Old Lucknow, which was also set to screen the movie, followed suit.
"The movie was taken down after owners of commercial establishments inside the mall met the management and voiced their apprehension. There have been protests against the movie. What if those opposed to it indulged in violence and arson, we would have been at the receiving end," said Rehan, who works in one of the shops inside SRS Mall. Ashish Aggarwal, general secretary of the UP Cinema Hall Owners' Association, said he was not aware as to why multiplexes were not willing to screen the movie.
"After all, who would take a risk for a non-star cast movie?" said Rajesh Tandon of the Novelty cinema hall adding this was one of the reasons why he did not go for it. Known for his pro-temple stance, Rizvi, however, said that his movie was running in cinema halls in Varanasi and Mathura. The Supreme Court recently rejected a petition seeking a ban on the release of the movie due to the sensitive nature of its content.
But a fresh petition for restraint on the movie's release has again been filed by one Hussain Akhtar of Faizabad before the Allahabad HC, which fixed April 15 for hearing the matter. Several Muslim outfits and NGOs have questioned the timing of the movie, which they allege contains provocative content. "It is an attempt to incite communal passions ahead of LS polls," they said. "The movie is highly objectionable. It vilifies Muslims, especially clerics, and is a product of a depraved and sick mind whose aim is to spread hatred in the society," said Maulana Khalid Rashid Farangi Mahli, Imam Eidgah Lucknow.
"Islam does not subscribe to the practice of 'halala' and divorce as shown in the movie. It is totally against 'shariah' (Islamic practice and laws)," said Maulana Rashid, also a member of the All India Muslim Personal Law Board.
Shia cleric Maulana Kalbe Jawad also demanded a ban saying that the release has been timed to incite communal passions and its provocative content could vitiate the atmosphere of the country. He alleged that Rizvi had taken a pro-temple stand only to save his skin as there were corruption charges against him.
"Rizvi is a career politician, a one-time acolyte of Samajwadi Party leader Azam Khan. But, he knows when to switch political loyalty. He has no experience of film-making. From the trailer, it becomes clear that the movie has been made to promote a particular ideology, create schisms in the society," said Athar Hussain, who runs Centre for Objective Research and Development (CORD), an NGO.
ABOUT THE MOVIE
The movie starts with the firing on the 'kar sevaks' in Ayodhya in 1990, shows the practice of instant triple 'talaq' (divorce) and Halala (temporary marriage) and portrays Muslim clerics opposing the construction of Ram temple as Pakistani agents.
The film represents the timeline of Ayodhya and starts with the firing on "kar sevaks" on November 2, 1990. Apart from chronicling the history of the age-old dispute, the role of politicians and radical clerics in fanning the divide between the Hindus and the Muslims, the two-and-a-half-hour-long movie also highlights another controversial practice, Halala (temporary marriage), among the Muslims.
https://www.hindustantimes.com/lucknow/after-hype-it-s-no-show-for-waseem-rizvi-s-ram-ki-janmabhoomi-in-lucknow/story-ZTJrSWiUeiu9KAZYjsBSeI.html
--------
North America
US says it will use all available resources to blacklist Masood Azhar
Apr 03, 2019
The United States on Tuesday stated it will "utilize all available resources" to ensure Jaish-e-Mohammad founder Masood Azhar, was held accountable countering Chinese charges that it has circumvented UN security council's sanctions committee to blacklist the Pakistan-based terrorist leader.
"While we strongly prefer that UNSC designations take place through the committee process, the United States and its allies and partners, including those on the UN Security Council, will utilize all available avenues to ensure that the founder and leader of the UN-designated terrorist organization JeM is held accountable by the international community," a US state department spokesperson said in a statement to Hindustan Times.
The spokesperson also confirmed "that we circulated a draft UNSC resolution with U.K. and French support".
The state department was responding to China criticizing the United States, France and the United Kingdom for moving a draft resolution at the UNSC as "not a constructive move" and that it "set a bad example".
Beijing has said the process should have stayed in the 1267 sanctions committee where progress had been made and that the United States was aware of it and yet it "insists on pushing" the UNSC draft resolution.
The United States, France and the United Kingdom moved a draft resolution at the UNSC last week after what they saw was China's failure to agree to the designation by removing the technical hold it had put three weeks ago on a proposal the three powers had moved before the sanction committee following the Pulwama attack on a CRPF convoy that killed 40 troopers.
They were understood to have agreed among themselves to give discussions with China some more days, but not weeks and month. They were prepared, at the same time, to escalate the issue to the full Security Council for an open debate and vote, to force China to either agree or end up defending a known terrorist. China had blocked or put a hold on four proposals to list Azhar a 'global terrorist' so far.
The draft resolution set off "informal discussions", which could lead to that open debate, but not if the designation was cleared in the interim.
https://www.hindustantimes.com/india-news/us-says-it-will-use-all-available-resources-to-blacklist-masood-azhar/story-HKhr00oqHuPAooqPmlegqO.html
--------
US envoy Brian Hook says three countries cut Iran oil imports to zero
3 April 2019
Three of eight countries granted waivers by Washington to import oil from Iran have now cut the imports to zero, a US official said on Tuesday, adding that improved global oil market conditions would help reduce Iranian crude exports further.
The United States re-imposed sanctions on Iran after President Donald Trump last May withdrew the country from a 2015 nuclear deal between Iran and several world powers, accusing it of supporting terrorism and conflicts in Syria and Yemen.
While the United States has set a goal of completely halting Iran's oil exports, it granted temporary import waivers to China, India, Greece, Italy, Taiwan, Japan, Turkey and South Korea to ensure low oil prices and no disruption to the global oil market. The Trump administration is currently in consultations with the countries ahead of a May 2 deadline when the waivers expire.
"In November, we granted eight oil waivers to avoid a spike in the price of oil. I can confirm today three of those importers are now at zero," Brian Hook, the special US envoy for Iran, told reporters.
Hook did not identify the three countries.
"There are better market conditions for us to accelerate our path to zero," Hook said. "We are not looking to grant any waivers or exceptions to our sanctions regime."
Hook said US oil sanctions against Iran removed about 1.5 million barrels of Iranian oil exports off the market since May 2018.
"This has denied the regime access to well over $10 billion in (oil) revenue - a loss of at least $30 million a day," he said.
Oil prices on Tuesday hit their highest level so far in 2019, with Brent crude approaching $70 a barrel on the prospect that more sanctions against Iran and Venezuelan disruptions could deepen an OPEC-led supply cut.
Analysts believe the administration is likely to extend the waivers to the remaining five countries to placate top buyers China and India and to decrease the chance of higher oil prices.
China, India, Japan, South Korea and Turkey are likely to be given waivers that could cap Iran's crude oil exports at about 1.1 million barrels per day, US-based analysts at Eurasia Group said in January. That would remove Italy, Greece and Taiwan from the waivers list.
Hook said a decision on whether to extend the waivers would be made "in due course." A total of 23 countries that once imported Iran oil had cut imports to zero, he added.
"With oil prices actually lower than they were when we announced our sanctions and global production stable, we are on the fast track to zeroing out all purchases of Iranian crude," Hook said.
A senior Trump administration official told reporters on Monday that the US government was considering additional sanctions against Iran that would target areas of its economy that have not been hit before.
Hook said more than 26 rounds of US sanctions against Iran had restricted the country's cash flow and constrained its ability to operate in the region.
Full report at:
https://english.alarabiya.net/en/News/world/2019/04/03/US-envoy-Brian-Hook-says-three-countries-cut-Iran-oil-imports-to-zero-.html
--------
US expects Turkey to buy Patriot system instead of Russia's S-400: Pentagon
Apr 3, 2019
The United States expects Turkey will buy its Patriot missile systems instead of the Russian S-400 missile defense system, the Pentagon says.
On Tuesday, US Acting Defense Secretary Patrick Shanahan said he was confident that Turkey would cancel its plan to purchase the Russian system.
"I've had a number of conversations with Defense Minister (Hulusi) Akar and I really think we'll resolve this situation with our strategic partners," Shanahan told reporters.
"I am very confident in the Patriot proposal that we've delivered to Turkey, its availability, its pricing, and very importantly, the industrial participation that comes along with the Patriot system."
Asked whether that meant he expects Turkey will buy the Patriot system, Shanahan said: "I expect we'll solve the problem so that they have the right defense equipment in terms of Patriots and F-35s."
Meanwhile, Turkey has said the S-400 will be delivered by Russia despite the US pressure on the NATO member. According to multiple reports, the production has been estimated to be completed in May for subsequent delivery to Turkey in July.
This comes after the US said Monday it had stopped shipment of equipment for F-35 equipment to Turkey over the country's defensive cooperation with Russia.
Reuters cited two unnamed sources in a report, suggesting that the Turkish officials had been notified about the matter by their American counterparts "in recent days."
"The next shipment of training equipment, and all subsequent shipments of F-35 related material, have been canceled," read the report citing sources speaking on condition of anonymity.
Also, the Pentagon said in a statement, "Pending an unequivocal Turkish decision to forgo delivery of the S-400, deliveries and activities associated with the stand-up of Turkey's F-35 operational capability have been suspended while our dialogue on this important matter continues with Turkey."
Shanahan was also asked Monday about whether the US will deliver the F-35s planned for Turkey, and he replied, "I expect them to be delivered."
Full report at:
https://www.presstv.com/Detail/2019/04/03/592454/US-patriot-Turkey-Russia-S400
--------
Pakistan
Govt, opposition at odds after ex-IB chief sworn in as minister
Amir Wasim
April 03, 2019
ISLAMABAD: President Dr Arif Alvi on Tuesday administered the oath to newly appointed Minister for Parliamentary Affairs retired Brigadier Ijaz Ahmed Shah despite opposition from the Pakistan Peoples Party (PPP) and Pakistan Muslim League (PML-N) which believed that Mr Ijaz's appointment would further spoil the environment in parliament.
The oath-taking ceremony, atten­ded by a limited number of guests, including Minister of State for Parlia­mentary Affairs Ali Moham­mad Khan, was held at President House.
The government had on Friday appointed former Intelligence Bureau (IB) chief Ijaz Shah as the federal minister for parliamentary affairs. The decision sparked a controversy — for the opposition in general and the PPP in particular — because before her assassination in December 2007, former prime minister Benazir Bhutto had claimed that Mr Shah was among the people who had hatched a conspiracy to kill her.
Mr Shah had served as the IB director general from 2004 to 2008. He was accused of using the organisation for victimisation of political opponents. He was elected MNA on a ticket of the Pakistan Tehreek-i-Insaf (PTI) from NA-118, Nankana Sahib-II.
The former IB chief was said to be a close confidant of former military ruler Gen Pervez Musharraf and was reportedly accused of orchestrating the formation of the PML-Q as the 'king's party' before the general elections of 2002 by acquiring loyalties of PML-N leaders.
Mr Shah has taken the charge of his ministry 10 days before the start of the National Assembly's new session on April 12.
When contacted, PPP leader Syed Khursheed Shah said that though Prime Minister Imran Khan had the powers to appoint any member of parliament as his minister, it seemed that he had intentionally chosen a "controversial" man as the new parliamentary affairs minister to "provoke" the opposition in parliament.
Mr Shah said that it would be difficult for his party members to interact with a person who was allegedly involved in the murder case of Ms Bhutto.
"In fact, Ijaz Shah is being made the minister to make parliament redundant and to further degrade it," the PPP leader said, adding that Mr Khan himself had no respect for parliament which was evident from his attendance in the National Assembly over the past nine months.
The PPP leader from Sukkur questioned the credentials of the former military man for the important office of parliamentary affairs and said that "Minister of State for Parliamentary Affairs Ali Mohammad Khan is at least a genuine political worker".
The PPP leader said that Mr Khan had previously claimed that he would bring neat and clean people to his cabinet, but later the nation witnessed inductions of the members of the Gen Musharraf cabinet one by one. He alleged that the prime minister had actually been "brought to power as an alternative" to Gen Musharraf after the latter's inability to return to the country.
Similarly, when contacted, PML-N spokesperson Marriyum Aurangzeb said that her party considered Ijaz Shah's appointment an "unnecessary move".
"It is just a new addition to the existing cabinet of Gen Musharraf being presided over by selected PM Imran Khan," she added.
On the other hand, federal Minister for Information Fawad Chaudhry refuted the PPP allegation that Ijaz Shah was nominated by Ms Bhutto in one of her letters to then president Musharraf and some international journalists for his possible involvement in the eventuality of her assassination.
Talking to Dawn, the information minister said Mr Shah had been cleared in a number of inquiries conducted after the death of the former prime minister during the PPP regime when Asif Ali Zardari was the country's president.
"He is a clean man as he has been cleared in all inquiries conducted against him," he said.
Mr Chaudhry said that the opposition was simply finding "excuses" as it had no interest in running parliament smoothly.
Responding to the allegation that a majority of members of the present cabinet were Gen Musharraf's aides, Mr Chaudhry said that a number of lawmakers in the former president's assembly had joined the PPP, including former foreign minister Hina Rabbani Khar.
Asked why Ijaz Shah was appointed federal minister for parliamentary affairs despite being a former head of the IB, Mr Chaudhry said that he had been made the minister because the PTI wanted to give representation to central Punjab in the federal cabinet. https://www.dawn.com/news/1473575/govt-opposition-at-odds-after-ex-ib-chief-sworn-in-as-minister
--------
UN adopts resolution as Pakistan warns of threat to global peace from Islamophobia
April 03, 2019
The United Nations General Assembly on Tuesday unanimously adopted a resolution, co-sponsored by Pakistan, that strongly condemns violence and acts of terrorism targeting individuals, including persons belonging to religious minorities.
After the passage of the resolution that decried the recent Islamophobic terrorist attack in New Zealand, Pakistani Ambassador Maleeha Lodhi highlighted the rise of extreme nationalistic and populist ideologies in the West and also in Pakistan's neighbourhood.
The trend, she said in an obvious swipe at India's Hindutva ideology, was giving rise to "bigotry, intolerance, anti-Muslim hatred and xenophobia".
"Pervasive Islamophobia is a global phenomenon," she said and called for a collaborative, coherent and committed global response in this regard.
"The adoption of the resolution today is a strong manifestation of our shared commitment to stand united against racial and religious hatred."
The assembly through the resolution, titled "Combating terrorism and other acts of violence based on religion or belief", condemned the heinous, cowardly terrorist attack aimed at Muslim praying in two mosques in Christchurch, and expressed its deepest condolences to the families of the victims.
The assembly urged states to protect and promote freedom of religion and belief and to foster a domestic environment of religious tolerance, peace and respect.
In her speech, Ambassador Lodhi, noting that nine victims of the Christchurch attack hailed from her country, said that profiling and stigmatising people from one country leads to drastic consequences.
"Our thoughts and prayers are with the families of the victims and survivors of this cowardly terrorist attack."
While expressing solidarity with the people and government of New Zealand, she saluted Prime Minister Jacinda Ardern for her "exemplary leadership" in the face of this tragedy.
The Christchurch terrorist, she said, was only the latest manifestation of a growing phenomenon rooted in hate, bigotry, racism, and the extremist ideology of racial and white supremacy.
"The rise of extreme nationalist and populist ideologies in liberal Western democracies and elsewhere, including in our region, are fanning the flames of bigotry, intolerance, anti-Muslim hatred and xenophobia," the Pakistani envoy added.
The growing prejudice against Islam was "evident in policies aimed at creating walls and barriers against displaced populations, as much as in attempts to denigrate Islamic beliefs and our sacred personalities on the pretext of freedom of expression".
"The political falsehood of equating people of different religions with violent extremism, in order to garner political support for the forces of hate lies at the heart of this phenomenon," Ambassador Lodhi said.
Freedom of expression, she said, was often used as an excuse to enable such vile expression to prosper and for hate speech to enter the mainstream. The Christchurch tragedy also exposed social media's radicalising role.
"It is time that we evolve ways to ensure that social media companies are held accountable for their content that incites violence or spreads hatred," she said, adding that Islamophobia posed a grave threat to global peace and security.
"We must strengthen efforts to foster a global dialogue on the promotion of a culture of tolerance, dialogue and peace at all levels, she said, while emphasizing respect for human rights and diversity as well as space for diverse voices, religions, worldviews and faith traditions.
Pakistan, she said, was committed to continuing its efforts to build bridges of understanding and challenge and resist those who seek to construct walls of bigotry and hatred.
"We look towards all those who believe in humanity's common future, to help in evolving a consensus for action to combat the forces of Islamophobia, xenophobia and racism."
Introducing the resolution, Turkish Foreign Minister Mevlut Cavusoglu, told the 193-member assembly that the international community must stand up against the spiral of hate. Sending condolences to the families of the Muslims who were killed in Christchurch in a clearly planned terrorist attack, he said that Islamophobia and racism go hand in hand.
Full report at:
https://www.dawn.com/news/1473634/un-adopts-resolution-as-pakistan-warns-of-threat-to-global-peace-from-islamophobia
--------
Anti-terror law full of 'ambiguities', says CJP Khosa
Apr 03, 2019
ISLAMABAD: Chief Justice of Pakistan (CJP) Asif Saeed Khosa on Tuesday said that the Anti-Terrorism Act (ATA) was full of "ambiguities", as a seven-member larger bench on Tuesday reserved its verdict in a case pertaining to the definition of 'terrorism' and the types of cases that should be tried under the anti-terrorism law.
The larger bench was hearing reviews petitions in the Sibtain Vs the State and Fazal Bashir Vs the State cases.
Heading the seven-judge bench, CJP Khosa regretted that "routine criminal cases are also tried in anti-terrorism courts".
"Every grave crime is not an act of terrorism," he said, adding that "God willing, we will define what constitutes as terrorism".
Khosa noted that "planned proliferation of insecurity is [defined as] terrorism", but also observed that "all crimes result in extension of insecurity". He reasoned that if a crime is committed with the intention of spreading insecurity, then maybe that ought to be classified as terrorism.
At this point, Justice Mansoor Ali Shah said that the intention of a perpetrator cannot be ascertained just by the extent of the damage they inflict.
Chief Justice Khosa noted that neither the United Nations nor United States had ever been able to give a singular definition of terrorism. He added that cases seem to be "referred to anti-terrorism and military courts whenever there is a need to temporarily calm media uproar or to tackle a crisis".
As the verdict was reserved, the chief justice vowed that the court would ascertain at a universal definition of terrorism.
Full report at:
https://www.pakistantoday.com.pk/2019/04/02/anti-terror-law-full-of-ambiguities-says-cjp-khosa/
--------
Will define what constitutes as terrorism: CJP
Apr 03, 2019
The Supreme Court on Tuesday reserved its verdict in a case pertaining to what constitutes 'terrorism' and, consequently, what cases should be tried under the Anti-Terrorism Act (ATA).
Last month, the apex court formed a seven-member larger bench to examine the issue when the matter came under discussion while the court was hearing two reviews petitions.
Chief Justice Asif Saeed Khosa, during the hearing in Islamabad, remarked that the ATA was full of "ambiguities" and regretted that "routine criminal cases are also tried in anti-terrorism courts".
"Every grave crime is not an act of terrorism," the top judge remarked at one point. "God willing, we will define what constitutes as terrorism."
The chief justice noted that "planned proliferation of insecurity is [defined as] terrorism", but also observed that "all crimes result in extension of insecurity". He reasoned that if a crime is committed with the intention of spreading insecurity, then maybe that ought to be classified as terrorism.
Justice Mansoor Ali Shah, at this point, observed that the intention of a perpetrator cannot be ascertained just by the extent of the damage they inflict.
Justice Khosa also noted that neither the United Nations nor the United States had ever been able to give a singular definition of terrorism.
Full report at:
https://dailytimes.com.pk/372670/will-define-what-constitutes-as-terrorism-cjp/
--------
Mideast
Turkey's top cleric marks Muslim holy night
Ozgun Tiran, Ufuk Ertop
03.04.2019
One of the most important things that Lailat al Miraj reminds us about is al-Aqsa Mosque in Jerusalem, the head of Turkey's Religious Affairs Directorate (Diyanet) said Tuesday.
Ali Erbas marked Lailat al Miraj, or the "Night of Ascension", during a program organized by a mosque in Turkey's northwestern Kirklareli province.
"I pray that this holy night brings blessings to the entire Muslim world," Erbas said.
"Al-Aqsa Mosque must be free," he added.
Lailat al Miraj is observed in Turkey as one of the five holy nights when the minarets of mosques are illuminated and there are special prayers.
The event marks the night that Allah took Prophet Muhammed on a journey from Makkah to Jerusalem and then to heaven.
The night is generally observed on the 27th day of the Islamic month of Rajab, the seventh month in the Islamic calendar.
https://www.aa.com.tr/en/turkey/turkey-s-top-cleric-marks-muslim-holy-night/1440995
--------
Arab Coalition intercepts two Houthi drones over Saudi Arabia
3 April 2019
The Arab Coalition intercepted two drones launched by the Iranian-aligned Houthi militias toward the city of Khamis Mushait in Saudi Arabia, Saudi press agency SPA said on Wednesday.
Five people were injured by debris, including a woman and a child, SPA added. Some houses were damaged as well, along with four vehicles.
"At 21:35 local time (1835 GMT), Tuesday, the Royal Saudi Air Defense systems detected two unidentified objects headed towards civilian objects in (Khamis Mushait). They were directed at densely populated civilian areas, and were intercepted and destroyed according to the Rules of Engagement," Colonel Turki Al-Malki, the coalition's spokesman, said.
Al-Malki said that continued attempts to target civilians in Saudi Arabia by the "Houthi terrorists" from Hodeidah is an attempt to provoke the coalition into taking military action.
He also reaffirmed the coalition's commitment to supporting the political efforts spearheaded by Martin Griffiths, the UN's special envoy to Yemen, and Michael Anker Lollesgaard, chairman of the Redeployment Coordination Committee, to successfully implement the Stockholm Agreement.
Full report at:
https://english.alarabiya.net/en/News/gulf/2019/04/03/Arab-Coalition-intercepts-two-Houthi-drones-over-Saudi-Arabia.html
--------
Palestinian shot dead by Israeli settler in West Bank
Apr 3, 2019
An Israeli settler has shot and killed a young Palestinian over an alleged stabbing attempt south of the occupied West Bank city of Nablus.
The deadly shooting took place at the Huwara checkpoint on Wednesday. The victim was identified as Mohammed Abdel Moneim Mohammed Abdel-Fattah.
Footage went viral of the victim lying on the ground bleeding after being shot. It shows a number of Israeli settlers and soldiers standing over his body, while two of them search the victim.
According to Israeli media, the Palestinian victim was taken in a military ambulance in serious condition to a hospital, where he was pronounced dead.
The Palestinian Ma'an news agency reported that the Israeli settler had opened fire on the Palestinian under the pretext that he was attempting to carry out a stabbing attack.
Another young Palestinian man, who was standing in the area, was also injured by the gunfire.
The Israeli army said that there were no Israeli casualties in the alleged stabbing attack.
Israeli media reported that an assailant had attempted to open the door of a vehicle driven by an Israeli man to stab his daughter with a knife.
However, witnesses rejected any stabbing attempt, saying that the shooting came after one of the Palestinians – a driver -- got out of his truck because of the closure of the road by the Israeli settler.
The Israeli military regularly opens fatal fire on Palestinians, accusing them of seeking to stab its personnel.
Full report at:
https://www.presstv.com/Detail/2019/04/03/592476/Israel-Palestine-Nablus
--------
Southeast Asia
Malaysia police likely behind religion-linked abductions: Enquiry
Apr 03, 2019
Kuala Lumpur, Malaysia - A Malaysian human rights commission enquiry into the abduction of two people more than two years ago has found the pair was probably disappeared by the intelligence branch of the country's police.
The three-member panel, which began investigating the cases in October 2017, called on the government to open a new and independent investigation while criticising parts of the official investigation into one of the cases as an "affront to common sense and logic".
The families "need some closure and answers can only be provided by the state", Mah Weng Kwai, a retired Court of Appeal judge, told the enquiry on Wednesday.
"It is believed that those who have been put in charge so far are withholding the answers to these questions or are refusing to undertake a diligent exercise to discover them. Hence, a new and separate task force needs to be set up."
Social activist and pastor Raymond Koh, 62, was kidnapped by masked men as he drove along a suburban Kuala Lumpur street on February 13, 2017.
The abduction, captured on CCTV cameras, shocked the country. Koh's disappearance led to the revelation that Amri Che Mat, a Muslim shia who, like Koh, worked with the poor and underprivileged, was kidnapped in the northern state of Perlis in November 2016.
A week later, Joshua Hilmy, a pastor, and his Indonesian wife Ruth Sitepu disappeared after leaving their house in Kuala Lumpur.
At the inquiry, Amri's wife Norhayati Mohd Ariffin, wept as Mah offered the human rights commission's apologies for the "grief, anxiety and sadness" that she and her children suffered.
"We would like to see the perpetrators, the ones responsible and involved in this, to be brought to book," said Susanna Liew, Koh's wife after the commission announced its findings.
"We want to see justice and we want the truth to be revealed. We still don't know what happened to our husbands," added Liew, showing the frustration on the families' part with the lack of progress made by the police.
Repeated allegations that Koh was trying to convert young Muslims have shocked Liew and her children.
Islam is Malaysia's official religion but other faiths can be practised in "peace and harmony". About 61 percent of the population is Muslim. Attempting to convert someone out of Islam is a criminal offence.
Norhayati, meanwhile, found herself being asked whether Amri was attempting to spread shia teachings.
"Four is not just a number," said Mohammad Faizal Musa, an academic at Malaysia's National University focussing on religious minorities in Malaysia.
"It represents significant religious minorities. There are Christians and there are shias. It goes back to the Malaysia-Saudi Arabia relationship, to Malaysia's failure to recognise minorities anymore and to investment. It is a serious matter."
Liew said the families would consider legal action if the government did not act on the commission's findings within six months.
The enquiry took place over 45 days and heard testimonies from 40 witnesses, including a lawyer who witnessed Koh's abduction, the police officers in charge of the investigation, Special Branch officers, family members, friends and the now-retired Inspector General of police, Khalid Abu Bakar.
Between 1980 and 2016, the UN's Working Group on Enforced or Involuntary Disappearances received only two cases of enforced disappearance from Malaysia.
Koh and Amri's disappearances highlighted an "ugly spectre" in Malaysian life, the lawyers for the families wrote in their final submission to the enquiry.
"The evidence points to circumstances suggesting that the organs of the State either orchestrated the abduction, or supported it; or, at a minimum, had knowledge of the act and stood by to allow the act to occur or continue," the lawyers concluded.
The commissioners were also told how both men were threatened before their disappearances.
After a 2011 fund-raising dinner was broken up by Islamic religious authorities and the police, Koh was sent two bullets in the post. His wife was mailed an envelope, filled with white powder, with the words "We want to kill you" written in Malay.
'Freedom of religion'
The commissioners noted that both men were monitored because of their religion and called on the authorities, including the police and the Islamic authorities, respect the "fundamental right to freedom of religion" spelled out in Malaysia's constitution.
The state's mufti visited Amri after he had come to the attention of the religious authorities in Perlis. Norhayati detailed in her police statement that her husband had been monitored by the Special Branch, the intelligence arm of the police, and taken by them without the knowledge of the regular police.
The police set up a special taskforce to investigate the kidnappings, and suggested that a drug-smuggling gang involved in a fatal shoot-out in northern Malaysia was also involved in Koh's kidnapping, saying they had found photos of the pastor while searching the group's house.
The police did not attend the panel findings despite being invited.
During the enquiry, police witnesses often said they could not remember what happened or that they could not reveal details because of the Official Secrets Act.
In their written submissions to the enquiry, which was obtained by Al Jazeera, it said there was no evidence of police involvement and that investigations were continuing.
Police inconsistencies
After the CCTV footage was played to the commissioners, showing seven vehicles and 15 men kidnapping Koh, most of the men wearing black balaclavas, former police chief Khalid dismissed the evidence.
"These are all learned from the movies," he said to the amazement of those present. "They try to emulate that."
During the enquiry, the families' lawyers pointed out inconsistencies in the police account of the incident and the discovery of the photos.
Mah dismissed the evidence for that theory as "full of inconsistencies and material contradictions" and an "affront to common sense and logic".
They also revealed that a car seen parked outside Amri's house prior to his disappearance was also seen at the place of Koh's kidnapping.
The vehicle was traced to a police officer who had worked for the force for 18 years but when the human rights commission sought to interview him, the police said the officer was no longer serving and could not be located.
Questions were also raised about the police's sudden decision to charge an Uber driver, Lam Chang Nam, for Koh's kidnapping, even though he had earlier been ruled out as a suspect – a decision which forced the suspension of the enquiry.
Lam's trial is yet to begin and he is due in court on April 17.
The enquiry's term ended before it could investigate the other two disappearances.
https://www.aljazeera.com/news/2019/04/malaysia-police-religion-linked-abductions-enquiry-190403062636367.html
--------
Anwar: Non-Muslims' right to drink, MB's right to resign golf club presidency
April 3, 2019
Anwar Ibrahim says he agrees with the decision of Aminuddin Harun to step down as the president of a golf club in Seremban in Malaysia where beer was sold to non-Muslim members.
The People's Justice Party (PKR) president said although he had no problems with non-Muslims consuming alcohol, the club members should respect Aminuddin's decision to resign after they overturned the club management's decision to stop selling beer on March 24.
"It is the right of non-Muslims if they wish to drink alcohol, but in Islam, you can be considered as abetting something prohibited in our faith if as, president, you allow the sale of beer.
"So all the MB said was that he would respect the right of non-Muslims to continue having it at the club, but members should also allow him to respect his religion which prohibits him from being complicit in something that is unIslamic," he said during a speech on Tuesday night.
Aminuddin resigned as president of the Seremban International Golf Club early last week saying that he could not helm a club that sold and served beer to its members and patrons when he was also the state's Islamic Affairs committee head.
He was made president last August as the club rules stipulate that Aminuddin is the automatic choice for the post.
The management then abruptly stopped the sale of beer, but this did not go down well with members who said the brew had been made available to non-Muslims since the club opened more than 60 years ago.
An EGM was then held on March 24 where the decision was overturned, prompting Aminuddin to resign.
The 18-hole course is owned by the state government, while the clubhouse and other facilities belong to the members.
Anwar said when he was elected Unesco president in Paris when in government, he did not allow wine to be served at a ceremony.
"And that was in Paris where sipping wine is the norm. I didn't allow it and yet I won the presidency," he said.
According to Anwar, during a visit to China back when he was Deputy Prime Minister, the Chinese government did not allow alcohol to be served at events he attended.
"I told them that they could serve alcohol at other tables and yet they did not.
"That was the kind of respect the Chinese government had for me as they knew I was a Muslim," he said.
Anwar hoped non-Malays would not misunderstand Aminuddin.
"Some people have told me that they are worried as the MB is too strict.
Full report at:
https://www.thejakartapost.com/seasia/2019/04/03/anwar-non-muslims-right-to-drink-mbs-right-to-resign-golf-club-presidency.html
--------
Brunei implements Islamic law: Facts about Shariah around the world
03 April 2019
HONG KONG (AFP) - Brunei on Wednesday (April 3) introduced harsh new Shariah laws - including death by stoning for adultery and gay sex - despite a storm of global criticism from rights groups.
Although most Muslim nations incorporate elements of Shariah law in their legal systems, very few carry out the harsher punishments - known as hudud - which even Muslim scholars disagree on.
Here are some facts about Shariah law and how it is interpreted around the world.
WHAT IS SHARIAH LAW?
Shariah is a religious law forming part of the Islamic faith derived from the Quran and the hadiths - the words or actions of the Prophet Muhammad.
The manner of its application in modern times has been a subject of dispute between conservative and liberal Muslims, and it remains a contested topic around the world.
Some aspects have been widely accepted - such as how it applies to banking - with even Western companies introducing Islamic finance products to attract Muslim customers.
Hudud, which means "boundaries" in Arabic, is the punishment meted out for sins such as adultery, rape, homosexuality, theft and murder.
Extreme punishments are rarely carried out, as many offences must be proved by a confession or by having been witnessed by several adult Muslim males.
COUNTRIES WHICH FOLLOW EXTREME SHARIAH LAW INCLUDE:
Saudi Arabia
Shariah is the basis for all Saudi law, and until fairly recently, extreme hudud punishments carried out in public were common.
Homosexual acts are not only illegal but also punishable by execution - although the usual penalty has been limited to flogging and imprisonment.
Beheadings and amputations by sword are usually carried out on Fridays, before midday prayers. In extreme cases, such as the rape of a child, the condemned man is sometimes ordered to be crucified after execution.
The law also allows for literal eye-for-an-eye punishment, known as "qisas", in cases of personal injury.
The family of a murder victim can pardon a condemned person - often in exchange for blood money.
Afghanistan
Afghanistan's Constitution is based on Islamic law but how that is interpreted has a complex history influenced by local custom and tribal traditions.
The Taleban followed a brutal interpretation of Shariah law during its rule from 1996-2001.
For instance, it confined women to their homes, allowing them outside only with a male escort and hidden beneath a burqa.
Hudud punishments were widely practiced all over the country.
The militants now control more territory in Afghanistan than any time since 2001, and again are imposing their strict interpretation of Shariah, although they have also recently indicated they could loosen some of their strictest interpretations if they return to power.
Indonesia
Indonesia's conservative Aceh is the only province in the world's biggest Muslim-majority country that imposes Islamic law.
Public flogging is common for a range of offences in the region at the tip of Sumatra island, including gambling, drinking alcohol, adultery and having gay sex.
Despite calls for it to end, the practice has wide support among Aceh's mostly Muslim population.
Aceh adopted religious law after it was granted special autonomy in 2001, an attempt by the central government to quell a long-running separatist insurgency.
While Indonesia has the death penalty, the government last year warned that Aceh's plan to usher in beheading as a punishment for murder was banned under existing national laws.
Sudan
Sudan adopted Shariah law in 1983 but since then has implemented it randomly, activists say.
Death by stoning remains a judicial punishment but has not been implemented in decades - although activists claim that hundreds of women are flogged every year for "immoral behavior" under the criminal code.
In recent weeks, several women protesters were sentenced to flogging for participating in protests against President Omar al-Bashir's rule, but an appeals court overturned the sentence.
Pakistan
In 1979, military dictator Zia ul Haq introduced the widely criticised Hudood Ordinances, part of a sweeping Islamisation of Pakistan
Shariah courts implementing the laws ran parallel to the mainstream British-influenced Pakistan Penal Code, and covered adultery, false accusations in court, property crimes and prohibition of drugs and alcohol.
Women were not allowed to testify in the most severe cases, involving stonings or amputations, and the laws on rape or adultery required four adult Muslim males of good character to testify to the act.
In 2006, MPs overwhelmingly approved the Women Protection Law, voting that rape and adultery cases should no longer be heard under the harsh religious system, but in the mainstream courts.
Rulings in Shariah courts can also now be appealed in the mainstream courts.
Nigeria
Some 12 of Nigeria's 36 states have extended Shariah to criminal matters and courts can order amputations - although few have been carried out.
The rest of Nigeria has a mixed legal system of English common and traditional law.
Qatar
Flogging is still used in Qatar as a punishment for alcohol consumption by Muslims or illicit sexual relations. The punishment for adultery is 100 lashes.
Adultery is punishable by death when a Muslim woman and a non-Muslim man are involved.
The Islamic State in Iraq and Syria
Although not a country, under its "caliphate", declared vanquished on March 23, the Islamic State group ran its own courts and implemented its brutal interpretation of Islam in areas it controlled in Syria and neighbouring Iraq.
Full report at:
https://www.straitstimes.com/asia/se-asia/brunei-implements-islamic-law-facts-about-Shariah-around-the-world
--------
Europe
UN chief warns against rising anti-Muslim hatred
April 2, 2019
CAIRO: UN chief Antonio Guterres warned Tuesday against growing hatred of Muslims, less than a month after a deadly attack on mosques in New Zealand killed at least 50 people.
His remarks came during a speech at Egypt's Al-Azhar, the Sunni Muslim world's foremost religious institution, where he met Grand Imam Ahmed al-Tayeb.
"Around the world, we are seeing ever-rising anti-Muslim hatred, anti-Semitism, racism and xenophobia," the UN secretary general said.
He cited the March 15 New Zealand mosque attacks by a white supremacist as well as a 2018 synagogue shooting in Pittsburgh that killed 11 people and is believed to be the deadliest against Jews in US history.
Guterres warned of a surge in hate speech he said was "entering the mainstream, spreading like wildfire through social media."
"We see it spreading in liberal democracies and as well as in authoritarian states."
Guterres is on a two-day trip to Egypt, Following his visit to Al-Azhar, he was scheduled to meet President Abdel Fattah al-Sisi.
On Sunday, he attended an Arab League summit in Tunisia. --AFP
https://www.nst.com.my/world/2019/04/475435/un-chief-warns-against-rising-anti-muslim-hatred
--------
Britain, France, Germany seek full UN report of Iran missile activity
2 April 2019
Britain, France and Germany are accusing Iran of developing missile technology, following recent activities, that they said was inconsistent with a UN resolution, and are calling for a full UN report, according to a letter released on Tuesday.
The European trio cited Iran's launch of a space vehicle and the unveiling of two new ballistic missiles in February as forming "part of trend of increased activity inconsistent" with the resolution, according to the letter sent to UN Secretary General Antonio Guterres.
UN Security Council Resolution 2231 -- adopted just after the 2015 nuclear deal -- calls on Iran "not to undertake any activity related to ballistic missiles designed to be capable of delivering nuclear weapons."
Tehran insists that its missile program is defensive and that it has no intention of developing a nuclear capability.
The three countries asked Guterres to "report fully and throughly on Iranian ballistic missile activity" in his next report, which is expected in June.
The letter from the European countries, which are signatories to the nuclear deal along with the United States and Russia, came nearly a month after the United States made a similar appeal to the council, saying it was time to bring back tougher international restrictions on Tehran.
Sanctions reimposed
President Donald Trump pulled the United States out of the nuclear accord in May last year and reimposed sanctions on Iran, citing concerns about missile development among its reasons.
At a council meeting in December, US Secretary of State Mike Pompeo called for tighter restrictions on Iran to curb its missile program but Russia flatly asserted that there was no proof that Iran's missiles can carry a nuclear payload.
The European countries said the Safir space launch vehicle used for a satellite blastoff on February 6 is based on two other missiles and uses technology closely related to the development of long-range and intercontinental ballistic missiles.
On February 7, the Iranian Islamic Revolutionary Guards unveiled the Dezful surface-to-surface missile which they claimed had a range of 1,000 kilometers, according to the letter sent on March 25.
During a public display in Tehran on February 4, Iran revealed a variant of the Khorramshahr ballistic missile that the letter said was "potentially an intermediate-range ballistic missile."
Full report at:
https://english.alarabiya.net/en/News/middle-east/2019/04/02/Britain-France-Germany-seek-full-UN-report-of-Iran-missile-activity-.html
--------
YouTube tightens restrictions on top UK Islamophobe
Apr 2, 2019
YouTube has further increased restrictions on the activities of the top UK Islamophobe Tommy Robinson amid calls on the giant online video-sharing website to ban the controversial figure for good.
YouTube announced on Tuesday that the new restrictions included turning comments and likes off on Robinson's channel while making his videos undiscoverable.
The company said a content warning will be placed on Robinson's videos before they play and they won't appear as recommendations while the controversial figure will no longer be able to use the live streaming option on the website.
It said view counts won't appear on any of videos on Robinson's channel on the website which has over 388,000 followers. The Google-owned company also tightened the demonetizing restrictions it had imposed on Robinson in January, making him completely unable to generate income from advertisements.
A YouTube spokeswoman said the new measures were in response to users flagging Robinson's content as potentially violating rules against hate speech and extremism.
"After consulting with third-party experts, we are applying a tougher treatment to Tommy Robinson's channel in keeping with our policies on borderline content," said the spokeswoman while insisting that the content posted by the Islamophobic figure were not illegal.
Robinson has a history of criminal convictions in Britain and is banned from travelling to the United States where he has high-profile supporters among politicians and campaigners. He has already been banned by major social media organizations like Facebook, Twitter and PayPal.
The controversial figure, whose real name is Stephen Axley-Lennon, has staged numerous anti-Muslim demonstrations across the UK over the past years while openly condoning attacks against Muslims in the country.
Full report at:
https://www.presstv.com/Detail/2019/04/02/592438/YouTube-tightened-restrictions-Tommy-Robinson
--------
Far right now catching up with ISIS threat in Britain
Nicky Harley
April 2, 2019
Far-right terrorism has risen neck and neck with the threat from Islamist extremists, according to an assessment from Britain's security minister.
The number of referrals to the UK's terrorism-prevention scheme, Prevent, now stands at 43 per cent from the extreme right wing, compared with 45 per cent for concerns relating to Islamist militants. Latest figures reveal the number of referrals for far-right activity to the programme increased by more than a third last year.
During a hearing in London on the global terrorist threat, Ben Wallace, the security minister, said immediate action needs to be taken to stop the rise of the far right as the terrorists of tomorrow. Measures are in place to ensure that the depth and scope of the threat did not reach levels such as those achieved by groups such as ISIS and Al Qaeda.
"It's a case of concern," he said. "It has not yet reached the point where they are at the same level of determined conspiracy or cultural religious depth that we have seen in the Islamist [militants].
"But individuals are starting to pose a significant danger and that is why Prevent is very important to head them off.
"If I go back to the early 2000s where the Al Muhajiroun network and Anjem Choudary were fomenting and recruiting, before these people were crystallised into ISIS fighters and volunteers, that is where we are seeing the far right.
"It is a bubbling group of extremists and we need to get in there using Prevent, using diversion to prevent them becoming tomorrow's terrorist groups."
Sarah Kay
@K_interarma
Interesting. Ben Wallace, the security minister, has launched a counter terrorism platform for an interdisciplinary audience, specifically targeting the private sector for a greater integration into counter terrorism policing https://www.counterterrorism.police.uk/online-hub-for-counter-terrorism-advice/ …
1:31 PM - Mar 22, 2019
Twitter Ads info and privacy
New Counter-Terrorism Information Sharing Platform
An interactive online sharing platform which provides expert counter-terrorism security advice to businesses and public sector is given the go ahead.
counterterrorism.police.uk
See Sarah Kay's other Tweets
He said that the far right was becoming a "global community" similar to ISIS and had recently become "better organised and have better momentum" and has attributed the change to there not being "the international borders there used to be".
"There have always been, as we know, neo-Nazis at large, but it is a recent phenomenon that they are more capable and more organised and able to live in a global community," he added.
Security officials have discovered the groups are using the ISIS social media model and its terrorism manuals on how to build bombs.
The assessment comes after the atrocity in Christchurch last month where 50 people were killed and dozens injured in shootings in two mosques.
Australian-born self-proclaimed white supremacist Brenton Tarrant has been charged over the terrorist ­attacks.
The UK's anti-radicalisation Prevent scheme has previously being criticised for unfairly targeting Muslim communities.
It was also lambasted for missing opportunities that could have helped prevent atrocities in the UK, including the 2017 Manchester Arena bombing when concerns about the attacker were not acted upon.
The scheme aims to identify vulnerable people and intervene at the earliest opportunity, Mr Wallace believes the programme is key in tackling the far-right threat.
At the security hearing, government ministers repeated calls for financial sanctions on social media giants to force ­platforms to immediately remove terrorist propaganda.
Those calls follow the live-streaming of the New Zealand shootings on Facebook.
It revealed 4,000 referrals a month are made on inappropriate posts but claim the companies are not passing on the reports to the ­authorities.
The major issues of how the UK will deal with returning foreign fighters came up at the hearing. Officials said only 40 of the 400 British ISIS fighters who returned to the UK have been prosecuted.
Full report at:
https://www.thenational.ae/world/europe/far-right-now-catching-up-with-isis-threat-in-britain-1.844387
--------
Arab World
Over 200 Children Killed in US-Backed SDF's Camp in Hasaka
Apr 02, 2019
The London-based Syrian Observatory for Human Rights (SOHR) reported on Tuesday that 13 children have recently been killed in al-Houl due to the lack of food, medicine and hygiene possibilities.
It added that the number of children killed in the camp since last December has increased to 207.
The SOHR had also reported on Wednesday that over 27 children were killed in the camp in a week for the severe lack of hygiene, drugs and food.
It added that 71,000 people are residing in the camp.
Meantime, field sources reported that civilians in the camp have held protest rallies against the SDF for hard living conditions in al-Houl, adding that the US-backed forces fired at the protestors.
The World Health Organization (WHO) announced earlier this month that 73 Syrian refugees had died in al-Houl camp in the past few months, adding that two third of them are children.
It said about 23,000 people, mainly women and children fleeing hostilities in rural areas of neighboring Deir Ezzur, had reached the camp over that period.
Displaced Syrian people sheltering in al-Houl camp earlier staged massive rallies over the death of tens of children.
Field sources from Hasaka province reported that the rallies were held to protest at SDF's incapability to supply the needs of the displaced community sheltered in the camp.
The camp population is suffering lack of basic needs and commodities, hygiene and cold, the locals said.
http://en.farsnews.com/newstext.aspx?nn=13980113000424
--------
'Khashoggi Children Receive Luxury Homes, Monthly Payments From Riyadh'
Apr 2, 2019
Six months into the state-sponsored murder of dissident Saudi journalist Jamal Khashoggi, a new report reveals that his four children have received multi-million dollar homes and are being paid thousands of dollars a month by the kingdom in an apparent attempt to hush up the gruesome assassination.
The Washington Post, for which Khashoggi had been a columnist, reported on Monday that the payments to the slain Saudi critic's two sons and two daughters were meant for them to "show restraint" in public statements about the murder, which is reported to have been ordered by Crown Prince Mohammed bin Salman.
The payments "are part of an effort by Saudi Arabia to reach a long-term arrangement with Khashoggi family members, aimed in part at ensuring that they continue to show restraint in their public statements," the report said.
It also noted that Khashoggi's children each received houses in the port city of Jeddah worth up to $4 million.
In addition, the children are getting $10,000 or more per month and may also receive larger payments that could amount to tens of millions of dollars each, the report added.
One source told The Washington Post that King Salman bin Abdulaziz Al Saud approved the payments to Khashoggi's family late last year in a bid to acknowledge that "a big injustice has been done" and "to make a wrong right."
Khashoggi — a late but vocal critic of bin Salman— was killed and his body was dismembered by a Saudi hit squad after being lured into the kingdom's consulate in Istanbul, Turkey, on October 2, 2018.
His fate was unknown for several weeks, until Saudi Arabia confirmed under rising international pressure that he had been murdered at the diplomatic mission.
Riyadh, however, has attempted to shift the blame to bin Salman's underlings and away from the prince himself. It has not produced Khashoggi's body to this day.
The administration of US President Donald Trump has sided with the Saudi regime in the scandal, despite a conclusion by the CIA that Prince Mohammed personally ordered the murder — a development first reported by The Washington Post.
In an opinion piece published on Monday, the newspaper said Trump has so far done nothing to hold those responsible for the killing accountable.
The US president, the article read, has shied away from criticizing bin Salman and taking any action against the kingdom other than placing sanctions on the 17 individuals implicated in the murder.
"In this impotent response, Trump isn't just violating the law. He is also undermining the credibility and moral authority of the United States," it said. "Another six months cannot pass without accountability for this abhorrent crime. Justice for an innocent journalist — and America's most crucial interests — require nothing less."
Bin Salman and the coordinator of the murder operation, Saud al-Qahtani, have enjoyed freedom from repercussions, according to the article.
Full report at:
https://www.presstv.com/Detail/2019/04/02/592391/Saudi-Arabia-Jamal-Khashoggi
--------
SDF Launches Forced Recruitment in Eastern Syria
Apr 02, 2019
Media activists in Eastern Syria reported on Tuesday that the SDF has arrested over 500 young civilians in Hasaka city and the nearby areas in the past two days.
They added that the so-called Asayesh forces affiliated to the SDF want to evacuate important bordering areas with Turkey, including Tal Abyadh, Ain Issa and Salouk in Raqqa province, Ra'as al-Ain and al-Darbasiyeh in Hasaka province from civilians for the fear of the Turkish army's attacks.
Also, the SDF has dispatched fresh forces and new military equipment to Tal Abyadh to dig tunnels and strengthen the bordering areas with Raqqa.
Meantime, commander the so-called 'National Army' affiliated to Turkey in Northern Aleppo Mostafa Seijari, underlined the immediate start of military operations against the Kurds in Eastern Euphrates, adding that they are waiting for the final order.
Also, the Turkish defense minister had earlier declared formation of a joint operations room at the borders with Turkey to confront the US-backed SDF fighters.
Field sources in Hasaka had also reported on Monday that the SDF had detained a number of civilians in different districts of Hasaka city, including Tal Hajar, Qawiran, al-Aziziyeh and al-Salehiyeh, with the aim of recruiting more fighters.
Also, media reports said that the SDF had stopped a humanitarian aid convoy sent by the Syrian government from entering Hasaka.
The Arabic-language al-Watan Online reported on Monday that the SDF had stopped a convoy of the Syrian Red Crescent and Red Cross societies sent to the flooded people in the villages of Tal Hamis and Tal Borak in Northern Hasaka from entering the region, forcing them to return to Qamishli.
Full report at:
http://en.farsnews.com/newstext.aspx?nn=13980113000344
--------
Syrian Army Launches Air, Ground Attacks on ISIL Strongholds Near Palmyra
Apr 02, 2019
The Syrian army troops engaged in heavy clashes with the ISIL terrorists in al-Halbeh region in the Eastern Badiyeh of Palmyra on Tuesday, inflicting tolls on them.
Meantime, the artillery units of the Syrian army targeted the positions and moves of the terrorists near battlefields, destroying several of their hideouts.
The Syrian air force also launched airstrikes on ISIL movements near the road linking Hamimeh region and T2 station at the common borders of Homs and Deir Ezzur provinces and areas near Awiraz dam in the Eastern Badiyeh of Palmyra, leaving heavy tolls and damages on the militants.
The Syrian army had last week strengthened its positions in Badiyeh region of Homs province in line with preparations for an operation to purge the remaining ISIL terrorists from the region.
Field sources reported last Friday that the Syrian army has sent a large military convoy, consisting of hundreds of forces and military equipment, to its bases on Deir Ezzur-al-Sukhna road in the Eastern Badiyeh of Homs.
They added that the military convoy has been dispatched to the region after the ISIL terrorists' offensives against the military points in Badiyeh, noting that the Syrian army intends to fully cleanse the region from the remnants of the terrorists.
Full report at:
http://en.farsnews.com/newstext.aspx?nn=13980113000269
--------
US Sends New Military Equipment to SDF in Eastern Syria
Apr 02, 2019
The London-based Syrian Observatory for Human Rights (SOHR) reported on Monday that the US-led coalition has sent new military convoys, including tens of trucks carrying military aid and logistic equipment, from Iraqi Kurdistan region to the areas occupied by the SDF in Eastern Euphrates.
It added that nearly 400 trucks, carrying vehicles and military and logistic equipment of the US-led coalition have arrived from Iraq in Hasaka bases and Kharab Ashk in Kobani in Northern Aleppo in the past two weeks.
Last month, Washington-backed Kurdish fighters in Syria declared their final victory over the ISIL terrorist group, ending bloody battle against the group that once held territory spanning a third of Syria and Iraq.
The US Defense Department also announced that the Islamic State no longer holds any territory in Syria, according to former White House Spokeswoman Sarah Sanders.
In December 2018, US President Donald Trump declared the ISIL terrorist group defeated in Syria and announced American troop pullout from the country but gave no timeline. The surprise announcement resulted in the resignation of Secretary of Defense James Mattis, US anti-IS coalition envoy Brett McGurk and Pentagon Chief of staff Rear Admiral Kevin Sweeney who disapproved of the American president's decision.
But last month, the American leader confirmed that 400 US soldiers will remain in the war-torn country indefinitely. Notably, Trump did not give any credit to the Syrian Army, Russia and other allies for reducing the self-styled caliphate to its current miserable state.
Notably, the US troops have been operating in Syria as part of an international coalition for about five years without the permission of Syrian authorities or the UN Security Council. The United States has, in particular, supported the Kurdish-led militia controlling the territories to the East of the Euphrates and opposing the Syrian government.
Full report at:
http://en.farsnews.com/newstext.aspx?nn=13980113000174
--------
Egypt sentences dozens to prison on terror charges
2 April 2019
Egypt has sentenced more than 70 suspected members of the Muslim Brotherhood group to prison on terror-related charges.
The Ismailia criminal court on Tuesday sentenced nine of the defendants to 15 years in prison and 43 others to 10 years. Another 22 were sentenced to three to seven years, and 14 were acquitted. Nearly half of the defendants were tried in absentia.
The defendants were accused of burning police vehicles and attacking a coffee shop. The violence came in response to the dispersal of two pro-Muslim Brotherhood mass sit-ins in Cairo in 2013.
https://english.alarabiya.net/en/News/middle-east/2019/04/02/Egypt-sentences-dozens-to-prison-on-terror-charges.html
--------
Top cleric Sheikh Qassim censures Bahrain's plan to host Israeli delegation
Apr 3, 2019
Bahrain's top Shia cleric Sheikh Isa Qassim has denounced the Manama regime for a plan to host an Israeli delegation later this month, describing it as a step on the path to "humiliation and capitulation" to the foremost enemy of the Muslim world.
"Hosting and greeting the Zionists at the Global Entrepreneurship Congress, which is to be held in Bahrain, is a bold step on a dishonorable path; that of humiliation, capitulation and shamelessness," Sheikh Qassim said in a statement carried by Arabic-language Lua Lua TV network on Tuesday.
Four Israelis are expected to speak at the three-day event due in Manama on April 15-18.
The top cleric said the Israeli regime tops the list of the Muslim world's enemies. He added that Manama's plan to take the Israelis was in line with its attempts to compromise and normalize ties with the enemy, with which Bahrain – like most other Arab countries -- has no open diplomatic contacts.
This is a clear sign of the Manama regime's disregard for Islam and the will of the nation, said Sheikh Qassim, the spiritual leader of Bahrain's dissolved opposition bloc the al-Wefaq National Islamic Society, who had his citizenship revoked in 2016 as part of the Al Khalifah regime's suppression campaign against dissidents.
"It is an open confrontation with our nation and a fierce battle against our existence," he added.
Sheikh Qassim further warned that any compromise with the enemy would "pave the way for it to advance its conspiracies within the ranks of the Bahraini nation," and lead to "a very catastrophic outcome for the nation and its unity."
The planned visit has triggered a backlash among Bahraini lawmakers, who have stressed their support for the Palestinian cause and voiced their opposition to the hosting of Israel's represenatives in their country.
Israel has full diplomatic ties with only two Arab states, Egypt and Jordan, but latest reports suggest the regime is working behind the scenes to establish formal contacts with Saudi Arabia and its allies, one of them being Bahrain.
Last year, there were reports suggesting that Israeli Prime Minister Benjamin Netanyahu might visit Bahrain. Bahraini Foreign Minister Khalid bin Ahmed Al Khalifa denied an imminent visit by Netanyahu but said he would not hesitate to announce it if one was planned.
Inside Bahrain, however, the public opinion is largely against Manama's potential normalization of ties with Israel, which is viewed as a blow to the Palestinian struggle against occupation.
Reports of Manama's overtures to the regime in Tel Aviv have sparked many protests across the kingdom over the past years.
Israel and several Arab states have had secret contacts for years, but the two sides have stepped up their attempts to bring their clandestine relations out into the open.
In February, a US-organized summit in the Polish capital of Warsaw brought together Netanyahu and representatives from a number of Arab states, including Bahrain, Oman, Morocco, Saudi Arabic, the United Arab Emirates, Qatar, Jordan, Egypt, Tunisia and Kuwait, among other participants.
Full report at:
https://www.presstv.com/Detail/2019/04/03/592460/Bahrain-Israel-Isa-Qassim
--------
India
UAE deports Jaish terrorist Nisar Tantray wanted for 2017 CRPF camp attack in Kashmir: NIA
Apr 03, 2019
Nisar Ahmed Tantray, the Jaish-e-Mohammed terrorist accused of being a key conspirator in the 2017 attack on the Pulwama Lethpora CRPF camp, has been deported by the United Arab Emirates, an official of the National Investigation Agency said. Nisar Tantray had been detained by the UAE authorities at New Delhi's request and deported to national capital Delhi on 31 March. He had escaped to the UAE just a few weeks earlier.
Five CRPF personnel were killed after JeM militants attacked the camp in Pulwama district's Lethpora in December 2017. The NIA had previously arrested an operative of the terror group in February for providing logistical support in the attack.
Tantray's deportation is seen as another example of deepening security cooperation with West Asia countries over the last few years, particularly Saudi Arabia and UAE.
The NIA official, who spoke on condition of anonymity, said Nisar Ahmed Tantray was flown in on a special aircraft from Dubai on Sunday and arrested by the NIA at the Delhi airport.
Nisar had been on the run after the December 2017 attack when three heavily-armed hurled grenades and entered the 185th battalion camp of the CRPF in Lethpora at around 2am. The NIA official said that a warrant for Nisar's arrest was issued for having acted as one of the conspirators in the Lethpora attack.
An official of the home ministry said that Nisar fled to the UAE on February 1.
Intelligence agencies recently zeroed in on his location following which the Indian government pursued the matter with UAE authorities for his deportation amid a crackdown on JeM in India, the home ministry official said, requesting not to be named.
Nisar Tantray is brother of Noor Mohammed Tantray, the most brutal of Jaish commanders. He was just a little over 3 feet tall but was a deadly terror planner. Noor Mohammed Tantray was also reported to have played a key role to draw the young into the group.
Noor Mohammed, who was famously reported to have been referred to as a "merchant of death" by a Delhi court, had been killed a few days before the 2017 CRPF camp attack. His killing is treated as a major success for the security establishment in light of his attempts to revive the Pakistan-based outfit.
According to reports, Mudasir Ahmed Khan, alias 'Mohd Bhai', the 23-year-old electrician who arranged the vehicle and explosives used in the suicide bombing that killed 40 CRPF jawans in Pulwama this February had also been recruited by Noor Mohammed.
https://www.hindustantimes.com/india-news/nisar-tantray-jem-terrorist-wanted-for-2017-lethpora-attack-arrested-by-nia/story-Ti4oJbrDuZTmKlTg9aDK9L.html
--------
India asks Pakistan to free 400 prisoners, seeks access to Kulbhushan Jadhav
Apr 02, 2019
Rezaul H Laskar
India on Tuesday called on Pakistan to release and repatriate 400 Indian prisoners, including some who were still in jail despite having completed their sentences nearly four to five years ago, people familiar with developments said.
New Delhi also sought consular access to five civilian prisoners, including former naval officer Kulbhushan Jadhav, whom its officials have been unable to meet despite repeated requests, the people said. Jadhav was sentenced to death by a Pakistani military court after being arrested on charges of spying and subversive activities in 2016.
The demand for the release of 385 fishermen and 15 other prisoners and consular access to five prisoners was made through a note verbale – an unsigned diplomatic correspondence – sent to the Pakistan high commission in New Delhi, the people said.
They added India had expressed "deep concern" over its long-pending request for the release and repatriation of prisoners and fishermen with their boats, especially those who had completed their sentences and whose nationality had been confirmed.
India sought the "immediate release" of 10 civilian prisoners who had completed their sentences, including two who had served their terms by 2014 and 2015. It also called for urgent steps to repatriate 385 fishermen whose nationality had been confirmed and who were still in jail despite serving their sentences.
Another five prisoners had been confirmed as Indian nationals and India sought their "early release and repatriation".
Full report at:
https://www.hindustantimes.com/india-news/india-asks-pakistan-to-free-400-prisoners-seeks-access-to-kulbhushan-jadhav/story-9hPFxWZ1JPpiYpiUSl6pyI.html
--------
FATF could blacklist Pak due to 'lobbying by India': Qureshi
Apr 02, 2019
Imtiaz Ahmad
Pakistan could be blacklisted by the Financial Action Task Force (FATF) due to "lobbying by India", foreign minister Shah Mahmood Qureshi said at a press conference in Lahore on Monday.
Qureshi said he estimated that the country could suffer $10 billion loss annually if it remains on the watchdog's grey list.
"The Foreign Office is calculating the annual loss if Pakistan is pushed in the black-list by the FATF as India is lobbying for this," foreign minister Qureshi told reporters at the Governor's House in Lahore.
In June last year, the Paris-based FATF had placed Pakistan on the grey list of countries whose domestic laws are considered weak to tackle the challenges of money laundering and terrorism financing. The FATF has asked Pakistan to reassess the operation of banned terrorist outfits in the country. Ahead of the team's visit, Pakistan wrote to FATF president Marshall Billingslea to appoint other member as co-chair of the Asia-Pacific's Joint Group, in place of India, to ensure that the FATF review process is fair, unbiased and objective.
A group of experts from the FATF recently visited Pakistan to review whether Islamabad has made enough progress on global standards against financial crimes to warrant its exclusion from the watchdog's grey list.
During its three-day visit to Islamabad in the last week of March, a delegation of the Asia-Pacific Group (APG) on money laundering, a regional affiliate of the FATF, expressed serious reservations over insufficient physical actions on ground against banned groups to block flow of funds and activities.
The FATF noted that Pakistan had revised its terror financing risk assessment but did not demonstrate a proper understanding of the risks posed by the Islamic State group, Al-Qaeda, Jamaat-ud-Dawah , Falah-i-Insania , Lashkar-e-Taiba, JeM, Haqqani Network and persons affiliated with the Taliban.
To a question on the suspension of dialogue on the Kartarpur corridor for Sikh pilgrims from India to visit his country, Qureshi said: "Pakistan went to India for a meeting on Kartarpur despite the escalation [of tensions] on borders, but India hesitated for a second meeting scheduled for April 2. I ask India to bring its apprehensions on the table for review by Pakistan but avoid cancelling meetings."
Full report at:
https://www.hindustantimes.com/india-news/fatf-could-blacklist-pak-due-to-lobbying-by-india-qureshi/story-VZhnVlFQPc0fCTemddqcsJ.html
--------
Pope's UAE trip inspires India's religions to plot peace
April 2, 2019
Muslims and Christians in India are working to popularize a document on human fraternity released during Pope Francis' historic visit to the United Arab Emirates in February.
The "Document on Human Fraternity for World Peace and Living Together" focuses on religious tolerance, cross-faith dialogue and world peace, and it transcends all faiths, Delhi Minority Commission chair Zafarul-Islam Khan said at a conference in the Indian capital on March 29.
"It talks about brotherhood, love, peace, women's and children's rights, and the futility of war and terrorism. [It contains] words of wisdom from the highest level," he said. However, "very few people know about it, so we want to give it more publicity." The Jesuit-run Islamic Studies Association joined New Delhi's Minorities Commission in consulting on the paper penned by Vatican and Muslim scholars.
The Jesuit organization works to build Christian-Muslim relations in South Asia, while the state commissions are tasked with caring for the interests of these and other religious minorities.
Pope Francis and Ahmed el-Tayeb, the grand imam of Al-Azhar, signed the document at an interfaith meeting in Abu Dhabi on Feb. 4 which was also attended by 500 religious leaders, scholars and diplomats.
Akhtarul Wasey, an Islamic scholar and vice chancellor of Maulana Azad University in Jodhpur, said it has come at a time when people are talking about a "clash of civilizations."
But the paper "negates such thinking and pronounces something positive," he said.
The Islamic scholar said that despite theological disagreements, Christians and Muslims have much in common.
"Religious and theological differences are not inter-religious but intra-religious and a reflection of internal democracy. This should not be construed as a weakness," Wasey said.
"If religious pluralism exists, then it is God's will. Our work is to propagate the truth. Prophets were sent to communicate, not convert."
Father Poulose Mangai from the Jesuit-run Vidyajyoti College of Theology in Delhi said the Catholic Church only started opening up to other religions after the Second Vatican Council.
Pope Francis' visit to Gulf, the first of its kind by any pope, also coincided with the 800th anniversary of another historic meeting between St. Francis of Assisi and Sultan al-Malik al Kamil of Egypt.
That is credited with paving the way for improved Muslim-Christian relations despite the bitter memories of the Crusades.
"The world's religions should serve as warnings to humanity to act against injustice and never be resigned to the tragedies of the world," Wasey said.
A minute's silence was observed before the start of the conference in memory of those slain in the twin terror attack on mosques in Christchurch, New Zealand, on March 15.
"There is no alternative. We either build the future together or there will be no future," Father Mangai, editor of the Vidyajyoti Journal of Theological Reflections, quoted Pope Francis as saying.
Jesuit Father Victor Edwin said the pontiff had lit the way by communicating so openly with other religions.
"This document gives us an alternative vision, a vision that looks to peace and reconciliation, which is deeply rooted in religion, deeply rooted in humanity," said the Jesuit, who has run the Islamic Studies Association since 1979.
He warned that "unauthentic, politicized religions" were spreading hatred and violence.
Basit Jamal, who popularizes Islamic values via parables told at schools, said the Quran exhorts Muslims to pursue good relations with those who do not fight or persecute Muslims.
Full report at:
https://www.ucanews.com/news/popes-uae-trip-inspires-indias-religions-to-plot-peace/84871
--------
South Asia
Afghan Special Forces kill 37 militants during their latest counter-terrorism operations
02 Apr 2019
At least 37 militants have been killed during the operations of the Afghan Special Forces which were conducted during the recent days in Faryab, Farah, Paktiya, and Paktiak provinces.
Informed military sources said Tuesday that the Afghan Special Forces conducted a raid in Qaisar district of Faryab province during which 5 Taliban fighters were killed and 5 others were detained.
The sources further added that the 207th Corps conducted a multi-day operation killing 22 Taliban fighters, wounding 23 and destroying 36 IEDs in western Farah province.
The Afghan Special Forces conducted an operation in Paktiya province killing 4 Taliban fighters, the sources said, adding that 6 militants were killed during a similar operation in Paktika province.
The anti-government armed militants including Taliban have not commented regarding the operations so far.
https://www.khaama.com/afghan-special-forces-kill-37-militants-during-their-latest-counter-terrorism-operations-03630/
--------
13 ISIS-K militants killed, 55 Taliban fighters surrender in Kunar province: Silab Corps
03 Apr 2019
At least 13 ISIS Khurasan militants were killed and 55 Taliban fighters have surrendered during the ongoing operations in eastern Kunar province, the Afghan military said Tuesday.
The 201st Silab Corps of the Afghan Military in the East said counter-terrorism operations are underway in eastern Kunar province to suppress the enemies.
According to a statement released by 201st Silab Corps, the operations were launched three days ago and at least 13 ISIS Khurasan militants were killed and 55 Taliban renounced and joined peace process after surrendering to armed forces.
The statement further added that the ground forces are also being supported by the air forces and artillery units of the military.
The anti-government armed militants including Taliban and ISIS loyalists have not commented regarding the operations so far.
Full report at:
https://www.khaama.com/13-isis-k-militants-killed-55-taliban-fighters-surrender-in-kunar-province-silab-corps-03632/
--------
Bangladesh should stop expelling Rohingya students: HRW
SM Najmus Sakib
02.04.2019
A U.S.-based rights group asked Tuesday the Bangladeshi government to terminate the expulsion of Rohingya refugee students from schools.
The Bangladeshi government has expelled scores of Rohingya refugee children from schools in southeast Bangladesh since late January 2019, Human Rights Watch said in a statement.
The country's officials have ordered secondary schools near the refugee settlements in the Cox's Bazar district to dismiss Rohingya students, who lack Bangladeshi citizenship, the HRW said adding that Bangladesh should ensure formal education for all children.
"The Bangladeshi government's policy of tracking down and expelling Rohingya refugee students instead of ensuring their right to education is misguided, tragic, and unlawful," said Bill Van Esveld, senior children's rights researcher at Human Rights Watch.
"Education is a basic human right. The solution to children feeling compelled to falsify their identities to go to secondary school isn't to expel them but to let them get the education they deserve," Esveld added.
The HRW said it interviewed 13 Rohingya refugee students, all of whom said that school authorities read out a government-issued notice ordering their expulsion.
"As long as Rohingya refugee children aren't able to obtain a formal education in the camps, Bangladesh should allow them to enroll in local schools," Van Esveld said. "The government should stop thwarting Rohingya students' right to learn."
Responding to the statement, Md Abul Kalam, head of the state-run Refugee Relief and Repatriation Commission (RRRC) said: "We have an informal education opportunity for the Rohingya people, but there is a restriction for them to take formal education as they don't have Bangladeshi citizenship."
A persecuted people
The Rohingya, described by the UN as the world's most persecuted people, have faced heightened fears of attack since dozens were killed in communal violence in 2012.
According to Amnesty International, more than 750,000 Rohingya refugees, mostly women and children, have fled Myanmar and crossed into Bangladesh after Myanmar forces launched a crackdown on the minority Muslim community in August 2017.
Since Aug. 25, 2017, nearly 24,000 Rohingya Muslims have been killed by Myanmar's state forces, according to a report by the Ontario International Development Agency (OIDA).
More than 34,000 Rohingya were also thrown into fires, while over 114,000 others were beaten, said the report, titled "Forced Migration of Rohingya: The Untold Experience."
Some 18,000 Rohingya women and girls were raped by Myanmar's army and police and over 115,000 Rohingya homes were burned down and 113,000 others vandalized, it added.
The UN has also documented mass gang rapes, killings -- including of infants and young children -- and brutal beatings and disappearances committed by Myanmar state forces.
Full report at:
https://www.aa.com.tr/en/asia-pacific/bangladesh-should-stop-expelling-rohingya-students-hrw/1440690
--------
Trump calls ongoing war in Afghanistan as 'unfortunate and ridiculous'
03 Apr 2019
The U.S. President Donald Trump has called the ongoing war in Afghanistan as 'unfortunate and ridiculous' while informing that the U.S. and its allies have made great strides to resolve the crisis in the country.
President Trump made the remarks during a meeting with the NATO Secretary General Jens Stoltenberg in Washington, the White House said in a statement.
"I think we've made a lot of great strides recently in Afghanistan. It's — we call it the "endless war." Nineteen years. The real number is 19 years. It's unfortunate. It's ridiculous. And it's been a very interesting period of time," Trump was quoted as saying in the statement.
However, he said "But we've made a lot of strides. A lot of things are happening in Afghanistan that are very positive. So we'll see how that all comes out. And I appreciate your help."
Full report at:
https://www.khaama.com/trump-calls-ongoing-war-in-afghanistan-as-unfortunate-and-ridiculous-03631/
--------
Africa
Islamic State-backed Boko Haram faction publishes 'execution' video
APR 3, 2019
KANO, NIGERIA - Boko Haram's Islamic State-backed faction has claimed to have executed five Nigerian soldiers but security sources told AFP on Tuesday three of those killed were civilian militia members.
The Islamic State West Africa Province (ISWAP) video, dated April 1 and said to have been filmed in Borno state, northeast Nigeria, was published online by the IS propaganda arm Aamaq.
It showed two men in military fatigues and three in red-orange jumpsuits reminiscent of those worn by IS hostages in Syria and Iraq. All five are shot in the head at point-blank range.
Nigerian Army spokesman Sagir Musa said only that he had seen the video. But three senior security sources said at least three of the five were not soldiers.
"We have identified three of them as CJTF (Civilian Joint Taskforce) who were held by ISWAP in Baga in December," said one of the sources on condition of anonymity.
The CJTF assists the military with security. ISWAP attacked military bases in and around Baga, on the shores of Lake Chad, in northern Borno, in December last year.
The sources said the militia members were trying to flee with civilians when they were detained. All three had been presumed dead.
"The first three from the right are known to us by name. … We are still working to establish the identity of the other two," said one source.
"What is surprising is that one of them in military uniform was arrested in his civilian clothing and now he was given some military uniform to make him look like a soldier."
The video comes as Nigerian and regional forces have intensified their activities against ISWAP in northern Borno, particularly around the towns of Monguno and Marte.
The Nigerian Army and the Multinational Joint Taskforce (MNJFT) comprising troops from Nigeria, Benin, Cameroon, Chad and Niger both claim to have inflicted heavy losses.
The video will fuel speculation about the direction of ISWAP, which has claimed or been blamed for a spate of attacks against military bases since July last year.
There is also wider concern about an increase in jihadi activity in the wider Sahel region, particularly in Burkina Faso, after IS's Middle East "caliphate" was declared defeated.
ISWAP under Abu Mus'ab Al-Barnawi broke away from the group led by Abubakar Shekau in mid-2016 in opposition to his indiscriminate targeting of civilians.
Well-informed sources told AFP last month Al-Barnawi had been ousted, some six months after his deputy, Mamman Nur, was killed by more hard-line fighters.
They had been angry at Nur's more moderate approach and back-channel talks with the government, which is seeking an end to the conflict after nearly 10 years and 27,000 deaths.
He was also accused of pocketing a putative ransom payment for the release of more than 100 schoolgirls abducted from a school in Yobe state in February last year.
ISWAP previously published a video online showing the execution of an aid worker kidnapped in a raid in the Borno town of Rann last year.
https://www.japantimes.co.jp/news/2019/04/03/world/islamic-state-backed-boko-haram-faction-publishes-execution-video/#.XKSERfczazc
--------
Libya's Haftar anticipates 'unity' gov't within month
Jihad Nasr
02.04.2019
TRIPOLI
Libyan military commander Khalifa Haftar has reportedly hinted that a "unity government" could be drawn up "within weeks or a month".
According to a source close to the military commander, Haftar made the assertion on Saturday while addressing young people in the eastern city of Benghazi.
Haftar, the source added, had attributed the phenomenon to "the failure of Libyan leaders to provide the country's young people with adequate employment opportunities".
Officials from Libya's Tripoli-based government have yet to comment on Haftar's reported remarks.
Late last month, however, Ghassan Salameh, the UN's envoy to Libya, said a UN-sponsored National Conference would be held on April 14 in Libya's northwestern town of Ghadames.
Libya has been beset by turmoil since 2011, when a bloody NATO-backed uprising led to the ouster and death of President Muammar Gaddafi after more than four decades in power.
Full report at:
https://www.aa.com.tr/en/africa/libya-s-haftar-anticipates-unity-gov-t-within-month/1440534
--------
Somalia army foils 'major terror attack' on Mogadishu
03.04.2019
MOGADISHU, Somalia - Somalia's military says special forces foiled a "major terrorist attack" aimed at Mogadishu during an offensive against the Somali-based terrorist group al-Shabab, Garowe Online reports.
The country's Ministry of Information said Tuesday the Somali National Army [SNA] forces have seized a tanker truck loaded with explosives in Sabiid village of Lower Shabelle region on Monday, April 1, 2019.
It added the extremist group was plotting to carry out a wide-scale terrorist attack in Somalia, but, the government forces 'thwarted' and arrested a number of militants following the liberation of the area.
Sabiid lies about 40 kilometres [25 miles] southwest of the capital, Mogadishu. The foiled attack was described as "the largest bombs" ever made by the Al-Qaeda-affiliated Al-Shabaab group in history.
Al-Shabaab is blamed for Somalia's deadliest attack, a massive truck bomb in Mogadishu on 14th October 2017 that killed over 500 people and injured hundreds.
The group frequently stages attacks in the capital in an attempt to topple the government and expel 22,000 African Union [AU] soldiers protecting it.
Meanwhile, the ministry announced that SNA forces seized control of Baladul Amiin, after flushing out the militants from Omar Berre, Sabid and Anole villages, all located in Lower Shabelle region.
The latest raid comes amid an increase of Al-Shabaab car bombings and assassinations in the capital.
The AU envoy for Somalia and AMISOM head, Francisco Madeira welcomed the capture of Sabiid, saying the control of such strategic areas will deny the enemy freedom to continue to terrorize Somali people.
This is the first military gains against Al-Shabaab made by the UN-backed weak Somali government based in Mogadishu since president Farmajo came to power in February 2017.
Full report at:
https://www.garoweonline.com/en/news/somalia/somalia-army-foils-major-terror-attack-on-mogadishu
--------
Nigeria arrests 2 cops after killing of youth
Rafiu Ajakaye
02.04.2019
Nigerian police on Tuesday said two cops, who allegedly shot dead a youth in the commercial capital Lagos on Sunday, have been arrested.
Inspector Ogunyemi Olalekan and Sergeant Godwin Orji, both attached to the police Anti-Cultism Squad, have been arrested and may be prosecuted after a probe into the incident, according to a statement by Lagos police spokesman Bala Elkanah.
Johnson had died from a "stray" bullet fired by the squad as he was heading to watch a football match in his neighborhood on Sunday evening, witnesses and family members said.
The death -- coming on the heels of accusations of extrajudicial killings and torture against police special squads -- has sparked a fresh nationwide outrage and deafening calls for the special crimes' squads to be scrapped.
The police insisted the issue would be thoroughly investigated.
"[The cops] will be subjected to internal disciplinary procedures, and may be prosecuted in conventional court if implicated by ongoing investigation," Elkanah said.
Full report at:
https://www.aa.com.tr/en/africa/nigeria-arrests-2-cops-after-killing-of-youth/1440642
--------
URL: https://www.newageislam.com/islamic-world-news/bad-time-nuclearise-saudis-senators/d/118216
New Age Islam, Islam Online, Islamic Website, African Muslim News, Arab World News, South Asia News, Indian Muslim News, World Muslim News, Women in Islam, Islamic Feminism, Arab Women, Women In Arab, Islamophobia in America, Muslim Women in West, Islam Women and Feminism