New Age Islam News Bureau
1 Dec 2014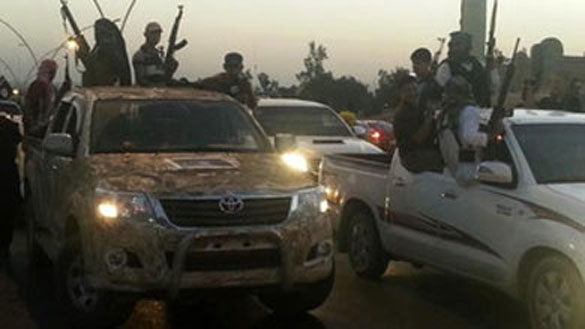 Fighters of the Islamic State of Iraq and Syria (ISIS) celebrate while sitting on vehicles in the city of Mosul. (File photo Reuters)
-----------
Arab World
• Baby Boom? ISIS Bans Contraceptive Pills In Mosul
• Iraq Says ISIS Transferring Phosphate to Syria's Raqqa
• Syrian warplanes kill 19 in Deraa province
• Iraq's divisions will delay counter-offensive on Islamic State
• Kurdish civilians endure IS fight
• Failed: IS mission to recruit Saudis in large numbers
• Sisi sees new future for Egypt after Mubarak verdict
• ISIL militants suffer heavy losses in Syria's Kobane
Europe
• Fund Jihad That Finances Extremists, Operates In Azerbaijan
• Equating Islam with Violence Wrong, Says Pope Francis
• 300 People Facing Trial in Germany for Supporting IS
• Expansion of Shariah into West hits roadblock
• Mohammed now UK's most popular boys name after a huge surge in popularity
• UK Muslims 75% less likely to land job than Christians – study
• Putin to visit Turkey amid Syria differences
Africa
• Islamist Militants 'Behead' Tunisian Policeman near Algerian Border
• Explosions, gunfire in Nigeria's Damaturu city: Residents
• Kenya: If Uhuru Cannot Defeat the Al Shabaab, Jubilee Should Resign
India
• SIMI-Linked Doctor Behind Andhra Youths' 'Recruitment' For IS
• Veteran BJP Leader to Inaugurate Madrasa in Kanpur
• 39 captives in Iraq: Contrary versions add to kin anxiety
South Asia
• Xinjiang: Regulation Bans Jihad Videos at Religious Centres
• 'Zia Worked As Pakistani Agent in 1971 War': Al
• 11 Taliban Insurgents Killed In Clearing Operations, MoI Says
• Suicide attack at Afghan funeral kills nine: police
• Afghan reconciliation: Ghani resumes backdoor diplomacy with Taliban
• Taliban video shows training and planning for Camp Bastion attack
• Bardhaman blast: 3 Rohingya militants held
• PM Sheikh Hasina: Why should people pay for Khaleda's mistake?
• More than seven Maldivians fighting in foreign civil wars, reveals home minister
North America
• Minnesota Imam Looks at 'Caliphate' Through Islamic Lens
• Canada says citizen may have been captured in Syria
• Winnipeggers Call On Canadians to Take Stand against Extremism
• Rupert Murdoch says 'all Egyptians are white'; Twitter gives him a hard time
Mideast
• Catholic-Muslim Dialogue Condemns Violence In The Name Of Religion
• Thousands Rally For South Yemen Independence
• Iran: US troops presence in Afghanistan threat to Regional stability
• After meeting Erdoğan, militant Islamist leader complains of 'mind control'
Pakistan
• Fanatics in Political Parties More Dangerous Than Taliban: ANP Senior Leader
• Politics of sit-ins has seen its demise: CM Punjab
• Gilgit courts lack jurisdiction in Pakistan: experts
• Truck entering Quetta with 5,000kg explosives seized
• Imran Khan threatens to 'shutdown' the country if govt fails to probe poll rigging
• Pakistan will not be paralysed on Imran's call: Khurshid Shah
• Modern military equipment imperative for defending country: Pak PM
• Nawaz's govt is better than dictatorship: Zardari
Southeast Asia
• Malay Minister Urges Men to Play Role in Stopping Violence against Women
• Must Work Together To Prevent IS Ideology from Taking Root: Singapore Religious Leaders
• Claims of Christian students forced to pray under tree don't represent Malaysia, says minister
• Jokowi urges civil servants to lead the way
Compiled by New Age Islam News Bureau
URL: https://www.newageislam.com/islamic-world-news/new-age-islam-news-bureau/baby-boom?-isis-bans-contraceptive-pills-in-mosul/d/100276
-----------
Arab World
Baby boom? ISIS bans contraceptive pills in Mosul
1 December 2014
Islamic State of Iraq and Syria (ISIS) militants in the city of Mosul have shut down family planning departments at public hospitals in order to prevent women from using contraceptive pills, the Iraqi Human Rights Ministry said on Monday.
ISIS has also ordered hospital administrators to direct the use of medicine and medical equipment to their wounded members after losses suffered in recent battles, the ministry added.
According to the ministry, ISIS militants recently lashed a female doctor in the courtyard of one hospital because she wasn't wearing the Niqab, a veil covering most of the face.
In recent months, former U.N. human rights chief Navi Pillay condemned "appalling, widespread" crimes being committed by ISIS forces in Iraq, including killings, slavery, sexual crimes and targeting people on ethnic or religious grounds.
The persecution and systematic violations, documented by U.N. human rights investigators, would amount to crimes against humanity and war crimes under international law, she said in a statement.
http://english.alarabiya.net/en/variety/2014/12/01/Baby-boom-ISIS-bans-contraceptive-pills-in-Mosul-.html
-----------
Iraq says ISIS transferring phosphate to Syria's Raqqa
1 December 2014
The Islamic State of Iraq and Syria (ISIS) is transferring phosphate raw material from Iraq to Syria's Raqqa, the group's de-facto capital, the Iraqi Ministry of Human Rights reported on Sunday.
"The terrorist entity of ISIS has taken control of the phosphate facility at al-Qaem and is transferring raw material of phosphate to Raqqa in Syria," the ministry said in a statement on its website.
It is not immediately clear why the terrorist group was interested in phosphate, but the material could be used in the making of explosives.
Al-Qaem is located 250 miles (400 km) northwest of Baghdad and has been Iraq's main source of fertilizer.
The U.S. Geological Survey said in 2011 that Iraq had "world-class" reserves of phosphate, the world's second biggest after Morocco, the Financial Times reported.
The Iraqi Ministry of Human Rights also said that ISIS has seized official documents and computers at al-Qaem's directorate of education.
The group has also ordered a time change in the Nineveh Governorate and banned the use of contraceptives.
http://english.alarabiya.net/en/News/middle-east/2014/12/01/Iraqi-says-ISIS-transferring-phosphate-to-Syria-s-Raqqa.html
---------
Syrian warplanes kill 19 in Deraa province
1 December 2014
At least 19 people were killed, including seven women and two children, when Syrian government warplanes struck the town of Jassim in the southern province of Deraa on Sunday, the London-based Syrian Observatory for Human Rights said.
Dozens of others were wounded and the death toll was expected to rise because a number were in critical condition, the Observatory said.
The Observatory added that the regime air force carried out 11 raids in the town al-Sheikh Meskin in Deraa Province, where regime forces, supported by Hezbollah militias battled rebel fighters.
Meanwhile, a man reportedly died in the town of Nawa under torture inside a regime jail, the monitoring group said.
In Rif Dimashq Province, regime warplanes reportedly dropped 14 barrel bombs with no information on casualties.
Fighting also continued in the Kurdish town of Kobane, northwest of Raqqa on the border with Turkey, where Kurdish defenders have been holding off an assault by Islamic State fighters for more than two months, according to Reuters.
At least 62 people have been killed in fighting in Kobane, known as Ayn al-Arab in Arabic, since early on Saturday, the Observatory said.
[With Reuters]
http://english.alarabiya.net/en/News/middle-east/2014/12/01/Syrian-warplanes-kill-19-in-Deraa-province.html
-----------
Iraq's divisions will delay counter-offensive on Islamic State
1 December 2014
US air support and pledges of weapons and training for Iraq's army have raised expectations of a counter-offensive soon against Islamic State, but sectarian rifts will hamper efforts to forge a military strategy and may delay a full-scale assault.
The Sunni Islamists stormed through northern Iraq in a 48-hour offensive in June, charging virtually unopposed towards the outskirts of Baghdad, humiliating a US-trained Iraqi army which surrendered both land and weapons as it retreated.
By contrast, even a successful effort by the Shi'ite-led government to dislodge Islamic State, also known as ISIS, from Sunni territory where it rules over millions of Iraqis would be fiercely fought and could stretch well beyond next year.
The Baghdad government relies on Shi'ite militias and Kurdish peshmerga to contain Islamic State - a dependence which underlines and may even exacerbate the sectarian rivalry which opened the door for the summer offensive.
US newspapers have cited officials in Washington saying the Americans' training mission aims to prepare Iraqi troops for a spring offensive to retake territory, including Mosul, northern Iraq's largest city and Islamic State's powerbase.
Hemin Hawrami, an official close to Kurdish leader Masoud Barzani, told Reuters that Iraqi forces would not be ready to take the fight to Mosul, in Iraq, until late 2015.
"There will be no spring or summer (offensive)," he said, adding that progress depended on government willingness "to reorganize the army, how quickly they can solve political issues with us and the Sunnis, (and) how quick the coalition will be in providing heavy arms to peshmerga and the Iraqi army."
"CERTAIN VICTORY"
The army, Shi'ite militias and Kurdish fighters have made some gains against Islamic State, pushing back an advance towards Kurdish territory in August and last week recapturing towns in Diyala province, on the road from Baghdad to Iran.
The leader of the pro-Iranian Shi'ite Badr Organisation, whose fighters battled alongside peshmerga and soldiers in Diyala, said they would turn next to the Sunni provinces of Salahuddin and Anbar - north and west of Baghdad - before moving further north to Nineveh province, where Mosul lies.
"We are counting on the support of the Sunni tribal fighters. With them joining the fight, our victory is certain," Hadi al-Amiri told Reuters by telephone from Diyala province.
Amiri said he expected to get weapons not just from the Iraqi government, which may allocate a quarter of next year's $100 billion budget to the military, but also from the $1.6 billion of arms and training which Washington plans to deliver.
Both Amiri's assumptions look optimistic, as Washington and the Sunni tribes are deeply wary of Shi'ite militia forces.
Iraqi authorities aim to overcome the deep rifts between Shi'ites, Sunni Arabs, Kurds and other groups by absorbing local fighters into a state-funded National Guard, but the role of that force remains undecided.
LONG WAR
Government adviser Zuhair al-Chalabi told Reuters the army was in no shape to surge north and Mosul's mainly Sunni residents would resist a campaign by Shi'ite militias alone.
Instead, a combined force of army soldiers, Sunni tribes, Kurdish peshmerga and Shi'ite fighters must be assembled - and the open border with Islamic State territory in Syria sealed.
"There is a plan, but it can't be implemented that quickly," said Chalabi, who is from Mosul.
Finance Minister Hoshyar Zebari said Islamic State was still a formidable force but was losing the ability to conduct major ground combat because that exposed it to air strikes.
Zebari, a Kurd, declined to give details of the military strategies of either the Baghdad government or the semi-autonomous Kurdish authorities, but said "planning and coordination are already under way" for the battle for Mosul.
"I am really not aware of spring offensives. The offensive is on - spring, summer, winter. We countered them in autumn. This is an ongoing battle with them."
The United States is setting up four training camps for Iraq's 80,000-strong armed forces - two around Baghdad, one in the Kurdish city of Arbil and the fourth in Anbar.
Washington has also set out plans to provide body armour and guns to 45,000 soldiers, 15,000 Kurdish peshmerga and 5,000 Sunni tribal forces.
A senior Western diplomat in Baghdad said the training might take six months, with the first round complete in late spring.
While he argued that the tide had turned against Islamic State in northern Iraq and was moving against it elsewhere, fighting was likely to stretch into 2016.
And without control over the border, Islamic State fighters could slip away and regroup in Syria. "It's the balloon theory. You squeeze one part and it pops up elsewhere," he said.
Hawrami, the Kurdish official, foresaw a protracted and potentially inconclusive battle.
"In order to guarantee their defeat in Mosul we have to defeat them in Syria as well," he said. "ISIS cannot be vanquished. ISIS can be degraded and weakened, but this process of degrading and weakening needs years."
http://english.ahram.org.eg/NewsContent/2/8/116871/World/Region/Iraqs-divisions-will-delay-counteroffensive-on-Isl.aspx
-----------
Kurdish civilians endure IS fight
1 December 2014
One of the few signs of life in this northern Syria border town is the old bakery, revived by Kurdish fighters battling the Islamic State group.
Closed down for some 20 years, the production line now bakes two tons of doughy bread every day to energize the fighters and feed the spatter of civilians left behind.
"We came and fixed up (the bakery) for use in these difficult times," said Fathi Misiro, a fighter with the People's Protection Units, or YPG, who works in the bakery. "Ten days ago...it was worse here. We've been helping people and sending bread to them daily."
An exclusive report shot by a video journalist inside Kobane late last month offered a rare, in-depth glimpse of the destruction that more than two months of fighting has inflicted on the Kurdish town in northern Syria by the Turkish border.
Full report at:
http://english.ahram.org.eg/NewsContent/2/8/116911/World/Region/INSIDE-KOBANE-Kurdish-civilians-endure-IS-fight.aspx
-----------
Failed: IS mission to recruit Saudis in large numbers
1 December 2014
The Islamic State terrorist group has largely failed to directly recruit Saudis. The Al-Sakinah Campaign for Dialogue, launched by the Ministry of Islamic Affairs, Endowments, Call and Guidance, said the number of Saudis who have joined the IS does not exceed 2000.
Meanwhile, the number of detainees of Al-Qaeda and other terrorist groups stands at 11,000.
A report by the campaign entitled "Did we actually succeed in our intellectual programs?" has disclosed that the IS members who carried out the Dalwa massacre in Al-Ahsa in the Eastern Province "were geographically isolated and non-uniform."
Full report at:
http://www.arabnews.com/news/668046
-----------
Sisi sees new future for Egypt after Mubarak verdict
December 1, 201
CAIRO: President Abdel Fattah al-Sisi has said Egypt will never return to the past and is charting a new future, after a court dismissed murder charges against former leader Hosni Mubarak.
A Cairo court on Saturday dropped the charges over the deaths of hundreds of protesters during the 2011 uprising that ended three decades of autocratic Mubarak rule.
Seven of his security commanders, including feared former interior minister Habib al-Adly, were also acquitted over the deaths of some of the roughly 800 people killed during the revolt.
Corruption charges against Mubarak´s sons Alaa and Gamal were also dropped.
In a statement issued late on Sunday, Sisi said "the new Egypt, which emerged from the January 25 and June 30 revolutions, is on a path to establish a modern democratic state based on justice, freedom, equality and a renunciation of corruption".
Full report at:
http://www.thenews.com.pk/article-167364-Sisi-sees-new-future-for-Egypt-after-Mubarak-verdict
-----------
ISIL militants suffer heavy losses in Syria's Kobane
December 1, 201
Militants of the Islamic State in Iraq and the Levant (ISIL) battling for the capture of the Syrian town of Kobane suffered some of their heaviest losses yet in 24 hours of clashes and U.S.-led air strikes, monitors said Nov. 30.
At least 50 jihadists were killed in the embattled border town in suicide bombings, clashes with Kobane's Kurdish defenders and air strikes, the Syrian Observatory for Human Rights said.
Canada, meanwhile, said it was "aware of reports" one of its citizens may have been captured in Kobane, reportedly an Israeli-Canadian woman fighting alongside Kurdish forces.
The Britain-based Observatory also said the U.S.-led coalition battling the ISIL hit at least 30 targets in and around Raqqa, the jihadists' de facto capital. There were no immediate details of a toll in the Raqqa strikes.
Syrian regime strikes on Nov. 30 killed at least 29 civilians, among them seven women and three children, the group said.
Full report at:
http://www.hurriyetdailynews.com/isil-militants-suffer-heavy-losses-in-syrias-kobane.aspx?pageID=238&nID=75038&NewsCatID=352
-----------
Europe
Fund Jihad That Finances Extremists, Operates In Azerbaijan
01 Dec, 2014
In recent years, international and Azerbaijani media more and more reports about financing of terrorist group called "Islamic State" (IS) operating in Azerbaijan. In its turn, the Azerbaijani website "Publika.az" reports that in the northern regions of Azerbaijan representatives of the extremist wing of Islam, Kharijites established a "Jihad Fund", where money is being transferred every month to help the IS.
As noted in the article, Baku police is watching after some large objects that are suspected of financing the IS. Chairman of the State Committee for Work with Religious Organizations of Azerbaijan Mubariz Gurbanli stated recently that "if they find financial sources contributing the IS and sending the Azerbaijani youth to Syria or their contiguity to various terrorist organizations, they will be destroyed immediately." Publika.az assures that Gurbanly would never have spoken so if he was not already informed of the availability of financial resources.
Azerbaijani theologian Aydin Alizadeh, commenting on the situation, stated that the annually amount collected by the extremists is almost $5 million. According to him, the funds are accumulated also through transfers from abroad, and through donations from business organizations, as well as funds of members of extremist groups.
"Publika.az" reminds that earlier Ukrainian site "Umma.ua" wrote of the sum of 5 million, quoting Gurbanly who said that extremist groups receive money mainly from large shopping malls, supermarkets and so on.
http://www.panorama.am/en/politics/2014/11/29/azerbaijan-is/
-----------
Equating Islam with violence wrong, says Pope Francis
01 Dec, 2014
Pope Francis said on Sunday that equating Islam with violence was wrong and called on Muslim leaders to issue a global condemnation of terrorism to help dispel the stereotype.
Francis, the leader of 1.2 billion Roman Catholics, told reporters aboard his plane returning from a visit to Turkey that he understood why Muslims were offended by many in the West who automatically equated their religion with terrorism. Francis' predecessor, Benedict XVI, caused storms of protest throughout the Islamic world in 2006, when he made a speech that suggested to many Muslims that he believed Islam espoused violence.
Benedict said he had been misunderstood and apologised. But this year, the image of a violent religion has once more been promoted by Islamic State, who have seized swathes of Syria and Iraq, slaughtering or driving out Shi'ite Muslims, Christians and others who do not share their radical brand of Sunni Islam.
The Argentine pope, who has been trying to foster cooperation with moderate Islam in order to work for peace and protect Christians in the Middle East, said it was wrong for anyone to react to terrorism by being "enraged" against Islam.
"You just can't say that, just as you can't say that all Christians are fundamentalists. We have our share of them (fundamentalists). All religions have these little groups," he said. "They (Muslims) say: 'No, we are not this, the Koran is a book of peace, it is a prophetic book of peace'."
Full report at:
http://www.hindustantimes.com/world-news/equating-islam-with-violence-wrong-says-pope-francis/article1-1292016.aspx#sthash.HkzdZgf9.dpuf
-----------
300 people facing trial in Germany for supporting IS
01 Dec, 2014
BERLIN: Nearly 300 people are facing prosecution in Germany for supporting Islamic State (IS), German Justice Minister Heiko Maas has said, adding that it was a sign that anti-terrorism laws were working and tougher legislation was not needed.
"Whoever supports IS can already be prosecuted under existing laws", he told Sunday's weekly newspaper Welt am Sonntag in an interview, after some politicians called for tighter laws.
He added, however, that he would present a draft law by the end of the year to tackle the flow of money to IS.
On Friday, a state prosecutor demanded a prison term of more than four years for a 20-year-old German man accused of fighting with Islamic State insurgents in Syria. It is the first trial of its kind in Germany and dozens more are due to begin in coming months.
Thousands of Western volunteers have travelled to Syria and Iraq to join militant groups. Law enforcement authorities are cracking down on returning fighters, amid fears of attacks.
Security authorities say about 550 German citizens have joined Islamic State in Iraq and Syria and about 60 have been killed, some in suicide attacks. Around 180 are believed to have returned.
Full report at:
http://www.dawn.com/news/1147973/300-people-facing-trial-in-germany-for-supporting-is
-----------
Expansion of Shariah into West hits roadblock
01 Dec, 2014
The association that serves United Kingdom solicitors worldwide has reversed course on its accommodation of Islamic law, or Shariah, withdrawing an advisory that effectively implemented Muslim inheritance restrictions in the British legal system.
The short announcement simply said Britain's Law Society "has withdrawn" the advisory on Islamic inheritance requirements after receiving "feedback."
Andrew Caplen, the president, said: "Our practice note was intended to support members to better serve their clients as far as is allowed by the law of England and Wales. We reviewed the note in the light of criticism. We have withdrawn the note and we are sorry."
WND reported earlier this year when the Law Society issued the advisory, which focused on drawing up "Shariah complaint" wills. The guidance allowed solicitors to write Islamic wills that denied women an equal share of inheritances and excluded non-Muslims, children born out of wedlock and even adopted children.
Full report at:
http://www.wnd.com/2014/11/expansion-of-shariah-into-west-hits-roadblock/#vTqugazkT1xOV8qJ.99
-----------
Mohammed now UK's most popular boys name after a huge surge in popularity
01 Dec, 2014
Mohammed is now the most common boys name in Britain after a huge surge in popularity last year.
Annual data on the UK's top baby names saw the Islamic name shoot up 27 places to knock Oliver in to second place while Sophia took top spot for girls.
Royal names continued to fall from favour while names popular in the 1970s such as John, Emma and Sarah have seen a revival.
"Traditionally Mohammed is often given to the first-born boy in Muslim families," said Sarah Redshaw, managing editor of parenting website BabyCentre which publishes the data.
"The increase of other Arabic names in the top 100 shows the ever-increasing diversity of the UK today."
Full report at:
http://www.mirror.co.uk/news/uk-news/mohammed-now-uks-most-popular-4723847
-----------
UK Muslims 75% less likely to land job than Christians – study
01 Dec, 2014
Muslims face the worst job discrimination of any ethno-religious group in the UK, a study has found. It also said they are the least likely to land a senior role. The unsettling statistics show a discrepancy over 70 percent.
White British Christian men and women are, respectively, 75 and 65 percent more likely to find gainful employment than their Muslim counterparts, the study found.
Using national statistical data, British scientists Dr. Nabil Khattab and Professor Ron Johnston collated information on 14 ethno-religious groups living in the UK today, finding that Muslims were by far the most disadvantaged.
Despite racial prejudice often being associated with skin color, Khattab and Johnston found it to be more closely dependent on religion and cultural background than previously thought.
Instead, Khattab argues that the discrepancy is more likely due to "placing Muslims collectively at the lowest stratum within the country's racial or ethno-cultural system," a result of increasing Islamophobia.
Full report at:
http://rt.com/uk/210179-british-muslims-job-employment/
-----------
Putin to visit Turkey amid Syria differences
1 December 2014
Russian President Vladimir is traveling to Turkey for discussions on economic ties and the crisis in Syria and Iraq.
Russia and Turkey have opposing positions on Syria's crisis but Putin and Turkish President Recep Tayyip Erdogan are expected to downplay differences to concentrate on trade ties when they meet on Monday. Russia is Syrian leader Bashar Assad's closest ally while Turkey wants to see him deposed.
The two countries are important trade partners. Russia provides the bulk of Turkey's gas and is set to build its first nuclear plant. Turkish construction firms are active in Russia.
Putin arrives a day after Pope Francis wrapped up his Turkish visit with prayers for peace in Ukraine.
http://english.ahram.org.eg/NewsContent/2/8/116884/World/Region/Putin-to-visit-Turkey-amid-Syria-differences.aspx
--------
Africa
Islamist militants 'behead' Tunisian policeman near Algerian border
1 December 2014
An off-duty Tunisian policeman was beheaded by Islamist militants after he was kidnapped near the Algerian border late on Sunday, officials said on Monday.
The policeman was allegedly seized along with his brother by 10 militants who attacked the car they were travelling in, Interior Ministry spokesman Mohamed Ali Laroui said, according to Reuters news agency.
The brother was reportedly released.
The spokesman said the beheading took place in the Touirif District in the city of El Kef. Local Tunisian media said the act was carried out by "terrorists."
The killing comes as the government is ramping up security amid preparations for a presidential election runoff this month between incumbent Moncef Marzouki and veteran politician Beji Caid Essebsi, the leader of secular Party Nida Tounes.
Among the militant groups operating in Tunisia is Ansar al-Sharia, which the United States considers a terrorist organization and accuses of orchestrating the storming of the U.S. embassy in Tunis in 2012.
http://english.alarabiya.net/en/News/middle-east/2014/12/01/Islamist-militants-behead-Tunisian-policeman-near-Algerian-border.html
-----------
Explosions, gunfire in Nigeria's Damaturu city: Residents
1 December 2014
Explosions and gunfire rocked the north Nigerian city of Damaturu on Monday, in a suspected Boko Haram attack that targeted police, residents told AFP.
The sound of blasts and heavy weapons being fired woke locals in the Gujba Road area of the Yobe state capital at about 4:45 am (0345 GMT), said Umar Sada, who lives in the area.
"We have left our homes. We are now in the bush. We don't know what's going to happen," said Sada, who added that a police barracks had been destroyed.
Another local resident, a government official who asked not to be identified, said: "It's chaos all over the town.
"All I can hear is explosions and gunfire from my house. I couldn't go out for morning prayers because this started before dawn and I'm afraid to leave in case I get caught up in it."
The raid came after a suicide bomb and gun attack on the central mosque in the northern city of Kano on Friday which bore all the hallmarks of Boko Haram and left at least 120 people dead.
Full report at:
http://english.ahram.org.eg/NewsContent/2/9/116876/World/International/Explosions,-gunfire-in-Nigerias-Damaturu-city-Resi.aspx
-----------
Kenya: If Uhuru Cannot Defeat the Al Shabaab, Jubilee Should Resign
01 Dec, 2014
Reacting to the killing of 28 Christians in Mandera, Deputy President William Ruto said: "Terrorists (al Shabaab) are criminals who are driven by criminal intent." Not entirely.
At best, Islamic terrorists are religious crusaders for an Islamic world and at worst, misguided Muslim fanatics using Islamic radical ideology as their recruiting motif, vision of the world and legitimisation. Islamic terrorists are not criminals in the ordinary sense of the word. They would be easier to beat.
Kenyan current conflicts are not driven by a class ideology pitting the poor against the rich but by negative ethnicity between Pokot and Turkana, clannism between Borana, Gabbra, Rendille and Burji in Marsabit and Islamic terrorism that separates Muslims from Christians and then kills them in cold blood in Mandera, Mpeketoni and Westgate.
Many Muslims deny al Shabaab terrorism is Islamic or even religious. They argue it is driven by unemployment, poverty, historical injustices, hopelessness and marginalisation. But same problems are in other places where there is no terrorism.
Full report at:
http://allafrica.com/stories/201411290243.html
--------
India
SIMI-linked doctor behind Andhra youths' 'recruitment' for IS
1 December 2014
A doctor formerly associated with SIMI and currently based in the Gulf has been identified by security agencies as one of the persons involved in two recent attempts to recruit youths from Hyderabad for the Islamic State operating in Syria and Iraq.
According to sources familiar with the electronic investigations in the two cases, the online recruiter involved in the alleged attempt to lure a former Google employee and four Hyderabadi youths brought back from the Bangladesh border was the same doctor.
The name of this alleged recruiter had featured earlier in investigations into activities of the banned SIMI in Karnataka in 2007 but he had not been booked at the time. Officials said the medical doctor is in touch with Indian-origin persons such as cleric Sultan Armar, who is linked to the Indian Mujahideen and al-Qaeda.
Full report at:
http://indianexpress.com/article/india/india-others/simi-linked-doctor-behind-andhra-youths-recruitment-for-is/#sthash.NTWICBgR.dpuf
--------
Veteran BJP Leader to Inaugurate Madrasa in Kanpur
December 1, 2014
Veteran BJP leader and Kanpur MP Murli Manohar Joshi, who was associated with the Ram Janmnabhoomi movement, has received an unexpected invitation from a Sunni group to inaugurate an upgraded madrasa in Kanpur and address its students.
According to local BJP leaders, Joshi has accepted the invitation and he would inaugurate the institution during his next visit to the city. Al Jamiat-Ul-Nooria madrasa is located at Noori Road locality, where 60 per cent of the population is Muslim, mostly Sunnis.
According to madrasa authorities, they were giving an opportunity to the senior BJP leader to speak before Muslims and also list the Union government's plans for the welfare of minorities.
After Joshi received the invitation, BJP's Kanpur Mahanagar president Surendra Maithani, Cantonment MLA Raghunandan Bhadauriya and Mayor Jagatveer Singh Drona inspected the madrasa campus.
"This was a surprise invitation. For the first time in my political career, Muslims have requested a BJP leader to inaugurate a madarsa. Joshi ji has accepted the invitation… Now, the madrasa is complete and it will be inaugurated when Joshi ji visits Kanpur," Maithani said.
Full report at:
http://indianexpress.com/article/india/india-others/murli-manohar-joshi-to-inaugurate-madrasa-in-kanpur/#sthash.CLpZWxBq.dpuf
-----------
39 captives in Iraq: Contrary versions add to kin anxiety
Avijit Ghosh,TNN | Dec 1, 2014
NEW DELHI: The contrary views offered by Bangladeshi workers and the Union government on the fate of 39 Indian workers taken hostage by terrorist-outfit Islamic State (IS) in north Iraq has caused further anxiety and grief among their families back home.
"Our families have been suffering for the past five months and half. The two different news reports have only added to our worries and increased our fears. Matam ka mahaul hai," says Parvinder Singh from Punjab's Hoshiarpur district. His brother Kamaljit and two close relatives were taken captive from Mosul town in June, 2014.
"Relatives have been visiting and consoling us. The situation is too hard to handle," says Rakesh Kumar from Jalandhar district. His father, Balwant Rai, is among the captives.
Like the abducted Indians, Parvinder had also worked for Tariq Noor Al Huda, an Iraqi construction and trading firm of the Al Azawie Economical Group as a foreman for two years before returning to India in 2013.
Parvinder has met top MEA officials on numerous occasions but is uneasy with the government's recent disclosure that Harjit Masih, the lone Indian to have escaped the clutches of IS, was in the government's protective custody ever since. "They had not revealed this fact to us before. I wonder why. This has shaken our faith in the government. Harjit should be brought and presented before all of us," he told TOI.
Full report at:
http://timesofindia.indiatimes.com/india/39-captives-in-Iraq-Contrary-versions-add-to-kin-anxiety/articleshow/45330203.cms
-----------
South Asia
Xinjiang: Regulation bans jihad videos at religious centres
01 Dec, 2014
A regulation prohibiting people from wearing or forcing others to wear clothes or logos associated with religious extremism was passed in the Xinjiang Uygur autonomous region on Friday.
The revised regional regulation on religious affairs is the first in the country to target religious extremism.
The measure was approved unanimously by the Standing Committee of the Xinjiang People's Congress, and is due to come into force on Jan 1 next year. It is intended to protect legal religious activities.
"An increasing number of problems involving religious affairs have emerged in Xinjiang," said Ma Mingcheng, deputy director of the Xinjiang People's Congress and director of its legislative affairs committee.
"The old regulation, which was passed 20 years ago, just cannot handle new situations, such as the spreading of terrorist or extreme religious materials via the Internet or social media, and using religion to interfere in people's lives."
He said the regulation has taken two-and-a-half years to draft, and is the most discussed and debated measure in the region's history due to the sensitivity and importance of the subject.
Religious extremism has become the main threat to stability in Xinjiang and has led to an increasing number of terrorist attacks in and outside the region.
Full report at:
http://news.asiaone.com/news/asia/xinjiangregulation-bans-jihad-videos-religious-centers#sthash.Q3QTQCZ4.dpuf
-----------
'Zia Worked As Pakistani Agent in 1971 War': AL
01 Dec, 2014
BNP founder Major Zia ur Rahman has worked for Pakistan during the Liberation War, Awami League Joint General Secretary Jahangir Kabir Nanak has said.
He made the claim in a press conference held at Awami League president's office at Dhanmondi in the capital on Monday noon.
Showing a letter with Major Zia's portrait, Nanak said: "General Beg of Pakistan sent this letter to Major Zia where he expressed his satisfaction over Zia's role as ISI agent during the Liberation War of Bangladesh."
This proved that he had been acting as a Pakistani agent in 1971, he added.
About the recent Khaleda Zia's comment over election in Comilla, he said: "She talked about new change that means she wants new Hawa Bhaban from where she could do more terrorist act and corruption, and more violent politics."
The LGRD minister alleged that Khaleda and the BNP leaders only could resist the development of the country.
"They try all the time to protect terrorists, corrupted people and war criminals."
The next election will be held on time, he added.
http://www.dhakatribune.com/politics/2014/dec/01/%E2%80%98zia-worked-pakistani-agent-1971%E2%80%99#sthash.itq4WJX8.dpuf
-----------
11 Taliban insurgents killed in clearing operations, MoI says
01 Dec, 2014
At least 11 Taliban militants were killed and 2 others were injured during military operations by Afghan national security forces in the past 24 hours.
The operations were jointly conducted by Afghan national police, Afghan national army and Afghan intelligence – National Directorate of Security (NDS) operatives.
Interior ministry following a statement said Monday that the militants were killed or injured in Parwan, Balkh, Kandahar, Paktia and Farah provinces.
Afghan security forces confiscated various types of light and heavy weapons along with explosives during the operations, interior ministry said.
The statement by interior ministry also added that Afghan national security forces discovered and seized 2 rounds of improvised explosive device (IED) during the operations.
Interior ministry said the improvised explosive device (IEDs) were recently planted by Taliban militants for insurgency attacks in Paktika, Khost, Ghazni and Laghman provinces.
Taliban militants group has not commented regarding the report so far.
http://www.khaama.com/11-taliban-insurgents-killed-in-clearing-operations-moi-says-9076
-----------
Suicide attack at Afghan funeral kills nine: police
01 Dec, 2014
KUNDUZ: A suicide attack at a funeral in northern Afghanistan on Monday killed at least nine people, officials said, underlining nationwide insecurity as Nato troops end their 13-year war this month.
"A suicide bomber on foot detonated his explosives among people who were attending a funeral ceremony in Burka district this morning," Aminullah Amarkhil, police chief of Baghlan province, told AFP.
"Initial reports show nine people, including two police, were killed and around 18 wounded."
http://www.dawn.com/news/1148075/suicide-attack-at-afghan-funeral-kills-nine-police
-----------
Afghan reconciliation: Ghani resumes backdoor diplomacy with Taliban
December 1, 2014
ISLAMABAD: Afghan President Ashraf Ghani has tacitly resumed backdoor diplomacy with the Taliban in a bid to revive a peace process that had collapsed towards the fag-end of Hamid Karzai's regime.
Sources privy to the development said that negotiations aimed at reintegrating the Afghan Taliban into the country's political equation have started under UN supervision. Officials in Islamabad confirmed that Pakistan has assured the Afghan government and the Taliban that it would help revive the stalled peace process.
Efforts to negotiate peace with the Taliban were torpedoed last year by Karzai who had objected to the opening of a political office by the Taliban in the Qatari capital of Doha. He had refused to recognise the Taliban office, calling it an affront to his government's legitimacy.
Full report at:
http://tribune.com.pk/story/799974/afghan-reconciliation-ghani-resumes-backdoor-diplomacy-with-taliban/
-----------
PM Sheikh Hasina : Why should people pay for Khaleda's mistake?
01 Dec, 2014
Replying to BNP Chairperson Khaleda Zia's remark that there is no elected government and democracy in the country, Prime Minister Sheikh Hasina yesterday said in parliament that her government is an elected government and multi-party democracy was prevailing in the country.
"What is my cabinet doing? What are parliament members doing? Everyone is doing their jobs – ruling party, opposition party...There is democracy in the country – multi-party democracy. If one party's rule is prevailing then how is she [Khaleda] delivering speeches?" Hasina said in her closing speech for the fourth session of the 10th parliament.
"What has happened in Thailand. The opposition waged a movement and the army took power and said an election would be held soon. Now they are saying election might be held in 2016. Does the BNP leader want such a situation in Bangladesh? Why and who made her boycott the [January 5] election? She made a mistake by boycotting the election. Why would people pay for it?" Hasina said.
Full report at:
http://www.dhakatribune.com/politics/2014/dec/01/pm-why-should-people-pay-khaleda%E2%80%99s-mistake
-----------
Taliban video shows training and planning for Camp Bastion attack
01 Dec, 2014
A video of the Taliban fighters who are currently attacking Camp Bastion in Helmand province has been making the rounds in jihadist circles on the Internet. The fighting at Camp Bastion, which was the hub for British forces in Afghanistan until it was turned over to Afghan forces on Oct. 26, began on Nov. 27 and at the time of publishing this entry is still underway. [See LWJ report, Taliban assault Camp Bastion, storm foreign guest house in Kabul.]
The 8-minute, 27-second video shows photographs of the attackers, who are described as martyrs, as well as 10 fighters in training. Towards the end of the video, the fighters are standing over a sand table of the base and are given instructions on executing their assault.
While the video has not been released on official Taliban channels such as Voice of Jihad, Zabibullah Muhajid, one of the Taliban's official spokesmen, wrote an article on the attack that included an image from the video [see screen shot]. Zabihullah also links to a segment of the video which is shown on Facebook; the footage includes the logo of Al Emara, the Taliban's official media distribution arm. (Voice of Jihad has been offline all day and readers are redirected to "a snapshot of the site;" the most recently dated item is Nov. 26. Full report at:
http://www.longwarjournal.org/threat-matrix/archives/2014/11/mehsud_media_shows_video_of_tr.php#ixzz3KfkCdAsw
-----------
Bardhaman blast: 3 Rohingya militants held
01 Dec, 2014
Police have detained three Myanmar citizens for their suspected link with Jama'atul Mujahideen Bangladesh (JMB) and the October 2 Bardhaman blast in West Bengal.
The detainees were identified as Nur Hossain aka Rafikul Islam, 26, Yasir Arafat, 22, and Omar Karim, 25.
DMP Deputy Commissioner Krishnapada Roy, in a press conference, said police arrested the Rohingya militants from Lalbagh's Etimkhana intersection on Sunday night.
However, Masudur Rahman, deputy commissioner of DMP, earlier told the Dhaka Tribune that the three detainees were JMB members.
Police also recovered five detonators, two gel bombs and 100 grams of explosives from the possessions of the detainees, said Krishnapada Roy.
Full report at:
http://www.dhakatribune.com/bangladesh/2014/dec/01/bardhaman-blast-3-jmb-men-held-dhaka#sthash.WKD0zBA8.dpuf
-----------
More than seven Maldivians fighting in foreign civil wars, reveals home minister
01 Dec, 2014
More than seven Maldivians are currently fighting in foreign civil wars, Minister of Home Affairs Umar Naseer revealed at the People's Majlis today.
Responding to a query during minister's question time from former police commissioner and Jumhooree Party MP Abdulla Riyaz about the ministry's efforts to prevent Maldivians joining civil wars in foreign nations, Naseer said police were monitoring persons with extremist religious views.
"In such cases, persons attempting to leave abroad with the intention of joining civil wars have been stopped with court orders and prohibited from leaving," he said.
"And the passports of some people have been withheld for a period determined by the court."
Maldivian jihadis have also been brought back to the country with help from foreign law enforcement agencies, he added.
Full report at:
http://minivannews.com/politics/more-than-seven-maldivians-fighting-in-foreign-civil-wars-reveals-home-minister-91363
----------
North America
Minnesota imam looks at 'caliphate' through Islamic lens
01 Dec, 2014
Any time a militant organization rises with violent acts in the name of Islam, some Muslim leaders grow vocal in denouncing radicalization as they distance their faith from terrorism. Often times, some of these religious leaders seem to condemn certain actions or groups because the society expects them to do so — or because they're concerned that critics might put them in the spotlight for their silence.
But Sheikh Jamel Ben Ameur, an Islamic scholar and imam of Masjid Al-Tawba Islamic Cultural Community Center in Eden Prairie, has refused to denounce the Islamic State in Iraq and Syria for one reason, he says: because the news reports about the Islamic State are "confusing" and "complicated."
Ben Ameur has called on his Muslim counterparts to be careful about their comments regarding the group amid developing revelations that several Twin Cities Muslims have been recruited to join the Islamic State, which is also often referred to as ISIS or ISIL. In the most recent instance, two Minnesota men — Abdullahi Yusuf, 18, and Abdi Nur, 20 — were charged this week with conspiring to support the terrorist organization.
Full report at:
http://www.minnpost.com/community-sketchbook/2014/11/minnesota-imam-looks-caliphate-through-islamic-lens
-------
Canada says citizen may have been captured in Syria
1 December 2014
Canada is trying to confirm reports that a Canadian citizen has been captured in Syria, a foreign ministry spokesman said on Sunday.
"Canada is pursuing all appropriate channels" to seek further information and is in touch with local authorities, the spokesman said in a statement.
http://english.ahram.org.eg/NewsContent/2/8/116856/World/Region/Canada-says-citizen-may-have-been-captured-in-Syri.aspx
-----------
Winnipeggers Call On Canadians to Take Stand against Extremism
01 Dec, 2014
Winnipeggers gathered Saturday for a discussion on how to help the besieged Syrian city of Kobani.
Kobani has been under siege since mid-September. The Islamic State, or ISIS, has been launching attacks from Kobani and there has been fierce fighting.
"The ISIS bombarded their only haven, which is the hospital. We have no hospital in Kobani now," said organizer Glenda Lagidis."Also, we have no shelter. They ruined the whole city."
Worried Winnipegger met to try and figure out a way to send humanitarian aid and help innocent people caught in the violence but have nothing to do with the war.
Organizers want Canada to send humanitarian aid.
On Friday, Winnipeg Muslims spoke out against ISIS and terrorists who give the Islamic faith a bad reputation.
Full report at:
http://winnipeg.ctvnews.ca/winnipeggers-call-on-canadians-to-take-stand-against-extremism-1.2125557#ixzz3KfnO6e5v
-----------
Rupert Murdoch says 'all Egyptians are white'; Twitter gives him a hard time
Serina Sandhu,The Independent | Dec 1, 2014
LONDON: Media baron Rupert Murdoch has sparked fury on Twitter after claiming that Egyptian people are white.
Ridley Scott's Exodus: Gods and Kings has been widely criticised for a lack of ethnic diversity among its leading characters.
Christian Bale plays Moses in the film, which opens on 26 December in the UK, with Joel Edgerton as Rhamses and Sigourney Weaver as Queen Tuya.
But Mr Murdoch, owner of News Corp and 21st Century Fox, tweeted in the early hours yesterday:
Omar X responded: "@rupertmurdoch get out of here with your bull**** statements. For someone who runs the world's media you're a rather ill-informed moron."
Another tweeter, @scifisunsets, responded with "Jesus Rupe, all that money and you know hee-haw about people."
Full report at:
http://timesofindia.indiatimes.com/world/uk/Rupert-Murdoch-says-all-Egyptians-are-white-Twitter-gives-him-a-hard-time/articleshow/45334995.cms
-----------
Mideast
Catholic-Muslim dialogue condemns violence in the name of religion
01 Dec, 2014
Participants in a colloquium conducted by the Pontifical Council for Interreligious Dialogue and Iran's Center for Interreligious Dialogue of Islamic Culture have condemned violence in the name of religion.
"The participants emphasized that Christian-Muslim constructive dialogue plays a crucial role in making a better society," according to a joint statement issued at the conclusion of the November 25-26 meeting in Tehran.
"Spirituality is a both a divine gift and the fruit of a human journey leading to truth," the statement continued. "A genuine spirituality enables us to recognize God's presence and action within ourselves and in the world. The media is called to play its distinctive role in the promotion of positive relations between Christians and Muslims. The participants condemned all kinds of extremism and violence, especially committed in the name of religion."
http://www.catholicculture.org/news/headlines/index.cfm?storyid=23362
-----------
Thousands rally for South Yemen independence
1 December 2014
Thousands of people demonstrated on Monday in South Yemen's main city of Aden demanding independence at a time when Shiite Houthi rebels are expanding their control over the country.
The demonstrators marched towards the governorate building, prompting police intervention and clashes that wounded at least five, Agence France-Presse reported.
South Yemenis on Monday marked the 47th anniversary of the end of British colonial rule in 1967, which created an independent state that lasted until union with the north in 1990.
"Police opened heavy fire with live rounds and tear gas to disperse us as we tried to advance towards the governorate building to raise the flag of (the former) South Yemen," an activist of the separatist Southern Movement said, according to AFP.
He revised an earlier casualty toll of one dead and four wounded, saying one demonstrator was badly hurt among the five wounded. Hospital sources confirmed the figures.
Many others suffered breathing difficulties after inhaling tear gas, said Radfan al-Dubais, a spokesman for the protesters, AFP reported.
Full report at:
http://english.alarabiya.net/en/News/middle-east/2014/12/01/Thousands-demonstrate-for-South-Yemen-independence.html
---------
Iran: US troops presence in Afghanistan threat to Regional stability
01 Dec, 2014
The government of Iran has once again opposed with the conclusion of the Bilateral Security Agreement between Kabul and Washington, claiming that the presence of American troops and military bases in Afghanistan would threaten the stability of the region.
The remarks by Iran comes the Lower House and Upper House of the parliament of Afghanistan ratified both the security agreements with US and NATO by majority during the recent weeks.
President Mohammad Ashraf Ghani also ratified the security agreements with US and NATO on Sunday night.
However, Iran's Foreign Ministry has voiced serious doubt about the efficiency of the agreements.
Foreign Ministry Spokeswoman Marziyeh Afkham has said "Given the negative record of performance of the US forces, we are pessimistic about the continued presence of those forces in the region, including Afghanistan, and believe that continuation of presence of US forces in Afghanistan will not contribute to the process of establishment of stability and security in that country."
Full report at:
http://www.khaama.com/iran-us-troops-presence-in-afghanistan-threat-to-regional-stability-9074
-----------
After meeting Erdoğan, militant Islamist leader complains of 'mind control'
December 1, 201
The released leader of a militant Islamist group in Turkey has claimed that he is being targeted through "mind control," soon after meeting President Recep Tayyip Erdoğan in Istanbul.
Salih İzzet Erdiş, the leader of the Islamic Great East Raiders Front (IBDA-C) militant group, spoke at a conference titled "Absolute Justice" at the Haliç Congress Center in Istanbul on Nov. 30. According to presidential sources, Erdiş requested a meeting with Erdoğan after he learned that the Turkish president was coming to the congress center for another program scheduled for the same day.
"The president received him," a source told Hürriyet, revealing the unscheduled meeting without elaborating on its content or duration.
Following the meeting, Erdiş took the stage at the conference for his first public speech after 16 years in prison. "While I am speaking you today, they are trying to wield influence on me through the 'telegram method.' As you know, this means mind control," he said, warning the crowd that any negative words from himself could be "the words of the telegramists who attack me to control my mind remotely."
Full report at:
http://www.hurriyetdailynews.com/after-meeting-erdogan-militant-islamist-leader-complains-of-mind-control.aspx?pageID=238&nID=75044&NewsCatID=338
-----------
Pakistan
Fanatics in Political Parties More Dangerous Than Taliban: ANP Senior Leader
01 Dec, 2014
KARACHI: Begum Nasim Wali has said that the Taliban are bad for sure but what is more dangerous is the hidden fanatics in political parties which do not speak up against terrorism.
Speaking at a meet the press organised by the Karachi Press Club on Sunday, the senior most member of the Awami National Party, now divided into two factions; spoke candidly about the prevailing issues the party faces in the province in particular and the country in general.
Looking frail and petite, Begum Wali asked members of the press to stop calling her Begum Sahiba and remarked: "It makes me sound like a Begum who is a drawing room politician," and asked them to address her as Mor [mother] Bibi.
Flanked by a party member on stage, who repeated questions to her from time to time in case of a communication problem with the press, she took all the questions head on, answering each one of them in detail.
Says she has brought Ghaffar Khan's message of peace and non-violence to Karachi
She began by speaking about her visit to Karachi adding that she had come to the city with a message of peace and non-violence which used to be the hallmark of Khan Abdul Ghaffar Khan's politics in the subcontinent.
Full report at:
http://www.dawn.com/news/1147992/fanatics-in-political-parties-more-dangerous-than-taliban-nasim-wali
-----------
Politics of sit-ins has seen its demise: CM Punjab
01 Dec, 2014
LAHORE- Punjab Chief Minister Muhammad Shahbaz Sharif has said that new Pakistan could not be created by joining hands with those who have ruined national economy and got their loans written off.
Talking to assembly members from various districts in Lahore, he said Imran Khan has created hatred in the society through use of offensive language. Shahbaz Sharif said the conspiracy to destroy national economy and to hamper development program especially power projects had failed and the politics of sit-ins had also seen its demise. "Imran Khan has created hatred in the society through use of offensive language," he lamented.
http://nation.com.pk/national/01-Dec-2014/politics-of-sit-ins-has-seen-its-demise-cm-punjab
-----------
Gilgit courts lack jurisdiction in Pakistan: experts
December 1, 201
ISLAMABAD: Under several apex court judgments, convictions in absentia is illegal and if any official or authority tries to get any such order implemented, it would amount to violating the law and Supreme Court verdicts, says the country top legal brain Chaudhry Aitzaz Ahsan while referring to the Gilgit court's recent decision of sentencing Mir Shakil-ur-Rahman, Editor-in-Chief of the Jang Group, for 26 years imprisonment.
He also questioned the jurisdiction of the Gilgit-Baltistan courts in trying citizens of Pakistan.
Barrister Aitzaz Ahsan held in categorical terms that in the Liaqat Hussain case of 1998, in the Aftab Sherpao case and then in all subsequent cases, the Supreme Court continuously upheld the basic principle that no one can be convicted in absentia.
"Pakistani courts and the administration can never accept judgments announced in absentia. If any person, officer, police officer, administration officer, or even any court tries to implement such a decision, it will be violating the Supreme Court judgment," Aitzaz Ahsan said.
Full report at:
http://www.thenews.com.pk/article-167334-Gilgit-courts-lack-jurisdiction-in-Pakistan:-experts
-----------
Truck entering Quetta with 5,000kg explosives seized
01 Dec, 2014
QUETTA: Security forces on Monday seized a truck carrying around 5,000 kilogrammes of explosives as it was attempting to enter Quetta, the provincial capital of Balochistan.
They also recovered a large number of weapons during raids and searches conducted in Quetta, Panjgur and Zhob areas of the province.
Weapons seized during the raids include landmines, improvised explosives devices (IEDs), rocket launchers, mortar bombs and a large number of AK-47 rifles along with thousands of rounds of ammunition.
A truck laden with 5,000 kilograms of explosives was seized and three suspects were arrested as they made an attempt to enter Quetta.
"Terrorists wanted to sneak into Balochistan after the military operation in tribal belt," Balochistan Home Minister Sarfaraz Bugti told media personnel at Frontier Corps' Madadgar Centre.
Full report at:
http://www.dawn.com/news/1148068/truck-entering-quetta-with-5000kg-explosives-seized
-----------
Imran Khan threatens to 'shutdown' the country if govt fails to probe poll rigging
1 December 2014
Pakistan's opposition leader Imran Khan on Sunday threatened to "shut down" the entire country by December 16 if the Nawaz Sharif Government failed to initiate an impartial probe into the alleged rigging in 2013 general elections.
The Pakistan Tehreek-i-Insaf (PTI) chief, in a rally here outside the Parliament, said that his protest will continue till the government initiate an inquiry into the "massive rigging" in last year's general elections, which saw Sharif's Pakistan Muslim League-Nawaz (PML-N) win by a landslide.
"The ball is in your court, Nawaz Sharif — do your talks, do your investigations and solve the issue. We will close Pakistan down when December 16 comes, and what I do after that you will not be able to bear it…It has been 109 days and Naya Pakistan is waking up every day. We can all see it," Khan was quoted as saying by Dawn.
Full report at:
http://indianexpress.com/article/world/asia/imran-khan-threatens-to-shut-down-pakistan-by-dec-16/#sthash.YboV0842.dpuf
-----------
Pakistan will not be paralysed on Imran's call: Khurshid Shah
01 Dec, 2014
ISLAMABAD: Leader of the Opposition in the National Assembly Syed Khurshid Shah said the country would not be paralysed on Imran Khan's call.
He was speaking to reporters outside the Parliament House in Islamabad on Monday.
Shah said Information Minister Pervez Rashid's statement that the government would not hold talks with PTI was disappointing.
It was necessary for the PML-N led government to hold talks with Pakistan Tehreek-i-Insaf, the Pakistan Peoples Party leader said, adding that in the other case, the government risked weakening its own standing.
He also said that the actions of both the Pakistan Muslim League – Nawaz government and Imran Khan were destabilising the country.
Full report at:
http://www.dawn.com/news/1148073/pakistan-will-not-be-paralysed-on-imrans-call-khurshid-shah
-----------
Modern military equipment imperative for defending country: Pak PM
01 Dec, 2014
KARACHI: Prime Minister Nawaz Sharif said Monday that Pakistan's enterprising defence sector has succeeded in creating a place for itself, despite limited resources.
The premier was inaugurating the four-day 8th biennial International Defence Exhibition and Seminar (IDEAS) 2014 which started at Expo Center in Karachi.
"When resources were hurdled, our designers relied on innovation. Our endeavour was to consistently improve upon the basis technologies employed in a weapon system and to give it added dimensions and capabilities," the premier said.
"I take this opportunity to note with satisfaction that IDEAS has emerged as a major defence industry show in the region," he said.
"It showcases a wide spectrum of defence systems, ranging from widely-improved versions of the equipment used and while also inviting attention to prospective developments in the times to come."
"I have been presently told that there are more than 2,000 weapon systems displayed here today; many of these designed, developed and manufactured in Pakistan."
The premier underscored that a modern, well-equipped and properly trained military is a necessary requirement for defending Pakistan's sovereignty and territorial integrity, adding that the nation is committed to providing its defenders with all the necessary resources for this vital mission.
Full report at:
http://www.dawn.com/news/1148069/modern-military-equipment-imperative-for-defending-country-pm
-----------
Nawaz's govt is better than dictatorship: Zardari
December 1, 2014
LAHORE: While the Pakistan Tehreek-e-Insaf (PTI) stepped up pressure on the government for an audit of the 2013 elections, Pakistan Peoples Party (PPP) Co-chairman Asif Ali Zardari on Sunday reaffirmed his support for Prime Minister Nawaz Sharif, saying that the worst kind of democracy is better than even a benign dictatorship.
"Nawaz Sharif's government is better than the rule of 'my-dear-countrymen'," he said referring to the previous marshal laws in the country. "The PPP will not become a part of the conspiracy to derail democracy," he told PPP supporters at a ceremony marking the party's 47th foundation day at Bilawal House, Lahore.
"The PML-N wicket will fall when the PPP desires," the former president said and asked his supporters to "let the Kaptaan play for now. The PPP will play on its own pitch". He was referring to Imran Khan's ongoing campaign against the government.
Full report at:
http://tribune.com.pk/story/799975/nawazs-govt-is-better-than-dictatorship-zardari/
----------
Southeast Asia
Malay Minister Urges Men to Play Role in Stopping Violence against Women
01 Dec, 2014
PETALING JAYA, Dec 1 — The subject of violence against women is not just a women's issue. Men must get on board and stop the violence.
This was what Youth and Sports Minister Khairy Jamaluddin said at the annual "Walk the Talk-Stop Violence against Women" event organised by the Malaysia Soroptimist International yesterday.
"This not just affects women, but it certainly affects their aggressors and the entire family who often had to witness it," he said while delivering his keynote address at the event.
"It is not something to be only discussed by feminists or only for women to be concerned about."
Last year's statistics from the Women's Aid Organisation (WAO) revealed one out of three women have been abused while 70 per cent of the perpetrators from the cases had themselves come from families with history of abuse.
Khairy said this was an issue that could cripple families which in turn leaves lasting scars on the younger generation who will eventually grow up to be the nation's leaders and decision makers.
"One of the important marks of development is a society where there is great mutual respect and support between genders, as only then, we can focus on maximising our human resources for our nation's benefit."
He also urged the public to be braver and step in to address the issue of violence against women in their presence.
Full report at:
http://www.themalaymailonline.com/malaysia/article/khairy-urges-men-to-play-role-in-stopping-violence-against-women
-----------
Must Work Together To Prevent IS Ideology from Taking Root: Singapore Religious Leaders
01 Dec, 2014
SINGAPORE: In April, Ustaz Muhammad Zahid Zin, who is the Head of Humanitarian Outreach, Religious and Educational League of Radin Mas, travelled to conflict-ridden Syria to do humanitarian work.
There, he saw many locals working hard to rebuild their lives and who expressed a desire for the civil war to stop. The 30-year-old was inspired to share what he witnessed with others, in particular, youths back home - so they would not be radicalised by the atrocities seen on the internet, and worse, wrongly sympathise with the Islamic State (IS).
He now conducts weekly sessions to help youths have a better understanding of Islam, and to show them that what IS stands for is against Islamic teachings. "I always go around and preach that Islam teaches us to live. It is more important to live for Islam, than for someone to die for Islam," said Ustaz Muhammad. "So my main message is that youths should try and understand how to live for Islam."
Full report at:
http://www.channelnewsasia.com/news/singapore/community-must-work/1501312.html
-----------
Claims of Christian students forced to pray under tree don't represent Malaysia, says minister
01 Dec, 2014
Claims that Christian students at the Labuan Matriculation College in Sabah were forced to pray under a tree and to wear Muslim headgear are not a true depiction of Malaysia, Eucation Minister II Datuk Seri Idris Jusoh said today.
"Only small issues are being highlighted, and if these are said to be representative of Malaysia as a whole, it is not right," he said at a press conference today.
He said such episodes do not reflect Malaysia as a whole, as there were many other positive things that the media should highlight.
Idris was responding to a report by Sabah newspaper, the Daily Express, which on November 29 had reported claims that Christian students had been barred from holding their prayer groups within the campus building and were forced to pray outdoors under a tree.
The paper also reported that these students had to wear the Muslim headscarf or "tudung" for girls and the songkok for boys, if they wanted to participate in the college's Students' Parliament.
Full report at:
http://www.themalaysianinsider.com/malaysia/article/claims-of-christian-students-forced-to-pray-under-tree-dont-represent-#sthash.M9CC93xj.dpuf
-----------
Jokowi urges civil servants to lead the way
01 Dec, 2014
President Joko "Jokowi" Widodo has called on civil servants across the country to speed up bureaucratic reform and act as role models for change.
The President, who has been pushing for a "mental revolution" to transform the country's inefficient bureaucracy into an effective tool, made the remarks during a flag ceremony to commemorate the Indonesian Civil Servants Corp's (Korpri) 43th anniversary at the National Monument (Monas) on Monday morning.
"Let me remind all of you Korpri members that you should be teachers [and] role models to introduce changes expected by the people. I also want to remind you all to create a clean and competent bureaucracy able to serve the people even faster," said Jokowi in his speech in front of more than 10,000 civil servant event-attenders.
Bureaucratic Reform Minister Yuddy Chrisnandi, who was among several ministers at the ceremony, said mental revolution has three focuses: to change the mindset from priyayi (aristocratic) bureaucrats into bureaucrats who serve the public, to create lean organizational structures and to improve working culture.
Full report at:
http://www.thejakartapost.com/news/2014/12/01/jokowi-urges-civil-servants-lead-way.html
-----------
URL: https://www.newageislam.com/islamic-world-news/new-age-islam-news-bureau/baby-boom?-isis-bans-contraceptive-pills-in-mosul/d/100276