New Age Islam News Bureau
01 December 2020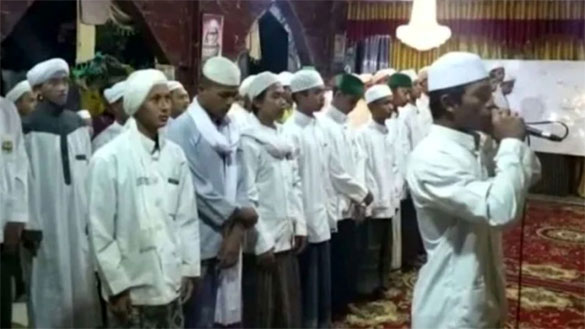 Video screengrab showing a muezzin performing a modified version of the adhan. Photo: YouTube
-----
• 'Idols And Sculptures Are Not The Same': Bangabandhu, Rabindranath, Zia And Others Have Sculptures In Bangladesh
• 'Love Jihad' Law Goes Against Freedom Of Choice: Former Supreme Court Judge Madan Lokur
• Shia Muslims Feel The Heat Of Pakistan's Blasphemy Laws After A, Accused Of Blasphemy Was Granted Bail In Mirpur City of PoK
• French Muslims Of Arab Origin Feel Their Faith Is Viewed Negatively: Poll
• US Welcomes Latvia's Decision To Designate Lebanon's Hezbollah As Terrorist Group
• Hamas Official Says Palestinians Have Right To Defend Their Occupied Land
• Islamists Attack Three French Military Bases In Mali
Southeast Asia
• Azan Modified To Include Call For Jihad In Indonesia: 'Ḥayya ʿala Ṣ-Ṣalah' (Hasten To The Prayer) To 'Ḥayya Alal Jihad' (Hasten To Jihad)
• Deputy minister declines comment on 'US terrorists' remarks by PAS MP
• Christian family killed and beheaded in Central Sulawesi; fire set to six chapels
--------
South Asia
• 'Idols And Sculptures Are Not The Same': Bangabandhu, Rabindranath, Zia And Others Have Sculptures In Bangladesh
• 70 Taliban Killed in Gov't Defence Operations
• Train, Assist, Advice Security Forces Best Approach to Stabilize Afghanistan: NATO
• 19 Taliban Killed, 3 Stronghold Wrecked in Uruzgan Battle
• Afghan forces kill 8 Taliban militants over attack on Ghazni army base
• Taliban Tackles Afghan Pace with Iranian Diplomat in Qatar
--------
India
• 'Love Jihad' Law Goes Against Freedom Of Choice: Former Supreme Court Judge Madan Lokur
• Shehla Rashid's Father Alleges Death Threat From Daughter, Seeks Funds Probe
• Amid 'Love Jihad' Row, Assam's New Law Will Ask Couples To Declare Religion, Income
• 400-Year-Old Architectural Grandeur Kulsumpura, Hyderabad, Mosque Lies In Neglect
• 'Up to them': MEA on Pakistan cooperating with India's initiatives at SCO 
• Pakistan jets didn't violate Indian airspace: IAF
• Muslim Man Held Under Religious Freedom Law In Madhya Pradesh
• Uttar Pradesh Police Have Lodged A Second 'Love Jihad' Case In Bareilly District
• India condemns terrorism in all manifestations: Naidu
--------
Pakistan
• Shia Muslims Feel The Heat Of Pakistan's Blasphemy Laws After A, Accused Of Blasphemy Was Granted Bail In Mirpur City of PoK
• All Issues Relating To Forceful Conversions And Marriages Will Be Settled With The Minorities • Amicably, Said Tahir Mehmood Ashrafi
• Pakistan Attends SCO Meeting Hosted By India
• PTI's Khalid elected chief minister of GB
• MoU signed with China to enhance defence ties
• 'Selected will have to go now,' says Aseefa Bhutto-Zardari at political debut in Multan
• Sikhs celebrate Guru Nanak's birth anniversary
--------
Europe
• French Muslims Of Arab Origin Feel Their Faith Is Viewed Negatively: Poll
• How Latifa ibn Ziaten became a campaigner against radicalization of young French Arabs
• Azerbaijani Forces Take Over Last Nagorno-Karabakh Region Per Truce Deal
• Turkish ship's return to port helps ease tension: NATO
• 'EU set to assess ties with Turkey at December summit'
--------
Arab World
• US Welcomes Latvia's Decision To Designate Lebanon's Hezbollah As Terrorist Group
• Thousands protest in Iraq's Nasiriyah as death toll from clashes rises
• Egypt says case of Italian student's murder to be closed temporarily
• Iran's IRGC commander targeted by a drone near Iraqi-Syrian border
• Lebanon urges self-restraint after killing of Iranian scientist
• Syrian protesters call for withdrawal of US occupation forces from Hasakah
• Bahraini royal family member secretly visits al-Aqsa
--------
Mideast
• Hamas Official Says Palestinians Have Right To Defend Their Occupied Land
• Turkey orders arrest of 82 military personnel allegedly connected to Gulen: Report
• Coronavirus: COVID-19 robs biblical Bethlehem of Christmas cheer
• Palestinians look ahead to 'positive' US role under President-elect Biden
• Saudi employs 'deception' to evade responsibility for Yemen catastrophe
• WHO stops financial support for some 10,000 healthcare workers in Yemen due to lack of funding
• Israeli forces raze Palestinian house, bulldoze more land in occupied West Bank
• Israeli violations against Palestinian journalists stand at over 410 this year: Report
--------
Africa
• Islamists Attack Three French Military Bases In Mali
• Sudan confirms Israeli visit to Khartoum
• Deputies from Libyan government, rebels agree to 'end divisions'
• Tigray rebel leader says conflict far from over after Ethiopia declares victory
• Boko Haram Killed 110 Farmers in Nigeria Attack, UN Says
• Somalia: Al- Shabaab Militants Kill Seven Family Members in Night Raid
--------
North America
• Joe Biden Has Promised to End Trump's Muslim and African 'Travel Ban'. But Its Legacy Will Be Felt for Years
• US calls for immediate end to fighting in Ethiopia, offers to help reconcile rivals
• Dozens of human rights groups denounce US arms sales to UAE
• Charging the 'Beatles': Inside the case against IS militants
Compiled by New Age Islam News Bureau
URL: https://www.newageislam.com/islamic-world-news/azan-modified-include-call-jihad/d/123627
--------
Azan Modified To Include Call For Jihad In Indonesia: 'Ḥayya ʿala Ṣ-Ṣalah' (Hasten To The Prayer) Changes To 'Ḥayya Alal Jihad' (Hasten To Jihad)
Dec 1, 2020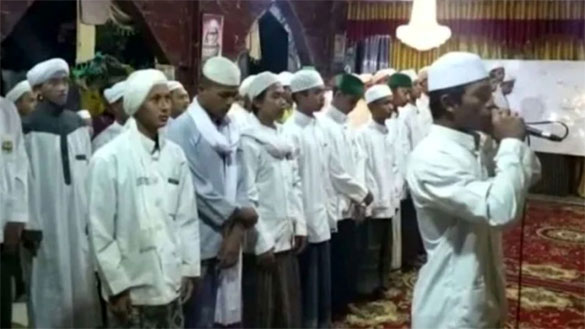 Video screengrab showing a muezzin performing a modified version of the adhan. Photo: Youtube
-----
Islamic organizations in Indonesia are outraged that some Muslims in the country have sullied the religion's sacred Azan (call to prayer) has been modified to include a war cry.
Recently, several videos have circulated widely online showing a muezzin (a person appointed to recite the Azan) modifying a verse of the call to prayer to include a call for jihad (which literally means "struggle" in Arabic, but has commonly been used in the context for religious crusade). The modified Azan changes the line "Ḥayya ʿalā Ṣ-Ṣalāh" (hasten to the prayer) to "Ḥayya Alāl Jihad" (hasten to jihad).
In at least one of the many viral videos, several men were standing behind the muezzin and lifted their machetes and sickles into the air when the modified verse was recited.
The Indonesian Ulema Council (MUI), the highest clerical body in the nation, has condemned the modified Azan.
"The Prophet [Mohammed] never modified the Azan. Even during war time, the Azan was not changed, so it cannot be changed into a call for jihad," MUI Chairman Cholil Nafis said.
"We hope the public won't be provoked by this."
Some clerics are calling on law enforcement to prosecute whoever modified the Azan, saying that the action constitutes blasphemy towards the religion.
It's not clear who made the videos, but fingers are being pointed towards hardline group the Islamic Defenders Front (FPI), who may have modified the Azan as a war cry in solidarity with their leader Rizieq Shihab. The firebrand cleric is facing police inquiry for recent mass rallies and gatherings to celebrate his return from Saudi Arabia.
However, FPI denied they were behind the modified Azan, saying that it was the result of "the aspiration of Muslim people."
https://coconuts.co/jakarta/news/islamic-groups-outraged-as-call-to-prayer-modified-to-include-call-for-jihad-in-indonesia/
--------
'Idols And Sculptures Are Not The Same': Bangabandhu, Rabindranath, Zia And Others Have Sculptures In Bangladesh
November 30th, 2020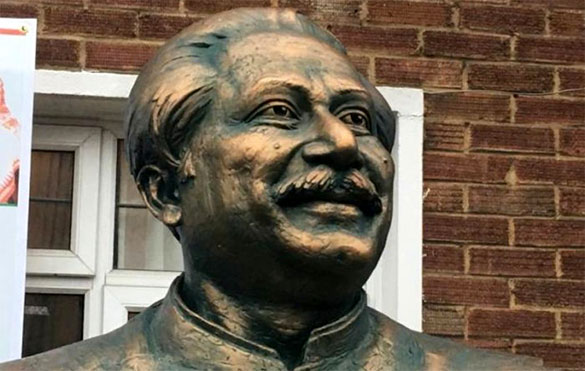 Father of the Nation Bangabandhu Sheikh Mujibur Rahman's sculpture Dhaka Tribune
-----
The recent events and controversies do raise the question – is this Bangabandhu sculpture the first one in the country?
The construction of a sculpture of the Father of the Nation Bangabandhu Sheikh Mujibur Rahman has recently stirred up a lot of unwanted debates.
Hefazat-e-Islam Bangladesh chief Junaid Babunagari issued threats during a rally in Chittagong on Friday that all the sculptures in the country will be removed after Mawlana Mamunul Haque, the joint secretary general of the organization, publicly sparked the controversy over the matter.
Other hardline Islamist organizations of the country have also joined the debate saying that Bangladesh cannot have any sculptures as it is "against the religion of Islam."
Meanwhile, the ruling party-affiliated organizations have taken a strict stance against such claims and said that there is no space for "communal differences in a secular Bangladesh."
The recent events and controversies do raise the question – is this Bangabandhu statue the first one in the country?
It is quite evident that Bangladesh has had a long history of sculptures and busts being made and preserved – including political, social, and of prominent personalities and figures – all across the country.
Construction of sculptures of Bangabandhu has increased Since 2008. But sculptures of BNP founder Ziaur Rahman were established before that. And statues of Michael Madhusudan Dutt, Rabindranath Tagore, Fakir Lalon Shah, Kazi Nazrul Islam, Ray Bahadur Jadunath Majumdar, Begum Rokeya, Pritilata Waddedar, and many other important figures of this land were constructed and cherished long before all of these debates.
According to the information collected, one of the oldest busts in the country's Bogra – the one of King Edward VII of England – made between 1901 and 1905.
Two statues of Rabindranath Tagore were erected in Naogaon to immortalize his memory. There is also another one of the Nobel Prize winner poet at Shilaidaha in Kuthibari of Kushtia. There is another in Shahjadpur.
Although several murals of the National Poet Kazi Nazrul Islam can be seen in different parts of the country, his statues are rare to find.
A bust of the poet was established at the Bangla Academy premises in 2002, when the BNP government was in power.
Zia's sculpture made before that of Bangabandhu
Although Islamic organizations have been resisting the construction of Bangabandhu's sculpture, the country has had statues of BNP founder and former president Ziaur Rahman for quite some time.
The BNP founder's sculpture was constructed in front of the Zia Memorial Museum in Chittagong on September 7, 1993 – way before anyone could make a one of Bangabandhu.
Also, Wadud Bhuiyan, a BNP MP during 2001-2005, installed another statue of Zia at the Muslimpara intersection in Khagrachhari.
In light of the recent objections and controversies over the construction of Bangabandhu's sculpture, one thing that needs to be addressed is that full-size statues of the country's architect have been made in different parts of the country since 2010.
A sculpture of Bangabandhu was inaugurated in front of the academic building of Gopalganj Government Bangabandhu College on March 17, 2010.
This statue – financed solely with the donations collected by students – aimed to pay a tribute to Bangabandhu.
The Barisal Press Club unveiled a 10 feet high sculpture of Bangabandhu on 16 December 2016, 45 years after independence, to honour the great leader.
The Rangamati Hill District Council has also built a statue of Bangabandhu – taking inspiration from his iconic and historic March 7 speech – in Rangamati. It was officially inaugurated by Prime Minister Sheikh Hasina on 23 February 2013.
Besides, sculptures of Bangabandhu can be seen in Narayanganj, Jhenaidah, Comilla, Manikchari of Khagrachari, Gazipur Safari Park among other places.
Meanwhile, two more statues of the great leader are under construction in Rangpur and Narsingdi.
Besides, statues of Father of the Nation Bangabandhu can be seen erected in the open spaces of various intersections, parks, and in both public and private spaces of different parts of the country.
Although the four national leaders and heroes of the country's Liberation War – Syed Nazrul Islam, Tajuddin Ahmad, Captain Mansur Ali, and AHM Quamruzzaman – have huge portraits and murals of them in their native places.
Sculptures of prominent figures of this land
Several sculptures and busts have been made of Fakir Lalon Shah in Chheuria of Kushtia. Also, a handful of busts and a full-size statues of the great poet Michael Madhusudan Dutt can be seen in Sagardari village of Keshabpur upazila of Jessore.
A sculpture of Begum Rokeya Shakhawat Hossain – the pioneer of women emancipation, social reform, and progressive struggle in this land – was constructed in Mithapukur of Rangpur, her birthplace.
A statue of Pritilata Waddedar, the first female martyr of Bengal in the anti-British movement, was erected in front of the European Club at Pahartali in Chittagong.
When contacted, renowned sculptor Hamiduzzaman Khan, said: "There are sculptures in every country. There are many of them in the Arab land as well. These must be seen as a form of art."
"A writer composes literature, painters draw pictures, sculptors make sculptures. If one sees all these as they are, the matter becomes easy.
"We keep portraits of a person to show respect, it has to be seen in that light," he added.
Mentioning that sculptures are made in an attempt to keep the one we respect among us for a long time, he said: "Thinking it this way makes things easier, and there remain no more controversies.
"If you look at them [sculptures] as art, it becomes very beautiful."
https://www.dhakatribune.com/bangladesh/2020/11/30/bangabandhu-rabindranath-zia-and-others-have-sculptures-in-bangladesh
--------
'Love Jihad' Law Goes Against Freedom Of Choice: Former Supreme Court Judge Madan Lokur
Dec 01, 2020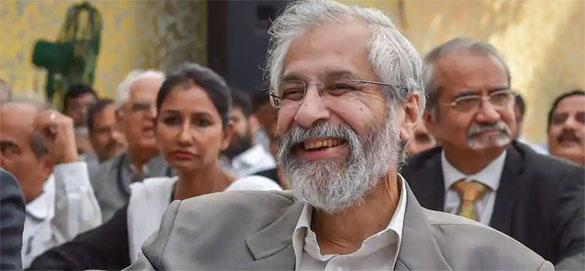 The law includes a provision to void a marriage if it is solemnised primarily to convert a woman's faith. The burden of proof is on the person who converted, and those who performed the conversion. (PTI)
------
A recently passed ordinance in Uttar Pradesh outlawing forced conversions by marriage, coercion or enticement is unfortunate because it puts freedom of choice, dignity and human rights on the back seat, former Supreme Court judge Madan Lokur said.
Delivering a public lecture on Sunday, Lokur said that laws punishing interfaith marriages violated jurisprudence developed by the Supreme Court protecting freedom of choice and human dignity.
"Giving a back seat to freedom of choice, dignity and human rights, a stringent ordinance related to marriage and forcible conversion has recently been passed in Uttar Pradesh…Are we as a society prepared for this," Lokur said.
"What happens to the law declared by the Supreme Court in 2018 in the Hadiya case?" he asked, referring to the top court's verdict recognising an adult woman's choice to convert to Islam and marry a man of her choice.
His comments came days after Uttar Pradesh promulgated the UP Prohibition of Unlawful Religious Conversion Ordinance-2020 that outlawed religious conversions by marriage, coercion, deceit or enticement, and prescribed up to 10 years imprisonment for those found guilty. The law includes a provision to void a marriage if it is solemnised primarily to convert a woman's faith. The burden of proof is on the person who converted, and those who performed the conversion.
The former judge, delivering the Sunil Memorial Lecture, recalled that in 2018, a similar law was introduced by Uttarakhand legislature, called the Freedom of Religion Act, where marriages performed with the sole purpose of religious conversion were declared null and void.
"The purpose of these laws is to prohibit what is commonly known as 'love jihad' which has no clear definition…The carefully drafted dignity jurisdiction assiduously developed over the years by the Supreme Court is slowly being given an undignified cremation of the Hathras kind and might reach a point of no return if so called anti-love jihad laws are passed or extended to other communities," he said, referring to the forced cremation of a Dalit woman, a rape victim, by local authorities in Uttar Pradesh's Hathras district last month.
https://www.hindustantimes.com/india-news/love-jihad-law-goes-against-freedom-of-choice-lokur/story-Y07QJ3XfMYrCYxl272CmMO.html
--------
Shia Muslims Feel The Heat Of Pakistan's Blasphemy Laws After A, Accused Of Blasphemy Was Granted Bail In Mirpur City of PoK
Kamran Chaudhry
December 01, 2020
The compound of a court in Mirpur city of Pakistan-administered Kashmir became a battleground after a Shia Muslim accused of blasphemy was granted bail.
Protesters including lawyers and madrasa students shouted "We want the head of the blasphemer" and "Beheading the only punishment for the blasphemer" at the District and Session Court on Nov. 28.
The mob gathered a day after the district judge granted bail to Wajid Ali Shah, who was accused of insulting First Caliph Abu Bakr, one of the four companions of the Prophet Muhammad, on WhatsApp. Shah was a telephone operator in a government department.
Moments later, protesting lawyers broke the doors of the courtroom and called for the removal of the judge who granted bail to Shah and demanded hanging for the alleged blasphemer. More than 900 have viewed a video that went viral on social media.
"Please back off. I am going inside. The decision will be as per our wish. The judge will go. He will take back his decision," said Shakeel Raza, a protesting lawyer. Raza and two other lawyers of the District Bar Mirpur were arrested as the protest continued at a nearby crossroads.
"We shall not compromise on the dignity of the holy companions. We are ready to die," they told local media that had been reporting protests against Shah in Mirpur since September. His bail has been revoked.
According to Waqar ul Husnain, convener of Shia Sherian of Pakistan, Shah was arrested during the recent Ashura, a 10-day mourning period marked annually by the Muslim minority sect during the holy month of Muharram.
Sunni groups often demand the arrest of Shia clerics and eulogists on charges of insulting the Prophet Muhammad's companions in annual Muharram processions.
In August, around 42 blasphemy cases were registered in Pakistan. According to the Human Rights Commission of Pakistan (HRCP), more than 75 percent of cases were filed against Shia Muslims in relation to speeches made at religious processions.
In September, thousands of activists of mainstream religious right-wing parties, allied with banned outfits, held mass rallies in Karachi against Shia Muslims and demanded the arrest of blasphemers, stricter blasphemy laws and for the Islam Protection Bill recently passed by the Punjab Assembly to be replicated across Pakistan. Newspapers dubbed it as the largest anti-Shia march seen in decades.
The outcry followed the detention of a Shia cleric in Karachi under blasphemy laws for leading Ziyarat-e-Ashura, a prayer that salutes the martyrs of the Battle of Karbala in 680 AD, on a TV channel on Sept. 13. Pakistan Electronic Media Regulatory Authority issued a notice to the news channel and suspended its license for 15 days. Channel owner Mohsin Naqvi was arrested.
"We condemn the arrest of Shah and other innocent Shias. This is totally wrong. Other allegations include desecration of the Quran. We are being targeted. The recent arrests are a big blow to interfaith harmony," Husnain told UCA News.
"Sometimes people unknowingly use social media to share things. Pressurizing lower courts and police stations breeds injustice and anarchy in society."
Blasphemy is a highly sensitive issue in deeply conservative Pakistan where mere allegations have led to extrajudicial killings and mob violence.
Catholic groups and human rights campaigners have long sought the repeal of draconian blasphemy laws, arguing they are used to victimize religious minorities or settle personal scores.
UK-based Asif Mall, who chairs the Pakistan Minorities Rights Organization, renamed Pakistan as "Blasphemistan" in a Facebook post referring to the arrest of Shia worshippers.
"A secular, progressive and democratic Pakistan is the only way to avoid civil war and large-scale sectarian bloodshed," he said.
Shias, who make up 15 percent of Pakistan's population of 220 million, commemorate the massacre of the Prophet Muhammad's grandson Imam Husayn and his family and friends at the Battle of Karbala in Iraq for refusing to pledge allegiance to then Muslim ruler Yazid ibn Muawiya.
Shias blame certain Islamic figures for events that led to the Karbala tragedy, but the same people are revered by Sunni Muslims for being the companions of the Prophet Muhammad. Their conflict intensified in Pakistan in the 1980s after the 1979 Iranian revolution and Saudi-Iranian rivalry.
In 2017, an advertisement in an Urdu newspaper in Bannu district of northwest Pakistan asked for male and female applicants from Christian, Hindu and Shia communities for sweeper jobs. Officials later claimed the word "Shia" was added by mistake and only religious minorities were preferred.
The HRCP claims Karachi is the most affected city by sectarianism. Five Shias, including a senior doctor, were gunned down in the seaport city last year, it said in its annual report.
https://www.ucanews.com/news/shia-muslims-feel-the-heat-of-pakistans-blasphemy-laws/90509
--------
French Muslims of Arab origin feel their faith is viewed negatively: Poll
December 01, 2020
LONDON: In the tense environment of the terrorist assassinations which have affected France in the last weeks, the question of the integration of French people of Arab origin — more specifically Muslims — and their conformity with "the values of the republic" is back to the fore of political discourse.
By focusing on a minority of Muslim extremists, right-wing politicians and polemicists who monopolize television platforms continue to instill in people's minds the idea that French Muslims as a whole are separate citizens and "enemies of the inside" summoned to prove their sense of belonging.
But as the new Arab News en Francais/YouGov study shows, French people of Arab origin are well integrated. Among the representative sample of 958 French Arabs surveyed, a significant proportion had a good level of education, 65 percent of them were employed, 10 percent were unemployed and 55 percent had completed higher education.
They are generally familiar with French history, from Louis XIV to the latest political developments.
Contrary to popular belief, around half of those surveyed believe that their sense of belonging to French society has not been impacted by their religion (48 percent) and their origin (45 percent). The other half of those polled are divided between those who think that Islamic or Maghrebi origin has fostered their sense of belonging and those who think that it has been an obstacle to their inclusion in French society.
Although integrated, the French of Arab origin suffer from a bad image that sticks to their skin. Almost two-thirds of those polled (64 percent) believe that Arabs in France are perceived negatively. This feeling is even stronger among those aged over 55 (73 percent). The term "Arabs" gradually came to the fore in the early 1970s to designate Maghreb immigrant workers and their families, and was gradually taken over by the far right and the National Front.
It was then assimilated to delinquency and violence in the suburbs, but also linked to degrading imagery inherited from the colonial empire, as shown for example by the use of terms such as "savage" or, in more recent times, "savagery."
The semantic shift towards the term "Muslim" took place at the start of the 1990s. It was already common in the 1950s and 1960s to designate the status of colonized people in Algeria. The term has returned to the fore, notably following the Creil headscarf controversy of 1989, and has been associated with religious conservatism and rejection of secularism.
From 1995, France was also affected by a wave of radical Islamic attacks, giving rise to a growing conflation between Muslims and terrorists. This trend has intensified since a surge in violent extremism in 2015 in France, especially as they are exploited for political ends. Islam and "Muslims" are regularly singled out in the media. Far-right polemicist Eric Zemmour has made it his specialty, going so far as to compare Islam to Nazism.
Politicians like former Republican presidential candidate Francois Fillon made it clear that "there is a problem with the Muslim religion" and that "a significant part of the Muslim community refuses to integrate."
It is therefore not surprising that, in this climate of tension around Islam, more than two-thirds (67 percent) of Muslims polled in the YouGov poll believe that other French people have a negative perception of their religion.
But — and this is another lesson from the opinion poll — the negative image of religion is not just about Islam as such. Indeed, 61 percent of Jews of Arab origin also say that their religion is frowned upon by French citizens. In contrast, the perception is completely reversed for Christians of Arab origin, 92 percent of whom say that their beliefs are viewed positively.
These negative perceptions translate into discrimination, particularly in hiring. In the Arab News en Francais/YouGov survey, about three in 10 respondents said religion or racial origin has had a negative impact on their careers. This feeling is especially true for men, whether it concerns ethnicity (35 percent) or religion (33 percent).
Women, on the other hand, believe that neither religion (61 percent) nor racial origin (53 percent) has had an impact on their professional trajectory. For 36 percent of those polled, it was even the ethnic origin of their name that penalized them the most in their hiring process. A survey carried out by Institut Montaigne in 2015 showed that in France, Mohammed is four times less likely to be recruited than Michel.
https://www.arabnews.com/node/1770751/world
--------
US welcomes Latvia's decision to designate Lebanon's Hezbollah as terrorist group
Joseph Haboush
30 November 2020
The United States Monday praised Latvia's decision to consider Lebanon's Hezbollah as a terrorist organization in its entirety.
"Latvia supports US implementation of sanctions related to Hezbollah and has expressed a readiness to place national travel bans on individuals associated with Hezbollah," said Cale Brown, Principal Deputy Spokesperson at the US State Department.
For all the latest headlines, follow our Google News channel online or via the app.
An increasing number of European countries, as well as Latin American countries, have followed the trend of designating Hezbollah as a terrorist organization in recent months with the Trump administration's maximum pressure campaign on Iran and its proxies.
"The continued announcements by countries in Europe, Latin America, and other regions of actions against the terrorist organization send a strong message to Hezbollah and its backers in Iran that a new day is coming," Brown said.
He added: "On this new day, Hezbollah operatives will no longer be able to operate from European soil, and the European Union will follow the lead of a number of European governments by closing the loopholes opened up by the false distinction between Hezbollah's so-called military and political wings."
France is among the few major European nations that differentiate between what it says are Hezbollah's political and military wings.
Washington has pushed France to change its position on the Lebanon-based group but to no avail.
"The simple fact is that Hezbollah is a terrorist organization, root and branch," Brown said.
Hezbollah was formed in Lebanon in 1982, by the Iranian regime, in an effort to counter Israeli gains in the tiny Mediterranean country.
Hezbollah has continuously increased its capabilities to attack Israel and its political influence in Lebanon, where it is one of the few non-state actors that continue to possess weapons outside of the government's control.
It has also spread its military interventions in Syria, Iraq and Yemen.
https://english.alarabiya.net/en/News/middle-east/2020/12/01/US-welcomes-Latvia-s-decision-to-designate-Lebanon-s-Hezbollah-as-terrorist-group
--------
Hamas official says Palestinians have right to defend their occupied land
30 November 2020
The resistance movement Hamas says Palestinians have the inalienable right to defend their occupied land against the Israeli regime.
Izzat al-Risheq, a member of the Hamas political bureau, made the remark on the occasion of the International Day of Solidarity with the People of Palestine, which is celebrated annually on November 29.
Palestinians have the legitimate right "to defend every inch of their occupied land, liberate the heroic prisoners [from Israeli jails], and purge Jerusalem and the Aqsa Mosque from desecration," the Palestinian Information Center on Monday quoted the Hamas official as saying.
The occasion is a UN-organized observance to remind the world of the Palestinian people's legitimate rights. It is commemorated worldwide, with officials expressing their support for the Palestinian cause and denouncing the Israeli conduct in the occupied territories.
In 1977, the UN General Assembly called for the annual observance. It marks the day in 1947 when the UN General Assembly adopted the Palestine partition resolution 181.
"Palestine is a cross-cutting issue for our Arab and Muslim nations because it represents a strategic depth for them and any political penetration of this depth poses a threat to their unity and stability and serves only the enemy that targets their wealth and capabilities," Risheq said.
The senior Hamas official said the Palestinian cause with all of its political and humanitarian dimensions is a just issue, whose vitality and liveliness in the Arab and Muslim nations and international arenas could be restored through rallying around a national resistance project and a unified struggle program.
"The Zionist occupation of the Palestinian land is the most dangerous, criminal, unjust and persistent colonial entity in the world, and our nation and the world's free people should work with all means and at various levels on criminalizing this occupation, exposing its crimes and making intensive efforts politically and through the media to back the Palestinian people's steadfastness and help them end the occupation."
On Sunday, Hamas spokesman Abdul-Latif al-Qanu called on the international community to turn its slogans of solidarity with Palestinians into action to end the decades-long Israeli occupation of their land and enable them to live a dignified life.
Separately on Sunday, UN Secretary-General Antonio Guterres, in a message marking the International Day of Solidarity with the People of Palestine, also stressed that the world must renew its "commitment to the Palestinian people in their quest to achieve their inalienable rights and build a future of peace, dignity, justice, and security."
More than 600,000 Israelis live in over 230 illegal settlements built since the 1967 Israeli occupation of the Palestinian territories of the West Bank and East Jerusalem al-Quds.
Israel occupied the West Bank and East Jerusalem al-Quds during the Six-Day War in 1967. It later annexed East Jerusalem al-Quds in a move not recognized by the international community.
Palestinian officials say they want the resolution of the conflict with Tel Aviv based on the so-called two-state solution along the pre-1967 boundaries.
https://www.presstv.com/Detail/2020/11/30/639681/Hamas-official-Palestinians-occupied-land
--------
Islamists attack three French military bases in Mali
NOVEMBER 30, 2020
BAMAKO (Reuters) - Al Qaeda-linked Islamist fighters rocketed French military bases in Kidal, Menaka and Gao in northern Mali within the space of a few hours on Monday morning, a rare sign of coordinated raids on international forces.
The camps were hit by "indirect fire", although no deaths or injuries were reported, said Thomas Romiguier, a spokesman for French forces, who have more than 5,100 personnel spread across the region.
The only damage was to a United Nations base in Kidal, which is next to the French base, Romiguier said. The head of the U.N. mission condemned the attacks.
In statement on Al Thabat, an affiliated media outfit, al Qaeda said: "The rocket attacks of the mujahideen, in support of Islam and Muslims, targeted the bases of the French infidel army."
A witness in Gao said several rockets had been fired towards the French base at around 5:30 a.m. (0530 GMT).
The mayor of Menaka, Nanout Kotia, told Reuters he had heard explosions coming from the direction of the military camp outside town, but could not give any more details.
French forces killed Bah ag Moussa, a military leader of al Qaeda's North Africa wing, on Nov. 10.
The former Malian army colonel, also known as Bamoussa Diarra, was a right-hand man of Iyad Ag Ghali, the leader of Mali's most prominent jihadist group, Jama'at Nusrat al-Islam wal-Muslimin (JNIM), which has repeatedly attacked soldiers and civilians in Mali and neighbouring Burkina Faso.
https://in.reuters.com/article/mali-security/islamists-attack-three-french-military-bases-in-mali-idINKBN28A1VF
--------
Southeast Asia
Deputy minister declines comment on 'US terrorists' remarks by PAS MP
December 1, 2020
KUALA LUMPUR: A PAS MP called the US "terrorists" while debating the 2021 budget allocations for the foreign affairs ministry at the committee level at the Dewan Rakyat today.
Nik Muhammad Zawawi Salleh (PAS-Pasir Puteh) had urged the government to act in a tougher manner with the US and not to give in over international issues such as the persecution of the Rohingya in Myanmar and the Kashmir conflict in India.
"Some accuse Palestinians of being terrorists without mentioning the Jews who demolish and steal the possessions of Palestinians.
"Actually, they are the terrorists. Sometimes these big powers like America act like the kings of the world. Whatever they want to do, they will do. If they want to attack Sudan, Libya and any other countries, they can.
"That's why Malaysia's stand has to be firm. Some say that Palestinians are terrorists but Israel is a terrorist country. The same goes for the US and other countries. They're actually terrorists who make threats to countries that aren't aligned to them," he said.
He said Malaysia needed to rise as a leader among Muslim countries, emphasising the importance of the nation's role in the Organisation of Islamic Cooperation (OIC).
He also said Turkey was an example of a nation that did not bow to pressures from major powers.
This prompted Sim Chee Keong (PH-Bukit Mertajam) to ask the government if it agreed with Nik Zawawi's remarks that the US were terrorists.
However, Deputy Foreign Minister Kamarudin Jaffar said he did not need to comment on the matter.
"The ministry and I don't need to comment on anything MPs say," he said.
Nik Zawawi previously stirred controversy over his remarks in the Dewan Rakyat that the Bible was "distorted or altered".
He later issued an apology and retracted his remarks, saying he had no intention of hurting the feelings of Christians.
https://www.freemalaysiatoday.com/category/nation/2020/12/01/deputy-minister-declines-comment-on-us-terrorists-remarks-by-pas-mp/
--------
Christian family killed and beheaded in Central Sulawesi; fire set to six chapels
by Mathias Hariyadi
11/28/2020
Four members of the same Christian family have been found murdered, some of them beheaded. All four belonged to the Protestant Church of Salvation (Salvation Army). Their dismembered bodies were found yesterday, Central Sulawesi police reported today.
The murder took place in the village of Lenowu, Lemban Tongoa district, Sigi. For now, the identity of the killers remains unknown.
The president of the Protestant Christian Synod (PGI), Rev Gumar Gultom, condemned the killings and demanded that the government send a team of experts to open an investigation.
He also denounced some acts of intolerance that took place in the same area some time before the assassinations, namely the burning of six chapels used by the Salvation Army.
His statements contradict Rakhman Baso, inspector general of the Sulawesi police, who said that "no churches were burnt".
The murder victims are a couple, their daughter and her husband. Their bodies were found around 10 am yesterday.
In an official statement, Rev Gultom offers prayers and condolences to the Salvation Army and notes that "this fresh violence reminds us of the sporadic violence of the past that took place in the same area of Sulawesi."
On 29 October 2005, three Christian girls, high school students, were beheaded by Muslim extremists in Poso. The victims were: Theresia Morake (15), Alite Poliwo (17), and Yarni Sambue (17).
According to several observers, these killings were a consequence of sectarian clashes between extremist Protestant Christians and Islamic radicals.
Later, three local Catholics – Fabianus Tibo, Dominggus da Silva, and Marinus Riwu – were sentenced to death for sheltering some Catholics who had fled clashes in Poso.
The latter were eventually arrested in 2000, tried and sentenced to death in connection with the deaths of hundreds of Muslims during local interreligious violence between 1998 and 2001.
No Muslim was ever tried for taking part in those clashes, which also caused deaths among Christians as well.
The three Catholics were executed in September 2006. Then Indonesian President Susilo Bambang Yudhoyono refused a request for a pardon, supported by many leading figures, including the Pope.
"In the face of fresh violence," said Rev Gultom, "I urge Indonesian security forces to eliminate the remaining terrorist fighters, who are still wanted in Sigi and Poso. The presence of the security forces is urgently needed to reassure locals and the country."
Many people who witnessed the murders fled into the forest to hide. Meanwhile, the investigation into the incident has started. Didik, a spokesman for Sulawesi police, said that for now "the perpetrators of this violence remain unknown".
http://www.asianews.it/news-en/Christian-family-killed-and-beheaded-in-Central-Sulawesi%3B-fire-set-to-six-chapels-51718.html
--------
South Asia
70 Taliban Killed in Gov't Defence Operations
By Mohammad Haroon Alim
29 Nov 2020
Afghan commandos point out suspicious movement from a compound in the distance while clearing Bahlozi village with the assistance of U.S. Special Forces soldiers in the Maiwand district of Afghanistan's Kandahar province, Jan. 1, 2014. (U.S. Army Photo by Staff Sgt. Bertha A. Flores/ Released)
The Ministry of Defense (MoD) says heavy attacks by Taliban fighters on Zherai and Dand districts of Kandahar province have been repulsed by security forces.
Armed Taliban militants attacked ANA checkpoints in the Waziran area of Zherai district and Dand district of Kandahar province last night, the Ministry of Defense said on Sunday.
The Ministry added that 40 Taliban fighters were killed and 38 others were wounded in the clashes.
According to officials, in an operation in Dawlat Shah District of Laghman province in a skirmish Taliban fighter suffered heavy casualties.
At least 30 Taliban militants were reported dead and 17 other wounded in a clash between the Afghan security forces and Taliban insurgents in the region.
Head of Taliban's intelligence for the district and one of their commanders are also among the dead, following the battle large number of weapons and ammunition were destroyed by the Afghan security members, media reports.
https://www.khaama.com/70-taliban-killed-in-govt-defense-operations-909800/
--------
Train, Assist, Advice Security Forces Best Approach to Stabilize Afghanistan: NATO
By Mohammad Arif Sheva
01 Dec 2020
KABUL, Afghanistan – The NATO Secretary General Jens Stoltenberg at a press conference Monday said the best approach to stabilize Afghanistan is to "train, assist, advice" Afghan security forces, confirming about 11,000 troops in the country under its mission.
Although NATO has adjusted and changed the number of troops in Afghanistan over the years, Stoltenberg confirmed roughly 11,000 troops in Afghanistan, of which more than a half are non-US troops.
"It has been a gradual reduction and that has been possible because we have invested so much in training the Afghans," said Stoltenberg in a statement. "We have enabled Afghans to protect their own country."
"I strongly believe that the best way to stabilise Afghanistan is to train, assist, advise the Afghan security forces so they can be in charge, be responsible for their own country." He added.
Addressing the February accord signed between the United States and the Taliban on troops withdrawal from Afghanistan, Stoltenberg said NATO is put in a tough situation to decide over a complete draw out from the country.
"Then, the main issue is that in the US-Taliban agreement, it is stated that all international troops, also NATO troops, should be out of Afghanistan by 1 May," he elaborated the deal. "That's the reason why we are now faced with a very clear decision, a very difficult choice to be made, which actually represents a dilemma for all of us."
While efforts by the Afghan government and the Taliban delegations are underway in Doha since September 11, NATO is skeptic about potential peace deal between the two warring sides, saying their assessment suggest Taliban are not committed to peace and prosperity in Afghanistan.
"… We assess that Taliban is not living up to their part of the agreement, not delivering on their promises, but then, of course, risk continued fighting, long-term continued military involvement in Afghanistan; or to leave, but then risk jeopardising the gains we have made in fighting international terrorism and preventing Afghanistan from being a platform for launching attacks against our countries," he exclaimed.
When questioned about the President-elect Joe Biden's approach of dealing with February accord, Stoltenberg said he had an "excellent phone call" with democrat President-elect, adding "Biden as a very committed supporter of the cooperation, the bond between North America and Europe and of NATO."
"I'm looking forward to working with him and also with Kamala Harris, the Vice- President-elect. And they have both expressed strong support to NATO," he said. "After the transition in January, we are, of course, working with the incoming Biden administration. We will then work with what is then going to be the Bide."
According to Stoltenberg, NATO had more than 100,000 troops in a big combat operation. Then have gradually reduced its presence and now are roughly 11,000 troops in a Train, Assist and Advise mission. More than half are non-US troops coming from European NATO Allies and partner nations.
https://www.khaama.com/train-assist-advice-security-forces-best-approach-to-stabilize-afghanistan-nato-345345/
--------
19 Taliban Killed, 3 Stronghold Wrecked in Uruzgan Battle
By Mohammad Arif Sheva
01 Dec 2020
Afghanistan – At least 19 Taliban insurgents killed during an operation carried by Afghan National Army (ANA) in Dehrawood district of Uruzgan on Monday, said the Ministry of Defense in a statement.
According to the statement, the Taliban plotted an attack against the Afghan National Defense and Security Forces (ANDSF), which was foiled in cooperation by the national army forces.
"19 #Taliban were killed during preemptive operations of ANA in Dehrawood district of Uruzgan province yesterday," said the MoD in a tweet. "They had gathered and prepared to attack ANDSF positions when they were targeted by #ANA and #AAF."
Meanwhile, further 11 Taliban were wounded and three of their "strongholds and a large amount of their weapons were destroyed" during the operation.
https://www.khaama.com/19-taliban-killed-3-stronghold-wrecked-in-uruzgan-battle-345345/
--------
Afghan forces kill 8 Taliban militants over attack on Ghazni army base
30 November 2020
Afghanistan says its forces have killed the Taliban mastermind of an earlier car bomb attack on an army base, and seven other militants, in an overnight airstrike in the eastern province of Ghazni.
"The mastermind behind yesterday's terrorist attack on the base was killed along with seven other terrorists," the Defense Ministry said in a statement on Monday.
The militant, identified as Hamza Waziristani, is said to be a Taliban from the Pakistani border region of Waziristan, according to a military spokesman Fawad Aman.
The attack on the army base occurred on Sunday morning, when a bomber detonated "a Humvee vehicle which was full of explosives" close to a public protection unit in Ghazni.
Th attack killed at least 30 people and injured 24 others, director of Ghazni hospital Baz Mohammad Hemat said, adding all of them were security personnel.
The attack was the worst targeting the country's security forces in recent months.
Violence continues to take a heavy toll in Afghanistan even as government negotiators and the Taliban have been engaged in peace talks in Qatar, in an effort to end nearly two decades of war.
The intra-Afghan talks began in the wake of a deal reached between the United States and the Taliban in Doha back in February, but progress has so far been slow.
Under the Taliban-US deal, Washington promised to pull out all its troops by mid-2021 in return for the Taliban to stop their attacks on US-led occupation foreign forces in Afghanistan.
The deal was intended to result in the reduction of violence, but Taliban militants have continued to stage deadly attacks against Afghan security forces and civilians.
According to recent official data, Taliban bombings and other assaults have increased 70 percent since the militant group reached the deal with Washington.
https://www.presstv.com/Detail/2020/11/30/639664/Afghanistan-Taliban-bomb-attack-Ghazni-army-base-Hamza-Waziristani-
--------
Taliban Tackles Afghan Pace with Iranian Diplomat in Qatar
By Mohammad Arif Sheva
01 Dec 2020
DOHA, Qatar – A group of Taliban delegation on Monday met with Iranian Ambassador to Doha Hameed Raza Dihqani, discussing intra-Afghan negotiations amid delays on the main talks.
The meeting came a day after Taliban spokesman Mohammad Naeem Wardak said that Afghan and Taliban negotiating teams have agreed on the procedural rules in a bid to push through the peace process.
"Today, the responsible for contact with Iran, Turkey and the middle east countries from the political office of the IEA Qari Deen Mohammad Haneef and his delegation met with the Iranian ambassador to Doha Hameed Raza Dihqani and the delegation accompanying him," said Wardark in a tweet.
"The related issues to both countries and the Intra-Afghan negotiations were discussed during the meeting," he added.
Meanwhile, the Iranian Embassy in Qatar confirmed the meeting, posting a group picture on its twitter account, but did not further elaborate on the purpose of meeting.
On Saturday, the Afghan and Taliban negotiating teams have agreed on the procedural rules after months of struggle, said Mohammad Naeem Wardar, a spokesman for Taliban's political office in Qatar, Saturday evening.
While reports on such a breakthrough has been circulating around for weeks now, the spokesman confirmed on Saturday that both side of the negotiations "finalized" an agreement in 21 articles on November 15; but did not make any formal announcement prior to this report.
https://www.khaama.com/taliban-tackles-afghan-pace-with-iranian-diplomat-in-qatar-34534/
--------
India
Shehla Rashid's Father Alleges Death Threat From Daughter, Seeks Funds Probe
Nov 30, 2020
SRINAGAR: The father of activist and former JNU Students' Union vice-president Shehla Rashid on Monday wrote to J&K DGP Dilbag Singh, saying he feared for his life after being threatened by his daughter's armed "bodyguard" into leaving the family's Srinagar home because he disapproved of her political and financial dealings. Abdul Rashid Shora sought an inquiry into his daughter's finances, accusing her of receiving Rs 3 crore from two people under investigation for terror funding.
Shora said Shehla had been first offered the amount through him to join a party that was to be floated by former IAS officer Shah Faesal. While he refused, his daughter allegedly accepted the "deal".
Just two months before the arrest of Zahoor Watali and (ex-MLA) Engineer Rashid in a terror funding case under the Unlawful Activities Prevention Act, I had been called to the former's residence at Sanat Nagar in Srinagar. It was June 2017 and Shehla was in her last semester at JNU. They asked me to make Shehla join the JKPM party (which hadn't been formed then) and they would give me Rs 3 crores," he alleged.
Shora claimed to have turned down the duo immediately and advised his daughter to stay away from such people. "Despite my resistance, I found my wife Zubaida Shora and my elder daughter Asma supportive of Shehla and becoming party to this deal along with a boy named Sakib Ahmad from Srinagar downtown, who was introduced to me as Shehla's pistol-carrying personal security guard," he said.
"Shehla threatened me not to disclose this deal to anybody or my meeting with Zahoor Watali and Engineer Rashid; otherwise my life would be in danger," Shora said.
Shehla responded to the allegations with a statement on Twitter about her "abusive and violent" father getting back at her for getting him legally restrained from entering their home at Lal Nagar in Srinagar's Chanapora neighbourhood. She cited a November 17 court order in this regard.
"As we mourn the death of a close family member, it is extremely sad that my father has chosen this time to level absolutely disgusting, baseless allegations against me, my mother and sister," Shehla said. "The fact of the matter is that my mother, sister and I have filed a complaint of domestic violence with the court...The false allegations he is making are a reaction to that."
In his complaint to the DGP, Shora said he had a "strong belief that anti-national activities are going on in my house".
He said the restraining order mentioned by Shehla had been stayed by the court of the additional sessions judge of Srinagar and that the authorities had been directed to allow him to return to his house. "Despite the court order, the local police did not accompany me to my home. I went on my own, but was threatened by Sakib and his armed associates, after which I ran away from Srinagar to Jammu."
The DGP has forwarded the letter to the IGP (Kashmir range) for appropriate action.
https://timesofindia.indiatimes.com/india/shehla-rashids-father-alleges-death-threat-from-daughter-seeks-funds-probe/articleshow/79497916.cms
--------
Amid 'Love Jihad' Row, Assam's New Law Will Ask Couples To Declare Religion, Income
01 December 2020
The Assam government is formulating a new marriage law under which the bride and groom will have to disclose their religion and income in official documents a month before the wedding, according to several media reports. This comes hot on the heels of announcements by several BJP-ruled states to bring in laws to check "love jihad".
State Minister Himanta Biswa Sarma claimed that the law will "empower our sisters by bringing transparency."
"Assam's law is not against 'love jihad'. It would be inclusive of all religions and would empower our sisters by bringing transparency...One will have to disclose not only religion but earning source. Complete family details, education etc. Many times even in same religion marriage we have found that the girl later finds that the husband is in an illegal business," said Mr Sarma.
The proposed marriage law will require couples to declare their family details, education, source of income, profession, permanent address along with religion in a prescribed form one month before the wedding. A failure to do this will result in legal action, the Minister said.
Sarma also said that Assam's love will be similar to the one passed in Uttar Pradesh and Madhya Pradesh but will have its own twist. "Our law will empower women. It will have some elements of the law in UP and MP," Mr Sarma said.
"Love jihad" is a term used by right-wing groups to frame allegedly forceful relationships between Muslim men and Hindu women. The coinage also represents claims that Hindu women are being converted to Islam under the guise of marriage as part of a nefarious scheme.
The term hasn't been officially acknowledged by the central government. However, several states with BJP government including Madhya Pradesh, Karnataka, Uttar Pradesh, Haryana have been mulling to bring into effect a law against "love jihad".
On Saturday, Uttar Pradesh Governor Anandiben Patel gave assent to an ordinance against forcible or "dishonest" religious conversions.
The Allahabad High Court recently said in a judgement that a person's right to live with people of their choice, irrespective of religion, is intrinsic to personal liberty and right to life. The Constitution guarantees the fundamental right, it noted. The judgment also overturned two previous rulings that said religious conversation for the sake of marriage was not "good in law".
The ruling BJP's move comes ahead of Assembly Elections in Assam next year.
https://www.outlookindia.com/website/story/india-news-amid-love-jihad-row-assams-new-law-will-ask-couples-to-declare-religion-income/365860
--------
400-Year-Old Architectural Grandeur Kulsumpura, Hyderabad, Mosque Lies In Neglect
Dec 1, 2020
Hyderabad: The mosque of Kulsumpura in Karwan, which is a 400-year-old architectural grandeur and holds a significant position in the history of the region is in dire need of policy-makers' attention.
The fabled mosque was built by Princess Kulsum Begum, daughter of Sultan Mohammed Qutub Shah with the Mehr (money or gift given as a mark of respect to the wife at the time of marriage) she received from her husband in consideration of the marriage. The architecture of the mosque is said to be very similar to other Qutub Shahi mosques in the city.
However, with no efforts being made for its restoration or conservation, the fabled mosque, which was built between 1612 and 1626 AD, paints a sad picture without attracting any visitors and many passing by without even knowing its true value.
TOI's visit to the structure revealed that the minarets of the tomb are covered with overgrown vegetation, which could be the reason for huge cracks developing on the minarets and other exteriors of the mosque. The impressive stuccowork can also be seen peeling off at many places on the structure.
The managing committee of the mosque said they have submitted several representations to the state heritage department to restore the structure to prevent further damage, but to no avail. Mohammed Omer Ali Waseem, the masjid committee's executive member, said they had been writing to the state archaeology department since 2014 asking them to restore the mosque, but to no avail. "I gave a fresh representation earlier this month requesting the state heritage department to start the restoration works. The damage is so bad that the entire structure can fall apart any time," said Waseem.
The managing committee received a letter from the director of the archaeology department, only in 2017 stating that a conservation architect had visited the site and prepared an estimate of Rs 42 lakh, but they could not be take up the work post that due to lack of funds.
When contacted, B Narayana, deputy director of state heritage department said, "We have recently submitted our action plan to the government for restoration of the structure. Once that proposal for the action plan is sanctioned and funds are released, we can start the work."
https://timesofindia.indiatimes.com/city/hyderabad/400-year-old-kulsumpura-mosque-lies-in-neglect/articleshow/79500317.cms
--------
'Up to them': MEA on Pakistan cooperating with India's initiatives at SCO 
Edited by Arpan Rai
Nov 30, 2020
The ministry of external affairs (MEA) said on Monday whether Pakistan will join India's initiatives at the Shanghai Cooperation Organisation (SCO) meeting is up to them and backed this with SCO charter's provision. "As far as whether Pakistan is going to join (our) initiatives, it's up to them. SCO charter has a provision that one country cannot hold up cooperation in areas and allows member countries which are interested to take it forward with the exclusion of one country that is opposing," MEA secretary Vikas Swarup said.
Swarup said that India considers SCO as an important regional organisation to promote cooperation in the areas of peace, security, trade, economy and culture. "We are committed to deepening our cooperation with SCO by playing a proactive, positive and constructive role," the MEA secretary said.
Earlier in the day, India indirectly cornered Pakistan for using terrorism as an instrument of state policy and called for collective efforts to combat the menace during a meeting of the SCO Council of Heads of Government.
Vice president M Venkaiah Naidu, who chaired the virtual meeting of the council, hurled the attack without naming Pakistan and said, "India condemns terrorism in all its manifestations. We remain concerned about threats emerging from ungoverned spaces and are particularly concerned about states that leverage terrorism as an instrument of state policy."
Panning Pakistan's stance, Naidu said, "Such an approach is entirely against the spirit and ideas and the charter of the SCO. Elimination of this threat will help all of us realise our shared potential and create conditions for stable and secure economic growth and sustainable development."
Naidu also criticised Pakistan for attempting to use SCO to raise bilateral matters and said this went against the grouping's charter, which safeguards the sovereignty and territorial integrity of member states.
Pakistan has repeatedly sought to raise bilateral matters such as the Kashmir issue at multilateral forums and India had walked out of a virtual meeting of national security advisers of SCO in September after the Pakistani representative projected a map that inaccurately depicted the borders of the two countries.
https://www.hindustantimes.com/india-news/up-to-them-mea-on-pakistan-cooperating-with-india-s-initiatives-at-sco/story-k4lP3VqrZ8t7BA2SPOKDZK.html
--------
Pakistan jets didn't violate Indian airspace: IAF
Dec 1, 2020
NEW DELHI: The Indian Air Force (IAF) on Monday rejected reports that Pakistani fighter jets had violated Indian airspace or flown dangerously close to the Line of Control (LoC) in the Poonch area of Jammu and Kashmir. Contrails or smoke trails of an aircraft flying in the Pakistani airspace, which were spotted from the ground across the LoC in India, triggered an alert and speculation about Pakistani fighters coming close to the LoC, if not crossing it, on Monday morning. "There was no airspace violation. Contrails high up in the sky can be mistaken by untrained people as being overhead or close by," an IAF officer said.
No trace of second pilot yet
With debris of the MiG-29K fighter that crashed on Thursday being located around 50 km off Goa in the Arabian Sea, the Navy has now deployed deep-sea divers and specialised equipment to search for the missing second pilot. There has been no trace of Commander Nishant Singh till now.
https://timesofindia.indiatimes.com/india/pakistan-jets-didnt-violate-indian-airspace-iaf/articleshow/79501652.cms
--------
Muslim Man Held Under Religious Freedom Law In Madhya Pradesh
01 December 2020
A Muslim man has been arrested in Madhya Pradesh after his wife allegedly said that her husband and his family were torturing and forcing her to adapt Islam and learn Urdu and Arabic languages, NDTV reported.
The arrest was made under the provisions of the MP Dharma Swatantraya Act 1968. BJP-ruled Madhya Pradesh is among the states that are bringing in a law against 'love jihad'.
In 2018, the woman had run off from home and married Irshad Khan by Islamic rituals. However, on Saturday, she returned to her parents.
"I was being regularly tortured by him (Irshad) and he forced me to adapt his culture and also learn Urdu and Arabic language. Unable to bear the torture, I've returned to my parents' house and will not return to him. I made a big mistake in leaving my house two years back and marrying him," the woman said.
Bharat Dubey, a senior police officer of the area, said the man came to the police, alleging that his wife has been kept forcibly confined by her parents.
"Later, the woman and her parents came to the police and complained that she will not stay with Irshad Khan as he used to torture him," he said. "On her complaint, a case has been registered against Irshad Khan. He has been accused under IPC sections that deal with cruelty to a married woman by her husband and in-laws and sections of MP Dharma Swatantraya Act 1968 and he has been arrested," the officer added.
https://www.outlookindia.com/website/story/india-news-muslim-man-held-under-religious-freedom-law-in-madhya-pradesh/365850
--------
Uttar Pradesh Police Have Lodged A Second 'Love Jihad' Case In Bareilly District
Dec 01, 2020
Uttar Pradesh Police have lodged a second case under the new law promulgated to punish forced religious conversions in India's most populous state.
This first information report (FIR), a copy of which is in HT's possession, was filed on Monday against a man identified as Tahir Hussain and his brothers, Sagir and Munna, under the Uttar Pradesh Prohibition of Unlawful Conversion of Religion Ordinance. The complainant is a resident of Izzat Nagar police station limits in Bareilly district.
The first FIR too was lodged in Bareilly on November 28, hours after the ordinance received governor Anandiben Patel's assent. The state cabinet cleared the ordinance earlier this month, targeting what many right-wing groups term "love jihad", which involves Muslim men marrying Hindu women with the aim of changing the latter's religion after marriage. According to the ordinance, such marriages will be declared null and void.
Additional director general of police, Bareilly zone, Avinash Chandra confirmed that the FIR was registered at Izzat Nagar police station and an investigation was underway.
According to the FIR, the victim has been in a relationship with Tahir Hussain since November 2019. They started living together after getting married in a temple, the FIR said. When the woman became pregnant in November this year, she urged Hussain to get their marriage registered in court..
The FIR also said that when the woman urged family members of Hussain to get their marriage registered in court, her husband and his brothers assaulted her on November 20, resulting in an abortion.
In the FIR, the victim also alleged that Hussain told her that he did not want to marry her, but that he believed in "love jihad" and making a Hindu girl pregnant. The victim alleged that Hussain lured her by promising to marry her, but continued to rape her, the FIR said.
The first FIR under the new law was lodged by Tikram Rathore against Owais Ahmad. Both belonged to Sharifnagar village of Bareilly district. Rathore had complained in the FIR that Ahmad was pressuring his daughter to convert to Islam. They were not married, but had known each other from their college days.
https://www.hindustantimes.com/lucknow/2nd-love-jihad-case-filed-in-up/story-yVBUc9xMU9K1WSDVGXoQ0I.html
--------
India condemns terrorism in all manifestations: Naidu
Dec 01, 2020
India on Monday launched a thinly veiled attack on Pakistan for using terror as an instrument of state policy during a meeting of the Shanghai Cooperation Organisation's (SCO) council of heads of government, calling for collective efforts to combat the menace.
Vice-president M Venkaiah Naidu, who chaired the virtual meeting, indirectly criticised Pakistan for attempting to use SCO to raise bilateral matters and said this went against the grouping's charter, which safeguards the sovereignty and territorial integrity of member-states.
In his opening remarks, Naidu pointed to the importance of efforts to boost economic recovery amid the Covid-19 pandemic and took a tacit swipe at China's Belt and Road Initiative (BRI), saying trust alone determines sustainability of global trade and countries must demonstrate their compliance with the rules of multilateral trade.
The council is SCO's second-highest body and is responsible for handling the economic agenda and approving its annual budget. This was the first time India hosted a meeting of the body since it was admitted into the grouping in 2017.
Prime Minister Narendra Modi and his Pakistani counterpart Imran Khan didn't join the virtual meeting. Pakistan's participation was at the lowest level – it was represented by parliamentary secretary for foreign affairs Andleeb Abbas – and Russia, China, Kazakhstan, Kyrgyzstan, Tajikistan and Uzbekistan were represented by their prime ministers.
Naidu said trade can flourish only in an environment of peace and security, and the most important challenge faced by countries in the region is cross-border terrorism. He described terrorism as "the enemy of humanity" that needs to be combated collectively.
"India condemns terrorism in all its manifestations. We remain concerned about threats emerging from ungoverned spaces and are particularly concerned about states that leverage terrorism as an instrument of state policy," he said, without naming Pakistan.
Naidu said SCO is key to cooperation based on universally recognised norms, rule of law, openness, and it is "unfortunate ...that there have been attempts to deliberately bring bilateral issues into SCO and blatantly violate the well-established principles...safeguarding the sovereignty and territorial integrity of SCO member states".
Secretary (West) Vikas Swarup of the external affairs ministry told a news briefing after the meeting that it is up to Pakistan to join initiatives proposed by India, but the SCO charter includes a provision that one country cannot hold up cooperation, and also allows other members to take cooperation forward "with the exclusion of the country which is opposing it". "If SCO member-countries have the will, I'm sure we can all find common ground and that is why the SCO charter specifically prohibits bilateral issues from being raised in SCO forums," he added.
Former ambassador Vishnu Prakash said, "When India joined as an observer in 2005, there was optimism about India-China ties, Today, we are de-coupling with China. Pakistan and China have an unholy alliance that will thwart Indian initiatives," he said.
https://www.hindustantimes.com/india-news/india-condemns-terrorism-in-all-manifestations-naidu/story-sWDogEt6fJcp1vHKqRg7LK.html
--------
Pakistan
All Issues Relating To Forceful Conversions And Marriages Will Be Settled With The Minorities Amicably, Said Tahir Mehmood Ashrafi
December 1, 2020
LAHORE: Non-Muslims living in Pakistan should not have any fear. Islam is a religion of peace, moderation and compassion. All issues relating to forceful conversions and marriages will be settled with the minorities amicably, said Tahir Mehmood Ashrafi, special representative to Prime Minister on Inter-religious Harmony and Middle East.
Addressing a press conference here on Monday, following a meeting with Christian leaders at the Cathedral Church, Waris Road, Ashrafi said any individual, group and organization will not be allowed to settle their vendetta on account of Islam and ethnic differences. To make awareness among people to contain misuse of blasphemy laws, campaigns will be launched. Islam is a religion of peace, harmony and compassion. Any girl, either she is daughter of a Muslim or a non- Muslim, is the responsibility of the state. He said the Muttahida Ulema Board rejected blasphemy charges against six sanitary workers of the Christian community.
Ashrafi said the government has decided to constitute a coordination committee with representation of the Christian community to resolve issues faced by Christians. He said a resolution approved by the OIC in support of Kashmir and legislation endeavours against blasphemy issues at the world level through OIC is a great achievement on the part of the government.
He said Pakistan has ideal relations with all neighbouring Muslim countries including Saudi Arabia, UAE, Sudan and Bahrain. It is a great success for Pakistan's foreign policy to raise voice for Kashmir from the OIC forum and demanding world organizations to ensure legislation against blasphemy issues. He said world organizations ahead of publishing reports against Pakistan should take into consideration ground realities. He said all people involved in the killing of Ahmedies in Peshawar and Nankana Sahib have been arrested. Anyone in Pakistan will not be allowed to make extrajudicial killings on account of religion.
Pakistan Council of Churches Chairman Azad Marshall felicitated Ashrafi for assuming the change of special aide to prime minister. He said the Christian community will observe SOPs to celebrate Christmas. Ashrafi said the minorities will get all respective rights as defined in the Constitution of Pakistan. He said all cases relating to forceful conversions and marriages are being tackled. He said the cases regarding misuse of blasphemy laws (295-C) witnessed reduction during the last two years. He said 104 cases on religious desecration were reported to the Muttahida Ulema Board and in 100 cases, relief was provided in accordance with the teachings of Quran and Sunnah.
Rumours are also made on Pakistan-China relations. He said if Bahrain and Sudan recognise Israel, it will not affect relations of Pakistan with Arab countries. He underlined that during the last two years, the relations of Pakistan with the Muslim world witnessed stability contrary to past governments. In a recent meeting of the Organisation of Islamic Cooperation (OIC), all points raised by Pakistan on Kashmir and legislation against blasphemy were made part of the OIC agenda.
https://www.thenews.com.pk/print/751932-minorities-should-not-have-any-fear-in-pakistan
--------
Pakistan attends SCO meeting hosted by India
Iftikhar A. Khan
01 Dec 2020
ISLAMABAD: Parliamentary Secretary for Foreign Affairs Andleeb Abbas represented Pakistan in the 19th Meeting of the Council of Heads of Government of Shanghai Cooperation Organisation (SCO-CHG) hosted by India via video conference on Monday.
India assumed the chair of the SCO Council of Heads of Government on Nov 2 last year as per rotation from Uzbekistan, the previous chair, and completed its year-long tenure by hosting for the first time a summit-level meeting since it gained full membership of the organisation in 2017.
Ms Abbas highlighted the importance of SCO for Pakistan in achieving regional peace and stability, and development of closer ties with regional partners through multi-faceted linkages and connectivity. She underscored the imperative of creating a safe and secure neighbourhood.
Andleeb condemns terrorism in all its forms and manifestations
Condemning terrorism in all its forms and manifestations, including state terrorism inflicted upon people living under foreign occupation in disputed territories, the parliamentary secretary cautioned against the recent rise in extremist and racist incidents, inspired by neo-Nazism and Islamophobia.
Ms Abbas emphasised the need for cooperation, collaboration and sharing of knowledge and expertise to deal with the Covid-19 pandemic. She recalled that Prime Minister Imran Khan's 'Global Initiative on Debt Relief' advocated the provision of fiscal space to developing countries to address the adverse economic impacts of the pandemic.
She said Pakistan valued the SCO region as a pivotal link for regional connectivity and integration. Connectivity projects under the China-Pakistan Economic Corridor (CPEC), industrial parks and energy projects are laying the future of a prosperous and globally-connected region.
In the context of climate change, the parliamentary secretary apprised the forum about the "Ecosystem Restoration Initiative" of the prime minister, which includes planting of 10 billion trees over the next three years.
She thanked member states for supporting Pakistan's initiative for creating a Special Working Group (SWG) on Poverty Alleviation. It will provide an opportunity for sharing of experiences and exchange of ideas between SCO member states.
She reiterated PM Khan's proposal for a multi-year SCO Youth Strategy focusing on building partnerships among educational institutions, offering scholarships and exchange programmes for youth in the scientific field.
She also underscored that PM Khan's initiative of opposing illicit financial flows from developing nations, and bringing back stolen wealth would help affected countries pursue their development objectives.
The SCO-CHG focuses primarily on economic and trade cooperation.
Earlier, PM Khan had participated in the SCO Council of Heads of State (SCO-CHS), which is the highest forum of SCO, held in virtual format on Nov 10, 2020.
SCO has immense potential for fostering a conducive environment for regional stability, security and comprehensive economic development. The SCO provides Pakistan a platform for increased engagement with key global and regional partners and build further linkages with Central Asia.
https://www.dawn.com/news/1593338/pakistan-attends-sco-meeting-hosted-by-india
--------
PTI's Khalid elected chief minister of GB
Jamil Nagri
01 Dec 2020
GILGIT: The Gilgit-Baltistan Assembly on Monday elected Khalid Khurshid Khan of the Pakistan Tehreek-i-Insaf as chief minister and Pakistan Peoples Party's Amjad Hussain as leader of the opposition.
Speaker Amjad Hussain Zaidi chaired the assembly session held to elect chief minister of Gilgit-Baltistan.
Mr Khan, who was fielded by the PTI-Majlis Wahdat-i-Muslimeen alliance, and Mr Hussain who was a candidate of the opposition parties JUI-F, PPP and PML-N, secured 22 and nine votes, respectively.
After the CM election, Speaker Zaidi announced that the opposition parties submitted requisition and said Mr Hussain was elected opposition leader in the GB Assembly.
Speaking on the occasion, Jamiat Ulema-i-Islam-Fazl lawmaker Rehmat Khaliq said his party would support every "legal and constitutional" steps of the newly elected government.
Legislator belonging to the BNF-Naji congratulated the chief minister and opposition leader said that constructive criticism against government would continue.
He said the people of the region believed that the government should not show any negligence in GB's development for which his party was ready to appreciate all good steps.
Speaker Zaidi announced that appropriate time would be given to members of the ruling and opposition parties in the assembly.
PML-N lawmaker Ghulam Mohammad said his party would continue its efforts to identify public issues, while expressing the hope that the government would ensure provision of rights to GB people. Claiming that the PML-N laid foundation of fast-paced development in the region, he said the PTI government should continue work at the same pace.
PPP's Amjad Hussain, who was elected opposition leader, congratulated all members of GB Assembly. He said the ruling PTI and opposition PPP got equal votes yet the PTI was allowed to form the government under a plan.
He said there was a question mark on the system how with equal votes, the PTI got nine seats and PPP got four seats. He said religious parties helped the PTI get nine seats. It was political engineering through which the PTI formed the government in GB, he said.
The opposition leader said he would continue to resist against every anti-people move of the government. He reiterated that the GB elections were rigged as the Centre committed every possible rigging to defeat the PPP in the region.
Chief Minister Khan promised that every step would be taken to solve the issues being faced by GB people. He said health, education and other sectors would be solved on a priority basis.
The GB's merger with rest of Pakistan would be a historic move, he said, adding that the PTI was taking this step. He said Prime Minister Imran Khan wanted to ensure promotion of tourism. He vowed that all resources would be utilised to boost tourism round the year instead of a few months.
On the floor of the House, he promised judicial and agriculture reforms. Fruit processing units would be established in the region so that they could be exported. He said: "I am sure we will be able to make our own budget through revenue."
He said technology would be used to explore minerals. Electricity would be provided to all areas, he said, adding that new projects for hydro power would be taken. "Environmental policy will be made to reduce impact of climate change on GB," he said.
Besides, unemployment would be controlled, he said. Women empowerment was among PTI government's priorities, he said while asking the Gilgit-Baltistan opposition to support the government for development of the region.
Later, the assembly session was adjourned for an unspecified period.
https://www.dawn.com/news/1593358/ptis-khalid-elected-chief-minister-of-gb
--------
MoU signed with China to enhance defence ties
01 Dec 2020
ISLAMABAD: Pakistan and China on Monday inked a memorandum of understanding (MoU) for enhancement of defence cooperation between the armies of the two countries.
Prior to signing of the MoU, General Wei Fenghe, Minister of National Defence of China, called on General Qamar Javed Bajwa, Chief of the Army Staff, at the General Headquarters.
During the meeting, matters of mutual interest, regional security and enhanced bilateral defence collaboration were discussed. The visiting dignitary appreciated Pakistan army's efforts for regional peace and provision of secure environment for China-Pakistan Economic Corridor (CPEC) projects.
The Chief of the Army Staff thanked the dignitary for China's support to Pakistan on all key issues at regional and international forums.
The COAS said that Pakistan army greatly valued time-tested and brotherly relations with China.
"We have been standing together all along and our relations will be no different in view of future challenges," the COAS said.
Earlier, on arrival at the GHQ, Chinese Minister of National Defence laid a wreath at Yadgar-i-Shuhada.
A contingent of the Pakistan army presented the guard of honour to the visiting dignitary.
https://www.dawn.com/news/1593334/mou-signed-with-china-to-enhance-defence-ties
--------
'Selected will have to go now,' says Aseefa Bhutto-Zardari at political debut in Multan
30 Nov 2020
The fifth power show of the Pakistan Democratic Movement (PDM) was held on Monday at Multan's Ghanta Ghar Chowk after days of conflict between the city administration and opposition workers over holding a public event at a time when the incidence of coronavirus is rising.
Jamiat Ulema-e-Islam-(F) Chief Maulana Fazlur Rehman, PML-N Vice President Maryam Nawaz and PPP's Aseefa Bhutto-Zardari, along with other PDM leaders and their respective supporters attended the public meeting.
Aseefa, who attended the rally on her brother and PPP chief Bilawal Bhutto-Zardari's behalf, said that the public has given its verdict and the "selected will have to go now".
"I have come among you today at a time when my brother, your brother, Chairman Bilawal Bhutto-Zardari is suffering from coronavirus. I hope that just like you supported the mother of democracy and the daughter of the east, you will support Chairman Bilawal Bhutto-Zardari on PDM's platform. And I promise that I will support Chairman Bilawal and you at every step."
She said that if the government arrested their brothers, PPP's women will step out to struggle and save the country.
"If they think we will be scared of arrests, they are deluded. If they arrest our brothers, every female worker of PPP will step outside to save our brothers and the country," Aseefa told a charged crowd.
'Campaign for Israel's acceptance'
PML-N Vice President Maryam, in her address, said she was "convinced of the bravery of Multan's people" as she had been told that the administration had refused to give permission for a rally, yet people had gathered to hold one.
She accused the government of "throwing occupied Kashmir in [Indian PM] Modi's lap" and said that a campaign was being run for Pakistan to accept Israel as a state.
"Public wants to know if the selectors and selected are on the same page on the matter of Israel," she said.
Maryam also congratulated PPP on its Youm-i-Tasees (founding day) and said that Aseefa Bhutto-Zardari — who is attending the gathering on her brother Bilawal Bhutto-Zardari's behalf — and herself had come out of their homes to fight for the rights of Pakistanis. The PML-N leader said that though her grandmother had passed away recently, she had decided to attend the public meeting because the "pain of the people is greater than mine".
She accused the PTI government of not informing her of her grandmother's passing. Maryam was in Peshawar to attend a PDM rally when her grandmother passed away.
"They knew that I didn't know about my grandmother's death. My family kept calling me but couldn't reach me because phone signals were suspended," she said in today's public meeting. Maryam also bashed the government for telling the opposition to postpone public meetings due to rising cases of Covid-19, saying, "Once Covid-18 goes home, Covid-19 will leave as well".
"This Covid-19 is very intelligent. It doesn't spread in Jamaat-i-Islami's gatherings, it doesn't spread in government officials' public meetings. It doesn't enter gatherings of 300 people. It only spreads in opposition rallies."
Maryam said that PTI's promise to make a South Punjab province was a "lie". The PML-N leader said that she "feared for the country" because an "inexperienced player" was running it.
"Two selectors are constantly trying to push this bus (government) forward, but this bus is not running," she said.
Maryam also said that despite allegations of receiving foreign funding for his party, building offshore companies to evade tax, Prime Minister Imran Khan insisted he was honest.
"He says I won't give an NRO [...] first he receives donations from mafias and then allows them to rob the public. He gives them an NRO and allows them to eat and when a government official says you're wrong, he (prime minister) expels him."
Maryam said that she will continue to fight for the public's rights "even if I have to go to jail".
JUI-F chief Rehman also addressed the crowd at the end of the rally and said that though the government had warned PDM against holding a public meeting, the PDM alliance had scared the administration off by "merely waving a baton". He was referring to a press conference by PDM leaders yesterday, where they had vowed to hold a public meeting, come what may.
He told the crowd to be prepared for the next PDM rally, which will be held in Lahore. Rehman said that the people should go home and tell other people about PDM's agenda.
Balochistan National Party (Mengal) Chief Sardar Akhtar Mengal criticised the government and the military leadership and said that if the latter "wants to participate in politics, do so after taking off your uniforms".
Pakhtunkhwa Milli Awami Party's Mehmood Khan Achakzai, while speaking at the public meeting, said that PDM was not created to speak against anyone. The alliance's purpose, he insisted, was to ensure that intelligence agencies and armed institutions should not interfere in political matters.
He warned that "dangerous blocs" were being created around Pakistan and warned that the country may be bombed by foreign forces just like Iran's scientist and military general were slain. The solution, he said, was that the incumbent assembly be dismantled.
Today's gathering was part of a series of public meetings the PDM is holding across the country to pressurise the PTI government to step down. A huge number of people have gathered to attend the rally.
PDM 'nexus'
Special Assistant to the Punjab Chief Minister on Information Firdous Ashiq Awan, in a series of tweets, criticised the PDM alliance and said: "PDM nexus is depending on pilgrims arriving from Sindh to visit shrines of Sufi saints. To solve their personal and family problems, unsuccessful attempts are being made to burn innocent people in corona's furnace. The government is providing facilities to the visitors and all avenues are open but PDM is roaming the streets instead of going to the stadium."
PPP Chairperson Bilawal Bhutto-Zardari did not attend today's gathering as he is in quarantine after testing positive for Covid-19. His sister, Aseefa, attended and addressed the public meeting in his place.
Speaking to workers part of her entourage on the way to the venue, Aseefa had urged all supporters of the party to reach the gathering.
In a statement issued on PPP's Youm-i-Tasees today, Bilawal said: "PPP has invited the entire PDM leadership to the public meeting [held to observe] Youm-i-Tasees. Today every democratic worker will reach the venue despite the tactics, brutality and arrests by the selected government.
"Aseefa Bhutto-Zardari will represent me and welcome PDM leadership to the grand Youm-i-Tasees gathering."
Although the administration removed blockades along routes leading to the public meeting's venue at Qila Kohna Qasim Bagh Stadium, some roads remained blocked even though permission, conditional on following virus SOPs, for the gathering was granted. PDM leaders and supporters, however, settled at Ghanta Ghar Chowk and the public meeting was held there instead of Qila Kohna Qasim Bagh Stadium.
Earlier, a consultation meeting of PDM leaders was held at Gilani House, which was attended by former premier Yousuf, Awami National Party's Mian Iftikhar Ahmed, BNP-M's Mengal, PPP's Nisar Khuhro and other opposition leaders.
'Rally has succeeded before it started'
During the day, while speaking to the media prior to her departure, Maryam said that she would have delayed her political activities for a few more days to grieve her grandmother — who was laid to rest in Lahore on Saturday — but the government's "brutality against [PDM] workers was pulling her towards Multan".
She condemned the crackdowns on PDM workers and supporters by the administration and said that the government was taking all steps to dismantle today's public meeting because it was "scared". In a question pertaining to holding public gatherings amid the novel coronavirus, Maryam said that even police officials deployed along the route of the venue were not following standard operating procedures.
"Is corona only spreading through opposition's gatherings?" she asked.
"This rally has succeeded before it has even started," Maryam claimed, adding, "every container placed along the [venue's] route, every checkpost and all the arrests that are being made are a reflection of their (government) fear". Maryam was referring to the arrests of former premier Yousuf Raza Gilani's son, Qasim Gilani, along with other PPP activists.
"Whether this rally is held inside the stadium or outside, or on any road in Multan — God willing it will take place," Maryam said.
In a late Saturday night move, police launched a crackdown on the PPP workers, who had earlier gone against government orders and overcame obstacles to take control of the stadium, and got the venue vacated.
The Lohari Gate police on Sunday registered two first information reports against 80 identified and 800 unidentified workers under sections 353/156, 379/506, 427/148 and 149 of Pakistan Penal Code besides section 17 of the Punjab Infectious Diseases (Prevention and Control) Ordinance 2020. According to the FIRs, activists armed with clubs damaged the barriers and fence installed to control the law and order situation and attacked police.
Earlier today, Yousuf's son Ali Haider Gilani announced that the Lahore High Court's Multan bench has ordered the release of his brother Qasim before 3pm and that a case registered against the latter under Section 16 of the Maintenance of Public Order Ordinance has been dismissed.
Covid-19 and PDM gatherings
The government had said that it was blocking the Multan show to check the spread of coronavirus. The district administration removed flags and banners of PDM parties from the stadium and city roads yesterday and Deputy Commissioner Aamar Khattak, on the recommendation of the city police officer, sent PPP leader Qasim Gilani to the Multan district jail for 30 days.
However, speaking to the media today, Special Assistant to Punjab Chief Minister Firdous Ashiq Awan said the government "is not stopping the opposition from holding gatherings but don't trample over SOPs and court decisions". She further said the government did not want to use force.
As the country reels from the second wave of Covid-19 — which experts have termed to be more "lethal" than the first one — the government has urged the opposition alliance to suspend their public gatherings in order to curb the spread.
Yesterday, Prime Minister Imran Khan lashed out at political leaders whose "sole and desperate goal is to save their families' looted wealth and corruption" and once again declared that the government will not grant an NRO even if pressurised.
"Problem confronting us in Pak during Covid-19 is of a political leadership that has never gone through any democratic struggle, nor worked with ordinary citizens to understand the problems they confront, nor contributed in any substantive way for betterment of ordinary citizens," tweeted the prime minister.
Without naming the PDM or any opposition politician, the premier in a series of tweets said that due to the increase in Covid-19 cases in the country, the government needs to impose smart lockdowns but the opposition "want(s) jalsas not caring for the lives and safety of people".
Last week, the prime minister had categorically stated that the government would not give permission to the opposition to hold its rallies in Multan and other cities.
"The coronavirus is spreading dangerously, therefore the opposition should postpone PDM public meetings," the prime minister was quoted as saying.
The National Command and Operations Centre, which is overseeing the situation and response to Covid-19 across the country, has also warned that if the virus spread is not curbed, Pakistan would face the same situation it faced in June, unless public changes its attitude.
https://www.dawn.com/news/1593235/selected-will-have-to-go-now-says-aseefa-bhutto-zardari-at-political-debut-in-multan
--------
Sikhs celebrate Guru Nanak's birth anniversary
01 Dec 2020
LAHORE: Sikh pilgrims from the country and abroad, including 600 from India, participated in the 551st birth anniversary of Baba Guru Nanak on Monday.
The three-day celebrations of birth anniversary of the founder of the Sikh faith began on Saturday at Nankana Sahib, Kartarpura, Hassan Abdal and other places in Pakistan.
Langar was arranged for all the guests. Dozens of Sikh women cut up vegetables, kneaded flour and made bread in the kitchens of Nankana Sahib for feeding the hungry and Kar Seva is considered a religious duty in the Sikh faith.
Federal Minister for Religious Affairs and Interfaith Harmony Pir Noorul Haq Qadri spoke at the central ceremony at Nankana Sahib, the birthplace of Baba Guru Nanak, on Monday.
PM says rights of all minorities will be safeguarded
He said that despite rising cases of coronavirus, the government ensured holding of the birth anniversary under strict implementation of standard operating procedures (SOPs). "We do not want followers of any religion to think that there is any discrimination being committed against them," he said.
The minister told the audience that the work on Baba Guru Nanak University would be completed at the stipulated time and that a link road from Lahore-Sialkot Motorway would be built for Kartarpur Corridor so that the followers of Guru Nanak could reach Kartarpur Sahib from Nankana Sahib easily.
Mr Qadri said: "Pakistan treats everyone equally without any discrimination and has promised to remove all hurdles in the way of interfaith harmony."
He said all minorities in India were facing brutalities at the hands of the majority Hindus.
The minister said Baba Guru Nanak was a great name for humanity and he would be remembered forever. He congratulated the followers of Baba Guru Nanak on his 551st birth anniversary. He also distributed gifts among the guests.
Punjab Minister for Minorities Affairs Ijaz Alam Augustine, chair­man of the National Commission for Minori­ties Chela Ram, MPA Mahindarpal Singh and Indian Sikh leaders, besides about 4,000 local and foreign pilgrims, attended the ceremonies.
Later, a Palki procession was taken out from Gurdwara Janamsthan in Nankana Sahib.
Safety of religious sites
Felicitating the Sikh community, Prime Minister Imran Khan said rights of all minorities in the country would be safeguarded and their religious sites protected.
In a video message, the prime minister assured the Sikh community that his government would protect their holy sites in Pakistan, including the two most revered at Nankana Sahib and Kartarpur.
Both the sites are sacred to Sikhs just like Makkah and Madina are to the Muslims, he added.
Mr Khan said the government would extend every possible assistance and facility to the Sikh community, citing the example of the recently-revamped railway station in Hassanabdal.
"The policy of our government is to protect religious minorities in Pakistan and their holy places, may they be churches, temples or Buddhist monasteries," the prime minister said.
The three-day celebrations of Baba Guru Nanak's birth anniversary began on Saturday in Nankana Sahib with the arrival of over 600 pilgrims from India through the Wagah border.
The main ceremony took place at Gurdwara Janamasthan in Nankana Sahib. Celebrations also included the Nagar Kirtan procession, followed by Bhog ritual at night.
The prime minister had opened the Kartarpur Corridor last year on the occasion of Baba Guru Nanak's 550th birth anniversary as a goodwill gesture to facilitate Sikhs within the country and from across the border.
https://www.dawn.com/news/1593368/sikhs-celebrate-guru-nanaks-birth-anniversary
--------
Europe
How Latifa ibn Ziaten became a campaigner against radicalization of young French Arabs
December 01, 2020
PARIS: On March 11, 2012, Latifa ibn Ziaten, a mother similar to many others living in the Toulouse region of southwest France, saw her life turned upside down.
Her son Imad, 28, a parachutist in the French army, was killed by a 24-year-old terrorist, Mohammed Merah, nicknamed "the scooter killer."
The two young men did not know each other. They agreed to meet after Merah posted an advertisement on the internet to sell a scooter. The ad, however, was a trap: Merah knew that Imad was a soldier. When the latter arrived at the meeting place, Merah killed him in cold blood with a firearm.
His mother was devastated. She was deeply affected by a terrorist who stole her son, her pride, from her. Although overwhelmed with pain, she refused to throw in the towel and managed to overcome the tragedy to take positive action. She decided to act against radicalization.
What helped her not to surrender to grief and hatred was first of all the unconditional love for her son. She told Arab News that she had five children, "but with Imad's death, I lost half of me."
The prosecutor of Toulouse later told her that her son died standing, refusing Merah's orders to grovel. She decided to search for the killer to know why he had killed her son. Subsequently, Merah claimed six other lives, before being shot by special forces.
Ibn Ziaten went to the district where Merah grew up, in a suburb of Toulouse, in order to meet young people there. She was flabbergasted by the pride they took in the crimes of Merah, who they considered "the hero who brought France to its knees."
Their shocking comments made her realize the seriousness of the situation. So, in a message to the young people, she said: "You are the cause of my suffering, but I want to extend a hand. I want to help you."
However, her words were only received with sarcasm. One of the youngsters said: "We've already heard this many times and we don't believe in it anymore."
She pointed out that Islam was not representative of what Merah did, and that France was a country of freedom and rights, not a country of hatred.
The youth replied and said: "Look at where we live, madam, look around you. We are like monkeys, like caged creatures, and we try to take revenge on society."
Ibn Ziaten added: "But you can't blame this on society. If you need help, you should protest or write. You should call for help, but not kill."
In answer, the youth said: "Nobody listens to us, the journalists come and film us as if we were monkeys. We are lost, madam."
Ibn Ziaten vowed not to give up and to do everything in her power to prevent these young people from falling into violence and to avoid a new Merah emerging from among them and causing more deaths.
Since then, she has devoted her energy to carrying a message of tolerance, brotherhood, and courage, hoping to neutralize the hate speech distilled among young people to try and turn them against society and into killing machines.
She noted that the same language of despair and feelings of abandonment could be found in all the French or European suburbs that she visited, in prisons, and even in schools. There was "a huge amount of work to be done with young people from the suburbs, in France but also in Europe," she said.
Her observation was evident in the findings of the Arab News en Francais-YouGov survey, which show that while people of Arab origin in France had largely adapted to the French way of life, the young suffer from a lack of educational means, in an age when education is the most important way to progress in life.
The Imad Association for Youth and Peace founded by Ibn Ziaten, allowed her to contribute to the task, and to remain standing, just like her son, while keeping his memory alive.
"I didn't know anything about how associations work. I learned step by step. When I look back at the number of people I've helped, I tell myself that this is what Imad would have wanted me to do," she said.
Despite not having received any formal training about how to fight against radicalization, she has been guided by her motherly instinct and speaks to her audience in her own way, using simple language.
Ibn Ziaten said: "When I talk to them (young people) about love, some of them start to cry. This also happens when I speak of the presence of parents. Many are left to fend for themselves. They rarely see their parents, who don't talk to them."
She pointed out that many young people shunned education due to a lack of means but most said they had religious faith. "But when I ask them if they know what religion is, they say that they don't."
She said schools, families, and social circles needed to provide joint support for youth.
When she meets terrorists jailed for attacks and killings, she said: "I see in front of me a person who has committed an act and who is paying in prison for what they have done, and I wish for them to make it out."
Ibn Ziaten admits to still feeling resentment toward Merah's mother, who she met during the trial of her second son Abdelkader, who was convicted of complicity in his brother's crimes.
"I cannot forgive her. She let her four children down. She abandoned them to drugs and violence, and when I asked her if she was aware of the mess she was responsible for, she replied: 'It's not just your son who died; mine died too.'"
https://www.arabnews.com/node/1770776/world
--------
Azerbaijani forces take over last Nagorno-Karabakh region per truce deal
01 December 2020
Azerbaijani army units have entered Nagorno-Karabakh's Lachin region, 28 years after its occupation by Armenian forces, under a recent truce deal, Azerbaijan's Defense Ministry declared.
"In accordance with the trilateral statement signed by presidents of the Republic of Azerbaijan, the Russian Federation, and the prime minister of the Republic of Armenia, units of the Azerbaijani army entered the Lachin district on December 1," the ministry announced in an early Tuesday statement cited by TASS news agency, referring to the Russian-brokered truce.
It further released a video showing a tank flying the Azerbaijani flag and leading a column of trucks into the district along a road on Monday night.
The movement of Azerbaijani forces into Lachin marks the last handover of three regions by the Armenian military as part of the early November truce agreement that ended heavy fighting between the two former Soviet Union republics.
Earlier, Armenian troops withdrew from the Agdam and Kalbajar regions of Nagoro-Karabakh. According to the deal, Azerbaijan was to assume control of the Kalbajar district by November 15, the Agdam district by November 20, and the Lachin district by December 1.
Later, however, the handover of Kalbajar was delayed for 10 days over the inadequate capacity of the only road connecting the region to Armenia. Kalbajar was eventually turned over to Baku on November 25.
Under the trilateral accord, the leaders of Azerbaijan, Armenia, and Russia agreed that the five-kilometer Lachin corridor, which connects Nagorno-Karabakh to Armenia, is to remain under the control of the Russian peacekeeping contingent deployed to the area.
Residents of Lachin evacuated frantically ahead of the handover, taking with them livestock, firewood, furniture, and even plastic water pipes.
Some residents reportedly burned their homes before leaving, as journalists reported witnessing two houses in flames on the outskirts of Lachin, sending clouds of thick smoke into the air.
Karabakh is internationally recognized as part of Azerbaijan, but it has been held by ethnic Armenian separatists backed by Armenia since 1992, when they broke from Azerbaijan in a war that killed some 30,000 people.
This year's fighting, the worst in decades, started in late September and came to an end earlier this month after Moscow brokered the ceasefire, which leaves Baku largely in control of the territory.
Under the truce deal, Russia and Turkey, which is an ally of Azerbaijan, agreed to establish a joint center in Karabakh and deploy peacekeeping forces to monitor the ceasefire in the mountainous region.
Russia will be sending 1,960 peacekeepers as well as armored personnel carriers and other military equipment to monitor the truce deal. The Russian deployment has already started.
Ankara also declared last month that preparations for its troops to be dispatched to Azerbaijan had been completed.
https://www.presstv.com/Detail/2020/12/01/639733/Azerbaijani-forces-take-over-last-Nagorno-Karabakh-region-per-truce-deal
--------
Turkish ship's return to port helps ease tension: NATO
Rabia İclal Turan
30.11.2020
NATO's secretary general on Monday said Turkish research vessel Oruc Reis' return to the port helps reduce the tension in the Eastern Mediterranean between the two NATO members, Turkey and Greece.
"Oruc Reis is in port from today, as far as I've been informed, that helps reduce tensions and make it easier to make progress also on deconfliction," Jens Stoltenberg said in a press conference ahead of the NATO Foreign Ministers Meeting on Dec. 1-2.
He added that he had put forward proposals on how to strengthen the deconfliction mechanism between two countries and how to reduce further risks for incidents and accidents.
"But of course, we have to find ways that is working for both Greece and Turkey," he added.
He also emphasized the importance of NATO's role on addressing differences and finding "positive steps in the right direction" when there are disagreements between the member states, namely Turkey and Greece.
"I also hope that military deconfliction at NATO, where we've seen some important steps in the right direction can help to pave the way into negotiations," he said.
"And this is something, Germany is working on, but also some other countries, and NATO, of course, strongly support those efforts."
Ankara criticizes Greece for pursuing maximalist policies in the Eastern Mediterranean and underlines that its maritime claims violate Turkey's sovereign rights.
https://www.aa.com.tr/en/europe/turkish-ships-return-to-port-helps-ease-tension-nato/2060834
--------
'EU set to assess ties with Turkey at December summit'
Serife Cetin
30.11.2020
BRUSSELS
At its summit next month, the EU will assess its relations with Turkey not over one action, but on Turkey's actions over a period of time, said an EU spokesperson on Monday
Asked about Turkey bringing a ship back to port on Monday after it completed part of its energy research mission – a mission the EU has long objected to – Peter Stona told a news conference that what the EU expects from Turkey, and its timeline, are very clear.
"The leaders of the EU and the EU member states will get together during the next European Council in December and they will review whether Turkey delivered on their expectations," he said.
"We're also preparing for a conference on the situation in the Eastern Mediterranean region," he added.
EU leaders will meet on Dec. 11-12 to discuss several issues, including the tension in the Eastern Mediterranean and possible sanctions against Turkey.
Turkey's Energy and Natural Resources Ministry announced Monday that the Oruc Reis seismic research vessel had returned from the Eastern Mediterranean to the southern port of Antalya after completing its current research activities.
Turkey has consistently contested efforts by EU members Greece and the Greek Cypriot administration to restrict its legitimate energy research in the Eastern Mediterranean.
As Turkey has the longest coastline in the region, efforts to restrict its continental shelf rights based on small Greek islands near Turkish coasts make no sense, say Turkish officials.
Turkey and the Turkish Republic of Northern Cyprus (TRNC) both have rights to the resources of the region, according to Turkish officials.
https://www.aa.com.tr/en/europe/eu-set-to-assess-ties-with-turkey-at-december-summit/2060754
--------
Arab World
Thousands protest in Iraq's Nasiriyah as death toll from clashes rises
30 November 2020
Thousands flooded Iraq's southern hotspot of Nasiriyah on Monday as a resident died from wounds sustained in clashes last week between anti-government protesters and supporters of Shia cleric Moqtada al-Sadr.
Ridha al-Rikaby was hit in the head by a bullet on Friday when followers of al-Sadr clashed with young demonstrators in Nasiriyah's Habboubi Square, medics told AFP.
He died on Monday, bringing the toll from the day of violence to eight dead and several dozen wounded, and thousands took to the streets in a funeral march, an AFP correspondent said
For all the latest headlines follow our Google News channel online or via the app.
After last week's clashes, authorities imposed a lockdown to try to stem further rallies in the southern city, sacked the provincial police chief and launched an investigation into the events.
Iraqi premier Mustafa al-Kadhemi dispatched National Security Advisor Qasem al-Arakji and other senior officials to Nasiriyah on Monday for talks with protesters.
But anger simmered in Nasiriyah.
"Once again, peaceful protesters are dying under the government's nose, and the security forces can't hold the killers accountable," a demonstrator told AFP.
Nasiriyah was a major hub for the protest movement that erupted in October 2019 against a government seen by demonstrators as corrupt, inept and beholden to neighboring Iran.
Nearly 600 people died across Iraq in protest-related violence during those rallies, including trauma wounds sustained by tear gas canisters, but there has been virtually no accountability for those deaths.
Last week's violence coincided with the one-year anniversary of one of the bloodiest incidents of the 2019 uprising, when more than three dozen people died at Nasiriyah's Zeitun (Olive) Bridge on November 28.
https://english.alarabiya.net/en/News/middle-east/2020/11/30/Thousands-protest-in-Iraq-s-Nasiriyah-as-death-toll-from-clashes-rises
--------
Egypt says case of Italian student's murder to be closed temporarily
30 November 2020
Egypt's public prosecutor said on Monday the person who killed Italian student Giulio Regeni in Cairo in 2016 was still unknown, and the organization's file on the murder would be temporarily closed.
Investigative authorities will continue the search for the killer, according to a statement that the prosecutor said was made jointly with Italian authorities.
https://english.alarabiya.net/en/News/middle-east/2020/11/30/Egypt-says-case-of-Italian-student-s-murder-to-be-closed-temporarily
--------
Iran's IRGC commander targeted by a drone near Iraqi-Syrian border
30 November 2020
An air strike killed a commander of Iran's Revolutionary Guards at the Iraq-Syria border sometime between Saturday and Sunday, Iraqi security and local militia officials said on Monday.
They could not confirm the identity of the commander, who they said was killed alongside three other men traveling in a vehicle with him.
For all the latest headlines follow our Google News channel online or via the app.
The vehicle was carrying weapons across the Iraqi border and was hit after it had entered Syrian territory, two Iraqi security officials separately said.
Iran-backed Iraqi paramilitary groups helped retrieve the bodies, the two officials said, without elaborating or giving the exact time of the incident.
Local military and militia sources confirmed the account, although Reuters was unable to verify independently that an Iranian commander had been killed.
The incident came just days after Iranian nuclear scientist Mohsen Fakhrizadeh was assassinated in Tehran in a killing that Iran has blamed on Israel.
Israel launched air raids against what it called a wide range of Syrian and Iranian targets in Syria last week, signaling that it will pursue its policy of striking Iranian targets in the region as US President Donald Trump prepares to leave office.
Iraqi officials fear a conflagration ahead of President-elect Joe Biden taking office because he is viewed as less confrontational with Iran than the Trump administration.
Iran-backed Iraqi militias are still reeling from the US assassination of Iranian military mastermind Qassem Soleimani in January and their Iraqi leader Abu Mahdi al-Muhandis and have vowed revenge against the US.
https://english.alarabiya.net/en/News/middle-east/2020/11/30/Iran-s-IRGC-commander-targeted-by-a-drone-near-Iraqi-Syrian-border
--------
Lebanon urges self-restraint after killing of Iranian scientist
30 November 2020
Lebanon on Monday called for self-restraint following the assassination of a prominent Iranian nuclear scientist, to avoid a slide towards the "worst scenario."
Lebanon, which is home to the heavily armed, Iranian proxy organization Hezbollah, condemned the killing of Mohsen Fakhrizadeh last Friday in an ambush near Tehran.
Iran has blamed Israel.
In a statement, the Lebanese foreign ministry urged "all parties to exercise the greatest degrees of self-restraint to avoid the slide towards the worst scenario in the region."
Hezbollah, which was founded by Iran's Revolutionary Guards in 1982 and exercises major influence in Lebanon, has said the response for the assassination is in Iran's hands.
Iran's supreme leader promised on Saturday to retaliate for the killing, raising the threat of a new confrontation with the West and Israel in the remaining weeks of Donald Trump's presidency.
https://english.alarabiya.net/en/News/middle-east/2020/11/30/Lebanon-urges-self-restraint-after-killing-of-Iranian-scientist
--------
Syrian protesters call for withdrawal of US occupation forces from Hasakah
30 November 2020
Hundreds of people in Syria's northeastern province of Hasakah have staged demonstrations to protest the deployment of US military forces in their areas and the arbitrary measures of US-sponsored and Kurdish-led militants from the so-called Syrian Democratic Forces (SDF).
Lebanon-based and Arabic-language al-Mayadeen television news network reported that residents of several villages, including al-Salaliyah, al-Dinanir, al-Raqi, al-Suhail, Rajman and Sakher, in the southeastern flank of the province took to streets on Monday to express their resentment over the deteriorating living conditions in their regions, reject US sanctions and demand withdrawal of US troops.
A number of locals in al-Shaddadi also demonstrated in the main street in the town to protest the SDF's constant raids and arrest campaigns.
The demonstrators blocked the main road with chunks of stone and burning tires to demand the release of a number of young people recently detained by the US-backed Kurdish-led forces.
Since late October 2019, the United States has been redeploying troops to the oil fields controlled by Kurdish forces in eastern Syria, in a reversal of President Donald Trump's earlier order to withdraw all troops there.
The Pentagon alleges that the move aims to "protect" the fields and facilities from possible attacks by Daesh, ignoring the fact that Trump had earlier suggested that Washington sought economic interests in controlling the oil fields.
Security conditions are reportedly deteriorating in the areas controlled by the SDF in Hasakah and Dayr al-Zawr provinces amid ongoing raids and arrests of civilians by the US-sponsored militants.
Locals argue that the SDF's constant raids and arrest campaigns have generated a state of frustration and instability, severely affecting their businesses and livelihood.
Residents accuse the US-backed militants of stealing crude oil and failing to spend money on service sectors.
https://www.presstv.com/Detail/2020/11/30/639698/Syrian-protesters-call-for-removal-of-US-occupation-forces-from-Hasakah
--------
Bahraini royal family member secretly visits al-Aqsa
30 November 2020
A Bahraini royal family member has secretly paid a visit to al-Aqsa Mosque in the occupied Old City of East Jerusalem al-Quds amid Palestinian outrage over the normalization deal between Manama and Israel.
The Jerusalem Post reported that Sheikh Khalid bin Khalifa, chairman of the King Hamad Global Center for Peaceful Coexistence, prayed at al-Aqsa Mosque in Jerusalem al-Quds last Friday without revealing his identity, in defiance of a fatwa (religious decree) issued by a senior Palestinian cleric.
"It is unacceptable to prevent anyone from any religion from praying," Khalifa, who was a member of a Bahraini delegation that arrived in Israel last week and met with President Reuven Rivlin.
In an interview with the Israeli newspaper on Sunday, Khalifa defended his move that came after Manama reached a controversial normalization deal with Tel Aviv.
The Grand Mufti of Jerusalem al-Quds Sheikh Muhammad Hussein issued a fatwa in August banning Muslims from praying at al-Aqsa Mosque within the framework of normalization deals between Israel and the Arab countries.
In October, Palestinians expelled a delegation from the United Arab Emirates whose members stormed the al-Aqsa under the protection of Israeli forces.
A source in the Jerusalem al-Quds Islamic Wakf (Endowment) organization, which is trusted with controlling and managing the Islamic edifices on and around the al-Aqsa Mosque's compound, told The Jerusalem Post that he was unaware of a visit by any Bahraini citizens to the mosque last Friday.
On September 11, US President Donald Trump announced that Bahrain was following the United Arab Emirates (UAE) in normalizing ties with Israel.
Four days later, Israeli prime minister Benjamin Netanyahu signed agreements with Emirati Foreign Minister Sheikh Abdullah bin Zayed Al Nahyan and Bahrain's Foreign Minister Abdullatif Al Zayani during an official ceremony hosted by Trump at the White House.
Palestinians, who seek an independent state in the occupied West Bank and Gaza, with East Jerusalem al-Quds as its capital, have condemned the deals as a betrayal of their cause against the Israeli occupation.
The agreements have also triggered a wave of anger among the public in Bahrain, where anti-Israel sentiment runs deep. Bahrainis have held several protests in condemnation of the agreement.
Bahrain's main opposition group, the al-Wefaq National Islamic Society, has denounced the deal as an "ultimate betrayal of Islam and Arabs and a departure from the Islamic, Arab and national consensus."
It also said that the Israel-Bahrain agreement is void of any legitimacy whatsoever.
'Al Khalifa regime yet to normalize ties with Bahraini people'
In an article published on Middle East Monitor on Saturday, Omar Ahmed referred to the dire situation of human rights in Bahrain and said that Manama may have normalized ties with Israel, but it is yet to do the same with its own people.
Since February 14, 2011, Bahraini people have been holding peaceful protest rallies on an almost daily basis, demanding that the Al Khalifah family relinquish power and let a just system representing all Bahrainis be established.
Bahrainis have also been complaining against widespread discrimination against the Shia majority in the kingdom.
Manama has responded to the protests with lethal force, drawing international criticism. In March 2011, troops from Saudi Arabia and the United Arab Emirates were deployed to assist Bahrain in its crackdown.
Bahraini authorities have also detained human rights campaigners, broken up major opposition political parties and revoked the nationality of several activists.
"This leaves us with the current situation – that is, a monarchy which is unwilling to extend an adequate and acceptable social contract to the Bahraini people. It has instead opted to bypass them and prioritize establishing relations with Israel, all done in their name," Ahmed said.
"It is incredible to think that the ruling family can achieve peace with its neighbors when there is no justice for its people. The Al Khalifas may have normalized ties with Israel, but they are yet to do the same with the Bahraini people," he added.
https://www.presstv.com/Detail/2020/11/30/639662/Bahraini-royal-family-member-secretly-visits-al-Aqsa
--------
Mideast
Turkey orders arrest of 82 military personnel allegedly connected to Gulen: Report
01 December 2020
Turkey ordered the detention of 82 military personnel in an operation targeting supporters of the Muslim preacher who Ankara says was behind a failed coup in 2016, state-owned Anadolu news agency said on Tuesday.
Operations targeting the network of US-based cleric Fethullah Gulen have continued under a four-year-long crackdown since the attempted coup in July 2016. Gulen denies involvement in the putsch attempt, in which some 250 people were killed.
For all the latest headlines follow our Google News channel online or via the app.
Tuesday's operation was spread over 39 provinces and 63 people have already been detained, Anadolu said. Of the suspects, 70 were on active duty.
The detentions were ordered by the chief prosecutor in the western coastal province of Izmir, Anadolu said, adding that it also took steps to sack 848 military personnel, including high ranking officers, over links to the network.
Since the coup attempt, about 80,000 people have been held pending trial and some 150,000 civil servants, military personnel and others have been sacked or suspended. More than 20,000 people had been expelled from the Turkish military alone.
Last week, a Turkish court sentenced leaders of the attempted coup to life in jail, convicting hundreds of army officers, pilots and civilians over the failed bid to topple President Tayyip Erdogan.
https://english.alarabiya.net/en/News/middle-east/2020/12/01/Turkey-orders-arrest-of-82-military-personnel-allegedly-connected-to-Gulen-Report
--------
Coronavirus: COVID-19 robs biblical Bethlehem of Christmas cheer
01 December 2020
The coronavirus has cast a pall over Christmas celebrations in Bethlehem, all but shutting down the biblical town revered as Jesus' birthplace at the height of the normally cheery holiday season.
Missing are the thousands of international pilgrims who normally descend upon the town. Restaurants, hotels and souvenir shops are closed. The renowned Christmas tree lighting service will be limited to a small group of authorized people, as will church services on Christmas Eve.
For more coronavirus news, visit our dedicated page.
"Bethlehem is dead," said Maryana al-Arja, owner of the 120-room Angel Hotel on the outskirts of Bethlehem.
The hotel was the site of the West Bank's first coronavirus outbreak — when a group of Greek tourists came down with the virus last March.
She kept her 25 workers on staff for several months but ultimately couldn't continue to pay them. Al-Arja, who herself was infected with the virus, said she has been forced to close the hotel and lay off the entire staff because there is no sign of the pandemic ending or tourists visiting anytime soon.
"We had 351 tourist groups booked in our hotel this year, each one 150 people," she said. "But they all canceled."
Elyas al-Arja, the head of the city's hotel association, said Bethlehem received some 3 million tourists in 2019. With Israel, the main entry point for international visitors to the region, banning tourists because of the coronavirus crisis, and the West Bank's border crossing with Jordan closed to foreigners, that number is close to zero this year, he said.
"Sixty percent of the city relies on tourism, and their income disappeared when the tourists disappeared," said al-Arja, a cousin of the Angel Hotel owner.
The Ambassador Hotel, which is located near the Church of the Nativity, built on the site where Christians believe Jesus was born, has reopened one floor in hopes that some local visitors may want to come celebrate in the coming weeks.
Mahmoud Tarman, the hotel's receptionist, said the Ambassador has brought back eight of its 60 workers to serve local guests. But with the West Bank's economy devastated by repeated lockdowns, it remains unclear how many people will come.
"At this time of the year, this empty hotel would be bustling with life. But as you see, there is no life, not even a Christmas tree yet," he said as he pointed at the empty lobby.
The Palestinian Authority, which administers parts of the Israeli-occupied West Bank, this week imposed a new nighttime lockdown to help contain a spike in coronavirus cases. People must remain indoors from 7 p.m. until 6 a.m., and Bethlehem is included in the lockdown.
Officials say the lockdown could be extended through Christmas and into the new year if the infection levels don't come down. The Health Ministry has reported a total of about 65,000 coronavirus cases in the West Bank, and over 620 deaths.
Bethlehem's mayor, Anton Salman, said the city had planned to receive 3,000 invited guests, including local scout troops and musical bands from around the world that normally entertain visitors during Christmas Eve festivities.
He said the famed Christmas tree lighting, scheduled on Thursday, will be limited to just 15 guests, including local mayors, the district governor and the Latin Patriarch and other clergy. The 85-year-old Palestinian president, Mahmoud Abbas, who usually joins the celebration, has been invited but has not said whether he will attend.
Midnight Mass, a solemn event led by the Latin Patriarch that is usually attended by religious leaders, local VIPs and hundreds of pilgrims from around the world, has also been scaled back, Salman said. He said officials are still working on the guest list, but it is expected to include religious leaders and some foreign diplomats. The event will be closed to the general public but broadcast live for people to watch.
"No one can hold the responsibility of inviting large numbers of people to Christmas events," he said. "Nothing will be the same during the pandemic."
https://english.alarabiya.net/en/News/middle-east/2020/12/01/Coronavirus-COVID-19-robs-biblical-Bethlehem-of-Christmas-cheer
--------
Palestinians look ahead to 'positive' US role under President-elect Biden
30 November 2020
The Palestinian Authority and Arab League said Sunday they look forward to the new US administration under President-elect Joe Biden playing a "positive" role toward establishing an independent Palestinian state.
PA president Mahmud Abbas and Ahmed Aboul Gheit, head of the Cairo-based Arab League, held talks in the Egyptian capital on the Israeli-Palestinian conflict in light of the US presidential election.
They hoped the new US administration would "pave the way for the restoration of a more active and positive role" to find a settlement and establish a Palestinian state, in a joint statement.
For all the latest headlines follow our Google News channel online or via the app.
Abbas has called on Biden to revive ties between the Palestinians and Washington that collapsed during President Donald Trump's term.
The PA broke ties with Trump's administration, accusing it of being flagrantly pro-Israeli.
Trump, for his part, cut funding to the UN agency for Palestinian refugees (UNRWA).
He also recognized Jerusalem, including its annexed eastern sector, as Israel's "undivided capital" and moved the US embassy to the city.
Trump avoided criticizing Jewish settlement construction in the occupied West Bank, breaking with decades of US policy that settlement expansion was an obstacle to peace.
In January, he unveiled a controversial Middle East peace plan without input from the Palestinians, who have rejected it outright.
Abbas is on a regional tour aimed at raising support for the Palestinians.
He met earlier Sunday with Jordan's King Abdullah II and is to also hold talks in Cairo with Egyptian President Abdel Fattah al-Sisi on Monday.
The king, at their meeting in Jordan's Red Sea resort of Aqaba, reiterated calls for a two-state solution between Israel and the Palestinians.
https://english.alarabiya.net/en/News/middle-east/2020/11/30/Palestinians-look-ahead-to-positive-US-role-under-President-elect-Biden
--------
Saudi employs 'deception' to evade responsibility for Yemen catastrophe
30 November 2020
Yemen's Foreign Minister Hisham Sharaf Abdullah says Saudi Arabia has been desperately attempting to evade responsibility for an unfolding catastrophe against the backdrop of its campaign of death and destruction against Yemen.
Abdullah said in a statement on Monday that authorities in Riyadh must be held accountable for causing the worst humanitarian crisis in recent history.
The minister also accused the Saudi regime of playing a game of deception and hindering any effort sponsored by the United Nations on achieving a humanitarian ceasefire.
Elsewhere in his remarks, the Yemeni minister called on the international community to pressure the Saudi-led coalition into ending its onslaught and blockade on the Yemeni people.
The statement was made in response to remarks by Saudi Foreign Minister Prince Faisal bin Farhan Al Saud at the 47th session of the Organization of Islamic Cooperation (OIC), which was held in Nigeria. He blamed Yemen's armed forces and Houthi Ansarullah fighters for launching missile and drone attacks on the kingdom.
Yemeni armed forces recently targeted a distribution plant owned by the Saudi Aramco petroleum product company in the port city of Jeddah with an advanced homegrown ballistic missile.
Mohammed Ali al-Houthi, a member of Yemen's Supreme Political Council, has already warned Saudi Arabia against its continued acts of aggression.
"The more Saudi Arabia continues its war on Yemen, the stronger Yemeni army forces will target vital installations inside the kingdom in defense of their homeland and dignity," Arabic-language al-Masirah television network quoted Houthi as saying on Friday.
In March 2015, the regime in Riyadh set up a coalition against Yemen to restore to power former President Abd Rabbuh Mansur Hadi and crush Ansarullah. More than five years into the campaign, Al Saud has failed to fulfill its objectives.
https://www.presstv.com/Detail/2020/11/30/639694/Yemen-Saudi-Arabia-responsibility
--------
WHO stops financial support for some 10,000 healthcare workers in Yemen due to lack of funding
30 November 2020
The World Health Organization (WHO) says it has been forced to stop financial support for about 10,000 healthcare workers across war-ravaged Yemen because of a lack of funding.
"Due to an unprecedented financial gap, WHO & health partners have been unable to continue their financial support to the health care workforce in Yemen. Up to 10K health workers are affected," WHO's Yemen office said in a post published on its Twitter page.
"More funds are needed now more than ever to enable the continuation of this support," it added.
Due to an unprecedented financial gap, @WHO & health partners have been unable to continue their financial support to the health care workforce in #Yemen. Up to 10K health workers are affected. More funds are needed now more than ever to enable the continuation of this support. pic.twitter.com/BRyMchs6jr
— WHO Yemen (@WHOYemen) November 28, 2020
Back in September, the United Nations said that critical aid was cut at 300 health centers in Yemen due to lack of funding.
Between April and August, more than one-third of the UN's important humanitarian programs in the strife-torn Arab country was reduced or shut down entirely, the UN said, warning of further drastic cuts.
Lise Grande, the UN humanitarian coordinator for Yemen, said only $1 billion of the $3.2 billion necessary had been received.
"It's an impossible situation. This is the worst humanitarian crisis in the world, yet we don't have the resources we need to save the people who are suffering and will die if we don't help," Grande said at the time.
UN calls on Yemen's warring sides to stop military escalation in Hudaydah
Meanwhile, the UN has urged Houthi Ansarullah fighters and Saudi-backed militiamen loyal to Yemen's former president Abd Rabbuh Mansur Hadi to exercise self-restraint and stop military escalation in Yemen's western coastal province of Hudaydah.
"We call for restraint following recent escalation and serious ceasefire violations in Hudaydah province," the head of the UN Mission to Support the Hudaydah Agreement (UNMHA), Lieutenant General Abhijit Guha, said in a statement on Sunday.
He said that during the past week, there were reports of airstrikes, the use of improvised explosive devices and ground attacks, which resulted in civilian casualties, including children.
"The time has now come for a ceasefire and a halt to the spiral of military escalation that will exacerbate the deteriorating humanitarian situation on the ground. The UNMHA continues to engage proactively with the two parties to the [Yemen] conflict, and is making all efforts to ensure an environment conducive to making renewed progress," the senior UN official said.
Guha then urged the warring parties in Yemen to fulfill their obligations and resolve disputes through appropriate joint mechanisms, not the battlefield, and underlined the need for the protection of civilians and civil infrastructure.
Delegates from Ansarullah movement and representatives loyal to Hadi held a round of peace negotiations in Rimbo, north of the Swedish capital city of Stockholm, in December 2018.
The talks resulted in the announcement of an agreement, which included a ceasefire along the Hudaydah front and the redeployment of armed forces out of the city and its port. The deal also mandated the UN to oversee the truce.
Saudi Arabia and a number of its regional allies launched the war on Yemen in March 2015, with the goal of bringing Hadi's government back to power and crushing the popular Ansarullah movement.
The US-based Armed Conflict Location and Event Data Project (ACLED), a nonprofit conflict-research organization, estimates that the war has claimed more than 100,000 lives.
The Ansarullah movement, backed by armed forces, has been defending Yemen against the Saudi-led alliance, preventing the aggressors from fulfilling the objectives of the atrocious war.
https://www.presstv.com/Detail/2020/11/30/639679/WHO-stops-funding-some-10,000-health-workers-in-strife-torn-Yemen
--------
Israeli forces raze Palestinian house, bulldoze more land in occupied West Bank
30 November 2020
Israeli forces have demolished a Palestinian home in the Arab city of Tira, following the confiscation of large plots of private Palestinian land in the occupied West Bank.
The Palestinian Information Center said the demolition was carried out at dawn on Monday.
Israeli authorities prevented anyone from approaching the area. It is claimed that the house had been constructed without a license, which is almost impossible to obtain. The Palestinian home owner Islam Kashua said his residence was razed to the ground with no prior notice.
The trend of demolishing Palestinian homes in the West Bank goes back a long time.
In some cases, the Palestinian owners are pressured to demolish their own homes or pay the demolition costs to the municipality.
The latest demolition has drawn widespread condemnation against the Israeli regime for exploiting the coronavirus crisis to press ahead with its campaign of razing Palestinian homes.
Separately, Palestinian media reported on Monday that Israeli settlers with about 10 bulldozers guarded by armed fellows carried out large-scale bulldozing activities in the areas of al-Ras and al-Mahajer in the west of Salfit. They also chopped down hundreds of olive trees belonging to Palestinians.
Settlers on Sunday also seized some Palestinian land in Lubban ash-Sharqiya, south of the West Bank city of Nablus.
More than 600,000 Israelis live in over 230 settlements built since the 1967 occupation of the Palestinian territories of the West Bank and East Jerusalem al-Quds.
https://www.presstv.com/Detail/2020/11/30/639675/Israel-Palestinian-house-West-Bank-demolition
--------
Israeli violations against Palestinian journalists stand at over 410 this year: Report
30 November 2020
The Tel Aviv regime's repressive measures against members of the press in the occupied territories continue unabated, an NGO says, noting that the Israeli military has committed 414 violations against Palestinian journalists since the beginning of the current year.
The Journalists' Support Committee, announced that Israeli forces have used live munitions, rubber-coated metal bullets in addition to poisonous and tear gas against Palestinian journalists, while banning them from covering major incidents, closing their offices, storming their homes, breaking their equipment, and detaining and torturing them in prisons, Arabic-language Quds Press International News Agency reported.
The committee renewed its condemnation of Israeli forces' "arbitrary practices of directly and deliberately targeting Palestinian journalists while the perform their duties and field coverage of the occupying regime's crimes against Palestinian people." It added that 25 journalists are currently being kept behind bars inside Israeli jails.
It then called on human rights organizations and media outlets to compile a detailed file on attacks perpetrated by Israeli soldiers against Palestinian people in general and journalists in particular, and to lodge complaints with international courts of justice, especially the International Criminal Court (ICC), so the Tel Aviv would not get away with its criminal acts.
The committee finally called on the United Nations to take quick and necessary measures to hold Israeli war criminals to account for their crimes against Palestinian journalists.
The statement was released on the occasion of the International Day of Solidarity with the Palestinian People, which is annually marked on November 29.
According to the Palestinian Center for Development and Media Freedoms (MADA), the Israeli military committed 13 violations against media freedom in September alone.
MADA announced in a report that the violations included the injury of 7 journalists as a result of being struck with metal bullets and gas bombs, or being physically assaulted by Israeli soldiers and extremist settlers.
The report then pointed to the detention of three other journalists, prevention of Palestinian correspondents from field reporting and confiscation of a vehicle belonging to Palestine TV.
More than 7,000 Palestinian prisoners are currently held in some 17 Israeli jails, with dozens of them serving multiple life sentences.
https://www.presstv.com/Detail/2020/11/30/639668/Israeli-violations-against-Palestinian-journalists-stand-at-over-410-this-year-Committee
--------
Africa
Sudan confirms Israeli visit to Khartoum
30 November 2020
Sudan has confirmed that an Israeli delegation visited Khartoum, a week after the mission, a pan-Arab news channel reported.
The Sovereign Council, its highest ruling body, sought to play down the importance of the visit, saying it was not political.
"We did not announce it at the time because it was not a major visit or of a political nature," council spokesman Mohamed al-Faki Suleiman told the US-based pan-Arab channel Al-Hurra on Sunday.
For all the latest headlines follow our Google News channel online or via the app.
He said the visit "was of a technical and military nature."
Sudan in October became the third Arab country in as many months to announce a normalization deal with Israel, after the UAE and Bahrain.
Suleiman said "discussions with the Israeli side are on hold as there were political and economic obligations that were not respected," without elaborating.
That may have been a reference to Sudan's removal from a US "state sponsors of terrorism" blacklist, which would need the backing of a vote in Congress.
Israel announced on November 23 that it had sent its first delegation to Sudan after the deal on normalization.
https://english.alarabiya.net/en/News/middle-east/2020/11/30/Sudan-confirms-Israeli-visit-to-Khartoum
--------
Tigray rebel leader says conflict far from over after Ethiopia declares victory
30 November 2020
The leader of rebels in Tigray, a restive region in northern Ethiopia which has for weeks been the scene of intense clashes with federal troops, has claimed that the fighting is far from over and that his forces are still resisting the Ethiopian military near the region's capital city, Mekelle.
Debretsion Gebremichael, who presides over the Tigray People's Liberation Front (TPLF), told Reuters on Monday that the Tigray forces had been deployed to the outskirts of Mekelle.
"I'm close to Mekelle in Tigray fighting the invaders," he said.
He claimed that Tigray forces combating the federal troops had captured a number of Eritrean soldiers fighting alongside Ethiopian troops.
He also insisted that rumors suggesting he had fled to South Sudan were untrue, according to Reuters.
In a series of messages on Sunday, Gebremichael also claimed Tigray forces had shot down an Ethiopian military plane and captured its pilot.
Gebremichael further added that the town of Axum in the northern region had been retaken from government forces.
Following reports of heavy shelling of Mekelle, Ethiopia's Nobel-winning Prime Minister Abiy Ahmed declared victory, saying in a statement on his Twitter account on Saturday that government forces had gained control of the city.
He announced the end of the military operation which had begun with airstrikes n Tigray on November 4.
He said that it was now up to regional forces to capture the "criminal" rebel leaders, restore peace and reconstruct the city.
Meanwhile, Ethiopia's state-run TV said 70 graves, some holding multiple bodies, had been found in the Tigray region town of Humera. It was not clear who were buried in the graves. Both sides accuse one another of the killings.
Government forces in Mekelle said after the end of military operations, "stabilization activities" had begun.
Confirmation of news from both sides is difficult as communication systems are down in Tigray.
In the meantime, Mekelle hospitals, which are reportedly flooded with wounded people, announced that they have a shortage of medical supplies to care for patients and those injured in the conflict.
The International Committee of the Red Cross (ICRC) said that some 80 percent of patients at Ayder Referral Hospital have trauma injuries.
"The influx of wounded forced the hospital to suspend many other medical services so that limited staff and resources could be devoted to emergency medical care," the ICRC said, adding that the major regional hospital was lacking body bags.
The ICRC warned that food was also running low, the result of the Tigray region being cut off from outside aid for almost a month. The group said 1,000 Eritrean refugees have arrived in Mekelle from their refugee camps near the Eritrean border, looking for food and other help.
"The hospital is running dangerously low on sutures, antibiotics, anticoagulants, painkillers and even gloves," said Maria Soledad, the head of operations for the ICRC in Ethiopia, who visited Ayder Referral Hospital and is currently in Mekelle. "The influx of injured comes more than three weeks after supply chains were disrupted into Mekelle. We need to ensure that health workers have the supplies and conditions they need to carry out their lifesaving work."
Addis Ababa launched the Tigray offensive in response to rebel attacks on federal forces in Mekelle and Dansha.
https://www.presstv.com/Detail/2020/11/30/639648/Ethiopia-Addis-Ababa-Mekelle-Hospital-ICRC
--------
Boko Haram Killed 110 Farmers in Nigeria Attack, UN Says
By Michael Olukayode and Dulue Mbachu
November 29, 2020
An attack by Boko Haram Islamist insurgents on rice farmers in Nigeria's northeast left at least 110 of them dead, a United Nations official said.
"I am outraged and horrified by the gruesome attack against civilians," Edward Kallon, the UN resident and humanitarian coordinator in Nigeria said in an emailed statement. "At least 110 civilians were ruthlessly killed and many others were wounded in this attack."
Governor of the Borno state, Babagana Zulum, where the attack occurred, said 43 victims were buried Sunday at the Koshobe village in the Jere district. Insurgents ambushed farmers who were bringing in their rice harvest Saturday.
"I condemn the killing of our hardworking farmers by terrorists," President Muhammadu Buhari said in a statement released by his official spokesman. "The entire country is hurt by these senseless killings."
Boko Haram militants have waged a campaign of violence since 2009 to impose their version of Islamic law on Africa's most populous country of more than 200 million people. The government estimates that more than 30,000 people have died in the conflict.
At the burial of the 43 victims on Sunday, residents of the affected community told Governor Zulum they expected the death toll to rise, as many people were still missing.
"Our people are in a very difficult situation," Zulum told reporters. "If they stay at home they may be killed by hunger. They go out to their farmlands and risk getting killed by the insurgents."
https://www.bloomberg.com/news/articles/2020-11-29/nigeria-says-boko-haram-attack-on-rice-farmers-leaves-42-dead?utm_source=iterable&utm_medium=email&utm_campaign=1767188_
--------
Somalia: Al- Shabaab Militants Kill Seven Family Members in Night Raid
26 NOVEMBER 2020
Al-Shabaab militants stormed the house where a Somali government official was staying last and killed seven people, including a mother, father and their child.
The child killed was a year and a half old.
The dead included the father of the family, a government army officer who eventually died after being gunshot wounds.orts
justice Minister Abdulkadir Mohamed Nur Jama told the media that al-Shabaab fighters struck a remote village in Wajid district in the Bakool region, killing a father, a mother and their five children.
"I extend my deepest condolences to the Somali family for the loss of their lives to Al Shabaab in Wajid District late Tuesday night," Jama said. "Killing a pregnant mother and children is only possible from the unscrupulous Al Shabaab. I wish the family, relatives and all the people of Wajid patience and faith."
The district of Wajid is located in the Bakool region of Somalia, about 302km northwest of the capital Mogadishu, and close to the Ethiopian border about 70km.
https://allafrica.com/stories/202011270192.html?utm_source=iterable&utm_medium=email&utm_campaign=1767188_
--------
North America
Joe Biden Has Promised to End Trump's Muslim and African 'Travel Ban'. But Its Legacy Will Be Felt for Years
BY SANYA MANSOOR
NOVEMBER 30, 2020
Afnan Salem's father, a Somali citizen living in Malaysia, has been waiting three years for United States immigration authorities to allow him to come to Ohio to live with his family. But Trump's severe travel restrictions on many visas for those with citizenship from more than a dozen predominantly African and Muslim-majority countries, including Somalia, means he is, at least temporarily, barred from entry.
Under previous Administrations, Salem's father would likely have been able to come to the U.S. without complications: Salem's brother is a U.S. citizen and has filed for a visa on their father's behalf. Trump's travel ban—often referred to as the Muslim and African ban—changed that calculus, making it much more difficult, and often impossible, for family members from certain predominately Muslim and African countries to gain entry to the U.S.
Salem, a Somali-American 22-year-old student at Ohio State University, says the stringent restrictions send a message to her and those like her that Africans and Muslims are not welcome in the U.S, that "you don't have the right to be reunited with your family because of your faith or where you come from."
President-elect Joe Biden, who is expected to be inaugurated on Jan. 20, 2021, has promised to revoke the Trump-era travel ban on his first day in office—a commitment that families like Salem's are desperately hoping he follows through on.
Even before President Donald Trump issued his first executive order attempting to establish a ban just about a week after his inauguration, he had called on the campaign trail for a "total and complete shutdown of Muslims entering the United States," and falsely declared that "Islam hates us." It was in this context that Trump began issuing executive orders to keep many Muslims from entering the U.S. (The first was introduced January 2017.) The first few early iterations of a travel ban were struck down by lower courts, but the Supreme Court upheld a recent version in 2018.
The impact of the travel restrictions has been far-reaching. Between Oct. 1, 2015 and Sept. 30, 2019 there was a decrease of 79% in visas issued to Iranians, 74% for Somalis and 66% for Yemenis, according to The Bridge Initiative, a research project based in Georgetown University that focuses on Islamophobia. In Jan. 2019, the libertarian Cato Institute reported that the new restrictions had already prevented more than 15,000 spouses and adopted children of U.S. citizens from joining their spouses or parents in the U.S. In Michigan, a Yemeni-American father and U.S. citizen Mahmood Salem committed suicide after his wife and two of his five children in Djibouti were denied visas under Trump's travel ban to join him in the U.S., NBC reported.
"Each time the Muslim ban was reintroduced, it carried the same discriminatory intent, but changed its language and process in hopes that the courts would allow it to stand," says Max Wolson, a staff attorney at the National Immigration Law Center.
The most recent version of Trump's ban includes more countries than the original version—and places varying degrees of restrictions on the types of U.S. visas citizens from these countries can apply for. The citizens of 13 countries are impacted: Iran, Libya, Somalia, Syria, Yemen, Venezuela, North Korea, Nigeria, Myanmar, Eritrea, Kyrgyzstan, Sudan and Tanzania.
Activists fighting to overturn the restrictions have stressed the importance of recognizing that the measure is not just a Muslim ban but also targets African citizens. Six of the countries included in the ban are in Africa, and the greater weight given to the continent is intentional and fits in with Trump's derogatory rhetoric (like "sh-t hole countries") towards Africans, says Asha Noor, a racial justice and immigration advocate. "It's the perfect storm of Islamophobia and anti-Blackness."
A restrictive waiver process
In May 2018, the U.S. embassy in Malaysia, where Salem's father currently lives, told him after an interview that he would be "ineligible for a visa" but that they would review his eligibility for a waiver and that it could be a "lengthy process." He applied for a waiver and has been waiting since.
To be approved for a waiver, immigration officials must determine that he satisfies three criteria: that his entry would not pose a national security or public safety threat, his arrival would be in the interest of the U.S. and that denying him entry would cause "undue hardship." It's an opaque process and a high barrier to reach.
The waiver provision is supposed to provide pathways for some immigrants from the affected countries to make it to the U.S. in attempts to dispel the notion the measure is a blanket ban targeting any particular religious or ethnic group. But the waiver program is a "farce," says Wolson, with the National Immigration Law Center, which has sued over the specific provision and previously filed a lawsuit over the ban's alleged unconstitutionality as a whole.
Immigration authorities declined almost three-quarters of all visa waivers between Dec. 2017 and April 2020 for all countries included in the travel restriction, according to The Bridge Initiative. Many of those trying to get a waiver have been denied on the basis of not facing sufficient hardship—even if they live in a conflict zone like Yemen, where a civil war continues. There are also supposed to be exceptions made for children to be reunited with parents but the definition of children is so narrow that it only applies to minors and excludes adult children, like Salem.
"The addition of the waiver program was…an attempt to setup a defense by claiming that it was not a ban because it could be waived," Wolson says. "The reality is that the waiver program is designed to deny people waivers and the statistics have borne that out."
The waiver provision was at least partly why the Supreme Court in 2018 allowed the measure to stand in a 5-4 ruling. The majority said in its opinion that there were "significant exceptions" for many foreign nationals, particularly for nonimmigrant visas and through the waiver process. They felt that the new restrictions had a "sufficient national security justification" even as more than 55 former officials who served under both political parties, including former secretaries of state, CIA directors, and other top intelligence officials, told the court that it would be counterproductive for national security.
The fight continues
Even with Biden's victory, for activists like Linda Sarsour, the threat of discrimination does not disappear. "Our community is always on edge," says Sarsour, the Palestinian-American activist executive director of MPower Change, a Muslim grassroots movement that has been advocating to overturn the travel restrictions for years. "We're never going to be able to relax—even under a Biden administration," she says. Sarsour is aware that because of the Supreme Court's ruling, there's nothing stopping any presidential administration after Biden from imposing the same sweeping restrictions in the name of national security. So she's working to ensure Congress passes the No Ban Act, which would limit the scope of the current restrictions, so that they only apply to cases in which the Secretary of State has identified particular circumstances and credible facts that justify exclusion. (The measure has passed the Democrat-led House but not the Republican-led Senate.)
There's also work to be done for families who have already tried but failed to reunite in the U.S. Subha Varadarajan, legal and outreach fellow for the No Muslim Ban Ever Campaign, says that under a Biden administration, they will be pushing to ensure that those denied entry due to the ban have an opportunity to be reconsidered for admission under pre-existing vetting processes. "A lot of these families have been waiting for years, so there needs to be a process to expedite those admissions," Varadarajan says.
For those who have already been able to permanently reunite and live with their family members in the U.S., it's often because they have access to key support, which can be difficult to find. "We have seen that—disproportionately—having the media or a congressperson take an interest in your case makes your likelihood of getting through significantly higher," Wolson says.
Rooting out Islamophobia
Syrian-American Ramez Alghazzouli believes public pressure from a Huffington Post article about the hardship he faced because of being unable to have his wife join him in the U.S. for three years was instrumental in her attaining a successful visa. (The story was published less than a month before his wife received a visa, he says.)
Although the couple live together in Arizona now and just celebrated the birth of the first child, the travel restrictions will always be a part of their relationship and their time in the U.S., Alghazzouli says. "This can destroy a human being," he says. "I'm not an emotional guy but it distracted and destroyed me."
For many Muslims, the real issue behind the travel restrictions is Islamophobia. Khaled Beydoun, a law professor at Wayne State University, warns against "only understanding Islamophobia through the Muslim ban" and remains skeptical about just how much Biden will do to root out systemic Islamophobia. "The Biden administration won't engage in the same kind of Islamophobia as Trump does" but we may see a continuance of bombing countries like Yemen, Afghanistan and Pakistan, as well as sweeping domestic surveillance programs that target Muslims.
After all, it was under the Obama and Biden administration, that the US Department of Homeland Security launched a surveillance program that many Muslims and civil rights advocates say targets Muslims. The Biden campaign has said it would end a similar counter-terrorism program, as well as "conduct a thorough review of past programs and regularly consult with leaders from historically targeted communities, including Arab Americans, to ensure that civil rights are protected."
It remains to be seen how Biden will address issues of foreign policy and surveillance but there's no doubt that lifting the restrictions on mostly Muslim and African travelers would bring thousands of separated families relief. "If Biden wins and doesn't actually get rid of the ban, I'm willing to go knock on the White House door and say 'you promised us,'" says Alghazzouli, the Syrian-American who was separated from his wife for three years.
As for Salem, she is in her senior year of university, studying international relations, and has been thinking about becoming an immigration lawyer so she can help reunite families. With Biden's victory, she hopes that her father can make it to the U.S. in time for her graduation in summer.
https://time.com/5907628/muslim-african-ban/
--------
US calls for immediate end to fighting in Ethiopia, offers to help reconcile rivals
Joseph Haboush
30 November 2020
The United States Monday voiced its "grave concern" over the ongoing conflict between sides in Ethiopia and called for a "complete end" to the fighting in the Horn of Africa.
In a phone call with Ethiopian PM Abiy Ahmed, US Secretary of State Mike Pompeo "reiterated the United States' grave concern regarding ongoing hostilities and the risks the conflict poses."
For all the latest headlines, follow our Google News channel online or via the app.
The statement from Pompeo's office said he called for "a complete end to the fighting and constructive dialogue to resolve the crisis."
Weeks of fighting erupted earlier this year after Abiy ordered military operations against the Tigray region's dissident leaders for their attacks on federal army camps.
Abiy was last year's Nobel Peace Prize winner after his work to find a solution to the border conflict with neighboring Eritrea.
Ethiopia is a major US ally, but concerns have grown after the most recent fighting left thousands dead and sent tens of thousands of refugees fleeing into Sudan.
On Monday, Pompeo said the US was willing to assist in dialogue and reconciliation between the Tigray region leaders and Abiy's government.
"He urged the Government of Ethiopia to ensure respect for human rights of Tigrayans and all ethnic groups," the statement from Pompeo's office said.
https://english.alarabiya.net/en/News/africa/2020/11/30/US-calls-for-immediate-end-to-fighting-in-Ethiopia-offers-to-help-reconcile-rivals
--------
Dozens of human rights groups denounce US arms sales to UAE
01 December 2020
Twenty nine human rights groups and arms control organizations have denounced the US arms sales to the United Arab Emirates, asking the Congress to block the mega deal.
The groups signed a letter opposing the sale of $23 billion worth of missiles, fighter jets and drones, raising concern about the UAE's role in Saudi devastating war on Yemen and Libya conflict.
"The hope is to stop these sales altogether," said Seth Binder, advocacy officer at the Project on Middle East Democracy, who spearheaded the effort.
"But if that is not possible in the short term, this sends an important signal to the incoming Biden administration that there is a diverse group of organizations that oppose delivery of these weapons."
The letter, sent to US lawmakers and the State Department, said the planned arms sale would fuel continued harm to civilians and exacerbate humanitarian crises due to conflicts in war-wracked Yemen and Libya.
Signatories include human rights organizations from the region, including the Cairo Institute for Human Rights Studies and Mwatana for Human Rights.
The US-UAE arms deal includes F-35 fighter jets, Reaper drones, air-to-air and air-to-ground missiles and more than 14,000 bombs.
The sale was approved following a US-brokered agreement in September in which the UAE agreed to normalize relations with Israel.
Several US senators, including Murphy, earlier this month proposed legislation to halt the weapons sale to the UAE, setting up a showdown with President Donald Trump weeks before he is due to leave office.
Trump administration officials briefed the Senate Foreign Relations Committee about the deal on Monday evening.
Democratic Senator Chris Murphy, a sponsor of the resolutions of disapproval, responded later on Twitter: "Just a mind blowing number of unsettled issues and questions the Administration couldn't answer. Hard to overstate the danger of rushing this."
Murphy had said, "I support the normalization of relations between Israel and the United Arab Emirates, but nothing in that agreement requires us to flood the region with more weapons and facilitate a dangerous arms race."
He also said the arms sale to the UAE would constrain the options of President-elect Joe Biden who has signaled he will return the US to the Iran nuclear agreement.
US lawmakers had expressed concern about whether the UAE sales would violate a longstanding US agreement with Israel that any US weapons sold in the Middle East must not impair Tel Aviv's "Qualitative Military Edge" (QME) in the Middle East.
Secretary of State Mike Pompeo had said, "The proposed sale will make the UAE even more capable and interoperable with U.S. partners in a manner fully consistent with America's longstanding commitment to ensuring Israel's Qualitative Military Edge."
US law allows senators to force votes on resolutions of disapproval on major arms deal. However, to become effective resolutions must first pass both the Senate and the House of Representatives. The measure would also need two-third majorities in both the Republican-led Senate and Democratic-led House to survive a presidential veto.
The UAE embassy said in a statement, "Aligned closely with US interests and values, the UAE's highly capable military is a forceful deterrent to aggression and an effective response to violent extremism."
The United Arab Emirates is a key party to the Saudi war on Yemen that was launched to bring a former Riyadh-friendly government back to power.
The US-based Armed Conflict Location and Event Data Project (ACLED) estimates that the Saudi war has claimed more than 100,000 lives in Yemen since 2015.
https://www.presstv.com/Detail/2020/12/01/639732/US-UAE-arms-sales-Yemen-Libya-
--------
Charging the 'Beatles': Inside the case against IS militants
By ERIC TUCKER
30 November 2020
WASHINGTON (AP) — As two Islamic State militants faced a judge in Virginia last month, Diane Foley listened from home through a muffled phone connection and strained to make out the voices of the men prosecutors say kidnapped her son before he was murdered.
Alexanda Kotey and El Shafee Elsheikh stand accused of belonging to an IS cell dubbed "the Beatles," an incongruously lighthearted nickname for British citizens blamed for the jailing, torture and murder of Western hostages in Syria.
After geopolitical breakthroughs and stalemates, military actions in Syria and court fights in London, the Justice Department's most significant terrorism prosecution in years was finally underway. For Foley, who months earlier had pleaded with Attorney General William Barr to pursue justice by forswearing the death penalty, the fact the case was proceeding at all felt miraculous.
"We'd met so many blocks over the years, I couldn't believe it was happening," Foley said. "I was in awe of it, really, and almost didn't trust it — a bit incredulous. Is this really happening?"
The prosecution is a counterterrorism success in the waning weeks of the Trump administration. But it almost didn't happen.
Interviews with 11 people connected to the case make clear the hurdles along the way, including a death penalty dispute that required two normally close allies, the U.S. and U.K., to navigate fundamental differences in criminal justice systems. In the end, the interviews show, grieving families reached a gradual consensus to take capital punishment off the table while a key commitment by Barr to do the same enabled the U.S. to obtain crucial evidence it needed.
Youtube video thumbnail
At another time, the case might not have even been handled in civilian courts. After the Sept. 11 attacks, the Republican-led Justice Department favored detaining foreign fighters at the U.S. base in Guantanamo Bay, Cuba, for military tribunals. But that approach changed. Now federal prosecutors are pursuing the highest-profile terrorism case since trials over the Boston Marathon bombing and Benghazi attack, aiming to secure convictions and punishments that can keep the men, in their 30s, imprisoned for life.
"There was never a time when I thought we didn't have any case," said John Demers, assistant attorney general for national security. But, "we didn't want to bring them here unless we had really good charges, a really strong case, and ultimately expected a conviction that was going to result in a very significant prison sentence."
The group of militants, called "the Beatles" by their captives because of their British accents, came to embody IS barbarism with the 2014 release of grisly propaganda videos depicting the beheadings of American hostages. The first showed James Foley, captured as a freelance journalist covering Syria's civil war, kneeling in the desert in an orange jumpsuit beside a masked man in black brandishing a knife to his throat.
The beheadings were part of a reign of terror that officials say also involved waterboarding, mock executions and electric shocks. Elsheikh once videotaped the shooting of a Syrian hostage as Kotey directed hostages to watch while holding signs pleading for their release, prosecutors say.
The pair also coordinated ransom demands, the indictment says. An email to the Foleys tauntingly told them the U.S. government treated them "like worthless insects."
An airstrike killed the group's most notorious member, who had killed Foley and was known by the moniker of "Jihadi John." Another was prosecuted in Turkey.
That left Kotey and Elsheikh, who were captured in Syria in 2018 by American-backed forces. Weeks later, they appeared unapologetic while speaking to The Associated Press at a Kurdish security center, denouncing the U.S. and Britain as hypocrites who wouldn't give them a fair trial.
Inside the Justice Department, officials weighed whether the men should be tried in the U.K. or U.S. or even transferred to Guantanamo, which then-Attorney General Jeff Sessions had called a "very fine place" even though prosecutions there have floundered, lagging behind the speedier justice of American courts.
U.S. officials initially leaned toward a U.K. prosecution. British authorities had accumulated compelling evidence during their own investigation and U.S. policy encouraged other nations to repatriate and prosecute their citizens who'd joined IS.
Yet the U.K., which had stripped the men of their British citizenship, resisted doing the case in part over concerns about the ability to get convictions and significant prison sentences in British courts.
Once that position became clear, officials coalesced around bringing the men to America, said State Department counterterrorism coordinator Nathan Sales. But the British balked at sharing evidence with U.S. prosecutors without assurances they wouldn't impose the death penalty, which was abolished in the U.K. That was an impediment for American officials, who say they considered Britain's evidence vital in tracing the men's travel and path of radicalization.
They decided they wouldn't do the case without that evidence, Demers said.
The British later relented and agreed to share evidence without any assurances. But Elsheikh's mother sued over the evidence transfer, delaying the case well over a year. Last March, a British court effectively blocked the evidence-sharing over the death penalty issue, a hurdle U.S. officials assumed might require additional litigation to overcome.
Despite the ruling, prosecutors pressed forward. G. Zachary Terwilliger, the U.S. attorney for the Eastern District of Virginia, whose office is handling the case, was among those arguing internally that prosecuting the defendants was more important than leaving the death penalty on the table.
"You certainly can make an argument, and maybe it's not even a close call, that capital punishment would have been appropriate given the horrific nature of this crime," Terwilliger said. But, "getting justice for the victims was paramount to me."
The families, too, began uniting around the idea of removing the death penalty from consideration.
That had long been Diane Foley's position. The most vocal of the group, she met regularly over the years with government officials and cultivated high-level Washington contacts like her hometown senator, Jeanne Shaheen of New Hampshire, with whom she co-authored a 2019 newspaper op-ed warning against "impunity for these monsters."
Still, the budding consensus in recent months was notable because the families had not always shared the same perspective of the case.
The executions of Foley and two other hostages, Steven Sotloff and Peter Kassig, were documented in propaganda videos, the men's fates apparent to the world. But the circumstances of the death of a fourth, Kayla Mueller, who prosecutors say was sexually abused by late IS leader Abu Bakr al-Baghdadi, were less established and her parents initially believed keeping the death penalty on the table could be leverage to get answers.
Mueller's mother, Marsha, said in a text message that the couple had not wanted anyone to die but was eager for information about Kayla.
Ultimately, though, she concluded: "The other families who we care so deeply for wanted the men brought here and this seemed to be the only way they would come."
Meanwhile, current and former FBI officials who were helping the families, including the head of the bureau's hostage recovery cell, encouraged them to speak out in unison to prod the Trump administration toward prosecution. Ali Soufan, a former FBI counterterrorism agent who'd partnered with Mueller's parents to investigate Kayla's death, made the case that waiving the death penalty was essential for cooperating with the U.K. and even customary in international terrorism cases like this one.
Other options were hardly optimal. A trial in Iraq, where the men had been held in U.S. military custody over the past year, could produce a human rights outcry creating empathy for the men. The proceedings could also result in their release, or potentially execution if they were convicted.
Concerned a U.S. prosecution might not happen at all, or that the men might be left in Iraq, the families accelerated their public advocacy. In July, all four signed onto an opinion piece in The Washington Post imploring the U.S. to prosecute the pair as a message that anyone who harms American citizens "will not escape." That month, NBC News aired an interview with the men in which they admitted involvement in Mueller's captivity.
When Foley met with Barr in 2019, he said he shared her desire for accountability. But she said he and other Justice Department officials were firm in their convictions that the death penalty, a punishment Barr had brought back after a 16-year federal government hiatus, was merited.
Last summer, though, as the families conveyed their wishes to remove death from consideration and as the case dragged on without obvious resolution, Barr was ready to break the logjam.
"I don't know if it was the deciding factor or not, but I think it did help when we finally spoke up again and said, 'Please. Please bring them to the U.S,'" Foley said. "If you need that evidence and you need to waive the death penalty, please do it.'"
A senior Justice Department official prepared Foley for the news about to break, writing in an Aug. 14 email that once the U.S. message is delivered and becomes public, "we are sure it will generate a lot of attention and discussion — and that many will be interested to hear from all of you."
That happened days later with the release of Barr's letter to U.K. Home Secretary Priti Patel. In it, he committed to forgo the death penalty but also issued an ultimatum: If the Justice Department received Britain's evidence by Oct. 15, it would proceed with prosecution. If not, it would transfer the men to Iraqi custody for prosecution.
"That was a real option. It wasn't posturing," Demers said. "I didn't know if the U.K. could do everything it needed to do in time to get us that evidence."
The evidence came, resulting in a 24-page indictment with counts punishable by life imprisonment.
Justice Department prosecutors announced their case on Oct. 7 as the men were flown to Dulles International Airport and taken to jail, where because of the pandemic they faced a judge via video link. They have pleaded not guilty.
As Foley listened to court proceedings she once doubted would ever come, she couldn't help but wonder if, under different circumstances, the men might have been friends with James, who years earlier had taught jail inmates.
But she also is gratified.
"To my last dying breath, I will do my best to bring some accountability and justice for the horror of the murders of these four Americans."
https://apnews.com/article/race-and-ethnicity-islamic-state-group-william-barr-only-on-ap-syria-b307a4ecd3b59d4bff461b18d6e957ab?utm_source=iterable&utm_medium=email&utm_campaign=1767188_
--------
URL: https://www.newageislam.com/islamic-world-news/azan-modified-include-call-jihad/d/123627
New Age Islam, Islam Online, Islamic Website, African Muslim News, Arab World News, South Asia News, Indian Muslim News, World Muslim News, Women in Islam, Islamic Feminism, Arab Women, Women In Arab, Islamophobia in America, Muslim Women in West, Islam Women and Feminism