New Age Islam News Bureau
22 Oct 2019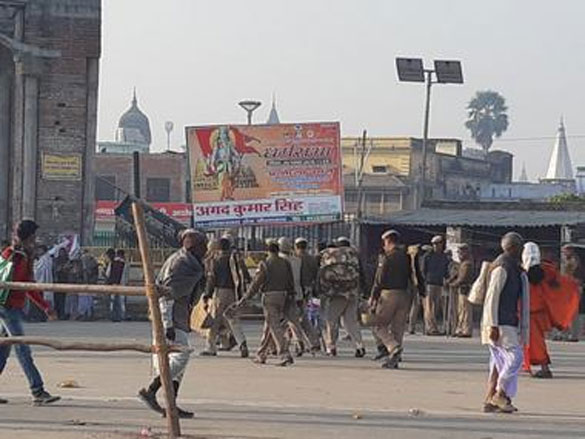 Representational image. ANI
----
• West Bengal's Malda Village Set an Example in Communal Ha-Rmony When a Group of Muslim Youths Performed a Hindu Neighbour's Last Rites
• All India Muslim Personal Law Board Filed a Plea in the Supreme Court Challenging the Law Which Criminalises Instant Triple Talaq
• Kashmir Is Driving Pakistan's Mediation Efforts between Tehran and Riyadh
• Muslim Oikya Parishad of Bangladesh Demand Death To Facebook User For Blasphemy
• Hate Preacher Anjem Choudary's Banned Terror Group 'Has Revived Since He Was Released From Jail Last Year and Is Holding Meetings Again'
• US Urges India to "Fully" Uphold Rights of Minorities, Vulnerable Individuals
• Muslim Scholars' Ignorance Behind Anti-Shia Fatwa, Says Penang Mufti
India
• Ayodhya Verdict: Muslim Parties, VHP Cancel All Programmes Planned In Anticipation of Favourable Judgment to Maintain Harmony
• West Bengal's Malda Village Set an Example in Communal Ha-Rmony When a Group of Muslim Youths Performed a Hindu Neighbour's Last Rites
• All India Muslim Personal Law Board Filed a Plea in the Supreme Court Challenging the Law Which Criminalises Instant Triple Talaq
• National Crime Records Bureau of India Leaves Out Data on Lynchings, Khap and Religious Killings
• Umar Khalid: Why I, A Leftist, Participated In A Twitter Trend Praising The Prophet
• Muslims Should Hand Over All Disputed Sites to Hindus: UP Shia Waqf Board Chief
• Kartarpur corridor: Harsimrat slams Pakistan for $20 fee, asks Punjab government to bear it
• Gujarat has highest number of Pakistani undertrial prisoners in India: NCRB
• If Pakistan doesn't end terror activities, Army will go deep inside: J&K Governor
• Transfer of school headmaster over poem: Will write to authorities to bring him back, say parents
• Article 370 raised cost of business in Jammu and Kashmir: S Jaishankar
• Pakistan's decision to stop postal services against international norms: Ravi Shankar Prasad
• Pakistan firm on $20 Kartarpur fee but India agrees to pact
--------
Pakistan
• Kashmir Is Driving Pakistan's Mediation Efforts between Tehran and Riyadh
• India, Pakistan gear up for Human Rights in South Asia hearing on Tuesday
• Foreign diplomats taken to Neelum Valley to debunk Indian army claim of destroying 'terror launch pads'
• NAB noose tightens around JUI-F leader's neck
• DG ISPR issues open challenge to Indian army to share locations of targeted 'terror camps'
• Directorate being set up to regulate seminaries
• Govt bans JUI-F's 'militant wing'
• JuD chief Hafiz Saeed made Salahuddin's father forgive policemen: report
• Report reveals alarming faith-based discrimination in educational institutions
• Pakistan's military delegation attends China's annual security forum
• Police arrest two JUI-F leaders in Islamabad ahead of Azadi March
--------
South Asia
• Muslim Oikya Parishad of Bangladesh Demand Death To Facebook User For Blasphemy
• 62 Killed In Mosque Bombing In Eastern Afghanistan
• Afghan Village of 70 Families Faces Ruin With Mosque Massacre
• Afghan Taliban Continue to Work Closely With Al-Qaida in Afghanistan
• 12 militants killed, 16 villages liberated in northern Afghan province
• Special Forces kill, detain 13 Taliban militants in 3 provinces
• U.S. House Speaker Nancy Pelosi met with President Ashraf Ghani
• 9 Taliban militants die from poisoning in Ghazni province of Afghanistan
• US officials push to revive Afghan peace talks
--------
Europe
• Hate Preacher Anjem Choudary's Banned Terror Group 'Has Revived Since He Was Released From Jail Last Year and Is Holding Meetings Again'
• South London Muslim donates hundreds of designer footwear to homeless
• Britain makes move to bring home children of Isis suspects from Syria
• Former neo-Nazi leader joins al Qaeda recruiter to fight extremism
• Let jihadists return home, French anti-terror magistrate urges
• 12 militant prisons left unguarded due to Turkish offensive in Syria: Russia
• EU sees 'chance for ceasefire' in Afghanistan despite spike in violence
--------
North America
• US Urges India to "Fully" Uphold Rights of Minorities, Vulnerable Individuals
• 'Horror and Shame': US Senators, Kurdish Leader Call For Turkey Sanctions
• Pompeo on Turkey: Trump 'fully prepared' to take military action if needed
• Syrians throw potatoes at US military vehicles in border town
• Trump: Israel, Jordan sought some US troops in Syria
• Trump: 'plenty of Turks' died due to border conflicts
• No commitment with SDF on fighting NATO ally: US
--------
Southeast Asia
• Muslim Scholars' Ignorance Behind Anti-Shia Fatwa, Says Penang Mufti
• Maldives Investigates Activist Group for 'Slandering Islam'
• Apology accepted but HK Muslims lament 'unnecessary' mosque attack
• Thousands protest after Bangladesh police fire at crowd, killing 4
• Can President Jokowi transform Indonesia during his second term?
• Eggi Sudjana Questioned by Police for Allegedly Discussing Bomb-Making in WhatsApp Group
--------
Arab World
• Desperate Pleas to Free Women and Children from ISIS Camps in Syria
• Pentagon sees few options for preventing new ISIS safe haven in Syria
• UAE announces new initiative to combat online extremism
• Egypt: 4 killed when shells hit 2 houses in north Sinai
• Lebanese army vows to protect protesters 'in the event of an attack'
• ISIS attack kills two security forces near northern Iraqi oilfields
• Adel al-Jubeir says Iran does not respect sovereignty of nations
• Two Iraqi forces killed in Daesh attacks on security checkpoints
• Syrians throw potatoes at US military vehicles in border town
• US, European, Asian chiefs of staff support Saudi Arabia's right to self-defense
--------
Africa
• Mali Army Says It Killed 50 Militants, Freed Soldiers In Counter-Attack
• Boko Haram ambush Nigerian soldiers, kill three
• Nigerian troops launches massive military offensive against Boko Haram: spokesperson
• Militants kill five in twin attacks on Burkina army outposts: army
• 5 terrorist shelters destroyed in Algeria
• Thousands protest in Sudan, call to disband ex-ruling party
• Libya: Shelling kills 3 children in Tripoli
--------
Mideast
• Hamas Says Israeli Violations At Al-Aqsa Will Ignite 'All-Out Regional War'
• Erdogan's Ambitions Go Beyond Syria. He Says He Wants Nuclear Weapons.
• As America Leaves Syria, Iran Isn't as Happy as You Think
• Iran sends US list of names for its proposed prisoner swap
• Secondary circuit of Iran's Arak nuclear reactor to be operational within two weeks: official
• Israel's Netanyahu gives up effort to form new government
• Iran FM: I'm ready to visit Saudi Arabia to settle differences
• Turkey can have bases on own soil, but not in Syria: Iran
• Saudi airstrikes leave five more civilians dead in northern Yemen
• Turkey detains 3 pro-Kurdish mayors over 'terror' links
• Palestine condemns Israeli regime's 'biggest land heist' in West Bank
• Baha'i community fears deportations as Yemen sentence looms
Compiled by New Age Islam News Bureau
URL: https://www.newageislam.com/islamic-world-news/ayodhya-verdict-muslim-parties-vhp/d/120061
--------
Ayodhya Verdict: Muslim Parties, VHP Cancel All Programmes Planned In Anticipation of Favourable Judgment to Maintain Harmony
Oct 22, 2019
Ayodhya: Reciprocating Muslims' gestures to preserve peace and communal harmony in Ayodhya after the Supreme Court verdict on the title suit over the disputed Ram Janamabhoomi-Babri Masjid land is delivered, the Vishwa Hindu Parishad on Monday announced the cancellation of all its programmes proposed after the ruling.
For the maintenance of peace and communal harmony post-ruling, the Muslim parties to the title suit earlier had announced deferring the construction of Masjid at the disputed site in Ayodhya if the verdict goes in their favour.
The two communities have put their best foot forward even as the Ayodhya police is making its own concerted efforts to ensure that no communal trouble erupts after the apex court delivers its verdict on the vexed issue.
"All of our proposed programmes and different activities of our various outfits regarding the upcoming Ayodhya verdict next month have been cancelled," Vishva Hindu Parishad's Uttar Pradesh spokesperson Sharad Sharma told PTI on Monday.
Reciprocating the Muslim parties gesture, Sharma added, "Whether the verdict be in favour of Hindus or Muslims, it is the high time that both communities must present the greatest example of harmony and brotherhood."
"We all must have to ensure that no such incident should occur that mix venom in the cordial relation between the two communities," he added.
"We have cancelled all our programmes and gatherings of Hindu workers. We are fully conscious about what happened in Godhra and its aftereffects in whole Gujarat. We are committed to ensuring that no such situation is repeated here or anywhere else in the country," he said.
Two days ago, the Muslim parties to the suit announced deferring the construction of the mosque in Ayodhya even if they win the case.
"We must take care of peace and communal harmony in the country first. The Muslims will definitely establish cordial relations with Hindus as we are having close and peaceful relations since ages. The court verdict will never be allowed to affect the harmonious relationships between us," Haji Mahboob, one of the key Muslim litigants to the Ayodhya dispute, had told PTI on Saturday.
Amid the two communities taking up measures to preserve the communal harmony after the Ayodhya verdict, the police too are beefing up security in the temple town, besides taking up several inter-community coordination steps for the purpose.
The police officials have begun holding a joint meeting of community leaders from the two sides while issuing warning to the people against making any adverse comment against any particular religion or community before or after the verdict irrespective of the winners.
"We are monitoring all social media platforms and issuing warnings on WhatsApp, Twitter and other social media platforms for not posting any controversial thing against any religion and community that may create communal differences," Ayodhya Superintendent of Police Ashish Tiwari told PTI.
"The members of winner community should not tease or comment against the members of the looser community after the verdict is pronounced. Both community members have pledged to live harmoniously whatever be the verdict. The community members have also pledged to respect the verdict whether it is in favour of Masjid or Mandir," the SSP said.
https://www.firstpost.com/india/ayodhya-verdict-muslim-parties-vhp-cancel-all-programmes-planned-in-anticipation-of-favourable-judgment-to-maintain-harmony-7533221.html
--------
West Bengal's Malda Village Set an Example in Communal Ha-Rmony When a Group of Muslim Youths Performed a Hindu Neighbour's Last Rites
Oct 22, 2019
Malda: A Malda village set an example in communal harmony when a group of Muslim youths performed a Hindu neighbour's last rites.
Toto driver Rambilas Ch-oudhury (50), a resident of Moregram, was diagnosed with a kidney infection about six months ago. The ailment proved a financial burden for Rambilas and his wife Mina, who had three children. It was then that the youths from Madhaipur — Hasan Raja and others — pooled money for his treatment. They even bought new clothes for Rambilas' children during Durga Puja.
When Rambilas died on Saturday night, the youths took the body to his village. When they found his family had no money to cremate him, they raised sums from Rs 10 to Rs 100 from reside-nts. The money helped buy bamboo sticks and a bed for the body. They then carried the body to Sadullapur cremation ground while chanting Bolo Hori, Hori bol and spreading khoi along the road.
They were accompanied by a number of Hindu youths.
The group not only performed the rituals, they even fed those at the cremation ground. "The way Hasan, Imran and Rajesh volunteered is unforgettable. Without them, the cremation would not have been performed," a resident said.
Weeping, Mina said: "It is nothing new. They have been with us since my husband fell ill. God bless them." Mainura Biwi, Lalnur Bewa and other Muslim women consoled her.
However, Hasan saw nothing special in the gesture. "It is our duty to stand beside neighbours. We did our bit for Rambilasda's treatment. We will do his shradh as well."
https://timesofindia.indiatimes.com/city/kolkata/muslims-cremate-hindu-neighbour/articleshow/71696636.cms
--------
All India Muslim Personal Law Board Filed a Plea in the Supreme Court Challenging the Law Which Criminalises Instant Triple Talaq
October 22, 2019
NEW DELHI: The All India Muslim Personal Law Board (AIMPLB) Monday filed a plea in the Supreme Court challenging the law which criminalises instant "triple talaq".
The Muslim Women (Protection of Rights on Marriage) Act, 2019 makes "talaq-e-biddat" or any other similar form of talaq having the effect of instantaneous and irrevocable divorce pronounced by a Muslim husband void and illegal.
It makes it illegal to pronounce talaq three times in spoken, written or through SMS or WhatsApp or any other electronic chat in one sitting.
Any Muslim husband who pronounces the illegal form of talaq upon his wife is to be punished with imprisonment for a term which may extend to three years, and also be liable to fine, it says.
The plea by AIMPLB and Kamal Faruqui has challenged the Constitutional validity of the Act on the ground that it is manifestly arbitrary and offends Articles 14, 15, 20 and 21 of the Constitution and makes unwarranted/wrongful interference in the Muslim Personal Law as applicable to Hanafi Muslims.
"The impugned Act is a criminal statute having adverse impact on the life and personal liberty of those on whom penal consequences are to be visited. It is the elementary principle of law that any act or omission which is dealt with penal consequences should be defined with accuracy and precision.
"A Muslim husband whose act or omission may be visited with penal consequences must have fair notice of ingredients of act or omission that is declared criminal so that such person can organize his affairs in such a way to avoid any conflict with law," the plea said.
Since pronouncement of triple Talaq in one sitting has already been declared to be unconstitutional and its practice set aside, such utterance has no legal/civil consequence, it said.
"Consequently, despite such utterances, marriage survives. Therefore, it was totally redundant and irrational to declare statutorily the practice of talaq-e-biddat as void."
"Secondly, section 3 of the Impugned Act also suffers from internal contradiction because if any act which is declared void has no existence in the eyes of law and it is redundant and contradictory to declare non-existent act illegal. The section therefore, suffers from manifest arbitrariness as it makes provision of law which is totally unnecessary," the plea said.
In 2017, the top court had struck down the practice of instant triple talaq. The Act was passed by Parliament on July 30.
The top court had earlier agreed to examine the validity of the newly enacted law on a batch a of petitions which sought to declare the Act as unconstitutional.
https://www.ndtv.com/india-news/muslim-law-board-moves-top-court-against-triple-talaq-law-2120547
--------
Kashmir is driving Pakistan's mediation efforts between Tehran and Riyadh
Fatemeh Aman
October 22, 2019
For decades South Asia shielded Tehran from crippling sanctions. It may be that South Asia will now save the region from a war between Iran and the Kingdom of Saudi Arabia.
If any of Iran's neighbors is to bring Tehran and Riyadh together, it likely must be a non-Arab one: Turkey, India or Pakistan. But Turkey has too much on its plate right now in the wake of its new intervention in Syria. India, as a major buyer of Iranian oil and with its considerable investment in Iran's Chabahar port, seems like it could fill that role. But India has chosen not to get involved in Iran's regional troubles. It seems that Pakistan, a neighbor of Iran that is heavily reliant on Saudi Arabian loans, is volunteering to take on this very complex task.
Indian Prime Minister Narendra Modi tried, at the United Nations General Assembly in September, to present himself as peaceful and reasonable. He cited poetry, mentioned Mahatma Gandhi several times, and even attempted to portray himself as a scholar. This was the speech in which many expected him to include the word "Kashmir," a Muslim majority region whose constitutional autonomy he'd revoked only weeks before. But Modi intentionally stayed away from the Kashmir issue, perhaps since it was clear that Pakistani Prime Minister Imran Khan would criticize him over it.
Khan, on the other hand, while bringing up legitimate points—such as when he questioned the effectiveness of India's heavy militarization of Kashmir—mostly sounded frustrated and angry. He even resorted to war-like rhetoric. At one point in his speech, Khan said: "What is going to happen when the curfew [in Kashmir] is lifted will be a blood bath." He also implied the possibility of a nuclear war between India and Pakistan. His speech, perhaps aimed at mobilizing a domestic audience, was very well received in Pakistan.
It is possible that Khan is expecting Tehran to be more critical of India regarding Kashmir in return for his efforts to de-escalate the increasingly dangerous confrontation between Iran and Saudi Arabia. However, Iran's religious leaders have already issued their harshest statements to date on that issue. It is unlikely that they will go further and risk damaging relations with a key economic partner over Kashmir.
Perhaps it is a desire for greater cooperation on border security between Iran-Pakistan that motivates Khan. Despite many ups and down in Iran-Pakistan relations over cross-border terrorism, both countries have managed to keep relatively stable relations and have not used proxies against each other, a tactic both countries have employed in other situations. When it comes to border security, Pakistan's attention is focused on its border with India not Iran, so this is probably not Khan's motivation.
Are economic incentives pushing Khan to act as mediator? The so-called Peace Pipeline, a major Iran-Pakistan economic project that would have provided energy-hungry Pakistan with Iranian natural gas, has long been in limbo due to pressure from the United States and Saudi Arabia. With Iran's economy squeezed by economic sanctions, Pakistan is not high on Iran's list of economic priorities.
Indian investment in Chahbahar shouldn't be a cause for Pakistani concern, since Gwadar port—located in Pakistan's Baluchistan province, 170 kilometers far from Chabahar—is a giant $46 billion China-Pakistan Economic Corridor (CPEC) project. Saudi Arabia has also recently announced major investment in Gwadar.
The issue of Yemen could be a factor behind Khan's mediation initiative since Pakistan has indirectly been impacted by the Yemen war. Even though retired Pakistani General Raheel Sharif has been appointed commander of the Islamic Military Alliance to Fight Terrorism (IMAFT)—a partnership involving over forty countries that was created in 2015 and is headquartered in Saudi Arabia—Pakistan refused to send ground troops to participate in the kingdom's ill-conceived Yemen intervention. Interestingly, Khan and his Pakistan Tehrik-e-Insaf (PTI) party opposed both Pakistani participation in the Yemen war and General Sharif's appointment to lead IMAFT. So Khan's motives must be beyond Yemen.
Bringing Iran and Saudi Arabia closer could boost Pakistan's—and Khan's—image as a player on the international stage. It is noteworthy that Khan talked of mediating between Iran and Saudi Arabia even before he established his cabinet last year. No regional player can afford the tension that will arise if the two countries spiral closer to war. All of South Asia would suffer heavily from such a conflict, since both Tehran and Riyadh have prominent footprints in the region. Pakistan could be especially impacted. While Pakistan was able to avoid participating in the Yemen war, it would be far more exposed in the event of a Saudi-Iran confrontation, due to its financial liabilities toward Saudi Arabia, its own sizable Shia minority—which rejects Iran's theocratic system but opposes a military confrontation with Iran—and the important role of Pakistani workers' remittances from Saudi Arabia and other Persian Gulf countries.
There are major internal obstacles in Iran to any improvement of Tehran-Riyadh relations. Hardline groups opposing any diplomatic efforts by President Hassan Rouhani's government, have generally benefitted from the isolation of Iran. In fact, the existence of these groups depends heavily on Iran's involvement in regional crises. That is why they are blamed for provocative actions such as attacking the Saudi embassy and a consulate in Iran in 2016 after the Saudi execution of a prominent Saudi Shia sheikh.
Still, the Iranian leadership has appeared to welcome Khan's efforts in the wake of rising tensions over sanctions and attacks on tankers and Saudi oil infrastructure. In his October visit to Iran, Imran Khan met with the Supreme Leader. Ayatollah Ali Khamenei warned countries not to start a war with Tehran but sounded supportive of Khan's efforts, stating that Iran has "no motivation for enmity" with other countries.
If Khan could successfully mediate this conflict, or even just help reduce Saudi-Iranian tensions, it would be a major accomplishment for Pakistani foreign policy that could boost Khan both domestically and abroad. From Khan's perspective, the issue of Kashmir has not attracted enough international attention. Mediating de-escalation in the Persian Gulf could strengthen his ability to bring more attention to that crisis too.
https://www.atlanticcouncil.org/blogs/iransource/kashmir-is-driving-pakistans-mediation-efforts-between-tehran-and-riyadh/
--------
Muslim Oikya Parishad of Bangladesh Demand Death To Facebook User For Blasphemy
21 Oct 2019
A network of Islamists, known as Muslim Oikya Parishad in Bhola, has set a 72-hour ultimatum for the administration to meet their six-point charter of demands, including death to the person accused of blasphemy that ignited violence leaving four people dead.
Their demands include the suspension of police officials who opened fire on the protesters on Sunday. Protest leaders threatened to launch a tougher movement if their demands are not met.
Some Islamic groups have formed the network to continue their movement after four persons died in clashes with police following their rally.
The Muslim Oikya Parishad had called a rally at Bhola Primary School premises on Monday to protest the deaths.
Later, they decided to hold a press briefing as the administration did not permit them to organise any rally and deployed police to the area.
"We've suspended our rally as requested by MP Tofail Ahmed and the deputy commissioner of Bhola," Bashir Uddin, convener of Iman Akida Sangrakkhan Committee, said in the press briefing.
"But we'll begin a stringent protest programme if our demands are not met in 72 hours."
The protesters plan to bring out processions across Bhola on Tuesday evening, hold a human chain on Thursday evening and organise a prayer session for the dead on Friday evening.
Joint Convener Mizanur Rahman presented the six-point charter of demands during the press briefing.
Their demands include: death to the blasphemy suspect, handover of bodies of the dead to their families without autopsy, medical treatment to the injured, suspension of Borhanuddin Police Station chief, compensation for the families of the dead and release of the arrestees.
"We have designated departments to look into the demands made by the leaders of Muslim Oikya Parishad," said Shafiqul Islam, deputy inspector general of police for Barishal Range.
"The specialist team in the police department will discuss the hacking with Facebook authority."
Earlier, Biplob Chandra Baidya, a local youth, filed a general diary with Borhanuddin Police Station on Friday night after his Facebook account was hacked.
https://bdnews24.com/bangladesh/2019/10/21/protest-leaders-in-bhola-demand-death-to-facebook-user-for-blasphemy
--------
Hate preacher Anjem Choudary's banned terror group 'has revived since he was released from jail last year and is holding meetings again'
20 October 2019
Hate preacher Anjem Choudary is inspiring his network of extremists and poses a renewed terror threat a year after he left jail, an analysis by experts has warned.
The firebrand cleric's release has reinvigorated his outlawed jihadist group al-Muhajiroun, they found.
The 'unrepentant' father of five is back in his family home in east London where he previously masterminded the Islamist extremist network which helped radicalise terrorists, including London Bridge attack ringleader Khuram Butt, and Michael Adebolajo and Michael Adebowale, who murdered soldier Lee Rigby.
Experts from the Counter Extremism Project (CEP) say the decision to give Choudary, 52, parole should be reviewed in light of the findings, which they say show he is a threat to national security.
A study by the non-governmental monitoring organisation says his extremist network is understood to have restarted meetings. 'Choudary remains a dangerous and influential figure,' it says.
It also shines new light on Choudary's influence on outrages around the globe, profiling a network of 110 extremist individuals and 33 organisations associated with him. Of the 110 individuals, 18 successfully carried out terror attacks, 50 others attempted atrocities and 19 are – or attempted to become – Islamist fighters. Thirty-six are Islamist propagandists or recruiters.
Choudary was freed last October after serving under half of his five-and-a-half year sentence for inviting support for Islamic State.
The Daily Mail revealed at the time how he had become 'hardened' in jail and more determined than ever to spread his toxic Islamist propaganda. His militant views became 'far more extreme and aggressive' while locked up and he now regards himself as a 'martyr', according to those who met him in jail.
When released, Choudary was subject to strict licence conditions. Initially, he lived in a bail hostel but by May he was back at his family home, where he was pictured wearing an electronic tag on his right ankle.
Twelve months after he was freed, the CEP has assessed his current threat to national security. Researchers monitored the online channels extremists use to communicate with each other and as a propaganda tool to groom and radicalise recruits. The 40-page CEP dossier also cites information from concerned British officials and former members of al-Muhajiroun. Buoyed by Choudary's release, supporters have now reportedly begun meeting again in London and Luton, where he regularly lectured before his arrest, it says.
The report states: 'Former al-Muhajiroun members drew inspiration from Choudary's release and started to revitalise the network, even though authorities continue to closely monitor Choudary's movements and communications. Though Choudary remains under tight surveillance, his release inspired others to revive al-Muhajiroun.'
Ian Acheson, a CEP expert who led a 2015 independent government review of Islamist extremism in UK prisons, said: 'A year ago, I said that the release of Choudary would continue to represent a serious threat to public safety and unfortunately I have not been proved wrong.
'Even though Choudary has to all intents and purposes been on his best behaviour, individuals and groups that were radicalised by him have been revitalized, thus threatening the UK's national security. The UK Government's counter-terrorism strategy needs to address this if we intend unrepentant hate preachers like Choudary to see out their sentences in the community.'
https://www.dailymail.co.uk/news/article-7594063/Hate-preacher-Anjem-Choudarys-banned-terror-group-revived-released-jail.html
--------
US Urges India To "Fully" Uphold Rights Of Minorities, Vulnerable Individuals
October 22, 2019
WASHINGTON: Incidents of violence and discrimination against minorities, including attacks on Dalits and Muslims by cow vigilantes, are not in keeping with India's legal protections for minorities, a top US diplomat told a Congressional subcommittee on Monday.
"Incidents of violence and discrimination against minorities in India, including cow vigilante attacks against members of the Dalit and Muslim communities, and the existence of anti-conversion laws in nine states are not in keeping with India's legal protections for minorities," Acting Assistant Secretary of State for South and Central Asia Alice G Wells told Subcommittee on Asia, the Pacific, and Nonproliferation of the House Foreign Affairs Committee.
She said the US calls upon the Indian government to "fully" uphold the universal right to religious freedom and protect vulnerable individuals, "including the 1.9 million people in Assam at risk for statelessness because of questions about their citizenship; condemn all incidents of violence; and hold perpetrators accountable".
Earlier this year, 68 per cent of eligible Indian voters went to the polls for a historic election, Ms Wells said, adding Indians of every religion, caste, sect, and socio-economic background participated in the remarkable display of parliamentary democracy, which also witnessed a record turnout of women voters.
"India's robust civil society and democratic institutions are all the more remarkable given its immense size and the challenges it faces in terms of development," she said.
These include India's overwhelmed and understaffed court system and its unique federal structure that at times complicates policing and governance. With more than a quarter of the population living at or below the poverty line, local governments often struggle with competing priorities, she added.
Observing that India is a vigorous democracy that enjoys a strong and growing strategic partnership with the United States, Ms Wells said that New Delhi-Washington relationship is broad in scope and multifaceted.
"As with every country, we engage with India on issues of human rights and religious freedom. We also press India for progress on parental child abduction, consistent with the priority we place on safeguarding the welfare of US citizens abroad, including children," she said in a prepared statement submitted to the Congressional subcommittee on the eve of the hearing "Human Rights in South Asia: Views from the State Department and the Region".
Noting that the US is proud to partner with India, Ms Wells said its Constitution mandates a secular state that upholds the rights of all citizens to practice religion freely, freedom of expression and speech, and equal treatment before the law.
India is the birthplace of four major world religions Hinduism, Sikhism, Buddhism, and Jainism. It is home to the world's third largest Muslim population, a diverse community of sects that includes Sufis, Shia, and Bohra. Roughly three per cent of India's citizens are Christian, and notably, Christians are the religious majority in three of India's 29 states, she said.
"India has a proud history with the Jewish faith the oldest synagogue in the country dates to 1568. We also appreciate India's longstanding support for Tibetan refugees and the Dalai Lama. Adding to this diverse mosaic are India's many regional and linguistic communities. Indeed, on every Indian rupee note the denomination value is printed in 15 different languages a remarkable display of India's rich diversity," Ms Wells said.
https://www.ndtv.com/india-news/us-urges-india-to-fully-uphold-rights-of-minorities-vulnerable-individuals-2120580
--------
Muslim Scholars' Ignorance Behind Anti-Shia Fatwa, Says Penang Mufti
Nur Hasliza Mohd Salleh
October 22, 2019
PETALING JAYA: The mufti of Penang said the fatwa declaring Shia teachings as deviant is subject to revision, as such pronouncements are not sacrosanct in Islam.
Wan Salim Mohd Noor said a fatwa is based on ijtihad, which is legal reasoning by Muslim scholars to find solutions to contemporary problems based on basic Islamic principles.
As such, he said a fatwa can be flawed due to insufficient information or oversight.
"This includes the fatwa on Shia teachings which has been deemed to be deviant by the National Fatwa Council and followed by the fatwas of states in Malaysia," he said.
"So all fatwas can be reviewed by its members if it is found that there is a need to do so," he told FMT.
Religious authorities in Malaysia have over the years been enforcing a fatwa declaring Shia teachings as "deviant", with raids conducted against private Shia functions including during the commemoration of the Ashura last month, one of the most important days in Shia Islam.
Shia, the second largest branch in Islam, has a substantial following in Iraq, Iran, Kuwait, Bahrain, Lebanon and several parts of Saudi Arabia, Yemen and Pakistan.
But Islamic authorities in Malaysia have declared its teachings as "deviant", with sermons in Selangor frequently condemning its followers as heretics.
Singapore-based Malaysian sociologist Syed Farid Alatas recently urged for the fatwa on Shia to be reviewed, after he condemned raids on Shia Muslims in Selangor and Johor as "barbaric".
Wan Salim said it was not true that the ban on Shia teachings in Malaysia was inspired by prejudice among the religious figures.
Instead, he blames it on a lack of knowledge.
He said some Muslim scholars in Malaysia do not have accurate knowledge about Shia Islam, with much of the information coming from the wrong sources.
He said there is a need for a study on the differences between Shia and Sunni practices, and this should include references with authoritative Shia scholars.
"We're confident that by understanding the root of these differences, we can minimise prejudice and misjudgement towards Shia."
He said differences exist among all religions, with many denominations and sects.
"So it's up to the thinkers and scholars to handle these differences, whether they want to make it a source of disunity, or use it to promote tolerance and respect," he added.
https://www.freemalaysiatoday.com/category/nation/2019/10/22/muslim-scholars-ignorance-behind-anti-shia-fatwa-says-penang-mufti/
--------
India
National Crime Records Bureau of India Leaves Out Data on Lynchings, Khap and Religious Killings
By Deeptiman Tiwary
October 22, 2019
The National Crime Records Bureau (NCRB) released its latest data on crime incidents across the country on Monday, more than a year behind schedule. Officials said data collected under the new sub-heads of death due to mob lynching, murder by influential people, killing ordered by khap panchayat and murder committed for religious reason have not been published, resulting in partial delay of the agency's report for 2017.
The new report has largely followed the pattern of the 2016 edition, barring additions in the category of cyber crimes and offences against the state.
Sources said the agency had begun a massive data revamp exercise under former NCRB Director Ish Kumar. It was under him that the bureau revised the proforma under the category of murder and added new sub-heads of mob lynching and murder for religious reasons among others. "It is surprising that this data has not been published. This data was ready and fully compiled and analysed. Only the top brass would know the reason why it has not been published," an official privy to the data collection process said.
The decision to collect data on lynchings had been taken in the wake of a spate of lynching incidents across the country through 2015-16. The idea, officials said, was that such data collection would help the government formulate its policies better in tackling these crimes. Lynchings happen for a variety of reasons which include suspicion of theft, child lifting, cattle smuggling or communal reasons, officials said.
According to the latest NCRB report, there has been a 30 per cent rise in incidents of offences against the state as compared to 2016. This category includes offences such as sedition, waging war against the country and damage to public property among others. The data shows that against 6,986 offences in 2016, there were 9,013 such offences in 2017.
The maximum number of such offences were reported from Haryana (2,576) followed by UP (2,055). However, in both these states the high number of offences was largely due to acts of damage to public property.
The maximum number of sedition cases were reported from Assam (19) followed by Haryana (13). Jammu and Kashmir recorded just one case of sedition while Chhattisgarh and all North East states, barring Assam, recorded zero incident.
A new category of offences committed by various categories of "Anti-National Elements" showed that the maximum offences were committed by Left Wing Extremist (LWE) operatives (652), followed by North East insurgents (421) and Terrorists (Jihadi and other elements) (371).
The maximum number of killings were carried out by LWE insurgents (82). As many as 72 of these killings took place in Chhattisgarh. This was followed by killings by terrorists (36) — 34 in Jammu and Kashmir alone. North East insurgents killed 10 people.
According to the data, a total of 50,07,044 cognizable crimes — 30,62,579 Indian Penal Code (IPC) crimes and 19,44,465 Special & Local Laws (SLL) crimes — were registered in 2017, an increase of 3.6 per cent in registration of cases over 2016 (48,31,515 cases).
A total of 28,653 cases of murder were registered during 2017, showing a decline of 5.9 per cent over 2016 (30,450 cases). 'Disputes' (7,898 cases) was the motive in the highest number of murder cases during 2017 followed by 'Personal vendetta or enmity' (4,660 cases) and 'Gain' (2,103 cases).
Majority cases under crimes against women out of the total IPC crimes against women were registered under 'Cruelty by Husband or His Relatives' (33.2 per cent) followed by 'Assault on Women with Intent to Outrage her Modesty' (27.3 per cent), 'Kidnapping & Abduction of Women' (21.0 per cent) and 'Rape' (10.3 per cent). In percentage terms, major crime heads under 'Crime Against Children' during 2017 were kidnapping and abduction (42.0 per cent) and cases under the Protection of Children from Sexual Offences Act, 2012 (25.3 per cent) including child rape.
https://indianexpress.com/article/india/ncrb-leaves-out-data-on-lynchings-khap-and-religious-killings-6081188/
--------
Muslims should hand over all disputed sites to Hindus: UP Shia Waqf Board chief
by Maulshree Seth
October 22, 2019
Muslims should give up their claim on all disputed sites and also hand over the places to Hindus to "correct the mistakes of ancestors," Uttar Pradesh Shia Waqf Board chairman Waseem Rizvi said Monday.
Rizvi said the need for such an appeal arose after reports of Sunnis seeking permission to offer namaz on disputed structures. He added that if all such issues were not resolved, some other similar dispute may crop up even after the Ayodhya issue is resolved. He made the appeal in a video circulated on social media.
In his appeal, Rizvi claimed that there were 11 such major disputed sites across the country, including those in Mathura, Varanasi and Jaunpur.
Rizvi also claimed that while all the churches that were destroyed to build mosques had been reconstructed and restored, "now was the time to give back land of temples, which was taken by Mughals".
He further said, "Mosques that have been constructed in place of temples, should be handed over to Hindus. We should correct the mistakes of ancestors and establish peace in the country."
Speaking to The Indian Express Monday, Rizvi said, "The need for the appeal arose as Sunnis have sought permission to offer namaz at disputed sites where mosques now stand… But that is not the solution. Finding solutions to Ramjanmabhoomi and Babri Masjid dispute is not the solution because another similar issue may crop up as there 11 such major sites, where mosques were allegedly constructed after destroying temples. As offering namaz is not allowed at disputed sites, I made an appeal to all followers of Islam to hand over the sites to Hindus to correct the mistakes of ancestors."
Full report at:
https://indianexpress.com/article/india/ayodhya-case-muslims-should-hand-over-all-disputed-sites-to-hindus-up-shia-waqf-board-chief-6081146/
--------
Kartarpur corridor: Harsimrat slams Pakistan for $20 fee, asks Punjab government to bear it
October 22, 2019
Union Minister Harsimrat Kaur Badal Monday slammed Pakistan for its insistence on charging $20 as service fee from Indian pilgrims visiting Kartarpur Sahib gurdwara, saying the neighbouring country has made a "business out of faith".
"Such kind of service charge to visit a religious place is unheard of anywhere in the world. Pakistan Prime Minister Imran Khan's statement that the service charge as well as creation of a religious hub will result in earning of foreign exchange for his country is quite shocking. Pakistan should not seek to profit from piety. It should not try to earn money from the 'aashtha' of the pilgrims. This amounts to disrespecting the sentiments of the Sikh community which is known for its service to humanity across the world," Harsimrat said.
Earlier, Punjab Chief Minister Capt Amarinder had also lashed out at Pakistan for demanding the service charge, saying it was tantamount to "putting a ticket" on visiting the historic gurdwara.
Harsimrat asked Amarinder to ensure free pilgrimage to Kartarpur Sahib on the pattern of similar service provided to pilgrims under the Mukh Mantri Tirath Yatra scheme that was launched by former Chief Minister Parkash Singh Badal during SAD-BJP rule in state.
The Bathinda MP, in a statement, said the scheme facilitated travel of pilgrims by bus to Darbar Sahib besides travel by special trains to Nanded Sahib, Patna Sahib, Varanasi and Ajmer. She said the scheme was scrapped when the Congress government took over the reins of the state. "This scheme needs to be revived to allow the Punjab government to absorb the service charge of $20 imposed by the Pakistan government on all pilgrims wishing to visit Sri Kartarpur Sahib during the 550th Parkash Purb celebrations of Sri Guru Nanak Dev ji," said Harsimrat.
She said that other state governments were also facilitating travel of pilgrims to various religious places in the country.
"The Congress government should take up responsibility for paying $20 charge. This will go a long way in ensuring the pilgrimage is within the reach of the under privileged sections of society," she added.
During the third round of Indo-Pak meeting last month on the issue, India had expressed disappointment over Pakistan's "persistent inflexibility" on the $20 service fee issue and had asked it to reconsider it.
'Pak to earn Rs 258 cr per annum from Kartarpur pilgrims'
Pakistan is expected to earn up to Rs 258 crore per annum — about Pakistani Rs 571 crore — from pilgrims visiting Darbar Sahib in Kartarpur, the final resting place of founder of Sikhism Shri Guru Nanak Dev, officials said on Monday.
Since 5,000 pilgrims are allowed to visit the gurdwara, Pakistan, by charging $20 service fee per pilgrim, will earn $1,00,000 every day. With Monday's rate of Indian Rs 70.95 for one USD, Pakistan will earn Indian Rs 70.95 lakh every day. As the rate of Pakistani currency is Rs 156.46 for one USD, the per day earning will be Rs 1.56 crore (Pakistani rupees).
Full report at:
https://indianexpress.com/article/india/kartarpur-corridor-harsimrat-slams-pakistan-for-20-fee-asks-punjab-government-to-bear-it-6081136/
--------
Gujarat has highest number of Pakistani undertrial prisoners in India: NCRB
by Sohini Ghosh
October 22, 2019
Gujarat has the highest number of undertrial prisoners who are Pakistani nationals compared to other states, according to crime and prison statistics of 2017 made public by the National Crime Records Bureau (NCRB) on Monday. The state has 59 Pakistani undertrial prisoners out of the total 101 overseas prisoners in the state, it said.
While the state's statistics show there were 80 undertrial prisoners under the SC/ST (Prevention of Atrocities) Act, the data shows zero convicts under this law in the period covered.
The number of Pakistani undertrials account for nearly 74 per cent of the total 80 undertrials in the state who are foreign nationals. Jammu and Kashmir has the second-highest Pakistani national undertrials at 35, according to the NCRB data.
The foreign nationals in state prisons include 11 from Bangladesh, eight from Nigeria, one from Nepal and one undertrial recorded as "other foreign national". Of the total 21 overseas convicts, seven were recorded to be from Pakistan, two from Africa, other than Nigeria, four from Bangladesh, two from the Middle-East, two from Nepal, one from Nigeria and three "other foreign nationals".
The data between January 1 and December 31, 2017 shows Gujarat ranking fourth among 29 states in Special and Local Laws (SLL) Crimes. In terms of absolute numbers, 2,06,024 SLL cases were reported in the period, which is a decrease from 3,07,108 cases in 2015. Gujarat's local laws include the liquor prohibition law.
As per the prison statistics, of the total 333 SLL convicts in the state in 2017, only three were convicted under the prohibition of liquor law as on December 31, 2017. With a whopping 770 undertrial prisoners under this Act, the state ranked the highest in this parameter. However, 124 were convicted under the NDPS Act, making it the largest share of the total SLL convicts in the state.
On pardoning of convicts, Gujarat comes second, according to the NCRB. Of the total 258 convicts released under pardon in 2017 across the country, Gujarat pardoned 104, numbering second only after Uttar Pradesh where 140 were pardoned.
Full report at:
https://indianexpress.com/article/india/state-has-highest-number-of-pakistani-undertrial-prisoners-in-india-ncrb-6080982/
--------
If Pakistan doesn't end terror activities, Army will go deep inside: J&K Governor
October 21, 2019
Jammu and Kashmir Governor Satya Pal Malik Monday warned Pakistan of any adventure against India, saying the Indian Army will go deep inside and destroy terrorist camps if Pakistan does not stop them.
"Pakistan will have to behave and stop these terror camps. If it does not behave, we will go deep inside and destroy these camps," PTI quoted Malik as saying.
His remarks came a day after the after Indian troops in retaliatory fire inflicted heavy casualties among Pakistani troops and destroyed a number of militant camps at various places across the LoC opposite Kashmir Valley's Tangdhar area.
Malik also said that India will take stricter action than Sunday if Pakistan does not stop supporting terrorism.
Full report at:
https://indianexpress.com/article/india/satya-pal-malik-jk-pakistan-terror-camps-indian-army-6080602/
--------
Transfer of school headmaster over poem: Will write to authorities to bring him back, say parents
by Asad Rehman
October 21, 2019
"Main bhi wahi admission loonga (I will also take admission there), says a class V student of the government primary school II in Bisalpur block of Pilibhit district after he is told that the headmaster — Furqan Ali — has been transferred to another school.
"He is the best teacher. Everyone loves him at school because he is kind and has never hit us," the students added.
Kavita (35), whose two children go to the school — a boy in class II and a girl in class I — says, "My children have told me that master sahab used to get vegetables for the school from his own money. After his suspension, every morning, the children wake up and start crying saying they don't want to go to school. I don't know what I am going to do."
Another parent, Poonam (33), whose son is in class II, says they are planning to submit a written application to the Block Education Officer. "We are not literate, but we will do what we can to get him back at the school," she says.
On October 14, the Pilibhit administration had suspended Ali after local VHP members complained that he made students recite a religious prayer during the morning assembly. They had alleged that the particular prayer is recited in madrasas.
On October 19, the Basic Shiksha Adhikari (BSA) of Pilibhit district temporarily revoked Ali's suspension on "humanitarian grounds" and transferred him to another school.
Speaking to The Indian Express on Saturday, Pilibhit DM Vaibhav Srivastava had said, "Headmaster Furqan Ali was suspended because a video went viral on social media in which he is seen and heard saying that because most of the students of the primary school belong to a particular community and following their request, he used to get the Iqbal's poem recited during the morning assembly."
Ali, a resident of Habibullah Khan Janoobi area in Ghyaspur was posted to the primary school in 2011.
His father, Irfan, says Ali was the first person in the family to get a government job. His right leg afflicted with polio since childhood, Ali was always a "quiet child who kept to his books", says Irfan. "Now, Ali is the person who pays for my medicines. He did not get married because he says he will do it after all his sisters get married," he added. Ali is the eldest among seven siblings.
Ali's sister Ghazala (28), who is to get married in December, and has completed her BA from a college in Bareilly, says the headmaster was always fond of children. "Because he was the eldest, he would always look after us. He always liked children. They instantly befriend him and start playing with him. That is the reason he is so good with children at the school," said Ghazala.
Prem Narayan, a fourth-class employee at the BEO office on the primary school premises says that Furqan has a "good rapport" with the students. "If he would ask the students to stand in line once, they would. It was not due to fear but because out of respect. I am not surprised that the attendance has dipped since he was removed. One teacher controlling 150-200 students is a big thing," said Narayan.
After Ali's suspension, the attendance at the school has dipped substantially. A day after he was suspended, only five students showed up at the school according to the attendance register.
Full report at:
https://indianexpress.com/article/india/transfer-of-school-headmaster-over-poem-will-write-to-authorities-to-bring-him-back-say-parents-6079437/
--------
Article 370 raised cost of business in Jammu and Kashmir: S Jaishankar
Oct 22, 2019
NEW DELHI: The presence of Article 370 in Kashmir had "raised the cost of business and narrowed its scope", foreign minister S Jaishankar told a group of Indian and American business leaders here on Monday.
Jaishankar said that it had been easier to explain to foreign governments about the August 5 decision than the "liberal media". "I think it was a more difficult challenge with the media, especially the English-speaking liberal media. Partly they were ideological about it, preset views about it. they didn't absorb or present a fair picture."
Full report at:
https://timesofindia.indiatimes.com/india/article-370-raised-cost-of-business-in-jammu-and-kashmir-s-jaishankar/articleshow/71696966.cms
--------
Pakistan's decision to stop postal services against international norms: Ravi Shankar Prasad
Oct 22, 2019
NEW DELHI: India on Monday slammed Pakistan's "unilateral" decision to stop postal communications between the two countries, and said it violated established international norms.
Pakistan has not accepted any postal consignment from India after August 27 in a move seen as a retaliation for scrapping of special status for J&K.
Communications and IT minister Ravi Shankar Prasad said Islamabad stopped postal mail services unilaterally and without giving any prior notice. "Pakistan's decision is directly in contravention of World Postal Union norms. But Pakistan is Pakistan," Prasad said on the sidelines of StartUp Summit.
With Pakistan refusing to accept and send mails through the post, from and to India, Indian postal authorities have been compelled to put mail addressed to the country on hold.
Full report at:
https://timesofindia.indiatimes.com/india/pakistans-decision-to-stop-postal-services-against-international-norms-ravi-shankar-prasad/articleshow/71696789.cms
--------
Pakistan firm on $20 Kartarpur fee but India agrees to pact
Oct 22, 2019
NEW DELHI: With Pakistan refusing to budge on charging Sikh pilgrims $20 to visit Kartarpur Sahib, India gave in and agreed to sign the Kartarpur Corridor agreement on October 23.
Expressing "disappointment", MEA spokesperson Raveesh Kumar on Monday said the government had conveyed to Pakistan that it would sign the deal. The Indian concession came even as Indian and Pakistani forces are ranged along the LoC in a heavy exchange of fire.
"It is a matter of disappointment that while understanding has been reached on most of the elements for facilitating the visit of pilgrims from India, Pakistan continues to insist on levying a service fee of $20 per pilgrim per visit," Kumar said.
"In view of the long-pending demand of pilgrims to have visa free access to Gurdwara Kartarpur Sahib and in the interest of operationalisation of the corridor in time before Guru Nanak's birth anniversary on November 12, the government on Monday conveyed that India would be ready to sign the agreement on Wednesday," the MEA said. The government added that it had taken the initiative to put in place "state-of-the-art infrastructure" for the passenger terminal, roads and associated facilities.
Islamabad has refused to accede to India's request not to charge pilgrims for visiting Kartarpur Sahib. Some estimates say Pakistan could earn as much as $100,000 a day from around 5,000 pilgrims. Earlier this week, the MEA had taken a tougher stand and said the government may not sign the agreement unless Pakistan reversed the fee. Pakistan is actually well within its rights to charge a fee. It is in recognition of that the government decided to climb down.
Full report at:
https://timesofindia.indiatimes.com/india/pakistan-firm-on-20-kartarpur-fee-but-india-agrees-to-pact/articleshow/71696754.cms
--------
Pakistan
India, Pakistan gear up for Human Rights in South Asia hearing on Tuesday
Oct 21, 2019
WASHINGTON: Even the title of the hearing is bitterly contested. For Pakistan and the Kashmiri Muslim separatists it supports, the hearing is, or at least should be, on the human rights situation in Jammu & Kashmir. For India and its nationalist brigade, including the Kashmiri Pandit community, it is a broader scrutiny on Human Rights in South Asia (which indeed is the formal heading as listed in the Congressional records) that will also examine the plight of minorities in the subcontinent, including for the first time hearing about the ethnic cleansing of Pandits from the Valley.
Both sides are gearing up for the testimonies before the House Subcommittee on Asia, the Pacific, and Nonproliferation scheduled for Tuesday morning in a city that is consumed all the time with myriad turbulent domestic and international issues, and even more so now. The Indian side is relieved that thehearing is not focused narrowly on the Kashmir Valley+ and will examine human rights issues beyond, including the plight of Sindhis in Pakistan and Tamils in Sri Lanka. Pakistanis are dismayed that what they expected would be scrutiny of Indian action in Kashmir has been diluted, but still hope to bring the focus back on it.
Although Pakistanis have gone to town about the hearing focusing on human rights issues in Kashmir, a press release by the subcommittee, headed by California Congressman Brad Sherman, states that the event ''will also focus on the Tamils of Sri Lanka, the human rights situation in Pakistan, including the Sindh Province and Muslims in Assam.''
The subcommittee has listed Assistant Secretary Alice Wells, who oversees all State Department policy towards South Asia to testify in the morning session, along with Deputy Assistant Secretary in the Bureau of Democracy, Human Rights and Labor, Scott Busby, who oversees human rights efforts in South Asia. The afternoon session will see testimony from civil society activists, including Nitasha Kaul, Associate Professor in Politics at University of Westminster, Angana Chatterji, Research Anthropologist at the Center for Race and Gender, University of California, Berkeley, Fatima Gul, a Sindhi-American Human Rights, and Francisco Bencosme, Asia Pacific Advocacy Manager with Amnesty International.
Pakistanis and their Kashmiri proxies are upset that no Muslims from Kashmir are testifying before the committee, although the Indian side expects Chatterji, who they see as being ''anti-Indian'' to ''do the job for Pakistan.'' An anthropologist who co-founded the International People's Tribunal on Human Rights and Justice in Kashmir, Chatterji is viewed with suspicion by the Indian establishment, which once deported her and husband Richard Shapiro from India for Kashmir-related political activism while on a tourist visa.
While Pakistan continues with its nuclear alarmism and hysteria over what New Delhi regards as a domestic issue – a position Washington and the international community has largely accepted – Indian diplomats have had to put in some hard work to convince US interlocutors that, firstly, the disquiet following the move to remove special status for Jammu & Kashmir, was restricted to the Valley, and two, the situation is returning to normal, and will stabilize even sooner but for the threat held out by extremists who have a vested interest in the unrest continuing.
The Indian side is also arguing that while Pakistan has had a run of the human rights situation it brought about with its subversive support to terrorism in the Kashmir Valley, there has not been sufficient scrutiny of Pakistani sponsorship of terrorism, the ethnic cleansing of Pandits from Kashmir, and Pakistan's own treatment of its minorities.
https://timesofindia.indiatimes.com/india/india-pakistan-gear-up-for-human-rights-in-south-asia-hearing-on-tuesday/articleshow/71693164.cms
--------
Foreign diplomats taken to Neelum Valley to debunk Indian army claim of destroying 'terror launch pads'
Naveed Siddiqui
October 22, 2019
A team of foreign diplomats posted in Pakistan were taken to the Neelum Valley in Azad Jammu and Kashmir (AJK) to witness firsthand whether the Indian army had "smashed four terror launch pads" there early Sunday, Foreign Office spokesperson Dr Mohammad Faisal said in a tweet on Tuesday.
The diplomats have been taken to the Nauseri, Shahkot and Jura sectors near the Line of Control (LoC), as well as the Nausada village, which has suffered severe damage in attacks by Indian troops. The trip has been arranged so they can verify for themselves the claims made by the Indian army chief.
Inter-Services Public Relations Director General Maj Gen Asif Ghafoor briefed the diplomats and media persons about the situation in the area. The visitors were also shown artillery shells fired by the Indian troops from across the LoC.
No official from the Indian High Commission joined the team visiting the LoC today, Dr Faisal said.
"The Indian side has not joined us in the visit to the LoC nor have they provided coordinates of the alleged 'launchpads'," the FO spokesperson tweeted. He added that India had also failed to share the coordinates of launchpads which the Indian army claimed to have destroyed.
"'Claims' by Indian Army Chief remain just that: 'claims'," he added.
Maj Gen Asif Ghafoor — who had last night challenged Indian officials "to take any foreign diplomat/media to 'prove' [its allegations] on ground" — also commented on the absence of Indian officials: "What good [is the] Indian High Commission which can't stand with its Army Chief?"
"Indian High Commission staff didn't have the moral courage to accompany fellow diplomats in Pakistan to LOC," he tweeted. "However, a group of foreign diplomats and media is on the way to LOC to see the truth on [the] ground."
The development came a morning after Maj Gen Ghafoor's challenge to the Indian army to prove its claims.
The challenge was issued by Gen Ghafoor in response to Indian army chief Gen Bipin Rawat's claim that Indian forces had "smashed four terror launch pads" in Neelum valley. Bipin made the claims after six civilians and a soldier of the Pakistan Army embraced martyrdom in indiscriminate and "ruthless" shelling by Indian troops from across the LoC on Sunday.
Pakistan had immediately rejected the allegations as a "pack of lies".
"Indians have no grounds to support false claim made by their COAS," Maj Gen Ghafoor had said in a tweet on Monday night. "If they don't want to go they have the option to share claimed targeted locations with our Foreign Office. We will take foreign diplomats and media tomorrow on those given locations. Let all see facts on ground."
He was responding to a tweet by Dr Faisal, in which the FO spokesperson had said that the absence of response to Maj Gen Ghafoor's offer by the Indian side "indicates that they have no grounds to support false claim by their COAS. We expect them to respond soon."
'Ruthless' shelling
On Sunday, six civilians and a soldier of the Pakistan Army embraced martyrdom while two soldiers and at least nine civilians were wounded in AJK after Indian troops resorted to "indiscriminate and ruthless" shelling from across the Line of Control (LoC) past midnight "without any provocation", civil and military officials said.
In a befitting response, Pakistan Army effectively targeted Indian positions across the dividing line, destroying two Indian bunkers, killing nine Indian soldiers and injuring several other troops, Maj Gen Ghafoor had said.
According to the civilian and military officials, the Nauseri sector in Muzaffarabad district, and its adjoining Jura and Shahkot sectors in Neelum valley, were attacked by Indian troops without pause from midnight onwards, using field artillery, mortars and tracer munition to brazenly target civilians.
Apart from the casualties, 39 houses and 28 shops had been destroyed while 93 houses and 60 shops were partially damaged by Indian shelling, the district commissioner had told Dawn. Besides, 16 vehicles, including four motorcycles, were also damaged, he said.
The attack was condemned by Prime Minister Imran Khan, who extended his condolences to the families of the martyrs and lauded the prompt response by the Pakistan Army.
Following the unprovoked attacks by the troops, the Indian army chief had claimed that the army had "smashed" terror camps in Neelum Valley.
AJK Prime Minister Raja Farooq Haider, in response, had termed Gen Bipin's claims as "rubbish as their claim regarding [the] Balakot attack".
He posted photos of the victims of the Indian shelling as well as those of the destroyed shops along the main road in Jura, and asked Indian army chief to behave like a soldier and not like a Bollywood film writer.
Full report at:
https://www.dawn.com/news/1512281/foreign-diplomats-taken-to-neelum-valley-to-debunk-indian-army-claim-of-destroying-terror-launch-pads
--------
NAB noose tightens around JUI-F leader's neck
Malik Asad
October 22, 2019
ISLAMABAD: As the date for 'Azadi March' of the Jamiat Ulema-i-Islam (JUI-F) approaches, the National Accountability Bureau (NAB) appears to be tightening the noose around its leader Akram Khan Durrani's neck in a case of alleged illegal appointments in the Pakistan Public Works Department as the anti-graft body on Monday implicated PWD Director Deneral Shahid Farzand in the matter.
Mr Farzand had sought bail before arrest from the Islamabad High Court in an inquiry related to the inductions in the PWD when Akram Durrani was federal minister for housing and works.
Surprisingly, when the case was taken up on Monday, Mr Farzand was not in the courtroom. His counsel informed the court that his client had been advised not to appear before NAB until his bail before arrest petition was taken up by the IHC
Mr Farzand had appeared before an investigation team at NAB's regional directorate of Rawalpindi and his mobile phone had been switched off since morning. The counsel said it appeared that NAB authorities had taken his client into custody.
The IHC division bench comprising Justice Aamer Farooq and Justice Mohsin Akhtar Kayani asked the counsel if he wanted to turn his application into a post-arrest bail petition.
The counsel replied that he was not in contact with his client. Later, with the permission of the court, he withdrew the bail petition.
"In case he [Farzand] survives, you may file the petition again," said Justice Farooq.
Sources in NAB, however, said that Mr Farzand was allowed to leave after a comprehensive grilling, as the bureau was giving full opportunity to the suspects to defend them.
Farzand's counsel Shah Khawar said it was a routine practice that NAB waited for a final order of the court after it was informed about the filing of a pre-arrest bail petition.
He, however, said that after appearing before NAB his client did not contact him for filing a fresh petition.
Being the then chief engineer, Mr Farzand was in-charge of recruitment in BS-1 to 15 in the PWD.
In his bail petition, Mr Farzand said that he had invited applications for appointments against different positions on April 12, 2017, and the housing and works ministry had hired 'Job Testing Service' as a consultant for conducting the written test.
He said the ministry had constituted two committees — one of them headed by him and comprising the deputy secretary and chief administrative officer of the PWD finalised the appointments.
Mr Farzand said he received a call-up notice under Section 19 of the National Accountability Ordinance, 1999, titled as "inquiry against Akram Durrani, federal minister for housing and works, officers, officials of Ministry of Housing and Works, management of JTS and others".
The petitioner said that he had received the call-up notice on Oct 9 and appeared before NAB authorities. He claimed that the NAB authorities appreciated him for extending cooperation and gave an impression as if the matter had been resolved.
But later he came to know that PWD's chief administrative officer Mukhtar Badshah Khattak was arrested on Oct 16, hence he apprehended that he may also be arrested.
Mr Farzand said he had nothing to do with the testing process or scrutiny of documents as the process of appointments was initiated prior to his posting as director general of the PWD.
The petitioner said the testing service, along with the housing and works ministry, was responsible to scrutinise the applications and being chairman of the committee he worked with honesty and dedication. He alleged that NAB was acting against him with malice and prejudicial mind to harass him as well as members of his family.
Full report at:
https://www.dawn.com/news/1512166/nab-noose-tightens-around-jui-f-leaders-neck
--------
DG ISPR issues open challenge to Indian army to share locations of targeted 'terror camps'
October 21, 2019
The Pakistan Army's media wing on Monday issued an open challenge to the Indian army to share locations of the alleged terror camps the latter had claimed to have targeted in Azad Jammu and Kashmir.
The challenge came in response to a tweet by Foreign Office spokesperson Dr Mohammad Faisal, who noted that the Indian high commission in Pakistan has not yet responded to an offer made by the director general of the Inter-Services Public Relations (ISPR), who had on Sunday challenged the embassy to take any foreign diplomat or media and prove the presence of terrorist camps in AJK as claimed by the Indian army chief.
"It indicates that they have no grounds to support [the] false claim by their COAS. We expect them to respond soon," the FO spokesperson wrote.
In response, the DG ISPR tweeted that "Indians have no grounds to support [the] false claim made by their COAS."
He said if the Indian envoys did not wish to visit AJK, they have the option of sharing the locations the Indian army had claimed to have targeted with Pakistan's FO.
"We will take foreign diplomats & media tomorrow on those given locations. Let all see facts on ground," the army's media wing said.
On Sunday, six civilians and a Pakistan Army soldier had embraced martyrdom while two soldiers and at least nine civilians were wounded in AJK after Indian troops resorted to "indiscriminate and ruthless" shelling from across the LoC past midnight "without any provocation", civil and military officials had said.
In response, Pakistani troops had targeted Indian positions across the dividing line, destroying two Indian bunkers, killing nine Indian soldiers and injuring several other troops.
Pakistan had later rejected India's claim that they had "smashed four terror launch pads" in Neelum valley in the artillery fire by the Indian army as a "pack of lies".
Full report at:
https://www.dawn.com/news/1512131/dg-ispr-issues-open-challenge-to-indian-army-to-share-locations-of-targeted-terror-camps
--------
Directorate being set up to regulate seminaries
Kashif Abbasi
October 22, 2019
ISLAMABAD: The Ministry of Federal Education and Professional Training has completed its homework to open a directorate under which seminaries would be registered and facilitated.
Sources said the project was almost complete, and in the next few days, the ministry would notify the establishment of the Directorate General of Religious Education. It will be set up in the Basic Education Community School (BECS) building in G-8 and will have regional offices in 16 cities.
The education ministry's joint education adviser, Rafiq Tahir, is likely to be made the head of the directorate.
According to sources, services of dozens of employees from BECS and National Commission of Human Development have been hired to run the directorate and its regional offices.
ARTICLE CONTINUES AFTER AD
"Yes, we have almost completed our work and soon a special designated directorate will be notified to deal with seminaries," said Education Minister Shafqat Mahmood.
He said it was a landmark achievement as for the first time in the country's history a special directorate under the federal government was going to be established.
Speaking to Dawn, Mr Mahmood said the directorate would help seminaries get registered and it would also work as a facilitation centre for them. He said seminary students would also be imparted contemporary education and would appear in exams held under the Federal Board of Intermediate and Secondary Education.
He said religious scholars associated with Ittehad Tanzeemat-i-Madaris, an umbrella organisation of seminaries, had already announced their support to the directorate.
After holding a series of meetings with the ministry officials, Ittehad Tanzeemat-i-Madaris representatives have agreed to get all seminaries affiliated with them registered with the education ministry. They will not be allowed to promote hatred and sectarianism, the representatives said.
Religious scholars from various schools of thought who attended the meetings regularly included Mufti Mohammad Rafi Usmani (Mufti-i-Azam Pakistan and vice president Wafaqul Madaris Al Arabia) Mufti Muneebur Rehman (Tanzeemul Madaris Ahle Sunnat Pakistan president), Maulana Hanif Jalandhari (Nazim-i-Aala, Wafaqul Madaris Al Arabia), Maulana Mohammad Yasin Zafar (general secretary Wafaqul Madaris Al-Salfia), Allama Syed Qazi Niaz Hasan Naqvi (vice president Wafaqul Madaris Al-Shia) Dr Attaur Rehman (general secretary Rabtaul Madarasul Islamia) and Maulana Mohammad Afzal Haidri (general secretary Wafaqul Madaris Al Shia Pakistan) attended the meeting.
Full report at:
https://www.dawn.com/news/1512199/directorate-being-set-up-to-regulate-seminaries
--------
Govt bans JUI-F's 'militant wing'
October 22, 2019
The federal government on Monday decided to formally ban Ansar-ul-Islam, the "militant wing" of Jamiat Ulema-e-Islam-Fazl (JUI-F), according to media reports.
As the date for joint opposition's Azadi March draws closer, the federal government is taking visible steps to thwart the protesters' strategy, and the recent development appears to be a part of its efforts.
Reportedly, a three-page summary was moved by the Interior Ministry in this regard on October 18 and on Monday, the federal cabinet formally accorded approval to it just a day before it is set to meet.
In its summary sent to the cabinet, the ministry had said, "Various source reports shared by our intelligence agencies and provincial governments with the Ministry of Interior [have] revealed that the JUI-F has established a militant wing, a private militia/Razakar force named 'Ansar-ul-Islam' to provide security to marchers for the Azadi March scheduled for October 27, 2019 and proposed sit-in in Islamabad from October 31, 2019."
It had also said that Ansar-ul-Islam is capable of functioning as a military organisation, which is a violation of Article 256 of the Constitution.
"Ansar-ul-Islam was organised, trained and equipped and it was capable of being used to display physical force in promoting Azadi March and objectives of the JUI-F," the ministry further stated.
The summary highlighted that the uniformed force, carrying batons and sticks with wrapped barbed wire under a politico-religious party, apparently aims at challenging the writ of the government.
It also said that the rehearsals and march pasts carried out by the said force during a workers convention recently held in Peshawar, pledging allegiance to the top JUI-F leadership, has stirred fear among the general public and it is being seen as a private armed militia/combating force to confront the law enforcement agencies.
Explaining the possible danger posed by the militant wing of JUI-F, the ministry father said, "It is feared that the said private militant force, reportedly around 80,000 all over Pakistan, may sabotage public peace and create disorder and anarchy across the country during the planned Azadi March and other political activities by JUI-F."
The interior ministry had also expressed concerns that the private militia could be equipped with other objects, including arms and ammunition. Ansar-ul-Islam posed a real, present and severe threat to the peace and tranquillity of Islamabad and the four provinces, it added.
Referring to the National Action Plan (NAP) and Article 146(1) of the Constitution, it had asked the federal cabinet to authorise it to seek consent from the provinces so that the process of abolishing / banning Ansar-ul-Islam could be initiated.
According to reports, this decision was taken earnestly to avoid discussing the issue in Tuesday's meeting. Last week, Special Assistant to the Prime Minister on Information Dr Firdous Ashiq Awan had said that the federal cabinet would take up the matter in its next meeting.
Usually, a summary is sent to all cabinet members who sign the copy to give their approval, but the summary is also deemed approved after a stipulated period of time even if some members of the cabinet haven't signed it.
It is worth mentioning here that on Sunday, the federal government had decided in principle to prevent the JUI-F sit-in by taking various steps, which included the possibility of detaining the top leadership of JUI-F.
Full report at:
https://www.pakistantoday.com.pk/2019/10/21/govt-bans-jui-fs-militant-wing/
--------
JuD chief Hafiz Saeed made Salahuddin's father forgive policemen: report
October 22, 2019
Mohammad Afzaal, the father of Faisalabad ATM robber Salahuddin Ayubi who died in Rahim Yar Khan police's custody in September, pardoned the policemen involved in torturing his son to death on Jamaatud Dawa chief Hafiz Saeed's request, the BBC Urdu reported Monday.
Afzaal announced pardoning the policemen involved in torturing Salahuddin to death at a mosque in Gujranwala last week.
He told BBC Urdu that he pardoned the policemen of his free will. However, Afzaal said he received Saeed's message from Lahore's camp jail.
"I was taken to the prison and Hafiz Sahab gave me three options: the policemen are ready to face the punishment if you want; they are ready to give you money if you demand blood money; or you can forgive them for Allah," Afzaal was quoted as saying.
According to the police, Salahuddin died in their custody after suffering a heart attack following his arrest in Rahim Yar Khan.
His father had earlier claimed that his son was brutally tortured in police custody.
Full report at:
https://www.pakistantoday.com.pk/2019/10/21/jud-chief-hafiz-saeed-made-salahuddins-father-forgive-policemen-report/
--------
Report reveals alarming faith-based discrimination in educational institutions
October 22, 2019
ISLAMABAD: Alarming discrimination in educational institutions based on religion, faith or belief has been found in the newly launched report on 'education and inequality'. The report called for radical shift and reforms in legislation and urged the need for teachers training and behavioral transformation of society as a whole.
The launch of the report titled "Education and Inequality: Discerning the Foundation of Citizenry", was organised by the Sustainable Development Policy Institute (SDPI) here at Islamabad. The report was jointly conducted by The Human Rights Commission of Pakistan (HRCP) and The Institute of Development Research and Corresponding Capabilities (IDRAC).
The report revealed that around 60% non-Muslim students experience or feel being discriminated and disrespected, whereas, 70% of the non-Muslim teachers faced discrimination based on their faith.
Similarly, 72% of the parents reported that their children are being discriminated in schools/colleges because of their faith-based identity. The study was conducted in 5 select districts of Punjab, including Bahawalpur, Multan, Khanewal, Nankana Sahib and Gujranwala, where around 200 non-Muslim students, 40 teacher and 40 parents were consulted to collect the data.
While presenting the findings of the report, Executive Director, the Institute of Development Research and Corresponding Capabilities (IDRAC) and lead author of the report Amjad Nazeer, said that in order to revolutionize the society, there is a dire need of taking reforms measures to end inequality and religious discrimination in our educational institutions. "There is a rise in incidents of discrimination in educational institutions based on religion, faith or believe", he said adding there are different political, historical, academic and religious elements which are responsible for collective societal discriminatory behaviour towards non-Muslim minorities of the society.
Amjad Nazeer said that owing to fear and threat to life more than two-third of the affected individuals (about 80%), including students and teachers, never bothered to lodge a complaint. He urged the need for establishing a specialized body to redress the grievances and discrimination against non-Muslim communities. Also, there is a need to educate the society to ensure religious tolerance, he stressed.
Nasreen Azhar, Human Rights Activist and Council Member of HRCP said over the years religious tolerance is on decline and rise in bigotry in our society. "It is unfortunate that the discrimination prevails at all level of the society and there is a state of denial on such extreme level of discrimination", she lamented adding unless we accept and acknowledge the problem, we cannot resolve the issue. She called upon the government to initiate stringent reforms to end all kind of discrimination and build a society based on the principle of tolerance and equality.
Jennifer J, Jivan, Executive Director Christian Study Center (CSC) said the findings and case presented in the report shows the level of fragmentation in the society which is fast spreading in around Pakistan. She said there is a need to change the negative mindset of the society through effective reforms measure at basic education level. She urged the government to implement the international conventions and treaties, which Pakistan signed and ratified, regarding elimination of all kind of intolerance and discrimination based on religion or belief.
Full report at:
https://www.pakistantoday.com.pk/2019/10/21/report-reveals-alarming-faith-based-discrimination-in-educational-institutions/
--------
Pakistan's military delegation attends China's annual security forum
October 22, 2019
BEIJING: A seven-member Pakistan's military delegation headed by a senior military commander of GHQ attended the opening ceremony of the 9th Beijing International Xiangshan Forum officially began at Beijing International Convention Centre here on Monday.
Addressing the opening ceremony, China's Defence Minister Wei Fenghe briefed the participants about the defensive military strategy of China.
He said the size of the Chinese military was maintained at a moderate level and said, the number of armed forces personnel were reduced by 300,000. Currently, China has two million active servicemen and women.
He also talked about the transparency of China's military expenditure, adding that it has been kept under two per cent of the country's GDP in the past 30 years. That's the lowest among permanent members of the UN Security Council.
Themed as 'Maintaining International Order and Promoting Peace in the Asia-Pacific Region', the three-day forum aims to discuss how to maintain an international order with the objectives and principles of the UN Charter at its core, and safeguard lasting prosperity in the Asia-Pacific region and global peace and stability in the new situation.
The forum consists of four plenary sessions, namely 'Major Country Relations and International Order, Security Risk Management in the Asia-Pacific, Interests of Small and Medium-Sized Countries and Common Security, International Arms Control Regime and Global Security'.
In addition, there are eight concurrent sessions, including 'Innovation in Security Concepts, Strategic Trust and Confidence-building Measures, Asia-Pacific Security Architecture, Dynamics in Maritime Security, International Cooperation on Counter-terrorism, Security New Circumstances in the Middle East, Scientific and Technological Innovation and International Security, and Artificial Intelligence and Future Warfare'.
There is also one special plenary session themed as 'The 70th Anniversary of the Founding of the PRC and Peace and Development of the World'.
Since its inception in 2006, the forum has been growing in terms of its size, level, influence and fame. It is now the largest and highest-level track 1.5 security dialogue hosted by China.
Full report at:
https://www.pakistantoday.com.pk/2019/10/21/pakistans-military-delegation-attends-chinas-annual-security-forum/
--------
Police arrest two JUI-F leaders in Islamabad ahead of Azadi March
October 22, 2019
ISLAMABAD/KARACHI: Two leaders of the Jamiat Ulema Islam-Fazl (JUI-F) were arrested from Islamabad on Monday and a case was lodged against them by the police.
According to reports, Maulana Shafiqur Rehman and Maulana Muhammad Arshad were arrested from Shams Colony along with banners for the JUI-F sit-in in their possession.
Police allege that the duo were urging people to participate in the Azadi March being organised by the JUI-F against the government of Pakistan Tehreek-e-Insaf.
Police officials said that a few people were spotted putting up banners for the JUI-F sit-in, but fled as soon as the police force started chasing them.
Police said the suspects had challenged the administration by putting up banners despite the fact that Section 144 had been imposed in the area.
Meanwhile, a case has been filed against JUI-F representatives over allegedly asking extortion from the people of Karachi for Azadi March.
According to police personnel, JUI-F's local leaders Sabir Ashrafi, Hanif and Saleem have been named in the case lodged by PTI leader Kashif Nizami.
Full report at:
https://www.pakistantoday.com.pk/2019/10/21/police-arrest-two-jui-f-leaders-in-islamabad-ahead-of-azadi-march/
--------
South Asia
62 killed in mosque bombing in eastern Afghanistan
By Susannah George and Sayed Salahuddin
October 18, 2019
KABUL — A blast that ripped through a village mosque in eastern Afghanistan killed at least 62 people gathered for Friday prayers, according to Afghan officials. The attack wounded 36 and caused the building's roof to collapse, trapping survivors.
Local tribal chief Habib Urahman said many of those killed were teenagers. "One was married only a week ago," he said by phone shortly after he arrived at the scene. He said crowds were gathered around the blast site searching for loved ones.
Attaullah Khogyani, the spokesman for Nangahar's provincial governor, said 62 people had been confirmed dead.
The attack comes as the conflict in Afghanistan is killing and injuring record numbers of civilians. The Taliban and the U.S.-backed Afghan government have stepped up operations, and the Islamic State group in Afghanistan has carried out deadly high-profile attacks, including the bombing of a Kabul wedding hall that killed 63 in August.
No group asserted responsibility for the mosque attack Friday, and the Taliban condemned it, calling it a "major crime." The Taliban said the Islamic State affiliate in Afghanistan or the Afghan government was to blame for the blast, according to a statement released to media.
The Islamic State had not issued a statement on the attack, but the group has a strong presence near the district where the attack occurred, in Deh Bala, a district also known as Haska Mena in Nangahar.
Afghan officials gave conflicting reports regarding the source of the blast. Khogyani said two bombs were planted inside the mosque and detonated almost simultaneously, but Afghan presidential spokesman Sediq Seddiqi said the attack was carried out by a suicide bomber and strongly condemned it in a tweet. Seddiqi blamed "the Taliban and their partners" who "continue to target civilians in time of worship."
A lawmaker from the area, Sayema Khogyani, said that the roof of the mosque collapsed from the force of the blast and that rescue crews were struggling to reach survivors beneath the rubble. Urahman, the tribal chief, said villagers had dug more than 60 graves for the dead, but the number of casualties was so great that many villagers were unable to bury their loved ones before sunset.
"It is a horrific incident. Even an animal would not resort to such an act," Urahman said. "People are in shock and angry."
Attacks using explosives have caused more than a quarter of all civilian deaths in Afghanistan this year, according to a U.N. report released Thursday. The report said the attacks have killed 647 and wounded 2,796 since January.
Overall, the conflict in Afghanistan has killed 2,563 civilians and wounded 5,676 since January, according to the report. Most of the civilians killed this year died in Taliban attacks, according to the report.
The Islamic State has significantly fewer fighters in Afghanistan than the Taliban, but it is considered the bigger terrorist threat. The Islamic State and the Taliban are rivals, and in some parts of the country, the two groups clash.
Afghanistan's 18-year war has intensified in recent months amid peace talks that recently collapsed and in the lead-up to the country's presidential election.
https://www.washingtonpost.com/world/asia_pacific/62-killed-in-mosque-bombing-in-eastern-afghanistan/2019/10/18/01002f16-f1af-11e9-bb7e-d2026ee0c199_story.html
--------
Afghan Village of 70 Families Faces Ruin With Mosque Massacre
By Zabihullah Ghazi, Mujib Mashal and Fahim Abed
Oct. 19, 2019
JAWDARA, Afghanistan — Just a few hundred residents remain in Jawdara, a small village in eastern Afghanistan struggling to survive after Islamic State militants cut off their water supply early this year. With only 70 families hanging on, the cost to this tiny, trapped community was grievous when 73 lives — basically the men of each family — were torn away in an instant.
"The village is ruined," said Mawlawi Sadaqat, a local religious leader who led prayers as the bodies were buried. "Each house is left with orphans."
The massacre took place when a suicide bomber walked into Jawdara's mosque on Friday, where men had gathered for the weekly congregational prayer. In addition to the dead, at least 30 others were seriously wounded. Women desperately worked to dig bodies from the rubble, eventually aided by people who came in from neighboring areas in Nangarhar Province.
This is the lot of Afghanistan's towns, far from the tenuous security that the main cities provide. As the war has worsened, and with civilian casualties hitting a new level this month, life in places like Jawdara has increasingly come to feel like slow death punctuated by sudden massacre.
"I was standing in queue for prayer when I first felt a flame in my face and then the roof collapsed and I screamed," said Riazullah, who was wounded. "Women and children came to pull me out. But one of my brothers was martyred."
By early Saturday, a small apricot orchard had been turned into a cemetery, with rows of graves already filled. Two men had spread out a shawl, collecting donations from visitors to cover the funerals for families left without men. Each grave had a small piece of paper tucked next to the headstone with the victim's name. The notes on three graves simply read "Unidentified."
Among the victims were the village's only doctor, Mohammed Aref, and his two brothers and two sons. Two of the village teachers were also killed. At least 23 of the 73 killed were teenagers or younger.
"We have a bigger cemetery a little higher up, but we chose to turn this orchard into a new cemetery because the soil here is softer," said Khan Mohammed, a villager who survived because he had been late for prayer. "The dead were too many, and digging graves in hard soil would have taken a lot of time."
The massacre in Jawdara is the latest example of mass casualties that wipe out large parts of a family or even a village. Suicide bombers have repeatedly targeted mosques, gyms, educational centers and protests. In August, a bomber walked into a wedding hall in Kabul just as the vows were being exchanged, leaving more than 60 people — mostly cousins and neighbors of one family — dead.
The United Nations said this month that civilian casualties in the Afghan war had reached a record high in the year's third quarter, with a 42 percent increase compared with the same period last year. The organization has verified 1,174 civilians killed and 3,139 wounded between July and September. July was the deadliest month on record — with 425 deaths and 1,164 wounded — since the mission started tracking civilian harm in 2009.
Nangarhar has faced particular cruelty in recent years. In addition to Taliban violence and abuse from a local strike force backed by the C.I.A., the Islamic State's local chapter has established a stronghold in the province since 2014, where it has unleashed its gruesome brand of violence.
Although no one has claimed responsibility for the latest massacre, locals suspected the Islamic State. They said the group cut off their water upstream eight months ago, leaving them to survive on seasonal rains. The militants also have kept threatening the villagers for siding with the Afghan government.
The massacre in Jawdara fell around the anniversary of another similar bout of carnage just 30 miles east, in the Momand Dara district. There, a year later, the village still has the feel of a ghost town.
That tragedy unfolded after the Islamic State gained a foothold in the southern part of Nangarhar Province, prompting hundreds of families to flee to neighboring areas. About 200 families settled in a vast desert called Daka in Momand Dara, starting a makeshift village. But soon, the families realized their land back home was being taken over by an abusive militia commander who had sided with the Afghan government promising to push back the Islamic State.
The villagers complained repeatedly to the government about the militia commander, but when their concerns went ignored hundreds gathered in a public protest. Last September a suicide bomber walked into the demonstration, detonating his explosives. About 100 men from the displaced settlement in Daka alone were killed in the explosion.
"Even if 100 chickens are slaughtered, there will be so much blood that no one can stop the blood flow," said Esmat Momand, a resident of Momand Dara. "Here we are talking about 100 humans from one village."
This month residents of the displaced settlement held a memorial service to mark the tragedy's anniversary. On such occasions, guests are usually served food. But there was nothing to serve; the memorial was just a prayer at the cemetery, which had filled overnight. Many of the victims were bricklayers or day laborers.
"The area is still covered with sorrow," said Abdul Rahman, a resident of Daka who lost four cousins in that bombing. "The streets are empty at dusk time. You can't hear children playing; they are all working as street vendors, or out begging, and they don't come home."
Full report at:
https://www.nytimes.com/2019/10/19/world/asia/afghan-mosque-attack.html
--------
Afghan Taliban Continue to Work Closely With Al-Qaida in Afghanistan
By Hasib Danish Alikozai, Khalid Mafton
October 19, 2019
WASHINGTON - A Taliban delegation reportedly met earlier this month with Zalmay Khalilzad, the U.S. special representative for Afghanistan reconciliation. The alleged gathering came during an official Taliban visit to Islamabad to meet with Pakistan officials.
It was the first known contact between the U.S and Taliban insurgents since U.S. President Donald Trump canceled peace talks with the insurgents in September, citing increased violence in Afghanistan perpetrated by the militants in an attempt to gain more leverage at the negotiation table.
A senior Pakistani official, who spoke on the condition of anonymity because he was not authorized to discuss the topic publicly, told Reuters "Pakistan played a big role in it to convince them [Taliban] how important it [the meeting] was for the peace process."
The official said the meeting was a confidence-building measure between the two sides and did not include formal negotiations.
Although the U.S. State Department has declined to comment on whether Khalilzad met with the Taliban, a U.S. official told Reuters that Ambassador Khalilzad has met with Pakistan officials for consultations. The official said the peace talks have not resumed.
Taliban-al-Qaida links
The U.S. and Taliban have held nine rounds of direct talks in Qatar's capital city, Doha, with both sides appearing closer than at any time in the past 18 years of war to striking a deal that would have brought an end to the conflict in Afghanistan, before President Trump called off the talks last month.
The deal revolved around four key issues negotiated by both sides for almost a year, including a guarantee by the Taliban insurgents that foreign militants would not be allowed to use Afghanistan as a safe haven to launch terror attacks outside the country, the complete withdrawal of U.S and NATO forces from Afghanistan, the beginning of an intra-Afghan dialogue, and a permanent cease-fire in the country.
Despite assurances by the insurgents that they would not allow foreign terror groups to operate from Afghanistan, the insurgent group seemingly is linked to the al-Qaida terror group on both operational and strategic levels.
Late last month, Afghan and U.S. forces jointly targeted a Taliban hideout in Afghanistan's southern Helmand province, allegedly killing 23 militants, including six foreigners, and Asim Omar, chief of the al-Qaida terror group in the Indian Subcontinent (AQIS).
"On the 23rd of September, there was a special forces operation conducted against an al-Qaida hideout in the Musa Qala district of Helmand province that resulted in the death of 23 militants, including six al-Qaida fighters," Mohammad Yasin Khan, governor of southern Helmand province told VOA.
Rohullah Ahmadzai, a spokesperson for the Afghan Ministry of Defense told VOA the Taliban and al-Qaida continue to maintain ties at various levels. He said Umar shows their relation is still firm.
"Unlike their [Taliban] claims and promise, they are in close relation with Al-Qaida in Afghanistan and their leaders live together outside Afghanistan," he added in a reference to neighboring Pakistan, which is accused of providing safe haven for militants, a charge denied by Islamabad.
The Taliban predictably denied that the operation in southern Helmand province killed their members and those of al-Qaida, insisting the victims were all civilians.
Supporting hardliners
Javid Ahmad, a senior fellow at the Washington-based Atlantic Council, charges that al-Qaida continues to invest in Taliban, particularly the hardliners among the militant group.
"While Western targets have long been a priority for al-Qaida in Afghanistan, the group has largely focused the bulk of its attacks and resources on local operations, benefitting the Taliban hardliners," Ahmad said. "The main problem is that some Taliban members can't seem to distinguish their objectives from that of al-Qaida's. To many, those objectives, long rooted in jihad, have remained the same."
Ahmad notes the two sides rely on shared tactics, resources, expertise and manpower.
"There are also reports about a quiet rebranding of some of those hardliners into al-Qaida, which has solidified this co-dependent relationship. That's why the Taliban promises to break ties with the group is a sheer fantasy for now," Ahmad said.
Haqqani Network
Michael Semple, a professor at Queen's University Belfast's Institute for Global Peace, Security and Justice, says expecting the Taliban to give up on their relationship with their terrorist allies is "unrealistic."
"In 25 years, the Taliban have not cut off links with al-Qaida and other terrorist groups. So, I have seen no indication that they are about to do so," Semple said.
Semple added that the Haqqani Network, a Taliban allied U.S. designated terror group, has close working relationship with al-Qaida.
"The head of [the] Haqqani Network [Serajuddin Haqqani] is the deputy leader of the Taliban movement. The military might, which the Taliban deploys, depends partly on the Haqqani Network," Semple said.
"We see no indication that the Taliban are ready to start, giving up their military and physical leadership … we are [a] long way away from peace agreement [between the U.S. and the Taliban] so to expect the Taliban to give up their relationship with their terrorist allies of two-and-half decades in the first step is probably unrealistic," he added.
U.S. politics
Some analysts, like Matt Dearing, an assistant professor at the Washington-based National Defense University, assert that the Taliban should not be trusted and taken at their word for disavowing al-Qaida. Rather, they should be required to take "real action" before a deal is struck with them.
"Taliban and al-Qaida continue to coordinate operations, strategize, and praise each other on social media and their official communications. It's not hard to see the links between these organizations if one pays attention," Dearing said.
Dearing added that U.S. domestic politics should be separated from how its foreign policy is implemented.
"Unfortunately, the pressure to 'make a deal' with the Taliban before the summer of 2020 ended is based more on politics than policy. The Taliban know this, and their negotiators will tell the U.S. what it wants to hear," Dearing said.
Full report at:
https://www.voanews.com/extremism-watch/afghan-taliban-continue-work-closely-al-qaida-afghanistan
--------
12 militants killed, 16 villages liberated in northern Afghan province
2019-10-20
PUL-E-KHUMRI, Afghanistan, Oct. 20 (Xinhua) -- More than 12 Taliban insurgents have been killed and 16 villages liberated from the militants' clutch in the northern Baghlan province, an army spokesman in the northern region, Abdul Hadi Jamal, said Sunday. The operation was launched four days ago against Taliban militants in parts of Baghlan province and so far 16 villages have been liberated in Dand-e-Ghori, Dand-e-Shahabudin and Kilagai areas of the restive province, the spokesman said.
Over two dozen more insurgents including Taliban senior commander Qari Bakhtyar who also served as shadow deputy governor for Baghlan province were wounded during the ongoing operation.
Zabihullah Majahid, a purported spokesman of the Taliban group, rejected the government's claim and insisted the security forces' operation had been repulsed.
Full report at:
http://www.xinhuanet.com/english/2019-10/20/c_138487756.htm
--------
Special Forces kill, detain 13 Taliban militants in 3 provinces
21 Oct 2019
The Afghan Special Forces killed 9 Taliban militants and arrested 4 others during the operations in Ghazni, Logar and Kandahar provinces.
The military officials said Monday the Special Forces conducted the operations in the past 24 hours.
The officials further added that the Special Forces killed 5 of the militants in Giro district of Ghazni where they also destroyed a cache of weapons.
The Special Forces killed 4 other militants in Kharwar district of Logar province, the officials added.
Full report at:
https://www.khaama.com/special-forces-kill-detain-13-taliban-militants-in-3-provinces-04250/
--------
U.S. House Speaker Nancy Pelosi met with President Ashraf Ghani
21 Oct 2019
The Speaker of the U.S. House of Representatives Nancy Pelosi met with President Mohammad Ashraf Ghani after arriving in Afghanistan on an unannounced visit.
In her meeting with President Ghani, Pelosi said the U.S. has a presence in Afghanistan as Taliban was once hosting terror groups which attacked the United States, according to a statement released by ARG Palace.
Pelosi further added that the United States does not want the Afghanistan to turn into a sanctuary for the terror groups once again.
Furthermore, Pelosi said preserving the gains and ensuring women's rights remain a top priority for the U.S. Congress.
She also added that the United States respects the achievements, commitments, priorities, national interests and efforts of Afghanistan for a long term friendship.
Full report at:
https://www.khaama.com/u-s-house-speaker-nancy-pelosi-met-with-president-ashraf-ghani-04249/
--------
9 Taliban militants die from poisoning in Ghazni province of Afghanistan
22 Oct 2019
A group of nine Taliban militants died from poisoning in South-eastern Ghazni province of Afghanistan, the provincial government said.
According to a statement released by the Governor's Office of Ghazni, the 9 Taliban militants died from poisoning in their compound in the restive Andar district.
The statement further added that unknown individuals poisoned the militants in their compound late on Monday night.
The Taliban group has not commented in this regard so far.
Full report at:
https://www.khaama.com/9-taliban-militants-die-from-poisoning-in-ghazni-province-of-afghanistan-04252/
--------
US officials push to revive Afghan peace talks
SAYED SALAHUDDIN
October 22, 2019
KABUL: Top US officials including Defense Secretary Mark Esper and House of Representatives Speaker Nancy Pelosi are pushing for the revival of Afghan peace talks, despite President Donald Trump abruptly declaring the peace process dead.
Esper, who was making his first visit to Afghanistan as defense secretary, met President Ashraf Ghani and Chief Executive Dr. Abdullah Abdullah.
"The aim is to still get a peace agreement at some point, that's the best way forward," Esper told reporters who were traveling with him.
Multiple rounds of talks to end the fighting have been held between the Taliban and diplomats in a process led by US Special Representative Zalmay Khalilzad, with the Afghan government excluded at the insurgents' insistence.
Pelosi, after meetings with Ghani and Abullah that were also attended by diplomats and the top US military commander in Afghanistan, said she had discussed the issue of peace talks with the Taliban.
"Our delegation received briefings from (US) Ambassador John Bass and other top diplomats on reconciliation efforts with the Taliban … We underscored that the women of Afghanistan must be at the table for reconciliation talks."
Ghani discussed the Sept. 28 presidential election, bilateral matters and the peace process with Esper and Pelosi, his office said.
"Peace is a priority for us, a peace which is led and owned by Afghans and the values of the constitution and women are protected in it," a presidential palace statement cited him as saying.
Abdullah said he was backing the revival of talks and was ready to make a sacrifice for "real peace."
"During a fruitful meeting with Pelosi, we exchanged views on the credibility of Afghan elections, credibility requisites, prospects for peace/political settlement. Peace is one of the priorities of the Afghan people and we are supporting these efforts and I am ready for any kind of sacrifice for gaining real peace and for the cessation of war."
He, unlike Ghani, did not emphasize the need for the peace talks to be owned and led by Afghanistan, but stressed on keeping the gains made since the Taliban was removed from power.
Trump tasked Khalilzad with finding a peaceful solution to the war and the eventual withdrawal of US troops from the country. However the process was thrown into chaos when the president tweeted last month that he was canceling peace talks with Taliban leaders at Camp David after the group claimed responsibility for a Kabul attack that killed a US soldier and 11 other people.
Khalilzad made a surprise stopover in Pakistan earlier this month at the same time that Taliban delegates were on a visit to the country and, according to foreign media reports, discussed the revival of peace talks with the group which the US had toppled from power more than 18 years ago.
Waheed Mozhdah, an analyst who knows the Taliban's leaders, said the US had already established contact with the group and was keen to sign a deal but was concerned about a potential political crisis between rivals Ghani and Abdullah who are the main candidates in the presidential poll.
The vote was twice delayed, while the initial results of the ballot have not yet been disclosed due to technical issues.
"Now everything has to wait for the result of the election … it seems the Americans are concerned that if it signs the deal with the Taliban now and a crisis begins due to the election, then it will make America's position weak," he told Arab News.
"Through these trips, American officials are trying to persuade both sides (Abdullah and Ghani) to respect the result of the election so that when the time of intra-Afghan dialogue starts with the arrival of a new government, the Taliban does not argue that there is a crisis with the government."
He said Esper's comments about troop withdrawal was part of the deal Khalilzad had discussed with the Taliban before Trump's interjection.
"Americans are confounded since Trump has come to power. First he pushed for the talks, then he canceled the talks and now wants them to be resumed," he said.
Zubair Shafiqi, another analyst, said troop drawdown was a Trump goal that was aimed at his domestic audience and his re-election campaign next year.
He said Washington had come to the conclusion that the presidential election in Afghanistan would go to a second round, and that the visits by top US officials in recent weeks was aimed at telling leaders in Kabul that they had to brace for the formation of a broad-based interim set-up which should involve the Taliban too.
Full report at:
https://www.arabnews.com/node/1572446/world
--------
Europe
South London Muslim donates hundreds of designer footwear to homeless
October 22, 2019
A Muslim man from south London has been giving expensive trainers to at-risk teenagers and the homeless for the past few years.
Moosa Nsubuga told The Metro that he was embarrassed by the quality of donations – particularly clothes – so he launched Resole, an initiative that hands out fresh trainers to the homeless and disadvantaged youths at risk of gang violence and drug abuse.
He and his team offer designer brands such as Gucci, Adidas and Nike. Having prioritised keeping his trainers looking box-fresh, Moosa noticed he had a lot of barely worn shoes. He realised that others would be in the same boat and asked them to donate theirs.
On average, Resole gets around 150 to 200 pairs in a good month from donations.
"Faith was a strong personal reason for wanting to give back but also being able to get others involved from the culture that raised me," Moosa tells Metro.co.uk. "I did at the beginning also collect clothing and shoes but after the Grenfell Tower fire, we gave all our stock sneakers and clothing to that community.
"While doing so I realised it was harder to quality check clothing and felt embarrassed giving some clothing away due to the bad state they came in. As for the sneakers, it was much easier to check for quality and actually distribute to people so I decided to concentrate on footwear."
What started as a side project to help his local community in South London every two weeks quickly became a much larger operation. Now Resole does two to three drop-offs a week, distributing around 170 pairs of shoes with a value of around £14,450 a month.
"It gives you great joy to see the self-esteem that a pair of new sneakers can bring to a person," said Moosa. "Some homeless people we have met are barefoot because they have had their shoes stolen at night while they sleep.
"One guy was without shoes for two weeks and just had flipflops and it was at the end of the drop when we found him outside a Sainsbury's in Islington. We gave him a pair of Nike Air VaporMax valued at £185. He couldn't believe we were just giving it out for free and was so grateful."
Full report at:
https://5pillarsuk.com/2019/10/21/south-london-muslim-donates-hundreds-of-designer-footwear-to-homeless/
--------
Britain makes move to bring home children of Isis suspects from Syria
Mark Townsend
20 Oct 2019
British officials have taken the first steps to repatriate children stranded in Syria by liaising directly with agencies on the ground to identify unaccompanied minors for "safe passage" back to the UK.
Whitehall sources have confirmed they are working with "various agencies" in north-east Syria – believed to include the International Committee of the Red Cross – to kickstart the process of transferring children of British parents linked to Islamic State back to the UK.
Among the first cases identified are three orphans, believed to have travelled to Syria with their parents from London five years ago and who are currently in Raqqa, under the control of the Kurdish-dominated militia, the Syrian Democratic Forces.
Transporting the children to Iraq, where they can be flown from the city of Erbil to the UK, has been evaluated by Kurdish officials and British charities as both quick and safe, especially during the five-day ceasefire.
The development comes before an appeal this week by Shamima Begum against the removal of her UK citizenship by the former home secretary Sajid Javid. Begum, then aged 15, travelled to Syria in 2015 to join Isis from her east London home.
Lawyers for Begum, currently in al-Roj refugee camp in north-east Syria, will argue the decision was "unlawful". The four-day hearing will take place at the Special Immigration Appeals Commission, a specialist court that hears challenges to decisions to remove someone's British citizenship on national security grounds.
On Friday it emerged that Belgium and other European states were preparing to repatriate citizens accused of having Isis links from north-east Syria, taking advantage of the ceasefire.
Elsewhere Save the Children, among a handful of charities operating in the country's north-east, confirmed that the region's major refugee camps, al-Roj and al-Hol, where there are an estimated 30 unaccompanied British children, remain unaffected by fighting following the Turkish invasion this month.
A spokesperson said that transferring British minors from Syria to the UK was currently relatively straightforward. "While things are evolving rapidly, our latest information is that transportation out of the area is possible and border crossings between Syria and Iraq remain open," they said. The Kurdish administration is described as "extremely supportive" in facilitating future repatriations, as long as they are negotiated with UK government officials.
Until last week the UK government's position towards repatriating British children was that it remained too dangerous for officials to attempt a rescue. However, following Turkey's invasion of the north of Syria, the foreign secretary, Dominic Raab, hinted at a policy change, suggesting British orphans and unaccompanied minors could be returned to the UK.
The Foreign Office said: "We are looking at orphans and unaccompanied minors who bear UK nationality and whether they can be provided safe passage to return to the UK. We will examine every single case where we are asked for consular assistance, but this process is far from straightforward."
Save the Children added: "This looks like a step in the right direction but for this to translate into a real change of policy we need to know that government is working on how to bring all British children to the UK while we still can."
Full report at:
https://www.theguardian.com/world/2019/oct/20/uk-to-repatriate-isis-children-in-syria
--------
Former neo-Nazi leader joins al Qaeda recruiter to fight extremism
by Rob Crilly
October 19, 2019
Jeff Schoep was once America's leading neo-Nazi, propagating anti-Semitism and building an army to wage "racist violence" in his role as leader of the National Socialist Movement.
But now he claims to be renouncing his racist past to help wean far-right extremists away from white supremacy using the blueprint developed by his mentor, a former al Qaeda recruiter.
They launch next month with an anti-fascist magazine that uses all the techniques that Jesse Morton once used to convert young Americans into jihadists, first attracting recruits with propaganda before sucking them into a network of online activists who radicalized them to fight at home or abroad.
Schoep, 45, said a former neo-Nazi and a former jihadist may seem like odd bedfellows, but they shared a common experience.
"What Jesse did with the jihadists is that he had a magazine as a propagandist that reached people interested in extremism, and now he is countering it with the same template but for good purposes," he said.
Morton was sentenced to 11½ years in prison in 2012 for conspiring to solicit murder. His Revolution Muslim website, which he ran while a student in New York, became a focal point for American-born extremists who were groomed for militant groups. His magazine was the template for al Qaeda's English language publication, Inspire.
A collaborator died in a drone strike in Yemen, where he had joined al Qaeda in the Arabian Peninsula. And another recruit was implicated in a plot to fly a bomb-laden drone into the Pentagon.
Yet he was released early for cooperating with investigators and formed Parallel Networks, using his understanding of radicalization to rehabilitate extremists.
The method has won the backing of academics. He counts among his collaborators the former New York City Police Department intelligence analyst who once tracked him.
He said he was taken aback when Schoep contacted him out of the blue, but he immediately understood the connection.
"He said, 'I've been leaving this thing for two years, but I just don't know how to do it,'" said Morton, who realized his model could apply to the growing threat from right-wing extremism.
Over emails and late-night phone calls, the unlikely comrades explored their shared experience of being drawn into a life dominated by a tight-knit brotherhood and an all-consuming ideology. And how difficult it was to quit that family.
Schoep said, "In that sense, when you're in the movement, all your friends, everybody that you know, is there, and you don't really have outside influences."
He became obsessed as a child with Adolf Hitler after learning that his German grandfather fought in World War II. He rose quickly to become head of America's neo-Nazi movement at the age of 21.
His brown-shirted National Socialist Movement was the biggest in the United States, and he claims to have recruited more than 1,000 members, including children as young as 14 through the Viking Youth Corps.
He admits sharing violent, racist imagery and advocating the use of car bombs against "enemies." It was all part of a campaign to prevent what he saw as the marginalization of white Americans.
"They feel white people are being replaced," he said. "They feel there's white genocide happening."
In recent years, he attempted a rebranding, ditching the swastika and toning down the imagery to fit in with the new alt-right. But his efforts met resistance from members and ridicule from critics who still saw ugly racism at work.
He said it was a three-year process to leave, inspired in part by the kindness of a Jewish woman who offered him a place to stay when his address was published by anti-fascist activists.
"But once you're deeply embedded in the ideology, in the movement, everything you know, everyone you know is all tied into it," he said.
The conversations with Morton led to a magazine, Ctl-Alt-Del Hate, which will be published on Nov. 4.
It includes articles on right-wing groups such as the Proud Boys designed to provoke a reaction among adherents. A small team of volunteers will spread the magazine, then monitor social media to encourage members into a discussion about alternatives.
"It is exactly what we used to in the Jihadist world," said Morton, who once would pass Osama bin Laden's teachings around the internet, "but the other way around."
Morton has won respect in the counterradicalization world for his work despite a setback in 2017 when he spent 90 days in jail after being arrested for cocaine possession, violating the terms of his parole.
But Schoep, long a figure of notoriety, may struggle to convince skeptics that his conversion is genuine. He said he was ultimately tired of a life in which friends had been killed or imprisoned.
Full report at:
https://www.washingtonexaminer.com/news/former-neo-nazi-leader-joins-al-qaeda-recruiter-to-fight-extremism
--------
Let jihadists return home, French anti-terror magistrate urges
October 20, 2019
Paris (AFP) - The refusal of the French government to take back Islamic State fighters from Syria could fuel a new jihadist recruitment drive in France, threatening public safety, a leading anti-terrorism investigator has told AFP.
David De Pas, coordinator of France's 12 anti-terrorism examining magistrates, said that it would be "better to know that these people are in the care of the judiciary" in France "than let them roam free".
Turkey's offensive against Kurdish militia in northeast Syria has sparked fears that some of the 12,000 jihadists, including thousands of foreigners, being held in Syrian Kurdish prisons could escape.
Officials in Paris say 60 to 70 French fighters are among those held, with around 200 adults, including jihadists' wives, being held in total, along with some 300 children.
France has refused to allow the adults return home, saying they must face local justice. So far Paris has only taken back a handful of children, mostly orphans.
This week, Foreign Minister Jean-Yves Le Drian travelled to Iraq to try convince Baghdad to take in and try French jihadists being held in northern Syria.
On Friday, in a rare interview, De Pas argued that instability in the region and the "porous nature" of the Syrian Kurdish prison camps risked triggering "uncontrolled migration of jihadists to Europe, with the risk of attacks by very ideological people". - 'Infernal cycle' -
The Turkish offensive, which has detracted the Kurds' attention from fighting IS, could also facilitate the "re-emergence of battle-hardened, determined terrorist groups."
This in turn could spur the establishment of new jihadist networks to supply "French citizens drawn to these groups," he argued.
Warning of the risk of "a new vicious circle" of radicalised young French people travelling to Syria, De Pas called on the government to demonstrate "the political will to repatriate" the fighters.
Investigating magistrates are independent of the government, but it is extremely rare in France for them to publicly challenge policy.
Last month, IS chief Abu Bakr al-Baghdadi urged the group's followers to break jihadists and their family members out of prisons in Iraq and Syria.
According to Syrian Kurdish authorities, nearly 800 wives and children of foreign jihadists escaped from a camp for the displaced on the first weekend of the Turkish offensive.
At least three French women ended up in the hands of the Islamic State, according to their lawyer.
Making the case for the fighters to be brought home, De Pas pointed out that Paris had for years been successfully taking back and jailing jihadists expelled from Turkey.
"I understand that there may be nervousness but how we can we protect ourselves if we don't have our hands on them?" he asked.
The magistrate, who said he was speaking out on the issue because "I would feel responsible if I didn't say it", also warned against the temptation of transferring jihadists to Iraq to face justice there.
Once they had been tried and served their sentences in Iraq they would disappear under the radar, he said.
Full report at:
https://news.yahoo.com/let-jihadists-return-home-french-anti-terror-magistrate-113902292.html
--------
12 militant prisons left unguarded due to Turkish offensive in Syria: Russia
Oct 21, 2019
Russia says Turkey's offensive in northeastern Syria has left 12 Syrian prisons for foreign militants as well as eight refugee camps unguarded, warning about the return of hundreds of terrorists to their home countries.
Russia's Interfax news agency cited the country's Defense Minister Sergei Shoigu as making the remark on Monday.
"As a result of the actions of the Turkish army in Syria, eight refugee camps and 12 prisons for foreign militants remained unprotected. This could lead to a surge in the so-called reverse migration of terrorists to their historical homeland," Shoigu told participants at a security forum in China.
The Russian defense minister said the question of protecting Daesh prison facilities after the Turkish aggression needed to be urgently resolved.
Several reports have so far emerged that Kurdish militants from the so-called People's Protection Units (YPG) have been releasing Daesh prisoners they held in northeastern Syria after Turkey launched Operation Peace Spring less than two weeks ago.
Turkish military forces and militants of the so-called Free Syrian Army (FSA), who enjoy Ankara's patronage, on October 9 launched a cross-border invasion of northeast Syria in a declared attempt to clear YPG militants from border areas.
Ankara views the US-backed YPG as a terrorist organization tied to the homegrown Kurdistan Workers' Party (PKK) militant group, which has been seeking an autonomous Kurdish region in Turkey since 1984.
The Syrian government has condemned the offensive as an act of aggression.
Daesh posing threat to Asia-Pacific region
Speaking at the security forum in Beijing, Shoigu also said that the Daesh terrorist group has "greatly expanded its presence" in the Asia-Pacific region, including in Indonesia, Malaysia, Singapore, the Philippines and partly Thailand, after its defeat in Syria.
"There is a need to consolidate the efforts of the entire world community to counter terrorists' challenges, their ideology and propaganda. The Russian Defense Ministry has gained vast experience in this area, which we are ready to share with our partners in the Asia-Pacific region," he added.
After talks with US Vice President Mike Pence in Ankara, Turkey agreed on Thursday to halt its Syria offensive for five days to allow the YPG militants to pull out of the border area. The Turkish government says it will end the operation altogether provided that the militants are completely cleared from the zone.
But Turkish President Recep Tayyip Erdogan has also threatened to resume the offensive if the militants fail to pull out.
Full report at:
https://www.presstv.com/Detail/2019/10/21/609217/Russia-Syria-prisons-foreign-militants-Turkey-offensive
--------
EU sees 'chance for ceasefire' in Afghanistan despite spike in violence
Oct 20, 2019
The European Union (EU) says there is a chance for a ceasefire in Afghanistan, despite renewed violence in the country after the collapse of talks between the United States and the Afghan Taliban militant group.
"It's the right moment and the right opportunity to maybe go one step beyond a simple reduction in violence and explore ways in which a ceasefire... will take place," Roland Kobia, the EU special envoy for Afghanistan, told journalists in the Afghan capital, Kabul, on Sunday.
"The idea is really to see how we can move the ceasefire idea forward instead of leaving it for later... There is an opportunity here today," he added.
Talks collapsed between the US and Taliban on September 9 after the militant group claimed responsibility for a car bomb attack that killed 12 people, including an American soldier.
The Afghan government was already excluded from the negotiations because the Taliban "do not recognize" the administration in Kabul.
Kobia did not explain how the collapse of those talks now provided an opportunity, though he seemed to signal that the EU could now take the initiative.
The EU official said a ceasefire would help normalize future relations between the European bloc and the Taliban, which he suggested might return to power in "one form or another" within months.
"A ceasefire would be a token, a guarantee of goodwill and good preparation for the normalization of these relationships," he said.
The Taliban has previously ruled out an immediate ceasefire.
Meanwhile, US Defense Secretary Mark Esper has arrived in Kabul on an unannounced visit.
Esper was due to meet with "key leaders and receive an operational update," said Fawad Aman, a spokesman for the Afghan Defense Ministry.
The US's chief negotiator, Zalmay Khalilzad, has met with Taliban members in Pakistan's capital of Islamabad, raising the possibility that Washington is seeking to resume the talks.
Pakistan has helped facilitate the talks before.
Full report at:
https://www.presstv.com/Detail/2019/10/20/609146/Afghanistan-EU-chance-for-ceasefire
--------
North America
'Horror and shame': US senators, Kurdish leader call for Turkey sanctions
22 October 2019
US lawmakers kept up their push on Monday to impose sanctions on Turkey if it does not end its offensive in northeastern Syria, and a leading Kurdish politician called on President Donald Trump to stop the "ethnic cleansing" of her people.
"We need to stop the slaughter. We need to ensure that we don't enable ISIS," Democratic Senator Chris Van Hollen told a news conference. Lawmakers said they were working to sign more co-sponsors of legislation to impose tough economic penalties on Turkey.
Ilham Ahmed, a Kurdish political leader and president of the Syrian Democratic Council Executive Committee, joined the lawmakers. Speaking through a translator, she called Trump to reverse his decision two weeks ago to remove US forces from Syria, which cleared the way for Turkey's cross-border offensive.
"They want to attack us. They want to kill hundreds of thousands of us," she said.
Trump said on Monday he did not want to leave any American troops in Syria, aside from a small number to secure oil production.
His position has frustrated members of Congress, including several of his fellow Republicans. They consider the withdrawal of troops a betrayal of Kurdish allies who for years have helped the United States fight against ISIS.
Hearings on the situation are scheduled in both the Senate and House of Representatives this week and some congressional leaders expect a vote on legislation within the coming weeks.
"Talk about the oil fields is a cruel distraction from the ongoing humanitarian disaster," said Democratic Senator Richard Blumenthal, who said he felt "horror and shame" about the Kurds.
Lawmakers also worry that renewed fighting in Syria will lead to the release of captured ISIS extremists.
Van Hollen and Republican Senator Lindsey Graham last Thursday announced legislation that would impose "crippling" sanctions on the government in Ankara and said they would press ahead despite the announcement of a five-day ceasefire.
"I blame Turkey more than anyone. Turkey's invasion has put at risk the defeat of the caliphate," Graham said on Monday, referring to territory once held by ISIS.
Graham said he wanted to see a demilitarized zone between Turkey and Kurdish fighters, monitored by international forces, a continued US partnership with those fighters and an effort to guard and monitor oil fields in southern Syria, but that Ankara needed to back down first.
Full report at:
https://english.alarabiya.net/en/News/world/2019/10/22/-Horror-and-shame-US-senators-Kurdish-leader-call-for-Turkey-sanctions.html
--------
Pompeo on Turkey: Trump 'fully prepared' to take military action if needed
22 October 2019
US President Donald Trump is "fully prepared" to take military action if needed with regards to Turkey's recent attacks on Kurds in northeast Syria, Secretary of State Mike Pompeo told CNBC on Monday.
Kurdish-allied forces, backed by American troops, had been a strategic US partner in the fight against ISIS in northeastern Syria before Turkey launched an offensive in the area.
"We prefer peace to war… But in the event that kinetic action or military action is needed, you should know that President Trump is fully prepared to undertake that action," Pompeo told CNBC's Wilfred Frost in a taped interview.
A week ago, the Pentagon said Trump had ordered the withdrawal of up to 1,000 troops from northern Syria as Turkish troops advanced into Syrian territory.
The decision was criticized by many US lawmakers, and the Syrian Democratic Forces who were backed by US troops and considered the move a "stab in the back."
"We jointly took down the threat of the Caliphate of ISIS," Pompeo said. "It was to the benefit of the SDF, it was to the benefit of the United States of America, and indeed, to the benefit of the world. The commitment that we made to work alongside them we completely fulfilled."
Turkey launched a cross-border incursion into Syria on October 9, after Trump said he would pull back US Special Forces in the Kurdish-held north.
After the violence killed scores from both sides and displaced hundreds of thousands from their homes, a US-brokered ceasefire was announced late Thursday.
Trump had said that imposing sanctions on Turkey would be better than fighting in the region.
With lawmakers in the US Congress moving to impose sanctions of their own, Trump issued an executive order authorizing sanctions against current and former officials of the Turkish government for contributing to Turkey's military operation in northern Syria.
In a statement, Trump said he had increased tariffs on imports of Turkish steel back up to 50 percent, six months after they were reduced, and would immediately stop negotiations on what he called a $100 billion trade deal with Turkey.
"You suggested the economic powers that we've used. We'll certainly use them. We'll use our diplomatic powers as well. Those are our preference," Pompeo said.
More recently, the US said that the Kurdish People's Protection Units (YPG) militia would withdraw from the area and Washington would not slap any further sanctions if Turkey ceased fighting.
Pence said the US would lift all of the sanctions, including those slapped on Turkish ministers, following the withdrawal and a complete end to Turkey's military operation.
Full report at:
https://english.alarabiya.net/en/News/world/2019/10/22/Pompeo-on-Turkey-Trump-fully-prepared-to-take-military-action-if-needed.html
--------
Syrians throw potatoes at US military vehicles in border town
Oct 21, 2019
A viral video has emerged on the social media showing Syrian people throwing potatoes and yelling at US armored vehicles as American troops drove through Syria's northeastern border town of Qamishli, after President Donald Trump said he would withdraw American troops from the Arab country.
https://www.presstv.com/Detail/2019/10/21/609225/Syrians-throw-potatoes-at-US-military-vehicles-in-border-town
--------
Trump: Israel, Jordan sought some US troops in Syria
Michael Hernandez
21.10.2019
WASHINGTON
Israel and Jordan requested the U.S. to leave a residual force in Syria, President Donald Trump said Monday as American forces continue their withdrawal from the country.
The president did not specify the exact location where the countries requested U.S. forces to remain, but said it is in southern Syria "near Jordan, and close to Israel."
The closest area forces remain is a garrison near at-Tanf in southeastern Syria near the Iraqi border.
"That's a totally different section. That's a totally different mindset. So we have a small group there, and we secured the oil. Other than that, there's no reason for it, in our opinion," Trump said.
Defense Secretary Mark Esper told reporters over the weekend that Trump has approved keeping "some forces" in at-Tanf. He did not specify how many troops that might entail.
Trump has faced widespread backlash on Capitol Hill over his decision to remove U.S. troops from northern Syria. He defended the move, saying an agreement with Turkey to halt the hostilities "holding."
"The Kurds are moving out to safer areas beyond the safe zone," Trump said, referring to the YPG/PKK.
Turkey on Oct. 9 launched Operation Peace Spring to eliminate terrorists from northeastern Syria in order to secure Turkey's borders, aid in the safe return of Syrian refugees and ensure Syria's territorial integrity.
On Oct. 17, Turkey agreed to pause the operation for 120 hours to allow the withdrawal of YPG/PKK terrorists from the planned safe zone.
Ankara wants to clear northern Syria east of the Euphrates River of the terrorist PKK and its Syrian offshoot, the YPG/PKK.
Full report at:
https://www.aa.com.tr/en/americas/trump-israel-jordan-sought-some-us-troops-in-syria/1621789
--------
Trump: 'plenty of Turks' died due to border conflicts
Michael Hernandez
21.10.2019
WASHINGTON
"Plenty of Turks" have died as a result of conflicts on Turkey's borders, U.S. President Donald Trump said Monday in defense of his decision to withdraw U.S. forces from Syria.
"You have to look at it both ways," Trump told reporters as he convened with top officials at the White House. "We're having very good news coming out. The ceasefire's holding."
Turkey on Oct. 9 launched Operation Peace Spring to eliminate terrorists from northeastern Syria in order to secure Turkey's borders, aid in the safe return of Syrian refugees and ensure Syria's territorial integrity.
On Oct. 17, Turkey agreed to pause the operation for 120 hours to allow the withdrawal of YPG/PKK terrorists from the planned safe zone.
"The Kurds are moving out to safer areas beyond the safe zone," Trump said, referring to the YPG/PKK.
He further contended that U.S. troops are coming home following his decision, a claim at odds with remarks from Defense Secretary Mark Esper who said most U.S. service members will instead be redeployed to neighboring Iraq.
Trump said he does not think "it's going to be necessary" to leave a residual force in northeast Syria, saying "I don't want to leave any troops there." But he acknowledged that Jordan and Israel have requested some U.S. troops remain in a part of the country near the countries.
"So we have a small group there, and we secured the oil. Other than that, there's no reason for it, in our opinion," he said.
Ankara wants to clear northern Syria east of the Euphrates River of the terrorist PKK and its Syrian offshoot, the YPG/PKK.
Full report at:
https://www.aa.com.tr/en/americas/trump-plenty-of-turks-died-due-to-border-conflicts/1621630
--------
No commitment with SDF on fighting NATO ally: US
Shadi Khan Saif
21.10.2019
The U.S. did not make any commitment with SDF in Syria to fight a longstanding NATO ally, the U.S. secretary of defense said on Monday.
"Fighting a longstanding ally (Turkey) was not part of our commitment with the SDF," Mark Esper told a news conference in Afghanistan's capital Kabul, adding the commitment with the Kurds was to destroy Daesh, but any future commitment requires broader political framework.
The YPG/PKK terrorist group in Syria uses the acronym SDF as a cover for receiving U.S. support.
Esper said keeping some U.S. troops in northeastern Syria near oilfields is one of the options to deny Daesh revenue from those fields.
He also reassured the Kabul government against an abrupt withdrawal of forces, saying reduction in troops relies on a peace agreement with the Taliban.
Flanked by his Afghan counterpart Assadullah Khalid, the U.S. secretary of defense said at a news conference that unlike Syria, the U.S. has "longstanding commitments in Afghanistan, invested billions of dollars and paid sacrifices in Afghanistan that should reassure the Afghans about the future."
Full report at:
https://www.aa.com.tr/en/americas/no-commitment-with-sdf-on-fighting-nato-ally-us/1621360
--------
Southeast Asia
Maldives investigates activist group for 'slandering Islam'
By BY KRISHAN FRANCIS
OCT 21, 2019
The head of a Maldivian activist group said Thursday police contacted her as part of an investigation into a report published by her organization that has been accused of slandering Islam.
The Maldives government ordered the Maldivian Democracy Network to suspend its activities a week ago because of its 2016 report on religious radicalization in the Indian Ocean archipelago. The group's executive director, Shahinda Ismail said the report has been on the group's website for three years.
"I have been contacted by police. They wanted to have my address because they want to send me summons," Ismail said by telephone from Germany where she is studying. She said police asked her to present herself for an inquiry within 14 days of receiving the summons.
The government spokesman, Ibrahim Hood, could not immediately comment because he was in a meeting.
The government said last week that there is widespread public condemnation of the report because of "content slandering Islam and Prophet Mohamed."
The report examined school text books for each grade on how Islam is taught and how some Friday sermons allegedly incited hate and intolerance. It also said more than 90 percent of people interviewed supported the implementation of flogging, stoning to death, death penalty and amputations as punishments in the Maldives.
It was unclear why the investigation was initiated three years after the report was published, but Ismail speculated that it may have happened because some preachers who criticized it and demanded an investigation are named in the report for allegedly promoting extremism. The Maldives' anti-terror law was recently amended to criminalize any form of support for extremism and radicalization.
The Maldives, known for luxury island resorts, is a Sunni Muslim nation where practicing and preaching other faiths are banned by the constitution.
The country of 400,000 people was also known to have had the most foreign fighters per capita in Syria.
https://www.mcall.com/sns-bc-as--maldives-activist-group-2nd-ld-writethru-20191018-story.html
--------
Apology accepted but HK Muslims lament 'unnecessary' mosque attack
October 21, 2019
HONG KONG: Municipal workers scrubbed away noxious blue dye from the steps of Hong Kong's biggest mosque on Monday, while Muslim worshippers expressed frustration over police firing a water cannon outside the mosque during a large anti-government march.
Senior police officers visited the Kowloon mosque to explain it was hit accidentally during Sunday's clashes with demonstrators, and Hong Kong's leader Carrie Lam met with community leaders on Monday to apologise.
"It was unnecessary to drag this place of worship into this conflict between the government and the people," Arabi Mohideen, 60, said after attending dawn prayers at the mosque in the bustling Tsim Sha Tsui district.
During protests in Kowloon on Sunday, a police water cannon truck shot bursts of blue-dyed water at a small clutch of people on the footpath outside the mosque, hitting its gate and steps.
Protesters, some clad in black and masked, arrived soon afterward to help clean up.
They coughed uncontrollably while wiping down metal railings and the gate, as the dye was mixed with an irritant designed to force crowds to disperse more quickly.
Police, already facing criticism for heavy-handed tactics, issued a statement saying the incident was "most unfortunate" and unintended, while senior officers went to meet Muslim leaders late at night to offer apologies.
Lam's apology on Monday further underscored the sensitivity, and was accepted by worshippers, who lamented being caught up in the unrest.
"It's a symbol of peace," said Waqar Haider, an interpreter for South Asian residents and worshipper at the mosque.
"It shouldn't have happened…South Asians have not been involved in any protesting — anti-Hong Kong or pro-Hong Kong. We're just living peacefully."
South Asians, who hail from Pakistan, India, Nepal and Bangladesh, comprise about 1% of Hong Kong's population, according to 2016 census figures.
The community is concentrated around the mosque and the nearby Chungking Mansions building, a ramshackle collection of restaurants, cheap hotels and South-Asian run stores.
There had been concerns over the past week that the South Asian community could suffer some backlash from some pro-democracy factions after a prominent rights activist was beaten up last week by assailants described by police as "non-Chinese".
Criminal gangs, or triads, in the city, have sometimes hire non-Chinese, including South Asians to carry out attacks on individuals.
Consequently, the Muslim community had been on edge ahead of Sunday's protest march, which wound past the mosque, though protesters had promised to pass by peacefully.
Instead it was the police action that caused offence. Acknowledging the upset caused to its community, the Muslim Council of Hong Kong called on people to leave their rancour behind.
Full report at:
https://www.freemalaysiatoday.com/category/world/2019/10/21/apology-accepted-but-hk-muslims-lament-unnecessary-mosque-attack/
--------
Thousands protest after Bangladesh police fire at crowd, killing 4
October 21, 2019
DHAKA: Thousands protested against police across Bangladesh on Monday, a day after at least four people died when officers fired on a crowd in one of the country's deadliest religious riots to date.
Some 20,000 Muslims called for the execution of a young Hindu man on Bhola island Sunday for writing Facebook messages that allegedly defamed the Prophet Mohammed, with police saying they opened fire after rocks were thrown at officers.
Four people died and nearly 50 were injured, with at least seven in a critical condition in hospital.
Mob attacks over online posts perceived to be blasphemous have emerged as a major headache for security forces in Bangladesh, where Muslims make up some 90 percent of the country's 168 million people.
The deaths sparked a new round of protests late Sunday and on Monday as thousands of Muslims across several cities shouted slogans and called for the officers involved to be put on trial.
"This is not acceptable. Police have illegally and unconstitutionally opened fire on the protesters," 22-year-old madrasa student Mahmudul Hasan told AFP at a rally in the capital Dhaka.
"It is an extrajudicial killing. We seek justice."
The Hindu man whose Facebook account hosted the original messages and is from Bhola, was charged with inciting religious tension.
But Prime Minister Sheikh Hasina called for calm Sunday and said the man's Facebook account was hacked by a Muslim person and used to "spread lies".
Thousands of protesters who took part in the Bhola protest were being investigated, local police chief Enamul Haque told AFP, adding a police officer was also "fighting for his life" after he was shot by demonstrators.
No arrests have yet been made, he added.
This is not the first time alleged Facebook posts have sparked large-scale religious violence in the impoverished South Asian country.
In 2016, angry Muslims attacked Hindu temples in an eastern town over a Facebook post that allegedly mocked one of Islam's holiest sites.
Full report at:
https://www.freemalaysiatoday.com/category/world/2019/10/21/thousands-protest-after-bangladesh-police-fire-at-crowd-killing-4/
--------
Can President Jokowi transform Indonesia during his second term?
21.10.2019
After he was sworn in Sunday for his second and final five-year term, Jokowi pledged to transform the Southeast Asian nation's economy and take actions against poverty and corruption.
Jokowi opted for an austere ceremony at the heavily guarded parliament in Jakarta in contrast to the festive parade and horse-drawn carriage at his first inauguration. The president was sworn in with his new vice president, Ma'ruf Amin, one of the most important religious figures in the country.
After taking his oath before the Quran, the Muslim holy book, in front of lawmakers and foreign dignitaries, Jokowi set out ambitious targets to help Indonesia join the ranks of the world's developed nations by its centennial in 2045.
He said in his inauguration speech that he expects poverty — which afflicts close to 10% of Indonesia's nearly 270 million people — to be just about wiped out and the country's annual GDP to reach $7 trillion (€6.27 trillion) by then. "For those who are not serious, I'll be merciless. I would definitely fire people," Widodo warned.
To achieve his development goals, Jokowi said he would focus on human resource development, simplifying regulations and bureaucracy, as well as reconfiguring the economy from being reliant on natural resource production to a maker of high value-added goods.
'Innovative' cabinet?
Jokowi, 58, presents himself as a man of the people, often emphasizing his humble roots. He is the first president from outside the country's super rich and often corrupt political, business and military elite.
Over the last five years, Jokowi has been praised for his efforts to improve inadequate infrastructure and reduce poverty in Southeast Asia's largest economy.
On Monday, the president said he wanted "innovative" ministers in his cabinet for a second term. Nadiem Makarim, the co-founder of tech startup Gojek, a $10 billion unicorn, said he would join the cabinet, while a former chairman of Inter Milan soccer club was also tipped for a post.
Even opposition leader Prabowo Subianto said he had been asked by Jokowi to join the cabinet to help in the area of defense. The former general, who was defeated by Jokowi in April's presidential election after a bitter campaign, said he had accepted the invitation.
The makeup of the cabinet is important as it determines the president's ability to push through his reform agenda. Jokowi is expected to announce the cabinet lineup on Wednesday.
Growing radicalism
Indonesia, the world's largest Muslim-majority country with nearly 270 million people, has increasingly confronted security issues and terror threats over the past several years.
Days before the inauguration, on October 10, an Islamic militant couple carried out a knife attack against Jokowi's security minister Wiranto, who goes by one name. He suffered severe injuries and is currently being treated at a military hospital in Jakarta. The minister is said to be in a stable condition.
Wiranto's attacker was 31-year-old Syahril Alamsyah, a member of the terrorist organization Jamaah Ansharut Daulah (JAD), which is one of the many terrorist groups in the region that have pledged loyalty to "Islamic State" (IS). Since new anti-terrorism laws were introduced this year, hundreds have been detained.
Stanislaus Riyanta, a terrorism expert from the University of Indonesia, told DW that terror groups like JAD are now breaking into small cells — at the family and individual levels — to avoid being detected by authorities.
"This strategy should not be underestimated; in the form of small cells, they are even more deadly because the target becomes more selective and the cells' mobility is very high," said Stanislaus.
Religious radicalization has also been on the rise. Religious tolerance is supposed to be one of the five fundamental principles ("Pancasila") guiding the Indonesian state, but experts say this principle has been undermined in recent years.
Furthermore, observers point out that younger Indonesians are increasingly advocating for a conservative interpretation of Islam, which is leading to increasing Islamization of society.
Even Jokowi's running mate, 76-year-old Amin, was chairman of Majelis Ulama Indonesia, the country's council of Islamic leaders, and supreme leader of Nahdlatul Ulama, the world's largest Muslim organization. Amin has been criticized for being a vocal supporter and drafter of fatwas against religious minorities and the LGBT community.
Law enforcement issues
To spread radical thought, terror groups have targeted not only civilians, but also security institutions, Halili, a research director at the Jakarta-based NGO Setara Institute, told DW. "This is a very real danger," he said.
Indonesia's Defense Minister Ryamizard Ryacudu warned in July that about 3% of military personnel were exposed to radicalism. Experts have repeatedly called on the government to improve oversight mechanisms both within the civilian bureaucracy and security institutions.
During his first term in office, Jokowi drew a lot of criticism over his administration's law enforcement and human rights practices.
Muhammad Isnur, the head of advocacy at the Indonesian Legal Aid Foundation (YLBHI), criticized that the law was used to criminalize those fighting for their constitutional rights. The activist also stressed that Jokowi failed to fulfill his promise to resolve past human rights violations, noting that none of the perpetrators was brought to justice.
Puri Kencana Putri of Amnesty International Indonesia also denounced the free hand enjoyed by law enforcement authorities in the country, saying that excessive use of force by police occurs "also in normal situations."
Full report at:
https://www.dw.com/en/can-president-jokowi-transform-indonesia-during-his-second-term/a-50917011
--------
Eggi Sudjana Questioned by Police for Allegedly Discussing Bomb-Making in WhatsApp Group
BY BAYU MARHAENJATI
OCTOBER 22, 2019
Jakarta. Jakarta Police say they were interrogating lawyer Eggi Sudjana early on Sunday morning, just hours before President Joko "Jokowi" Widodo's inauguration, over an alleged plot to incite riots in the capital.
Jakarta Police spokesman Chief Comr. Argo Yuwono said Eggi had discussed bomb-making with members of a WhatsApp group. Eggi was questioned by the police as a witness.
"We interrogated six witnesses including Eggi Sudjana, who was also in the WhatsApp group," Argo said on Monday.
In the group conversations, Eggy was asked if he would participate in assembling a "nitrogen bomb," Argo said.
"He was told of a plan to make a nitrogen bomb and asked if he would donate money. But he didn't respond," Argo told reporters.
"This is the reason we brought him to the Jakarta Police headquarters for questioning," Argo said.
The officer said Eggi was allowed to go home once the questioning was over.
Police have earlier arrested six suspects for allegedly plotting bomb attacks using catapults at the national legislature compound, where Jokowi was sworn in for his second term on Sunday afternoon.
The suspects were identified by their initials, S.H., E., F.A.B., R.H., H.R.S. and P.S.M. According to police, the WhatsApp group had 123 members with suspected links to Abdul Basith, 44, a lecturer at the Bogor Agricultural University (IPB) who is now in custody after police seized nearly 30 improvised explosive devices from his group in late September.
Full report at:
https://jakartaglobe.id/news/eggi-sudjana-questioned-by-police-for-allegedly-discussing-bombmaking-in-whatsapp-group
--------
Arab World
Desperate Pleas to Free Women and Children From ISIS Camps in Syria
By Livia Albeck-Ripka
Oct. 21, 2019
CANBERRA, Australia — When Kamalle Dabboussy learned this month that President Trump was removing troops from northeastern Syria, he pulled over in his car and wept.
For months, Mr. Dabboussy has been lobbying the Australian government to remove his daughter and three grandchildren from a detention camp for relatives of Islamic State fighters. Now, he believes, the window to save them is closing.
"It's tough; it's scary," he told his daughter, Mariam, during a recent phone call. Mr. Dabboussy tried to comfort her. "We're still pushing," he said.
The fate of tens of thousands of women and children in Kurdish-run detainee camps in Syria has posed a challenge for governments around the world since the Islamic State lost its last territory there earlier this year. But the chaos and violence that have followed the American pullback have intensified questions about what duty nations have to citizens detained abroad, even those affiliated with a brutal terrorist group.
Mr. Dabboussy has been leading a contingent of about a dozen Australian families seeking the return of more than 65 relatives, most of them children. He has traveled to the Al-Hol camp, where his daughter is being held in what he describes as unbearable conditions. He has spent months writing letters, calling politicians and uniting families who had kept the dark secret of their missing loved ones.
The women and children at Al-Hol, from about 50 countries, have been largely shunned by their home governments. In Australia, top leaders have cited a long list of reasons they cannot be repatriated, including security concerns.
Even if a cease-fire announced late last week holds, the Australian government has said, it is still far too risky to consider extracting the detainees. Officials said they would not put other lives in danger to save the women and children.
"Parents, mothers and fathers, have made a decision to take children into a theater of war," the home affairs minister, Peter Dutton, told reporters in Canberra, the capital, on Friday. "We've been very clear we're not going to put Australian defense, foreign affairs or home affairs personnel or other agency staff at risk." He added, "They've been fighting in the name of an evil organization, and there are consequences."
The Australian government has maintained that at least some of the women joined the Islamic State willingly, and could pose a threat to national security. In some cases, it has even canceled the citizenship of fighters and family members it has deemed to be radicalized.
While many women from around the world joined the terrorist group of their own accord, the families of all the Australian women in Al-Hol say they were coerced by husbands and other family members. Many say they are related by blood or marriage to Muhammad Zahab, a Sydney teacher turned Islamic State fighter, who they say delivered them to Syria.
Mr. Dabboussy says that his 28-year-old daughter, while on a vacation in Turkey, was tricked by her husband into going to the border with Syria. She was then forced to cross at gunpoint.
He and other family members of those inside Al-Hol have become increasingly desperate to free them as fears have grown that Syrian government forces could displace the Kurds and take over the camp.
"That is a horrendous thought," Mr. Dabboussy said. "Death might be the more merciful option."
Conditions inside the camp were already miserable, with hundreds of children dying from disease and malnutrition, according to the United Nations Human Rights Council. Some women deemed apostates by more radicalized women have reported beatings and mutilation.
The Australian families argue that there are legal mechanisms to deal with the women, if necessary, after they return home. "We understand the rule of law," Mr. Dabboussy said.
Lawyers representing the women argue that Australia has a constitutional duty to repatriate citizens and apply due process. These legal obligations include a duty to investigate crimes of an international nature, and to protect Australian citizens who are detained overseas, said Sarah Condon, one of the lawyers, who is based in Melbourne.
Policy experts also say that in some cases in which mothers are deemed to be radicalized, the state has a duty to take their children into its custody. Others argue that the government has a moral obligation to extract children who had no say in their parents' journey to Islamic State territory.
Some who study terrorism warn of the risks of leaving the women to potentially escape the camp amid the disarray. That, they argue, could help lead to a resurgence of the Islamic State.
"There are certainly threats and risks when you repatriate people, but there's also risks to not addressing this issue," said Lydia Khalil, a research fellow at the Lowy Institute in Sydney who specializes in the Middle East and international terrorism. She said the camp and other detention sites were "already hotbeds of further radicalization."
United Nations Security Council resolutions mandate that countries take action to have their citizens who joined the Islamic State brought before the law.
But while "every government calls for other countries to repatriate their citizens," said David Malet, a political scientist at American University in Washington, "most do what they can to avoid repatriating their own."
Both President Trump and Secretary of State Mike Pompeo have urged other countries to take back their citizens. As of July, a handful had been repatriated to the United States, according to a report by the Rojava Information Center, a group that does research on the Kurdish areas of Syria.
Some countries with sizable Muslim populations have repatriated large numbers of detainees, and European countries have reportedly been looking at using the cease-fire to return women and children.
But Australia has brought home fewer than 10 children since the camp opened, mostly orphans.
While Mr. Dutton, the conservative home affairs minister, has maintained that returning those in the camp "would be very dangerous," his counterpart in the opposition Labor Party, Kristina Keneally, has said that information from the authorities indicates that some of the women are genuine victims.
Ms. Keneally said that "the government has a full tool kit" to be able to "detain and prosecute and control people who would seek to do us harm." She noted a bill passed in July that enables the government both to delay the return of foreign fighters and their families, and to impose conditions on them once they have done so.
Mr. Dabboussy said Kurdish contacts had assured him that safe routes to remove the women and children remained open.
All last week, messages and calls from the Al-Hol camp streamed to Mr. Dabboussy's phone.
"This is not what we deserve," one woman said in a voice message sent from Al-Hol. She added: "We're scared, we need help, we really need urgent help. Please help us."
Follow Livia Albeck-Ripka on Twitter: @livia_ar.
Want more Australia coverage and discussion? Sign up for the weekly Australia Letter, start your day with your local Morning Briefing and join us in our Facebook group.
https://www.nytimes.com/2019/10/21/world/australia/isis-camp-syria.html
--------
Pentagon sees few options for preventing new ISIS safe haven in Syria
By WESLEY MORGAN
10/19/2019
The United States' abrupt withdrawal from northeastern Syria is forcing the Pentagon to accept a dangerous reality — the rebirth of an Islamic State sanctuary that could allow terrorists to launch attacks on the West.
The U.S. military won't be able do much more than monitor and try to contain ISIS activity in parts of Syria without special operations forces on the ground, according to current and former military officials. And although the Defense Department is considering backup options including a drone campaign and occasional commando raids, the pullout of the troops who had been living in the country alongside Syrian Kurdish forces will make it difficult to track the group or find targets to attack.
Story Continued Below
For now, the U.S. may have to live with the existence of an Islamic State safe haven in Syria, just as it lives with an al-Qaida offshoot's haven in a part of the country where the presence of Russian troops and aircraft limits the Pentagon's reach.
Story Continued Below
"Our goal was the defeat of the Islamic State, and they're undefeated," said Michael Nagata, a retired lieutenant general who helped oversee the early stages of the campaign against ISIS in Syria, in an interview. "Given how dramatically the strategic situation has now changed, the [U.S.-led] coalition may now have to recalibrate. Defeat has just become a much more difficult goal."
Nagata retired this summer after a stint overseeing strategic plans at the National Counterterrorism Center. In addition to ISIS, he said, Syria is also home to one of the largest concentrations of al-Qaida militants in the world. But that group has largely been inaccessible to the U.S. military because it resides in a part of the country where Russia and the Syrian regime, not the U.S., control the airspace. The same may soon be true of the parts of northeastern Syria where ISIS is resurging and as the United States' former Syrian Kurdish partners have invited in Syrian government troops and allied Russian forces.
That removal of U.S. special operations troops means the United States will have a more difficult time gathering intelligence on ISIS and determining its intentions, said Eric Robinson, an Army veteran who held posts at the National Counterterrorism Center and in special operations units until last year.
"There's a direct relationship between presence on the ground and understanding the potential danger," he said. "The unknown will be the capability and intent of the Islamic State in northeastern Syria to conduct external operations. Our ability to understand that has just been dramatically reduced."
Story Continued Below
While a physical safe haven isn't necessary for ISIS to plan and carry out attacks outside the Middle East, it can help.
ISIS propaganda has inspired some homegrown extremists to carry out attacks on the West without assistance from operatives back in the Middle East, such as the 2016 nightclub shooting in Orlando, Fla., that killed 49 people. But at the group's peak, ISIS commanders in Syria were also planning overseas attacks and dispatching operatives to help carry them out — including a series of bombings and shootings in 2015 in and near Paris that killed 130. A year after those attacks, a pair of U.S. strikes in Syria killed three ISIS operatives who the Pentagon said had been involved in planning the carnage.
Even ISIS' role in inspiring "lone wolf" attacks has waned as it has suffered battlefield setbacks and lost territory in Syria and Iraq, which limited its ability to churn out propaganda materials. For example, it has stopped publishing its English-language magazine.
But now, in northeastern Syria, it will have an opportunity to rebuild that capability.
The Pentagon's primary strategy for preventing an ISIS resurgence has been to work "by, with and through" the Syrian Democratic Forces, consisting of Kurdish militias and smaller Arab, Assyrian and Turkmen forces. U.S. special operations troops embedded with those forces on the ground relied on their local knowledge to garner intelligence and keep most U.S. troops out of direct combat.
That approach has been upended by the withdrawal of U.S. troops and the recent Turkish attacks on Kurdish forces.
The U.S. hopes to "preserve" a relationship with the Kurdish forces even as they pivot toward Russia and the Syrian regime, a senior defense official told reporters this week, speaking on condition of anonymity like several other current and former officials quoted in this story.
But even if the relationship survives in some form, the pullout means the U.S. will have lost its direct link to its main allies in the fight against ISIS.
"By, with and through is how we do business, and my concern is that [U.S. troops'] moment-to-moment presence is what created the ability of the SDF to deal with emergent ISIS elements," said John Allen, a retired Marine general who was previously the Obama administration's special envoy for the coalition against ISIS.
Trump has said that a small number of U.S. troops will remain at a base in southeastern Syria, called al-Tanf, where U.S. commandos work with a partner force of Syrian Arabs.
But al-Tanf is too far from the provinces where ISIS is gaining new life to effectively support ground operations to disrupt their activities.
"The distance and the austerity and ruggedness of the terrain between al-Tanf and the remaining ISIS elements are considerable," said Nagata. "And the reality is that life is so much simpler for ISIS in Syria now. I doubt they care about al-Tanf very much."
The desert base is also small and austere. "You'd have to build that place up quite a bit to make it a viable counterterrorism platform," said a current special operations officer with experience in Syria, adding that expanding al-Tanf might raise the hackles of the Syrian regime.
Another option would be to fly special operations troops into eastern Syria by helicopter from neighboring Iraq for occasional raids. The senior defense official said some of the troops leaving Syria are expected to relocate to Iraq, adding that the U.S. military's Central Command "is still planning the details of who will be doing what where."
The military launched a small number of such missions from Iraq into Syria in 2014 and 2015 before building its partnership with the Syrian Kurds. Military planners revisited that option after Trump previously ordered a withdrawal from Syria in December 2018, said a former senior special operations officer who has led troops in the region.
But such missions also pose stark risks. "Maybe they've got a miracle course of action up their sleeves," said the former senior special operations officer. "But we looked at this same problem set when the president first said he was going to pull out back in December, and there's not a lot of good answers."
Story Continued Below
The military "could do them, but only episodically and at very high risk. It would be occasional mowing of the grass," Nagata added of the raid option. "When we do raids in places like ISIS-controlled territory in Syria, there's no friendly forces anywhere nearby. There's no friendly outpost to run to if a helicopter goes down. You are fighting your way in and you're fighting your way out."
Some of the risks could be lessened if the Syrian Kurds allow the U.S. to maintain occasional access to a base somewhere in the northeast that commandos could use as a jumping off-point for such raids, suggested a former senior officer who has led troops in the region. The Pentagon is looking at that option, he said — but "whether or not the Kurds will permit that is anybody's guess. We may have burned that bridge."
Or the U.S. could rely on air strikes from drones and manned aircraft — if it can maintain access to the skies over northeastern Syria. Another senior defense official told reporters that U.S. surveillance aircraft will continue to fly over the area for the time being to monitor activity at prisons where Kurdish forces are guarding captured ISIS militants.
In some countries with al-Qaida and ISIS branches, such as Yemen, Somalia and Pakistan, the U.S. military has relied heavily on air strikes . But in most cases, as in Yemen and Somalia, local proxy forces have complemented the strikes with operations on the ground. And in all of those cases, the U.S. has been able to count on "permissive" skies that the host government has allowed its drones to operate in.
That may not be the case in Syria. The U.S. and Russia have long flown on opposite sides of a "de-confliction line" in Syria. Russian planes have been operating mostly in the west of the country supporting the Syrian government forces in the country's civil war, while U.S. aircraft operated in the east against ISIS targets.
By signing up you agree to receive email newsletters or alerts from POLITICO. You can unsubscribe at any time.
But the willingness of Russia and the Syrian regime to allow the U.S. its own air sector was predicated on the Pentagon's need to defend its forces on the ground, said Nagata. And with those forces now mostly gone, Russian and regime aircraft may soon move into those areas.
"It's going to be much more difficult to do kinetic strikes," said Nagata, using the military's jargon for air attacks. "If you're Syria, Turkey, Russia, the officials we'll have to coordinate airspace with, it's rational for them to be thinking, 'I'm less interested now in allowing the Americans to coordinate.'"
Story Continued Below
Having to fly alongside Russian, Turkish or Syrian aircraft would complicate U.S. drones' ability to carry out strikes, said Wes Bryant, a former Air Force special operations targeting specialist who has coordinated strikes against ISIS. "Anything between the drone and the target on the ground needs to be cleared out of the airspace," Bryant said. "Now we're going to have to coordinate multi-nationally. We'd probably get very few strikes off."
And U.S. drone campaigns, Nagata said, have only been able to keep a lid on terrorist factions, not defeat them. "What we've learned over the past 18 years is that we're very good at identifying and striking targets, but our ability to prevent them from regenerating is very weak," he said.
The "enduring defeat of ISIS" remains the Pentagon's goal in Syria, the first senior defense official insisted this week. But in reality, the U.S. may have to be content with the ability to disrupt the group's activities.
Full report at:
https://www.politico.com/news/2019/10/19/pentagon-isis-syria-051369
--------
UAE announces new initiative to combat online extremism
Oct 19, 2019
The UAE has announced a new initiative designed to help combat divisive and extremist ideologies online.
Launched by the Sawab Centre, a joint US and Emirati programme, the campaign will focus on the empty promises of Isis, also known as Daesh.
Under the scheme - called #FateOfTerrorists - organisers will seek to expose the lies used by extremists to coerce vulberable new recruits into their ranks.
The initiative will run in Arabic, English and French and will appear on a variety of social media platforms including Facebook, Twitter and Instagram.
"Years after Daesh first appeared on the global scene, increasing numbers of Daesh terrorists and other violent extremists are facing the full penalty of the law," a statement from the centre said.
"Daesh uses propaganda and lies to manipulate people into joining its ranks. It promises them the chance to be part of a noble and blessed effort, a great adventure.
"But there is nothing heroic about murdering innocent people going about their daily lives, nothing right about destroying the social fabric of communities."
Since its launch in July 2015, the Sawab Centre has encouraged governments, communities, and individuals to counteract online extremism.
Full report at:
https://www.thenational.ae/uae/government/uae-announces-new-initiative-to-combat-online-extremism-1.925581
--------
Egypt: 4 killed when shells hit 2 houses in north Sinai
By Ashraf Sweillam 
October 19, 2019
EL-ARISH, Egypt — Egyptian security officials and medics say shells hit two houses in the restive northern Sinai Peninsula, killing at least four civilians, including a child.
The officials said the shelling took place on Saturday in the town of Sheikh Zuweid. They said 12 people were wounded and taken to a nearby hospital. The officials spoke on condition of anonymity because they were not authorized to brief the media.
Last week, nine people of the same family were killed and six wounded when a shell hit a truck carrying civilians in the town of Bir al-Abd.
Full report at:
https://www.washingtonpost.com/world/middle_east/egypt-4-killed-when-shells-hit-2-houses-in-north-sinai/2019/10/19/439e1ca6-f2af-11e9-bb7e-d2026ee0c199_story.html
--------
Lebanese army vows to protect protesters 'in the event of an attack'
21 October 2019
The Lebanese army has said it will protect demonstrators gathering in Beirut on Monday after supporters of the Hezbollah and Amal parties attempted to breach the protest areas in the capital.
"We will not remain neutral in the event of an attack on demonstrators in any area," sources from the Lebanese army were quoted as saying by local media outlets.
Al Arabiya English's correspondent on the ground said around 100-200 men on motorbikes waving Hezbollah and Amal flags arrived at Bechara al-Khoury at around 9:00 pm Lebanese time on Monday night.
Another video also showed Lebanese soldiers forcibly removing the Hezbollah and Amal supporters from their motorbikes and blocking them from approaching the main protests squares in downtown Beirut.
By 11:00 pm local time in Beirut, Lebanese army vehicles could be seen stationed at the entrances of the main protest squares and barring any motorbikes from entering the area.
Lebanese TV LBC on twitter said that sources in the government of Saad Hariri denied any intention of declaring a state of emergency in the country.
For his part, General Ashraf Rifi, a former Lebanese justice minister, said that Hezbollah wanted to scare protesters away. He added that Hezbollah had underestimated the intelligence of the Lebanese protesters, saying that "we want to get Lebanon back from Iran."
Full report at:
https://english.alarabiya.net/en/News/middle-east/2019/10/22/Lebanese-army-vows-to-protect-protesters-in-the-event-of-an-attack-.html
--------
ISIS attack kills two security forces near northern Iraqi oilfields
22 October 2019
Two members of Iraq's security forces were killed and three wounded when ISIS militants attacked checkpoints in the Alas oilfields area of the northern Salahuddin province on Monday, the military said in a statement.
Full report at:
https://english.alarabiya.net/en/News/middle-east/2019/10/22/ISIS-attack-kills-two-security-forces-near-northern-Iraqi-oilfields.html
--------
Adel al-Jubeir says Iran does not respect sovereignty of nations
21 October 2019
Saudi Arabia's Minister of State for Foreign Affairs Adel al-Jubeir said that "Iran does not respect the sovereignty of nations or international laws" and that Tehran since the Iranian Revolution continues with its destructive behavior in the region and interferes in other countries' affairs.
In remarks at the Chatham House, a London-based think tank, al-Jubeir said that the Iranian regime "does not respect the principle of non-interference in the affairs of other countries."
Al-Jubeir added that "Iran, since the Iranian revolution, has been on a rampage attacking embassies in Beirut. Attack US Marines at Beirut International Airport, hijack, kidnapping and murdering diplomats in Beirut. Disturbing the Hajj in Saudi Arabia in the late 80s, attacking our embassy in the late 80s in Tehran, assassinating diplomats of Saudi Arabia and a number of countries, as well as diplomats from other countries. They blew up Khobar Towers in 1996."
"They blew up Khobar Towers in 1996. Their military attaché in Bahrain at the time, General Sharif, who was the ringleader. The Saudis who were involved in it fled to Iran. And they haven't come back since. One of them we captured in Beirut or was captured in Beirut several years ago with an Iranian passport, not a Saudi passport. Even though he's a Saudi. They have blown up Synagogues in Argentina. They have assassinated people in Europe. They have blown up facilities in Europe. And the list goes on and on," said al-Jubeir.
Related: Attack on Aramco a serious threat to region's security, says King Salman
He added that Iran and "after the 9/11 attacks and the attack against Afghanistan, the virtual board of directors of al-Qaeda, including Osama bin Laden's son, moved to Tehran and Iran gave them shelter. You don't do this."
"The Iranians are responsible for more than 90 percent of the world's IED (Improvised explosive device) that terrorists use in order to kill people," al-Jubeir pointed out.
Al-Jubeir added "we have captured Iranian operatives in Saudi Arabia scoping and trying to destroy critical infrastructure. We have caught them trying to recruit Saudis in order to cause mischief and murder in Saudi Arabia."
He said Iran's hands extend to a number of Arab countries, pointing out that "Bahrain is suffering on a daily basis from Iranian attempts to send explosives and operatives into Bahrain to destabilize it. In Kuwait, al-Abdali cell was discovered, which is probably the largest terrorist cell in history."
Criticizing Iran's attempts to reach out to neighboring countries to mediate with Saudi Arabia while it continues with its destructive behavior in the region, al-Jubeir said "at the very same time that the Iranians are asking the Kuwaitis to try to mediate between them and the GCC, that's not the behavior of a country that wants to have good ties with you."
Full report at:
https://english.alarabiya.net/en/News/gulf/2019/10/21/Adel-al-Jubeir-No-mediation-with-Iran-demands-actions-not-words-.html
--------
Two Iraqi forces killed in Daesh attacks on security checkpoints
Oct 21, 2019
The Daesh Takfiri terrorist group's attacks on two security checkpoints in northern Iraq have killed two security forces and wounded three others, according to the Iraqi military.
In a statement on Monday, the Iraqi military said the attacks were launched in the Alas oilfields area of the northern Salahuddin province.
"Elements of the terrorist Daesh gangs attacked two security checkpoints in the Alas oilfields area of Salahuddin province, and an improvised explosive device blew up a vehicle belonging to security forces stationed there, leading to the martyrdom of two of them," the statement said.
The terrorists also opened fire on the security forces who attempted to evacuate the bodies, injuring three more.
The attacks were launched as Iraqi government forces, supported by fighters from allied Popular Mobilization Units, have been carrying out clean-up operations against remnants of the Takfiri terrorist group across the country, killing dozens of the extremists in the process.
Daesh has been purged from almost the entire territories it used to control in Iraq and neighboring Syria. However, sporadic attacks by the group are still reported in the two countries.
In February, Iraqi Prime Minister Adel Abdul-Mahdi said he was concerned about developments in Syria, where Daesh terrorists lost their last stronghold on the eastern bank of the Euphrates River and started fleeing in droves toward desert areas in Iraq's Anbar.
The recent developments in northern Syria, where the Turkish military is launching an operation against Kurdish militants following the withdrawal of US forces from the region, have increased concerns about the rebirth of Daesh, especially in areas close to the Iraqi border.
There are also reports that US military forces are transporting to safe sanctuaries hundreds of members of the Daesh Takfiri terrorist group from the desert region of al-Jazirah in Syria's northeastern province of Hasakah to neighboring Iraq.
Syria's official news agency SANA, citing media and local sources, reported that American forces had recently transported the terrorists to an unknown location. The Daesh members were being kept at al-Hol refugee camp, which lies close to the Syria-Iraq border and is run by the Kurdish-dominated Syrian Democratic Forces (SDF).
Since October 9, SANA said, US forces have transported hundreds of Daesh extremists and their relatives from Syrian territories to Iraq in six batches. The date is when Turkey and its allied militants launched a ground offensive against Kurdish forces in northeastern Syria.
Full report at:
https://www.presstv.com/Detail/2019/10/21/609253/Iraq-daesh-security-checkpoint-salahuddin
--------
Syrians throw potatoes at US military vehicles in border town
October 22, 2019
Oct 21, 2019A viral video has emerged on the social media showing Syrian people throwing potatoes and yelling at US armored vehicles as American troops drove through Syria's northeastern border town of Qamishli, after President Donald Trump said he would withdraw American troops from the Arab country.
https://www.presstv.com/Detail/2019/10/21/609225/Syrians-throw-potatoes-at-US-military-vehicles-in-border-town
--------
US, European, Asian chiefs of staff support Saudi Arabia's right to self-defense
MOHAMMED AL-SULAMI
October 21, 2019
JEDDAH: Saudi Military Chief of Staff Lt. Gen. Fayyad bin Hamad Al-Ruwaili said the Kingdom's armed forces are confronting all threats from Iran and its allies, adding that he is looking forward to producing a stance that stresses international support in protecting oil facilities and ensuring their protection from future attacks.
He pointed out that everyone should actively be involved in strengthening the capabilities to resist Iran's threats and those of its allies.
Al-Ruwaili's statement came during the Security and Defense Conference of the chiefs of staff of GCC states and other countries including Egypt, Jordan, Pakistan, Britain, the US, France, South Korea, the Netherlands, Italy, Germany, New Zealand and Greece.
The aim of the conference was to emphasize maritime and air protection, discuss Iranian hostilities and participate in the procurement of capabilities needed for the security of the region.
Highlighting the importance of the region, Al-Ruwaili said it contains about 30 percent of the world energy supplies and shipping lanes that constitue 20 percent of the global trade paths, which is equivalent to 4 percent of the world gross domestic product.
He said: "Today's meeting aims to find appropriate ways for joint military cooperation to ensure the protection of vital and sensitive facilities, as the region continues to suffer from ongoing crises since the time the regime came to power following (1979) revolution in Iran, which aims to export the revolution to other countries, in contradiction with international conventions and treaties."
He added that this has contributed to "spreading chaos by using religious sectarianism to serve political objectives, adopting and supporting loyal armed groups and forming parties and militias that contribute to destabilizing security and stability in several countries in the region.
The participants visited an exhibition, in which they were briefed on the unprecedented attack on vital facilities in the Kingdom as well as intercepted ballistic missiles, Iranian drones and photos of Iranian terrorist tools used to destabilize the region.
Participants issued a joint statement denouncing the attacks on the Kingdom, and expressing their determination to deter future attacks on vital facilities that are crucial for the global economy.
They also expressed their full support for Saudi Arabia's efforts to deal with attacks, and affirmed its right and the right of its neighbors to self-defense in accordance with international law.
Full report at:
https://www.arabnews.com/node/1572276/middle-east
--------
Africa
Mali army says it killed 50 militants, freed soldiers in counter-attack
OCTOBER 19, 2019
BAMAKO (Reuters) - The Malian army said it had killed around 50 militants during an operation in which it managed to rescue some of the soldiers who were captured during deadly attacks last month on two bases in the center of the country.
Unidentified assailants killed 38 soldiers during the Sept. 30 attacks, among the heaviest losses for Mali's army this year as it struggles to repel increasingly brazen raids by militant groups, some with links to al Qaeda and Islamic State.
"Around 50 enemy neutralized, around 30 wounded, and equipment destroyed," the army said in statement detailing the results of its counter-operation.
The army said it had freed 36 of around 60 of its soldiers who were missing following the September raids. Their relatives have protested over the high death toll and a lack of information on the casualties and those missing.
The West African country has been in conflict since 2012 when Islamists hijacked an ethnic uprising by Tuaregs in the north. The violence has since moved to central Mali, from where jihadist fighters launch attacks across the Sahel region.
In a further example of the spiraling insecurity, pro-government Tuareg militia GATIA on Saturday said six of its fighters had been killed in an overnight raid on a GATIA outpost by unidentified assailants in Mali's northern region of Kidal.
The situation has raised concerns that the under-funded regional G5 force, comprising troops from Mauritania, Mali, Niger, Chad, and Burkina Faso, is unable to stop unrest spreading from West Africa's restive hinterland to coastal countries including Ivory Coast and Ghana.
https://www.reuters.com/article/us-mali-security/mali-army-says-it-killed-50-militants-freed-soldiers-in-counter-attack-idUSKBN1WY0B4
--------
Boko Haram ambush Nigerian soldiers, kill three
October 20, 2019
Samuel Ogundipe
Three Nigerian troops were killed by an improvised explosive device in Borno State on October 16, military sources said. Three other soldiers were wounded in the blast.
PREMIUM TIMES learnt from military sources this weekend that troops of 123 Special Forces Battalion in Cross Kauwa were ambushed while on a patrol along Cross Kauwa-Baga Road in Kukawa Local Government Area. The attack was reported at about 8:30 a.m. on October 16.
Three soldiers were confirmed killed in action and three wounded in the aftermath of the attack, which was a combination of explosives and rifles, sources said. The wounded have been hospitalised at the military hospital in Maiduguri, the state capital.
A gun truck was stolen by the insurgents and a military water tanker was destroyed, sources said.
Military spokespersons have not responded to requests for comments about the attack, which now adds to mounting military casualties of the decade-long campaign.
The defence headquarters spokesperson, Onyema Nwachukwu, and army spokesperson, Sagir Musa, did not reply to telephone calls and text messages sent to them.
The fatal ambush unfolded as the Nigerian military raced to complete its implementation of 'super camp' strategy to scale down Boko Haram attacks on troops and their bases. Insurgents have targeted small military units for deadly attacks since June 2018.
Military chiefs believe a concentration of hundreds of troops at a large camp in key regions of the counter-insurgency operation would make it difficult for insurgents to invade bases and sack troops. But the new strategy has been silent on how soldiers on patrol missions would be protected from roadside bombs and ambushes.
Full report at:
https://www.premiumtimesng.com/news/headlines/358586-boko-haram-ambush-nigerian-soldiers-kill-three.html
--------
Nigerian troops launches massive military offensive against Boko Haram: spokesperson
2019-10-19
LAGOS, Oct. 19 (Xinhua) -- Nigerian troops have launched a massive military offensive to end insurgency in the northeast region of the West African country, an army spokesperson said.
Aminu Iliyasu, coordinating spokesperson for the Nigerian army, who disclosed this in a statement sent to Xinhua on Saturday, said troops had continued to hunt for fleeing Boko Haram insurgents and increased onslaught against them in Borno and other parts of the northeast.
Iliyasu said the troops had recovered weapons and vehicles belonging to the fleeing Boko Haram criminals.
He added that the troops deployed at Gubio in Borno successfully repelled a Boko Haram attack on their location and neutralized one of the terrorists.
Full report at:
http://www.xinhuanet.com/english/2019-10/19/c_138485778.htm
--------
Militants kill five in twin attacks on Burkina army outposts: army
OCTOBER 19, 2019
DAKAR (Reuters) - Four soldiers and one police officer have been killed in two attacks on military outposts in northern Burkina Faso, the Burkinabe army said on Saturday.
Raids by Islamist militants as well as clashes between herding and farming communities have surged this year, killing hundreds of civilians and soldiers.
In the early hours of Saturday, the unidentified assailants attacked a military position in the town of Bahn and another in the village of Yense, the army said in a statement.
The attacks happened "almost at the same moment," it said.
The troops were able to retain control of their posts and repel the attackers, it said.
Full report at:
https://www.reuters.com/article/us-burkina-security/militants-kill-five-in-twin-attacks-on-burkina-army-outposts-army-idUSKBN1WY0KT
--------
5 terrorist shelters destroyed in Algeria
2019-10-20
ALGIERS, Oct. 19 (Xinhua) -- Algeria's Defence Ministry Saturday said in a statement that Algerian army destroyed five terrorist shelters on Friday in the provinces of Batna and Skikda.
The official APS news agency quoted the statement as saying that in the framework of the fight against terrorism, the army discovered and destroyed on Oct. 18 five shelters for terrorists in search operations carried out in the province of Batna and Skikda, 410 km southeast and 500 km east of capital Algiers, respectively.
According to the source, these shelters contained "20 homemade mines, one shotgun, one carbine rifle and dozens of bullets of different calibers in addition to some black powder and detonation tools."
The security situation in Algeria has remarkably improved in the last decade, but clashes between security forces and terrorist groups are still occasionally reported.
Full report at:
http://www.xinhuanet.com/english/2019-10/20/c_138486301.htm
--------
Thousands protest in Sudan, call to disband ex-ruling party
21 October 2019
Thousands of demonstrators took to the streets throughout Sudan on Monday to call for disbanding former President Omar al-Bashir's party, the political organ he used to control the country during his 30 years of autocratic rule before being ousted in April.
Separately, Sudan's transitional government and a main rebel faction signed a political declaration amid peace negotiations that began last week, taking a new step toward ending the country's yearslong civil wars. The two sides also renewed a nationwide cease-fire for three months.
The protests in Khartoum and other parts of the country coincided with the anniversary of an uprising in 1964. That push ended six years of military rule in Sudan following a wave of riots and strikes.
Sudan's current transitional government came to power after a similar campaign of mass unrest, which eventually led the military to overthrow al-Bashir.
The country is now ruled by a joint military-civilian administration, which must navigate a delicate path toward eventual democratic elections in just over three years.
Monday's protests renewed demands to step up an independent investigation into the deadly break-up of a protest sit-in camp in June, which resulted in dozens of causalities among the protesters.
Police blocked off main streets Monday leading to the presidential palace and the military's headquarters in Khartoum - the site of June's deadly dispersal - ahead of the marches, according to Asil Abdu, an activist and a resident of the capital.
A statement by the police warned against "creating a state of chaos," which it said could lead to "unfavorable consequences."
Videos circulated online show protesters marching in Khartoum and its twin city of Omdurman. Protests also broke out in other cities such as Atbara, the northern transport hub where the uprising began in December.
The protesters demanding al-Bashir's National Congress Party be disbanded were called for by the Sudanese Professionals' Association, which spearheaded the uprising against the former president.
The SPA has called for the appointment of regional governors and the formation of a legislative body. Creating that interim parliament was part of an August power-sharing agreement signed between the pro-democracy protesters and the country's powerful military.
The transitional government had previously said it would postpone appointing the governors and the legislative body until after achieving peace with the country's rebel groups. That would be a crucial step, since the transitional government is looking to slash military spending in order to revive the battered economy. The uprising against al-Bashir initially began against economic issues, but escalated into calls for his downfall.
Mohammed Hassan al-Taishi, a member of the Sovereign Council and a government negotiator, said Monday that they had agreed on the agenda for the negotiations with the Sudan Revolutionary Front, an alliance of rebel groups from the western Darfur region.
Full report at:
https://english.alarabiya.net/en/News/middle-east/2019/10/21/Thousands-protest-in-Sudan-call-to-disband-ex-ruling-party.html
--------
Libya: Shelling kills 3 children in Tripoli
Waleed Abdullah
22.10.2019
TRIPOLI
Three children were killed in mortar shelling by forces loyal to East Libya-based commander Khalifa Haftar, the UN-recognized Government of National Accord (GNA) said Tuesday.
The shelling targeted a house in Salahuddin neighborhood in southern Tripoli, the GNA media office said in a statement.
The attack came as fighting escalated between the GNA forces and Haftar's troops in southern Tripoli.
In April, Haftar's forces launched a military campaign to capture Tripoli from the internationally-recognized GNA. But has so far failed to make advances, beyond borders of the Libyan capital.
Full report at:
https://www.aa.com.tr/en/africa/libya-shelling-kills-3-children-in-tripoli/1622214
--------
Mideast
Hamas says Israeli violations at al-Aqsa will ignite 'all-out regional war'
Oct 21, 2019
The Palestinian resistance movement Hamas has warned of an "all-out regional war" if the Israeli regime and its settlers continue to expose al-Aqsa Mosque in the occupied Old City of Jerusalem al-Quds to provocative violations.
Hamas spokesman Fawzi Barhoum issued the warning in a press release on Monday, saying that Tel Aviv would pay dearly for any war triggered as a result of its provocative behavior to infuriate Palestinians at the al-Aqsa Mosque compound.
Barhoum also called on the Palestinians in the occupied East Jerusalem al-Quds and the West Bank to enhance their resistance against the occupying entity throughout Palestine.
The Hamas spokesman urged the Arab and Muslim population to support Palestinians in the occupied territories and pressure the decision-makers in their countries to speak out against violations and atrocities perpetrated by Israel in Jerusalem al-Quds and the al-Aqsa Mosque.
'Israel's practices at Aqsa Mosque will burn it'
In a related development, various Palestinian resistance factions in the Gaza Strip censured Israel's "barbaric attacks" against the al-Aqsa Mosque, warning that the violations "will be the spark of an upcoming explosion that will burn it along with its settlers and terrorist leaders."
The factions urged the Palestinians in a joint statement to intensify their presence at the holy site and defend it through carrying out more resistance operations against the Israeli violations.
Earlier on Monday, scores of Israeli settlers desecrated the al-Aqsa Mosque's courtyards after entering through the Bab al-Maghariba gate under the protection of the regime forces.
The Israeli security forces also assaulted a number of women outside the Mosque and arrested two Palestinian activists.
As part of recent mass break-ins into the Islamic holy site, more than 750 Israeli settlers violated the al-Aqsa Mosque compound under the strict protection of regime forces on Thursday.
The al-Aqsa Mosque compound sits just above the Western Wall plaza and houses both the Dome of the Rock and the al-Aqsa Mosque.
Except for Fridays and Saturdays, Israeli settlers violate the mosque in the morning and in the afternoon on almost a daily basis.
Hard-line Israeli legislators and extremist groups also regularly violate the al-Aqsa Mosque compound in the occupied city, a provocative move that infuriates Palestinians.
According to an agreement signed between Israel and the Jordanian government after Israel's occupation of East Jerusalem al-Quds in 1967, non-Muslim worship at the compound is prohibited.
https://www.presstv.com/Detail/2019/10/21/609238/Hamas-war-Israel-Aqsa
--------
Erdogan's Ambitions Go Beyond Syria. He Says He Wants Nuclear Weapons.
By David E. Sanger and William J. Broad
Oct. 20, 2019
WASHINGTON — Turkey's president, Recep Tayyip Erdogan, wants more than control over a wide swath of Syria along his country's border. He says he wants the Bomb.
In the weeks leading up to his order to launch the military across the border to clear Kurdish areas, Mr. Erdogan made no secret of his larger ambition. "Some countries have missiles with nuclear warheads," he told a meeting of his governing party in September. But the West insists "we can't have them," he said. "This, I cannot accept."
With Turkey now in open confrontation with its NATO allies, having gambled and won a bet that it could conduct a military incursion into Syria and get away with it, Mr. Erdogan's threat takes on new meaning. If the United States could not prevent the Turkish leader from routing its Kurdish allies, how can it stop him from building a nuclear weapon or following Iran in gathering the technology to do so?
It was not the first time Mr. Erdogan has spoken about breaking free of the restrictions on countries that have signed the Nuclear Nonproliferation Treaty, and no one is quite sure of his true intentions. The Turkish autocrat is a master of keeping allies and adversaries off balance, as President Trump discovered in the past two weeks.
"The Turks have said for years that they will follow what Iran does," said John J. Hamre, a former deputy secretary of defense who now runs the Center for Strategic and International Studies in Washington. "But this time is different. Erdogan has just facilitated America's retreat from the region."
"Maybe, like the Iranians, he needs to show that he is on the two-yard line, that he could get a weapon at any moment," Mr. Hamre said.
If so, he is on his way — with a program more advanced than that of Saudi Arabia, but well short of what Iran has assembled. But experts say it is doubtful that Mr. Erdogan could put a weapon together in secret. And any public move to reach for one would provoke a new crisis: His country would become the first NATO member to break out of the treaty and independently arm itself with the ultimate weapon.
Already Turkey has the makings of a bomb program: uranium deposits and research reactors — and mysterious ties to the nuclear world's most famous black marketeer, Abdul Qadeer Khan of Pakistan. It is also building its first big power reactor to generate electricity with Russia's help. That could pose a concern because Mr. Erdogan has not said how he would handle its nuclear waste, which could provide the fuel for a weapon. Russia also built Iran's Bushehr reactor.
Experts said it would take a number of years for Turkey to get to a weapon, unless Mr. Erdogan bought one. And the risk for Mr. Erdogan would be considerable.
"Erdogan is playing to an anti-American domestic audience with his nuclear rhetoric, but is highly unlikely to pursue nuclear weapons," said Jessica C. Varnum, an expert on Turkey at Middlebury's James Martin Center for Nonproliferation Studies in Monterey, Calif. "There would be huge economic and reputational costs to Turkey, which would hurt the pocketbooks of Erdogan's voters."
"For Erdogan," Ms. Varnum said, "that strikes me as a bridge too far."
There is another element to this ambiguous atomic mix: The presence of roughly 50 American nuclear weapons, stored on Turkish soil. The United States had never openly acknowledged their existence, until Wednesday, when Mr. Trump did exactly that.
Asked about the safety of those weapons, kept in an American-controlled bunker at Incirlik Air Base, Mr. Trump said, "We're confident, and we have a great air base there, a very powerful air base."
But not everyone is so confident, because the air base belongs to the Turkish government. If relations with Turkey deteriorated, the American access to that base is not assured.
Turkey has been a base for American nuclear weapons for more than six decades. Initially, they were intended to deter the Soviet Union, and were famously a negotiating chip in defusing the 1962 Cuban Missile Crisis, when President John F. Kennedy secretly agreed to remove missiles from Turkey in return for Moscow doing the same in Cuba.
But tactical weapons have remained. Over the years, American officials have often expressed nervousness about the weapons, which have little to no strategic use versus Russia now, but have been part of a NATO strategy to keep regional players in check — and keep Turkey from feeling the need for a bomb of its own.
When Mr. Erdogan put down an attempted military coup in July 2016, the Obama administration quietly drew up an extensive contingency plan for removing the weapons from Incirlik, according to former government officials. But it was never put in action, in part because of fears that removing the American weapons would, at best, undercut the alliance, and perhaps give Mr. Erdogan an excuse to build his own arsenal.
For decades, Turkey has been hedging its bets. Starting in 1979, it began operating a few small research reactors, and since 1986, it has made reactor fuel at a pilot plant in Istanbul. The Istanbul complex also handles spent fuel and its highly radioactive waste.
"They're building up their nuclear expertise," Olli Heinonen, the former chief inspector for the International Atomic Energy Agency, said in an interview. "It's high quality stuff."
He added that Ankara might "come to the threshold" of the bomb option in four or five years, or sooner, with substantial foreign help. Mr. Heinonen noted that Moscow is now playing an increasingly prominent role in Turkish nuclear projects and long-range planning.
Turkey's program, like Iran's, has been characterized as an effort to develop civilian nuclear power.
Russia has agreed to build four nuclear reactors in Turkey, but the effort is seriously behind schedule. The first reactor, originally scheduled to go into operation this year, is now seen as starting up in late 2023.
The big question is what happens to its spent fuel. Nuclear experts agree that the hardest part of bomb acquisition is not coming up with designs or blueprints, but obtaining the fuel. A civilian nuclear power program is often a ruse for making that fuel, and building a clandestine nuclear arsenal.
Turkey has uranium deposits — the obligatory raw material — and over the decades has shown great interest in learning the formidable skills needed to purify uranium as well as to turn it into plutonium, the two main fuels of atom bombs. A 2012 report from the Carnegie Endowment for International Peace, "Turkey and the Bomb," noted that Ankara "has left its nuclear options open."
Hans Rühle, the head of planning in the German Ministry of Defense from 1982 to 1988, went further. In a 2015 report, he said "the Western intelligence community now largely agrees that Turkey is working both on nuclear weapon systems and on their means of delivery."
In a 2017 study, the Institute for Science and International Security, a private group in Washington that tracks the bomb's spread, concluded that Mr. Erdogan's efforts to consolidate power and raise Turkey's regional status were increasing "the risk that Turkey will seek nuclear weapons capabilities."
In response to the German assertion and other similar assessments, Turkey has repeatedly denied a secret nuclear arms effort, with its foreign ministry noting that Turkey is "part of NATO's collective defense system."
But Mr. Erdogan's recent statements were notable for failing to mention NATO, and for expressing his long-running grievance that the country has been prohibited from possessing an arsenal of its own. Turkey has staunchly defended what it calls its right under peaceful global accords to enrich uranium and reprocess spent fuel, the critical steps to a bomb the Trump administration is insisting Iran must surrender.
Turkey's uranium skills were highlighted in the 2000s when international sleuths found it to be a covert industrial hub for the nuclear black market of Mr. Khan, a builder of Pakistan's arsenal. The rogue scientist — who masterminded the largest illicit nuclear proliferation ring in history — sold key equipment and designs to Iran, Libya and North Korea.
The most important items were centrifuges. The tall machines spin at supersonic speeds to purify uranium, and governments typically classify their designs as top secret. Their output, depending on the level of enrichment, can fuel reactors or atom bombs.
According to "Nuclear Black Markets," a report on the Khan network by the International Institute for Strategic Studies, a London think tank, companies in Turkey aided the covert effort by importing materials from Europe, making centrifuge parts and shipping finished products to customers.
A riddle to this day is whether the Khan network had a fourth customer. Dr. Rühle, the former German defense official, said intelligence sources believe Turkey could possess "a considerable number of centrifuges of unknown origin." The idea that Ankara could be the fourth customer, he added, "does not appear far-fetched." But there is no public evidence of any such facilities.
What is clear is that in developing its nuclear program, Turkey has found a partner: President Vladimir V. Putin of Russia. In April 2018, Mr. Putin traveled to Turkey to signal the official start of construction of a $20 billion nuclear plant on the country's Mediterranean coast.
Part of Russia's motivation is financial. Building nuclear plants is one of the country's most profitable exports. But it also serves another purpose: Like Mr. Putin's export of an S-400 air defense system to Ankara — again, over American objections — the construction of the plant puts a NATO member partly in Russia's camp, dependent on it for technology.
David E. Sanger reported from Washington, and William J. Broad from New York.
David E. Sanger is a national security correspondent. In a 36-year reporting career for The Times, he has been on three teams that have won Pulitzer Prizes, most recently in 2017 for international reporting. His newest book is "The Perfect Weapon: War, Sabotage and Fear in the Cyber Age." @SangerNYT • Facebook
Full report at:
https://www.nytimes.com/2019/10/20/world/middleeast/erdogan-turkey-nuclear-weapons-trump.html
--------
As America Leaves Syria, Iran Isn't as Happy as You Think
By Ray Takeyh
Oct. 20, 2019
It is the conceit of the commentariat that Iran is a winner of the latest mayhem in the Middle East—the departure of U.S. troops from Syria and the subsequent Turkish incursion. Yet the clerical oligarchs seem anxious about all that is happening around them.
A continuing Syrian civil war was working for Tehran. It had managed to navigate skillfully the politics at play, developing good relations with both Bashar Assad and the Kurdish militias opposing him. The latter's U.S. support created a sort of balance between the sides....
Full report at:
https://www.wsj.com/articles/as-america-leaves-syria-iran-isnt-as-happy-as-you-think-11571599277
--------
Iran sends US list of names for its proposed prisoner swap
Oct. 21, 2019
By ARON HELLER and NASSER KARIMI
TEHRAN, Iran (AP) — Iran's foreign ministry said Monday it has sent the United States a list of names it is demanding in a proposed prisoner swap, opening a potential new channel with Washington amid recent growing tensions.
Iran did not detail the names it relayed, but Foreign Minister Mohammad Javad Zarif said he hoped to hear soon "good news" about the release of Iranian scientist Masoud Soleimani. U.S. federal authorities arrested Soleimani last year on charges that he had violated trade sanctions by trying to have biological material brought to Iran. Zarif said he raised the issue last month in his visit to New York to attend the U.N. General Assembly, according to the semi-official Fars news agency.
Ministry spokesman Abbas Mousavi said the Islamic Republic has relayed which Iranians should be included in the suggested swap with the United States and other Western nations. Iran holds several American nationals and did not detail whom it would consider freeing.
"We have handed over a list of names (to the United States) who must be freed," Mousavi said, in a briefing with reporters. "We hope that these efforts, if paired with good will, would pay off soon and we would see freedom of Dr. Soleimani and other Iranians from the Americans' captivity."
Iran contends Soleimani and others were detained over what they called "baseless" accusations of bypassing unilateral American sanctions on Iran. It's not clear how many other Iranians the U.S has detained, and there was no immediate American reaction.
Tensions between Iran and the United States have steadily escalated since President Donald Trump pulled the United States out of the 2015 nuclear deal last May and re-imposed sanctions on Iran. Prosecutors in Atlanta got an indictment the following month against Soleimani, who works in stem cell research, hematology and regenerative medicine. U.S. officials revoked his visa and arrested him in October when he landed in Chicago.
The U.S. blames Iran for a series of mysterious oil tanker attacks this year and alleges it carried out last month's attack on the world's largest oil processor in Saudi Arabia, which caused oil prices to spike by the biggest percentage since the 1991 Gulf War.
Iran denies the accusations and has warned any retaliatory attack targeting it will result in an "all-out war," as it has begun enriching uranium beyond the terms of its 2015 nuclear deal. Iran also shot down a U.S. military surveillance drone and seized oil tankers.
A prisoner swap could offer a breakthrough following a pair of conciliatory moves.
A month ago, the U.S. deported Iranian Negar Ghodskani who was brought to the U.S. to face criminal conspiracy charges. She was sentenced to time served for conspiracy to illegally export restricted technology from the U.S. to Iran.
In June, Iran released Nizar Zakka, a U.S. permanent resident from Lebanon who advocated for internet freedom and has done work for the U.S. government. He was sentenced to 10 years on espionage-related charges and was freed after serving less than four years.
However, in May, Iran sentenced former U.S. Navy cook Michael R. White from Imperial Beach, California, to 10 years in prison in Iran, becoming the first American known to be imprisoned there since Trump took office.
Three other American citizens are known to be held in Iran, though Iran does not recognize their dual nationality
Iranian-American Siamak Namazi and his octogenarian father Baquer, a former representative for the U.N. children's agency UNICEF who served as governor of Iran's oil-rich Khuzestan province under the U.S.-backed shah, are both serving 10-year sentences on espionage charges.
Iranian-American art dealer Karan Vafadari and his Iranian wife, Afarin Neyssari, received 27-year and 16-year prison sentences, respectively.
Chinese-American graduate student Xiyue Wang was sentenced to 10 years in prison for allegedly "infiltrating" the country while doing doctoral research on Iran's Qajar dynasty.
Iranian-American Robin Shahini was released on bail in 2017 after staging a hunger strike while serving an 18-year prison sentence for "collaboration with a hostile government." Shahini has since returned to America and is now suing Iran in U.S. federal court.
Former FBI agent Robert Levinson, who vanished in Iran in 2007 while on an unauthorized CIA mission, remains missing. Iran says that Levinson is not in the country and that it has no further information about him, though his family holds Tehran responsible for his disappearance.
Full report at:
https://www.seattletimes.com/nation-world/nation/iran-sends-us-list-of-names-for-proposed-prisoner-swap/
--------
Secondary circuit of Iran's Arak nuclear reactor to be operational within two weeks: official
OCTOBER 20, 2019
GENEVA (Reuters) - The secondary circuit of the Arak heavy water nuclear reactor will be operational within two weeks, Ali Asghar Zarean, a special assistant to the chief of Iran's Atomic Energy Organization, was quoted as saying on Sunday by the semi-official Tasnim news agency.
The starting of the secondary circuit will not violate restrictions placed on Iran's nuclear program under a landmark 2015 deal with world powers.
Last week, Iranian President Hassan Rouhani said Tehran will continue to reduce its commitments to the deal, removing curbs on its nuclear program, until European parties to the pact protect Iran's economy from U.S. penalties.
Iran has the capacity to produce up to 25 tonnes of heavy water per year, Zarean said, noting that the Islamic Republic currently produces 20 tonnes of heavy water annually, which is exported to other countries.
Heavy water can be employed in reactors to produce plutonium, a fuel used in nuclear warheads.
Despite having nuclear technology, Iran has never pursued building or using nuclear weapons, which its religion forbids, the country's highest political authority, Ayatollah Ali Khamenei, said earlier this month.
Iran has responded to U.S. "maximum pressure" by scaling back commitments to the nuclear deal since May. Britain, France and Germany, all signatories to the pact, have urged Iran to refrain from any concrete act breaching the agreement.
Full report at:
https://www.reuters.com/article/us-iran-nuclear-arak/secondary-circuit-of-irans-arak-nuclear-reactor-to-be-operational-within-two-weeks-official-idUSKBN1WZ0FY
--------
Israel's Netanyahu gives up effort to form new government
21 October 2019
Israeli Prime Minister Benjamin Netanyahu said on Monday he was giving up his effort to form a new government after failing to form a coalition following an inconclusive parliamentary election.
Netanyahu, who heads the right-wing Likud party, said he was returning the mandate back to Israel's president, Reuven Rivlin.
Full report at:
https://english.alarabiya.net/en/News/middle-east/2019/10/21/Israel-s-Netanyahu-gives-up-effort-to-form-new-government.html
--------
Iran FM: I'm ready to visit Saudi Arabia to settle differences
Oct 21, 2019
Iran's Foreign Minister Mohammad Javad Zarif says he is ready to visit Saudi Arabia to help reduce tensions between Riyadh and Tehran if suitable conditions existed.
Iran's top diplomat made the remarks while answering a question posed by Yemen's Arabic-language al-Masirah news agency on the sidelines of a conference held in Tehran on Monday themed "Unilateralism and International Law."
"If suitable conditions are provided, I would be ready to travel to Riyadh to settle differences" between the two countries, Zarif was quoted by ISNA as saying.
"Tehran welcomes any initiative that aims to ease tensions in the region and will cooperate [with other parties] to end Yemen's war," he added.
Zarif once again reiterated the Islamic Republic's policy for supporting the Yemeni people, saying, "Iran will always stand by the Yemeni nation and we believe that the end of war will first of all help the Yemeni people."
Elsewhere in his remarks, the Iranian foreign minister said he is in constant contact with Pakistani Prime Minister Imran Khan in relation to developments in Yemen.
The Pakistani prime minister made an official visit to Tehran earlier this month and held talks with Leader of the Islamic Revolution Ayatollah Seyyed Ali Khamenei and President Hassan Rouhani.
In his meeting with Khan, Ayatollah Khamenei said a proper end to the ongoing war waged by Saudi Arabia and its allies on Yemen can have "positive" effects on the region, highlighting Iran's plan as a suitable solution to this crisis.
"The Islamic Republic of Iran has for a long time presented a four-point plan to end the war in Yemen," Ayatollah Khamenei said, adding, "The end of this war in the proper way can have positive effects on the region."
Saudi Arabia and a number of its regional allies launched a devastating military campaign against Yemen in March 2015, with the goal of bringing the government of former president Abd Rabbuh Mansur Hadi back to power and crushing the Houthi Ansarullah movement.
The US-based Armed Conflict Location and Event Data Project (ACLED), a nonprofit conflict-research organization, estimates that the war has claimed more than 91,000 lives over the past four and a half years.
The war has also taken a heavy toll on the country's infrastructure, destroying hospitals, schools, and factories. The UN says over 24 million Yemenis are in dire need of humanitarian aid, including 10 million suffering from extreme levels of hunger.
Speaking at a press conference in the Yemeni capital city of Sana'a on Saturday, the Yemeni minister of public health and population criticized the United Nations and the World Health Organization (WHO) for their failure to open a humanitarian medical air bridge for Yemeni civilians, who are suffering from conditions that cannot be treated inside the war-battered Arab country.
Taha al-Mutawakel said the international bodies have not managed to ensure a mechanism for the medical transfer of critically ill patients, by chartered air flight, to medical facilities abroad that are equipped to handle such cases, slamming the international community's silence on the gradual death of 30,000 patients, who are in dire need of treatment outside Yemen.
We are always ready to travel to neighboring states: Zarif
Later on Monday, Zarif visited an industrial complex in Tehran Province, on the sidelines of which he talked to reporters, further explaining about his readiness to visit Saudi Arabia.
Javad Zarif
✔
@JZarif
2500 young entrepreneurs have turned an old building in Tehran into an innovation factory to develop cutting edge tech—gaming, nano medicine, #AI, #IoT....
.@realDonaldTrump 's #EconomicTerrorism is out to block them and their ideas, but they're relentless in pursuit of dreams.
View image on TwitterView image on TwitterView image on TwitterView image on Twitter
1,496
11:07 PM - Oct 21, 2019
Twitter Ads info and privacy
418 people are talking about this
"Nothing new has happened. We have always been ready to travel to neighboring countries and to go to neighboring countries," Iran's foreign minister said.
"The Islamic Republic's [friendship] hand has been always extended toward regional countries and if there are [necessary] grounds and neighboring countries are also ready for cooperation, we will definitely be prepared [to do this]," Zarif pointed out.
Zarif: FATF's decision politically motivated
Speaking to reporters on the sidelines of the International Conference on Unilateralism and International Law, Zarif pointed to a recent warning given to Iran by the Paris-based Financial Action Task Force (FATF), noting that the decision was purely motivated by political reasons.
"The Islamic Republic of Iran has been pursuing the fight against money laundering as a necessity measure and goal, and the decision made by the FATF is completely political and we are totally opposed to it," Iran's top diplomat said, adding, "However, for the sake of our own national interests, we have taken all necessary measures to fight financing terrorism and prevent money laundering."
The FATF has given Iran a final deadline of February 2020 to tighten its rules against money laundering in compliance with the global watchdog's financial standards.
"If before February 2020, Iran does not enact the Palermo and Terrorist Financing Conventions in line with the FATF Standards, then the FATF will fully lift the suspension of counter-measures and call on its members and urge all jurisdictions to apply effective counter-measures, in line with recommendation 19," the FATF said in a statement on October 18.
It also expressed "disappointment" that Iran has so far failed to adopt the FATF standards, saying that Tehran is expected to "proceed swiftly in the reform path to ensure that it addresses all of the remaining items by completing and implementing the necessary Anti-Money Laundering and Counter-Terrorist Financing reforms."
Full report at:
https://www.presstv.com/Detail/2019/10/21/609208/Zarif-Iran-Saudi-Arabia-alMasirah-Yemen-travel
--------
Turkey can have bases on own soil, but not in Syria: Iran
Oct 21, 2019
Iran has expressed opposition to Turkey establishing military bases inside Syria, calling on Ankara to respect the Arab country's territorial integrity.
"The Turks can have bases on their own side of the border but establishing bases on Syrian soil is unacceptable and amounts to violating [the sovereignty] of a member of the United Nations," Foreign Ministry spokesman Abbas Mousavi said Monday.
Mousavi said Turkey's security concerns, while legitimate, should be resolved amicably and with full respect for Syria's sovereignty.
"Syria's sovereignty and integrity must be respected by all countries of the region," he said, noting there were already various mechanisms and agreements in place that could be used to address Turkey's concerns.
The spokesman said Iran was ready to engage Syrian Kurds, Syria's government as well as Turkey in order to bring them closer.
Turkish military forces and their FSA proxies launched an invasion of northeast Syria on October 9 in a bid to clear Kurdish militants of the so-called People's Protection Units (YPG) from its border areas.
Ankara has blacklisted the US-backed YPG as a terrorist organization tied to the homegrown Kurdistan Workers' Party (PKK) militant group, which has been waging a bloody war on Turkey since 1984.
The Syrian government has condemned the offensive as an act of aggression.
On Thursday, and after talks with US Vice President Mike Pence in Ankara, Turkey agreed to halt its invasion for five days to allow the YPG militants to pull out of the border area. The Turkish government says it will end the operation altogether provided that the militants are completely cleared from the zone.
Mousavi repeated Iran's position that none of the existing crises in the Middle East could be resolved through military intervention and that dialogue was the only way.
Tehran has showed from the beginning of the Syria crisis that it is looking to reduce tensions in the region and has already tried practical measures to stop the violence, the spokesman said.
Mousavi did not rule out Iran's role in resolving the ongoing crisis in northern Syria as Turkish President Recep Tayyip Erdogan plans to travel to the Black Sea resort of Sochi for talks with Russian President Vladimir Putin.
"Iran is one of the active players in this field," he said.
Iran wants good relations with all neighbors
Mousavi also confirmed that there have been "new developments" in ties between Iran and the United Arab Emirates recently.
"We welcome any move that helps reduce tensions and brings together regional countries, especially with the Emirates," he said. "We hope our friends in the Persian Gulf region would arrive at this conclusion that they will find no better friend than Iran if they are looking for stability and peace."
Mousavi, however, refused to comment on reports that a UAE security official has traveled to Iran. The spokesman, instead, confirmed that officials from the two countries have held meetings recently and "hopefully these meetings would improve ties between the two countries."
He also dismissed claims by Bahraini officials that Iran has over the past years channeled explosives and weapons to the tiny Persian Gulf island.
"Sometimes it seems like these people can't go to sleep without making such allegations," he responded. "These accusations are based on illusion and can't be accepted."
Calling for better relations with Bahrain and other Persian Gulf countries, Mousavi expressed regret over Manama's decision to host an Israeli delegation for an upcoming security conference.
"It's so sad that a country that claims to be Islamic and Arabic, moves to normalize ties with such a regime after 70 years of atrocities, rights violations and child killings," he said. "We condemn this presence which is very unpleasant."
Iran ready for 4th nuclear step
Elsewhere, Mousavi said Tehran was ready to unleash the 4th step in its measured response to the violation of the 2015 Iran nuclear deal, also known as the Joint Comprehensive Plan of Action (JCPOA).
He also slammed Europe for failing to counter US pressure to destroy the deal, the future of which remains uncertain more than a year after President Donald Trump pulled out of it and targeted Iran with new sanctions.
Despite promising to protect trade with Iran as agreed in the JCPOA, the three European signatories -- the UK, France and Germany -- have failed to take any practical steps.
Frustrated with their inaction, Iran has so far cut back on its JCPOA commitments by enriching uranium beyond purity levels set under the deal and stockpiling it in higher amounts than what the agreement requires.
As a third step, Iran removed some of the limits that the deal had defined for nuclear research.
Iran has noted that all of its actions are based on its rights stipulated in the JCPOA and will be reversed once Europe delivers its end of the bargain.
"Iran's economy will continue to thrive and work together with other countries of the world with or without the Europeans," Mosauvi said.
Full report at:
https://www.presstv.com/Detail/2019/10/21/609199/Iran-Mousavi-Turkey-Syria-military-bases-bahrain-JCPOa
--------
Saudi airstrikes leave five more civilians dead in northern Yemen
Oct 21, 2019
At least five civilians have been killed when Saudi military aircraft carried out airstrikes in Yemen's mountainous northern province of Sa'ada as the Riyadh regime presses ahead with its atrocious bombardment campaign against its crisis-hit southern neighbor.
Saudi fighter jets conducted an aerial assault against a car as it was traveling along a road in the Kitaf wa Al Boqe'e district of the province on Monday evening, claiming the lives of four people, Yemen's Arabic-language al-Masirah television network reported.
قناة المسيرة
✔
@almasirah
4 شهداء من أسرة واحدة بغارة للعدوان على سيارة في صعدة (حصيلة أولية)#المسيرة #المسيرة_نتhttps://almasirah.net/details.php?es_id=46305&cat_id=3 …
4 شهداء من أسرة واحدة بغارة للعدوان على سيارة في صعدة (حصيلة أولية)
استشهد 4 أشخاص من أسرة واحدة، اليوم الاثنين، جراء استهداف طيران العدوان السعودي الأمريكي سيارة مواطن في صعدة.
almasirah.net
22
9:36 PM - Oct 21, 2019
Twitter Ads info and privacy
See قناة المسيرة's other Tweets
The report added that the fallen victims were all members of the same family, and that there were a child and a pregnant woman among the deceased.
Earlier in the day, a civilian lost his life when Saudi warplanes struck Ghamar area in Razih district in the same Yemeni province.
Saudi artillery rounds and mortar shells also rained down on residential neighborhoods in Razih, but there were no immediate reports about possible casualties and the extent of damage caused.
Saudi Arabia and a number of its regional allies launched a devastating military campaign against Yemen in March 2015, with the goal of bringing the government of former president Abd Rabbuh Mansur Hadi back to power and crushing the Houthi Ansarullah movement.
The US-based Armed Conflict Location and Event Data Project (ACLED), a nonprofit conflict-research organization, estimates that the war has claimed more than 91,000 lives over the past four and a half years.
Full report at:
https://www.presstv.com/Detail/2019/10/21/609236/Saudi-airstrikes-leave-five-more-civilians-dead-in-northern-Yemen
--------
Turkey detains 3 pro-Kurdish mayors over 'terror' links
Oct 21, 2019
Turkey has arrested three mayors from the pro-Kurdish People's Democratic Party (HDP) on suspicion of "membership in a terror group" and "disseminating terror propaganda."
The three HDP mayors of Kayapinar, Bismil and Kocakoy in the Kurdish majority southeast, as well as the dismissed mayor of Diyarbakir, Adnan Selcuk Mizrakli, were detained as part of an investigation launched by prosecutors, the state-run Anadolu news agency reported on Monday.
The three local mayors were suspended over alleged ties to the Kurdistan Workers' Party (PKK) militant group, which has been waging an insurgency for autonomy in Turkey's largely-Kurdish southeast since 1984 and is deemed a terrorist organization by Turkey.
In August, Mirzakli was removed from office on charges of links to the PKK along with two other mayors. The mayors -- all members of HDP -- had active cases against them in which they were accused of crimes such as establishing or spreading propaganda for the militant group, or just being a member.
Turkish President Recep Tayyip Erdogan has repeatedly claimed the HDP has ties to the PKK.
Thousands of HDP members have been prosecuted over the same accusation, including its leaders. The party denies any affiliation with the outlawed Kurdish militant group.
The Turkish government is also angered by descriptions of its offensive on Syria that the HDP labels as an "invasion attempt."
The HDP has urged Ankara to halt the military operation in northern Syria, which is purportedly aimed at pushing Kurdish militants from the border region.
On October 15, Turkey arrested four mayors from the HDP in an apparent crackdown on critics of Ankara's latest offensive against Syria.
Turkish police has launched criminal investigations against HDP's co-chairs over their criticism of the attack and began probes into over 500 social accounts over "terrorist propaganda" slamming the offensive.
Full report at:
https://www.presstv.com/Detail/2019/10/21/609211/Turkey-HDP-memebership-PKK-investigation-mayor
--------
Palestine condemns Israeli regime's 'biggest land heist' in West Bank
Oct 21, 2019
The Palestinian Ministry of Foreign Affairs and Expatriates has condemned Israel's latest decision to seize more Palestinian land in the occupied West Bank in defiance of international outcry over the Tel Aviv regime's land expropriation policies, describing it as "the biggest land heist."
The ministry, in a statement released on Monday, slammed the Israeli officials' plan to seize more than 700 dunams (172 acres) of private land in Qaryut village, located 28 kilometers southeast of Nablus, to expand Eli settlement.
Wafa News Agency
@WAFA_PS
"الخارجية": تقليص المنطقة "ب" تدمير ممنهج للاتفاقات وضم للضفةhttp://www.wafa.ps/ar_page.aspx?id=s6Mq8Ha863806264035as6Mq8H …
View image on Twitter
3:20 PM - Oct 21, 2019
Twitter Ads info and privacy
See Wafa News Agency's other Tweets
"We have always warned of the seriousness of the colonial settlement plan targeting the southwestern area of Nablus. It is aimed at establishing a huge settlement bloc that will be linked to settlements in Salfit governorate," the statement read, describing the measure as "the biggest land heist and annexation of large parts from the occupied West Bank."
"Israel is taking advantage of full American support for its expansionist colonial plans. It continues to undermine any chance to achieve peace on the basis of a [so-called] two-state solution, whilst deepening the abhorrent apartheid system in Palestine and transforming Palestinian areas in the West Bank into isolated communities in the midst of a huge ocean of settlements," the foreign ministry pointed out.
The ministry then warned that the Israeli regime is actually pressing ahead with its plan of West Bank annexation and unilaterally determining the future of the final status of the so-called peace negotiations.
The Tel Aviv regime is demoing the status of the Palestinian issue as well as Palestinians' rights and their just and legitimate cause to a trifling matter of people in need of relief programs and economic projects, it added.
The Palestinian foreign ministry also expressed surprise over the international community's failure to take concrete actions against the Israeli regime's activities, and sufficing to statements and condemnations.
"The failure of the international community and the United Nations to assume their political and legal responsibilities undermines the world order and its credibility," it said.
More than 600,000 Israelis live in over 230 settlements built since the 1967 Israeli occupation of the Palestinian territories of the West Bank and East Jerusalem al-Quds.
The UN Security Council has condemned Israel's settlement activities in the occupied territories in several resolutions.
Less than a month before US President Donald Trump took office, the United Nations Security Council in December 2016 adopted Resolution 2334, calling on Israel to "immediately and completely cease all settlement activities in the occupied Palestinian territories, including East Jerusalem" al-Quds.
Palestinians want the West Bank as part of a future independent Palestinian state with East Jerusalem al-Quds as its capital.
Full report at:
https://www.presstv.com/Detail/2019/10/21/609207/Palestine-condemns-Israeli-regimes-biggest-land-heist-in-West-Bank
--------
Baha'i community fears deportations as Yemen sentence looms
October 21, 2019
WASHINGTON: The Baha'i community voiced fear Monday that a court under Yemen's Houthi rebels could order the mass expulsion of members of the faith.
The community said that an appeals court in Yemen's capital Sanaa, which is controlled by the insurgents, is expected to rule Tuesday on a death sentence handed down on religious grounds to Hamed bin Haydara, a Baha'i detained since 2013.
Citing statements by the prosecutor, the Baha'i International Community said it feared the judge would not only uphold the execution but order the deportation of Baha'is from Yemen.
"By such a ruling, he would target and threaten an entire religious community in Yemen — which wishes for nothing more than to contribute to its nation's progress," Diane Ala'i, a representative of the community to the United Nations, said in a statement. She warned Baha'is could face "statelessness and expulsion, confiscation of assets and threat of extermination in the country."
Sam Brownback, the US ambassador-at-large for international religious freedom, voiced concern about reports that the Houthis were looking to deport the Baha'is or seize their assets.
"We urge them to release arbitrarily detained Baha'is like Hamed bin Haydara and respect religious freedom," he tweeted earlier this month.
Several thousand Baha'is — members of the 19th century faith founded by the Iranian-born Baha'u'llah that calls for unity among religions and equality between men and women — are estimated to live in Yemen.
Full report at:
https://www.arabnews.com/node/1572331/middle-east
--------
URL: https://www.newageislam.com/islamic-world-news/ayodhya-verdict-muslim-parties-vhp/d/120061
New Age Islam, Islam Online, Islamic Website, African Muslim News, Arab World News, South Asia News, Indian Muslim News, World Muslim News, Women in Islam, Islamic Feminism, Arab Women, Women In Arab, Islamophobia in America, Muslim Women in West, Islam Women and Feminism