New Age Islam News Bureau
7 Jul 2018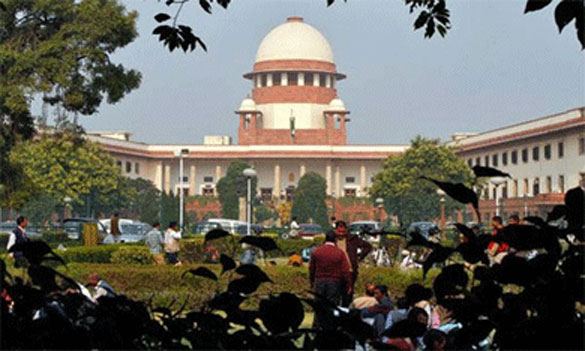 The Supreme Court of India (Photo | ANI Twitter)
----
• Ayodhya Case: Mosque Is Integral To Islam, Supreme Court Told
• 59 Parties Not Considering Women Candidates: ECP Reveals
• Chemical Weapons Agency Finds 'Chlorinated' Chemicals in Syria's Douma
• 'I Was a Poser,' Says Young Man Caught With Islamic State Propaganda And Child Porn
• Belgian Muslim Groups Condemn Islamophobic Attack
India
• Ayodhya Case: Mosque Is Integral To Islam, Supreme Court Told
• Islamic Preacher Zakir Naik Will Not Be Deported, Has Permanent Residency, Says Malaysia PM
• NIA arrests Asiya Andrabi, two others for 'waging war against India'
• Afghanistan: Slain Sikh leader's son wants to fight polls
• Ayodhya case: UP opposes Muslim groups' plea to refer mosque issue to larger bench
• Yasin Malik detained, Hurriyat leader put under house arrest ahead of Burhan Wani's death anniversary
--------
Pakistan
• 59 Parties Not Considering Women Candidates: ECP Reveals
• Democratic Transfer of Power in Pakistan Must Continue, Says Wells
• NSC reiterates commitment to fight terror financing
• Afghan Taliban denounce US-sponsored scholars conferences
• Pakistan ex-PM Sharif sentenced to 10 years for corruption
• NAB fails to arrest Safdar, plans to get warrants
• Imran terms verdict beginning of new Pakistan
--------
Arab World
• Chemical Weapons Agency Finds 'Chlorinated' Chemicals in Syria's Douma
• Rebels in Southern Syria Reach Deal to End Violence
• Syrian govt forces close to seizing Jordan border crossing: pro-Damascus commander
• Syrian Army Frees Nine Key Checkpoints at Border with Jordan
• ISIL Centres Receive Powerful Blows in Syrian Armed Forces' Attacks in Homs
• Israel targets 'Syrian position' in Qunaitra in northern Golan Heights
• Ceasefire follows regime strikes on Syria's Daraa amid renewed negotiations
• Syria to take control of southern areas after reaching deal with militants
--------
North America
• 'I Was a Poser,' Says Young Man Caught With Islamic State Propaganda And Child Porn
• No Breakthrough in N-Talks as Iran Demands More After US Exit
• Washington calls for confrontation of Iran-sponsored terror attacks in Europe
--------
Europe
• Belgian Muslim Groups Condemn Islamophobic Attack
• Vienna Meet on Nuclear Deal Supports Iran's Continued Oil, Gas Exports
• Germany: Muslim patients targeted in knife attack
• Turkey: 2 British brothers arrested for 'terror propaganda'
• European Parliament slams UAE for 'destabilizing' Somalia over Qatar crisis
• Netherlands expels two Iranian embassy staff
--------
South Asia
• International Consultation Meeting Urges Political Solution to Rohingya Crisis
• ISIS Shadow Judge, Commander among 25 Killed In Nangarhar Operations
• Taliban and ISIS-K militants suffer casualties amid ongoing infighting
• Will Bangladesh ensure safe return of detained migrants from Malaysia?
• Children suffer heavy casualties in back to back to explosions in Ghazni
--------
Southeast Asia
• Selangor Islamic Department Has No Right to Stop Ahmadiya Muslims, Court Rules
• Husband of child bride wants her admitted to 'pondok' school
• Should judge recuse himself from Najib's case?
• Sharia-compliant fintech faces hurdles, insiders say.
--------
Mideast
• 8 Daesh Terrorists Executed Over 2017 Iran Attacks
• Yemeni Forces Launch Ballistic Missile at Industrial Target in Saudi Arabia
• Palestinian killed as Gaza protests against Israel enter fourth month
• Seven Qaeda fighters killed in Yemen drone strike
• Turkish police launch nationwide raids to detain nearly 350 over Gulen ties
• Saudi air force intercepts Houthi-launched missile targeting Jazan
• Yemen PM: We are going to regain full control of the state
--------
Africa
• Osinbajo Gives Reasons Boko Haram Will End Soon
• Buhari says Boko Haram-hit NE Nigeria now 'post-conflict'
• Armed group in Libya kidnaps three Filipinos and one Korean
Compiled by New Age Islam News Bureau
URL: https://www.newageislam.com/islamic-world-news/ayodhya-case-mosque-integral-islam/d/115763
--------
Ayodhya case: Mosque is integral to Islam, Supreme Court told
07th July 2018
NEW DELHI: Stressing the importance of a mosque in Islam, senior advocate Rajiv Dhavan on Friday told the Supreme Court during the hearing on the Babri Masjid-Ram temple land dispute case that the religion will collapse if prayer in a mosque is not recognised.
Dhavan, appearing for the late M Siddiq, the original litigant of the Ayodhya case who is being represented through his legal heir, said, "Islam will collapse if prayer in mosque is not recognised as an integral part of the religion."
Citing the SC's 1994 verdict in the case of Ismail Faruqui that had held that a mosque was not integral to prayers offered by Muslims, Dhavan said, "Islam says mosques are integral to faith."
He also termed the high court's verdict dividing the 2.77-acre disputed Ayodhya land equally among the Sunni Waqf Board, the Nirmohi Akhara and Ram Lalla as a panchayat decision.
Opposing Dhavan's demand, Additional Solicitor General Tushar Mehta, appearing for the Uttar Pradesh government in the Ayodhya case, asked why the 1994 judgment was being discussed now when it was never challenged in any of the proceedings earlier. The ASG said there was no need to send the case to the Constitution Bench and the same Bench should hear the case straightaway.
http://www.newindianexpress.com/nation/2018/jul/07/ayodhya-case-mosque-is-integral-to-islam-supreme-court-told-1839531.html
--------
59 parties not considering women candidates: ECP reveals
JULY 7, 2018
ISLAMABAD: The details of political parties contesting the upcoming general elections and the percentage of tickets they have allocated to women candidates was published by The Election Commission of Pakistan (ECP) issued on Friday.
The list stated, 59 political parties have not considered women for general seat tickets. Whereas, a total of 304 women in total have been given tickets by 48 parties.
Among the 48, four parties: Allah Akbar Tehreek, Jamiat Ulema-e-Islam-Samiul Haq (JUI-S), Pakistan Tehreek-e-Insaf Nazriati (PTI Ideological), and Pasban Pakistan, failed to meet the required criteria of allocating five percent of the tickets to women.
On the other hand,the Peoples Party Pakistan (PPP) was the only party that allocated the highest percentage of its total tickets to women compared to others,i.e., 43.
The Pakistan Muslim League-Nawaz (PML-N) has issued 37, Pakistan Tehreek-e-Insaf (PTI) 42, Muttahida Qaumi Movement-Pakistan (MQM-P) 6, All Pakistan Muslim League (APML) 8, Awami National Party (ANP) 14, Balochistan National Party (BNP) 3, BNP-Awami 2, Grand Democratic Alliance (GDA) 8, and the Muttahida Majlis-e-Amal (MMA) 33 general seat tickets to women.
https://dailytimes.com.pk/263942/59-parties-not-considering-women-candidates-ecp-reveals/
--------
Chemical weapons agency finds 'chlorinated' chemicals in Syria's Douma
July 06, 2018
THE HAGUE: A preliminary report by the world's chemical weapons watchdog said "various chlorinated chemicals" were found at the site of an attack in Douma, Syria, in April that killed dozens of civilians and prompted air strikes by Britain, France and the United States, it said on Friday.
The Organization for the Prohibition of Chemical Weapons (OPCW) sent a fact-finding mission to Douma in mid-April, roughly a week after the April 7 attack in the enclave near Damascus.
"Along with explosive residues, various chlorinated organic chemicals were found in samples from two sites," it said, indicating that chlorine may have been used as a weapon.
The OPCW said that its team was continuing its work to establish the significance of the results.
"The organization should move quickly to finish its investigation and determine whether a chemical weapon attack occurred" in Douma, New York-based Human Rights Watch said in a statement.
"In the meantime it should apply its new authority to determine responsibility for the use of chemical weapons in Syria," it said.
Last week, the OPCW's member states voted to give the agency new powers to assign blame for attacks. That role had been carried out in Syria by a joint OPCW-United Nation mission, but a renewal of its mandate was vetoed by Russia in November.
The OPCW has documented systematic use of banned munitions in Syria's civil war, including nerve agent sarin and sulfur mustard gas. It has not assigned blame for the attacks.
In Douma, OPCW inspectors visited two sites where they interviewed witnesses and took samples, which were split at their laboratory in the Netherlands and forwarded to affiliated national labs for testing.
Two samples recovered from gas cylinders at the scene tested positive for chlorinated organic chemicals, the report said.
Washington and other Western governments blamed Syrian government forces for the attack in Douma.
The Syrian government denies using chemical weapons during the country's long civil war but the previous joint inquiry of the United Nations and the OPCW found the Syrian government used the nerve agent sarin in an April 2017 attack and has also several times used chlorine as a weapon. It blamed Daesh militants for mustard gas use.
http://www.arabnews.com/node/1334566/middle-east
--------
'I was a poser,' says young man caught with Islamic State propaganda and child porn
By Rachel Weiner
July 6, 2018
When the FBI knocked on his front door in December, Sean Duncan says, he ran out the back carrying a thumb drive full of child pornography. He broke it in half and doused it in cleaning solution.
But in a sign of how strange his criminal case has been, prosecutors say he might be lying in an effort to conceal ties to terrorism or information on the death of his son.
U.S. District Judge Leonie M. Brinkema on Friday sentenced Duncan to 20 years in prison and a lifetime of supervision, the maximum allowed under his plea agreement to charges of obstruction of justice and receipt of child pornography.
The FBI was at the 22-year-old's Sterling, Va., home that December day because of his interest in radical Islam and the Islamic State, not child pornography. He also remains under investigation by authorities in Pennsylvania after the death of his infant son in June 2017, according to court papers.
Prosecutors in federal court in Alexandria said that in the months before his arrest, Duncan was simultaneously looking up child pornography and information on terrorism. In one instance, they said, he took a sexually explicit photograph of an infant relative while changing her diaper.
"I don't know which is the more serious of the two," Brinkema said in court Friday — the crimes against children or the interest in terrorism.
"There's a huge gap in all the information," she added, because the contents of the thumb drive were never recovered.
In court papers, prosecutors said Duncan was still probably hiding something.
"The investigators believe that he . . . has withheld important information," assistant U.S. attorneys Colleen Garcia and Gordon Kromberg wrote.
Defense attorneys said Duncan had, on the contrary, been completely forthcoming with law enforcement and has begun confronting untreated mental health problems and trauma.
"Young, lonely and isolated, he was particularly susceptible to . . . the dark underbelly of the Internet," public defender Elizabeth Mullin said in court.
But his interest "never resulted in any concrete plan to fight or commit a terrorist attack," she added, and there is no evidence he shared the pornographic photo he took with anyone.
Duncan was raised in Baltimore, bouncing between what defense attorneys describe as abusive and neglectful homes where he was exposed to lead paint. At 3, they said, he was molested by an older boy. A rare childhood friend died. He spent years looking first at adult and then child pornography online, even though he told a psychologist he felt "repulsed after and while looking at it."
The summer before his senior year, he discovered Islam, and that year, classmates helped him convert.
While the Muslims he met in school and at his local mosque opposed extremism, Duncan found radicals on social media and began talking to them about joining the Islamic State or committing terrorist attacks.
Defense attorneys argued Duncan was just flirting with radical women because he wanted to see them naked.
"I was a poser," Duncan wrote in a letter to the court.
In court Friday, Garcia pointed out that at least one Islamic State recruiter Duncan dealt with was a man, and Duncan repeatedly discussed traveling to Syria.
"It was far more than flirtation and boasting," she said.
Duncan met his actual wife in an Arabic-language class and married her 10 months later, although he was an 18-year-old high school graduate, and she was a doctor 15 years his senior.
His family was disturbed by his conversion and the marriage, and his mother called the FBI to say the couple planned to honeymoon in Turkey.
"Sean was too young to be married and father a child," his sister wrote in a letter to the court. "Sean is still a kid himself."
He and his wife were turned away at the airport in Turkey and returned to the United States, after which Duncan changed his phone number and Facebook account.
The couple moved to Pittsburgh when Duncan's wife got a medical fellowship. At home alone while his wife worked, he immersed himself in extremism and child pornography.
After their 6-month-old son died suddenly, they moved to Northern Virginia. The cause of death was inconclusive, according to the defense, and his wife told police the boy choked on baby formula. Duncan denies any involvement.
Defense attorneys also say Duncan turned away from extremism on his own, telling an undercover FBI informant in August she "should not go" to Syria.
Prosecutors saw in that same conversation reason to take Duncan seriously as a threat, citing his reference to "referrals" that help people join the Islamic State.
"I'm seeking to change and better myself," Duncan said in court Friday. "I apologize to everybody I've hurt."
He said he understood now "the kids in the pictures are real" and added, "I also renounce ISIS."
https://www.washingtonpost.com/local/public-safety/i-was-a-poser-says-young-man-caught-with-islamic-state-propaganda-and-child-porn/2018/07/05/f5ef3354-8069-11e8-bb6b-c1cb691f1402_story.html
--------
Belgian Muslim groups condemn Islamophobic attack
06.07.2018
By Serife Cetin
BRUSSELS
Belgium's Muslim groups on Friday strongly condemned a recent Islamophobic attack in the country.
In a joint statement, the Belgian Muslim Executive Body (EMB) and the Centre Islamique Belge (CIB) said a 19-year-old Muslim girl was targeted in the Belgian city of Charleroi because of her religion.
They said "the despicable attack" did not target only Islam, but the basic values of all Belgian society and religious freedom.
"Violence should not be responded with violence," said the statement, adding that they believed that the police and judiciary would take necessary measures regarding the incident.
On Monday night, two assailants attacked a Muslim teen in Anderlues municipality, reportedly tearing off her clothes, leaving her with deep marks inflicted by a sharp object across her bare chest, legs, and stomach.
On Wednesday, the Inter-federal Centre for Equal Opportunities (UNIA) spokesman Bram Sebrechts told Anadolu Agency the attack was motivated by Islamophobia in his opinion.
However, the Charleroi Prosecutor's Office will make a ruling on the nature of the attack, Sebrechts said.
Turkish-origin Belgian parliamentarian Mahinur Ozdemir said the young woman was out at night searching for her cat when she came under attack.
Ozdemir said the victim could have been murdered.
"If measures are not taken it will be unfortunately impossible to prevent such attacks," he said.
The EU has lately witnessed growing Islamophobia and hatred of migrants in recent years triggered by propaganda from far-right and populist parties, which have exploited fears over the refugee crisis and terrorism.
Reporting by Serife Cetin:Writing by Burcu Arik
https://www.aa.com.tr/en/europe/belgian-muslim-groups-condemn-islamophobic-attack-/1196746
--------
India
Islamic preacher Zakir Naik will not be deported, has permanent residency, says Malaysia PM
Jul 06, 2018
Malaysian Prime Minister Mahathir Mohamad said on Friday controversial Indian Islamic preacher allegedly wanted in his home country for terror-related activities and hate speech will not be sent back.
Zakir Naik, a radical television preacher, reportedly left India in 2016 and subsequently moved to largely Muslim Malaysia, where he was granted permanent residency.
According to Indian media reports, New Delhi asked for him to be extradited in January. The two countries have an extradition treaty.
"As long as he is not creating any problem, we will not deport him because he has been given permanent residency status," Mahathir said at a news conference in administrative capital Putrajaya outside Kuala Lumpur, when asked about the reports.
The reports say India had asked for Naik to be sent back for allegedly inciting youth to engage in terror activities via his hate speeches.
Naik, 52, has described the media reports as "totally baseless and false", adding that he has no plans to return to India until he felt "safe from unfair prosecution".
In 2010, Naik was reportedly barred from entering Britain after the Home Secretary cited "numerous comments" which showed his "unacceptable behaviour".
In a July 2008 TV broadcast Naik suggested that Al-Qaeda was not responsible for flying hijacked airliners into New York's World Trade Center on September 11, 2001, killing almost 3,000 people.
Neither Indian nor Malay officials have confirmed the extradition request or the existence of any charges again Naik.
https://www.hindustantimes.com/india-news/islamic-preacher-zakir-naik-will-not-be-deported-has-permanent-residency-says-malaysia-pm/story-mN4Q1ScwvWgHmPInbysEZL.html
--------
NIA arrests Asiya Andrabi, two others for 'waging war against India'
July 7, 2018
The National Investigation Agency (NIA) Friday arrested separatist and Dukhtaran-e-Millat chief Asiya Andrabi and two of her associates for allegedly waging war against the country. Andrabi, Sofi Fehmeeda and Naheeda Nasreen were arrested from Srinagar jail, where they were lodged in connection with cases filed by Jammu and Kashmir Police. They were brought to Delhi on transit remand and produced in a special court, which remanded them in 10 days' NIA custody.
In the FIR registered by the NIA on April 27, the NIA accused Andrabi and others of being part of a proscribed organisation, waging war against the country, sedition, criminal conspiracy, obstructing or attempting to obstruct the governor/president from discharging his duty, inciting riots, promoting enmity between communities and public mischief inciting mutiny against the government.
"The allegations against the accused persons are that they have been using various media platforms to spread insurrectionary imputations and hateful speeches that advocate use of violence against India and secession of the State of Jammu & Kashmir from the Union of India," NIA IG Alok Mittal said.
He said that Andrabi and her associates have written and spoken words and published visible representations that "excite disaffection towards the Government of India and promote enmity….". The agency has accused Andrabi of soliciting help from other banned terrorist organisations to wage war against the Government of India.
According to the remand application, the NIA analysed several numbers used by Dukhtaran-e-Millat members. "…it was found that they were in regular contact with associates who are in Pakistan and involved in anti-India activities. The accused persons named in the FIR had made several calls with terrorists and over-ground workers active in Kashmir Valley," the application said.
Defence counsel Satish Tamta, appearing for all three accused persons, said that videos of speeches of the accused were on social media for many years. "NIA has not made it clear as to what further investigation is carried out," he said, adding that all accused were falsely implicated.
After hearing both sides, District and Sessions Judge Poonam Bamba said, "Keeping in view the facts and circumstances of the case and to enable NIA to unearth the larger conspiracy, accused persons are remanded in 10 days' custody."
Full report at:
https://indianexpress.com/article/india/nia-arrests-asiya-andrabi-sedition-waging-war-india-5249314/
--------
Afghanistan: Slain Sikh leader's son wants to fight polls
by Navjeevan Gopal
July 7, 2018
Narinder Singh, the son of slain Afghan Sikh leader Avtar Singh Khalsa, Friday said he wants to contest the October parliamentary elections in Afghanistan from the seat apportioned to minority community even as the Independent Election Commission of Afghanistan is yet to take a call whether it will allow him to contest as the last date for filing nominations was June 14.
Avtar Singh, who had been a candidate in the polls, was among those killed in a suicide attack in Jalalabad recently when Afghan President Ashraf Ghani was visiting Jalalabad.
An official at Indian Embassy in Kabul said that for nomination to contest from minority community seat, the candidate had to submit 1,000 identity cards (taskira) of people extending their support. "Avtar Singh Khalsa had produced 1,000 taskira and was allotted election symbol. If Independent Election Commission of Afghanistan allows Narinder to contest, he will have to first submit 1,000 taskira with his nomination," said the official.
The official added that there were many voices in Afghanistan, including two MPs, who are raising the demand that Narinder should be allowed to contest in place of his father. "There is pressure on the Afghan government and poll panel, but no decision has been taken yet," said the official.
"Everyone has been telling me to contest. [SAD president] Sukhbir Singh Badal and other leaders have expressed solidarity with us [Afghan Sikhs]. I will run for the elections. My father attained martyrdom while fighting for the community. We will follow the footsteps of the Guru," Narinder Singh told The Indian Express over phone on Friday from Kabul.
Afghan president Ashraf Ghani had on Thursday visited Kabul to mourn the killings of Sikhs in the suicide attack.
Asked about sections of Sikhs declaring that they would leave Afghanistan after the suicide attack, Narinder Singh said, "Majority of those who are here will stay here only. Sikhs definitely want to move out, but no other country is giving them any concrete assurance about their rehabilitation if they move out."
However, Sikhs in Jalalabad are not sure if they will back the candidature of Narinder if he is allowed to contest.
Full report at:
https://indianexpress.com/article/india/afghanistan-slain-sikh-leaders-son-wants-to-fight-polls-5249133/
--------
Ayodhya case: UP opposes Muslim groups' plea to refer mosque issue to larger bench
Jul 06, 2018
The Uttar Pradesh government on Friday opposed the demand raised by Muslim groups to refer a 1994 judgement holding that mosque was not integral to Islam to a larger bench, saying the argument was intended to delay the hearing in the "long-pending" Ramjanmabhoomi-Babri Masjid title suit.
Muslim parties in the civil dispute have questioned the finding of the 1994 verdict in the case of M Ismail Faruqui.
Additional solicitor general Tushar Mehta, representing UP, told a special bench led by Chief Justice Dipak Misra that the MIsmail Faruqui case dated back to 1994 and no party to the dispute had ever "disputed" its "correctness" for so many years.
It was never even raised before the Allahabad High Court, which had on September 30, 2010 delivered its verdict on the land dispute, Mehta said.
The Supreme Court is hearing appeals arising out of the HC judgement.
Mehta pointed out that appeals have been pending for "almost eight long years and the parties which are now belatedly raising an unsustainable plea, chose not to raise any such plea at all during all these years".
Such a plea, he said, was not even made when the top court passed orders for translation of pleadings and evidence.
"When all translations are made and evidence is compiled in several volumes and all appeals become ripe for hearing, suddenly belated efforts are being made visibly and demonstratively to delay the judicial adjudication," Mehta contended.
Senior advocate Rajeev Dhavan, who on behalf of the Muslim parties made the plea, argued that to decide if any practice was an essential one, the courts needed to look into the tenets and also examine them in detail. But, this was not done in the Faruqui case.
Full report at:
https://www.hindustantimes.com/india-news/ayodhya-case-up-opposes-muslim-groups-plea-to-refer-mosque-issue-to-larger-bench/story-33SscTiw0rfydtExLkByYM.html
--------
Yasin Malik detained, Hurriyat leader put under house arrest ahead of Burhan Wani's death anniversary
Jul 06, 2018
JKLF chairman Yasin Malik was detained while moderate Hurriyat Conference chairman Mirwaiz Umar Farooq was put under house arrest at his Nigeen residence ahead of the second death anniversary of Hizbul Mujahideen commander Burhan Wani, a police official said on Friday.
Malik was detained from his residence in Maisuma, he said, adding that he has been lodged at Maisuma police station.
Hardline Hurriyat Conference chairman Syed Ali Shah Geelani continued to remain under house detention at his residence in Hyderpora but was allowed to offer Friday prayers at a nearby mosque before being put under house arrest again.
The separatists have called for a strike across the valley on July 8.
Authorities have also put restrictions around the Jamia Masjid in Nowhatta area of the summer capital and did not allow Friday prayers there, the official said.
Wani was killed in an encounter with security forces in Kokernag area of south Kashmir's Anantnag district on July 8, 2016.
His killing triggered massive protests and prolonged period of curfews and shutdowns across the valley.
Full report at:
https://www.hindustantimes.com/india-news/yasin-malik-detained-hurriyat-leader-put-under-house-arrest-ahead-of-burhan-wani-s-death-anniversary/story-bpkrdA7p66BwkiNbjgFbFK.html
--------
Pakistan
Democratic transfer of power in Pakistan must continue, says Wells
Anwar Iqbal
July 07, 2018
WASHINGTON: The establishment of civilian rule and the democratic transfer of power in Pakistan is one of the country's great achievements and Washington would like to see this process succeed, says the head of the South Asian affairs at the US State Department.
In a roundtable with journalists in Washington on Thursday, Principal Deputy Assistant Secretary Alice Wells also said that the US was continuing its conversation with Pakistan to persuade it to take "sustained and decisive" steps against the Taliban and to encourage them to join the Afghan peace process.
"The establishment of civilian rule in Pakistan and the democratic transfer of power is one of Pakistan's great achievements. And so, like others, we want to see it succeed," she said.
"We want civilian institutions to strengthen, and it's in that vein that when we engage with Pakistani leaders we express concern when there is evidence or indications that civil society or media are not able to participate fully or without pressure, because that will ultimately detract from what should be a success story in Pakistan."
Ms Wells also urged the Pakistani government to allow individuals to assemble and express their views peacefully and to allow journalists to "report fully on developments in the country".
Underlining Washington's desire to stay engaged with Islamabad, she said: "The conversation continues with the Pakistani leadership — civilian and military leadership — on trying to encourage the both, sustained and decisive steps against the Taliban leadership, to arrest, to expel them, or bring them to the negotiating table."
Repeating the US claim that Afghan Taliban leadership councils operate from Pakistan, Ms Wells said: "It is absolutely clear that the only stumbling block to a meaningful political negotiation is the Taliban leadership and many of whom reside outside of Afghanistan and thus outside of the pressure of Resolute Support and Afghan national security forces."
The US official reminded Islamabad that Pakistan too has opportunities in the Afghan peace process to address its longstanding concerns over cross-border terrorism and terrorist groups that operate in ungoverned Afghan space.
She noted that Pakistan had lost "many tens of thousands of lives in beating back the Pakistani Taliban from Fata areas".
"They also obviously have concerns about refugees, about narcotics, about border management more broadly. All of these issues can be taken up in the context of negotiations," Ms Wells said.
"So, the point of my engagement with the Pakistani leadership is to explore how we work together and to see the opportunity that the South Asia strategy presents."
Ms Wells said that the United States welcomed the steps Pakistan had taken to improve its relations with Afghanistan and would like to see those steps extended to a more vigorous counterterrorism effort by Pakistan. "The quality of our relationship is going to depend on the quality of our ability to work together. Pakistan is an important country," she said.
https://www.dawn.com/news/1418481/democratic-transfer-of-power-in-pakistan-must-continue-says-wells
--------
NSC reiterates commitment to fight terror financing
July 07, 2018
ISLAMABAD: The National Security Committee on Friday vowed to fulfill its commitment to fight money laundering and terror financing.
The meeting, chaired by interim Prime Minister Justice (r) Nasirul Mulk, was attended by top civil and military leadership.
Heads of the armed forces, Chairman Joint Chiefs of Staff Committee, director general of the Inter-Services Public Relations as well as interim federal ministers attended the meeting.
Minister for Finance Dr Shamshad Akhtar briefed participants on the deliberations during meetings of Financial Action Task Force and International Cooperation Review Group held in Paris. She also briefed the attendees on the economic situation of the country.
The meeting also held discussions on the government's action plan on fulfilling its obligations regarding the FATF decision.
Pakistan was added to the grey list of countries involved in providing monetary assistance to terrorism and related causes, after a FATF meeting confirmed the decision on June 28.
Full report at:
https://www.pakistantoday.com.pk/2018/07/06/nsc-reiterates-commitment-to-fight-terror-financing/
--------
Afghan Taliban denounce US-sponsored scholars conferences
Tahir Khan
JULY 7, 2018
ISLAMABAD: Afghan Taliban on Friday ruled out negotiations with the "powerless" Kabul administration and condemned what they called US-sponsored conferences of religious scholars.
The Taliban issued the statement ahead of an international conference Saudi Arabia will host in collaboration of the Organization of the Islamic Cooperation (OIC) that is likely to issue a declaration against the Taliban war in Afghanistan.
Saudis had planned to host the conference in 2016 but had to postpone it after the Taliban rejected the moot as "intelligence ploy". The Kingdom has invited scholars from many countries including Pakistan.
"The Islamic Emirate of Afghanistan considers this process under the title of conferences of the Islamic Scholars as an absolute anti-Islamic US process whereas its idea, logistical support and implementation is directly led by the US itself," a Taliban statement said.
The "International Conference of Muslim Scholars on Peace and Stability in Afghanistan" will be held in Jeddah and Makkah on July 10 and 11 respectively, the state-owned Saudi Press Agency has reported.
The SPA said the gathering of religious scholars aims at fostering efforts to establish peace and stability in Afghanistan as well as to denounce terrorism and violent extremism in all its forms and manifestations based on the teachings of the religion of Islam.
Taliban said the US wants through these conferences to find justification for their "military occupation, legitimize their stooge Kabul Administration and thus weaken the Jihadic resistance of Afghan Muslim nation being put up against them."
The Taliban referred to the March 18 statement of the American top commander in Afghanistan Gen Nicholson in which he had stated that the US has a plan to apply different pressures on Taliban this year that include "a combination of religious, social, diplomatic and military pressure on the Taliban".
Nicholson had further stated that religious pressure means that conferences under the name of religious scholars from Afghanistan, Pakistan and other Islamic countries will be held and they will issue a "Fatwa" (Islamic verdict) against the Taliban in these conferences to undermine legitimacy of their struggle from a religious perspective.
The Taliban urged religious scholars to reject these conferences which are a "scheme of the invaders" as they could be used for issuance of an edict to "de-legitimize current Jihad."
The Taliban disagreed with the notion of some scholars who argue that they are participating in such gatherings to speak the truth and defend the cause of the Taliban and said the organizers and the media will distort their assertions and utilize it for their own interests.
Taliban regretted that the scholars only blame them and do not utter a single word against "corrupt and infidel invaders nor consider their open brutal aggression as illegitimate hence it clearly shows that they are in the service of invaders."
"On the basis of Shariah, it is impermissible for Muslims especially religious scholars to come to the aid and rescue of the brutal enemy and wounded dragon trapped in Afghanistan. Because helping the American tyrant is a great sin and deviation from Islam, May Allah, the Almighty protect our religious scholars from it," the statement said.
Full report at:
https://dailytimes.com.pk/263732/afghan-taliban-denounce-us-sponsored-scholars-conferences/
--------
Pakistan ex-PM Sharif sentenced to 10 years for corruption
6 July 2018
A Pakistani court on Friday sentenced ousted Prime Minister Nawaz Sharif to 10 years in
prison over his family's purchase of upscale London flats in a major blow to his party ahead of a general election in July.
The guilty verdict in absentia against Sharif, 68, threatens to end the career of one Pakistan's most high-profile politicians over the last four decades, a political survivor who served as prime minister on three occasions.
Sharif's daughter, Maryam, widely seen as his chosen political heir, was sentenced to seven years in prison. Maryam's husband and PML-N lawmaker Muhammad Safdar was sentanced to one year in prison, prosecution lawyer Sardar Muzaffar Abbasi said.
Abbasi added that NAB court ordered Sharif to pay a fine of 8 million pounds ($10.6 million) and Maryam was fined 2 million pounds, while ordering the confiscation of the London properties on behalf of the Pakistani government.
Both Sharif and his daughter were in London on Friday with Sharif's wife, Kulsoom, who is being treated there for cancer and is in a coma after suffering a heart attack last month.
VIEW: Nawaz Sharif's missive and Pakistan's game of marbles
They both denied wrongdoing and are expected to appeal.
The National Accountability Bureau (NAB) court accused Sharif and his family of being unable to legitimately show the money trail for the purchase of several luxurious properties in London, mostly in the mid-1990s.
Sharif was ousted by the Supreme Court in July 2017 and barred from politics for being "dishonest" by failing to report a monthly income of 10,000 Emirati dirham ($2,723) from a company owned by his son. He denies drawing the monthly salary.
But he has kept control of the Pakistan Muslim League-Nawaz (PML-N) party that he founded.
The decision against the Sharifs comes at a time of intensifying suspicion of military meddling in politics ahead of the July 25 polls, as well as media complaints that the press is being muzzled.
Sharif had denounced the court proceedings against him as politically motivated and a judicial witch-hunt, often suggesting the hidden hand of the military was to blame.
Hours before the verdict, Maryam's husband Safdar referred to it as a "funeral" for justice, the PML-N media office said in a statement.
"It is to be seen if this decision is written by a judge or a general," Safdar said.
The military, which has ruled the nuclear-armed country for almost half of its history, denies involvement in civilian politics.
But the military ended Sharif's second stint in power in 1999 in a bloodless coup.
Sharif has a history of conflict with the military even though his political career was initially nurtured by military dictator Zia ul-Haq in the 1980s.
He fell out with powerful generals once he ascended to power a decade later, and the relationship between them was fraught after Sharif returned as premier in 2013, partly because Sharif challenged the military over control of foreign policy, which the generals have traditionally seen as their domain.
Sharif has argued that the military, in cahoots with top members of the judiciary, has used a series of cases against him and others in his party to tip the scales in favor of cricketer-turned-politician Imran Khan in the run-up to the election.
Khan is running on a socially conservative, anti-corruption platform. He denies colluding with the military establishment and praises the disqualifications and prosecutions of PML-N figures as a long-needed crackdown on graft.
PML-N officials also accuse the military of using its muscle to twist the arm of the media to restrict coverage of criticism of the judiciary and military by Sharif and his allies.
Sharif's younger brother, Shehbaz Sharif, who has taken over the PML-N leadership, said on Thursday recent action by the anti-graft National Accountability Bureau and the judiciary had cast doubt over the election.
Full report at:
https://english.alarabiya.net/en/News/world/2018/07/06/Pakistan-ex-PM-Sharif-sentenced-to-10-years-for-corruption.html
--------
NAB fails to arrest Safdar, plans to get warrants
July 07, 2018
ISLAMABAD: The Natio­nal Accountability Bureau (NAB) on Friday failed to arrest any of the Sharifs after the pronouncement of the accountability court's verdict in the Avenfield property reference despite having received an original certified copy of the judgement.
While former prime minister Nawaz Sharif and his daughter Maryam Nawaz were in the United Kingdom when the court in Islamabad awarded the sentence, his son-in-law retired captain Mohammad Safdar was present in Pakistan yet he was not taken into custody for unexplained reasons.
When contacted by Dawn, the additional prosecution general of NAB, Akbar Tarar, said: "There is no need to get any special permission from the accountability court for the arrest of Nawaz Sharif, his daughter Maryam and son-in-law retired Capt Safdar.
"It is a common law that once the court declares someone a convict, he/she has to be arrested at once and there is no need to get specific permission for seeking their arrest warrant."
The NAB's additional prosecution general's statement is quite clear, but it raised the question as to why Mr Safdar was not arrested after the court decision.
"If Nawaz Sharif, Maryam and Safdar had been present in the court at the time of announcement of the decision, they would have been arrested on the spot," Mr Tarar argued.
Asked then why Mr Safdar had not been taken into custody by NAB, Mr Tarar said that he would be arrested soon.
A source in NAB said the bureau would seek court permission on Monday for their arrest and would also request the interior ministry to place their names on the Exit Control List (ECL).
The source said: "NAB will implement the orders of the Accountability Court, Islamabad, to arrest Nawaz Sharif and Maryam Nawaz after the issuance of arrest warrants as per law. Retired captain Safdar, who is in Pakistan, will also be arrested after obtaining arrest warrants.
"NAB Lahore's team of investigators, led by Imran Dogar, is in Islamabad to obtain arrest warrants from the accountability court in order to implement the court order."
A source in NAB told Dawn that for any arrest in under trial cases the bureau had to submit an application before the relevant court for it. "Therefore, NAB will seek permission for the arrest of Nawaz Sharif, Maryam Nawaz and Capt Safdar on Monday," the source added.
NAB would also request the interior ministry to get their names placed on the ECL within the next two days so that Capt Safdar might not escape abroad, another source revealed.
Full report at:
https://www.dawn.com/news/1418470/nab-fails-to-arrest-safdar-plans-to-get-warrants
--------
Imran terms verdict beginning of new Pakistan
July 07, 2018
ISLAMABAD: Hailing the accountability court's verdict against former prime minister Nawaz Sharif and his family members, mainstream political parties on Friday believed that the judgement would lead to a new era of prosperity and accountability of all.
They said the process of July 25 general elections should not be derailed in the wake of Mr Sharif's conviction.
Workers of the Pakistan Tehreek-i-Insaf (PTI) — the party that had moved the Supreme Court against Mr Sharif for committing corruption and money laundering — celebrated the decision of the accountability court and distributed sweets in many cities.
On the other hand, the Pakistan Muslim League (PML-N) and its workers observed it as a mourning day, staged small rallies in various cities and rejected the decision.
PTI chairman Imran Khan termed the conviction of Nawaz Sharif beginning of new Pakistan and said that in the existing system only weak people were taken to task for their wrongdoings.
"It is for the first time the system punished a powerful man. Now big dacoits [politicians] would not go to the assemblies as their real destination is jail," he added.
PPP leader says Nawaz failed to defend himself in corruption case
Mr Khan said the Sharif family had ruled Lahore [Punjab] six times but did nothing for the masses, adding that Nawaz Sharif and Pakistan Peoples Party (PPP) co-chairman Asif Ali Zardari destroyed all institutions of the country for their corruption. "If the country's institutions are strong, corrupt politicians will be sent behind bars. A country is destroyed when its institutions are paralysed," he added.
The Sharif brothers, he said, had introduced corruption in politics as they bribed politicians to get their loyalties. "I was the first man to speak against the evil of corruption in the country when I jumped into politics."
The PTI chief said the nation should be thankful to God over the conviction of Nawaz Sharif as the Sharifs were required to tell how they earned money and laundered it. "If I could present the proofs of my London flat I purchased 34 years ago being a cricketer then why the Sharifs failed to present their money trail," he added.
The PTI, Mr Khan said, had been struggling against "mafias" for 22 years and it was the right time for the nation to get rid of them.
Leader of the Opposition in the Senate Sherry Rehman of the PPP said that everybody was expecting the same verdict. She added that Nawaz Sharif wanted to make the 2018 elections controversial. "Nawaz Sharif would be compelled to return to the country."
In a statement, she said Mr Sharif had failed to defend himself in the corruption reference and put himself, the whole system and his party in a difficult situation.
Talking about the reaction by PML-N president Shahbaz Sharif to the judgement against his elder brother, she said it was "quite weak and feeble".
The PPP senator said her party had earlier supported Nawaz Sharif in parliament for the sake of democracy, but he considered it a "deal" and his own war. She feared that the PML-N would not accept the election results, if it failed to win.
"Nawaz Sharif has disgraced the sanctity of vote," she said.
At a press conference after the verdict, Awami Muslim League (AML) president Sheikh Rashid said it was for the first time in the country's history that a powerful politician had been convicted and sentenced to imprisonment.
"Nawaz Sharif should to return to Pakistan to file appeal in an appellate court against the sentence awarded by the accountability court," he said. "If Nawaz Sharif prefers to stay in the UK and challenges his sentence from there, it will further harm him politically."
The AML chief said Mr Sharif had committed a crime and he had to face the sentence. "The verdict has sent a clear and powerful message across the globe that a premier of Pakistan was sentenced to 10 years in prison for corruption."
He said another former prime minister of the PML-N Shahid Khaqan Abbasi was contesting the election despite the fact that he was facing a NAB corruption reference. "People will give their reaction in elections and now the corrupt will be afraid of being involved in corruption," he added.
Jamaat-i-Islami (JI) emir Senator Sirajul Haq, while commenting on the verdict against Nawaz Sharif, said all others involved in corruption should also be proceeded against, but the election process should not be derailed because of this decision.
In a statement, he said the JI had taken the names of 436 people to the court after the Panama Papers leaks. "The speed of proceedings against them is dead slow and if accountability has to be carried out, it should be across the board," he demanded.
"All those who looted the national wealth, got loans written off and laundered money to make properties abroad should be brought to book," he said.
"If liberal and secular candidates win the elections again, they will once again go to the US and the UK to buy luxurious properties, putting the masses under heavy taxes and loans," he said, adding: "It is time that the masses should awake and do not become a tool in the hands of Khans, Chaudhris, Zardaris, etc."
PML-Q leader Chaudhry Pervez Elahi also hailed the decision against Nawaz Sharif and said the latter faced the conviction because his government was trying to amend the Khatm-i-Nubuwat law.
Full report at:
https://www.dawn.com/news/1418469/imran-terms-verdict-beginning-of-new-pakistan
--------
Arab World
Rebels in southern Syria reach deal to end violence
July 07, 2018
Beirut - Fighters battling a fierce government-led offensive in southern Syria have reached an agreement with Russia, a major ally of Syrian President Bashar al-Assad, to end violence in the area and surrender a key crossing point with Jordan, according to a rebel spokesman.
Ibrahim Jabawi, spokesman for the rebels' joint operations room, was quoted as saying by news agencies that under Friday's agreement reached with Russian negotiators the fighters will begin to hand over some of their heavy weapons in return for a government pullout from several villages.
Jabawi added that Russian military police will deploy along the border with Jordan, including the strategically important Naseeb border crossing, and that rebels opposed to the deal will be evacuated to rebel-held regions in northern Syria.
There was no immediate comment from Assad's government and its Russian backers.
Shortly afterwards, an Al Jazeera reporter on the ground saw a convoy of about 10 army trucks with Russian and Syrian flags entering the strategically important Nassib border crossing, held by the rebels for three years. Another seven trucks were waiting to enter.
Taking over Nassib crossing would allow the Syrian army to drive further southwards through the area immediately east of Deraa city, where rebel territory narrows to a thin corridor along the Jordanian border. This would split the territory in two.
Russia has been brokering talks for the surrender of rebel-held territory in southern Syria, in areas bordering Jordan and the Israeli-occupied Golan Heights.
According to rebels, Moscow had previously rejected their demands for a phased surrender of their heavy-duty arms and safe passage for rebels and civilians who did not want to live under government rule to opposition territory elsewhere.
More than 320,000 people have fled the intense fighting and bombardment since the launch of the government-led push on June 19, according to the UN's refugee agency, UNHCR.
About 60,000 have gathered at the Nassib-Jaber border crossing overlooking Jordan, while thousands more are at the frontier with the Israeli-occupied Golan heights.
Friday's agreement came a day after Jordan, which hosts more than 1.4 million Syrian refugees and has shut its northern border, said it had managed to convince the Syrian opposition and the Russians to meet again and reach an agreement for a cessation of hostilities.
But the announcement only came after government forces advanced earlier on Friday along the frontier with Jordan towards the Nasib border crossing, sources on the ground said.
Commenting on the negotiations, Jumana Ghunaimat, spokeswoman for the Jordanian government, told Al Jazeera: "The solution in Syria is political, not military. The war and more fighting won't stop the struggles of the Syrian people."
Ghunaimat added: "We need to stop the war, and that is the main goal of negotiations which we are mediating."
Haid Haid, a Syrian columnist and a consulting research fellow at Chatham House, called the gradual withdrawal of rebels and the handing over of the weapons a "big gain" for Assad's government.
"It doesn't only allow it to extend its authority over a big chunk of rebel controlled areas, but it also allows it to control the main border with Jordan, which will restore some sort of relation with Jordan and allow the regime to generate financial revenues from the trade that will expected to go through that venue," he told Al Jazeera from Britain's capital, London.
Haid added, however, that there was a still a lack of clarity about the exact details included in the agreement.
"We need to wait until the conditions of that deal are out and clear, because some of the conditions are related to what will happen to rebel forces who stay in those areas - will they will be able to have some kind of control over their territories … or will the regime be able to take over full control over those areas and push them out of any local authority?
"Another issue that is still not clear is what will happen to many of the rebel forces who decided stay there, because there is only a small part of them who will go to northern Syria, while the majority of them will stay there - will they automatically become regime forces, or will they have some sort of special status?"
https://nation.com.pk/07-Jul-2018/604397
--------
Syrian govt forces close to seizing Jordan border crossing: pro-Damascus commander
July 06, 2018
Government forces in south Syria are advancing along the frontier with Jordan and will soon reach a border crossing in rebel hands, a pro-Damascus commander said on Friday.
Several witnesses along the Jordan border fence with Syria said they spotted armored vehicles and a tank with a Russian flag heading toward the Nasib crossing.
A war monitor said troops in Deraa province reached the frontier on Thursday for the first time since 2015, part of a major offensive to recover the entire southwest from insurgents.
The commander in the regional alliance that backs Damascus told Reuters that the army and allies had arrived after seizing a string of villages. "Within a short period of time, they will reach the (Nassib) crossing," the non-Syrian commander said, speaking on condition of anonymity.
With the help of Russian air power, the assault has swept into Deraa's insurgent territory in the past two weeks, shrinking one of the last rebel strongholds left across Syria.
The UN refugee agency has urged Jordan to open its borders as Syrians fleeing their homes en masse, seeking shelter from the battles and heavy air strikes. It says the fighting has uprooted more than 320,000 people, with 60,000 gathered at the Jordan border crossing and thousands more at the frontier with the Israeli-occupied Golan heights.
The Norwegian Refugee Council called it the largest displacement since the start of Syria's seven-year war.
The Syrian Observatory for Human Rights said government forces were now around three km (two miles) away from the Nasib border crossing with Jordan.
The UK-based war monitoring group said an armed group which held some border villages had handed over control to the advancing troops without resistance.
A military media unit run by Lebanon's Hezbollah, which fights alongside Damascus, said the army captured eight border outposts on Friday.
Hezbollah is helping lead the offensive but keeping a low profile, pro-Damascus sources have told Reuters, defying neighboring Israel's demands that Iran-backed forces stay away from its frontier.
Full report at:
https://nation.com.pk/06-Jul-2018/syrian-govt-forces-close-to-seizing-jordan-border-crossing-pro-damascus-commander
--------
Syrian Army Frees Nine Key Checkpoints at Border with Jordan
Jul 06, 2018
The Arabic-language Elam al-Harbi reported that the army managed to drive terrorists out of checkpoints 71 to 79 along a 2km-long chunk of the borderline.
It added that the army further liberated the villages of Samad, Samaj, Arz al-Atrash, Taysiya, Khirbet Qolo, Abu Qatouneh, al-Mashafi, Abu Ra'as, al-Samaqiyat, al-Aman, Nada and Maqtala.
Elam al-Harbi went on to say that army men advanced further towards the village of al-Mata'iyeh and Nasib border-crossing.
In the meantime, the Arabic-language website of Sky News reported that the army has deployed 6 km away from Nasib border-crossing.
On Thursday, the army forces, backed by artillery and missile units, engaged in clashes with the terrorists in Eastern Dara'a, seizing control of a region in which the air defense brigade was stationed in the Southern parts of the town of Saida.
They liberated the town after clashes, advancing towards the town of al-Tayebah.
Meantime, the army soldiers clashed with the militants in al-Tafas region in Western Dara'a, killing a number of terrorists.
Full report at:
http://en.farsnews.com/newstext.aspx?nn=13970415000152
--------
ISIL Centers Receive Powerful Blows in Syrian Armed Forces' Attacks in Homs
Jul 06, 2018
The army men engaged in a tough battle with the remaining pockets of ISIL near Aweirez Dam in Eastern Badiyeh, killing and wounding a number of the militants and destroying their equipment.
In the meantime, air force warplanes targeted ISIL's strongholds near the Aweirez Dam, T2 Oil Pumping Station, al-Wa'ar Dam and regions near Deir Ezzur province, destroying several positions and killing or wounding a number of terrorists.
Meanwhile, the army's engineering units discovered a large volume of arms, ammunition and missiles in the positions of terrorists North of the town of al-Sukhnah in Eastern Homs.
On Tuesday, the army men engaged in a tough battle with ISIL who tried to break through the government forces' positions at T2 Oil Pumping Station in Southwestern Deir Ezzur from Badiyeh of Homs.
Also, the army aircraft carried out several bombing raids on ISIL's positions and movements in the Eastern Badiyeh of the town of al-Sukhnah, inflicting major losses on the terrorists.
Full report at:
http://en.farsnews.com/newstext.aspx?nn=13970415000225
--------
Israel targets 'Syrian position' in Qunaitra in northern Golan Heights
6 July 2018
The Israeli army announced Friday that it had targeted a Syrian position in the northern Golan Heights, in retaliation for a mortar shell that landed in the buffer zone between the two countries, in what the military said was a violation of a 1974 ceasefire agreement.
In a statement, the Israeli army added that the mortar shell which fell east of the border fence was "part of the internal fighting between the regime and opposition factions in Syria."
The Israeli army asserted that "It is not involved in the internal fighting in Syria. At the same time, it will continue to demand the implementation of the ceasefire agreements from 1974, including the preservation of the buffer zone," the army said.
A spokeswoman for the Israeli army did not clarify whether the targeted position was of the Syrian regime or for the opposition factions.
Full report at:
https://english.alarabiya.net/en/News/middle-east/2018/07/06/Israel-attacks-a-Syrian-position-in-Qunaitra.html
--------
Ceasefire follows regime strikes on Syria's Daraa amid renewed negotiations
6 July 2018
Syrian opposition sources said on Friday that a ceasefire has been reached in southern Syria as a new round of negotiations began in the southern town of Busra al-Sham where four rounds of talks have been held since Saturday but failed to reach any agreement.
The Syrian Observatory for Human Rights said earlier on Friday that Syrian regime warplanes raided the outskirts of the towns of Nasib, Tafas and Al-Naimah in southern Syria, adding that the warplanes dropped 10 explosive barrels on Daraa al-Balad.
Assad's forces have launched a military operation on the Syrian-Jordanian border to reach the Nasib border crossing.
According to Hezbollah's military media, nine border posts with Jordan within the administrative borders of Daraa have been captured by the regime forces.
Armoured vehicles and a tank with a Russian flag were seen heading towards the Nasib border crossing between Jordan and Syria, several witnesses near the crossing said on Friday.
They said they spotted a convoy on a military road heading towards the crossing in rebel hands which the Syrian army has been advancing towards since Thursday.
Full report at:
https://english.alarabiya.net/en/News/middle-east/2018/07/06/Ceasefire-in-Syria-s-Daraa-as-negotiations-begin-Al-Arabiya-sources.html
--------
Syria to take control of southern areas after reaching deal with militants
Jul 6, 2018
The Syrian government has reached a deal with militants in the southwestern province of Dara'a under which Damascus will retake control of the remaining cities and towns of the province from the anti-government forces.
The Friday deal came hours after the Syrian government regained control of the strategic Nassib border crossing with Jordan after three years.
"An agreement has been reached between the Syrian government and the terrorist groups" which includes "the handover of heavy and medium weapons in all cities and towns," the official SANA news agency reported.
Under the agreement, government forces will take over "all observation posts along the Syrian-Jordanian border," the report said.
The militants who oppose the deal will be evacuated with their families to the militant-held northwestern province of Idlib, the report noted.
A previous round of negotiations to reach an agreement had failed on Wednesday, but the talks resumed midday on Friday in the town of Busra al-Sham, which was newly liberated by government troops.
Since mid-June, the Syrian government has launched a major military campaign to recapture the militant-held areas in southern Syria near the Jordanian border and the Israeli-occupied Golan Heights, including Dara'a province, together with the neighboring provinces of Quneitra and Suwaida.
During the push, the government first tried to clinch surrender deals with the terrorists before staging anti-terror operations.
Although the Syrian government's offensive targeted parts of Quneitra and Suwaida provinces, the new deal only includes Dara'a province.
SANA said the deal would ensure the return of displaced civilians, which according to the UN, exceeds 320,000 people.
Militant spokesman Hussein Abazeed said in an interview with AFP that "the deal was the best we could achieve to save the lives of our fighters".
Under similar reconciliation deals, which are mediated by Russia, militants hand over heavy weapons, local police take control of the area and government institutions resume activities.
By virtue of such deals, more than 30 militant-held towns have come under the government control, making Damascus' hold on Dara'a province nearly 70 percent.
According to the UK-based Syrian Observatory for Human Rights, Russian forces and civilian border officials from the Syrian government reached the Nassib crossing "without a fight."
SANA reported that Syria's two-starred flag has been hoisted over the crossing.
Militants had captured the Nassib border crossing since April 2015, blocking a crucial economic lifeline for the Syrian government.
Syria's southwest region is strategically sensitive because of its proximity to the frontiers with both Jordan and the Israeli-occupied Golan Heights.
Full report at:
https://www.presstv.com/Detail/2018/07/06/567286/Syria-daraa-militants-
--------
North America
No breakthrough in n-talks as Iran demands more after US exit
July 07, 2018
VIENNA - World powers and Iran appeared to make no concrete breakthrough on Friday in talks to provide Tehran with an economic package to compensate for US sanctions that begin taking effect in August.
Ministers from Britain, China, France, Germany and Russia met their Iranian counterpart in Vienna for the first time since US President Donald Trump left a nuclear accord in May, but diplomats had seen limited scope for salvaging it.
Trump pulled the United States out of the multinational deal under which sanctions on Iran were lifted in return for curbs on its nuclear program verified by the International Atomic Energy Agency (IAEA). Washington has since told countries they must stop buying the OPEC producer's oil from Nov. 4 or face financial consequences.
Speaking after three hours of talks, EU foreign policy chief Federica Mogherini, who chaired the talks, read a statement from the six delegations repeating previously-announced broad priorities ranging from guaranteeing Iranian oil revenue to shipping ties, banking and all other trade and investment co-operation.
"Participants agreed to keep progress under close review and to reconvene the joint commission, including at ministerial level, as appropriate in order to advance common efforts," Mogherini said, adding that all sides were determined to find and implement solutions.
Unlike at past meetings, Mogherini took no questions.
"All the commitments made today , should be implemented before the August deadline ... it is up to the leadership in Tehran to decide whether Iran should remain in the deal ... the proposal was not precise and a complete one," Mohammed Javad Zarif told reporters.
Speaking earlier in the day, France's foreign minister said that world powers would struggle to keep to that deadline.
"They (Iran) must stop threatening to break their commitments to the nuclear deal," Jean-Yves Le Drian said.
"We are trying to do it (economic package) before sanctions are imposed at the start of August and then the next set of sanctions in November. For August it seems a bit short, but we are trying to do it by November," he said.
On arrival in Vienna, Germany's Foreign Minister Heiko Mass said he didn't expect a collapse of talks, but suggested more negotiations would be needed in the future. He stressed hat world powers would struggle to compensate Tehran for companies leaving Iran.
The pillars of the European Union's strategy are: European Investment Bank lending, a special measure to shield EU companies from US secondary sanctions, and a Commission proposal that EU governments make direct money transfers to Iran's central bank to avoid US penalties.
BANK PAYMENTS
"We've made some progress, including on safeguarding some crude (oil) sales, but it's unlikely to meet Iranian expectations. It's also not just about what the Europeans can do, but also how the Chinese, Russians, Indians, others can contribute," said a senior European diplomat.
Iranian officials have said that key for them is to ensure measures that guarantee oil exports do not halt, and that Tehran still has access to the SWIFT international bank payments messaging system or an alternative.
"We are ready for all possible scenarios ... the collapse of the deal will increase the tension in the region. To save the deal, other signatories should compensate for US sanctions," a senior Iranian official told Reuters on Friday.
During a visit to Europe this week President Hassan Rouhani warned that Iran could reduce its co-operation with the UN nuclear watchdog, having already threatened Trump of the "consequences" of fresh sanctions against Iranian oil sales.
Iran's Revolutionary Guards have also warned that they may block oil shipments through the Strait of Hormuz in response to US calls to ban all Iranian oil exports.
On the nuclear side of the agreement the parties did agree to replace the United States in a working group to redesign the Arak reactor with China.
The deal specifies that the new design will aim to minimize the production of plutonium and to prevent the production of weapon-grade plutonium in normal operation. It also specifies the fuel Arak must use and says its spent fuel for the reactor's lifetime must be shipped out of Iran.
AFP adds: Russian Deputy Foreign Minister Sergei Ryabkov said this week the talks should give an "impetus" to protect the interests of economic actors.
And Chinese Foreign Minister Wang Yi said the meeting would "send a united and determined signal" to the world that the other parties "will continue to respect the agreement".
'Crime and aggression'
Iranians have complained that the hoped-for rise in foreign investment and trade after the deal has not materialised.
Since Trump's announcement, Iran's rial currency has fallen, prices have risen and the country has been hit by street protests and strikes.
Rouhani, who signed the nuclear deal, has been attacked at home by ultra-conservatives, who have denounced his willingness to talk to the West and accused him of hurting the economy.
Visiting Austria on Wednesday, he met Yukiya Amano, head of the UN nuclear watchdog IAEA which monitors Iran's compliance with the accord.
Rouhani told Amano that US sanctions were a "crime and aggression" that other nations should resist, according to IRNA.
He added that "if the other signatories, apart from the United States, can guarantee Iran's interests then Iran will stay in the JCPOA", or Joint Comprehensive Plan of Action, the accord's formal name.
Trump in May slammed the nuclear accord signed under his predecessor Barack Obama as "horrible" and "defective at its core," earning applause from Iran's regional rivals Saudi Arabia and Israel.
Iran, which strongly denies ever having sought a nuclear bomb, has warned it could resume uranium enrichment for civilian purposes if the deal collapses.
Supreme leader Ayatollah Ali Khamenei has vowed that Iran "will never tolerate both suffering from sanctions and nuclear restrictions".
US-Iran relations have been hostile since the 1979 overthrow of the US-backed shah and US embassy hostage crisis.
Washington considers Iran a state sponsor of terrorism, with links to Lebanon's Hezbollah, Hamas in the Palestinian territories and networks in Iraq and Yemen, and demands it cease support of Syrian President Bashar al-Assad.
The new round of diplomacy has been clouded after security services said they had foiled an alleged plot to bomb a Paris rally by an exiled Iranian opposition group, the People's Mujahedeen of Iran.
The large rally last Saturday attracted several US politicians, including former New York mayor Rudy Giuliani, now Trump's personal lawyer.
Six people were arrested in Belgium, France and Germany, while the opposition group blamed the Iranian regime for the alleged plot. One of those detained was a diplomat attached to the Iranian embassy in Austria.
Tehran dismissed it is an orchestrated "false flag ploy", designed to discredit Iran and overshadow Rouhani's trip to Europe, and Wednesday summoned the French and Belgian ambassadors and the German charge d'affaires in protest.
https://nation.com.pk/07-Jul-2018/no-breakthrough-in-n-talks-as-iran-demands-more-after-us-exit
--------
Washington calls for confrontation of Iran-sponsored terror attacks in Europe
6 July 2018
The US Department of State published on its website a list of Iranian-sponsored terror acts in Europe during the last four decades, between 1979 and 2018, as Secretary of State Mike Pompeo urged European countries to confront the threat
The publishing of the list coincides with the uncovering of an Iranian plot to bomb a large Iranian opposition conference north of Paris on June 30.
The list begins with an introduction that says: "The Iranian regime brought suffering and death to the world and its people. In Europe alone, assassinations, bombings and other terrorist attacks sponsored by Iran have distorted the lives of countless people."
The list details operations executed by Iranian intelligence, or Iranian-allied Hezbollah agents, of bombings, assassinations, kidnappings and killings of Iranian opposition figures and American-allied targets.
In a tweet, Pompeo called on "European leaders to discuss this with Rouhani and Zarif during their European tour."
Full report at:
https://english.alarabiya.net/en/News/middle-east/2018/07/06/Washington-calls-for-the-confrontation-of-Iranian-terror-in-Europe.html
--------
Europe
Vienna meet on nuclear deal supports Iran's continued oil, gas exports
6 July 2018
Following a meeting in Vienna on Friday to save Iran's nuclear deal, European powers including China and Russia, said that they support Iran's right to exporting oil and gas, despite threats of sanctions by the US.
Foreign ministers and senior diplomats from Britain, China, France, Germany and Russia held talks on Friday with their Iranian counterpart, Mohammad Javad Zarif, in Vienna for the first time since US President Donald Trump announced he was abandoning the nuclear deal and moving to re-impose sanctions on Iran.
In a joint statement, the foreign ministers said they are still committed to the economic relations with Iran including "Iran's continued oil and gas exports" and other energy products.
Trump pulled the United States out of the multinational deal under which sanctions on Iran were lifted in return for curbs on its nuclear program verified by the International Atomic Energy Agency (IAEA). Washington has since told countries they must stop buying the OPEC producer's oil from November, 4 or face financial consequences.
Speaking on French radio ahead of arriving in the Austrian capital, France's foreign minister said world powers would struggle to put together an economic package immediately.
"They (Iran) must stop threatening to break their commitments to the nuclear deal," Jean-Yves Le Drian said. "We are trying to do it (economic package) before sanctions are imposed at the start of August and then the next set of sanctions in November. For August it seems a bit short, but we are trying to do it by November," he said.
https://english.alarabiya.net/en/News/middle-east/2018/07/06/Vienna-Nuclear-meeting-supports-Iran-continued-oil-and-gas-exports.html
--------
Germany: Muslim patients targeted in knife attack
06.07.2018
By Ayhan Simsek
BERLIN
A man threatened Muslim patients with a kitchen knife and injured one person after a standoff at a small clinic in northwestern Germany, local media reported on Friday.
The man, said to be in his fifties, shouted Islamopohobic slurs as several headscarved Muslim women were in the waiting room of a clinic owned by a Turkish doctor in the northwestern city of Moenschengladbach, Rheinische Post reported.
He threatened medical assistants and patients with the knife, but was overpowered by three patients in the waiting room. One of the patients was slightly injured in the incident.
The police said the suspect suffered from mental health problems and the incident was not a politically motivated attack.
A local court on Friday ordered him committed to the psychiatric hospital for treatment.
Full report at:
https://www.aa.com.tr/en/europe/germany-muslim-patients-targeted-in-knife-attack/1196814
--------
Turkey: 2 British brothers arrested for 'terror propaganda'
July 07, 2018
ANKARA:- Turkey's state-run news agency says authorities have arrested two British citizens of Iraqi heritage for allegedly engaging in "terror propaganda" on behalf of outlawed Kurdish rebels. Anadolu Agency said Friday that brothers Ayman Barzan and Hariam Barzan were detained at Dalaman Airport in southwest Turkey after being questioned by anti-terrorism profilers for acting "suspiciously." Police examined their social media accounts and found postings they deemed to be propaganda on behalf of the Kurdistan Workers' Party, PKK, and the Syrian Kurdish militia group, the People's Protection Units, or YPG.–Agencies
Turkey considers the YPG to be an extension of the PKK, which has waged a more than three-decade long insurgency in southeast Turkey and is considered a terror group by Ankara and its allies.
Full report at:
https://nation.com.pk/07-Jul-2018/turkey-2-british-brothers-arrested-for-terror-propaganda
--------
European Parliament slams UAE for 'destabilizing' Somalia over Qatar crisis
Jul 6, 2018
The European Parliament has condemned the United Arab Emirates (UAE) and Saudi Arabia for cutting financial support to Somalia for its neutrality on a rift between a Saudi-led quartet and Qatar.
The Belgium-based parliament said in a resolution passed on Wednesday that Somalia has "sought to remain neutral" on the ongoing crisis, but was in turn "deprived of regular budgetary support payments by Saudi Arabia and the UAE".
"In terms of the wider confrontation between the United Arab Emirates (UAE) and Saudi Arabia, on the one hand, and Qatar, on the other, the Federal Government of Somalia has sought to remain neutral; whereas, in retaliation, Saudi Arabia and the UAE have ceased their regular budgetary support payments to Somalia, which further weakens the government's ability to pay the security forces," the resolution reads.
The statement called on "the UAE to cease forthwith all acts of destabilization in Somalia and respect Somalia's sovereignty and territorial integrity".
Somalia is highly dependent on trade from Saudi Arabia and imports many UAE products.
Last month, an Emirati plane was grounded in the African country for several hours after UAE officials refused to allow the search of a luggage which Somalia officials had described as "suspicious".
Accordingly, the Emirati military trainers who were on board the plane were held for hours at Bosaso International Airport in Somalia's semi-autonomous region of Puntland, as they refused to allow security forces to check their suspiciously "heavy" luggage.
In an earlier incident, the Somali federal government had confiscated nearly $10 million from a UAE Royal Jet at the Mogadishu International Airport.
Following the incident, the UAE ended its military training program in Somalia, which started in 2014.
Tensions between Somalia and the UAE emerged in March after the Dubai-based DP World granted a 19-percent stake to Ethiopia in the Berbera port in breakaway Somaliland, which Somalia has not recognized as independent.
Under that deal, the UAE builds a military base in the Berbera port and trains the soldiers of the breakaway Somali region.
Mogadishu censured the agreement as a violation of international law.
Somalia's internationally-backed government is reportedly planning to file a legal complaint against the UAE for setting up the military base.
Somaliland is located along the strategic Bab al-Mandab Strait across from Yemen, where the UAE has been waging a devastating war as part of a Saudi-led coalition.
Relations between Somalia and the UAE first soured last year when Mogadishu refused to take sides with the Saudi regime and the UAE in their diplomatic dispute with Qatar.
Full report at:
https://www.presstv.com/Detail/2018/07/06/567240/UAE-Somalia-Saudi-Arabia-Qatar-European-Parliament
--------
Netherlands expels two Iranian embassy staff
6 July 2018
The Dutch Intelligence service AIVD said on Friday that two Iranian embassy staff have been expelled.
"We can confirm that the Netherlands has expelled two persons accredited to the Iranian embassy," a spokesperson for the Dutch intelligence said. "We will not provide any further Information"
In recent days, the Austrian foreign ministry said it would strip the Iranian embassy official of his diplomatic immunity after his arrest in Germany for "conspiracy to blow up an Iranian opposition meeting in France."
European sources announced that Tehran's Vienna-based envoy, Assadollah Assadi, who was arrested in connection with a cell planning to blow up an Iranian opposition conference in Paris, is an Iranian intelligence services member and is wanted by the Interpol.
Assadi was detained on Sunday near the German city of Aschaffenburg on a European arrest warrant for suspected involvement in the plot.
Belgium said this week it had arrested two Belgians of Iranian origin suspected of plotting to bomb an Iranian opposition rally on the outskirts of Paris.
Full report at:
https://english.alarabiya.net/en/News/middle-east/2018/07/06/Holland-expels-two-Iranian-embassy-staff-in-Amsterdam.html
--------
South Asia
International consultation meeting urges political solution to Rohingya crisis
July 07, 2018
Turkey's capital Ankara on Friday hosted an international consultation meeting on the Rohingya crisis with a focus on the political and humanitarian solution to improve living conditions for refugees. Delivering an opening speech at the conference, Turkish Foreign Ministry Undersecretary Ümit Yalçın said the humanitarian crisis in Myanmar's Rakhine state and Bangladesh's Cox's Bazar remains ongoing despite all the efforts that have been made.
"In addition to our efforts made on the humanitarian front, we must also increase our efforts on the political front, as responsible members of the international community," Yalçın said, as reported by Anadolu Agency (AA). There is a need for a comprehensive strategy to resolve the political, economic and human problems of Rohingya Muslims, he added.
Yalçın reiterated Turkey's gratitude to the Bangladeshi government for preventing a catastrophic humanitarian situation by opening its borders. However, he said all the efforts were still not enough.
The head of the EU delegation to Turkey Ambassador Christian Berger as well as senior officials from the United States, Australia, Bangladesh, Finland, the U.K, Switzerland, Japan, Canada, Qatar, Norway, Thailand and U.N. bodies attended the meeting. The representatives from Turkey's Health Ministry and other Turkish nonprofit organizations, including the Disaster and Emergency Management Authority (AFAD), Turkish Red Crescent and Turkish Cooperation and Coordination Agency (TIKA), also participated in the meeting. Around 6,000 refugees from the persecuted minority have been camping on the narrow stretch of land since fleeing a brutal military crackdown in Myanmar's west last August. An estimated 700,000 Rohingya have fled over the border to Bangladesh since an army crackdown was launched in Rakhine state in August. Myanmar blames Rohingya militants for an Aug. 25 strike on security posts in Rakhine state that triggered a fierce army crackdown. At least 9,000 Rohingya were killed in Rakhine state from Aug. 25 to Sept. 24, according to Doctors without Borders. In a report last December, the global humanitarian group said the deaths of 71.7 percent, or 6,700 Rohingya, were caused by violence. The death toll includes 730 children below the age of 5.
The U.N. has described the systematic violence by Myanmar against Rohingya Muslims in Rakhine state as possible genocide and ethnic cleansing. Calls for the international community to take measures against the "visible genocide" facing Rohingya Muslims in Myanmar has increased as the monsoon season approaches.
The stateless Rohingya have been the target of communal violence and vicious anti-Muslim sentiment in mainly Buddhist Myanmar for years. Myanmar has denied citizenship to Rohingya since 1982 and excludes them from the 135 ethnic groups it officially recognizes, which effectively renders them stateless. The Rohingya trace their presence in Rakhine back centuries. But most people in majority-Buddhist Myanmar consider them to be unwanted Muslim immigrants from Bangladesh.
https://www.dailysabah.com/asia/2018/07/07/international-consultation-meeting-urges-political-solution-to-rohingya-crisis
--------
ISIS shadow judge, commander among 25 killed in Nangarhar operations
Jul 05 2018
At least twenty five ISIS Khurasan militants including the shadow judge and a commander of the group were killed during the ongoing operations in eastern Nangarhar province.
The governor's office in Nangarhar said the militants were killed during the separate operations conducted in Achin and Haska Mina districts.
The source further added that 23 ISIS Khurasan militants including one of their shadow judges and a local commander of the group were killed during the air and ground operations in Achin district.
The operations were conducted late on Wednesday night in the vicinity of Bandar area, the governor's office added.
In the meantime, the US forces conducted airstrikes on ISIS Khurasan hideouts in Haska Mina district leaving at least two dead, the provincial government office said, adding that the airstrikes were carried out in Angoor Kala area.
The Nangarhar governor's office also added that some heavy and light weapons belonging to the terror group were also destroyed.
Full report at:
https://www.khaama.com/isis-shadow-judge-commander-among-25-killed-in-nangarhar-operations-05516/
--------
Taliban and ISIS-K militants suffer casualties amid ongoing infighting
Jul 07 2018
The Afghan military in the East says infighting among the Taliban and ISIS Khurasan continue in eastern Kunar province of Afghanistan as the latest clashes have left more than ten militants dead or wounded.
The 201st Silab Corps of the Afghan Military in the East says a clash broke out in Chapara Dara district between the two sides, leaving at least seven ISIS militants dead.
The source further added that the clash took place in Wich Naw and Niazi Gani areas on Friday.
The Silab Corps said Thursday that three ISIS Khurasan militants were killed and a Taliban militant was wounded during a similar clash in Chapa Dara district a day earlier.
The anti-government armed militant groups including Taliban and ISIS militants have not commented regarding the report so far.
The infighting among the Taliban and ISIS Khurasan militants continue amid ongoing operations against the two groups in Kunar and other parts of the country.
Full report at:
https://www.khaama.com/taliban-and-isis-k-militants-suffer-casualties-amid-ongoing-infighting-05519/
--------
Will Bangladesh ensure safe return of detained migrants from Malaysia?
July 7th, 2018
The total includes 399 illegal immigrants from Bangladesh, 164 from Indonesia, 157 from the Philippines, 109 from Myanmar, 43 from Thailand and 41 from Vietnam
Hundreds of undocumented Bangladeshi workers have been detained in Malaysia as part of the country's crackdown against illegal migrants.
According to Malaysian newspapers, the national immigration department has apprehended a total of 1,224 foreign nationals since the drive began on Monday.
The total includes 399 illegal immigrants from Bangladesh, 164 from Indonesia, 157 from the Philippines, 109 from Myanmar, 43 from Thailand and 41 from Vietnam.
Bangladeshi Ministry of Expatriates Welfare and Overseas Employment Secretary Nomita Halder said the country's detainees had failed to comply with a June 30 deadline under Malaysia's illegal Migrants Rehiring Program.
"These people are illegal in Malaysia according to the country's law and they have to come back," she said.
"The ministry can do only one thing right now - ensure the safe return of the detained Bangladeshis."
The Bangladesh High Commissioner to Malaysia, Sayedul Islam, told the Dhaka Tribune that "most" of the undocumented Bangladeshi workers took the rehiring opportunity, which had been available since February 16, 2016.
He could not, however, give a precise figure for them.
"The illegal Bangladeshi workers who have been detained already can return to Bangladesh after paying RM400 (Malaysian ringgit), otherwise they have to stay in jail," he said.
The rehiring program was launched to provide illegal foreign workers with valid permits to work in certain sectors.
With the program now closed, Malaysia wants to repatriate the undocumented migrants, as housing them at 13 detention centres across the country is costing the country about RM25 million annually.
Rights bodies, however, are demanding the government to reconsider their proposal and immediately stop the crackdown.
Many Bangladeshi workers have been legalized or are under process, but those applied through agents have reportedly been cheated.
Farique Ahmed, a migrants' rights campaigner and the secretary general of WARBE Development Foundation, suggested the detained workers may have been pure in motive.
"Most of the illegal migrants are illiterate and unaware about the law," he said. "The trade unions of Malaysia should consider the socio economic condition of the Bangladeshi illegal workers."
Malaysian Immigration Department's Director General Datuk Seri Mustafar Ali was unmoved. "We will continue the drive against illegal workers," he said.
Full report at:
https://www.dhakatribune.com/bangladesh/2018/07/07/will-bangladesh-ensure-safe-return-of-detained-migrants-from-malaysia
--------
Children suffer heavy casualties in back to back to explosions in Ghazni
Jul 07 2018
At least ten children were killed or wounded in back to back explosions in southeastern Ghazni province of Afghanistan.
The local officials said Friday that the incident has taken place in the vicinity of Gilan district due to improvised explosive devices planted on the roadside.
Provincial governor's spokesman Arif Noori confirmed the incident and said at least three children were killed and at least seven others were wounded in the twin explosions.
The anti-government armed militant groups including Taliban militants have not commented regarding the report so far.
The anti-government armed militant groups frequently use explosives materials for the roadside bombings and car bombings to target the government staff and security personnel.
However, in majority of such incidents the ordinary civilians are targeted besides such bombings incur casualties to the security personnel and in some cases the Taliban militants themselves are killed or wounded.
Full report at:
https://www.khaama.com/children-suffer-heavy-casualties-in-back-to-back-to-explosions-in-ghazni-05520/
--------
Southeast Asia
Selangor Islamic Department Has No Right to Stop Ahmadiya Muslims, Court Rules
V Anbalagan and Soo Wern Jun
July 6, 2018
SHAH ALAM: The Shah Alam High Court today ruled that Islamic authorities in Selangor have no right to stop religious activities of the Ahmadiya community, who follow a sect which Muslims generally regard as being outside the fold of Islam.
Judge Vazeer Alam Mydin Meera also ruled that the Selangor Islamic Department (JAIS) has no right to bring charges against members of the sect for violating a state fatwa against the Ahmadiya teachings.
Thiry-nine members of the sect had challenged JAIS for trying to charge them with shariah offences, on the basis that Islamic authorities in Selangor do not recognise Ahmadiya Muslims as Muslims.
The court ruled that the Selangor Islamic religious authorities have no jurisdiction over Ahmadi Muslims in the state.
The judge said this was the result of a fatwa gazetted by the state in 2001 that this group was considered as apostates.
Vazeer also allowed the relief sought by the 39 Ahmadi applicants that the religious authorities had no jurisdiction to investigate and prosecute them for offences under the state Islamic criminal enactment.
"A bond to order them to appear in the Shariah to face charges is also quashed," Vazeer said in his oral judgment in allowing their judicial review application.
The judge also ordered the state chief Shariah prosecutor and chief religious enforcement officer to stop their investigations against the applicants.
The judge also ordered five defendants – chief religious enforcement officer, the investigating officer, JAIS, state chief shariah prosecutor and the Selangor government – to pay the applicants RM25,000 in costs.
Four years ago, the 39 filed a judicial review following JAIS' arrest of its community members.
They included eight Pakistani asylum seekers, two Indian nationals, an Indonesian and three minors — for performing Friday prayers on Apr 11, 2014 at the community's centre in Batu Caves, Selangor.
The group was informed that they had not obtained written permission to use the premises — a shoplot in Dolomite Park, Batu Caves — for purposes which may only be carried out on, in or by a mosque, contrary to Section 97 of the Administration of the Religion of Islam (State of Selangor) Enactment 2003.
The group was granted leave by the Kuala Lumpur High Court on Aug 14, 2014, before the proceedings were transferred to the Shah Alam High Court on Sept 15, 2015.
Lawyer Aston Paiva told reporters the essence of today's ruling was that the Ahmadi Muslims could manage their religious affairs without interference from the state religious authorities.
In his submission previously, Paiva said the community should be allowed to practise their faith since they were not considered Muslims by Selangor.
He said Jais could not attempt to charge the community with shariah offences when they had refused to recognise the Muslim sect as adherents.
"This is not an apostasy case where they say that they renounce Islam. That cannot happen to an Ahmadi. An Ahmadi will never say they are no longer a Muslim. It defeats their whole purpose," he said.
"In other words, the government has treated them as non-Muslims, so they should just be treated how they want to be treated.
"On the one hand, you say they are not Muslims; on the other hand, you are arresting them and taking them to the Shariah Court to face charges," Paiva said.
The Ahmadis, who are derogatorily called Qadianis here, adhere to the same beliefs as the Sunni branch of Islam, but also believe that their founder Mirza Ghulam Ahmad was the Imam Mahdi.
http://www.freemalaysiatoday.com/category/nation/2018/07/06/jais-has-no-right-to-stop-Ahmadiya-muslims-court-rules/
--------
Husband of child bride wants her admitted to 'pondok' school
06 July 2018
KUALA LUMPUR, July 6 ― The 41-year-old Kelantanese man who married an 11-year-old girl as his third wife, wants to send her to a "pondok" school, a type of privately-run Islamic school, to ensure she grows up a "well-mannered" Muslim woman.
Sinar Harian reported the rubber tapper, Che Abdul Karim Che Hamid, claiming his child bride is allegedly not interested in academic pursuits.
"She's not interested in studies, however I will still persuade her to study at a religious school here in Gua Musang.
"Right now we are still trying to settle in. I will send her after my marriage problems are over," Sinar Harian quoted him as saying.
The man is said to have married the child in south Thailand last month.
Deputy Prime Minister Datuk Seri Dr Wan Azizah Wan Ismail reportedly said the marriage was unlawful as the court did not approve it and told the couple to separate, but the husband has refused.
Bernama reported earlier that the Kelantan police have opened an investigation paper on the child marriage involving an 11-year-old girl with a 41-year-old man in Gua Musang recently.
Full report at:
https://www.malaymail.com/s/1649606/husband-of-child-bride-wants-her-admitted-to-pondok-school
--------
Should judge recuse himself from Najib's case?
July 7, 2018
By Muhammad Adam Abdullah
It has been reported that justice Mohd Sofian Abd Razak is the brother of an Umno executive councillor from the state of Pahang. If that is the case, should he have been disqualified from presiding at Najib Razak's hearing on July 4?
Bias with regard to anyone acting in a judicial capacity means anything which tends or may be regarded as tending to cause such a person to decide a case otherwise than on the evidence (R v East Kerrier Justices [1952] 2 QB 719): Jowitt's Dictionary of English Law (2nd Edn) Vol 1, under "Bias" at 210.
A judge may be disqualified from hearing a matter on grounds of bias. If a judge stands to gain financially from a decision, that will amount to pecuniary or proprietary bias. If he has a personal interest to gain, that will amount to personal bias.
There is a third category. This is "where a judge is not a party to the suit and does not have a financial interest in its outcome, but in some other way his conduct or behaviour may give rise to a suspicion that he is not impartial, for example because of his friendship with a party".
"This second type of case is not, strictly speaking, an application of the principle that a man must not be judge in his own cause, since the judge will not normally be himself benefiting, but providing a benefit for another by failing to be impartial" (Lord Browne-Wilkinson, in re Pinochet [1999] 1 All ER 577).
In the matter of Augusto Pinochet, the former Chilean president was receiving treatment in the UK. Spain issued international warrants to have Pinochet arrested. Pursuant to those warrants, two provisional warrants were issued by magistrates in the UK. Pinochet applied to quash those warrants.
The UK High Court allowed Pinochet's application on the basis that Pinochet had immunity from prosecution as a former head of state. The prosecution appealed.
At the appellate stage, one of the intervening parties was Amnesty International (AI), a well-known human rights organisation. AI supported the appeal.
The appeal was allowed by the House of Lords by a majority of 3-2, hence restoring the UK warrants on the basis that Pinochet had no immunity. One of the Law Lords who heard and allowed the appeal was Lord Hoffman.
Subsequently, it came to light that Lord Hoffman was "connected" to AI. Lord Hoffmann was a director and chairperson of Amnesty International Charity Limited (AICL), a registered charity incorporated to undertake those aspects of the work of Amnesty International Limited (AIL) which are charitable under UK law.
Additionally, Lady Hoffman was carrying out administrative duties for AI, although neither Lord Hoffman nor Lady Hoffman were consulted on the Pinochet case.
In a unanimous decision, on an application by Pinochet to set aside the earlier decision, the House of Lords set aside the decision on the grounds of real danger of bias.
This is what Lord Browne-Wilkinson said: "Can it make any difference that, instead of being a direct member of AI, Lord Hoffmann is a director of AICL, that is of a company which is wholly controlled by AI and is carrying on much of its work?
"Surely not. The substance of the matter is that AI, AIL and AICL are all various parts of an entity or movement working in different fields towards the same goals.
"If the absolute impartiality of the judiciary is to be maintained, there must be a rule which automatically disqualifies a judge who is involved, whether personally or as a director of a company, in promoting the same causes in the same organisation as is a party to the suit.
"There is no room for fine distinctions if Lord Hewart's famous dictum is to be observed: it is 'of fundamental importance that justice should not only be done, but should manifestly and undoubtedly be seen to be done'" (see Rex v Sussex Justices, ex parte McCarthy [1924] K.B. 256, 259).
Closer to home, in two cases, judges have refused to disqualify themselves on grounds of personal relationship.
In Glomac Resources Sbn Bhd v Majlis Agama Islam Wilayah Persekutuan & Anor, justice Nantha Balan held that his friendship with one of the counsel appearing before him, by itself, was not grounds to allege bias.
That is rightly so as judges who are appointed from members of the Bar would inevitably be friends with many lawyers in the course of their career.
In Pembinaan BLT Sdn Bhd v Debessa Development Sdn Bhd, justice Mary Lim refused to disqualify herself on account of the fact that her daughter was a pupil and subsequently a lawyer in the firm that was appointed to litigate a matter before her.
This is how the judge addressed the issue: "The present facts and circumstances that we face in this case are actually no longer uncommon occurrences. Given the popularity of law as a career, and I am sure for many other educational, sociological or many other reasons, it is no surprise that the incidence of meeting or finding a kin connection between the counsel and the bench is not uncommon.
"So much so, the appearance of one's child before the judge parent is not frowned upon, let alone considered or even raised as a ground of bias. Many children of judges or even their spouses regularly practise and appear before the courts throughout the country.
"The firms with which these children are employed or partnered also regularly attend or appear before their parent judge. They do so without any cause for concern; and rightly so."
That is also the current position in the UK.
'Real danger of bias'
It is accepted that the test of bias is that there exists a real danger of bias. The court looks at possibility, not probability, bearing in mind always that justice must not only be done but be seen to be done.
How do these decisions bear upon justice Sofian's decision to continue hearing the matter concerning Najib?
The pertinent factors would be the following:
His brother is an executive councillor of Umno;
His brother has been a state assemblyman of Umno in Pahang since 1999;
His brother belongs to a political party of which Najib was president;
His brother comes from a state where Najib remains an Umno division head and a state where Najib has served and remains influential.
Justice Sofian ought to bear in mind that he is presiding not in a civil case where the stakes are ringgit and sen. Najib's criminal case has drawn not only national but international attention. The case has created a history of sorts in Malaysia.
It is imperative that the conduct of the case at all levels be above reproach such that the common man, the ordinary bystander, will remark: "The judge has been fair."
One does not need to prove that justice Sofian is unfair or in fact biased. However, what the ordinary bystander may remark is: "The judge's brother is an Umno politician from Pahang, Najib's home state. The elder brother may have suggested to the younger brother to go easy on Najib."
Unlike corporations or associations, politics is a game of influence peddling and abject patronage. A leader (or former leader for that matter) holds great sway over his followers. Umno is no exception.
Granted, justice Sofian's brother is not the one on trial, but this is no ordinary case either.
There is no lack of criminal judges at the Kuala Lumpur courts. The fact that a gag order has been granted, surprising in the circumstances and impossible to enforce, does not lend assistance to arguments supporting justice Sofian's impartiality.
It is apposite to close with the remarks of Lord Hutton in re Pinochet: "I have already stated that there was no allegation made against Lord Hoffmann that he was actually guilty of bias in coming to his decision, and I wish to make it clear that I am making no finding of actual bias against him.
"But I consider that the links, described in the judgment of Lord Browne-Wilkinson, between Lord Hoffmann and Amnesty International, which had campaigned strongly against General Pinochet and which intervened in the earlier hearing to support the case that he should be extradited to face trial for his alleged crimes, were so strong that public confidence in the integrity of the administration of justice would be shaken if his decision were allowed to stand."
Full report at:
http://www.freemalaysiatoday.com/category/opinion/2018/07/07/should-judge-recuse-himself-from-najibs-case/
--------
Sharia-compliant fintech faces hurdles, insiders say.
July 7 2018
Riza Roidila Mufti
In a country with the largest Muslim population in the world, it would be expected that sharia-compliant financial products and services would thrive.
However, such is not the case in Indonesia, where 88 percent of the population is Muslim.
Islamic banking is struggling in this country, only grabbing 5 percent of the market share, according to McKinsey & Company.
Full report at:
http://www.thejakartapost.com/news/2018/07/07/sharia-compliant-fintech-faces-hurdles-insiders-say.html
--------
Mideast
8 Daesh terrorists executed over 2017 Iran attacks
Jul 6, 2018
Iran's media say eight members of Daesh Takfiri terrorist group who were involved in deadly attacks on the premises of the Parliament and the Mausoleum of the Founder of the Islamic Republic Imam Khomeini in capital Tehran last year have been executed.
The death sentences, that had been issued by Branch 15 of Tehran's Islamic Revolution Tribunal back in May, had been sent for implementation to the Prosecutor's Office, Moussa Qazanfarabadi, the head of the capital's Islamic Revolutionary Tribunal, had said on Friday.
Qazanfarabadi had added that the terrorists had been convicted of "participating in crimes punishable by death". The sentences would be implemented after the Judiciary chief grants the necessary permission, the official had noted.
In June 2017, the Daesh Takfiri terror group carried out simultaneous attacks on Iran's Parliament and the Mausoleum of the Founder of the Islamic Republic Imam Khomeini. A total of 22 people - 17 civilians and 5 assailants - were killed during the attacks.
The eight convicts sentenced to death are among a total of 26 people who were arrested in the aftermath of the attacks mainly in operations along the borders with Iraq and Turkey.
They have appealed their sentences to the Supreme Court, which has upheld their sentences.
The cases of the remaining 18 Daesh members who were involved in last year's attacks in Tehran are still under legal investigation.
https://www.presstv.com/Detail/2018/07/06/567235/Iran-execution-Daesh-convicts-Parliament-Mausoleum-Imam-Khomeini
--------
Yemeni forces launch ballistic missile at industrial target in Saudi Arabia
Jul 6, 2018
Yemeni army forces, supported by allied fighters from the Houthi Ansarullah movement and those from Popular Committees, have fired a domestically-designed and -developed ballistic missile at a strategic economic target in Saudi Arabia's southwestern border region of Jizan in retaliation for the Riyadh regime's brutal military aggression against the impoverished country.
Yemen's Arabic-language al-Masirah television network, citing a military official, said the short-range Badr-1 missile struck Jizan Industrial City on Friday evening, inflicting unspecified damage and casualties.
In a separate report, al-Masirah reported that the Yemeni army had also managed to target a gathering of the Saudi-led coalition's mercenaries in Yemen's flashpoint province of Hudaydah with another short-range ballistic missile earlier in the day, adding that the projectile had hit the designated target with great precision.
It added that the missile attack came after the Yemeni air force and air defense units collected exact coordinates of the target.
On Monday, the media bureau of Yemen's Operations Command for the first time released a video of the army's reconnaissance operations on the flashpoint western coasts conducted by a number of unmanned aerial vehicles.
It said that most of the missile attacks against the Saudi-led military coalition, either inside Yemen or inside Saudi Arabia, were carried out based on the coordinates collected by the Yemeni drones.
Brig. Gen. Abdullah al-Jafri, spokesman of Yemeni air force and air defense, said at the time that using drones was the winning card of the Yemeni army in fighting against Saudi-led forces in the western coasts.
He added that the invading enemy was unable to intercept drones, which cost the Yemeni army only one thousand dollars, at most, to produce each of them.
On June 13, Emirati forces, a significant part of the Saudi-led coalition, and militia loyal to former Yemeni President Abd Rabbuh Mansur Hadi launched a major offensive to take Houthi-held Hudaydah, a densely-populated city and the war-torn country's most vital port, which is the entry point for 70 percent of the impoverished country's imports.
The imposed war, however, has so far failed to achieve its goal, thanks to firm resistance mounted by Yemeni troops and Houthi fighters in defense of the city. The attack was also launched despite warnings that it would compound the impoverished nation's humanitarian crisis.
Saudi Arabia and some 20 of its allies, including the United Arab Emirates, Morocco and Sudan, launched a brutal war, code-named Operation Decisive Storm, against Yemen in March 2015 in an attempt to reinstall Hadi, a staunch ally of Riyadh, and crush the popular Ansarullah movement.
The offensive initially consisted of a bombing campaign but was later coupled with a naval blockade and the deployment of ground forces into Yemen.
The Yemeni Ministry of Human Rights announced in a statement on March 25 that the war had left 600,000 civilians dead and injured until then. The war and the accompanying blockade have also caused famine across Yemen.
The Saudi-led aggression has also taken a heavy toll on the country's infrastructure, destroying many hospitals, schools, and factories. The United Nations has already said that a record 22.2 million Yemenis are in need of food aid, including 8.4 million threatened by severe hunger.
Full report at:
https://www.presstv.com/Detail/2018/07/06/567282/Yemen-ballistic-missile-Saudi-Arabia-Jizan-Houthis-Hudaydah
--------
Palestinian killed as Gaza protests against Israel enter fourth month
July 7, 2018
A Palestinian taking part in a border protest was killed on Friday, Gazan medical officials said, bringing to 136 the number killed in the confrontations that have often drawn a lethal Israeli army response since they began on March 30.
The Gaza Health Ministry said the 22-year-old died of a chest wound. It said Israeli shelling wounded eight people in the same location, east of Gaza City, though it was not clear if the two incidents were linked.
Israel's military denied shelling, saying troops used "riot dispersal means" including gunfire as they confronted 3,000 Palestinians at five points along the border fence, some rolling burning tyres and throwing rocks, and that "a number of terrorists" approached the border fence with a bomb. "The explosive device went off within the Gaza Strip and injured several Palestinians," it said.
The Gaza Health ministry said almost 400 people were wounded in Friday's protests, 57 of them from live bullets.
There have been no serious Israeli casualties during the so-called "Great March of Return" but big tracts of Israeli land have been ravaged by fires set by incendiary kites or helium balloons flown in from Gaza.
Israel, facing international condemnation over its tactics, accuses Gaza's Islamist Hamas rulers of orchestrating the sometimes violent protests to distract from their governance problems and provide cover for armed cross-border attacks.
Home to 2 million Palestinians, more than half of them war refugees and their descendents, Gaza has suffered deep poverty and infrastructure collapses under a 12-year blockade by Israel and Egypt, which say they aim to curb Hamas threats.
Organisers have described the border protests as spontaneous outpourings of frustration, as has Hamas. The Islamists have failed to conclude months of power-sharing talks with Western-backed Palestinian political rivals to ease conditions in Gaza.
Full report at:
https://indianexpress.com/article/world/palestinian-killed-as-gaza-protests-against-israel-enter-fourth-month-5249135/
--------
Seven Qaeda fighters killed in Yemen drone strike
July 07, 2018
ADEN - Seven suspected al Qaeda fighters were killed on Friday when a drone targeted their car in the southern Yemeni province of Shabwa, a security official said.
The car was hit as it drove along a side road in Shabwa's Bihan district, the official, from forces loyal to President Abedrabbo Mansour Hadi's internationally recognised government told AFP. The US military is the only force known to operate armed drones over Yemen. The security official said the militants were members of al Qaeda, and said the aircraft that carried out the strike was American.
The United States considers the Yemen-based al Qaeda in the Arabian Peninsula to be the radical group's most dangerous branch.
A long-running drone war against AQAP has intensified since US President Donald Trump took office in January 2017.
Full report at:
https://nation.com.pk/07-Jul-2018/seven-qaeda-fighters-killed-in-yemen-drone-strike
--------
Turkish police launch nationwide raids to detain nearly 350 over Gulen ties
6 July 2018
Turkish police on Friday launched nationwide raids to detain nearly 350 people, including soldiers, accused of links to the group blamed for the July 2016 failed coup, state media reported.
Prosecutors in Istanbul issued arrest warrants for 271 soldiers, 122 of whom are still on active duty, as part of a probe into followers of US-based Muslim cleric Fethullah Gulen in the Turkish armed forces, news agency Anadolu reported.
Turkey has accused Gulen of ordering the attempted overthrow of President Recep Tayyip Erdogan on July 15, 2016 -- a charge he strongly denies.
The raids were spread across 47 provinces, including the western province of Izmir, where prosecutors issued 75 warrants as part of an investigation into a Gulen "cell inside the armed forces", the agency added.
Over 77,000 people including military personnel have been arrested over alleged Gulen links under the post-coup state of emergency imposed nearly two years ago.
Ankara's Western allies including the European Union have expressed concern over the scale of the purge which has seen more than 140,000 people suspended or sacked from the public sector, including judges, soldiers and police.
But Ankara insists the raids are necessary to remove the "virus" of caused by the Gulen movement's infiltration of key Turkish institutions.
Full report at:
https://english.alarabiya.net/en/News/middle-east/2018/07/06/Turkish-police-launch-nationwide-raids-to-detail-nearly-350-over-Gulen-ties.html
--------
Saudi air force intercepts Houthi-launched missile targeting Jazan
6 July 2018
The Saudi air defense on Friday intercepted a ballistic missile fired by the Iran-backed Houthi militias from Yemen, towards the Saudi city of Jazan.
The Yemeni legitimate forces have repeatedly stressed the continued involvement of the Iranian regime in supporting the Houthi militias and supplying them with rockets carrying qualitative capabilities, in clear defiance to United Nations Resolutions 2216 and 2231 in order to threaten the security of Saudi Arabia and destabilize regional and international security.
https://english.alarabiya.net/en/News/gulf/2018/07/06/Saudi-air-force-intercepts-Houthi-launched-missile-targeting-Jazan.html
--------
Yemen PM: We are going to regain full control of the state
July 06, 2018
Yemen's Prime Minister Ahmed Obeid bin Daghr said his government is moving towards regaining control of the state and extending its influence over all regions, Saudi state-owned news channel Al-Ekhbariya reported on Friday.
During his meeting with the Governor of Hajjah, Abdulkarim Al-Sinayy, the prime minster affirmed "the determination of the political leadership - supported the Saudi-led Arab coalition - to move forward in a steady and steadfast way towards restoring the state and extending state control over all provinces."
The meeting discussed, according to Yemen News Agency, military and economic developments and all matters related to the affairs of the areas under the control of Iran-backed Houthi militias.
Earlier this week, the UN envoy for Yemen arrived in Sanaa for talks aimed at persuading Iran-backed Houthi militias to quit the Red Sea port city of Hodeidah.
Martin Griffiths has been shuttling between the Yemeni capital and the cities of Aden and Muscat in Oman in efforts to find a diplomatic solution to the crisis.
Full report at:
http://www.arabnews.com/node/1334156/middle-east
--------
Africa
Osinbajo gives reasons Boko Haram will end soon
July 6, 2018
By Don Silas
The Vice President of Nigeria, Yemi Osinbajo said on Thursday that the celebration of the 2018 Nigerian Army Day at Mongunu in Borno North was a proof that the "end of the Boko Haram terrorists group will come sooner than later.''
Osinbajo, who spoke at a "Mini Trade Fair and Military Equipment Exhibition as part of activities to mark the day, also said that it was a proof that the terrorist had been "substantially degraded.
According to him, Borno and the entire region (North East) will surely bounce back, and with the support of the rest of the country, make up for the years of bloodshed and destruction.
The vice president said that the Sambisa forest, once the symbol of Boko Haram's domination of the region, had been reclaimed, while the work of rebuilding had started in many communities across the state.
"Indeed, we are here to celebrate all of these wonderful successes, and progress.
"At a point, a few years ago, it felt as though they – terrorists were succeeding.
"As a result of the insecurity, social and economic life rolled to a halt in many parts of the state, as Boko Haram controlled a large territory and acted like the de-facto government of the state.
"The town of Monguno, which today is playing host to us, was a few years ago firmly in the hands of the terrorists.
"Today, thankfully, the tide has turned, in large part on account of the gallant and heroic work of the Nigerian Army. And it is on account of this that we are here today, to celebrate.
"We are here to celebrate the gallantry of our soldiers, men and women from every part of Nigeria, of different faiths and tribes and tongues, gathered to fight and defeat a common enemy.
"We are also celebrating the resilience of the people of Borno State, and reaffirming that our primary obligation to them, as a Government, is to ensure that they are able return to their communities and rebuild their lives and livelihoods in peace and safety,'' the vice president said.
Osinbajo expressed delight over the progress being recorded by the ongoing Operation Last Hold designed to rid remnant of terrorists from the Lake Chad Basin and Northern Borno.
The vice president noted in the last three years, life was gradually returning to many parts of Borno as schools had reopened, airlines resumed flights, religious celebrations held, major roads and highways reopened.
He said that he had no doubt that NADCEL and events lined up to mark it in Mongunu "will go a long way towards changing the negative narrative of terrorism, hunger and danger that have defined the North Eastern part of Nigeria, and the entire Lake Chad Basin, in the last decade.''
Osinbajo commended the army which he said had fought wars at home and abroad, to secure the country, and keep it united, though it suffered loss and setback.
He specifically commended the Chief of Army Staff, Lt.-Gen. Tukur Yusuf Buratai for "inspiring the Nigerian army to turn the tide against Boko Haram.''
"With the success of yet another Army Day Celebration, this time in the heartland of a dying insurgency, Gen. Buratai has left no doubt about the quality of his leadership.
"And today, we are all proud to associate with the Nigerian Army, for the ongoing victory in the North East.
"Long may that victory continue, even as it extends to other troubled parts of the country,'' he said.
The vice president acknowledged the sacrifice made by members of the armed forces and other security agencies in the fight against the terrorists, saying "we are also here to remember.
"To remember the tens of thousands who have lost their lives to this needless violence; the innocent civilians, and the vigilante and military dead, who paid the ultimate sacrifice to preserve the security and sovereignty of Nigeria.
"We will never forget. And we shall continually strive to work to build a Nigeria in which terrorists and bandits shall have neither sway nor leeway.''
http://dailypost.ng/2018/07/06/osinbajo-gives-reasons-boko-haram-will-end-soon/
--------
Buhari says Boko Haram-hit NE Nigeria now 'post-conflict'
6 July 2018
MONGUNO - Nigeria's remote northeast is in a "post-conflict stabilisation phase", President Muhammadu Buhari said on Friday, despite persistent attacks by Boko Haram insurgents.
The Islamist insurgency has devastated the region since 2009, leaving at least 20,000 dead, displacing more than 2.6 million others and triggering a wider humanitarian crisis.
Buhari, his military commanders and government have repeatedly insisted for several years that the jihadists were on the verge of defeat, despite frequent evidence to the contrary.
But his latest statement goes further as it implies a total end to hostilities.
Addressing troops in the garrison town of Monguno, some 140 kilometres from the Borno state capital, Maiduguri, Buhari said Boko Haram fighters were surrendering "willingly".
"It's evident that we are in a post-conflict stability phase, which has been made possible by the good work of our armed forces," he added.
Former military ruler Buhari came to power three years ago on a promise to defeat Boko Haram, which is aligned to the Islamic State group and threatens security in the Lake Chad region.
But while there have been clear military gains since a counter-insurgency was launched in early 2015, suicide bombings and raids remain a constant threat, particularly to civilians.
Last month, 43 people were killed in a wave of suicide attacks in the town of Damboa, 90 kilometres southwest of Maiduguri. Soldiers and civilians have also been killed in Niger and Chad.
The United Nations said in a progress report of its operations in Nigeria this year to 31 May that "large-scale displacements" of people were still a weekly occurrence.
"In the past seven months, since hostilities intensified in the northeast, over 130,000 people have been displaced, sometimes for the second or third time," it added.
It warned that such displacements would continue into at least next month, while aid workers have expressed concern about the government encouraging IDPs to return home.
Towns and villages damaged and destroyed by nine years of fighting lacked shelter, clean water, sanitation, health and education facilities, and security remained volatile.
Buhari, 75, is seeking re-election in February next year and aid workers said his latest statement about hostilities was likely political.
He is also under pressure from increasing insecurity elsewhere, including renewed bloodshed in a long-running farmers-herders conflict that has left some 1,000 dead since January.
Full report at:
https://www.enca.com/africa/buhari-says-boko-haram-hit-ne-nigeria-now-post-conflict
--------
Armed group in Libya kidnaps three Filipinos and one Korean
7 July 2018
An unidentified armed group kidnapped three Filipinos and one Korean working as technicians at a water plant in south eastern Libya, an official said on Friday.
The group also kidnapped several Libyan workers in the morning raid at the Al-Hassouna plant near Ishwirif, but later released them, said the official, who asked not to be named for security reasons. The official did not say whether the Korean citizen was from North Korea or South Korea.
https://english.alarabiya.net/en/News/north-africa/2018/07/07/Armed-group-in-Libya-kidnaps-three-Filipinos-and-one-Korean.html
--------
URL: https://www.newageislam.com/islamic-world-news/ayodhya-case-mosque-integral-islam/d/115763
New Age Islam, Islam Online, Islamic Website, African Muslim News, Arab World News, South Asia News, Indian Muslim News, World Muslim News, Women in Islam, Islamic Feminism, Arab Women, Women In Arab, Islamophobia in America, Muslim Women in West, Islam Women and Feminism