New Age Islam News Bureau
28 Oct 2019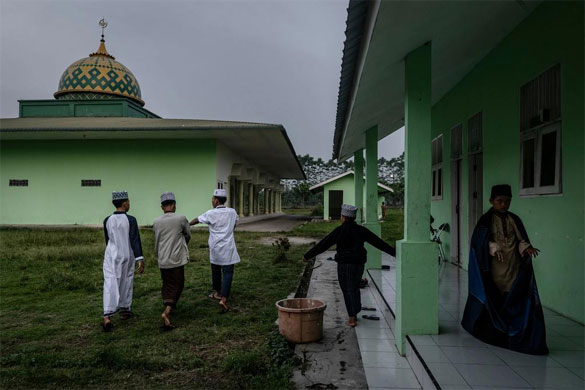 Students at the Al Hidayah Islamic Boarding School in Medan, Indonesia.
-----
•
At A School for Suicide Bombers' Children In Indonesia, Dancing, Drawing And Deradicalisation
• Trump: Daesh Leader Al-Baghdadi 'Died A Coward' In US Raid In North-West Syria
• Al-Baghdadi's Death Calms 'Rage and Fire' Inside Terror Survivors
• Hamas MP: Normalization with the "Occupying State", Is a Crime against Islam
• Kenyan Doctors from the Muslim Community Have Come Out To Defend the 'Cancer Vaccine' After A Section of Imams Opposed the Jab
• Thousands of Supporters of Maulana Fazlur Rehman Head to Capital For Protest
India
• Ayodhya Case Falsely Projected as Hindu-Muslim Conflict: Expert on Muslim Identity Formation in South Asia
• British Indian Groups Condemn Kashmir Protests in London on Diwali as 'Hinduphobia and Racism'
• India and Saudi Arabia to sign dozen agreements during PM Modi's two day visit
• Pakistan violates ceasefire along LoC in J&K's Rajouri
--------
Southeast Asia
• At A School for Suicide Bombers' Children In Indonesia, Dancing, Drawing And Deradicalisation
• Malays gain nothing from always blaming others
• Luhut Welcomes 'Fellow Nationalist' Prabowo in Jokowi's Cabinet
--------
North America
• Trump: Daesh Leader Al-Baghdadi 'Died A Coward' In US Raid In North-West Syria
• Killing al-Baghdadi won't change US role in creation of Daesh: Analyst
• Baghdadi's death offers Trump a short-term boost and cover for Syria exit
--------
Arab World
• Al-Baghdadi's Death Calms 'Rage and Fire' Inside Terror Survivors
• Iraq's Mosul breathes easier after death of 'butcher' Al-Baghdadi
• Lebanese Paper Reveals US Mission's Role in October Protests in Iraq
• Four Iraqi MPs resign in response to mass protests
• World reacts to announcement of ISIS leader al-Baghdadi's death
• Lebanese protesters successfully form human chain across country
• Syria Kurds expect ISIS revenge attacks after al-Baghdadi death
• 15 dead in Syria clashes between pro-Turkish forces, Kurds: Monitor
• At least seven Iraqi protesters shot dead by militia in Hilla: Sources
• Iraqi PM Abdul-Mahdi refuses to resign over deadly protests
--------
Mideast
• Hamas MP: Normalization with the "Occupying State", Is a Crime against Islam
• Official: Iran Able to Use Newly-Developed Training Jet for CAS Operations
• Israel's Gantz, Netanyahu hold talks to break gov't deadlock
• Iranian MP: Sanctions have not hit medicial supplies
• Yemeni government, South Transitional Council reach agreement: Report
• Syria welcomes pullout of Kurdish armed groups to depth of 30 km from Turkish border
--------
Africa
• Kenyan Doctors from the Muslim Community Have Come Out To Defend the 'Cancer Vaccine' After A Section of Imams Opposed the Jab
• Kenya Seeks International Help To Stop Al-Shabaab Financing
• Morocco, Israel to resume direct flights after two decades: Report
• Climate Change Is Benefiting Terrorists In Somalia
--------
Pakistan
• Thousands of Supporters of Maulana Fazlur Rehman Head to Capital For Protest
• Pakistan govt renovates centuries-old Shawala Teja Singh temple in Sialkot
• Shahbaz asked to convince Nawaz to go abroad for medical treatment
• US looking for fresh start in ties with Pakistan
• IMF team arrives to review Pakistan's performance under $6bn package
• JUI-F leader seeks restoration of citizenship
• PM reaffirms support for Kashmiris as nations marks Black Day
--------
Europe
• Two NUI Galway medical students died fighting for Islamic State
• France on high alert for revenge attacks following death of al-Baghdadi
• Defense Ministry: Russia has no reliable information on operation against Baghdadi
--------
South Asia
• Preliminary Results of Afghan Presidential Elections to Be Announced On 14th November
• 18 Taliban militants killed in Balkh and Faryab clashes
• 8 Afghan migrants rescued from UK-bound refrigerated lorry
• U.S. envoy for Afghan peace in Kabul to brief the Afghan government
• Special Forces kill, detain 4 Taliban militants; destroy caches of weapons in 3 provinces
• US envoy in Kabul for first time since Taliban talks collapsed
Compiled by New Age Islam News Bureau
URL: https://www.newageislam.com/islamic-world-news/ayodhya-case-falsely-projected-hindu/d/120111
--------
Ayodhya Case Falsely Projected as Hindu-Muslim Conflict: Expert on Muslim Identity Formation in South Asia
Pragya Singh, Ajay Kumar
28 Oct 2019
Hilal Ahmed, associate professor, Centre for the Study of Developing Societies, is an expert on Muslim identity formation and the politics of symbols in South Asia. In an interview with Newsclick, he explains how the Ayodhya dispute fostered a Hindu-Muslim binary. He suggests an alternative mode to address Muslim anxieties in contemporary India. This would involve evaluating memory-based faith on moral, not historical, grounds, through a "radical politics of peace and social harmony".
In your recent book, Siyasi Muslims: A story of Political Islam in India, you talk about caste among Muslims. Do you think that the Ayodhya issue helps transcend the caste or class differentiation among Muslims today, maybe even temporarily?
This is a very valuable question, which requires some elaboration. Muslims are certainly divided on caste, region, language and class lines. Yet, there is a sense of oneness, which determines their imagination of Islam and Muslims, at least in two different ways.
In a positive sense, Muslims of India become a homogeneous legally-recognised entity when individuals with Muslim names and/or groups, who prefer to call themselves Islamic, are recognised as beneficiaries of constitutionally-granted collective rights, such as the right to profess religion and the right to protect culture and heritage.
However, Muslim oneness is also defined in a negative sense when they become a targeted political community. When individuals with Muslim names or when legally-recognised minority institutions with Islamic contents are threatened and violently attacked by Hindutva essentialists. These conflicting meanings of Muslim homogeneity actually constitute two dominant political perspectives of our time: the legal-constitutionalist liberal perspective and the Hindu nationalist perspective.
Liberal constitutionalists defend Muslims by invoking minority rights; while Hindu nationalists reject the minority-majority framework and call it Muslim appeasement. However, if we closely look at the nature of their arguments, we may find a remarkable similarity. Both envisage Muslims as an identifiable community that is comparable with another collectivity called the Hindus.
This construction of Hindu-Muslim binary, in my view, is empirically weak, sociologically untenable and politically disastrous. Therefore, the important question you ask must not necessarily be situated in the Hindu assertion versus Muslim reaction framework.
Instead, I suggest an alternative mode to address Muslim anxieties in contemporary India. The crucial distinction between Muslim communities we know empirically and the Muslims we imagine as pan-Islamic community is very important. Interactions with Muslim individuals in concentre everyday life situations are always treated as normal. No one, not even the hardcore Hindutva activists consider such interactions an extraordinary experience. But, whenever we are forced to think about a few contentious all-India level issues—population growth, war with Pakistan, international terrorism, and electoral behaviour of Muslims and so on—we tend to rely on the given picture of Muslim community as a homogeneous, fixed, rigid, anti-modern group.
To get rid of this problem, I argue that we must make tentative, open-ended and context-specific arguments. This is exactly what I do in my work.
But what is the significance of the Babri Masjid for Muslims; would the issue mean they give up caste/class considerations?
One clarification is needed here. The supposedly 'neutral expressions' to address the Babri masjid as disputed structure or the Ayodhya crisis are one-sided. It is not possible to establish that a temple was demolished by Babar for purely religious reasons. Archaeological excavations (as the court has decided to treat the Archaeological Survey of India (ASI) report of 2003 as scientific evidence in this case!) cannot determine the intention and actions of historical figures or communities.
On the contrary, however, we have concrete evidences that demonstrate that the Babri Masjid was demolished by the Hindutva forces in the name of religion on December 16, 992. Thus, the Ayodhya dispute is primarily about the Babri masjid; the Ram temple is an associated phenomenon. This centrality of the mosque in this case actually gives us an impression that Muslims of all kinds are deeply concerned about it. But, this perception is not entirely correct.
My first book, Muslim Political Discourse in Postcolonial India: Monuments, Memory and Contestation (2014), examines the nature of Babri masjid conflict and its emergence as a Muslim issue. I find that the Babri masjid issue—which was a highly-localised conflict since 1949—was imposed on Indian Muslims by Hindu and Muslim fundamentalists in the post-1986 period.
The Muslim elites gave it up in 1991 when their two main demands—an Act of Parliament to protect the religious places of worship and the transfer of the title suit to a special bench of the high court—were accepted. Interestingly, Hindutva politics also achieved what it always desired: a functional temple at the site and control over the court case. The temple is still there and the Vishwa Hindu Parishad [or VHP, a militant offshoot of the Rashtriya Swayamsevak Sangh] supported Ram Lalla Virjman as a party in the title suit.
So, it was a win-win situation for both Hindu and Muslim elite. However, Hindutva politics wanted to use this episode for its wider Hindu Rashtra-oriented politics. That was the reason why the VHP came out with an interesting proposal: the construction of a grand Ram temple in the post-demolition period.
Againt this backdrop, I do not think that Muslim communities would become a homogeneous entity even if the title suit is decided in favour of two contending anti-mosque parties in this case: the Ram Lalla Virajman and Nirmohi Akhara.
The Bharatiya Janata Party has been 'othering' Muslims in a concerted way. After 2014 came a spate of lynchings, the National Register of Citizens in Assam, then Kashmir, and now comes Babri (though it is coming via a Supreme Court case). What do these mean for Muslims in India today? Accordingly, what do think Muslims expect from the judge in the Ayodhya case?
Let me address the Babri Masjid issue first: I argue that Muslims do not have any interest in the Babri Masjid case for two obvious reasons. First, the mosque or at least its structure, was demolished in 1992, hence, there is no mosque on the disputed land. On the other hand, there is a functional Hindu temple, which is open to all Hindus.
A Hindu can visit this temple, offer bhog to the deity and commemorate lord Ram's birthplace on the site where the Babri Masjid once stood. However, this is not the case with Muslims. A Muslim is not allowed to offer prayer on this land. This legal restriction discourages the Muslims to assert their religious claim on this site for regular namaz etc, as the Babri Masjid does not have any special religious status for Muslim communities. The Babri Masjid becomes an irrelevant mosque for Muslims, especially after its demolition in 1992.
The second reason is related to the nature of Muslim politics of Babri Masjid. All Muslim parties and groups decided to recognise the AIMPLB's High Power Committee as the core body to look after the legal case on Babri masjid after its demolition. The Babri Masjid Action Committee passed a resolution on December 1, 1993 to suspend all the agitational programmes and activities.
The common Muslims, who were mobilised in the name of protecting the mosque, were always told that Babri Masjid was a political defeat for them. Even the legal achievements—the 1991 Act and the High Court verdict of 2010 that recognises the stake of the Sunni Waqf Board—were never celebrated by the Muslim elite, simply to keep the issue alive.
Thus, religious irrelevance of Babri Masjid and political betrayal of Muslim elite do not allow Muslim communities to get associated with the Babri Masjid case at all.
You say Muslims do not have any interest in Babri Masjid, yet after the demolition there was violence across the sub-continent; in Bangladesh, Pakistan and India. Did the sense that sacredness had been violated not contribute to the violence? Also, there are ASI-protected mosques where prayers are not held, but that cannot be invoked to turn them into temples?
Demolition of the Babri Masjid certainly had a psychological impact on Muslims of India. But it did not provoke them for violent reactionary politics of any kind. The violence that took place after December 6, 1992 event cannot be described as Muslim reaction. In most of the cases, Muslim neighbourhoods were attacked by Right wing Hindu groups. There are various studies, including judicial inquiry reports, which suggest that post 1992 riots in India were primarily anti Muslim in nature.
But it does not mean that we do not make any distinction between common Muslims and underworld criminals who happen to be Muslims. The Bombay blasts case actually demonstrates this fact. The underworld rivalries found a new communal overtone and eventually the criminals started acting as representatives of Hindu and Muslim interests.
The riots and attacks on temples in neighbouring countries were primarily anti-minority in nature. We must remember that religious minorities in Bangladesh and Pakistan are often prosecuted because officially these states are the outcome of the two-nation theory.
I have written extensively on Muslim politics with regard to the ASI protected mosques, where namaz is not allowed. These mosques have always been communally sensitive for obvious technical reasons. The 1958 Act [Monuments and Archaeological Sites and Remains Act] determines the status of a building on the basis of the date when ASI declares it as a protected monument. If the building is not used for any religious activity on the date of notification, it will be treated as non-functional monument. This law is problematic as it contradicts with the Wakf laws and the right to religious freedom.
Muslim politics of the 1980s revolves around these issues and Babri Masjid actually merged into this right to heritage debate. The Protection of the Religious Places of Worship Act 1991 was passed in the backdrop of it. Although the Act did not respond to the ASI law [the 1958 Act], it provided a legal definition to historic mosques.
As a result, all the possibilities to convert any mosque into a temple on the basis of "faith" died down. The Hindutva forces also decided to concentrate on Ayodhya and stopped talking about Mathura and Kashi!
However, in the present circumstances, the possibility of a rejuvenated Hindutva politics on ASI protected mosques cannot be ruled out.
And, the question of what is the Muslim perception of the anti-Muslim discourse?
Here it is important to note that Muslim political responses are often understood only with regard to at a few identity-based issues: Urdu, the minority status of Aligarh Muslim University, personal law/shariat and even Babri Masjid. This narrowly-defined imagination of Muslim attitude is nurtured, protected and reproduced by political parties.
The so-called secular parties and Muslim political elites who claim to represent Muslims exaggerate this identity-based victimhood. Even the Sachar Commission Report, which factually demonstrates Muslim backwardness, has been presented as a symbol of political victimhood.
On the contrary, the BJP uses the Muslim identity as an "other" to cultivate its Hindutva vote bank. Unlike the previous National Democratic Alliance (NDA) government, the Modi-led BJP deliberately and directly demolishes "Muslim issues".
This negative portrayal of Muslims presence certainly contributed to what may be called Hindu polarisation. Various studies demonstrate that the consolidation of Hindu political identity emerged as a decisive factor in post-2014 India. However, this Hindu polarisation could not produce any collective Muslim reaction. Issues like 'love jihad', ghar wapsi, Ram temple, and even the ban on triple talaq could not provoke Muslims to respond to the BJP's Hindutva-driven discourse more directly.
This strategic failure forced the Hindutva groups to focus entirely on the aggressive politics of cow protection, which eventually led to a new form of anti-Muslim violence: mob lynching. Unlike a full-scale riot, lynching was more economical. In this case, Muslim individuals were to be targeted to create a powerful impact.
Mob lynching has been the most impactful and demonstrative political technique so far that has certainly affected the Muslim communities across India. Yet, it has not acquired a political vibrancy as a Muslim issue. Although the Congress election manifesto of 2019 does talks about a law to control mob lynching, the non-BJP parties have not articulated it as a politically useable agenda for electoral mobilisation.
The adverse depiction of Muslim presence in public life (as well as the new form of violence against Muslims), I suggest, have repositioned the Muslims as an identifiable anti-national community—the "other". Yet, this otherness has not produced any electorally-sustainable binary between Hindutva-driven politics of the BJP and its opponents.
There is a general belief that the Ayodhya judgment would go against the Muslim side. What does this expectation tell us about our society, our political system and judiciary?
Let me elaborate the nature of the legal conflict in this case. The Ayodhya case that the Supreme Court is hearing is being falsely and simplistically projected as a Hindu-Muslim conflict. It is not. It is a typical property dispute in which land, a built structure, and the possession of land are being fought over by three parties.
Each of the three parties—the Sunni Wakf Board, the Nirmohi Akhara and the Ram Lalla Virajman—have fought the case on very distinct arguments of law, memory and faith. The VHP-supported Ram Lalla Virajman makes a faith-based argument that Hindus believe in the unquestionable divinity of Lord Ram and that the court must respect the sentiments of the Hindu community.
The Nirmohi Akhara relies on the memory of the conflict to argue that it has an ultimate right over the land. And the Uttar Pradesh Sunni Wakf Board evokes the centrality of law to make a case for the land (not the mosque). We must remember that the Nirmohi Akhara challenges the VHP's grand Hindu politics on two counts. First, it opposes the VHP's claims on historical grounds, arguing that it has been the main contender since 1934.
Second, it also turns down the Hindu nationalist project of the Ram Lalla Virajman by highlighting the localised nature of the conflict.
It is clear that each party identifies its own comfort zone and makes conscious efforts to redefine the ownership of land into a conflict of civilisations between Hinduism and Islam. The courtroom, in this schema, has been transformed into a theatre, where different narratives of conflict are enacted in a way to sustain the conflict.
Hindus and Muslims of this country have not given any mandate to these organisations/individuals to speak on their behalf. Nor do they represent the authoritative versions of Islam and Hinduism. Yes, the Ayodhya dispute needs to be solved; but the framework of solution must respond to the anxieties of those Hindus and Muslims, who live together peacefully as citizens.
You mentioned memory and history. Memory is not static but gets constantly reinvented. For instance, we have no textual basis for believing with surety that there was a temple at the place where the Babri Masjid once stood. The so-called evidence for such a temple actually surfaced in the late 19th century. Therefore, what does one do to deal with memories of things that may never have been, but which have potential for causing tremendous tumult in present times?
Yes, memories are not static. Many a time, certain memories become part of our collective belief system. Babri Masjid, in this sense, symbolises a memory of conflict, which actually constitutes our common sense. This memory of conflict legitimises the historical conflicts between Hindus and Muslims to justify the contemporary idea of 'Hindu victimhood'.
Collective memories of this kind should not be countered by producing hard core facts of history. The Historians Report on Babri Masjid (1991), which rejected the claims of a Ram temple on factual basis, was such an attempt. These professional historians were not at all wrong. They did a remarkable job. But their political judgment was problematic. They tried to question the memory/faith in Ram temple by producing historical facts. This gave an additional advantage to the Hindutva politics to concentrate more on the memory of conflict as faith in the existence of lord Ram.
Does this mean memory cannot be questioned?
It does not mean that this memory of conflict cannot be questioned at all. In my view, one needs to evaluate the memories-based faith of this kind on moral grounds. For instance, one must pose three basic questions:
Are Muslims and Hindu communities of India responsible for the acts and deeds of medieval rules?
Is it justifiable for a Hindu who follow lord Ram—the Maryada Puroshottam—to demolish a religious place for constructing a new temple?
Is it justifiable for a Muslim to offer namaz in a mosque that is not built on a legitimate land dedicated in the name of Allah?
These simplistic questions require a different kind of moral wisdom to refashion a positive and radical politics of peace and social harmony. The political parties involved in the competitive electoral politics cannot get into this kind of politics as they have to rely on electoral managements of groups and communities. The non-party political formations and peoples' movements may be the answer.
Even archaeological theories are often contested as new layers are found beneath existing buildings. In the case of Babri Masjid, do we have a situation where the State is becoming an interested party, creating and manufacturing knowledge? For instance, archaeological research into Ayodhya that began in the first NDA term. And now we are even being told to "re-write" history at will. In this sense, what does the Babri Masjid symbolise today—for the Indian state, the Muslims and the Hindus?
Yes. The State is a party now. This process began in 1991 when the state invited the conflicting groups for what is called negotiations on Babri masjid. As I pointed out, the Supreme Court has indicated that the ASI report will be recognised as scientific evidence, while the Historians Reports of 1991 (that rules out the possibility of any Ram temple) may be treated merely as the opinion of a few politically-charged historians.
This legal interpretation of history as an opinion and archaeology as science to discover the final truth of the birthplace of Lord Ram is problematic. Professional archaeologists make inferences and opinions on the basis of the material/data they collect. After all, archaeological findings are subject to multiple interpretations. This is also true about various archaeological excavations in Ayodhya. The archaeologists excavated Ayodhya city on number of different occasions—not to search the exact location of lord Ram's birthplace—but to practice what they call "tradition-based archaeology".
No one knows what will happen to the title suit. But it is certainly clear that the purpose of archaeology is completely defeated in the Ayodhya case. It is not possible now to search the archaeological universe in which the story of Lord Ram was composed—primarily because everything related to this tragic figure has been converted into a rigid faith and orthodox science.
We must remember that professional archaeology is always concerned about the future's past. It makes tentative moves to suggest that our understanding of the past is momentary; therefore, we must not make it rigid and fixed. The proposed Hindutva project to rewriting the history is basically an extension of the memory of conflict, which must be questioned on two counts: the professionalism of history and radical politics of peace and social harmony.
https://www.newsclick.in/Ayodhya-Case-Falsely-Projected-Hindu-Muslim-Conflict-Hilal-Ahmed
--------
At a school for suicide bombers' children in Indonesia, dancing, drawing and deradicalisation
28 OCTOBER, 2019
MEDAN (Indonesia) — Ais likes to dance. She knows the words to "I'm a Little Teapot." Her dimples are disarming.
Her parents didn't want their daughter to dance. They didn't want her to sing. They wanted her to die with them for their cause.
Last year, when she was 7, Ais squeezed onto a motorcycle with her mother and brother. They carried a packet that Ais refers to as coconut rice wrapped in banana leaves. Her father and other brother climbed onto a different bike with another parcel.
They sped toward a police station in the Indonesian city of Surabaya, a place of mixed faith.
The parcels were bombs, and they were set off at the gate to the police station. Catapulted off the motorcycle by the force of the explosion, Ais rose from the pavement like a ghost, her pale head-to-toe garment fluttering in the chaos.
Every other member of her family died. No bystanders were killed. The Islamic State militant group, halfway across the world, claimed responsibility for the attack.
Ais, who is being identified by her nickname (pronounced ah-iss) to protect her privacy, is now part of a deradicalisation programme for children run by the Indonesian Ministry of Social Affairs. In a leafy compound in the capital, Jakarta, she bops to Taylor Swift, reads the Quran and plays games of trust.
Her schoolmates include children of other suicide bombers, and of people who were intent on joining the Islamic State in Syria.
Efforts by Indonesia, home to the world's largest Muslim population, to purge its society of religiously inspired extremism are being watched keenly by the international counterterrorism community. While the vast majority of Indonesians embrace a moderate form of Islam, a series of suicide attacks have struck the nation, including, in 2016, the first in the region claimed by the Islamic State, also known as Isis.
Now, with hundreds of Islamic State families trying to escape detention camps in Syria amid Turkish incursions into Kurdish-held territory, the effort has taken on more urgency.
The fear is that the Islamic State's violent ideology will not only renew itself in the Middle East, but may also metastasize thousands of miles away in Indonesia.
There are signs that it is already happening.
Recently, a man whom the police linked to Isis wounded the Indonesian security minister, Wiranto, in a stabbing. Since then, at least 36 suspected militants who were plotting bombings and other attacks have been arrested in a counterterrorism crackdown, the police said.
Hundreds of Indonesians went to Syria to fight for Isis. In May, the police arrested seven men who had returned from the country and who, the police say, were part of a plot to use Wi-Fi to detonate explosive devices.
The risks, however, are not limited to those who have come back. Indonesians who never left the region are being influenced by the Islamic State from afar.
In January, an Indonesian couple who had tried but failed to reach Syria blew themselves up at a Roman Catholic cathedral in the southern Philippines. More than 20 were killed in the attack, which was claimed by the Islamic State.
In Indonesia, there are thousands of vulnerable children who have been indoctrinated by their extremist parents, according to Mr Khairul Ghazali, who served nearly five years in prison for terrorism-related crimes.
He said he came to renounce violence in jail and now runs an Islamic school in the city of Medan, on the island of Sumatra, that draws on his own experience as a former extremist to deradicalise militants' children.
"We teach them that Islam is a peaceful religion and that jihad is about building not destroying," Mr Khairul said. "I am a model for the children because I understand where they come from. I know what it is like to suffer. Because I was deradicalised, I know it can be done."
Despite the scale of the country's problem, only about 100 children have attended formal deradicalisation programmes in Indonesia, Mr Khairul said.
His madrassa, the only one in Indonesia to receive significant government support for deradicalisation work, can teach just 25 militant-linked children at a time, and only through middle school.
Government follow-up is minimal. "The children are not tracked and monitored when they leave," said Mr Alto Labetubun, an Indonesian terrorism analyst.
The risks of extremist ideology being passed from one generation to the next are well-documented, and a number of Indonesians linked to the Islamic State are the offspring of militants.
The son of Imam Samudra, one of the masterminds of the 2002 bombing on the island of Bali that killed 202 people, was 12 when his father was executed in 2008. He joined the Islamic State and died in Syria at 19.
Mr Khairul, whose father and uncles were members of a militant organisation, said he understood the pull of family obligation. He was sent to prison in 2011 for armed robbery and for planning an attack on a police station. Before his conviction, Mr Khairul taught four of his 10 children to fire weapons.
"Deradicalising my own children was very difficult," he said. "My wife and my children looked at me very strangely when I got out of prison because I had changed."
Some of the children under Mr Khairul's care were taught to assemble bombs by family members. The parents of about half the students were killed in armed conflict with the Indonesian counterterrorism police.
"It's natural for the children to want revenge for their parents' deaths," he said. "They were taught to hate the Indonesian state because it is against the caliphate."
About 87 per cent of Indonesia's 270 million people are Muslims, 10 per cent are Christian, and there are adherents of many other faiths in the country.
A tiny fraction of the Muslim majority has agitated violently for a caliphate that would arc across Muslim-dominated parts of South-east Asia. The latest incarnation of such militant groups is Jamaah Ansharut Daulah, considered the Indonesian affiliate of the Islamic State.
The parents of Ais, who is now 8, were members of a Jamaah Ansharut Daulah cell. Each week, they would pray with other families who had rejected Surabaya's spiritual diversity.
The day before Ais and her family rode up to the police station in May 2018, another family — mother, father, two sons and two daughters — made their way to three churches in Surabaya and detonated their explosives. Fifteen bystanders were killed. The militant family was extinguished entirely, including the two girls, who went to school with Ais.
Hours later, members of two other families in the prayer group also died, either from shootouts with the police or when explosives hidden in their apartment detonated. The six children who survived the carnage are now in the Jakarta program with Ais.
When they first arrived from Surabaya, the children shrank from music and refrained from drawing images of living things because they believed it conflicted with Islam, social workers said. They were horrified by dancing and by a Christian social worker who didn't wear a head scarf.
In Surabaya, the children had been forced to watch hours of militant videos every day. One of the boys, now 11, knew how to make a bomb.
"Jihad, martyrdom, war, suicide, those were their goals," said Ms Sri Wahyuni, one of the social workers taking care of the Surabaya children.
Some day soon, these children of suicide bombers will have to leave the government programme in which they have been enrolled for 15 months. It's not clear where they will go, although the ministry is searching for a suitable Islamic boarding school for them.
The children of those who tried to reach Syria to fight get even less time at the deradicalisation centre — only a month or two. Some then end up in the juvenile detention system, where they re-encounter extremist ideology, counterterrorism experts said.
"We spend all this time working with them, but if they go back to where they came from, radicalism can enter their hearts very quickly," said Ms Sri Musfiah, a senior social worker. "It makes me worried."
Irfan Idris, the director of deradicalisation for Indonesia's National Agency for Combating Terrorism, acknowledged that threat, saying there "is not a guarantee" that the minors who have been funneled through government care pose no threat.
Most children of the 1,000 or so people who have been convicted of terrorism-related crimes in Indonesia don't even have the chance to go through this effort at education and moderation.
Mr Alto, the terrorism analyst, said that even the nascent efforts underway in Indonesia might only be camouflaging the problem.
"Although it seems that they are obedient, it's a survival mechanism," he said of the students undergoing deradicalisation. "If you were taken prisoner, you will do and follow what the captor told you to do so that you will get food, water, cigarettes, phone calls."
But, he added, "you know that one day you will come out."
At the madrassa in Medan, which preaches the dangers of radicalism within a conservative approach to Islam, a row of boys sat on the veranda of a mosque and expounded on their worldview. Dan, 12, agreed with classmates that Indonesia should be an Islamic state.
What of the churches interspersed with the mosques in Medan? Dan, who is also being identified by a nickname to protect his privacy, giggled.
His hands mimicked the shock of an explosion, and he formed a word.
https://www.todayonline.com/world/school-suicide-bombers-children-indonesia-dancing-drawing-and-deradicalisation
--------
Trump: Daesh leader Al-Baghdadi 'died a coward' in US raid in north-west Syria
October 27, 2019
WASHINGTON: Donald Trump on Sunday announced that Daesh leader Abu Bakr Al-Baghdadi was killed during an overnight raid led by US military forces in Syria.
"The thug who tried so hard to intimidate others spent his last moments in utter fear, panic and dread, terrified of the American forces coming down on him," the US President said in a televised address to the nation from the White House.
Trump said Al-Baghdadi died in north-west Syria after running into a dead-end tunnel during a "daring and dangerous" operation.
"He reached the end of the tunnel as our dogs chased him down. He ignited his vest, killing himself and his three children. His body was mutilated by the blasts. The tunnel had caved on him," Trump added.
"He was a sick and depraved man, and now he's gone."
Al-Baghdadi's identity was confirmed by a DNA test conducted at the scene, the president said.
Trump said that the raid – which required flying more than an hour by helicopter in both directions from an undisclosed base – had been accomplished by help from Russia, Syria, Turkey and Iraq.
Al-Baghdadi led Daesh for the last five years, presiding over its ascendancy as it cultivated a reputation for beheadings and attracted hundreds of thousands of followers to a sprawling and self-styled caliphate in Iraq and Syria.
He remained among the few Daesh commanders still at large despite multiple claims in recent years about his death and even as his so-called caliphate dramatically shrank, with many supporters who joined the cause either imprisoned or jailed.
With a $25 million US bounty on his head, Al-Baghdadi had been far less visible in recent years, releasing only sporadic audio recordings, including one just last month in which he called on members of the group to do all they could to free Daesh detainees and women held in jails and camps.
Iraqi state television also posted another video claimed to be the blast site, which showed rubble and clothes strewn around a huge crater.
The death of Al-Baghdadi comes as a big boost for Trump, whose abrupt decision to withdraw a small but effective deployment of US forces from Syria caused fears that it would give Daesh remnants and sleeper cells a chance to regroup.
Trump had teased the news late Saturday with an enigmatic tweet saying merely that "Something very big has just happened!"
The Kurdish-led Syrian Democratic Forces (SDF) said the operation took place after its intelligence pinpointed Al-Baghdadi's location.
Iraq also said it had provided his location.
"After constant monitoring and the formation of a specialised task force over an entire year, the Iraqi National Intelligence Service acting on accurate information was able to locate the den in which the head of Daesh terrorists Abu Bakr al-Baghdadi and those with him were hiding in the Syrian province of Idlib," the Iraqi military said.
Turkey on Sunday said there was 'coordination' between Ankara and Washington before the operation.
"Prior to the US Operation in Idlib Province of Syria last night, information exchange and coordination between the military authorities of both countries took place," the Turkish defense ministry said.
A war monitor said US helicopters dropped forces in an area of Syria's Idlib province where "groups linked to the Islamic State group" were present.
The helicopters targeted a home and a car outside the village of Barisha in Idlib province, said the Syrian Observatory for Human Rights.
The operation killed nine people including a Daesh senior leader called Abu Yamaan as well as a child and two women, it said.
An AFP correspondent outside Barisha saw a minibus scorched to cinders by the side of the road, and windows shattered in a neighbor's house.
A resident in the area who gave his name as Abdel Hameed said he rushed to the place of the attack after he heard helicopters, gunfire and strikes in the night.
"The home had collapsed and next to it there was a destroyed tent and vehicle. There were two people killed inside" the car, he said.
Ali Bakr, an expert on Islamist movements, told Al-Arabiya that it was interesting Baghdadi was hiding next to the Turkish border, especially with the history between Turkey and Daesh.
"I don't know why Trump chose to kill him now, maybe he was trying to show that US withdrawal does not mean they will stop fighting terrorist organizations, or maybe because US elections are coming up," he said.
"But it will be attributed to Trump and his administration, that they were able to kill the Daesh leader [although] in reality, Daesh will not be that affected … they can find other leaders who will take the lead."
Ibrahim Al-Idlibi, a Syrian journalist, told Al-Arabiya the place that US forces raided could not be Baghdadi's actually hiding place, as it was "too open."
"He was possibly meeting with other countries' intelligence experts. We do not know who was he meeting there or who gave the information that he was there," he said.
Hours after the Idlib raid, the Syrian Kurdish YPG militia said Daesh spokesman Abu Al-Hassan Al-MuHajjir, described as Al-Baghdadi's right-hand man, had also been killed in a joint raid by Kurdish-led and US forces in northern Syria.
The death of Al-Baghdadi is another severe blow to Daesh, which has been in disarray and has no declared successor as leader. Iraqi analyst Hisham Al-Hashemi said it would lead to a split in the terror group.
"The split is inevitable, it always happens when any radical group loses a charismatic leader," he said.
At the height of its so-called "caliphate," Daesh ruled over millions of people in territory running from northern Syria through towns and villages along the Tigris and Euphrates valleys to the outskirts of the Iraqi capital, Baghdad.
It killed thousands of civilians in a genocidal campaign against Iraq's Yazidi minority, and caused worldwide revulsion by beheading foreign nationals from countries including the US, Britain and Japan.
The group also carried out or inspired attacks in Paris, Nice, Orlando, Manchester, London and Berlin, and in Saudi Arabia, Turkey, Iran and Egypt.
But in 2017 Daesh lost control of Mosul in Iraq and Raqqa in Syria, and then almost all of its territory, turning Al-Baghdadi into a fugitive.
https://www.arabnews.com/node/1574851/middle-east
--------
Al-Baghdadi's death calms 'rage and fire' inside terror survivors
October 28, 2019
JEDDAH/ANKARA: The US special forces in eight helicopter gunships left Anbar province in western Iraq and flew low and fast below the night sky of northern Syria.
Their destination: Barisha, just north of Idlib, 5 kilometers from the Turkish border. Their target: Abu Bakr Al-Baghdadi, founder and leader of Daesh, and the world's most wanted terrorist, with a $25 million bounty on his head.
The flight was far from safe. The ground beneath the US aircraft bristled with conflicting military forces in Syria's complex civil war — from the Assad regime, Russia, Iran and Turkey, to myriad heavily armed extremist militias, many linked to Al-Qaeda.
However, Russia controls the airspace and both Moscow and Ankara had been tipped off that a US mission was underway. The gunships, and their accompanying attack drones, reached their destination unharmed.
Only there did they encounter armed defensive action from the ground, which was swiftly dealth with by a display of devastating firepower from above.
Until then, asleep in the hideout in Barisha where he had spent the previous 48 hours, Al-Baghdadi must have thought he was safe. But as the US special forces blasted their way into his compound and hunted him down, he knew it was all over.
Wearing a suicide vest and chased by US troops with pursuit dogs, the Daesh leader fled into a dead-end tunnel, taking three children with him.
Confronted with either capture or death, Al-Baghdadi chose the latter, and detonated his explosive vest — not only killing himself, but adding three more innocent lives to the toll of thousands that he and his followers had already taken.
In the Situation Room at the White House in Washington, DC, US President Donald Trump watched the events unfold via a live video feed, accompanied by senior administration officials, security advisers and military chiefs. When it was over, and US forces safely back at base, he tweeted: "Something very big has just happened!"
It had indeed. The significance of Al-Baghdadi's death may be gauged by the number of countries and individuals lining up to claim credit for having played a key role.
In northern Syria, Kurdish fighters from the Syrian Democratic Forces (SDF) said they had supplied crucial intelligence on Al-Baghdadi's whereabouts.
Their commander, Mazloum Abdi, said it was a joint operation after "cooperation on the ground and accurate monitoring" for five months. He called it "successful and historic" joint intelligence work.
In Iraq, senior officials said vital intelligence was obtained after an Al-Baghdadi aide was killed by a US airstrike in western Iraq. The man's wife was arrested and was a key source of information on the Daesh leader's whereabouts. Al-Baghdadi's brother-in-law was also arrested by the Iraqis, and supplied further information.
In Ankara, the defense ministry said: "Turkey exchanged information and coordinated with US military counterparts prior to the US operation in Idlib.
"We continue to work with our friends and allies against terrorism in all its forms and manifestations. It's time to eliminate all the remaining terrorist leaders."
AL-BAGHDADI SIGNIFICANT DATES
Apr. 2010 Abu Bakr Al-Baghdadi becomes leader of Islamic State of Iraq
Apr. 2013 Al-Baghdadi announces group's new name
Jan. 2014 Daesh takes control of Fallujah in Iraq and Raqqa in Syria
June 9-11, 2014 Daesh seizes Iraq's Mosul and Tikrit
June 29, 2014 Al-Baghdadi declares "Caliphate" over Iraqi, Syrian territory
July 4, 2014 Al-Baghdadi makes first public appearance in Mosul's Al-Nuri Mosque
Aug. 2014 Daesh captures Sinjar in Iraq and begins slaughter of Yazidi community
Aug. 2014 The US launches targeted airstrikes against Daesh in Iraq
June 26, 2016 Fallujah declared liberated by Iraqi forces
June 6, 2017 US-backed, Kurdish-led SDF fighters begin assault to liberate Raqqa
Oct. 17, 2017 SDF takes full control of Raqqa
Aug. 23, 2018 Al-Baghdadi releases audio recording urging followers to continue the fight
Oct. 27, 2019 President Trump declares Al-Baghdadi's death after US raid in northwestern Syria
In remarks on Sunday, Trump paid tribute to the many victims of Daesh's gruesome filmed executions at the height of their so-called "caliphate", and their families were swift to respond to Al-Baghdadi's death.
"I am grateful to our president and brave troops for finding Al-Baghdadi," said Diane Foley, whose son James was among the victims. "I hope this will hinder the resurgence of terror groups and I pray that captured fighters will be brought to trial and held accountable."
Safi Al-Kasasbeh, whose son Muath was a Royal Jordanian Air Force pilot burned to death by Daesh after his F-16 jet crashed over Syria in December 2014, said: "I congratulate myself and the whole Muslim nation. This tyrant and terrorist has caused damage to the image of Islam and portrayed it as a terrorist religion. Islam is innocent of such a coward.
"I had hoped I would have the chance to kill him myself, but nevertheless this news of him being terminated has calmed the rage and fire inside me."
https://www.arabnews.com/node/1575171/middle-east
--------
Hamas MP: Normalization with the "Occupying State", Is a Crime Against Islam
28/10/19
Hamas lawmaker Marwan Abu Ras, who heads the bloc of Hamas MPs in the Palestinian Arab parliament, said Sunday that normalization with the "occupying state", a reference to Israel, is a crime against Islam which amounts to treason on the national level.
In an interview with the media, Abu Ras said that normalization was just a cover for the "occupation" to continue its crimes, which are reflected in the suppression, killing and expansion of "settlements".
Abu Ras went on to say that normalization harms the Palestinian people and is a "blatant attack on Palestinian rights".
He condemned the resumption of direct flights from Israel to Morocco, which were halted two decades ago, and urged Muslims to fight normalization with the "occupation."
Earlier this year, Abu Ras appeared on Gaza television and denied the Holocaust while claiming that anti-Semitism and persecutions of Jews throughout history were the result of "their deeds and crimes".
In 2017, he claimed the Jewish people were "the filthiest nation" with "the worst moral values known to mankind", accusing Jews of recruiting "AIDS-infected girls to fornicate with Muslim youths".
In 2012, Abu Ras said "each and every catastrophe on the face of the Earth" could be linked to Jews.
http://www.israelnationalnews.com/News/News.aspx/270657
--------
Kenyan Doctors from the Muslim Community Have Come Out To Defend the 'Cancer Vaccine' After A Section of Imams Opposed the Jab
Anyango Otieno
28th Oct 2019
Doctors from the Muslim community have come out to defend the 'cancer vaccine' after a section of imams opposed the jab.
Reports say the Garissa Council of Ulma, Imams and Preachers are urging parents not to let their daughters get the Human Papilloma Virus (HPV) vaccine, which is said helps arrest cervical cancer. HPV is a virus that is transmitted through close contact, including sexual. Certain types of HPV are associated with cervical cancer, vulval cancer, anal cancer, penile cancer and throat cancer.
An ongoing mass vaccination drive is targeting girls between the age of nine to 14 in all public and private schools nationwide.
The Kenya Association of Muslim Medical Professionals (Kammp) has dismissed the argument that the vaccine might affect girls' reproductive system.
Dr Ahmed Kalebi, a member of the association, said the claims have no grounds. "I don't understand why there is so much noise about HPV vaccine yet there are no qualms over Hepatitis B, which is also sexually transmitted and has a vaccine," he said. For boys, HPV virus causes penile cancer, he said, but such cases are rare and mostly happens among uncircumcised men.
"A man will easily notice a growth in his penis and run to hospital. Cervical cancer takes up to 15 years to develop. Vaccination will save girls," Kalebi said.
https://www.standardmedia.co.ke/article/2001347059/muslim-doctors-differ-with-imams-over-cancer-jab
--------
Thousands Of Supporters Of Maulana Fazlur Rehman Head To Capital For Protest
Habib Khan Ghori | Mohammad Hussain Khan
October 28, 2019
KARACHI/HYDERABAD: The Jamiat Ulema-i-Islam-Fazl (JUI-F) on Sunday began its much-trumpeted Azadi march — an anti-government movement calling for resignation of Prime Minister Imran Khan — from Karachi's Sohrab Goth area where a massive show of power was ensured by all opposition parties supporting the march, including Pakistan Peoples Party (PPP), Pakistan Muslim League-Nawaz (PML-N) and Awami National Party (ANP).
The marchers, who are scheduled to enter Islamabad on Oct 31, reached Sukkur at the end of the first day of their journey. During the journey they passed through many towns and cities of Sindh, including Hyderabad, Sakrand, Nawabshah and Sanghar. However, there was a sudden change in the itinerary of JUI-F chief Maulana Fazlur Rehman, who led the marchers from Karachi to Hyderabad, and instead of moving towards Sukkur with the marchers, he went to Larkana.
According to sources, the JUI-F chief will join the marchers again in Sukkur on Monday morning.
Before the marchers began their journey from Karachi, leaders of the opposition parties supporting the anti-government march addressed them from a stage set up on a container.
They all called for resignation of PM Khan and holding of fresh elections in the country.
Maulana Fazl in his speech criticised the policies of the Pakistan Tehreek-i-Insaf (PTI) government and said that he would not budge from his demand for the prime minister's resignation. He said he would announce an important decision after the Azadi march reached Islamabad.
He said his party did not accept the PTI government as legitimate, adding that it was a product of a rigged election.
He said the 'Azadi march' would remain within the parameters of the laws of the land.
The Maulana condemned the decision of cancelling the citizenship of JUI-F's leader Hafiz Hamdullah, saying that the government ought to shame for taking such a childish decision. "If a person is Pakhtun you declare him an Afghani." He asked the government what was the citizenship of Shaukat Aziz who was made prime minister of the country.
He criticised the government for the arrest of another JUI-F leader, Mufti Kifayatullah, saying that such actions were being taken to provoke JUI-F workers.
The JUI-F chief also criticised the Indian government for its forces' atrocities against the people of held Kashmir. He urged international organisations to take notice of human rights violations in India-held Kashmir.
Concluding his 18-minute speech, the Maulana said: "We have started the 'Azadi march' from Babul Islam and we would wage the flag of Islam Insha Allah in Islamabad."
Mian Raza Rabbani of the PPP said that the "selected government" had mortgaged Pakistan to the world capitalist and the country was being run by the International Monetary Fund (IMF). He said his head had bowed down in shame after hearing remarks of the country's finance minister that he would present the demands of Pakistani traders before the IMF team. He said Pakistan was not a banana republic.
Former governor of Sindh and PML-N leader Mohammad Zubair said that PM Khan neither had an ideology, nor plans to lead the country. He said his party demanded resignation of the prime minister and holding of fresh elections in the country.
Shahi Syed of the ANP said that getting rid of the "Napak government" was necessary for saving the country. "This is not a democratic government, but a selected government," he added.
Maulana Owais Noorani of the Jamiat Ulema-i-Pakistan said that the purpose of 'Azadi march' was to protect the country from foreign influences.
The speakers also prayed for the recovery of health of PML-N supreme leader and former prime minister Nawaz Sharif and PPP co-chairman and former president Asif Ali Zardari.
Earlier, political workers — mostly belonging to the JUI-F — started arriving at the venue from where the 'Azadi march' began early from different parts of the city in the morning. Carrying their party flags, they were chanting slogans against the government.
The secretary general of the JUI-F' Sindh chapter, Rashid Mehmood Soomro, was in-charge of the event.
A large number of police personnel were deployed for security of the event.
The marchers left Karachi at 2.30pm.
They were joined by more political workers at every towns and cities from where the march passed through.
https://www.dawn.com/news/1513338/jui-f-kicks-off-long-awaited-azadi-march-on-islamabad
--------
India
British Indian Groups Condemn Kashmir Protests in London on Diwali as 'Hinduphobia and Racism'
October 27, 2019
London: An umbrella group representing over 100 British Indian organisations on Sunday condemned the "Free Kashmir" demonstration by pro-Pakistani groups, planned to coincide with Diwali, as an act of Hinduphobia and racism.
As part of a counter-campaign, the group said it had hired a digital billboard vehicle to traverse central London streets to spread the "inclusive and universal" message of the festival.
"The fact that this protest is occurring on the same day as Diwali is an act of Hinduphobia and racism," noted a collective statement issued by the groups.
"It is equivalent to an antisemitic group demonstrating on the holy day of Hannukkah or an anti-Muslim group demonstrating on Eid. This is why many British Indian individuals and community groups are upset," it said, welcoming London Mayor Sadiq Khan's call for the protesters to cancel their plans.
"This request was refused. The Pakistani demonstration is trying to divide people in the UK, especially on religious grounds. Instead of the nuanced debate needed on Jammu, Kashmir and Ladakh, they are inciting religious and ethnic hatred on the streets of London by hijacking the festival of Diwali," the statement said.
The message hit social media as a number of pro-Pakistani and separatist groups plan to kickstart a march across Parliament Street as part of the so-called "Free Kashmir" protest held annually on October 27, as the "Black Day" when Indian troops allegedly entered the then princely kingdom of Kashmir in 1947.
Following widespread concerns raised across the board, including in the House of Commons, Scotland Yard had imposed strict restrictions on the route of the march to deny permission for it to culminate before the Indian High Commission in London.
The Metropolitan Police imposed the pre-event conditions under Sections 12 and 14 of the UK Public Order Act, which refer to preventing serious disruption to the community, and warned that failure to adhere to the conditions could lead to arrest and prosecution.
"We understand that this is a significant anniversary date for those protesting, and also recognise this falls on the important Hindu festival of Diwali. My intention on the day will be to balance the rights of those protesting with those who may be affected by it. We will take all necessary steps to prevent crime and disorder," said Metropolitan Police Deputy Assistant Commissioner Matt Twist, the Gold Commander in charge of the policing operation.
Twist reiterated this message in a reply to Pakistani-origin peer, Lord Nazir Ahmed, who is one of the key organisers of the protest and had called for the restrictions to be lifted in a letter to the Met Police.
In his reply, Commander Twist said, "To be clear I have not in any way sought to ban the pro-Kashmiri protest. In order to minimise serious disruption to the community, I have asked for the pre-event conditions. This has only been done to ensure we correctly balance the rights of those who want to protest, with those in wider London who may be disproportionately affected by the serious disruption it would cause."
The Indian High Commission in London had issued a diplomatic "note verbale" seeking appropriate safety measures following clashes involving similar protesters, which had caused damage to India House on August 15 during Indian Independence Day celebrations.
The restricted route prevents the protesters from assembly anywhere near the Indian mission in Aldwych and must culminate at Trafalgar Square instead.
The organisers of the protest march, including groups such Muslim Action Forum, World Muslim Federation, Pakistan Patriotic Front, Overseas Pakistan Welfare Council, had expressed their anger at the restrictions and even threatened court action.
According to the Met Police details on the permissions sought for the proposed march, an estimated 5,000-10,000 protesters are expected to turn out for the march from across the UK. The London Mayor has pledged a "robust" policing plan to deal with any violence or breaches of the strict conditions imposed on the protesters.
https://www.news18.com/news/world/british-indian-groups-condemn-kashmir-protests-in-london-on-diwali-as-hinduphobia-and-racism-2364113.html
--------
India and Saudi Arabia to sign dozen agreements during PM Modi's two day visit
27 Oct 2019
NEW DELHI : India and Saudi Arabia are likely to sign a dozen agreements on energy, defence procurement and civil aviation during Prime Minister Narendra Modi's two-day visit to the West Asian nation this week. The visit will set bilateral ties on a strategic trajectory, Indian officials said.
"There are 12 agreements being signed. The important ones pertain to the defence procurement industry, renewable energy and then there is one in civil aviation. We look forward that this visit becomes a landmark visit once again after Modi's 2016 visit," said Ausaf Sayeed, India's ambassador to Riyadh.
Modi will arrive in Riyadh on 28 October following which he will meet the Saudi monarch Mohammad Bin Salman Al Saud on 29 October and address the Future Investment Initiative Forum organised by the Saudi Arabia's Sovereign Wealth Fund – the Public Investment Fund.
The forum is popularly known as the 'Davos in the Desert' and has been hosted by Riyadh since 2017 to project the kingdom as the future investment hub in the region.
The visit comes at a time when India is looking at ways to counter Pakistan's narrative on India's move to revoke article 370 of its constitution and integrate Kashmir with the rest of the country.
Saudi Arabia is an influential voice in the Islamic world because it houses Islam's two most revered pilgrimage sites—the Mecca and Medina mosques. Having India on its side will benefit Saudi Arabia as it is facing criticism from international community for the murder of Washington Post journalist Jamal Khashoggi last year.
A key takeaway of the visit is expected to be the creation of the India-Saudi Arabia Strategic Partnership Council that will be chaired by Modi on the Indian side and by King Salman for Saudi. This would enable regular monitoring of the progress of the strategic partnership.
The council will have two parallel mechanisms under it — one to look at political and diplomatic ties and the second to supervise commercial and energy ties. For both the mechanism, the council will report to Modi and Crown Prince Salman.
The first mechanism will be headed by India's foreign minister S. Jaishankar and his Saudi counterpart and the second will be headed by commerce minister Piyush Goyal and his counterpart.
The two countries had decided to establish this council during King Salman's visit to New Delhi in February.
"Under its Vision – 2030, Saudi Arabia has selected eight countries for forging strategic partnership. These include India, China, the UK, the United States, France, Germany, South Korea and Japan," TS Tirumurthy, secretary economic relations, in the Indian foriegn ministry told reporters on Thursday.
Ausaf Sayeed said India will be the fourth nation to sign agreements with Saudi Arabia for establishment of the strategic partnership council.
Another takeaway expected is the signing of a pact to enable the launch of India's Rupay card in Saudi Arabia. This would help around 2.6 Indian expatriates in Saudi Arabia as well as those Indians travelling to Saudi Arabia to perform Hajj pilgrimage, Sayeed said.
After United Arab Emirates and Bahrain, Saudi Arabia will be the third country in the Gulf region where India's Rupay card will be operationalised.
"We also hope to sign a MoU on a joint venture between Indian Oil Middle East with Al-Jeri Company of Saudi Arabia for downstream cooperation for inter-alia setting up retail outlets in Saudi Arabia," Tirumurthy said.
"Energy security has been the main area of India's engagement with Saudi Arabia. We are well on our way to transforming the buyer-seller relationship in this sector into a much larger strategic partnership. We deeply appreciate the fact that they have been meeting our energy requirements on a reliable and sustainable basis. We have also invited the Saudi side to participate in India's strategic petroleum reserves and we hope to finalize the MoU during this visit," he said.
Full report at:
https://www.livemint.com/news/india/india-and-saudi-arabia-to-sign-dozen-agreements-during-pm-modi-s-two-day-visit-11572162783344.html
--------
Pakistan violates ceasefire along LoC in J&K's Rajouri
Oct 27, 2019
JAMMU: Pakistani army violated ceasefire by targeting forward posts and villages with small arms firing and mortar shelling along the Line of Control (LoC) in Rajouri district of Jammu and Kashmir on Sunday, officials said.
The shelling from across the border took place in Sunderbani sector around 6.30 am, prompting a retaliation by the Indian Army, they said.
The officials said there was no report of any casualty or injury in the crossborder firing, which lasted for a brief period.
According to official figures, Pakistan army violated ceasefire along the LoC over 2,100 times this year, leaving 29 Indians dead and scores of others injured.
Of them, eight people, including five soldiers, were killed this month alone.
Full report at:
https://timesofindia.indiatimes.com/india/pakistan-violates-ceasefire-along-loc-in-jks-rajouri/articleshow/71785863.cms
--------
Southeast Asia
Malays gain nothing from always blaming others
Moaz Nair
October 28, 2019
Dr Mahathir Mohamad as prime minister and being a Malay had the right to attend the recent Malay Dignity Congress held at Stadium Malawati, Shah Alam on Oct 6. His speech was generally fair, except perhaps for one or two phrases he used by coincidence to describe why the ancestors of the non-Malays came to this country and formed the labour force.
The congress, however, became a platform for blaming other people for the economic shortcomings of the Malays and instilling a feeling of insecurity among the Malay community.
What irked non-Malays was what transpired in some incendiary speeches at the congress, which was perceived to be quite offensive in multi-racial Malaysia. The prime minister probably did not foresee that this could happen.
The congress indirectly ended by stirring up sentiments that could have sparked racial hatred instead of delving into the socio-economic issues such as corruption, abuse of power and the economic inequality within the community.
They should have raised the fact that there are people of the same race who are instrumental in damaging their own people through corruption, misappropriation and dishonesty.
Instead of seeking the continuation of economic policies that have failed the Malays, the congress should have been committed to seeking a needs-based economic policy to tackle Malay poverty.
The politically motivated Malay supremacist rhetoric by some speakers cannot be accepted by moderate Malaysians. The congress unnecessarily became a DAP-bashing forum, although the DAP, for that matter, cannot be blamed for the Malays lagging behind economically.
Describing other ethnic communities as "foreigners" further peeved the non-Malays. The speakers at the congress had forgotten that Malays are not the only people classified as Bumiputera. There are over 30 ethnic groups who come under this category.
Fair to say that there is nothing unusual for a Malay to identify himself with his community and express concerns about their social and economic condition. However, forever blaming the non-Malays for their own faults will not alleviate their social or economic grievances.
However, suggesting that Malay "supremacy" is under threat from Chinese and Indian Malaysians is just another figment of their imagination. There is no evidence that Malay rights are under threat from non-Malays or have been trampled by them.
The non-Malays for their part have not questioned Malay rights as prescribed in the Constitution, being aware that their own rights are also guaranteed by the Constitution. Furthermore, after decades of independence, they are still classified as non-Bumiputera and cannot enjoy some of the benefits given to the Bumiputera. Despite that, many of them have risen in life through hard work and resilience.
After all the contributions by people of other races in prospering Malaysia, they should not be unfairly reminded of their ancestors who migrated to this country back when the country needed them as the workforce. The descendants of those migrants are not freeloaders but have contributed significantly to the country.
It is the political system that we have adopted which has stopped them from being fully assimilated into the culture of the majority community. And it's the religion that has stopped them from getting integrated, unlike in many other countries.
Obsessive focus on religious matters has alienated non-Malays, and not many are willing to trade their religion to become assimilated in society.
The Malay Dignity Congress would have been more appropriate if it had kept focus on the value system that has caused the Malays to lag in a country where they constitute the majority.
No doubt, the national school is an ideal solution for national integration. However, some congress speakers resorted to a quick-fix resolution that vernacular schools should be phased out, instead of suggesting ways to improve national schools into becoming the school of choice for all Malaysians.
The speakers fail to understand that the existence of vernacular schools was not the reason that Malays have been left behind economically. Abolition of vernacular schools would not lift the economic and social status of Malays if they themselves are not willing to change their value system.
Nor have vernacular schools been the cause of the many social issues plaguing a segment of the Malay community, such as corruption, drug addiction among youth, high divorce rate and so forth, despite them being taught religion in school.
The Malay-Muslim community constitute 60% of the country's population. The 22% Chinese and 7% Indian population can never be a threat to the Malays.
The Chinese are economically robust and successful through hard work. Instead of blaming the Chinese and making DAP the "bogeyman" the congress should have come up with solutions on how to make the Malay community become more resilient and able to compete with others.
The government, dominated by Malays since independence, has done everything possible to improve the economic status of Malays. It has devoted efforts that are many times more than what was done to help people of other races.
The unceasing blame game will not help Malays, but can only become political fodder for some political opportunists who themselves cannot change the mind-set of their own race.
As the prime minister mentioned in his speech, "the Malays must work hard and strengthen their position in order to be strong and respected by others". He aptly quoted this verse from the Quran: "Indeed, God never changes the condition of a people unless they strive to change themselves." (13:11)
Overall, the congress has only bolstered some politicians in driving a divisive agenda even further. But after six decades of independence, It is high time the Malays stand on their feet with pride and dignity, to consider all other citizens not as adversaries but as Malaysians, and to treat them as equals.
https://www.freemalaysiatoday.com/category/opinion/2019/10/28/malays-gain-nothing-from-always-blaming-others/
--------
Luhut Welcomes 'Fellow Nationalist' Prabowo in Jokowi's Cabinet
BY HERU ANDRIYANTO
OCTOBER 27, 2019
Jakarta. Luhut Binsar Panjaitan said he had no objections whatsoever to the surprise inclusion of Prabowo Subianto in the cabinet, despite their past rivalry.
In an exclusive interview aired by BeritaSatu TV on Friday night, the senior minister said he immediately expressed his support when President Joko "Jokowi" Widodo raised the possibility of appointing the two-times presidential rival as defense minister.
"I think it's good to have him with us. The president asked my opinion and I answered: 'he's a nationalist,'" Luhut said in the television program "Special Interview With Claudius Boekan."
"At least the nationalists are in the same boat now; people who share the same views on [the future] of this nation," said Luhut, who like Prabowo, previously served as a general in the Indonesian Army.
Luhut said he told the president that when it came to the Pancasila state ideology, the 1945 Constitution and the Unitary State of Indonesia, Prabowo "is just the same as you."
However, the coordinating maritime affairs and investment minister expressed concern that some political leaders and prominent figures held views different from the government on dealing with radicalism and extremism and upholding Pancasila and the Constitution.
"They don't seem to realize that this country won't take any steps ahead and become prosperous if disruptions keep occurring," Luhut said. "Look at the situation in the Middle East or some other countries; they are stricken by never-ending conflicts."
Prabowo's friend and fellow party member Edhy Prabowo is also in the cabinet, serving as maritime affairs and fisheries minister, reporting directly to Luhut.
Among the parties in the formal coalition that backed Jokowi in the April presidential election, the United Development Party (PPP) was given only one cabinet post, while the People's Conscience Party (Hanura) got none.
TV host Claudius asked whether the fact that Prabowo's Great Indonesia Movement Party (Gerindra) – considered the main opposition during the election – got two cabinet posts would cause a rift in the coalition.
"They are people with heart. Our friends in NasDem [National Democratic Party], like Mr. Surya Paloh, are nationalists too," Luhut said.
"I don't see any reaction [to Prabowo's appointment]. The president has carefully, wisely and properly formed the cabinet. Sure, nothing is perfect, because there are so many interests involved. It's never easy to select people for 34 ministerial posts," he said.
Luhut, 72, said Jokowi's second-term administration must form a solid bulwark against radicalism and extremism.
"This is not only my belief. All intelligence communities around the world I have met with told me that since ISIS has been pushed out of Syria, we must be prepared," Luhut said, using an alternative acronym to refer to the radical Islamic State group.
Efforts to counter radical ideologies also involve improvements in the school curriculum, from the primary level to universities, he said.
Stronger Defense
Luhut said Prabowo also responded very positively when asked to join the cabinet.
"Mr. Prabowo told the president he wanted to help, and he also spoke with me," Luhut said. "Mr. Prabowo has many ideas on defense matters. I told him he could work on them now that the president has given him a chance. I also told him the president would not intervene much in his work."
Luhut and Prabowo have also discussed defense matters with Air Chief Marshal Hadi Tjahjanto, commander of the Indonesian Military (TNI).
"What I like about Prabowo, is that he is really committed to building a stronger defense. In the discussion between the three of us, including the head of the military, he said he wanted to make the TNI stronger, and that's good," Luhut said.
He expressed confidence that Prabowo would perform well in his post and make a positive contribution.
"I think Mr. Prabowo will not betray his promise to the president. I have known him for a long time and he is a man of his word. Mr. Jokowi is also very respectful toward him; until today, he calls him 'Mas Prabowo,'" Luhut said, referring to the Javanese term for brother.
Luhut was Prabowo's superior when both men were involved in the establishment of Detachment 81, the country's first counterterrorism unit, in the early 1980s. After attending specialist training in Germany, Luhut became the new unit's commander and Prabowo his deputy.
Luhut said he could understand why many of Jokowi's supporters were disappointed with Prabowo's ministerial appointment.
"I understand that, but it's impossible for you to have 100 percent approval from everybody," he told Claudius.
Luhut graduated from the Military Academy in 1970, four years ahead of Prabowo.
Both men had a spell in the Army's Special Force Command (Kopassus), but unlike Prabowo, Luhut never became commander of the unit.
After leaving the military, they both became involved in politics, with Luhut joining the Golkar Party and Prabowo establishing Gerindra.
They also jointly managed paper factory Kiani Kertas before Luhut went his own way to found mining company Toba Sejahtera.
They also supported Jokowi and his running mate Basuki Tjahaja Purnama in the 2012 Jakarta gubernatorial election.
Full report at:
https://jakartaglobe.id/news/luhut-welcomes-fellow-nationalist-prabowo-in-jokowis-cabinet
--------
North America
Killing al-Baghdadi won't change US role in creation of Daesh: Analyst
Oct 27, 2019
The US administration in Washington is to blame for the proliferation of Daesh and other terrorist groups in the Middle East and killing Abu Bakr al-Baghdadi doesn't change this fact, say an American analyst.
Keith Preston, chief editor of AttacktheSystem.com, said the US has been trying to "weaponize" such Takfiri outfits against countries opposing the US establishment in the region, says an American political analyst in Virginia.
HE made the remark in a phone interview with Press TV on Sunday while commenting on a special operations raid carried out by the US military in the Syrian province of Idlib, which killed Abu Bakr al-Baghdadi — the leader of the Daesh Takfiri terrorist group.
The Joint Special Operations Command carried out the top-secret operation after receiving actionable intelligence, according to US military sources, and two Baghdadi's wives were also killed in the raid.
"While it's certainly true that the United States may have been responsible for the killing of the leader of the Daesh just like they were responsible for the killing of [Taliban militant group leader] Osama bin Laden some years back, we also have to consider the ways in which the United States has been responsible for the proliferation of these Takfiri terrorist organizations," Preston said.
"The United States has claimed now for 18 years that they are waging war against these terrorist organizations like al-Qaeda, like al-Nusra Front, like the Daesh. At the same time, the United States has also tried to work both ends against the middle when it comes to these kinds of organizations. On the one hand, they are opposed to terrorist attacks by these kinds of groups against American targets in case they are American allies, but they also try to weaponize these organizations against America's geopolitical rivals in the Middle East," he added.
The American political commentator said Washington tries to "use the Daesh as a weapon against Syria, against Iran, against other forces that are opposed to the United States in the region as well. The United States, on the one hand, wages its own war against some of these organizations, and on the other hand, gives them a free hand when it comes to its effort to use them as a weapon against other parties in the region."
Preston also blamed the United States for its role in providing support to Saudi Arabia, Qatar, Bahrain, United Arab Emirates and other nations in the region that spread this Takfiri ideology that builds these terrorist groups.
"So, it's not like the US has been the white hat in this particular conflict," he concluded.
The Idlib operation was conducted only a few weeks after Trump announced that the US would be withdrawing its forces from northeastern Syria, clearing the path for an expected Turkish incursion into the region.
Turkey launched the offensive on October 9 with the aim of purging the northeastern Syrian regions near its border of US-backed Kurdish militants, whom it views as terrorists linked to local autonomy-seeking militants of the Kurdistan Workers' Party (PKK).
Trump, later however, rowed back on the withdrawal decision, announcing that a contingent of US Special Forces would remain in Syria to control its oil fields.
https://www.presstv.com/Detail/2019/10/27/609739/US-weaponize-terrorist-groups-Middle-East-Daesh-Keith-Preston
--------
Baghdadi's death offers Trump a short-term boost and cover for Syria exit
Joyce Karam
Oct 27, 2019
US President Donald Trump took a victory lap on Sunday in announcing the death of ISIS leader Abu Bakr Al Baghdadi in a US raid in northern Syria, an operation the president will use to shore up his counter-terrorism and national security credentials.
Mr Trump's first teased about the killing in a tweet on Saturday night that said: "Something very big has just happened". It was posted nine hours before the US military and intelligence confirmed the identity and DNA of Al Baghdadi.
The tweet reflects the president's eagerness to take full credit for the operation. "He died like a dog, he died like a coward," Mr Trump announced from the White House.
The operation's timing presents a window of opportunity for Mr Trump to defend his partial pullout from north-east Syria, boosts his credentials in fighting ISIS before the 2020 election gets under way, and lays the grounds for counter-terrorism mechanisms after the US leaves in Syrian territory.
The raid was "a month-long intelligence operation", according to a US official quoted by The Guardian, but its timing appears related to the US withdrawal in Syria. "Senior military officials had decided that, with American forces largely withdrawing from Syria, commandos should take action quickly to try to kill or capture senior terrorists in north-west Syria before the United States lost that ability," the New York Times reported on Sunday.
While Mr Trump's decision to withdraw from Syria this month was criticised by members of Congress from both parties and Democratic presidential rival on the premise that it would help ISIS regroup. The operation provides – at least temporarily – an antithesis to this narrative. In his announcement, the US president said the killing of Al Baghdadi was his biggest national security objective.
The death of the ISIS leader is a positive moment for Mr Trump as he battles an impeachment inquiry by Democrats in the House of Representatives and low approval ratings, averaging 41.6 per cent, according to Real Clear Politics. While Al Baghdadi is not a household name in the US like that of Al Qaeda leader Osama bin Laden, who was killed by US forces in 2011, he is still a known and vilified figure whose organisation claimed responsibility for attacks in the country and for decapitating Americans in Syria. The State Department offered a $25 million (Dh91.8m) bounty for information leading to him.
The operation also provides clues to US counter-terrorism mechanisms in Syria. Reports that US forces flew from Erbil in Iraqi Kurdistan and that Iraqi authorities helped acquire intelligence underscore the importance of the US presence in neighbouring Iraq. Mr Trump thanked the Syrian, Iraqi, Russian, and Turkish governments as well as Kurdish forces for their help with the operation.
The presence of Al Baghdadi in Idlib, which the former US envoy against ISIS, Brett McGurk called "the largest Al Qaeda safe haven since 9/11", could be a prelude to similar operations in the area by US force alone or in co-ordination with Russia, which controls the the airspace over the rebel-held province.
Full report at:
https://www.thenational.ae/world/mena/baghdadi-s-death-offers-trump-a-short-term-boost-and-cover-for-syria-exit-1.929365
--------
Arab World
Iraq's Mosul breathes easier after death of 'butcher' Al-Baghdadi
October 27, 2019
MOSUL: Five years after he made their hometown infamous as the heart of his "caliphate," residents of Iraq's Mosul said Abu Bakr Al-Baghdadi's death should be marked only one way — with "a huge party."
In June 2014, Al-Baghdadi climbed a set of stairs at the Al-Nuri Mosque in the northern Iraqi city and declared himself "caliph" over millions of people in Iraq and Syria.
The announcement unleashed a volley of violence that killed thousands, displaced millions and left cities across both countries in ruin — including Mosul.
On Sunday, US President Donald Trump announced Al-Baghdadi's death in a US special operations raid some 700 kilometers (430 miles) away in rural northwestern Syria.
"The people of Mosul should have a huge party," said 37-year-old city resident Khaled Waleed, wearing a baseball camp and white shirt.
"This criminal, this butcher Abu Bakr Al-Baghdadi, he killed and slaughtered everyone," he said bitterly.
Born in Iraq's western Samarra in 1971, Ibrahim Awad Al-Badri took up the name Abu Bakr Al-Baghdadi as he rose through the ranks to become Daesh's feared chieftain.
His fighters burst into Mosul in the summer of 2014 and he made his first and only public appearance shortly afterwards to declare an Islamic "caliphate."
Extremists imposed a strict interpretation of "sharia" there: music and smoking were banned, and any perceived violations were met with brutal punishments — including public beheadings.
"I've had three strokes because of Daesh," recalled Hani Mahmoud, 54.
"My house burned down. My car was set on fire," said the portly man with a closely-trimmed white beard.
Umm Alaa, an Iraqi woman dressed in a worn black robe, said Al-Baghdadi "made our lives hell."
"There's not a single house they didn't attack, not a single house they didn't oppress," she said.
"This is a festival, a festival for all Iraqis because he destroyed us," she added.
Daesh kept Mosul in its grip for three years, until a ferocious offensive by US-backed Iraqi troops ousted the extremists in 2017.
But the group left behind a horrifying legacy.
Many of Mosul's neighborhoods, particularly the historic Old City which was the last area to be retaken, remain in ruins.
Slabs of concrete hang off destroyed and abandoned buildings like oversized hangnails.
The historic Al-Nuri Mosque stands gutted and covered in graffiti, while the adjacent ancient minaret — long the city's symbol — was blown up in the violence.
Many residents have yet to return because their houses remain littered with unexploded ordnance or are damaged beyond habitation.
There are some 200 mass graves across the country where the remains of thousands of suspected Daesh victims have yet to be identified.
Several thousand people from the Yazidi minority are still missing, five years after Daesh ravaged their heartland near Mosul.
Bashar Hussam, 31, survived life under Daesh — unlike his father.
"My father had a blood clot and they didn't let us leave until he died in front of my own eyes," Hussam said.
While glad to see Baghdadi perish, he said it was not quite the happy ending he had hoped for.
"We want the other good news — that they rebuild our houses, that we go back to work and to our livelihoods."
https://www.arabnews.com/node/1575046/middle-east
--------
Lebanese Paper Reveals US Mission's Role in October Protests in Iraq
Oct 26, 2019
The Arabic-language al-Akhbar paper wrote on Saturday that it has gained access to a security document which shows the US mission's role in organizing a secret formation to add fuel to the flames of unrests in Iraq last month.
According to the newspaper, the US embassy has formed a high committee of protests, which coordinated field activities during the protests and the embassy provided it with intelligence and a number of politicians and government workers supported it.
A psychological operations team to guide the media and spread rumors, an electronic mobilization team to lead people through social media, a team, trained in Erbil and Amman, to report on the security services' mistakes and produce fake news on the protests, a team to exert international pressures on the Iraqi government, to organize protests in front of Iraq's embassies in foreign states, a team for releasing reports about the protest rallies in cooperation with different media outlets, an IT team to resolve problems related to filtering of the internet and social media, a medical team stationed near the protestors and hospitals to help the wounded and a team to provide logistical support, including food, water and preliminary aid, to the protestors were also formed by the US embassy's secret committee to foment unrests in Iraq, al-Akhbar added.
In relevant remarks earlier today, a senior Iranian political analyst warned that the recent violent unrests in Iraq and Lebanon were being misused by certain foreign states to turn the people's peaceful protests for restoring their legal rights into a ground to attain their ominous goals.
"The main purpose of protests in Iraq, Lebanon, Tunisia, Algeria and even Sudan was protesting at the financial and administrative corruption," Seyed Hadi Seyed Afqahi told FNA.
He added that the protest rallies in the regional states had two dimensions; one is the protests of average citizens and ordinary people and unions for their living difficulties and expenses; on the other side of the protests the foreign hands can be seen and they want to misuse the rallies of people to their own benefit.
"Unfortunately, we see this ugly phenomenon in Lebanon and Iraq too. People in Lebanon have held peaceful protests and the government has heard the people's voice but a series of norm-breaking images were displayed and slogans were shouted in the protests that turned them into political rallies," Seyed Afqahi said.
The protests in Iraq that started early in this month subsided after the public get engaged in holding the annual massive march of Arbaeen, but restored on Friday after religious rituals of the second month of the Islamic calendar were over.
In the first round of public protests 3 weeks ago, analyses revealed that 79% of hashtags about protests in Iraq on Twitter originated from Saudi Arabia and only 6% were from Iraq, in a stark contrast with claims that the demonstrations were popular and spontaneous.
Iraq's Grand Ayatollah Seyed Ali Sistani warned against the infiltration of agents with malevolent intentions into public protests in the Arab country, calling upon demonstrators and security forces to keep anti-occupation rallies peaceful.
"Don't let those with vicious intentions to infiltrate among you and attack security forces," the official representative of Ayatollah Sistani in Iraq Abdul Mahdi al-Karbalai said on Friday, conveying a message of the senior cleric.
Full report at:
https://en.farsnews.com/newstext.aspx?nn=13980804000824
--------
Four Iraqi MPs resign in response to mass protests
27 October 2019
Four Iraqi parliamentarians resigned on Sunday in anger at the government's perceived failure to respond to mass protests, piling more pressure on embattled Prime Minister Adil Abdul Mahdi.
Rallies demanding an overhaul of the ruling regime have rocked Iraq this month, defying live rounds, tear gas and other violence that have left more than 200 dead.
Parliament's only two Communist lawmakers, Raed Fahmy and Haifa al-Amin, quit the body "in support of the peaceful, popular movement," they said in a statement.
"We are resigning because of the protests and the way they were repressed," Fahmy told AFP.
"In 27 days, parliament has done nothing: it could not hold the prime minister nor the interior minister accountable" for reported violations by security forces, he said.
Their statement called on the government to resign and for early elections under a new voting system.
Two other lawmakers, Taha al-Difai and Muzahem al-Tamimi, also resigned on Sunday.
Both belong to the list of former premier Haider al-Abadi.
The 329-seat parliament has been in crisis since the protests began on October 1.
Multiple sessions - including one on Saturday - have been cancelled after failing to reach quorum.
The assembly met once in mid-October to appoint two ministers, a cabinet change which appears to have fallen short of protesters' demands for wholesale change.
The Iraqi Communist Party had allied with firebrand cleric Moqtada al-Sadr in the 2018 elections to form Saeroon, which boasted the largest bloc in parliament.
Full report at:
https://english.alarabiya.net/en/News/middle-east/2019/10/27/Four-Iraqi-MPs-resign-in-response-to-mass-protests-.html
--------
World reacts to announcement of ISIS leader al-Baghdadi's death
27 October 2019
President Donald Trump announced on Sunday that fugitive ISIS leader Abu Bakr al-Baghdadi had died in a raid by US special forces in northwest Syria, in a major blow to the extremist group.
Al-Baghdadi killed himself during the raid by detonating a suicide vest, Trump said in a televised address from the White House.
Here are reactions to the announcement:
The United States
Republican Senator Lindsay Graham, speaking at the White House on Sunday, said "What the president said today was very reassuring to me - that when it comes to ISIS and other terrorists groups, we're coming after you, wherever you go, as long as it takes to protect our country and our way of life."
US House of Representatives Speaker Nancy Pelosi, a Democrat, criticized Trump not notifying the US Congressional leadership prior to the raid. She also said in a statement "The death of al-Baghdadi is significant, but the death of this ISIS leader does not mean the death of ISIS. Scores of ISIS fighters remain under uncertain conditions in Syrian prisons, and countless others in the region and around the world remain intent on spreading their influence and committing acts of terror."
US Senator Mitt Romney, a Republican and regular critic of Trump, said on Twitter "Al-Baghdadi spread 'fire and brimstone' on earth; now he feels it for himself in hell. To all who arranged his change of venue-the intel officers, the President, the warriors-thank you."
Joe Biden, contender for the Democratic nomination to face Trump in the 2020 presidential election said "We cannot afford to get distracted or take our eye off the target. ISIS remains a threat to the American people and our allies, and we must keep up the pressure to prevent ISIS from ever regrouping or again threatening the United States."
Iraq
The Iraqi government said in a statement "Following extensive work by a dedicated team for over a year, Iraq's National Intelligence Service was able to accurately pinpoint the hideout of the terrorist Abu Bakr Al-Baghdadi in the Syrian province of Idlib."
It added "Subsequently, US forces, in coordination with Iraq's National Intelligence Service, carried out an operation which led to the elimination of the terrorist Al-Baghdadi."
"Iraq's Armed Forces and intelligence services will continue to work with Iraq's partners in the coalition to relentlessly pursue Daesh (ISIS) terrorists and to defeat their ideology," read the statement.
Bahrain
Bahrain's Foreign Minister Sheikh Khalid bin Ahmed al-Khalifa said in a tweet: "AL-Baghdadi's death is a severe blow to ISIS, and we applaud the "brothers and allies" for their effort and success in finding and getting rid of him."
Russia
Major-General Igor Konashenkov, quoted by RIA news agency as saying that "The Russian Ministry of Defense does not have reliable information on the operation by US servicemen... on yet another 'elimination' of former ISIS leader Abu Bakr al-Baghdadi."
Konstantin Kosachyov, chairman of upper house of parliament's foreign affairs committee, tells Interfax news agency: "... Last respects have been paid to al-Baghdadi at least five times in the past. (Also) countering terrorism is a much more difficult task than the physical destruction of its leaders, even the most irreconcilable."
France
French President Emmanuel Macron said the death of the ISIS leader is just a step, adding that the fight must continue to finally defeat the extremists.
"The death of al-Baghdadi is a hard blow against Daesh (ISIS) but it is just a stage," Macron wrote on Twitter. "The fight will continue with our partners in the international coalition to ensure that the terror organization is definitively defeated. It is our priority," he added.
While, French Defense Minister Florence Parly said on Twitter: "Baghdadi: early retirement for a terrorist, but not for his organization. I congratulate our American allies with this operation. My thoughts today are for all the victims of the madness of Bagdhadi and the criminals who have followed him."
Britain
Prime Minister Boris Johnson said on Twitter: "The death of Baghdadi is an important moment in our fight against terror but the battle against the evil of Daesh (ISIS) is not yet over. We will work with our coalition partners to bring an end to the murderous, barbaric activities of Daesh once and for all."
Foreign Secretary Dominic Raab, also said on Twitter: "Following the death of Daesh's leader, (ISIS) we must not allow Daesh to glorify someone who actioned such inhumane & abhorrent criminal acts. The UK will continue to support efforts to #DefeatDaesh." Iran
Information Minister Mohammad Javad Azari-Jahromi said on Twitter: "Not a big deal, You just killed your creature", in an accusation to the United States, its longtime foe, of creating ISIS.
Turkey
Senior aide to President Tayyip Erdogan, Fahrettin Altun, in statement to Reuters said that "Turkey was proud to help the United States, our NATO ally, bring a notorious terrorist to justice ... We remember today Abu Bakr al-Baghdadi's civilian victims and our military heroes, who lost their lives to protect the world from Daesh (ISIS) terrorists."
"Turkey, which has been a bulwark against terrorism, will continue to work closely with the United States and others to combat terrorism in all its forms and manifestations. It is time to join forces and defeat all terrorist groups operating in the region without further delay."
Israel
Full report at:
https://english.alarabiya.net/en/News/middle-east/2019/10/27/World-reacts-to-announcement-of-ISIS-leader-al-Baghdadi-s-death.html
--------
Lebanese protesters successfully form human chain across country
27 October 2019
As the protests in Lebanon moved into their 11th day, tens of thousands of Lebanese protesters successfully formed a 171-kilometer-long human chain throughout the country from Tripoli in the north down to Tyre in the south.
Cars whooshed by honking with flags waving. Others handed out water to protesters forming the chain. Videos quickly emerged on social media of people filing in all over the country to participate.
Mostly peaceful protests have taken place across the country, with protesters uniting across sectarian and class lines in a country where sectarianism is rooted in its every fiber. The Taif Agreement, put in place at the end of the civil war in 1989, cemented a power sharing agreement that mandated that the president be Maronite Christian, the prime minister a Sunni Muslim and the speaker of parliament a Shia Muslim.
Today, many in Lebanon have turned away from traditional sectarian lines and have banded together to call for the end of the regime. The revolution's popular chant kullon yani kullon - all of them means all of them - refers to their call for the entire political ruling class to step down.
"The significance of the human chain is honestly to show the sheer number of people who are actually against the regime and what the government has been doing for the last 30 years," Wael Abifaker, a participant in the Beirut chain link, said. "It needs to be seen by the world, all of Lebanon, and especially by the corrupt government to show that we are all unified."
Following a year of worsening economic conditions, including a dollar shortage and additional taxes imposed, the most recent of which was a WhatsApp tax that would cost users of the otherwise free app up to $6 a month, protesters took to the streets. The WhatsApp tax was quickly reversed, but those in the country pay some of the highest bills in the region for telecommunications. Additionally, citizens already pay dual bills for water and electricity where the state fails to provide potable water and round-the-clock electricity. Living costs are high compared to salaries, and many Lebanese fail to make ends meet.
Full report at:
https://english.alarabiya.net/en/News/middle-east/2019/10/27/Lebanese-protesters-form-human-chain-across-country.html
--------
Syria Kurds expect ISIS revenge attacks after al-Baghdadi death
27 October 2019
Syria's Kurdish forces said that they expected revenge attacks by ISIS following the US announcement on Sunday that the extremist organization's leader Abu Bakr al-Baghdadi had been killed.
"Sleeper cells will seek revenge for al-Baghdadi's death," Mazloum Abdi, the top commander of the Syrian Democratic Forces - the de facto army of the Kurdish administration that holds thousands of ISIS fighters in custody - told AFP.
"This is why anything is possible, including attacks on prisons," he said.
The SDF, who were the US-led coalition's main partner on the ground in Syria during years of operations against ISIS, hold an estimated 12,000 ISIS suspects in a number of different facilities in northeastern Syria.
An SDF-led operation eliminated the last scrap of ISIS's self-proclaimed "caliphate" - which once covered vast territory in Syria and Iraq - in March.
The territorial defeat of the extremist group did not however mean the death of the organization or of its ideology.
Small units of fighters have since gone underground and continued to carry out guerrilla-style attacks in the region.
US President Donald Trump, who announced al-Baghdadi's death in a solemn address from the White House on Sunday, had said last year that he intended to pull his troops from Syria.
US forces have indeed withdrawn from some areas in northern Syria, although they are remaining in regions of eastern Syria that include oil wells.
The vacuum created by the US redeployment and a subsequent operation launched by Turkey and its proxies against Kurdish forces has heightened fears of mass ISIS prison breaks.
Attacking prisons to free large numbers of senior operatives has been a signature tactic in resurgence drives by ISIS's earlier iterations.
Trump thanked the Syrian Kurds "for certain support they were able to give us" in the operation against al-Baghdadi.
Full report at:
https://english.alarabiya.net/en/News/middle-east/2019/10/27/Syria-Kurds-expect-ISIS-revenge-attacks-after-al-Baghdadi-death-.html
--------
15 dead in Syria clashes between pro-Turkish forces, Kurds: Monitor
27 October 2019
Clashes in northeast Syria between pro-Ankara fighters backed by the Turkish air force and a regime-backed force led by Syrian Kurds left 15 dead on Saturday, a monitor said.
Rami Abdel Rahman, head of the Syrian Observatory for Human Rights, told AFP that nine pro-Turkish fighters and six members of the Syrian Democratic Forces were killed in a zone between the towns of Tal Tamr and Ras al-Ain.
https://english.alarabiya.net/en/News/middle-east/2019/10/27/15-dead-in-Syria-clashes-between-pro-Turkish-forces-Kurds-Monitor.html
--------
At least seven Iraqi protesters shot dead by militia in Hilla: Sources
27 October 2019
At least seven protesters were killed and 38 wounded in the Iraqi city of Hilla early on Sunday when members of the Iranian-backed Badr Organization militia opened fire on demonstrators, police and health sources said.
Protesters had gathered across Iraq on Saturday in a second day of anti-government protests, in which at least 65 people have died.
https://english.alarabiya.net/en/News/middle-east/2019/10/27/At-least-seven-Iraqi-protesters-shot-dead-by-militia-in-Hilla-Sources.html
--------
Iraqi PM Abdul-Mahdi refuses to resign over deadly protests
SUADAD AL-SALHY
October 28, 2019
BAGHDAD: Iraqi Prime Minister Adel Abdul-Mahdi will not resign in response to the demands of demonstrators and refuses to allow his country to slide into civil war, his spokesman said Sunday.
Baghdad and seven other Shiite-dominated southern provinces have witnessed mass demonstrations since the beginning of the month. The protests have been against corruption, unemployment and a lack of basic services.
Demonstrations stalled after the first week when at least 147 people, including security personnel, were killed and more than 7,000 injured in a bloody crackdown by the Iraqi government and its allies.
But the protests resumed on Friday after Iraqi forces vowed not to use live ammunition against demonstrators.
Despite the pledge, at least 74 people have been killed and more than 3,600 wounded in the past three days, according to the Independent High Commission for Human Rights in Iraq.
Protesters have responded to the violence by increasing their demands, which now include the resignation of Abdul-Mahdi and his government, changing the election law, and holding fresh elections.
The prime minister's insistence on not resigning, means the cycle of violence is expected to continue and increases the possibility of clashes erupting between the different Shiite factions.
"Abdel-Mahdi will not resign in this critical and difficult circumstance," Sa'ad Al-Hadaithi, the prime minister's spokesman, told a local Iraqi TV station on Sunday evening. "The resignation of the government could lead the country into a dangerous situation. We warn of the loss of civil peace and the collapse of the country into chaos.
"The prime minister continues to respond to the legitimate demands of the demonstrators and will not allow the loss of control of the situation."
Most of the casualties in Baghdad have been from tear gas, while in the provinces they have mainly been caused by clashes when demonstrators attempted to attack the headquarters of Iranian-backed political parties, security officials and witnesses told Arab News.
Abdul-Mahdi attempted to quell the protests with a promise to secure hundreds of thousands of jobs, speeding up corruption trials, and increased welfare for poor families.
But after a two week pause, the incentives appear to have failed with large numbers of demonstrators, returning to the streets with increased popular support, especially in the Shiite communities.
His refusal to resign is linked to the positions of his local and regional allies. Several Iraqi political leaders allied with Abdul-Mahdi told Arab News that an agreement overseen by Gen, Qassem Soleimani, the powerful Iranian military commander, was made to keep Abdul-Mahdi in his post until the end of the crisis.
Soleimani, who commands the Quds Force of the Islamic Revolutionary Guard Corps, is accused of leading the crackdown on demonstrators in Baghdad when they first erupted.
"All the Iraqi political parties involved in the government were clearly informed that they are not allowed to take any step to resign Abdul-Mahdi now," a prominent Shiite governmental advisor closed to Abdul-Mahdi told Arab News.
"At the first days of the crisis (demonstrations), we suggested to ask the prime minister to resign to calm the demonstrators and gain some time, but Haj (Soleimani) rejected this.
"He (Soleimani) said in front of most of the prominent political leaders that he is committed to protecting Abdel-Mahdi to the end and would not allow him to fall because of the protests.
Full report at:
https://www.arabnews.com/node/1575161/middle-east
--------
Mideast
Official: Iran Able to Use Newly-Developed Training Jet for CAS Operations
Oct 26, 2019
"At present, the plane only has a training function but it can be in the future completed and equipped with bombs and missiles and be used as a CAS plane," Bani Tarafi said in an interview with the state TV on Saturday.
He also said that the Air Force is assessing its needs to Yasin training jet and it usually needs 3 to 4 squadrons, each consisting of 16 planes.
Bani Tarafi underlined that one of the problems facing Iran in manufacturing the training jet was its engine, but the problem was eventually overcome and the engine was later mass-produced by Iranian experts and used in Yasin.
Iran earlier this month unveiled and put into operation the domestically-manufactured training jet, which is among the world's best in terms of takeoff and landing capabilities.
The advanced jet, dubbed Yasin, was put on display in the presence of Defense Minister Brigadier General Amir Hatami, Commander of the Islamic Republic of Iran Air Force (IRIAF) Brigadier General Aziz Nasirzadeh and Vice President for Science and Technology Sorena Sattari.
The training jet, which has undergone its final test, made its maiden flight over Noje Airbase in Iran's Western Hamadan Province.
The aircraft is 12 meters long and four meters high. It weighs 5.5 tons and can fly up to 12 kilometers.
The wing's design enables the jet to land and take off at a speed of at least 200 kilometers per hour.
A fully horizontal rotating fin on the aircraft's tail allows the pilot to perform various maneuvers.
Yasin utilizes two 7,000-pound-thrust turbo jet engines, which is used for jet fighters.
Iran has recently made major breakthroughs in its defense sector and attained self-sufficiency in producing military equipment and hardware despite facing sanctions and Western economic pressure.
The Islamic Republic says its military power is solely for defensive purposes and does not pose any threat to other countries.
https://en.farsnews.com/newstext.aspx?nn=13980804000399
--------
Israel's Gantz, Netanyahu hold talks to break gov't deadlock
27 October 2019
Israel's prime minister and his main rival opened a new round of unity talks on Sunday in the latest effort to break a political stalemate and avoid an unprecedented third parliamentary election in less than a year.
Israel has been paralyzed by political deadlock following an inconclusive election last month, with neither Prime Minister Benjamin Netanyahu's Likud nor the rival Blue and White party in control of a 61-seat majority in parliament.
After nearly a month of efforts, Netanyahu last week said he had failed to cobble together a coalition.
Israel's president has now given the task to Blue and White party leader Benny Gantz.
Gantz, a former military chief, met with Netanyahu in Tel Aviv to discuss a possible power-sharing agreement. Gantz's party issued a statement that the two discussed possible options and agreed to a second meeting.
Ahead of the talks, Netanyahu expressed support for a "broad national unity government." Speaking to his Cabinet, Netanyahu said such a coalition is essential for Israel to face what he said were mounting security challenges around the region.
"We must make tough decisions that require a government with broad shoulders," he said. "This is not a political question, but a national and security question of the highest order. I hope that we can advance this goal in the coming days."
With Blue and White controlling 33 seats in parliament and Likud holding 32, the two parties together have enough support to form a government together.
While both men support the idea of a unity deal, they have disagreed over who should lead it.
Netanyahu wants his traditional religious and nationalist allies to sit with Likud and Blue and White. Gantz has been cool to sitting together with Netanyahu's hardline allies. He also refuses to serve under a Netanyahu-led government while the long-serving leader faces possible indictment for corruption charges.
Israel's attorney general is to decide on whether to charge Netanyahu in the coming weeks.
Ahead of their meeting, negotiators from the two parties met for preparatory talks that were "held in good spirits," according to a Blue and White statement.
It is the first time in more than a decade that a candidate other than Netanyahu has been given the opportunity to form a government.
But without Likud, Gantz's options are limited. He can try to break up Netanyahu's right-wing bloc and win over smaller hard-line parties. So far, there is no sign of that happening.
His remaining potential partners include a diverse group of parties that have little in common, including the secular ultranationalist Yisrael Beitenu party, dovish Jewish parties and a grouping of Arab parties, which have never sat in a government before.
The country has faced political paralysis since Yisrael Beitenu leader Avigdor Lieberman refused to sit in a government with Netanyahu's ultra-religious partners following April's election. That decision robbed Netanyahu of a parliamentary majority, leading to last month's inconclusive election.
Full report at:
https://english.alarabiya.net/en/News/middle-east/2019/10/27/Israel-s-Gantz-Netanyahu-hold-talks-to-break-gov-t-deadlock.html
--------
Iranian MP: Sanctions have not hit medicial supplies
27 October 2019
Sanctions on Iran have not had any effect on the supply of medicine and medical equipment in the country, said an Iranian MP on Sunday, reported the semi-official Mehr news agency.
"There is enough medicine in the country and the people should not worry about it," said Abolfazl Soroush, who is a member of the healthcare committee in the Iranian parliament.
US President Donald Trump withdrew from the 2015 nuclear pact between Iran and world powers last year and reimposed sanctions on Iran as part of a "maximum pressure" policy to try to force Tehran to stop its destabilizing policies in the region.
Despite sanctions, Iran "has no problems in providing medicine and medical equipment," Soroush told Mehr.
"The relevant authorities have made the necessary efforts to reach self-sufficiency in the field of medicine," he added.
Full report at:
https://english.alarabiya.net/en/News/middle-east/2019/10/27/Iranian-MP-Sanctions-have-not-hit-medicial-supplies.html
--------
Yemeni government, South Transitional Council reach agreement: Report
25 October 2019
An agreement has been reached between the Yemeni government and the Southern Transitional Council, Asharq al-Awsat newspaper reported citing sources.
The pan-Arab newspaper said that the deal between the two Yemeni sides – dubbed the Riyadh Agreement – includes the establishment of a joint commission to be led by the Arab Coalition to enforce the treaty.
The agreement stipulates the creation of a government made up of 24 ministers to be shared between the north and south of Yemen.
Full report at:
https://english.alarabiya.net/en/News/gulf/2019/10/25/Yemeni-government-South-Transitional-Council-reach-agreement-Report.html
--------
Syria welcomes pullout of Kurdish armed groups to depth of 30 km from Turkish border
Oct 27, 2019
Damascus welcomes the withdrawal of Kurdish armed groups in Syria's northwestern regions to a depth of 30 kilometers from the Turkish border as part of a Russia-Turkey deal, saying the pullout rids Ankara of the pretext to keep up its acts of aggression against the Arab country.
On Sunday, an official source at Syria's Ministry of Foreign Affairs and Expatriates said in a statement, carried by Syria's official news agency SANA, that the withdrawal was carried out "through direct cooperation with the Syrian army."
"The Syrian Arab Republic affirms that this withdrawal ends the basic pretext of the brutal Turkish aggression on its territories," said the statement.
The ministry added that Syria belongs to all national groups, and that the Arab country is ready to embrace all of its citizens with open arms.
Damascus, it said, would work on "embracing its citizens and providing the aid for them in a way that would guarantee their integration into the Syrian society again and would open the door for all to return to the Syrian national unity as one land and [one] people."
The statement came shortly after the Kurdish-led Syrian Democratic Forces (SDF) said it had agreed to move back 30 kilometers from the Turkish border as part of the groundbreaking deal struck last Tuesday between Turkey and Russia in Sochi aimed at ending Ankara's military offensive against the Kurdish militants in northern Syria.
The deal gave the Kurds a 150-hour deadline for withdrawal, which will expire on Tuesday.
"The SDF is redeploying to new positions away from the Turkish-Syrian border across northeast Syria in accordance with the terms of the agreement in order to stop the bloodshed and to protect the inhabitants of the region from Turkish attacks," the militant group said in a statement.
The Turkish army launched the offensive on October 9 in an attempt to cleanse Syria's northern border areas of Kurdish militants from the so-called People's Protection Units (YPG) — which the SDF's main component.
Ankara regards the YPG as a terrorist organization tied to the homegrown Kurdistan Workers' Party (PKK) militant group, which has been seeking an autonomous Kurdish region in Turkey since 1984.
The military operation came after the US abruptly pulled out its forces of the region, clearing the path for Turkey to go ahead with a planned military action against Washington's longtime Kurdish allies.
Feeling backstabbed by the US, the Kurdish militants — which were until recently operating against the Syrian government — reached out to Damascus in a dramatic shift, agreeing to allow national army forces back into several northern regions under their control to help defend the country's borders against Turkey's incursion.
In its Sunday statement, the SDF called on Russia to help ensure "a constructive dialog" between the Kurds and the government of Syrian President Bashar al-Assad.
The statement came a day after Erdogan vowed to "clear" Kurdish "terrorists" from the so-called safe zone single-handedly if they fail to withdraw by the end of the Tuesday deadline.
Full report at:
https://www.presstv.com/Detail/2019/10/27/609708/Syria-Turkey-withdrawal-YPG-militants-US-Russia
--------
Africa
Kenya seeks international help to stop Al-Shabaab financing
Cyrus Ombati And Roselyne Obala
27th Oct 2019
Kenya is seeking international help to stop informal finances to the Al-Shabaab terror group that remains active despite military operations.
Kenya's High Commissioner to the UK Manoah Esipisu (pictured) said regional and international partners must come together with the federal and regional governments of Somalia to design and implement a framework for combatting Al-Shabaab's financing using strong Joint Investigation Teams linked to effective prosecution and incarceration in Somalia.
These teams, he argued, must also take aim at its illicit taxation and protection rackets of thousands of businesses and many of the humanitarian organisations in Somalia.
A big part of this requires that civilians and international humanitarian operations be much better protected by Somali regional and federal forces, he argued.
He said it is also important that all countries exposed to this threat to domesticate and be in compliance with the binding counter-terrorism measures in UN Security Council resolutions such as 2178 on Foreign Fighters and others on combatting the financing and any form of support to terrorist groups.
"Rather than focus so exclusively on countering terrorism financing measures in the formal banking and money transfer systems, we will need to fully deal with cash-based financing in areas that terrorists operate," he said.
He made the remarks at the Court of St James's at the Institute for Strategic Studies, London, UK.
He argued the military success of Al-Shabaab is far from assured as national and regional militaries, backed by AMISOM and global partners such as the United States among others, have dealt it repeated defeats on the battlefield.
"Its political and ideological assault, however, reaches wider than its military capability. If it aligns with other political and ideological interests, particularly the expansionist or irredentist kinds, we will find ourselves dealing with a longer-term crisis that includes economic failure in Somalia and in areas exposed to the group's operatives."
It would also frustrate Somalia's still vulnerable state-building project, and probably allow global terrorism to retain a recruitment and training platform in that country.
Esipisu said there is a need to minimise or eliminate the threat of groups such as Al-Shabaab whose existence is a direct threat to such a positive outcome if East Africa is going to be the long-term hub for rising levels of investment, economic production and profits.
He called on countries to stop the Al-Shabaab terror group from holding any territorial ground.
This will allow it to exploit learning, correctional, religious, business and charitable institutions to fund its continuing existence and terrorist operations.
Esipisu said the terror group's holding of ground legitimises its narrative of victory over states and the international community, feeding into its recruitment drive and therefore the production of more bombers and shooters.
"This means the military means must be maintained and escalated. This is necessary but insufficient," he said.
Esipisu argued while humanitarian actors like DFID or USAID have relatively strong accountability systems, we will need the entire sector to be more transparent and supported in minimising taxation by terrorist groups.
"To not do this, and to invite the terrorist groups to make headline-grabbing attacks, will eventually lead to the humanitarian sector being publicly accused of being a source of terrorism."
He said humanitarianism will suffer as a result because at the end of the day it depends on political support which is deeply subject to public opinion.
He called on investment in preventive measures that include secure disengagement and reintegration programmes for former operatives that want another chance, detecting and attacking sources of radicalisation, and more effective investigations and prosecutions of recruiters.
"It is as urgent as ever to do more to close off religious spaces to militant extremists and their ideology. Countries that sponsor various forms of extremist interpretations of religion or identity, beyond their borders, will need to be reined in," he added.
Esipisu said countries need to build their abilities to safely deal with foreign terrorist fighters returning to their countries of origin after they have engaged in hostilities.
Regionally, he said there is a need to harden the regulation of private-sector security standards and capabilities against terrorist organisations.
He said Al-Shabaab remains the foremost terrorist threat to the region ISIS affiliates and splinter groups operating in DR Congo, Mozambique, Nigeria and Somalia.
"The aim of Al-Shabaab is simply to take over the governance, and if possible the regional and national governments, of Somalia. Its project is irredentist: no country that borders Somalia can expect its boundaries to remain as they are if Al-Shabaab achieves its aims."
Kenya has been pushing for a proposal to declare Al-Shabaab a terrorist group and join the league of ISIS, Taliban and Al-qaeda.
The push was vetoed by the US after pressure from humanitarian agencies.
https://www.standardmedia.co.ke/article/2001347041/kenya-seeks-international-help-to-stop-al-shabaab-financing
--------
Morocco, Israel to resume direct flights after two decades: Report
Oct 27, 2019
Morocco and Israel are reportedly going to resume direct flights after two decades of suspension, as a number of Arab states and Persian Gulf kingdoms seek to normalize diplomatic relations with the Tel Aviv regime and move to bring their clandestine ties out in the open.
The London-based and Arabic-language newspaper al-Quds al-Arabi reported on Sunday that Israeli travel agency Flying Carpet has organized five flights per month from the occupied territories to Casablanca, Marrakech, Tangier and Oujda via an Israeli airline.
The report added that the flights will start at $600, and will be conducted as of May next year.
One of the promotions offered to Israeli tourists at a price of $1,000 includes a 7-hour direct flight from Tel Aviv to Morocco, as well as a hotel stay with breakfast, the al-Quds al-Arabi noted.
Flying Carpet ceased its tourism activities in Morocco in the wake of a decision made by government authorities there. The Israeli travel agency had an office in the Moroccan capital city of Rabat, and used to organize several trips to Marrakech.
The halt did not prevent the agency from continuing its activities in Morocco through indirect flights, which were either from France or Spain.
Nearly 80,000 Israeli citizens visited Morocco in 2018, although there are no direct flights between Tel Aviv and Rabat, according to a study published in the weekly francophone independent Moroccan newspaper La Vie Éco.
The report comes as the National Office of Tourism in Morocco, which organizes campaigns to attract tourists from all over the world to the North African country, has no activity in Israel due to the absence of diplomatic ties.
Morocco and Israel have been expanding relations in the recent past, according to a research study published in July 2018 by the Israeli Institute for Regional Foreign Policy, known in Hebrew as Mitvim.
"The current cooperation between Israel and Morocco is relatively broad, and their mutual interests are strong," Einat Levy, the author of the study, said at the time..
"Cooperation is based on the history of Moroccan Jews, which has lasted for more than 2,000 years," Levy said.
"Although there is no common diplomatic relationship, Morocco has thousands of Jewish citizens within its territory and hosts many Israelis every year," she said.
"Today, about one million Moroccan Jews live in Israel, and tens of thousands of Israelis visit Morocco every year for tourism, trade or family visits…," Levy noted.
In February, a report published by Israeli Channel 13 television network said Prime Minister Benjamin Netanyahu had held a "secret meeting" with Moroccan Foreign Minister Nasser Bourita in September 2018.
French-language website Le Desk reported earlier this year that Israel's Meir Ben-Shabbat, a highly placed adviser in the cabinet, was working to arrange a meeting between Netanyahu and King Mohammed VI of Morocco in the North African state.
Morocco's Justice and Development Party, in reaction, condemned attempts by some Arab states and Persian Gulf kingdoms to normalize diplomatic relations with the Israeli regime, describing them as "dwarfs who will be hurled into the dustbin of history."
"The people who normalize relations with the Zionist entity are dwarfs controlled by America and the Zionist entity. They cannot escape their destiny in the dustbin of history," Naziha Maarij, a leader of the Islamic party, said in an exclusive interview with the Palestinian Arabic-language Shehab news agency.
"The people of Morocco have a neighborhood in occupied [Jerusalem] al-Quds, which they will not abandon. It is a neighborhood that has included Moroccan religious scholars, mosques, and ancient history," she added.
The Moroccan politician further noted, "Normalization with the usurping Israeli Occupation amounts to a haram (religiously forbidden) act, because it amounts to conspiracy against the fighters who have offered everything to guard our faith and our sanctities."
"At the very least, we should boycott the brutal Zionist entity, reject its goods and sever relations with it. Whoever normalizes with the Occupation is not a Muslim, and he is sinful in this life and will be punished in the hereafter."
Full report at:
https://www.presstv.com/Detail/2019/10/27/609721/Morocco-Israel-to-resume-direct-flights-after-two-decades-Report
--------
Climate Change Is Benefiting Terrorists In Somalia
Oct 28, 2019
Almost half of all people in Somalia don't have enough food, according to Save the Children. The factors are complex, but a core one is the persistence of drought, combined with erratic weather like the recent floods in the Hiraan region.
So climate change is making life more precarious in Somalia, which is already dealing with decades of civil war and the displacement of 2.6 million Somalis displaced from their homes. And militant groups are exploiting these vulnerabilities, according to a new policy paper by the Stockholm International Peace Research Institute (SIPRI), "Climate-related security risks and peacebuilding in Somalia."
"Somalia is among the most climate-vulnerable countries in the world," authors Karolina Eklöw and Florian Krampe write. The country has some of the highest mean annual temperatures in the world, and heavy winds damage infrastructure. Drought has been devastating, uprooting 53,000 people. It has also reduced the food supply, increased food prices and hunger, and made coastal groundwater more saline.
The more punishing climate is damaging means of earning a living, as most Somalis rely on agriculture, forestry, or fishing for their food and their income. For instance, long-used grazing routes don't offer much food for livestock anymore. So nomadic herders (94% of whom live in poverty) need to find new pasture or new livelihoods. This brings them into conflict with non-nomadic communities, over land as well as water. Meanwhile, the amount of cultivable land is diminishing due to land degradation and other environmental processes, leading to rising tensions between different clans attempting to hold onto land.
But Somali mechanisms for resolving conflicts and responding to environmental crises have been hurt by war and displacement, including the migration of elders and traditional authorities. "Although herder and farmer clashes have always occurred, they are now harder to solve," the SIPRI paper notes. Whether people are fleeing conflict or climate crisis, or the complex interplay of the two, social and political structures are being massively disrupted.
Thus it's difficult to enforce laws or provide basic services. And the militant group al-Shabab has stepped into the breach. During floods and droughts, the jihadist fundamentalist group distributes food and money to affected people, although previously it barred this type of aid. Responding to environmental crises has helped to make al-Shabab more popular. And the weakening of land-based livelihood options means that more people are forced to turn to organized crime, increasing al-Shabab's ability to recruit more militants, including children. "In 2018 Somalia had the highest level globally of children recruited and used in armed conflict," according to the SIPRI paper. Families fleeing this have no guarantee that their children will remain safe in camps for internally displaced people.
Tragically, some of the alternative income-generating activities people are turning to are worsening the climate crisis. Converting Acacia trees into charcoal reduces the land available to herders and limits their ability to cope with droughts. Thus this type of deforestation was banned by the UN in 2012. But enforcement remains weak, and al-Shabab has gotten in on the trade. It extorts taxes on charcoal possession, helping to fund its activities and propping up its image as the only type of quasi-government functioning in Somalia.
Full report at:
https://www.forbes.com/sites/christinero/2019/10/27/climate-change-is-benefiting-terrorists-in-somalia/#5483bf0f1016
--------
Pakistan
Pakistan govt renovates centuries-old Shawala Teja Singh temple in Sialkot
Oct 27, 2019
LAHORE: The Pakistan government has renovated and formally handed over the centuries-old Shawala Teja Singh Temple in Sialkot to the Pakistan Hindu Council for facilitating pilgrim visits and other rituals.
"The Evacuee Trust Property Board (ETPB) chairman Dr Amir Ahmed inaugurated the renovated temple on Friday last in a ceremony and handed over its control to the Pakistan Hindu Council," ETPB spokesperson Amir Hashmi told PTI on Sunday.
Hashmi said members of the Hindus community performed rituals, worshipped the presiding deity and distributed sweets to celebrate Diwali.
He said the temple has been restored according to its original design.
"The entire building has been whitewashed and the main entrance has been fixed. The boundary walls have also been constructed to secure the temple," he said.
In July, Pakistan had opened the temple in Sialkot, some 100 kms from Lahore, for the public.
The temple was partially damaged during attacks on it in 1992, which were in response to the demolition of the Babari Masjid in India.
The temple, located in the city's congested Dhaarowal locality, is more than 1,000 years old, according to the book 'History of Sialkot' by late historian Rashid Niaz. Around 2,000 Hindus reside in the locality.
https://timesofindia.indiatimes.com/world/pakistan/pakistan-govt-renovates-centuries-old-shawala-teja-singh-temple-in-sialkot/articleshow/71786940.cms
--------
Shahbaz asked to convince Nawaz to go abroad for medical treatment
Ansar Abbasi
Oct 28 2019
ISLAMABAD: Pakistan Muslim League - Nawaz President Shehbaz Sharif has received a message from certain high-placed quarters that he has to convince his brother, former prime minister Mian Nawaz Sharif, to go abroad for medical treatment.
Sources claim that Shehbaz has talked to Nawaz in this regard, but the latter has not yet given a definite answer to his brother. Other members of the Sharif family, including Nawaz's mother, his sister-in-law, and others, are also involved in the matter.
According to sources, since the health condition of the former premier is deteriorating and unstable at best, almost the entire Sharif family is reportedly in favor of convincing Nawaz to go abroad for medical treatment, possibly to the United States.
Also read: Nawaz Sharif granted interim bail in Al-Azizia reference on medical grounds
The former prime minister, according to sources, was offered an exit to go abroad for medical reasons thrice in recent months. However, he declined on all three occasions. Since the health of Nawaz has deteriorated, this is the fourth attempt to convince him to leave Pakistan.
The daughter of the former premier, and PML-N vice president, Maryam Nawaz, it is said that she has a bright future in politics but needed to take a break from politics for some time.
However, Nawaz Sharif has rejected these offers and insisted that he should be given relief based on merit.
Last week, after he was admitted to the Services Hospital, he was asked by his legal team to apply for bail on medical grounds because of his serious health condition.
Nawaz refused to do it, after which Shehbaz Sharif decided to approach the Islamabad High Court for Nawaz's bail.
It is said that despite the best efforts of the doctors, it has not yet been diagnosed why Nawaz Sharif's platelets drastically dropped to dangerous level last week. This undiagnosed problem and its medication, it is said, have caused heart and kidney complications.
Also read: Shehbaz Sharif approaches IHC for Nawaz's bail
Nawaz Sharif's mild heart attack two days ago, it is said, was also the consequence of the same complications. Medical experts say that if these conditions persist, and there is no diagnosis of platelets count drop, even the medical board may also recommend a trip abroad for treatment.
It is interesting to notice that staunch opponents of Nawaz Sharif, including the PTI and its coalition parties, which were previously opposed to Nawaz's foreign treatment, have changed their positions, primarily fearing a strong backlash from public in case anything happens to the former prime minister in the present situation.
Full report at:
https://www.geo.tv/latest/253106-shehbaz-told-to-convince-nawaz-to-seek-medical-treatment-abroad
--------
US looking for fresh start in ties with Pakistan
Anwar Iqbal
October 28, 2019
WASHINGTON: The Trump administration believes in extensive high-level engagements for rebuilding its ties with Pakistan, replacing the structured dialogue introduced by the Obama administration, says a senior US official.
At a recent briefing in Washington, the official also welcomed the establishment of a hotline between the Director Generals of Military Operations of the Indian and Pakistani armies and urged them to use it.
"The structured dialogue was a diplomatic architecture that was created under the Obama administration. And so, that was how the Obama administration approached its relationship with Pakistan," said the US official when asked if Washington had plans to revive its structured dialogue with Pakistan.
"If you look under the Trump administration, we have had extensive high-level engagements and certainly Prime Minister Imran Khan's visit to Washington demonstrated that," the official added.
The Obama administration had established various platforms for engaging Pakistan, which included ministerial and official-level talks in both Washington and Islamabad several times a year. There was also a separate forum for military-to-military talks.
The Trump administration, however, minimised its contacts with Pakistan in its first year but the engagements resumed when Washington sought Islamabad's support for holding direct talks with the Afghan Taliban. And earlier this year, President Donald Trump hosted Prime Minister Khan at the White House and pledged to expand both political and commercial ties with Pakistan.
The two leaders had another meeting on the sidelines of the UN General Assembly late last month and pledged to enhance bilateral ties.
"Based on the work we have done together in trying to promote a negotiated political settlement in Afghanistan, we have been able to expand our relations. We are looking at how, in particular, we can expand our trade and investment relationship," the US official said. "And those contacts continue."
Asked if Pakistan was going in the right direction in discouraging terrorism, the official said: "We have seen positive steps by Pakistan. For instance, under the Financial Action Task Force (FATF) action plan which required Pakistan to take 27 actions to avoid being placed on the agency's so-called blacklist.
Responding to questions on President Trump's offer to mediate between India and Pakistan on Kashmir, the official pointed out that in his recent meetings with Indian and Pakistani prime ministers, Mr Trump "discussed Kashmir directly".
"He certainly is prepared to play a mediation role if both countries ask," said the official, noting that India rejects outside mediation. "But certainly the United States will continue to encourage an environment that would allow for constructive dialogue."
The official said that while the United States understood India's position "but that does not mean that the United States is not actively encouraging that a dialogue take place and that an environment of constructive dialogue between the two countries be established".
Asked if Washington supports India's position that there can be no dialogue with Pakistan until Islamabad takes the steps that New Delhi wants it to take, the official said: "We think it's important that Pakistan take sustainable and irresistible steps against terrorism."
Despite these reservations, "it's also possible to have a dialogue and we encourage the countries to engage as two nuclear powers living side by side," the official added.
Responding to another question on Mr Trump's mediation offer, the official said: "The basic point is, the president is engaged personally with the leaders of both countries."
Such an engagement, the official said, was important for dealing with potential conflict between India and Pakistan. "The president has had meetings and phone calls. They have welcomed his engagements with them, and we are certainly going to encourage the steps that could lead to a constructive dialogue" between India and Pakistan, the official added.
Commenting on some low-level local elections held in India-held Kashmir this week, the US official said these "very local set of elections" could not be an alternative to restoring normalcy.
"With the leaders of major political parties in Kashmir under house detention, the question is … the restoration of the political process and when will those leaders be released," the official said.
Full report at:
https://www.dawn.com/news/1513339/us-looking-for-fresh-start-in-ties-with-pakistan
--------
IMF team arrives to review Pakistan's performance under $6bn package
Khaleeq Kiani
October 28, 2019
ISLAMABAD: A staff mission of the International Monetary Fund (IMF) has arrived in Islamabad to conduct the first quarterly review of Pakistan's performance under its $6bn Extended Fund Facility (EFF) finalised in May this year.
The successful completion of the first review would enable Islamabad to draw about $453 million from the Fund in first part of December this year, taking the total amount to almost $1.44bn. The IMF had made in July this year an upfront disbursement of $991 million on completion of all prior actions committed by Pakistan before signing the fund programme.
The visiting team led by Mission Chief to Pakistan Ernesto Ramirez-Rigo will hold technical discussions with authorities from all the ministries, divisions and departments concerned to examine the latest data before winding up its trip on Nov 7 with policy-level talks with Adviser to the Prime Minister on Finance Dr Abdul Hafeez Shaikh and Governor of the State Bank of Pakistan Dr Reza Baqir.
The first quarterly review is expected to be completed on a positive note as authorities have generally shown good performance on most of the structural benchmarks and performance criteria set for the first quarter ending September 2019.
Senior IMF officials have already praised authorities for delivering on their commitments "beyond (fund's) expectations".
Full report at:
https://www.dawn.com/news/1513363/imf-team-arrives-to-review-pakistans-performance-under-6bn-package
--------
JUI-F leader seeks restoration of citizenship
Oct 28, 2019
A day after the National Database & Registration Authority (NADRA) revoked the citizenship of former minister and Jamiat Ulema-e-Islam (JUI-F) Hafiz Hamdullah, the former has approached the Ministry of Interior, seeking restoration of his identity as a Pakistani.
Hamdullah, who was elected senator from the JUI-F's platform from March 2012 to March 2018, said that he informed Special Secretary Mian Waheedud Din about his CNIC's cancellation.
"The secretary was also laughing at what has been done to me," he commented on the absurdity of the decision.
The Pakistan Electronic Media Regulatory Authority (PEMRA) on Saturday directed all TV channels not to invite Hafiz Hamdullah on their programmes, saying he was "not a Pakistani citizen".
In a communiqué sent to all satellite TV channels, the media watchdog had said that NADRA had conveyed that "Senator Hafiz Hamdullah Saboor is 'confirmed alien' as he is not a citizen of Pakistan".
It had further said NADRA has "cancelled and digitally impounded the CNIC (computerised national identity card) issued" to Hamdullah.
"Since it is established that the said person is an 'alien', therefore, all the TV channels (News and Current Affairs) are directed to refrain from inviting and projecting Mr Hafiz Hamdullah Saboor in their programmes/talk shows, news etc.," the authority had said in its letter.
Hafiz Hamdullah, who remained a senator from Balochistan between March 2012 and March 2018, frequently makes appearances in evening political talk shows on various news channels.
Full report at:
https://www.pakistantoday.com.pk/2019/10/27/jui-f-leader-seeks-restoration-of-citizenship/
--------
PM reaffirms support for Kashmiris as nations marks Black Day
Oct 28, 2019
ISLAMABAD: Prime Minister Imran Khan on Sunday reaffirmed diplomatic, political and moral support to the people of Indian Occupied Kashmir (IOK), as the nation observed Black Day to protest India's atrocities in the occupied territory.
The Pakistani nation and the Kashmiris on both sides of the Line of Control (LoC) and from all over the world observed Black Day on Sunday to convey to the world that they reject India's illegal occupation of Kashmir and will continue their struggle to achieve Kashmiris' inalienable right to self-determination.
Besides occupied Kashmir, protest rallies were held in Muzaffarabad, Pakistan and world capitals to denounce India's illegal occupation of Jammu and Kashmir.
In a video message, the premier said that the entire Pakistani nation, including minorities, is standing behind the people of Kashmir in their just struggle for right to self-determination.
He said that he highlighted the Kashmir issue in his speech at UNGA and during interactions with other world leaders.
He said that now the international community is aware of the oppression going on in occupied Kashmir at the hands of Indian forces.
The prime minister said Indian Prime Minister Narndera Modi, after coming to power for second term, imposed curfew in Occupied Kashmir and no one knows what is happening in the valley.
He said that Modi regime changed Kashmir's status by claiming that he wants development there. He added that Modi should hold a referendum if he wants peace, stability, and development in Kashmir.
PM Imran said that all the mainstream political parties of Kashmir boycotted the recently held local government polls in occupied Kashmir. He added that the ruling BJP met a humiliated defeat even in the controlled elections there.
The premier made it clear that anybody talking of crossing the line of control will commit enmity with Kashmir and Pakistan. He said that India is looking for such an opportunity to crush the freedom struggle of Kashmiris. He also said that New Delhi rulers have deployed 900,000 troops to subjugate Kashmiris voice.
He further said that the Modi government wants to hold Pakistan responsible for unrest in Kashmir to deflect attention of the world community from the bloodbath continuing in the valley.
The premier said that Kashmiris' movement is a political struggle and "we have to extend our moral, diplomatic and political support in this regard".
He assured the people of Kashmir that he is not only their ambassador, but will also become their spokesperson and advocate supporting their struggle till they achieve their right to self-determination as enshrined in the United Nations Security Council (UJNSC) resolutions.
A delegation of All Parties Hurriyat Conference (APHC) also called on the prime minister to express gratitude for vigorously presenting the Kashmir case at the United Nations General Assembly (UNGA).
The premier told the delegation that the hearts of the Pakistanis and the Kashmiris beat in harmony He also assured the delegation that the entire Pakistani nation stands with their Kashmiri brethren.
The APHC delegation included Nisar Mirza, Muhammad Hussain Khateeb and Javed Iqbal. Special Assistant to Prime Minister on Information and Broadcasting Dr Firdous Ashiq Awan was also present during the meeting.
Meanwhile, on account of Black Day, the prime minister planted a sapling by the name of 'Kashmir Freedom Tree'. He and other government officials present on the occasion prayed for regional peace and prosperity.
RESTRICTIONS TIGHTENED IN SRINAGAR:
While there was already a complete shutdown as silent protest against India's illegal August 5 decision, restrictions were further imposed to prevent a march towards Lal Chowk, Srinagar on Sunday. Call for the march was given by the APHC led by Syed Ali Gilani. Indian forces were deployed in every nook and corner of Srinagar and adjoining areas.
The observance of the Black Day, this year, was also aimed at drawing attention of the international community towards the sufferings of the people of occupied Kashmir due to the continued military lockdown imposed by India in the territory since 5th August.
'INDIA SHOULD REALISE IT CANNOT FOOL WORLD':
The Foreign Office (FO) also reiterated its support for besieged Kashmiri people on the occasion of Black Day while calling on India to realise that it cannot fool the world forever and that its tried and trite accusations of terrorism, while simultaneously being the principle perpetrator of it, have little import with the international community
In a statement, FO Spokesperson Dr Mohammad Faisal said, "On this day 72 years ago, Indian forces landed in Srinagar to occupy and oppress the innocent people of Indian Occupied Kashmir (IOK) in a clear violation of international law and norms."
"On August 5, 2019, same India endeavoured to rob the people of Kashmir of their last semblance of independence and autonomy by indulging in shambolic, illegal fraudulence and by accepting to lead to a demographic change in occupied Kashmir, he added.
"For almost three months now, the Kashmiris have been prisoners in their own homes, aliens in their own land and unwelcome on their own roads. The whole IOK has been turned with a de-facto prison," he further said.
Dr Faisal highlighted that despite Indian spin doctors' best attempts, the world has taken notice. "India has been called out, criticized and castigated by friend and foe alike. The entire international media has come forth and called out India's shame democracy and bogus egalitarianism in unison," he said.
"In spite of the horrendous Indian atrocities and apathy on behalf of a large part of the international community, the brave people of Indian occupied Jammu & Kashmir have demonstrated exemplary resilience and grit in the face of Indian aggression," he added.
Full report at:
https://www.pakistantoday.com.pk/2019/10/27/pm-reaffirms-support-for-kashmiris-as-nations-marks-black-day/
--------
Europe
Two NUI Galway medical students died fighting for Islamic State
October 27, 2019
Galway Bay fm newsroom – It's been revealed that two students studying medicine at NUI Galway died fighting for Islamic State in Syria and Iraq.
According to the Sunday Times, the two trainee doctors travelled together on the same bus from Galway to Dublin in September 2013 on the way to join the Jihadist group.
Mustapha al-Hayani, a graduate of NUI Galway's medical programme, and Tariq Mohainuteen, a visiting Malaysian student, are believed to have become radicalised while in Galway.
According to the Sunday Times, both were members of NUI Galway's Muslim Youth Society and held positions in the group.
Members of the society say they were unaware of their colleagues radical beliefs, with many not finding out about their deaths until years later.
It's also reported that some students did raise concerns about their whereabouts, but were allegedly met with a 'wall of silence' at NUI Galway.
Hayani and Mohainuteen travelled together on the same bus from Galway to Dublin Airport in September 2013.
Mohainuteen travelled to Turkey, before crossing into Syria – and was killed weeks later in clashes between Islamic State and rival group Al-Nusra.
According to family and other students, he displayed no signs of radicalisation before travelling to Ireland and was a 'meek' individual.
Meanwhile, Hayani flew directly to Iraq where he was also killed in fighting, though the date and location of his death is unknown.
Former medical students recalled seeing a video in which he was standing over dead bodies in what appeared to be Iraq.
The Sunday Times reports that former member of the Defence Forces Lisa Smith – who converted to Islam and joined Islamic State – said she knew of a member in the group in the Syrian city of Raqqa who was from Galway.
The man, reported to have held a senior position, is believed to have been influential in the radicalisation of the two younger NUI Galway students.
https://connachttribune.ie/two-nui-galway-medical-students-died-fighting-for-islamic-state/
--------
France on high alert for revenge attacks following death of al-Baghdadi
27 October 2019
French Interior Minister Christophe Castaner, in a letter to police prefects seen by Reuters, called on Sunday for increased vigilance to prevent possible revenge attacks following the death of ISIS leader Abu Bakr al-Baghdadi.
"... The possible intensification of jihadist propaganda following this death, which could possibly call for acts of vengeance, requires the most extreme vigilance, notable during public events in your departments in coming days," Castaner said.
On Sunday, US President Donald Trump said in a televised address that ISIS leader Abu Bakr al-Baghdadi has been killed.
"Last night, the United States brought the world's number one terrorist leader to justice. Abu Bakr al-Baghdadi is dead," said Trump.
Full report at:
https://english.alarabiya.net/en/News/world/2019/10/27/France-on-high-alert-for-revenge-attacks-following-death-of-Baghdadi.html
--------
Defense Ministry: Russia has no reliable information on operation against Baghdadi
Oct 27, 2019
Moscow says has no reliable information on a special operations raid carried out by the United States military, which killed Abu Bakr al-Baghdadi, the leader of the Daesh Takfiri terrorist group, raising doubt about what US President Donald Trump had earlier announced.
Major General Igor Konashenkov, an official at the Russian Defense Ministry, was quoted by RIA news agency as saying on Sunday that the ministry "does not have reliable information about the actions of the US army in the Idlib 'de-escalation' zone... concerning the 'umpteenth death'" of Daesh leader.
He also added that the ministry was not aware of any assistance that Russia had allegedly given the US forces in the operation, thus challenging Trump's remarks about the US military having coordinated the operation with Russia.
During his announcement of Baghdad's death, Trump thanked Russia, Turkey, Iraq and Syria as well as Syrian Kurds for helping with the operation, claiming that Moscow "did not know the nature" of the mission, but was informed ahead that it was going to happen.
"We are unaware of any alleged assistance to the flying of US aviation into the airspace of the Idlib de-escalation zone during this operation," the Russian Defense Ministry official said.
The Idlib operation was conducted only a few weeks after Trump announced that the US would be withdrawing its forces from northeastern Syria, clearing the path for an expected Turkish incursion into the region.
Turkey launched the offensive on October 9 with the aim of purging the northeastern Syrian regions near its border of US-backed Kurdish militants, whom it views as terrorists linked to local autonomy-seeking militants of the Kurdistan Workers' Party (PKK).
Full report at:
https://www.presstv.com/Detail/2019/10/27/609722/Baghdadi-Russia-Defense-Ministry-Igor-Konashenkov-US
--------
South Asia
Preliminary results of Afghan presidential elections to be announced on 14th November
27 Oct 2019
The Independent Election Commission (IEC) on Sunday announced that the commission will announce the preliminary results of the presidential elections on 14th November.
Hawa Alam Nuristani, the chairperson of the Independent Election Commission announced the date for initial election results during a press conference this afternoon.
Nuristani further added that the commission had to postpone the announcement of initial election results due to technical issues.
She also added that the commission needed more time to in order to review the ballot papers.
The Independent Election Commission organized the presidential elections on 28th of September and the commission was due to announce the initial results on 19th of October.
The Commission was also supposed to announce the final election results on 7th of November.
https://www.khaama.com/preliminary-results-of-afghan-presidential-elections-to-be-announced-on-14th-november-04284/
--------
18 Taliban militants killed in Balkh and Faryab clashes
28 Oct 2019
The security forces killed 8 Taliban militants and wounded at least 10 others during the clashes in northern Faryab and Balkh provinces.
The 209th Shaheen Corps said Monday a clash broke out between security forces and Taliban militants in Chaqmaq Village of Pashtun Kot district in Faryab.
According to a statement released by 209th Shaheen Corps, the overnight clash left 6 Taliban militants dead and 8 others wounded.
The statement further added that the security forces and local residents did not suffer casualties during the clash.
Another clash also broke out between security forces and Taliban militants in Peyaz Kar area of Balkh district in Balkh province on Sunday which left 2 militants dead, the 209th Shaheen Corps said, adding that 2 other militants sustained injuries during the clash.
Full report at:
https://www.khaama.com/18-taliban-militants-killed-in-balkh-and-faryab-clashes-04285/
--------
8 Afghan migrants rescued from UK-bound refrigerated lorry
28 Oct 2019
The authorities in France rescued 8 Afghan migrants from a UK-bound refrigerated lorry, days before the authorities in UK discovered 39 dead bodies from a similar truck.
According to reports, the authorities discovered the migrants early on Sunday in Calais as the smugglers were attempting to drive the lorry to a ferry heading to England.
An investigating source quoted by UK's Mirror said "The Afghans in the back of the truck were suffering from mild hypothermia."
The French prosecutors have said the temperature inside the truck was around 7C.
Meanwhile, the investigating source said "It would have got far worse if they had remained in place, but they were taken to hospital in Calais for immediate treatment.
Full report at:
https://www.khaama.com/8-afghan-migrants-rescued-from-uk-bound-refrigerated-lorry/
--------
U.S. envoy for Afghan peace in Kabul to brief the Afghan government
27 Oct 2019
The U.S. envoy for Afghan peace Ambassador Zalmay Khalilzad arrived in Kabul to brief the Afghan government on recent visits and meetings regarding peace process, it has been reported.
An official in ARG Palace has told Reuters "The aim of his visit is clear, to report to President Ghani on his recent visits and meetings in some countries regarding the Afghan peace process."
This comes as efforts are underway to revive the stalled peace talks between United States and the Taliban group.
Ambassador Khalilzad reportedly met with the Taliban leaders in Islamabad this month amid low-key meetings he had regarding reconciliation efforts.
The U.S. President Donald Trump called off peace talks with Taliban political leaders last month following a series of deadly attacks in Kabul.
Full report at:
https://www.khaama.com/u-s-envoy-for-afghan-peace-in-kabul-to-brief-the-afghan-government-04283/
--------
Special Forces kill, detain 4 Taliban militants; destroy caches of weapons in 3 provinces
27 Oct 2019
The Afghan Special Forces killed 3 Taliban militants, detained another Taliban fighter and destroyed three caches of weapons in three provinces.
The military officials said Sunday the Special Forces conducted the operations in the past 24 hours in Paktika, Ghazni and Helmand provinces.
The officials further added that the Special Forces killed the 3 militants in Zurmat district of Paktika provinces.
The Special Forces also arrested a Taliban fighter and destroyed a small cache of weapons during the same operation, the officials added.
Full report at:
https://www.khaama.com/special-forces-kill-detain-4-taliban-militants-destroy-caches-of-weapons-in-3-provinces-04282/
--------
US envoy in Kabul for first time since Taliban talks collapsed
Oct 27, 2019
The US 'peace' envoy has met with senior officials in Kabul following his arrival in Afghanistan on an unannounced visit, his first since President Donald Trump halted talks with the Taliban on ending nearly two decades of conflict.
Special Representative for Afghanistan Reconciliation Zalmay Khalilzad was in the Afghan capital on Sunday. He met with President Ashraf Ghani and others.
"Khalilzad met with the president and briefed him about his recent activities," Ghani's spokesman Sediq Seddiqi said. "His viewpoints and the stance of the Afghan government for peace were discussed."
The visit by Khalilzad comes after a flurry of low-key meetings that he has held, including with the Taliban representatives this month in Pakistan.
A senior Taliban source in Pakistan had said the group had not "backtracked" from talks with Washington, suggesting that the ball was in America's court for how things might proceed.
Some say the Pentagon may want to resume its quest to pull US troops out of Afghanistan, but it first wants to see some sort of concession from the side of the Taliban.
In the past year, Khalilzad held nine rounds of negotiations with the Taliban in Qatar, where the militant group has a political bureau.
In early September, an agreement appeared imminent but a new wave of violence and the death of a US soldier made Trump to suddenly call off the talks. The White House also canceled a truce signing ceremony at Camp David, of which few had been aware.
Ghani, whose administration was kept out of the talks, had censured the draft deal.
More than 14,000 US troops remain in Afghanistan and Trump has repeatedly expressed his frustration with their continued deployment.
Khalilzad's arrival in the Afghan capital coincided with an announcement that preliminary results of recent presidential elections will be delayed for nearly a month.
Hawa Alam Nuristani, chairwoman of Afghanistan's Independent Election Commission, said the results would not be released until November 14.
"We have already apologized for missing the date, but this doesn't mean failure," Nuristani said.
"This (election) is a fate-determining issue in the country and we cannot accept sacrificing transparency for speed."
Full report at:
https://www.presstv.com/Detail/2019/10/27/609716/US-Khalilzad-Afghanistan-Ghani-Taliban
--------
URL: https://www.newageislam.com/islamic-world-news/ayodhya-case-falsely-projected-hindu/d/120111
New Age Islam, Islam Online, Islamic Website, African Muslim News, Arab World News, South Asia News, Indian Muslim News, World Muslim News, Women in Islam, Islamic Feminism, Arab Women, Women In Arab, Islamophobia in America, Muslim Women in West, Islam Women and Feminism