New Age Islam News Bureau
5 Aug 2020
Why Opposition Is Caught in A Bind on The Ram Mandir Issue
• Toll Expected to Rise in Blast That Shook Beirut, Killing 78 And Injuring Thousands
• Over 300 Members of Civil Society Pen Letter Protesting Punjab's Tahaffuz-e-Bunyad-e-Islam Bill 2020
• Trump Says Beirut Blast Was the Result Of 'An Attack' And 'Bomb of Some Kind'
• ISIS Khorasan Branch New Leader Is Pak-Based Haqqani Network Terrorist: Afghan Minister
• Malay Cops Say Investigating Man for Allegedly Insulting Muslims On YouTube
• Zainab Abbasi Case Shines Spotlight on Police Brutality In UK
------
India
• PM Modi Uses Silver Brick to Lay the Foundation Stone of Ram Mandir at Ayodhya
Why Opposition Is Caught in A Bind on The Ram Mandir Issue
• How the Ugly Spectre of Turkish Imperialism Fans Islamophobia in Kerala
• Retired Air Vice Marshal Kak: 'Annexation of Kashmir Ruptures Hindu-Muslim Bond In Kashmir'
• For Generations, This Muslim Family in Ayodhya Making 'Khadaus' For Hindu Saints
• Kerala physician among 3 Indian Islamic State operatives killed in Afghanistan prison attack
• Ram Mandir Bhoomi Pujan: Sena carries out Babri Mosque demolition ad; praises Balasaheb
• Hyderabad: Darsgah Jihad o Shahadat workers protest against Ram temple
• Ahead of Bhumi Pujan, All India Muslim Personal Law board questions Supreme Court verdict
• More Muslim candidates crack civil service exam
• 30 students from Jamia Millia Islamia coaching selected in UPSC's Civil Services 2019
• Local terror recruits halved in 2019, lesser now: 15 Corps chief
• BJP sarpanch killed, two cops hurt in J&K twin terror attack
• J&K govt to throw open religious places from August 16
--------
Arab world
• Toll Expected to Rise in Blast That Shook Beirut, Killing 78 And Injuring Thousands
• Anti-US Protest Rallies in Syria End in Clashes with Kurdish Militants
• Two-week state of emergency declared in Beirut following explosions
• Lebanese PM Diab calls on 'friendly countries' to help after Beirut explosions
• Hezbollah slams Beirut blast, urges unity to overcome 'national tragedy'
• Beirut blast: Iran says ready to help Lebanon in any way necessary
• Interactive maps reveal full extent of Hezbollah's global reach
• 18 killed in clashes in northwestern Syria
--------
Pakistan
• Over 300 Members of Civil Society Pen Letter Protesting Punjab's Tahaffuz-e-Bunyad-e-Islam Bill 2020
• PPP asks govt to start Islamabad temple construction
• Pakistani Shia Muslims hold protest demand for end to enforced disappearance
• Pakistan court appoints three senior lawyers as amici curiae in Jadhav's case
• Pakistan affirms claim to IHK with new map
• PTI's social media guru to head govt digital wing
• Opposition questions PM's absence from 'briefing' on Kashmir
--------
North America
• Trump Says Beirut Blast Was the Result Of 'An Attack' And 'Bomb of Some Kind'
• Trump says US will be there to help following explosion in Beirut
• 'US's Pompeo, Taliban deputy leader discuss intra-Afghan talks'
• US threats against Iran are falling on deaf ears: Scholar
• Homeland Security Is Quietly Tying Antifa to Foreign Powers
--------
South Asia
• ISIS Khorasan Branch New Leader Is Pak-Based Haqqani Network Terrorist: Afghan Minister
• Taliban attacks repulsed in Faryab, at least 11 militants killed, wounded: Shaheen Corps
• Afghan forces arrest top ISIS leader in Kunar province of Afghanistan
• Indian doctor detonated car bomb in deadly attack targeting jail in East of Afghanistan
--------
Southeast Asia
• Malay Cops Say Investigating Man for Allegedly Insulting Muslims On YouTube
• Apex Court to Hear If Muslim Can Be Made Party to Non-Muslim Marriage Dispute
• PBS says will contest 30 seats in Sabah polls
--------
Europe
• Zainab Abbasi Case Shines Spotlight on Police Brutality In UK
• UK government to get 'to the bottom' of SAS Afghanistan emails
• Albania transfers IS terror cell suspect to Germany
• Mosques terrorist costing NZ millions
• MP Afzal Khan made parliamentary chair of UK's Labour Muslim Network
--------
Mideast
• How IRGC's Buried Ballistic Missiles Tear Up Ground to Become Iran's New Surprise Weapon
• Israel seeking to export own crises to Gaza: Hamas
• Turkey says oil deal between SDF, US firm amounts to 'financing of terrorism'
--------
Africa
• Haftar Says Libya 'Will Never Accept Turkish Colonialism' In Address to LNA Battalion
• Libyan tribes sue rebel commander at ICC over civilian massacre
• Suicide Bombing Attack on Mogadishu Restaurants Kills At least Three
Compiled by New Age Islam News Bureau
URL: https://www.newageislam.com/islamic-world-news/pm-modi-uses-silver-brick/d/122550
--------
PM Modi Uses Silver Brick to Lay the Foundation Stone of Ram Mandir at Ayodhya
Aug 06, 2020
Pawan Dixit, Hindustan Times, New Delhi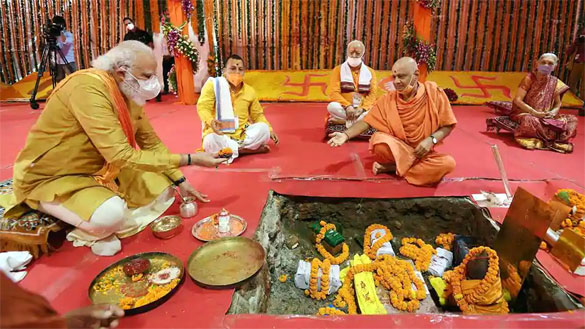 Dressed in a traditional silk dhoti and gold-coloured kurta, Modi offered prayers to the infant deity, Ram Lalla, at the makeshift temple and performed a circumambulation, before planting a sapling (ANI Photo)
-----
Loud cheers of Jai Shri Ram, the chanting of Vedic hymns and the blowing of conches greeted Prime Minister Narendra Modi as stepped into the Ram Janmabhoomi site in Uttar Pradesh Ayodhya town at 12.07pm on Wednesday.
Inside, 175 guests waited patiently in chairs spaced two-feet apart under a waterproof canopy in shades of red, gold and yellow. Outside, in the temple town, people thronged shops with television sets to watch the event, and rooftops of houses near the temple site became vantage viewing points as people jostled to get a glimpse of the Prime Minister. "Bhoomi pujan (the ground breaking ceremony) is a new beginning for us and end of a bitter past," said Sujeet Bahadur, 65, a local resident who is old enough to remember the movement for the Ram temple.
Dressed in a traditional silk dhoti and gold-coloured kurta, Modi offered prayers to the infant deity, Ram Lalla, at the makeshift temple and performed a circumambulation, before planting a sapling. He then participated in the ground breaking ceremony.
The Vedic ceremony, presided over by Senapati Shastri of the Kanchi Kamakoti Peetham in Tamil Nadu, began with prayers to Ganesha, the Hindu god of beginnings. Hymns dedicated to Lord Hanuman, Kaal Bhairav and Goddess Kali, the clan deity of Ram, were also recited. A 40kg silver brick donated by temple trust chief Mahant Nritya Gopal Das, was used for the ritual.
The main foundation-laying event began at 12.45pm, a pre-ordained time decided by astrologers and seers. The priests dug a pit in the sanctum sanctorum of the proposed temple, the silver brick was removed and nine other bricks, engraved with the words 'Jai Shri Ram' [Hail Lord Ram], placed instead. All the bricks were donated by devotees around the world in 1989, when Hindu groups started mass mobilization to build the temple in what they believed is the birth place of Lord Ram.
A lotus and the PM's personal offering, a kalash (holy pitcher) made of five metals sacred in Hindu traditions (gold, silver, copper, iron and zinc) was placed on the bricks. A copper plaque donated by Shankaracharya of the Kanchi Kamakoti Peetham, one of Hinduism's holy seats, inscribed with Sanskrit hymns was also laid at temple's foundation. As the PM offered prayers, Rashtriya Swayamsewak Sangh (RSS) chief Mohan Bhagwat, Uttar Pradesh governor Anandiben Patel, chief minister Yogi Adityanath, Salil Singhal, nephew of late Vishwa Hindu Parishad chief Ashok Singhal, and his wife looked on. All were wearing masks.
Soil from at least 2,000 Hindu holy sites and water from at least 100 sacred rivers were used for purification and other rituals. The 175 guests included 135 seers from various spiritual traditions and eminent people from Ayodhya.
"Nine bricks are kept here... these were sent by devotees of Lord Ram from around the world in 1989. There are 2,75,000 such bricks, out of which 100 bricks with 'Jai Shri Ram' engraving have been taken," said a priest officiating the ceremony.
The ceremony lasted 40 minutes, after which the PM released a postage stamp on the Ram temple designed by the Ayodhya Shodh Sansthan, an organisation of the Uttar Pradesh government's culture department. Adityanath presented a three-feet high statue of Kodanda Ram carved from rosewood to PM Modi. Kodada (literally, with bow) Ram represents the deity from the period during which Ram was looking for Sita after her abduction in the epic Ramayana.
In the evening, fireworks lit up the sky and tens of thousands of earthen lamps glittered across the town as locals said they hoped the ceremony marked a new beginning.
Authorities said 100,000 lamps were lit along the banks of the Saryu river.
"Lord Ram belongs to everyone. Ram temple will also bring overall development to Ayodhya," said Iqbal Ansari, son of the oldest litigant in the Ram Janmabhoomi-Babri Masjid title suit decided by the Supreme Court last year.
https://www.hindustantimes.com/india-news/pm-modi-uses-silver-brick-to-lay-the-foundation-stone-of-ram-mandir/story-SdjaznicaNTMBh4WSxk8OK.html
------
Why Opposition Is Caught in A Bind on The Ram Mandir Issue
Sunita Aron
Hindustan Times, Lucknow, Aug 06, 2020
Analysts point out that the Opposition can't openly celebrate the temple, nor criticise the ceremony. (PTI Photo)
------
Congress leader Priyanka Gandhi Vadra on Wednesday said that she hopes the Bhumi Pujan (groundbreaking ceremony) of the Ram temple in Ayodhya will become an occasion to celebrate national unity. Samajwadi Party leader Akhilesh Yadav has repeatedly said: "The temple is for all; let's now work for the progress of the state."
Analysts point out that the Opposition can't openly celebrate the temple, nor criticise the ceremony.
Scholar and political expert Badri Narain describes this as a "big loss to the Opposition; they will need a viable issue to take on the Bharatiya Janata Party", in the state and outside it.
The BJP, meanwhile, has sought to be seen as inclusive and invited three prominent Muslims, two of them associated with the Ram temple/Babri mosque movement.
The three Muslim invitees included Iqbal Ansari, son of late Hashim Ansari who fought for the restoration of Babri Mosque for about 55 years. He was a close friend of late Ramchand Paramhans of Digamber Akhara, who fought for the liberation of Ram temple for five decades . Sometimes they used to travel together in a rickshaw to Faizabad court. The other two invitees are Mohammad Sharif, who has buried/cremated thousands of unclaimed bodies of Hindus and Muslims and Zafar Farooqui, chairman of the Sunni Central Waqf Board. Ansari attended today's ceremony.
The decision to invite two prominent players in the mosque movement is a political move, the analysts added. The BJP has been systematically trying to dent the opposition's precious minority vote bank – about 19% the country's population and 21% of the state's.They point out that it shouldn't surprise anyone that no provocative slogans or speeches are echoing in the state at a time such as this.
Not everyone is convinced.
Iqbal Mustafa, an educationist from Ayodhya, said: "Muslims accept the existence of Ram and the Supreme Court verdict. However, the invites to three Muslims is a political move which will not help the BJP till they stop discrimination. The fact is, no one lost or won the case. It's time we build communal harmony in the country and not make provocative statements."
Narain admits that while the invitations may not by themselves soften Muslim sentiments towards the BJP, it just makes the opposition's job that much more difficult in terms of picking an issue. For instance, he added, Dalits (traditionally, the vote base of the Bahujan Samaj Party) definitely want to be a part of the temple construction exercise." Dalits account for about 17% of the country's population and 21% of Uttar Pradesh's.
To be sure, the opposition has questioned the timing of the exercise -- in the midst of the Covid-19 pandemic -- but most have resorted to the platitudinous "Ram belongs to everyone" statement.
Their silence hasn't gone unnoticed.
Uttar Pradesh Chief Minister Yogi Adityanath said: "The Opposition were demanding resolution of the dispute by the court. Now they are left with no choice but to respect the verdict of the Supreme Court."
Even the Muslim parties to the Supreme Court case seem to have accepted the decision and instead of filing a review petition in the apex court, as the one-time convenor and lawyer in the case Zafaryab Jilani suggested, the Sunni Waqf Board is building the mosque 5 kms away from the disputed site in Ayodhya.
But all that is history now. The land is no more disputed and analysts say it has ceased to be a fertile ground for the politics of consolidation.
https://www.hindustantimes.com/india-news/why-opposition-is-caught-in-a-bind-on-temple-issue/story-Iedk1eoYcNbvgbwx9kRrvN.html?utm_source=Daily_Newsletter&utm_medium=HT_Email
-----
Toll expected to rise in blast that shook Beirut, killing 78 and injuring thousands
05 Aug 2020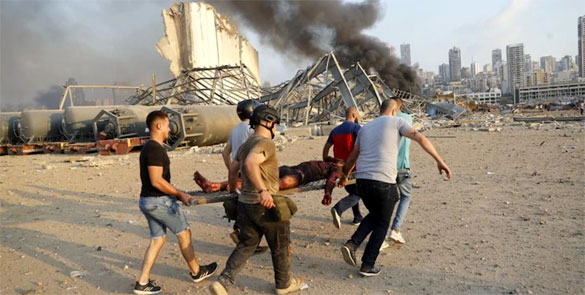 Tuesday's blast at port warehouses storing highly explosive material was the most powerful in years in Beirut. (Photo: AP)
-----
A powerful blast in port warehouses near central Beirut storing highly explosive material killed 78 people, injured nearly 4,000 and sent seismic shockwaves that shattered windows, smashed masonry and shook the ground across the Lebanese capital.
Officials said they expected the death toll to rise further after Tuesday's blast as emergency workers dug through rubble to rescue people and remove the dead. It was the most powerful explosion in years in Beirut, which is already reeling from an economic crisis and a surge in coronavirus infections.
President Michel Aoun said that 2,750 tonnes of ammonium nitrate, used in fertilisers and bombs, had been stored for six years at the port without safety measures, and said it was "unacceptable".
He called for an emergency cabinet meeting on Wednesday and said a two-week state of emergency should be declared.
"What we are witnessing is a huge catastrophe," the head of Lebanon's Red Cross George Kettani told broadcaster Mayadeen.
"There are victims and casualties everywhere."
Hours after the blast, which struck shortly after 6pm (1500 GMT), a fire still blazed in the port district, casting an orange glow across the night sky as helicopters hovered and ambulance sirens sounded across the capital.
A security source said victims were taken for treatment outside the city because Beirut hospitals were overwhelmed with wounded. Ambulances from the north and south of the country and the Bekaa valley to the east were called in to help.
The huge blast revived memories of the 1975-90 civil war and its aftermath, when Lebanese endured heavy shelling, car bombings and Israeli air raids. Some residents thought an earthquake had struck. Dazed, weeping and injured people walked through streets searching for relatives.
Others sought their missing loved ones in the overflowing hospitals. One medic said 200 to 300 people had been admitted to a single emergency department.
"I've never seen this. It was horrible," the medic, who gave her name as Rouba, told Reuters.
"The blast blew me off metres away. I was in a daze and was all covered in blood. It brought back the vision of another explosion I witnessed against the US embassy in 1983," said Huda Baroudi, a Beirut designer.
Prime Minister Hassan Diab told the nation there would be accountability for the deadly blast at the "dangerous warehouse", adding "those responsible will pay the price."
The United States embassy in Beirut warned residents in the city about reports of toxic gases released by the blast, urging people to stay indoors and wear masks if available.
Smoke and fireball
Footage of the explosion shared by residents on social media showed a column of smoke rising from the port, followed by an enormous blast, sending up a white cloud and a fireball into the sky. Those filming the incident from high buildings 2km from the port were thrown backwards by the shock.
Bleeding people were seen running and shouting for help in clouds of smoke and dust. Streets looked as if they had been hit by an earthquake, with damaged buildings, flying debris, and wrecked cars and furniture.
Officials did not say what caused the blaze that set off the blast. A security source and local media said it was started by welding work being carried out on a hole in the warehouse.
The government said it was still struggling to establish the magnitude of the disaster.
"There are many people missing. People are asking the emergency department about their loved ones and it is difficult to search at night because there is no electricity," Health Minister Hamad Hasan told Reuters.
Hasan said 78 people were killed and nearly 4,000 injured.
Lebanese broadcaster al-Jadeed read out appeals for information about the missing into the early hours of the morning. Some people posted photos of missing relatives on social media.
The prime minister called for a day of mourning on Wednesday.
Tangled wreckage
The explosion occurred three days before a UN-backed court is due to deliver a verdict in the trial of four suspects from the Shia Muslim group Hezbollah over a 2005 bombing which killed former Prime Minister Rafik al-Hariri and 21 others.
Hariri was killed by a huge truck bomb on the same waterfront, about 2km from the port.
Israeli officials said Israel, which has fought several wars with Lebanon, had nothing to do with Tuesday's blast and said their country was ready to give humanitarian and medical assistance.
Iran, the main backer of Hezbollah, also offered support, as did Tehran's regional rival Saudi Arabia.
Qatar and Iraq said they were sending makeshift hospitals to assist the high numbers of casualties.
The United States, Britain, France and Germany expressed shock and sympathy and said they were ready to help.
US President Donald Trump indicated at a White House briefing that the explosion was a possible attack. Asked later to elaborate, Trump said that he had met with some US generals who felt it was not "some kind of a manufacturing explosion type of event."
Two US officials, speaking on the condition of anonymity, said initial information contradicted Trump's view, however.
The blast threatens a new humanitarian crisis in a nation that hosts hundreds of thousands of Syrian refugees and which is already grappling with economic meltdown under one of the world's biggest debt burdens.
Images showed port buildings reduced to tangled masonry, devastating the main entry point to a country that relies on food imports to feed its population of more than six million.
Residents said glass was broken in neighbourhoods on Beirut's Mediterranean coast and inland suburbs several kilemetres away. In Cyprus, a Mediterranean island 180km across the sea from Beirut, residents heard the blast. One resident in Nicosia said his house and window shutters shook.
https://www.dawn.com/news/1572722/toll-expected-to-rise-in-blast-that-shook-beirut-killing-78-and-injuring-thousands
--------
Over 300 members of civil society pen letter protesting Punjab's Tahaffuz-e-Bunyad-e-Islam Bill 2020
Aug 04 2020
KARACHI: More than 300 members of the civil society have penned a letter to the Punjab Assembly, protesting and expressing concerns about the recently-passed Tahaffuz-e-Bunyad-e-Islam Bill 2020.
The letter, now open to the public, has so far attracted signatures from 314 individuals, including lawyers, activists, educationists, academics, artists, journalists, doctors, architects, publishers, athletes, philanthropists, civil society organisations (CSOs), historians, community organisers and workers, economists, and members of the business community, as well as members of the Punjab Assembly itself.
On July 23, the Punjab Assembly had passed the Tahaffuz-e-Bunyad-e-Islam Bill 2020, granting the Directorate General of Public Relations (DGPR) the power to visit and inspect any printing press, publishing house or bookstore and confiscate any book, before or after printing.
The new law bars the printing and publication of objectionable material and also bars the publisher, editor or translator from printing or publishing any book and material that consists of photographs or pictures of suicide bombers, terrorists, except as required by law enforcing agencies for purposes of investigation.
The DGPR, as per the new law, would also have the power to refuse permission to import, print or publish a book "if it is prejudicial to the national interest, culture, religious and sectarian harmony."
"The vesting of such immense arbitrary, unfettered and unilateral power in a single bureaucrat is in breach of even those reasonable restrictions that can be imposed on the right to freedom of expression under the Constitution of Pakistan, 1973 ('the Constitution')," the letter reads.
It underlines that the function of the DGPR is "the publicity of the government and handling public relations of the government".
"There is no rational or legal basis for the DGPR to be granted competence by the legislature to make determinations on matters entrusted to him under this Bill," the letter says.
Concerns over Muttahida Ulema Board
It expresses concerns about the Muttahida Ulema Board, which would be receiving the confiscated books, under Section 8(4) of the Tahaffuz-e-Bunyad-e-Islam Bill, noting that there is no explanation as to who is part of the Board or whether its members are competent "to decide what is prejudicial to national interest and culture".
It further notes with concern that the Bill does not define "objectionable material" and how its ambiguous wording may lead to violations of Article 25 of the Constitution.
"There is a pressing need for this Bill to be reviewed in its entirety, as it amounts to excessive delegation of powers to the executive," it reads. "Our Constitutional framework is based on the trichotomy of powers. [...] Such unbridled power to determine what amounts to objectionable content essentially amounts to handing over power of the legislature to an executive official".
Int'l Covenant on Civil and Political Rights
Highlighting the DGPR's powers in the matter, it says the wording is obscure and the "unchecked power is bound to be abused by executive functionaries when they perform the functions of prosecution and judge to punish any breach under the law".
"Such delegation of power amounts to vesting judicial powers in the executive, which is in breach of principles of trichotomy of power and separation of powers," the letter adds.
Most importantly, the concerned members of the civil society underscore that "these are not lawful restrictions on the right to freedom of expression under the Constitution".
Any interference in the right to freedom of expression is only legitimate if "it is provided by law; it pursues a legitimate aim; and it is necessary for a democratic society", as per a three-part test contained in Article 19 of the International Covenant on Civil and Political Rights (ICCPR), of which Pakistan has been a state party since June 23, 2010, they add.
Hindrance to right of conducting business
In addition, the concerned individuals stress on the fact that the powers of confiscation under the Bill are "violative of Article 10-A of the Constitution" and that any individual against whom an order may be considered should be given a chance to present their viewpoint in a hearing.
The letter also says a "requirement of four gratis copies placed on publishers and printers" is a hindrance in the rights of businesses granted under Article 18.
"This Bill is also in breach of Article 19A of the Constitution, which protects the right to access to information. The concepts of the glory of Islam, national interest, culture and religious and sectarian harmony cannot be allowed to be misused and become a tool for whimsical, arbitrary, subjective, unstructured, dictatorial or unreasonable censorship and control of publications," it says.
No justification
"What is peculiar is why a democratic forum would behave in such a dictatorial manner, disrespecting the very Constitution that empowers it," it adds. "We also fear that certain provisions of the proposed Bill may fuel sectarian tensions in the province, which would have a spillover effect(s) throughout the country."
Underlining the citizens' right to the freedom of expression in a democratic society, it says the Punjab Assembly has neither established the "necessity for this bill" nor "a pressing social need that required passage of this Bill".
The letter, towards the end, mentions that the Tahaffuz-e-Bunyad-e-Islam Bill 2020 may also have a detrimental impact on the domestic industry, which may suffer as "such prohibitory legislation may end up encouraging citizens to get hold of online pirated versions of publications that they wish to read", thereby negatively affecting local publishers and distributors.
https://www.geo.tv/latest/301219-over-300-members-of-civil-society-pen-letter-protesting-punjabs-tahaffuz-e-bunyad-e-islam-bill-2020
--------
Trump says Beirut blast was the result of 'an attack' and 'bomb of some kind'
04 August 2020
US President Donald Trump said Tuesday that the Beirut explosions were the result of a "bomb of some kind," according to military generals he had spoken to.
Responding to a reporter's question at a White House briefing, Trump said the generals "would know better than I would," and that "they seem to think it was an attack." Trump added that "it was a bomb of some kind."
For all the latest headlines, follow our Google News channel online or via the app.
At the beginning of the White House briefing, Trump offered his condolences to the families of those who died or were wounded in Tuesday's blasts. The US president said it looked "like a terrible attack."
"This was not some kind of manufacturing explosion type of event," Trump said.
Multiple explosions rocked Beirut on Tuesday, killing at least 60 and wounding 3,000, Health Minister Hamad Hassan said. Prime Minister Hassan Diab later revealed that 2,750 tons of ammonium nitrate were stored in the warehouse that exploded in the Port of Beirut.
https://english.alarabiya.net/en/News/middle-east/2020/08/05/Trump-says-Beirut-blast-was-the-result-of-a-bomb-of-some-kind-.html
--------
ISIS Khorasan branch new leader is Pak-based Haqqani Network terrorist: Afghan minister
Aug 4, 2020
KABUL: Shahab Almahajir, the new leader of ISIS Khorasan branch, is a Pakistan-based Haqqani Network terrorist, said Afghanistan acting interior minister Masoud Andrabi.
Exposing links between Haqqani network and Taliban, Andrabi alleged that the two terror groups carry out terrorism on a daily basis across Afghanistan and when their terrorist activities do not suit them politically they rebrand it under ISKP.
"Shahab Almahajir, the newly appointed leader of the Islamic State of Khorasan Province-ISKP is a Haqqani member. Haqqani and the Taliban carry out their terrorism on a daily basis across Afghanistan and when their terrorist activities do not suit them politically they rebrand it under ISKP," he tweeted on Monday.
In May, former Afghan intelligence chief, Rahmatullah Nabil, has warned that Pakistan-based Haqqani Network is "backing" proscribed terror groups in planning a '9/11 style' attack in the West.
The Haqqani Network emerged in the 1980s and consists largely of fighters who grouped around Jalaluddin Haqqani after that period. The outfit today is led by Sirajuddin Haqqani and is rumoured to have between 10,000-15,000 terrorists.
The US has accused Pakistan of maintaining a strong working relationship with the Haqqani Network.
A UN report has estimated that 6,000-6,500 Pakistani terrorists are in neighbouring Afghanistan, posing a threat to both the countries, a UN report has said.
The 26th report of the Analytical Support and Sanctions Monitoring Team concerning ISIS, al-Qaida and associated individuals and entities said the terror group al-Qaida in the Indian Subcontinent (AQIS) operates under the Taliban umbrella from Nimruz, Helmand and Kandahar provinces of Afghanistan.
https://timesofindia.indiatimes.com/world/south-asia/isis-khorasan-branch-new-leader-is-pak-based-haqqani-network-terrorist-afghan-minister/articleshow/77349098.cms
--------
Malay Cops Say Investigating Man for Allegedly Insulting Muslims On YouTube
05 Aug 2020
KUALA LUMPUR, Aug 5 ― The police are investigating a man under Section 3 (1) (a) of the Sedition Act for allegedly using insulting language and touching on the sensitivities of Muslims.
Bukit Aman CID deputy director (Investigation and Legal) DCP Datuk Mior Faridalathrash Wahid said the man believed to be a local was being investigated due to his tendency to incite hatred and insult others.
"However, so far the police have not received any report regarding this case (and) it is believed that the man's speech was made abroad," he told Bernama yesterday.
Yesterday, an 11 minute 37 second-long video was recently uploaded on YouTube showing a man standing and acting indecently in front of a group of Muslims who were performing prayers.
The man is believed to have also uttered insulting words against Islam, independent speaker Dr Zakir Naik and the Rulers in Malaysia.
The video concerned has garnered over 5000 views since it was uploaded three days ago, and received criticism from netizens who hoped that action would be taken against the perpetrator. ― Bernama
https://www.malaymail.com/news/malaysia/2020/08/05/cops-say-investigating-man-for-allegedly-insulting-muslims-on-youtube/1891079
--------
Zainab Abbasi case shines spotlight on police brutality in UK
04 August 2020
The footage is raw and deeply disturbing in equal measure: a panicked father waiting on her daughter's bedside at hospital only to be brutally dragged away by ultra-violent police.
Bodycam footage shows Dr Rashid Abbasi being dragged away by Northumbria Police officers as his critically ill six-year old daughter, Zainab, clings to dear life thanks to a ventilator.
The background to the story is that Zainab, who suffered from the rare genetic illness Niemann-Pick disease, was about to have her life snuffed out as her doctors had just informed her father, and mother Aliya, that they had decided to switch off her life-support machine.
In an ironic twist, Dr Abbasi is himself a National Health Service (NHS) chest consultant with thirty years service behind him.
Justifying his decision to resist the forceful police officers, Dr Abbasi said he could not contemplate leaving his daughter's side voluntarily.
In an interview with BBC Radio 4's Today Program (August 03), Dr Abbasi said: "I would not leave my daughters' bedside voluntarily just to talk to them [the police] because I knew if I stepped out they would not let me back in and they might use that opportunity to if I am away from her to remove the tube".
In another interview with Sky News the Abbassis described the August 2019 incident as a "living nightmare".
"To be honest, we cannot explain what a nightmare this became ... When my husband was being detained I was telling them he has a heart problem, he's had a problem for over 20 years.
"I actually thought he was going to die, at one point I said to the nurses am I going to be organizing two funerals?", Aliya told Sky News.
Following the brutal incident, the NHS trust applied to the High Court for permission to take Zainab off the ventilator, but in mid-September 2019, just three days before the hearing was due to start, she tragically died.
The Abbassis are now taking legal action against Northumbria Police.
The shocking incident is set to further diminish public confidence in British policing, not least because of the ethnic minority background and Muslim faith of the Abbassis.
https://www.presstv.com/Detail/2020/08/04/631086/UK-Police-Brutality-Hospital-Abbassi-Family
--------
India
How the Ugly Spectre Of Turkish Imperialism Fans Islamophobia In Kerala
04 Aug 2020
The opening of the Hagia Sophia in Istanbul for Muslim prayers by the Erdogan regime has been compared in certain circles to the Ayodhya issue in India. Interestingly, in the Indian state of Kerala with sizeable Christian and Muslim populations, the event has found an echo, mostly through social media outlets, since the religious institutions have thankfully been reduced to skeletal capacities by the pandemic.
In an online portal, an article sans a byline appeared saying that those who supported the Erdogan regime, were "digging their own graves". This went viral in politically correct networks. The article was purportedly written in response to another one written by a Thangal scion in the Indian Union Muslim League mouthpiece Chandrika supporting the Turkish move. But hardly anyone in their righteousness demurred about the "digging their own graves" remark and its invoking of the Rohingya exodus, the Srebreniça massacre and other tragedies across national and communal boundaries, with the underlying implication that any sort of assertion by Muslims, exemplified in the Turkish action, will inevitably be met with genocidal violence. This perhaps is true, given the decimation of Muslim societies in West Asia and elsewhere, but the article hardly attempts to empathize with the victims of those events of violence. The events in Ayodhya are also inevitably invoked in inverted fashion. The absence of fraternal feeling with the victims is glaring, since the controversy is invoked in its minoritarian context.
The inverted analogies with Ayodhya are again being drawn on communal lines, tracing the genealogy of Islamicate sovereignty to Turkey, Erdogan himself being compared to Babur as well as the right wing in India. But the vulpine logic here, lies in casting the victims in the Indian context along with the perpetrators in the Turkish one. `Indian minorities are answerable for Hagia Sophia. Why? See, this is just what has happened to you over here, won't you ever learn your lesson?', seems to be the tone that is sought to be set.
The victims themselves are blamed just as the shame in a lynching incident still lies with the victim and caste operates as an event horizon that nullifies the humanity of the outcaste victim. A rigorous analysis of power relations at both ends, Turkey and India, would have produced a nuanced understanding of religiously-motivated violence. The victim-blaming culture doubly prosecutes the powerless, first for being the victim, and then for wallowing in their masochistic self-pity. Giorgio Agamben, whose attempted theorization of the pandemic has drawn much ire from liberal circles, postulates that the Roman imperial conception of the 'homo sacer' devoid of any sovereign rights is applicable to the present-day world of refugees and disenfranchised. Rather than solidarity with the aggrieved, the event has fanned phobia and hatred.
Even independent observers and analysts had their judgement clouded by the communal fault lines. Thus, the majoritarian fundamentalism in Turkey was strangely invoked in the context of the minorities in India and their aspirations for dignity.
What would have ended up as an internecine wrangle among Malayali journalists trying to be sleuths and CIDs, escalated when the Turkish ambassador to India shot off an epistle in response to an editorial carried by a national daily and written by its foreign affairs editor. In his rejoinder, the envoy sought to defend actions of the Erdogan regime by citing a legal precedent in India. This gave an impetus to communal rather than power analysis of both events. The othering of Muslims has been so comprehensive that any invocation of the community can solely be in pathological contexts, either as maudlin victims or in the role of aggressors, neither deserving empathy and understanding. The spectre of neo-caste functions as an ethereal ether that swallows up the marginalized from the mainstream. The Slovenian thinker Slavoj Žižek in his debate with Jordan Peterson reminds us that the pursuit of a marginal position can be counter-productive. The narrative of political correctness in contemporary India often drives Muslims and other minorities into such a liminal status where they enter into perpetual conflict with each other in a time warp.
While the EU, whose casting out of Turkey fuelled the rising religiosity in that country, has mostly been nonchalant in its response to the Turkish action, the Eastern churches and Oriental Christian communities perceive the injustice as an act of usurpation. Along with other regions in the Indian Ocean-belt, including Sri Lanka, Indonesia and parts of Africa, the glacial internecine antagonism among Abrahamic persuasions has gradually been rising in Kerala also. In a globalized world, the conflicts in the middle-east, attempted decimation of Christian and minority communities like the Yazidis by terrorist IS, Lebanese civil war, occupation of Palestine by Israeli and the ongoing policies of the Trump administration have all aided in the setting up of this template of unmitigated mutual antagonism of an apocalyptic nature.
Evangelical movements, institutions and media that often played a significant role in the social scenario in places including Kerala during the colonial era, have inevitably stereotyped Muslims. The despicable attack by Muslim fundamentalists on a college teacher for alleged blasphemy perhaps served as the last straw. Ecclesiastical epistles invoking medieval animosities and the threat of miscegenation have hardly been helpful to the cause of communal amity. The Syrian Christians of Kerala would perhaps be that rare Indic group which despite a Semitic affiliation, retain their 'caste' status. The subaltern sections of the minority populace on the other hand, especially along the ecologically sensitive coastal region, have been divided on sectarian grounds and thus nurse grievances of appeasement. The Muslims of Kerala, with tenuous links at best to the Turko-Persian-Arab Islam, have frequently in the past found themselves castigated in that very context, including the liquidation of the erstwhile Caliphate by Kemal Ataturka century ago.
Even as Kerala aspires to modern forms of commingled and cosmopolitan existence, internecine fights and 'organizational factionalism' have made the Muslim community seem to regress into atavistic forms of tribal affinities. The flimsy agency that a remittance economy offers, has given minorities in Kerala some purchase power in the socio-political arenas of the state. The resounding resonance with which events happening at the edge of Asia are felt in distant Kerala is a woeful reminder of the ephemeral nature of that agency. The flickering spark that flies in from Constantinople might be too feeble to have any real impact on the ground, but it is a tinderbox that awaits activation all the same.
Various online fora that have abetted the emergence of a post-truth regime worldwide have been detrimental to the cause of subaltern minorities. In a heavily mediatized society like that of Kerala, the new normal is easily accepted with hardly any demurral, thus letting vicious ideologies of hatred inveigle themselves into a dynamic edifice of sociability and shared communal living. This engenders among other things, rampant misogyny and the caricaturing of the underprivileged in memes and other viral online platforms.
https://www.milligazette.com/news/Opinions/33651-how-ugly-spectre-turkish-imperialism-fans-islamophobia-kerala/
--------
Retired Air Vice Marshal Kak: 'Annexation Of Kashmir Ruptures Hindu-Muslim Bond In Kashmir'
Cheena Kapoor
05.08.2020
A former Indian Air Force (IAF) officer, representing Kashmiri Pandit (Hindu) community Kapil Kak said that India's move to dissolve and annex the disputed region of Jammu and Kashmir last year on Aug. 5 has increased alienation, despair, and fear in the region.
"Kashmiris have now become more distant from the rest of the country as their hopes have shattered. This distrust has led to terror, "said the retired Air Vice Marshal Kak in an exclusive conversation with Anadolu Agency.
He is one of the many petitioners, who have moved the Indian Supreme Court challenging the abrogation of constitutional provisions and annexation of the region.
"Terror still operates and has encouraged militancy. Firing from the Pakistan side has increased too. Every human activity from education to agriculture has been deeply affected. Instead of improving, the situation has gone worse," he added.
Article 370 of the Indian constitution allowed Jammu and Kashmir some degree of autonomy in terms of having its constitution and empowered state assembly to make laws. It also provided a legal shield to protect the demographic character of the Muslim-majority region, as outsiders were not allowed to settle and buy properties.
Further, he said the physical distancing enforced by COVID-19 pandemic and the psychological distance created by the annexation, the Kashmiris have further moved away from the rest of India.
A decorated IAF pilot, who participated in in 1965 and 1971 war against Pakistan said, the last year Aug. 5 decision should not have been taken without the consent of 7 million people living in the region.
"Kashmir is an issue, which would have come to a resolution with the involvement of the Kashmiris and bilateral talks, "he said.
He points out at the agreements and declarations signed between India and Pakistan on various occasions including 1972, 1999, and 2004, mention that the Kashmir issue needs to be resolved by both the countries.
"This has not been a wise decision on the part of the Indian government to resolve the issue on its own. Instead of resolving, they have made it more complex," said the former deputy IAF chief.
Return of Kashmiri Pandits
Kakis among the few Kashmiri Pandits (Hindus), who have not let the trauma of their exodus from Kashmir Valley in 1990 to affect the rationale. In 1989-90, when militancy started in Kashmir, many Kashmiri Pandits left their homes to settle a 300-kilometer (186 miles) away in the plains of the Hindu majority region of Jammu.
"Kashmiri Pandits' exodus was the most painful. There was never a clash between the two communities since the 7th century when Islam came in the region. Despite the 1990 exodus, there was a bond. But last year's desperate developments that took place have created an atmosphere of fear. The bond and togetherness between Kashmiri Pandits and Muslims are virtually wiped out," he said.
On the return of Pandits (Kashmiri Hindus) to their homes in Kashmir, Kak said that it has been hurting to be a part of the community that has been deprived of its cultural moorings.
But returning to Kashmir Valley and co-existing is problematic now since the revocation of special status was not for the return of the Kashmiri Pandits to Kashmir.
"Most of the Pandits who left Kashmir were openly accepted by other state governments and were given reservations and quotas in government sectors, which led them to take-up majoritarian views. If they now want to return, they should not do so with pulses of majoritarian forces, which will lead to further distance with Muslims and a tense atmosphere," said Kak.
https://www.aa.com.tr/en/asia-pacific/-annexation-of-kashmir-ruptures-hindu-muslim-bond-in-kashmir-/1931982
--------
For generations, this Muslim family in Ayodhya making 'Khadaus' for Hindu saints
Aug 05, 2020
A Muslim family-based in Ayodhya has been making 'Khadaus' (wooden footwear) for Hindu saints for several generations that is also its primary source of income.
Mohd. Azam said he is the fifth generation in his family who is carrying forward the making khadaus.
"I make Khadaus, which are used by Hindu saints, for a living. These are also worshipped by many people. I am the fifth generation in my family who is making this, and carrying forward the tradition which was started by my ancestors," he told ANI.
Khadau possesses a great significance in the Hindu religion, in particular. In the epic mythology Ramayana, Bharat, Lord Ram's younger brother, placed 'Khadaus' of Rama on the throne as a symbol of the latter's authority over the kingdom. It is thus an object of worship for many, even today.
Azam, who is working with seven others to make these Khadaus, expects a rise in its sales after the construction of Ram Temple in the holy city.
"As the Ram Temple is getting constructed, many people will come to Ayodhya and I expect more sales of Khadaus, which will improve our condition and livelihood," he said.
Ruling out any communal disharmony, Azam added, "Hindus and Muslims are not viewed differently here. We all work together and celebrate each other's festivals. I have co-workers who are Hindus, and we all live peacefully."
https://www.hindustantimes.com/india-news/for-generations-this-muslim-family-in-ayodhya-making-khadaus-for-hindu-saints/story-oODBygeY8NHoVR1nONgH2L.html
--------
Kerala physician among 3 Indian Islamic State operatives killed in Afghanistan prison attack
Aug 05, 2020
Islamic State operative from Kerala - Dr Ijas Kallukettiya Purayil, included in the National Investigation Agency's (NIA) "most wanted" list - was among three Indian-origin members of the terror group killed in a suicide attack in Afghanistan over the weekend.
According to information and images released by the media arm of Islamic State's Khorasan unit (ISKP) on Tuesday, Purayil alias Ijas, was among 11 terrorists who attempted to storm a prison at Jalalabad in Nangarhar province where IS prisoners were being held. Ijas was the only Indian attacker whose face was visible in photos released by IS, while the other two Indians were masked.
People familiar with the developments said on condition of anonymity it was believed all three Indian terrorists were from Kerala, from where a sizeable number of men and women had travelled to Afghanistan to join the Islamic State in 2016. Ijas was part of 22-member Kasargod module led by Abdul Rashid Abdulla.
Ijas, seen in a photo standing before the black IS flag and holding an assault rifle, was a physician from Kasargod district in Kerala. According to the NIA's website, his status is listed as "absconding".
A charge sheet filed by NIA in 2016 states Ijas was wanted in connection with a case registered in 2016 on charges of criminal conspiracy, commission of unlawful activities, and membership and support to the banned IS. Ijas, his wife Reffeala and their minor child left India via Hyderabad airport in June 2016 to join ISKP in Afghanistan's Nangarhar province.
Reffeala is currently in a jail in Kabul's Badam Bagh prison along with her five year old son who they took with them in 2016 and an infant born in Afghanistan. She was caught along with 24 other Indians among nearly 900 Islamic State fighters in November 2019. Indian intelligence agencies had even questioned her. A NIA team was supposed to go to Kabul to questioned Indians captured there including Reffeala but the trip was delayed in the wake of cancellation of international flights. The agency is now exploring if it can use a special flight to go to Kabul.
NIA officials who didn't wish to be named said that they also have received report of Ijas's death but a DNA test can only provide a confirmation.
The attack on the prison in Jalalabad ended on Monday with the killing of all the attackers by Afghan security forces. Afghan officials said a total of 29 people were killed and 50 others injured.
The Afghan defence ministry said in a statement that the attackers and two security personnel were among the dead. It added that five prisoners were killed by the attackers and 1,025 prisoners were rescued.
ISKP's media arm released a 20-minute audio message in which the group's spokesman Sultan Aziz Azzam provided details of the attack. This was one of the rare occasions when ISKP has made a detailed claim for an attack.
Azzam said the attack was carried out by 11 IS members - four Tajiks, three Indians, three Afghans and a Pakistani, who were divided into four groups. The assault was in keeping with a promise by new ISKP chief Shahab al-Muhajir to release the group's prisoners. A suicide bomber detonated an explosives-laden vehicle at the gate of the prison while others entered the jail and freed hundreds of prisoners, Azzam claimed.
Earlier this year, NIA had registered its first case related to an attack on foreign soil following the IS attack on a Gurudwara in Kabul in March. ISKP member Mohammed Sajid Kuthurimmal, who also belongs to Kerala, was allegedly involved in this attack that killed nearly 30 people.
https://www.hindustantimes.com/india-news/kerala-physician-among-3-indians-is-operatives-killed-in-afghanistan-prison-attack/story-mVJIpIGY6SAWXIiTAXWaKN.html
--------
Ram Mandir Bhoomi Pujan: Sena carries out Babri Mosque demolition ad; praises Balasaheb
August 5, 2020
Ahead of the foundation laying ceremony of Ram Temple in Ayodhya, Shiv Sena mouthpiece Saamana newspaper on Wednesday carried out an advertisement depicting the demolition of Babri Masjid.
The advertisement, given by Shiv Sena party secretary, Milind Narvekar, says, "I am proud of the man who did this," below the picture of the Babri Masjid demolition.
The ad also has a picture of Bal Thackeray, the founder of Shiv Sena party.
The party has also carried out articles praising Balasaheb Thackeray for paving the way for Ram Mandir construction. The Shiv Sena has contributed Rs 1 crore for the Ram Temple construction.
However, the Shiv Sena Chief has not been invited for today's Bhoomi Poojan. Chandrakant Khaire, a four-time ex-MP from Aurangabad and top Sena leader, recently said he was in Ayodhya when the masjid dome was brought down and recalled he had touched the Ram idol installed inside soon after.
Another Sena leader SuryaKant Mahadik said he took part in the kar seva after the dome was demolished.
The Ram Mandir movement is a decade-old issue and took the centre stage when veteran BJP leader LK Advani took out a rath yatra at Ramjanmabhoomi where Babri mosque stood in the 1990s. On December 6, 1992, the mosque was demolished by activists who believed it was built on the ruins of a temple that marked the spot where Lord Ram was born.
The Supreme Court last year gave the site to Hindus, ending a decades-old legal battle. The court gave Muslim parties an alternative 5-acre plot.
https://www.businesstoday.in/current/economy-politics/ram-mandir-bhoomi-pujan-sena-carries-out-babri-mosque-demolition-ad-praises-balasaheb/story/412049.html
--------
Hyderabad: Darsgah Jihad o Shahadat workers protest against Ram temple
Aug 5, 2020
HYDERABAD: Taking strong exception to the Ram Temple bhoomi pujan in Ayodhya on Wednesday, Muslims in the Old City on Tuesday protested and vowed to continue their efforts for the reconstruction of Babri Masjid at the same place.
Darsgah Jihad o Shahadat (DJS) activists staged a protest at Moghalpura and asked the central government to stop moves to build a mandir at the Babri Masjid site.
"The temple is being forcibly built at the Babri Masjid site which is unacceptable to Indian Muslims. The mosque and its land belongs to Almighty Lord and one can't hand it over to anyone. Neither the site can be changed nor can anyone carry out any sale or purchase of the property," DJS president Abdul Majid said.
"Muslims should continue with all possible efforts to rebuild Babri Masjid. Muslims should come forward by casting out fear and build the mosque at the same place. If we give up our struggle or efforts, Muslims will accountable on the Day of Judgement," DJS president Abdul Majid added.
https://timesofindia.indiatimes.com/city/hyderabad/hyderabad-darsgah-jihad-o-shahadat-workers-protest-against-ram-temple/articleshow/77364649.cms
--------
Ahead of Bhumi Pujan, All India Muslim Personal Law board questions Supreme Court verdict
5 August 2020
Hours leading up to the foundation stone laying ceremony for the long awaited Ram temple in Ayodhya, the All Iindia Muslim personal Law Board (AIMPLB) questioned the top court verdict in Ayodhya case. Taking to Twitter, the AIMPLB told its followers that there is "no need to be heartbroken".
"#BabriMasjid was and will always be a Masjid. #HagiaSophia is a great example for us. Usurpation of the land by an unjust, oppressive, shameful and majority appeasing judgment can't change it's status. No need to be heartbroken. Situations don't last forever," the AIMPLB tweeted.
The tweet also had a press statement attached to it.
The AIMPLB was one of the petitioners who had filed a review petition against the Supreme Court verdict in the Ayodhya case last year. The court had also ordered the Indian government to allot a five acre plot of land in order to construct a mosque.
AIMPlA had stated that it will not accept the five acre land. Another Muslim body, the Jamiat Ulama-i-Hind had said that they object to the unanimous decision passed by the Supreme Court.
The AIMPLB was not a party to the case but had engaged in three litigants - Mohammad Umar Khalid, a resident of Ayodhya town; Misbahuddin, a resident of Ayodhya district and Mehfusur Rehman, a resident of Tanda town - to file the review petition.
However, all three review petitions were set aside by the Supreme Court.
The 136-year-old Ayodhya dispute escalated the communal tension on 16th December, 1992 when a mob scaled the Babri Masjid and razed it, stimulating series of violence that claimed at least 2,000 lives across India. Many Hindus believe the site was the birthplace of Lord Ram, and the 16th-century mosque was built after pulling down a temple.
The Allahabad high court in 2010 ordered the land be shared out equally to the Nirmohi Akhara, Ram Lalla and the Sunni Central Waqf Board. However, the Superme Court bench, led by former Chief Justice of India Ranjan Gogoi, with one mind quashed the high court ruling and gave title of the land to Ram Lalla.
http://www.catchnews.com/national-news/ahead-of-bhumi-pujan-all-india-muslim-personal-law-board-questions-supreme-court-verdict-197262.html
--------
More Muslim candidates crack civil service exam
05th August 2020
NEW DELHI: The number of Muslim candidates clearing the prestigious UPSC examination has increased to 40 from 28 last year. Other five religious minorities have also done better than last year, sources in the Union ministry of minority affairs said on Tuesday.
BJP leader and member of Central Wakf Council Haneef Ali, however, said 187 candidates from minority communities cleared the exam. Safna Nazarudeen, who secured 45th rank, topped among Muslim candidates and is the only one from the community among the top 100.
In terms of percentage, Muslim candidates fared slightly better. Last year, Muslims constituted almost 4% of the total successful candidates. This year, it is about 5%. Muslim candidates have been doing well in the prestigious exams since 2016. Prior to that, Muslim candidates were only 2.5% of the total successful candidates. Muslim candidates broke all previous records in 2016 when 50 of them cleared the UPSC, with 10 making it to the top 100. In the 2017 batch, too, 50 Muslims were selected through the exam.
https://www.newindianexpress.com/nation/2020/aug/05/more-muslim-candidates-crack-civil-service-exam-2179239.html
--------
30 students from Jamia Millia Islamia coaching selected in UPSC's Civil Services 2019
04 Aug 2020
30 candidates who received coaching and training in the Residential Coaching Academy (RCA) of Jamia Millia Islamia (JMI) have been selected in UPSC'S Civil Services Exam 2019. 25 of them were residing in RCA and 05 were trained at the mock interview programme of the centre. This is the biggest selected group in the country from any public coaching centre.
Out of 30 selected candidates 06 are expected to get IAS, 08 are likely to get IPS and remaining candidates will get IRS, Audit & Account Service, IRTS and other allied services of Group-A as per their ranking and choices.
Ruchi Bindal who secured 39th rank is the best performer from the RCA this year. Six out of the 30 selected candidates are girls.
Ruchi Bindal (39)
Zaib Zakir Shaikh (153)
Non Jay Ali Akram (188)
Farman Ahmad (258)
Kevin Thomas Skaria (259)
Mohd Shafiq (292)
Sufiyan Ahmad (303)
Nadia Beig (350)
Garima Dahiya (459)
Mohammad Nadeemuddin (461)
Md Qamaruddin Khan (511)
Rajendra Chaudhary (554)
Mohammad Aaquib (579)
Sabzar Ahmad Ganie (628)
Ramesh (646)
Arvind Meena (676)
Stenzin Wengayal (717)
Dhiman Chakma (722)
K Prathima (757)
Parveen Nayak (796)
Yshwant Meena (797)
Md Shabbir Alam (P)
Saifullah (P)
Azhruddin Qazi (P)
Nawas sarfuddin (P)
Below 5 attended only mock interview:
Asif Yousuf Tantray (328)
Ankit Kumar Chouksey (500)
Apurwa Kumar Singh (664)
Vineet Kumar (750)
Ruheena Tufail Khan (P)
Prof. Najma Akhtar, Vice Chancellor, JMI said that the consistently high performance of RCA, JMI trained students in Civil Services Examinations year after year is a matter of great pride and satisfaction for the university. We expect better results in the coming years.
Prof. Akhtar is personally monitoring, guiding, and providing all support to RCA to work for excellence. She has congratulated all the students and their family for their success and has also praised the works and dedication of Hony. Director of RCA Mr. Tanveer Zafar Ali ,IAS (Retd.) and Deputy Director Mr. Mohammad Tarique.
Mr. Tanveer Zafar Ali (IAS Retd.), Hony. Director, RCA,JMI said,"Proud of the performance of our students. Many of them have overcome tough socio-economic challenges and proven their mettle."
Last year Junaid Ahmad,3rd rank holder in UPSC Civil Services Exam was the star performer from the RCA, JMI.
Since, 2010-11 till 2019 RCA has produced 230 Civil Servants including many in IAS,IFS and IPS. Besides, more than 285 students have also been selected in various other central and state services i.e., CAPF,IB, RBI (GradeB), APF, Bank PO and PCS etc. This year 14 students of RCA have already joined J&K PCS, 24 students have qualified for UPPSC interview, and 15 students have qualified for interview in BPSC.
RCA was established in 2010 by the UGC under the aegis of Centre for Coaching and Career Planning (CC&CP), JMI to provide free coaching, and residential facilities to the students of SC, ST, Women, and Minorities for civil services and other competitive examinations. Students are selected for comprehensive coaching on the basis of an All India written test followed by individual interviews.
RCA provides a well structured multifaceted coaching & personality development programme. This involves guidance at various stages of the examinations i.e. Prelims., Main and Interview with over 500 hours of classes, Special Lectures of eminent scholars and senior civil servants, Group Discussions, Test Series and Mock-Interviews. Besides, the Academy also provides 24x7 air-conditioned library facility and free wi-fi. The Academy provides safe and convenient hostel facilities. (PR/JMI)
https://www.milligazette.com/news/9-education-and-careers/30-students-from-jamia-millia-islamia-coaching-selected-in-upscs-civil-services-2019/
--------
Local terror recruits halved in 2019, lesser now: 15 Corps chief
Aug 5, 2020
NEW DELHI: With Jammu & Kashmir marking a year of revocation of Article 370, Lt Gen B S Raju, the General officer-in-command (GOC) of Srinagar-based 15 Corps, has said the situation in the valley is "stable but sensitive" amid infiltration attempts from Pakistan even as the prime goal of the security forces remains to maintain peace.
Talking exclusively to TOI ahead of the first anniversary of abrogation of Article 370 on August 5, the top Army officer said local terror recruitment has dwindled in the Valley but will remain a primary concern for the forces to handle.
"Recruitment of local youth in terrorist tanzeems (outfits) had reduced by nearly half between 2018 and 2019 and the numbers have plunged further in 2020," he said on the eve of first anniversary of reorganisation of Jammu and Kashmir.
More than 140 terrorists in the valley have been neutralised since August 5, 2019 last year.
"Good ground intelligence from awaam (public) to the Army enabled us to carry out such operations," he said.
Consequently, terror outfits have recorded a high rate of attrition since the leadership of nearly all such outfits has been eliminated, said Raju.
According to the Corps Commander, the past year was characterised by a renewed focus on ethical conduct and transparency in operations of the forces, keeping in line with the thrust on 'Awaam-Army' connect.
"The internal situation in Kashmir is stable but sensitive. Maintaining peace has been the prime goal of all the security forces, working in close synergy with each other. Also, the Awaam-Army connect has always been strong due to our ethical conduct and transparency in operations. It is an effort that has to continue" he said.
He admitted that infiltration from Pakistan continues to remain a regular affair on the Line of Control (LoC).
"With the onset of summers every year, Pakistan increases ceasefire violations and infiltration attempts. However, our strong counter infiltration grid is adequately structured and poised to defeat all such attempts."
The officer, who earlier had a stint in Uri where he commanded a brigade responsible for guarding the LoC, added, "We have successfully thwarted many attempts this year. The occasional spurt in civilian killings is indicative of the desperation of the terrorist controllers to be in action and they are resorting to hitting soft targets among Kashmiri population."
But he also warned that "Pakistani interference has stalled J&K economic and civil society activity for last three decades. If this issue of Pakistan interference is addressed then J&K will have opportunity to focus on the aspirations of the local people".
https://timesofindia.indiatimes.com/india/local-terror-recruits-halved-in-2019-lesser-now-15-corps-chief/articleshow/77366152.cms
--------
BJP sarpanch killed, two cops hurt in J&K twin terror attack
Aug 4, 2020
SRINAGAR: A BJP sarpanch was killed by terrorists in south Kashmir's Kulgam district late on Tuesday while two cops, including an SPO, were injured in a grenade attack in Pulwama district.
The sarpanch, identified as Arif Ahmad, was fired upon by terrorists near his residence in Kulgam's Akhran Qazigund area. He sustained bullet injuries in his neck and was shifted to a Qazigund hospital in a critical condition where he later succumbed, a police officer confirmed.
Meanwhile, in Pulwama district, terrorists lobbed a grenade at a police party near Wanpora area, injuring SPO Ishfaq Ahmad and head constable Khurshid Ahmad. The duo was rushed to a hospital with splinter injuries and is in a stable condition, a senior police officer said.
https://timesofindia.indiatimes.com/india/bjp-sarpanch-killed-two-cops-hurt-in-jk-twin-terror-attack/articleshow/77358201.cms
--------
J&K govt to throw open religious places from August 16
Aug 4, 2020
SRINAGAR: J&K government on Tuesday announced opening of all "religious places and places of worship", shut since March following the outbreak of Covid-19, in the Union Territory from August 16. Religious processions and large religious gatherings, however, will remain prohibited, government spokesman Rohit Kansal said.
Meanwhile, Srinagar district magistrate Shahid Iqbal Choudhary ordered lifting of curfew, which was imposed in the district late Monday night for 48 hours in the wake of spike in Covid-19 cases and apprehension of law and order situation on the eve of the first anniversary of nullification of Article 370. "The curfew was lifted before 48 hours since the situation remained incident-free on Tuesday," Choudhary said.
"Existing restrictions on public activities and movement put in place since August 1 in view of the Covid-19 situation in the district — where a sharp spike in cases has been witnessed in the last one month or so — will, however, remain in force," the DM said.
He stated that there shall be restrictions on public movement, including transport, and that commercial and other establishments shall remain closed.
timesofindia.indiatimes.com/india/jk-govt-to-throw-open-religious-places-from-august-16/articleshow/77358232.cms
--------
Arab world
Anti-US Protest Rallies in Syria End in Clashes with Kurdish Militants
Aug 04, 2020
Syria's official news agency (SANA) reported on Tuesday that residents of the village of al-Hawa'ej in the Eastern parts of Deir Ezzur held protest rallies against the US forces' deployment.
The protest rallies were held after a leader of al-Akidat tribe was killed by unknown assailants on Sunday.
The rallies led to clashes with the Kurdish militants and injuring of 3 villagers.
Also, on Monday night, residents of the village of Zabyan in Northern Deir Ezzur held anti-SDF (Syrian Democratic Forces) rallies. They blocked the road to prevent moves by the SDF militants.
Northeastern and Eastern Syria have been the scene of anti-US and anti-SDF rallies in the past two years.
In June, Syrians staged a protest in Northeastern Hasaka province to condemn the presence of the SDF, a US-backed anti-Damascus alliance of mainly Kurdish militants.
The demonstration took place near the town of al-Shaddadah, South of Hasaka.
The Arabic service of Russia's Sputnik news agency reported that the demonstrators were residents of "al-Bajdali, al-Hariri and Al-Hana al-Sharqiyah villages from the al-Muhasen/al-Jabbour tribe in the al-Shaddadi countryside".
The protesters tried to reach Shaddadi, but the Kurdish forces, known as Asayish, blocked their way, according to the report.
They were angry about the killing of a young man and the wounding of several others by the SDF militants.
The demonstrators also called for the withdrawal of the US forces from the area and the return of the Syrian army.
https://en.farsnews.ir/newstext.aspx?nn=13990514000806
--------
Two-week state of emergency declared in Beirut following explosions
05 August 2020
A renewable two-week state of emergency has been declared in Lebanon's capital Beirut following the deadly explosions at the city's port, authorities confirm.
At least 70 people were killed Tuesday and more than 3,000 wounded in multiple explosions that rocked Downtown Beirut, Lebanon's health minister said. US President Donald Trump said he had reason to believe that the blasts were an attack.
Buildings several kilometers away suffered material damage, the explosions were heard over 20 kilometers away from Beirut and residents in Cyprus said they felt the blasts.
https://english.alarabiya.net/en/News/middle-east/2020/08/05/Two-week-state-of-emergency-declared-in-Beirut-following-explosions.html
--------
Lebanese PM Diab calls on 'friendly countries' to help after Beirut explosions
05 August 2020
Lebanon's Prime Minister Hassan Diab Tuesday urged "friendly countries" to send help after two massive blasts flattened Beirut's port, killing dozens and wounding thousands.
"I am sending an urgent appeal to all countries that are friends and brothers and love Lebanon, to stand by its side and help us treat these deep wounds," he said in a televised address.
Lebanon's prime minister vowed Tuesday that those responsible for two massive blasts in Beirut's port, which killed at least 50 people and injured thousands, would be held to account.
"What happened today will not pass without accountability. Those responsible for this catastrophe will pay the price," Hassan Diab said in a televised address.
Diab also appealed for international assistance to help Lebanon, which is already mired in its worst economic crisis in decades.
"I am sending an urgent appeal to all countries that are friends and brothers and love Lebanon, to stand by its side and help us treat these deep wounds," the prime minister said.
https://english.alarabiya.net/en/News/middle-east/2020/08/05/Lebanese-PM-Diab-calls-on-friendly-countries-to-help-after-Beirut-explosions.html
--------
Hezbollah slams Beirut blast, urges unity to overcome 'national tragedy'
05 August 2020
The Lebanese Hezbollah resistance movement has called for unity to overcome what it describes as "national tragedy" following a deadly blast in Beirut.
In a statement released few hours after the massive explosion at Beirut Port on Tuesday, Hezbollah offered "deepest condolences over the national tragedy which took place in Lebanon in these hard times," and urged national unity among all the Lebanese.
"This grievous disaster, along with its unprecedented repercussions and damage it had caused on several levels, requires a national stand by all Lebanese people and powers in a bid to overcome this ordeal," the Lebanese resistance movement underlined.
The blast ripped through the Lebanese capital on Tuesday, leaving more than 100 people dead and nearly 4,000 others injured. Several smaller explosions were heard before the bigger one occurred.
Footage shared on social media captured the moment of the bigger explosion, with a colossal shock wave seen traveling fast across several hundreds of meters and shrouding the area in thick smoke.
The huge explosion inflicted enormous material damage to the surrounding buildings and structures.
Hezbollah also on Tuesday hailed medical and rescue teams over their efforts to help those harmed by the blast, expressing readiness to offer all kinds of assistance to Lebanese citizens in this regard.
"We put all capabilities to serve our honored people and dear citizens when necessary," the Lebanese resistance movement said.
Moreover, Hezbollah announced that a speech scheduled to be delivered by the movement's Secretary General Sayyed Hassan Nasrallah on Wednesday was adjourned to another date that will be revealed later, citing the national mourning which Lebanon is witnessing over the massive explosions.
Lebanese Prime Minister Hassan Diab announced three days of national mourning for the victims of the deadly blast in Lebanon, declaring a state of emergency across the country for two weeks.
Diab also vowed that those responsible for the massive blast in Beirut would be held to account, calling for international assistance to help the country, which is already beset by economic crises.
World offers support, condolences to Lebanon
Few hours after the massive blast took place in Beirut, condolences and offers of help poured in from most countries in the world following Diab's call for international assistance.
United Nations Secretary General Antonio Guterres expressed his "deepest condolences ... following the horrific explosions in Beirut" which he said had also injured some United Nations personnel.
Iranian Foreign Minister Mohammad Javad Zarif expressed the country's full readiness to render any necessary help.
In a post on his official Twitter account on Tuesday, Zarif said Iranians thoughts and prayers are with the "great and resilient people of Lebanon."
The top Iranian diplomat also called on the Lebanese people and government to "stay strong."
Syria's President Bashar al-Assad wrote to his Lebanese counterpart, Michel Aoun, that "on behalf of the Syrian Arab people, we extend our sincere condolences to you and the Lebanese people."
Russian President Vladimir Putin said that "Russia shares the grief of the Lebanese people," according to a Kremlin statement.
"I ask you to convey words of sympathy and support to the families and friends of the victims, as well as wishes for a speedy recovery to all affected."
French Foreign Minister Jean-Yves Le Drian said the country was "ready to provide assistance according to the needs expressed by the Lebanese authorities."
Britain's Prime Minister Boris Johnson voiced sorrow at the tragic incident and called the pictures and videos from Beirut "shocking."
"All of my thoughts and prayers are with those caught up in this terrible incident," he wrote on Twitter. "The UK is ready to provide support in any way we can, including to those British nationals affected."
US Secretary of State Mike Pompeo said in a tweet that, "We are monitoring and stand ready to assist the people of Lebanon as they recover from this horrible tragedy."
Canadian Prime Minister Justin Trudeau offered his country's assistance to the Lebanese and said, "We think of all those who were injured in this tragic explosion, as well as those who are trying to find a friend or family member or who have lost a loved one. We're ready to help you."
Persian Gulf countries were among the first to react, with Qatar promising to send field hospitals to support the medical response in Lebanon.
Qatar's ruler Emir Sheikh Tamim bin Hamad Al-Thani wished "a speedy recovery for the injured," while the United Arab Emirates' Vice President and ruler of Dubai, Sheikh Mohammed bin Rashid Al-Maktoum, tweeted "our condolences to our beloved people in Lebanon."
Kuwait said it would also send emergency medical aid to Lebanon.
Egypt expressed "deep concern" at the destruction, and Arab League chief Ahmed Aboulgheit offered condolences, stressing "the importance of finding the truth about the explosions."
https://www.presstv.com/Detail/2020/08/05/631107/Lebanese-Hezbollah-national-tragedy-deadly-blast-Beirut
--------
Beirut blast: Iran says ready to help Lebanon in any way necessary
04 August 2020
Immediately after a massive explosion rocked the Lebanese capital of Beirut, Iranian Foreign Minister Mohammad Javad Zarif has expressed the country's full readiness to render any necessary help.
In a post on his official Twitter account on Tuesday, Zarif said Iranians thoughts and prayers are with the "great and resilient people of Lebanon."
The top Iranian diplomat also called on the Lebanese people and government to "stay strong."
Our thoughts and prayers are with the great and resilient people of Lebanon.
As always, Iran is fully prepared to render assistance in any way necessary.
Stay strong, Lebanon.
🖤🇱🇧
— Javad Zarif (@JZarif) August 4, 2020
A warehouse at the Beirut Port caught fire on Tuesday afternoon, triggering a huge explosion, Lebanon's official National News Agency (NNA) reported.
Several smaller explosions were heard before the bigger one occurred.
Footage shared on social media captured the moment of the bigger explosion, with a colossal shock wave seen traveling fast across several hundreds of meters and shrouding the area in thick smoke.
The health ministry in Lebanon announced that the death toll from the massive explosion in Beirut stood at more than 70, and the number of injured was over 3,700.
Lebanese Prime Minister Hassan Diab vowed that those responsible for the massive blast in Beirut would be held to account, also calling for international assistance to help the country, which is already beset by economic crises.
Diab announced three days of national mourning for the victims of the deadly blast in Lebanon, also declaring a state of emergency across the country for two weeks.
Iran top security official condoles with Lebanon
Secretary of Iran's Supreme National Security Council (SNSC) Ali Shamkhani expressed heartfelt condolences to the people of Lebanon for the tragic incident, and said Tehran was ready to help Beirut by all means.
"I offer my heartfelt condolences to the president, the government and the people of Lebanon on the explosion in Beirut and the death and injury of a number of Lebanese people," Shamkhani said in a tweet in Persian.
"We share the great sorrow of Lebanon, and we stand by its proud and resilient people for any help and assistance," he added.
حادثه‌ انفجار در #بیروت و جان باختن و مجروح شدن تعدادی از مردم عزیز #لبنان را از صمیم قلب به رئیس جمهور، دولت و ملت لبنان تسلیت میگویم.
در غم بزرگ‌ لبنان عزیز، شریک هستیم و در کنار مردم سرافراز و مقاوم آن برای هرگونه کمک و مساعدت ایستاده‌ایم.
— علی شمخانی (@alishamkhani_ir) August 4, 2020
Lebanon's prime minister said a committee to investigate the Beirut Port disaster would be formed, and that the panel would prepare its report within five days.
https://www.presstv.com/Detail/2020/08/04/631099/Iran-Mohammad-Javad-Zarif-massive-explosion-Beirut
--------
Interactive maps reveal full extent of Hezbollah's global reach
August 4, 2020
A new interactive map of Hezbollah's activities has shown all the attacks, financing operations and plots by the terror group revealing for the first time its vast global reach.
Researchers, the police and the public will be able to view the group's activities across the world in a resource that includes information taken from declassified CIA and FBI files.
The document is the painstaking work of former FBI agent Dr Matthew Levitt who hopes will it will demonstrate the nature of Hezbollah to European countries that have yet to fully proscribe it as a terrorist organisation.
If the map proves successful it could also be used as a template to help the fight against other terror groups such as Al Qaeda and ISIS as well as international criminal gangs.
The 'Lebanese Hezbollah Select Worldwide Activity' is the first-ever publicly available, interactive map and timeline of Hezbollah-related activities and counter-terrorism action taken against it.
Dr Levitt said he committed to the project because during forums and seminars on Hezbollah he said there was always a lack of information.
"Discussion about Hezbollah's covert enterprises was rendered virtually impossible by the dearth of publicly available material on the group's covert activities," he said.
It is based on open source or recently declassified information and the map has been designed for a variety of users, from intelligence analysts to policymakers, and academics and students. It features photos, videos, intelligence documents as well as news articles.
The tool has three main categories: plots and attacks, finance and logistics and counter-terrorism actions.
All have further drop-down menus allowing easy research. For example, a user can click on Paris on the geographical map to see a list of numerous Hezbollah activity, from fund-raising and bomb plots, to drug activities and actual attacks.
"It shows all plots and attacks by Hezbollah and examples of new information or rare or underreported information," said Dr Levitt, of the Washington Institute.
For example, it gives the real names of European Hezbollah members who have been convicted of crimes from both Britain and France.
It also reveals a Hezbollah plot in 1990 to plan an attack on a Warsaw synagogue and airport, according to a CIA document, and Hezbollah surveillance of the Dutch-based Special Tribunal for Lebanon that is prosecuting terrorists for the 2005 assassination of Lebanese Prime Minister Rafik Hariri.
Other examples include a mass bomb arsenal found in Kuwait in 2015 and a bomb plot in Bolivia in 2017.
Juan Zarate, a former US deputy national security adviser, said the map was important in a world "where we are deluged with information".
"This is a phenomenal curation of information. It shows operations and activities of Hezbollah in parts of the world you would not have been aware of," he said.
"It clearly reflects Hezbollah is a global organisation, not just in the Levant, that it has links around the world and it demonstrates the scope of Hezbollah activity."
The map also suggests that both Belgium and France remain key hotspots for Hezbollah activity.
Kash Patel, President Donald Trump's deputy assistant on counterterrorism, told the webinar launching the map that it showed that "Hezbollah is the Iranian regime's most dangerous proxy" carrying plots and attack around the globe.
"Hezbollah is a terrorist group," he added. "We see no difference between its political and military wing."
Only last year Britain became the first major European country to designate all of Hezbollah a terrorist group.
https://www.thenational.ae/world/mena/interactive-maps-reveal-full-extent-of-hezbollah-s-global-reach-1.1058569?utm_source=iterable&utm_medium=email&utm_campaign=1412573_
--------
18 killed in clashes in northwestern Syria
August 03, 2020
BEIRUT/JERUSALEM: Clashes between opposition groups and pro-Assad fighters in northwestern Syria on Monday thwarted regime's advance and left 12 pro-regime men dead, a Britain-based war monitoring group said.
Another 17 pro-regime fighters were wounded while on the opposition-led side six fighters died, said the Syrian Observatory for Human Rights.
The forces loyal to Bashar Assad had launched an attack with artillery and heavy gunfire in Syria's last major opposition bastion, said the war monitor.
But the Hayat Tahrir Al-Sham (HTS) alliance, headed by ex-leaders of Syria's former Al-Qaeda affiliate, and their allies reportedly thwarted the advance.
Four HTS and two other opposition fighters were killed in the clashes in a rural area of Latakia province, the monitor said.
The HTS-led alliance also controls large areas of Idlib province and slivers of territory in neighboring Aleppo and Hama.
The region they hold is home to some 3 million people, nearly half of whom have been displaced from other parts of the country.
Syria's 9-year-old war has killed more than 380,000 people and displaced nearly half of the country's pre-war population.
The opposition-held area is a regular target of attacks by regime forces and their Russian and Iranian allies.
A Russian-backed regime offensive between December and March displaced nearly a million people in the region.
A Moscow-backed cease-fire agreement in March has reduced violence in the area, but shelling and airstrikes by the regime and its backers continue.
Russian airstrikes on the town of Binnish in Idlib province killed three people from the same family on Monday, according to the Observatory. An AFP photographer saw plumes of smoke rising from the site of the attack.
Golan Heights Activity
The Israeli military said it thwarted an infiltration attempt from Syria early on Monday staged by four suspected militants it accused of trying to plant explosives.
Lt. Col. Jonathan Conricus, a military spokesman, said Israeli troops earlier spotted "irregular" activity in the Golan Heights. Israeli troops opened fire on the suspected militants, some of whom were armed, after observing them placing the explosives on the ground, Conricus said.
There was no official confirmation that the four suspected attackers were killed but a grainy video released by the army shows four figures walking away from barbed wire marking the frontier. The four then disappear in a large explosion that engulfs the area.
The Israeli military has not said if the four are suspected of ties to Iran or Hezbollah, two Syrian allies. However, Conricus said Israel held the Syrian regime responsible for the incident.
Addressing Likud party lawmakers, Prime Minister Benjamin Netanyahu said on Monday that Israel "thwarted an attempted sabotage on the Syrian front" and would continue to "harm all those who try to harm us and all those who harm us."
The incident comes amid heightened tension on Israel's northern frontier following a recent Israeli airstrike that killed a Hezbollah fighter in Syria. Following the airstrike, the Israeli-controlled Golan Heights was hit by explosives fired from Syria and Israel responded by attacking Syrian military positions and beefing up its forces in the area.
Israel has been bracing for further retaliation and last week it said it thwarted an infiltration attempt from Lebanon by Hezbollah militants, setting off one of the heaviest exchanges of fire along the volatile Israel-Lebanon frontier since a 2006 war between the bitter enemies.
https://www.arabnews.com/node/1714266/middle-east
--------
Pakistan
PPP asks govt to start Islamabad temple construction
05 Aug 2020
ISLAMABAD: The Pakistan Peoples Party (PPP) has urged the government to immediately start construction of a temple in Islamabad "to give a befitting reply" to Indian Prime Minister Narendra Modi, who is scheduled to lay the foundation of a Hindu temple at the site of historic Babri mosque in Ayodhya on Wednesday (today).
The demand was made by PPP Senator Mustafa Nawaz Khokhar as official spokesman for party chairman Bilawal Bhutto-Zardari in a statement issued by the party's Media Office here on Tuesday.
"The federal government should take urgent steps to remove all hurdles in the way of the construction of the temple in Islamabad and inaugurate its work on Wednesday (today)," he said.
Mr Khokhar, who is also chairman of the Senate Functional Committee on Human Rights, said Pakistan should send a message to the world community that the people belonging to all religions enjoyed equal rights in the country.
Says move will be a response to Modi's act of opening Mandir at Babri mosque's site
"It is the demand of Jinnah's Pakistan that the religious rights of all the minorities should be protected in the country," he added.
Criticising the Indian prime minister's move to build Raam Temple in Ayodhya, the PPP senator said that by doing so Narendra Modi would "blacken the face of secular India".
The controversy over the construction of a Hindu temple in Islamabad's H-9/2 Sector surfaced two months ago when some religious parties and groups objected to the project, saying that the construction of a temple with the taxpayers' money in an Islamic state was against Islam.
Last month, the Islamabad High Court (IHC) had disposed of three identical petitions filed against the construction of the temple, observing that the construction of a place of worship required mandatory approval of the regulator i.e. Capital Development Authority. The IHC also dismissed objections to the allotment of the temple's plot.
The government allotted the plot measuring 3.89 kanals for the temple in January 2017. The plot was handed over to the Islamabad Hindu Panchayat in 2018.
The issue also came under discussion in the National Assembly and the Senate. Religious Affairs Minister Noorul Haq Qadri told the assembly that the construction on the temple site had been stopped following objections by certain religious scholars and the matter had been referred to the Council of Islamic Ideology to seek its opinion on the matter.
The minister had stated that the issue was not on the construction of the temple, but the question had been raised whether the government could spend money from the national exchequer or not.
The statement by Mr Khokhar was issued on the day when, according to the French news agency AFP, the flashpoint Indian town of Ayodhya geared up for a ceremony to be attended by Prime Minister Modi to lay the foundation of a Hindu temple on the ruins of the mosque that had been destroyed by a mob in 1992. The building of the temple in northern India, starting on Wednesday with a colourful rite, has been a long pledge of the Modi's Hindu nationalist Bharatiya Janata Party.
The Babri Masjid stood on the site for almost 500 years until it was demolished by Hindu zealots in 1992 that sparked riots across the country in which 2,000 people, mainly Muslims, died — some of independent India's worst sectarian violence.
In November, India's top court after a legal battle lasting decades had awarded the site to Hindus, giving Muslims another location to build a new mosque.
https://www.dawn.com/news/1572703/ppp-asks-govt-to-start-islamabad-temple-construction
--------
Pakistani Shia Muslims hold protest demand for end to enforced disappearance
August 5, 2020
AhlulBayt News Agency (ABNA): Pakistani Shia Muslims hold protest with demand for end to enforced disappearance of innocent members of their community.
They held protest demos while observing SOPs, after Eid prayers across the country.
Affected families and their supporters demand immediate release of illegally detained members of the community.
At least three Shia youth have become the latest victims of enforced disappearance ahead of Eid ul Adha.
Shia Muslims believe in rule of law
Meanwhile, Joint Action Committee for Shia Missing Persons said Pakistani Shia Muslims believe in rule of law while law of Pakistan recognizes freedom and other fundamental human rights of all Pakistanis.
Hence, Shia Muslims support rule of law and under that demand immediate release of missing Shia Muslims.
Shia Muslims have rejected this unlawful and unconstitutional policy of the security establishment.
Missing persons is also used as a term for victims of enforced disappearance which security agencies imposed upon them merely on suspicion.
But it shocked and dismayed Shia Muslim community because they never took weapons against the state besides they never did anything against national security.
Despite their patriotism and huge services for Pakistan, pro-Saudi biased officials treated them as though they violated national security.
Innocent Shia youth and notables have been suffering due to that biased mindset.
The affected families, Shia Islamic parties, scholar, notables and other community leaders have been running a joint campaign to seek justice.
Under that campaign, the families of Shia missing persons had staged sit-in outside Karachi residence of President of Pakistan Dr Arif Alvi, that enjoys official status of Presidential camp office.
They had held sit-in outside Multan residence of Foreign Minister Shah Mahmood Qureshi.
Besides, they have also held countless protest rallies and demonstrations across Pakistan.
Tens of thousands of supporters of the affected families of missing persons participated in their protests.
Missing persons in Pakistan is also used as a term for those subjected to enforced disappearance.
Elderly grandmothers, children, women, youths, all-age- group-people are protesting and the rest of the community and supporters are expressing solidarity with them.
https://en.abna24.com/news//pakistani-shia-muslims-hold-protest-demand-for-end-to-enforced-disappearance_1060351.html
--------
Pakistan court appoints three senior lawyers as amici curiae in Jadhav's case
Aug 4, 2020
ISLAMABAD: A top Pakistani court has named three senior lawyers as amici curiae in the case of Kulbhushan Jadhav as it ordered the Pakistan government to give "another chance" to India to appoint a counsel for the death-row prisoner.
Jadhav, the 50-year-old retired Indian Navy officer, was sentenced to death by a Pakistani military court on charges of espionage and terrorism in April 2017.
India approached the International Court of Justice against Pakistan for denial of consular access to Jadhav and challenging the death sentence.
The Hague-based ICJ ruled in July 2019 that Pakistan must undertake an "effective review and reconsideration" of the conviction and sentence of Jadhav and also to grant consular access to India without further delay.
A two-member bench of the Islamabad High Court (IHC) comprising Chief Justice Athar Minallah and Justice Miangul Hassan Aurangzeb appointed the three lawyers on Monday as it held a hearing of the petition filed by the Pakistan government to appoint a lawyer for Jadhav.
Amicus Curiae is a lawyer appointed by a court to assist in any matter or case.
The court also ordered a larger bench to be set up for the case. It also directed the registrar of the court to fix the proceedings at 2 pm on September 3 before a larger bench.
"We appoint Mr Abid Hassan Manto, Mr Hamid Khan, senior advocates of the Supreme Court and former presidents of the Supreme Court Bar Association, and Mr Makhdoom Ali Khan, senior advocate Supreme Court and former attorney general of Pakistan, as amici curiae for our legal assistance in general and, in particular, to ensure that the judgement of the International Court is effectively implemented," the court said in its order.
The Pakistan government in its petition has claimed that Jadhav refused to file a review petition or an application to reconsider the verdict against him by the military court.
"We feel that in order to ensure the effectiveness of the review and reconsideration of the conviction and sentence of Commander Jadhav, a reasonable opportunity ought to be extended to the latter and the Government of India to arrange legal representation and to file a petition.
"We, therefore, at this stage restrain ourselves from appointing a counsel on behalf of Commander Jadhav and advise the Government of Pakistan to extend an opportunity to Jadhav and the Government of India for arranging legal representation in terms of Article 32(1)(c) of the Convention and in accordance with the applicable laws," the court order said.
The court also asked the Pakistan government to communicate the order to the Indian government
Responding to the judge's remarks, Pakistan's attorney general Khalid Javed Khan said an ordinance was issued to give an opportunity to India and Jadhav to file a review petition against the sentence.
"We will contact India again through the Foreign Office," he said.
He told the court that Jadhav was being taken care of and was in good health.
On July 16, Pakistan provided consular access to Jadhav, but the Indian government said the access was "neither meaningful nor credible" and he appeared visibly under stress.
In New Delhi, External Affairs ministry spokesperson Anurag Srivastava last month said Pakistan has once again exposed its "farcical" approach by denying available legal remedies to Jadhav against his death sentence which is also in contravention of the ICJ verdict, and asserted that India will explore further options in the case.
Srivastava said Pakistan has blocked all the avenues for an effective remedy available to India in the case, while noting that New Delhi has so far requested consular access to Jadhav for 12 times over the past one year.
The MEA spokesperson said Pakistan is not only in violation of the judgment of ICJ, but also of its own ordinance.
https://timesofindia.indiatimes.com/world/pakistan/pakistan-court-appoints-three-senior-lawyers-as-amici-curiae-in-jadhavs-case/articleshow/77347171.cms
--------
Pakistan affirms claim to IHK with new map
05 Aug 2020
ISLAMABAD: The government on Tuesday unveiled a new political map of the country essentially asserting its longstanding position on Kashmir and Sir Creek disputes.
"It is a historic occasion. The political map reflects our national aspiration and supports our principled stance on Kashmir dispute," Prime Minister Imran Khan said while introducing the map. He was on the occasion accompanied by his foreign policy, national security and information ministry aides.
The map was launched after the approval by the federal cabinet. Foreign Minister Shah Mehmood Qureshi had earlier in the day briefed the legislators from opposition parties on the map during a meeting at the Foreign Office.
The new map was made public a day before Pakistan observes the first anniversary of annexation of occupied Kashmir.
India had annexed the held territory on Aug 5 last year by revoking articles 370 and 35A of its constitution, which had provided special status to occupied Kashmir and rights and privileges to Kashmiris.
The inauguration of the new map is, moreover, believed to be a response to India, which launched its own political map on Oct 31 last year after bifurcation of the disputed territory into so-called Union Territories of Jammu and Kashmir and that of Ladakh. India had through its map claimed the entire disputed area, including Azad Kashmir and Gilgit-Baltistan, as part of its territory.
The Indian map was on that occasion rejected by China, Pakistan and Nepal.
PM Khan hailed the new map as the "first step" towards resolution of the nearly 73-year-old dispute. He, however, emphasised that Pakistan believed in a political solution to the dispute. He said the map rejected India's illegal action of annexing held Kashmir.
Foreign Minister Qureshi, on this occasion, gave a presentation on the features of the new political map. He said the map clearly showed the disputed area, whose status Pakistan wanted to be decided in accordance with the UN resolutions and aspirations of the people of held Kashmir.
"It is first time that the aspirations of Pakistani nation and our stated position on the dispute are being given with such clarity," he maintained.
Special Assistant to the Prime Minister on National Security Moeed Yusuf, while talking to Dawn later, said the map asserted Pakistan's claim on the territory, but had in no way suggested that the region was part of Pakistan. "We have just said that the dispute has to be resolved in accordance with UN resolutions," he added.
Entire Gilgit-Baltistan and Kashmir had been given in the same green colour to show that it's one territory, Mr Yusuf said, adding that the map also showed the changed nomenclature.
The government has changed the description of occupied region from Indian Occupied Jammu and Kashmir to Indian Illegally Occupied Jammu and Kashmir. It has been further clearly stated on the map that the region is disputed territory, whose "final status is to be decided in line with relevant UNSC resolutions".
Mr Yusuf said the international boundary on the eastern side had been extended up to the undefined frontier to demarcate Indian territory of Himchal Pardesh from the disputed part of Jammu and Kashmir.
'Frontier Undefined' is another description that has been added to the map.
Mr Yusuf said it annotated that it would be defined after the Kashmir dispute was settled.
The claim on Junagadh and Manavadar too has been underscored. Moreover, an administrative boundary separating AJK and GB has also been inserted in the map.
Foreign Minister Qureshi at the ceremony held to inaugurate the map said the Line of Control had been extended and connected with the Chinese border. "This makes it clear that Siachen is ours," he maintained.
An official, meanwhile, explained that the new map represented the position on Sir Creek, according to Sindh government's agreement with the State of Kutch in 1914, demarcating the boundary on the Eastern Bank of Sir Creek.
Mr Qureshi said it negated Indian position with regards to Sir Creek. "India was cleverly trying to occupy hundreds of kilometers of our Exclusive Economic Zone," he added.
The new map furthermore shows erstwhile Fata as part of Khyber Pakhtunkhwa province. Fata was merged with KP in May 2018 after 25th Amendment to the Constitution.
Indian reaction
Indian Ministry of External Affairs rejected the map as an "exercise in political absurdity, laying untenable claims to territories in the Indian State of Gujarat and our Union Territories of Jammu & Kashmir and of Ladakh".
A statement issued from New Delhi said: "These ridiculous assertions have neither legal validity nor international credibility."
FO response
The Foreign Office categorically rejected the statement made by the Indian external affairs ministry on Pakistan's political map. "Through sophistry and obfuscation, India cannot create a smokescreen for its illegal and unacceptable actions in Indian occupied Jammu & Kashmir, including those taken since Aug 5, 2019. It is preposterous for a country that is compulsively expansionist, and a brazen practitioner of state-terrorism, to level charges against others," the FO spokesperson said in a statement.
It said India had been in illegal occupation of parts of Jammu & Kashmir since 1947 and had continuously violated UN Security Council resolutions for decades. Despite its brutal suppression of Kashmiris for over 72 years, India had been unable to force them into submission, it added.
"Pakistan's position remains clear and unambiguous. The solution of the Jammu and Kashmir dispute lies in the realisation of the Kashmiris' inalienable right to self-determination thr­ough a free and impartial plebiscite un­­der the auspices of the United Nat­ions. The government, leadership and people of Pakistan remain firmly committed to the solution of the Jammu & Kashmir dispute in accordance with the relevant UN Security Council resolutions and the wishes of the Kashmiri people. The political map issued by Pakistan emphatically reaffirms this abiding commitment," the FO said.
https://www.dawn.com/news/1572694/pakistan-affirms-claim-to-ihk-with-new-map
--------
PTI's social media guru to head govt digital wing
Ramsha Jahangir
05 Aug 2020
KARACHI: After assessing 500 applications received for the digital media wing, the government has appointed the former social media head of the Pakistan Tehreek-i-Insaf (PTI), Imran Ghazali, to lead the newly established unit in the information ministry.
According to an Establishment Division notification dated Aug 3, Mr Ghazali has been hired as the general manager of the wing at the Management Pay-II (MP-II) pay scale.
In addition, the ministry has also notified five other appointments with immediate effect, including four digital communication officers, Shahbaz Khan, Usman bin Zaheer, Naeem Ahmed Yasin, and Syeda Dhanak Hashmi at the MP-III scale. Mohammad Muzamil Hassan has been hired for the role of digital media consultant at MP-III scale.
According to the Ministry of Information and Broadcas­ting, the Digital Media Wing (DMW) is a newly established unit at the ministry and was approved by the cabinet earlier this year.
The cabinet had initially approved a supplementary grant of Rs42.791 million during the previous financial year for creation of the digital media wing.
However, according to the Establishment Division notification, individuals will be paid as per their MP scale. The pay scale for the top position (MP-II) is expected to be almost Rs300,000 with Rs150,000 being the basic pay.
Those on other positions would be paid Rs75,000 a month.
The DMW, said the information ministry, will be responsible for curating the digital content for official social media assets of the government. It will also organise and verify social media accounts of all federal government ministries and build their presence online.
As per the advertisements published in newspapers in March, the 23-member digital media wing will comprise a general manager, a digital media consultant, five digital communication officers, three video editors, two videographers, one photographer, four graphic designers, five content writers and one digital feed manager.
The candidates for the remaining posts had been shortlisted, the ministry said.
According to the information ministry, the recruitments in the digital media wing were made by a special selection board after it conducted interviews. It added that a summary of the selected individuals was approved by the prime minister on July 20.
Who are the selected members?
Prime Minister Imran Khan's focal person on Digital Media, Dr Arslan Khalid, denied media reports that suggested that all six individuals selected were former members of the PTI's social media wing.
He said these were "not true" and that all the successful candidates were top names from the digital media industry.
"Apart from Imran Ghazali, who worked with PTI SMT [social media team] till 2016, none has any linkage to the PTI," he said.
According to the profiles of the DMW members shared with Dawn, the DMW head, Ghazali, has over 14 years of experience in the digital industry. Besides leading the PTI's election campaign in the past, he has worked for Alif Ailaan and World Bank.
Muzamil Hasan, who has been selected as the digital media consultant, is a content creator and the founder of Lolz Studios, an infotainment channel on YouTube.
COO of the same Lolz Studios Network, Shahbaz Khan, has been assigned the role of digital communication officer. According to the details, Shahbaz has been a social media content specialist for the past decade.
Among the other digital communication officers, is a content producer Usman bin Zaheer, who has previously worked for Geo Entertainment Network from 2011 to 2018.
Digital communication officer Naeem Ahmed has worked for news channels, including 24 News, Duniya News, Geo News and Bol News.
The fourth officer is Dhanak Hashmi, who has previously worked as director research and development at the Centre for Global and Strategic Studies (CGSS).
The ministry said a total of 76 applications were received for the position of 'general manager', whereas 67 for the 'digital media consultant' vacancy. All in all, some 461 people applied to the jobs across seven MP scales, it added.
https://www.dawn.com/news/1572692/ptis-social-media-guru-to-head-govt-digital-wing
--------
Opposition questions PM's absence from 'briefing' on Kashmir
Amir Wasim
05 Aug 2020
ISLAMABAD: The opposition members who participated in the national consultation on the Kashmir situation at the Foreign Office here on Tuesday, although welcomed the government's initiative to invite them to a briefing, raised objection over the absence of Prime Minister Imran Khan from such an important event.
Talking to Dawn after attending the meeting, the opposition members also challenged the government's claim that it was an "all parties conference" on the Kashmir situation, saying it was a simple "briefing session" in which the government only informed them about the special events being organised by it on Wednesday (today) to mark the first anniversary of the illegal annexation of Occupied Kashmir by India through a controversial constitutional amendment on August 5 last year.
"This was clearly not an APC. This was simply a briefing," said parliamentary leader of the Pakistan Peoples Party (PPP) in the Senate Sherry Rehman while talking to Dawn.
Ms Rehman said that in the meeting she forcefully raised the issue of prime minister's absence. She regretted that the prime minister had been missing since last August and he did not have time to attend the meeting that had been called by the government itself to discuss an important national issue on the eve of August 5.
Also objects to government's claim that it was an all-party conference
"Is Kashmir not an important enough issue for the prime minister?" she asked, while criticising Mr Khan for not taking the opposition into confidence on key national issues.
"If you wanted to send a powerful message on Kashmir, the government should have called a proper meeting inviting entire leadership of Pakistan (and) agreeing on a joint resolution for presentation in the parliament or here," she said.
The PPP senator said she had told the government that "whatever differences we have, our leadership would have been here today" if the prime minister had taken this initiative.
Ms Rehman recalled that the country had a history of prime ministers convening all-party conferences on important national issues, including Kashmir, which were participated by the opposition parties despite having bitter differences with the government.
Sources said during the briefing the opposition members also raised questions over the government's move to issue a new political map of the country showing the occupied valley as a part of Pakistan.
The sources said that Foreign Minister Shah Mehmood Qureshi presided over the meeting and gave a briefing on the government's policy on Kashmir. National Security Adviser Moeed Yousuf highlighted some of the events arranged by the government to mark the first anniversary of the illegal annexation of Occupied Kashmir by New Delhi and director-general Inter-Services Intelligence (ISI) Lt-Gen Faiz Hameed briefed the participants on the situation in the occupied valley.
Talking to Dawn, spokesman for PPP chairman Bilawal Bhutto-Zardari, Senator Mustafa Nawaz Khokhar, who was also present in the briefing, said that the government had "only informed them" on the issue of new political map of the country and that the party had so far not endorsed the move.
He said the party would come out with its clear stance on the issue after discussing it in the party's core committee meeting.
On the other hand, Senator Mushahid Hussain Sayed of the Pakistan Muslim League-Nawaz (PML-N) said that they had endorsed the new map unveiled by the government as there was nothing objectionable in it.
The PML-N senator, who is also the head of the Senate's foreign affairs committee, also presented a "Kashmir Action Plan" in the session, suggesting a number of steps that should be taken by the government for the Kashmir cause.
The PML-N senator called for giving "full moral, political, media and diplomatic support to the widespread upsurge of the Kashmiri people" after building a "united front of all Kashmiris who reject the annexation and who are now victims of Modi's fascism, from Syed Ali Gilani to Dr Farooq Abdullah to Mehbooba Mufti".
He also called for developing clarity for an India Policy that is clear on the "nature of the Modi government and its designs with an outreach to Indian minorities/civil society/political parties/media critical of Modi's extremist and divisive policies".
He suggested formation of a media coordination committee comprising selected journalists, representatives of Foreign Office, Ministry of Information, Parliament and relevant stakeholders to prepare fact sheets and a campaign to promote a media strategy for continually highlighting the Kashmiri freedom struggle.
Those who attended the conference included Senate Chairman Sadiq Sanjrani, National Assembly Speaker Asad Qaiser, Information Minister Shibli Faraz, Law Minister Farogh Naseem, Minister for Kashmir Affairs Ali Amin Gandapur, Minister for Inter-Provincial Coordination Dr Fehmida Mirza, Kashmir Committee Chairman Sheharyar Afridi, Raja Zafarul Haq and Khawaja Asif of the PML-N, Raja Pervaiz Ashraf, Syed Naveed Qamar and Sherry Rehman of the PPP, Mushtaq Ahmed and Maulana Abdul Akbar Chitrali of the Jamaat-i-Islami, Aimal Wali Khan and Sitara Ayaz of the Awami National Party and Anwarul Haq Kakar of Balochistan Awami Party.
No one from the Jamiat Ulema-i-Islam attended the meeting.
Speaking at the conference, Foreign Minister Qureshi said all the political parties of Pakistan were united on the Kashmir issue.
https://www.dawn.com/news/1572685/opposition-questions-pms-absence-from-briefing-on-kashmir
--------
North America
Trump says US will be there to help following explosion in Beirut
04 August 2020
President Donald Trump on Tuesday cast a massive explosion in Beirut as a possible attack, despite statements by Lebanese leaders that it was likely caused by highly explosive material that had been stored at warehouses in the capital for years.
"The United States stands ready to assist Lebanon," Trump said at a White House briefing of Tuesday's explosion, which killed at least 78 people and injured thousands. "It looks like a terrible attack."
When asked later about his depiction of the explosion, Trump said that he had met with some US generals who feel the blast was not "some kind of a manufacturing explosion type of event."
He told reporters that according to these unnamed generals "they seem to think it was an attack. It was a bomb of some kind."
Lebanon's President Michel Aoun said that 2,750 tonnes of ammonium nitrate had been stored for six years at the port without safety measures and said it was "unacceptable".
Prime Minister Hassan Diab said in a televised address to the nation there would be accountability for the deadly blast at the "dangerous warehouse".
https://www.presstv.com/Detail/2020/08/04/631101/Trump-says-US-will-be-there-to-help-following-explosion-in-Beirut
--------
'US's Pompeo, Taliban deputy leader discuss intra-Afghan talks'
04 August 2020
US Secretary of State Mike Pompeo has reportedly held a video meeting with the Taliban militant group's Doha-based deputy leader Mullah Baradar Akhund to discuss a "peace" process between the Afghan government and the group.
Suhail Shaheen, a spokesman for the Taliban's office in Qatar, said in a Twitter post on Tuesday that Pompeo and Akhund had discussed the issue of the 400 Taliban prisoners allegedly still held by the Afghan government as well.
"Both sides talked about the inception of intra-Afghan negotiations" and they "emphasized that the release of the remaining prisoners are essential for commencement of intra-Afghan negotiations," the Taliban spokesman wrote.
The prisoner swap has been an Afghan government obligation under a deal between the United States and the Taliban that was struck in February. Kabul was excluded from the talks, and the obligation was imposed on it.
The exchange has been regarded as a first step toward broader talks between the government and the Taliban. Its implementation has faced hurdles since the deal was signed in February.
The US-Taliban deal, which sets the stage for the withdrawal of all US-led foreign forces from Afghanistan, required Kabul to free some 5,000 Taliban prisoners in exchange for 1,000 Afghan security personnel held by the Taliban.
The Taliban say they have already fulfilled their side of the exchange. While the government has released most of the 5,000 Taliban prisoners stipulated in the deal, authorities in Kabul have refused to free hundreds of inmates accused of serious crimes that the militant group has requested to be released.
Last week, Afghan President Ashraf Ghani said he had "no authority" under the country's constitution to release the remaining inmates because of their involvement in serious crimes. Ghani said the decision on the release of those militants had to be made by the Loya Jirga, a grand assembly of Afghan elders.
Meanwhile, official data shows that bombings and other assaults by the Taliban have surged 70 percent since the militant group signed the deal with the United States.
The United States led a military coalition of its allies in 2001 to invade Afghanistan to topple a Taliban regime, believing it was harboring the al-Qaeda terrorist group.
https://www.presstv.com/Detail/2020/08/04/631075/Afghanistan-Taliban-US-Pompeo-video-meeting
--------
US threats against Iran are falling on deaf ears: Scholar
04 August 2020
US threats against Iran are falling on deaf ears, Professor Dennis Etler has said.
Etler, an American political analyst who is former professor of Anthropology at Cabrillo College in Aptos, California, made the remarks in an interview with Press TV on Tuesday while commenting on US Secretary of State Mike Pompeo's threats against Iran.
Pompeo, riled up by a potential long-term strategic partnership between Iran and China, on Sunday threatened to slap the same unilateral sanctions already imposed on Tehran against Beijing in case the deal was finalized.
Pompeo censured in an interview with Fox News the potential Tehran-Beijing cooperation pact and said Washington would apply all Iran's sanctions also to the "Chinese Communist Party and their businesses and state-owned enterprises" if the deal was signed.
He also claimed that the 25-year trade deal between Iran and China would foment instability in the Middle East region, once again leveling false accusations that Tehran is a "state sponsor of terror," among other protestations.
Professor Etler said that "Pompeo is like the boy who cried wolf once too often. It's getting to the point where no one will pay any attention to his ranting and raving. The US still thinks it's the king of the hill and rules the roost, that everyone hither and yon cowers at its bellowing and braying. But the world can see clearly that the US is no longer in a position to dictate to other nations how they should conduct their own affairs."
"Having isolated itself from friends and foe alike, even America's staunchest allies are beginning to have second thoughts about following its lead. Both Australia and the UK are beginning to hedge their bets about fully endorsing the anti-China policies of the US. The US is mired in a COVID-19 pandemic crisis of its own making, and the prospects of a quick economic recovery are fast receding. The EU is only marginally better off. It was already facing stiff economic headwinds and the pandemic has only made matters worse. China, on the other hand, has weathered the storm and it is the only global economy that has rebounded and shown positive growth," he stated.
"US threats of sanctions against China for establishing normal economic relations with Iran are thus falling on deaf ears. The US has lost all leverage with China and continued posturing by Trump and his underlings are being shrugged off. China can deal with whatever the US has to dish out, but can the US really cope with the unintended negative consequences of its own actions? Any sanctions imposed upon China will only boomerang against the US and further damage its own economy. So China has nothing to fear about establishing further economic and military ties with Iran, no matter what Washington has to say about it," he noted.
"The rest of the world will soon follow suit. History and everyday experience show that once a bully is challenged its underlying frailty becomes exposed and it loses the ability to threaten others. It is getting to the point where the nations of the world will no longer stand for American duplicity and bullying tactics," he said.
"The US has nothing to offer and the world has nothing to lose but its chains," the analyst concluded.
https://www.presstv.com/Detail/2020/08/04/631073/US-threats-against-Iran-are-falling-on-deaf-ears
--------
Homeland Security Is Quietly Tying Antifa to Foreign Powers
AUGUST 3, 2020
Department of Homeland Security (DHS) intelligence officials are targeting activists it considers "antifa" and attempting to tie them to a foreign power, according to a DHS intelligence report obtained exclusively by The Nation.
The intelligence report, titled "The Syrian Conflict and its Nexus to the U.S.-based Antifascist Movement," mentions several Americans, including a left-wing podcast host who traveled to Syria to fight ISIS. The report includes a readout of these individuals' personal information, including their Social Security numbers, home addresses, and social media accounts, much of the data generated by DHS's Tactical Terrorism Response Teams. As the intelligence report states, "ANTIFA is being analyzed under the 2019 DHS Strategic Framework for Countering Terrorism (CT) and Targeted Violence."
Dated July 14, the document, marked FOR OFFICIAL USE ONLY and LAW ENFORCEMENT SENSITIVE, draws on a blend of publicly available information and state and federal law enforcement intelligence. It was provided to The Nation by a source who previously worked on DHS intelligence.
"They targeted Americans like they're Al Qaeda" a former senior DHS intelligence officer with knowledge of the operations told The Nation. The officer, who served for years in the DHS's Office of Intelligence & Analysis (I&A), compared the operations to the illegal surveillance of activists during the civil rights era. "They essentially were violating people's rights like this was the '60s…the type of shit the Church and Pike committee[s] had to address."
While the law generally prohibits intelligence agencies from spying on US residents, many of those protections do not apply if the individual is believed to be acting as an agent of a foreign power.
"Designating someone as foreign-sponsored can make a huge legal and practical difference in the government's ability to pursue them," explained Steven Aftergood, who heads the Project on Government Secrecy at the Federation of American Scientists. "It's a crucial distinction. Once someone (or some group) is identified as an agent of a foreign power, they are subject to warrantless search and surveillance in a way that would be illegal and unconstitutional for any other US person. The whole apparatus of US intelligence can be brought to bear on someone who is considered an agent of a foreign power."
Last week, the DHS reassigned its intelligence chief after The Washington Post revealed that the agency had been compiling intelligence reports on American journalists and activists in Portland. In response to President Trump's executive order to protect monuments and other federal property, the DHS created the "Protecting American Communities Task Force," which sent DHS assets to Portland and other cities. The agency has found itself in transition under the Trump administration."They are always pressuring I&A for political reasons; it's been like that since the election," the former intelligence officer said.
This weekend, Politico reported that DHS Deputy Secretary Ken Cuccinelli loosened oversight of I&A. Cuccinelli, at I&A's request, curtailed the requirement that the DHS's Office of Civil Rights and Civil Liberties approve I&A's intelligence products prior to distribution to law enforcement partners.
The intelligence report's executive summary states:
In June 2020, U.S. Customs and Border Protection's (CBP) National Targeting Center (NTC) Counter Network Division (CND) compiled CBP encounter data on individuals who returned from Syria and fought with the Yekîneyên Parastina Gel (YPG, translation: PEOPLE'S PROTECTION UNITS), and had some with reported ties to a U.S.-based ANTIFA (Anti-fascist) movement. CBP concerns about and interest in these individuals stem from the types of skills and motivations that may have developed during their time overseas in foreign conflicts.
These skills were also appreciated by the US military, which cooperated with the YPG in fighting ISIS for years. Last year, President Trump enraged many in the US military when he green-lighted a Turkish offensive against the Kurdish militia. Jim Mattis reportedly resigned as defense secretary in part because of what he considered a betrayal of our Kurdish allies.
The intelligence report describes over half a dozen people who traveled to Syria in order to fight alongside Kurdish factions—usually the YPG, but also other Kurdish groups like the PKK and the Peshmerga. Some of the individuals described have denied membership in antifa but variously identified with far-left causes. The DHS appears to define antifa broadly, to encompass various left-wing tendencies: "[A]ntifa is driven by a mixed range of far-left political ideologies, including anti-capitalism, communism, socialism, and anarchism." In two cases, evidence of antifa affiliation was limited to photos taken in front of an antifa flag. As the intelligence report itself notes, "ANTIFA claims no official leadership," raising questions about whether antifa even exists in any sort of operational capacity.
The first individual mentioned in the intelligence report, Brace Belden, cohosts the popular left-wing podcast TrueAnon, and fought with the YPG in 2016. The information appears to be partly drawn from a 2017 article on Belden in Rolling Stone. Belden is described as "a minor criminal and drug addict who started reading Marx and Lenin in drug rehabilitation treatment and became involved in a number of political causes before deciding to fight alongside the YPG."
The report goes on to describe an encounter between Belden and border authorities.
U.S. citizen (USC) Brace BELDEN was encountered on 08 April 2017, arriving in San Francisco, California from Frankfurt, Germany. BELDEN was returning from a six month tour of volunteering to fight with the YPG under the umbrella of the Syrian Democrat Forces (SDF) fighting ISIS in Syria as part of the ongoing Raqqa offensive starting in November 2016 to retake Raqqa from ISIS. BELDEN stated he recently learned that an open source article had been written about him and his "Anarchist" fighters.
Belden scoffed at the association. "I am not now nor have I ever been a member of any antifa organization," he told The Nation. "The US government has been spying on and smearing communists for 100 years, but they usually have the decency not to call a Red an anarchist!"
"There appears to be a clear connection…between ANTIFA ideology and Kurdish democratic federalism teachings and ideology," the intelligence report states. At least one of the activists listed is described as being ethnically Kurdish.
On May 31, Trump vowed to designate antifa a "terrorist organization." While antifa groups have engaged in acts of property destruction, antifa has not been linked to a single murder in the United States, according to data compiled in the past 25 years by the Center for Strategic and International Studies. By contrast, the same data found that far-right extremist groups had killed 329 people.
The intelligence report appears to conclude that the individuals described were not acting on behalf of a foreign group—save for one unnamed person.
"Aside from a single instance derived from open-source reporting, there does not appear to be evidence of a centralized effort to give marching orders to returning ANTIFA-affiliated USPER [US person] foreign fighters once they return to the United States."
https://www.thenation.com/article/society/dhs-antifa-syria/
--------
South Asia
Taliban attacks repulsed in Faryab, at least 11 militants killed, wounded: Shaheen Corps
05 Aug 2020
The Afghan forces forces foiled Taliban attacks in Dawlatbad and Garziwan districts of northern Faryab province, killing or wounding at least 11 militants.
The 209th Shaheen Corps in a statement said a group of Taliban militants were planning to launch attacks in Shashpar Village of Dawlatabad and in the vicinity of the capital of Garziwan district on Tuesday.
The statement further added that the security forces took pre-emptive steps with the support of the Air Forces.
The security forces killed at least 4 Taliban militants during the operations and wounded at least 7 others, the 209th Shaheen Corps added in its statement.
According to 209th Shaheen Corps, a key Taliban figure who was responsible for collecting Zakat was among those killed during the operations.
The Taliban group has not commented regarding the operations so far.
https://www.khaama.com/taliban-attacks-repulsed-in-faryab-at-least-11-militants-killed-wounded-shaheen-corps-09002/
--------
Afghan forces arrest top ISIS leader in Kunar province of Afghanistan
05 Aug 2020
The Afghan Special Forces arrested a top commander of the Islamic State of Iraq and Syria Khurasan (ISIS-K), the offshoot of the terror group, in Afghanistan.
Sources in the Afghan military confirmed that the Afghan Special Forces arrested the ISIS-K leader during a raid in eastern Kunar provice.
Without disclosing further information regarding the identity of the detained ISIS leader, the sources said the arrested ISIS leader was involved in transferring foreign ISIS militants in various provinces of the country.
The sources further added that the apprehended ISIS leader was also transferring the families of ISIS fighters to different parts of the country.
The ISIS Khurasan terror group has not commented in this regard so far.
https://www.khaama.com/afghan-forces-arrest-top-isis-leader-in-kunar-province-of-afghanistan-09001/
--------
Indian doctor detonated car bomb in deadly attack targeting jail in East of Afghanistan
05 Aug 2020
An Indian doctor detonated a Vehicle-borne Improvised Explosive Device (VBIED) in the initial phase of a deadly attack on a jail in eastern Nangarhar province of Afghanistan, it has been reported.
According to local media reports emerging from India, a medical graduate, hailing originally from Malayali of Kerala of India, detonated a car bomb close to the provincial jail in Jalalabad city, the provincial capital of India.
Identified as Ijaz, who had recently graduated from medical faculty in China, the suicide bomber detonated the car bomb to allow the other assailants storm the jail.
He reportedly left Kerala to join the offshoot of the Islamic State of Iraq and Syria Khurasan (ISIS-K) in Mat of 2016.
Ijaz was reportedly treating the wounded ISIS Khurasan cadres before volunteering to carry out the deadly suicide attack which left at least 30 people dead.
https://www.khaama.com/indian-doctor-detonated-car-bomb-in-deadly-attack-targeting-jail-in-east-of-afghanistan-09000/
--------
Southeast Asia
Apex court to hear if Muslim can be made party to non-Muslim marriage dispute
V Anbalagan
August 5, 2020
PETALING JAYA: The controversial issue of whether Muslims can be made a party in the wrecking of the marriage of non-Muslim couples is going to the Federal Court for final determination, lawyer Ravi Nekoo said.
Counsel said his client, identified as AJS, had filed an application for leave to appeal in the apex court yesterday.
"We hope the Federal Court will find the legal questions framed are of public advantage or are constitutional issues, as provided for under Section 96 of the Courts of Judicature Act 1964," he told FMT, adding that six questions of law have been framed.
A civil appeal to the Federal Court is not automatic.
On July 6, a three-member bench of the Court of Appeal, in reversing a High Court ruling, held that a Muslim cannot be made a party in a matrimonial dispute involving non-Muslim couples.
Judge Kamardin Hashim said there was merit in the appeal though he did not provide the grounds for overruling the ruling.
High Court judge Faizah Jamaluddin had ruled that a co-respondent could only be named in a divorce petition and not a judicial separation, regardless of his or her religion.
In July last year, AJS filed a petition for judicial separation against her husband, known as RIS.
AJS also included JBMH, a Muslim woman, as co-respondent, as she was said to be having an affair with RIS.
JBMH then filed an application to remove her name on the basis that the Law Reform (Marriage and Divorce) Act 1976 (LRA) did not apply to Muslims.
The identities of the parties involved have been withheld as provided in the High Court ruling.
Lawyer Siew Choon Jern, who appeared for JBMH, had told the Court of Appeal on July 6 that Section 3(3) of the LRA was clear that it excluded Muslims.
"It is a blanket exclusion. The only exception is in relation to Muslim converts who had civil marriages," Siew said.
Ravi, who represented AJS, said the court had to look into the legislative intent of Section 3(3). "Parliament would not have given a cloak of immunity to a Muslim who wrecks the marriage of non-Muslim couples and allow them to get away with it," he said.
In 2001, the late VT Singham, then a High Court judge, said marriage was a sacred union and parties should strive to maintain this relationship for life as any breakdown in the marriage would have adverse effects on the children who were innocent parties.
Therefore, he said in the judgment in a separate case, third parties should stay away from attempting to interfere or enter into any kind of immoral relationship with the wife or husband of another, which no doubt was likely to cause the breakdown of the marriage of a happily married couple.
The judge ordered the third party to pay RM20,150 in damages to the divorced wife as she had committed adultery with the husband.
However, in that case, the third party was a non-Muslim woman.
https://www.freemalaysiatoday.com/category/nation/2020/08/05/apex-court-to-hear-if-muslim-can-be-made-party-to-non-muslim-marriage-dispute/
--------
PBS says will contest 30 seats in Sabah polls
BY JULIA CHAN
04 Aug 2020
KOTA KINABALU, Aug 4 — After Parti Pribumi Bersatu Malaysia's declared its intention to contest 45 out of the 73 seats in Sabah, Parti Bersatu Sabah said today it is now aiming to contest 30 seats in the upcoming state election.
Party deputy president Datuk Seri Radin Malleh said the party came up with the decision after a thorough analysis on the party's strength and support in all 73 state constituencies.
"We are only planning to contest in 30 seats because we want to be reasonable, realistic and practical," Radin said after chairing the party's political bureau meeting.
Radin also hinted that the potential candidates consisted of many new faces, including women.
"We have been quietly working very hard and we are confident we have what it takes to win as many seats in the election," Radin added.
Radin said being a multi-ethnic party, PBS is capable of winning any seats it contested, be it in a constituency dominated by non-Muslim Bumiputera or Kadazan-Dusun Murut, Muslim Bumiputera, or the ethnic Chinese.
He also said that in areas where PBS is not contesting, it will support candidates from like-minded parties which share a common objective of defeating the "under-performing Warisan-led government."
Party president Datuk Seri Dr Maximus Ongkili, who is said to be recuperating from ailments brought on by exhaustion, has tasked Radin to lead PBS' preparation for the election.
The election will see PBS using its own symbol after 16 years of contesting under the Barisan Nasional logo.
Formed in 1985, PBS is the longest surviving local political party in Sabah with 61 divisions all over the state, including Labuan, with more than 2,000 active branches.
The party rose to its peak in 1985 to 1994, when it formed the Sabah government under founder Tan Sri Joseph Pairin Kitingan.
It was toppled by defections after the 1994 state elections and PBS joined BN till the latter's fall in GE14.
It is currently part of the Perikatan Nasional federal government.
In the upcoming state polls, 73 seats are up for contest, including 13 newly-gazetted seats.
PBS is expected to work and negotiate with Umno, Bersatu, Parti Bersatu Rakyat Sabah and Parti Solidarity Tanah Airku on seat divisions to avoid overlapping contests.
https://www.malaymail.com/news/malaysia/2020/08/04/pbs-says-will-contest-30-seats-in-sabah-polls/1890999
--------
Europe
UK government to get 'to the bottom' of SAS Afghanistan emails
Simon Rushton
August 4, 2020
The fallout from reports about the alleged conduct of elite British forces in Afghanistan has sent shock waves through the Ministry of Defence (MoD).
The Special Air Service (SAS) Regiment came under the spotlight at the weekend after emails were released suggesting its troops were involved in the deaths of 33 Afghan people in 11 night raids on homes in 2011.
Officials at the MoD are now looking into how ministers did not know about the emails until last Friday, BBC's Newsnight programme reported, with officials willing to looking into the allegations in full.
British Defence Secretary Ben Wallace is also said to want answers after the High Court ordered the release of the emails in a case brought by human rights law firm Leigh Day.
"The Secretary of State is genuinely committed in getting to the bottom of this. He wants to go back to the start in order to understand how this happened," the UK Ministry of Defence said in a statement.
"That means speaking to the judicial engagement department as well as the director of Special Forces and others to learn why this emerged in court and got his name in the Sunday papers," the statement added.
Documents seen by The Sunday Times newspaper reveal one incident in which it was alleged that a British soldier killed four people in Helmand on February 16, 2011.
SAS soldiers arrived by helicopter at night in a village called Gawahargin, in southern Helmand province, looking for a suspect behind a bombing.
Women and children were rounded up and the troops went into a family home where gunshots were heard.
A teenager named Saifullah went back into the house and found his father, brothers and cousin with bullet holes in their heads.
The allegation was passed on to the special investigation branch of the Royal Military Police, who believed the claims were serious enough to launch an investigation in 2014.
They found emails between special forces personnel, which have now been released by the court.
The Ministry of Defence said it had thoroughly investigated the claims and found no evidence to prosecute any soldiers.
After the emails were made public, Tobias Ellwood, chairman of the Defence Select Committee, told The National that any new evidence should be pursued by investigators.
"The British Armed Forces have one of the most highly respected reputations in the world because of their standards and values on the battlefield," Mr Ellwood said.
"If evidence comes to light that we have fallen beneath those standards, then it's imperative that the military police reopen the investigation."
A consensus appears to have emerged that work needs to be done to address how the information from the investigations filtered up to ministers from SAS commanders through MoD officials.
In the past, veterans have spoken of the strain put on them by enquiries into misconduct in the past.
https://www.thenational.ae/world/europe/uk-government-to-get-to-the-bottom-of-sas-afghanistan-emails-1.1058579
--------
Albania transfers IS terror cell suspect to Germany
4 August 2020
BERLIN -- Albania has transferred to Germany a Tajik man accused of being part of a cell of the Islamic State group that allegedly planned to attack U.S. military facilities in Germany, prosecutors said Tuesday.
The suspect, identified only as Komron B. in line with German privacy rules, was arrested on his arrival at Frankfurt airport on Monday, federal prosecutors said in a statement. Four other Tajiks were arrested in Germany in mid-April and their alleged leader was taken into custody in March 2019.
Prosecutors said Komron B. and the other suspects joined IS in January 2019 and founded a cell in Germany on the group's instructions, initially intending to travel to Tajikistan and fight that country's government. They then allegedly changed plans and decided to carry out attacks in Germany, either on U.S. military facilities or on individuals — including an unidentified person living in Germany who they considered critical of Islam.
As part of their efforts to raise money for their plans and for IS, one of the cell's members traveled to Albania to carry out a contract killing for $40,000 but the plan failed, prosecutors said. He and another suspect who had traveled with him then returned to Germany.
https://abcnews.go.com/International/wireStory/albania-transfers-terror-cell-suspect-germany-72161187?utm_source=iterable&utm_medium=email&utm_campaign=1412573_
--------
Mosques terrorist costing NZ millions
4 August 2020
New Zealand's leaders continue to raise the prospect of Australia housing the Christchurch mosques terrorist after he is given an expected life sentence next month.
However, it's unclear whether a legal framework or political appetite exists for the transfer of New Zealand's worst mass shooter - and now the country's most expensive inmate.
Deputy Prime Minister Winston Peters has called on Australia to take custody of Brenton Tarrant, raised in the NSW town of Grafton, saying "he should be in Australia".
"I'm putting my cards on the table saying 'Go on, take him back into your prison environment'," Mr Peters told AAP.
"That was my view from day one but of course, it was sub judice so I couldn't say anything while he was waiting for trial.
"After he's been sentenced that's what I think should happen."
Prime Minister Jacinda Ardern isn't as steadfast, saying she would "never have taken that off the table" but "we do need to make sure that justice is done here first".
For Tarrant to serve his term in Australia, both governments either side of the Tasman would need to agree, and NZ would need to accede to a transfer convention.
Freshly released Cabinet papers in Wellington have revealed the high cost of housing Tarrant, who shot and killed 51 people on March 15 last year.
A total of $NZ3.59 million ($A3.33 million) has been approved for the first two years of Tarrant's stay at Auckland's Paremoremo Prison.
Additionally, $NZ790,000 ($A733,000) has been set aside this year for screening incoming and outgoing mail for high-risk inmates.
That measure has been directly attributed to an unfortunate incident last year when one of Tarrant's letters - reportedly sent to a contact in Russia - was posted on a notorious online forum.
Ms Ardern said the bill to house the 29-year-old was unfortunately necessary.
"It is a high-cost case," she said.
"Obviously we've already seen what happens if we don't monitor closely, for instance, the correspondence that that individual is is engaging in, and of course some of the other precautions we need to put around the terrorist."
Australia and New Zealand are close allies but are bitterly split on the issue of deportations.
The Australian government has deported thousands of people with Kiwi passports to NZ since 2014, including many who have little connection to Aotearoa.
Ms Ardern has been resolutely critical of the deportations, telling Prime Minister Scott Morrison in Sydney in February, "Do not deport your people and your problems".
On Tuesday, she drew a distinction between a prisoner relocation and the thorny issue, saying Australia's deportations occurred at the end of sentences.
Tarrant will be sentenced at Christchurch's High Court in three weeks, in the middle of a national election.
Opposition Leader Judith Collins, who was corrections minister under former PM John Key, defended the multi-million dollar price tag to house Tarrant.
"It's a real temptation for people to say 'Send him back to Australia before he's served a sentence'," she said.
"I'd say to (those people), there are around about ... 900 New Zealanders in Australian jails. Would you like us to have all those back?
"He committed his evil crime here. I think he needs to have his sentence here, even though it costs us a lot of money."
https://au.news.yahoo.com/mosques-terrorist-costing-nz-millions-234455474--spt.html?utm_source=iterable&utm_medium=email&utm_campaign=1412573_
--------
MP Afzal Khan made parliamentary chair of UK's Labour Muslim Network
Majid Khattak
AUGUST 5, 2020
The UK's Labour Muslim Network (LMN) has appointed MP of Pakistani origin, Afzal Khan, as their new parliamentary chair. Afzal Khan, MP for Manchester Gorton and Shadow Deputy Leader of the House of Commons is one of the leading Muslim and Pakistani MP's in the labour party.
In a statement issued on Tuesday, the network said that Afzal Khan has been a champion of the Muslim community and a fantastic voice for his constituents in Parliament. We are excited to work with him closely in the coming year. The LMN is an inclusive organisation which seeks to promote British Muslim engagement with the Labour Party and in the political process based on our shared values of social justice and equality. LMN also offers Islamophobia awareness training, speakers for meetings, training and development opportunities and local campaigning for Muslims across the UK
Afzal Khan MP on his appointment said: I am humbled to take on the role of Parliamentary Chair for the Labour Muslim Network. I look forward to getting to work on empowering our members, tackling Islamophobia, and campaigning for a fairer, more equal and democratic society.
Khan became the first Muslim Lord Mayor of Manchester during 2005-2006 and in 2010 he was appointed CBE for his race relations contributions. He also served as a Member of the European Parliament (MEP) for North West England from 2014 to 2017.
A leading voice for Muslims across the world, MP Afzal Khan have raised the issues of oppressed Muslims of Kashmir, Palestine, and Rohingya in the British Parliament. Similarly, he regularly highlights the problems faced by Pakistani and other ethnic communities in the UK. During the Covid-19 pandemic, Afzal Khan raised the issue of stranded British Pakistanis in Pakistan and due to his efforts, British government started chartered flights from Pakistan.
https://dailytimes.com.pk/649353/mp-afzal-khan-made-parliamentary-chair-of-uks-labour-muslim-network/
--------
Mideast
How IRGC's Buried Ballistic Missiles Tear Up Ground to Become Iran's New Surprise Weapon
Aug 04, 2020
In these exercises, in addition to various international dimensions and special messages for foreigners, specially trans-regional enemies who have been illegally deployed in the Persian Gulf region for many years, new defense achievements were demonstrated, specially in area Iran's missile technology. Meantime, significant increase in the level of new defense technologies and weapons was also put on display.
Among these achievements was the very high velocity feature of anti-radar ballistic missiles – much faster than previously seen - which makes it impossible to intercept and target ballistic missiles by any defense shield. These missiles had already been unveiled, though.
But the most important and unique defense achievement displayed in these drills, which astonished many experts and international observers, was the firing of ballistic missiles planted, or still better to say buried, deep into the ground. This technology is unique, under Iranian monopoly, and is completely different from earlier versions of underground ballistic missiles which are fired from underground silos and are owned by a few countries in the world. In other words, the new capsuled ballistic missile is unrivaled in technology and uniquely owned by Iran.
In addition to underground missile towns and mobile launchers, this was the IRGC's third tactical move to confuse enemy reconnaissance aircraft; the first two tactics made it hard for enemy aircraft to site and target missile platforms and launchers, but this new weapon system disarms enemy as it is buried and impossible to trace by enemy aircraft.
During the Great Prophet 14 drills, the IRGC Aerospace Force demonstrated another achievement that is unparalleled in the world. Missiles buried into the ground were fired at once with no need to platforms or launchers.
Of course, studies showed that the US in the 1980s had a conceptual plan to fire the LGM-118 Continental Ballistic Missile named Peacekeeper from underground with a different mechanism but the conceptual design that was totally different from IRGC's system never came in practice. As seen in the picture below, the LGM-118 and its launcher were designed to be hidden in camoflague few a centimeters-tick layer of soil and once the command unit would decide to fire it, it took some time for the launch and missile system to get ready, giving enemy aircraft or forces a chance to site the system, although even this conceptual design never came into effect, it still is completely different from the technology and features of the new Iranian buried ballistice missile.
How Are IRGC's Buried Missiles Fired from Their Resting Place Deep into The Ground?
An analysis of images and videos released of this crucially important achievement show the ballistic missile is placed inside a capsule or vertical launch canister (VLC) which is planted into a hole dug into the ground and then covered with soil, or simply said, buried.
The technology of making capsules for vertically launched missiles, which is available in both hot and cold launch types in the world, is one of the complex areas of hi-tech, specially in the hot launch type, because the capsule or chamber in which the missile is placed must be capable of tolerating the very high temperatures resulting from the combustion of fuel by the missile fire engine in the initial moments of launch.
The IRGC missiles displayed during the recent drills use the vertical hot-launch system, because in the first seconds of firing, the gas and fire resulted from the combustion of fuel remove the soil from the upper discharge valves and open a hole for the missile to fly out. Yet, as shown in the footage of the drills, all this mechanism works in less than a second from the time of activation to the launch of the missile.
There is no information on the type of the missiles fired from inside these capsules, as IRGC Aerospace Force has kept the identity and features of these missile highly confidential, but a review of the video released from the moment these missiles were fired in the recent drills shows that at least two types of missiles with solid fuel have been launched.
One of the missiles has no wings and the other missile has wings on its warhead to increase its precision-striking power; the use of wings in the warhead of one of the missiles fired as well as its solid fuel reinforces the speculation that it has been from the Fateh class.
Also, given the launch of two types of missiles from under surface, it can be strongly speculated that most missiles which are fired obliquely or even vertical launch missiles can be fired with this new technology.
Another point that can be understood from the released video is that these missiles have a thrust vector change (TVC) system, which can be seen in their firing profile due to the changing trajectory of the rocket compared to the initial firing angle. Such a control system is an indispensible part of these missiles, because missiles fired from VLS launchers must use such a control method to guide it towards the target.
Meantime, using thrust vector control system in Iranian missiles is not unprecedented. The system has, for instance, been used in Qiam ballistic missile which has no wing to guide and correct its trajectory. Qiam uses 4 Jet Vanes in the nozzle of gases which are exhausted from the missile and changing the thrust vector of the exhausted gases guides the missile and corrects its path. Also, in Sayad-4 defensive missile used in Bavar-373 defense system, because the missile operates in a hot vertical launch system, the thrust vector change control has been used.
As a matter of fact, the Iranian missile experts have managed to pose a big challenge to enemy intelligence services and air reconnaissance by combining several special technologies. Because they were so far able to detect the location of ballistic missiles launchers, platforms or bases, underground missile towns or missile centers by monitoring satellite images and monitoring the movement of missiles and their launchers, but from now on they will not be able to detect Iran's missile depots and fire platforms as this type of planted or buried missiles stay fully hidden in camouflage deep into the ground and, hence, leave not even the slightest chance for any enemy to trace and find them.
"Given the high durability of solid fuel missiles, which can stay in operation for up to 15 years, IRGC's buried ballistic missile farms could grow anywhere, and this will change the battle scene in favor of Iran in the entire region in future as these missiles could be planted even behind enemy missile defense shields, like the iron dom," Senior Analyst Seyed Mostafa Khoshcheshm said.
Last Wednesday, Commander of the IRGC's Aerospace Force Brigadier General Amir Ali Hajizadeh said that Iran is the first country in the world that has fired camouflaged ballistic missiles buried deep into the ground during the military drills.
"It was the first time in the world that ballistic missiles were fired from beneath soil," General Hajizadeh told reporters on the sidelines of the second day of massive 'Great Prophet-14' drills in the Southern parts of the country.
He added that the missiles were launched without using platforms and equipment, noting that the hidden missiles tear up the ground from where they are buried, fly and hit the target.
The IRGC fired ballistic missiles buried deep into the ground during the second day of massive 'Great Prophet-14' drills in the Southern parts of the country on Wednesday.
Also, in the final stage of the IRGC drills, which took place in the waters of the Persian Gulf and the Strait of Hormuz, the IRGC Aerospace Force drones attacked enemy's mock aircraft carrier and targeted its command tower and bridge.
Also, the IRGC's Sukhoi-22 fighters bombed and destroyed pre-determined targets in Farour Islands with winged bombs.
Destroying hypothetical enemy targets designed much smaller than the actual size with a variety of smart bombs was another part of this phase of the exercises.
The IRGC Aerospace and Naval Forces' joint exercises were an important part of the drills and demonstrated surprising tactics, including establishment of the two forces' joint command systems, joint control, combined tactics and combat methods.
Successful missile combat operations were carried out by firing two surface-to-surface Hurmoz and Fateh missiles, and a ballistic missile at specific targets, as well as launching precision-striking air defense missiles.
Also, Shahed 181, Mohajer and Bavar drones successfully attacked and destroyed hypothetical enemy targets and positions at this stage of the drills.
Meantime, surface-to-surface missile operations, coast-to-sea operations, heavy artillery firing and offensive mine-laying operations to cut off enemy lines were demonstrated on the second day of the massive wargames.
Also, firing of all kinds of artillery, RPGs and light weapons by combat forces in line and around Iranian islands was part of the drills to reportedly show the firm determination of the border guards in defending the country.
The IRGC announced in a statement last Tuesday that it has started the final phase of the 'Great Prophet-14' drills in the South of the country, and added that Nour-1 Satellite, that was launched on April 22, was used to monitor the wargames.
The drills were held with the participation of the IRGC Navy and Aerospace forces in the Hormozgan province and extend to the depth of the Iranian soil.
IRGC Navy's missile, ship, and drone units as well as IRGC Aerospace's missile, drone, and radar units are due to conduct operational drills in the wargames, the statement said.
The wargames were monitored for the first time by the Nour-1 Satellite that was launched successfully on April 22.
The IRGC launched the satellite aboard Qassed (Carrier) satellite carrier during an operation that was staged in Dasht-e Kavir, Iran's sprawling Central desert. The Launcher Qassed is a three-stage launcher using compound solid-liquid fuel.
The satellite was placed into the orbit 425km above Earth's surface.
The satellite was sent to the space on the anniversary of the IRGC establishment (April 22, 1979).
Great Prophet (Payambar-e Azam) wargames are annual missile tests and exercises conducted by Iran's IRGC. The first series of the wargames began in July 2008.
In recent years, Iran has made great achievements in its defense sector and attained self-sufficiency in producing essential military equipment and systems.
The Iranian Armed Forces several times a year test their preparedness and capabilities as well as newly-manufactured weapons systems in different wargames.
Iranian Armed Forces recently test-fire different types of newly-developed missiles and torpedoes and tested a large number of home-made weapons, tools and equipment, including submarines, military ships, artillery, choppers, aircrafts, UAVs and air defense and electronic systems, during massive military drills.
Iranian officials have always stressed that the country's military and arms programs serve defensive purposes.
Defense analysts and military observers say that Iran's wargames and its advancements in weapons production have proved as a deterrent factor.
https://en.farsnews.ir/newstext.aspx?nn=13990514000315
--------
Israel seeking to export own crises to Gaza: Hamas
04 August 2020
The Palestinian resistance movement Hamas says overnight Israeli airstrikes on the besieged Gaza Strip are "a message of escalation and aggression" and an attempt by the Israeli regime "to export its internal crises to the strip."
Israeli warplanes targeted several locations in the central and southern parts of the coastal enclave in the early hours of Monday. The Israeli military claimed in a statement that they hit positions belonging to the Gaza-based Hamas and that the airstrikes were in response to alleged rocket attacks a few hours earlier.
On Monday, Hamas spokesman Fawzi Barhoum said the new Israeli aggression was aimed at deflecting attention away from the worsening political situation inside Israel, where Prime Minister Benjamin Netanyahu is facing massive 0protests.
"The valiant resistance, which is well aware of the occupation's plans and way of thinking and knows how to deal with it, will not allow it to make Gaza an arena for exporting its crises," Barhoum said.
Netanyahu, the first serving Israeli prime minister to go on trial, has been charged in at least three corruption cases with bribery, fraud, and breach of trust. He is accused of receiving extravagant gifts from billionaires and granting media tycoons regulatory favors in return for more agreeable coverage of himself and his family.
On Saturday, an estimated 10,000 Israelis protested against Netanyahu in a rally that was described by Israeli media as the largest in a decade.
In the past recent weeks, thousands of protesters have also rallied, mainly in Tel Aviv and Jerusalem al-Quds, against Netanyahu's mishandling of the COVID-19 outbreak, calling for his resignation.
Israel is currently witnessing record numbers of coronavirus infections and fatalities amid a deepening unemployment rate of more than 20 percent.
Gaza has been under Israeli siege since June 2007.
Over the past decade, Israel has waged three wars on Gaza, where two million Palestinians live. Thousands of Gazans have been killed in each of the wars since 2008.
The crippling blockade has caused a decline in the standard of living as well as unprecedented levels of unemployment and unrelenting poverty in the strip.
https://www.presstv.com/Detail/2020/08/04/631074/Gaza-Hamas-Israel-airstrikes-export-crises
--------
Turkey says oil deal between SDF, US firm amounts to 'financing of terrorism'
03 August 2020
Turkey has denounced a deal recently signed between the Syrian Democratic Forces (SDF) and an American company aimed at stealing oil in northeastern Syria, describing it as equivalent to 'financing of terrorism'.
"We regret the US support for this step that ignores international law and that targets Syria's territorial integrity and sovereignty," Turkey's Foreign Ministry said in a statement on Monday.
It considered the deal to be "the financing of terrorism" and "unacceptable."
The Foreign Ministry accused the Syrian Kurdish militants of advancing the SDF's "separatist agenda by confiscating, with this step, Syrian people's natural resources."
"Syria's natural resources belong to Syrian people," the Turkish statement added.
The Syrian government on Sunday also condemned the agreement, which Turkey has also described as "unacceptable."
Damascus says the deal is "an affront to national sovereignty" that amounts to "theft."
The Syrian Foreign Ministry has slammed Washington for hindering the Syrian government's efforts for rebuilding what has been destroyed by the foreign-led terrorism, which is "mostly backed by the US administration itself."
Al-Monitor, citing unnamed sources, also named the company in a report on Thursday as Delta Crescent Energy LLC, a corporation organized under the laws of the state of Delaware, without giving further details.
On July 30 and during his testimony to the Senate Foreign Relations Committee, US Secretary of State Mike Pompeo confirmed for the first time that an American oil company would begin work in the SDF-controlled northeastern Syria.
A US-led military coalition has been bombarding what it claimed was positions of the Daesh Takfiri terrorists inside Syria since September 2014 without any authorization from the Damascus government or a UN mandate.
The strikes have on many occasions resulted in civilian casualties and failed to fulfill their declared aim of countering terrorism.
The White House has long been providing the SDF with arms and militant training, calling them a key partner in the purported fight against Daesh. Many observers, however, see the support in the context of Washington's plans to carve out a foothold in Syria.
That support has also angered Washington's NATO ally, Turkey, which views militants from the Kurdish People's Protection Units (YPG) – the backbone of the SDF – as a terrorist organization tied to the homegrown Kurdistan Workers' Party (PKK).
https://www.presstv.com/Detail/2020/08/03/631008/Turkey-Syria-SDF
--------
Africa
Haftar says Libya 'will never accept Turkish colonialism' in address to LNA battalion
02 August 2020
"We will never accept colonialism. The Turks have stayed in Libya for 300 years and the Libyans have seen nothing but evil," said Libyan National Army chief Field Marshal Khalifa Haftar on Saturday during a visit with the Tariq bin Ziyad battalion.
Haftar was photographed meeting with LNA officers as part of his tour inside the battalion's headquarters to check on their battle preparations.
"The Libyans will confront each colonizer and will expel him. We are on the lookout and their expulsion will be our main goal," Hafar said during his speech.
Turkish forces have been stationed in the country supporting forces and mercenaries linked to the Government of National Accord (GNA) in western Libya.
Meanwhile, UAE Minister of State for Foreign Affairs Anwar Gargash urged Turkey to stop interfering in Arab affairs, mockingly referring to the Ottoman empire which collapsed a century ago.
"The provocative statement of the Turkish Minister of Defense is a new [failure for] his country's diplomacy…Relations are not managed with threats and intrusions, and there is no place for colonial illusions at this time, and it is more appropriate for Turkey to stop interfering in Arab affairs," Gargash wrote on Twitter.
https://english.alarabiya.net/en/News/north-africa/2020/08/02/Haftar-says-Libya-will-never-accept-Turkish-colonialism-in-address-to-LNA-battalion.html
--------
Libyan tribes sue rebel commander at ICC over civilian massacre
04 August 2020
Libyan tribes have filed a lawsuit with the International Criminal Court (ICC) over the massacre of civilians by rebel militia led by military strongman Khalifa Haftar and Emirati fighter jets in southern Libya last year.
Libya's Toubou tribes announced the filing of the lawsuit in a statement on Tuesday, saying they sought to "punish criminals and terrorists who committed the massacre of bombing a residential neighborhood in the city of Murzuq."
At least 40 people lost their lives and dozens of others sustained injuries in the airstrike by rebel forces under Haftar's command in Murzuq on August 4, 2019.
"The painful massacre that was committed intentionally against the Toubou tribes in Murzuq by Haftar's militias were carried out by warplanes belonging to the United Arab Emirates," tribal leader Issa Abdel-Majid Mansour said.
The non-Arab Toubou tribes, residing in southern Libya, are among the ethnic minorities in the North African country and have expressed support for the internationally-recognized government in the capital, Tripoli.
Libya has been beset by chaos since the overthrow of ex-dictator Muammar Gaddafi and a NATO military intervention in 2011.
Since 2014, two rival seats of power have emerged, namely the internationally-recognized Libyan government headed by Prime Minister Fayez al-Sarraj in Tripoli, and another group based in the eastern city of Tobruk and supported militarily by Haftar's rebels.
The rebels — who are backed by the UAE, Russia, and Egypt — launched an offensive to seize the capital and unseat Sarraj's government in April 2019. But the government launched a counter-offensive and has recently managed to reverse many of their gains both around the capital and elsewhere in the country with crucial help from Turkey.
The Turkish military has been providing air cover, weapons, and proxy militia from Syria to help the Libyan government.
Haftar's rebels claim attack on government, Turkish forces
In another development on Tuesday, media sources in eastern Libya claimed that Haftar's rebel forces had carried out airstrikes and inflicted "very serious damage" on the positions of the Tripoli-based government and Turkish forces.
The sources claimed that the rebels' warplanes had targeted Misrata International Airport in the northern city of the same name.
The sources claimed that the attacks had targeted Turkish helicopters, drone hangars, and a military cargo plane carrying weapons from Turkey to Libya.
The Libyan government confirmed the attacks, saying they had been carried out from an unknown location, most likely a distant one.
https://www.presstv.com/Detail/2020/08/04/631094/Libya-tribes-sue-Haftar-ICC
--------
Suicide Bombing Attack on Mogadishu Restaurants Kills At least Three
August 04, 2020
Media reports say a suicide bombing attack killed at least four people, including the bomber at a Mogadishu restaurant, which is popular with security forces and government workers.
Several others were injured in Monday's attack on the Lul Yamani restaurant, in the Somali capital.
Police say the attacker detonated the explosives at the entrance to the restaurant after being stopped by a restaurant security guard.
There was no immediate claim of responsibility, but the Islamist al-Shabaab militant group is suspected of being involved because its history of targeting security forces.
https://www.voanews.com/africa/suicide-bombing-attack-mogadishu-restaurants-kills-least-three?utm_source=iterable&utm_medium=email&utm_campaign=1412573_
--------
URL: https://www.newageislam.com/islamic-world-news/pm-modi-uses-silver-brick/d/122550
New Age Islam, Islam Online, Islamic Website, African Muslim News, Arab World News, South Asia News, Indian Muslim News, World Muslim News, Women in Islam, Islamic Feminism, Arab Women, Women In Arab, Islamophobia in America, Muslim Women in West, Islam Women and Feminism